Sunday driving
The Sunday drive. Regardless of what sort of car you might have sitting in your garage, or what crowd you run with, I don't think there's an auto enthusiast out there that doesn't like the idea of an enjoyable Sunday drive. For some it could be a spirited romp down a quiet backroad, a relaxed cruise through the city or even a weekend track session.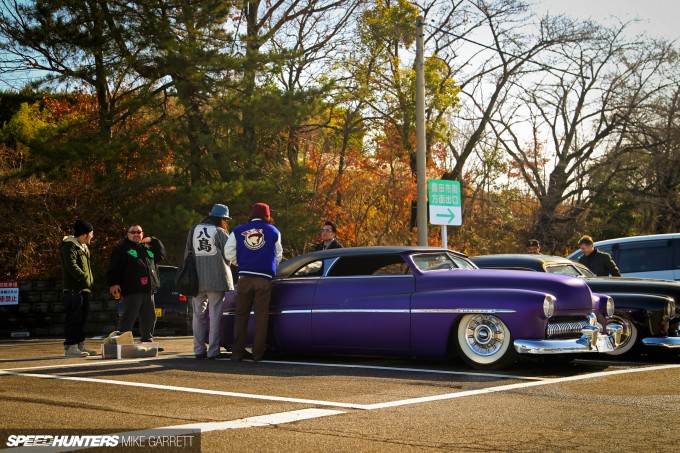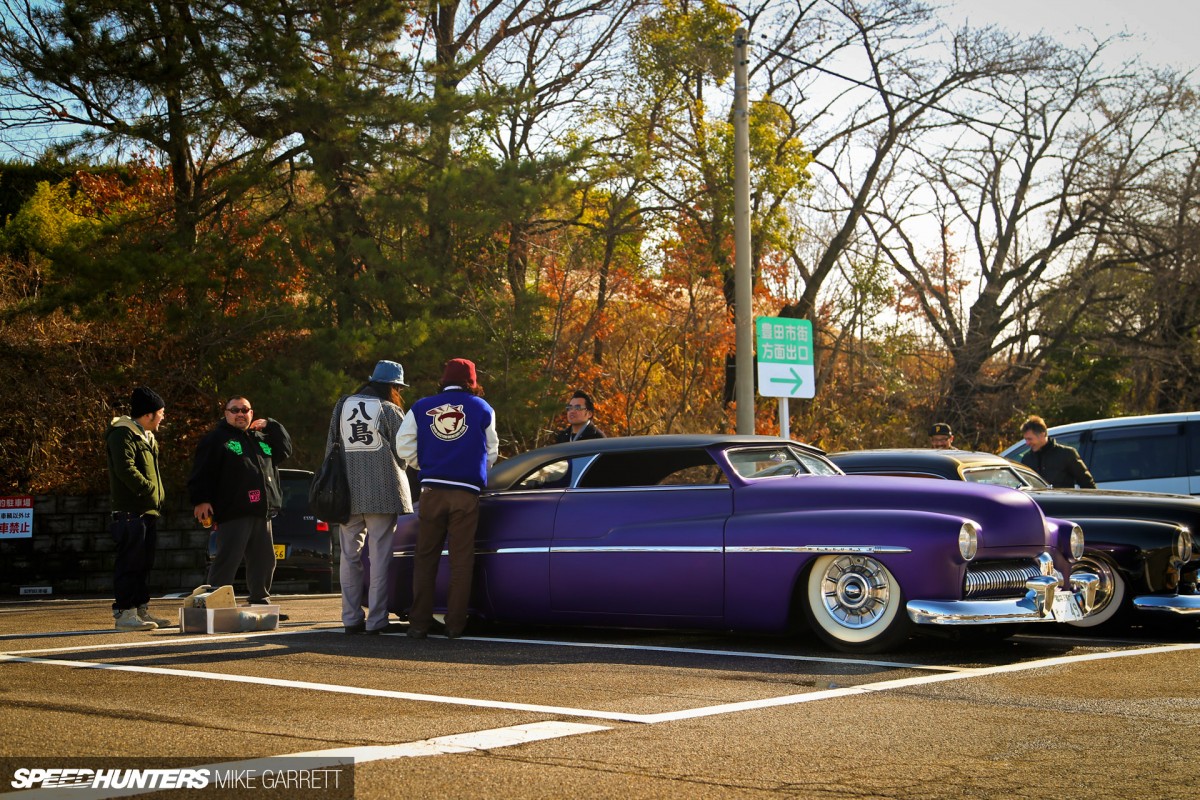 Whatever form they take, these smaller, more relaxed drives and gatherings are always some of my favorites. Sure they might not have the excitement and attention of a huge car show or race event, but when you want to experience real car culture, it's hard to think of a better environment.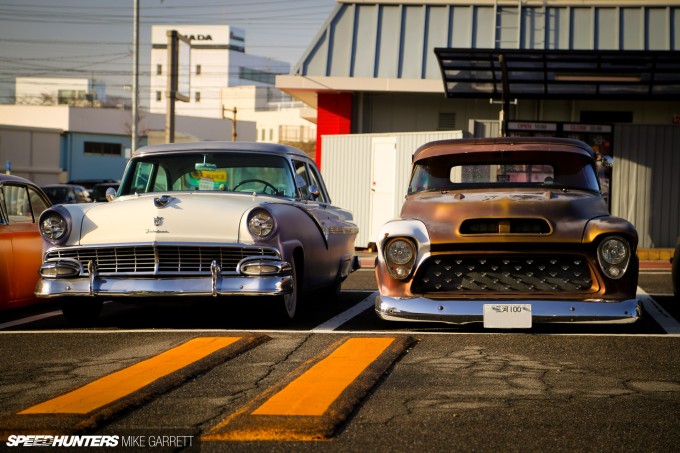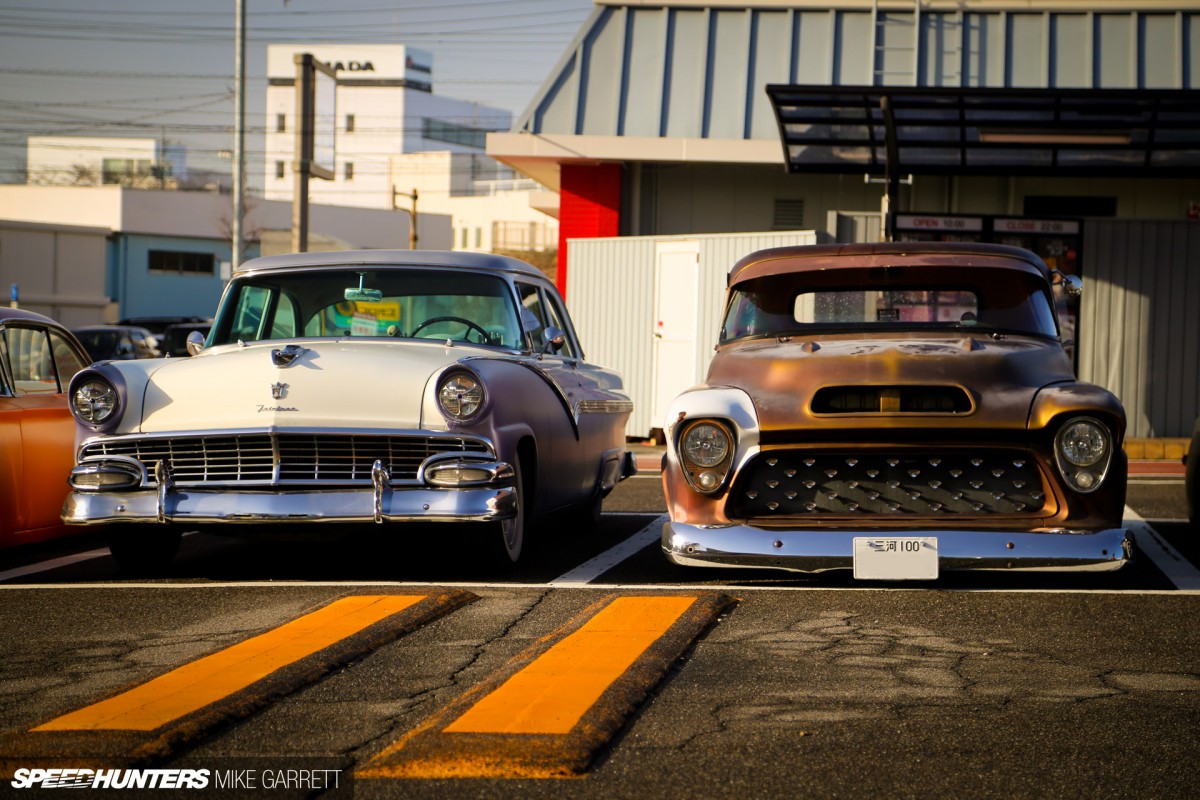 That's why I was very happy when my friend Toshi Shimizu from The Local Hero Japan invited me to come and check out the Pancake Meeting, a local morning cruise held once a month in the Nagoya area.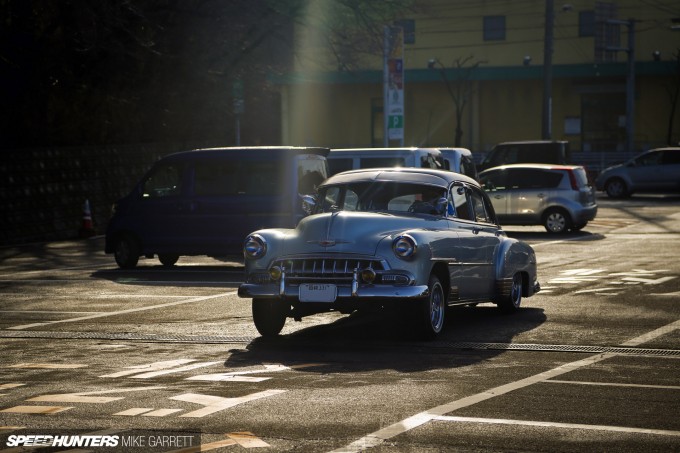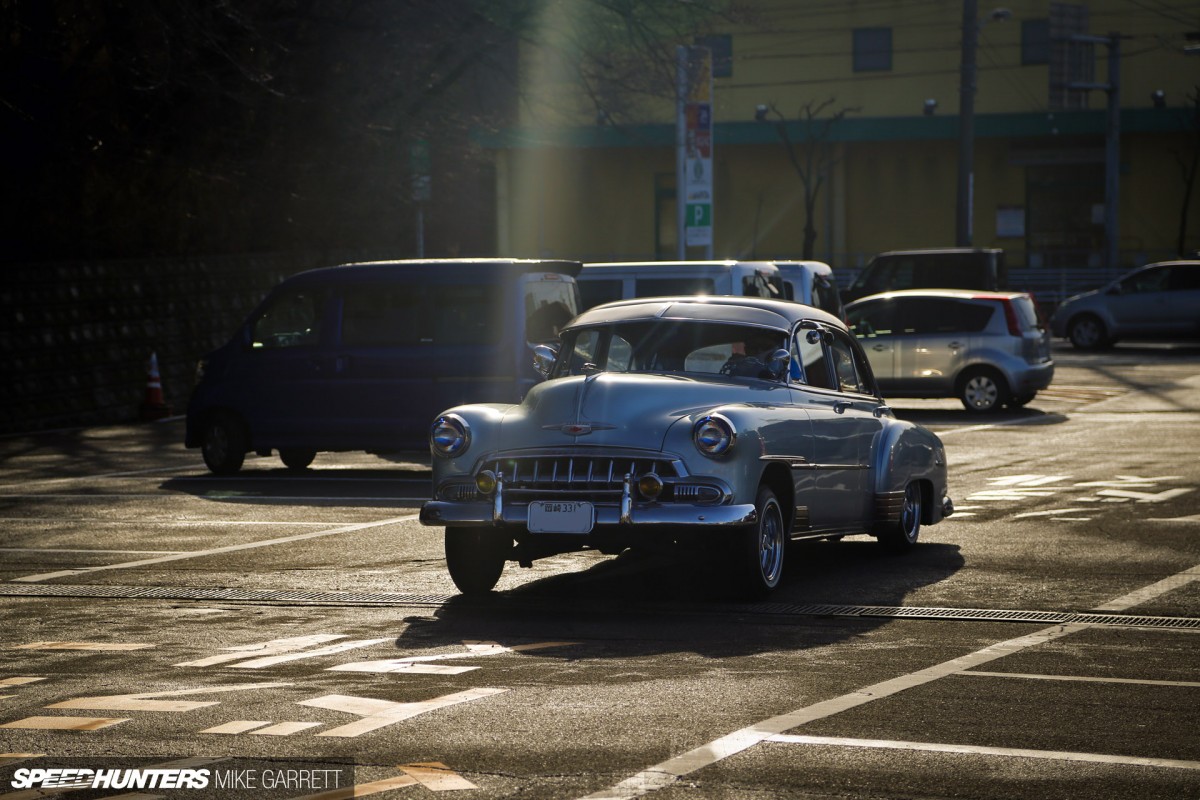 During my previous trips to Japan, I never had much time to check out Nagoya's car scene but this time would be different. What better way to get a taste of the local flavor than by checking out the PCM, as the regulars call it.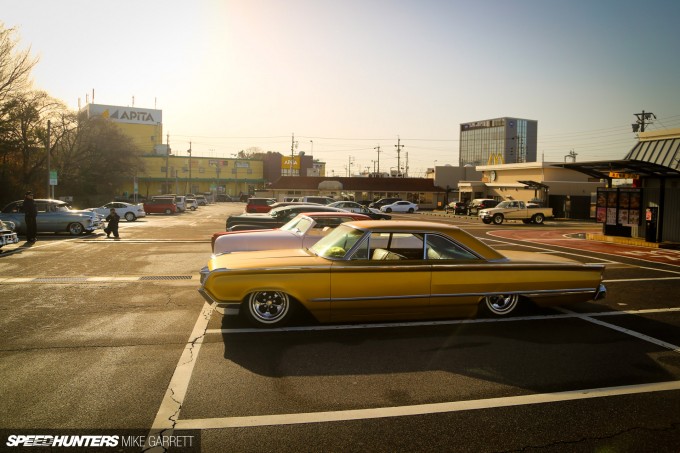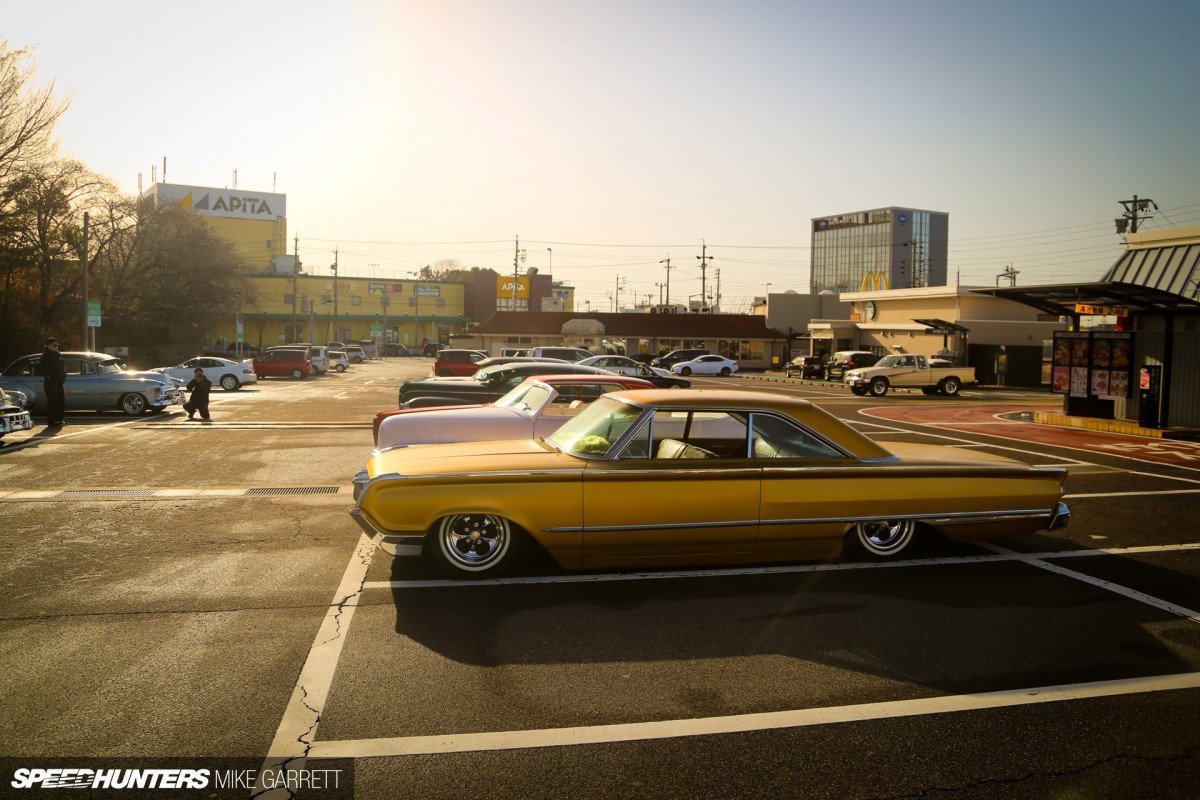 Prior to Sunday morning there was some concern about the weather and uncertainty about whether this month's cruise would even happen at all. It's hard to tell from these photos but the day before, a rather large snowstorm rolled through the area, blanketing Nagoya and giving Tokyo its biggest snowfall in decades. As I write this, Tokyo is still digging out from its record snowfall, but fortunately things were a little milder in Nagoya.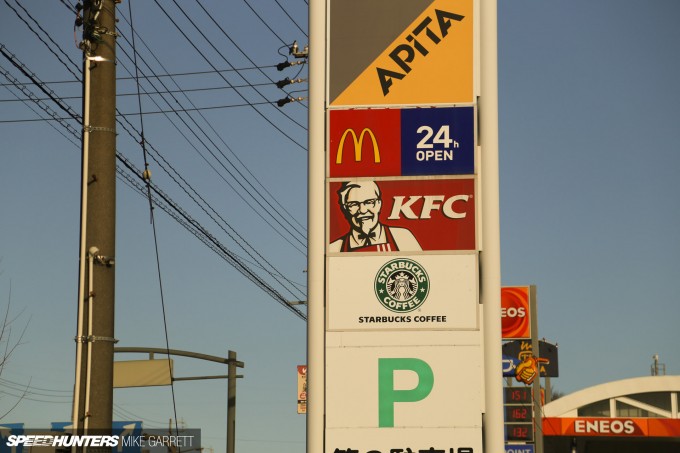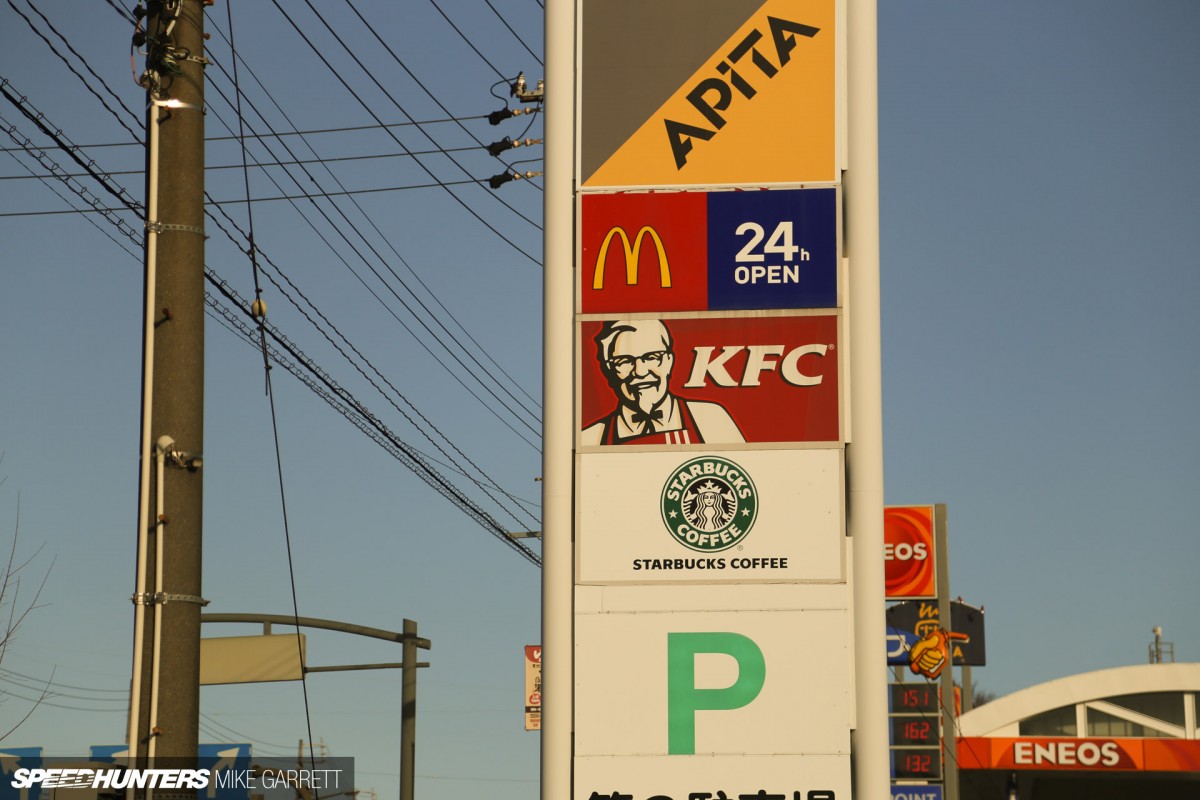 McDonald's, KFC, Starbucks – wait, I'm still in Japan, right? No matter what kind of thoughts you have about globalization and huge corporations, there's no denying that this little shopping center in Toyota City (yes, the home of the automaker) was the perfect setting for a meet that would include lots of American-made iron.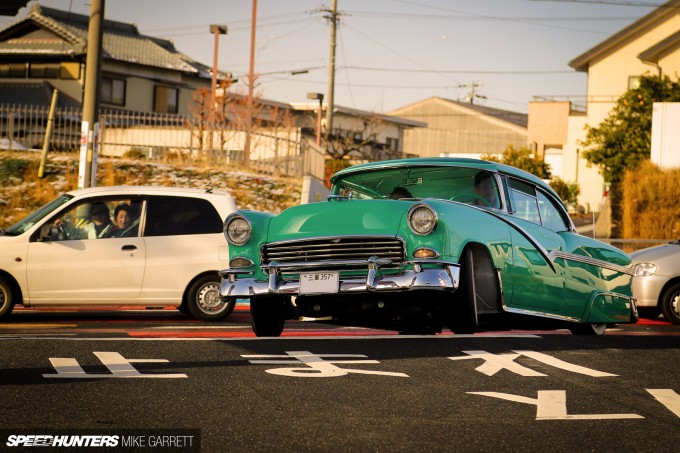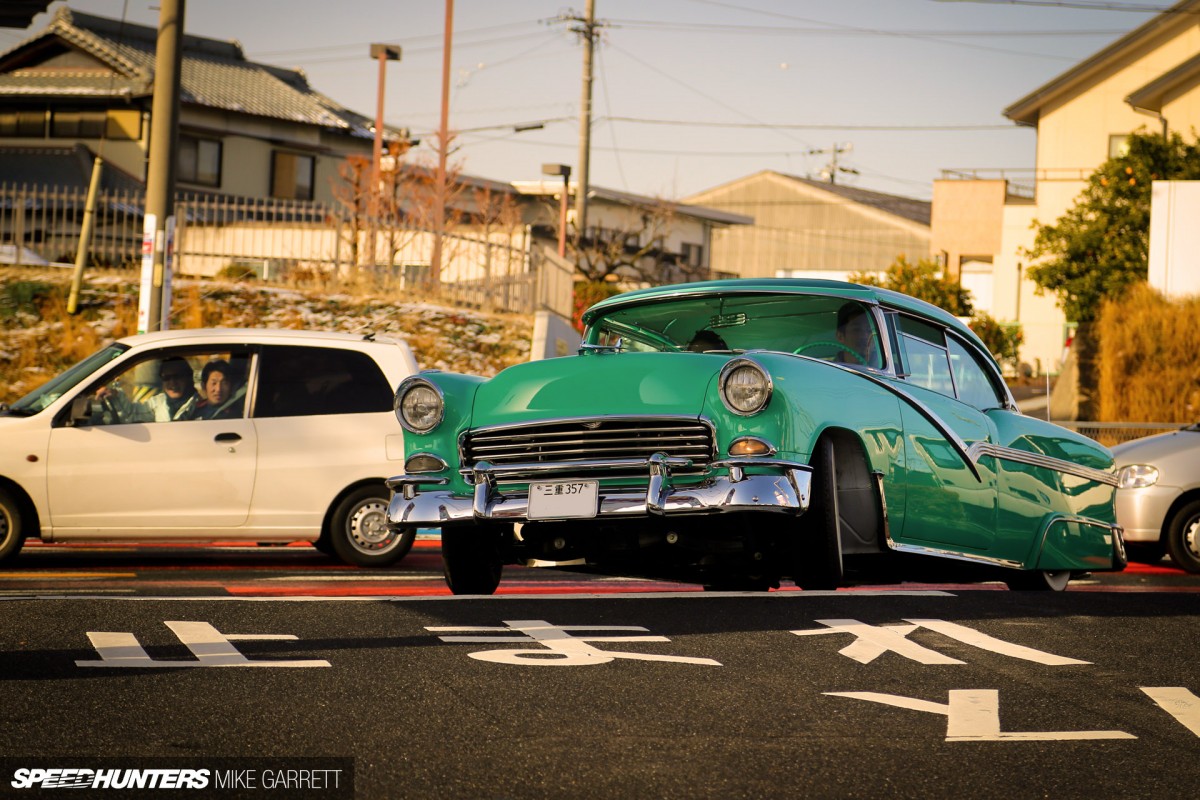 We arrived a little early in order to get a front row seat to watch the cars the roll in and by around 8:30am, a steady stream of colorful machinery was beginning to pull into the parking lot. The Nagoya area is famous for its customized car culture, and it didn't take long to realize that it was justly deserved.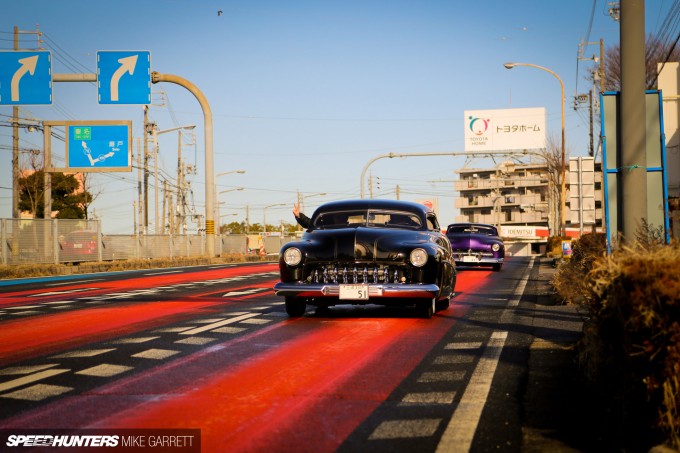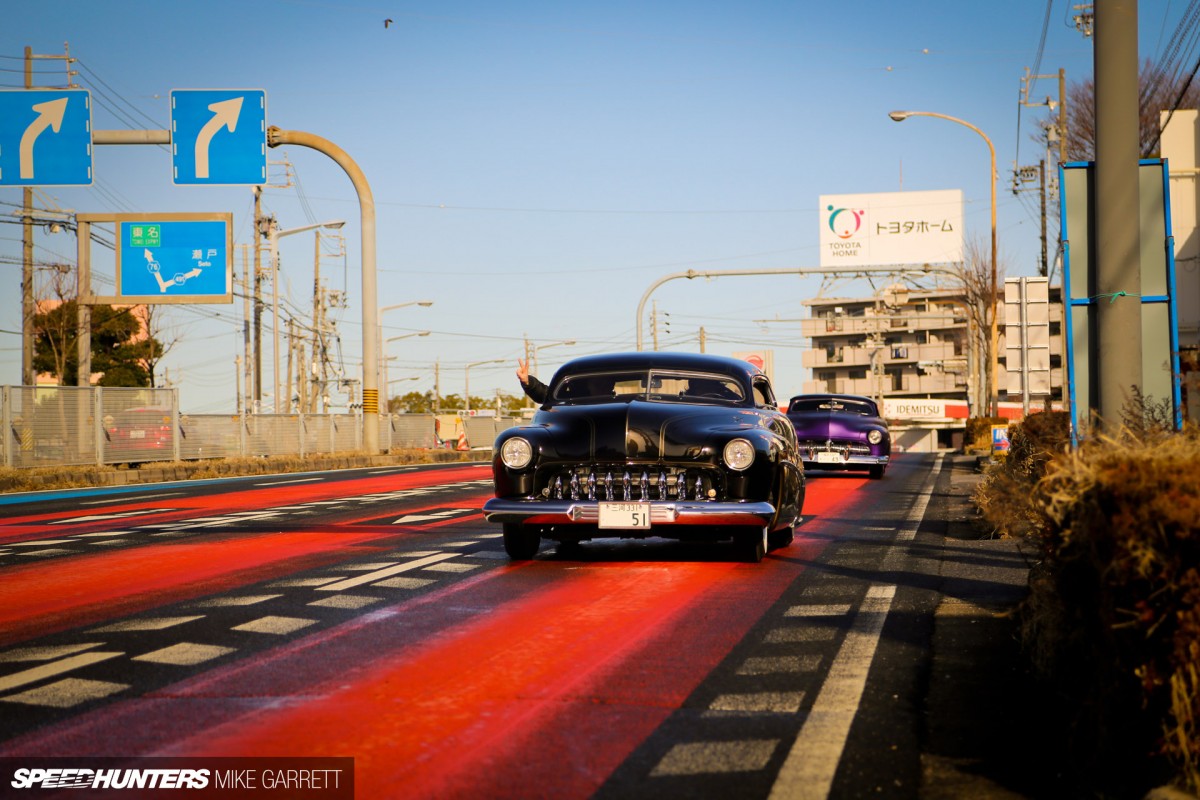 One by one, they continued to roll in: Mercurys, Impalas, Caddys and more. None of them stock and all of them built to a level that could rival anywhere else in the world. Yes, Nagoya is the real deal.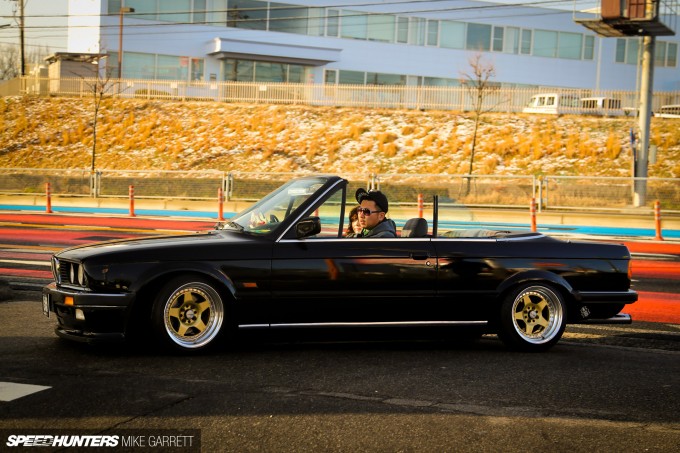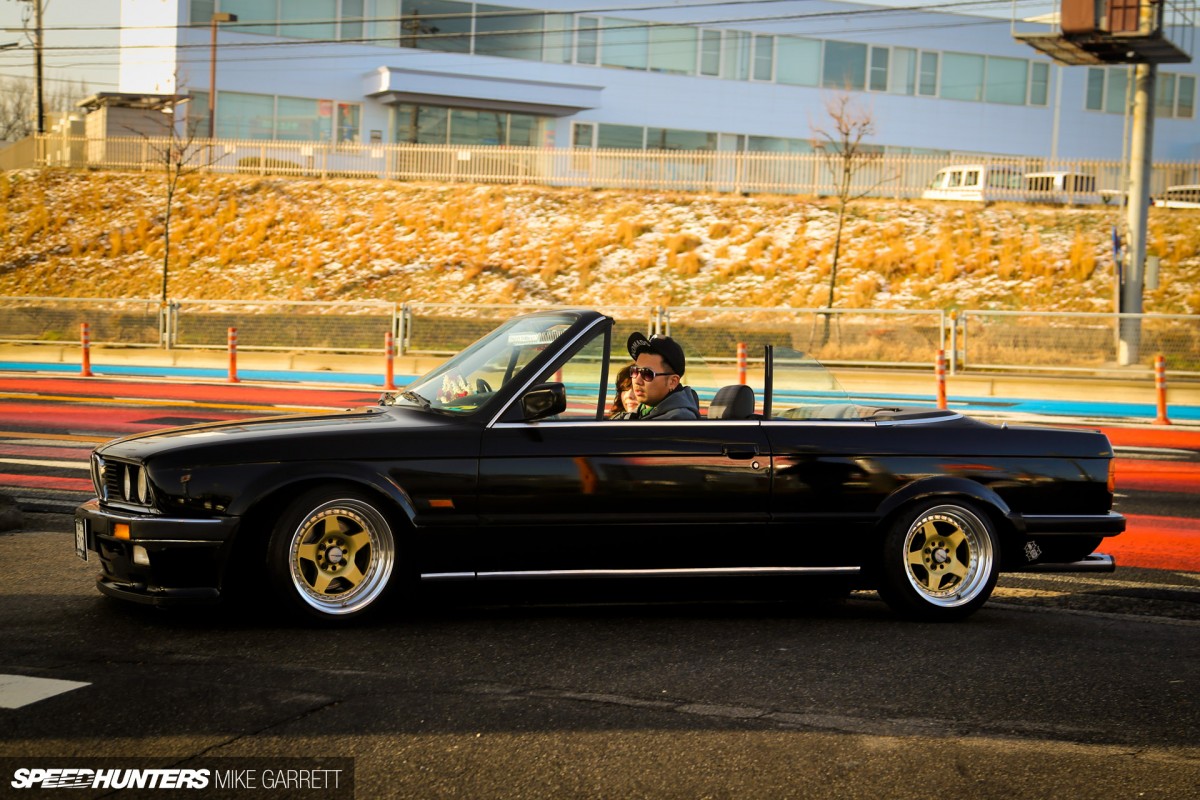 While the majority of the cars that came out were of the vintage American variety, there were no rules as to what could or couldn't take part. One fellow for example came out in a pristine E30 BMW convertible sitting on 15 inch Work CR01 wheels. Once common on Japan's streets, these open-top Bimmers have become a rare sight today.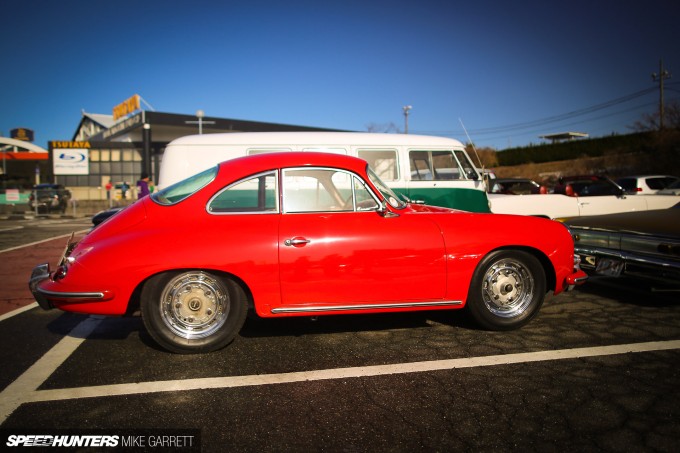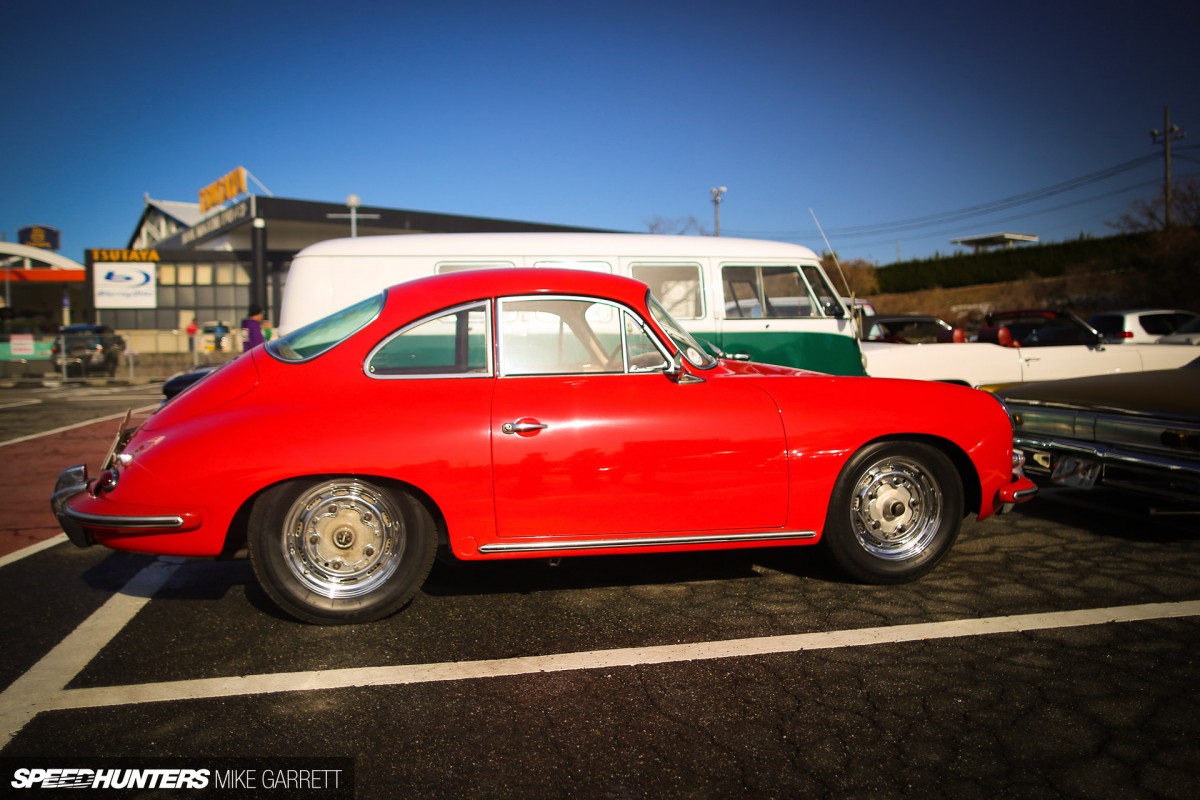 How about this Porsche 356 that came to hang out for a bit? Seeing this little Porsche gleaming in the sun instantly reminded me of Cars & Coffee – the famous morning meet that happens back home in California.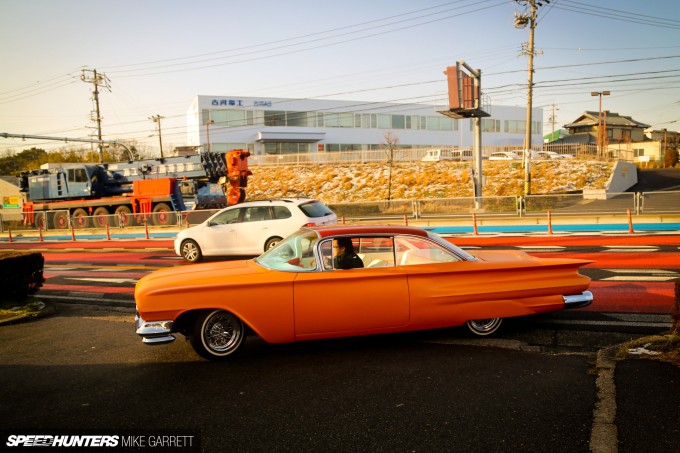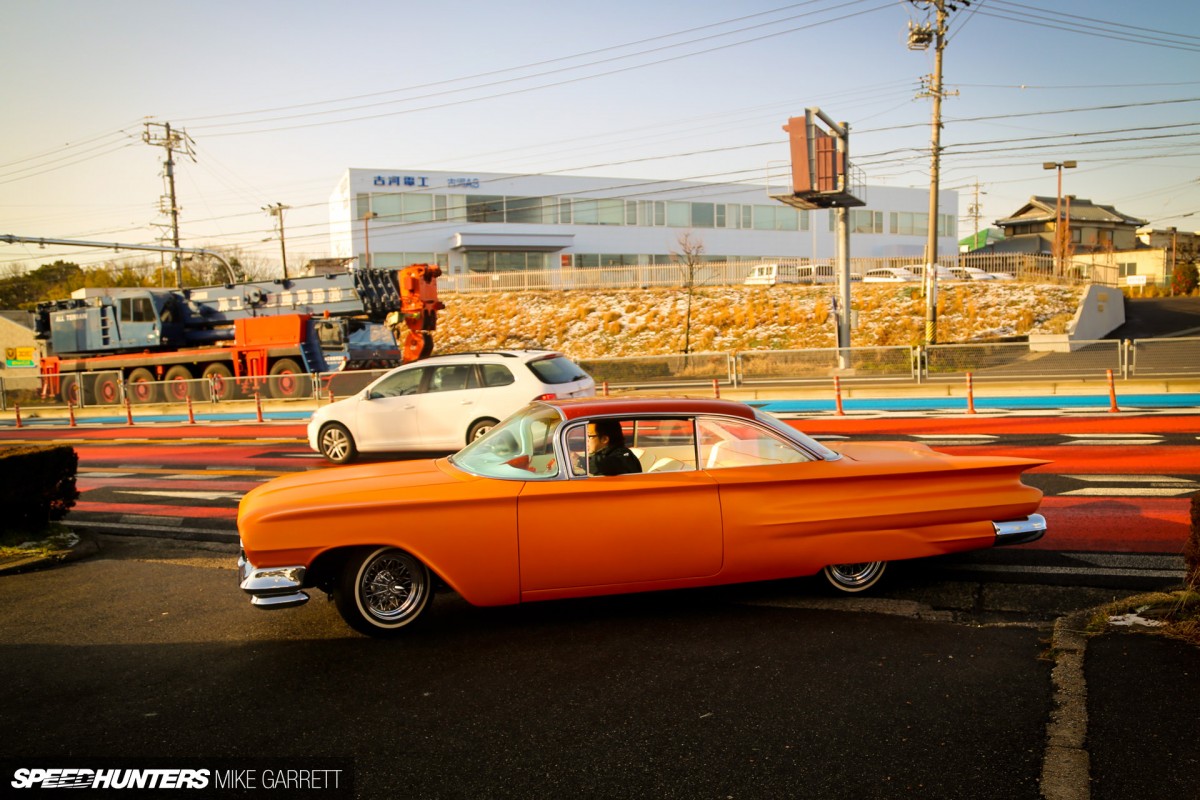 Even among the American cars, there was a big variety of machinery represented. There were lead sleds, 1960s customs,  lowriders, pickup trucks and more that came out to grab a coffee or breakfast and have some automotive conversation.
Brotherhood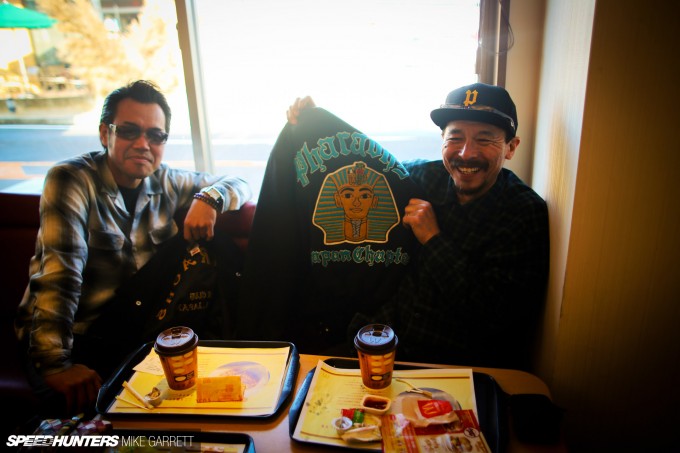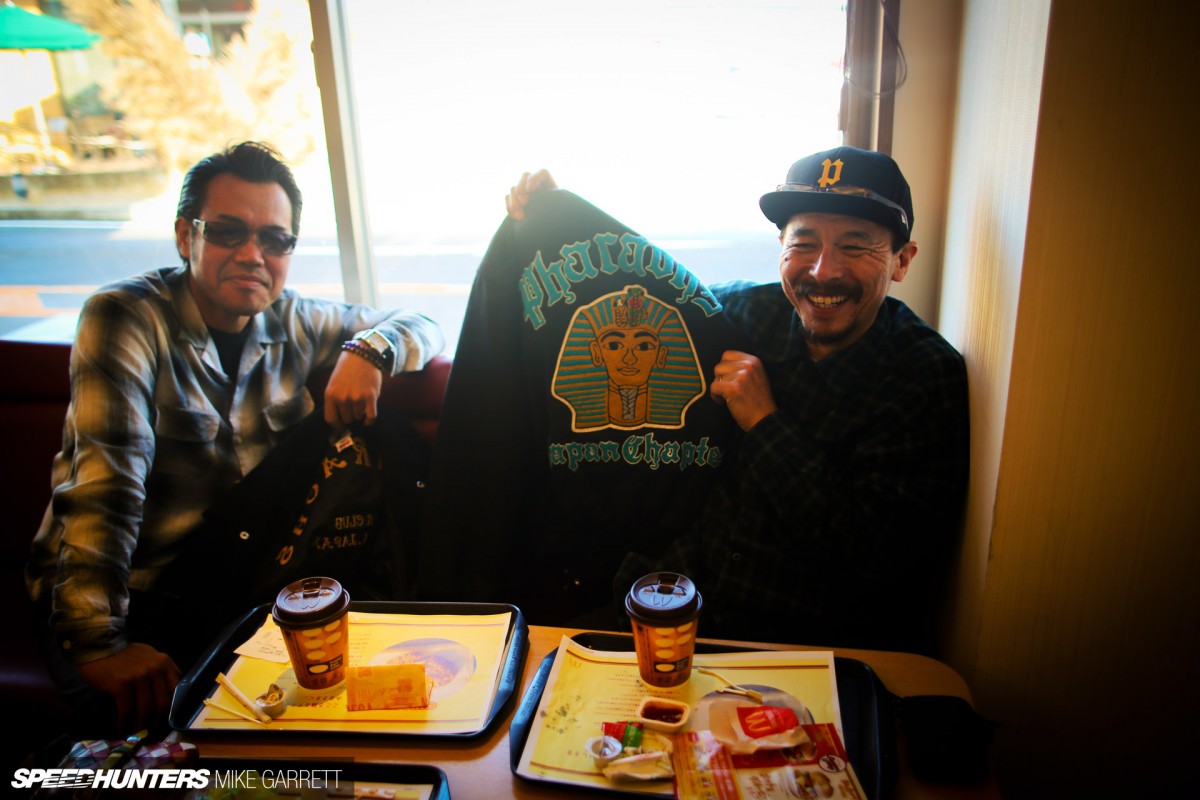 Speaking of breakfast, it was around this time that I decided to head inside the nearby Makku (that's how the Japanese refer to McDonald's) to see what was going on. Once inside, I began to notice the strong camaraderie between Nagoya's custom car enthusiasts.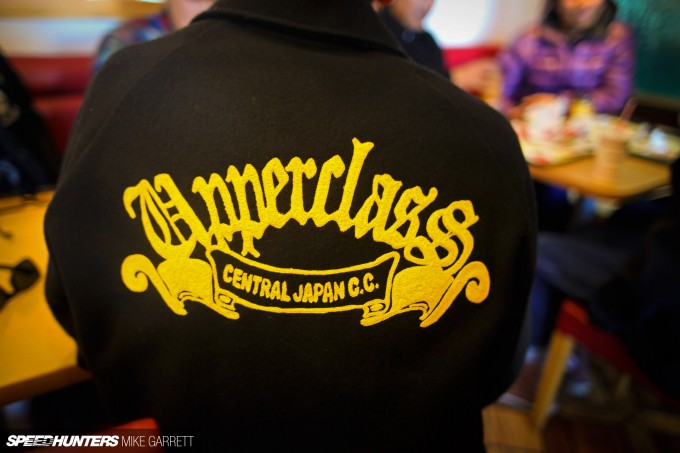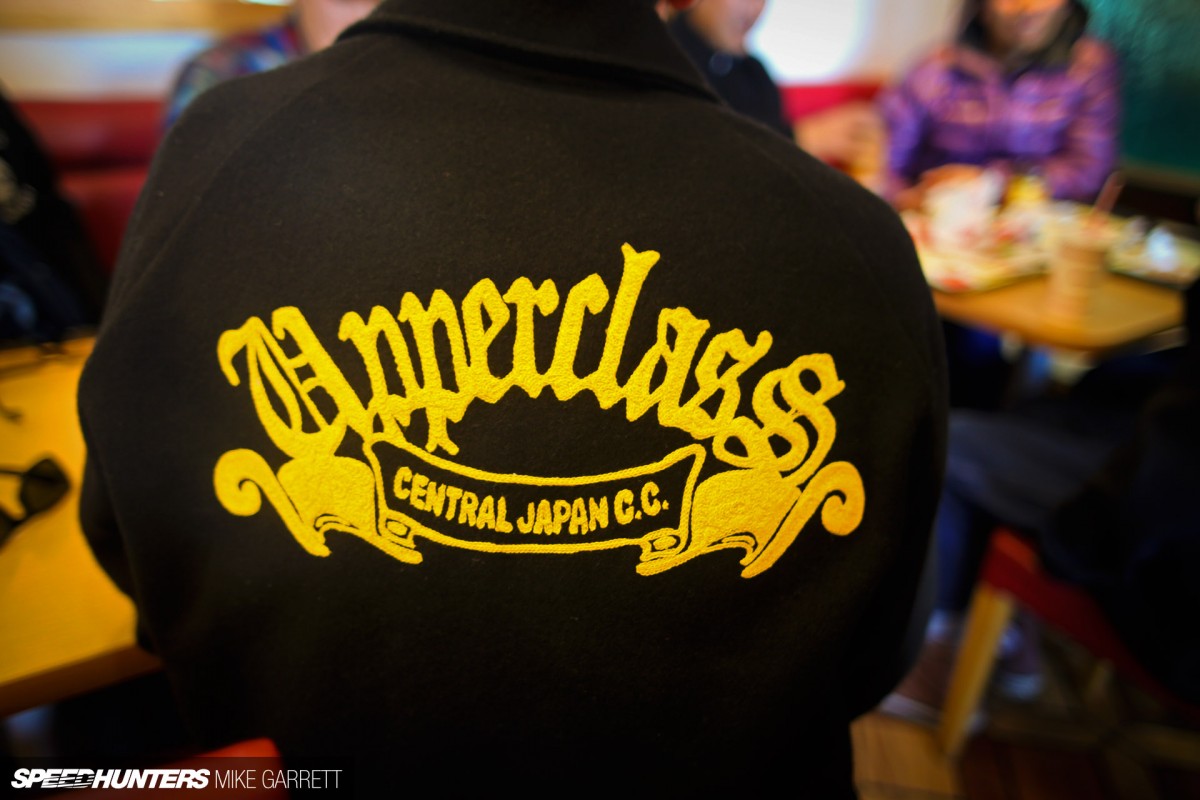 As is common in the world of custom cars, most of these people belong to groups or car clubs that specialize in a particular style of car.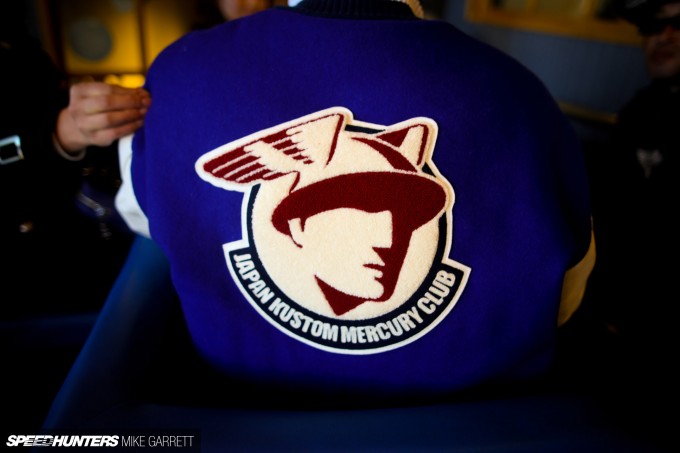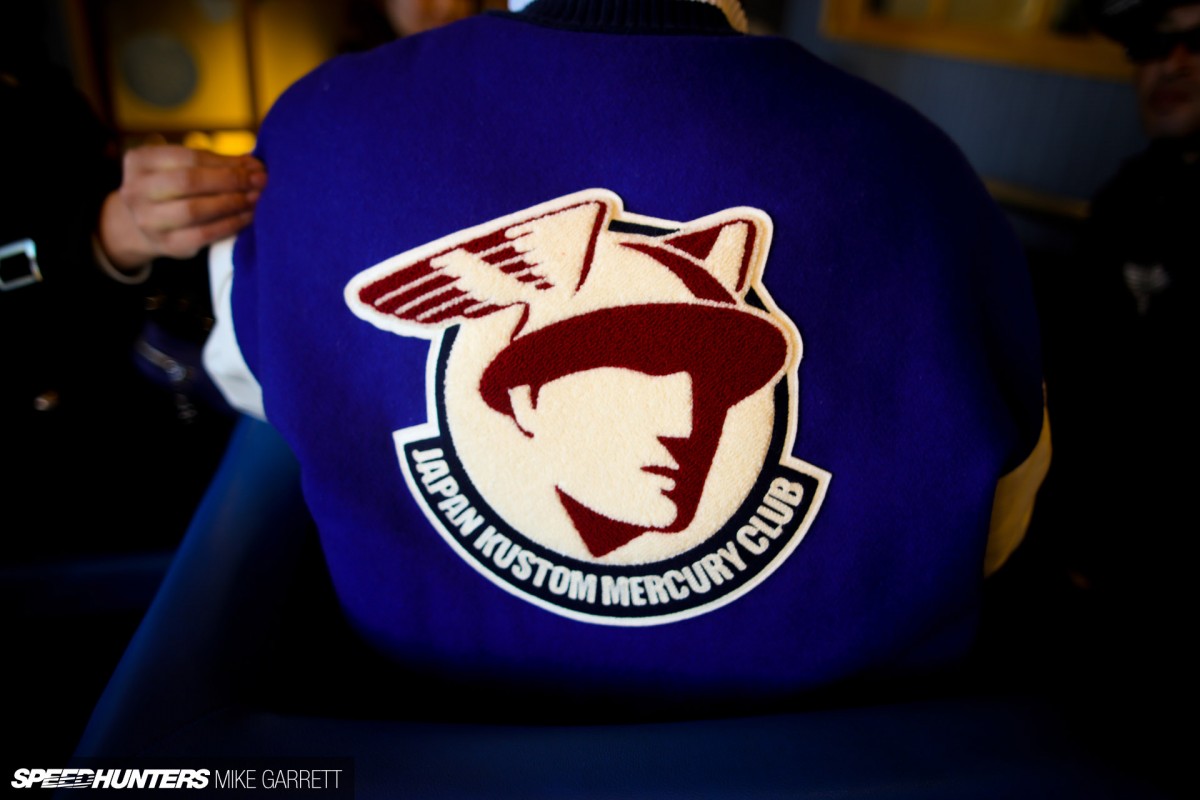 Members of the Japan Kustom Mercury Club not surprisingly live and breathe 1949-51 Merc, along with the culture and history that surrounds those legendary lead sleds.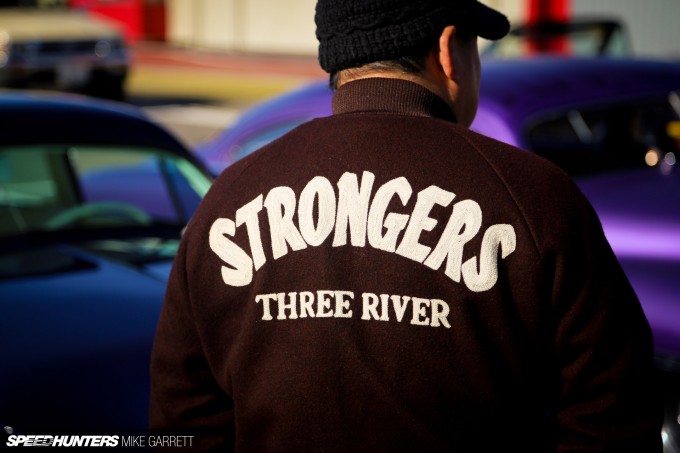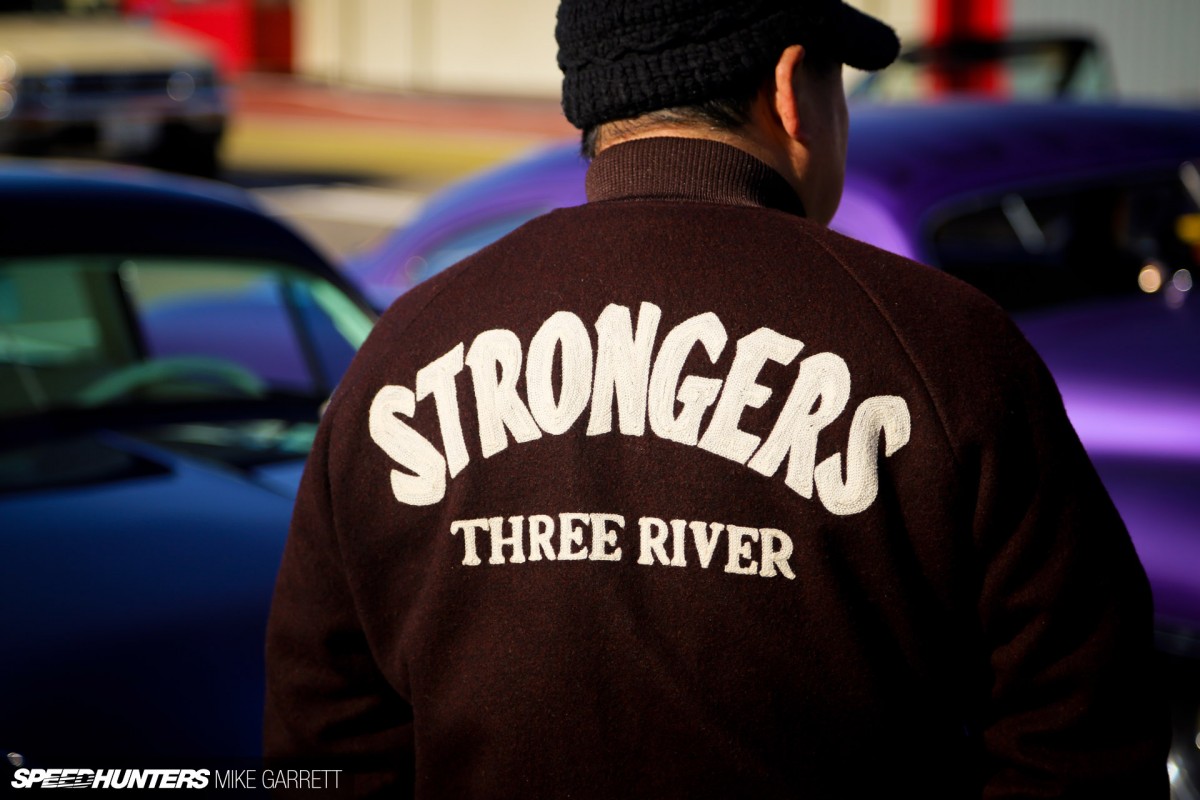 The Strongers of Mikawa are a bit more diverse, but they too have their own specialty – 1960s style customs.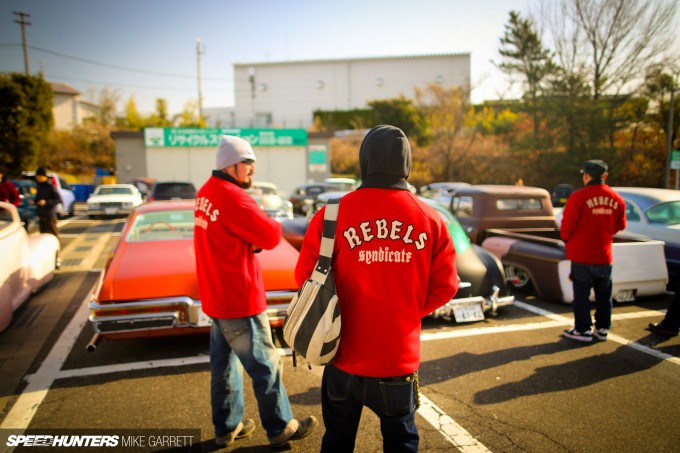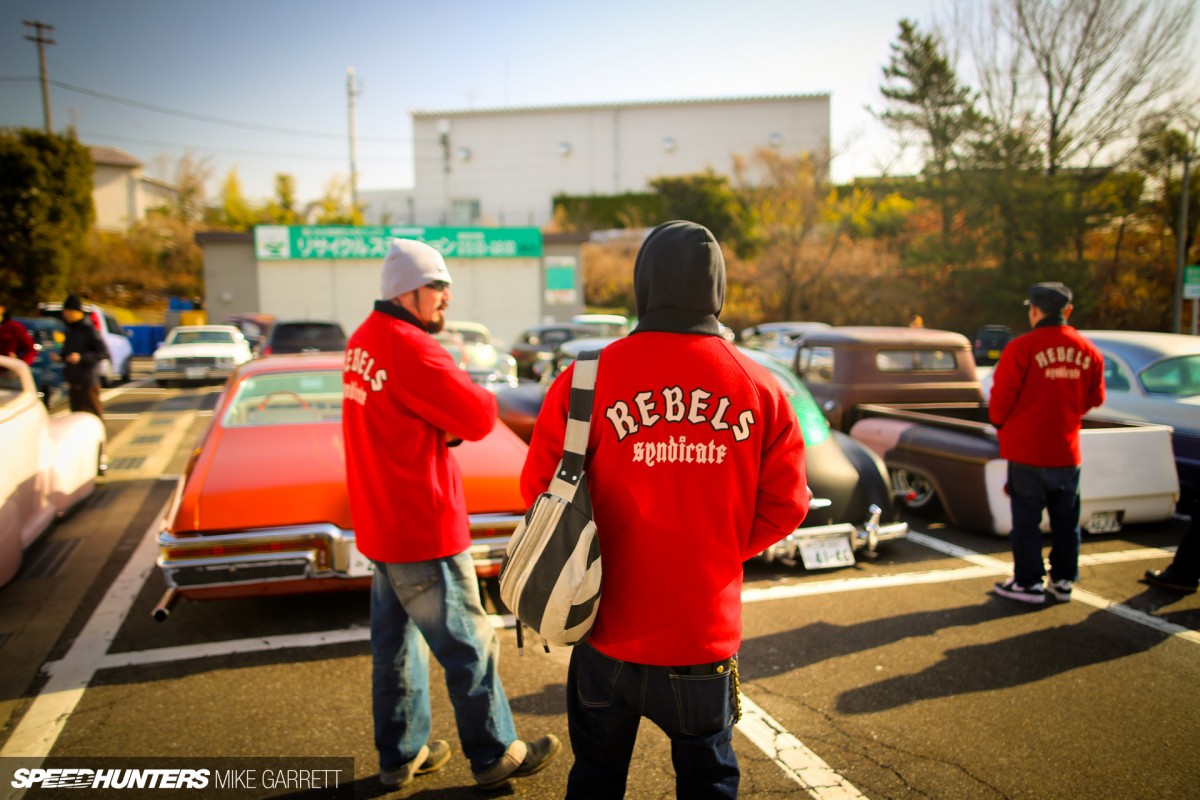 But the thing that I noticed is that while these guys all have their own clubs and preferred styles, they were mixing and mingling like one big family.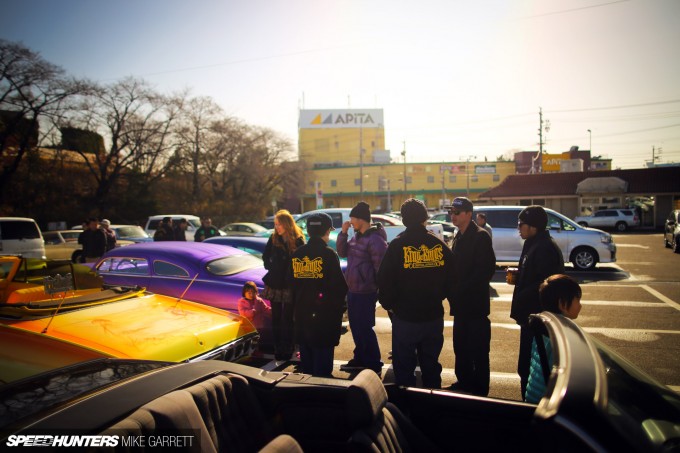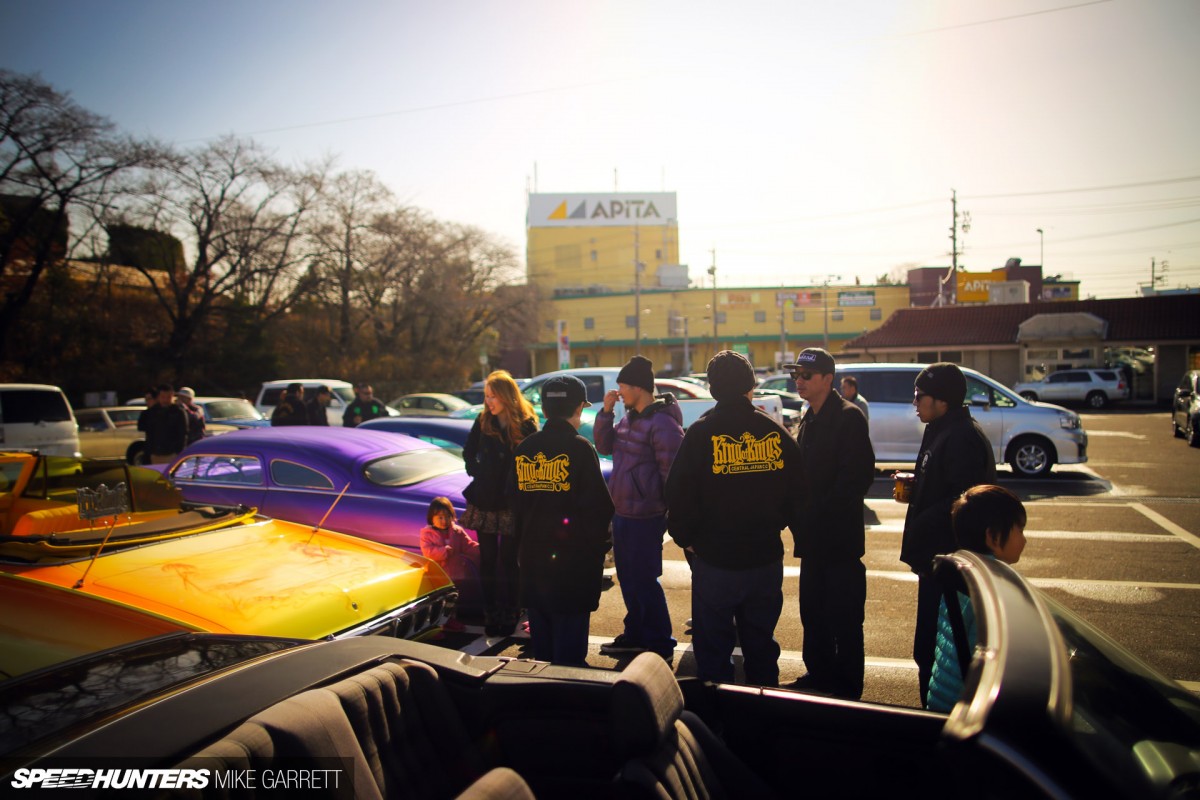 It's quite a bit different than the US, where club members generally seem to keep to themselves at events. Perhaps it's because Japan's custom scene is smaller and therefore more tightly-knit? Whatever the case, everyone seemed like longtime friends – regardless of what name was written on the back of their jackets.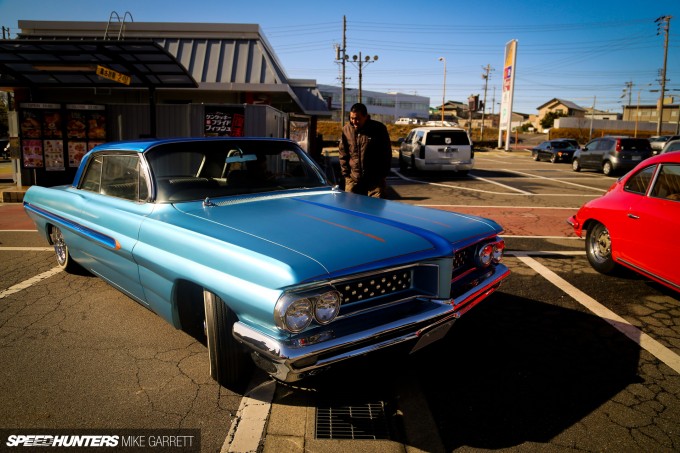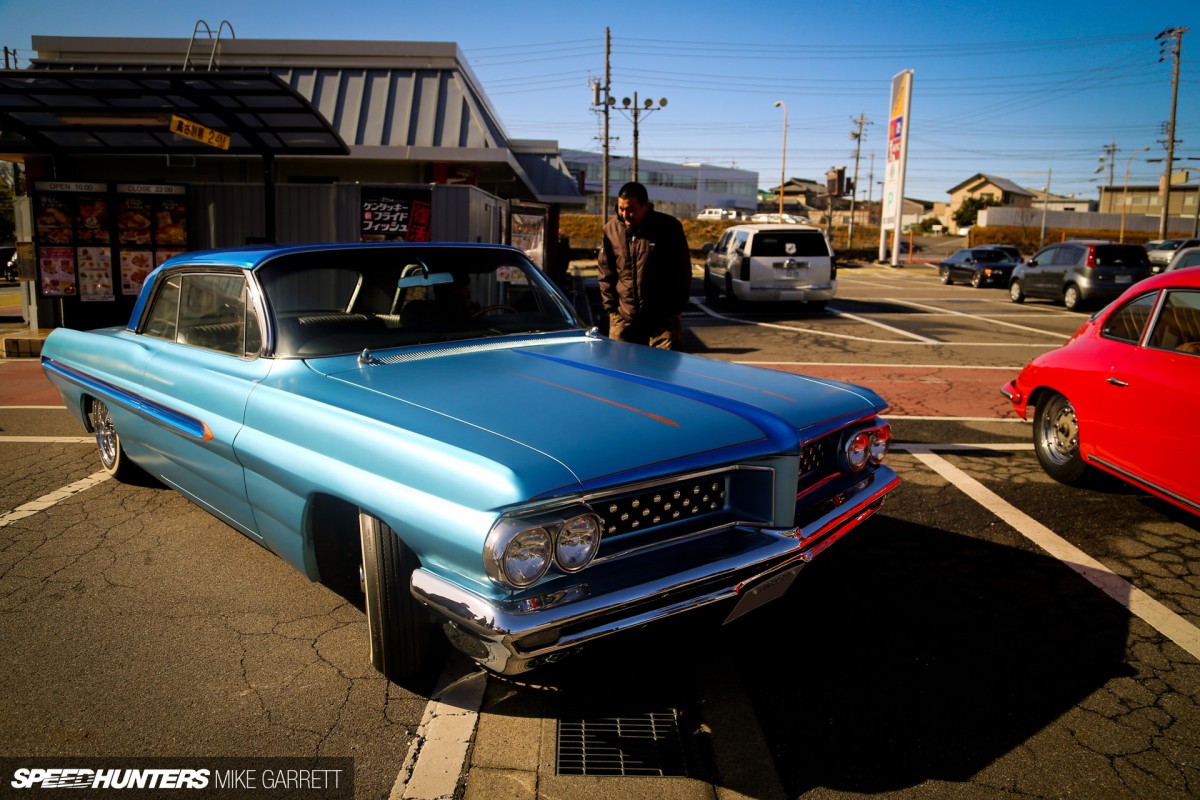 Here's a '62 Pontiac from the aforementioned Strongers Car Club. As you can see, these guys do the '60s custom thing as good as anyone else out there. No matter the style, you can count on the Japanese to get the details right.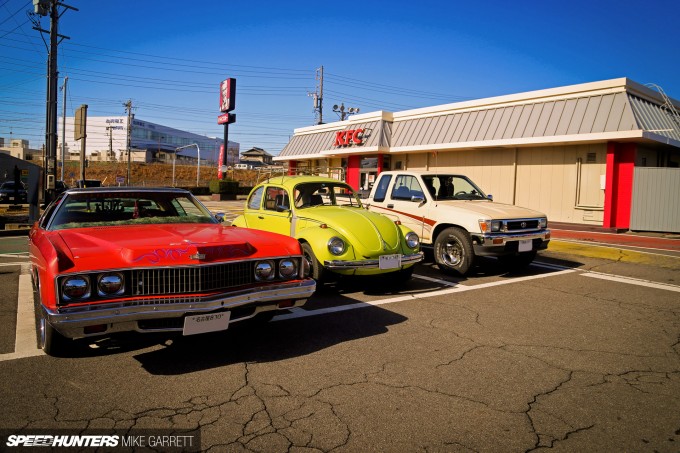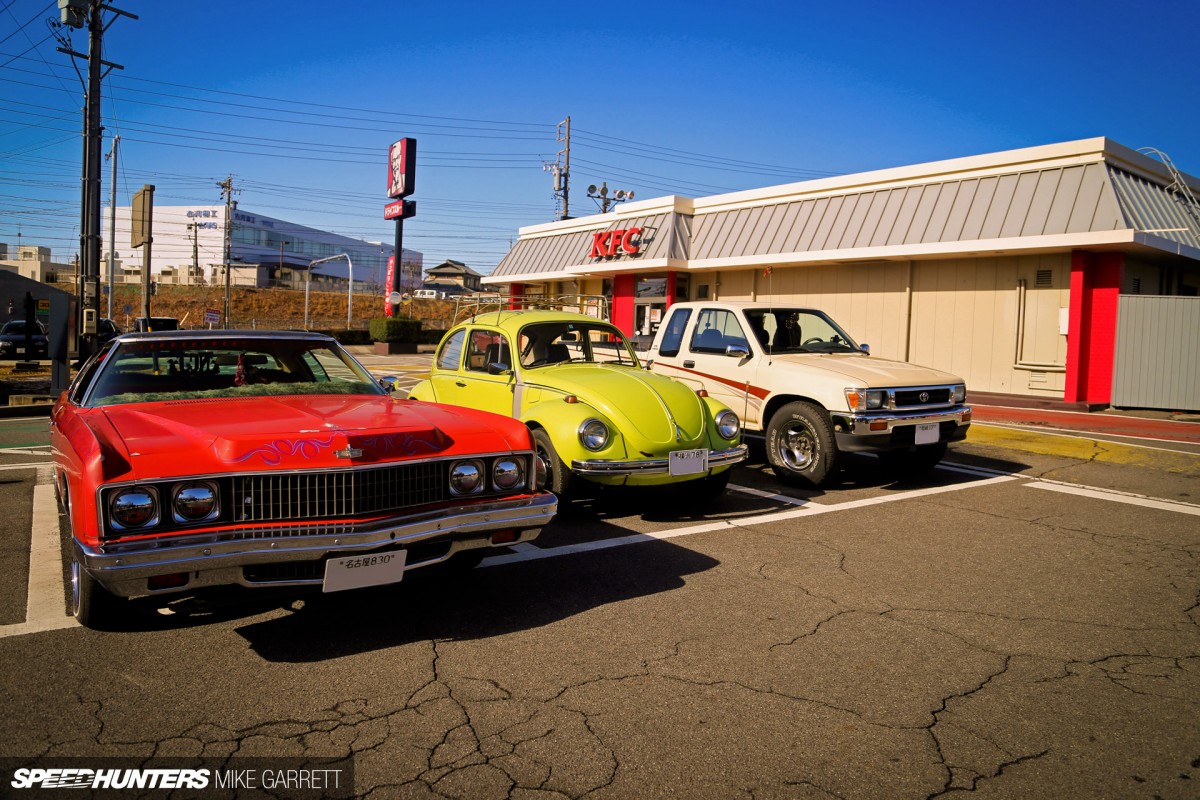 If it weren't for the number plates and perhaps a few other tiny background details, you'd probably think this image was snapped in the USA somewhere and not in Japan. For a lot of these guys, creating scenes like this is the fruit of their labor.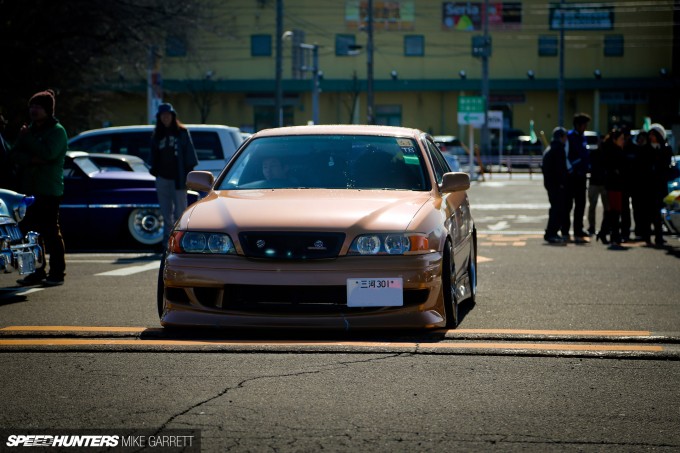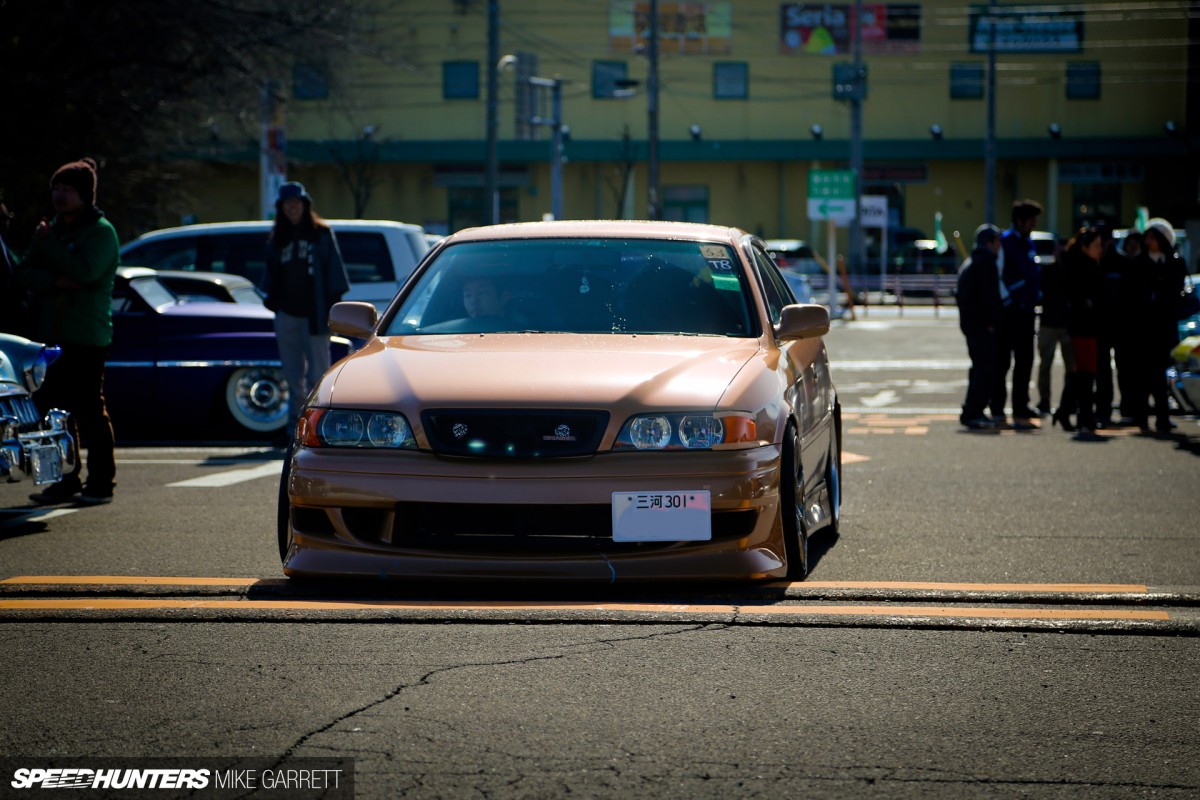 At one point this JZX100 Chaser drift machine rolled through the parking lot, and while I think the driver was actually passing through randomly, he seemed to be enjoying the sights of the custom machines around him. Gotta love the mixing of cultures.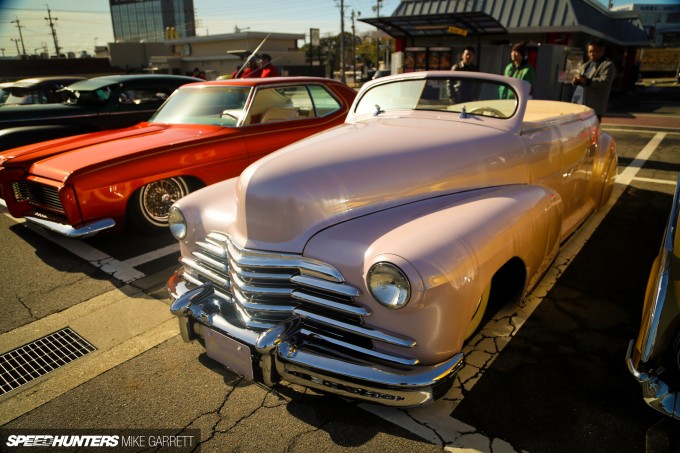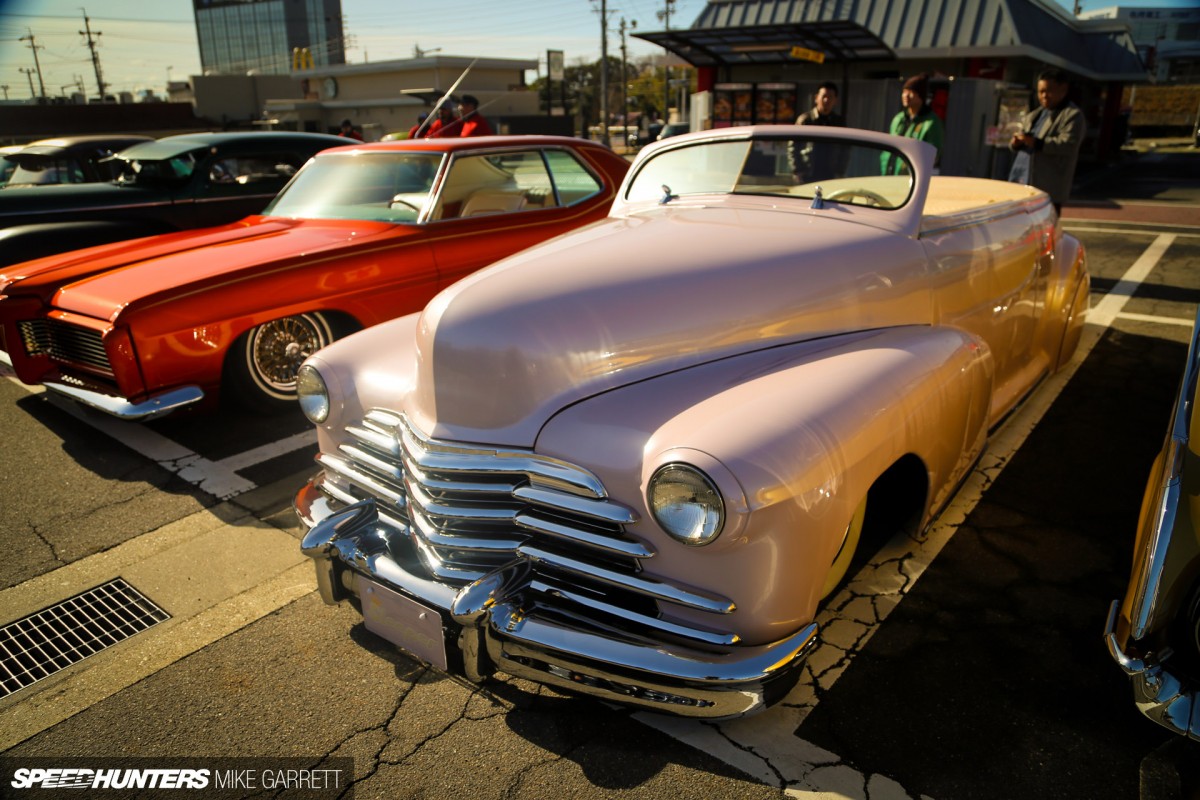 And while the car styles may have been as American as it gets, the manners were still incredibly Japanese. For example, the businesses in this shopping center were scheduled to open at 10am, so everyone wanted to make sure the meet had wrapped up by then – so as not to impede on the shops and their customers. That doesn't mean the fun was over though. Next up would be a cruise down the highway to a large parking area, during which I'd ride shotgun in this sweet open-top '47 Chevy.
Hitting the highway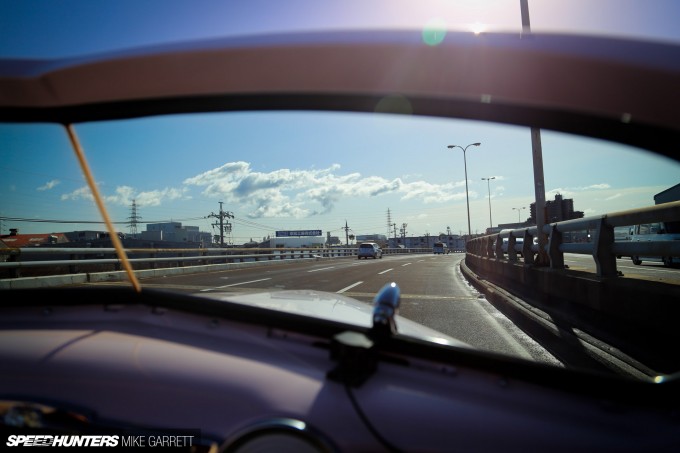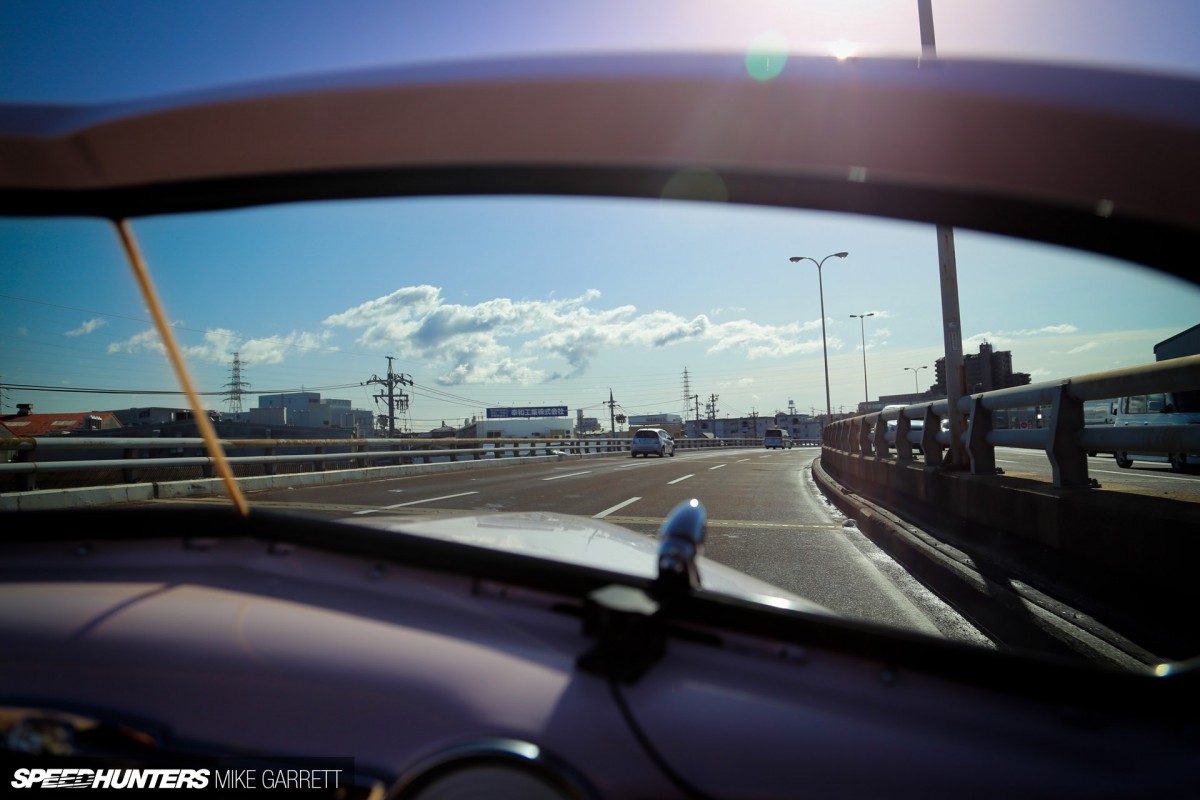 As we pulled out onto the road, it was hard to ask for better cruising conditions. Sure the air was a little chilly, but considering this whole area had been coated with snow less than 24 hours earlier, it was paradise.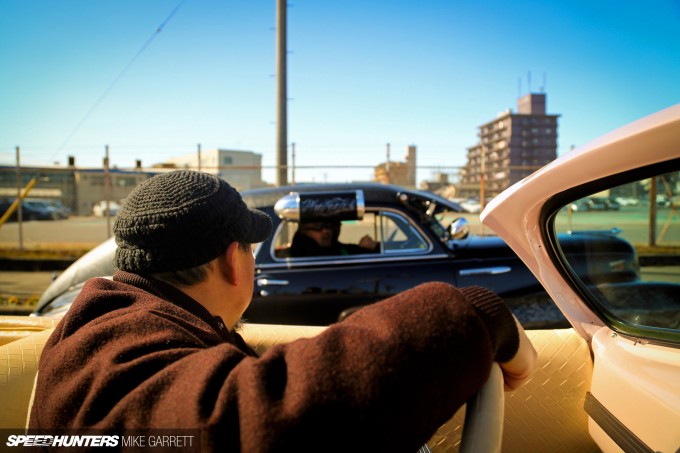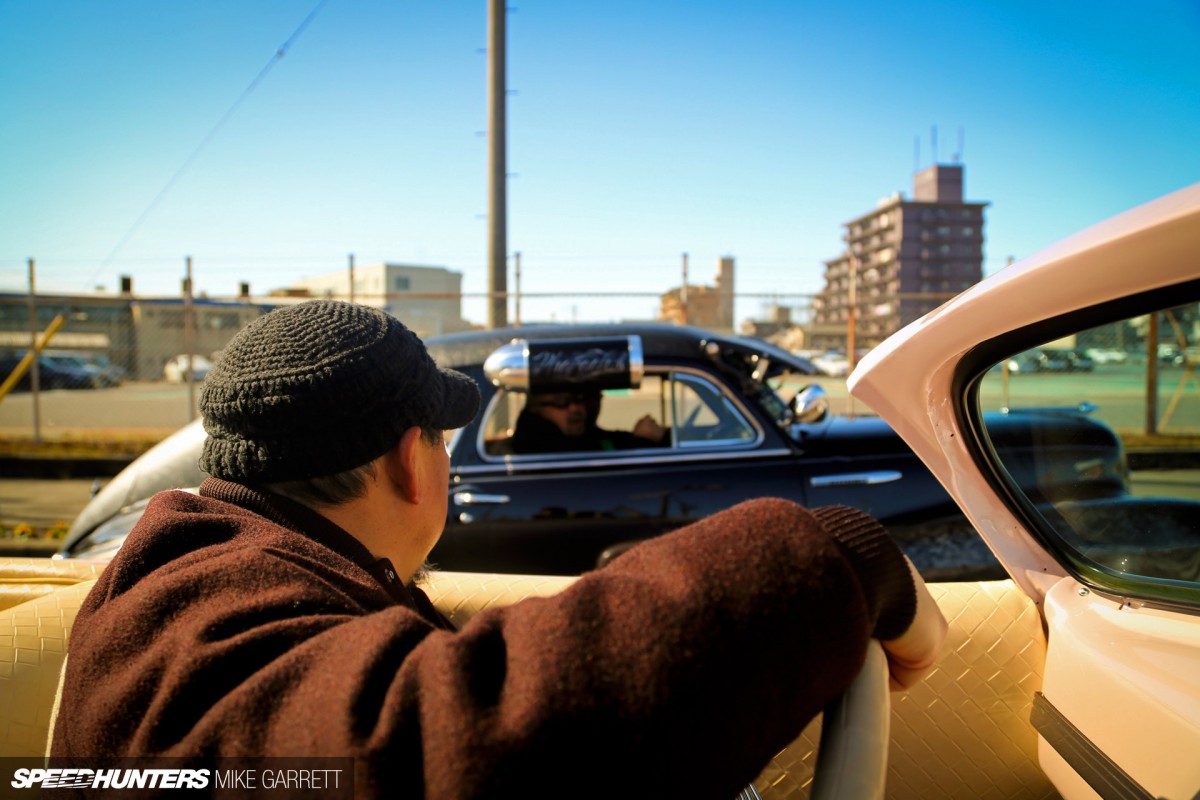 Actually, I'll take crisp and cool over scorching hot any day of the week. After all, this is nothing a warm jacket and a decent heater can't take care of.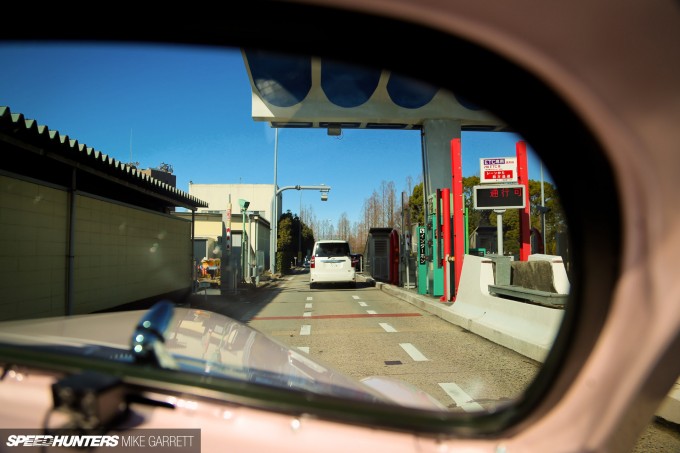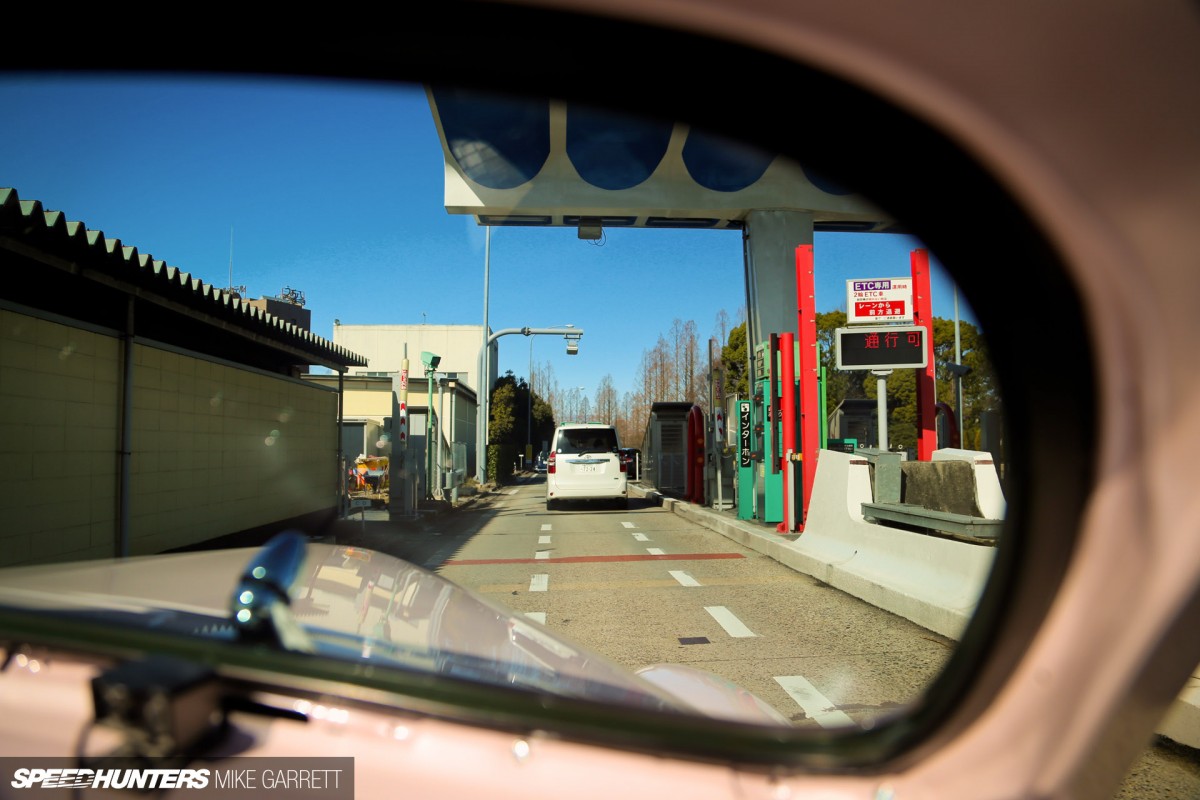 As we made our way onto the expressway, it was quite a contrast to be sitting in the decidedly old school Chevy as we rolled through the high tech ETC gates and into the flow of the light weekend traffic.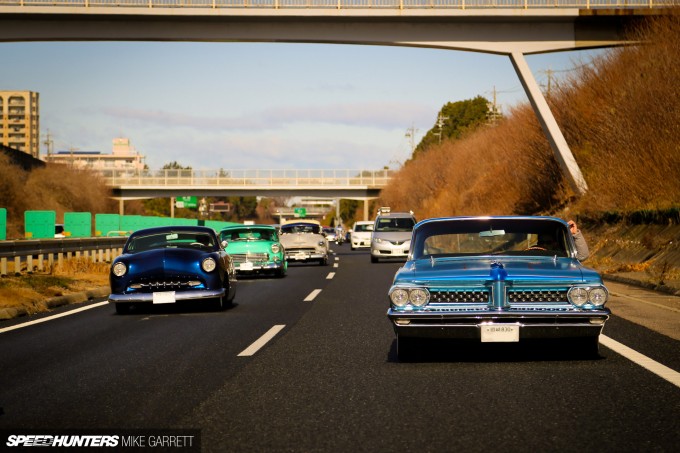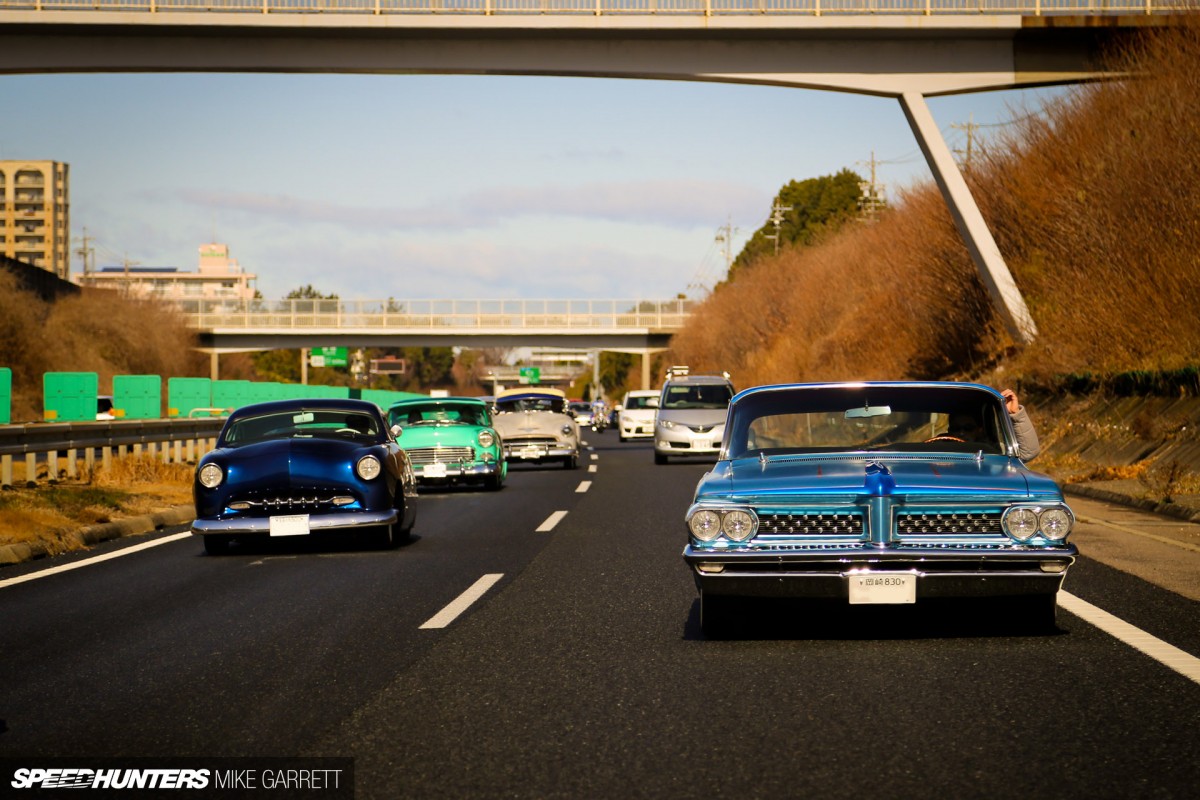 Of course we weren't alone. One look in the rear-view mirror and you'd see something like this: a long line of American customs that were actually outnumbering the minivans and kei cars that usually fill Japan's highways.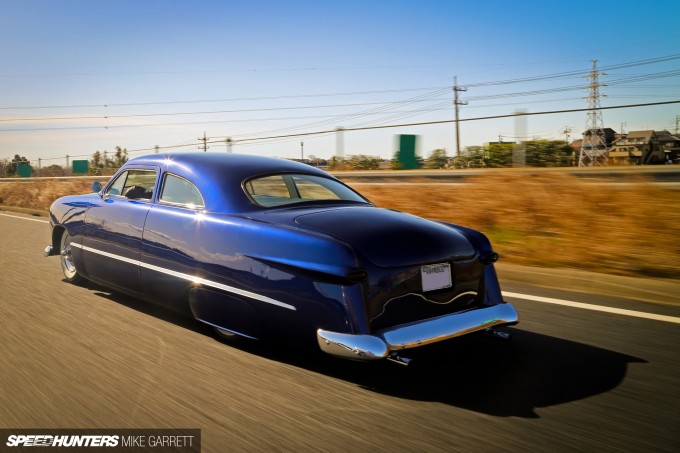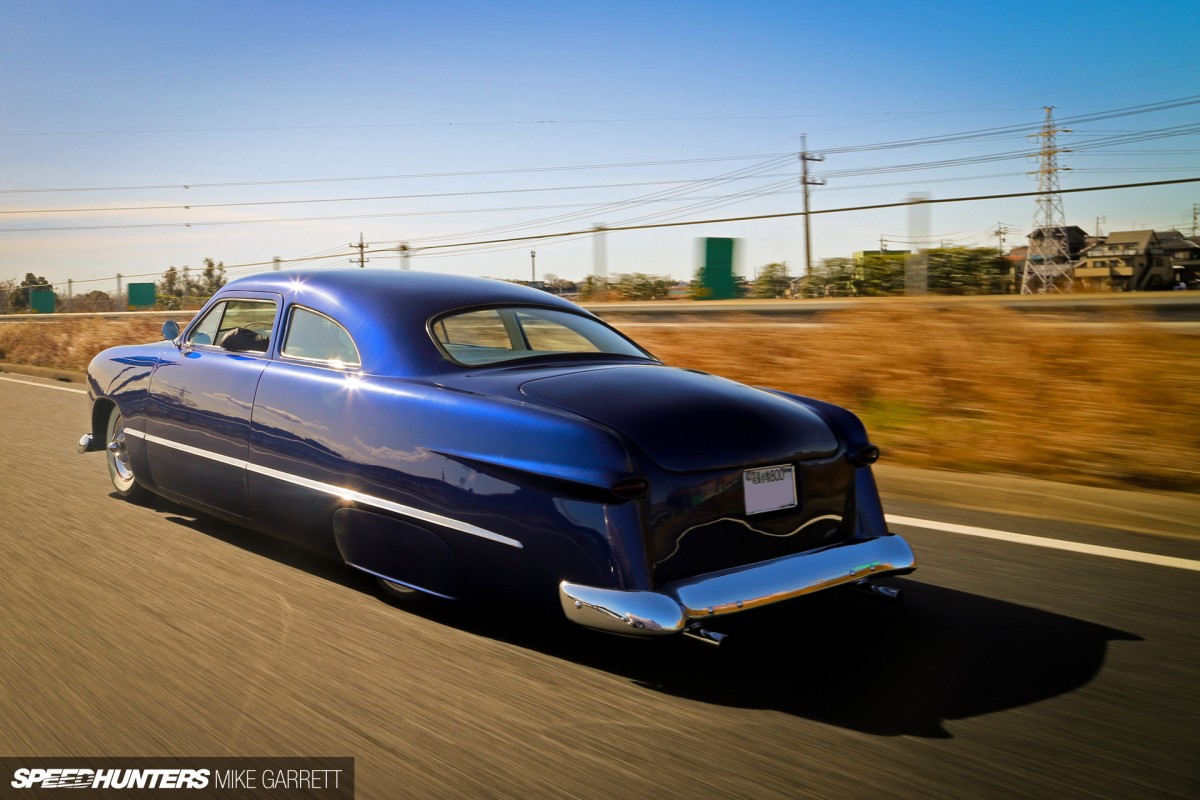 Here's another one of those scenes that you could almost pass off as being in California somewhere. The only things different are the Japanese number plate and the minor fact that we'd be on the wrong side of the road if this was actually California…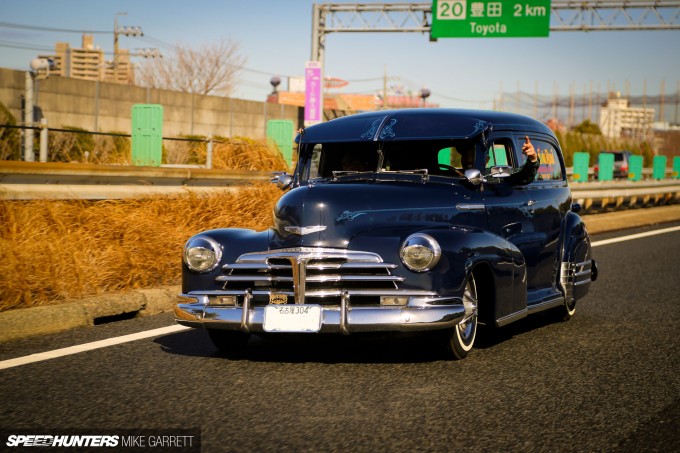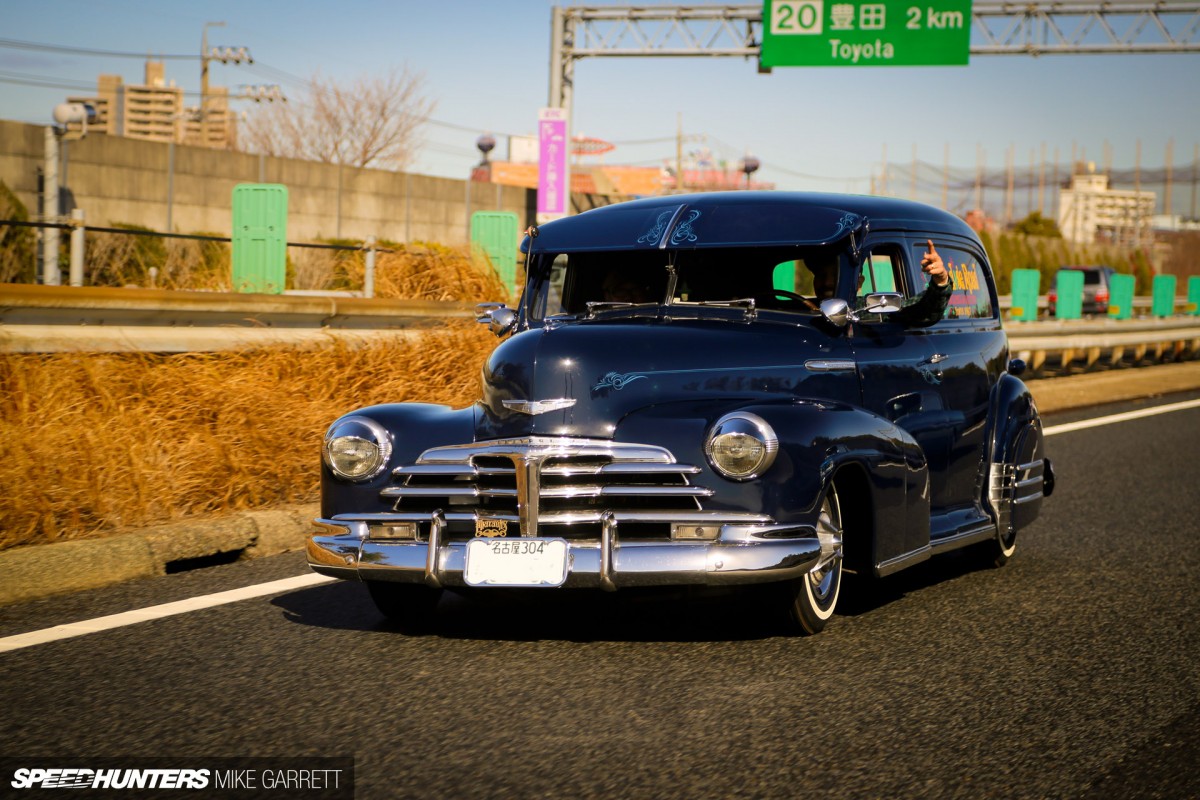 There's Junichi Shimodaira of Paradise Road, perhaps Japan's most famous custom shop. Junichi has a number of cars he could have brought out, but this day he was rolling in the shop's Chevy panel wagon. Cool!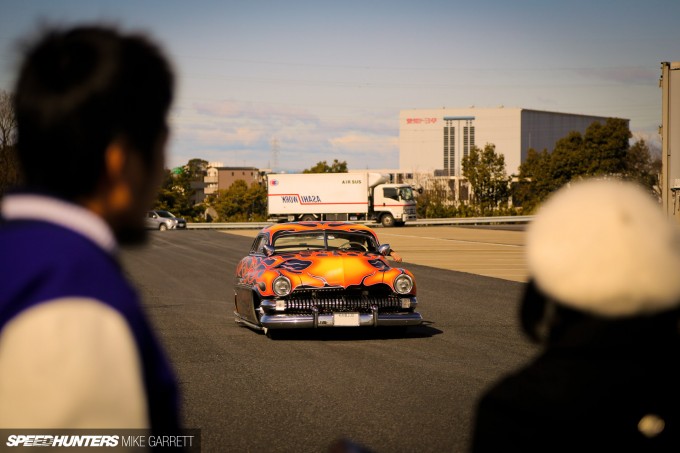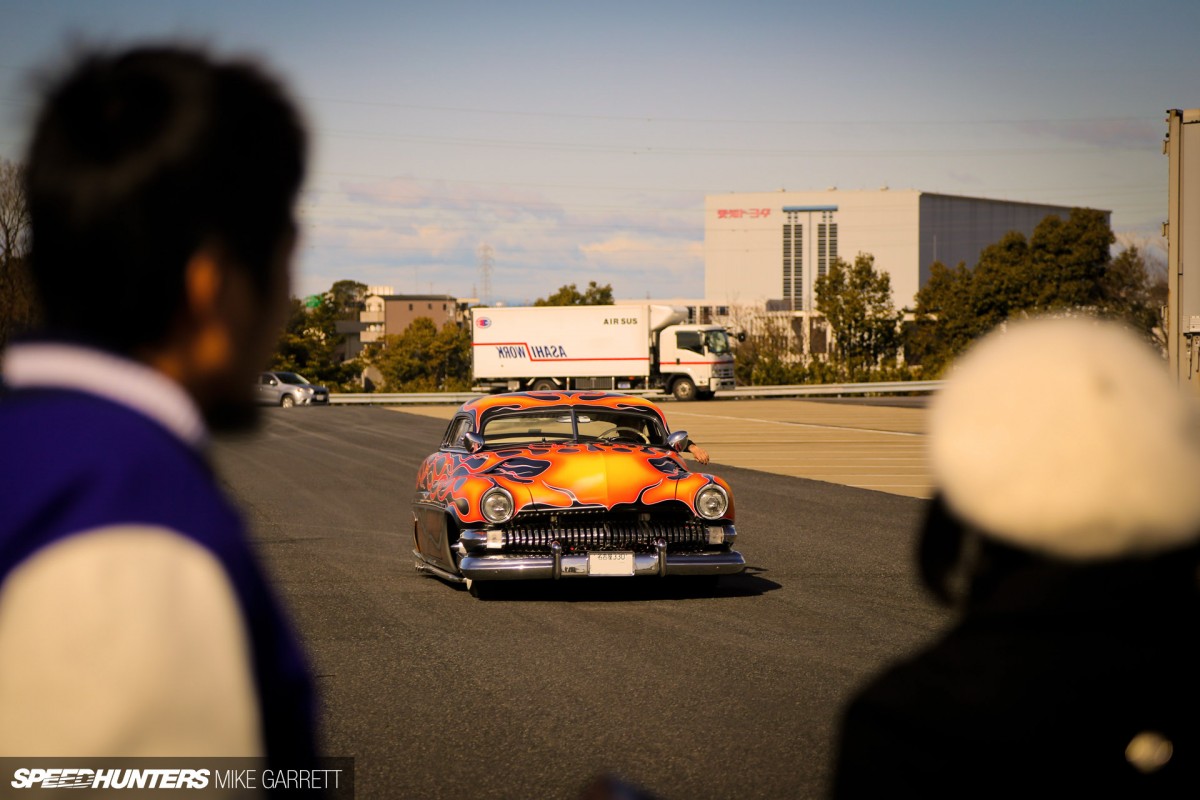 The destination for our little highway adventure would be Kamigo Service Area and when the group arrived, we found many other custom machines that had come out to meet us. Word of these things spreads fast in Japan!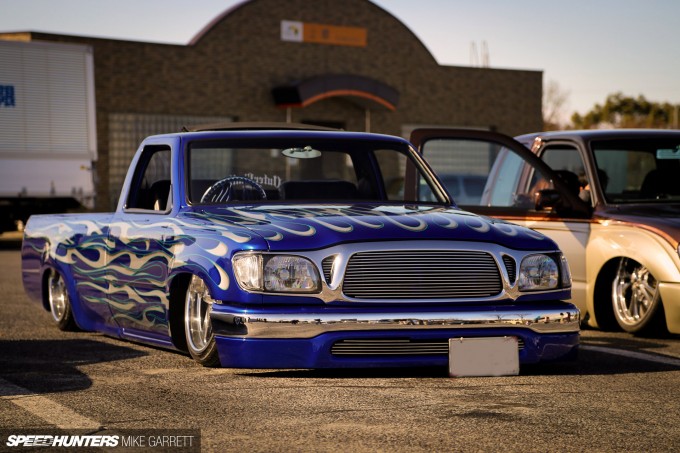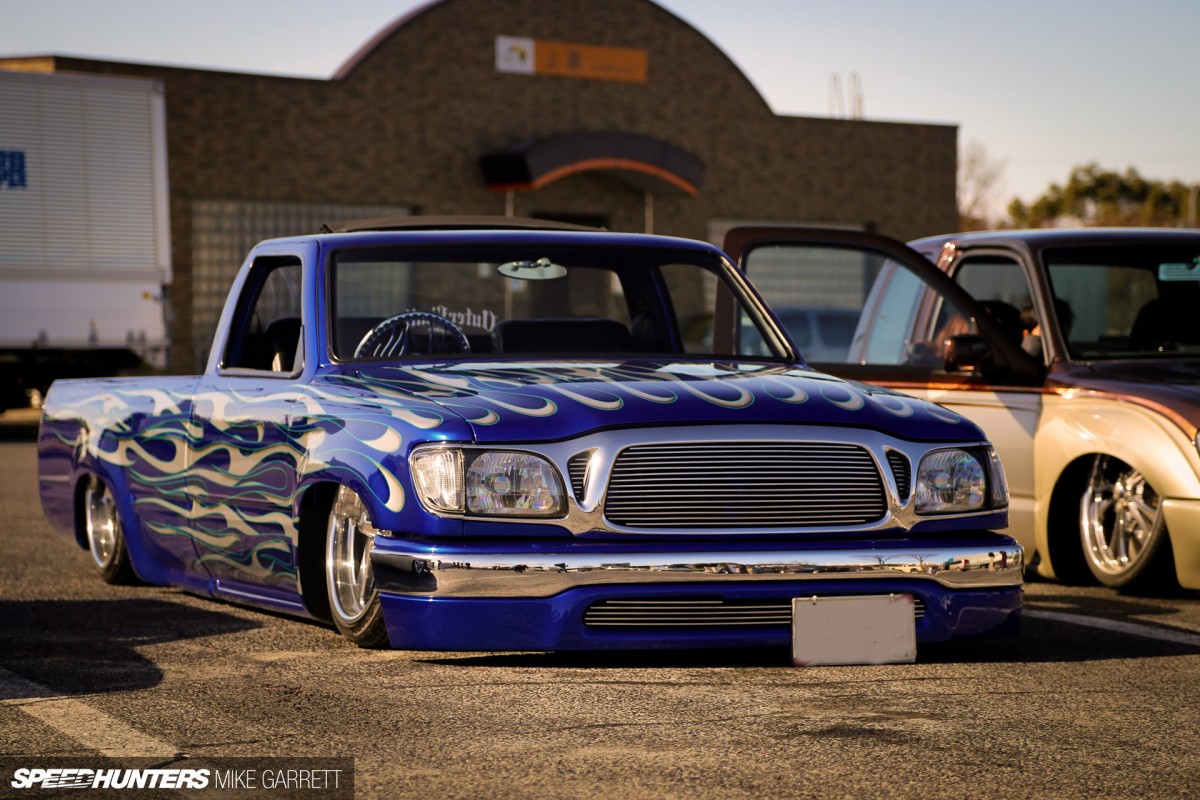 Among the vehicles that had already assembled was a nice little contingent of custom minitrucks from the Outer Limits club. I'm no expert on these pickups, but these Toyotas were nice enough to make anyone a fan.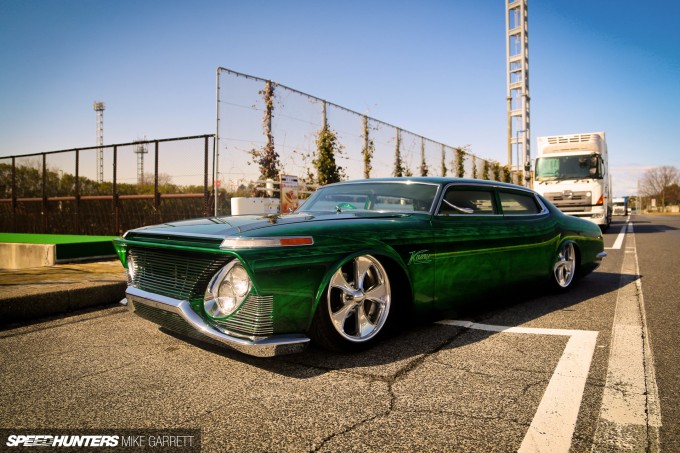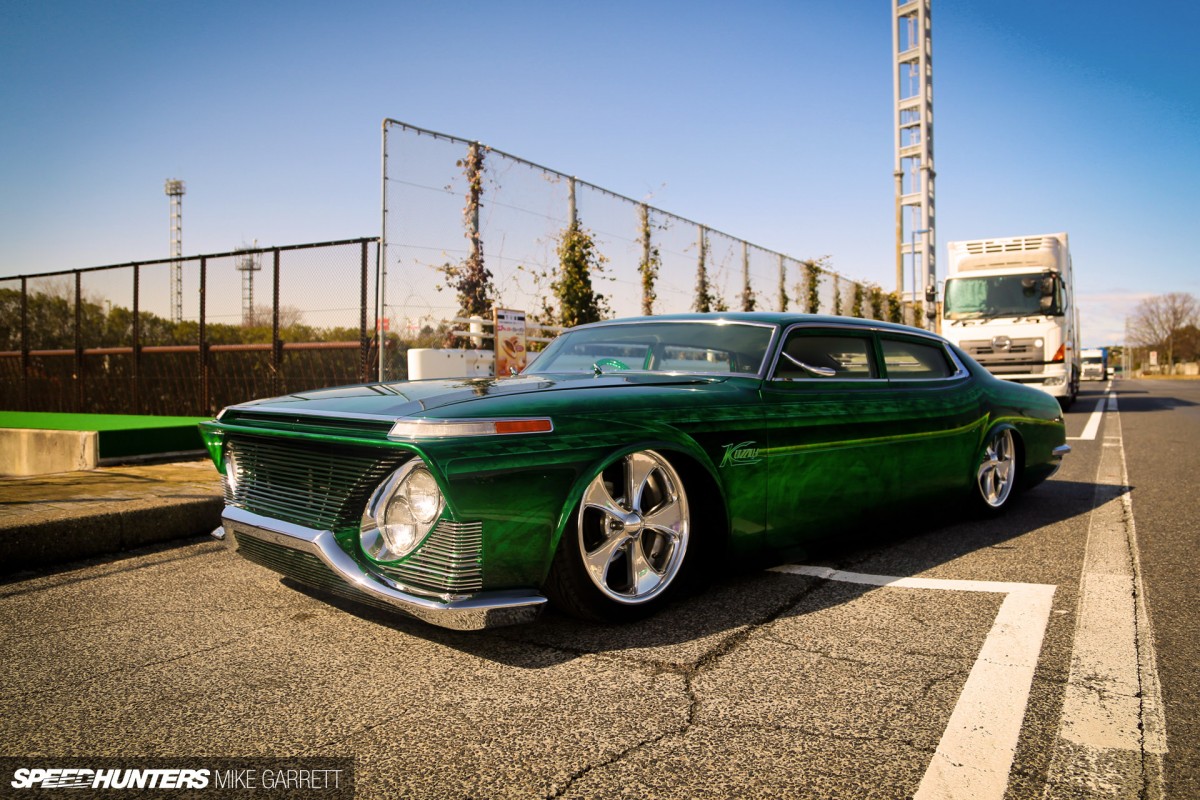 If you want to dive into in the custom lifestyle, there's no rule that says you have to do so with an American car. This heavily chopped kujira Toyota Crown blew my mind when I first saw it at the Yokohama Hot Rod Custom Show back in 2008, and it's just as crazy today.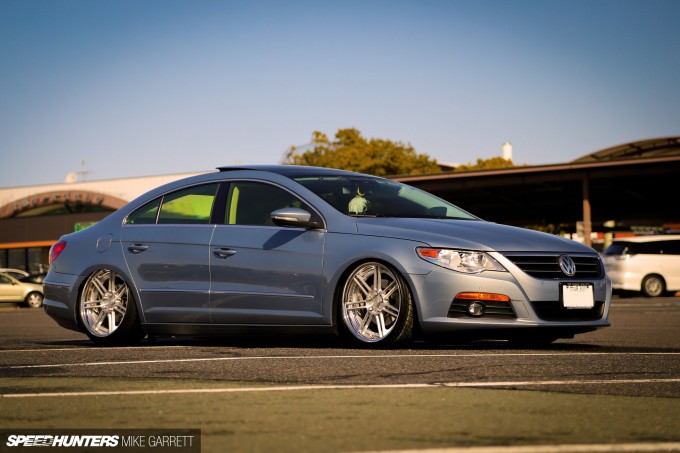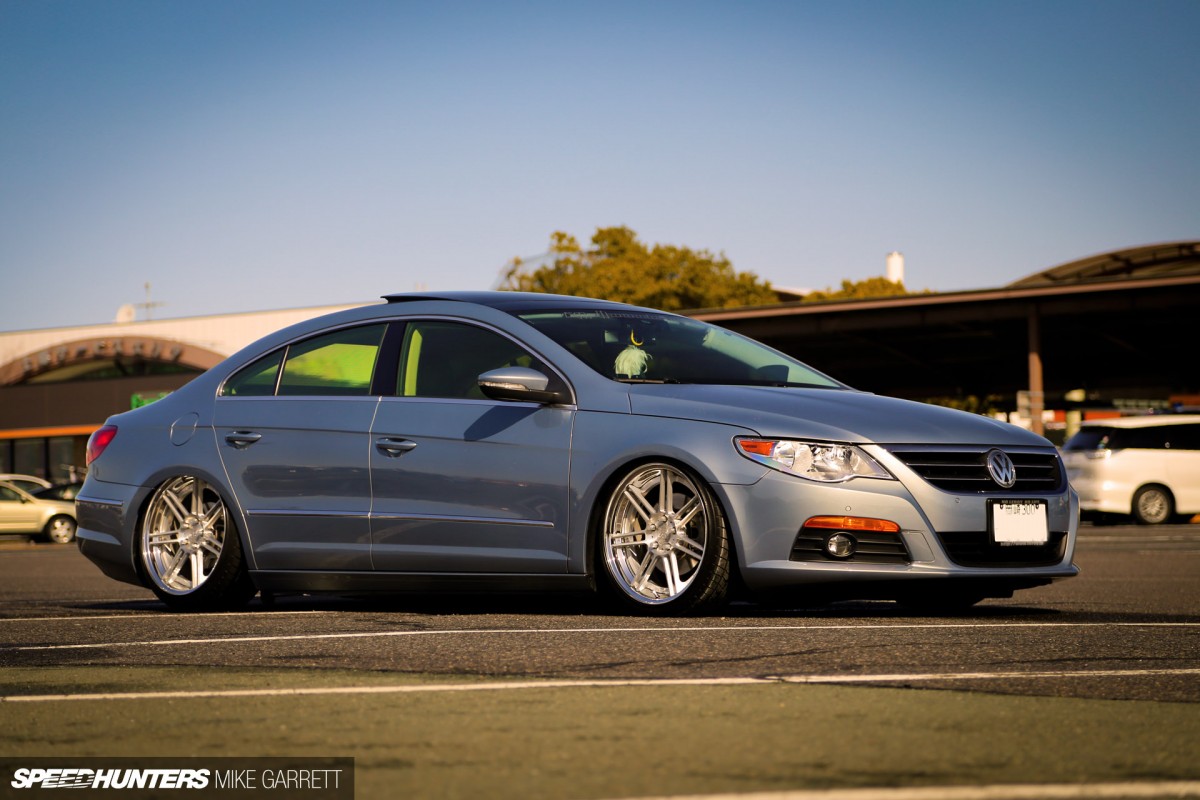 Here's something a little different: a left-hand drive, US market Volkswagen CC which serves as a demo car for a local audio shop called Leroy. A US market German sedan in Japan? Does it get any more international?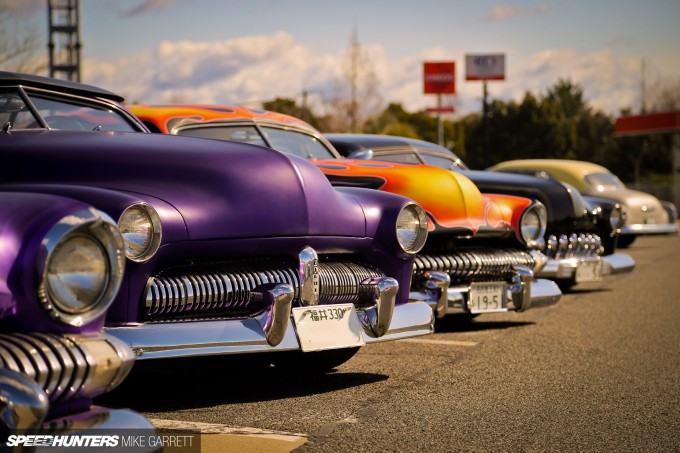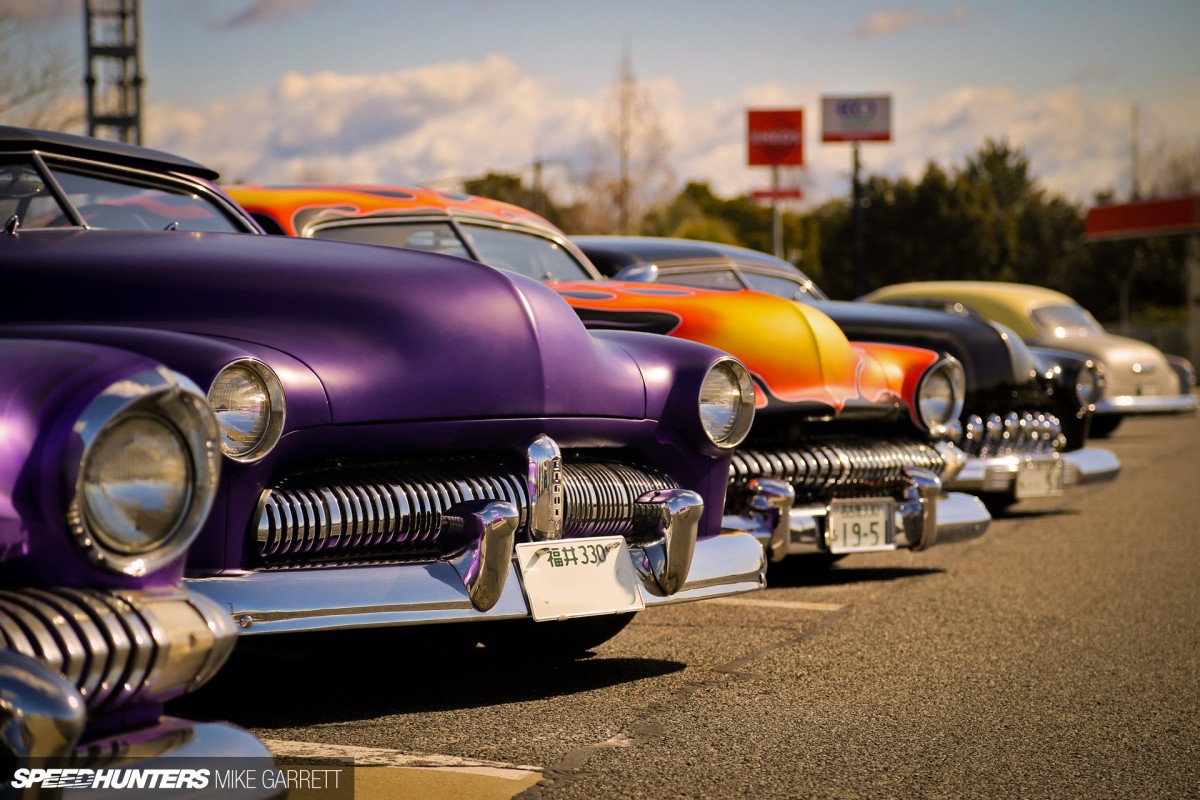 And just a stone's throw from the late model Volkswagen was this mouthwatering line-up from the aforementioned Japan Kustom Mercury Club. In this sense it was sort of like Cal Flavor on a slightly smaller scale.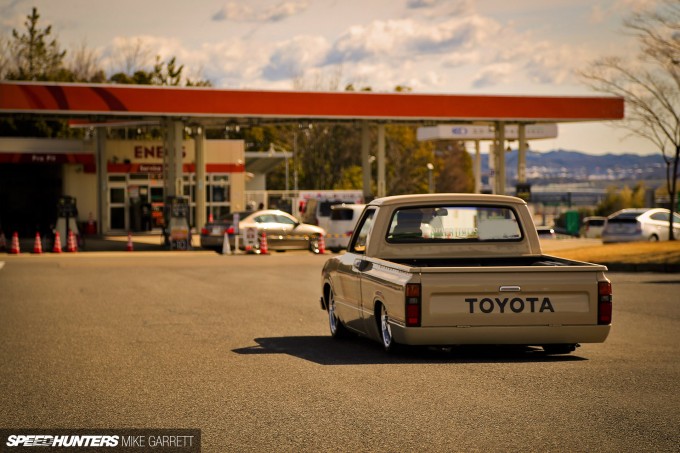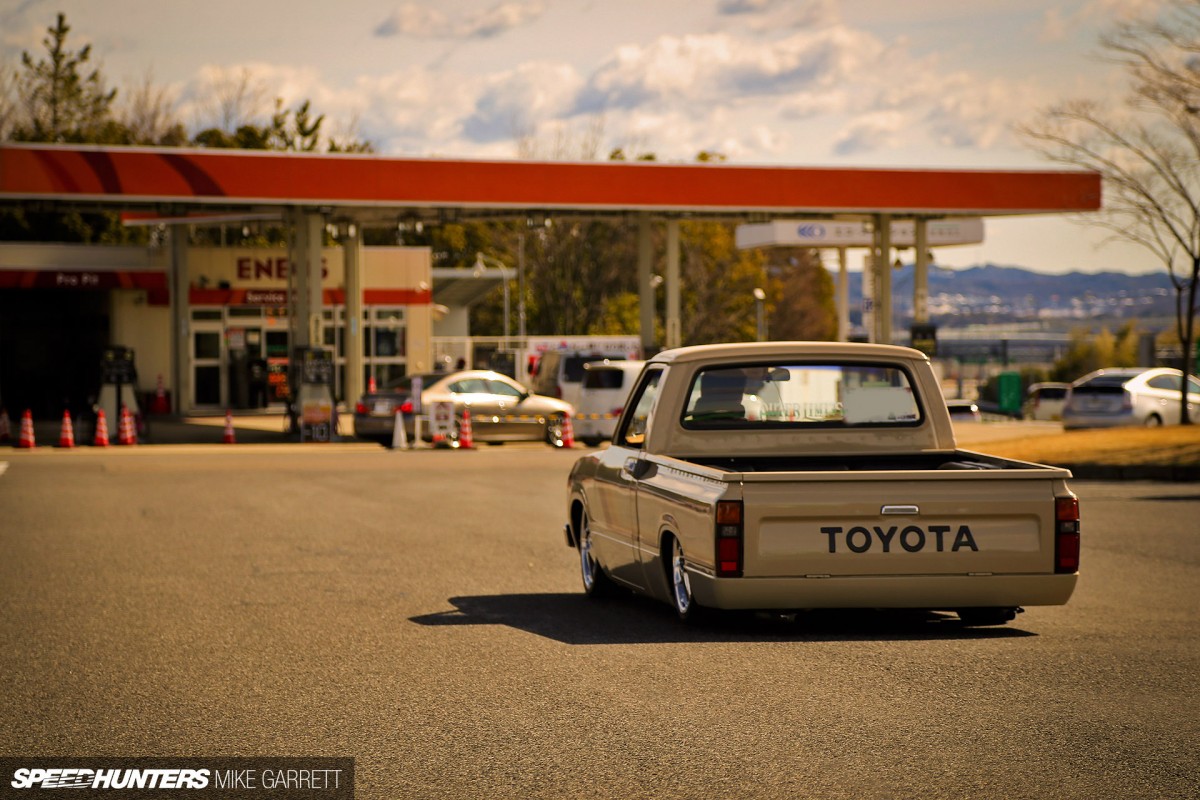 This informal Sunday morning gathering might not have been the biggest or most well-known event on my current Japanese expedition, but it's surely been one of the most memorable – all thanks to the friendliness and passion of Nagoya's famous custom car junkies.
A big thanks to Toshi-san from The Local Hero for helping to arrange this.
Mike Garrett
Instagram: speedhunters_mike
mike@speedhunters.com