Tough segment
For an industry that produces great hunks of lifeless metal, the automotive industry is full of battles. Wars between rivals brands and flagship models rage across the globe, garnering die-hard audiences on both sides as they fight over power figures and battle for popularity. Mustang vs Camaro, Ferrari vs Lamborghini, Evo vs Impreza: it seems sometimes war is good for something. But the sector the new Lexus IS finds itself in is hotly contested indeed…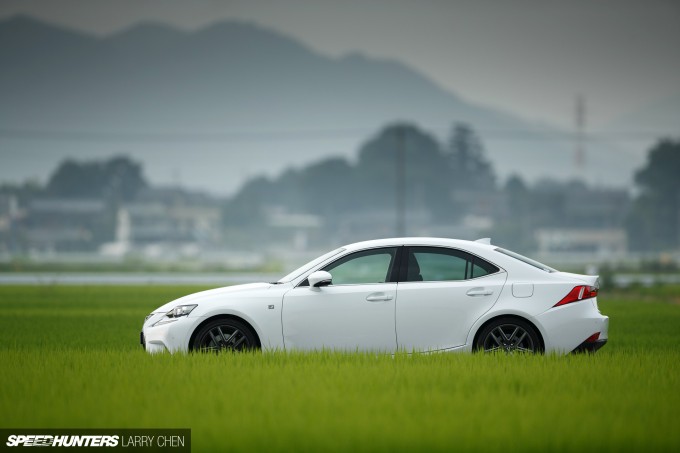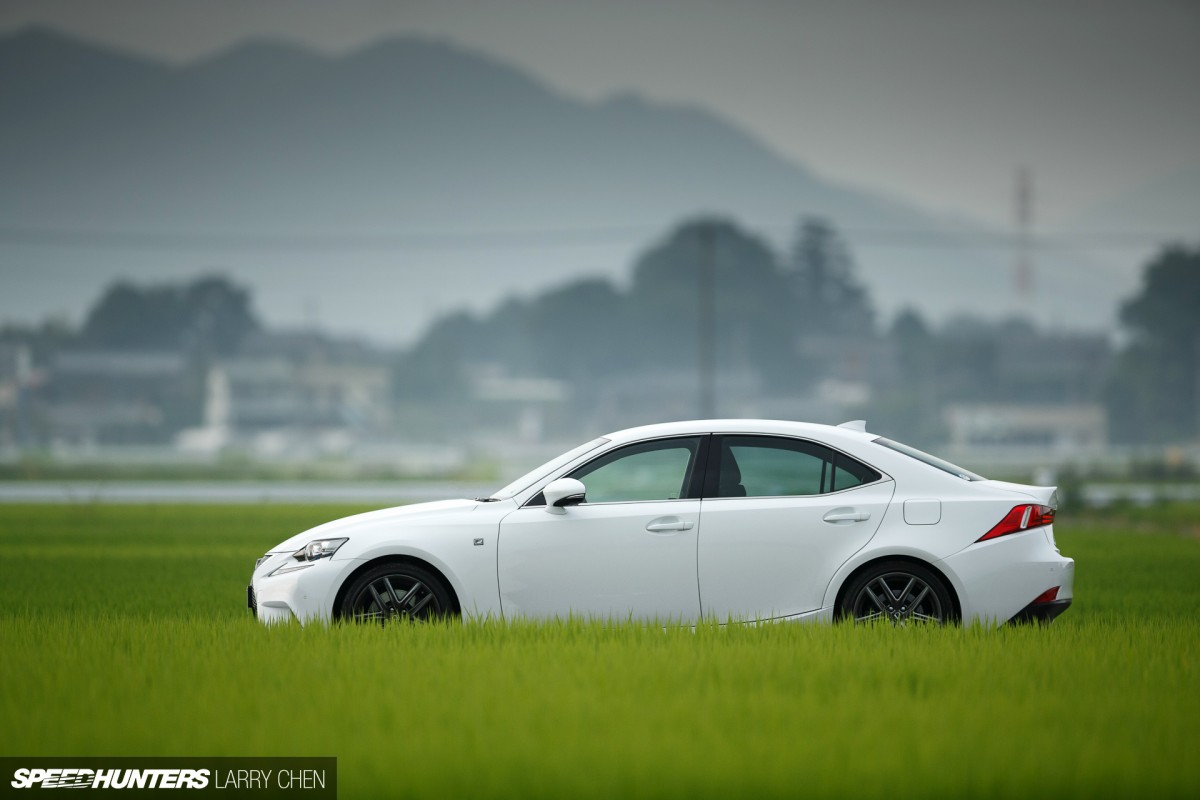 This is one I've been watching for quite a while; ever since the first time I drove the first generation IS350 and then the thoroughly yummy IS-F with that glorious Yamaha-fettled 5 liter V8, I have been patiently waiting to see how Lexus would tackle the rather difficult task of evolving their entry-level sedan. This is no joke – this is the most competitive segment for any manufacturer who dares play in BMW 3 Series territory, a car that has always ruled it. Audi and Mercedes have been getting good at it, but even they aren't there when it comes to taking the overall package into consideration.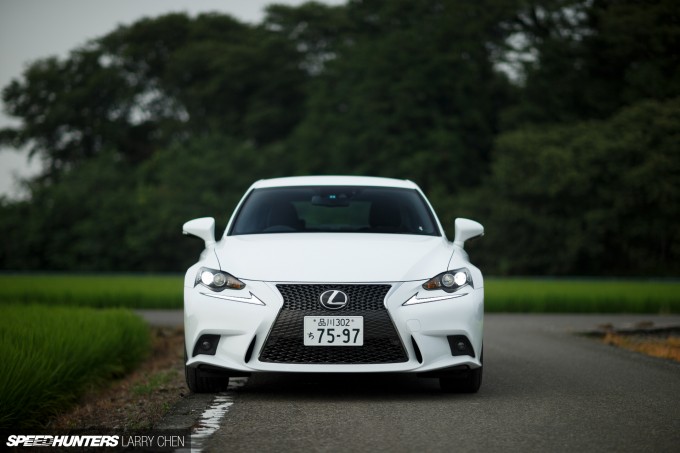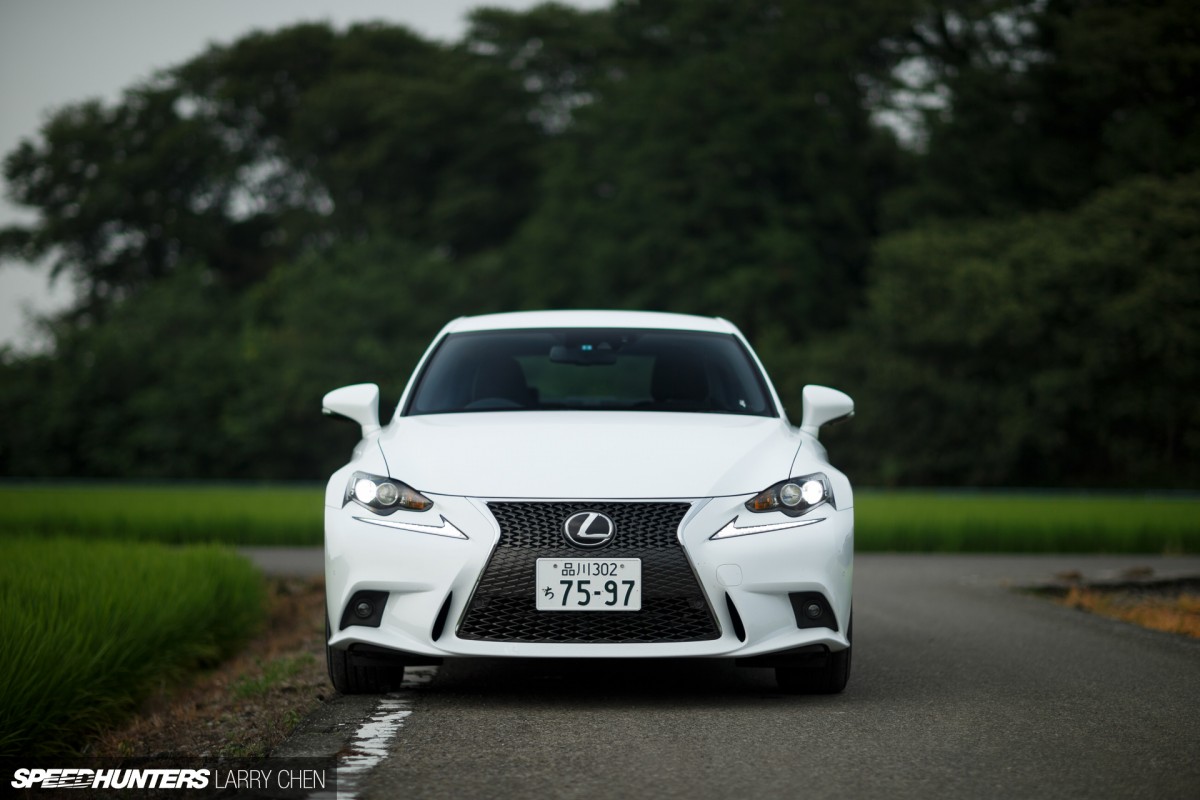 So how did Lexus tackle things this time round? If you remember, ever since the new GS that I drove two years ago, Lexus has been trying hard at doing two things: the first is making their cars better and more fun to drive, the second is to create an instantly recognizable design language.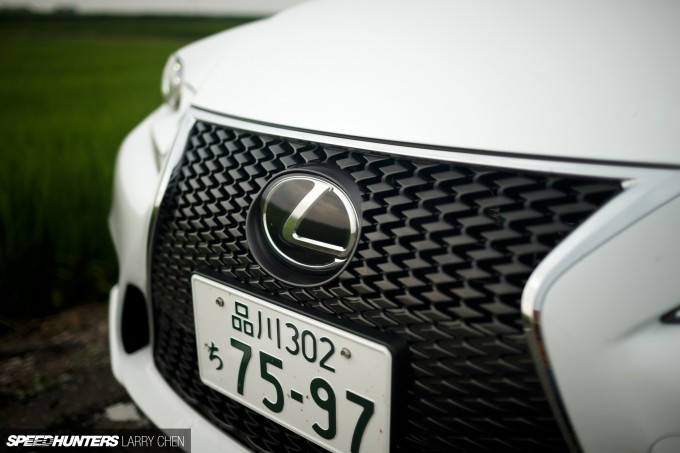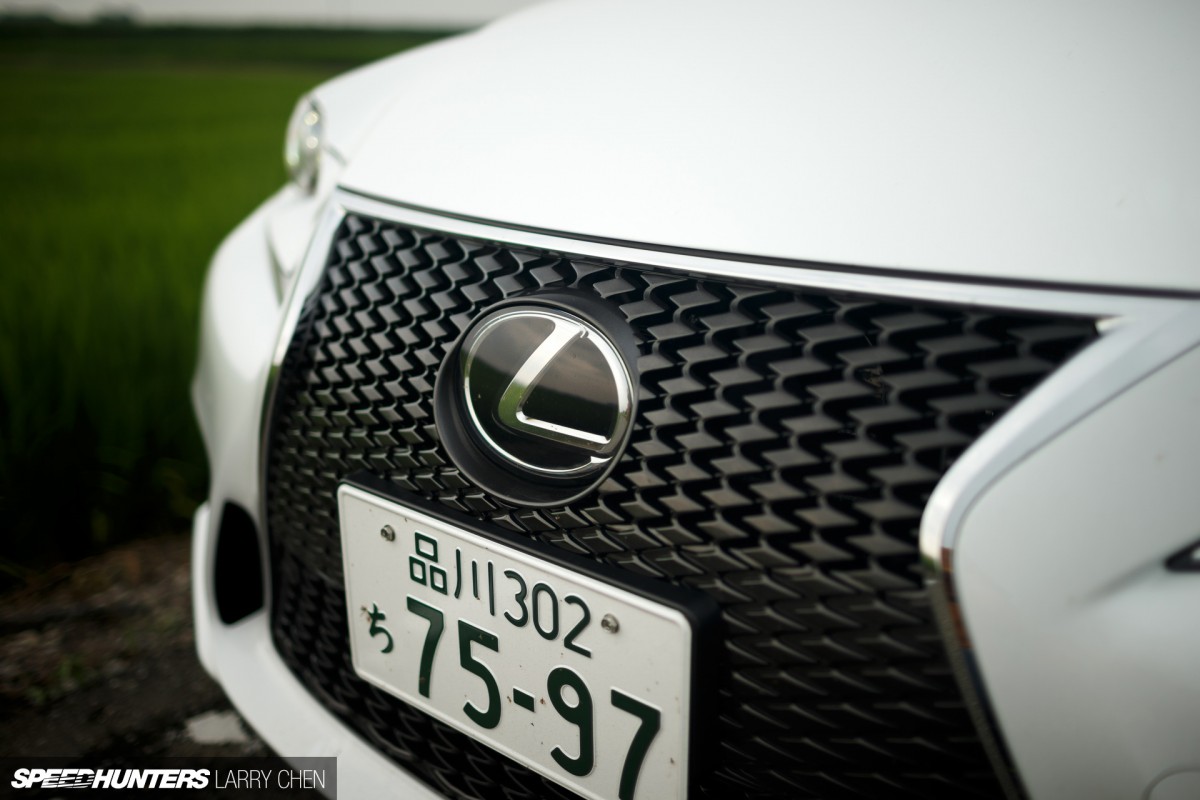 The spindle grille was the first move and now with the IS, they're showing no restraint when it comes to making bold statements.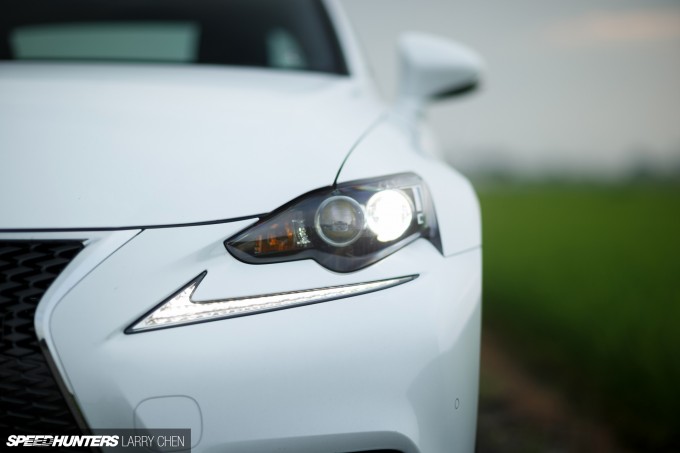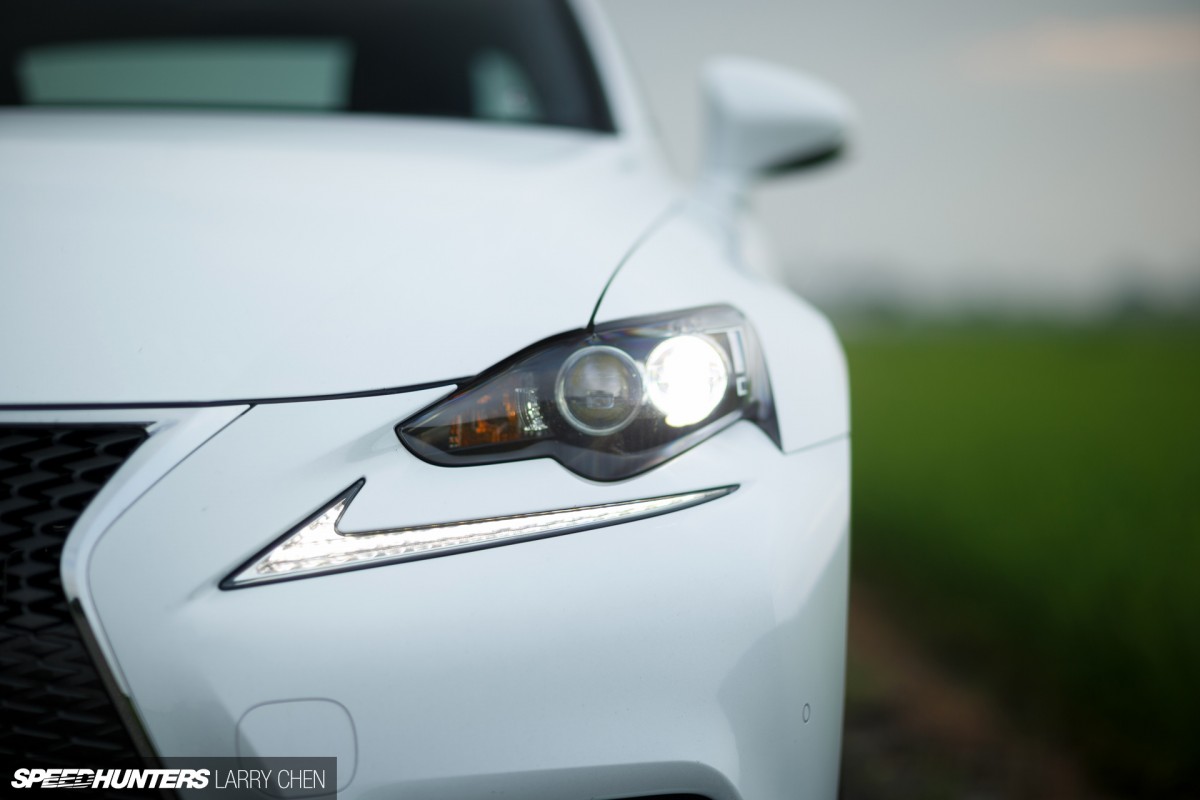 While it may or may not be liked by everyone, I tip my hat to the Lexus team as they're showing balls among Japanese car makers, which at best can be described as being overly conservative, and most of the time plain boring and lacking imagination.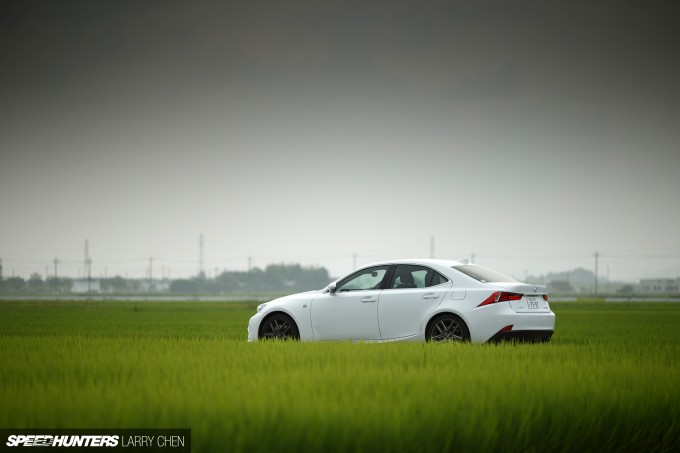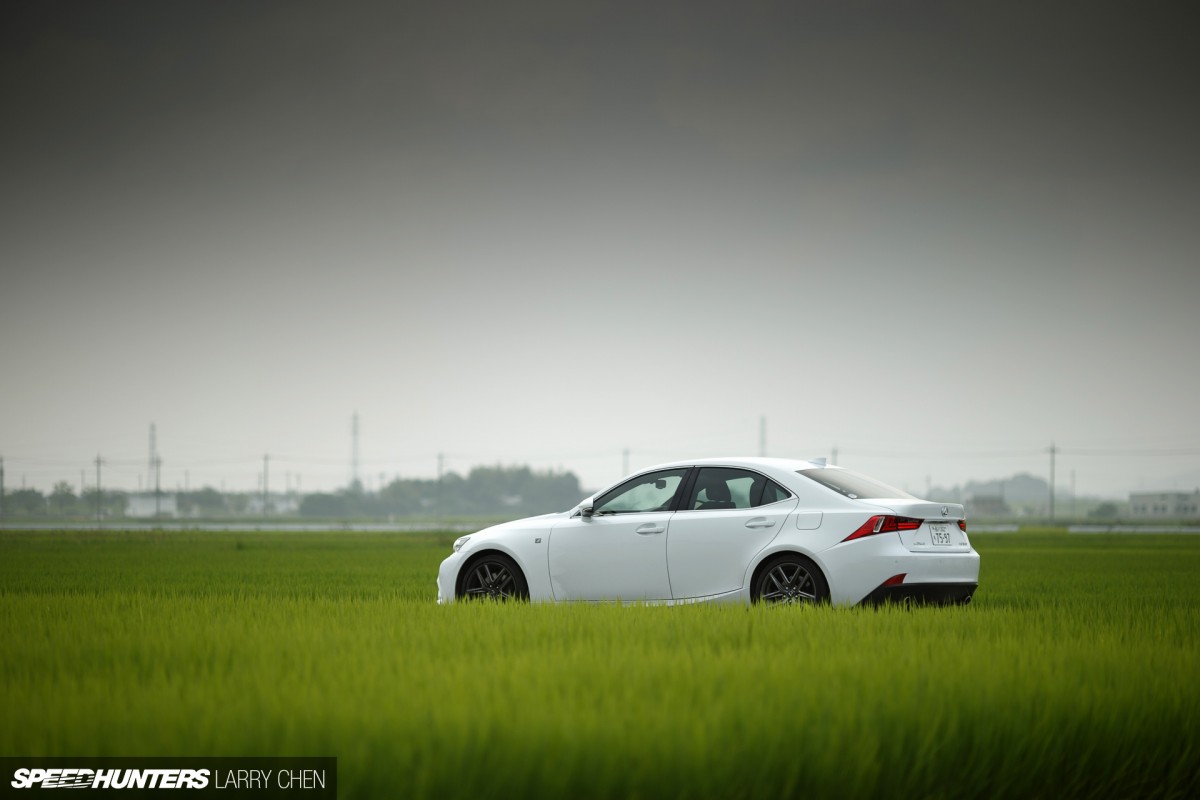 I'm not being excessively critical, trust me, it's just that after witnessing the crazy and wacky cars that they used to come up with in the eighties and nineties, it pains me to see Japanese streets filled with minivans and crossovers of every conceivable size and shape.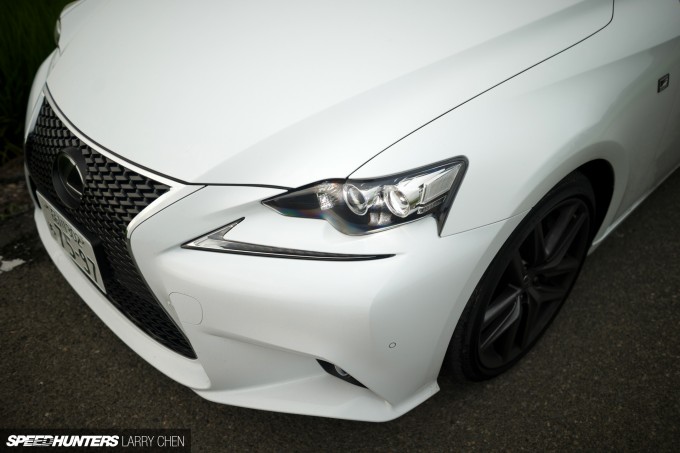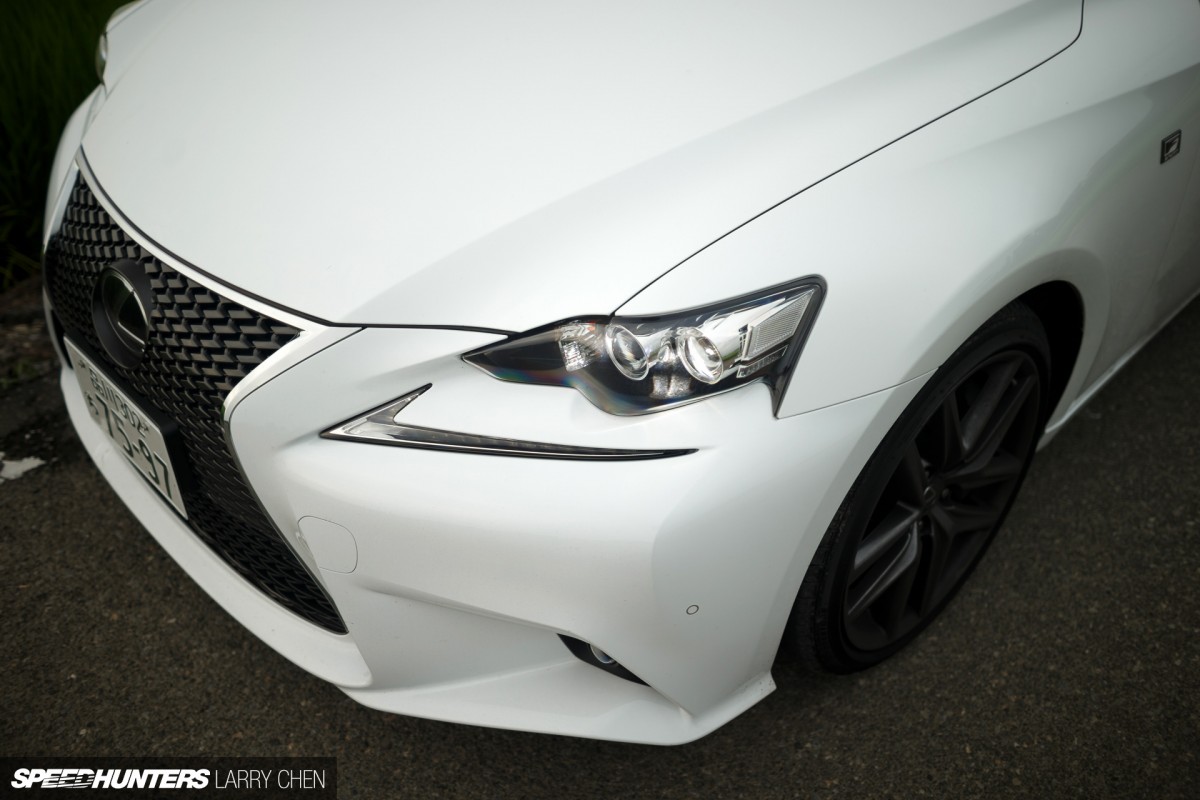 Toyota on the other hand have done a very good job of turning their boring image around and reinventing themselves. Just look at the crazy concept cars like the FT-1 they have been unleashing as of late, not to mention the close-to-production-ready RC-F. All very good stuff. That newfound edginess in Lexus design is especially evident in the IS's front, with those small but piercing twin projector headlights and that Nike-like LED swoosh, not to mention the two nostrils on either side of the exaggerated spindle grill. It's a very organic design and it definitely makes the IS instantly recognizable from afar. Job done then!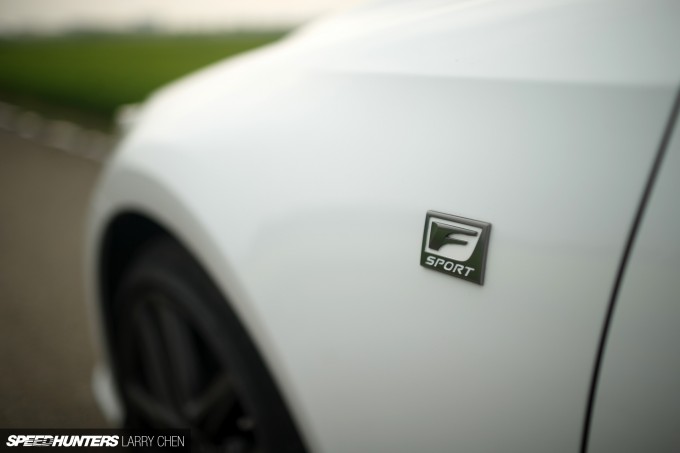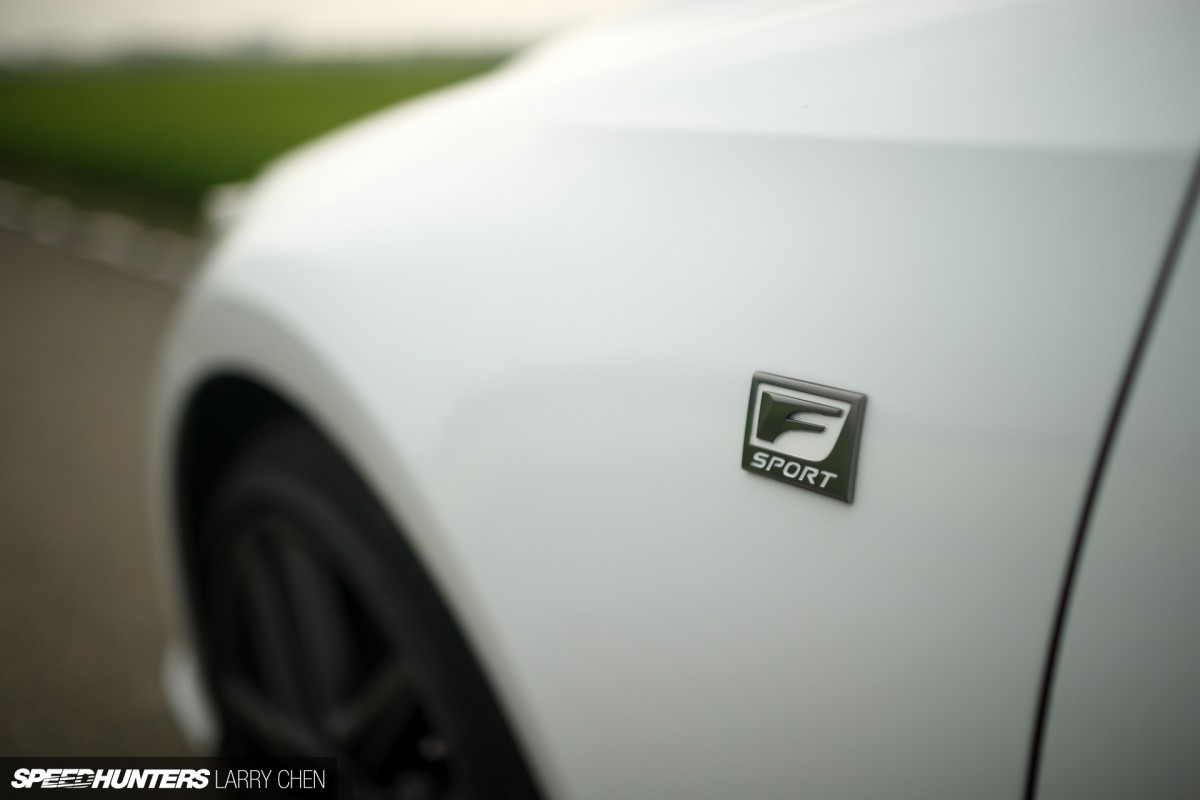 Since I was going to spend a week with the IS, I thought I should opt for the F-Sport version as I wanted some edginess. I know Lexus does comfort rather well but come on, I doubt you come here to Speedhunters to find drives of comfortable cars?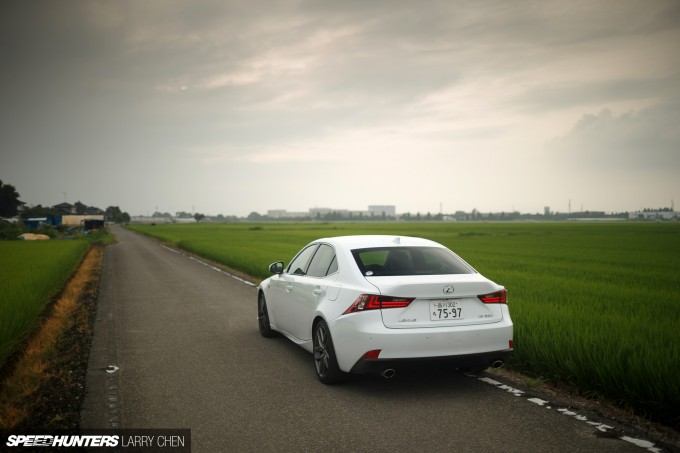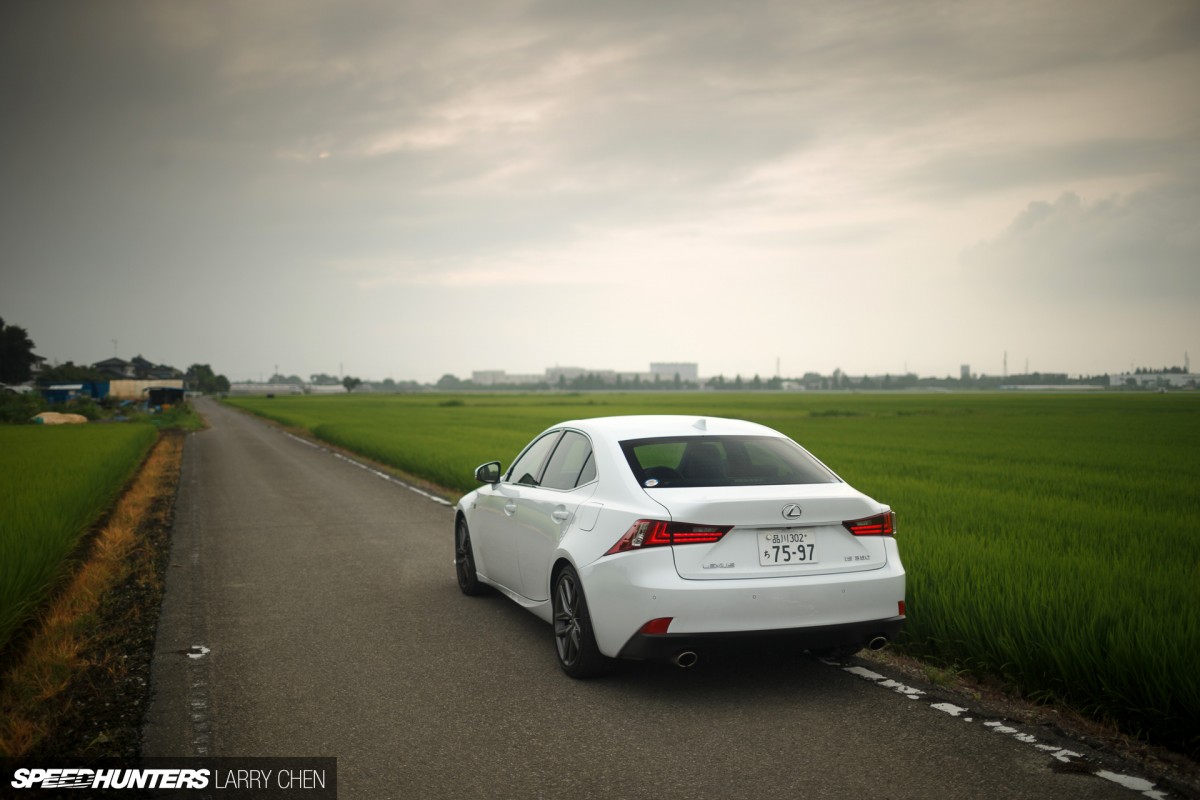 The F-Sport package includes the more aggressive bumpers with said nostrils, as well as lower and stiffer suspension, a sports-tuned transmission as well as Lexus' Dynamic Handling System with rear-wheel steering. That last bit is funny: I recall in the nineties many automotive journalists complaining that the Skyline GT-R was a car for the Playstation generation, as it had too many electronic gadgets like HICAS (rear steer). Now Porsche has something similar on the 991 GT3. Just saying…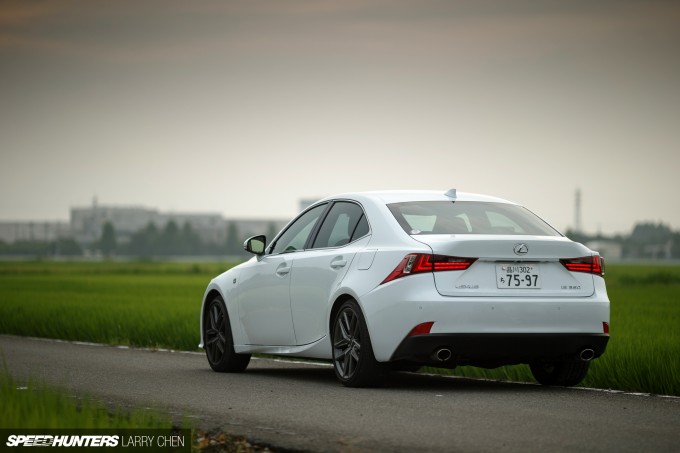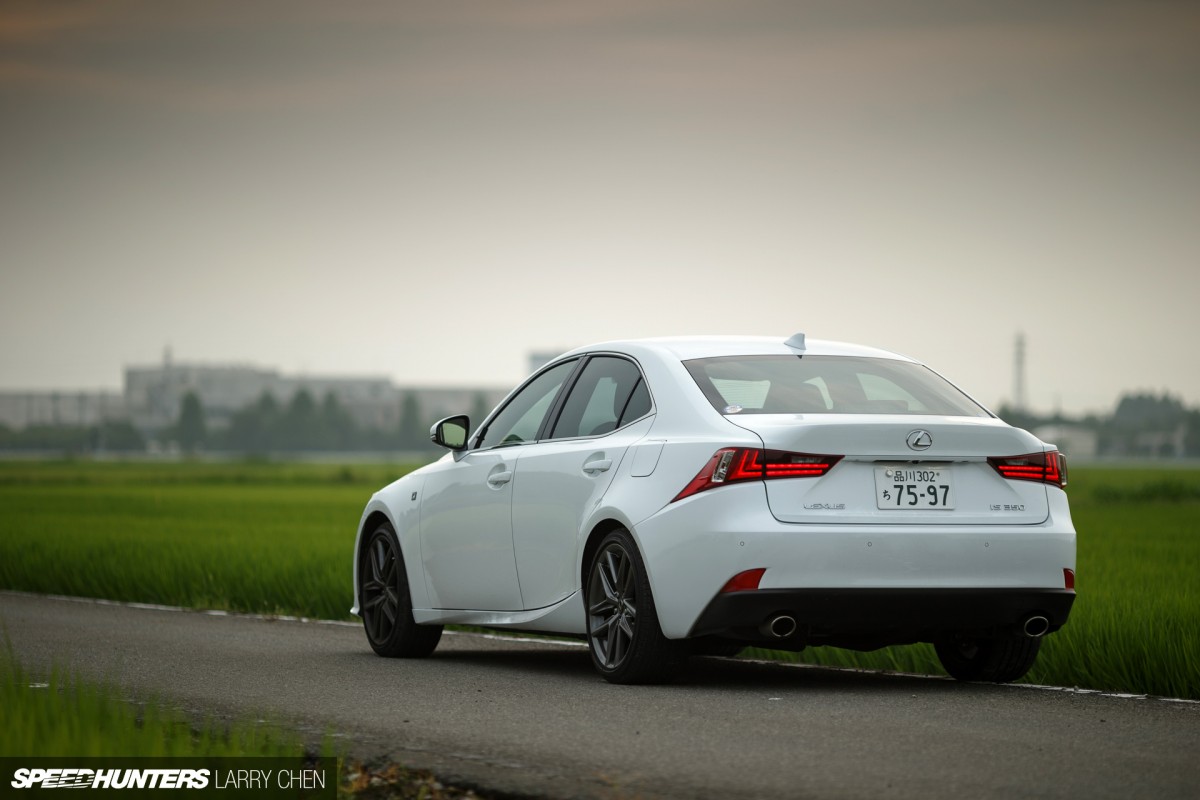 The rear end is probably even more controversially styled than the front, with those pointy tail lights that stretch and wrap around the sides.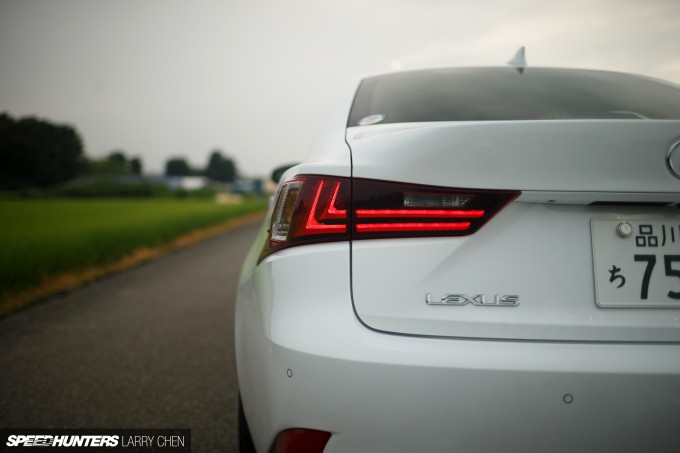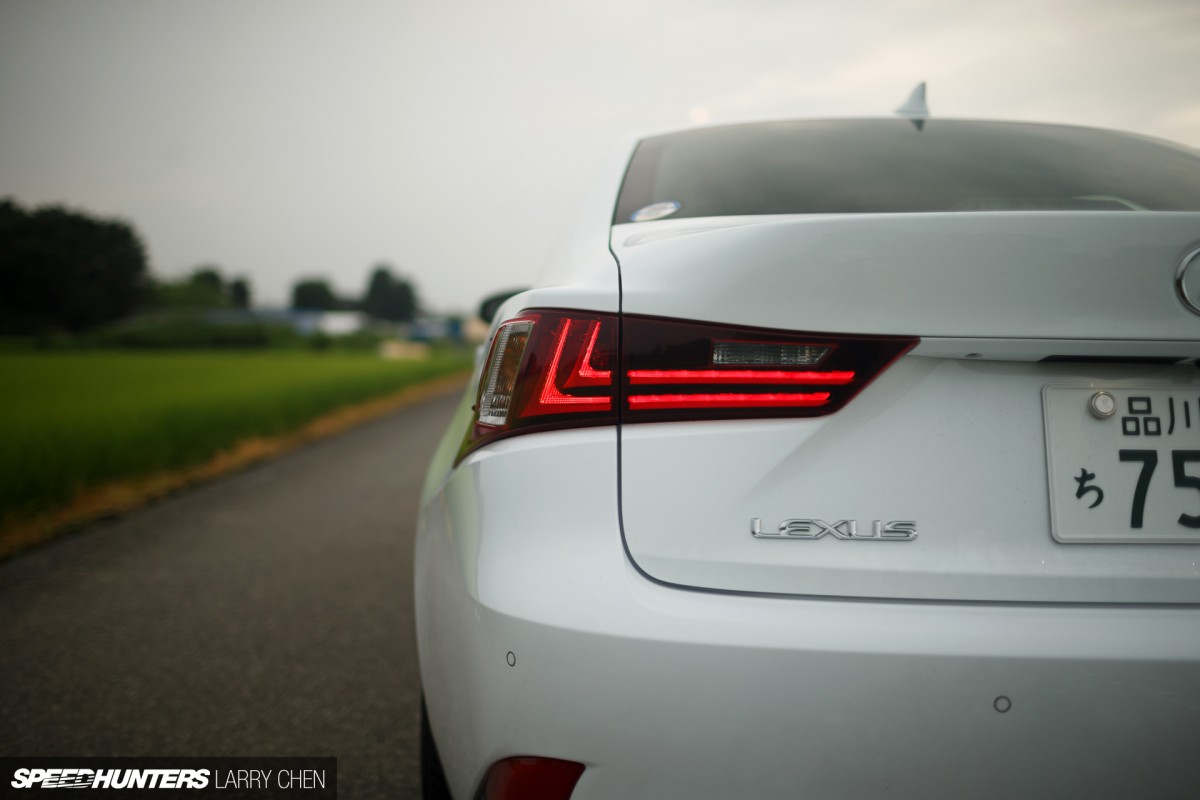 It looks unlike anything out on the street and that's a good thing, because among the homogeneous design mish-mash that makes up the majority of everyday regular sort of cars, it's refreshing to see a touch of individuality.
The drive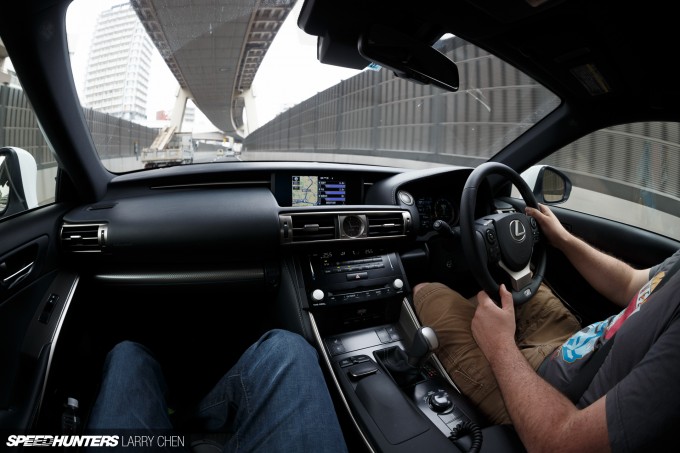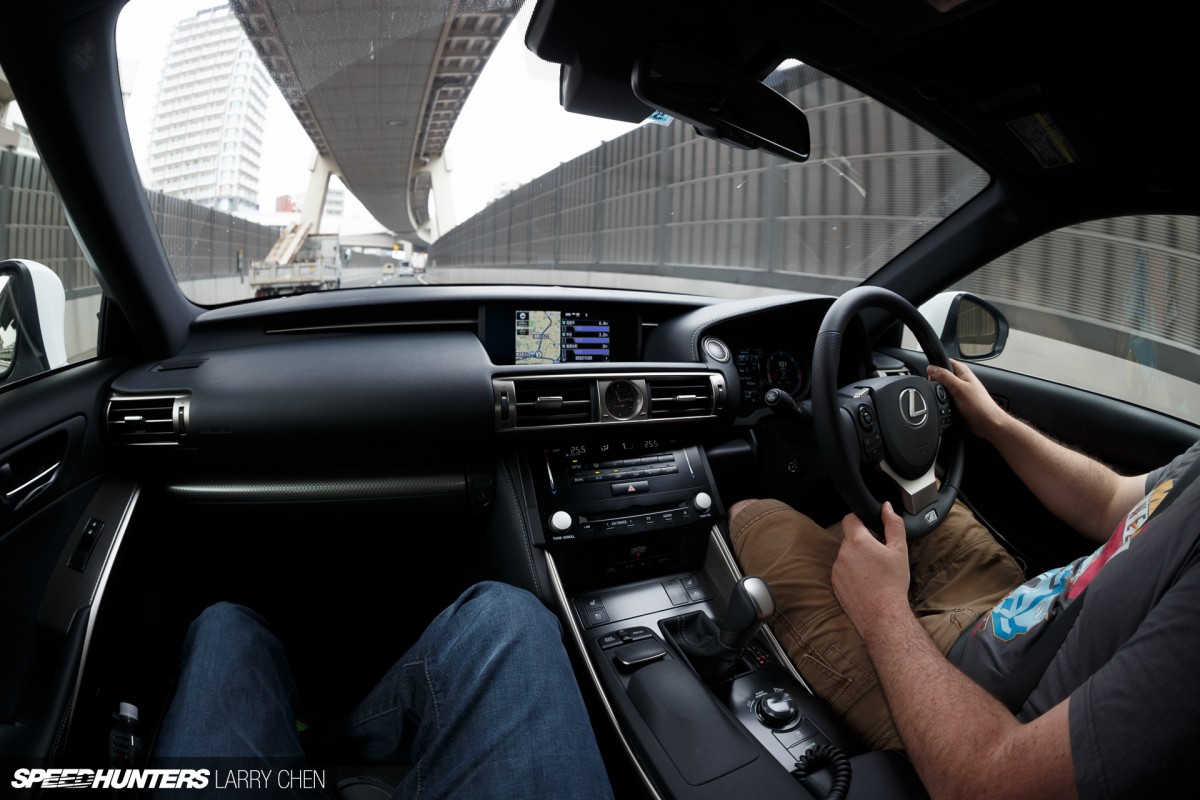 After picking up the car from Lexus, my first port of call was to be Nagoya, a quick stop by the Liberty Walk shop before heading to Rocky Auto to check out a rather special collection of semi-abandoned cars.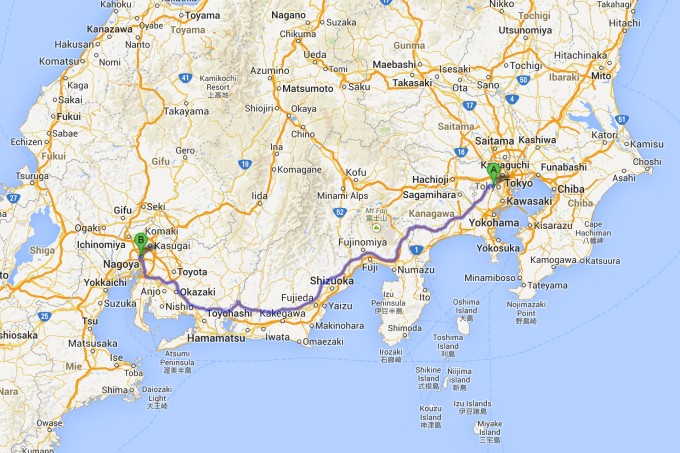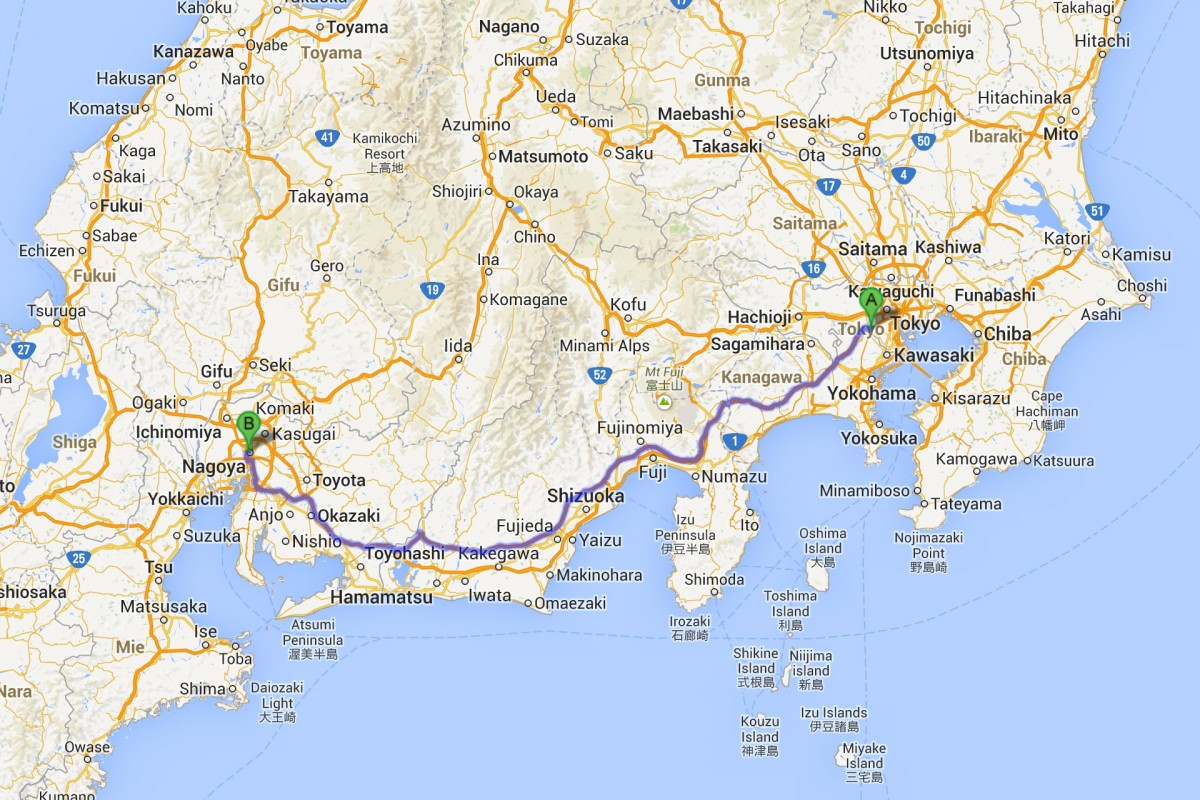 The IS turned the 200-mile-or-so drive into a pleasant experience, as it wafted effortlessly down the Shin Tomei expressway, keeping me fully entertained through that optional and very impressive Mark Levinson audio system. The eight-speed transmission was a joy to use in both automatic or when in its manual setting, shifting up and down using the steering wheel mounted paddles. It's not dual-clutch fast, but it's fast enough on a car of this nature and matched the silky smooth V6's character rather well. With so many good things to say about this car, I have to admit I did feel a little short changed when it came to the engine. Don't get me wrong, the 2GR is a good unit, but among the crop of turbocharged motors from German manufacturers, it feels almost outdated, not having quite the punchy, low-rpm torque force-induced engines have these days. Plus, considering they put so much work in making the new IS feel so much tighter, so much more focused, running a slightly reworked version of the same engine from the older generation of the car, well it just feels like a bit of an oversight. Despite this, the extra 10hp or so that it now has does give the IS good acceleration out of corners and awesome overtaking ability, once you downshifted three or four gears (it sounds so strange saying stuff like this. What's next, a nine-speed transmission? Oh wait, they've done that already!). I also had a chance to put the handling to the test through some nice mountain roads in Shizuoka, where I found a very neutral handling set-up with tons of grip and idiot-proof stability control system that really lets you have fun. This is one chassis that can take a hell of a lot more power!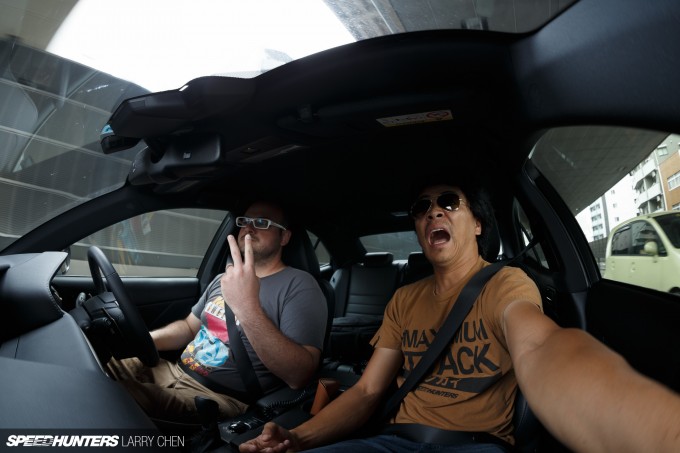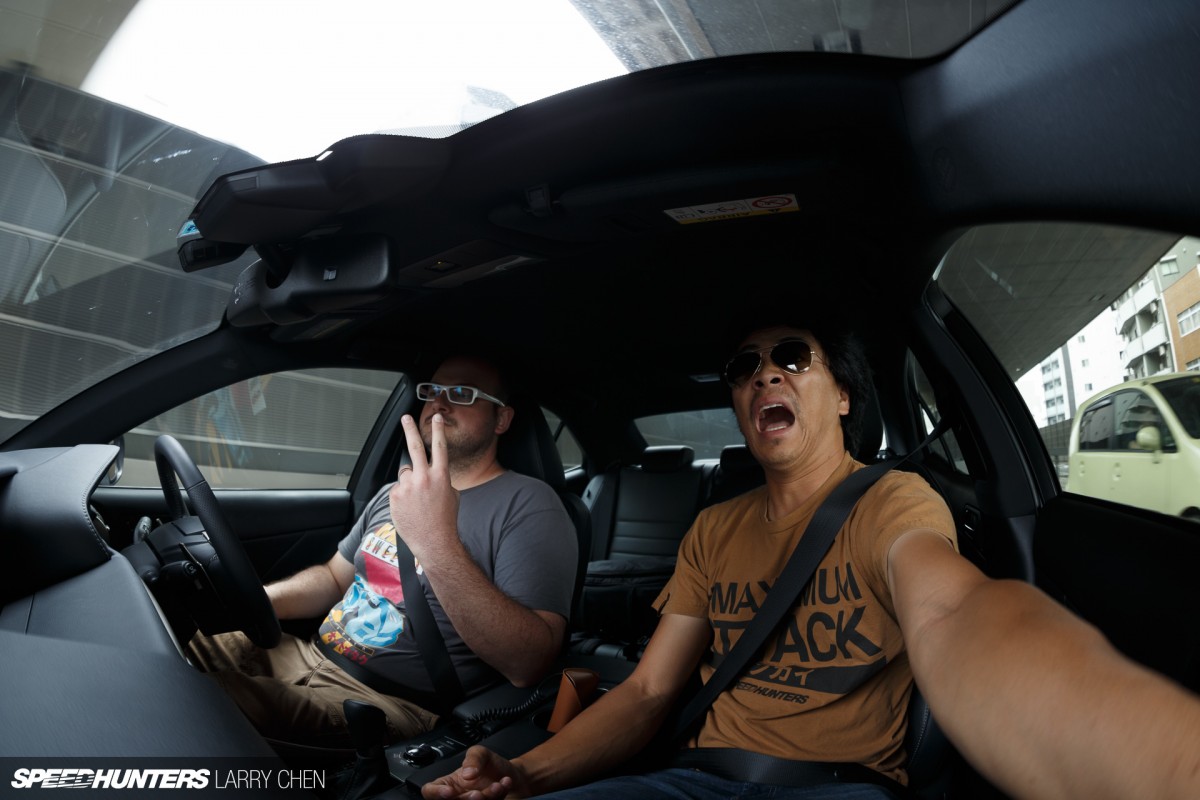 Upon my return back to Tokyo, I had no time to rest; I had an appointment with a certain Larry Chen who had flown over to Japan to participate in the idlers 12h endurance race and while over, join me in featuring a bunch of cool cars.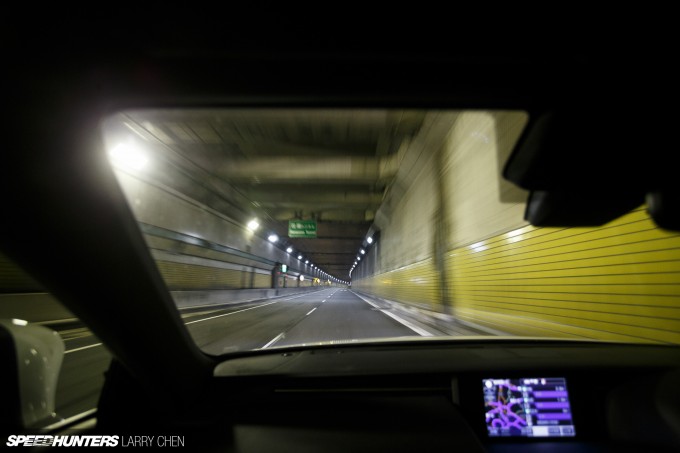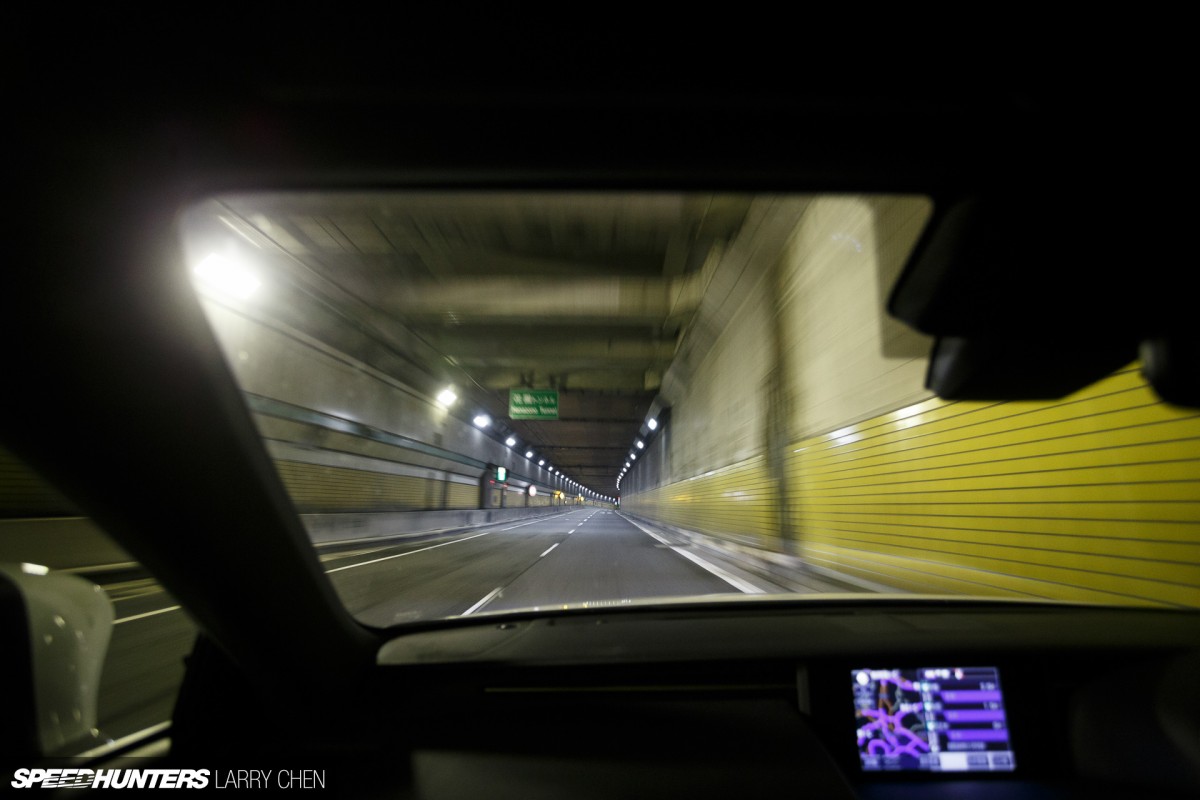 After picking him up at his hotel, we filled up the IS's trunk with Larry's gear and pointed the spindle grille towards Yokohama, jumping on the Kanagawa-Shuto which would take us through the city and onto the Yokohama Bay Bridge.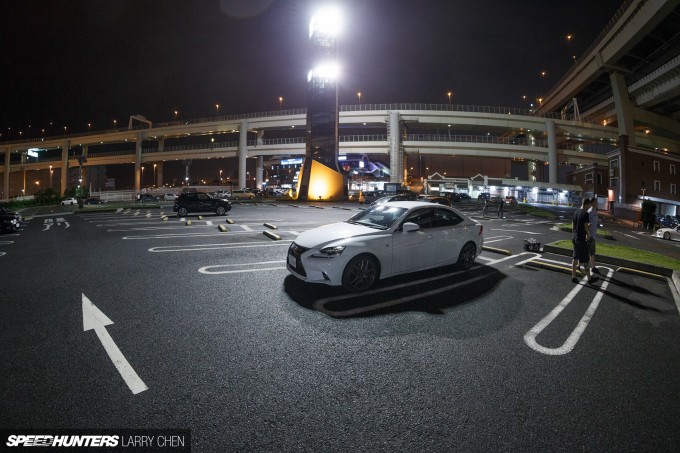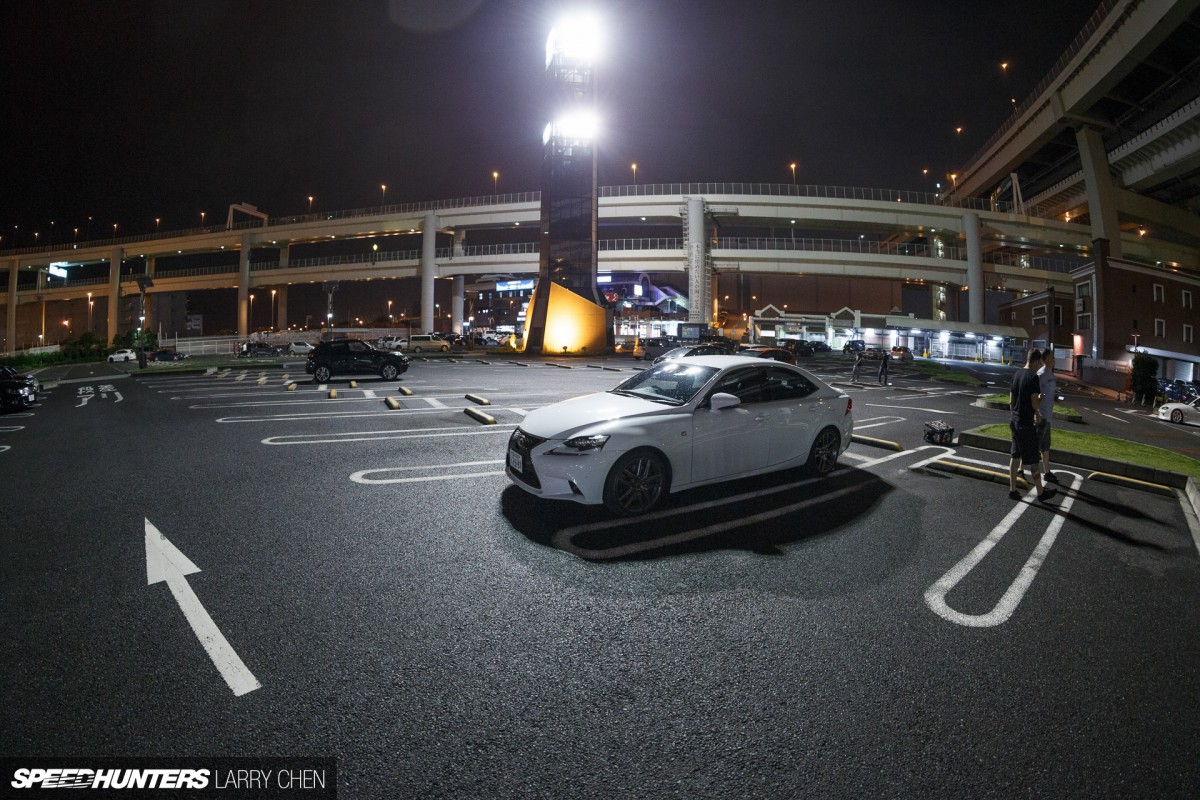 From there it was down the spiraling off-ramp that takes you back down to ground level and to the entrance of the Daikoku PA. There we met up with Rich from GarageSpec and his rather special and unique L28-powered Skyline R30.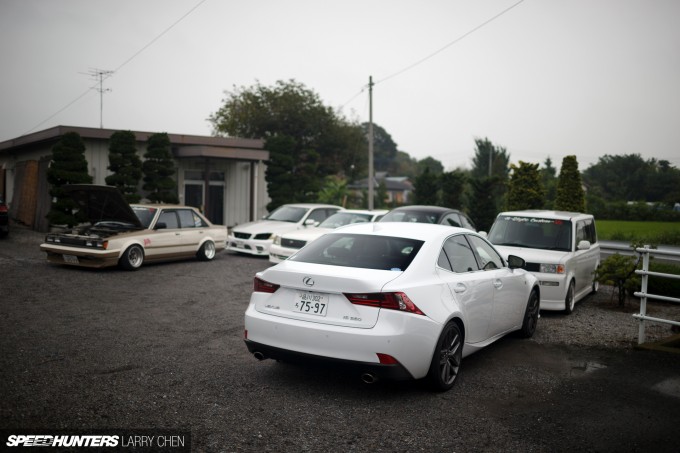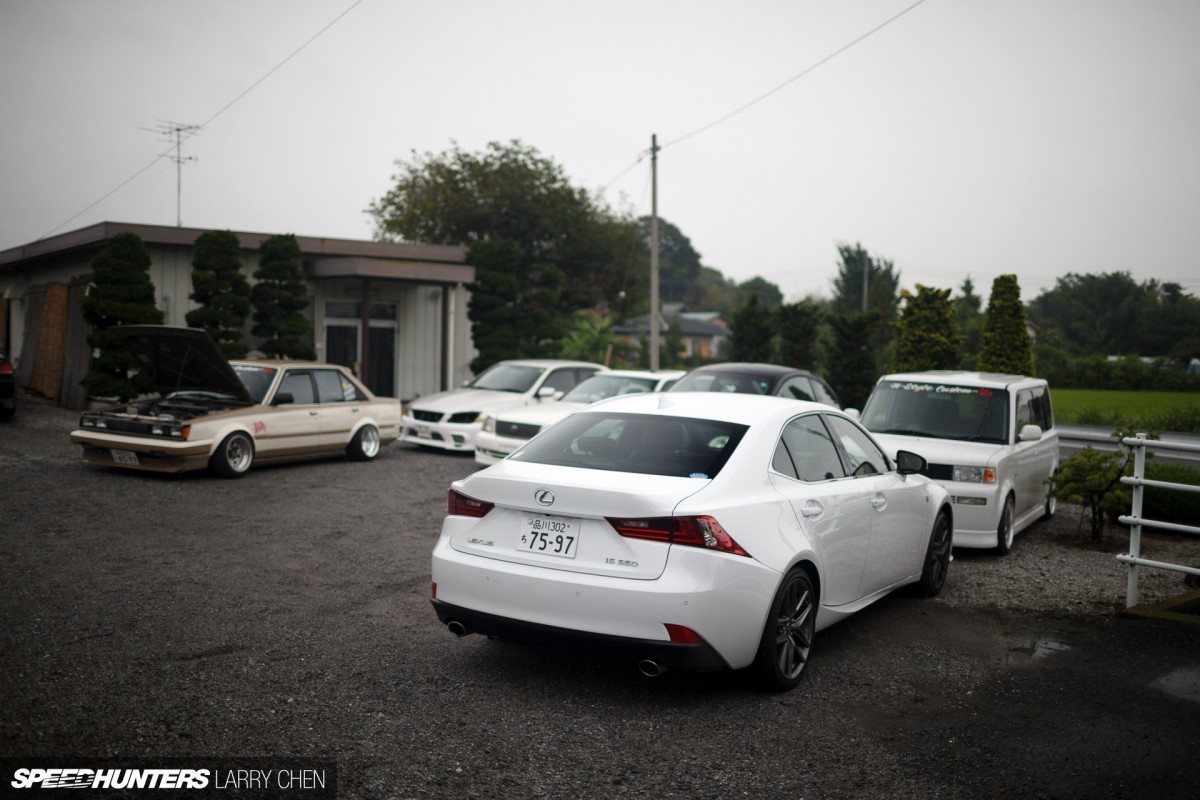 As they say, there's no rest for the wicked, so after a few hours sleep, the IS would once again serve us as our chariot, taking us all the way up to Gunma where we had a meeting with about ten awesome cars from the guys at N-Style.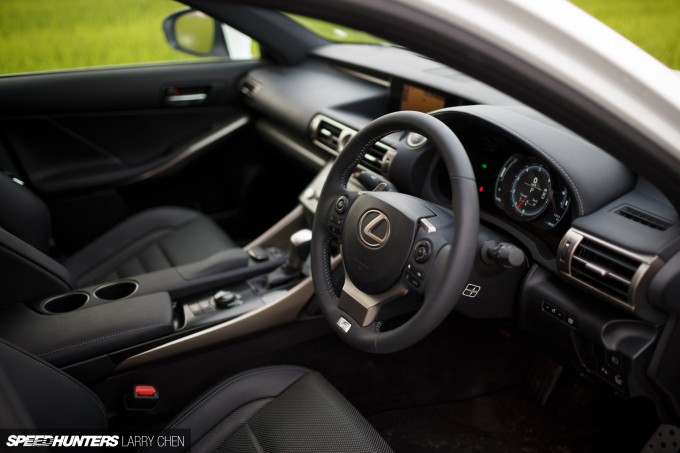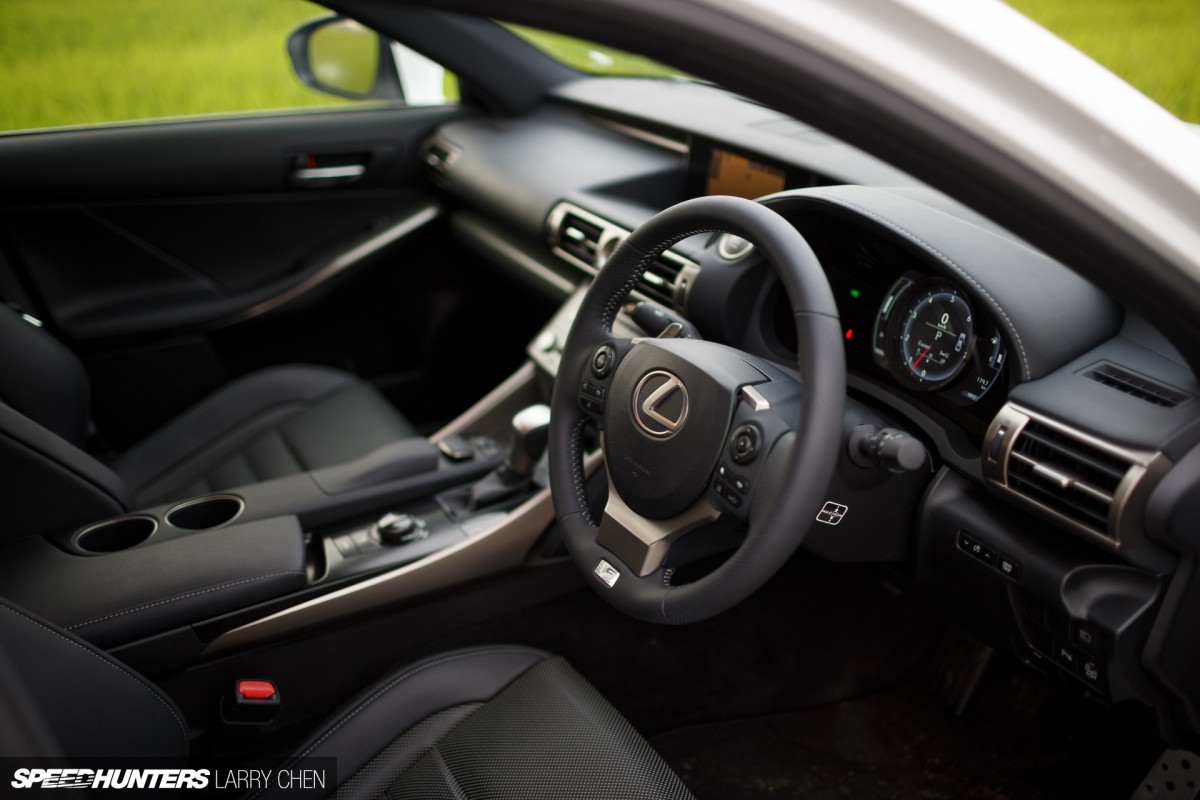 It was there, after a busy day shooting all sorts of cool drift and street rides, that Larry and I finally had time to focus on the IS350. The car had definitely won us over by providing a commendable array of capabilities. It does so much right, it's almost hard to fault anything at times. Take the interior for example: extremely comfortable and relaxing to be in, it stands out thanks to a very LF-A-ish sort of layout which is now making its way into all cars wearing the big L badge up front.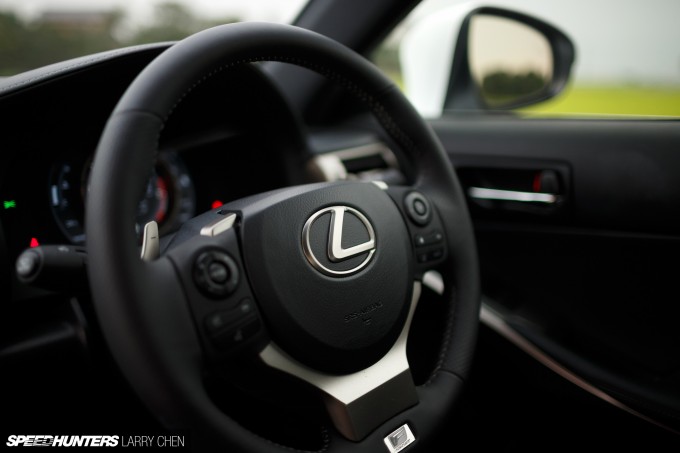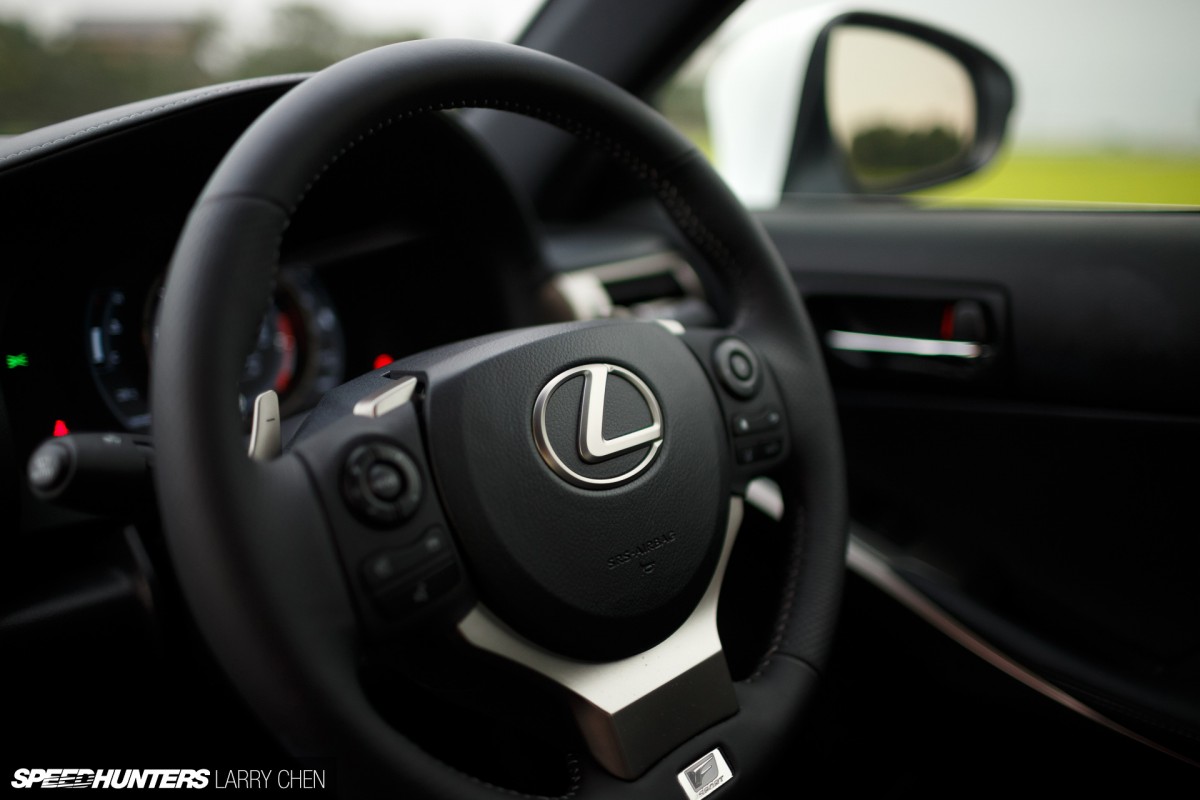 Unlike other Japanese manufacturers, Lexus is doing rather well at giving up its obsession with buttons. The multitude of functions are easily controlled via the integrated LCD-screen-based infotainment system. Nissan and Infiniti should learn something here.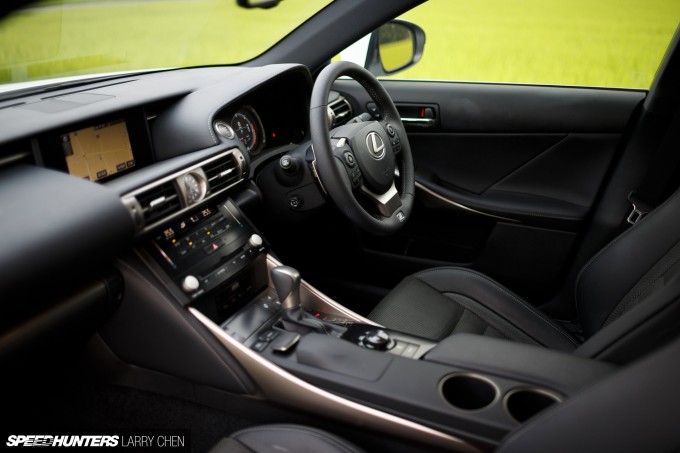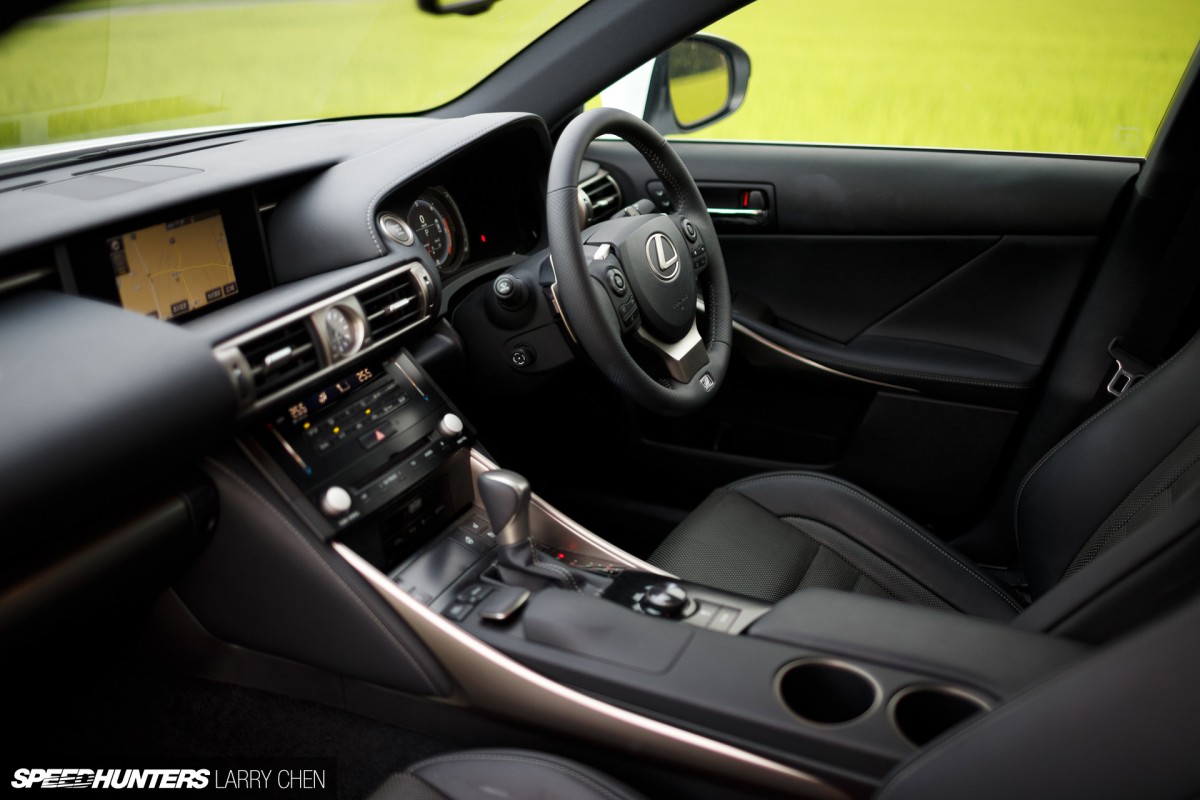 If I had to be very picky, maybe the lack of color could be a point that could have been improved upon, but then again for those that are a little more courageous and think black on black with a touch of black trim might be a little plain boring, there are always more exciting hues to go for. That fake metal trim however, that really has to go. It looked cheap ten years ago in the old GS/IS/LS and a decade has done nothing to change that.
The display moves!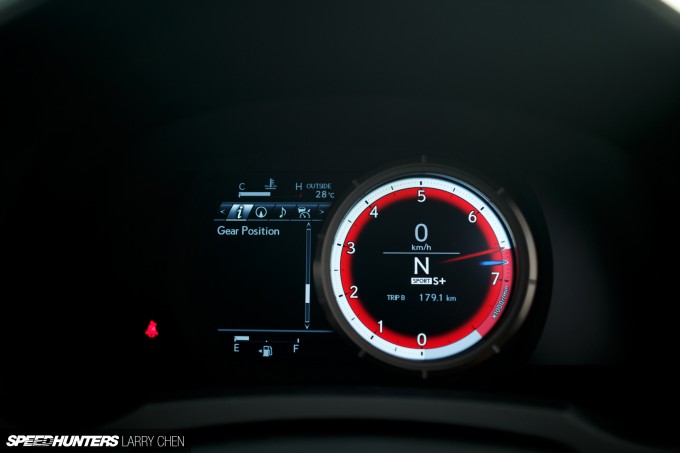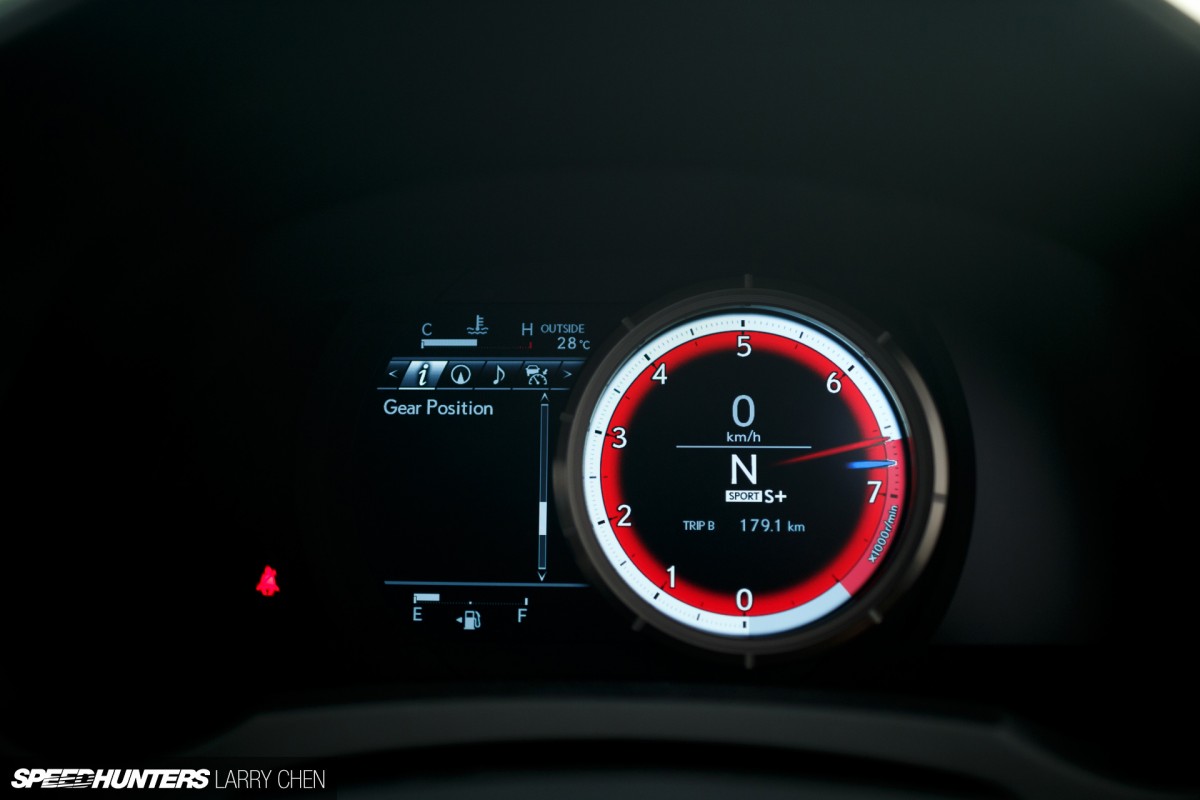 And then we get to the instrument display. I thought the LF-A-inspired LCD dash with sliding tachometer might be tacky, but it just isn't. I really enjoyed this so much that I felt the need to play around with it all the time, flicking through the menus and displays that are available. While the F30 3 Series has its own plain and far more serious analogue gauge set-up with lower integrated LCD screen, the IS is full-on digital and it makes the Beemer look plain old boring! I think only the Japanese can come up with a system like this, and be confident that years down the line it won't break or stop sliding left and right!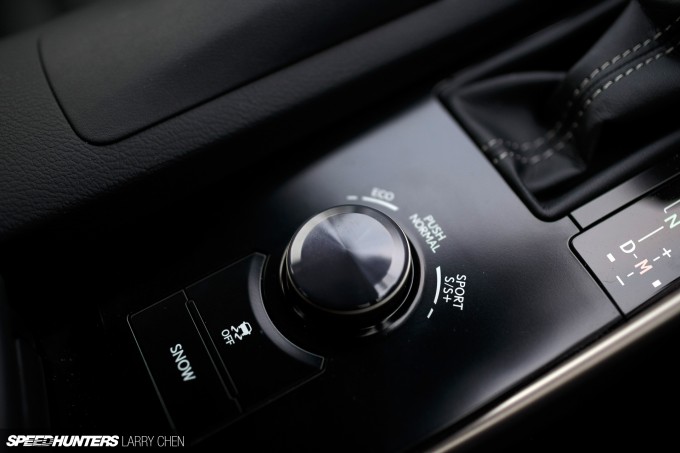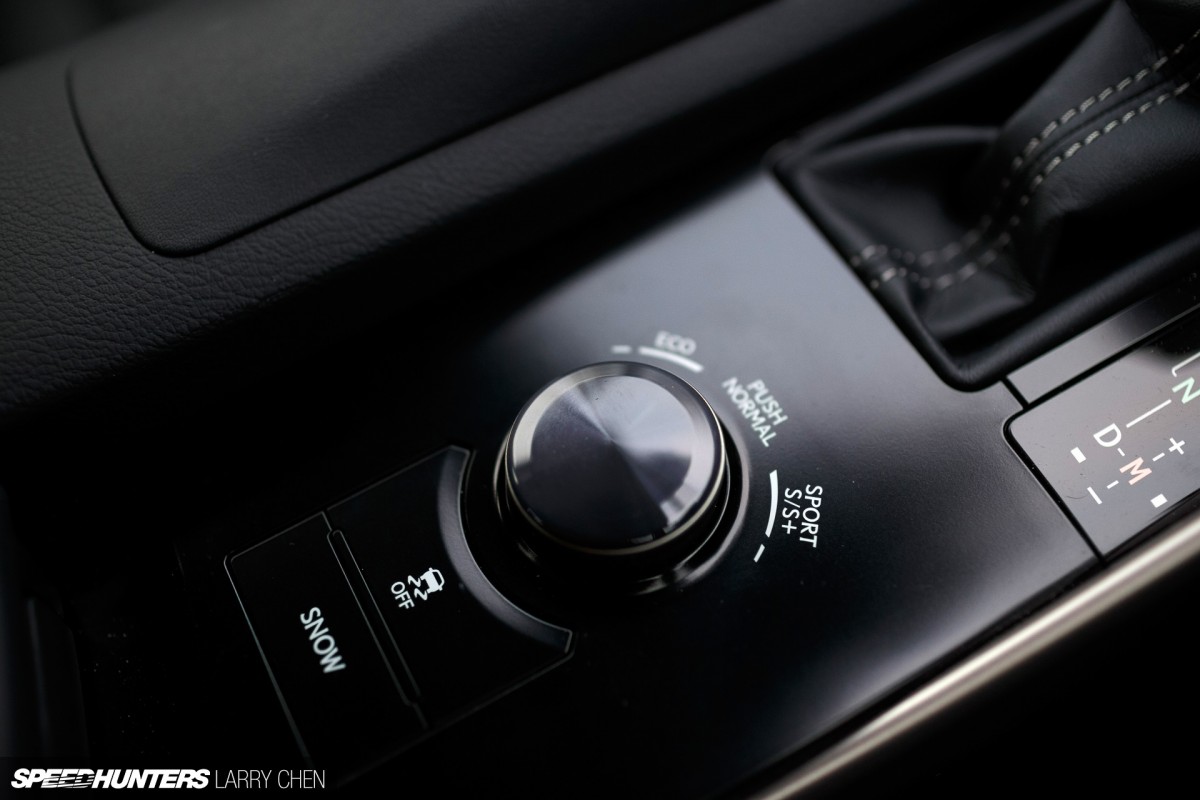 The display position and graphical interface/color depends on the drive setting you are in, the more performance-focused Sport S+ setting giving you the red and white rpm counter.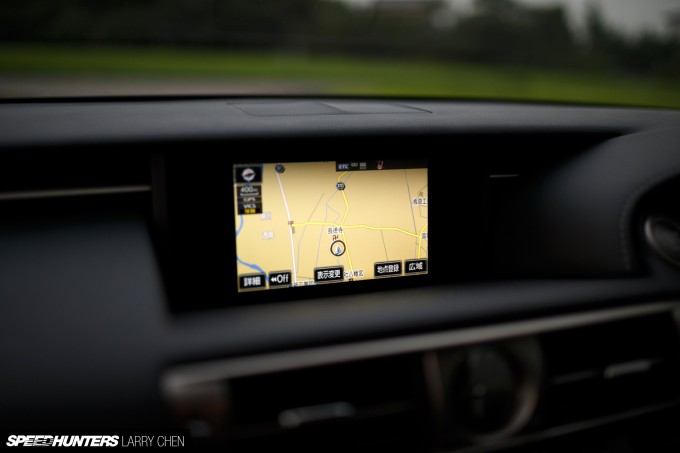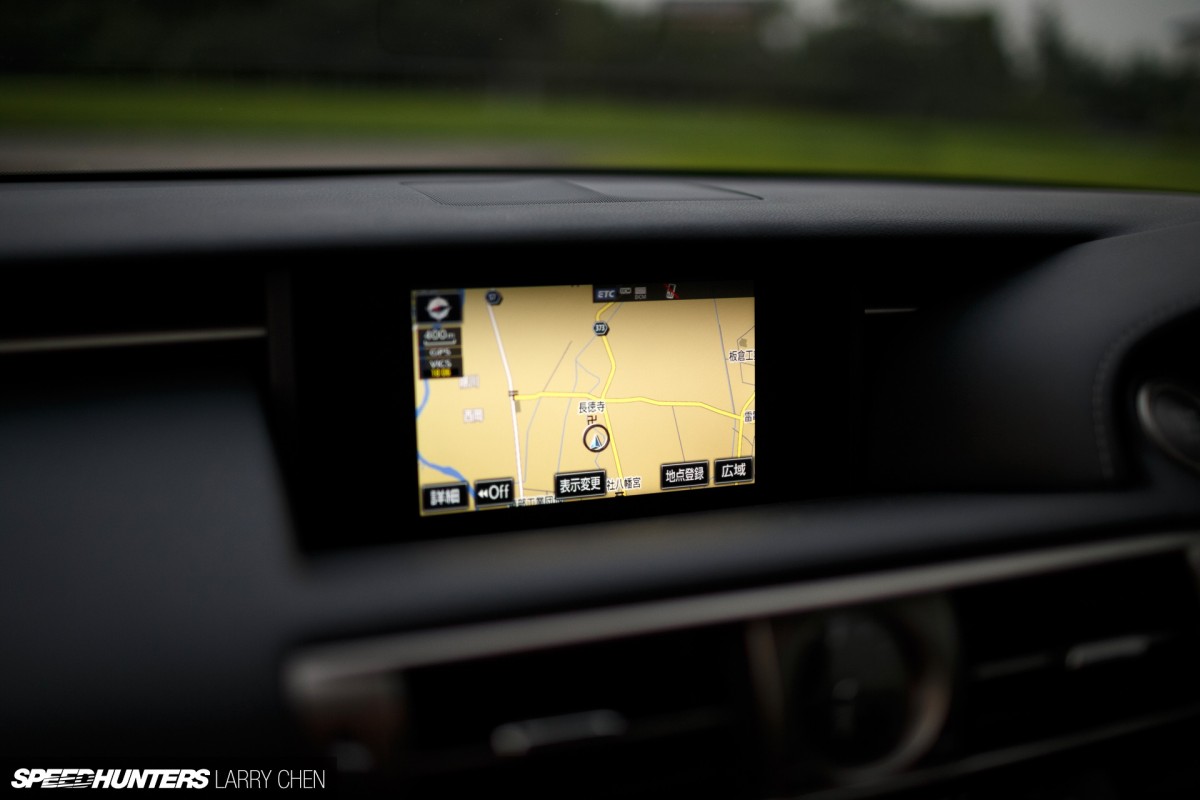 This joins the LCD infotainment slash navigation screen, strangely enough very small compared to the really wide, wide-screen units they are dropping into the GS and LS these days.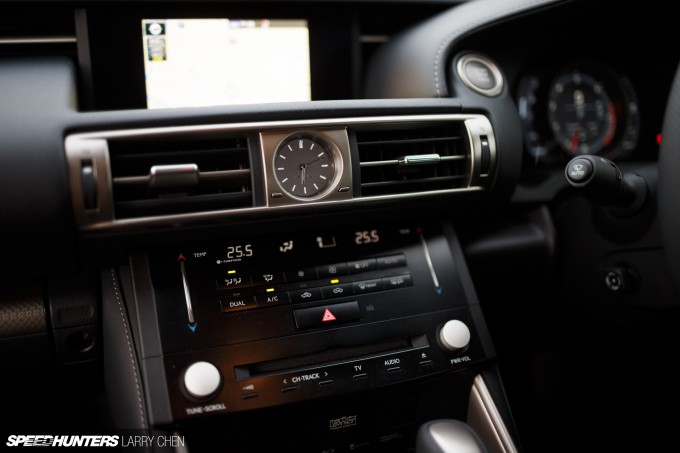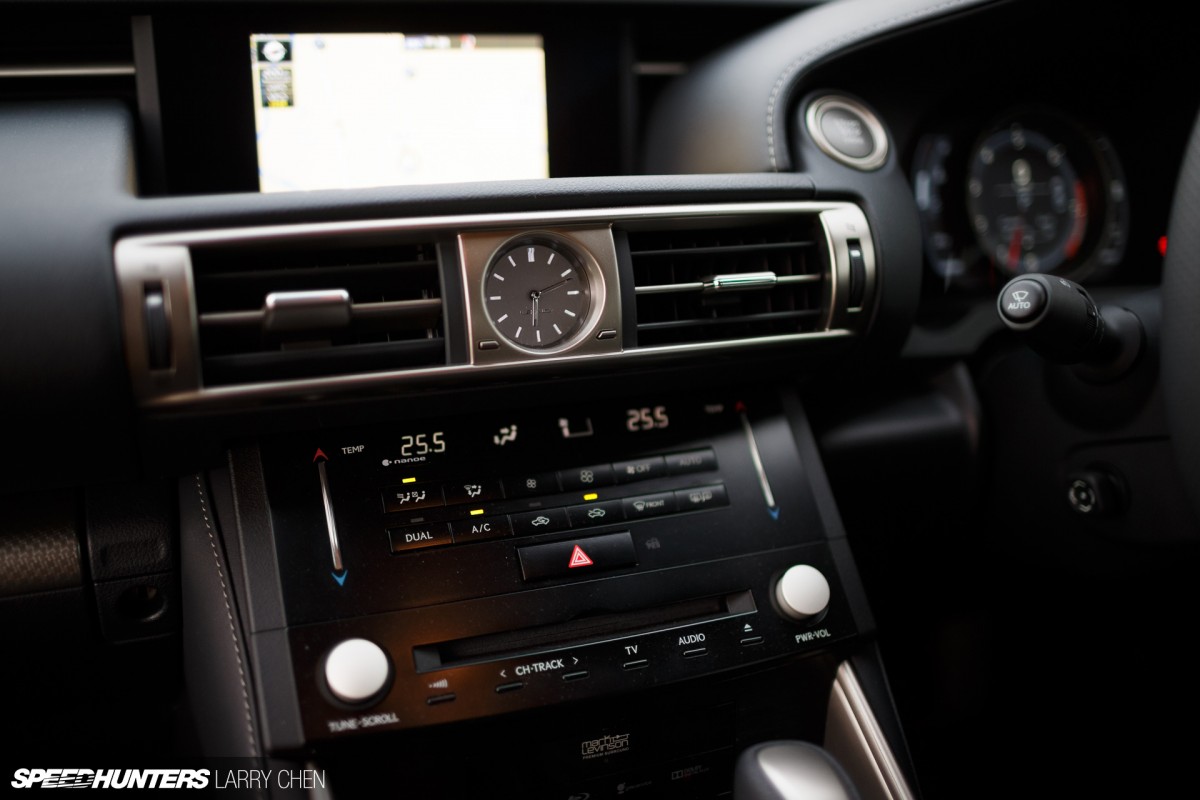 Everything feels advanced and very technologically oriented, except maybe some of the materials chosen for the center console. But while I can digest these considering the price level the IS slots in against its less-generously equipped German rivals, there are two things I'm very surprised they're still doing: the first one being the eighties-looking digital number displays for the dual zone climate control.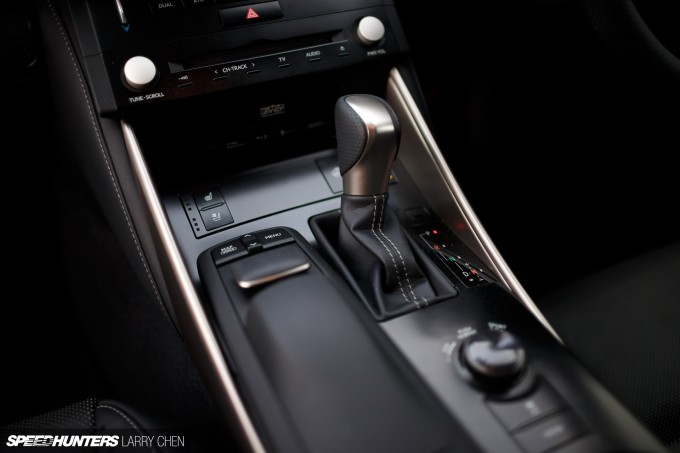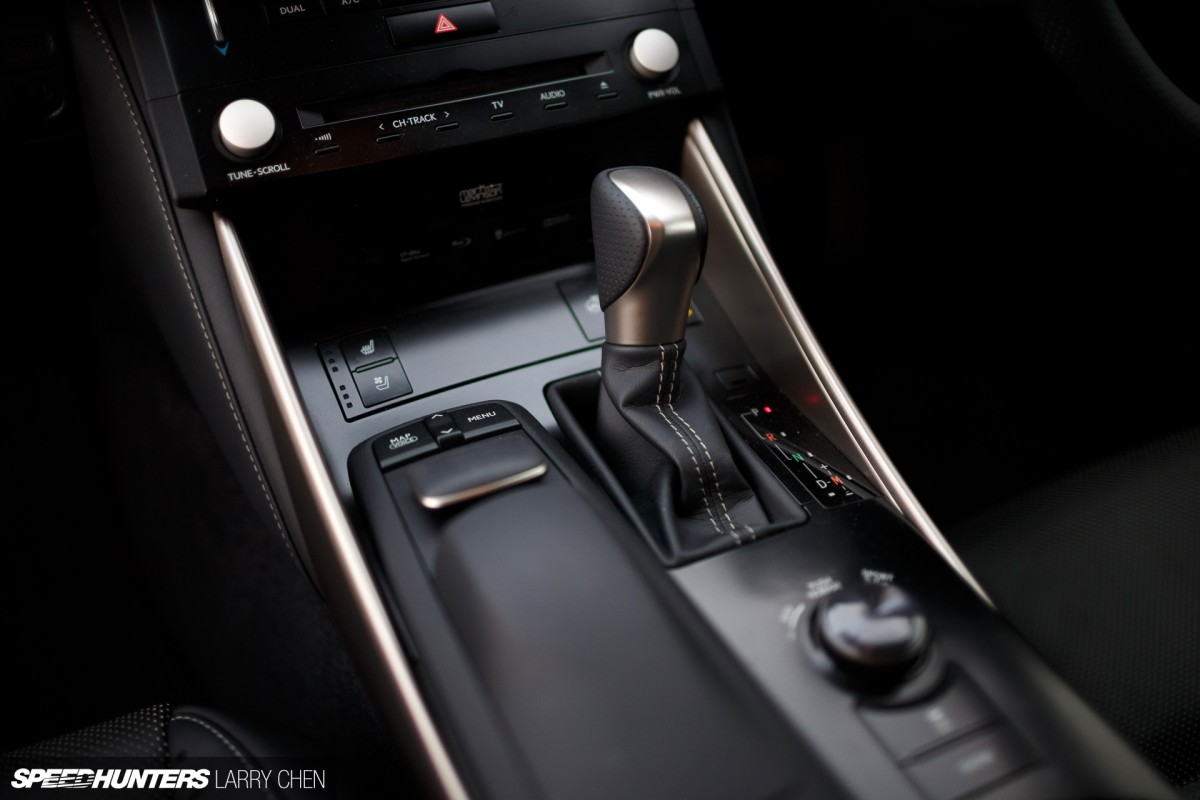 The second is again a very old school touch for such a modern car, and I mean the backlit gear position indicator next to the shifter. I'm sure Lexus could come up with more pleasant and better looking than these recycled-Toyota-parts-bin-looking items. Aside from these very minor observations, the cabin is a much better place to be in than the older IS.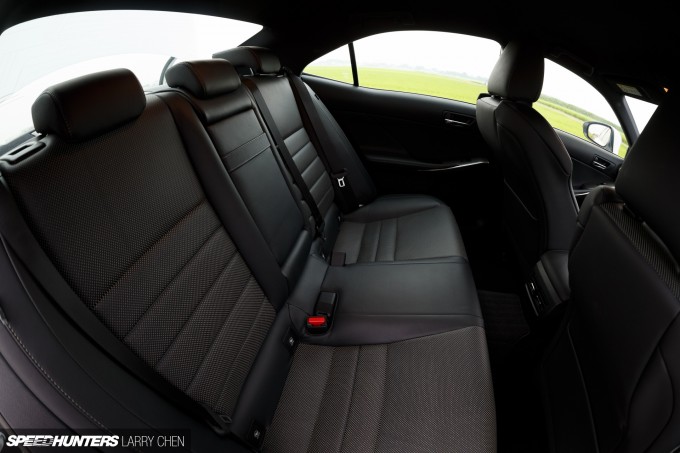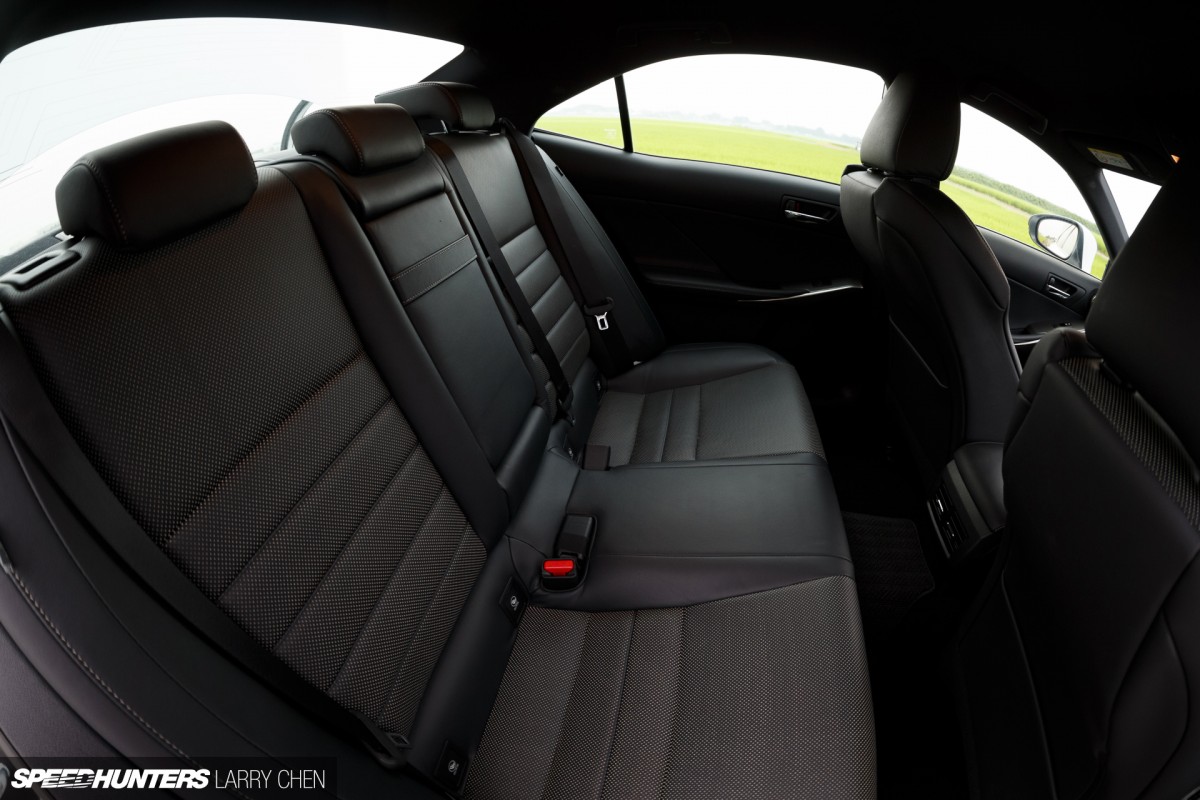 There's definitely more space for rear passengers, all coupled with the usual faultless Lexus fit and finish we've become used to.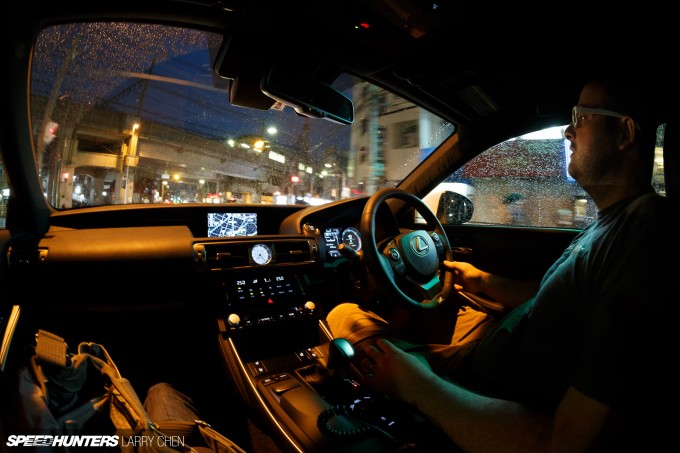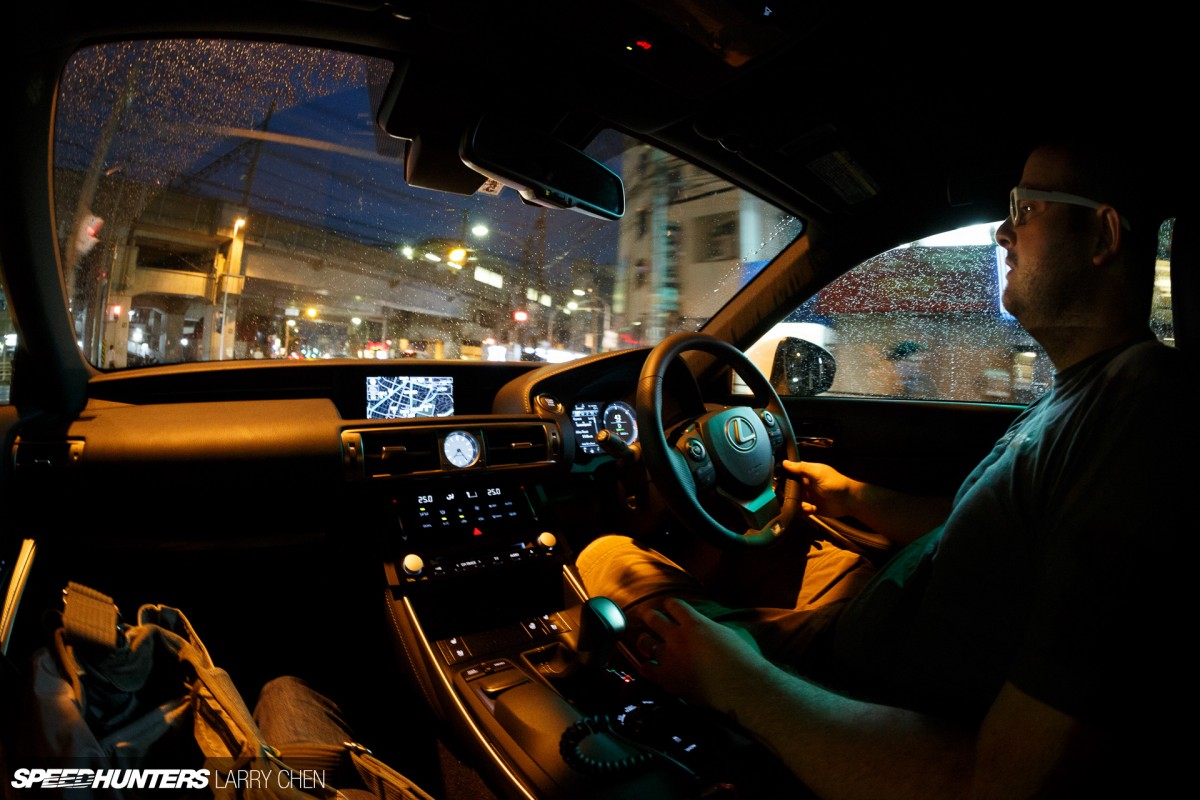 I think a car's ability to make its driver and occupants feel special goes a very long way. If the overall package doesn't turn every drive into a bit of an occasion, if you don't feel a little bit of excitement even for jumping in and driving five minutes down the road to the shops – if that lacks, then there's definitely something wrong. The IS definitely satisfies; it's a car that I personally enjoyed seeing parked in front of my house as much as I did driving it and interacting with its long list of toys and unique gadgetry. It all combines to make even the most mundane of journeys a true experience and I think Lexus have really hit the mark with this car.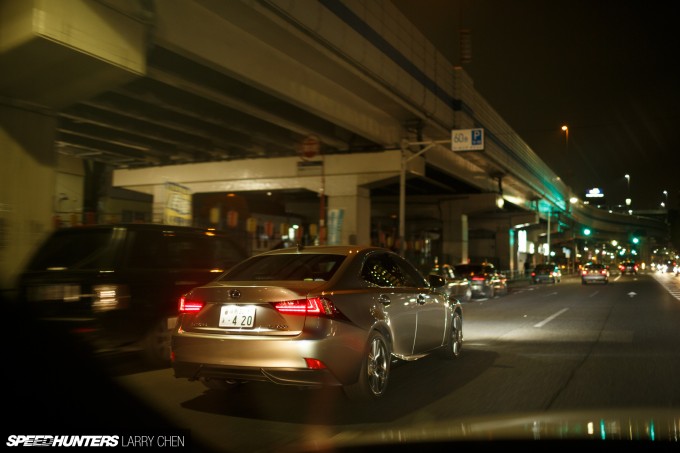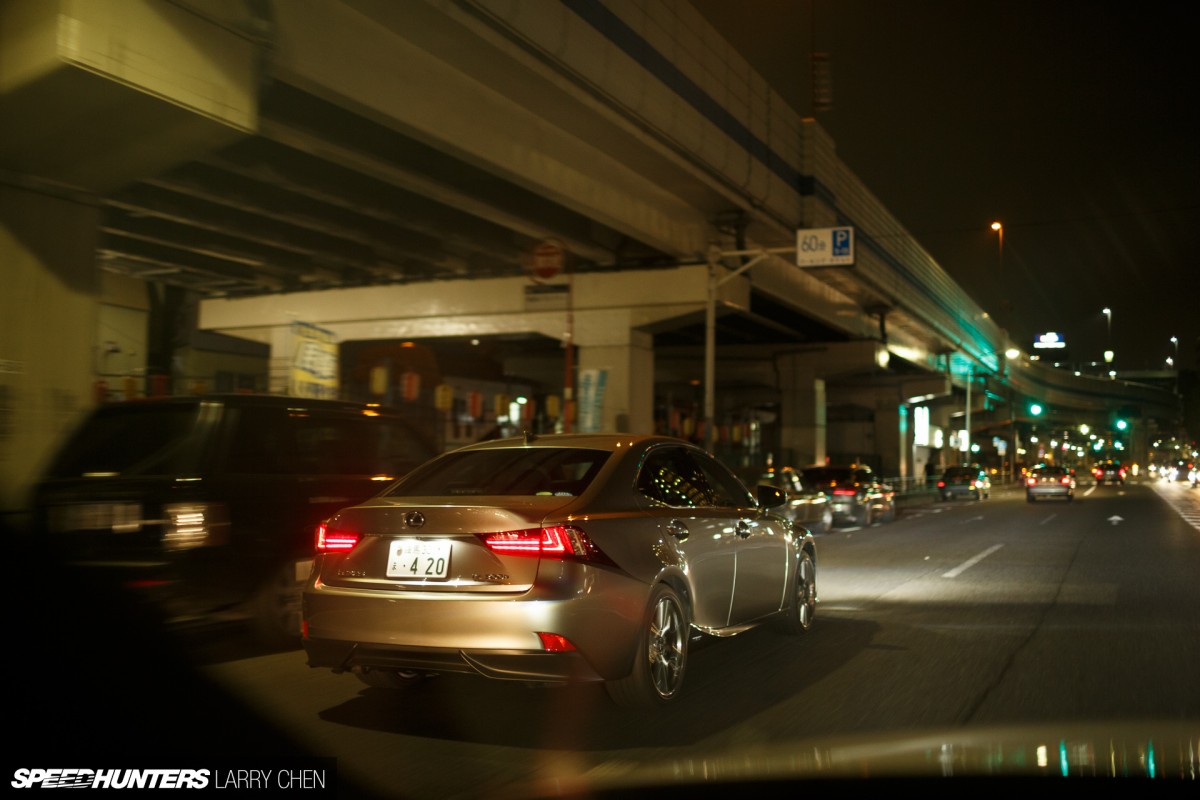 And I obviously wasn't the only one thinking this, as during our time with the IS we spotted quite a few out on the streets of Tokyo.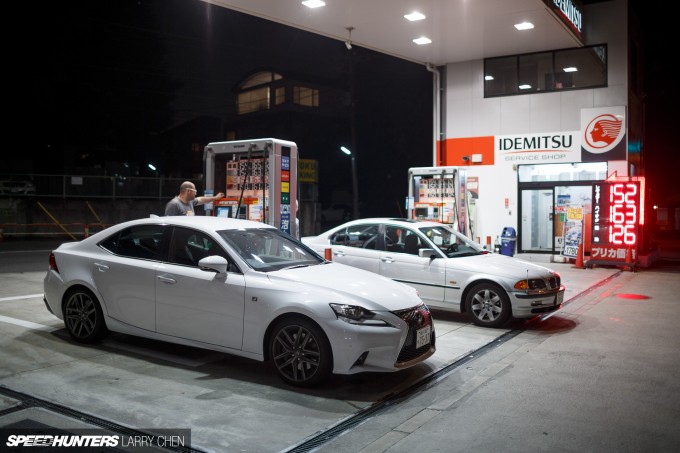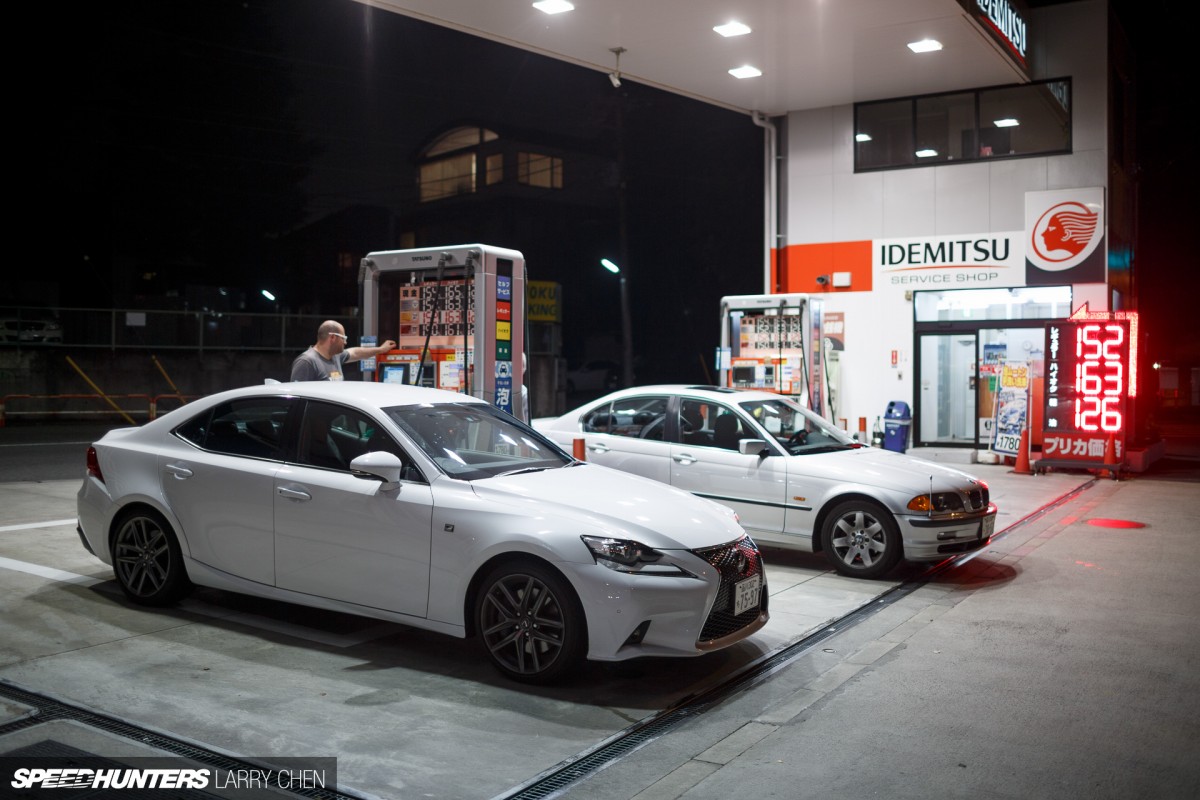 With lots of use comes the unavoidable fuel stops and the IS350 didn't do particularly great on this front, but then again it could have been worse. Mind you I could have driven the car with a little more frugal left foot but the raspy-sounding V6 and that superb eight-speed transmission seemed to edge me on all the time, with blips on the downshifts every time I changed over 4,500 rpm. This is one fun car to drive and throw around.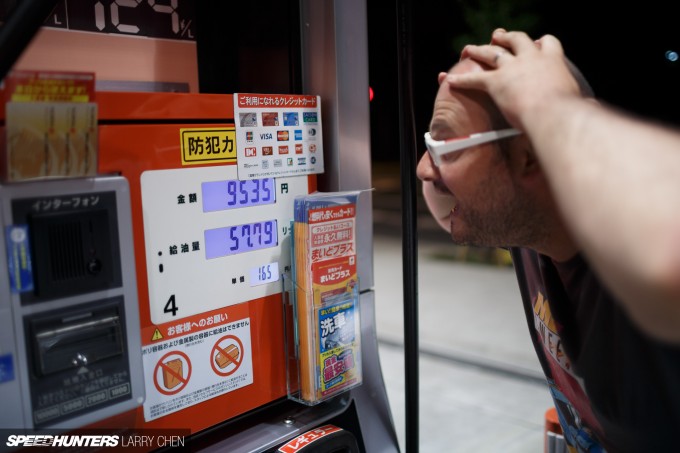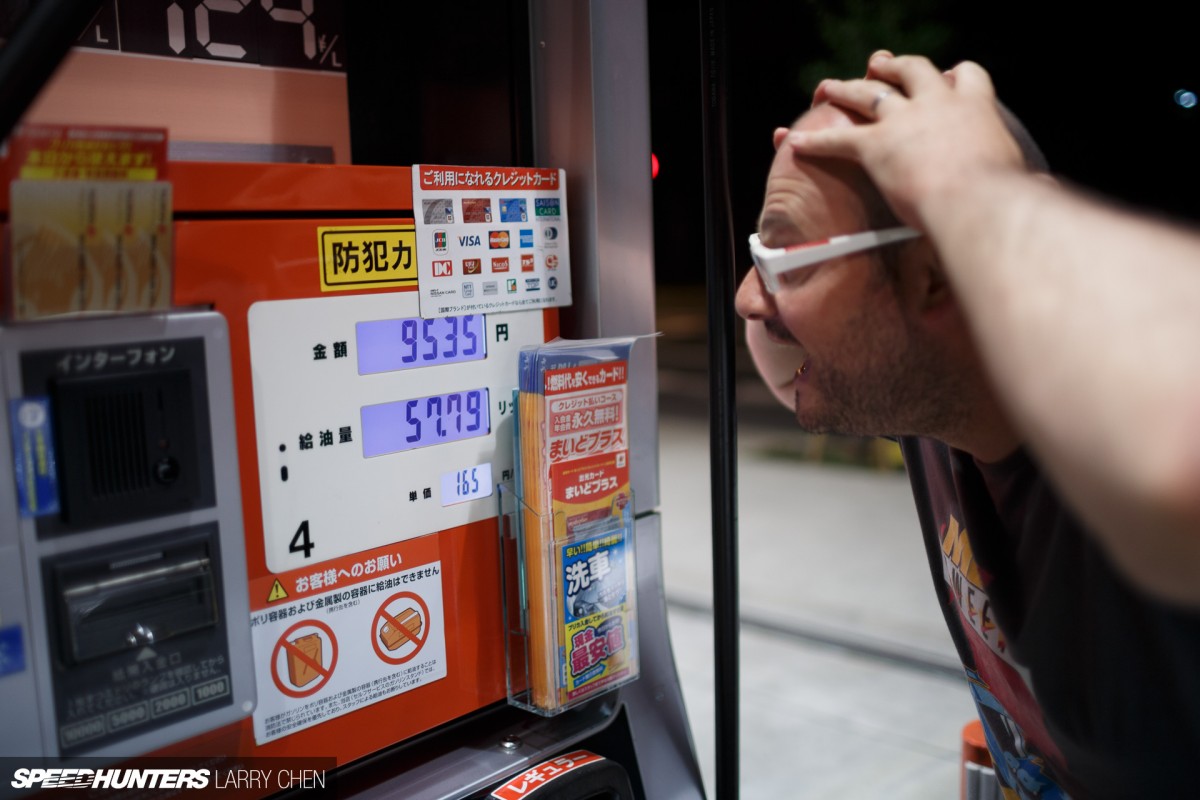 It all leads to the occasional surprise at the pumps, but on the next tank I drove the car in exactly the same way.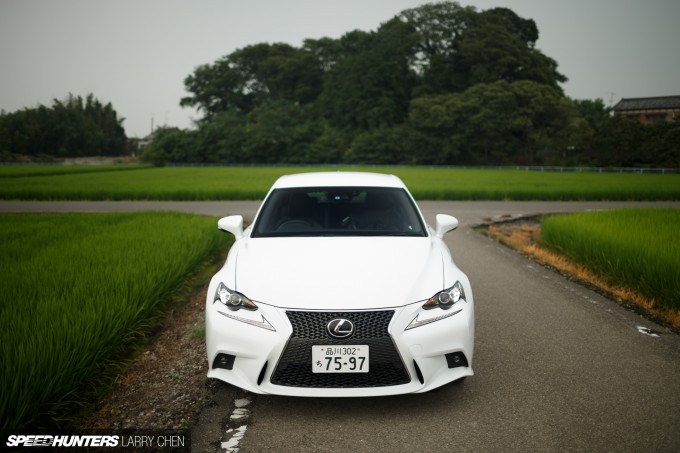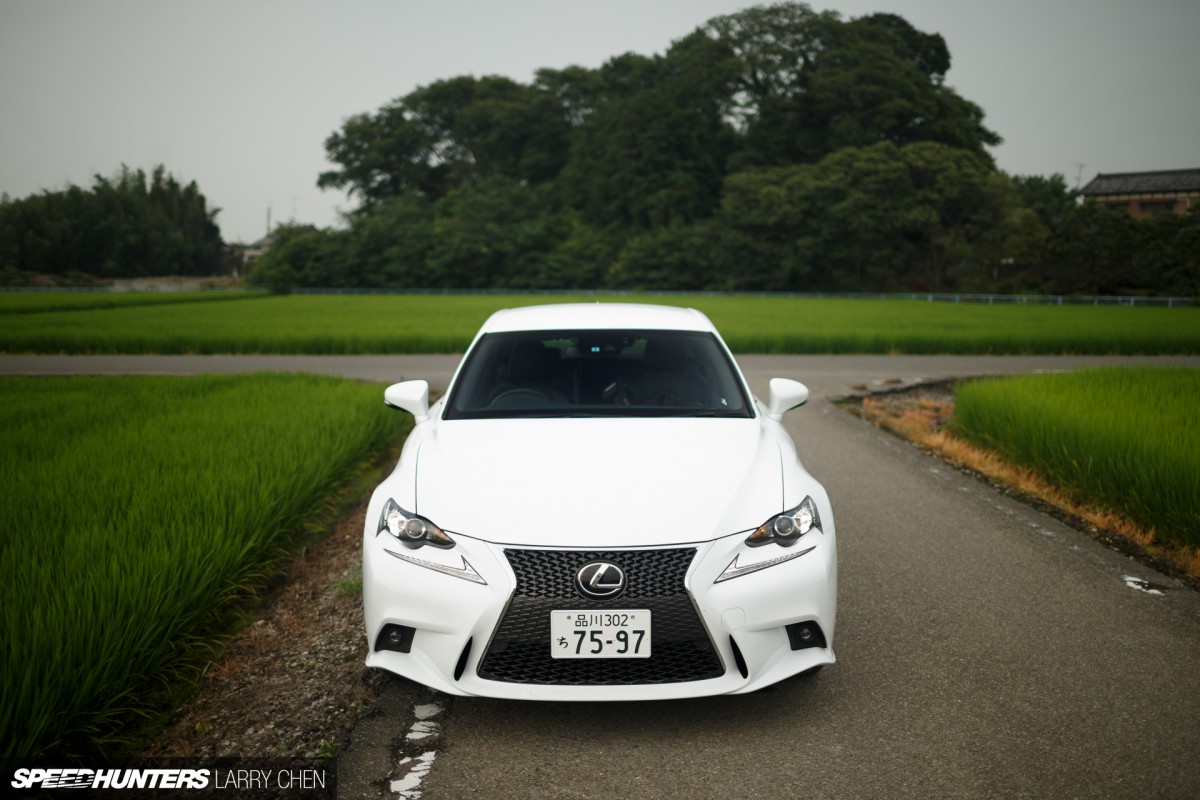 If that doesn't explain to you what the IS350 F-Sport is all about, then I don't know what does. BMW may have upped the ante with the F30 but the IS is closer than ever on its heels. What sets the the 3 Series aside remains the well thought-out and long list of motoring options, from frugal 2-liter petrol and diesel engines, all the way to performance oriented 3-liter petrol and diesel straight-sixes, not forgetting the Active Hybrid version along the way. Oh,and then you can have any of these in a Touring Wagon, so it's not really hard to see why the 3 Series will always be the preferred choice. In Japan, the IS is offered with two V6 engines: a 2.5L and a 3.5L, these being joined by the third and final version of the car, the 300h hybrid.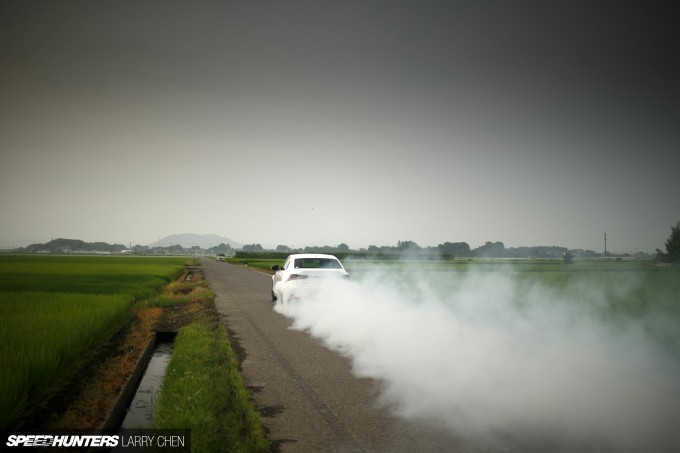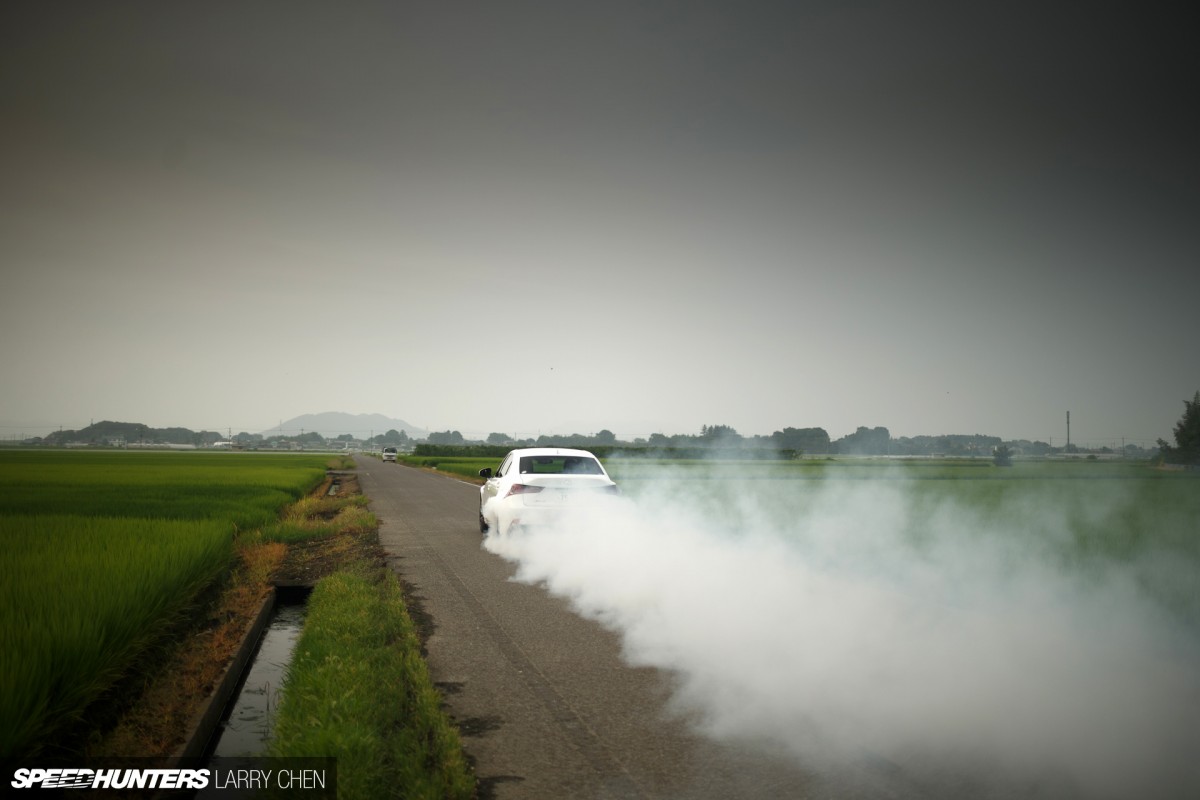 So as Lexus continues to point to a more niche-oriented market due to a lack of variants, there's no way the IS could ever rival the 3 Series benchmark on outright sales. The latter just caters to way too many tastes and applications. But say over a 335i M-Sport, the IS350 F-Sport truly puts up a much stronger fight than the previous generation car ever could. That alone says a lot about what Lexus have achieved and where they're planning on going. I'm sure I'm not the only one that's wondering how the hot version of the FC-F will do up against the M4!
Dino Dalle Carbonare
Instagram: speedhunters_dino
dino@speedhunters.com
Photos by Larry Chen
Instagram: larry_chen_foto
larry@speedhunters.com