Getting hit
The aftermarket tuning industry is so interesting because everyone's background is different and how much business you get is usually directly related to your reputation. Generally speaking, you don't generally go to school to open up a race shop – somehow you kind of just fall into it. I've met many shop owners who got their start on the tightropes of the industry courtesy of a mentor. Which is how it all happened with Mike Welch of Road Race Engineering.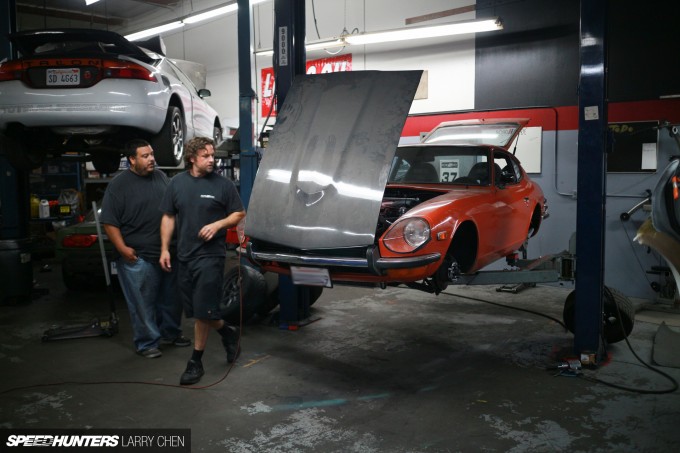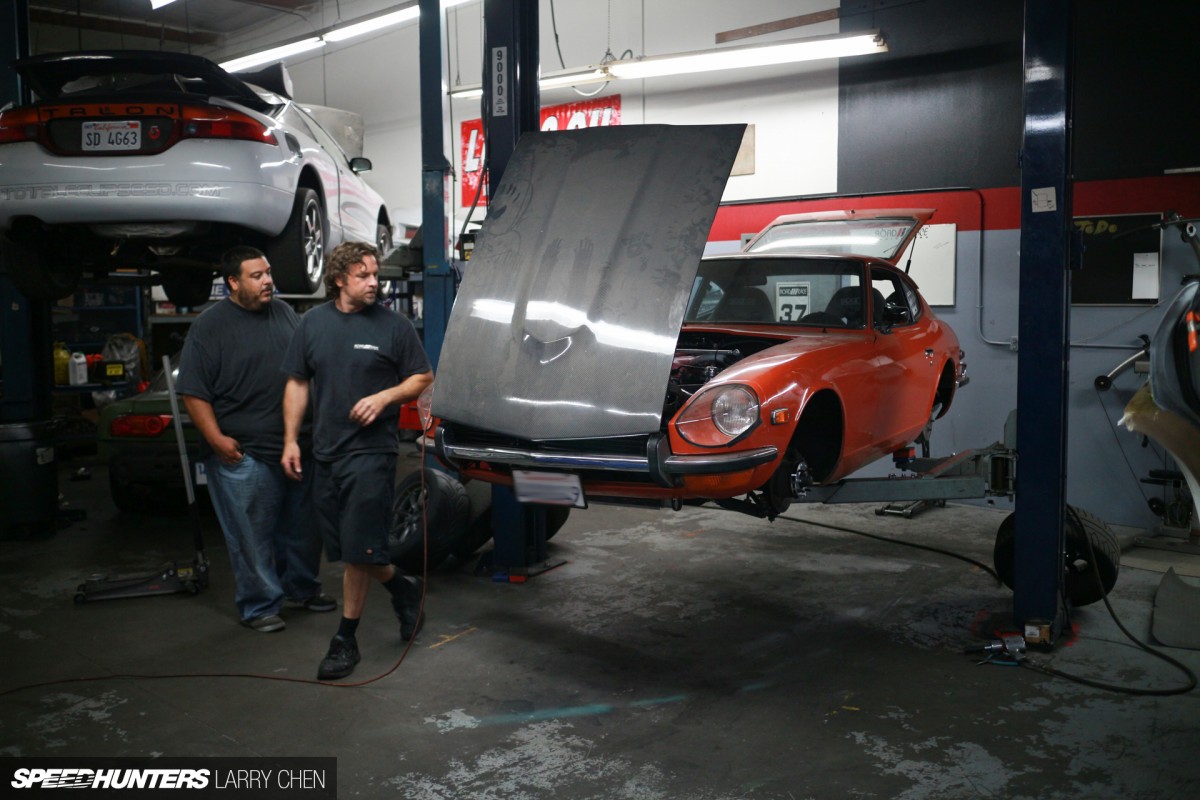 Growing up around car culture in Southern California meant spending long hours in different race shops all across Los Angeles. I remember my friends and I would spend days tinkering on each other's cars. It was just the fun thing to do. I really missed that, but recently I've had the chance to spend some time under a lift once again. I've been working on my own project car once again and that's how I met Mike. I was always curious how someone like him established his name in the industry.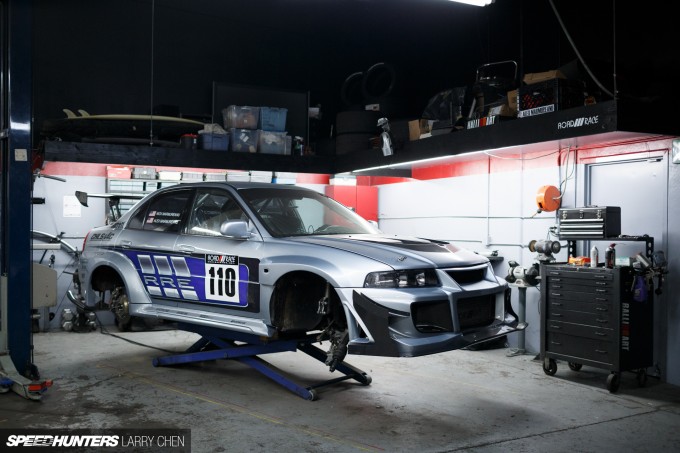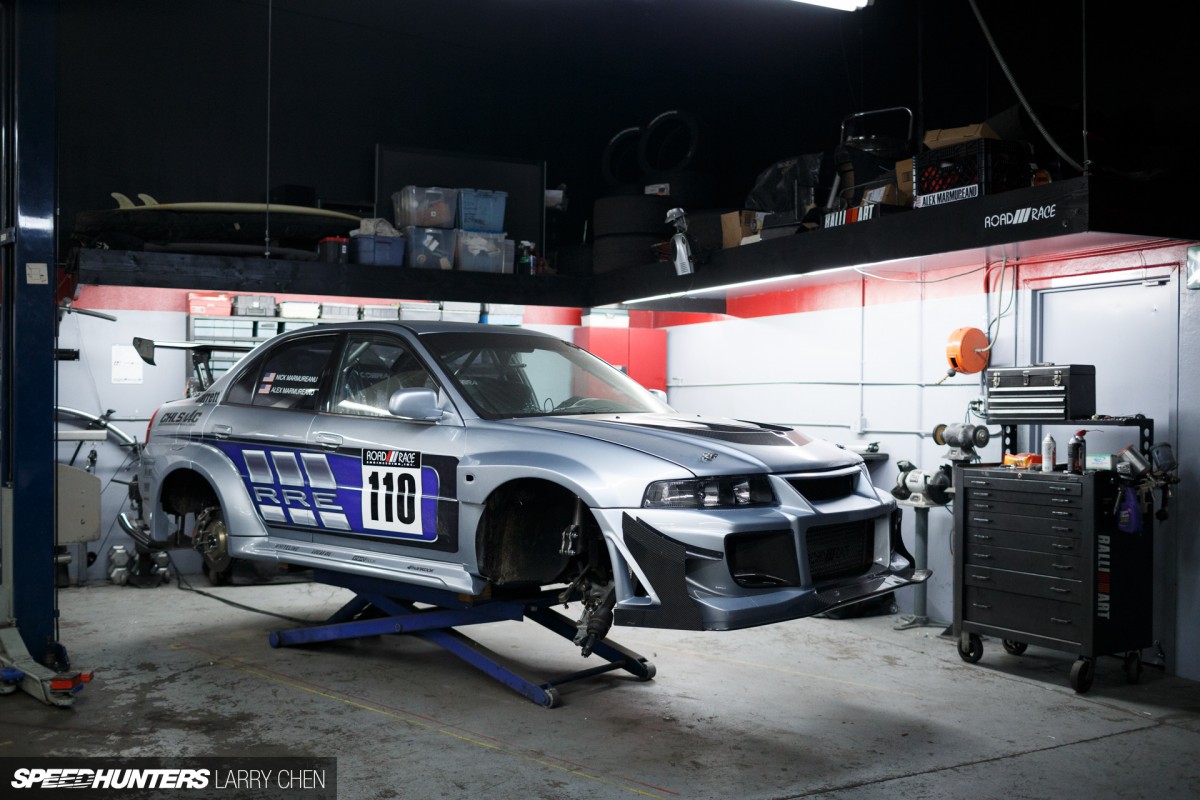 So you're a young guy wanting to get into the racing scene in California in the '80s, but you don't know where to start. Where do you go? Well Mike volunteered as a track marshal. It was the best way to be at the track and in the middle of all the action.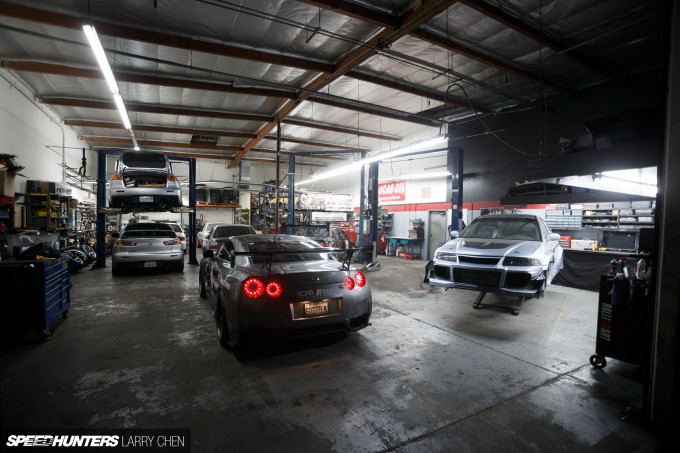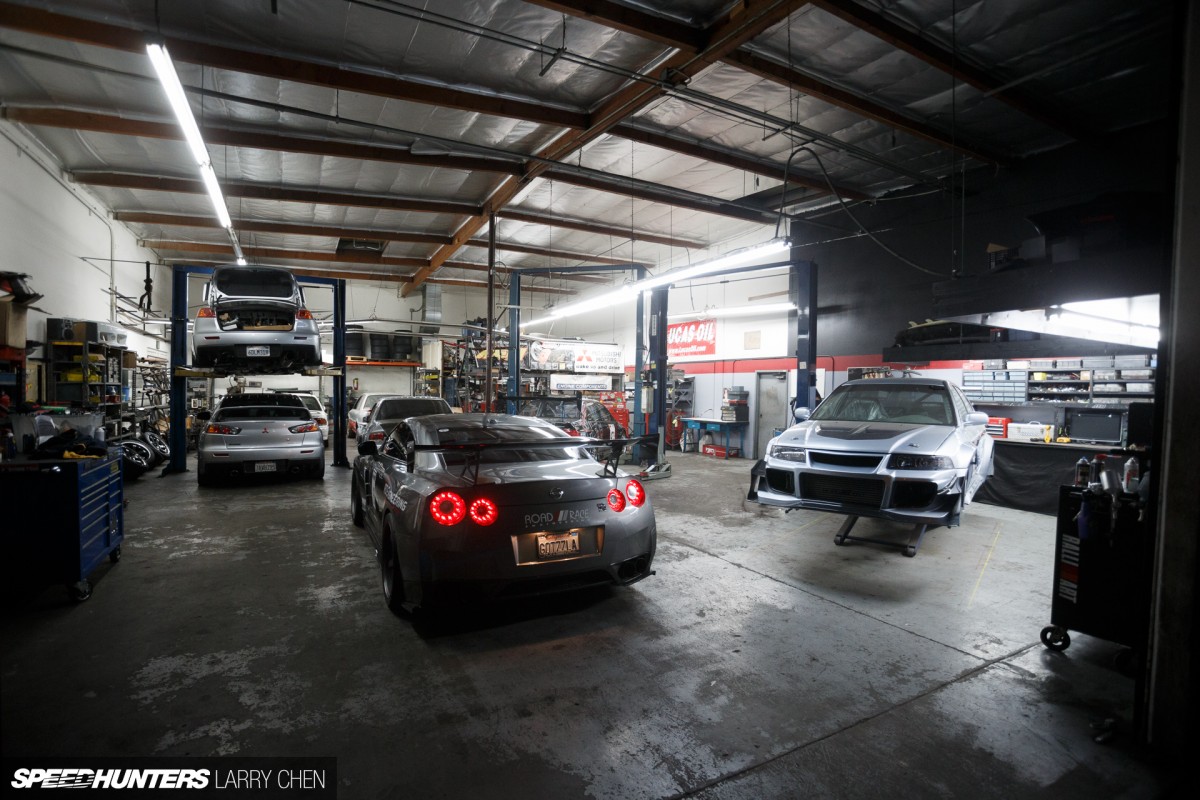 He got a bit closer to the action than he ever wanted to in 1988 at the last NASCAR race at Riverside Raceway, when Darrell Waltrip clipped Mike's leg with his wing. You can barely make it out in this video. It turned out to just be a minor flesh wound, but you can bet Mike quit his trackside duties from then on. So he started doing scrutineering and weighing in the pits.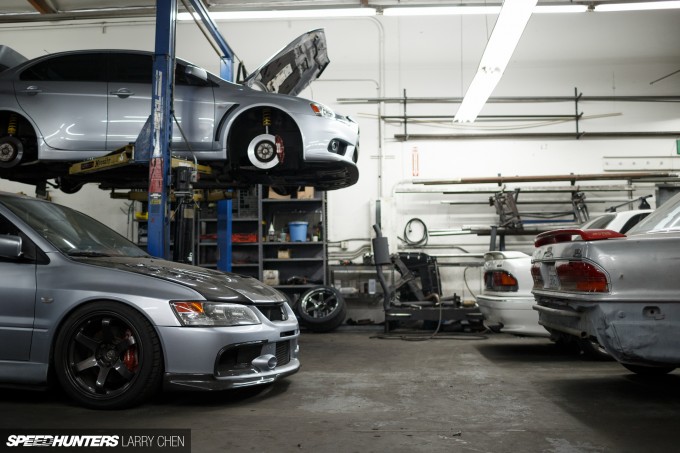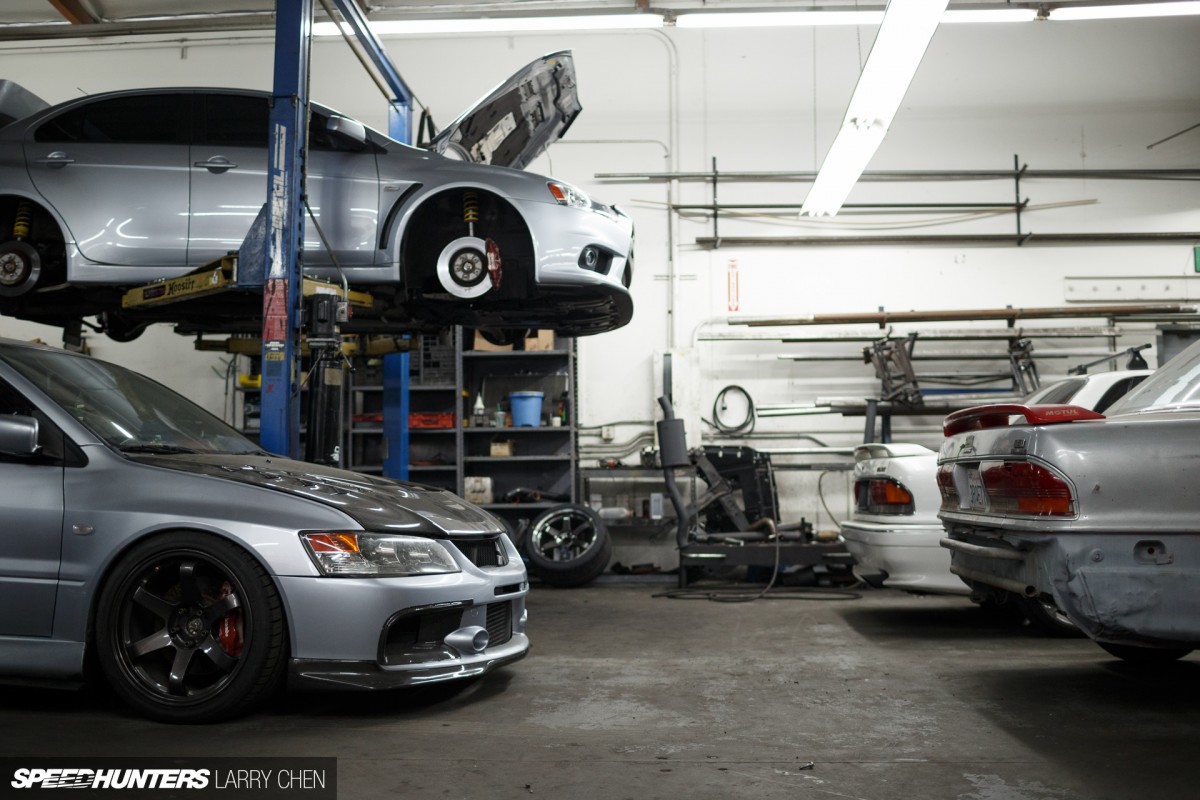 Around the same time, he was already a fairly established auto body guy, so he mostly did accident repair but he found that repairing street cars was quite boring.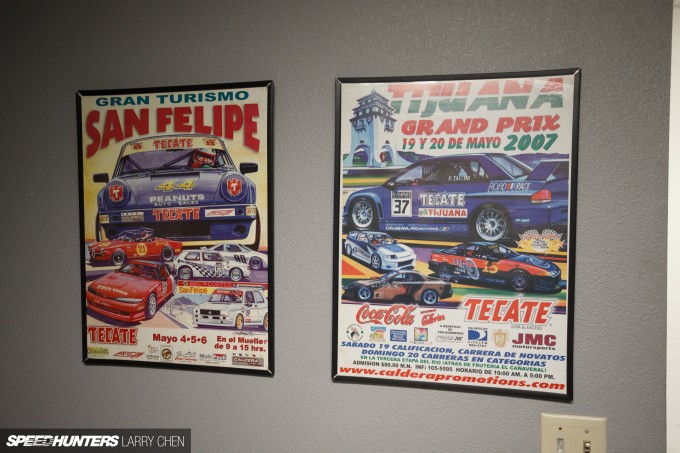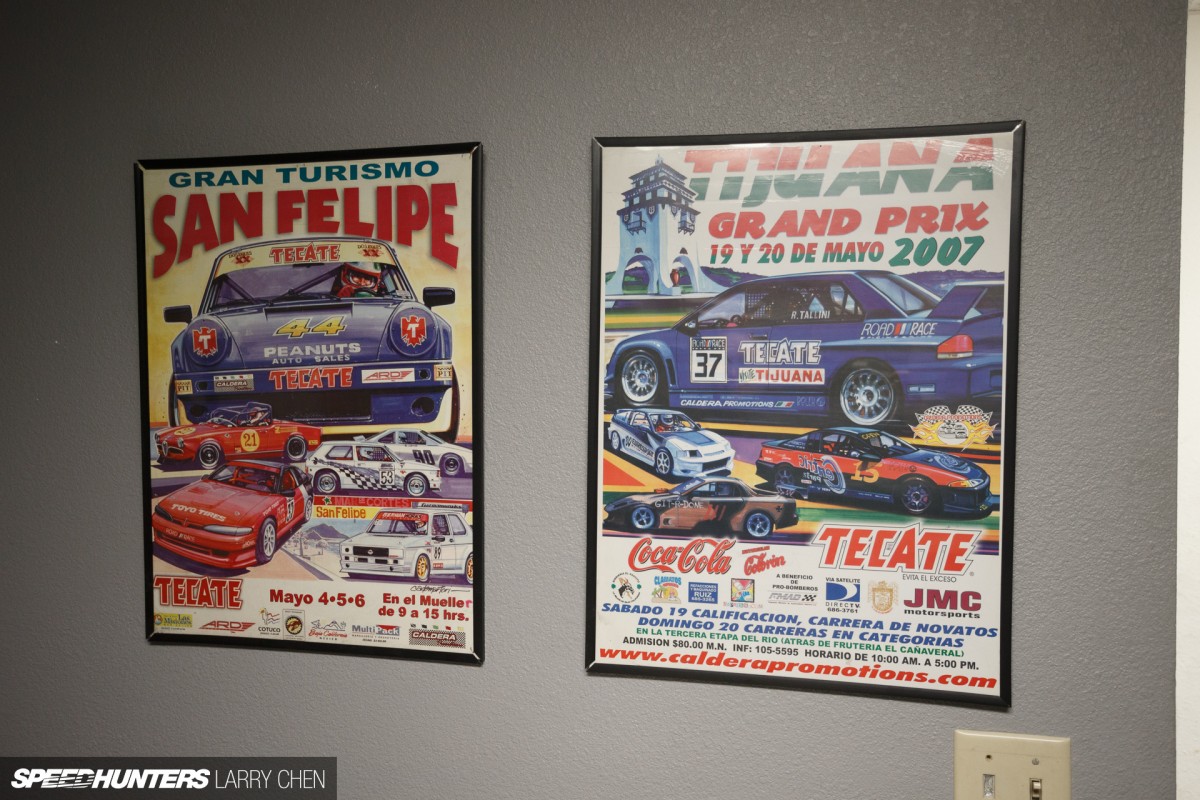 He was still hanging around race tracks after the NASCAR incident, but he found himself hanging out more around rally racing. In fact he competed in rallies all across Mexico. That's also where he met his lovely wife, Rossy Welch.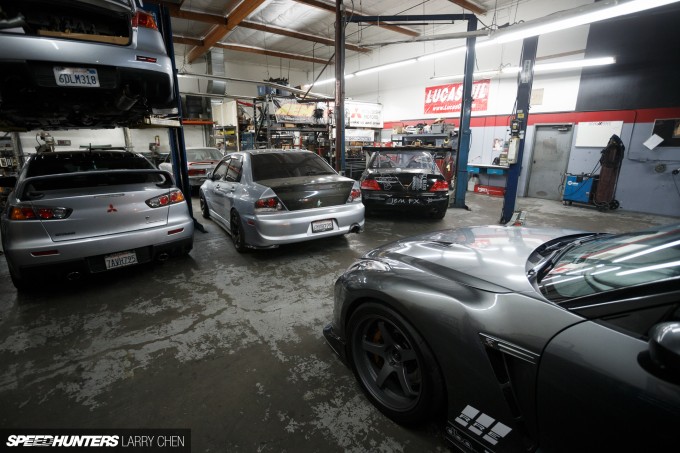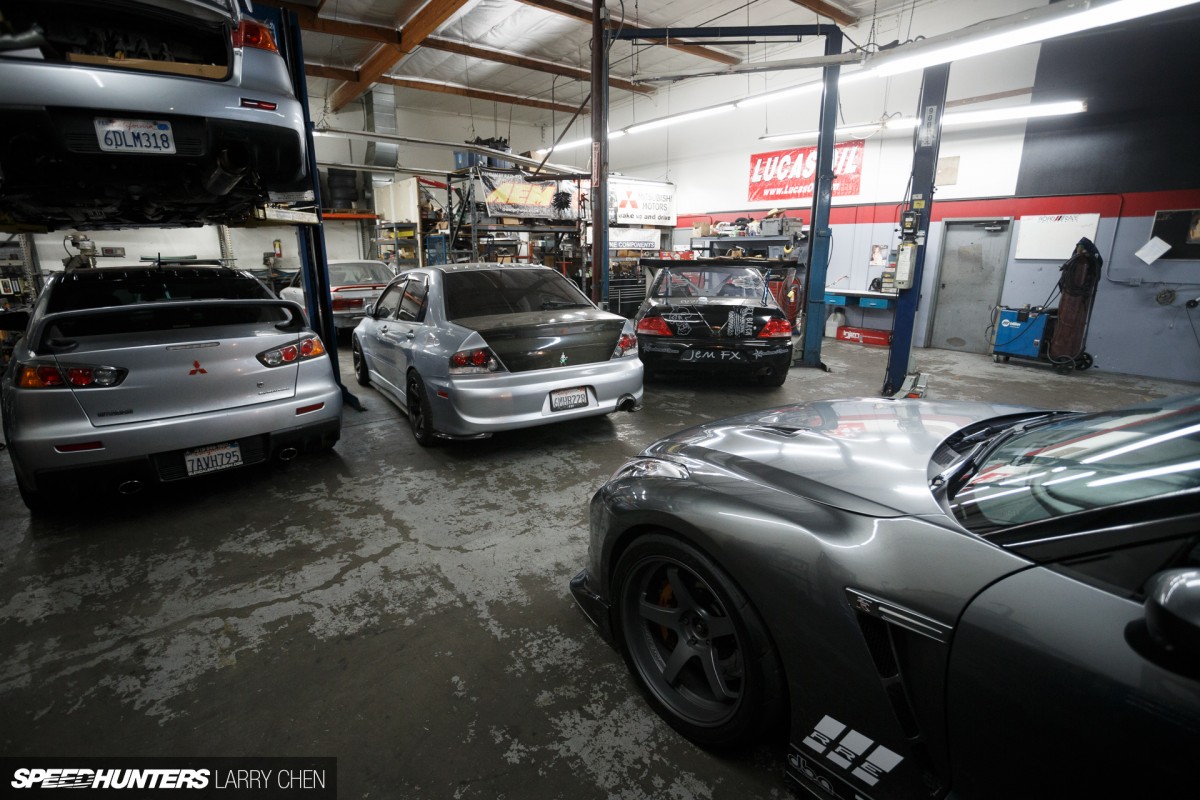 Rod Millen, a name synonymous with Pikes Peak and stage rallies, needed some beat-up rally cars fixed fast and Mike happened to be at the right place at the right time. He fixed them for Rod fast and they looked pretty again, and he impressed the king of Pikes Peak enough that he started working for Millen directly.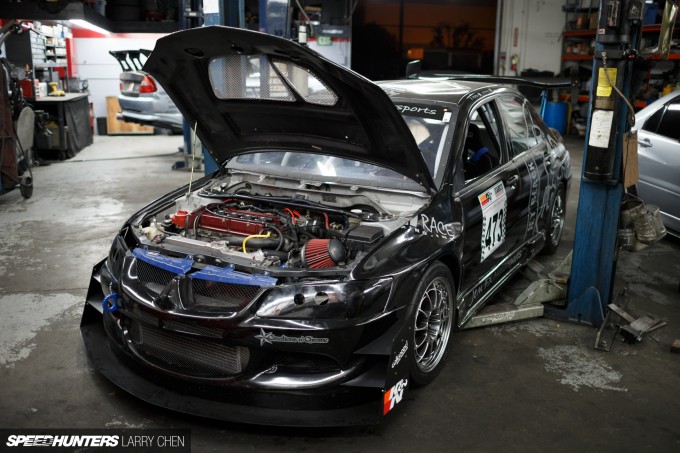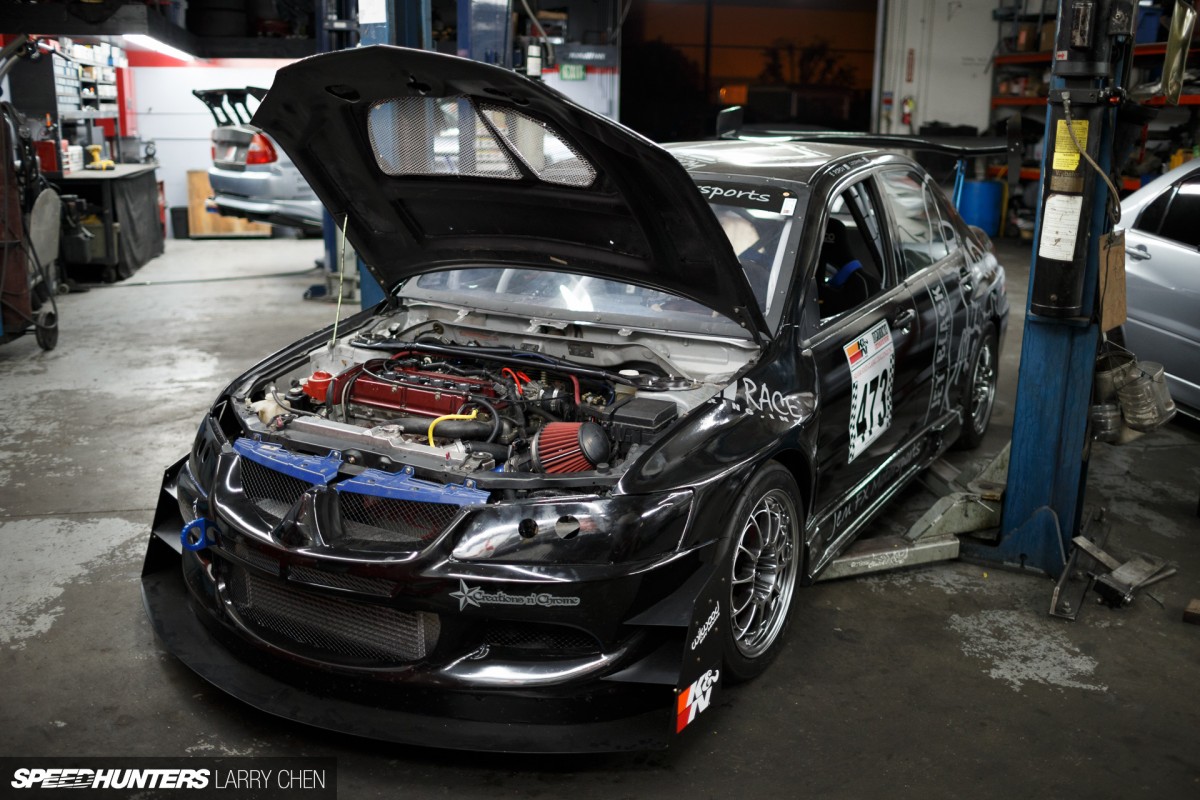 Most of Rod's helpers were seasonal, since they were usually from New Zealand and the United Kingdom, so Mike was left for months at a time to do all the fab work on the race cars. He found himself working on Pikes Peaks cars and rally cars.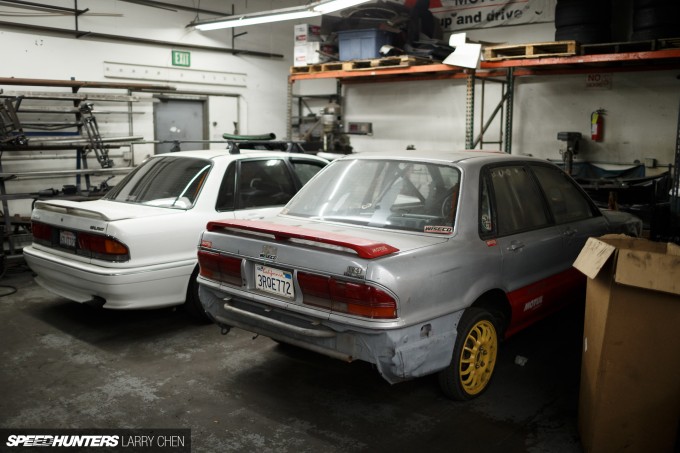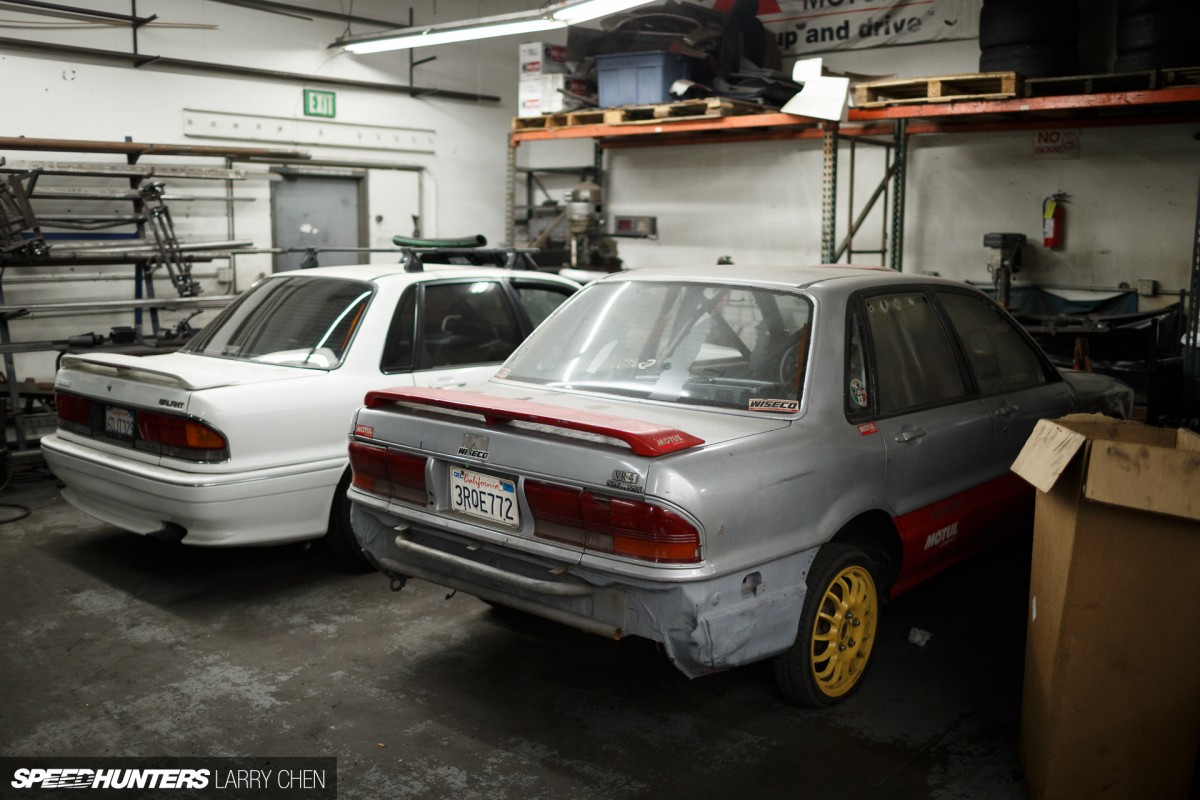 So it was only natural to specialize in the '90s DSM turbo Mitsubishis and later on the Evolution line when it was available in North America.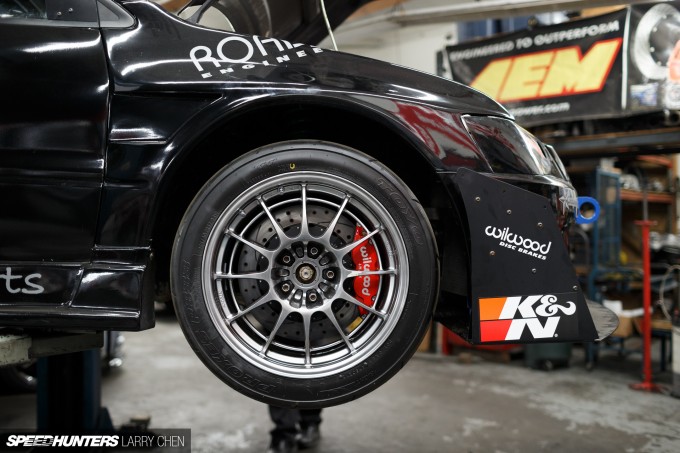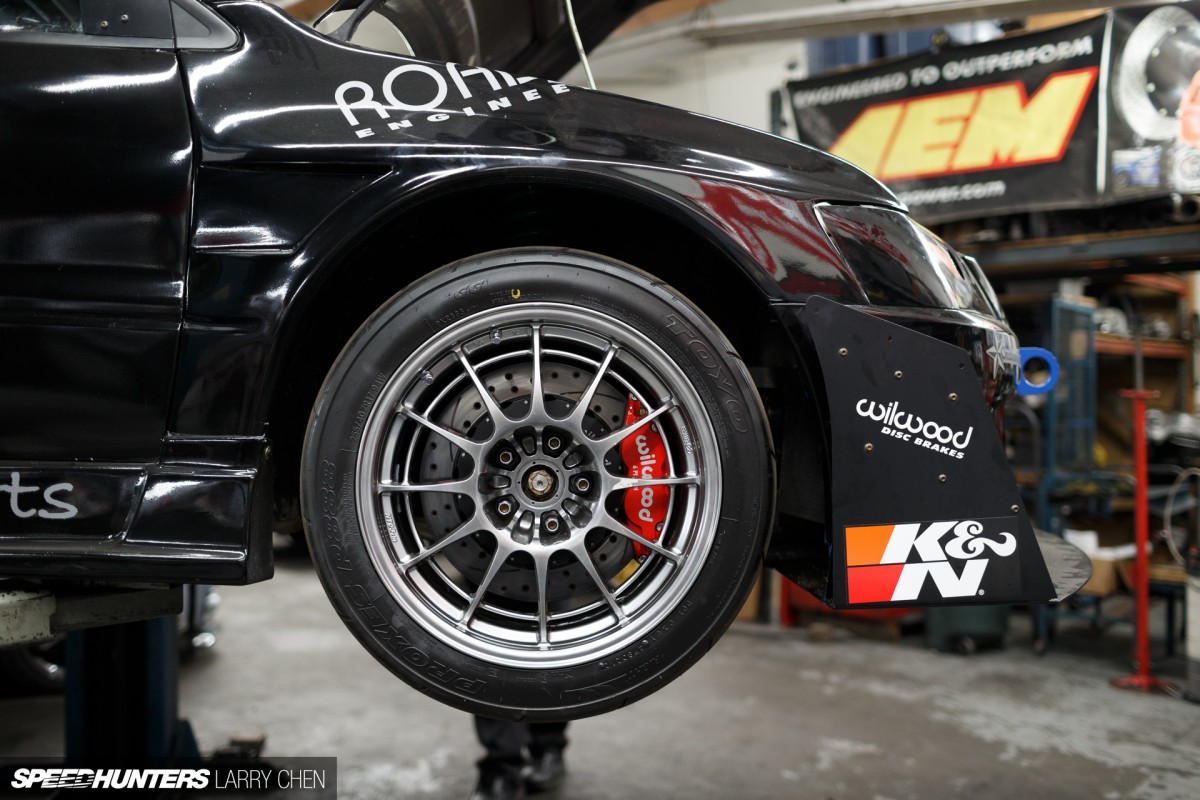 Rod was with Mazda at the time and when he jumped ship to Toyota, it was time for Mike to open up his own shop. He was approached by an individual with dreams of opening up an HKS Kansai type shop – this was back in 1994.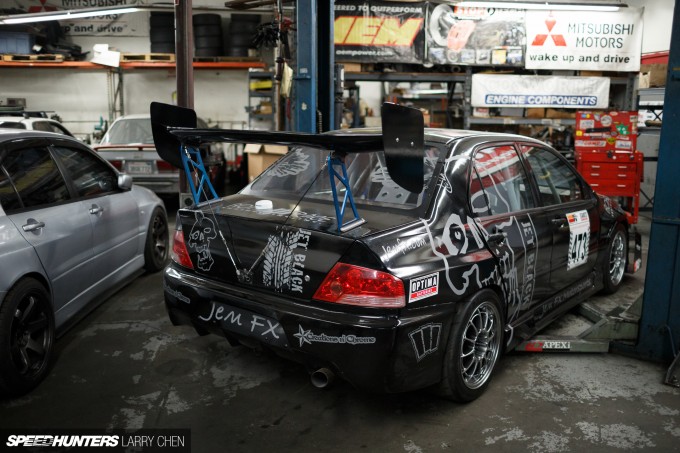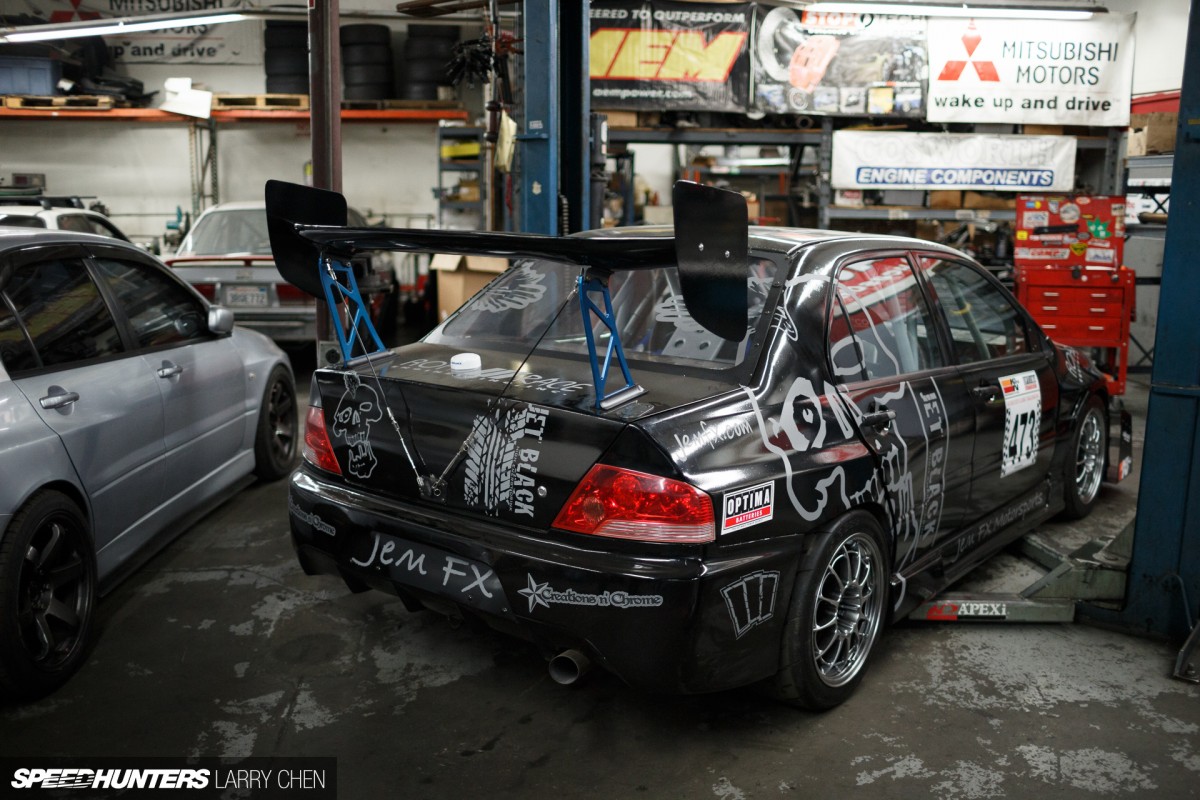 Things didn't work out so well at first and they burned through the money that they had. His business partner bailed and Mike decided to take out a loan on his house and got things right back on track.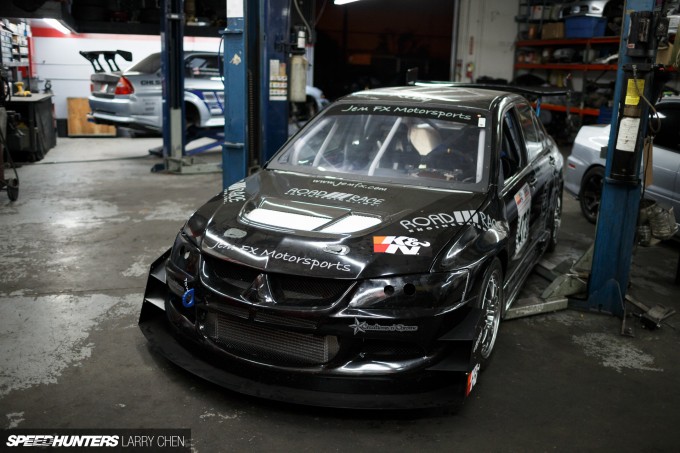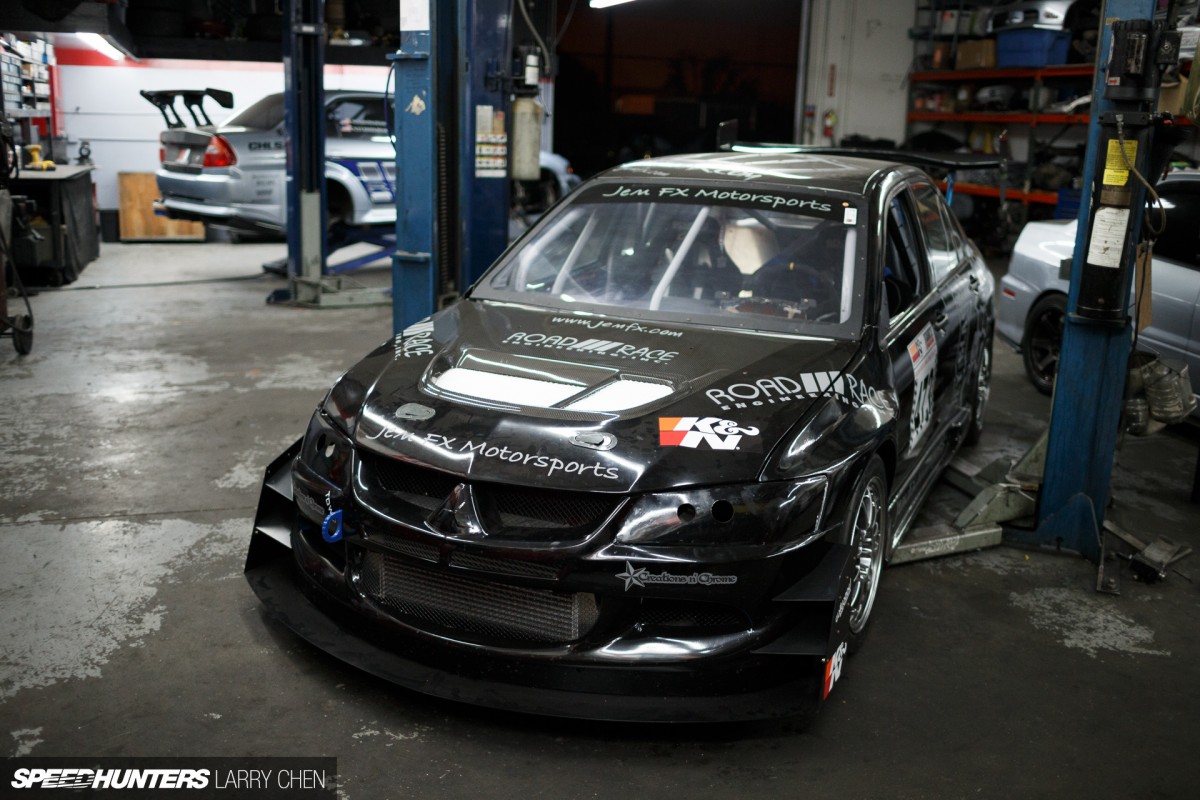 Part of their business is working on movie and special effects cars like this Evo camera car. They were recently instrumental in getting a certain car to jump backwards. Months of testing was involved to get that Chevy to jump just right.
Shop cars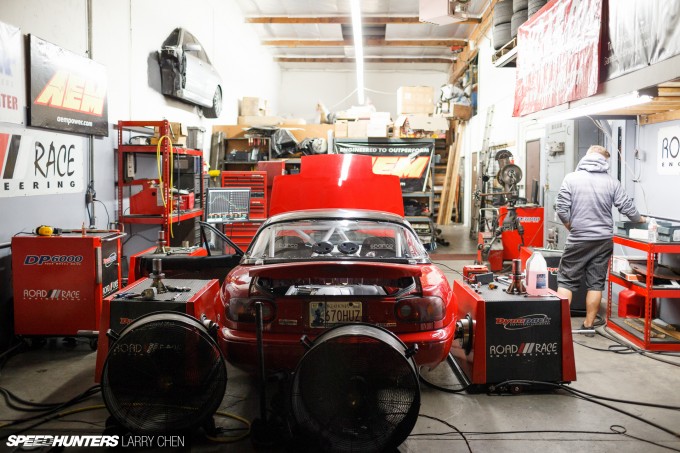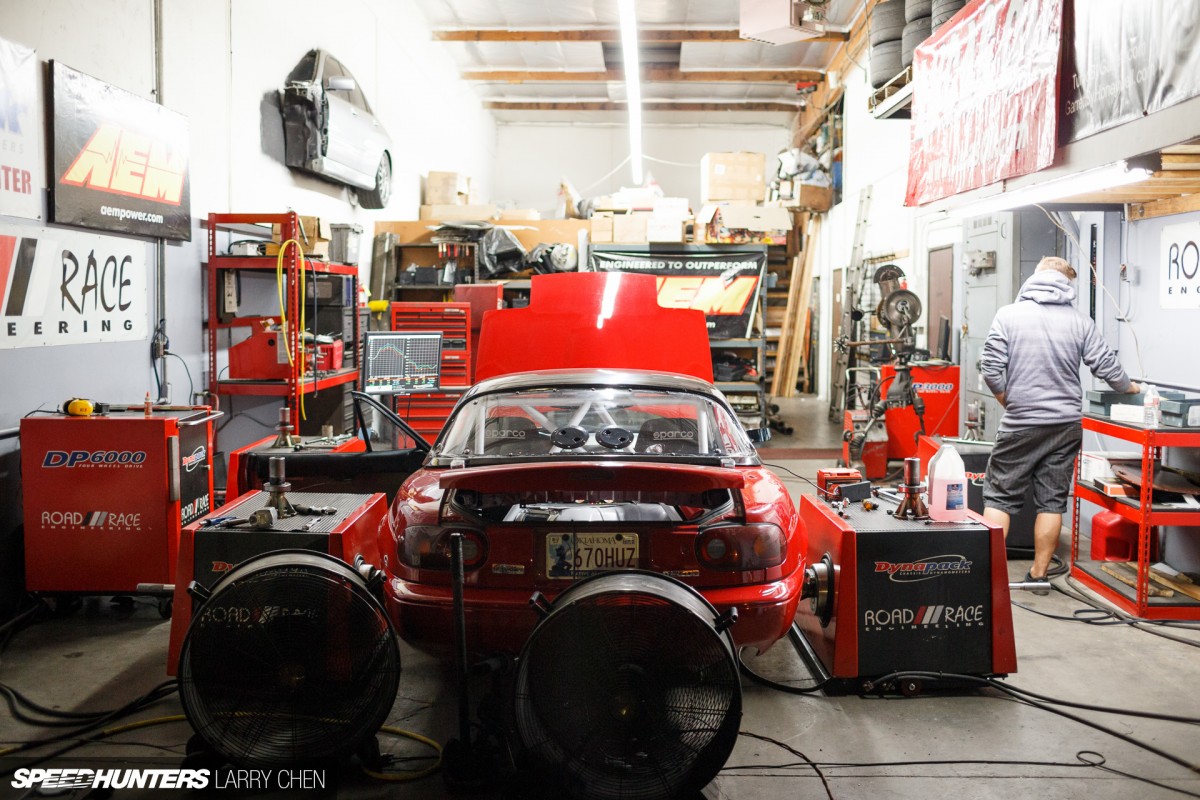 Today the shop is the go-to place for street, time attack, drift or whatever else you need to accomplish your motoring dream.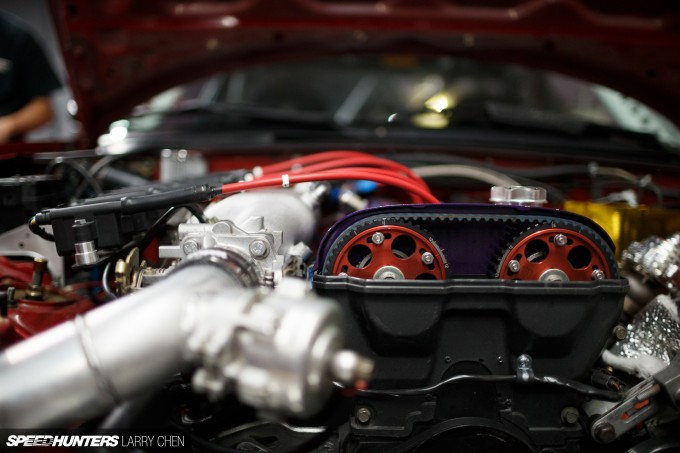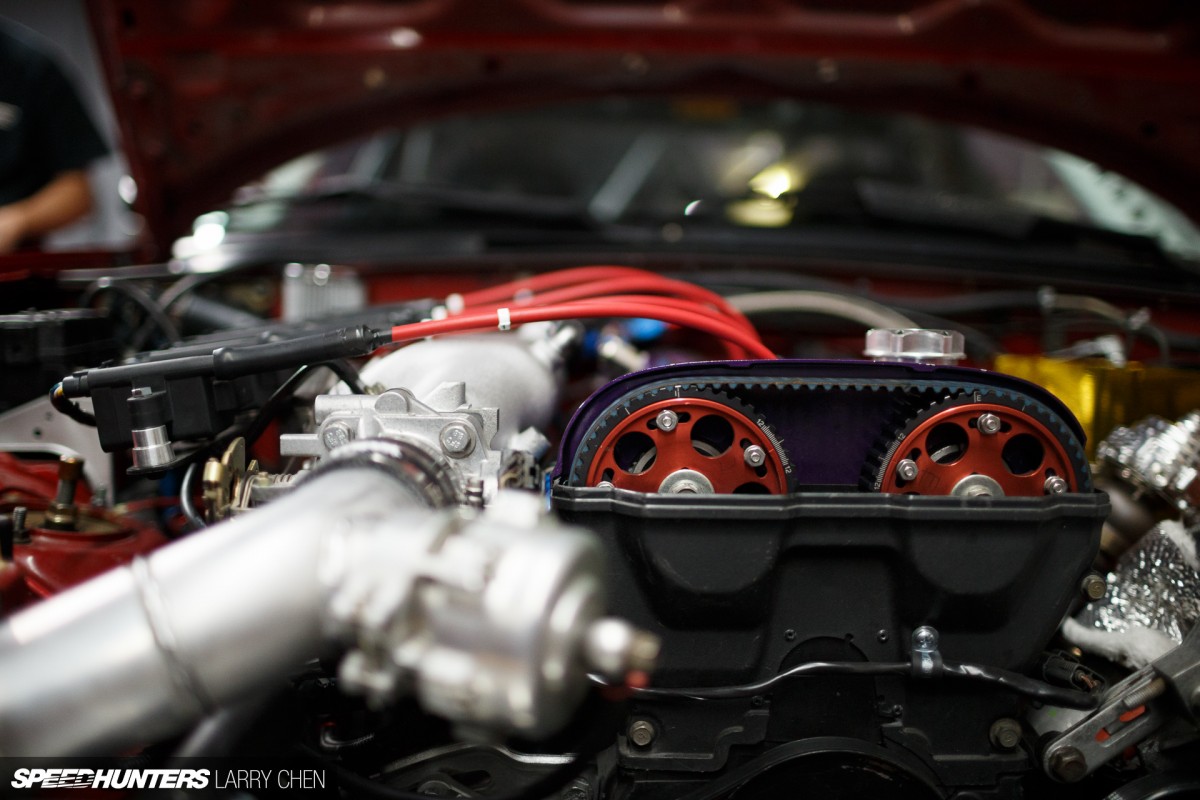 Last year I was given quite the ride in an airplane, which resulted in some projectile vomit.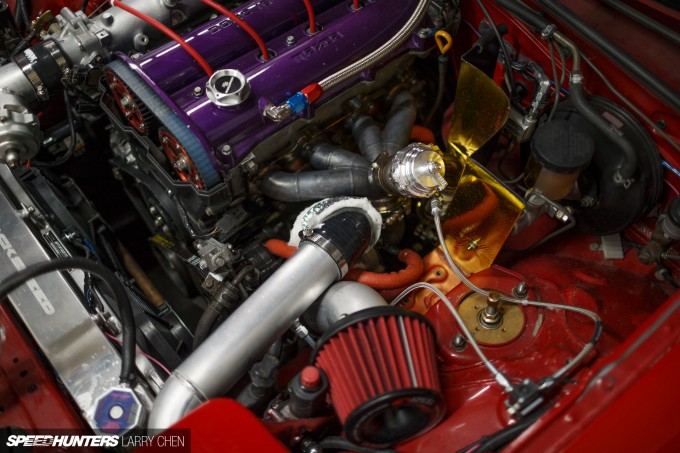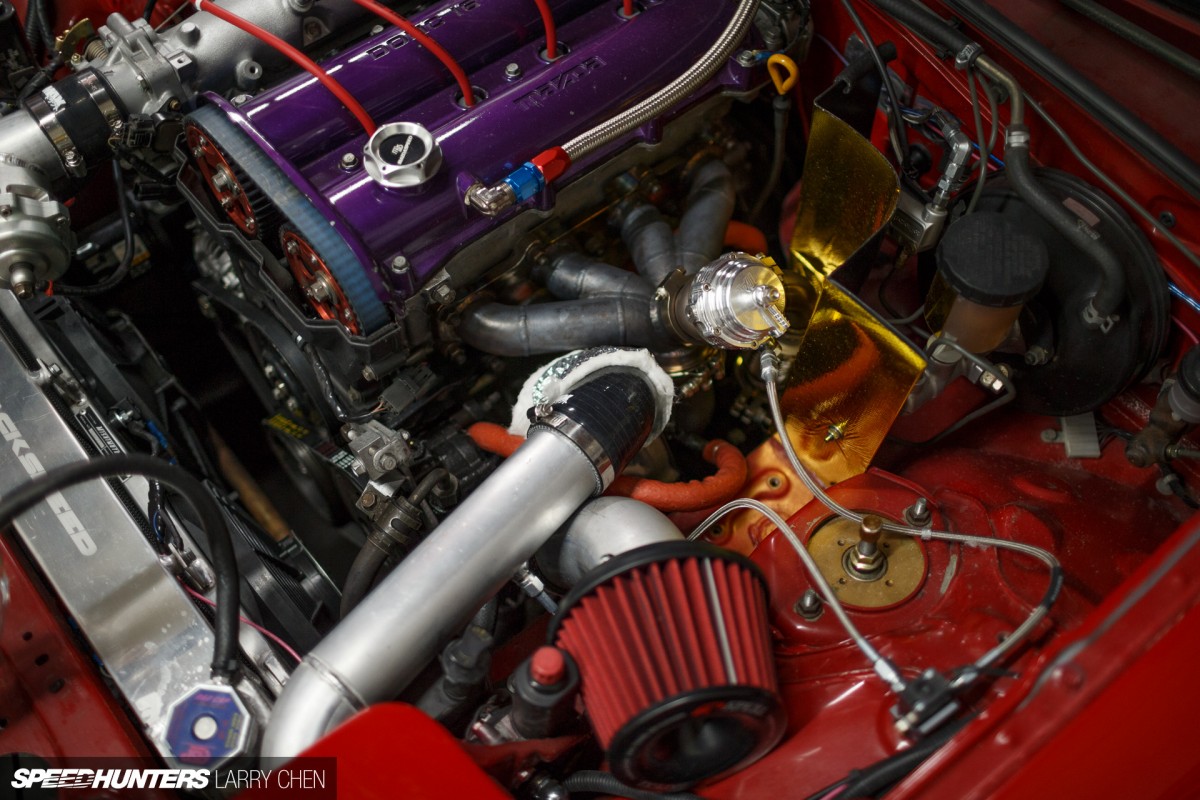 My friend Jeff Guillotte is a pilot in the Air Force and that weekend his drift car was out of commission, so he figured he might as well fly a plane around, so I could shoot some drifting from the air.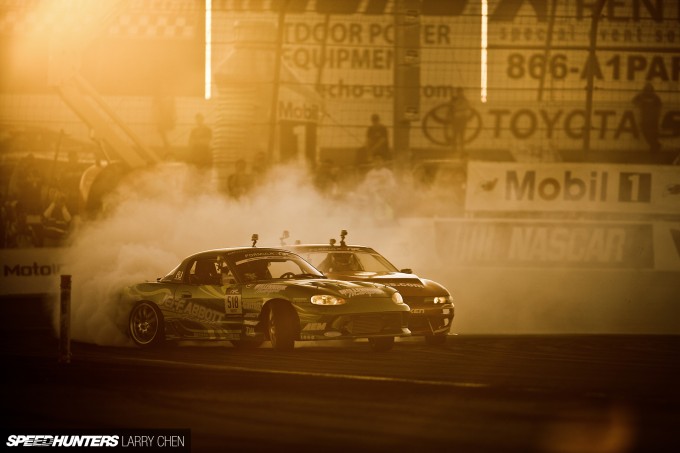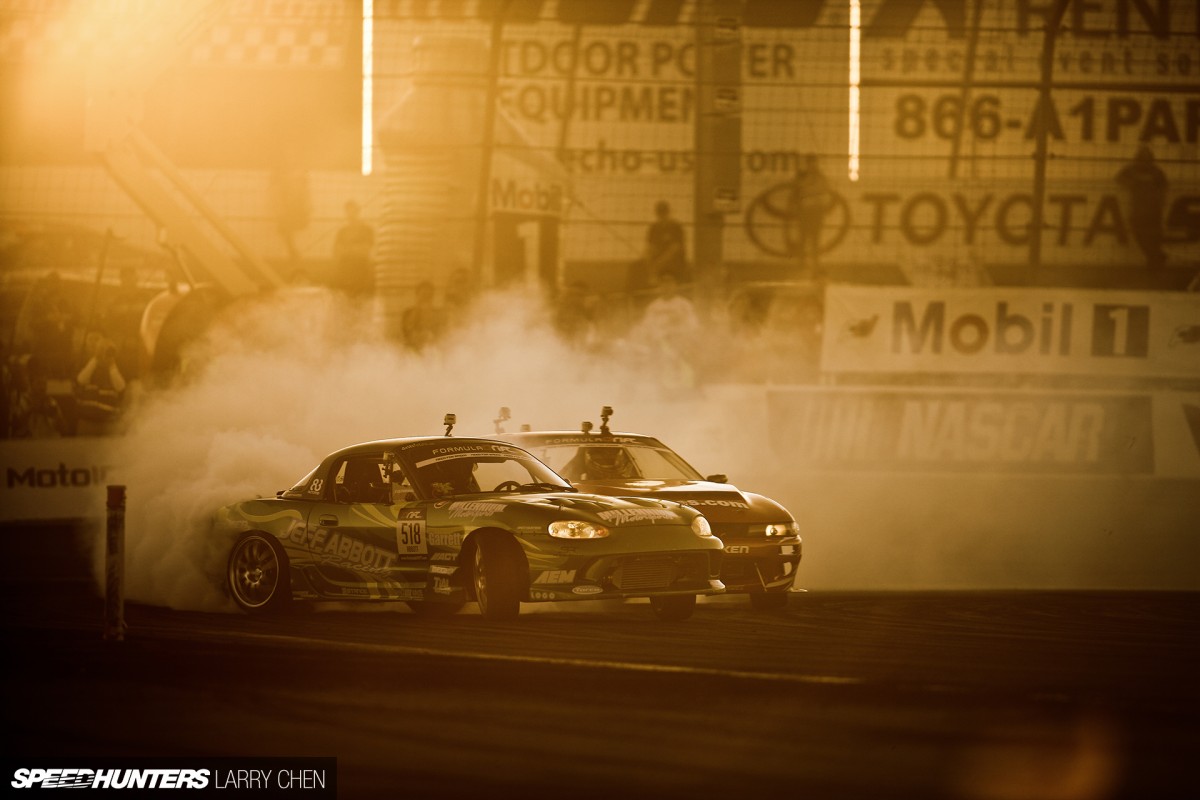 He's had this Mazda Miata since 2007, which he bought for $900. He sourced the motor from a former Formula Drift car run by Jeff Abbott.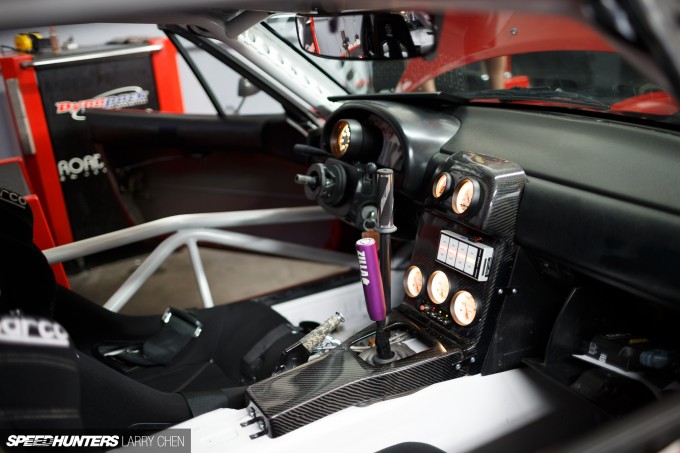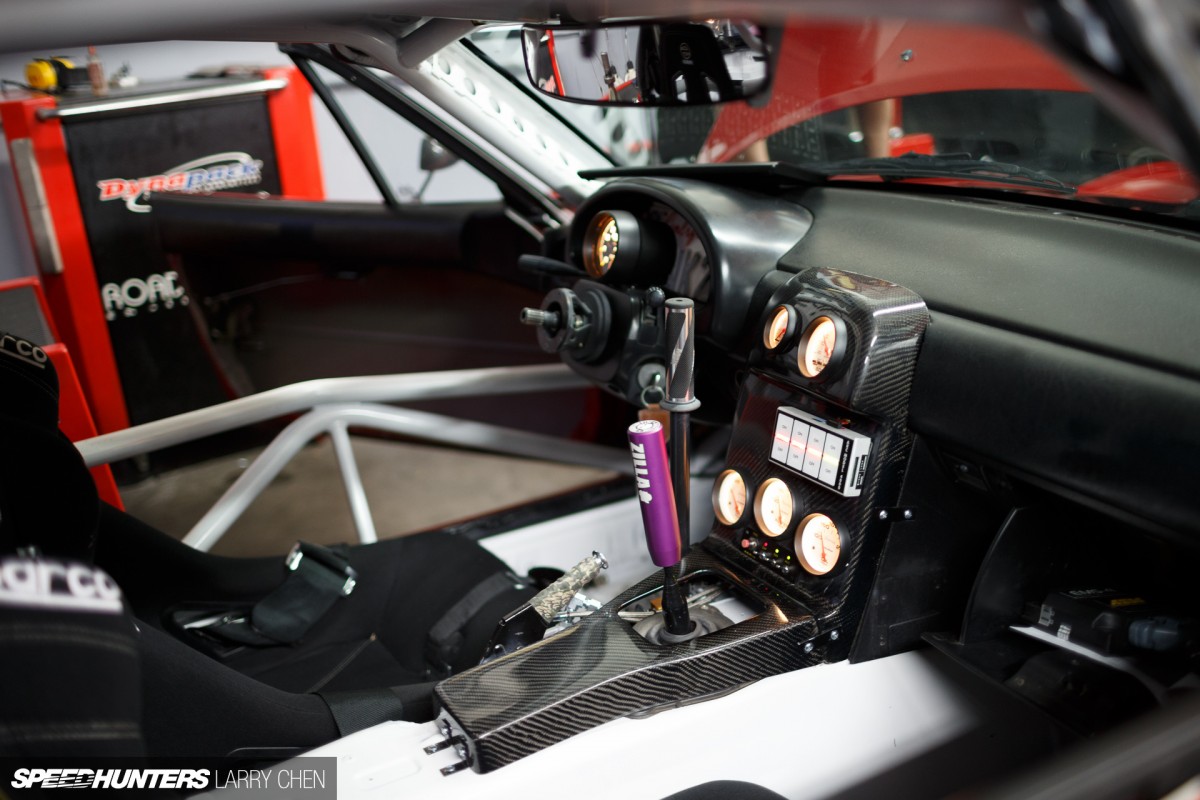 It's a 1.8 liter built by Millennium Motorsports, with forged internals and some head work done. Almost ten pounds of material was shaved from the crank.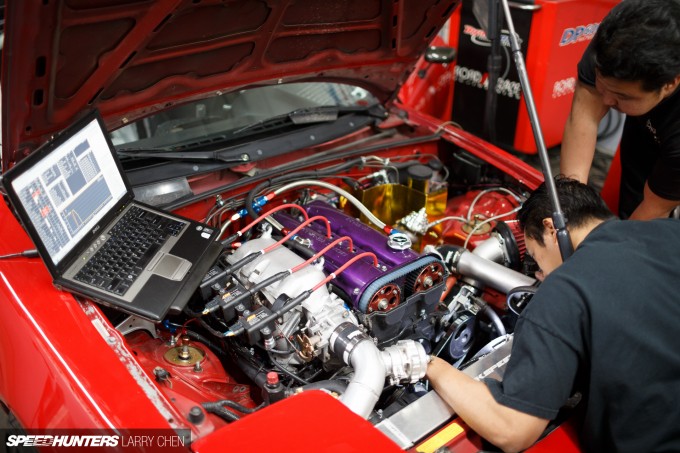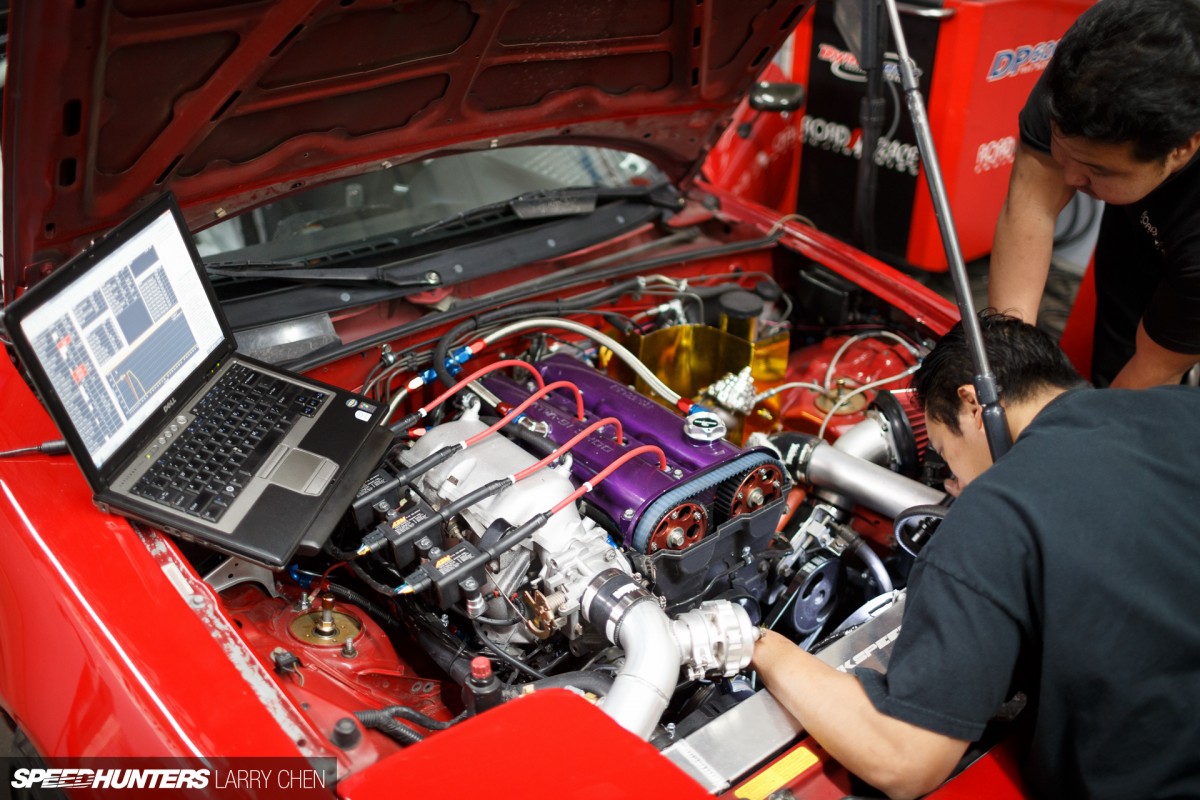 It's running a Garrett GTX2860R on E85. The night I visited, the Miata was on the dyno looking to put down 400 ponies to the wheels. He says that he normally keeps cars for no longer than a year, but he plans to keep this Miata for as long as he's around. You can bet that we'll feature this car when it's done.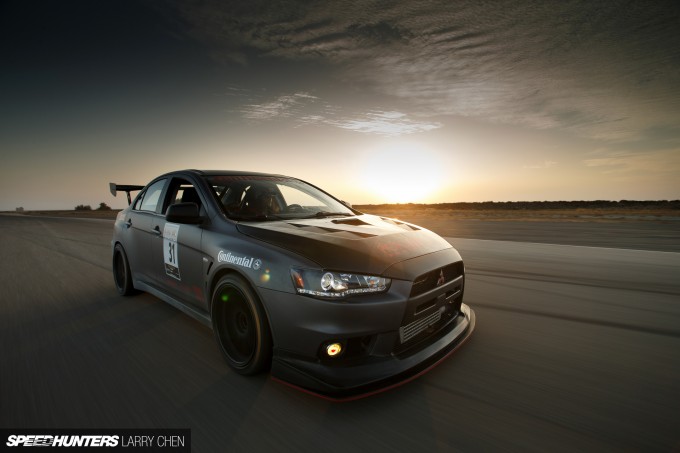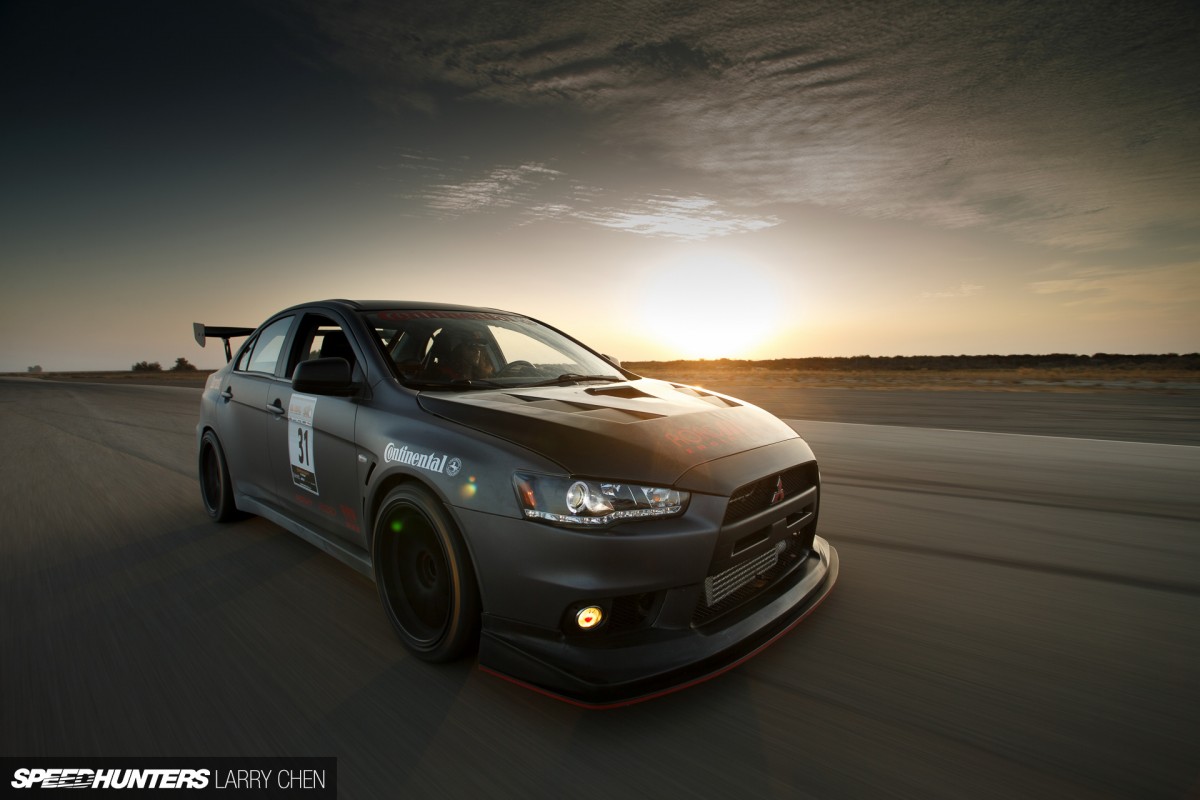 Along with dyno tuning and fabrication, Road Race also does on-site track support. Red Bull BMX rider Coco Zurita loves shredding tires in his Evo as much as he loves getting massive air on his BMX bike.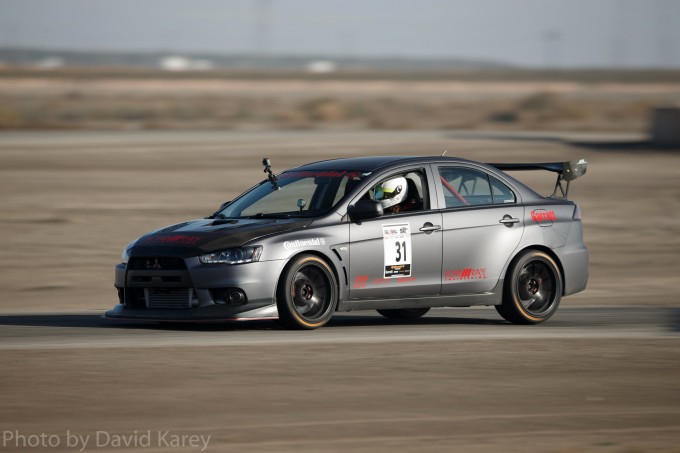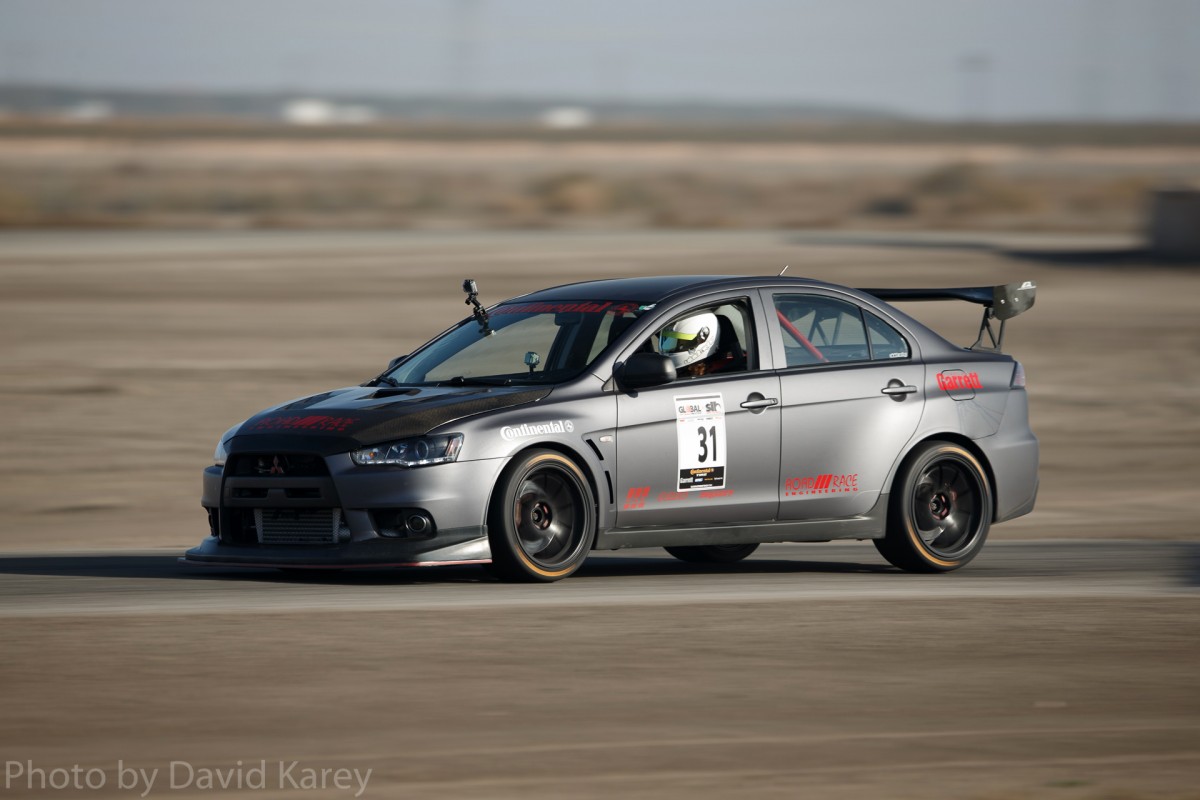 While I was at the Global Time Attack finals pulling double duty, Mike and the rest of the boys from Road Race were making sure all their cars were running top notch.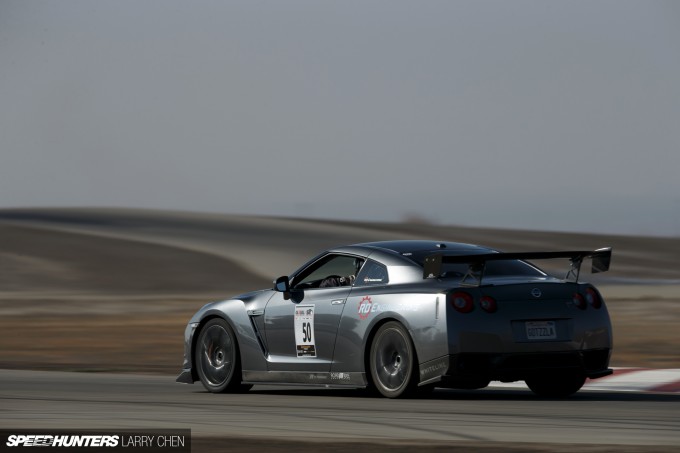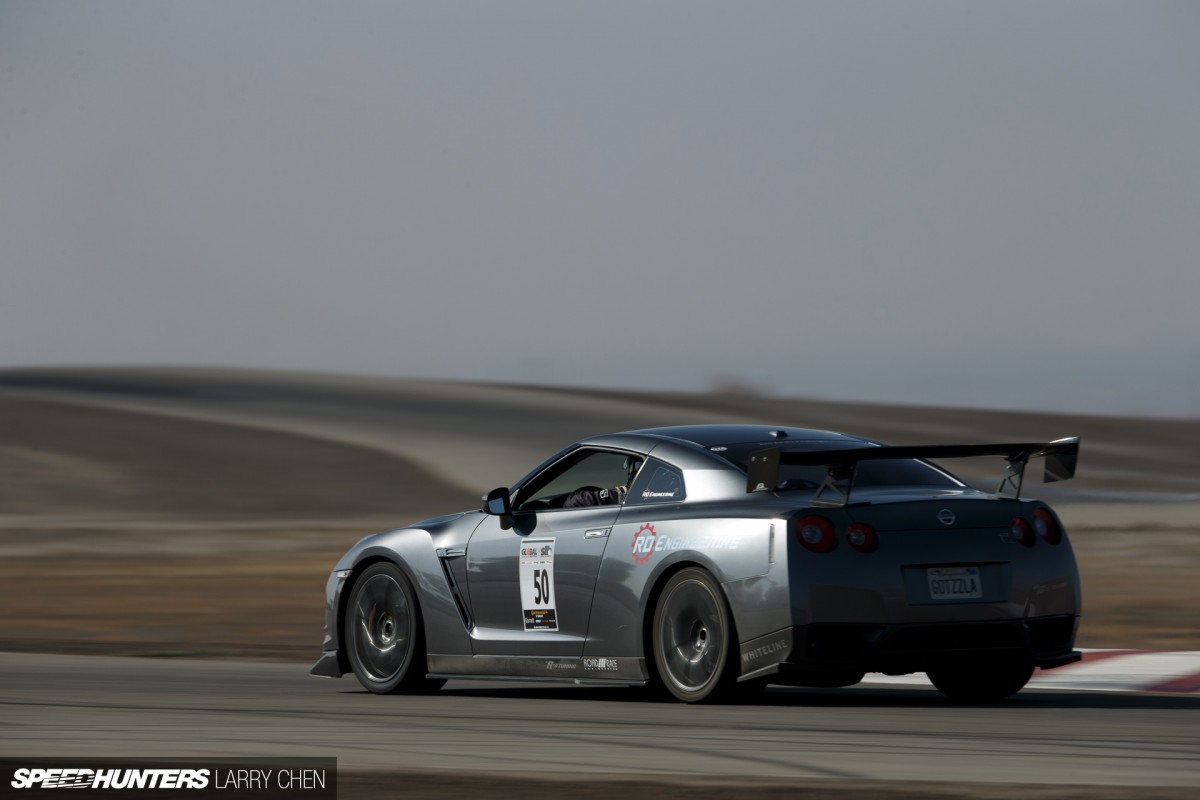 Since Mitsubishi discontinued the Evolution line, Road Race has expanded to take on other all-wheel drive platforms. Which means of course supporting the Nissan R35 enthusiasts of Southern California.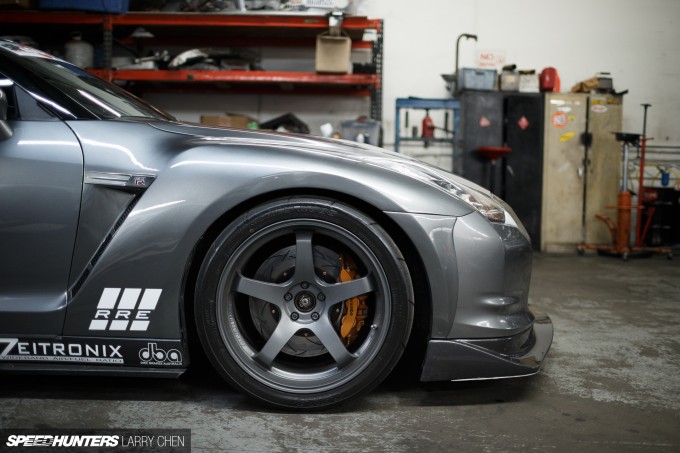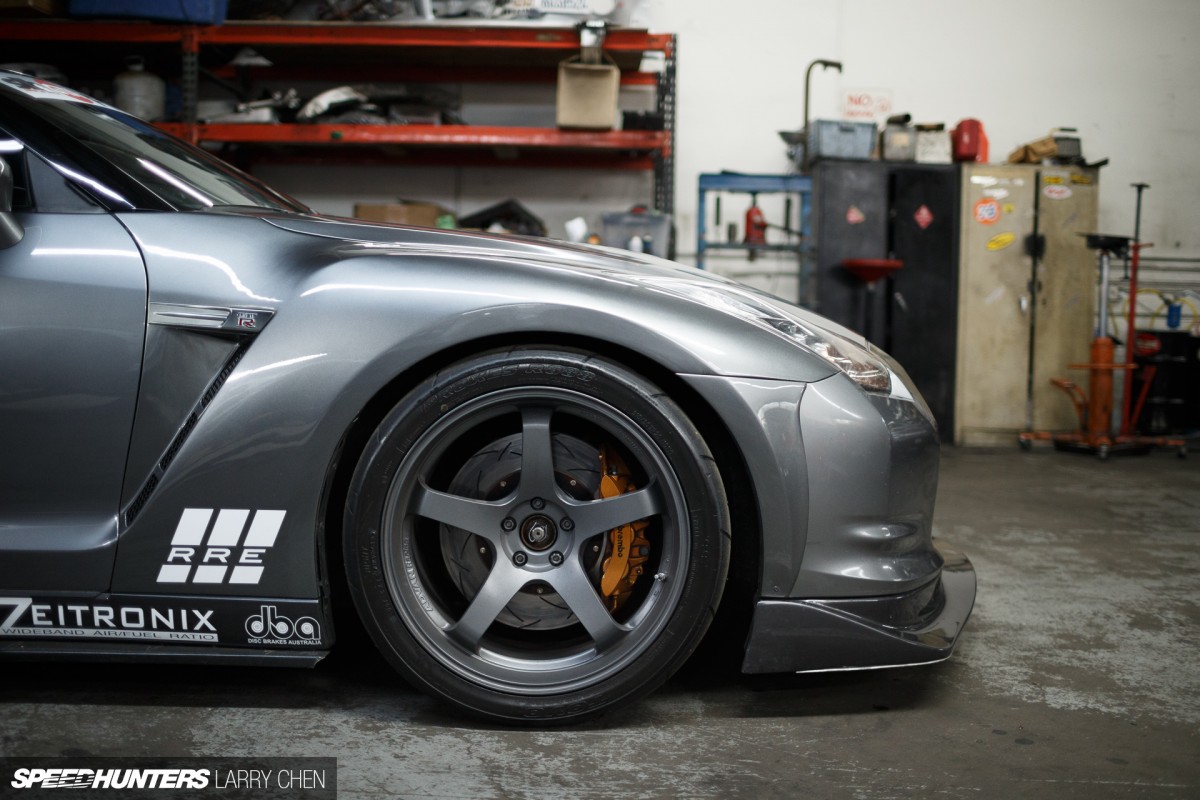 This one in particular was built by RD Engineering in Oxnard. It has fully upgraded internals in the VR38 motor and a pair of Garrett GTX 3070 turbos putting down 900whp. Road Race helped with some of the aero, as well as track support when needed. This GT-R was not built with big numbers in mind. It was built with balance and handling in mind: the perfect street and time attack car.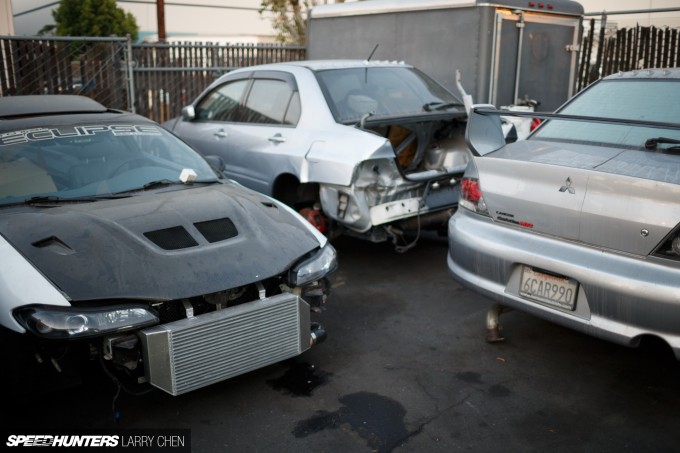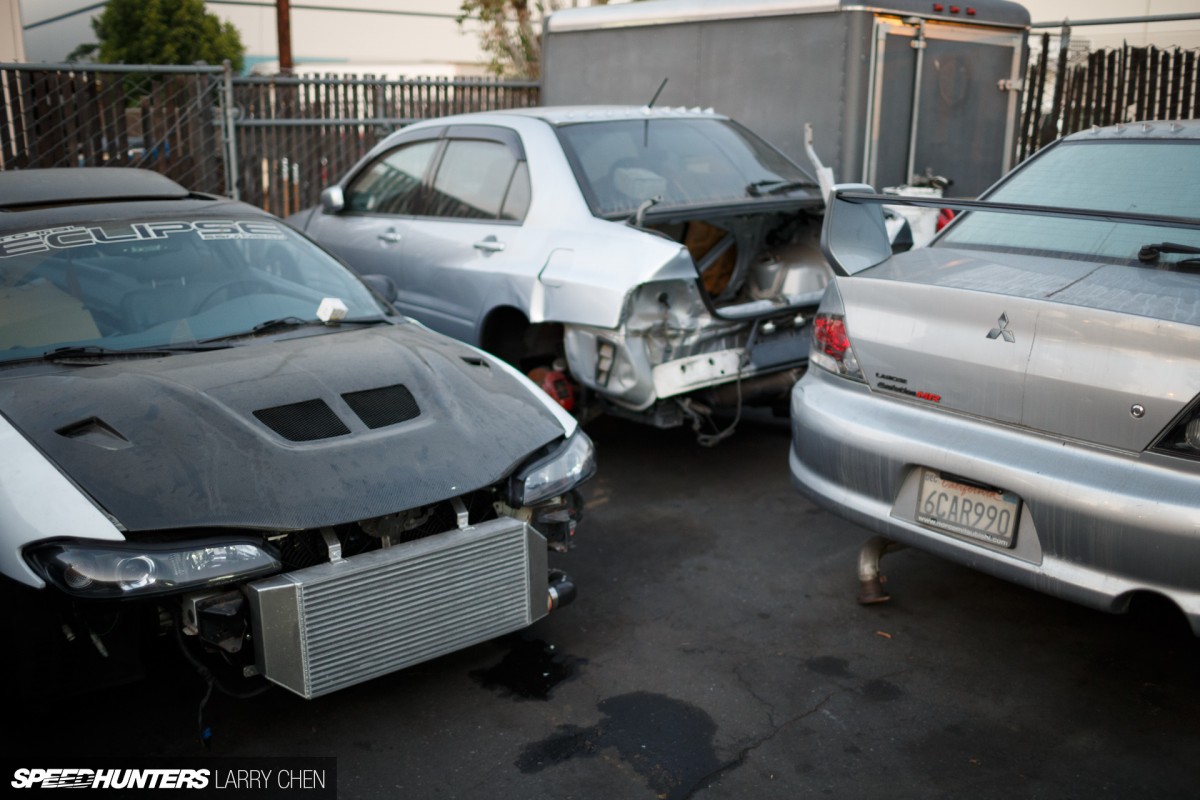 Out front there were a plethora of all-wheel drive monsters just waiting to be rebuilt.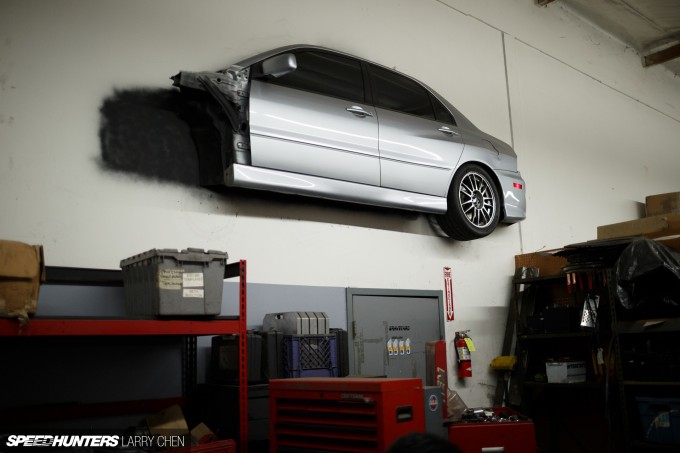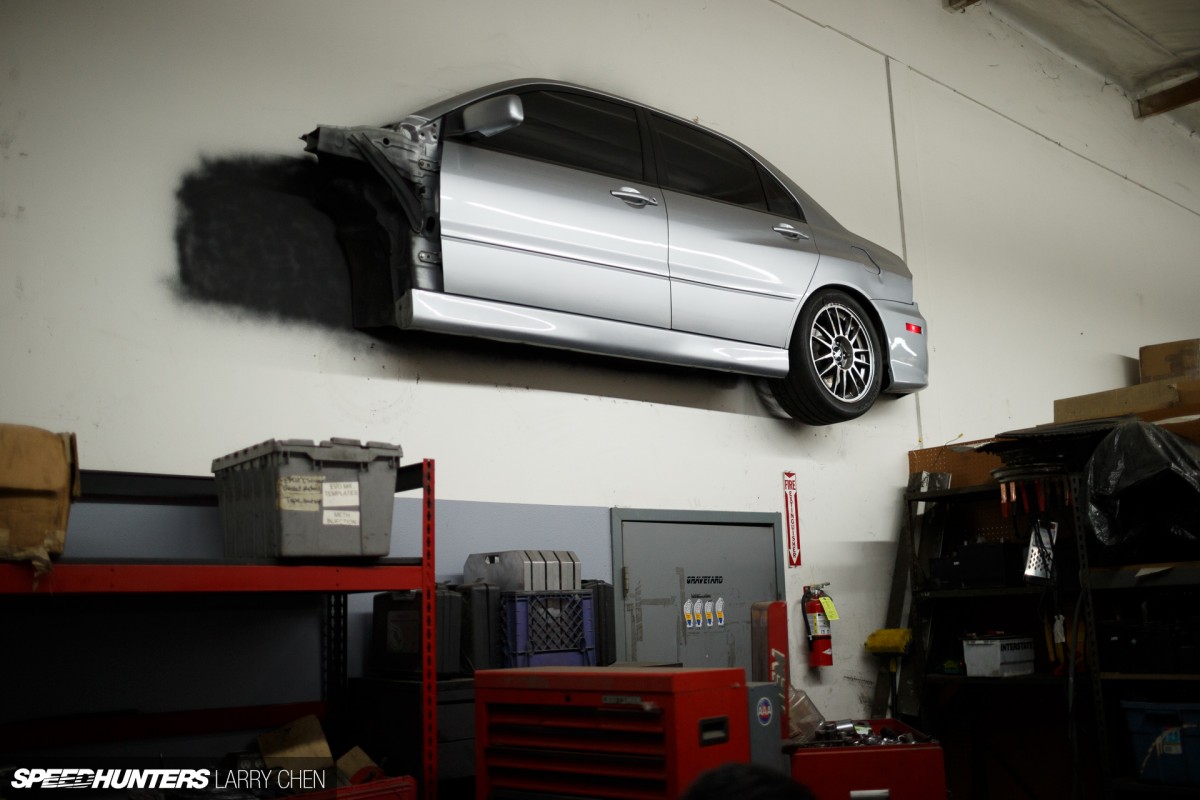 This Evo 8 belonged to a customer who wrecked the entire passenger side of the car. At least it made for a nice wall decoration.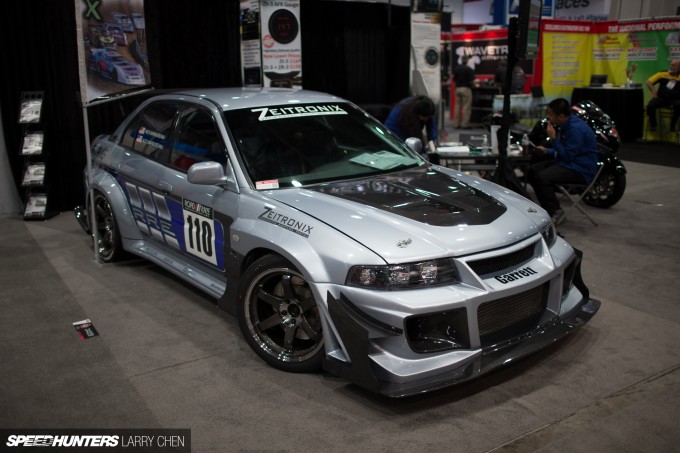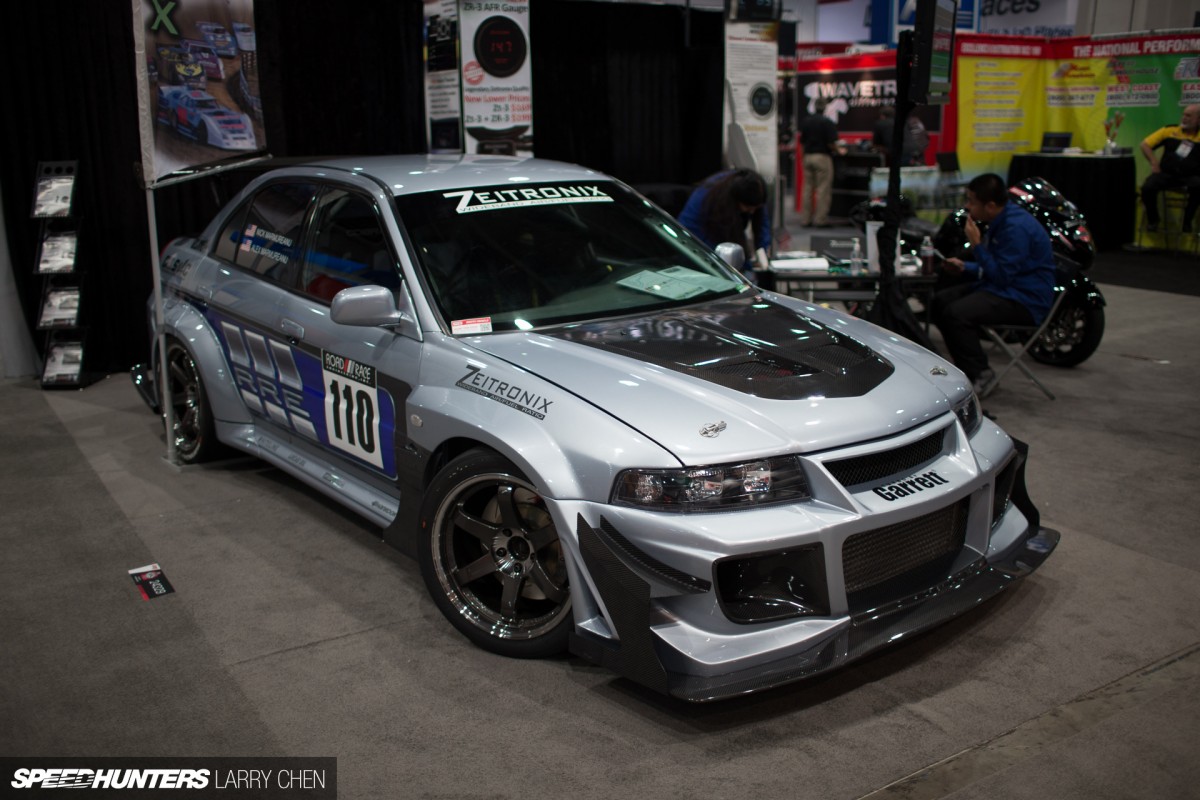 One of the latest projects that the guys have been working on is this Evo 6 GSR, which debuted at SEMA this year.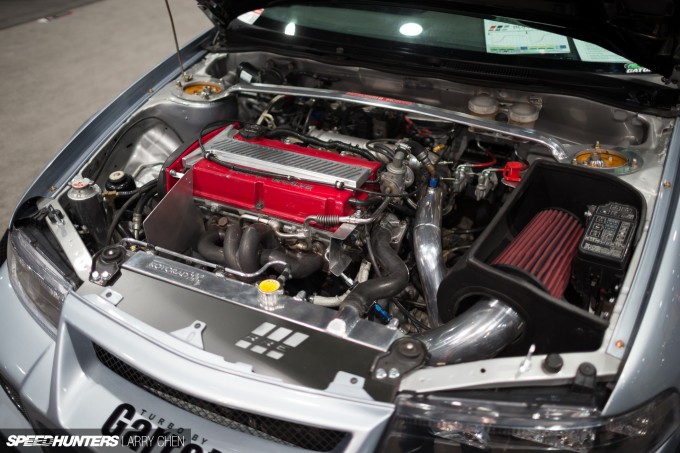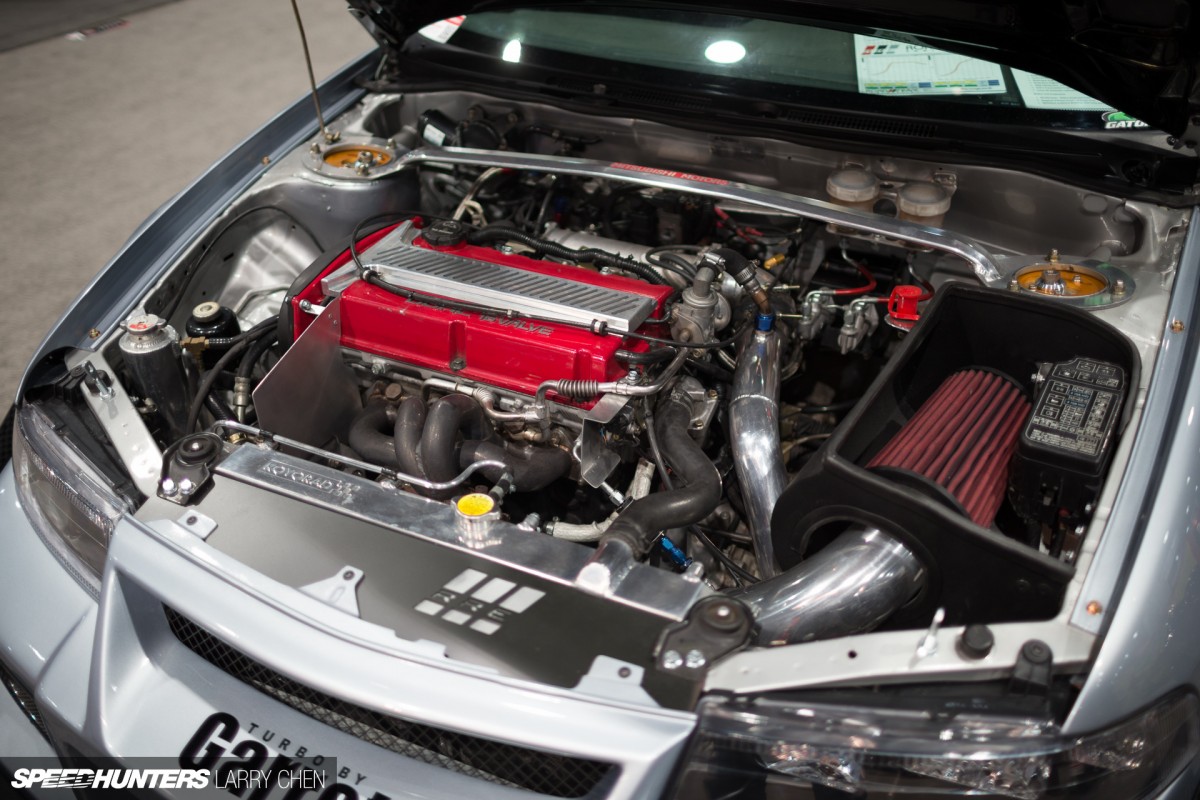 It's rare to see these cars stateside and this one is running a 2.3 stroker motor putting down 600whp with 500ft·lbs of torque at 25psi.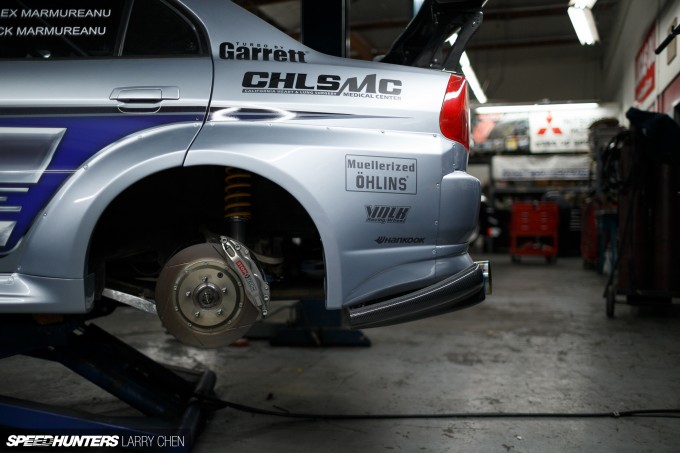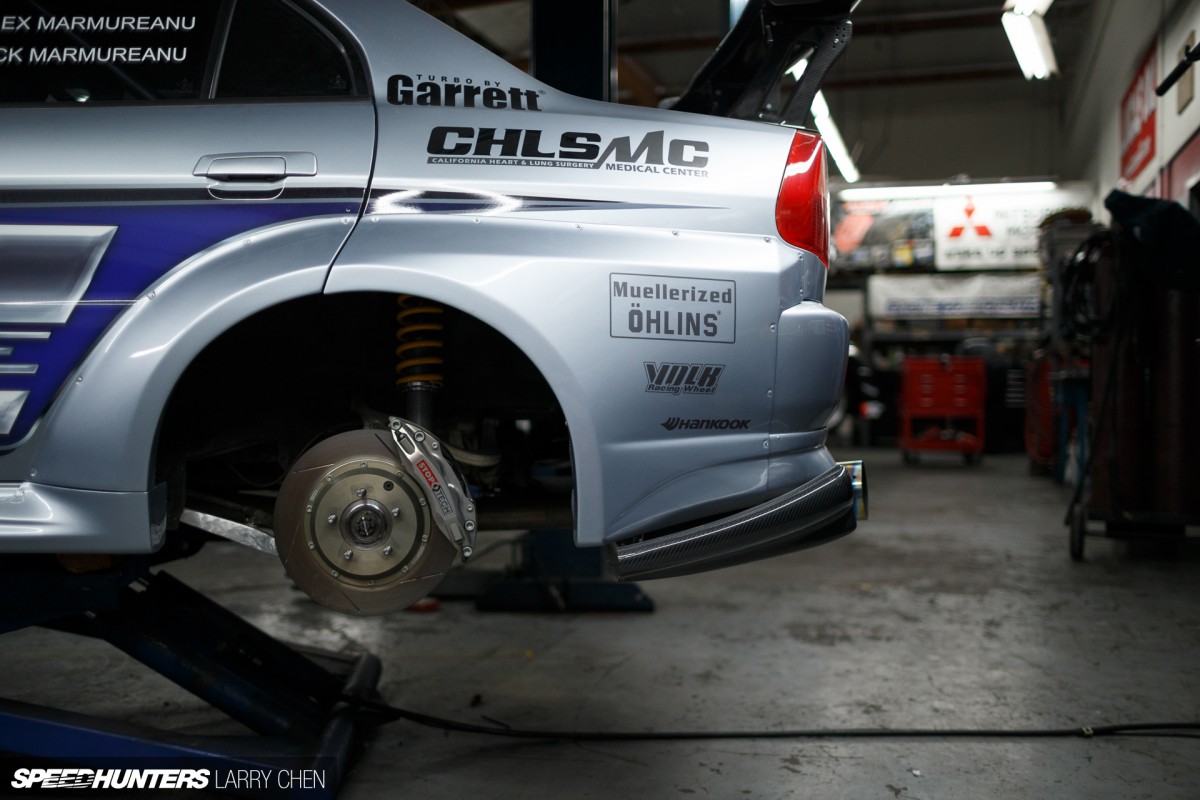 This ultimate Evo 6 will be seeing plenty of time attack duty this season.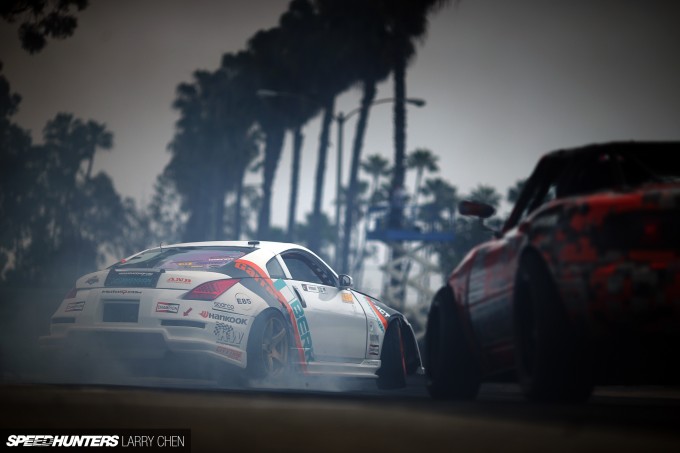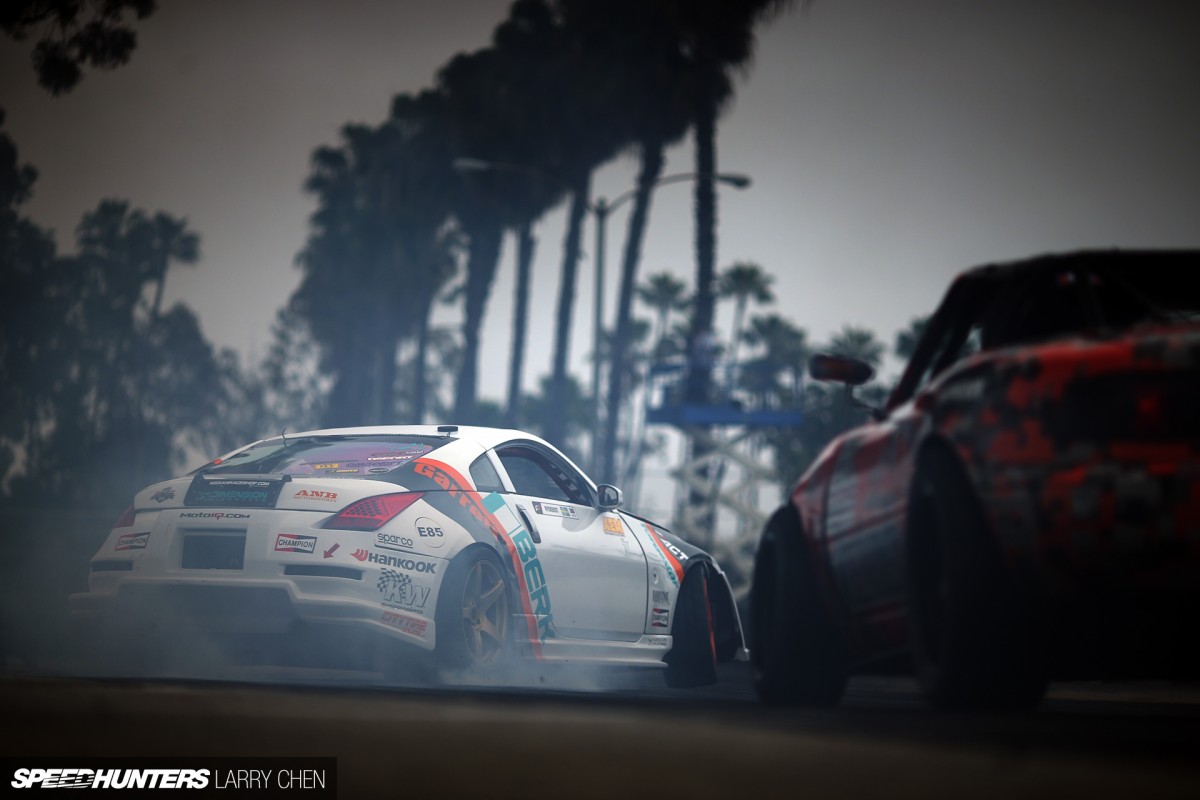 This year they also plan on helping out a few teams in Formula Drift including stunt driver Carl Rydquist.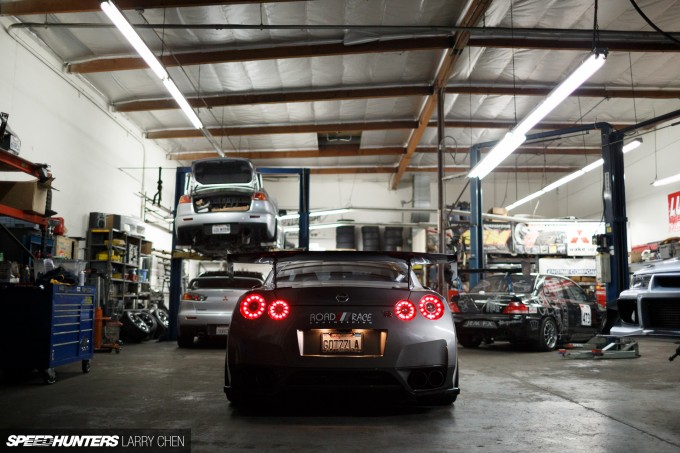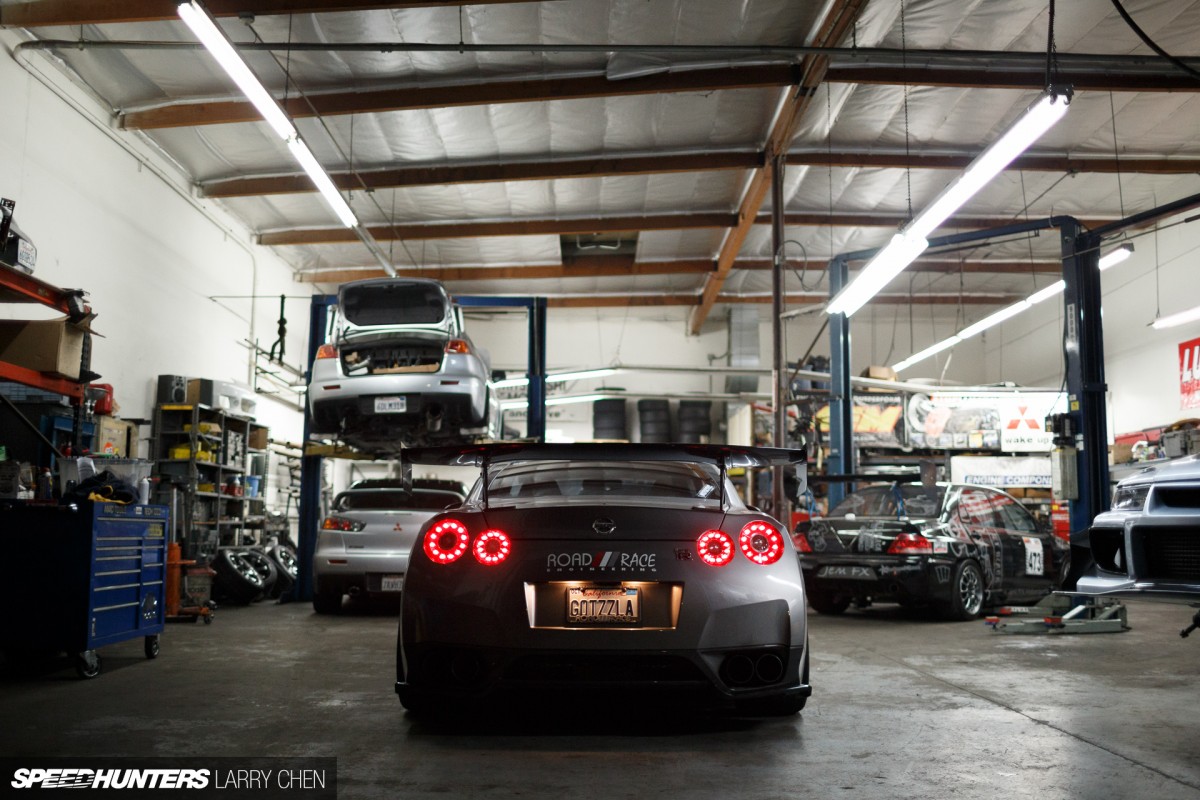 Like many shop owners, Mike's real passion is behind the wheel, but of course to pay the bills he has to run a day-to-day operation that involves maintaining race cars, fabrication work and dyno tuning. Maybe one of these years he will get back behind the wheel in some crazy Mitsubishi Evolution for a new Pikes Peak time attack record. If he does, you can bet I'll be there front and center to capture it all.
Larry Chen
Instagram: larry_chen_foto
larry@speedhunters.com