The command center of hooning
I think we're all familiar with the Hoonigan brand, right? It's a byword for rallying, epic Gymkhana videos and doing pretty much everything in #MaximumAttack mode. But Hoonigan is actually a hard-working, talented set of guys who love what they do, and that naturally shows in everything they lay their hands on. Be honest, who wouldn't want 'Hoonigan' on their business card? In short, it's what any gearhead would hope to do if given the opportunity.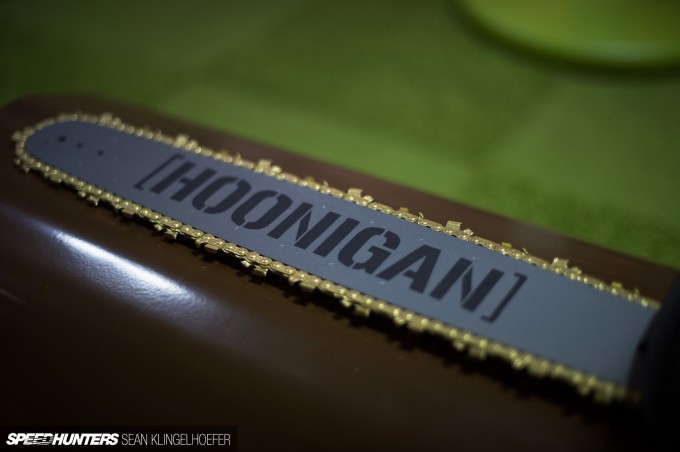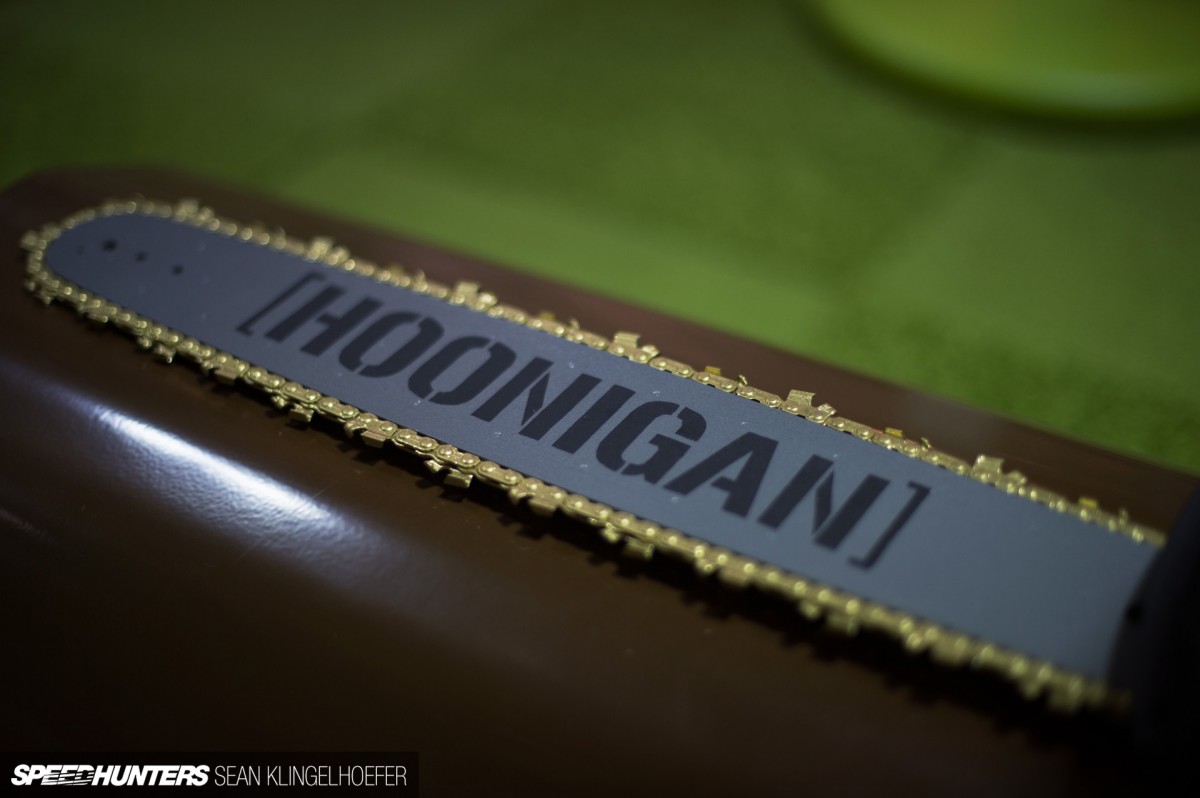 You've seen plenty of Ken Block's exploits behind the wheel, but I bet you've never seen the space he's created for day-to-day hooning operations. It's called Hoonigan Racing Division, tucked away in a non-descript commercial building somewhere in Utah, and it makes for the perfect location to kick off our Garages and Workshops theme that will be running over the next couple of days.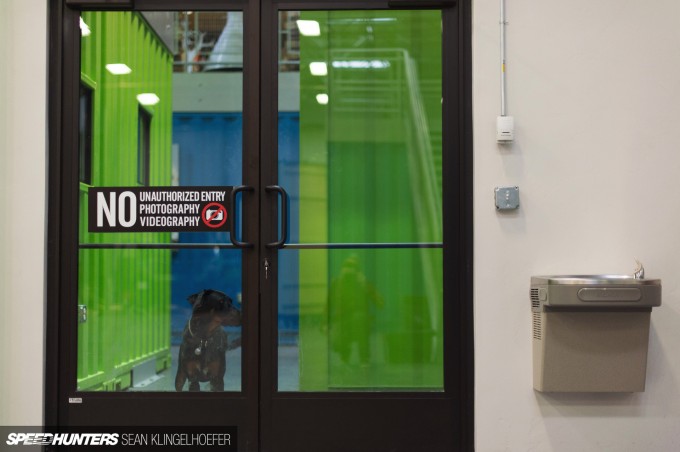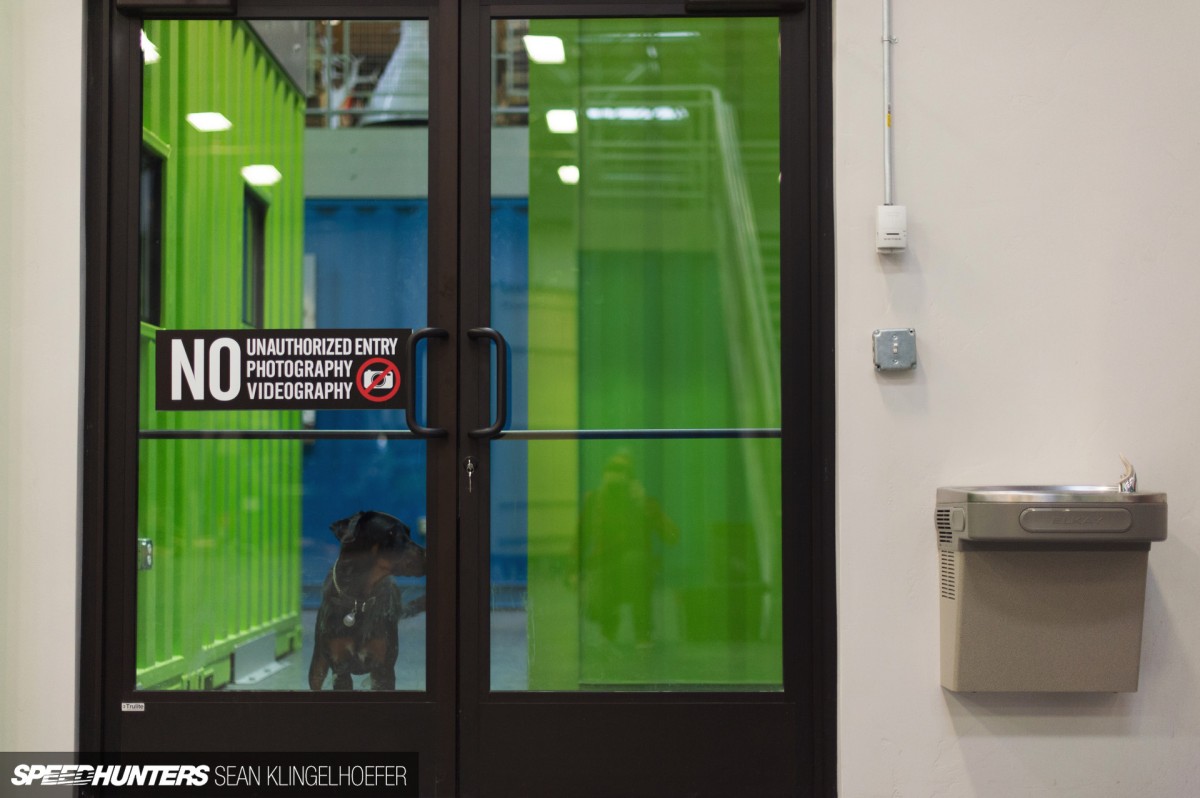 It's not easy getting into this place and when I asked Sean how he managed it, he said something about having a finely crafted beard and a secret handshake. Good thing he has all the right moves, especially considering the warnings on the door.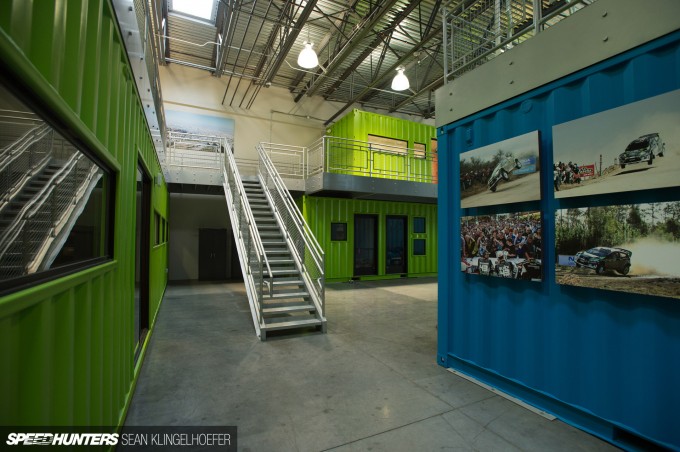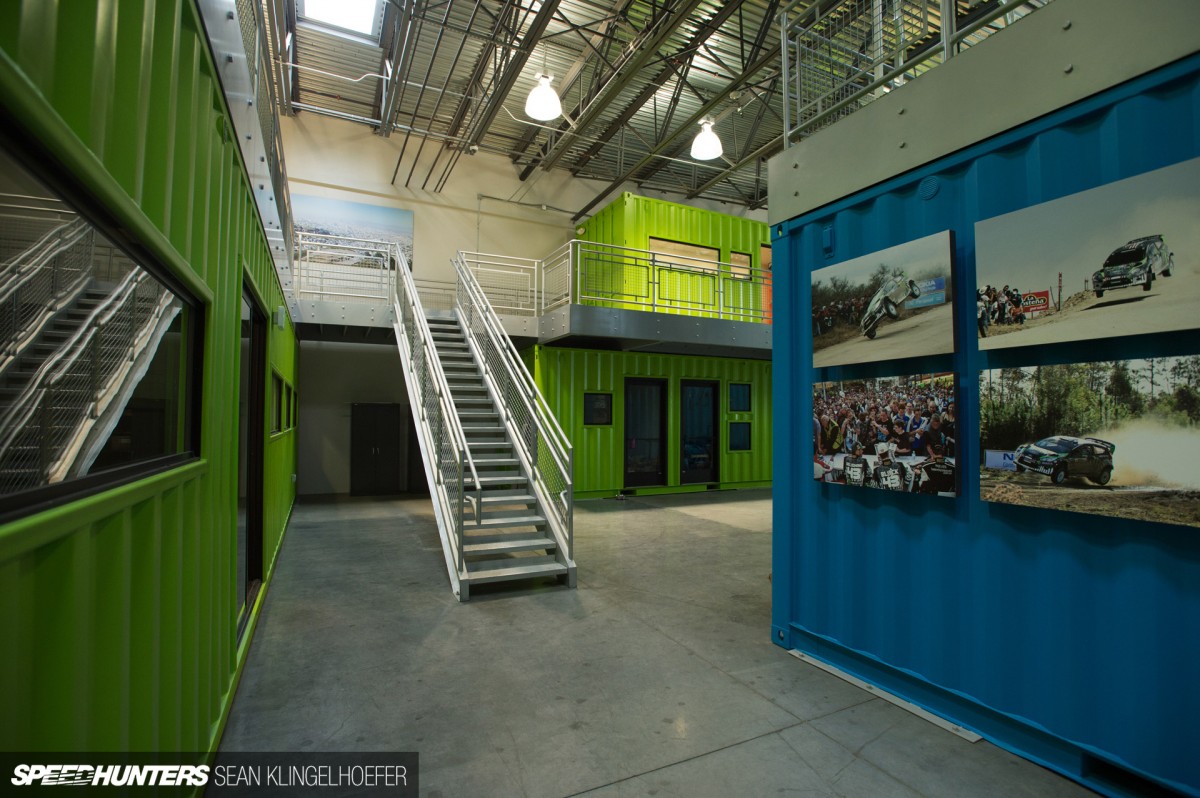 I've seen Instagram posts from @thehoonigans with a couple of neon painted shipping containers flanking a rally car or some other drool-inducing vehicle. They've always intrigued me, but I wanted to know if that's what it's really like? As I've long daydreamed about building a shop of my own with these forty foot long, indestructible steel vessels.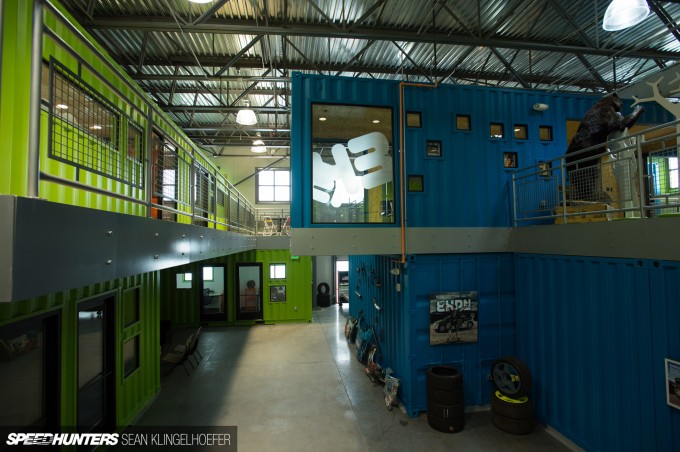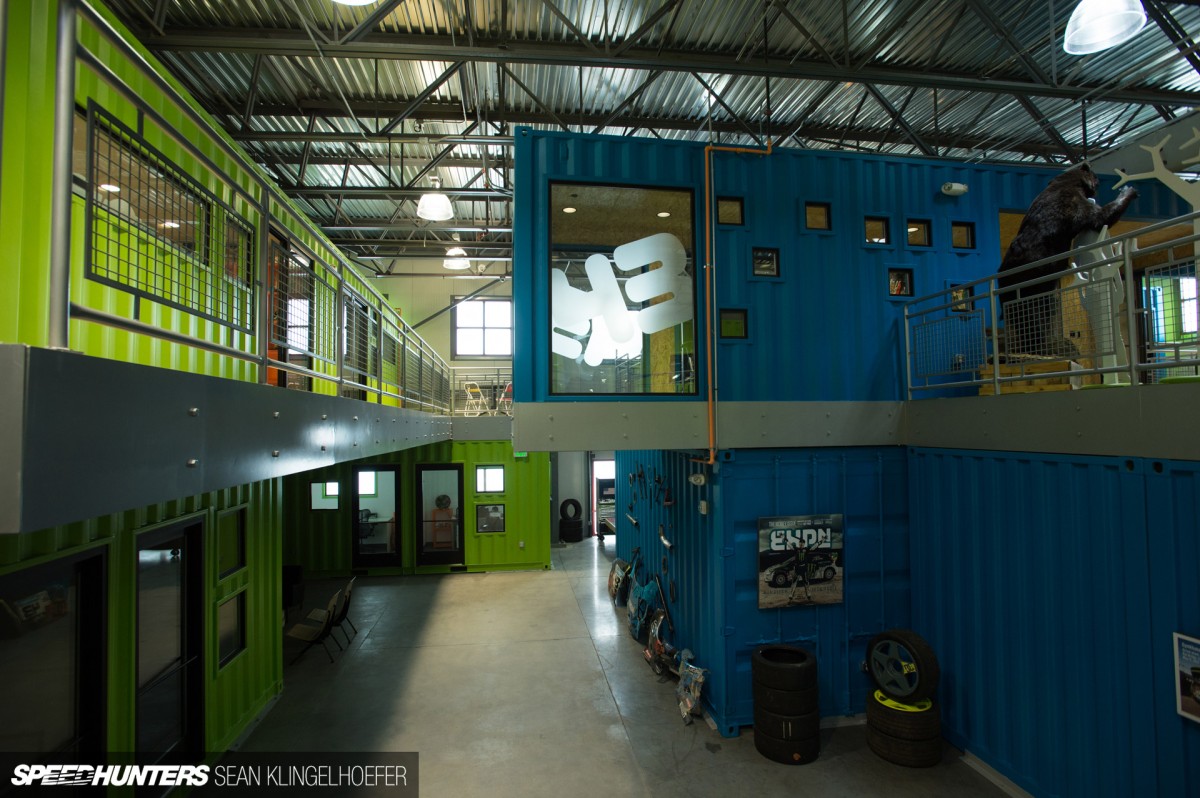 Looking through Sean's photos, I realized there weren't just two or three of them though. No, these guys completely outfitted their warehouse with them. It's a modern architect's dream in here, with cool stacking blocks trimmed out in steel and wood.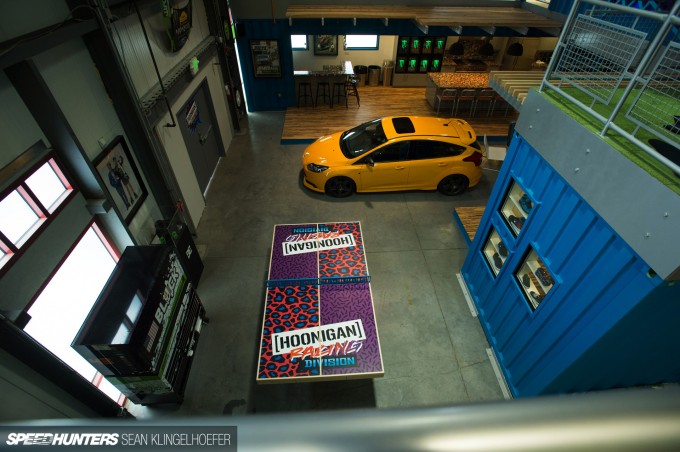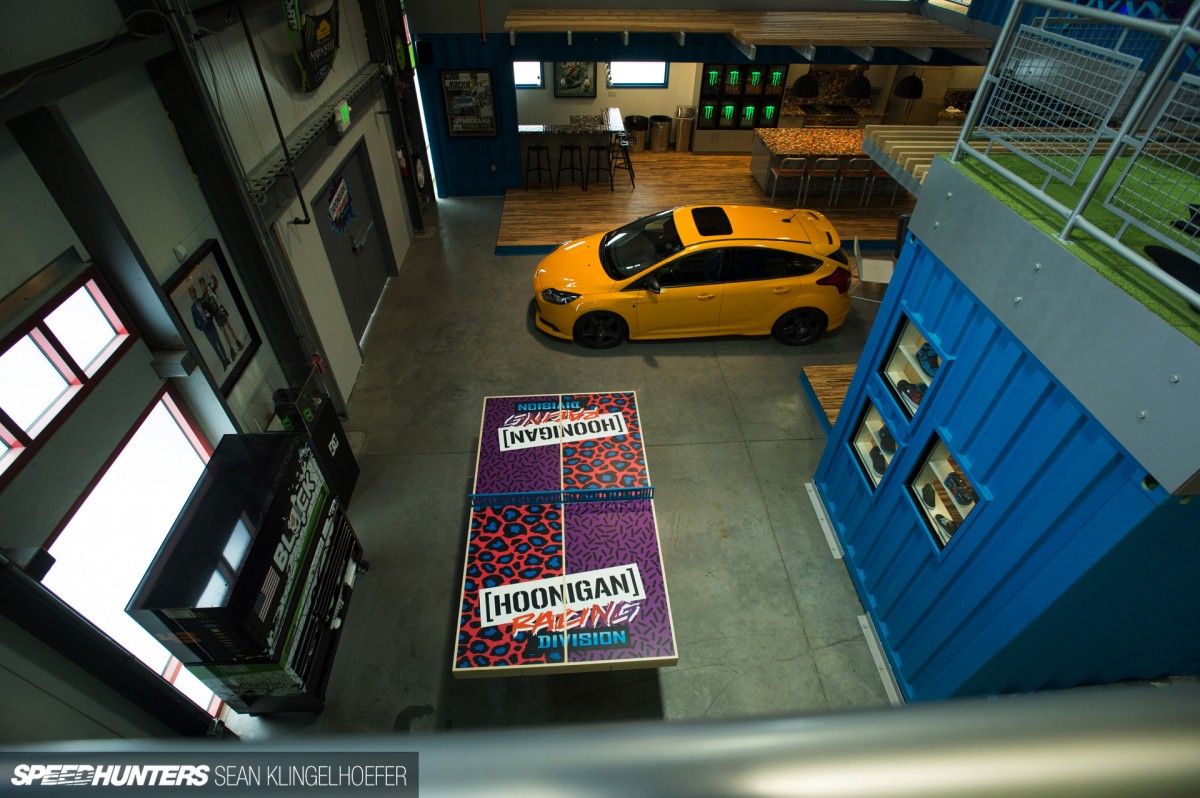 Currently Hoonigan Racing Division has sixteen of the containers, all customized with matching paint and doors or windows to suit their needs. It's quite a smart solution really: should they ever need to move, they can take most of the shop with them. When you consider the effort to build out a large warehouse into a custom space like this, it really starts to make sense.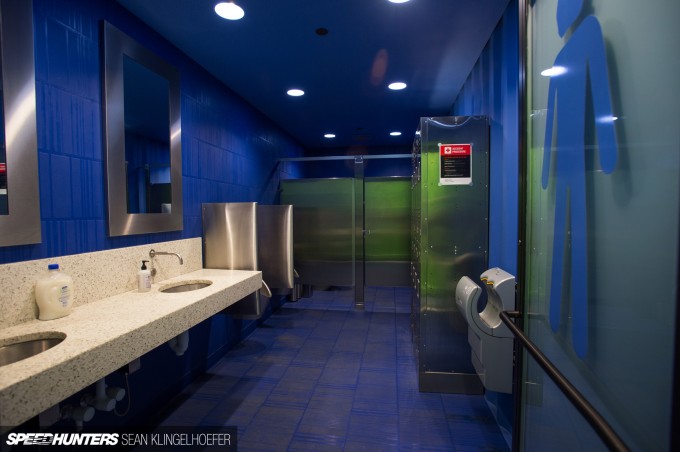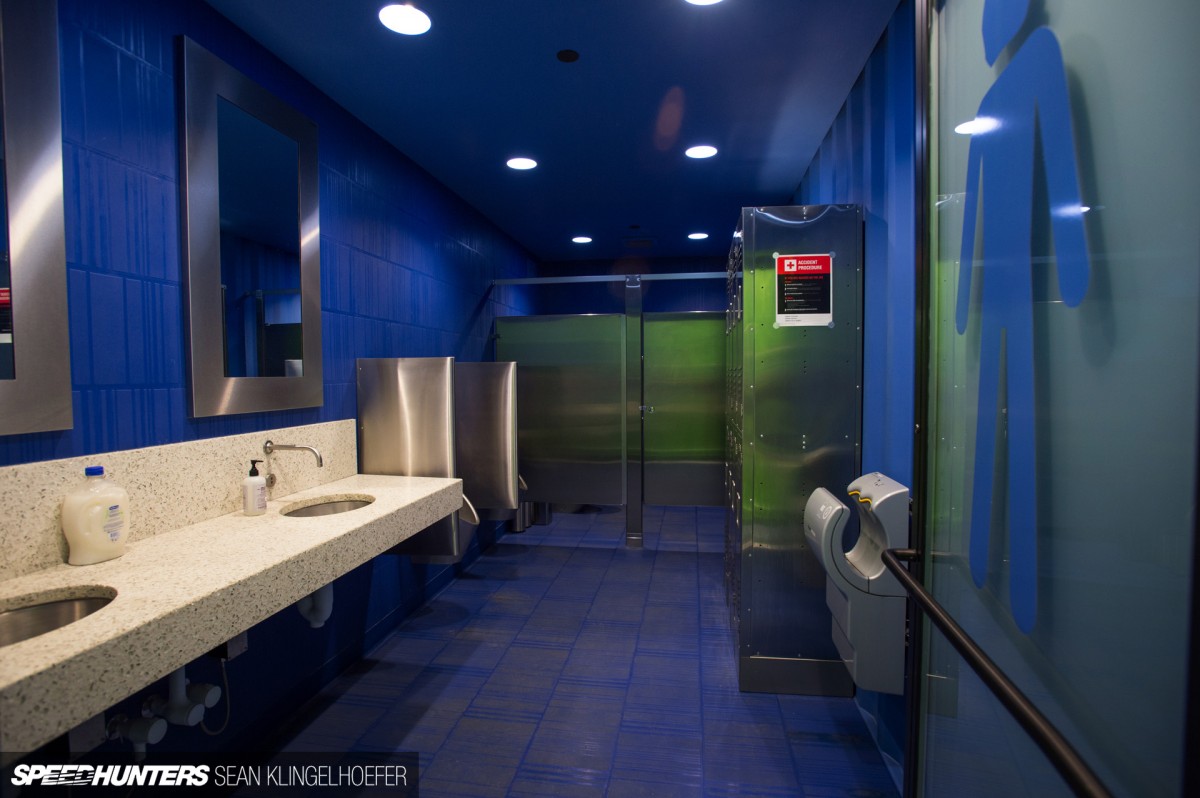 Based on Hoonigan's brand identity – the graphics, wild color palettes and themes – the design of their workspace doesn't come as a surprise. So naturally, even the bathroom is cool.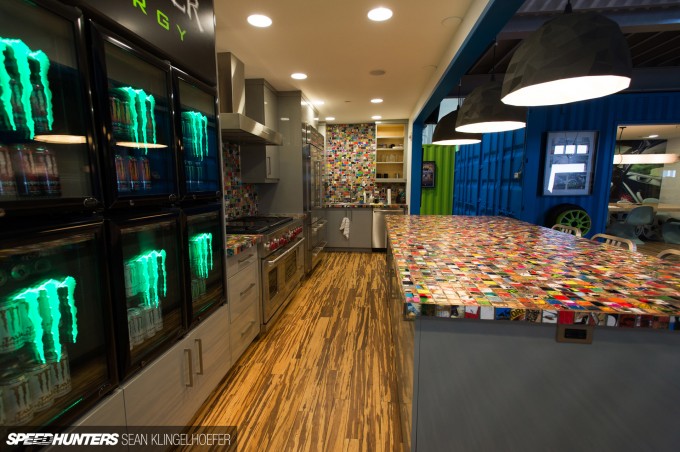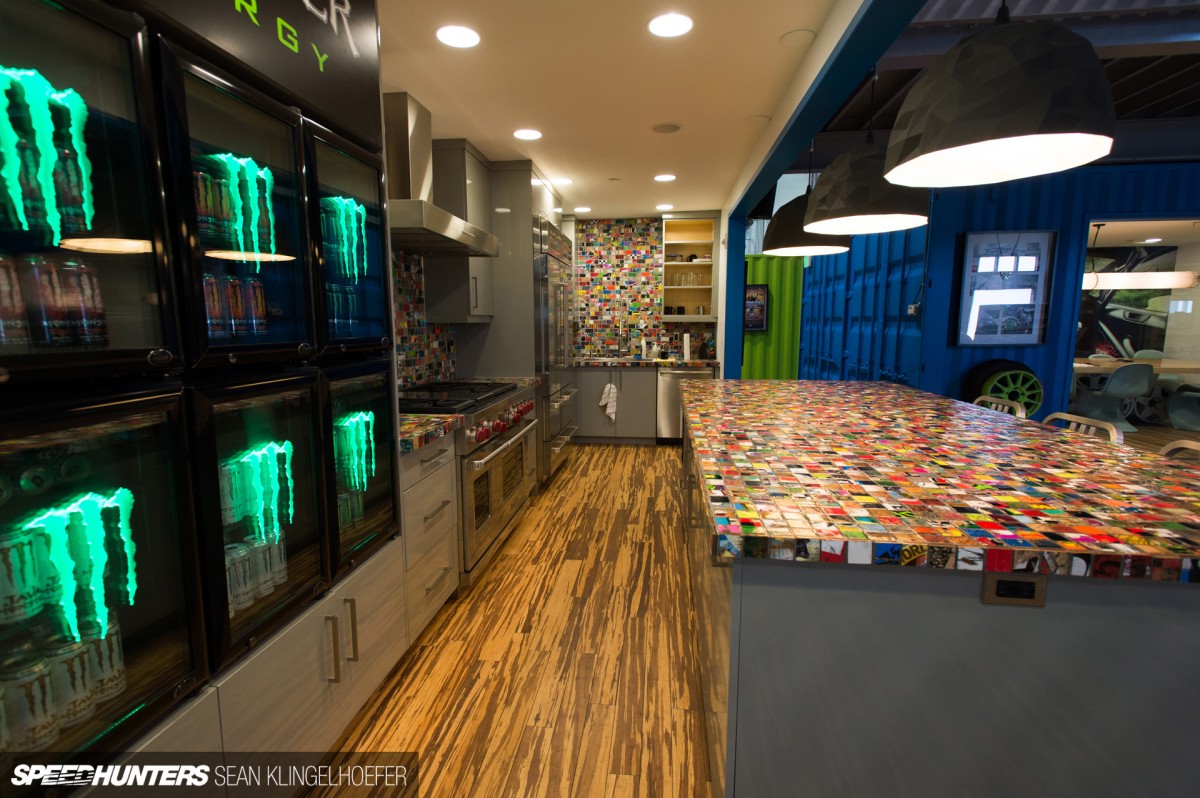 Shipping containers certainly have a green aspect to them, having once transported freight and now being repurposed into architecture like this. Fitting with that ethos, the flooring is sustainable bamboo and all the tiles you see have been cut from old skateboard decks. Surely all the Monster cans are recycled too?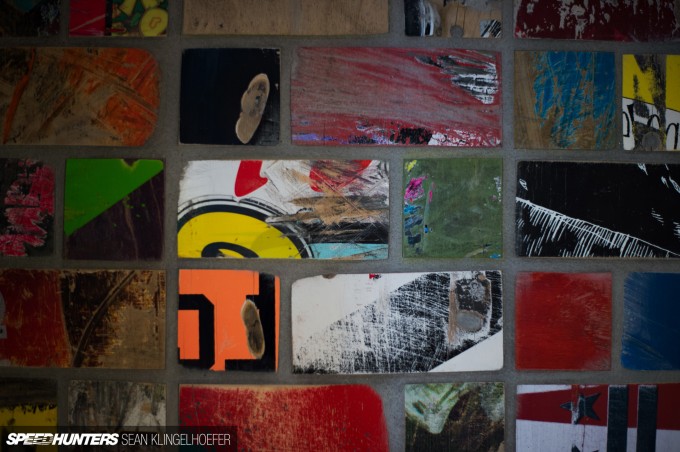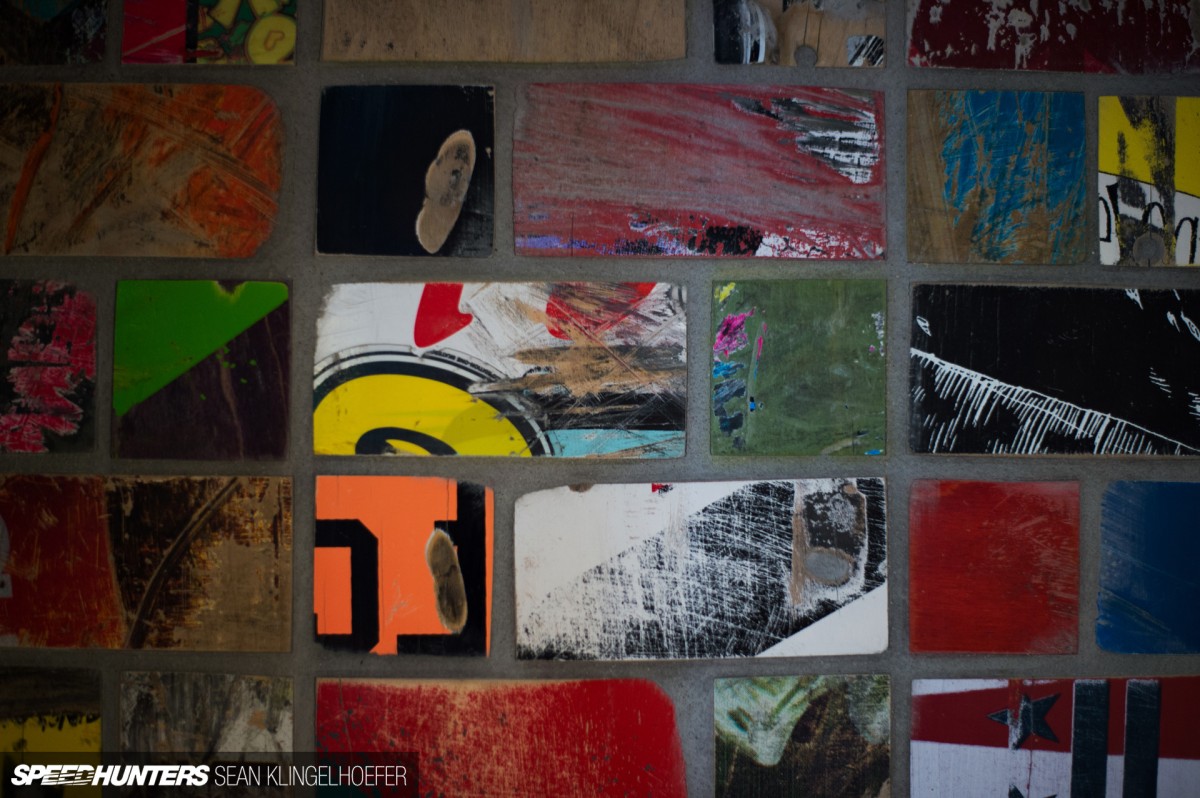 I think a lot of us car guys got our start on four wheels riding a skateboard, and it's very cool to see those roots literally plastered to the walls of Hoonigan Racing Division.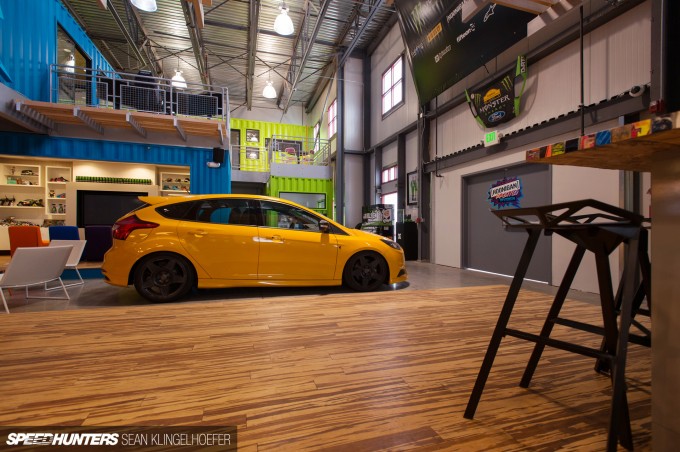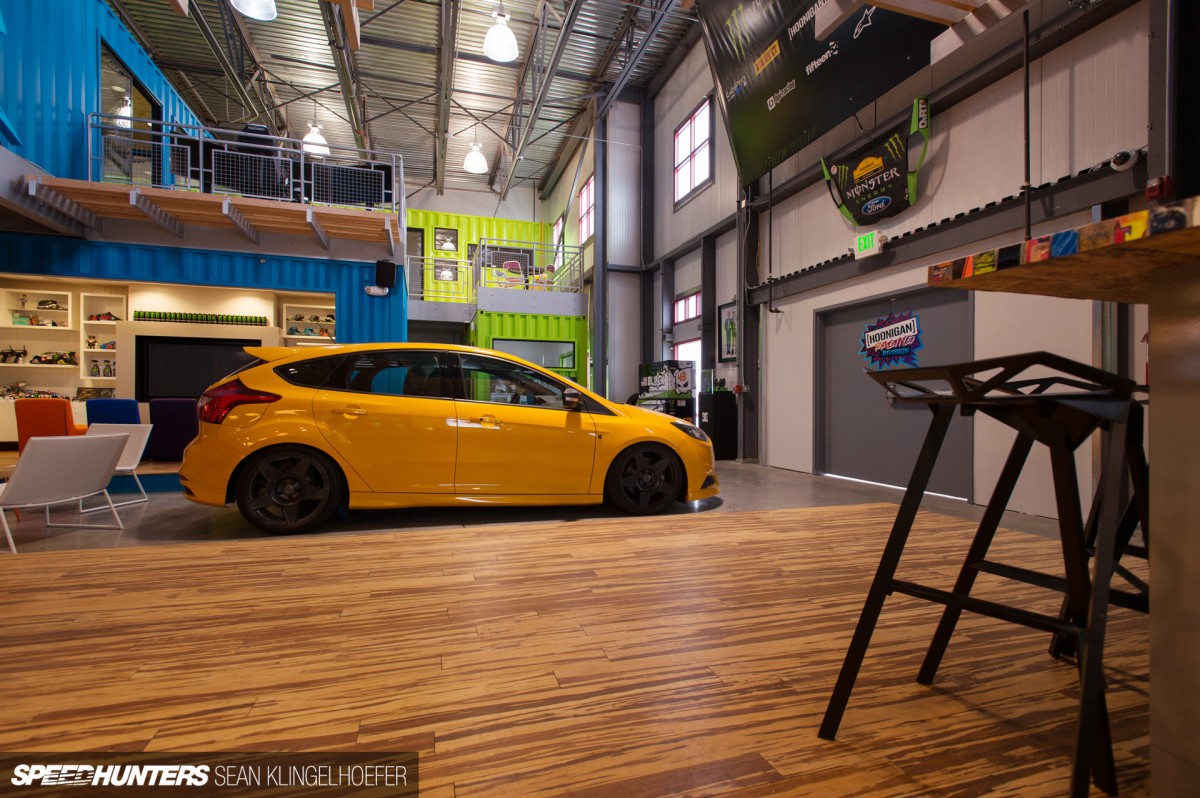 You might be thinking, 'That Ken Block, he's a lucky guy right?'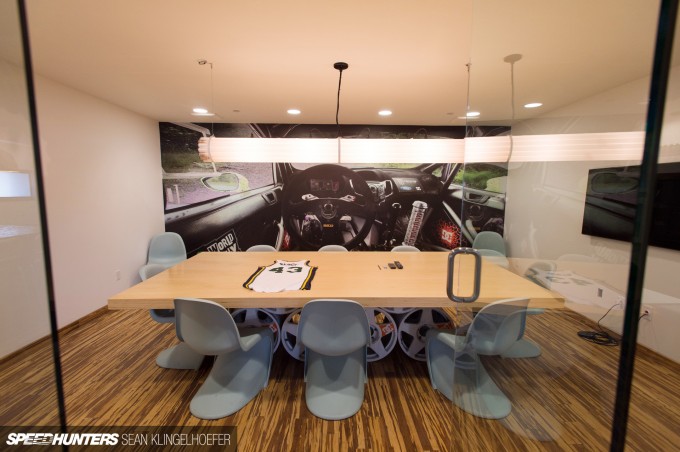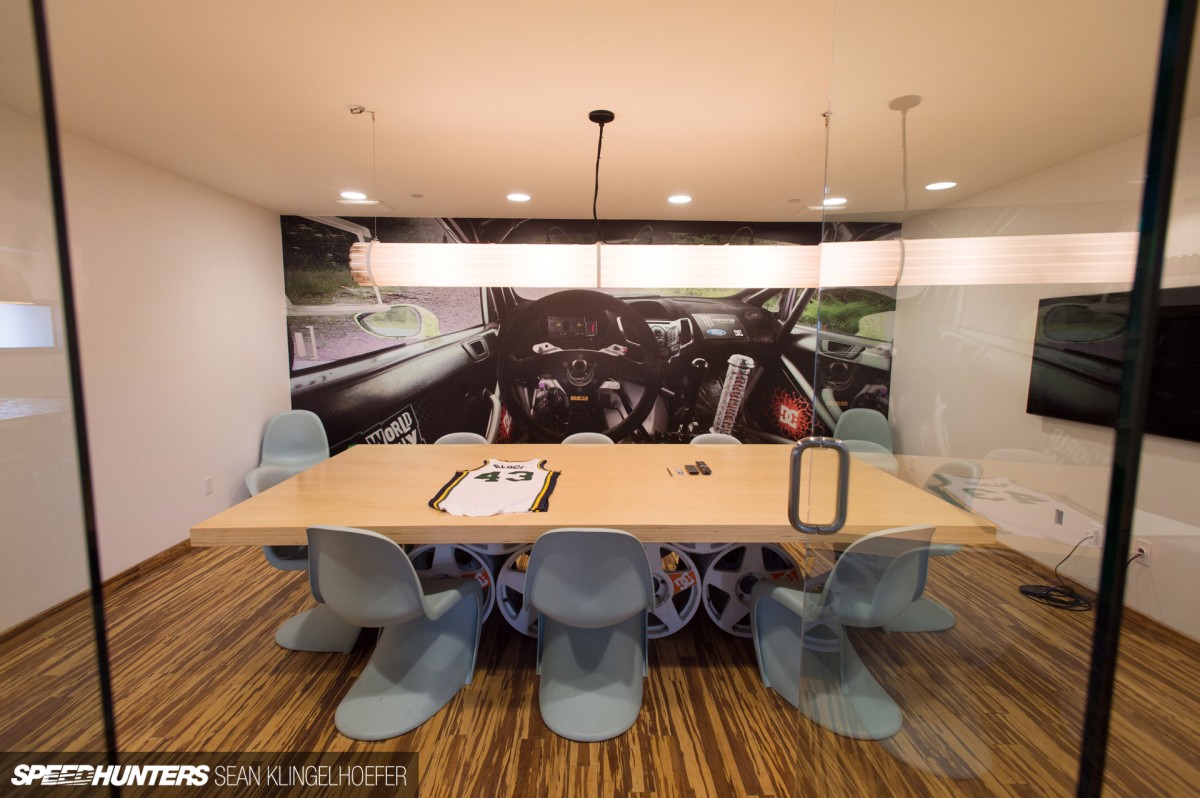 You make your own luck though, don't you? There's no doubt that everyone who toils under this roof has got there by sheer hard work and talent. I'm told the board room is the nerve center of the operation, and the guys spend many hours of their day in here planning and attacking. All the while reminded of the end result, having fun doing stuff cool stuff, like piloting rally cars across the globe.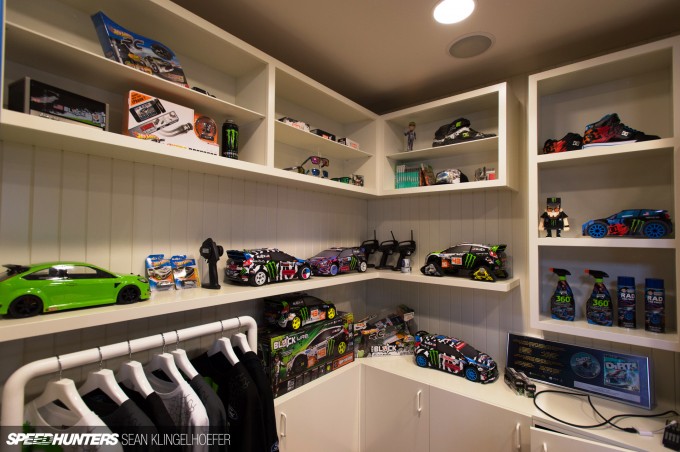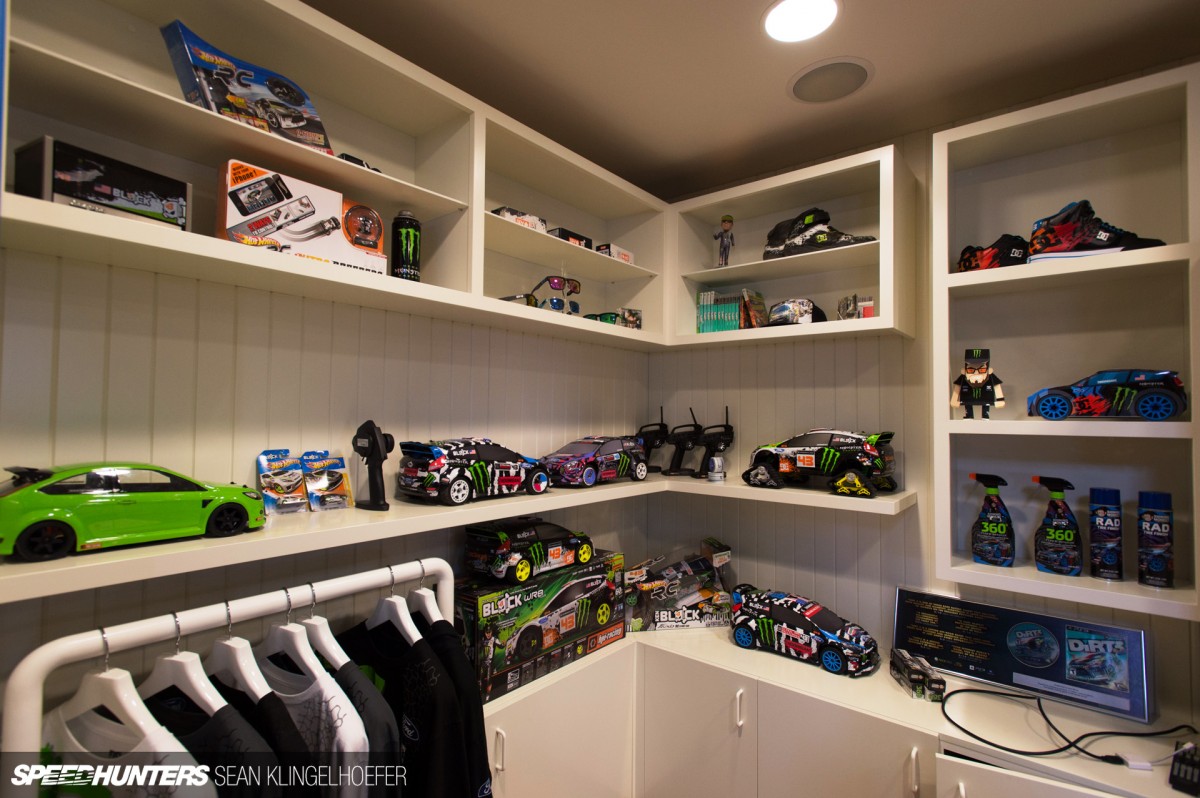 Nearby is a closet full of cool Hoonigan-related merchandise, probably early samples or concepts that were deemed too good to dispose of.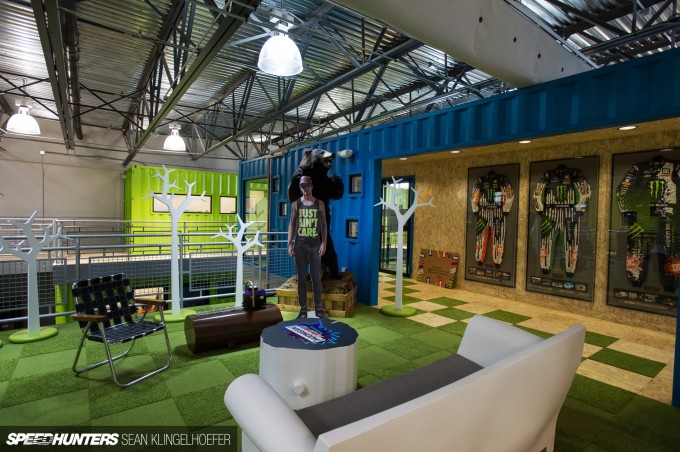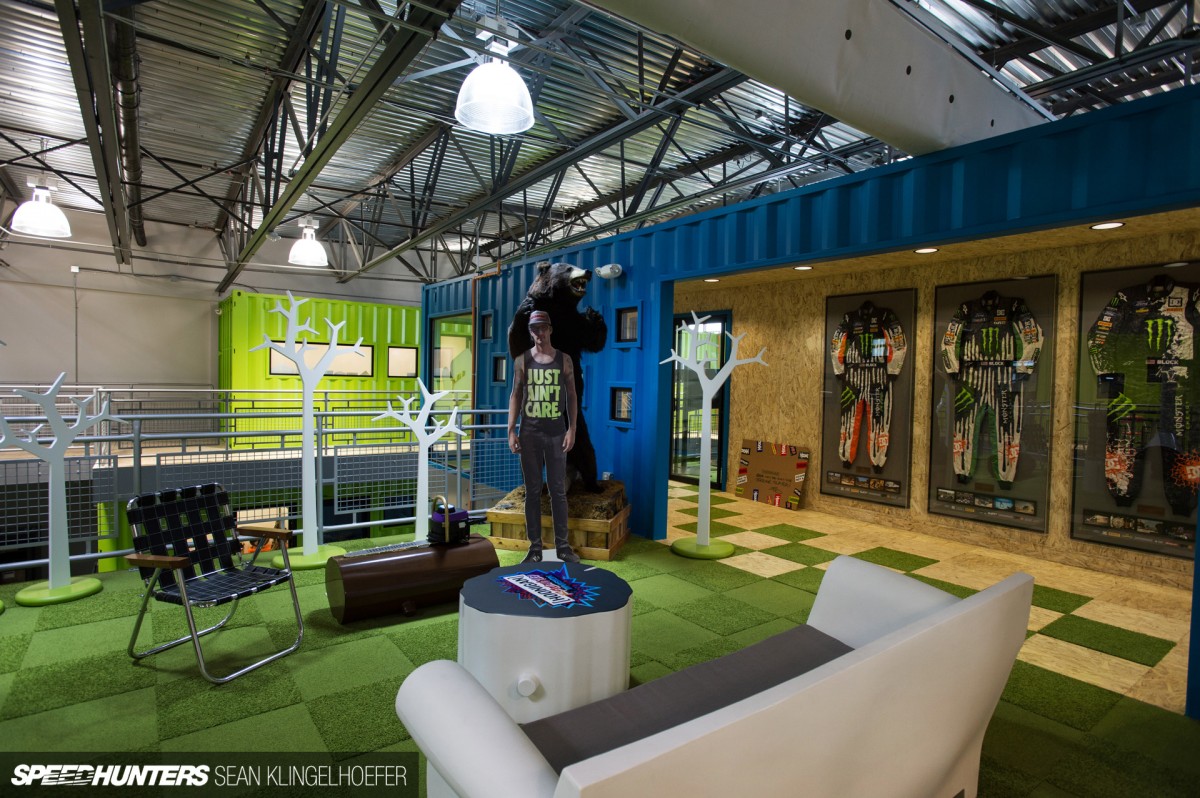 Everybody needs to kick back once in a while right? So there's even a lounge with real astroturf to hang out on. It looks like a cross between a Nickelodeon set and Rob Dyrdek's Fantasy Factory to me – not a bad thing at all. The abundance of natural light in here really adds to the relaxed atmosphere.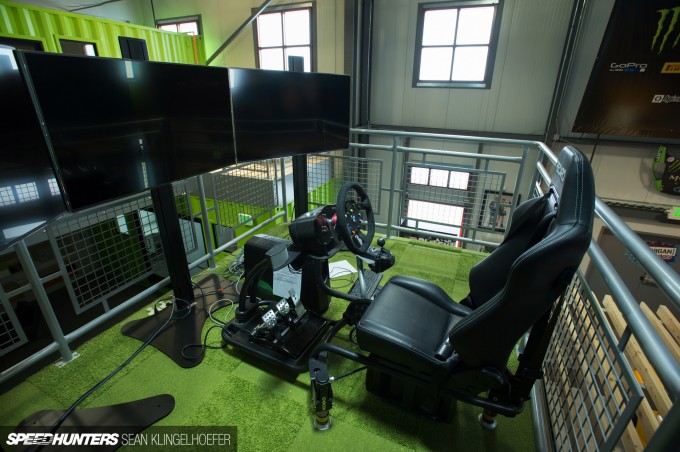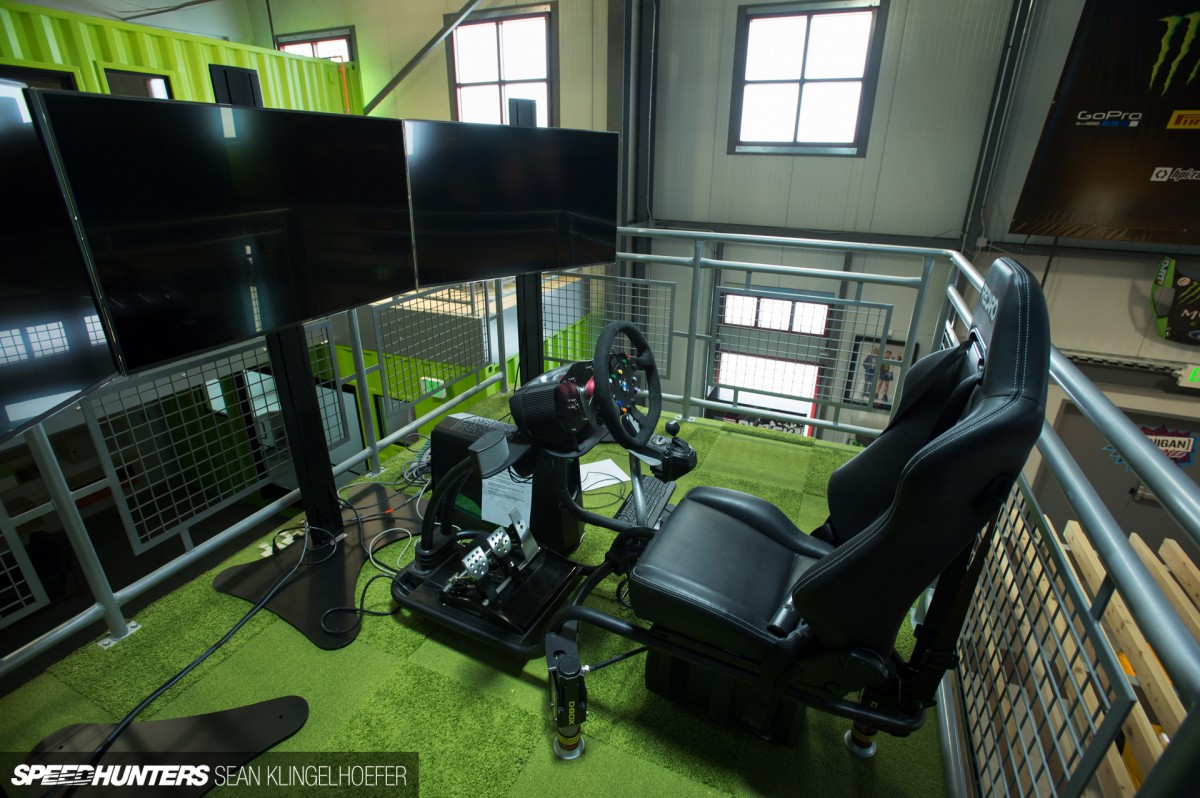 Of course Ken Block is famous for his driving, be it rallying or his legendary Gymkhana series, so he gets to call practising in this driving simulator 'work' too. Check out the harness. That's some extreme gaming right there!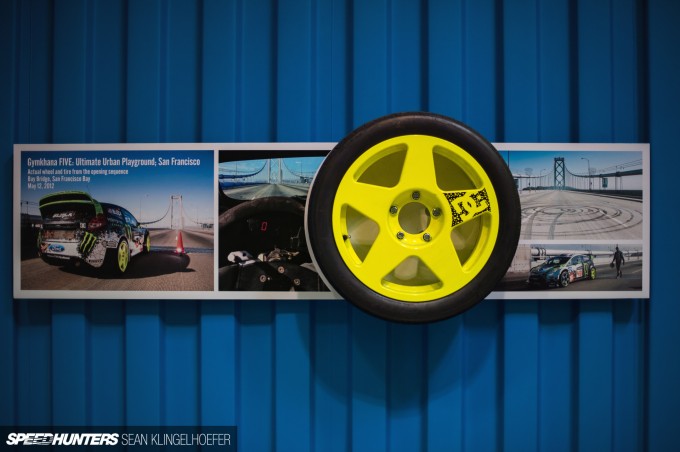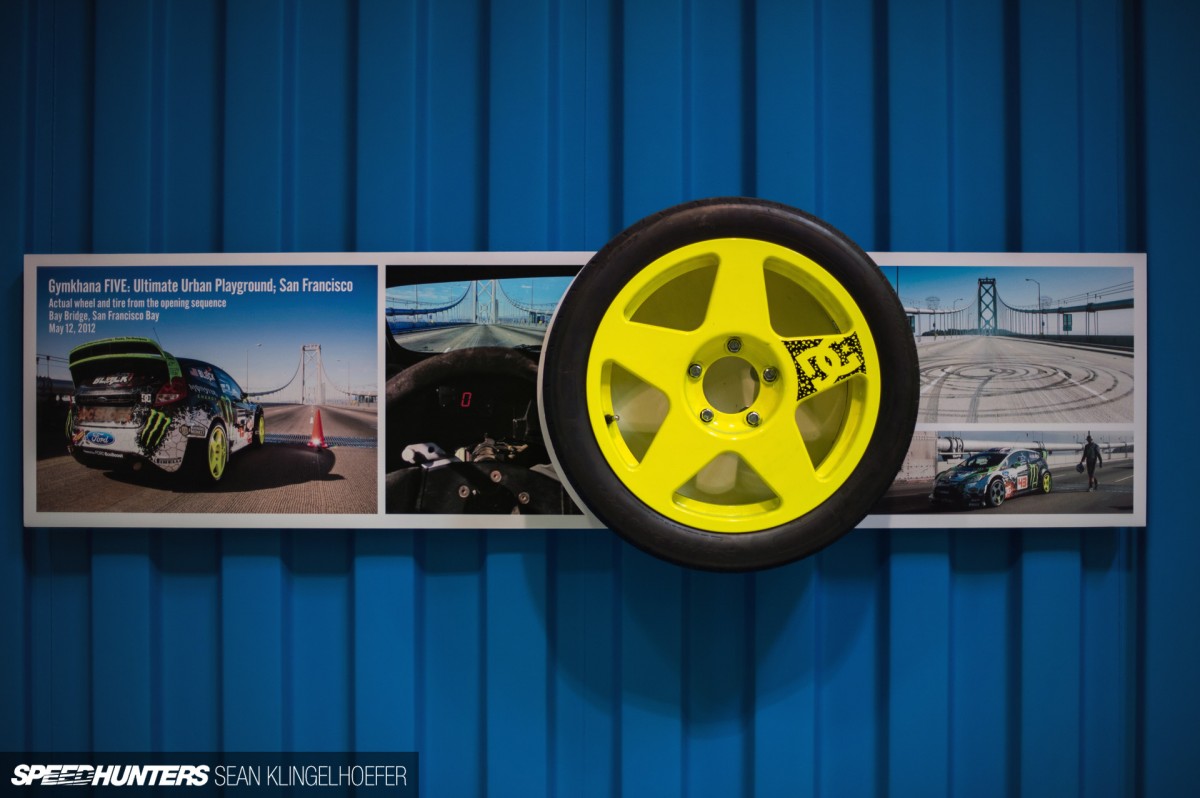 Most companies hang their best products on the wall for show and tell, whether it's a picture of a vacuum cleaner or Tupperware bowls. At Hoonigan Racing Division, they hang the actual Fifteen52 wheel from Gymkhana FIVE.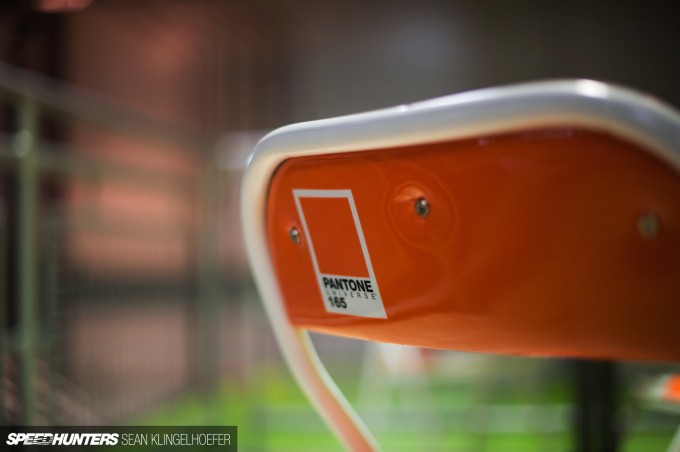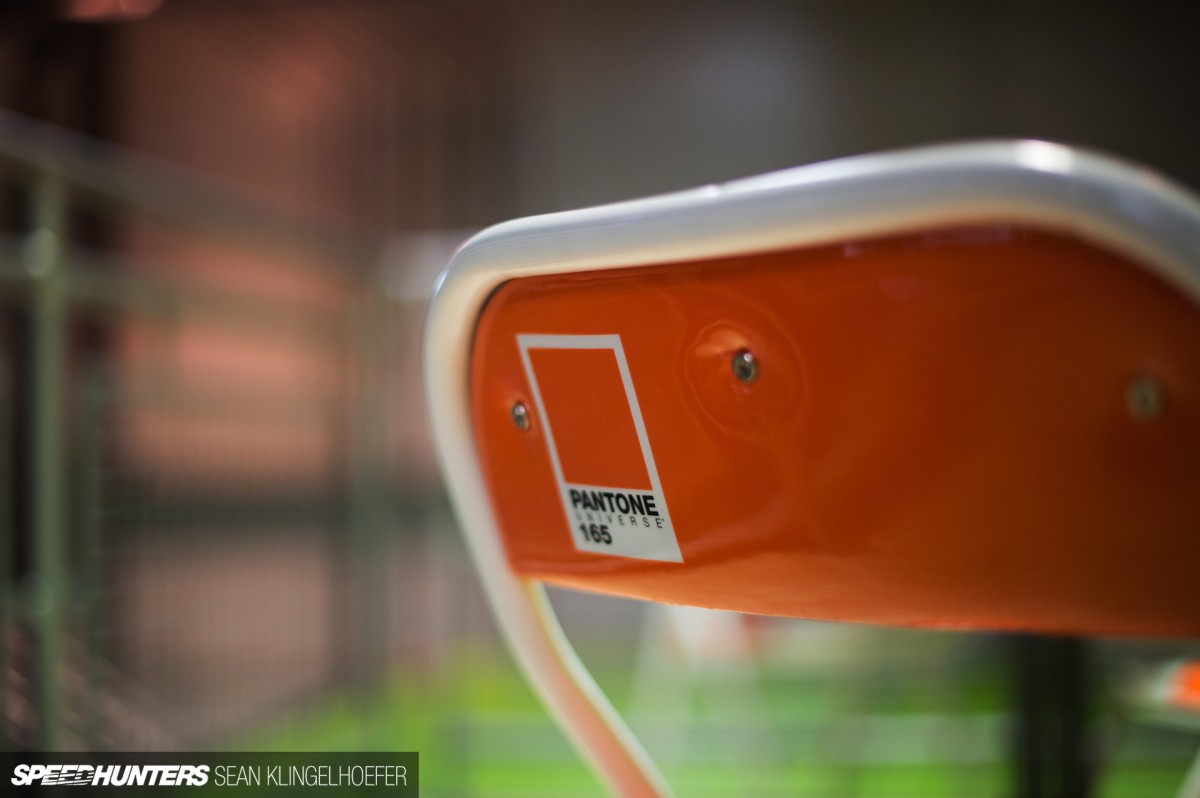 Of course the Hoonigan team are pretty good with color palettes, from wild race car liveries to company graphics that trickle down to stickers and tees for all of us.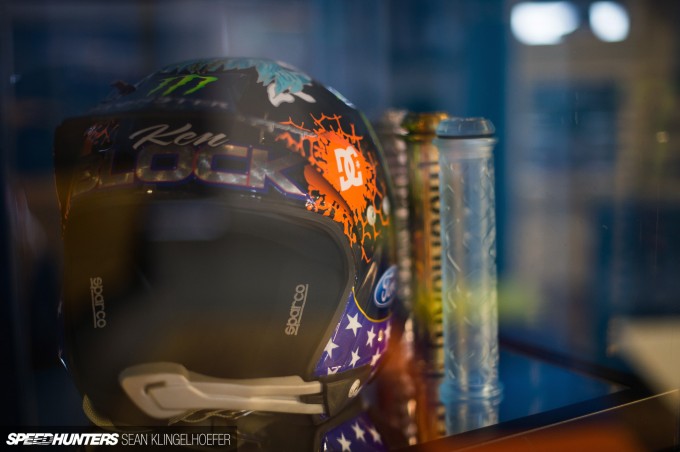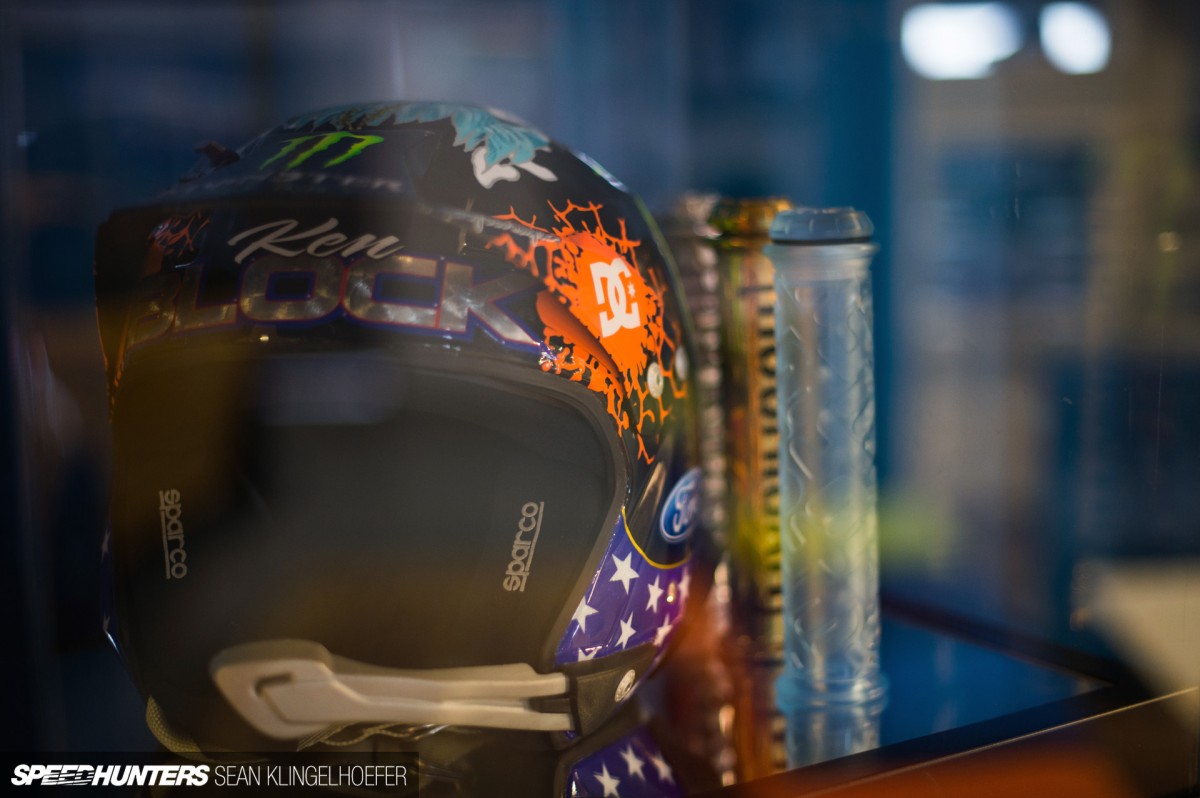 Over the years the look has become wilder and wilder – take a look back through the schemes and you'll see a natural progression. So of course Ken has some of his old race gear on display; there are some fine memories in that helmet.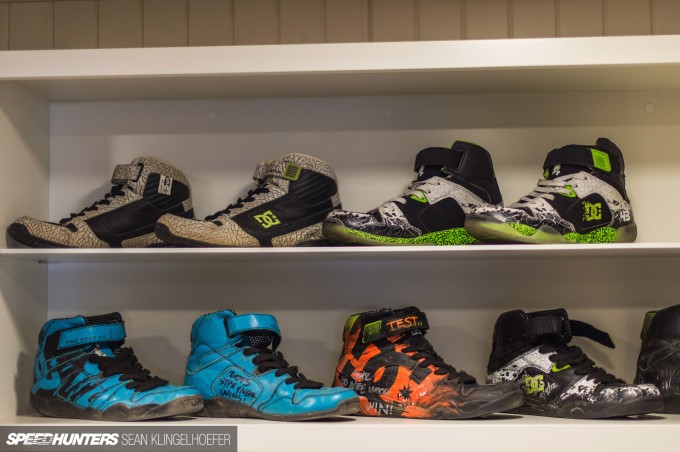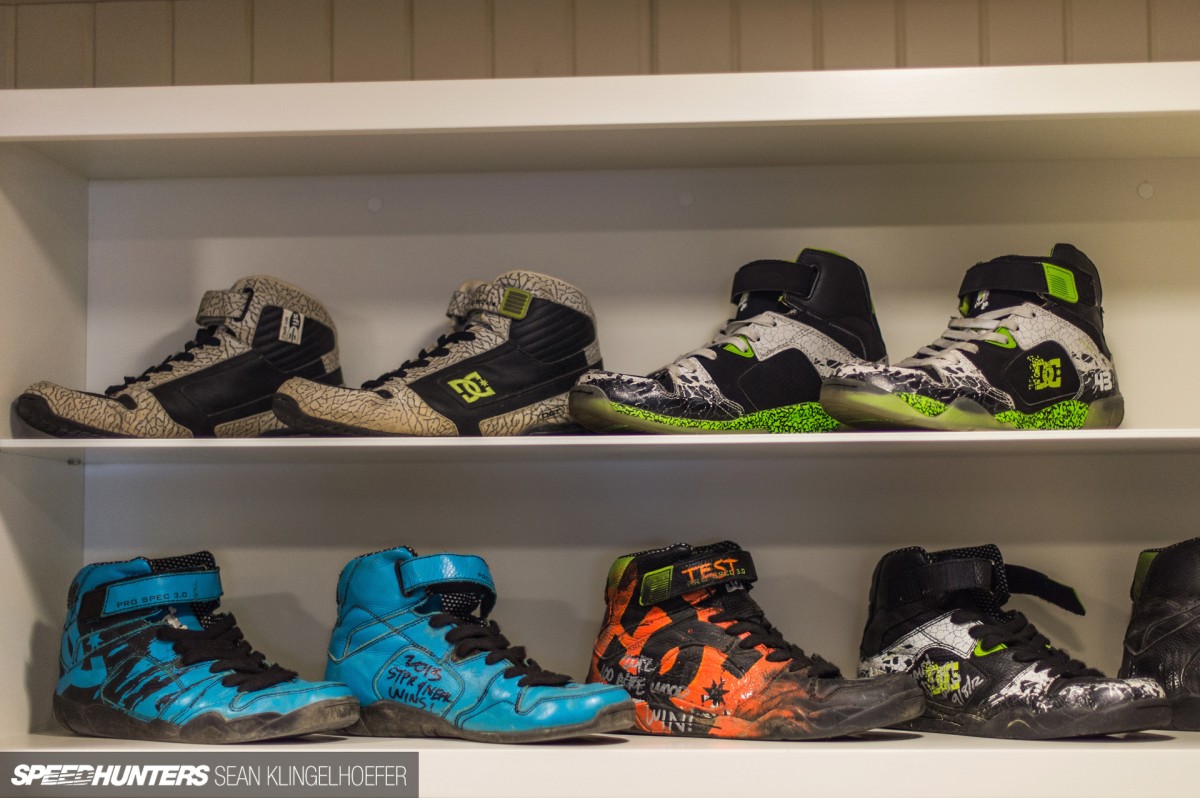 We all know Ken Block was one of the founders of DC Shoes, so this stash of custom driving shoes from the brand that's close to his heart should come as no surprise either. I wonder how many tyres have been slain with these?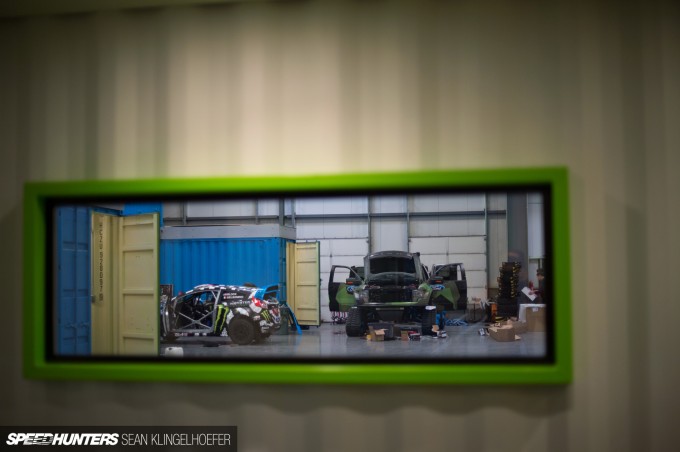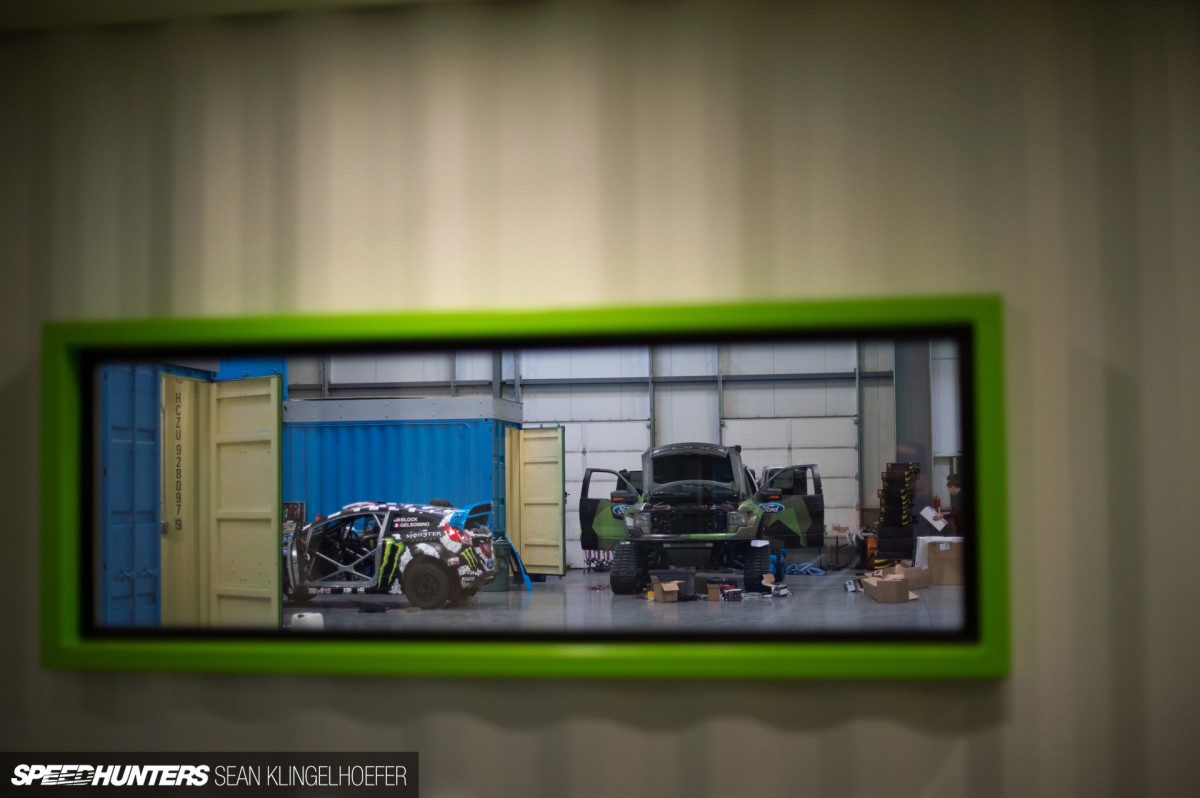 Peeking through one of the custom shipping container windows, it seems there's even more going on here than we first thought. This is the workshops and garage theme though…
A place to swing wrenches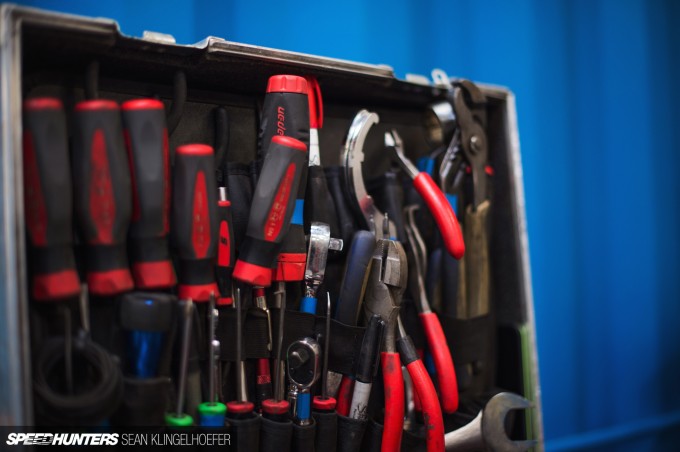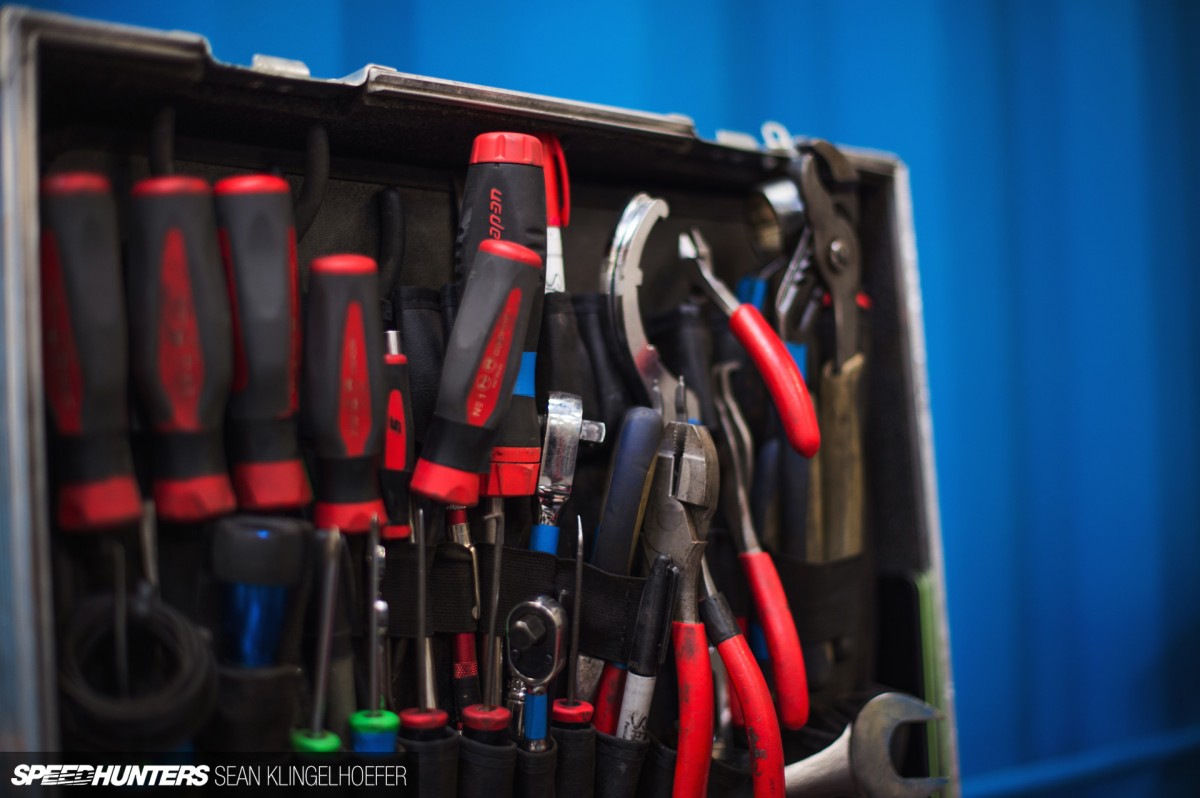 Okay, so maybe I got a little carried away with the architectural and design aspect of Hoonigan Racing Division, but it's just too cool not to show you. Besides the office side of things, this warehouse also does double duty as Hoonigan's race shop. That means race prep, repairs and even some fabrication all go on right here under one roof.
I have that same black and red Snap-on ratcheting screwdriver. For a lowly screwdriver it costs a good chunk of money, but it's one of my favorite tools. I once let Bryn borrow it, and he can attest to my explicit directions to return it in the same mint condition in which it was issued.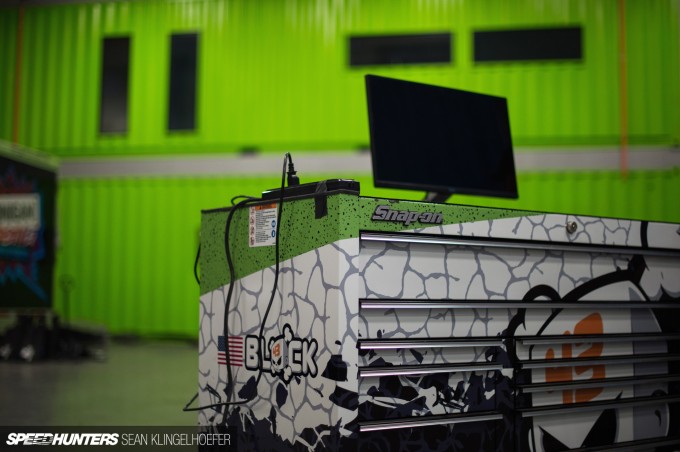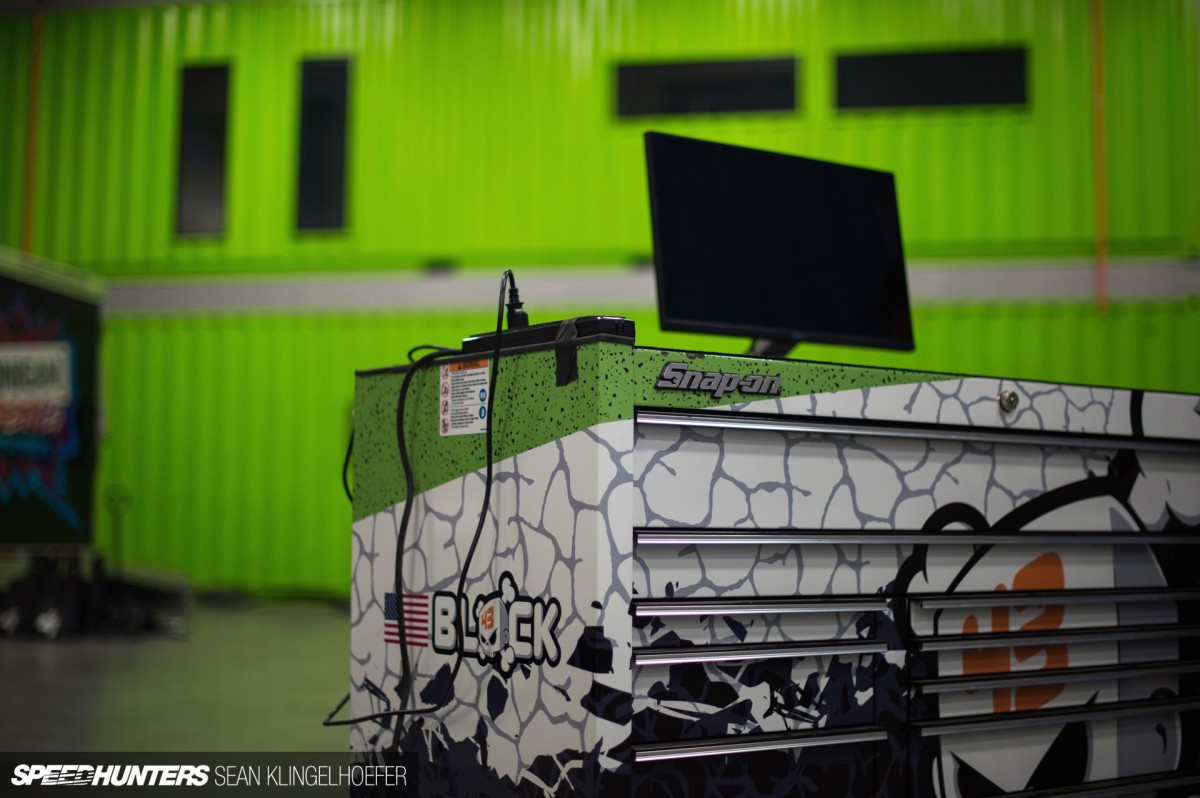 That screwdriver felt like an investment to me, but it's nothing compared to a full size Snap-on tool chest. Mechanics work for years to acquire a set of their own, because it's really the ultimate hardware. But a Snap-on tool chest with custom Ken Block graphics? Oh, come on now!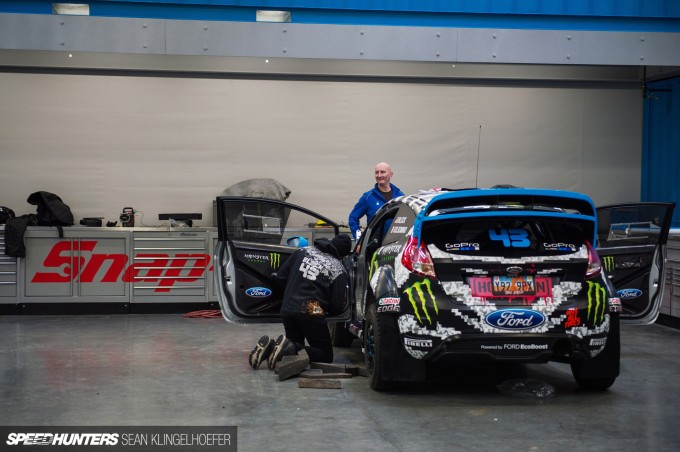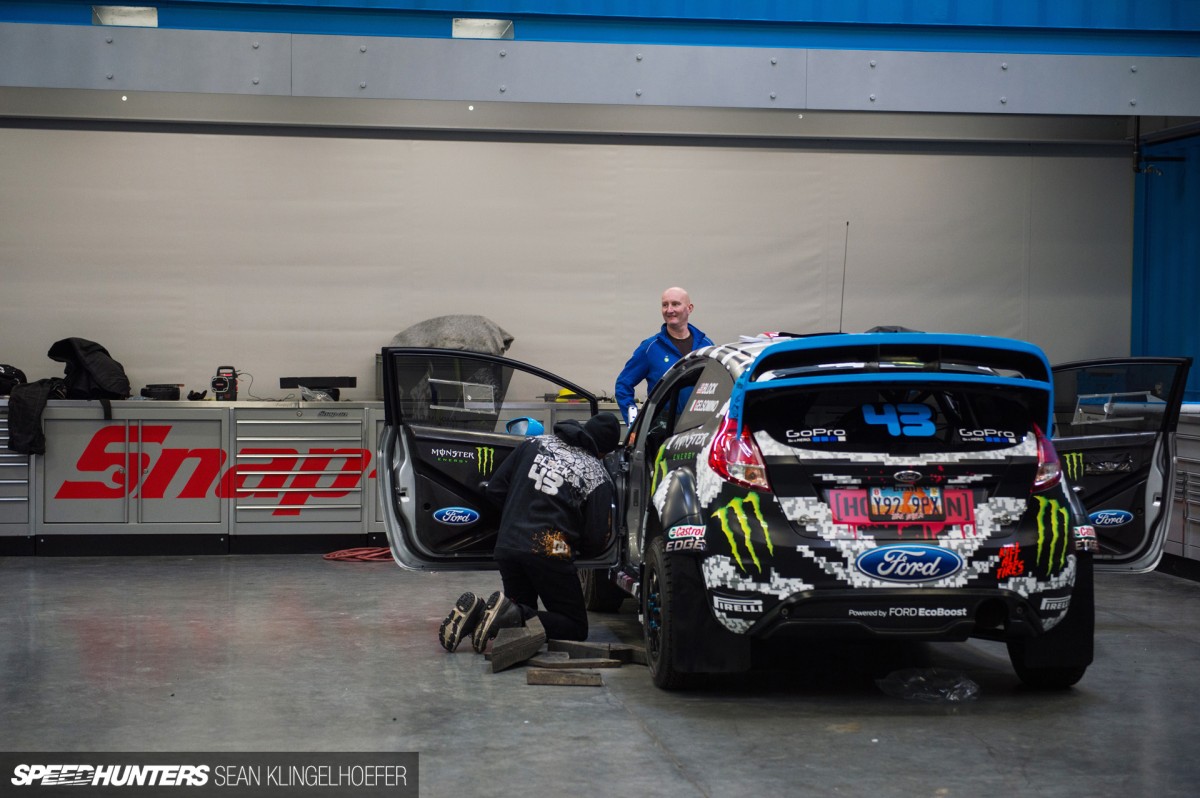 Looking around Hoonigan Racing Division, I realized they don't just have one Snap-on tool box – they must have a dozen!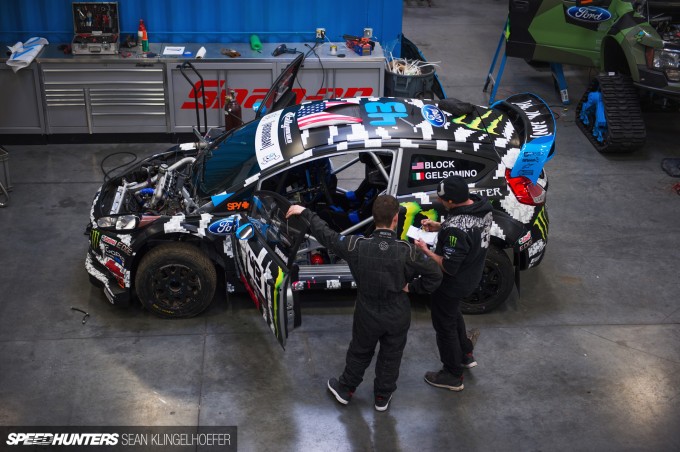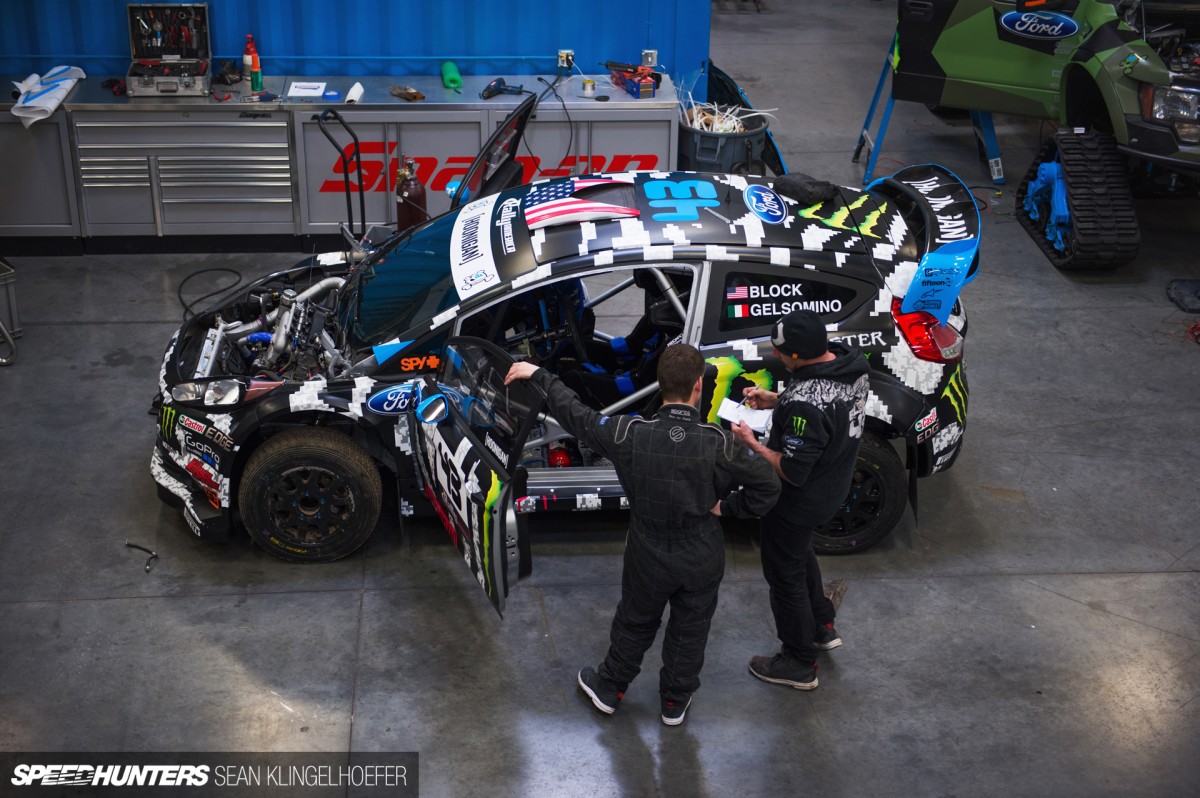 In fact, the entire mechanic's bay is lined with them. I suppose when you want your race program to operate at the highest level, you equip your crew with the best there is – and lots of it!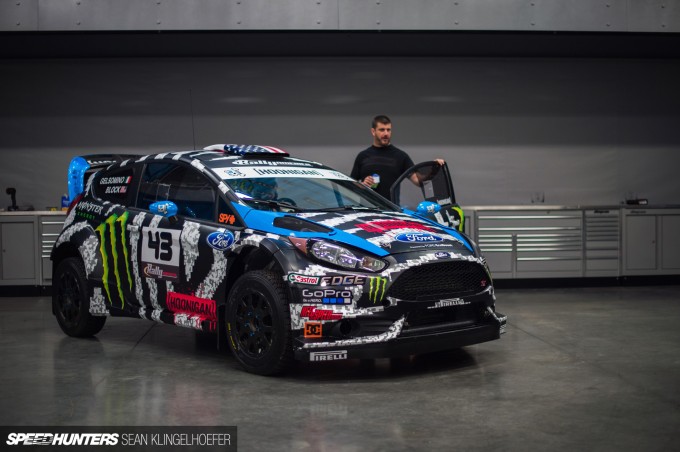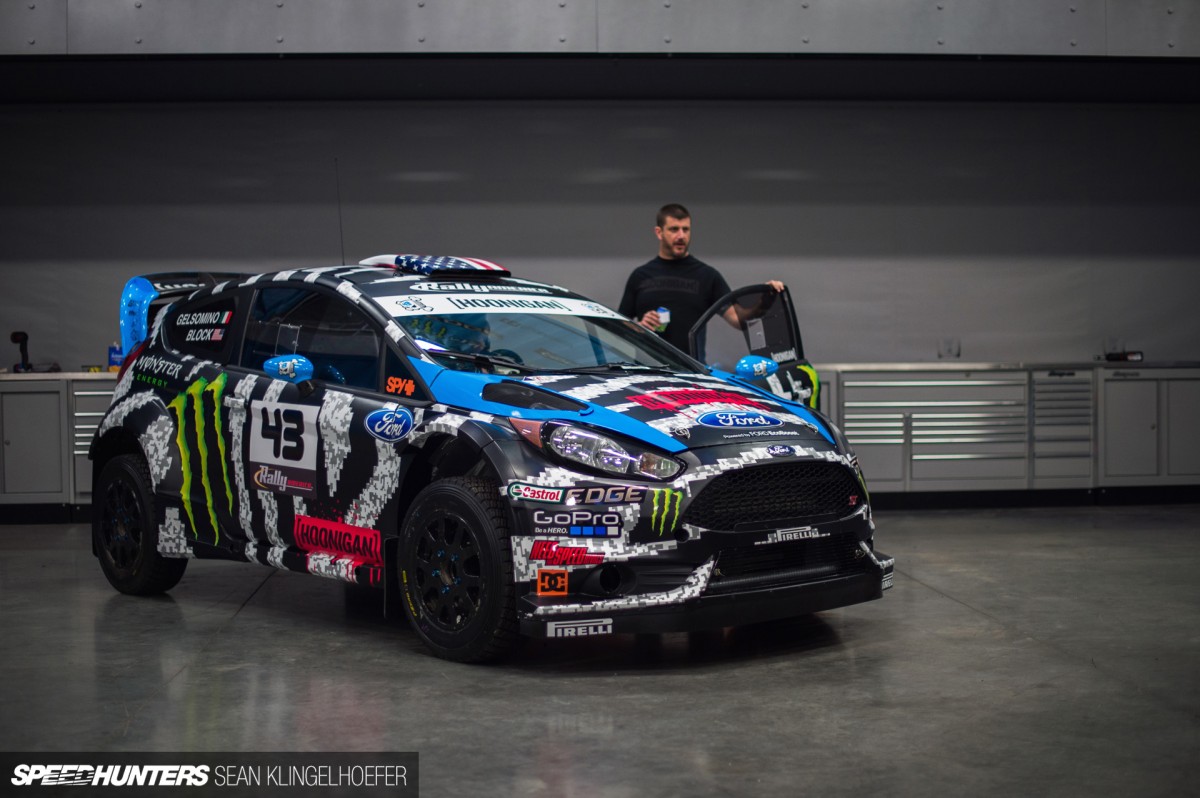 Besides touring the shop, Sean also got to shoot Ken's new Fiesta ST livery that was just unveiled. The bitmap theme manages to feel familiar yet fresh at the same time.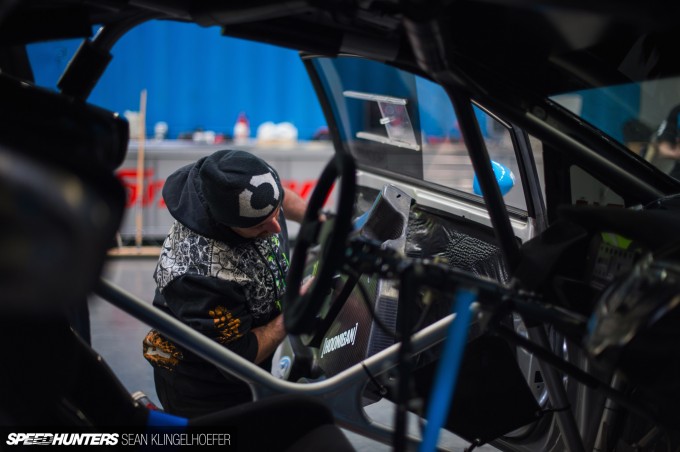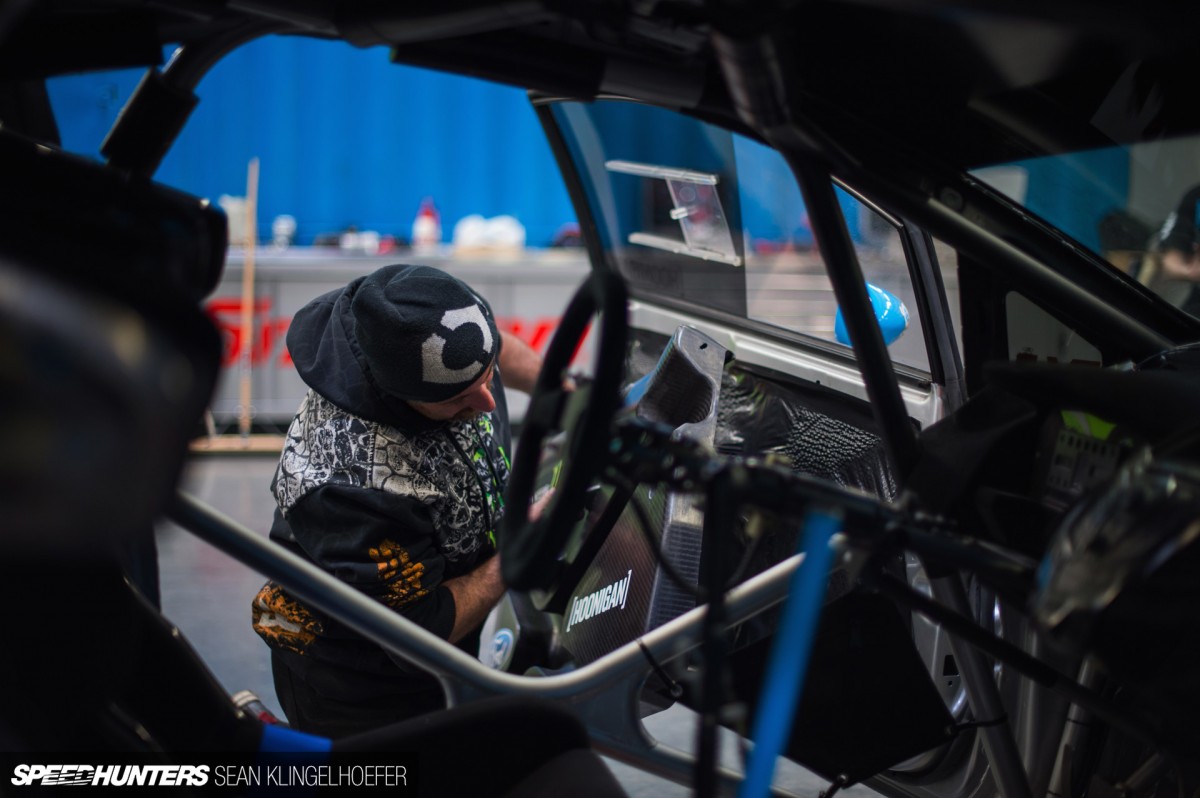 Even with multiple photoshoots going on, the Hoonigan crew couldn't stop tinkering with the car. Looking at Ken's schedule that spans Global RallyCross, FIA World Rallycross, Stage Rallies and Gymkhana demos all year long, it's no wonder they take any opportunity to work on the car.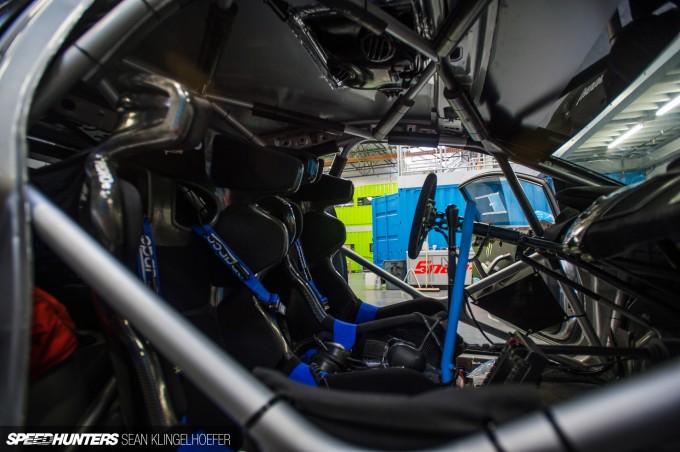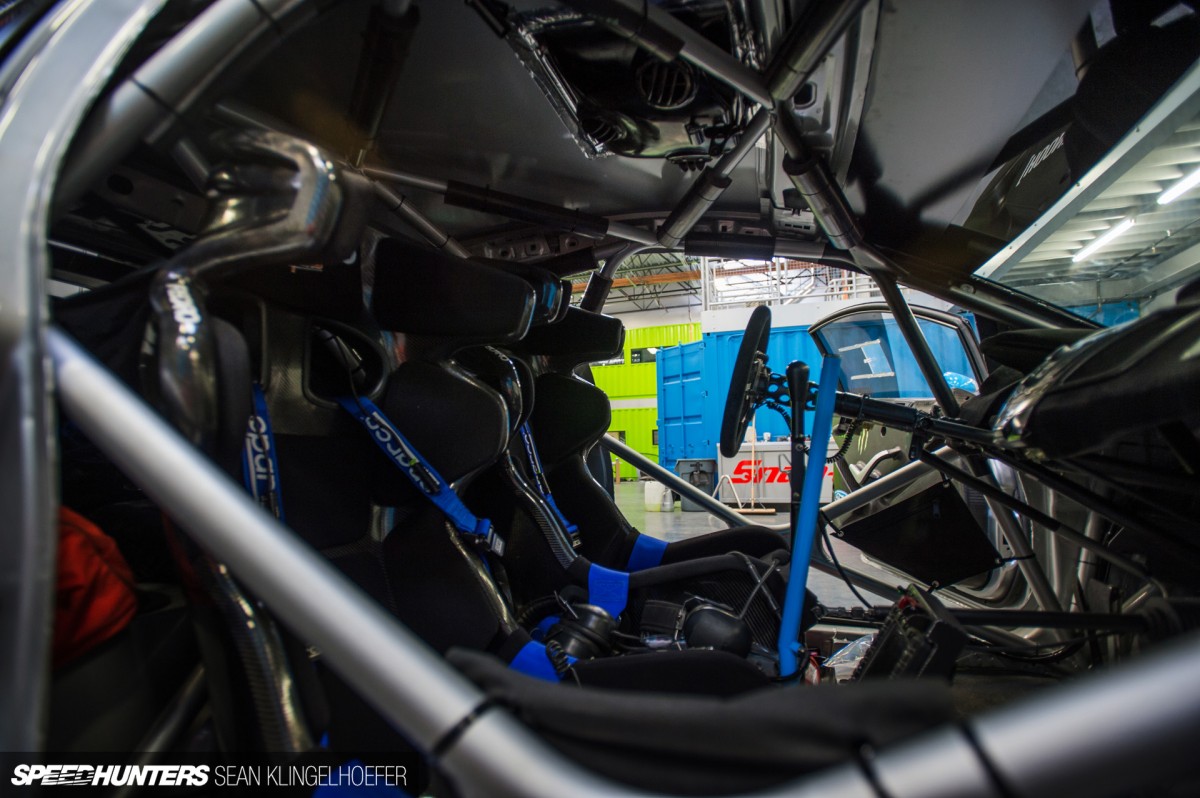 We've seen Ken's office with the board room and all, but there's no doubt that this is the office he really likes to work in.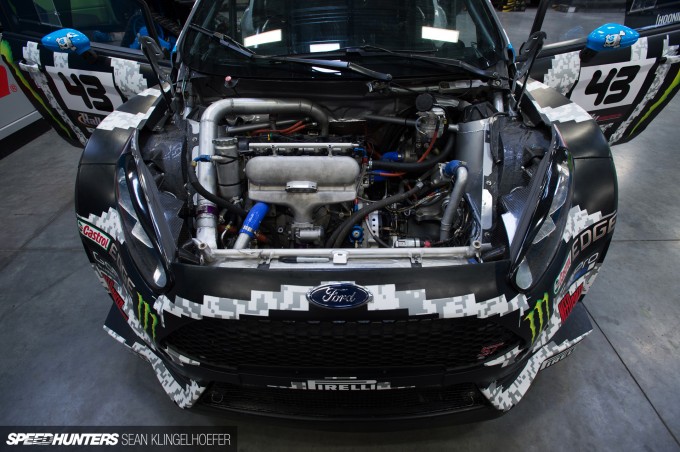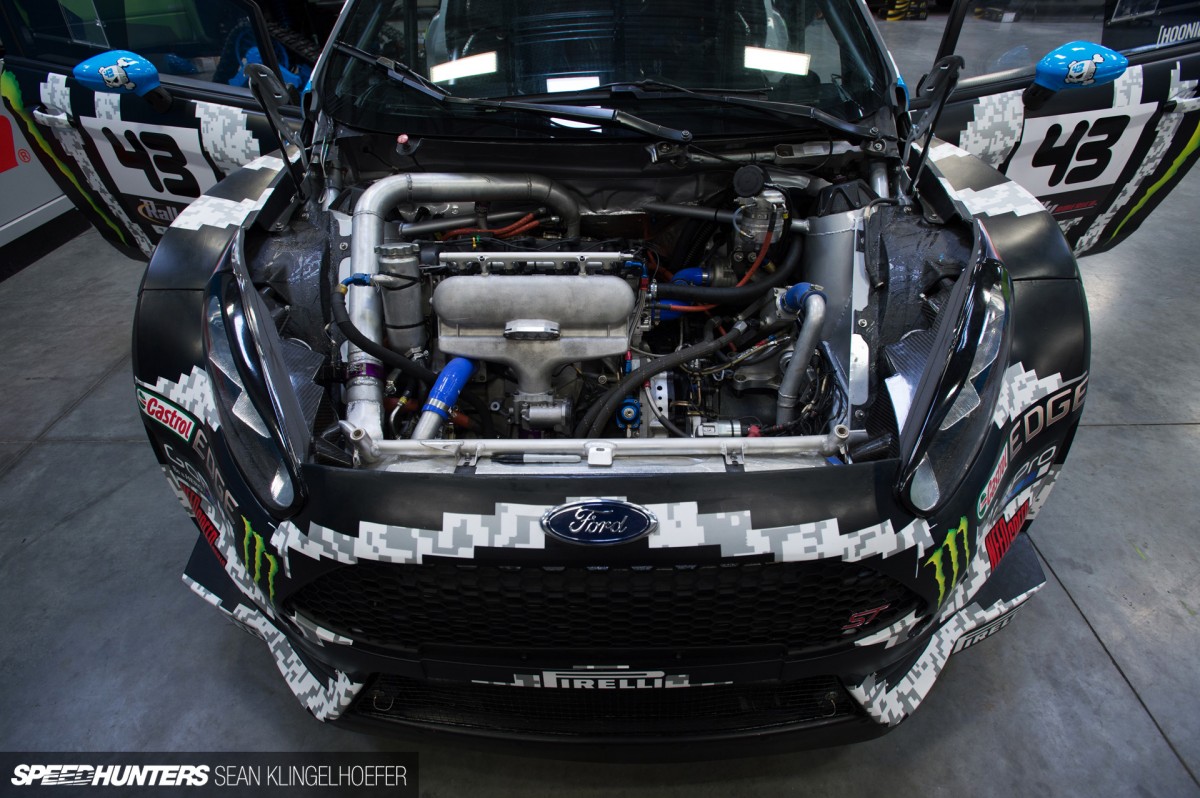 Ken Block's passion for motorsport oozes from his cars, his driving style and his workplace, and you can even see it in the new livery his RX43 wears.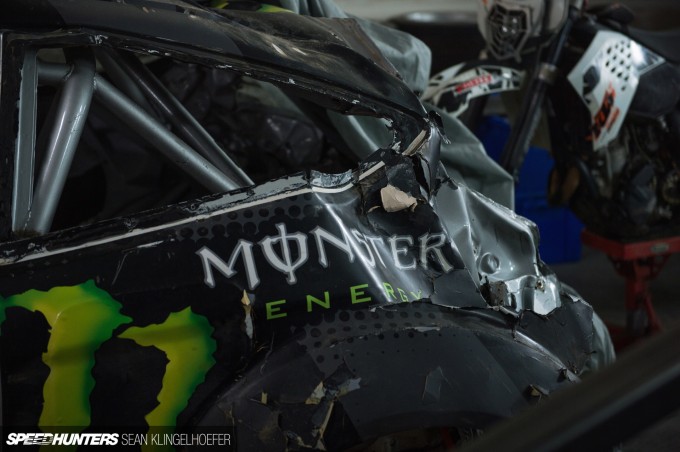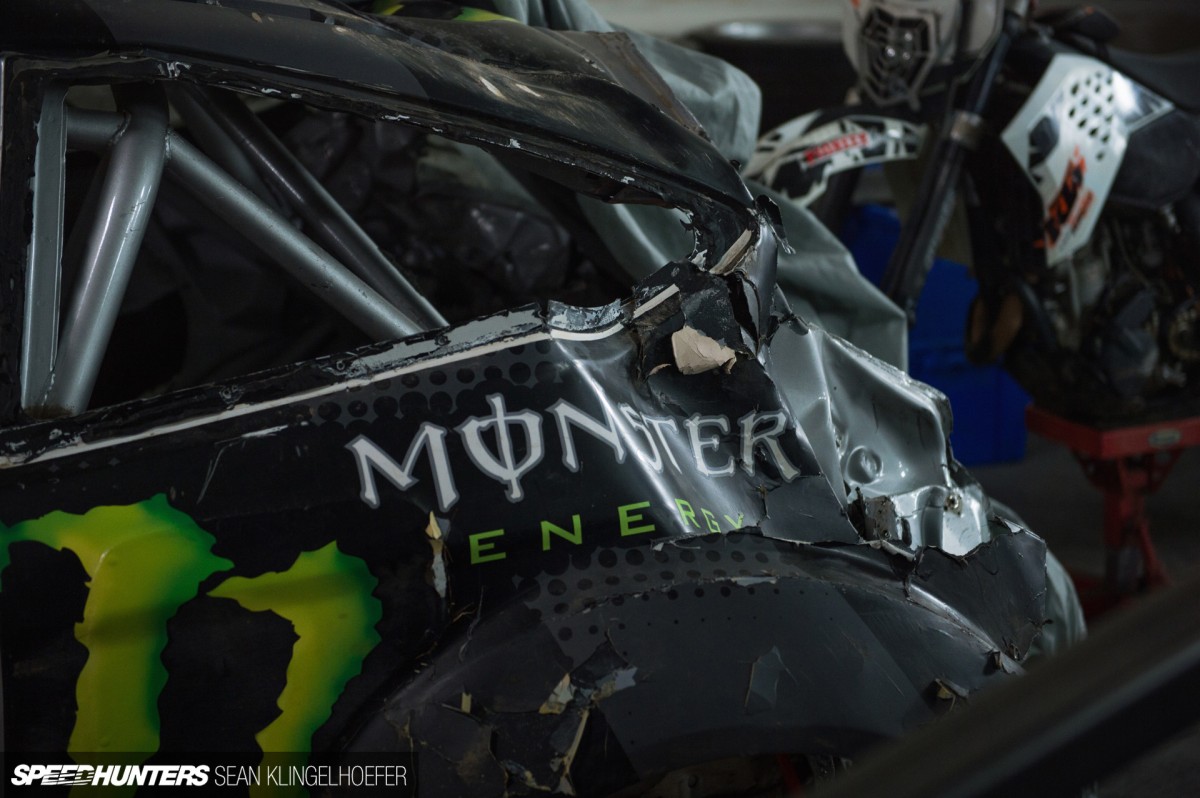 As Sean continued to snoop around, he found some crashed race cars – no surprise here considering Ken's balls-to-the-wall driving style.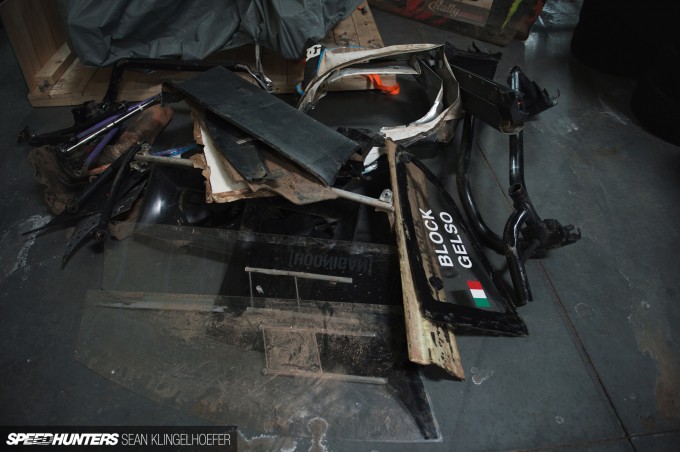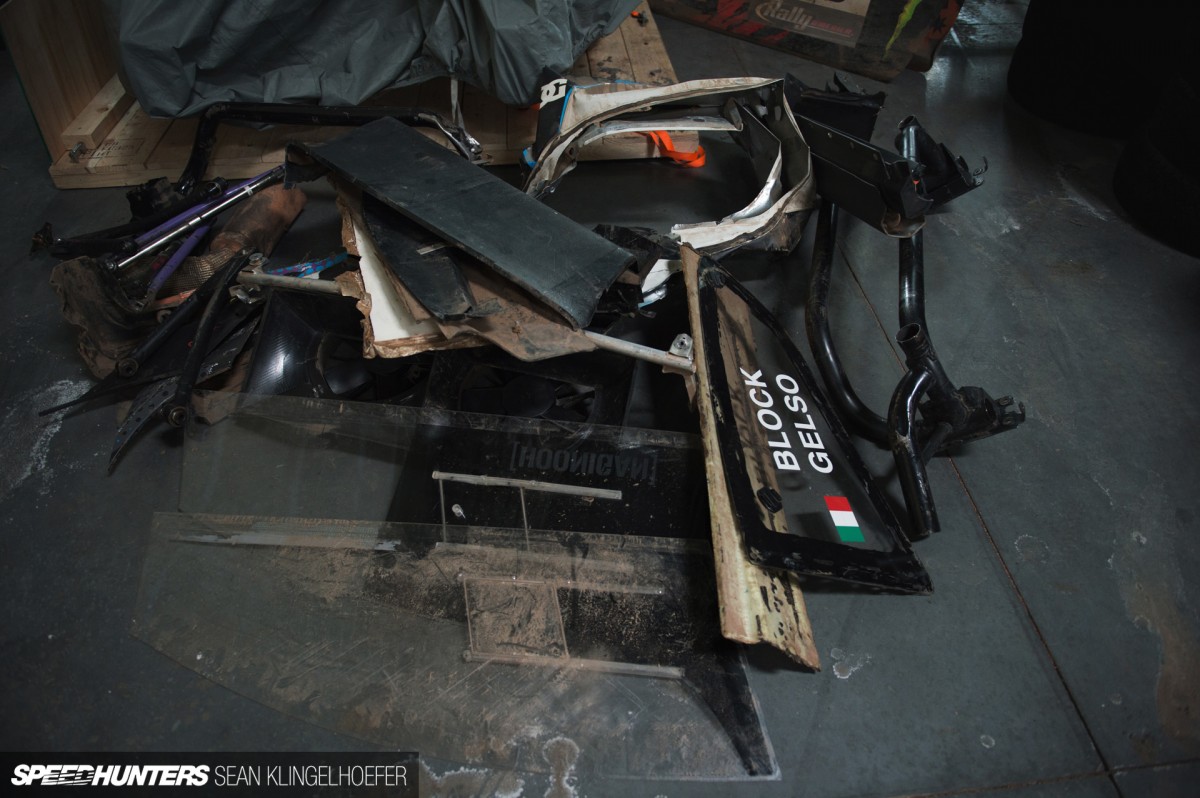 Usable parts are stripped from the carnage and everything else finds its way to the dumpster. Or maybe they're building a house of horrors container somewhere that you stray into and are reminded of just how hard you have to push to get this good.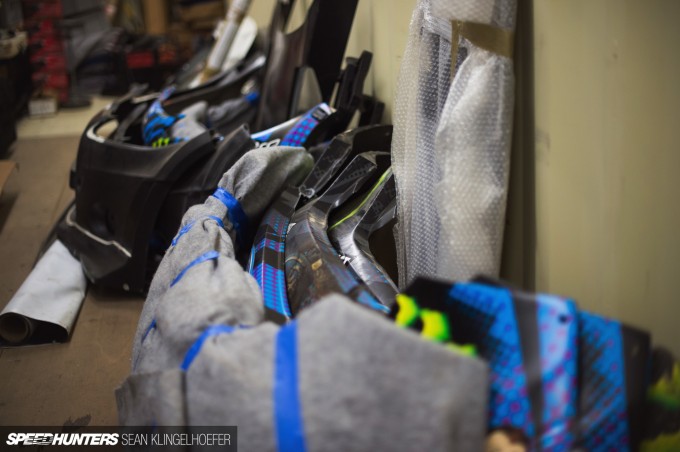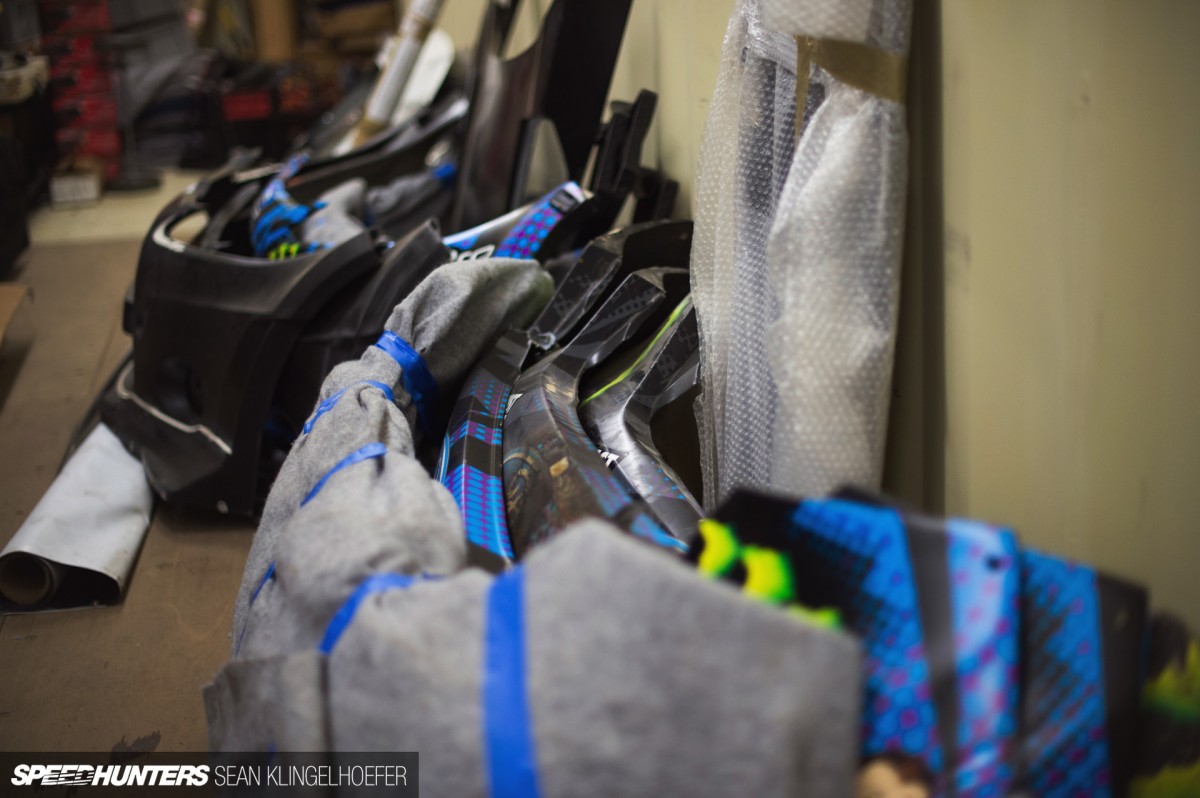 And not to worry, there are plenty more body panels on hand. I wouldn't mind having one of those hanging in the garage.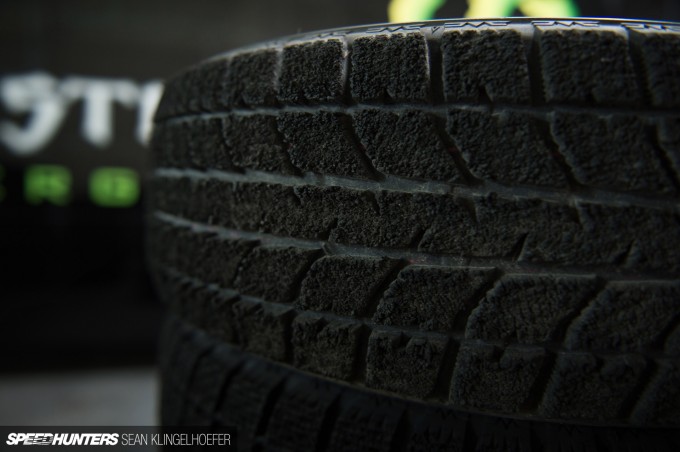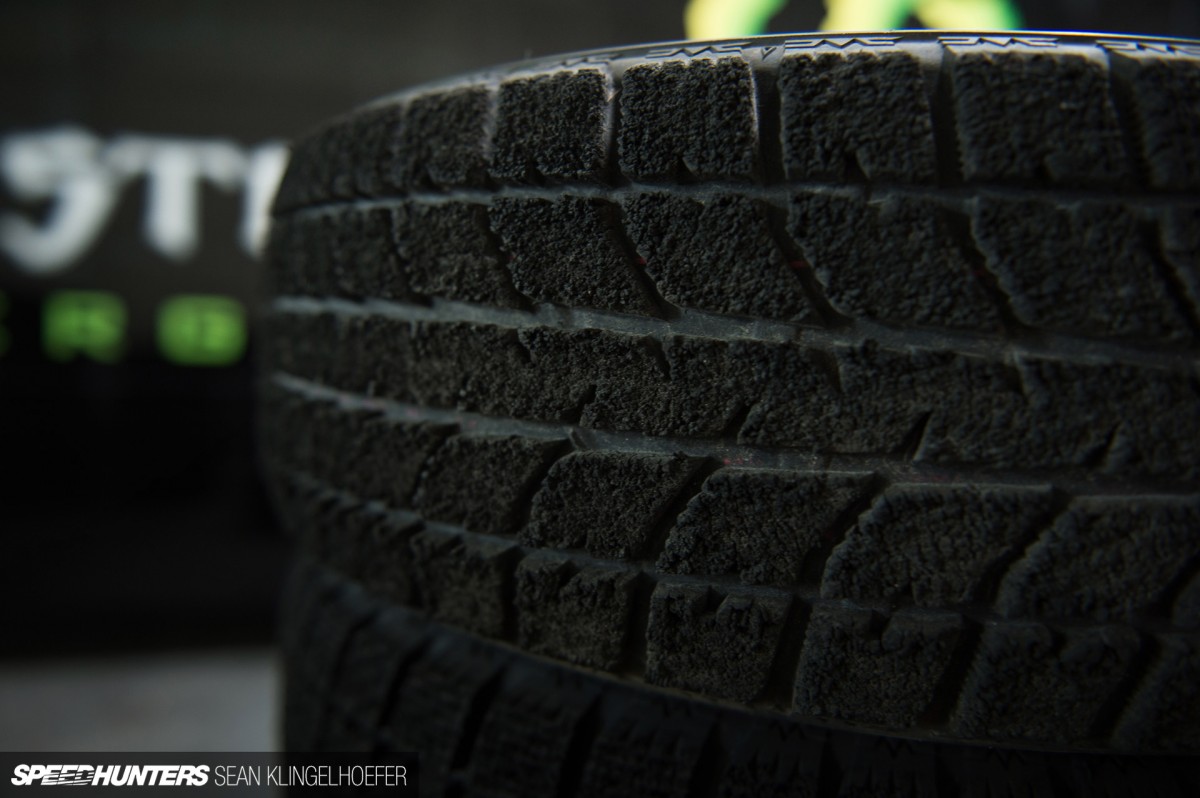 Stacks of grippy tires were also close by, and as you can imagine these get used up at a prodigious rate.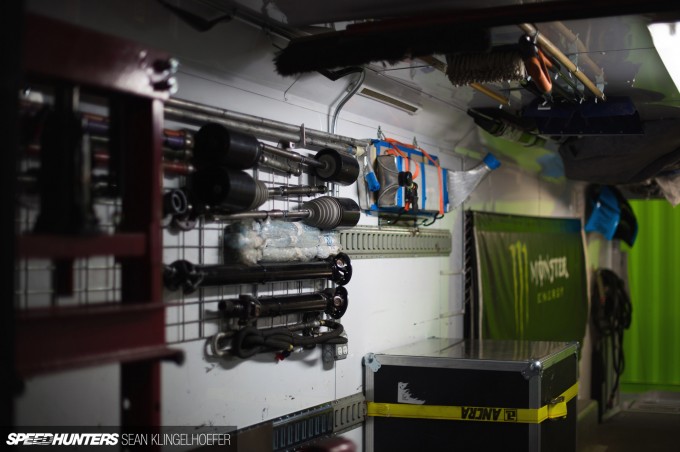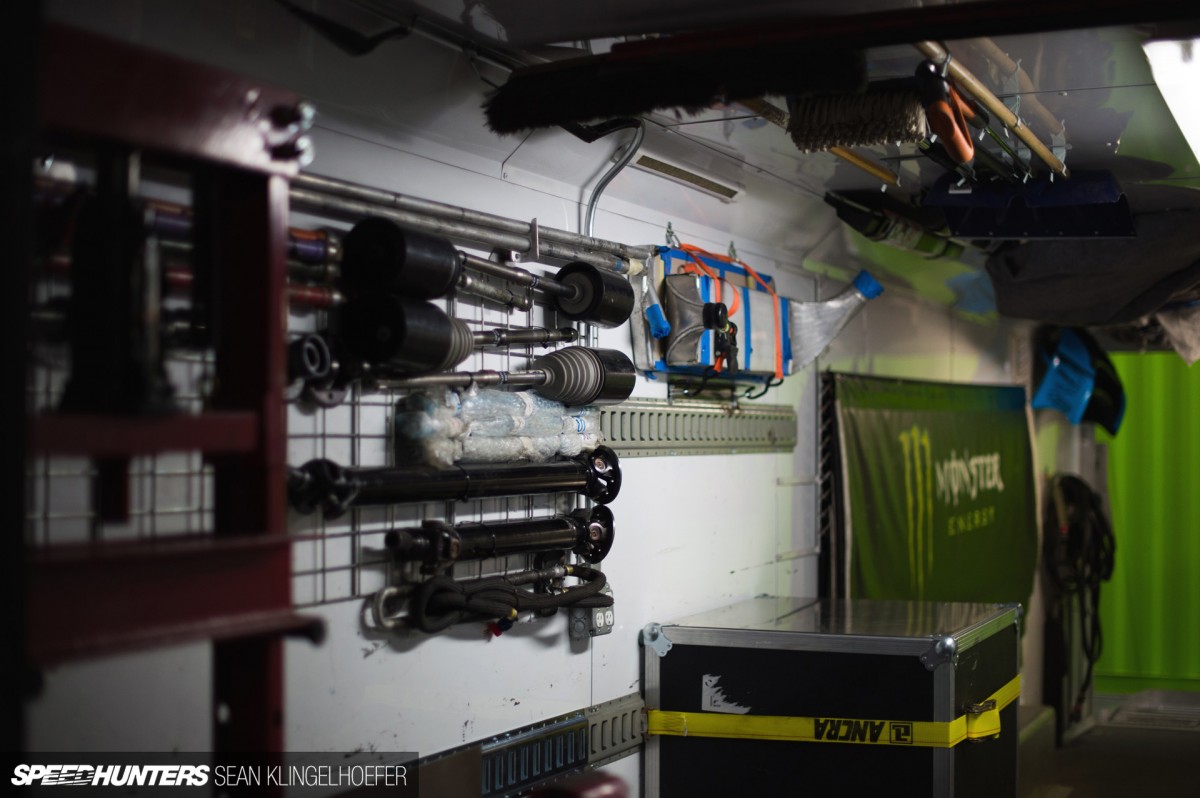 Next up we're in the Hoonigan race trailer; the same one that's used for all the different races and exhibitions the guys travel to all year. This thing must have a million miles on it by now.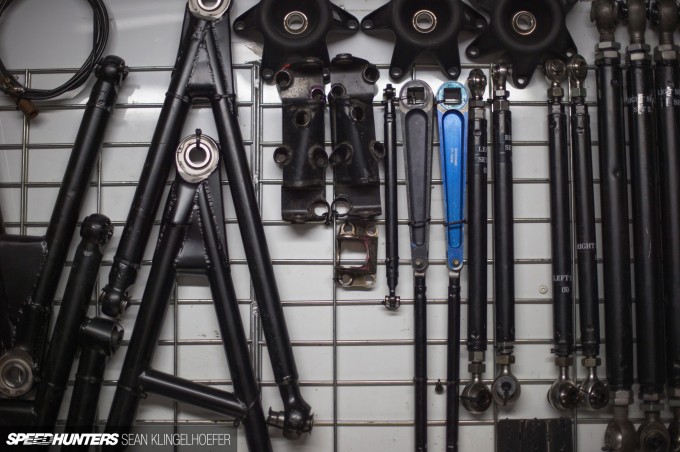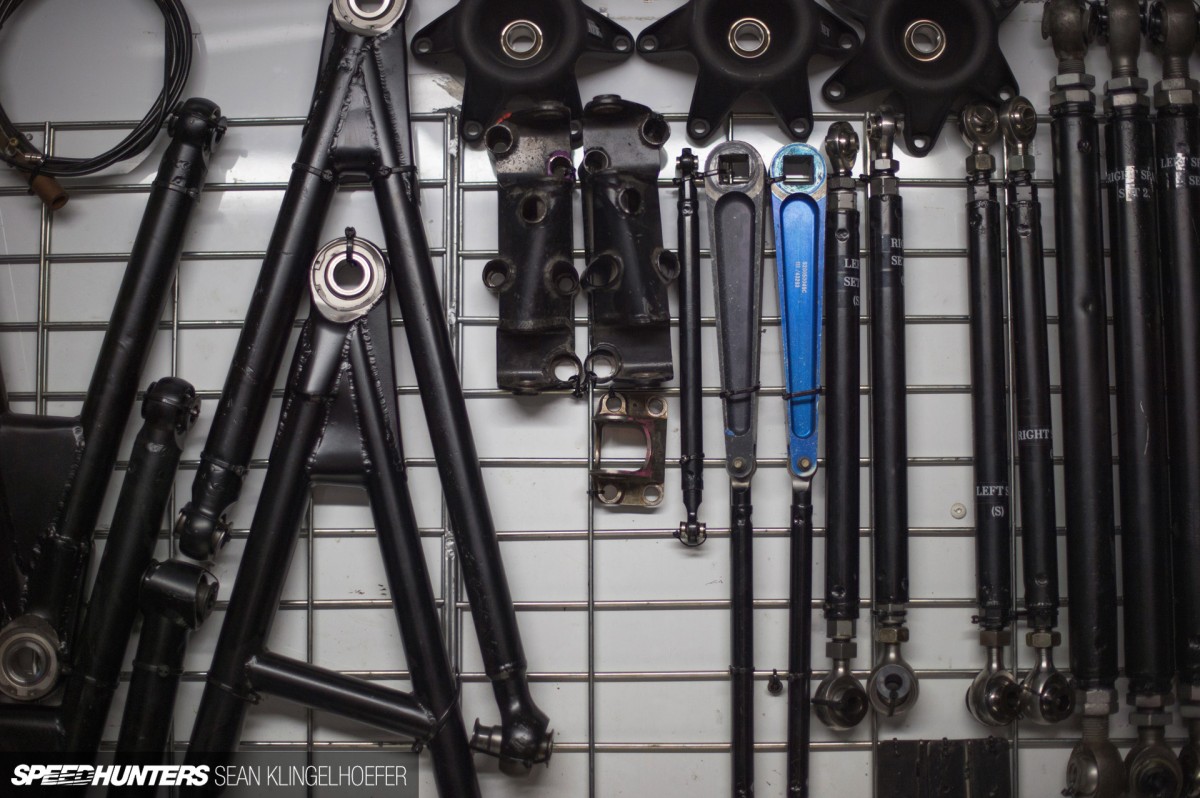 The coolest part is the spare, well, everything zip-tied to the walls of the race trailer.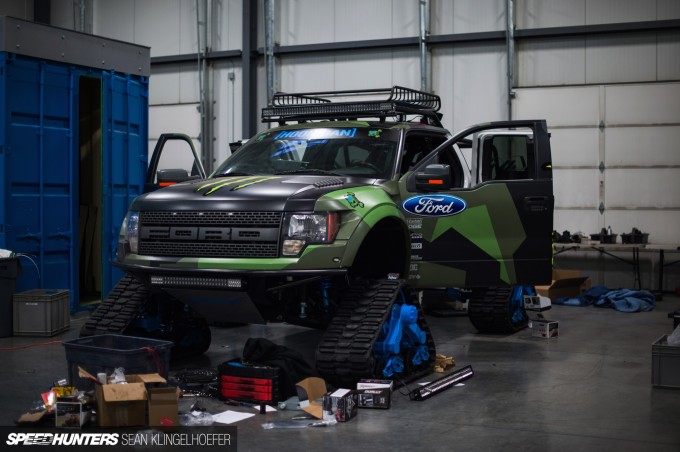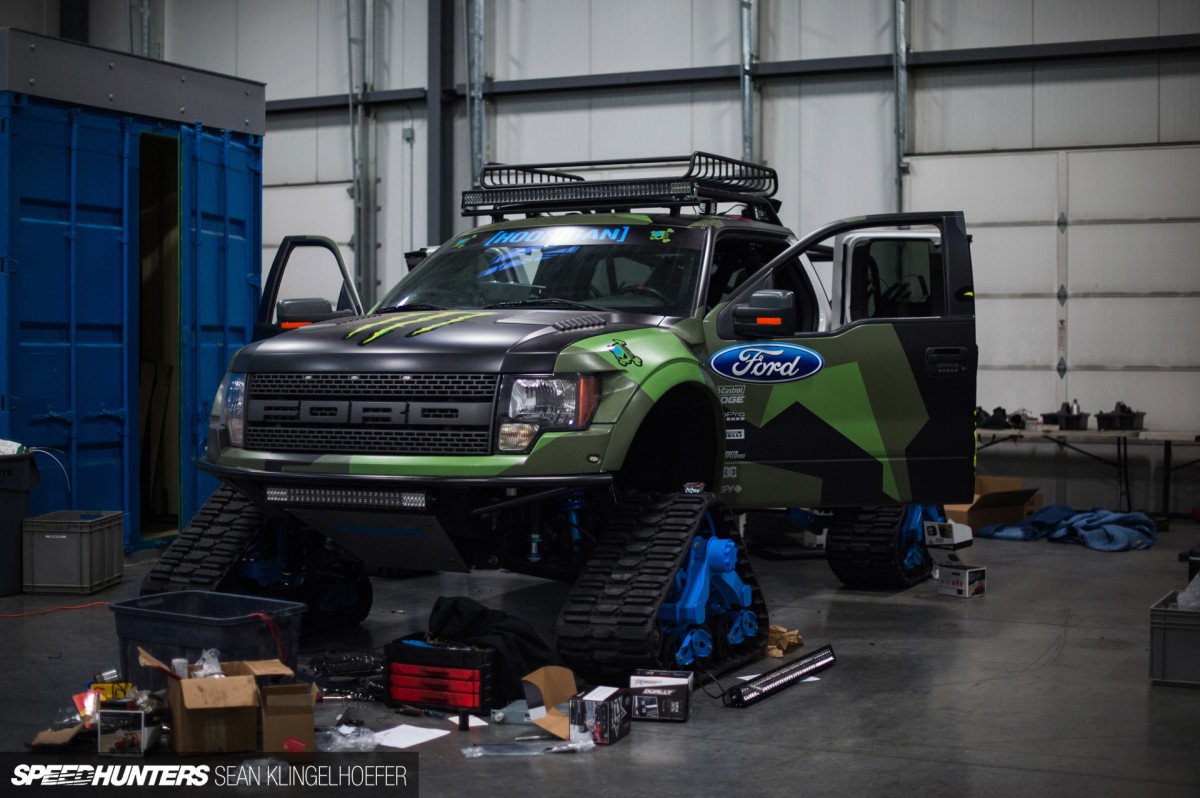 There's one last goodie here in the workshop we need to see more of: Ken Block's new RaptorTRAX. He's already shown it tearing up the snow on social media, and now people are speculating that this may in fact be the next Gymkhana movie star. I guess time will tell, because let's face it, nobody is letting anything planned inside this building slip just yet…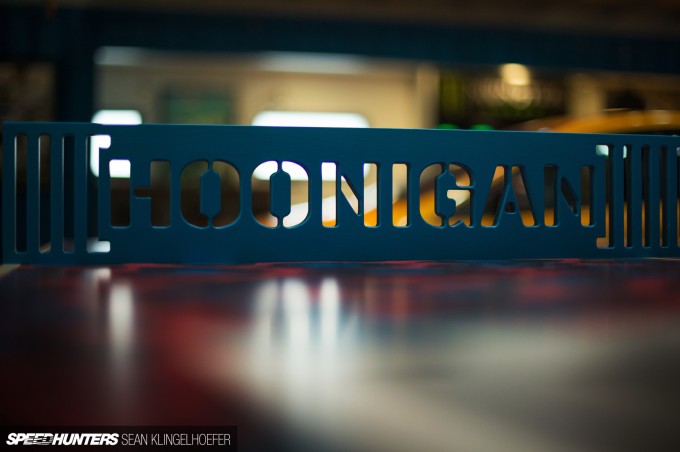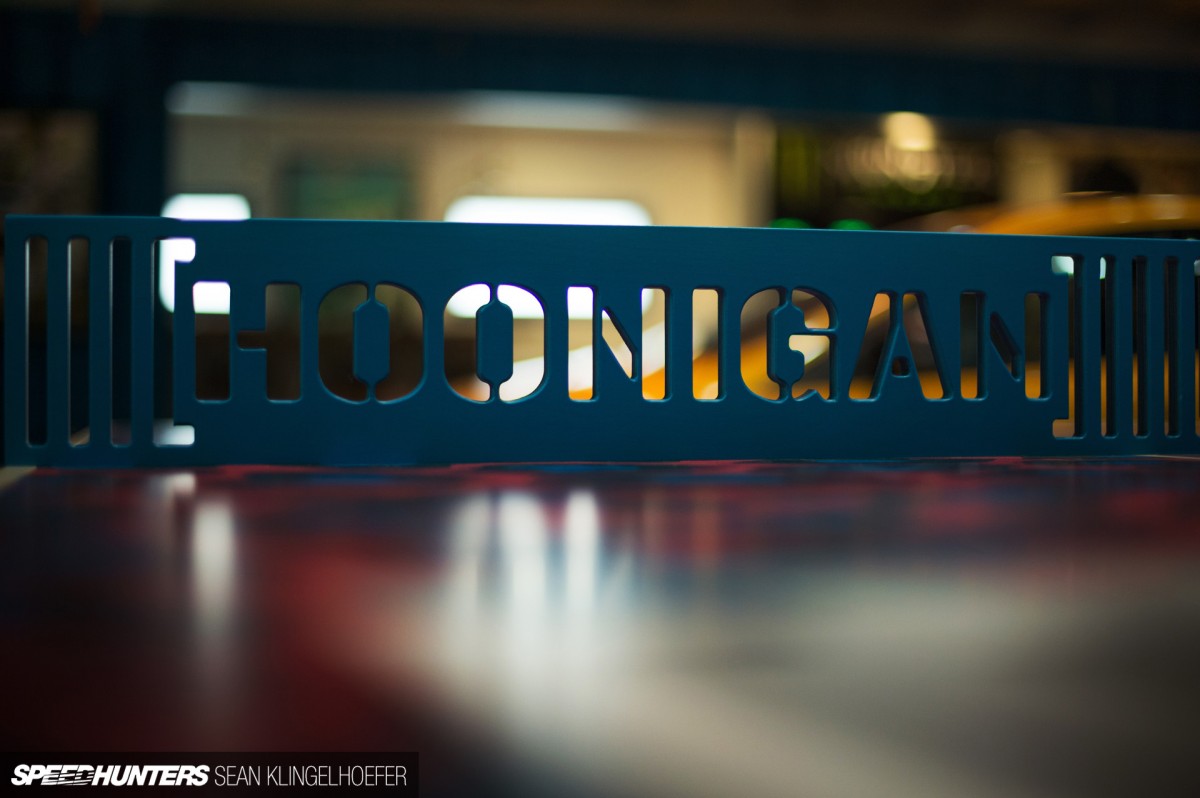 So thanks to Ken and the crew at Hoonigan for opening their doors so that we could share an insider's view of Hoonigan Racing Division. We've all seen the rally cars and the wild antics that take place with them, but it's a rare opportunity to see the inner workings of such a passion-driven, gearhead utopia.
Now who wants to build a Speedhunters version? We each create a themed container around the world and assemble them together like some multicultural stack of building blocks, a global mash-up of styles… It might just work. Now that would be an ultimate garage!
Keith Charvonia
Instagram: SpeedhuntersKeith
keith@speedhunters.com
Photos by Sean Klingelhoefer
Instagram: seanklingelhoefer
sean@speedhunters.com