The chase
What's unique about off-road racing is the venue: the great outdoors. The King of The Hammers is held on a plot of public land, which is taken care of by the California Bureau of Land Management. Most of the time when I'm out hunting for speed, I end up at a race track where I have to hike around the outside, through tunnels and various trap doors for miles and miles to get interesting and non-repetitive shots. Most off-road races, like the Baja 1000 or the Mint 400, are designed in a way where you, the spectators, can actually keep up with the race rigs by taking a series of short cuts.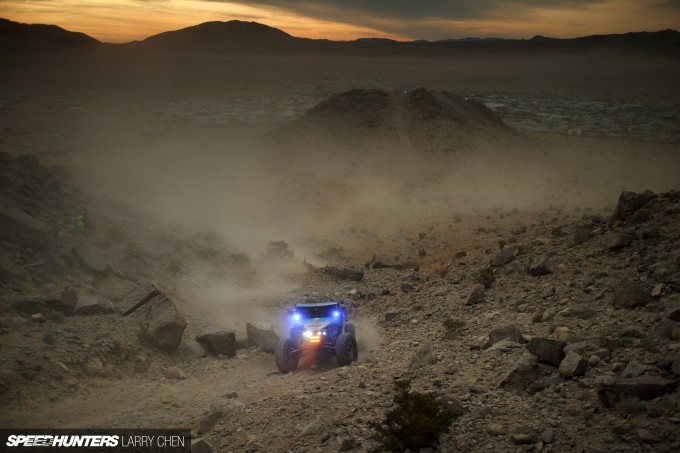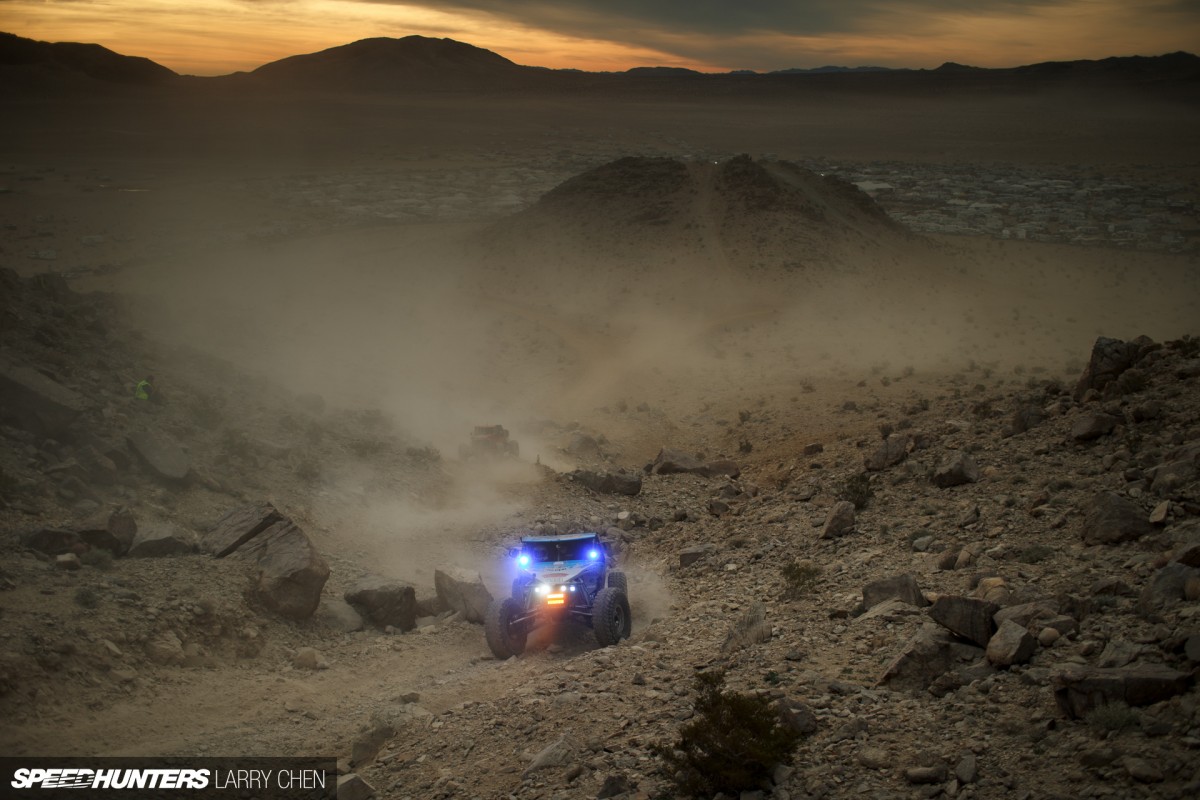 When I covered the Mint 400 last year, we took public roads and even major highways to get around and beat the trophy trucks to their next checkpoint or next major obstacle. It's not like that covering the King of The Hammers, at least for the most part. Some of the most popular attractions you can reach with just any road-going car, with a bit of hiking through the desert.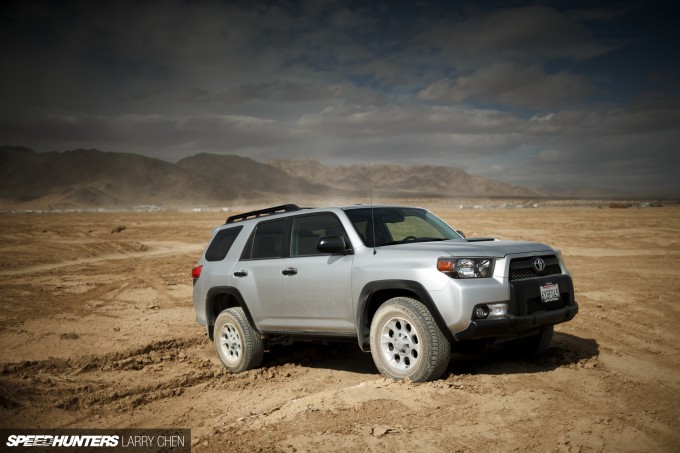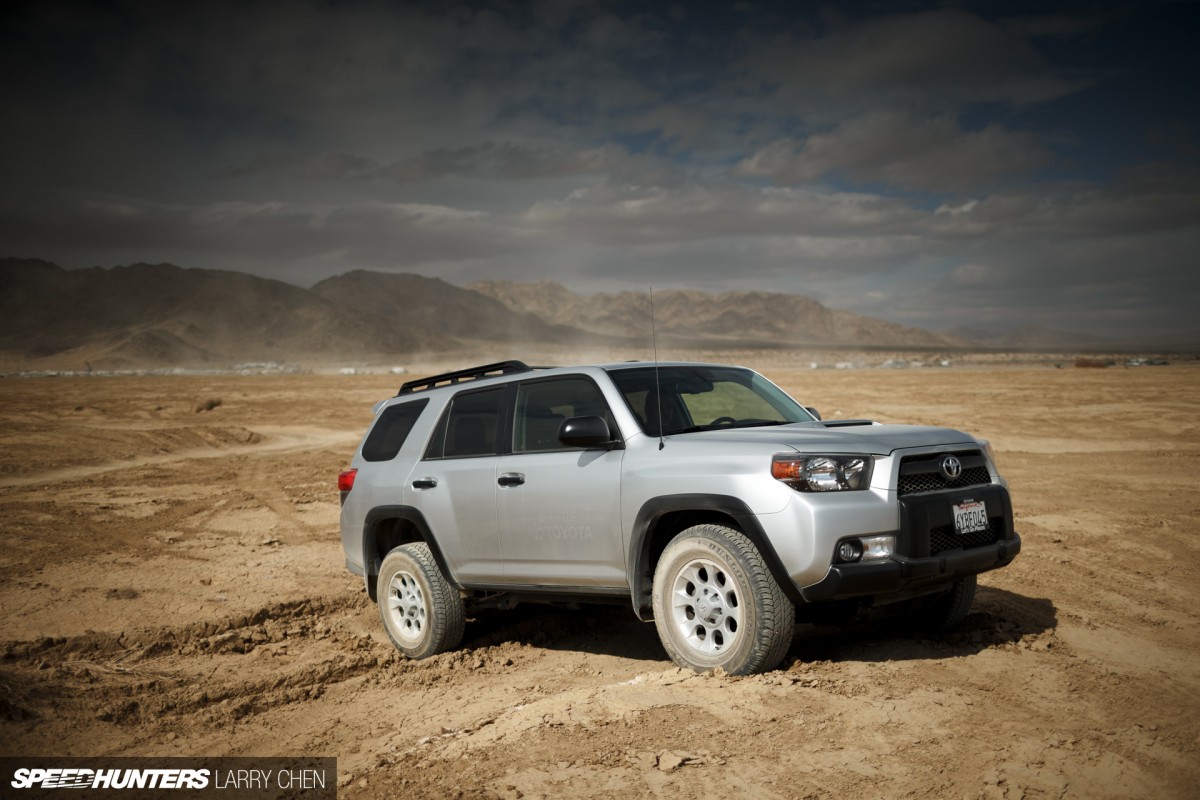 However, if you really want to see the race in its entirety, you have to have a vehicle that's capable of some serious off-road duty. For some reason, all of my buddies' off-road capable cars were out of commission. My sister had a pretty nice Nissan Pathfinder, but someone decided to plant a tree about 20 years ago and just the other day it decided to get in the way of its path.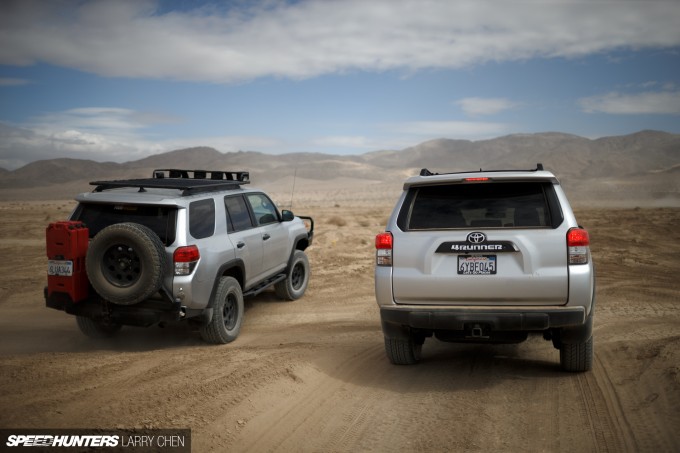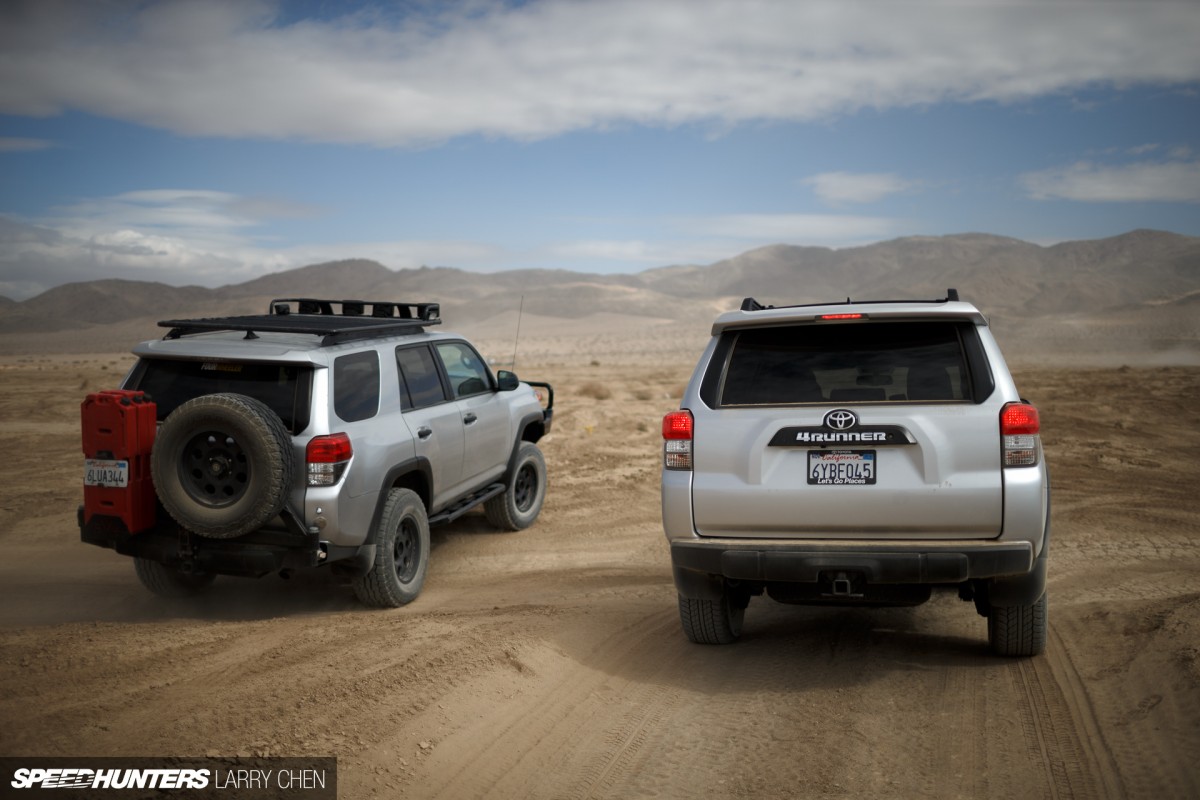 Toyota stepped up to the plate and lent us a 4Runner Trail edition. Which is basically a bare bones model with all the off-road goodies and upgraded suspension, which was more than enough for what we were doing. Along with the Ford Raptors and every Jeep under the sun, it fit in quite well.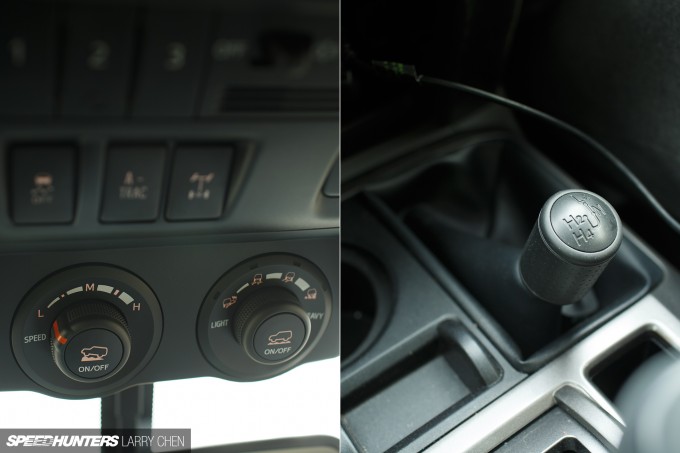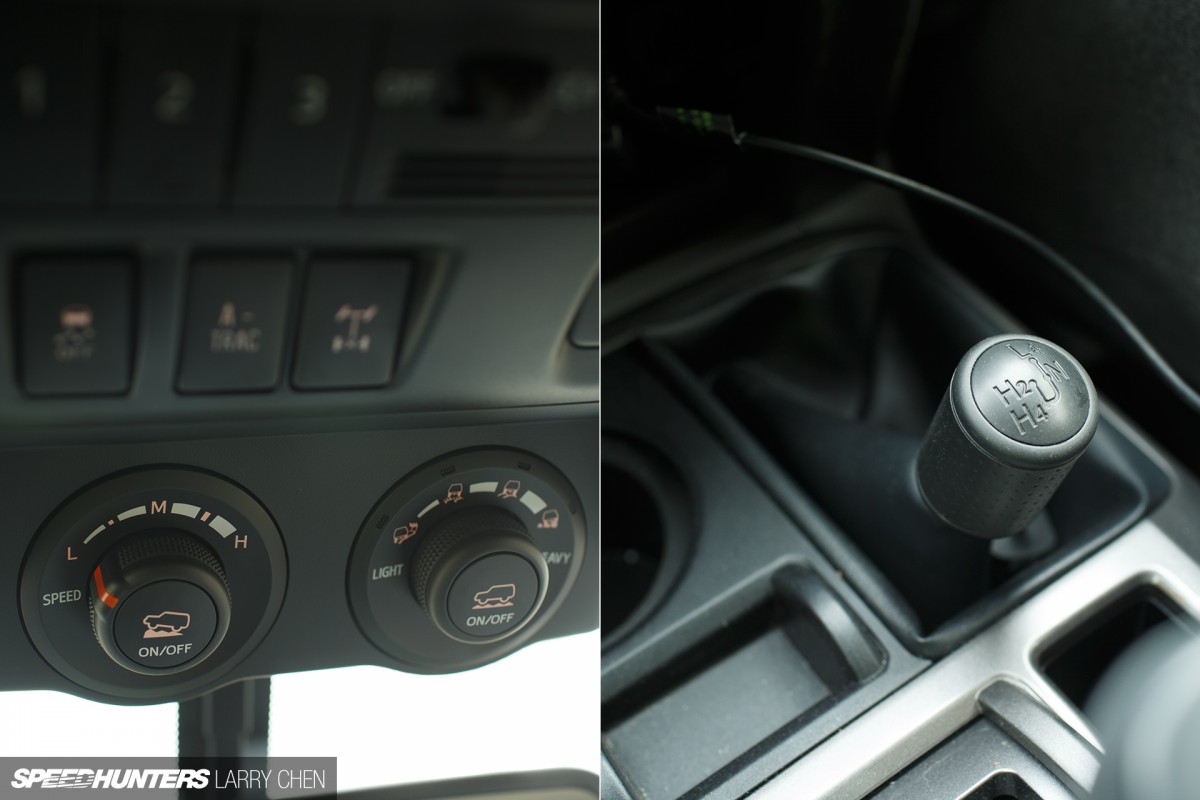 To be honest, this was actually my first time doing some serious four-wheeling. Even though the Toyota came with many user-friendly modes, I just stuck to being mindful of my right foot.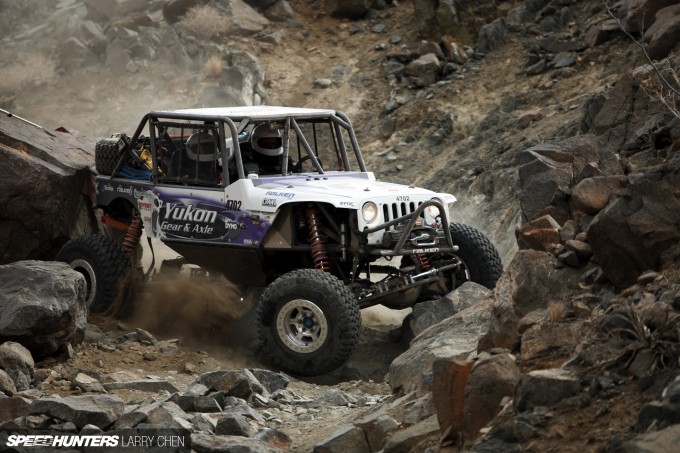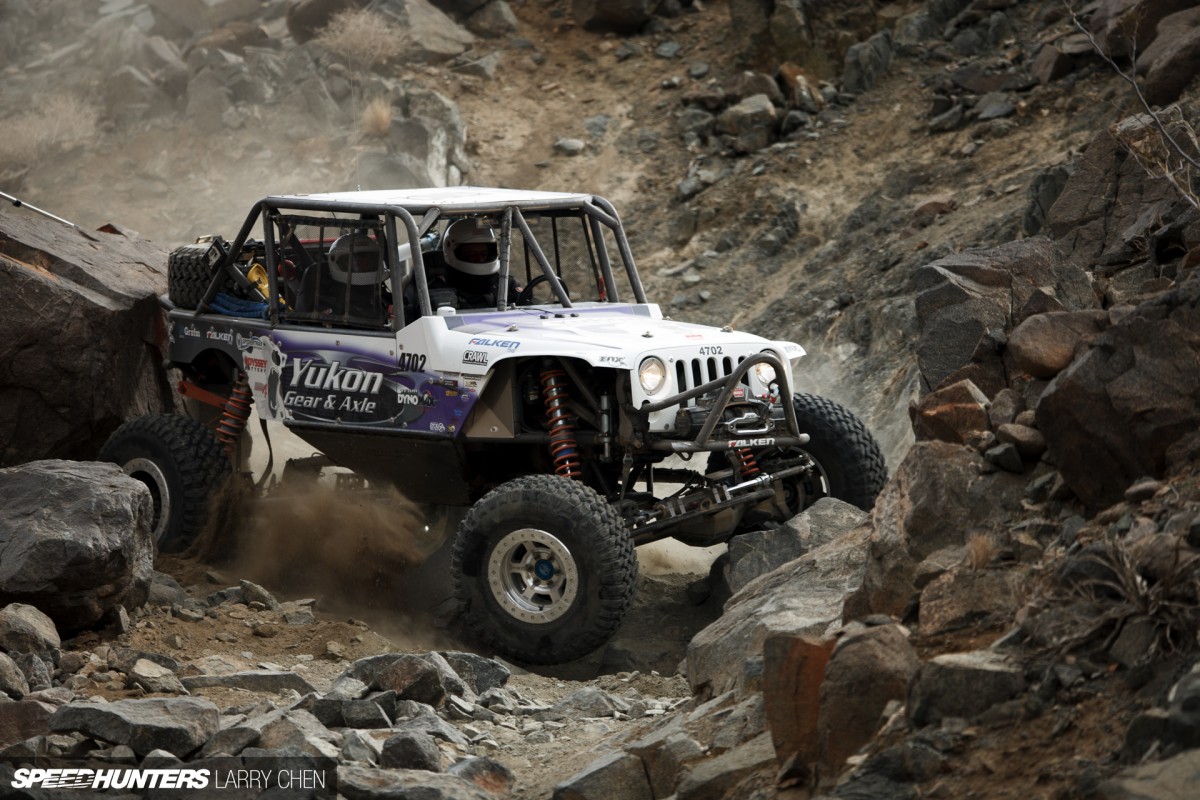 It was the first day of competition and we were following the Smittybilt Every Man Challenge race, which I covered a little bit in my last post. Basically it's a modified version of the course for the King of The Hammers for the amateur off-road racer.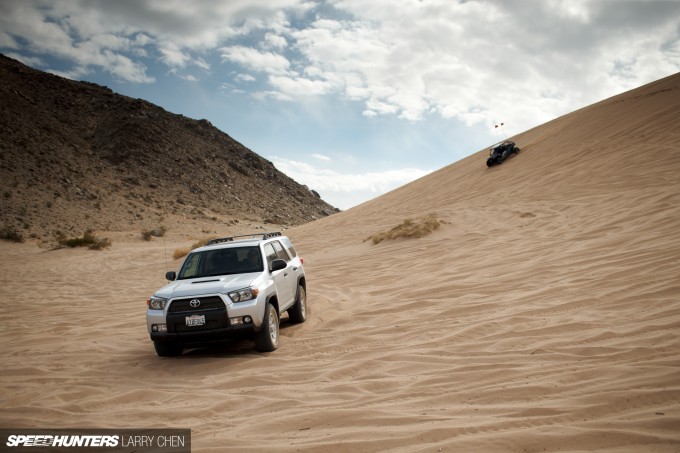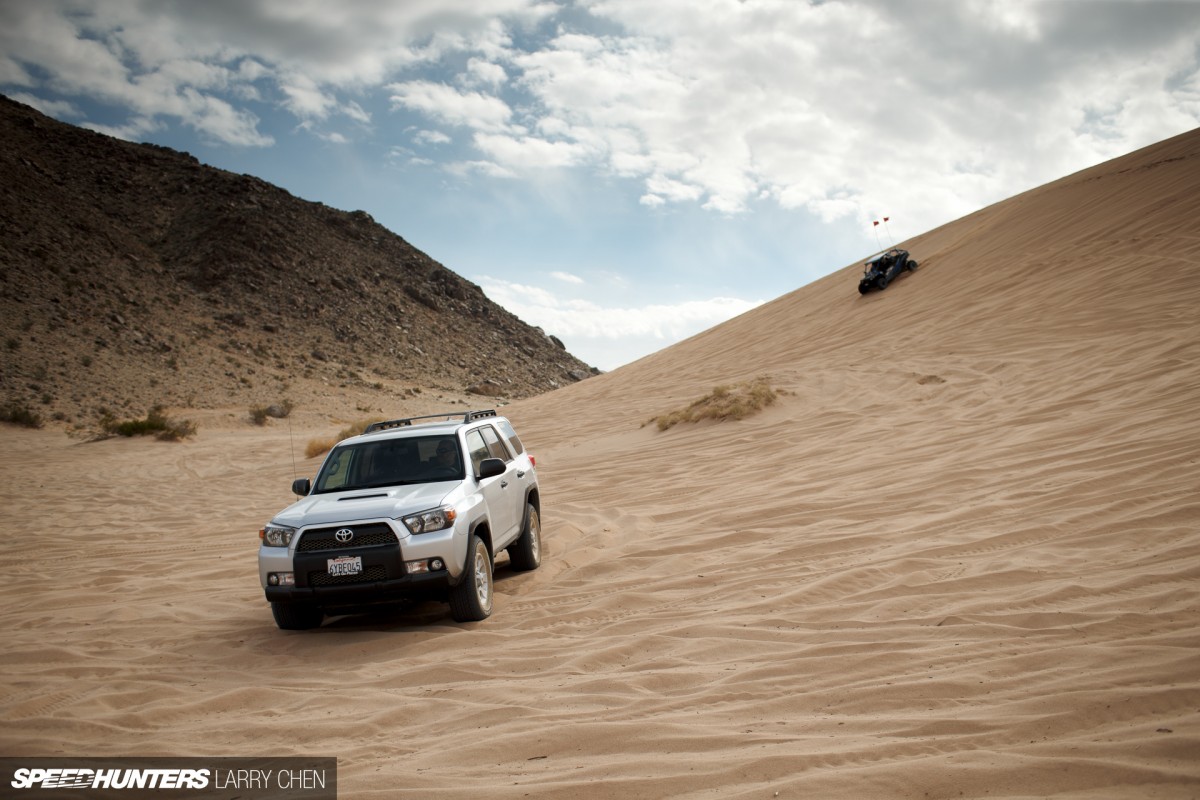 I'm always afraid of getting stuck, as I've previously got our rental car stuck on the salt at Bonneville, and I even got stuck in the sand in Dubai before. Not fun at all when you have to ask someone to pull you out. This time we almost got stuck in the soft sand at King of The Hammers, but with a bit of pedal to the metal we pulled out of it.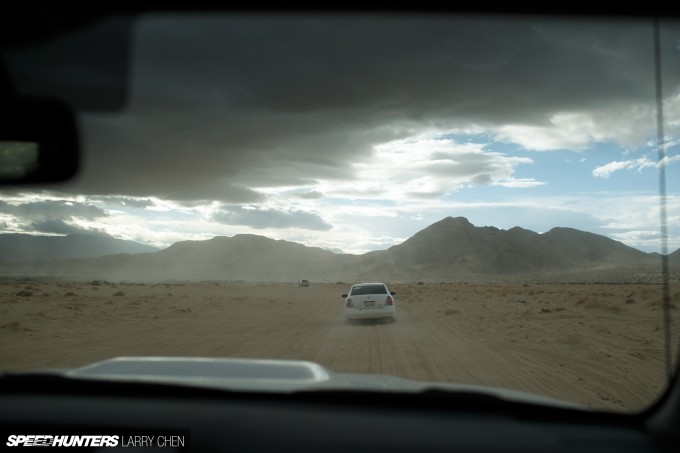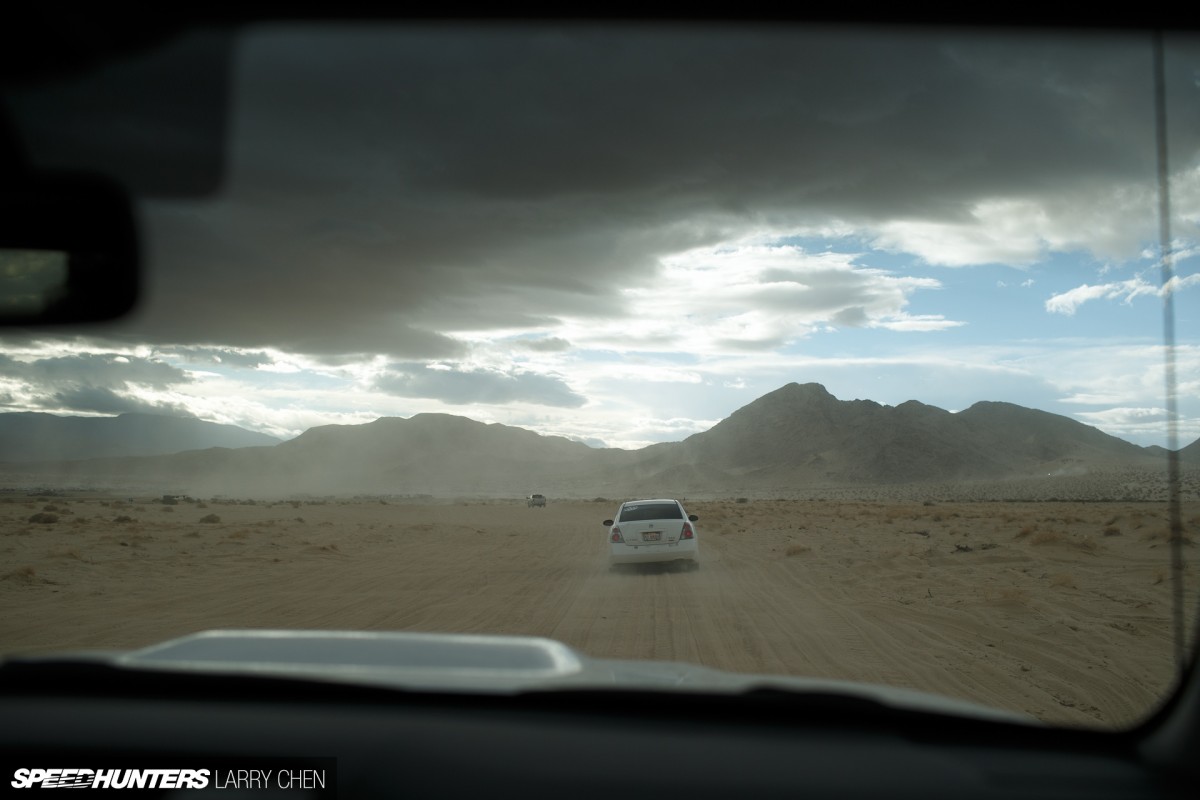 Just when I thought I was badass, driving around and getting un-stuck in the sand, we came across this crazy person driving through the desert in a front-wheel drive sedan.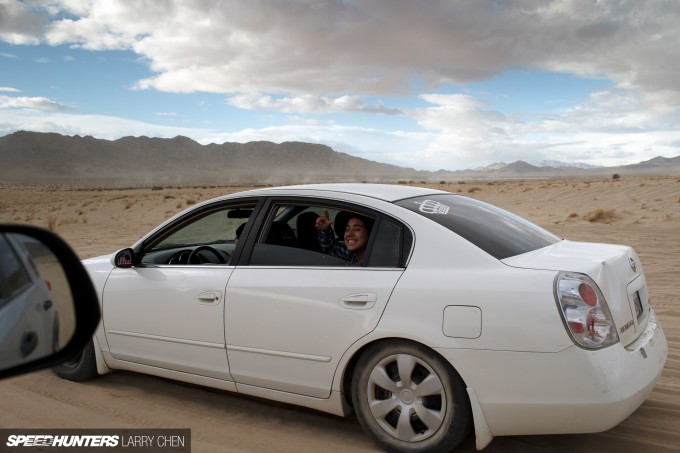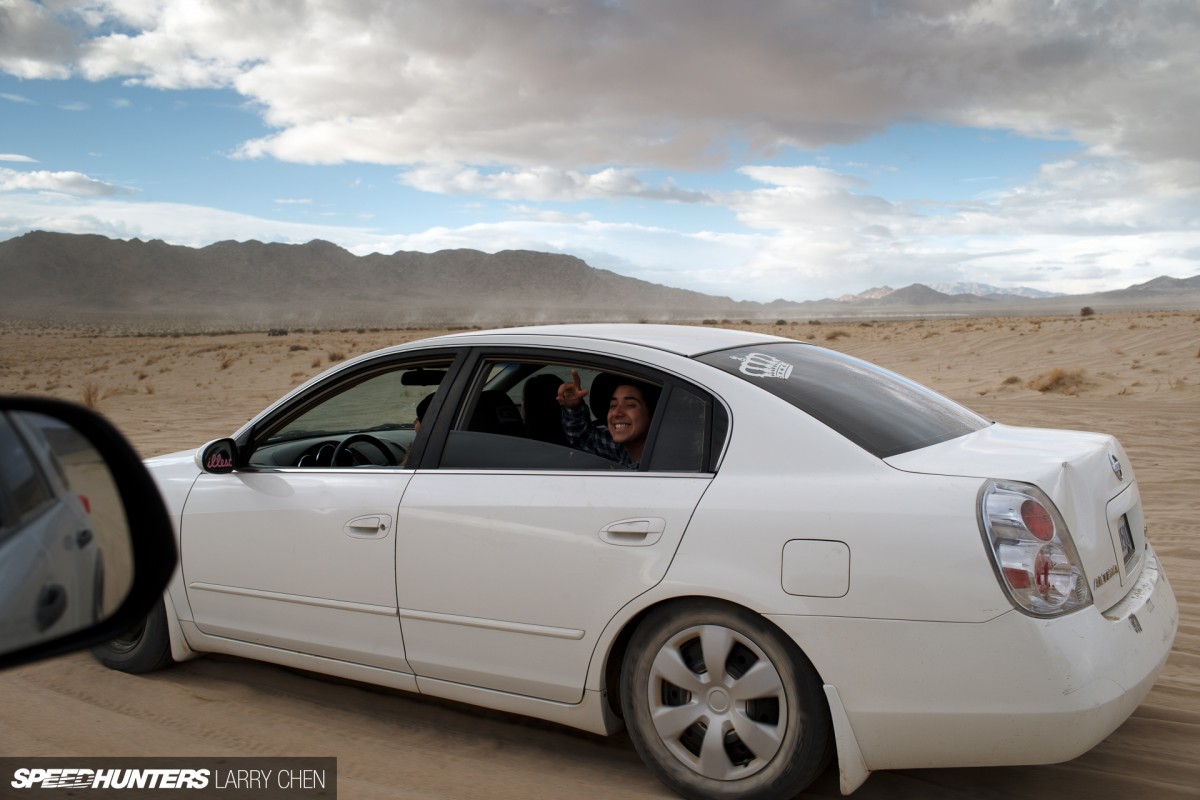 Seriously? I kid you not, just one mile back I had to put it in 4WD just to go up a slight incline that had some very soft sand. This girl was just driving through the sand like it was a dune buggy or something.
Sugar rush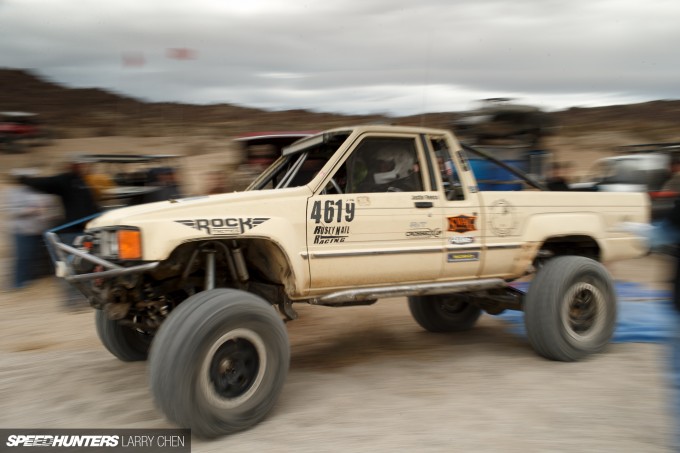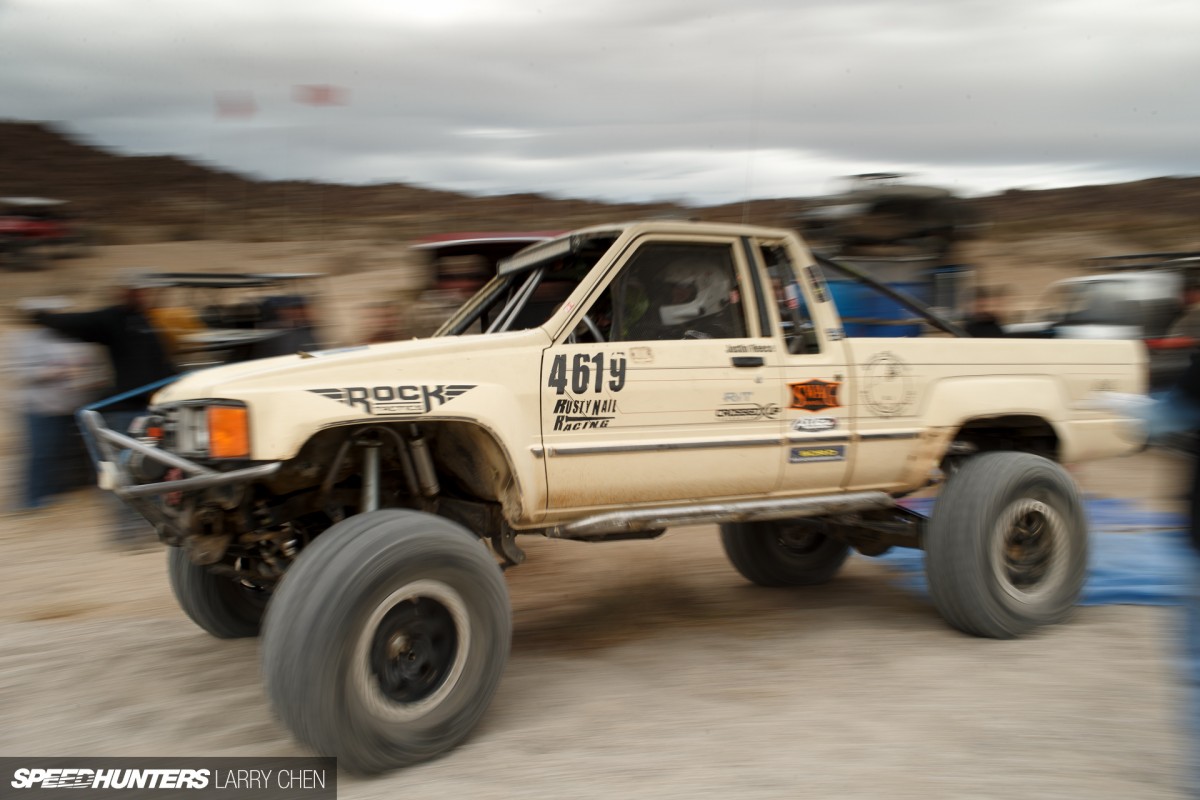 Aside from all the famous obstacles that Johnson Valley has to offer, we made a point to stop into the remote pit areas. The KOH rules state that if your car breaks down anywhere on course, no one from your pits can come and help you. That's why guys bring spares of everything they can possibly think of.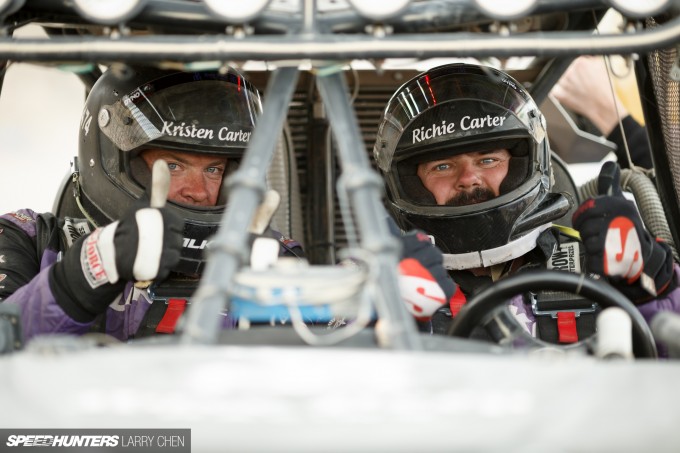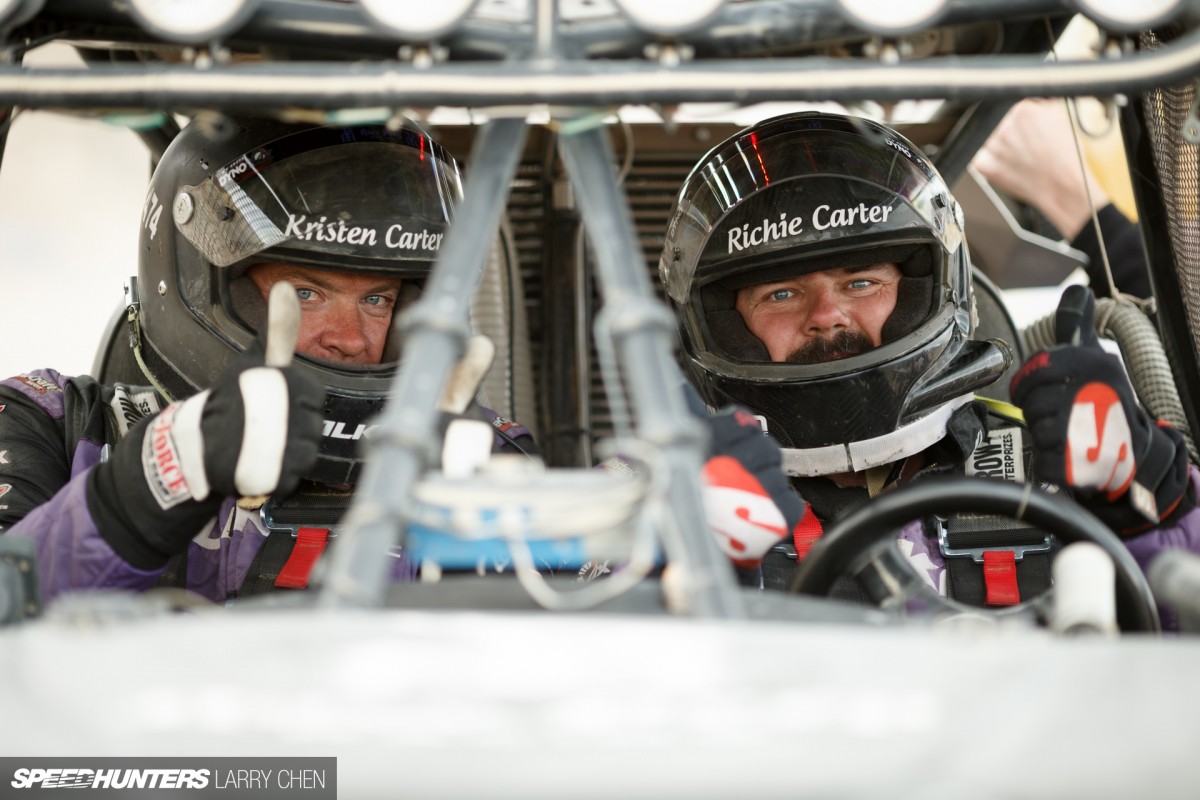 However, it's very interesting because they allow other drivers and co-drivers to help stranded drivers. That is where some serious sportsmanship kicks in. Last year I remember watching crowd favorite Shannon Campbell try to winch himself up Back Door all by himself, because he doesn't have a co-driver. Another team got out of their race rig and helped Shannon, because it would have been way harder doing it alone. I nearly shed a single tear.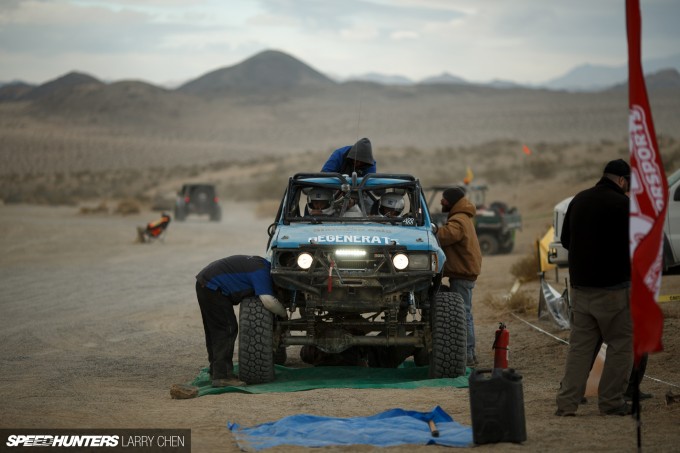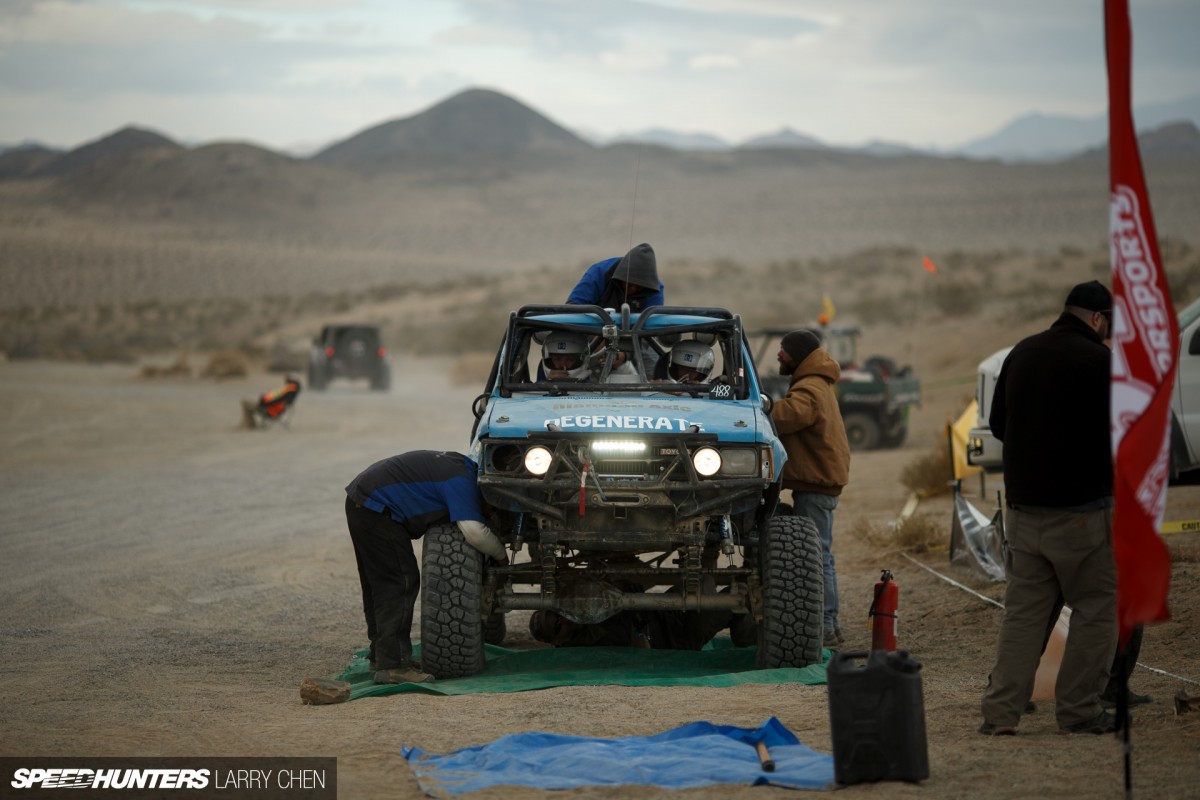 So if you do break something, then it's best to break down close to a remote pit location. The teams have designated places where they can refuel and make repairs if necessary. We had a chance to check out a few pit stops but this Stock Class Toyota caught my eye.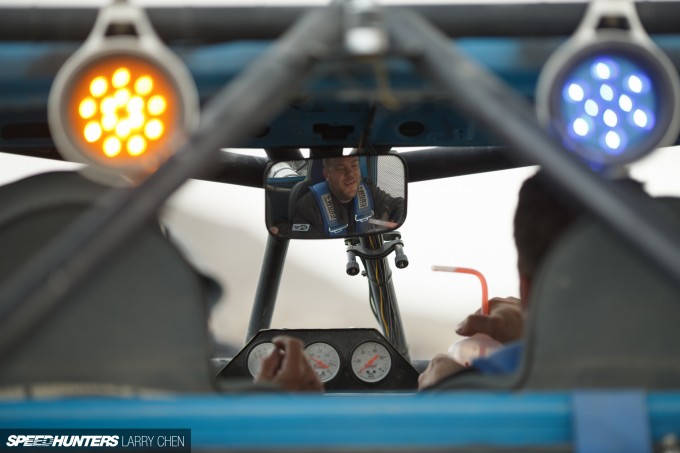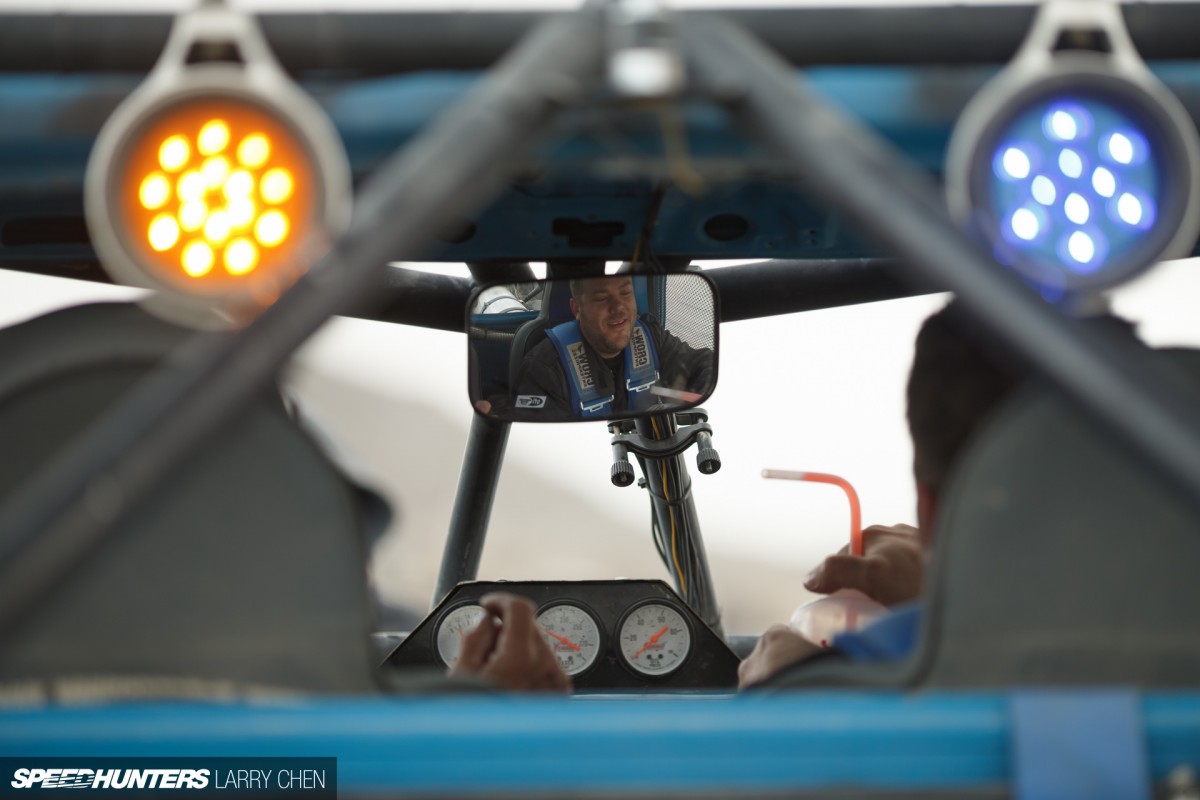 I never realized but the rear view mirror faces the co-driver. I guess that would make sense, as the driver needs to pay more attention to what's ahead of them. I'm still very new to the off-road racing scene and little things like this are very interesting to me.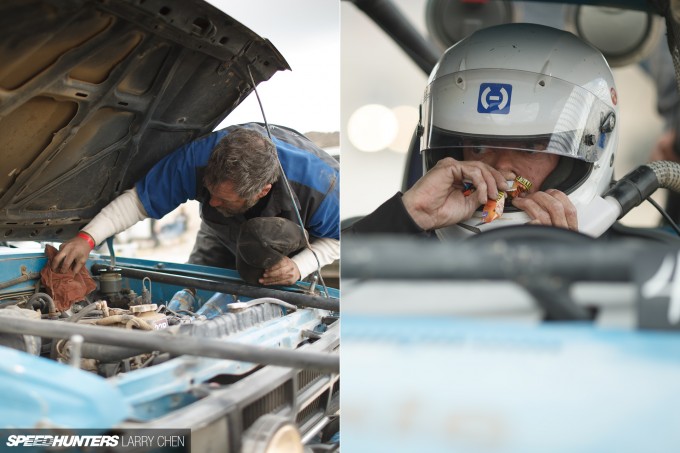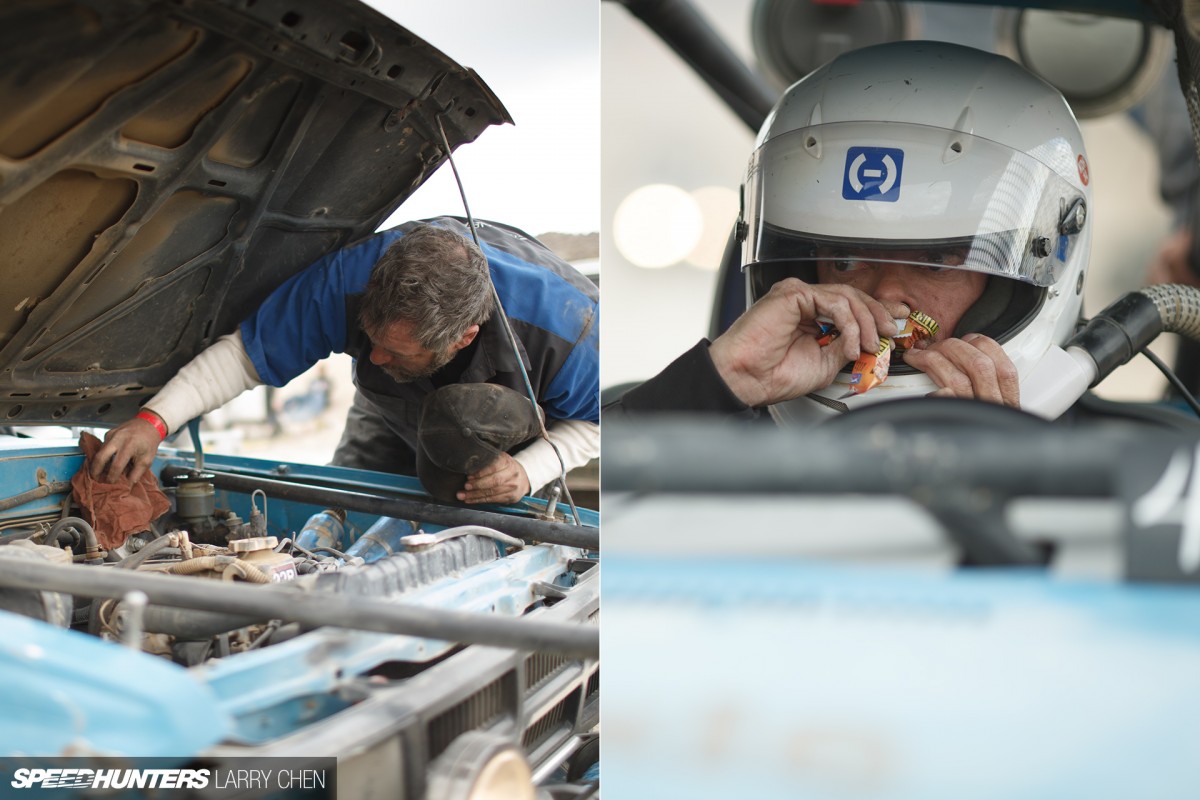 Along with refueling and topping off all fluids, the drivers need a bit of refueling as well.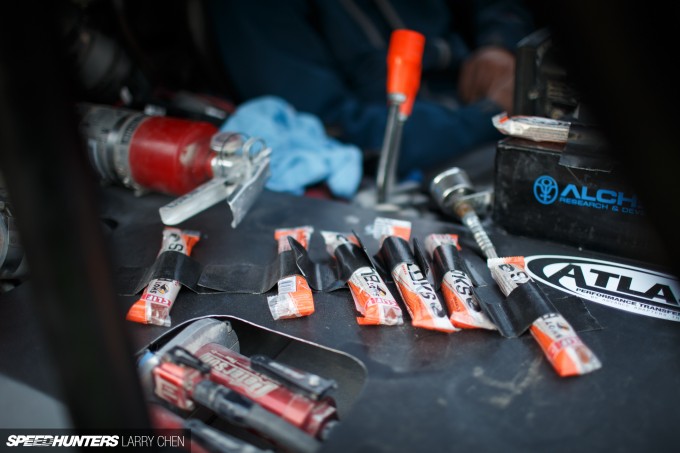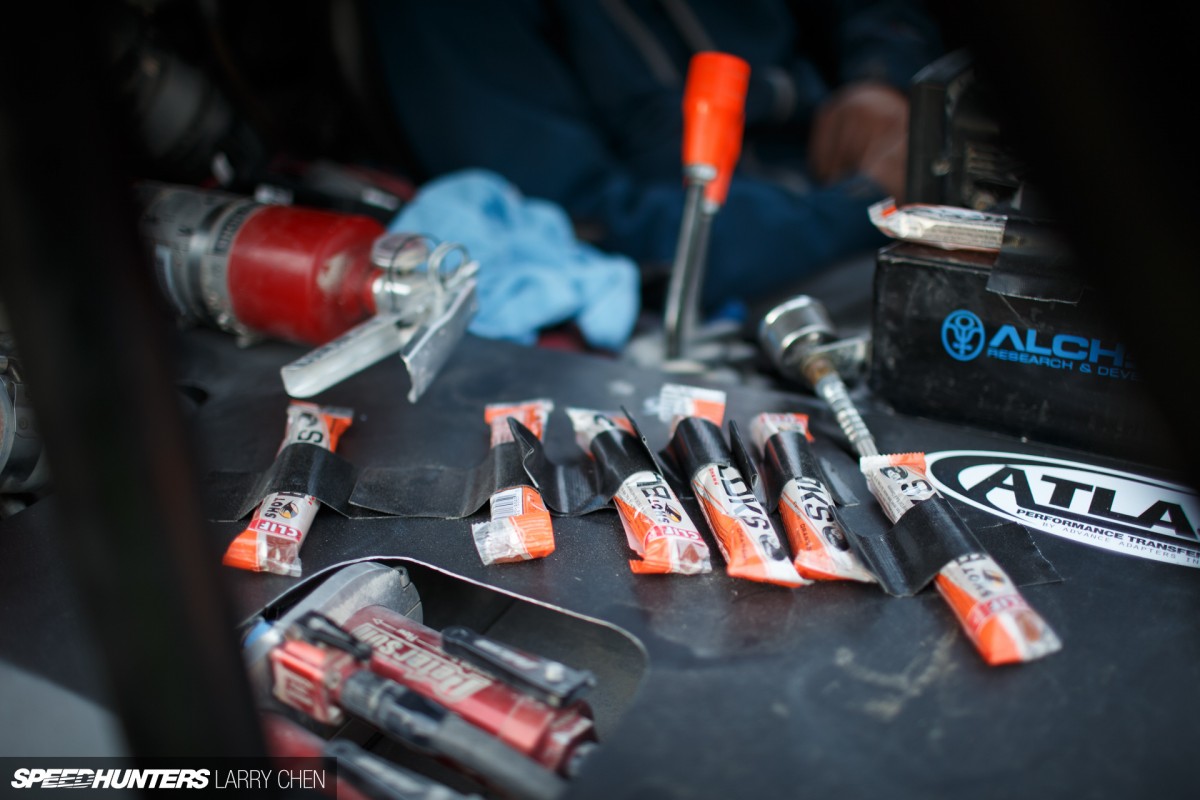 That's why they tape all sorts of goodies around the car – so when the driver or navigator needs a sugar rush, they don't have to reach too far.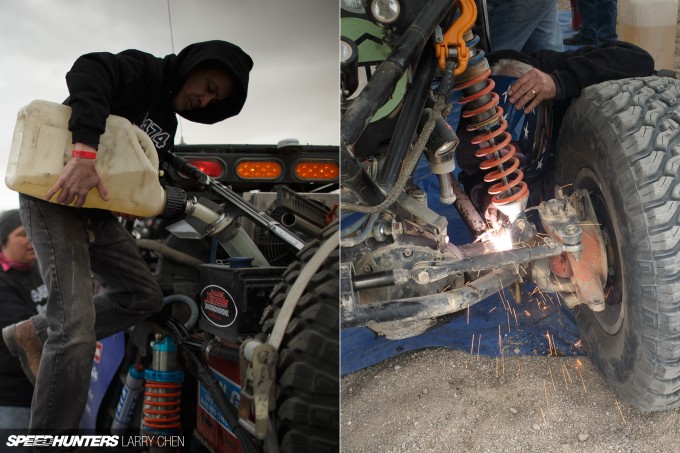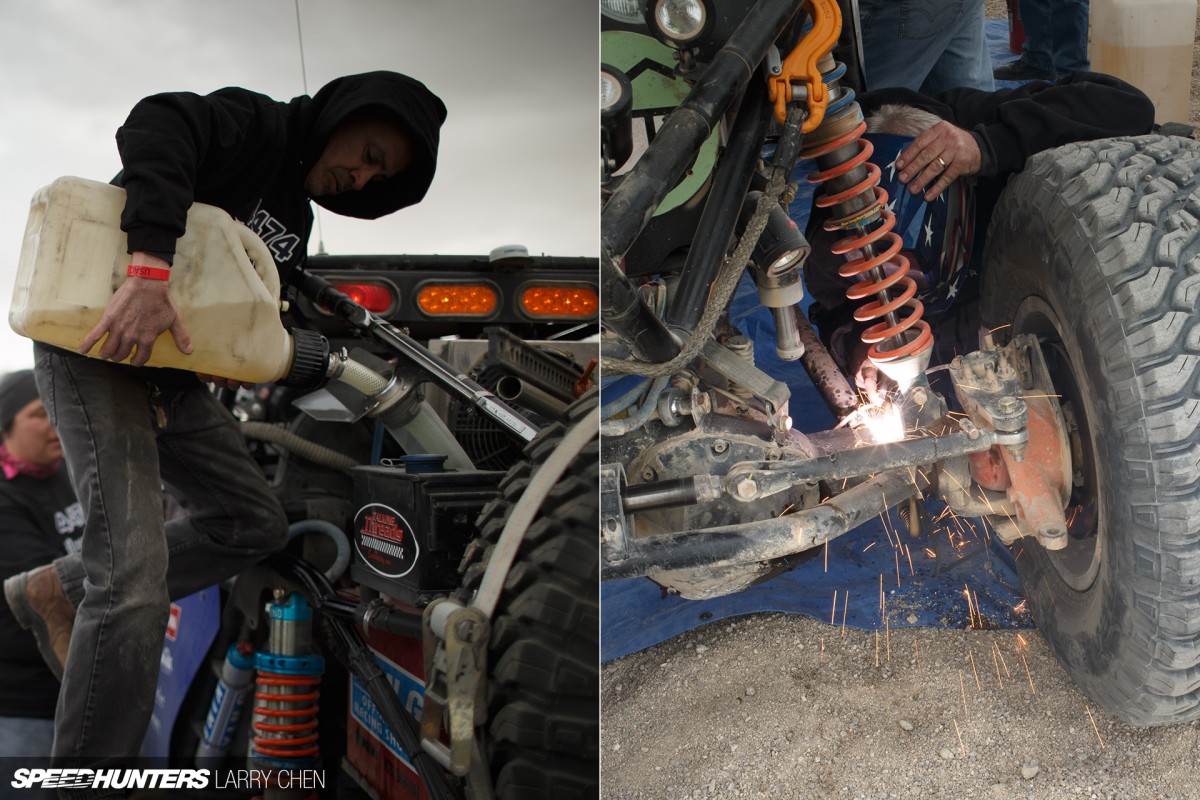 And of course after a quick fuel top-off, they welded some suspension parts back together. This is what pits stops look like in all forms of racing, right?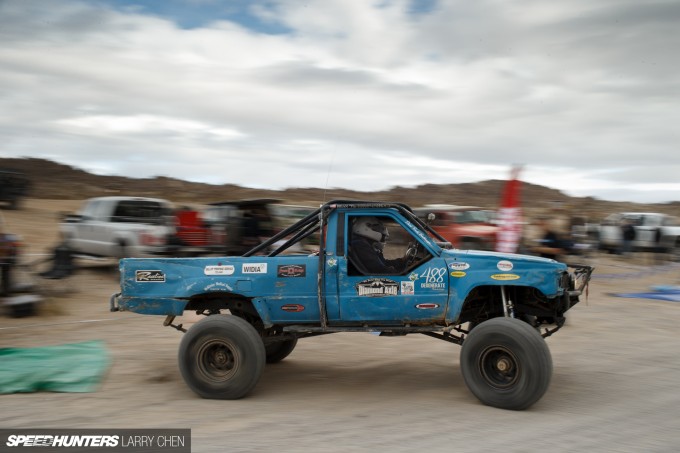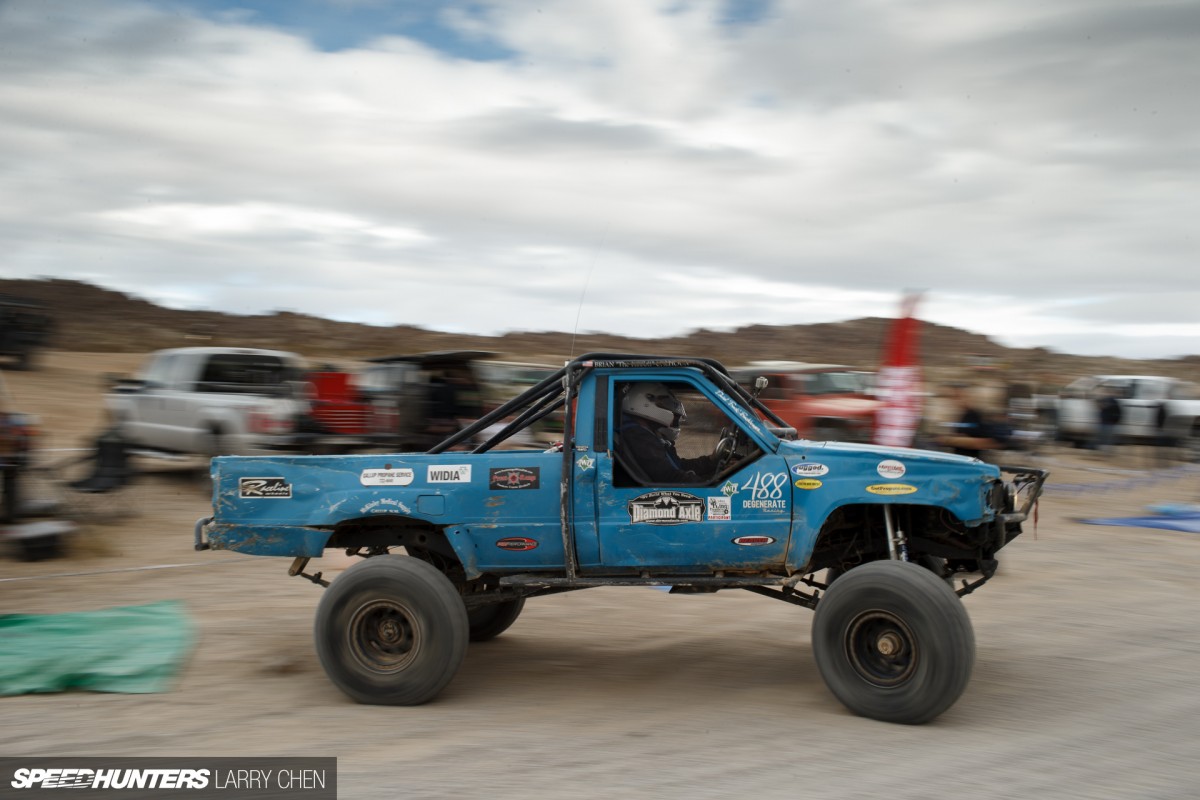 They called themselves Degenerate Racing, and every year they come from all over just to race at King of The Hammers.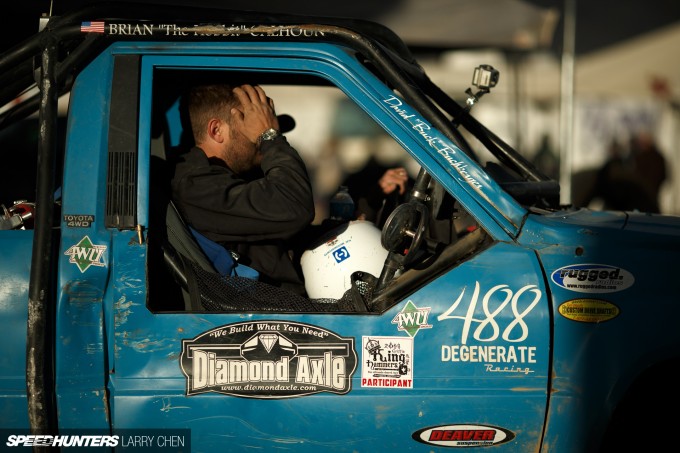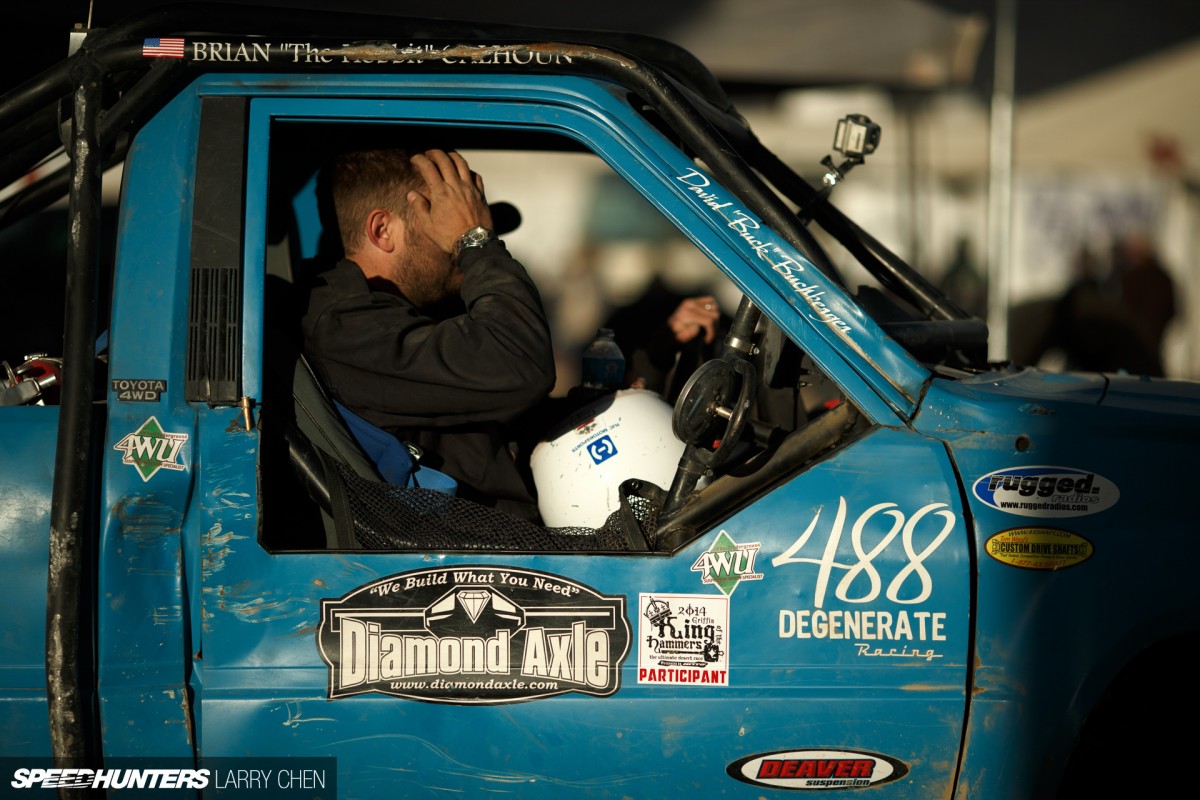 Brian Calhoun finished seventh in stock class in about eight hours and fifteen minutes. Can you imagine being stuck in a race car for that long?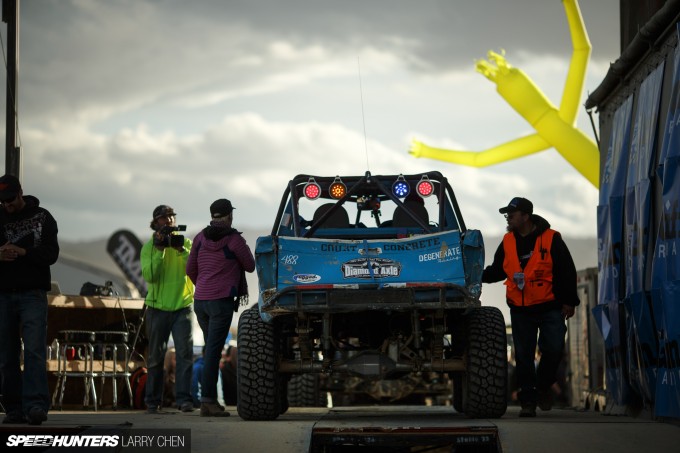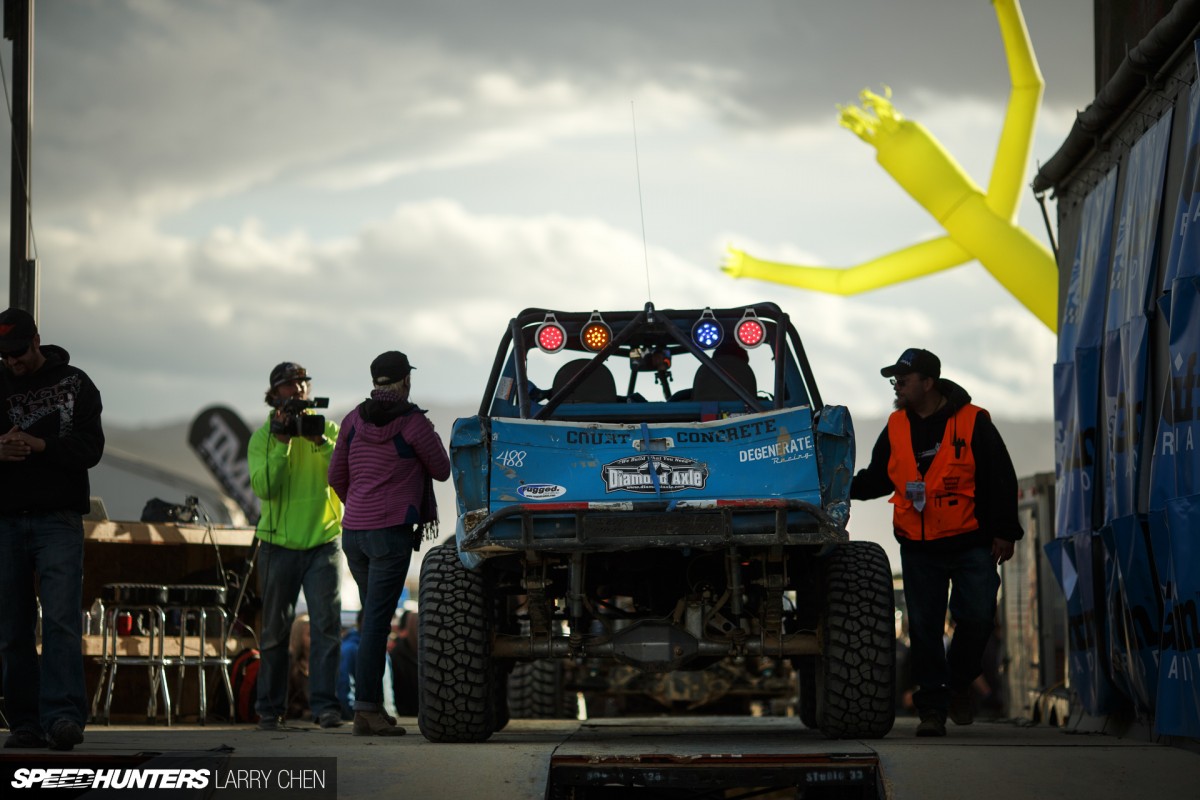 After ever car finishes, they drive onto a temporary stage that was built so that each finishing team could have their moment in the spotlight. They always thanked their sponsors and sometimes their mothers.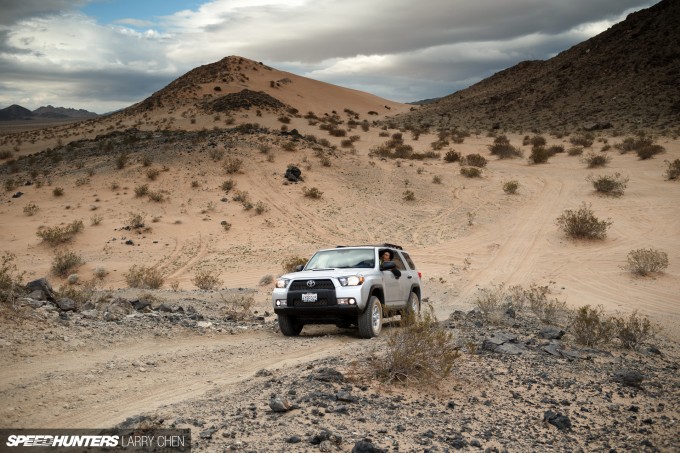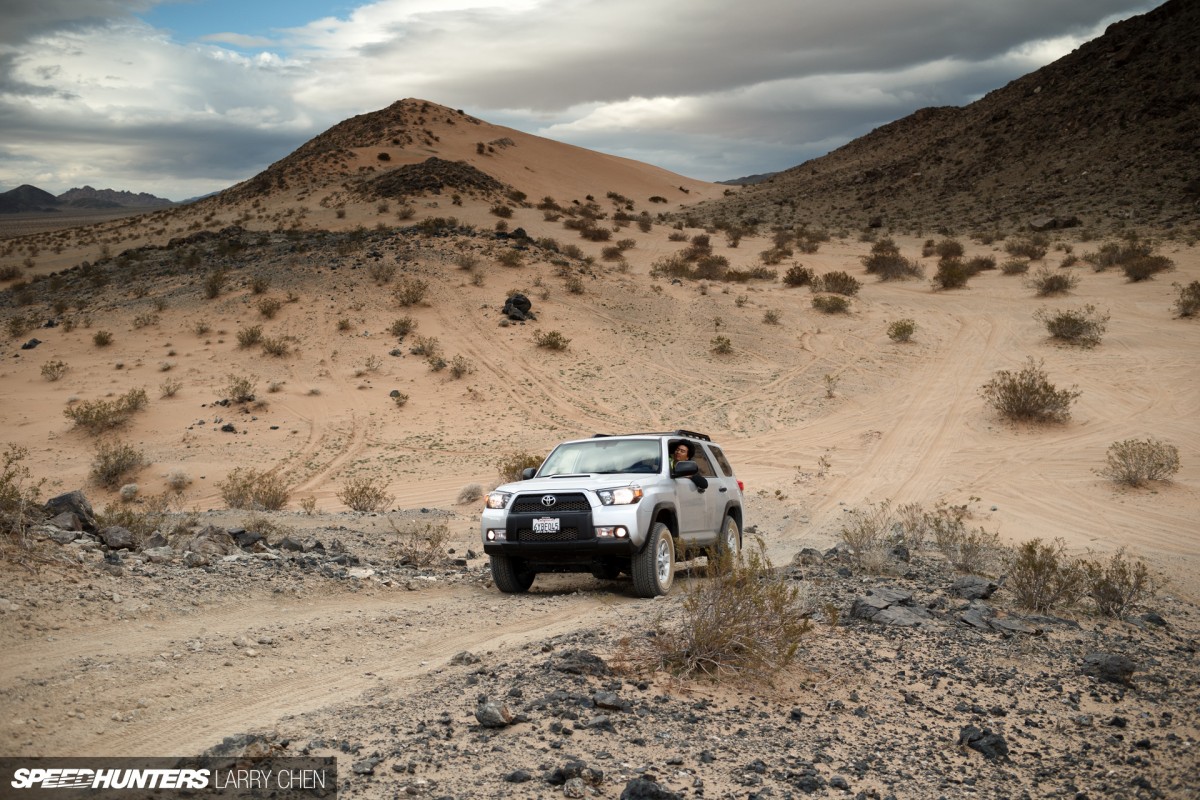 Chugging along from trail to trail I had to be careful – after all, it was not my car. Going through the dunes was super fun. It's kind of like riding a horse; you have to loosen up and I just gripped the steering wheel and rocked back and forth along with the rhythm of the humps.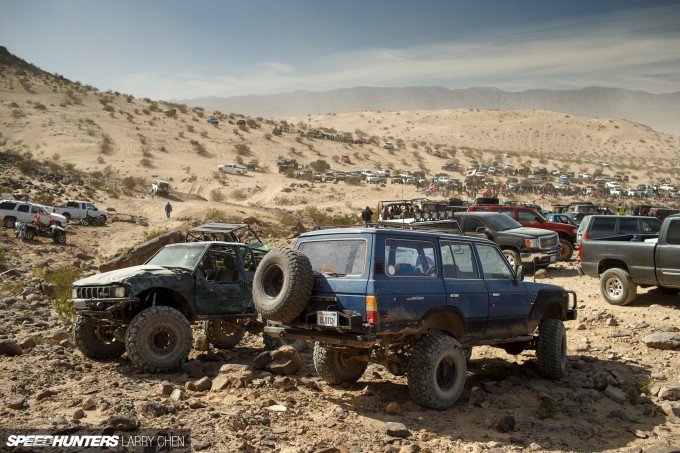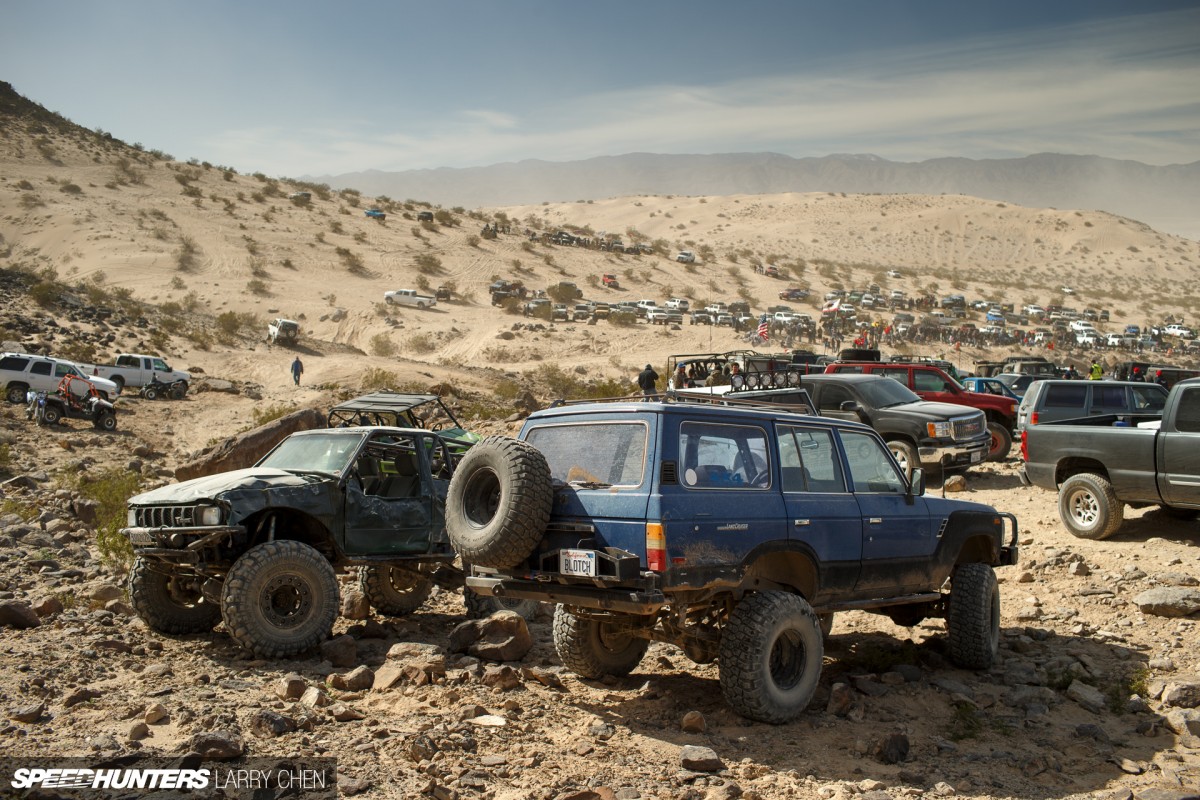 I always kept an eye out for what other fans brought out to play in the giant sandbox that is Johnson Valley. I spotted these two older Toyotas: both had some serious character and both looked like a ton of fun to drive on the rocks.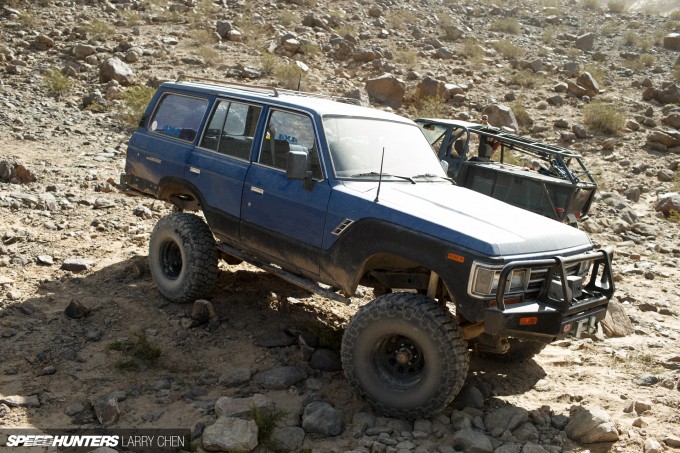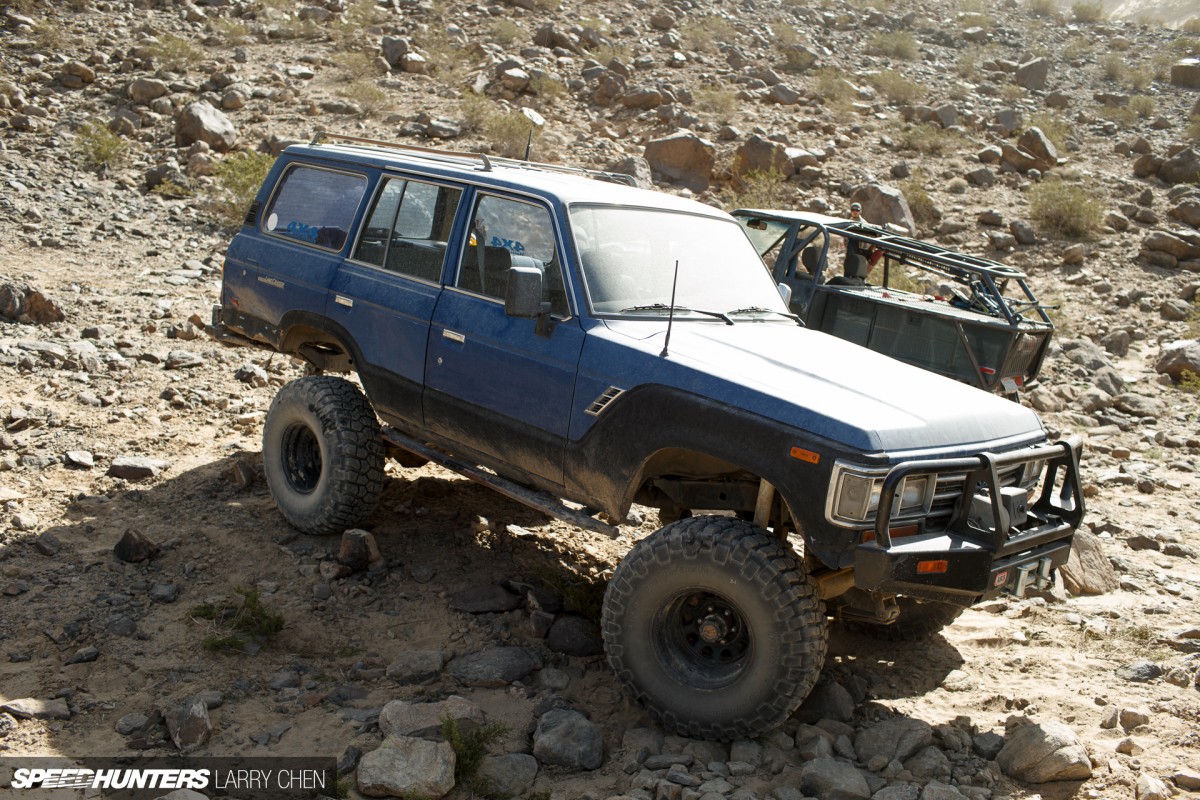 The name Land Cruiser has always been synonymous with off-road prowess, and this FJ62LG from the eighties was kept in amazing condition, and it had quite a aggressive lift. What a cool-looking truck.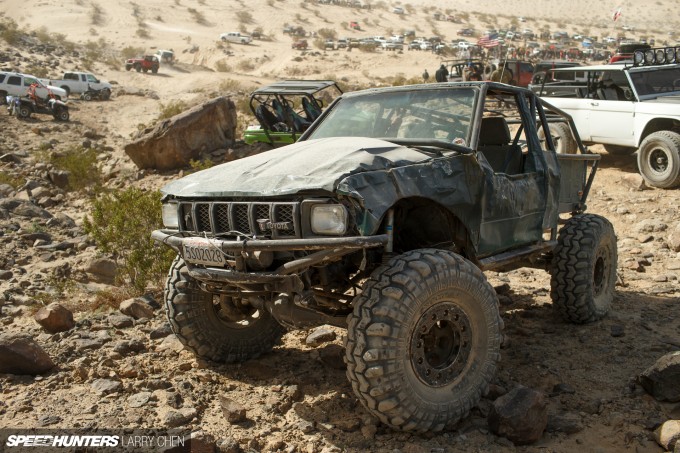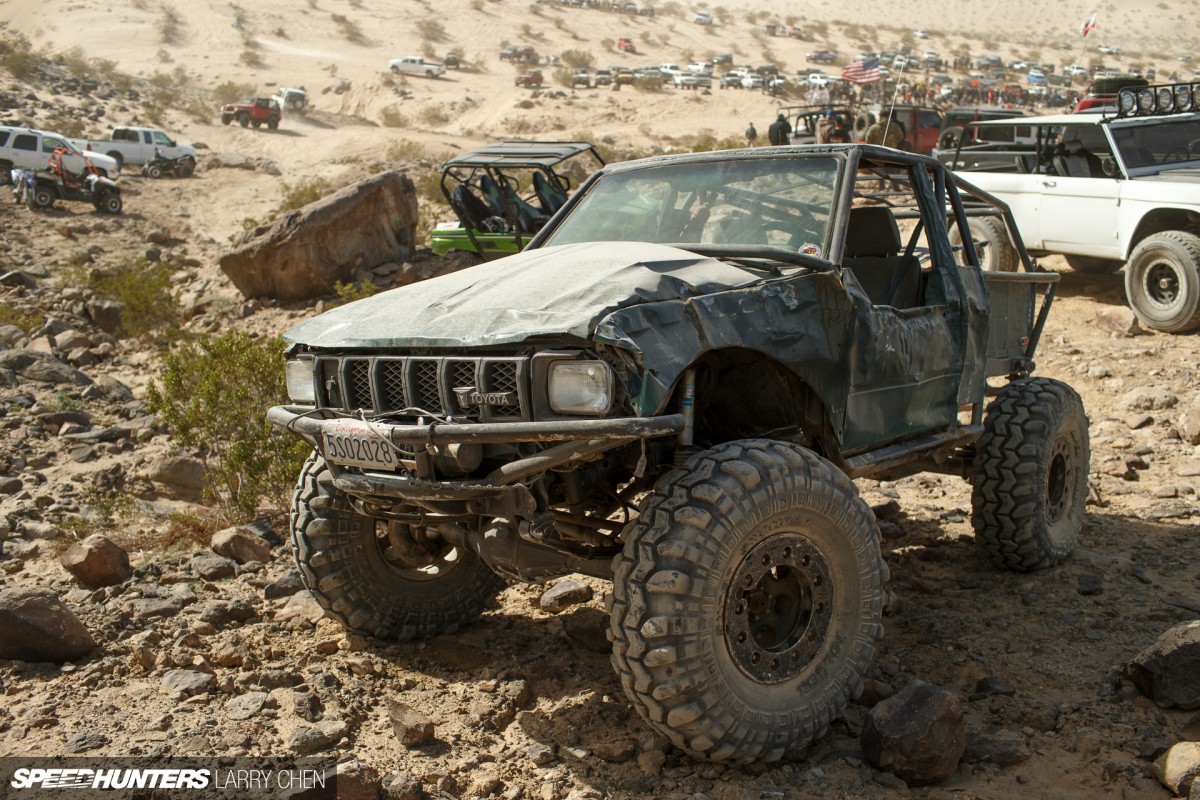 This Toyota pickup sitting next to the FJ was a little more 'worn-in'. I could tell from the amount of dust on the windshield that it had seen quite a bit of rock-crawling duty.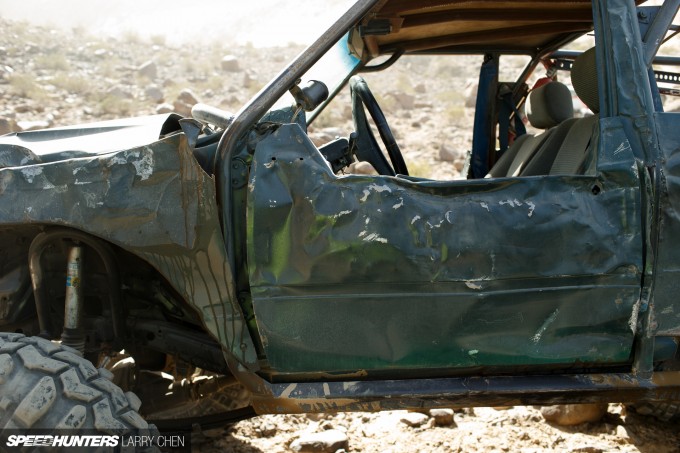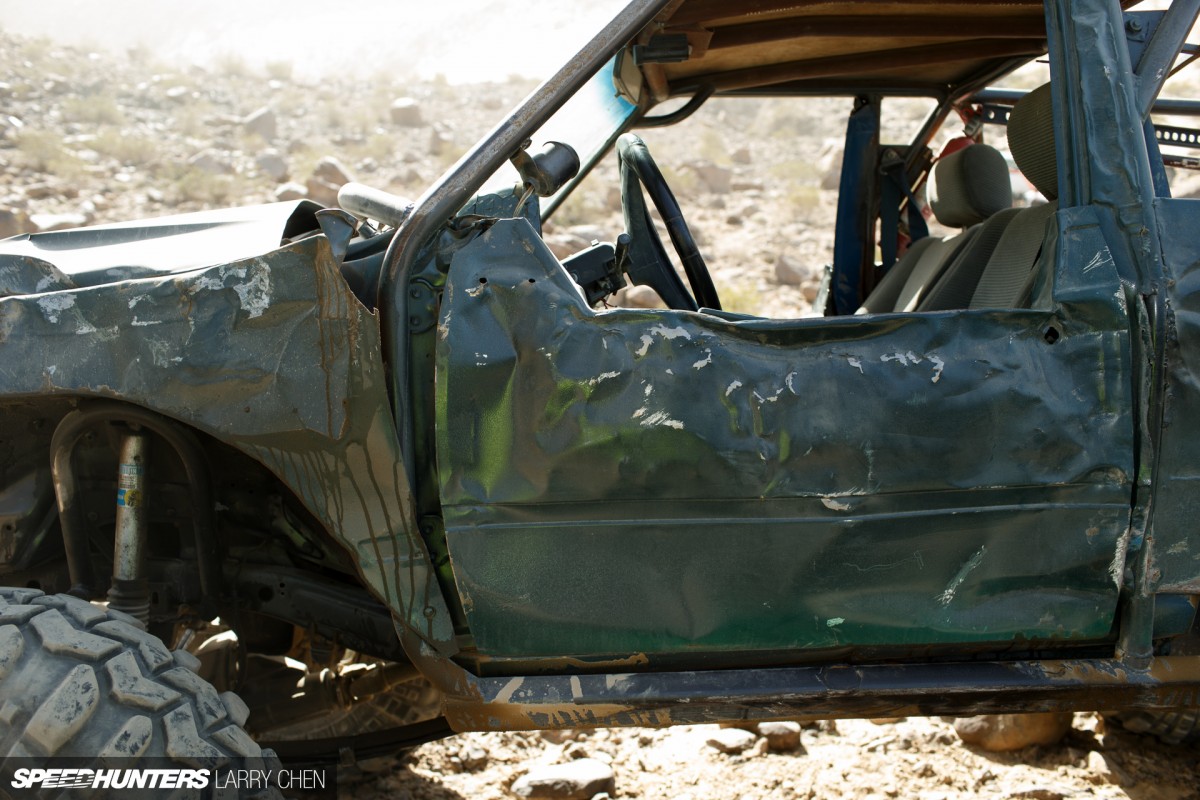 Can't see the rocks below you? No problem – just ask Superman to roll your door down a bit, like a can of tuna.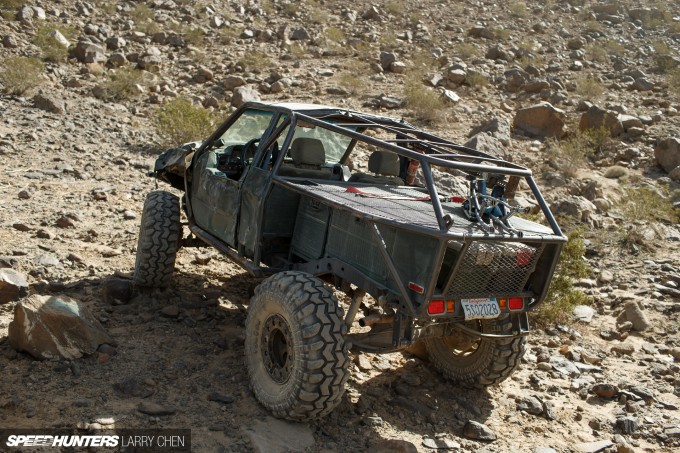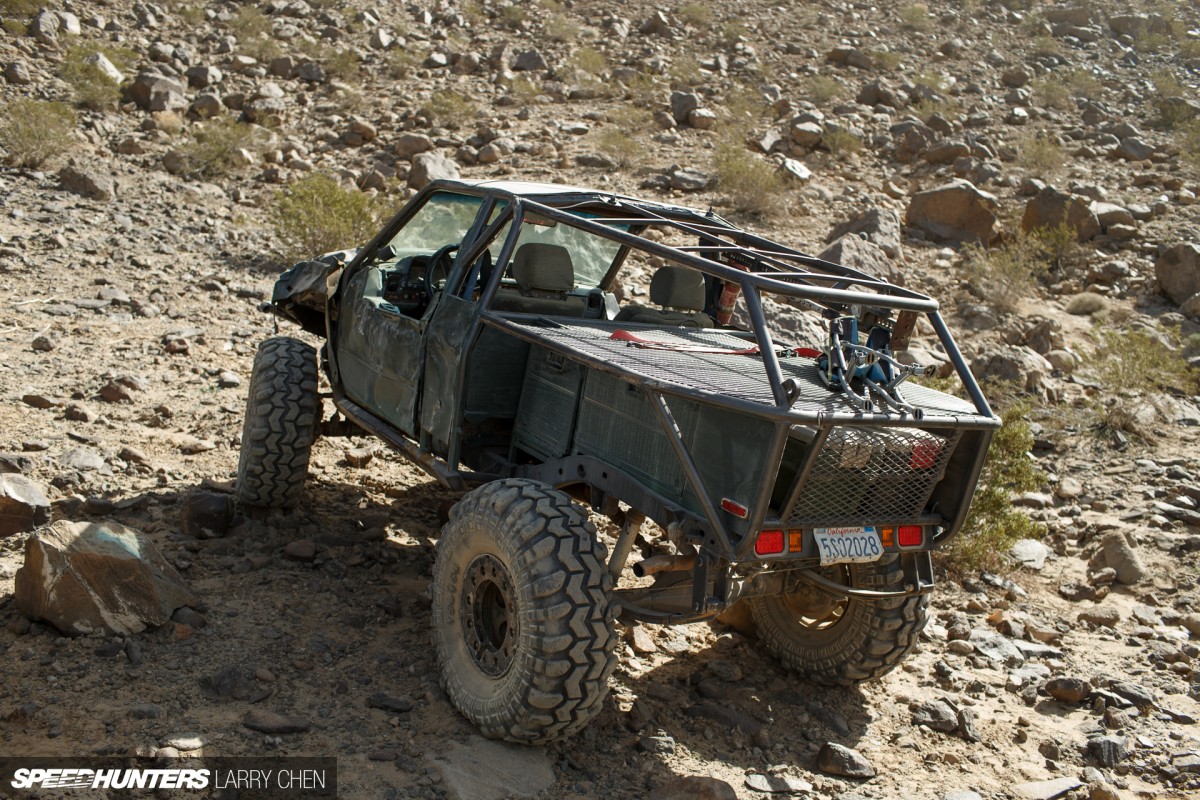 I think this pickup would have suited the set of Jurassic Park just fine. Running away from a T-Rex? No problem!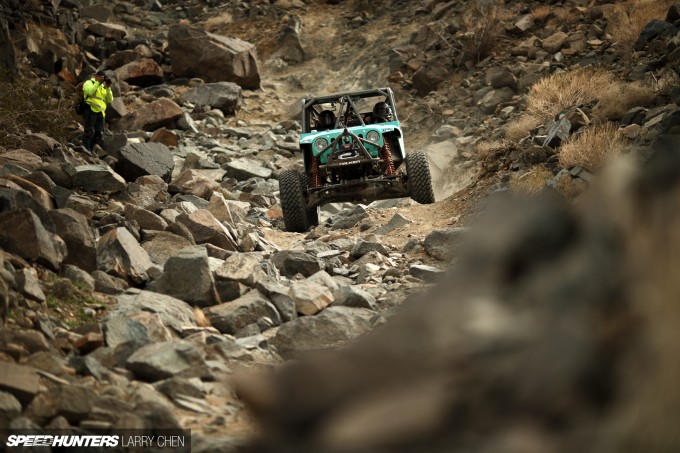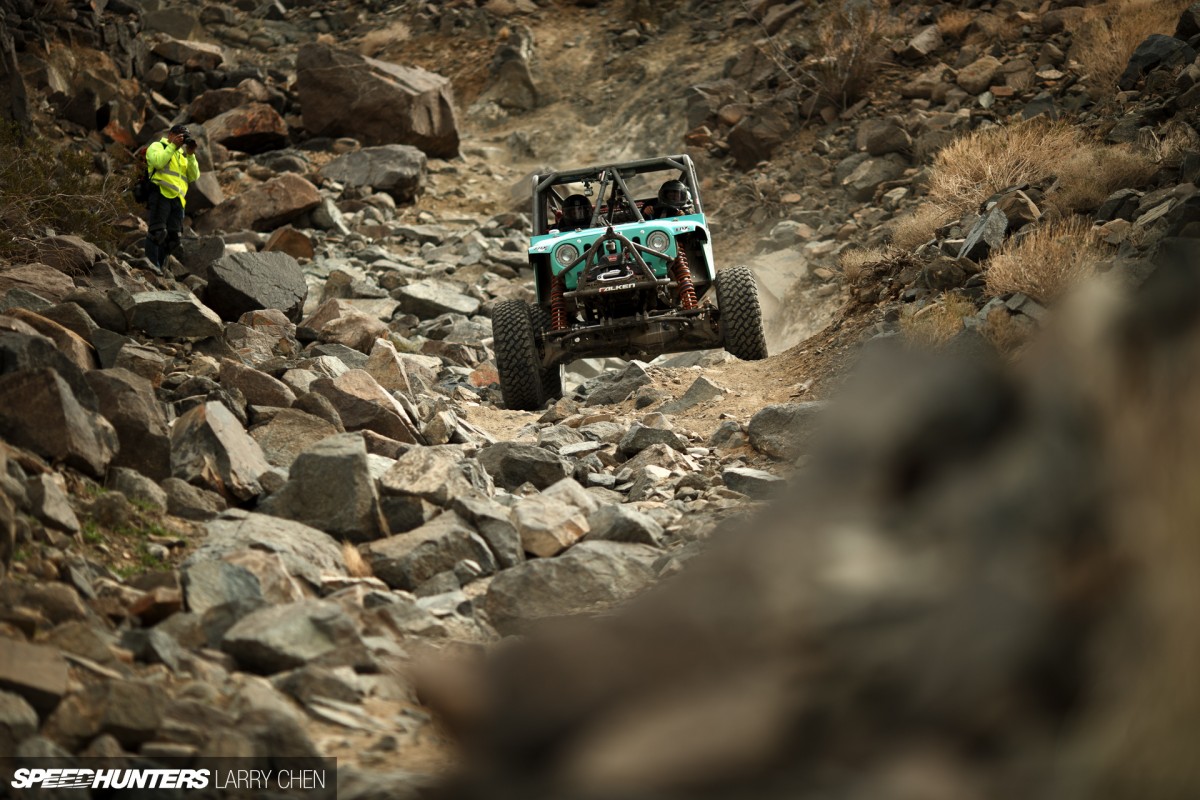 This year there was a Spec Class which had entrants. TV star and all-round awesome fabricator Jessi Combs, won the class by just a few minutes – even with a penalty.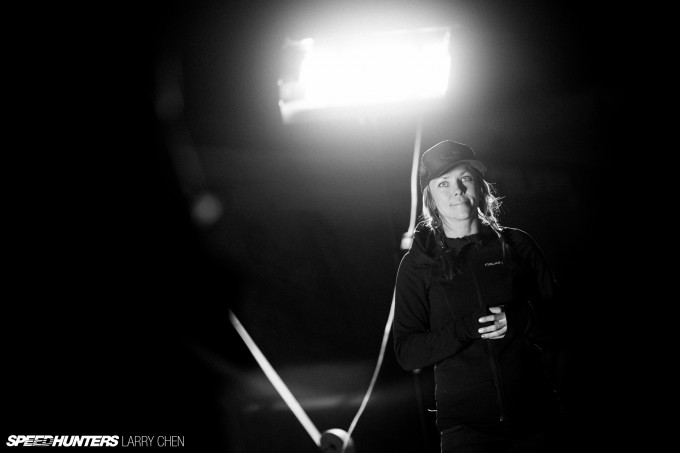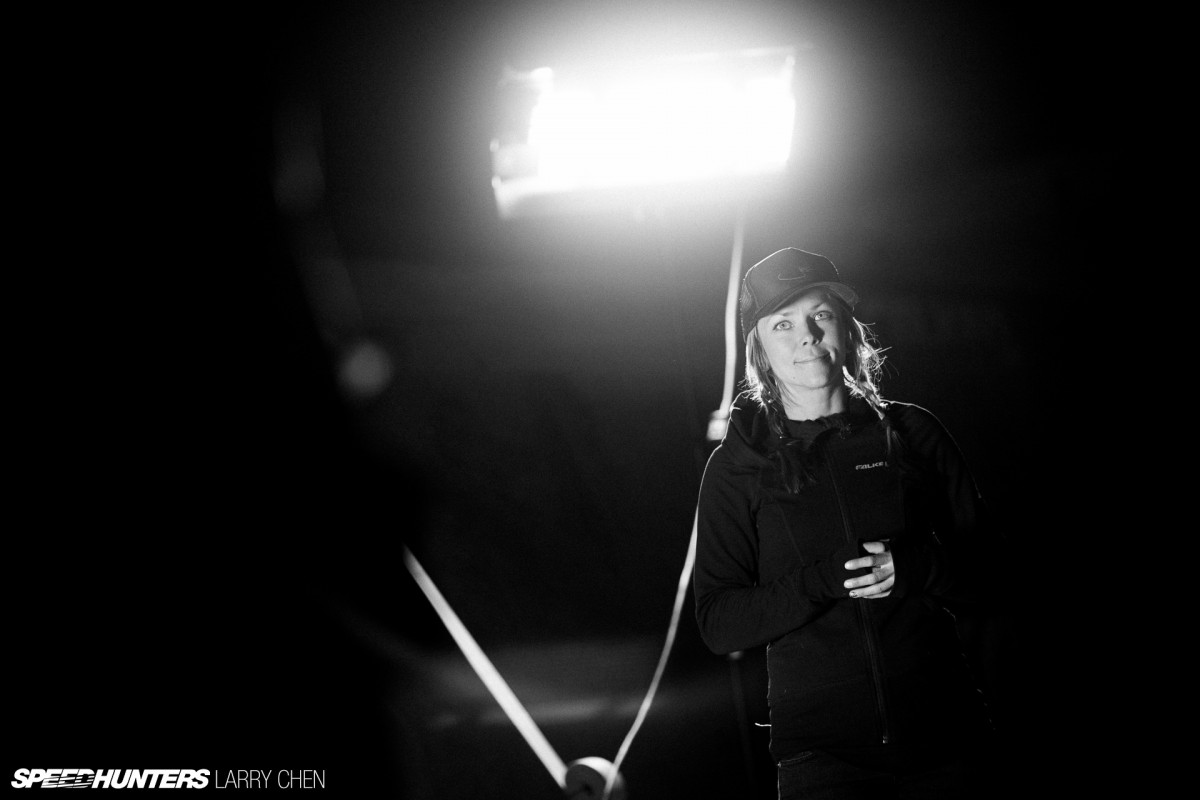 I've always been a fan of her antics on television. Maybe next year we'll see her competing in the main race.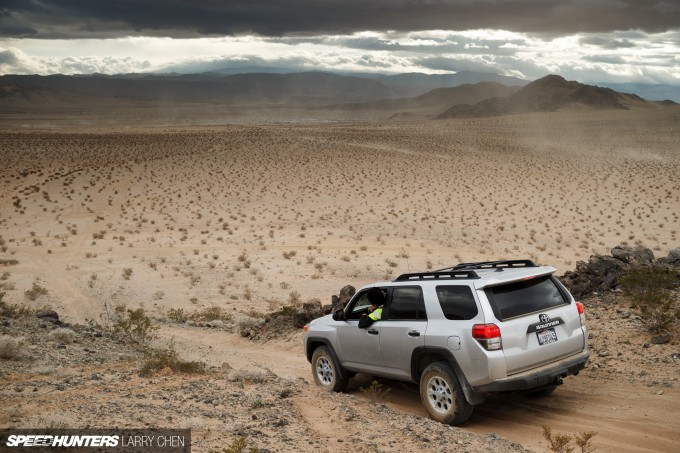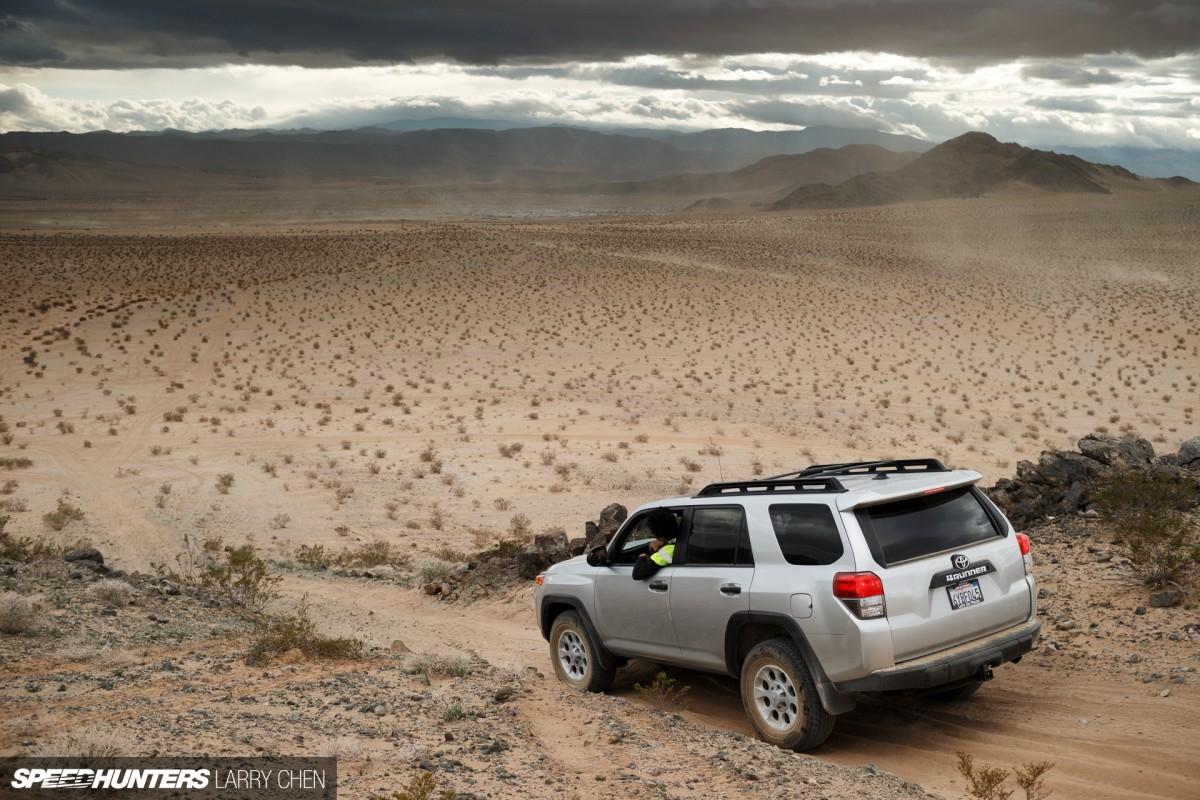 At the end of the day, we always had a long trek back to Hammer Town since we worked our way little by little to the outskirts of the race course.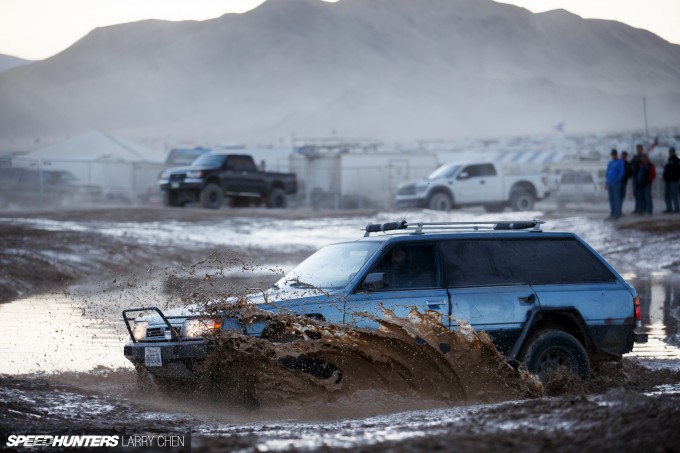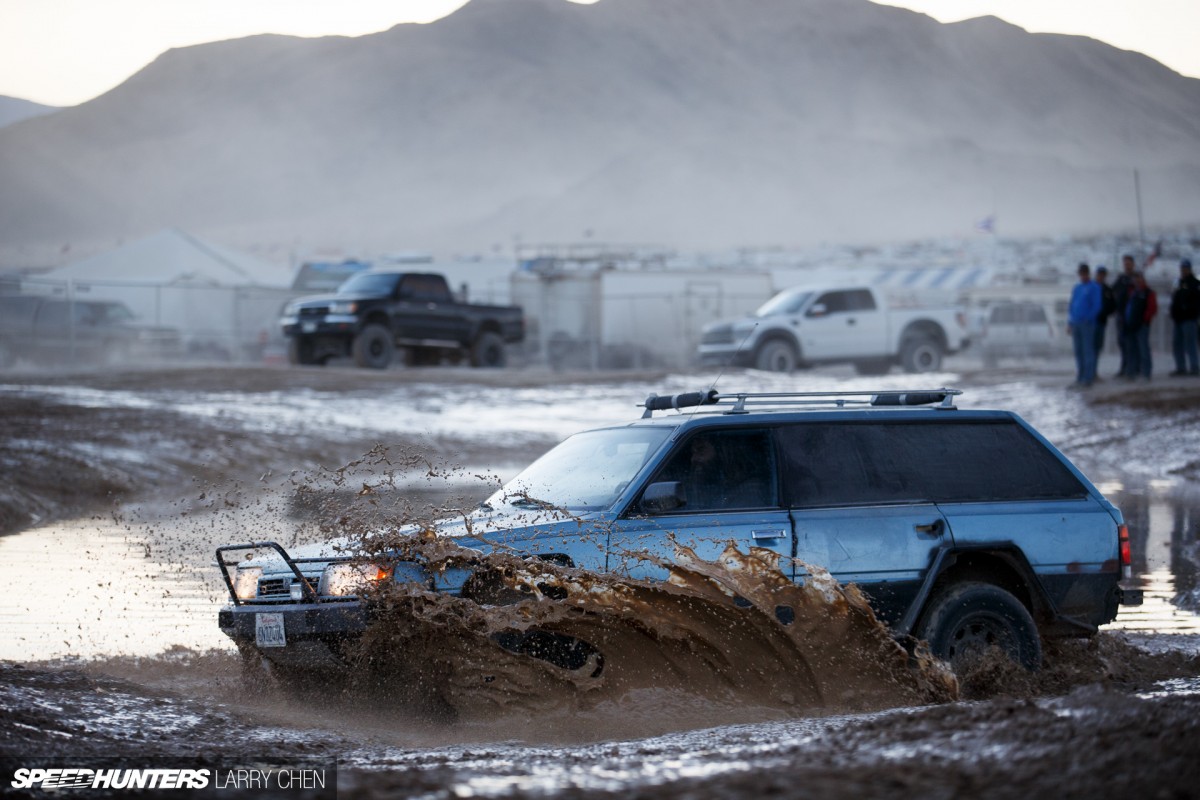 I love the fact that the racing fans bring out their recreational vehicles as well. I guess it would be the equivalent of drifting fans driving on the Formula Drift course when the competitions are over. That would end well.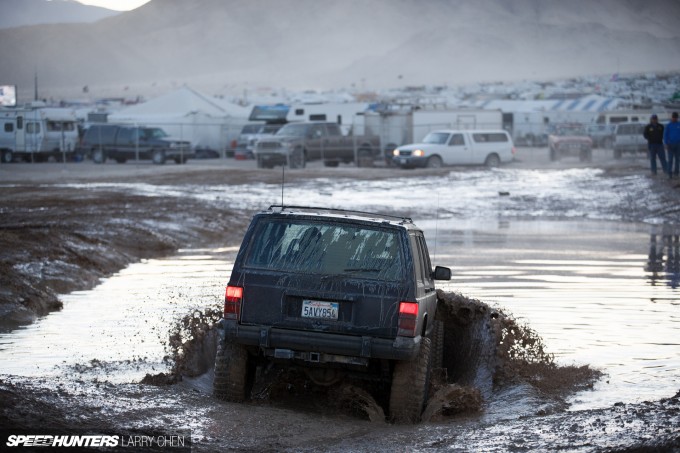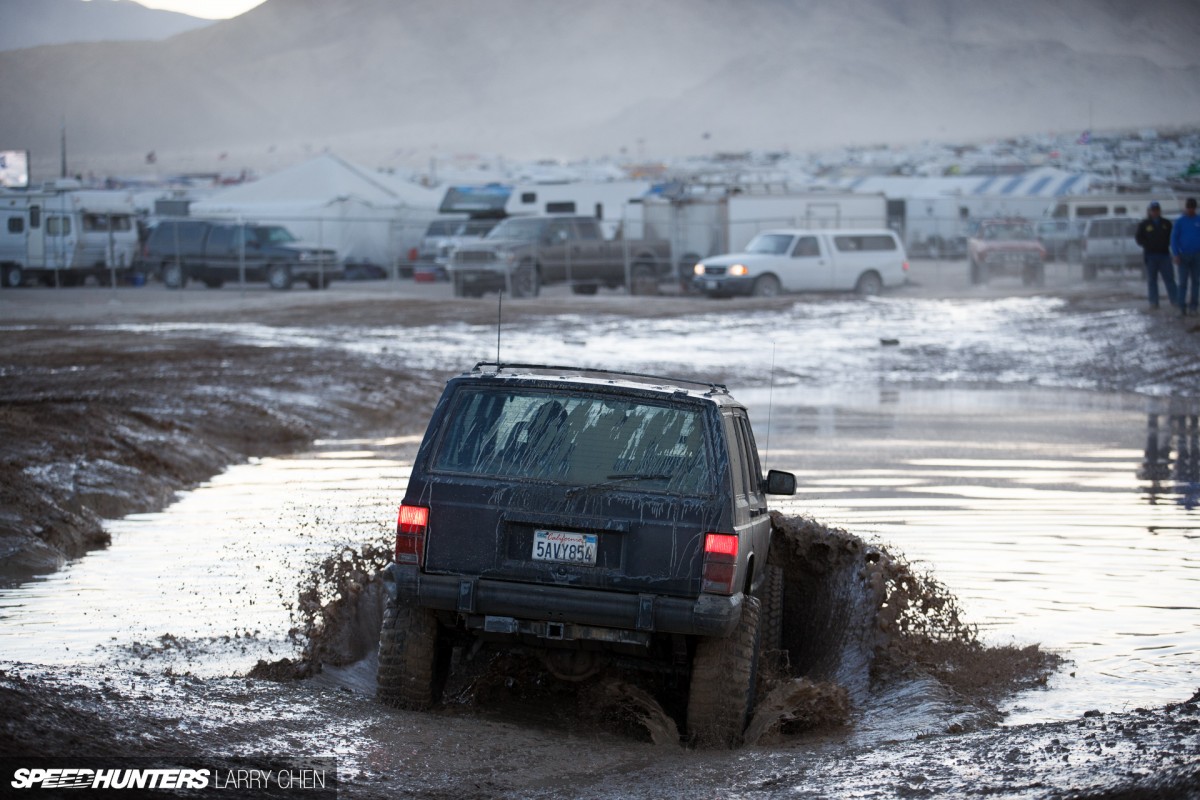 There was a very muddy moat that was left from the recent rain in Southern California. Random drivers passed by and thought to themselves, "Hmm, what a nice moat, I think I'll drive through it."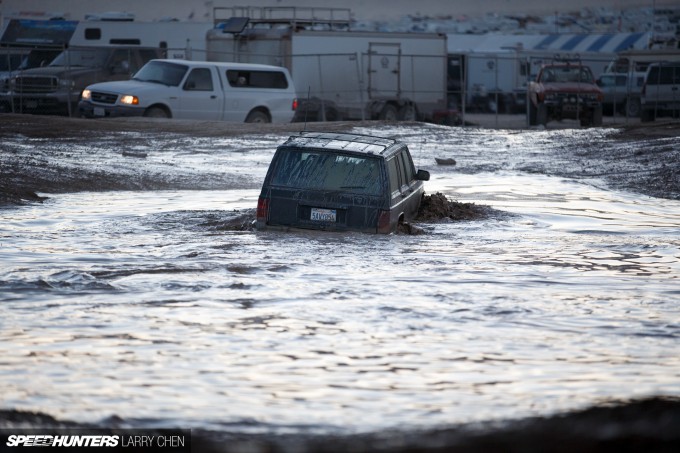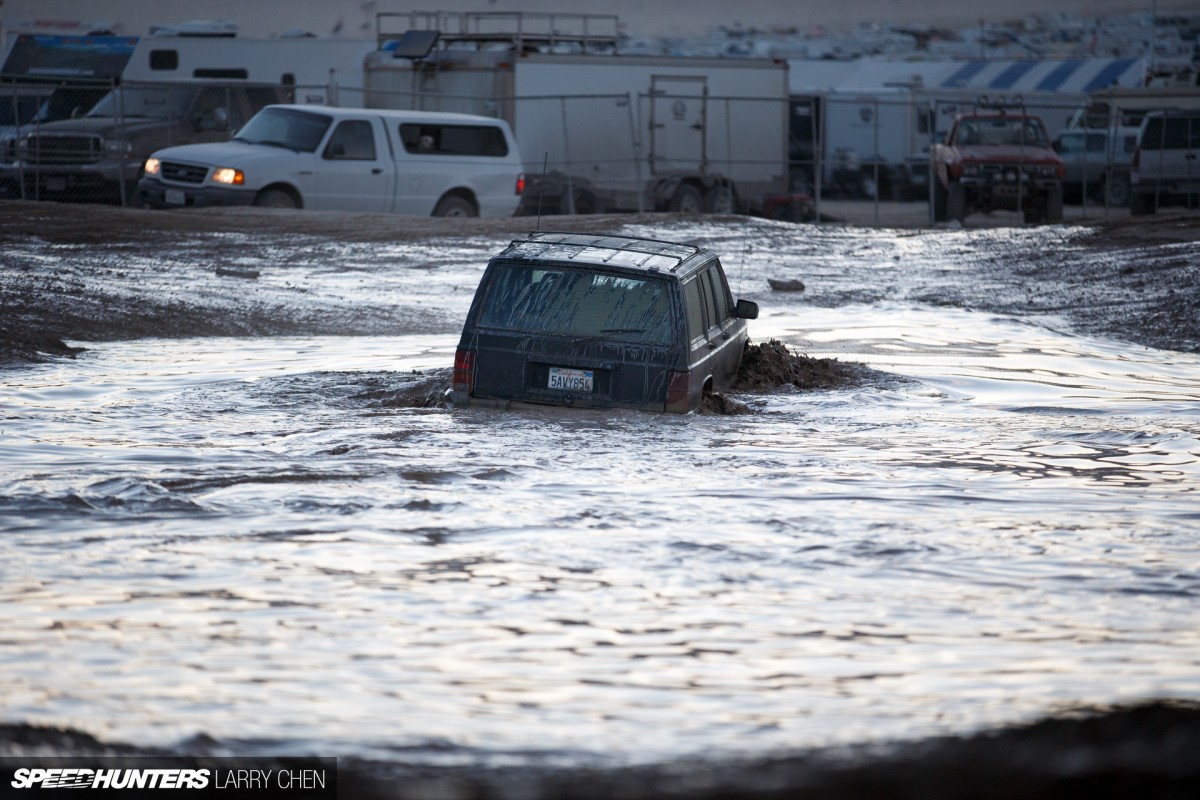 It was fun because a crowd gathered around it, and they cheered on as trucks made their way through. Sometimes the water would get as high as the middle of the door. Chocolate foot bath anyone?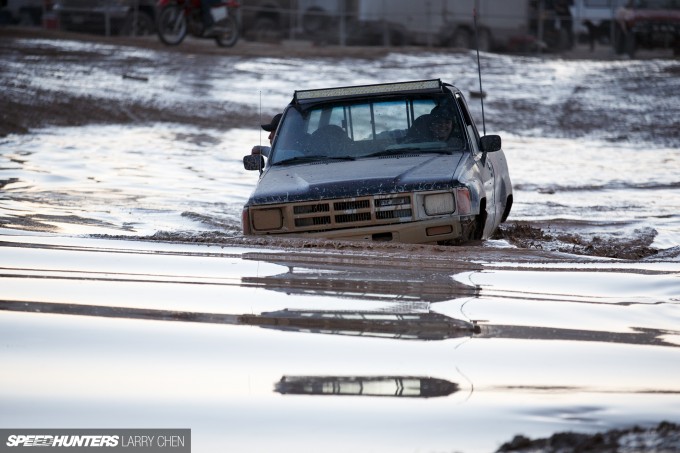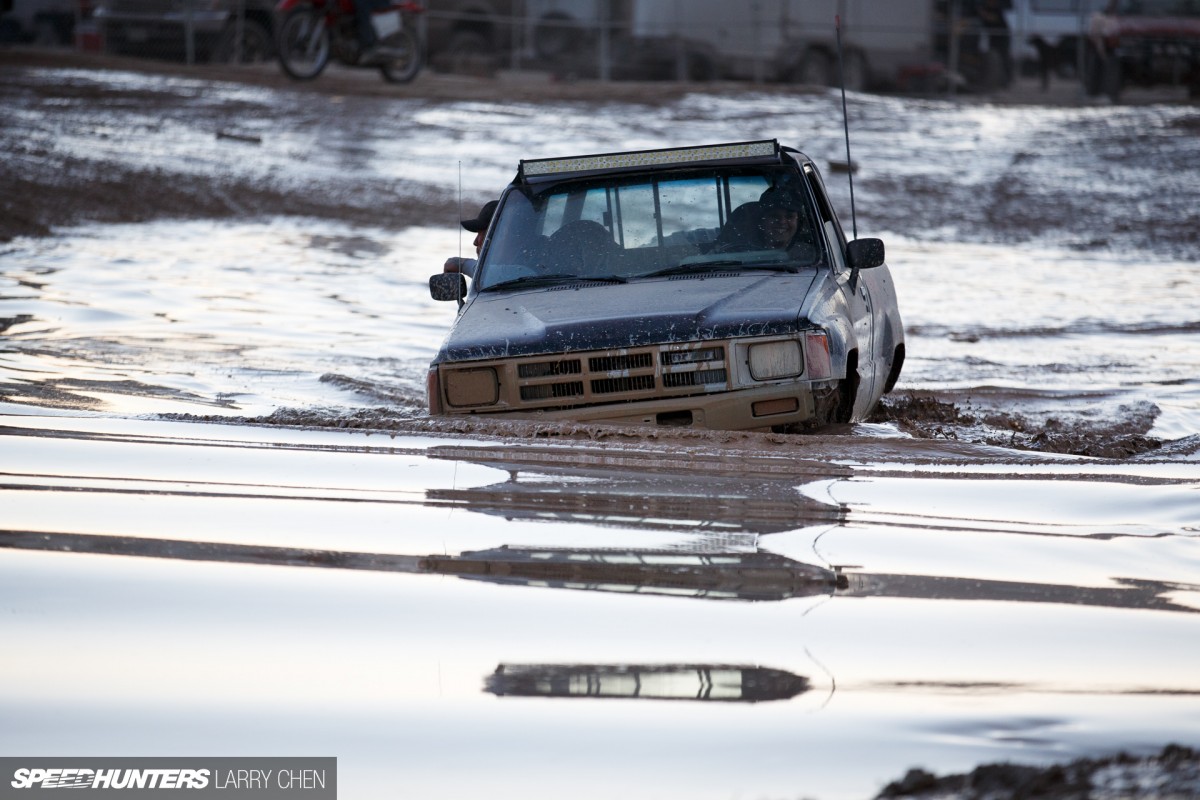 This girl had some serious guts – she just kept going back for more. I swear people were shouting out marriage proposals right then and there, as she was wading through the thick mud.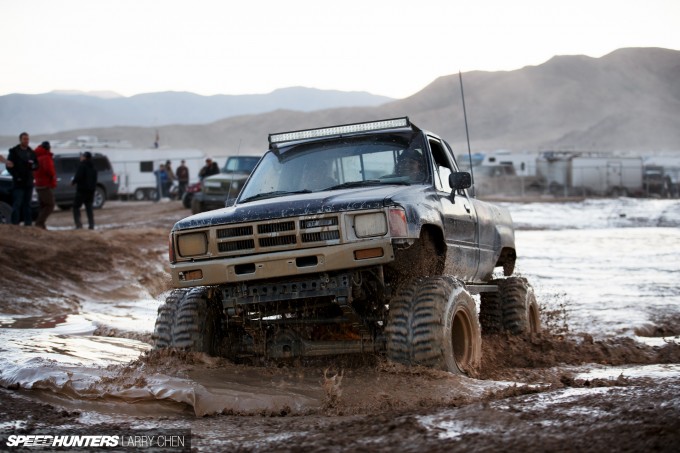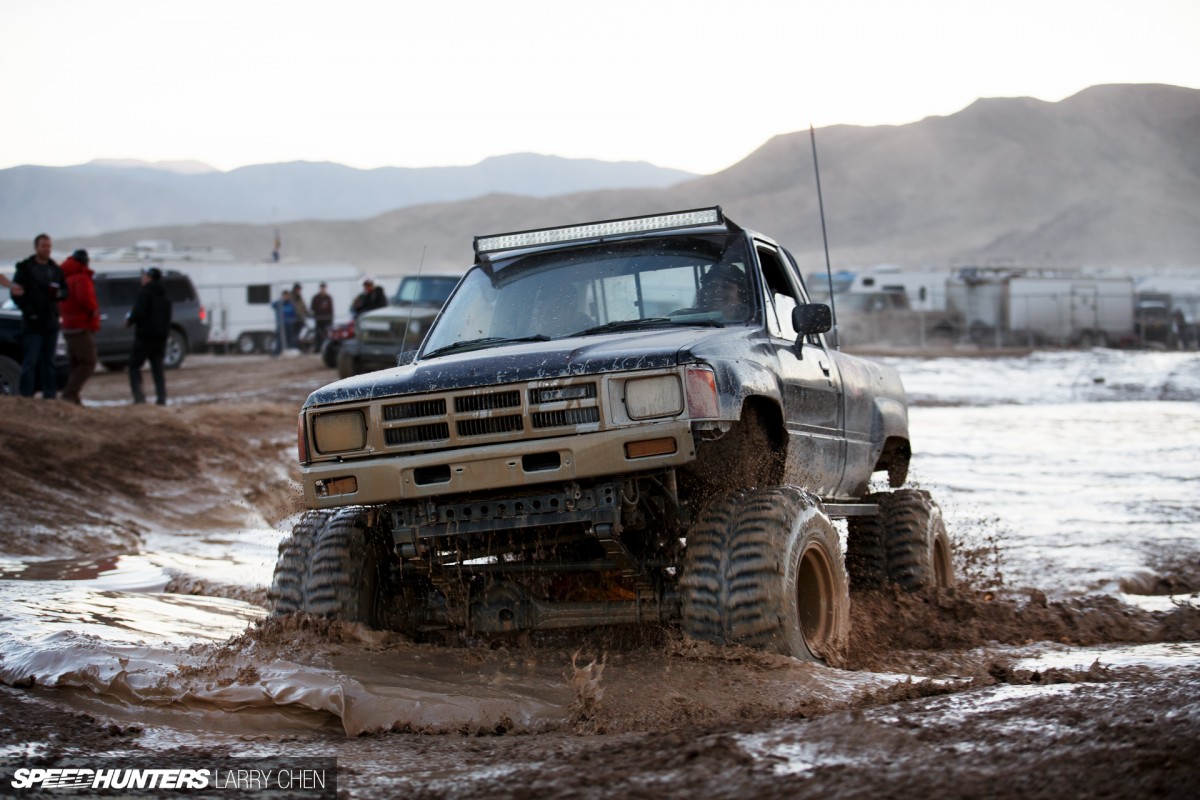 If your truck was too clean, this was a great way to dirty it up real quick.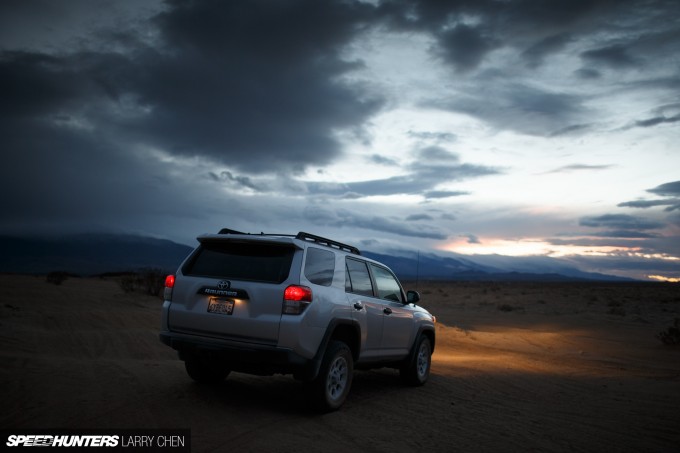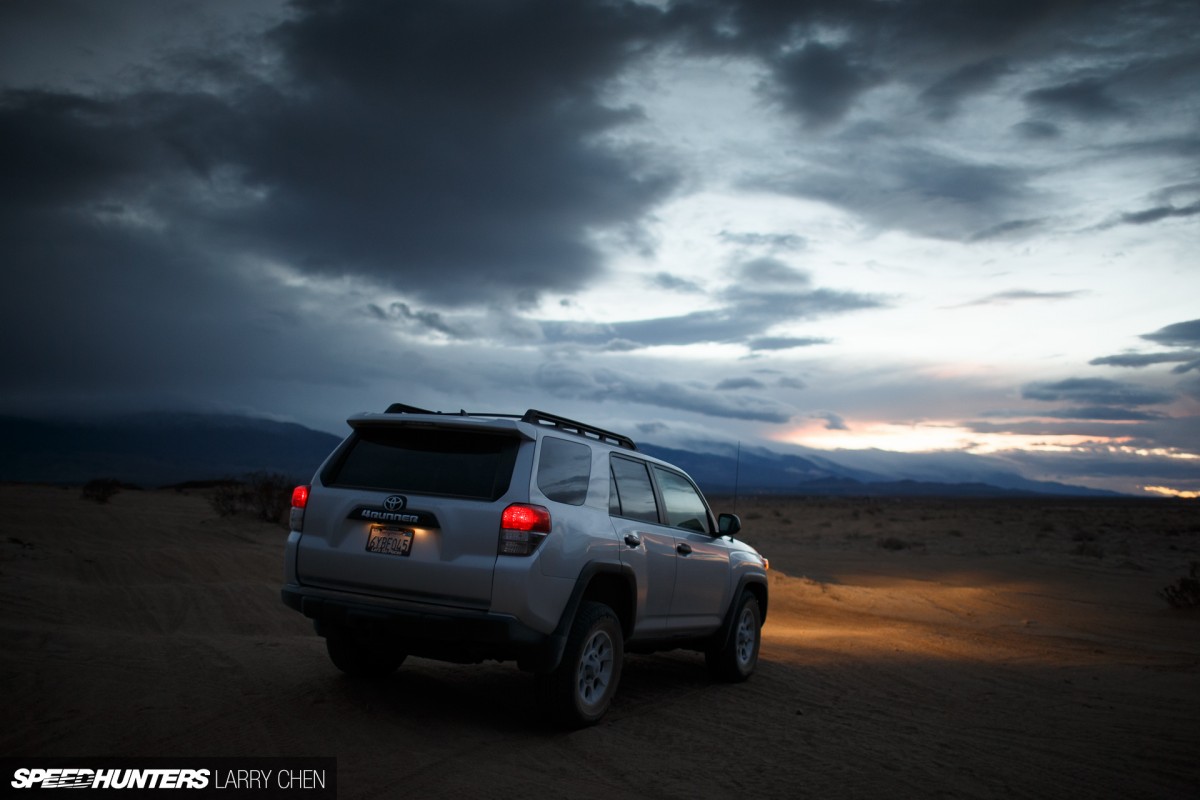 We called it a night as we had an early day ahead of us; the first race rigs would start lining up at 6am sharp.
Race day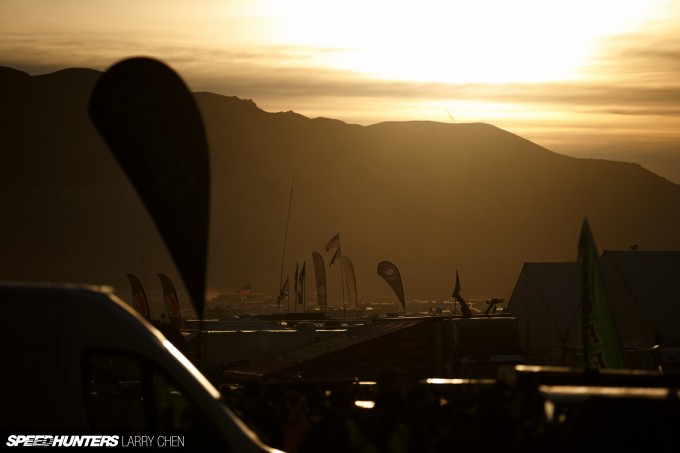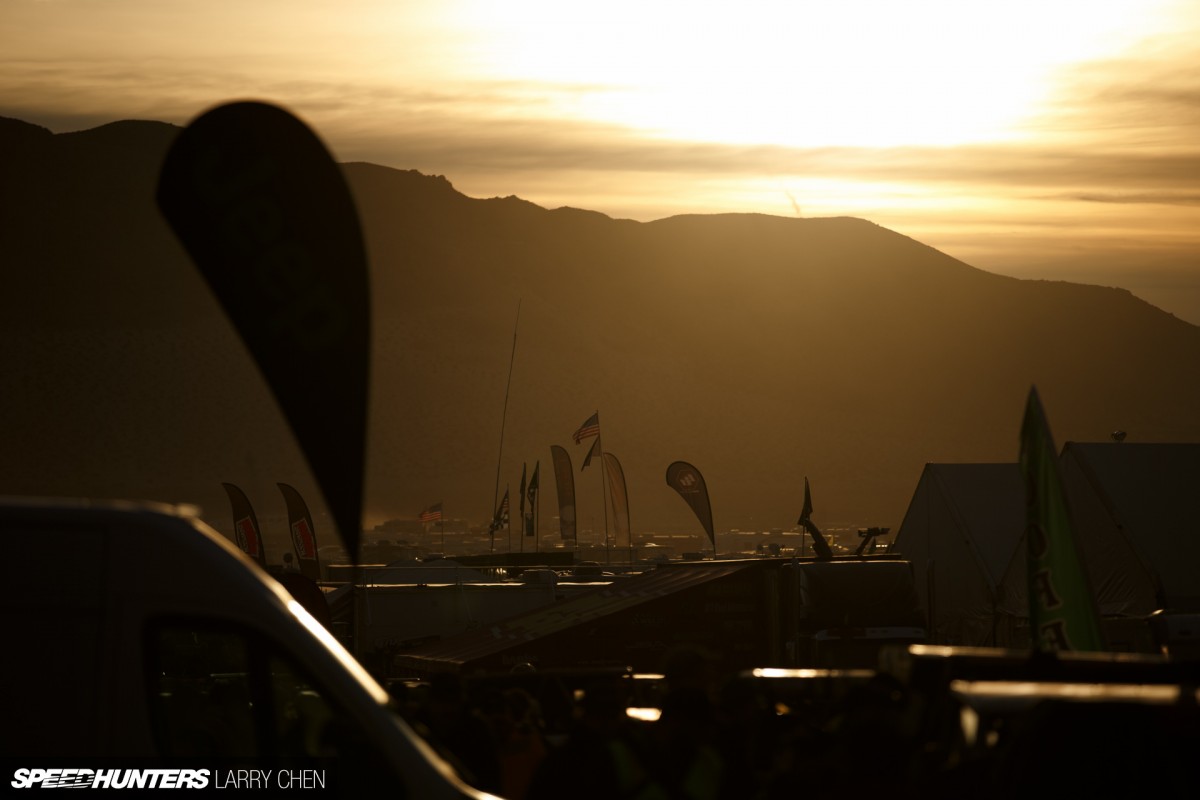 Normally I'm not much of a morning person, but when it comes to event days, I find myself waking up moments before my alarm goes off. I guess I have some sort of biological Speedhunting clock.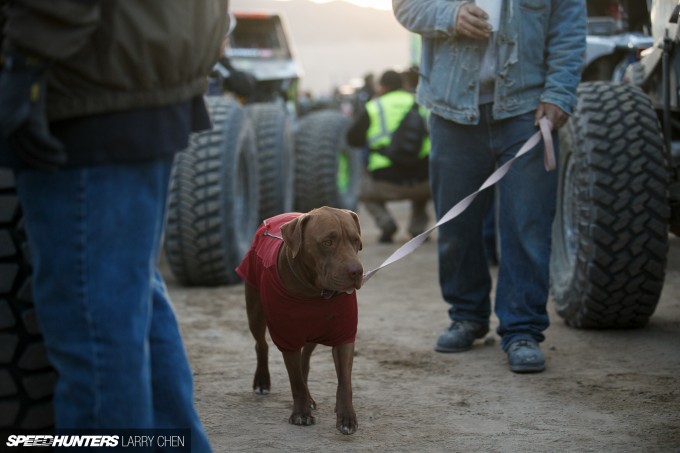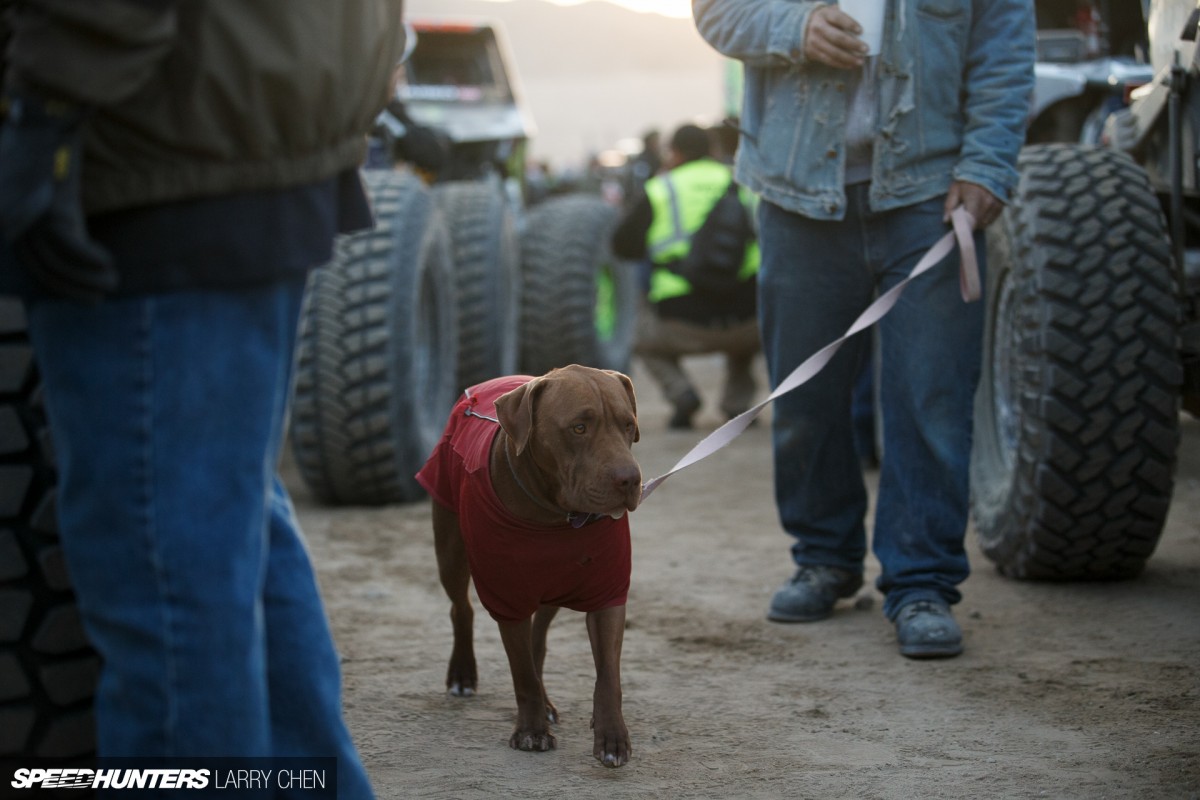 The morning was chilly, but not as bad as the forecast predicted. Everyone was expecting it to be below freezing, but it didn't even go near that. The racers were just praying that it wouldn't rain. Just a little bit of moisture means hell for the crawling obstacles, as the rocks get super slippery.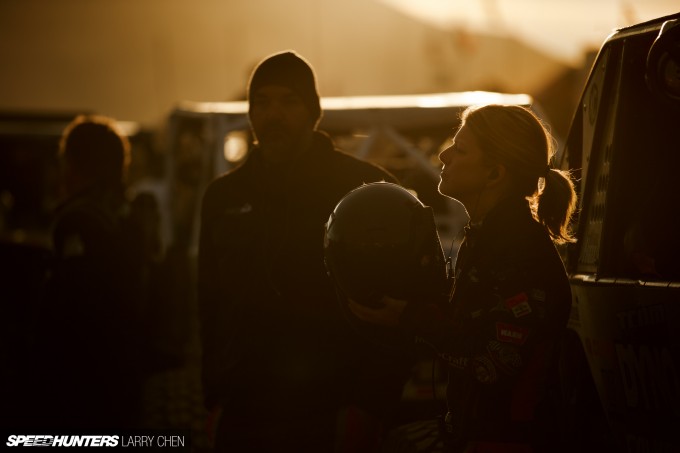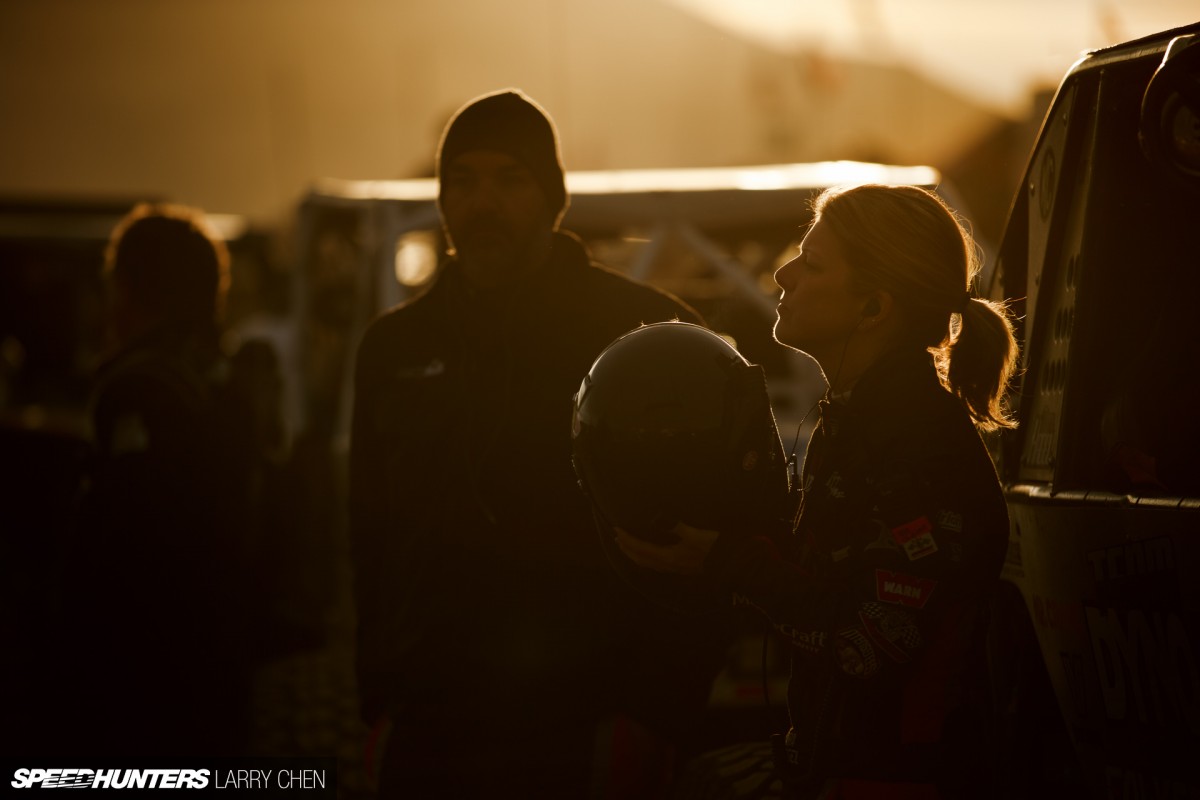 Drivers chatted it up as the sun lightly bathed Hammer Town with soft morning light. It was beautiful.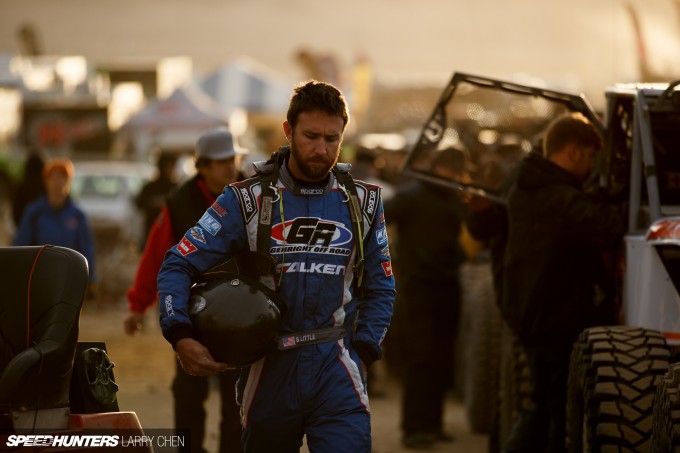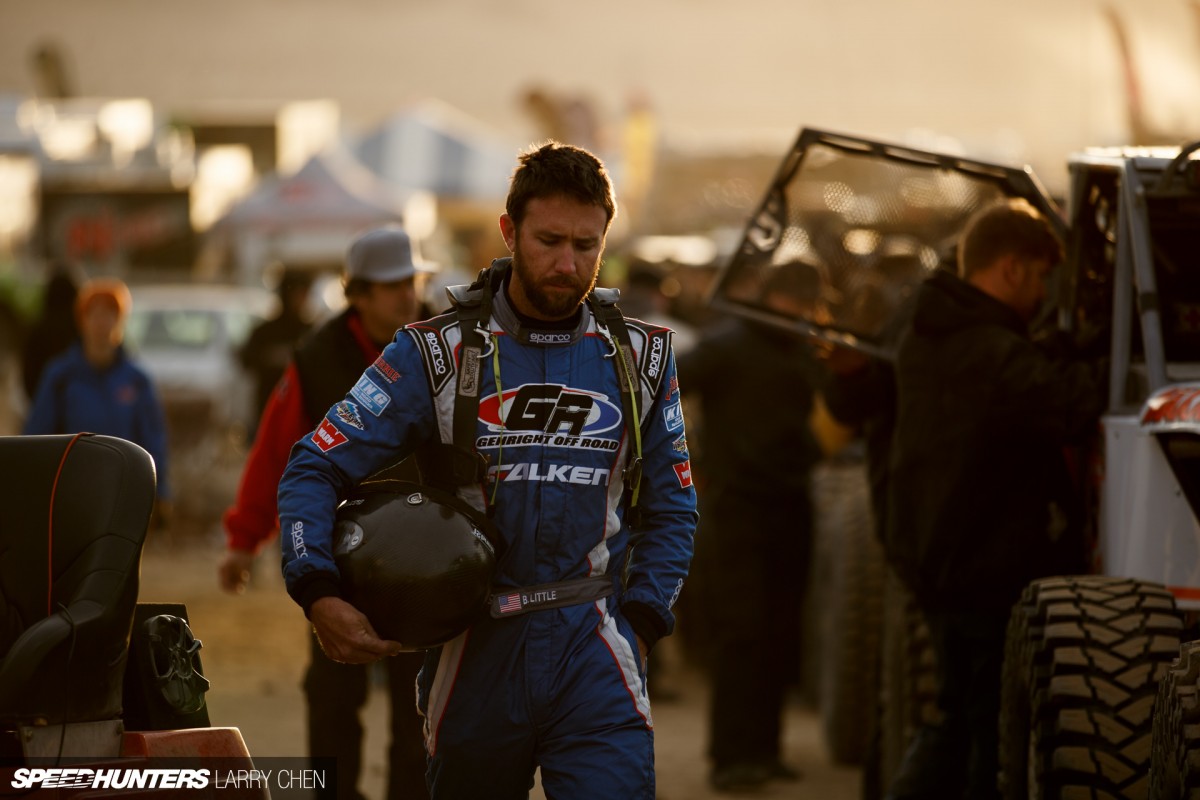 It was just a waiting game, as race rigs lined the paddock and stretched for what seemed like miles, snaking around every corner of the paddock.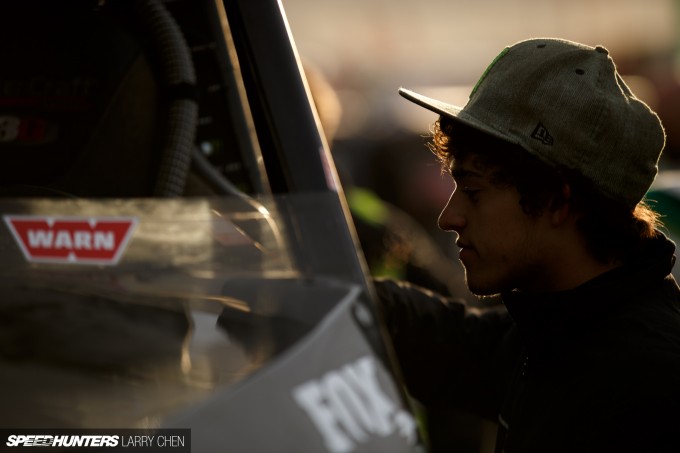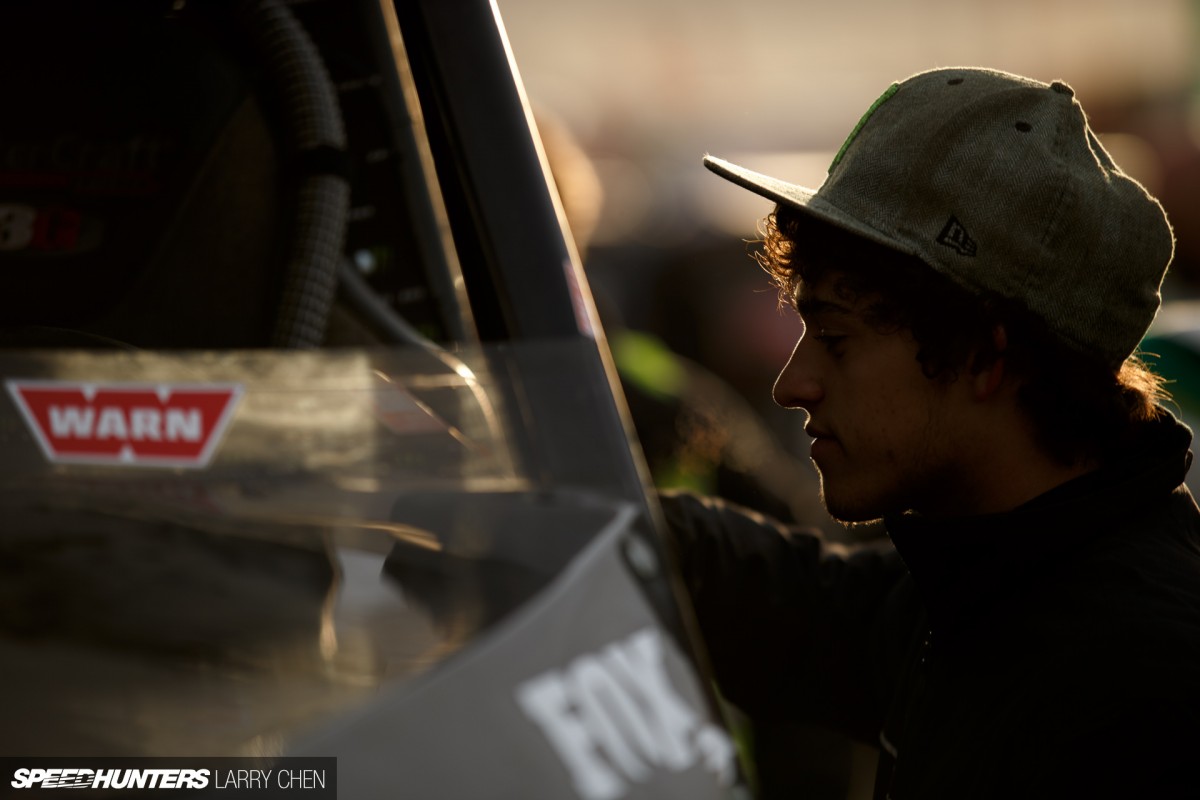 Wayland Campbell, son of the legendary Shannon Campbell, was hanging out by his rig, ready as ever to take a shot at the crown.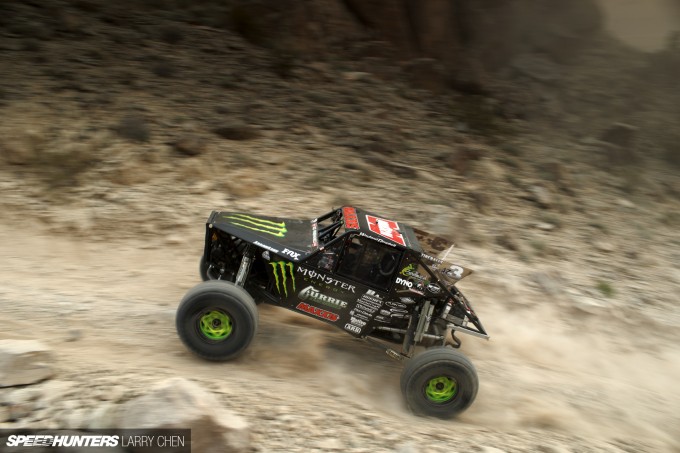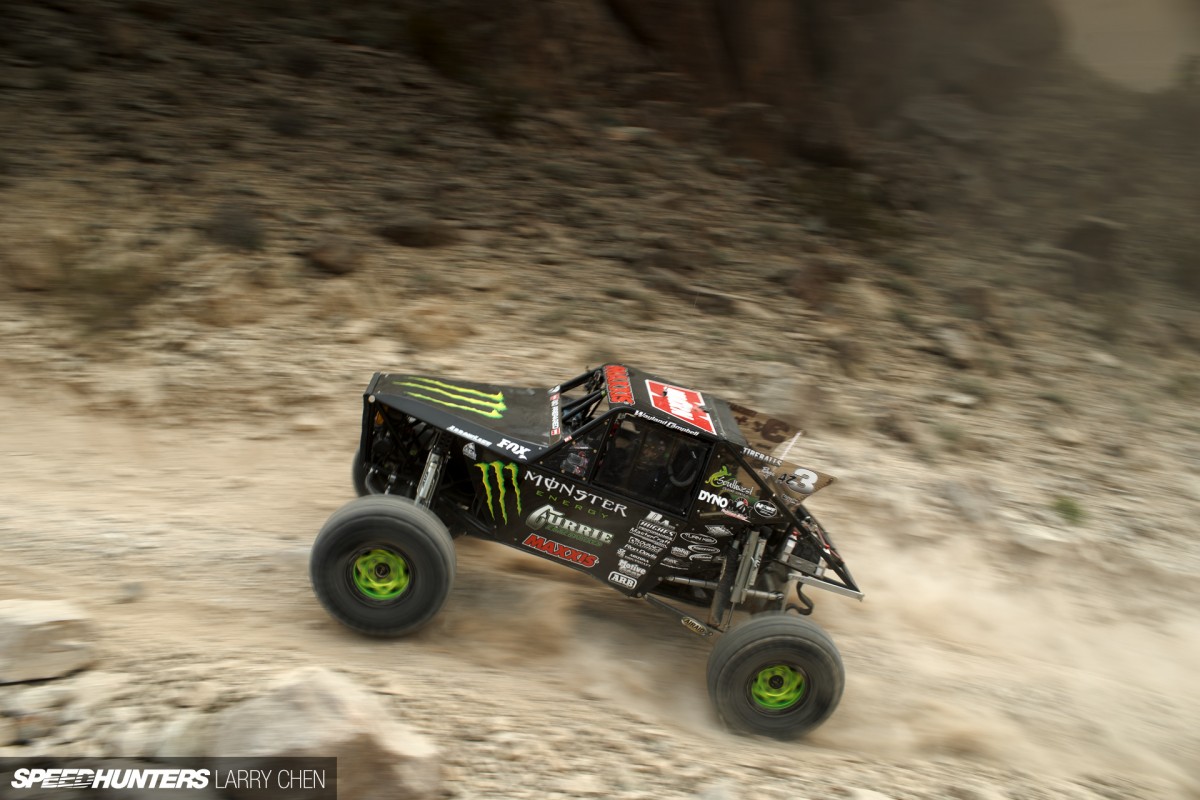 He was doing great at first and it looked like he was going to finish in the top five with the way he was driving.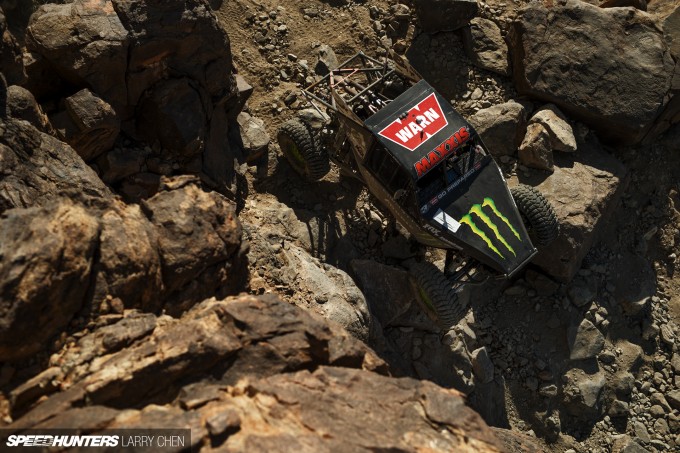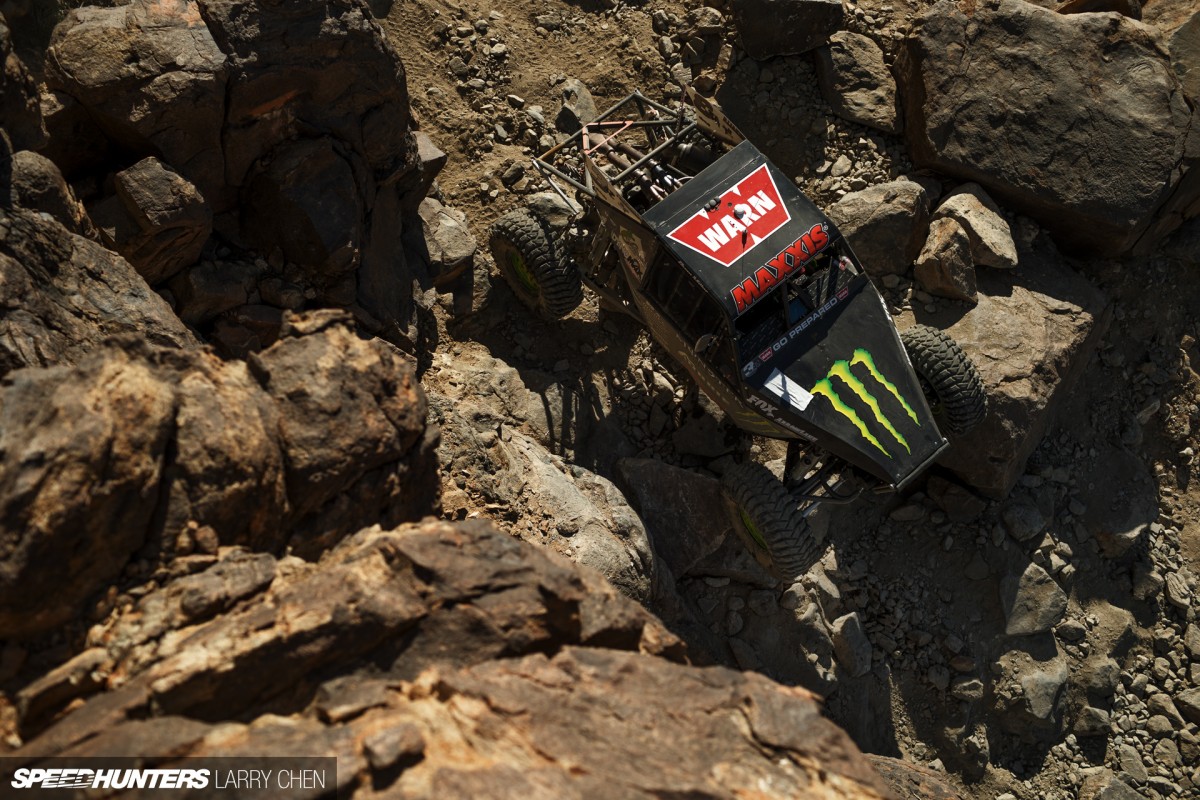 Then he ran into a few issues, including the rear driveshaft. Remember when I mentioned that other competitors can help each other out? Well another driver actually brought replacement parts to Wayland and his navigator, so they could fix the rig and continue on. They finished in a solid 15th place, which is very good for a first shot at the Hammers.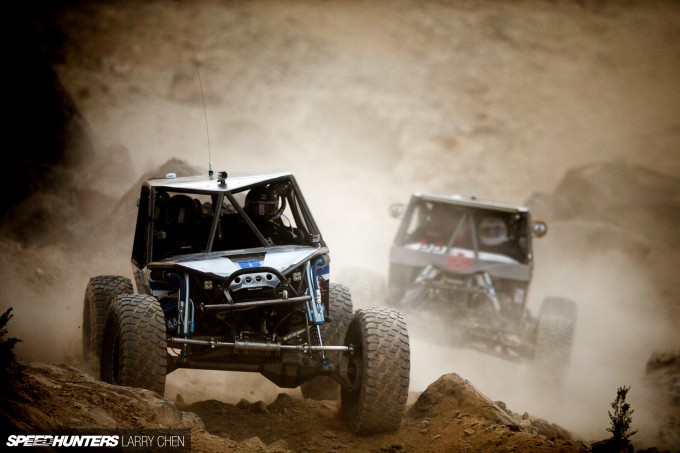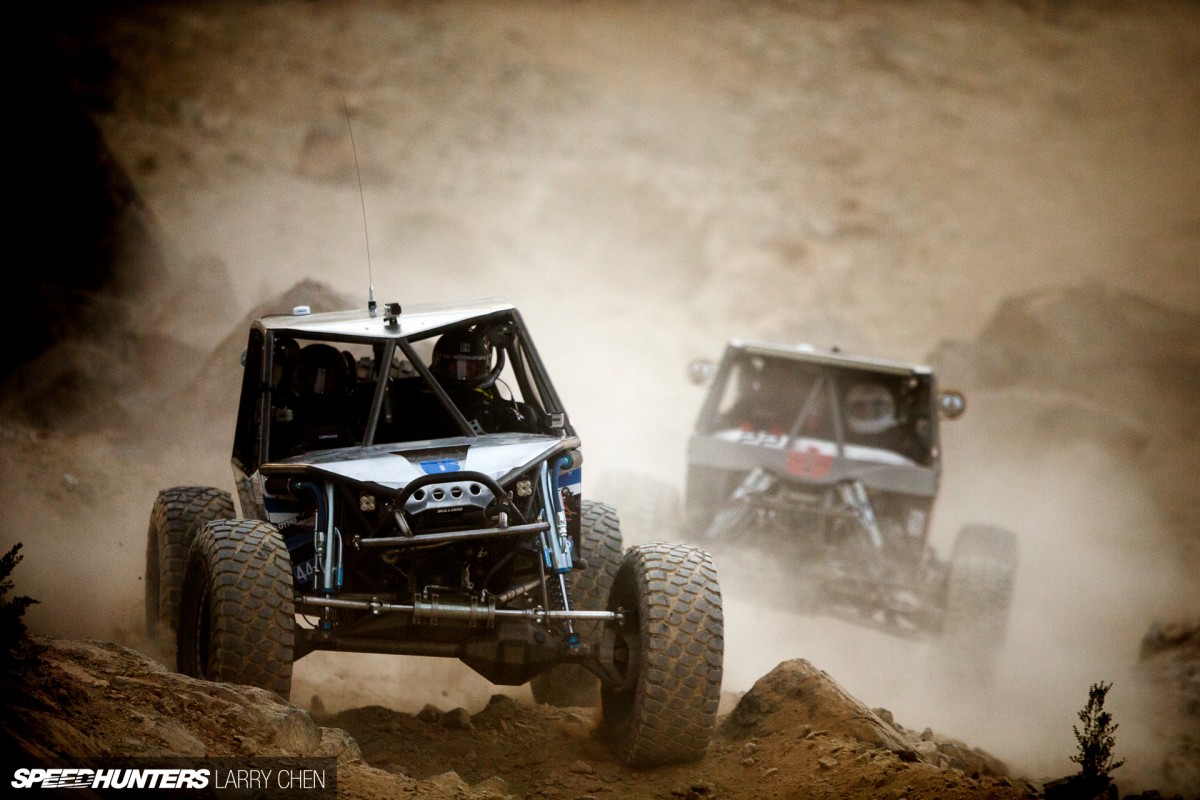 At 8am sharp, the first car left the starting line and every thirty seconds afterwards, another car was sent out into the abyss.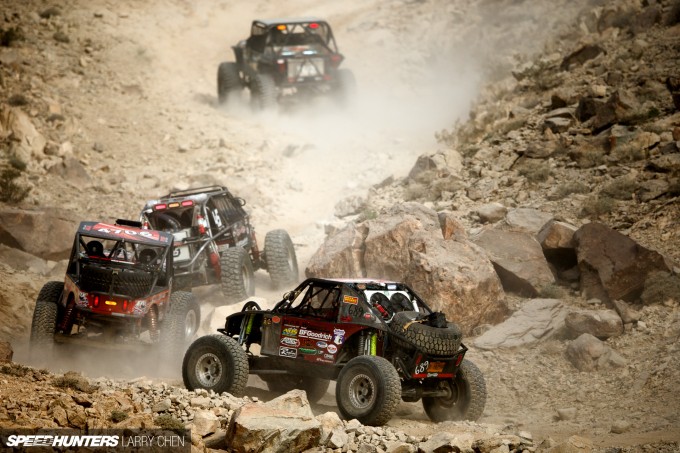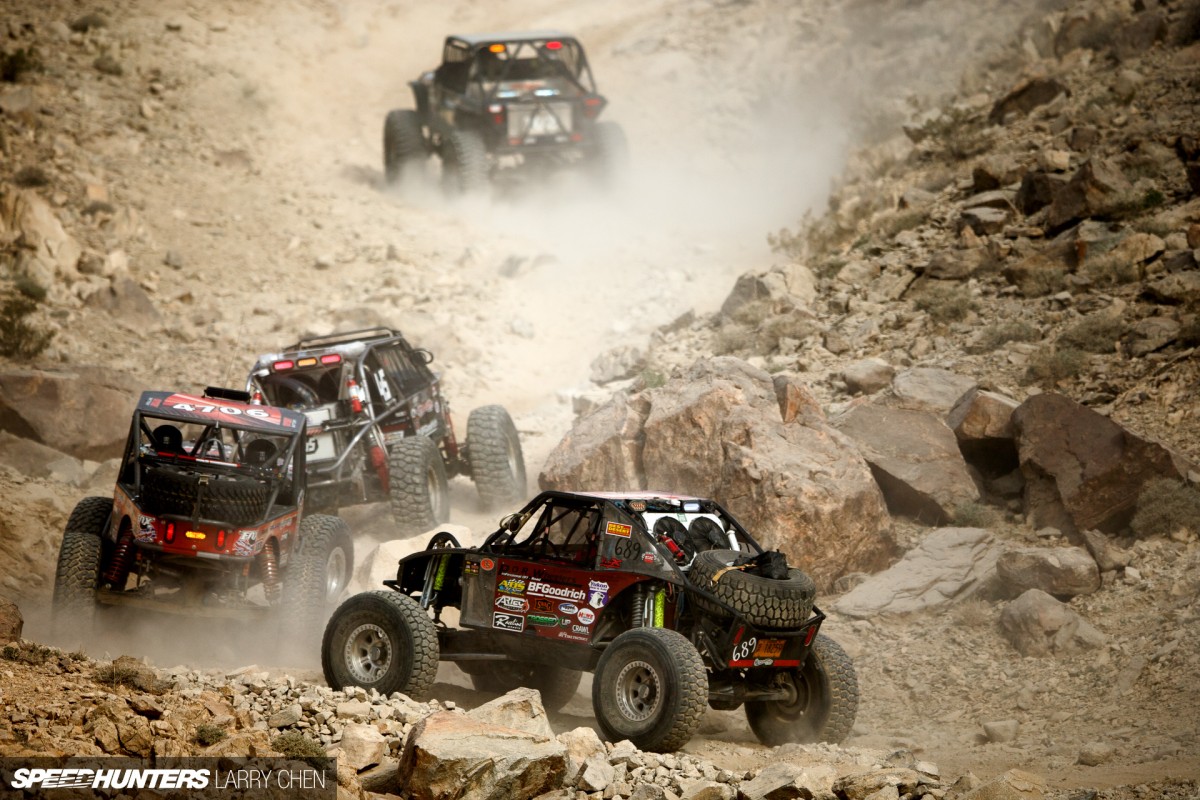 30 seconds seems like a long time in any other kind of racing but at the first uphill section, drivers started to slow way down, which caused a little traffic jam.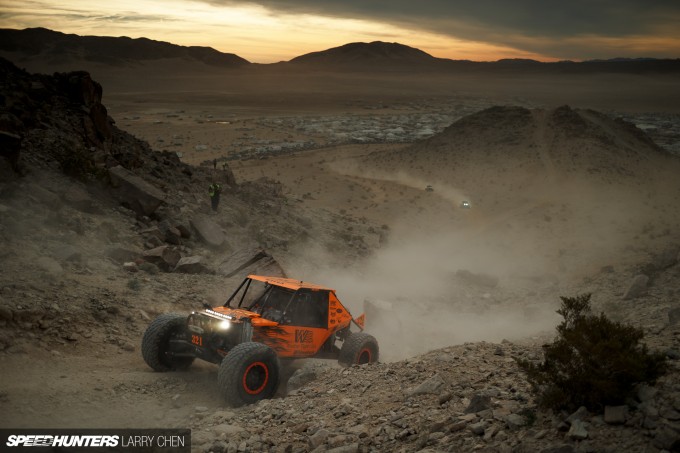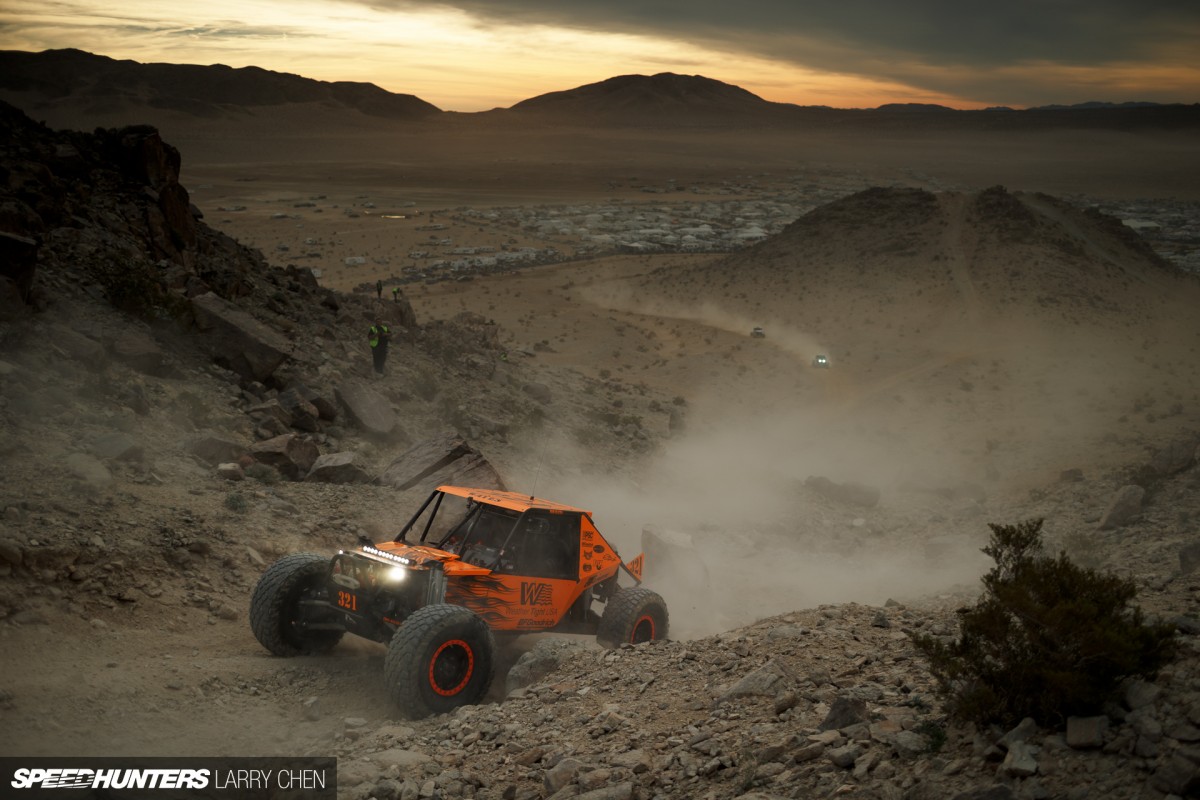 Tom Wayes in this hard-to-miss, bright orange, independent front suspension rig was so fun to watch. He was a man on a mission and he drove that thing like the throttle was controlled by an on and off switch. He went full tilt up the hill, literally leaving everyone behind him in his dust.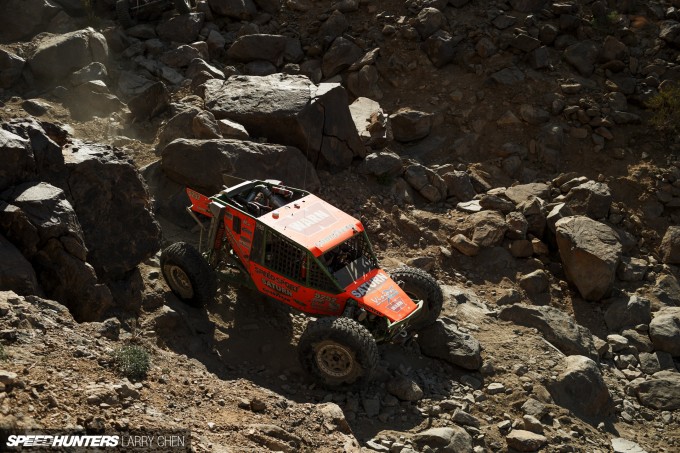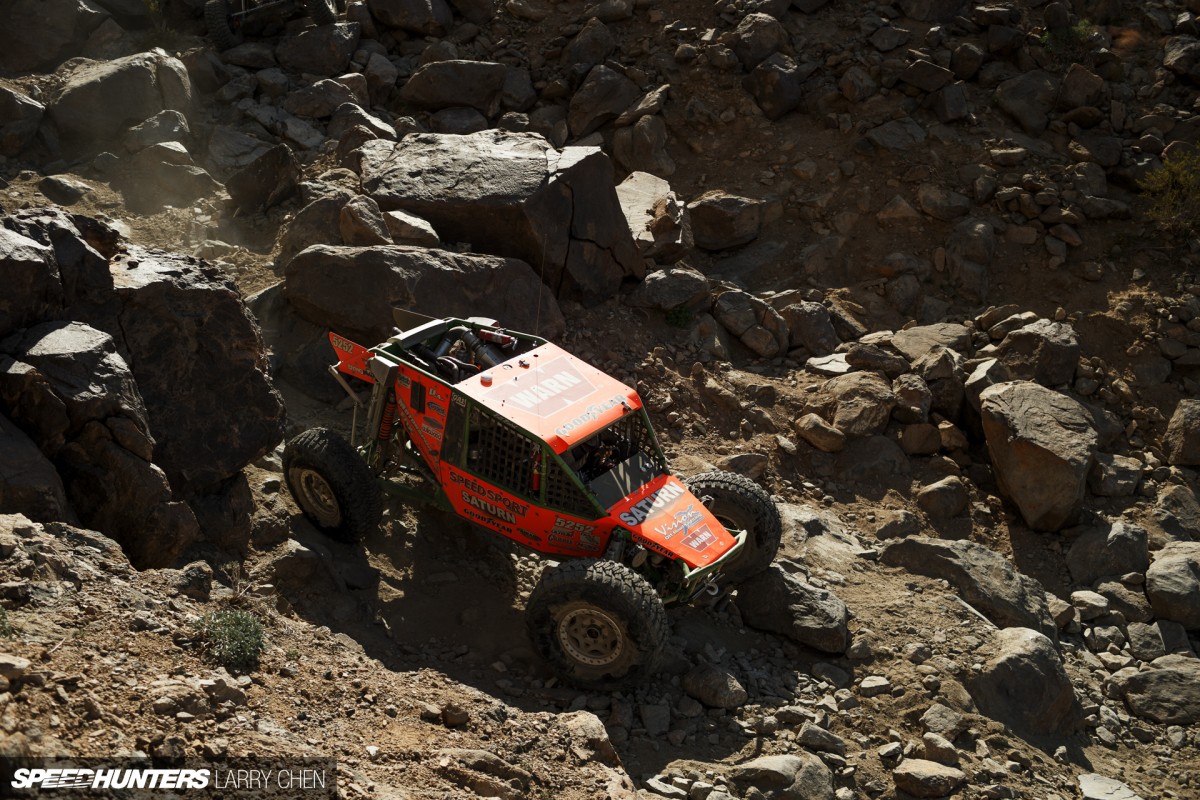 From far away I kept mistaking third place finisher Bill Baird's orange beast for Tom's. They were both front runners.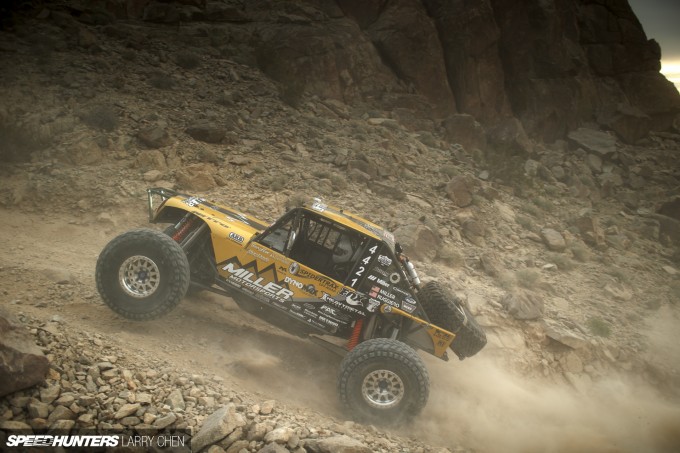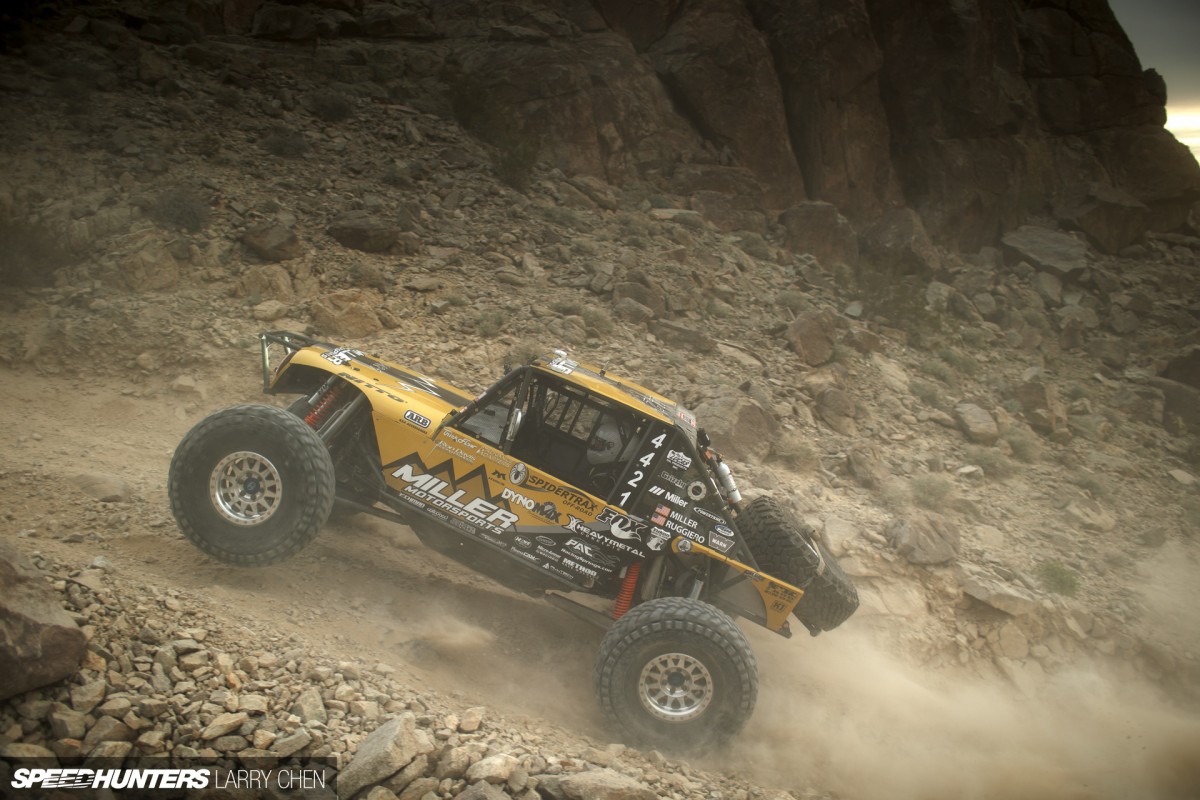 Just check out that wheel lift from charging so hard up that hill. This was driven by Erik Miller, and he finished the race in twelve hours and forty four minutes. Sore neck for days!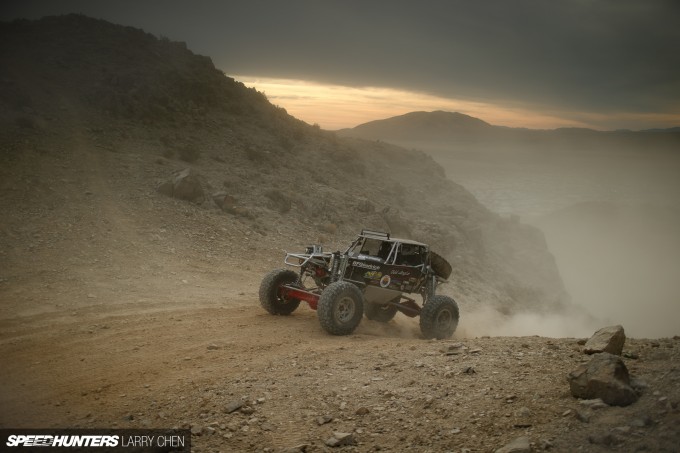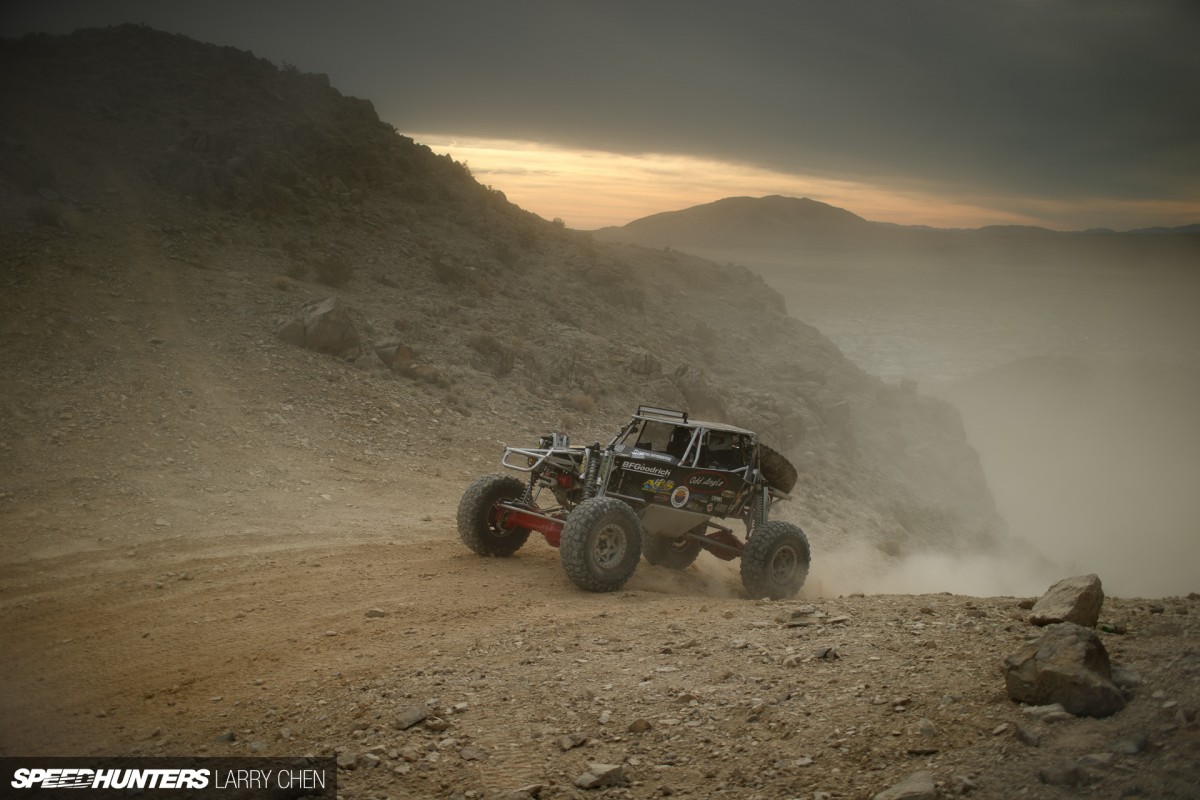 As soon as the teams made it up the first hill, they had a choice. Either go up Back Door or take the bypass. One out of three laps, they have to make it up that dried up waterfall.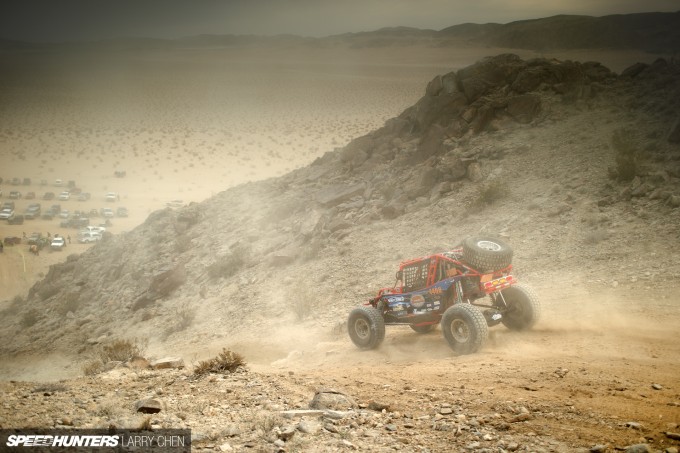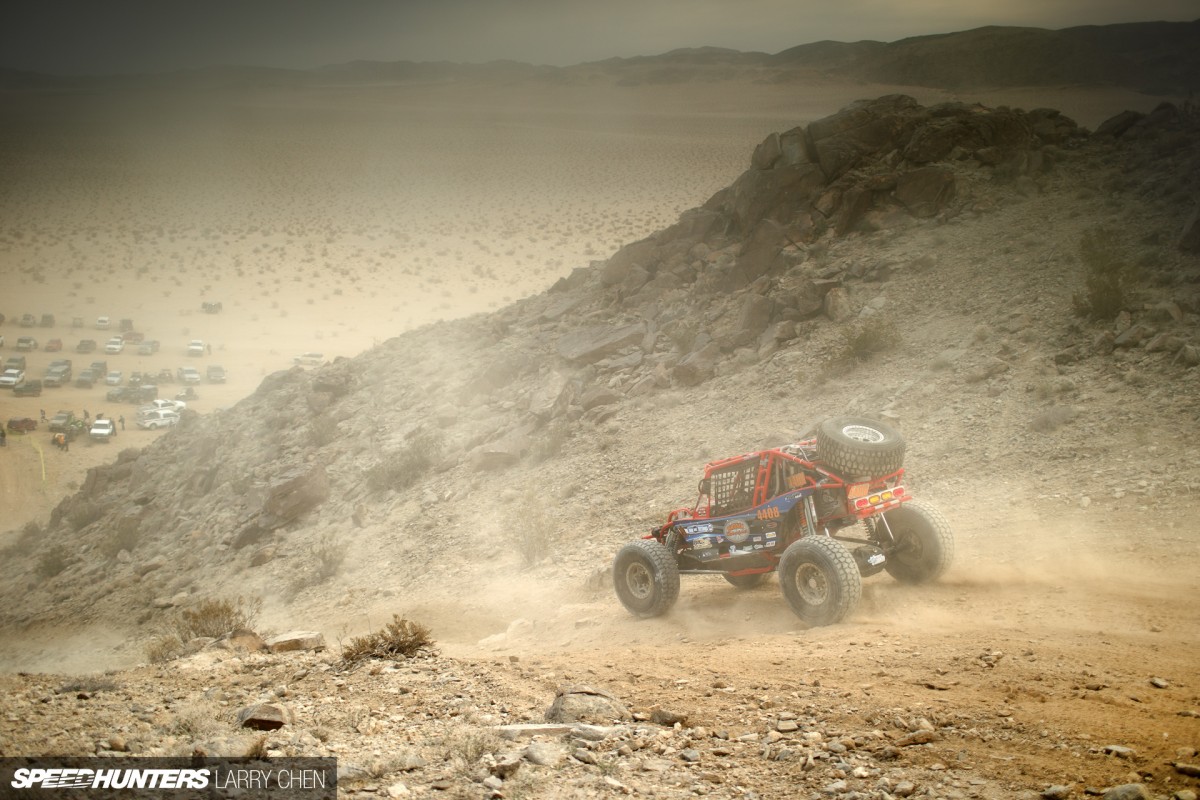 There's so much strategy that comes to play very early on in the race. I always talk about the hardest obstacle – Back Door – and how hard it is. The fact is that it's a real car breaker.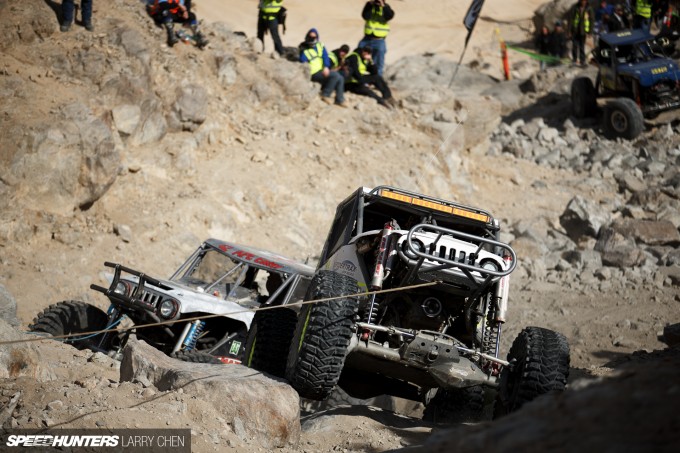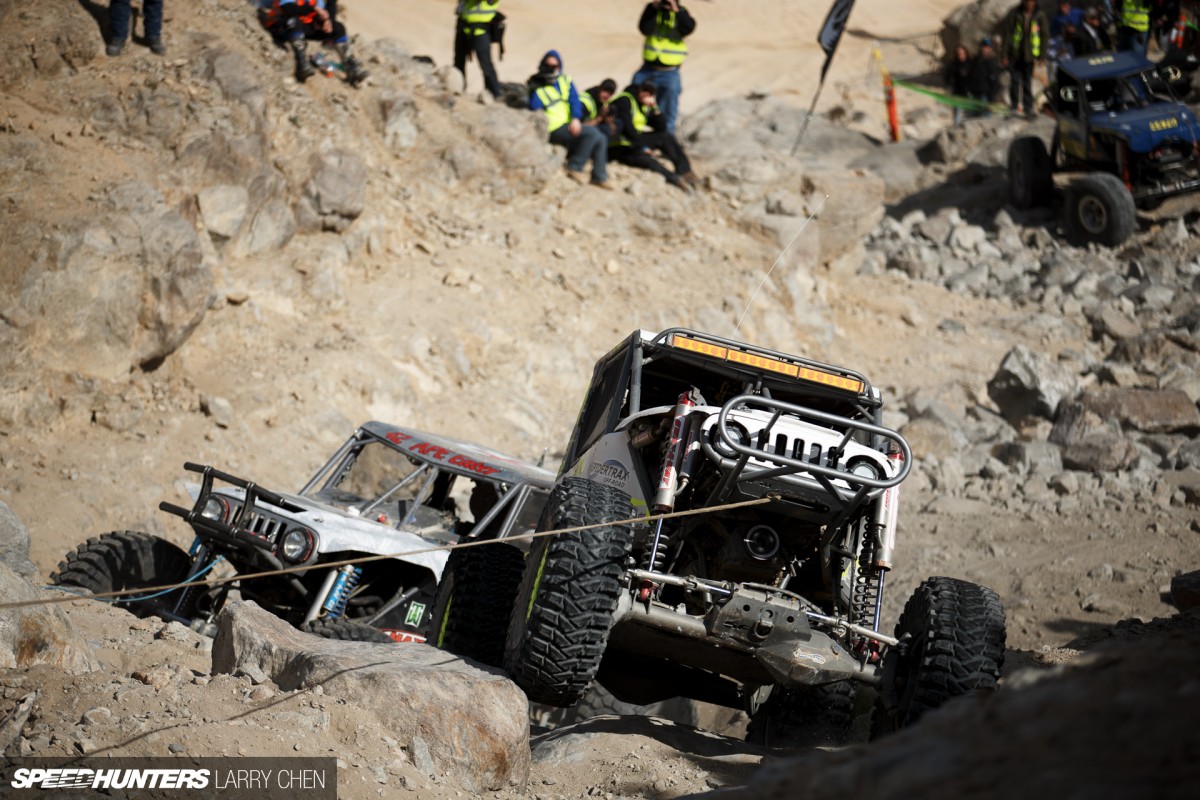 Because so many teams take their time winching up, there's always a line, and you have to wait your turn. Waiting means not moving while the clock keeps on ticking. So if the drivers pass by Back Door and there's no line, then you better take a shot before someone else comes.
Dedication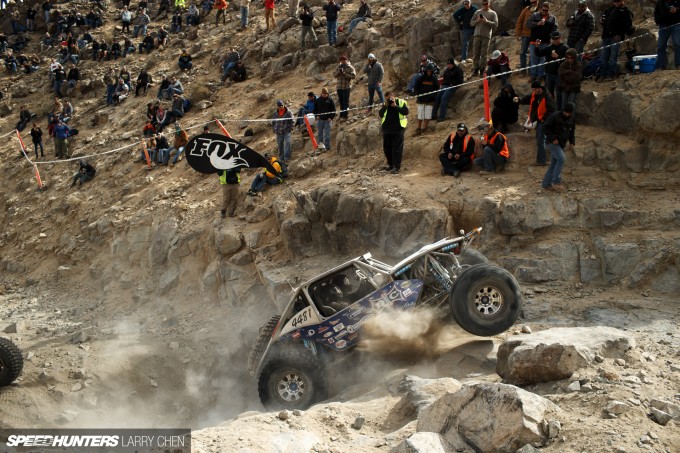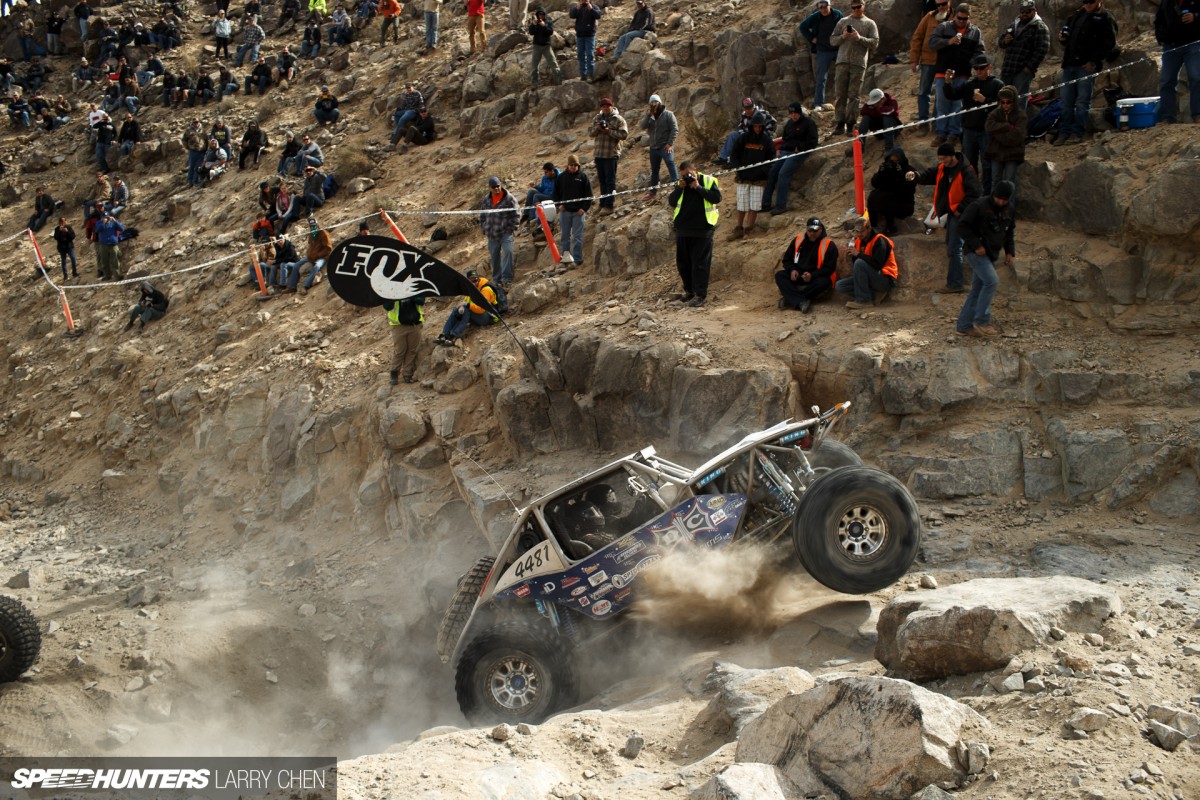 So the etiquette is to take a couple of shots to go for it – no winch, just full throttle. After four or five tries, it's not worth the risk of breaking the truck; there's a whole race ahead…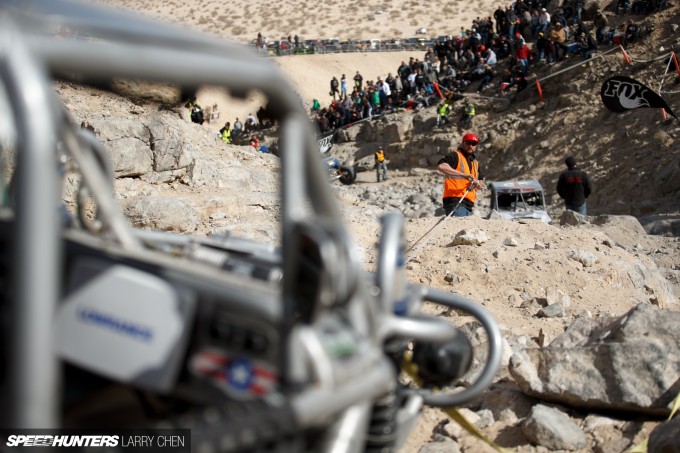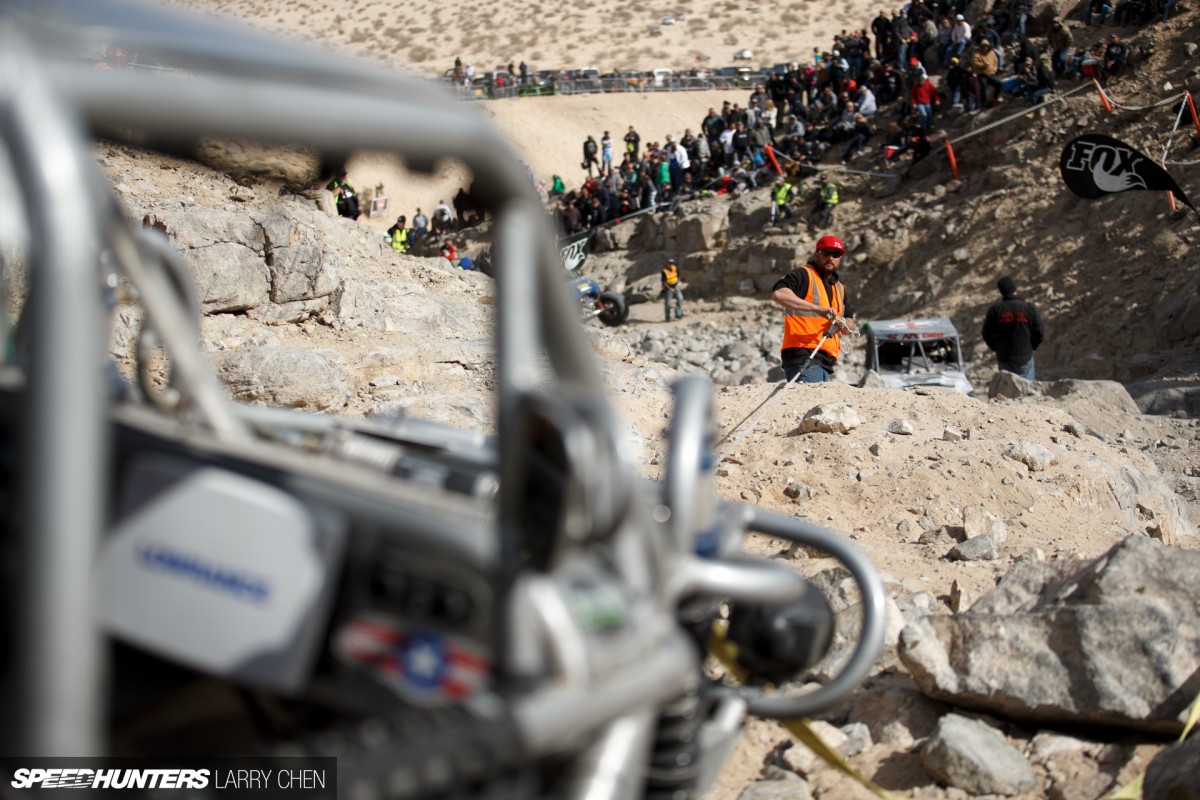 It's scary because I've seen the line break before, so I always look away or cover my face with my camera when they start winching.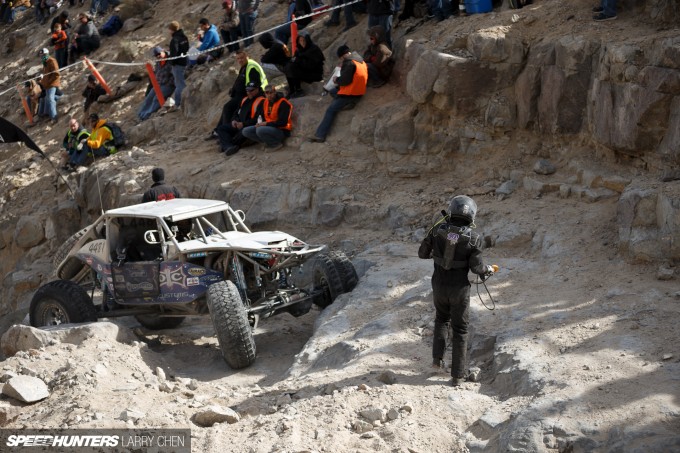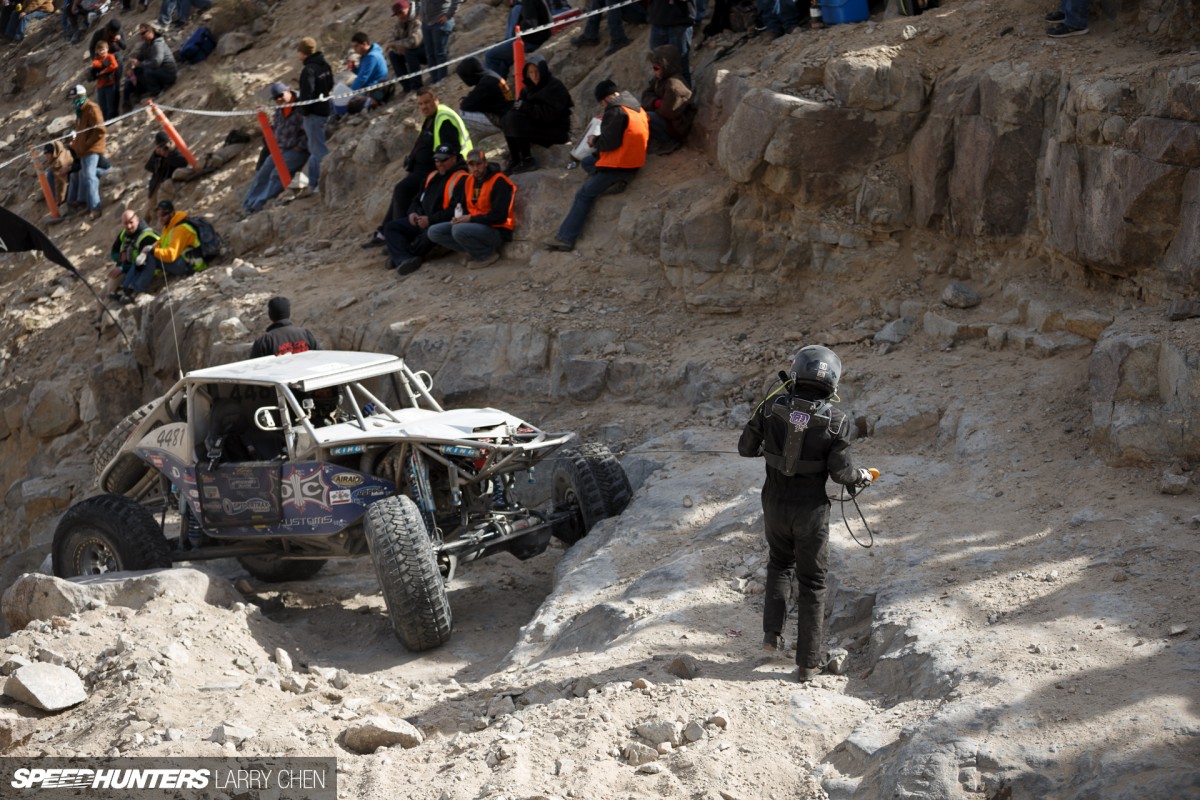 Usually the crowd eggs them on to try a few more times and when the navigator jumps out, the crowd follows with some boos and cat calls.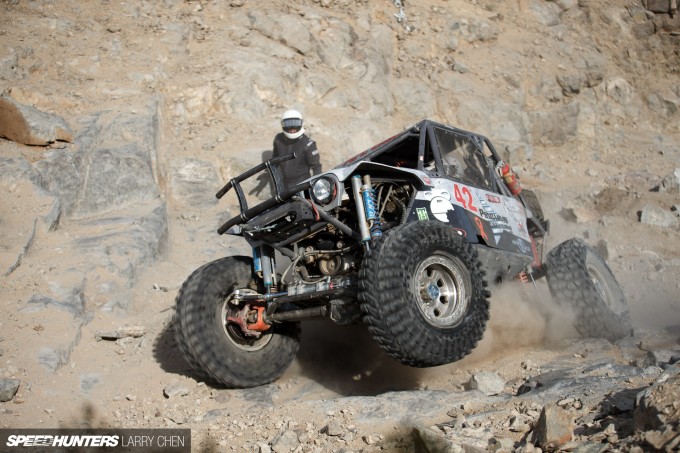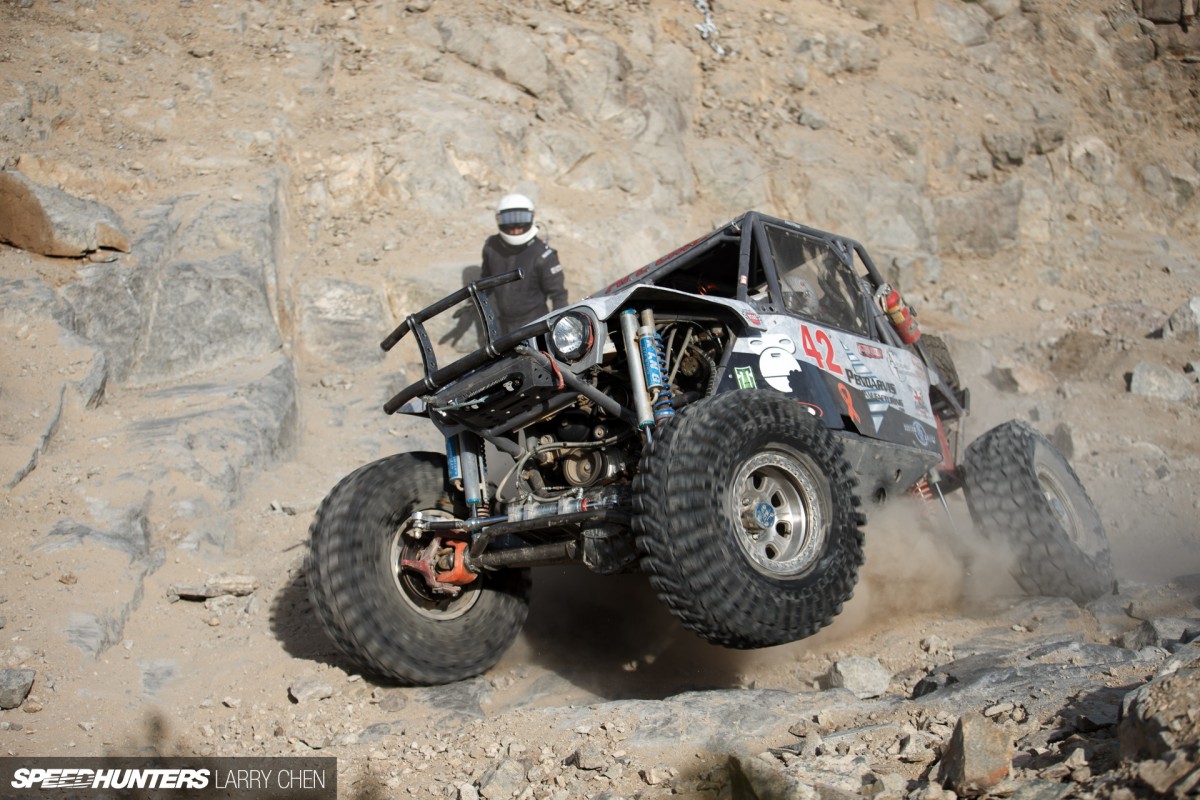 Aaron Peters winched his way up the first part, but when it came to the second section, he floored it. The rig bounced around on the rocks and looked like it was dancing. I totally thought he was going to make it but he just hit the side of the ridge at a funny angle.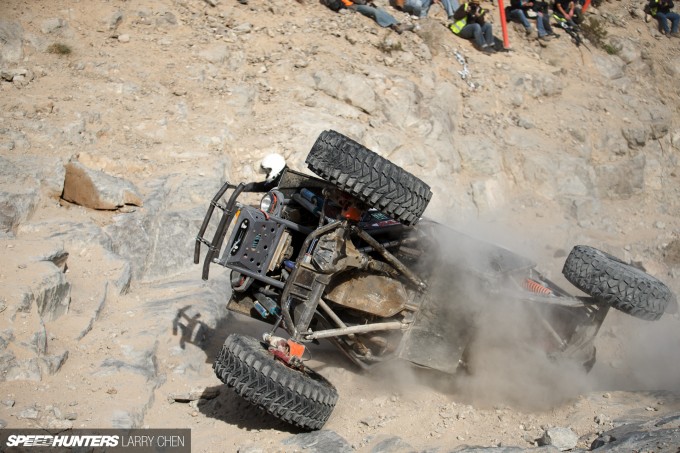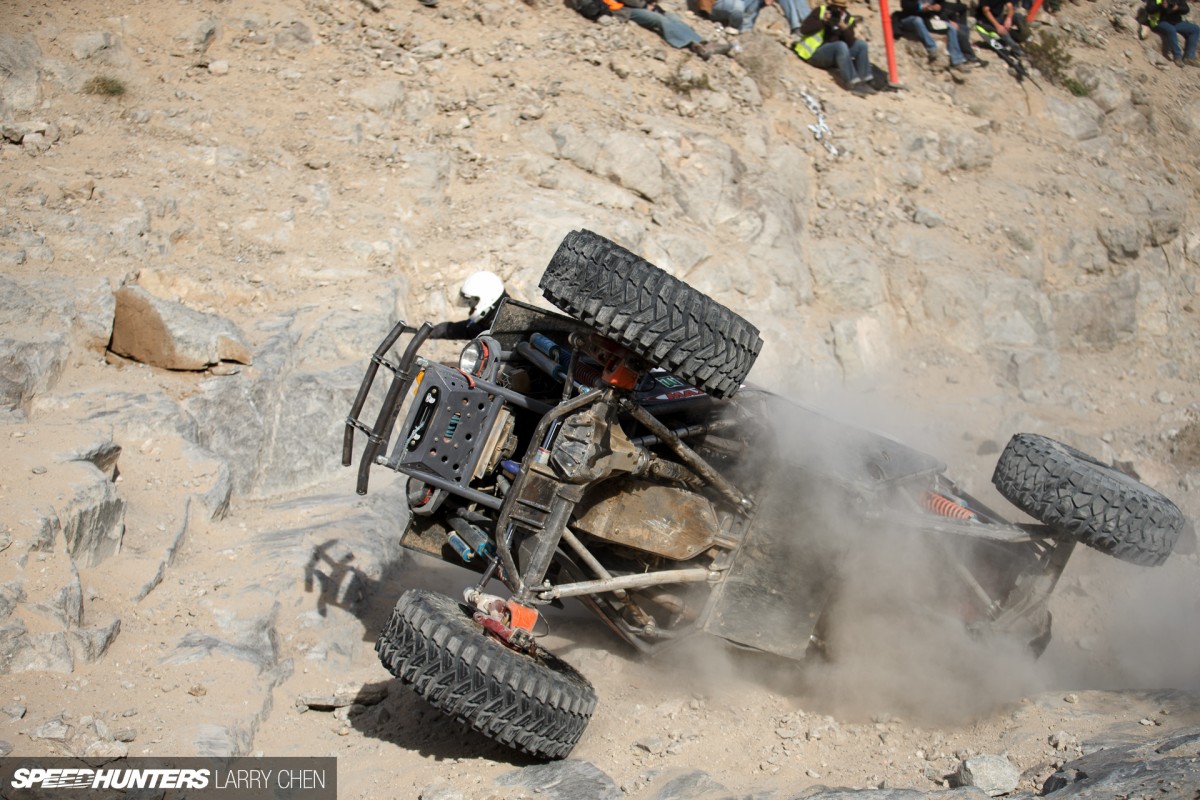 It sent him sideways and his navigator ran for cover.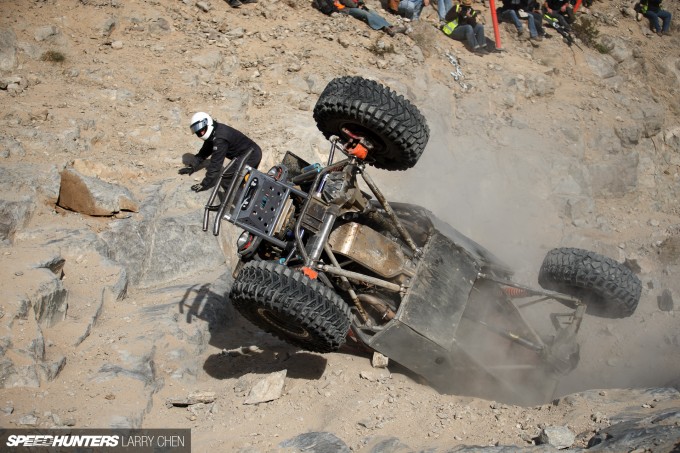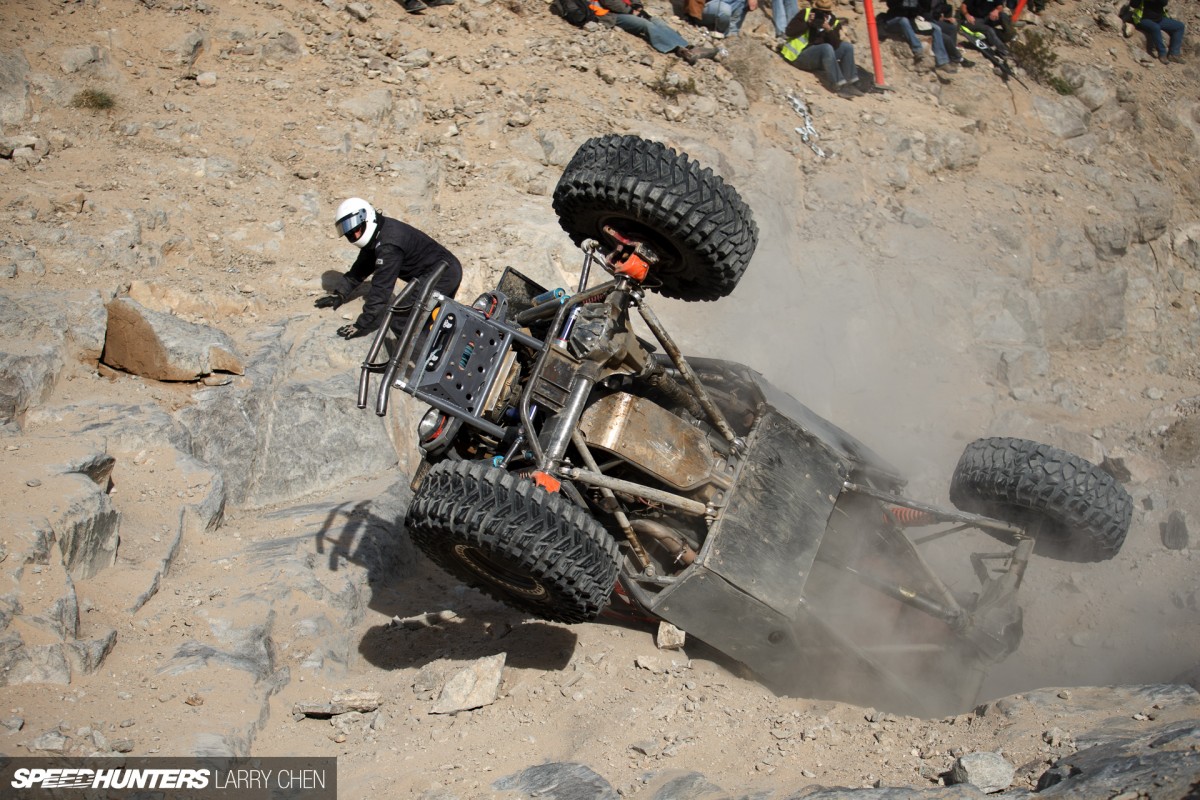 It continued to roll as the poor guy jumped onto the nearest rock.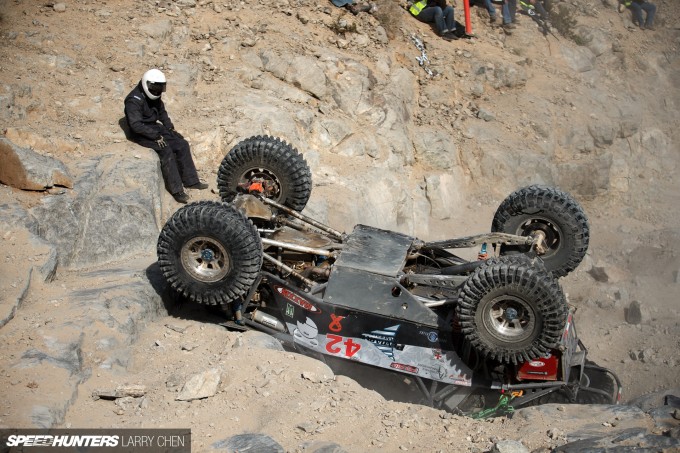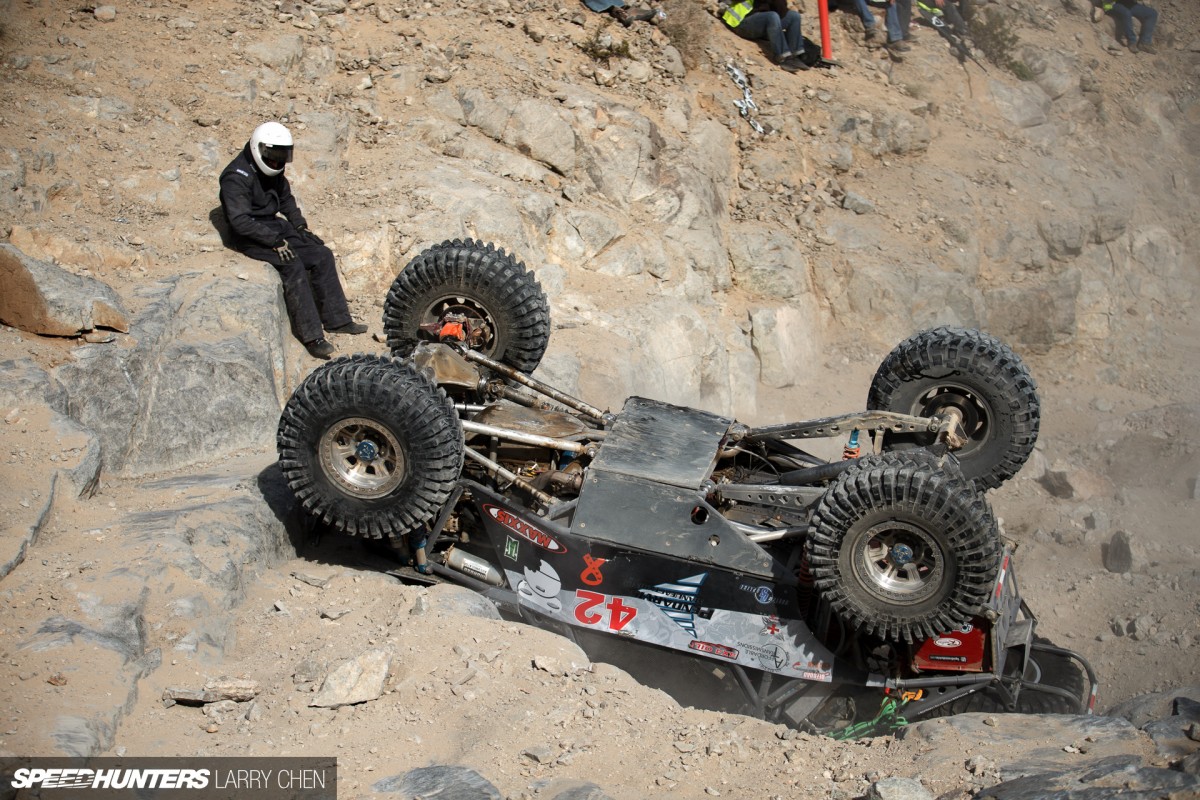 There it rested, belly up, lying there lifeless.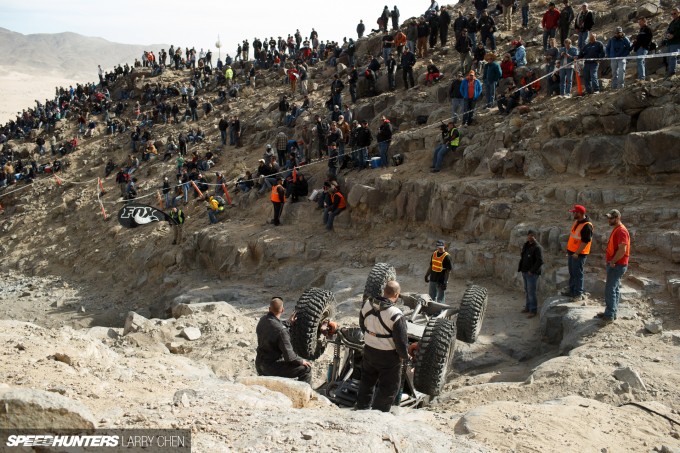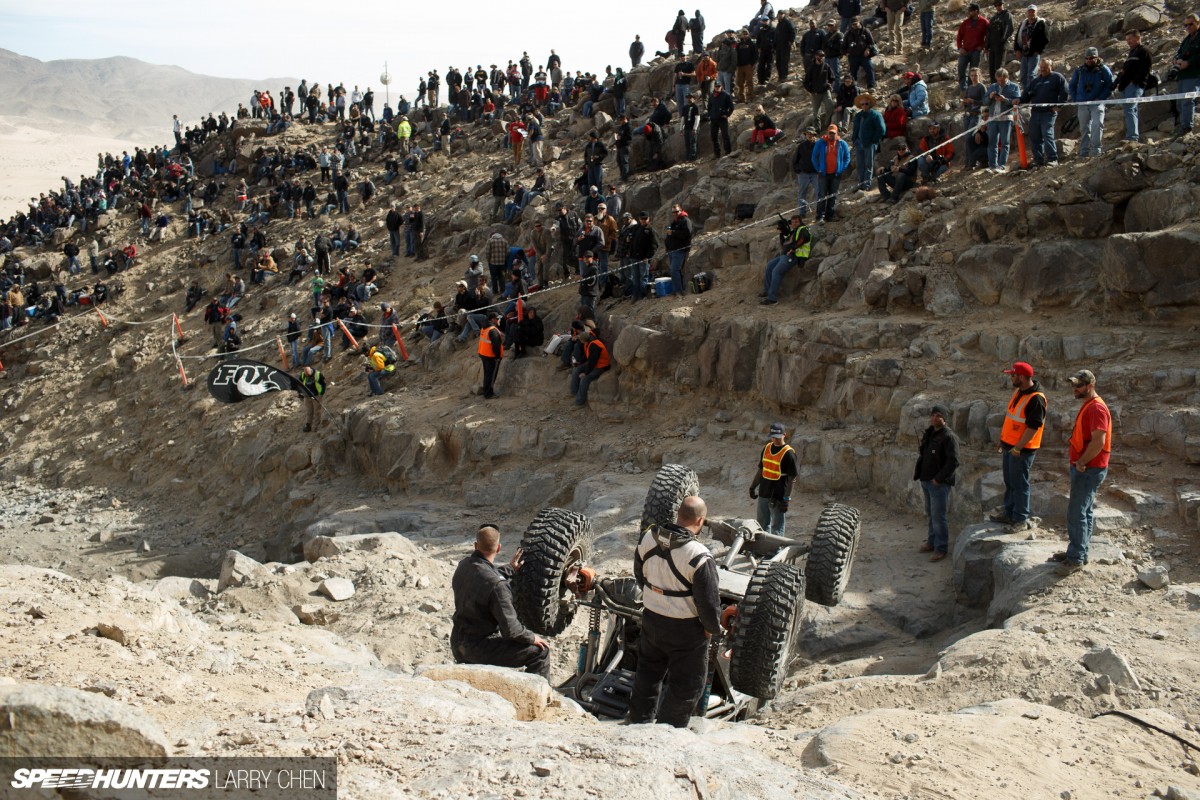 Aaron jumped out and the course marshals asked him what he wanted to do. They decided to flip it back over by themselves.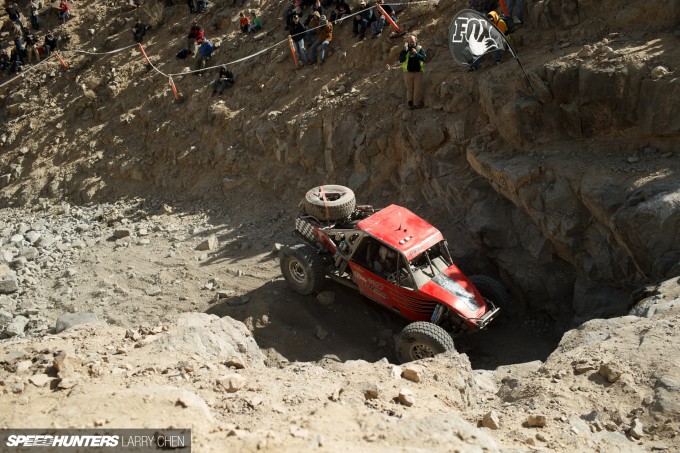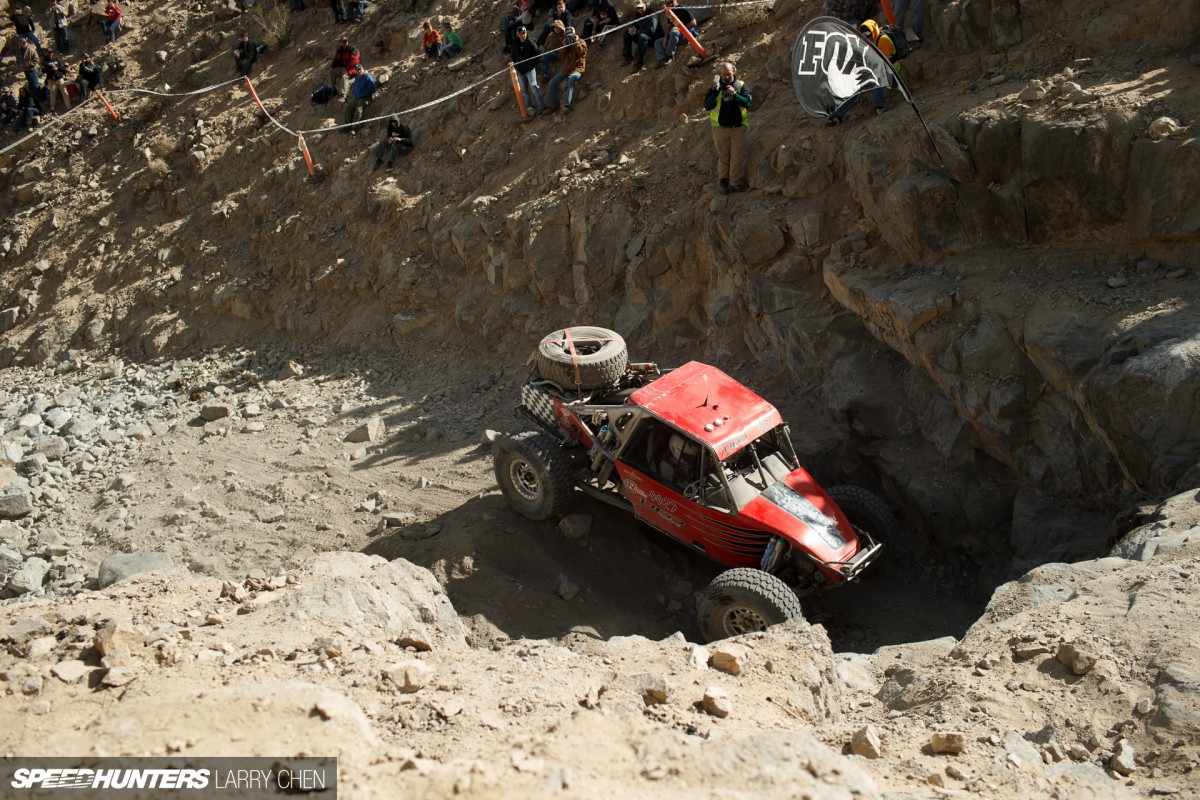 Just as they were about to winch themselves upright, another rig approached.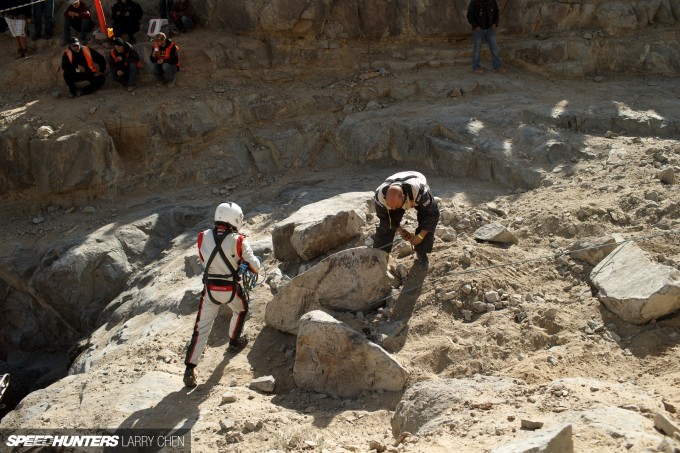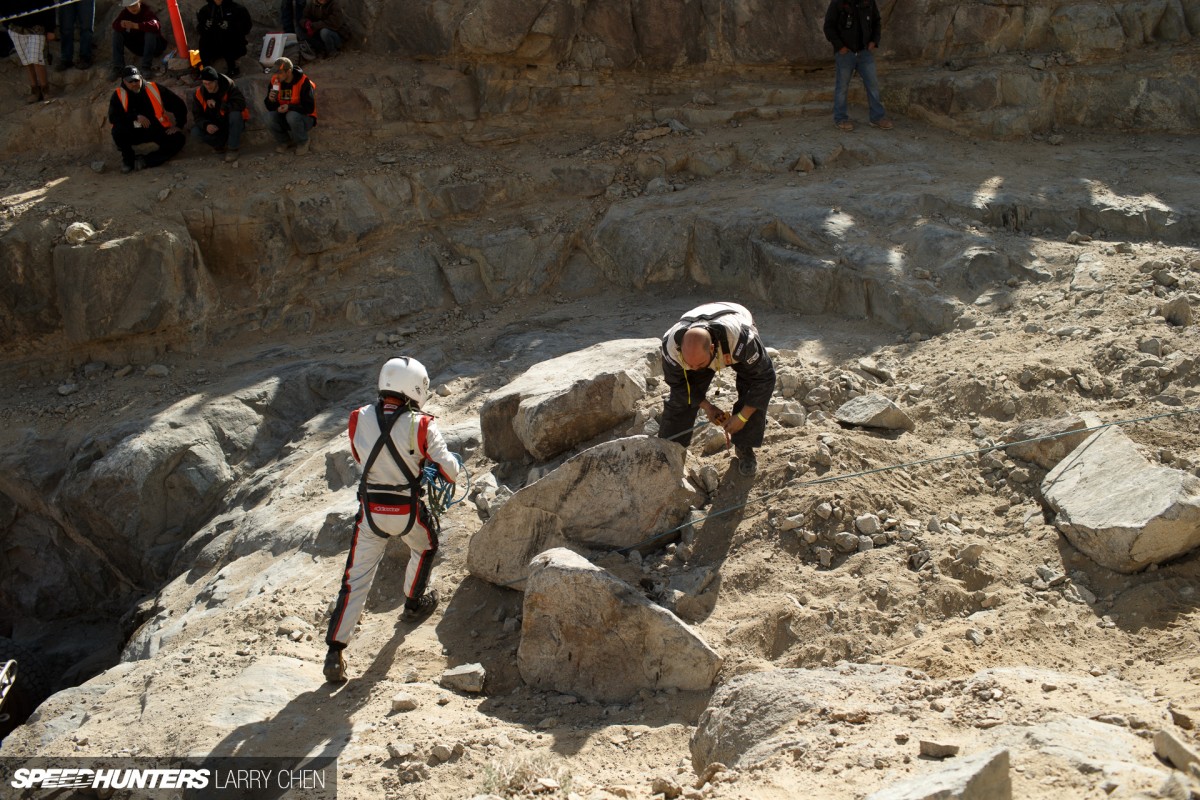 So now one's going up and one's coming down. All at the same time.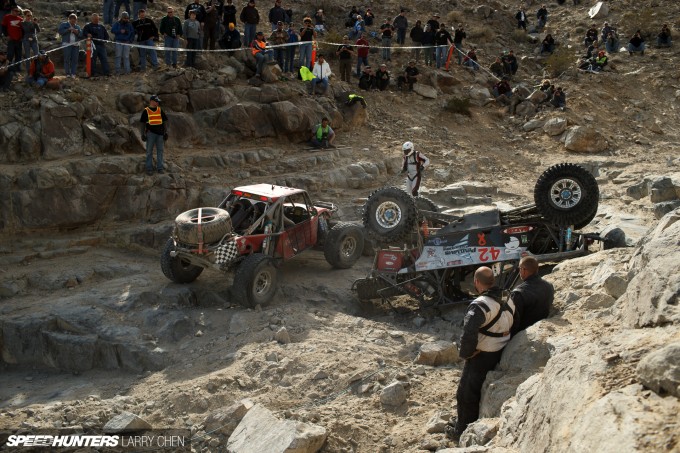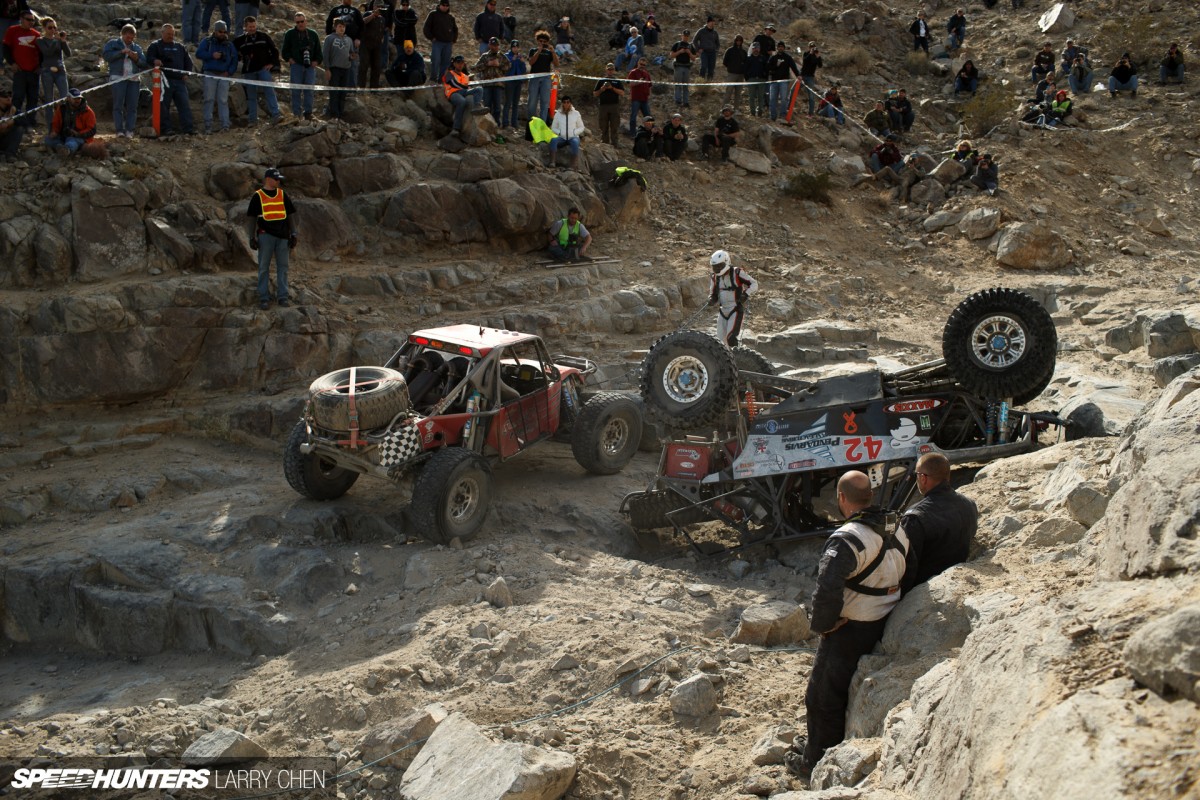 There was just enough room for Jeff Russell in the 4427 rig to squeeze by.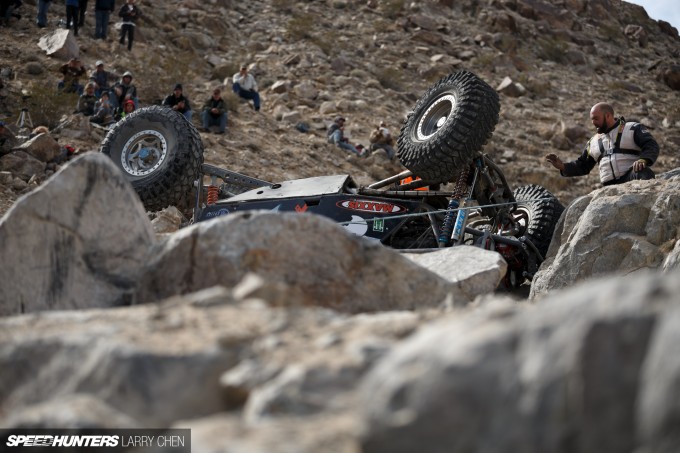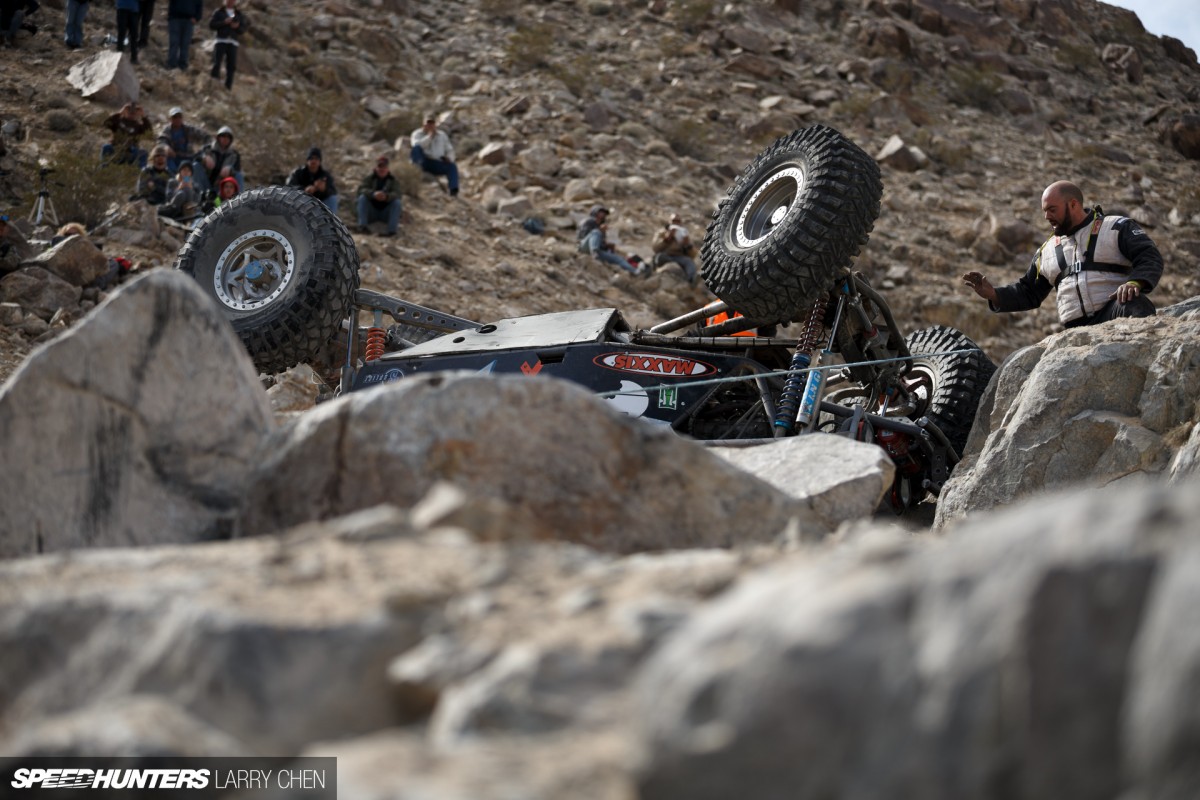 The navigator crawled back in the upside-down rock crawler and accessed the controls to the winch. Slowly and patiently, they turned the rig ninety degrees.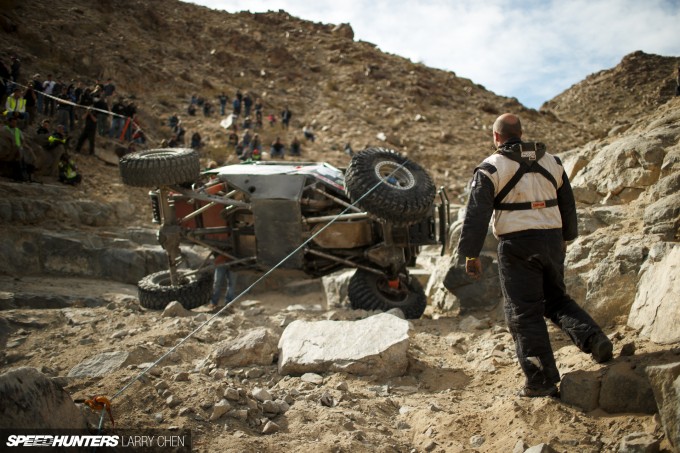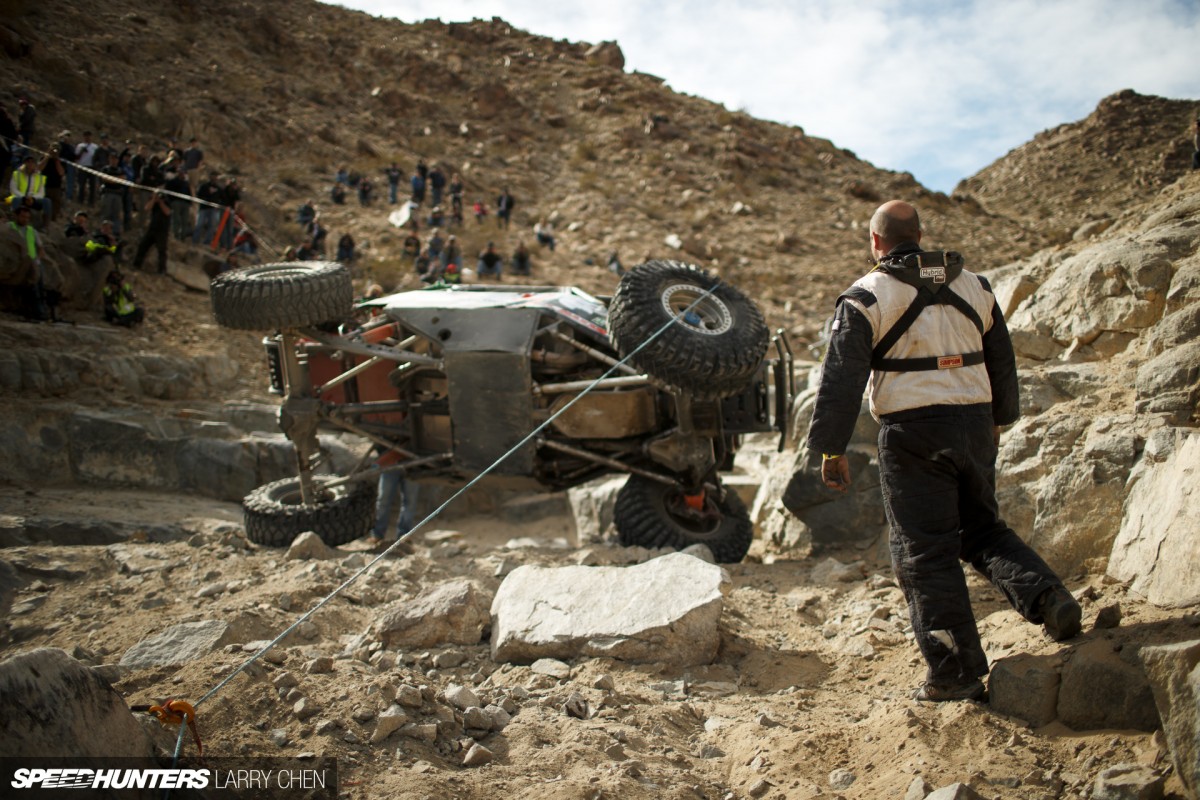 Then once it was in position, they wrapped it around the tire and let it rip.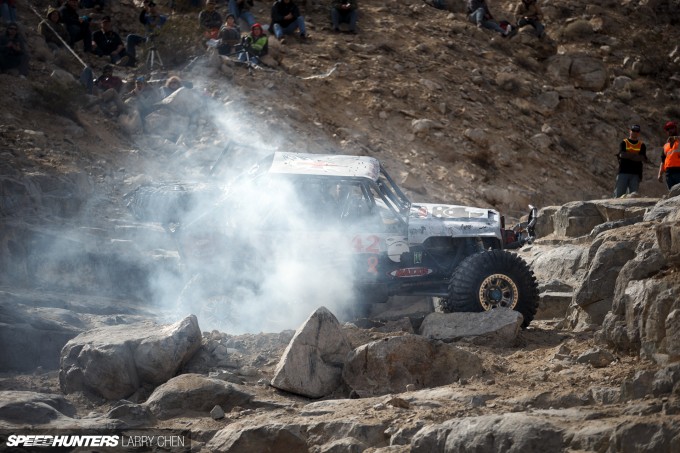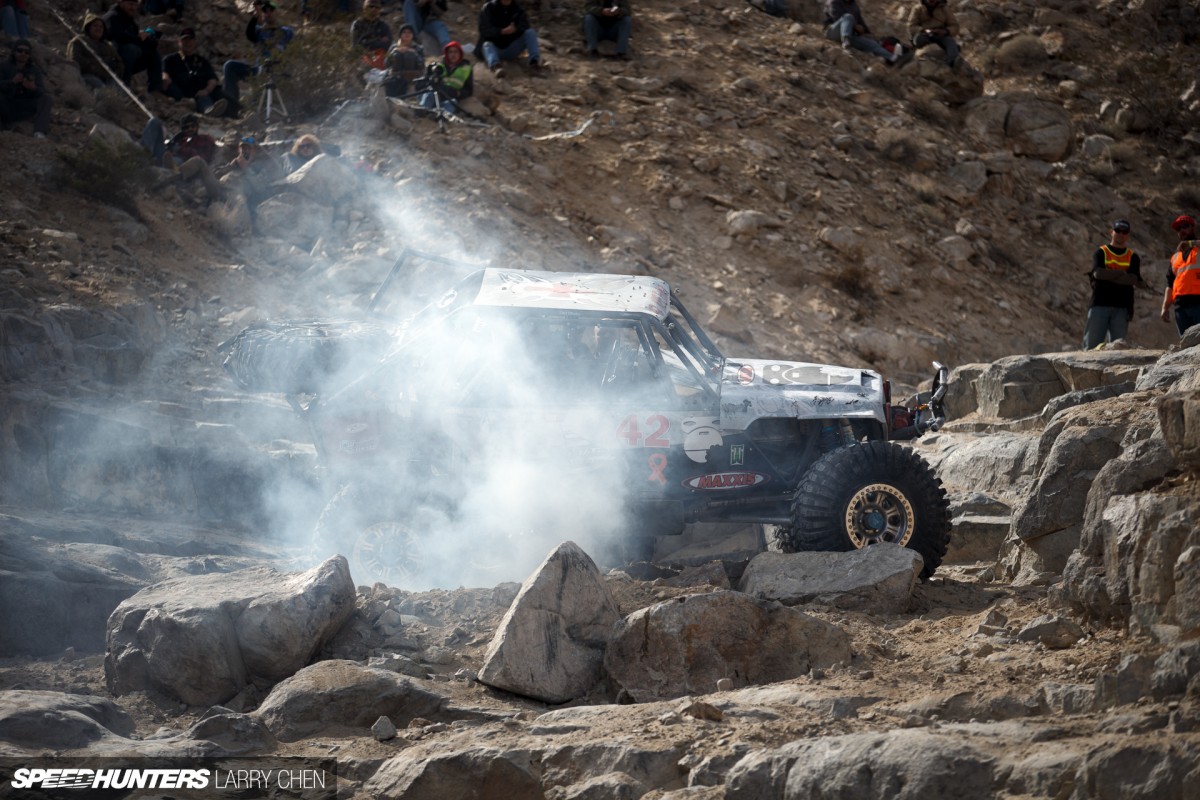 Just a few moments later, they were off once again. Unfortunately they didn't get an official finish.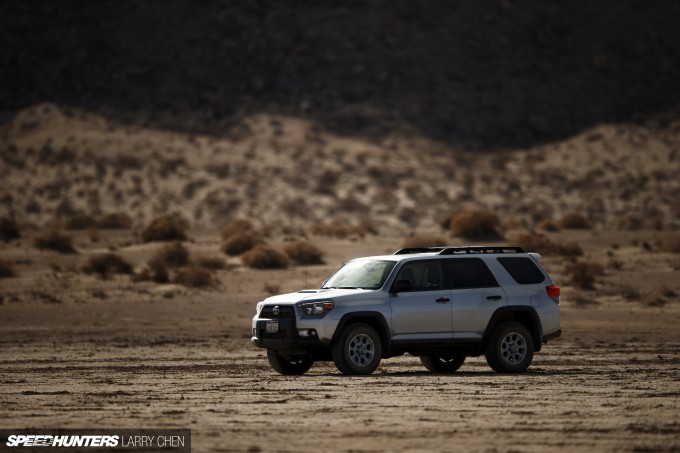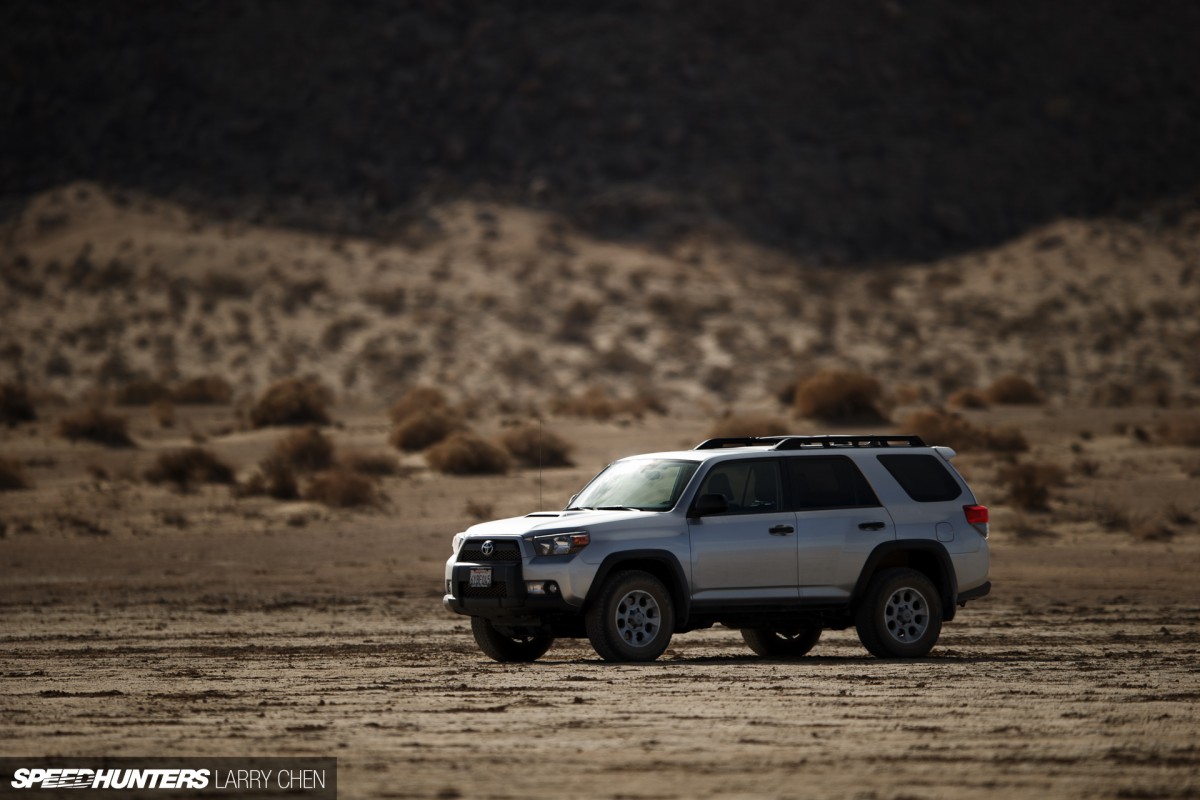 King of The Hammers is not just about slow speed crawling. At one point, we found ourselves really enjoying the view from a dry lake bed.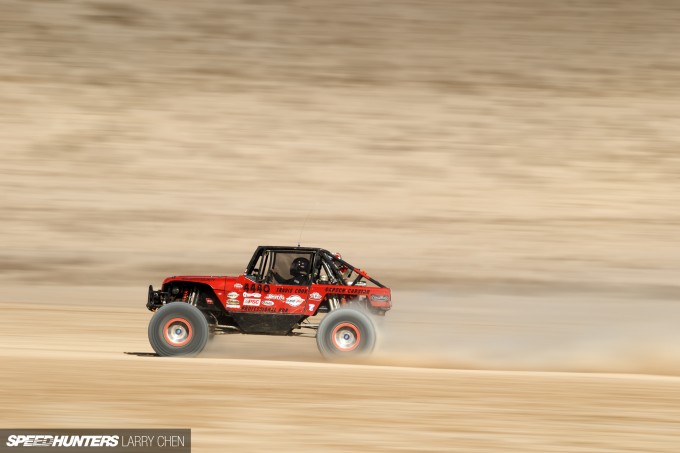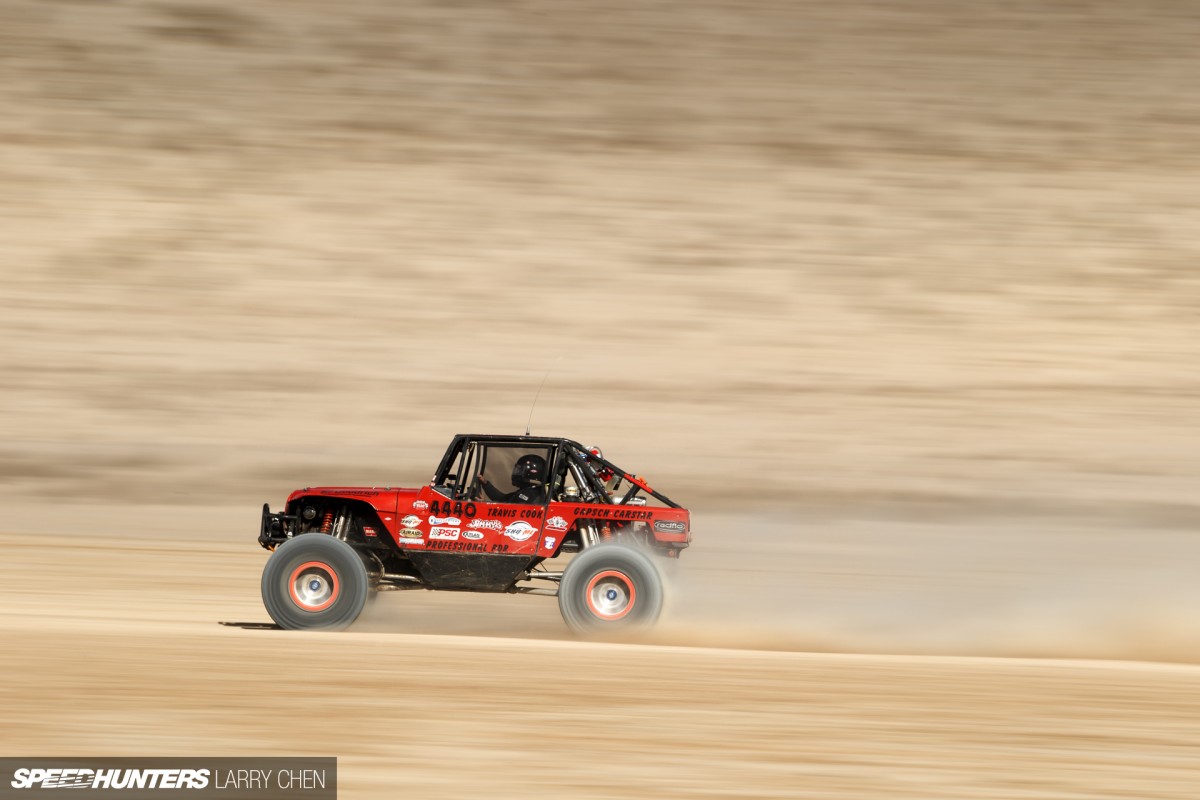 On one side, you have rigs going at top speed, coming out of some hairy rock obstacles.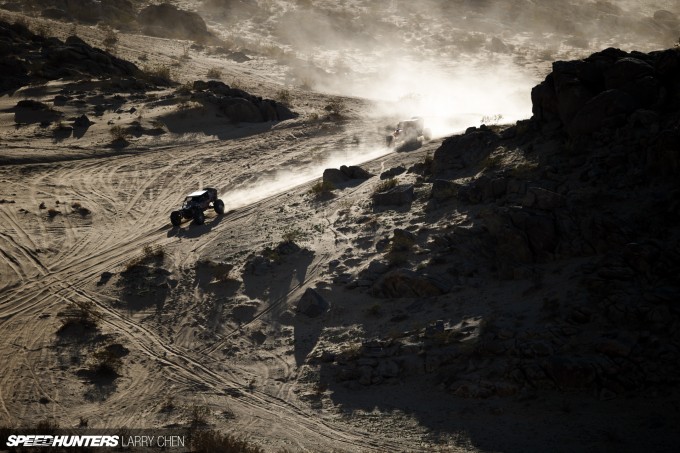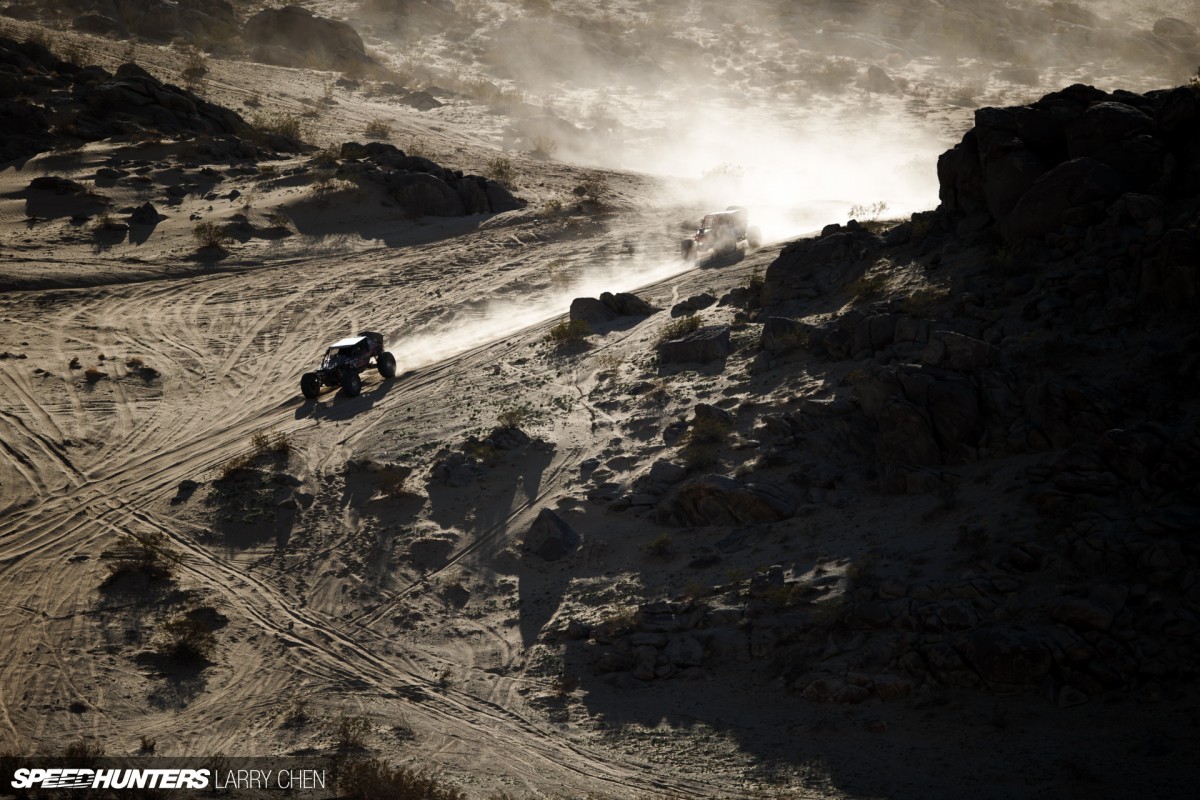 On the other side, there were teams coming back from a long trek in the desert and heading back into town towards the start and finish line. You could tell some of them were in need of a pit stop because they were barely limping along.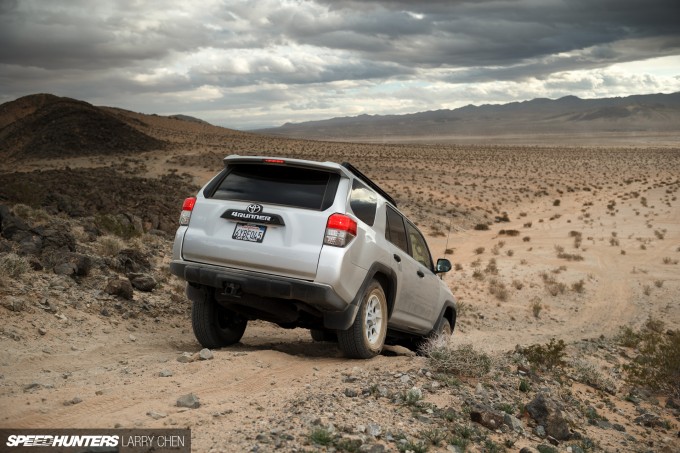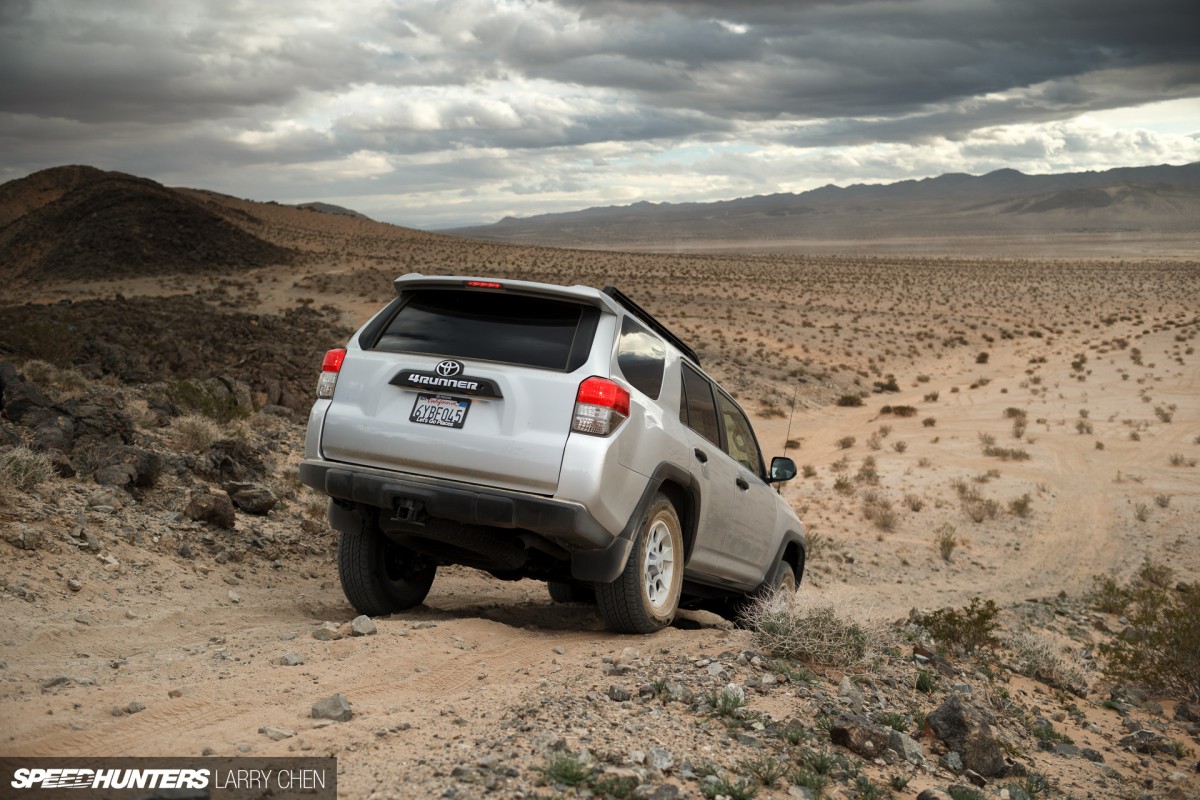 It was a bit nerve-racking at some points, because I wanted to keep pace with the leaders and hit as many spots as possible, but then again the worst thing would be to pop a bead off the tire – then we would pretty much miss the race entirely, so I made sure to pace myself. After all, this was my first time doing some real four-wheeling. For a bone stock SUV, I think the 4Runner did quite well.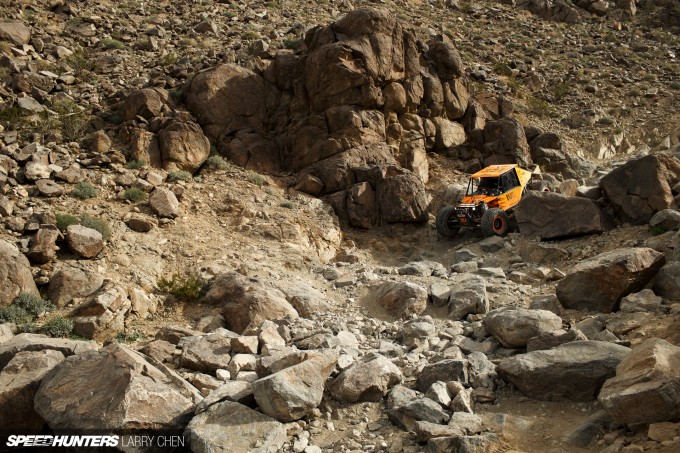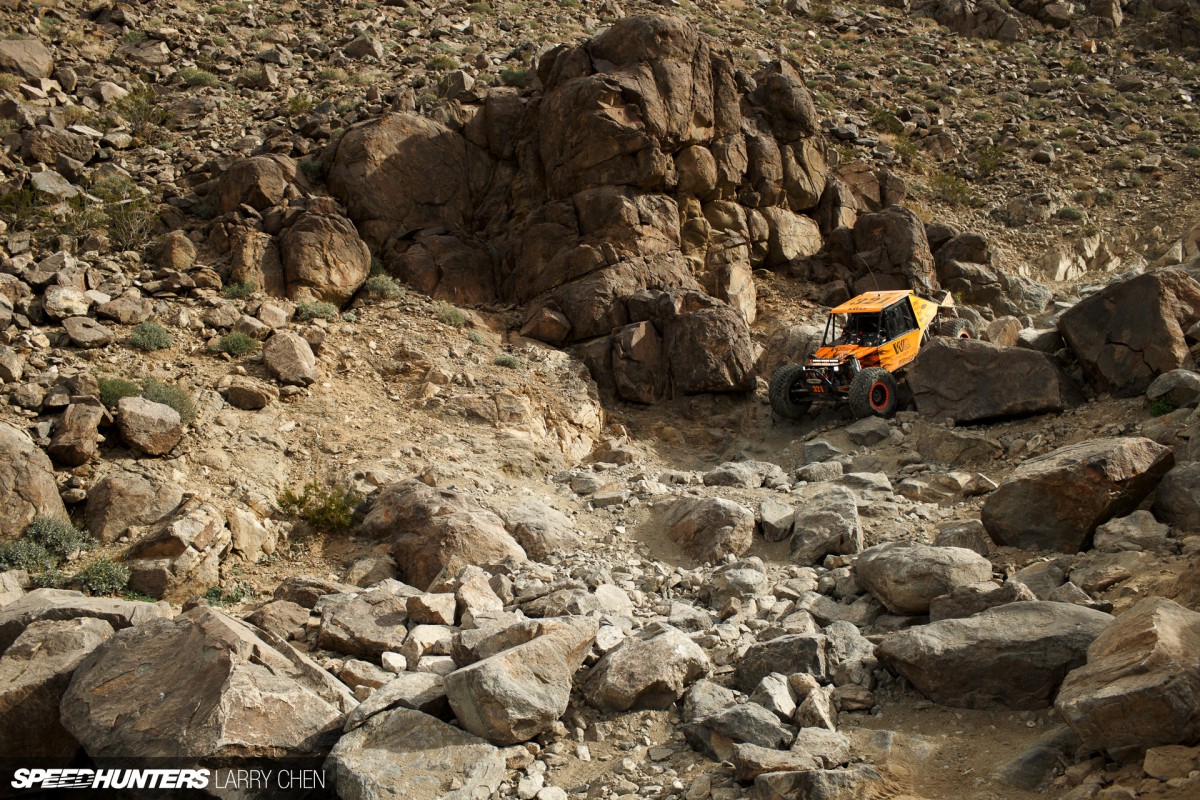 This was the last time I saw Tom Wayes before he crossed the finish line.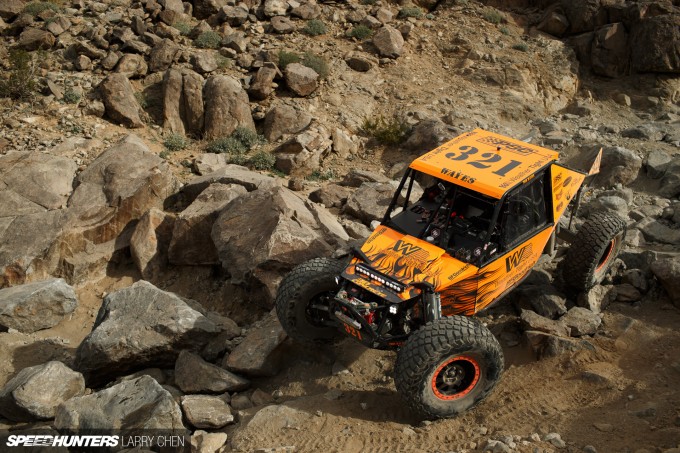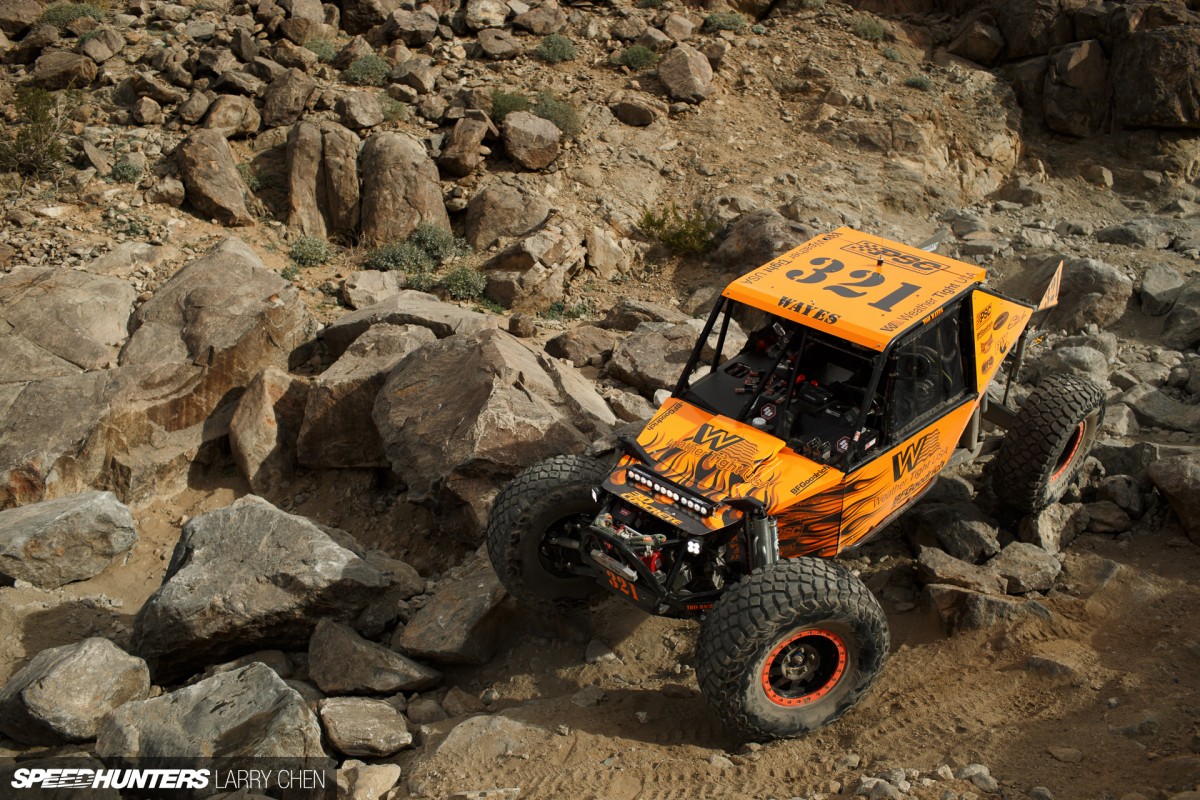 He ended up getting penalized seventy minutes for skipping two obstacles. This put him in seventh place, even though he crossed the finish line first.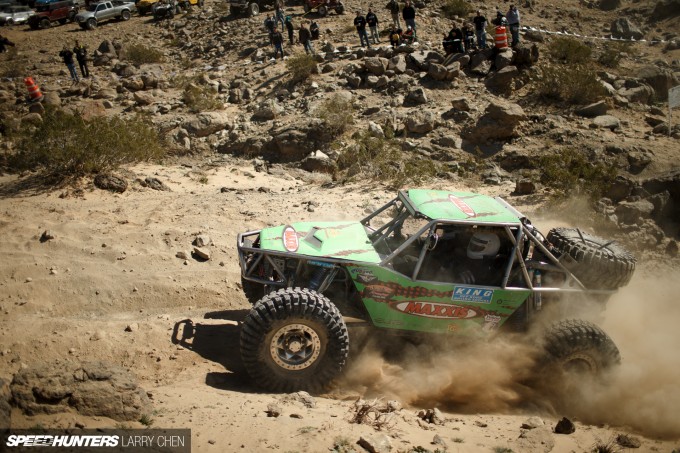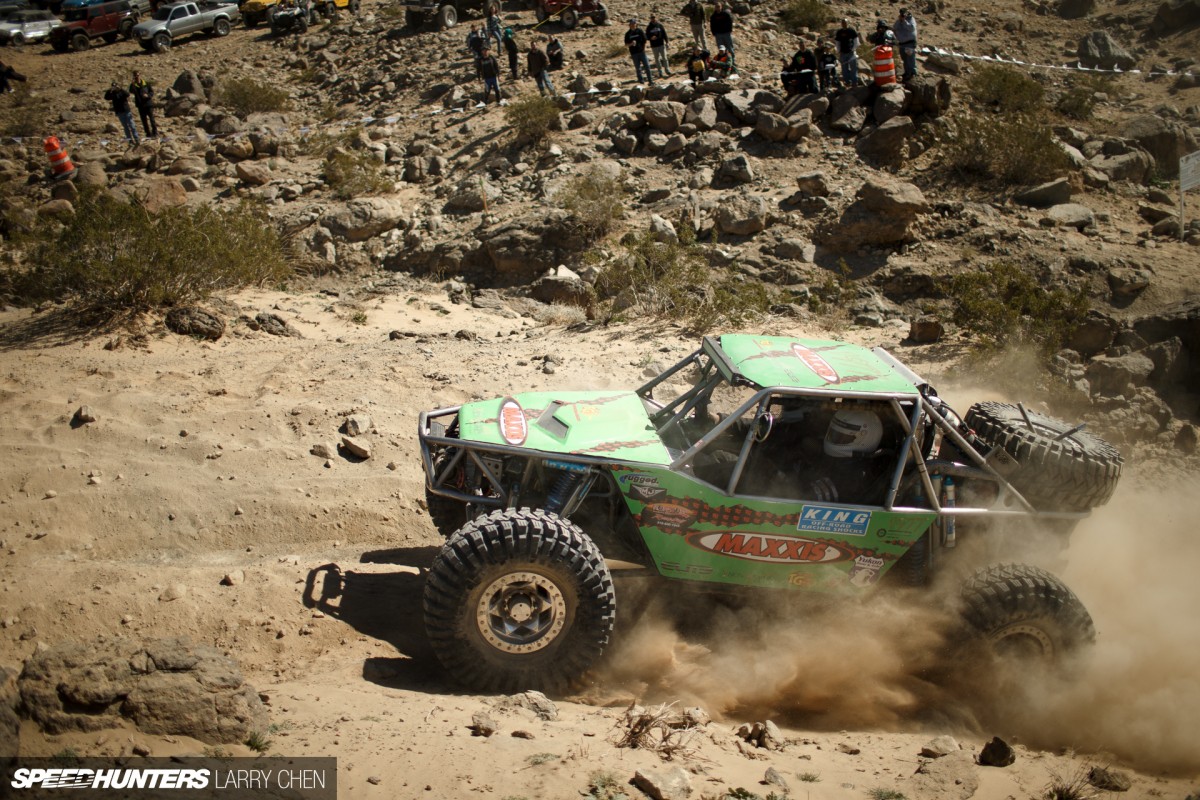 Fixing a race car on the side of the track is such a foreign concept to me and when I think about it, I immediately think about when the Delta Wing driver tried to fix the car at the 24 hours of Le Mans. But with off-road racing, it's such a common thing. Jake Yeoman was flooring it up this sandy hill right on the bottom of a rock trail called Jack Hammer. His driveshaft snapped right near the top and his rig instantly became front-wheel drive.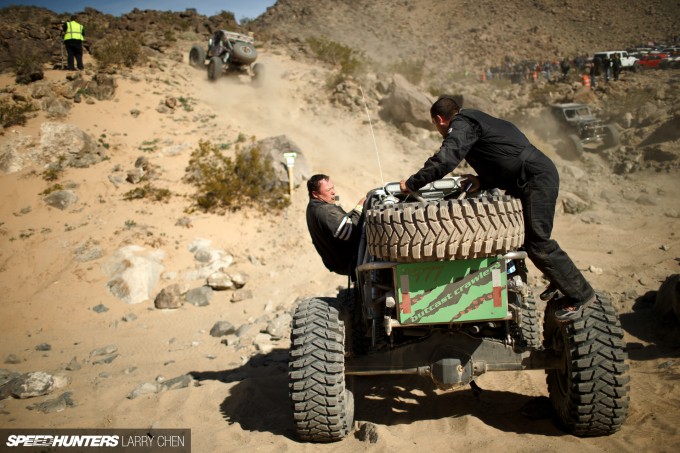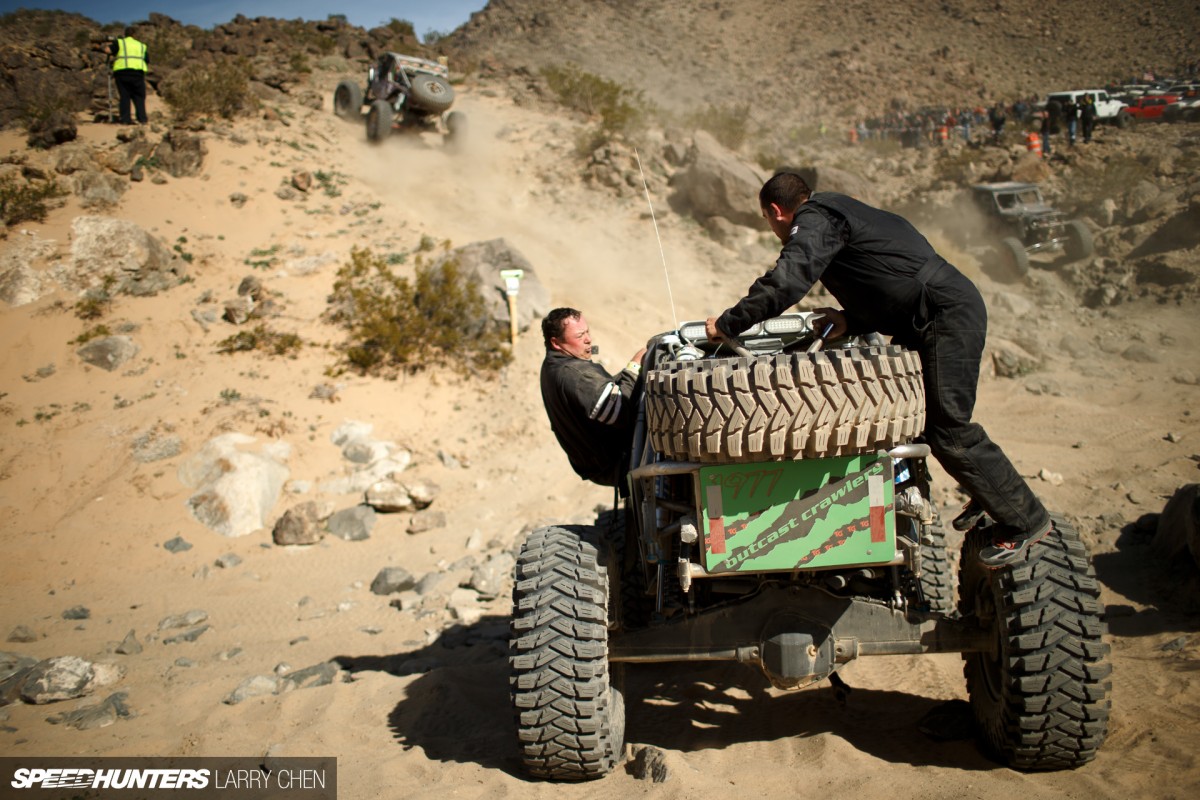 Jake backed it down the hill and his navigator jumped out. Both knew exactly what they needed to do to continue on. They would have to replace the driveshaft on the side of the track. Just a routine repair.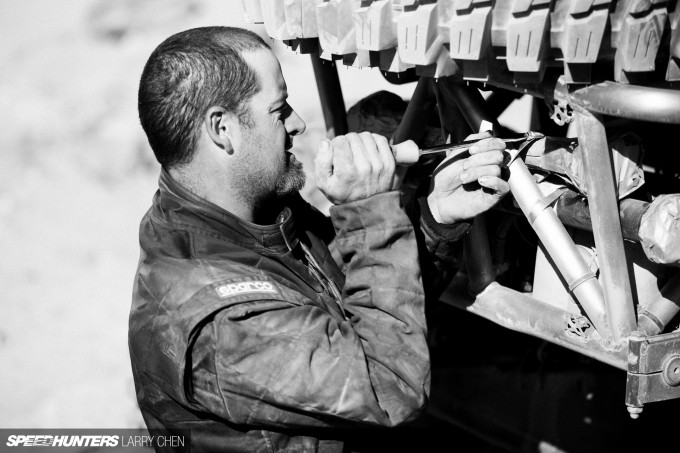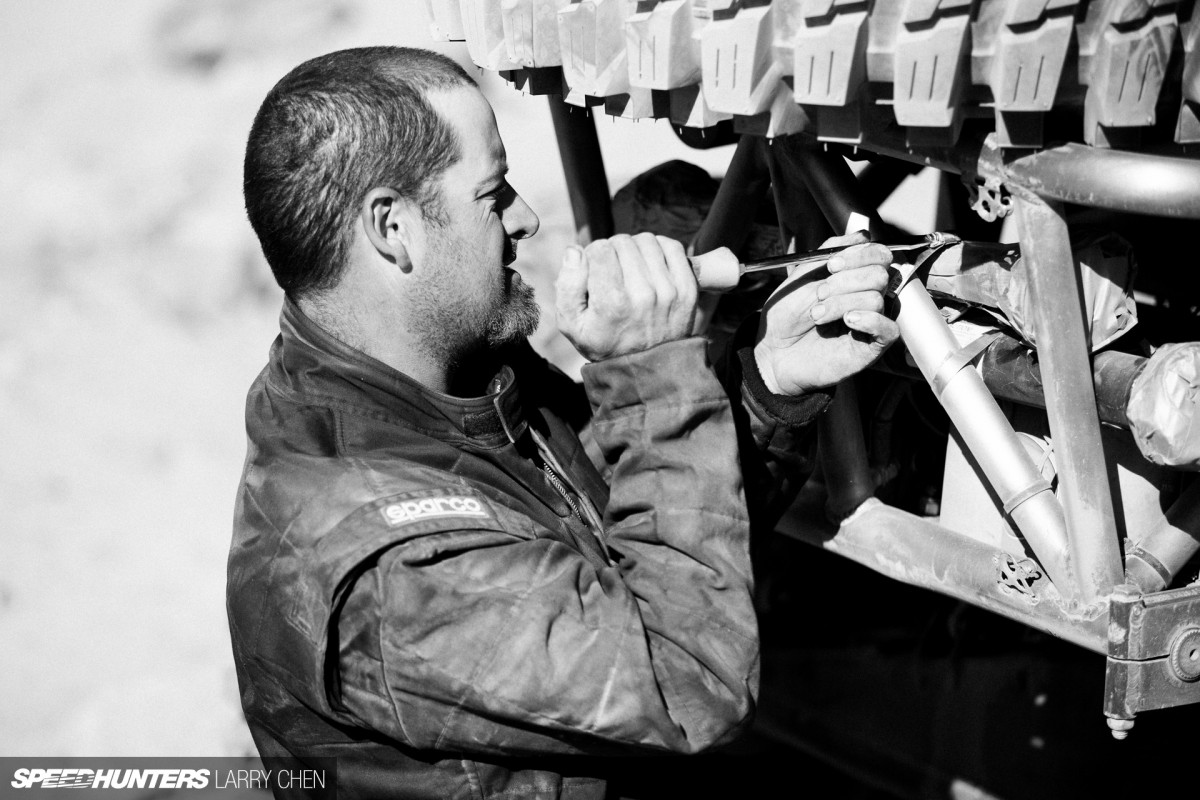 I've known many drivers who tell me that they're not mechanically inclined, which makes sense because some fast race car drivers are just naturally talented, they just somehow feel it in their body and have the instinct in them to push the car to its limits over and over. That doesn't necessarily translate to someone who can work on cars.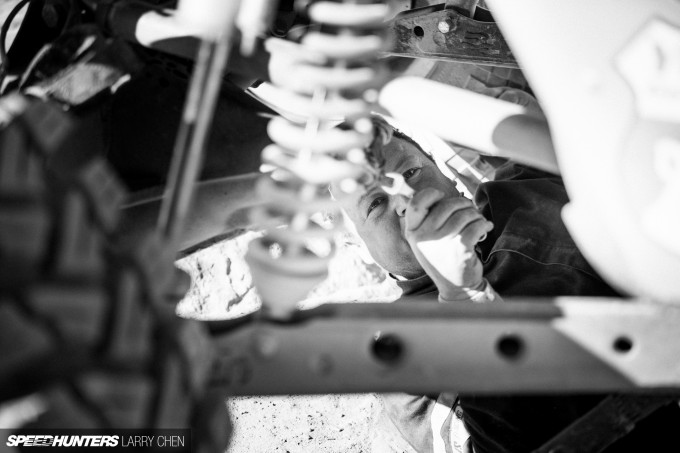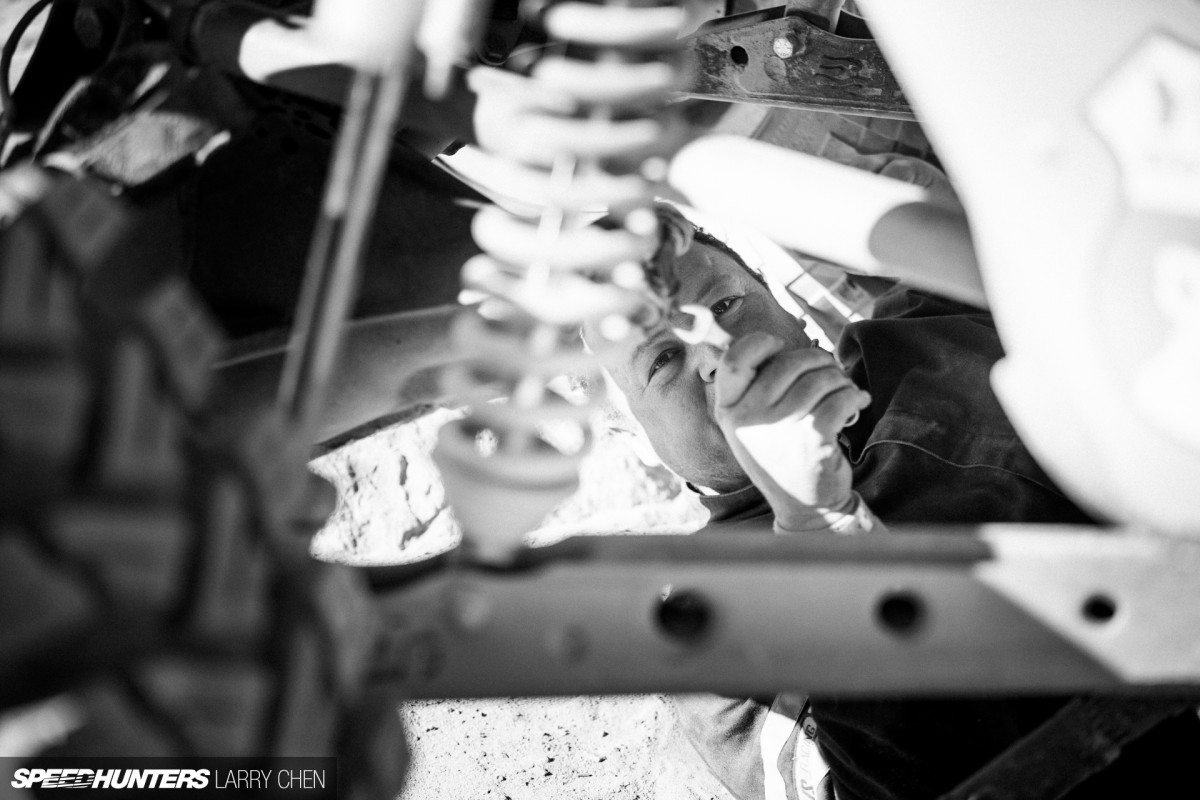 Granted, these trackside repairs are more simple than building a race car from the ground up or fabricating a roll cage, but you still need to be fast, even at fixing the simplest things.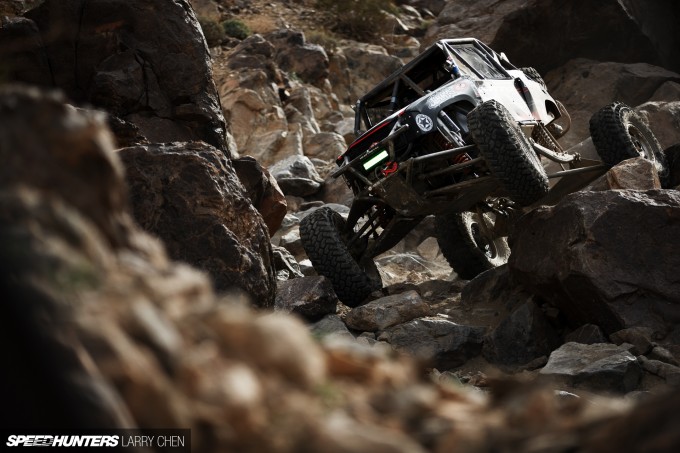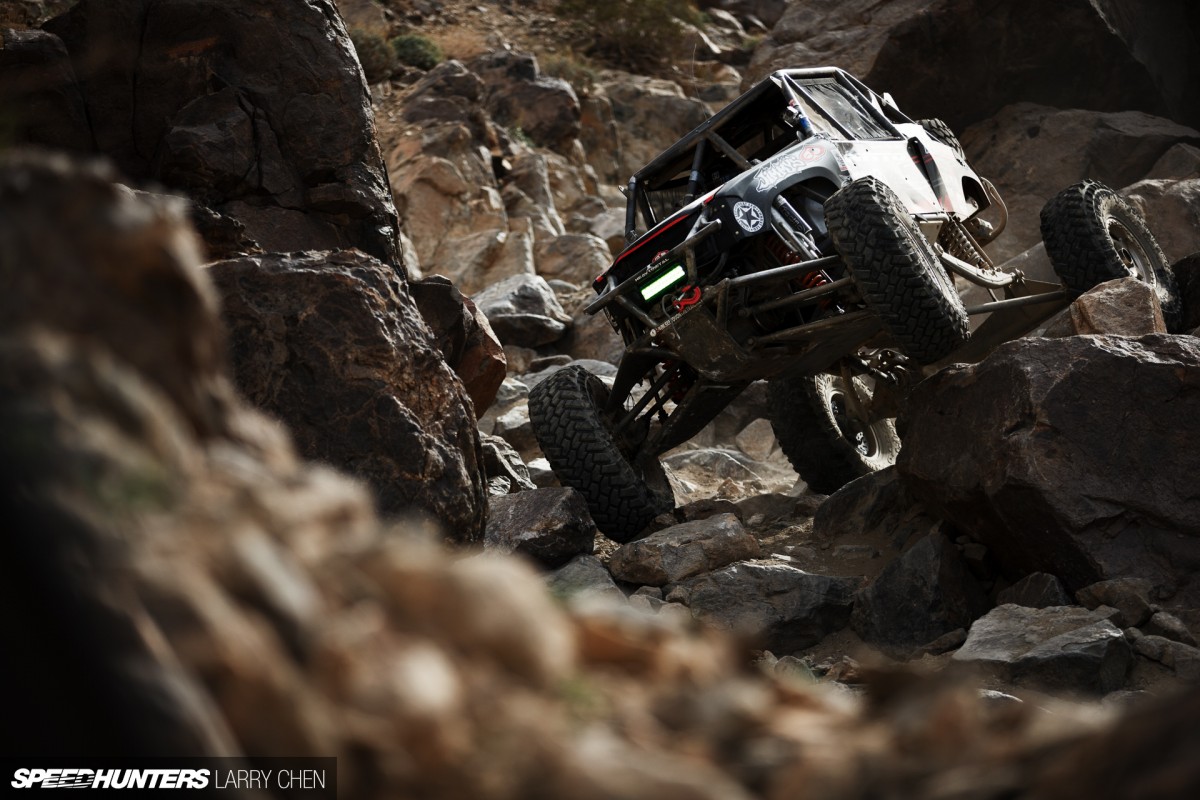 That's just so interesting to me, as the pace changes from GO GO GO, top gear through the dunes, to slow and steady over some giant man-sized boulders, to jumping out and fixing this and changing that. All while you're stuffing your face with sugary goodness at pit stops. This is like the racing decathlon! They should make them do push ups and maybe some jumping jacks right after they cross the finish line.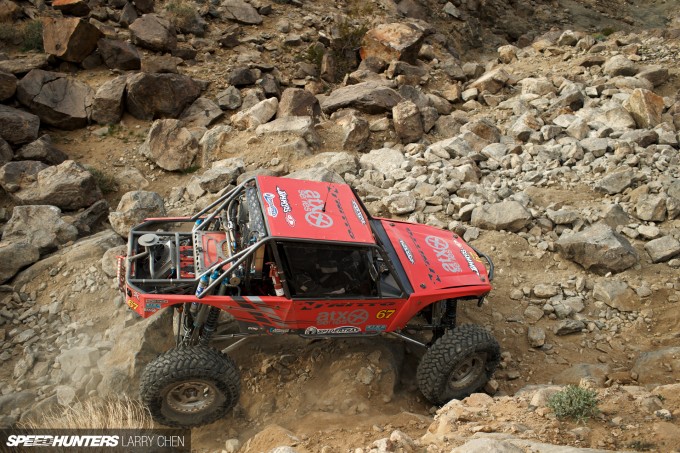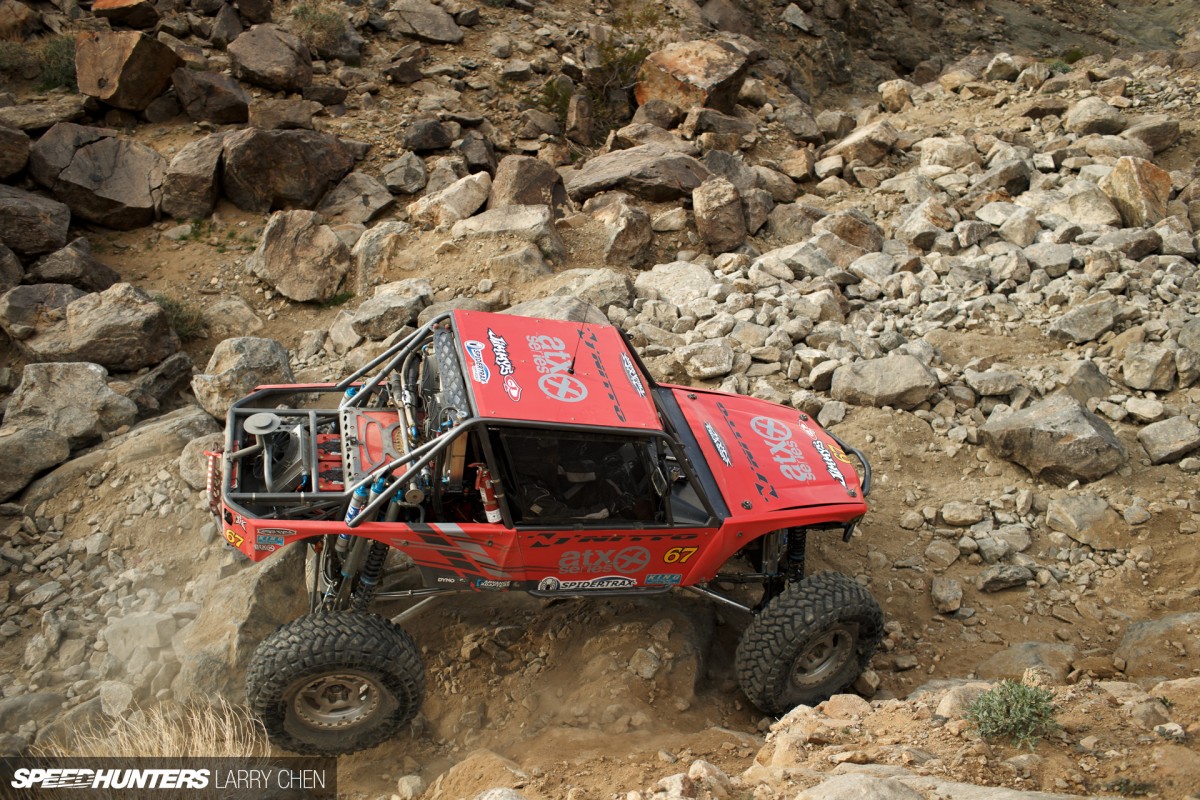 I give so much respect to these dedicated individuals and teams who compete in this style of racing. Heck, I was exhausted just following these guys and I was taking the shortcuts. I had air conditioning, ramen noodles and not to mention all the bathroom breaks I could handle. These guys had to relieve themselves through a rubber hose. And that, ladies and gentlemen, is dedication.
Larry Chen
Instagram: larry_chen_foto
larry@speedhunters.com