Now January's over and you've maybe got a few more pennies to your name, we're bringing you an update on the latest and greatest products from our partners. Whether it's the best products to keep your car performing as it should, ways to get that essential stance or the latest wheels to roll around on, we've got some ideas to get you going…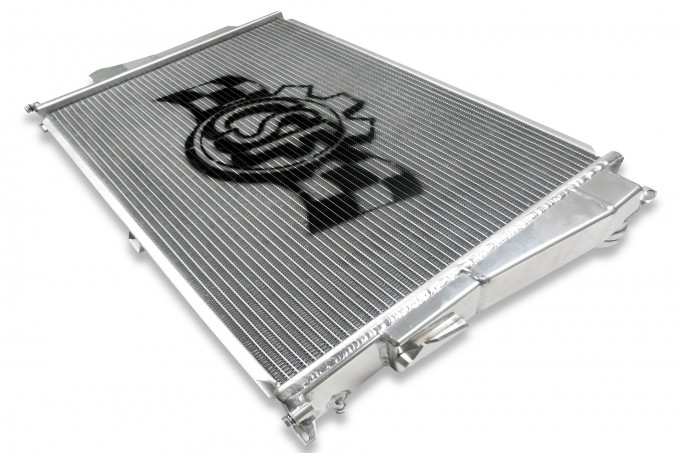 All-aluminum cooling system upgrades for Porsche and BMW
From: CSF Radiators
CSF has introduced a full line of premium race-spec cooling systems for Porsche and BMW. These European makes are known for their racing pedigrees, but there are weaknesses. CSF has addressed critical areas of overheating and durability to the cooling systems, essential in both high performance and racing environments.
PORSCHE All-aluminum two-row racing radiator upgrades for every 997/987 and 996/986 Porsche application, including GT3, GT2 and Turbo versions. Not only do these radiators perform ~20% better than the OEM units, they address the biggest issue of weak plastic end tanks. All Porsche cooling systems are mounted at the corners and center of the vehicle behind the front bumper in a floating bracket design. Because of this configuration the stock end tanks are highly susceptible to cracking due to bumper-to-bumper contact and high vibration when veering off track. BOOM! Race over unless you have CSF's all-aluminum radiators with CNC machined aluminum mounting pins to take abuse race after race. A 'drop-in' fit requiring no modifications, complete with a mirror finish. Available in limited quantities with introductory pricing starting at $499 each.
BMW The world's most advanced six-cylinder E30 and E36 (including M3) two-row radiator, as well as a brand new and innovative triple-pass design for the E46 M3. For the E9x M3, CSF has introduced a 'drop-in' fit race-spec oil cooler with 25% more surface area. High oil temperatures on the E9x M3 have been a constant struggle for serious track enthusiasts. This oil cooler will work with all supercharger configurations as well.
– E30/36 radiator – MSRP: $269
– E46 M3 radiator – MSRP: $499
– E9x M3 oil cooler – MSRP $799
#COOLIsTheNewHOT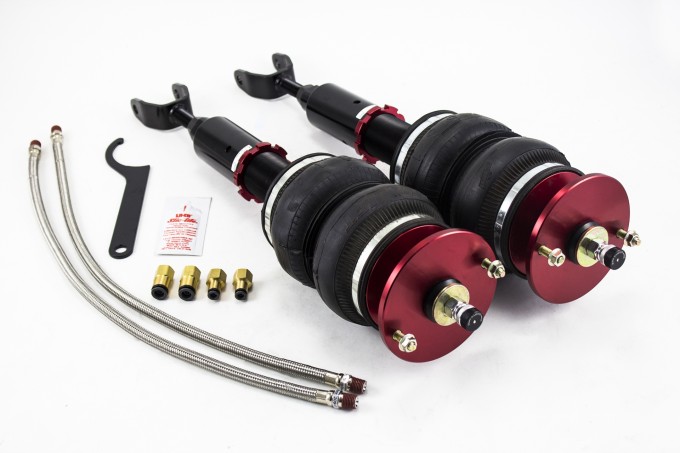 Audi A6/S6/RS6/AllRoad air suspension kit
From: Air Lift Performance
The front monotube threaded-body shock is topped off with a smooth-riding double bellow air spring to allow the front end to drop 4.25″ from stock with the push of a button. Thirty different levels of damping will give you the option of a luxury smooth ride or race car stiff and everything in between with just a simple twist of the knob. Red anodized end caps keep the rubber air spring connected to the black chromed shock bodies.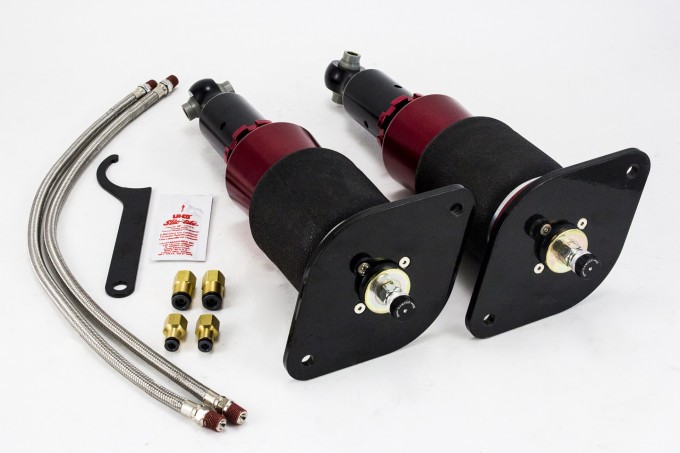 For the rear, a progressive rate sleeve style air spring was mounted to a 30-way adjustable, threaded-body, monotube shock allowing the rear to become 5.98″ closer to the pavement. Since the front shocks turned out so well, we decided to use the same recipe for the rear, utilizing the same red end caps mated to black chromed shocks.
Detailed instructions will help you to have your Audi slammed within a few short hours. If you do run into a snag, the Air Lift Performance tech support team can walk you through any questions you may have.
In order to bring to market the most durable air suspension possible, Air Lift Performance tortured the components of this kit to 1 million cycles (equal to approximately 100K miles) on their hydraulic test rig at temperatures from -30 deg F to 150 deg F. Couple this test lab work with thousands of miles of on-road testing and the one year manufacturer's warranty: this is a kit you can count on to handle whatever the road throws down!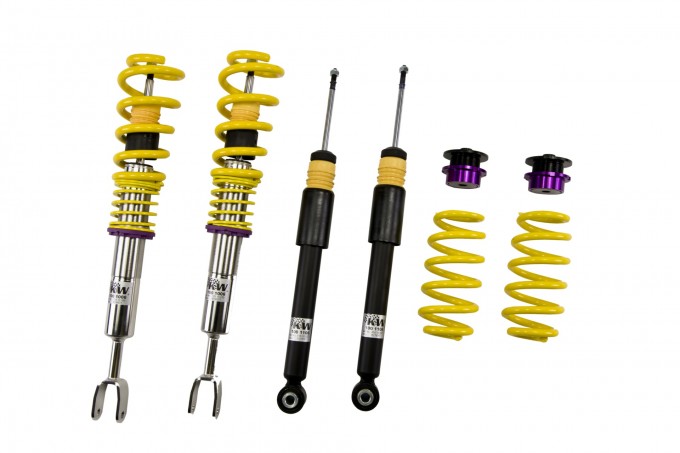 Coilovers for 2013+ Audi S3 Type 8V
From: KW
KW Suspensions announces their stainless steel constructed coilovers for the 2013+ Audi S3 Type 8V three-door, five-door (sportback) and sedan. All three variants of the KW Suspensions coilovers will be available.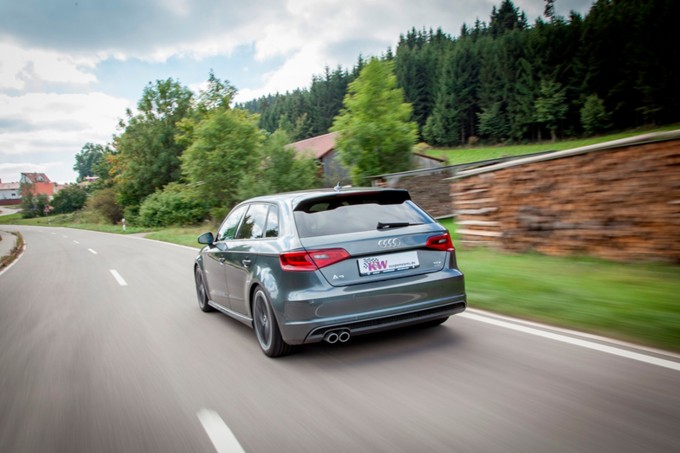 The KW coilover suspension for the 2013+ Audi S3 Type 8V enables the owner to lower their vehicle 0-30mm on the front axle and 5-30mm on the rear axle and retains enough travel to handle maximum load and dynamic loads during driving. Variant 1 with its preset dampening rates permits customized lowering of the suspension. Variant 2 allows modifications in ride height and rebound dampening. Variant 3 permits adjustable (and independent reacting) rebound and compression damping with height adjustability. All KW coilovers come with a lifetime warranty and pass stringent German TUV safety and quality testing standards. Each kit is TUV approved.
KW Automotive North America, Inc. is the distribution base for KW Automotive, GmbH, a manufacturer and distributor of KW Suspensions performance coilover systems. Also home to sport truck lowering component manufacture Belltech Sport Trucks and ST suspensions.
Variant 1 Part#:1021000M MSRP: $1,519.99
Variant 2 Part#:1521000M MSRP: $1,939.99
Variant 3 Part#:3521000M MSRP: $2,499.99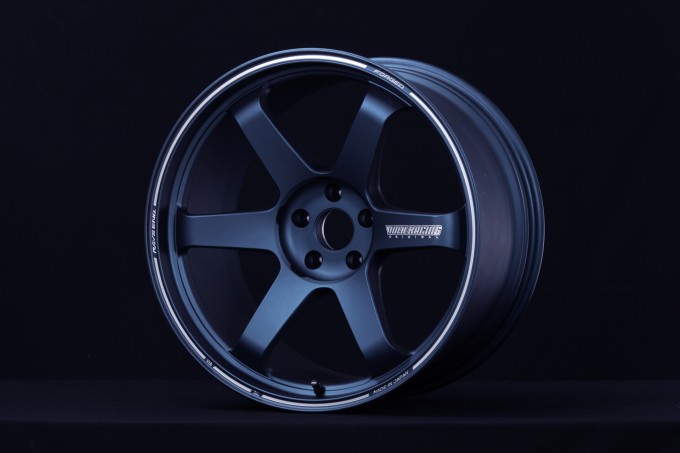 TE37ULTRA and ZE40 wheels
From: RAYS
TE37ULTRA: the ever popular six-spoke design has been revamped and updated, and now caters to the R35 GT-R, Porsche 911, and other high performance cars. The wheel is lighter as well as having improved overall rigidity and strength. It also features tire slip knurling to prevent tire slippage and a 3D machining logo.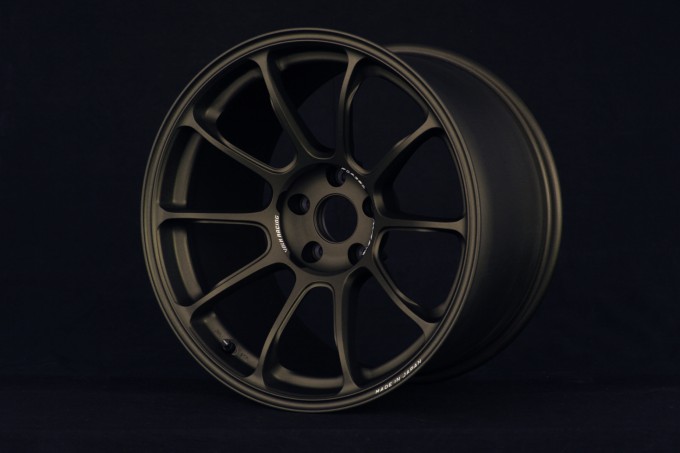 ZE40: with the slogan 'THE STRONG', emphasis was placed on building a strong wheel. The ten-spoke design has been designed to balance out the load parameters of a five lug pattern fitment. The latest technology and feedback analysis have been inputted to this model.
That concludes the February Product Showcase. If you have any questions about any of the products, please leave a comment below.
This is a paid advertorial piece.