This is what it's all about
These are by far my favorite sorts of posts. Wandering, stumbling upon things – it's the essence of what we do here at Speedhunters and nothing quite gets the excitement flowing like coming across a paddock full of amateur soukoukai (track day) machines ready to hit the track. That's precisely what I was confronted with during a very, very cold Sunday morning last month. I had set up plans to meet with Miura-san of Rocket Bunny and Yoshimori-san of Sarto Racing to shoot the candy red "Bunnied" CLK on location at Fuji Speedway. Being my very un-Italian self I ended up arriving at FSW a good hour before our scheduled rendezvous. And that was lucky because I had no idea what was going on that morning on the main track.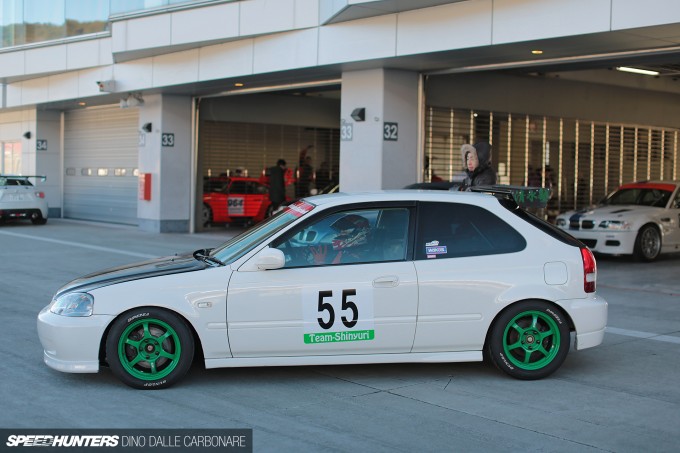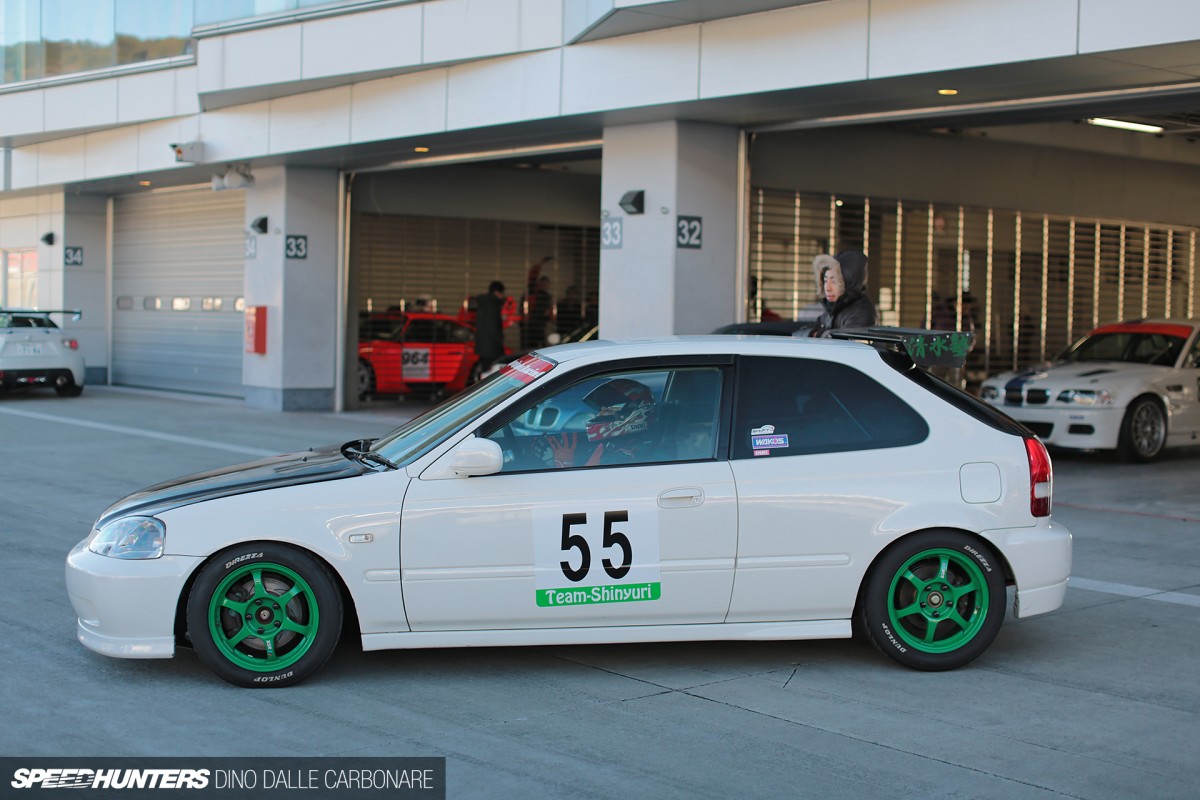 Now I've been to my fair share of soukoukai events at Fuji, but this was unlike anything I'd seen. The number of entrants alone was just ridiculous, but the actual variety and quality of cars plainly blew me away. It turned out this was an amateur six-hour endurance race where teams were able to use one or more cars during the race. Sounds confusing, but it wasn't; it was just an excuse to get out on track with your buddies and have some fun in a racing environment.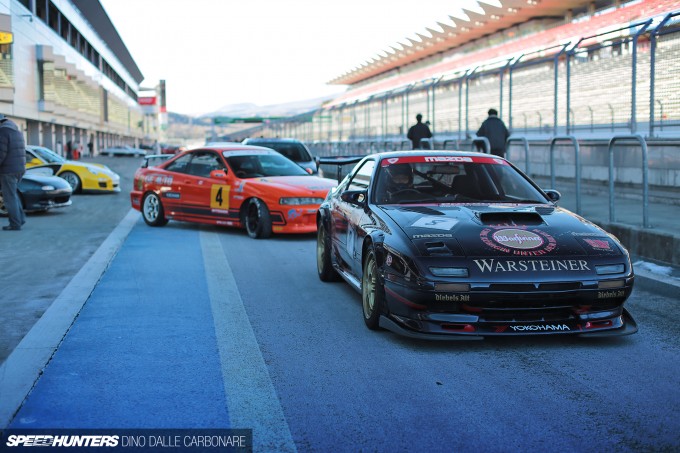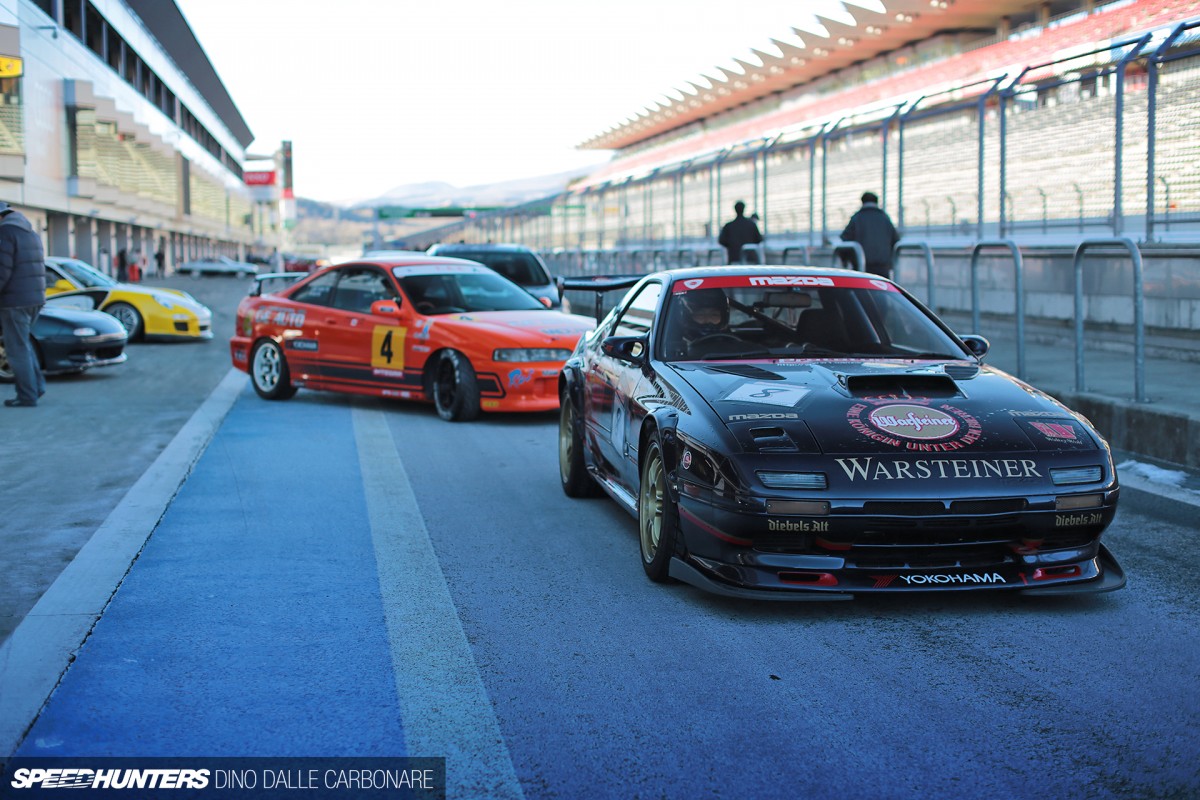 It was sort of a more relaxed idlers 12h race that Larry and I participated in last summer, and I emphasize the term relaxed because this is another quality that makes these days out on track so pleasant to check out.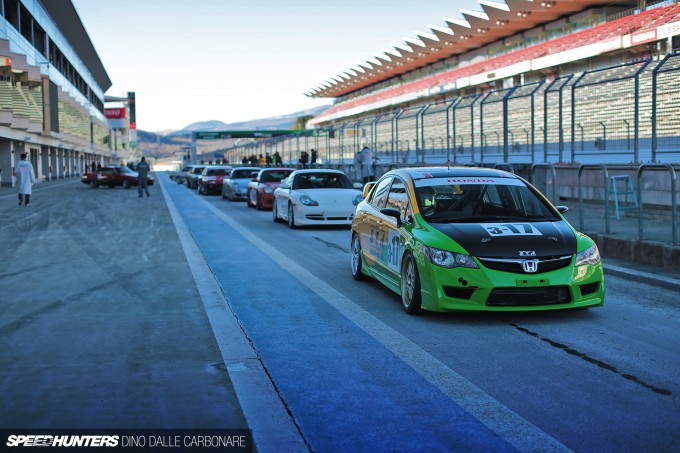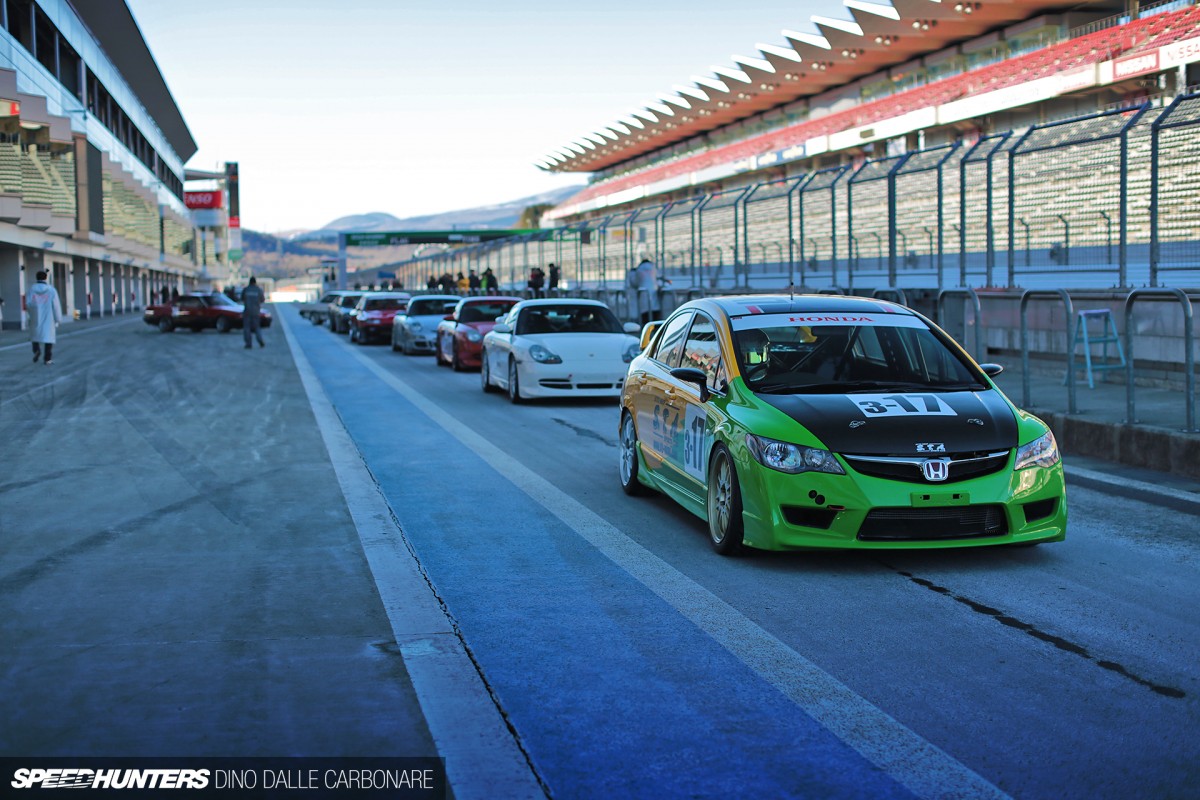 Everything is open; you can happily head out into the pits, check out what's going on and move from pit garage to pit garage to take a closer look at the cars. And you know what – that's exactly what I did! With one hour or so to kill, I wasn't going to waste a single second because the cars that kept driving past me to line up for the warm up session at 9am were making me drool profusely.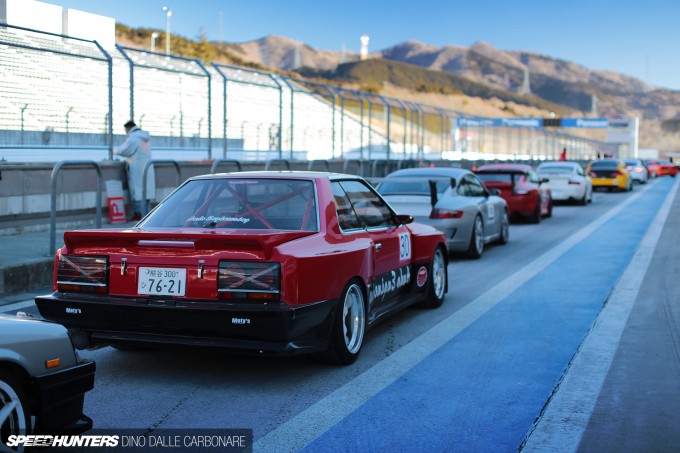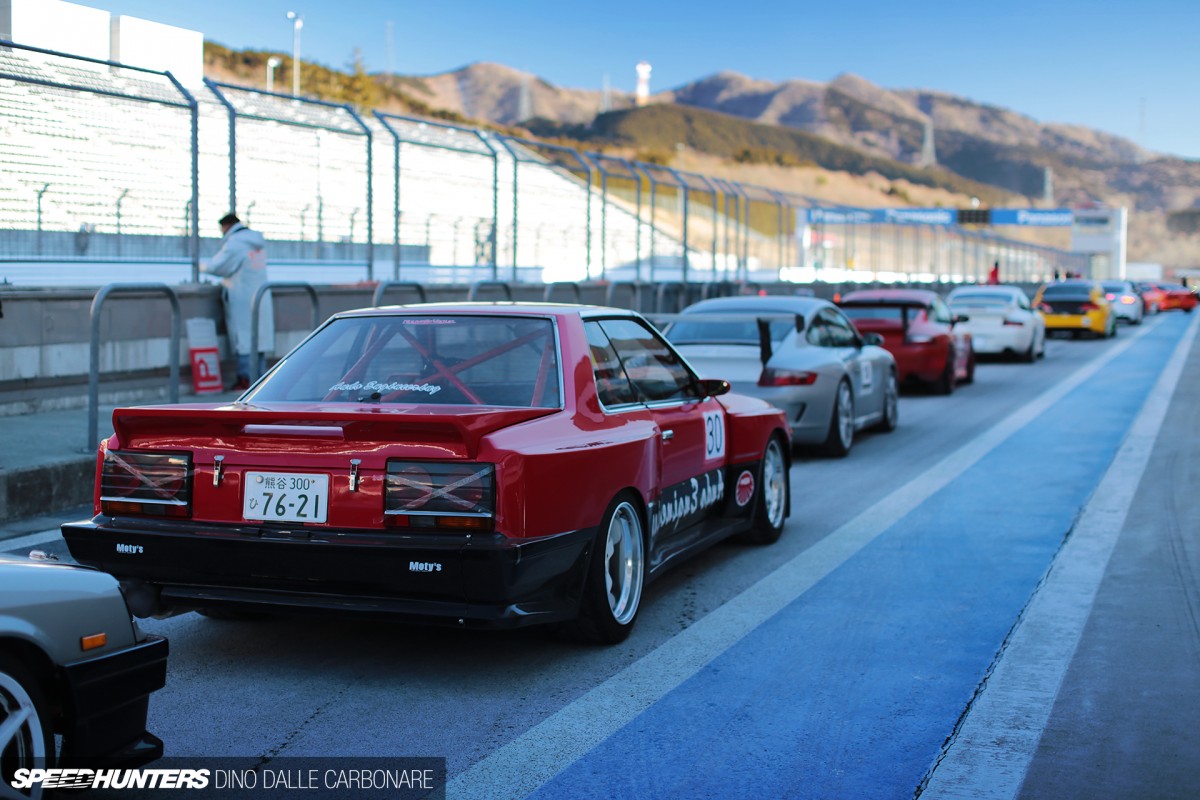 I wasn't even sure what I'd be doing with these shots, such was the spontaneity of it all. But with each exposure, I quickly realized all of this would be perfect for a sort of old-school Speedhunting post, a great way to portray to you car enthusiasts out there the way the Japanese approach their time attack cars – from the vehicles they use, to the way in which they tune them and prep them for on-track abuse.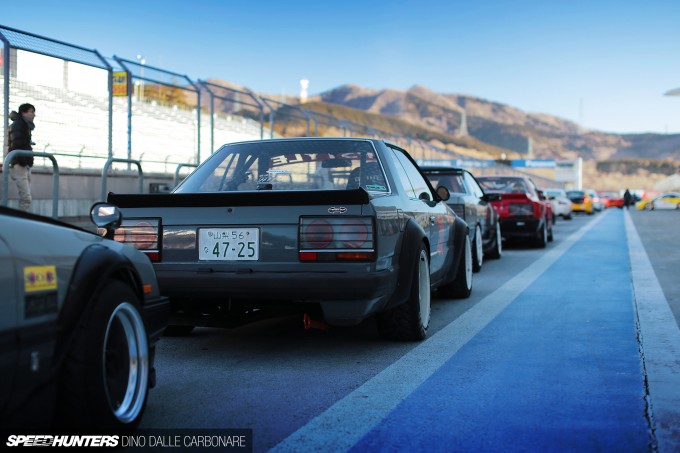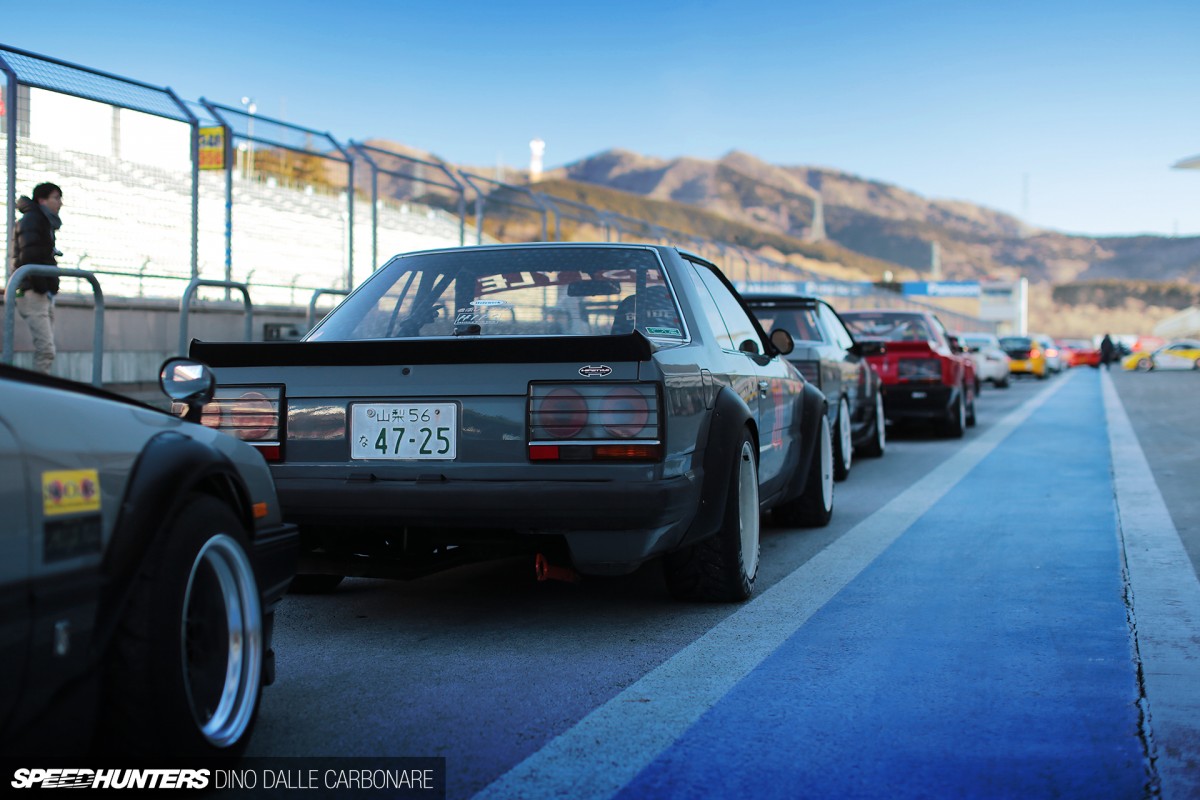 It was this group of old school R30 Skylines that I had to walk over to first, my frozen index finger struggling at each press of the shutter button. It's not often you see these older Skylines out in action, especially boasting visibly aggressive modifications like over fenders and plenty of aero bits.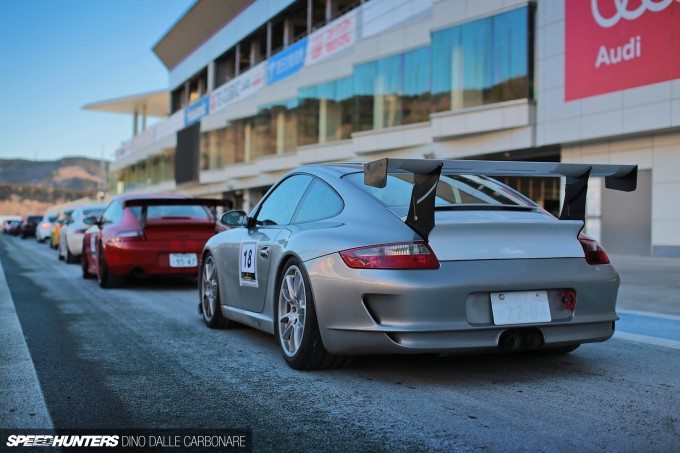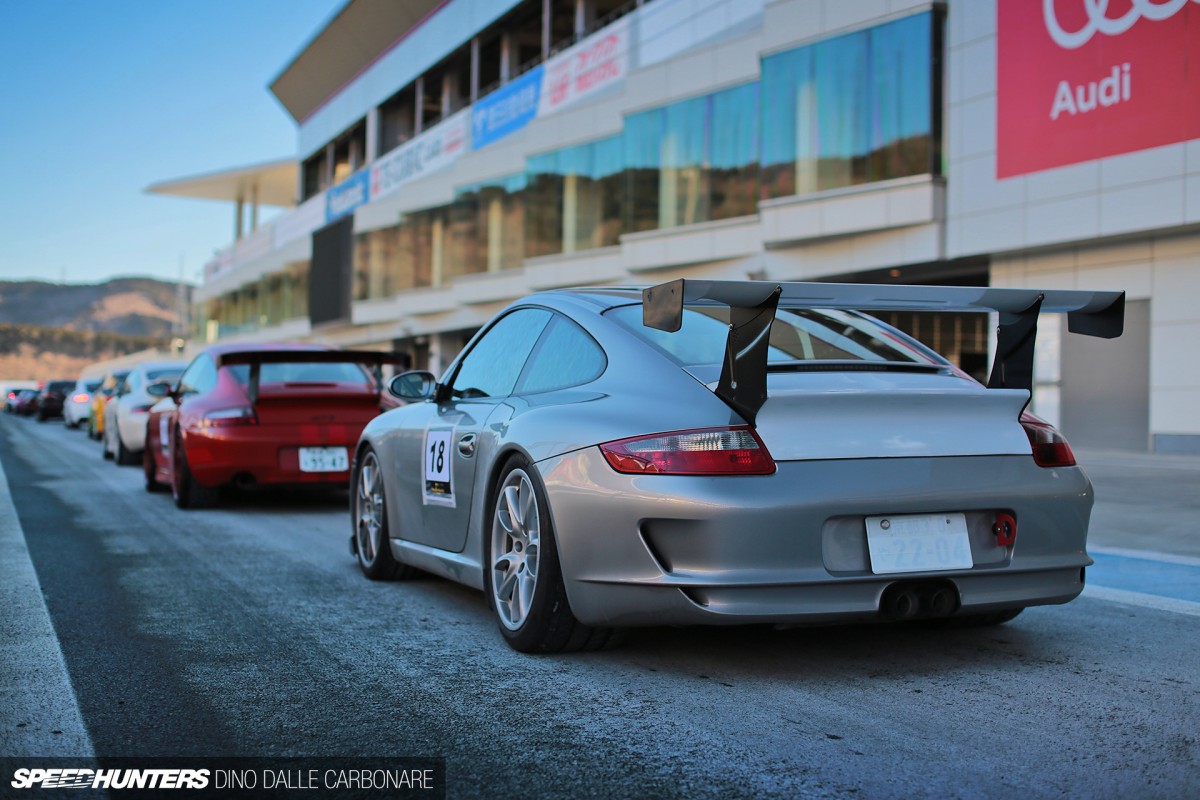 No matter what sort of grip event it may be, you know you're going to find a good number of Porsches and that was especially true for this particular Taikyu race. GT3s are always popular and don't get me wrong, they're great cars, but there's always other Stuttgart metal that catches my eye.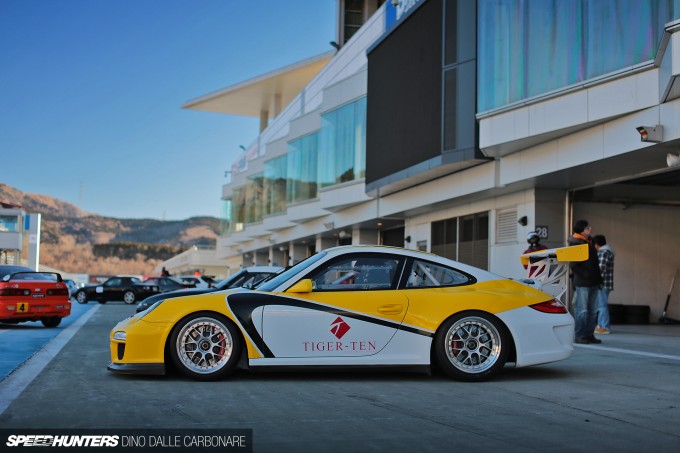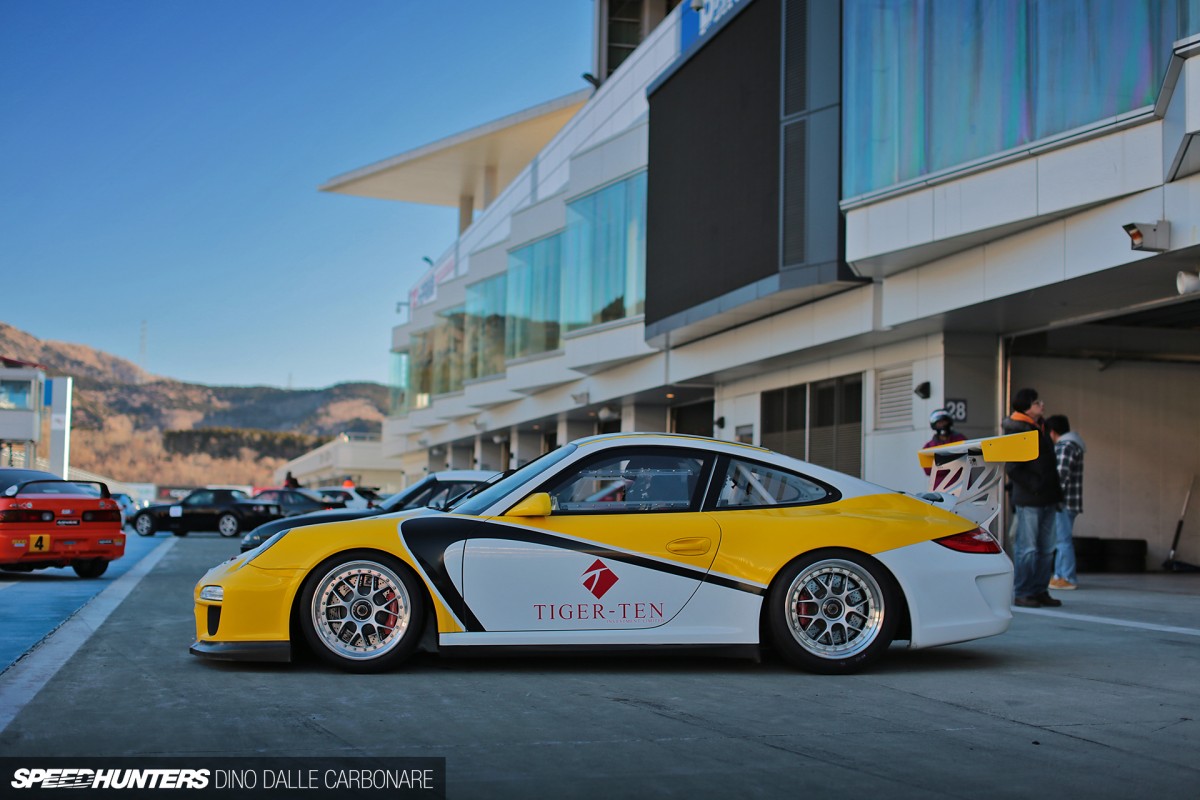 This can come in the form of actual Cup cars – there were quite a few at this race, which seemed to accept pretty much any sort of entry, from your low-budget stripped Civic, to ex-Super Taikyu racers.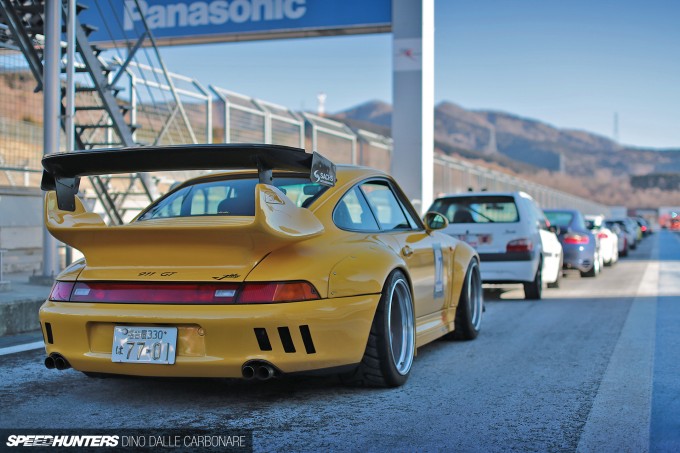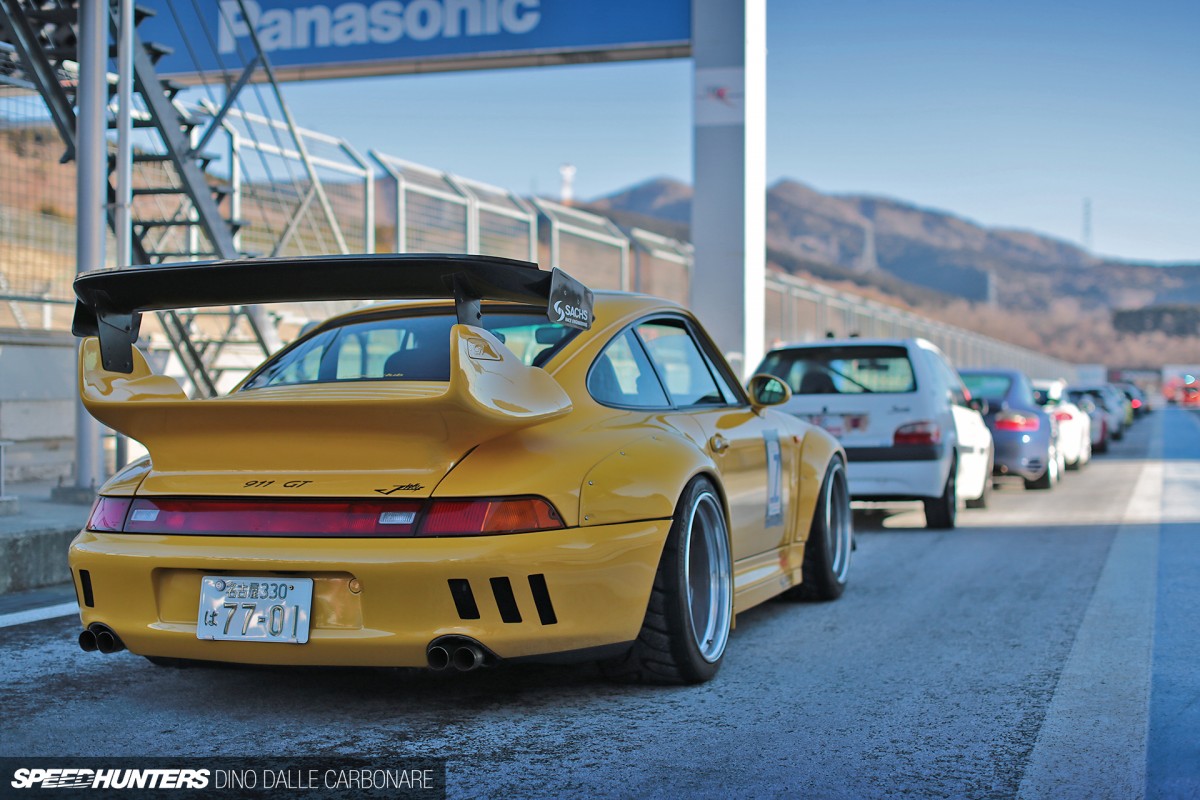 Ultimately it's the more sought-after older 911s that take center stage like this 993 GT beast sporting the RWB-like stacked GT-wing set-up and must-have sticky semi-slick-shod JDM rims hiding under those factory riveted-on fenders. Simply badass!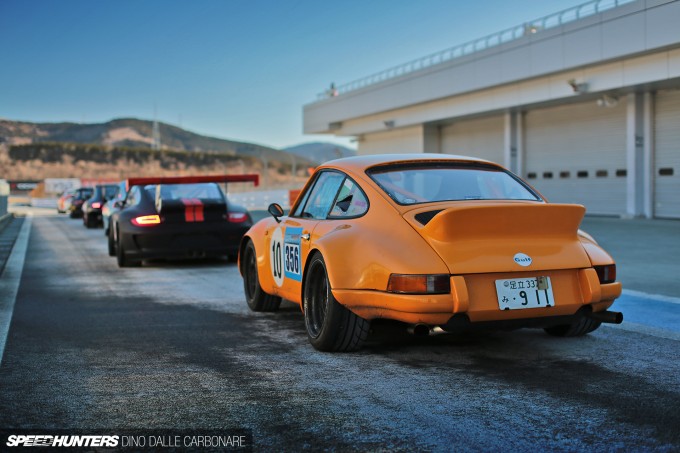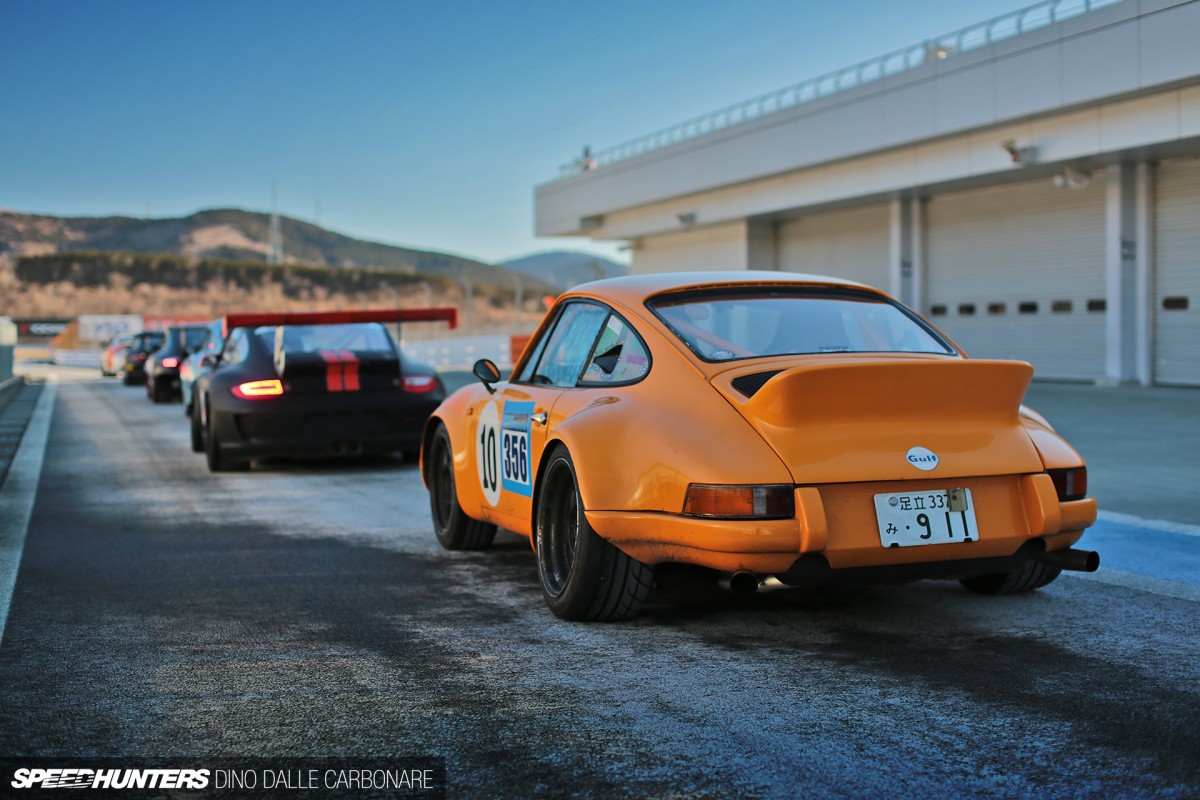 It's so cool seeing even older models hit up the track too, like this RS replica that was flexing its muscles as it got ready to warm up its flat six during the first couple of laps of the day.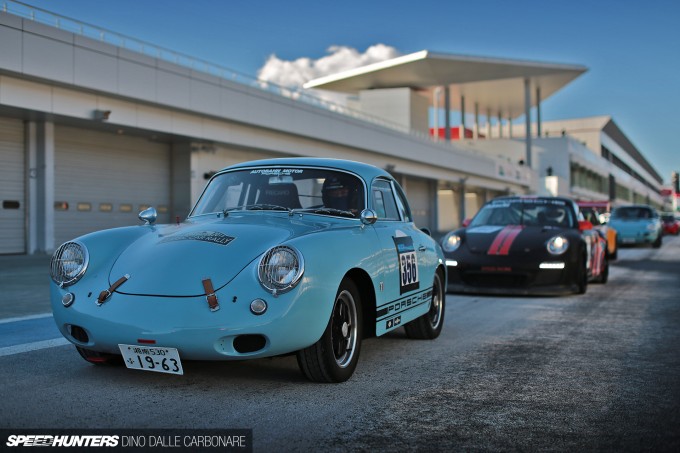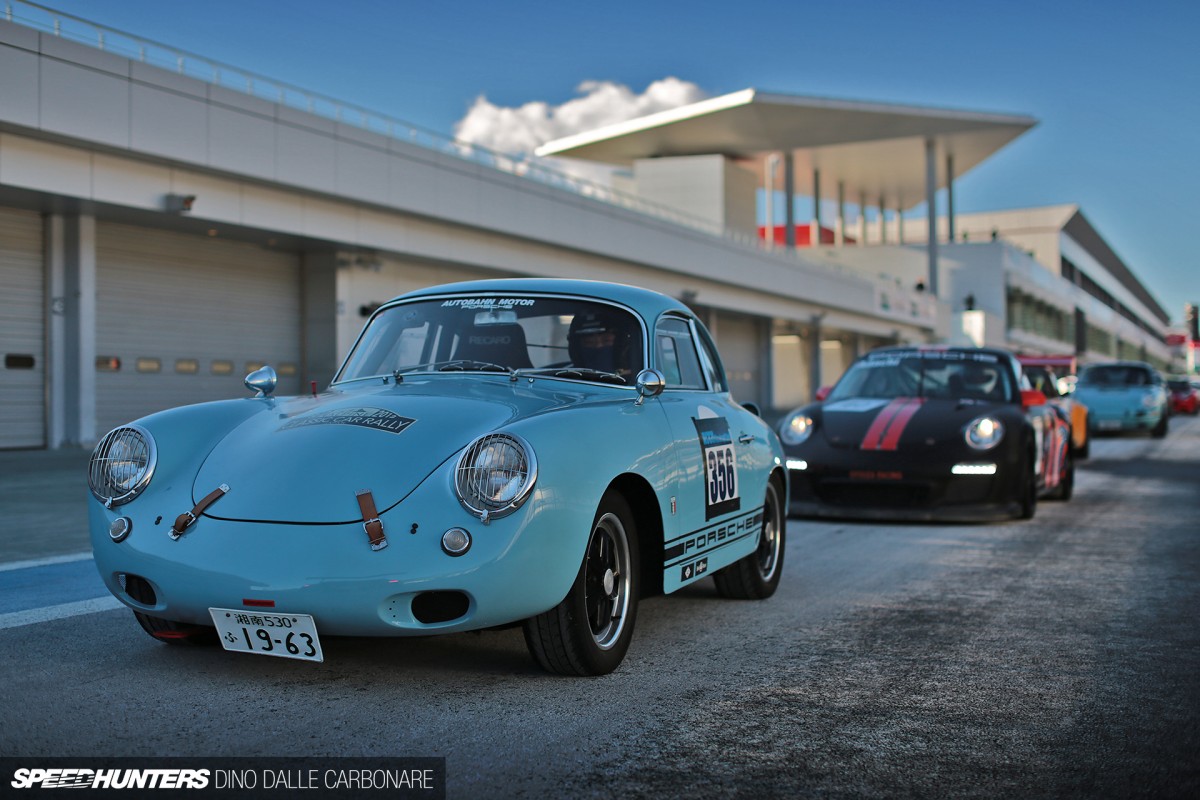 A few cars in front I couldn't believe what I came across: a stunning 356 prepped with the unmistakable Outlaw look, shaved of its chrome bumpers and hood trim for a cleaner, more race-ready sort of style. The leather hood straps are must-haves too!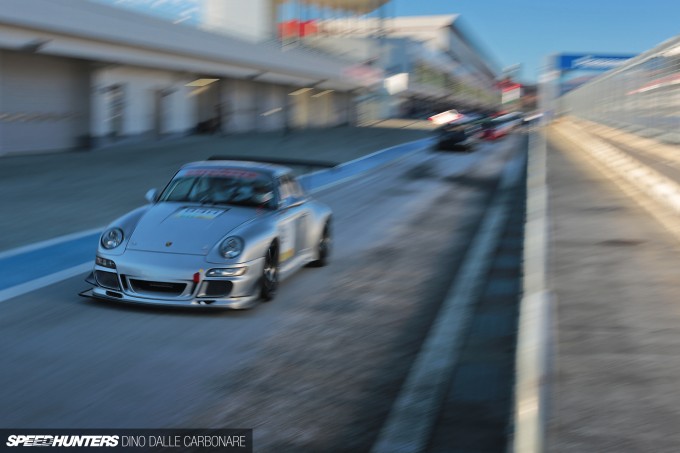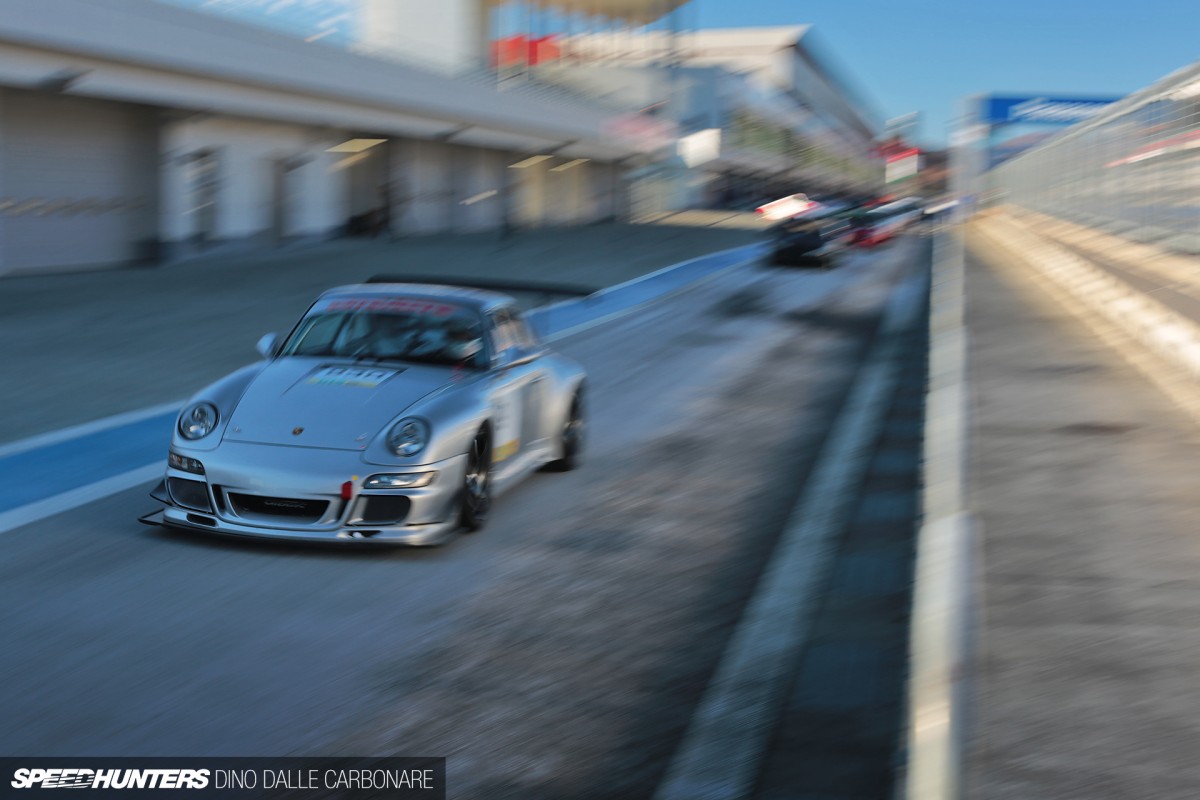 Before I could get all the way to the top of the pit lane, the green light was given to the incredibly long line of cars that was waiting. It literally spanned the whole pits, and if you've ever been to FSW, you'll know how long that is.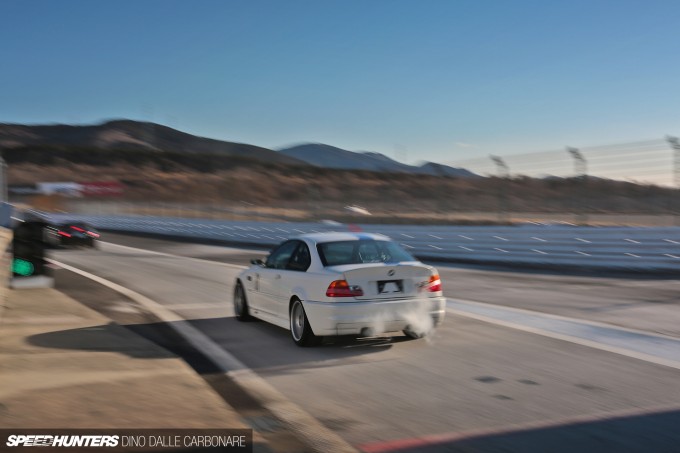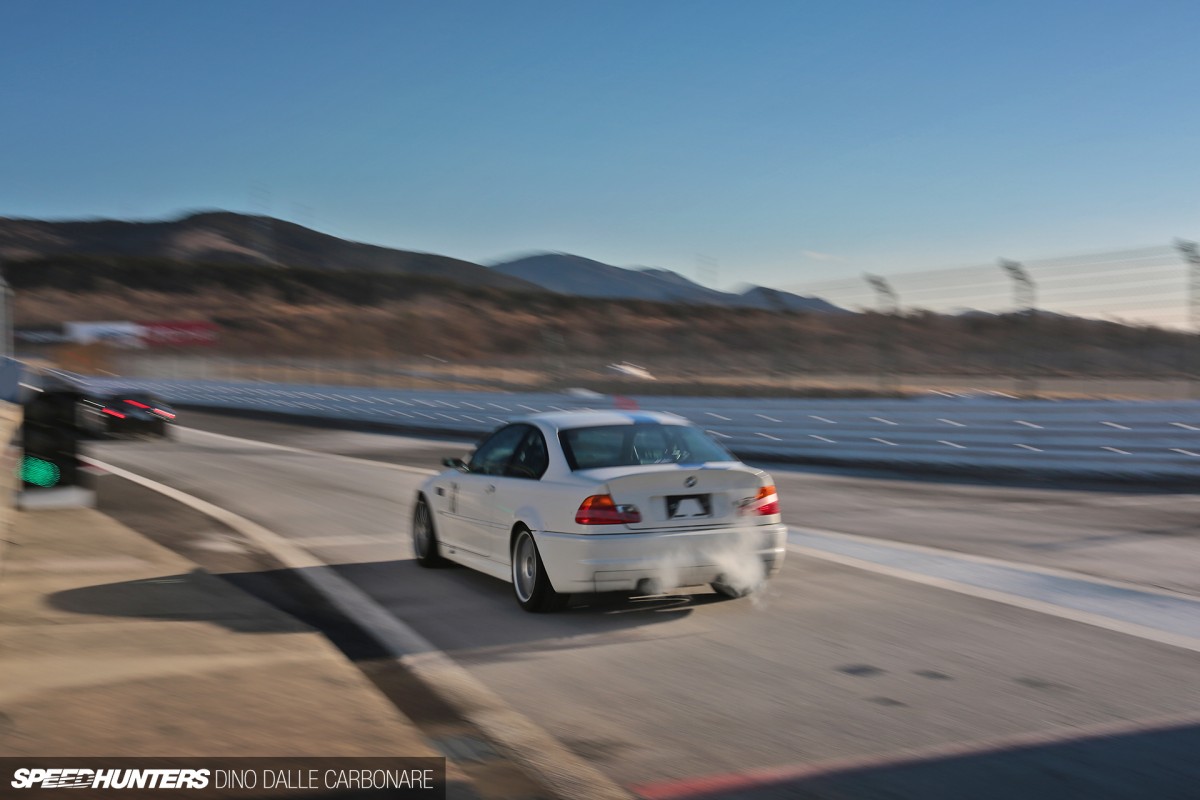 I stood by the exit onto the main straight for a little while, wanting to soak up a few warm rays so I could unfreeze my face but most of all hear all the cars accelerate past me in a concoction of revving engines.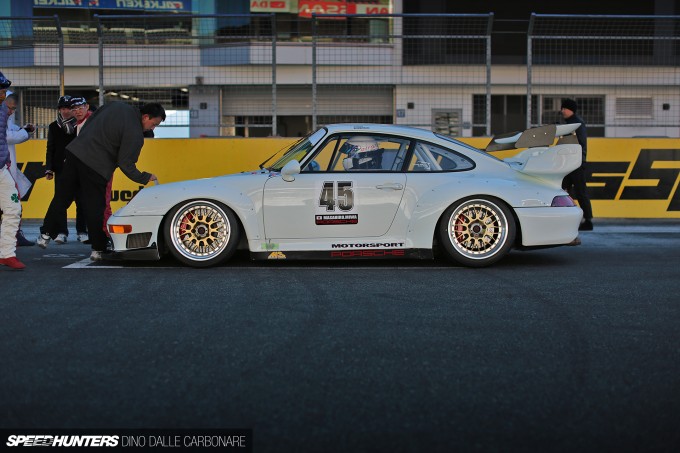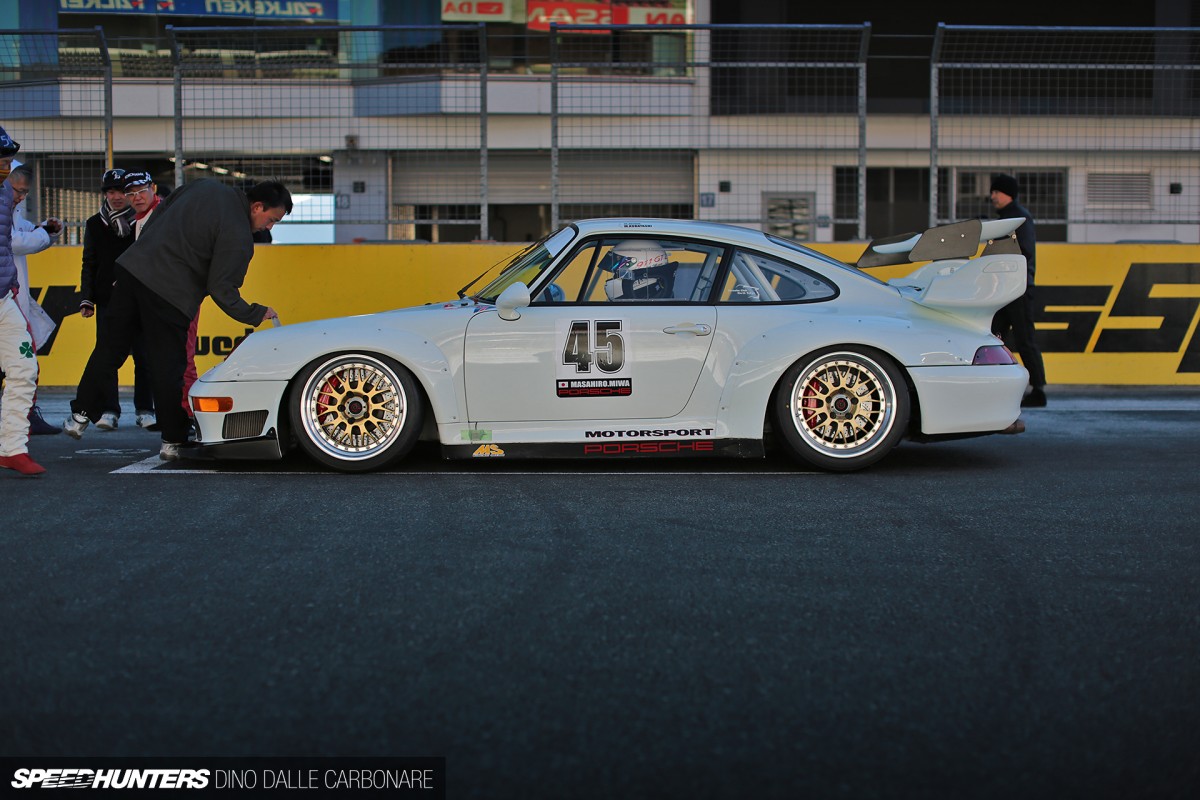 Following the short warm-up session, the pit wall gates were opened up and all pit crews were allowed onto the main straight to help set up the cars for the proper race start.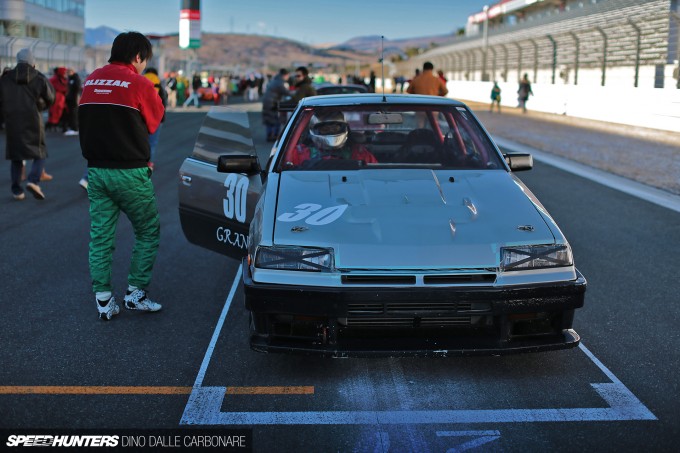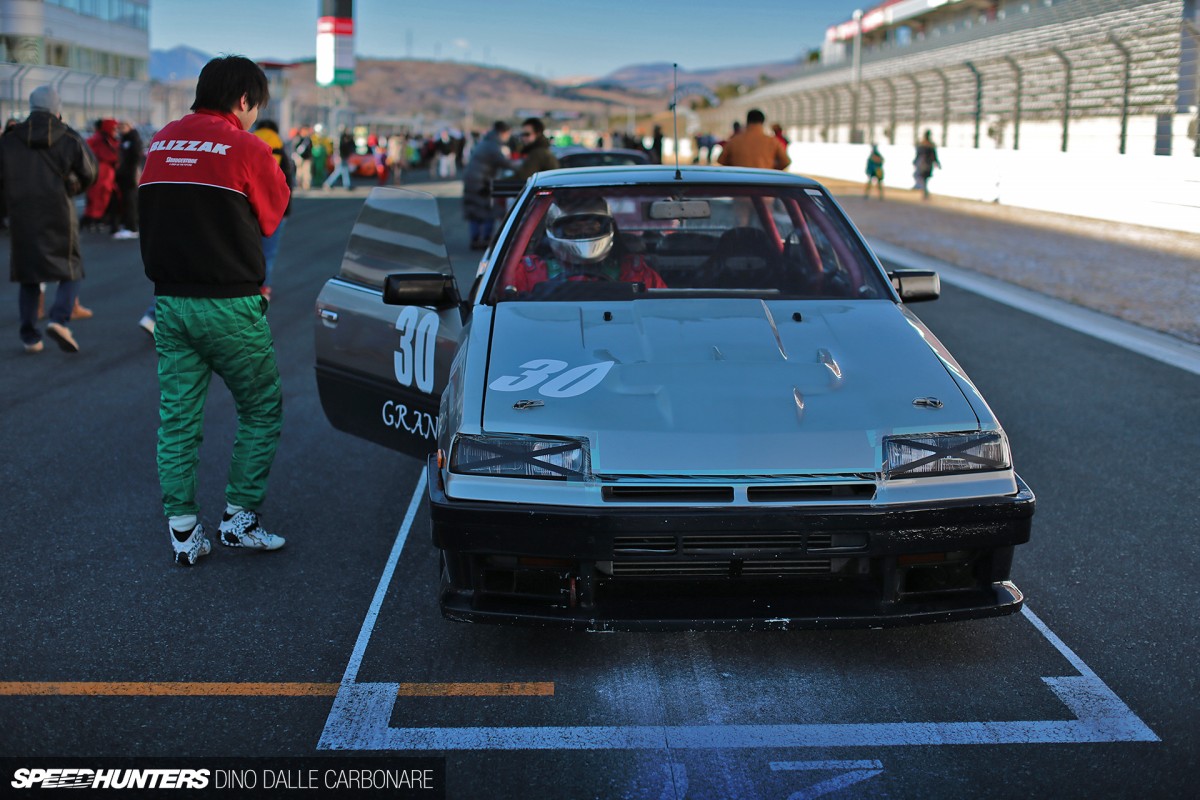 I wandered up and down, checking out each entry that would start off in this initial stint – remember, the teams were allowed to change car during the race. As you can imagine, the laid-back nature of it all was what made it all that more special – crew members joking around and having a laugh or two before the track had to be cleared.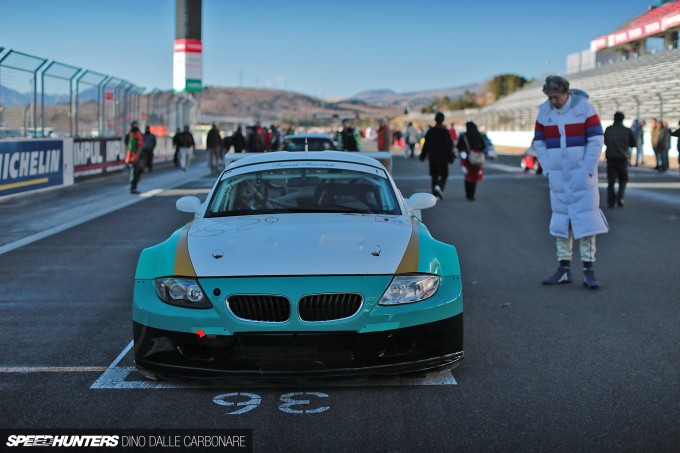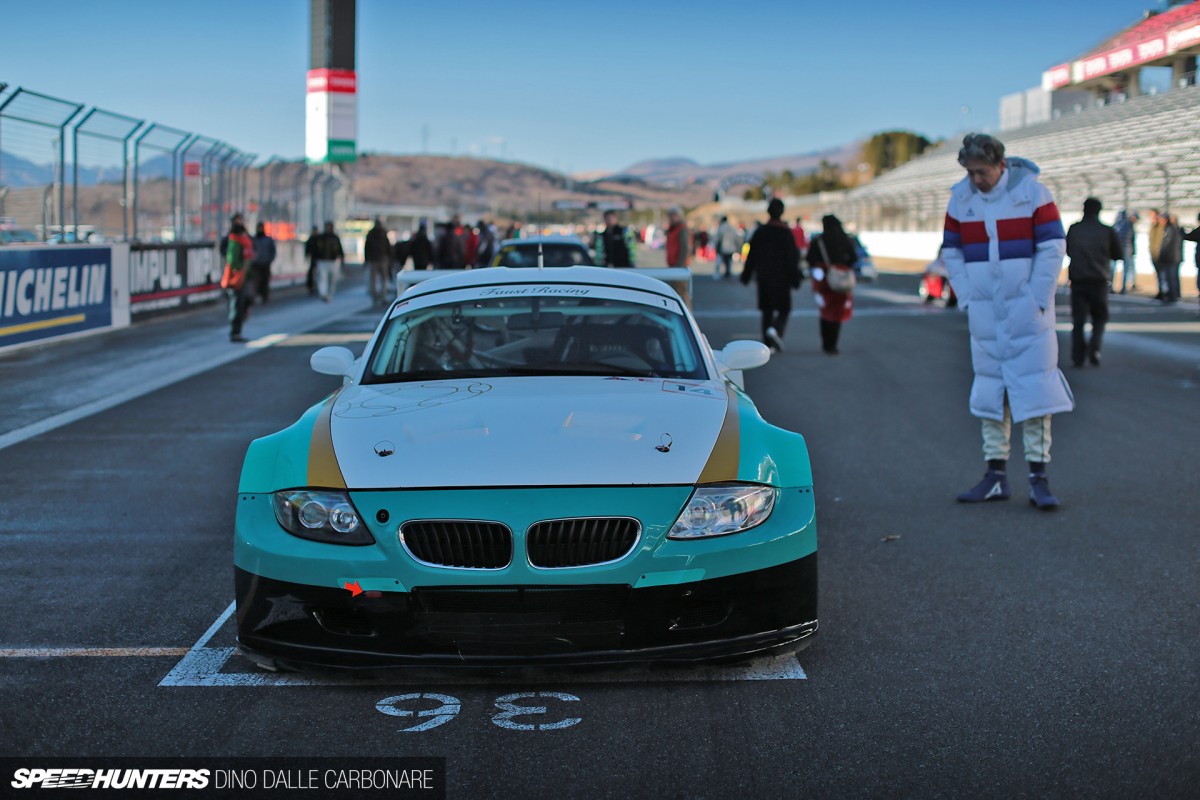 I decided to head out onto the very bottom of the pit lane, so that I could at least check out more cars. This Z4 GT3 looked like it might eat you alive, and like I said there really was a massive mix of cars, with most of the fully-blown racers at the back of the grid for obvious reasons.
Boxy Skyline goodness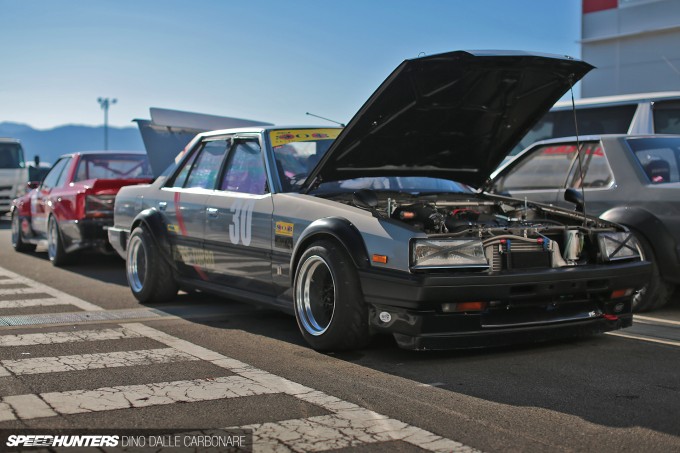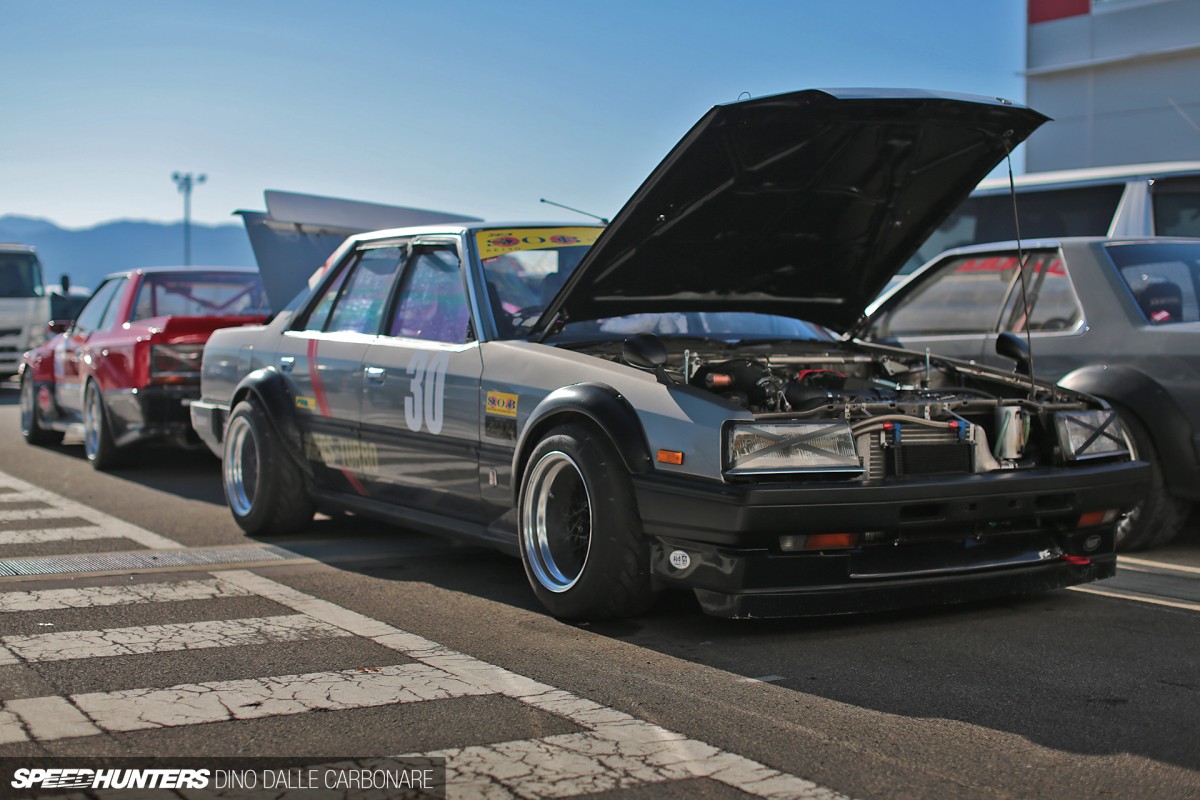 The race kicked off but I decided not to head out track-side; I hadn't applied for track-side access that day, but that's beside the point – I was on a mission to hunt down as many cool cars as I could find, starting off with some of those R30s! Most of the cars that were out in the pit lane before, were now parked up in the paddock awaiting their stint and it was this four-door that I'd probably end up taking home if I had to choose one out of them all.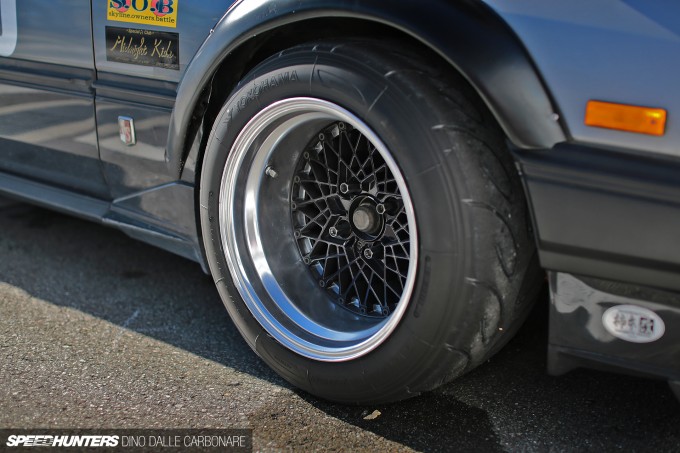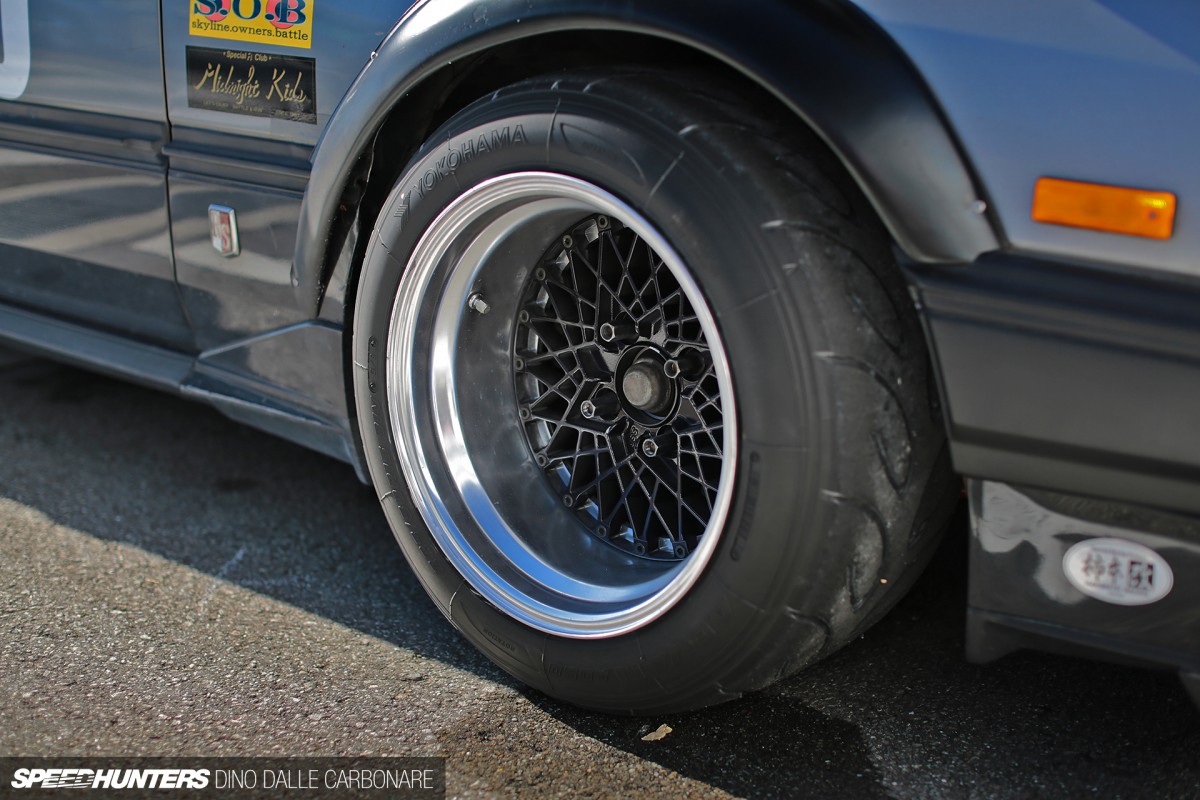 Why? Well it's a four-door to start off with and that's instant practicality with your weekend-racer. The owner had done a great job of boosting its stance with a set of SSR Formula Mesh, lining up perfectly with the works-style fender flares.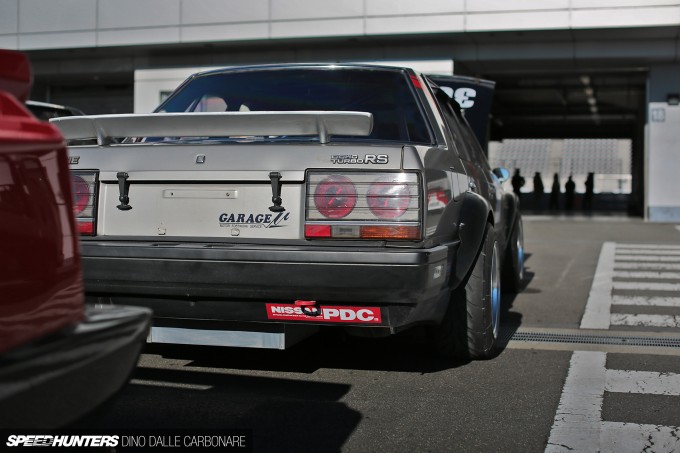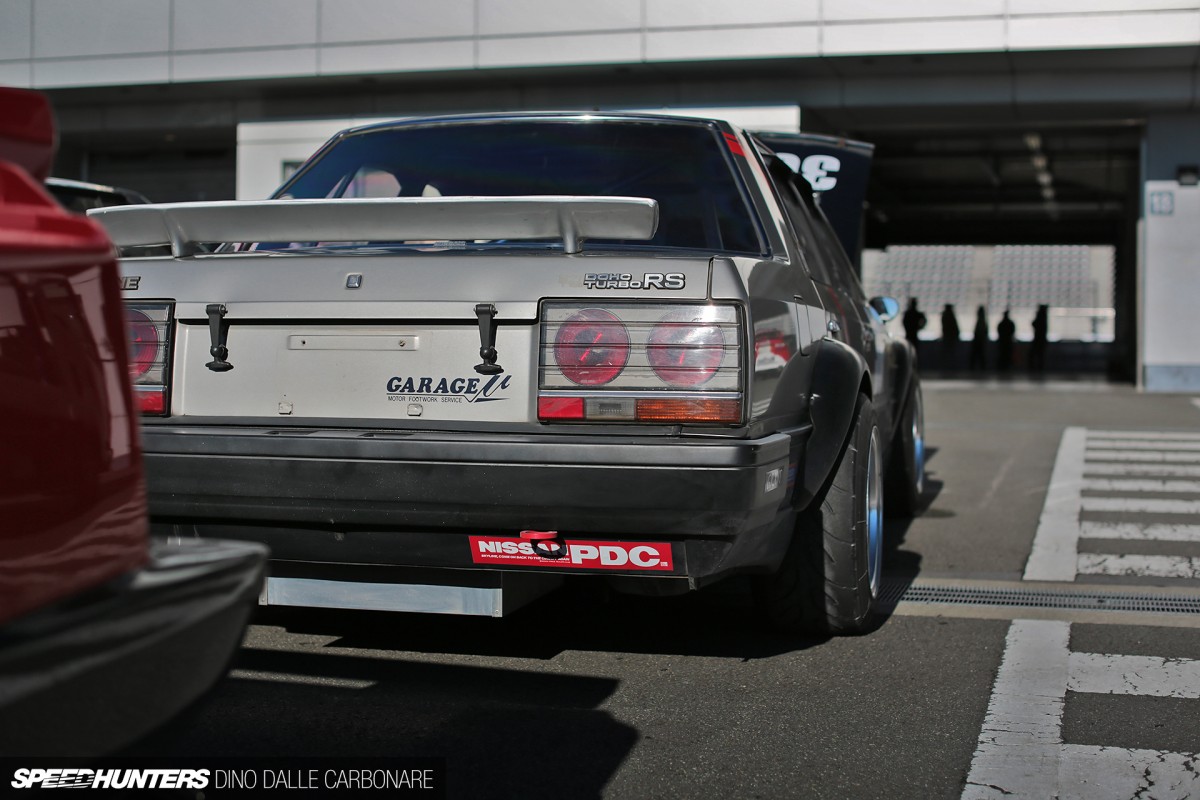 Least desirable Skyline? Hell no!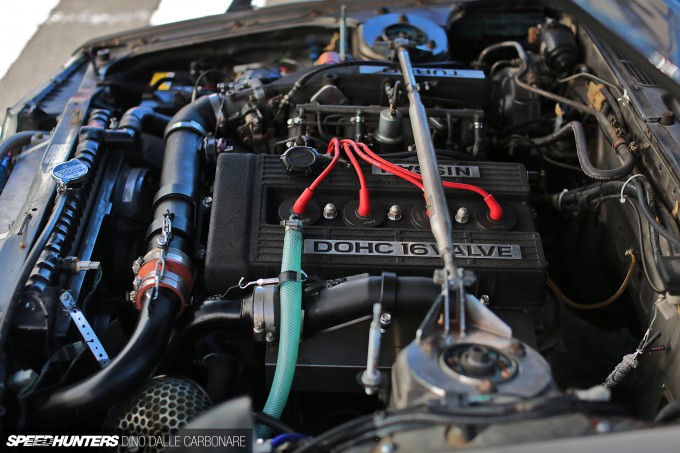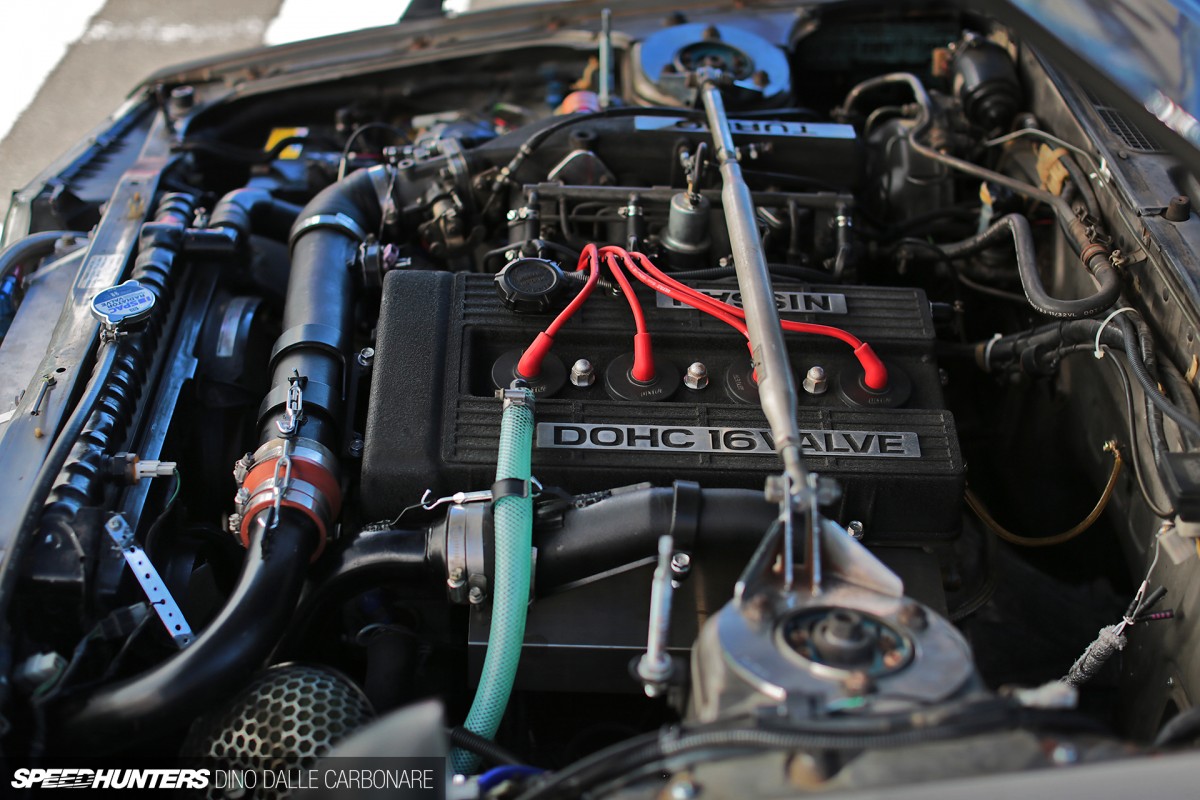 Under the hood was a beautifully executed FJ20, not running crazy power judging by the size of the low-mount turbo, but definitely massaged to release a few more horses than standard.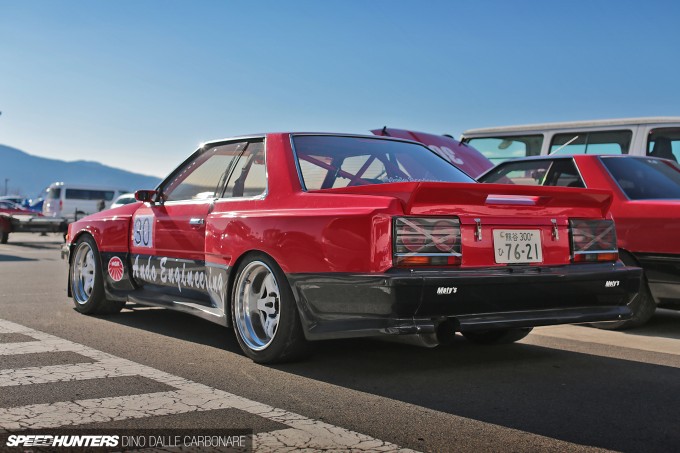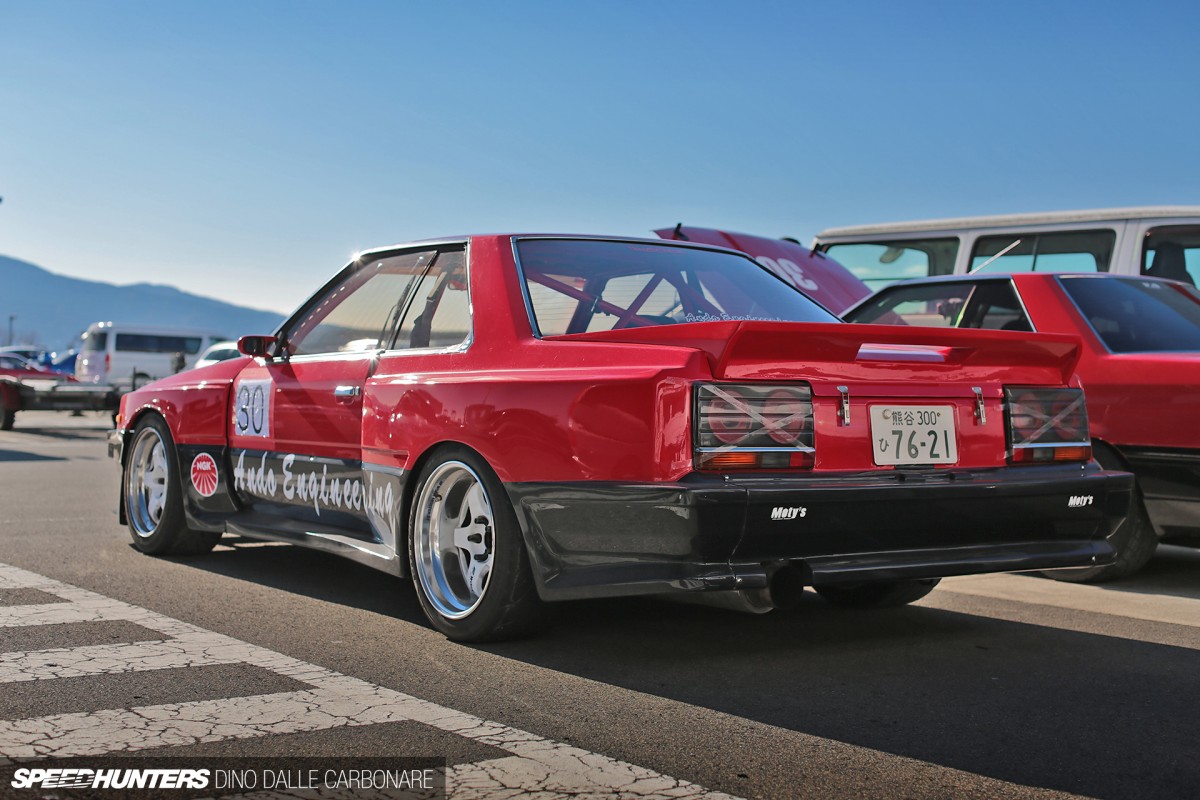 Behind it was this Silhouette-Formula-inspired two-door coupe with massively pumped guards.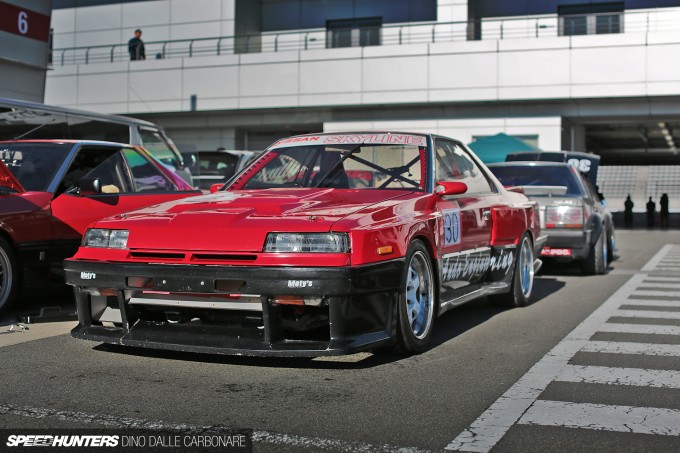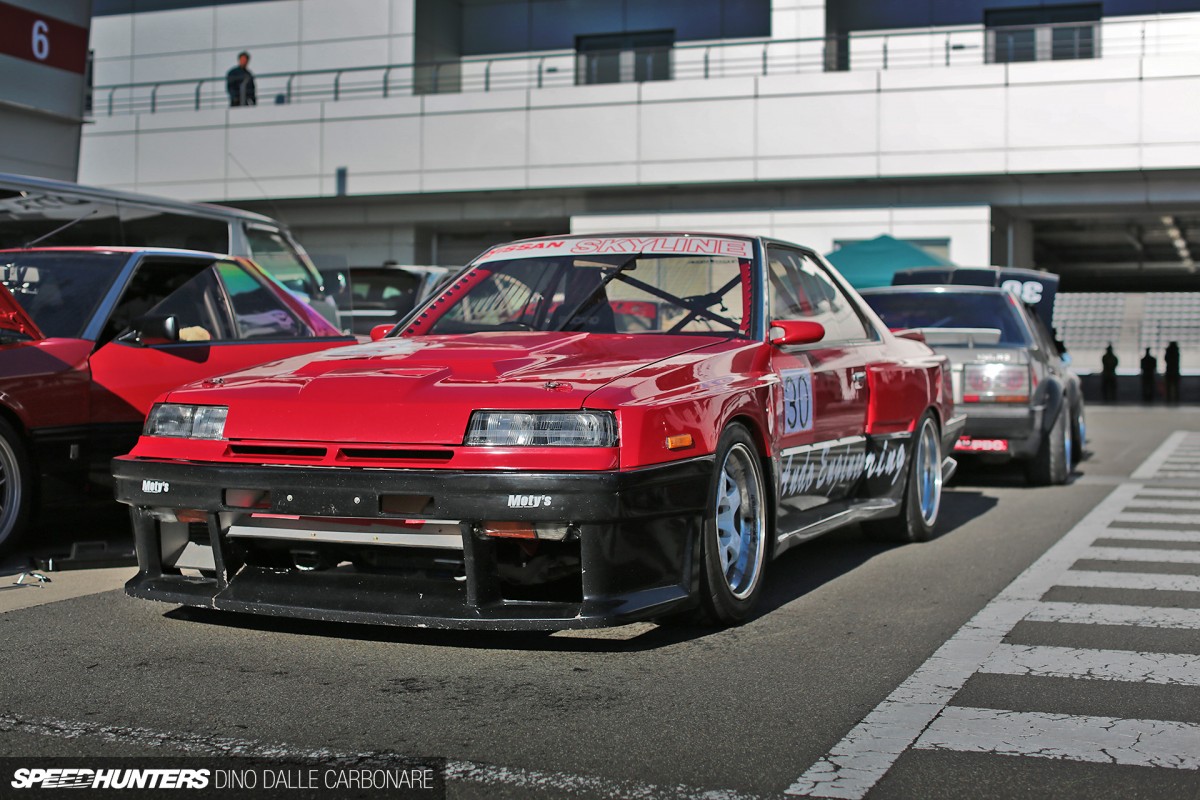 Seeing that all these guys race, and do it seriously, most cars were either stripped or completely gutted – running the sort of roll cages even the pickiest of Speedhunters readers wouldn't have a negative thing to say about!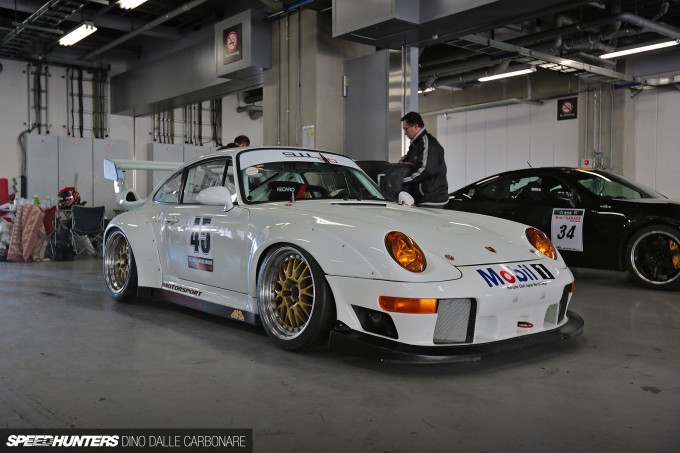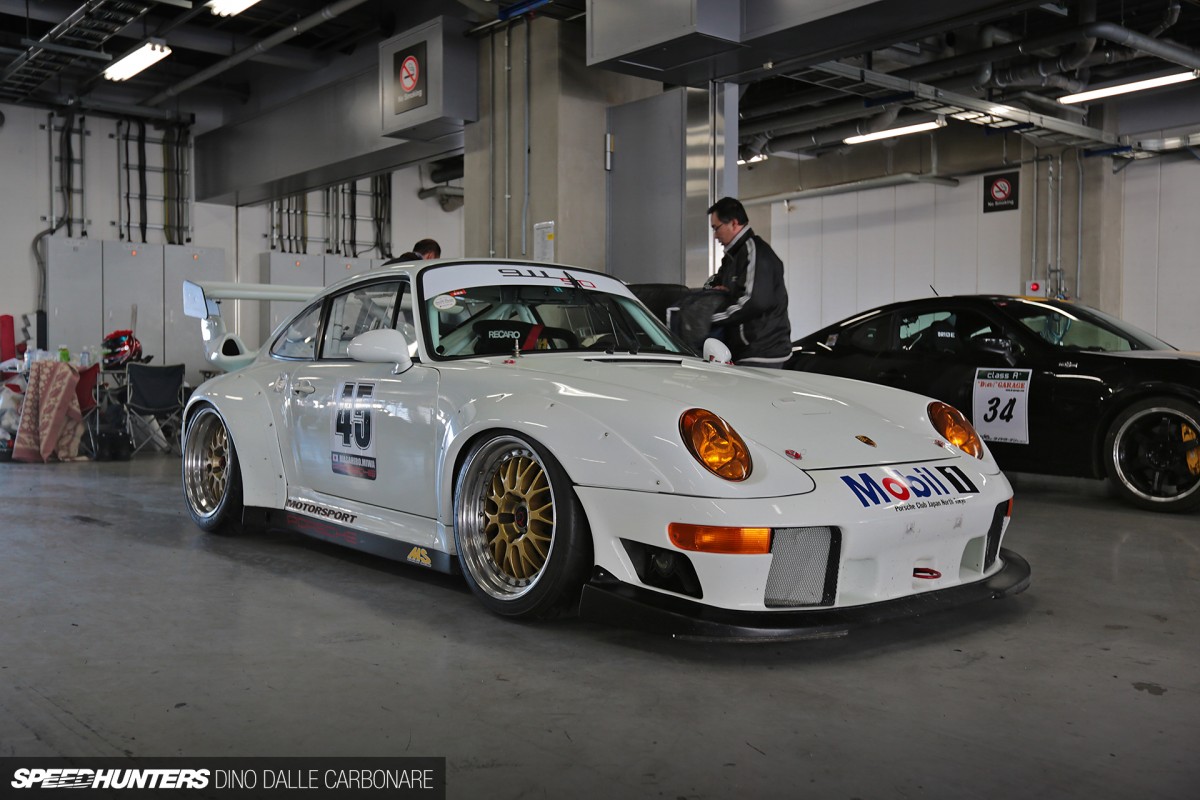 See what was I saying about race cars? You could expect to see all sorts!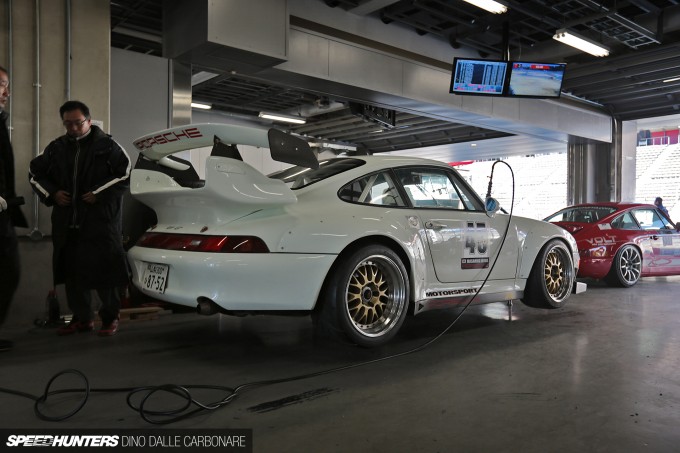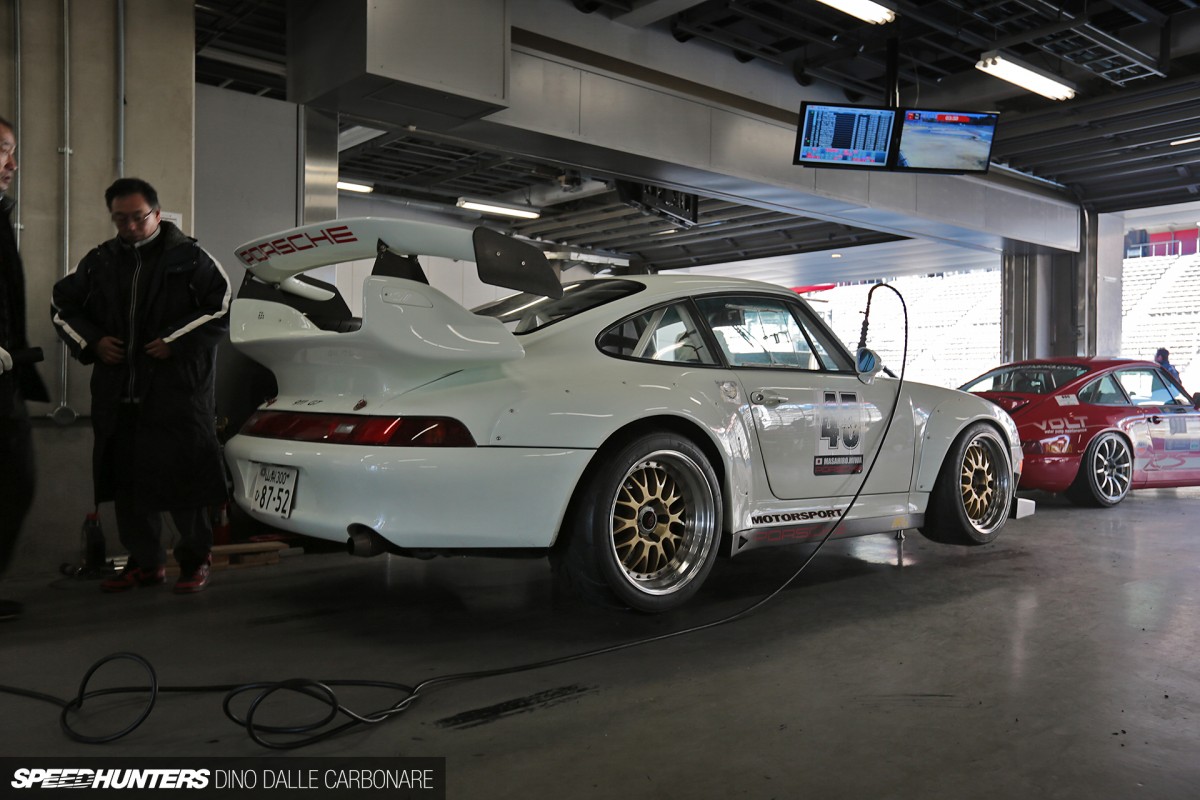 Another 993 GT, but this one was more like an authentic GT2 racer with swapped out front bumper, fitted with air jacks and most probably running more power than stock. And yes, it's road registered.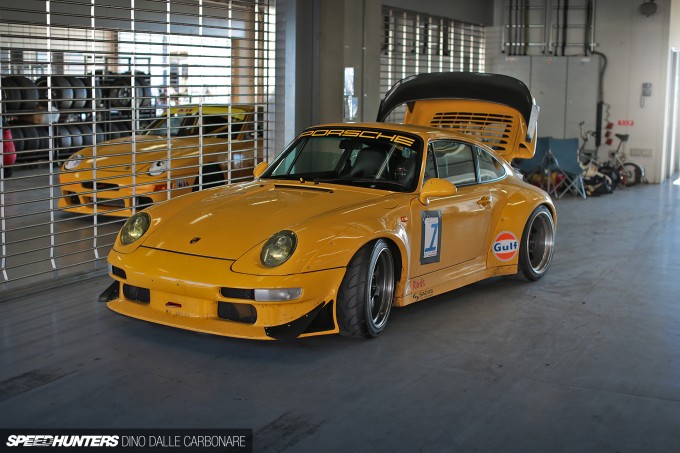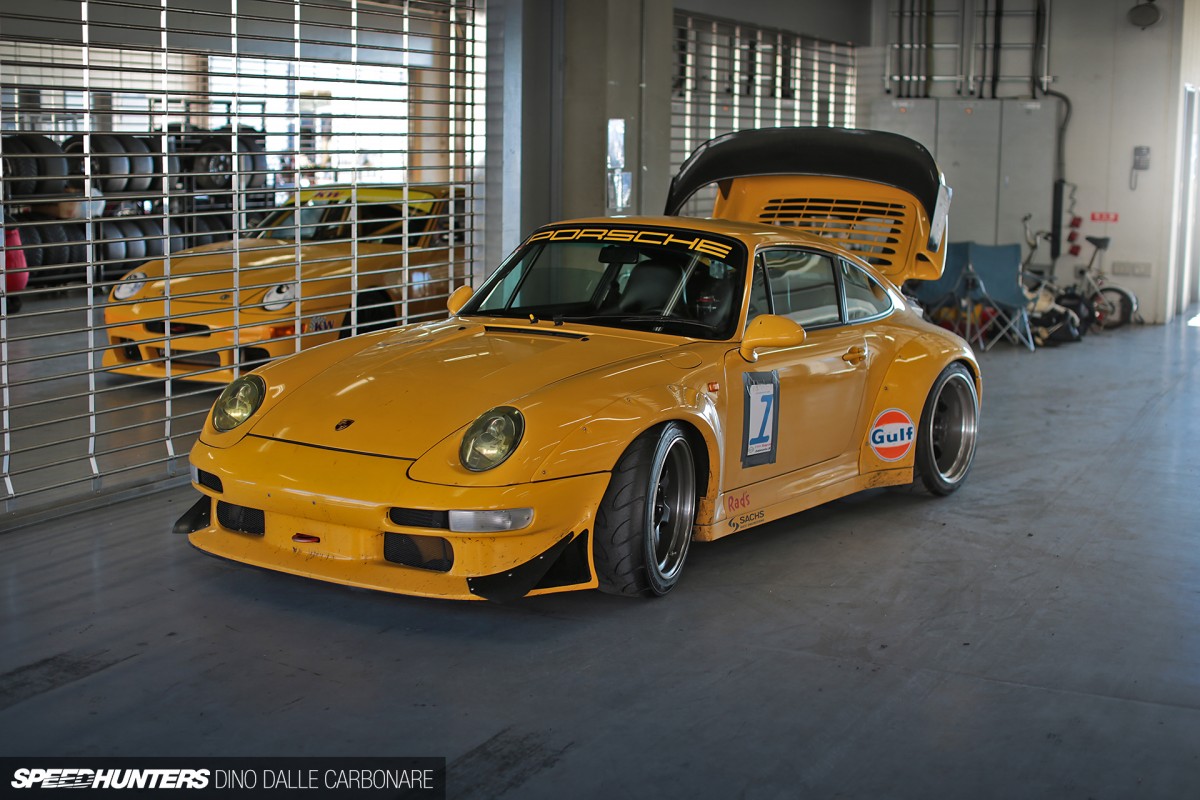 Here's the other GT I spotted before, having returned back to the pits after a few good laps, cooling off as another car from the same team was out doing its thing.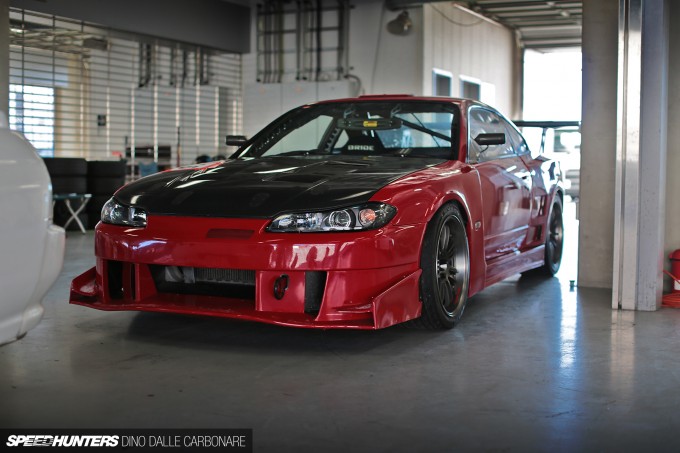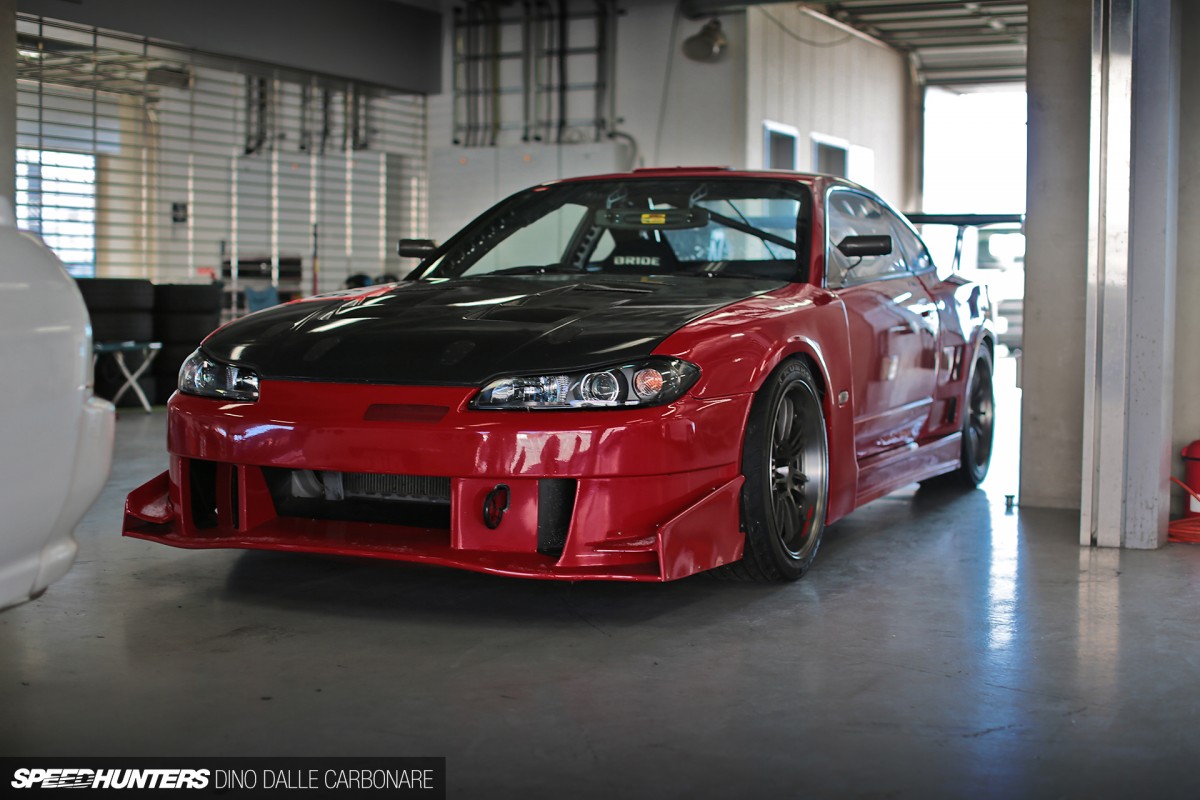 While S15s and Silvias in general have actually been becoming a little more popular on the grip side of things, they are still far more easy to find at a drift event. I did spot this hidden away in one of the pit garages, sporting the must-have wild aero, wider fenders and running on RAYS RE30SLs. Oh yes, and another car with a 'proper' roll cage! I can feel readers will be overwhelmed with joy seeing gusseted pipes and cross braces!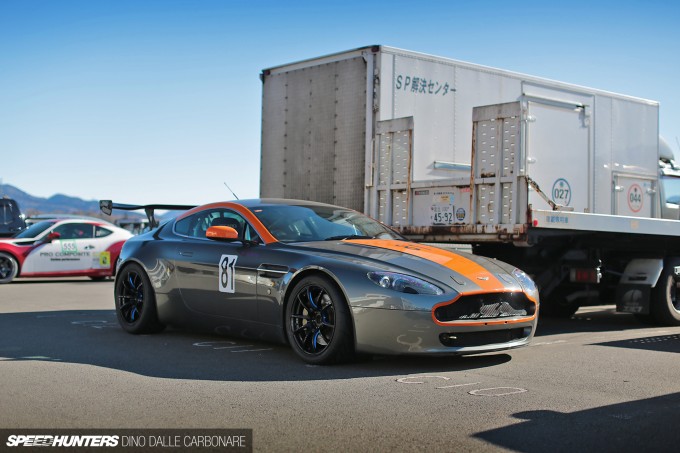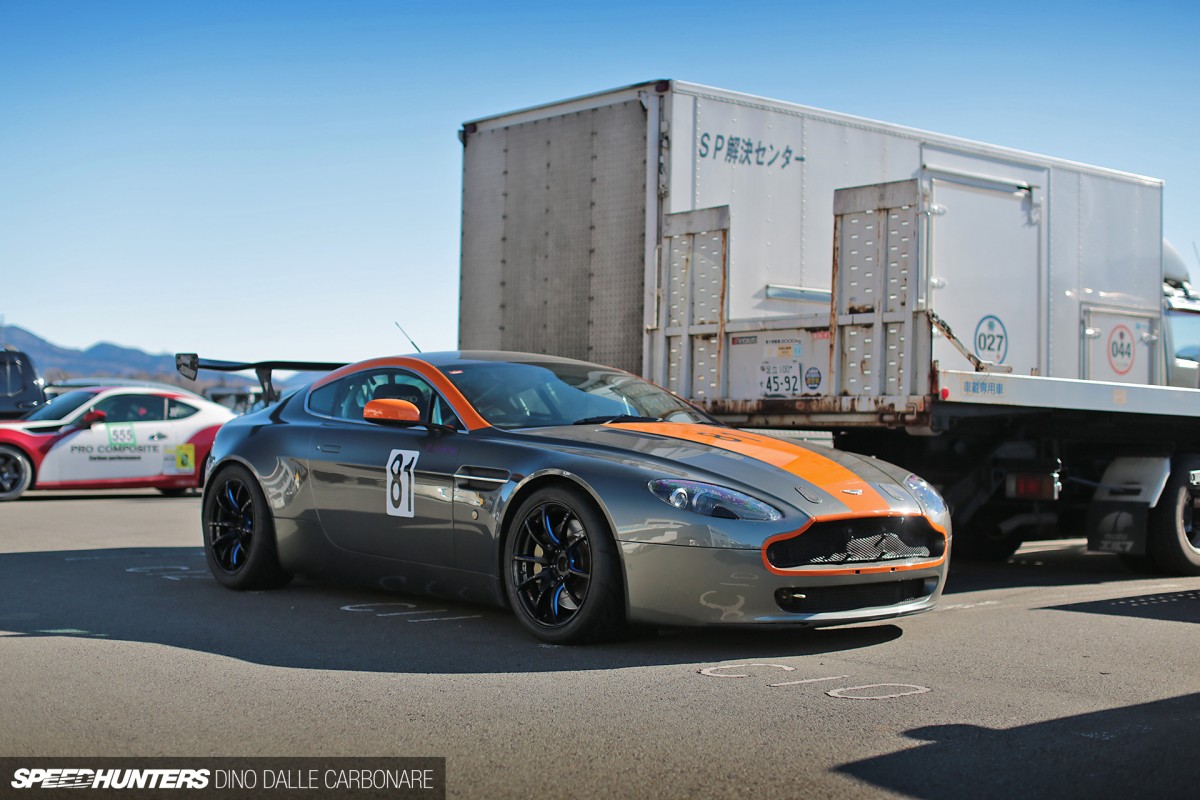 It's not every day you see a track-ready Vantage, so I had a good look at this one.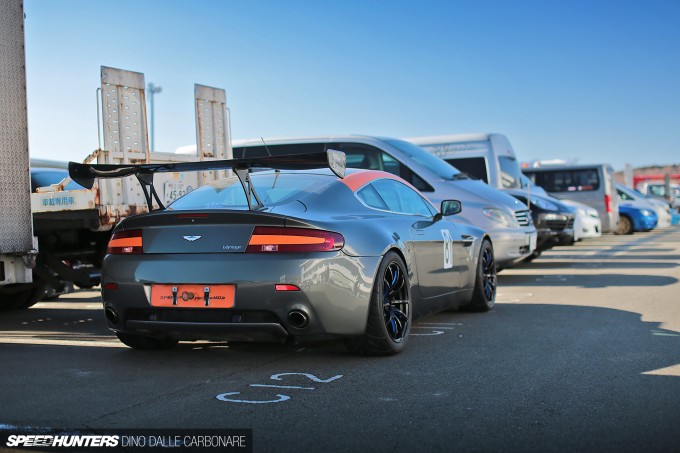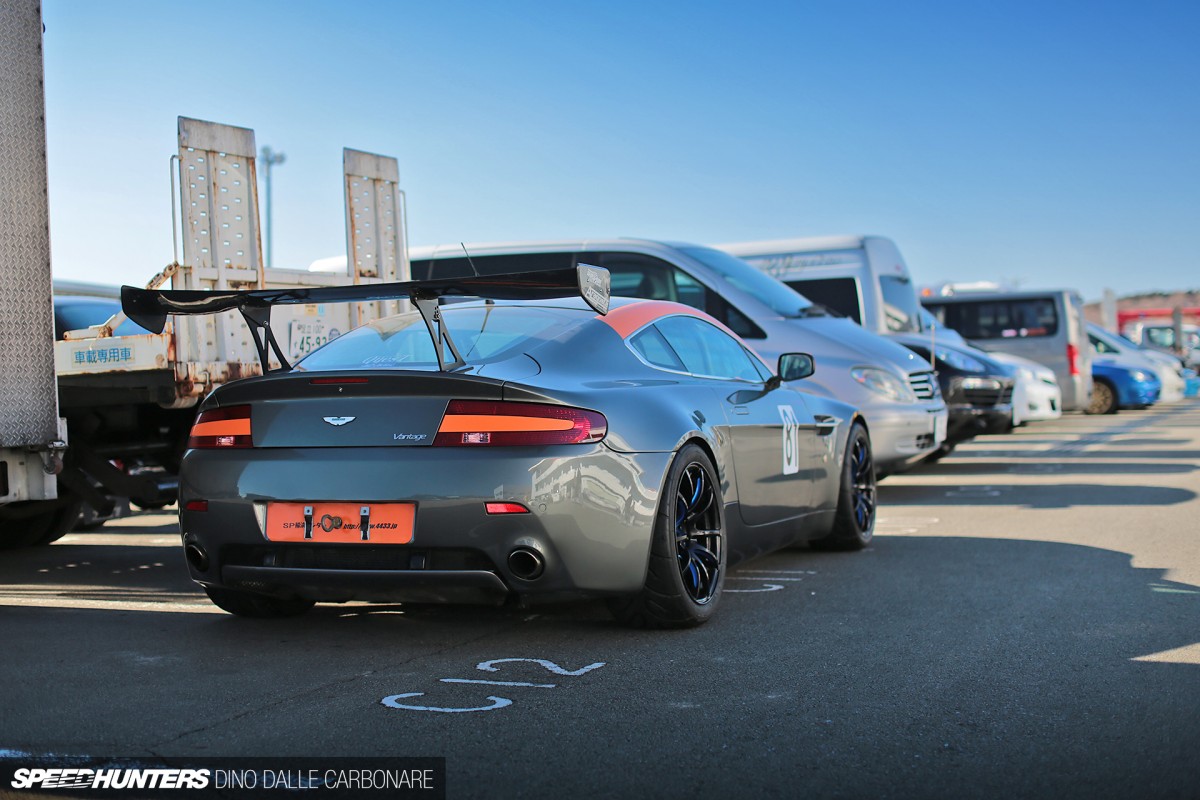 Granted the GT wing on these sort of cars might make some people shudder, but if you need rear end downforce and stability, you gotta do what you gotta do. Not too sure the blue highlights on the Weds wheels do much for the car however.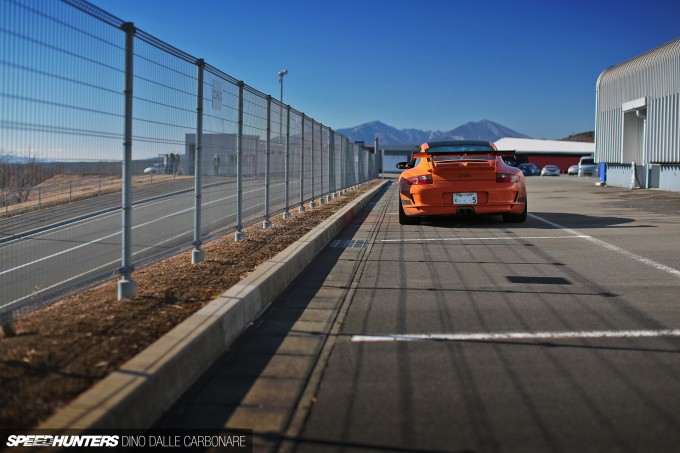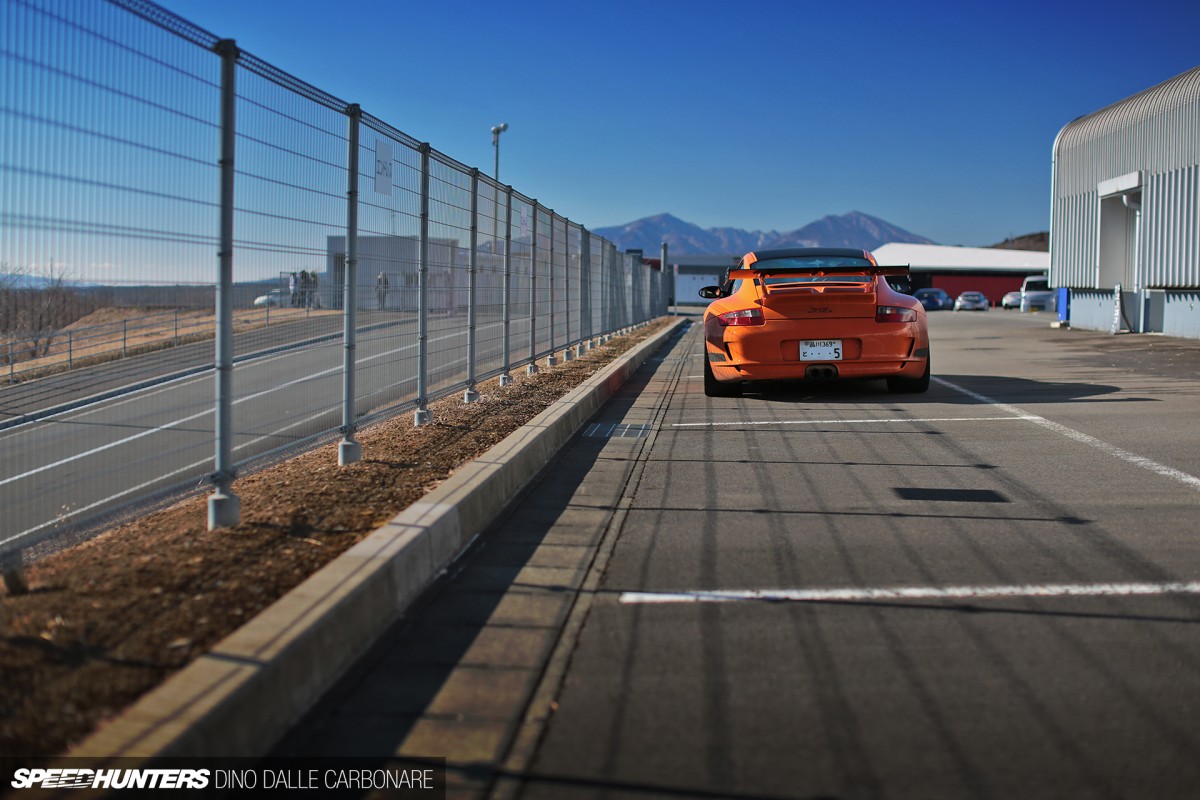 911 GT3 RS. Enough said.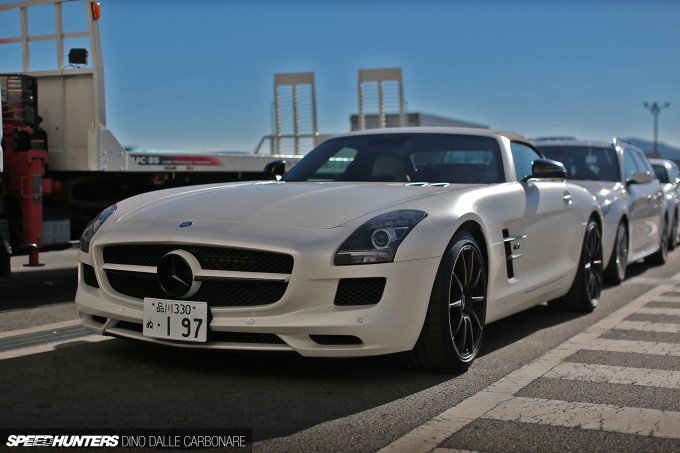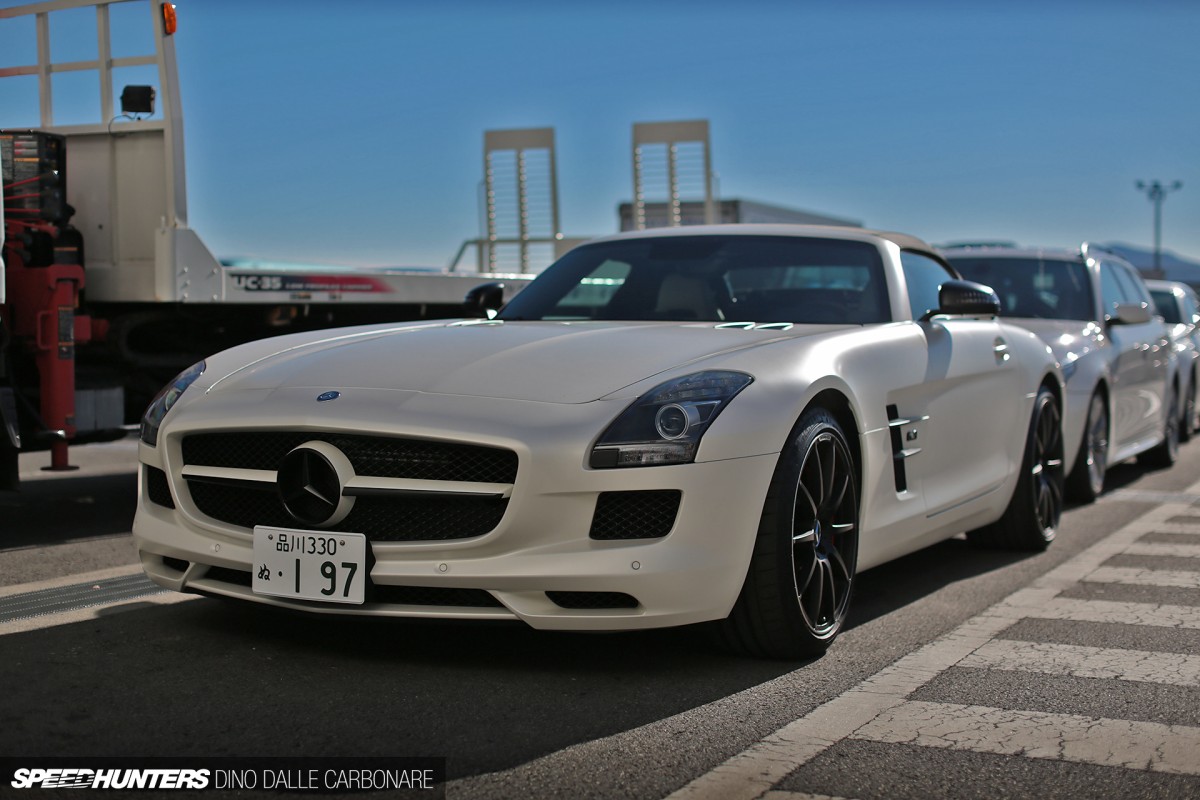 Racing the kind of cars I was seeing sort of suggested that a lot of these guys were obviously well-off; after all, we all know how damn expensive racing cars at any level can be. So there were obviously some awesome street rides parked in the paddock that these guys drove there in. Ahh, the life!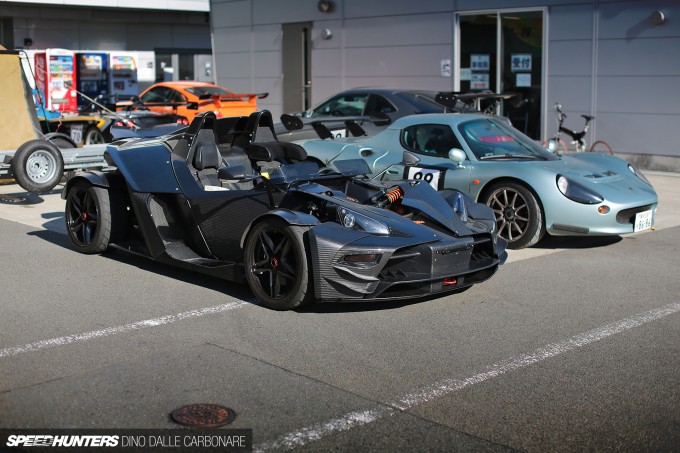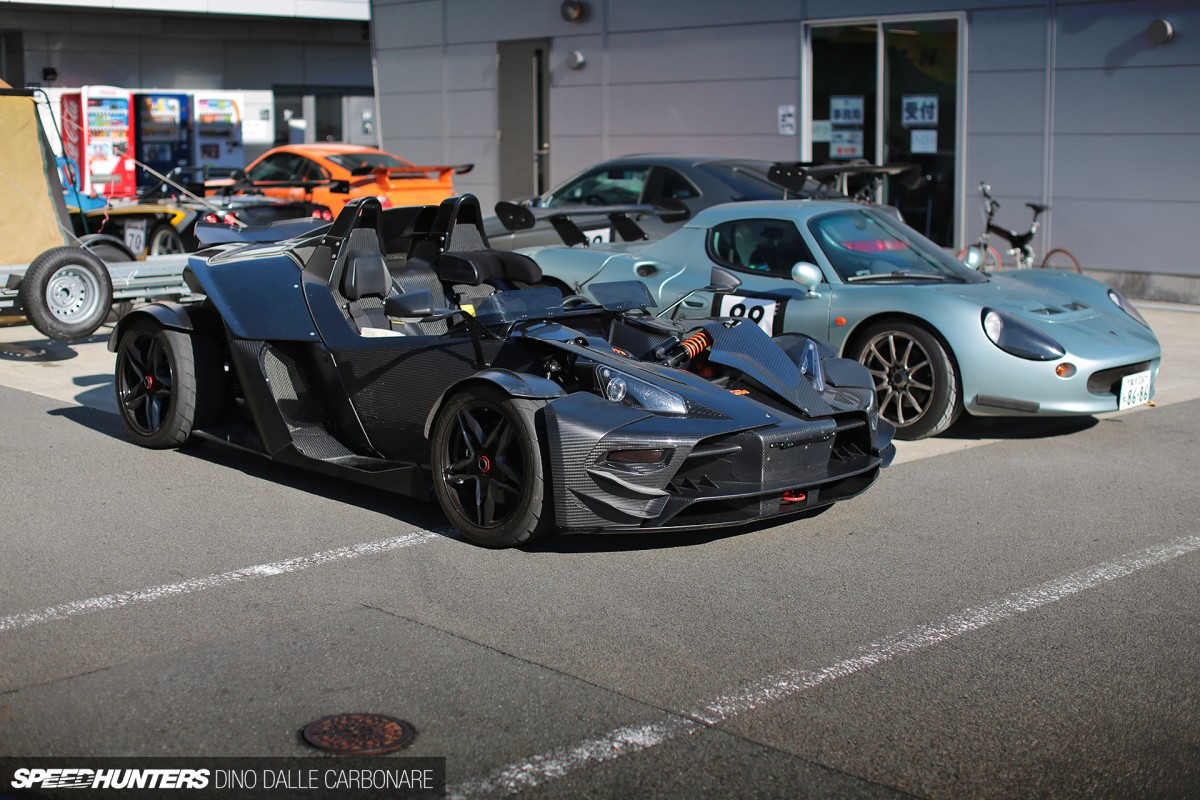 This KTM X-Bow wasn't entered in the race, so it was probably a car someone took down to FSW to check out the action. That just cracks me up – props to the Japanese for being so damn passionate about cars and not being afraid to drive them. Keep in mind it was a few degrees below zero that day… and this thing has no windscreen!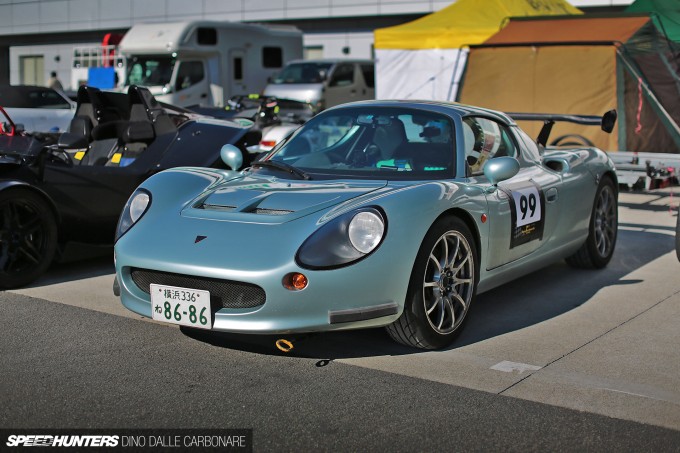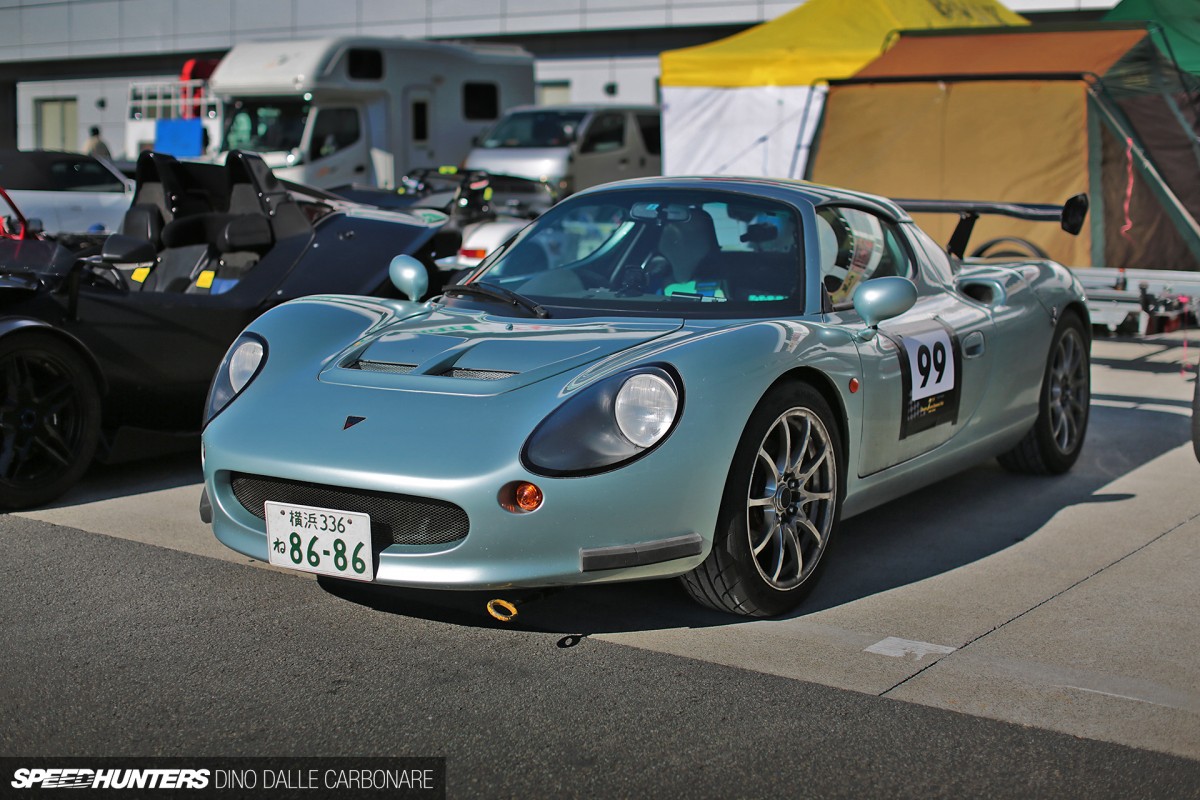 Keen-eyed Speedhunters in our midst might have already spotted the rather rare car parked next to the minimalistic Austrian carbon toy. Yep it's a Vemac, and it has a wing!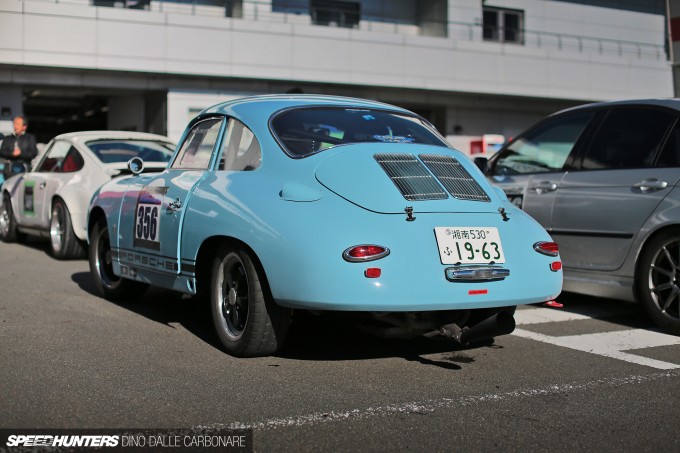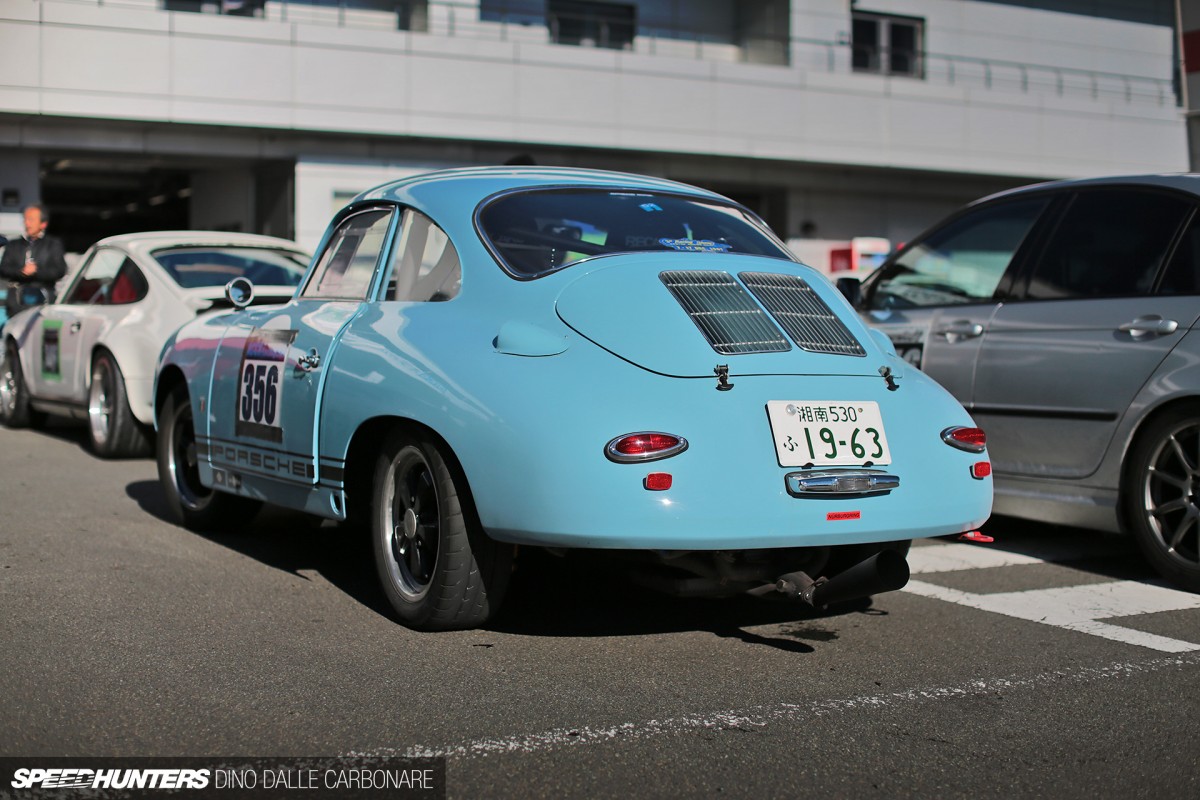 My pacing up and down the paddock was a fruitful exercise as cars kept coming and going so there was always something new to see on every pass, like the blue 356 from the pit lane.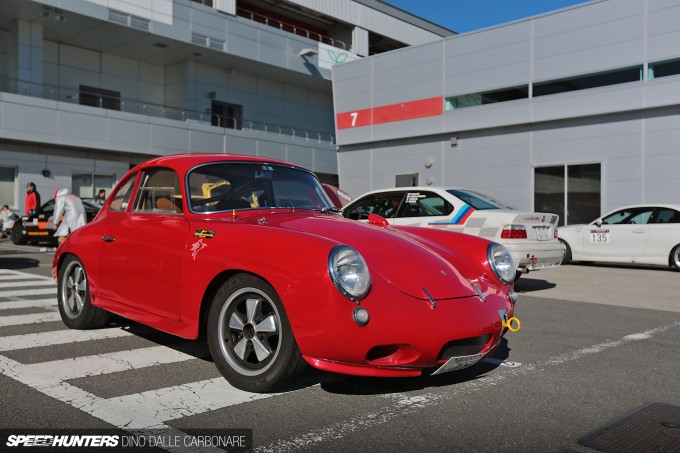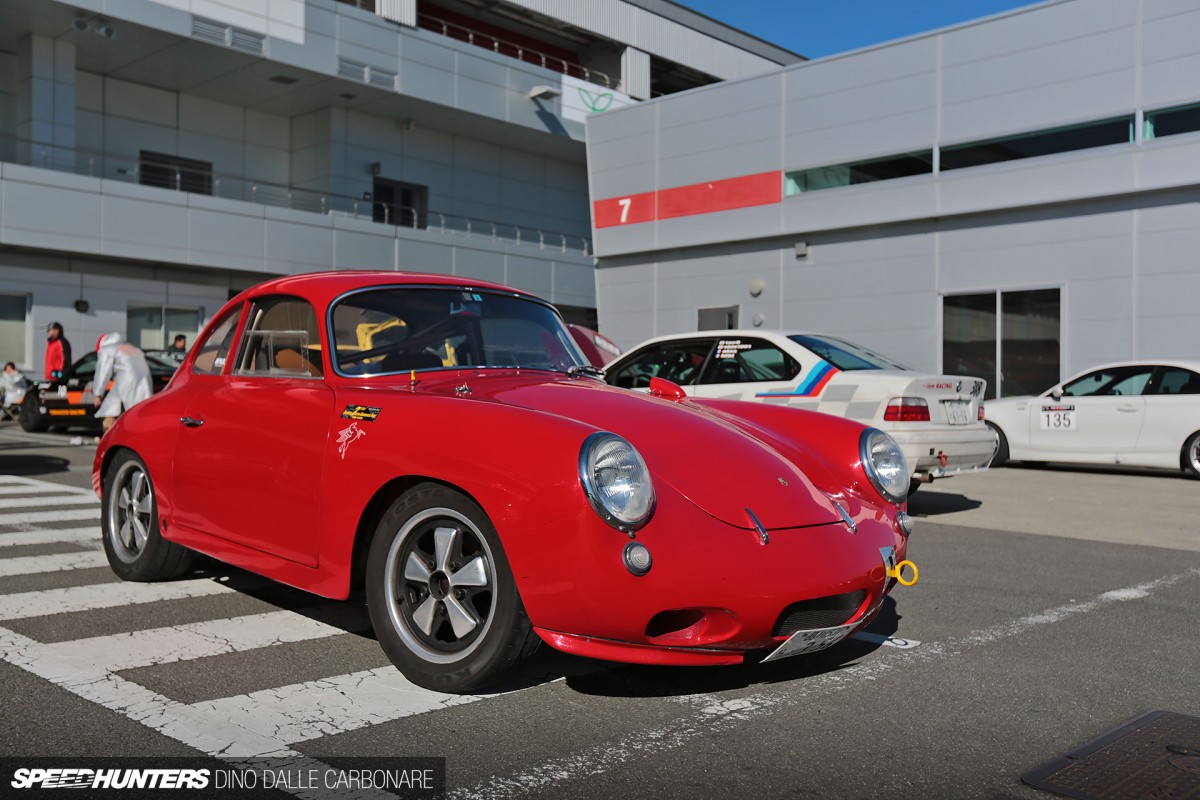 It wasn't the only one at Fuji that day either!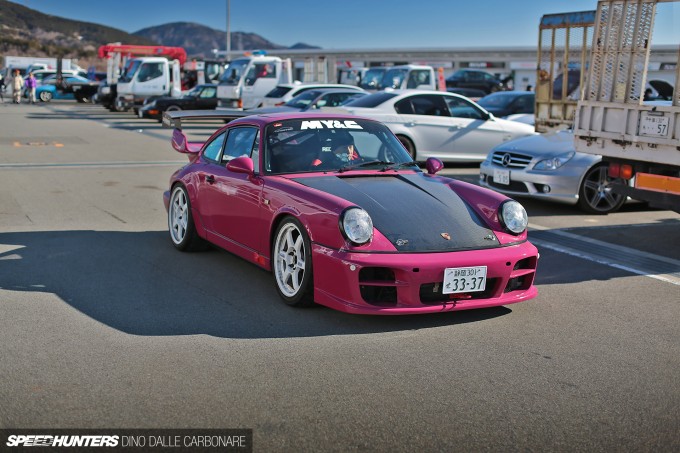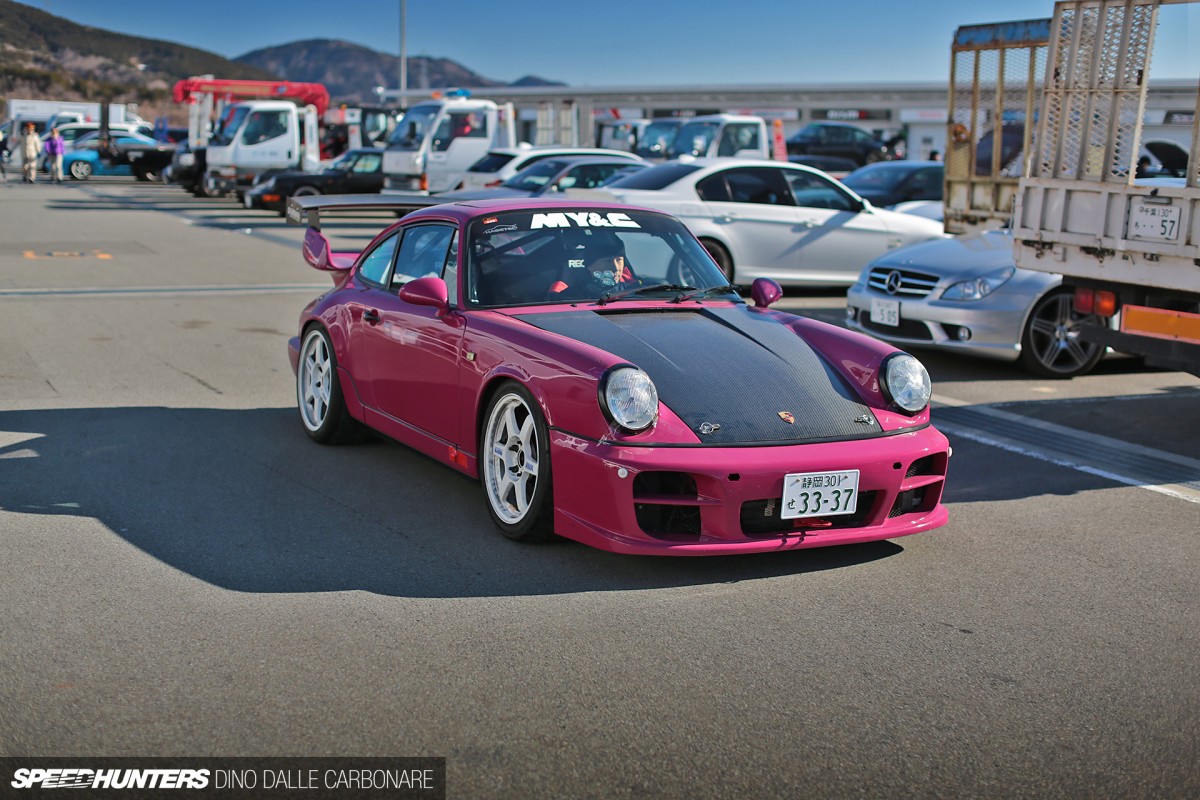 By now you guys must assume that only RWB-kitted cars roam the streets and tracks of Japan, but that's obviously not the case; there are tons of other tuners out there, each with their own identity and style as this MY&C 964 shows. TE37s on a 911 is a definitive win in my book by the way!
Rocket what?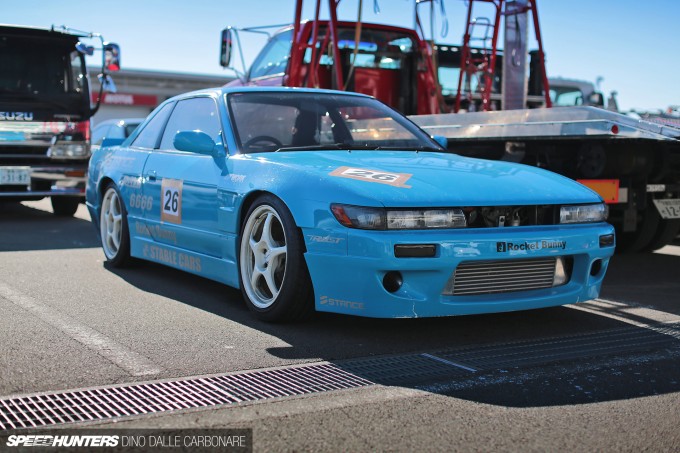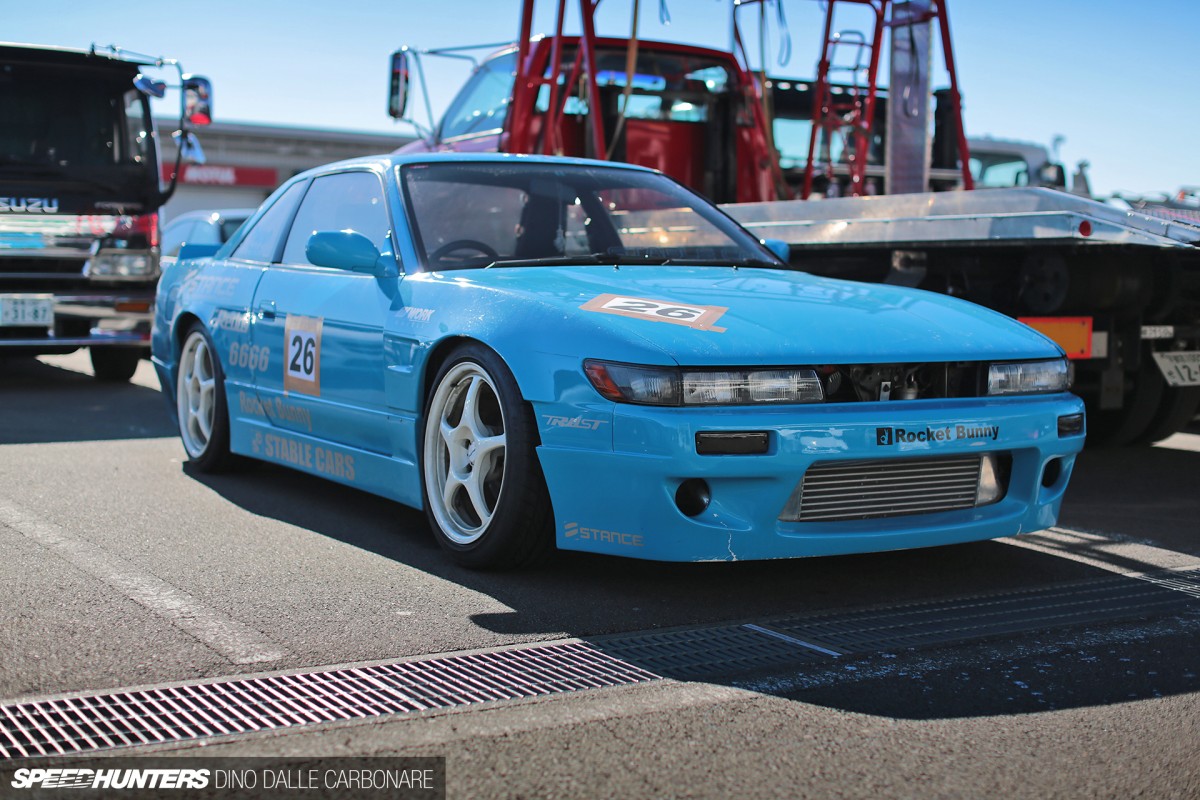 So the Rocket Bunny look is only for posers and stance right? Wrong! There are some out there – like the guys from Stable Cars – that rock Miura's kits on most of their JDM track cars, like this S13 that was entered in the race.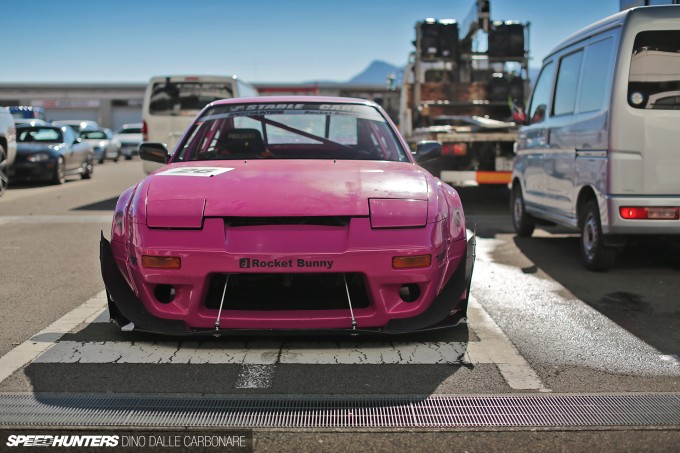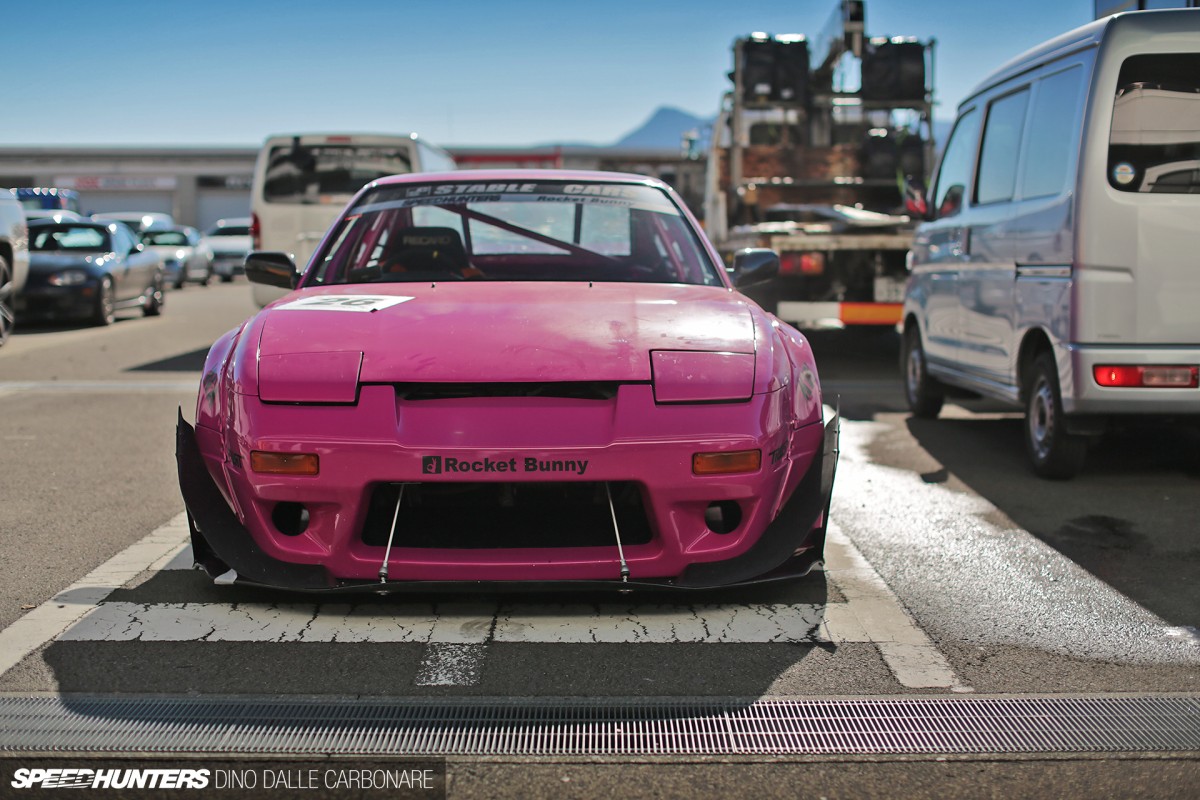 Part of the same team was this bright pink 180SX running the new RPS13 Rocket Bunny kit along with a few more function-oriented aero bits like the front splitter and rather big canards.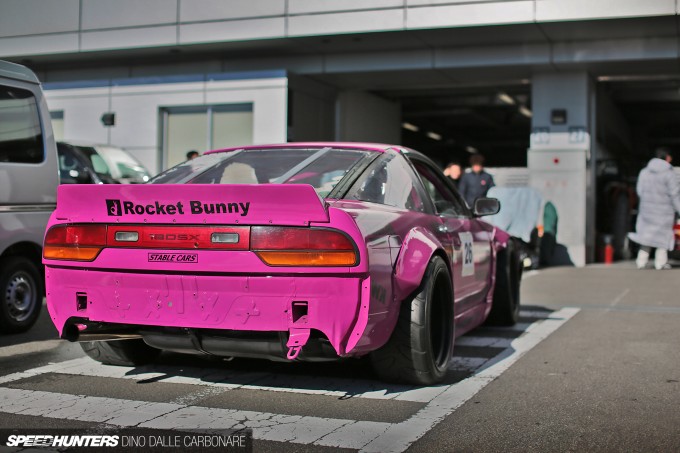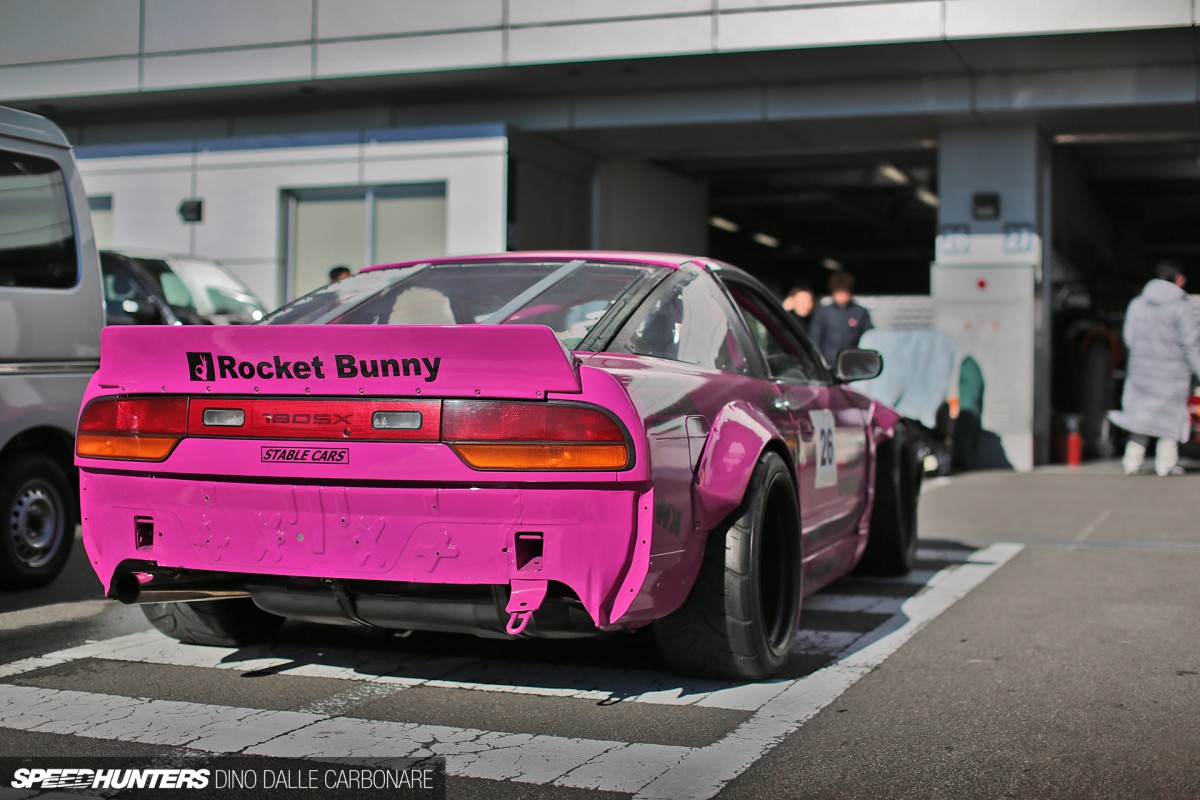 The bumper-less look that Miura started is even cooler when applied to a proper race car. I was actually skeptical when I first saw it on the BenSopra 380SX last year, but I get it now – and I quite like it!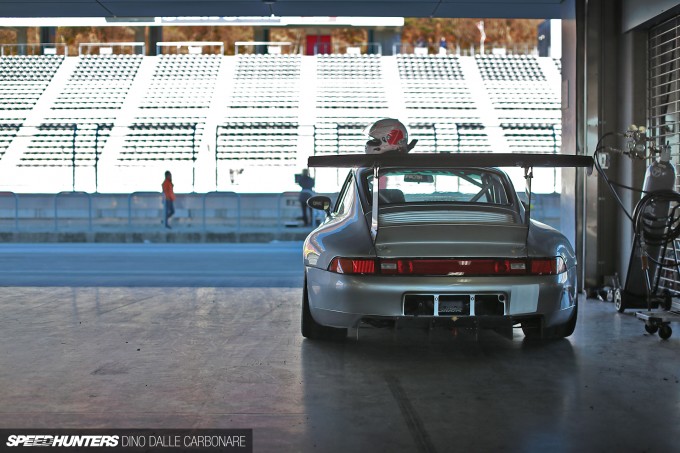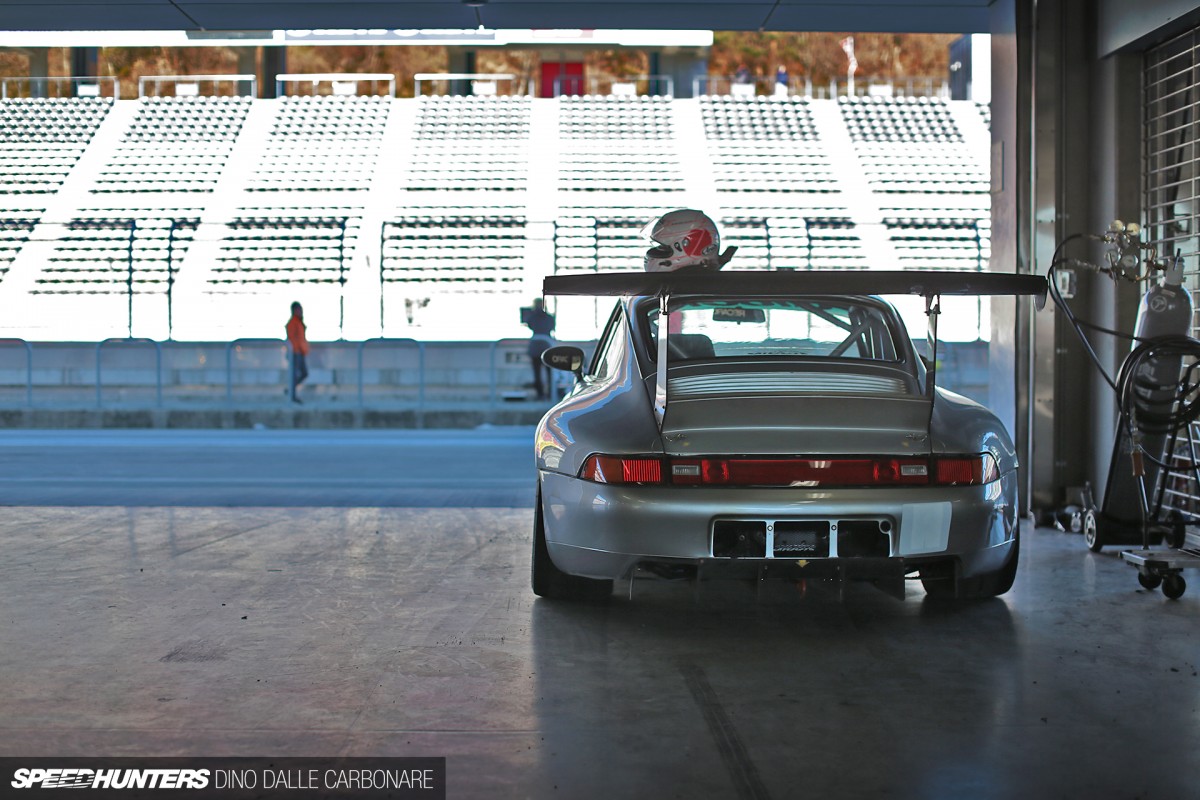 It seems that one addition that really never fails to miss from any Japanese soukoukai car is the GT wing, sported in a variety of sizes and heights. The more aggressive applications are only for true race cars like this 993, which runs a wing so tall and wide it would be illegal even on Japanese roads.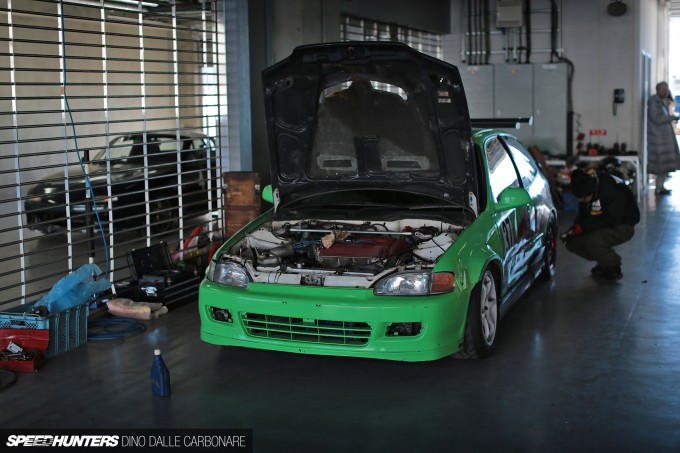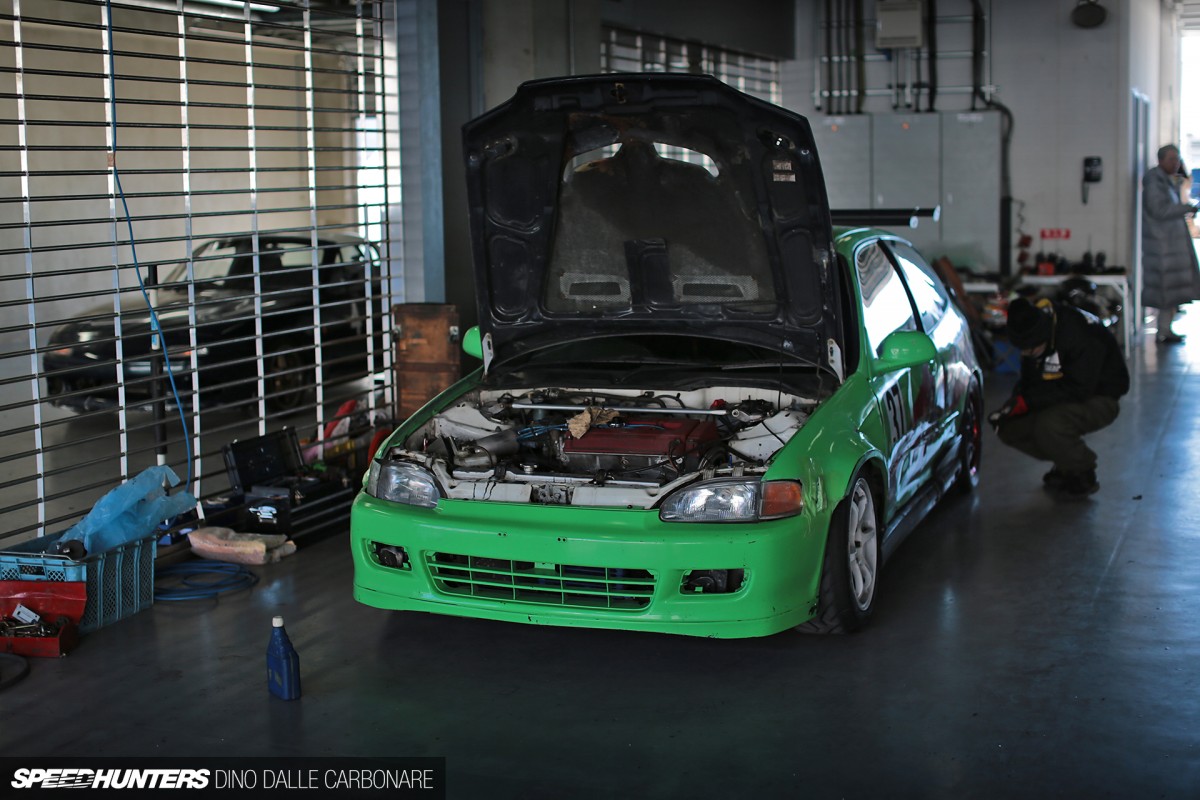 While racing is expensive, there are ways to get into it without big sacrifices. This particular team was sharing a pretty basic EG6. A good deal of weight taken out from the car's interior, a proper suspension and tire set-up, plus some simple engine mods, are more than enough to have plenty of fun out on even big tracks like Fuji. You might not be the quickest out there, but come on, who does this sort of thing to win?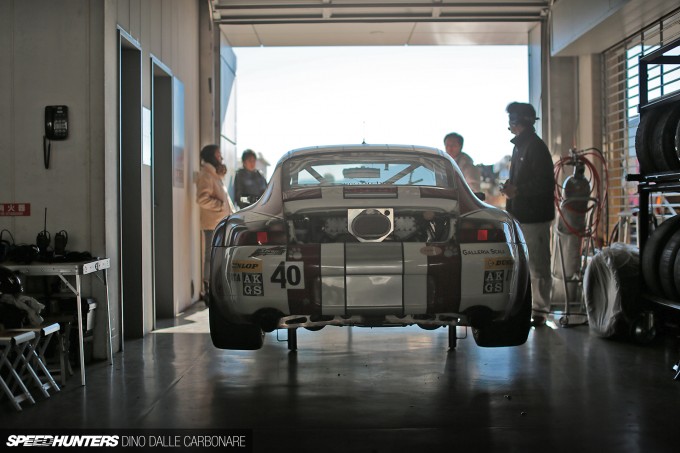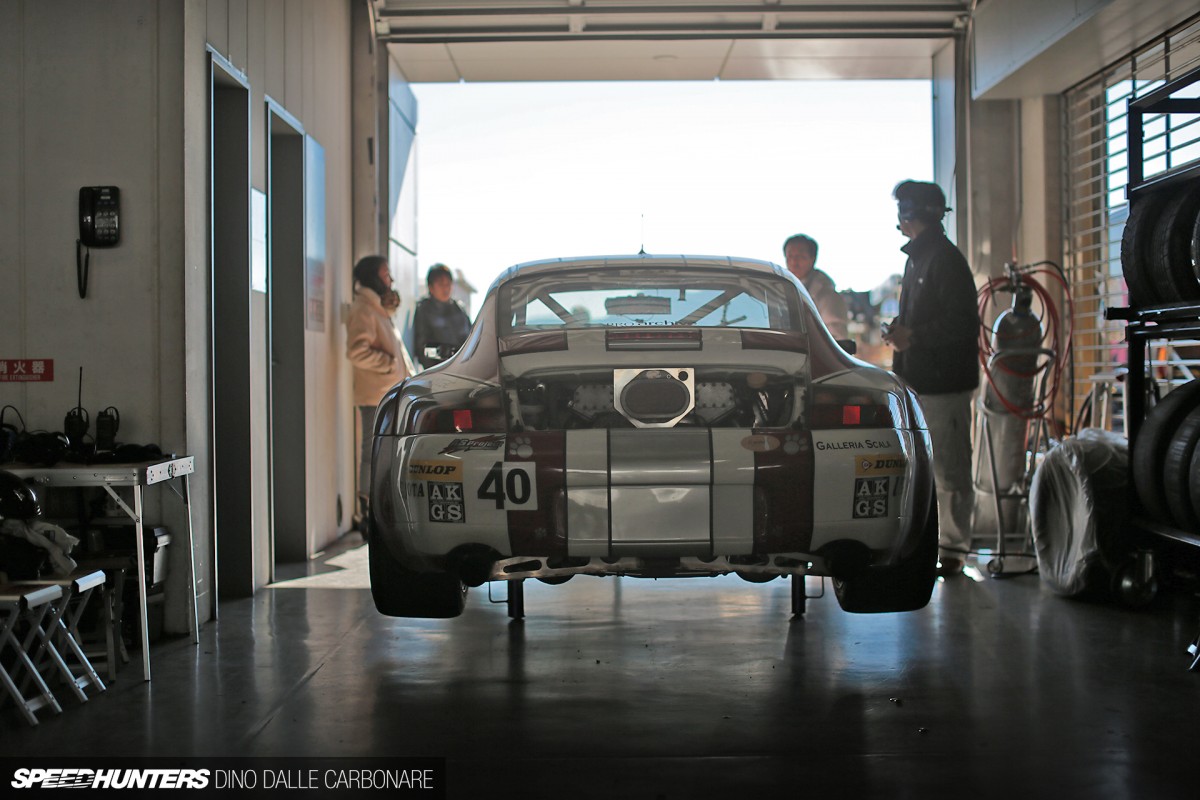 Some take it more seriously than others though.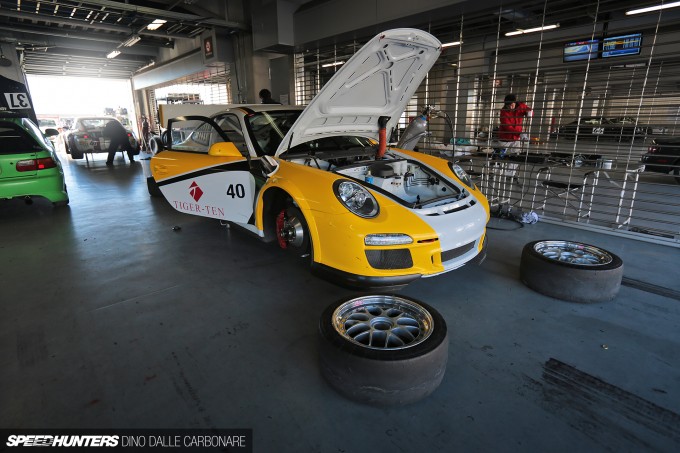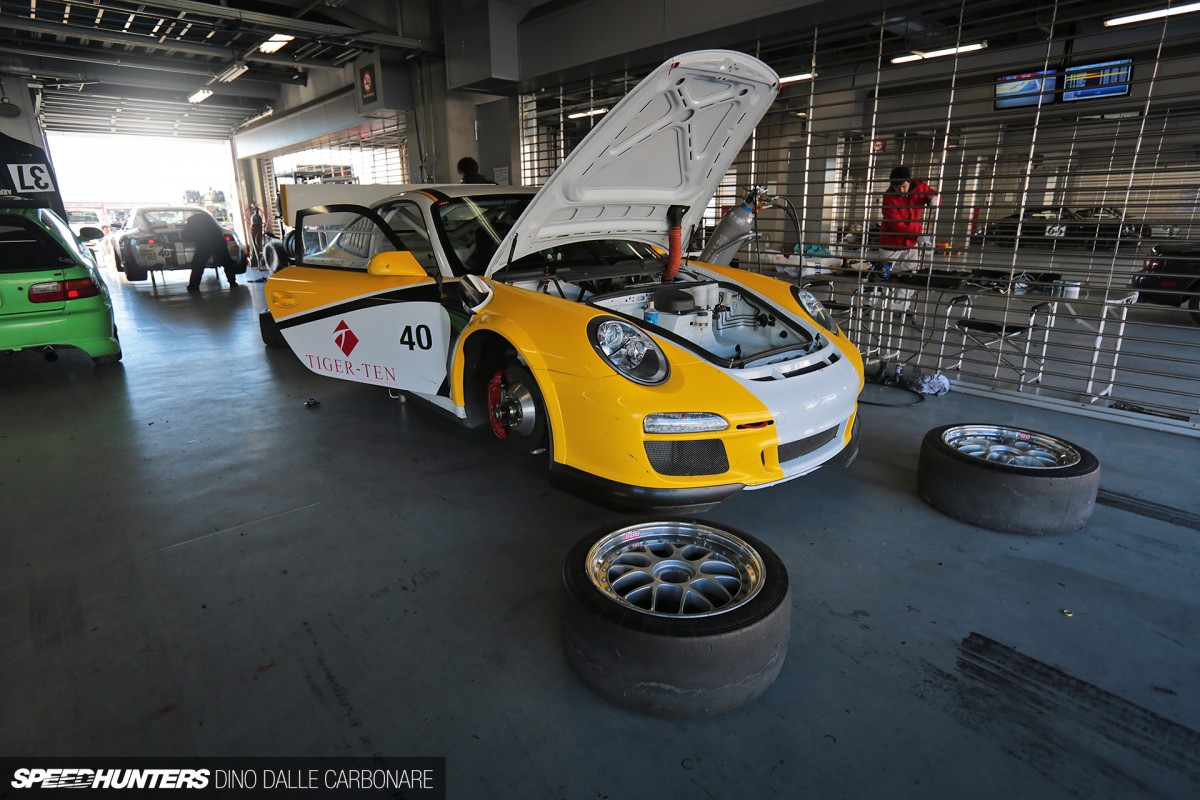 But then fun is never directly proportional to the amount of money you blow on a particular car.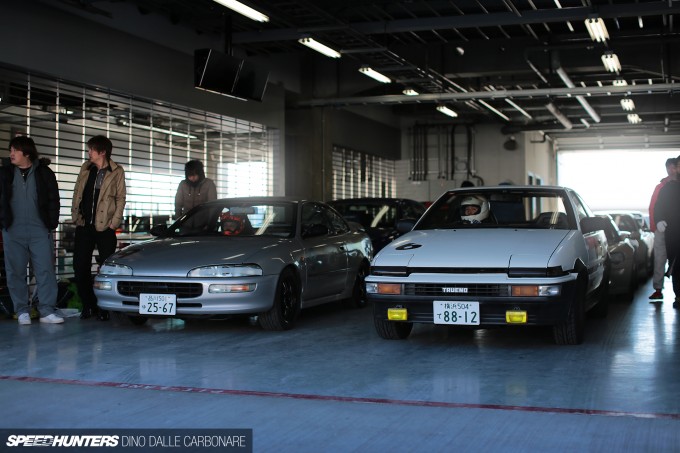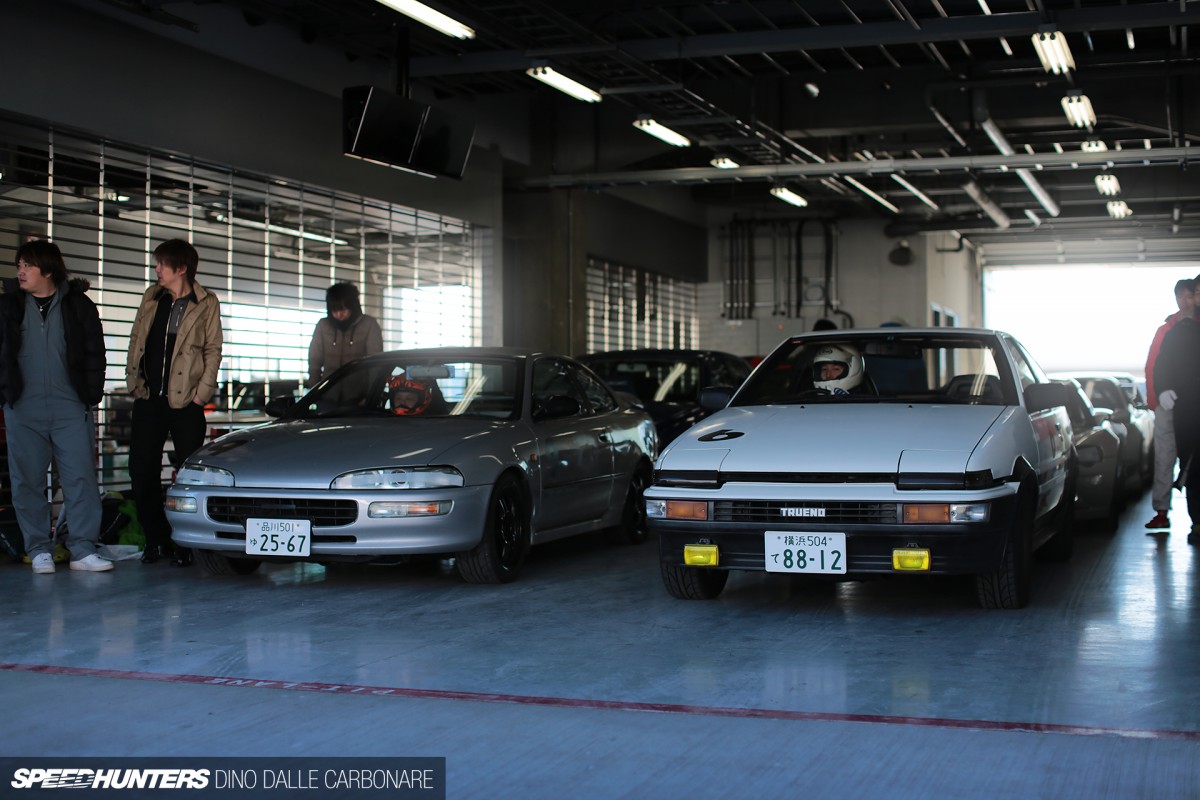 Keeping it simple and cheap can often be more satisfying, as you get your dose of adrenaline, then drive back with your pride and joy.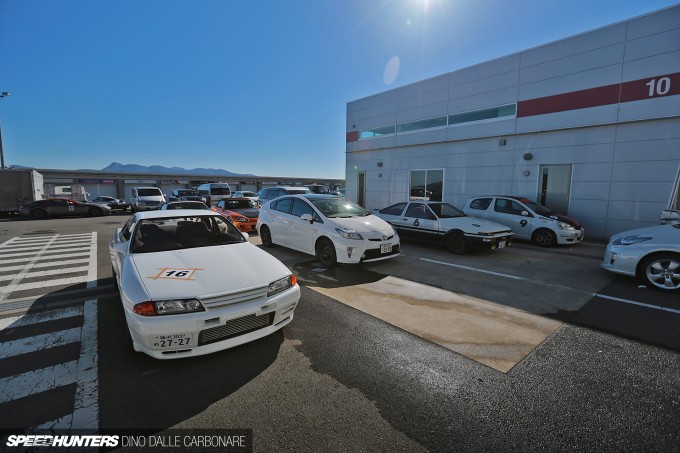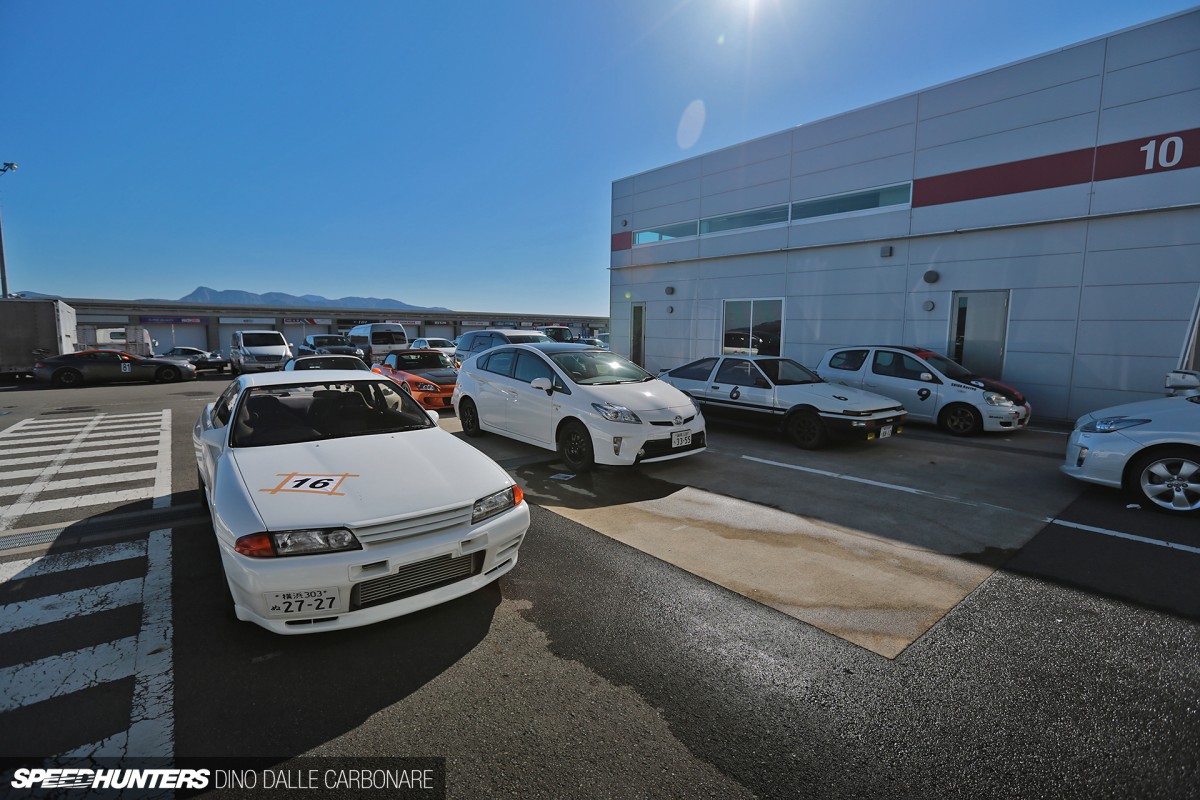 Surprisingly enough there weren't too many RB26-powered GT-Rs at the event. I only really spotted this lonely white BNR32 which automatically became one of my favorite cars of the morning – but then again, I'm very biased!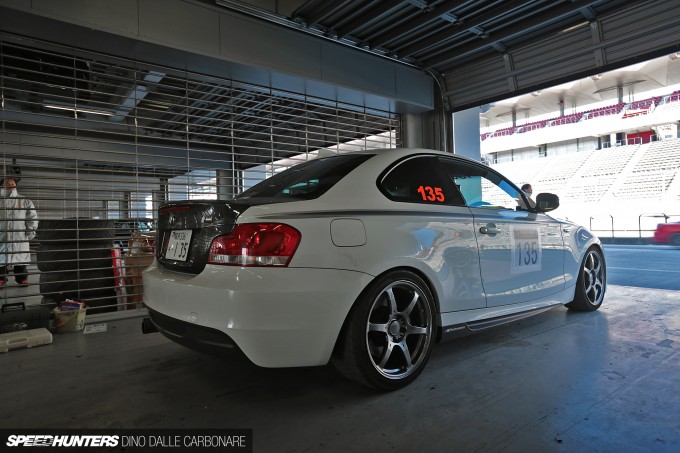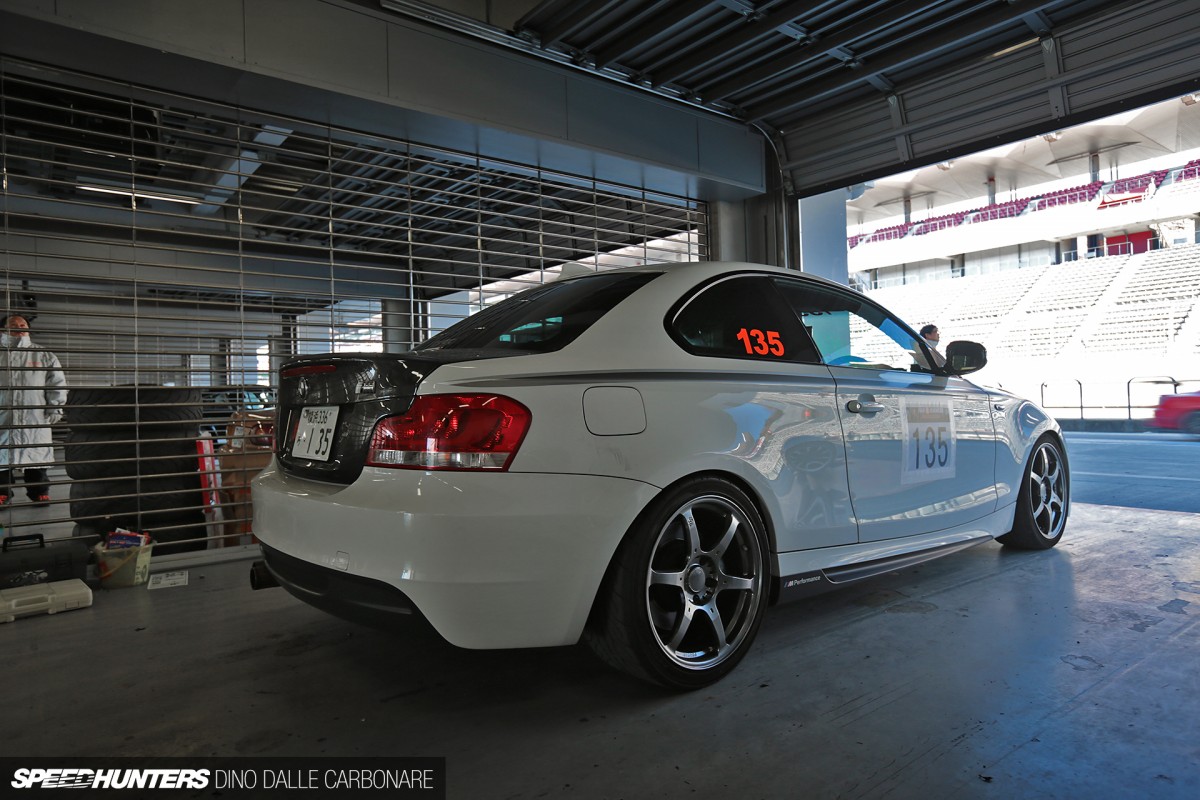 Truth of the matter is, it doesn't matter how you go about searching for that rush on track, everyone has their own way, their own preference that ticks their own boxes. No matter what your car of choice may be, the Japanese continue to show us the way when it comes to spicing them up with the right sort of mods. Take this 135i for example: it sat low on adjustable dampers, had lots of carbon add-ons and sat on silver RAYS G2s. Awesome.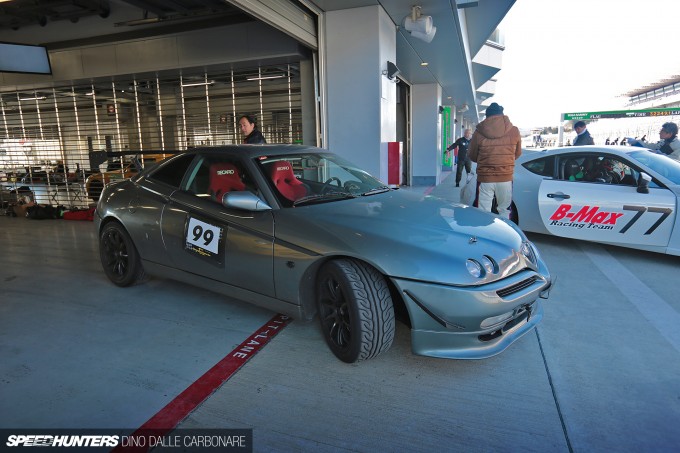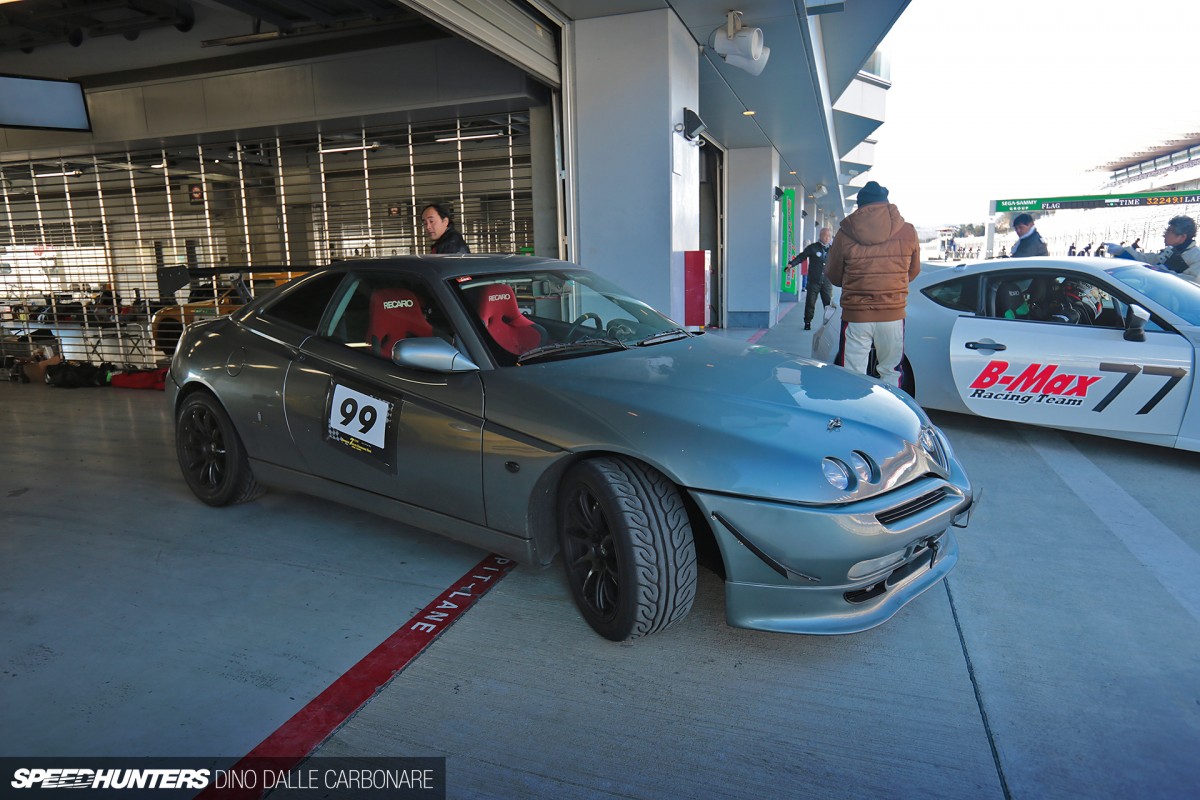 Different car, same recipe! Add Neovas for the must-have track-day grip and you have a car that I will literally never ever see done in the same way back home in Italy. Yup, the Japanese sure have a knack for this.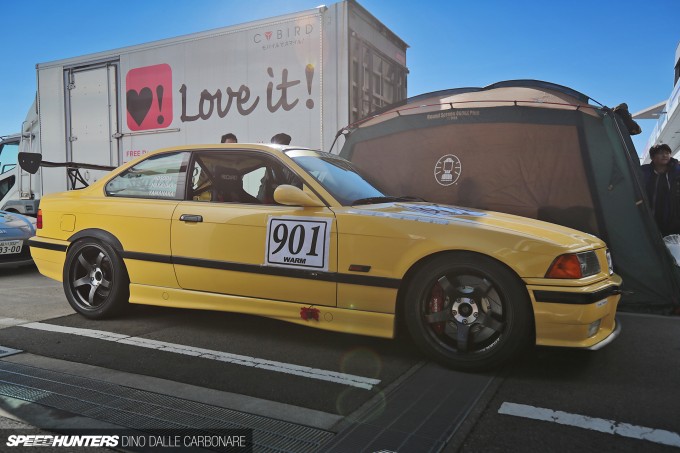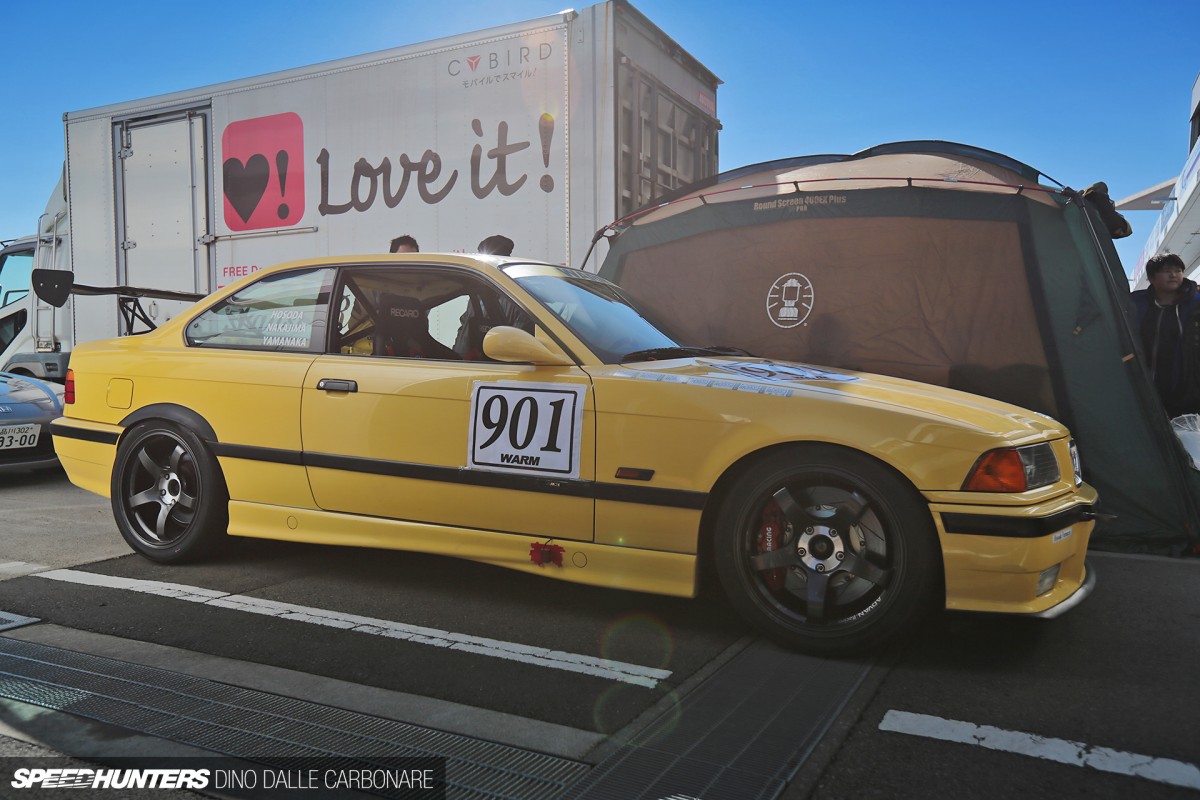 And when it comes to older BMWs, they can almost never be faulted. Ok so the spoiler thing may not be for everyone out there; I know it certainly does nothing for me (especially on the GTV above) but look at every other detail – do you see anything not done well? AP Racing brakes, Advan wheels, sticky Yokohamas, stripped and caged cabin, Recaro buckets!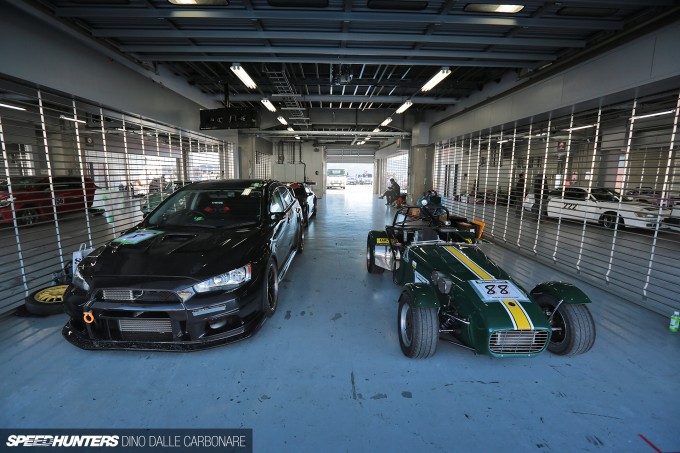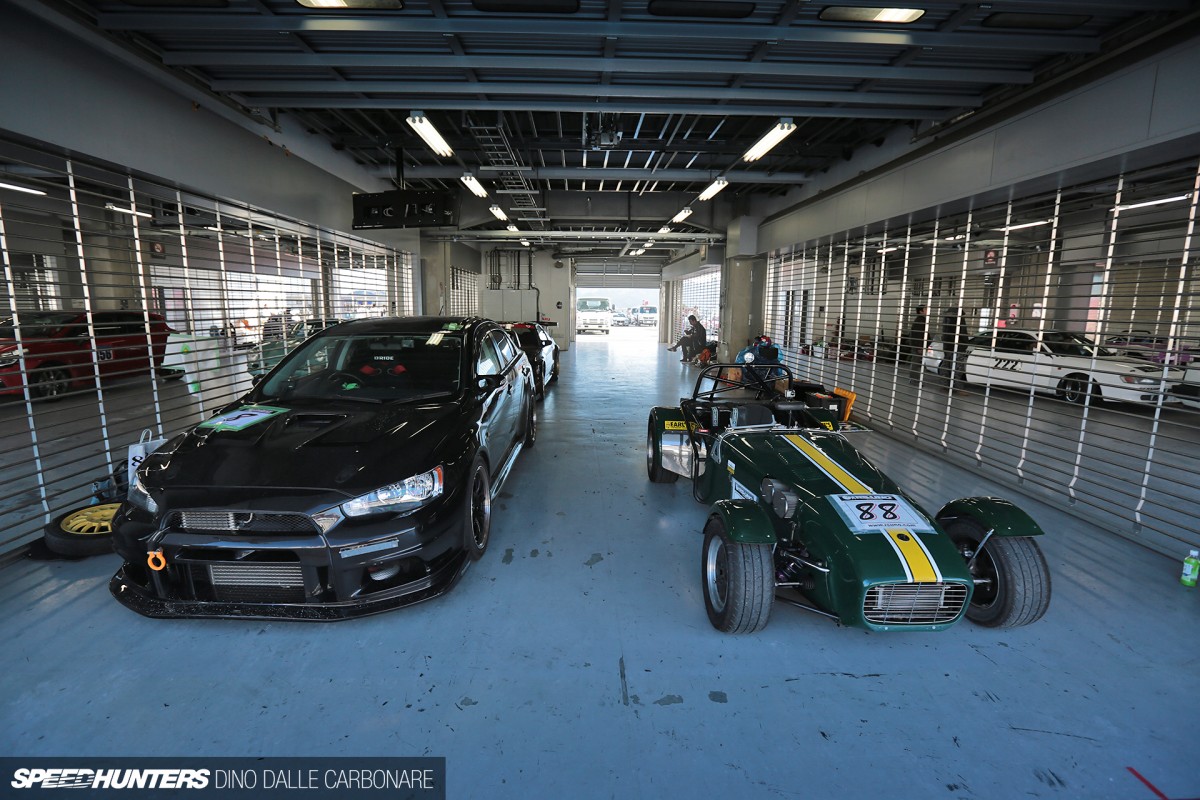 And then of course there's the variety, where a close to 500hp EvoX with dual clutch transmission can sit next to a car that is pretty much its complete opposite. Love it. You've just got to love it!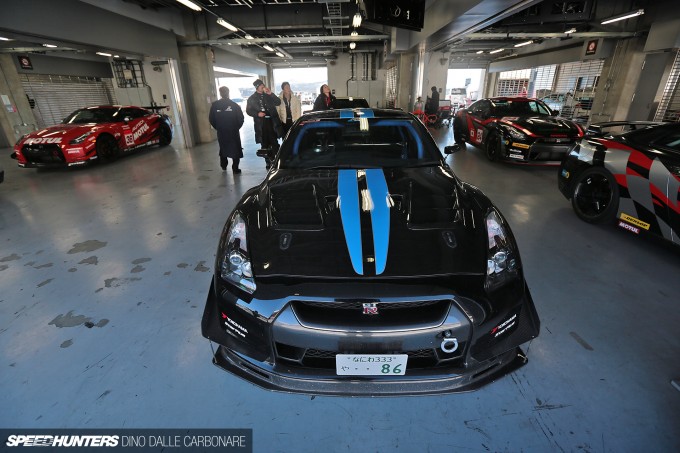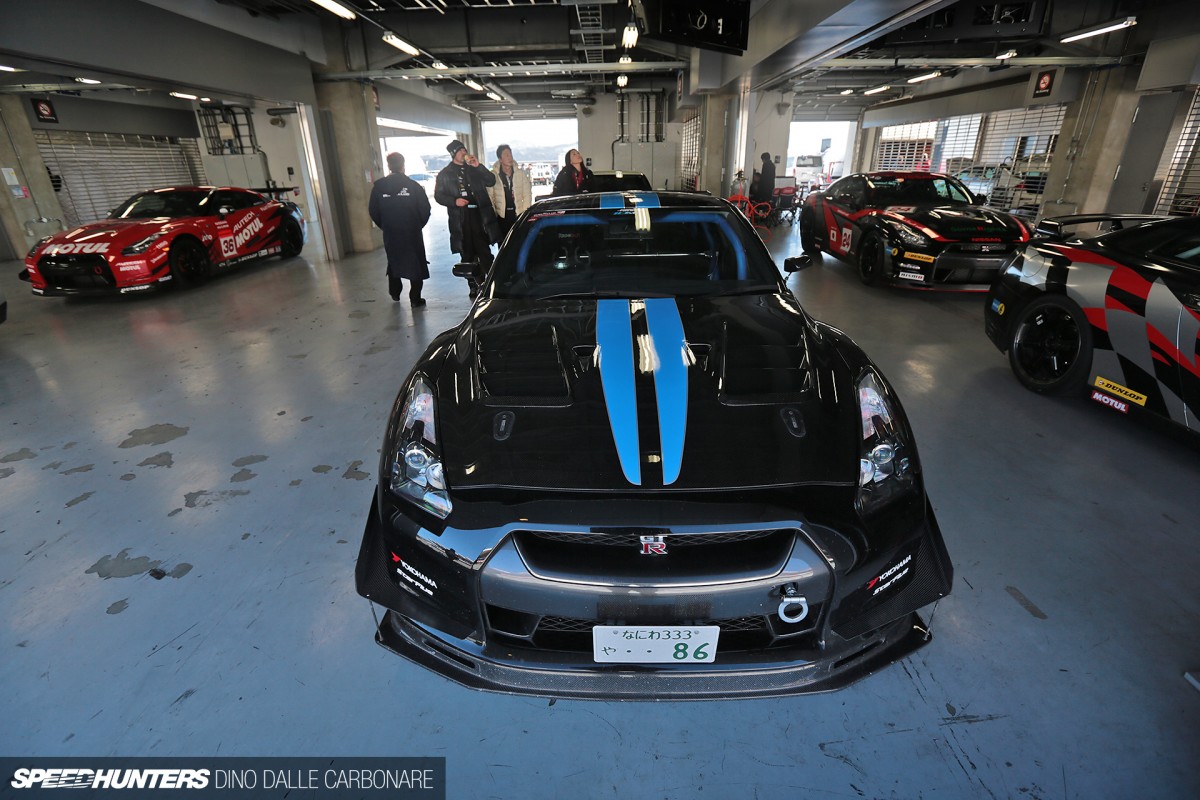 Of course, no matter what track or grip event it may be, you can rest assured that you will find an R35 GT-R somewhere. They are tunable, ridiculously fast and rather easy to drive up to nine tenths and they have quite the following in Japan – unsurprisingly.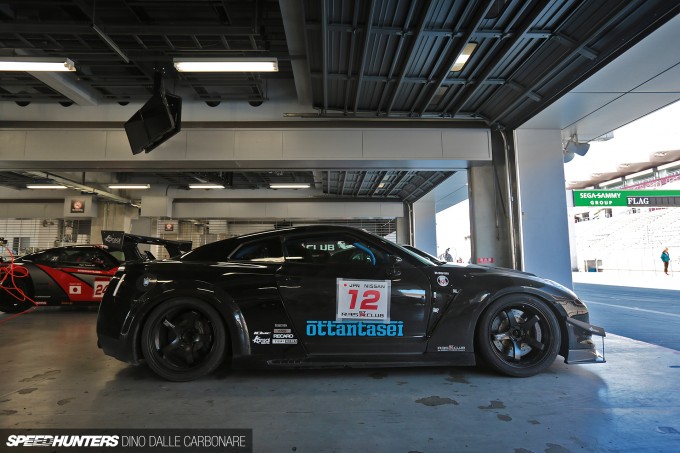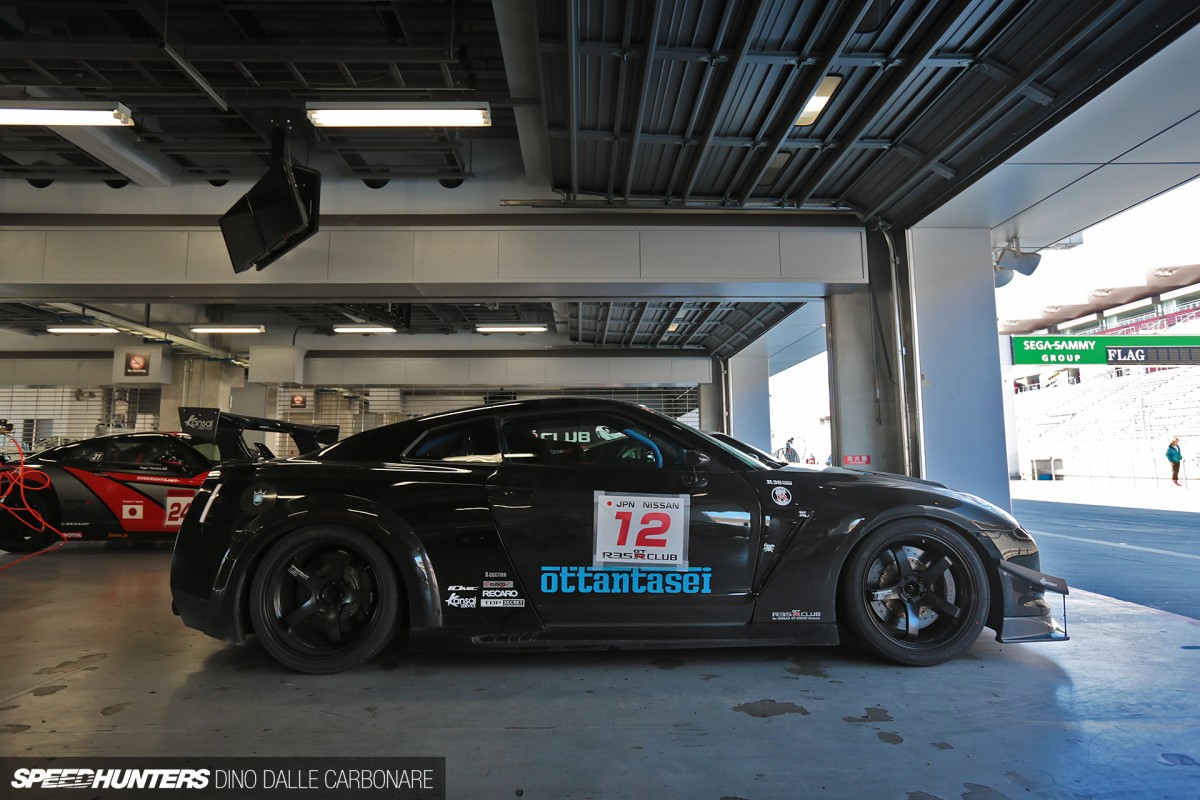 The owner of this car had driven all the way up from Osaka to enter his highly tuned black on black san-go in the endurance race and even next to the Nismo customer race series cars, it looked very special.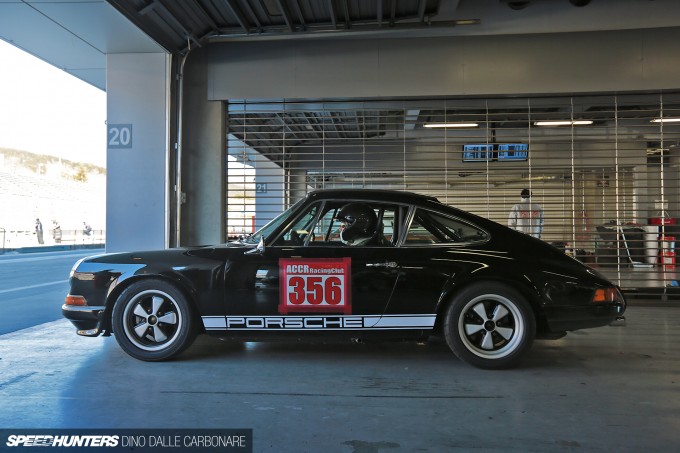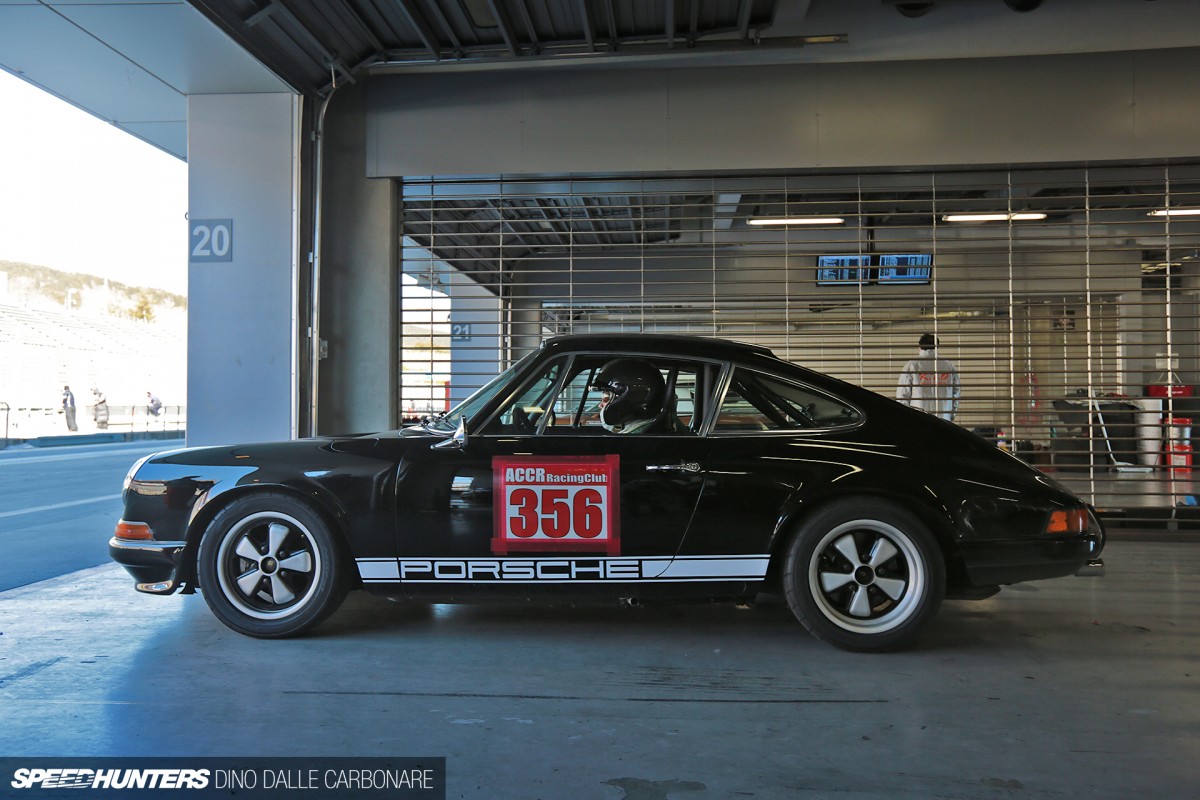 As I made my way into pretty much every single pit, it was obvious that Porsche fever is very much a common disease in Japan. I've mentioned they're popular, but this event was just filled to the brim with the damn things!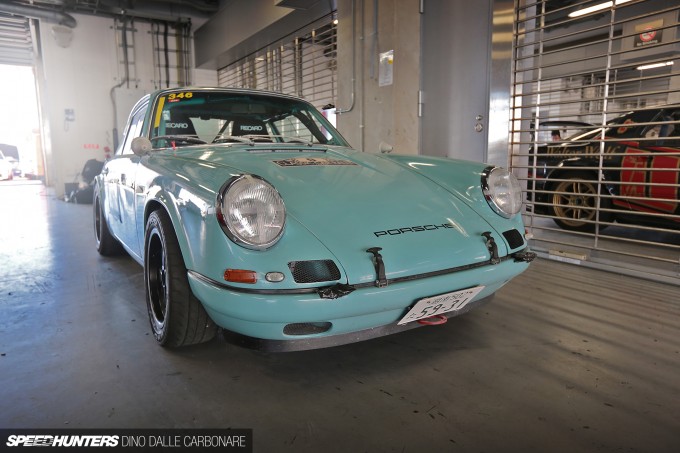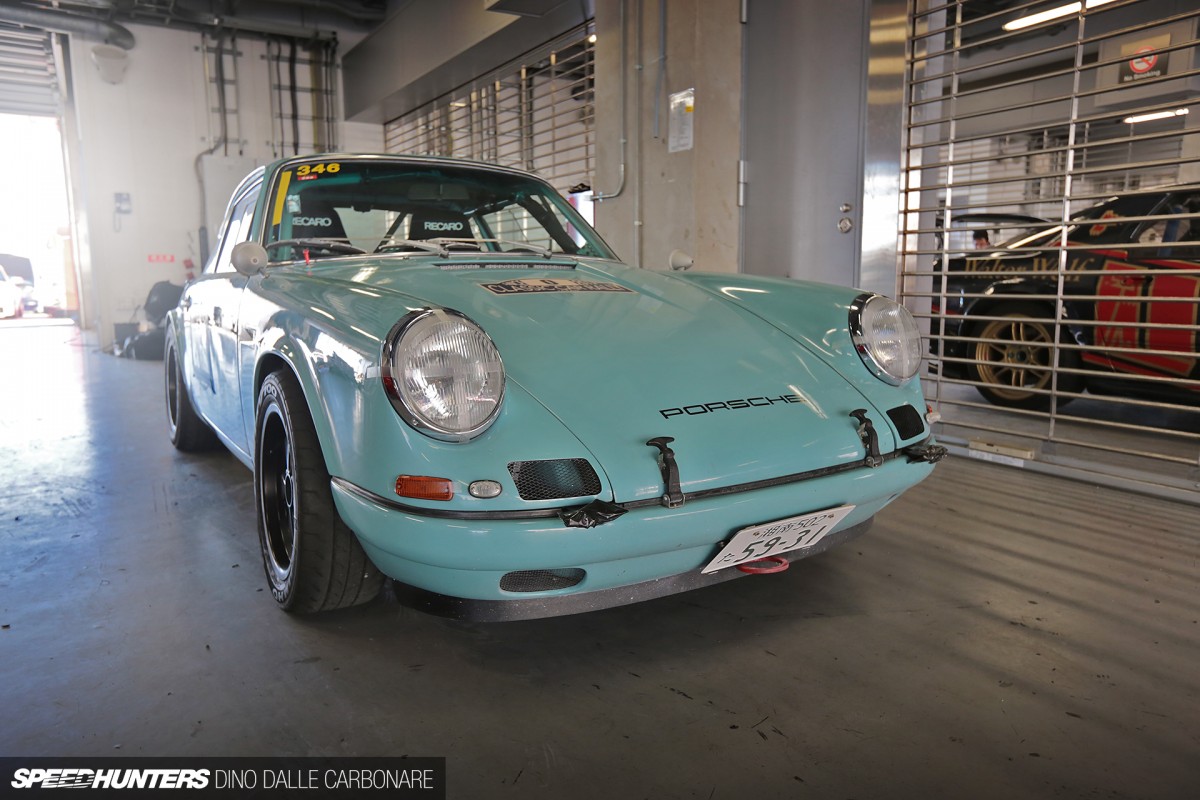 It's so cool to see the various takes owners go for in creating their own bespoke 911 racer. I can't help make an analogy with race bikes or the current fixie trend where people mix and match details, styles and colors to come up with something that is truly their own creation.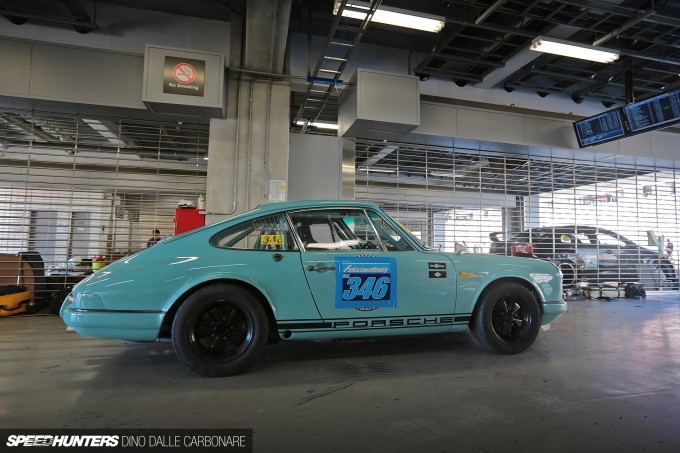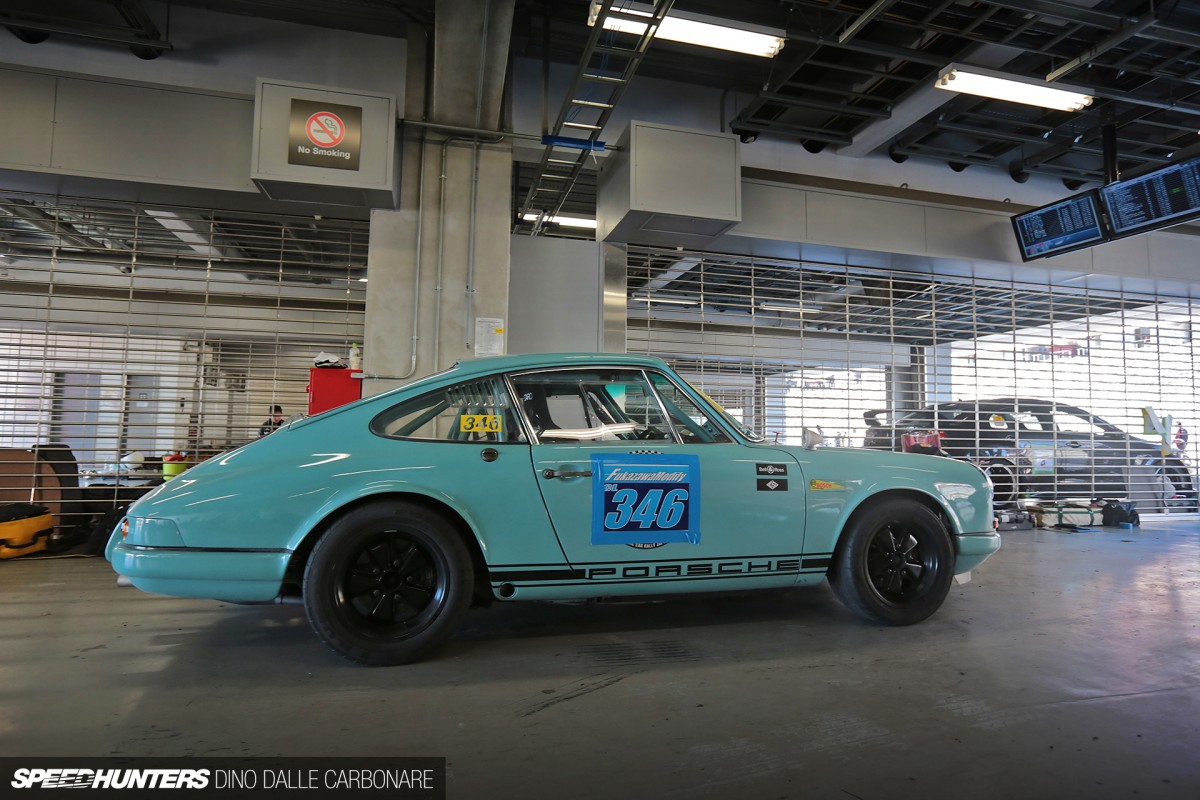 It takes time to appreciate the details, the subtle hints these some of these older cars hide, the links to racers or special models in history that the owners are trying to recall.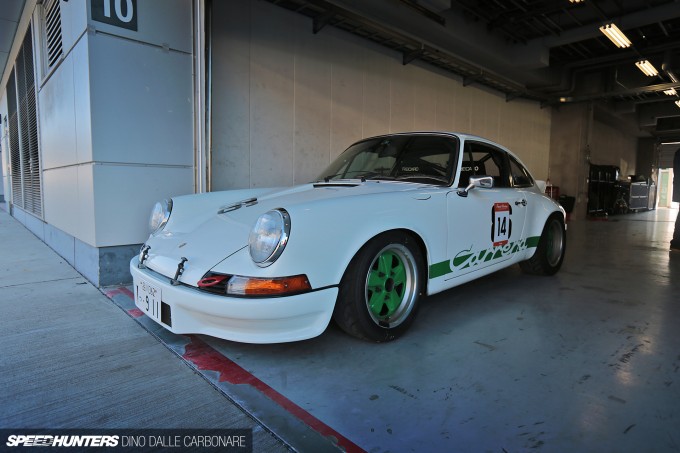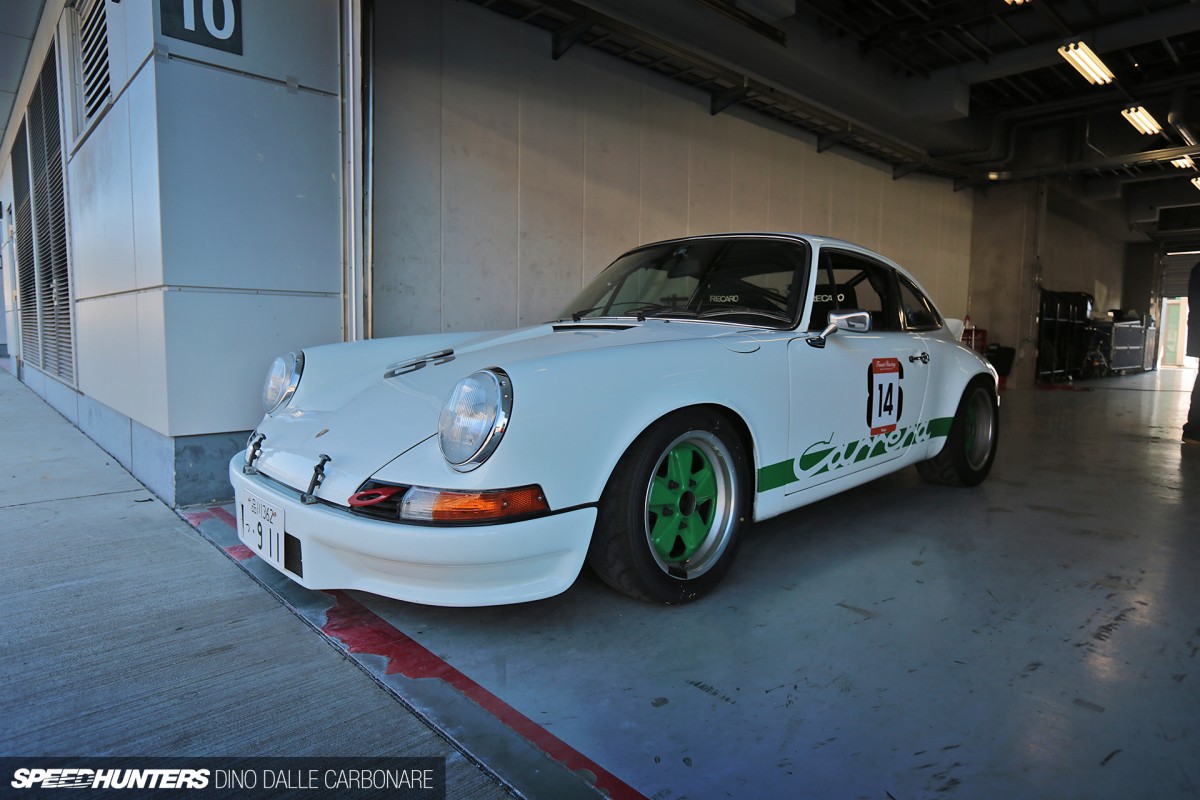 Some are more obvious than others, like the RS look, seen here done with green against white.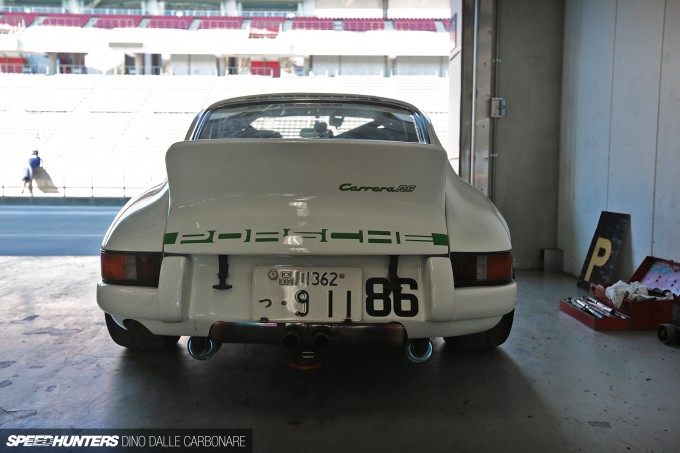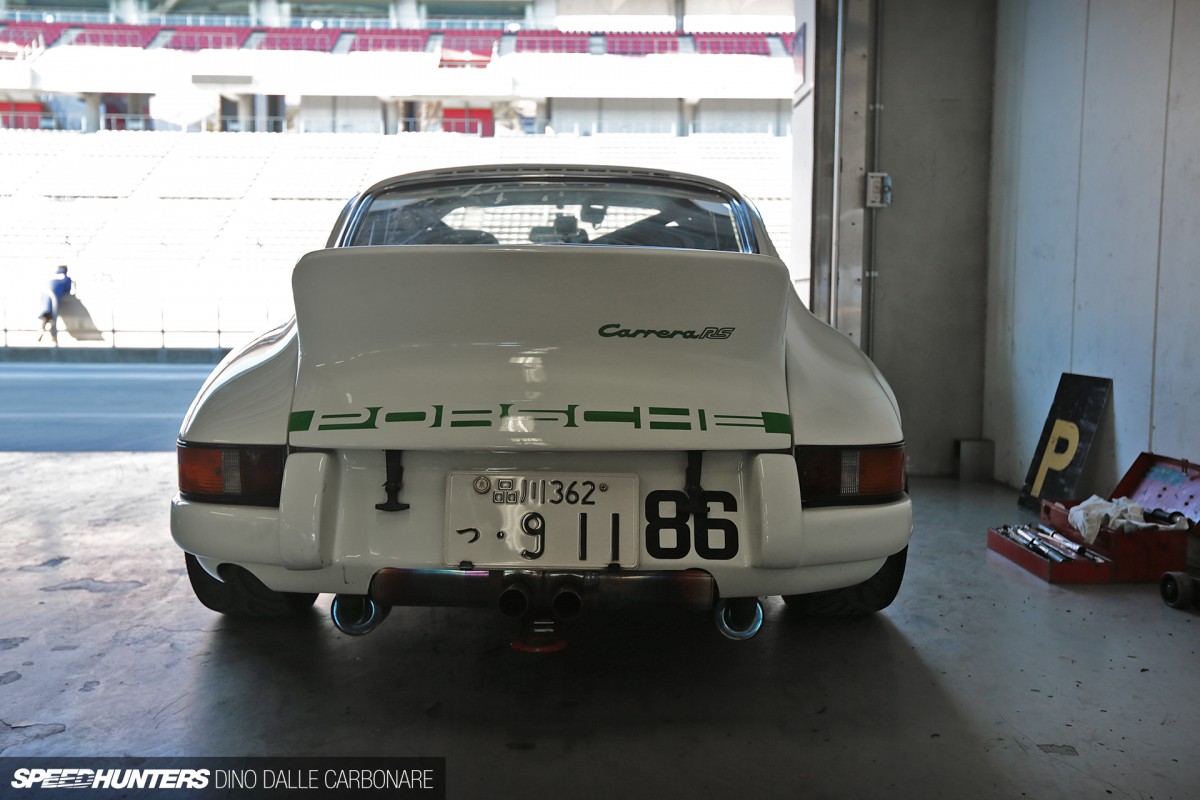 It's simply impossible to not love these cars! As I was indulging in some vintage ducktail goodness, I got a call from Miura telling me he'd arrive in the paddock in a few minutes.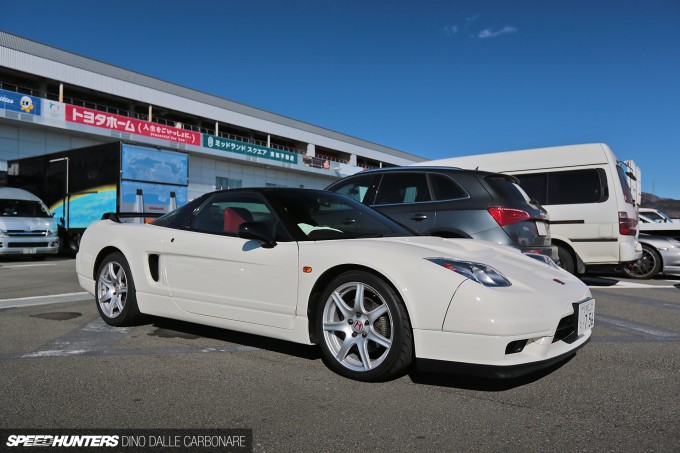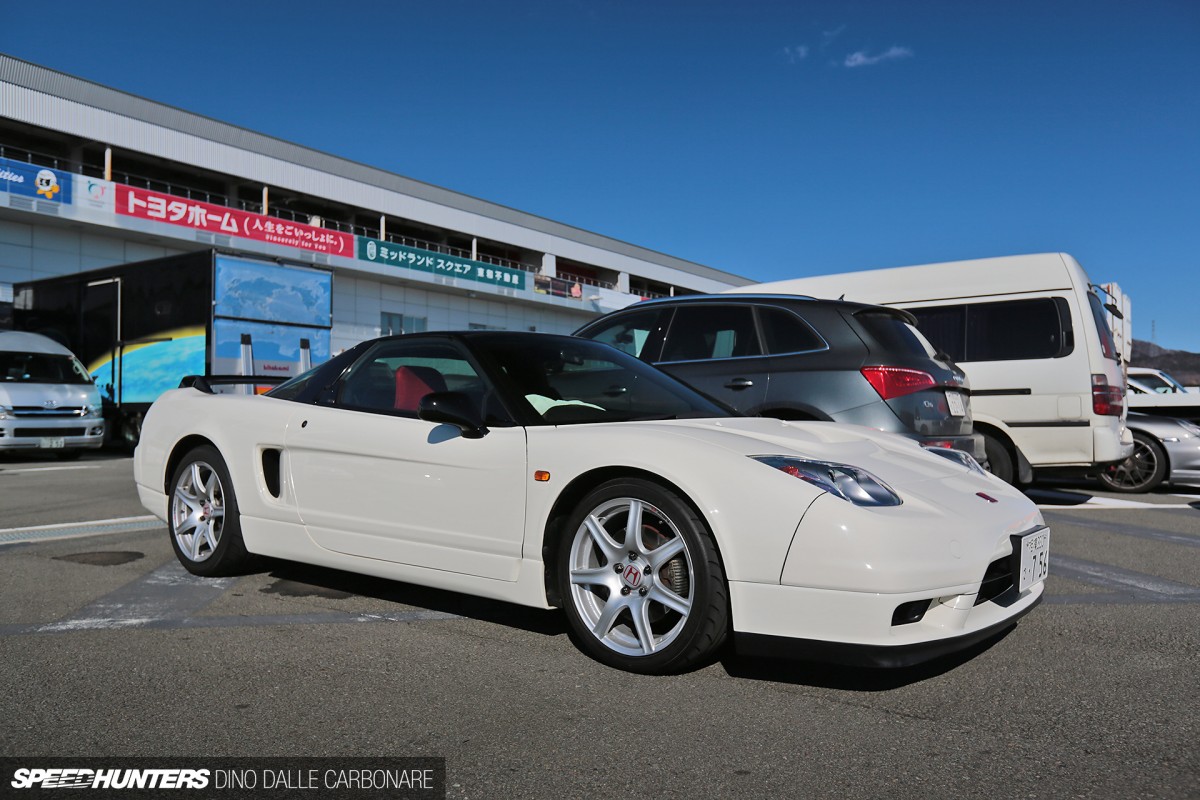 I headed out then and there because after all, I was at FSW to shoot a car feature! While I waited, I couldn't help but walk over to a familiar shape I saw in the distance: the one and only kouki version of the NSX-R. Perfect!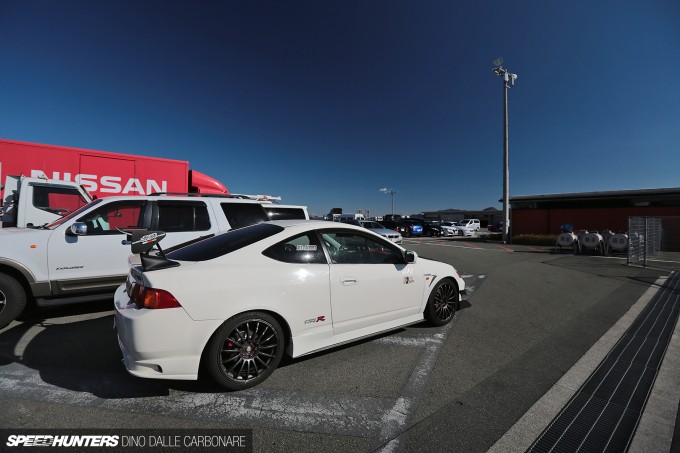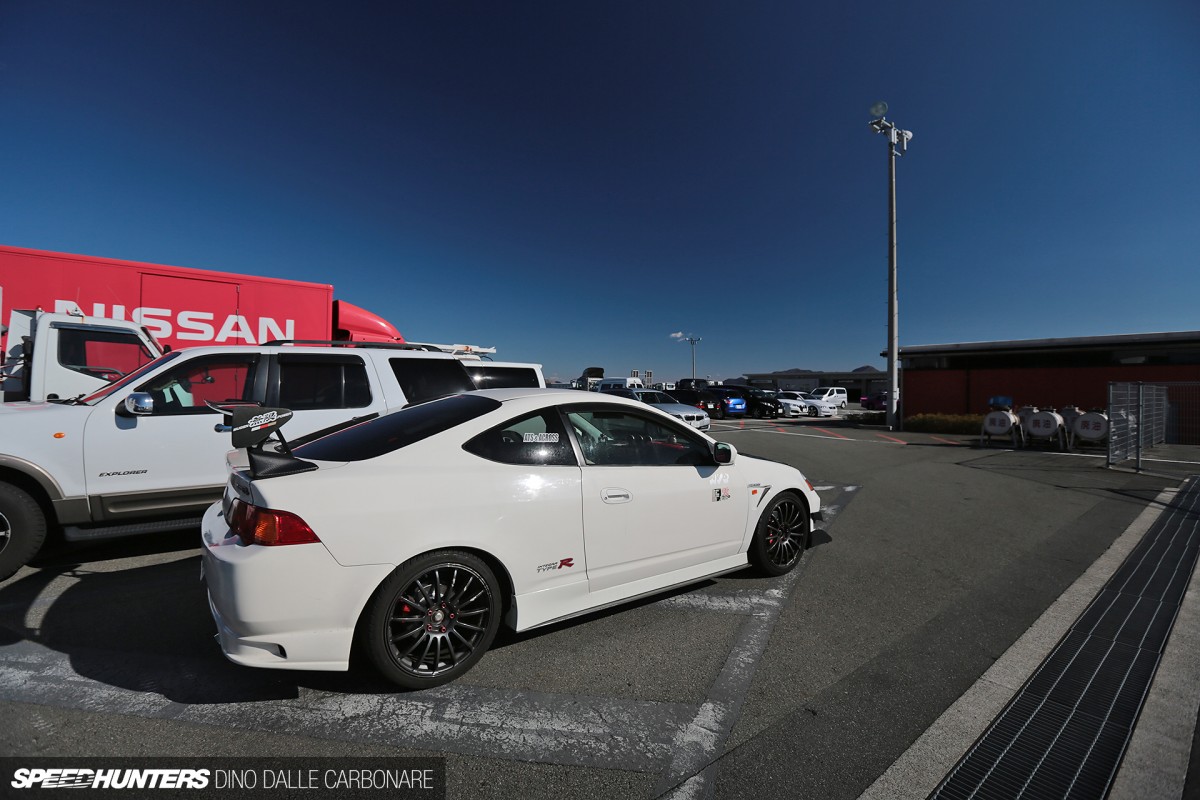 But wait, there was one more Honda a few meters away, another with that red R badge that we're seeing less and less of from the eco/hybrid-crazy manufacturer these days!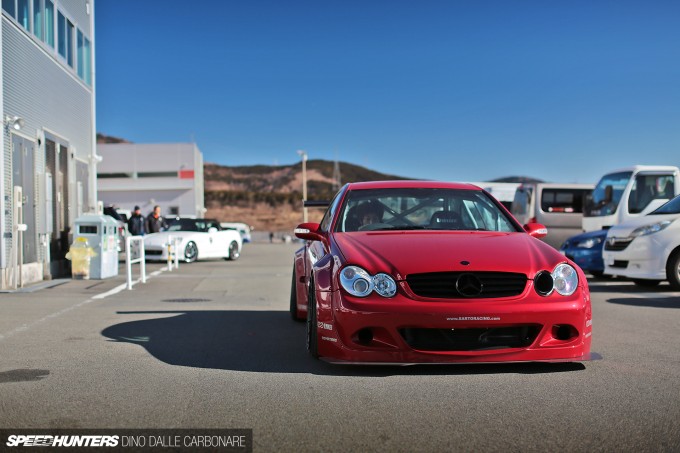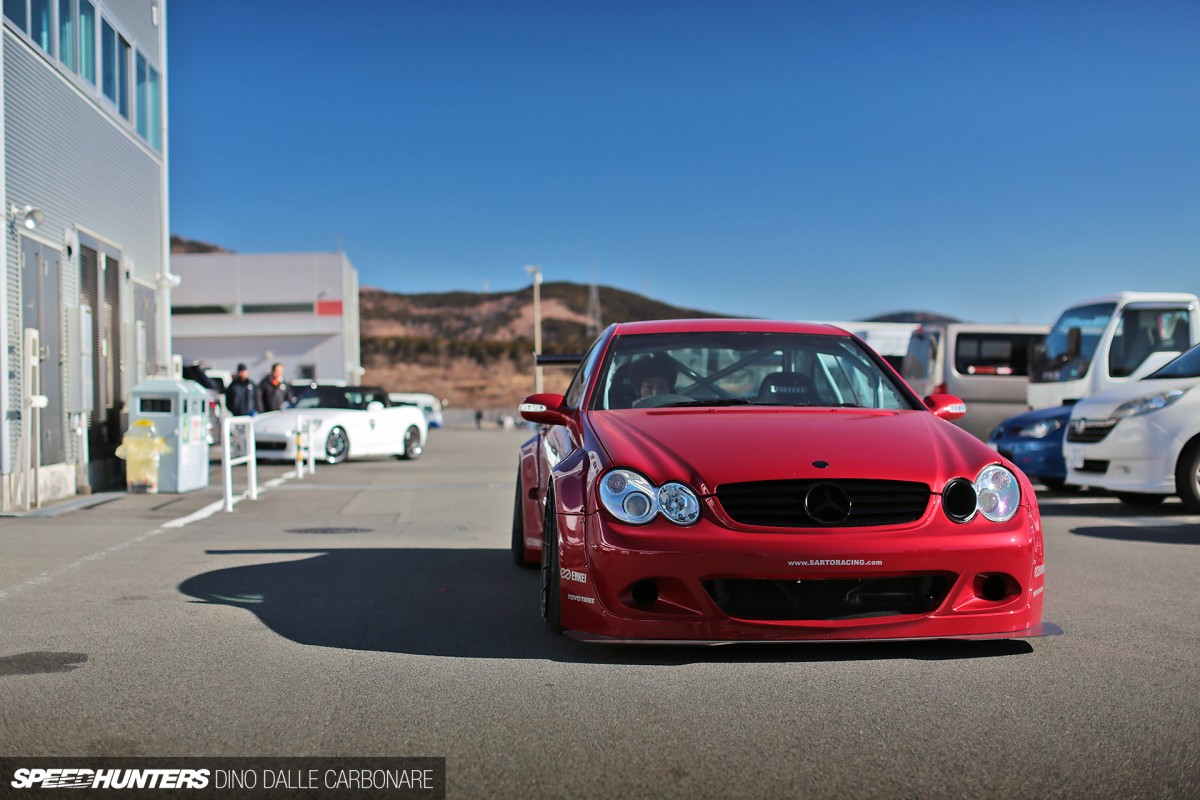 It wasn't long before I heard a raspy, very drift-car like exhaust note coming closer towards me. Miura had arrived.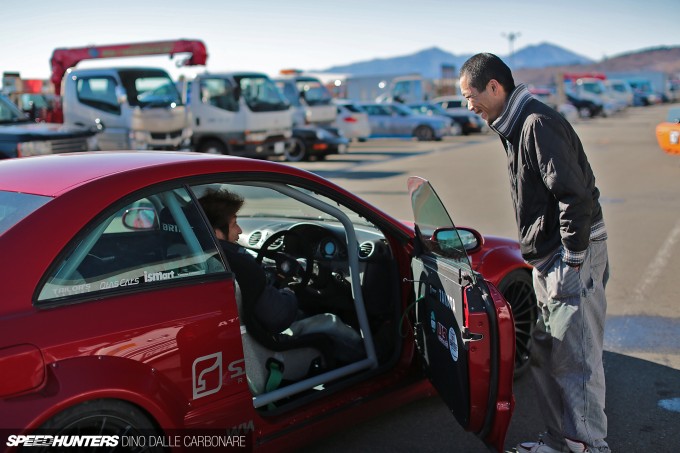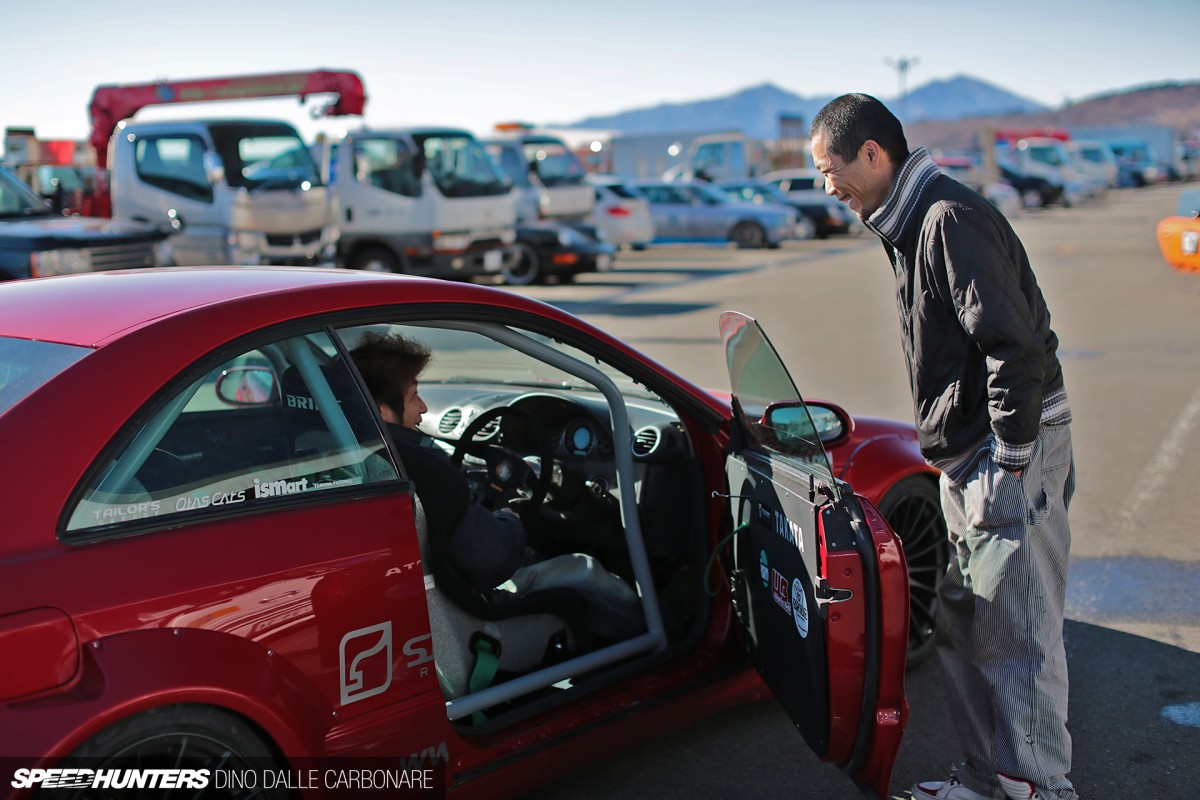 He and Yoshimori-san of Sarto Racing had unloaded the CLK from the transporter and my time indulging in soukoukai awesomeness was over. Happy that I had seen all that I wanted to see, I proceeded with the day's photoshoot which if you haven't seen yet, you can check out here.
I hope that like me, you've enjoyed looking at how the Japanese do things when it comes to grip-oriented cars. Let me know what you think in the comments and if you'd like to see more of these type of posts. I should really do a similar thing for drift cars – no D1 cars though, I mean proper grassroots rides. I think a trip out to Nikko Circuit is in order!
Dino Dalle Carbonare
Instagram: speedhunters_dino
dino@speedhunters.com