Simply clean
Speedhunters' quest to hunt down the world's coolest car builds brings us face-to-face with some wild-eyed machinery. I'm sure you know the sort of four-wheeled creations I'm talking about too – a Honda S600 with a giant turbos erupting from its bodywork, a 1500hp twin turbo Chevy LS1-powered Volkswagen Golf, a Peugeot 208 capable of going zero to 100km/h in 1.8 seconds, and a Lamborghini V12-ingesting Fiat 500.
But not every feature car you'll read about on the site screams 'I belong in an automotive asylum'. Some go about their business with minimal fuss; such is the case with this svelte FC3S Mazda RX-7 from Sydney, Australia.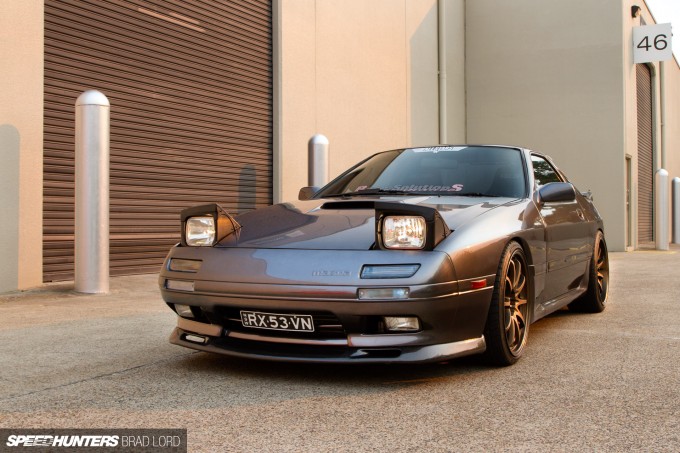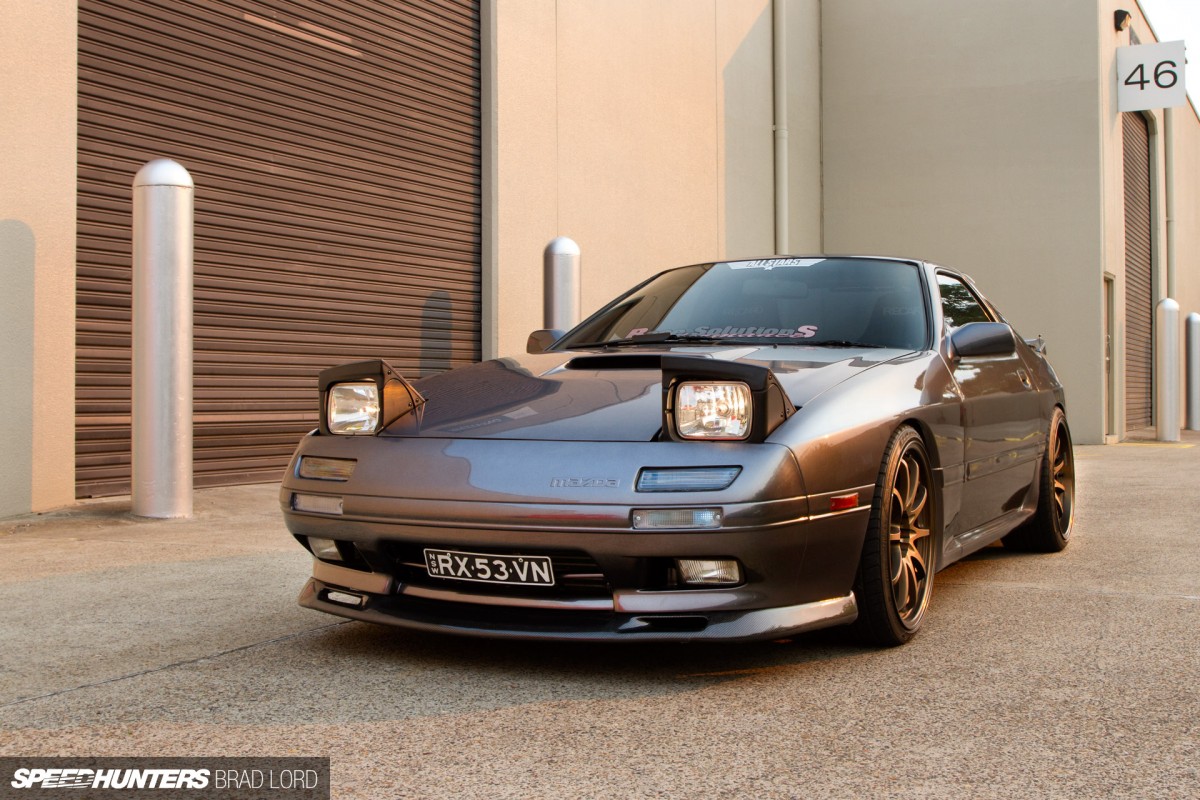 Given its close-to-factory appearance and purposeful stance, you could be forgiven for dismissing John Macukatic's Series 5 as a lightly modified streeter. In many ways you'd be right to think that way too, because this is a car that's been purposely built with that OEM feel in mind.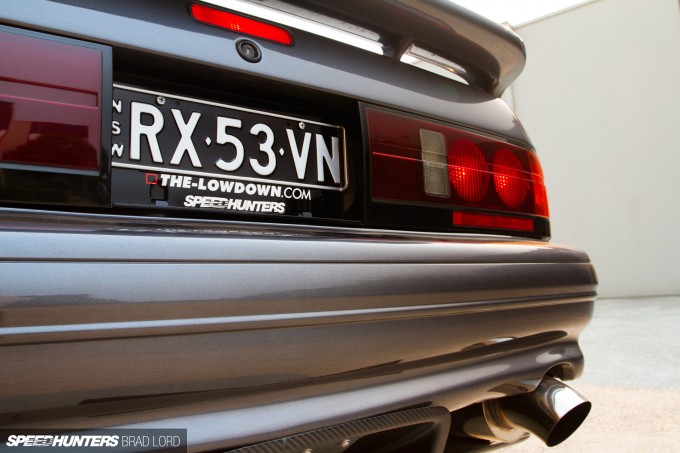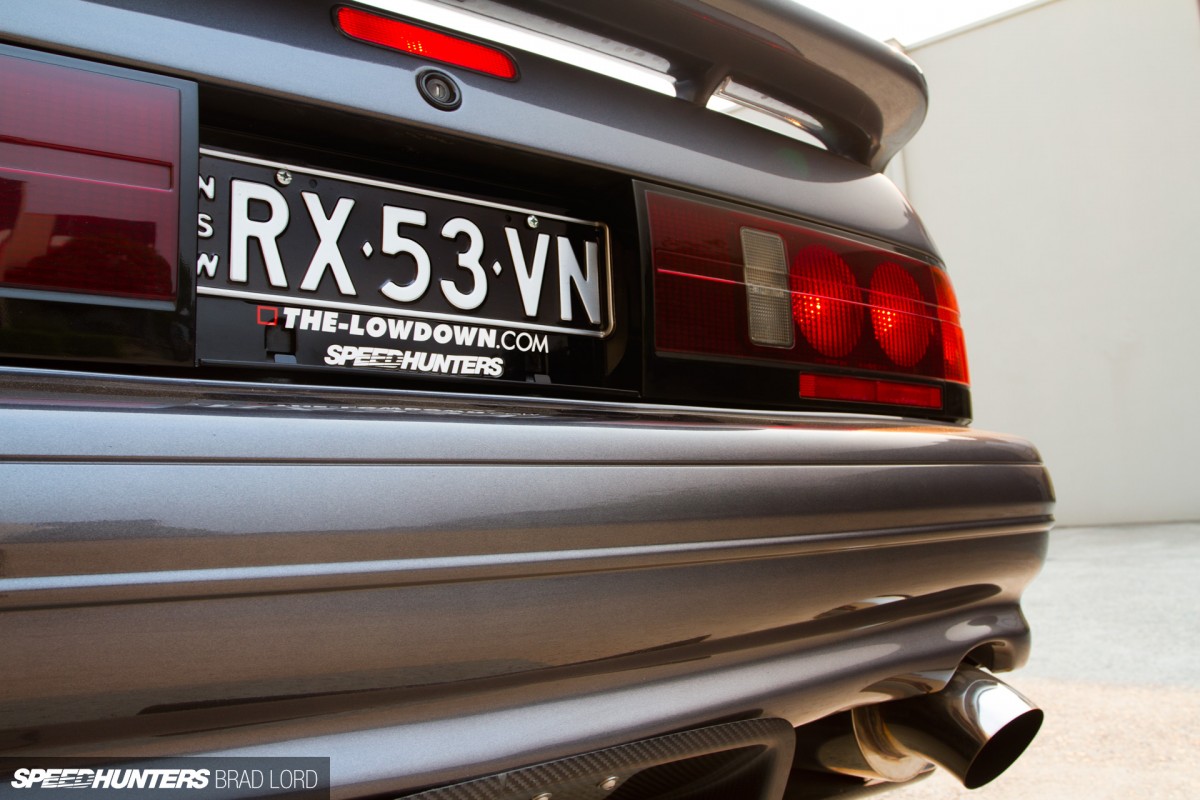 But that's really only half the story, and after being extended an introduction from our good friends at Zen Garage who were lucky enough to snag John's car for their All Stars booth at October's Yokohama World Time Attack Challenge, we knew we needed to take a closer look.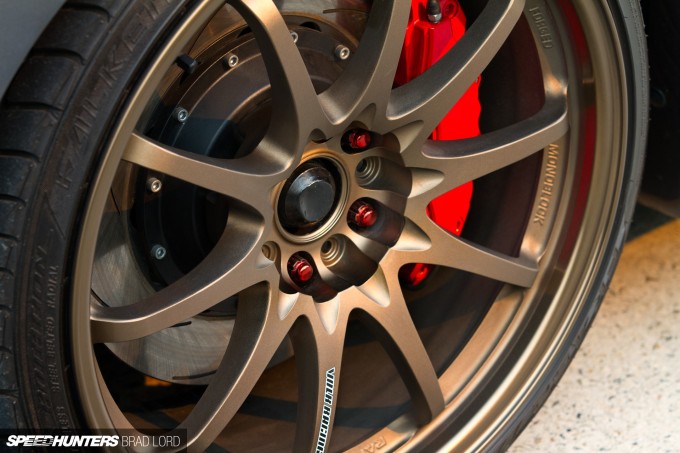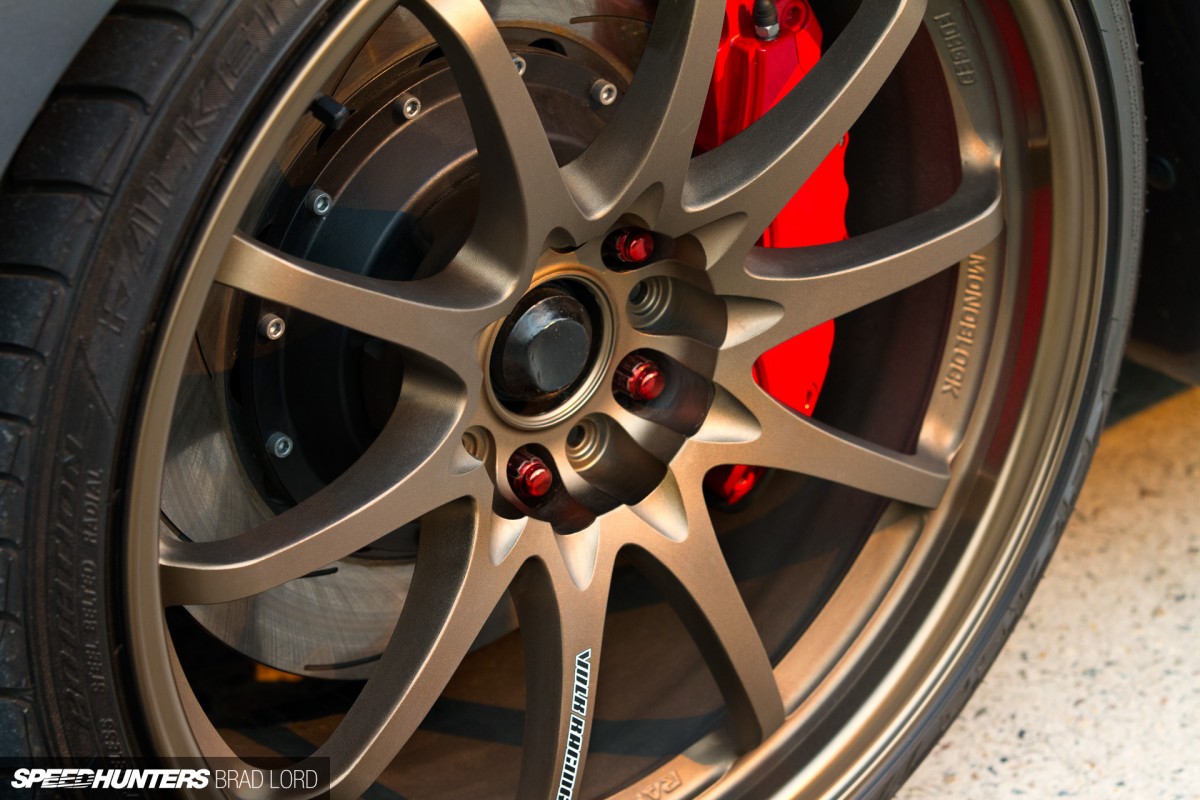 John doesn't really know why a Series 5 RX-7 became the basis for this extensive build loaded with quality parts. Many others cars, including a Series 2 SA22C and Series 8 FD3S came and went during the five or so years he owned the Mazda before embarking on its major overhaul a couple of years ago, but for some reason, selling the FC3S never crossed his mind. Keeping the car, but evolving it into a seriously cool street machine, seemed like the right thing to do.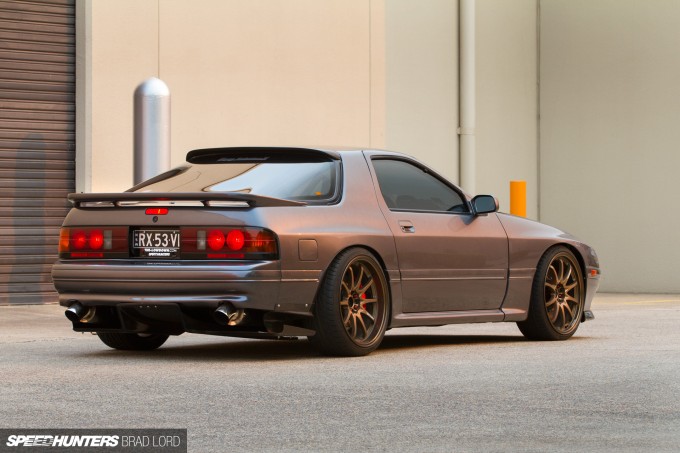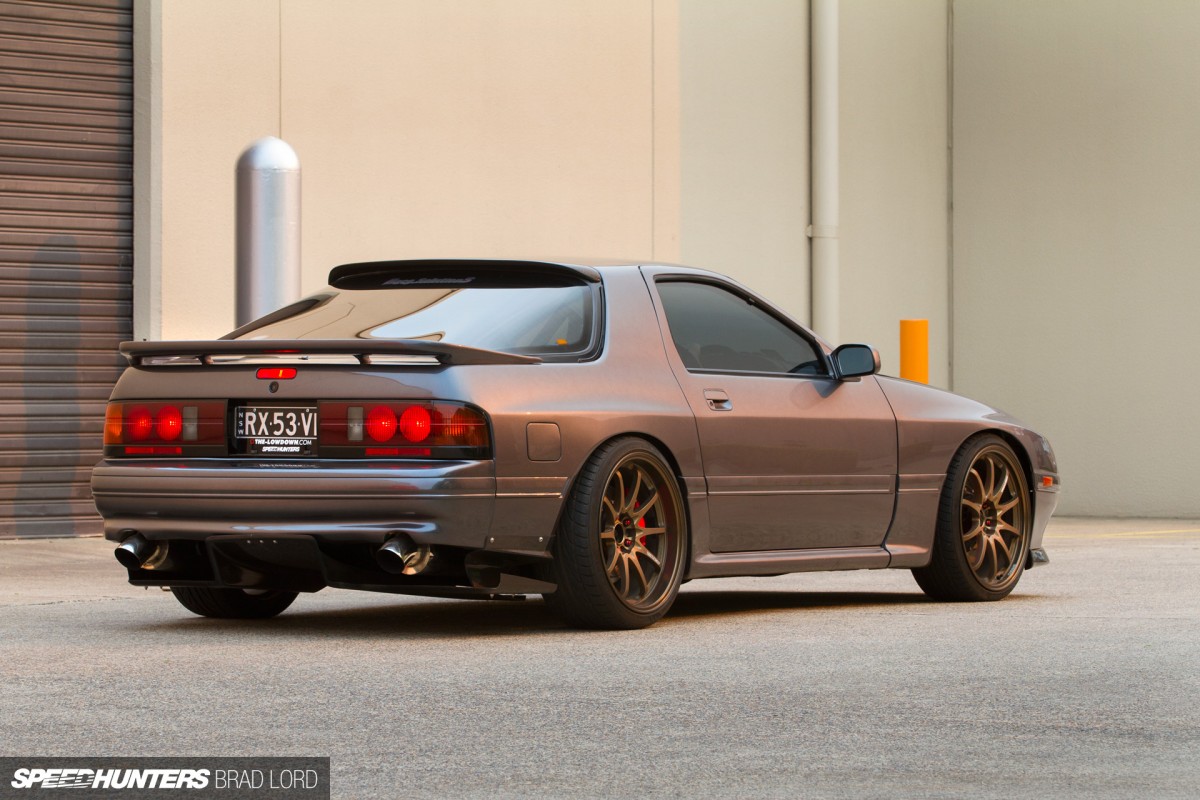 Despite some pretty hardcore underpinnings, the one aspect John really didn't want to mess with too much was the way the RX-7 looked – precisely why you won't find it redressed in aftermarket FRP bolt-ons. Instead, he ran with an understated approach, fitting a few select exterior accessories that only serve to accentuate the Series 5's factory styling rather than detract from it.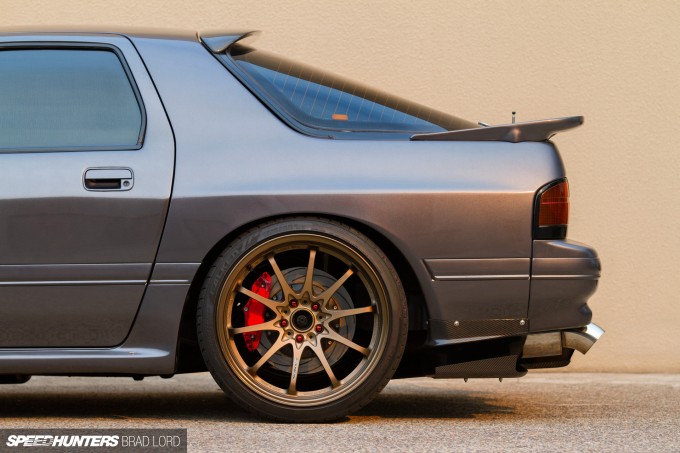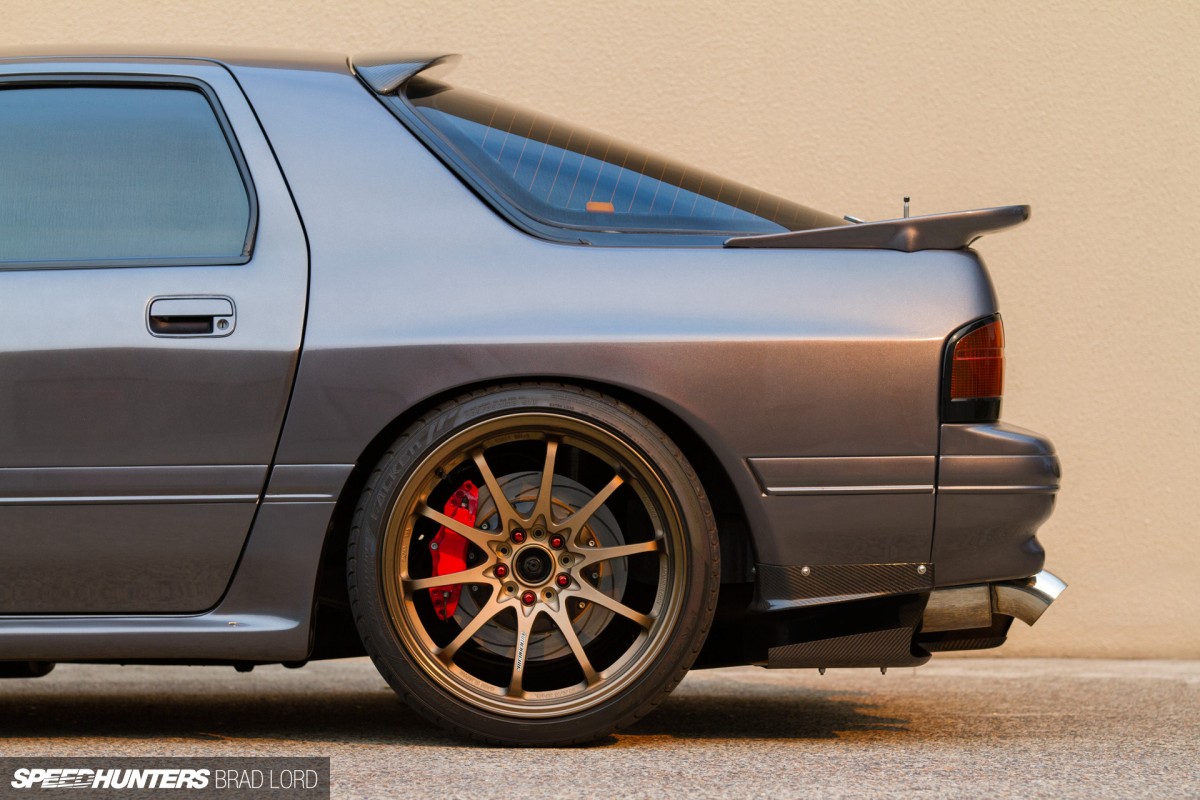 Take the carbon fibre roof spoiler, Shine Auto carbon fibre rear diffuser and the oh-so-subtly pumped and rolled front and rear guards for instance. I'm not sure about you, but I'm finding it pretty hard to argue with John's logic here.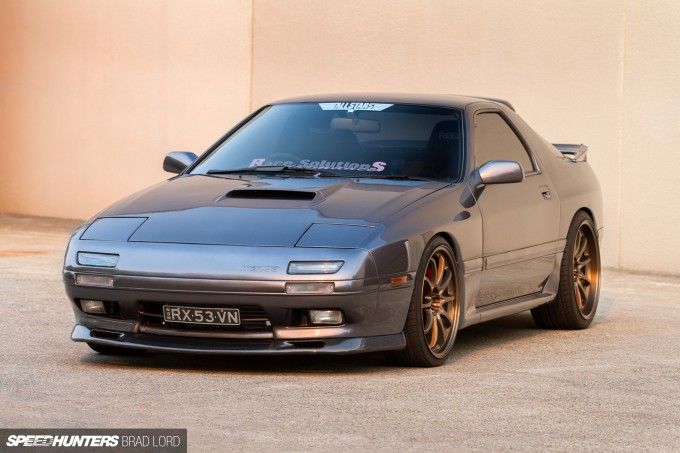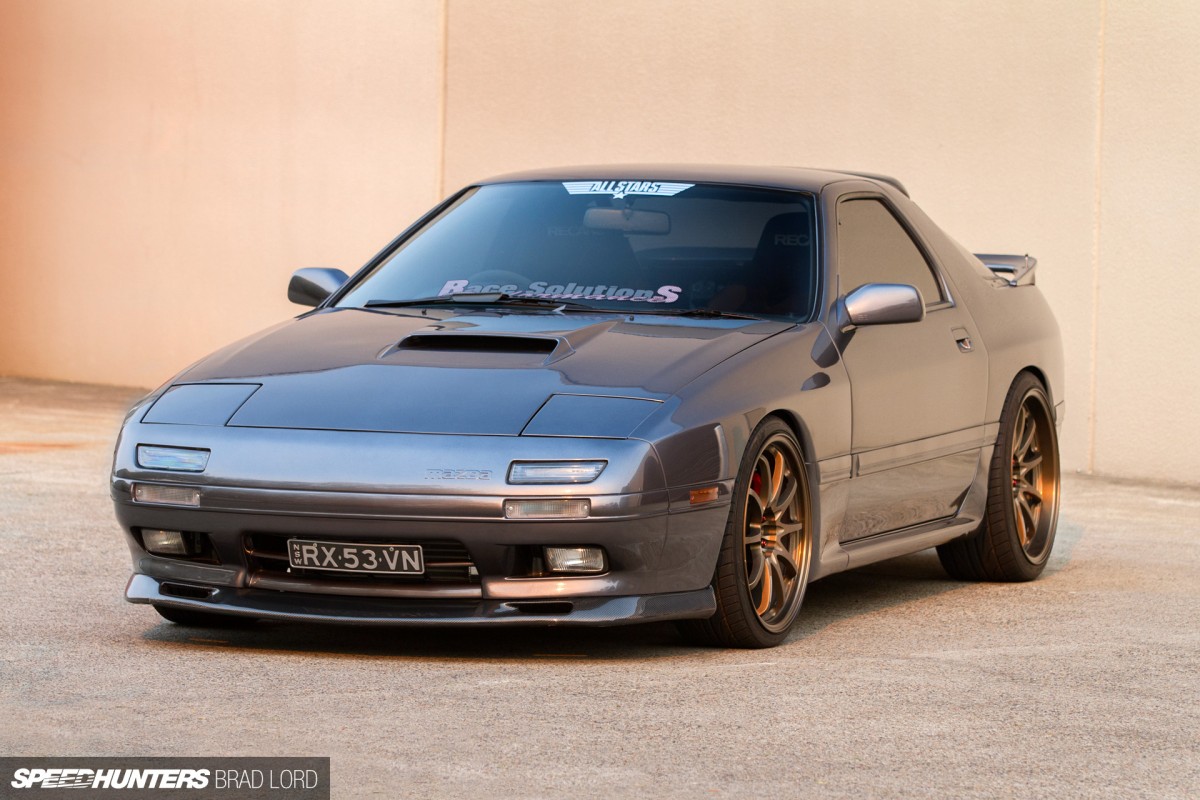 At the front end, the right carbon fibre front lip spoiler was all it took to bring the front end on point. The paint – Gun Grey Metallic borrowed from Nissan's BNR32 Nissan Skyline GT-R, certainly helps the cause too.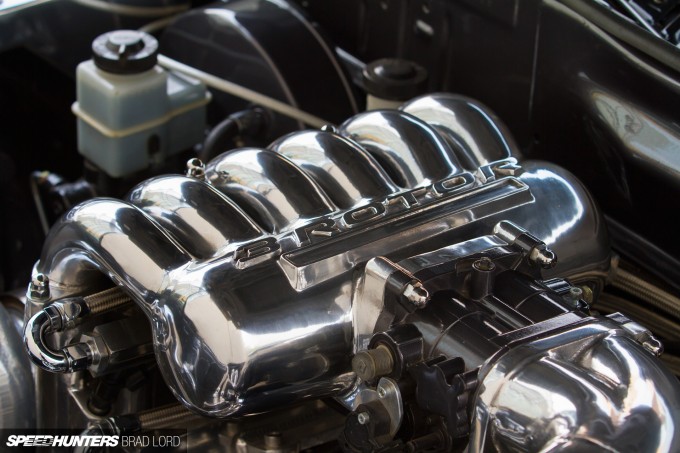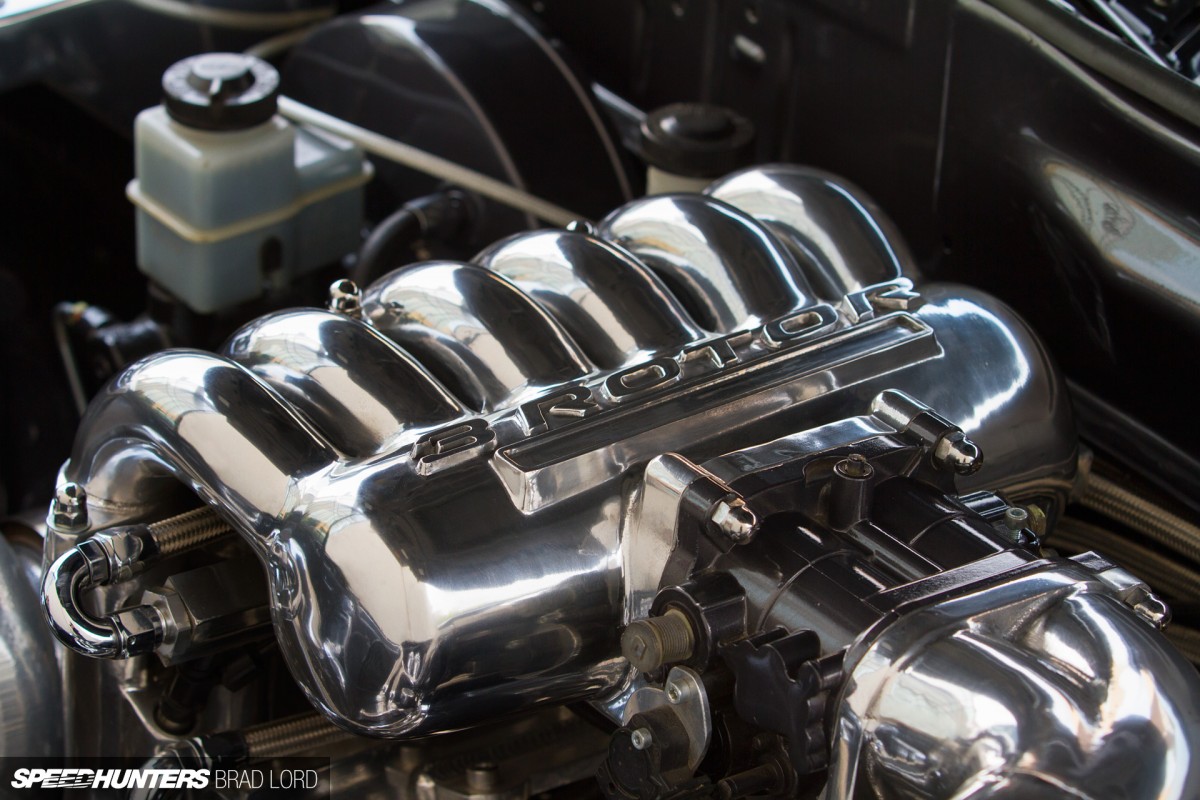 As restrained as its outward appearance might be though, there's a lot more to this perfectly formed FC than first meets the eye. And that most definitely includes what's going on in the engine bay where a Mazda 20B three-rotor motor built with 700hp-on-pump-gas potential in mind, puts a whole new spin on things.
Triple threat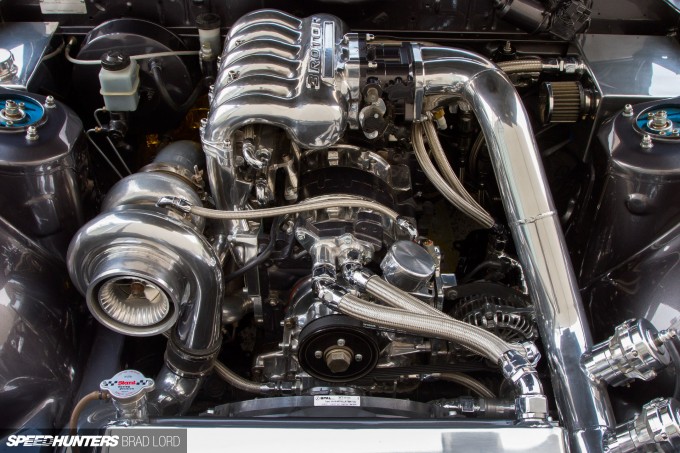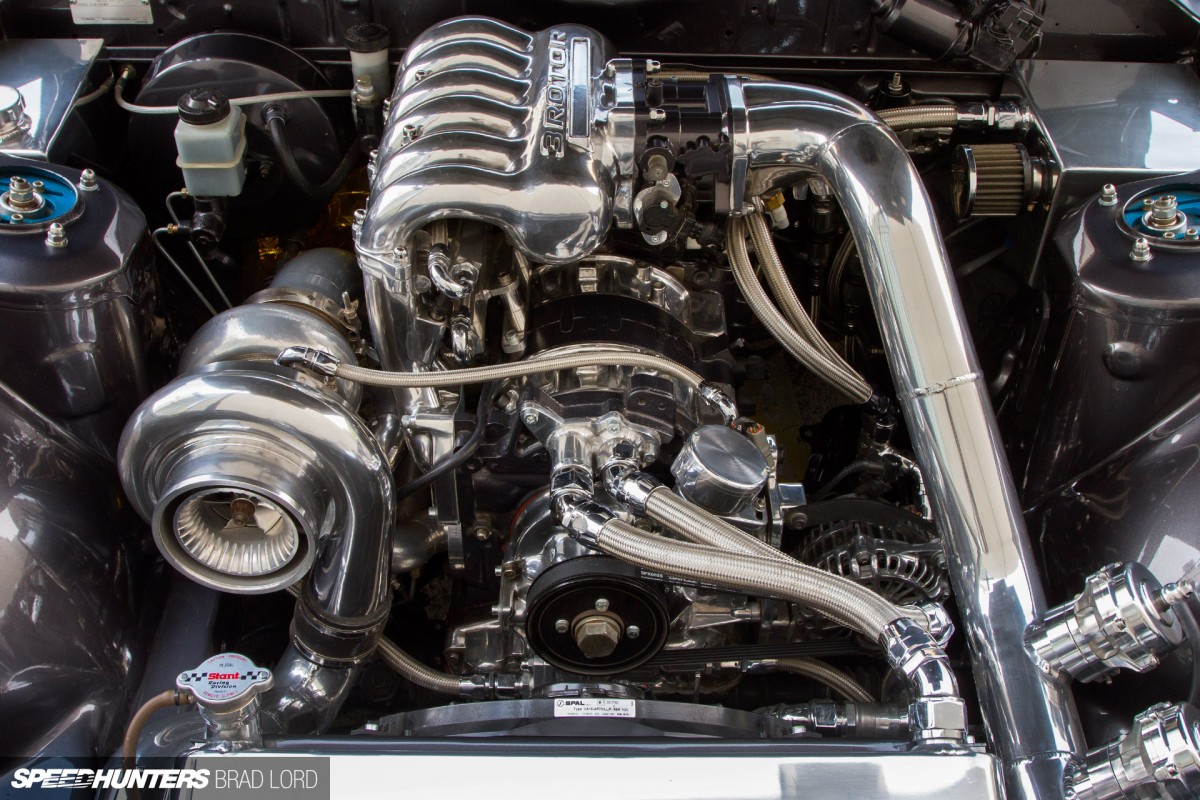 In its previous form the FC had danced to the beat of a fully built 13B turbo, which according to John provided the RX-7 with no shortage of power for the street. Regardless of that fact though, a genuine 20B re-power was on the cards for a long time, so it was really only a matter of when not if a JC Cosmo triple would find its way into the Mazda. After sourcing a suitable donor engine, Sydney tuner Race Solutions Performance was tasked with the build; a process that included machining, dowelling and stud-kitting the housings, bridge-porting the side plates, and balancing and setting the factory rotors to race clearance. RSP-spec apex seals and a lightened D-series crankshaft from a late 20B engine were also added into the mix.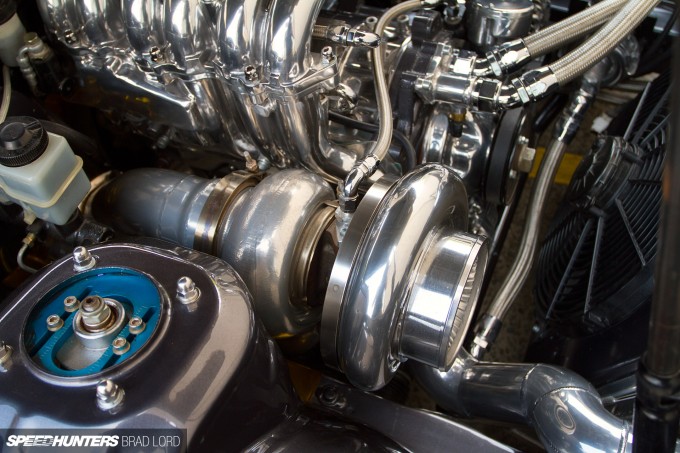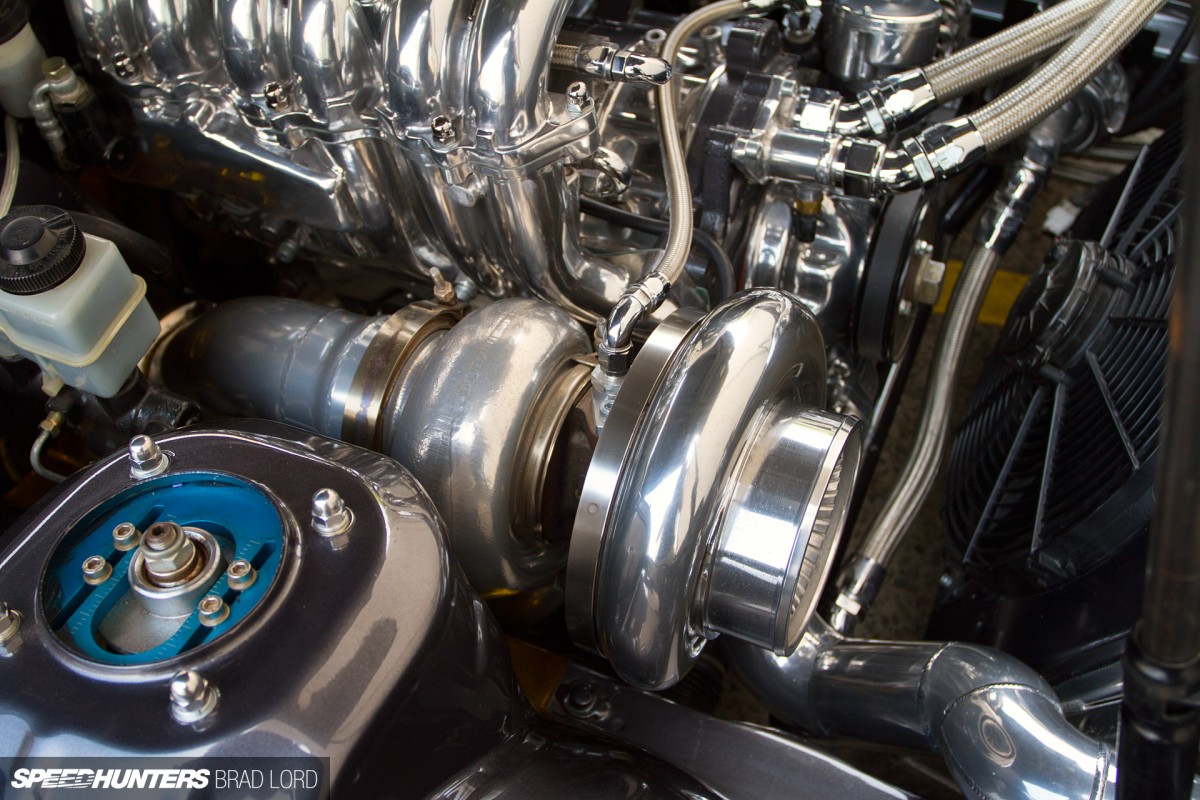 Although the 20B output around 300hp in factory twin turbo form, realising more that double that number in a reliable manner required RSP to undertake a few external modifications too. Some, you might say, are just a little more obvious than others.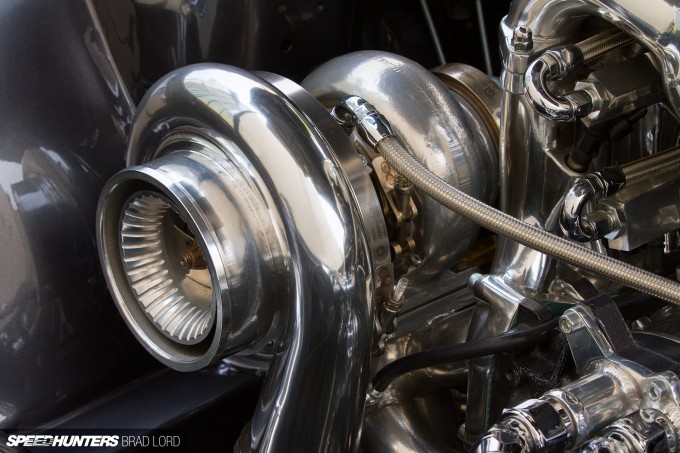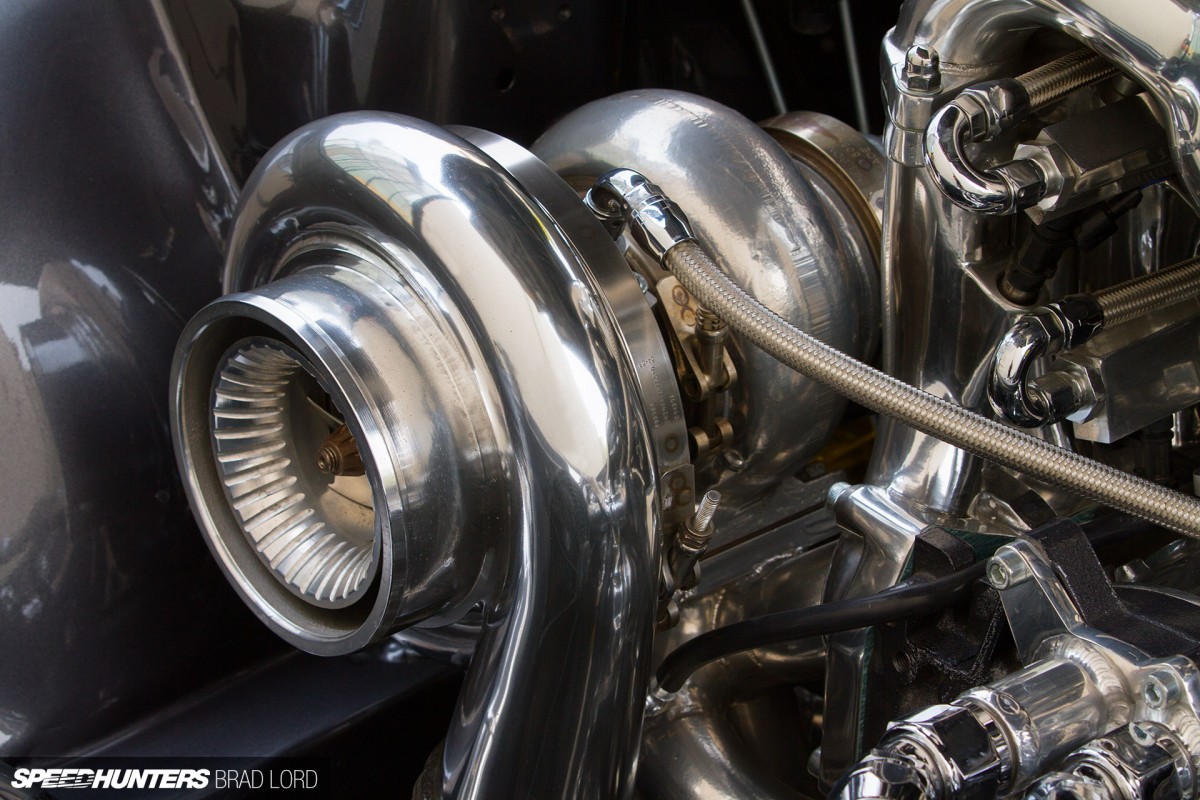 In a sea of mirror-polished metal, the BorgWarner S400 billet 88mm turbocharger commands attention, but that's something to be expected given the sheer physical size of the boost-generating beast. Along with a custom ceramic-coated tubular exhaust manifold featuring EGT sensors on each runner for tuning purposes, the turbo upgrade employs a TiAL V60 60mm wastegate and a four-inch downpipe running into dual three-inch stainless steel exhausts to expel spent gasses.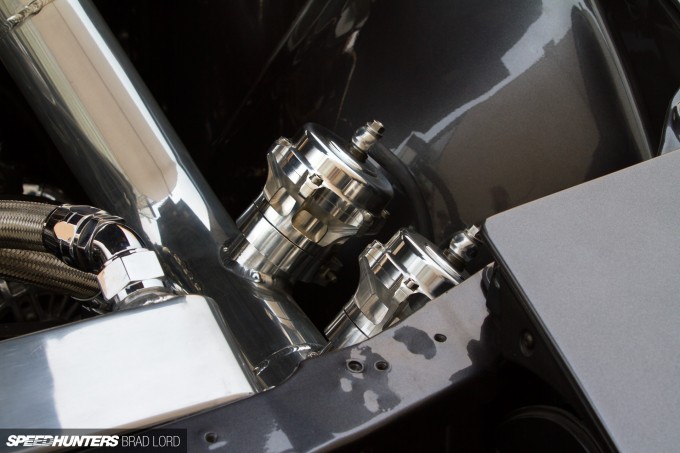 On the other side, you'll find a custom front-mounted intercooler built around a PWR core, and hand-crafted aluminium pipes with dual TiAL Q 50mm blow-off valves to relieve pent-up pressure in the inlet tract. The intake system benefits from a port-matched and high-flow manifold and modified throttle body, plus a suitably-sized fuel supply incorporating multiple Walbro race pumps, oversized fuel lines and custom twin fuel rails feeding six thirsty 2000cc Injector Dynamics ID2000 injectors. Luckily for John, high octane pump gas is still affordable in Australia.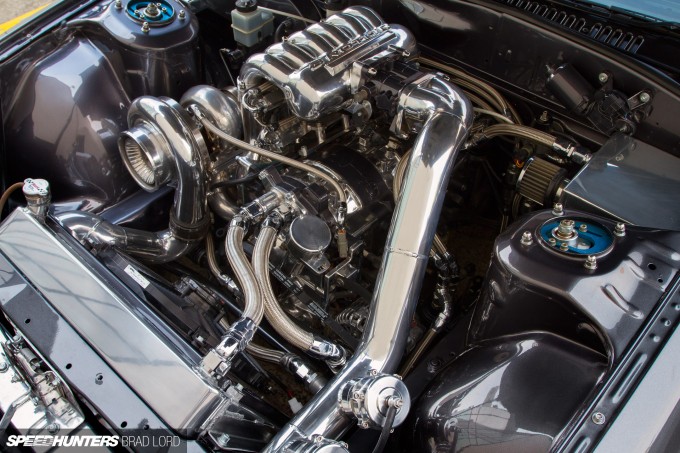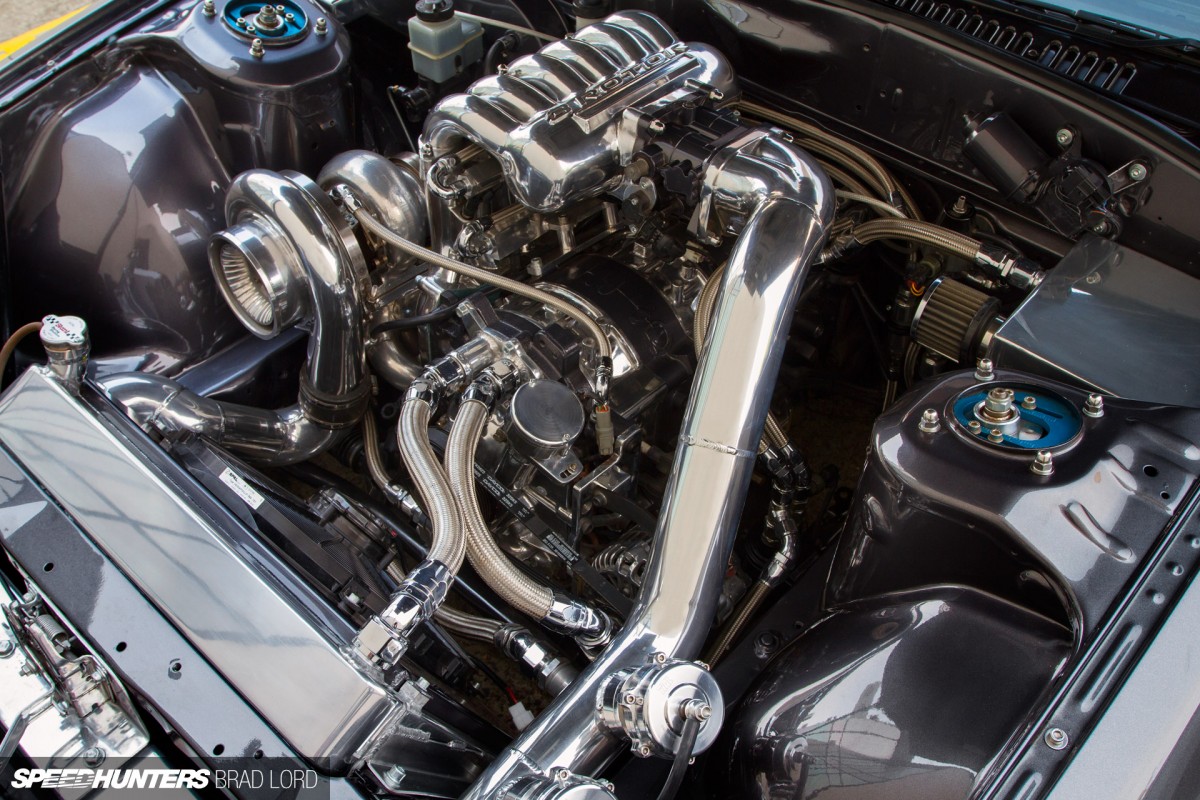 I've seen some pretty clean engine bays in my time, and this one's right up there with the best. With so much to take in, it's only when you stop to really appreciate it, that the amount of work that's gone into getting it to look this way become apparent. The hidden harness – one facet of a complete front-t0-rear rewire and integration of a Haltech Sport 2000 engine management system, the inner guard smoothing, the custom colour coding on the end plates – and the list goes on… Then there's the stuff that you'd be hard-pressed to pick, like the custom mounts which were designed and fabricated to sit the engine as far rearward as possible without having it foul on the firewall. It's a tight fit at the back, but every millimetre matters when you're building car with performance as the primary concern.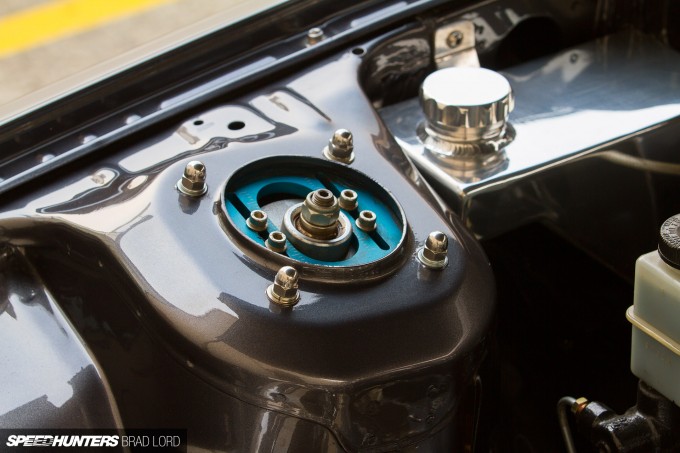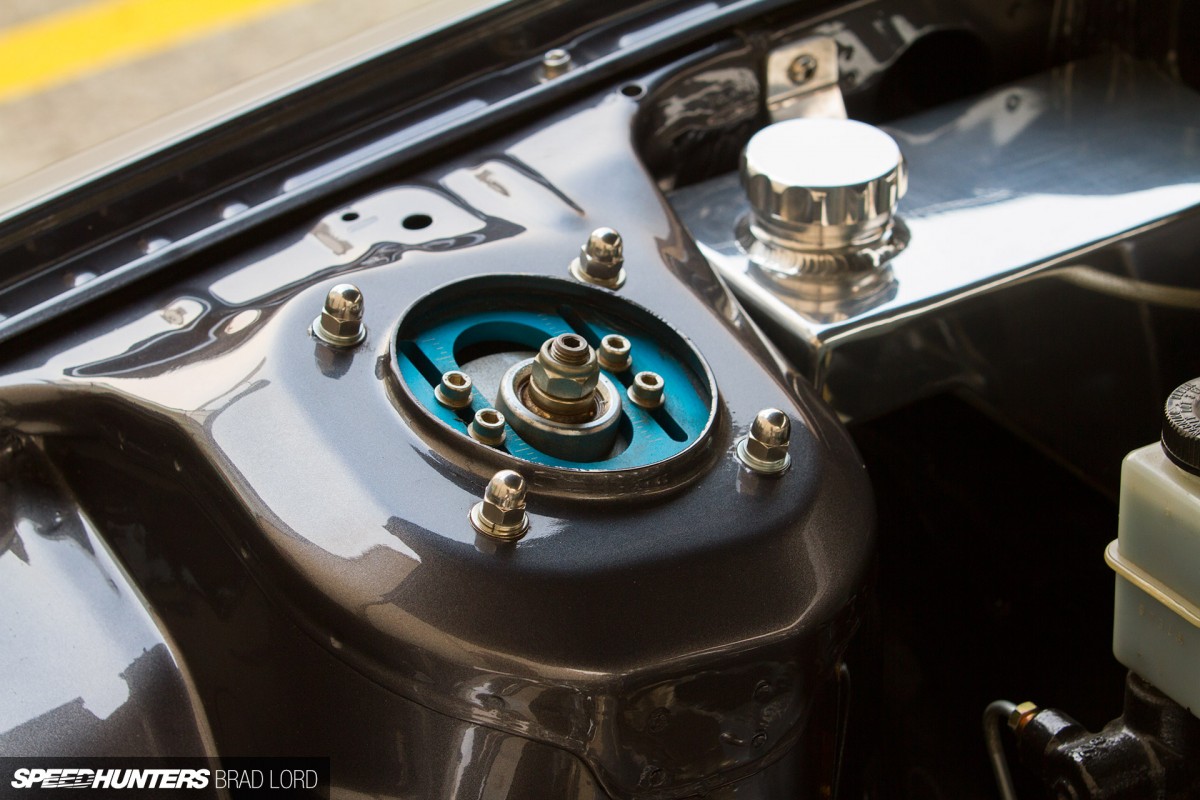 That said, it's no surprise that numerous upgrades have been made in the driveline, suspension and brake departments too. There's a Direct Clutch Services twin-plate clutch fitted to support the massive torque loads generated by the 20B, and OS Giken internals in the Series 5's five-speed transmission to provide closer ratios and extra strength through an uprated mainshaft to lessen the chances of implosion when John unleashes hell with his right foot. And let's not forget the Mazdaspeed limited slip differential and strengthened axles either. To firm up the handling, there's a full course of polyurethane bushes on the underside, plus multi-way Cusco adjustable coilovers, Mazdaspeed sway bars with rose-jointed links and a custom modified and manualised rack to improve steering response and feel.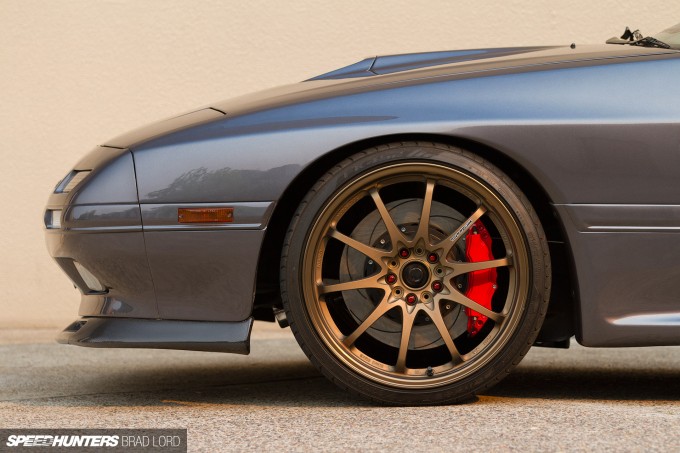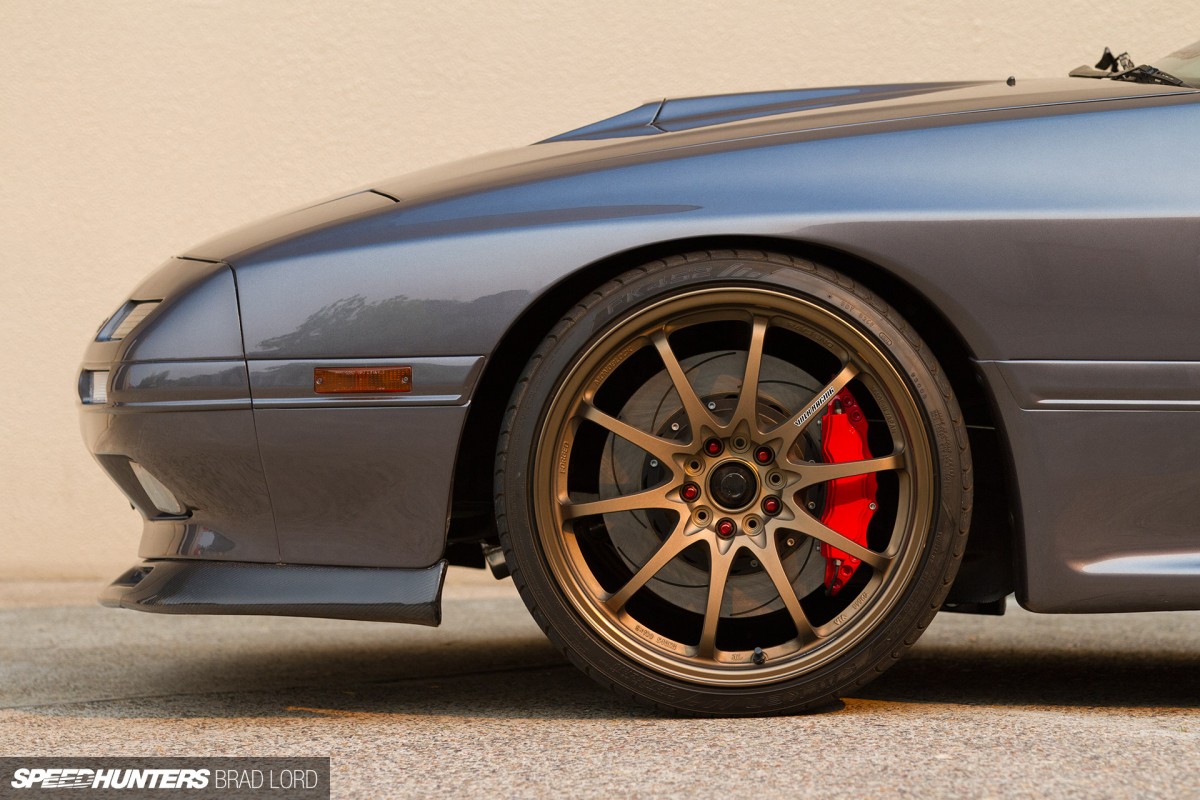 And then there are the brakes – barely contained behind a set of glorious bronze 19-inch RAYS Engineering Volk Racing CE28N forged wheels – massive AP Racing eight-pot calipers grabbing 356mm slotted rotors on the front end, and six-pot/330mm equivalents from the same maker holding up the rear. With custom stainless lines, and AP Racing competition pads and fluid in use, I think it's safe to assume that the FC stops rather well – a welcome trait I'm sure given its ruthless acceleration ability.
Formed function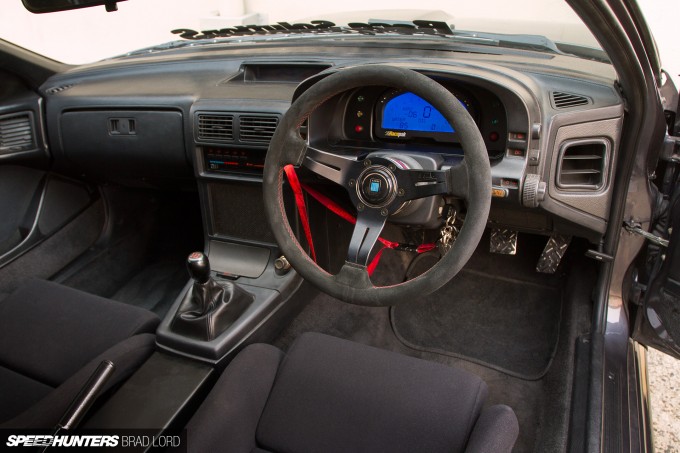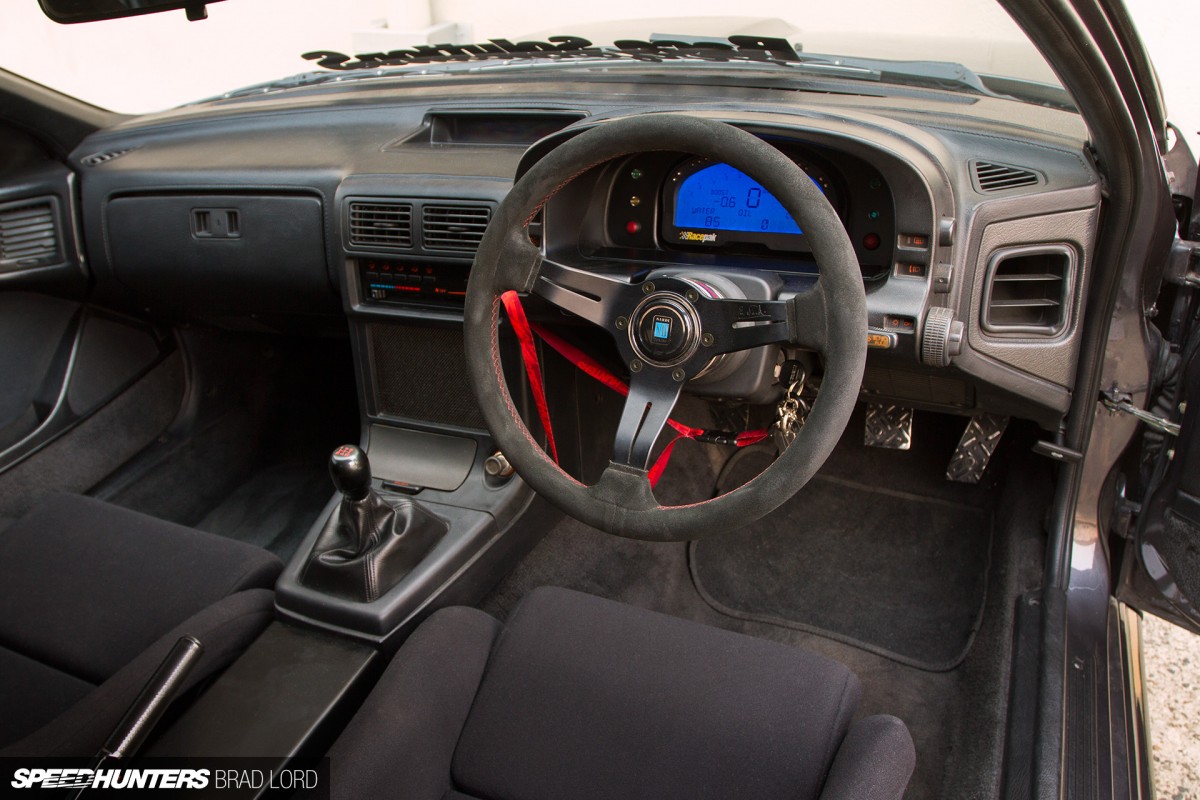 As he chose to do with the exterior, John has kept things clean and functional within the confines of the FC's late-'80s style cockpit. Staying true to the original build ethos, there's just the right amount of modification going on here using some really nice gear to boot. That includes a pair of timeless Recaro SPG seats and a Nardi Deep Corn suede wheel fitted on a quick-release Works Bell hub.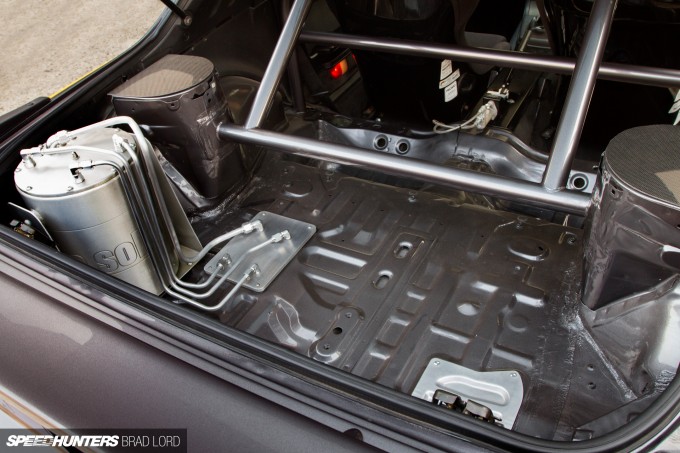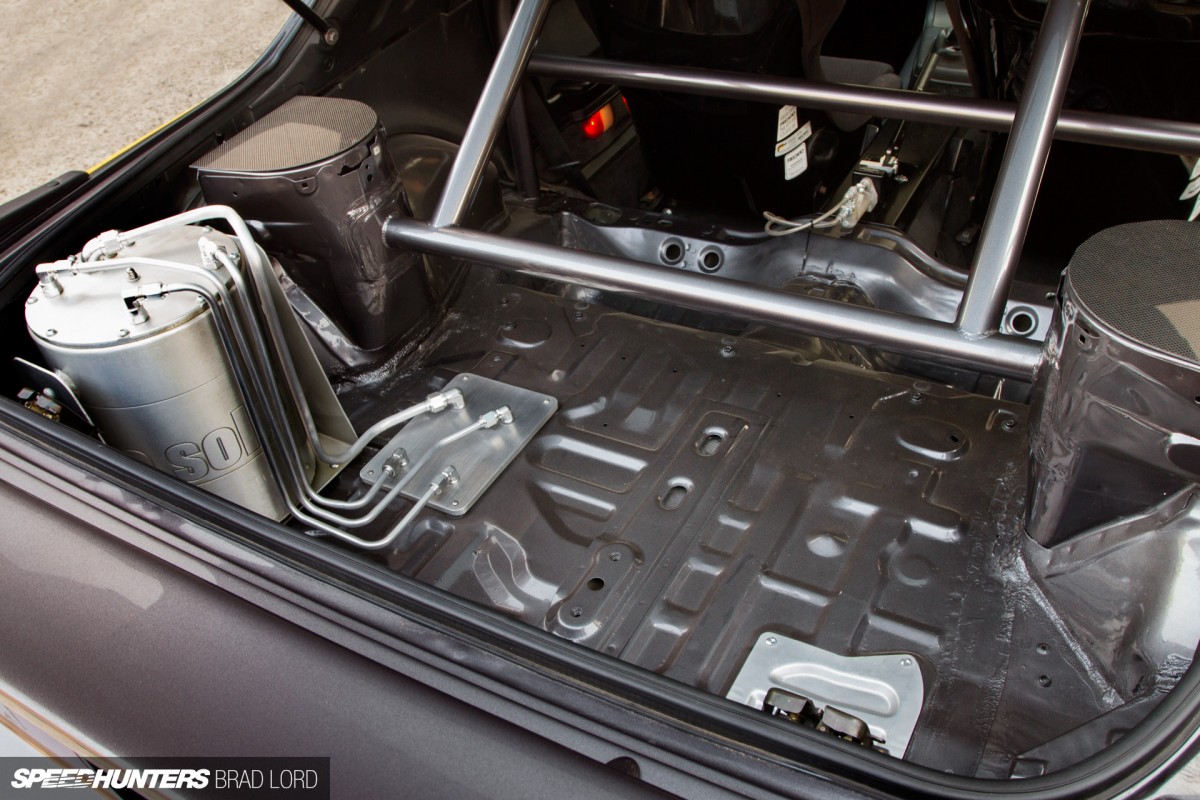 The rear end is more race with a half cage and integrated strut bar, and a distinct lack of sound deadening. The best of both worlds perhaps? I'm certainly digging the approach John has taken here.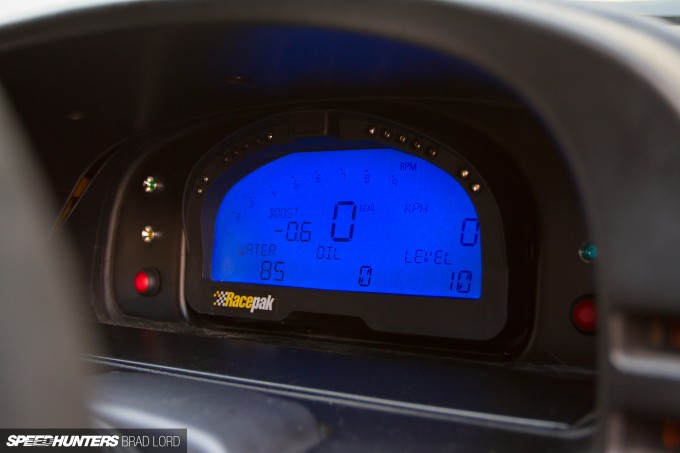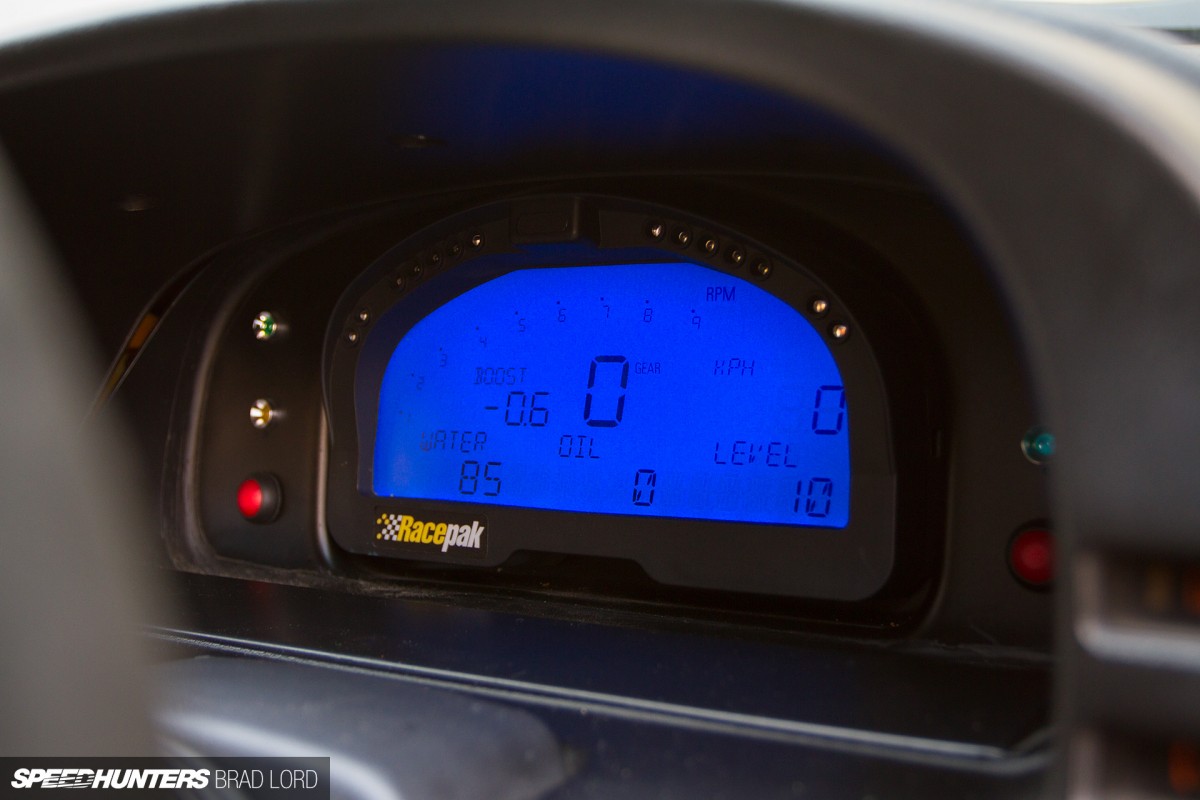 Likewise, the RacePak IQ3 digital display/data logger with sequential shift light that replaces the factory analogue dials in the dash is a nice addition. It was also a real no-brainer given simple plug-and-play connection to the Haltech ECU.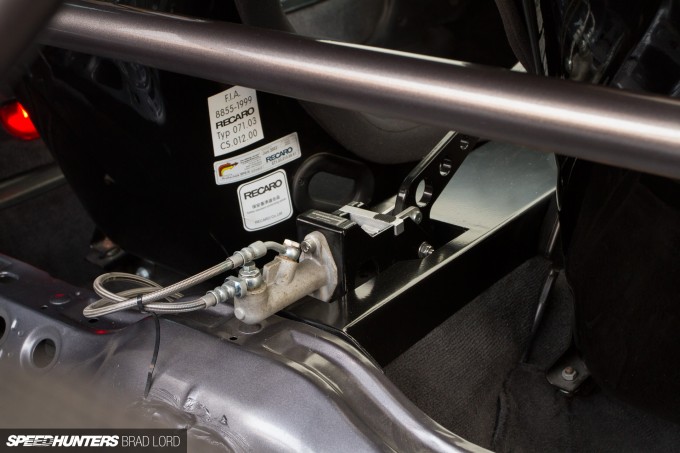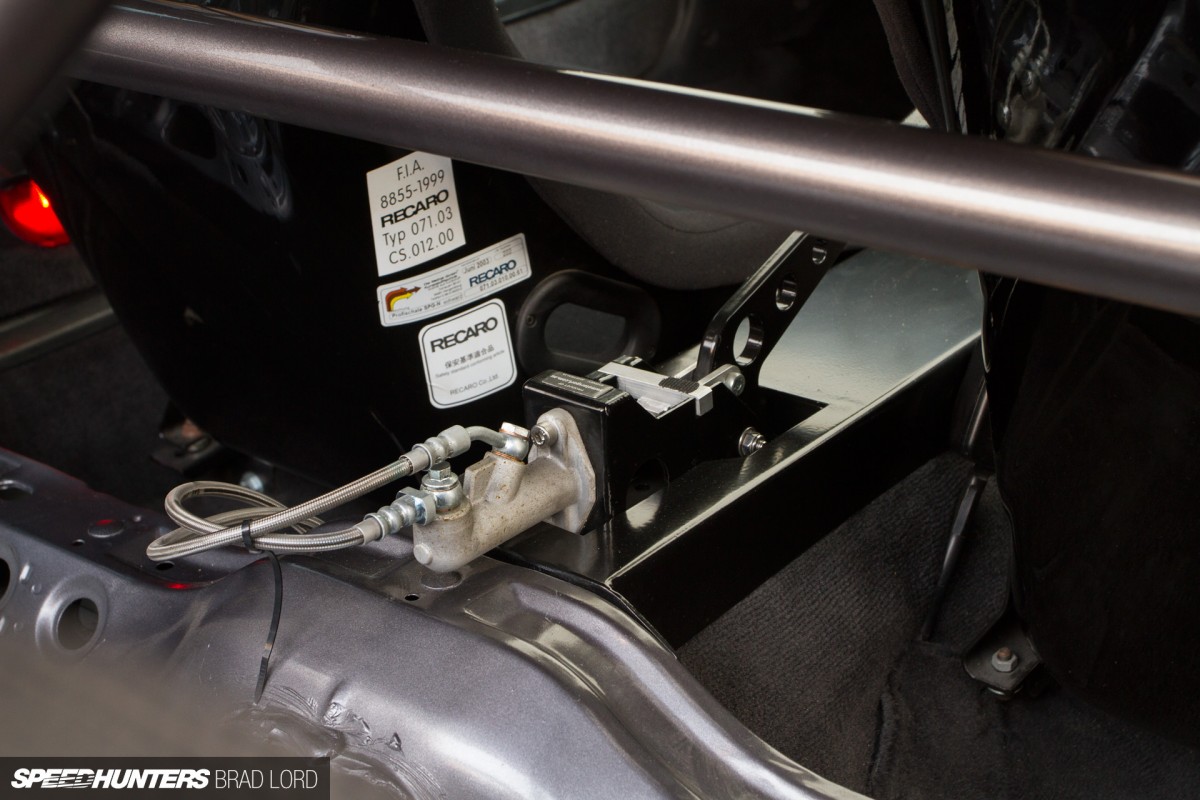 The SW Motorsport hydraulic handbrake assembly on the other hand, was a required solution for the park brake, having done away with the cables and original rear calipers.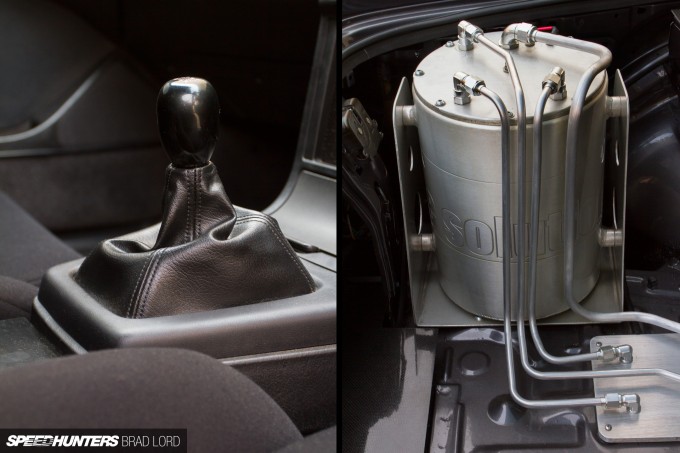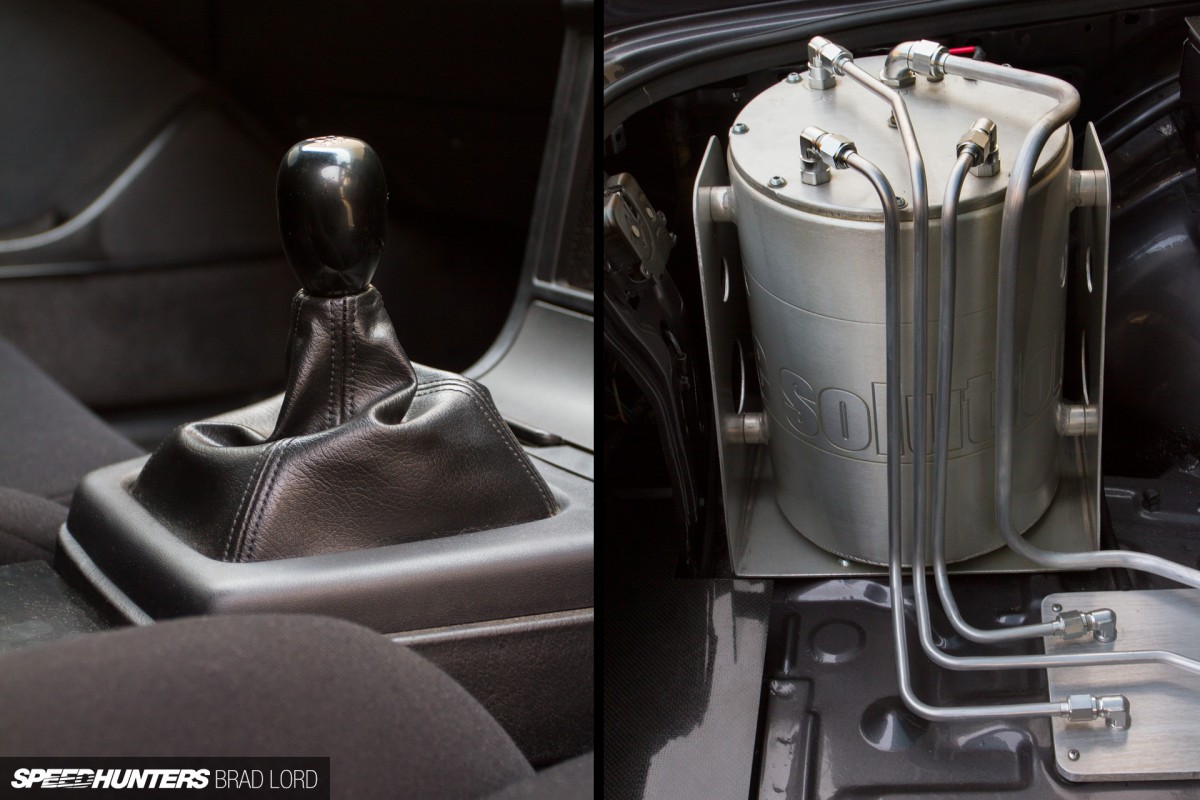 Above all, I really like the fact that the FC's original fixtures and all of the recent race-grade additions fit perfectly well together in this space – something that has a lot to do with the almost minimalistic approach taken with the interior perhaps. Less is sometimes more, don't you think?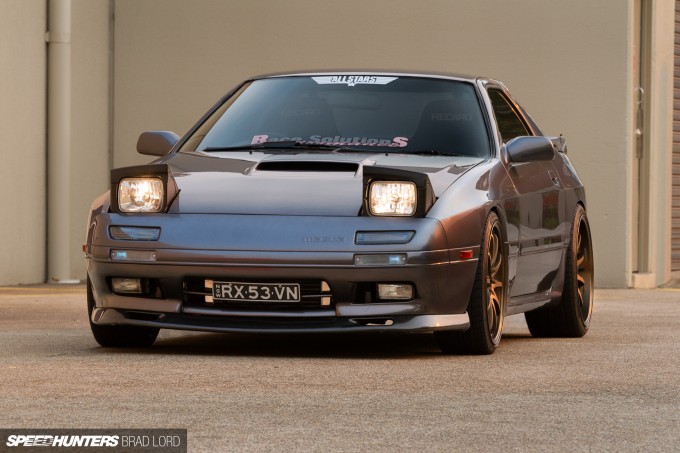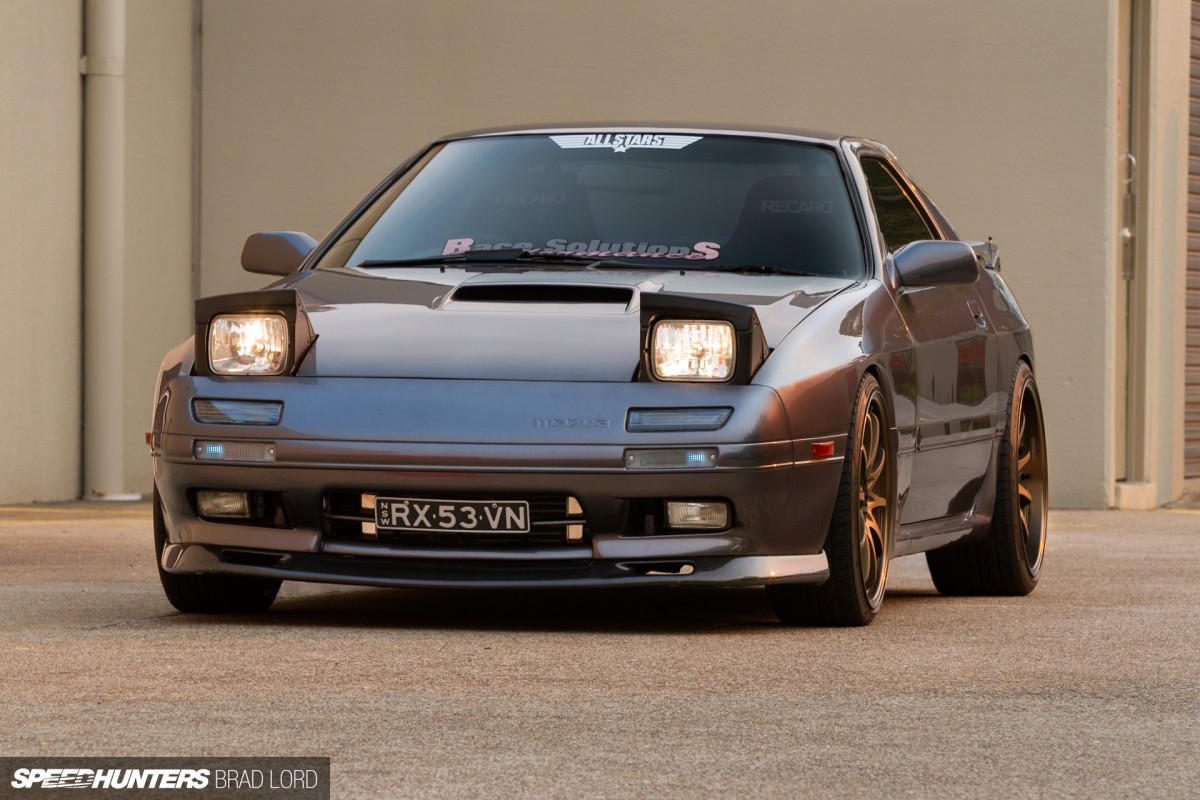 There are many ways John could have attacked the project, but I can't help but feel that he nailed it in every single respect. This is a car that still looks and feels like Mazda's poster child of the early 1990s, but with a slightly unhinged alter ego that's ready to make itself well and truly known the moment its rightfully proud owner jumps on the loud pedal. According to John, the toughest part of the build was keeping it street friendly – something easier said than done with an all-out race engine stuffed between the front struts – but seeing it through to completion the way he always envisaged it, has been totally worth it.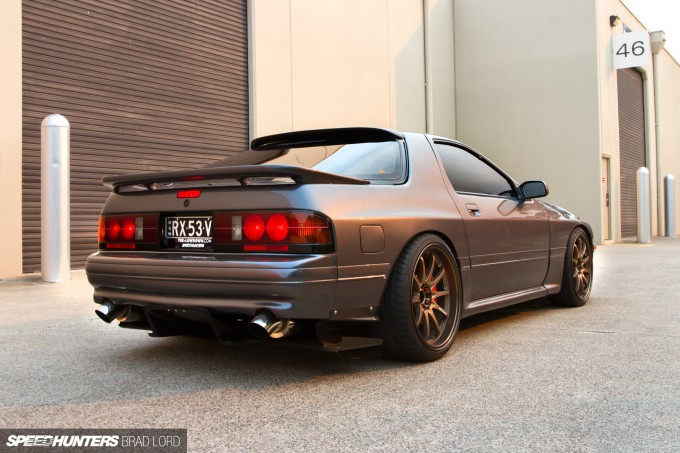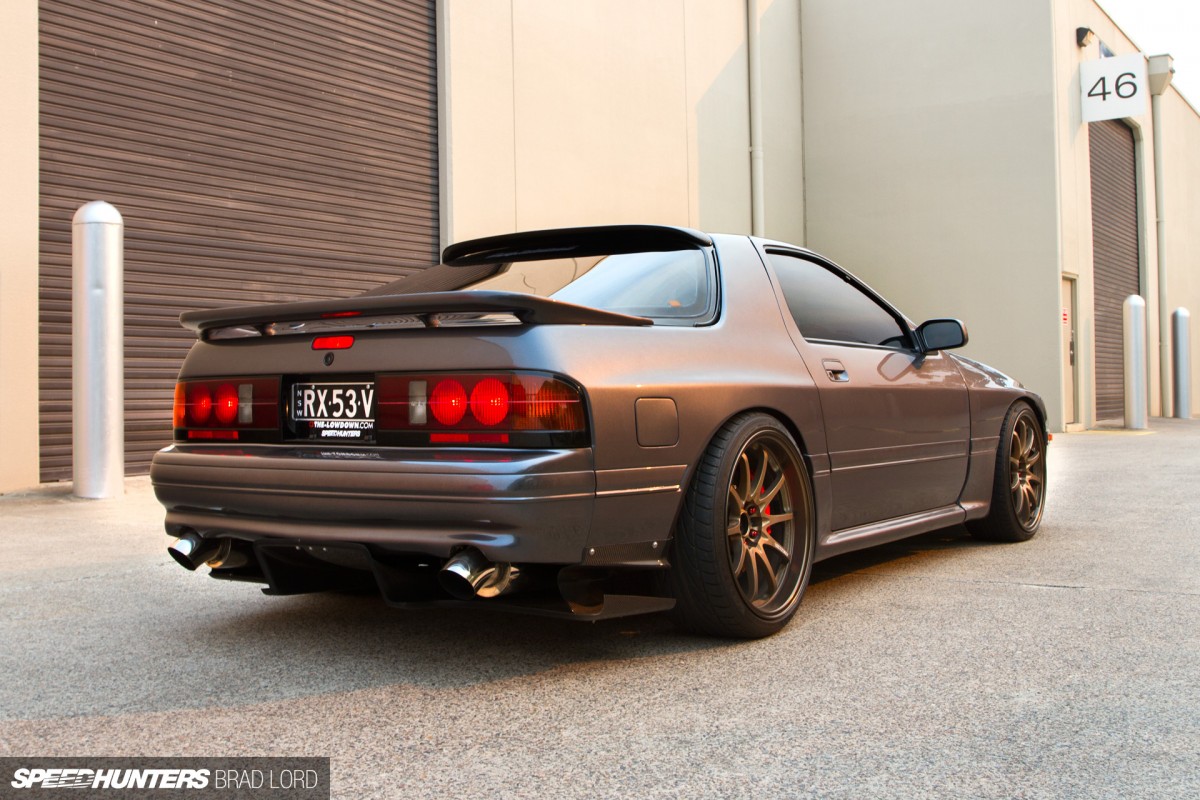 Whether or not it will ever truly be finished is another thing though. There are plans in the works to upgrade the factory-based five-speed gearbox to an aftermarket six-speed, and undertake a few more mods in the rear end so the full force of the 20B engine can be reliably realised. But as it sits right now, I'm sure you'll agree that it's a pretty cool car to have in the garage, and in John's case, right alongside his other Mazda rotary infatuation – a gorgeous '69 R100 coupe that he's planning on keeping in original condition. The RX-3 project he has his eye on though – well that's another story…