A warm welcome
Greetings from Tokyo everyone. I arrived in Japan on Thursday evening for a few weeks of automotive adventures, and I've already been able to see some fantastic stuff. As is the case with most Speedhunting journeys, the action began well before my internal clock had adjusted to the trans-Pacific journey.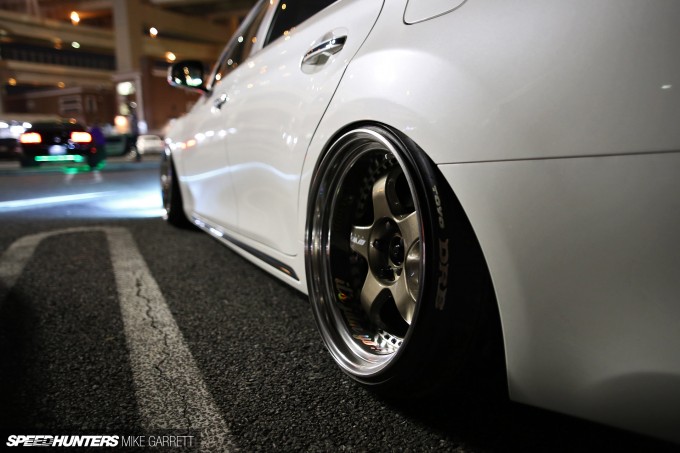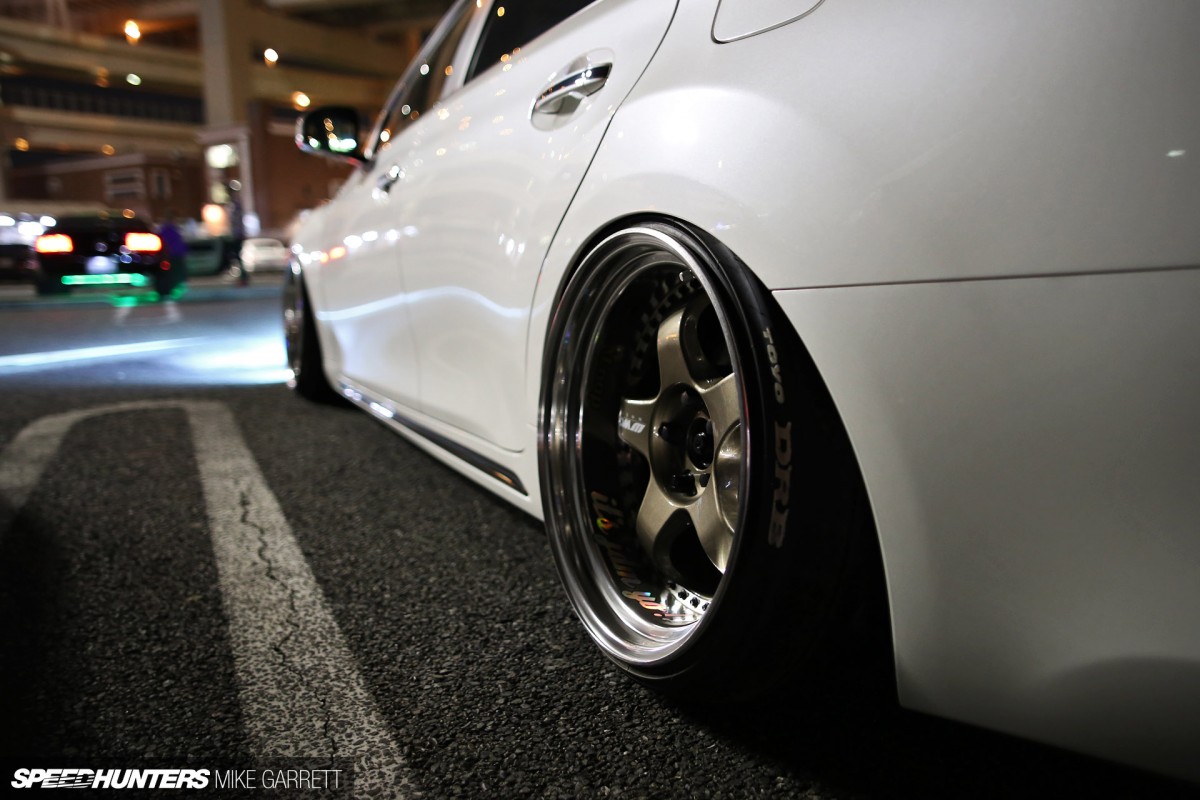 On Saturday, my friend Masashi Kameoka from Osaka's Team Madame told me that he was going to be in the Tokyo area after driving across the country to have a new prototype exhaust system fitted to his Toyota Mark X. Once the new pipes were on, he was planning to meet up with some internet friends for what they call an 'offline meeting'. This particular group of fellows had met each other through Minkara, Japan's popular online automotive community, and we all know just how rewarding it can be to put a face to an internet screen name.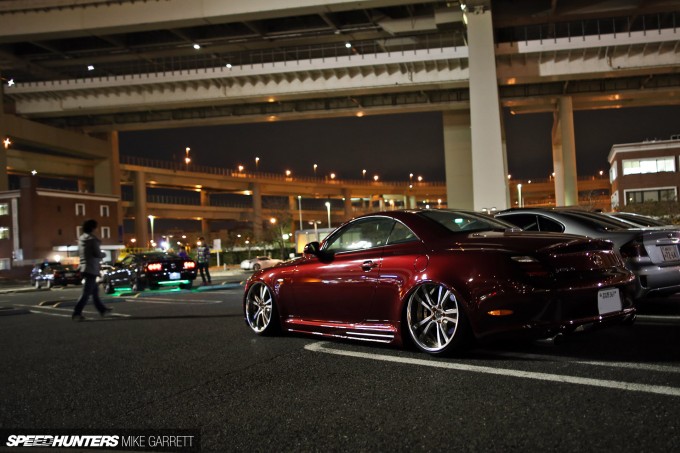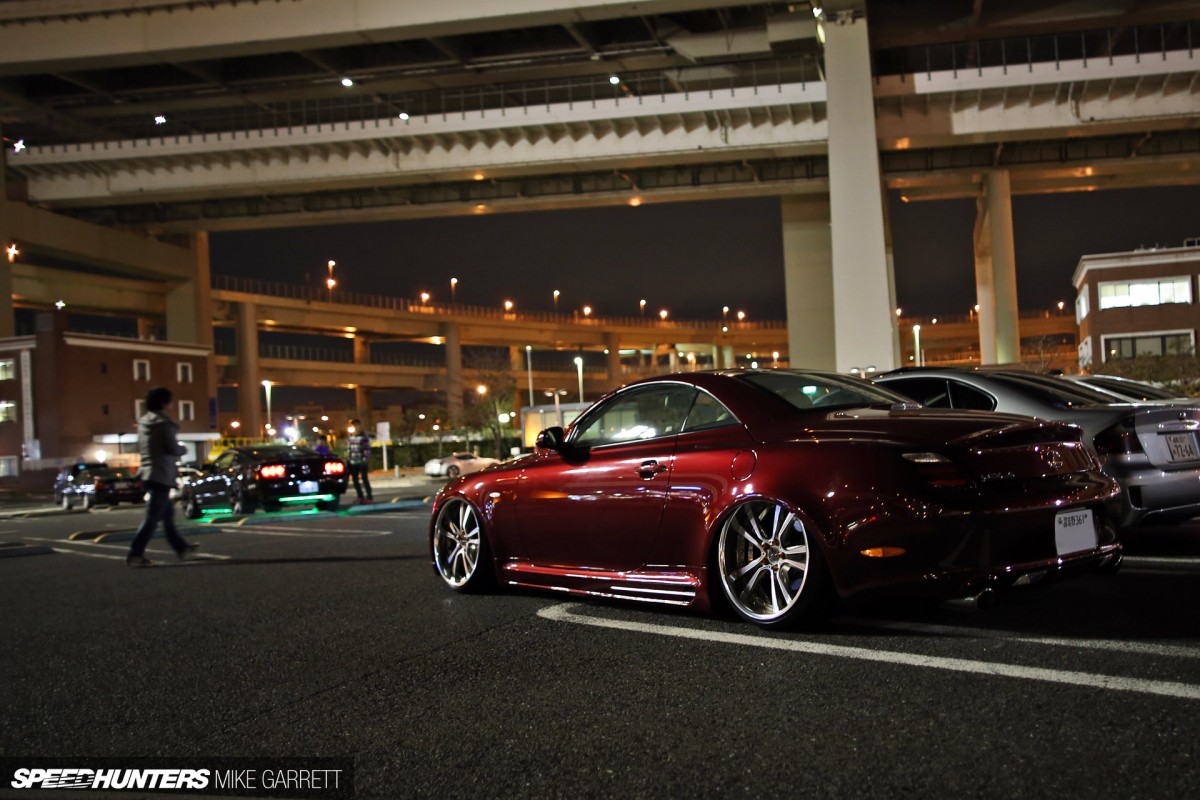 The plan was to gather at Daikoku Parking Area and then cruise down the Wangan and through the Tokyo Bay Aqualine to Umihotaru. Last year I did a story about why Daikoku Parking Area is so damn amazing, and needless to say I jumped at the chance to see what was happening there on this particular Saturday evening. I met Kameoka-san in Yokohama and we were soon headed across the Bay Bridge to the world's greatest highway rest stop.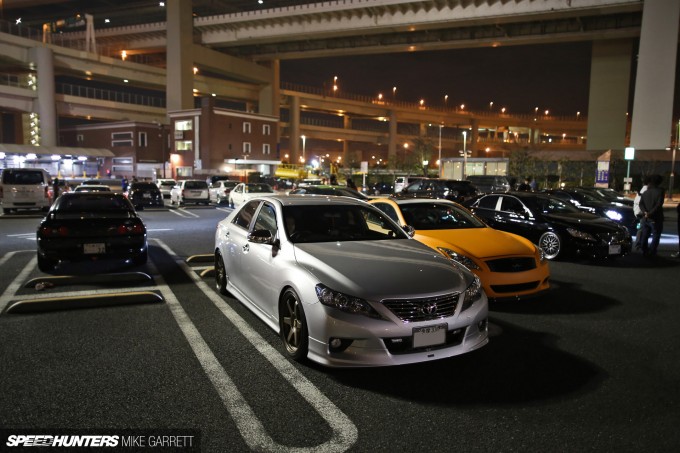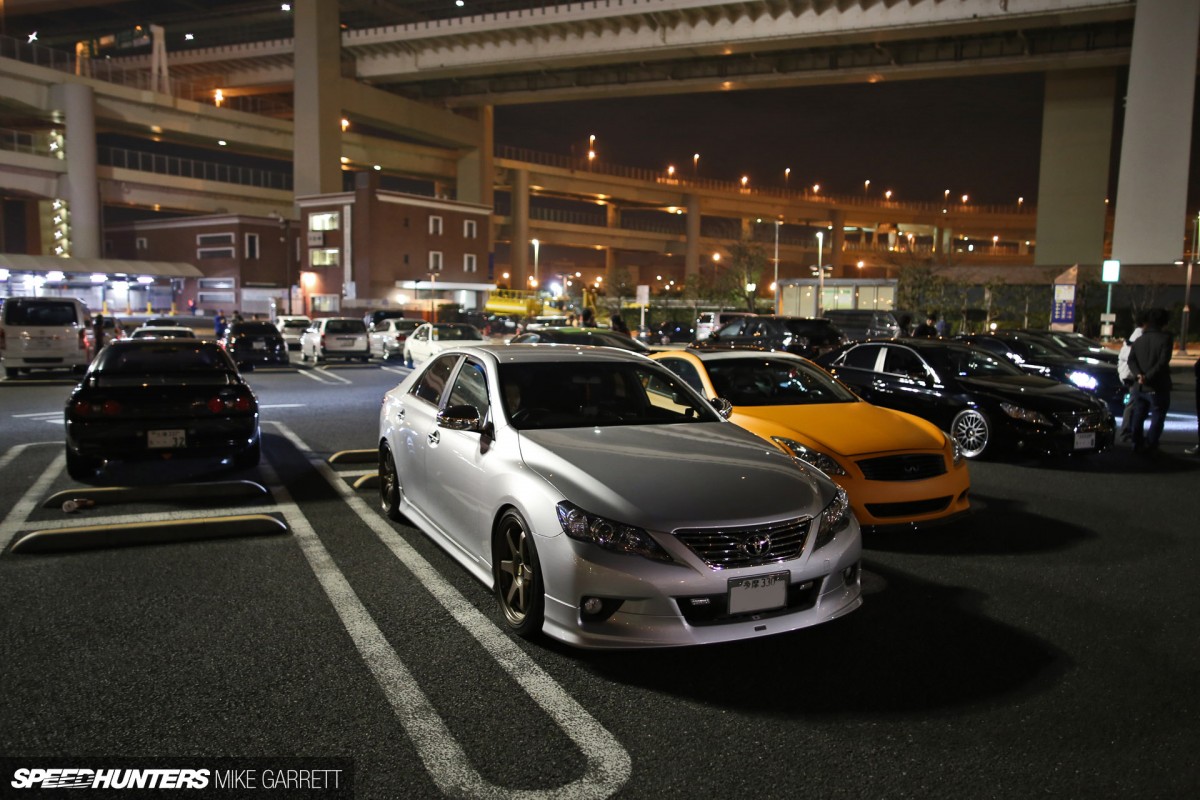 Going to Daikoku on a Saturday night can be tricky, as the authorities tend to shut things down once the crowds get too big and the noise gets too excessive.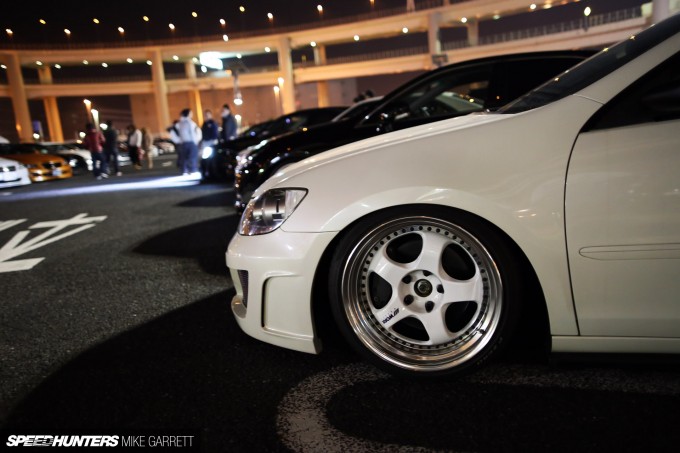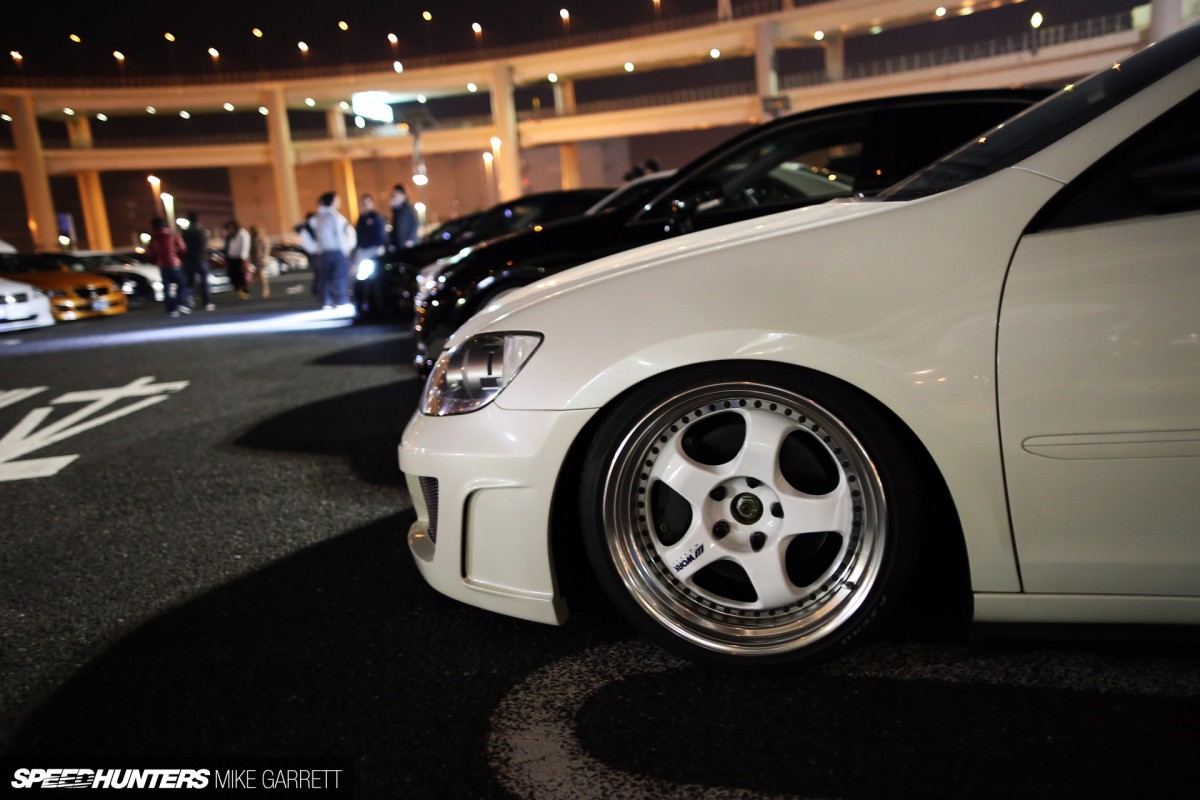 The plan was to get there early, grab a bite to eat and then take off down the expressway for Umihotaru. When we arrived, a few of Kameoka's online acquaintances had already arrived – many of whom were meeting in person for the first time.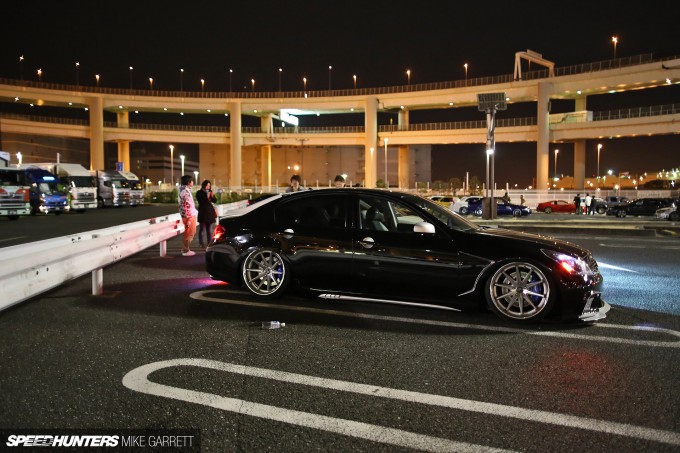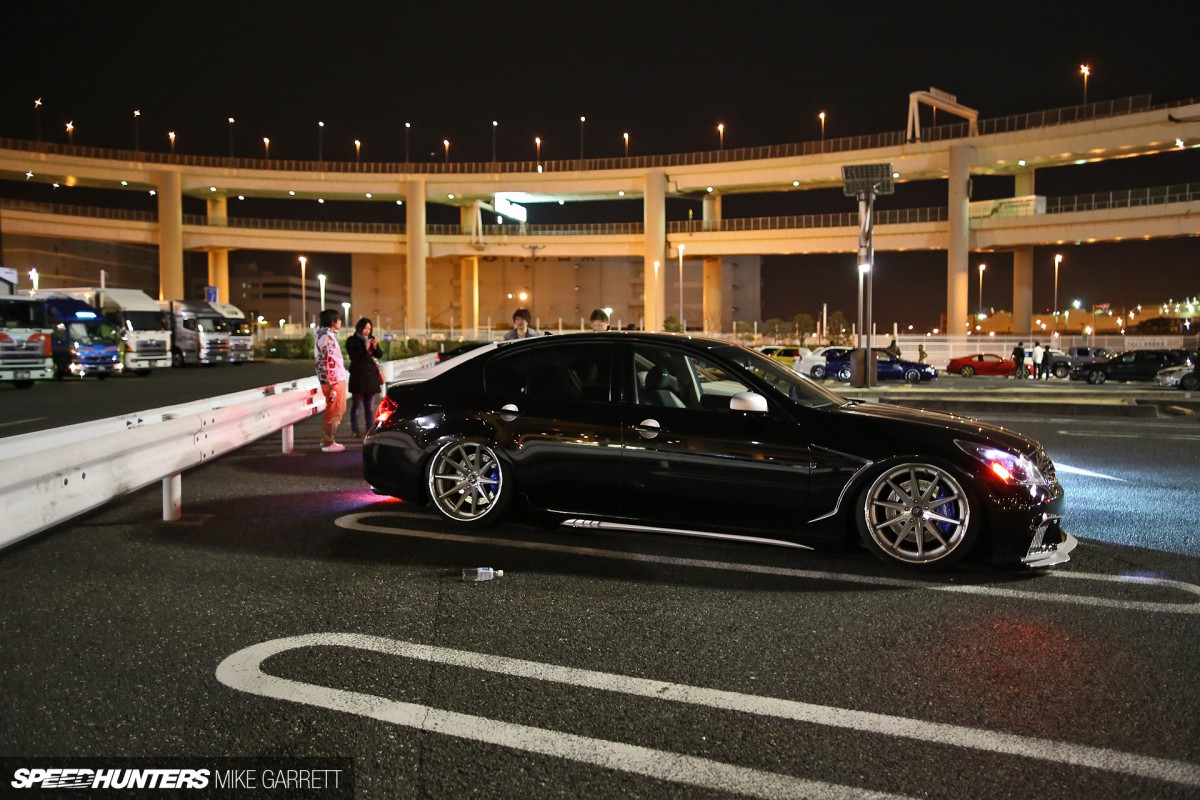 The group of cars that assembled was rather interesting. They weren't really VIP cars and they weren't really tuner cars, nor were they USDM machines. Instead, these vehicles were sporting a mix of those different elements that in my eye made for a cool and rather unique style.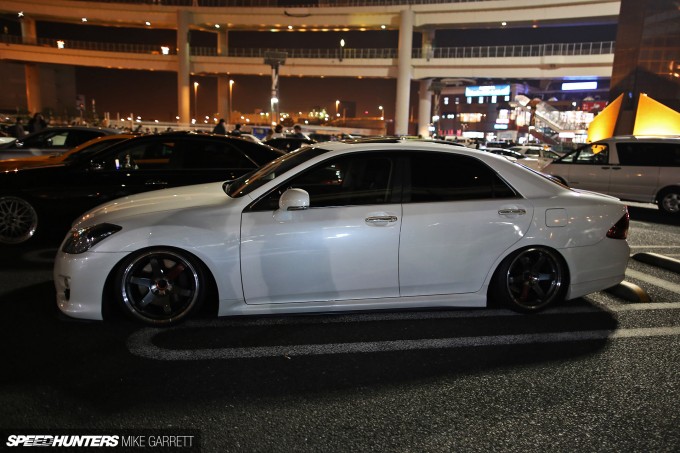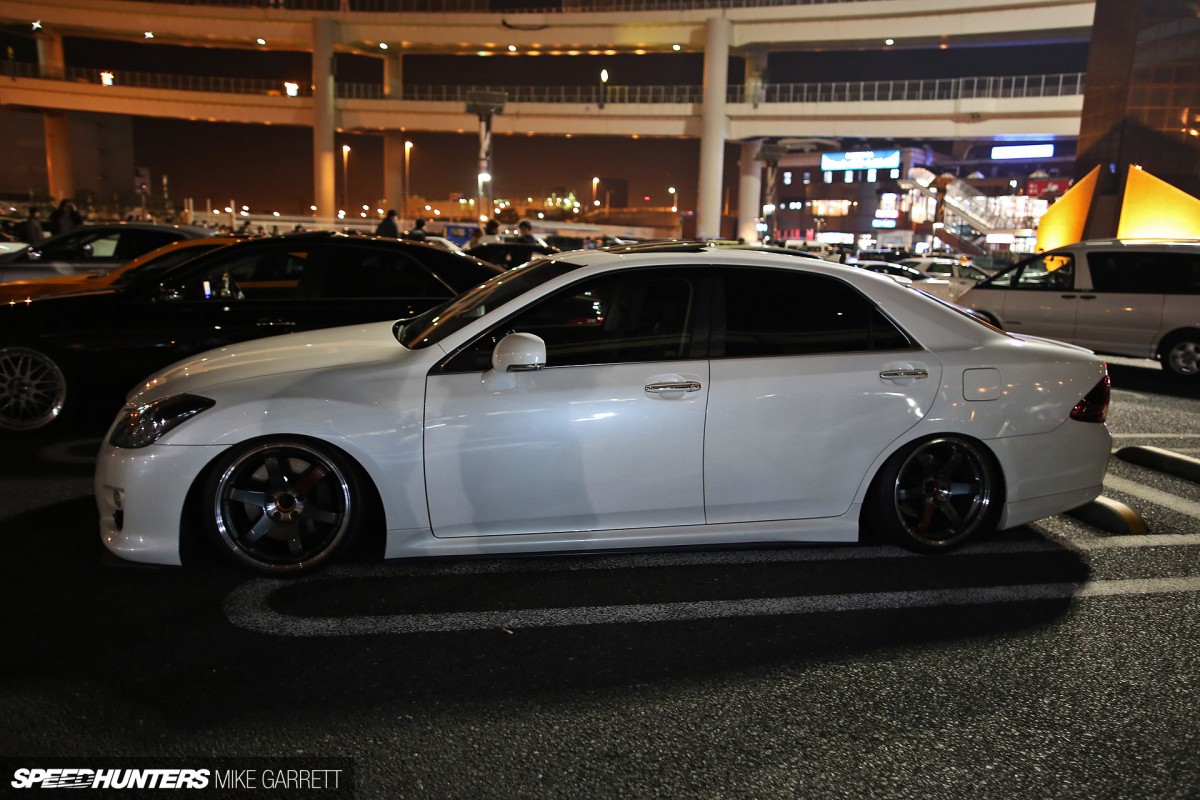 This Toyota Crown is a perfect example of what I'm talking about. It's an inherently Japanese machine, but its OEM lines and RAYS TE37 SL wheels are quite different from your average VIP car – with some clear American influence.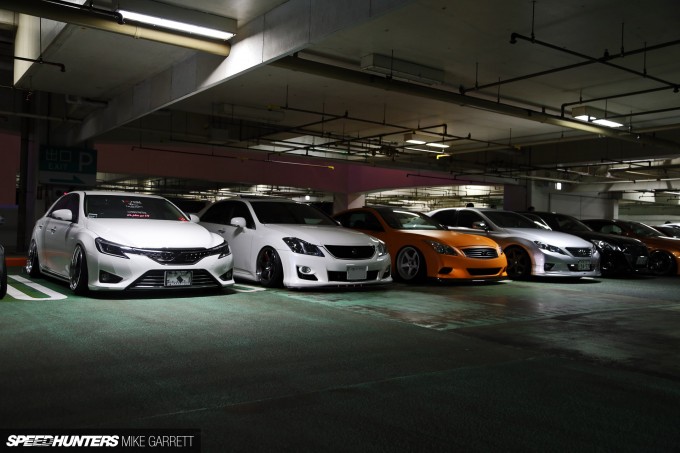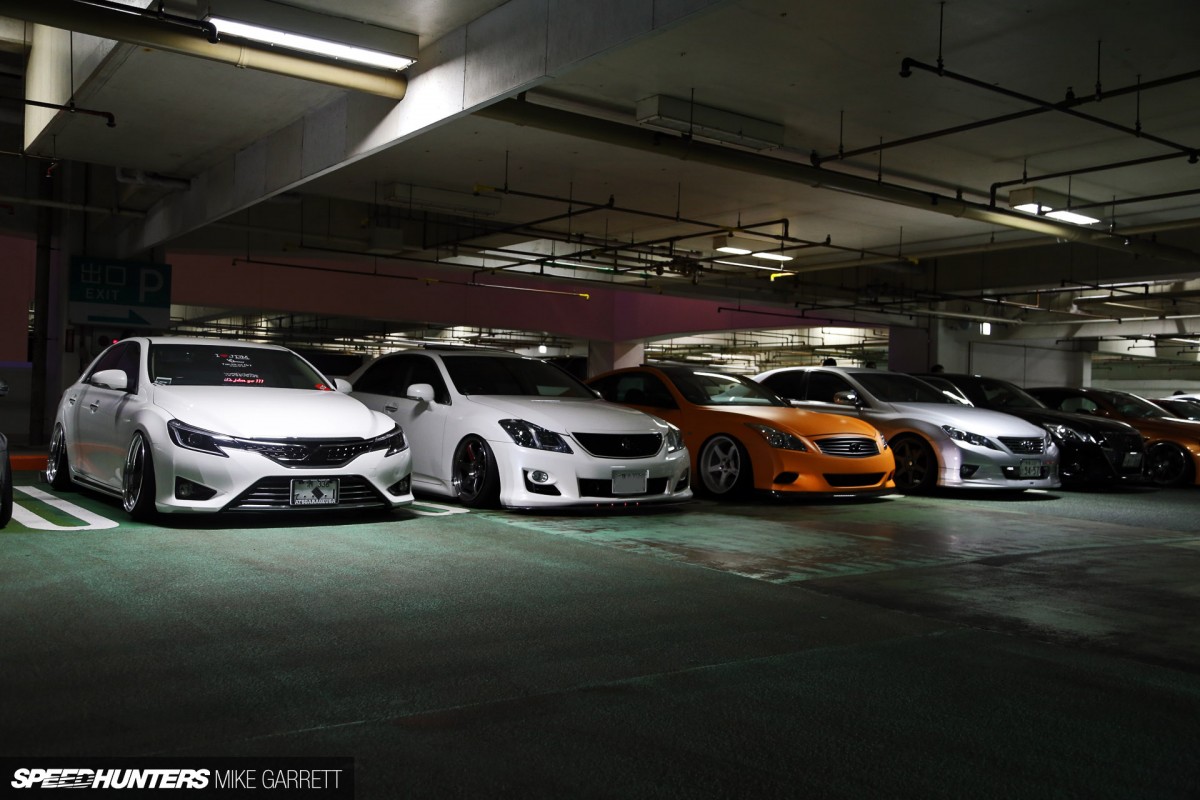 Among the group that assembled were several Toyota Mark Xs, plenty of Crowns, a few V36 Skylines and several others. The owners hailed from all over the Kanto Region, along with a few who had come from even further away. Once again, there's no denying the dedication of Japanese car enthusiasts.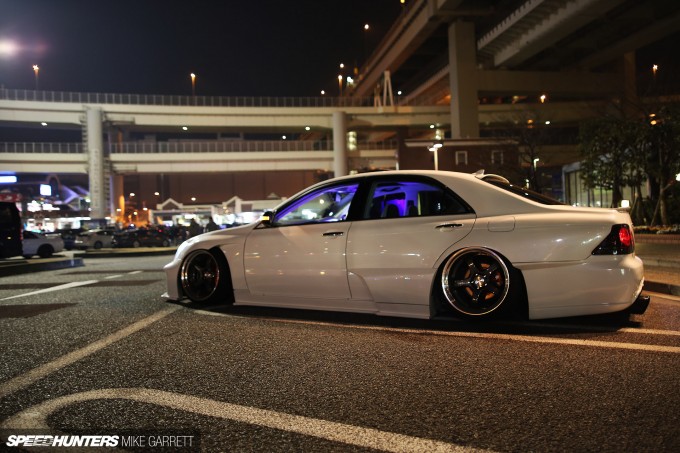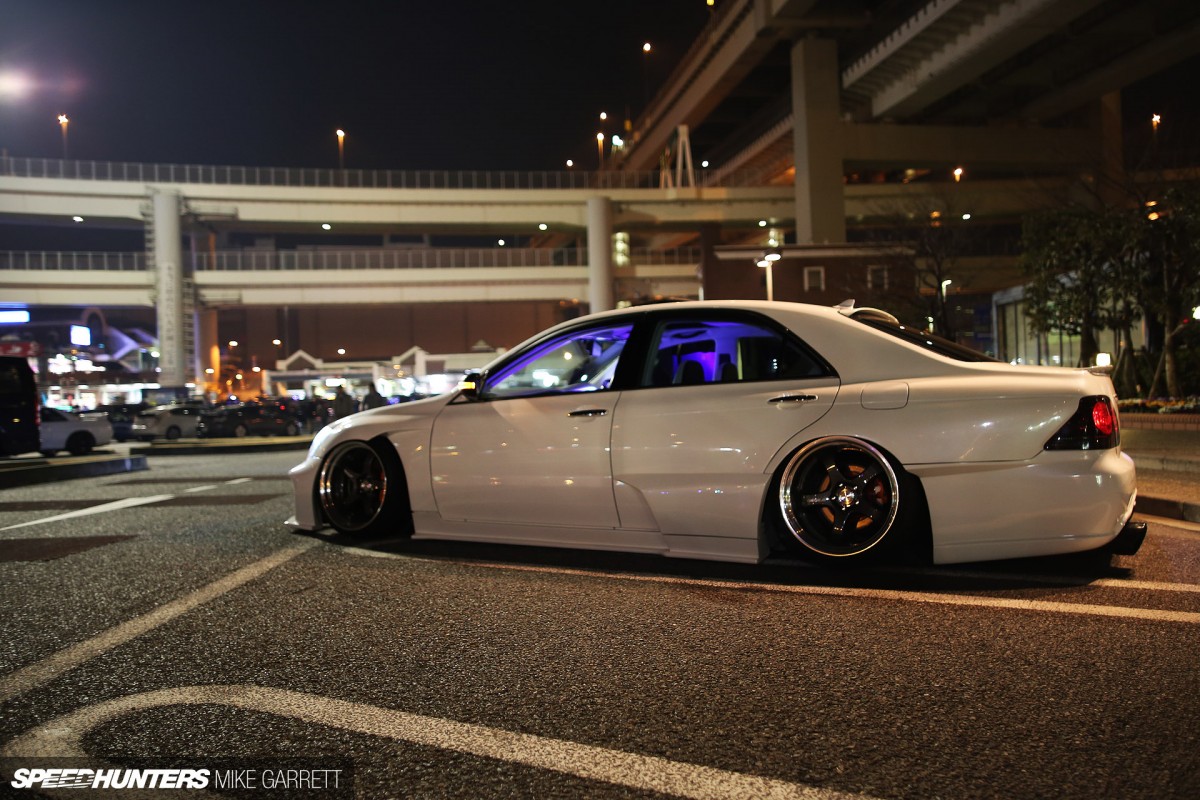 One of the vehicles that was far from its home turf was this Miyagi-based Crown that was wearing some very aggressive one-off body work. It was as if someone had taken a Lamborghini and bred it with Toyota's long-running sedan.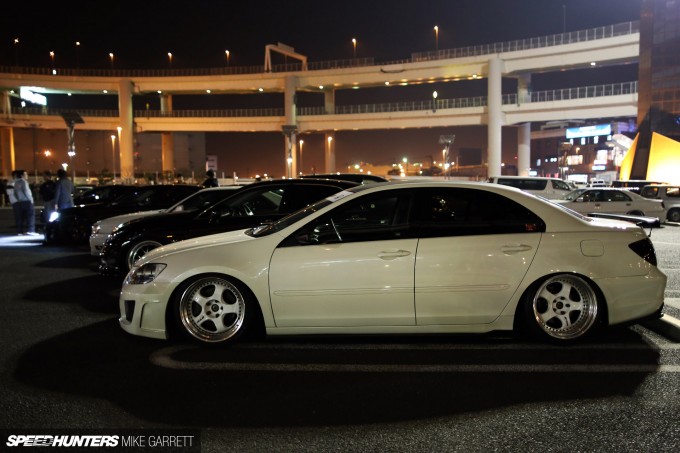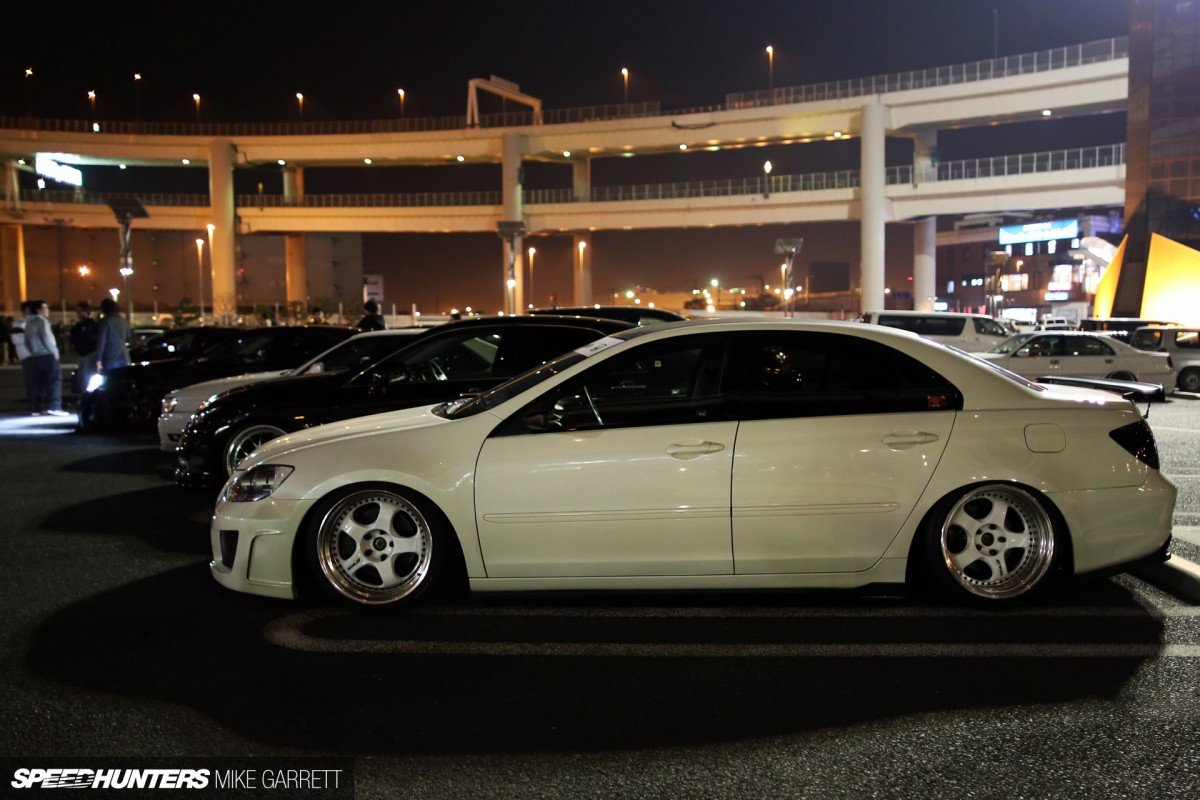 Another car that caught my eye was this Honda Legend, or Acura RL as it's known in the United States. This is a pretty rare car in Japan and it's definitely cool to see one done up like this with Work Meisters and and racing-inspired body parts.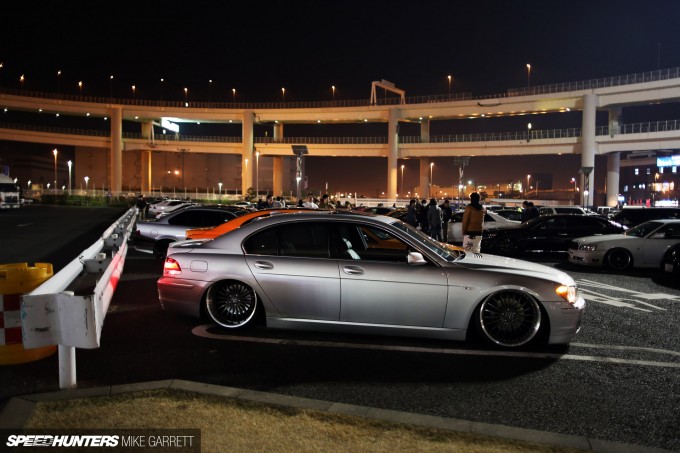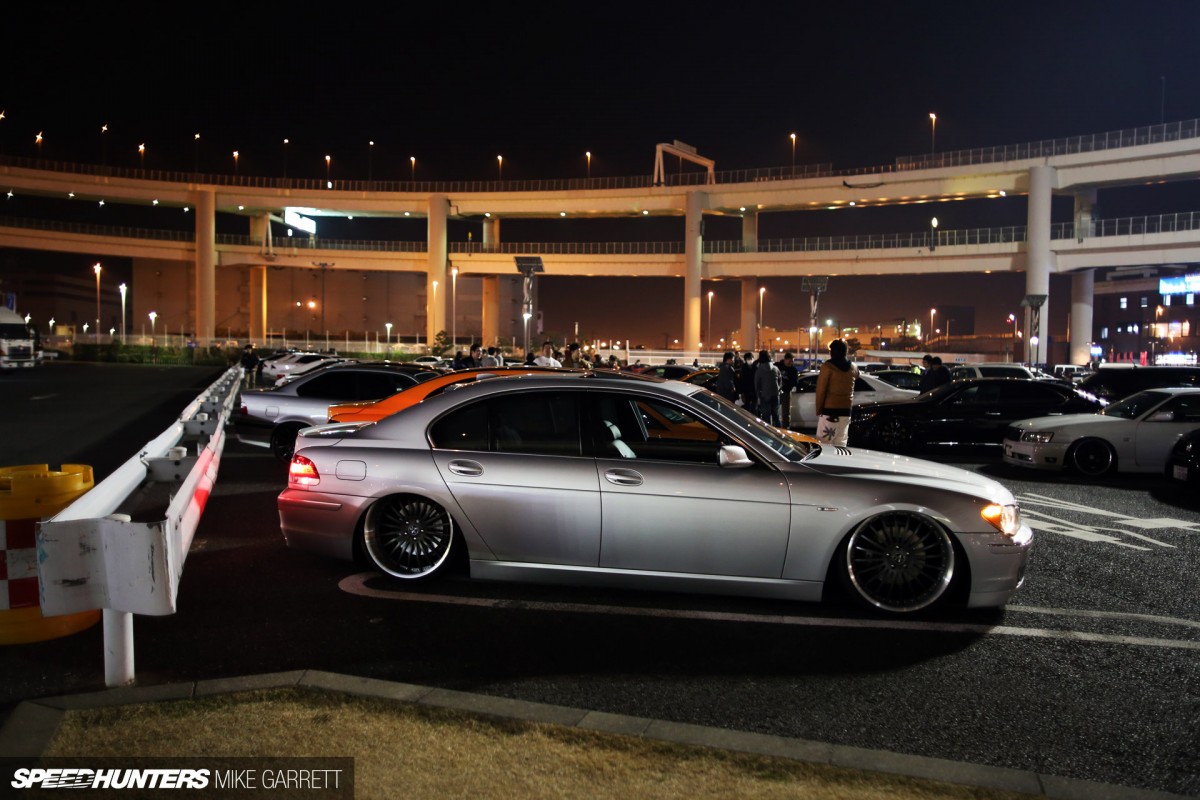 Don't forget the Bimmers! Also joining the group were a couple of big-body 7-series sedans dumped to the deck on air suspension. Whether it's Japan or back home in the states, you don't see too many of these flagship sedans that have been modified, so it was nice to see that a few guys had bought these road-going yachts to play around with.
Daikoku magic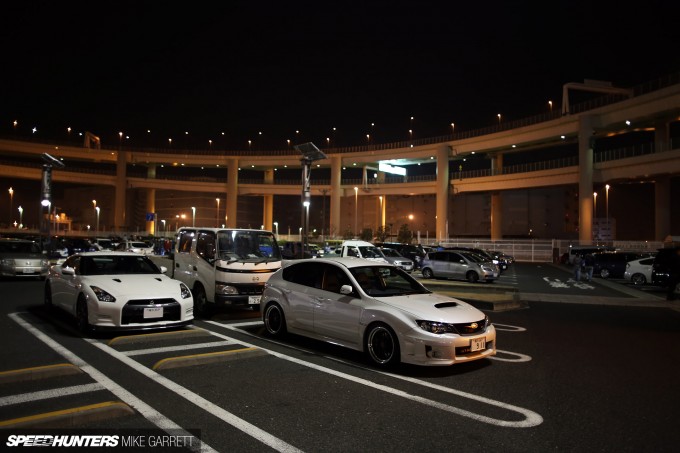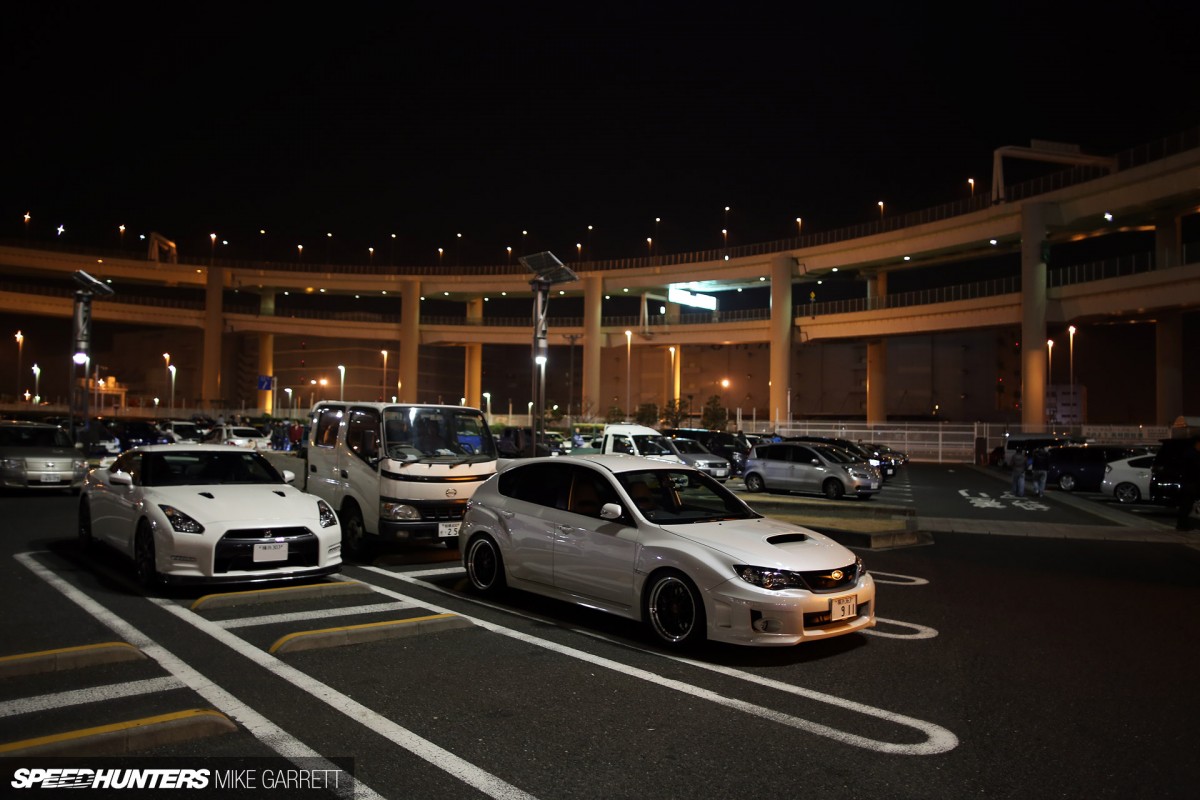 Along with the cars that come out for the offline meeting, I also took a little stroll around the parking lot to see what other machinery had come out to Daikoku on this Saturday night.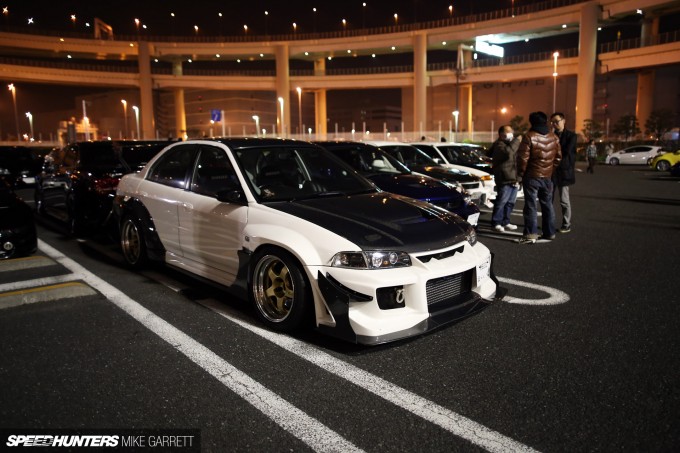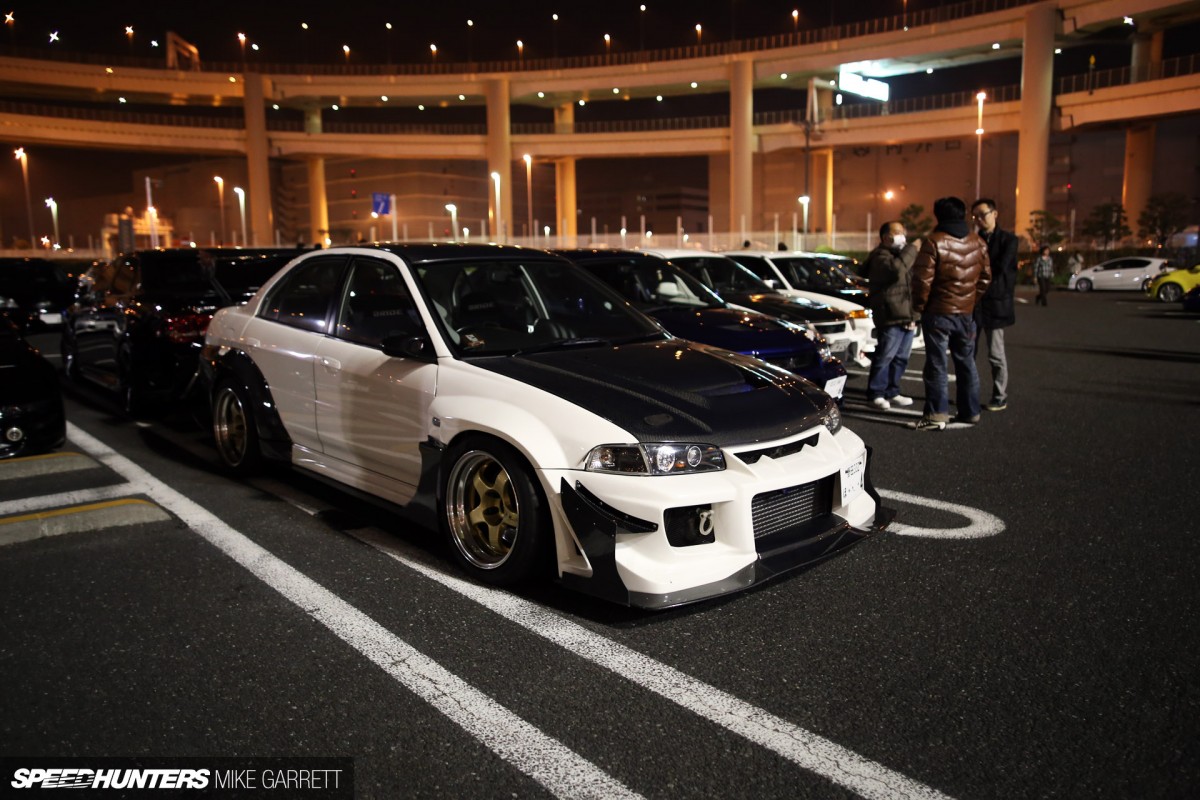 In one corner of the lot was a sizable contingent of Lancer Evolutions, with many of them looking like they had been pulled directly from the grid at a Time Attack event. Boy do I love you, Japan.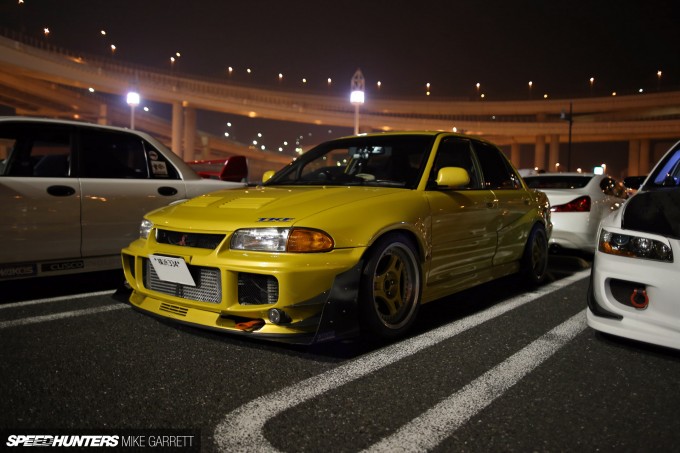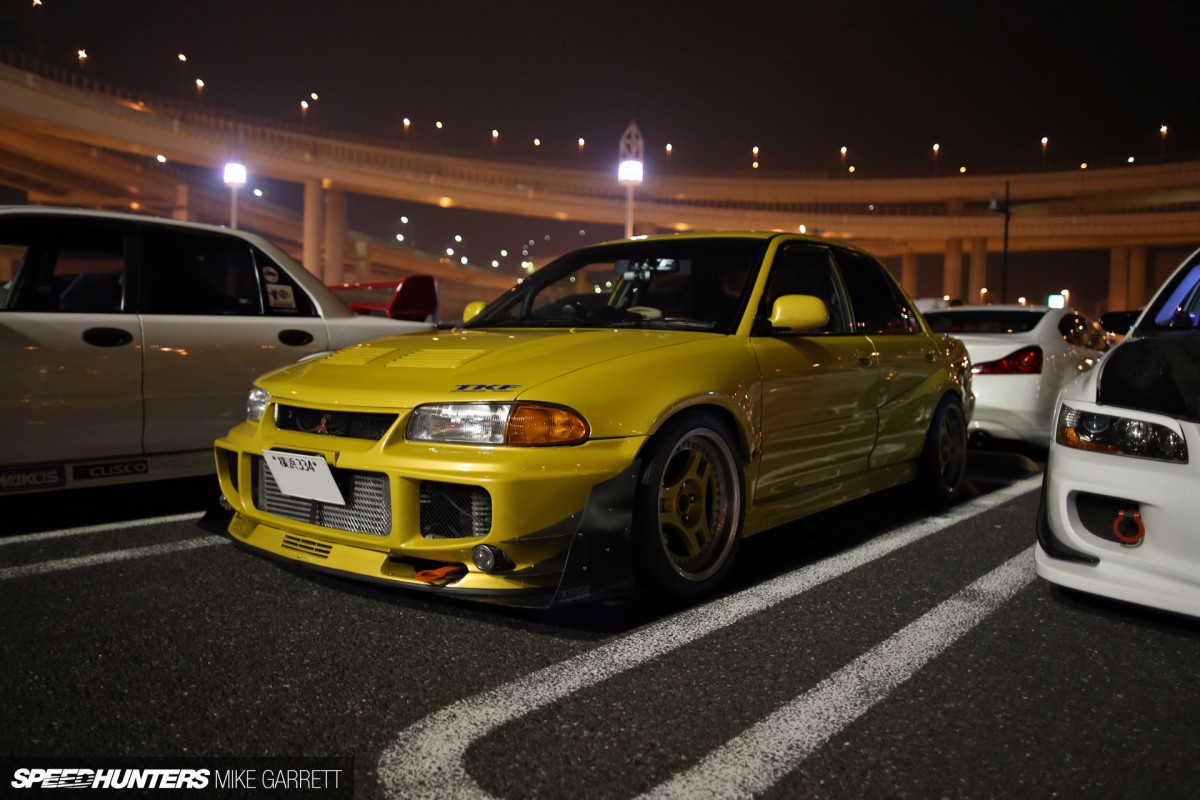 And while the Japanese automotive scene is constantly evolving as trends come and go, I'd say the image of a heavily tuned AWD rocketship bathing in Daikoku's light is as timeless as it gets.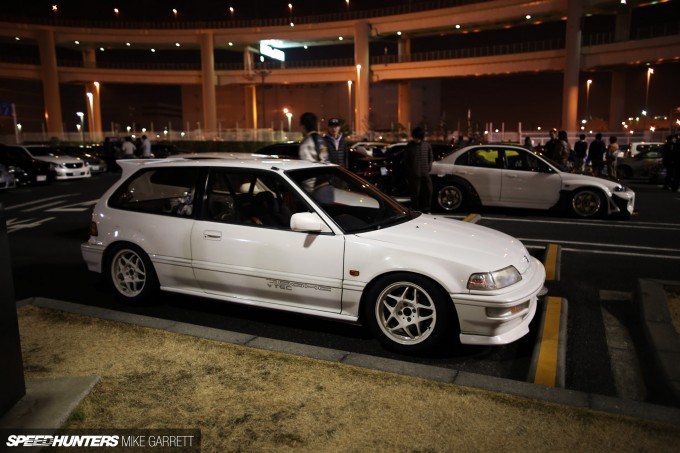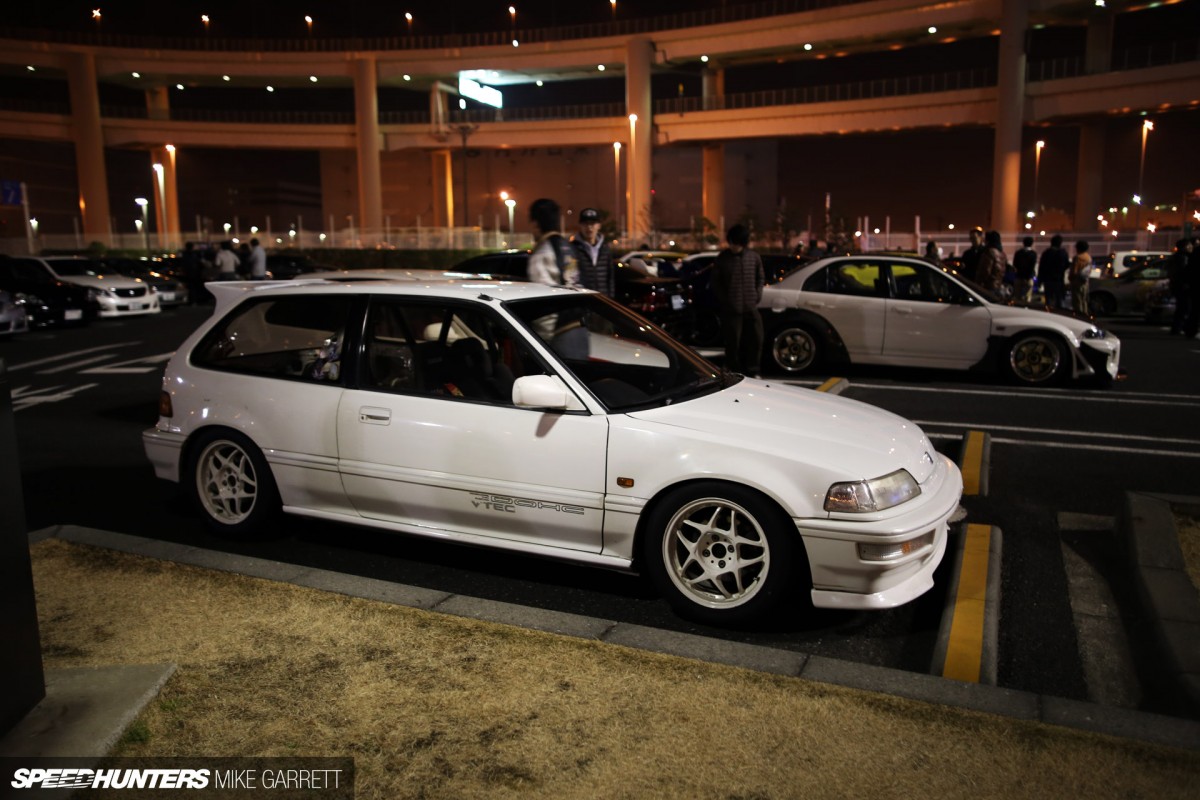 Wait, am I in Osaka? Not yet, but the sight of this Kanjo-inspired EF9 Civic certainly made me feel like I was. This thing has got to be fun to fling around the interchanges of Yokohama.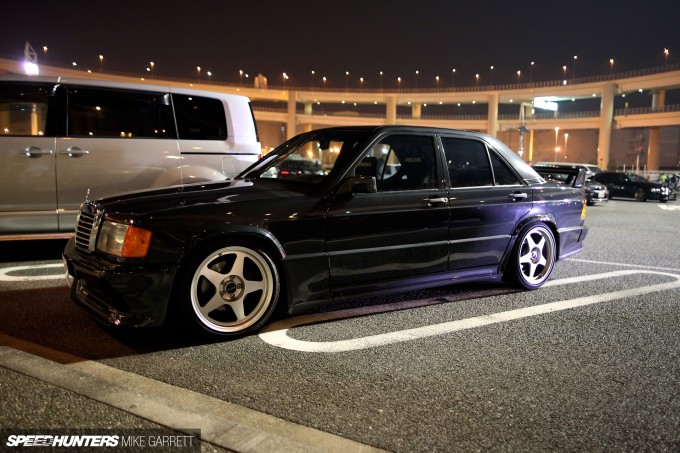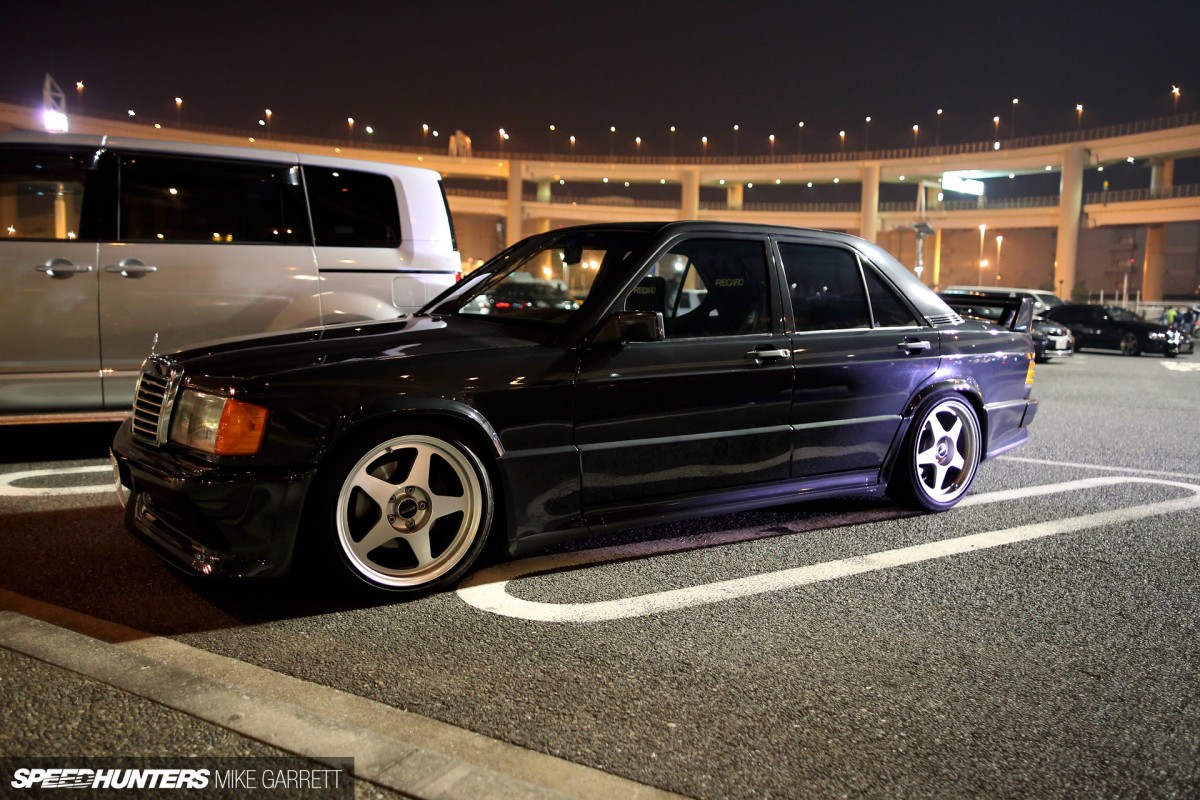 The great thing about Daikoku is that on any given night, you'll find something different. Not a fan of slammed VIP cars or high horsepower turbo machines? Surely, you'll dig this pristine Benz 190E 2.3 16V Cosworth.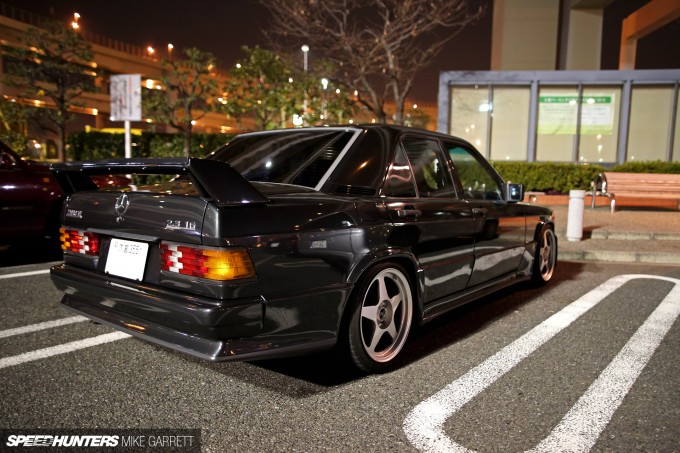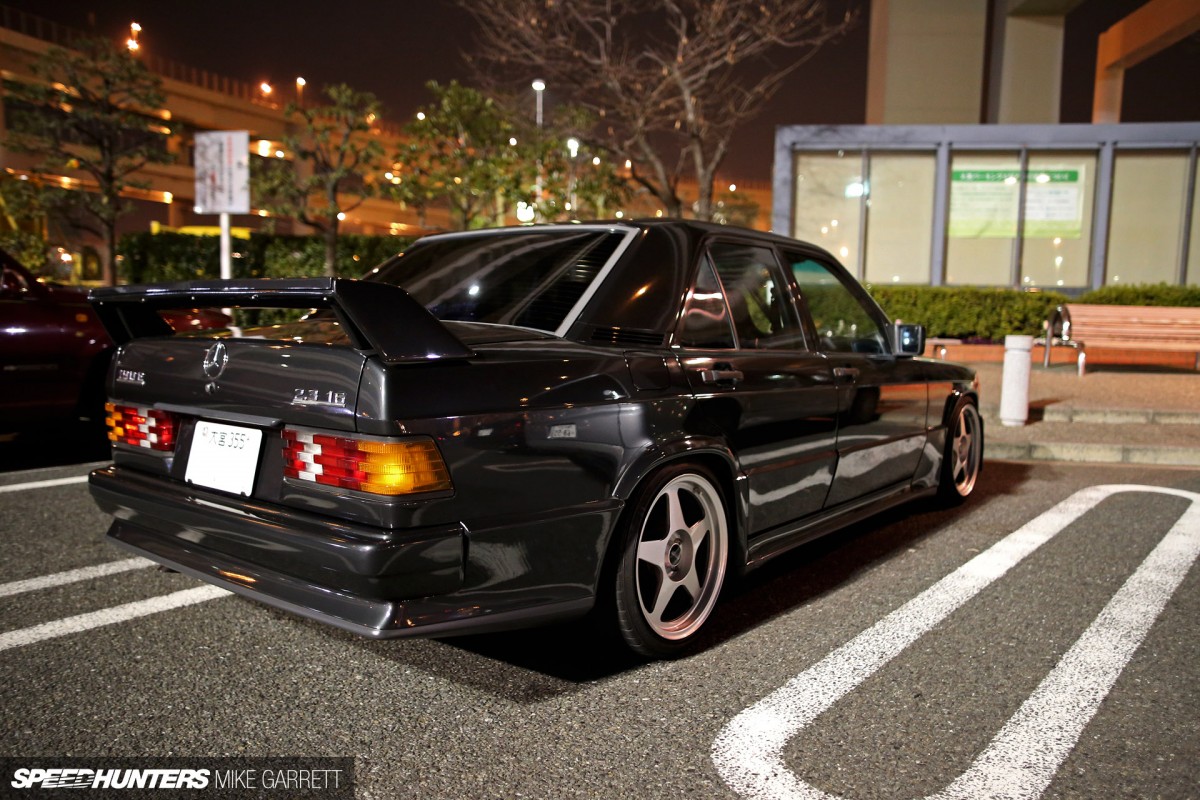 Along with having an absolutely showroom fresh gleam, the Cossie had a few choice modifications, including a pair of Recaro buckets and a set of 17″ Regamaster wheels. Perfect.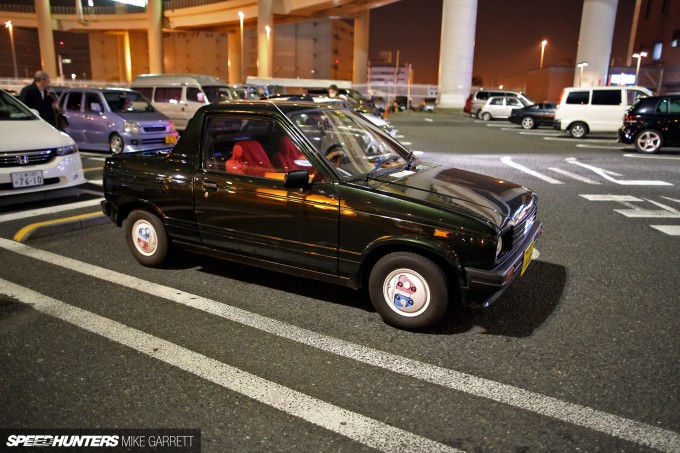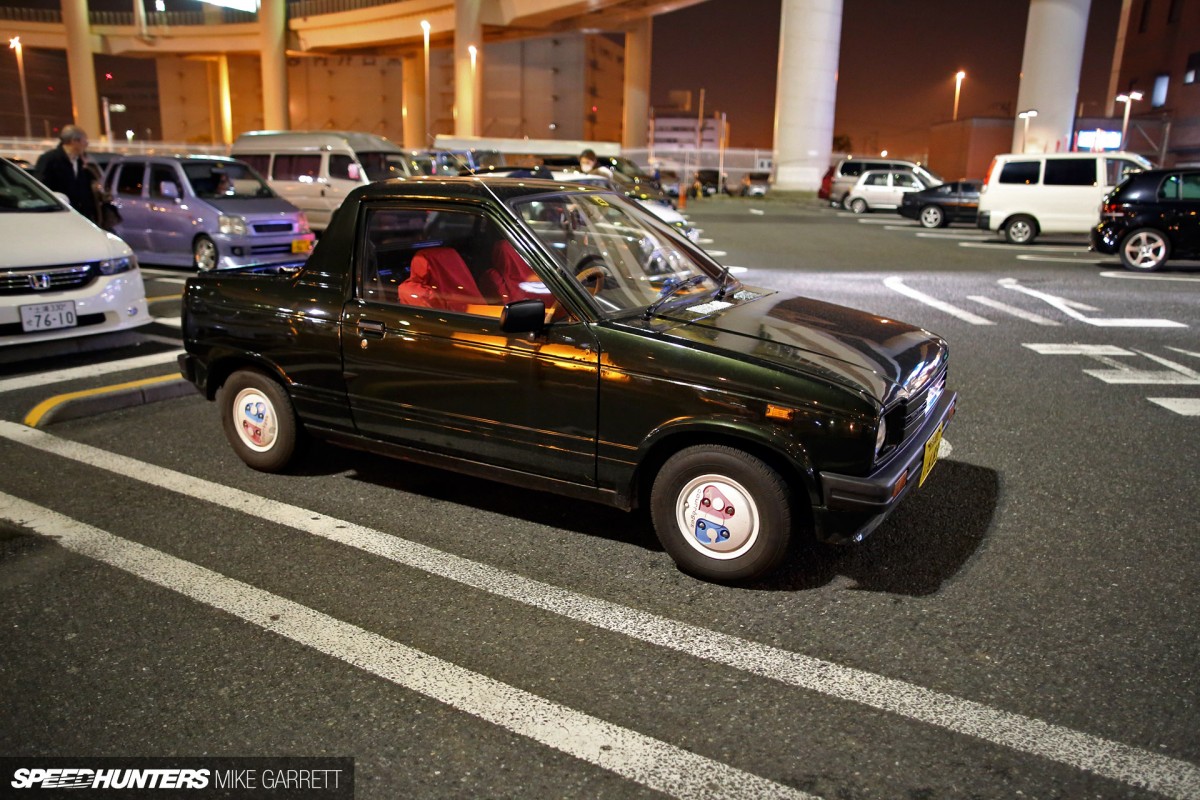 How's this for something different? It's a Suzuki Mighty Boy kei pickup, and it really doesn't get much funkier than this.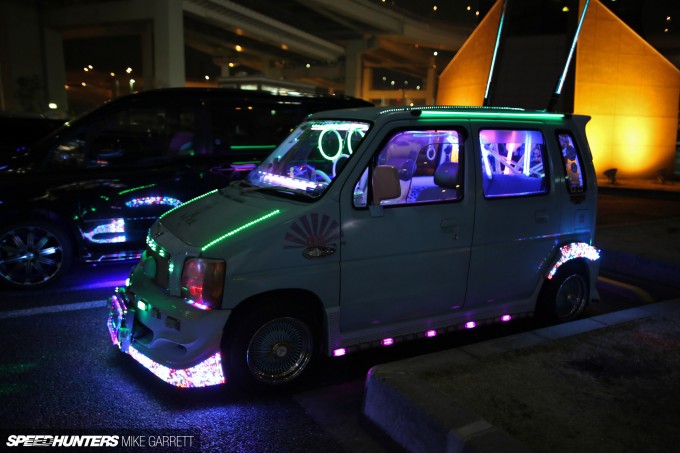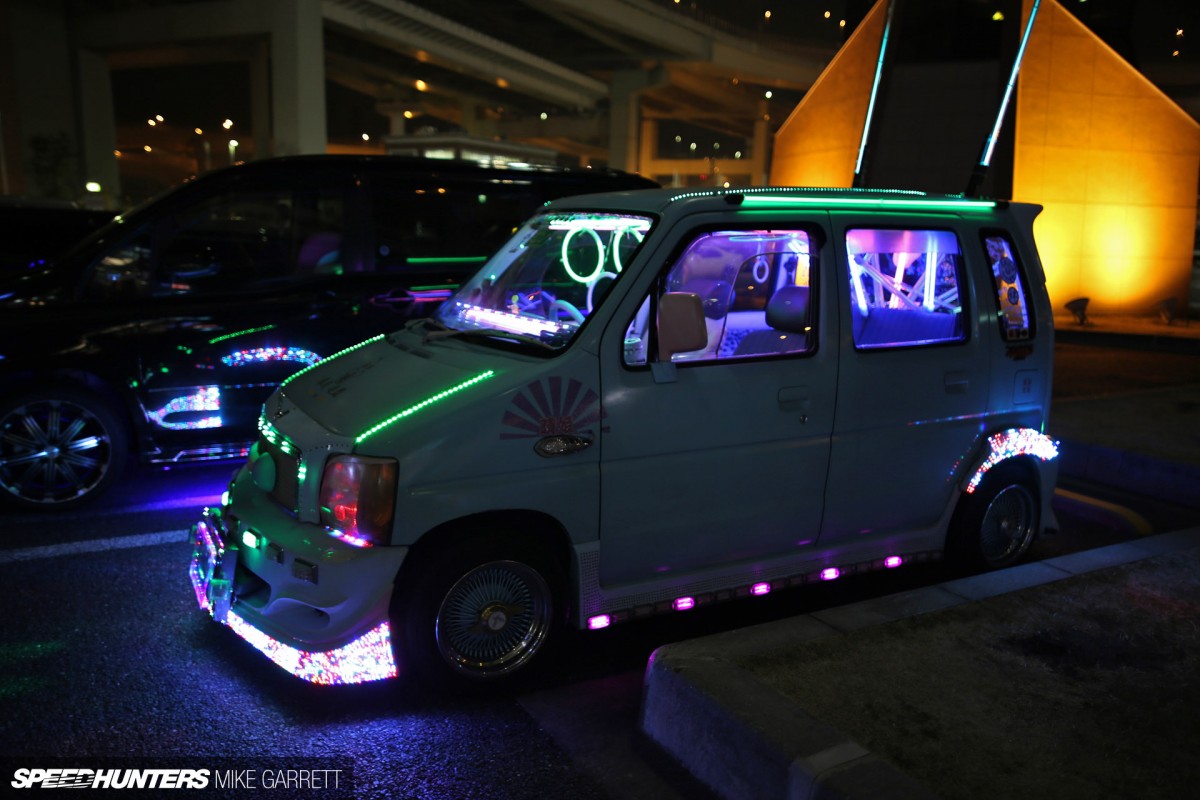 Eventually, a large group of cars full of neon lights and ridiculous sound systems showed up, and we knew it wouldn't be long before the police decided to kick everyone out. It was time to hit the road for Umihotaru.
Let's cruise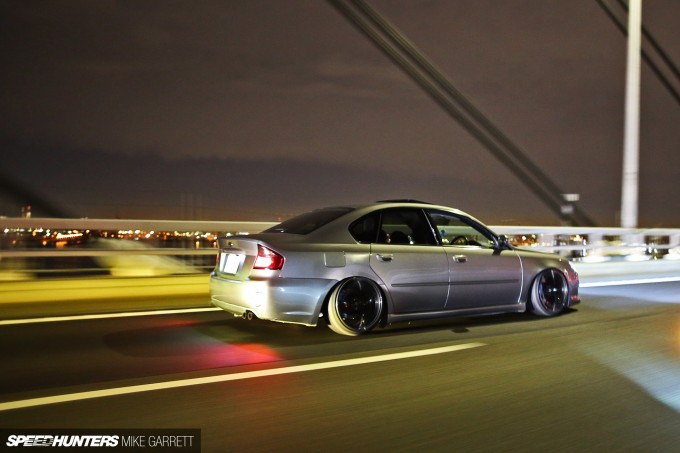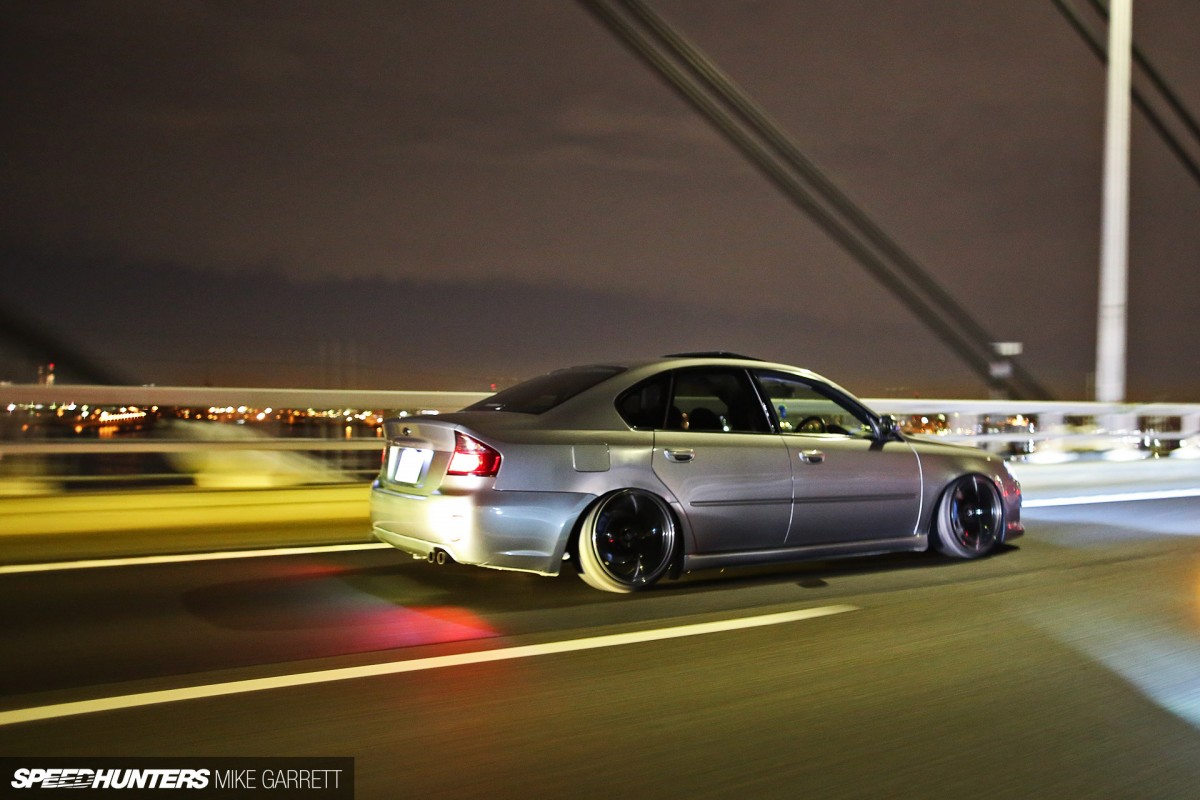 The ride to Umihotaru provided the opportunity to grab some rolling shots as we made our way down the arrow-straight Wangan Bayshore route and then through the long underwater tunnel to the parking area in the middle of the bay.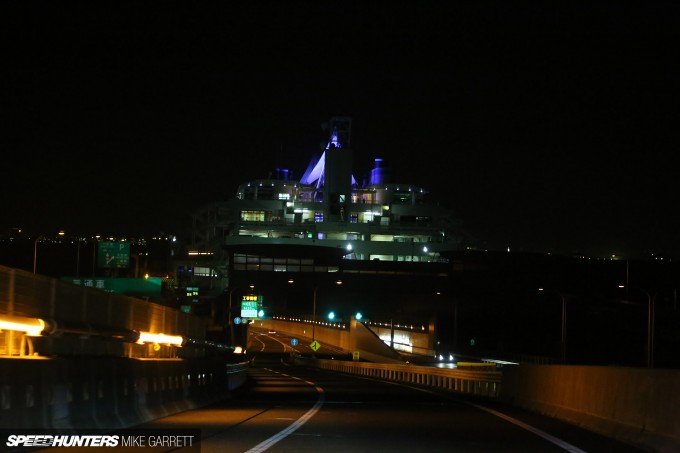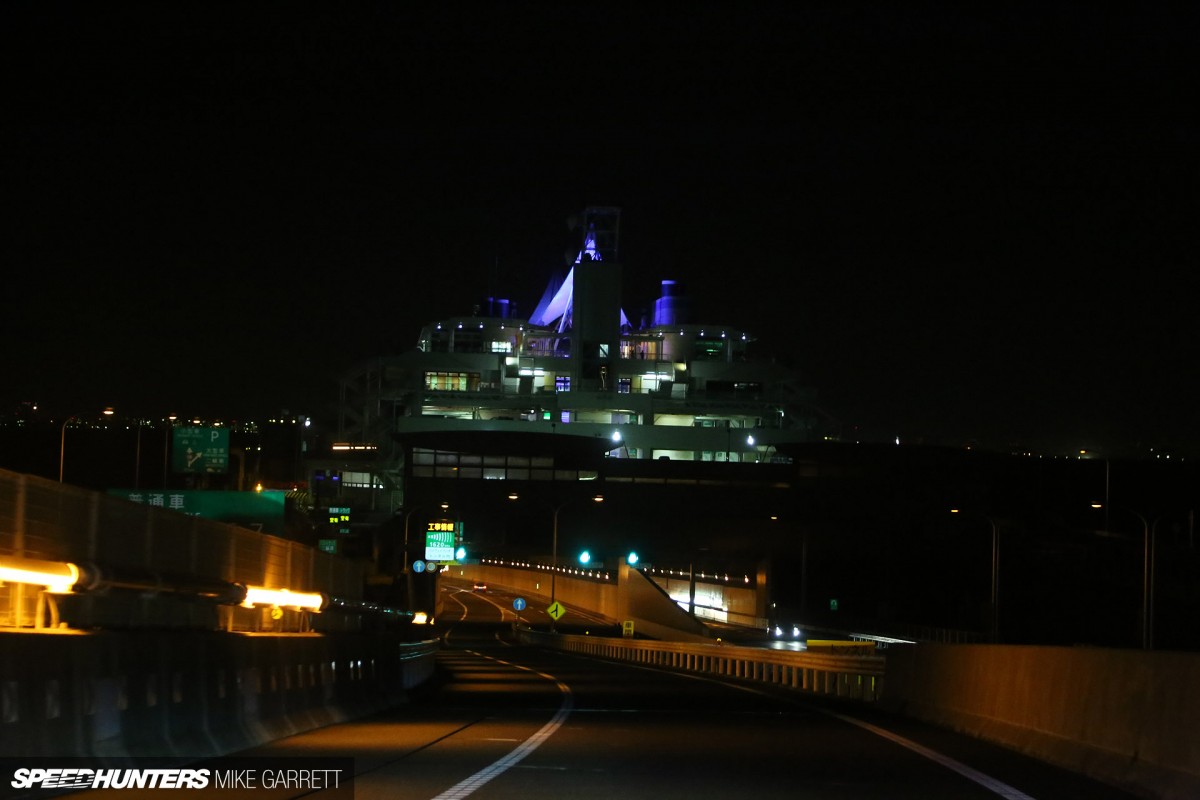 Traffic was light on the expressway, and the 20-mile journey between the two parking areas seemed like it took just a few minutes. Time flies when you're having fun.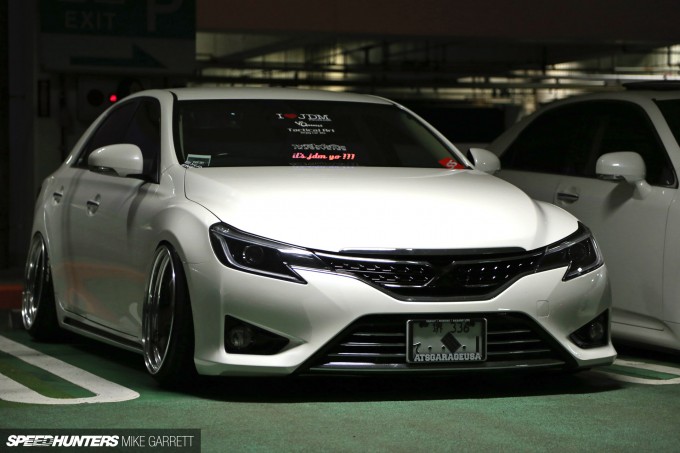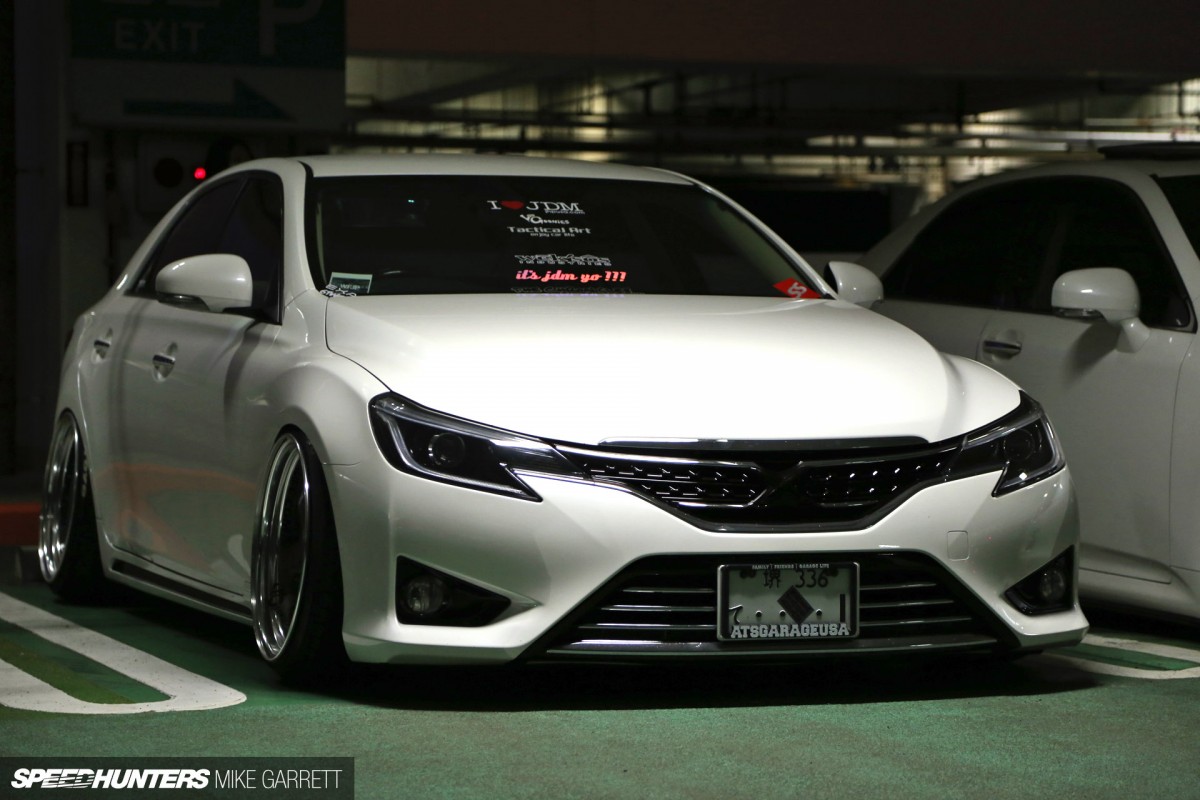 The group of cars found a spot to park in Umihotaru's multi-level parking garage and now we had some time to relax without worrying about the police shutting things down.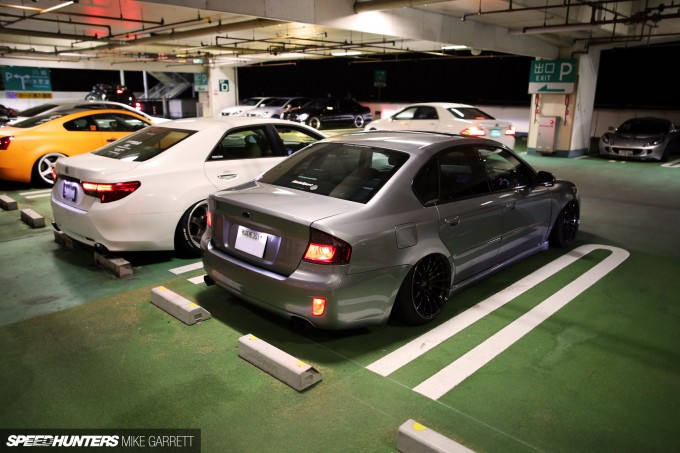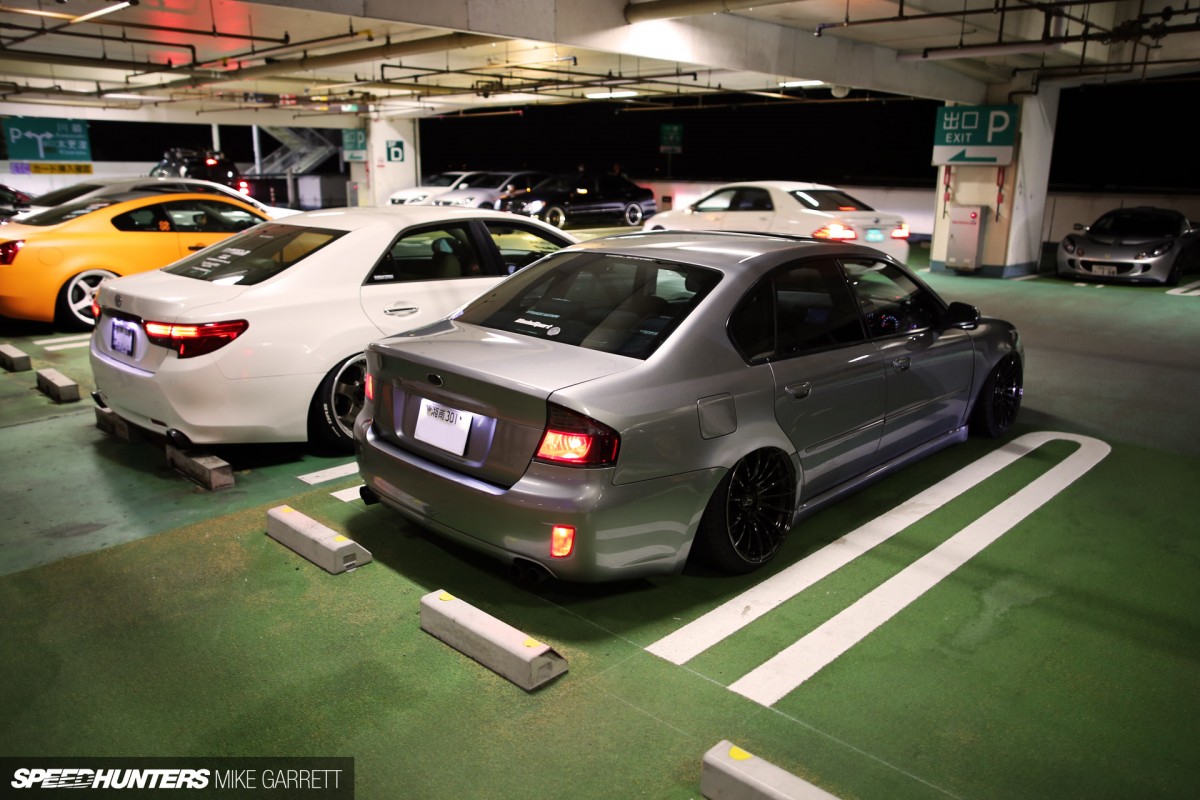 That meant there was also plenty of time to check out the cars that had come out, including Shingo Kanda's Subaru Legacy, which you might recognize from Dino's Tokyo Auto Salon parking lot coverage.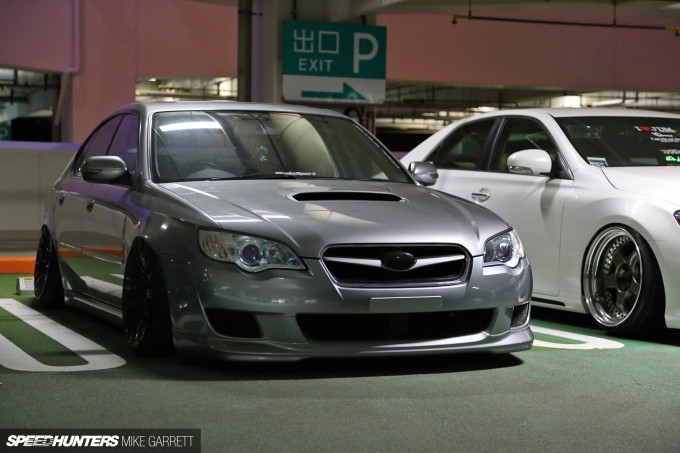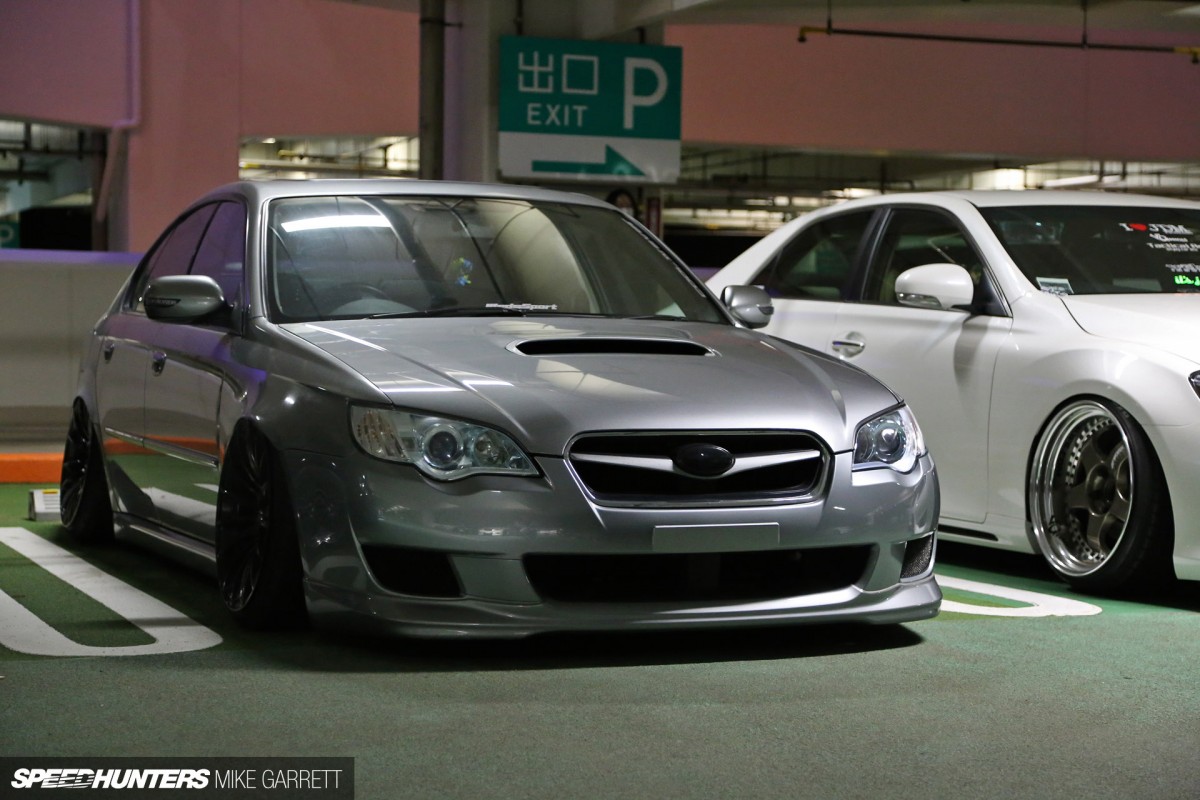 It's a pretty unique cruiser, powered by a lightly modified EJ20 with a six-speed manual conversion, air suspension and a wicked cool set of WedsSport wheels.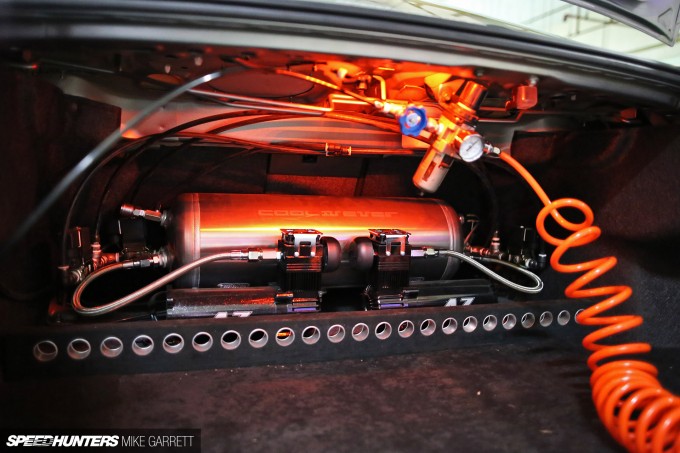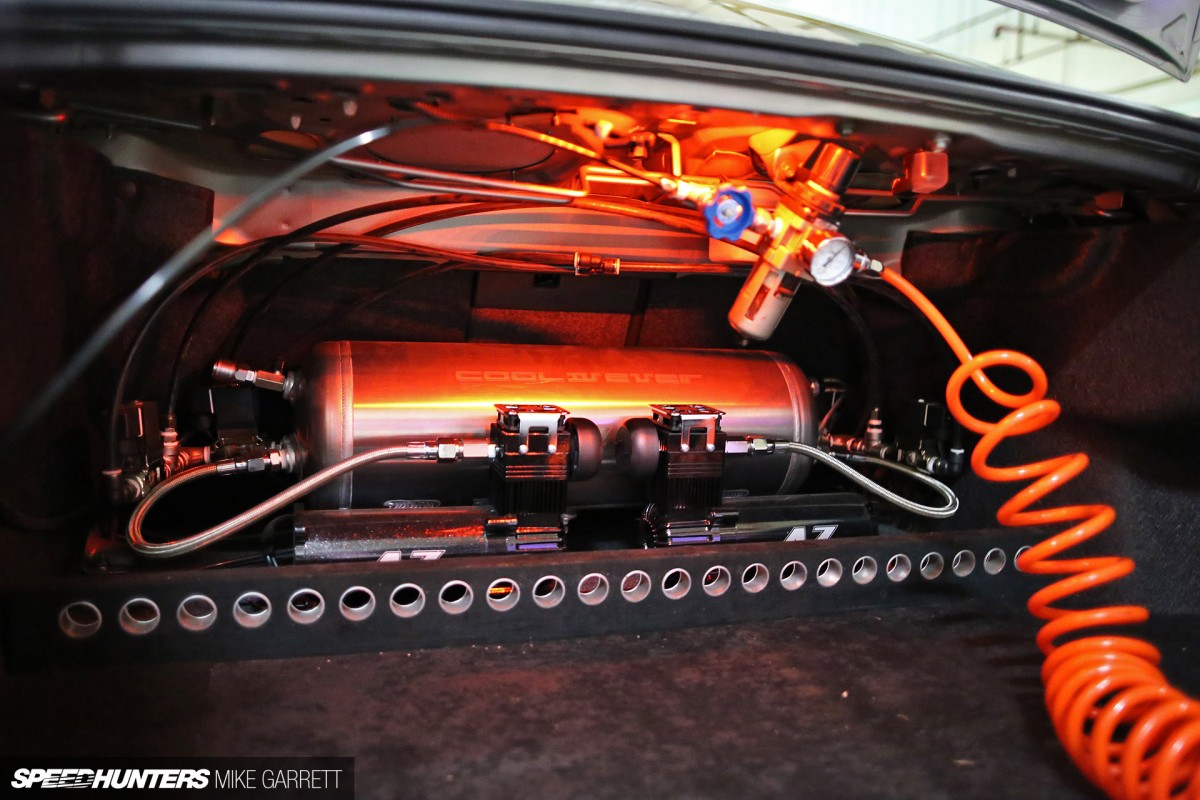 What's even cooler is that Shingo did so much of the work himself – everything from the air suspension set-up to the bodywork and interior details. There's no better way to learn than by going the DIY route.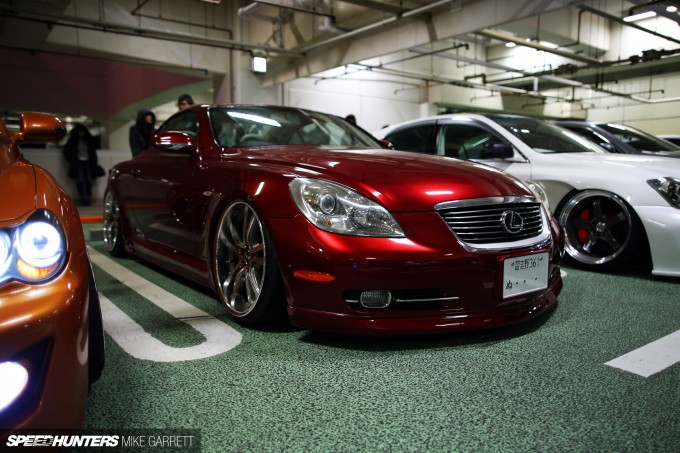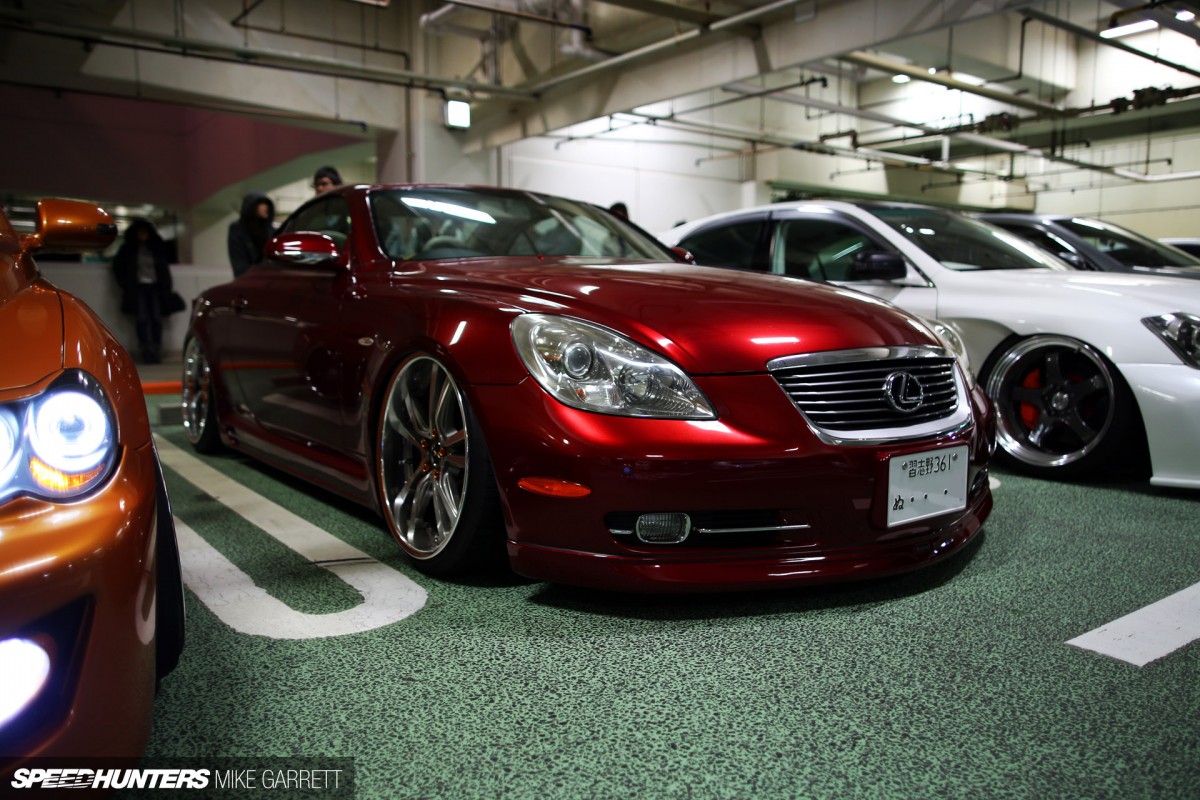 The Lexus SC430 is one of those cars that always slips under the radar. Sure it's a little feminine in factory form, but it's incredible what the right wheels and suspension can do for one of these luxo cruisers.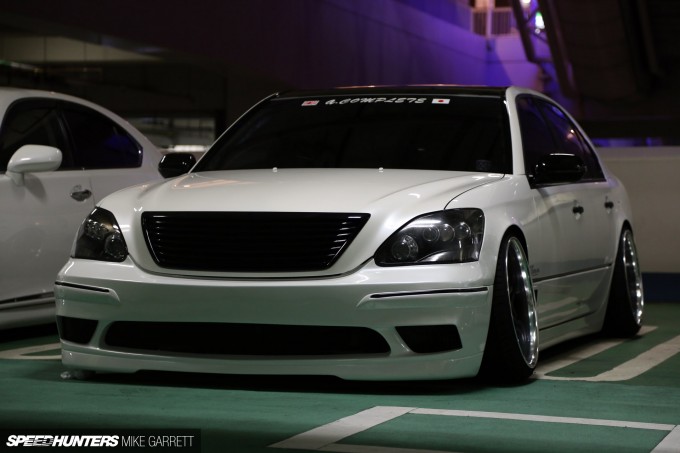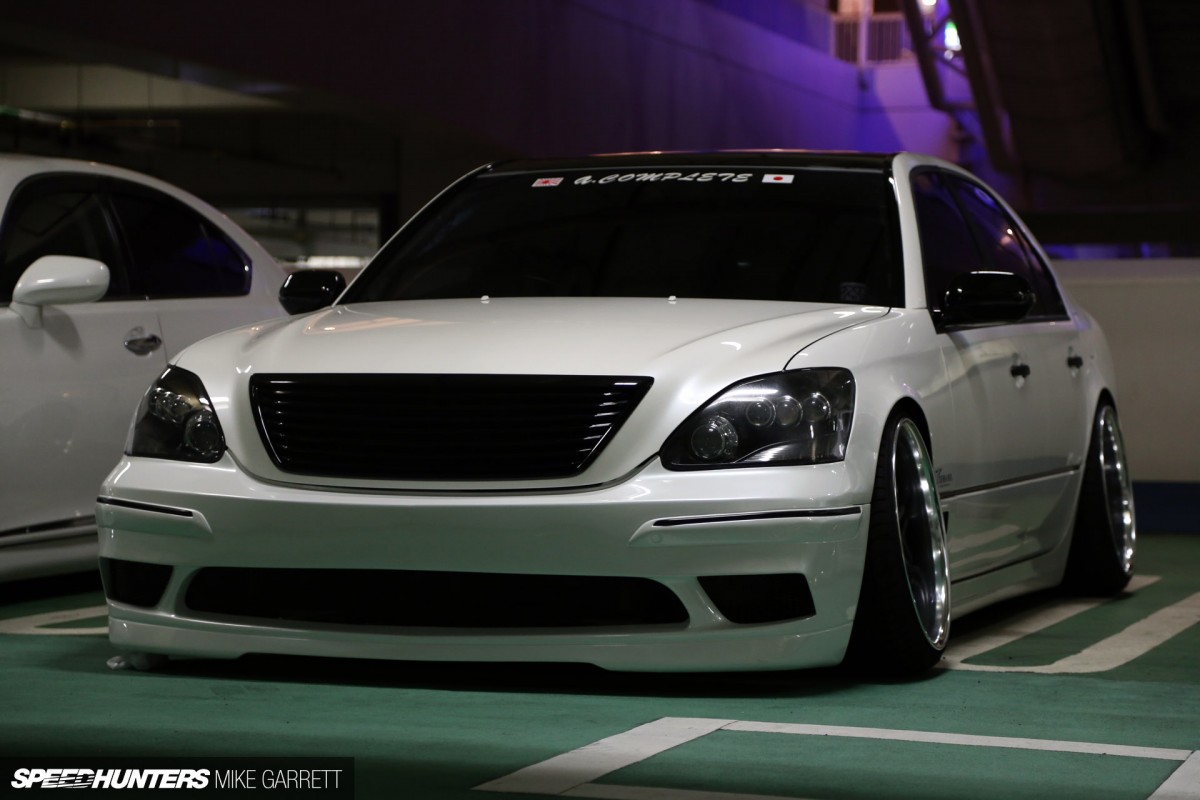 While we hung out and talked cars, more people began to show up and eventually a pretty big crowd had gathered. I quite liked the restrained look of this 30-chassis Celsior.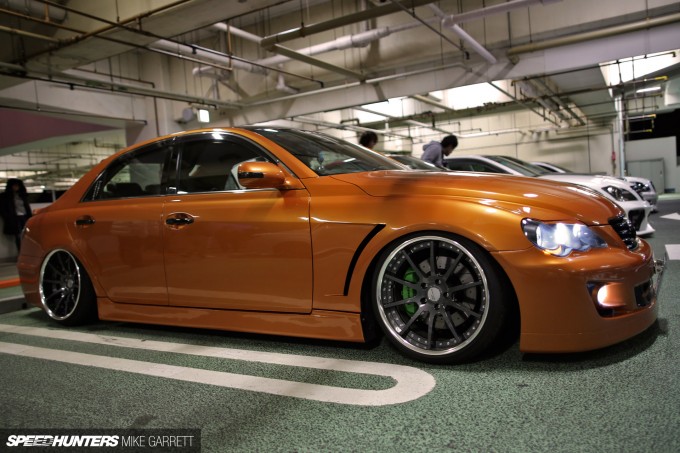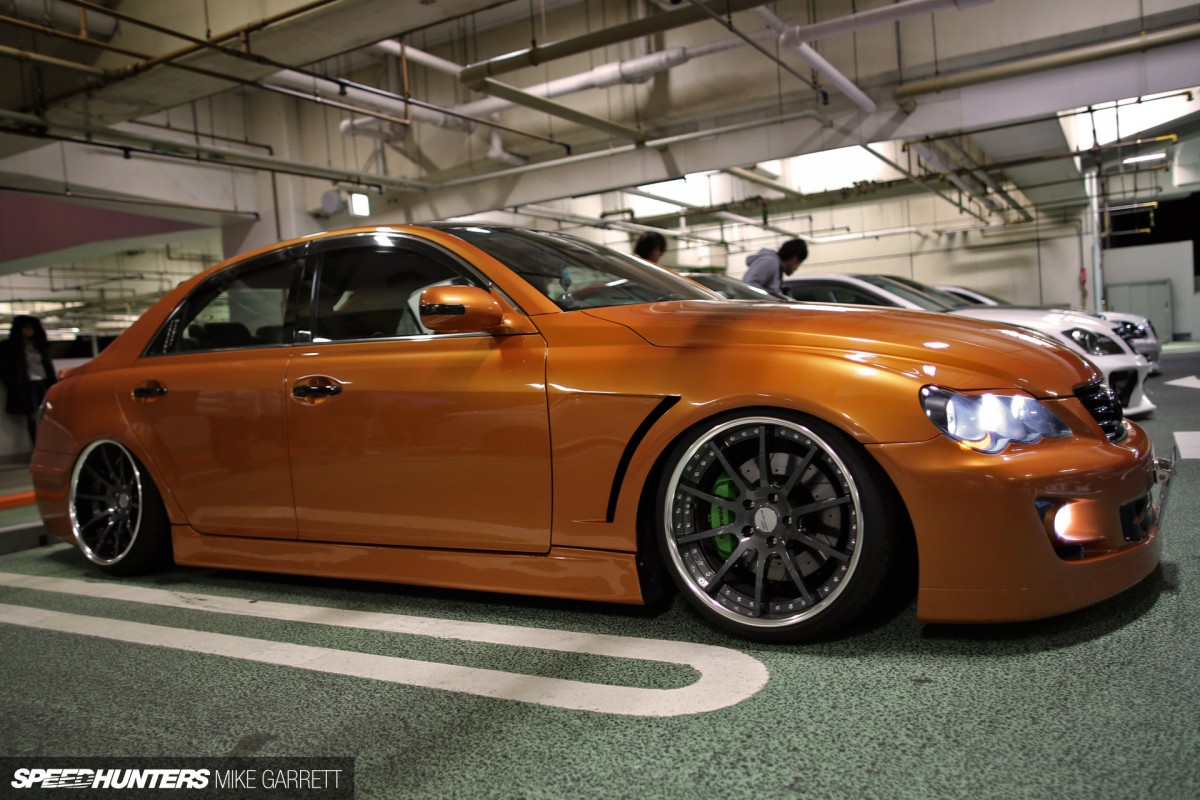 When it comes to VIP sedans, it's usually the Kansai region that first comes to mind. As you can see though, Kanto's own lowdown sedans are not to be slept on.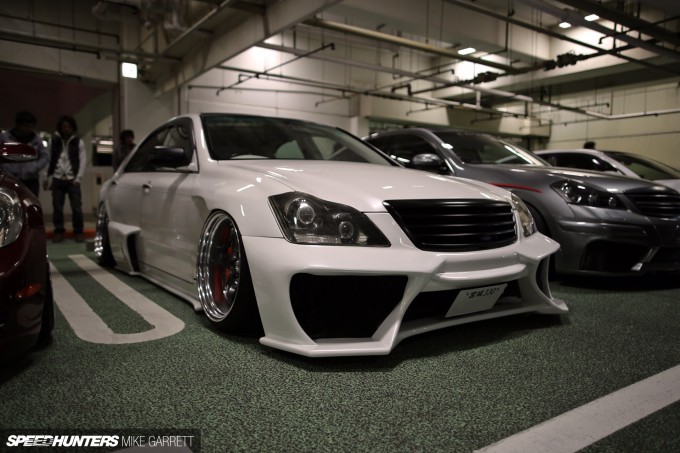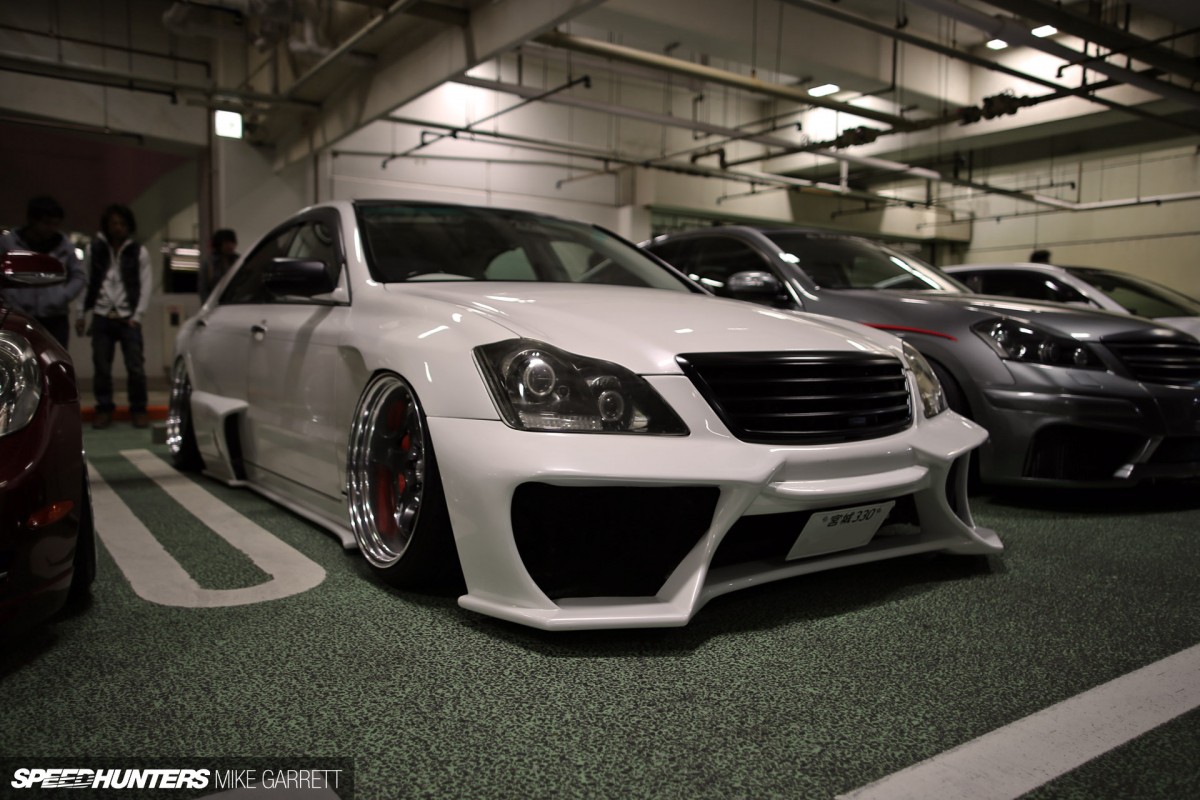 Here's a front view of that wild-looking Crown. Nope, those certainly aren't off-the-shelf parts.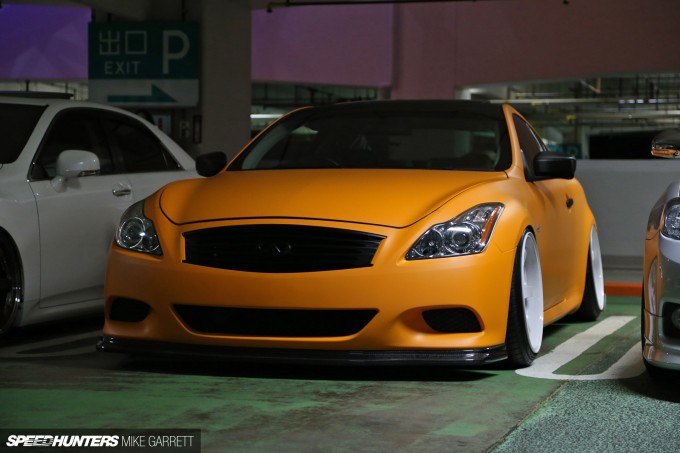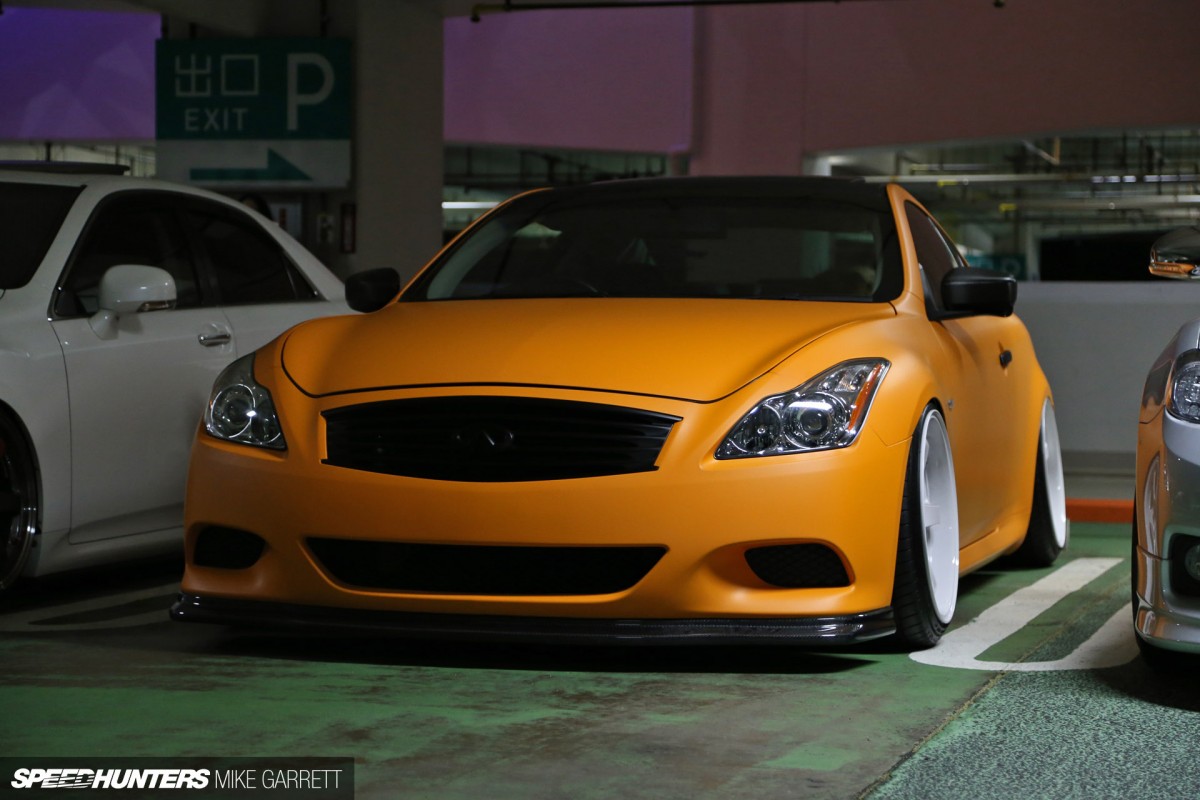 I always feel like the V36 Skyline Coupe has been kind of forgotten after the coming of the R35 GTR, but as this matte orange example shows, the two-door Skyline has plenty of potential. Love the originality here.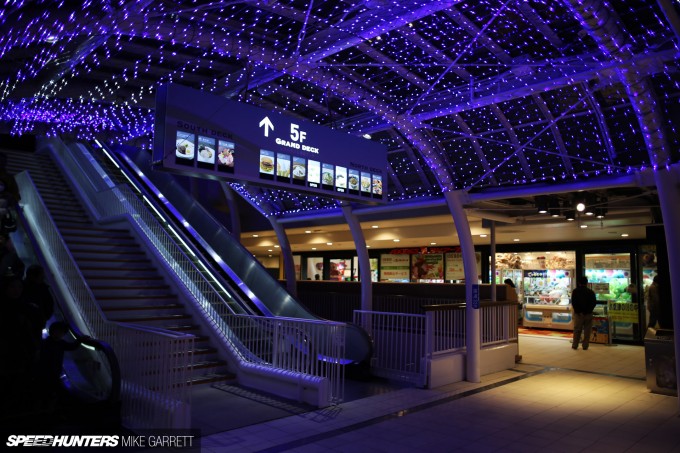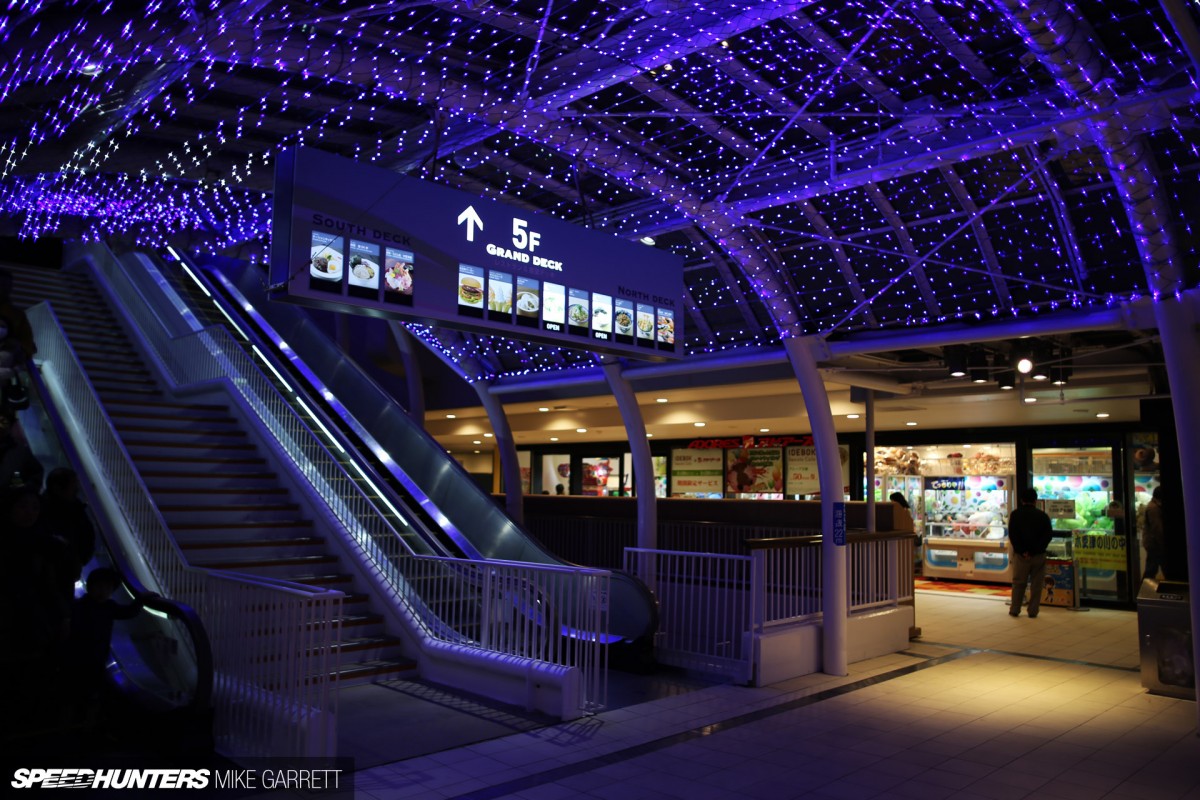 Along with the selection of cool cars, I also couldn't help but be impressed by Umihotaru Parking Area itself. This is about as far from those run-down American rest stops as it gets.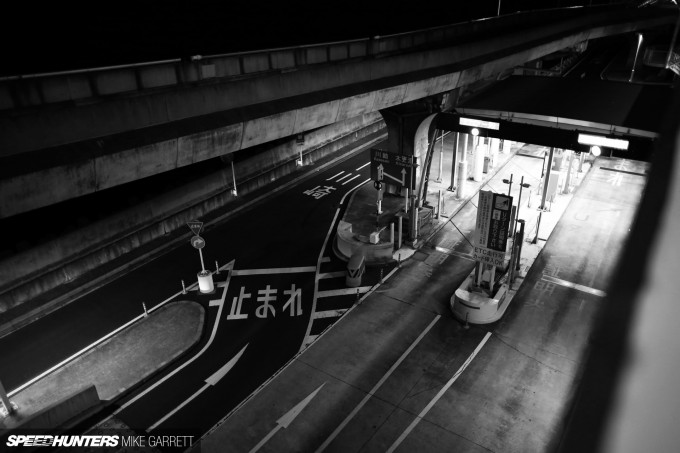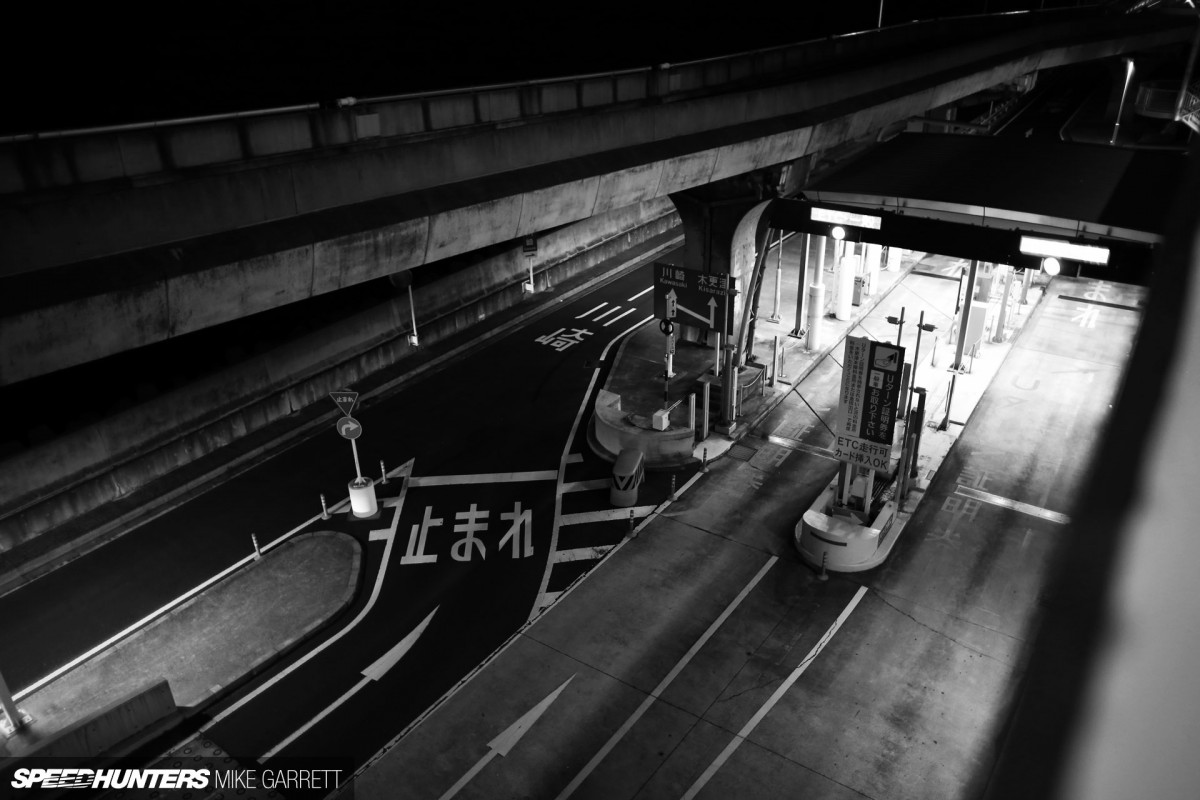 The fact that this was all sitting in the middle of a pitch black Tokyo Bay made things a little surreal. Or maybe that was just the jet lag speaking?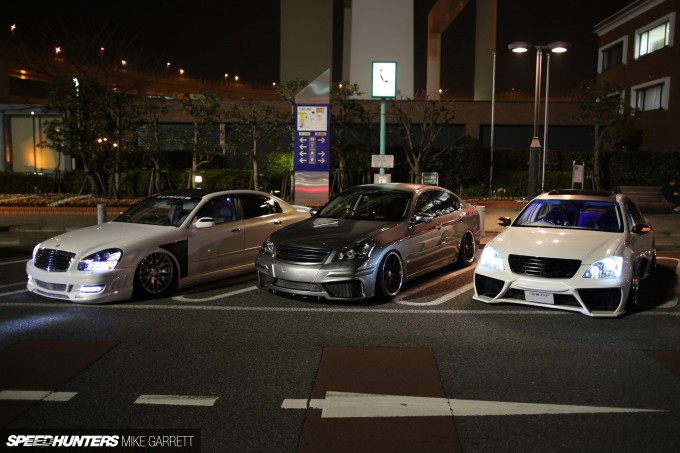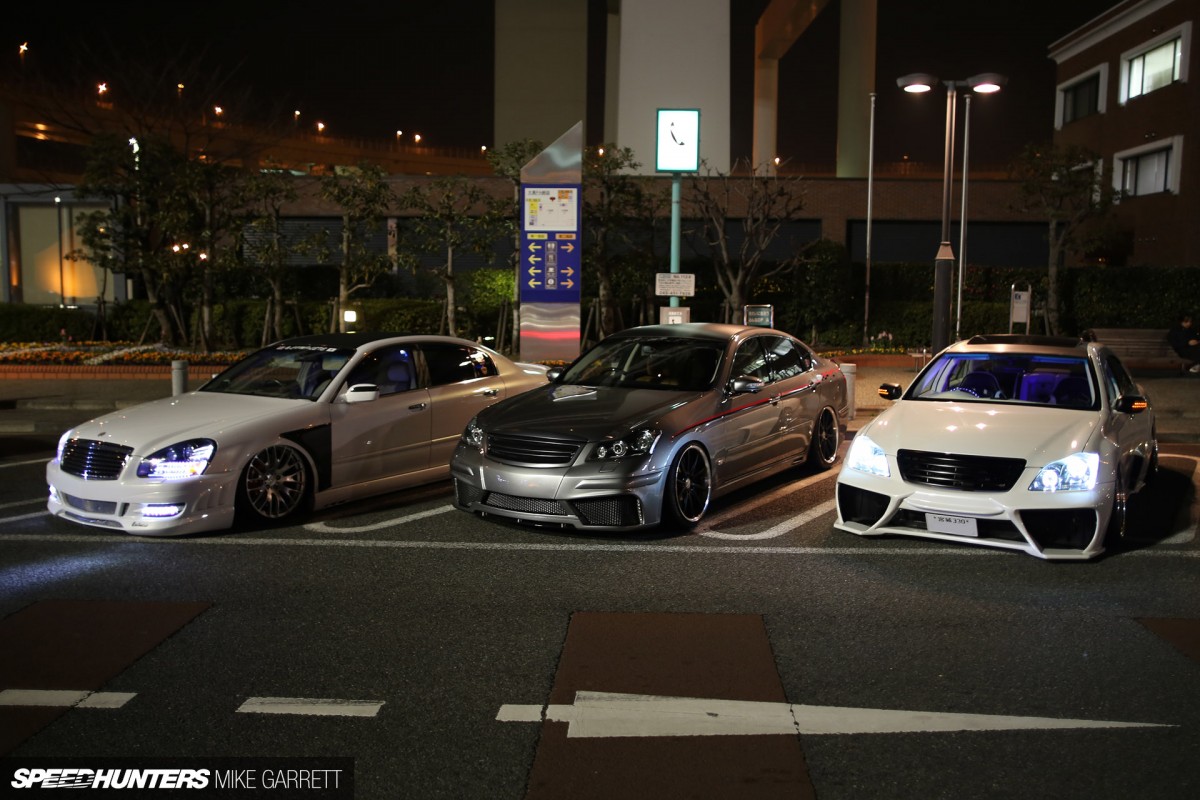 Whatever the case, it was a fine way to kick off my trip and I especially enjoyed the camaraderie that quickly developed among enthusiasts who had previously only known each other through the internet.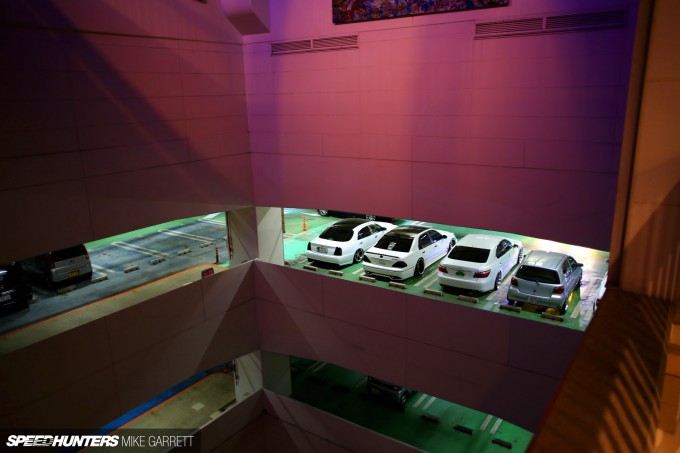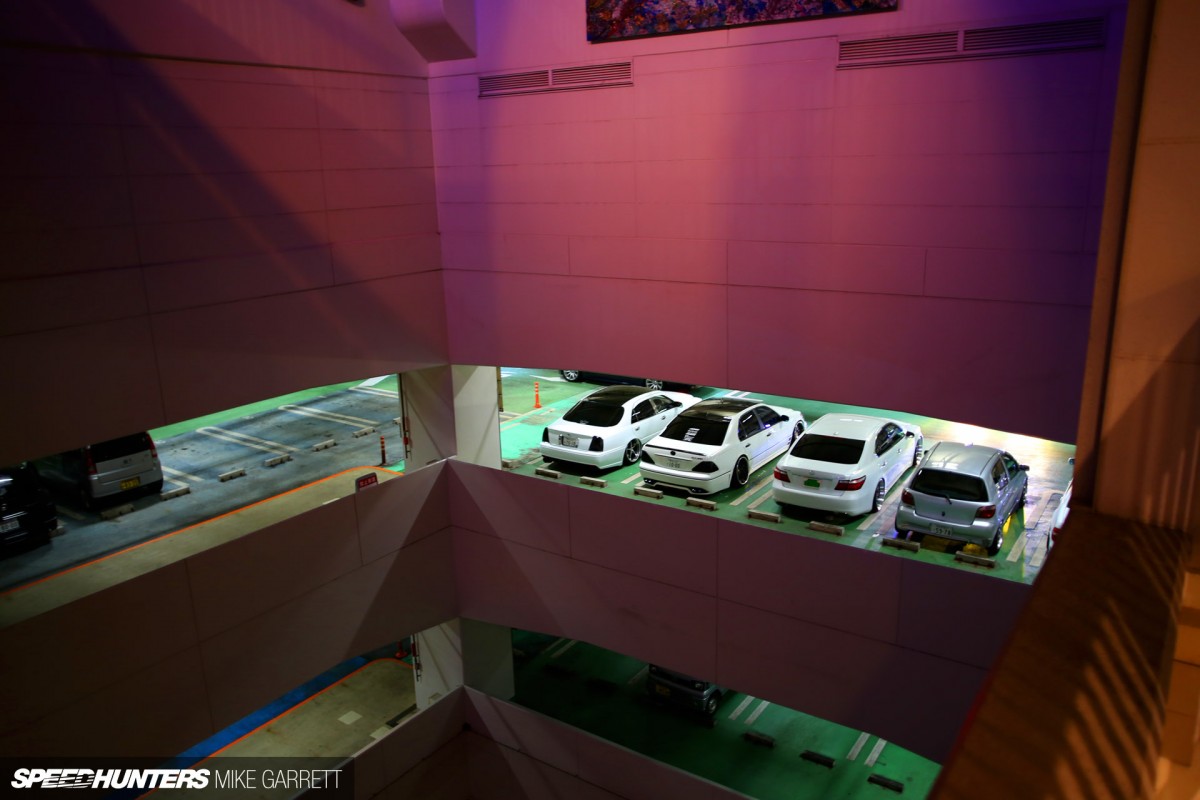 Here's to Japan.
It's good to be back!