Factory fresh design
Ah, Britain. So we may live in a country where there's pretty much only one weather condition: rain, where mass-produced automobiles of our own have all but died out and where our locally produced low-volume sports cars have a (sometimes unwarranted) reputation for being about as reliable as a chocolate teapot. But there's one thing we excel at, and always have done – motorsport.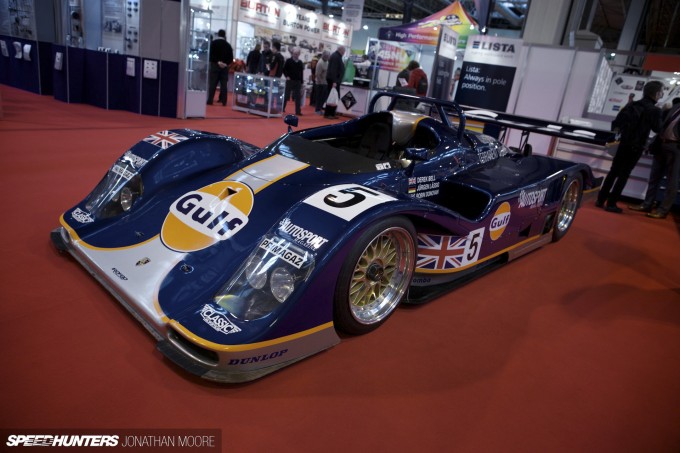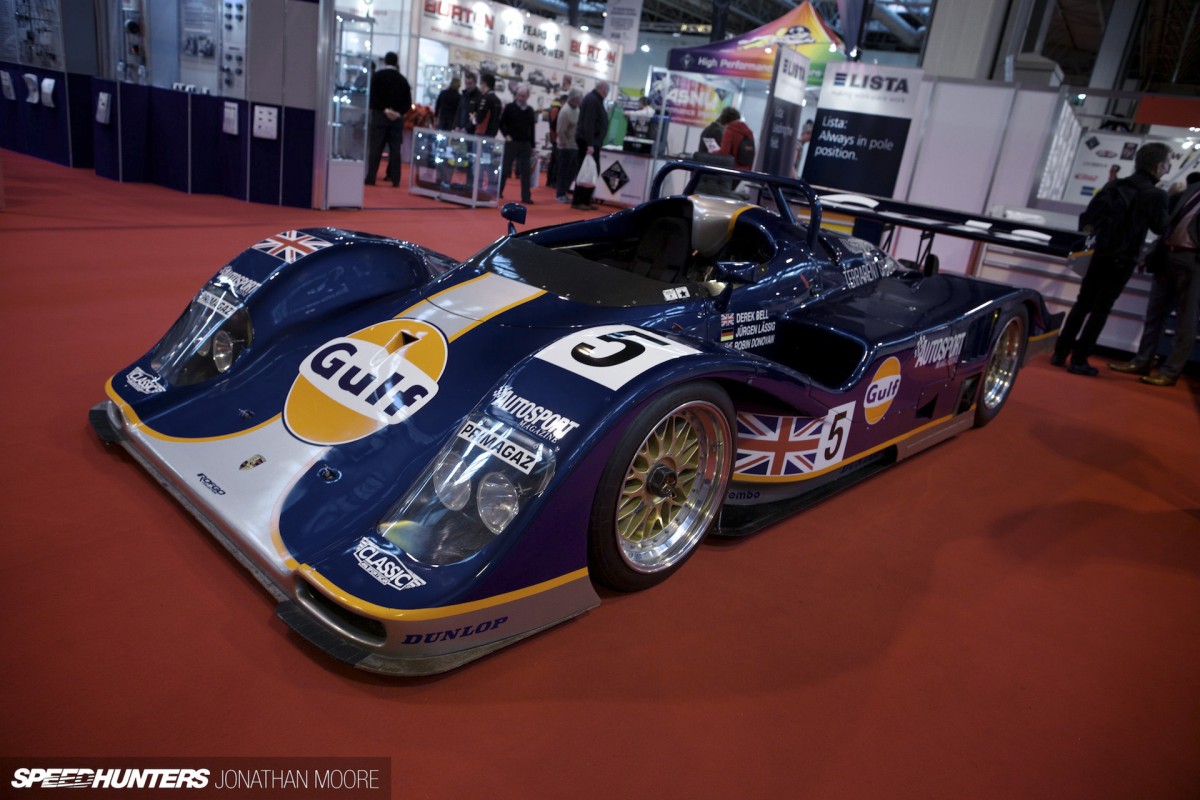 Eight of the eleven Formula One teams have their headquarters in the UK. The entire Indy500 and GT500 class of the SuperGT championship use gearboxes supplied by British companies. ECUs for the complete grid of Formula One, NASCAR and IndyCar vehicles are supplied by McLaren Applied Technology. Formula One, WEC, WRC, Global Rallycross, various touring car championships and Le Mans all have some involvement with companies in the UK, either with teams headquartered in the country, or parts being sourced from here.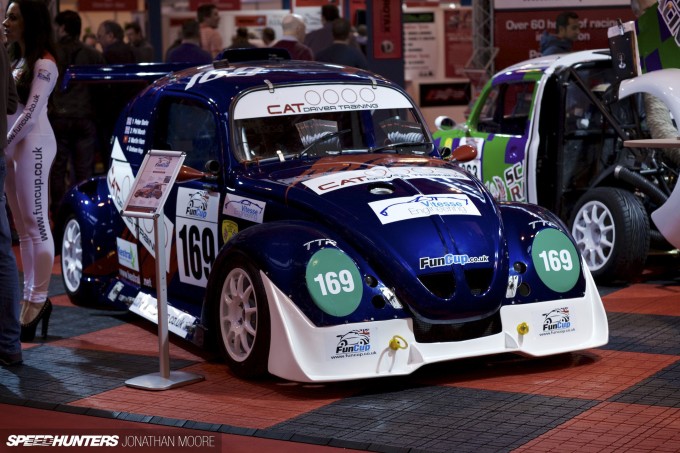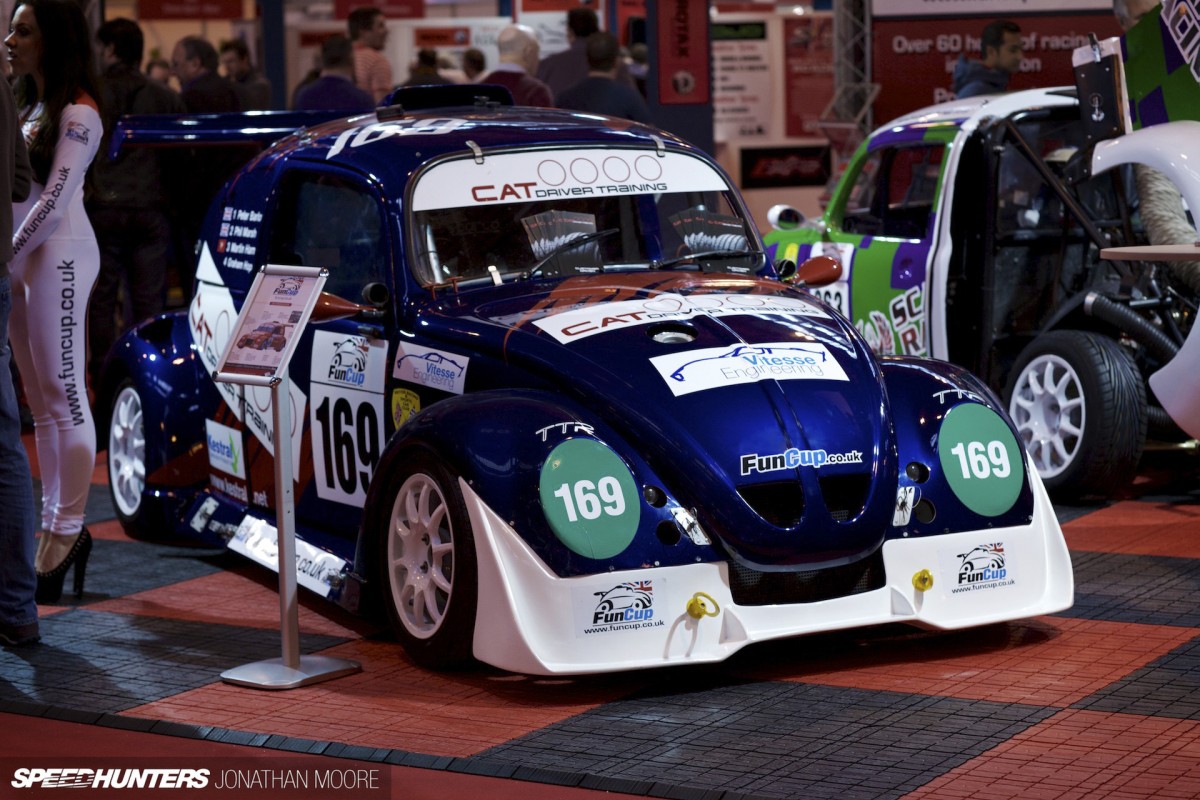 It's safe to say we know a thing or two about motorsport then. So it should really come as no surprise that Autosport, the annually held motorsport show, is the largest of its kind in Europe. It's a coming together of manufacturers, car clubs, race teams, component providers, professional drivers and much more. It's a place where performance dominates, where chasing times is all-important and where looking good is a happy by-product rather than a raison d'être.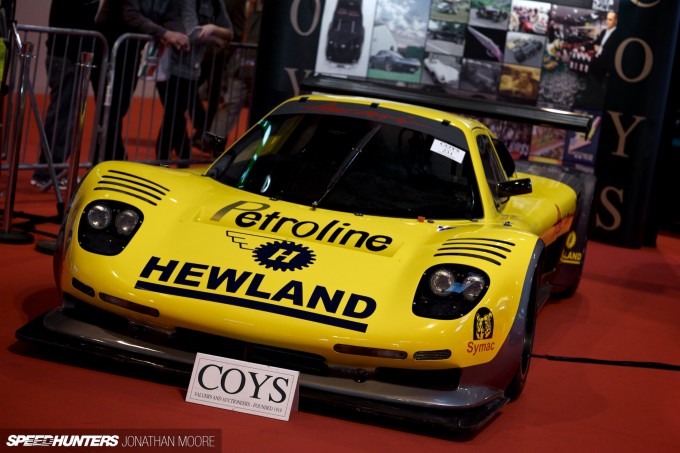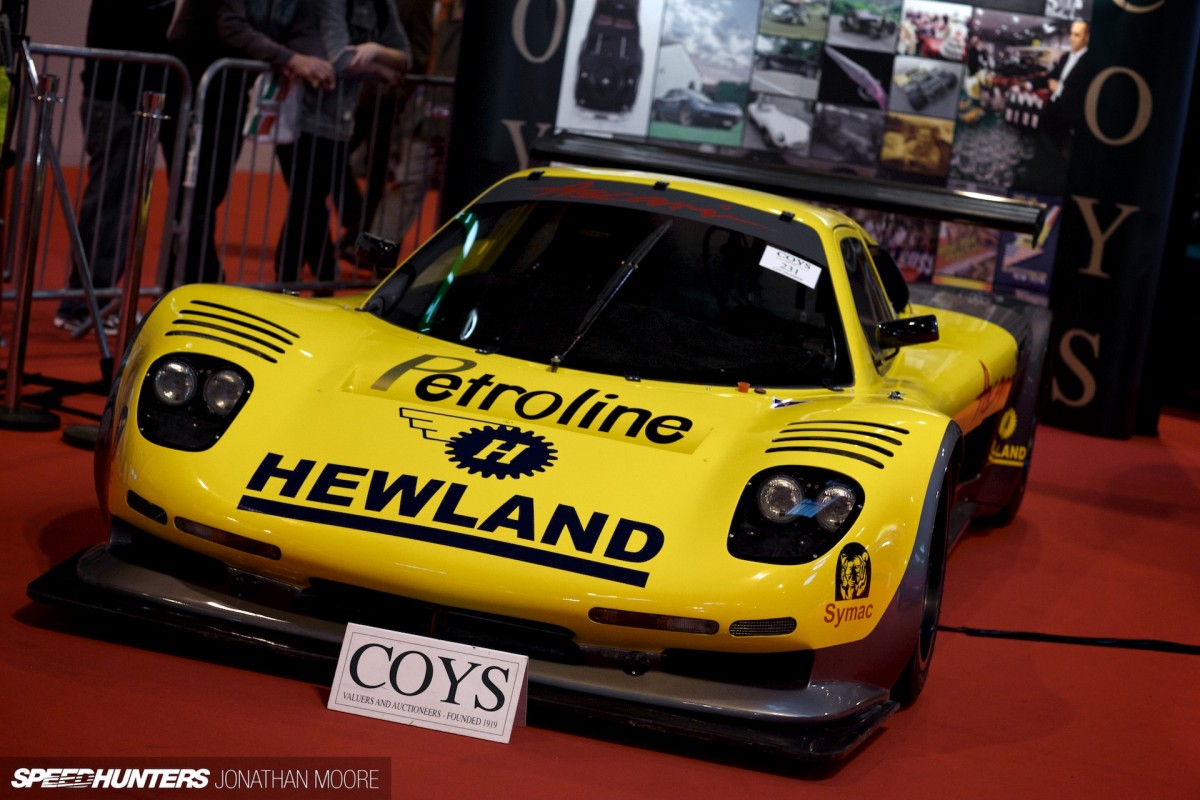 But though looks aren't the reason for any of the creations we saw at the NEC exhibition, there's no denying the visual appeal of many of the machines on display. The raw, aggressive, in-your-face styling might have the wind tunnel to thank more than a designer's flair, but it still has a huge draw. Never more so than in the present, where many current trends in bodykits can be traced back to their origins in motorsport. For that reason, I thought I'd take a walk around Autosport with a view to taking a look at the 'styling' on offer, intended or not, and I'll kick things off with production cars…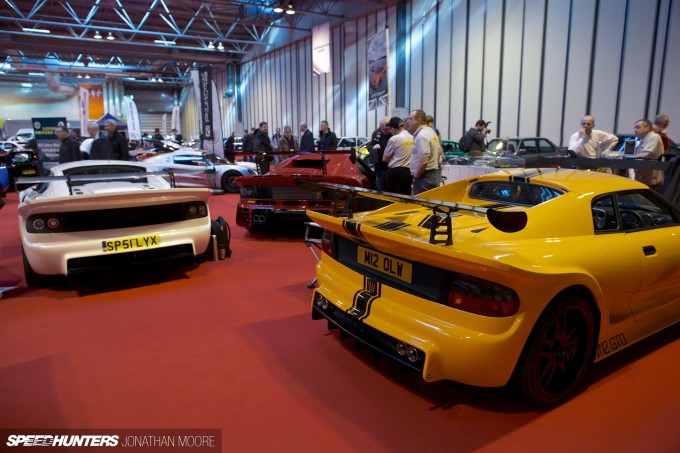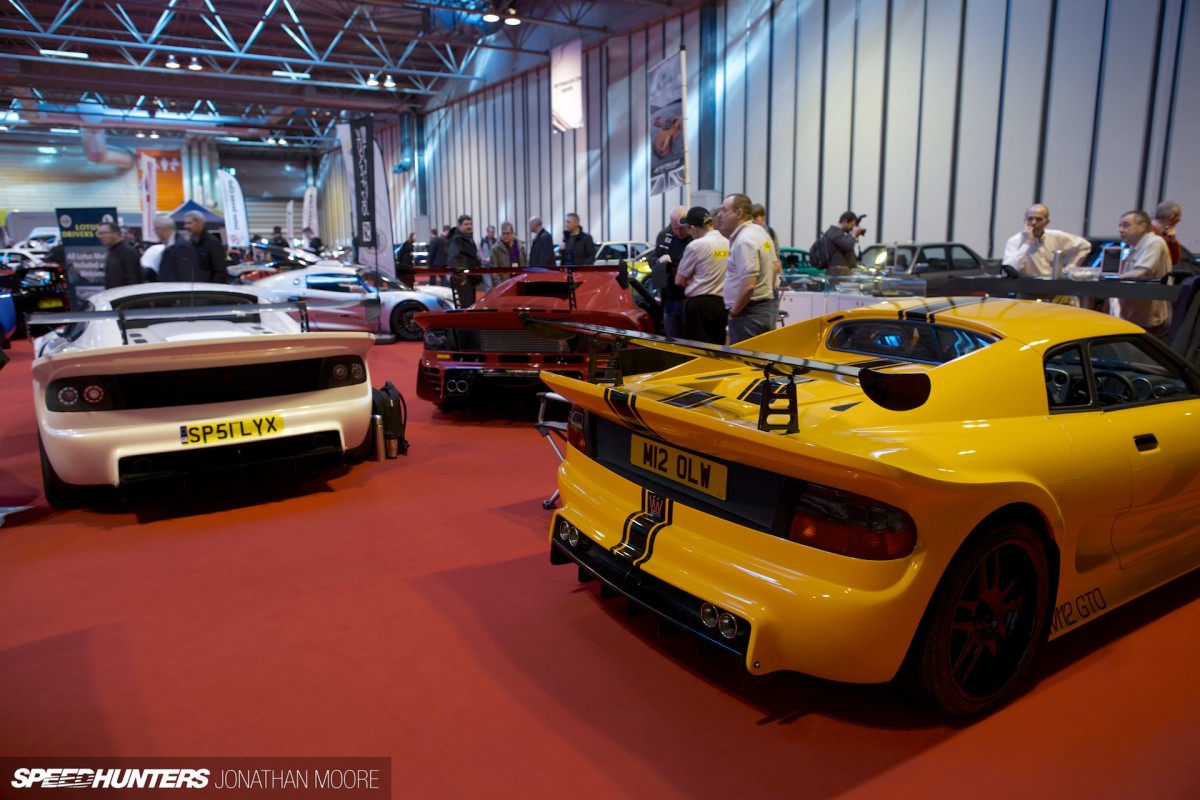 It didn't take long to find some examples to consider. The Noble Owners Club was practically the first stand we came across and was a brilliant way to start the day. For a design that's now 14 years old, the Noble M12 has aged remarkably well, with all five cars on display still looking like the lean, mean supercar machines that they are.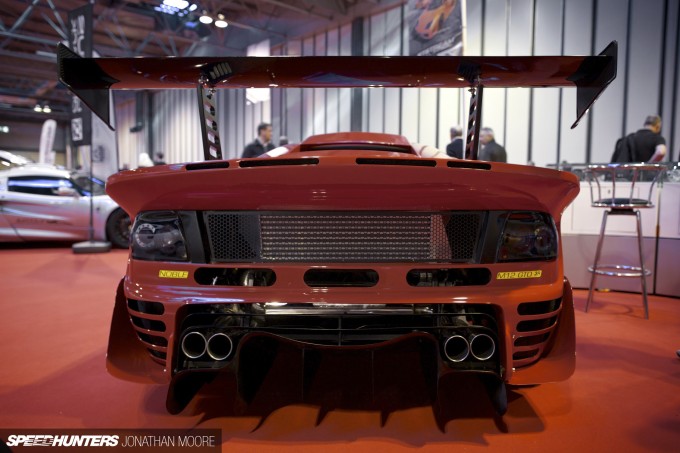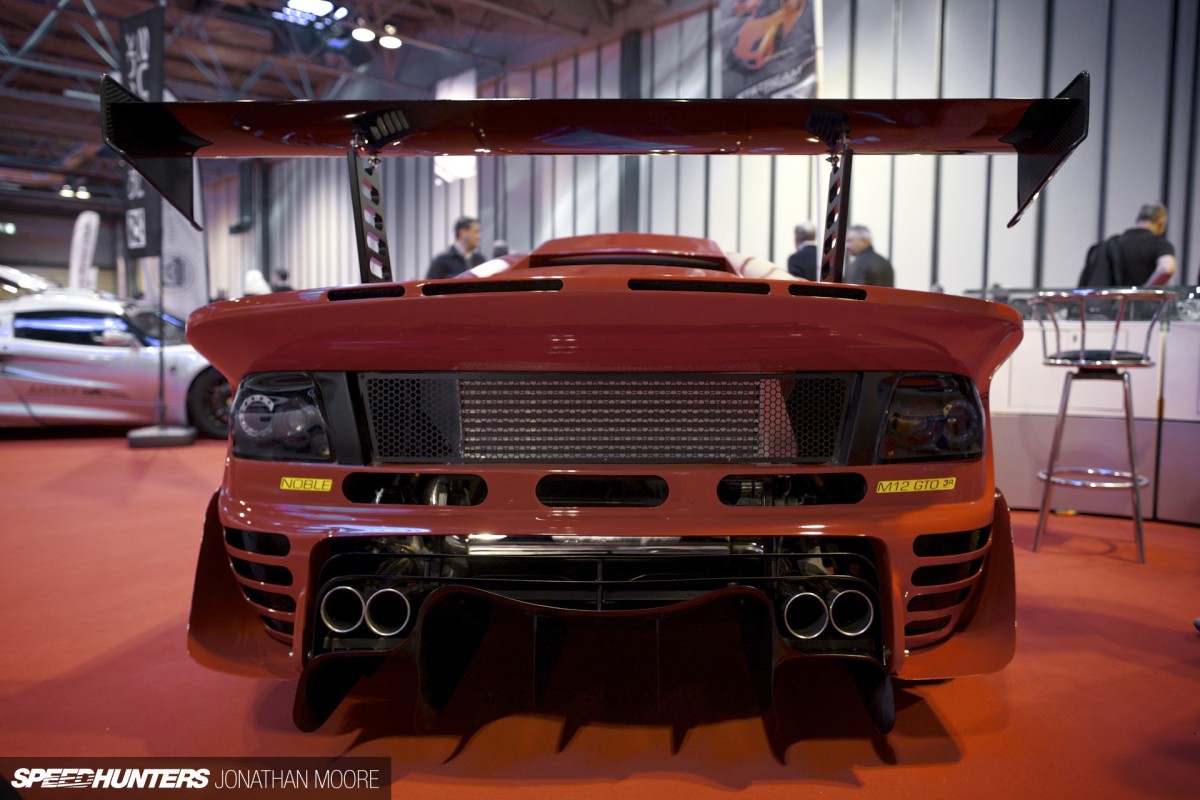 A bit of wing with your Noble sir? This modded example had a distinct Ferrari-esque feel to its shapely rear. The massive rear wing obviously helps with downforce, as does the extruded lip of the boot/trunk and the huge rear diffuser. I'm not quite so convinced by the LED rear clusters though…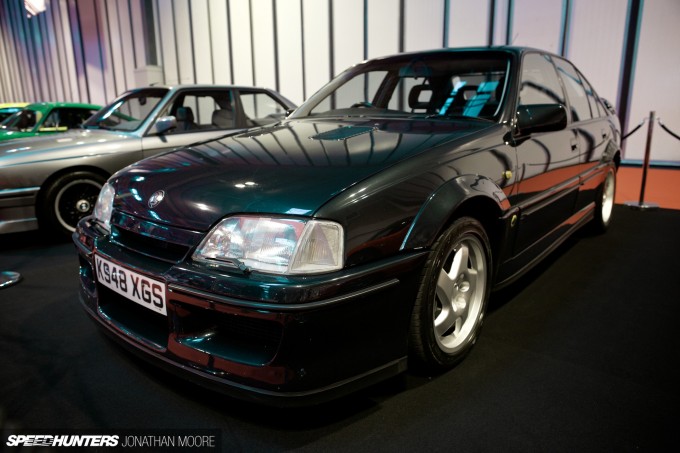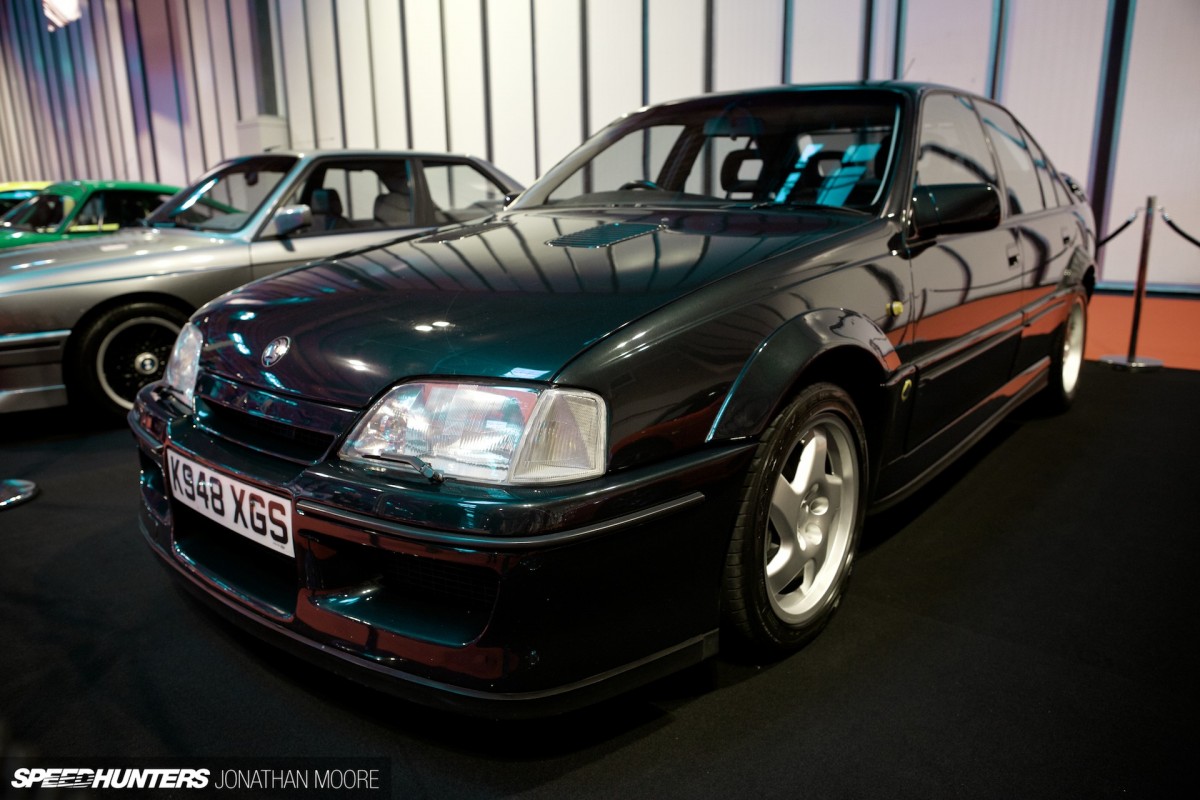 Along one edge of the hall was a collection of cars selected for their legendary status and my heart gave a little flutter when I laid eyes on this Lotus Carlton. With only 950 cars originally produced, they're a rare sight even on British roads. The chunky styling gives away the car's nineties roots, but it still looks amazing.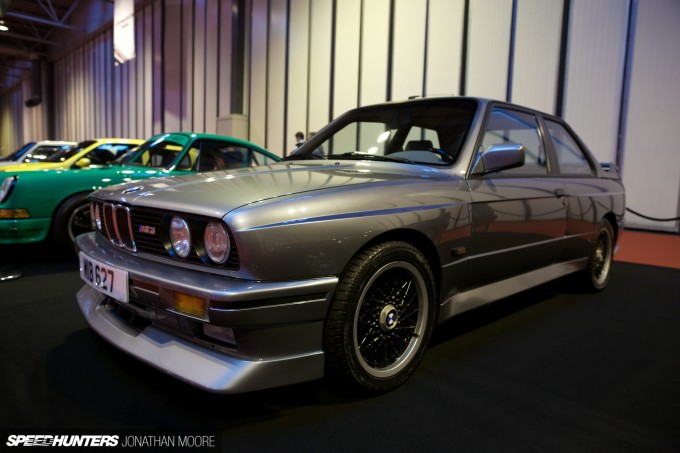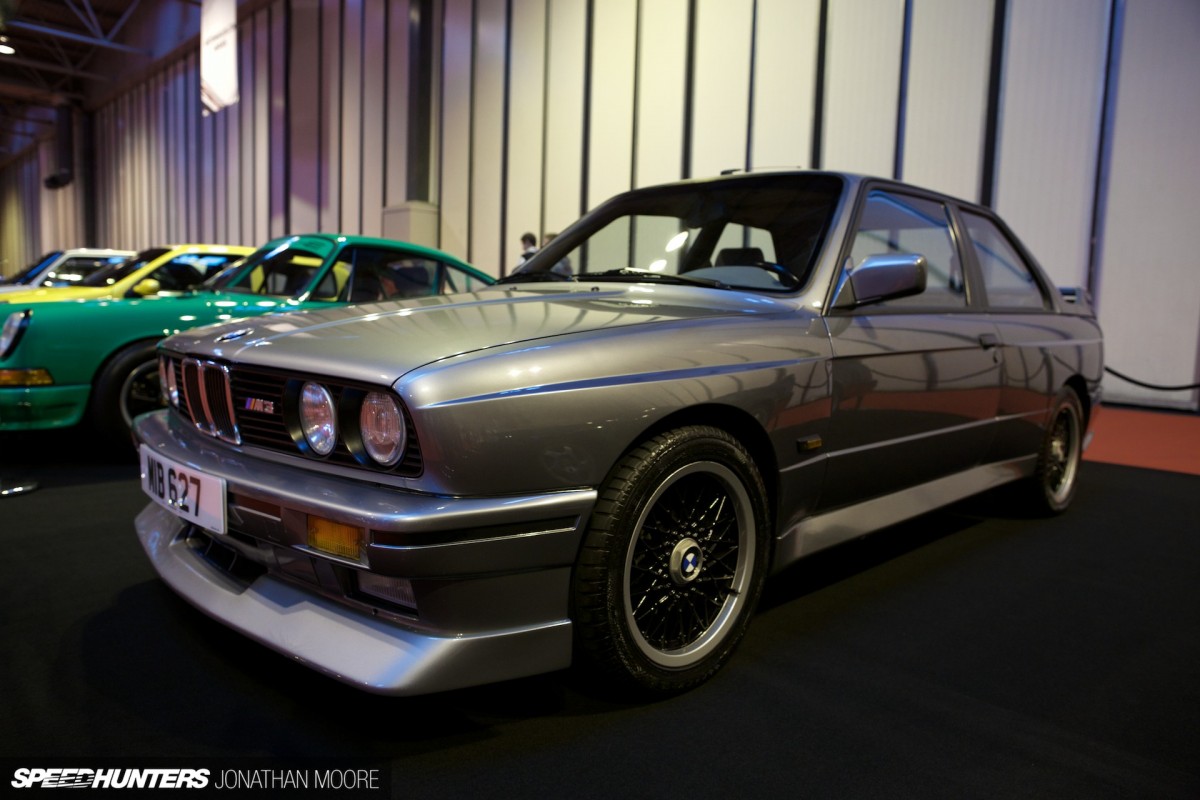 Alongside it was another favourite of mine: the E30 M3. Another example of boxy styling done perfectly. It's actually quite impressive how timeless the BMW's styling is – it still looks superb. Jonathan decided to ruin the moment of appreciation though by posing the question of which I'd rather have: the Lotus Carlton or the M3? Argh! That's a horrible decision!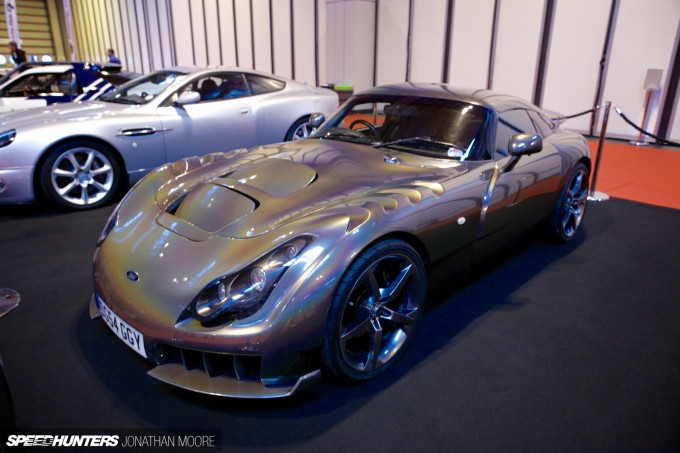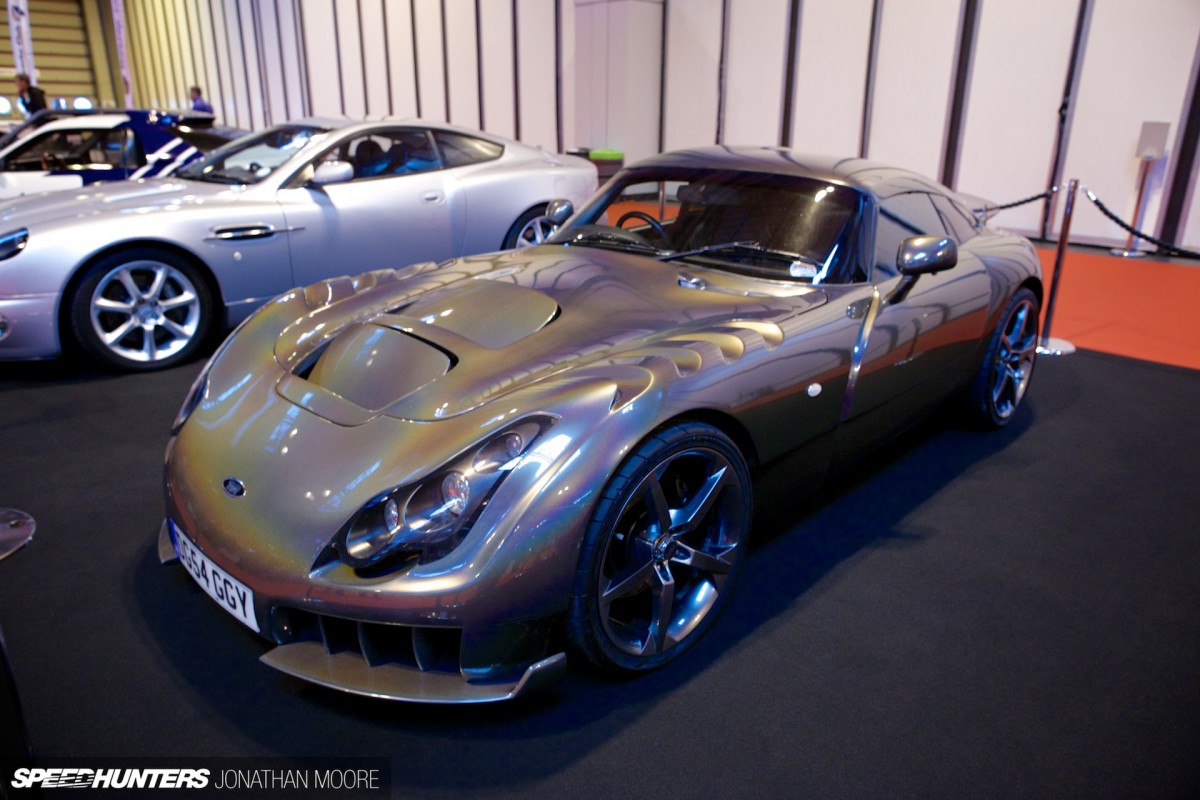 Another 'hero car' along the wall – the TVR Sagaris. There's no denying the appeal of a TVR: the wild looks, the bonkers interiors and simply one of the best exhaust notes on the road (not to mention one of the few cars that I can still accept flip paint as looking good on). All those vents and louvres had a purpose though: the Sagaris was built from the start to be an ideal platform for an endurance racer. Sadly, not nearly enough of them made it to the race track, although one does exist in UK Time Attack. Let's hope it's back for 2014…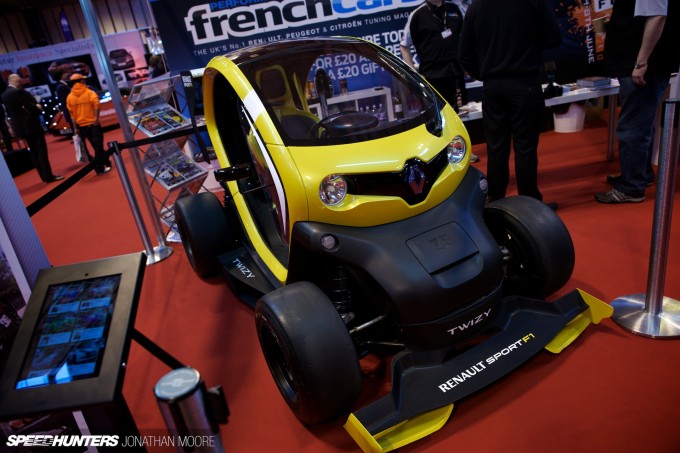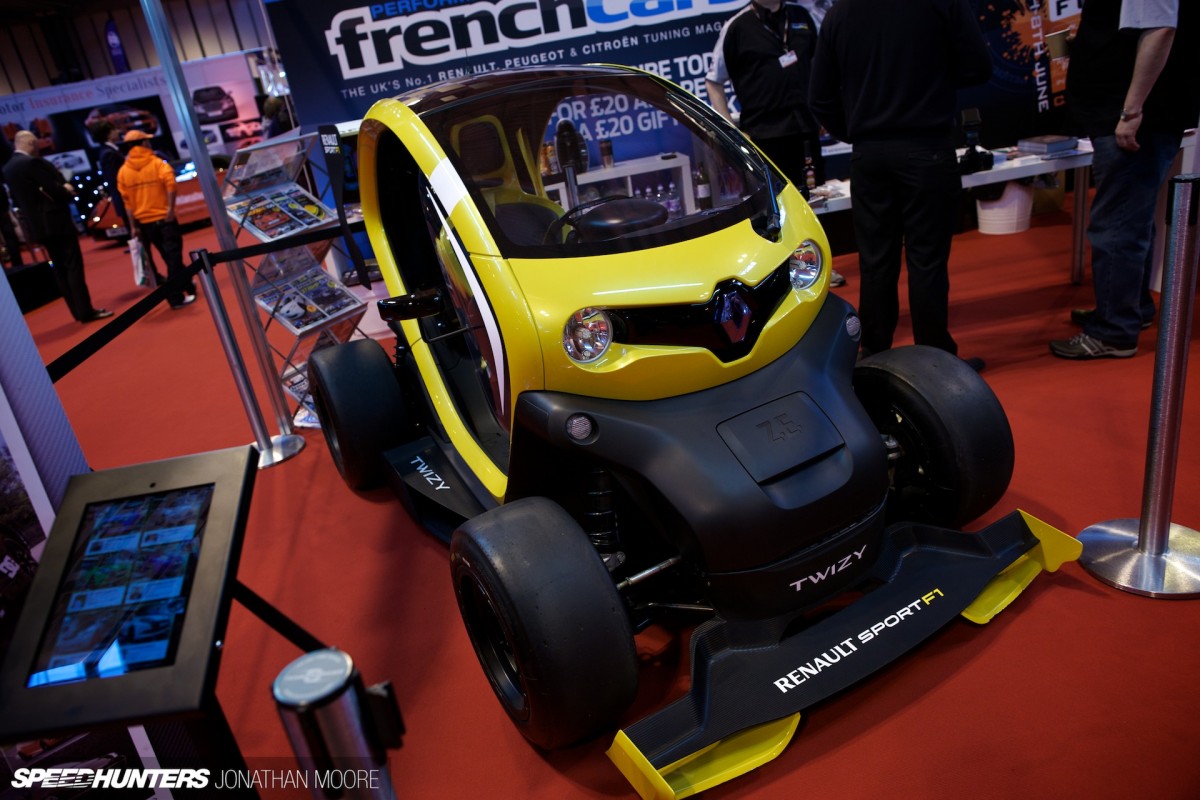 The Renault Twizy F1 – styling of a very different kind! Despite the rather extravagant front and rear wings, plus the sidepods that take obvious influence from Formula One, I'm not quite sure it needs all that downforce for the 17hp electric motor it's fitted with. Even when the KERS kicks in to offer another 79hp. Instead it reminds me a bit of a cross between an ice resurfacer and a road sweeper. Sorry Renault!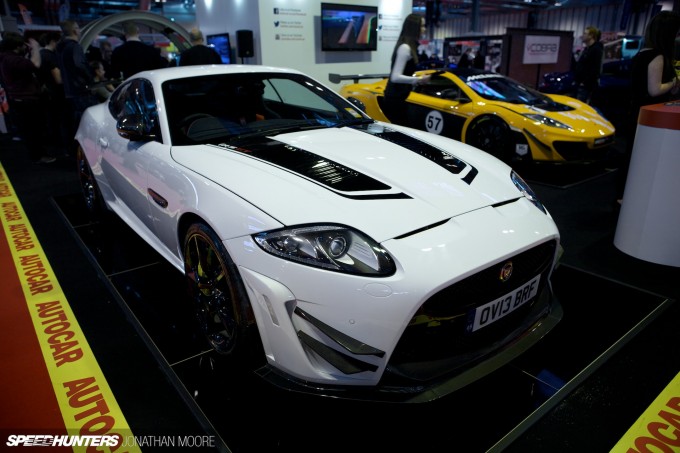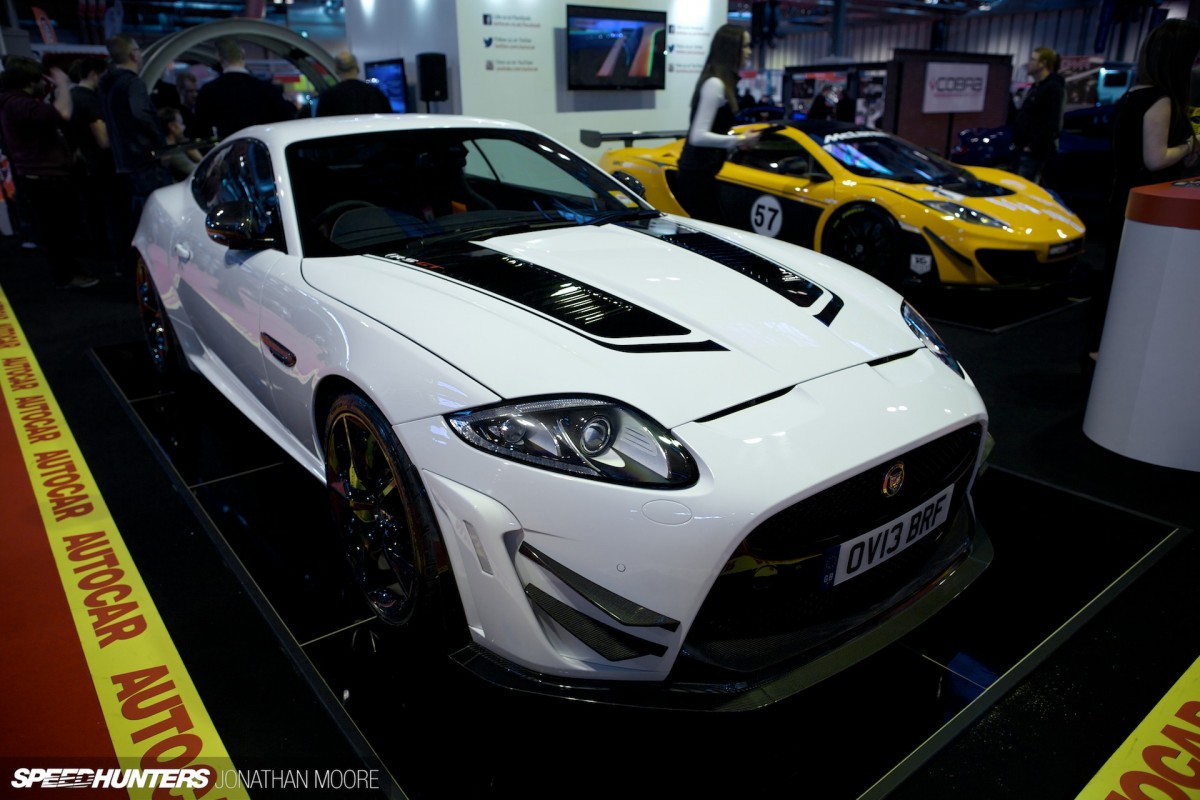 Jaguar's XKR-S GT might look like a race car, but it's really their top-level road model, launched last year, and has the power to melt hearts with one glance. Carbon fibre panels, with a front splitter, wider wheel arches, canards and a large fixed rear wing all make it look perfectly at home on the track – and that's just fine by me. A mere ten units went on sale in the UK though, so any chances of nabbing one at some point are looking slim!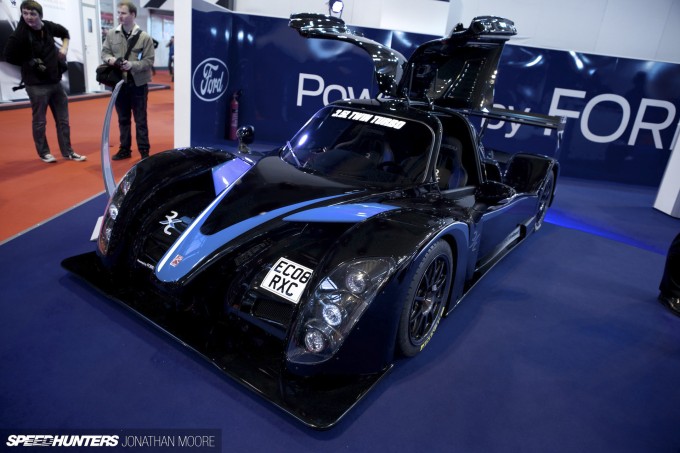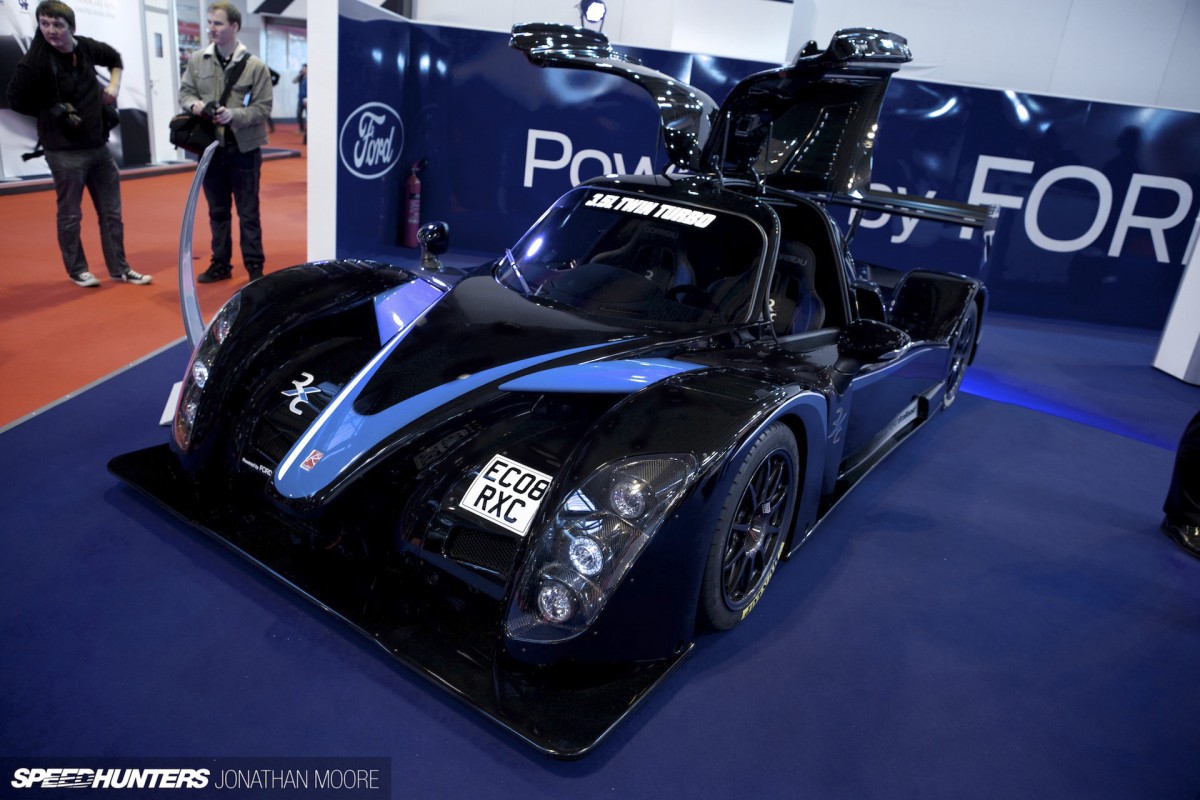 As if the Radical RXC launched at last year's Autosport International event wasn't crazy enough, this year saw the launch of a turbo version. Weighing in at under 940kg, the RXC's power output has now been upped to just under 460hp courtesy of a new 3.5 litre V6 Ford EcoBoost engine. Can anyone say crazy?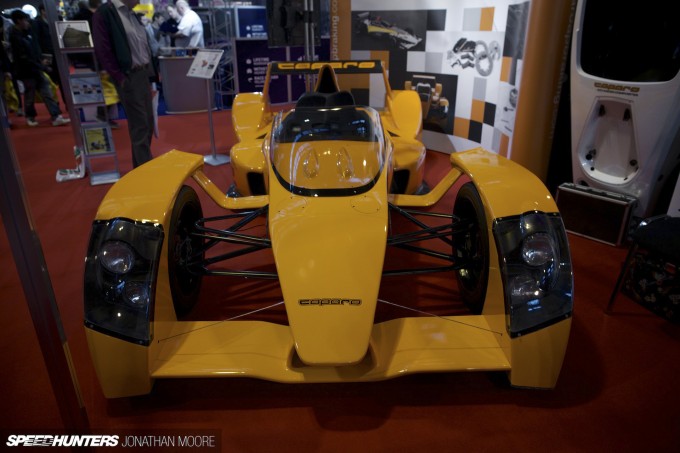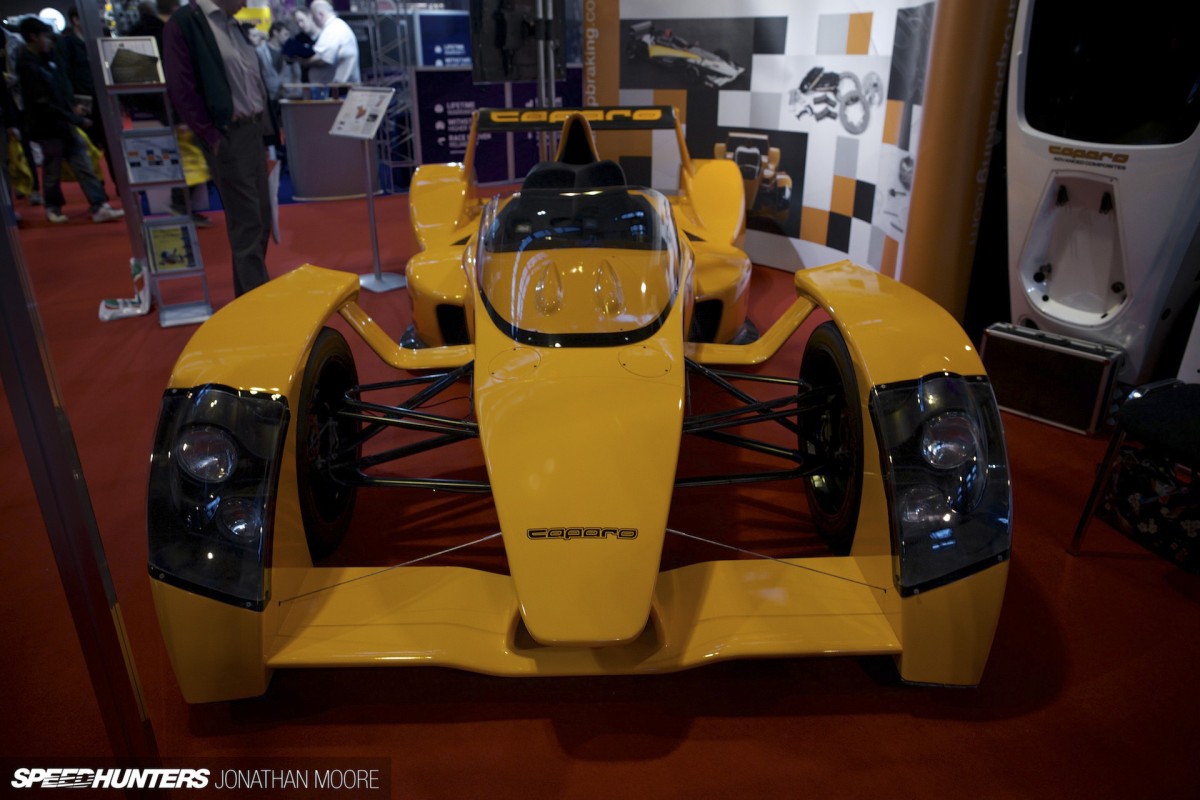 In terms of production cars, you'd be hard pressed to beat the Caparo T1 – a barely disguised F1 car for the road. With a power-to-weight ratio that's double that of a Bugatti Veyron, it's no surprise that the body design is fully focused on making the car stick to the road. Front and rear wings, adjustable fowler flaps, a low drag body design and wing options for either road or track use all have their work cut out to keep the T1 glued to the ground.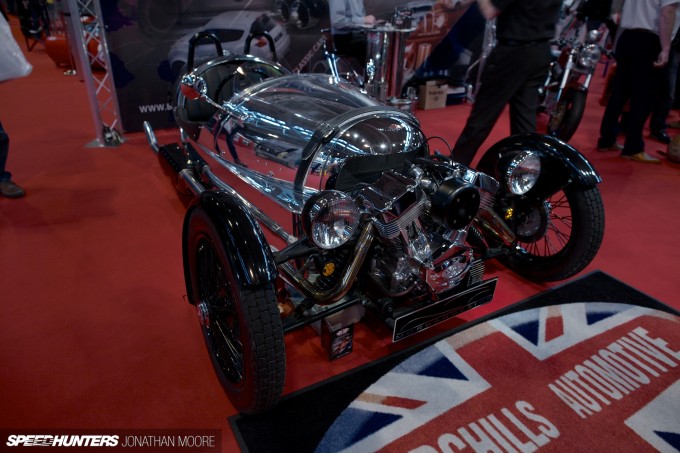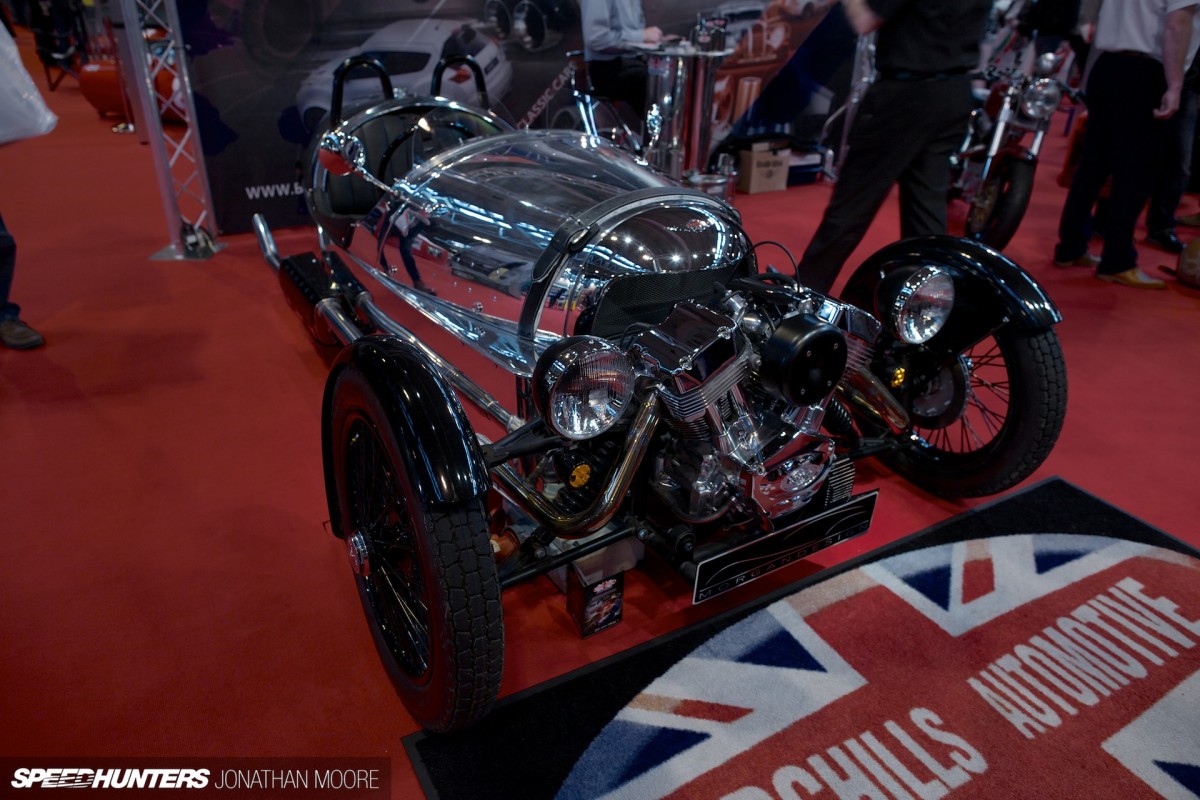 From probably the most aerodynamic production car on display to what could well be the least. The Morgan three-wheeler might not really be classed as a performance car – the nose-mounted X-Wedge S&S Cycle-produced V-Twin normally found in a Harley Davidson produces just 80hp, but there's no denying the character the car has. Even if from certain angles, it looks like someone's chopped the rear axle off.
With the best production models covered, it was time to turn my attention to the modified machinery on offer…
All the fashion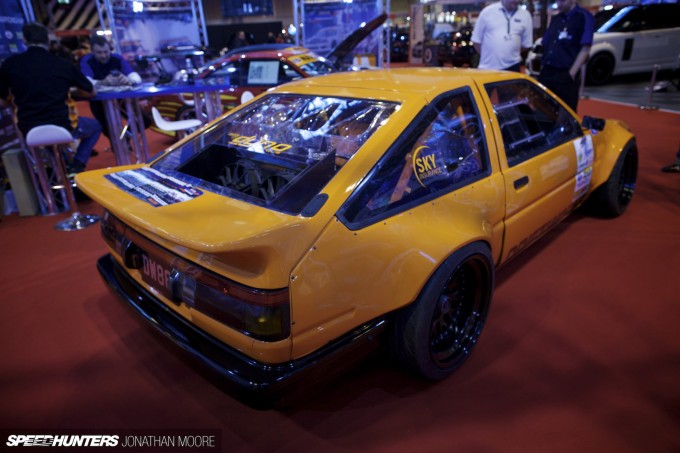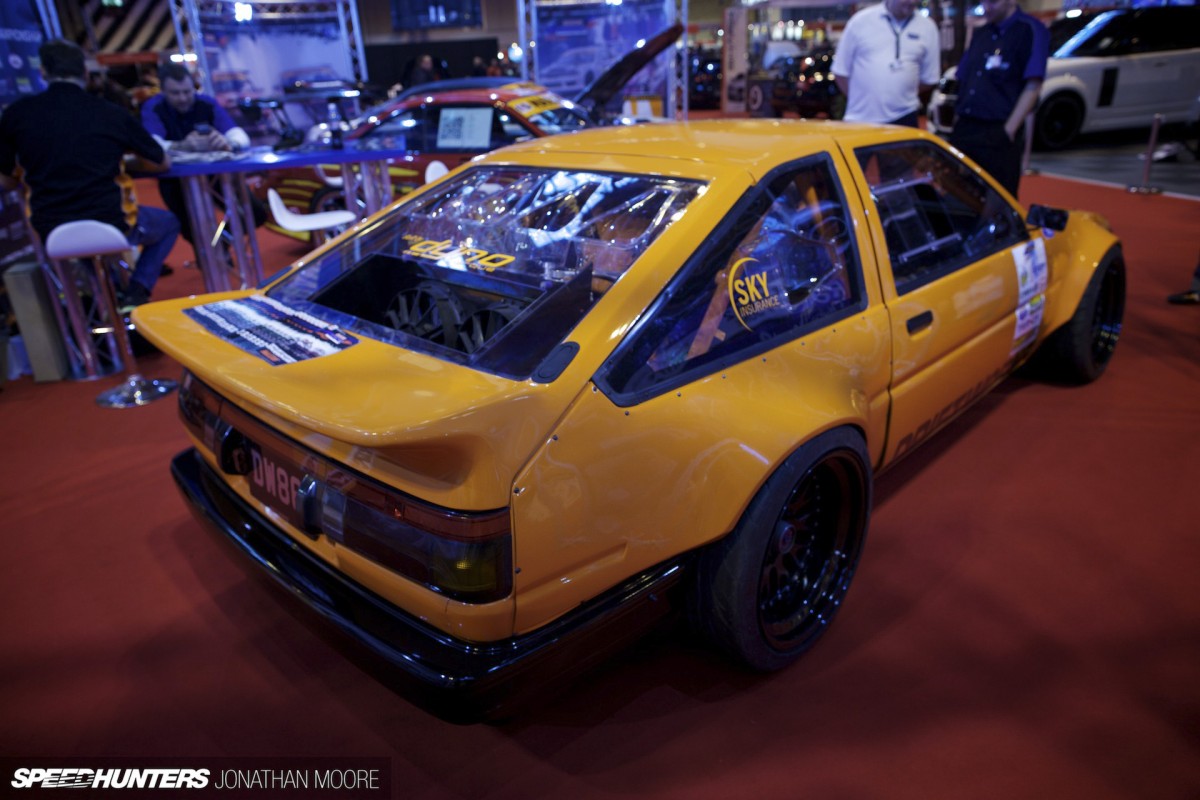 Stealing the limelight on the BDC stand was Driftworks' rather crazy AE86. You can't help but notice the vivid orange paintwork (to match the Driftworks logo) but it's the custom arches that make this hachiroku jump out – they're seriously wide! They're needed too, to house the CCW three-piece wheels which measure a monstrous 18×10.5 at the rear.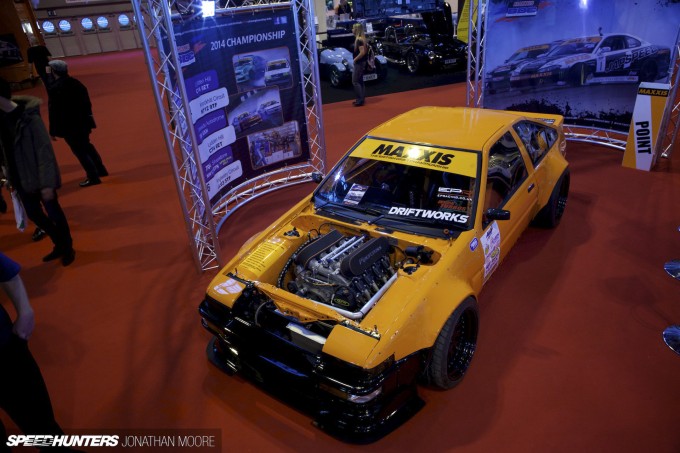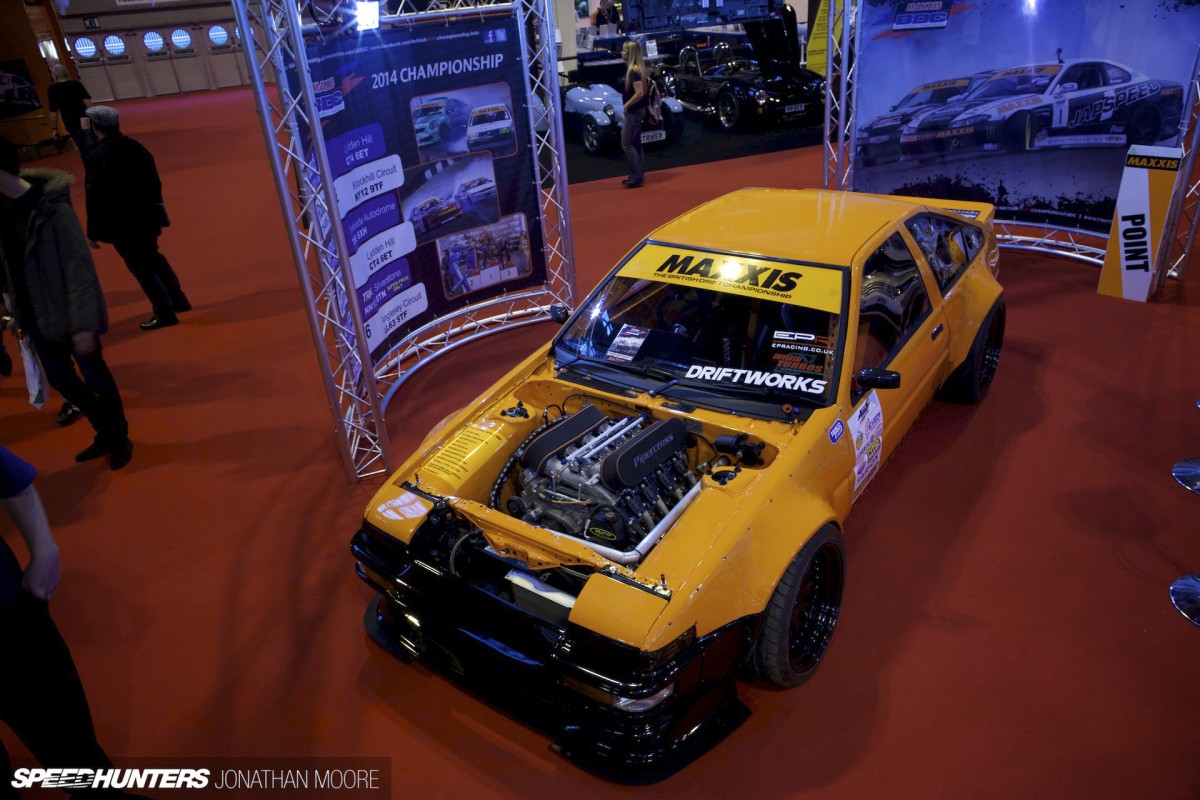 If you thought that sounded a bit excessive, once you move round to the front, you begin to understand why all that extra grip is needed. Up front, the customary 4A-GE has been replaced with an LS3 V8 lump running ITBs and the entire car is based on an old ASCAR. The sheer amount of work that's gone into the build is astonishing (if you need any proof, just check out the build thread here) – this could well be one of the finest AE86 builds we've ever seen.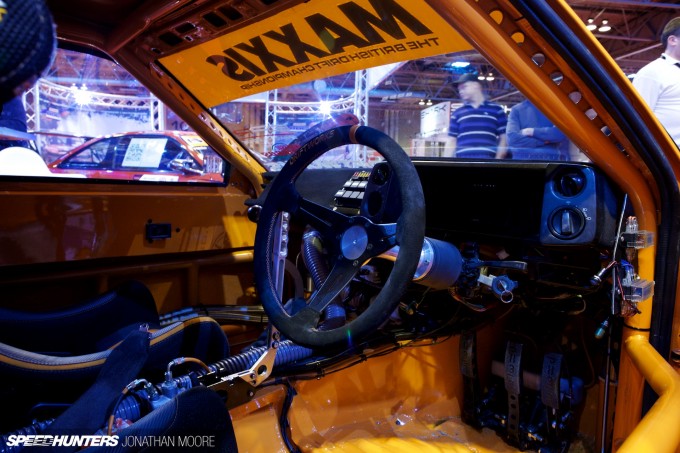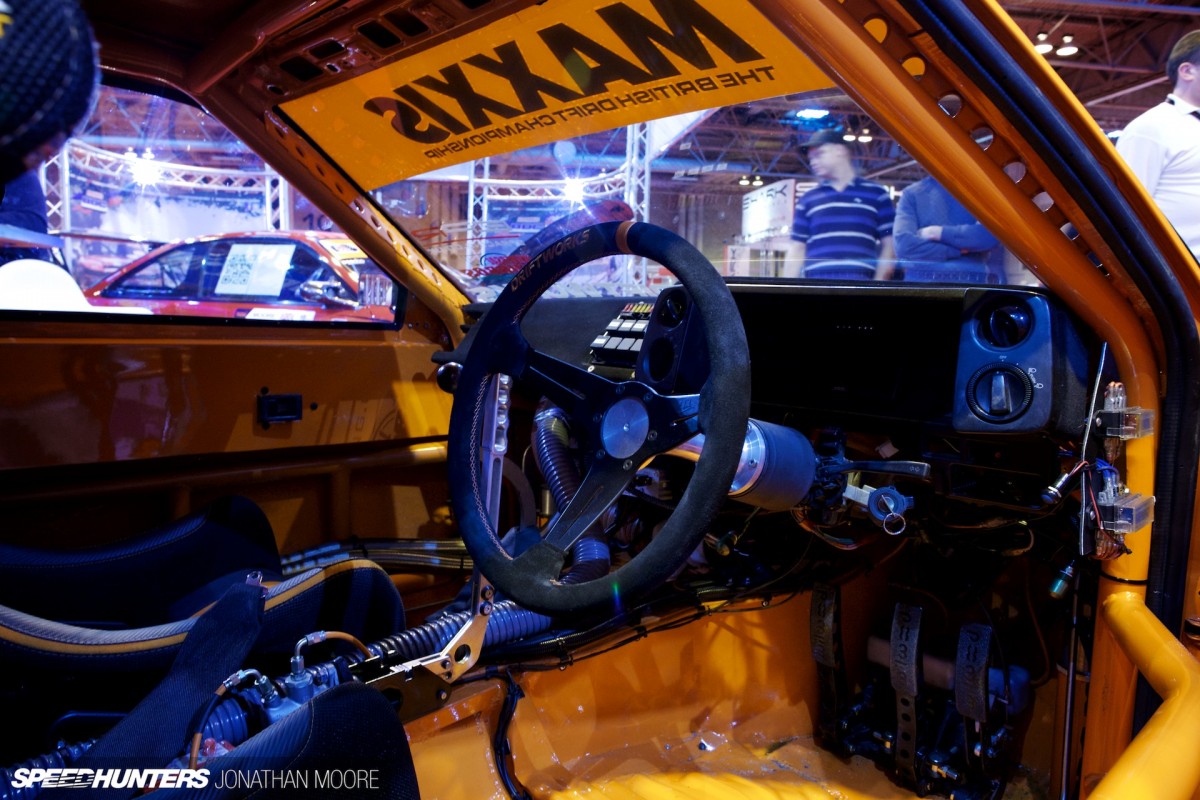 Inside, it's all business. You can see part of the custom roll cage that fleshes out the car, with the Nascar-style door bars for extra protection. There's still a bit of work to do to get everything up and running, but once it is, rest assured that we'll be bringing you a full feature right here!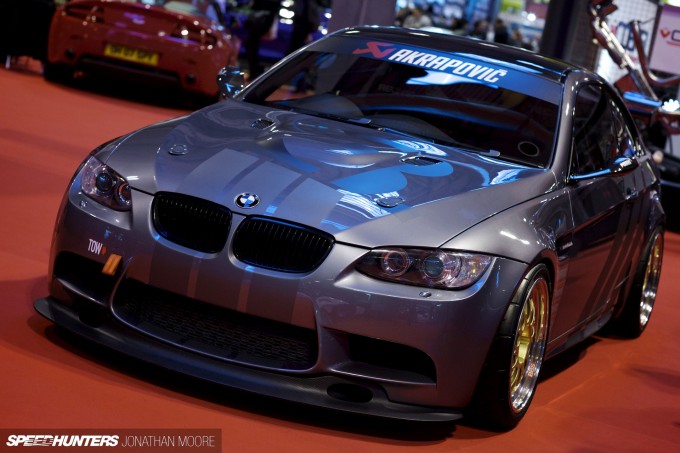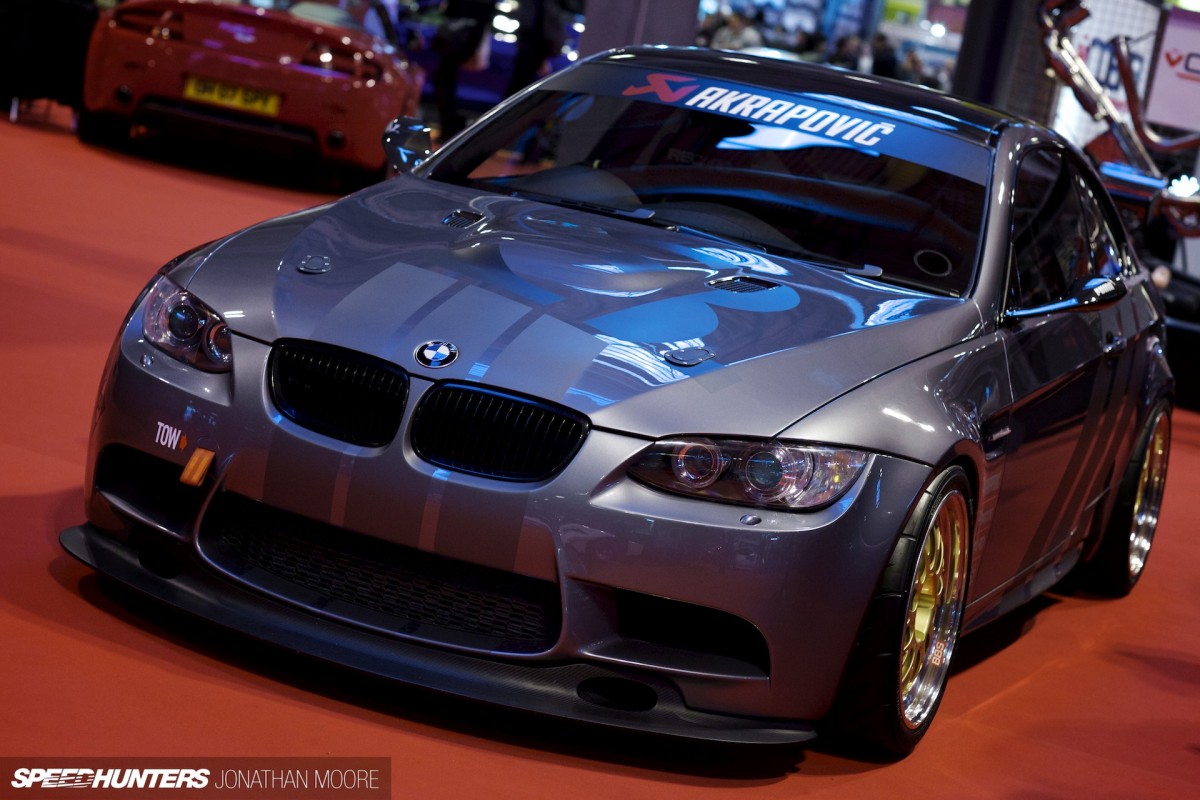 On a far more subtle tip was this BMW M3 E92 Kinematic from Three. A splitter that works with the cut-outs of the standard bumper and aggressive wheel fitment were a couple of the subtle exterior modifications to toughen up the already good-looking E92, but it was the idea behind the concept that appealed most. Three will only sell products proven at the Nürburgring, and aim to provide the best quality products to produce an overall balanced car, focusing on mechanical grip and traction, rather than power.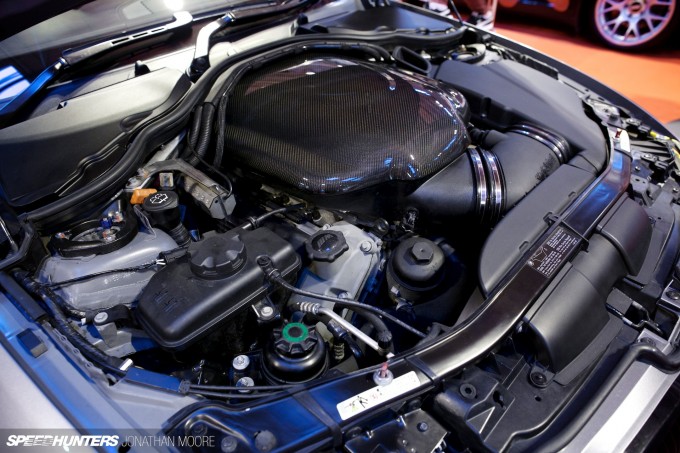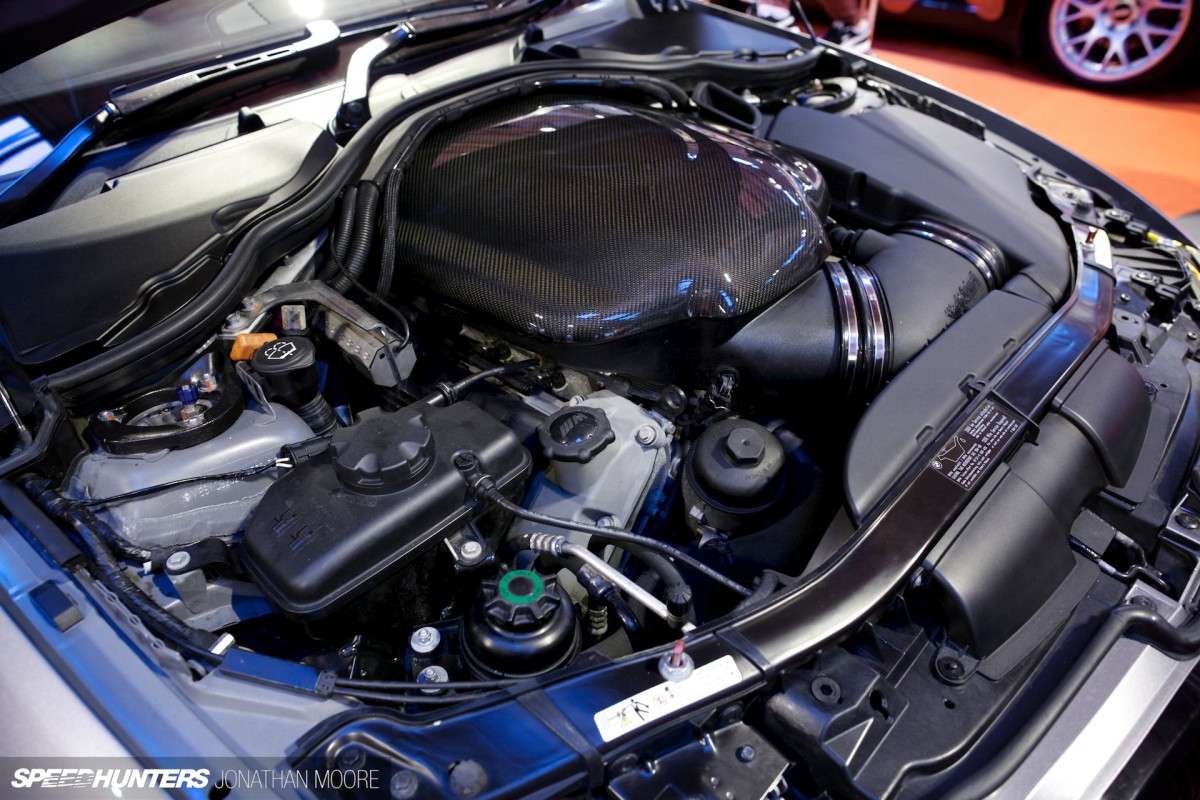 The rather sexy accompanying literature promises that a fully equipped Kinematics E92 M3 can do a bridge-to-gantry Nürburgring lap in seven minutes dead, and that's without any engine modifications – although a sexy carbon airbox never goes amiss. With names like Akrapovic, AP Racing and Nitron all being involved, it's definitely a solid concept and it's nice to see a focus on balance. If I see one in my rear-view mirror on my next 'Ring trip, I'll be sure to get out of the way!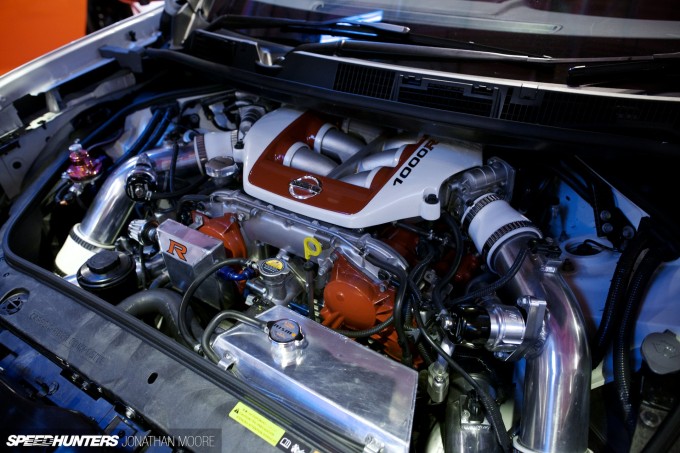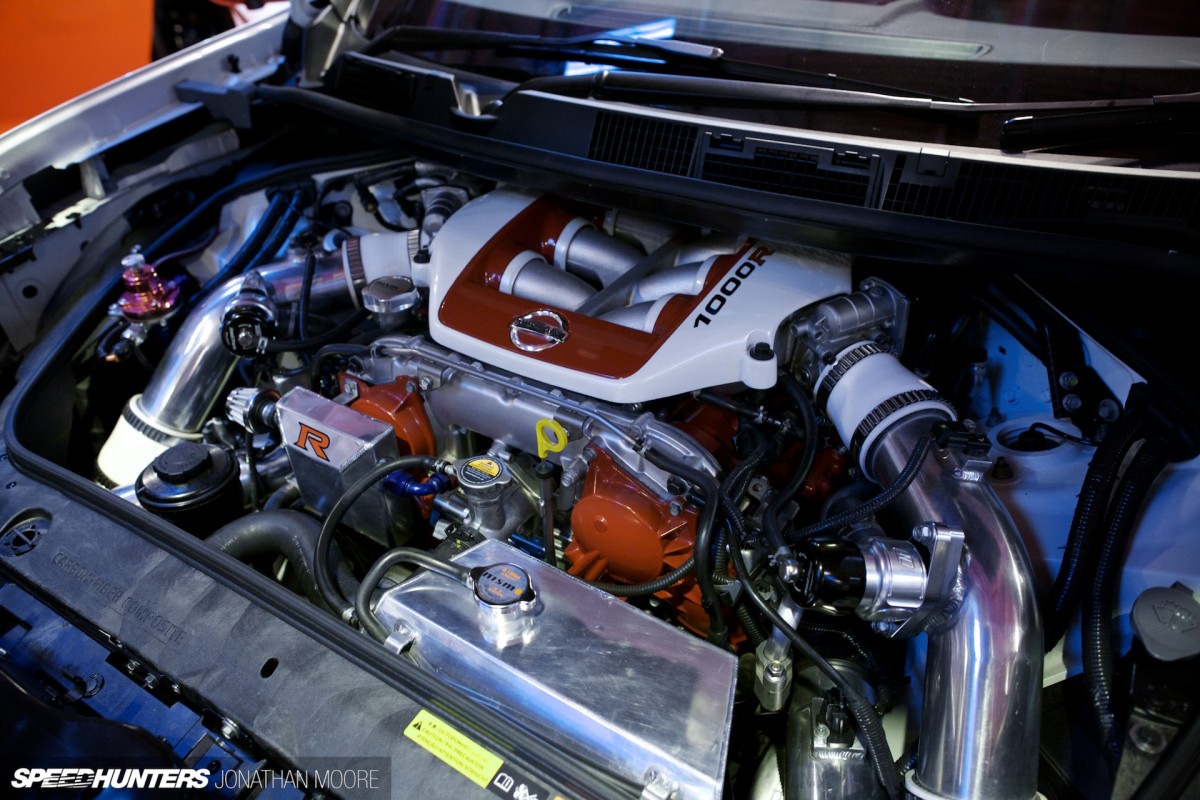 Talking of weapons at the Nürburgring, the GT-R's prowess there hardly needs any introductions, but when it's upgraded to put out roughly 1000hp, this is another machine you should definitely be keeping an eye out for. But if you're thinking that the VR38DETT is looking particularly squashed in that bay, there's a good reason for that…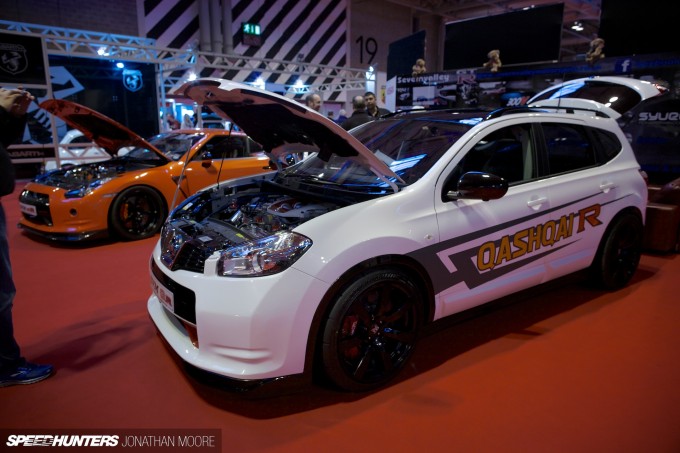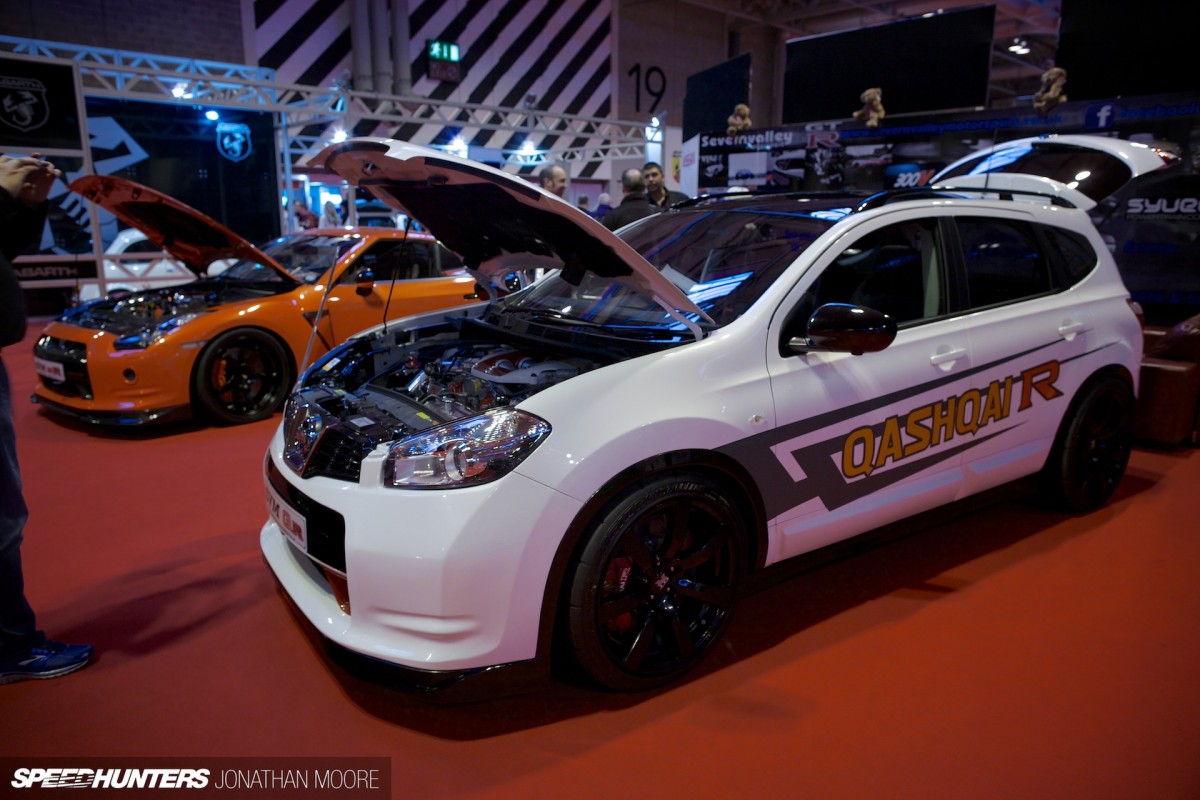 And that's because it can be found in Severn Valley Motorsport's Qashqai-R. Normally a pretty sedate SUV, they've taken a cue from the Juke-R and after swapping the entire floor in order to accommodate the engine, gearbox and interior, I reckon they've just about created the perfect street sleeper. Take the graphics off, wait for an unsuspecting supercar owner to come along and rest happy in the knowledge that tonight he'll cry himself to sleep. Not that I'd ever do such a thing of course… Note the re-styled front bumper with lip and subtle corner details to mirror the R35.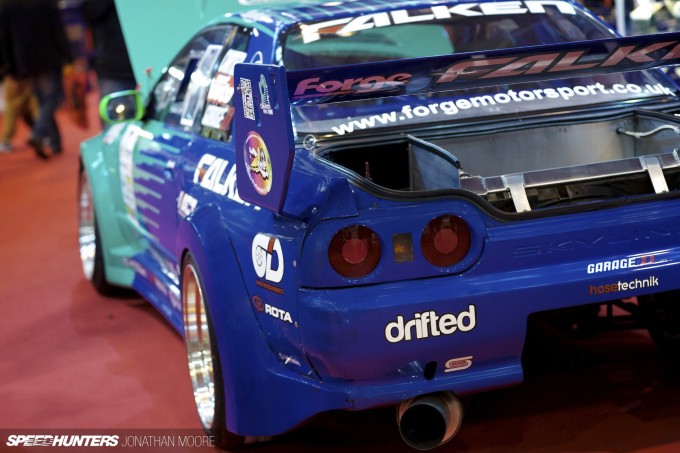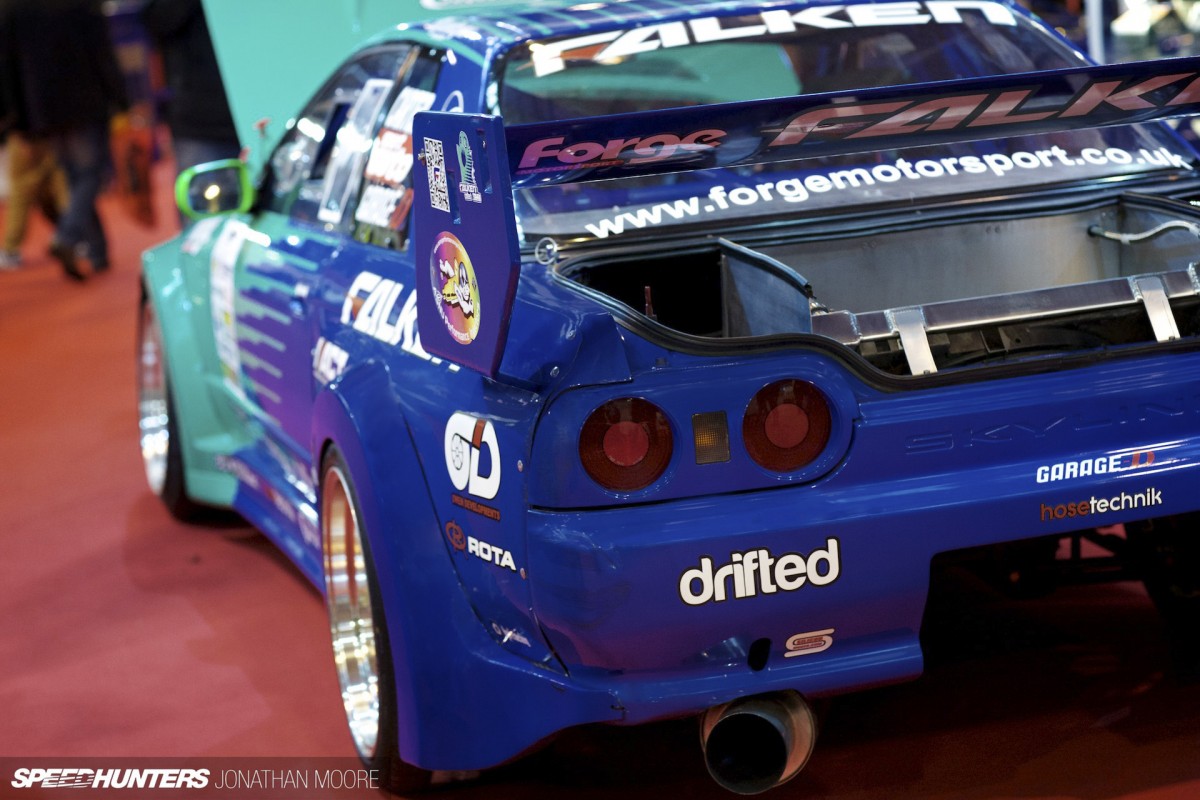 With the Forge Golf still out in America, it was up to Matt Carter's BDC car to grace the Forge Motorsport stand with its presence. And what a presence it is. The Falken-sponsored, 1JZ-powered R32 has to be one of the craziest Skyline drift cars around, with the EP Racing widebody kit and that monster rear wing giving the car a real sense of purpose.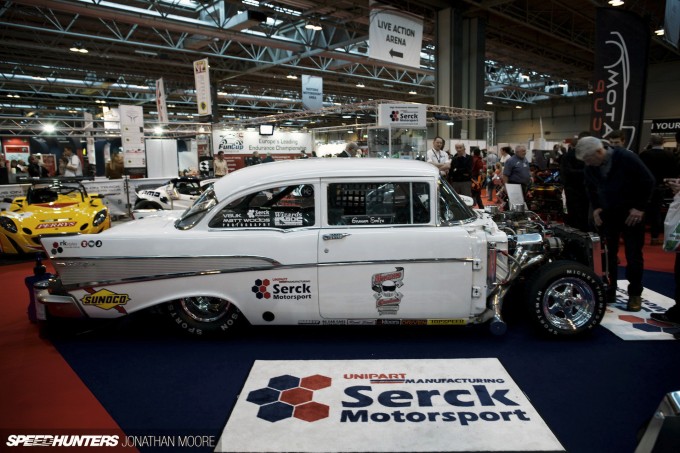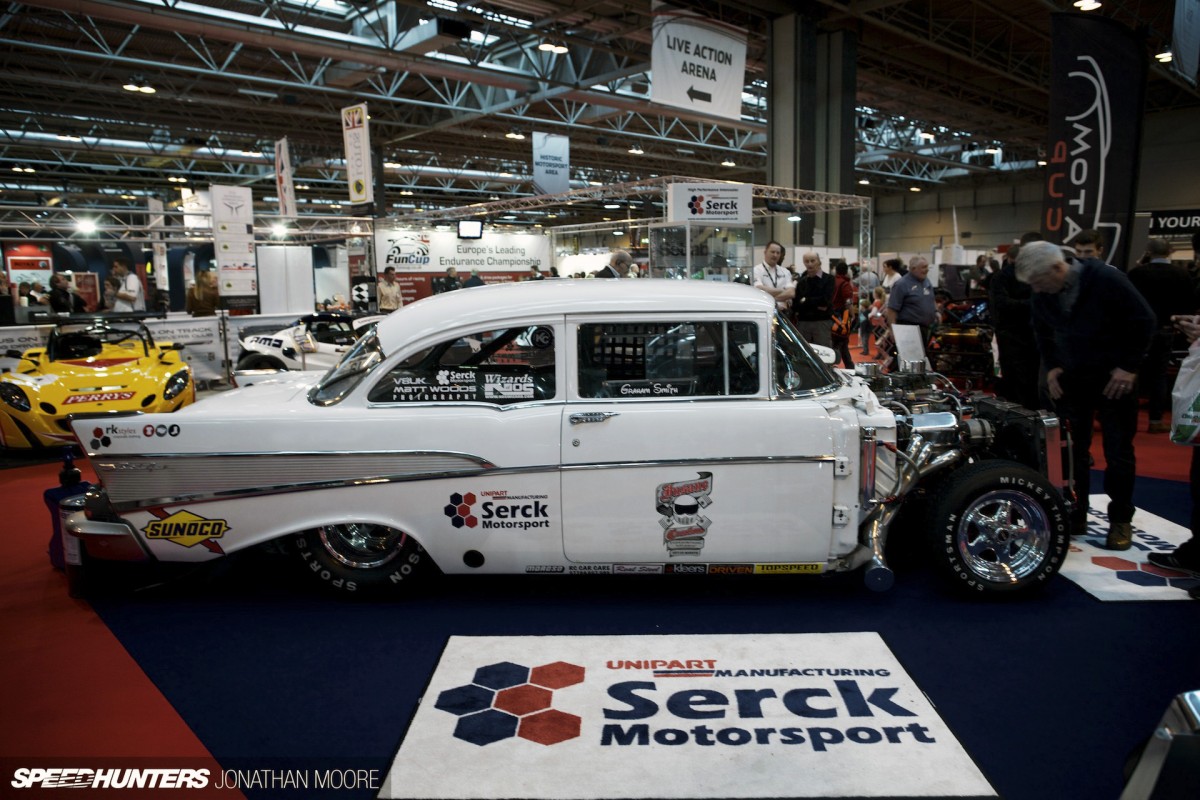 Insane Creations's '57 Chevy was something I was NOT expecting to see in the halls of the NEC! This crazy piece of Americana is not only a full-spec drag car but also fully road legal. Nicknamed Snow White, the historic drag car is expected to be back into nine second territory soon and I'm sure goes down a storm with the owner's neighbours.
Next up, it's the turn of the pure race car. The dedicated track lappers and setters of automotive fashion…
Form following function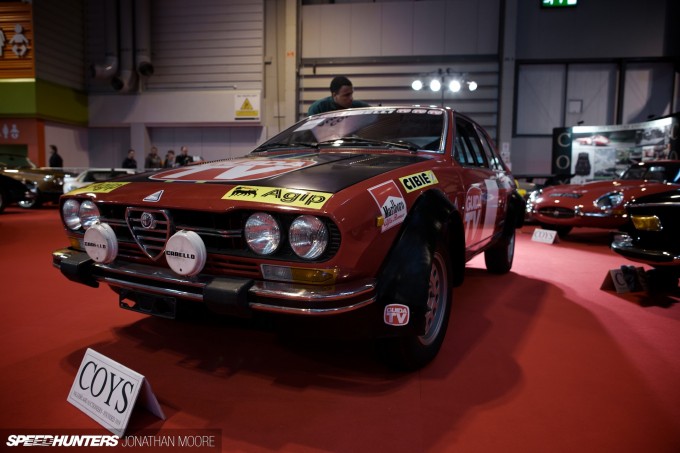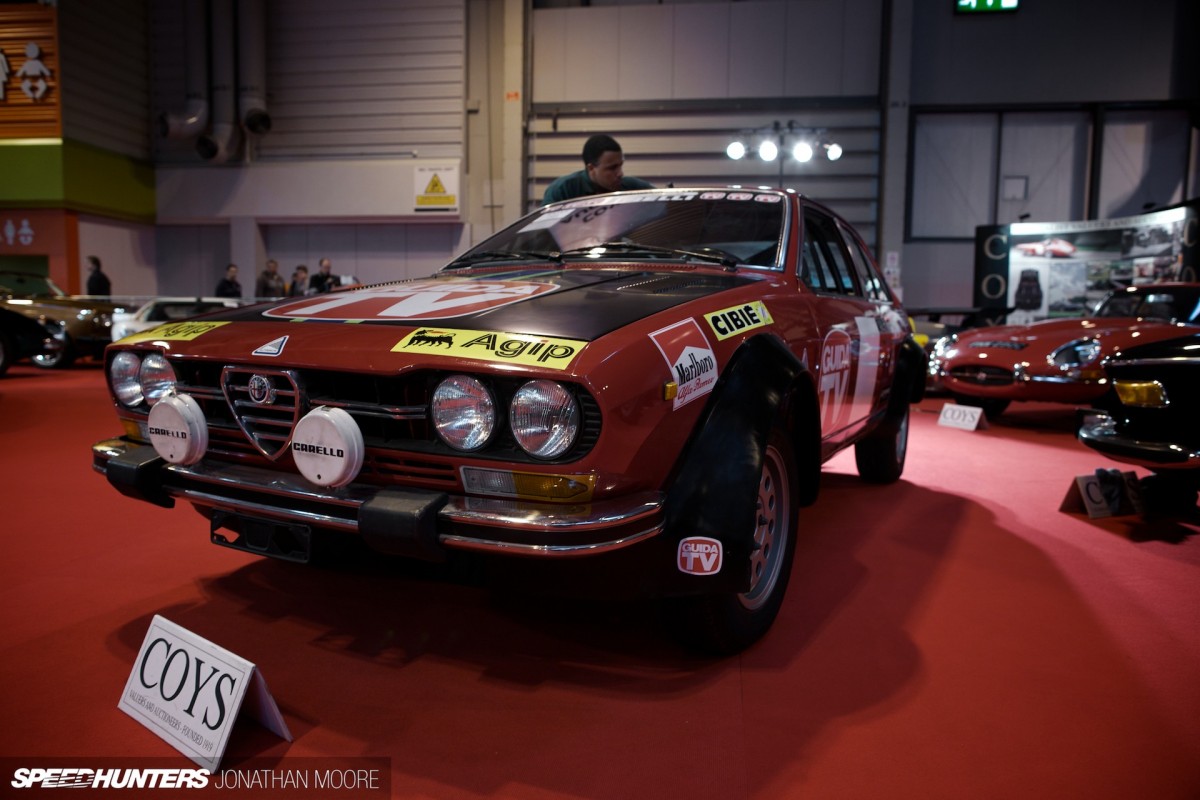 If anyone needed any proof that overfenders – the current favourite styling item of Miura-san that can be seen on his creations from the Rocket Bunny-kitted GT86 to Liberty Walk's Ferrari 458 – were not a new craze, I've got just the ticket. This Alfa Romeo Alfetta GTV ex-Autodelta group 4 racer was sporting a set back in the '80s. It was also on sale in the Coys auction that always happens at Autosport. The price? Well the estimate was for between £30,000 and £34,000. Not bad for a piece of genuine motorsport history!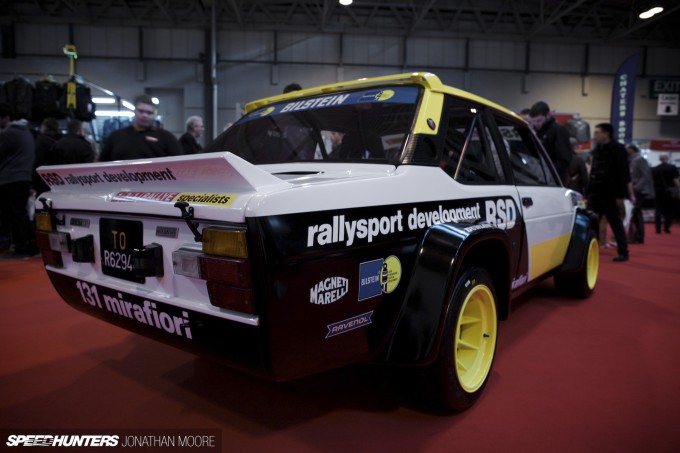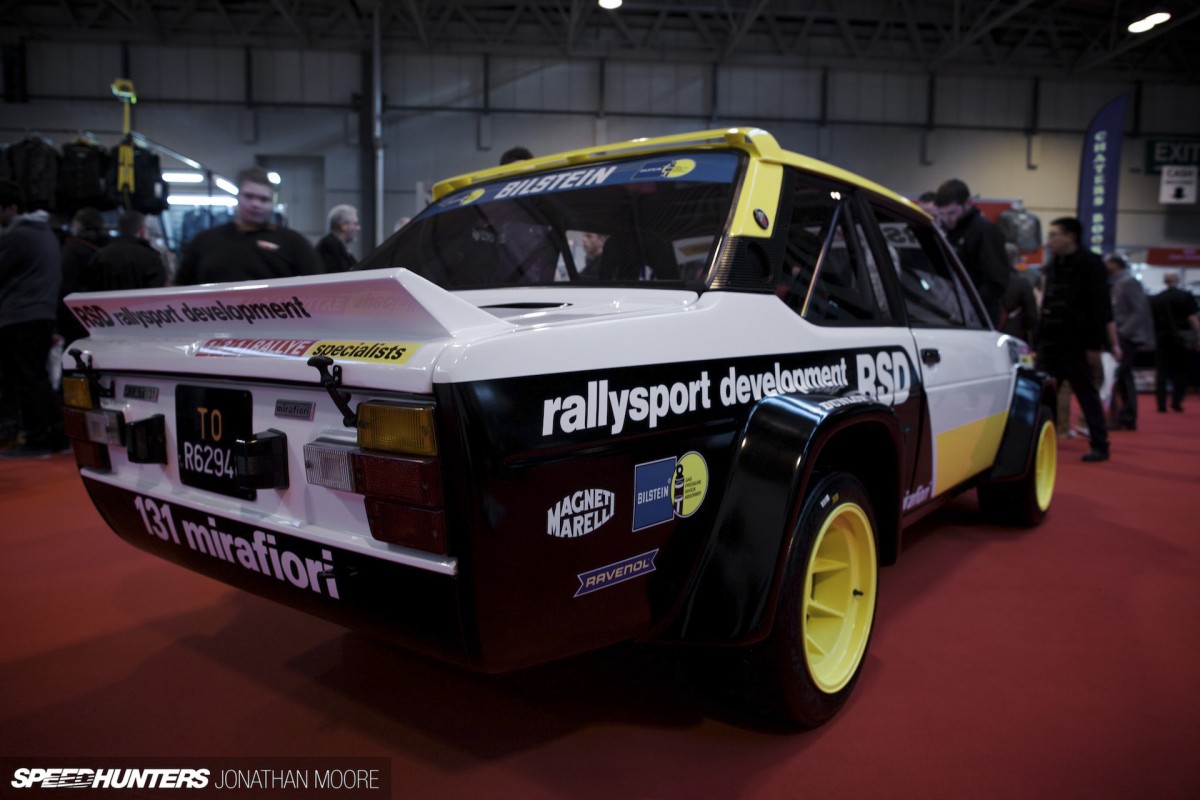 This Fiat 131 Mirafiori from Rallysport Development sported both a set of boxy overfenders and a ducktail spoiler. Bookmarked by Miura-san perhaps?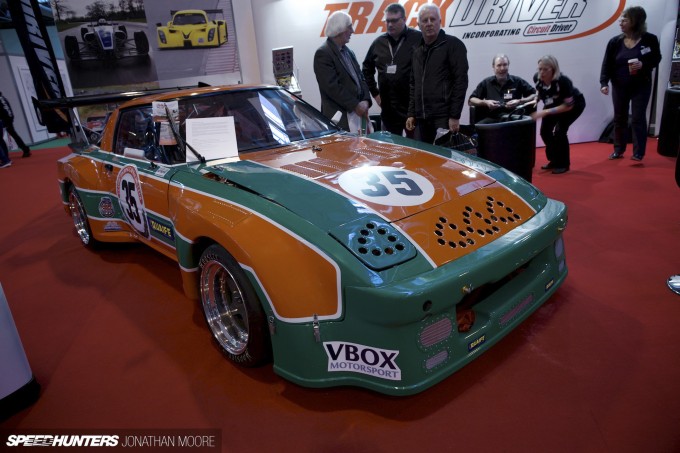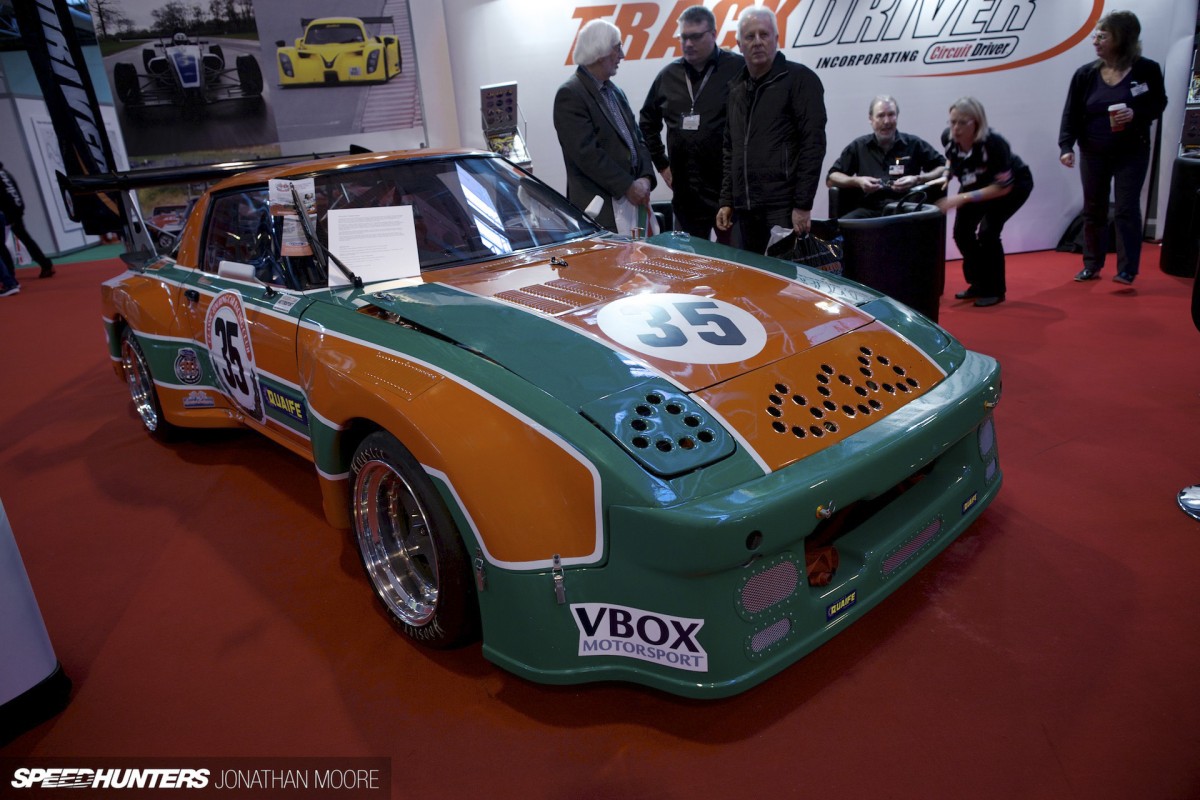 Rotary fans would have been happy to spot this RX7 racer. Owner Stacy Vickers is going to compete in Thunder Saloons with it during 2014 and the SA22C certainly looks the part.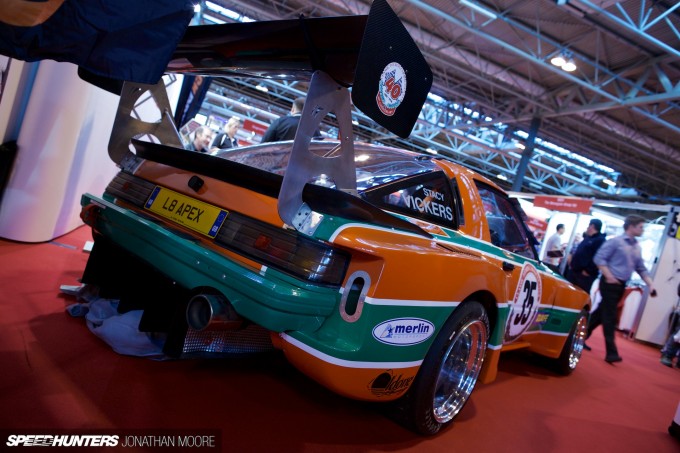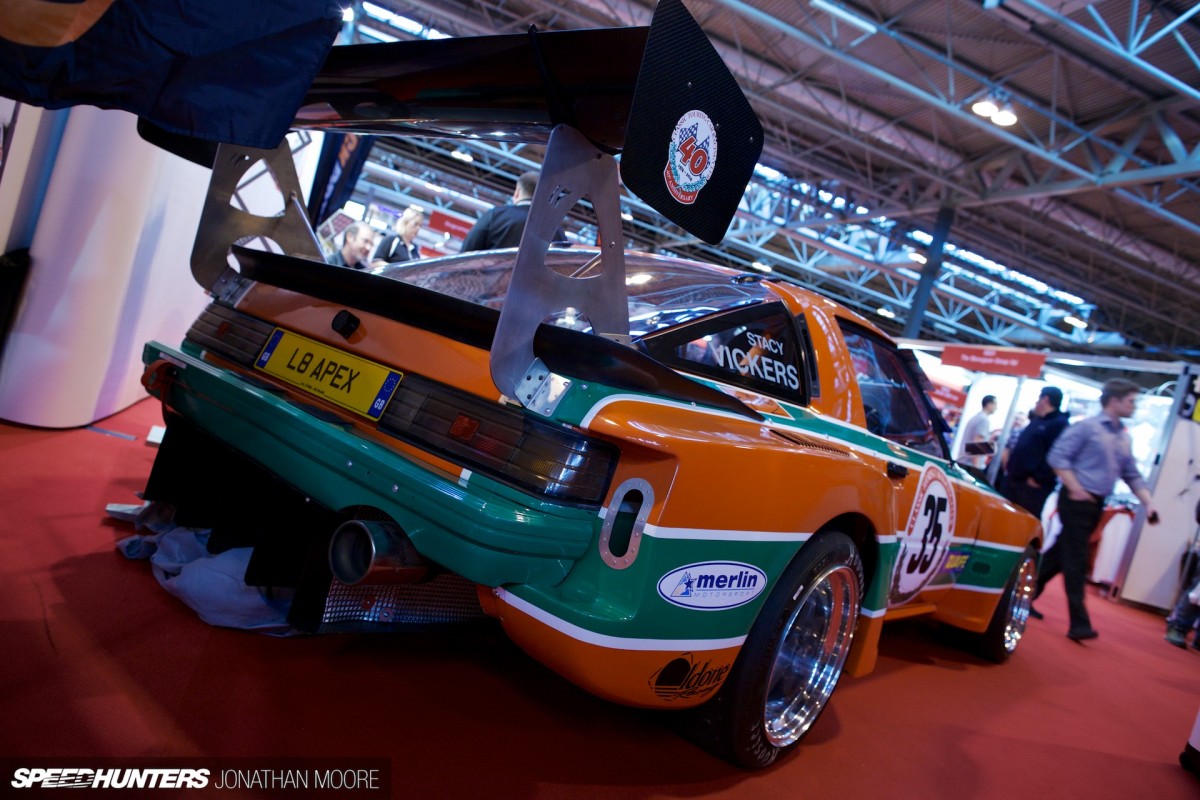 The massive arches of the widebody kit were obvious from the front already but it's only when you come round the back that you realise just how big they really are! Coupled with that gigantic rear wing and huge rear diffuser, this is probably one of the meanest SA22Cs we've seen. I think a full feature is in order!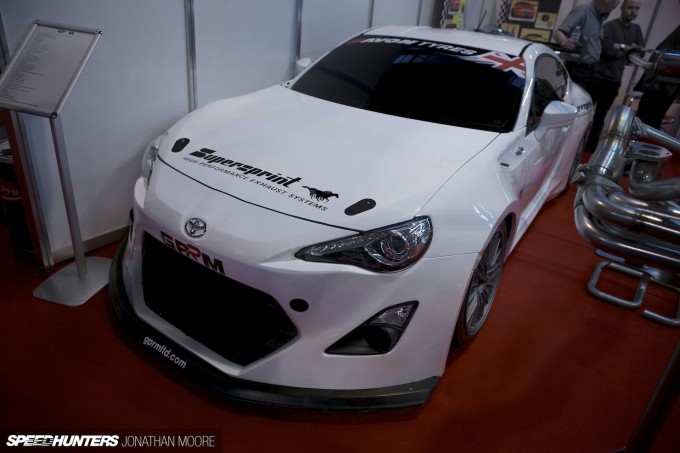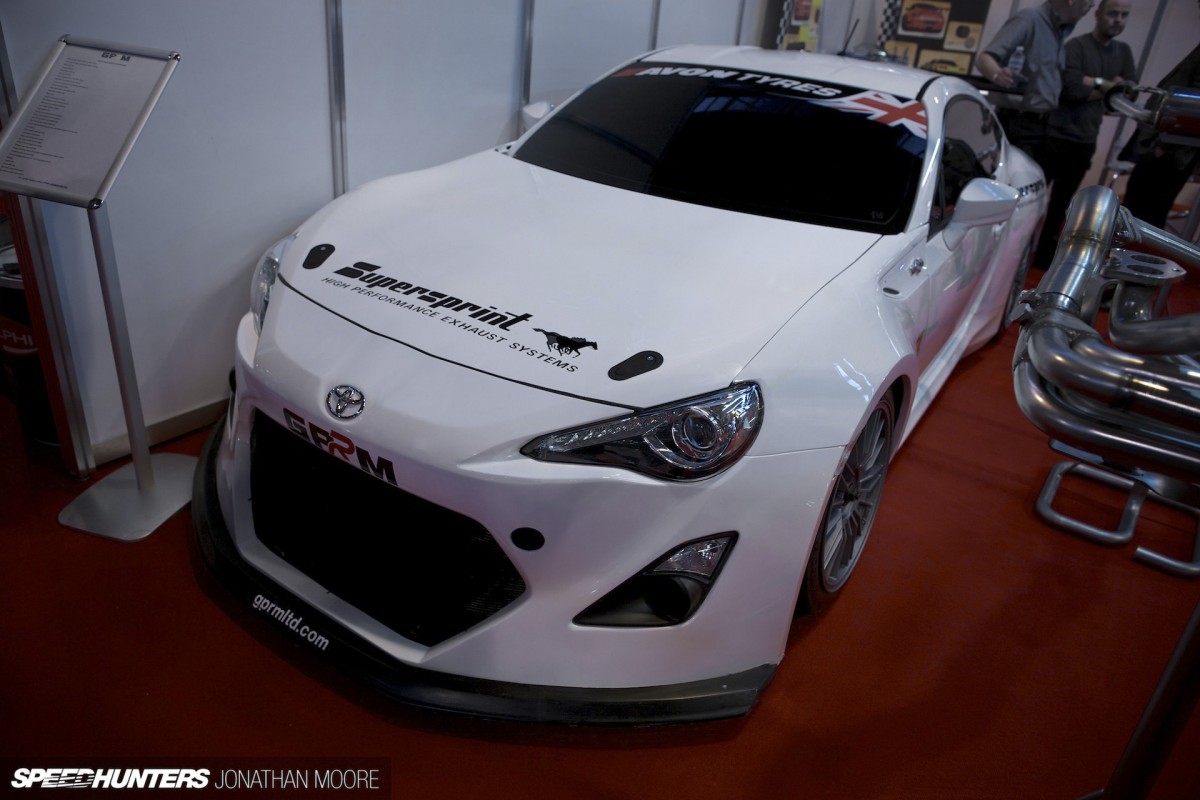 Rounding the corner of a booth, we stumbled upon GPRM's GT4-spec GT86. Ok, so we know a modified ZN6 is hardly anything new, but this isn't just your ordinary bit of tinkering. This GT86 is GT4-spec – a full-blown race car, and the FA20 engine has been boosted to 'up to 400hp' courtesy of a turbocharger.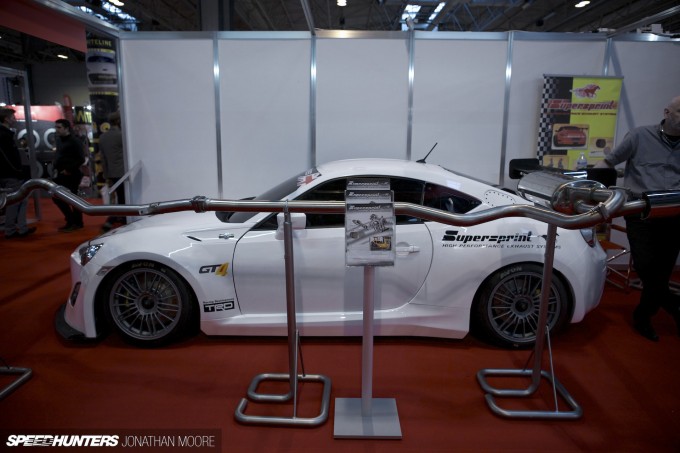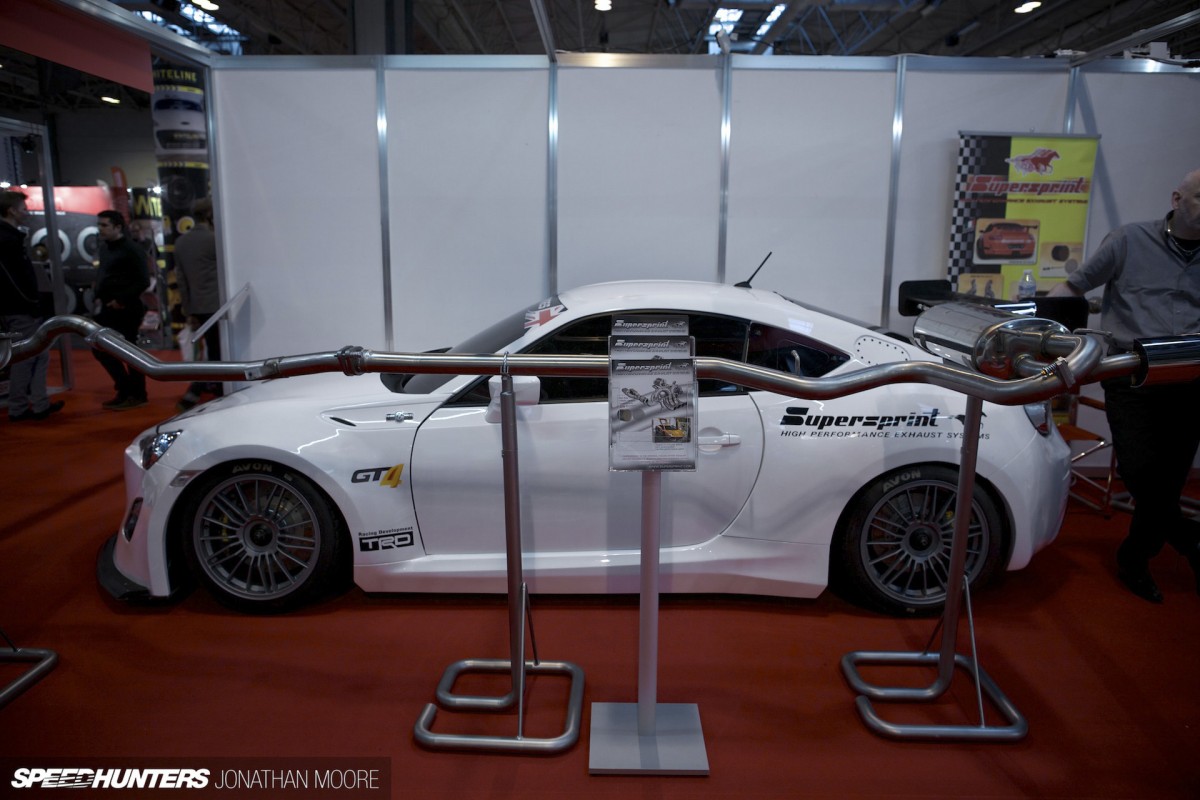 Damn it looks good too. The custom bodykit stays true to most of the original lines of the car, whilst giving everything a more pumped up look, with wider arches, a deeper front end and carbon fibre doors (saving a massive 42kg!). Rest assured we'll be taking a visit up to GPRM soon to check out this proper ZN6 race car.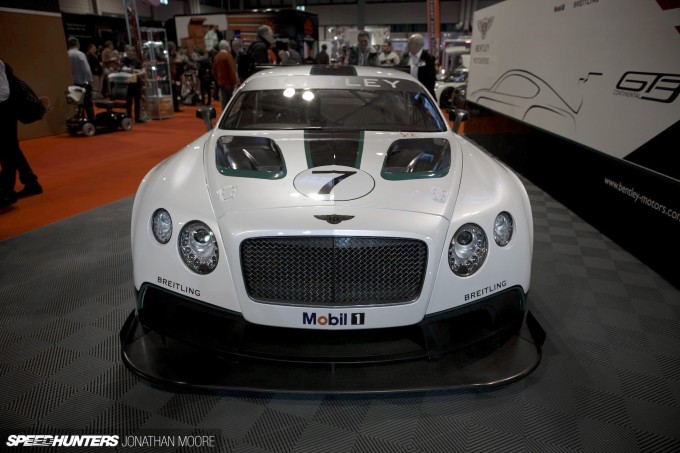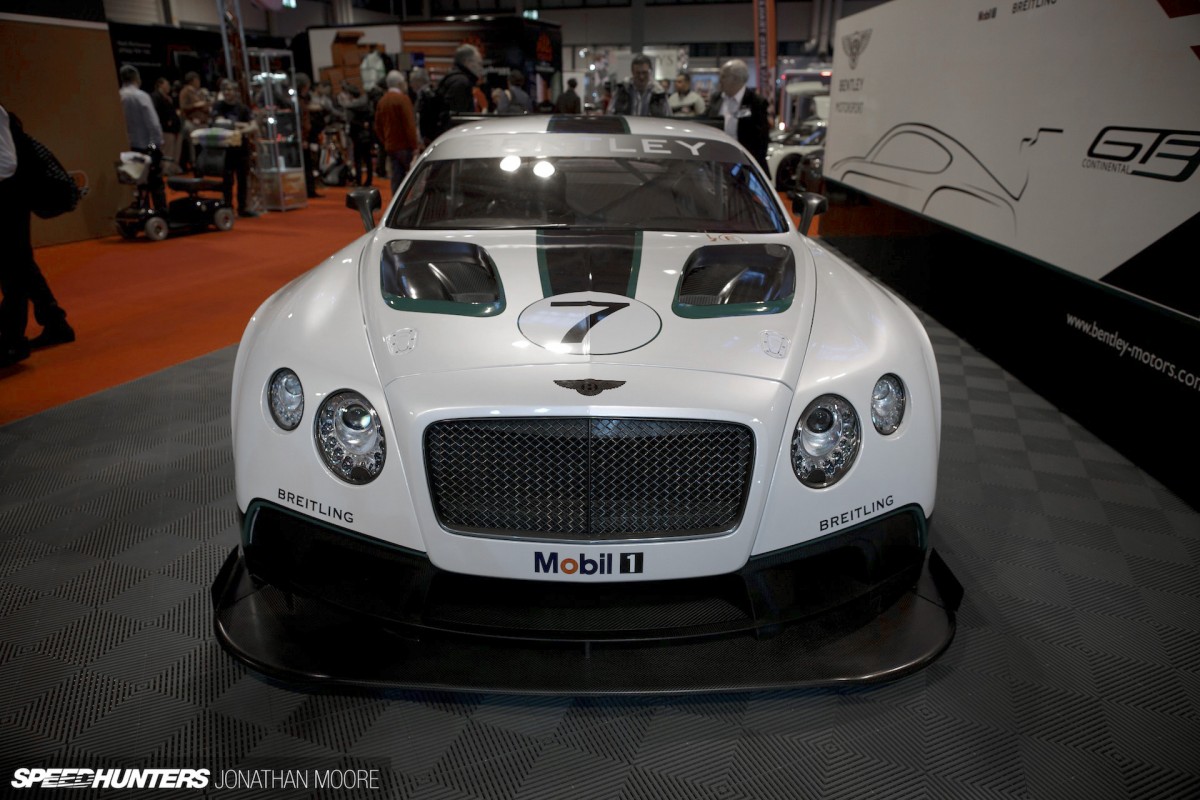 The Bentley Continental GT3. It's the gentleman's vehicle gone bonkers. A bit like Vinnie Jones wearing a Saville Row suit and then going on a rampage. The roadgoing Continental is no slouch , with either a 4 litre V8 or 6 litre V12 pushing that bulk forwards, but it's certainly no featherweight either, tipping the scales at around 2300kg (5070lb), so it may seem to be a curious choice for a race car.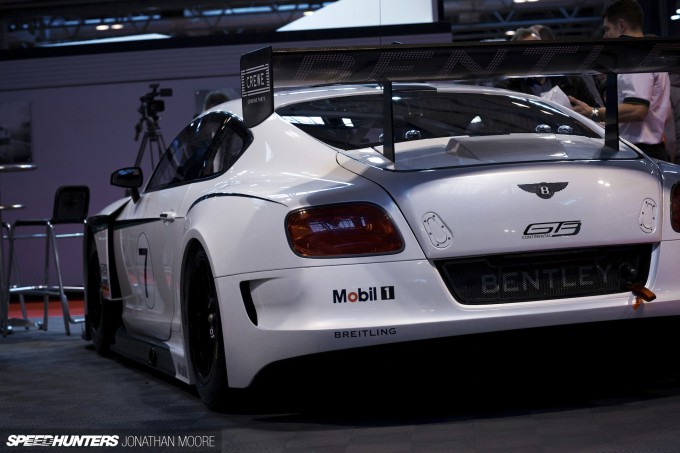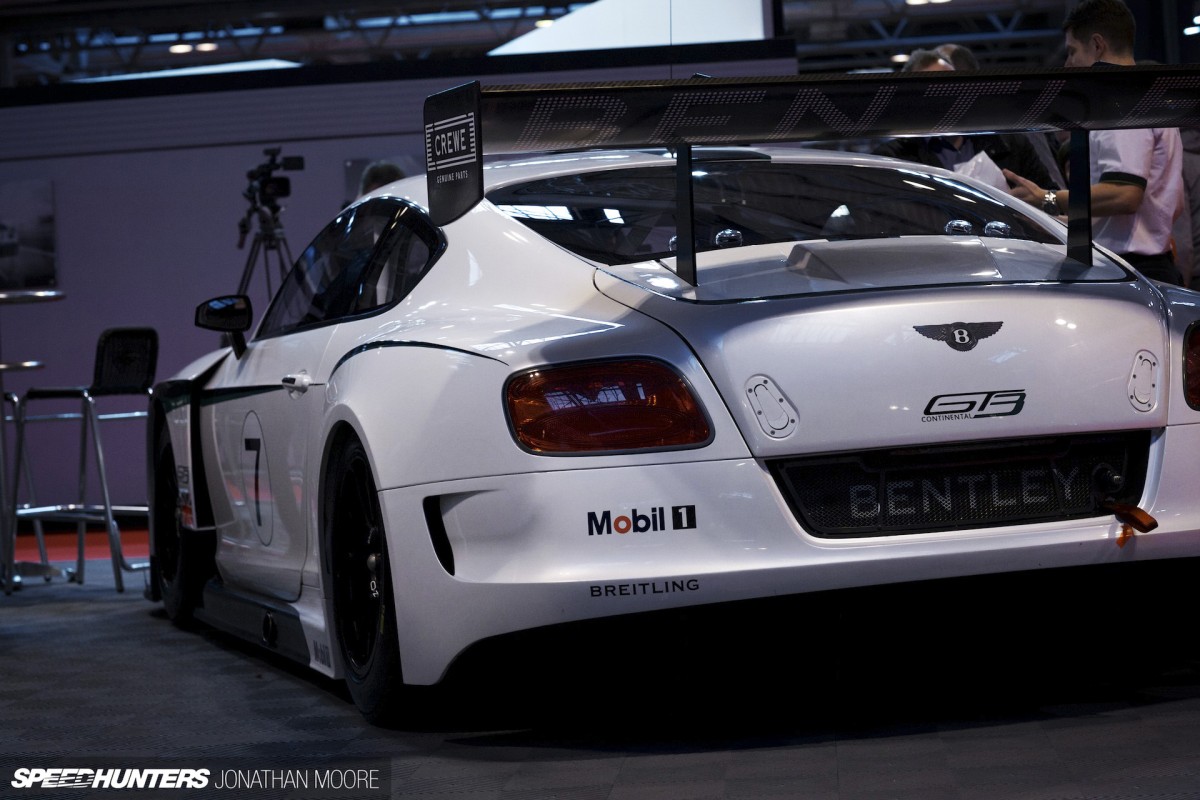 I'm definitely glad they did though! That big chunky body has had a huge amount of weight cut out of it (over 1000kg!) thanks to some extreme dieting. Gone is the luxurious interior, the double glazing and over 50 ECUS that once resided in the opulent grand tourer. Many of the body panels are now fashioned out of carbon fibre and crafted to improve the aerodynamics. Just check out the subtle detailing down the flanks.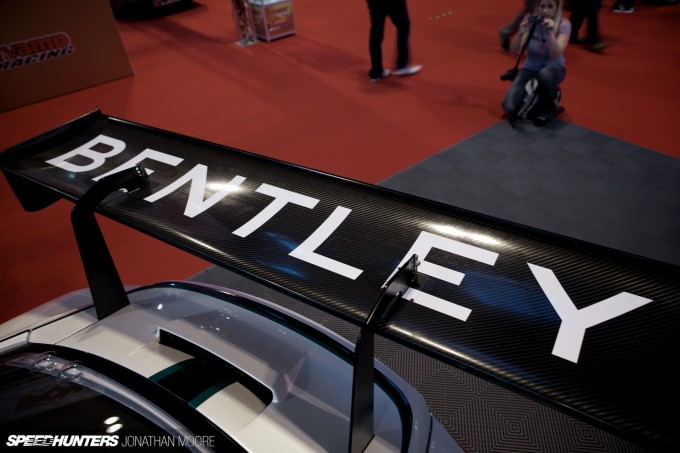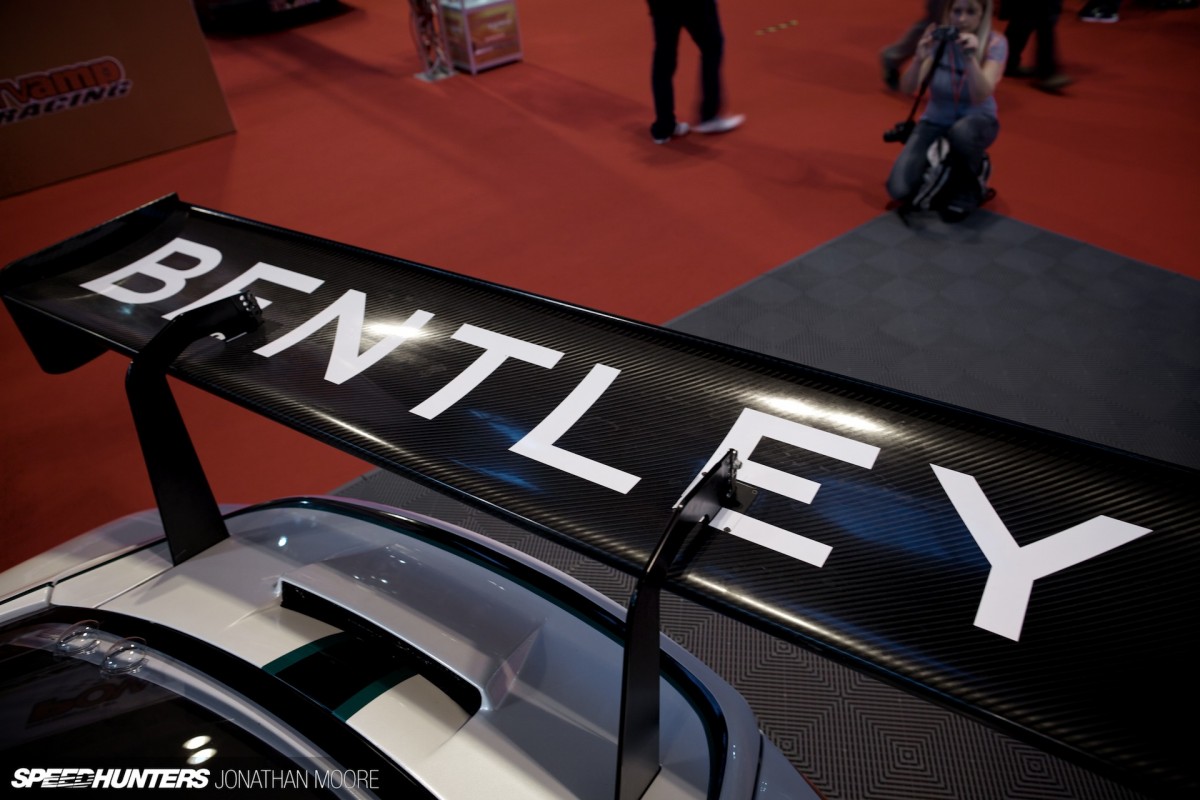 Ever wondered where the inspiration for the swan-neck wing mounts on the Liberty Walk GT-R came from? Look no further… The design originated in motorsport and helps to produces more downforce than traditional mounts.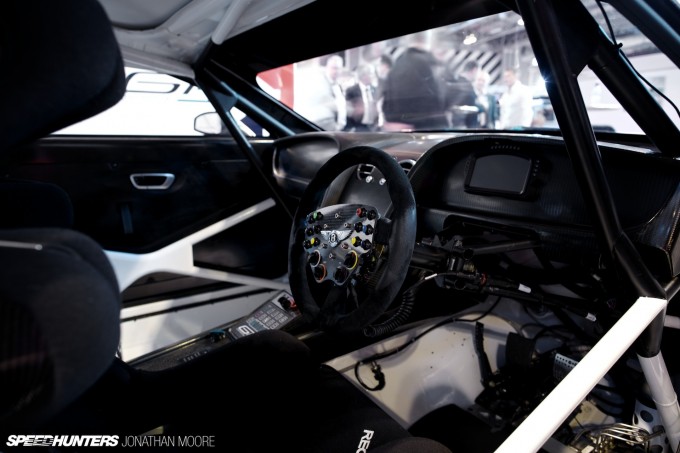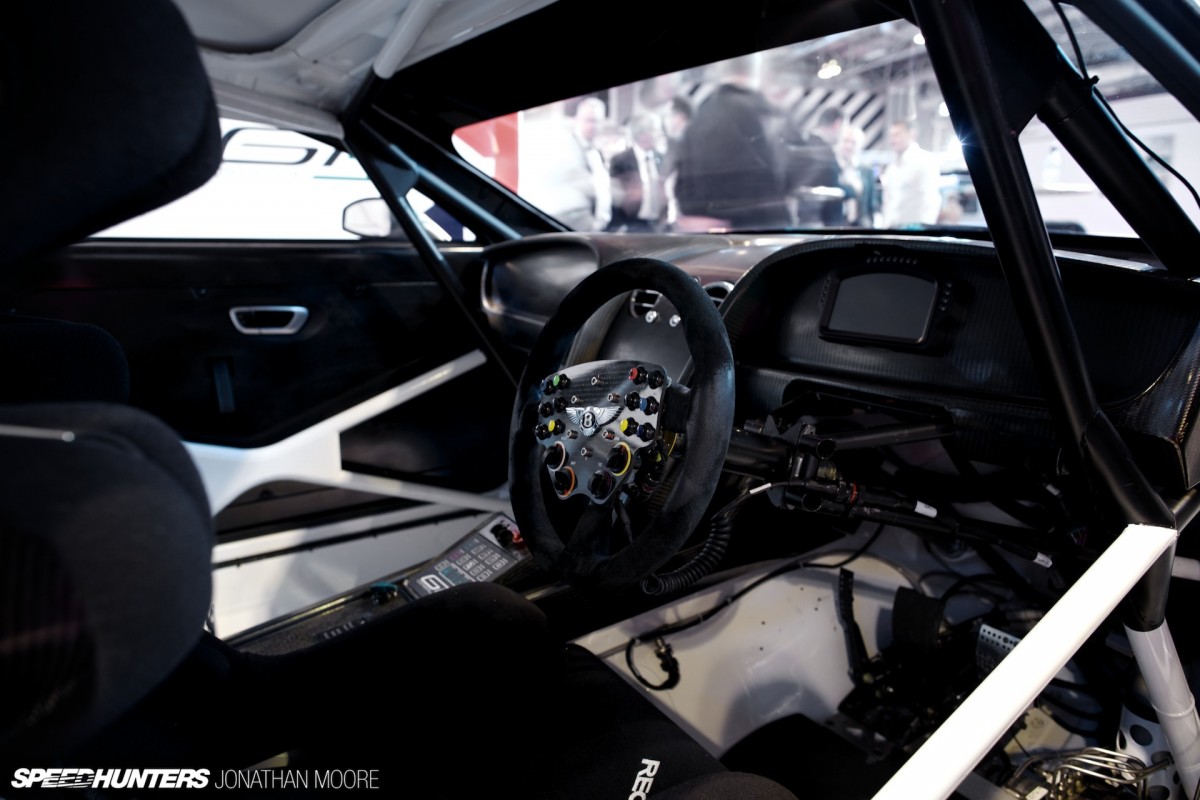 Their 4 litre V8 engine still provides the grunt but power has been upped to around 600hp and the engine has been moved back to aid with weight distribution which now sits at an impressive 52:48. Inside, the full sequential gearbox, FIA-approved roll cage and pushed-back driving position are all business. We can't wait to see the car out on track in the Blancpain series this year.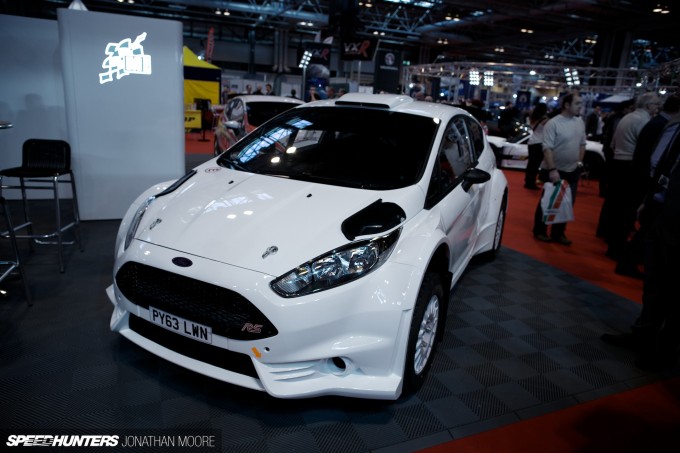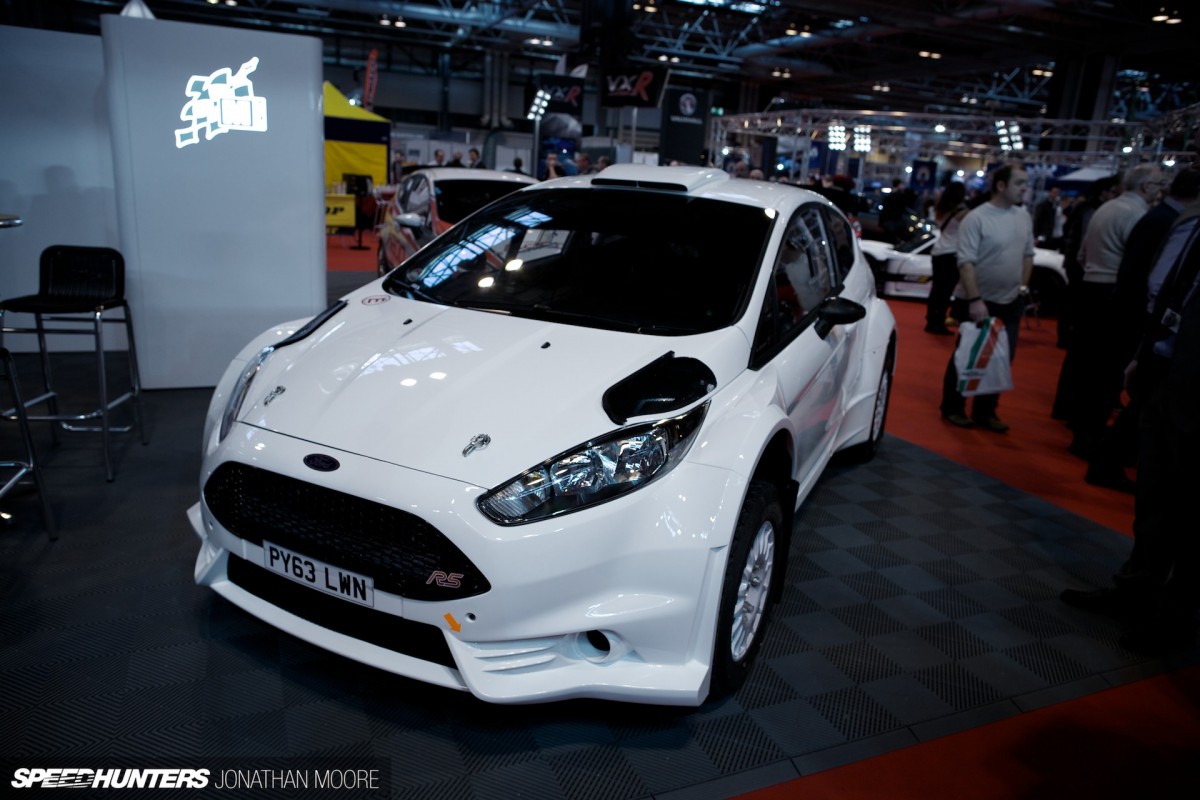 If it was stance you were after, then M-Sport's R5 Fiesta has it in buckets – although probably not in the way you were expecting…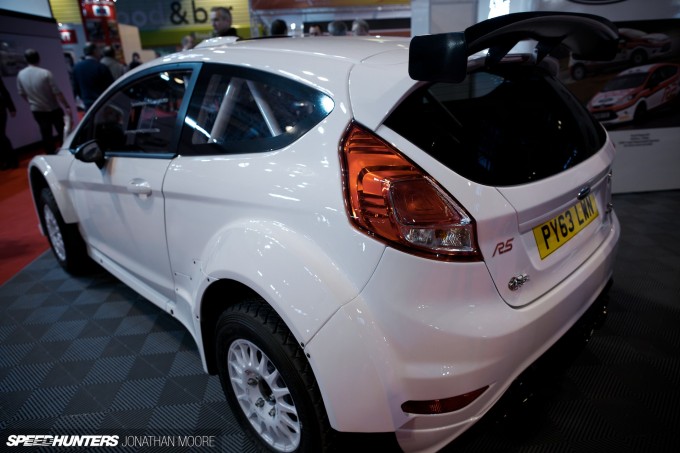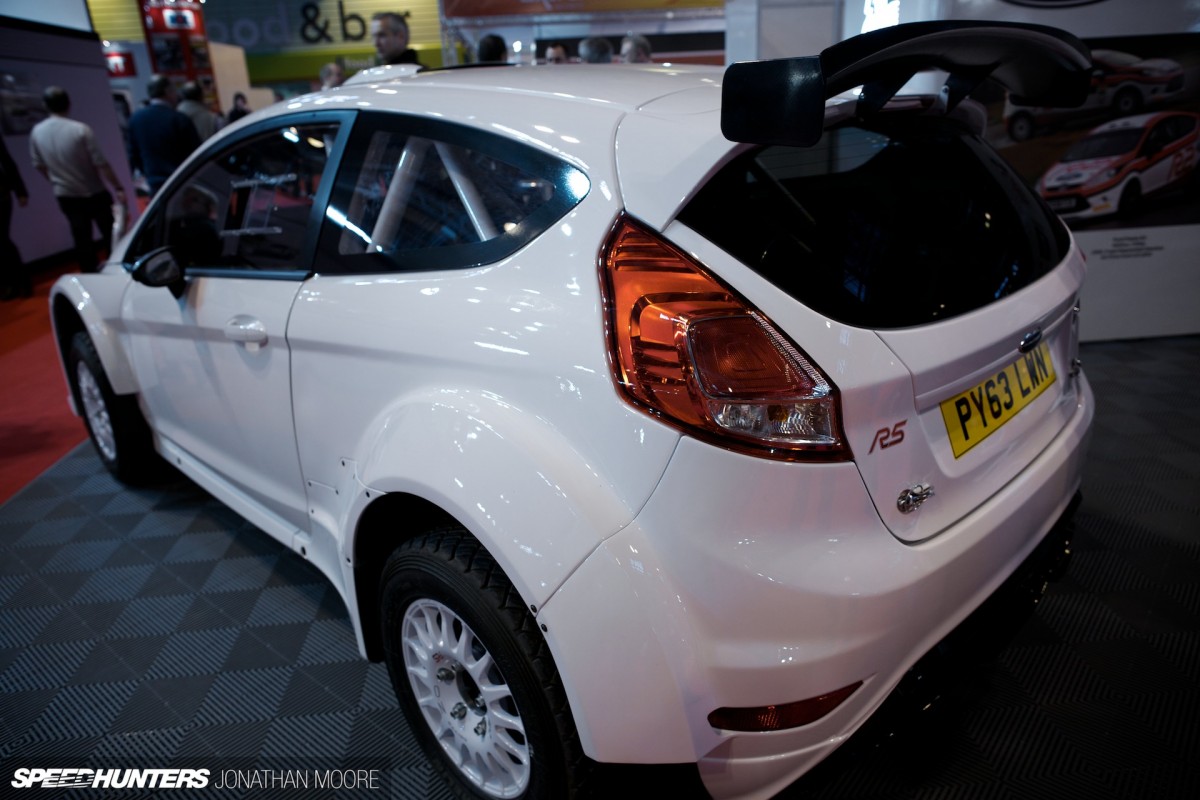 Built to compete in the new R5 class, which comes just below WRC spec, the chunky bodywork turns the Fiesta from everyday hatchback to souped-up rally machine. There's even a curvy roof-mounted wing, complete with gurney flap, which sits on top of the existing roof spoiler to provide even more downforce to the nippy little Ford.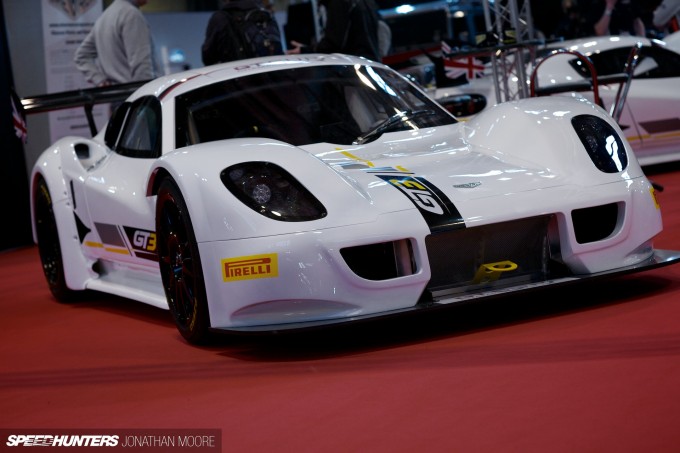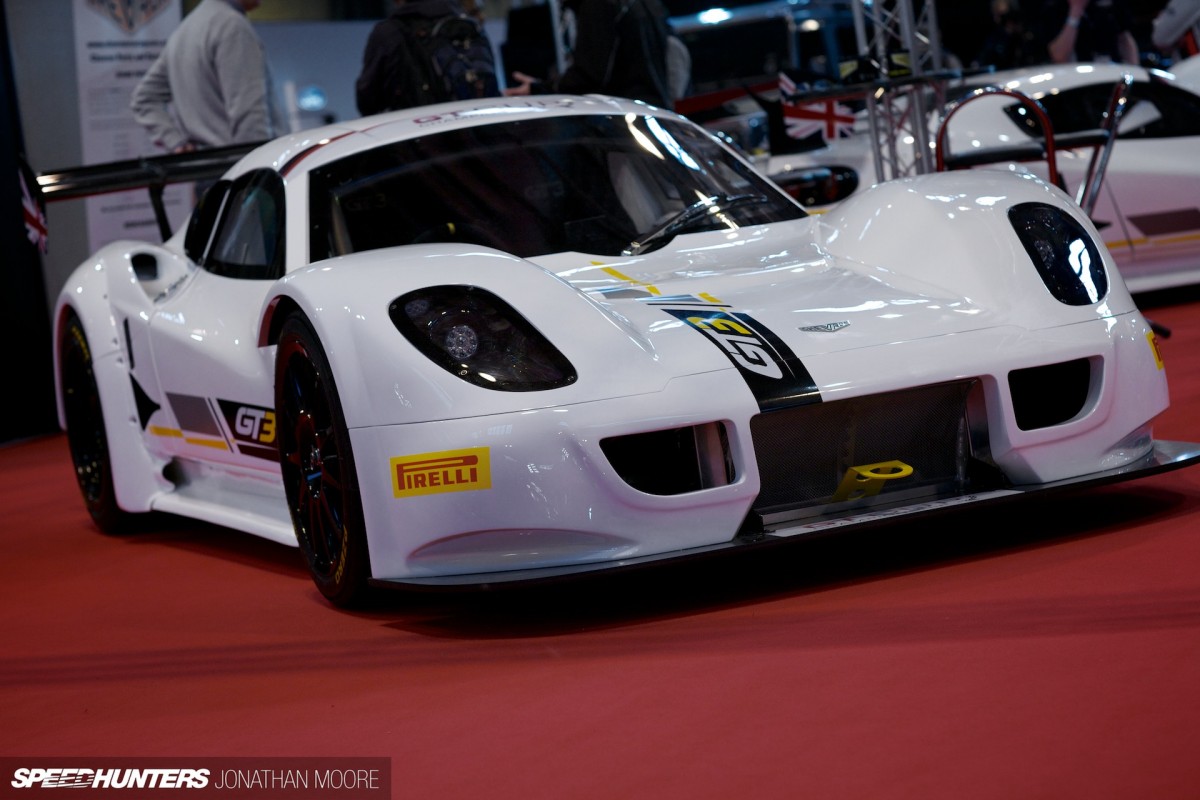 Chevron Cars had an impressive stand of their new line-up for 2014. Their new GT3 car was looking particularly sexy and was sporting a mass of aerodynamically-oriented styling…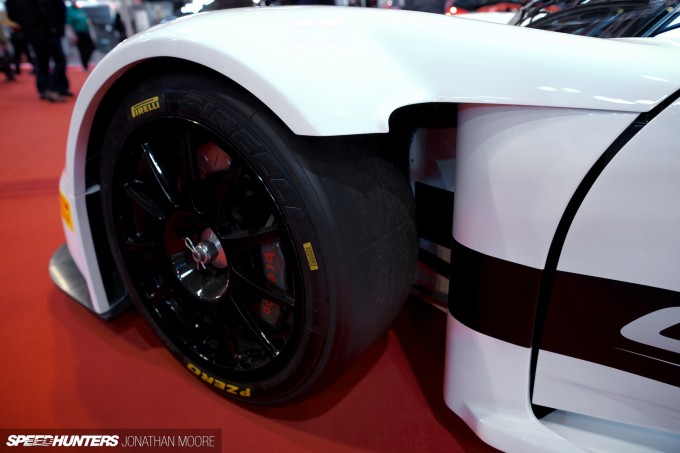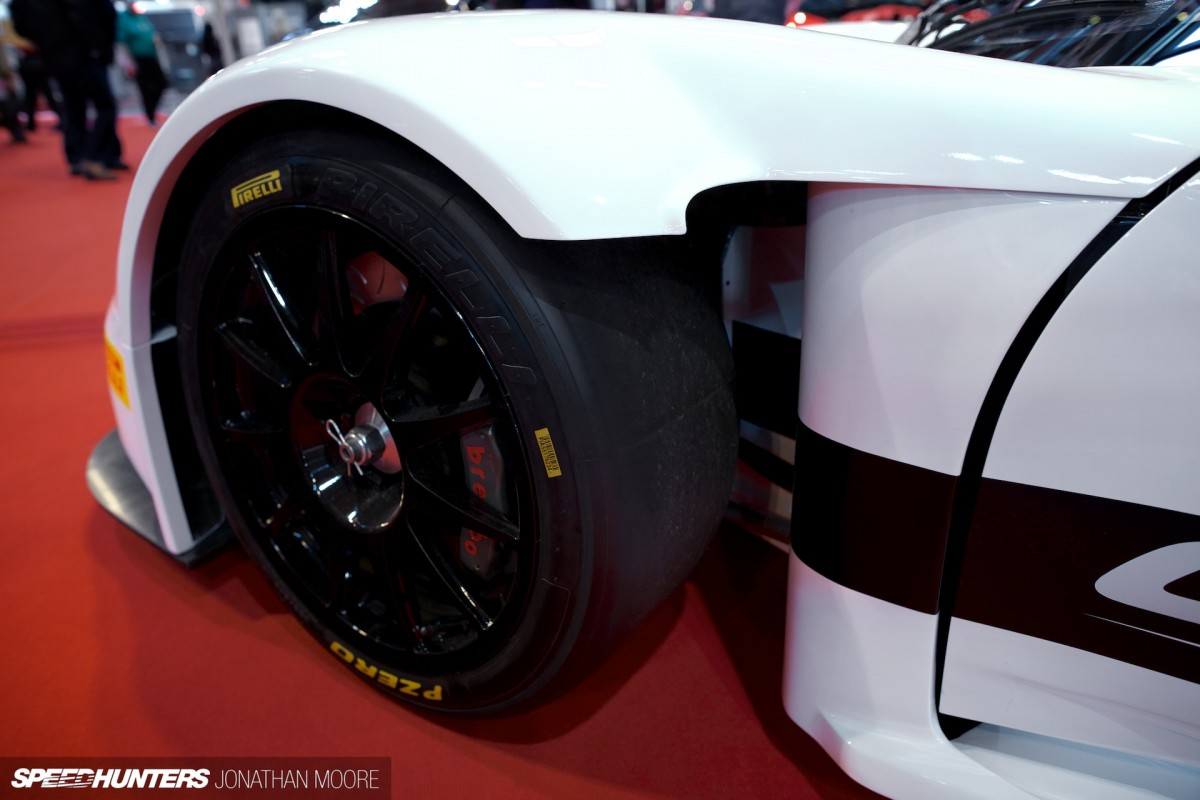 Folded wings behind the wheel well were just one facet of it. And if they look familiar, maybe now you'll know where the BenSopra wings got their inspiration from… I'll bring you more on the Chevrons in a spotlight soon.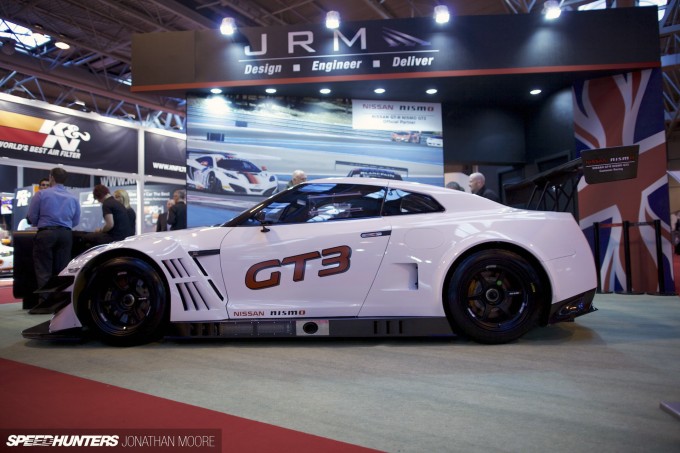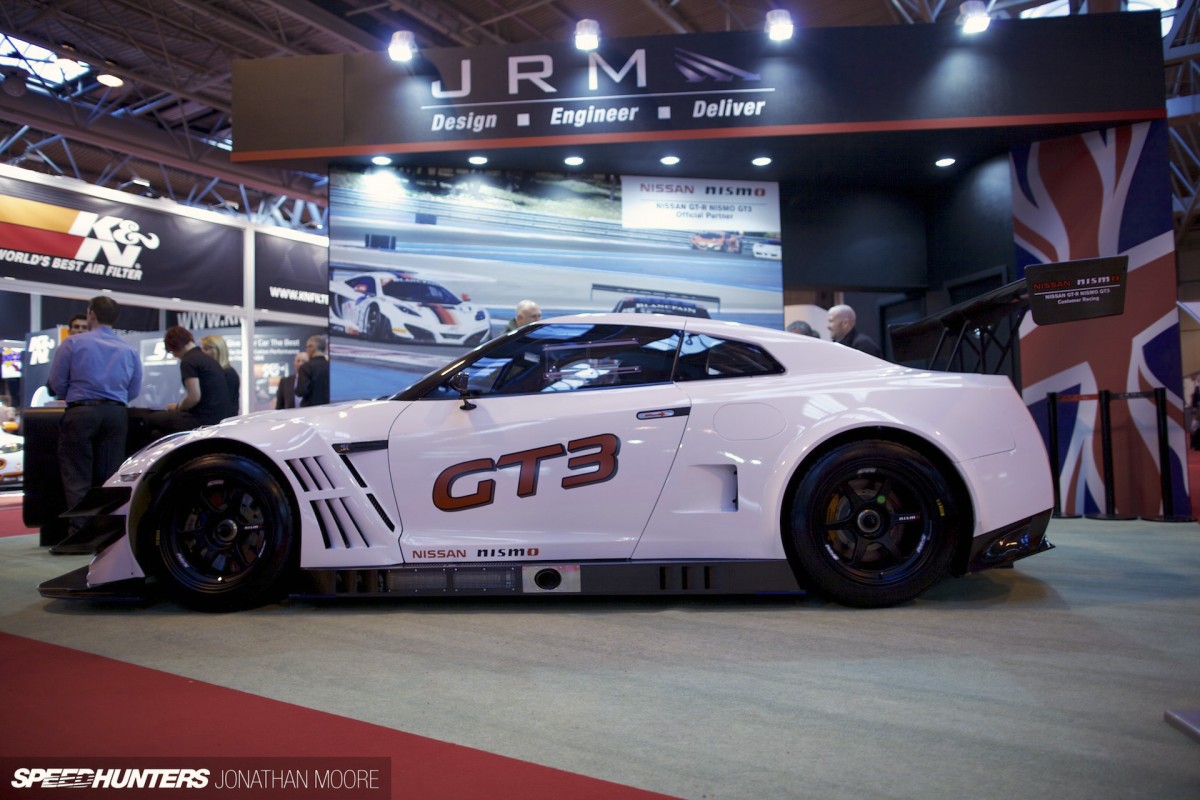 JRM unveiled its latest iteration of the Nissan GT-R Nismo GT3 car at the show. Complying fully with GT3 regulations, we can hopefully expect to see the car being run by various teams around the globe. Changes for the year include new hubs and wheel locking nuts, Rays wheels to suit the altered hubs, and other modifications to improve pit stop times.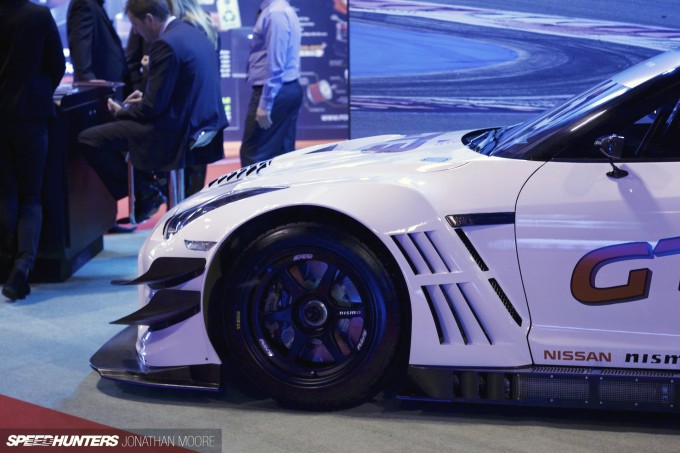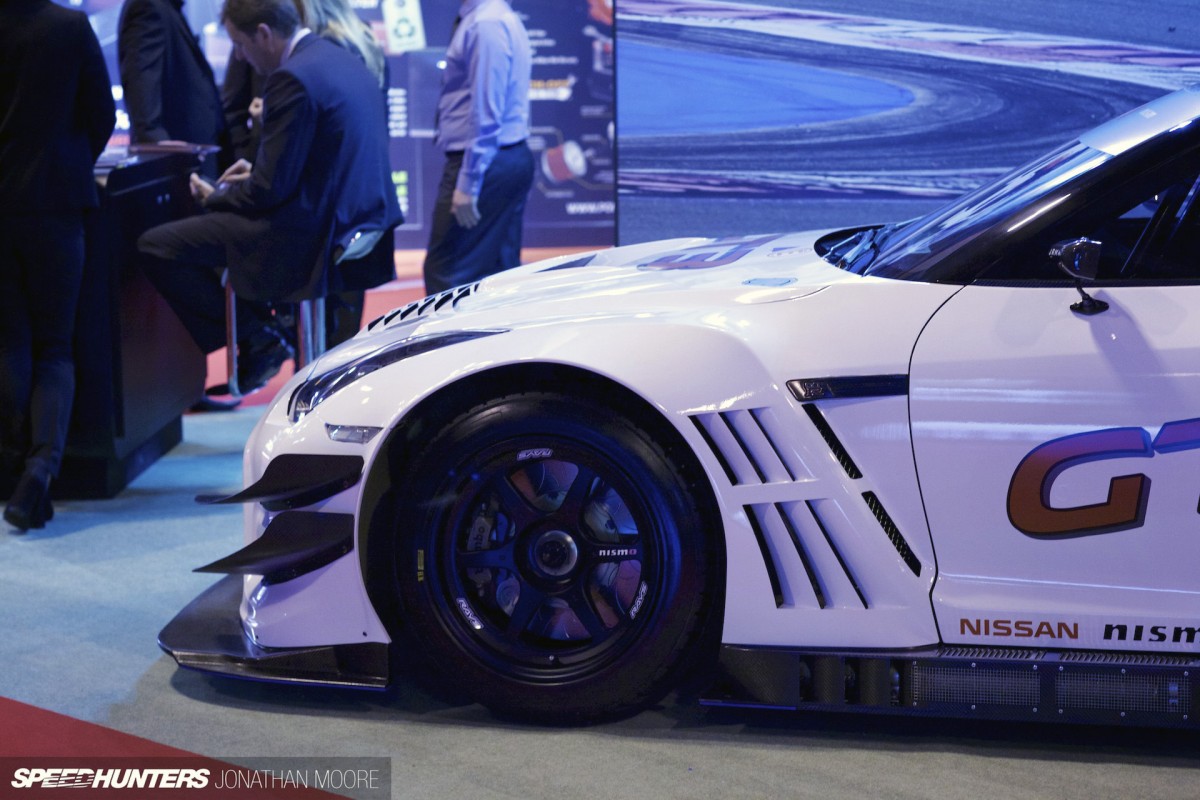 There's just so much to take in on the design A deep front splitter, canards, a louvred and vented bonnet, side-exit exhausts that run down the boxed off side skirts to exit under each door, and vents around the trailing edge of the front arches to enable air from the wheel well to exit. It's just a joy to try and take it all in and while it throws up a middle finger to the KISS principle, it still never feels overdone.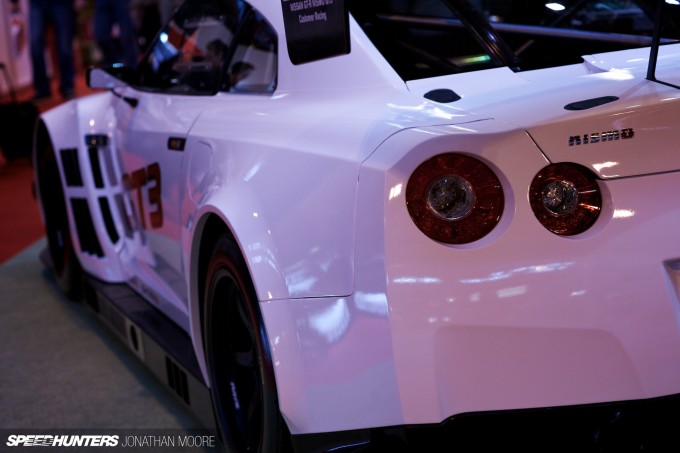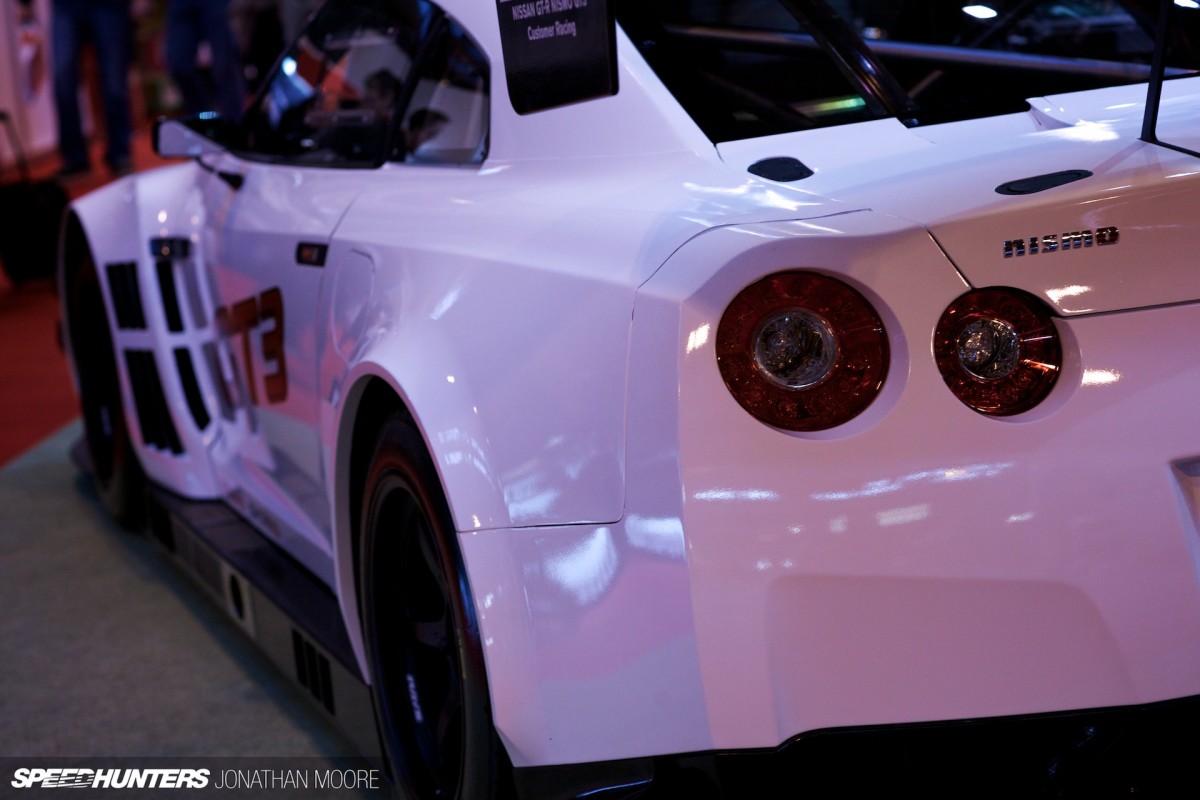 The rear diffuser and huge wing round out the package at the back to keep the rear end firmly pushed into the ground. Is it just a matter of time till we start seeing a GT3-lookalike kit in the aftermarket? JRM confirm that they get asked constantly if the kit is for sale after all…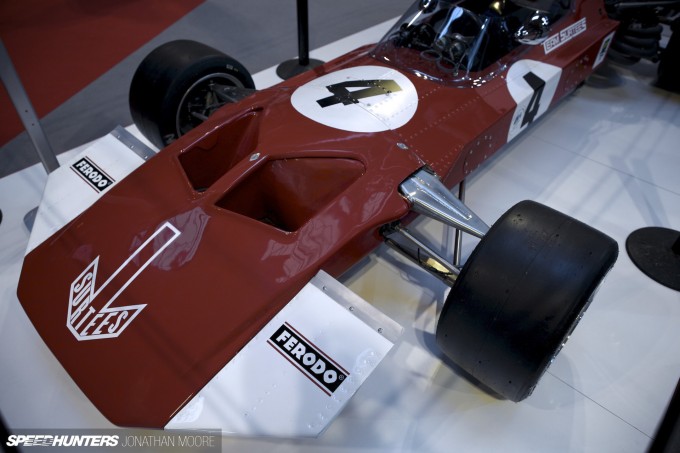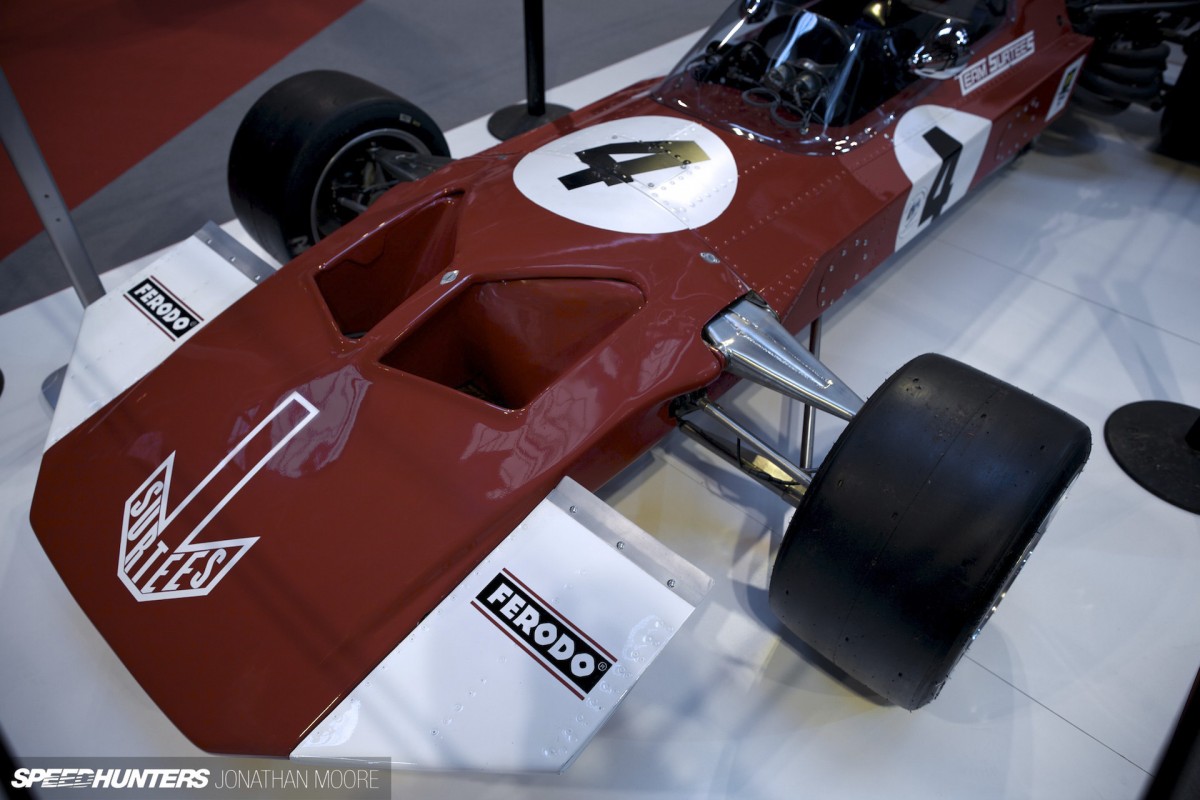 To mark the 50th anniversary of John Surtees winning Formula One himself in 1964, there was also a display dedicated to him. After his F1 win (when he became the first man to win world championships on both two and four wheels), he started up the Surtees Racing Organisation – a race team competing in CanAm, Formula 5000 and expanding into Formula One, where the TS7 was the first car designed and built by the team to compete in the series. Just look at that blunt old nose!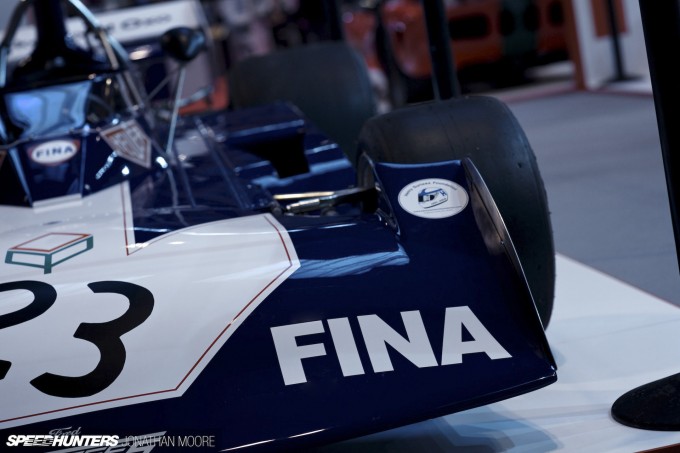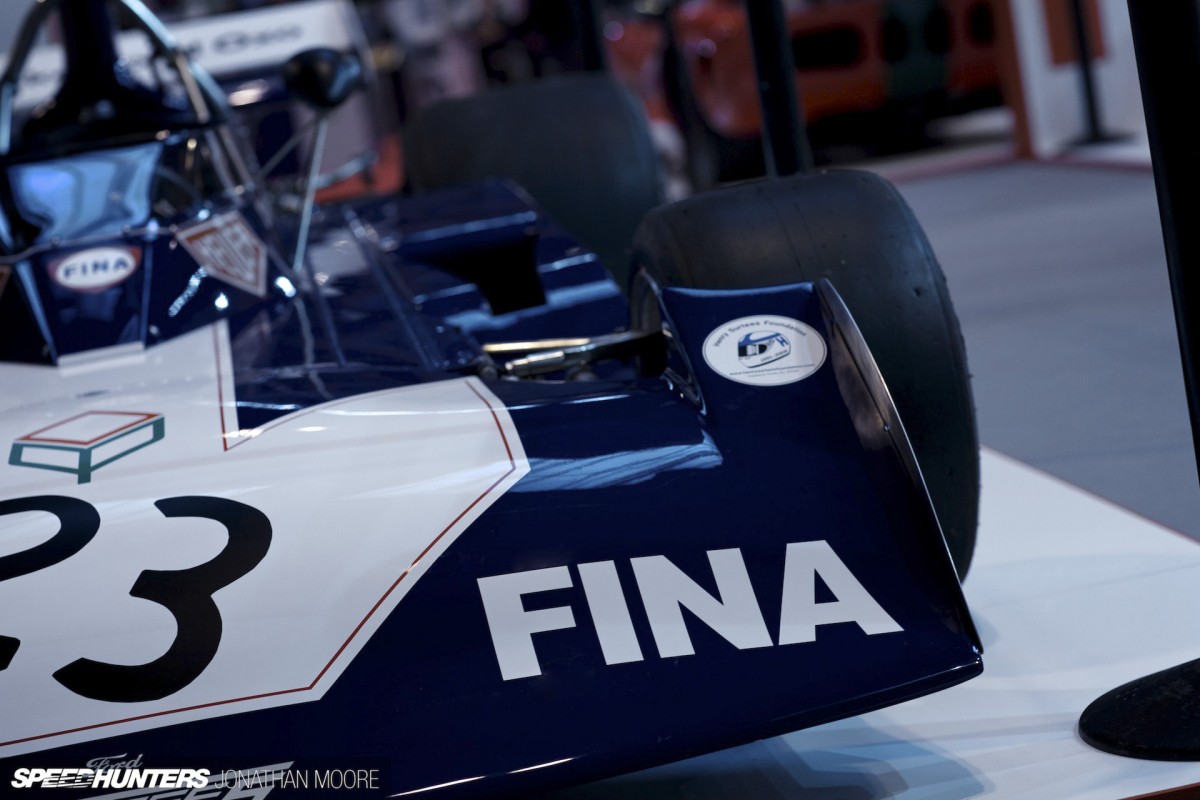 Things had changed a bit with the TS14 in 1972. The field of aerodynamics was still to take off in a major way, but cursory gestures were already being made, such as these steeper raked edges of the nose to direct airflow over the front wheels. It's still a far cry from the F1 cars of today though!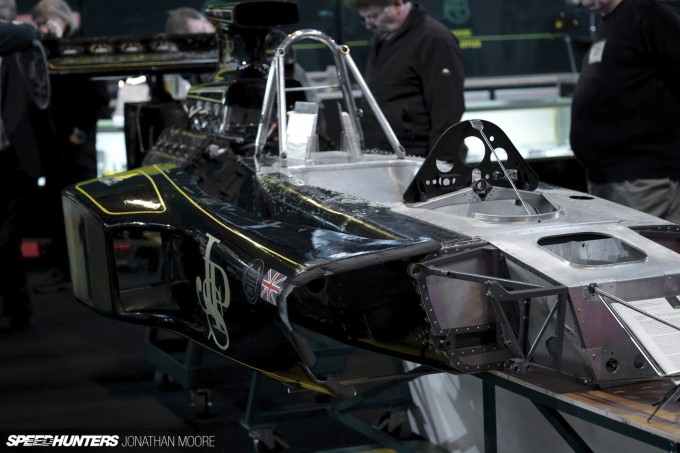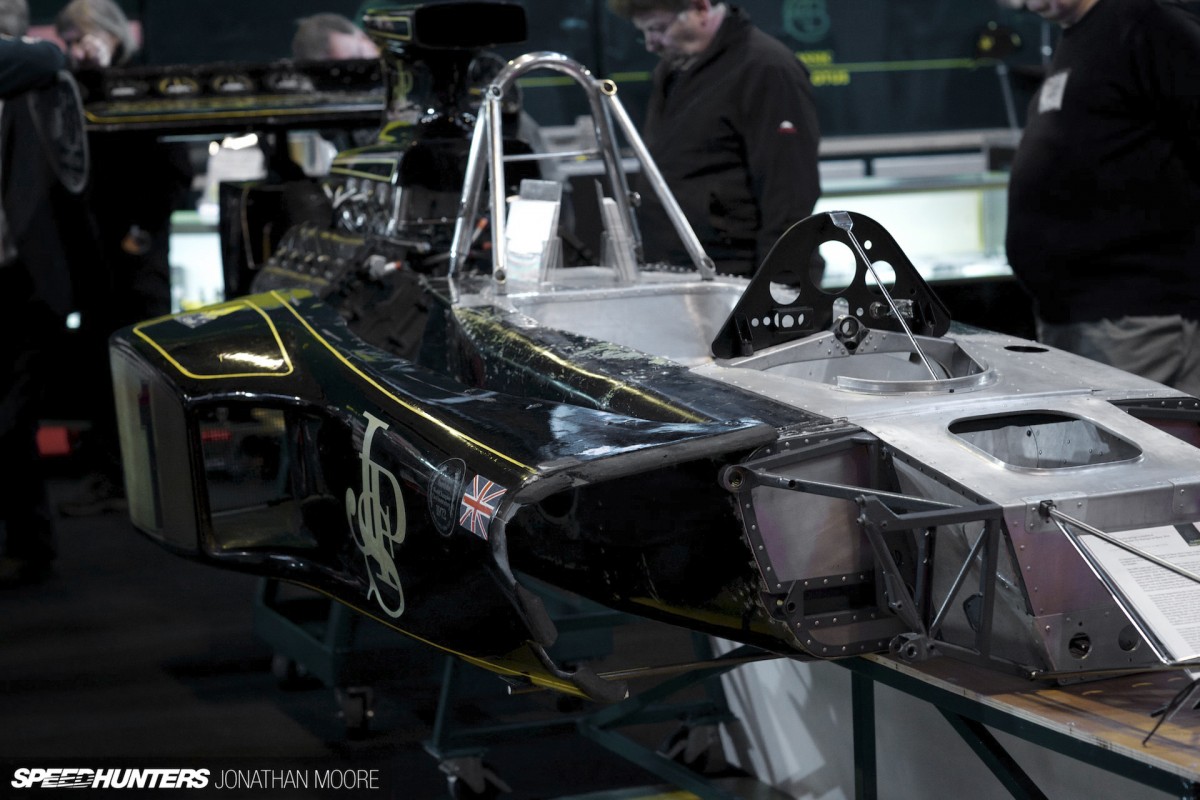 The Classic Team Lotus stand had an example of some very minimal bodywork – Emerson Fittipaldi's crashed Lotus type 72 in fact. After becoming the youngest ever world champion in 1972, his 1973 season was brought quite literally to a crashing halt at Zandvoort when he had a heavy impact. The wreckage has been lying about at Classic Team Lotus' warehouse all this time, surviving several clear-outs and finally being reunited with the right-hand side of its bodywork, a rear wing and a period correct engine and gearbox. We'd advise this is probably not one to take styling inspiration from…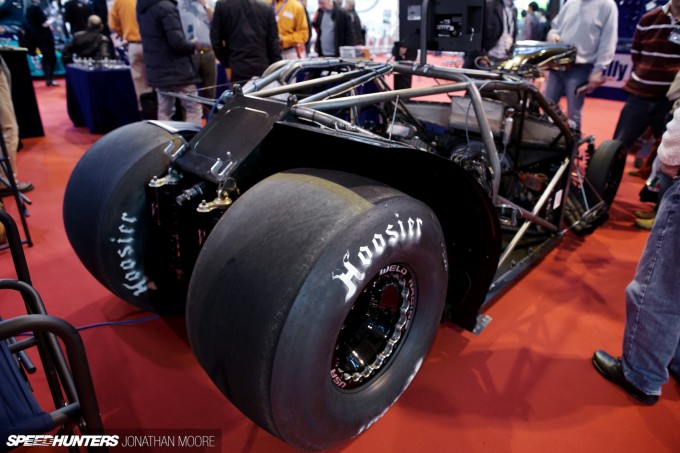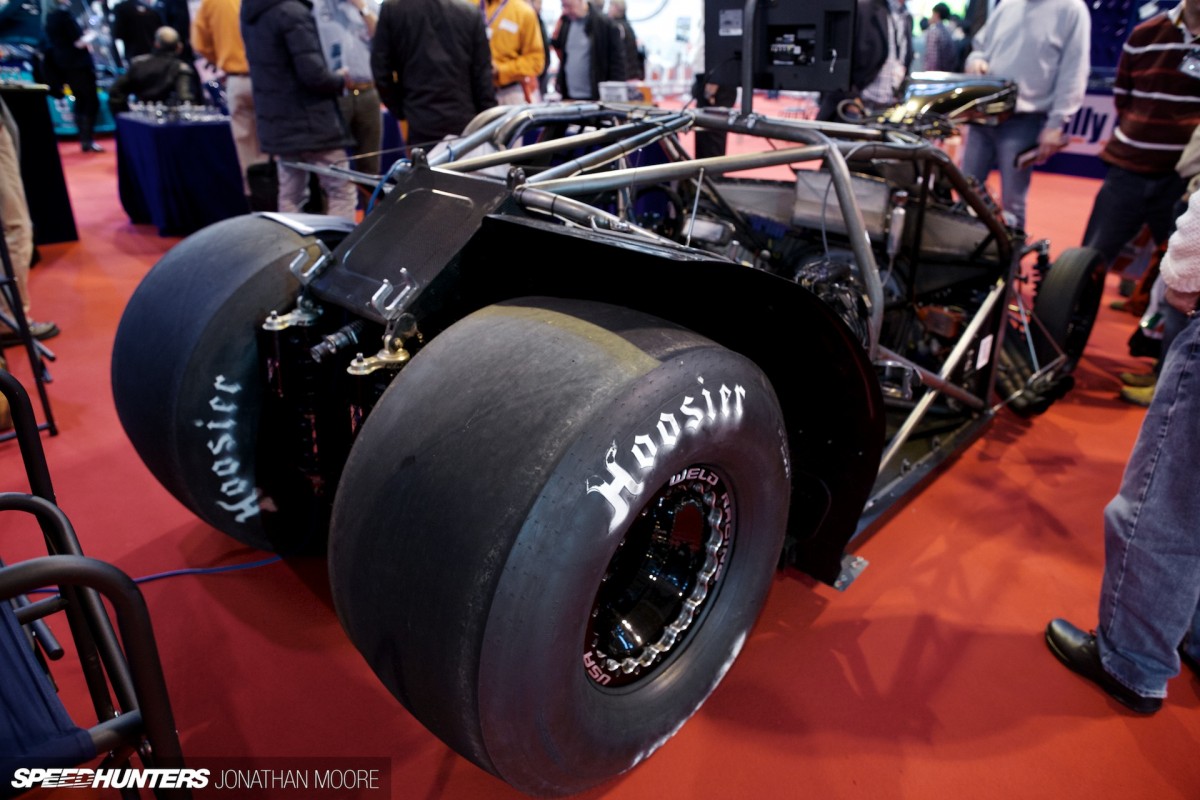 Another minimally-bodied car, but this time on purpose. And no, it's not the Tumbler. This drag car made by Andy Robinson Race Cars had its outer shell fully removed to allow a better look at the inner workings of a modern-day drag racer. The roll cage alone was a serious work of art, but just being able to see how everything was engineered was astounding. Considering the fact that the last drag car I had a good look at was a fair bit older, it was obvious how far things had progressed!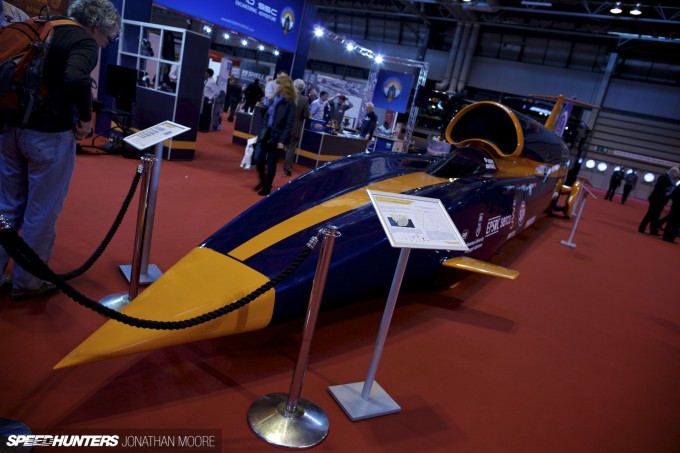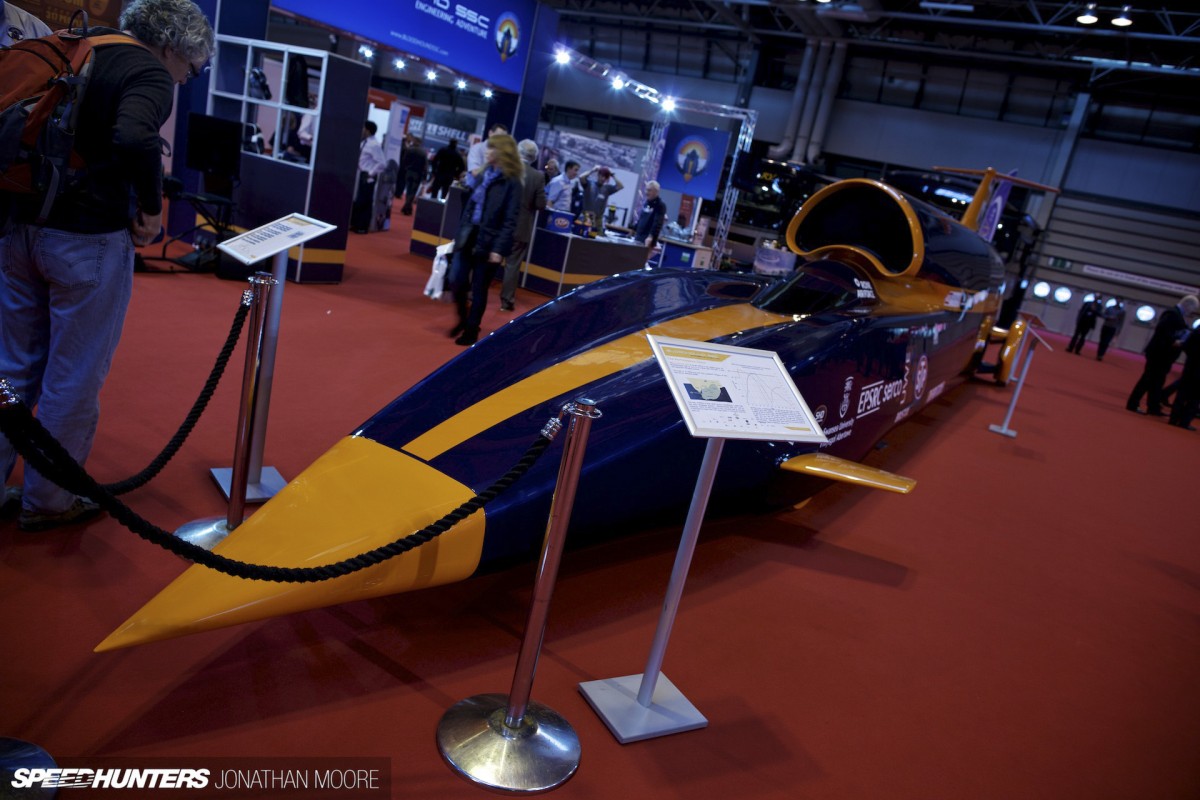 If you're talking about bodywork to do a job, it's hard to find a more perfect example than the Bloodhound SSC. Created with the aim of not only breaking the World Land Speed Record but hitting a quite frankly mind-boggling 1000mph, everything will have to work perfectly together if they're to have any hope of achieving their goals. The front half of the vehicle where the driver pilot sits is a carbon fibre monocoque with that pointy nose designed to cut through the air, the body covering the front wheels and the two fixed winglets on the sides helping to control the lift/downforce.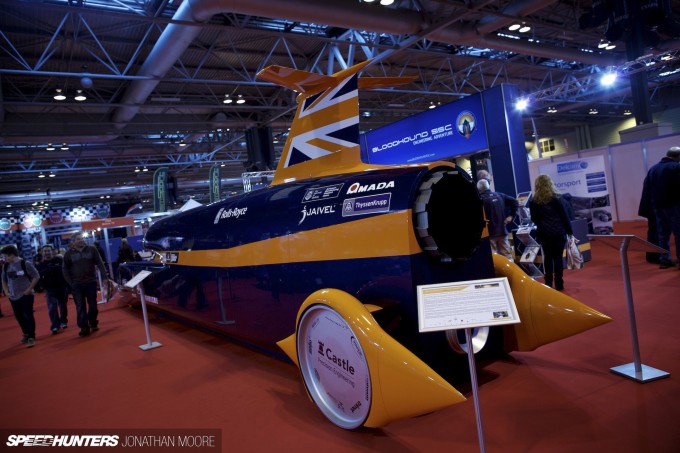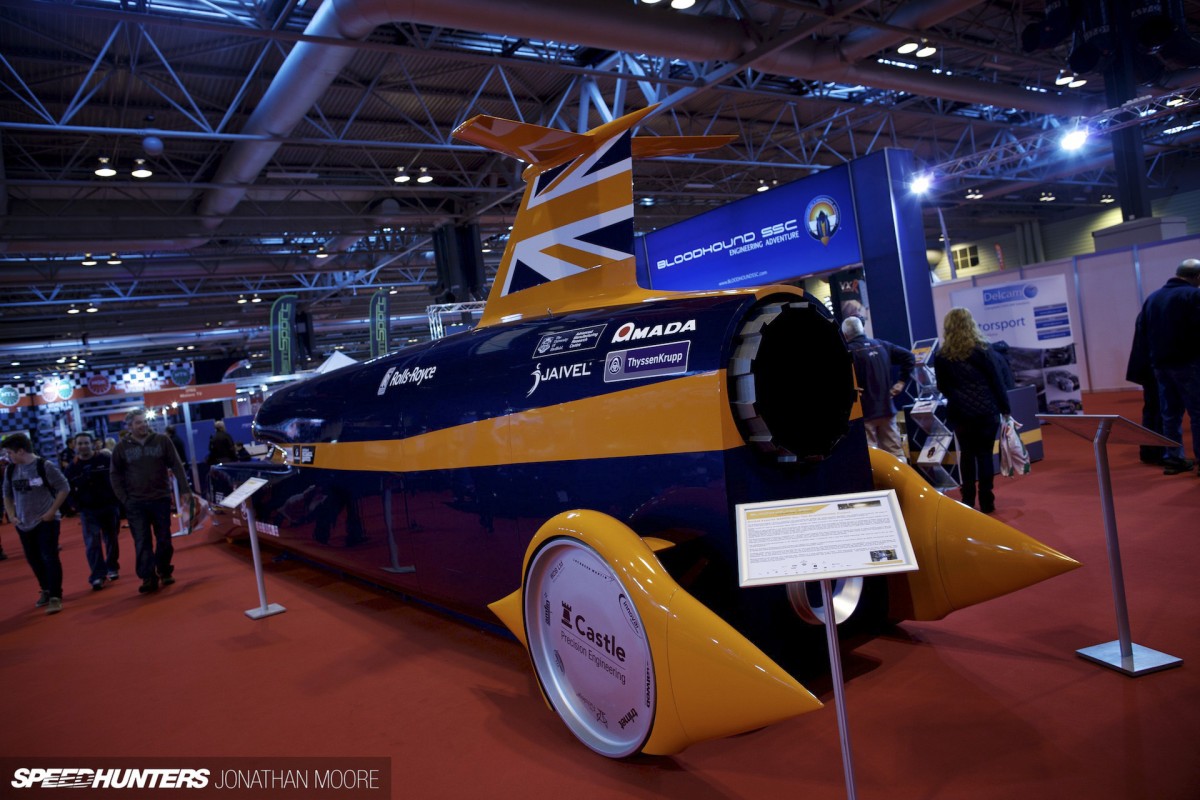 The rear section is made up of metal framework and panels. It features that plane-like fin on top which is essential for providing lateral stability and wheel fairings to cover the rear wheels and direct airflow around them. And let's face it, when you're being powered by a jet engine from a Eurofighter Typhoon strapped on top of a rocket, providing a total of 135,000hp and 47,700lb/ft of torque (yes, you read those both correctly!), you really need all the help you can get!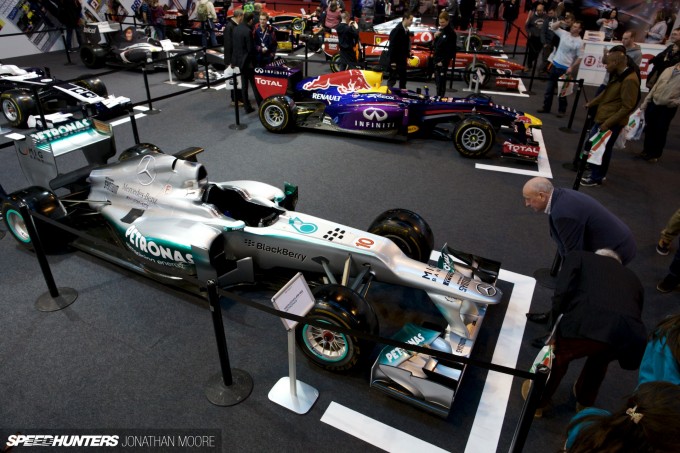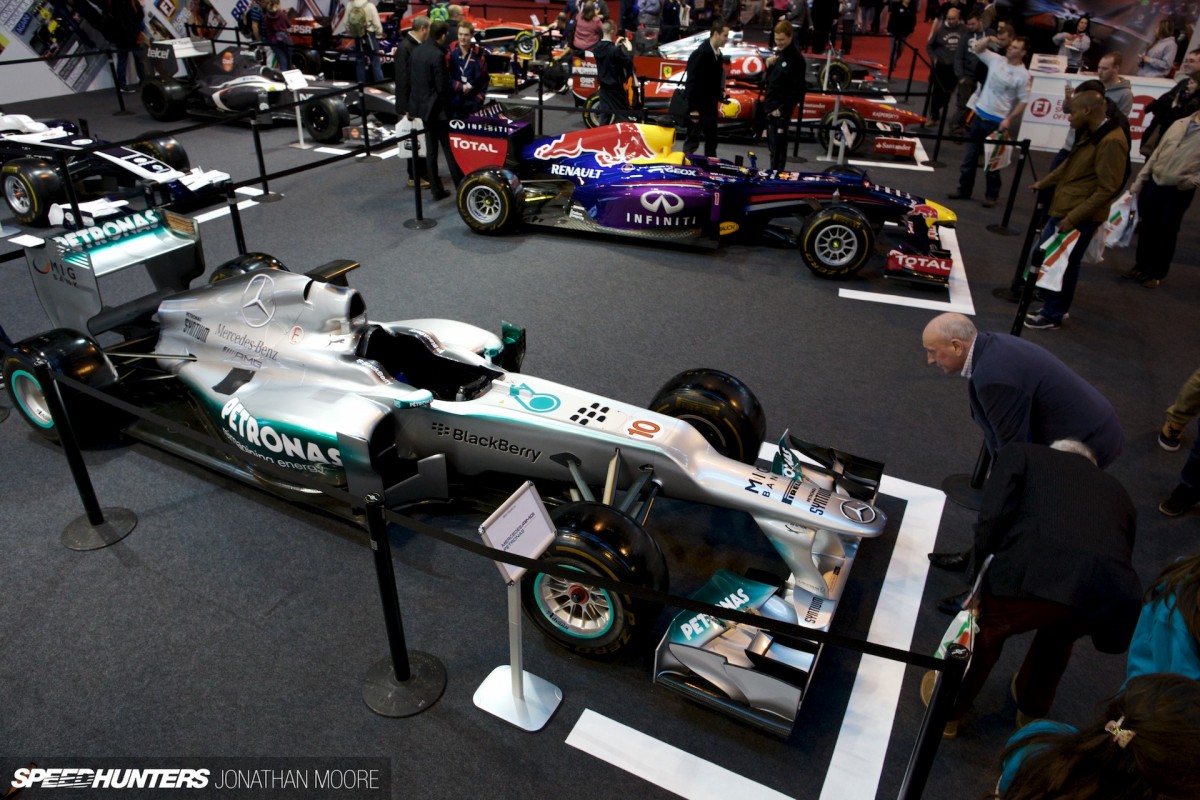 Ultimately though, if you want the pinnacle of aerodynamic styling, you just couldn't beat the Formula One display. It's hard to even grasp the amount of detail on the bodywork of these cars – five minutes of continuous examination per car still had them revealing new details.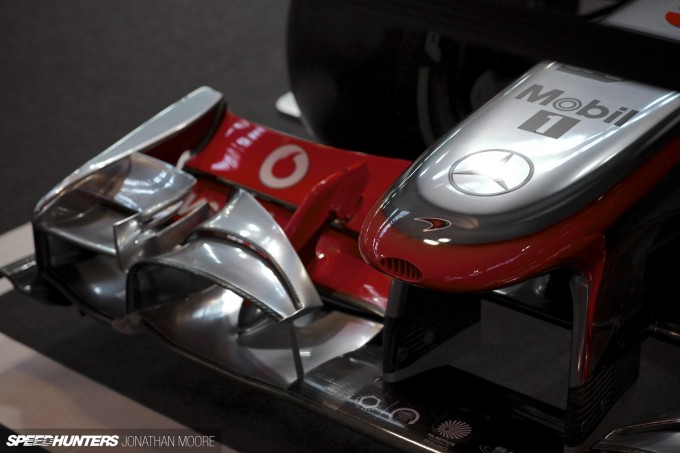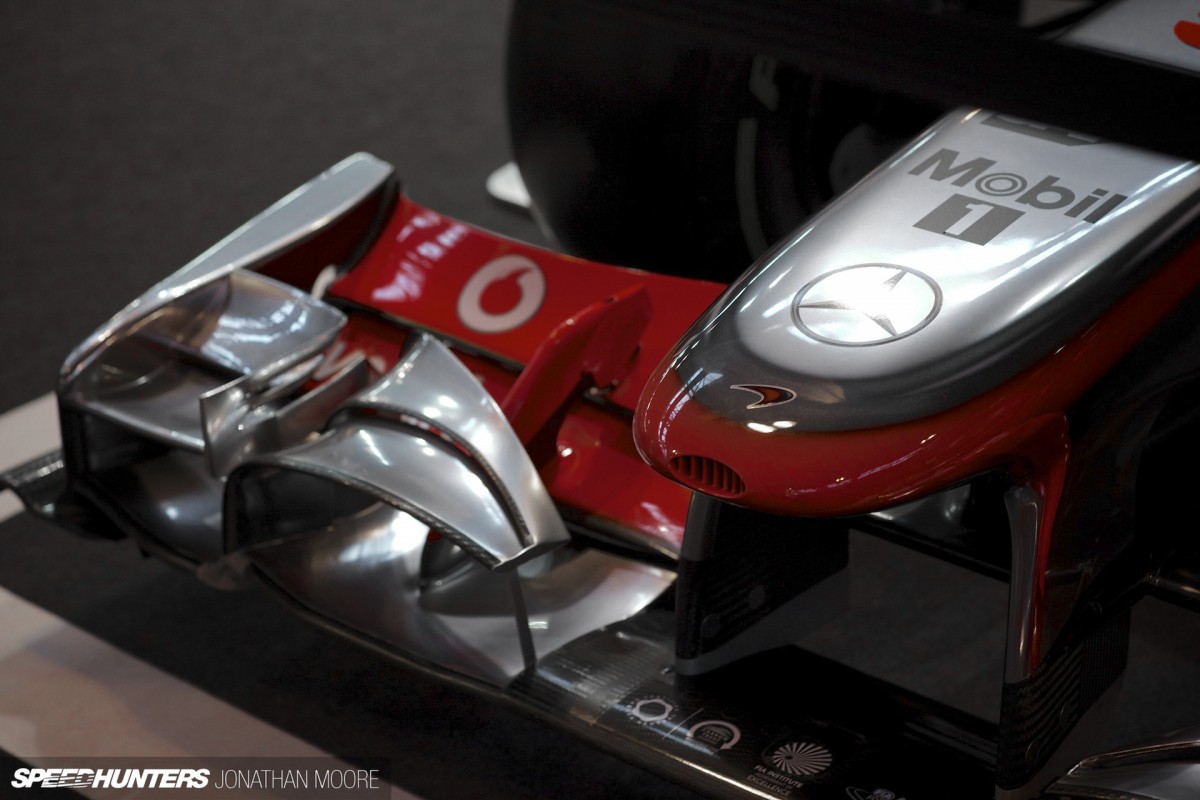 It's clear to see that many of the bodywork modifications initially introduced for motorsport have filtered their way down to general usage across the modified car culture, from rear wings to overfenders, louvres to widebodies. Given that fact, how long til we start seeing details like this in WTAC or on bodykits…? Do I have any bets?