The challenge
Recently I've been shooting more and more black and white film just so I can strengthen my roots in the most basic form of photography. I knew sooner or later, I would attempt to shoot an entire article in film, but doing so presented many challenges, which of course is my favorite part of the job. I won't go into detail about the developing and scanning process as I touched on that earlier in the year in my Bonneville post. However, I will go into my choice of cameras as well as the lenses that I used.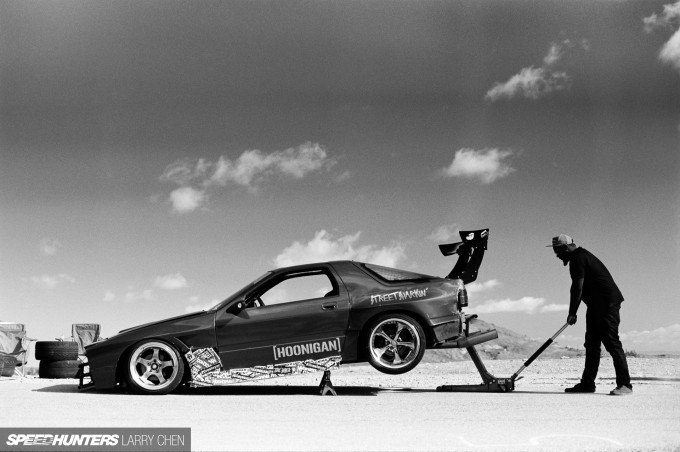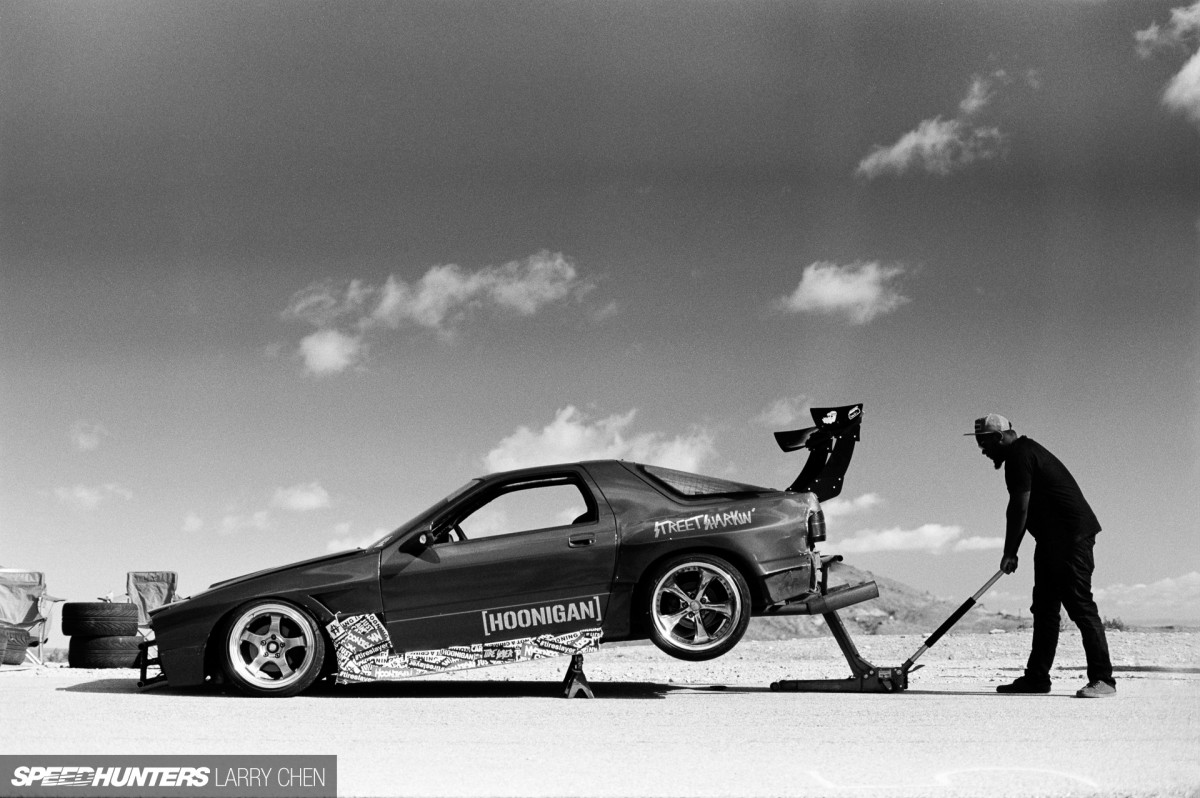 Speedhunters has always been about cutting edge car culture photography and I love to try to push the envelope every single time I take my camera out of my bag. However, this time it was different. I'm always looking to do something that no other photographer has done before. I thought about it and realized that photographers have been shooting racing with black and white film much longer than digital cameras have been around.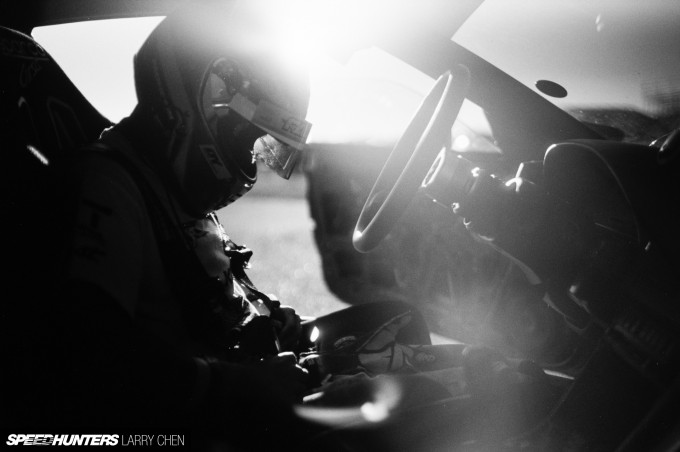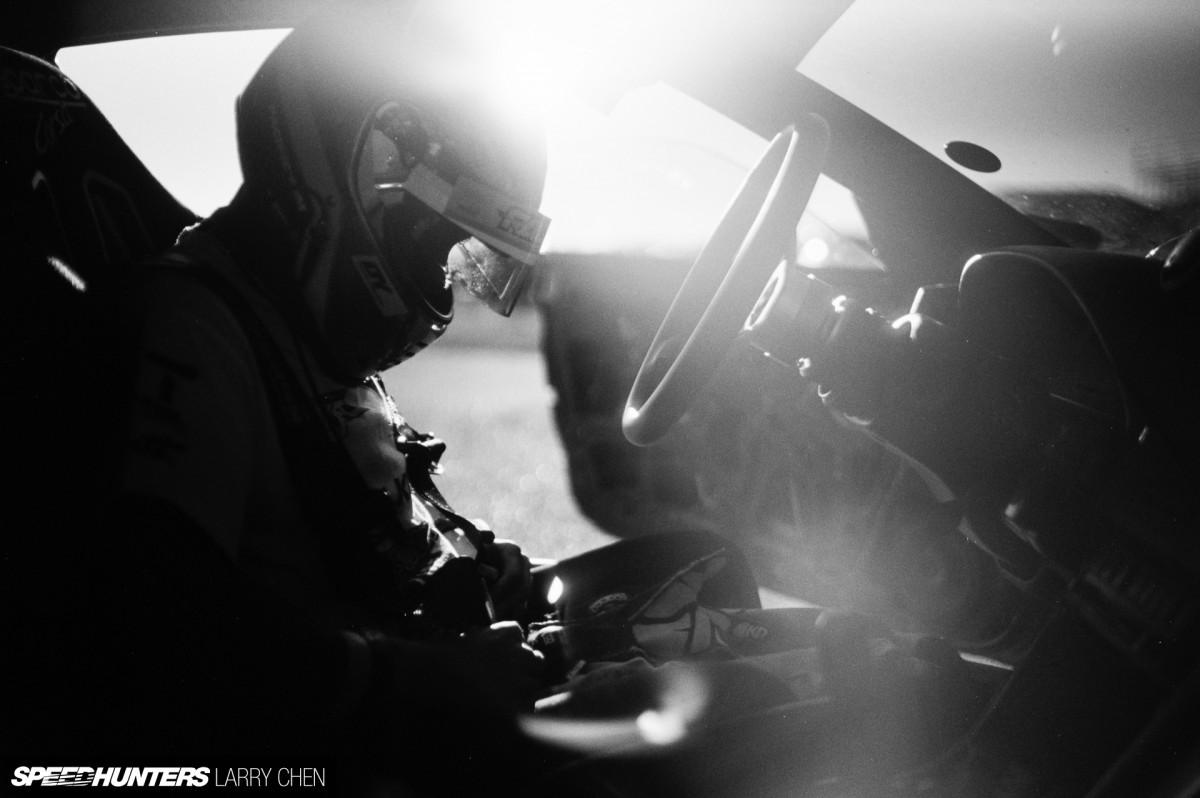 So in essence, I'm just adding just a drop of water into an ocean of black and white racing images. Either way, I was looking forward to this all year, as during the season, my event coverage is due right after the event is over. It would not be appropriate to shoot film for most of the events I go to because of the delay due to processing and scanning. For example, this event was over two months ago but I've only just found time now to develop, scan, pick selects and write a story.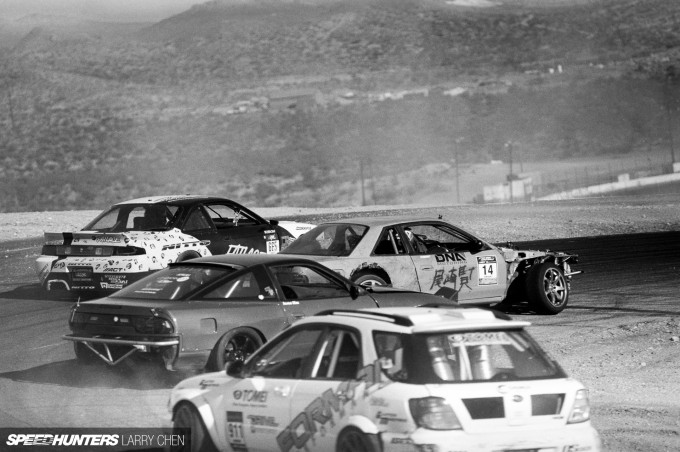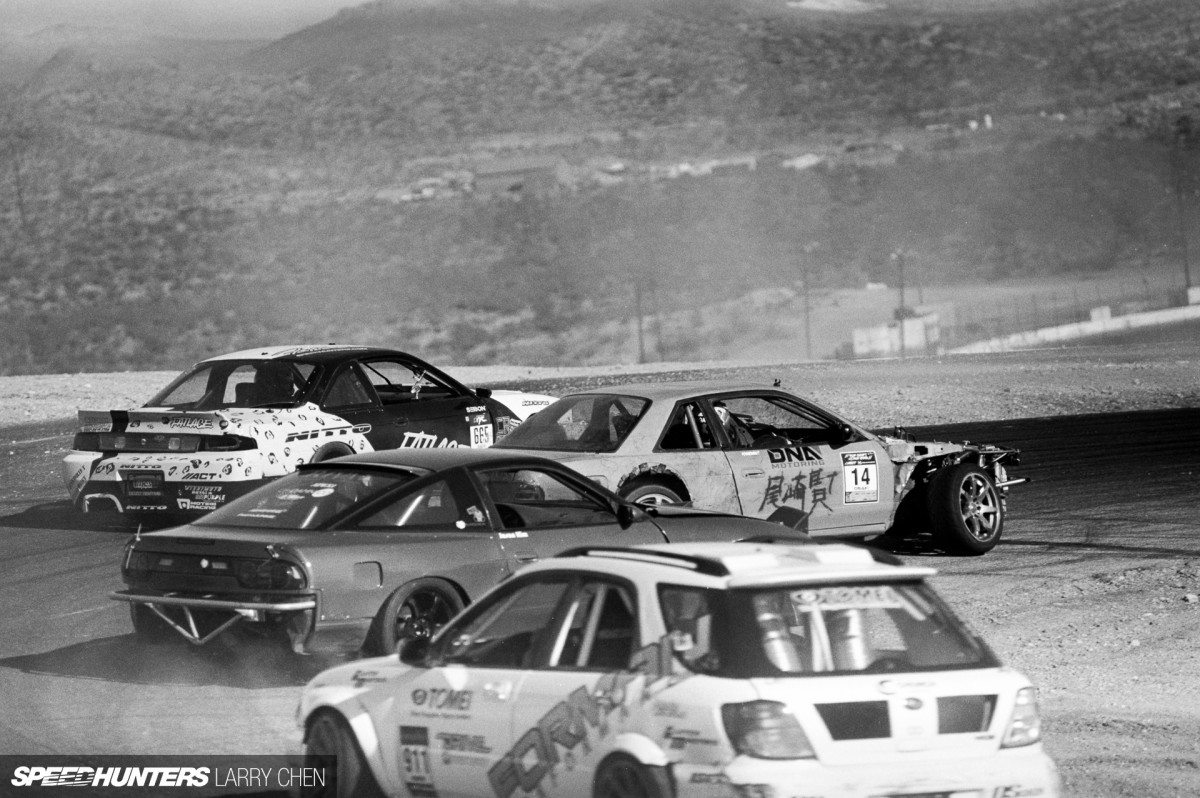 I would shoot with two cameras: a Leica M6 with three lenses – 12mm f/5.6, 35mm f/1.2 and 75mm f/1.8 (all made by Voigtländer); and my second body was a Nikon FM2 Titanium, that I bought in Hong Kong when I went to the Macau Grand Prix last year. It has a 50mm f/1.2 Nikkor, but another very nice photographer let me borrow her 70-210 f/2.8 while I was at the track.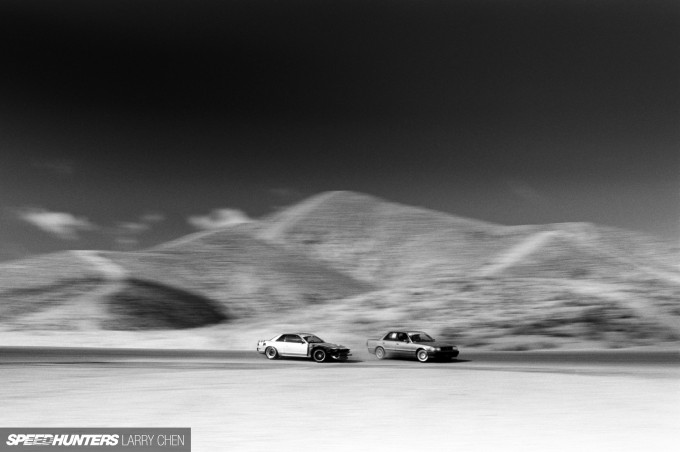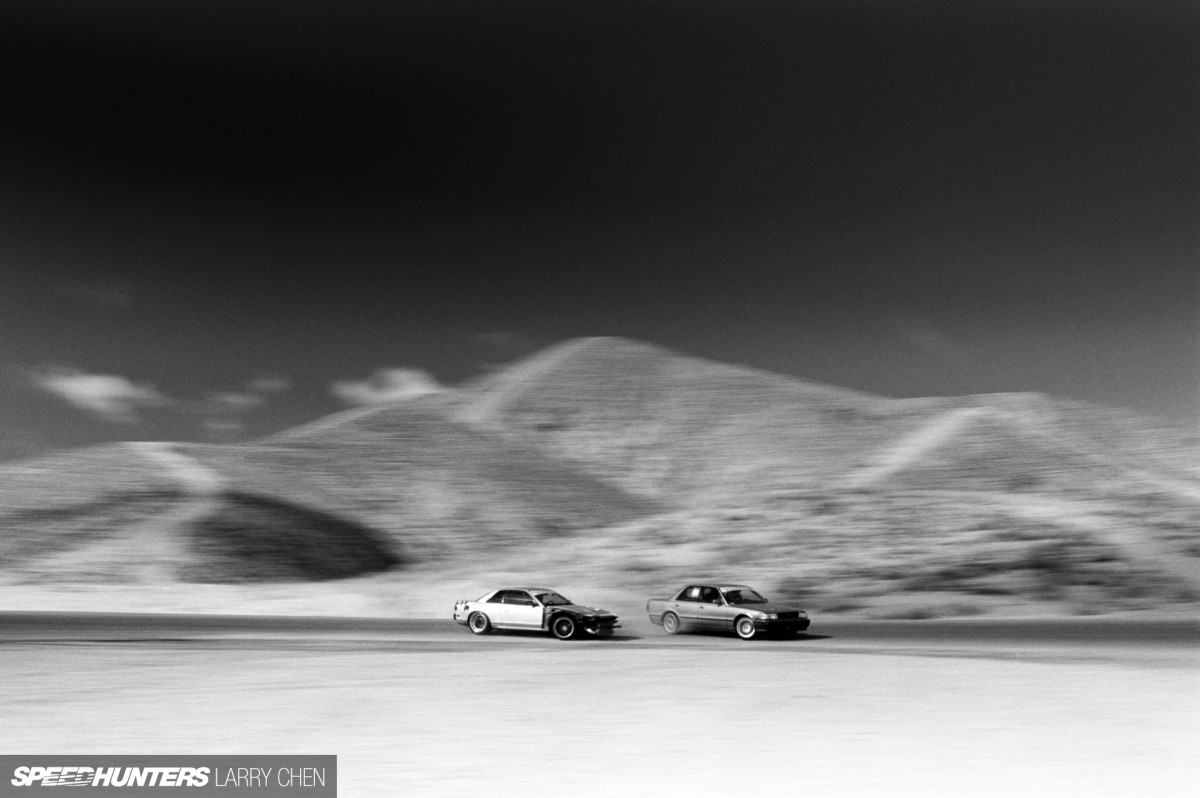 I'm very selective about the gear that I shoot with, as I don't believe in the newer fancy film cameras because they don't have as much of a visceral feeling to them. I look at mine as fine watches, because both of them can shoot without batteries, and on top of that, the FM2/T has the highest shutter speed at 1/4000 for being a 100% mechanical shutter. If it doesn't have a manual film advance, I don't even want to look at it.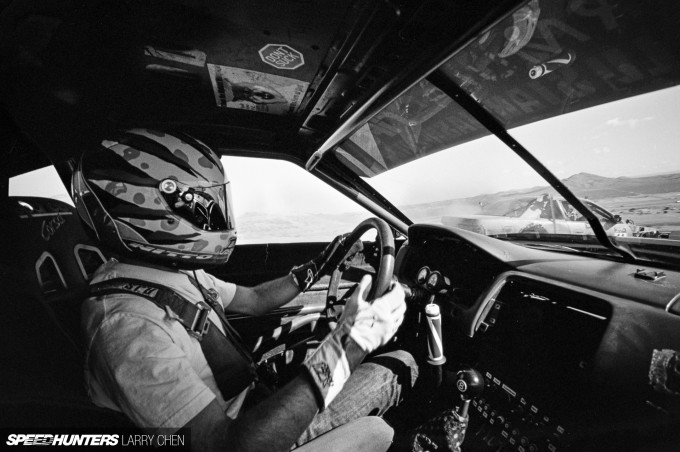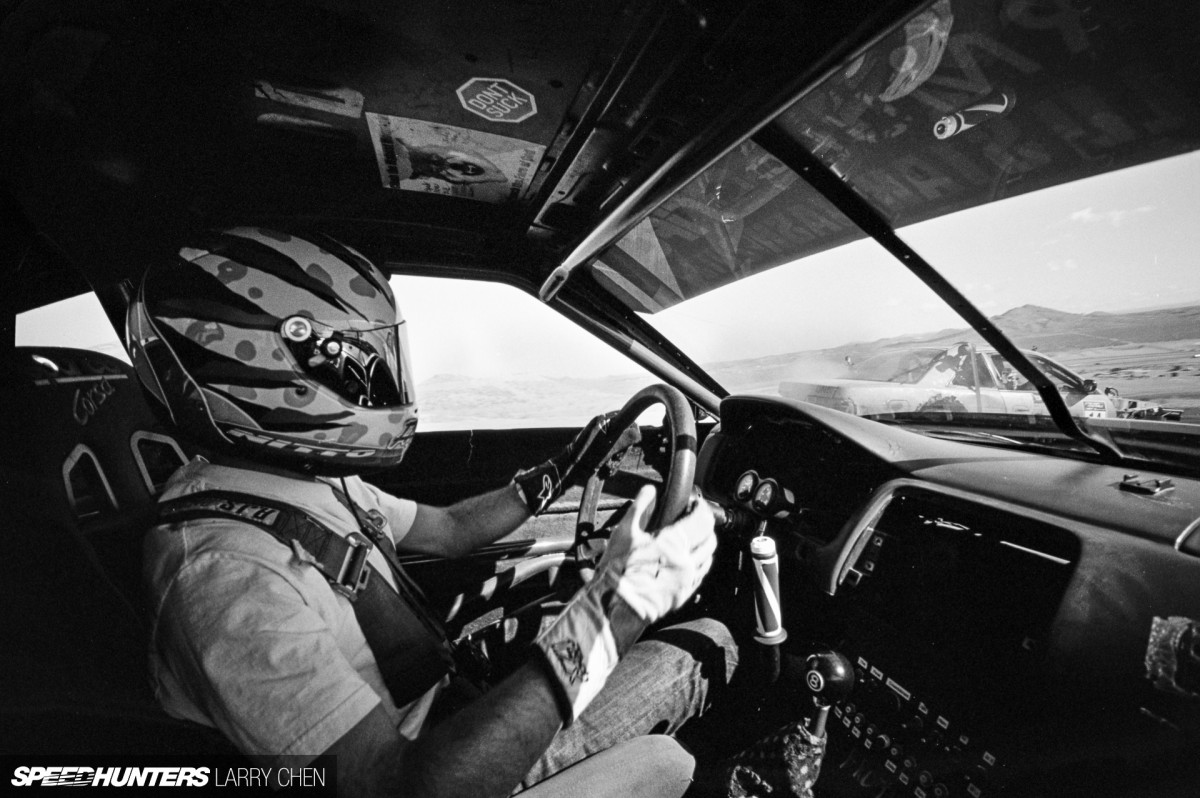 My film of choice? Four rolls of Kodak T-MAX 100 and two rolls of Ilford HP5 PLUS. I knew there would be less light in the morning so I started with the 400 speed HP5 and I switched to the 100 speed T-MAX for the rest of the day. There's nothing like the grain that you get from real black and white film. And just check out that superior dynamic range.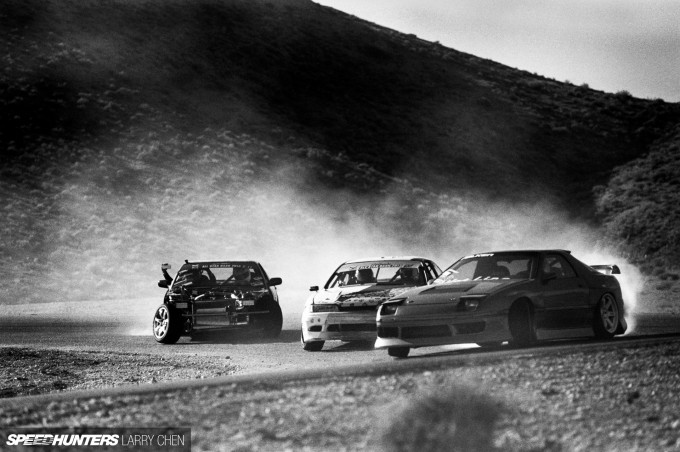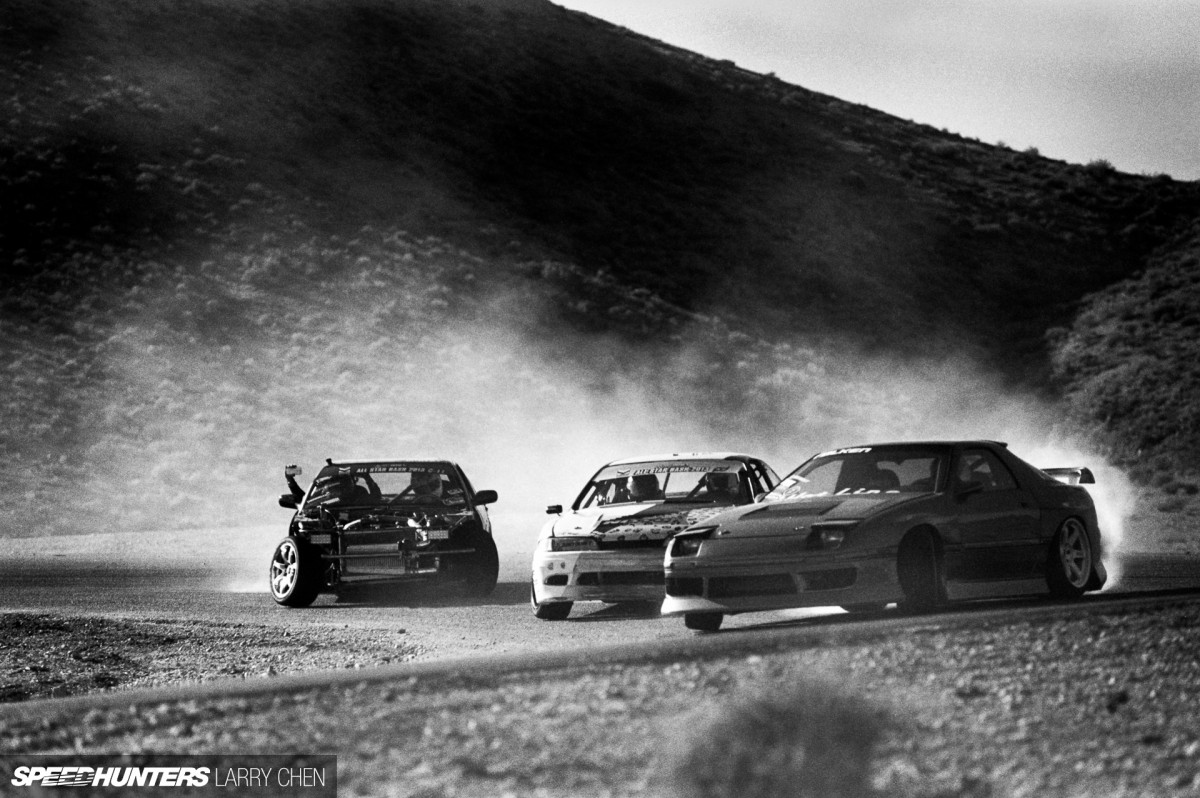 Every year, Just Drift holds two toy drives around the holidays. Drivers get a discounted entry if they bring an unwrapped toy, which gets donated to the California Highway Patrol. It's a win-win situation. This was shot at 200mm with the FM2/T and I remember shooting at f/4.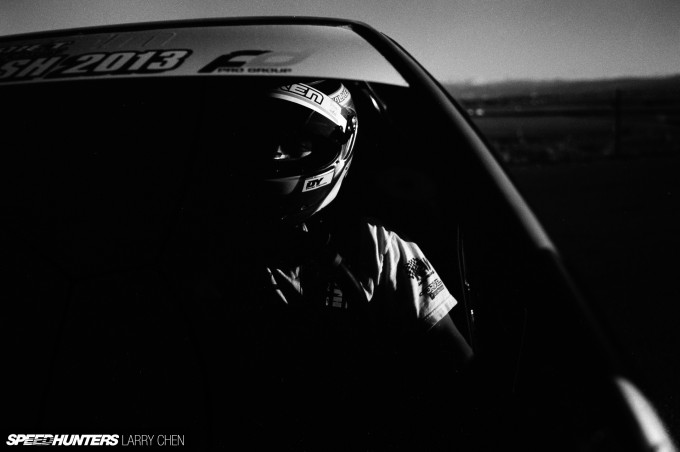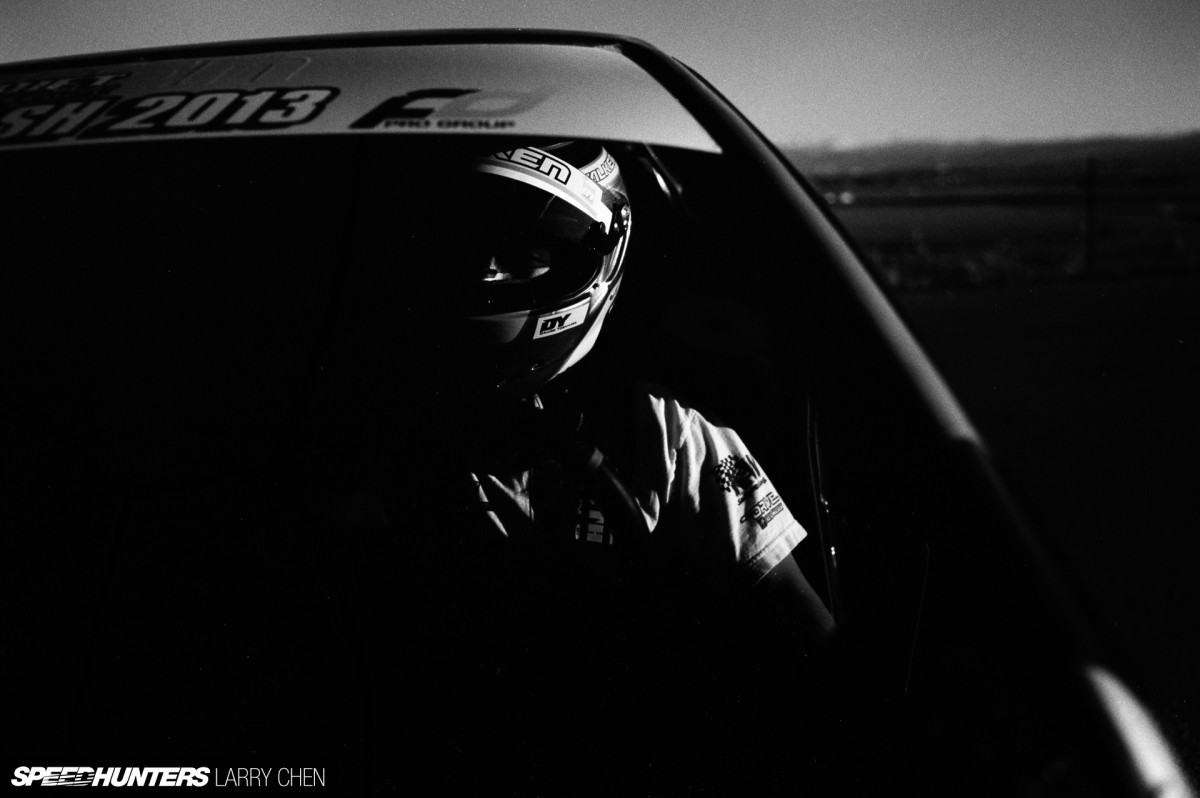 This also gives the pro drivers a chance to come out, have some fun and drift without the pressure of competition. It's also a smaller group compared to All Star Bash, which can get a little hectic sometimes.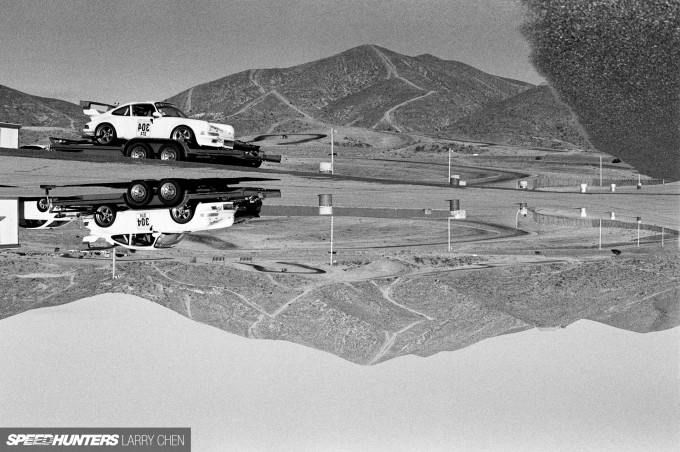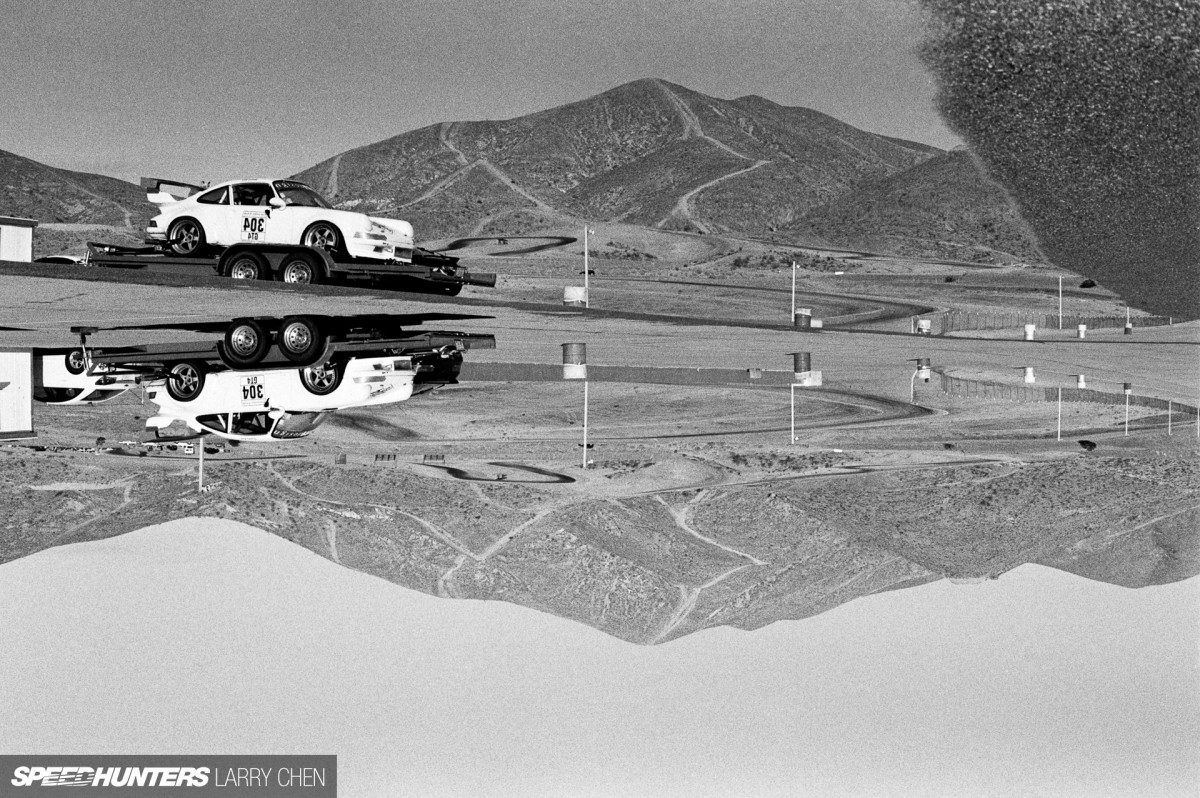 The event was held at the beautiful Willow Springs International Raceway. It rained the night before which meant it would prove interesting if a car went off course into the wet dirt.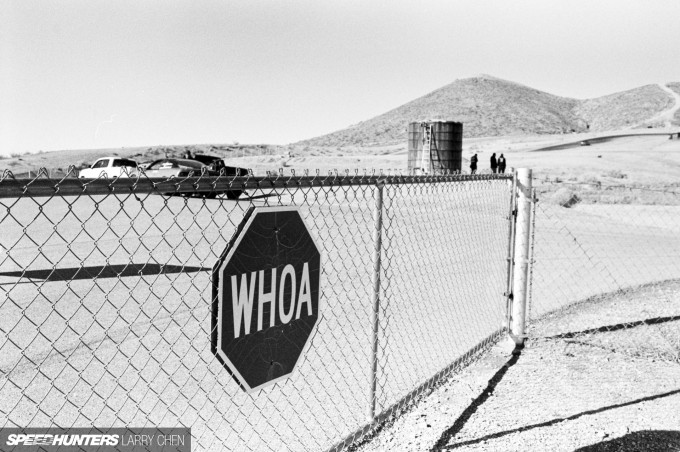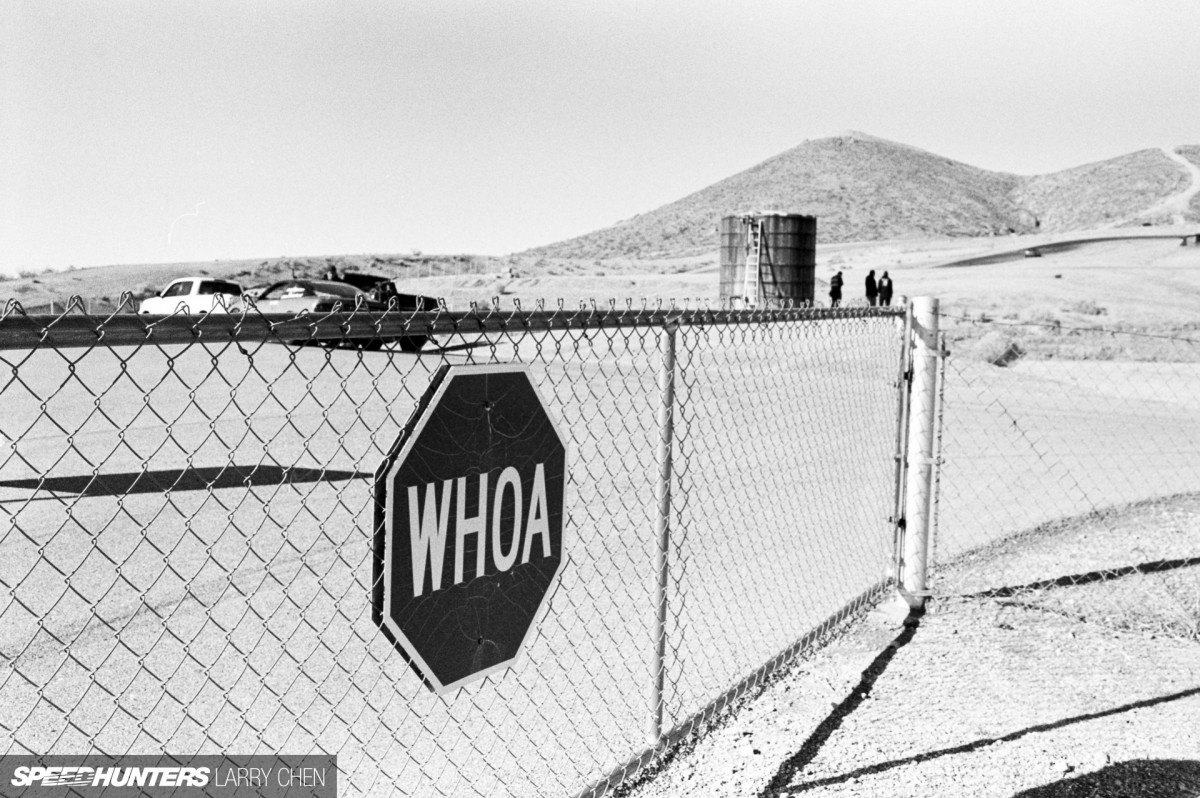 The track was the famed Horse Thief Mile course which was originally built as a place for motorcycles as it simulates mountain driving with all the elevation changes.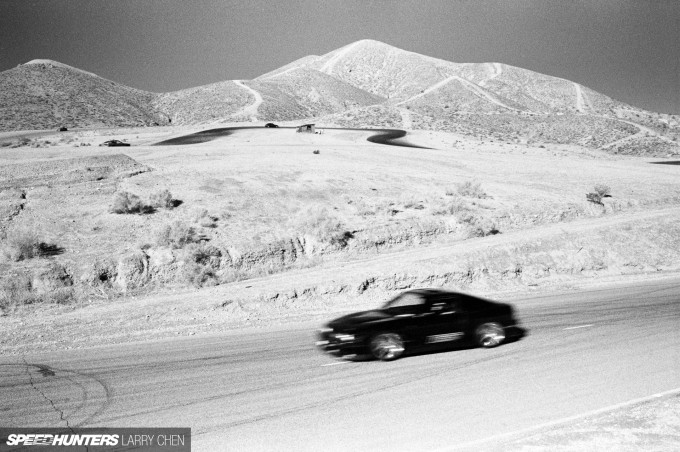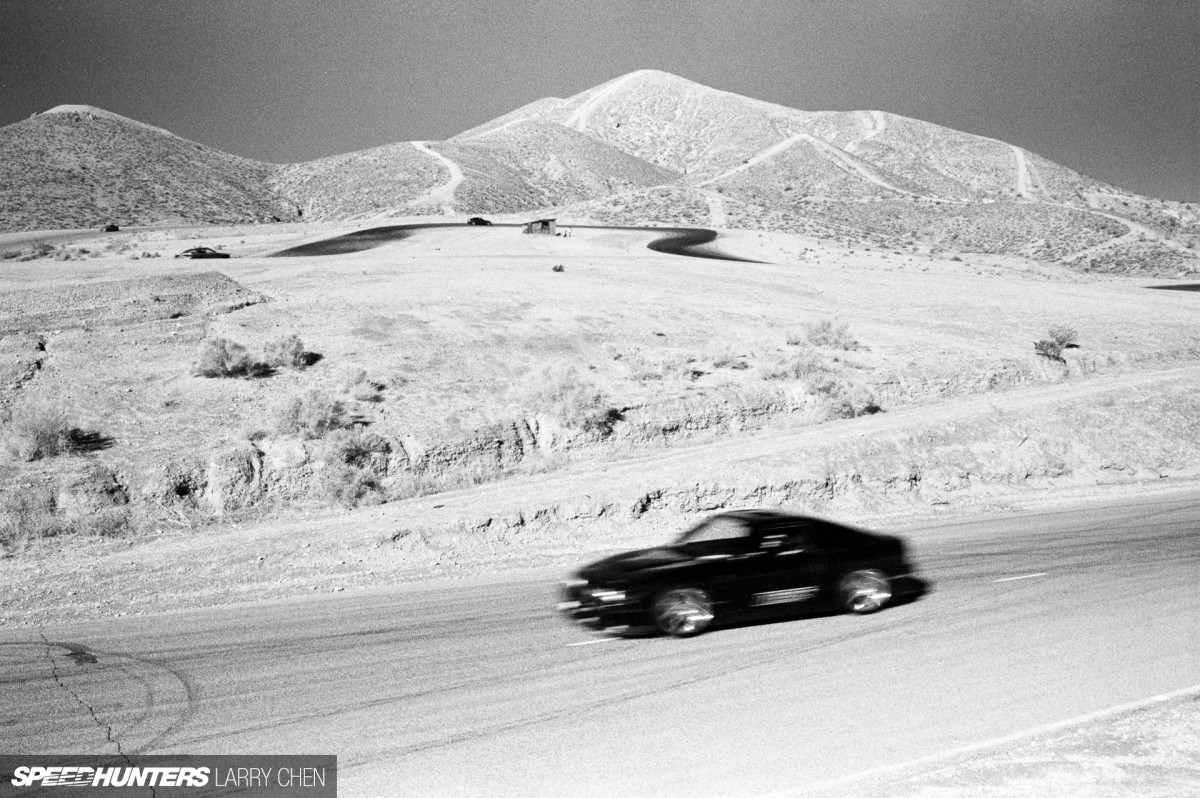 It's definitely a favorite for drifters of all skill levels and walks of life. Although if you're not careful, it can bite you where it hurts. I've seen quite a few cars go shiny-side-down over the years. You don't want your friends to call you 'Flippy McFlippy'.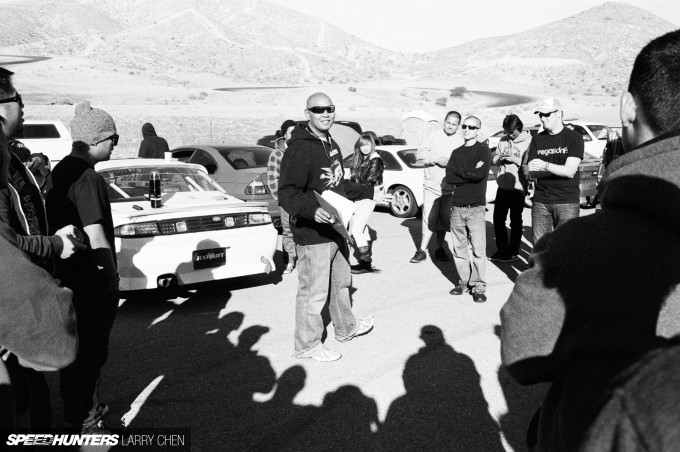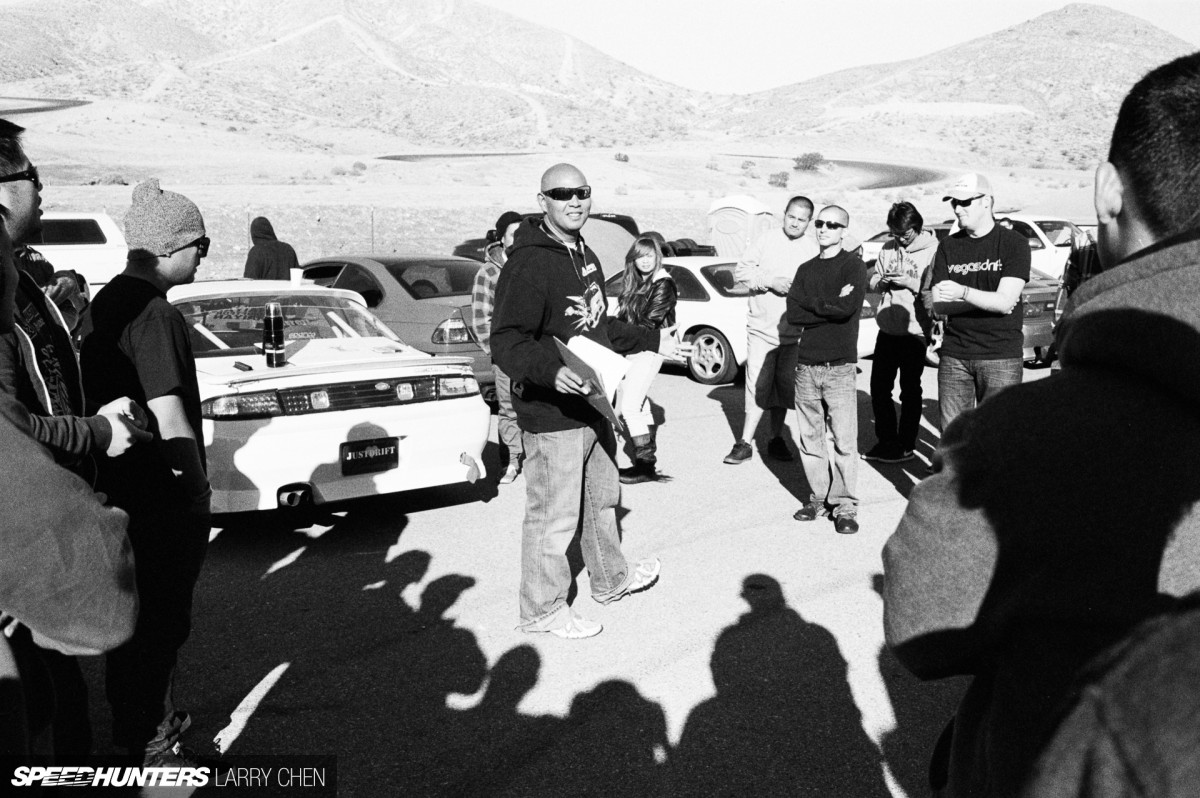 Just Drift owner and all around cool guy, Charlie Ongsingco was on site for the morning drivers' meeting. He's been running Just Drift events since 2004 and it's been growing every single year.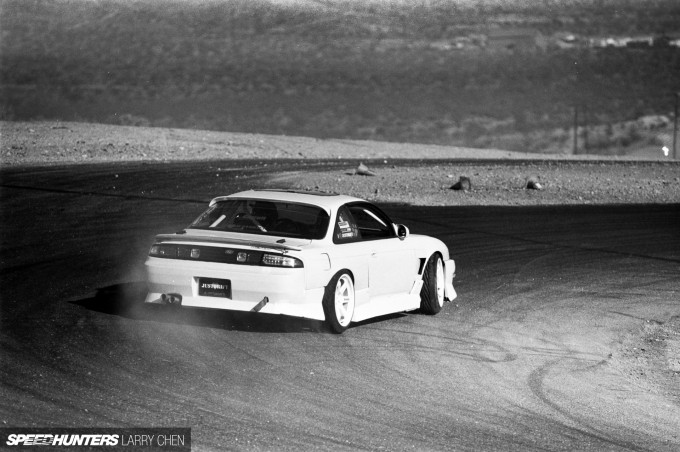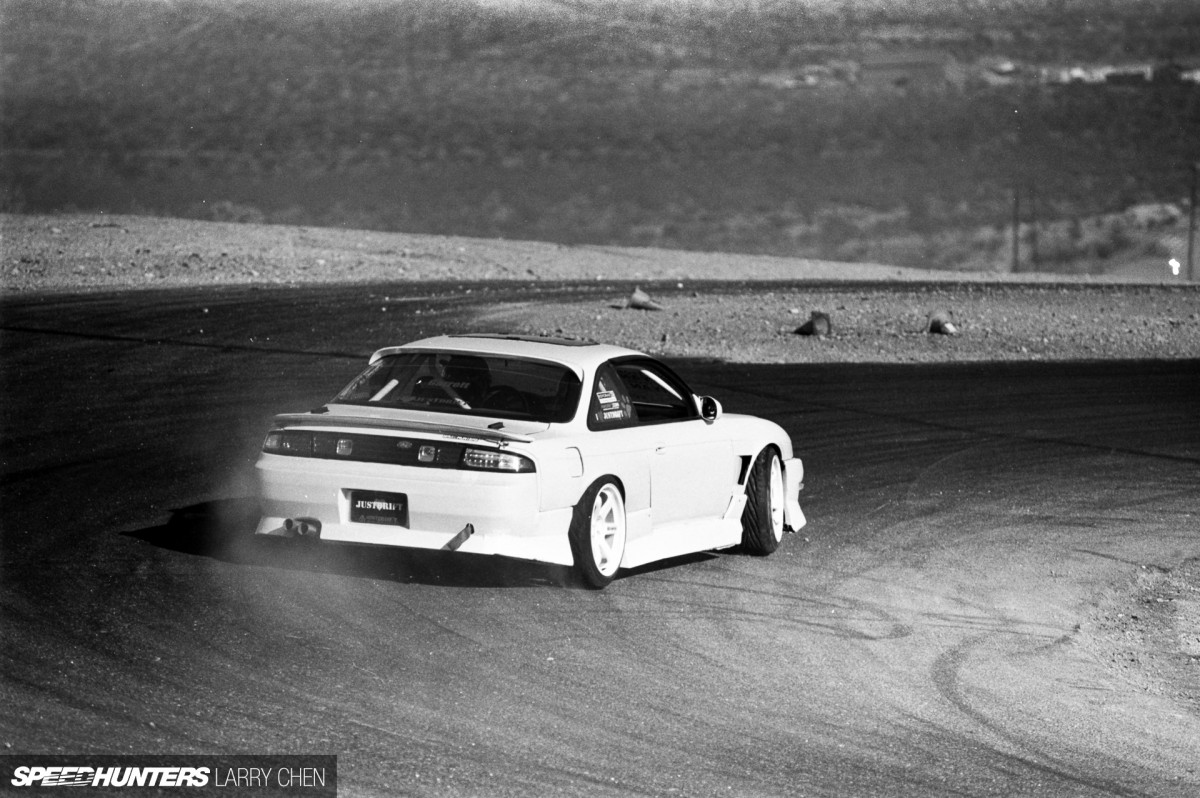 When he's not busy yelling at people, he likes to take his car out for a few spins. Although just recently he traded his S14 in for a Cadillac CTS-V, which should be an interesting build.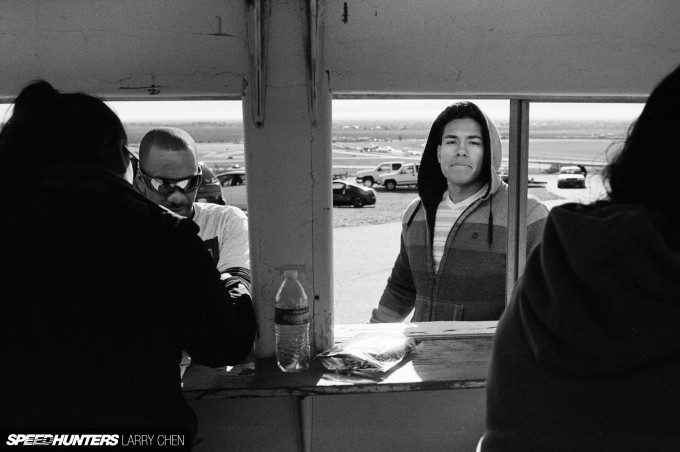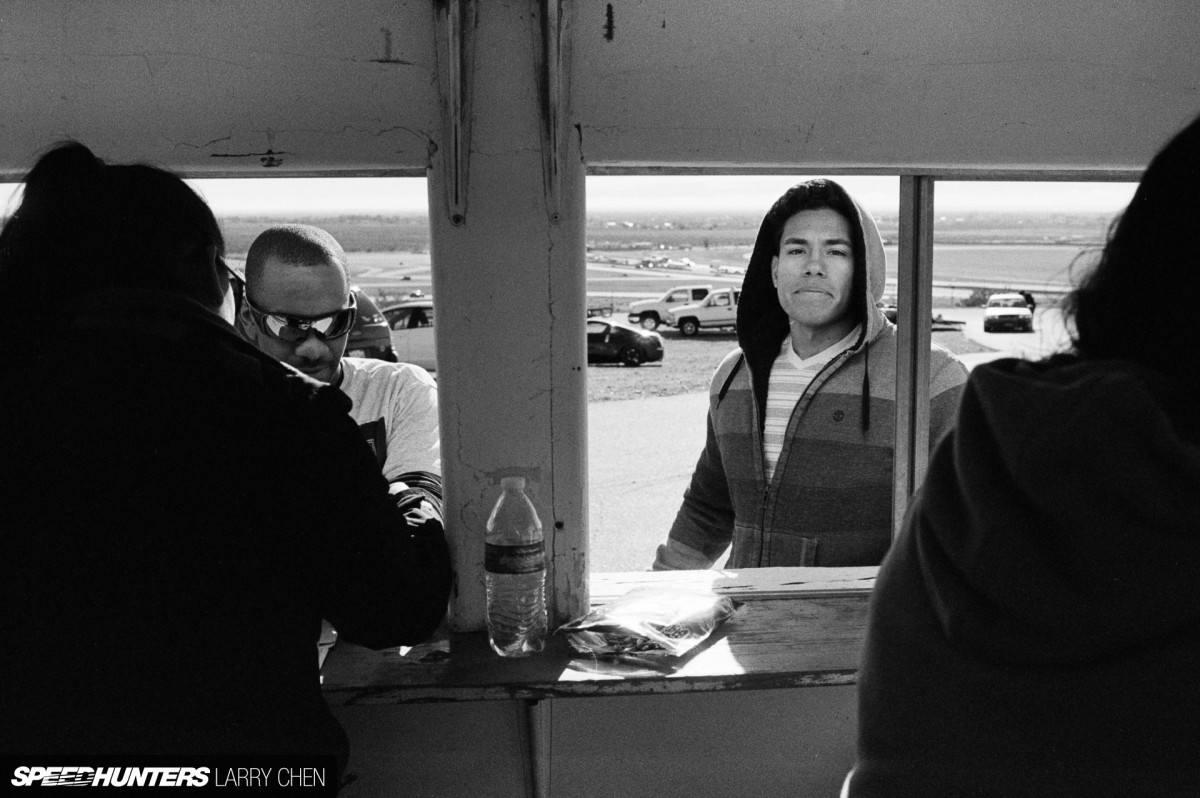 Unfortunately, around the same time there was a huge typhoon in the Philippines, so Charlie thought it would be a good idea to make it into a toy drive/charity event dubbed #DriftForHaiyan. Every dollar that was donated to the Red Cross was matched by Just Drift.
It can be very tricky to get the exposure right in this situation, because the chances are if you follow the light meter, your subject outside will be blown out. Practice makes perfect and the more you shoot, the more situations you will encounter where you have to rely on your experience.
Battle stations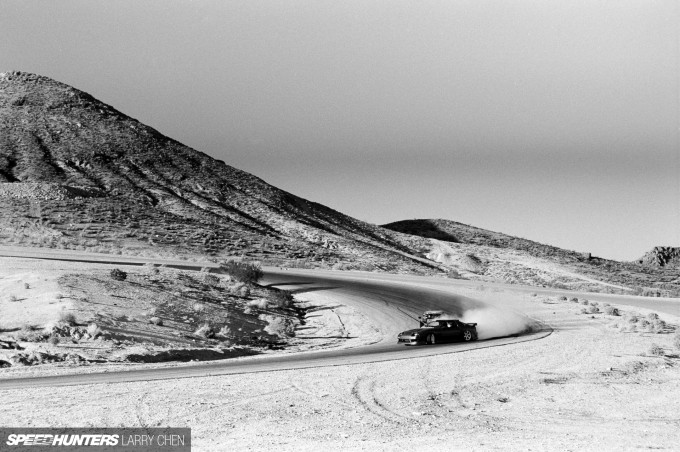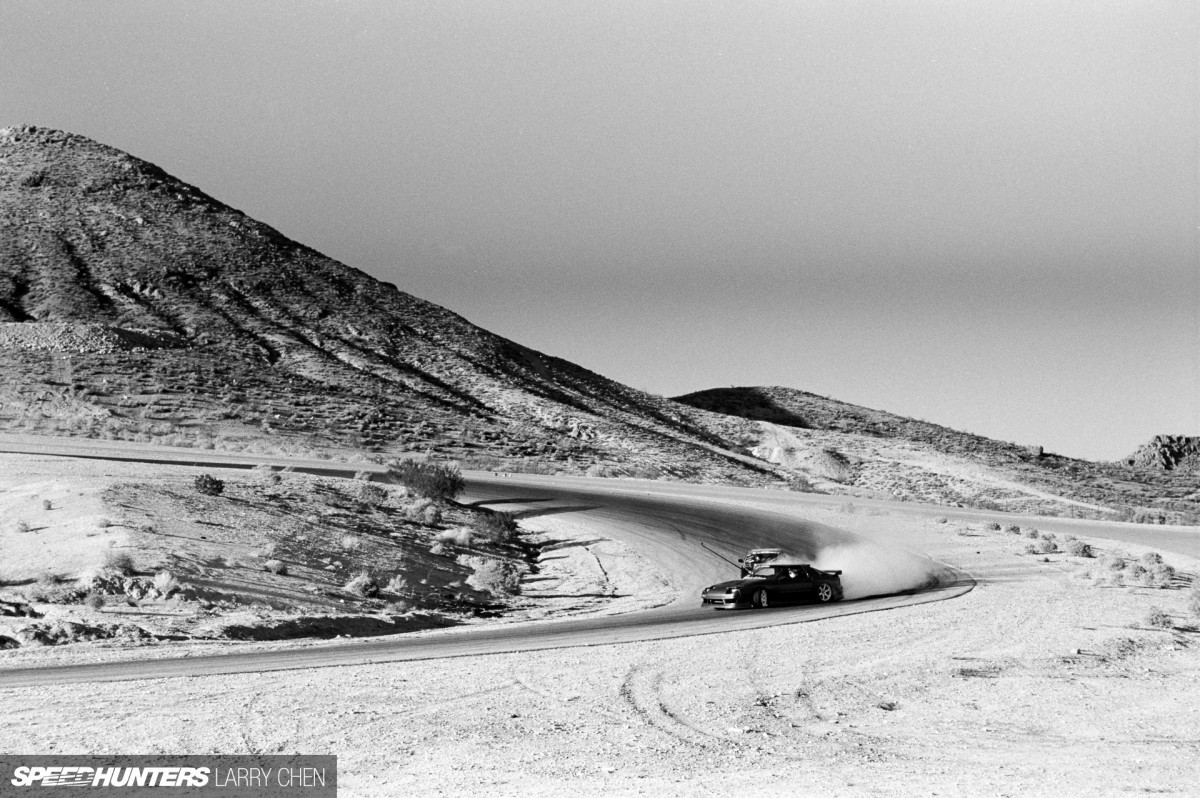 The drivers were separated into two groups. The pro group could pretty much do anything, which includes drifting the front part of the track. This was important as that's pretty much where most people flip their cars.  The second group consisted of drivers who were not ready for crazy five – car trains.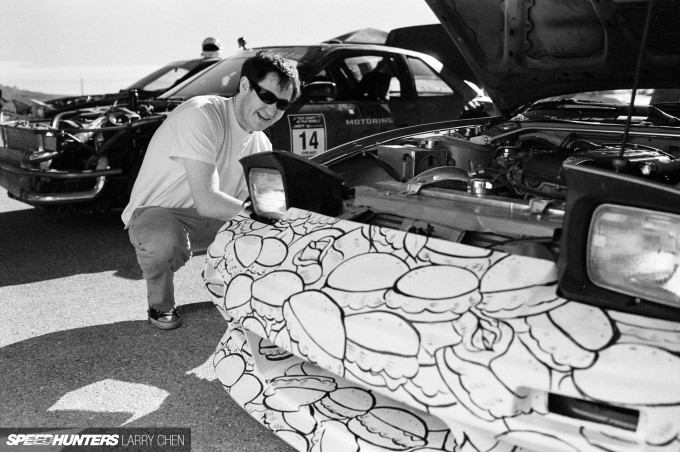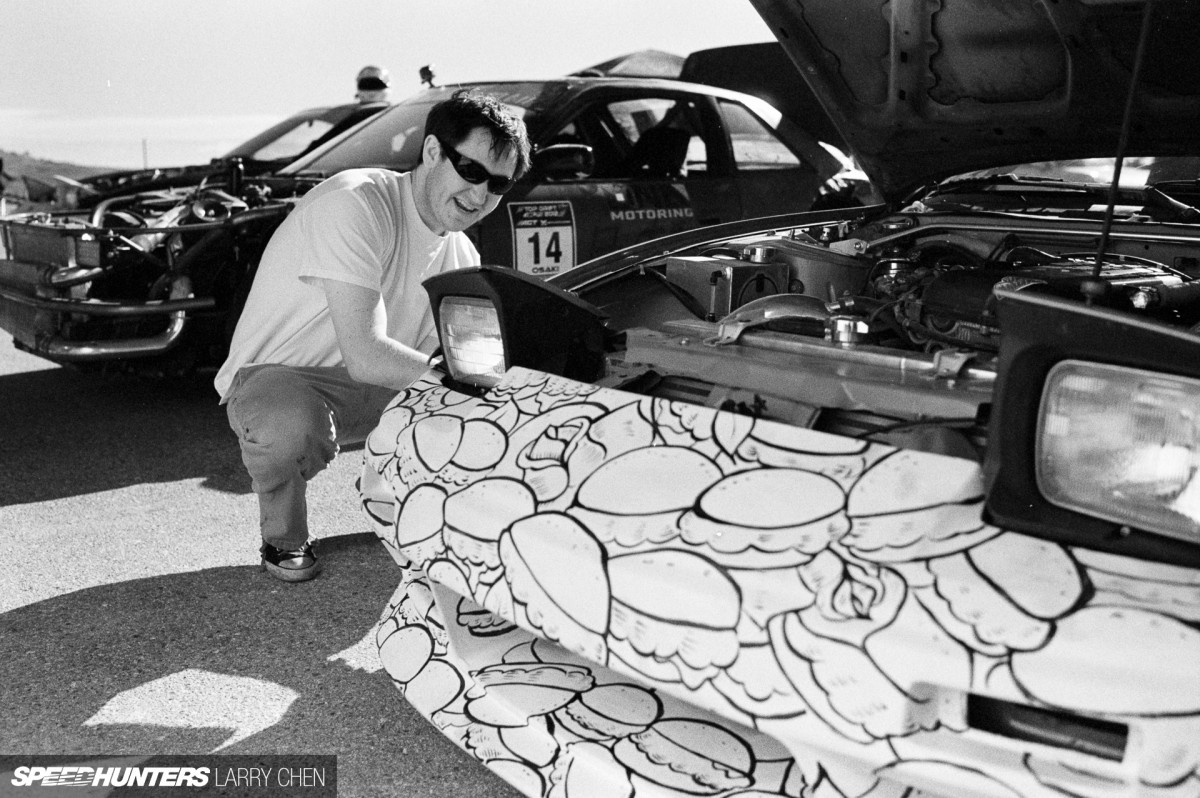 I feel like I've been out of the amateur drift scene for a while since I really pulled back on my drift coverage for Speedhunters – minus all the Formula Drift rounds of course. I guess hamburger bumpers are the new thing?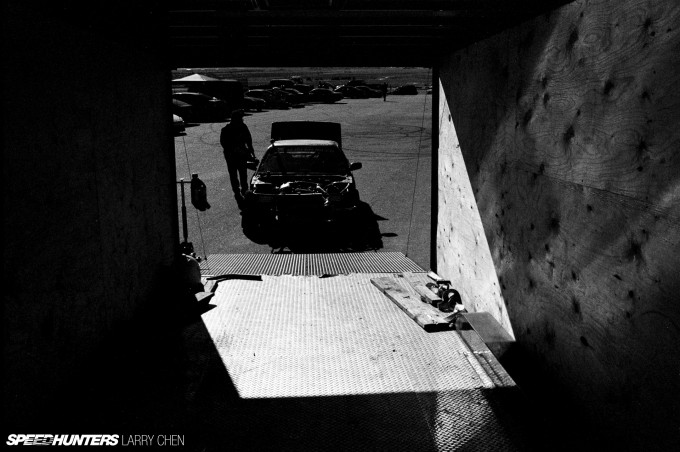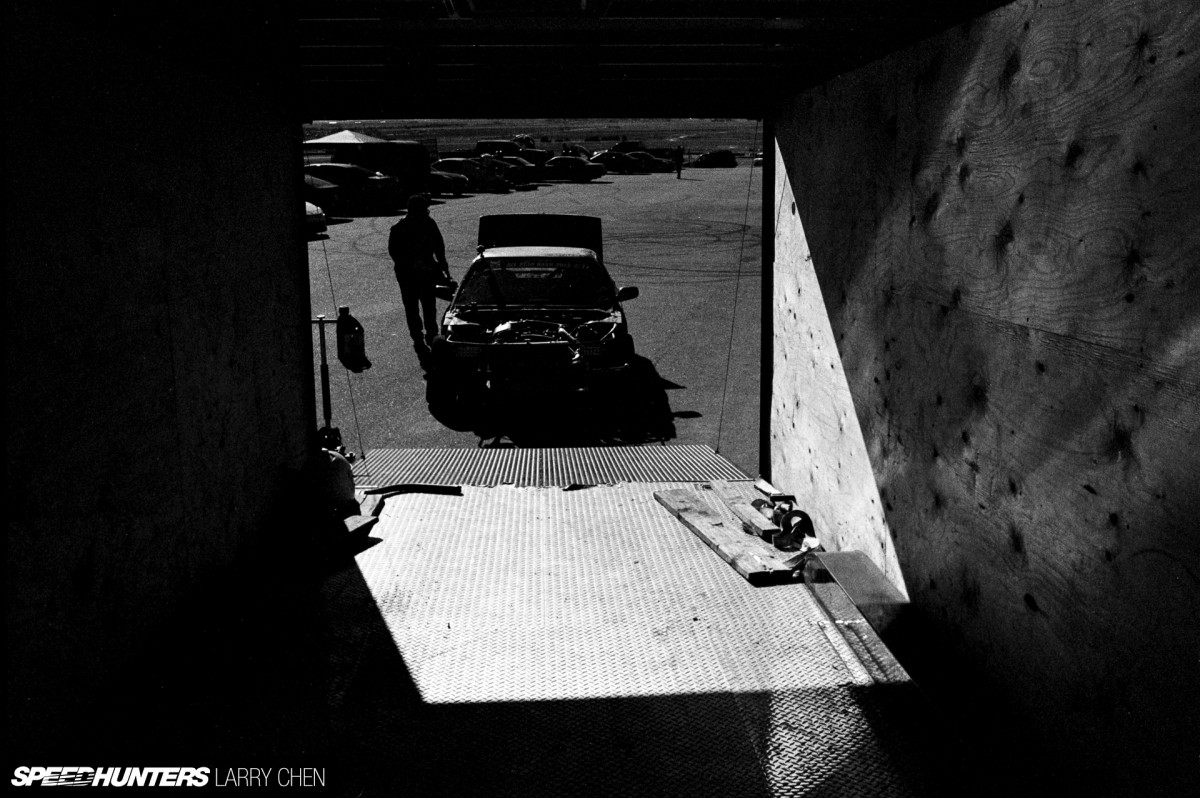 Besides the fast-food-inspired bodywork, everything was pretty much largely the same as I left it.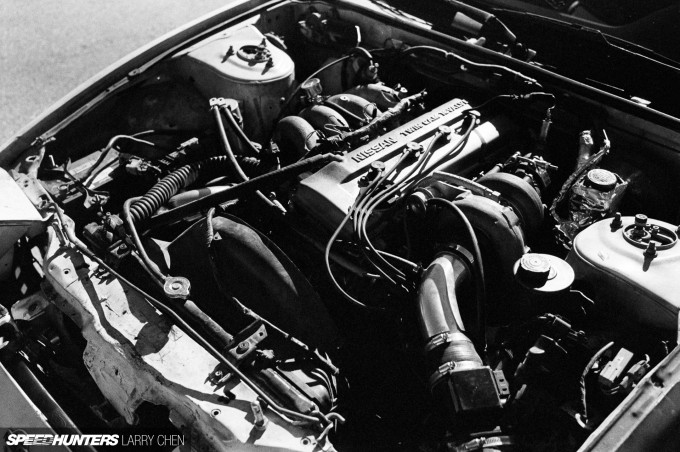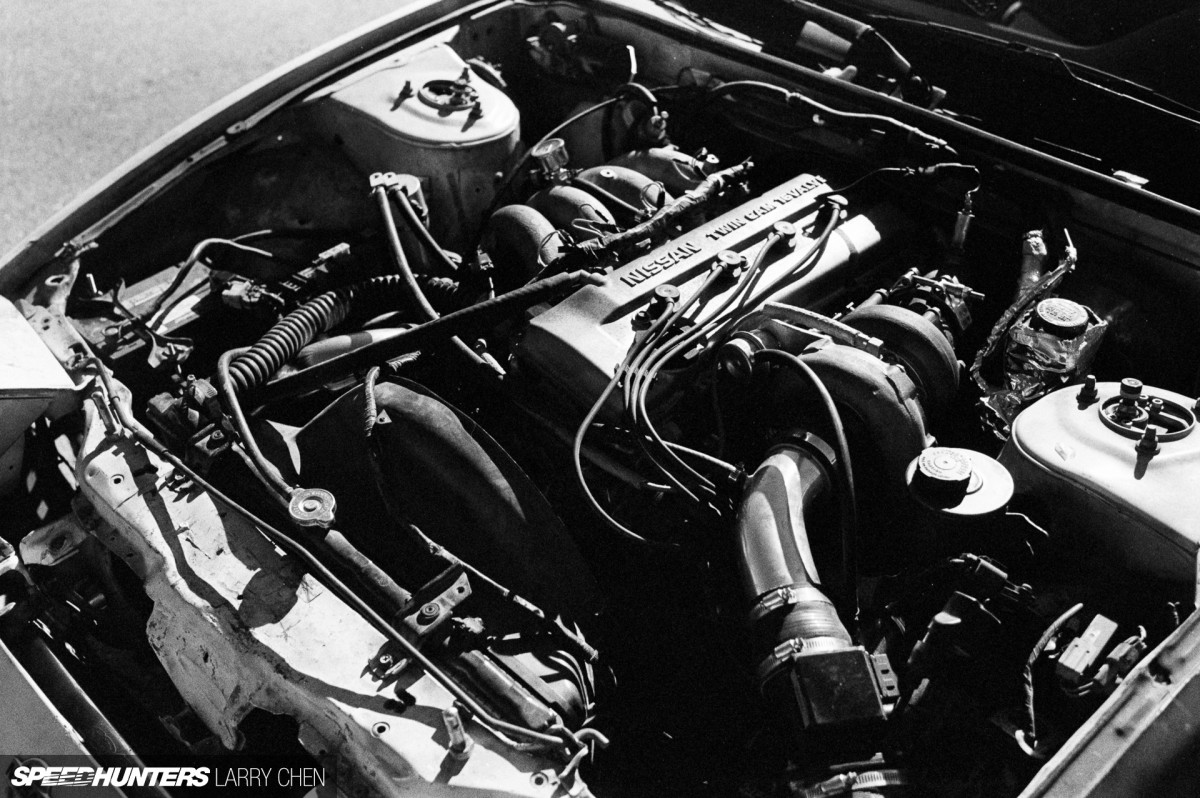 There were still an abundance of KA-T powered S-chassis cars. Such a North American drift staple.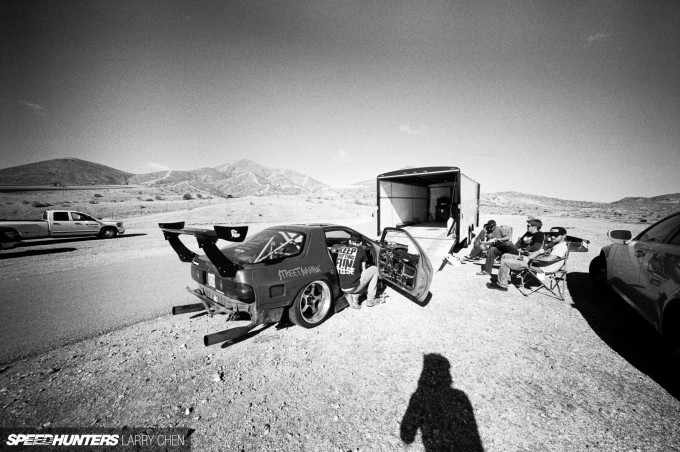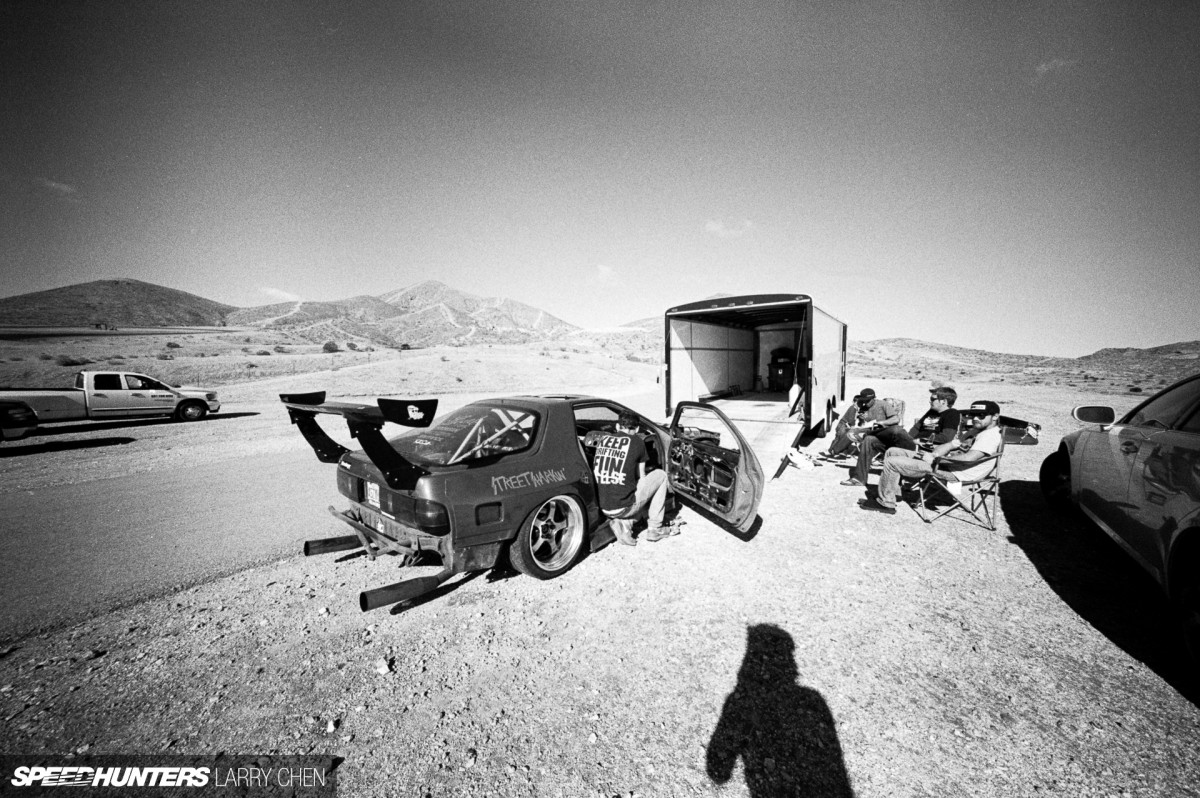 Also in attendance were my friends from Keep Drifting Fun and the Hoonigan crew. Recently I did a feature on Hert's Street Sharkin' RX-7.
I just love how wide the 12mm is on the Leica. It's so wide in fact that I have to use an entirely separate viewfinder just for that lens.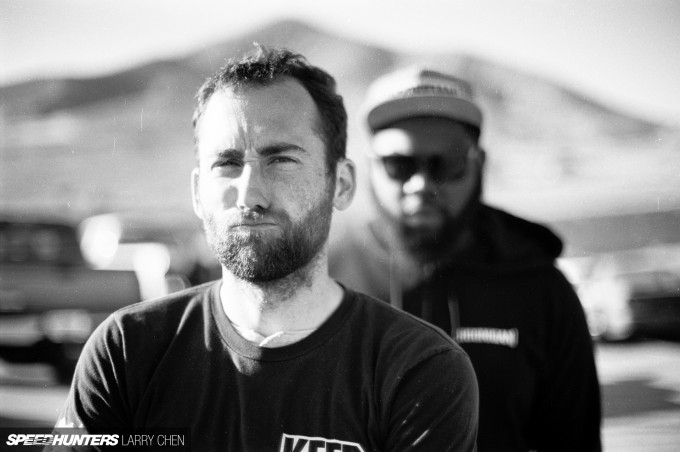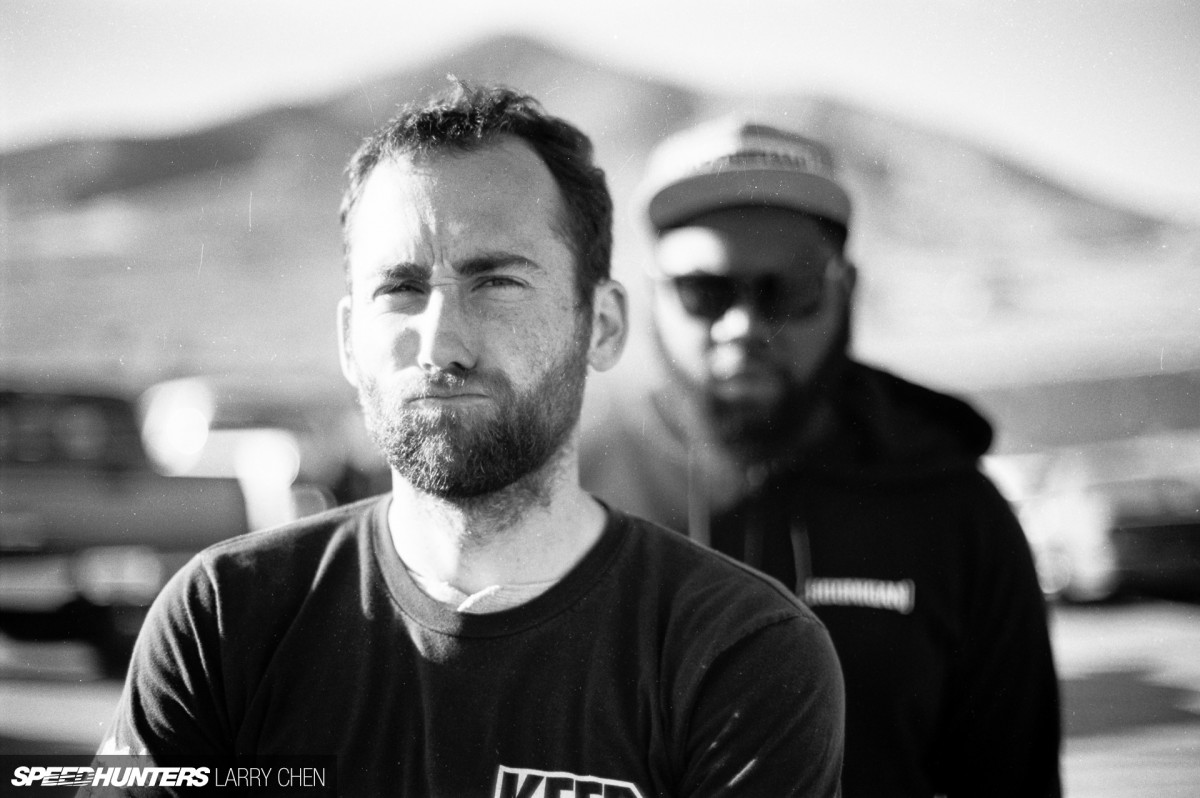 Will Roegge and I recently teamed up for a super awesome video from All Star Bash and this toy drift event.
Generally speaking, I like to remove as much dust and as many scratches as possible. I find that no matter how careful you are in the developing process and handling the film, some will always be present. Sometimes I make a point to remove them but other times, I think it adds to the whole film experience.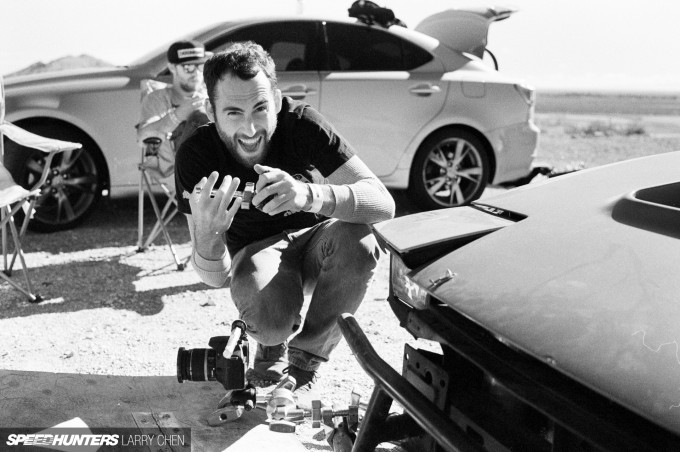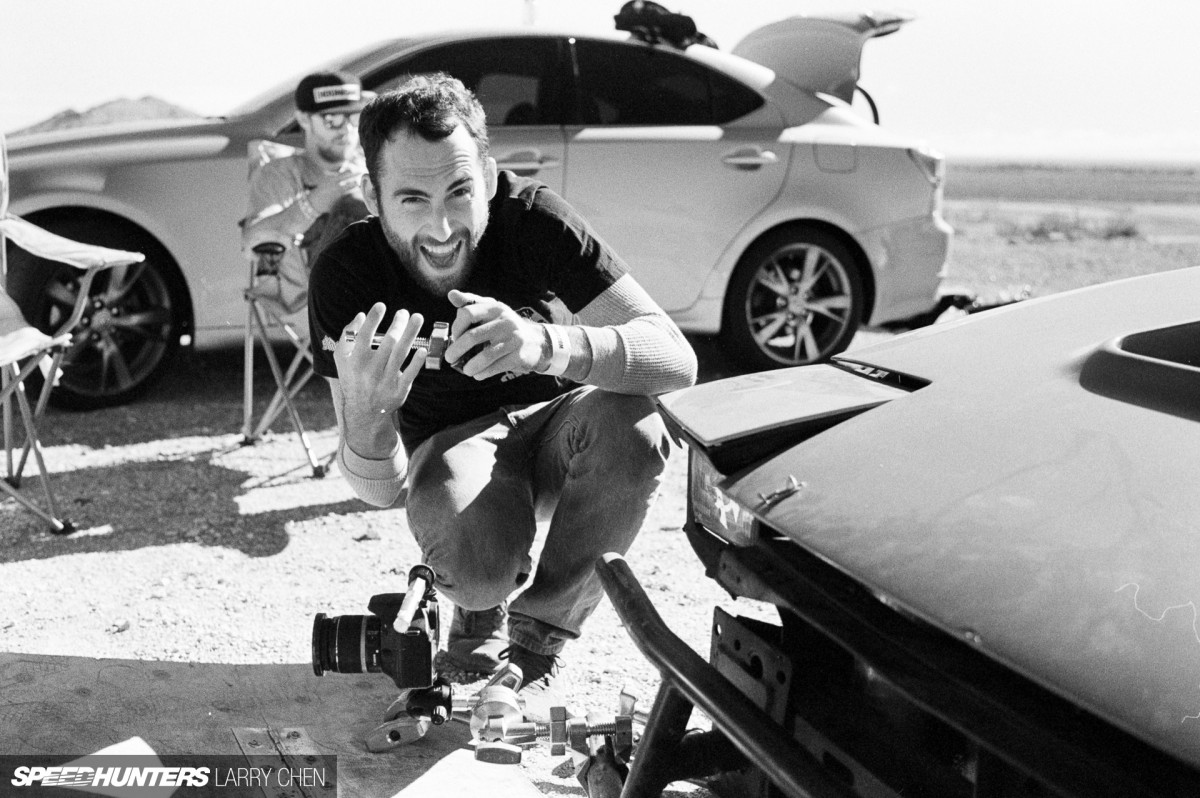 I did all the chase car stuff, while he helped me trigger my remote cameras when the time was right. You can watch the video here.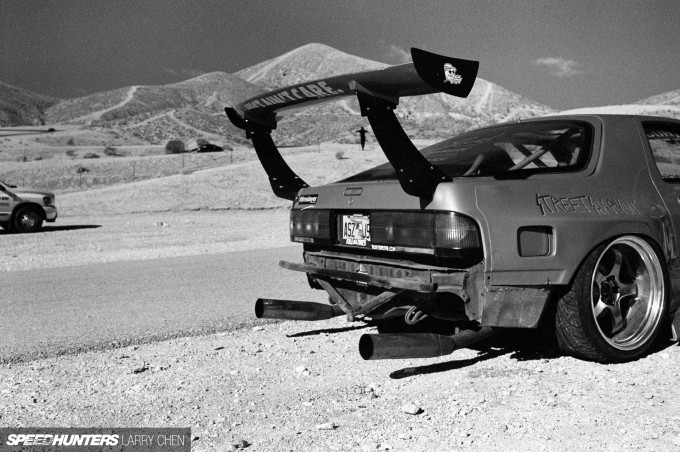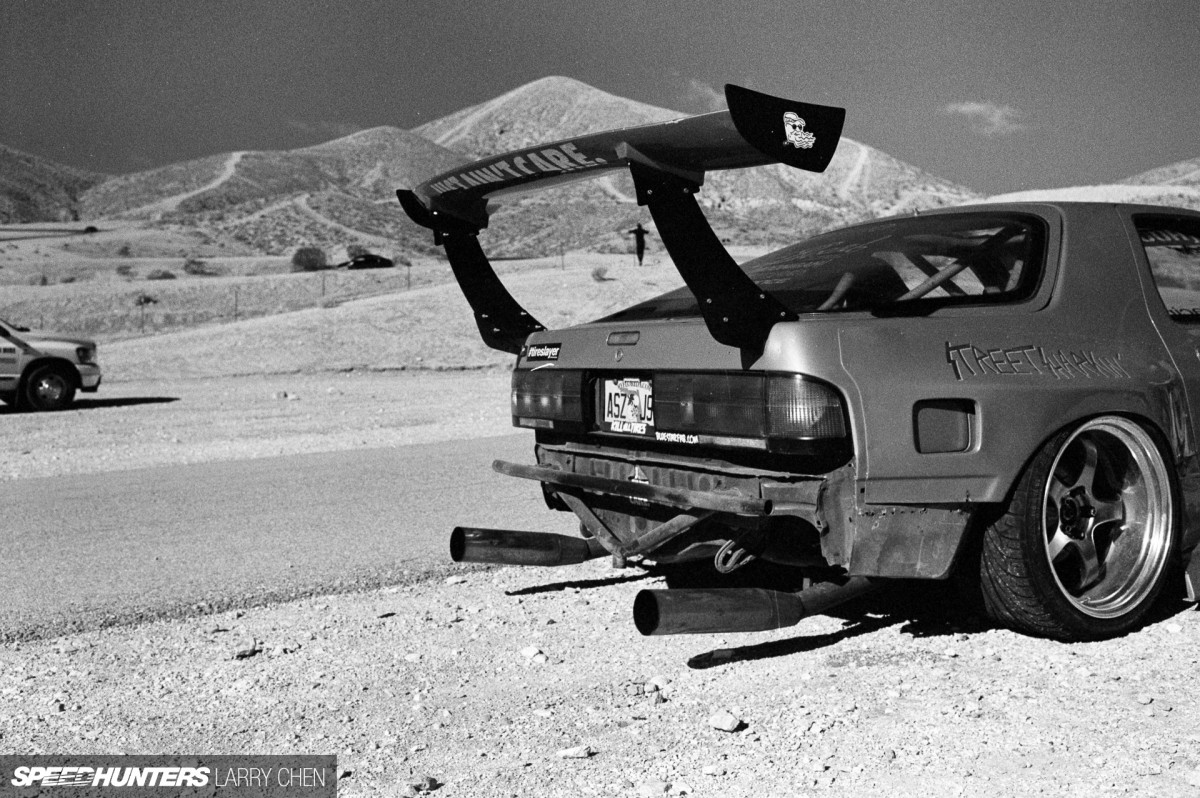 I was really looking forward to shooting the RX-7 in action with my film cameras, but the axle broke during morning warm-up so I was unable to get a single shot. Hert is currently gathering parts up to transform the RX-7 into a fire-breathing twin turbo monster.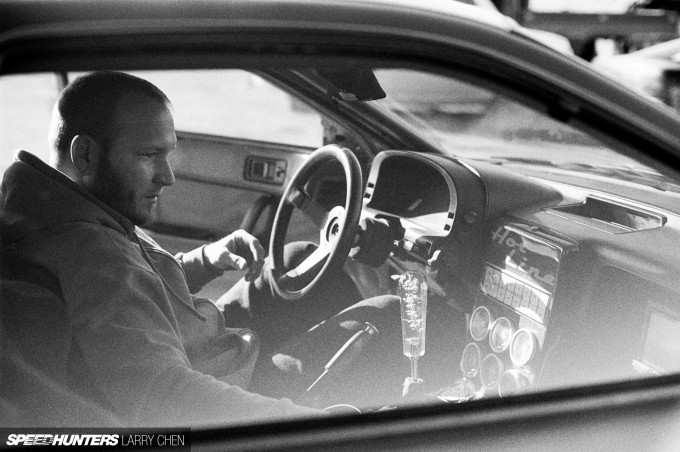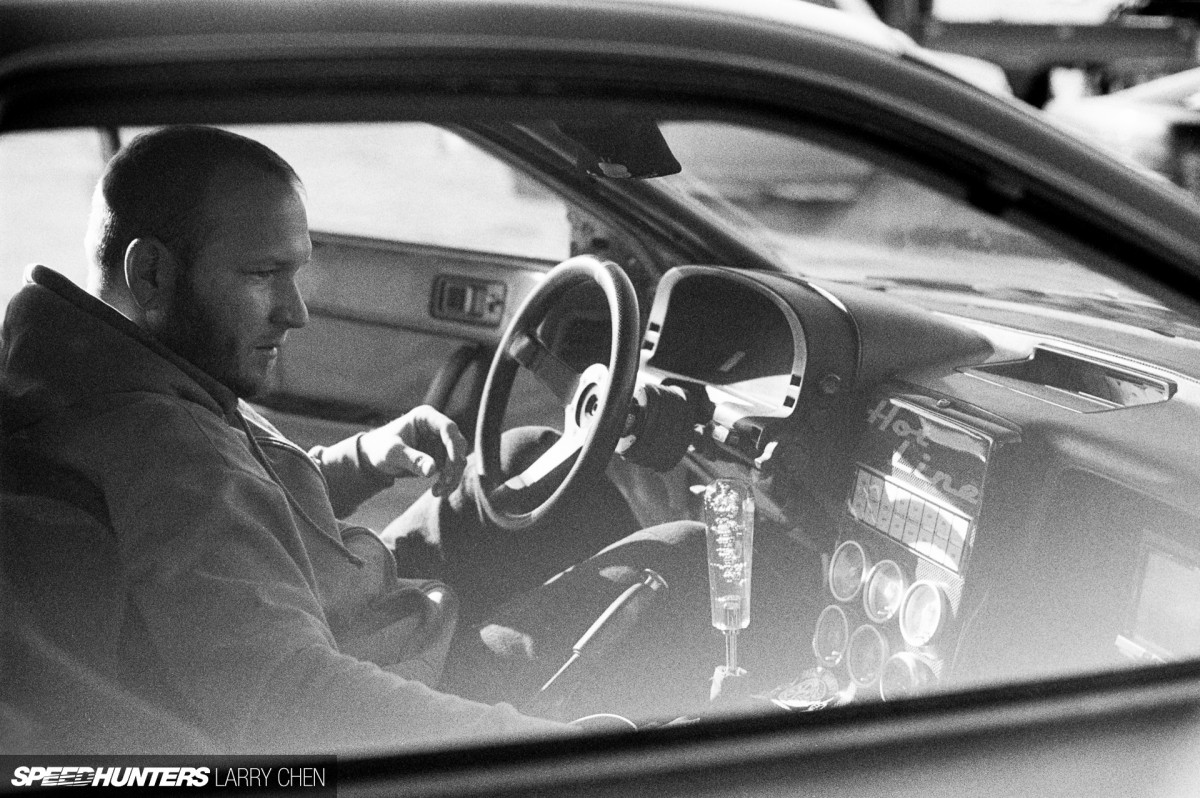 Many newer drift fans may not know this but Falken Mustang driver, Justin Pawlak, started off in an FC RX-7. He was one of the original pioneers of this chassis in the North American drift scene. He earned his license in his FC and he even got a podium at Irwindale back in 2008.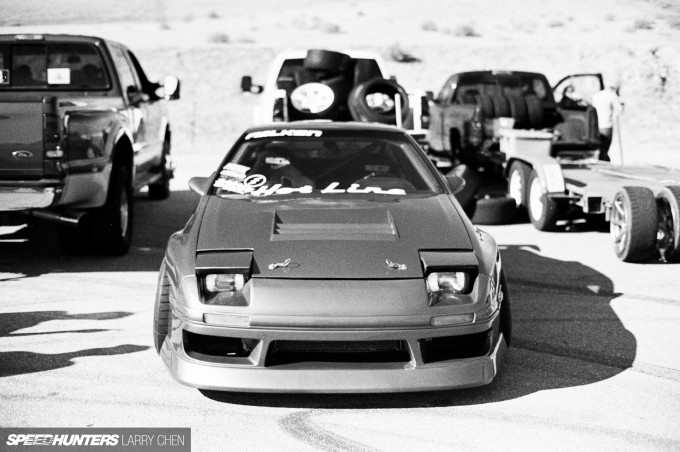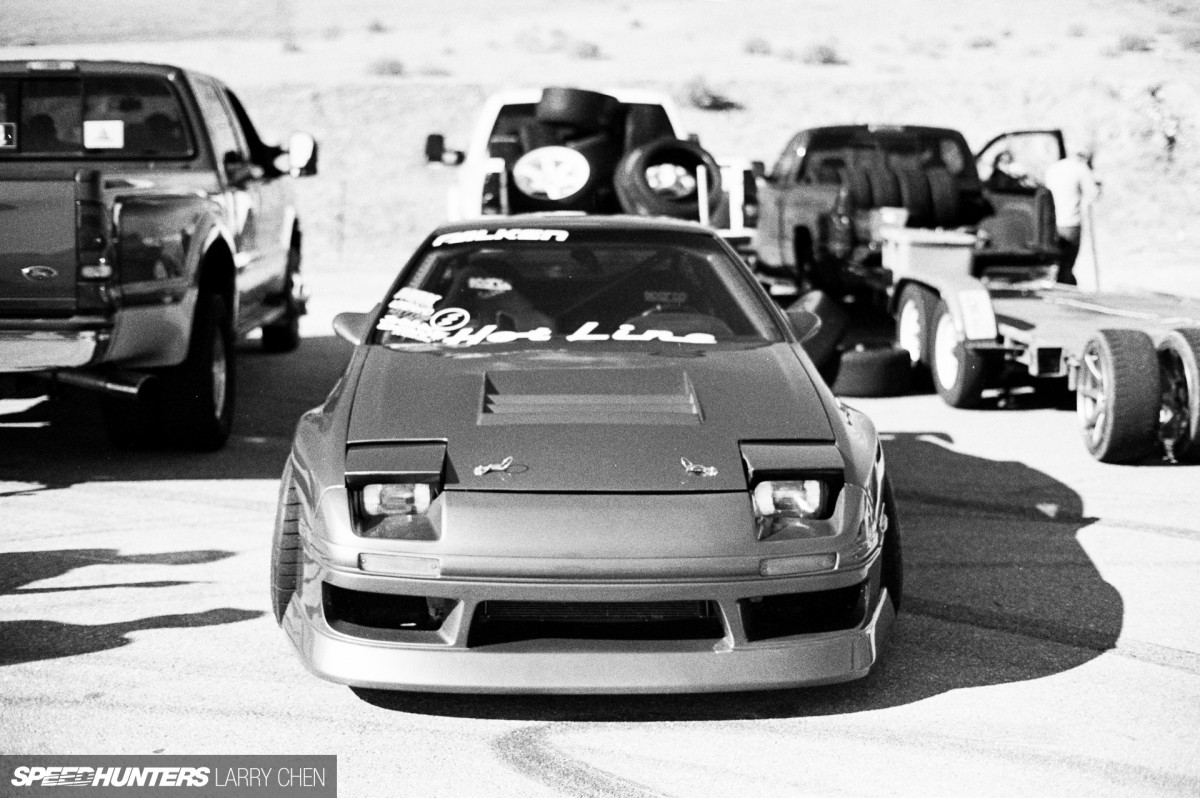 All good things have to come to an end but his car left Justin's life in a bad way. It was stolen right from under him without a trace. It's been a few years and Justin slowly started to put together a FC just like the one he had before, that got him so far in his career.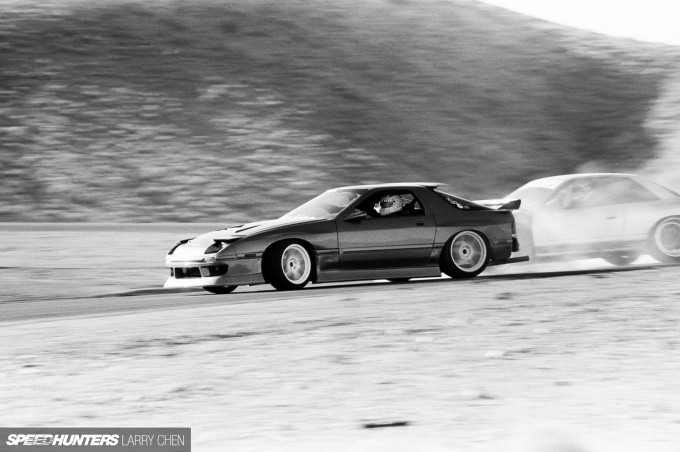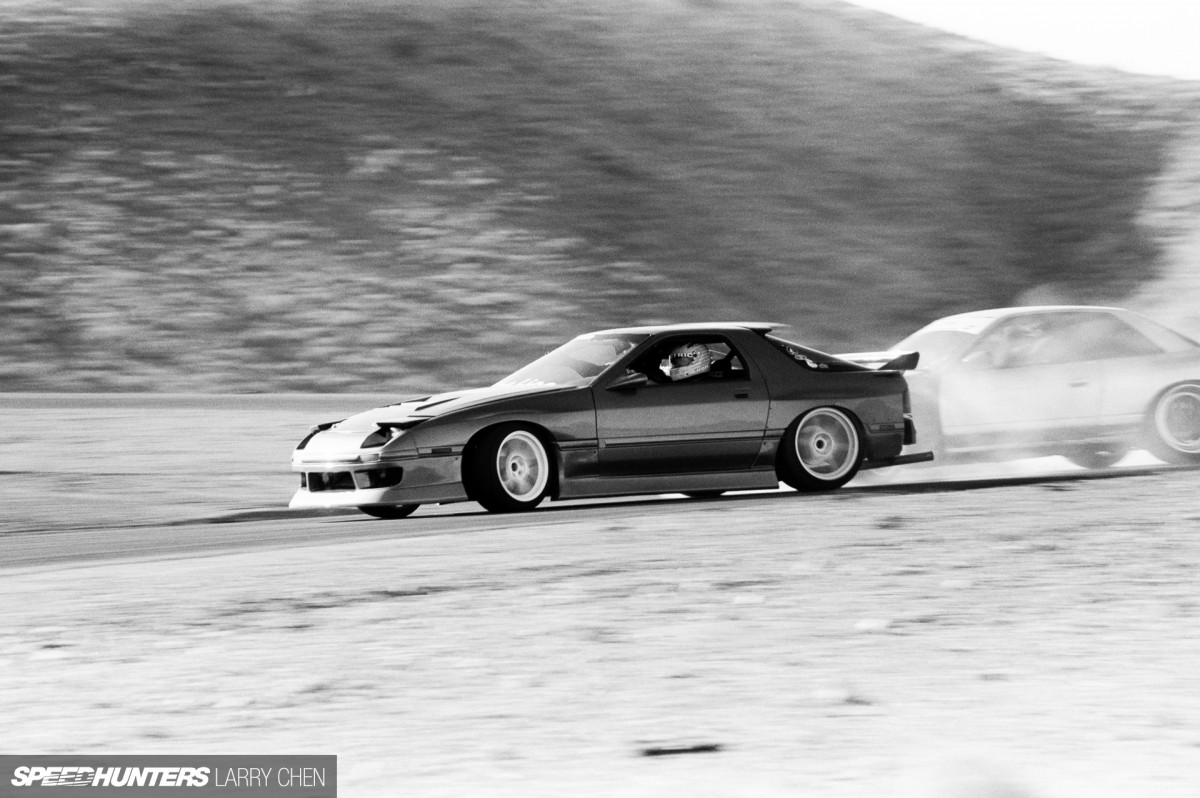 Although this new one is a lot more refined. It has more of an interior and it's registered for the street. It still has a rotary heart pushing out well over 500hp but it has a heater, a radio and even navigation. You can bet I'll be featuring this car and it will be in color! Can you imagine that!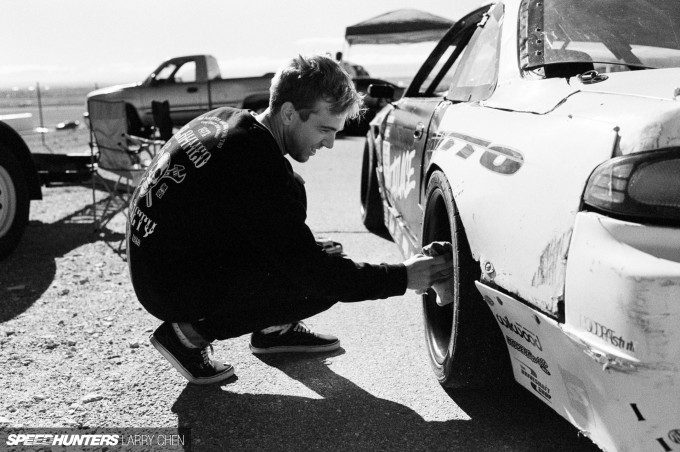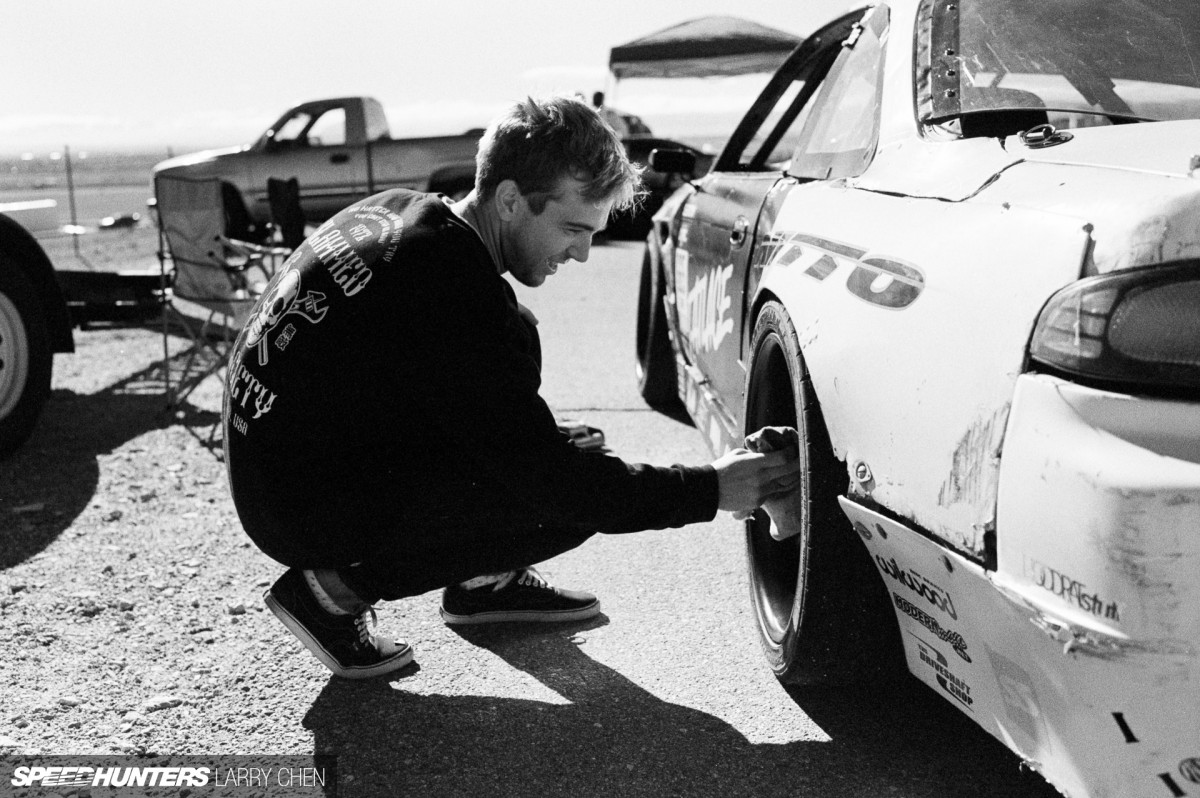 Matt Powers is always down for a drift party, so he trailered his pirate ship over 200 miles for some fun with friends.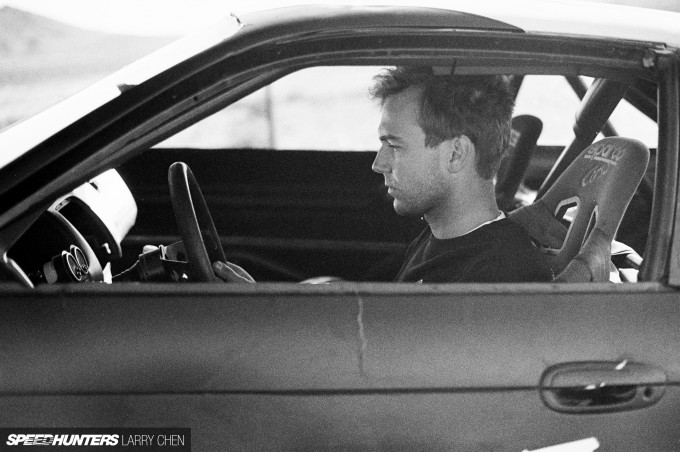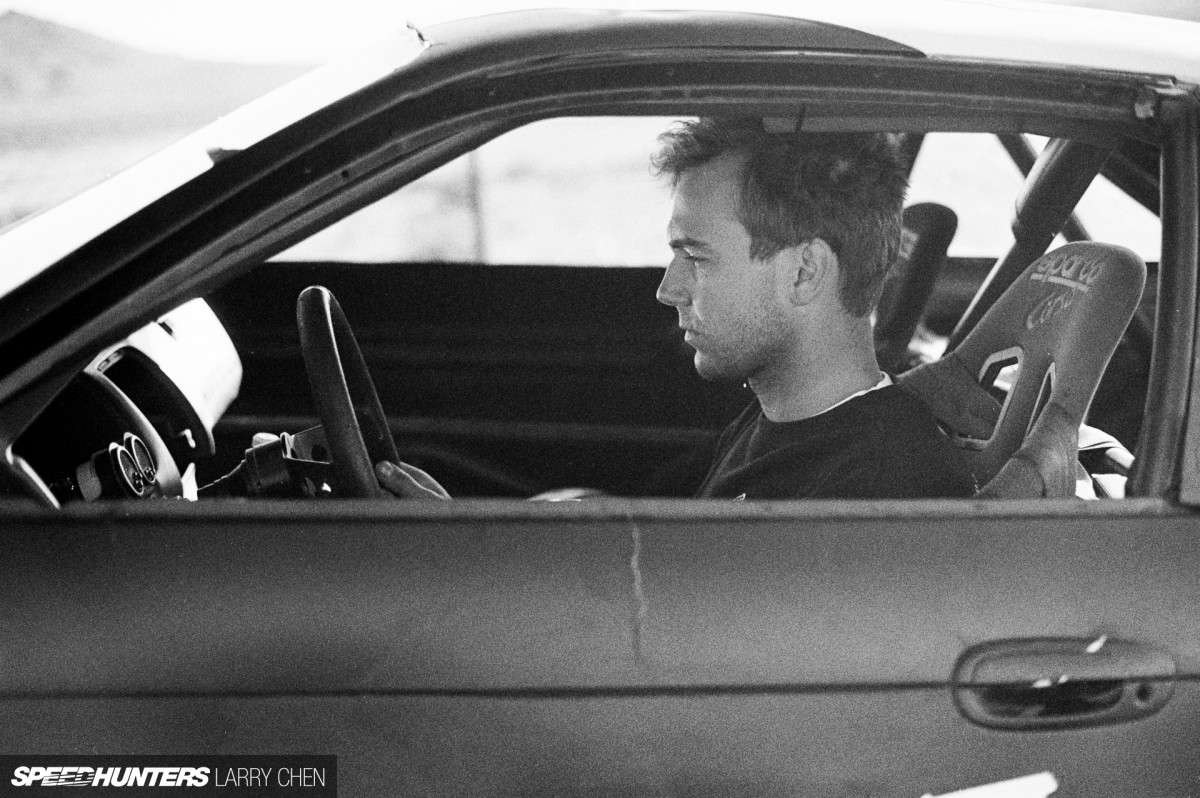 It's always nice to have a secondary car, because it allows pro drivers like Matt to compete and practice at events without putting wear on their main race car.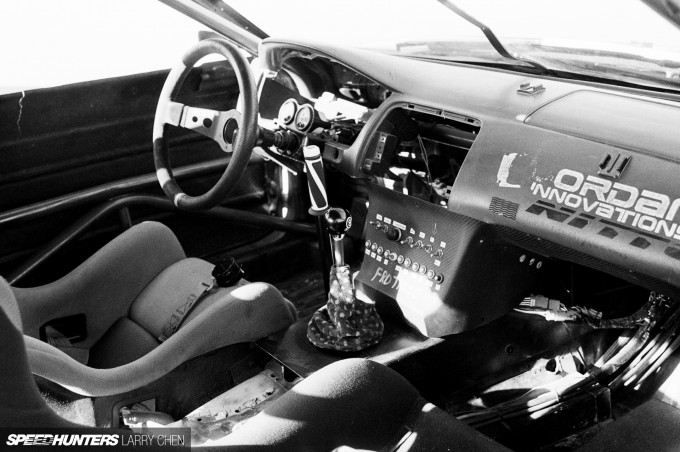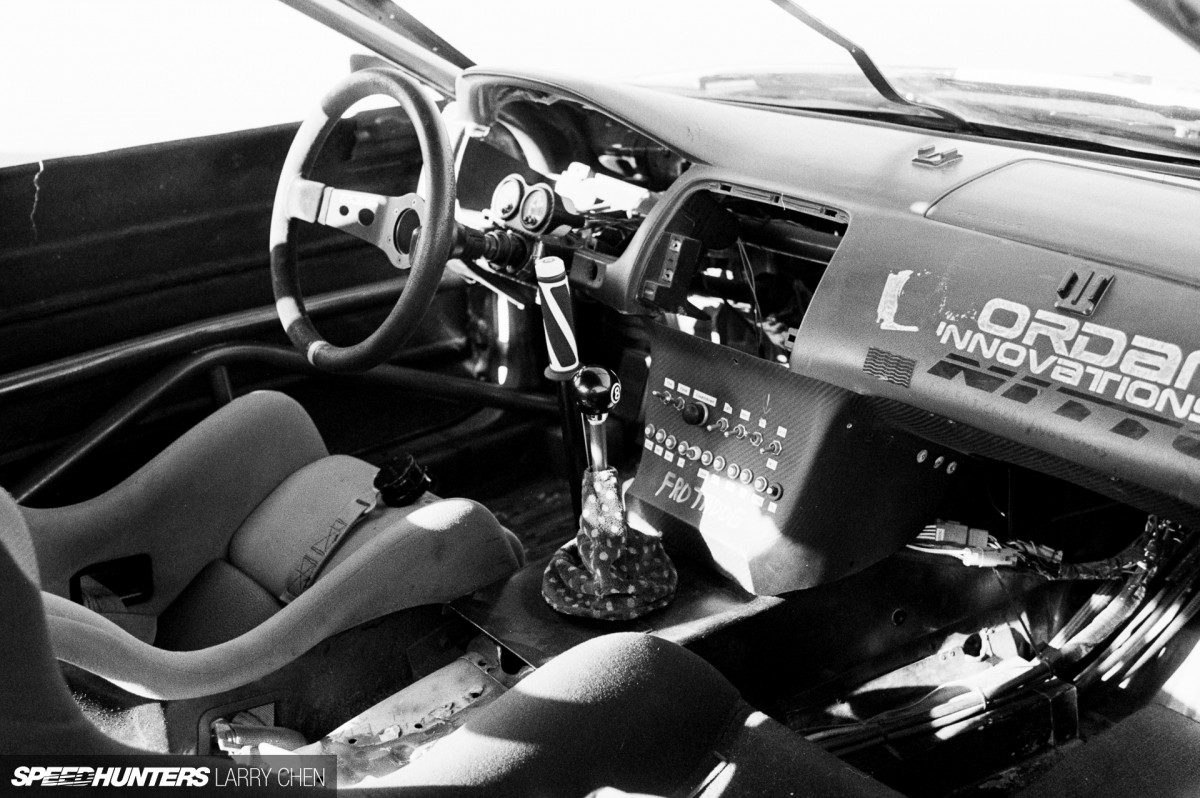 Although this ship has sailed one too many voyages. It's been all over the world and is used and abused. There must be at least five or six layers of paint and vinyl from over the years.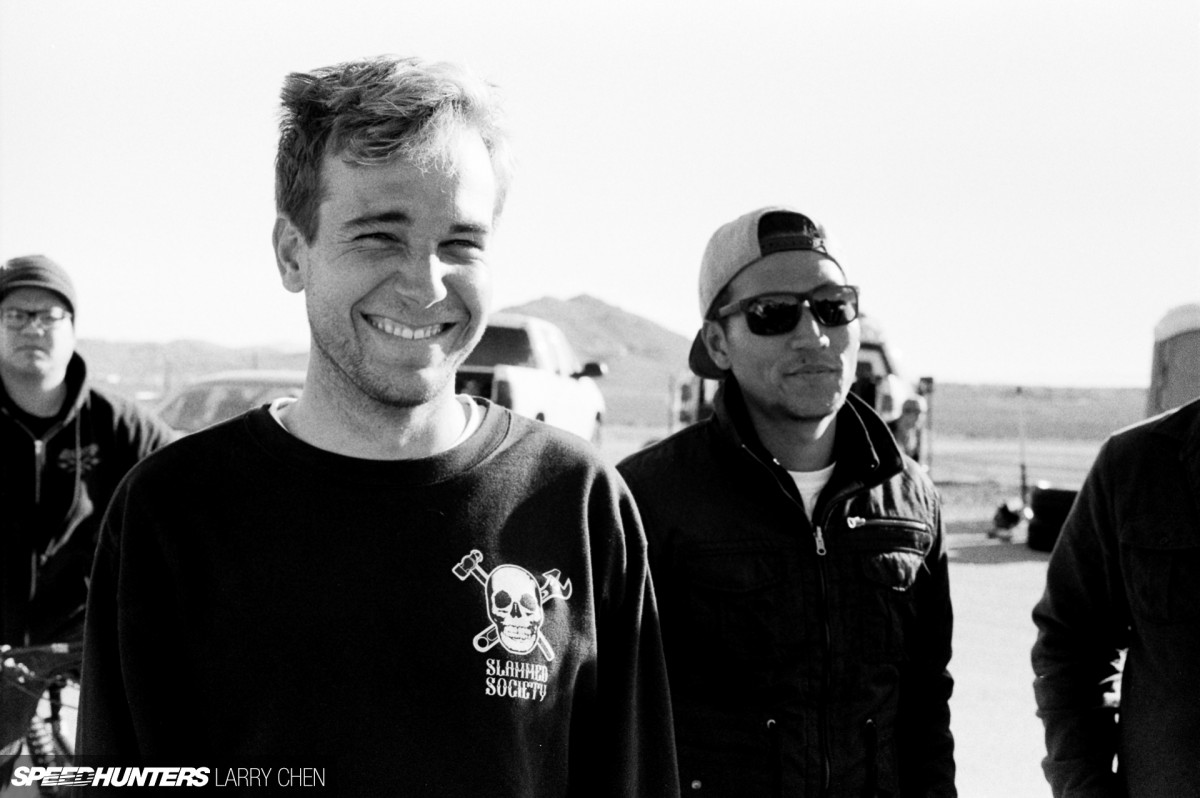 Although it has much sentimental value as it earned Matt a few podiums, and it was actually one of the first pro drift cars that I rode in. Also out for fun was Daijiro Yoshihara.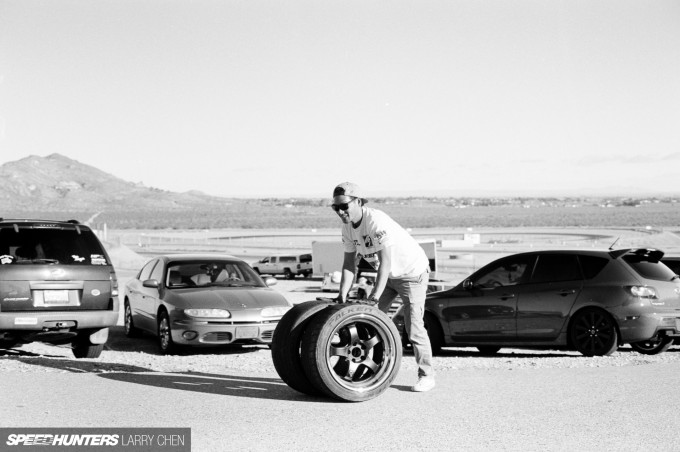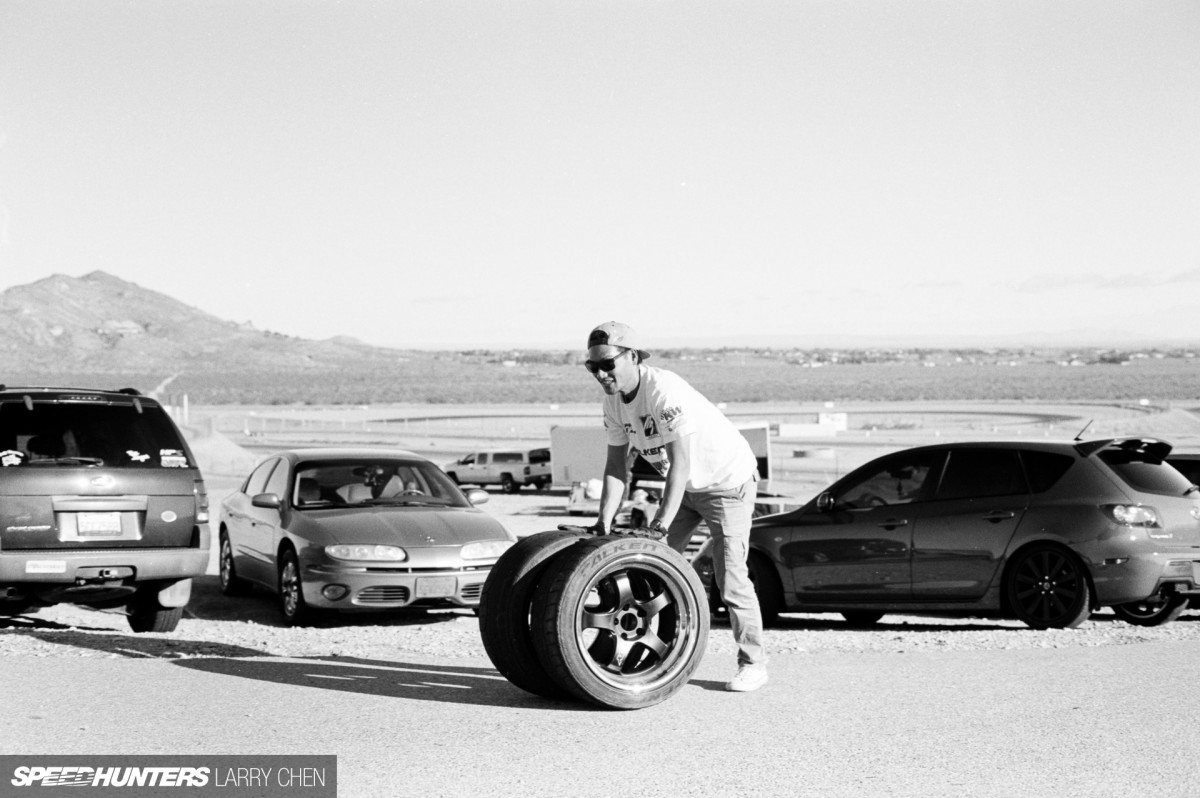 He normally never practices driving during the off season, but as the competition is getting tougher, he finds that it helps to practice a bit every now and then. It's been a while since he had to change his own tires, but every one of the pro drivers have been there at one point or another.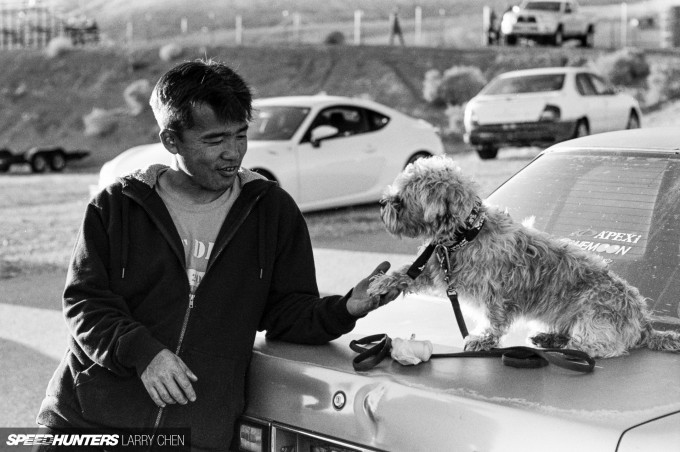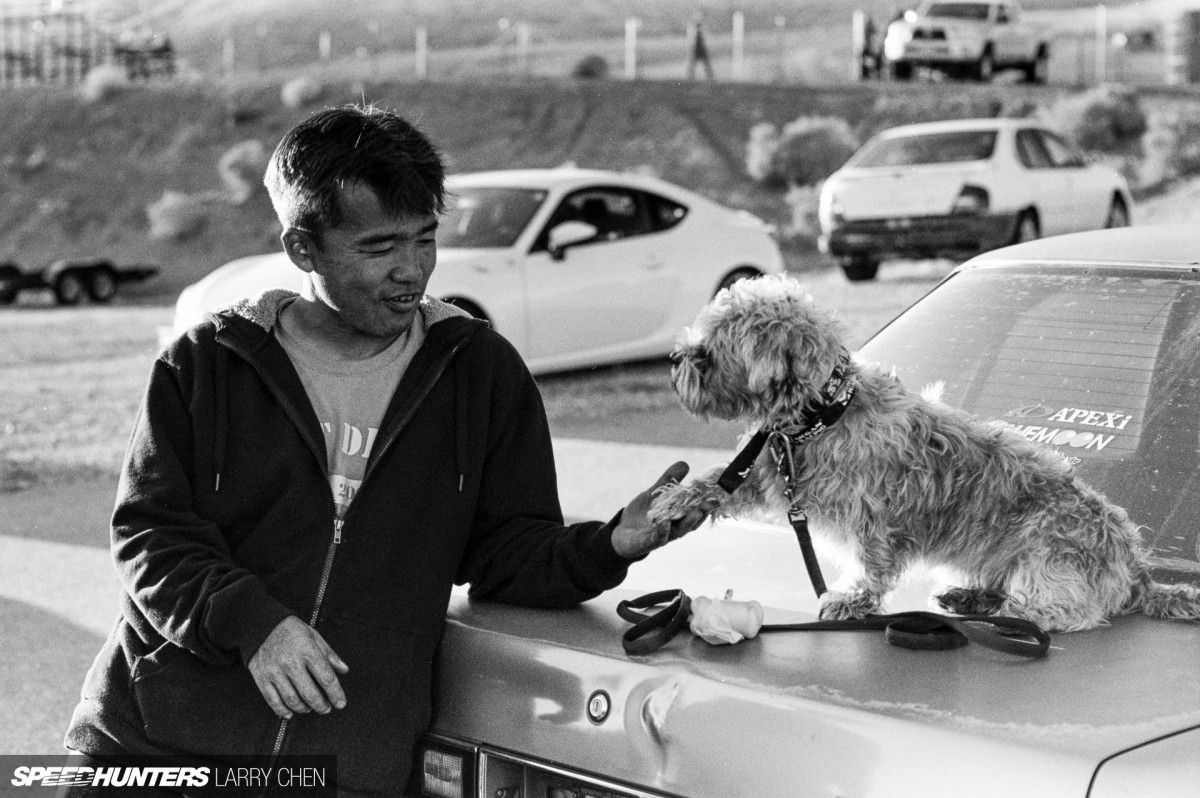 Dai was not the only Japanese American drifter to come out and play. Taka Aono also showed up and this time he was not judging.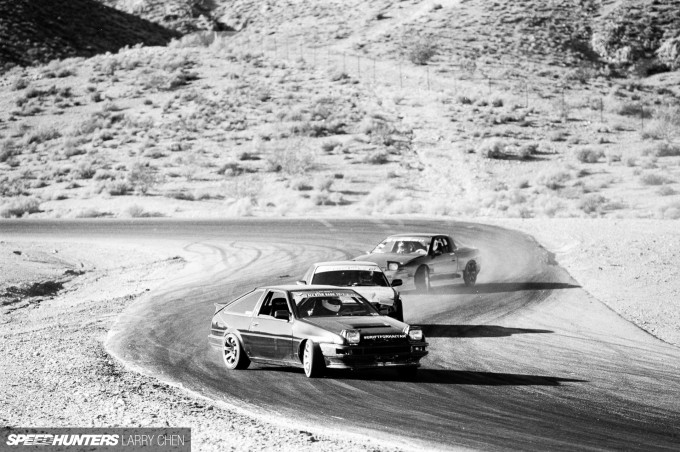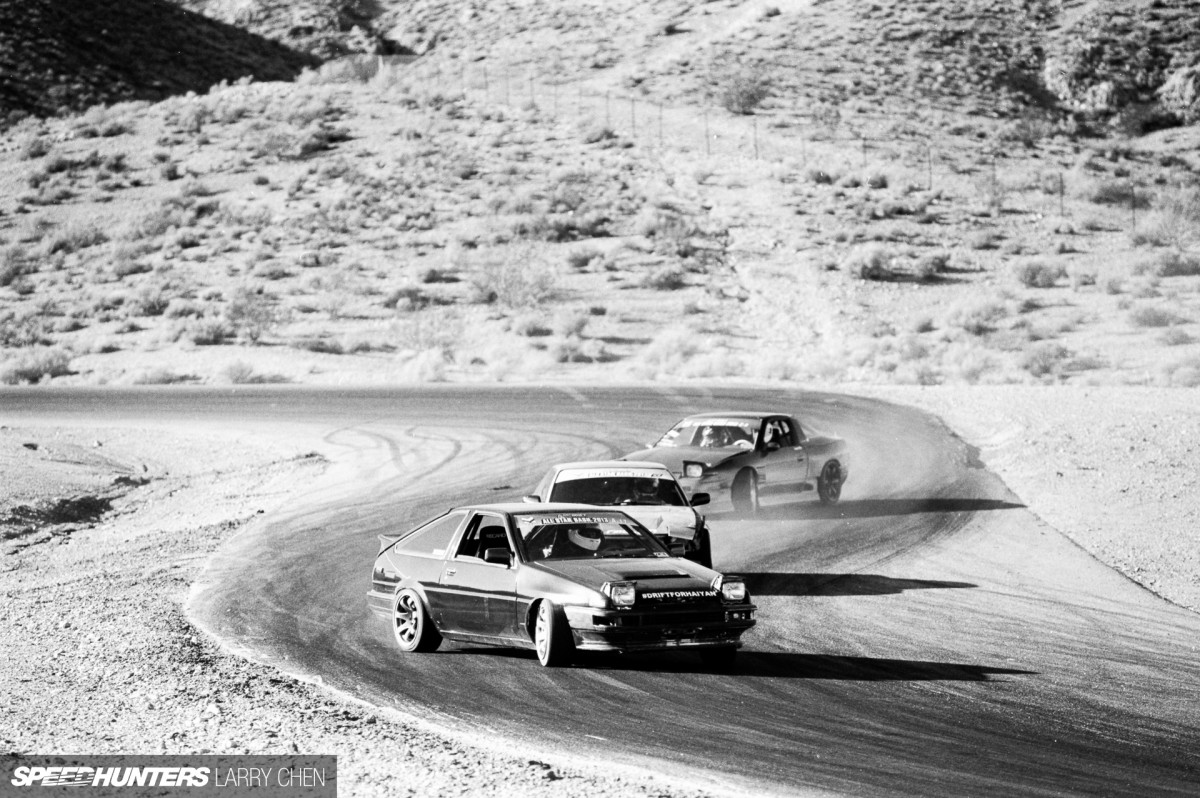 Taka has been judging drifting for Just Drift for almost ten years now. This guy even quit his day job as a chiropractor so that he can teaching drifting full-time now.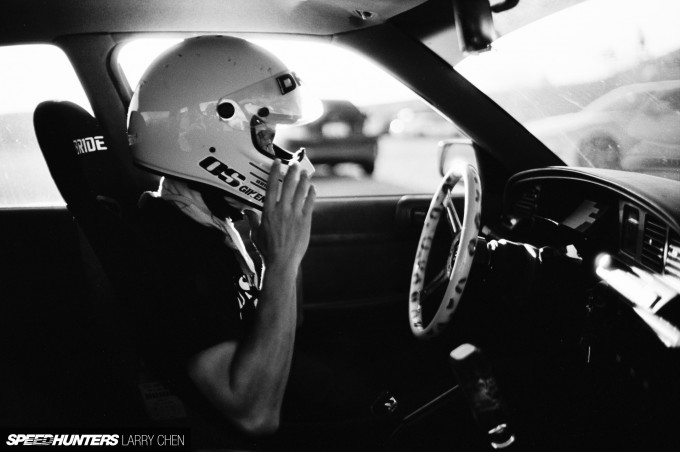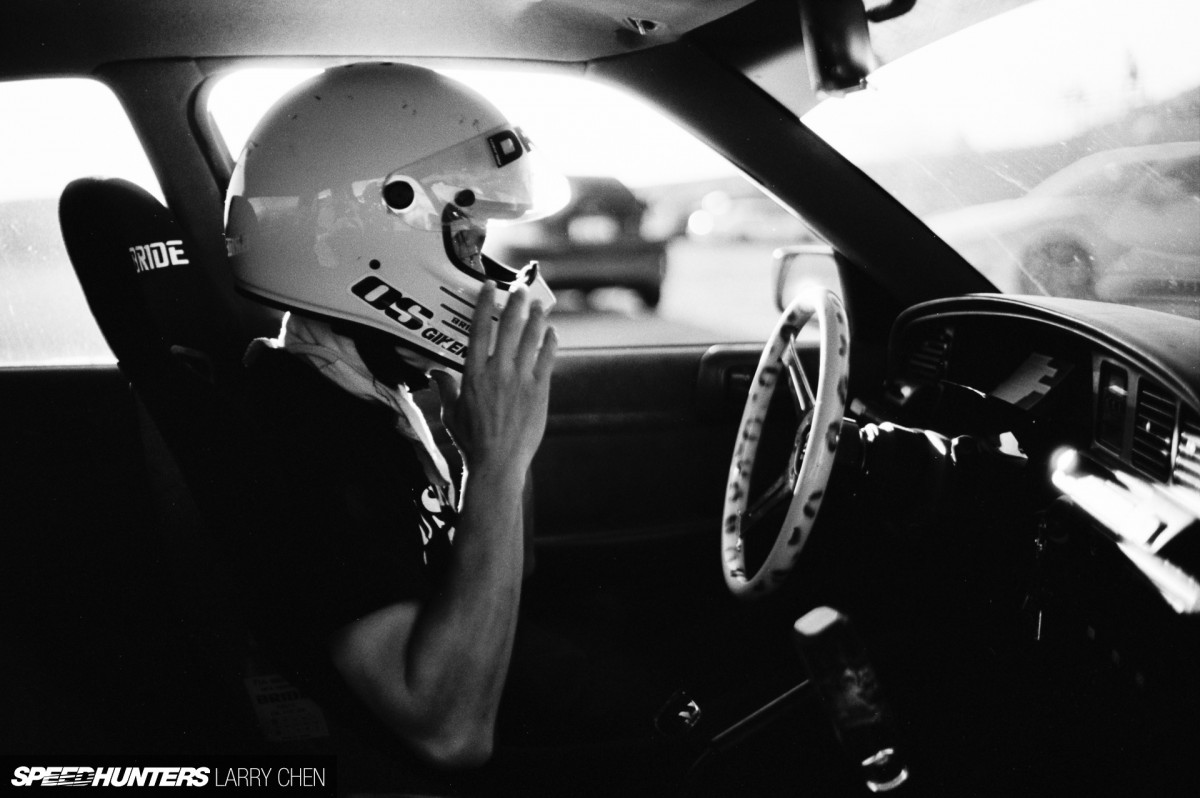 Taka's friend and former FD driver, Hiro Sumida, brought out his Toyota Cressida to sharpen his skills a bit.
On board fun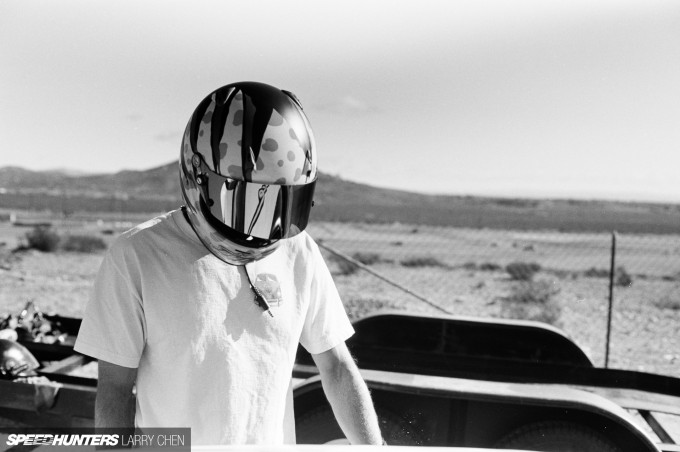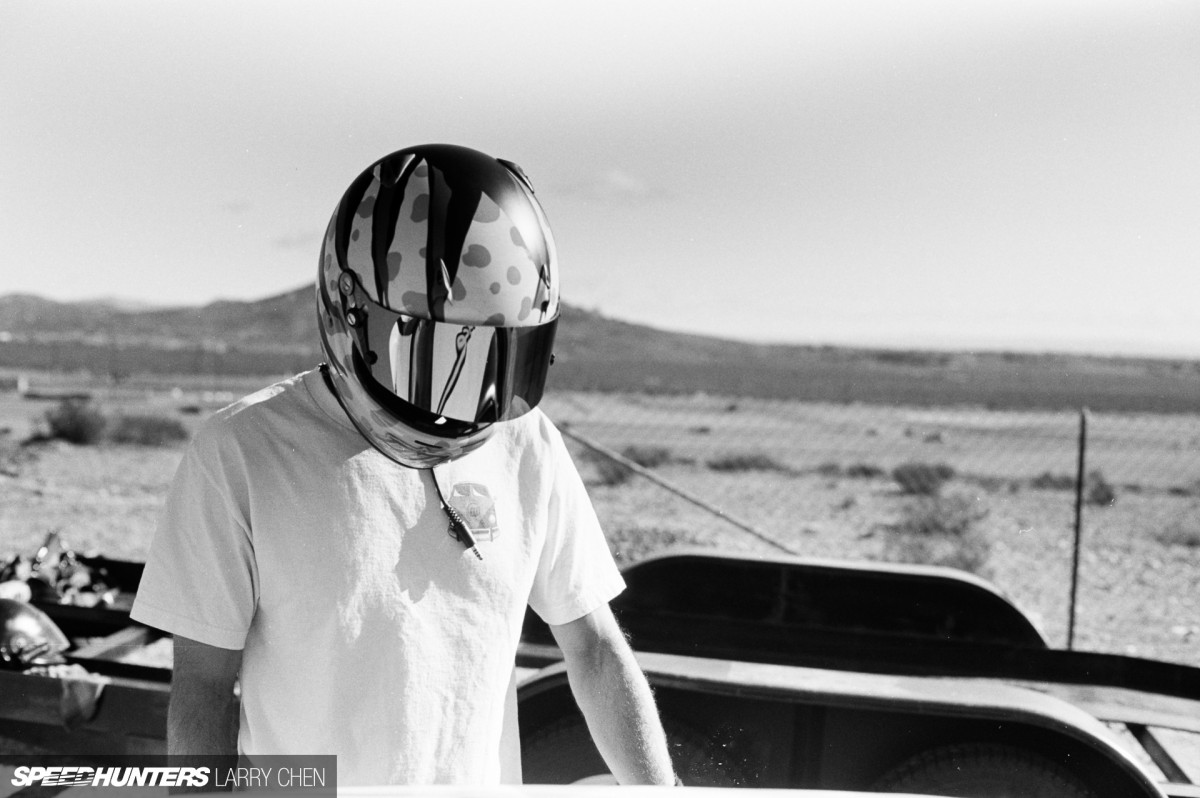 I wanted to get a good variety of shots and I am always a sucker for onboard shots, but it would be difficult to mount my Leica on a car and trigger it properly. Not to mention the risk of it falling off.  So I asked Matt to take me around for a few laps.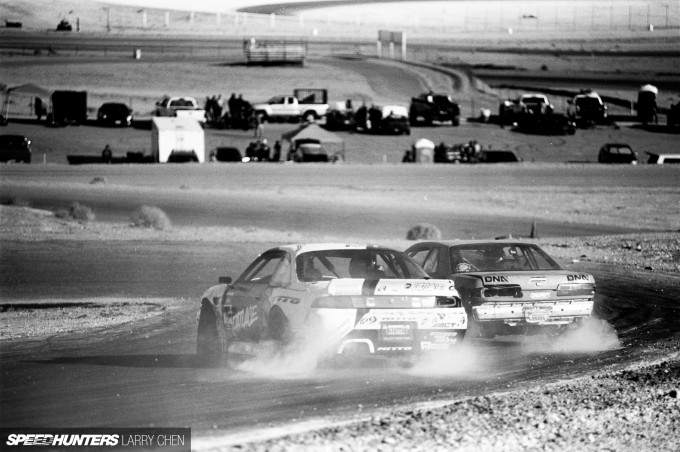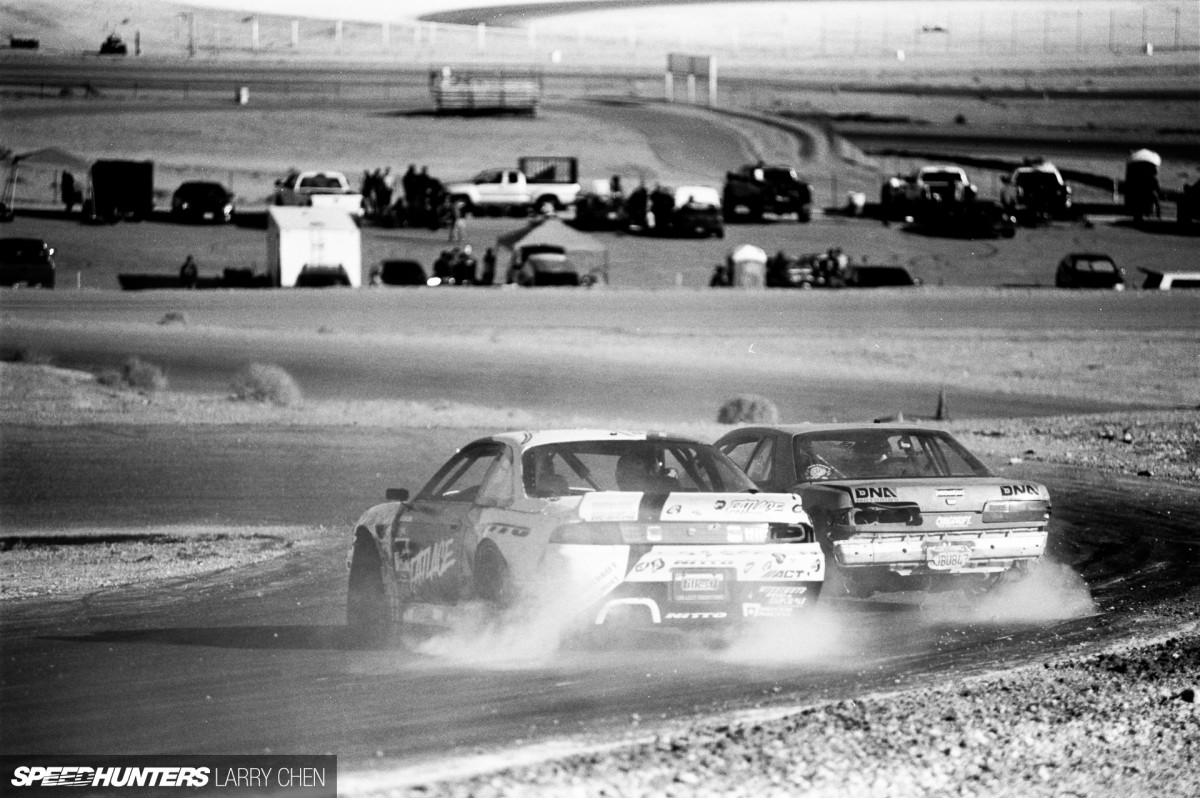 We needed a fast car for us to chase because Matt's car likes to drift at higher speeds, but we also needed a crack driver who could keep up and chase us.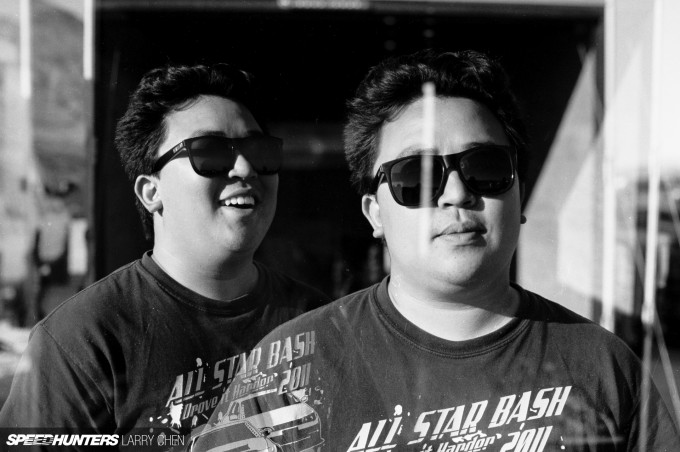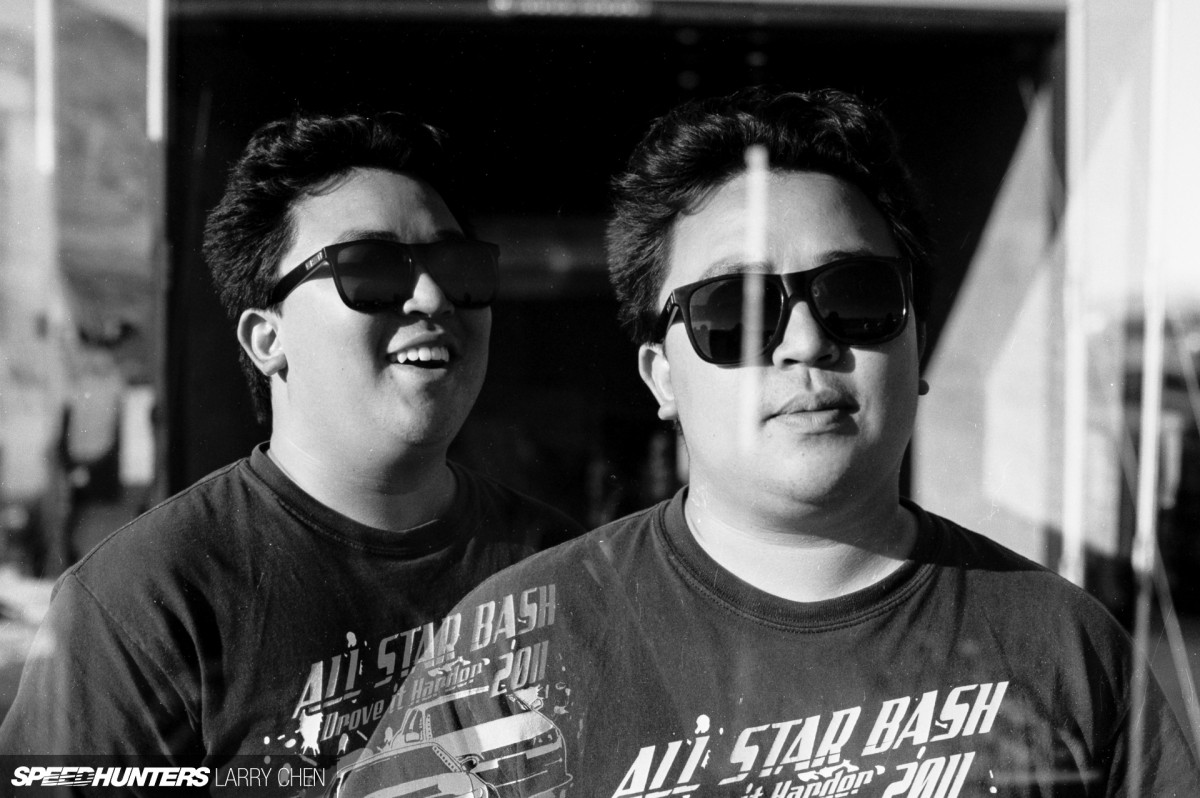 Enter Karl Osaki, also known as Wasabi. I had to sneak in one double exposure shot and my friend Karl was the perfect subject.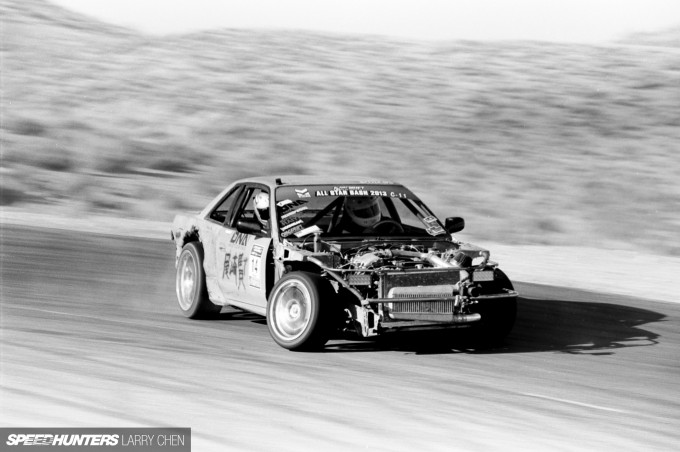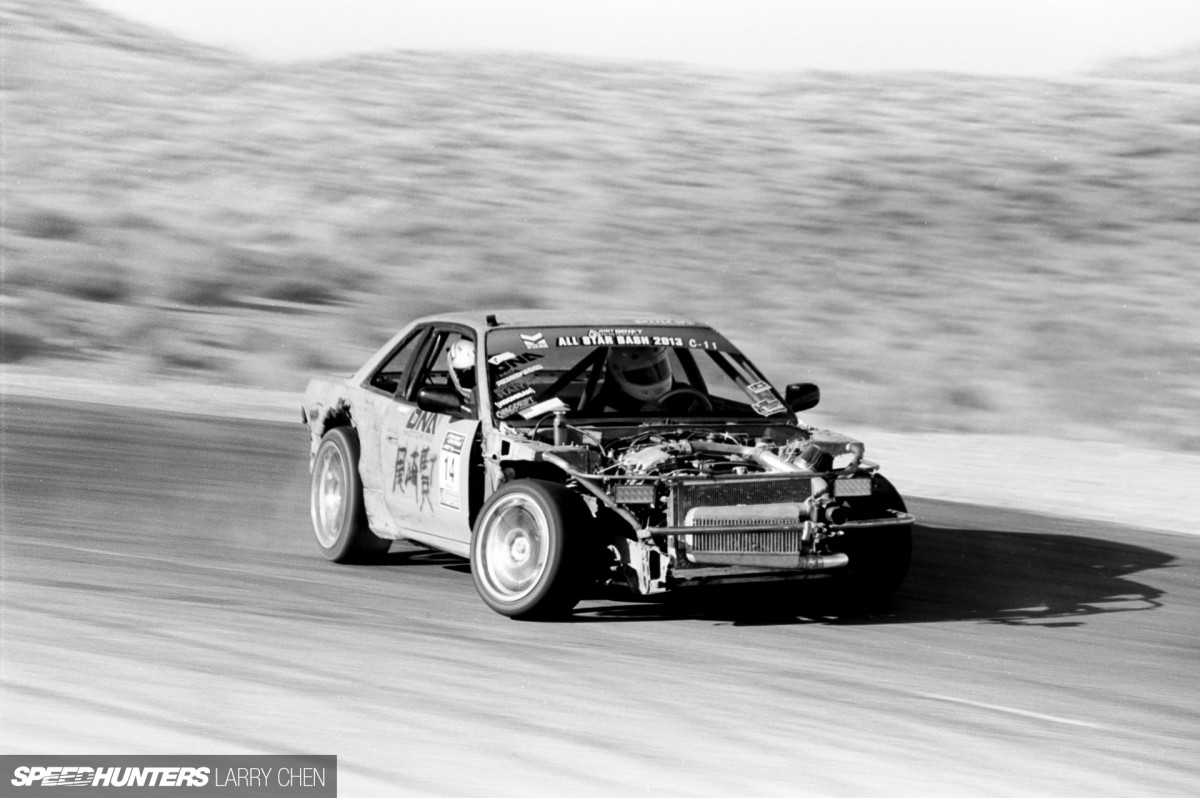 He brought out his missile car and he doesn't mind if it gets a little damaged from some door-to-door drifting, so he was the perfect partner. The car's a little rough around the edges but I assure you that it gets the job done.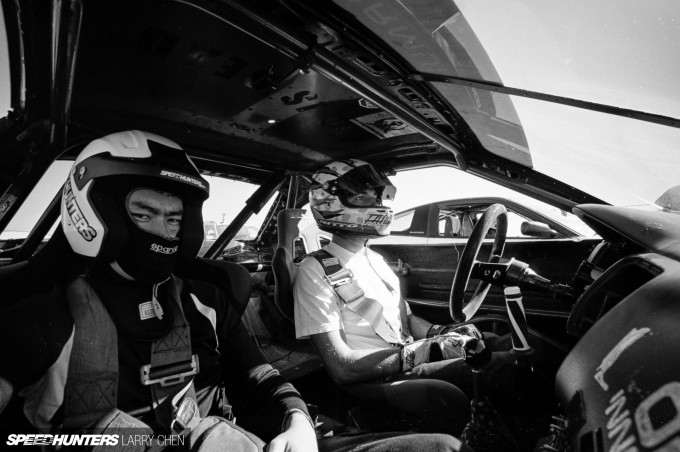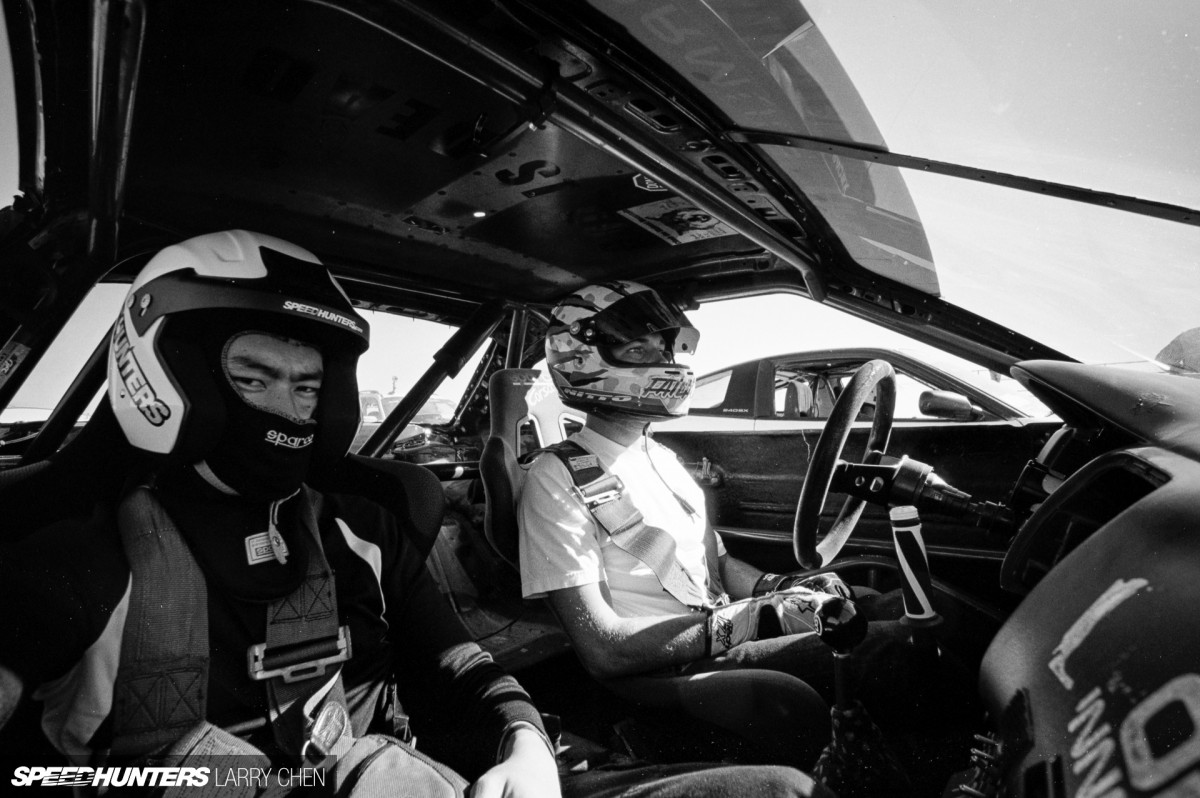 Just like old times. Except I was shooting with a film camera, and with only 39 shots per roll and a manual advance, I could not machine gun my way out of this.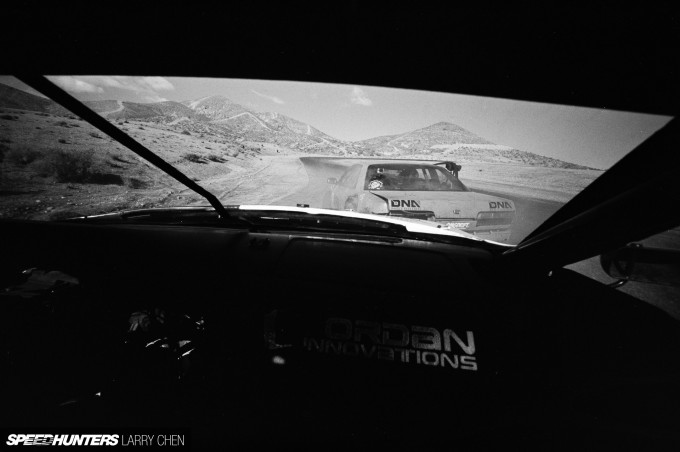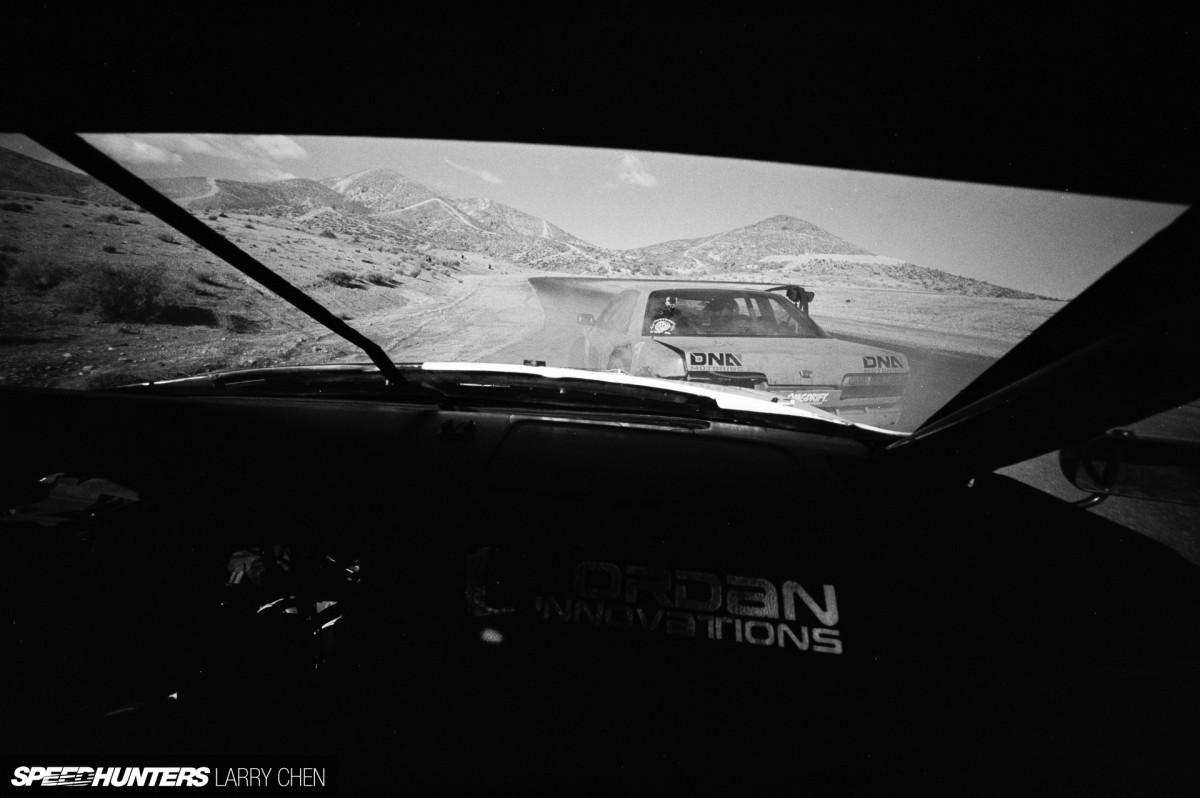 We started uncomfortably close to Karl, which was just fine by me. It's not tandem if you're not about to rear-end the guy in front of you.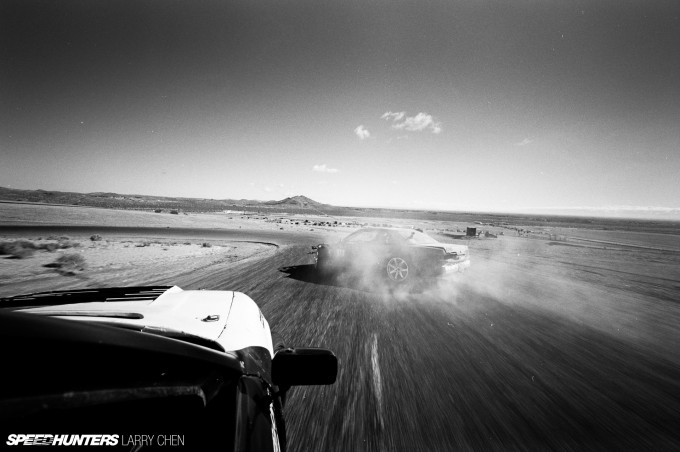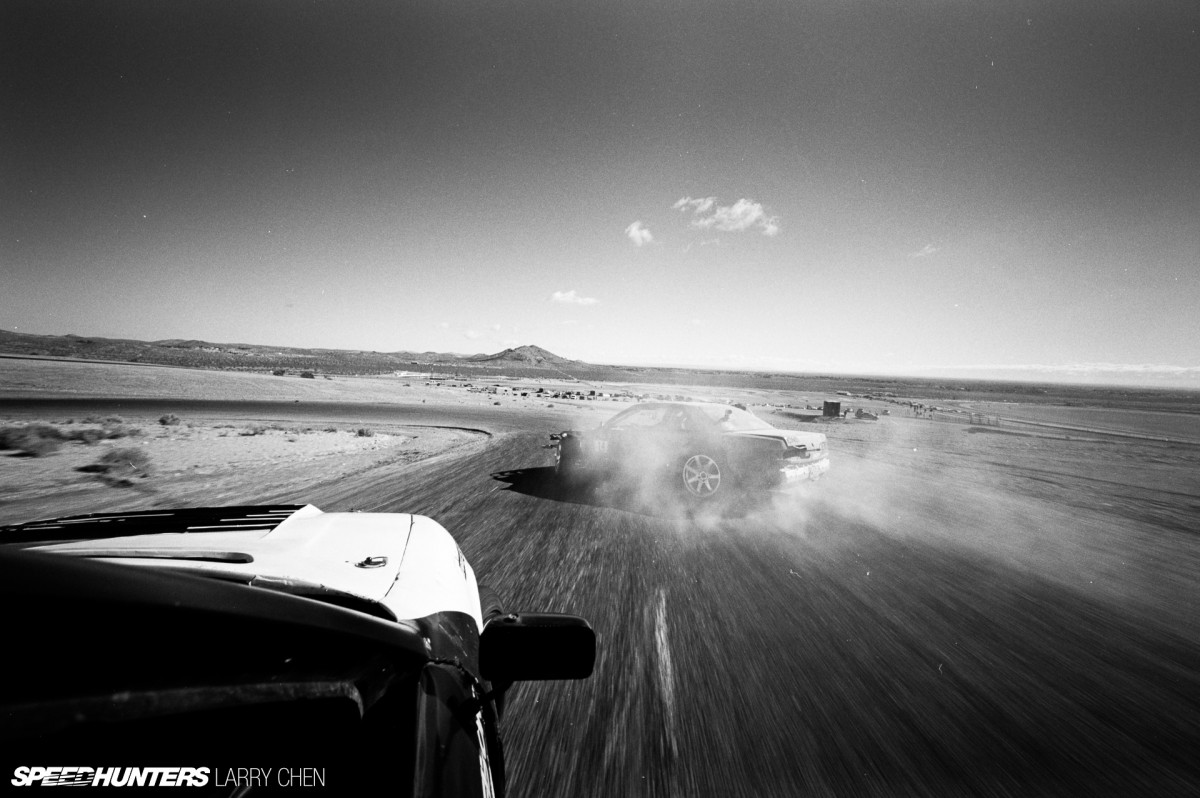 Shooting with the M6 with the 12mm was a bit slower than what I'm normally used to, but I managed to get a few shots off during our chase run.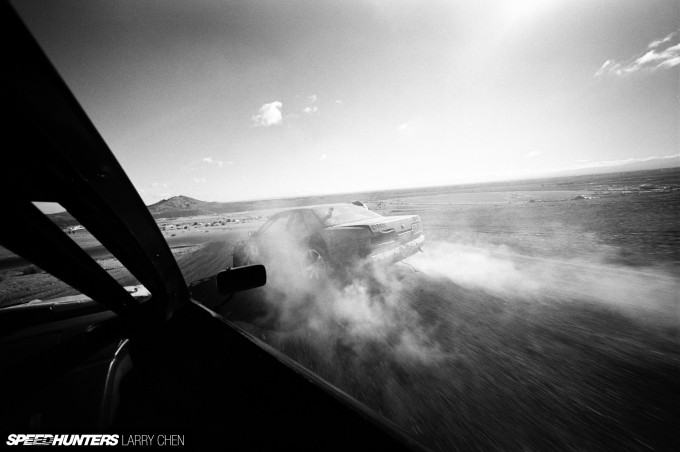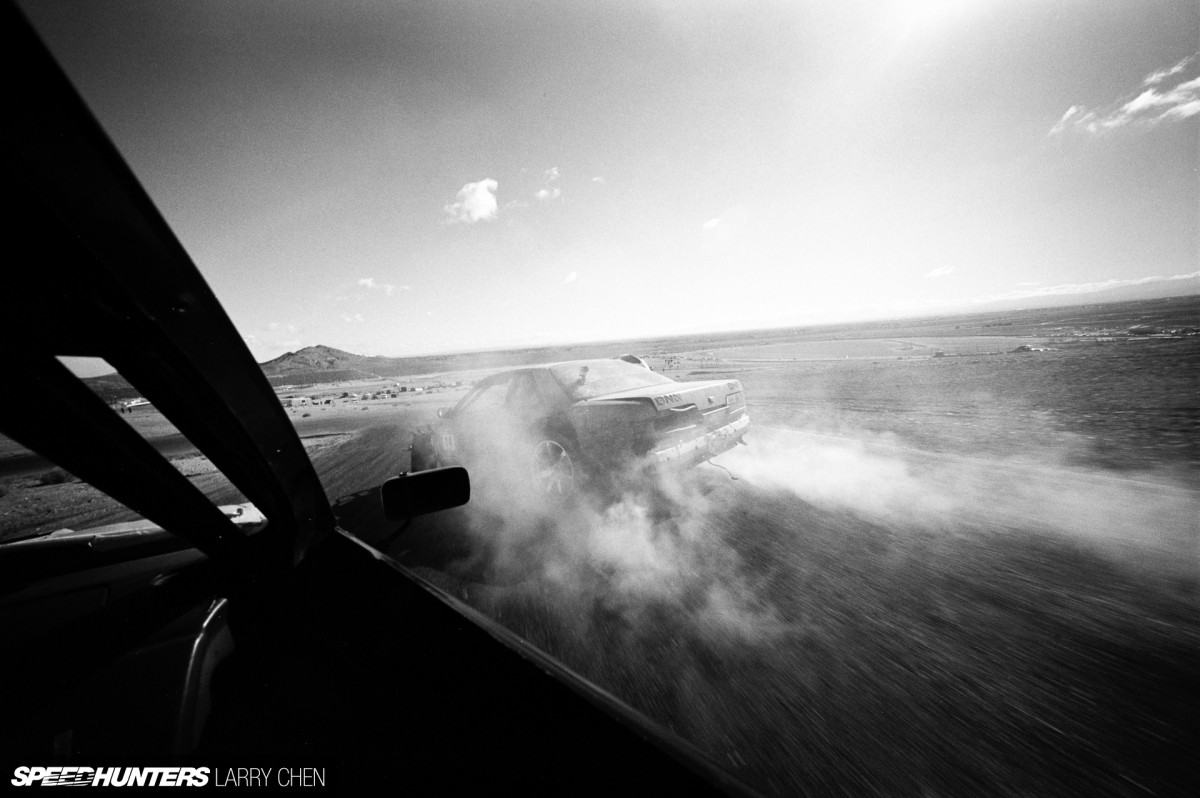 We were close enough that I had to close my eyes from all the bits of tire entering our cabin.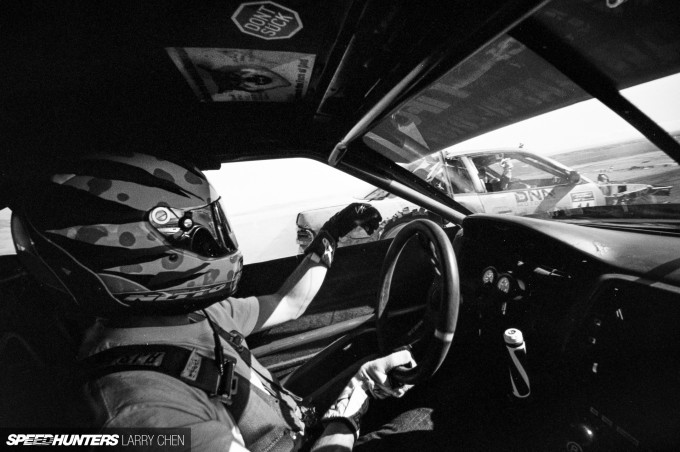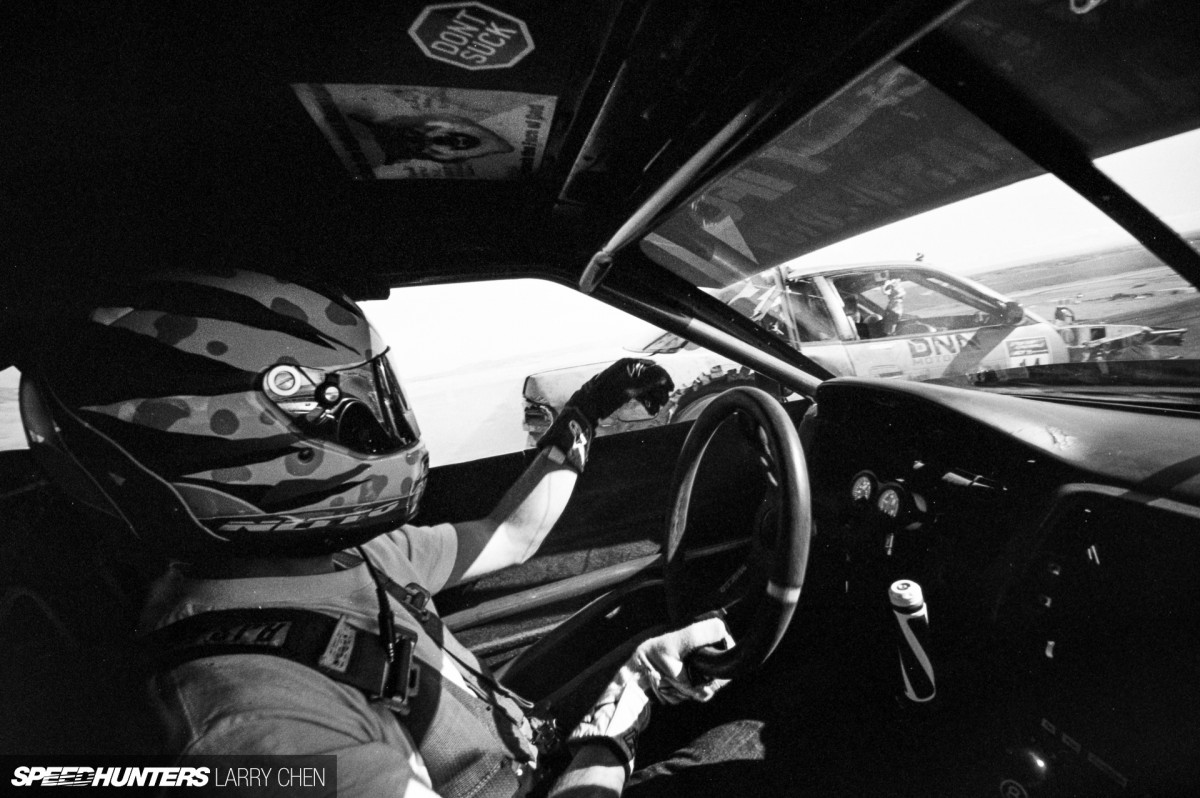 Matt actually tapped Karl right here; he stuck his hand out his window and barely grazed the rear quarter panel with the tip of his fingers. Kids – don't try this at home.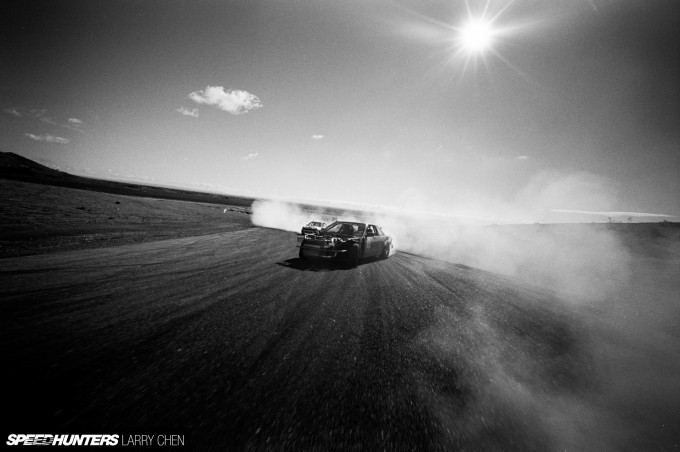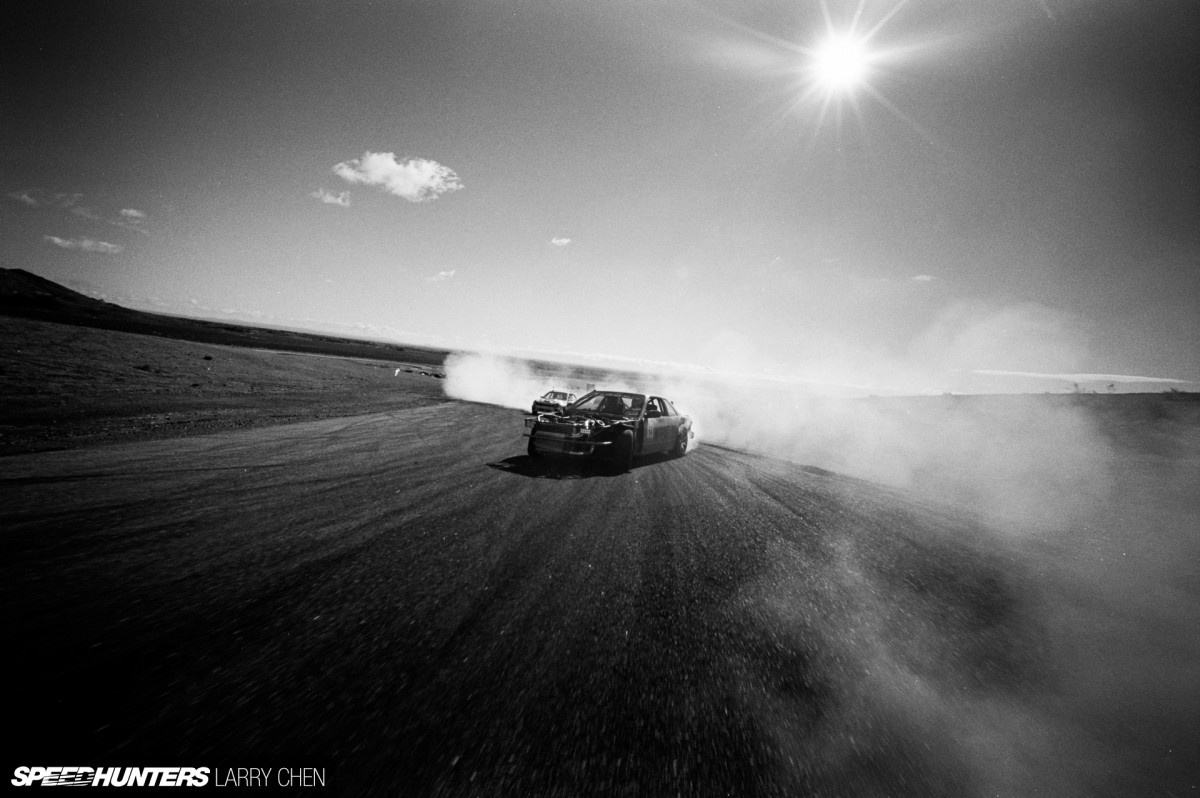 We then lead a four car train which resulted in the lead image. My friend pointed out on Facebook that he was 99.9% sure that no one else has shot onboard drifting with a Leica M6. He may be right.
Off course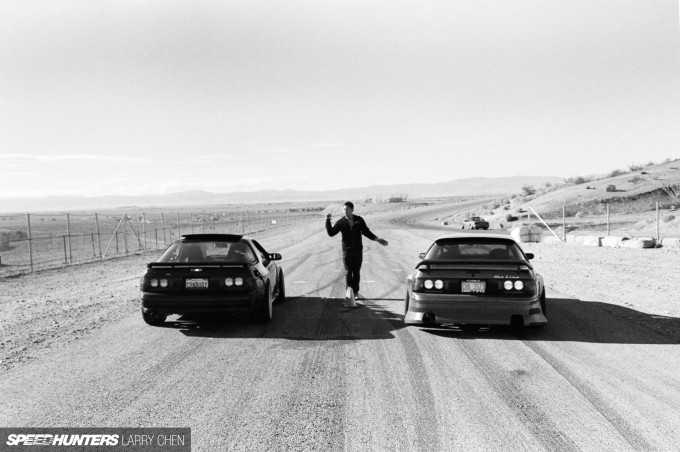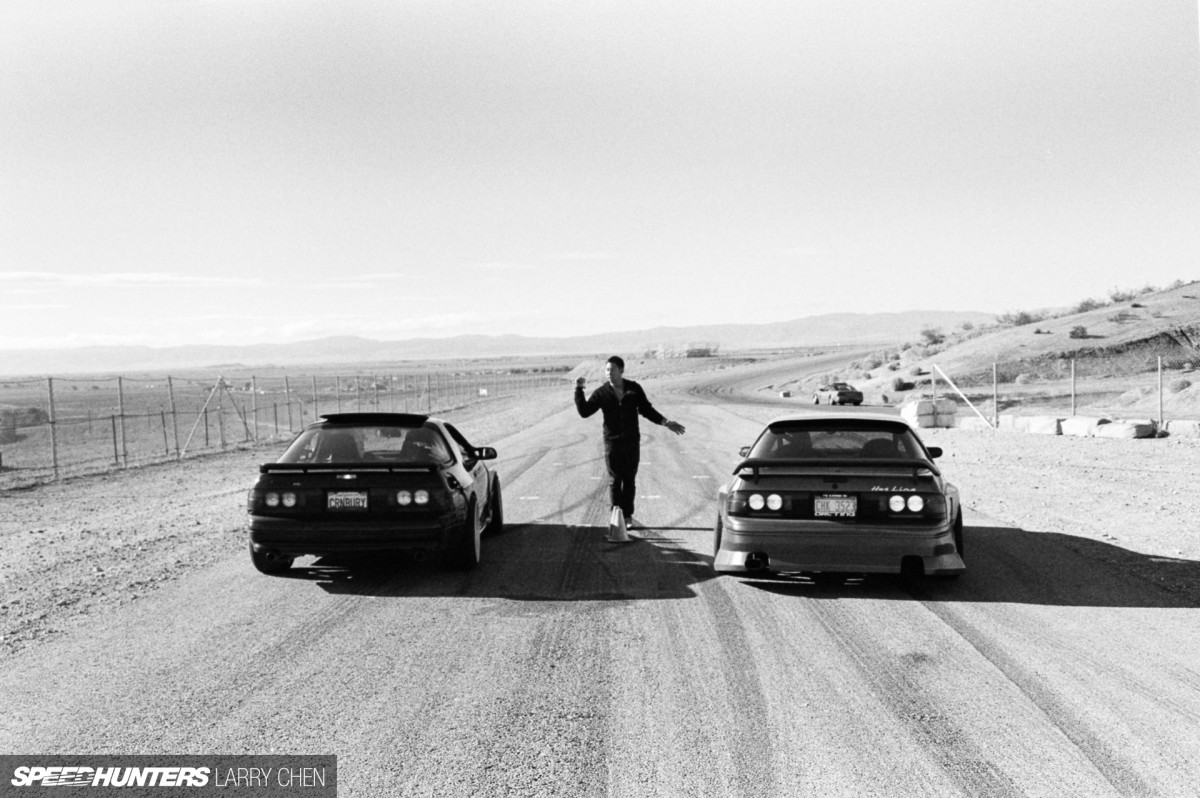 Usually, by the end of the day, drivers get pretty fatigued and tires run super low so Just Drift leaves the session open so anyone that feels like going out just lines up at the starting line.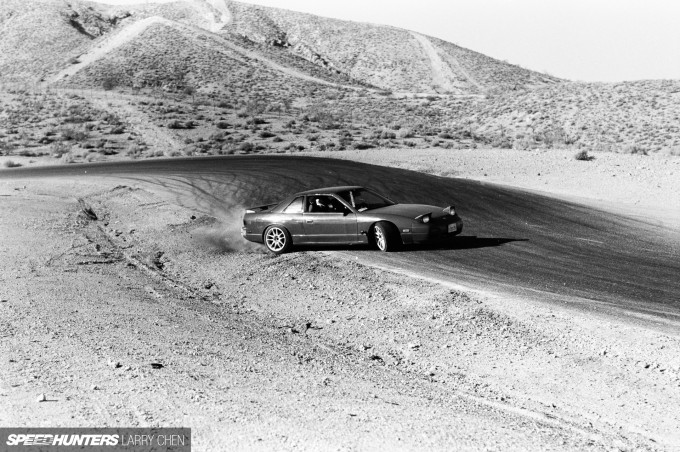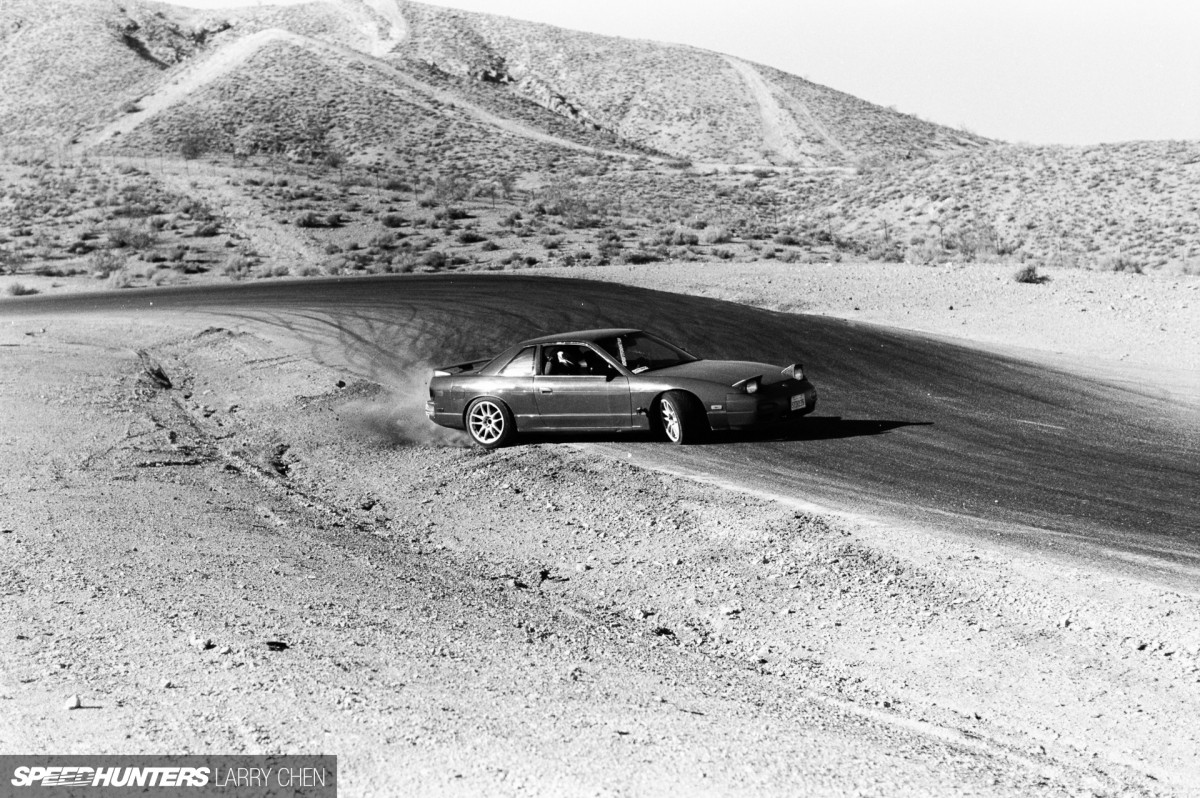 There were a few significant off course excursions as I mentioned from the wet earth, but there was one that really stood out. Shooting decisive moments like cars going off course was incredibly hard. It was one shot, one kill. By the time I advanced the film and focused, it was about two to three seconds at best between each shot. Also I had to shoot very sparingly. I didn't want to get caught without a bullet in the chamber.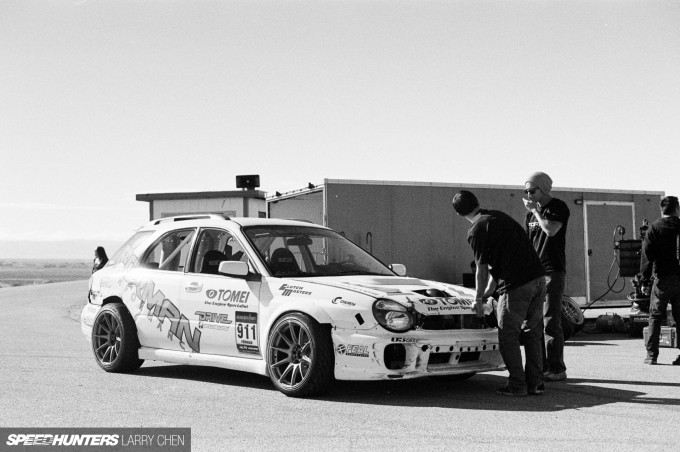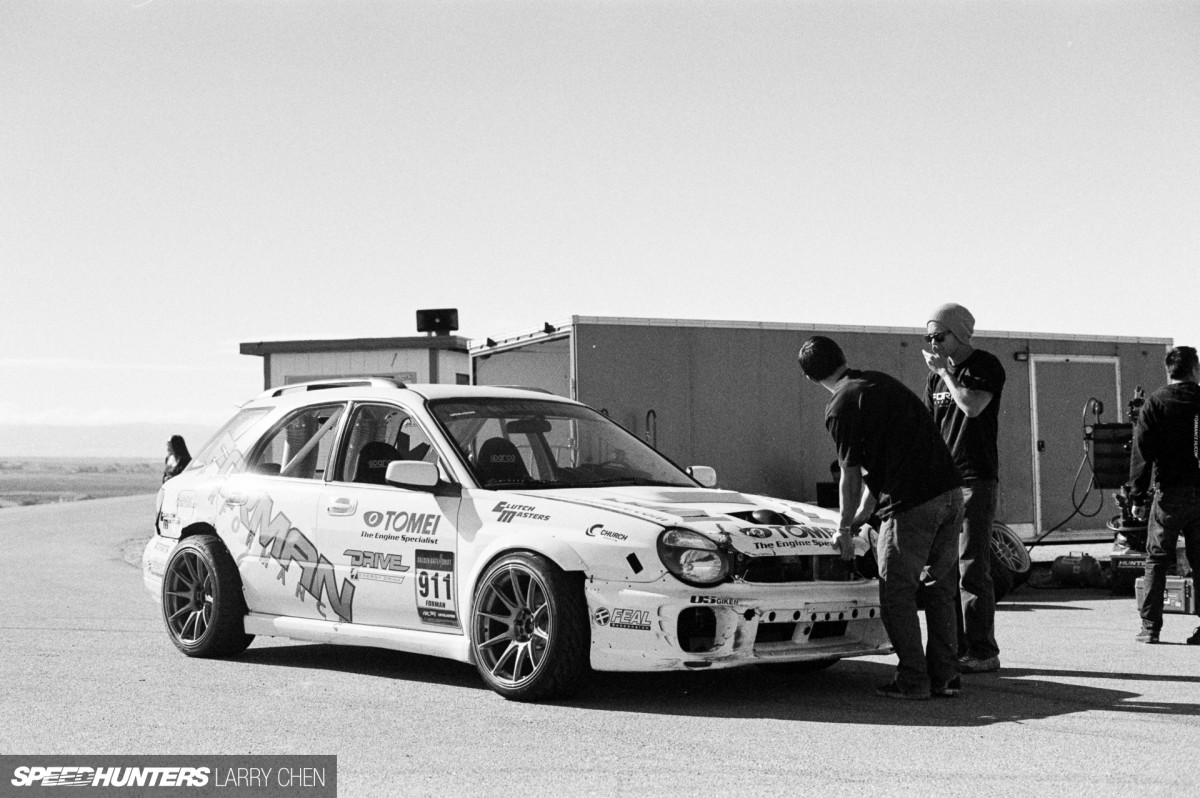 This awesome LS-powered Subaru WRX wagon was built by Forman Performance in Costa Mesa California.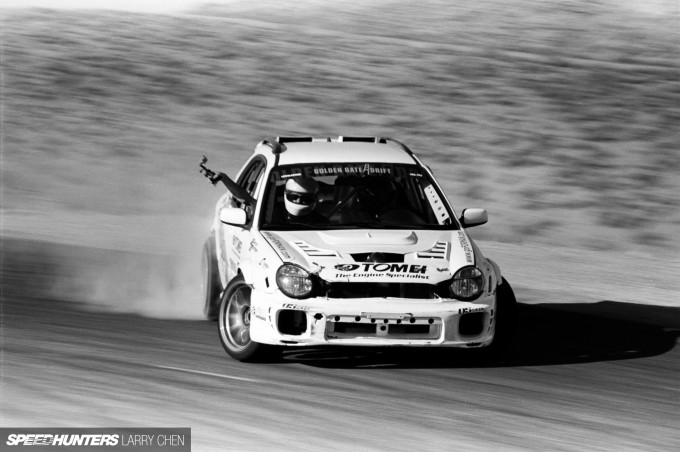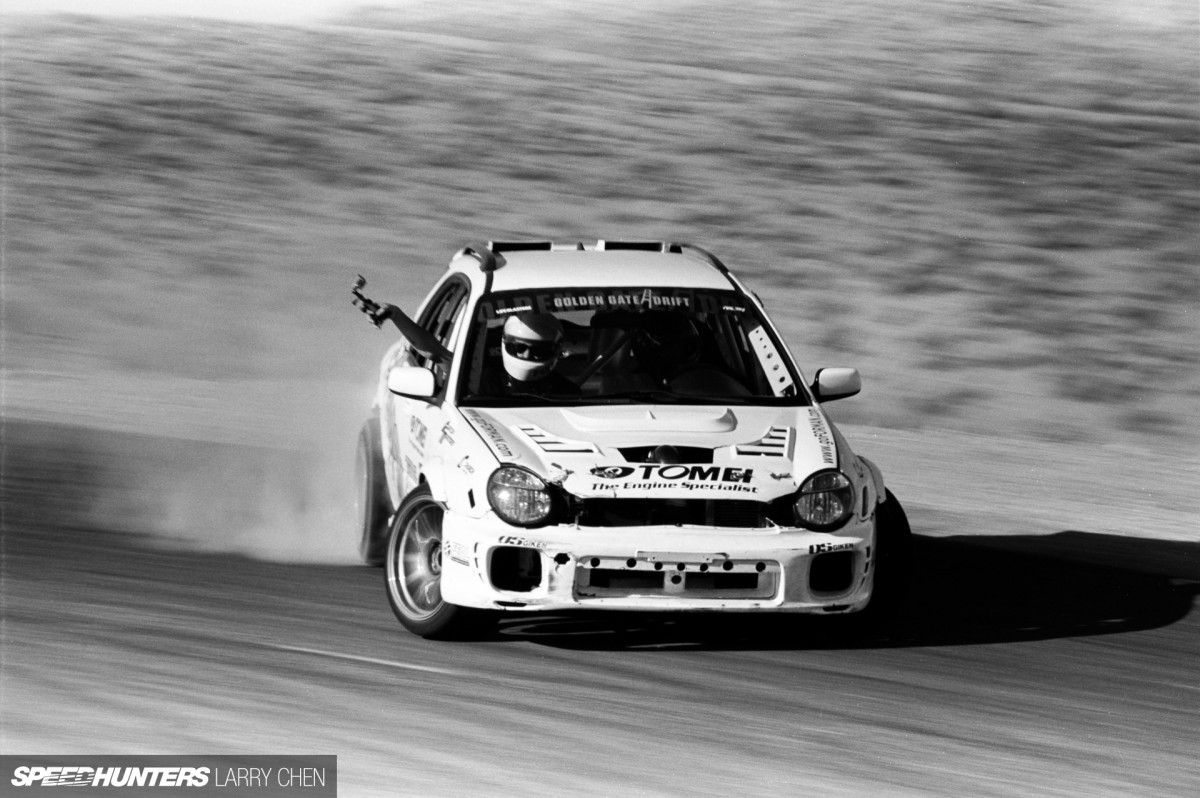 They were absolutely killing it all day with some epic drifts. I feel like more people need to build wagons for drifting.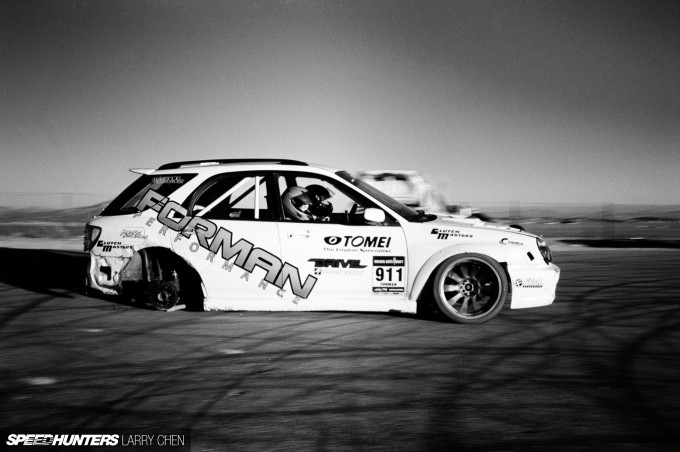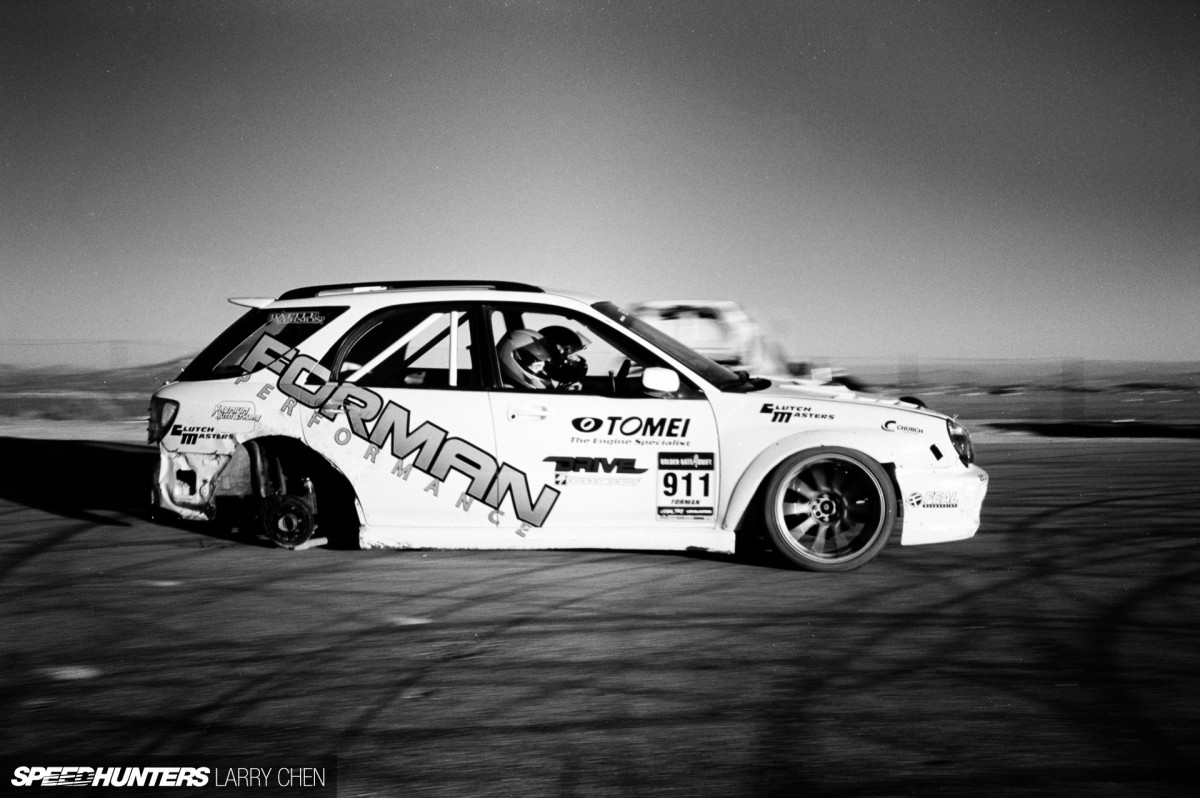 As everyone was already packing up, the Suby was still out there drifting. It went off course but instead of stopping, it kept going and it drove all the way back to the pits at speed. Then we saw the wheel fly down the track which put a large dent into a fence nearby.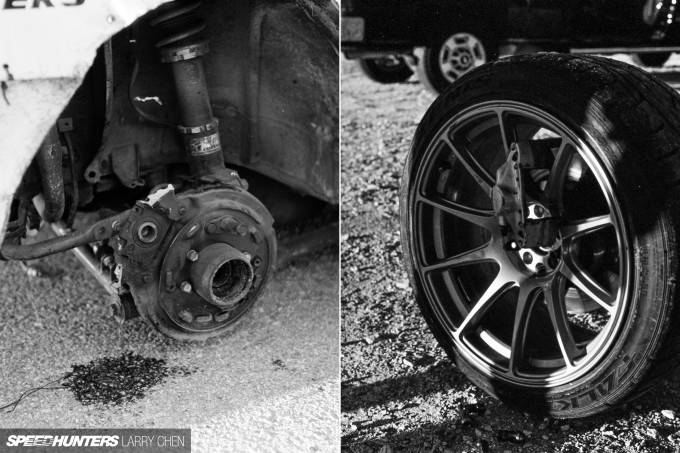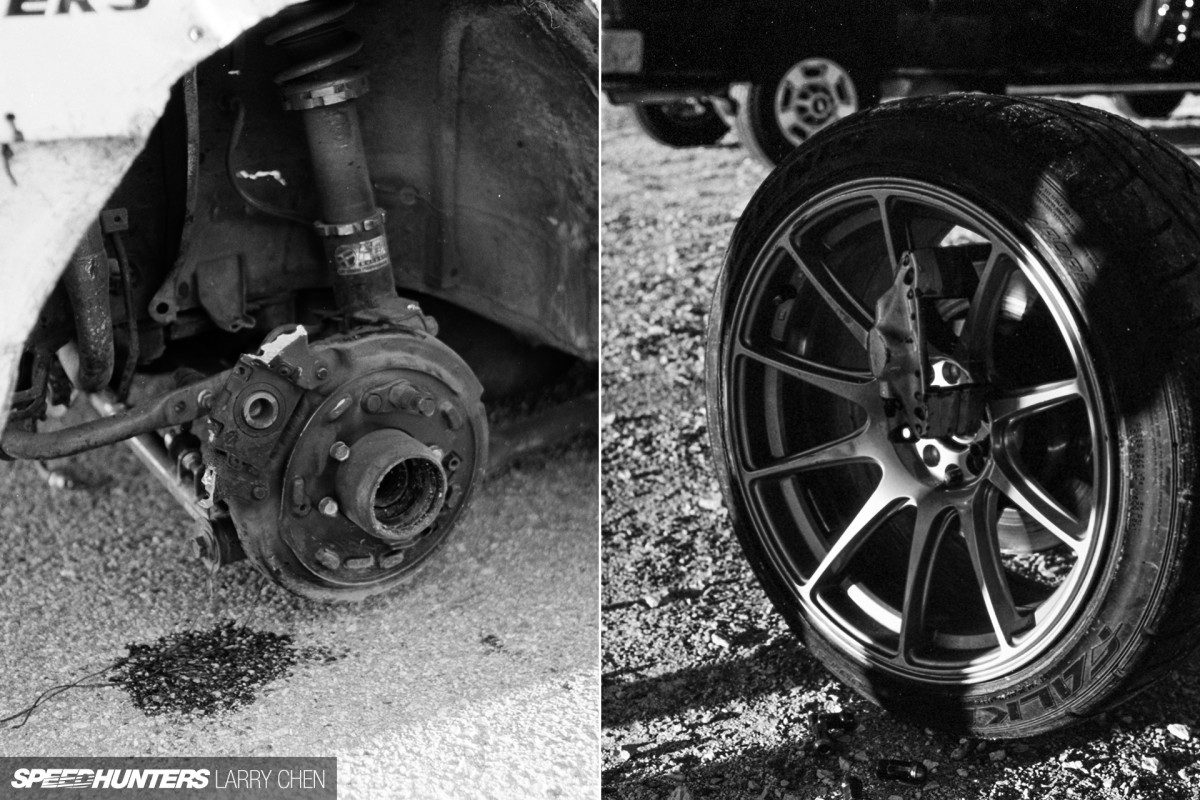 The car had no brake pressure, so it was very difficult to stop it. I've never seen an axle fail like that. What's amazing is that the brake caliper just hooked onto the wheel and it went along for a ride. It's a good thing nobody got hurt, thanks to a girl who tackled the wheel right after it hit the fence.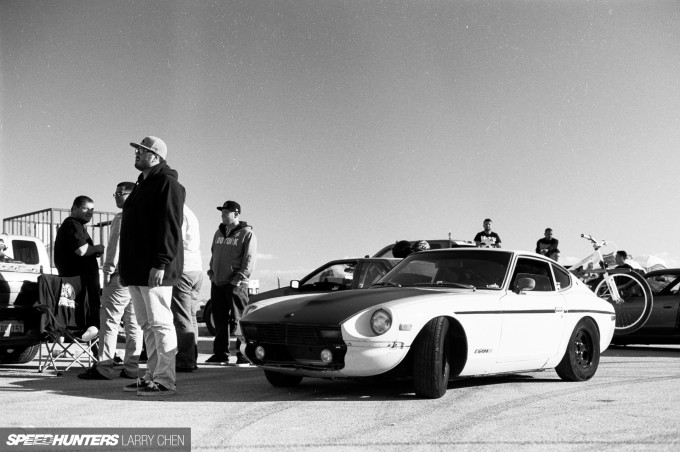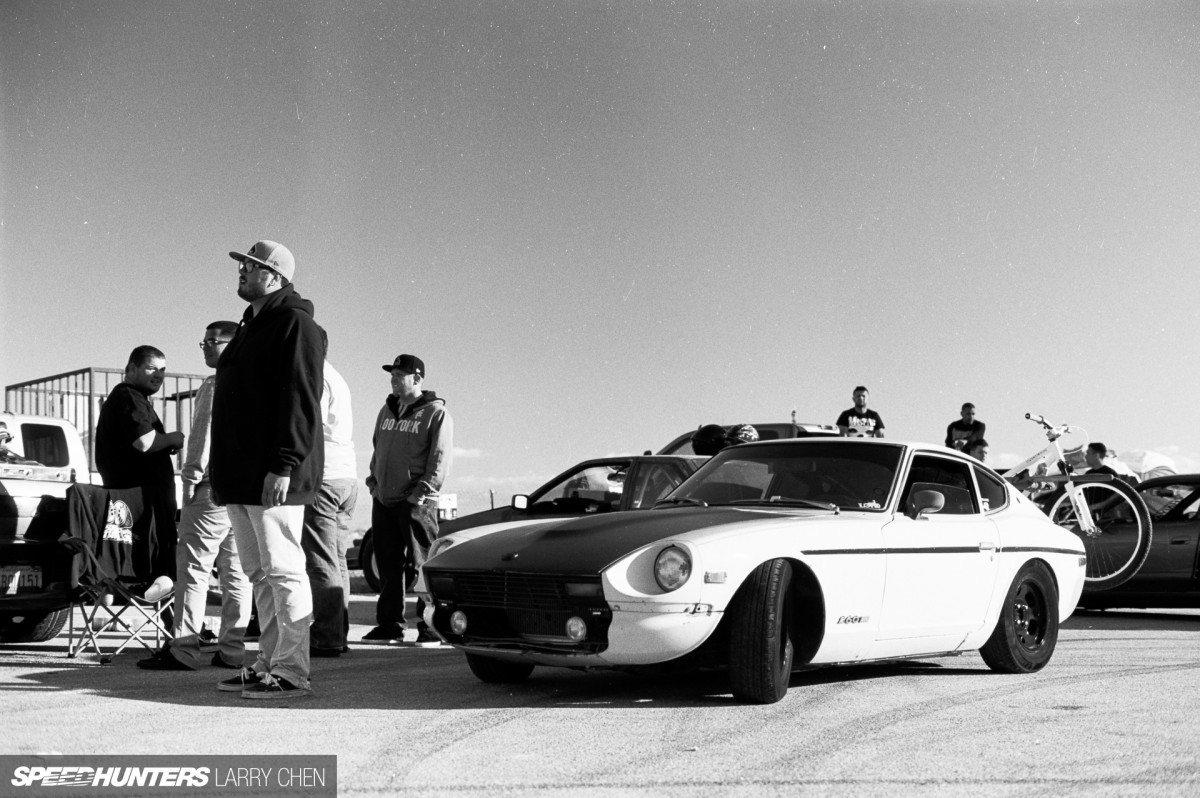 These type of drift events are just perfect for a day at the track, whether you're going to drive or you're there to watch. It's also fun to bring your own helmet and go for ride-alongs with pro drivers. You can learn a lot just from watching how they drive from the passenger seat.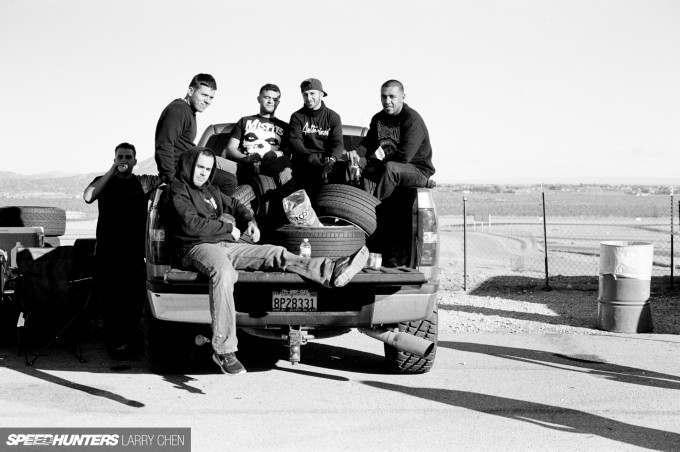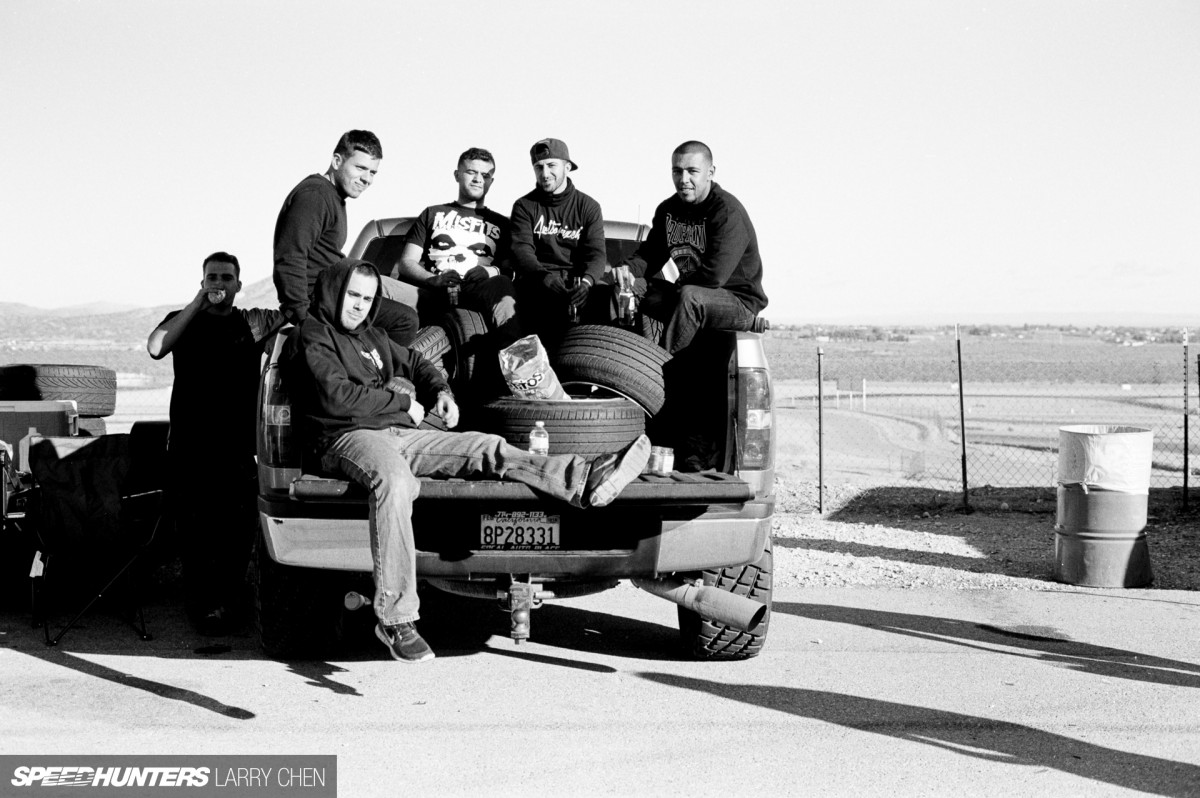 So if you will ever be in the Southern California area, make sure you check out JustDrift.com to see if there will be an event that you can attend. If you guys like drifting or motorsports in general, I suggest going to support your local drift scene. Chances are events are held in a parking lot near you.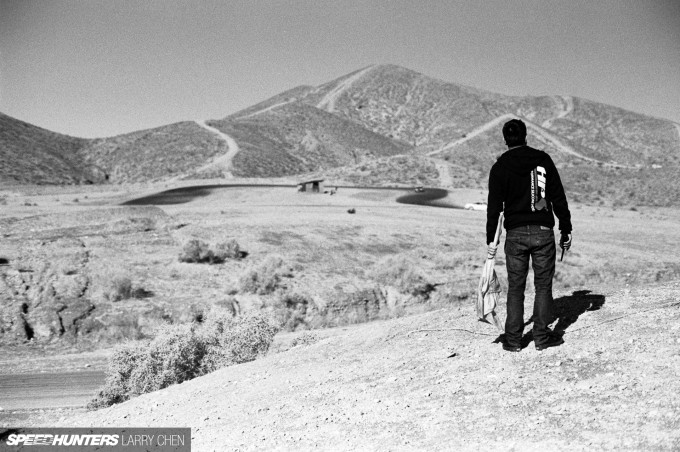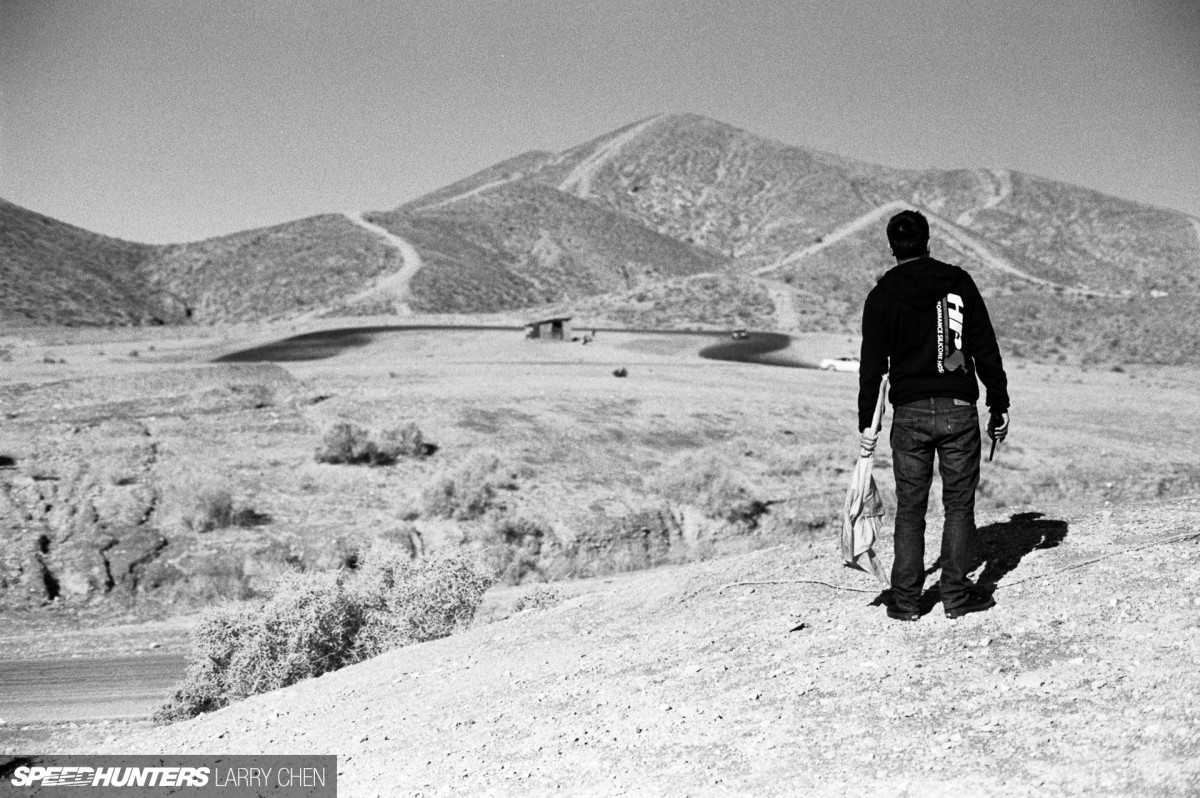 All the Just Drift staff members are volunteers and they do it because they love the sport. They're also my close friends, so if you guys ever go out there, make sure to thank them.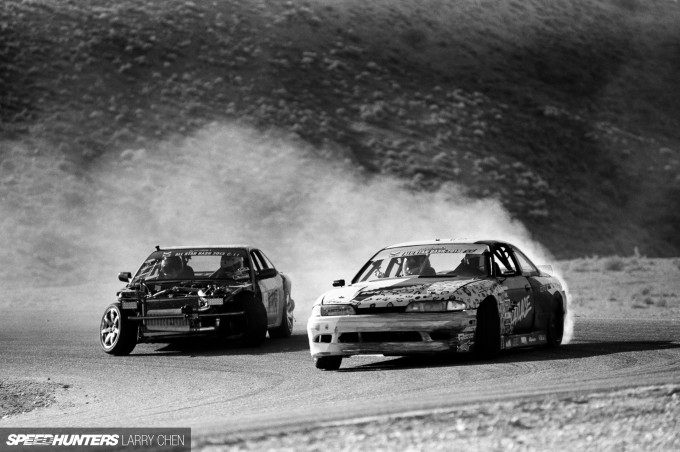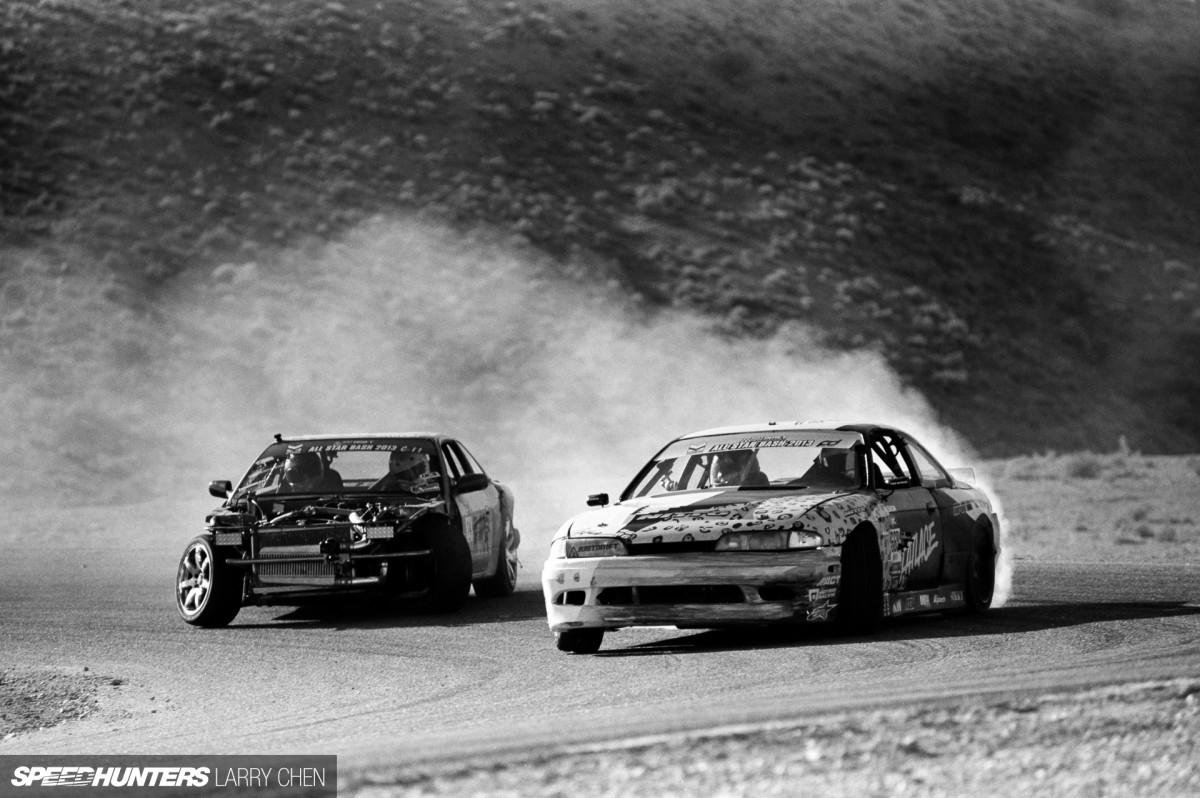 As for shooting in film… I have to say it was interesting to 'slow down' my shooting for an event. Normally at events, I end up with thousands of photos and I choose only the best of the best. For this event I had only 234 shots in total. Which meant I had a 23 percent success rate because I ended up using 54 photos. I had so much fun and I want to shoot more film, but it took over eight hours to scan all six rolls with a top of the line scanner, not to mention developing time and dust removal. It takes way longer than digital by far, but I really enjoy the process. Hopefully this will encourage you guys to dust off that old film camera in the attic and run a few rolls for it. After all, that's the only way we'll keep film alive.