A personal project
I like Kato-san at Liberty Walk. He's my kind of car guy. This is a man that has worked hard to create a brand that over the last couple of years has had everyone around the world talking. He meddles with perfection, he does the unthinkable to supercars, things that anger uptight purists in a rather satisfactory manner. Think about it this way: how boring would the car world be without characters like Kato? I salute him for his braveness and respect the enjoyment he gets out of it. After all, life is short. We should enjoy doing the things we do, right?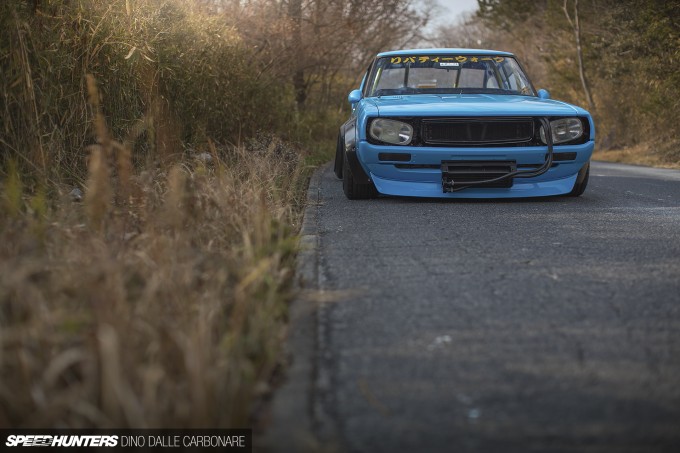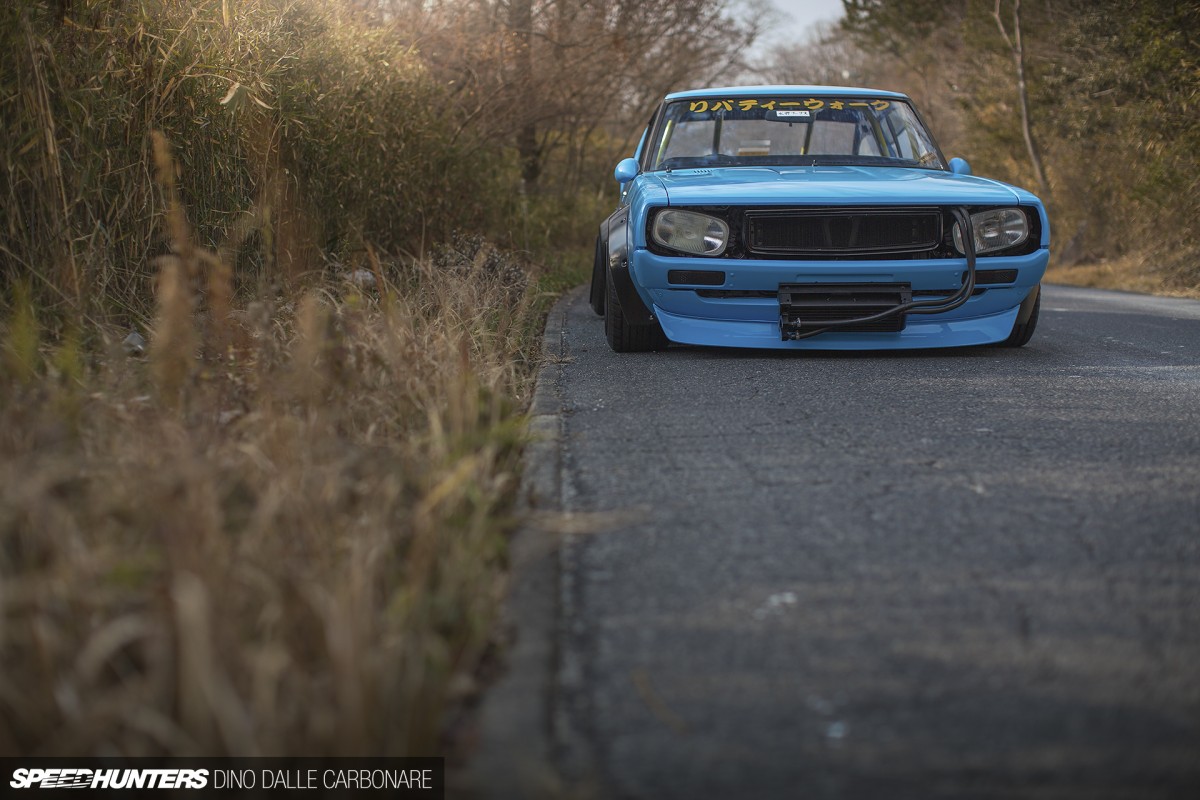 But away from the mainstream, away from the works-style supercar thing that has brought Liberty Walk so much press lately, there is another side to Kato that I like even more. While the rest of the internet salivates over the slammed Ferrari 458s that Liberty Walk brought to TAS this year, I feel a great need to take you off on a tangent and concentrate on what, in my view, was one of, if not THE most interesting car at the Tokyo Auto Salon this year, and one I avoided touching on too much in my show coverage. I thought it'd be far more appropriate to head down to the outskirts of Nagoya where Liberty Walk is located and dedicate an appropriate amount of time to Kato's latest personal project.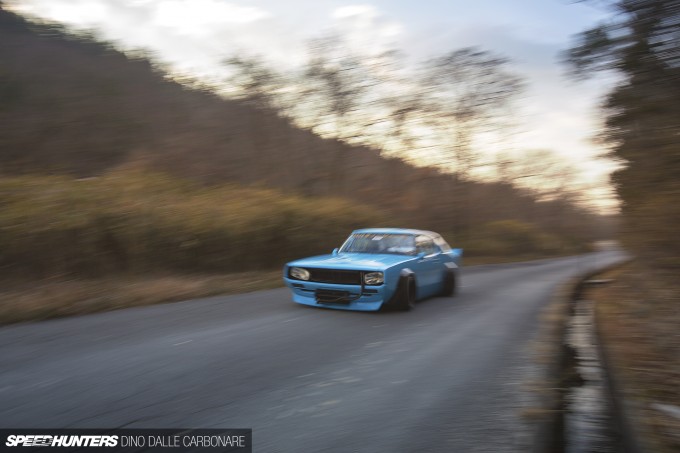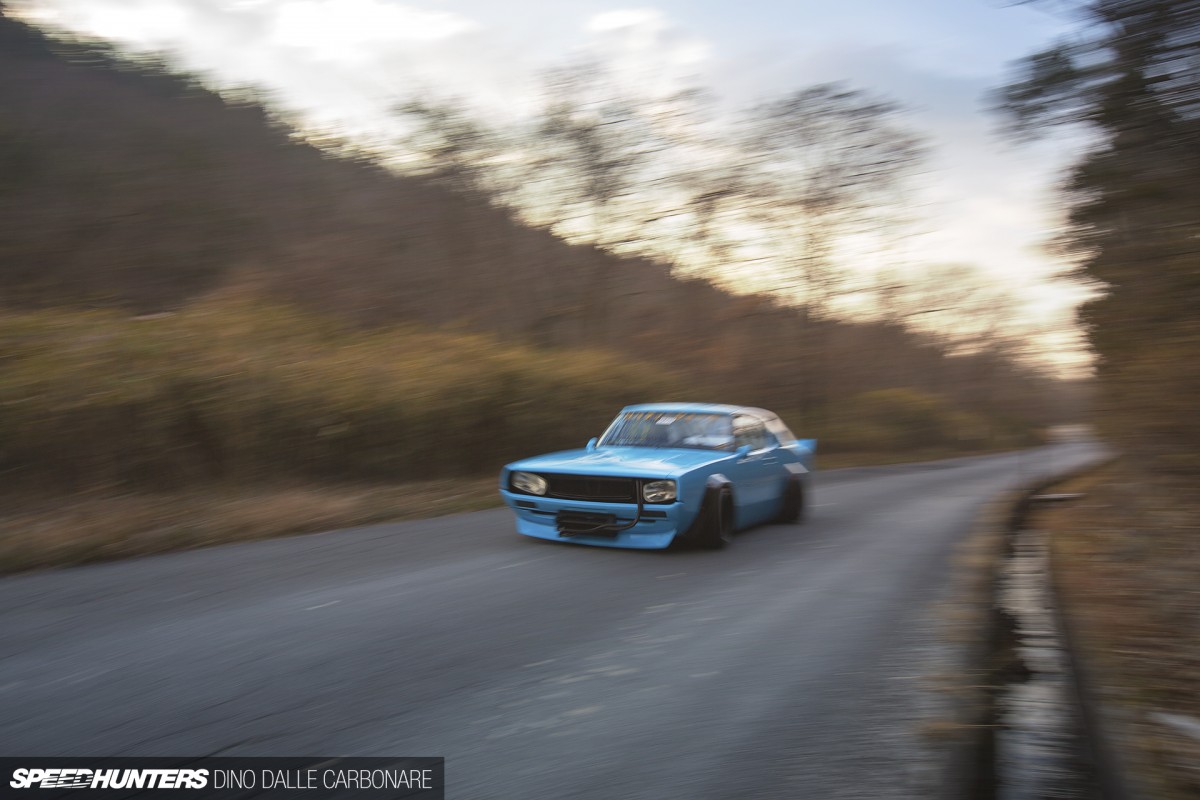 The LBW x Mizuno Works Kenmeri is a GC111 Skyline that combines substance with style and is spiced up with an unquestionably Kato-ish sort of flair. Japanese classic cars like these are always interesting to me because they can be built, tuned and restored in a variety of ways and often are a direct reflection of the owner's character and taste. Much like the supercars that LBW builds for its customers, Kato's kyusha collection may upset those that believe the period-correct, factory-perfect look is the only one to go for. While I believe the most sought-after limited edition cars do need to stay stock or close to it, what the hell is wrong with having a bit of fun with more run-of-the-mill models? This GC111 Kenmeri wasn't a rare KPGC110 2000GT-R in its previous life, so Kato didn't think twice about going full out and applying a perfect mix of yanki style and performance, creating one hell of a statement.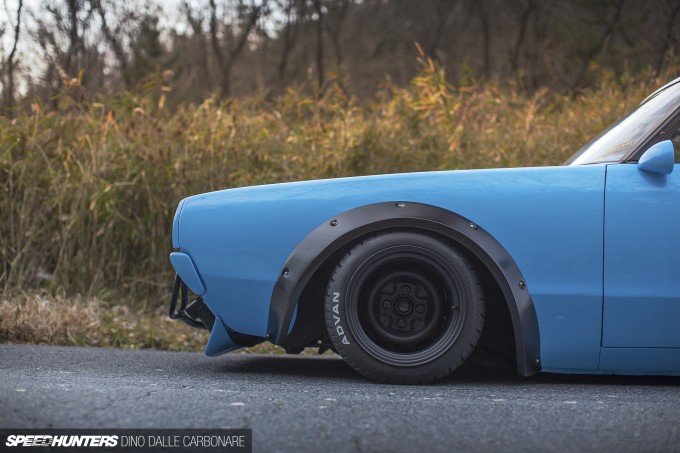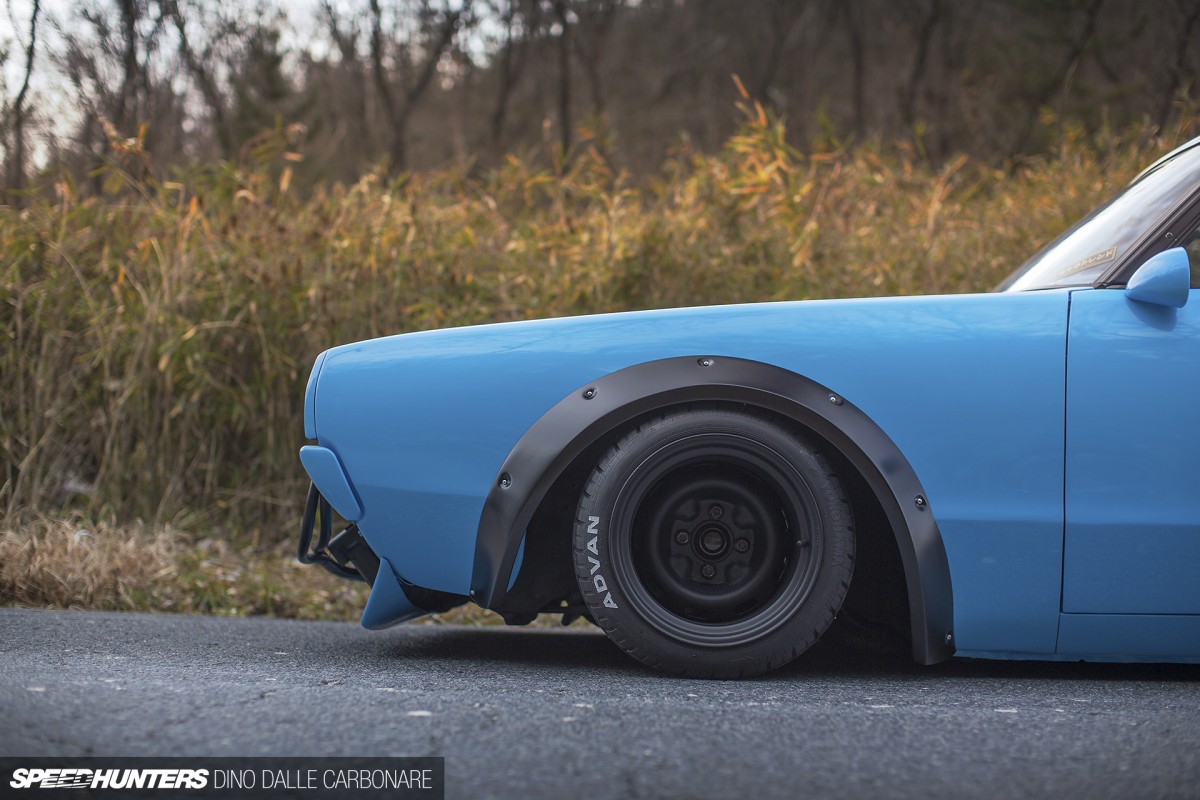 The Skyline was built in collaboration with legendary kyusha restorer and engine builder, Mizuno Works, who took the prepped and stripped chassis and really went to town on it. Original Mizuno Works overfenders were bolted directly on to the freshly painted exterior which was covered in multiple layers of 'Ice blue pearl' a custom pastel blue mixed with blue flakes that help give the vintage surfaces a very unique sort of depth.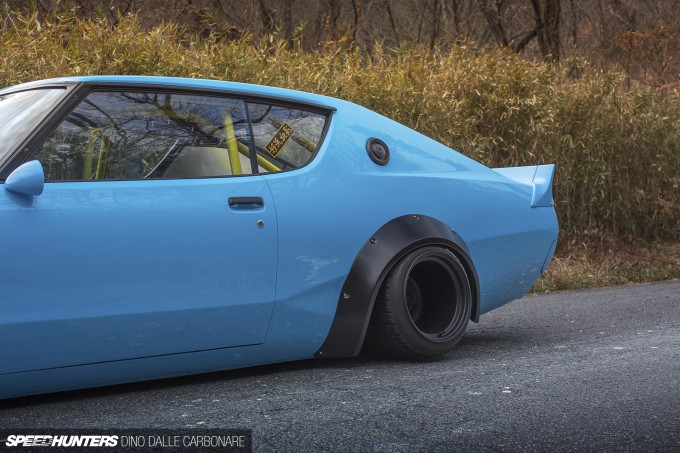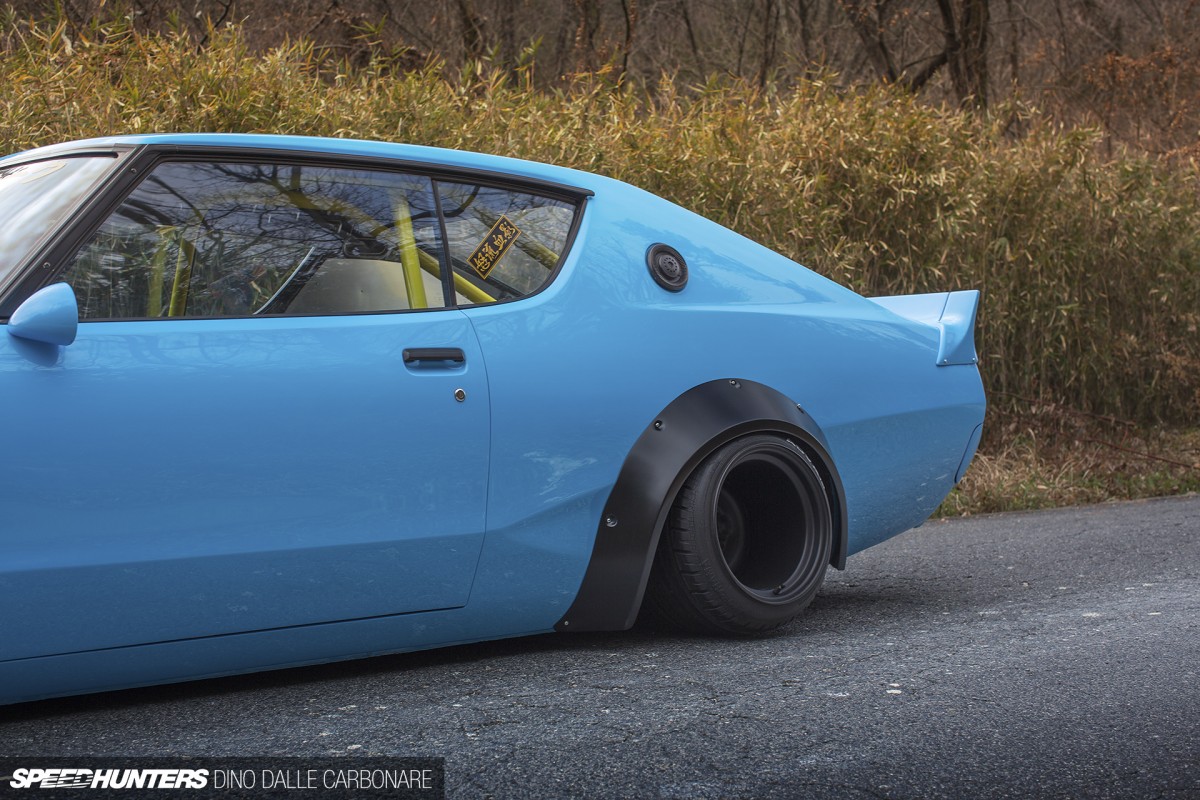 Rear overfenders followed too – the widest ones that Mizuno Works offered, as they had to extend over the custom-built steel wheels that Kato chose for his car.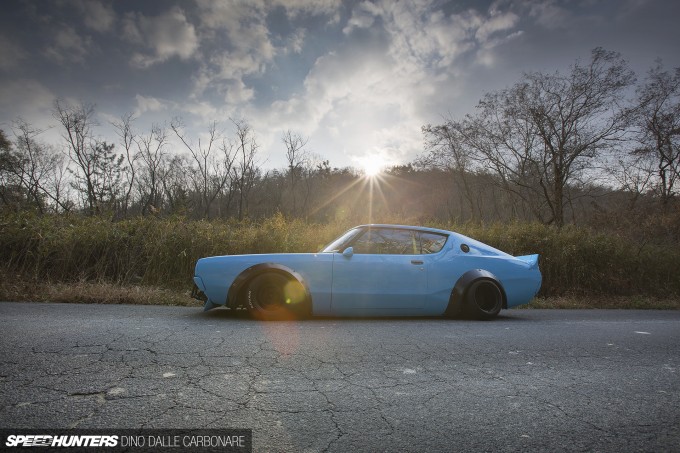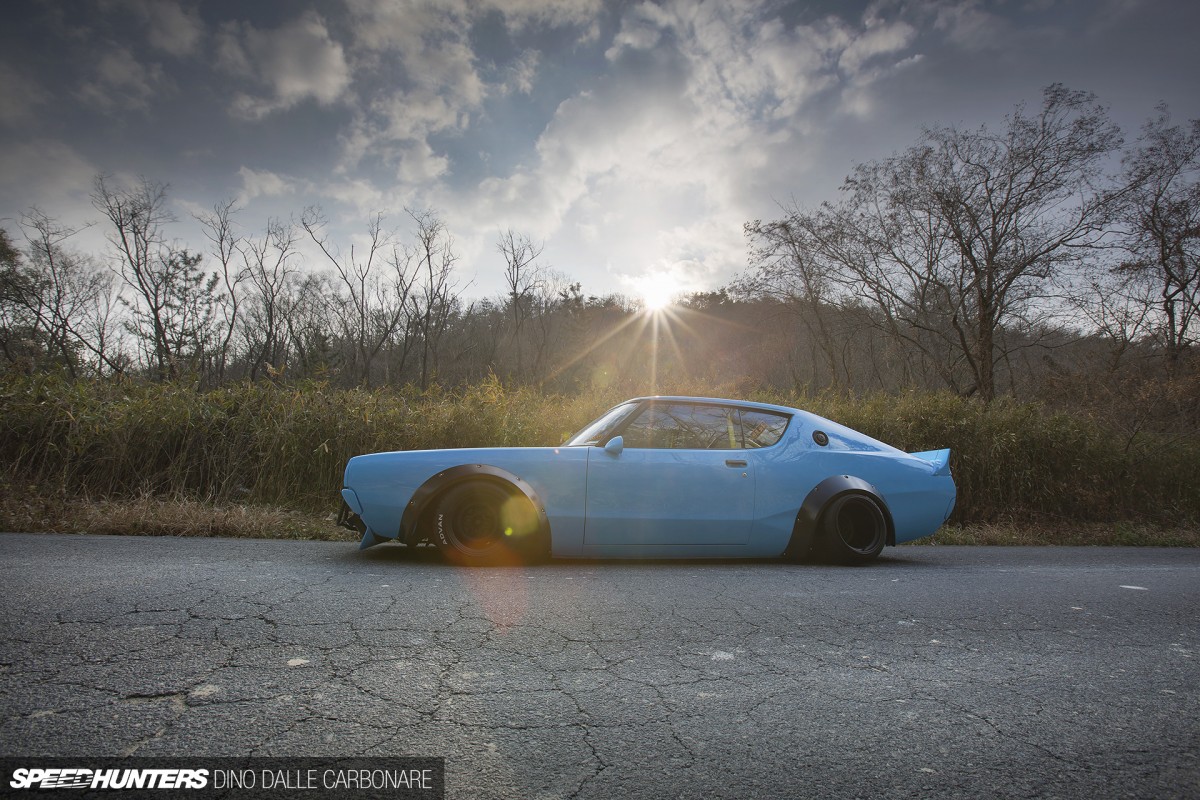 Ryo-san from Liberty and I spent a great deal of time loading the Kenmeri on and off the transporter to get it to my chosen shoot location, so I can confirm just how low this damn car sits: precisely 5mm off the ground, which makes it one big headache to move around. This sort of ride height is achieved by running special Mizuno 92 short-stroke dampers at each corner with carefully selected springs that are nothing short of rock hard to guarantee the car doesn't self destruct itself over minor surface imperfections. This car is currently set low for show at the moment but since its main use will be around track and exhibitions, I doubt Kato has any plans to set the ride height any higher.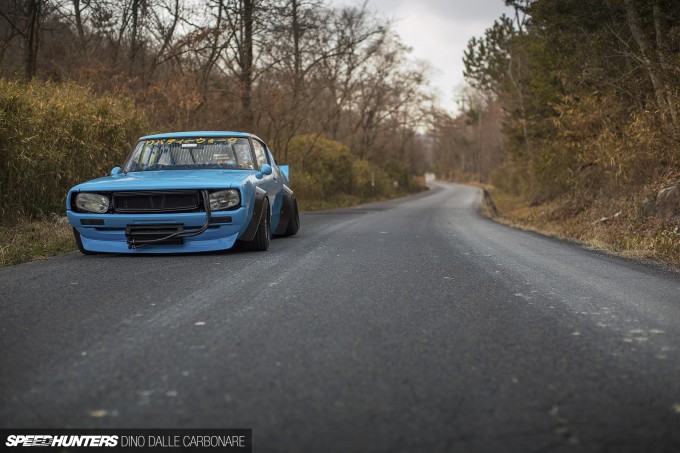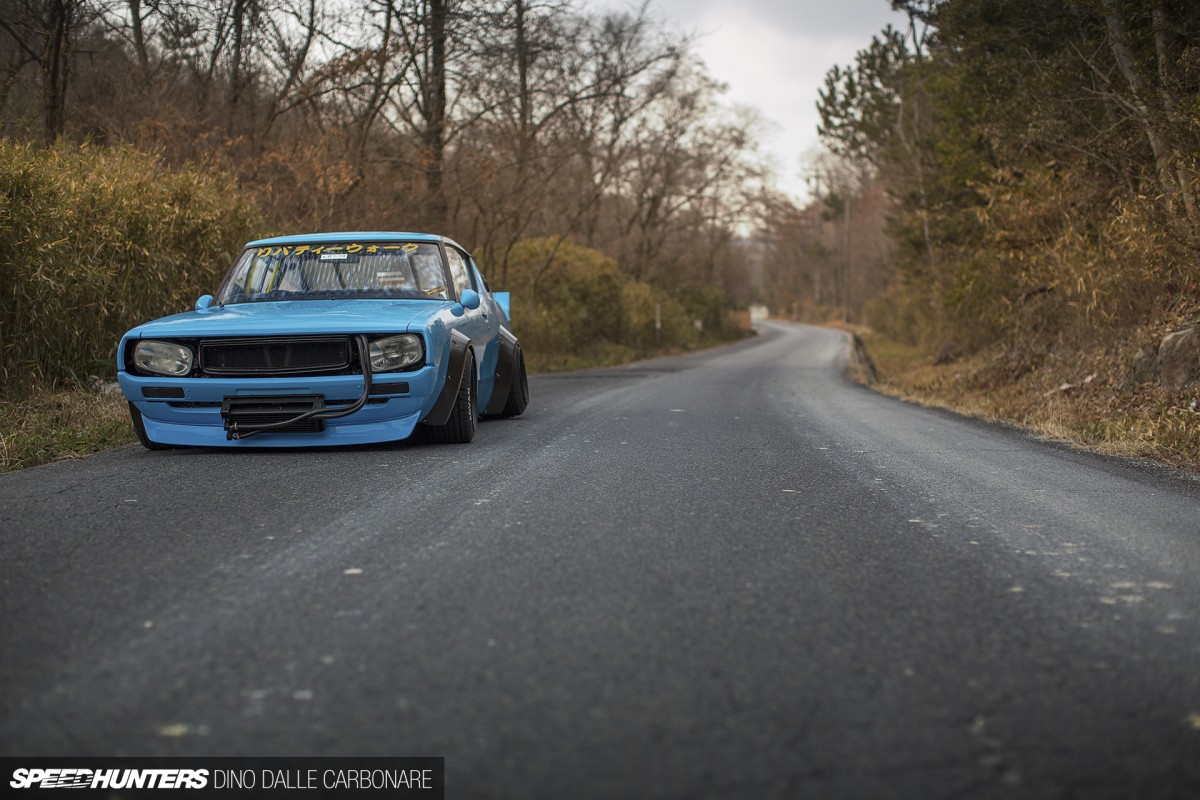 Continuing on the looks, you'll notice that it all consists of a very few simple touches, starting off with the painted bumper and bucktooth lip spoiler up front. The front grille has been gutted out, the headlights given the must-have yanki tilt that's so typical of the deliquent sub-culture and an external oil cooler slapped onto the front – that must-have, necessary hint back to the Hakosukas and other domestic classics that used to race in those long and gruelling Fuji endurance races in the seventies.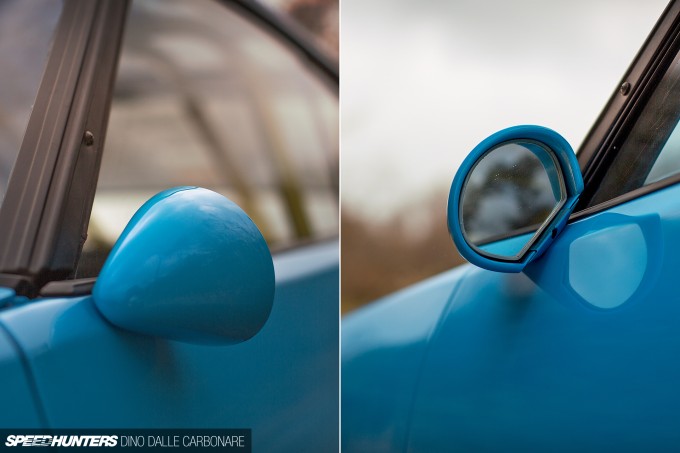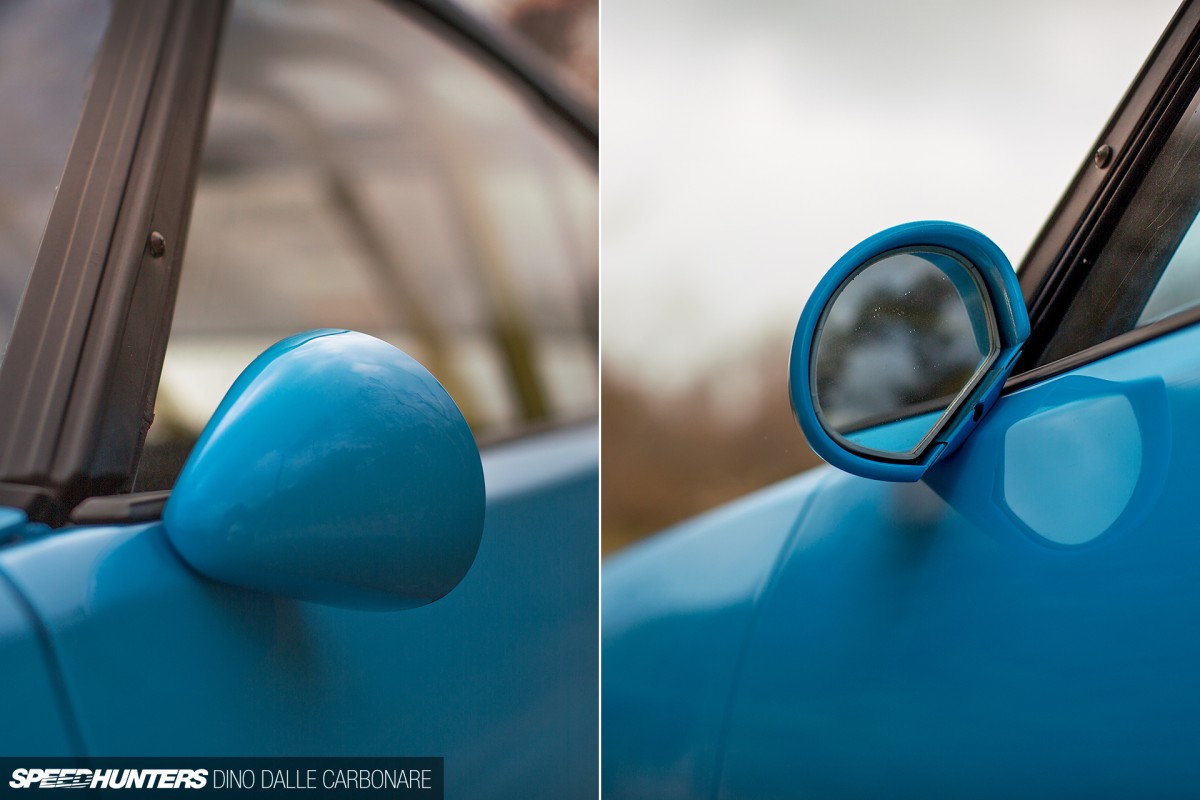 There are no fender-mounted mirrors here, but rather a set of more flowing Vitaloni items, color-matched to the rest of the body.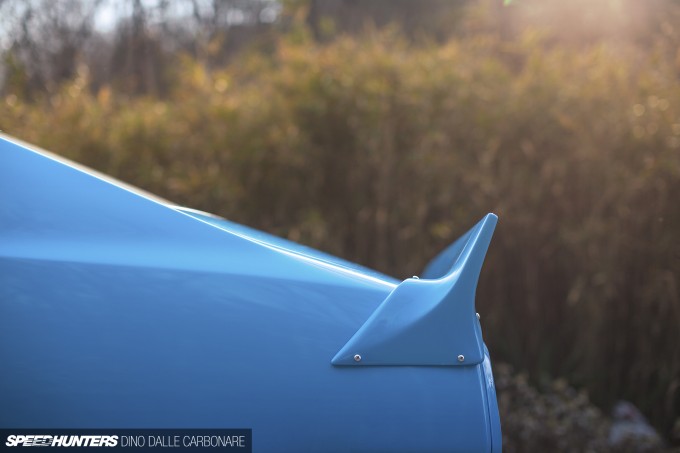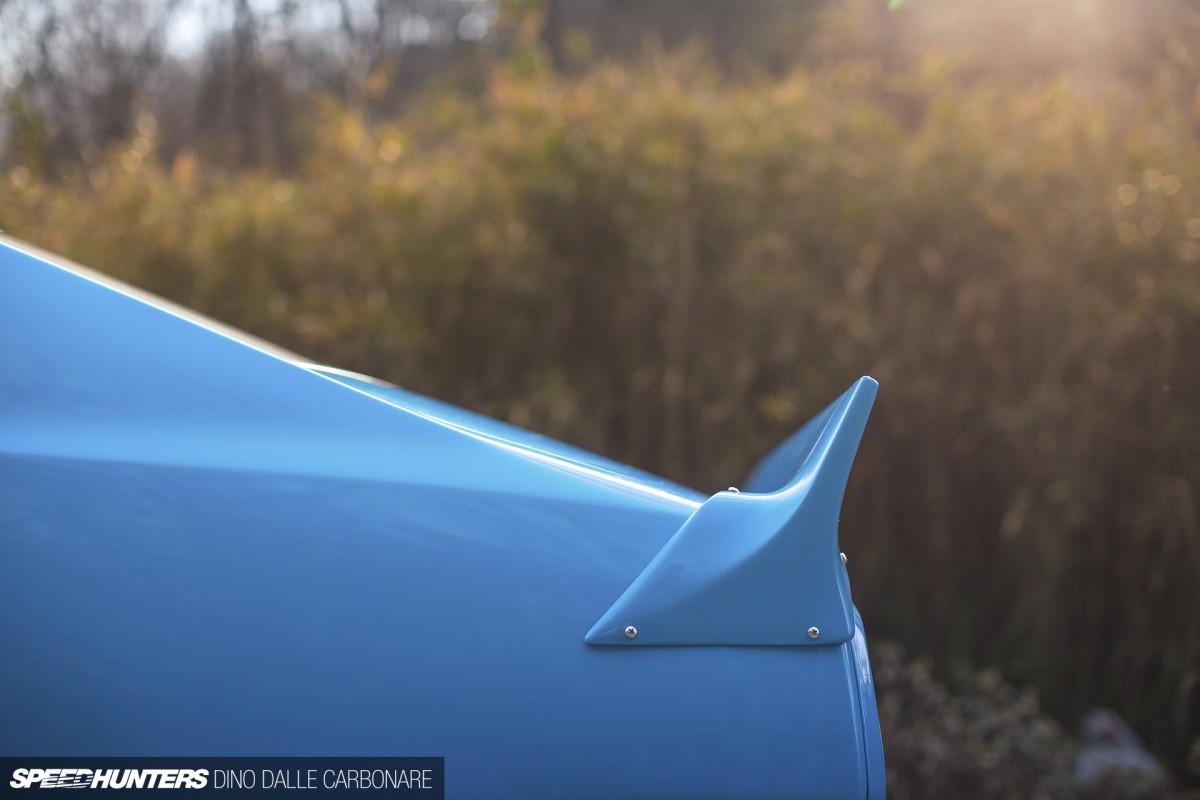 Move on to the rear and the Mizuno Works three-piece ducktail spoiler serves up an abrupt end to the Kenmeri's flowing seventies silhouette.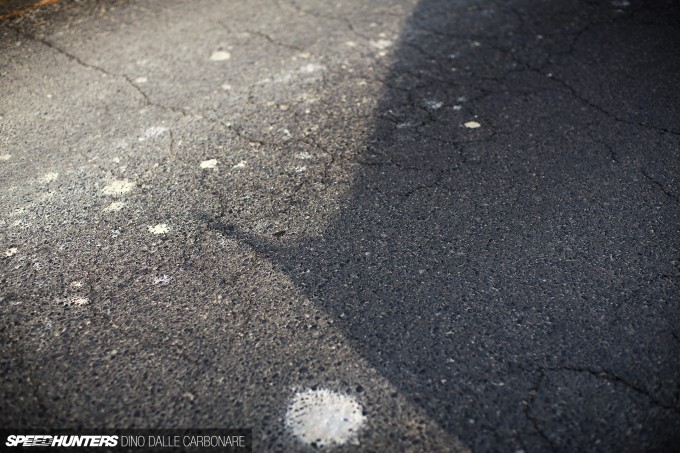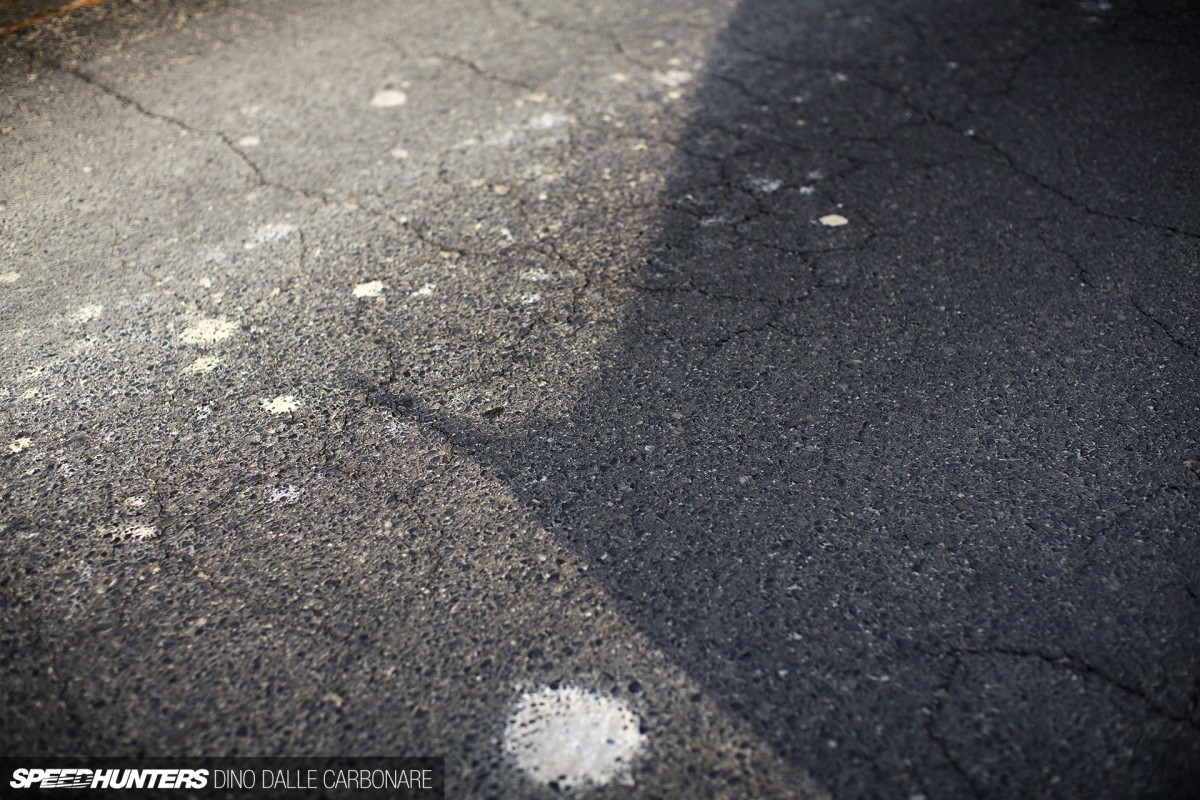 I also thought it cast the most badass shadow I've seen!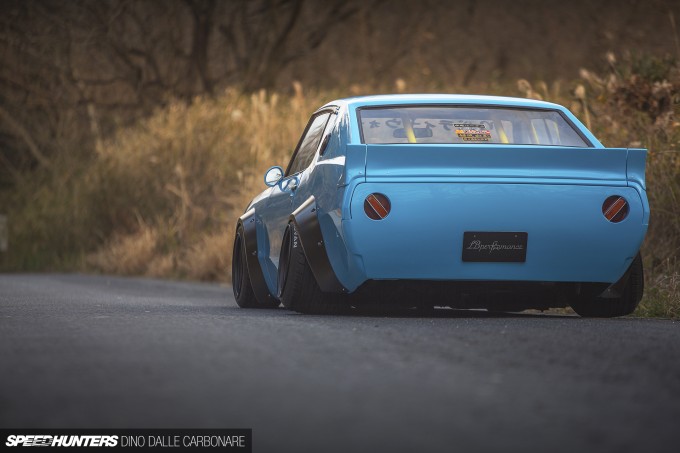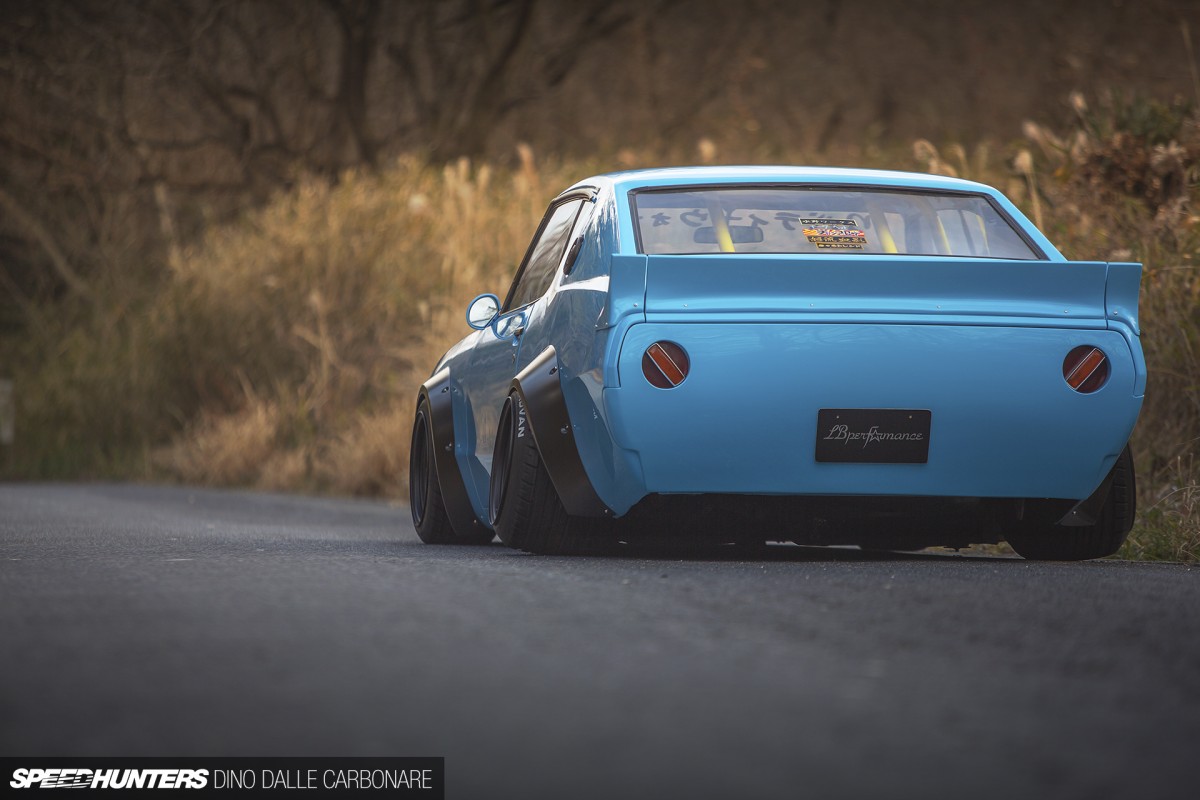 That simplicity ends as soon as you swing around and take a gander at that rear end. The whole rear section has been smoothed over, shaved, rendered bumper-less – whatever you want to call it – a true kaido racer sort of touch that gives that must-have bosozoku feel to any sort of kyusha! Rotated Nissan Cherry tail lights are the only addition; there isn't even a recess for the license plate. That's illegal for any street car, so yet another polite way to show the middle finger to the authorities – half of the reason these sort of cars are built in the first place.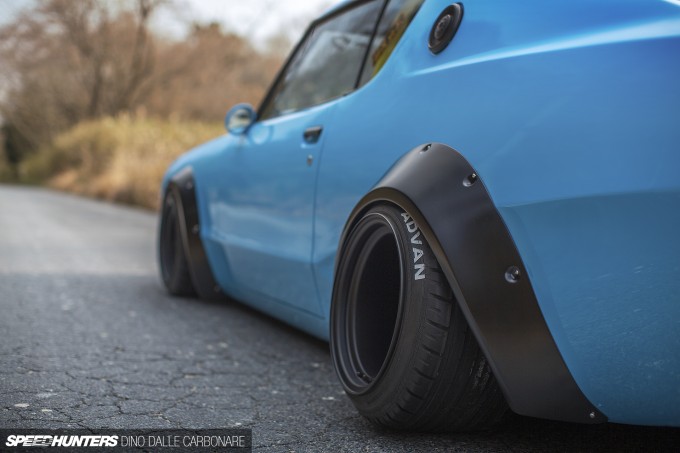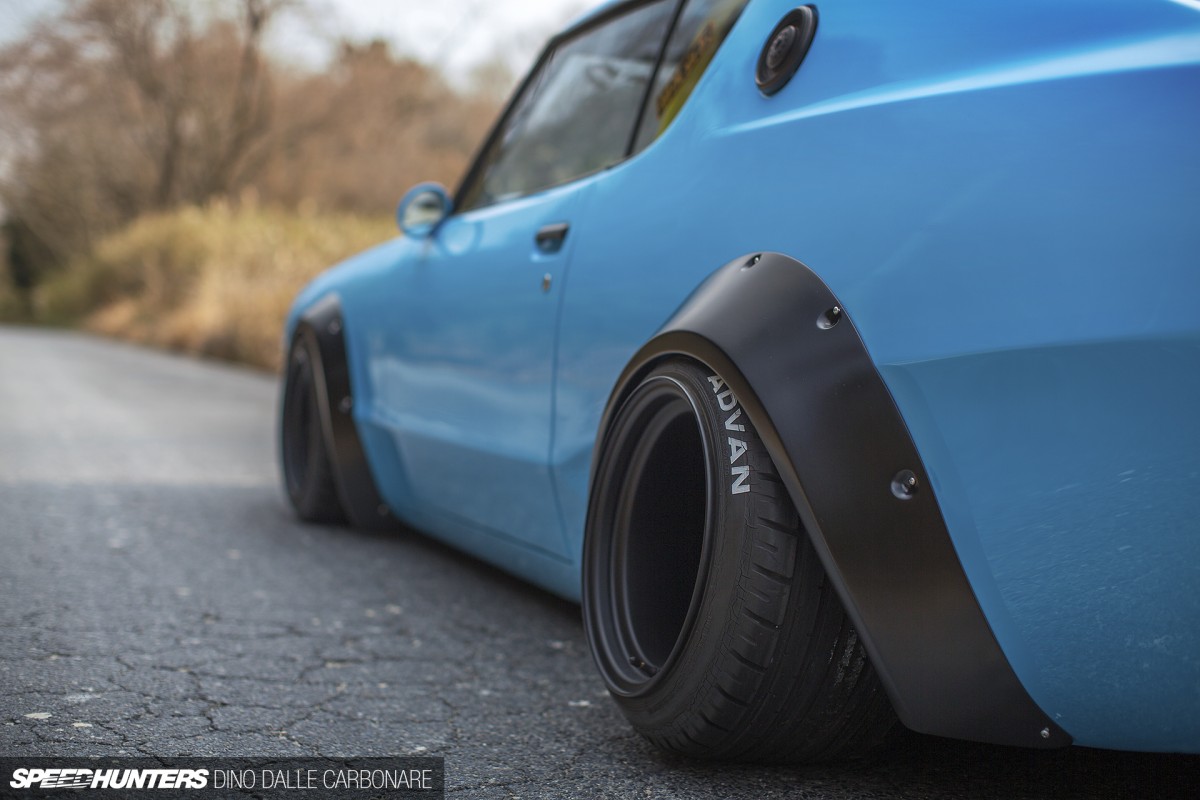 Getting a car like this to sit just right is as important as the details themselves; there must be a ridiculous sort of ride height. Check. A decent amount of negative camber is an absolute must. Check. The fenders flares must swing down over the tire's sidewall towards the protruding lip of the wheels. Again, check. For added bonus, you have to run the widest possible wheels which as I mentioned already is done with a set of custom-widened 14-inch steelies measuring a massive 13 inches across the rear and 10 inches at the front. It's close to impossible to find the right sort of rubber to achieve the right sort of look so like on Kato's other kyusha rides, the Kenmeri runs vintage Advan race tires.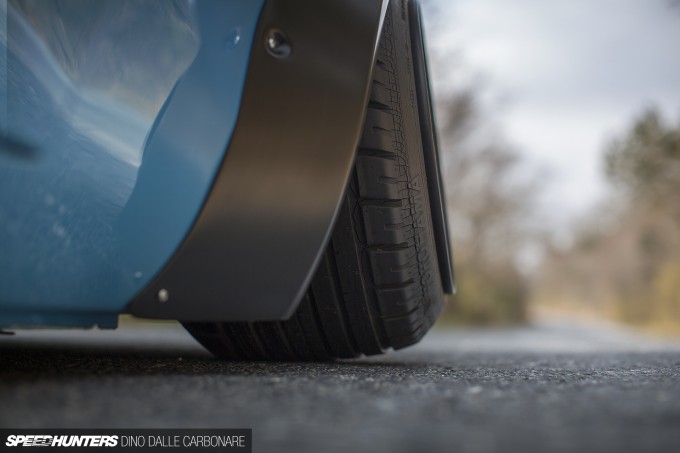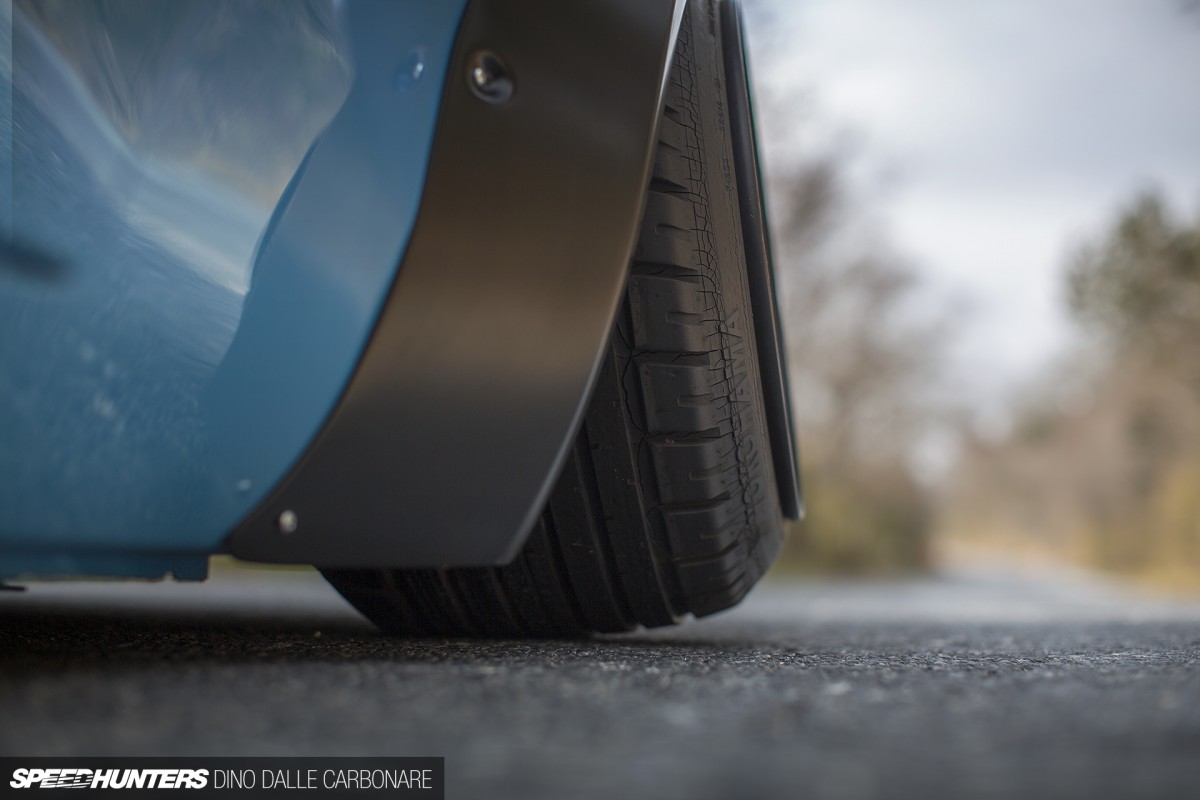 Yes there are plenty of cracks due to age and the obvious stretching that has been done, but that's just something you have to be prepared to deal with for the right sort of look.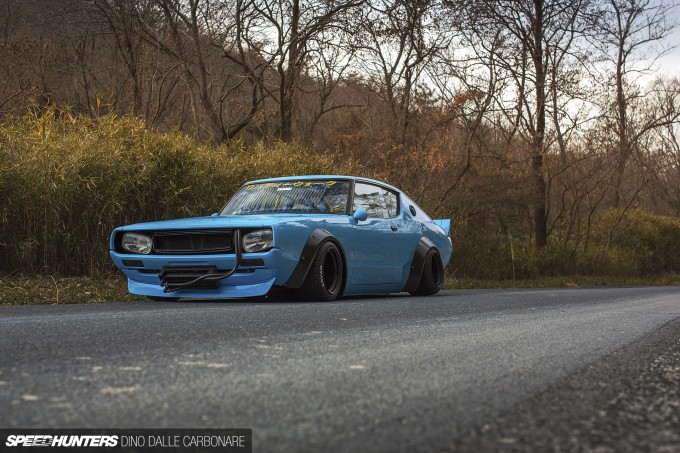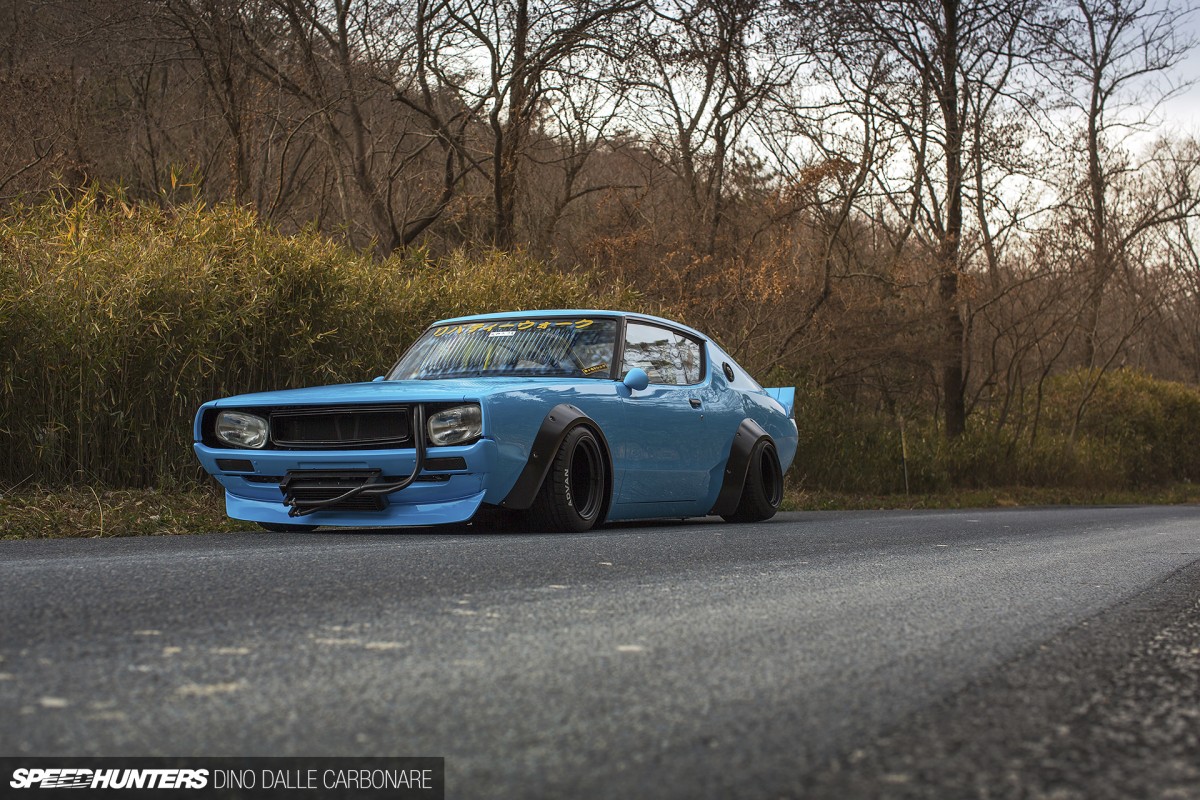 Combine all of the details above and you have nothing short of shakotan perfection; a low-slung, fear-inducing, menacing creation which you just can't help but stare at.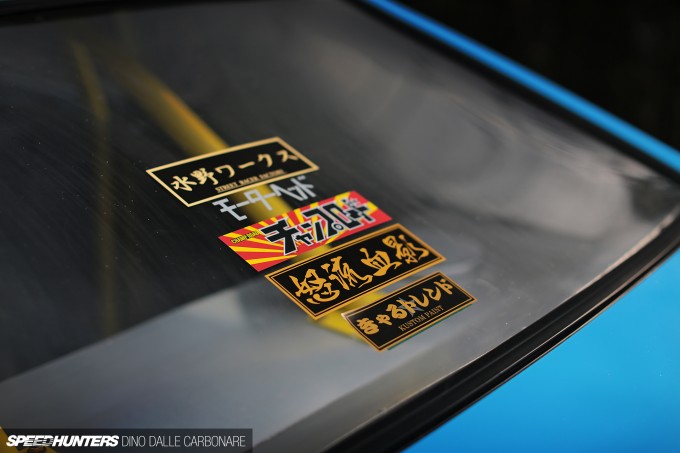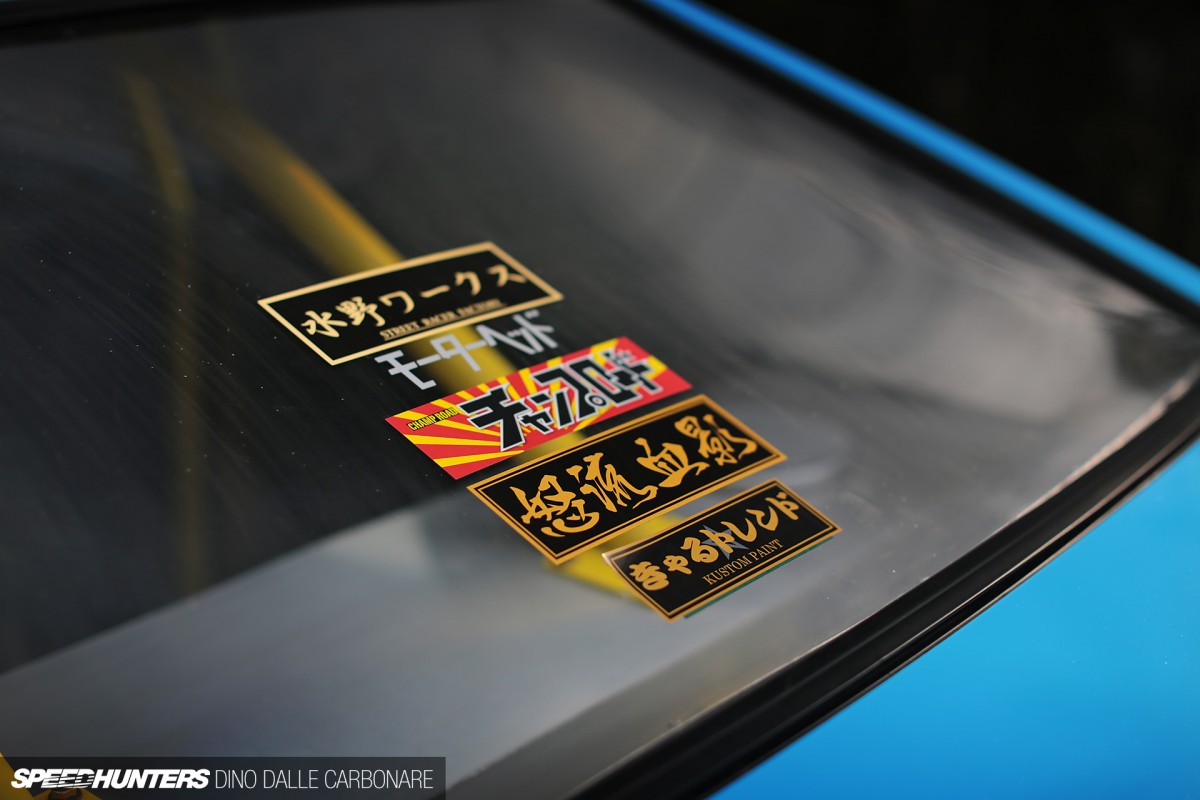 And that's precisely what I did: lots of staring, and lots of shooting in an attempt to get all of those details.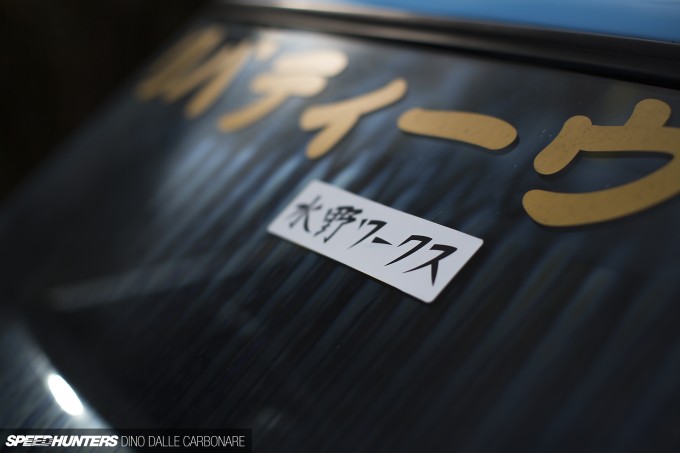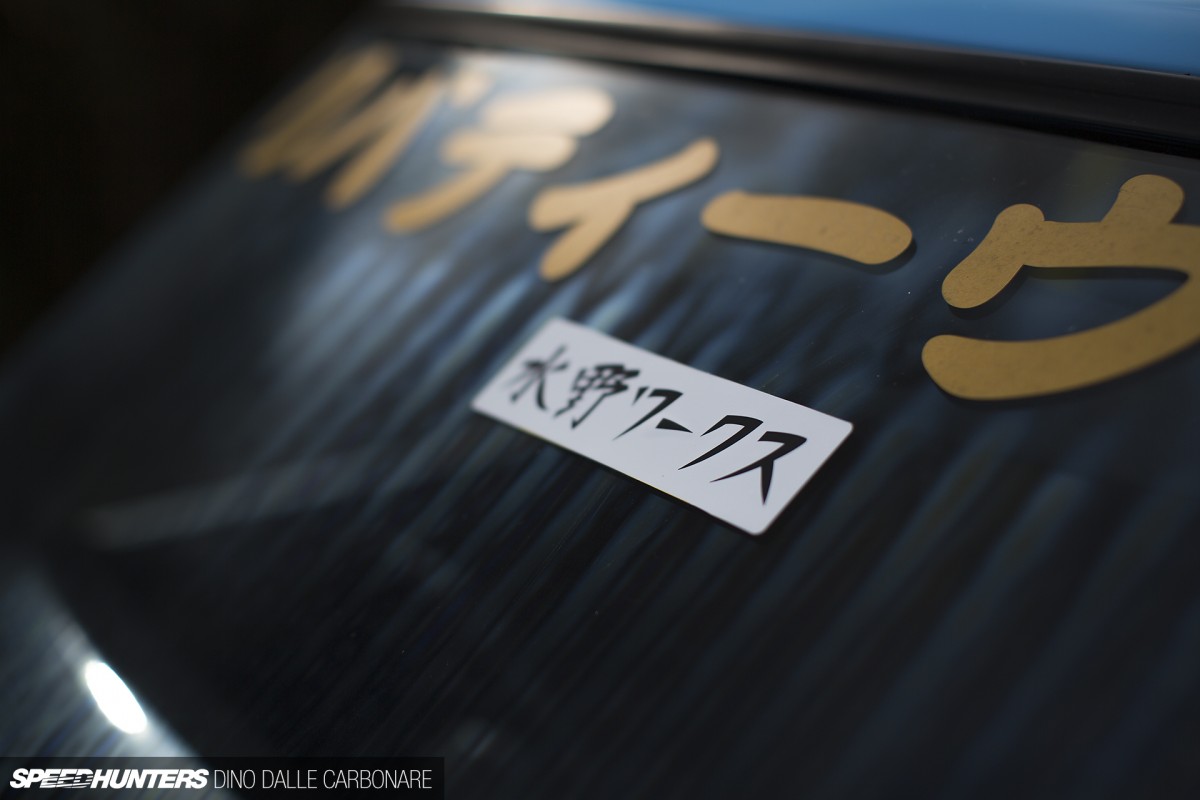 Like all of Kato's vintage cars, the Kenmeri wears the Liberty Walk logo on the windscreen, written in a mix of Hiragana and Katakana characters, but it was the little black on white sticker below it that I was more interested in. Mizuno Works is one name that is highly respected in this scene; everyone knows about them and the awesome work they do, so there was definitely no more waiting. I HAD to pop the hood.
Powered by Mizuno Works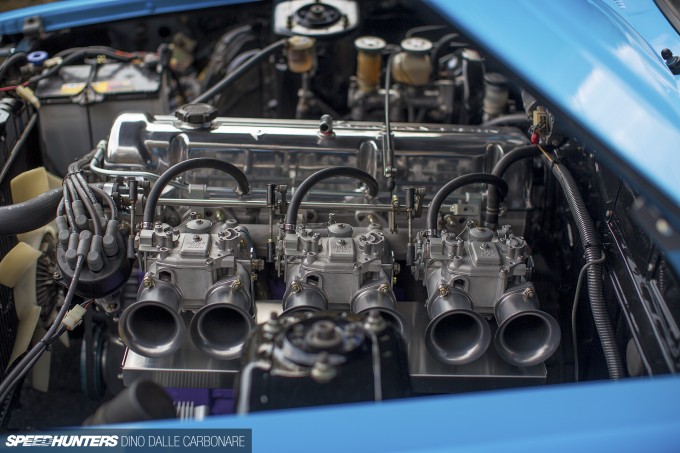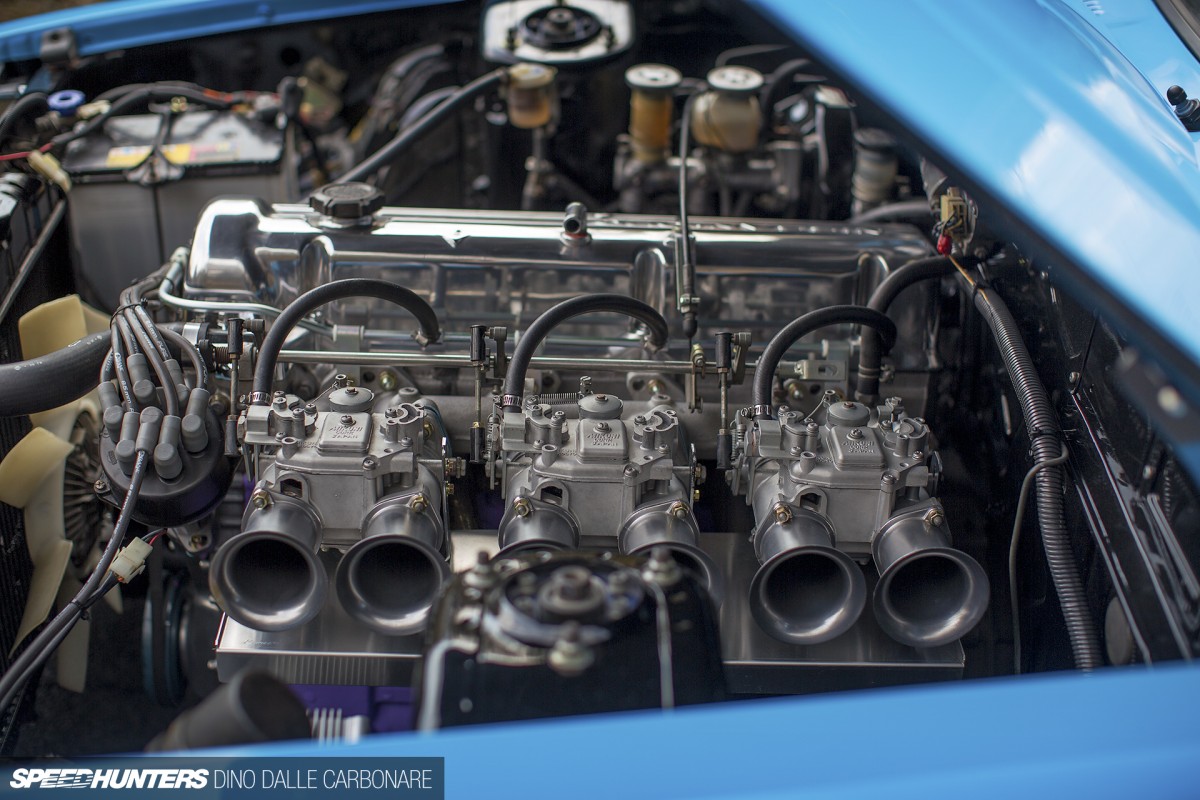 Yep, it's hard to be disappointed when you have a view like this waiting for you!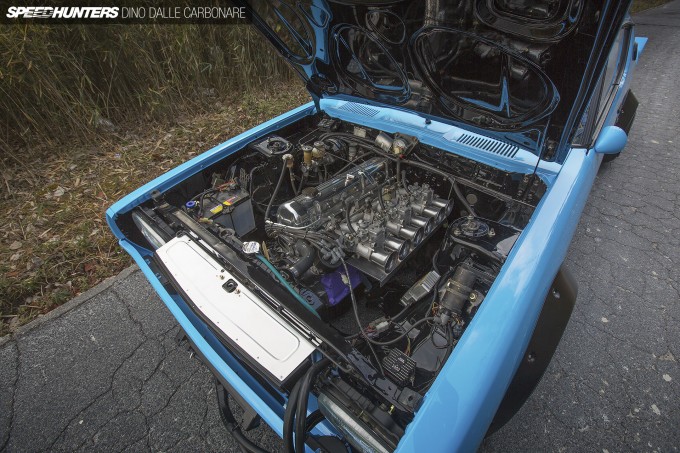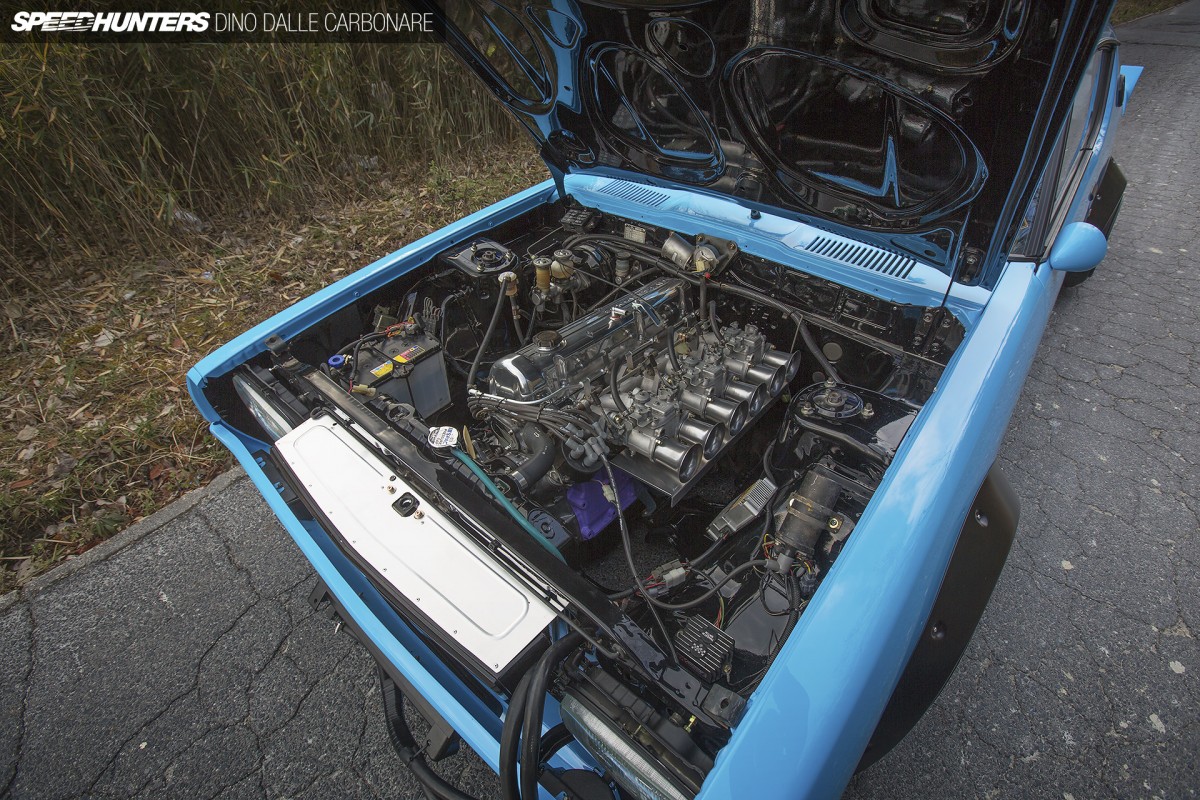 Kato really had Mizuno Works go to town on the L28 that the GC111 runs. The motor was stripped down, taken completely apart and subjected to a complete overhaul and rebuild which saw it spiced up – a little understatement there – along the way.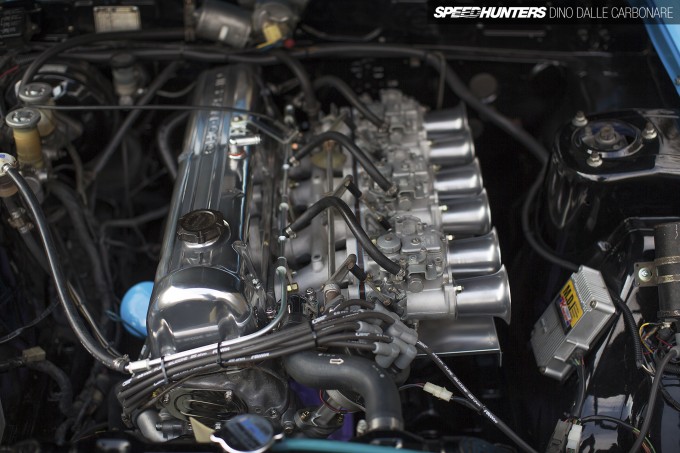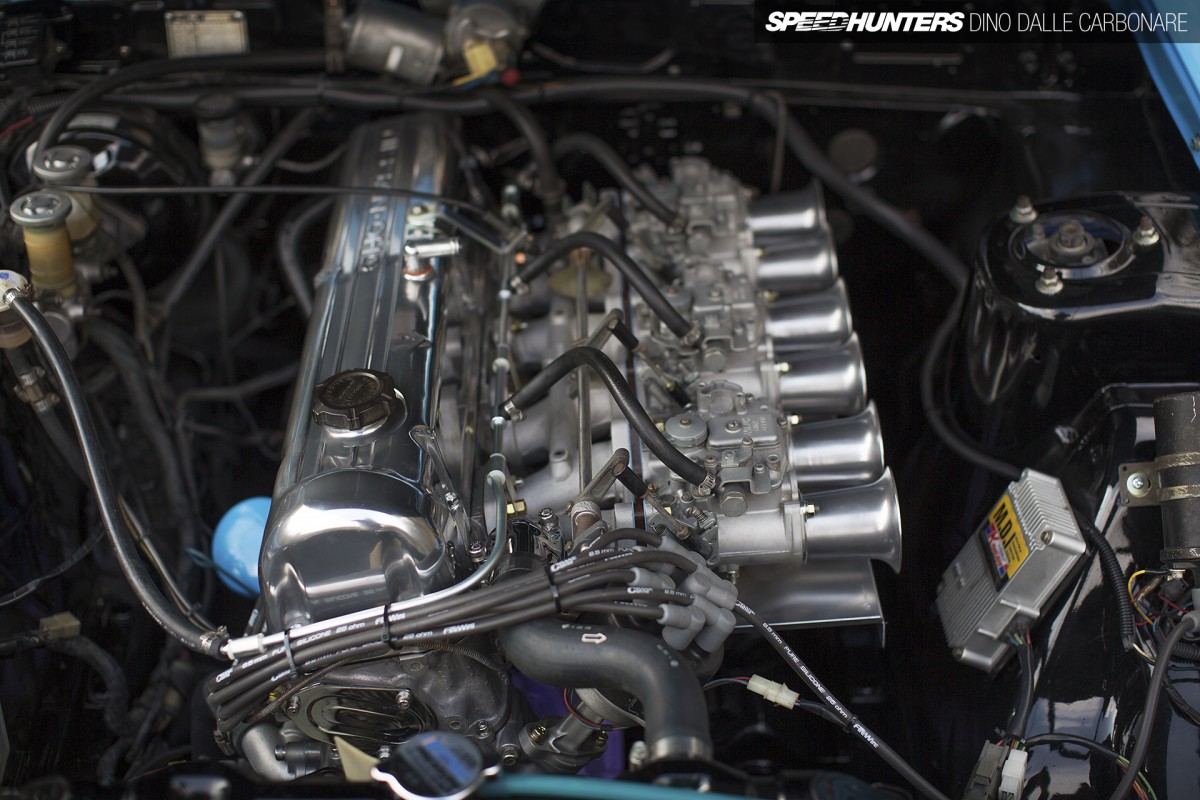 At its heart is an all-new bottom end based around a longer stroke LD28 crank, I-section connecting rods and forged AS Watanabe 89.25 mm forged pistons. Combined, this allows the capacity to grow by 300 cc to 3.1L, also running higher compression. A great deal of work has gone into the top end which has been hand polished to boost flow in the combustion chamber, as well as the intake and exhaust ports. An Engine Works 77-degree camshaft actuates the Kameari Engine Works oversized valves, 46mm for the intake and 38mm on the exhaust side.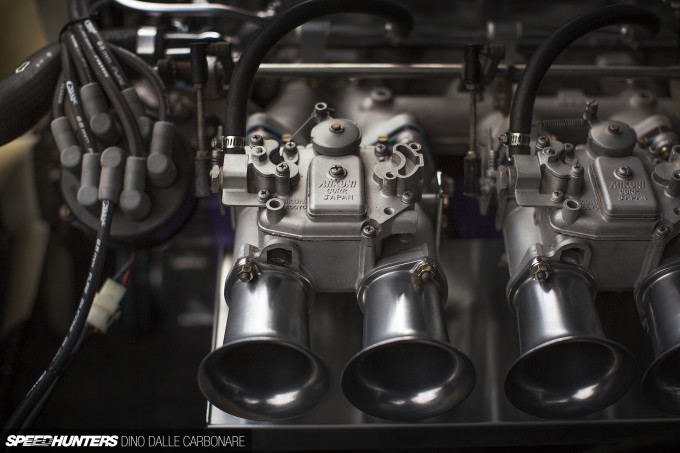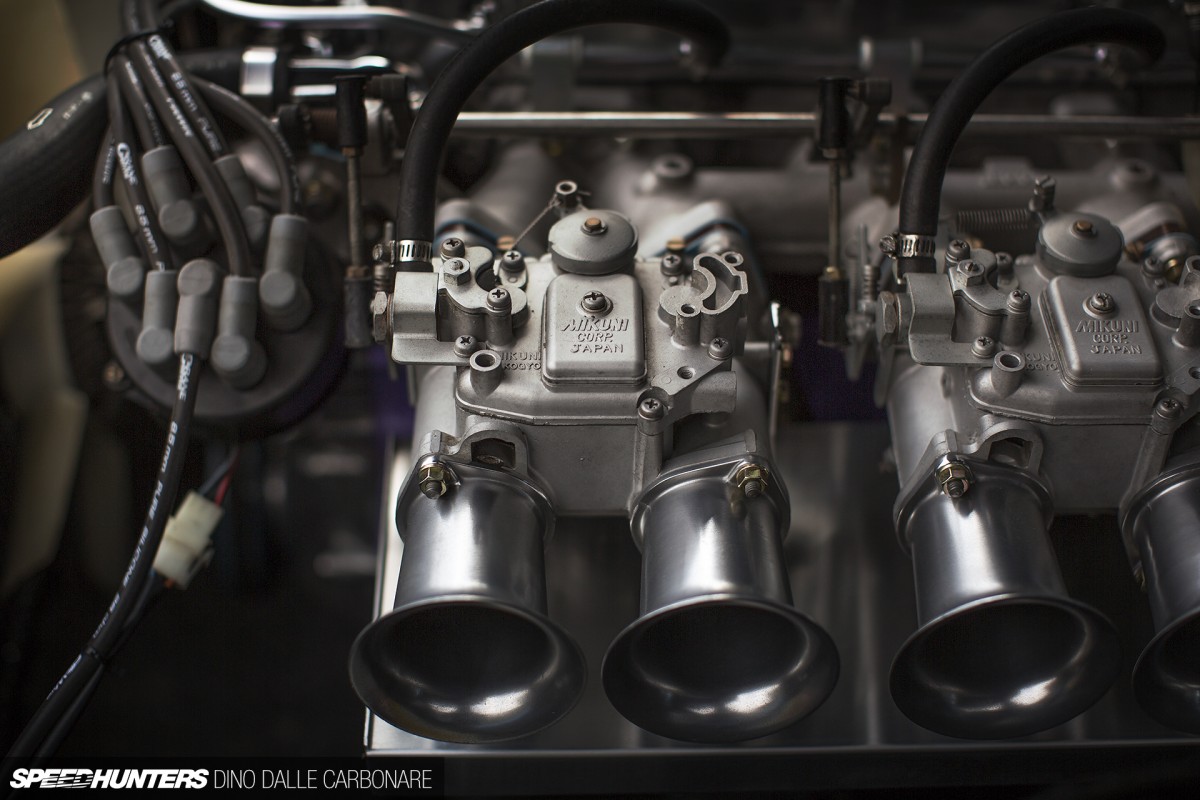 Providing the necessary mix of air and fuel are a triplet of Mikuni 44 mm carburettors mated to appropriately chosen velocity stacks, tuned to give a good trade-off between low-end torque and response, and outright top-end power. On the power side of things, the car hasn't really been put on the dyno, but it's not uncommon for these sort of Mizuno Works fully built, stroked L28s to run around 100hp per liter.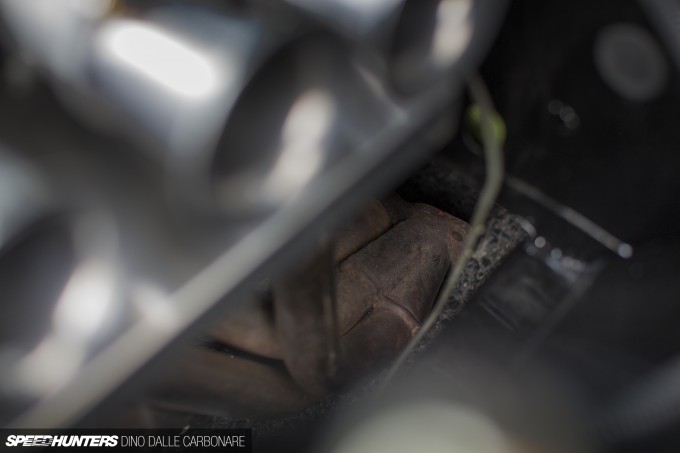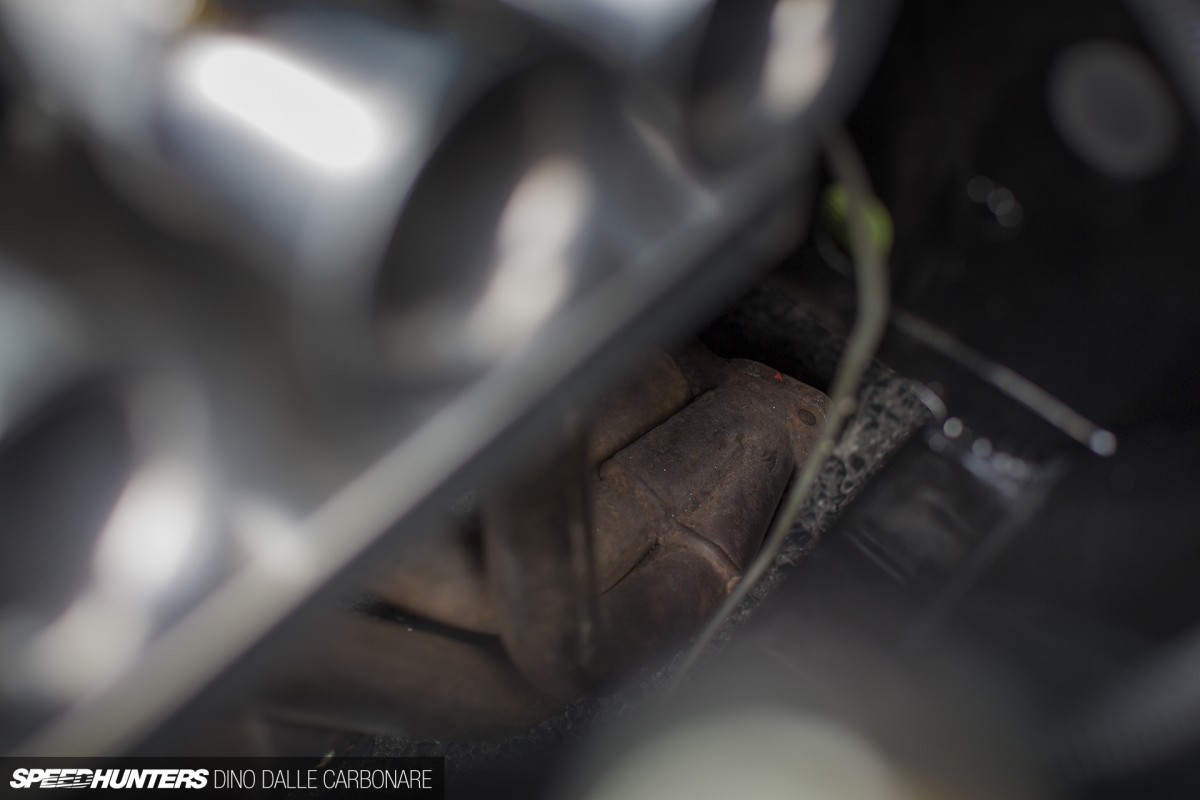 How about the exhaust I hear you ask? Well there isn't much there… yet! For now there's just a non-brand set of stainless steel headers mated to, well, no exhaust. So yes it is very loud and very obnoxious, but in a very good way if you get my drift. Custom headers – or takohashi as they're called in Japanese slang (octopus legs) – are on their way to being fabricated along with an exhaust system to help quieten down the eardrum-shattering straight-six sound.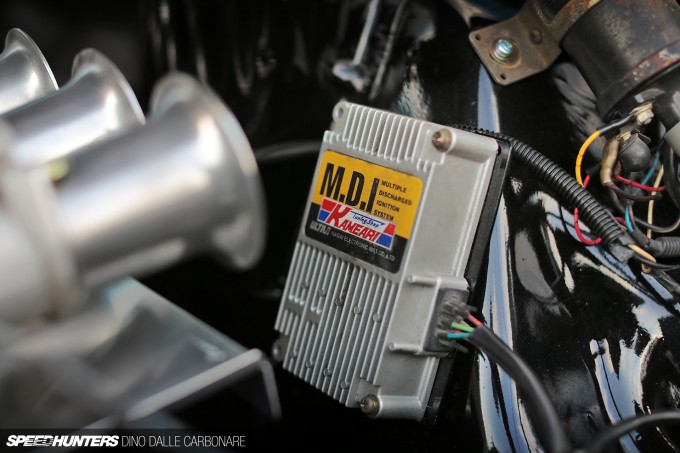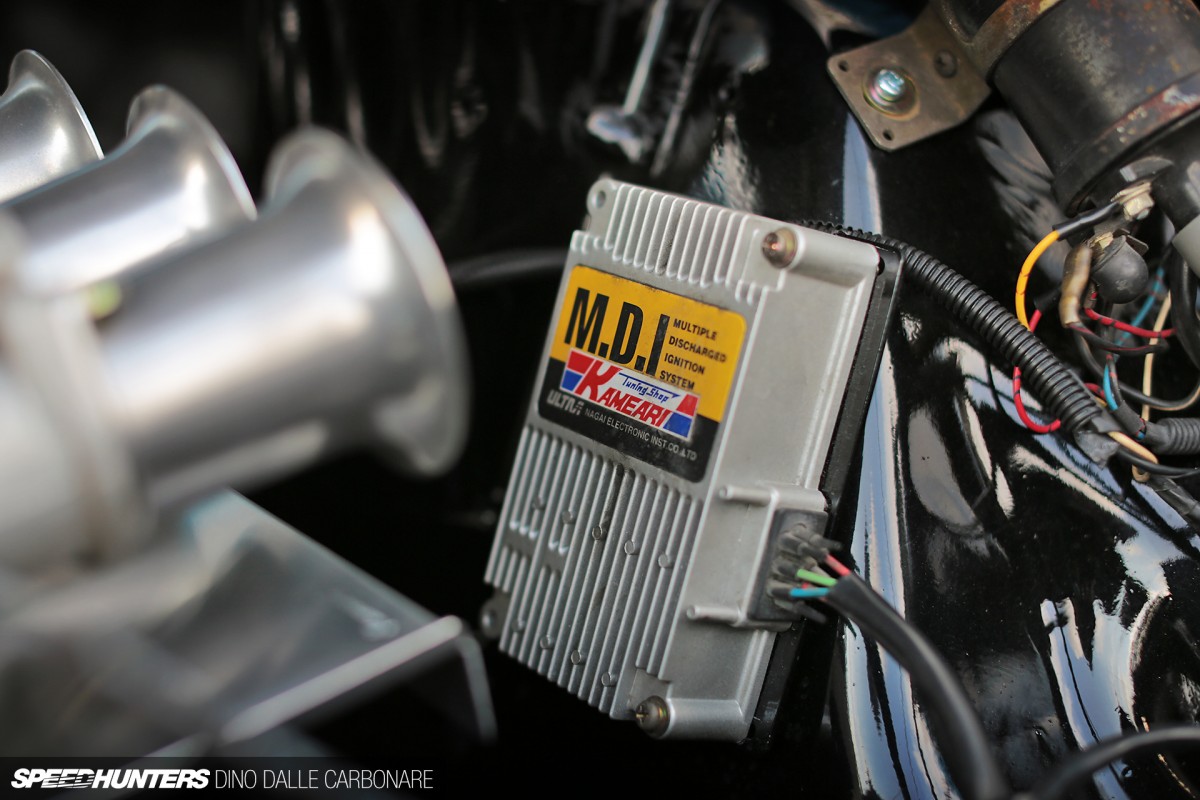 Making sure each cylinder combusts all of its air and fuel mixture as cleanly and efficiently as possible, an Ultra MDI unit has been added to increase the spark intensity the NGK plugs provide.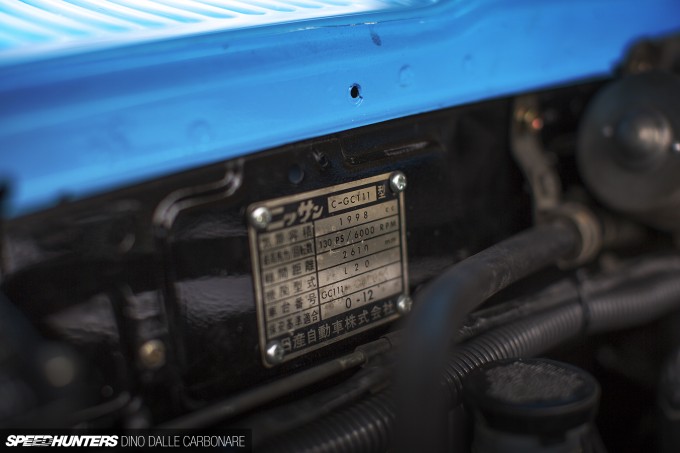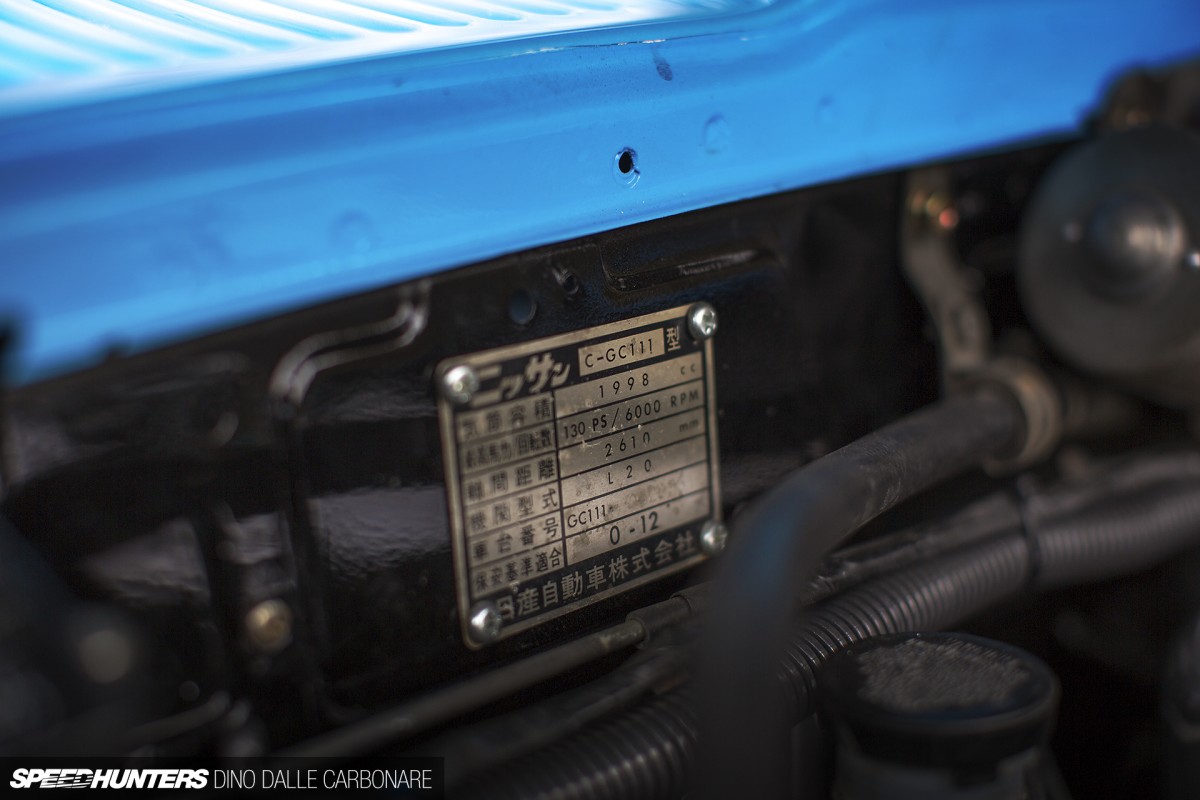 As the original Nissan chassis plate suggests, this stock C-GC111 Skyline two-door used to be powered by an L20 straight-six, not the most potent of engines providing around 130 PS (128.2hp) despite offering the usual, raspy straight-six wail synonymous with all vintage Skylines.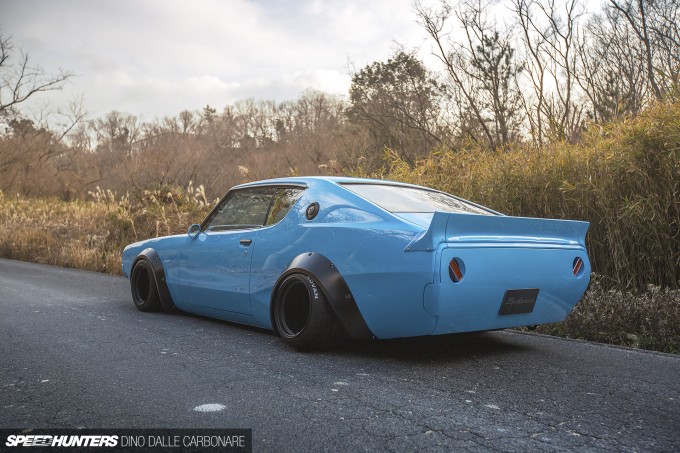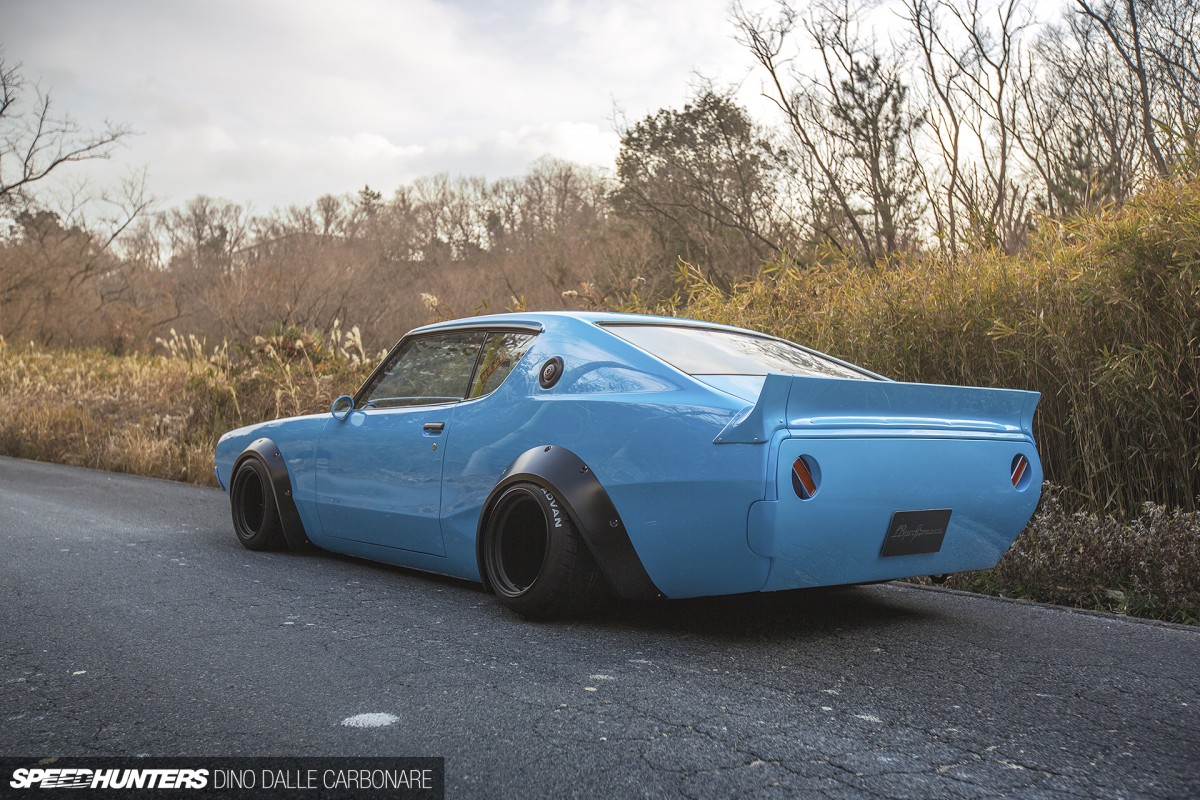 So it seems Kato has made sure that the bespoke shakotan kyusha exterior is matched by ample power, provided by a motor built by nothing short of a legendary shop.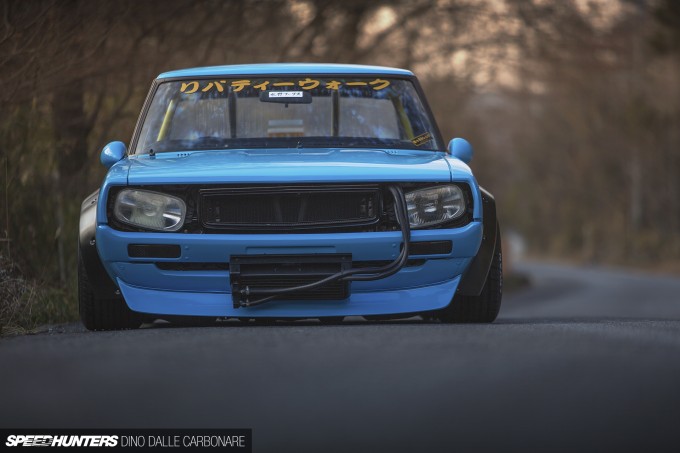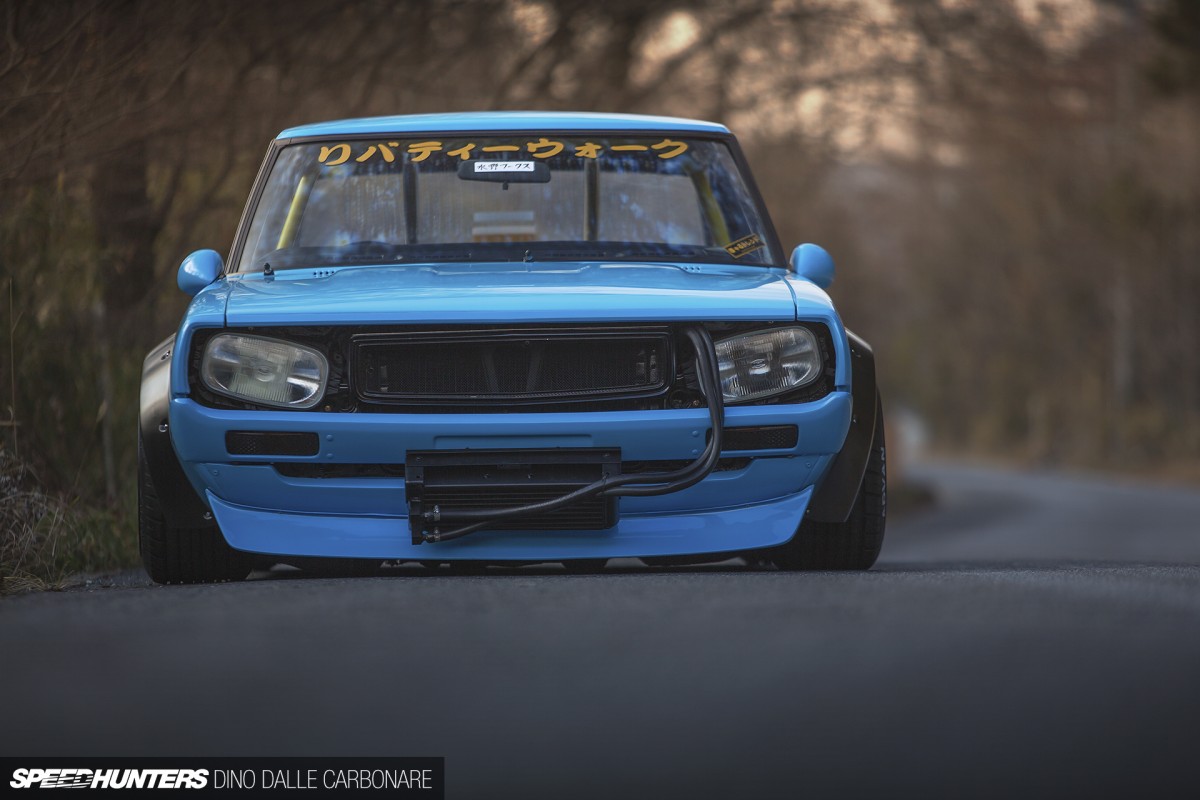 As you can see above, the shakotan term is well-deserved, because as I mentioned earlier, there's no more than 5mm clearance offered by the lowest point underneath the car. But looks and performance aside, there's one final area that Kato has executed to perfection.
The right sort of details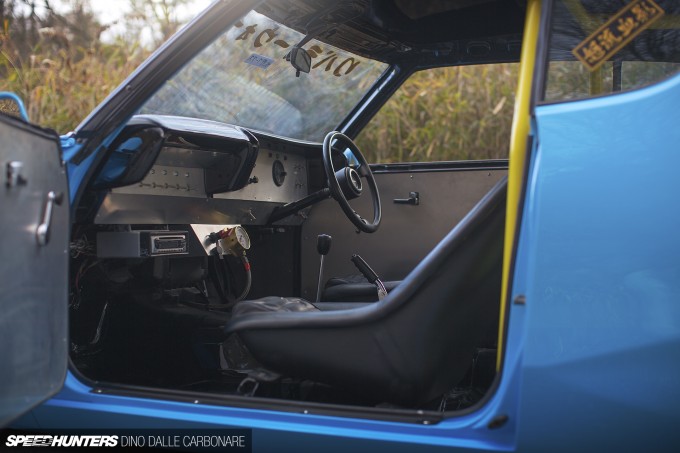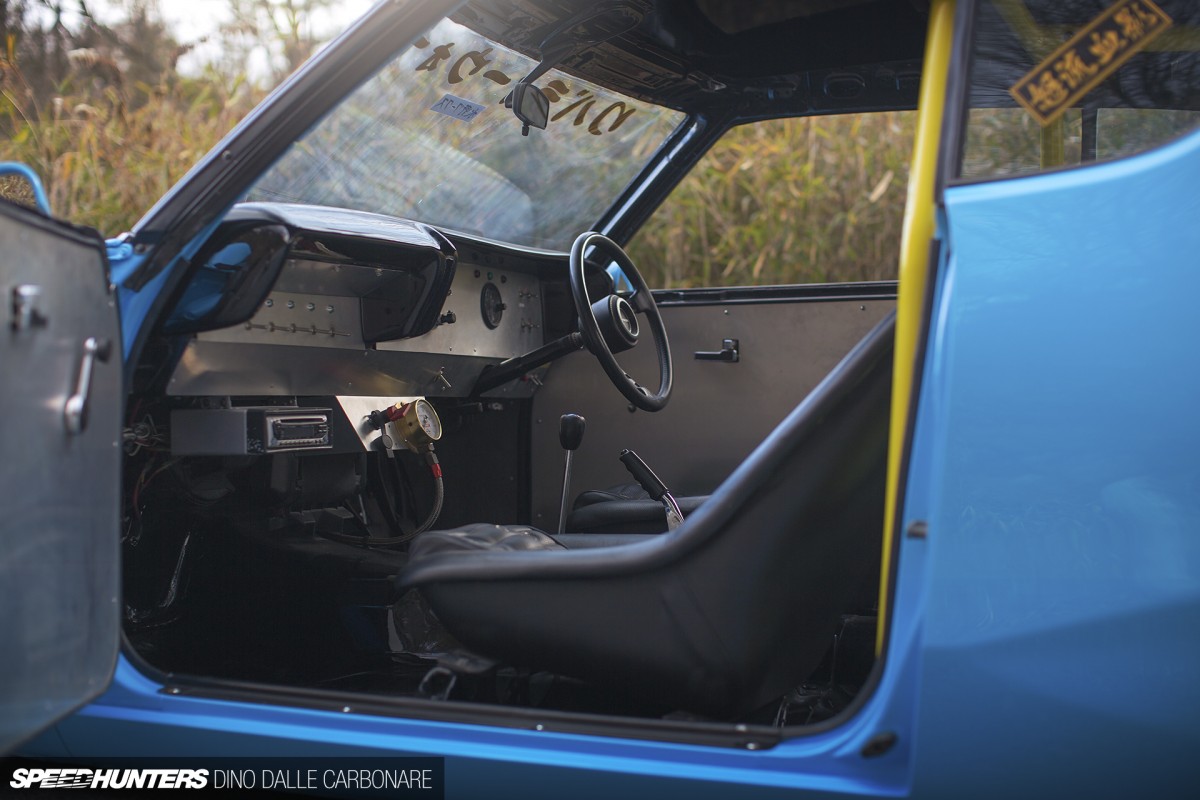 The interior. Swing open the heavy steel doors and you reveal a cabin that beautifully combines an authentic stripped vintage racer feel with just the right sort of touches.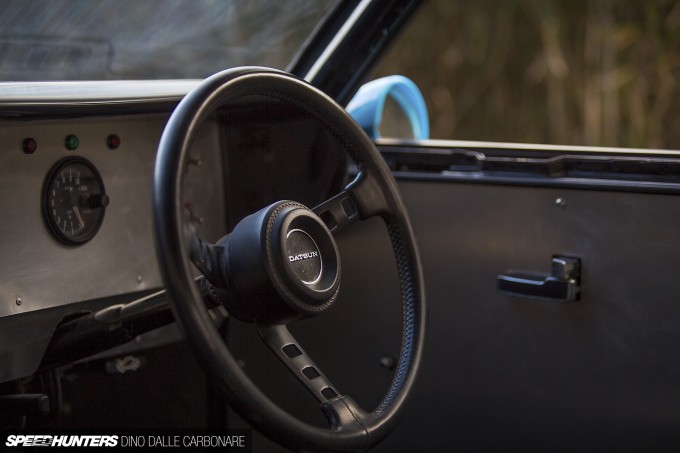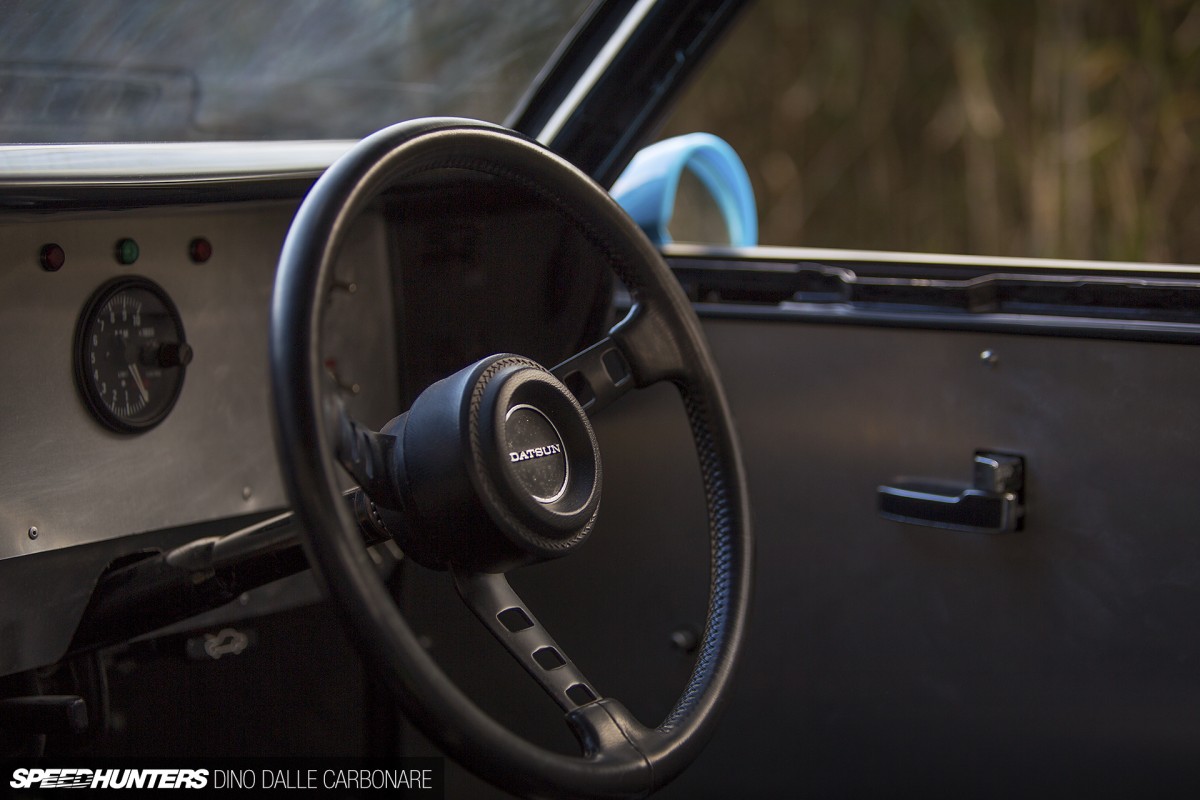 Take the period-correct Datsun competition steering wheel, the only 'handle' (as the Japanese call it) that this sort of car would, and should be equipped with. It's a touch of perfection in what is an ultimately minimalist sort of cabin, stripped out of the need to dump as much weight as possible but at the same time assume the same sort of qualities that seventies Japanese race cars had back in the day.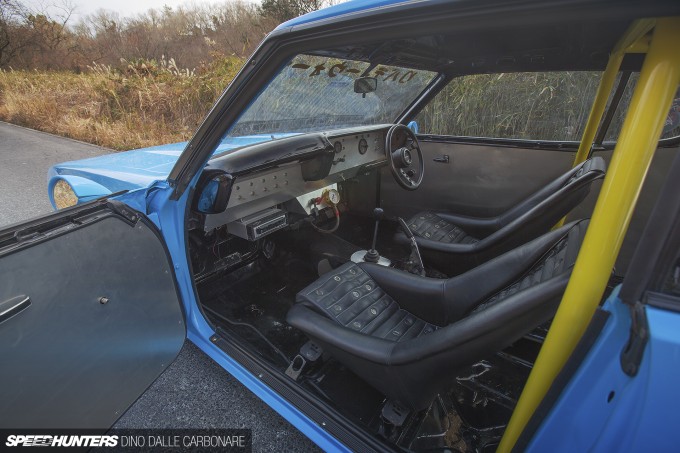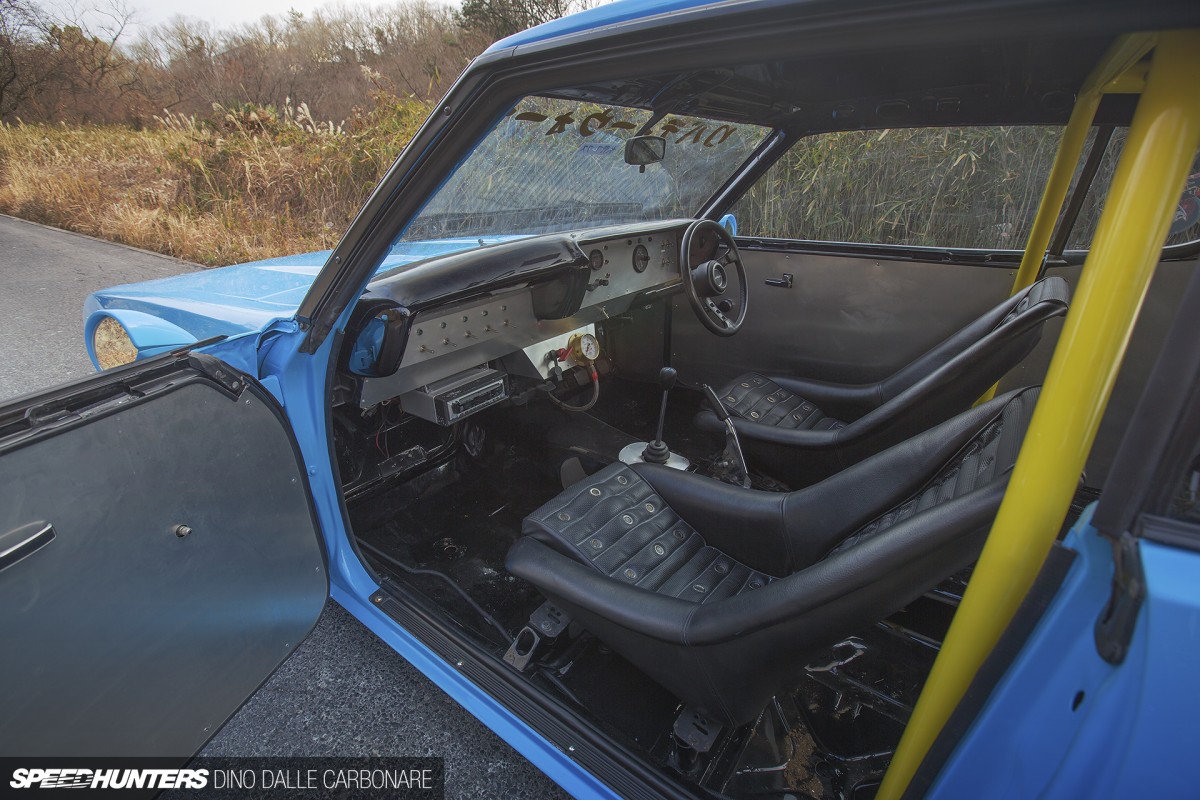 That's why you find aluminium sheet covering areas where stock factory trim has been removed, like the door cards, parcel shelf and the entire dash panel.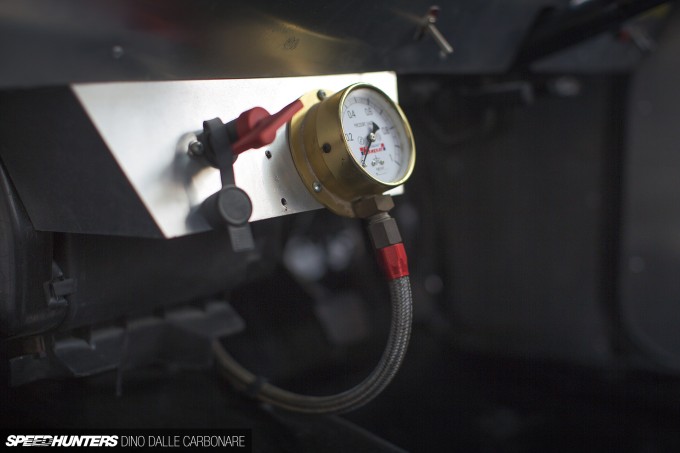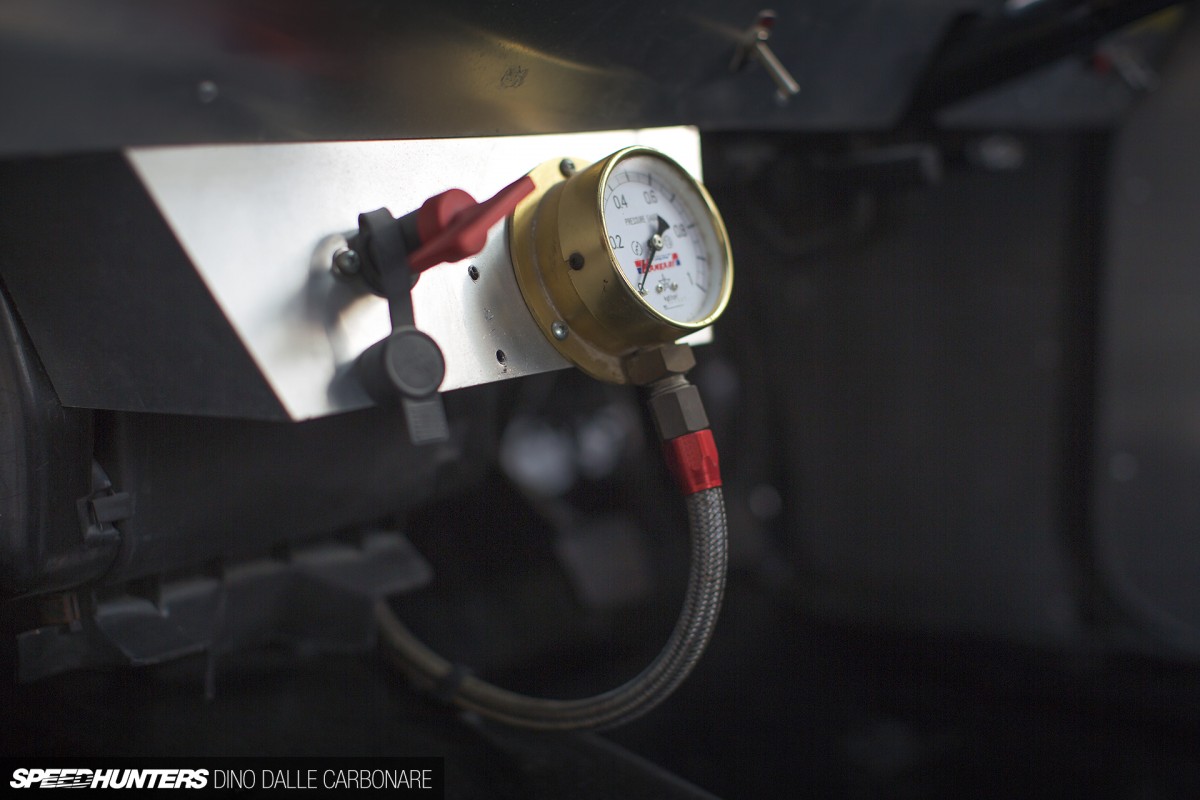 There honestly isn't much to look at, bar some well-selected bits of analogue instrumentation like this Kameari Engine Works fuel pressure gauge on the custom center console, helping Kato keep an eye on a pretty vital engine parameter.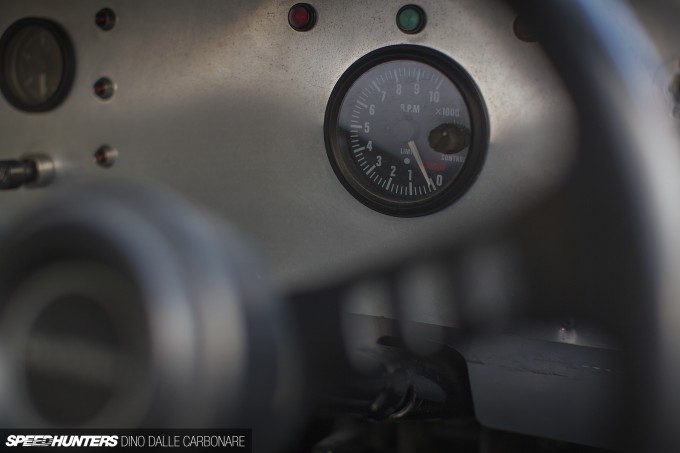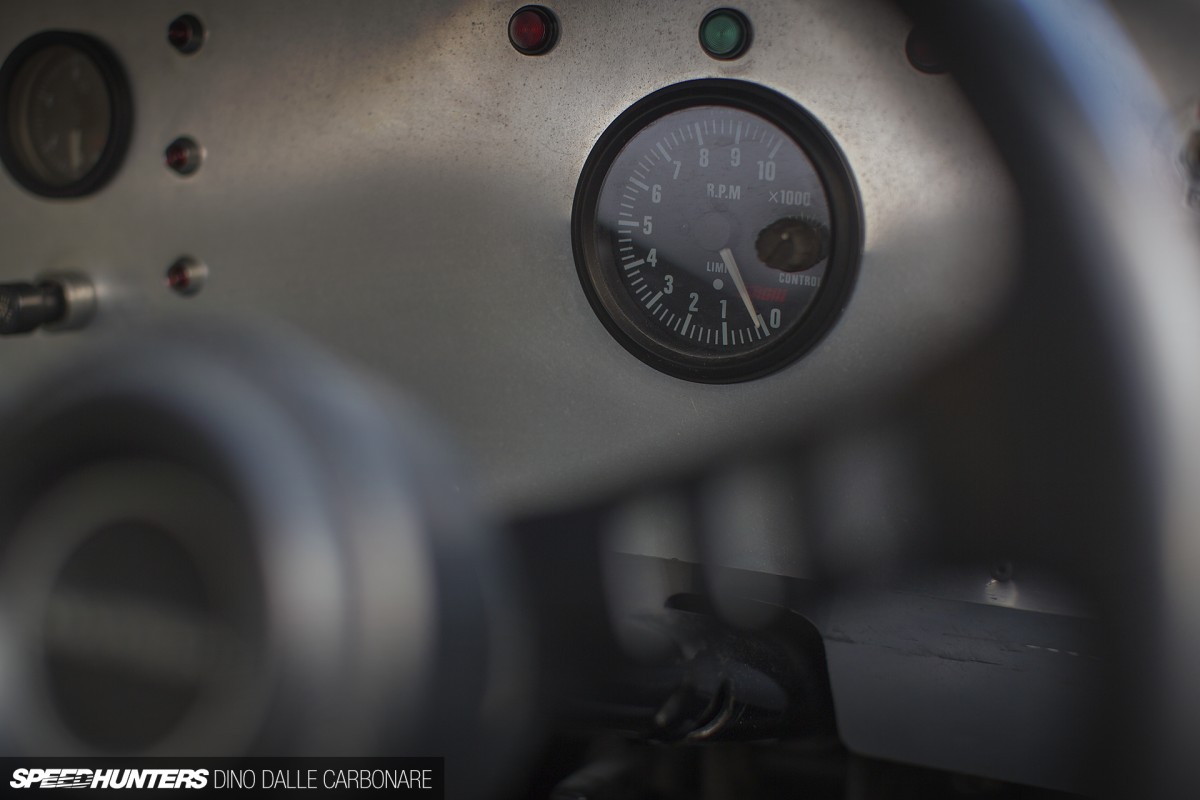 The stock instrumentation has been eliminated, in its place a simple set of four Omori gauges that start off with the main unit, the tachometer sitting in center position right behind the steering wheel. The revs are really the only thing Kato has to worry about, as there's no speedo to distract attention. On the left, three more Omori clocks give accurate readings of oil temperature and pressure, as well as water temperature.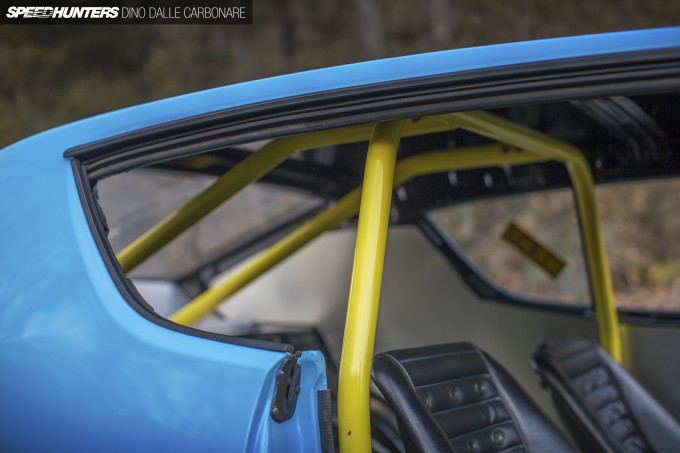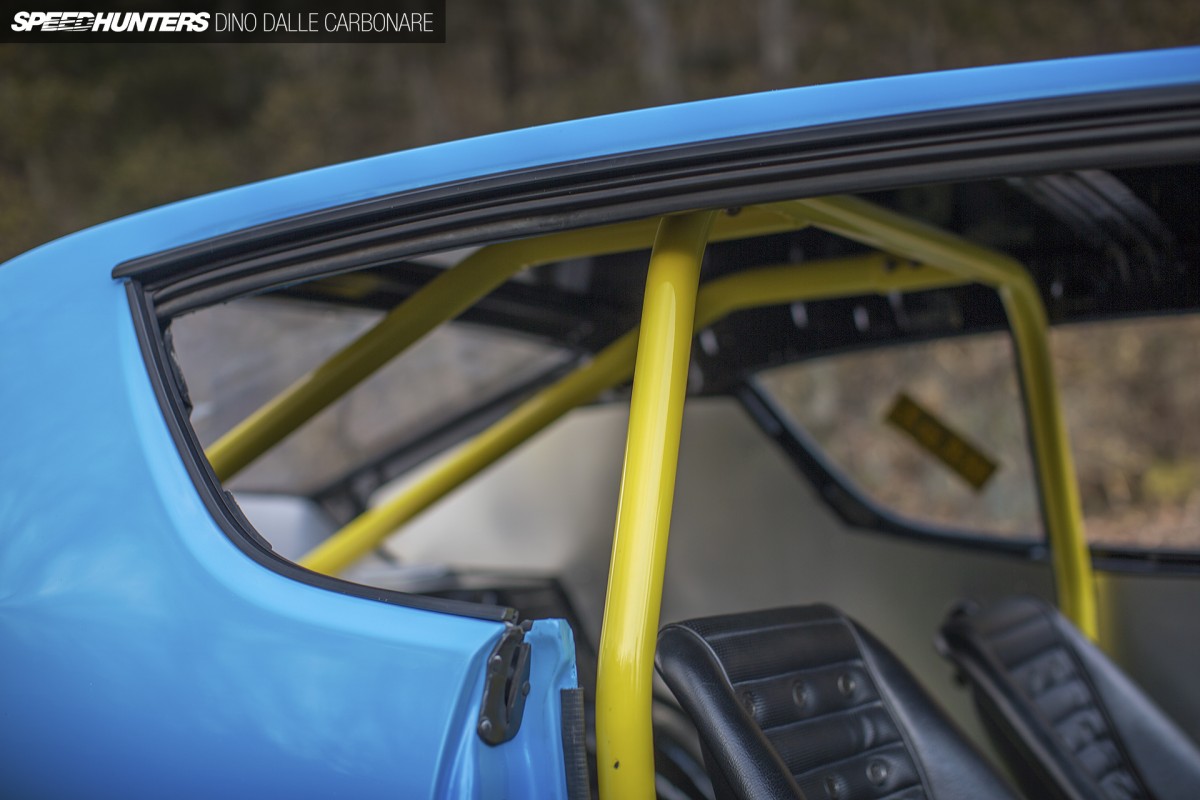 The Liberty Walk Kenmeri wouldn't be a proper yanki kyusha if it didn't have a few details to set it apart from more authentically built, period-correct classics, and one such detail is definitely the Mizuno Works half cage, painted in a rather contrasting shade of yellow.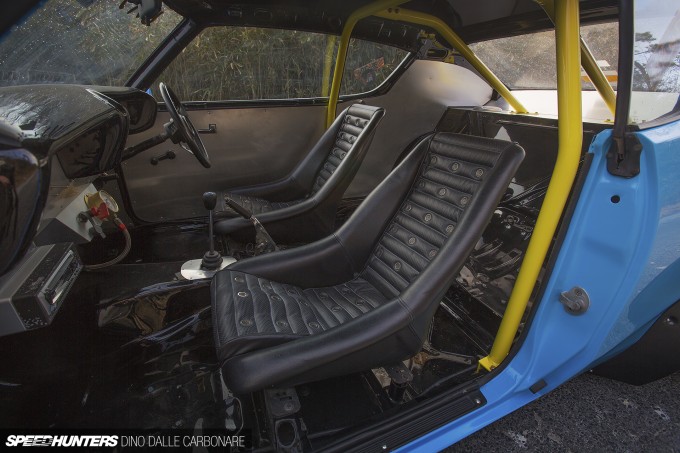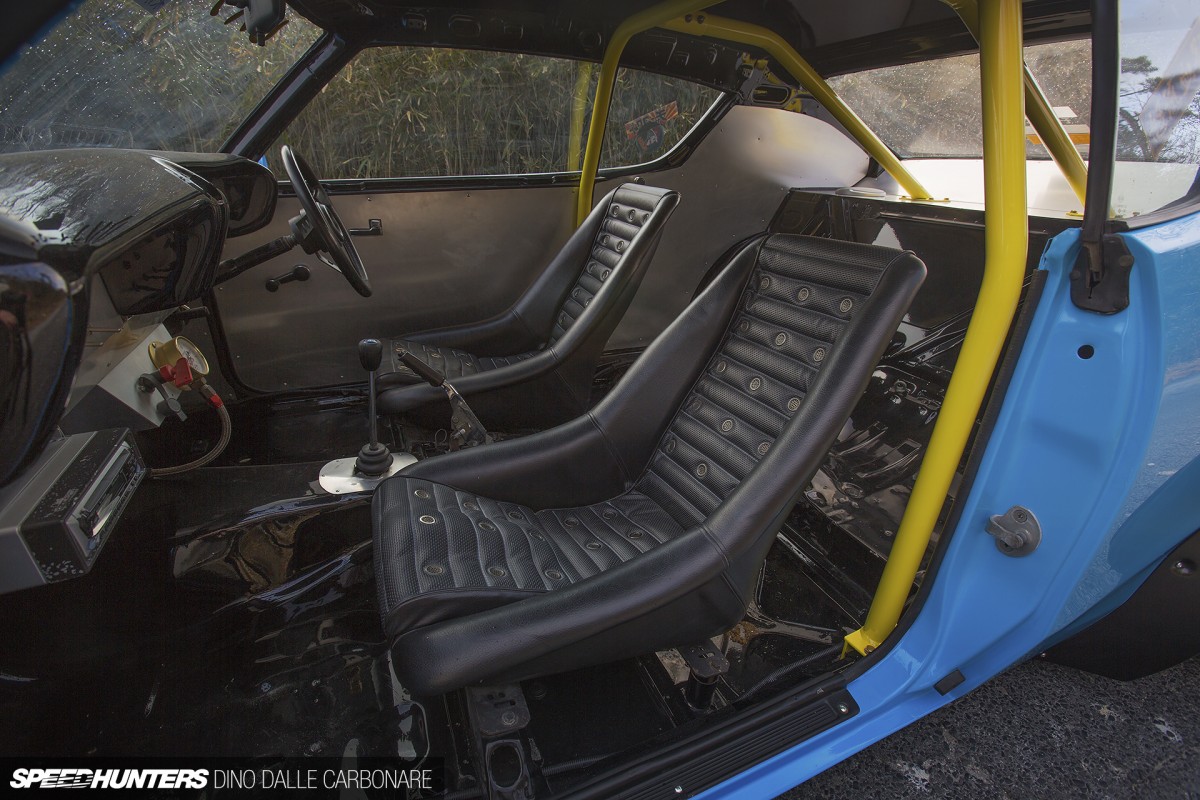 Any Nissan enthusiast lusts after a set of original Datsun sport seats and they're precisely the seats that Kato went for, ticking all the right boxes when it comes to authenticity and the right sort of look for these kind of cars. The addition of a Carrozzeria headunit and a pair of parcel shelf speakers might look slightly out of place but it's all part of the look and style.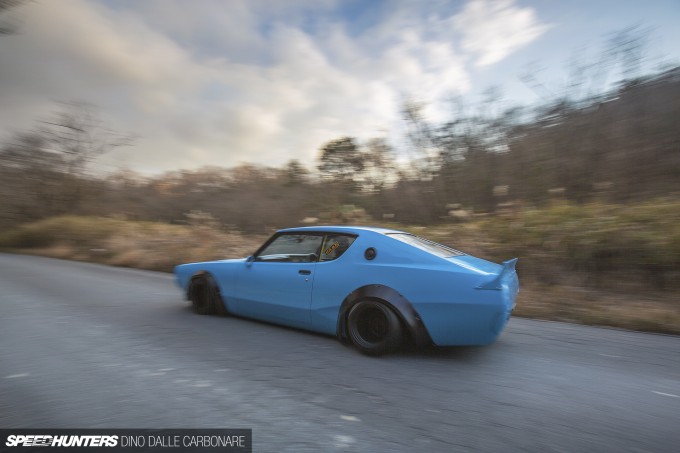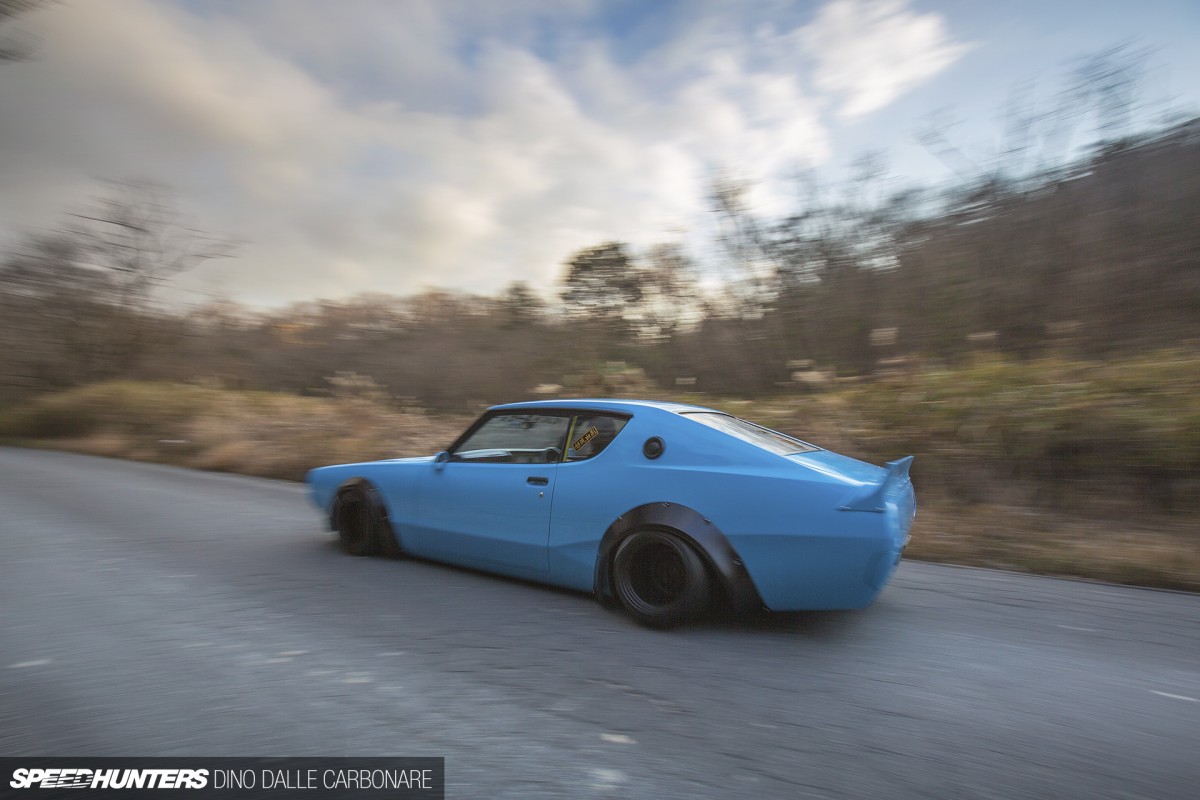 It's hard to justify cars like this to an audience that isn't predominantly Japanese. Even the majority of Japanese people don't get the shakotan thing, but there's nothing to really 'get'. It's a way of keeping an old style alive; a call back to the seventies and the start of Japanese motorsports all coupled to an underground way of doing things. You don't like the look or result? That's ok, Kato and others that are into these sort of cars couldn't care less; all they want is to enjoy their cars in their own unique way. And to me there's nothing wrong with that, just as there's nothing wrong with bolting overfenders onto Ferraris and Lamborghinis. Call it the Liberty Walk way…