Where inspiration lives
Meet Brian Stupski – hot rod designer, automotive encyclopedia and all-round nice guy.
First things first: allow me to brag on his behalf to back up that lofty claim in the title of this story. Last November at SEMA, he had five cars on display and you'll be surprised when you realize which ones they were. His designs have won Street Machine of the Year, the Barrett-Jackson Cup, the Mother's Shine Award, Goodguys Custom Rod of the Year, even the revered Ridler Great-8. That was just in 2013.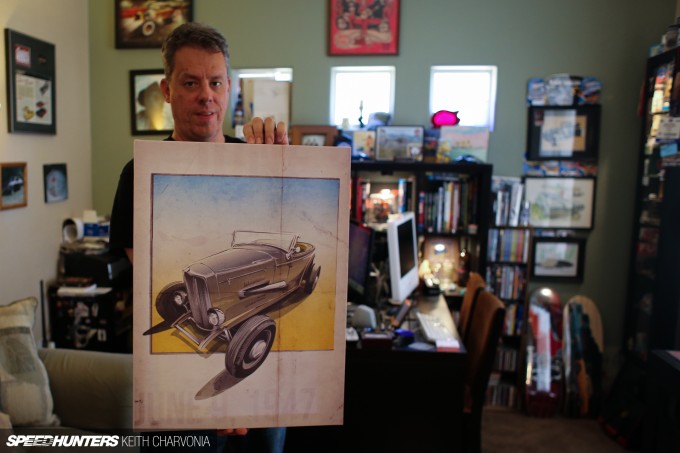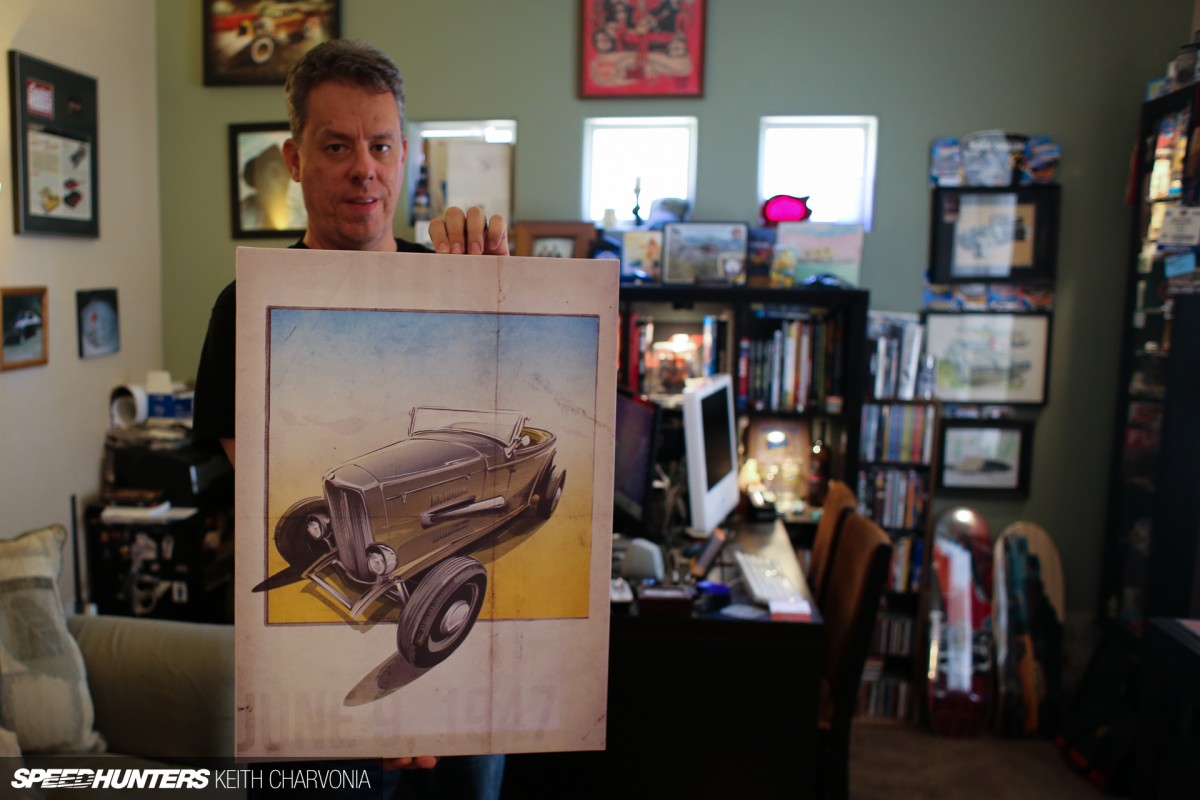 Brian runs Problem Child Kustoms – StudioPCK for short – out of a small office/studio in his Arizona home. Picture it as a top secret control center for custom car builders all over America. Surrounded by computer monitors, toy cars and stacks of reference material, his phone never seems to stop ringing – which he doesn't mind one bit. He's refined the art of bench racing into something that can produce tangible results, and that's precisely why the top hot rod and muscle car builders all have Brian on speed dial.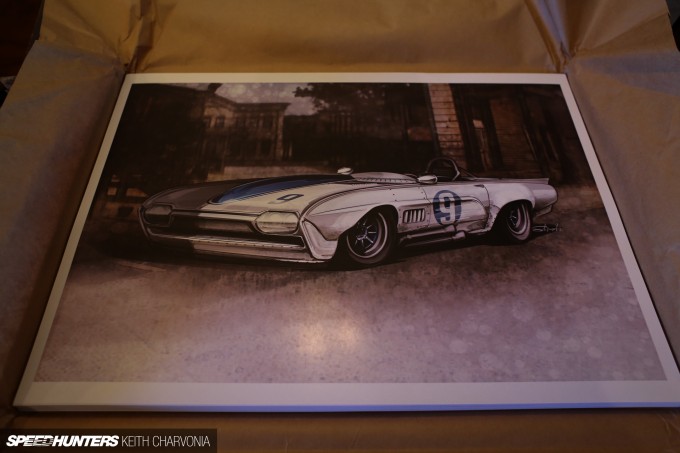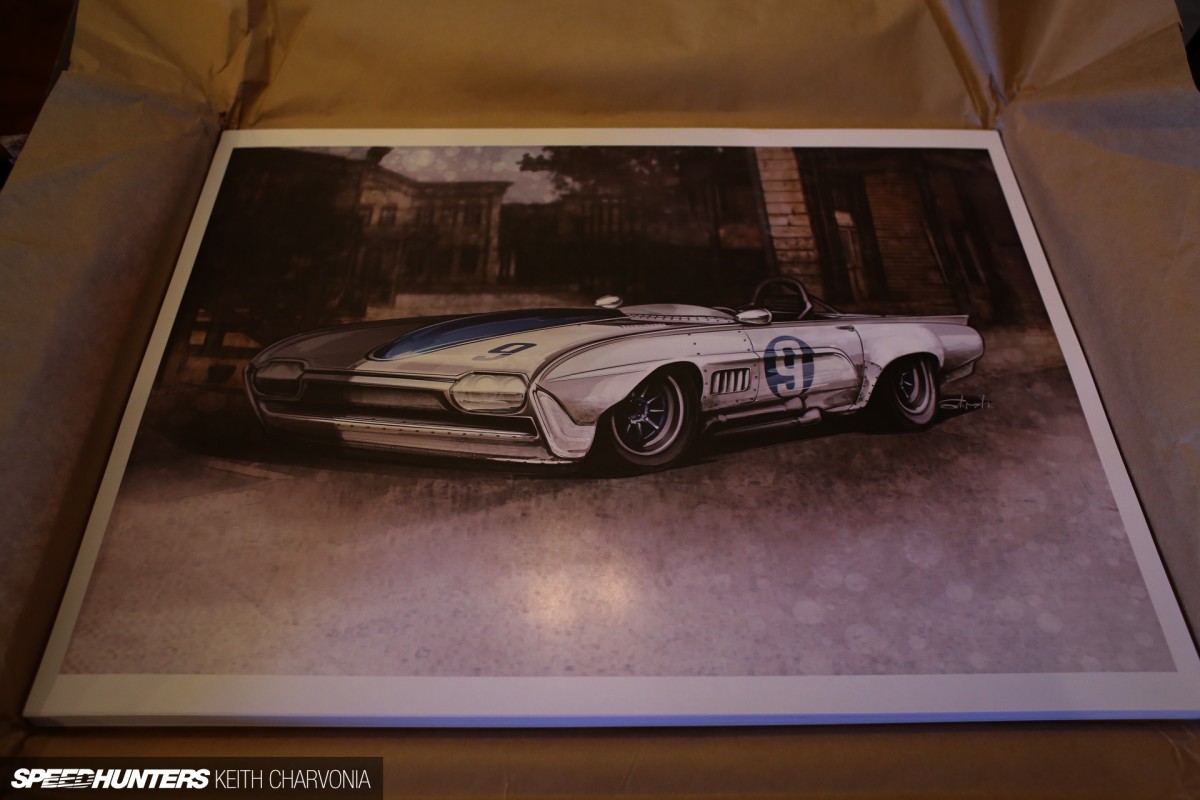 For all the famous hot rods he's cranked out over the years, I was a little surprised to learn that Brian works from a small home office. But I soon realized where the action was really going on – it's all inside his head. His buddies used to call him 'Human Hollander Interchange' back in high school due to his ability to quote part numbers from nearly any make and model. He's always been the guy to call when you need to figure out which bumper brackets you're about to buy at a swap meet. He was raised on cars, and though he might have tried a few different routes professionally, fate would still have him right where he is today – putting that sick wealth of knowledge to work designing cars.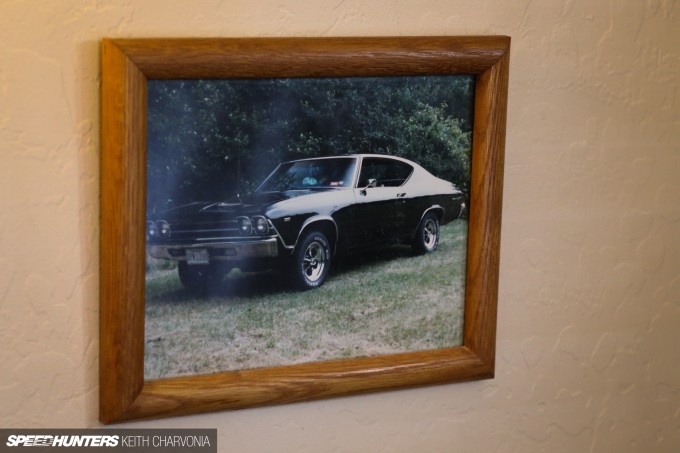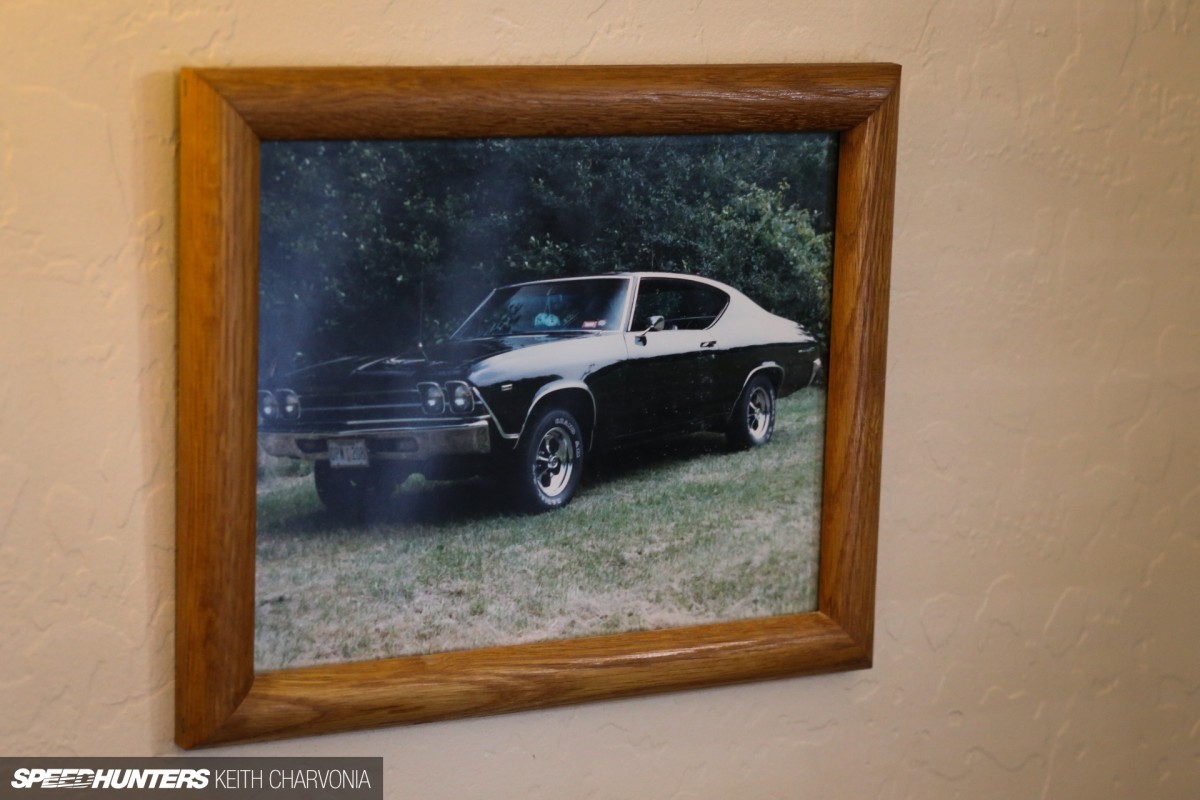 When I asked Brian where it all started, he answered, "Probably at conception." We'll just start with his first car – a '69 Chevelle that he rebuilt at the age of 16. It looks like something a grown man would aspire to own, not a teenager. Perhaps an early hint at his tendency to stay ahead of the automotive curve?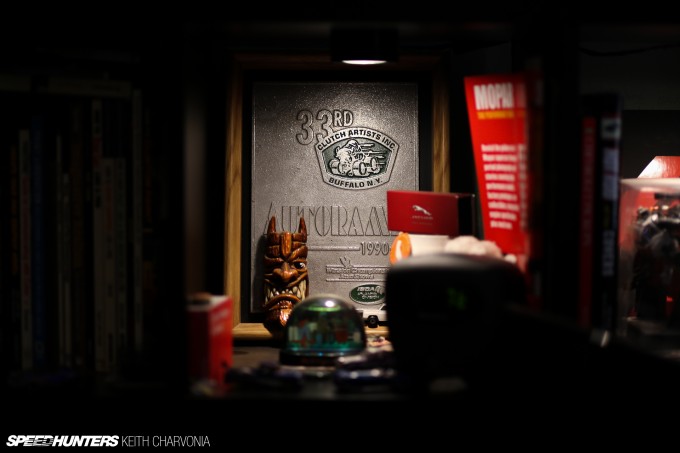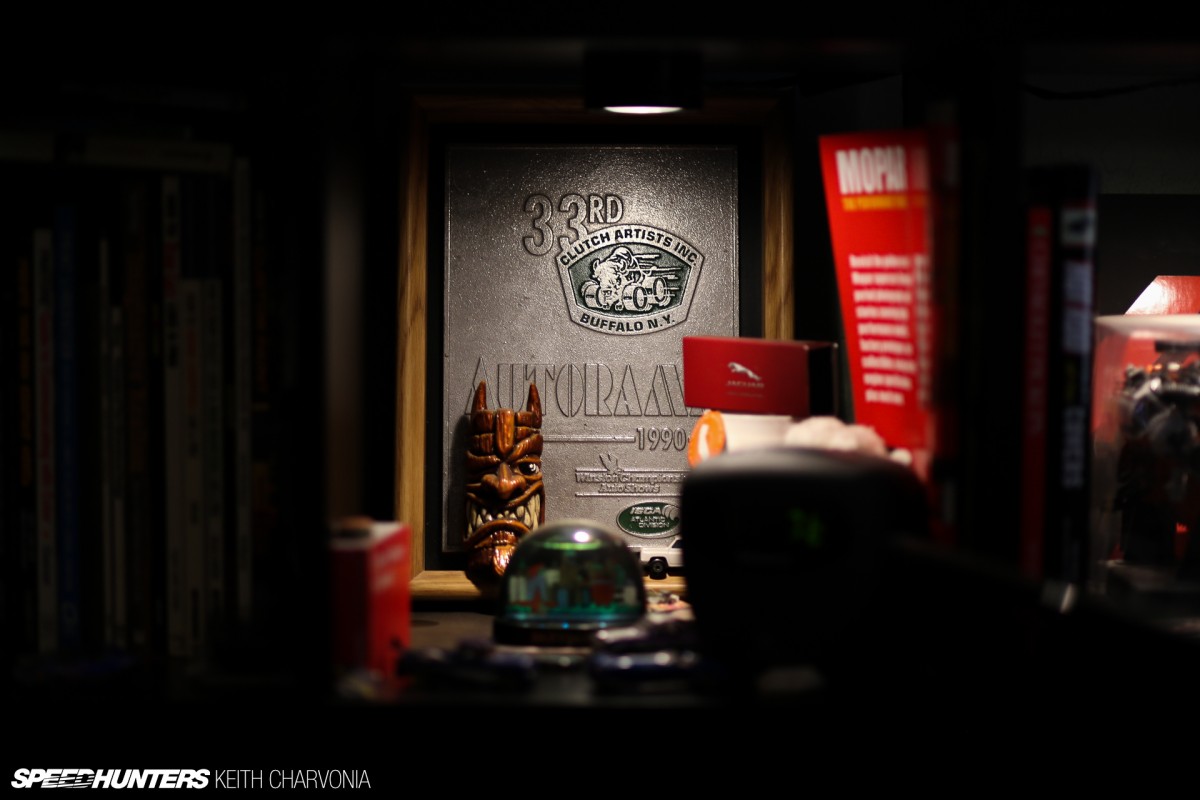 Brian's parents were both Tri-Five nuts, meaning they loved '55, '56 and '57 Chevys. His mom won this award for her '56 resto, which he keeps near his desk now.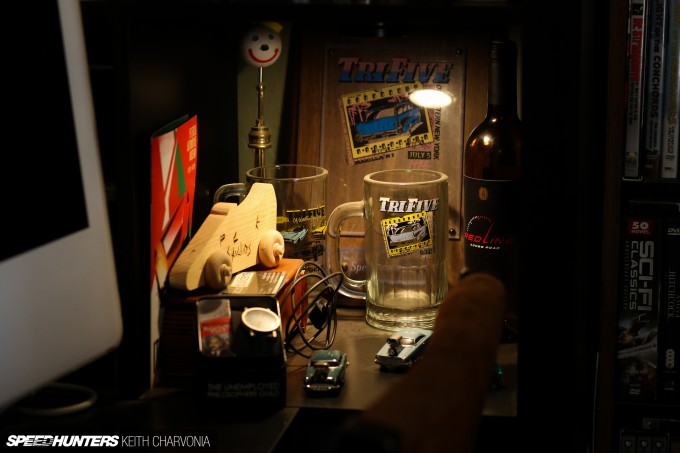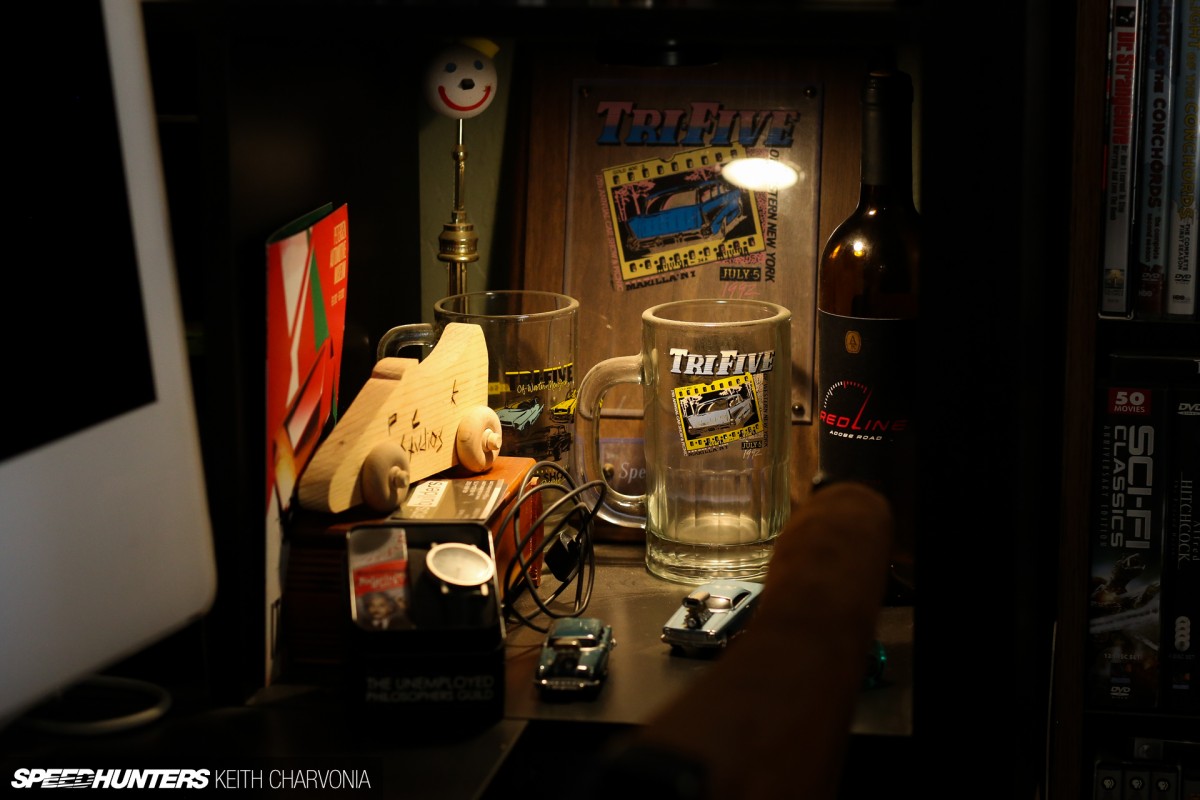 I spotted this Tri-Five show memorabilia nearby, and learned that it was some of Brian's early artwork.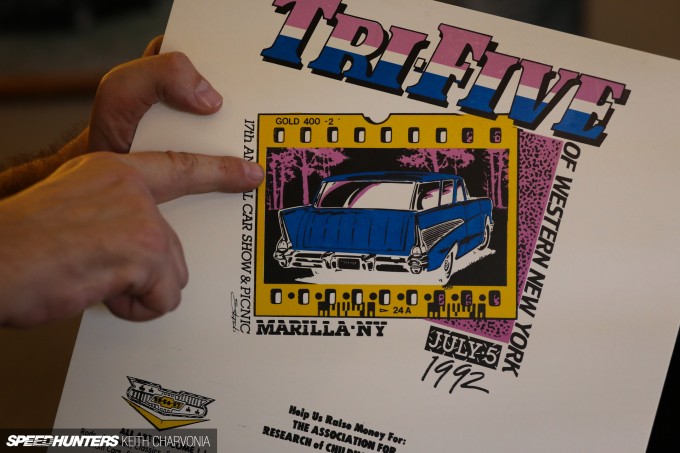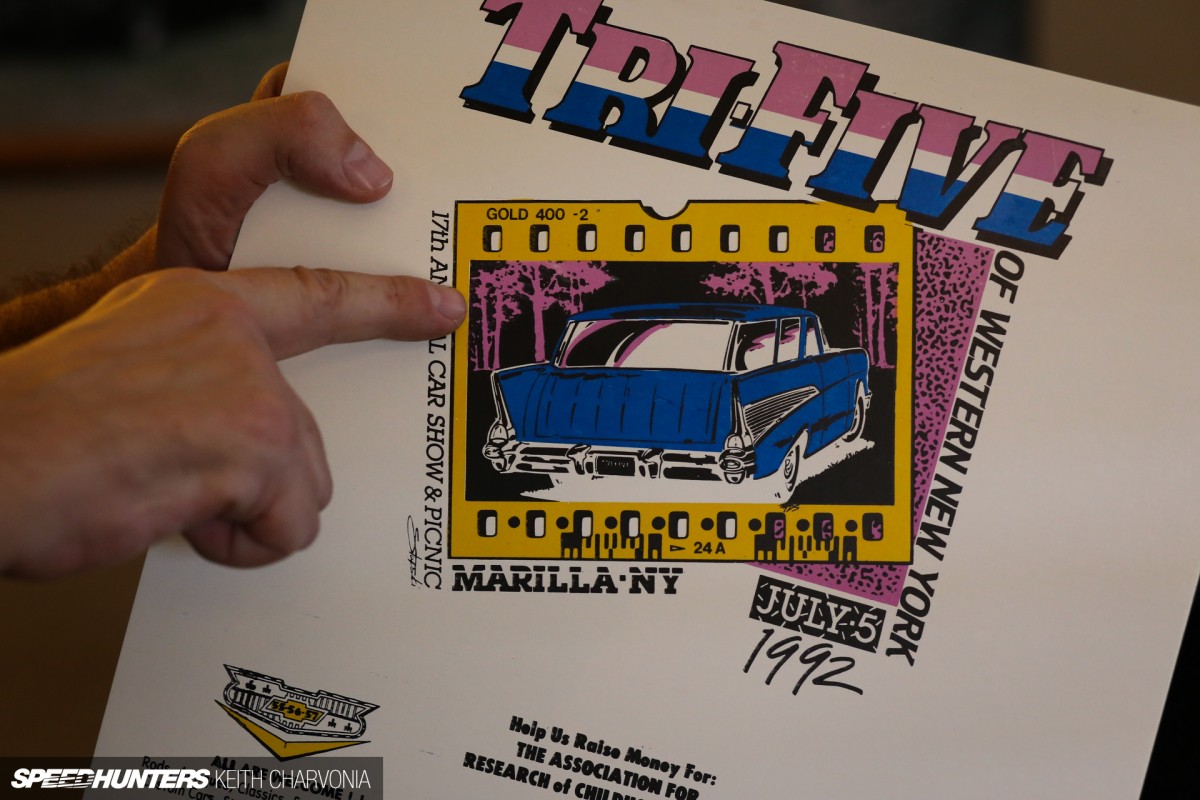 He created this work before the digital days, using markers and letter transfers that you rub onto the paper by hand. I think the fact that he's done this work manually gives him a real edge in the digital realm now.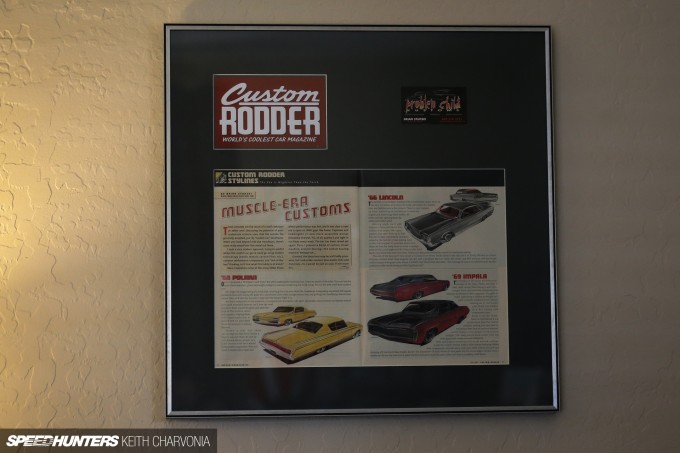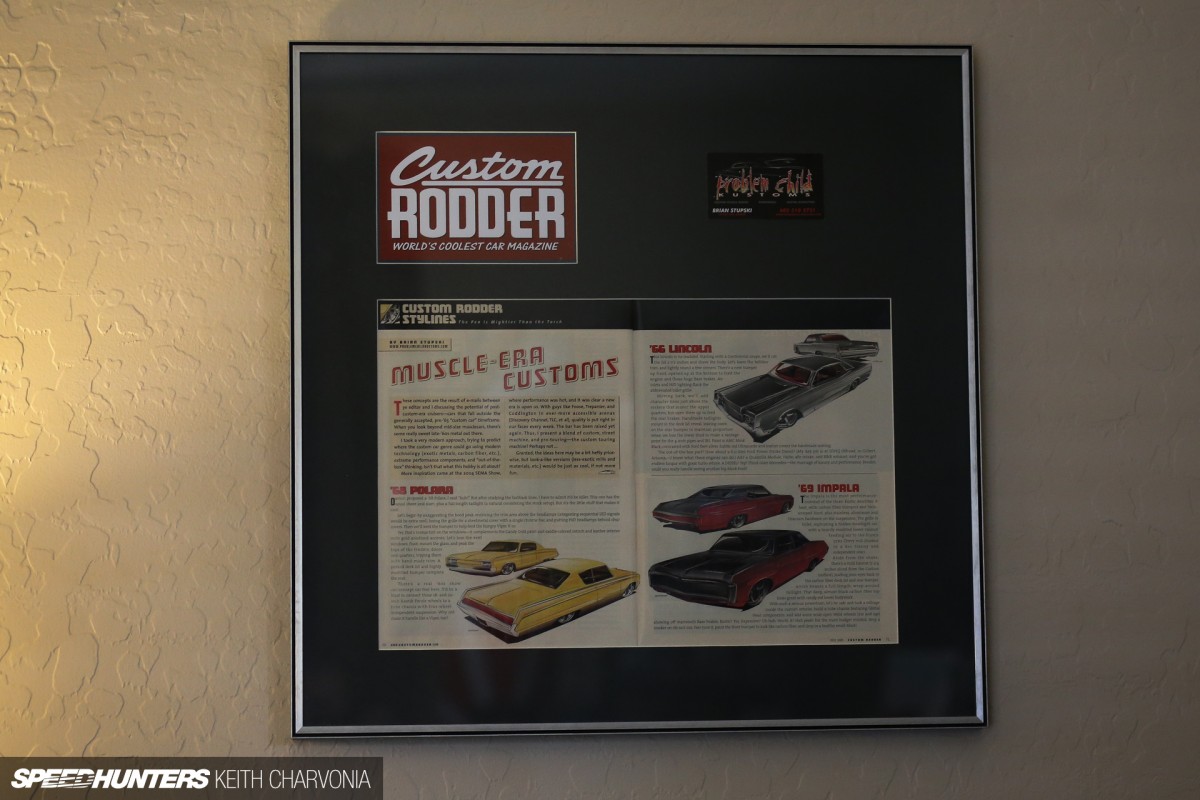 Brian's dad must be his biggest fan. Wouldn't any car-guy dad though, if their son turned out to be a hot rod designer? When Brian got his first work into a magazine, his dad went out and had it framed, and it now hangs proudly in the office.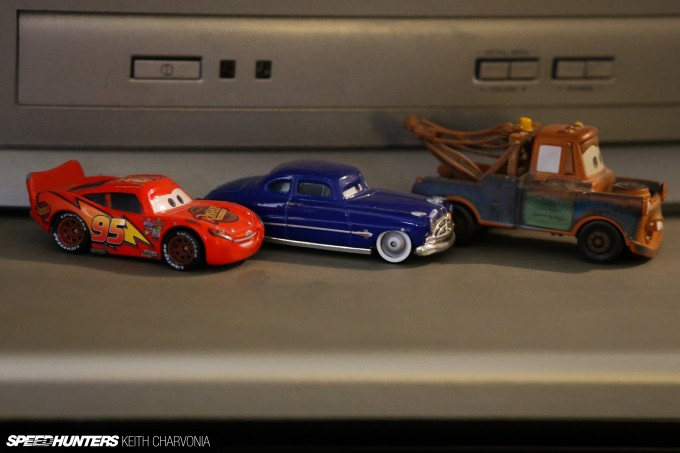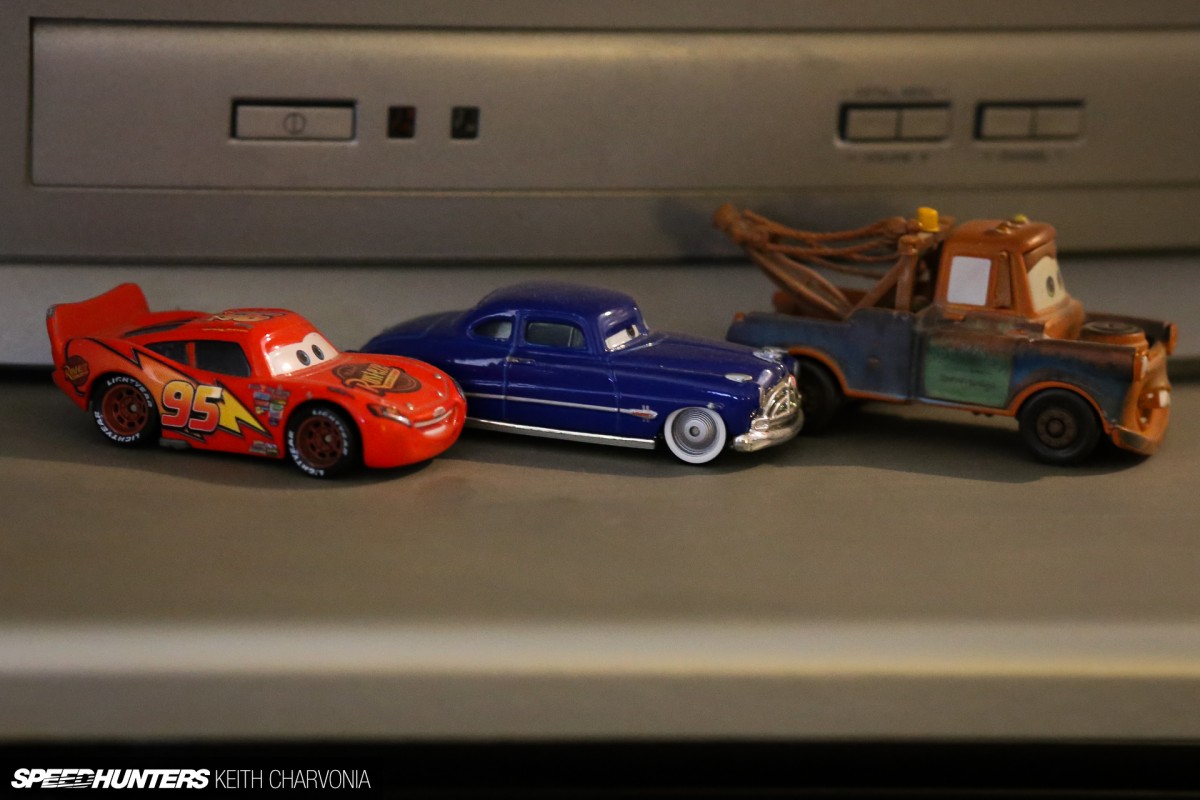 I came to StudioPCK hunting for inspiration. I wanted to know how Brian gets inspired to come up with new ideas all the time. Of course I found the requisite toy cars.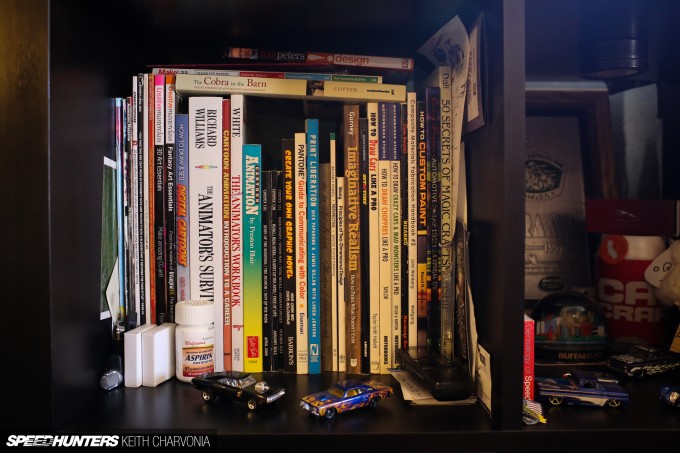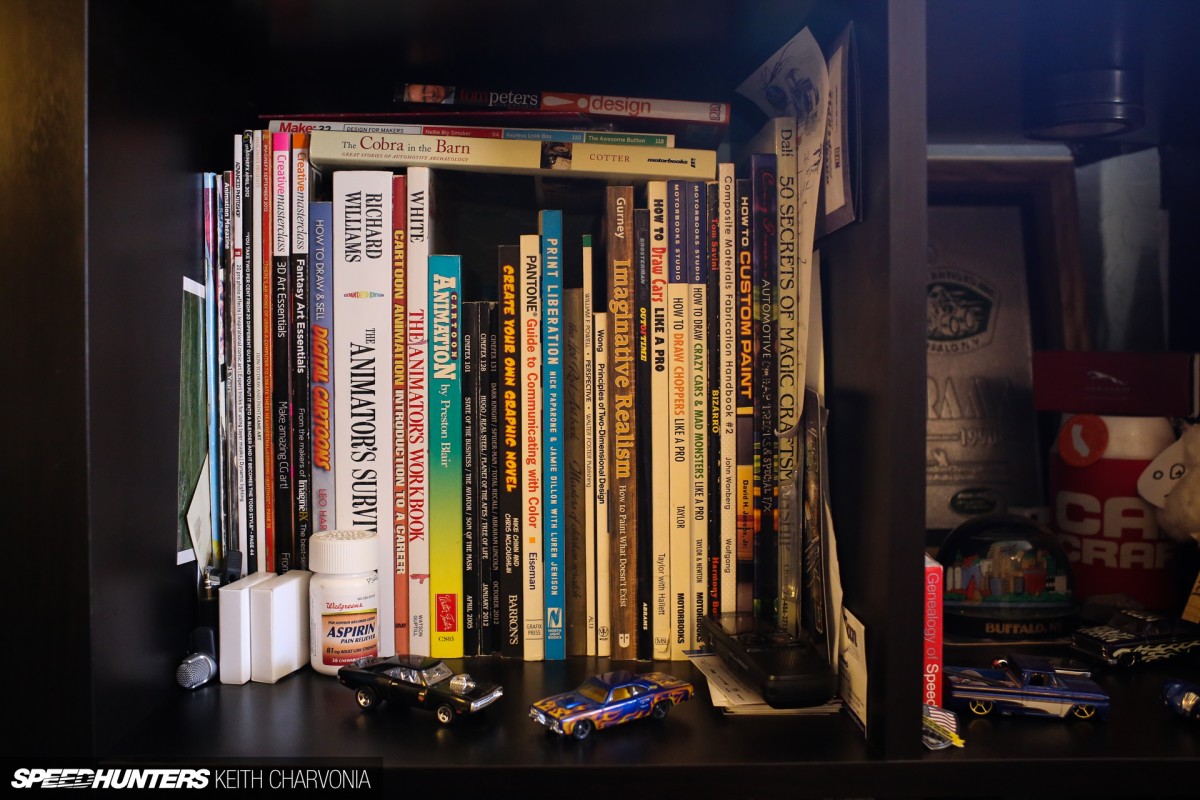 I also found stacks of drawing and automotive guides.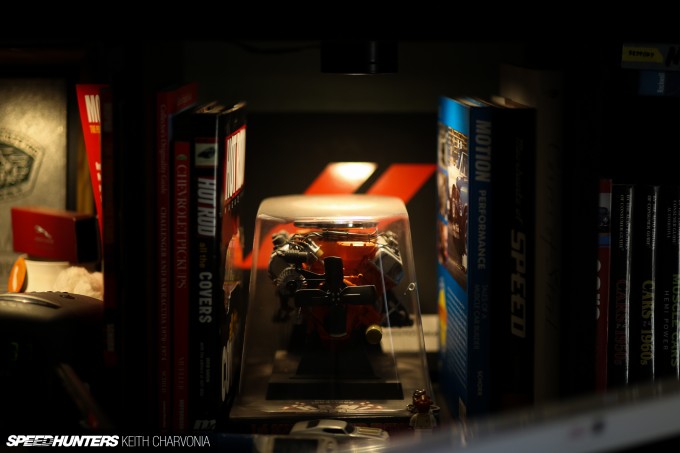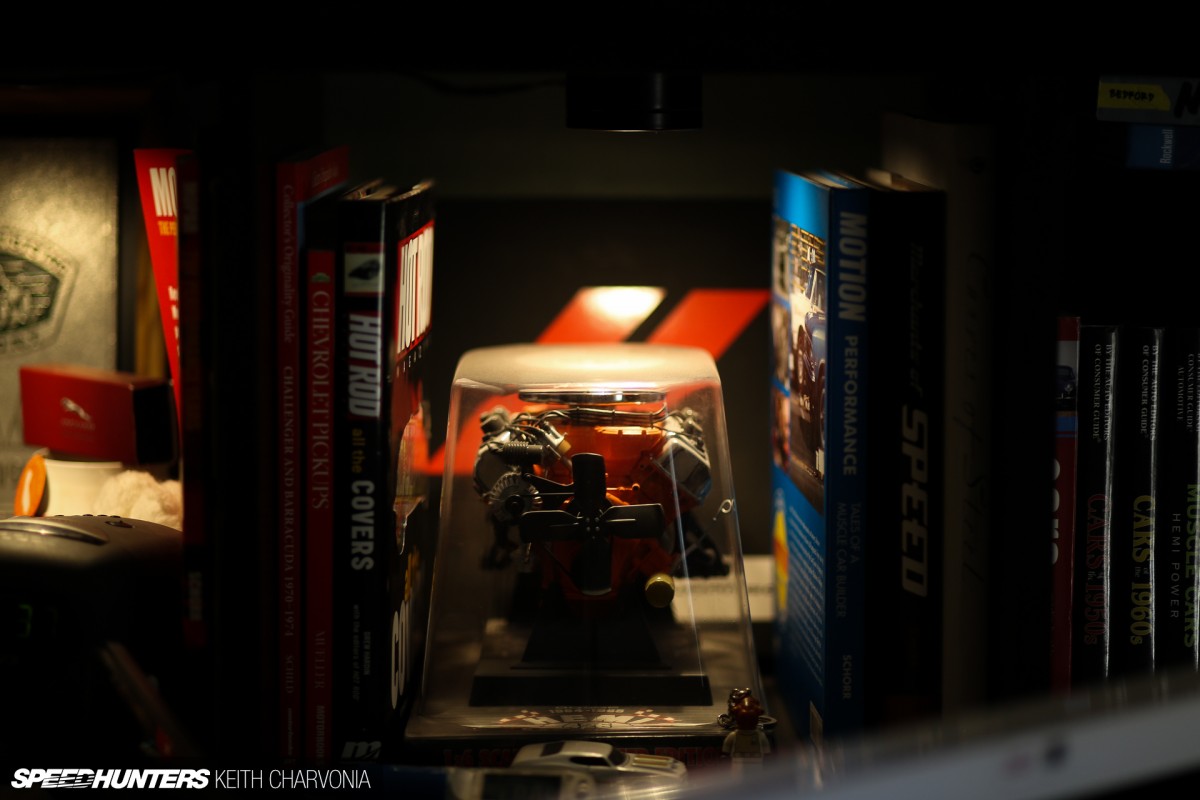 Like I said though, these were sort of expected finds. I mean, any designer must have this stuff on and around his desk, right?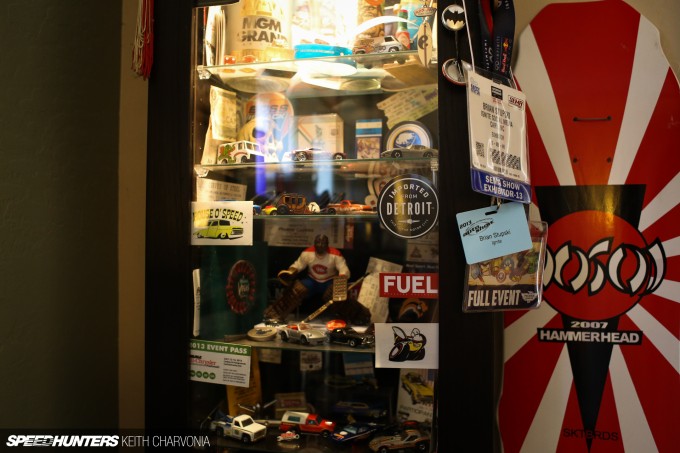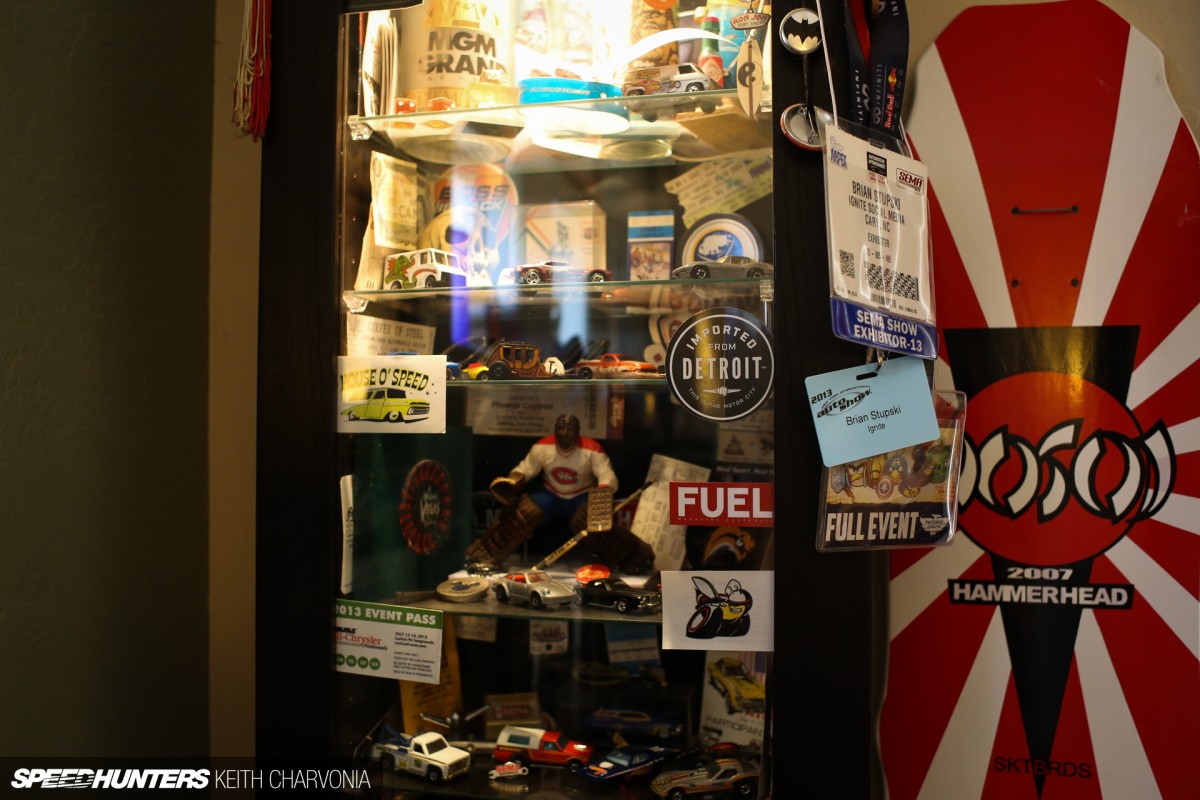 As we talked I began to uncover where the true inspiration lived in this studio. It wasn't about the space at all; it was about the guy who worked there every day and often late into the night hammering out details on the next big build. A good designer really has to be a great communicator, and with Brian's infectious enthusiasm and deep knowledge, it's not hard to take ideas and run with them.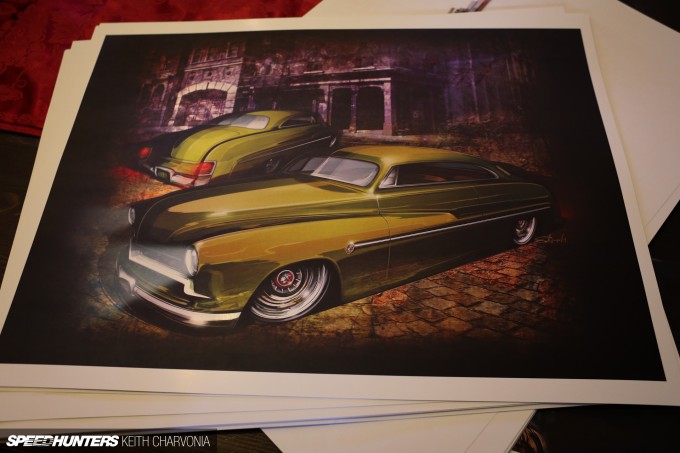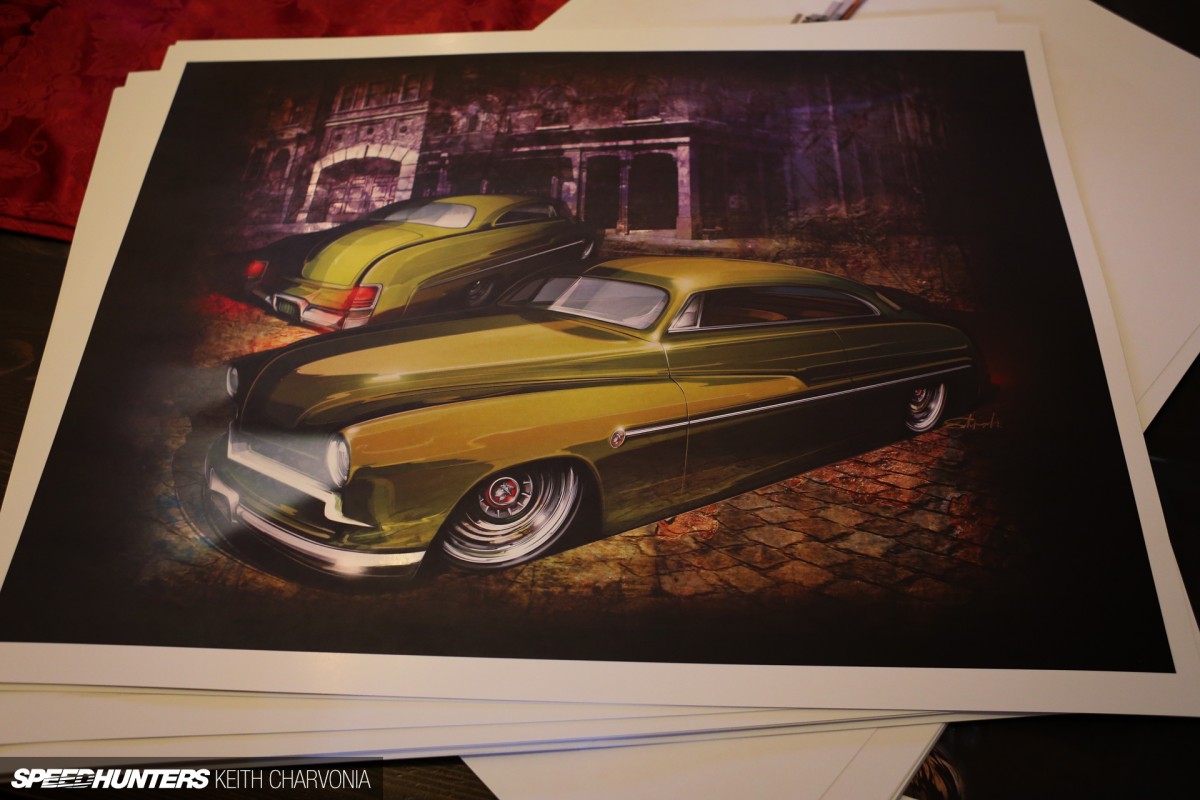 It's very much a case of give and take. Brian has a lot to offer to a shop building a car, and he also learns a lot in return. He puts it this way…
"Everyone brings something to every project, and it's that organic discussion and process that makes it all happen. It's never just one guy with a pencil, or another with a torch. It's getting everyone to bring their ideas and skills to the table, and to decide where best to apply those skills and ideas."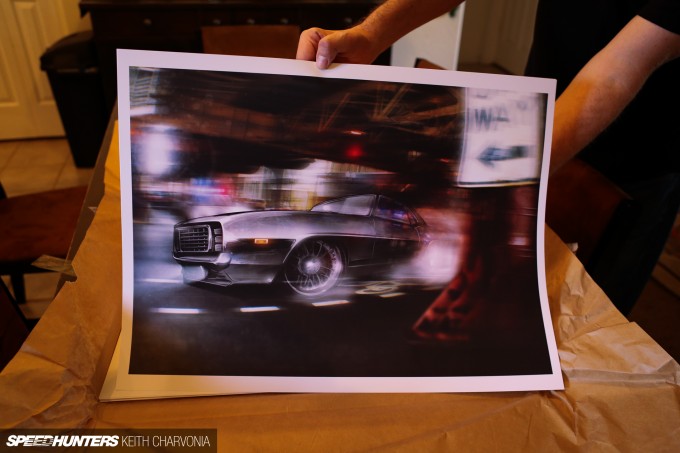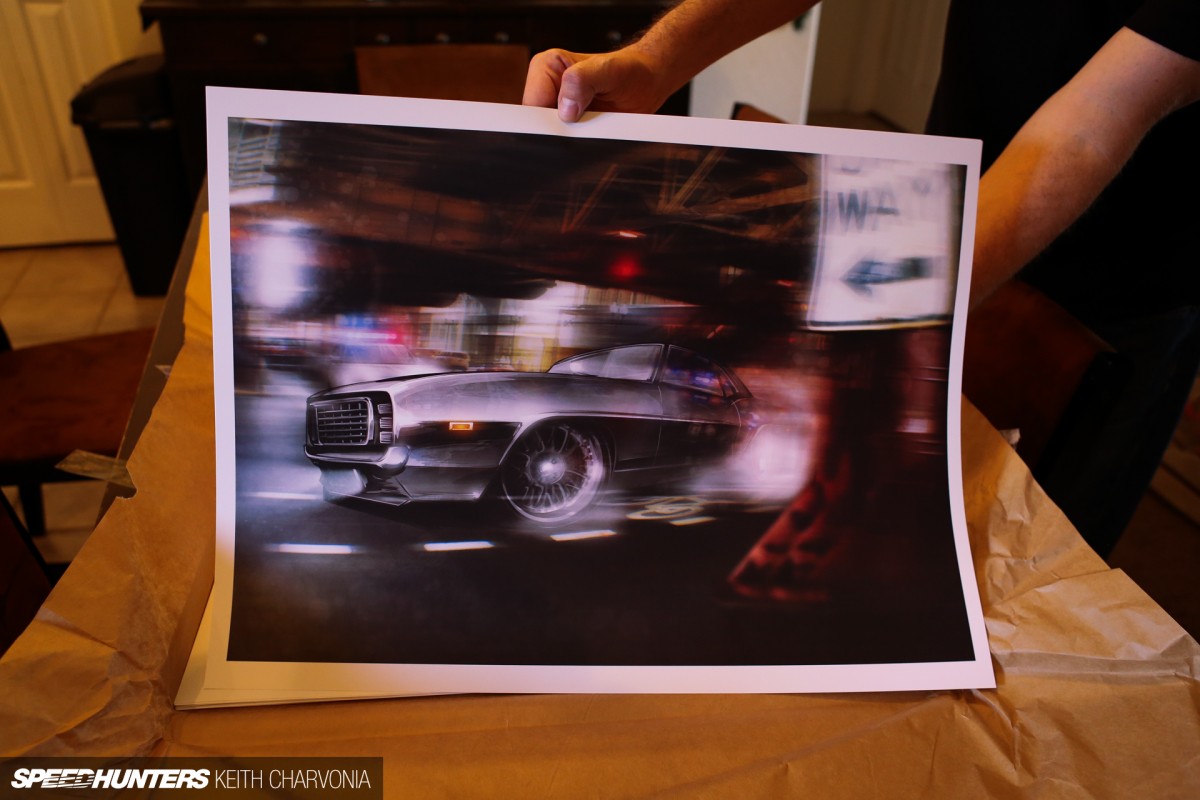 Each project is a new opportunity to learn a trick or two from the builder, since the really good ones are designers by nature anyways. The chance to hash out ideas on paper before cutting into a car can save a lot of time and money down the road too. This is something the big builders know, and it's why shops like Rad Rides by Troy, Ring Brothers and ProRides regularly rely on StudioPCK's services.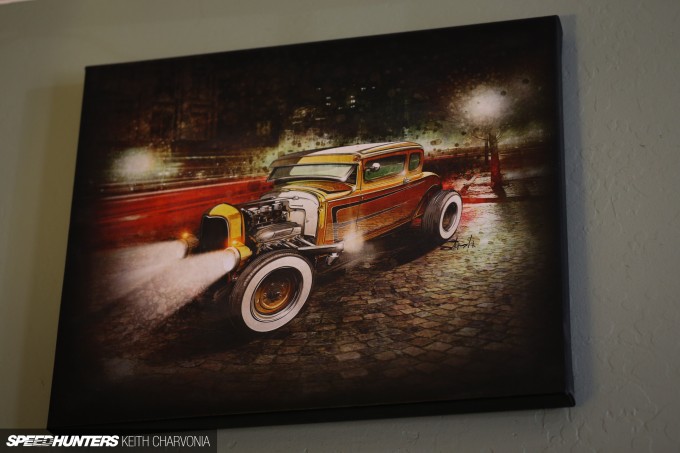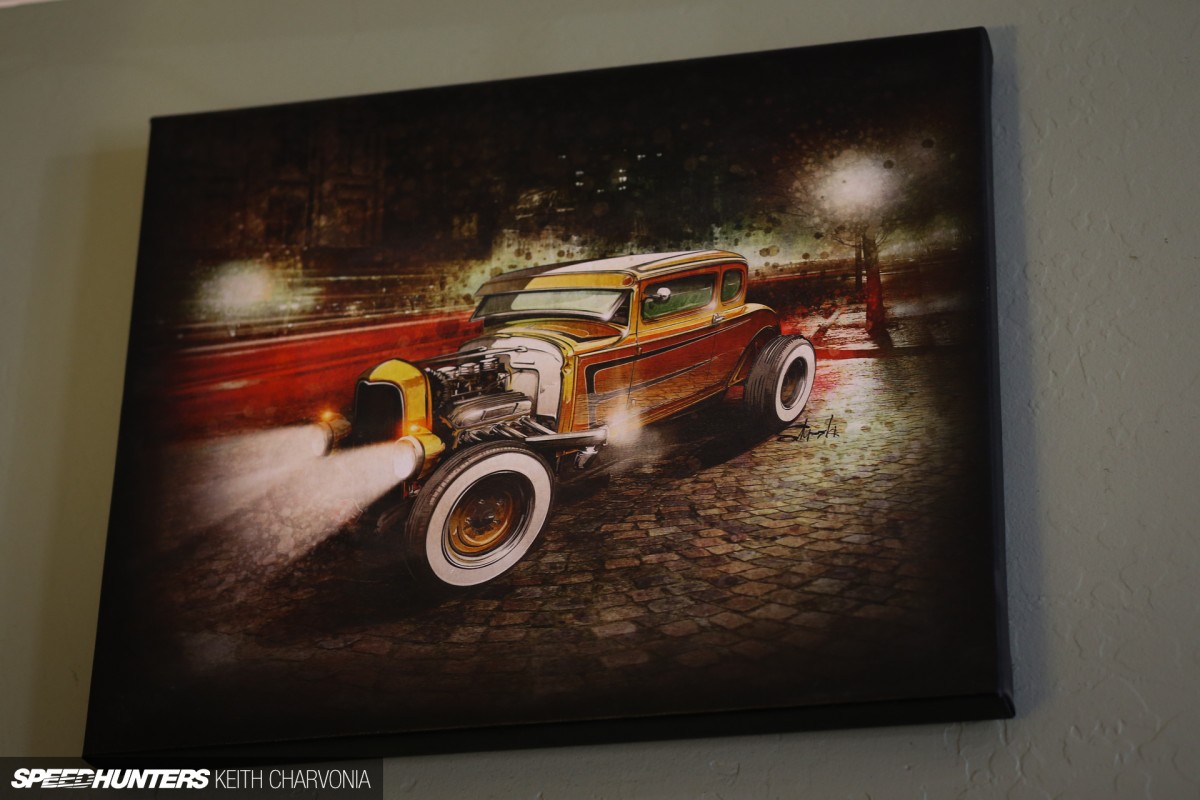 Therein lies the true driver behind Brian's motivation and inspiration: the chance to develop ideas with other automotive greats and make friends along the way. Take for instance this traditional five-window he sketched up.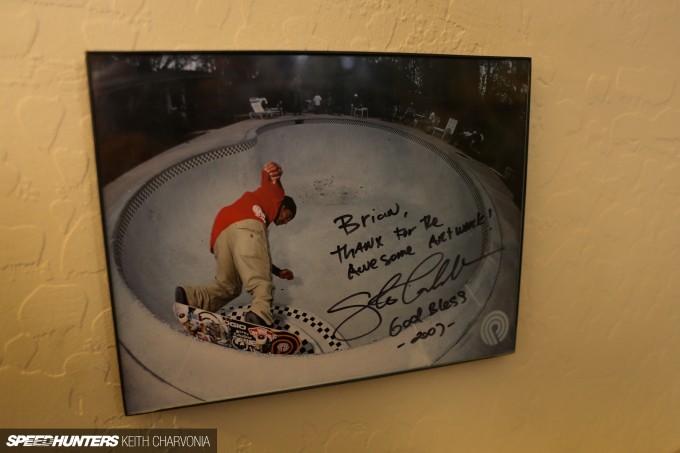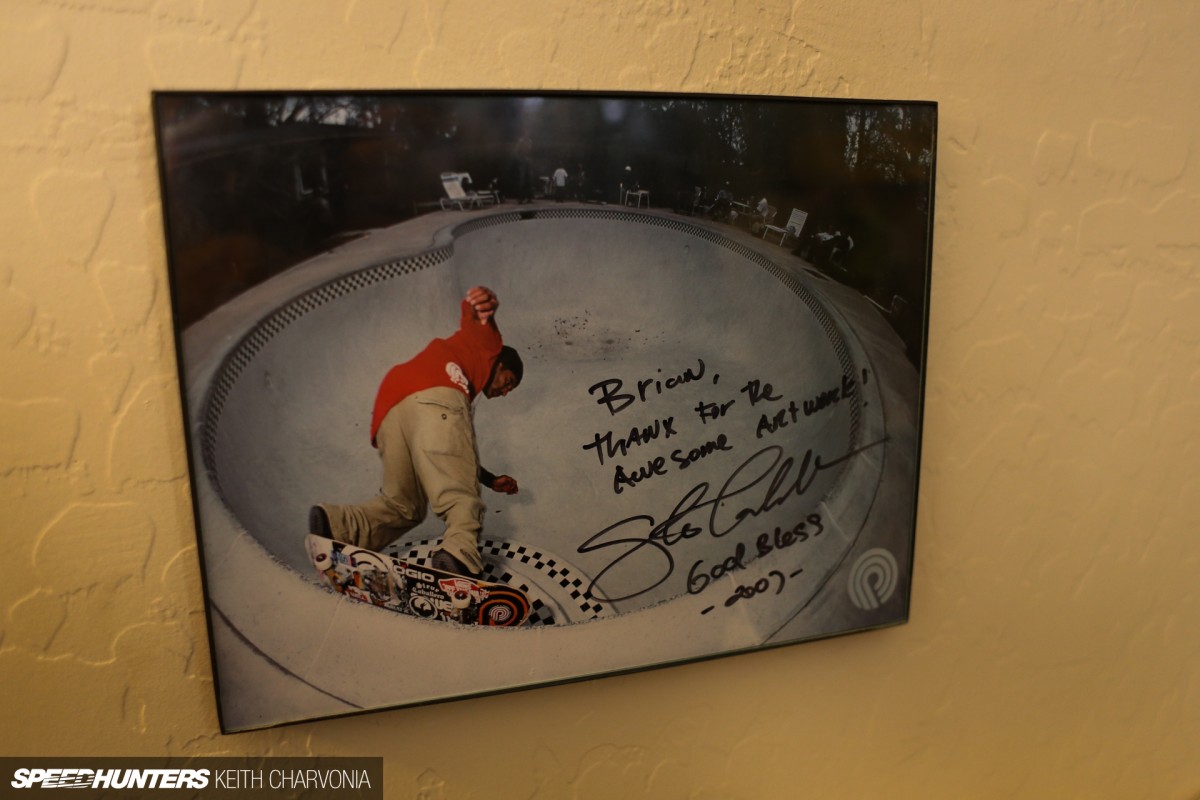 It belongs to skateboarding legend Steve Caballero, who also happens to be a hot rodder and artist himself. Steve and Brian have since become friends and even traded some artwork. The work Brian does has been the foundation for a lot of great friendships throughout the car industry.
How the pro does it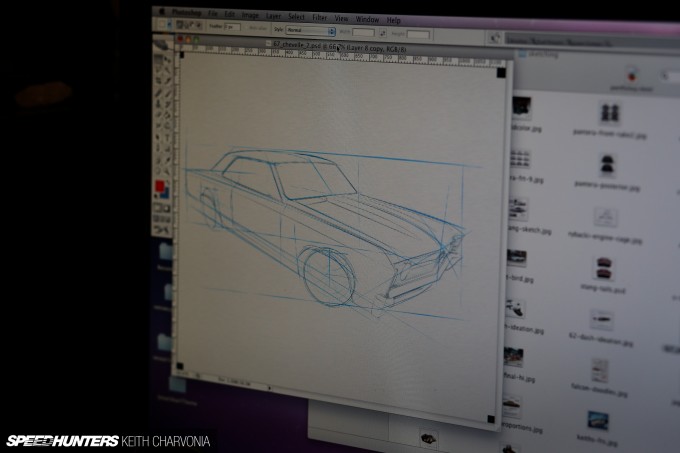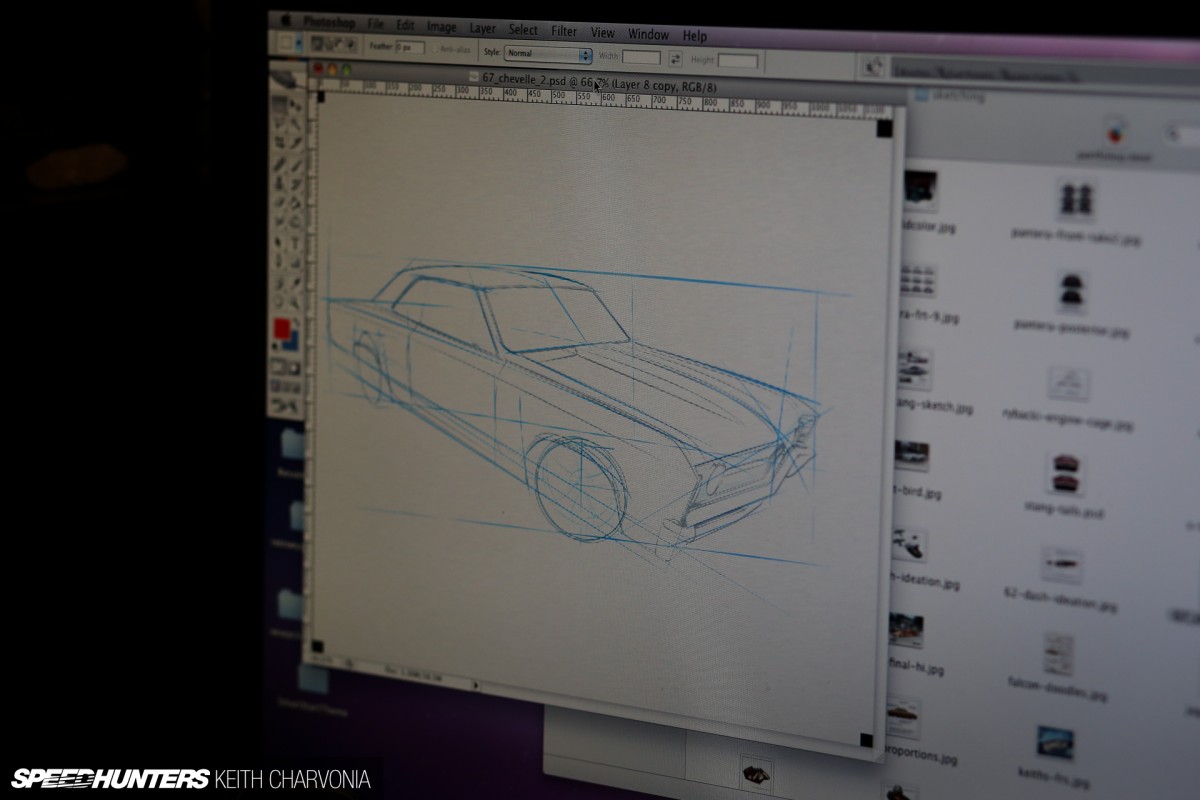 The one uncanny ability that I've never been able to understand is Brian's knack for exactly nailing proportions while sketching freehand. The foundation comes from using the tried and true 'box method'. It's the first thing you learn when you open a book on drawing cars, and Brian still uses it to lay out every sketch. After that, things start getting a little crazy, so I'll let Brian explain it himself.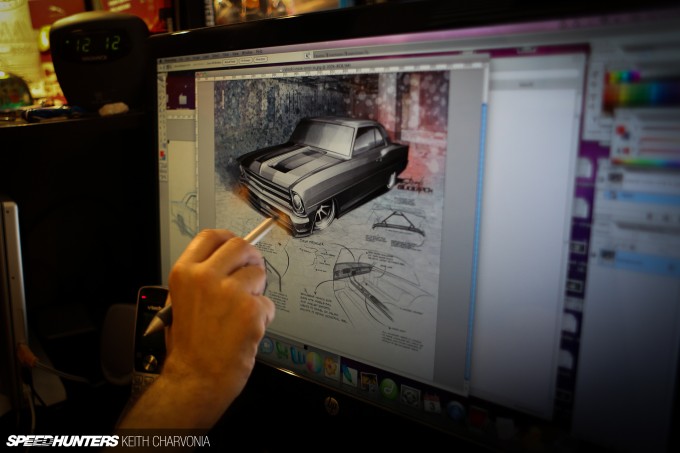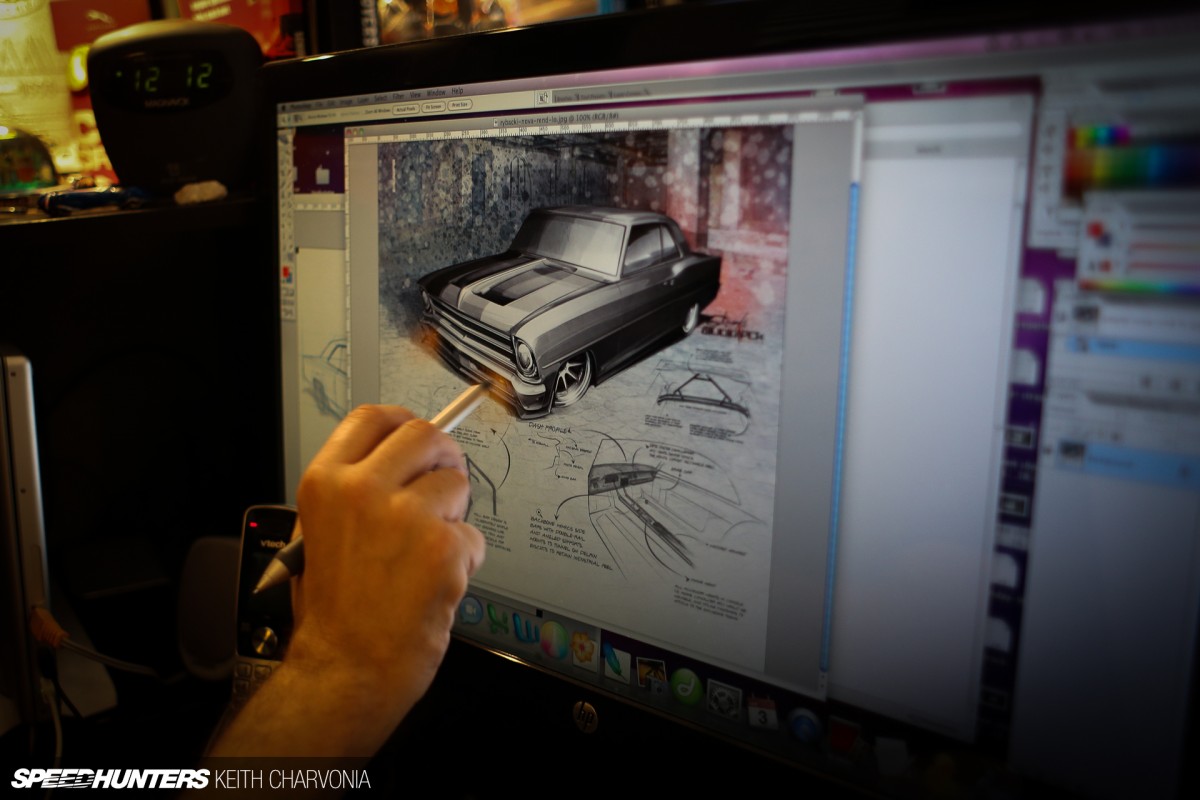 On proportion: "I have a sort of science behind that. On a full-custom design, I put a ton of thought into making sure that the overall proportions and shapes are pleasing to the eye, and entertaining to view from every angle. I apply a fairly straightforward mathematical approach, with the golden ratio at the heart. Gustav Fechner, a psychologist in the 1800s, had studied what people found to be visually pleasing, using a series of rectangles with different proportions, and developed his hypothesis (called the 'Golden Section') that a ratio between 3:5 and 5:8 seemed to be the most pleasant to look at. Consider that most cars, when drawn using the box method (thanks George Trosley!), start with a rectangle of sorts, it made sense to me to adopt the hypothesis, and I found that aiming for a ratio in that overall rectangle of .62 in width to height gave some great results. Break that down further, and use it to determine ride height (say from ground to rocker, rocker to belt line, belt line to roof, and so on), and you can make just about anything look nasty!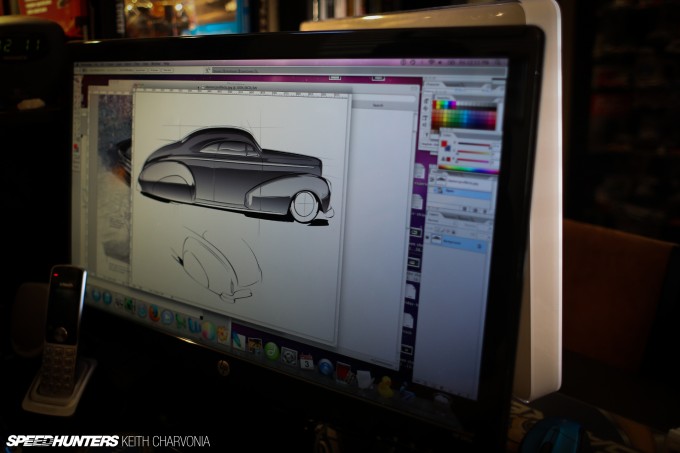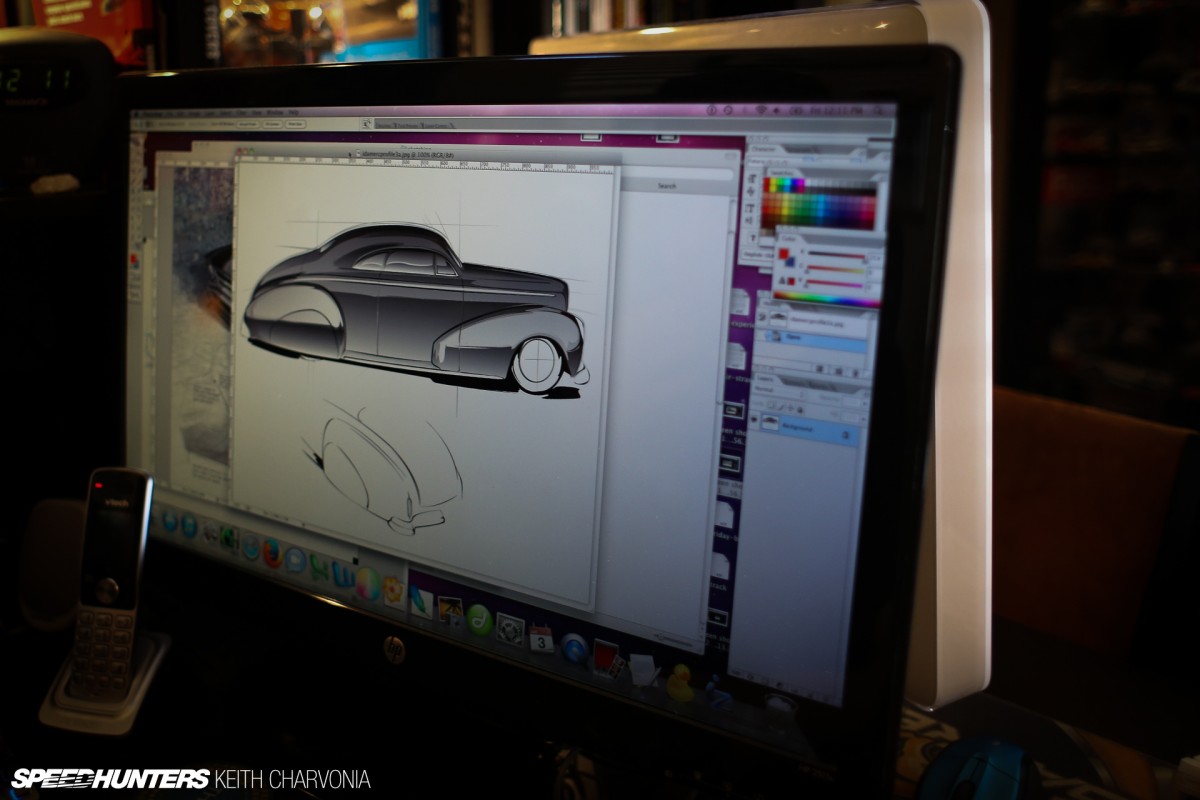 "I use all of that, and then begin to break it down into the individual parts, to see if an idea holds up in both the math and the 'wow' factor. I look at the desired wheel diameter and the dimensions of the wheel opening, and begin to find the best possible sidewall height for the tire (this is where it gets really involved, because of all of the factors surrounding fit, moving panels, the associated support brackets, tying everything back in to keep the car strong, and not to mention always considering the purpose the car will serve), and then look at how all of that relates to the exterior shapes and the panel dimensions around that wheel and tire combo."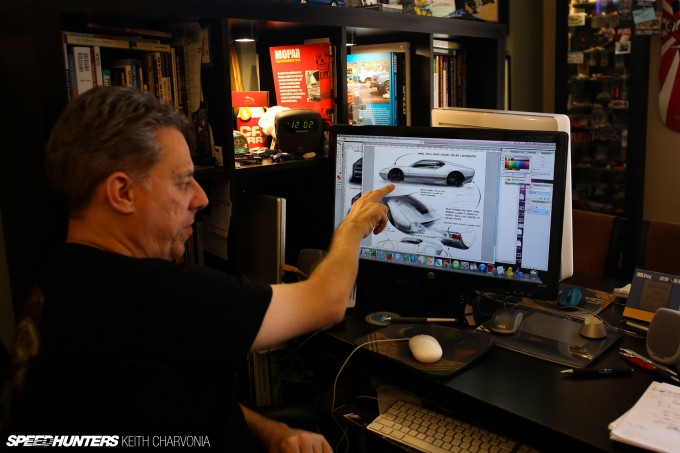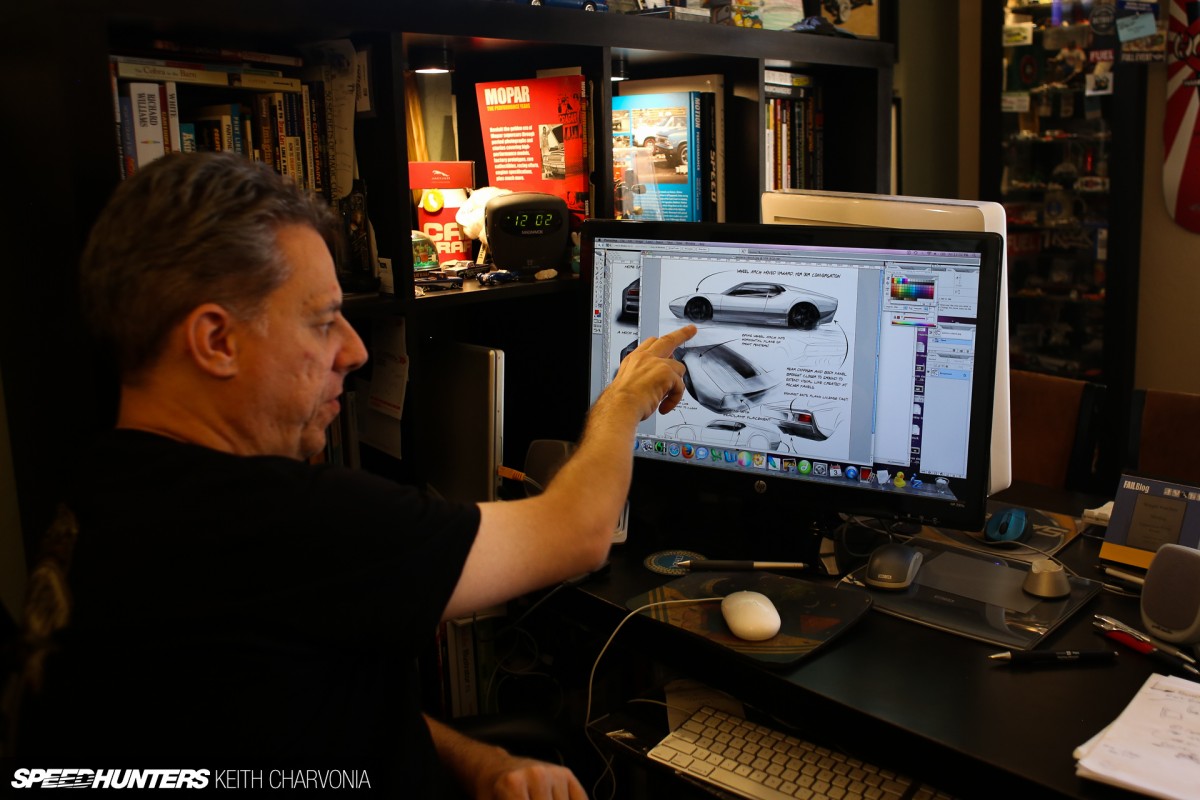 "Simply put, it's a matter of making every single element that will be visible on the car work in harmony. If I can make that happen, and then ensure that everything I'm going to move will, in fact, work in a new place, then I move forward and present the design. It's a ton of research – trips to wrecking yards and weird phone calls asking friends to measure odd things on their cars."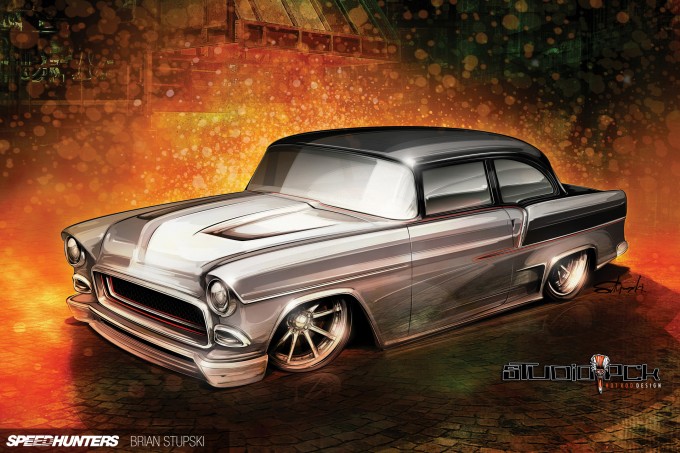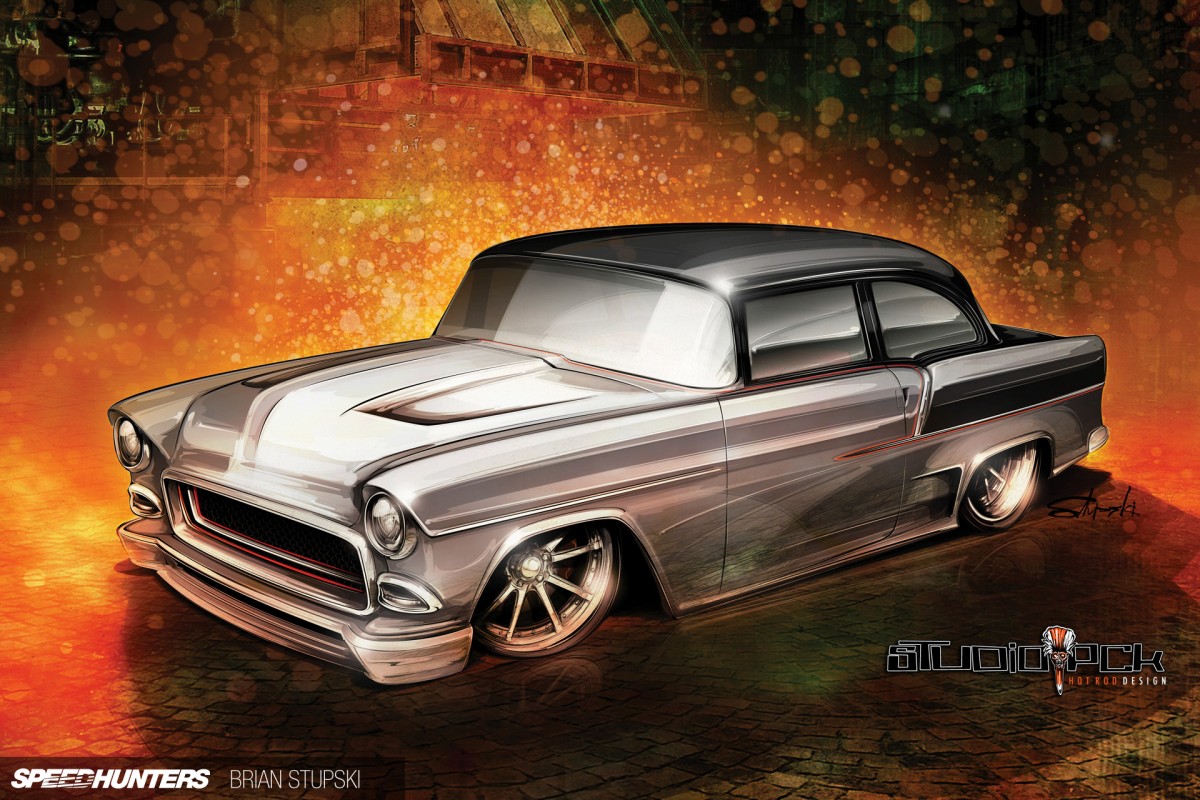 The '55 Chevy of ProRides' Denny Terzich is the perfect example. Brian explained to me that he's been chopping Tri-Fives since he was a kid, starting out by cutting up plastic models. The culmination of all this work is his assertion that 1 and 7/8″ is the perfect chop for this car, and that's what they're doing. ProRides literally took micrometers to the saw blades before cutting into the pillars for the chop.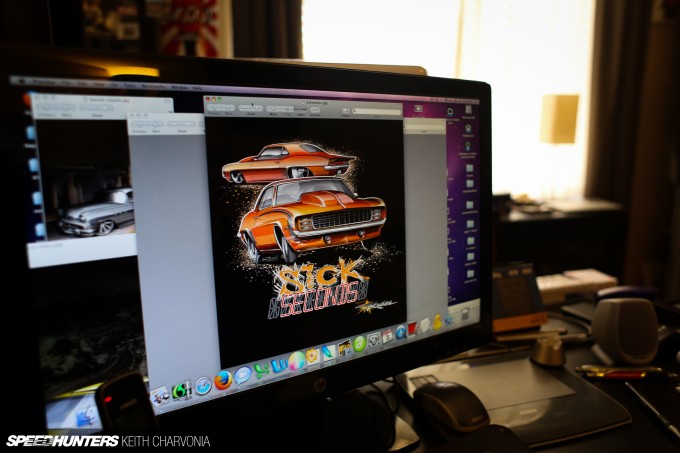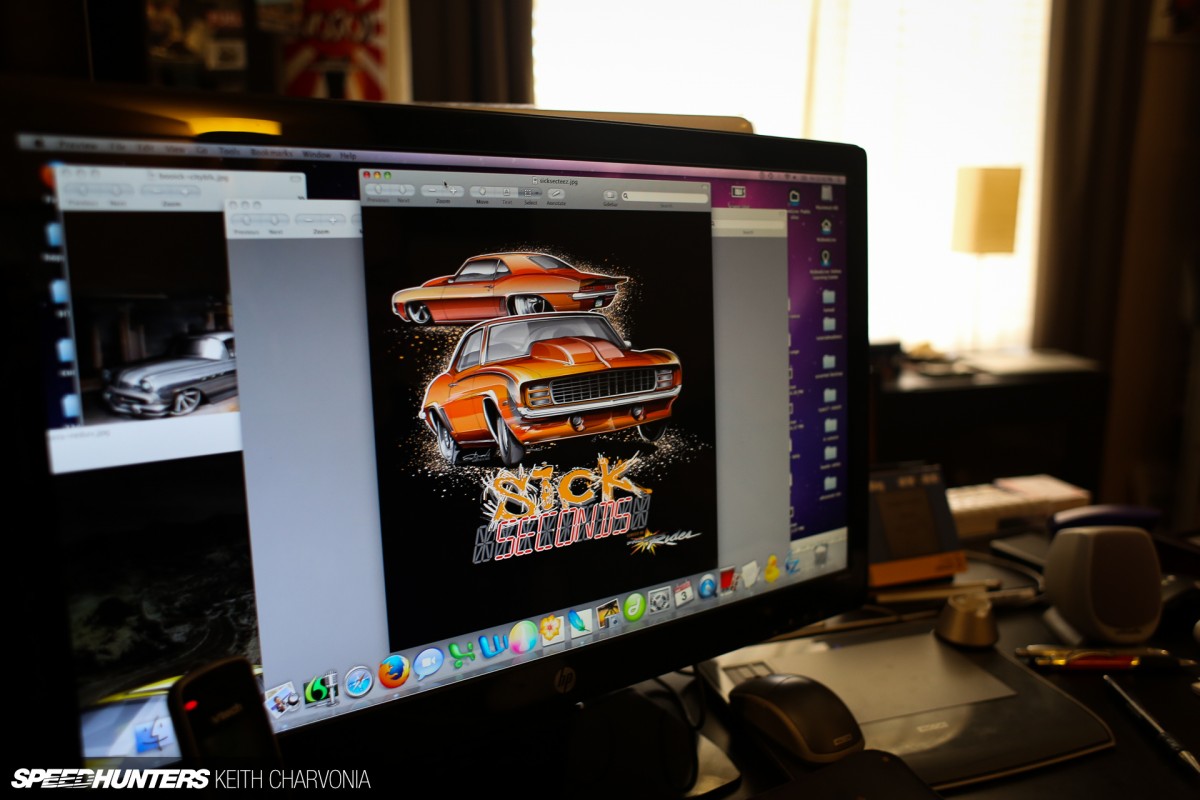 If the name Denny Terzich sounds familiar, it's probably from the string of drag cars he's built and raced. The most recent was Sick Seconds which Stupski also designed. The car not only looks good, it also runs six seconds on the drag strip and at one point literally blew the doors off at speed.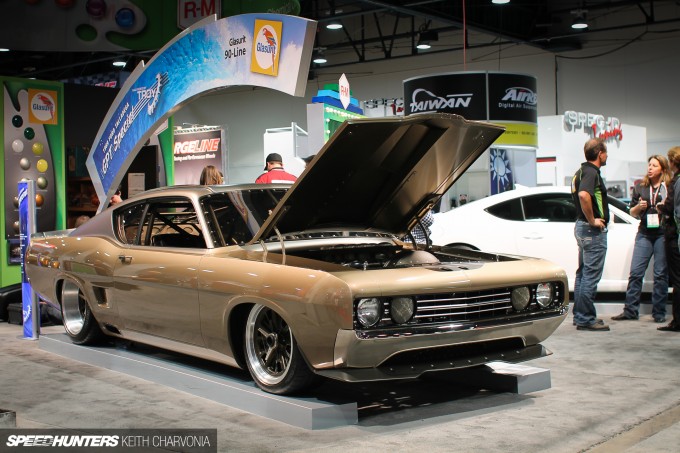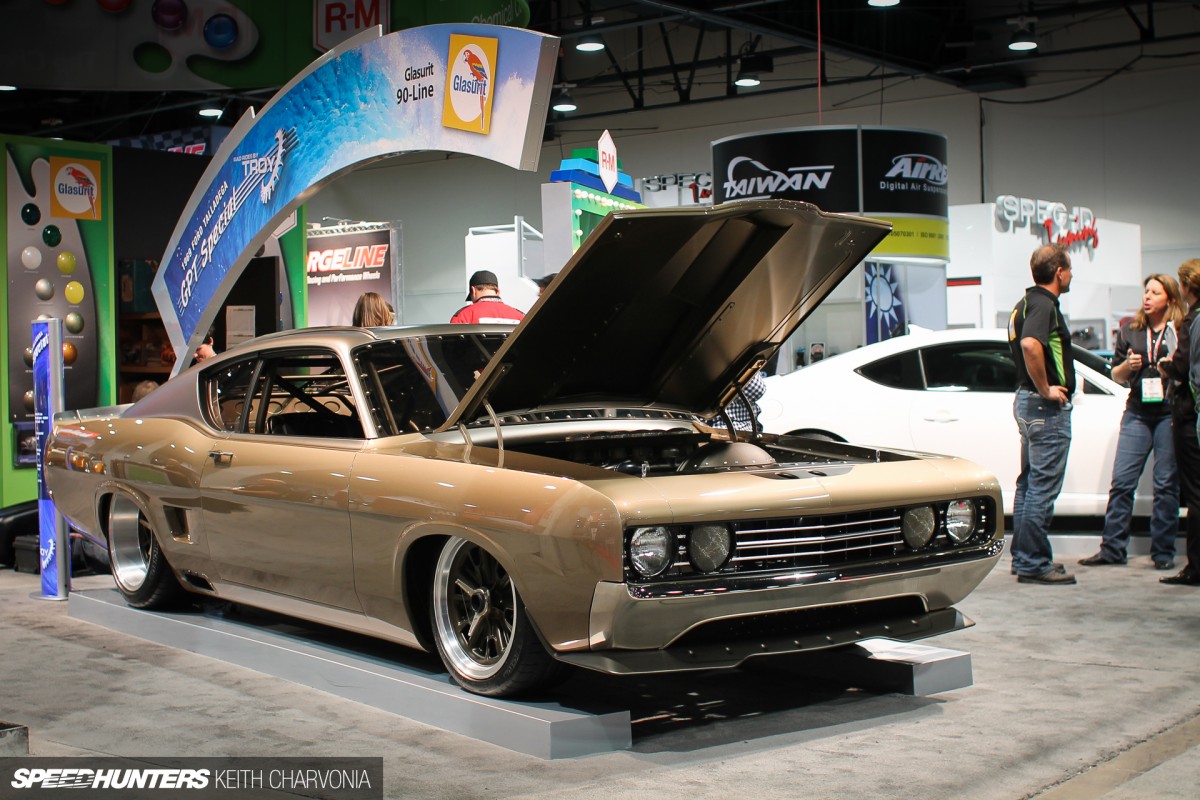 Another StudioPCK design you're sure to recognize is the GPT Special Torino, unveiled by Rad Rides by Troy at the beginning of 2013.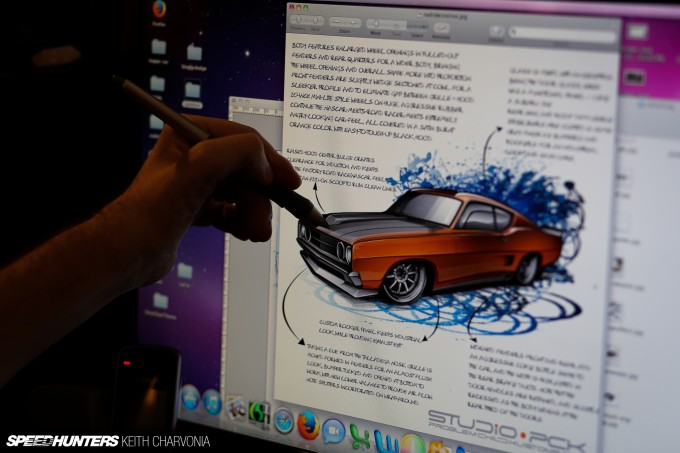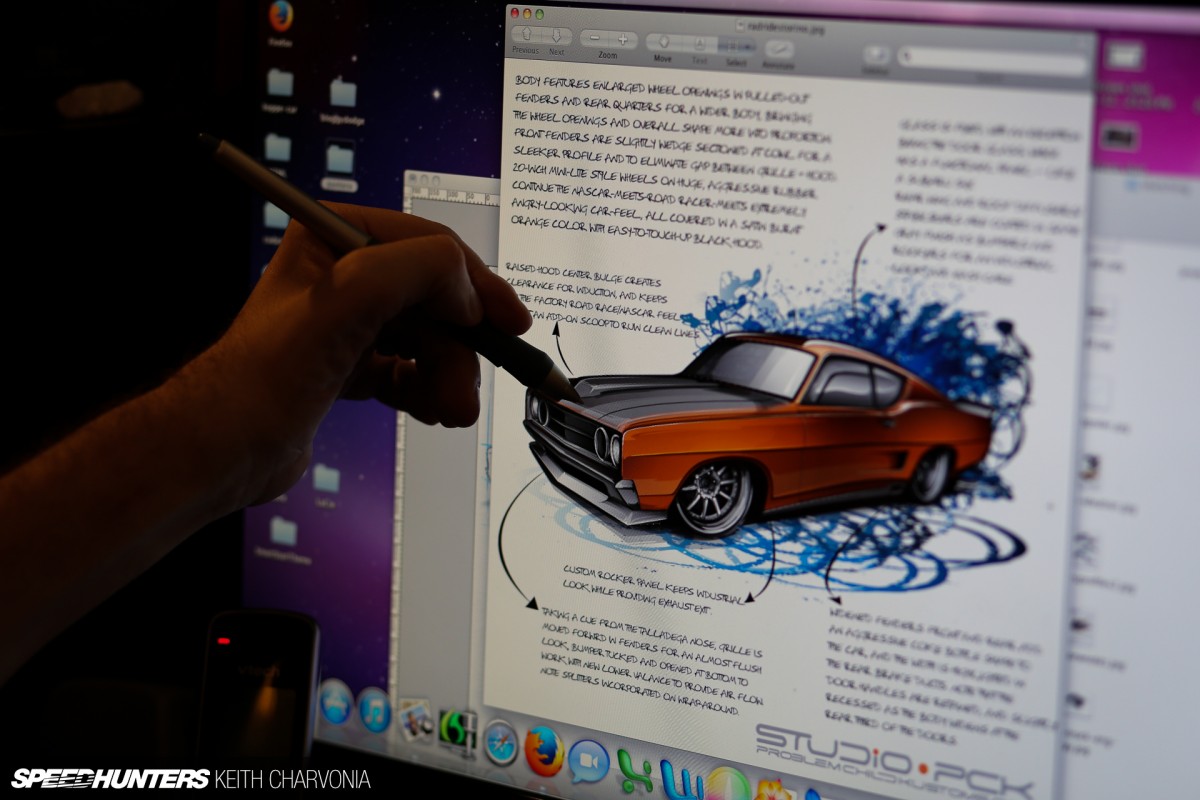 Remember the back and forth between designer and builder I mentioned earlier? In this case Troy spotted a reflection Brian had drawn on the hood and liked the line it created.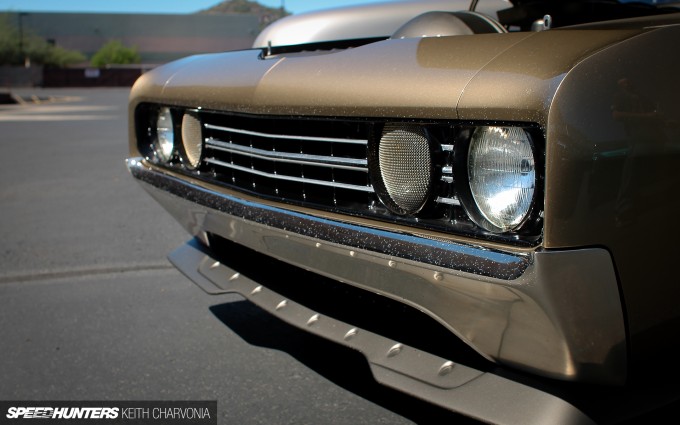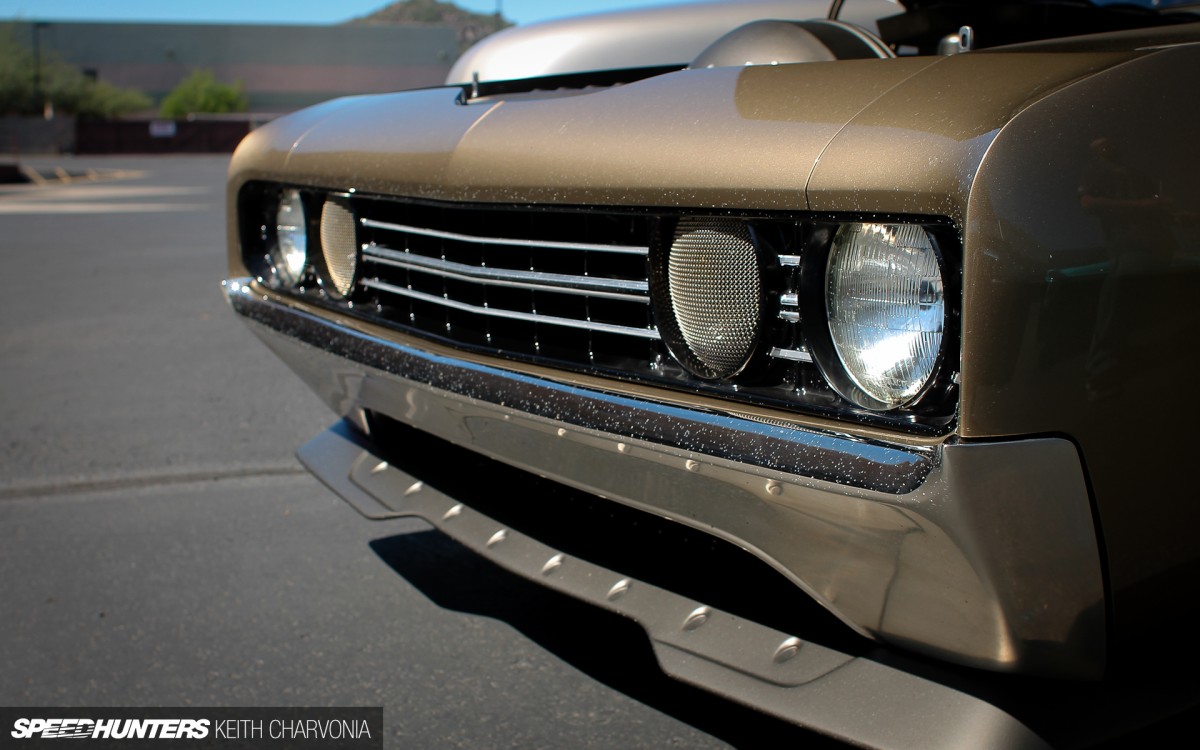 The end result is the aggressive furrowed-brow front-end that is so signature to Poteet's Torino now. Inspiration can come from anywhere, even when it's unintended.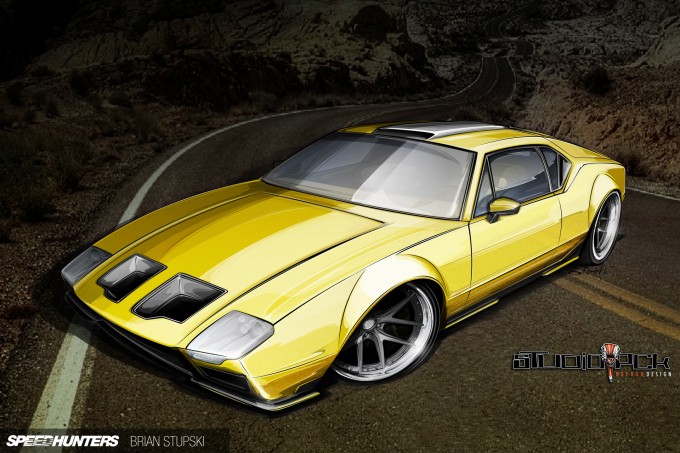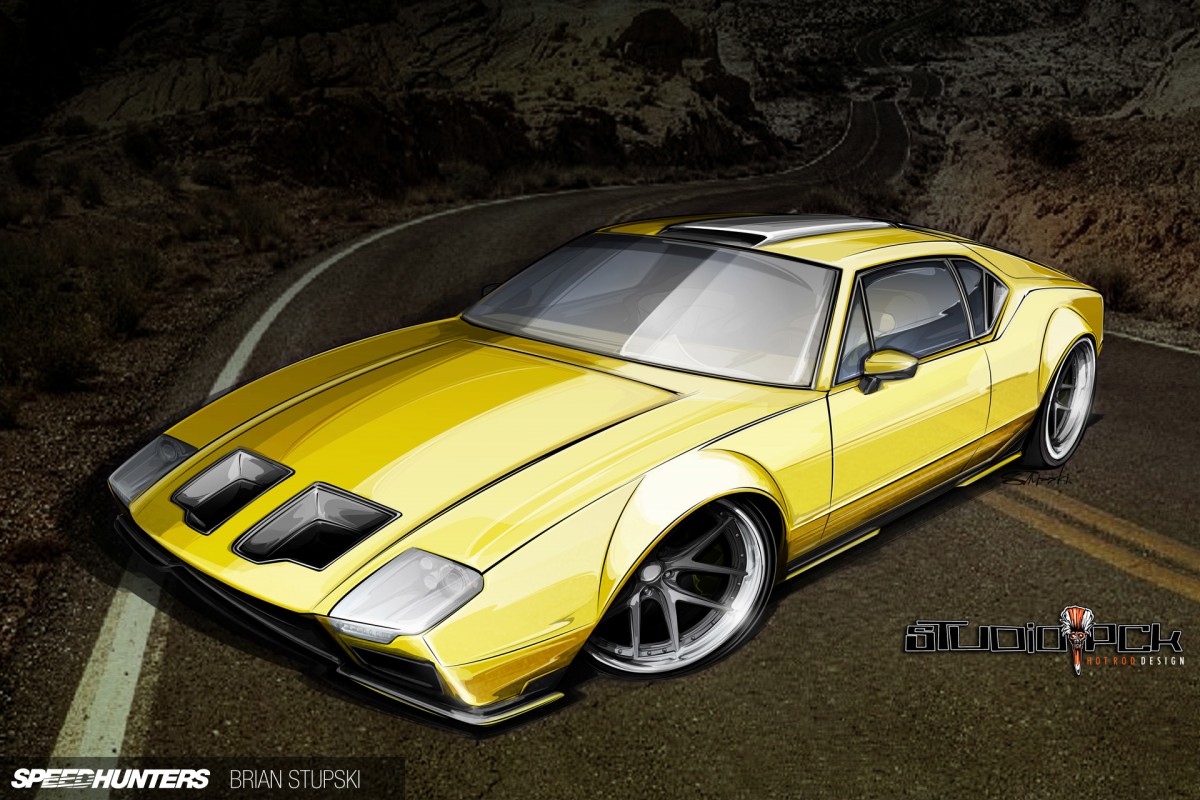 I told you Brian had some of the hottest builds at SEMA. Remember the Ring Brothers-built Pantera that had everyone talking? Yeah, Brian had a big influence on that one too.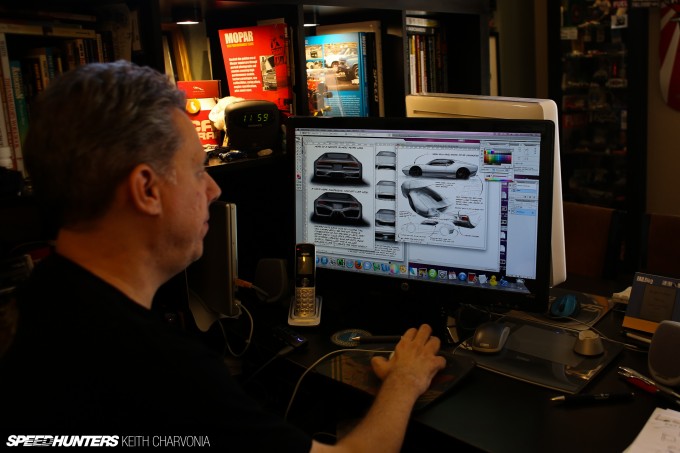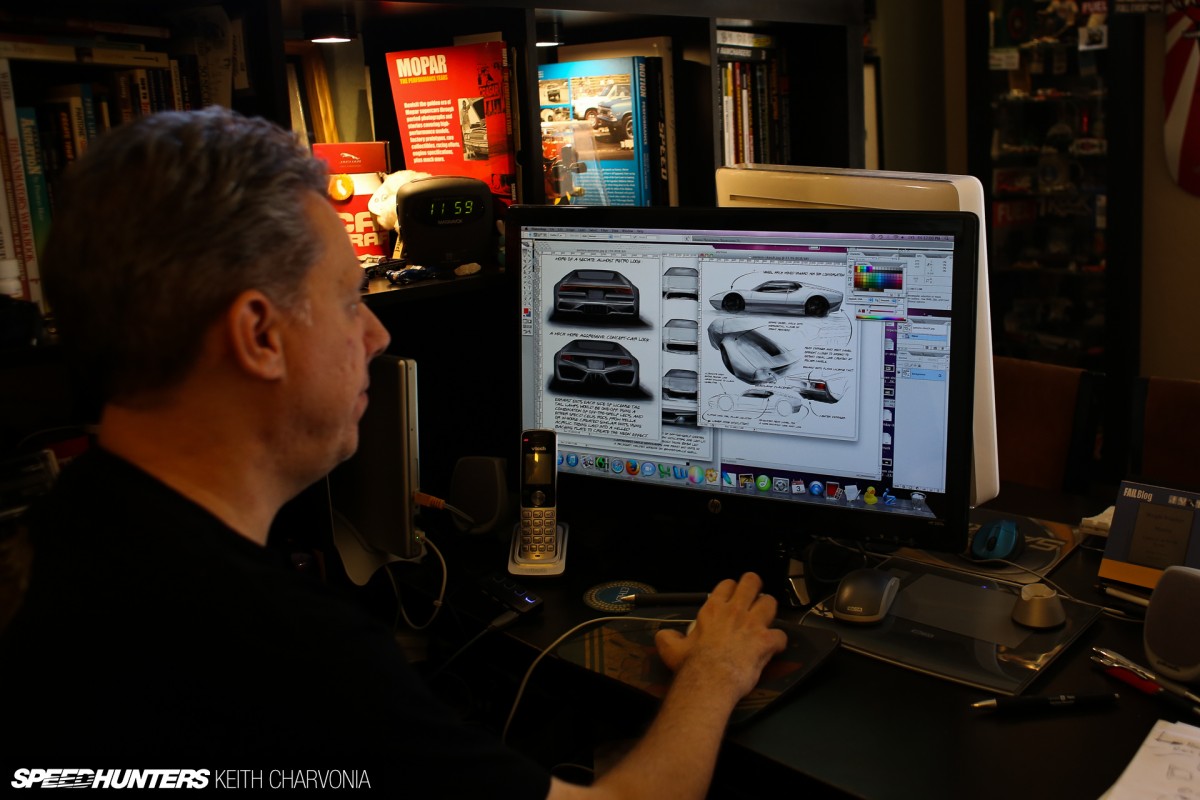 Hundreds of hours were spent coming up with ways to make a quirky classic sports car work with Ring Brothers' modern flavor.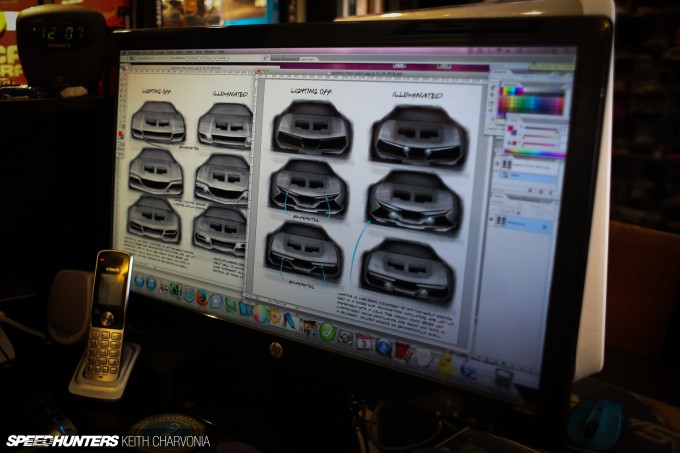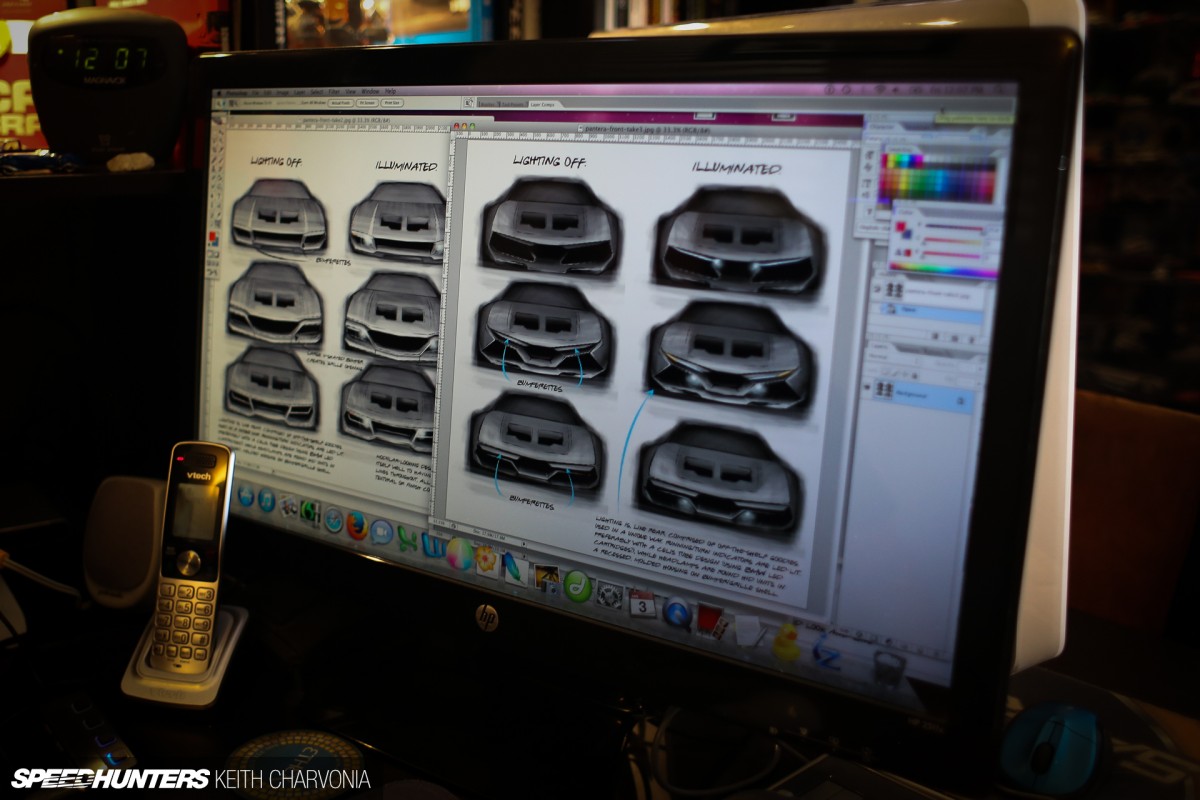 Some early sketches show ideas for a smoothed front end, sans headlight housings.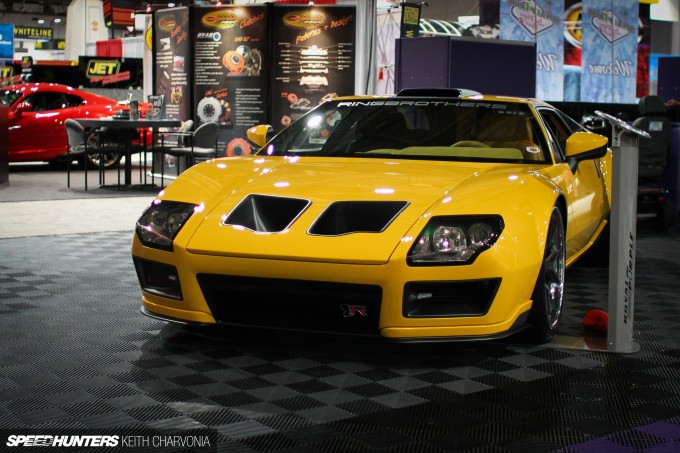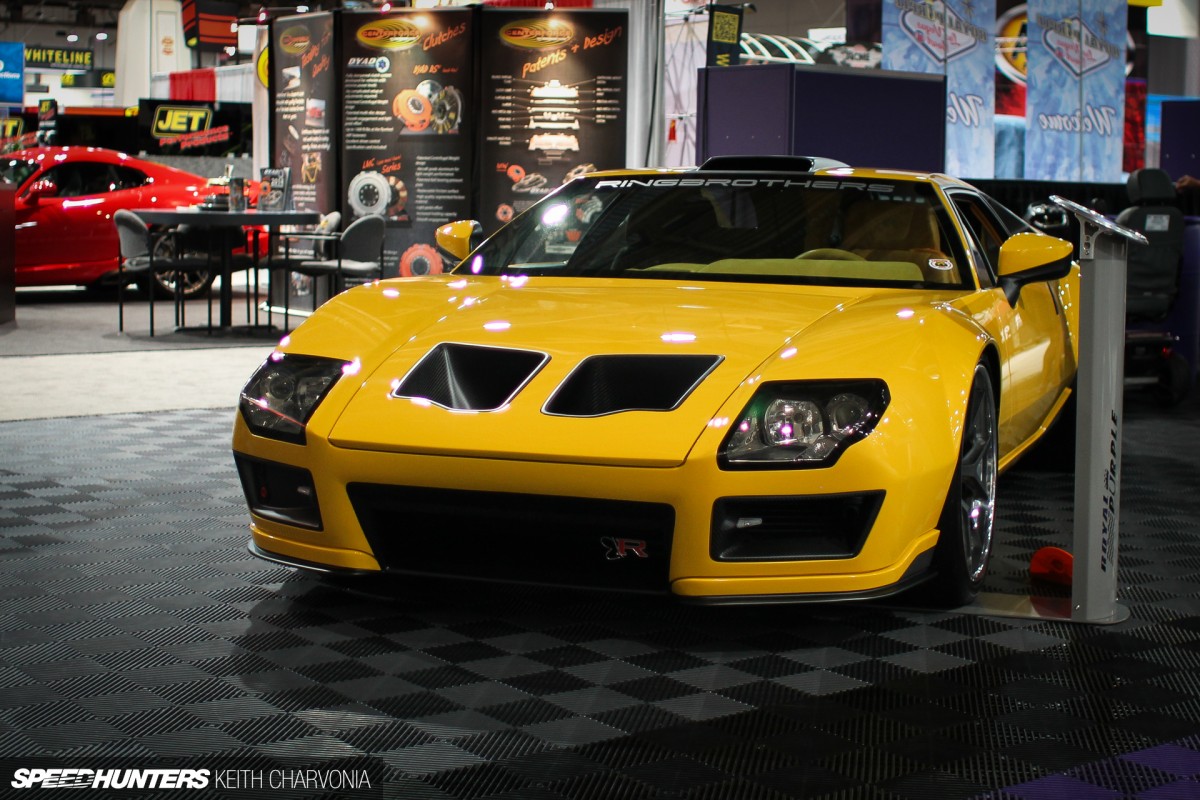 In the end they designed and built new ones entirely from scratch. This is where knowing the shop's capabilities goes a long way towards Brian knowing how far he can push a design. If a shop can't make custom headlights, then he would have to work around that. Shops like Ring Brothers can make just about anything they want though.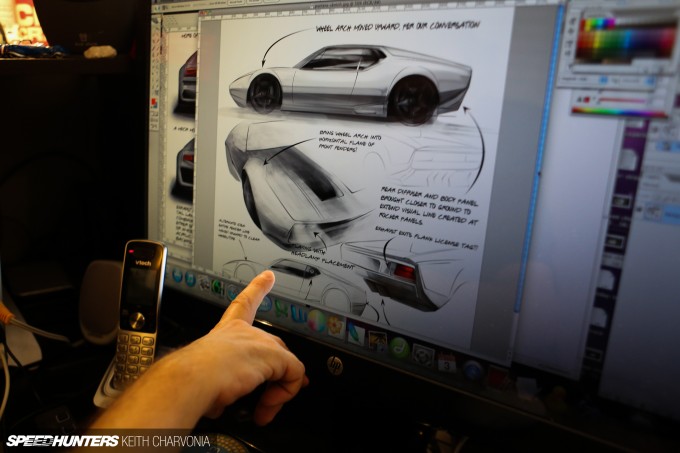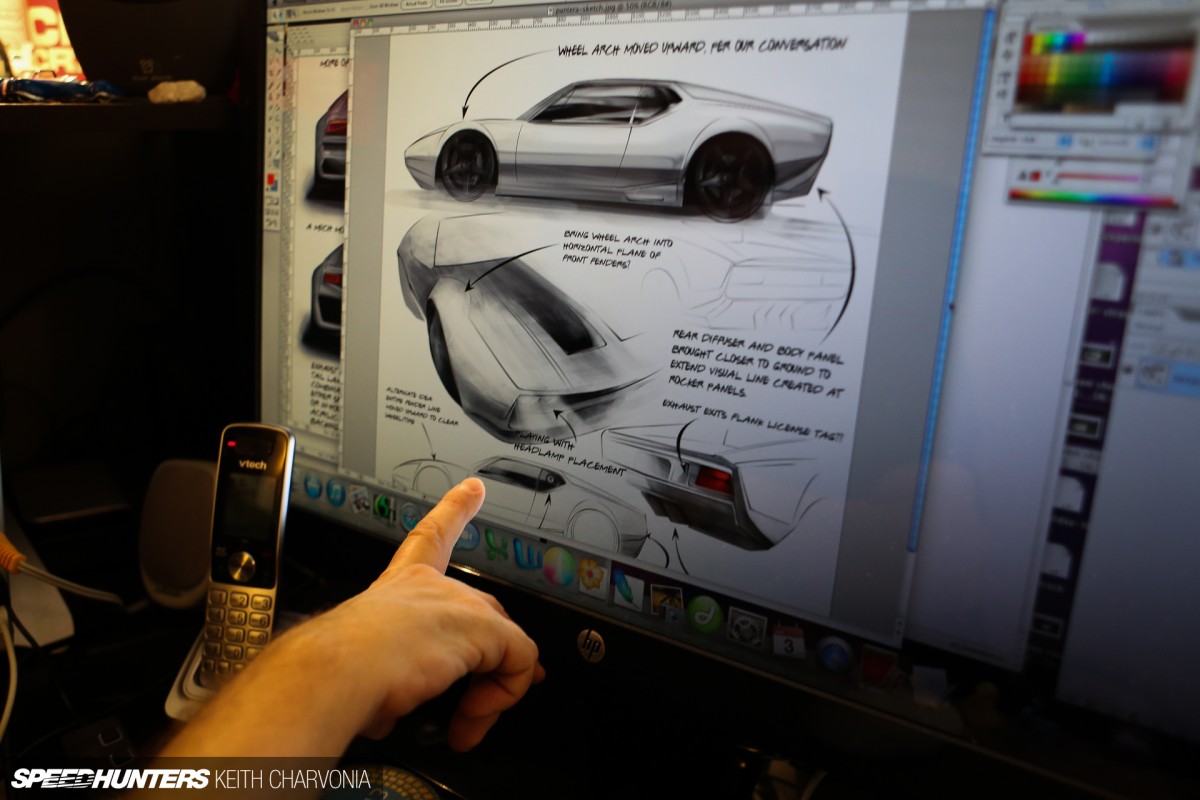 I'll bring Brian in again here to explain how he used rhythm to help inspire the design…
"I try to bring rhythm into my work. If I can direct the eye to move across a panel and then onto the next at a set pace, I can create an experience, versus just 'looking at a car'. For instance, if I take a car that's going to be an aggressive Pro-Touring monster with a ton of subtle changes, then I want you to miss some on the first view, and have to go back and spot them later.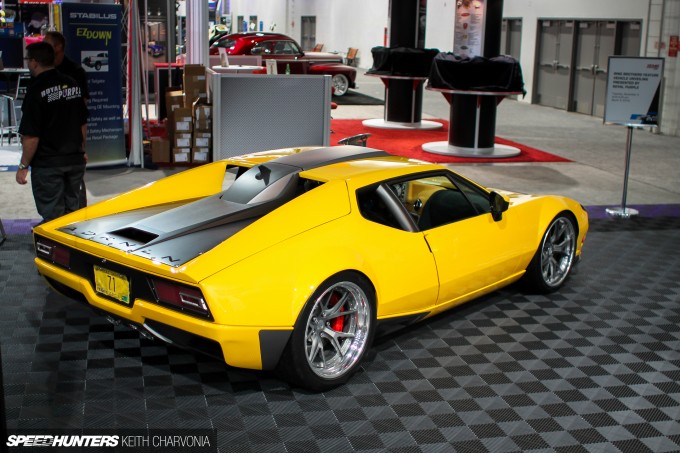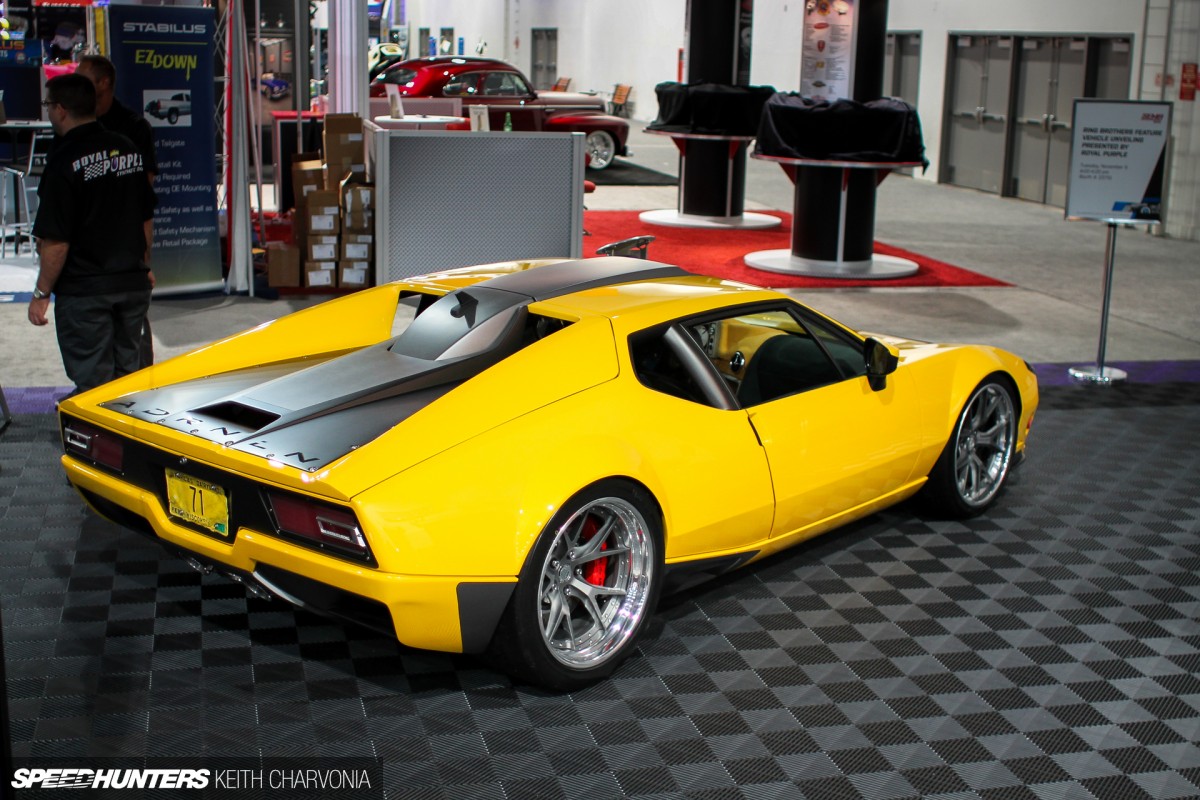 "I'll do this by incorporating a few 'hooks' – something like a re-shaped wheel opening, or a slick side mirror, or some trick relief on the fender. You might catch, moving front-to-rear, the tucked bumper. But that fender relief might take your attention right past the marker lamps we created, or even the splitter. You might go, then, right past the flush windshield on your way to those door handles, and while I have you wondering where the heck those came from, you'll miss the brake vents or parting line we dropped into the rocker panel, or the slight extension on the C-pillar, and so on."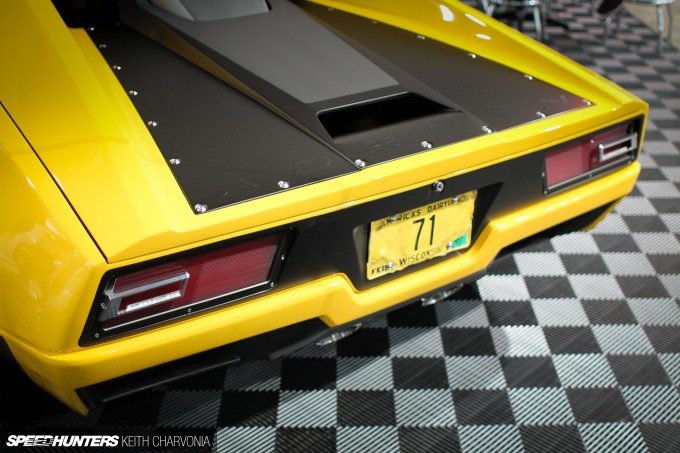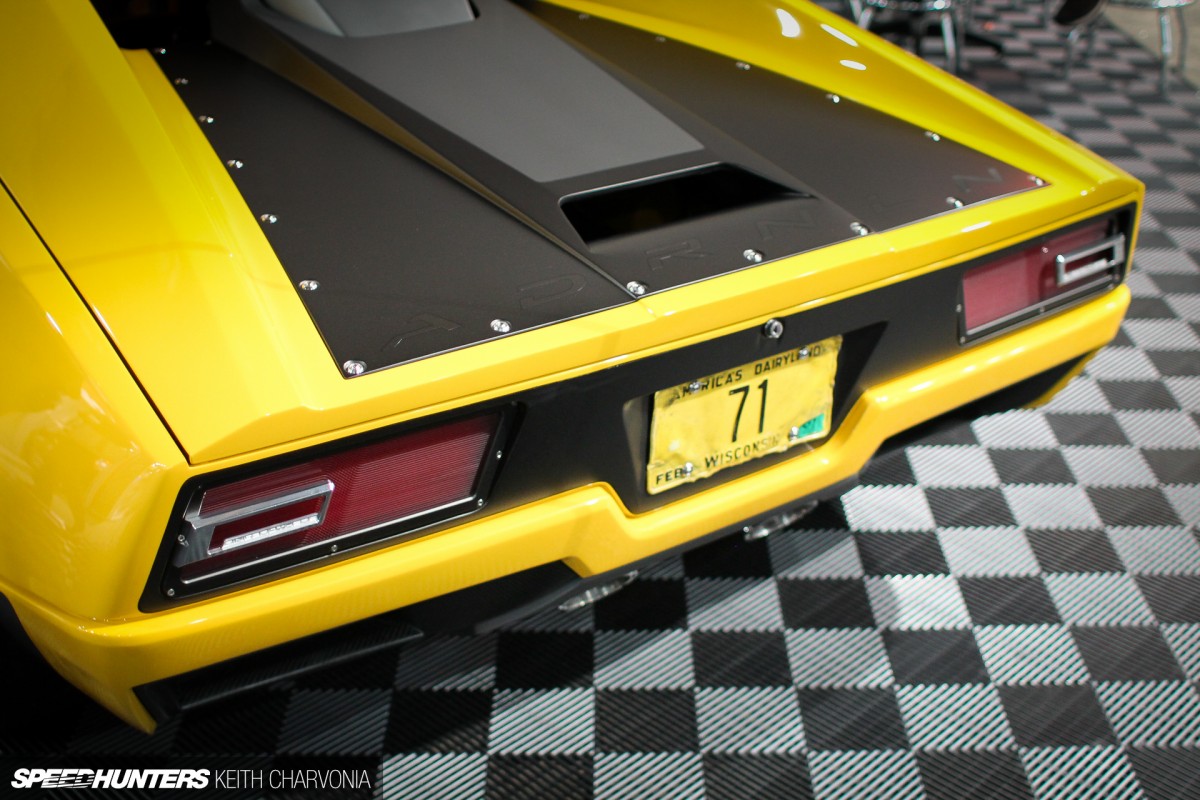 I think we can confidently conclude that Brian Stupski is an inspired individual.
There's just one thing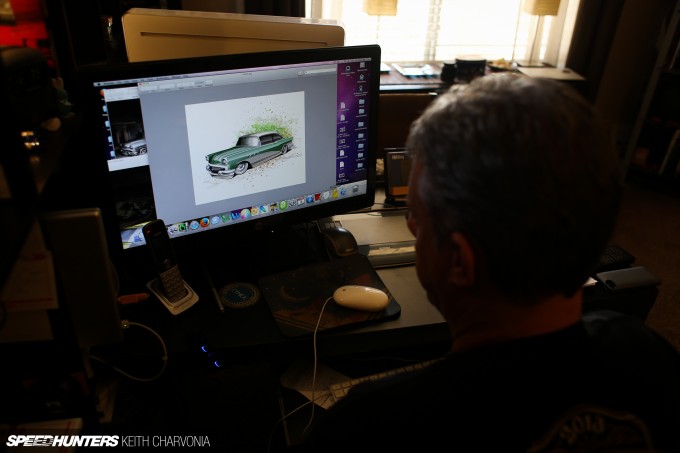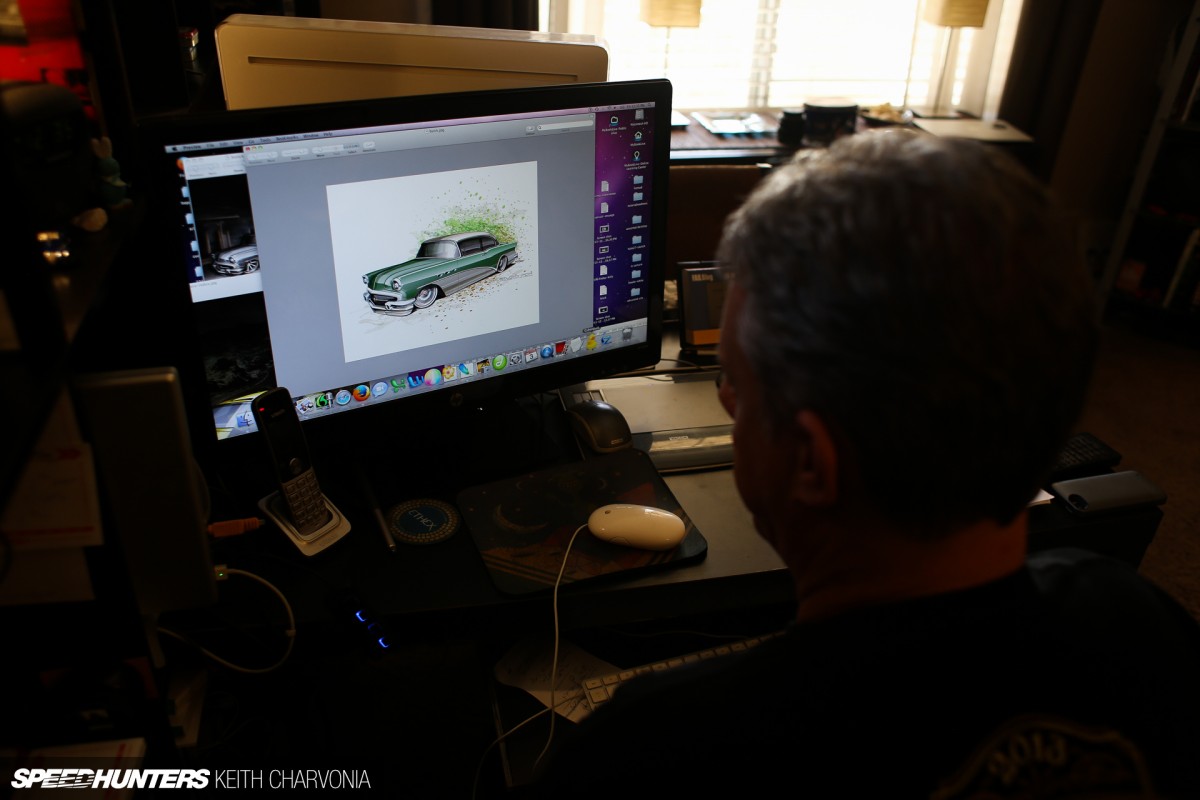 If you want to talk cars or design, Brian has a lot to say. These have always been our topics of discussion for the past five years or so that I've known him. But there's always been one subject that I was reluctant to broach with him.
That's the fact that Brian can't feel his hands. At all.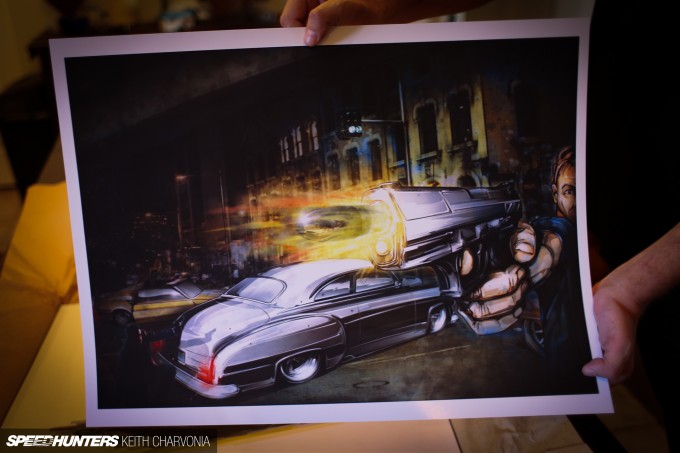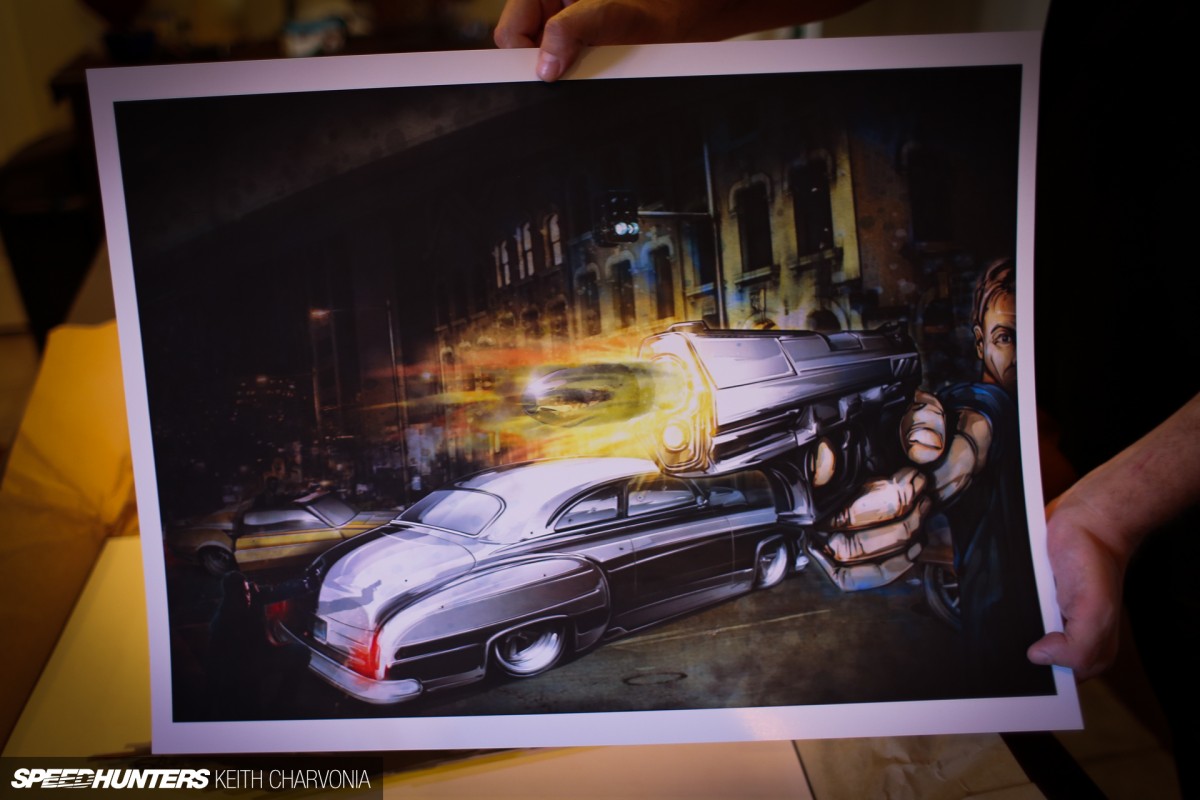 Without going into too much detail, Brian has a degenerative nerve and muscle disorder that has forced him to adapt the way he works. I'll never forget the day he said he was officially drawing from 'muscle memory'. It's true, I've seen the doctor's reports of nerve conduction tests on his hands and forearms. Each line reads "Response: None."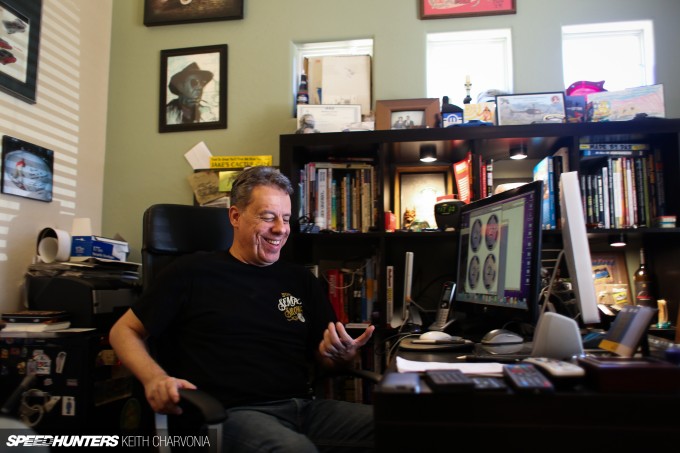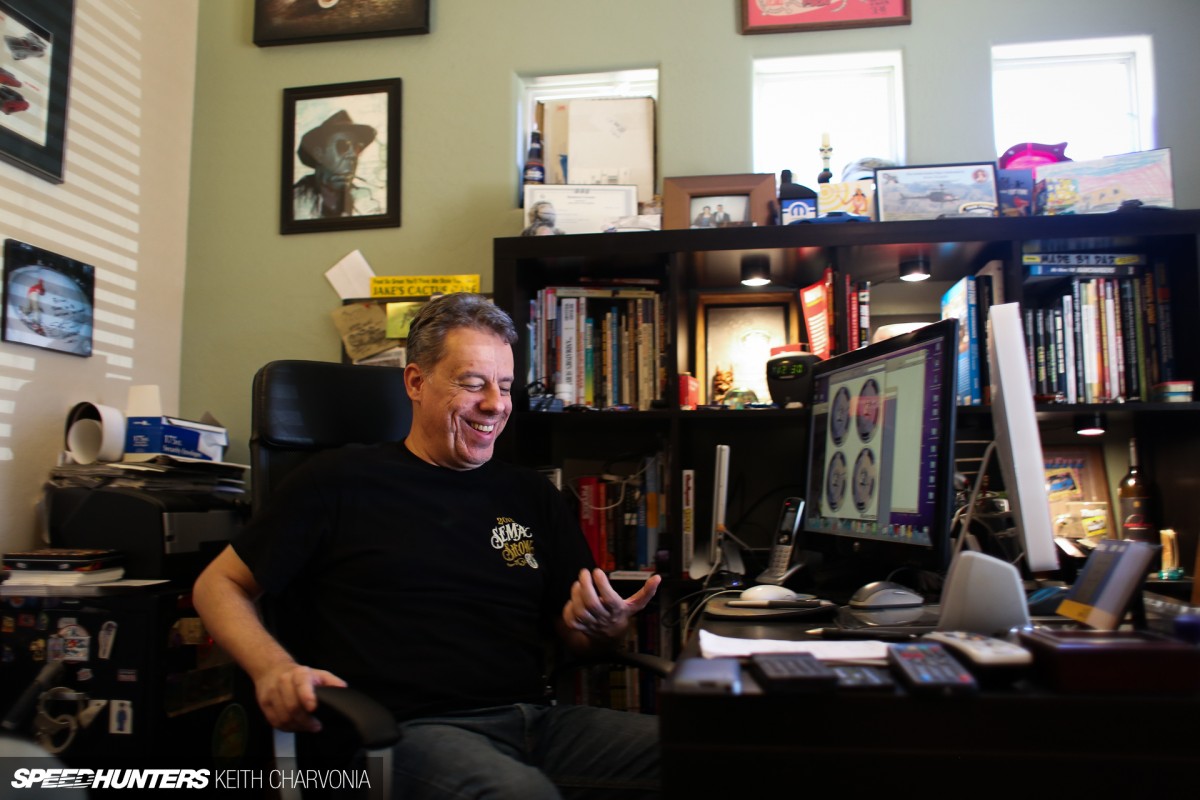 What all this means is that Brian has learned to be very calculated about how he moves his arms and hands. When he shakes your hand, he's thinking about it a lot more than you are. But it leaves me with one question: how the hell does he draw like that?!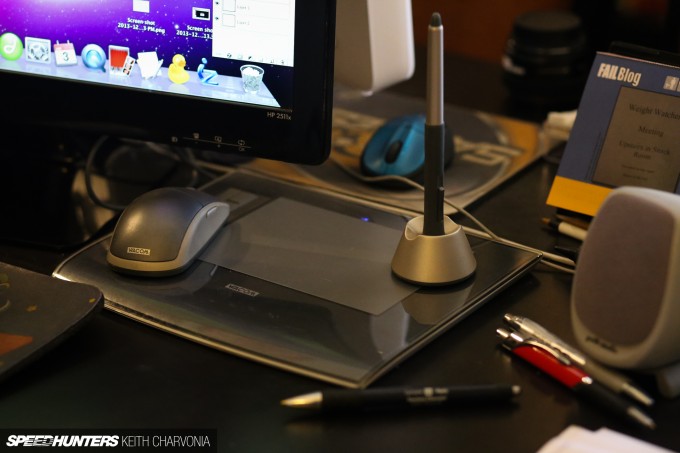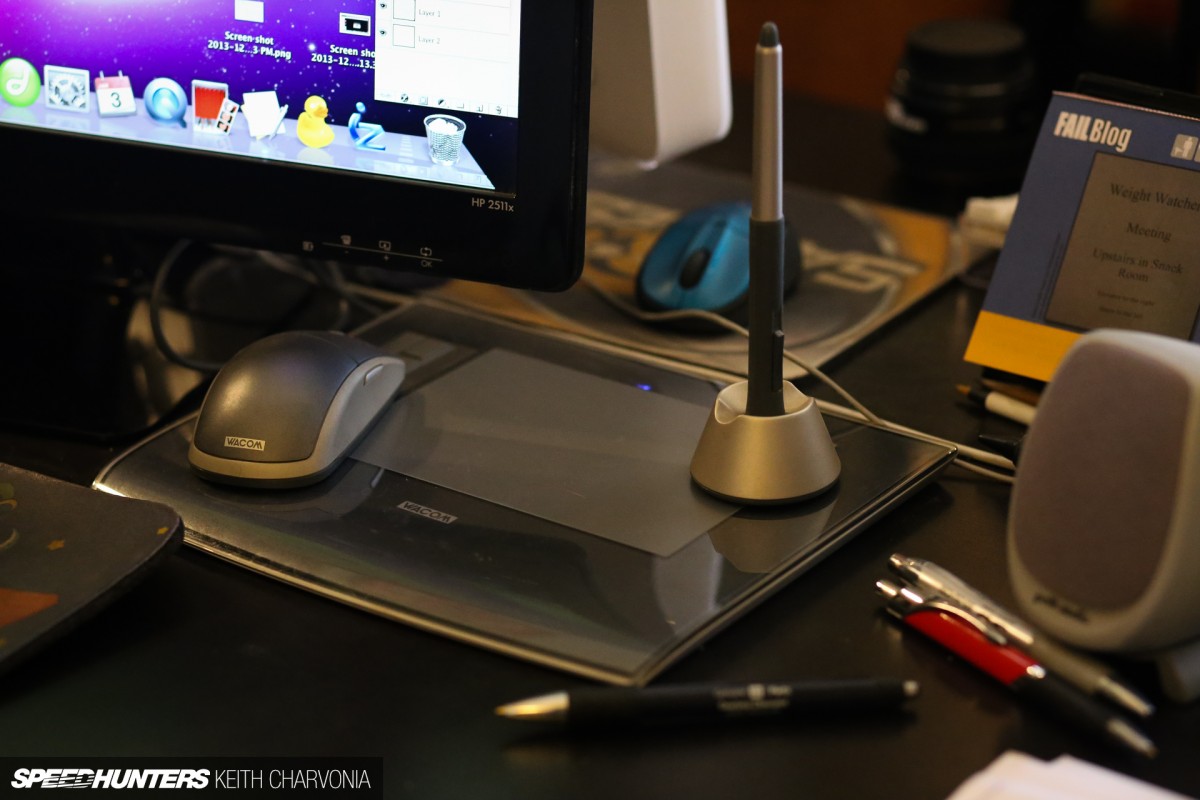 Brian's work is almost exclusively digital these days, but that's of little importance to the end result. He's adapted and pushed ahead, like water flowing around a rock.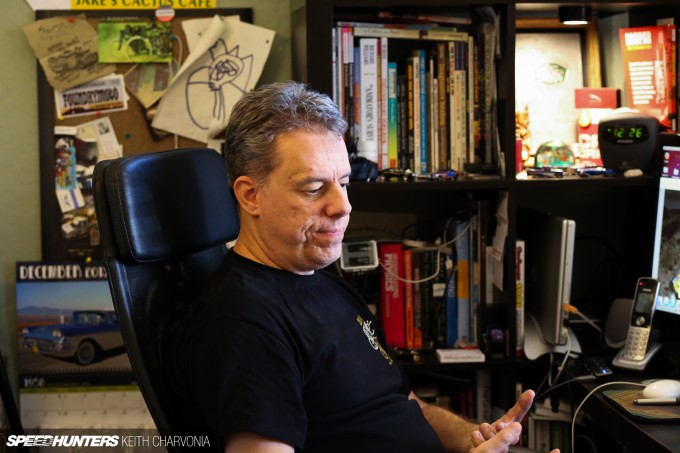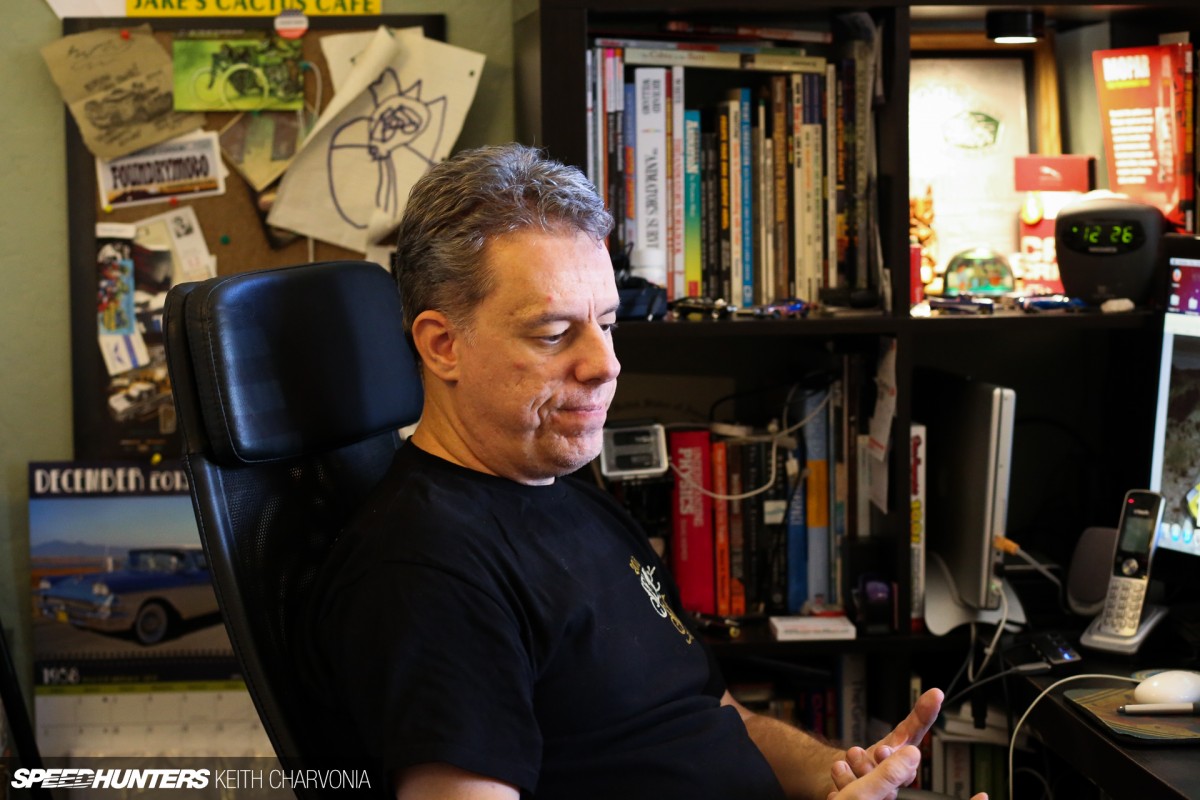 It's an interesting concept to me: sketching without tactile feedback. I've felt the squeak a Prismacolor makes on paper and the scratch of a pen against vellum, and I know Brian has too. I suppose working digitally removes these elements anyways, but there's still the challenge of controlling his hands via a frayed wiring harness for nerves.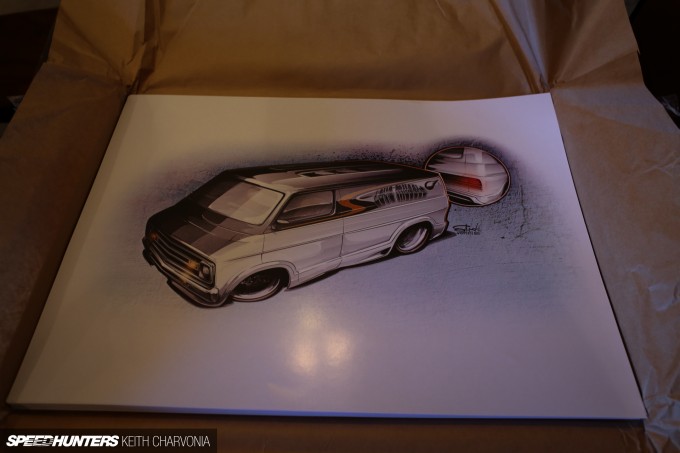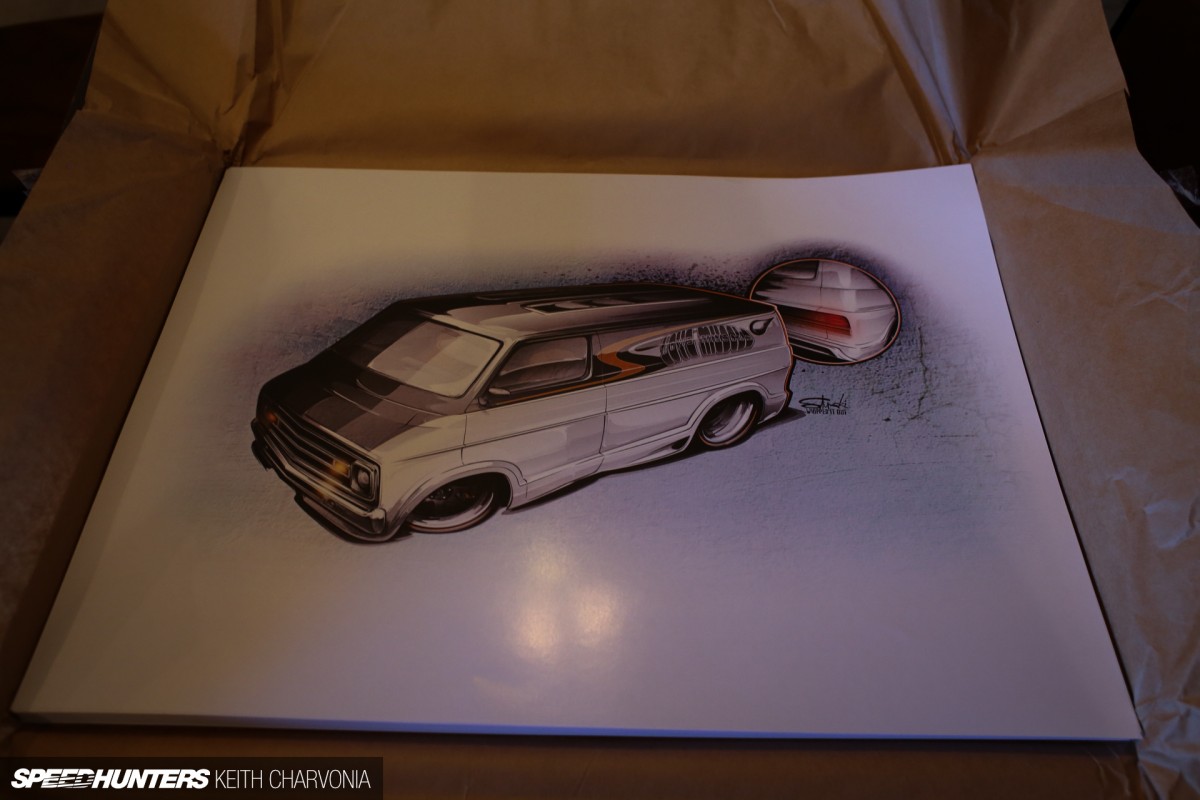 So that sucks, but here's the reality. Brian's talent is in his mind and his success is his personality. He's inside the car industry like you wouldn't believe, and his ability to paint a picture doesn't stop with his hands. He's also a prolific writer, which led to a stint as Dodge's REDLINE blogger this year.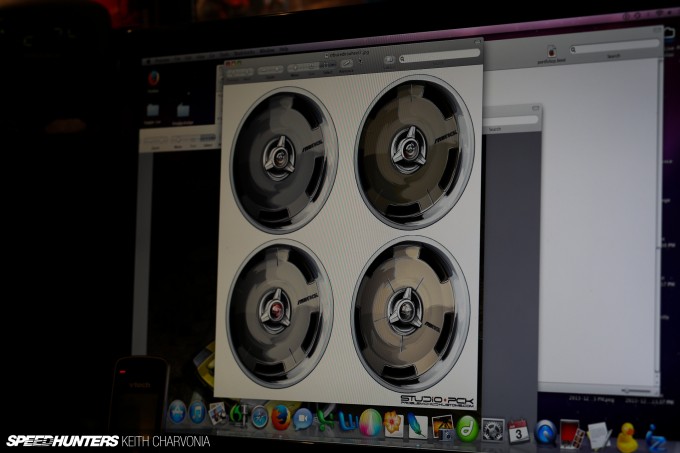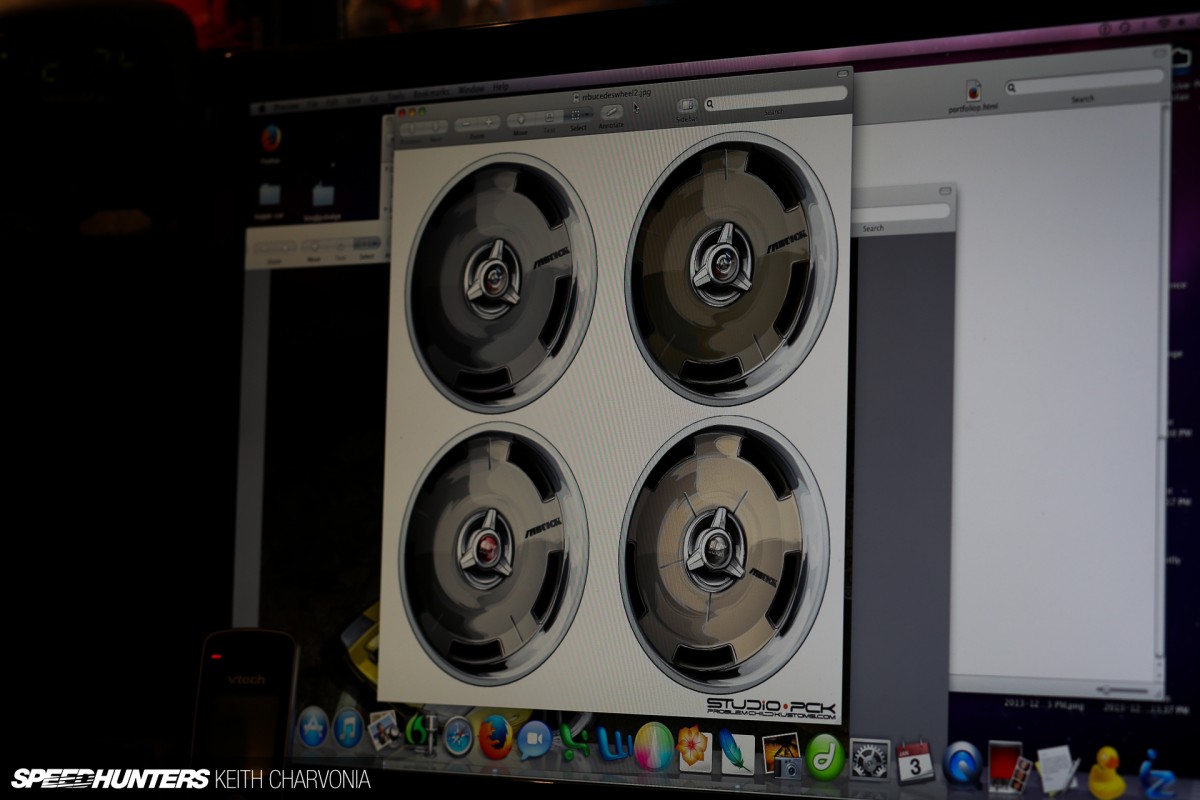 Obviously the smart thing to do is to plan for the future. When Brian can't draw any more, he'll be blogging and writing books in an effort to pass the torch to the next wave of designers. He has a lot to teach the world.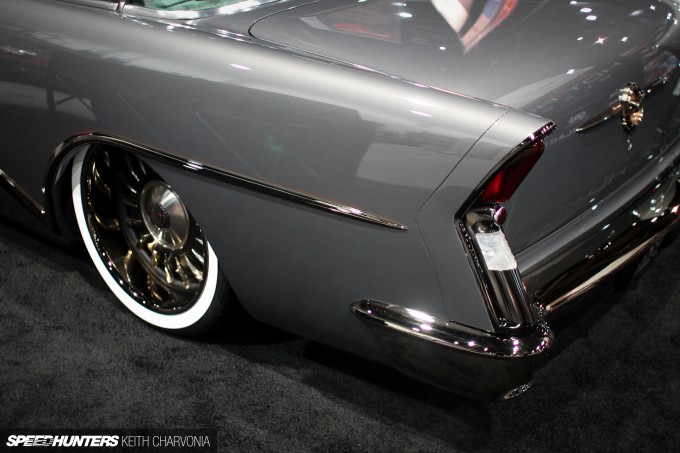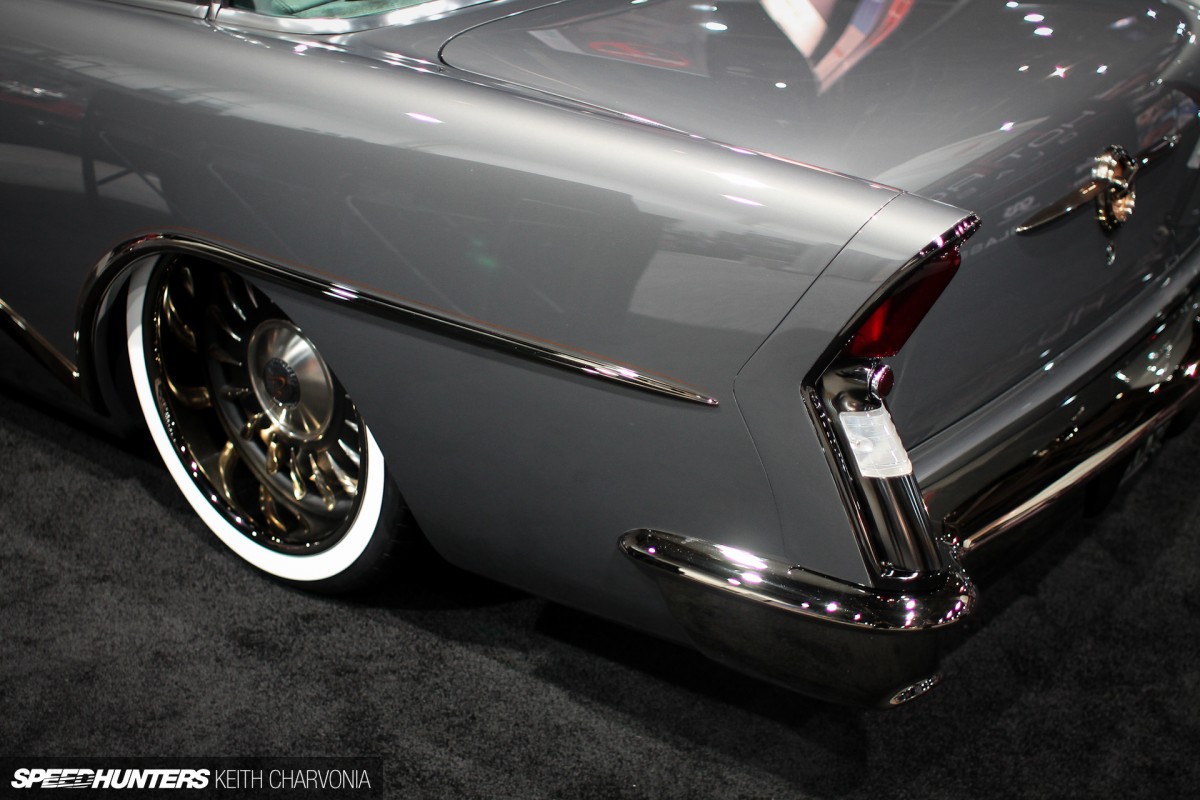 I approached this story hoping to find out what inspires Brian Stupski. I wanted to know how he creates on a level that has the top builders calling him daily for ideas and advice.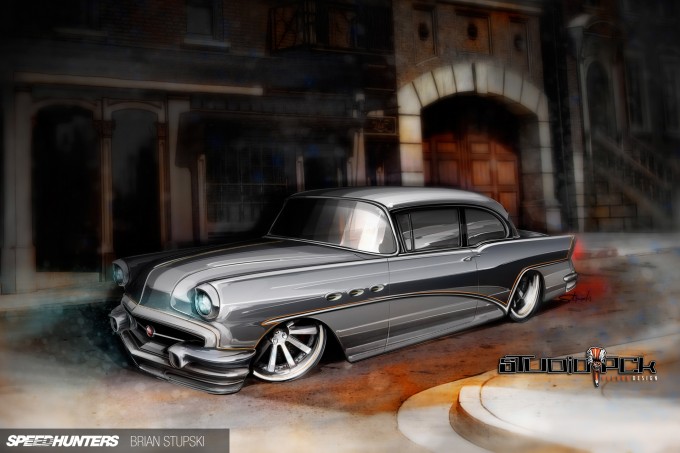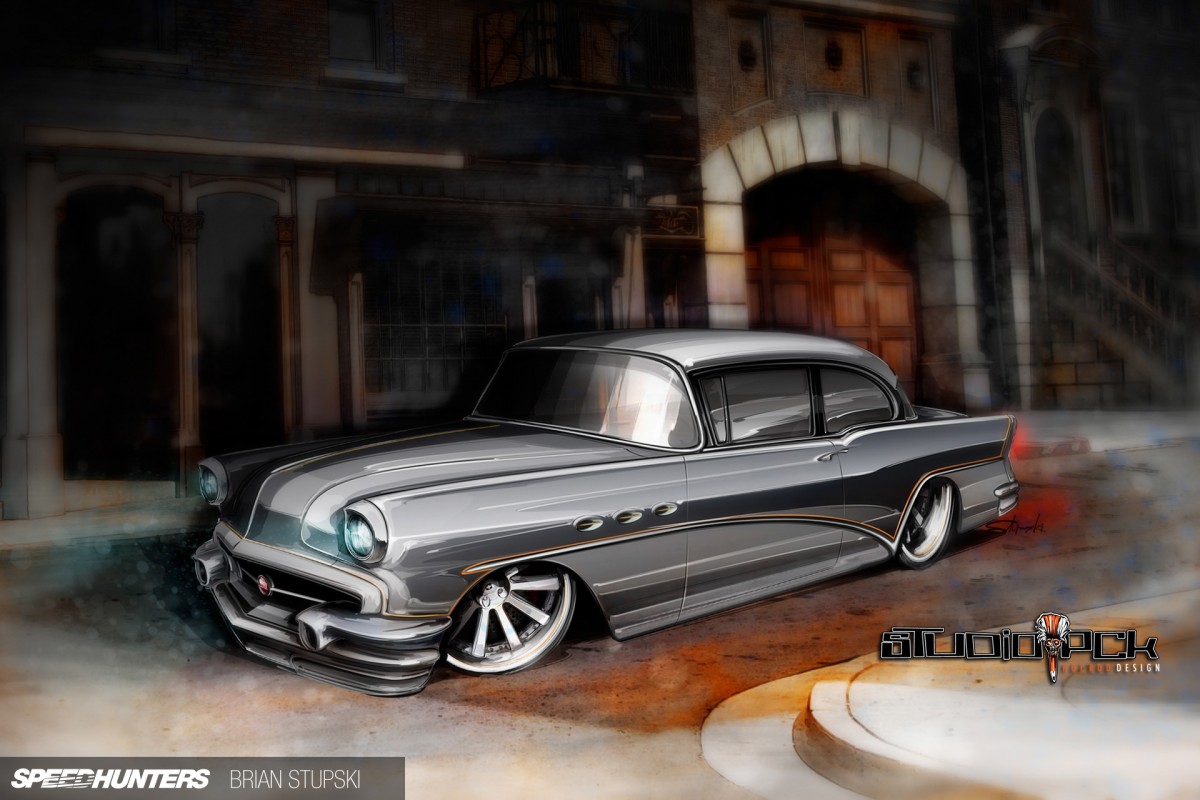 It was only when I got the courage to bring up a touchy subject that I realized how much Brian can inspire all of us. I can't imagine the difficulty of being a car designer when your hands are numb. To have to think about grasping the stylus and force your hand to go in the right direction to lay down a pen stroke.
But look at his body of work: the quality of it, the creativity and clever ideas. Look at the mark he's already left on our industry. Better yet, talk to him. Do you even hear it in his voice? Not one bit. Will you hang up the phone with a smile on your face and a new idea in your head? You bet.
And on that high, we conclude our inspiration theme. We hope you've enjoyed some of the slightly leftfield content, perhaps read a tale or two to make you think, and drawn some inspiration to help you achieve your goals in 2014. Happy Speedhunting!