The definition of Speedhunting
Tokyo is a goldmine, it really is. Much like any big city, it doesn't matter how long you live in it, there will always be things that continue to surprise you, be it on a cultural or intellectual level, all the way down to the things you see and for us car enthusiasts, the cars you come across. There's never a dull moment in a city like this, and that's why I've never taken a drive, stroll or a bicycle ride without ever keeping my eyes peeled for anything interesting that comes into my radar, phone always ready to grab a quick snap if I do find something that catches my attention. That's exactly the way in which I came across this semi-abandoned Renault Alpine, a car that I've been seeing for years in the exact same condition and position as you see it right here.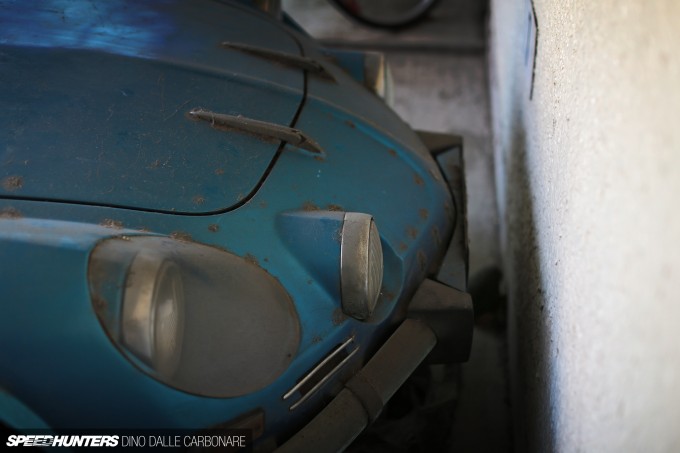 If you've been reading my posts on Speedhunters you may remember that this isn't quite the first rarity that I've found in Tokyo. Around four years ago, I grabbed a quick set of pictures of a white Ford RS200 that looked like it had been forgotten about for well over a decade, and not surprisingly, that car is still in the exact same position as it was in 2010.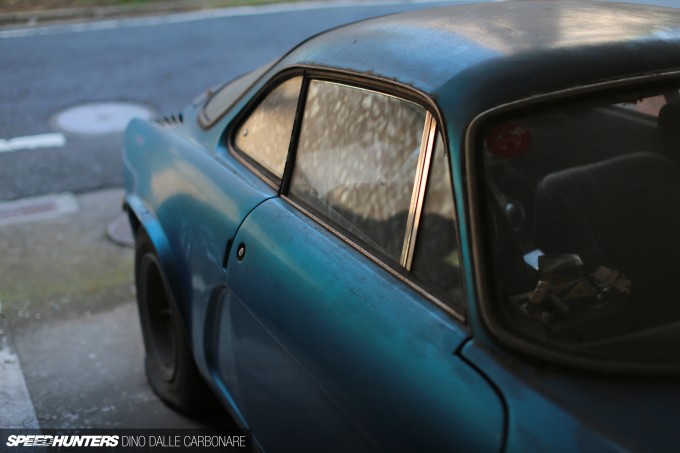 So after seeing the pair of beautifully-cared-for Alpines at the Cars & Coffee meeting in T-site a few Sundays back, the image of the dusty, abandoned example I knew about instantly popped into my head and I decided it was the right time to stop by and finally grab some pictures of it on my way back home.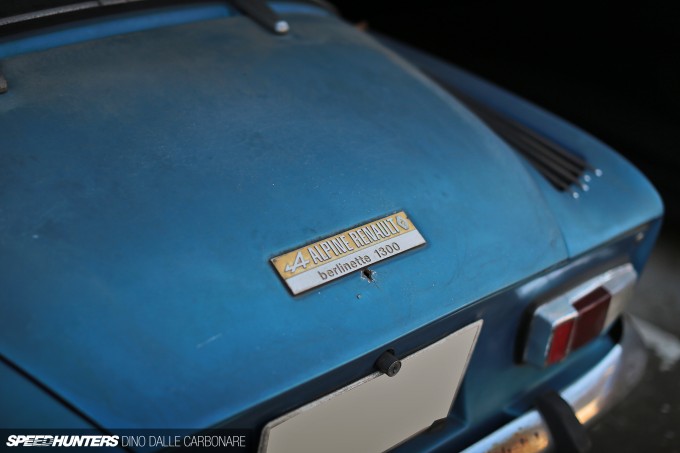 I'll tell you the truth: I don't really like taking pics of these sort of cars. It really is painful seeing such beautiful, sought-after historics left to rot away in this manner. I in no way blame the owners; you can't make assumptions – you never know what situation that particular person is in that has left him/her or his/her family to allow these cars to be forgotten about.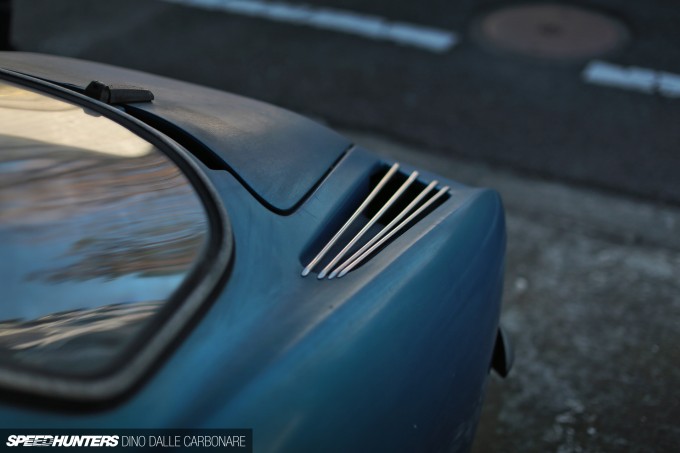 Who are we to judge, right? Still, for how much it hurts, there is an element of excitement that comes into play with the discovery of something so special in such an unbelievable state.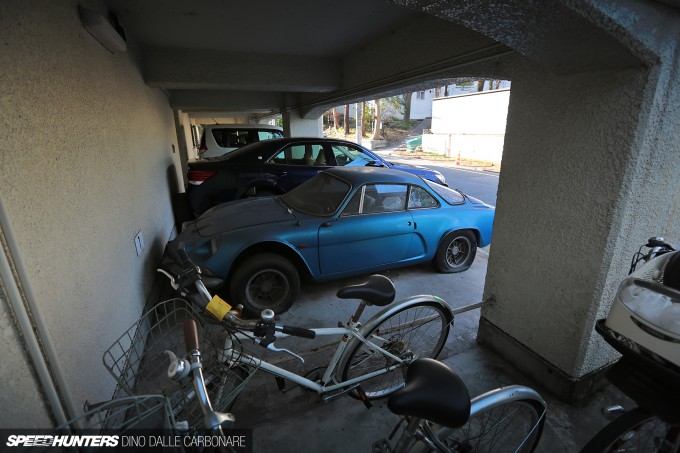 The A110 Berlinette sits semi-covered under an open car port, dwarfed by the massive Toyota Crown in the next space over. It may be out of the rain – most of it at least – but there's no way to protect it from wind, dust and the harmful effects of the sun's rays.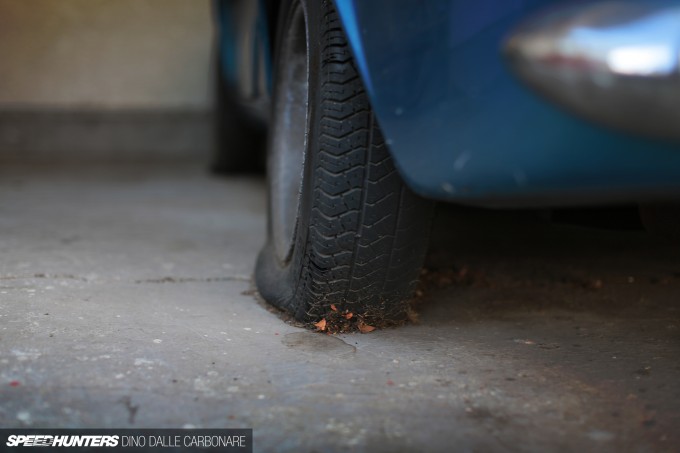 Every single tire is completely flat or close to it, with an accumulation of dry leaves and miscellaneous debris almost acting as stoppers, making sure it doesn't roll back!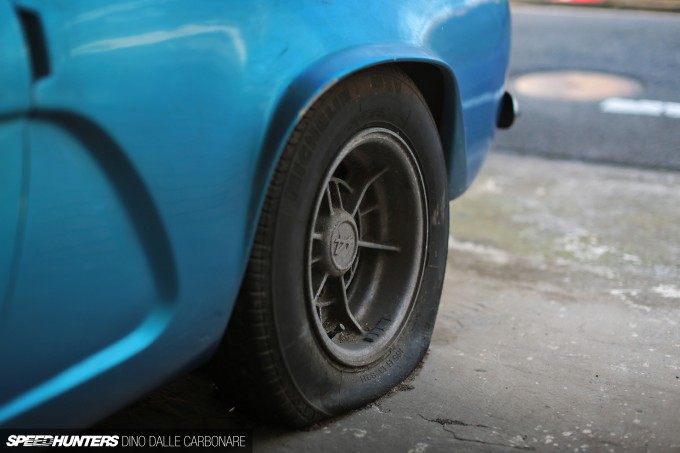 Weathering has hit every single surface and the Alpine logoed aluminum wheels are badly oxidized and pitted.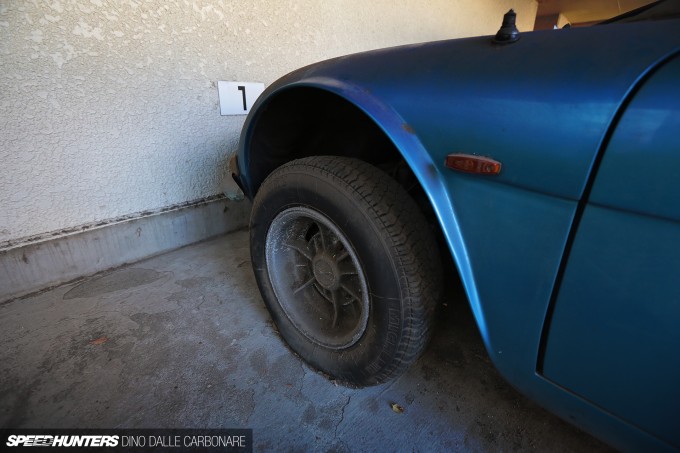 With the engine mounted at the rear – and the flat rear tires – most of the weight has shifted towards the back, causing the front to rise up, creating an enormous fender gap.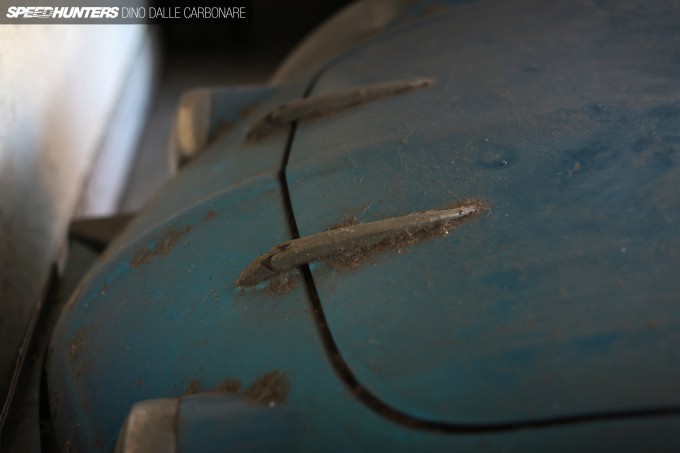 The exposed metal hinges of the front trunk are one of those features that, like the frog-eye-like headlights, have always been unmistakable details of this little French rally special.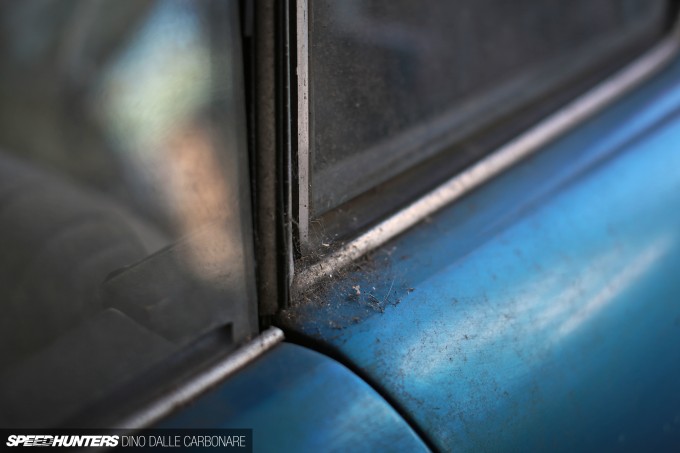 Like the hinges, bumpers, headlight bezels and every other chromed metal highlight have all suffered the same fate; their once shiny surface corroded and losing the fight against the elements.
The heart suffers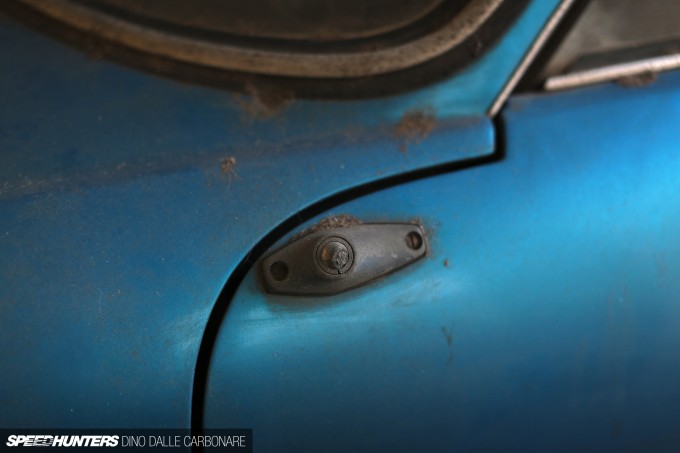 The driver's side door-mounted and fender-mounted mirrors were nowhere to be seen, broken away at some point and ether lost or (hopefully) kept by the owner with the idea to get them fixed.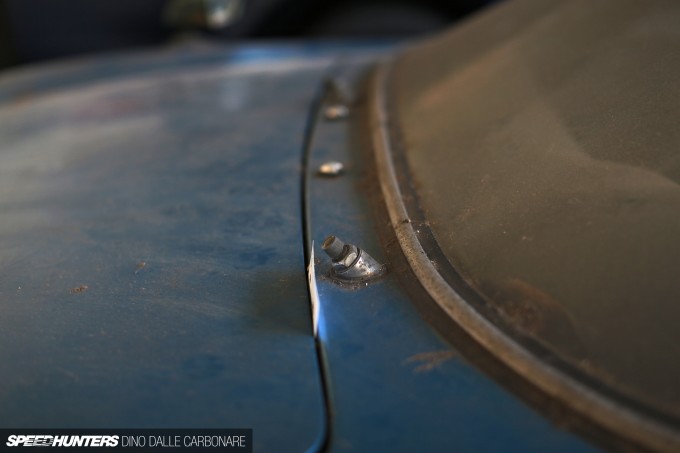 Same thing with the wipers: they were at some point removed and unbolted off their mounts, almost as if not to be left sitting on the windscreen for a long time. I thought it was a little strange and curious at the same time – maybe they knew it would sit for a long time. It also looked like the Alpine had maybe been spotted by an enthusiast who left his business card inside the front trunk panel gap. The card looked pretty old; who knows how long ago it was left there.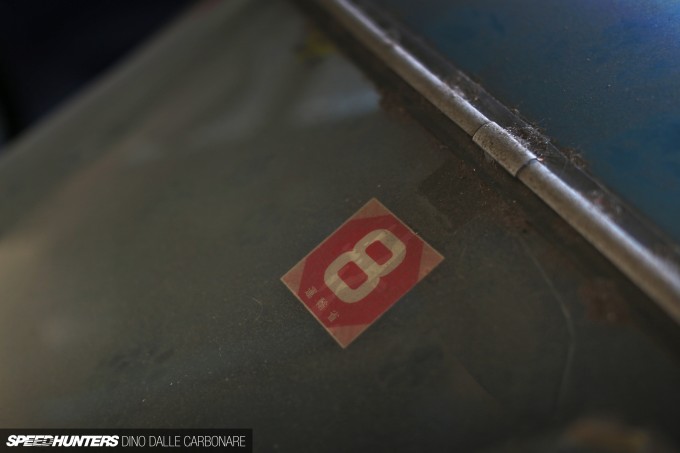 On the top of the windscreen the last shaken sticker read "8" which in Japanese Heisei years equates to 1996. From this, it's possible to tell that its last shaken test was in 1994 (they are valid for two years – three if it's a brand new car then two years thereafter) so the car has been off the road for at least 18 years, and possibly one or even two years more than that.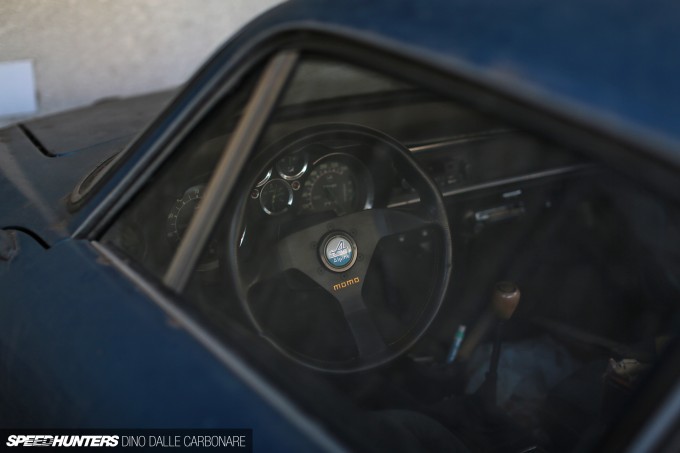 Further 'investigation' on my part – yes, I was getting excited attempting to piece together the clues – revealed the obvious fact that this car was/is owned by someone who at some point really cared for it. The interior's in really great condition, considering, and I spotted nice touches like the Momo aftermarket steering wheel with a proper Alpine horn button. Attention to detail means the owner was as otaku as you and me.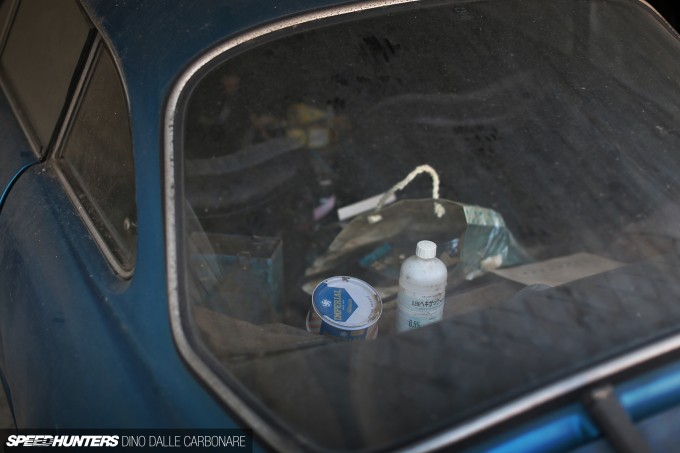 I thought part of the interior had been used as storage space but most of the things inside are car-related: boxes of miscellaneous parts, cleaning products, even a can of motor oil behind the driver's seat.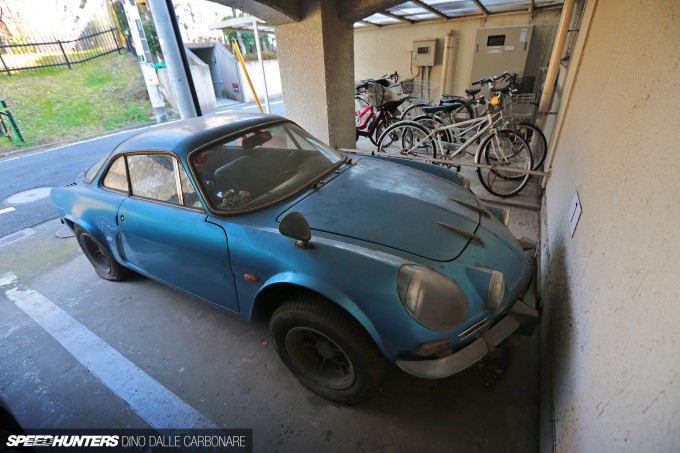 I moved over onto the passenger side to get a look around that side of the exterior and noticed the fender mirror was still intact.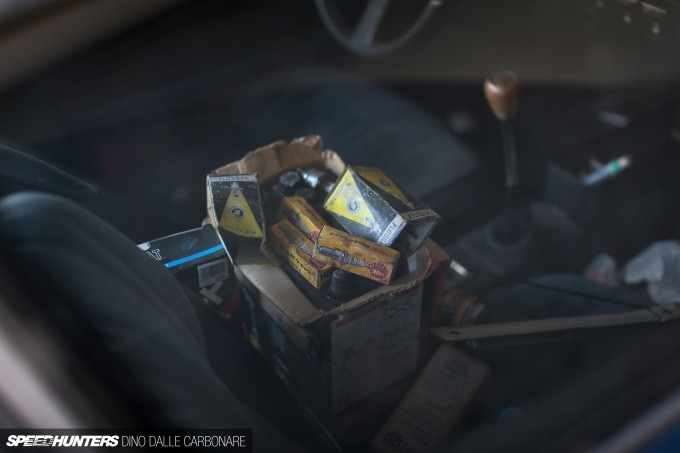 On the passenger side seat I spotted yet more parts, including an old boxed battery with a few NGK spark plug boxes and headlight bulbs on top of it. If I had to make a wild guess, it's old or current owner was/is a car guy; a guy that used to do basic maintenance on the car himself and maybe at one point since 1994-1996 has attempted to put the car back on the road.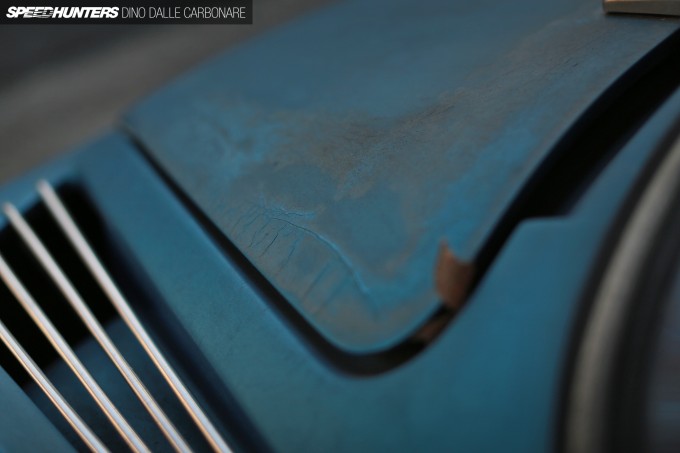 This little French lightweight may look like it's in a bit of a dire state, but standing there, it was hard not to look past the sun-damaged paint, the flat tires and the layers of dust, envisioning it being brought back to its former glory.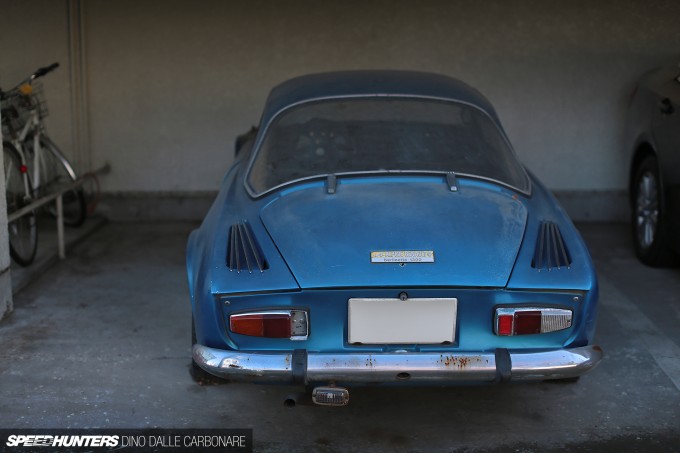 In fact, since shooting these few images, I haven't been able to stop thinking about it. I have actually returned to it and left a little message in there, just to maybe see if whoever is entrusted to care for it may be willing to part with it. Hell, you never know right? I'll give it some time. If I don't hear back, I might take a more active approach and start ringing doorbells! I don't know, maybe I just have a weakness for blue cars…