More than meets the eye
As renowned as New Zealand might be for its quarter-mile-crushing Skylines and one-of-a-kind rotary builds, this little country at the bottom of the Pacific Ocean has an infatuation with all facets of car culture. It's often said that, per capita, there are more people in New Zealand who build, modify or collect cars than anywhere else in the world, and given what I witnessed last weekend, I'm sure that sentiment can't be far from the truth.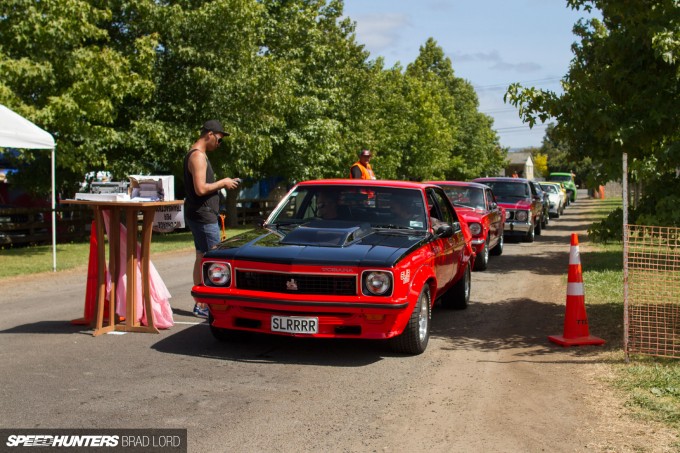 Over the course of the last two decades, the Kumeu Classic Car & Hot Rod Festival has grown into one of the biggest events on the local automotive calendar, with people making the pilgrimage from far reaches of the country to immerse themselves in the huge two-day event.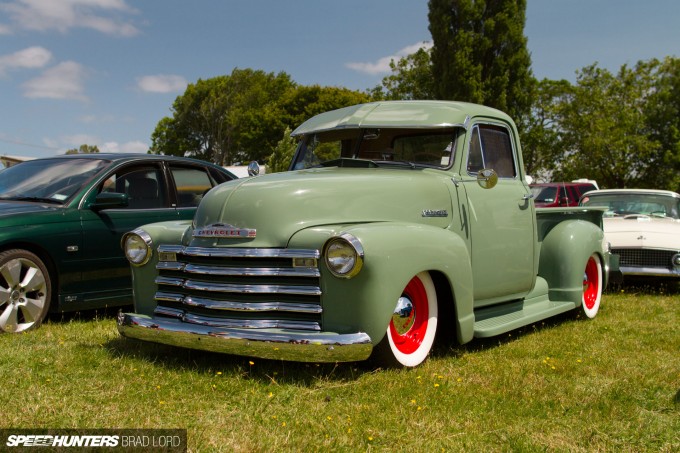 I've attended the event a few times in the past, but given the 20-year milestone the event is celebrating this year, it seemed only right that I squeezed a quick stop off at the Kumeu A&P Showgrounds into a jam-packed weekend of Speedhunting.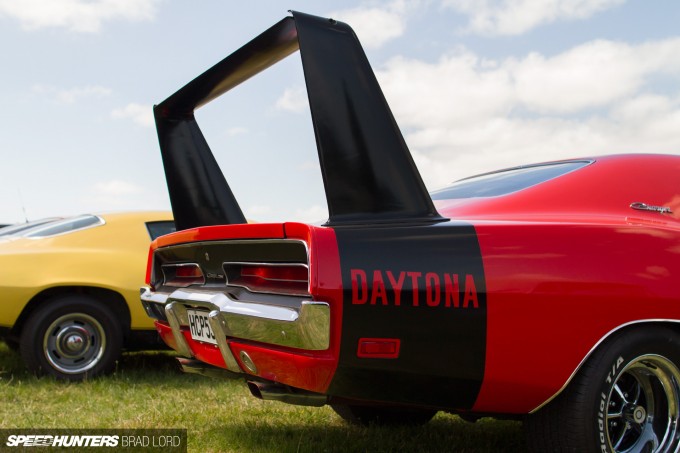 For the most part, the relaxed festival revolves around a static show that largely evolves throughout the weekend as people come and go. The fact that anyone with a suitable car for display can show it for free is, I think, one of the reasons why it's been so successful and is still growing after so many years.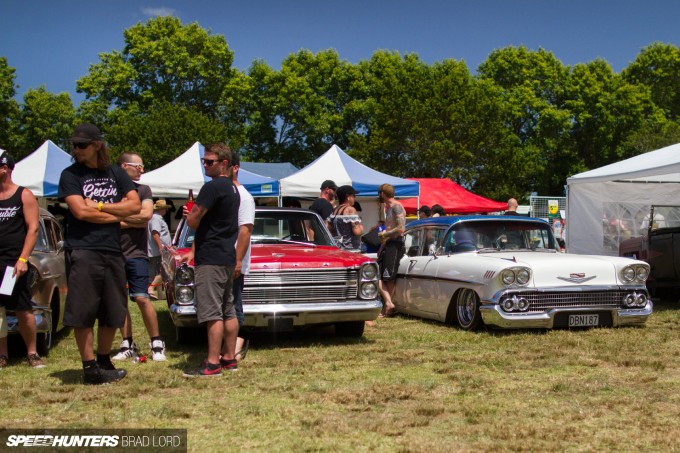 For many people though, the Kumeu show is an opportunity to spend two days with friends celebrating everything great about classic and custom car culture.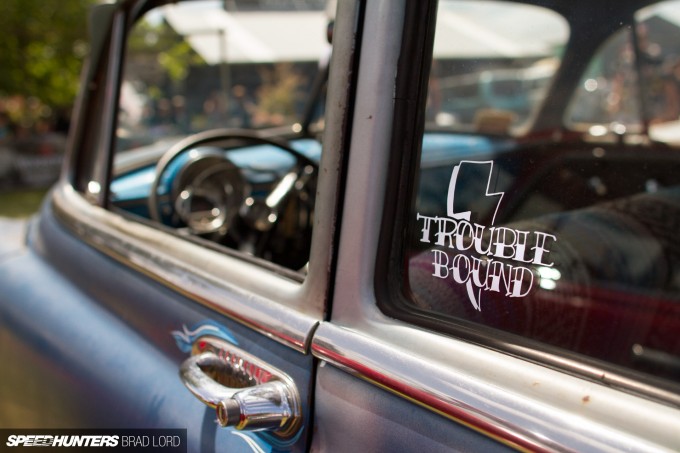 It's not surprising to see a large number of local car clubs treating the event as an annual mid-summer's get-together.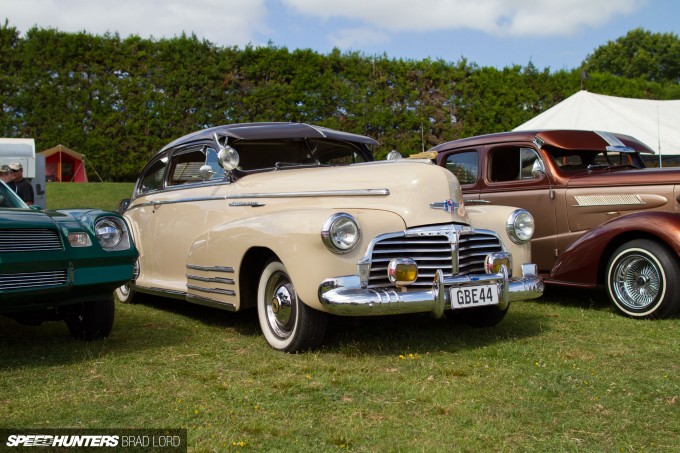 With lots to see but not a lot of time to spare before another assignment in the afternoon, I needed to be quick, and not linger for too long in the same place. Of course, that would have been much easier said than done had there not been cars like this '42 Chevy Fleetline commanding my appreciation at every turn. The 'bomb' scene is still quite small in New Zealand, but given how cool these early-style lowriders look, I can't see it staying that way for long.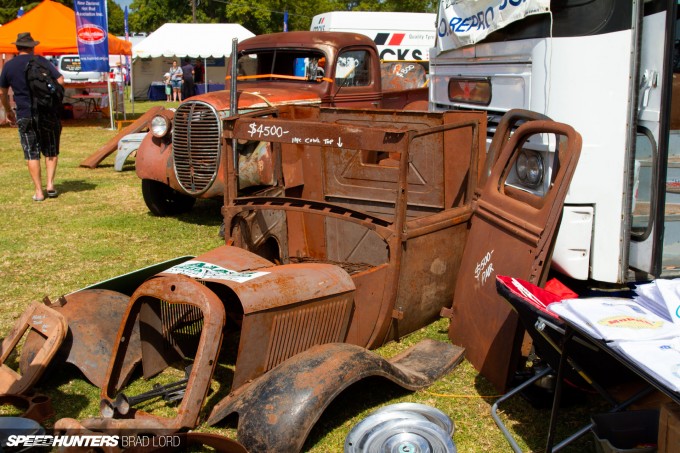 Having hundreds of venders on-site, selling everything from small collectables to full car bodies, definitely didn't do my time management plans any favours either!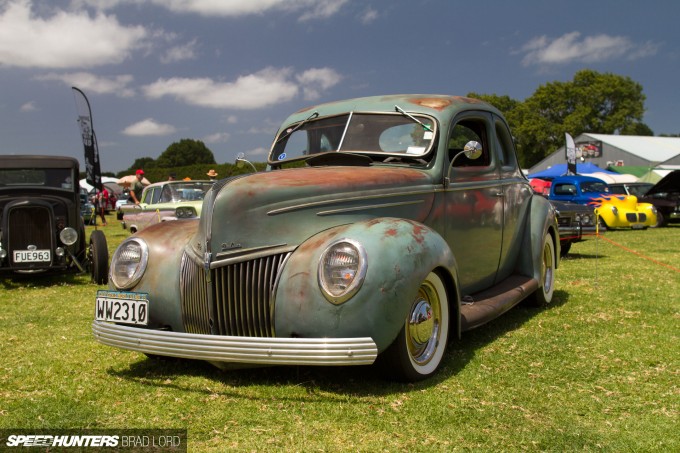 The beauty of an event like this one is the sheer variety, and more so, the number of vehicles that are brought out to be shown – which this year was literally in the thousands. It's not uncommon to see vintage and collectable cars on the road in New Zealand, but having so many of them in one place, at one time, was pretty awesome.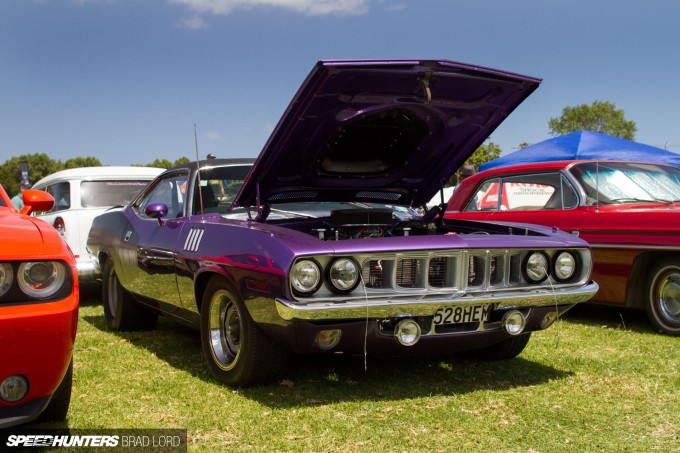 One moment it's a cool-for-cruising '39 Ford Coupe, and the next it's a tough-as-nails '71 Plymouth Cuda packing 528ci worth of Keith Black badass-ness.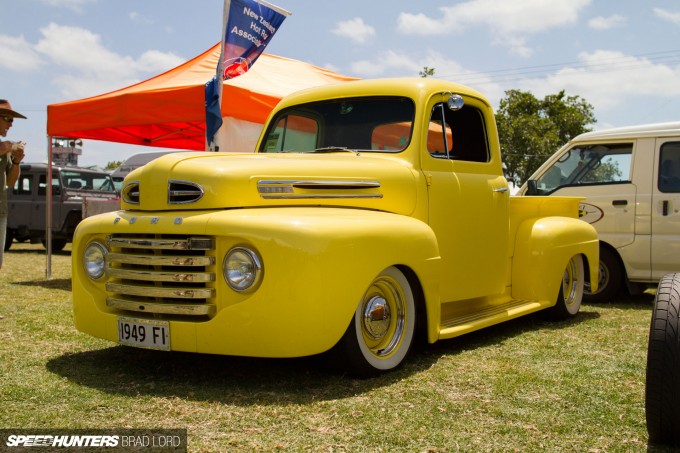 I really love the simple style and perfect execution of this Mooneyes-accesorised '49 Ford F1 pickup, and as this particular truck  goes to show, when it come to building hot rods and custom cars, New Zealand has some serious talent that does it very well. As far as how vehicles are modified though, in this scene I don't think there's a local 'way' per se, and how one is styled will generally follow period cues from the country where the automobile originated from, be it the USA, Australia or anywhere else for that matter. 
Automotive artistry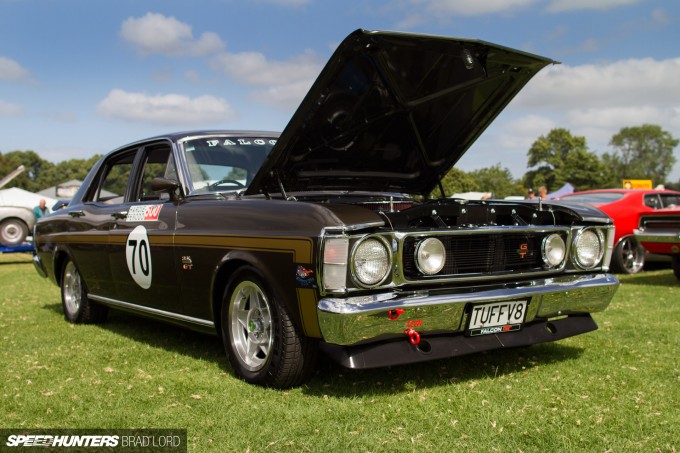 While you could class most of the vehicles on display as 'everyday classics' there were a large number of truly concours-condition machines in the mix. Given the numbers of convincing replicas around, I can't be entirely sure this '70 Falcon XW – complete with period-correct Bathurst livery – was one of the pukka high performance GT-HO Phase II variants that Ford Australia built as a racing homologation special, but it certainly looked the part.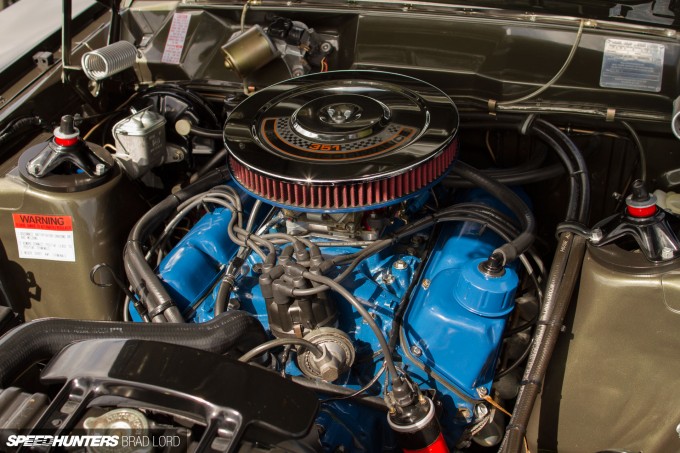 Back in the day the GT-HO was a force to be reckoned with on the road; its high output 351ci Cleveland V8 engine delivering enough power (around 300hp) to allow the big car to go 0-100km/h in less than 6.5 seconds and run the quarter mile in 14.2 seconds. If this is the genuine article, it's worth a lot of money.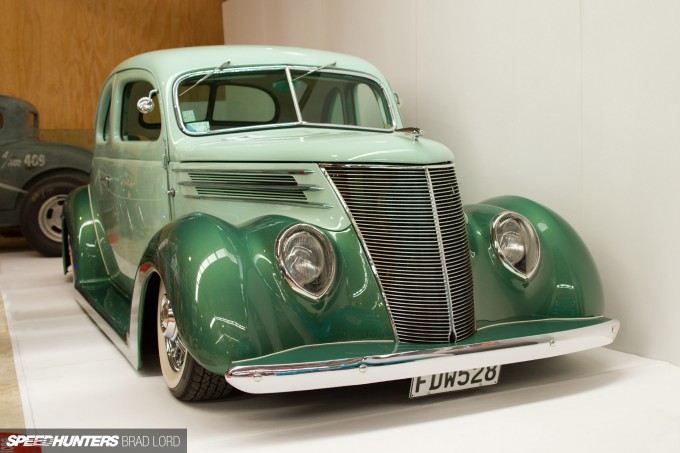 Although the vast majority of the event is based outdoors, there were a few warehouse displays – one packed full of some very nice machines. Included was this very nice Californian-built '37 Ford Coupe which features a custom chassis, and a channelled and modified body slammed to the floor on air. It's hard to believe it now, but in a bygone era, this was a heavily modified stock car racer.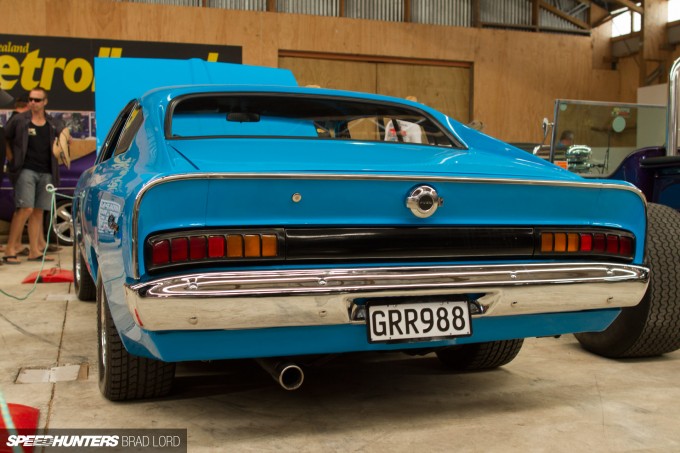 Nearby sat this Australian-assembled '73 Chrysler Valiant Charger. It wasn't an oh-so-desirable E49 R/T (Road/Track) version, but it was very nicely presented, with inch-perfect bodywork.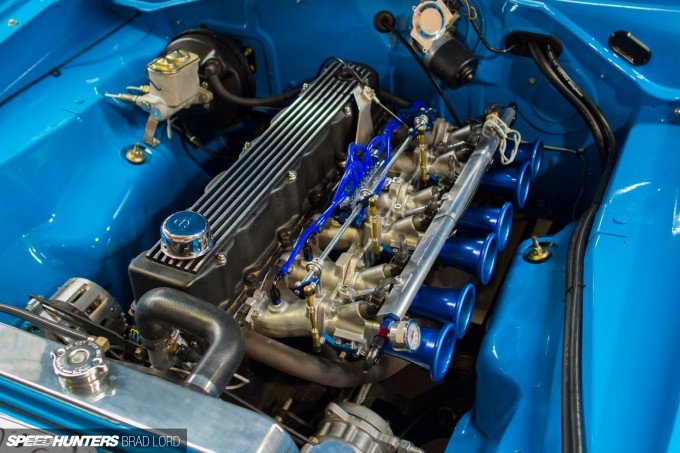 The best was saved for under the bonnet though, where its straight-six Hemi had been given a brand new lease on life with an EFI Hardware fuel injection system with six throttle bodies and open trumpets. I bet this thing just sings!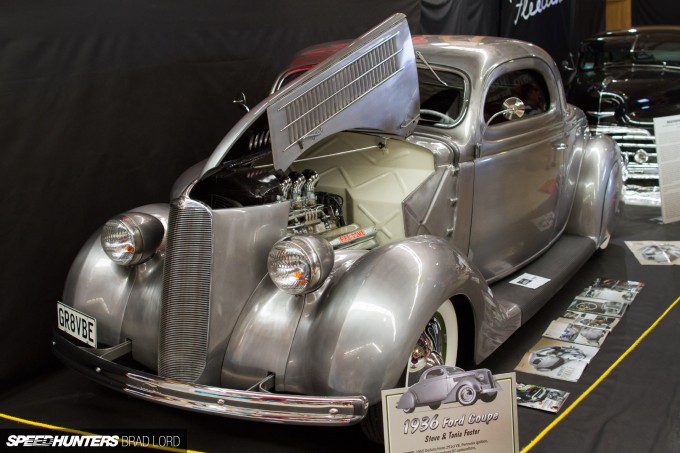 The one car that I couldn't take my eyes off however, was this stunning '36 Ford Coupe built by the late Steve Foster, a well-known and well-respected local hot rodder. That's not paint in case you're wondering, but layers of clear coat laid over bare, hammered and filed steel.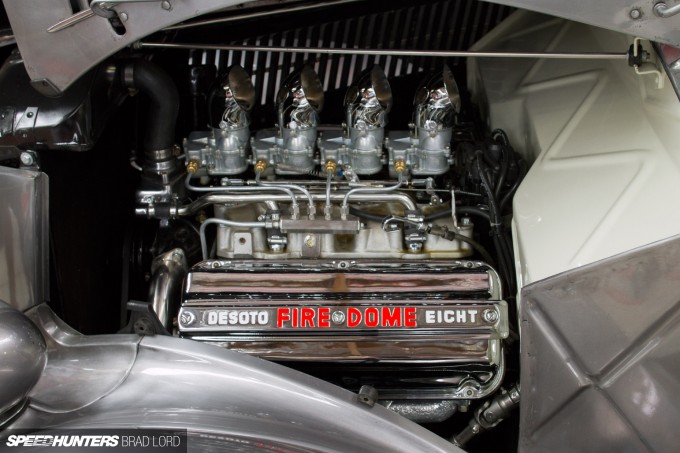 It's just as awesome on the inside too, including in the engine compartment where the original 221ci (3.6L) flathead V8 has been swapped out for a Hemi 291ci V8 from a '55 DeSoto Firedome.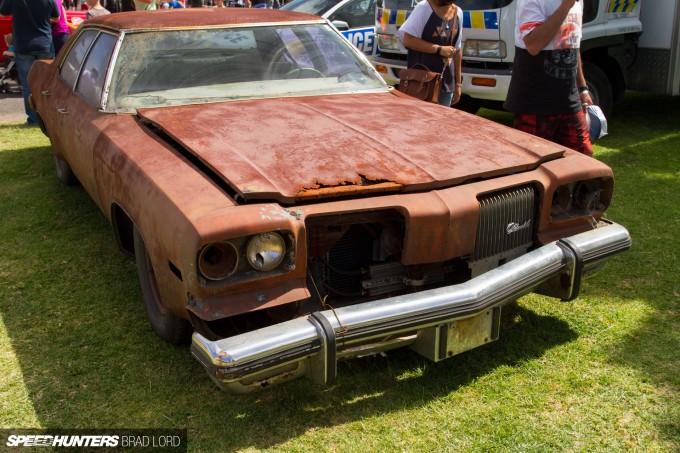 Of course, not every car on display was as beautifully presented though. This Oldsmobile had definitely seen better days.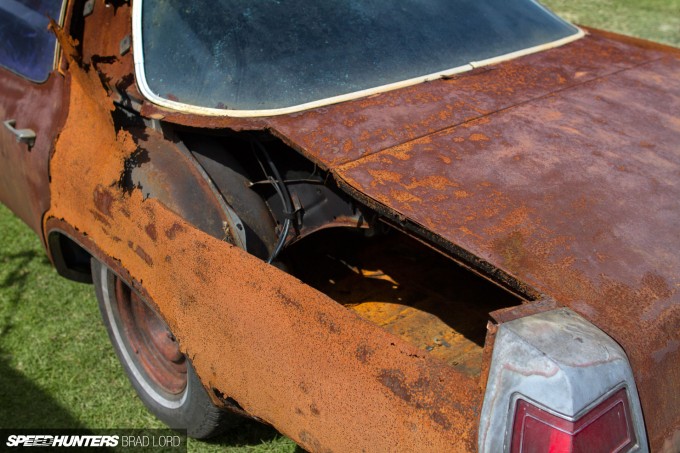 There's patina, and then there's this. It looks like there may have been some salvageable steel on this car at one stage – enough for a repair patch on another at least – but I don't think it'll be back on the road any time soon.
Different strokes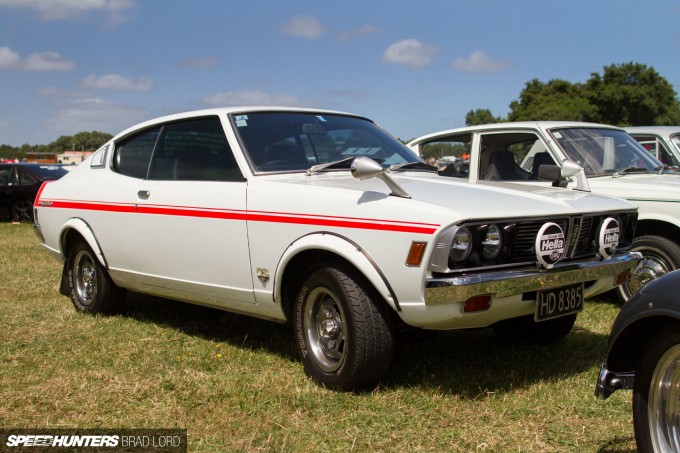 Peppered among the rows upon rows of cars that literally stretched as far as the eye, I spotted a handful of Japanese cars, including this absolutely original beauty. Anyone know what we're looking at?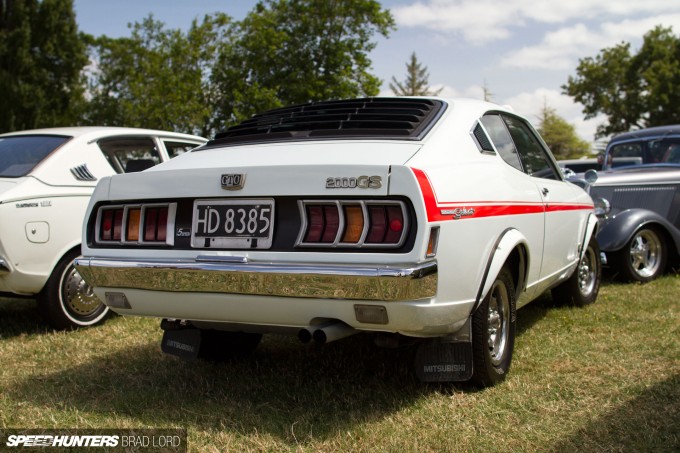 If you guessed a Mitsubishi Colt Galant GTO, you'd be right! Although this model was available in Japan in MR form with a 1.6L twin cam engine good for 125hp, lesser spec – but still cool – variants found their way to New Zealand to be sold new in the early '70s. This one's a GS, which came fitted with a 2.0L single overhead cam engine and five-speed. Those with an eye for detail might have noticed a mint, front-wheel drive Datsun 100A (Nissan Cherry) parked beside it too.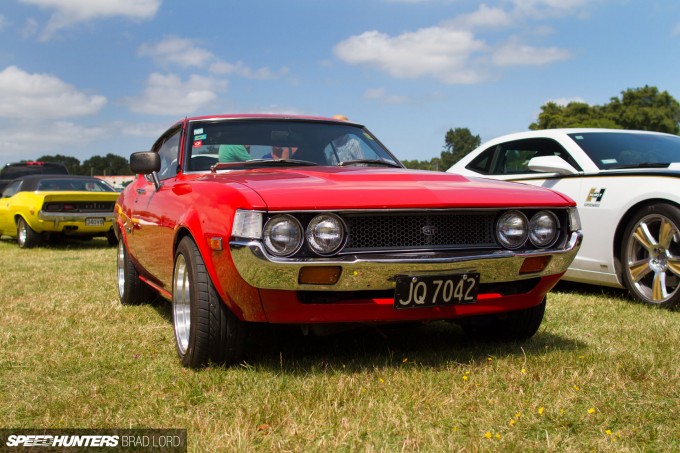 Not far away was this New Zealand-new '77 Toyota Celica RA28 – AKA the Japanese Mustang – in amazing, factory-looking condition as well, save for a set of 15-inch low offset wheels.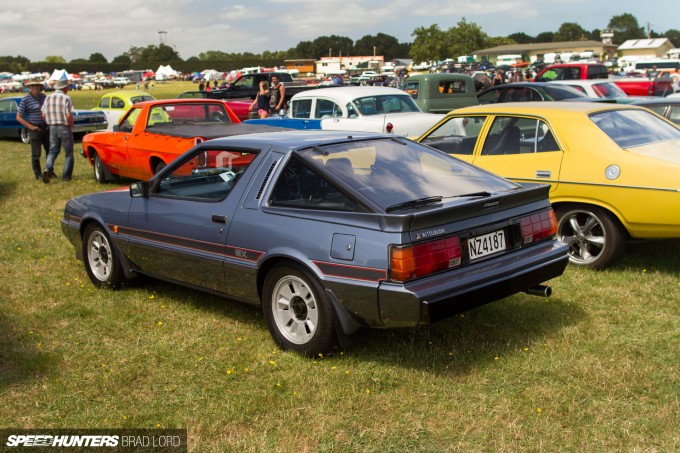 Here's another car rarely seen on the road in this part of the world, let alone in this sort of original state – a Mitsubishi Starion EX in narrow-body form.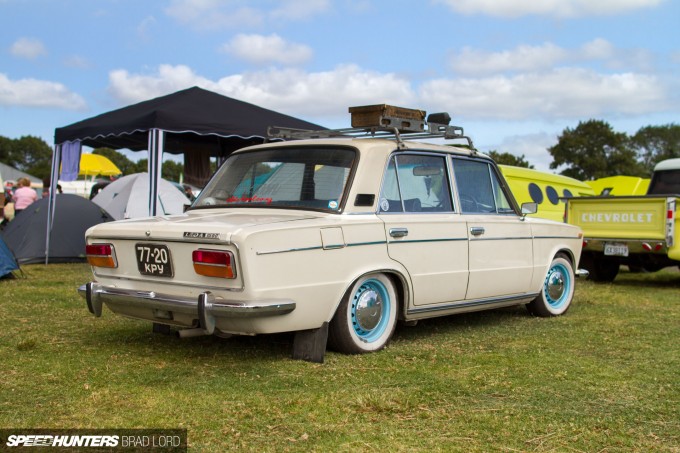 Japanese it most certainly isn't, but surrounded by a sea of American and Australian-built classics, this subtly-modified '79 Lada 1500 caught my eye too. Seeing it kind of made me wish I had held on to the twin cam Fiat 125S I owned about 15 years ago now…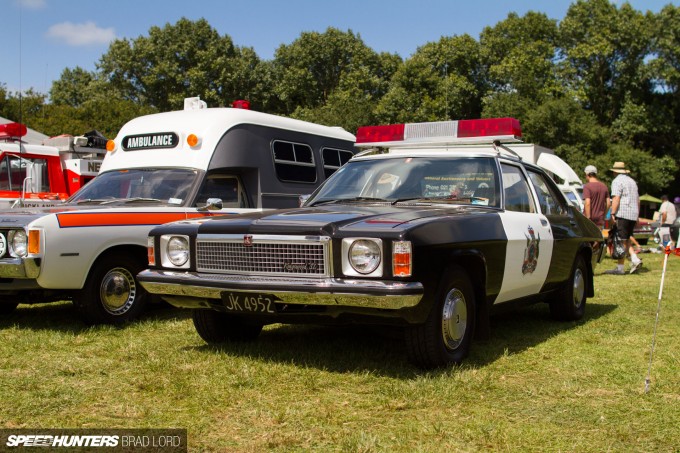 This line-up of classic New Zealand emergency vehicles was pretty cool too. GM Holdens are still used as patrol cars in New Zealand today, but in new Commodore VE and VF guise – the modern day equivalent of this '79 Kingswood SL.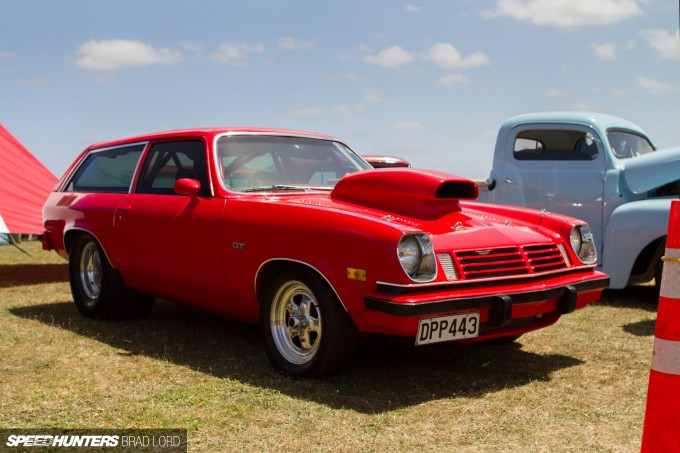 One car I wish I could have found out a little more about was this unexpected '74 Chevy Vega wagon built in Pro-Street drag style. I wasn't able to take a peak under the hood, but it certainly looked like it had all the right bits to make rapid dashes down the quarter mile and drive home again afterwards.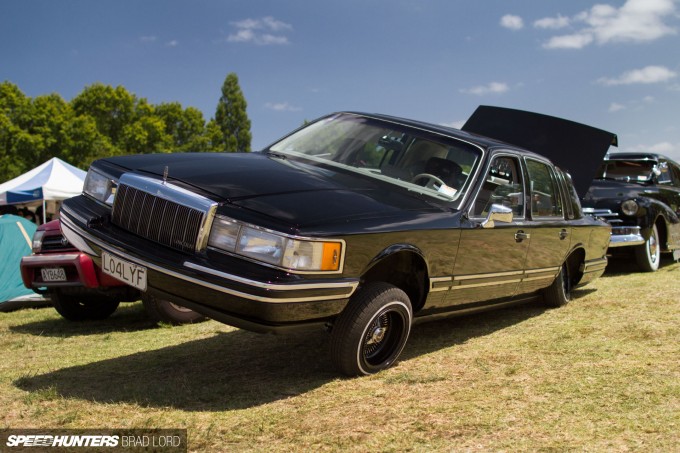 The Kumeu show always attracts a varied line-up of low riders. This '91 Lincoln Town Car attracted a lot of attention, and I'm pretty sure I don't need to explain why.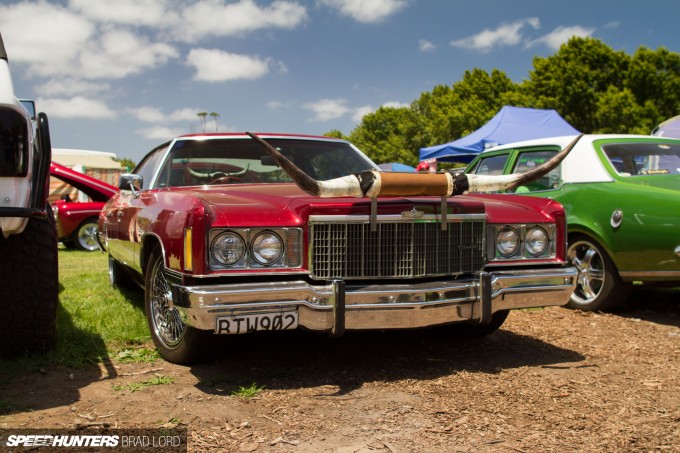 The ultimate accessory for your '74 Caprice? Front and rear bull horns of course. This sort of thing might be big in Texas, but it's definitely not something normally seen in this part of the world…
Take me back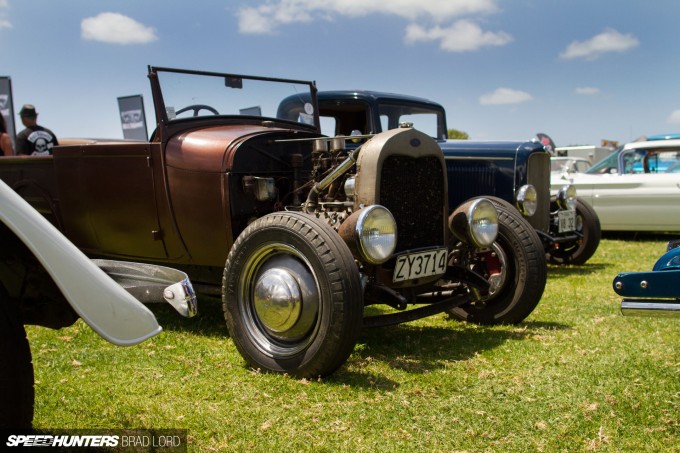 Along with more modern hot rod interpretations, New Zealand has a large traditional rodding scene, and there were no shortage of clean and cool examples at Kumeu, like this '28 Ford Roadster.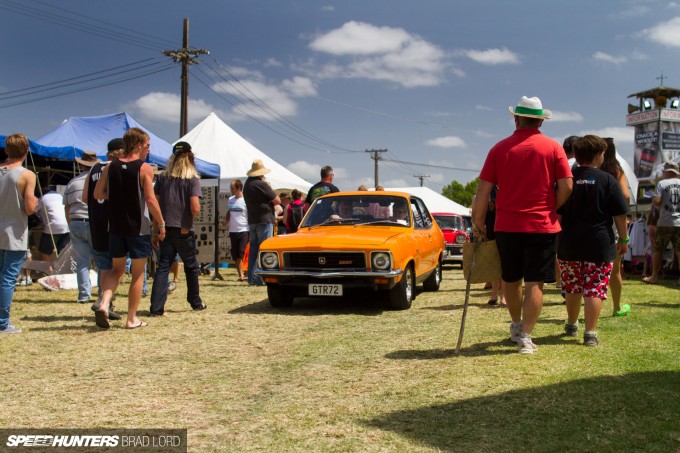 Given our proximity to Australia and the fact that most cars built on that side of the Tasman Sea were also sold new in New Zealand, performance Aussie classics like this GM Holden LJ Torana GTR have a wide following too. This particular model – the baby brother to the venerable GTR XU-1 – was powered by a 3.3L straight-six engine outputting 135hp. In the XU-1, race tuning lifted that number to 190hp.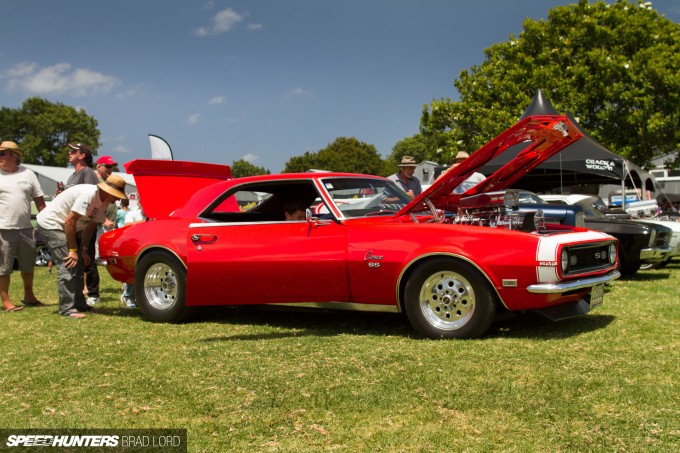 Everyone loves classic American muscle though, especially one that's been given a purposeful stance like this '68 Camaro SS.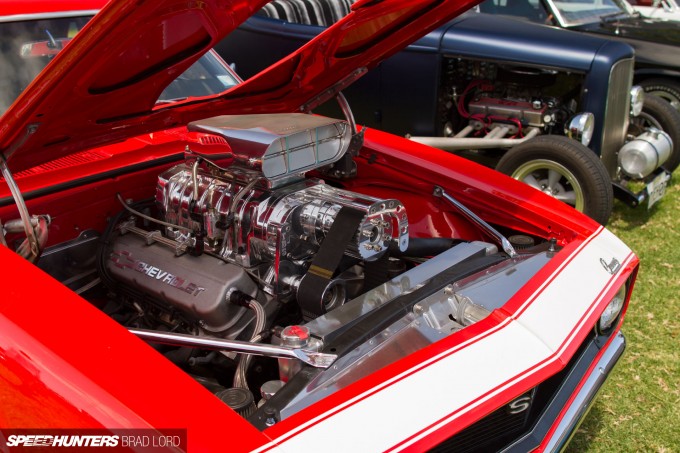 A purposeful stance and some serious re-engineering under (and technically out of) the bonnet in the form of a blown 502ci Chevy big block.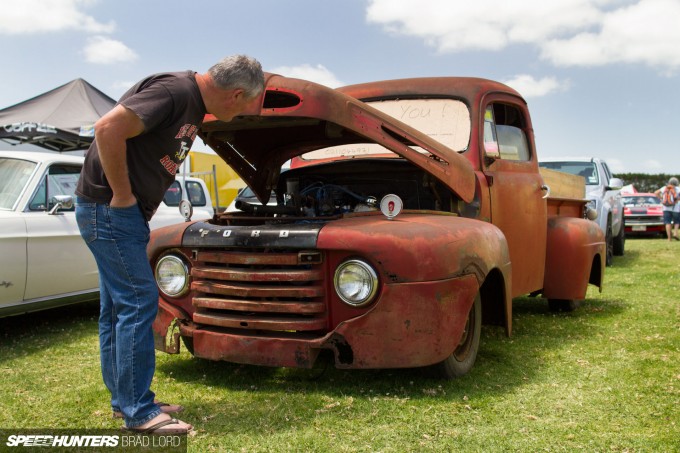 The other thing about the festival is that it's a great place to get your hands on a project. This first-gen Ford F-series pickup was looking for a new home, and in the few moments I spent thinking about how cool it would be to add it to my collection of unfinished builds, a continuous stream of people stopped by to check it out. So much potential!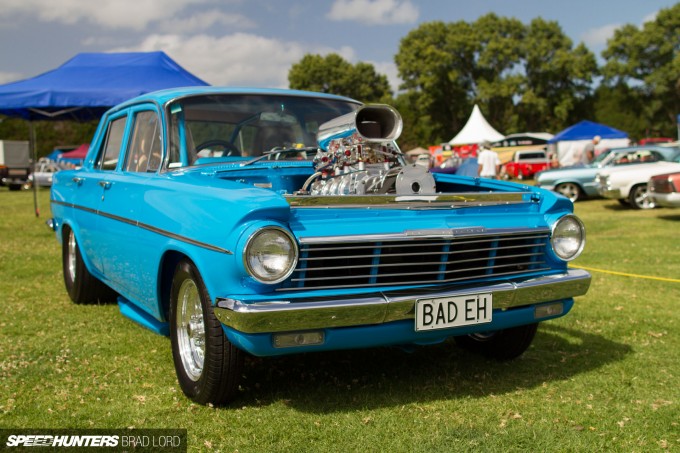 For the good of your bank balance, sometimes it's just better to admire others' work – in this case a pretty serious-looking supercharged set-up in a '63 GM Holden EH. I believe this old girl runs 10s on the strip in street trim.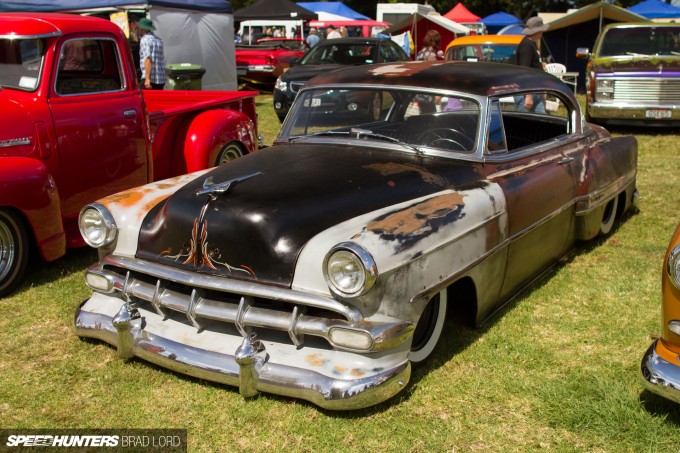 Although I only spent a few fleeting hours running around the festival, and therefore didn't even come close to seeing everything it had to offer, if I had to pick my favourite car from the thousands vying for my attention, I'd have to go with this early '50s Chevrolet Bel Air two-door from the Trouble Bound HRC.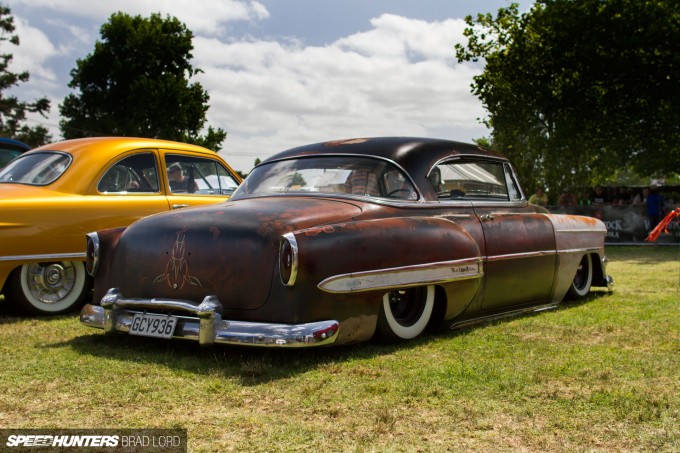 Apart from the fact that I love the first-gen Bel Air's styling and compact proportions, this one's done so right, don't you agree?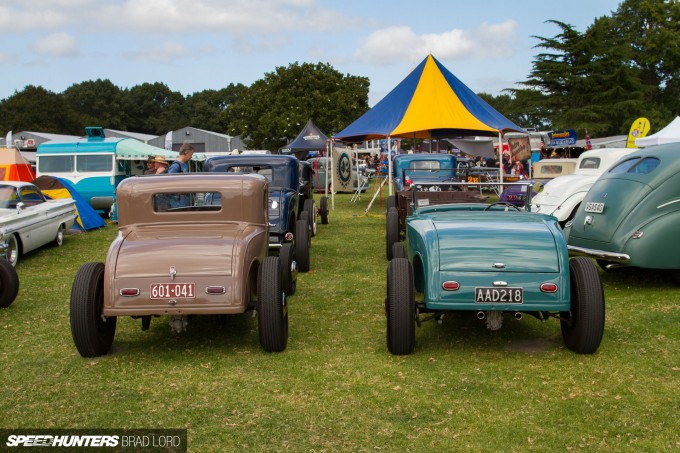 If I didn't have to leave, I could have easily spent the rest of the day walking around the show grounds, and perhaps even returned the following day for another look.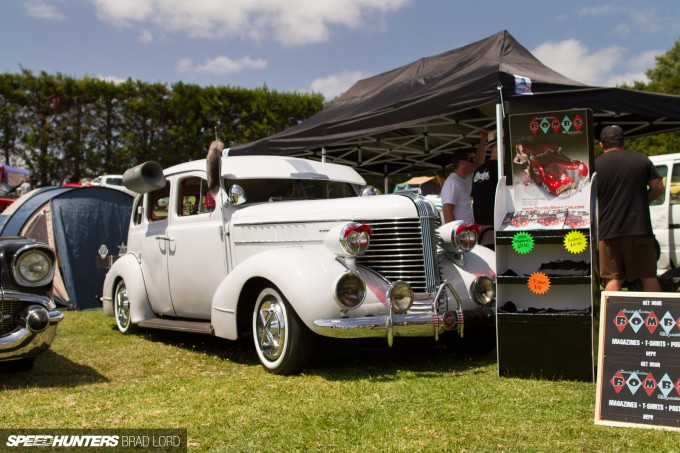 Sure, I don't think I'll ever trade my passion for Japanese tin entirely, but as I've got older I've become quite fascinated by this side of Kiwi car culture that was once totally foreign to me.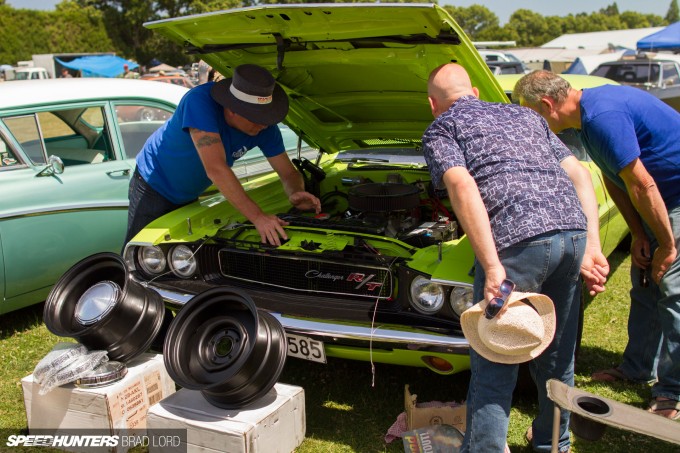 And I'm definitely interested in exploring it more.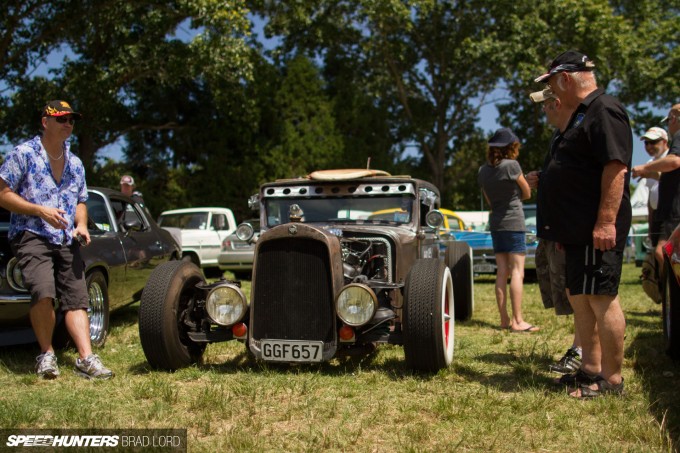 Although attending the Kumeu Classic Car & Hot Rod Festival was a bit of a last minute decision, I'm really glad I made the effort to get along. Given how much I experienced in a small amount of time, I won't be missing it in 2015 – that I'm absolutely certain of. Maybe I should bring an empty trailer though…