Variety like no other
If you checked out my post on the New Year's meeting in Daikoku PA, you will know just how much the Japanese love imports of every type. Coupled with that need to be different and instantly perceivable by other road users, the sheer satisfaction and pride that comes from owning an import is what attracts a lot of people. Then of course, there's the tuning. There isn't anything the Japanese are afraid of doing; going for unique looks and doing the unthinkable to cars? It's all pretty common and a lot of this stuff was going on at TAS this year.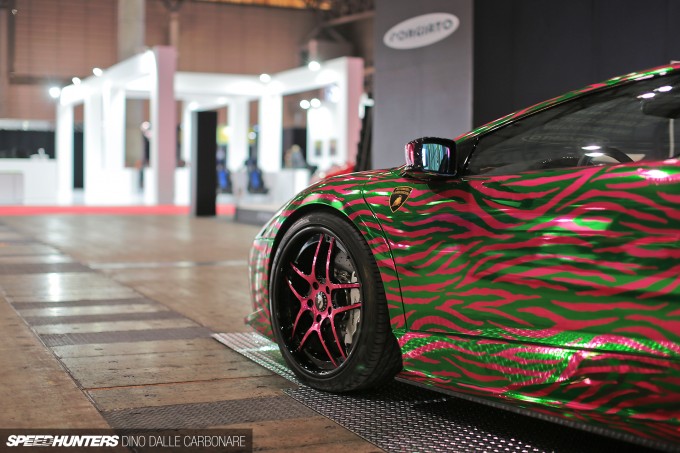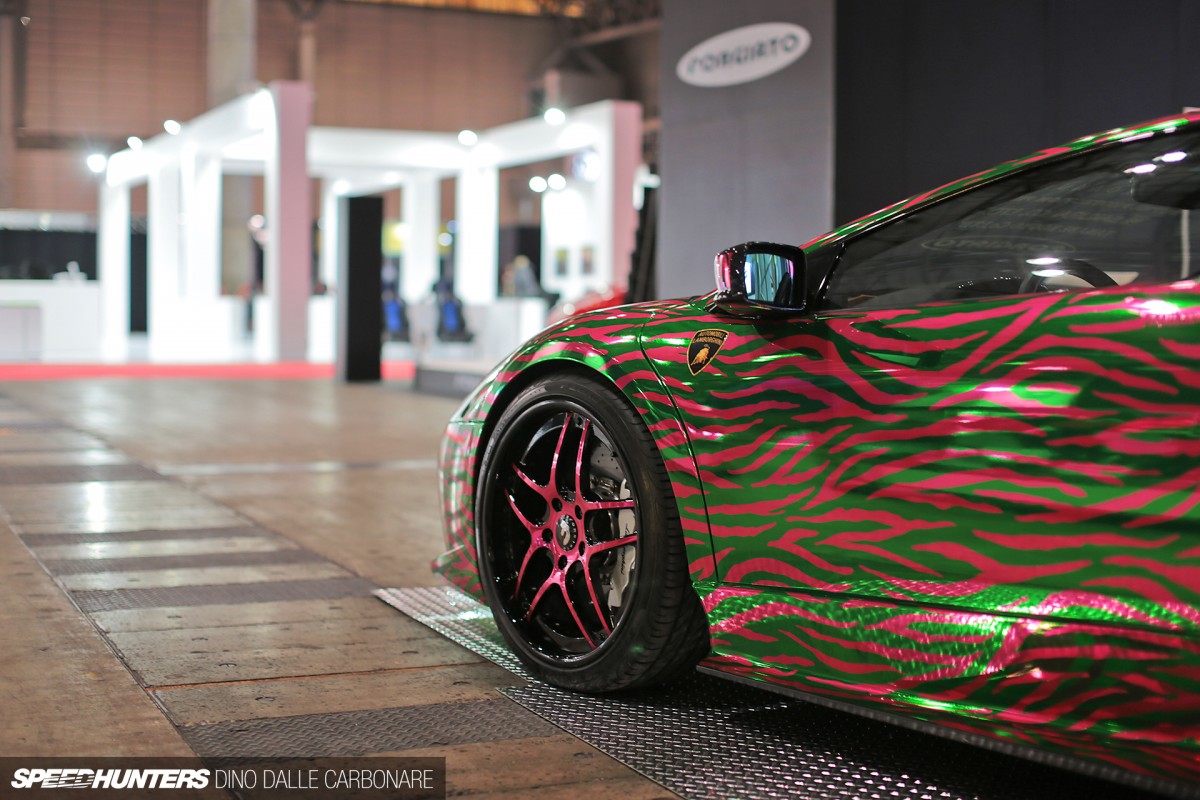 The Euro scene has been enjoying constant growth over the last ten plus years, so let's see take a look at what sort of cars I spotted over the weekend in the halls of the Makuhari Messe.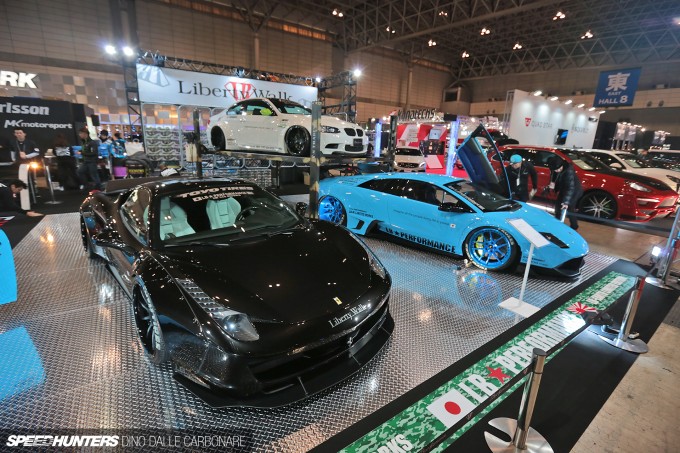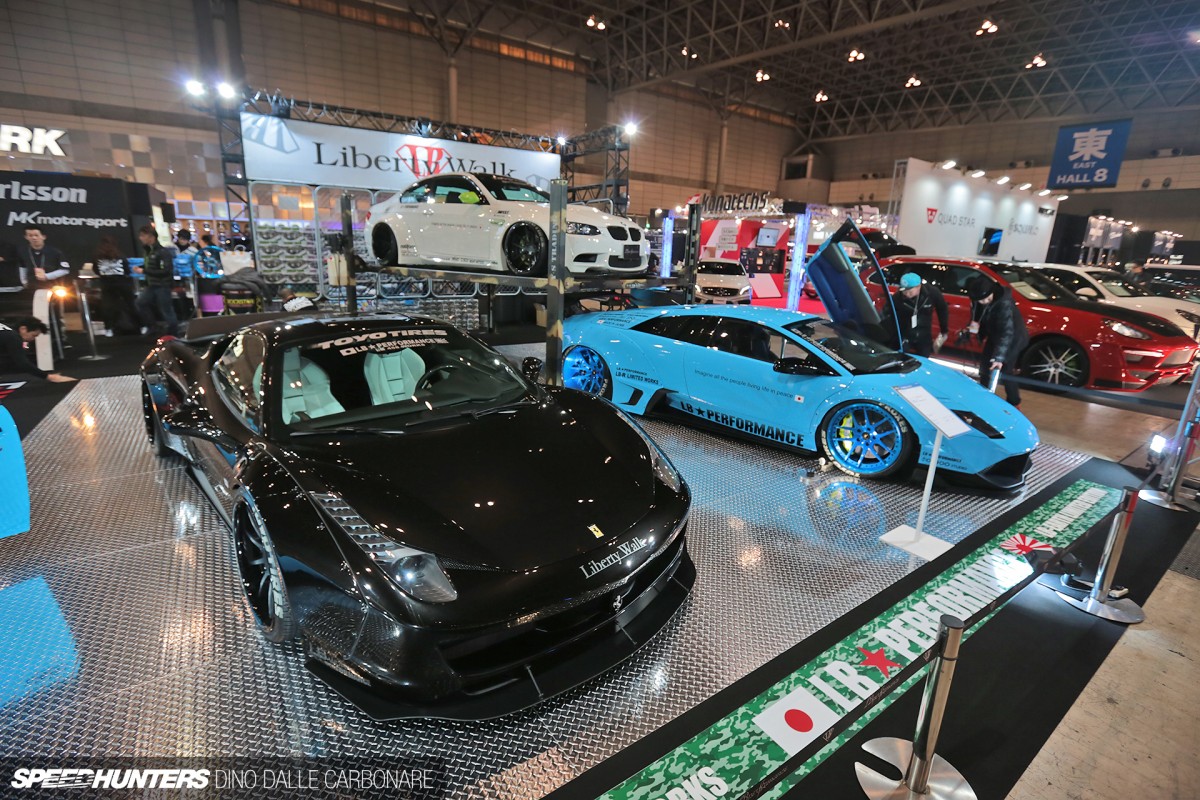 I just have to start with Liberty Walk. As we saw in the preview post, there was much goodness to see there, from the white LB Works 458 Spider to this black example which is owned by a member of the infamous Midnight Club – as a sticker on its rear bumper proudly showed. Next to it was yet another Murcielago that they've built with the BMW M3 we looked at last year sitting on one of the garage lifts that Liberty Walk distributes.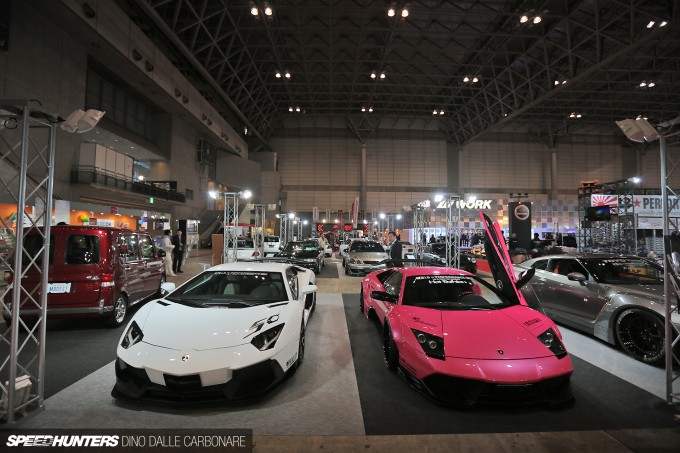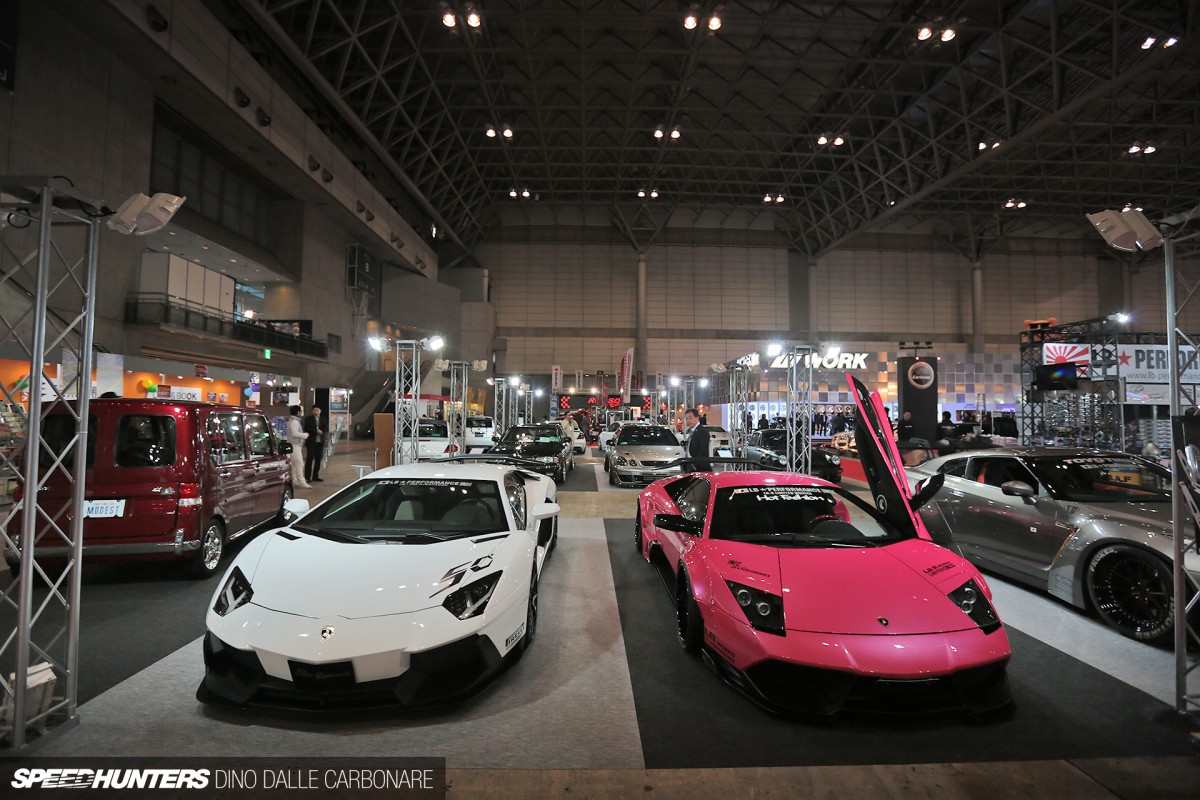 More Lamborghinis were on show in the adjacent display area; a nice little selection which included a more simply-executed Aventador which kept its stock body, but still went for nice lowering and basic aero upgrades.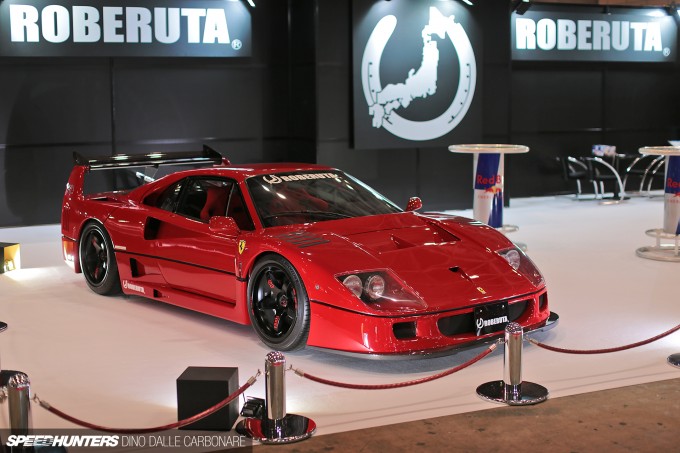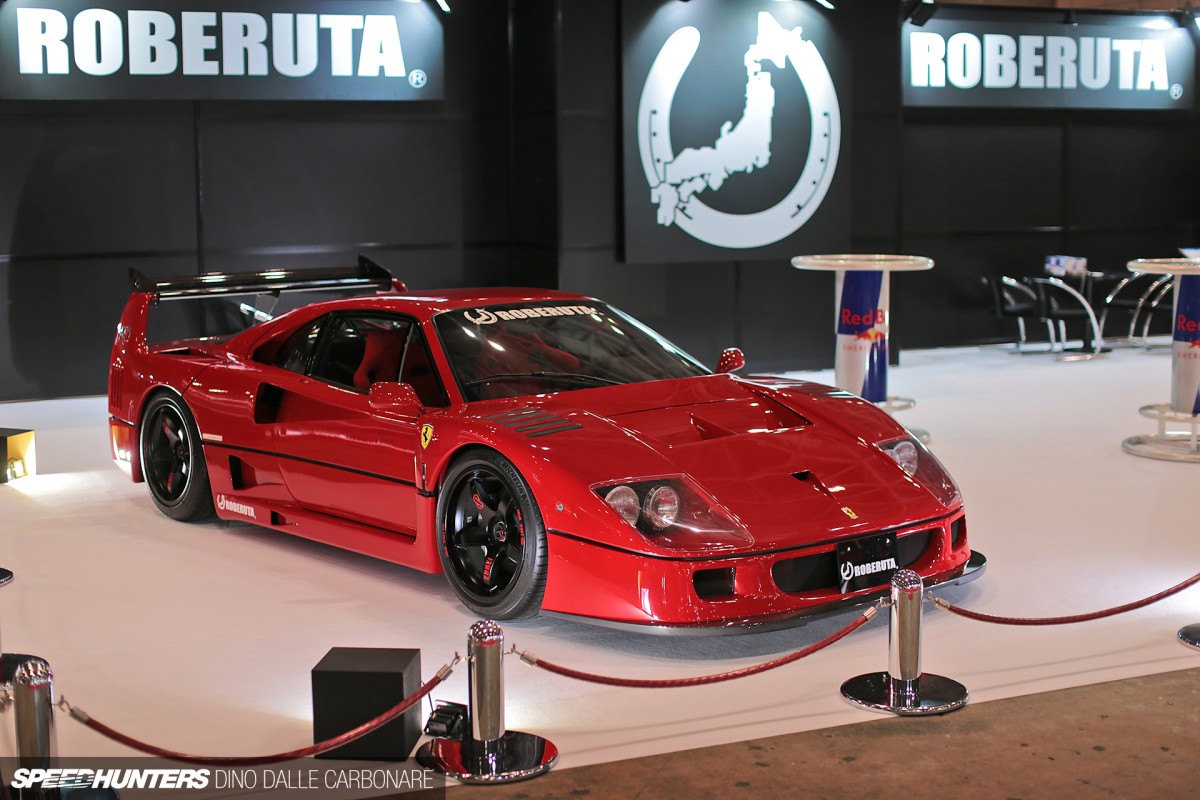 Ok so the Roberuta F40LM was there last year. Nothing new here, but most would agree that nobody EVER needs any sort of excuse to post pictures of an F40, especially an LM. This for me is pretty much as close to automotive perfection as you can get. The car runs their air-cupped suspension which is quite popular among a lot of supercar owners in Japan as it allows you to slightly lift the car so you don't end up bottoming out and scratching expensive carbon bits.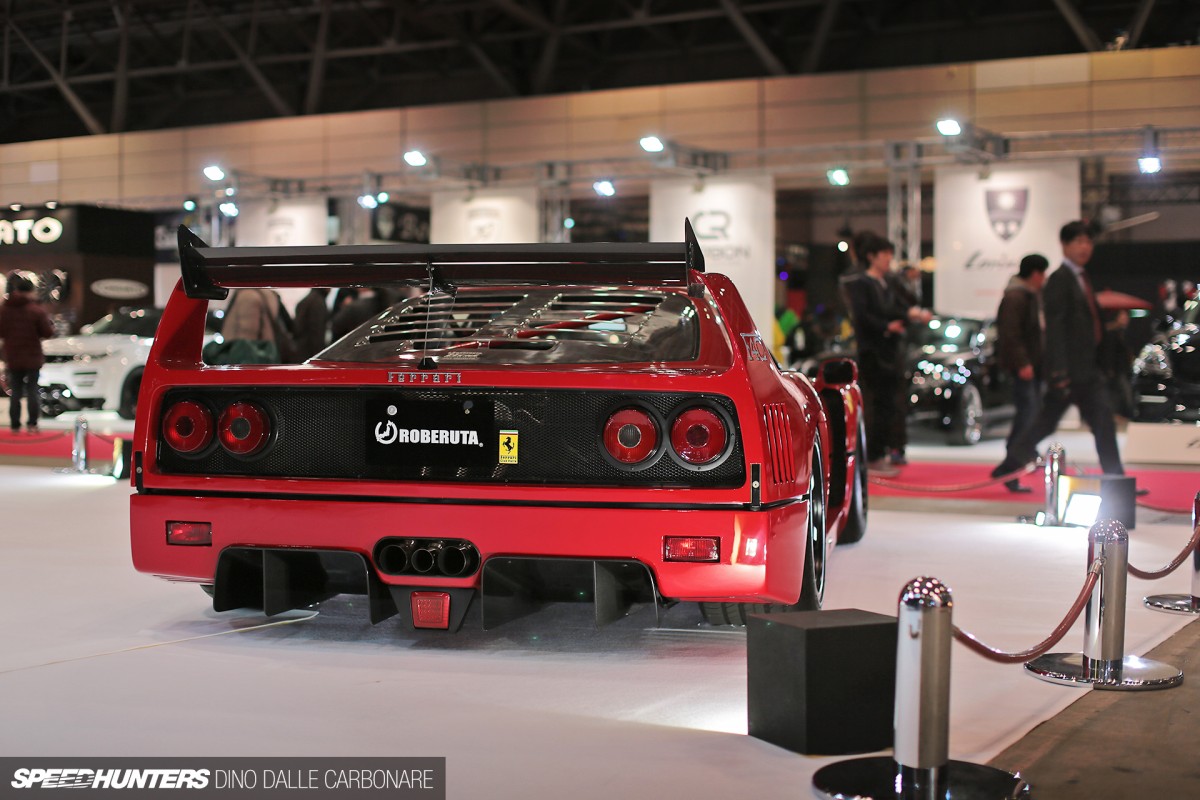 So there you go, another one. I mean just look at this thing! Of course Japanese owners are never able to keep their hands off even on the rarest of collectables. That whole carbon fiber diffuser with F1-style central LED is a great addition; beautiful to look at, functional and giving a modern touch to that impossibly eighties rear end.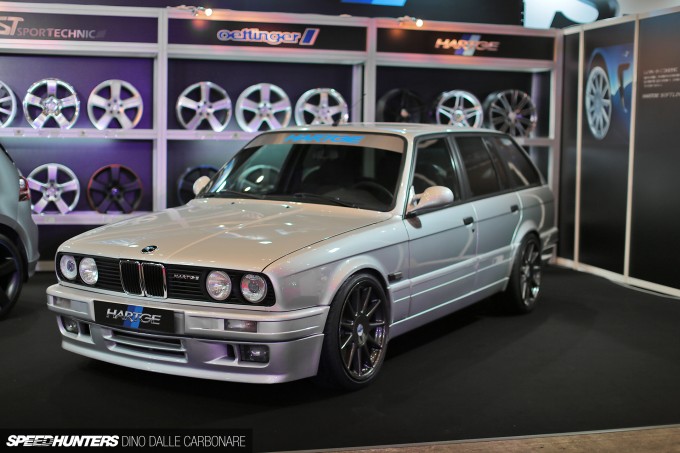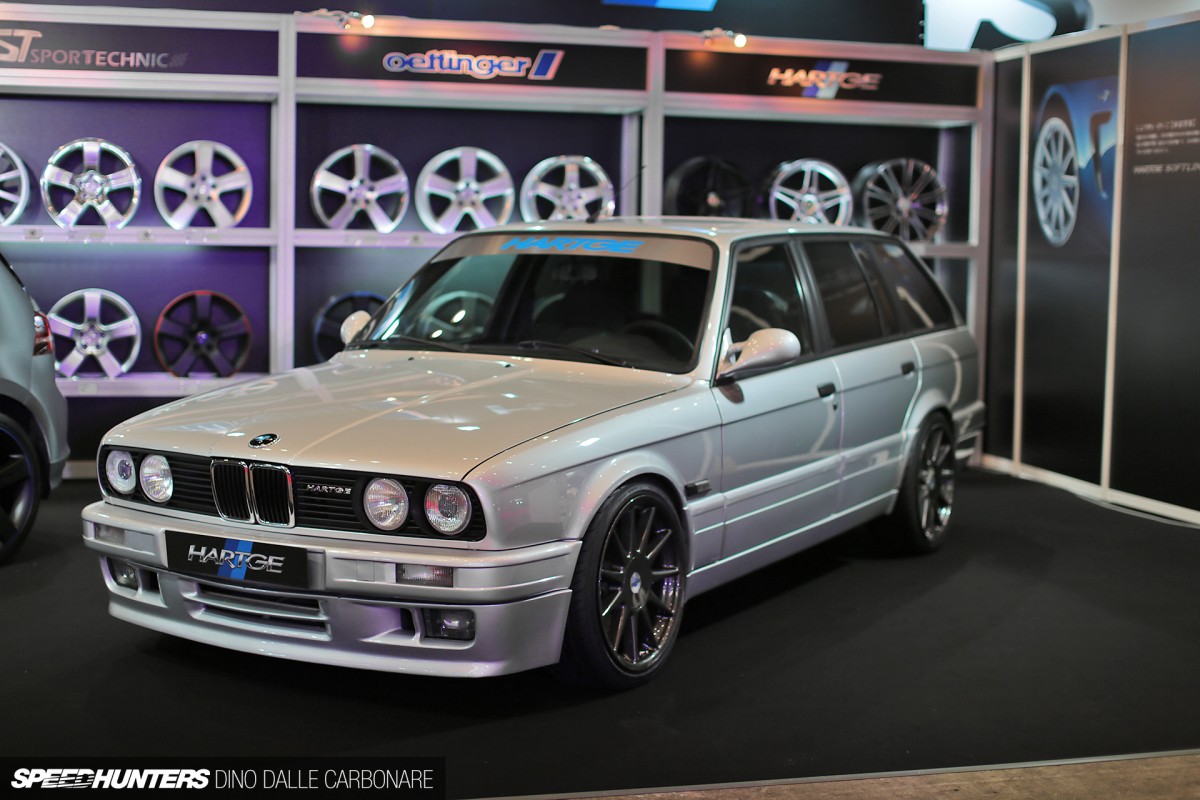 This Hartge E30 Touring was the oldest BMW at the show, and it was just oozing presence. A good example that you need so little to make any sort of car look and sit just right.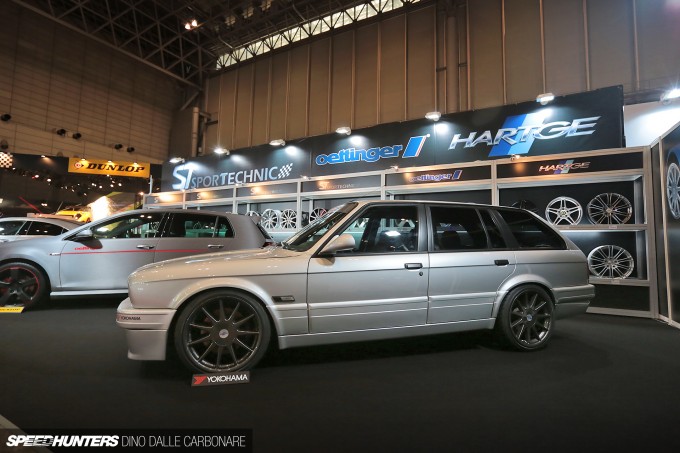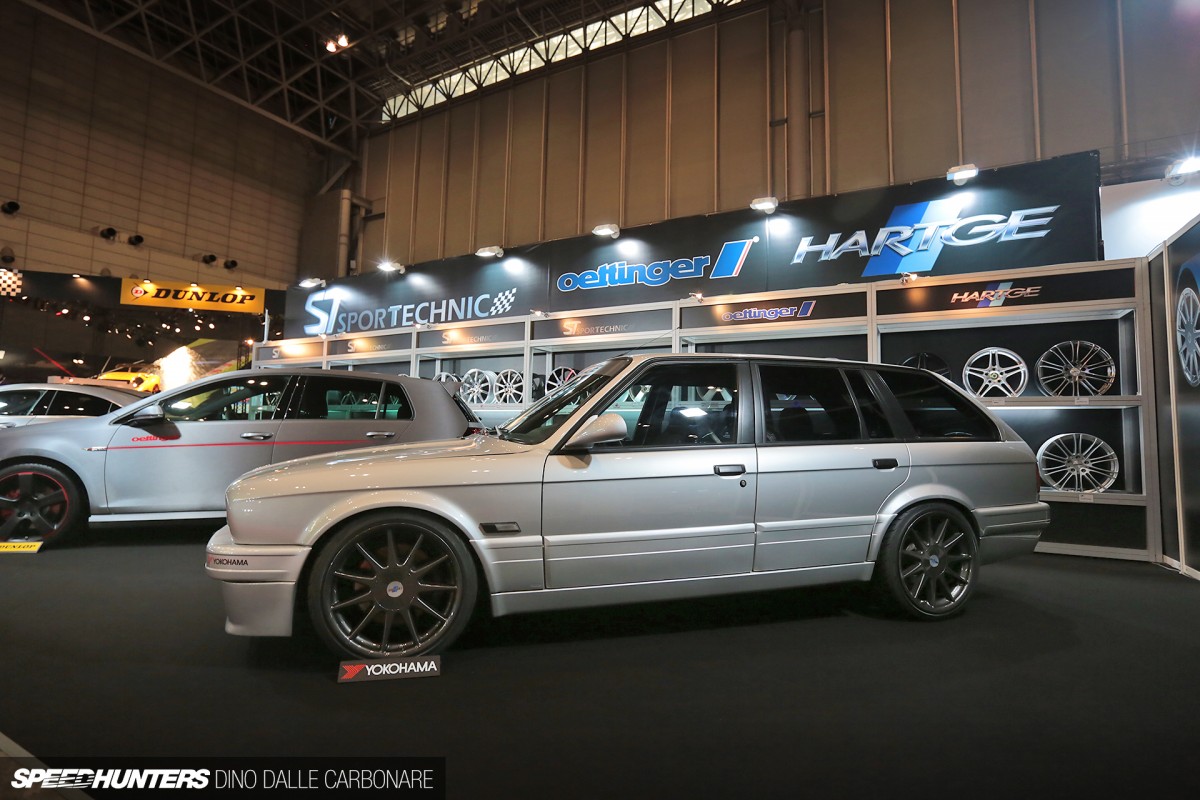 If you select your car correctly, it really only takes the right sort of wheels, offset and ride height to get right.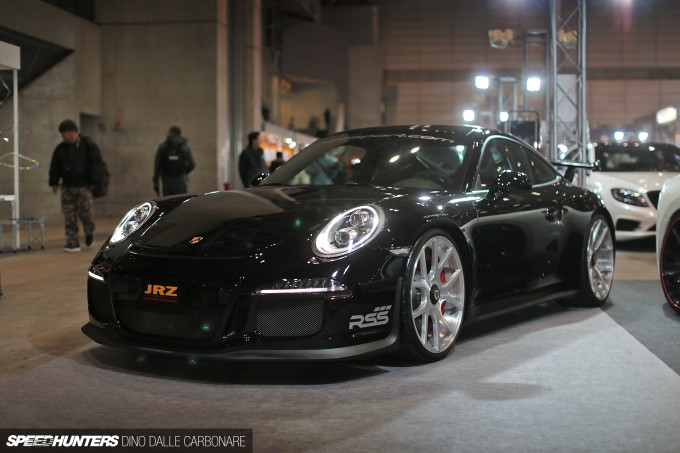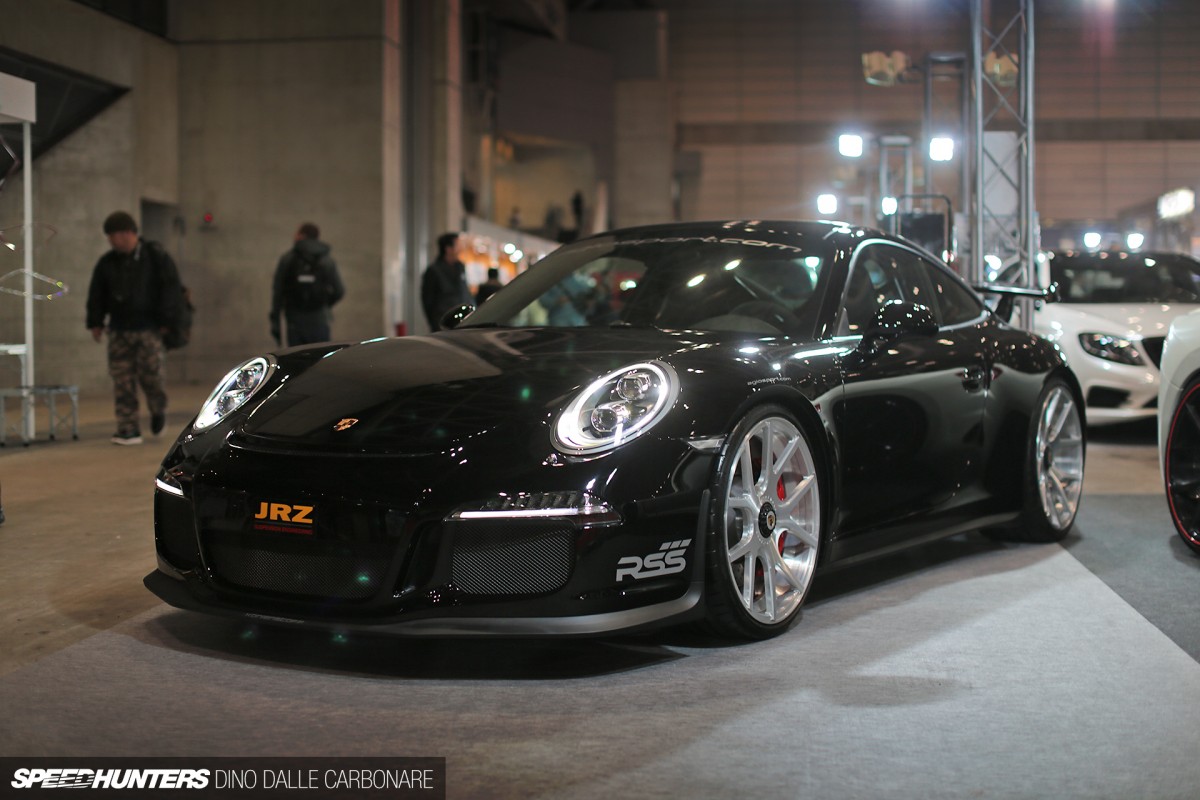 The Check Shop are always the first to import brand new German cars to Japan before they arrive here officially. This German market 991 GT3 had just arrived days before and was already fitted with a set of center-lock 20-inch Agio Absolute wheels. This was actually my first time seeing the new GT3 up close and I was really impressed. Now all I have to do is wait until Porsche Japan brings it in officially so I can borrow one for a few days!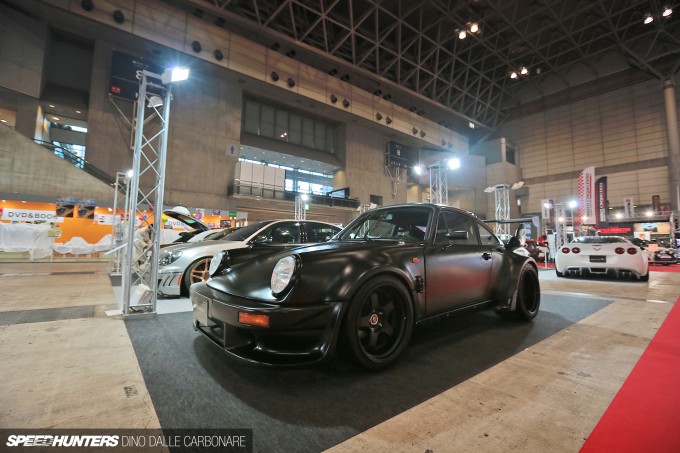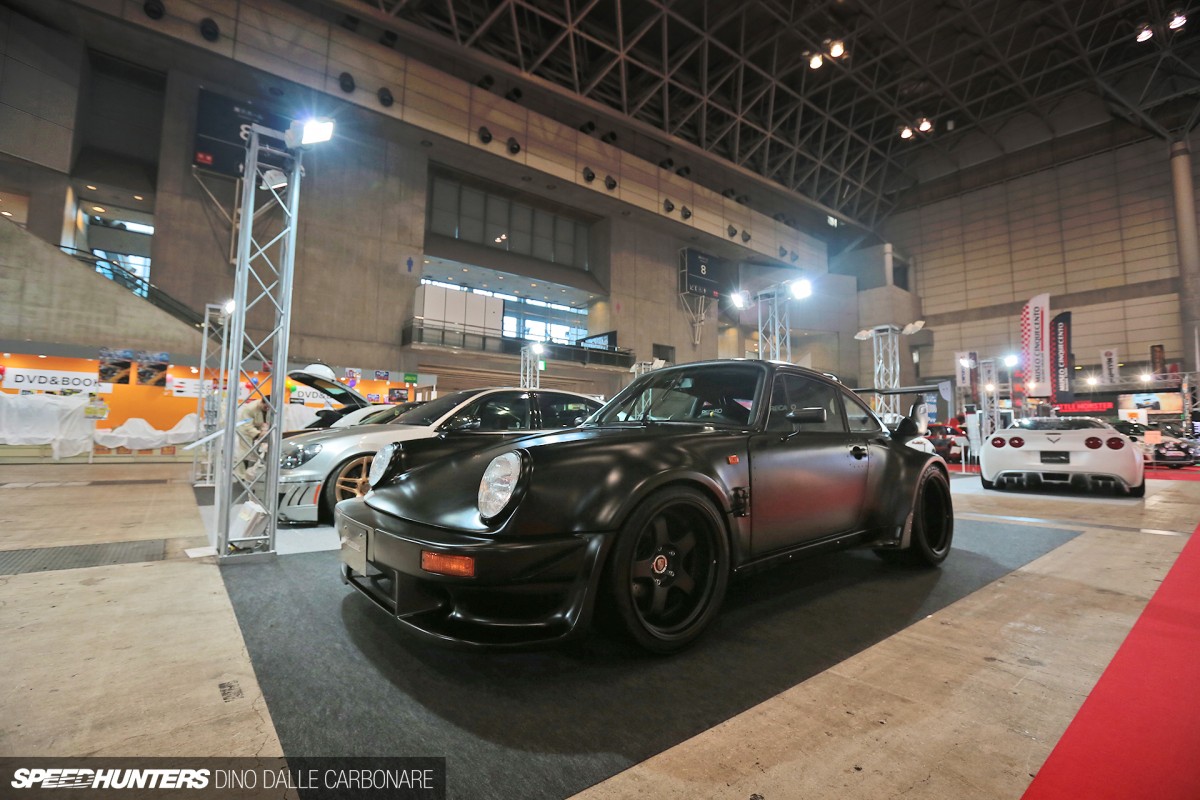 From the very latest 911, to something a little more old school.  This Allca 930 Turbo was like a black hole among all the other vivid colored cars around it. You really had to get up close to take in all the details.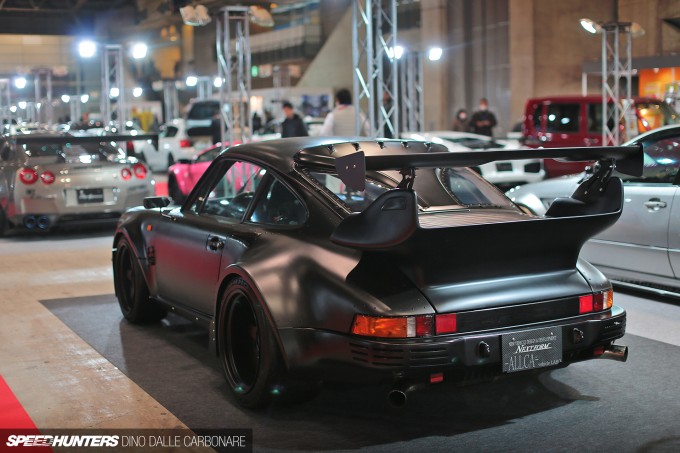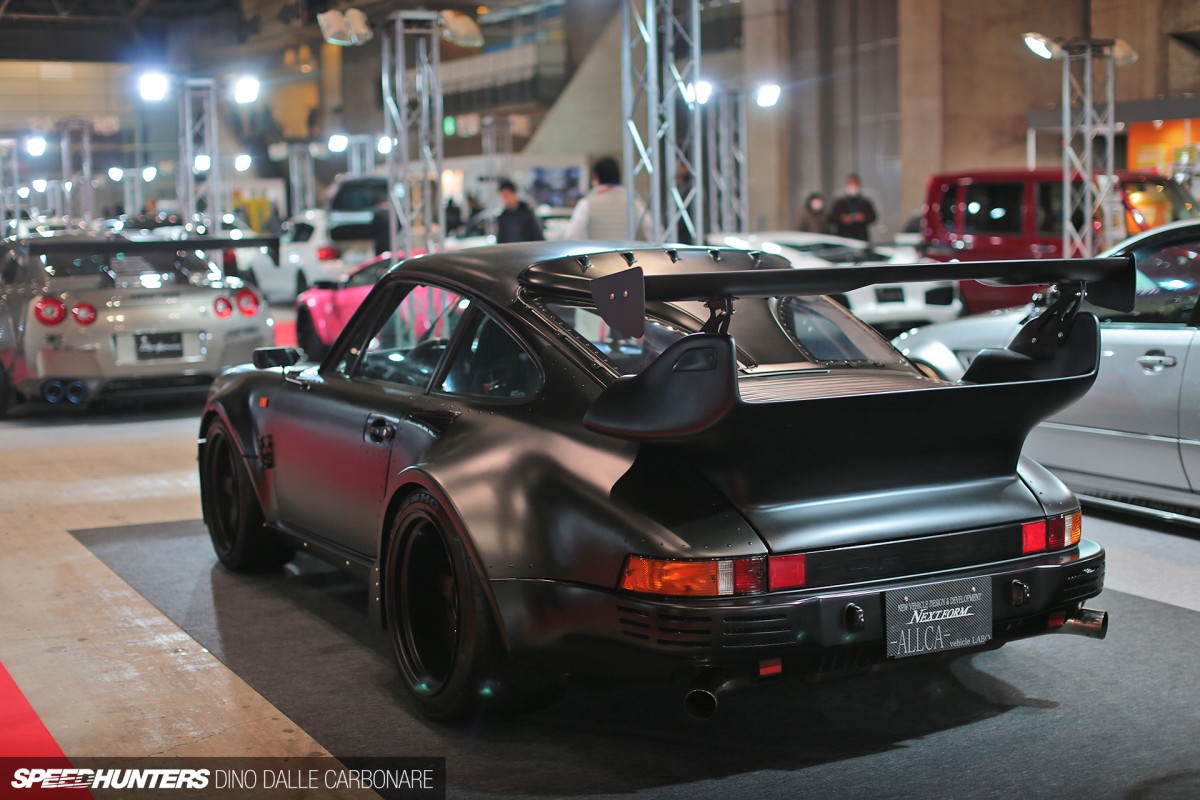 The flat black paint hid some truly interesting details like the riveting that held the whole of the rear fender in place. Curiously enough, they extended all around the doors too. Hidden by the must-have stacked RWB-style wing was an even more curious custom piece…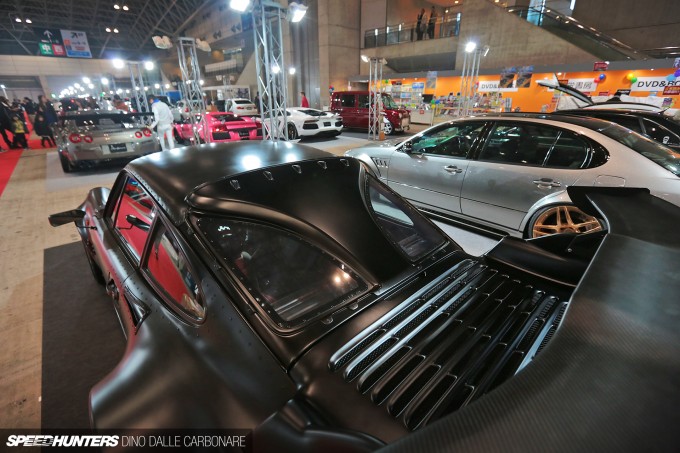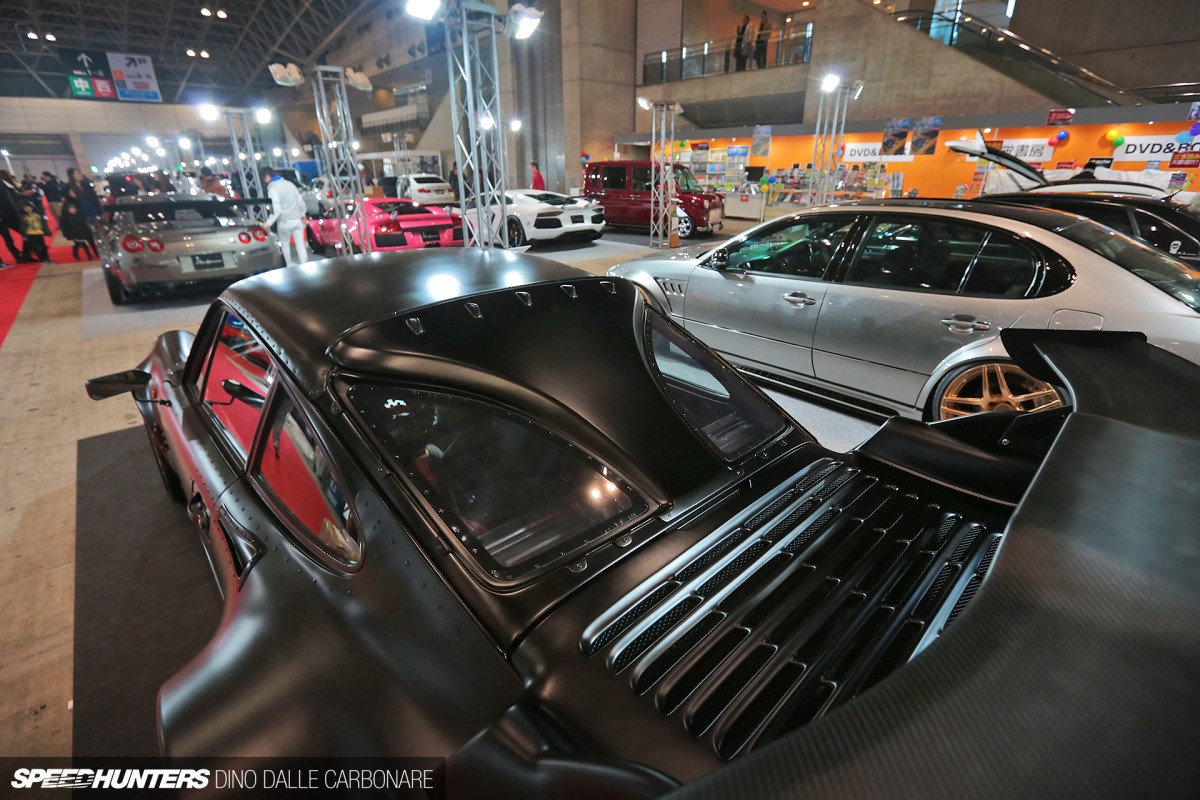 A roof scoop that stretches all across the now Lexan rear glass and directs air towards the air-cooled flat six. It was a mean-looking beast, like something that seemed to have come out of some obscure Japanese wangan racer manga.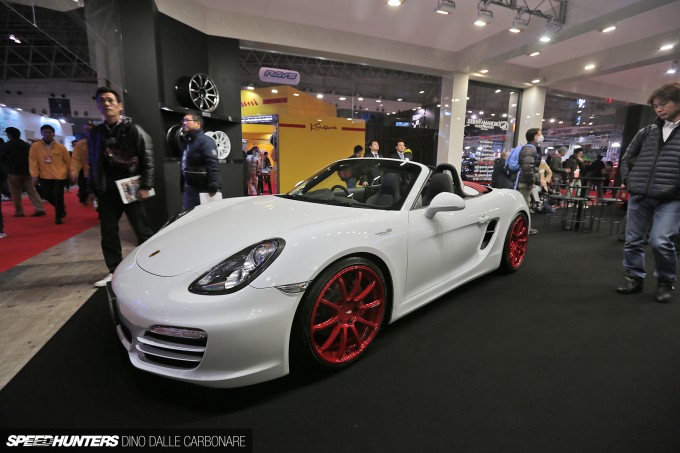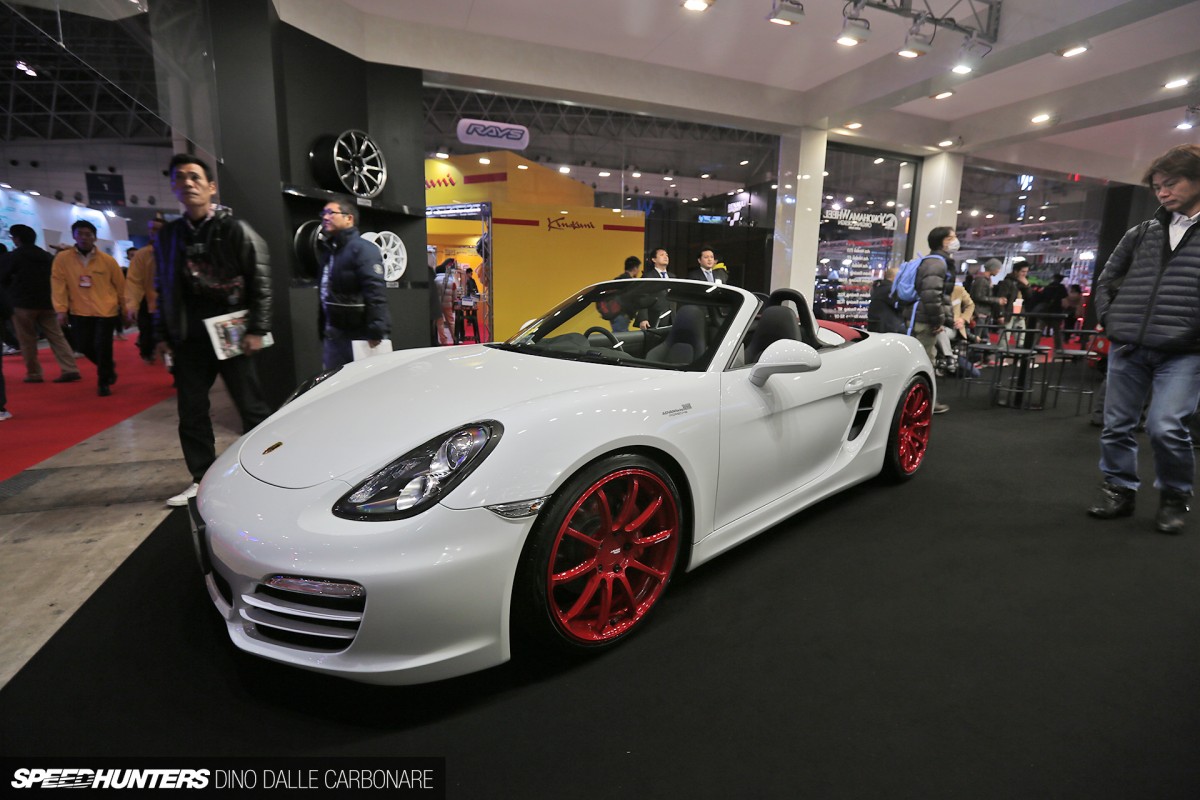 I'm very happy to see that the red wheel thing that RAYS sort of relaunched last year with the TE37RTs is getting popular with lots of other wheel manufacturers. This Boxter was pulling off the look rather well at the Yokohama Wheels booth.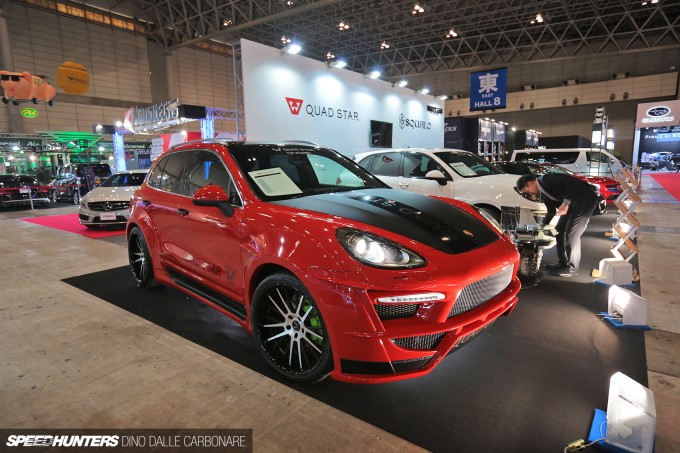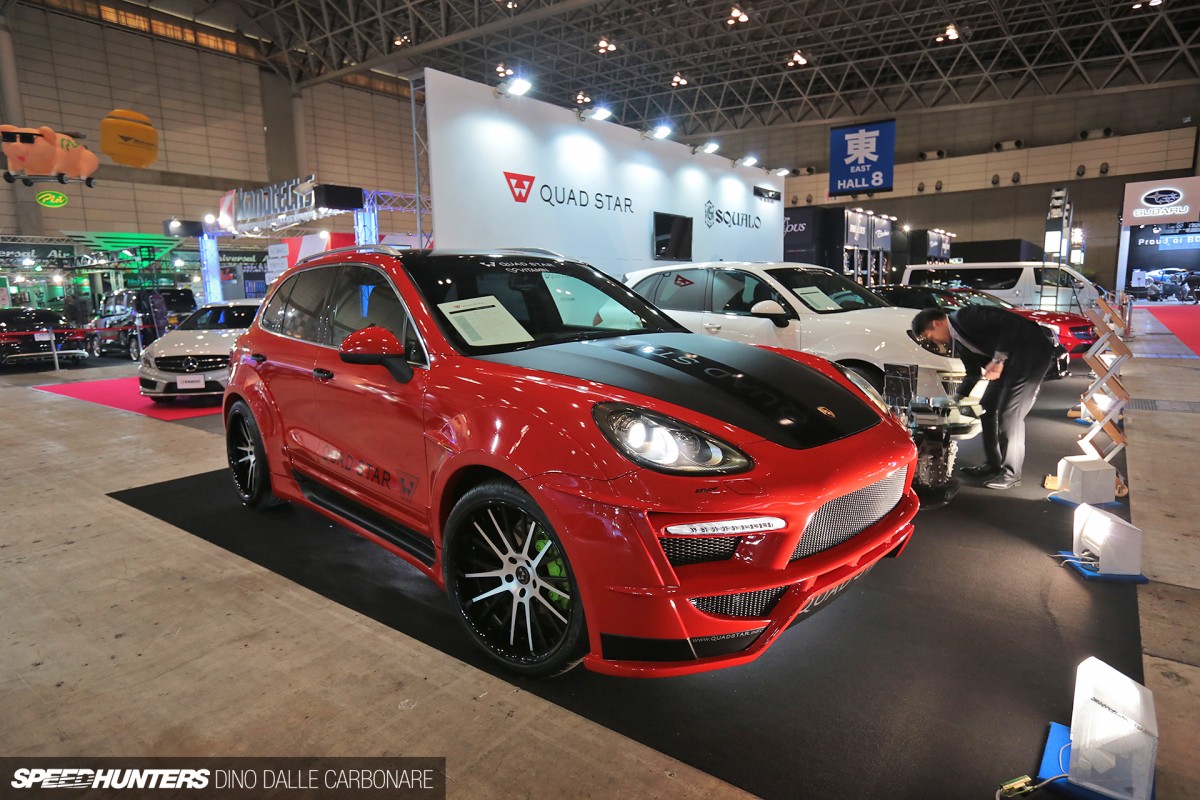 Like we have seen, thanks to Sarto Racing Miura-san has had a chance to expand his attention on to European cars, but his touch at TAS was far more widespread than that. When Osaka tuning company Quadstar wanted to create a widebody conversion for the Porsche Cayenne, guess who they called.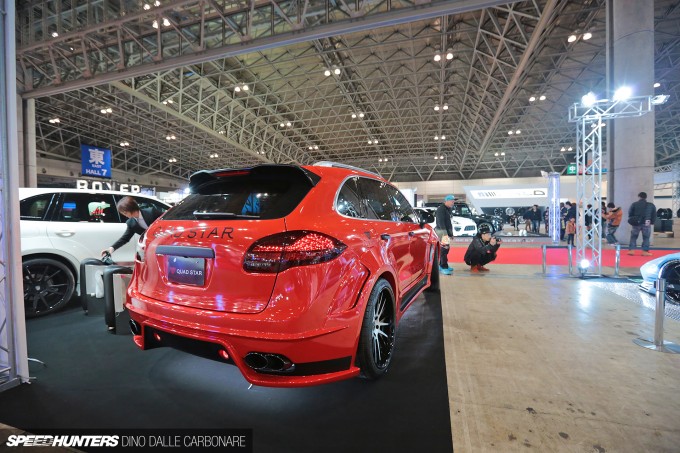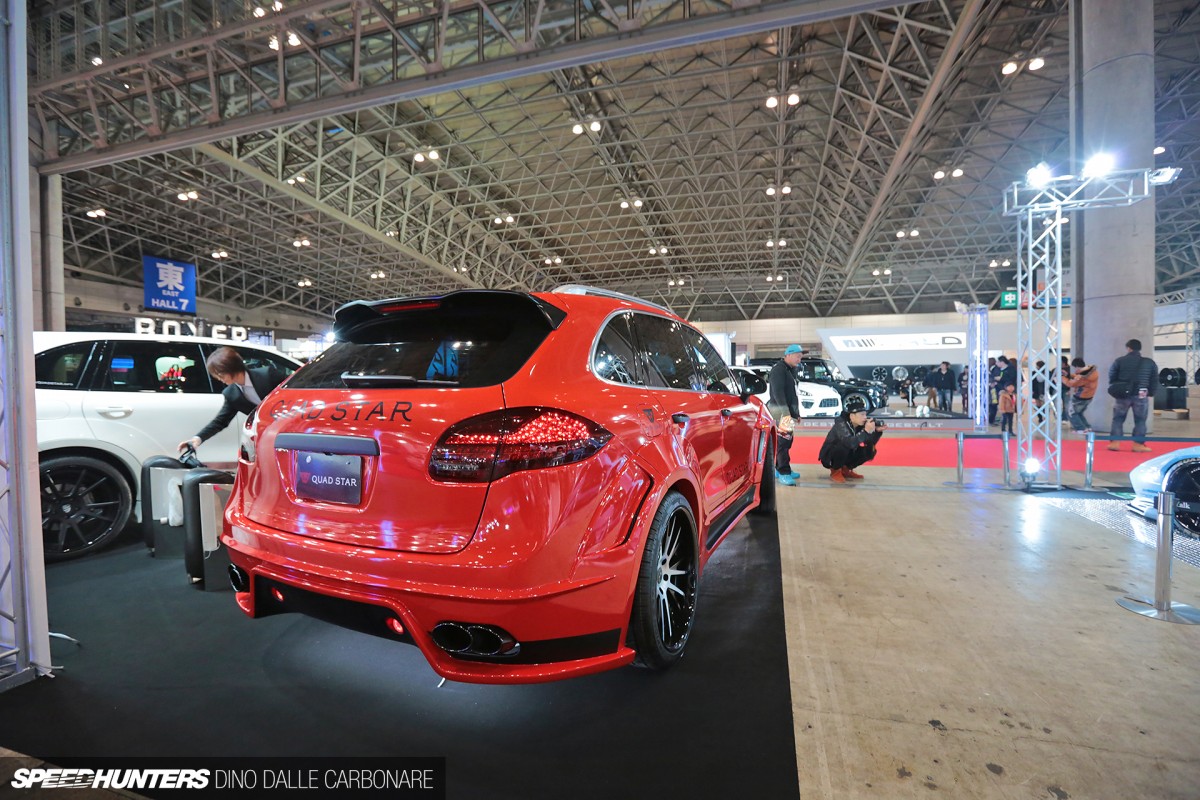 There are no rivets or bolts to be seen here: every aero piece has been seamlessly moulded to make the two ton SUV even more intimidating than it originally was.
It's not all supercars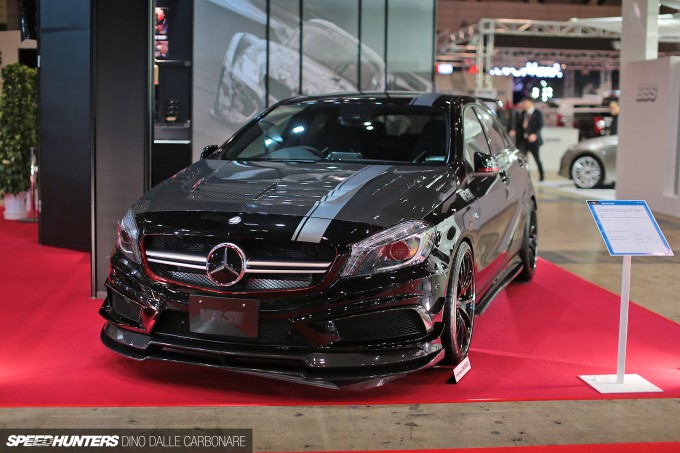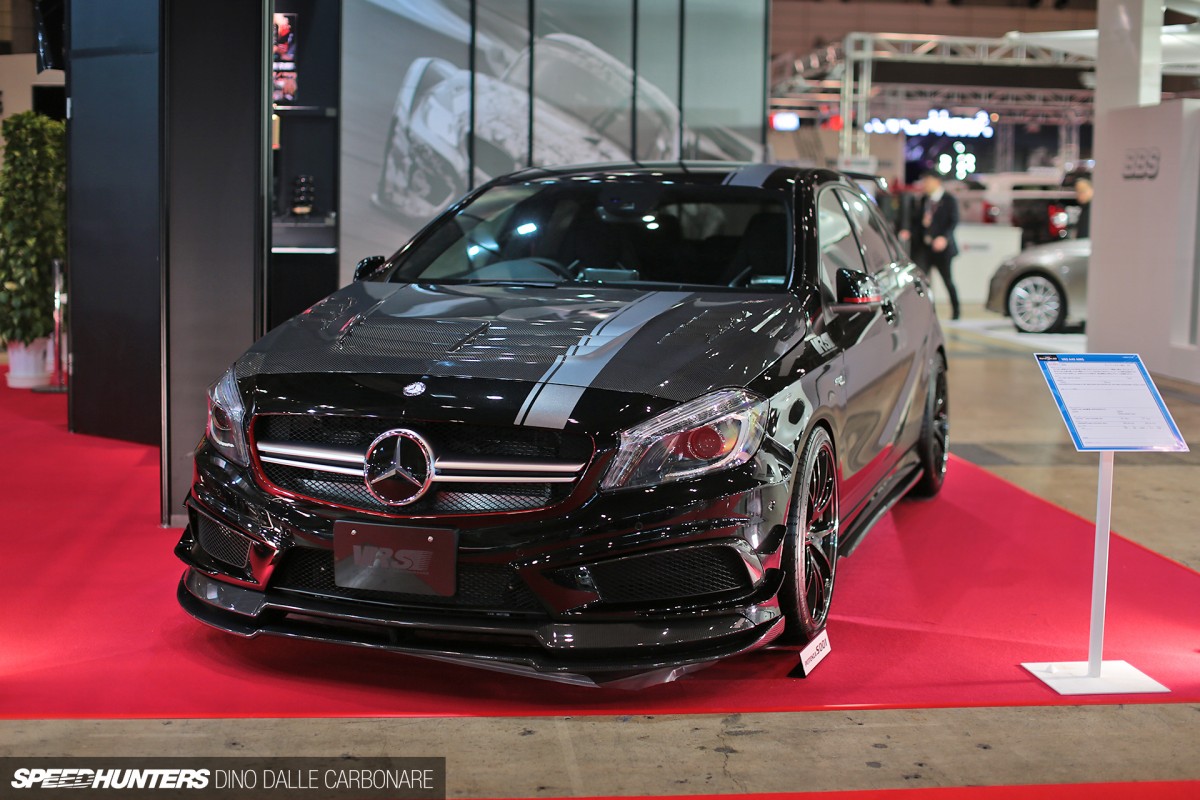 Ever since going on sale a few months back, the new A-class has been a hot seller in Japan – and that's not only the AWD A45 AMG version. So it's not surprising that Varis chose it to expand its VRS line-up made especially for European cars. If carbon fiber is what you're craving for your baby Benz then look no further.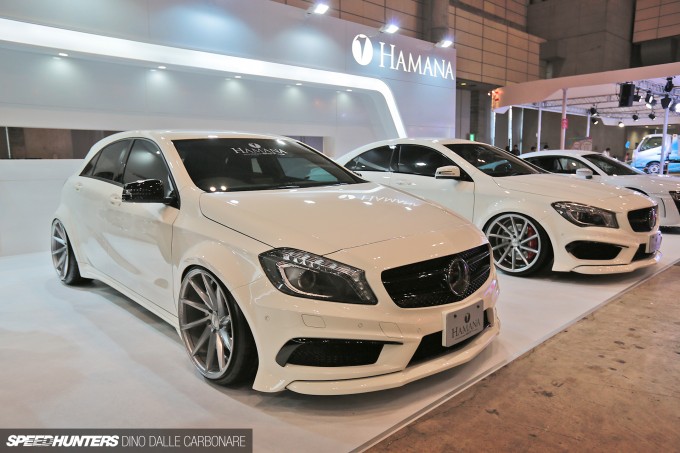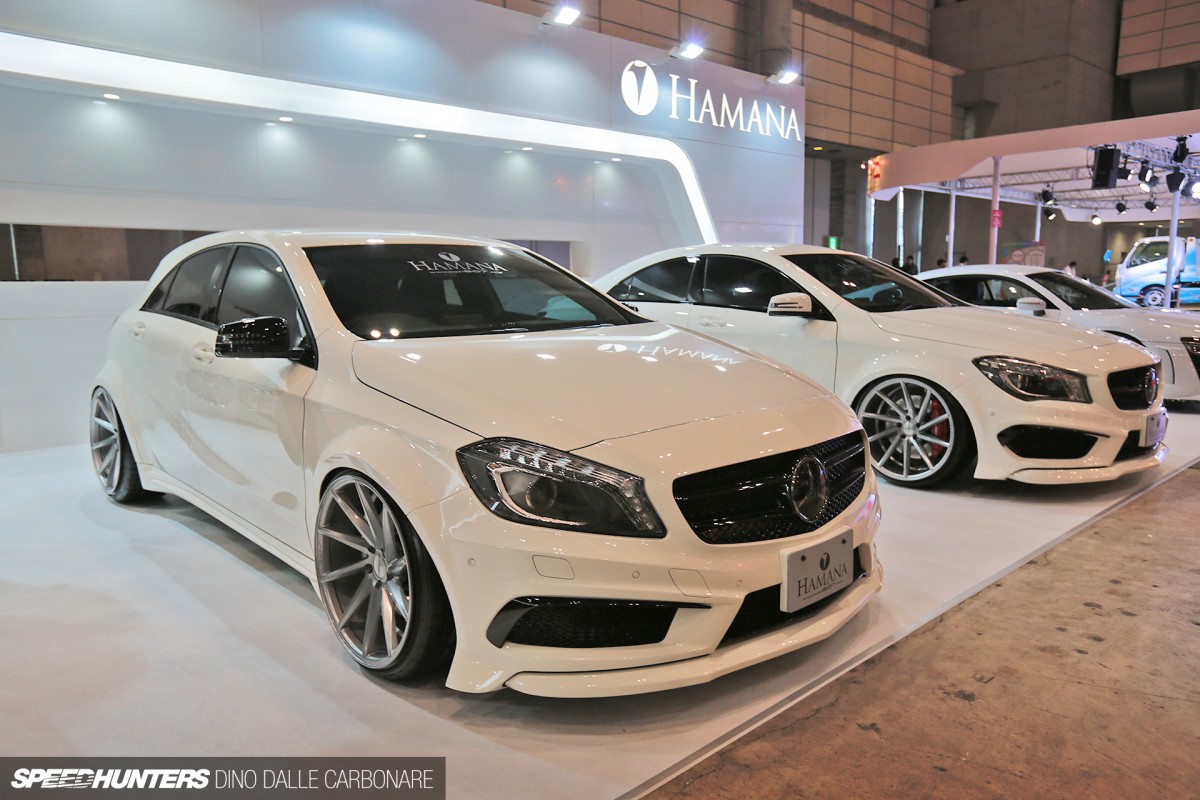 Hamana too has embraced the A-class and CLA, taking things to the next level by widening both the front and rear fenders on both their demo cars. The metal arches are perfectly extended to sit beautifully with the silver 20-inch Vossen VVSCVT rims they run.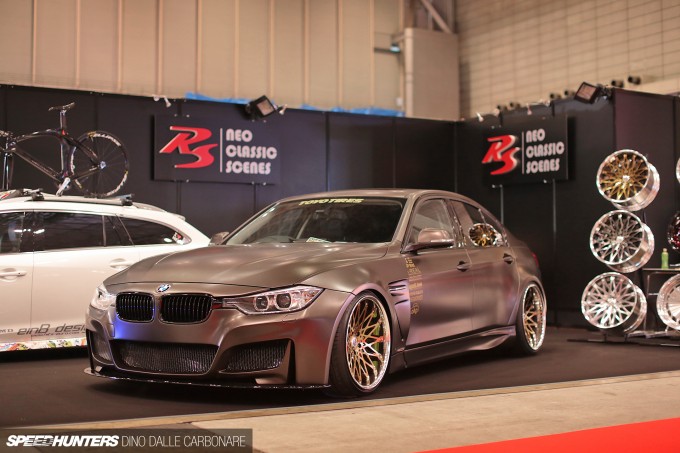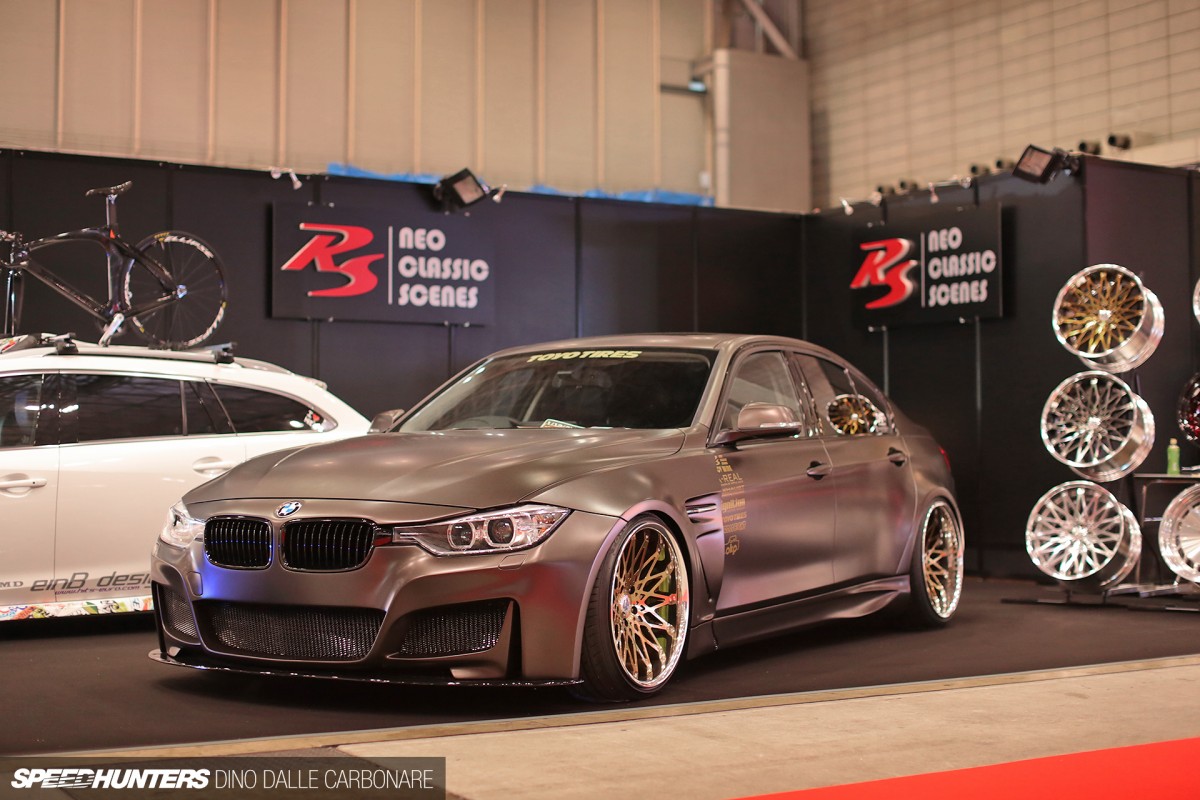 This time next year, TAS will no doubt be full of new BMW M3s and M4s but for now we will have to do with tuned F30 sedans like this example at the RS Wheels display.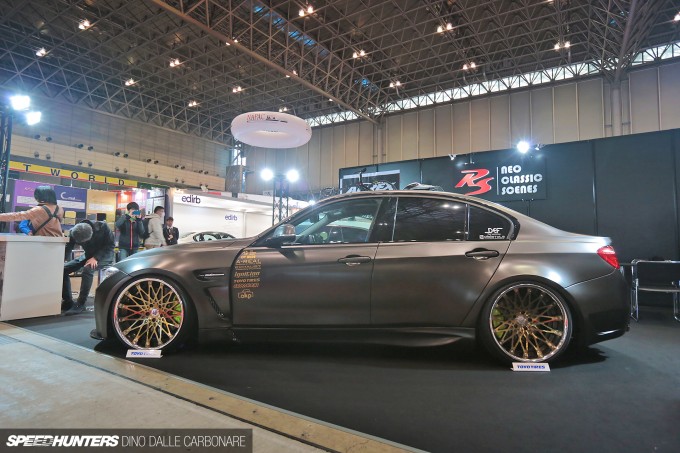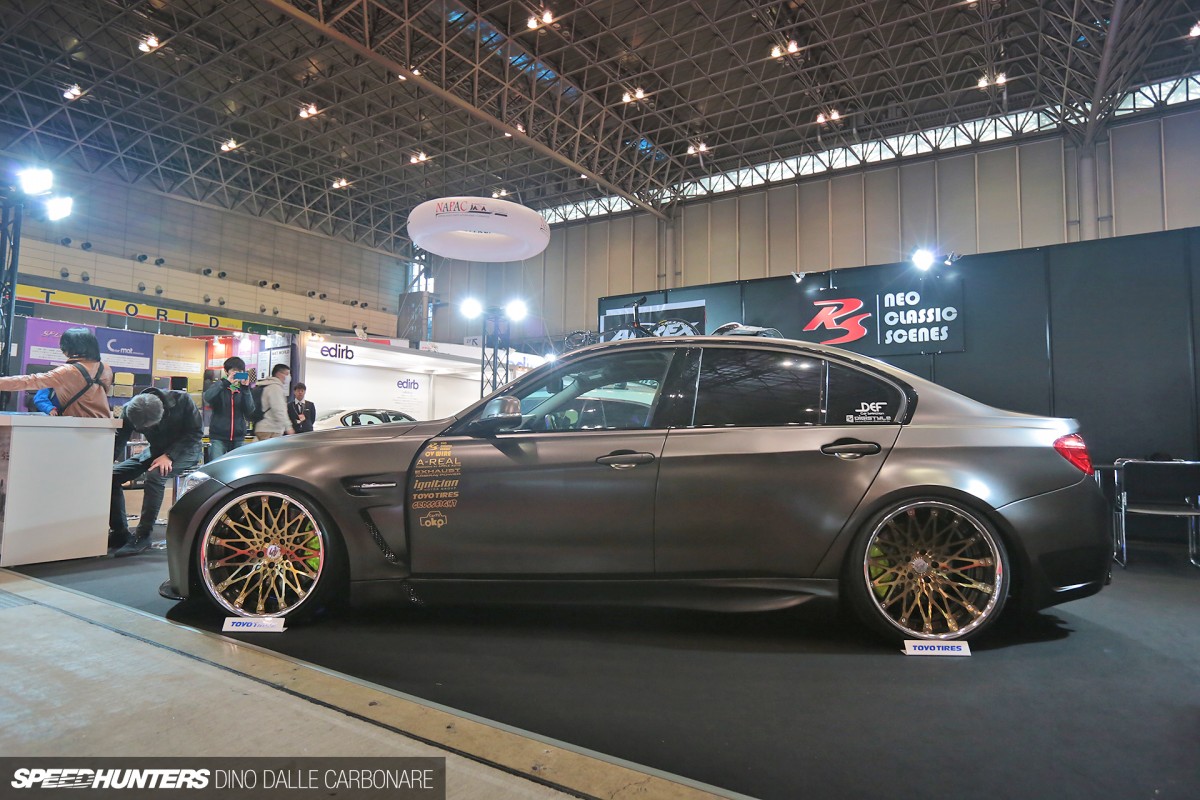 Their widened demo car was running CV Wire wheels and was one of the coolest 3 Series at TAS.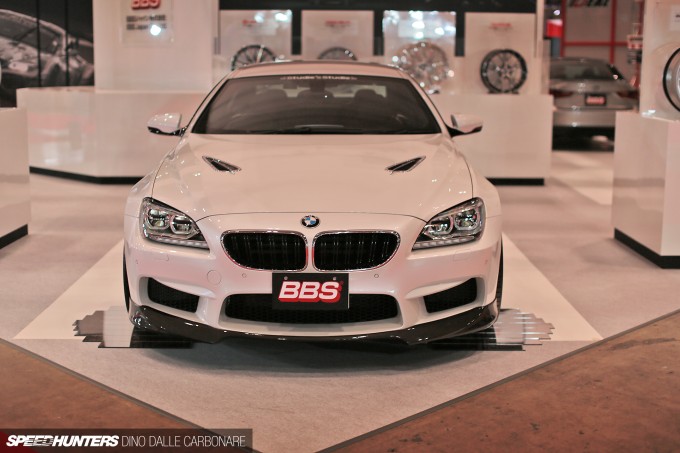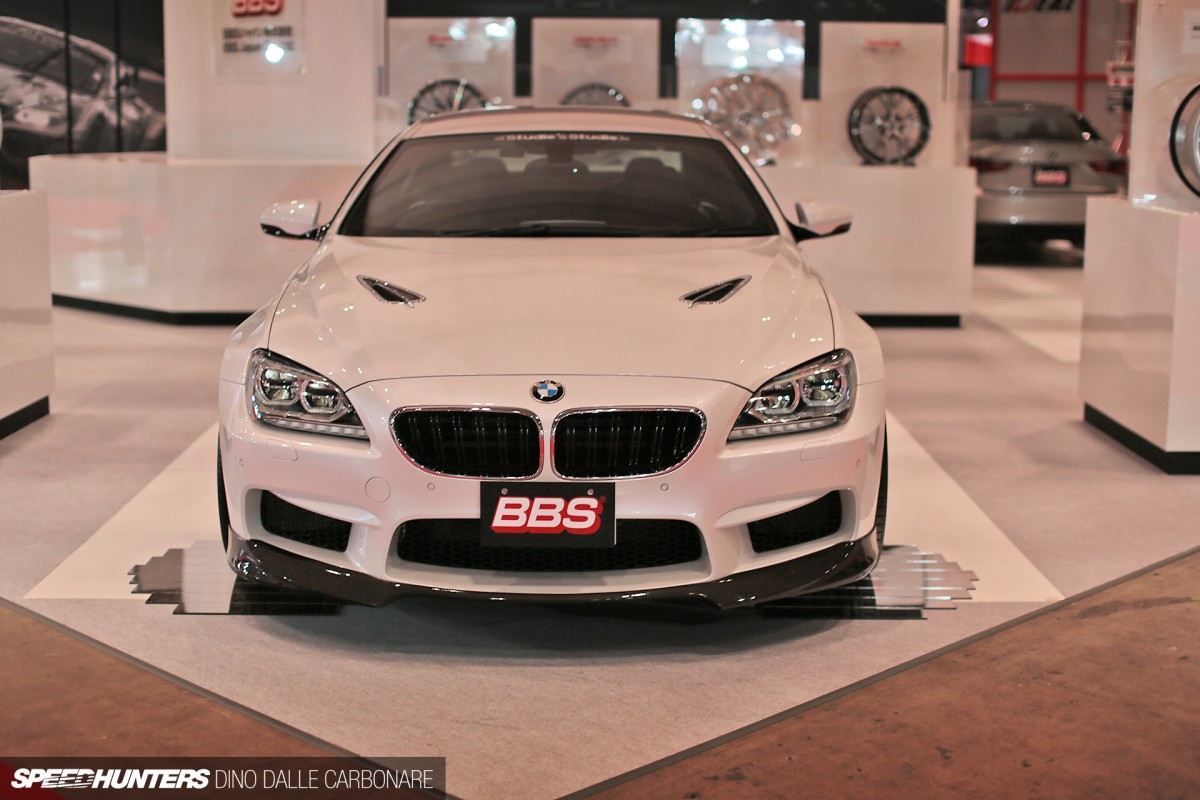 Studie is one of the most popular BMW specialists in Japan and it's not surprising as they're always the first out there with cool new tuning parts for the latest models. Fake hood vents aside, they do have some top quality carbon parts on offer too as is nicely shown by this 6 Series Grand Coupe.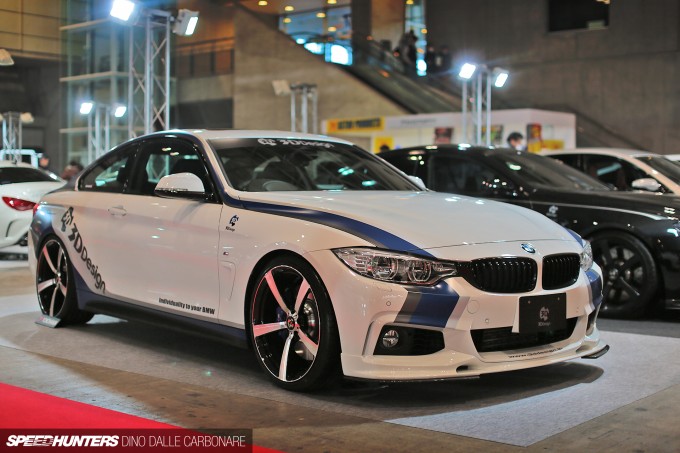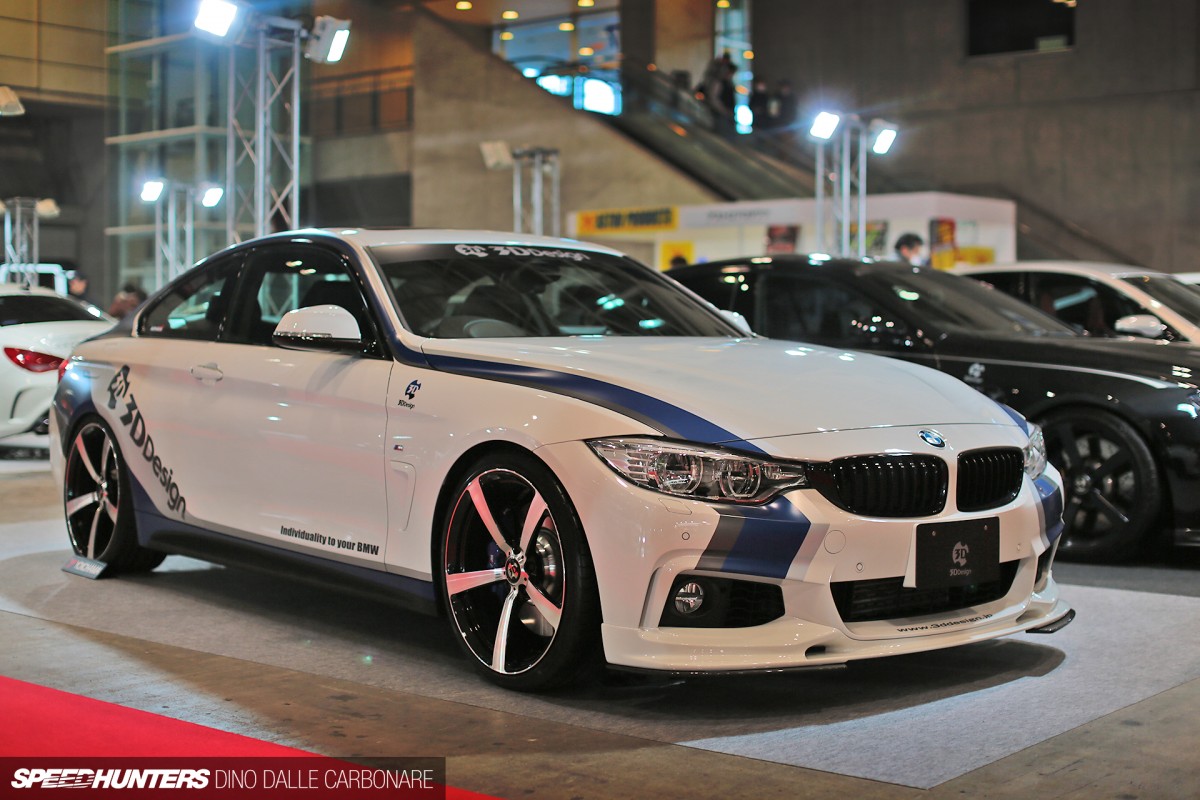 The 4 Series has only just reached Japanese shores so there weren't many to see; in fact this 3D Design car was the only one I spotted, running a set of their thinly spoked five-spoke wheels. Every time I look at this car I can't help but think just how well received the M4 will be this year. Makes my 335i look pretty dated. Damn you BMW!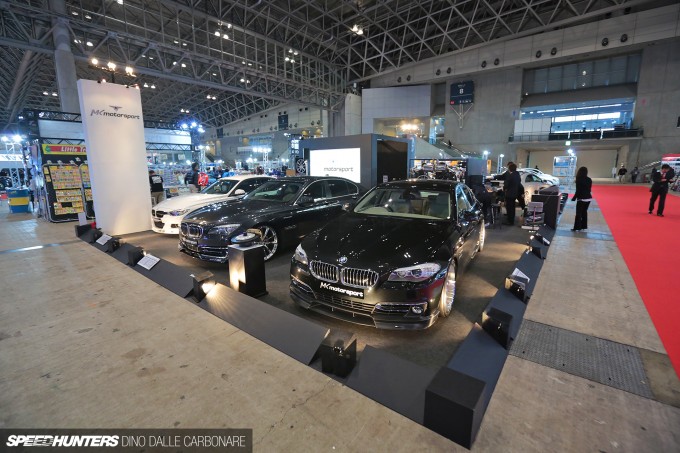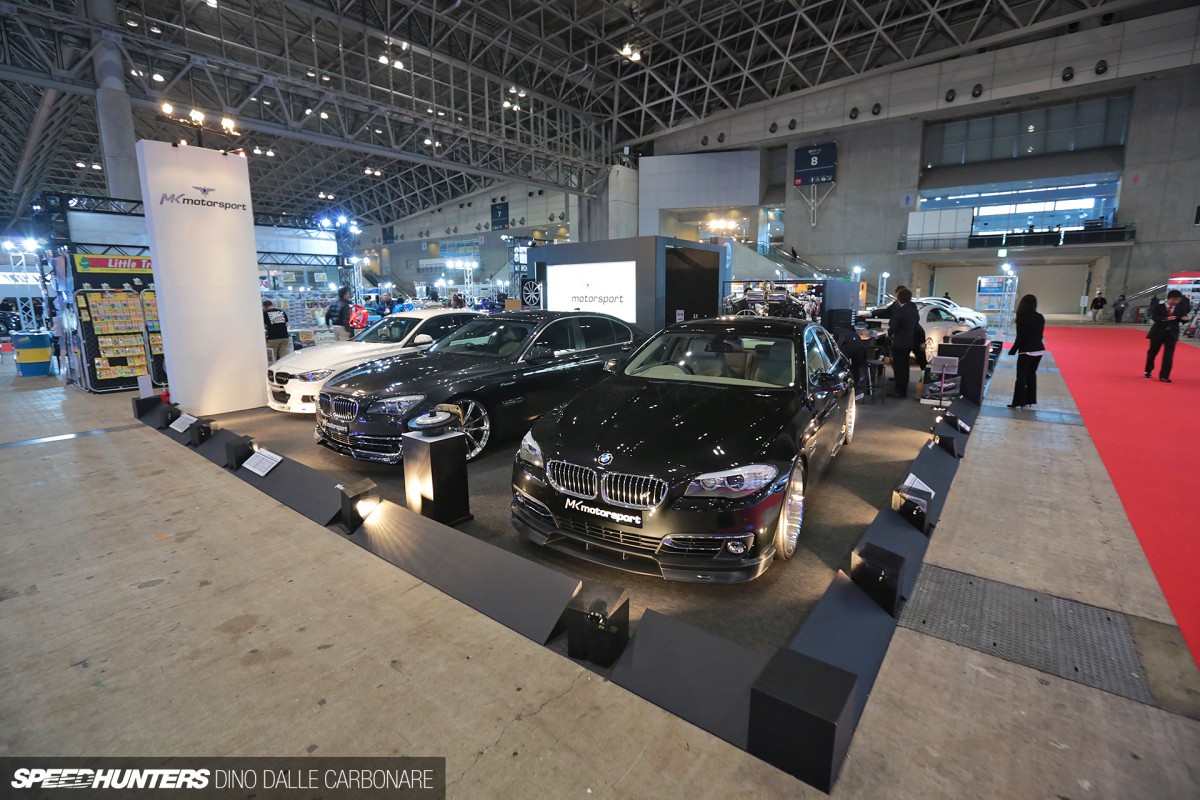 Big sales for BMWs means that tuners can enjoy a lot of potential business in Japan and that's why more and more brands like MK Motorsports have been finding representation in the Land of the Rising sun.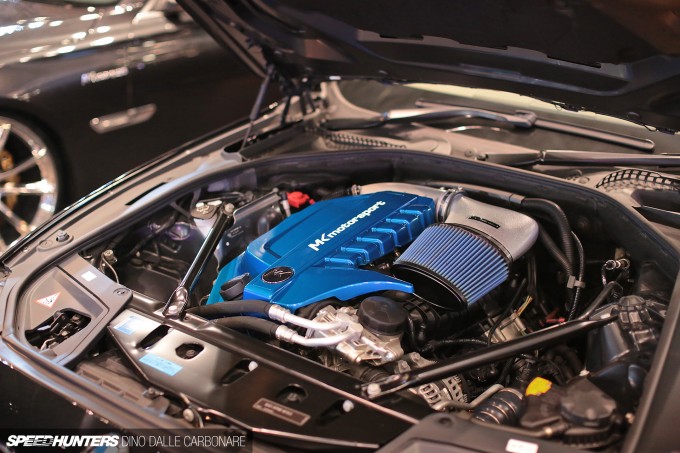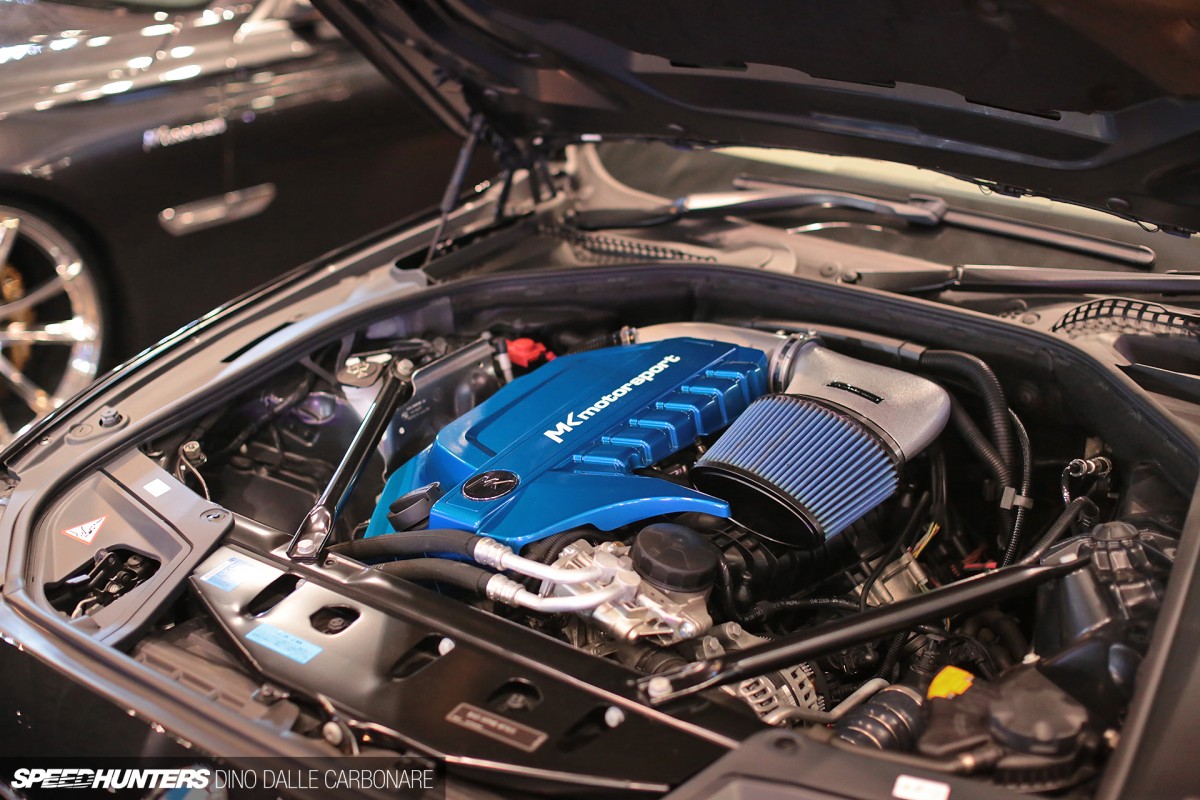 On top of aero parts and wheels, they also have some pretty interesting engine upgrades available and I was really liking this intake kit for the 3 liter straight-six turbo engine.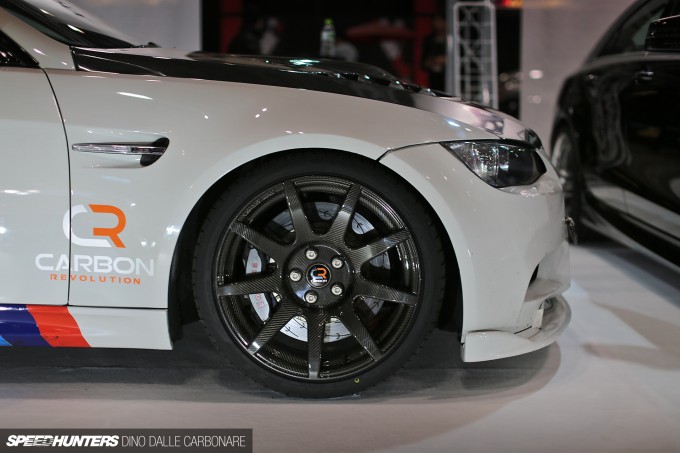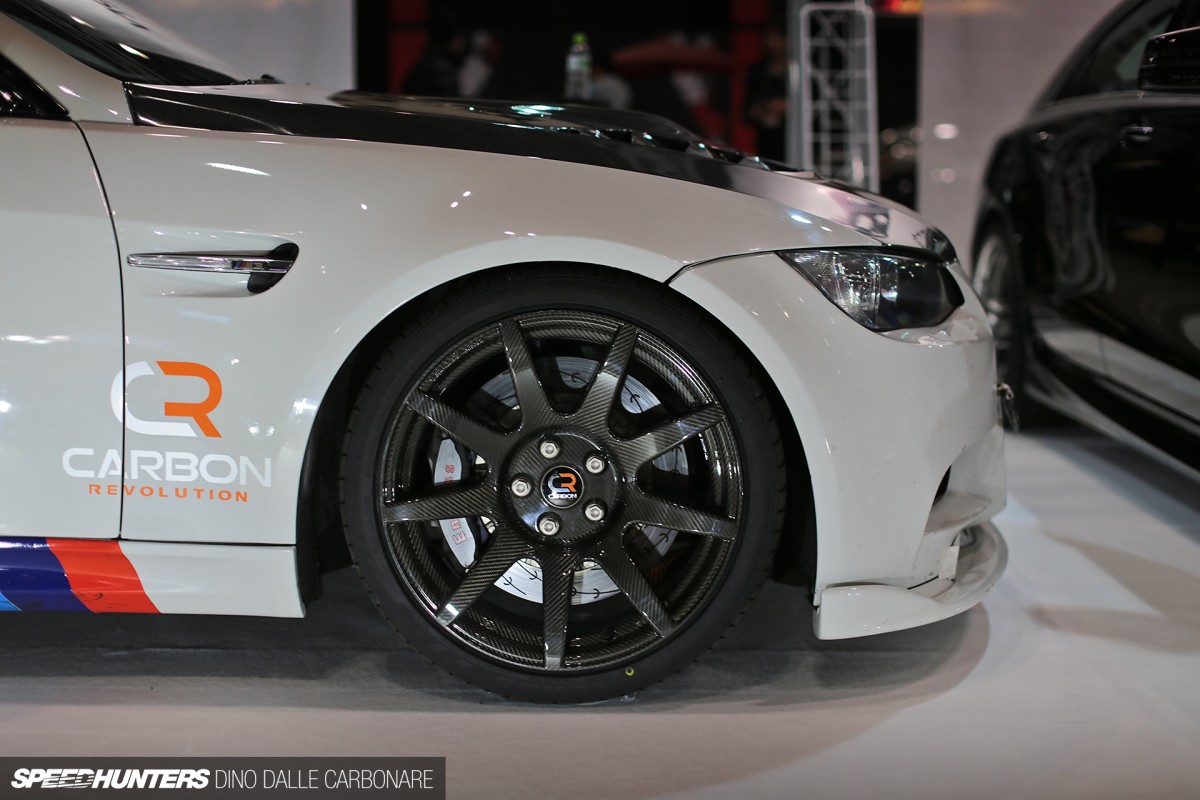 Carbon Revolution had what they call the first one-piece carbon fiber wheel on display on their M3 demo car. It's not only Koenigsegg owners that can now allow themselves these sort of advanced products.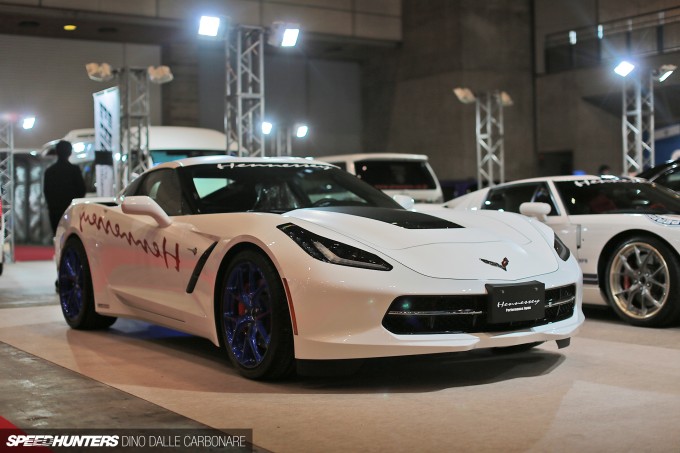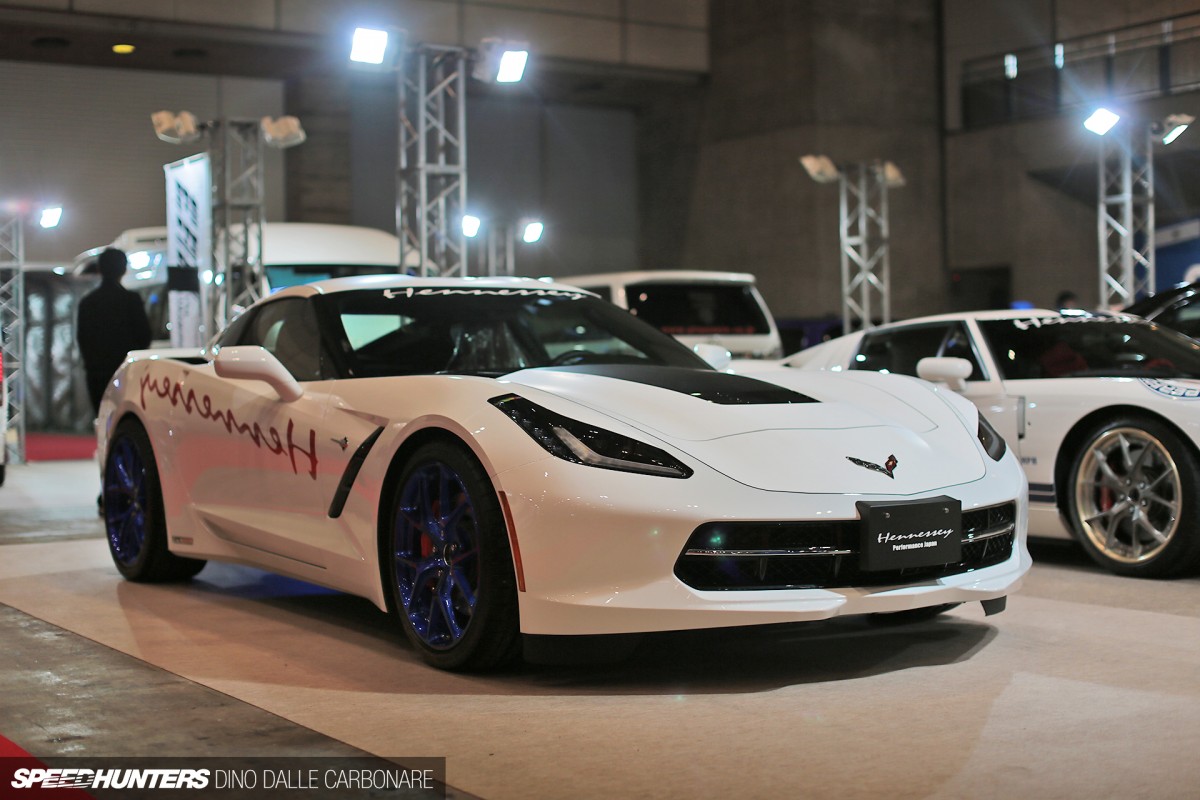 European cars make up most of this post, but I just had to talk about the C7 Corvette. Like the 991 GT3, this was the first time I had seen one and I genuinely really liked it. The more compact proportions and more European-inspired lines have really made it one stunning-looking sports car. Too bad that by the time it's sold here officially, it will end up costing close to $100,000. You can thank import taxes and huge mark-ups for that. Despite the Hennessey stickers, it was still all stock underneath, but no doubt this Japan demo car will soon be getting a big power bump.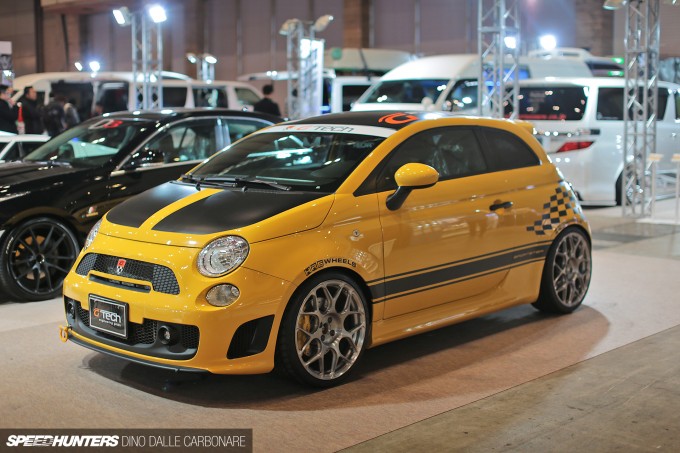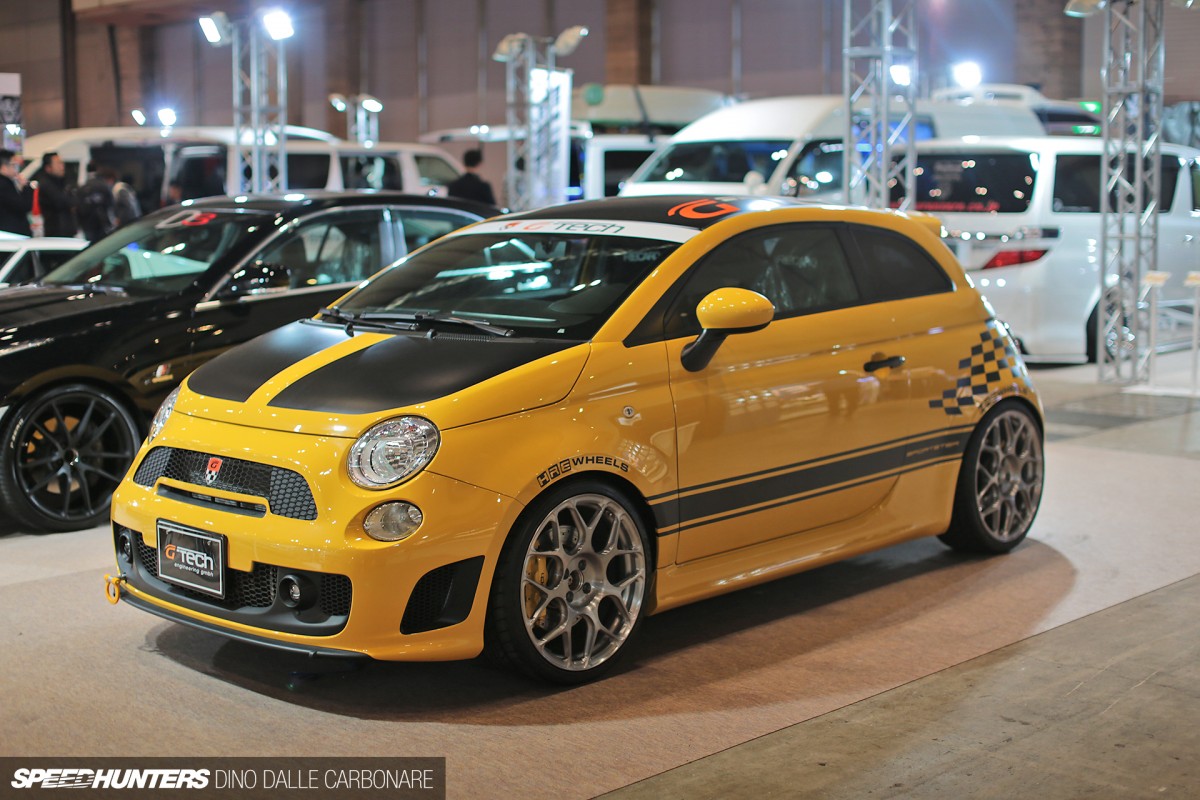 Ever since I did that drive test of the Fiat 500 Abarth years back, the little turbocharged Italian city car has not shown signs of loosing popularity in Japan. And why should it – it's affordable, fun to fling around corners and quite tunable. It ticks all the right boxes, but if you want to make it look a little different from the rest, G Tech might try to convince you that one good way of doing that is to go for a roof chop!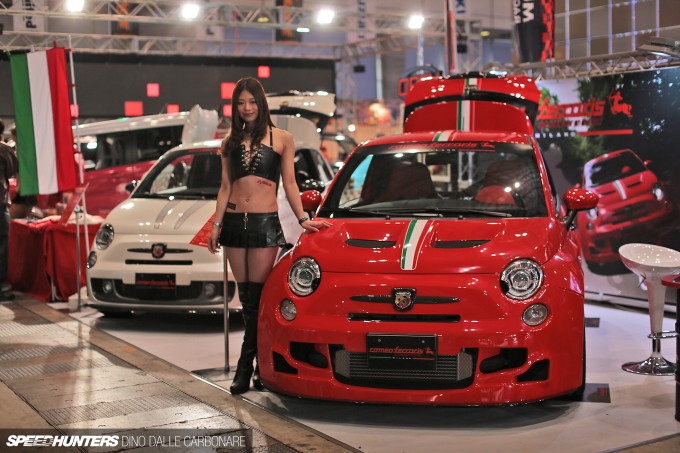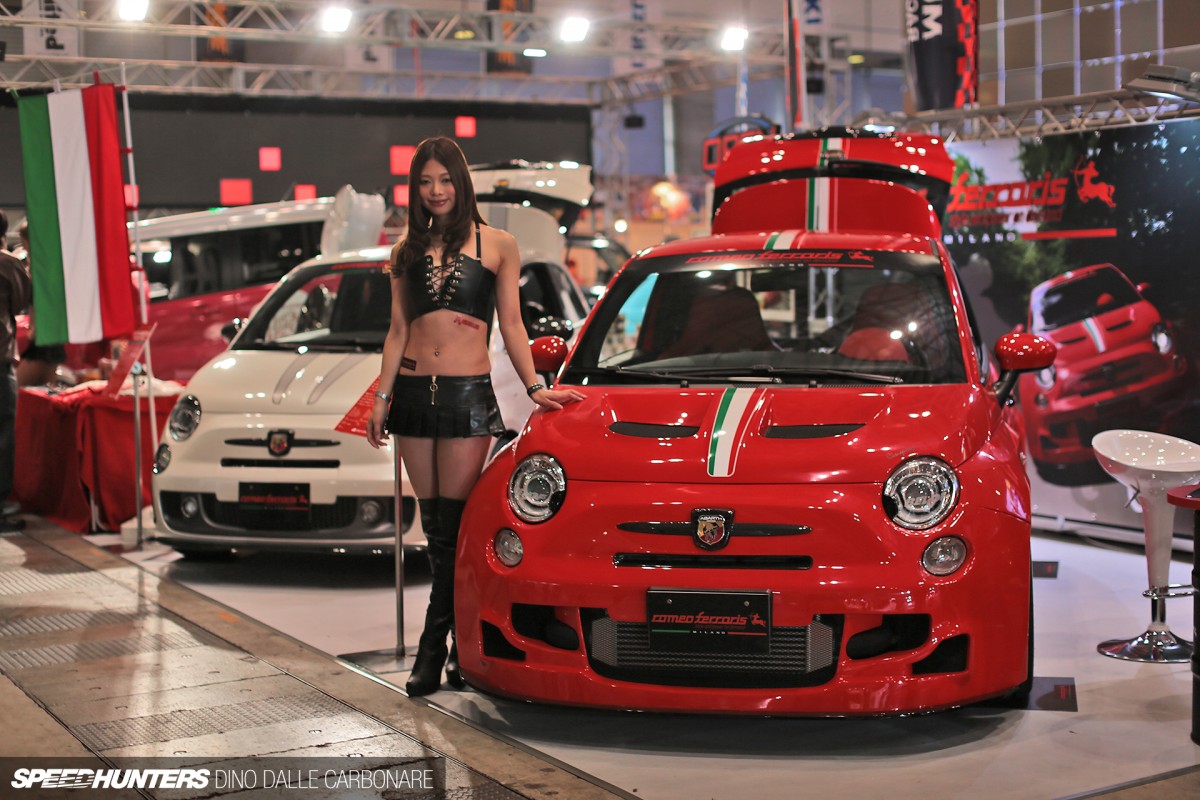 Italian tuner Romeo Ferraris was at the show too this year, together with his Japan importer and they had a series of 500s on their stand including this widebody example we saw last month at the Tsukuba Super Battle.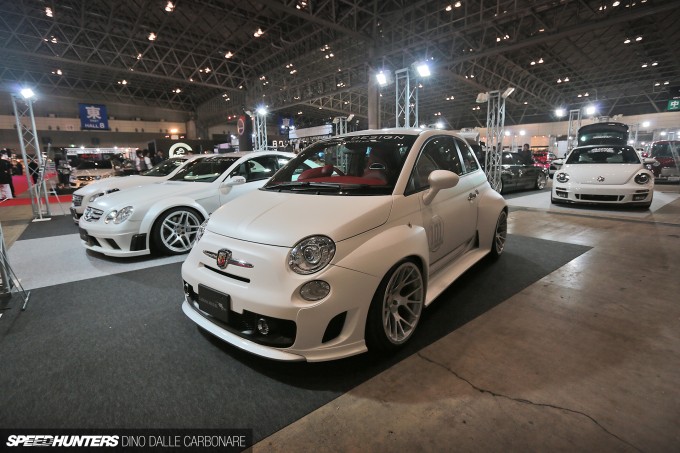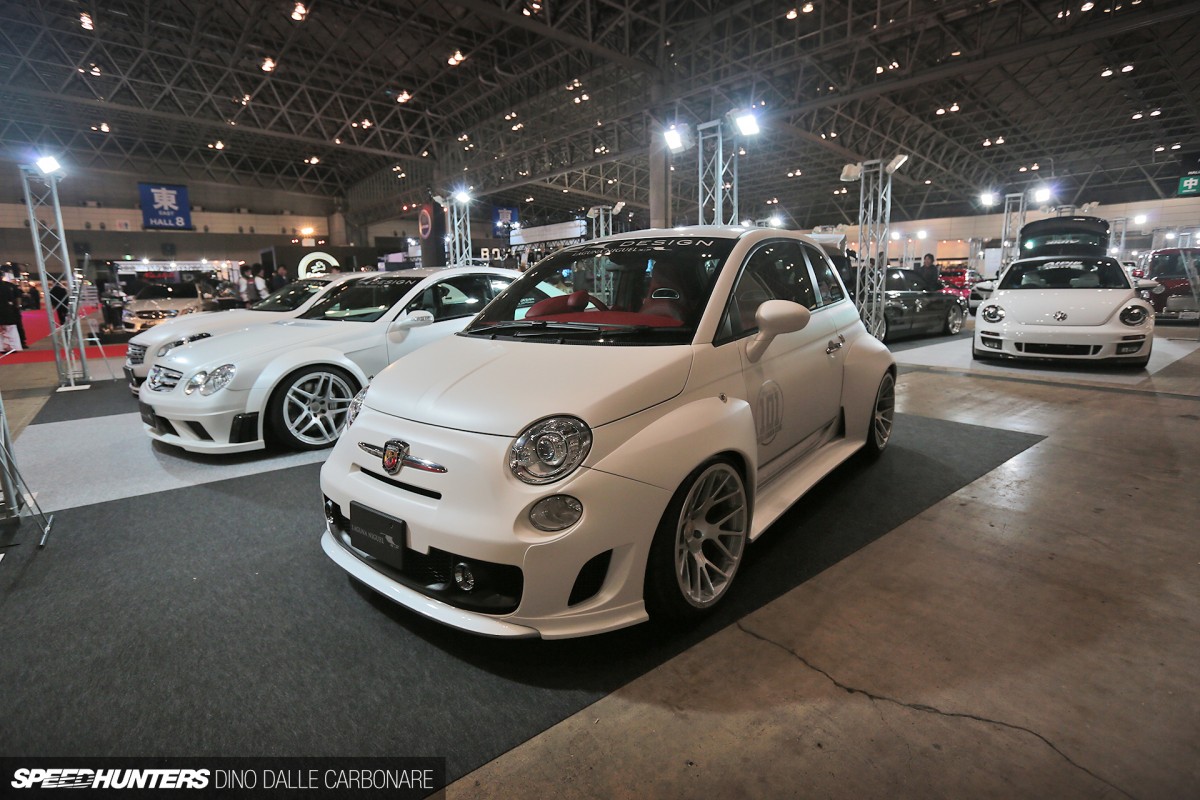 For some however, you can never go too wide! How long until we see a Lamborghini engine being squeezed into one of these?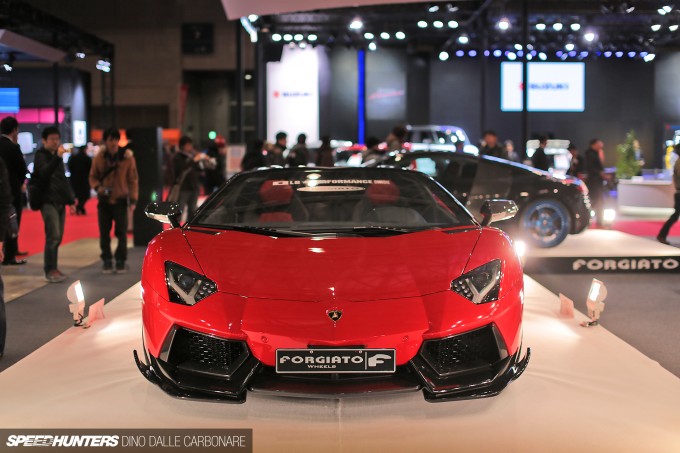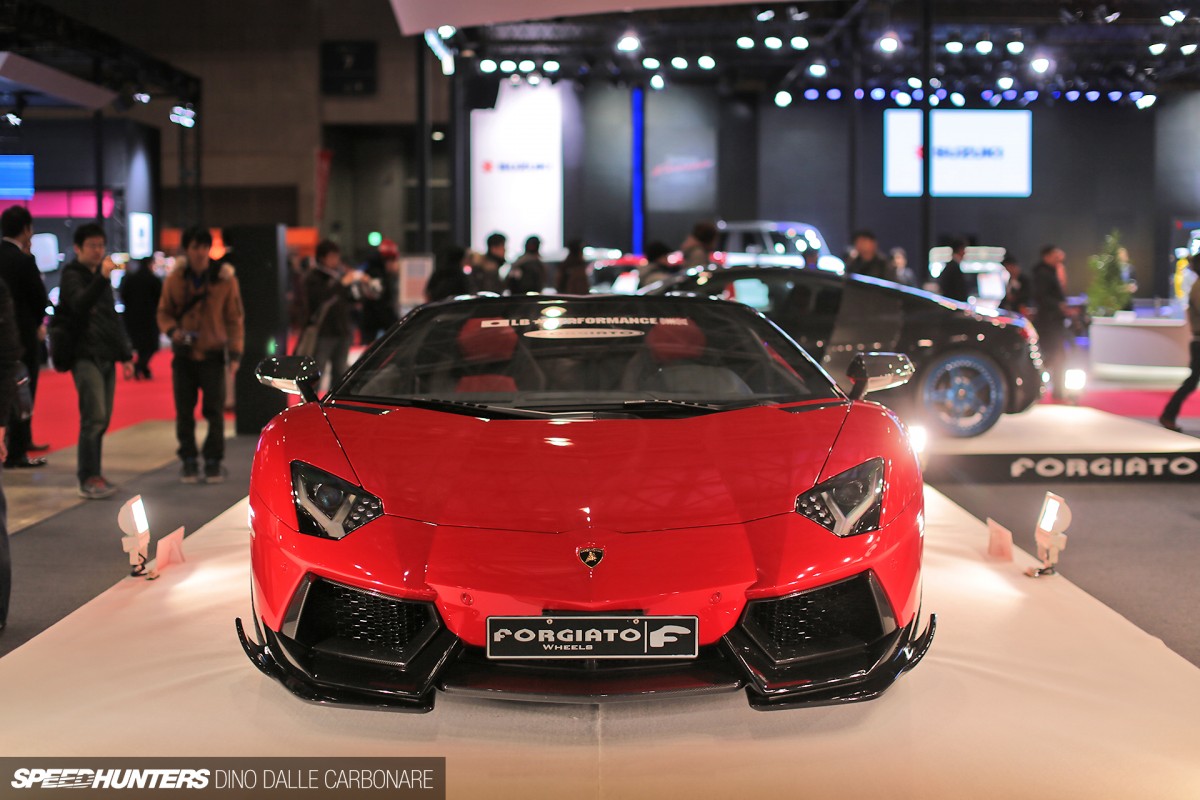 Did I say Lamborghini? This is one brand that has been recording record sales for years in Japan. No matter how expensive, the Japanese love their Lambos. The wilder the better. Head to the last chapter so see just how wild!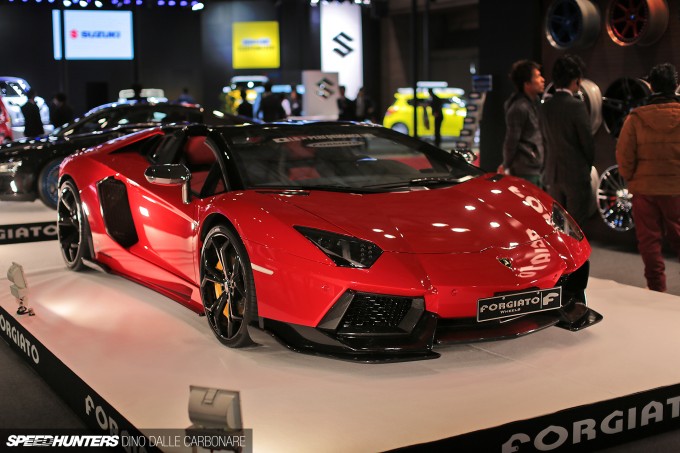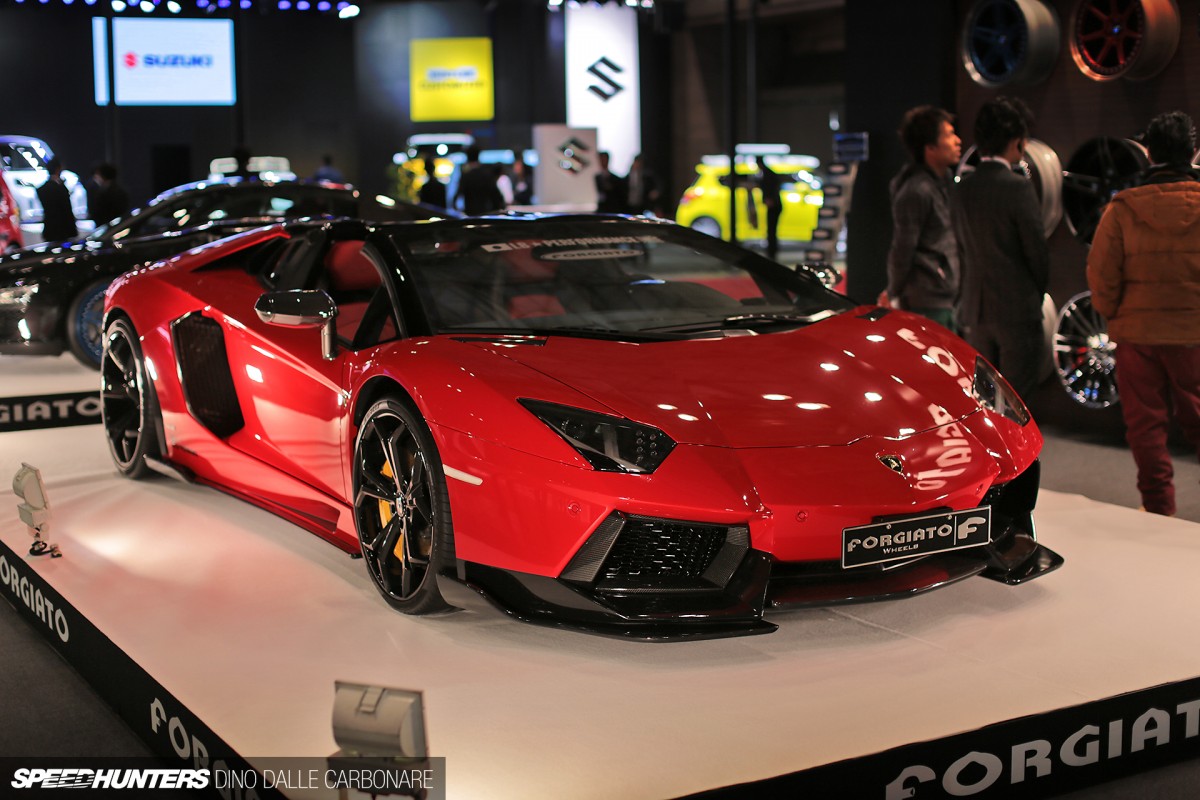 This Aventador Roadster sure was getting a lot of looks. Now this is one car I'd love to do a Dream Drive in. Kind Sirs at Lamborghini, may I?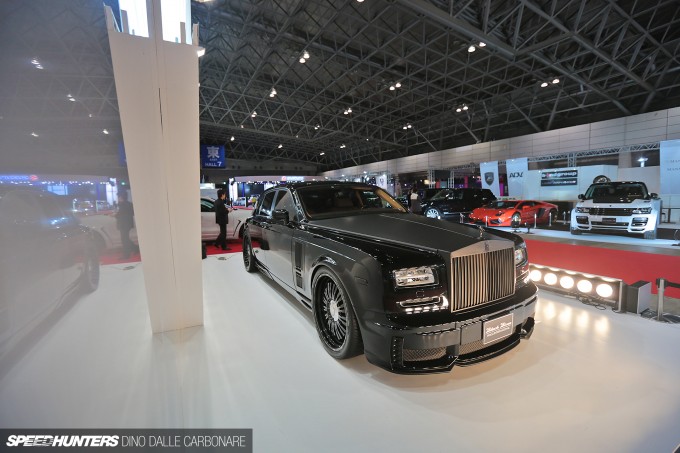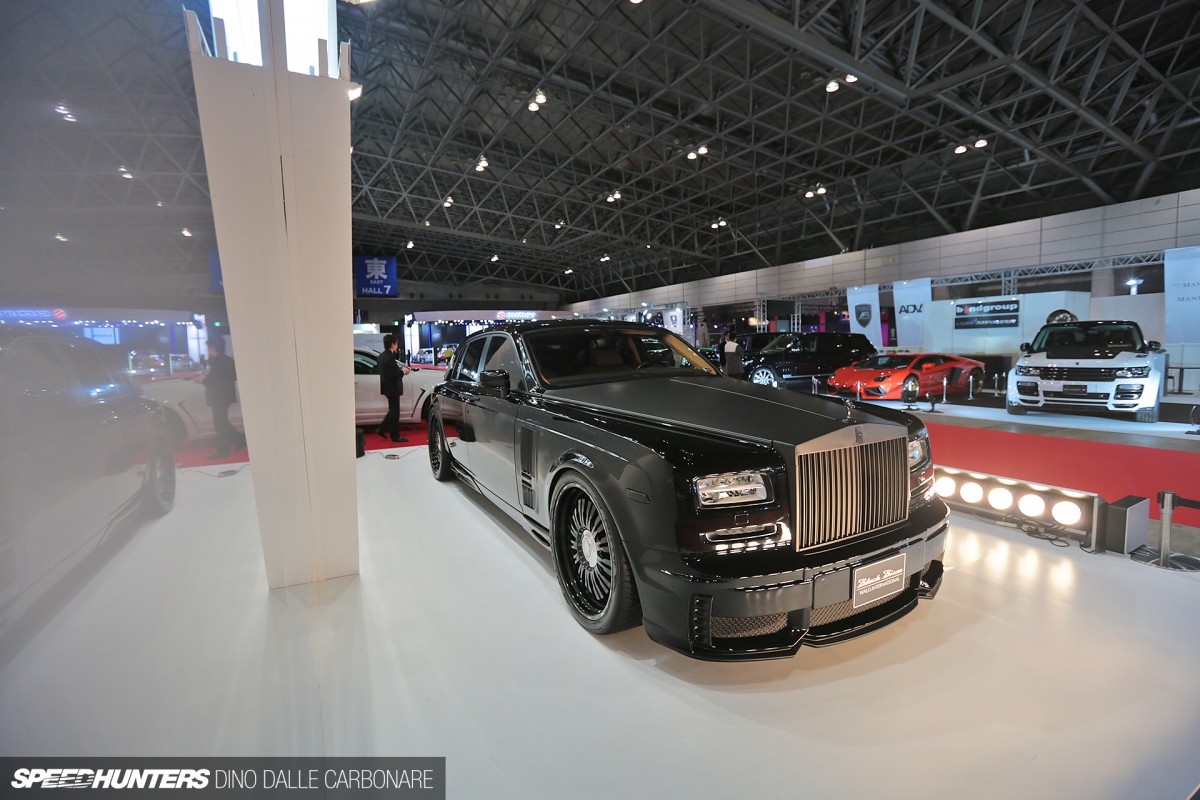 You can't have an Auto Salon these days without the presence of at least one Roller.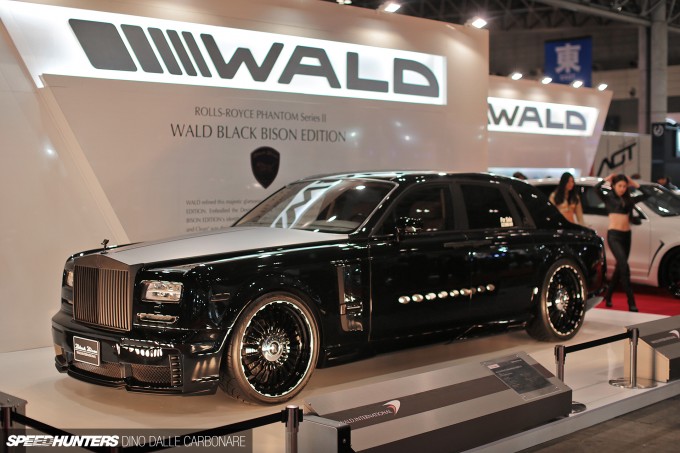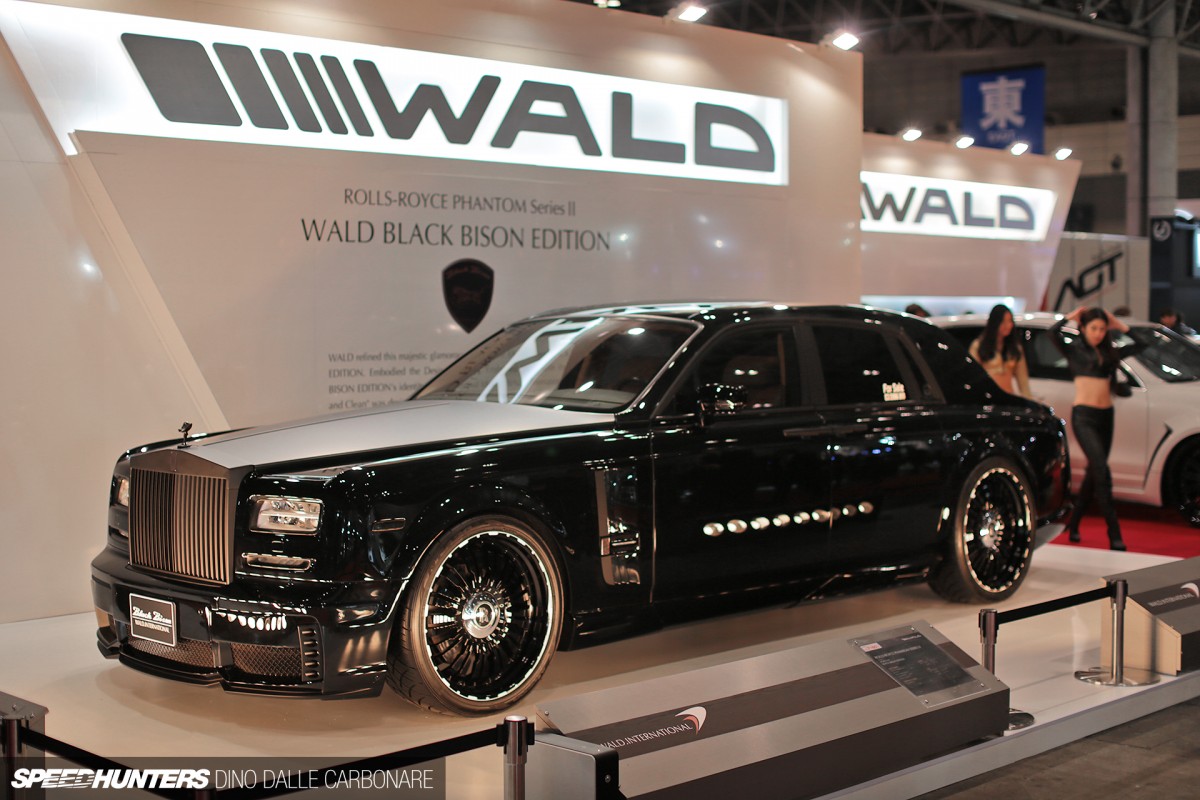 The Wald Phantom is the perfect embodiment of Japanese opulence, sporting a complete aesthetic kit and big multi-spoke 24-inch rims. It's the ultimate way to make sure that the whole world knows that you're a successful business man and aren't afraid to parade it.
The unexpected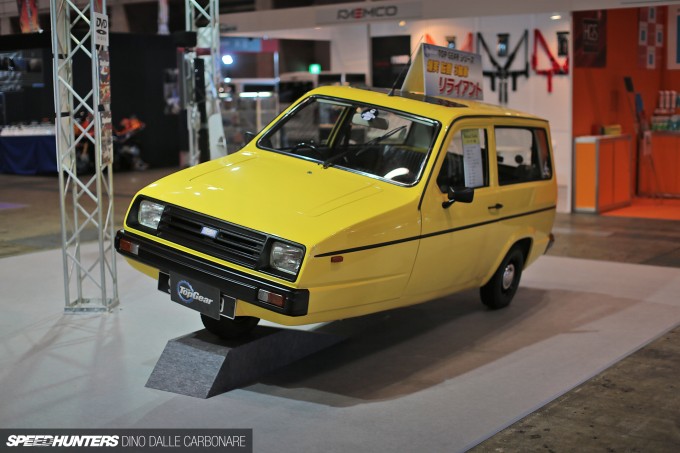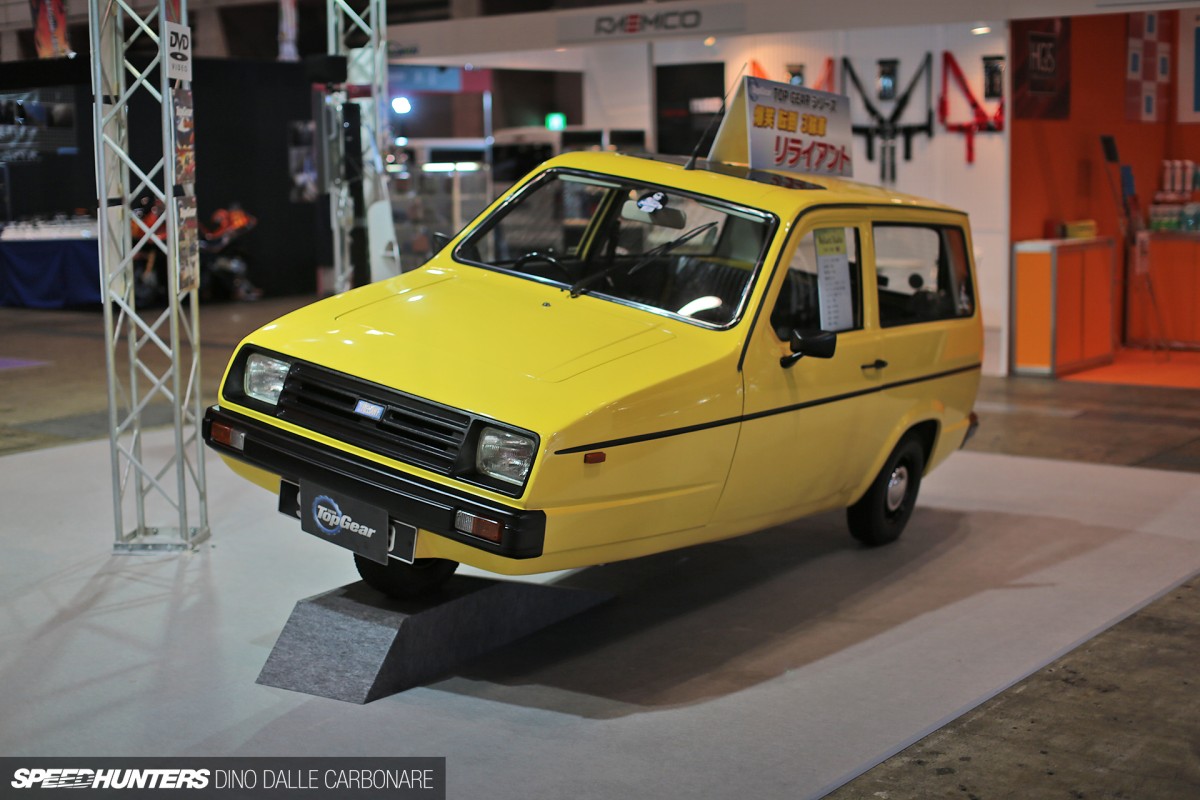 From the Roller, we could only move onto to another great British export: the Reliant Robin positioned in a just-about-to-tip-over stance. It really is hilarious the sort of cars you can find in Japan but even this three-wheeler couldn't prepare me for what I saw next.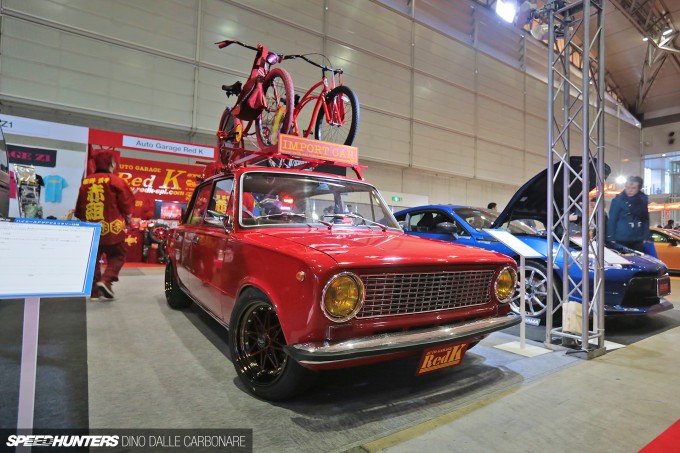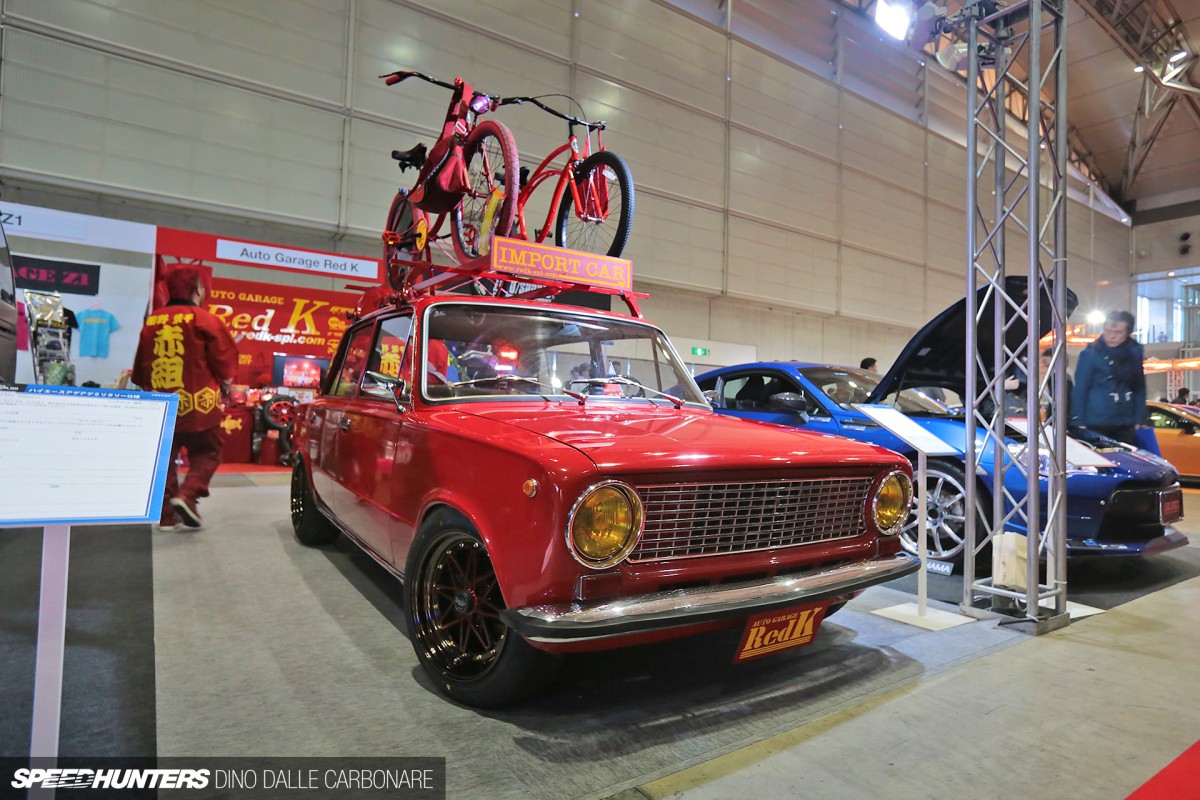 Yes, your eyes aren't deceiving you. That's a Lada Vaz 2101 on Work Equip 03s straight from Mother Russia!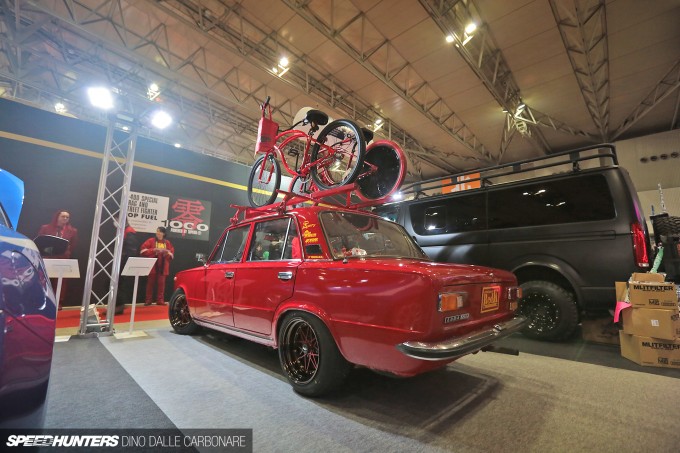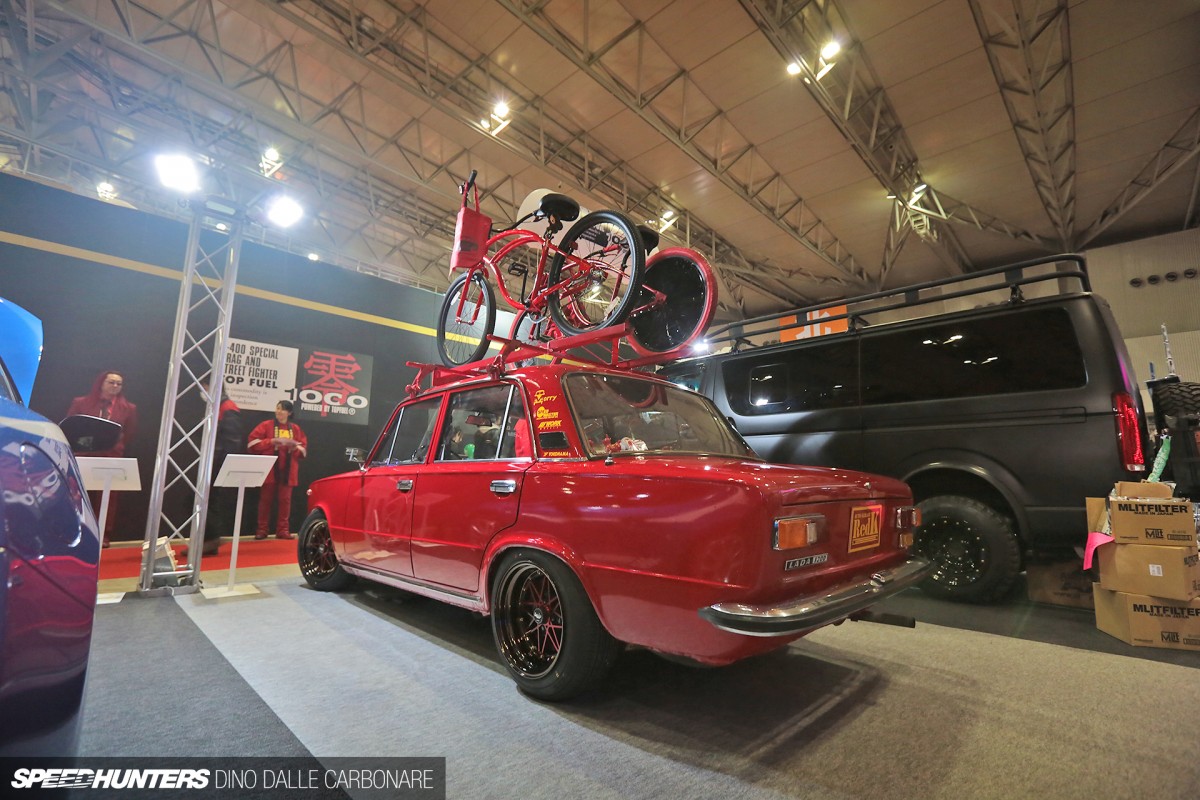 Aside from the obvious lowering on the suspension side of things, the car was stock as I believe there's not much you can do if you wanted to extract more power. Apparently the heater is a mean unit, able to warm up the cabin within seconds of ignition. It's these sort of cars that make us love TAS!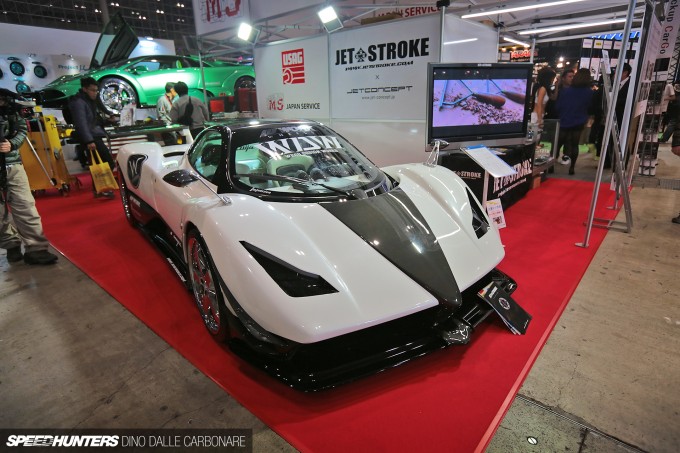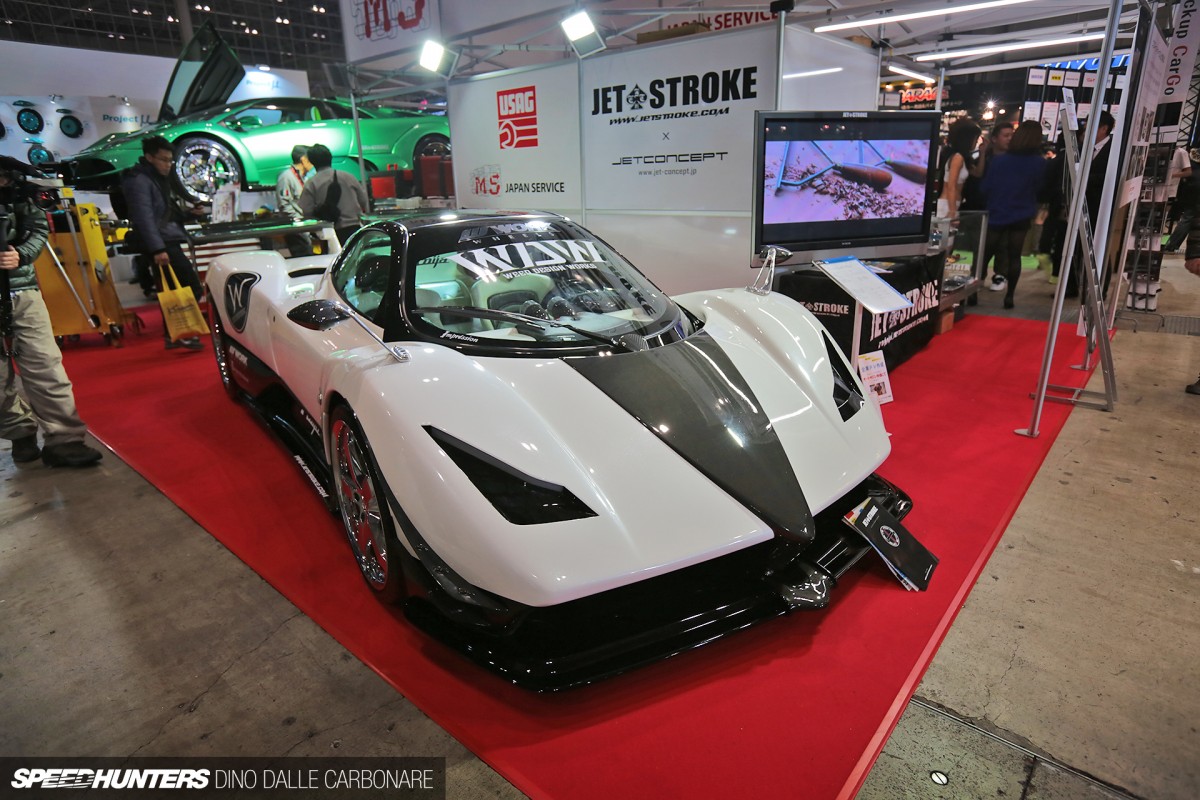 Yes this is the same customized and headlight-less (well they are there, but recessed into the grille) A-Team Pagani Zonda that we saw at Daikoku the other week and it sure was getting its fair share of looks, unsurprisingly.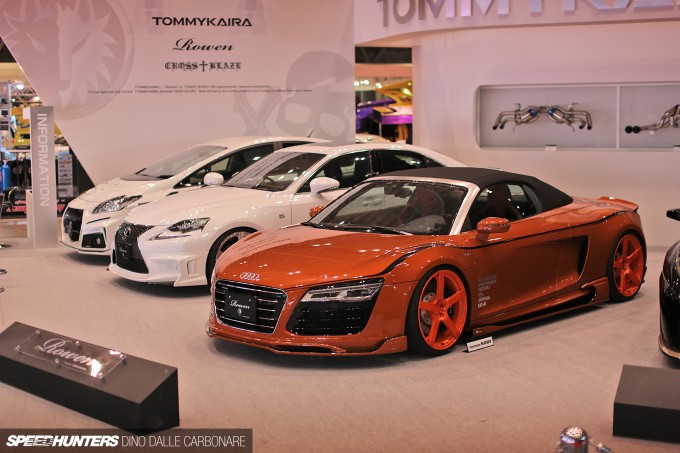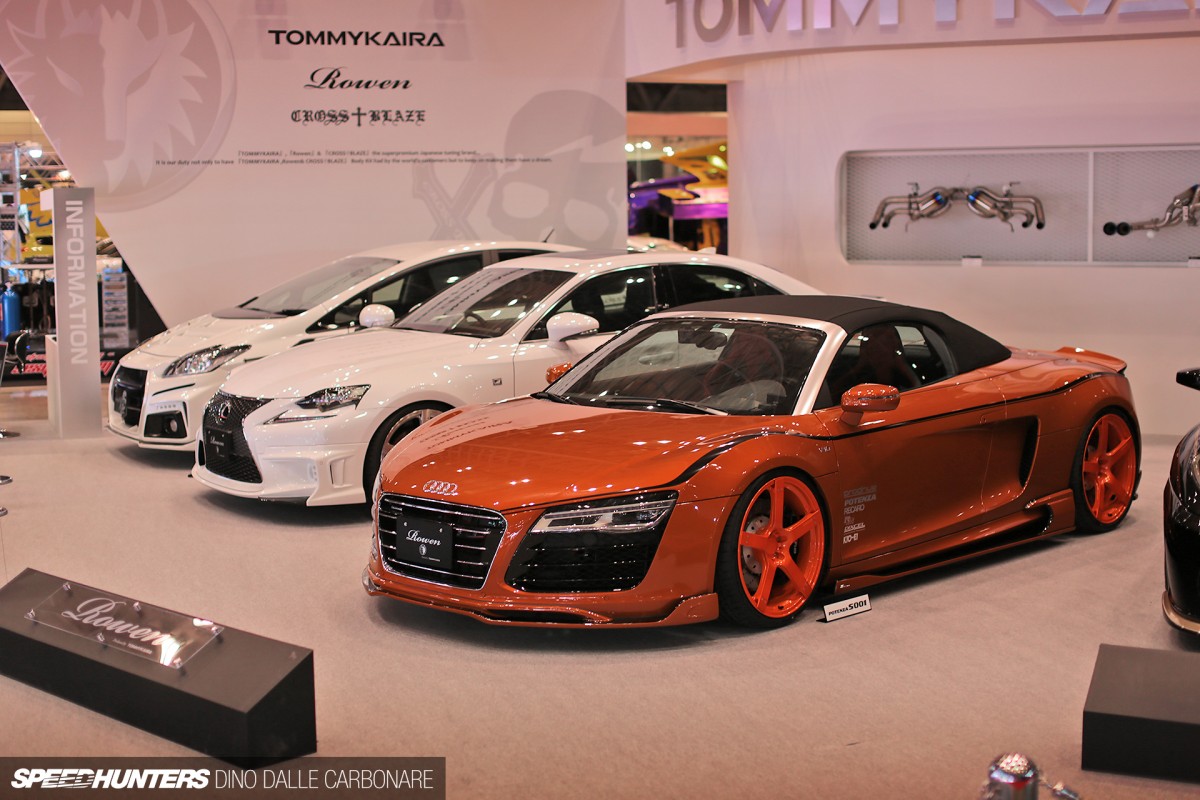 Tommykaira had a massive display area in the very first hall with a nice mix of cars which included this R8 drop-top attempting to pull off the orange on orange look. What do we think?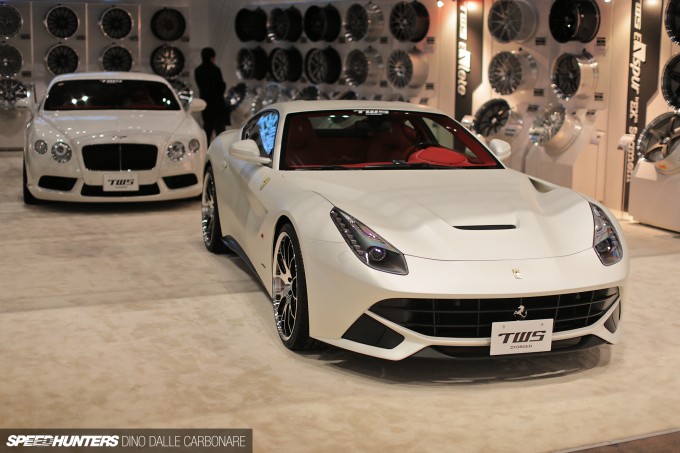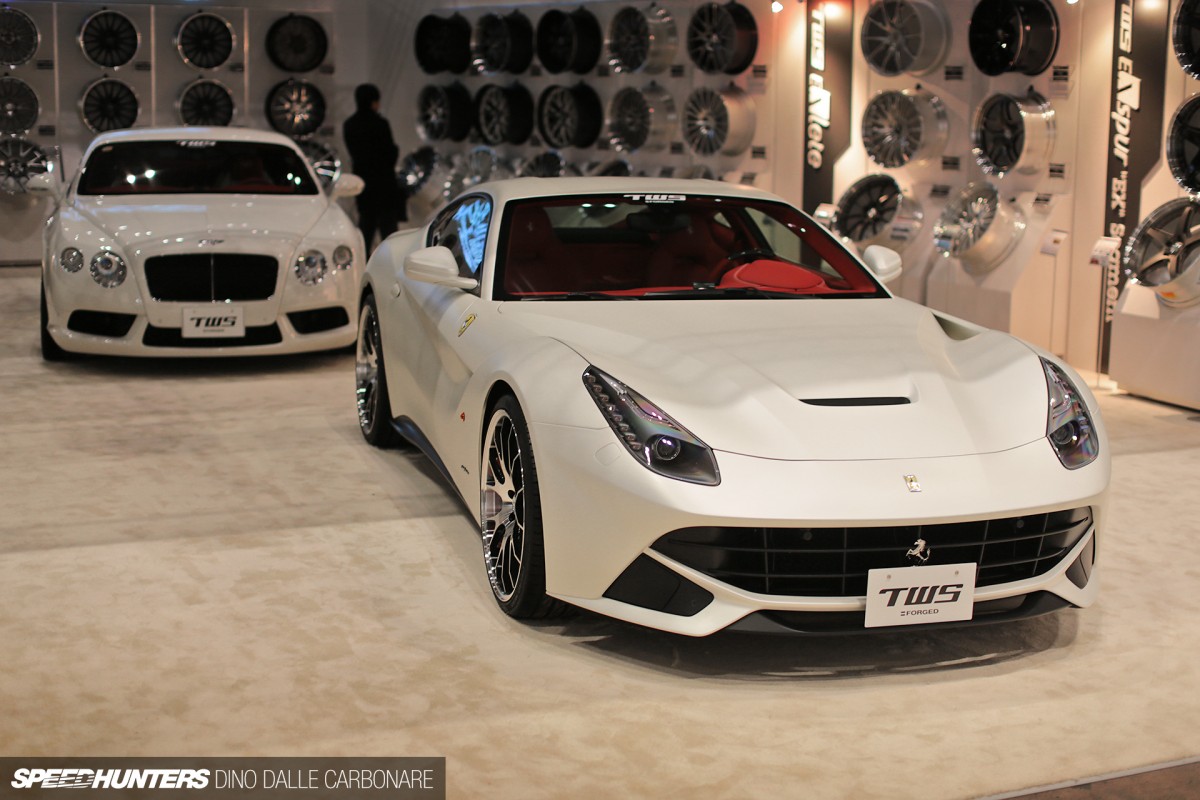 Ah the F12. It's like a romance novel on wheels; the most emotional design to come out of Ferrari this decade.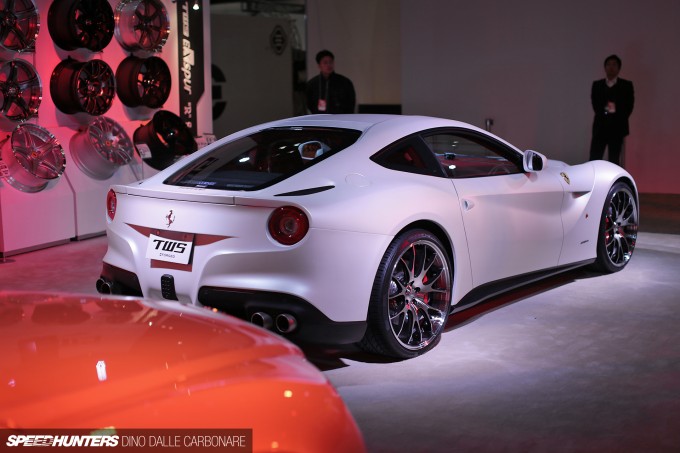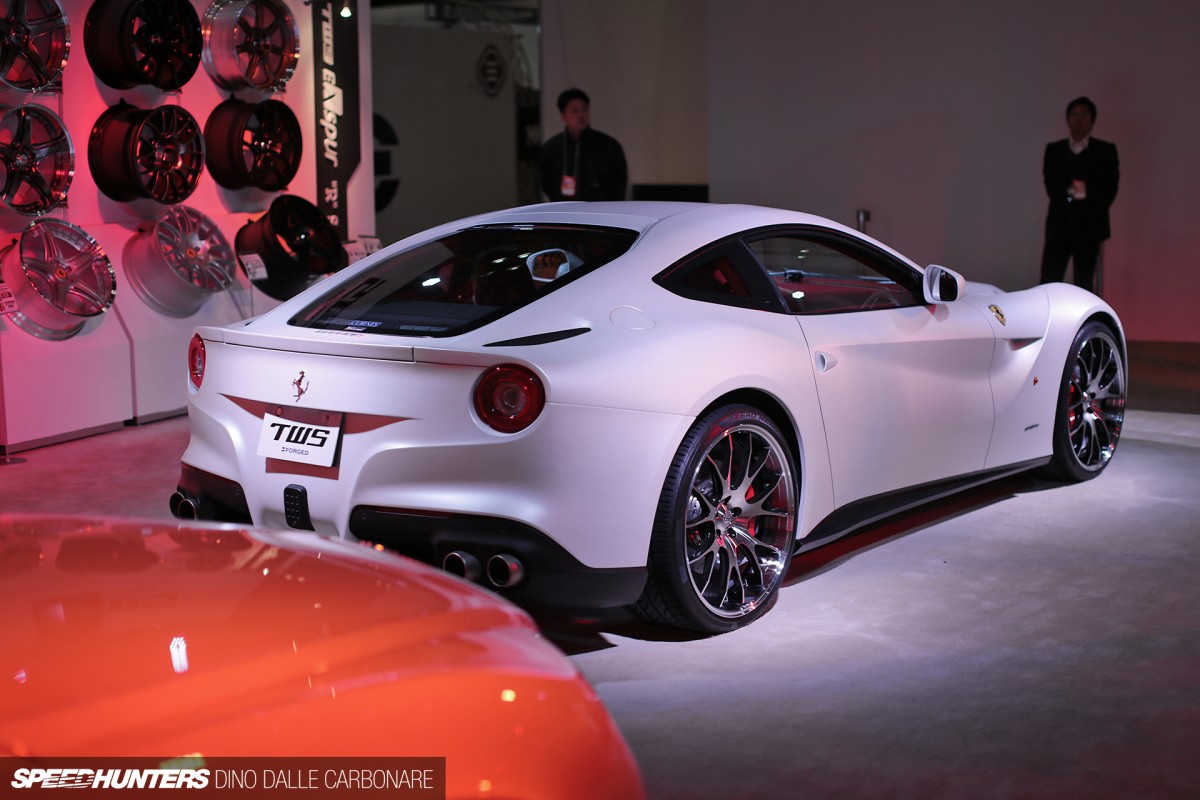 But one of the things Ferrari still can't get right is wheels and tires – well, sidewalls to be more precise. So it's really nice to see one wearing wheels with a more adequate offset and slightly lower profile rubber.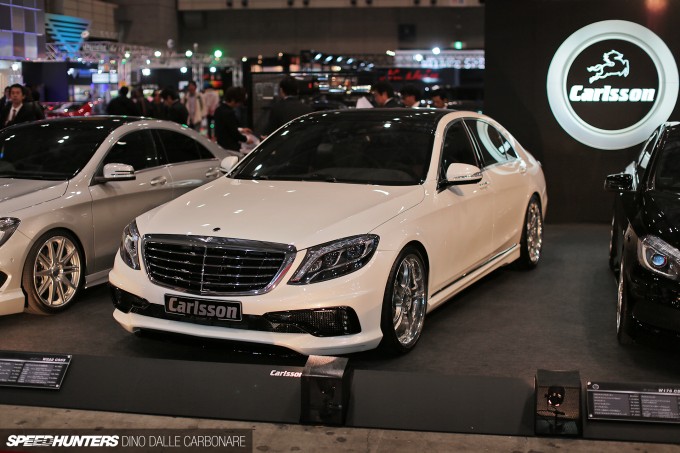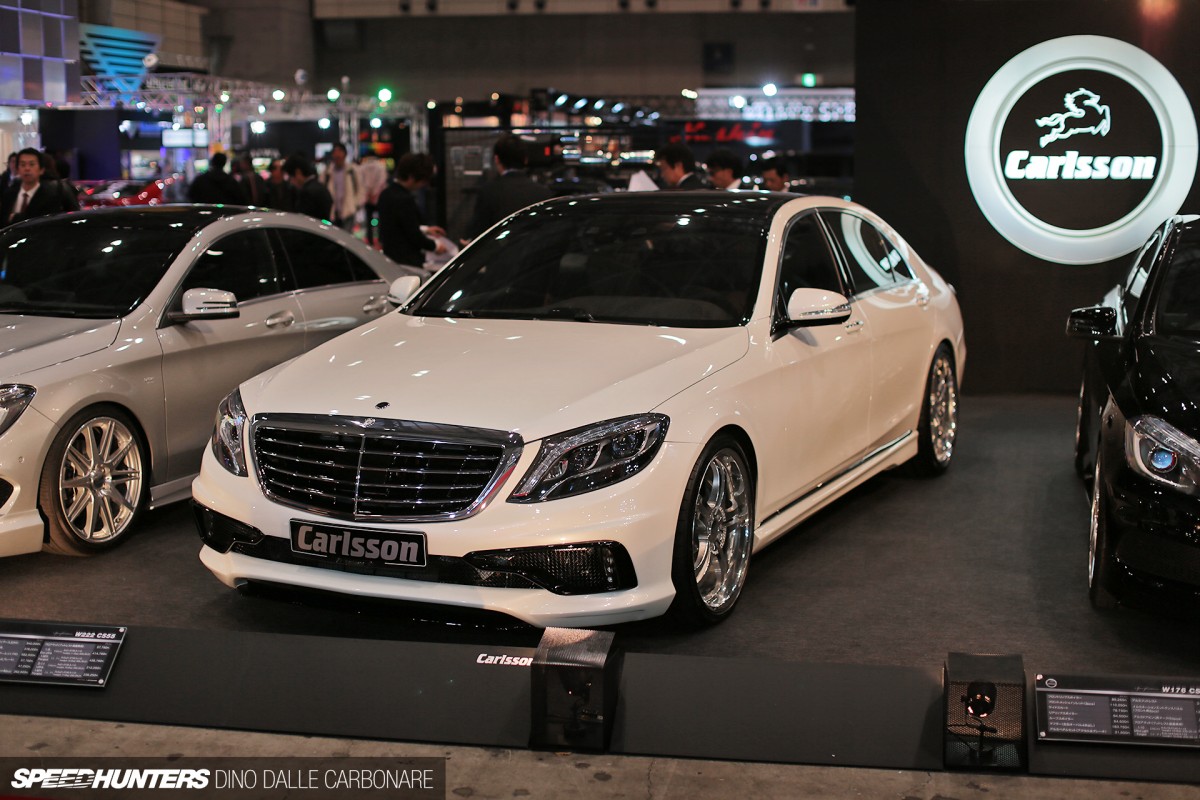 The S-class has always been a hot seller in Japan and with the all-new executive sedan having just hit dealers, it's not surprising that TAS already had some customized examples, like this particular car from German tuner Carlsson.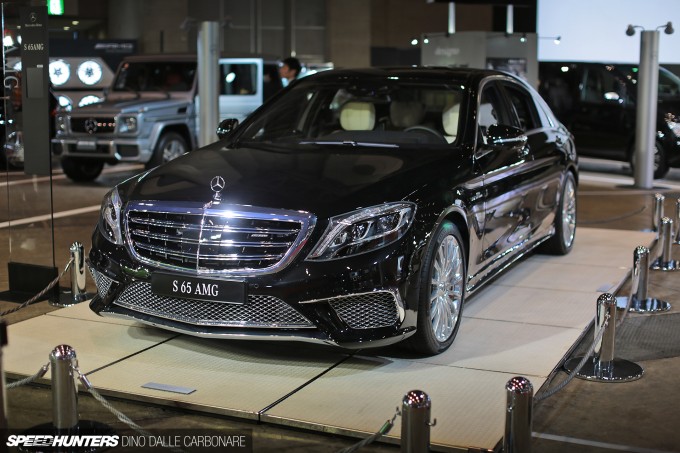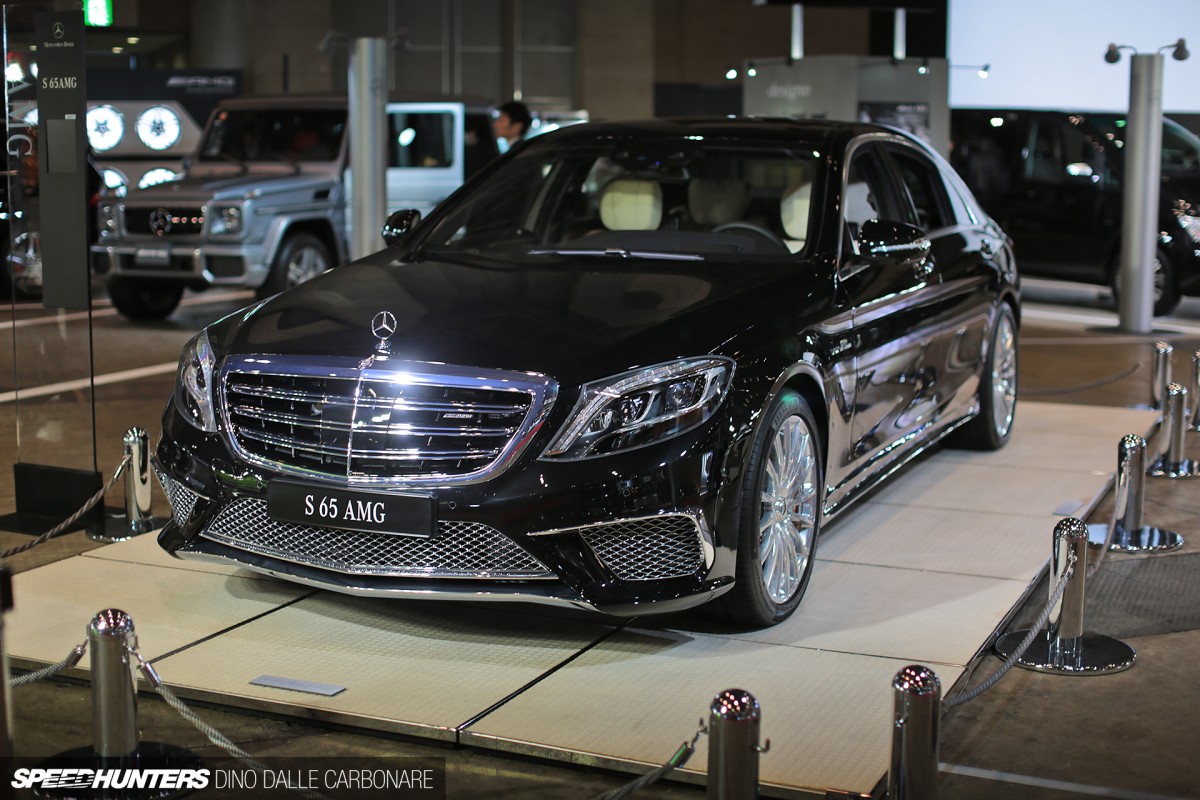 In a surprising move, AMG set up its first ever exhibit at TAS: a big area showing off all the custom options it now offer its customers in Japan. Spearheading their booth was the monster 612hp S65 AMG that was simultaneously launched at Tokyo as well as the Detroit Auto Show. It's great to see that even European manufactures are now taking notice of TAS!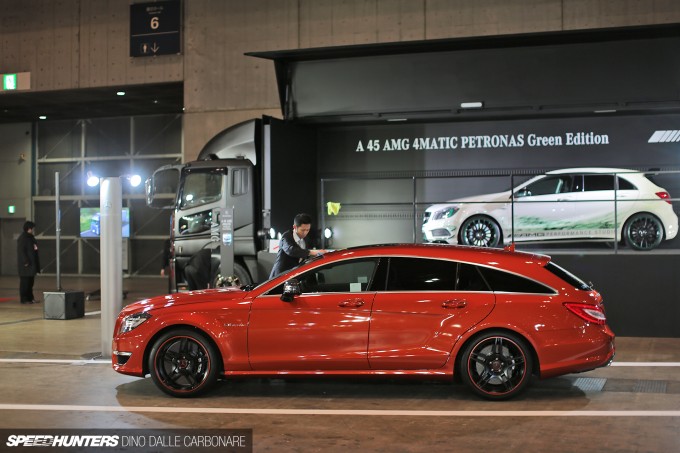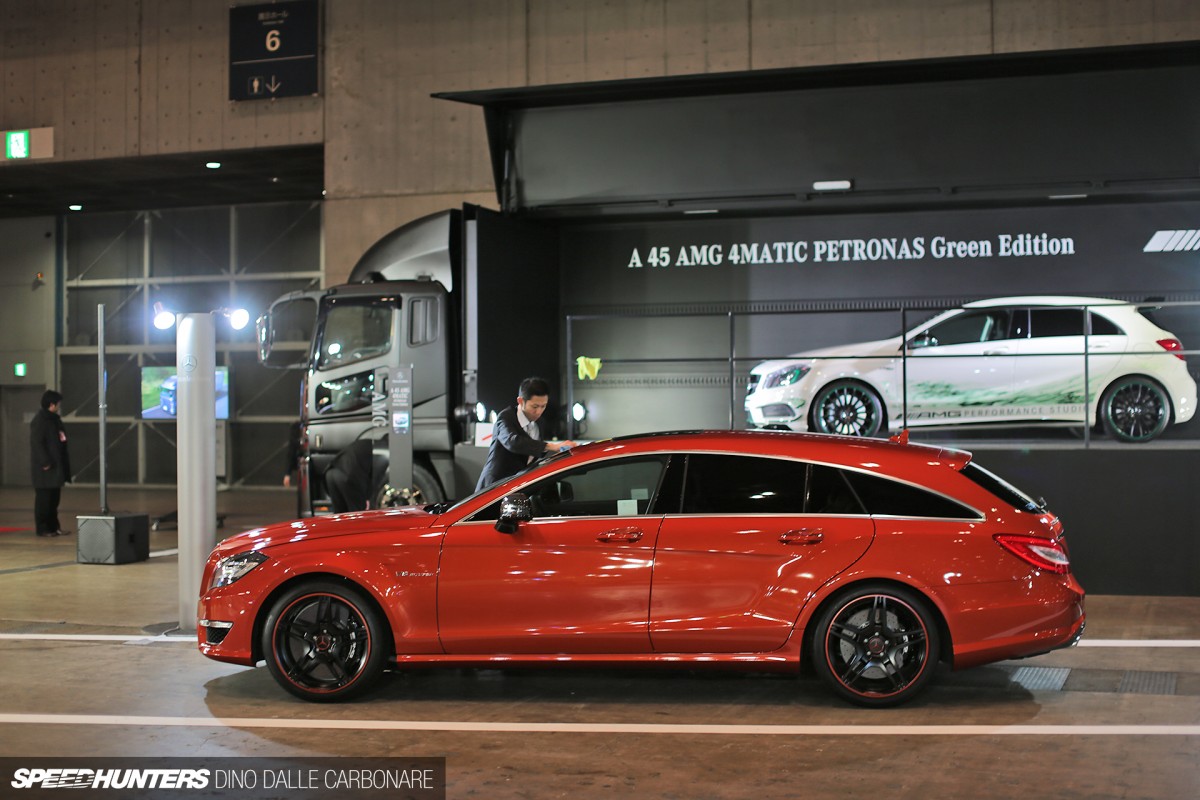 The banana-car. I love this thing, I just spent a week in it last month and I was blown away by that twin-turbo V8 and that glorious shape. I must be getting old, but when you can light up the rears in third gear just for fun, well who wouldn't like that!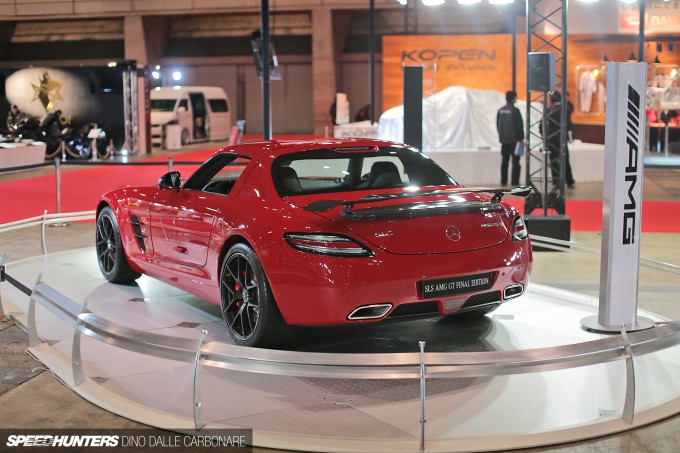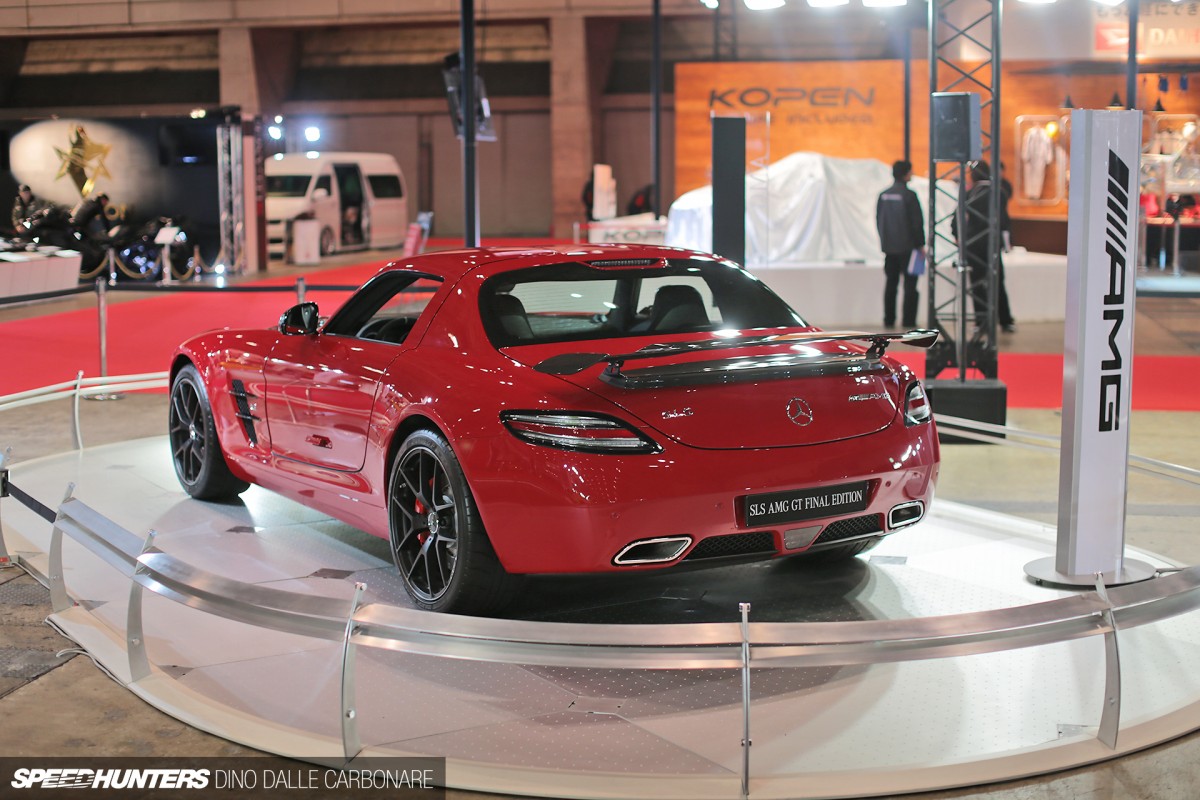 It was another opportunity to say bye bye to the SLS. It's been with us for only a few years but it's made quite an impact. I'm just sad I never got to drive one!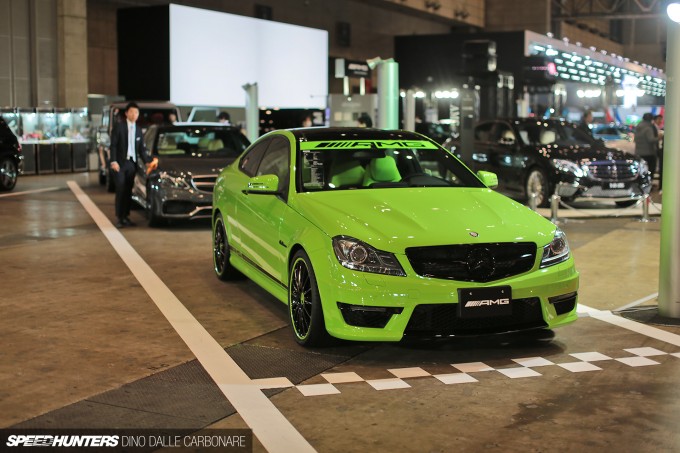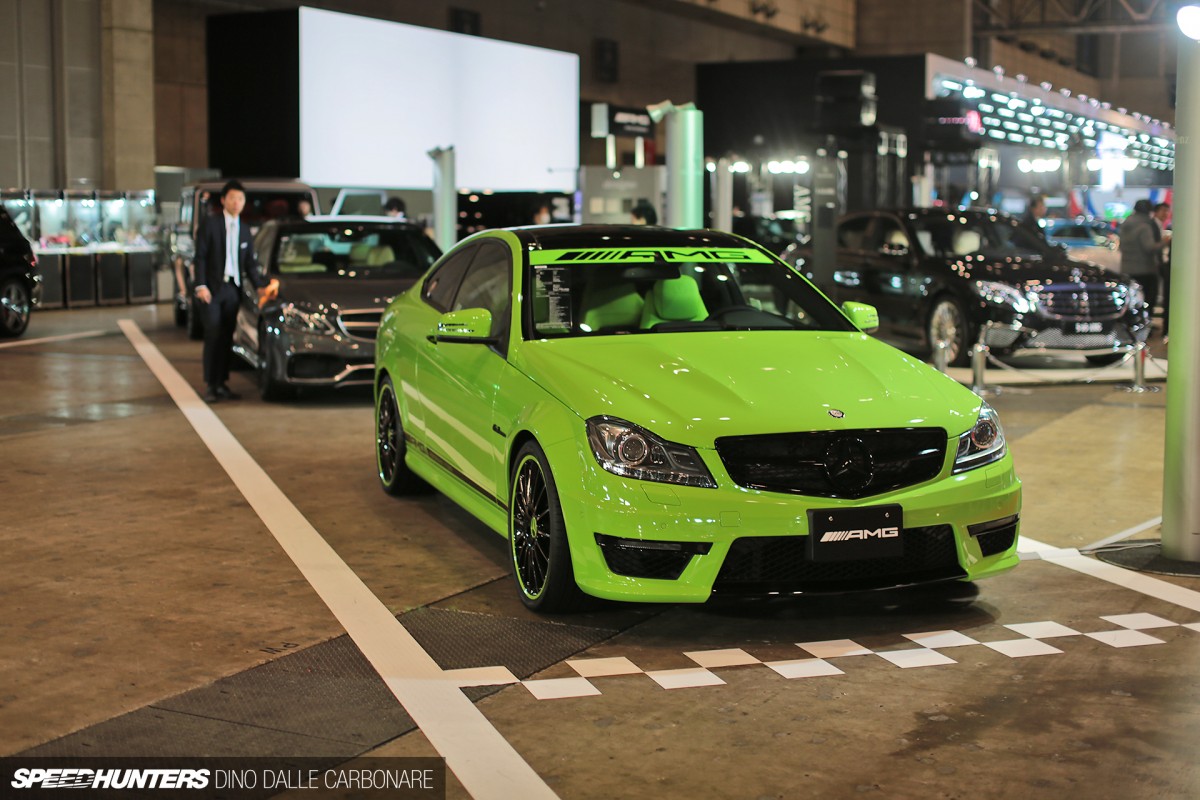 And it's also a bit of a salute to the C-class in all its various guises. With the new car coming this year, the fun is far from over for those that crave performance out of their German luxury sedans. The new C63 will drop some capacity and be powered by a 4 liter twin turbo V8, an all-new motor which will I'm sure have just as much tuning potential as the bigger 5.5 liter unit that powers pretty much most of their range.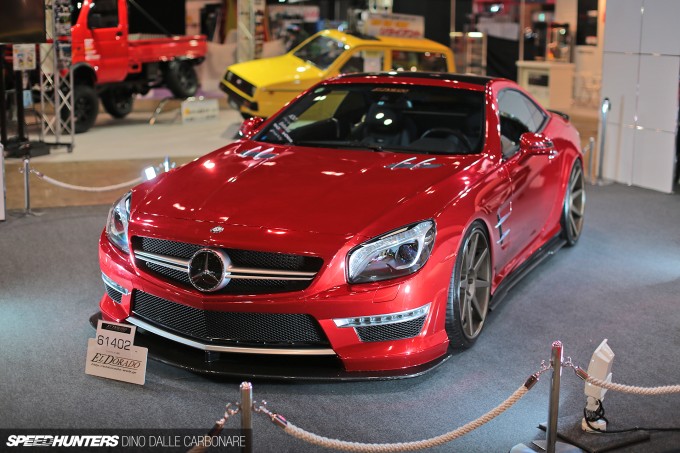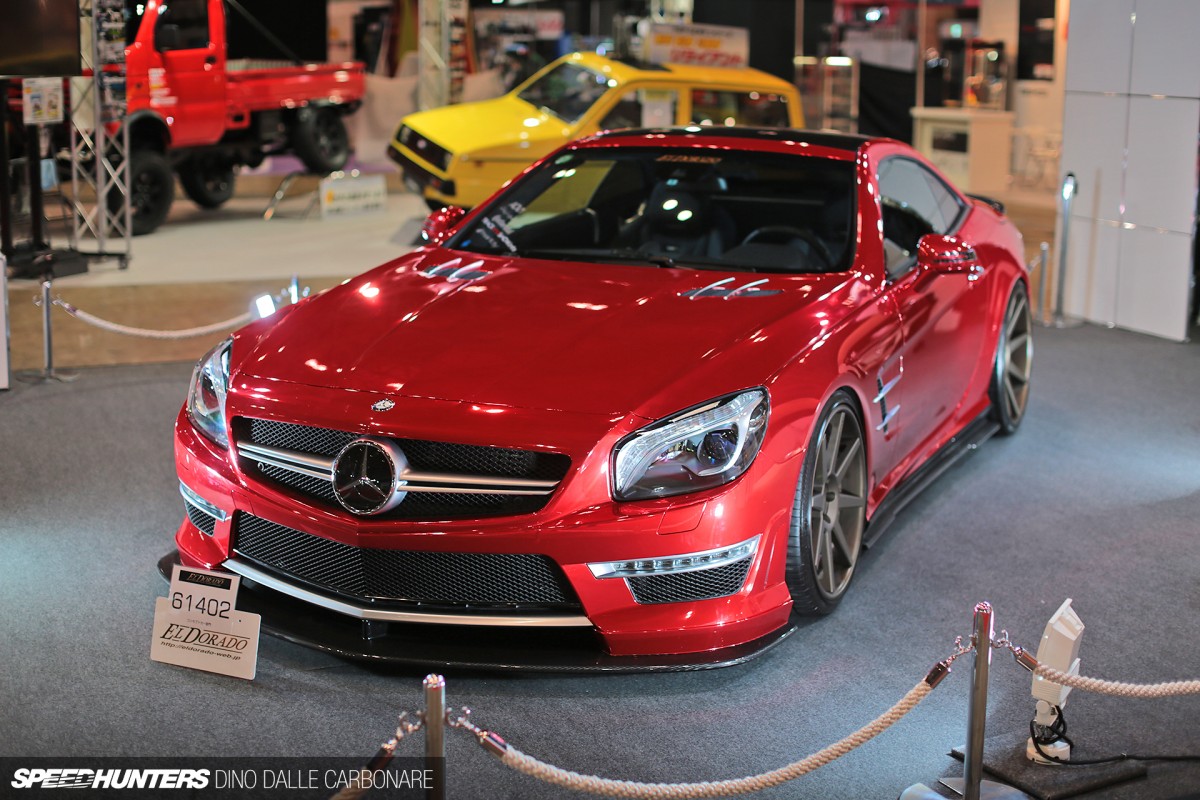 More Benz action with this chrome red, wrapped SL taking full advantage of its air suspension which has been hacked and dropped as low as it goes.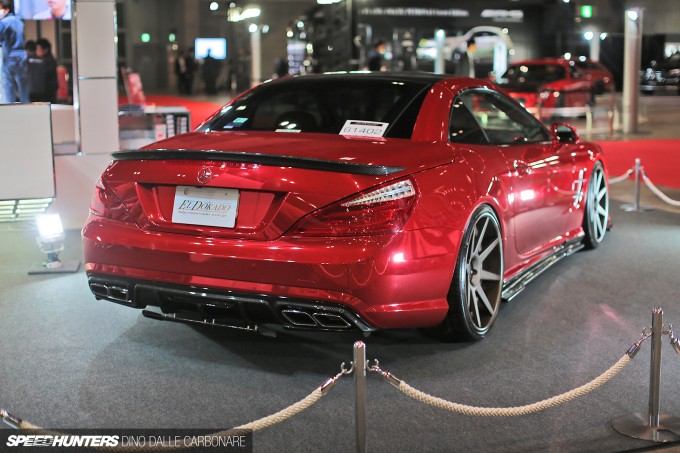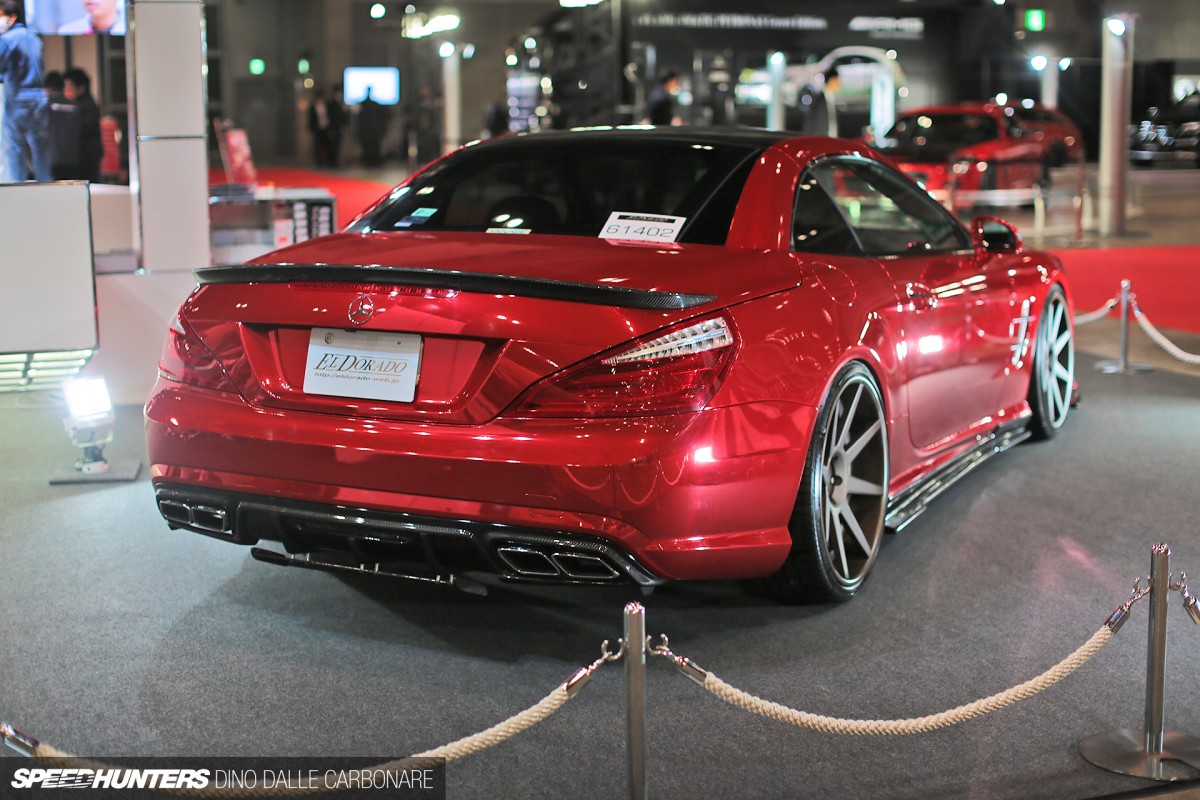 I always thought the new SL looked too sedate and maybe over-styled but this particular car made me change my opinion pretty quickly. The wilder color really suits the shape as do more adequately sized wheels with spot on offset.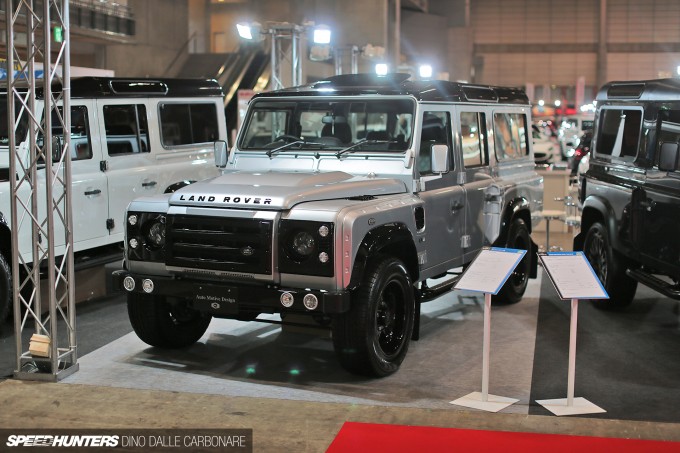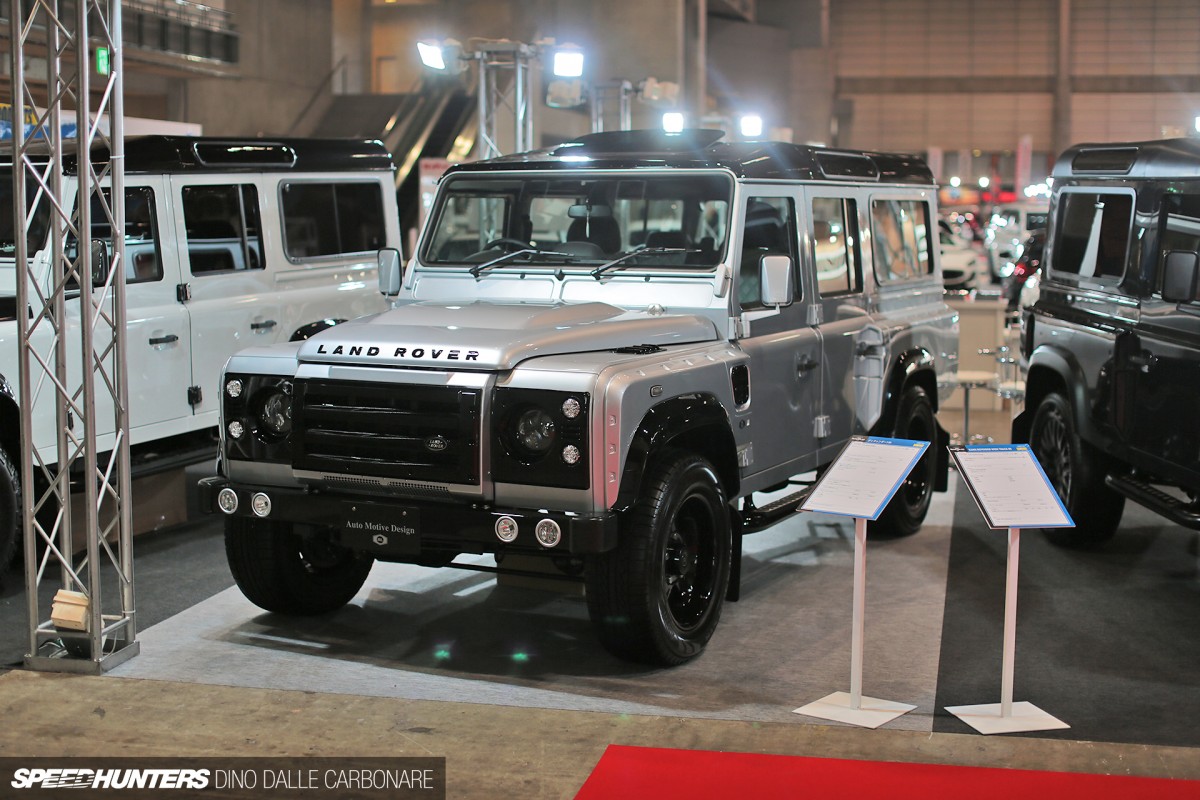 Let's go off on a little tangent now, and take a brief look at this Land Rover Defender from Auto Motive Design. It might not be as popular as the Mercedes G-wagon which has become a status symbol in Tokyo and other cities in Japan, but popularity is growing for these semi-agricultural brutes. They may be able to go anywhere but their use is usually only for a city; a fashion statement more than anything and I quite like them both myself. Perfect cars to tow your race car to the track with!
Impossibly Japanese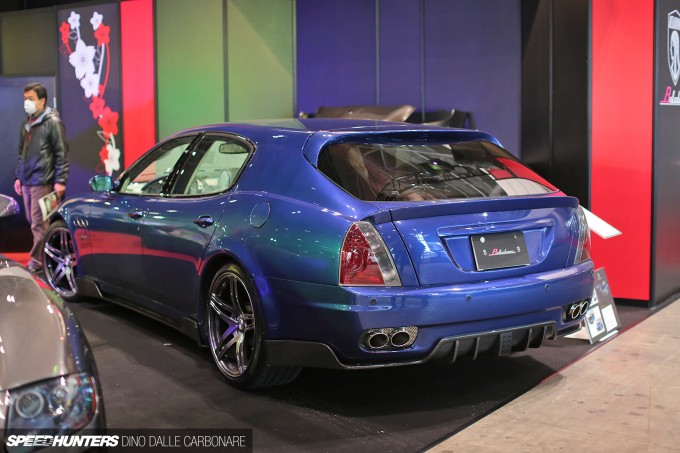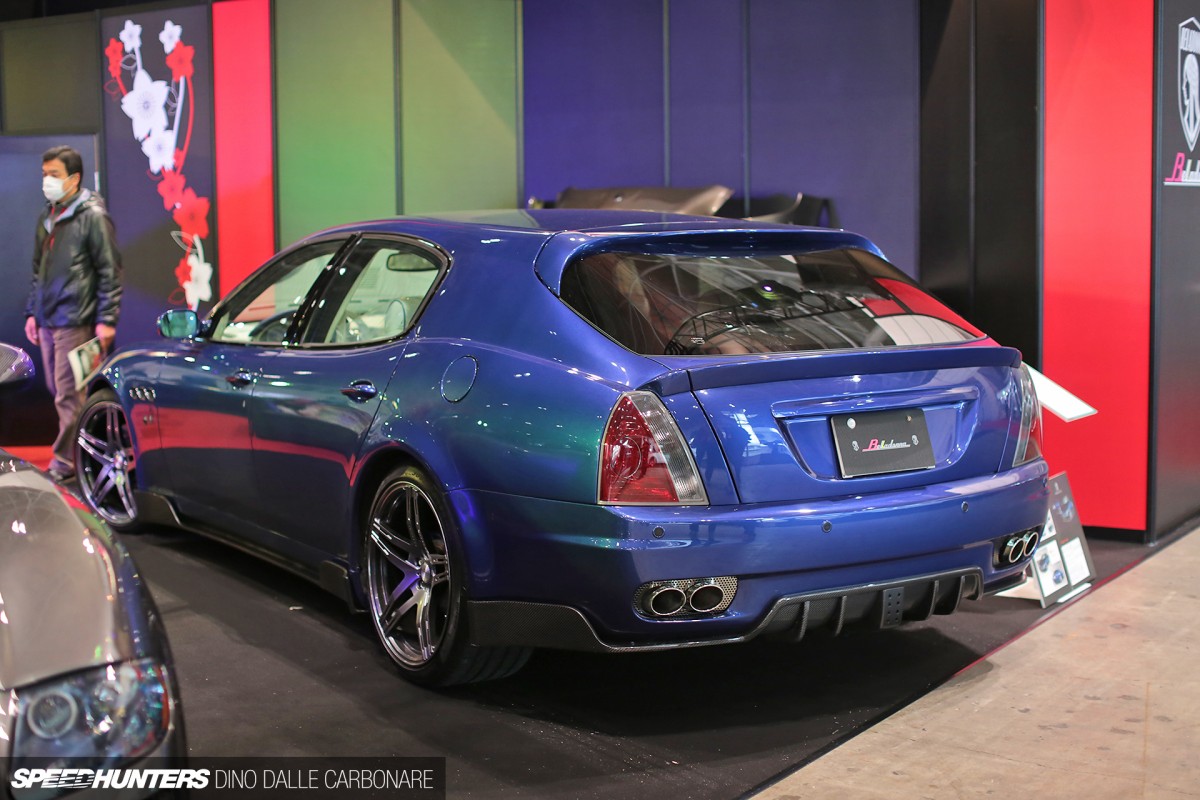 What the…?! Yes that's exactly what I thought when I came across this Beladonna Maserati Quattroporte. Although the Italian 'four-door' moniker should probably be changed to Cinqueporte (five-door) as this Maserati has had a hatchback grafted onto it! Back when I lived in the UK, I used to often pass by a big Ferrari dealer which had a Pininfarina 456 GT Venice wagon on sale for a while, and this Maserati reminded me of that. Pretty cool idea, but the execution isn't too appealing to the eye. Would be cool if more manufacturers built wagons or shooting brakes; something Porsche may be soon doing with the Panamera.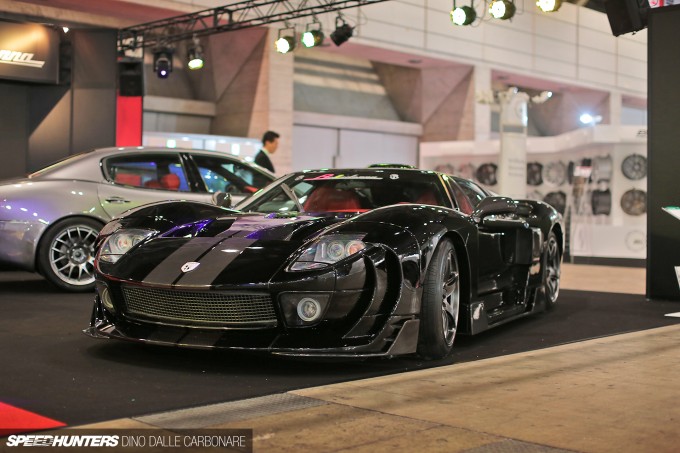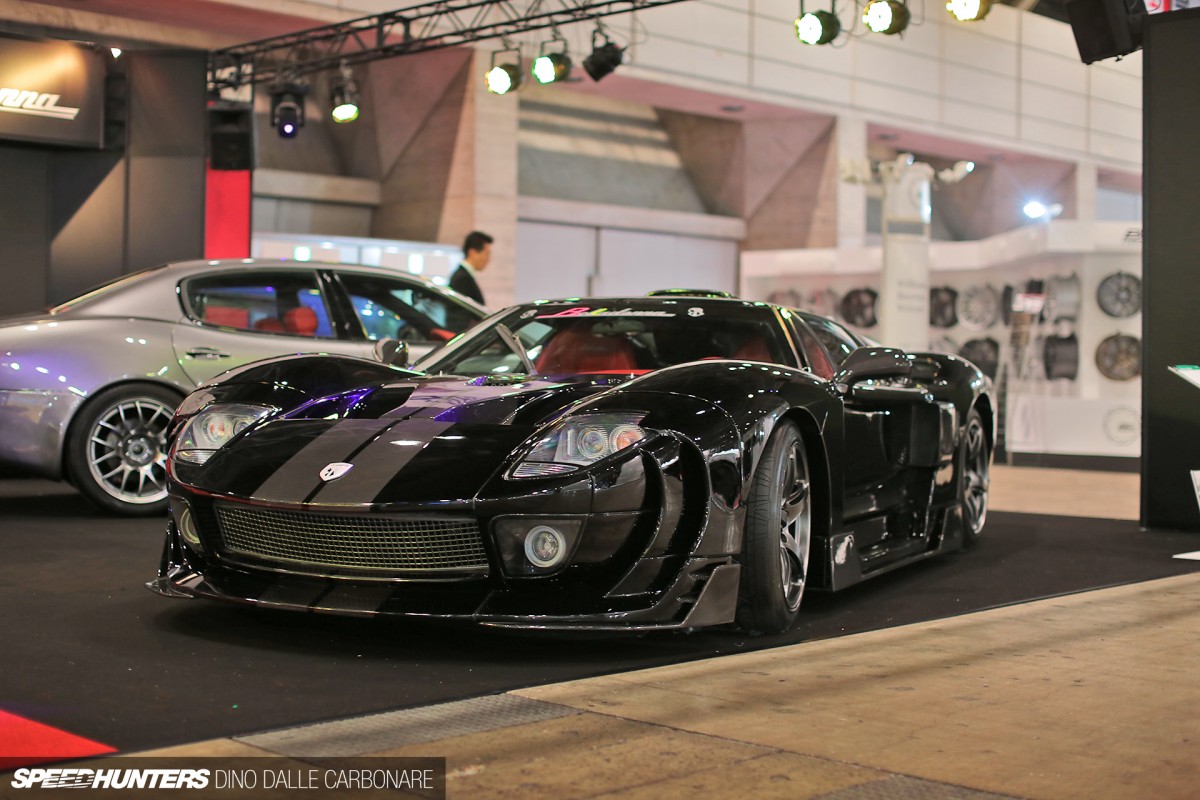 Custom work is what Beladonna (should actually be spelled with a double L, but never mind the picky Italian) specializes in, like taking a Ford GT and coming up with something like this. Crazy!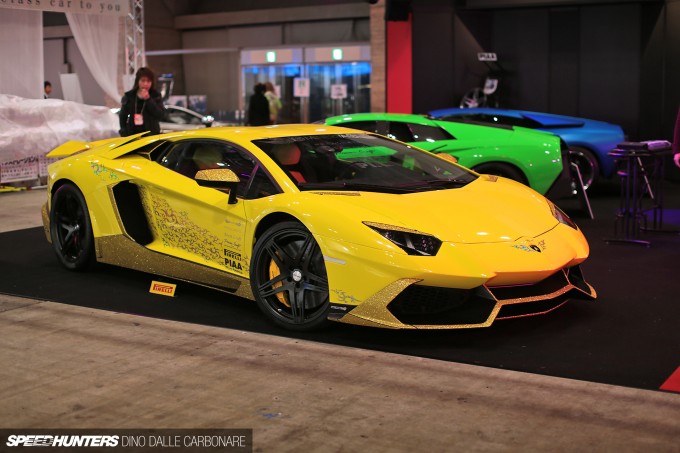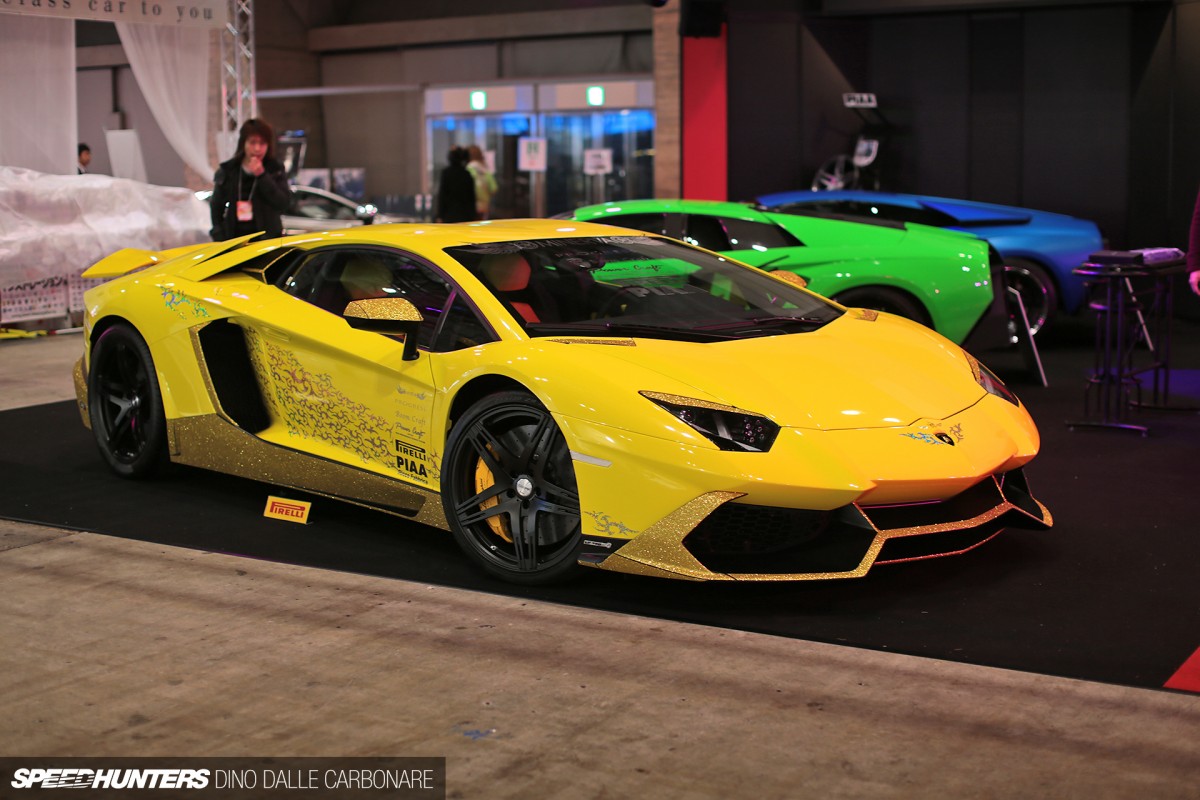 They do a lot of work on Lamborghinis too, offering their bespoke aero parts and as wild a wrap as you may desire.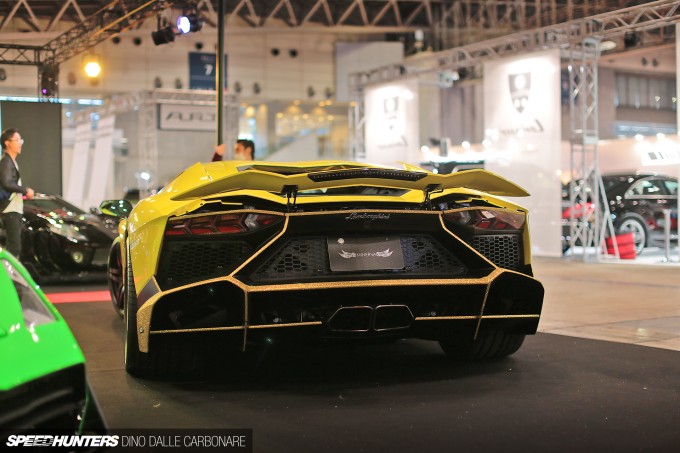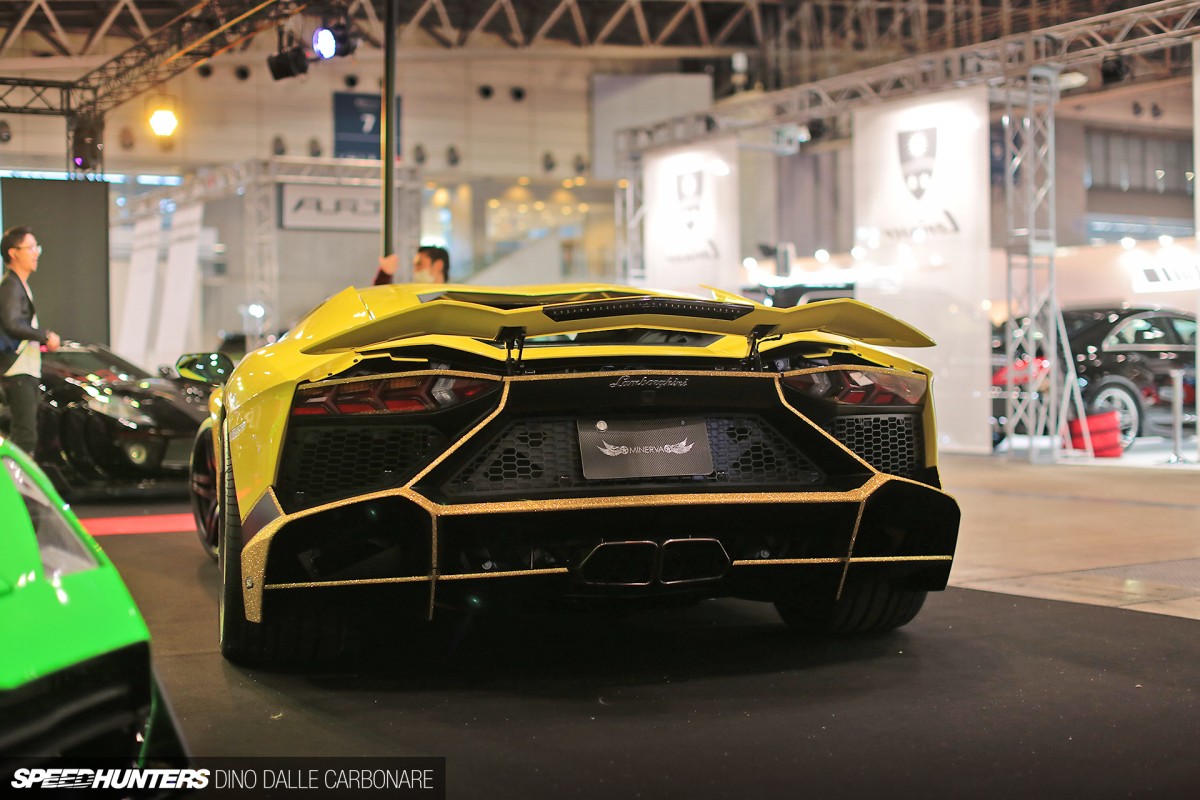 The name of the game here is to stand out, and there's a lot of effort being put on this, especially if we check out what their neighbors on the showfloor were up to…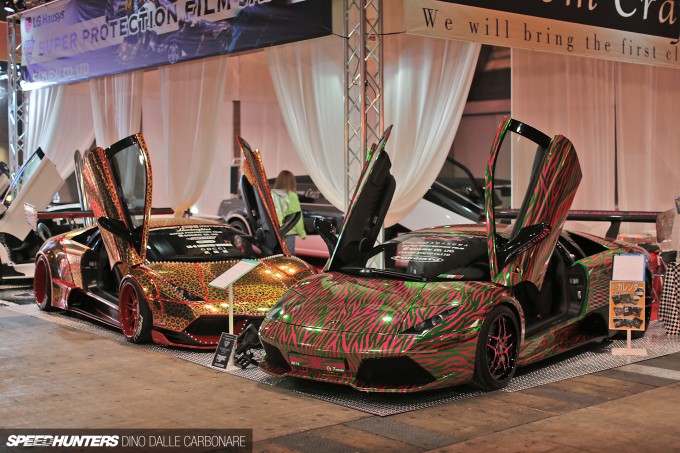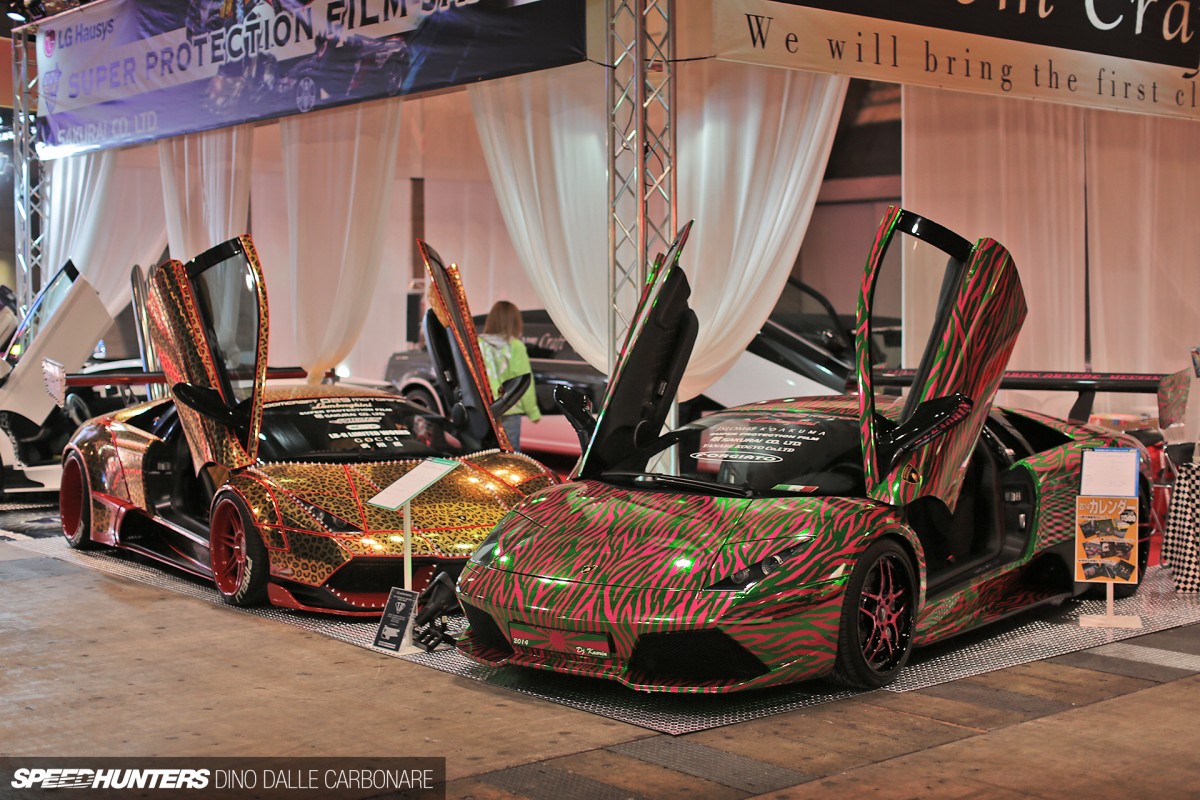 Boomcraft might be the first to come up with a Lamborghini running vertical tekeyari pipes, as you can see in the opening picture. Their leopard-vinyl-covered Murcielago runs an LB Works widebody kit and I have baptized it as the most Japanese Lamborghini in existence!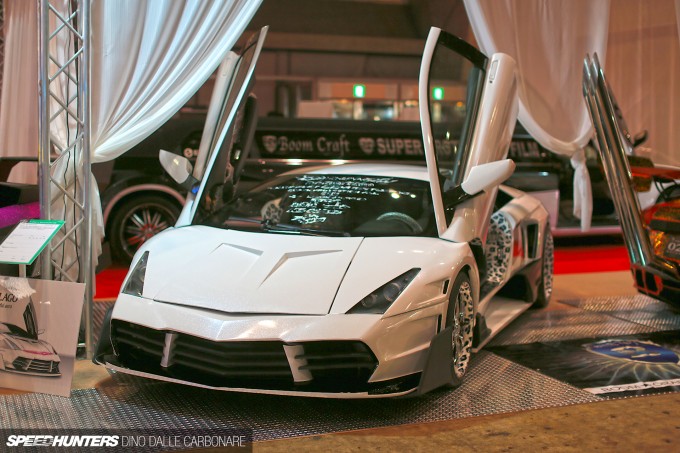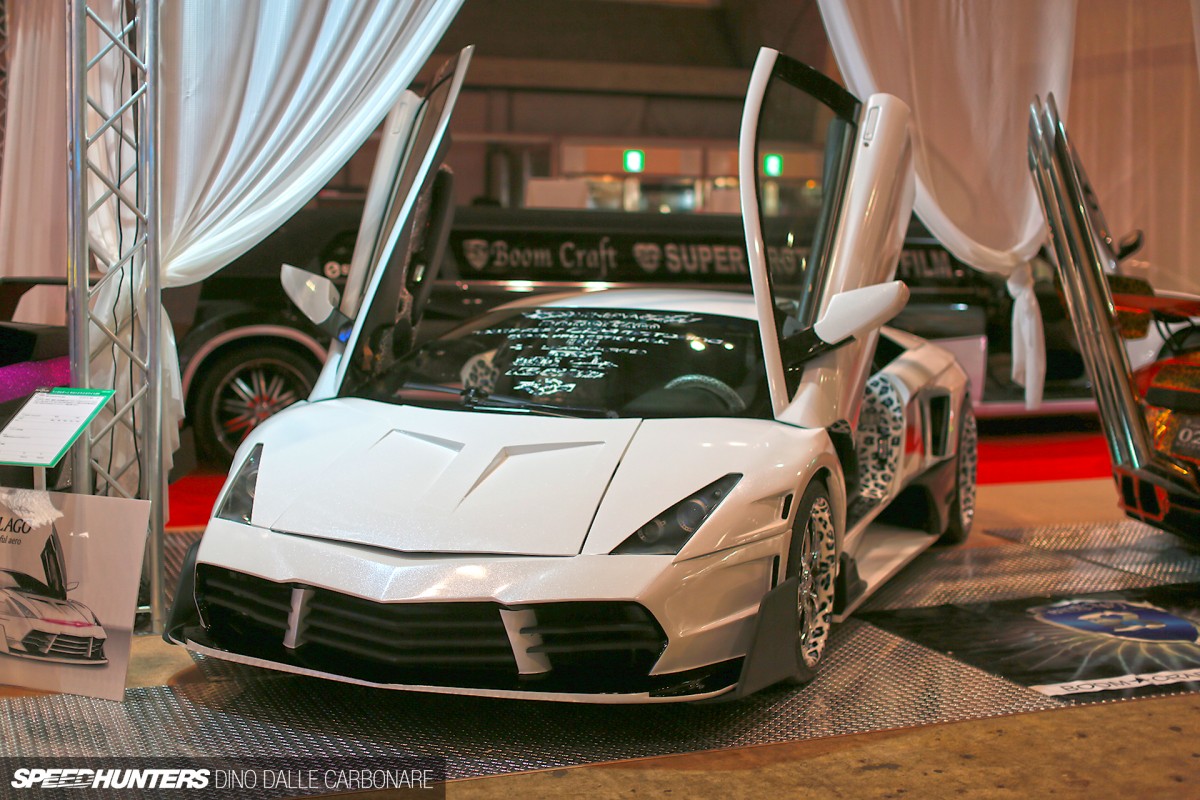 Their Murcielago bodykit replaces most of the front end with their custom work. Even the headlights are modified.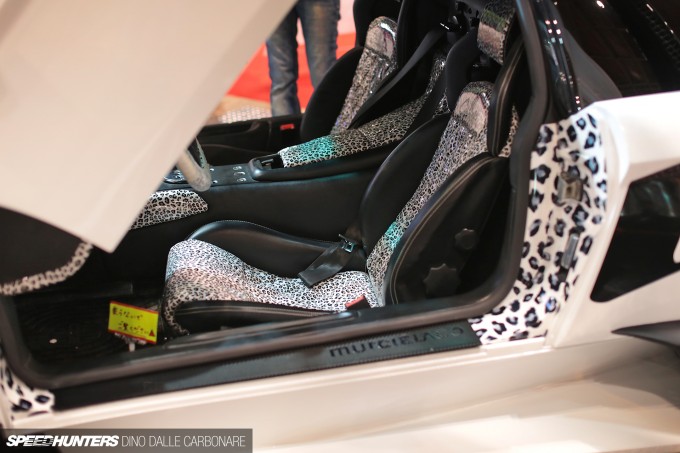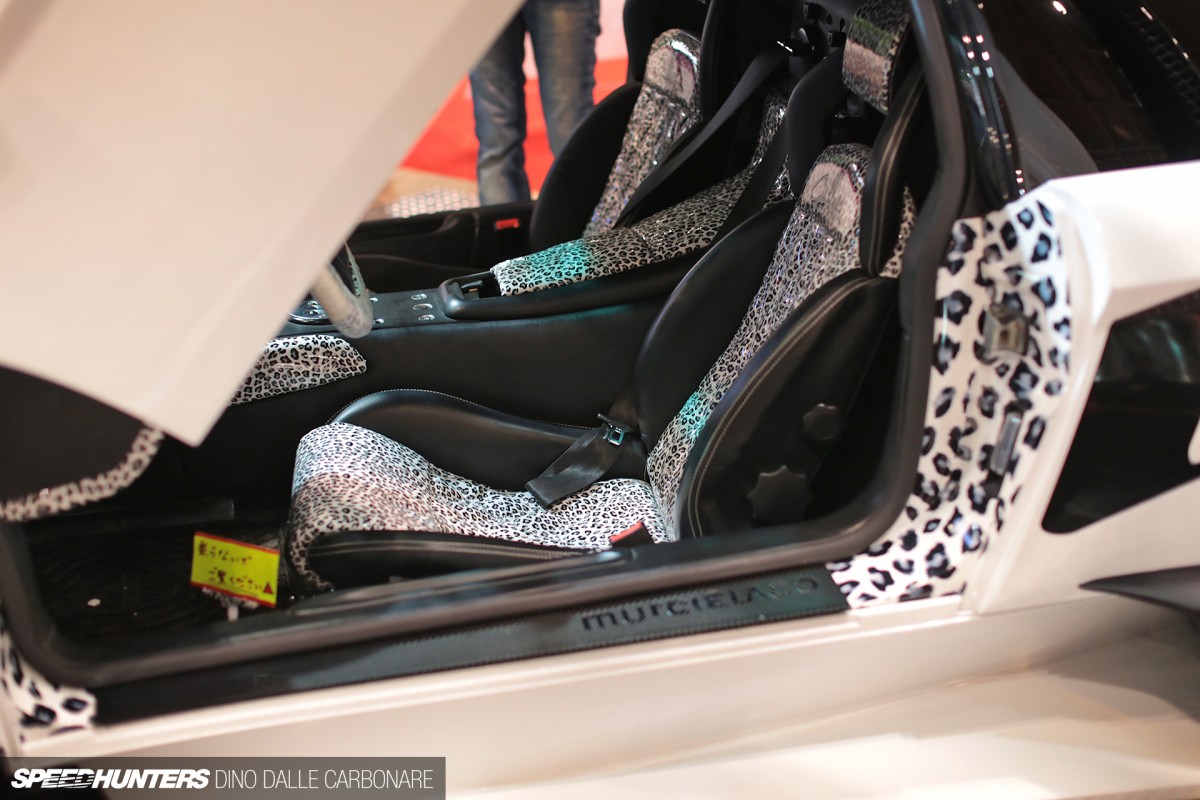 But it's the fully re-trimmed interior and white leopard detailing that is a must on a conversion like this.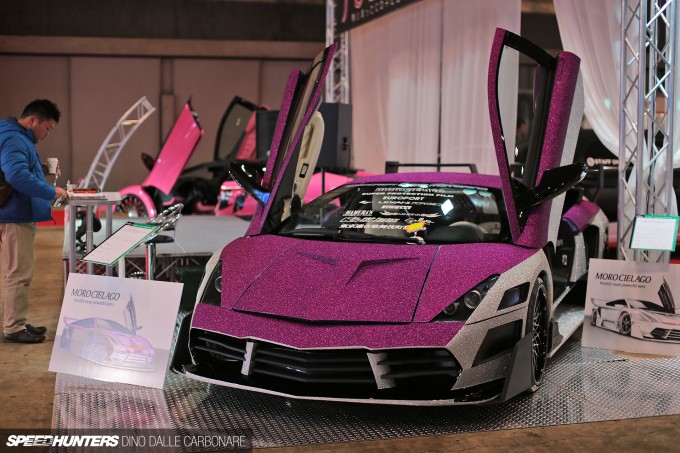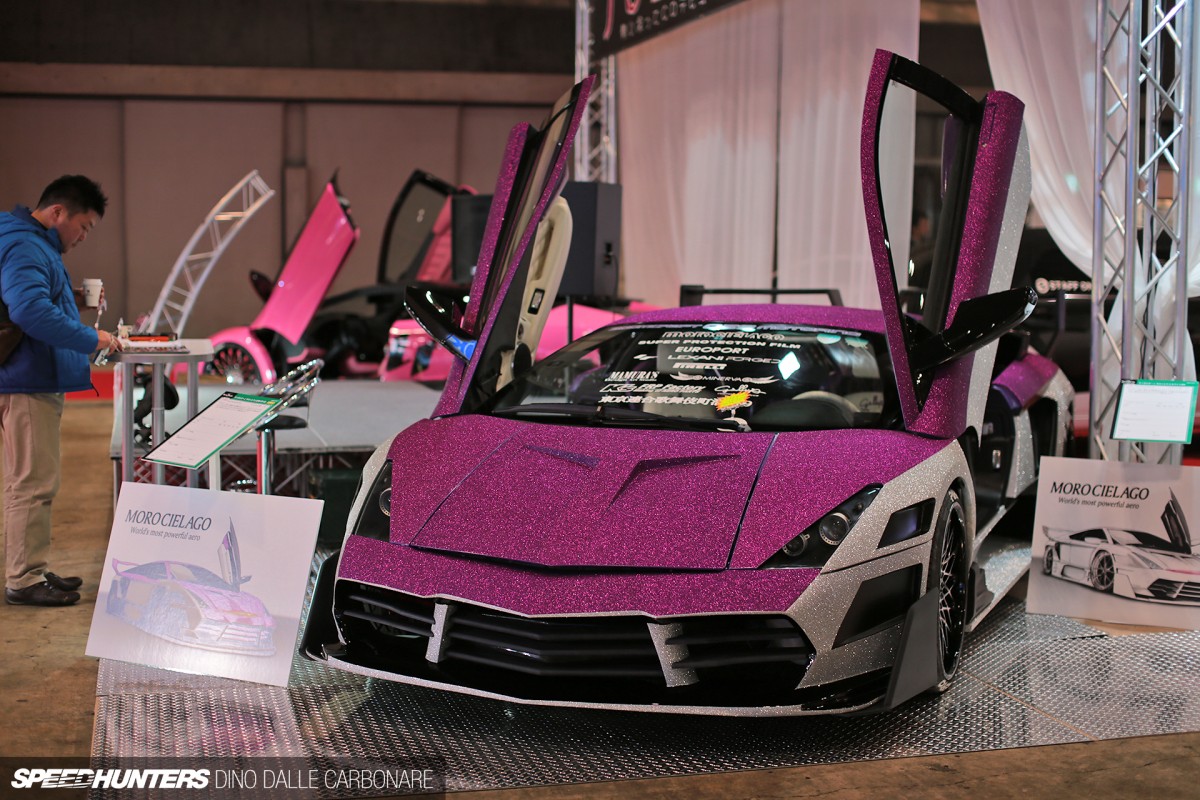 The kit is called Moro Cielago and I just can't help but find it all so interesting how Japan has developed this style and love of doing these sort of things to Lamborghinis. It may be curious to see – for lack of a better way to express it – but alas, it's all part of the culture. Makes the Liberty Walk conversions seem modest now doesn't it?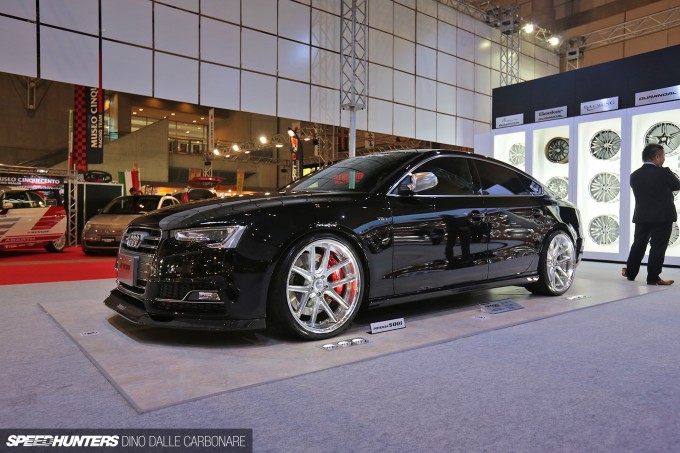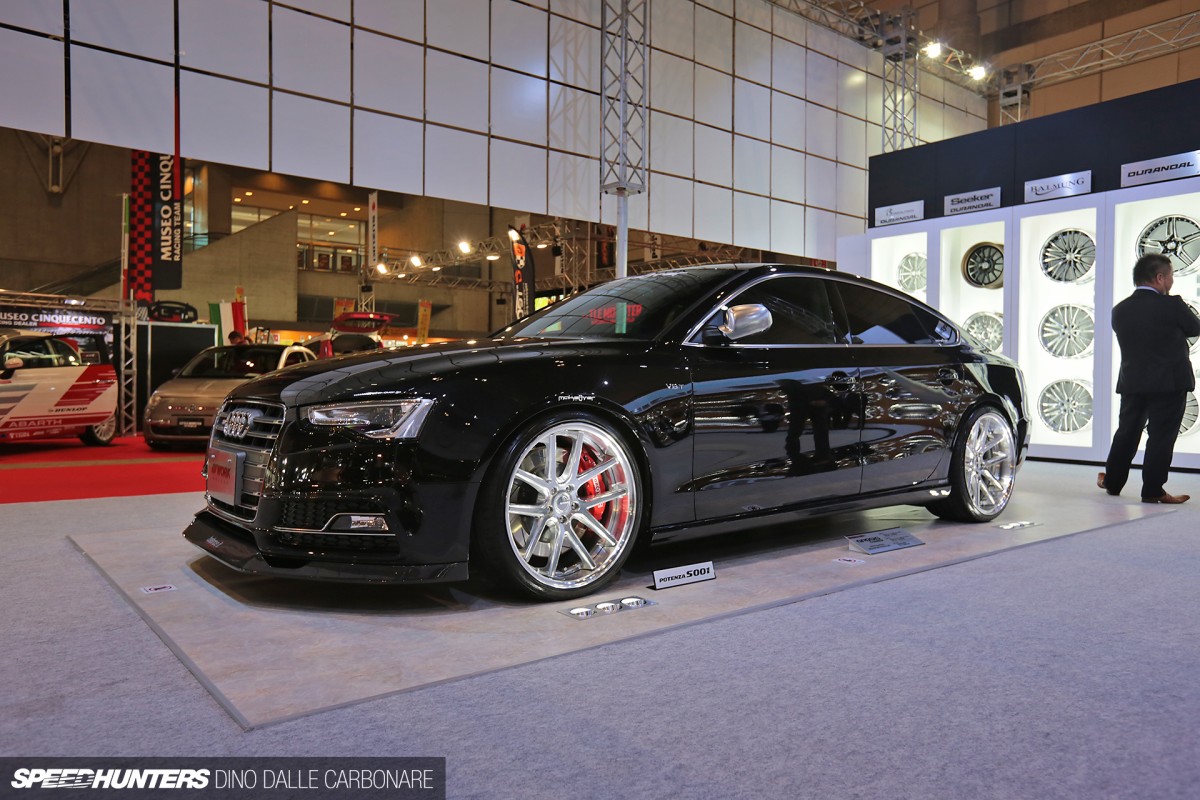 That pretty much rounds up the import side of things, and while there was still much more to show, it's our usual look in the Makuhari Messe parking that will be next, before I wrap things up from TAS.