The Liberty Walk invasion continues
It's 9.00am Friday morning in Japan and the doors have just swung open at the Makuhari Messe, allowing a monstrous crowd of media to spill into the halls of the 2014 Tokyo Auto Salon. Since I figured you wouldn't want to wait a whole day for a taste of what this year's show has to offer, yesterday I paid my usual pre-show visit to TAS while the tuners, manufacturers and parts makers were busy setting up their booths.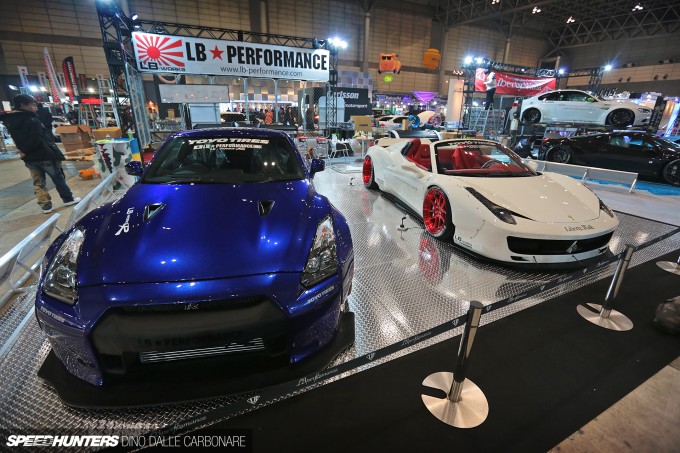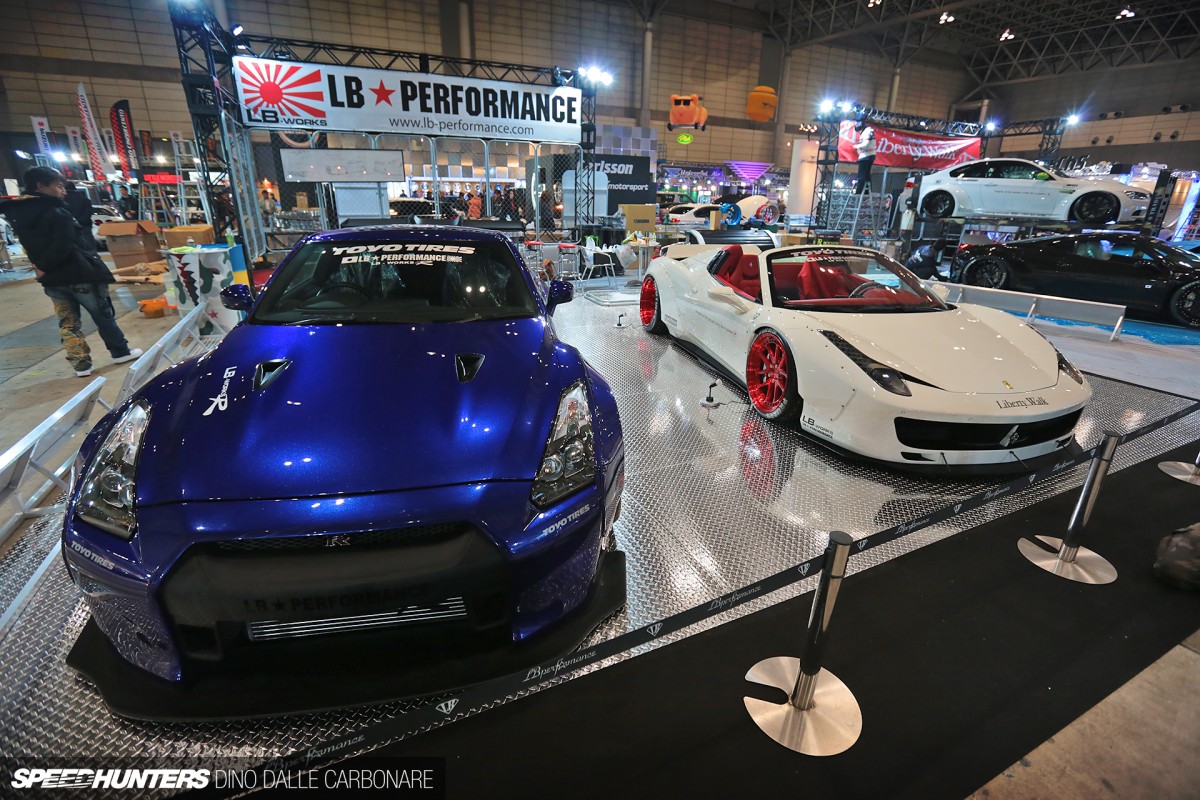 My first port of call was a quick stop at the massive 13-car-strong Liberty Walk display. After seeing the success its US demo car enjoyed at the SEMA Show in Las Vegas a couple of months back, I just had to see an LB Works kit-equipped Ferrari 458 up close. After weeks of checking out Kato-san's Instagram feed I knew exactly what some of the cars looked like, but no matter how many pictures I've seen, nothing quite prepared me for the visual impact his wild kits had on both the Italia and the candy blue R35 parked next to it.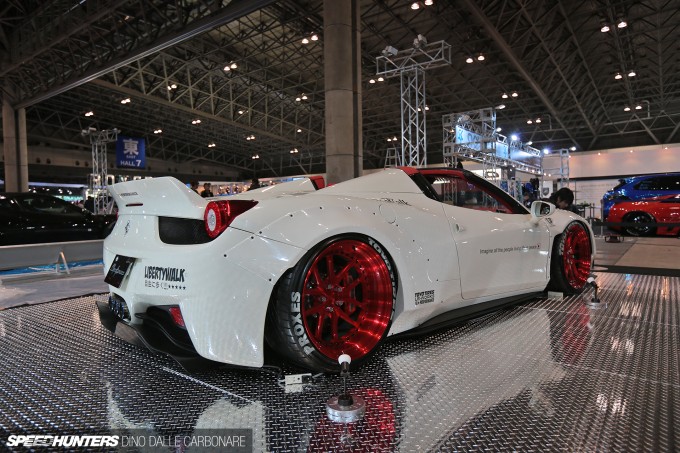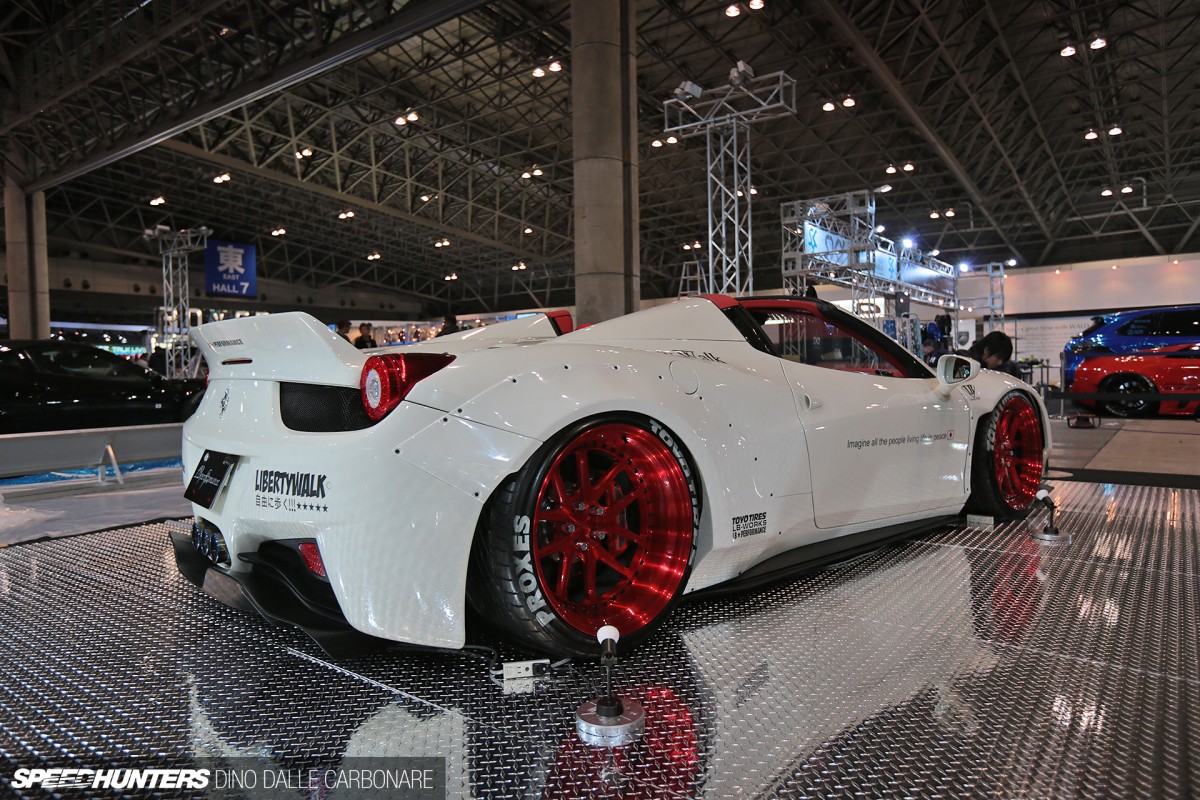 I'm glad the whole red wheel thing is catching on too… With the roof down, the Ferrari's rear three-quarter view is simply mouthwatering; those fender flares just containing the aggressive offset of the wheels.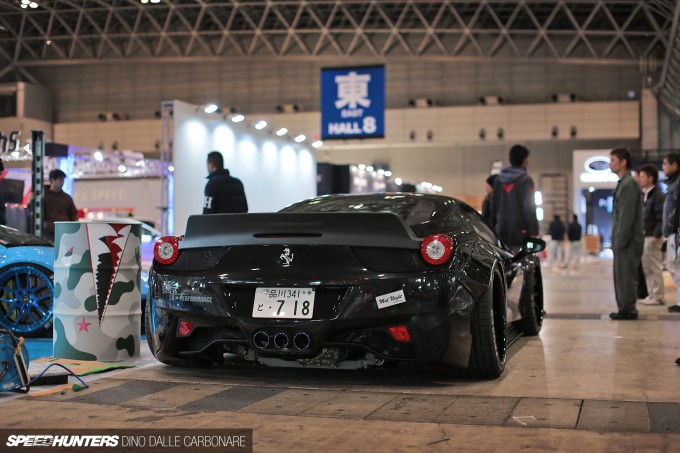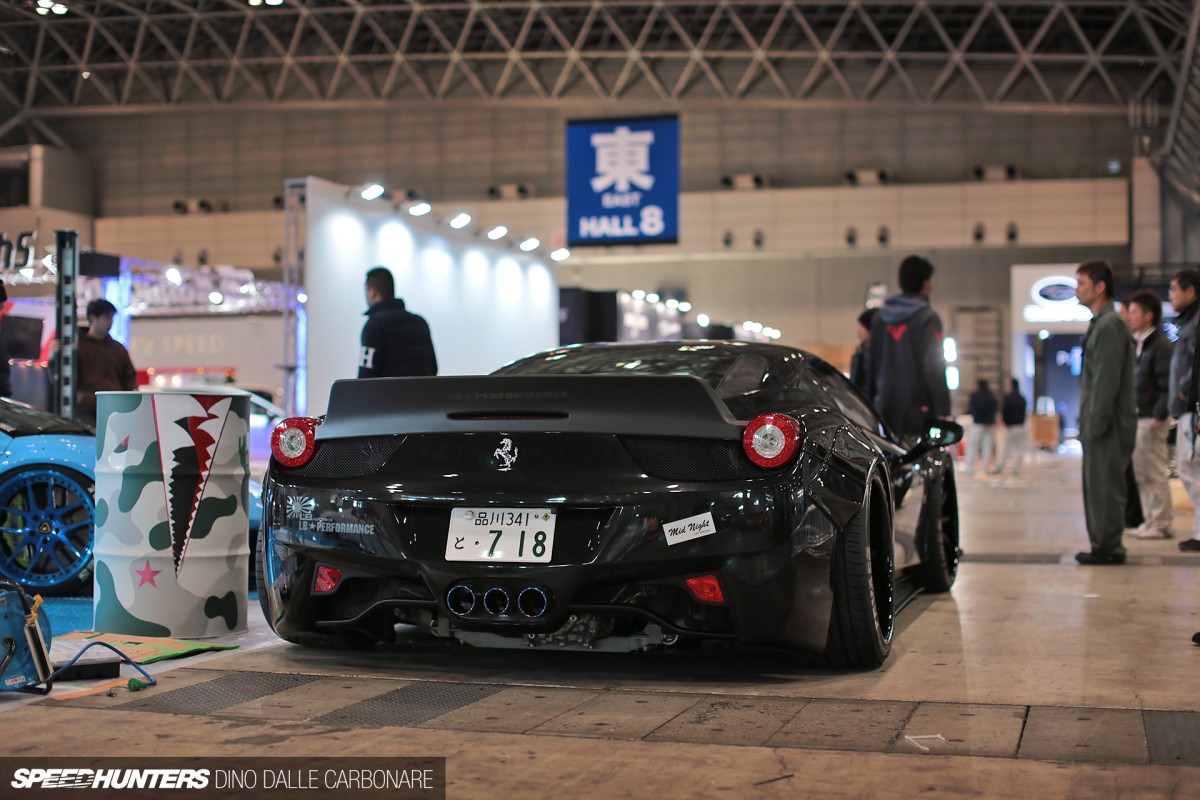 If the Spider isn't for you, the black 458 hardtop Kato also brought along to the show is bound to satisfy. I just can't stress how damn low these cars sit! Once the rear diffuser is fitted (it was yet to be installed on black car at the time I grabbed this picture) there is less than one centimeter of ground clearance…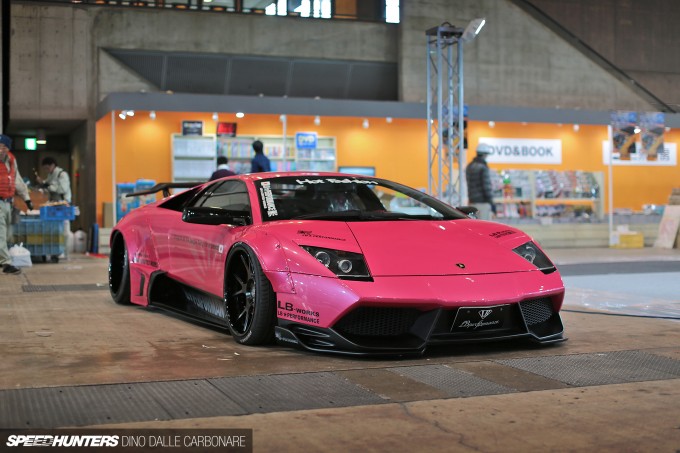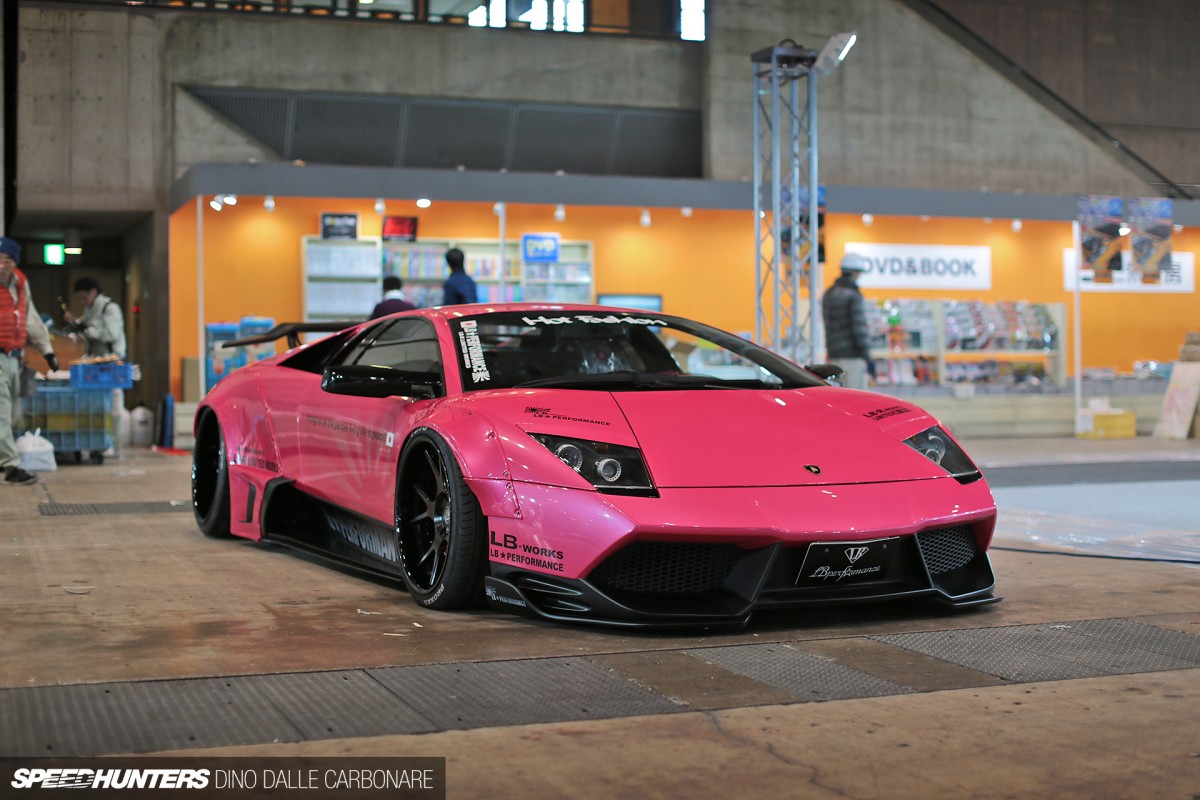 What was I saying about ride height? Liberty Walk is on a true roll. It had one of the most talked about cars of SEMA and now it's well on its way to being a stand-out exhibitor at this year's Auto Salon. While this pink Murcielago was great and all, it was Kato's two Kenmeris that I was really itching to see. However, due to some delays they weren't going to be dropped off until later in the night, so you'll have to check out our Instagram feed today – or wait for my next post from the show – to see them in detail.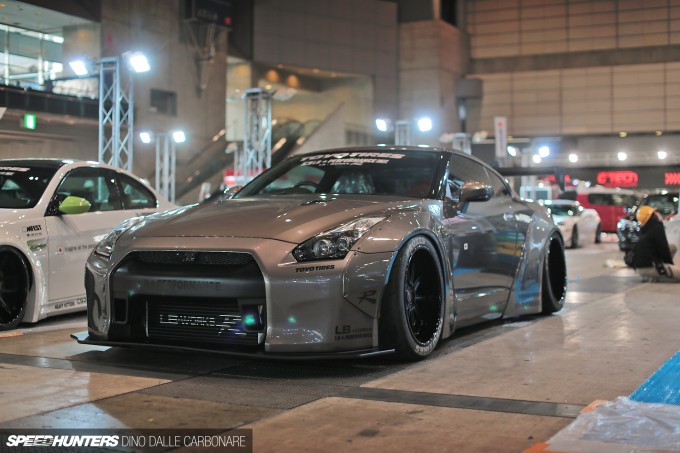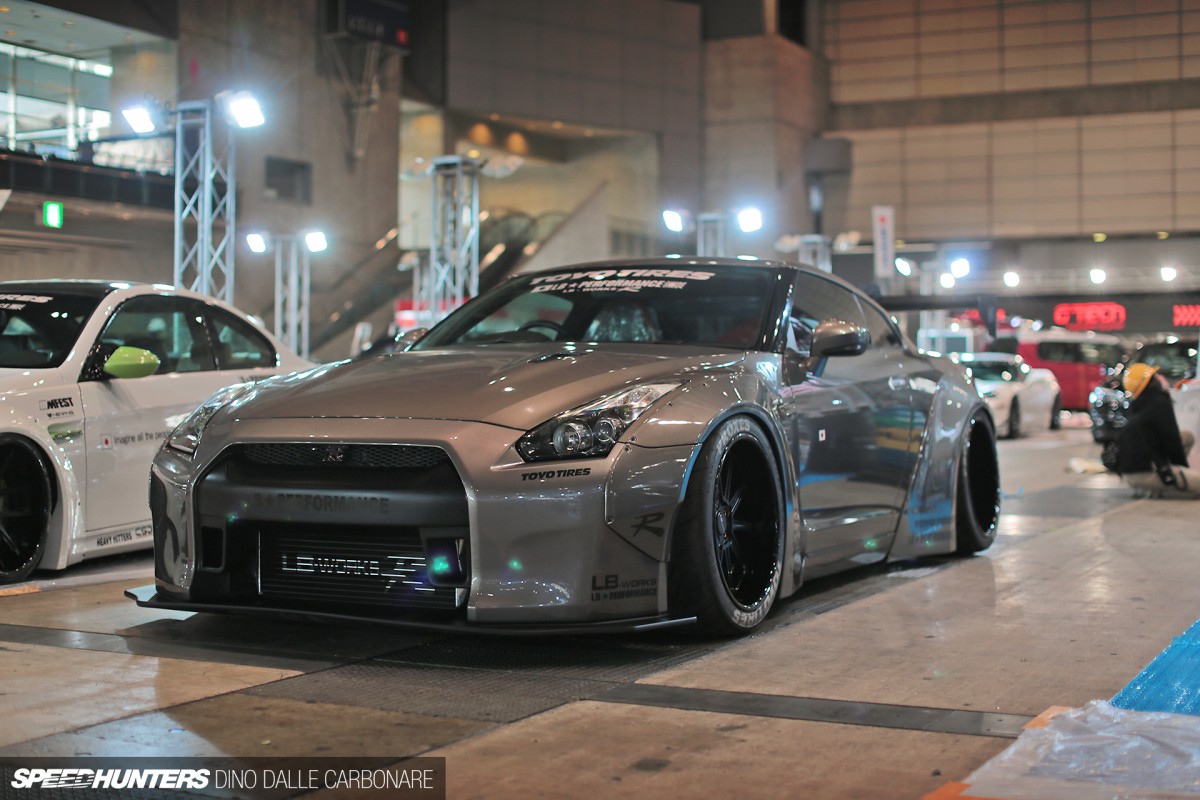 And yes, if you're one of the fortunate people heading to the show over the weekend, you'll get to see more than one of LB Works' GT-Rs too!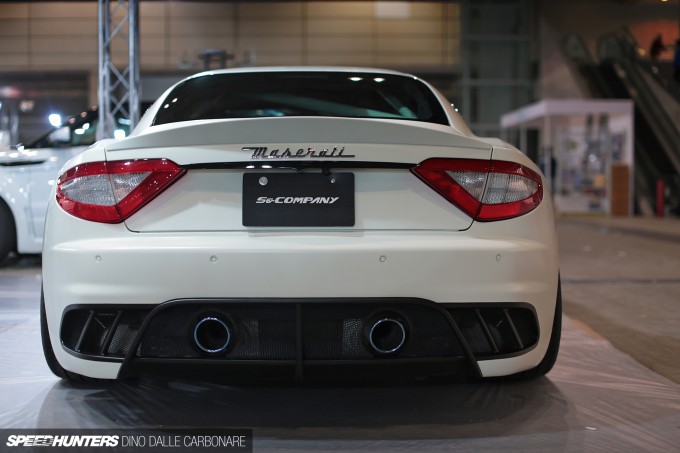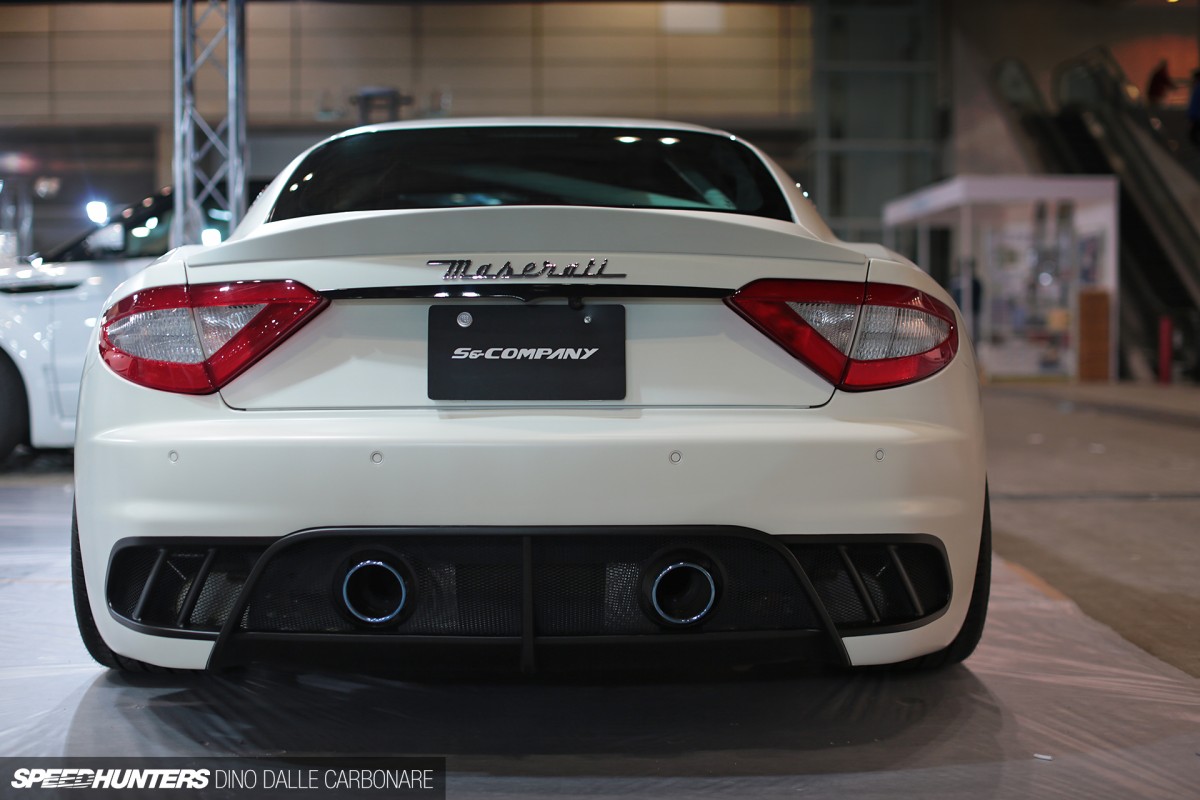 It's not easy to stand out among a sea of prohibitively expensive exotica, but the moment I spotted the S & Company Maserati Gran Turismo MC Stradale I just had to go in for a closer look. The car sports S & C's latest satin wrap, which looks and feels remarkably like real paint.
The KM4SH 86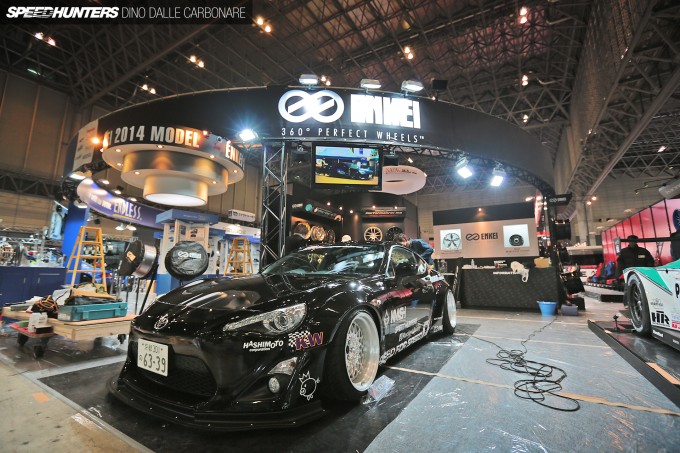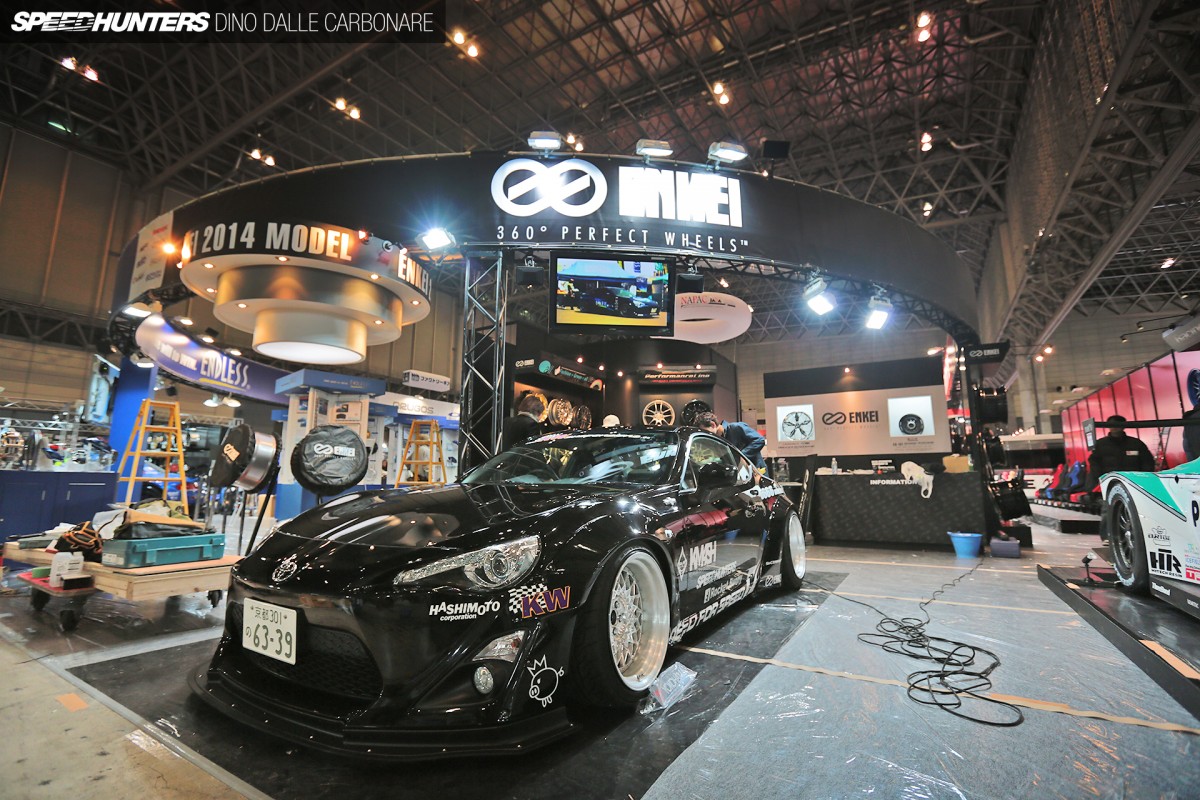 It seems like a long time ago since we began chatting to Miura-san of TRA Kyoto about collaborating on a unique series of aero parts. After much discussions, translation, and numerous 3D renders, I was blown away by how good the KM4SH 86 turned out. I love how aggressive it manages to be, without being over the top, and that front lip spoiler looks even better than it did in digital concept form. The soon-to-be-released 6666mesh wheels from Enkei are just what the doctor ordered for a kit of this nature – you just can't argue with copious amount of lip mated to a classic center.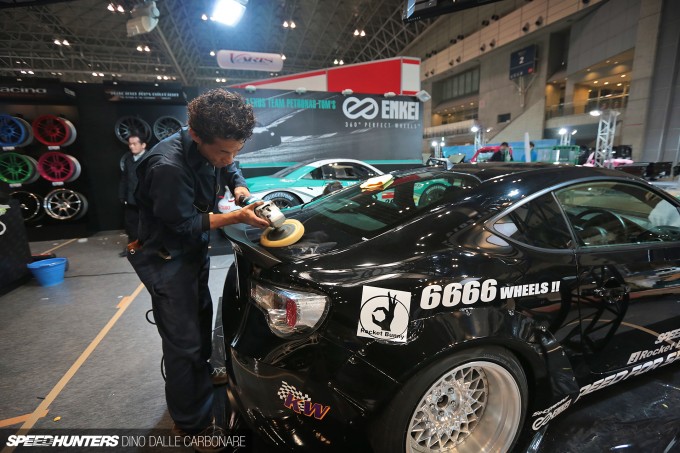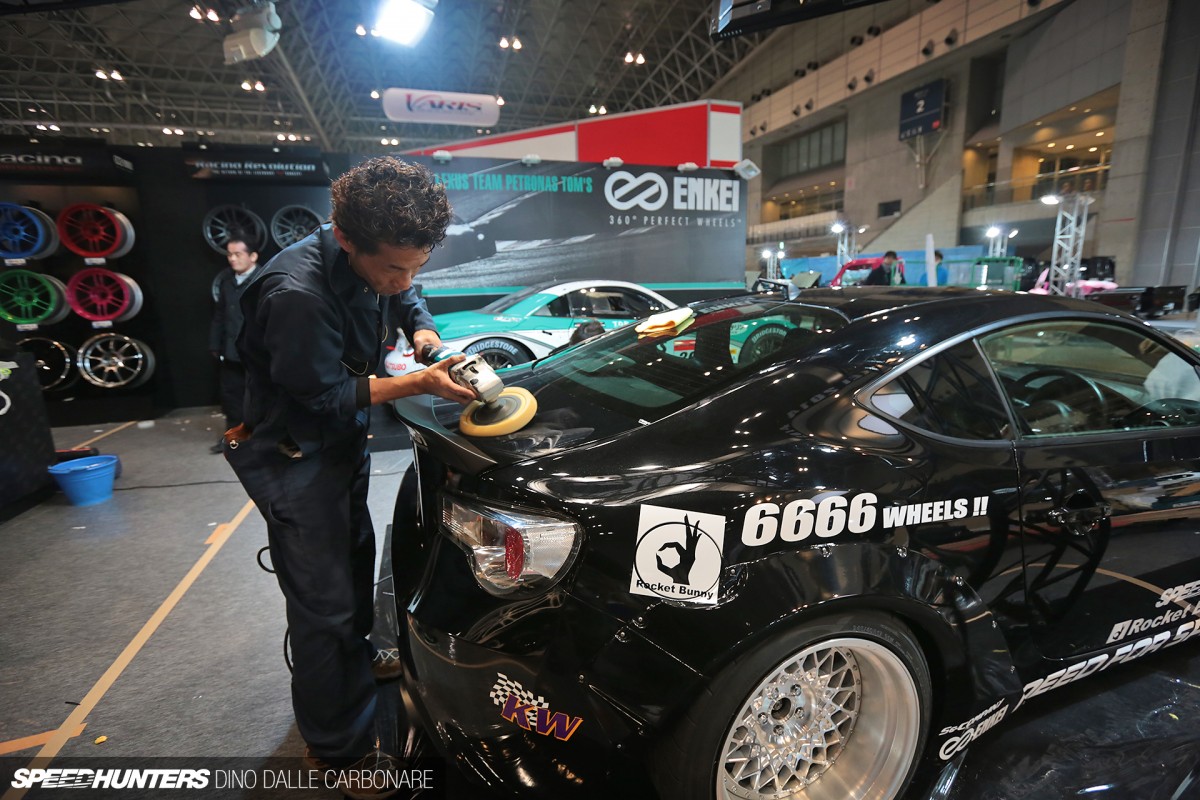 The guys at S & Company were making sure the black body shined like a mirror thanks to a selection of Kleers detailing products. You can read more about the KM4SH project here.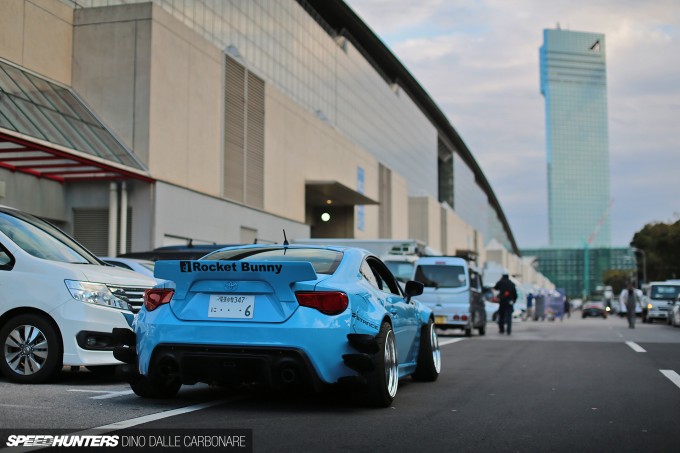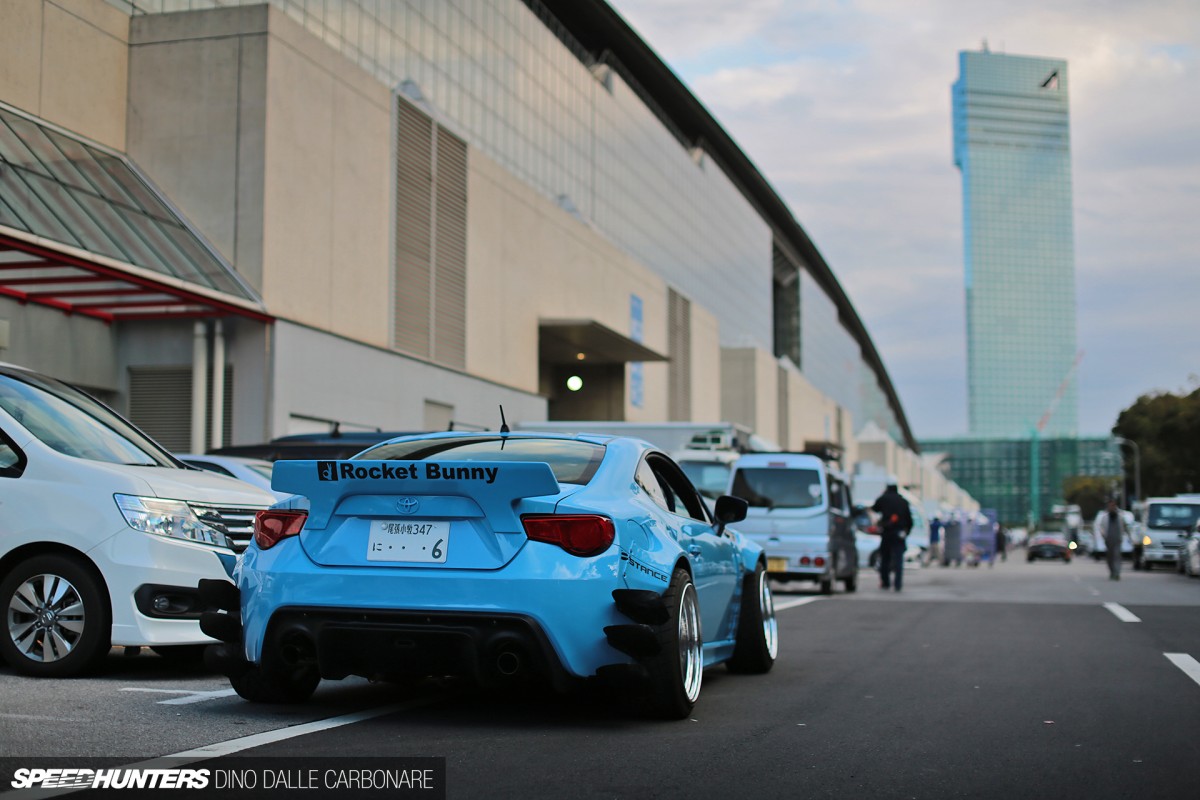 I will have to ask Miura-san how many cars at this year's show are fitted with his aero parts.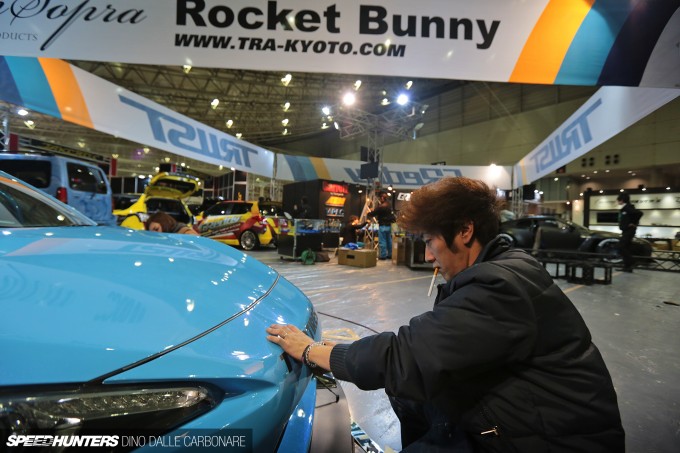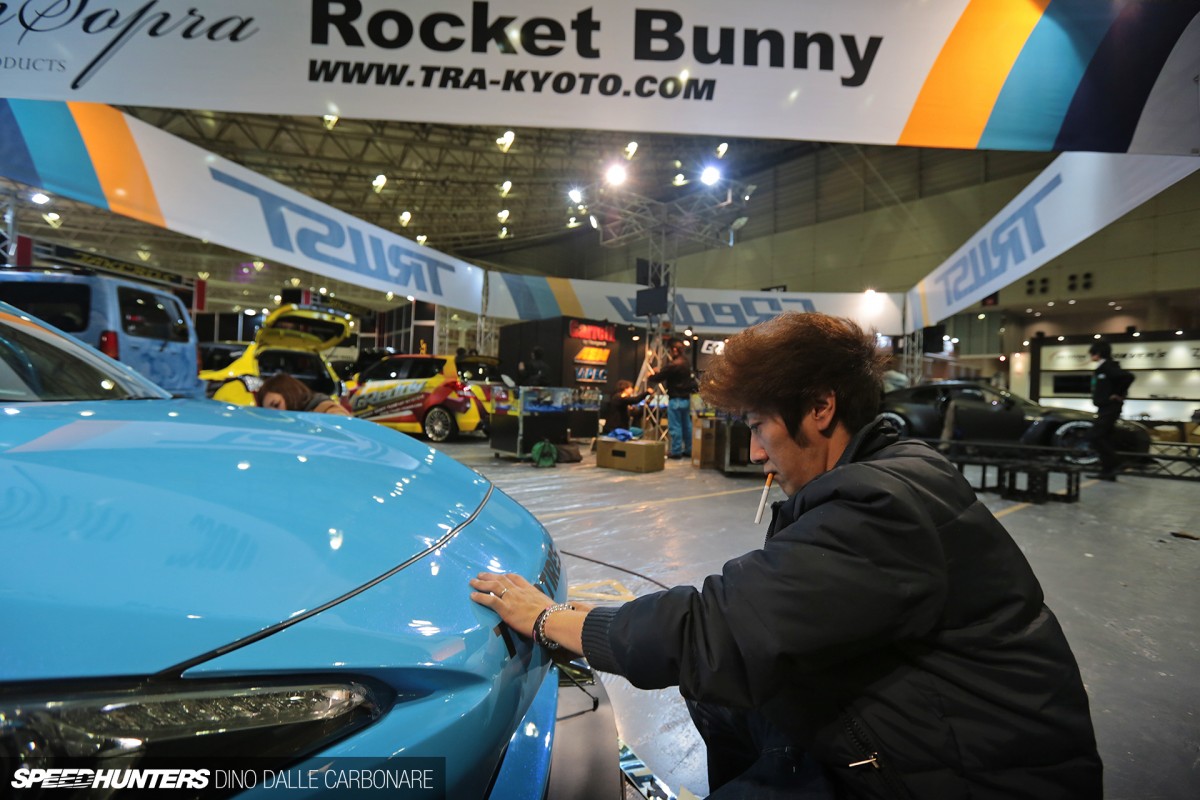 It's not so much the 86 kits that I'm talking about – there were plenty of those including the Rocket Bunny V2 at the Trust booth – but his style has really influenced a large slice of the JDM aftermarket.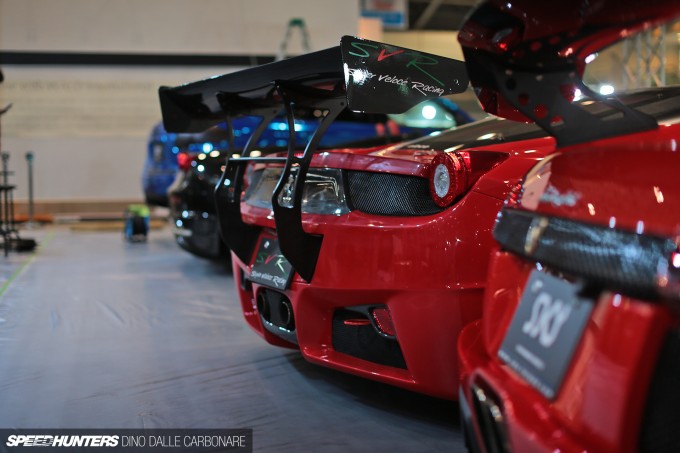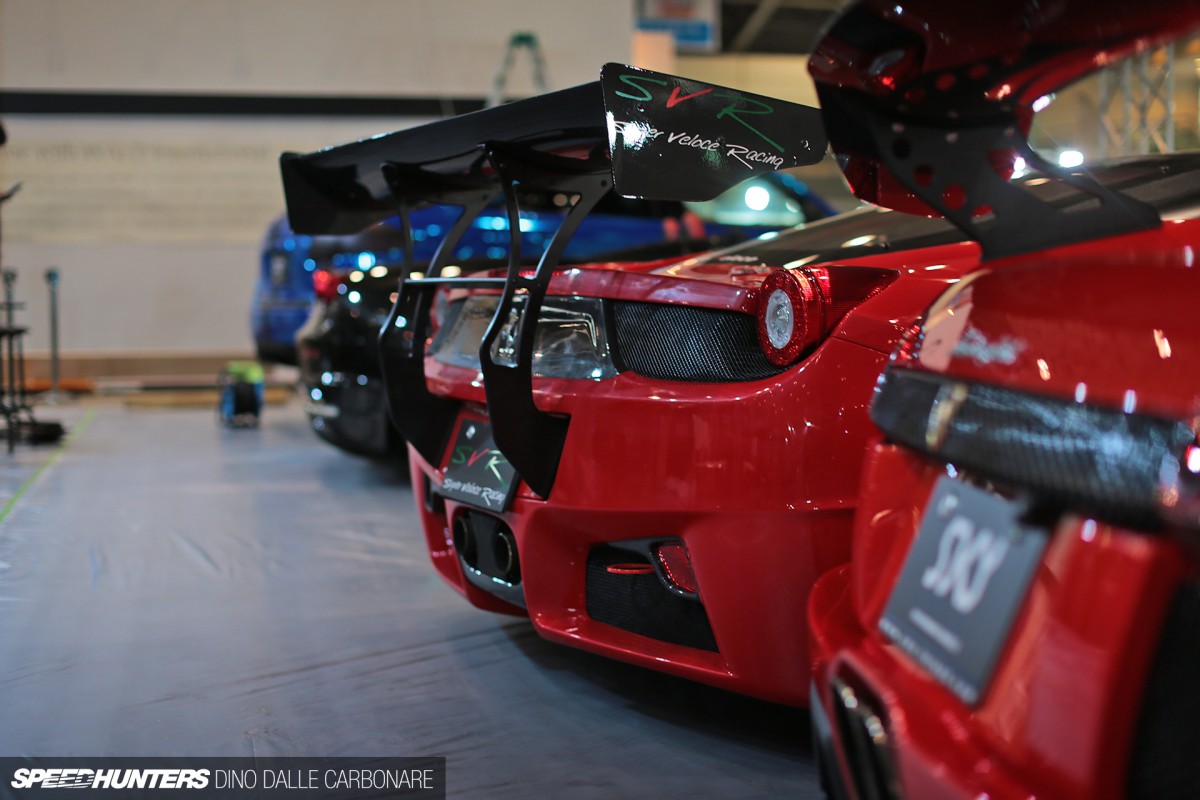 That includes exotic imports, time attack machines and high speed cars.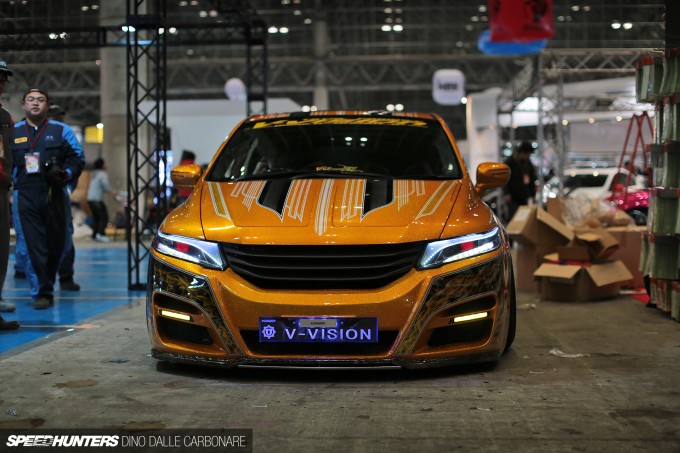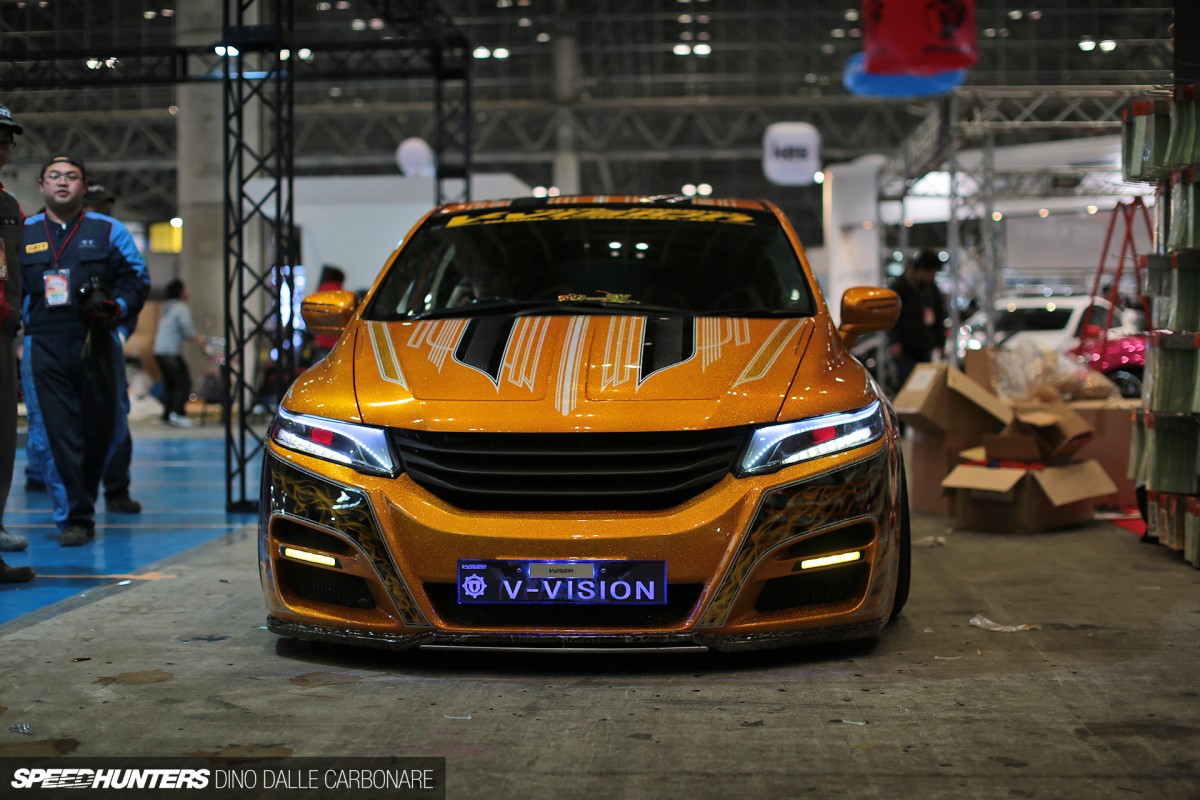 But of course, there's a lot more to TAS. It's such a mishmash of styles and ideologies, with a distinct need to shock.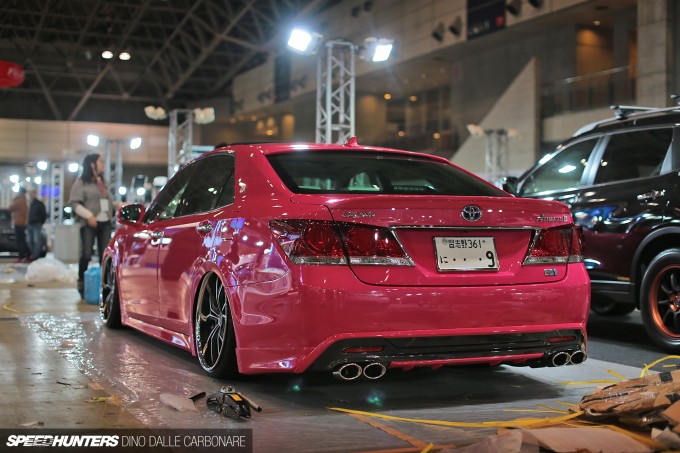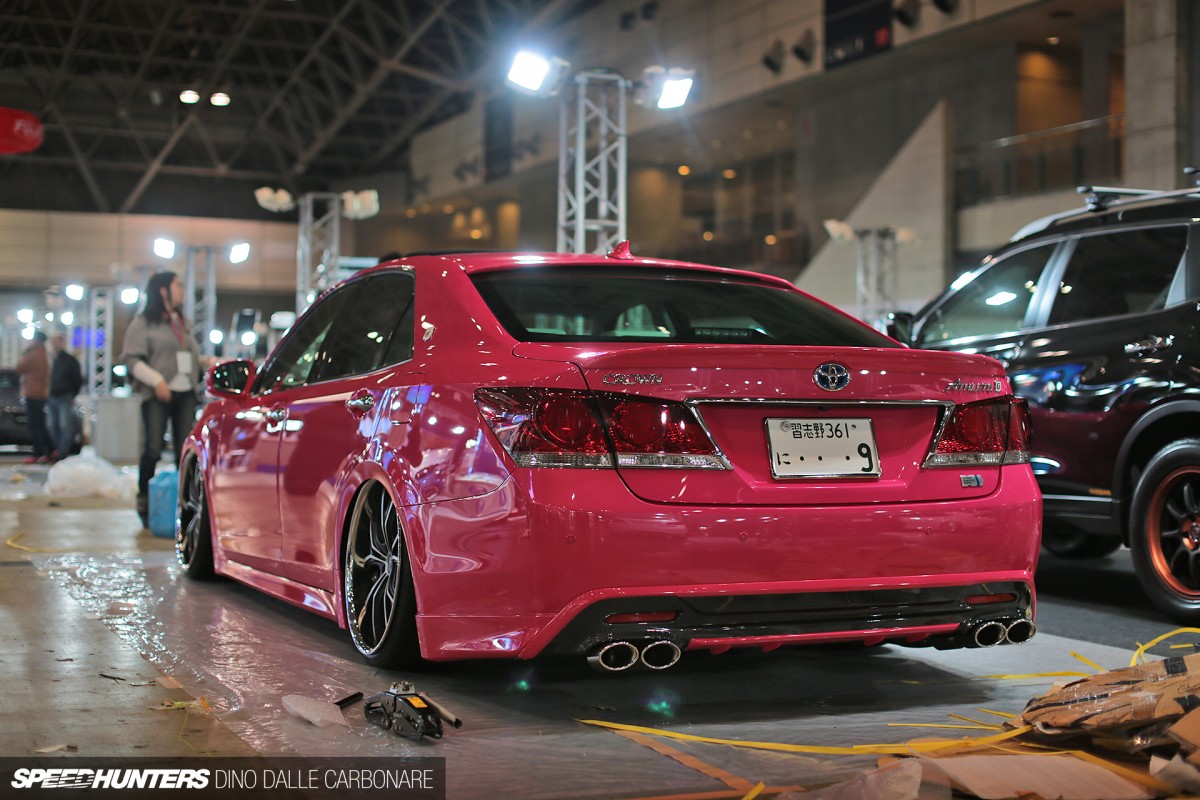 It's always interesting to see how quickly trends arrive and are applied to the very latest crop of cars.
In the mix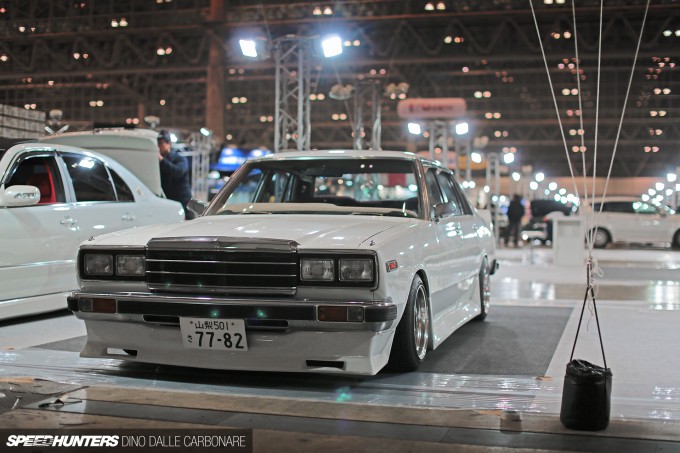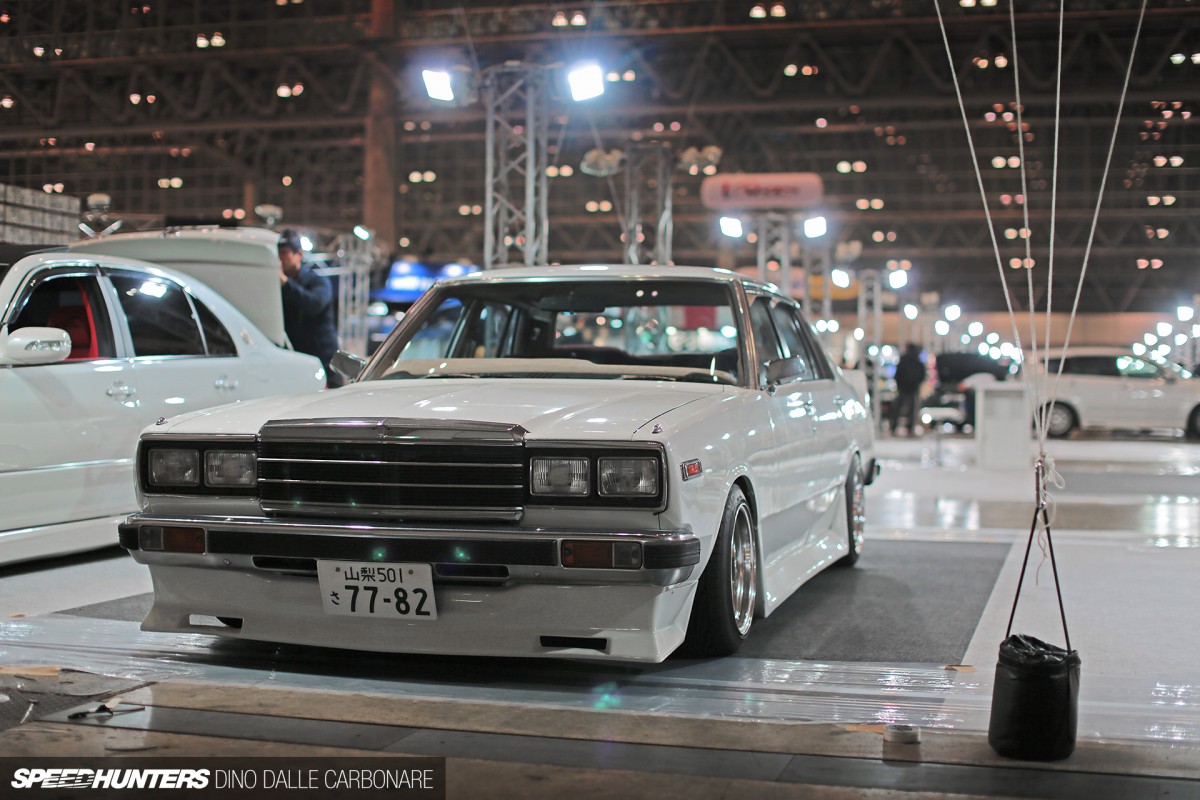 History is never forgotten – which is a very good thing – but so far I haven't seen quite as many old school rides as I would have liked to.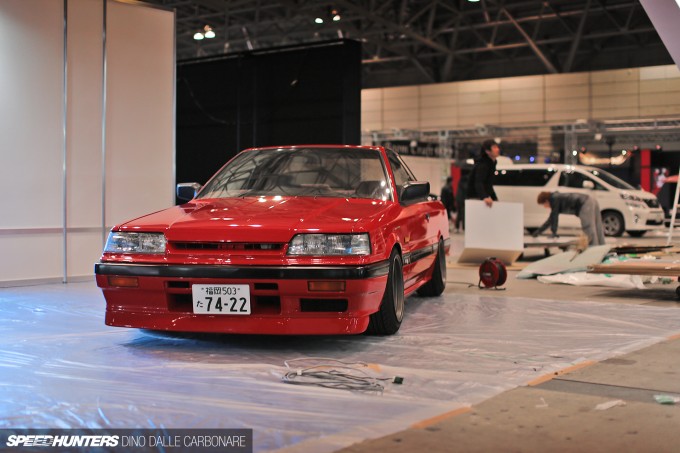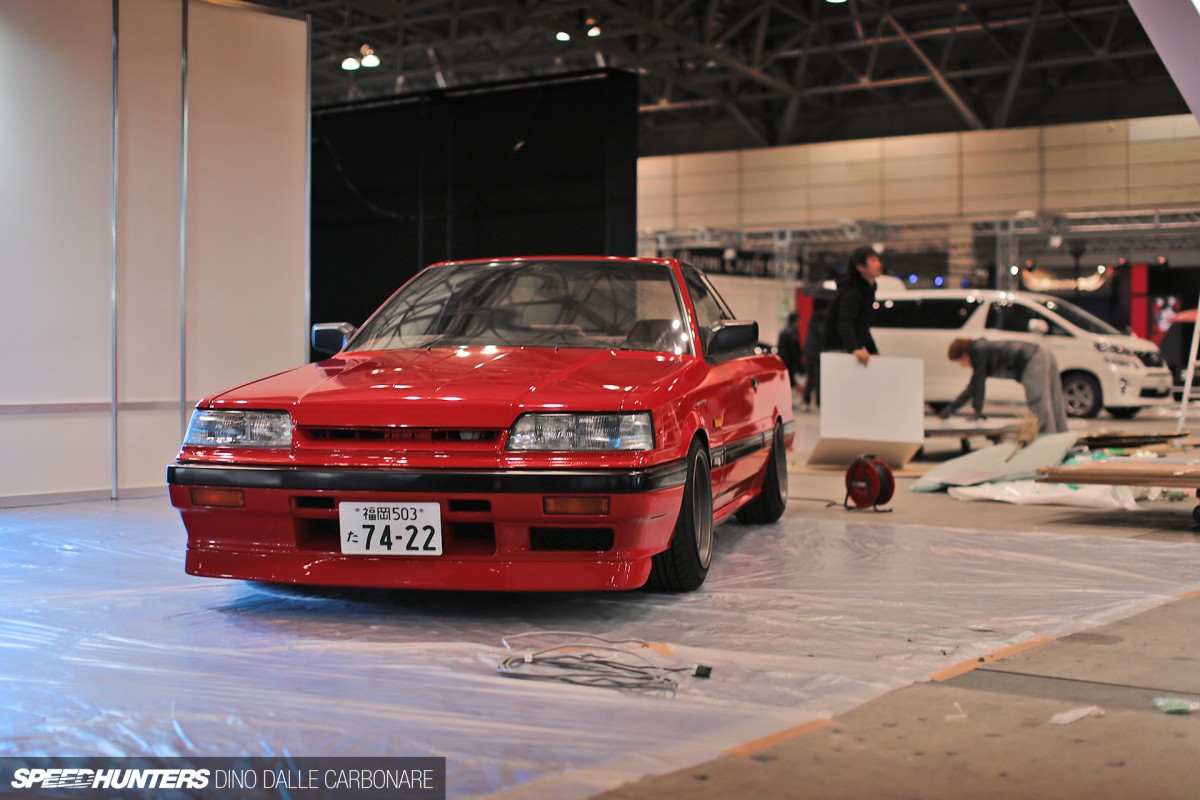 That said, I will definitely be on the hunt for more today!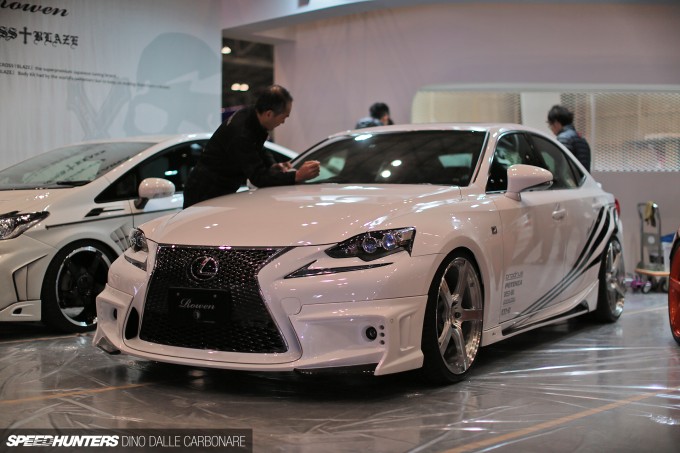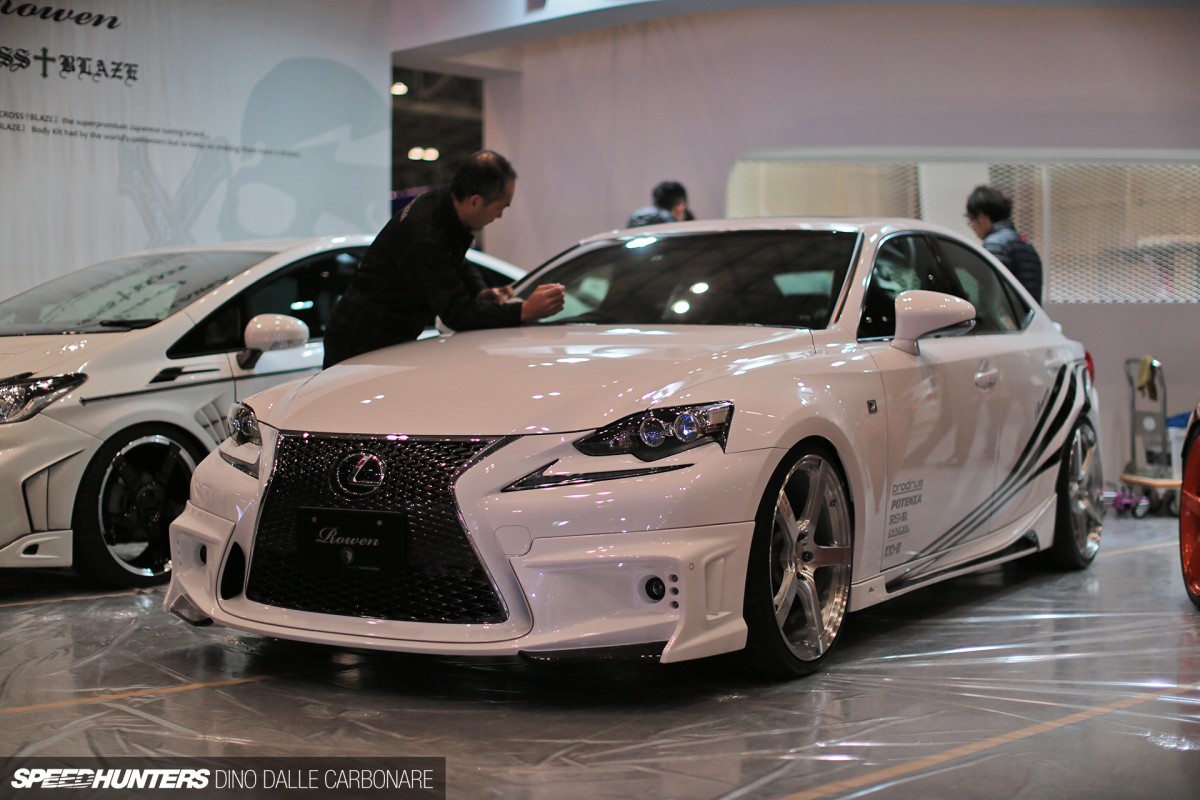 As you can imagine, the new-gen baby Lexus sedan has quickly become a popular platform for aesthetic modifications. This is Tommy Kaira's takes on the refreshed IS.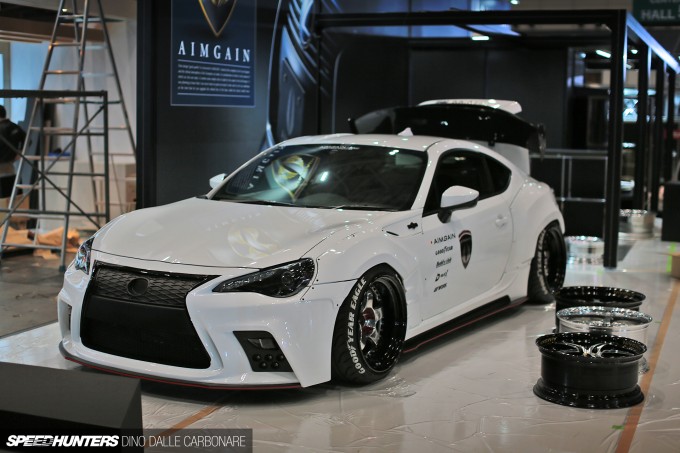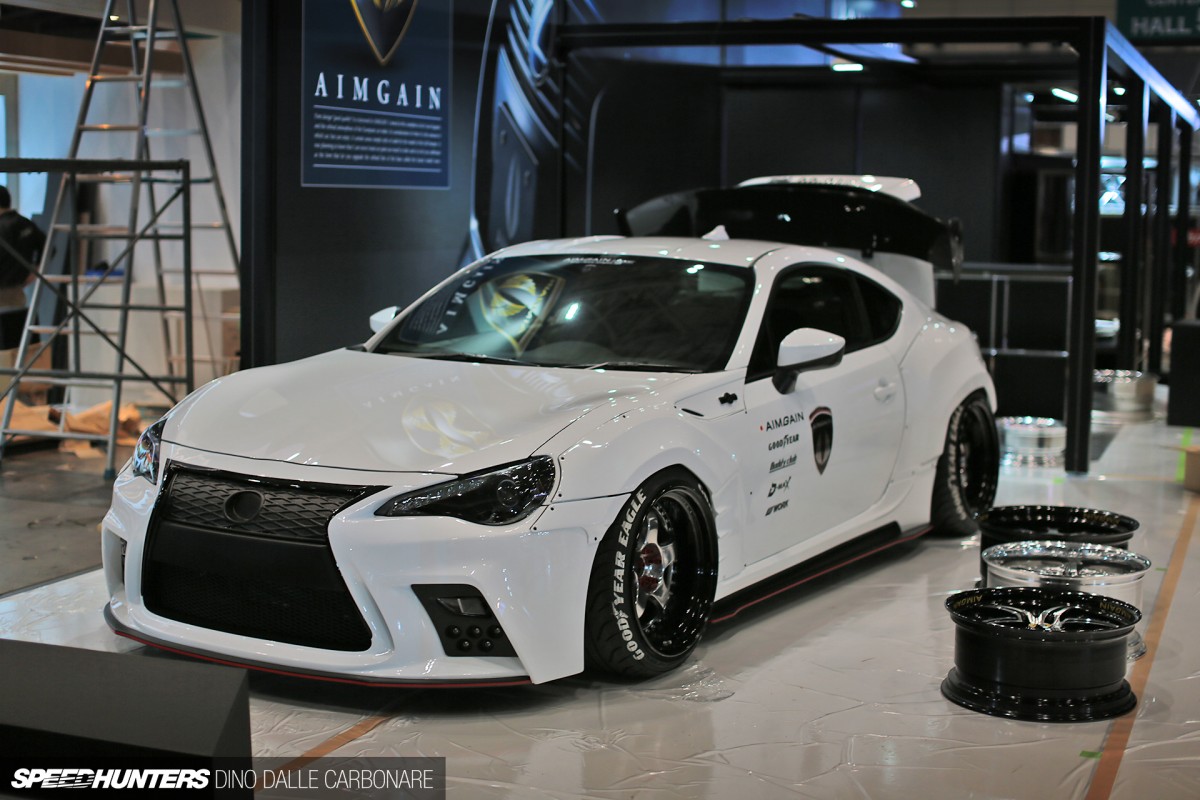 Lexus's spindle grille meets the Works overfender look on the Aimgain ZN6. Could this be considered a luxury drift car?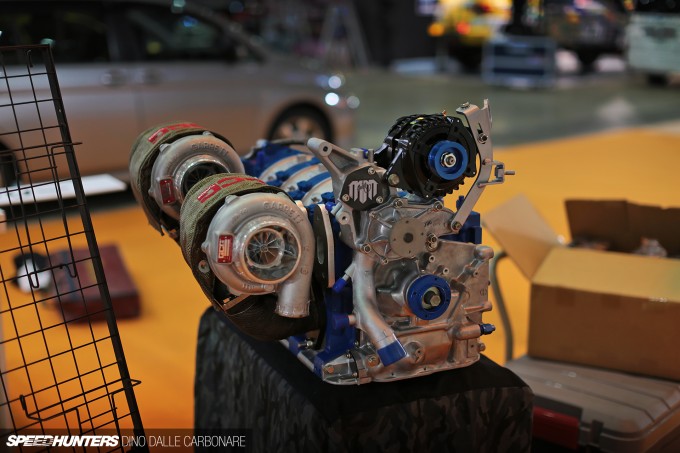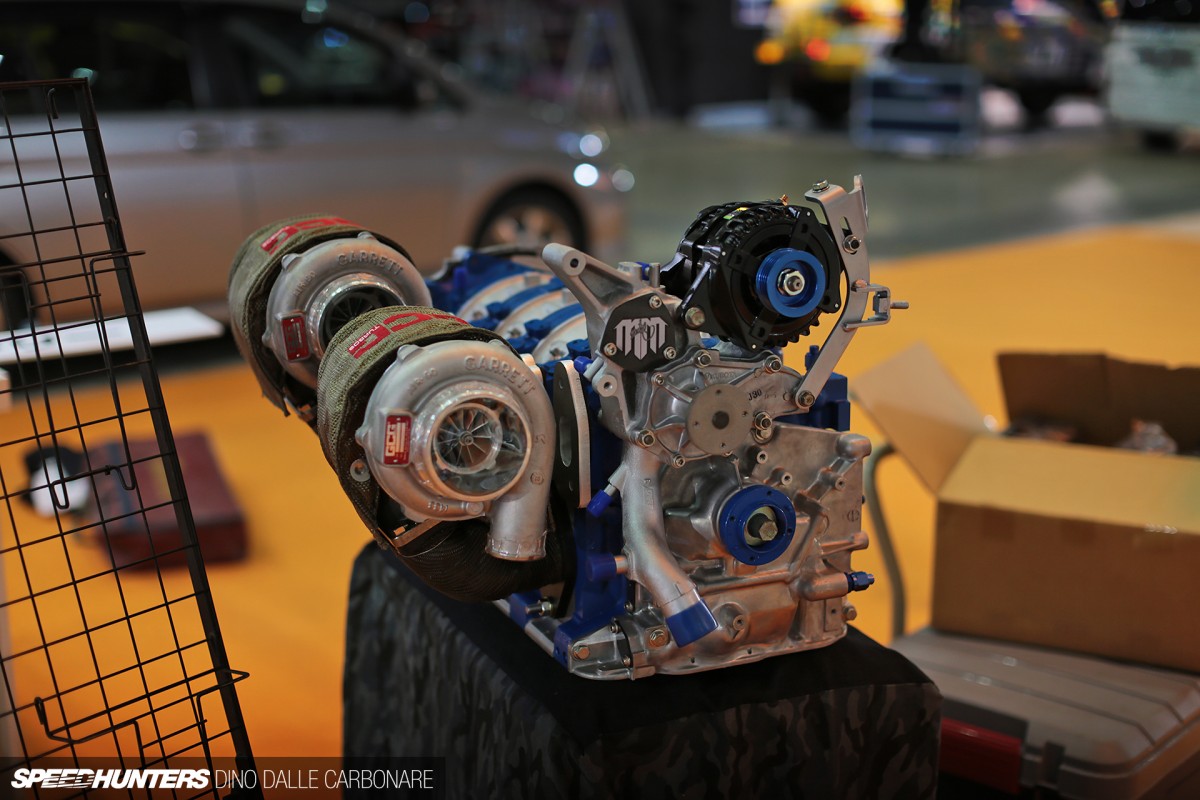 Over the course of the weekend I'll be spending a lot of time in the adjacent halls that were added to TAS last year. This is where the big Option display is situated, as well as the RH9 guys with their crazy-powerful cars. It's these machines that add a more 'functional' aspect to the show, where power still rules above style and where the cars are engineered for purpose. Oh yeah, that's a twin turbo, four-rotor rotary engine that Kawato-san at Total Car Produce Magic will be fitting in a new FD3S RX-7 drift car. Our own Mad Mike Whiddett should be happy as he gets to drive it!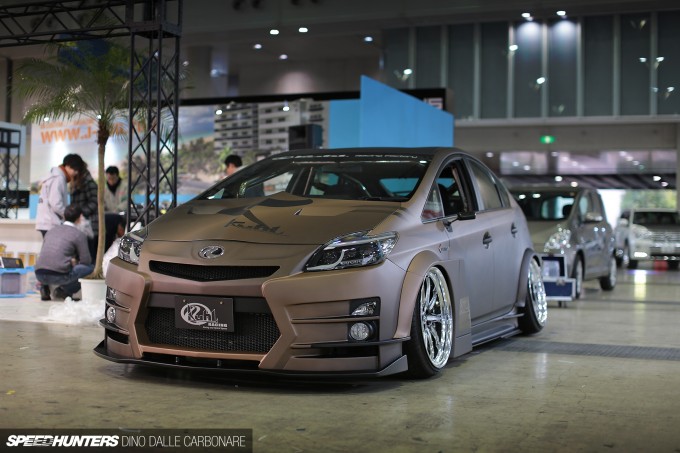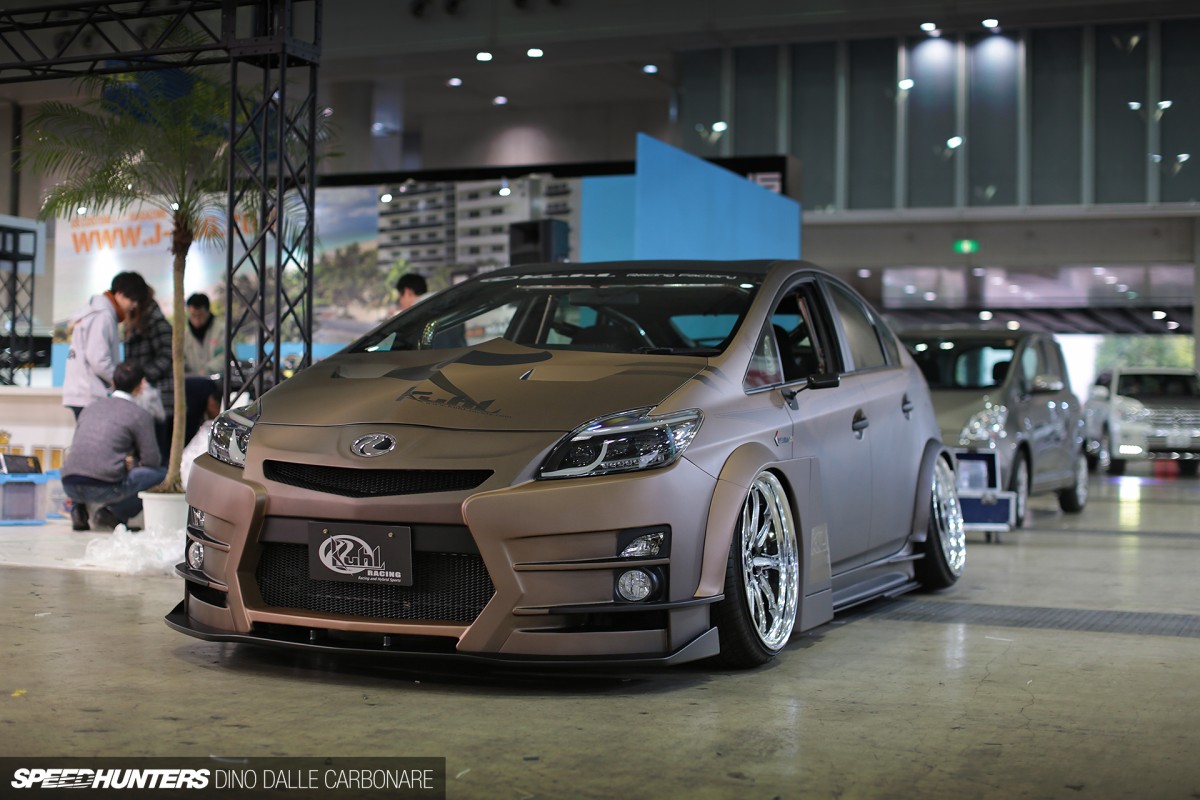 Who said hybrids have to be boring? It may be an over-the-top show car, but the Kuhl Racing Prius sports the most unique roll cage I have ever seen – something to do with it being fabricated out of exhaust piping. Okay, so it's not functional, but it's cool and that's all these types of cars are trying to accomplish.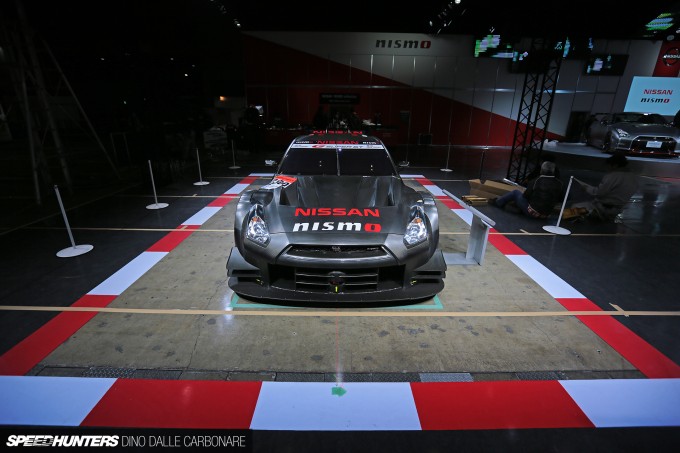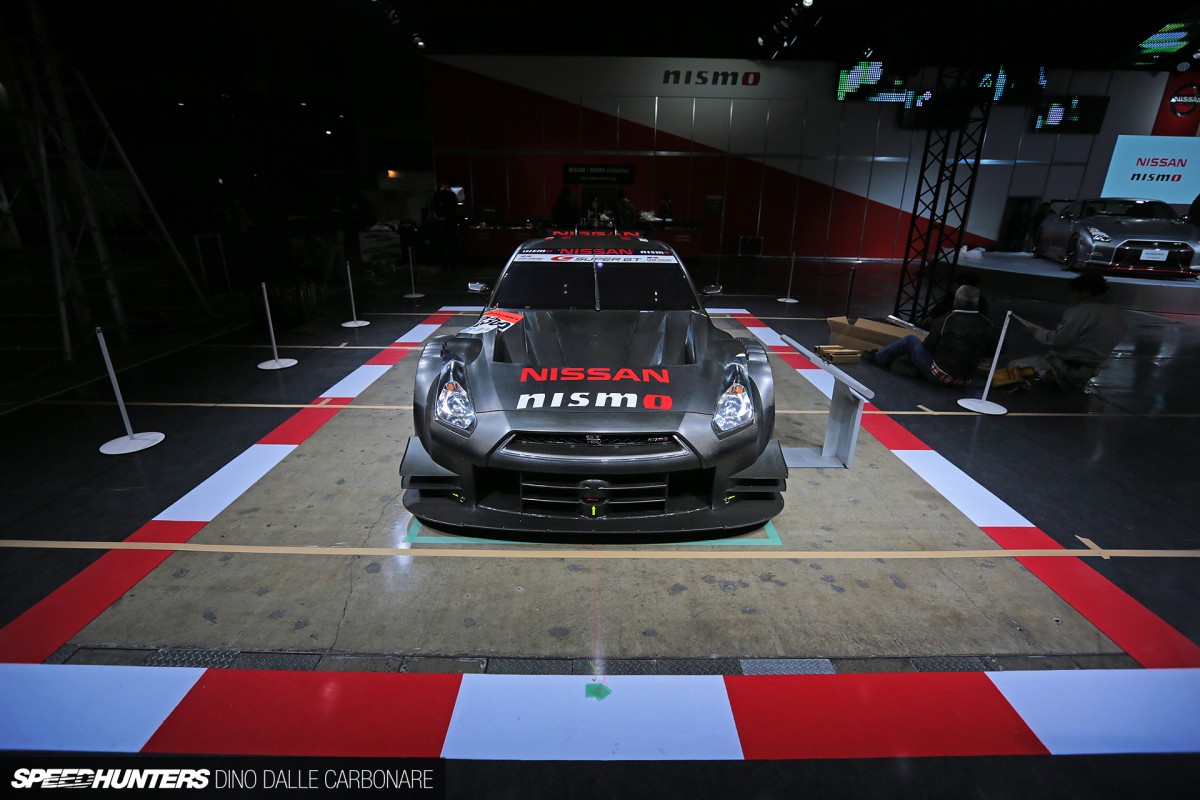 The 2014 Super GT season is only a couple of months away and there are plenty of GT500 and GT300 cars to check out at the show. That includes the Nismo GT-R which we first saw last month in Fuji at the Nismo Festival. It'll be exciting to see how this 1000kg, 2.0L turbo, DTM-rule-based racer does agains the Honda NSX and the Lexus RC.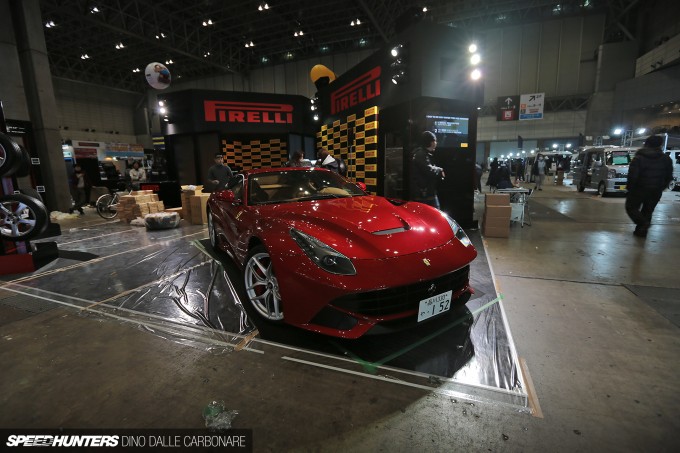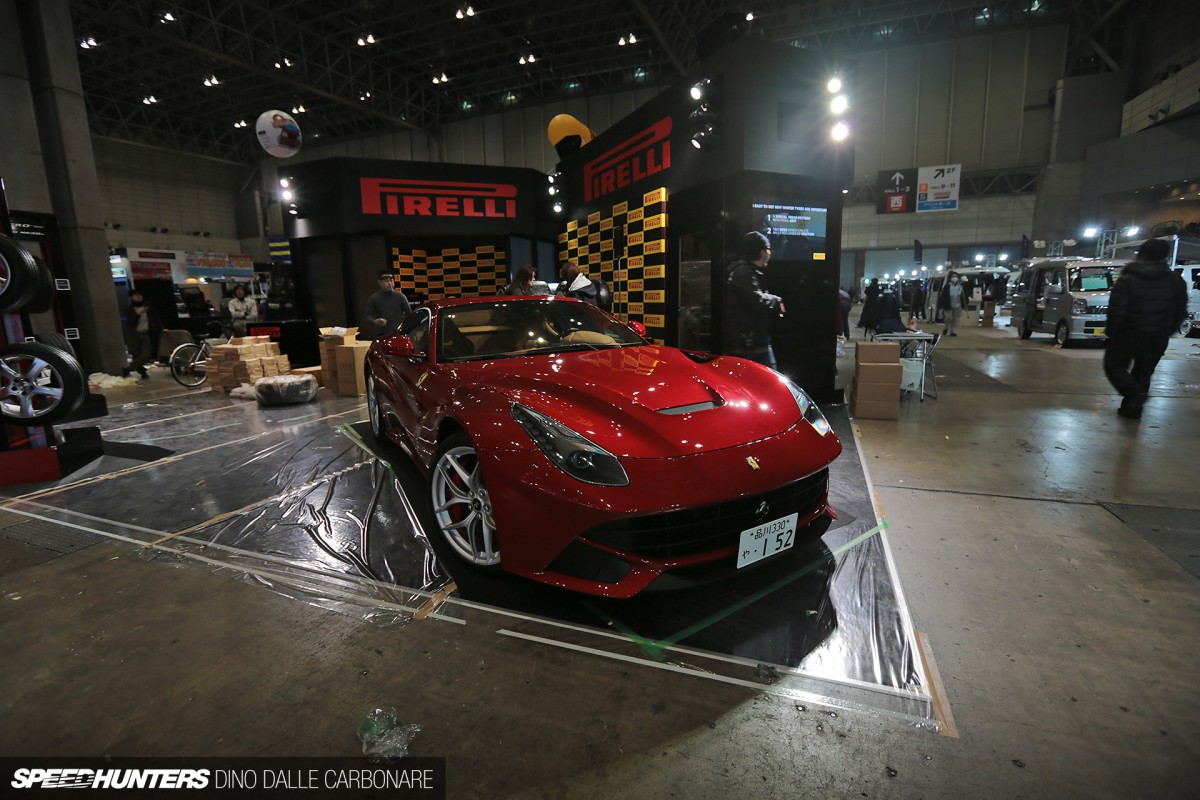 I really can't get enough of the Ferrari F12. I can't recall a car that has done 'it' for me as much as the R34 GT-R, as this one.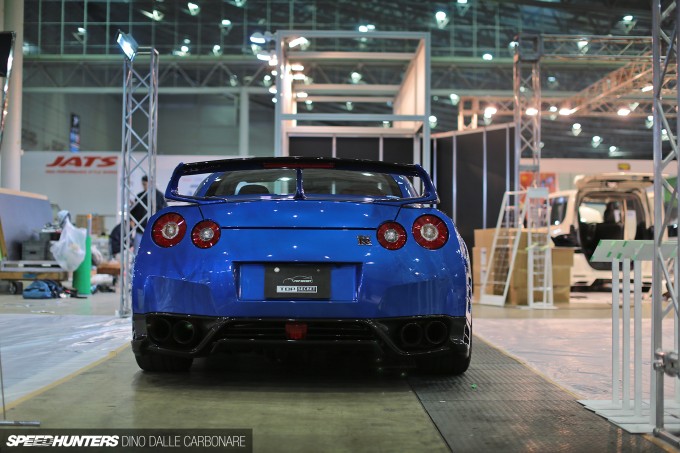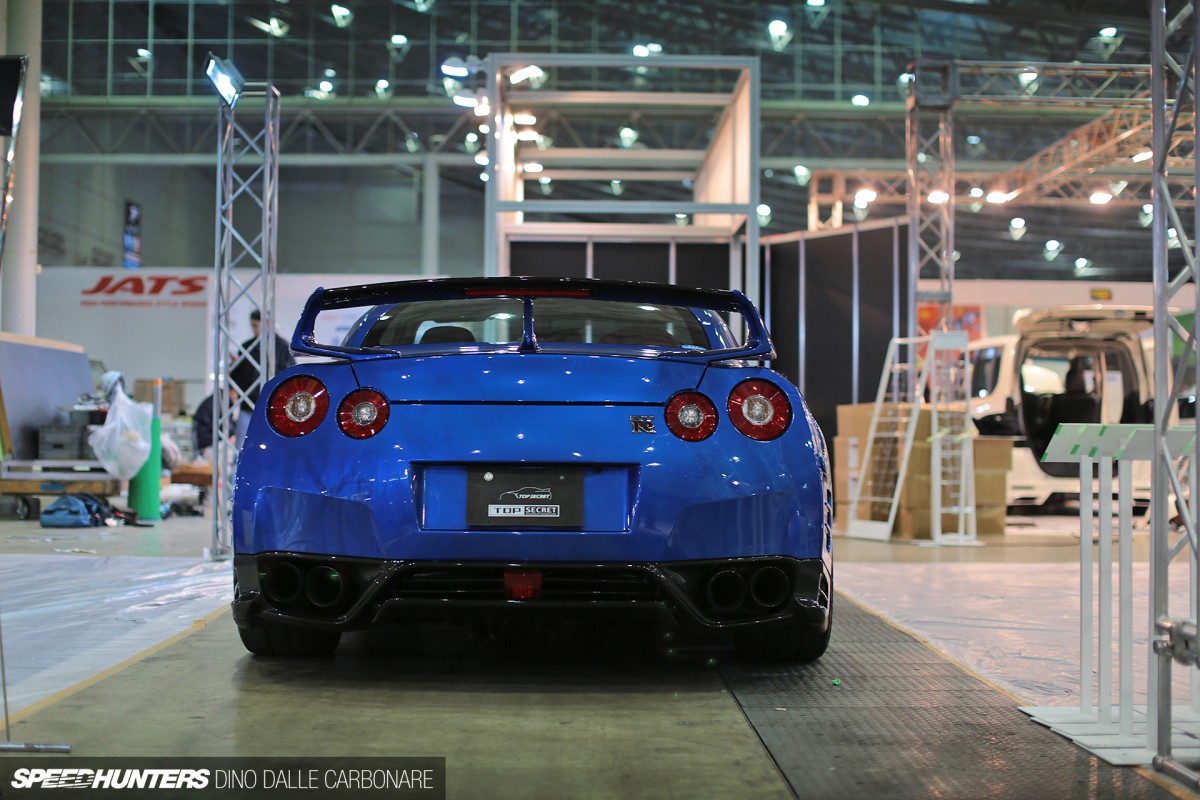 And talking of GT-Rs, Top Secret, along with a bunch of Japanese tuners including Phoenix's Power, Screen and JUN, had enough R35s between them to hold a single make race series!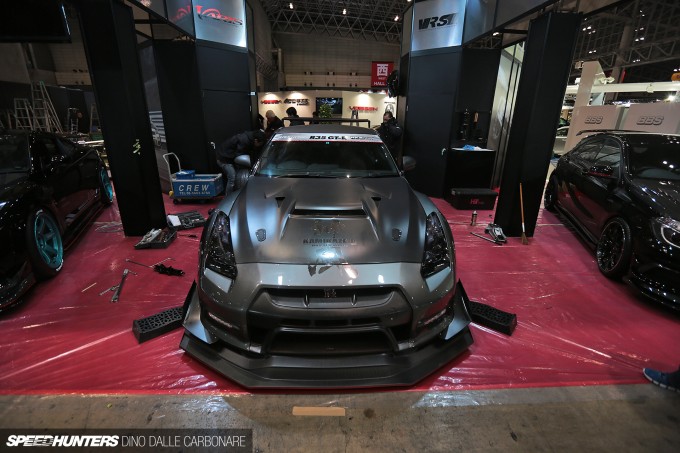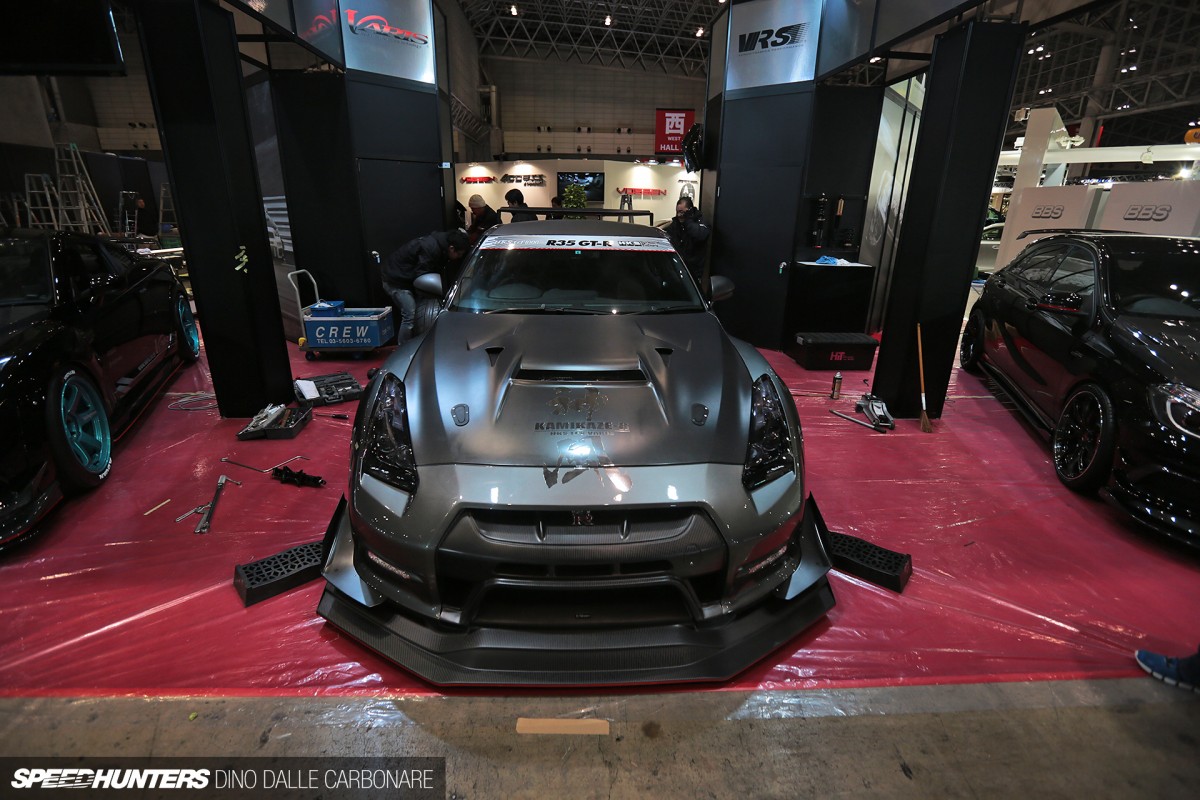 Every time I look at a Varis car I can't help but shed a tear. Its cars are some of the best-looking in the whole Japanese tuning scene and it just makes me sad that they never did anything for the R34. Guys, seriously, please come up with something nice and functional made out of carbon for us forgotten san-yon owners. Onegaishimasu!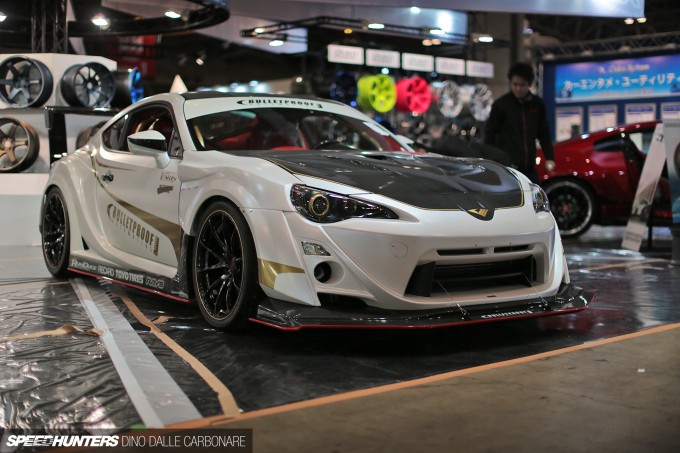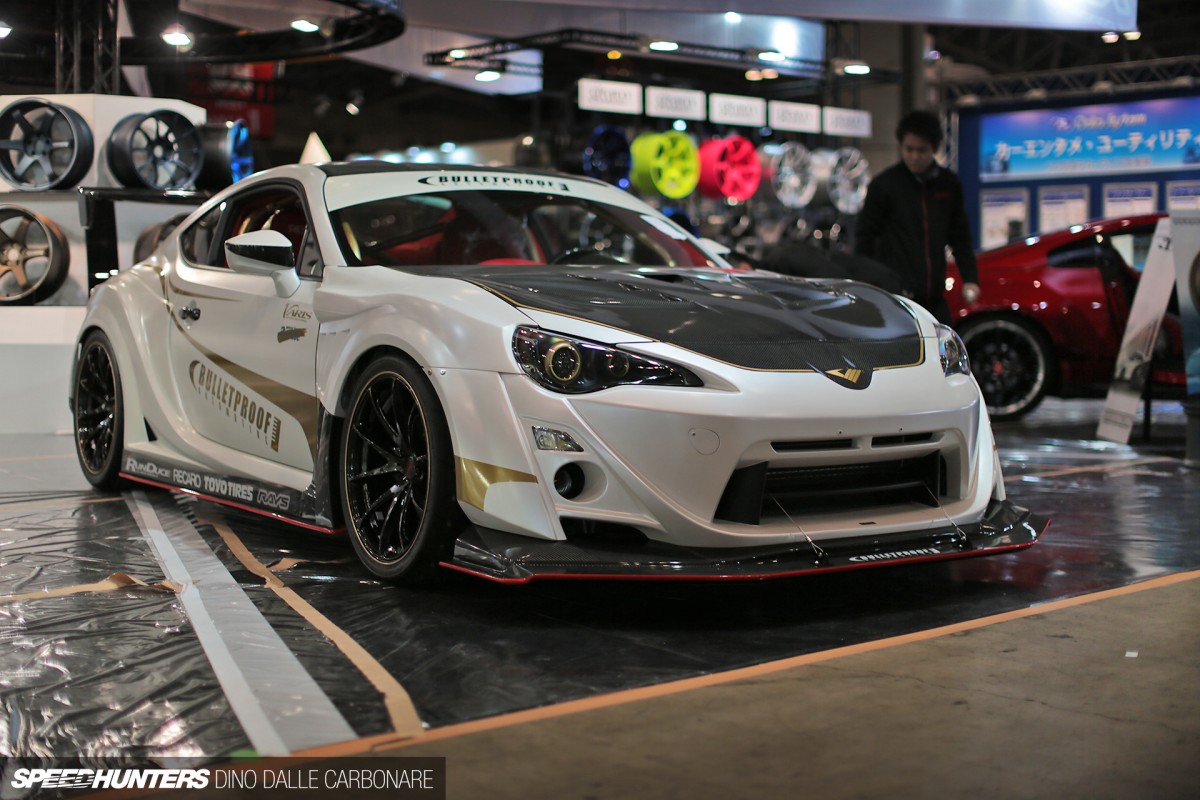 The Varis name was being repped in the RAYS booth too with the Bulletproof Scion FR-S all the way from California. Originally unveiled at SEMA, the ZN6 was sitting pretty on Volk Racing G25s.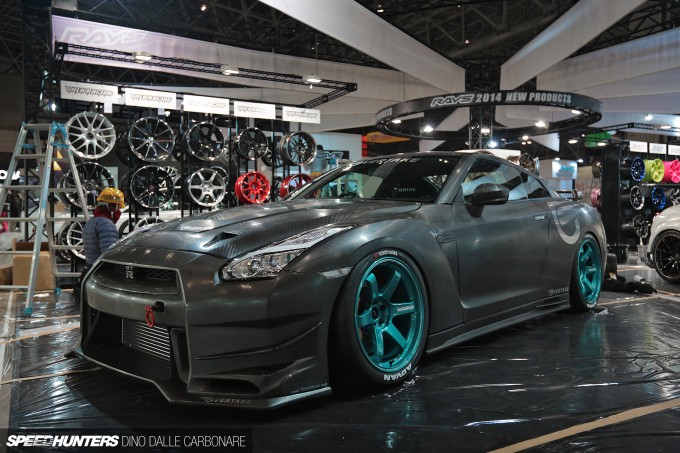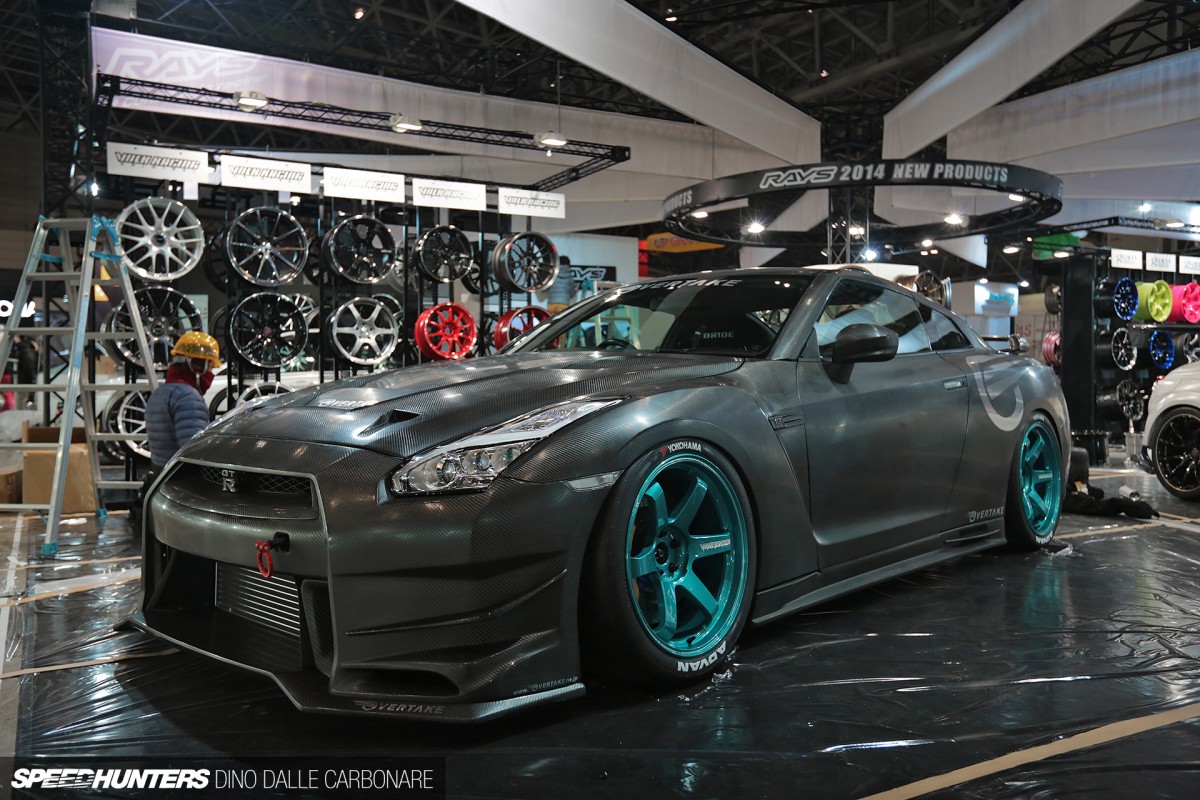 Modelling a set of brightly-colored 20-inch TE37s was the all-dry-carbon Overtake GT-R – a machine that perfectly balances function with form. Weight reduction and a few selected engine upgrades are all that's needed to make this thing perform.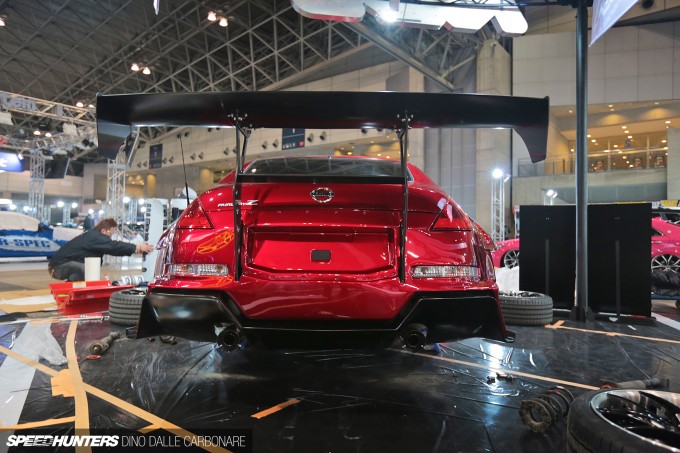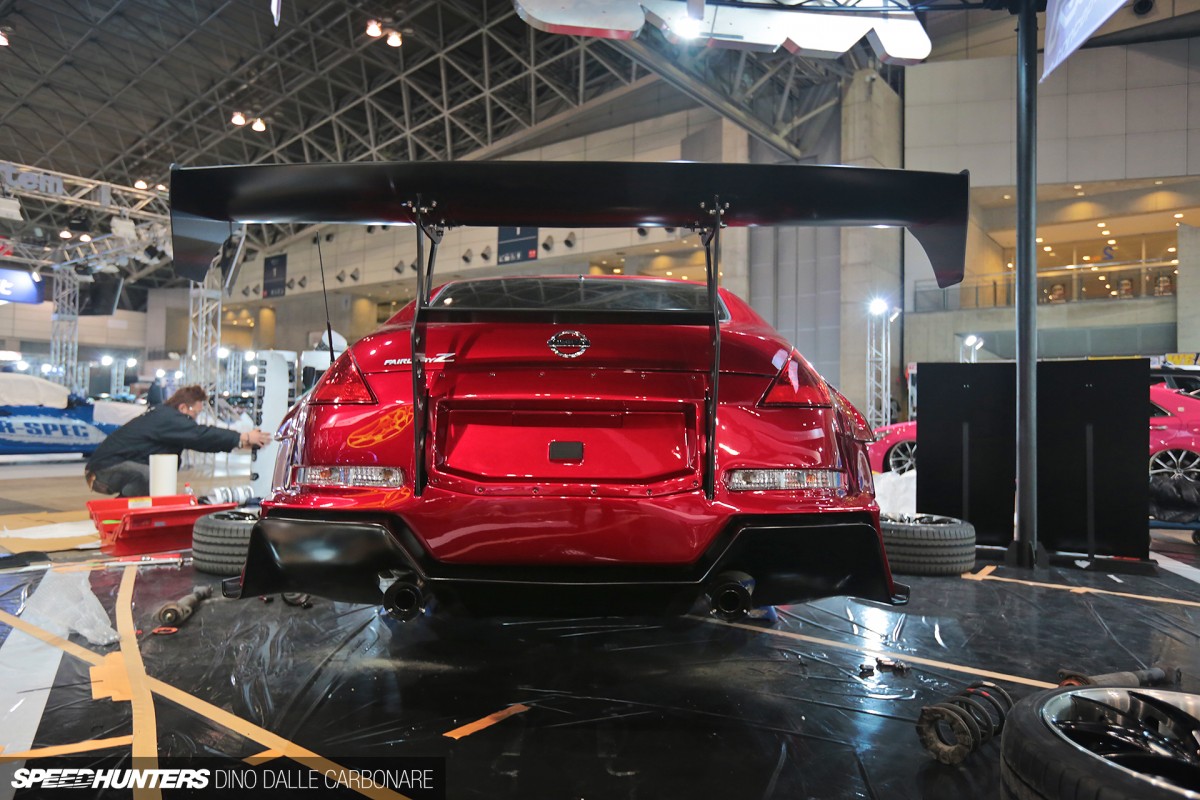 I'll finish up this preview from TAS with one last surprise – the BenSopra Z33 built in collaboration with RYO in Hiroshima. The car was still being assembled as I grabbed this shot, so you will have to wait for the full coverage to see more. Its flat-white sister car will be on display at the Trust booth from today, along with what may well be the highlight of the show. I might have to treat you guys to a spotlight later on that particular car tonight as I know you'll want to see it!