The best business card
Welcome to the inspiration theme! This is going to be a journey through some worlds you might not have seen before, but ones you might like to be part of. I'd like to think that for most of us in the northern hemisphere, as it's winter, these stories could make you consider new paths or a different way of approaching things. I'm writing this and outside it's below freezing with snow on the ground, and the workshop is the same – just without the snow. So as ever, I always try and use this time of year to think ahead and make plans.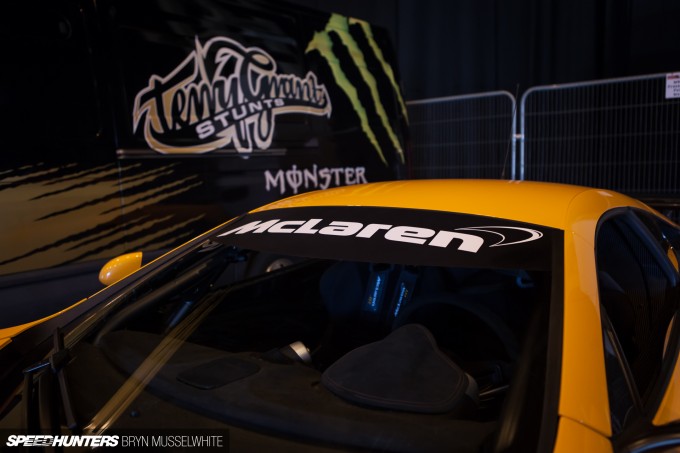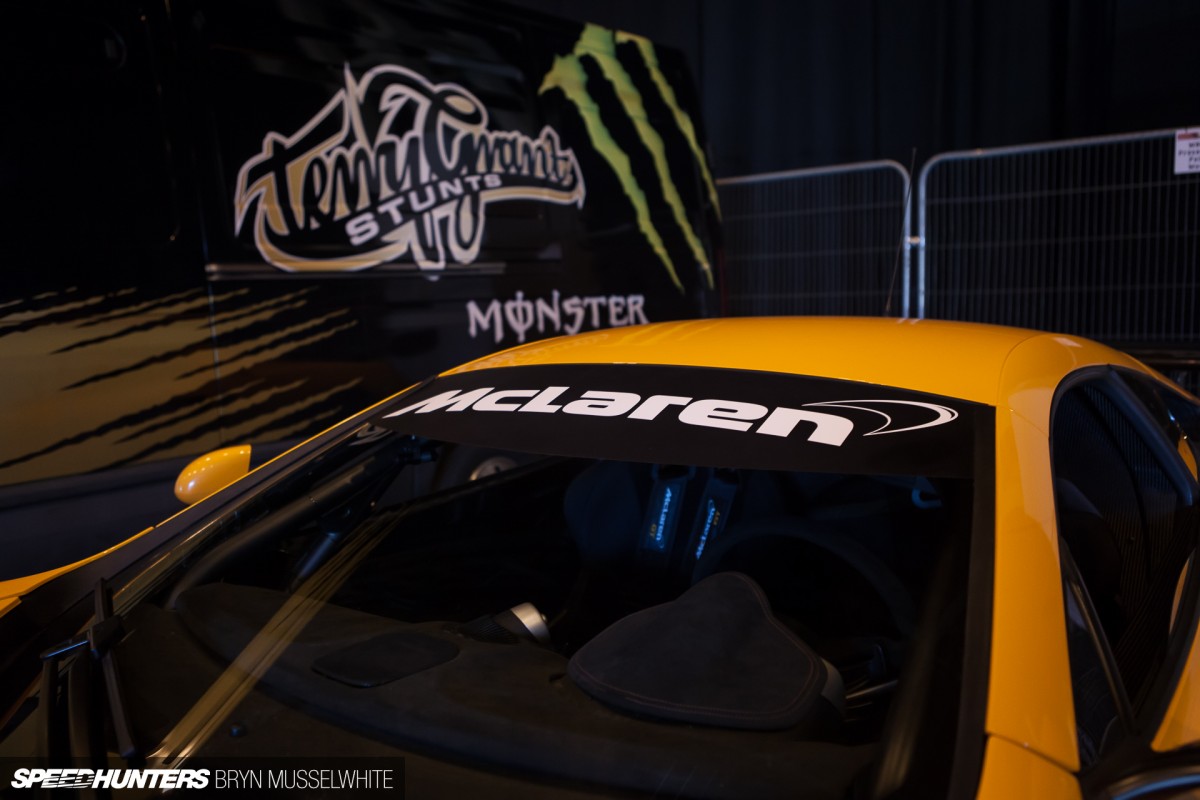 As part of the theme, it occurred to me that we should talk to some people who are 'living the life'. As much as the world needs accountants, plumbers and warehouse staff, it also needs stuntmen. People who seemingly defy death – or at the very least serious injury – every time they go to work.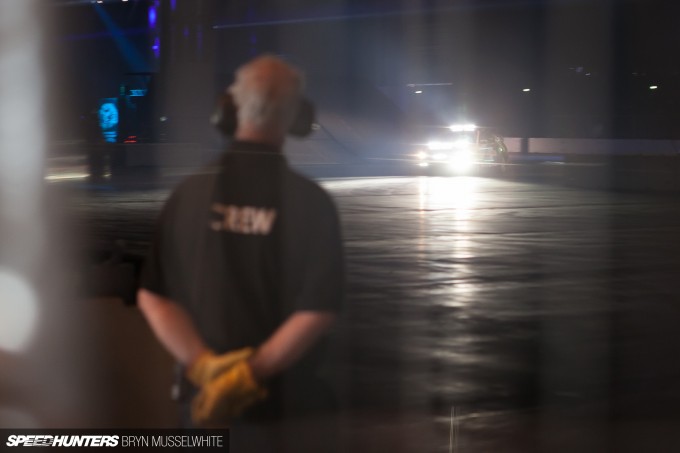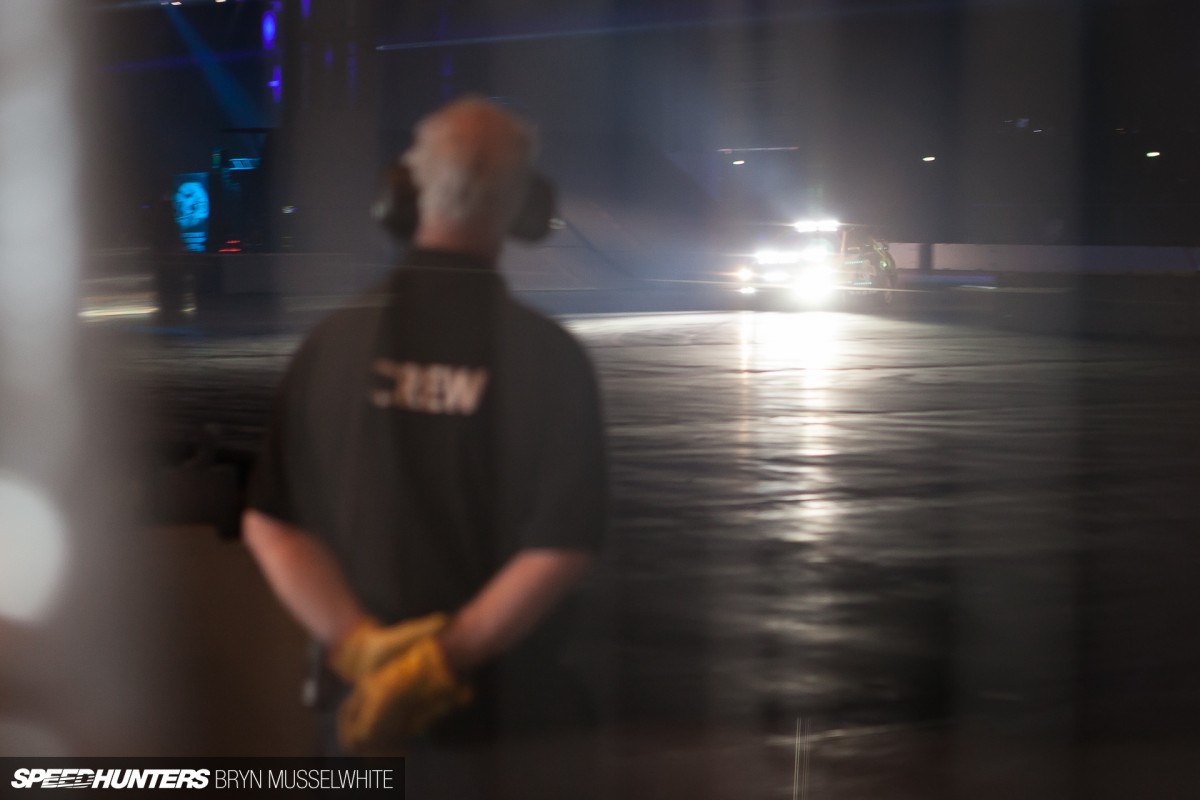 If you think you can't live your dreams, you're probably right, you can't. However, if you believe anything is possible, then it is. It's this attitude that made Terry Grant into a multiple world record holder, so when he mentioned he was going to try a new stunt out at the Autosport show earlier on in January 2014, I figured it would be great to see just how you go about the business of being a stuntman. I mean really, just how do you get that on a business card?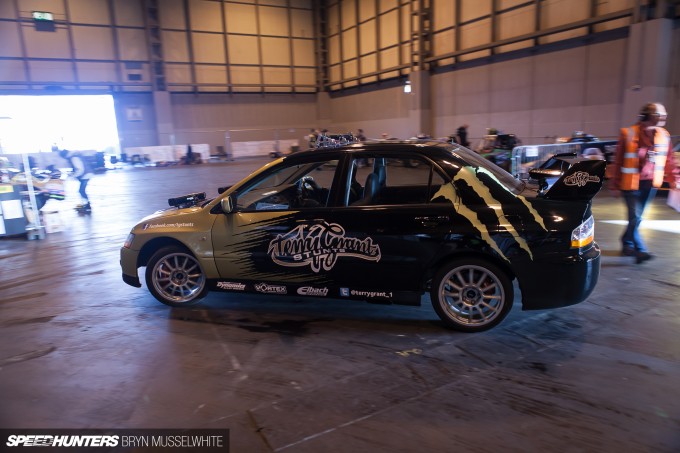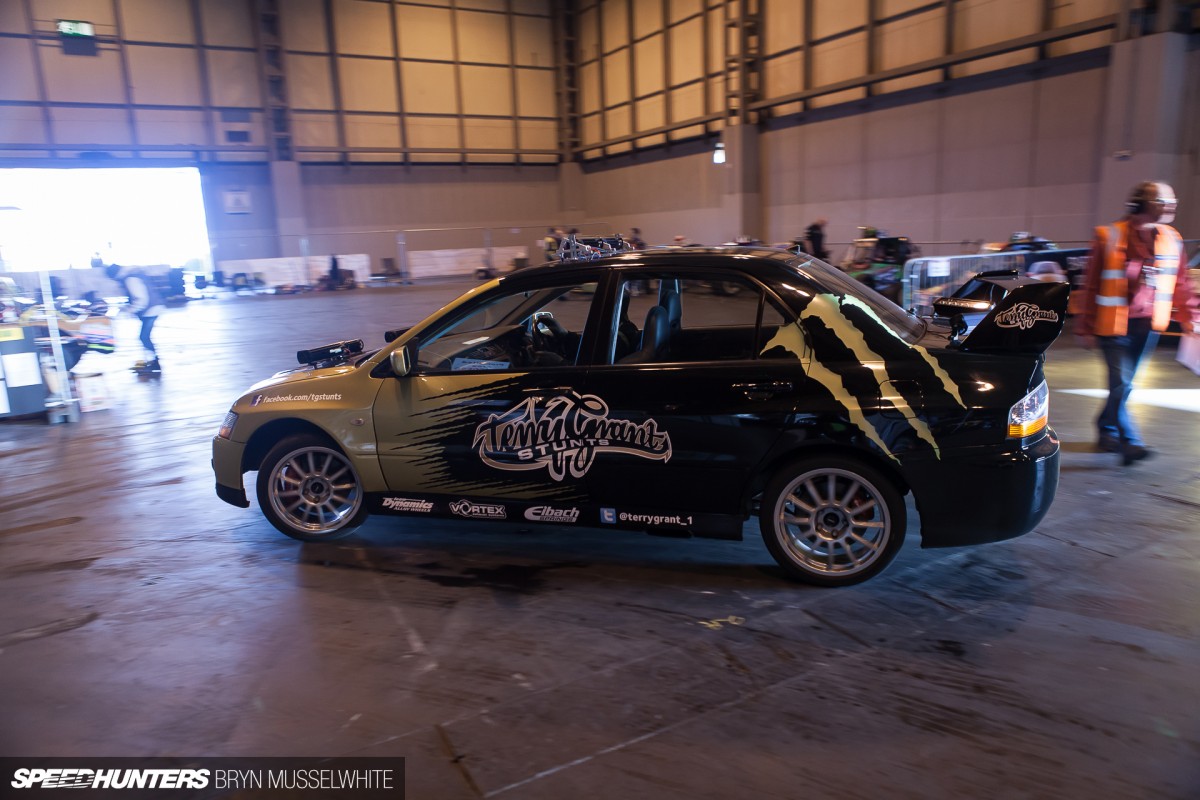 Or a 600hp, anti-lag-equipped, fire-spitting Evo? For Terry it started out in the mid-'90s. At the time he was a fairly successful oval track racer – Hot Rod racing as we call it in the UK. Like a lot of racers who look for sponsorship, there always has to be something new to offer to potential investors, so Terry started doing some stunt driving, putting on small sequences at local shows and it turned out he was a bit handy at this sort of thing.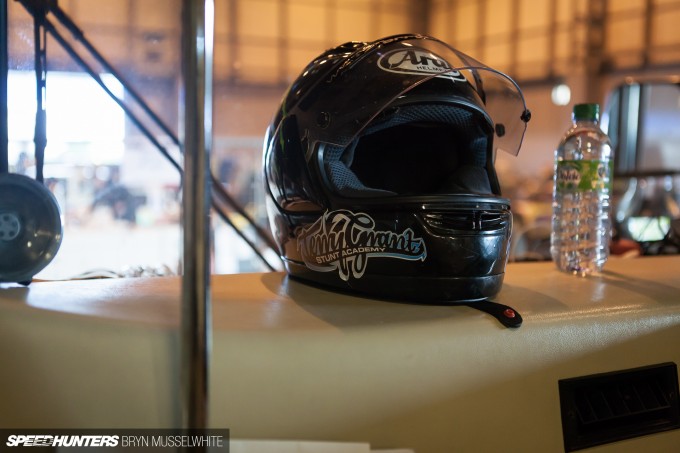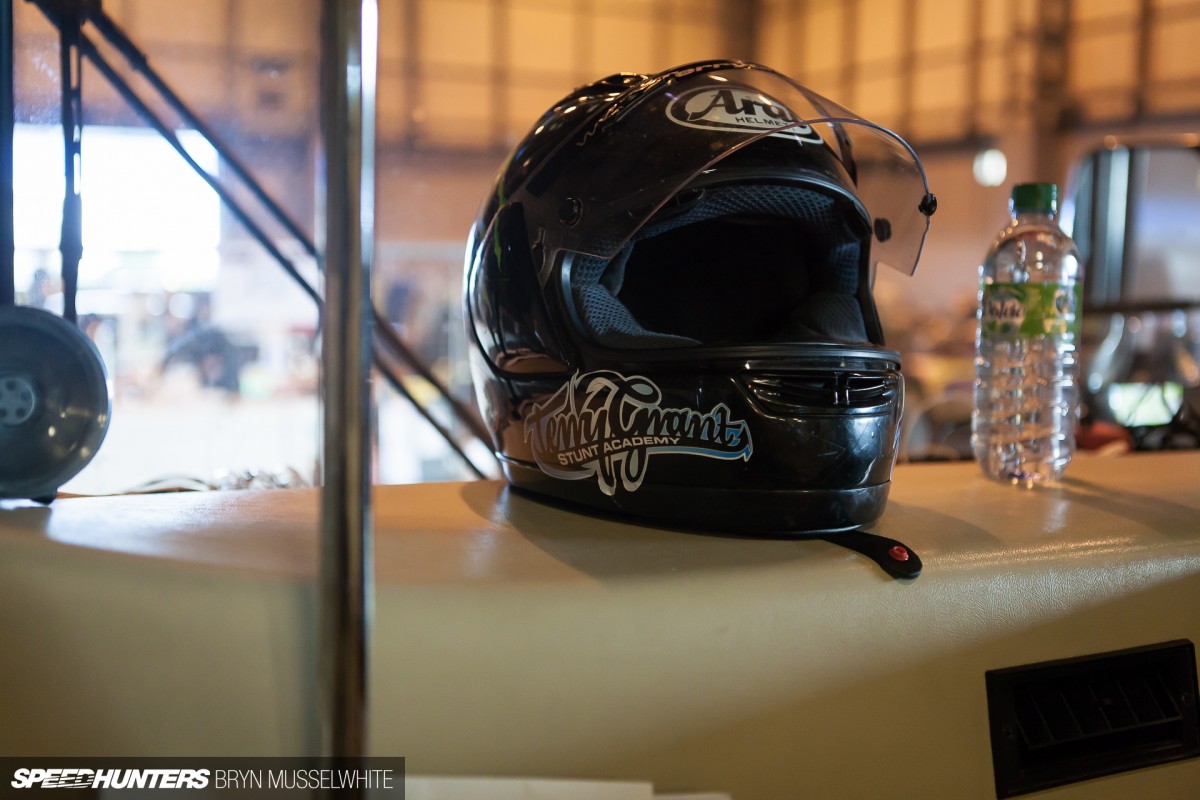 Since that time a lot has happened, which has involved performing in over fifty countries worldwide, being an annual fixture at the Race of Champions and other prestigious events like the Goodwood Festival of Speed where he's broken at least two world records for Nissan. This constant need to physically and mentally push himself has meant he's now one of the top stunt drivers in the world, but seeing as I've known Terry for a good few years, I didn't want to talk about history. I wanted to know more about how you keep evolving, inventing and keeping things fresh. That's when he told me he was going to do a wheelie in a car.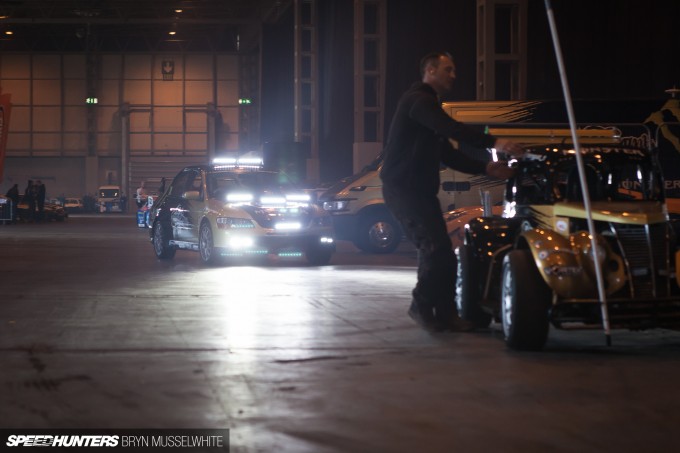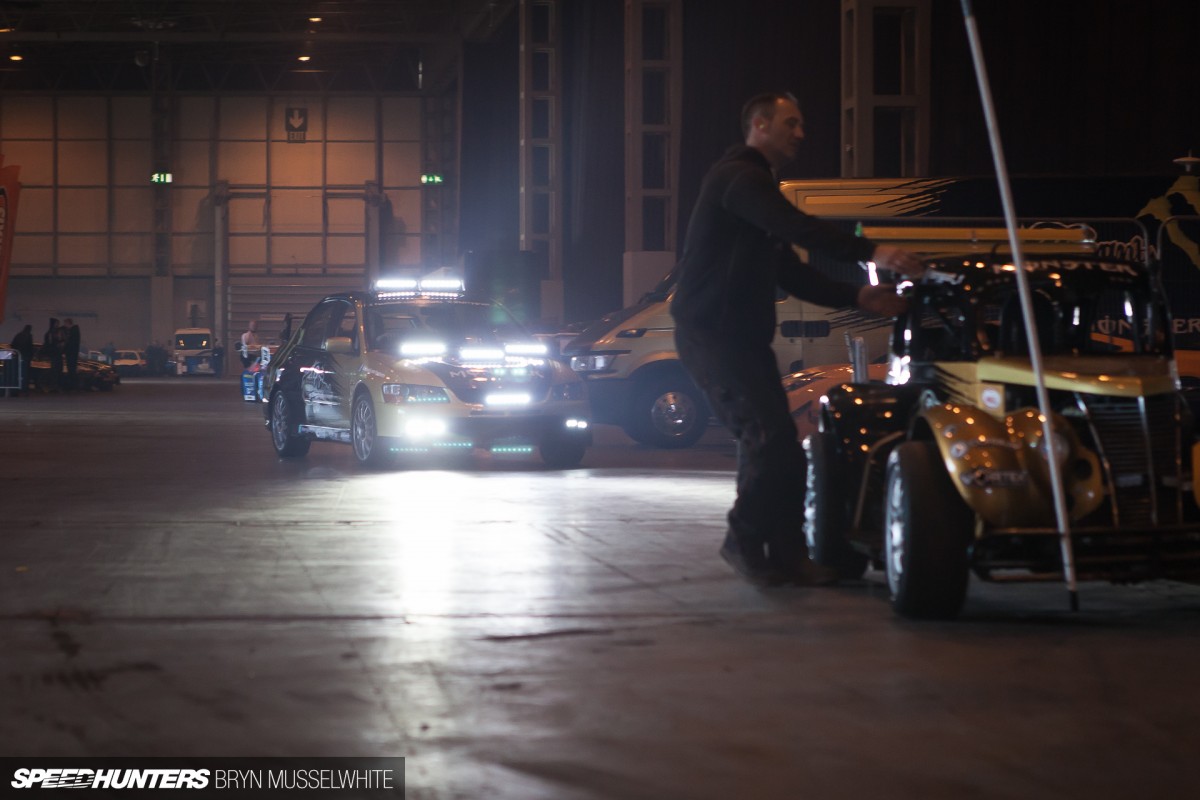 Now Terry has skimmed my feet at speed with a front wheel before, on many occasions and he's taken me to a point where I thought I was going to pass out because the Evo was spinning so fast, I was inhaling too much smoke and couldn't keep my head up without my eyes rolling back in my head. All the while, he stays in control.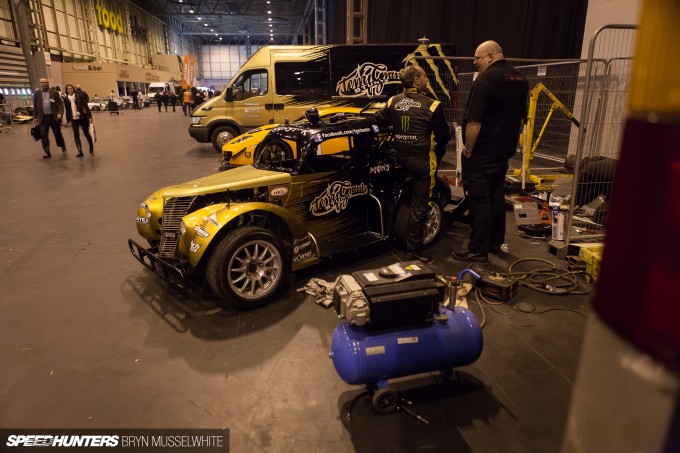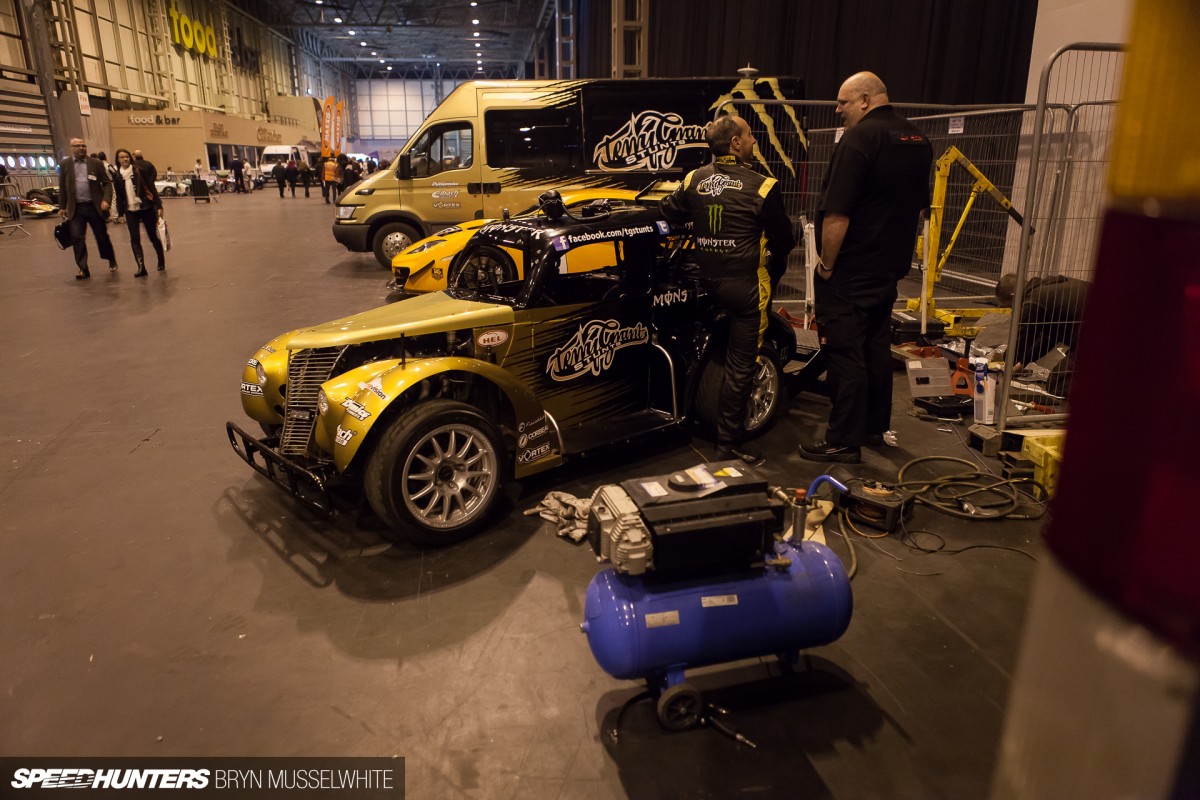 But a wheelie? This I had to see. Terry explained excitedly he was going to do the stunt for the first time at the Autosport Show in early January. But due to a packed schedule up until that time he was entrusting the build of the dedicated car to an engineer friend. This wasn't a problem, but the fact that he wasn't going to get a chance to try it until a few days before the show was. No pressure then…
It's all down to physics, I think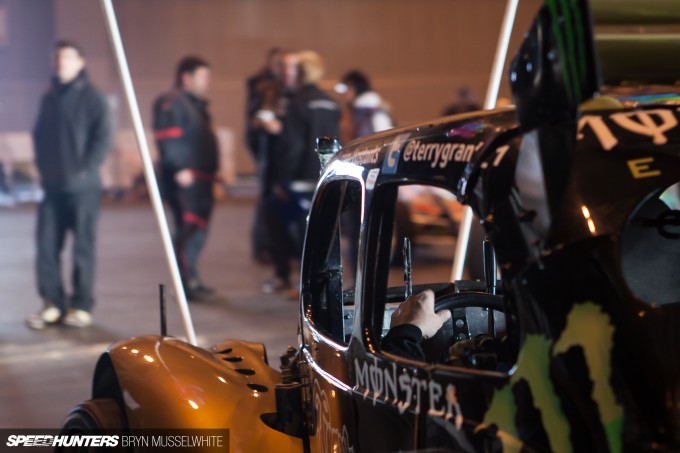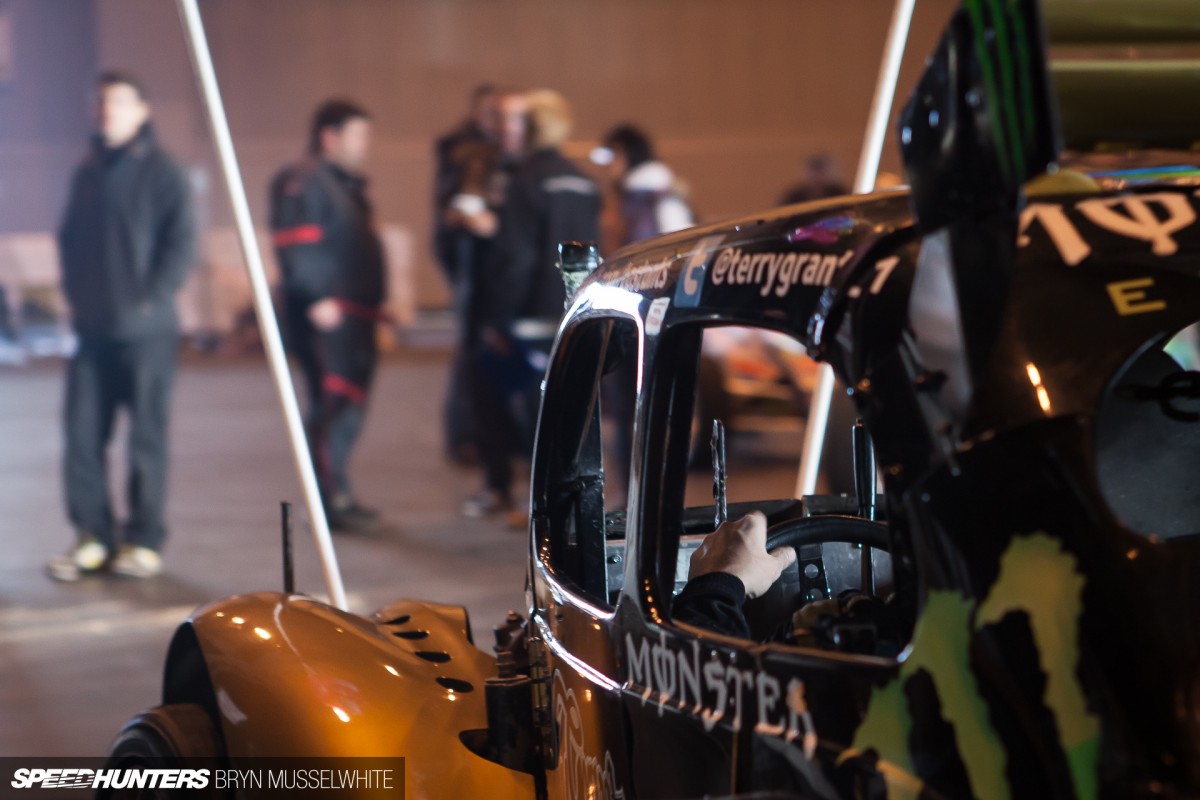 So first up, where does the idea for a new stunt come from? Terry explains the idea of a wheelie car came from watching drag racing when a car launches hard and lifts the front wheels, except this is nothing new of course and people have built dedicated wheelie cars before. Which meant Terry naturally had to go one step further – or five even – because he decided it would be a good idea to make it corner whilst in the wheelie position and try to do it with one of his existing cars instead of a new build. That way it could be seamlessly integrated into the act without people realising what was coming next.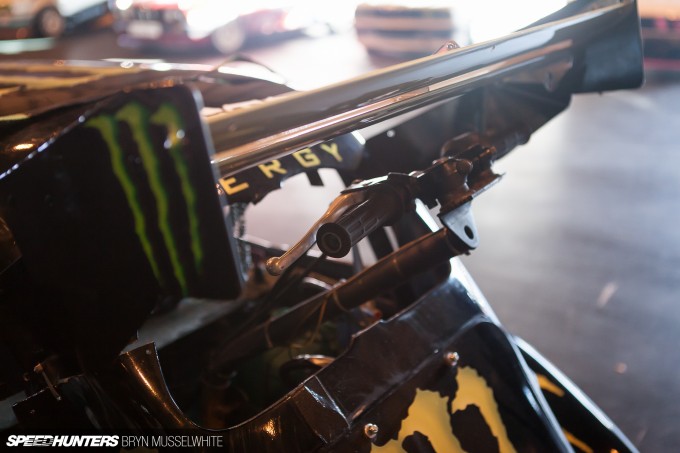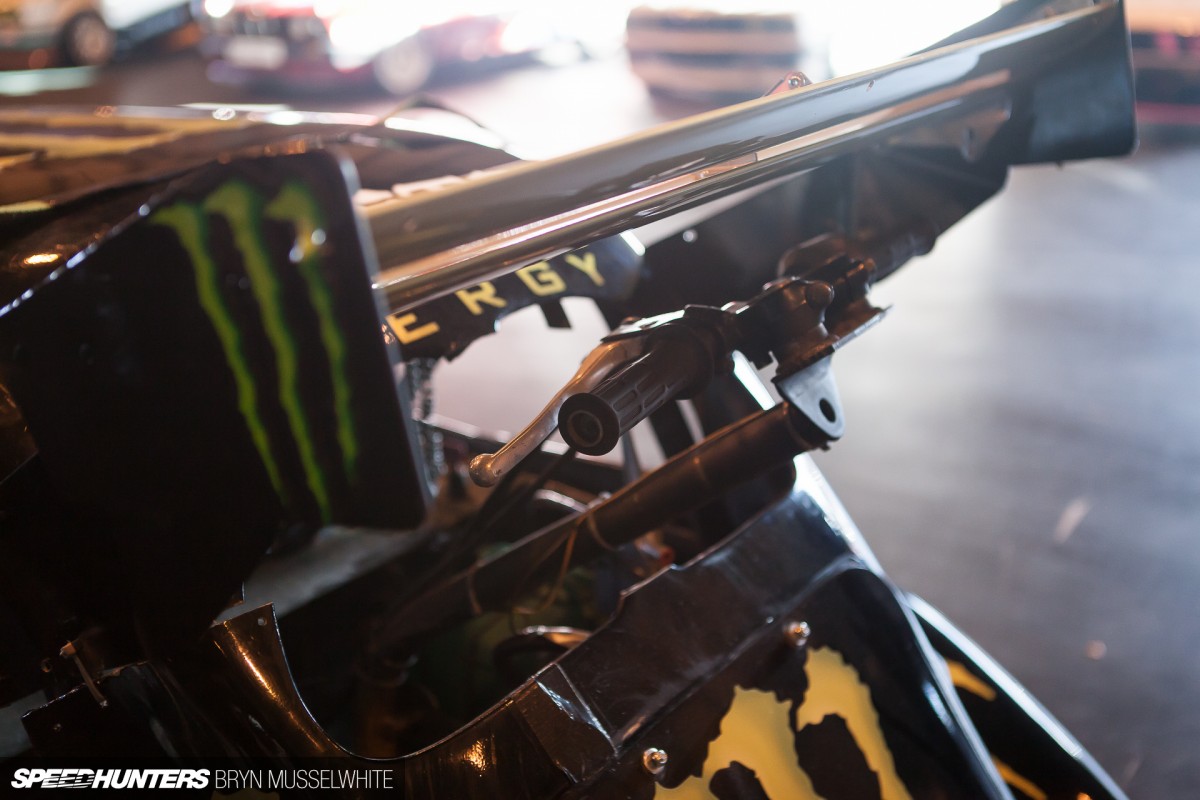 But the real kicker here is that he wanted to do it hanging off the back end. So here's part of the apparatus that was fitted to his Legend race car – one of a team of them he has for shows, these are easy to fit into a shipping crate and often form part of the act with other more locally-sourced cars.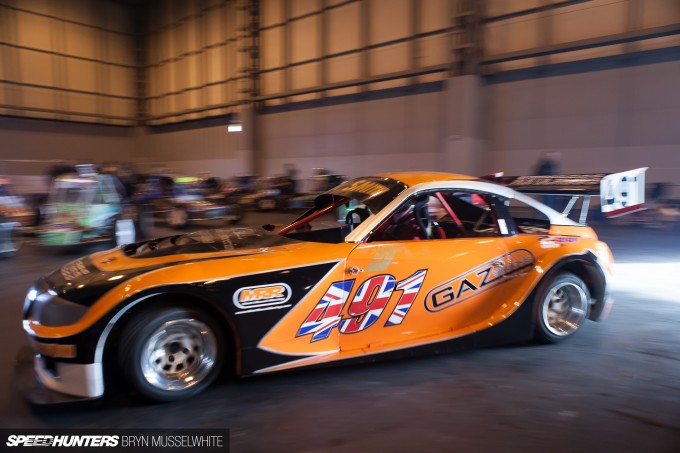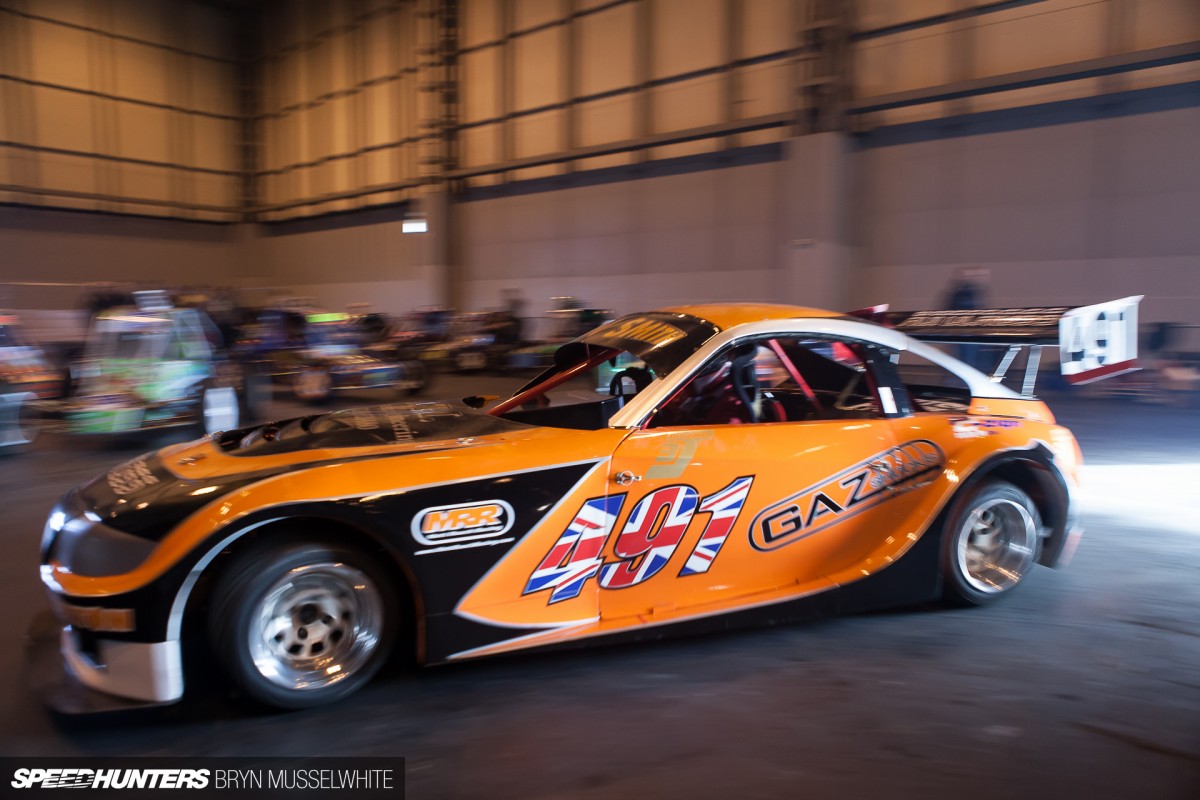 The live action arena at Autosport is the same as many others the world over: busy, noisy, smelly and intense. I love the atmosphere backstage and although it would spoil the game, it's a shame not more people get to see the other side of the curtains. So as Terry tried to explain how it's all going to work, we were drowned out by the sound of race cars lining up for demo laps and races in front of the crowds.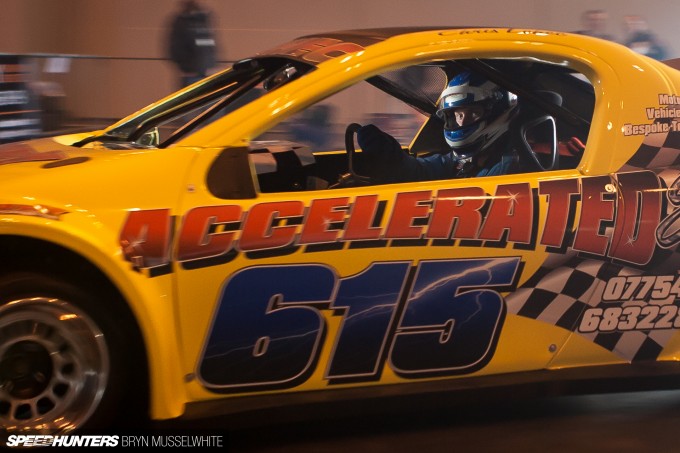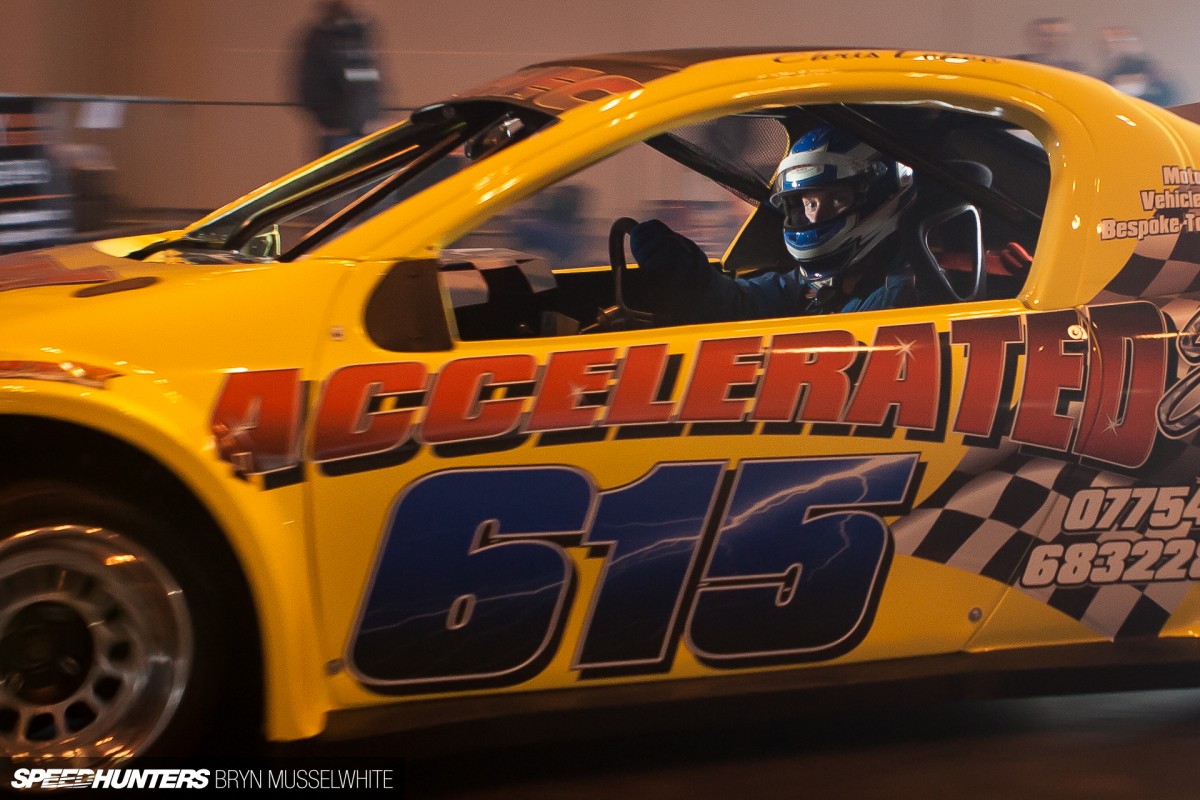 Peace and quiet? You must be joking. Ironically this type of silouhette race car is where Terry came from to the world of stunts. He still knew a bunch of racers there on the day and swapped stories in between preparing.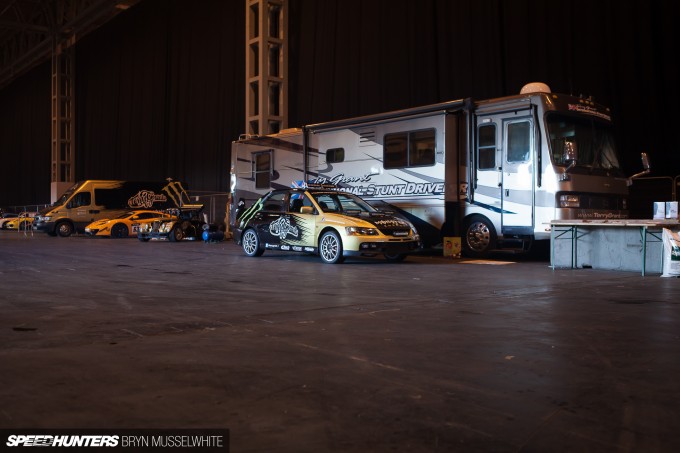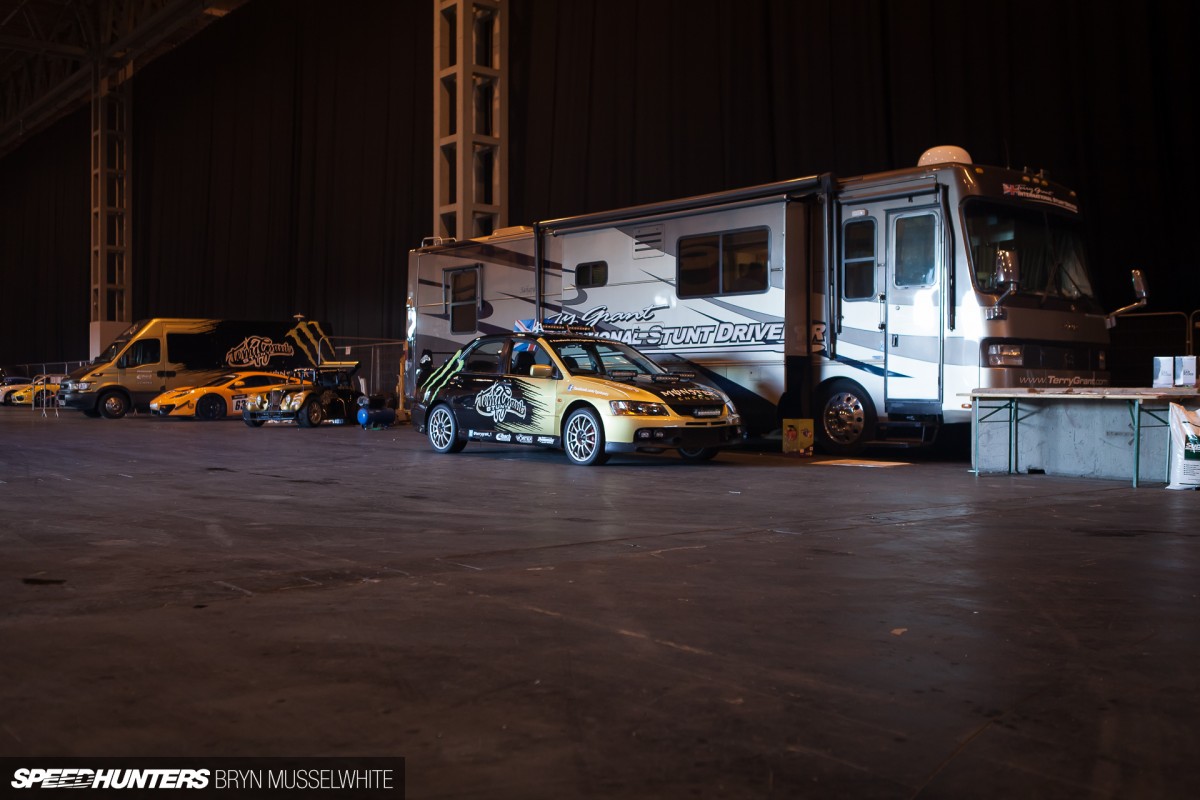 His motorhome may look grand but if you compare it to the size of your house or apartment and realise how much time he spends in it, then it makes sense. Without a good night's sleep or even a place to freshen up between shows, there's more of a chance a mistake can be made. Parked right next to the arena entrance, it stands out and makes you realise that Terry isn't part of a grid any more or race series, especially when friend and WRC driver Petter Solberg pops by for a coffee.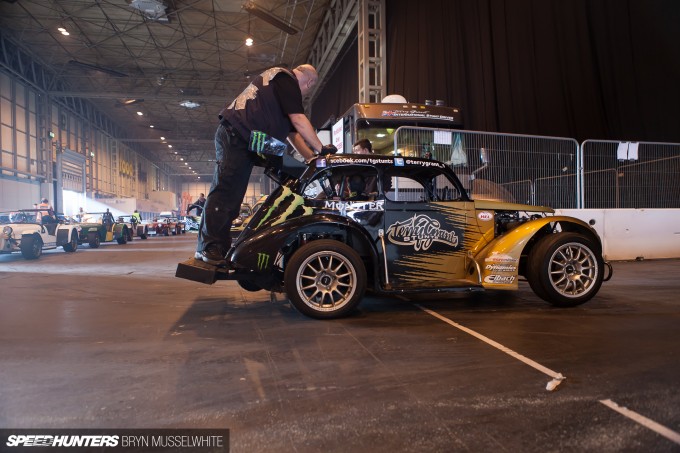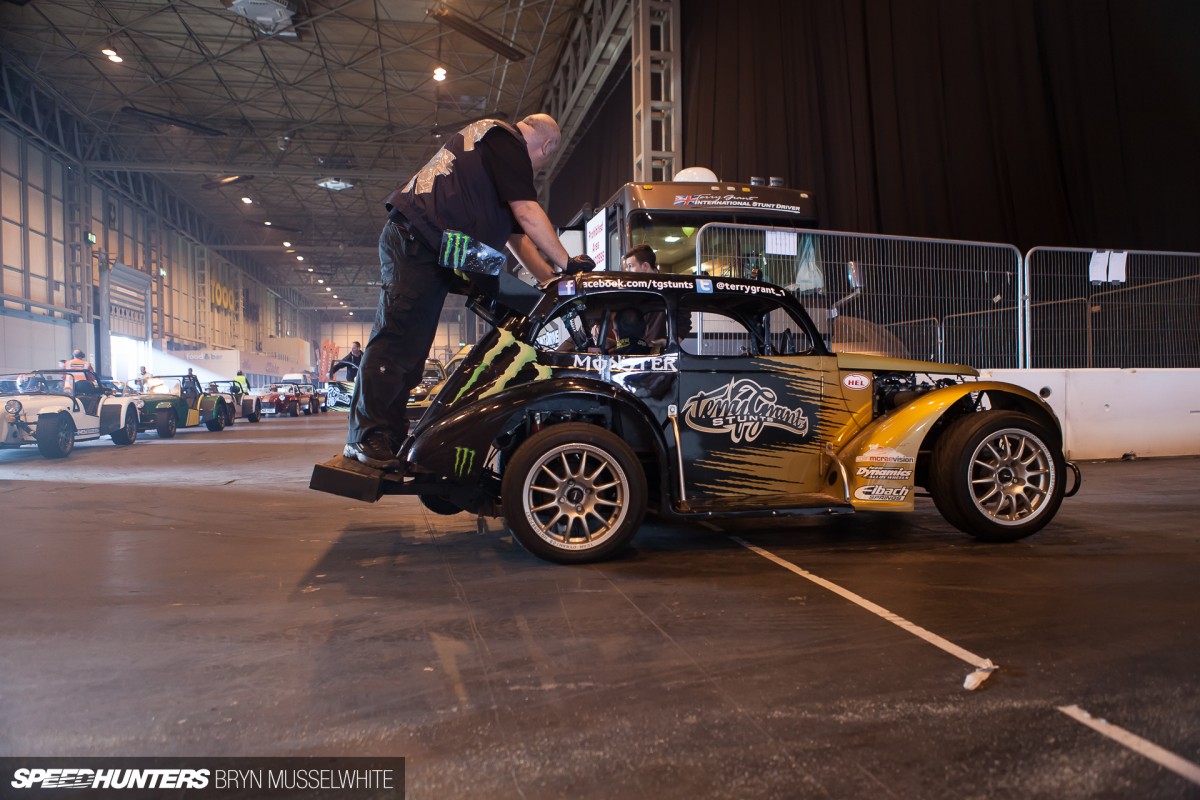 The sound is deafening in here as Terry lines up for part one of his routine: this is the set-up. So he's going to drive into the arena and explain that he wants to try a wheelie to the announcer, hence the large guy on the back. The Legend has got a 1200cc Yamaha FJ engine in the front so it's not an ideal candidate, but that's part of the appeal I think. Nothing like a challenge.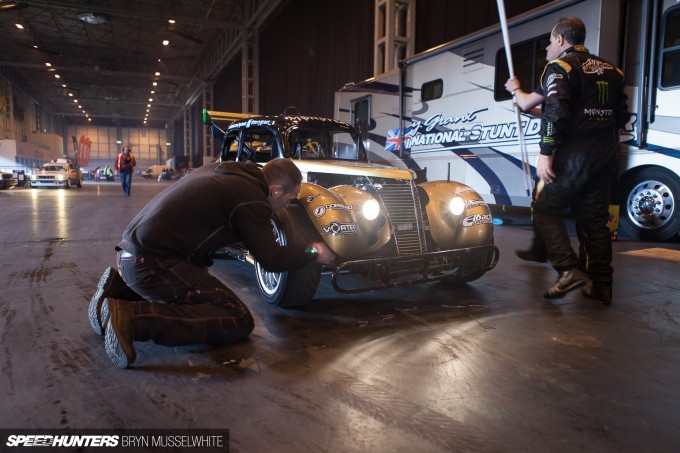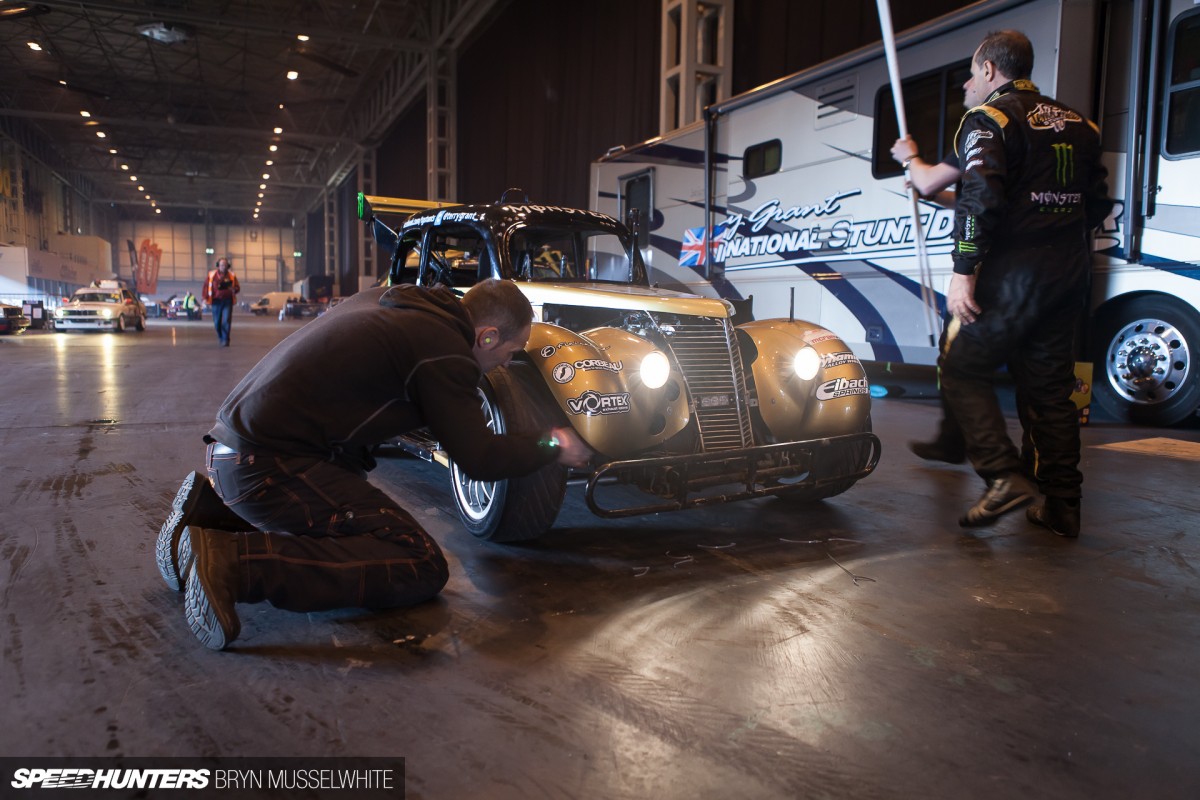 With the first pass out of the way, it's back to the team, Terry transferring to the Evo for some ridiculous high speed tricks plus some close proximity work, a real favourite of his. The team then have a couple of minutes to transform the Legend into a car that can wheelie.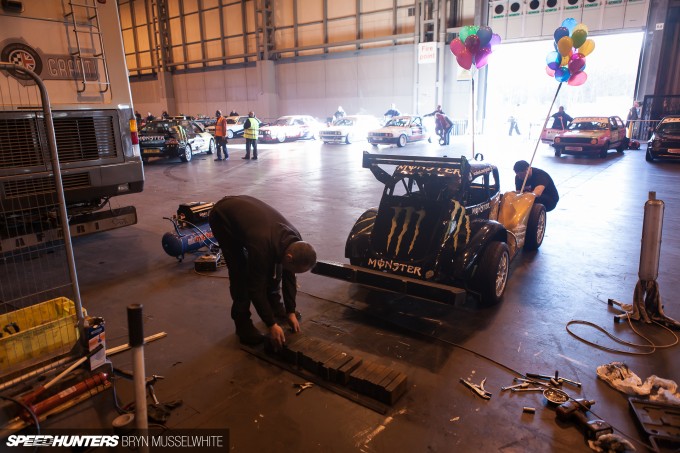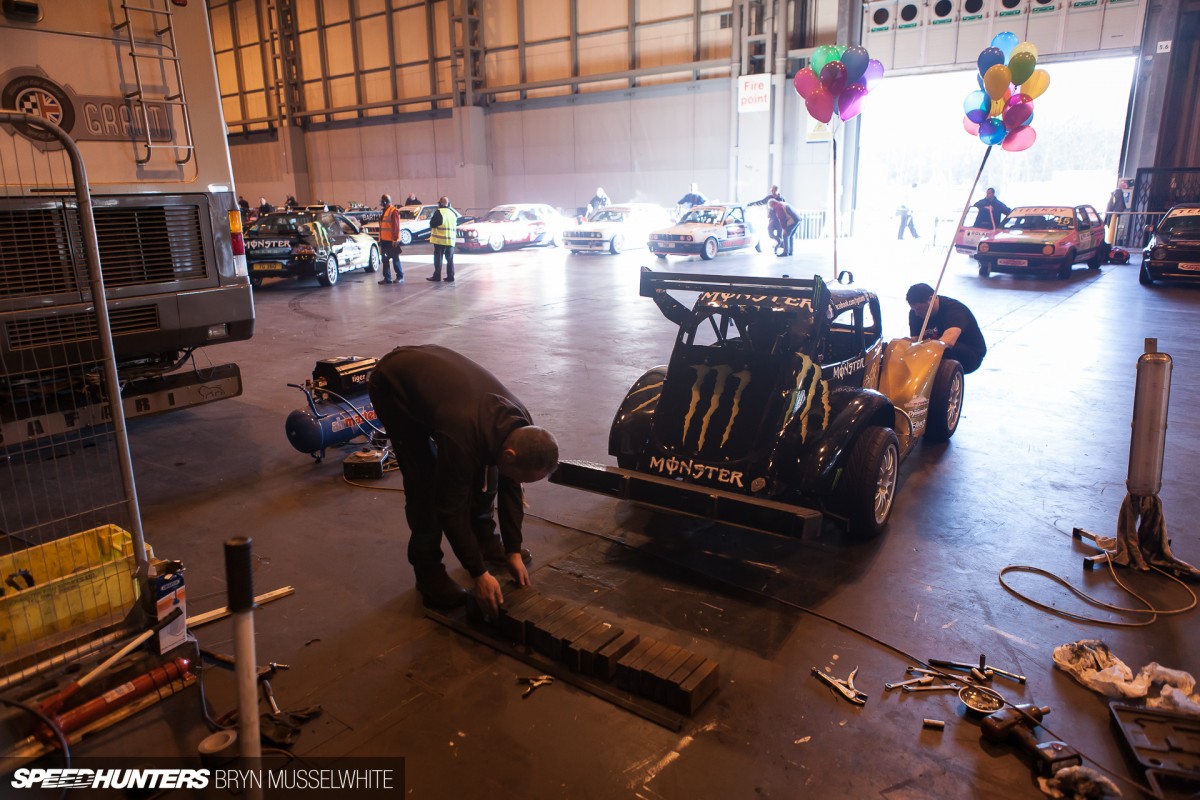 Except it's going to need a bit more than just balloons to get those front wheels off the ground…
Did he do it?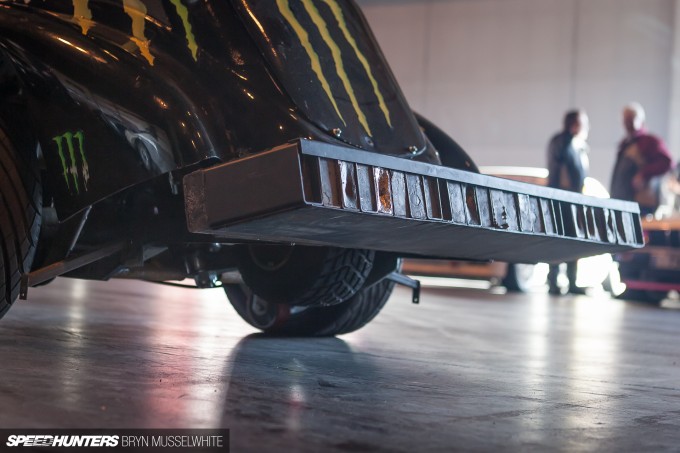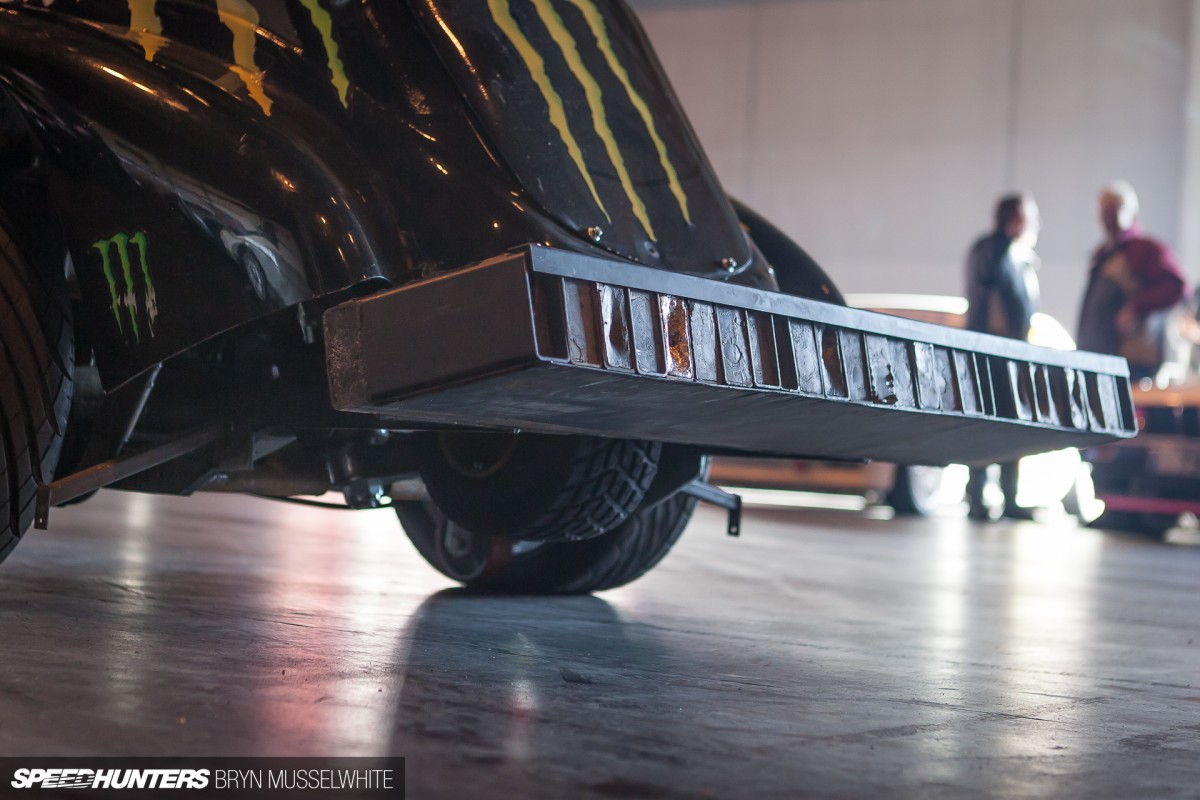 About 550kg more in fact. Here you can see the metal weights the team added before Terry headed out for the wheelie stunt. Given that the Legend has a usual all-up weight of around 450kgs, this changes the way it drives massively. Here you can also see the single go kart wheel that's been connected to the handle bars under the spoiler. This looks like it should work, but as Terry was to find out, it's anything but easy.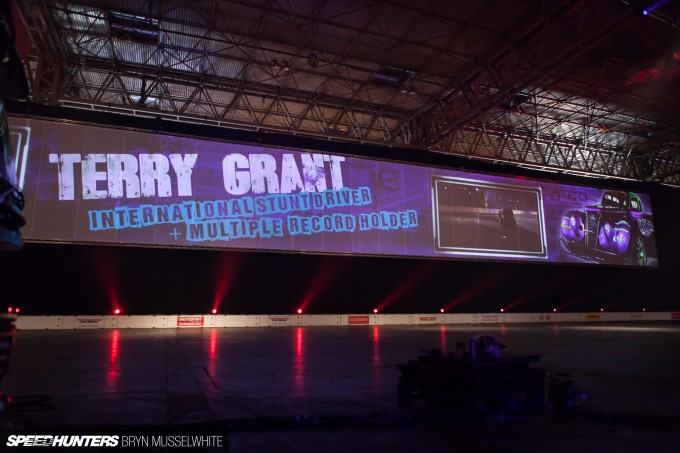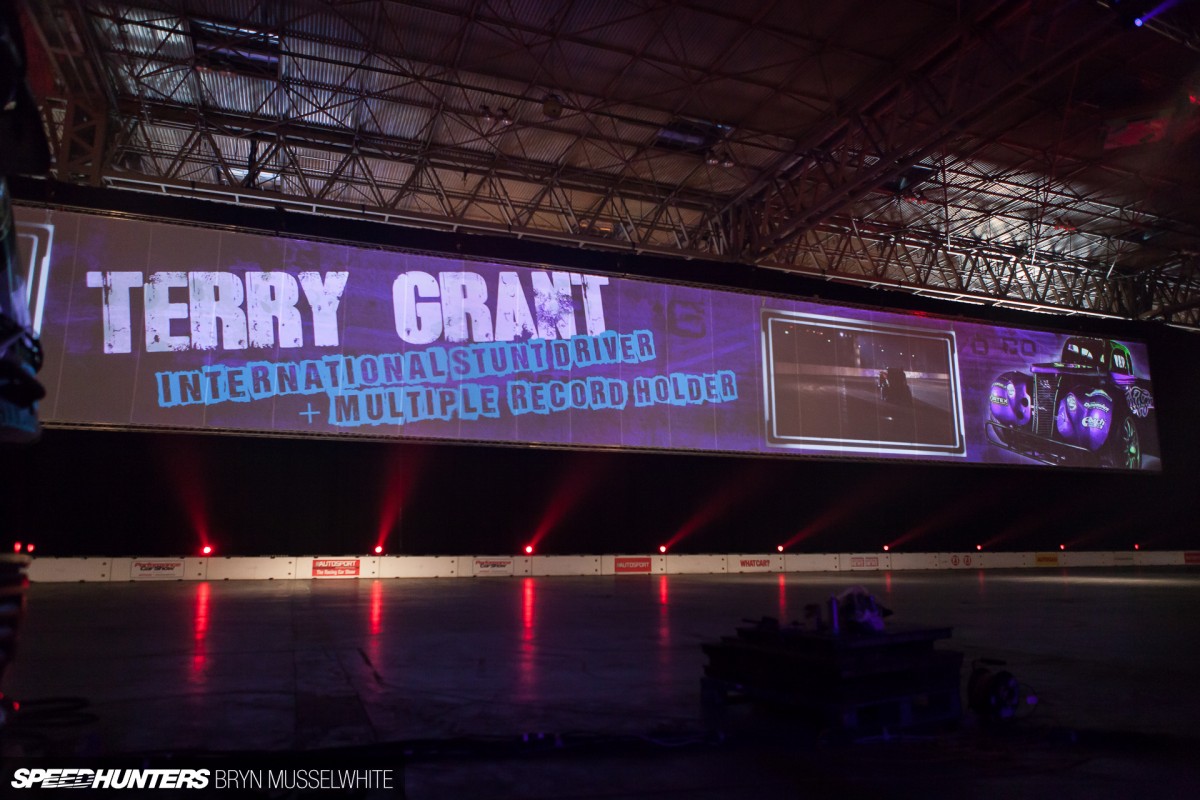 Out in the arena, it's business time and this has to happen. After the hectic run around backstage trying to make sure it's all going to come together, there's been some practice but I could tell Terry isn't happy. He's really going to have to work at this.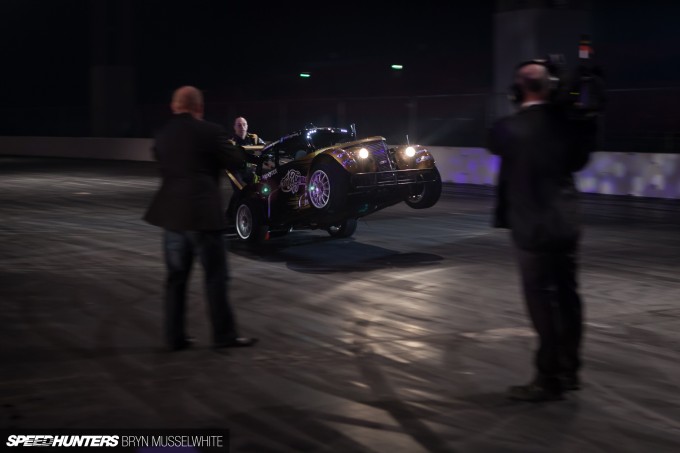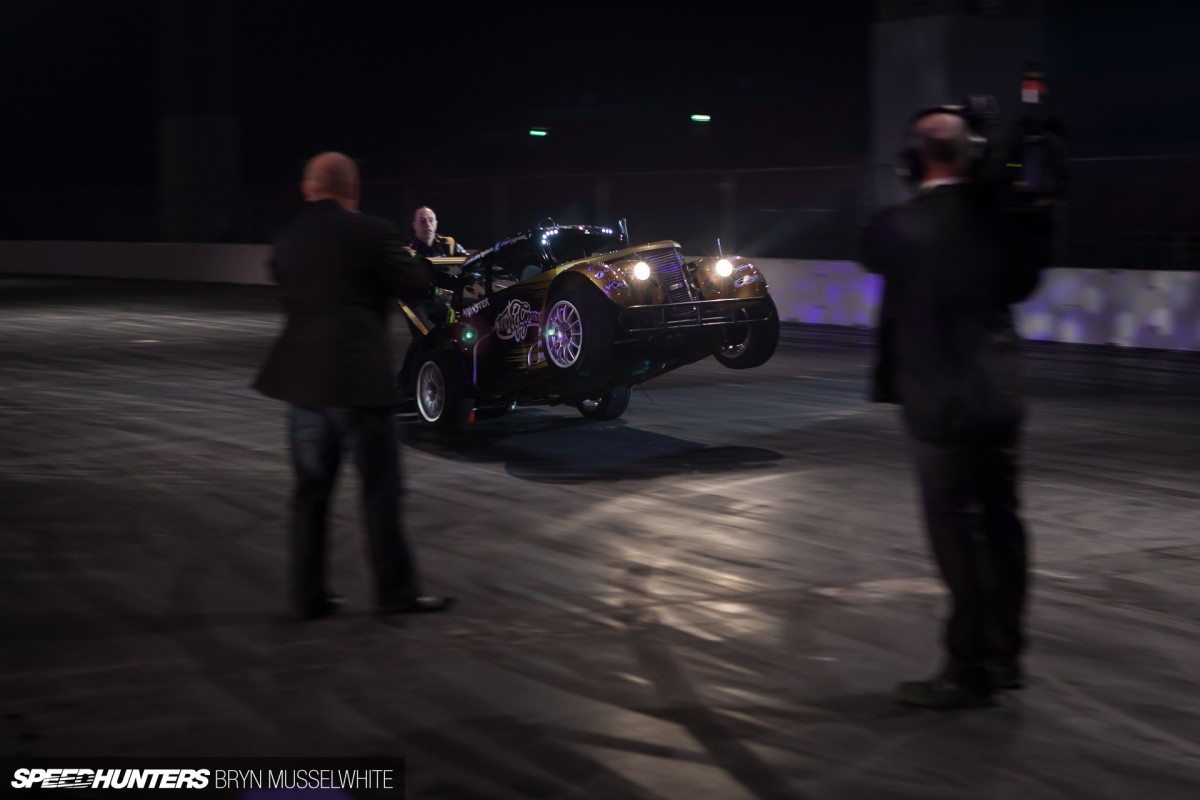 Jumping up on the back step, the revs rose and the front end of the Legend gradually did too. Terry said he didn't really know how it was going to feel the first time – remember he's hanging on as well as trying to steer.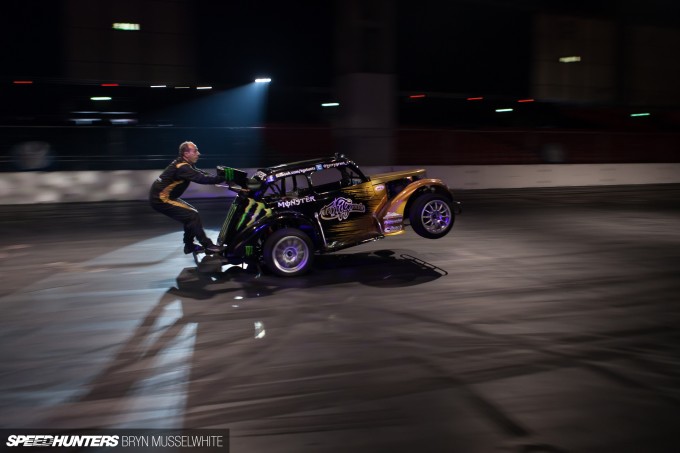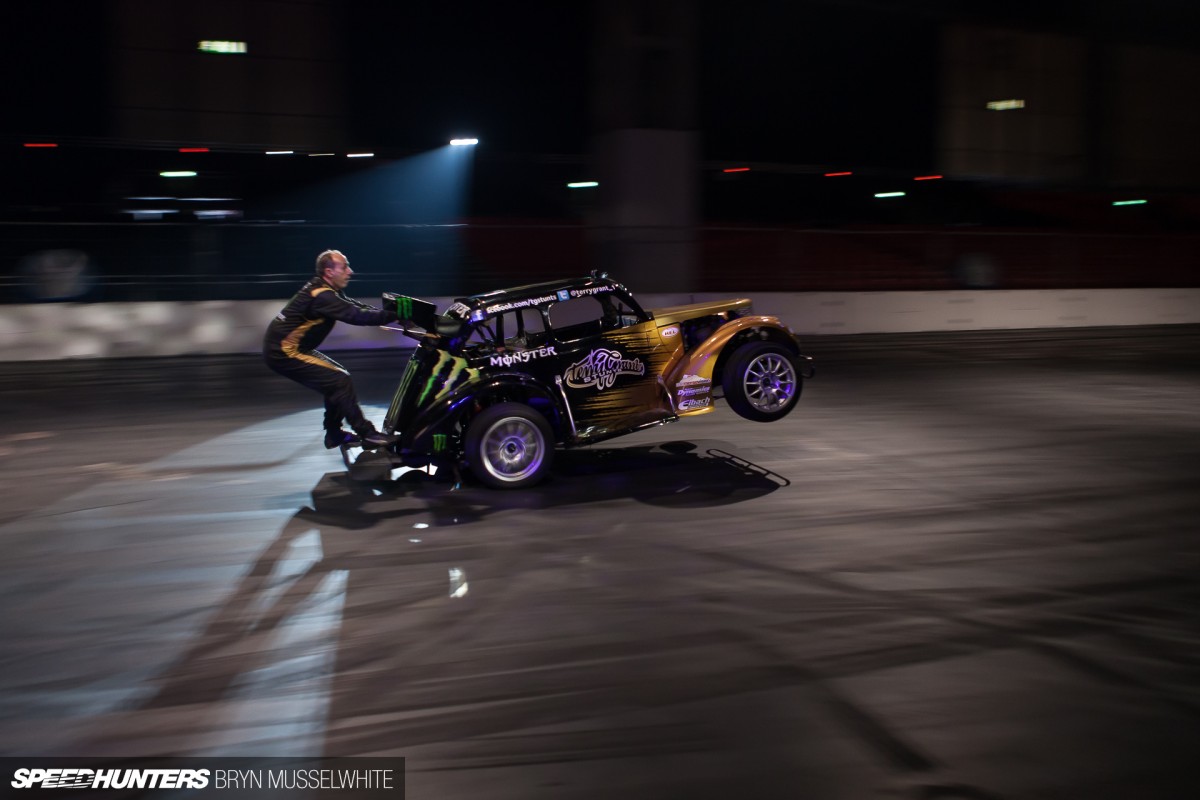 It soon became obvious he was really having to work at it to keep the front end up. Putting his whole bodyweight as far back as possible meant the single 'jockey' style wheel was in contact with the floor, but to keep it there needed speed and the steering was anything but precise. Terry amusingly said that he needed nature to help at this stage, so the faster it goes the easier it gets, but the more dangerous at the same time. He also told me afterwards that he had to have a little argument with himself the first time, as his head was saying 'get off this thing'. When you're heading towards a concrete barrier with no crash helmet on and the car isn't turning, I can see how that thought would come up. His logic was he could bail, but then how would you turn the corner? There really didn't seem to be a fail option here.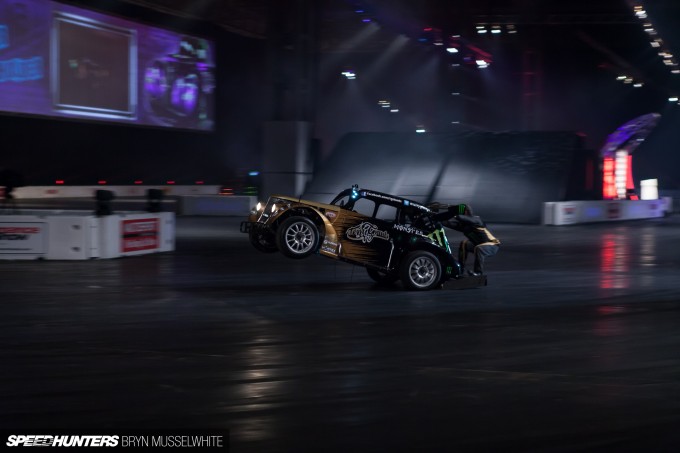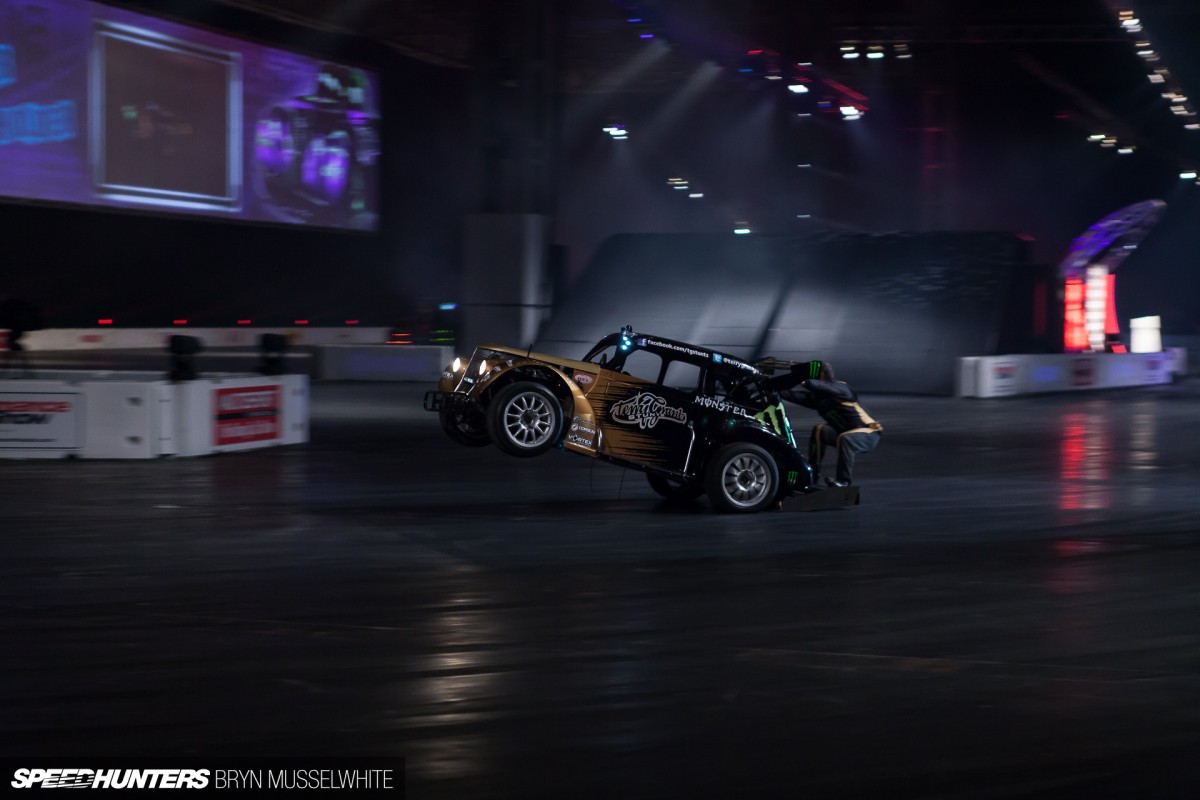 You can see just how much force he was having to use to keep the wheels up, because of course if they dropped then he also loses the ability to steer entirely. Oh and did I mention he's operating the clutch with a length of wood shoved down into the footwell? Again Terry surprised me by saying that he was actually having a laugh to himself right about now, because he'd proved he could do it.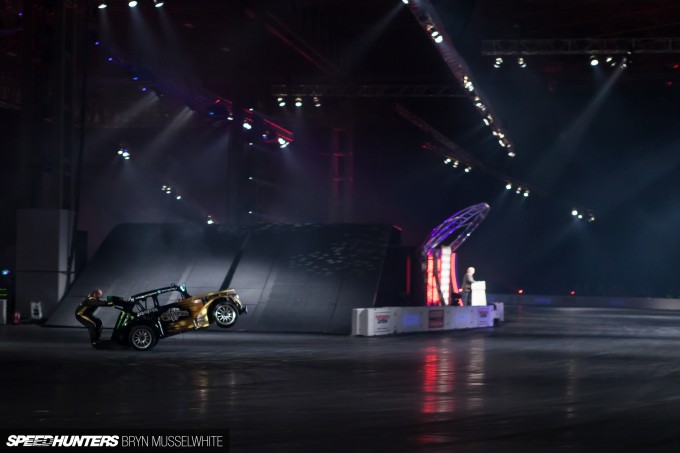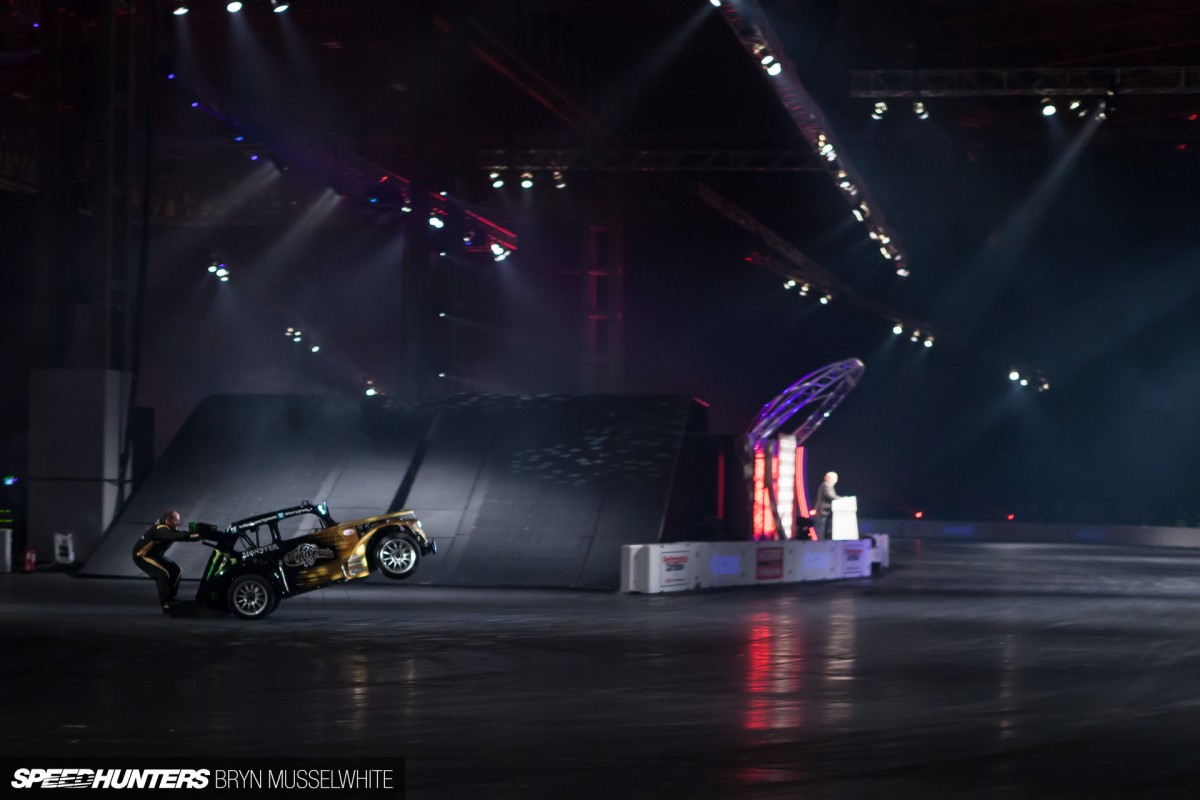 Was it up to his usual standards? Maybe not, but it will be in time. Because as ever, he's thinking five steps ahead and that's exactly what you have to do to stay on top of the game. In practice he managed to pull off roughly ten consecutive donuts at speed. Sure he nearly got thrown off, but that just inspired him to go even further.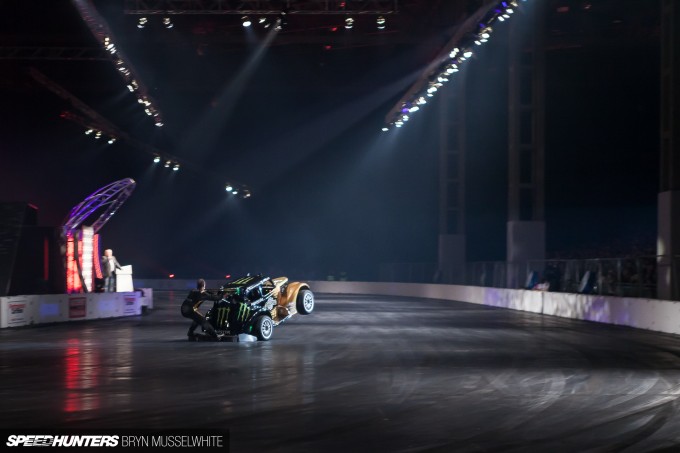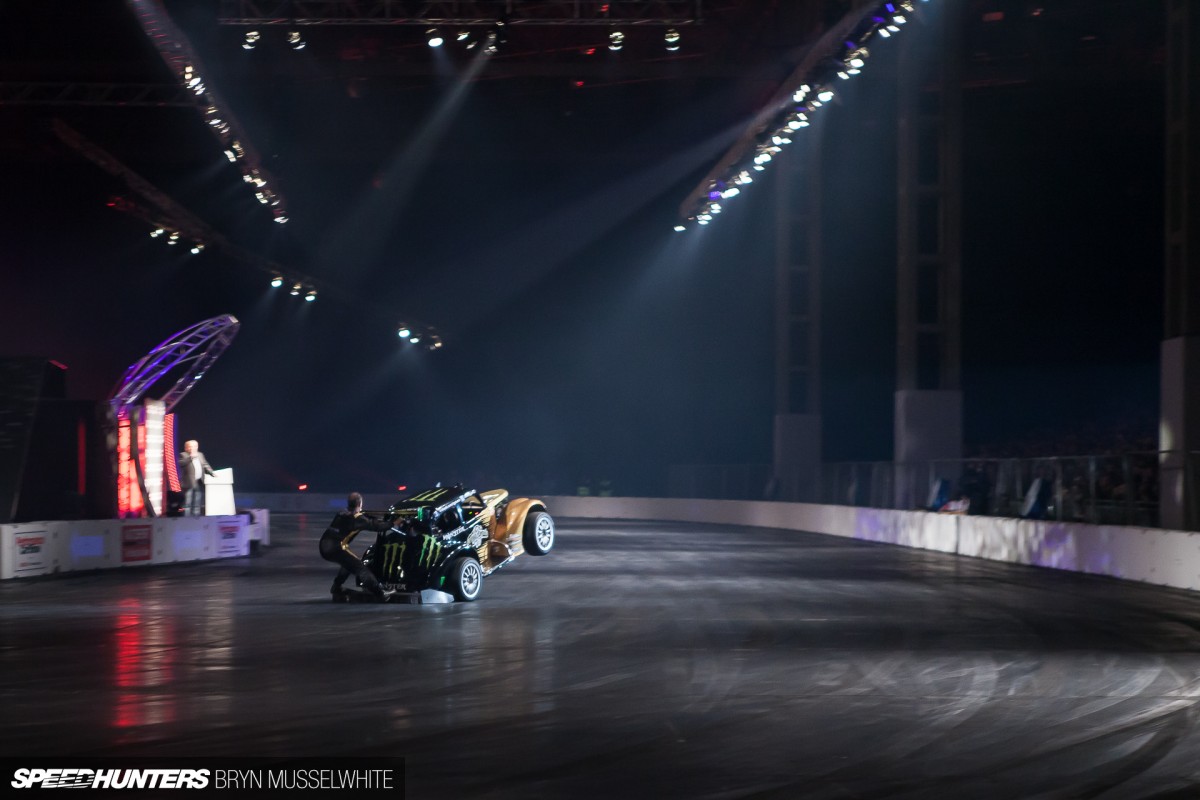 So what's next? Well Terry admits this was only ever part of the plan; the real big idea is to have a wheelie car that he can drive really fast around corners, then adding wouldn't it be good if it could drift whilst up on two wheels as well? Yes it would. Not only that but he has to be able to do it a thousand times out of  a thousand. This is his job and if he gets it wrong… Well you know what? He can't.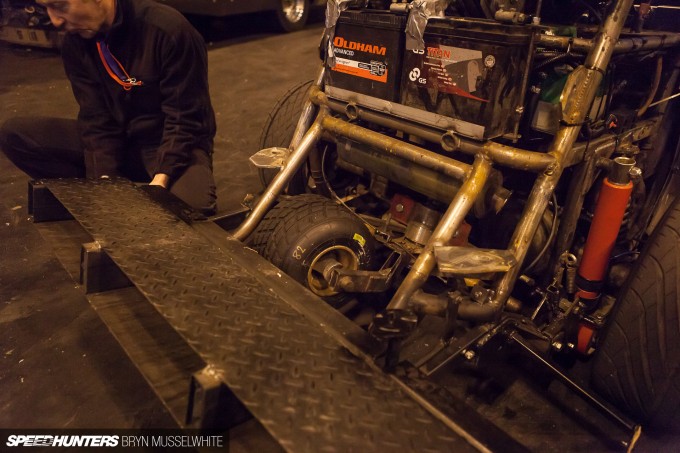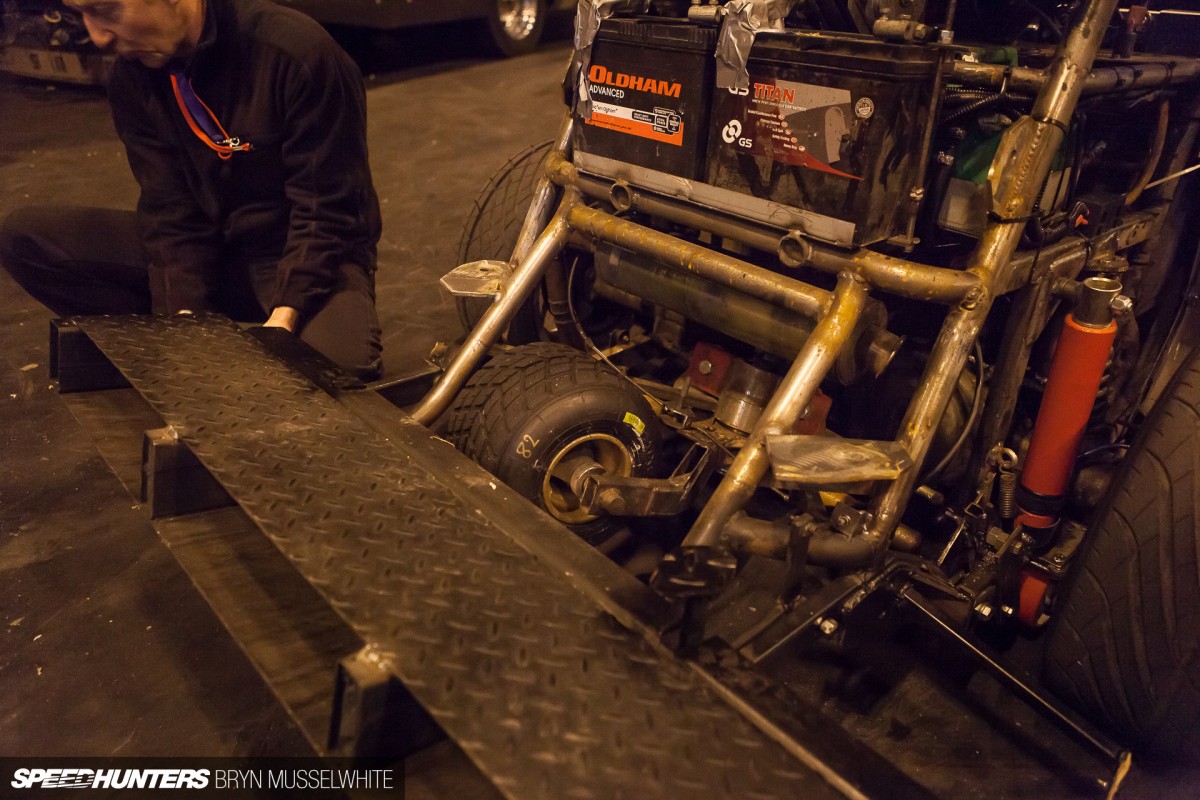 And I guess for me that's the inspirational part here. Why not dream big? Go further than anybody has before then work back from that point and figure out how you're going to get there. It might not always go to plan, but you're trying and that's a great place to start. Terry said to me that in his head he knows he can do it, so he does. Which is how you get 'international stuntman' written on your business card…
Bryn Musselwhite
Instagram: speedhunters_Bryn
bryn@speedhunters.com
The Inspiration Theme on Speedhunters
Killing Supercars – I Want To Be A Stuntman!