Redefining the kit car
When you hear the words 'kit car', what's the first thing that comes to mind? For me, I can't say it's an overwhelmingly positive image. Sure, there are some proper kit cars out there today – Superformance and Factory Five come to mind – but for some reason I've never really found myself dreaming about building and driving a kit car. It's probably because my image of them might be stuck in the '70s and '80s.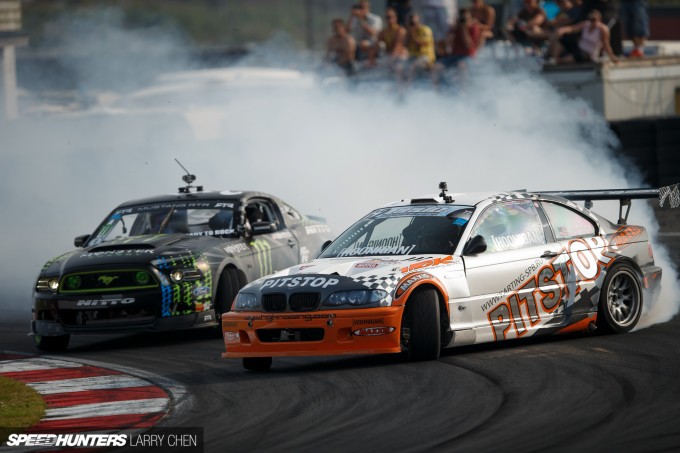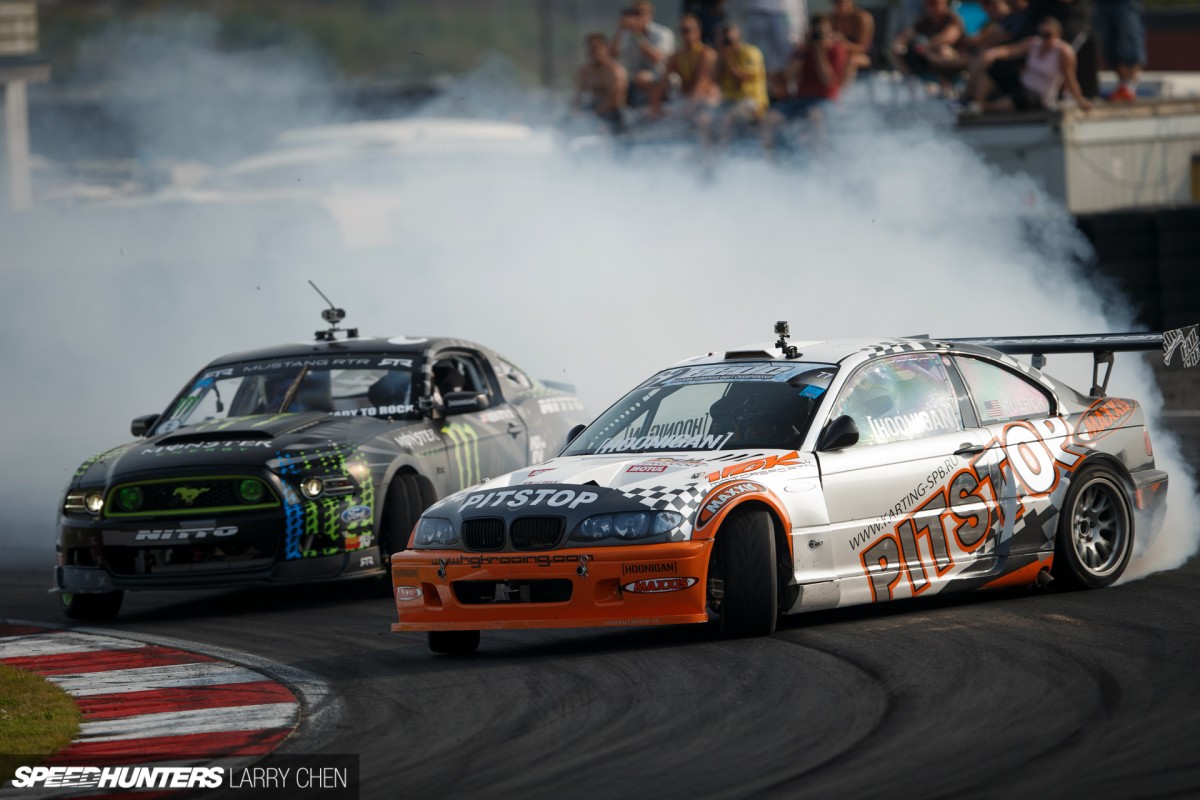 Back then, a kit car usually meant some sort of backyard creation that used a Volkswagen or Pontiac Fiero chassis and they almost always had fiberglass bodies that were supposed to resemble cars like the Ford GT40, Lamborghini Countach, or some other expensive and exclusive machine.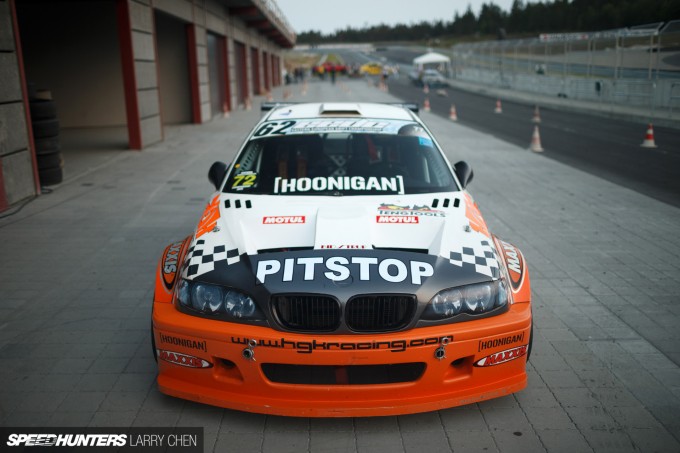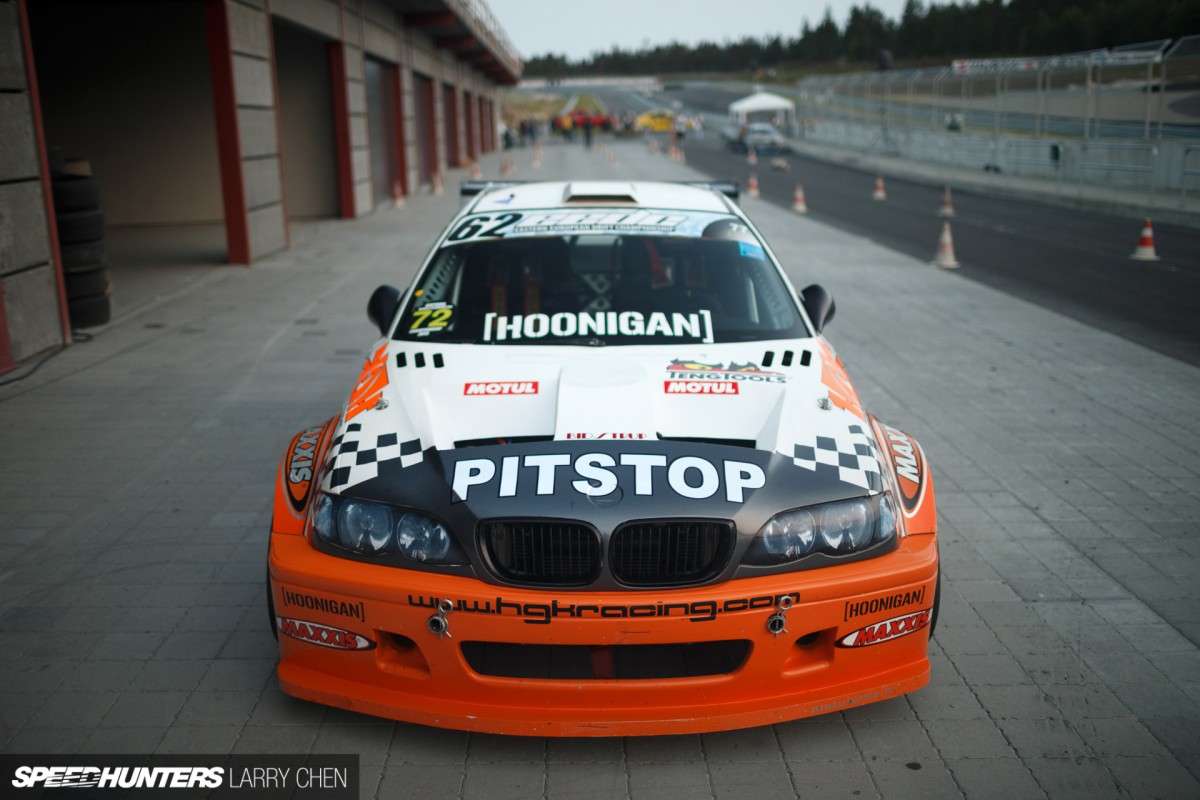 Sometimes these kit cars actually looked like the cars they were trying to replicate. At night that is, in the fog and from a couple of hundred feet away. Even if you were fooled into thinking you were looking at an Italian thoroughbred, all the excitement would disappear at the moment you hear the car drive away to the tune of a GM V6 or a VW flat-four. It's experiences like that which have left a sour kit car taste with me.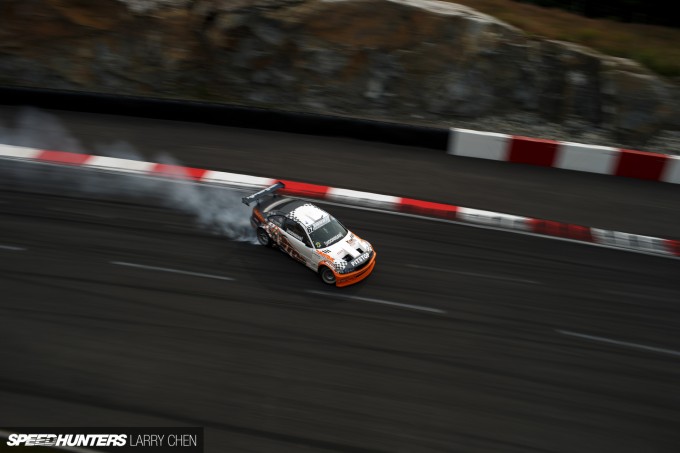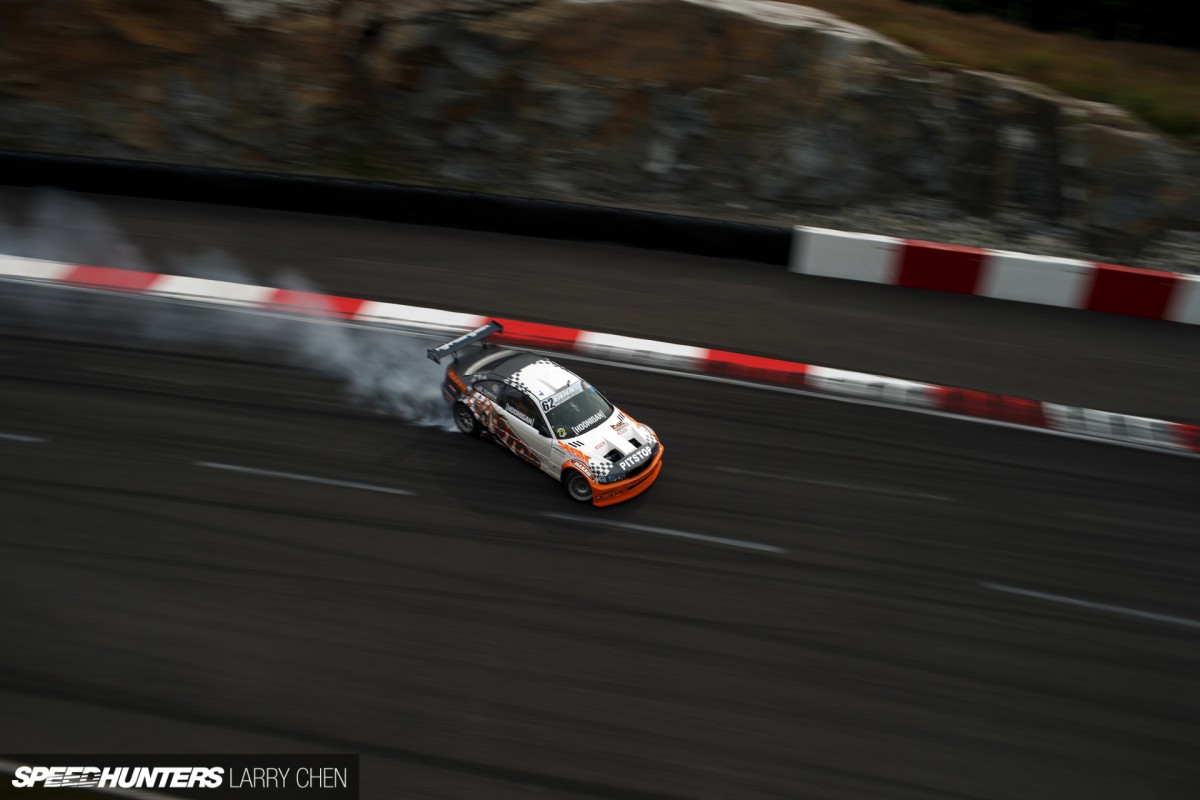 But not any longer. The vehicle you are looking at is also considered a kit car, but this one's been built with an ethos that's the complete opposite of those 'all bark and no bite' replicas of the past. Say hello to HGK Motorsport's drift kit car.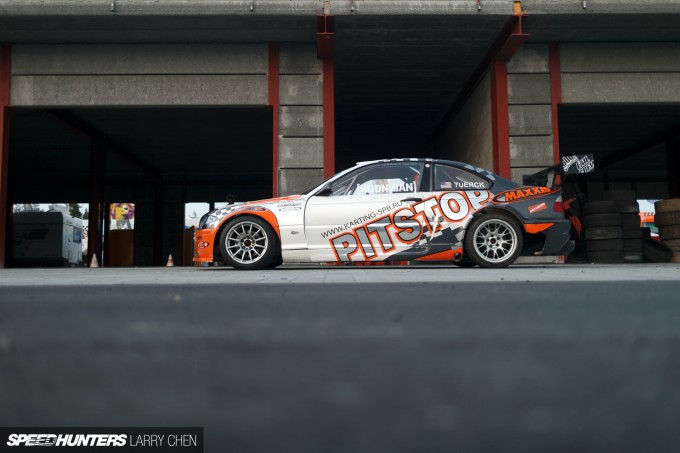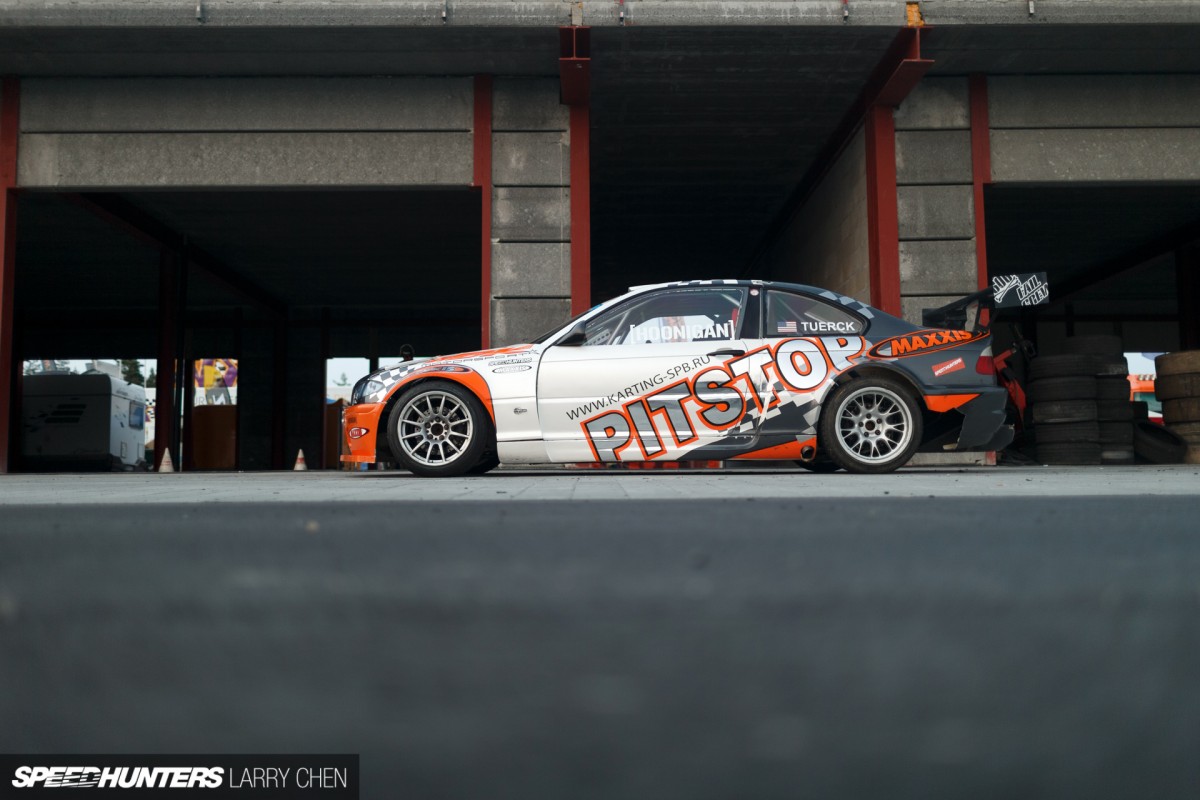 HGK is a company based out of Latvia, and while I can't say the country is considered a hotbed of motorsport development, these guys will surely be changing some minds.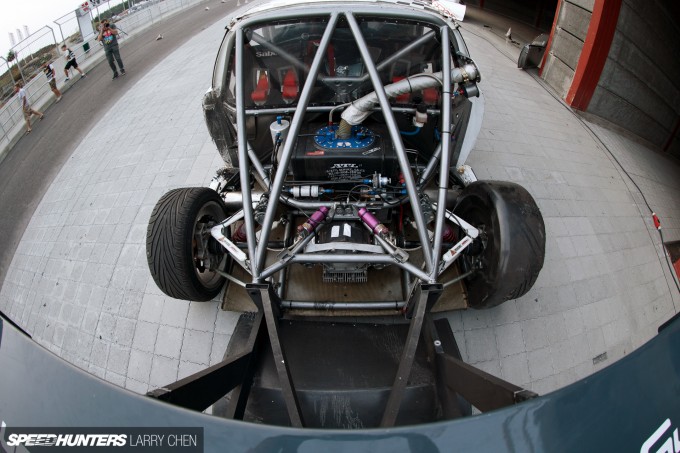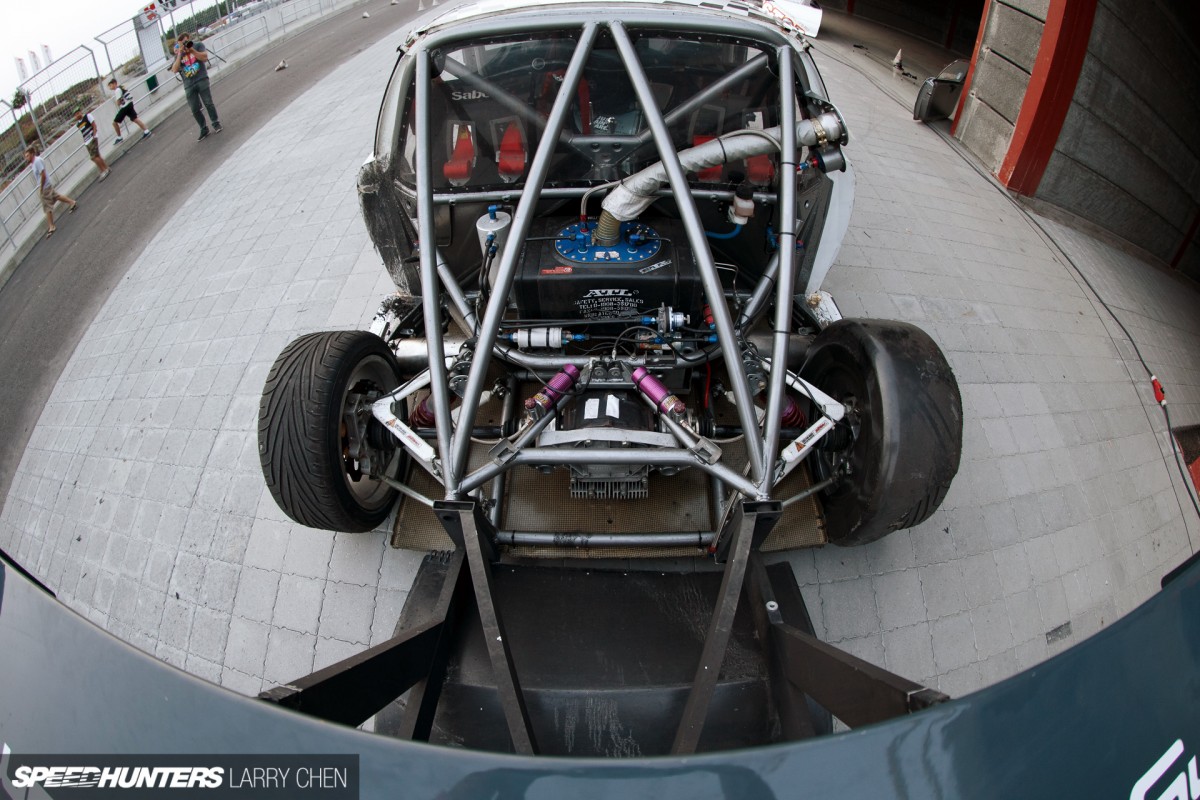 While most of the world's kit cars have been built to replicate the look of rare classics, HGK's product is about what's beneath the skin. More than that, it's about having a vehicle that's built to move like a professional drift car.
It's sort of an M3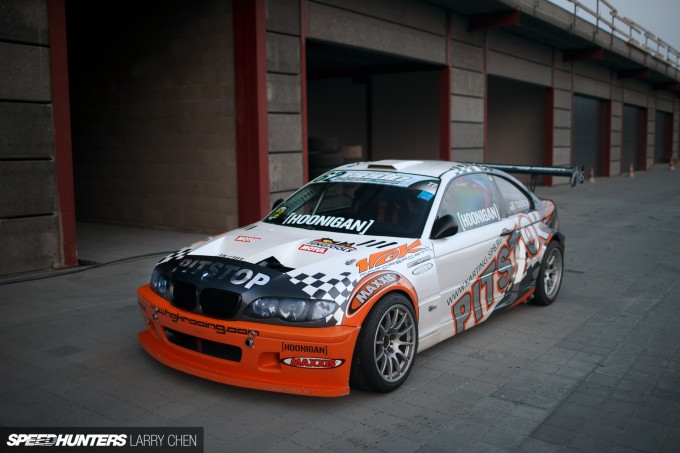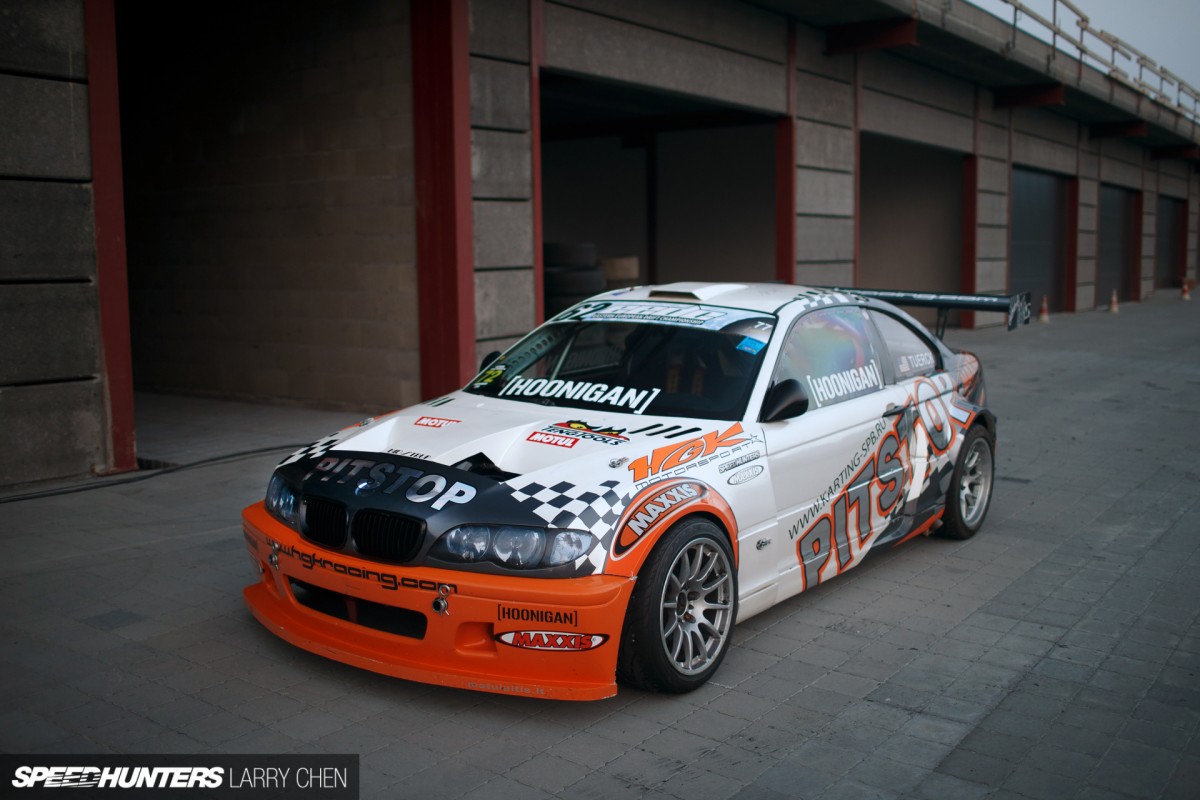 With all of its body panels in place, HGK's car looks like an E46 BMW M3 GTR. If this was the only angle you saw of the car, you'd probably think it was just another of the many BMWs that populate drift events across Europe.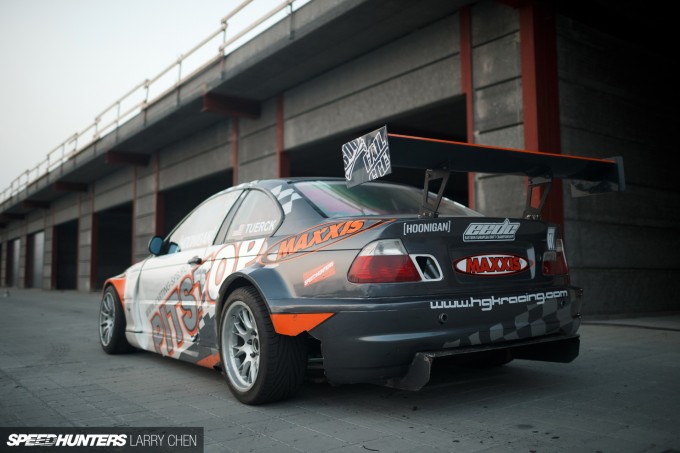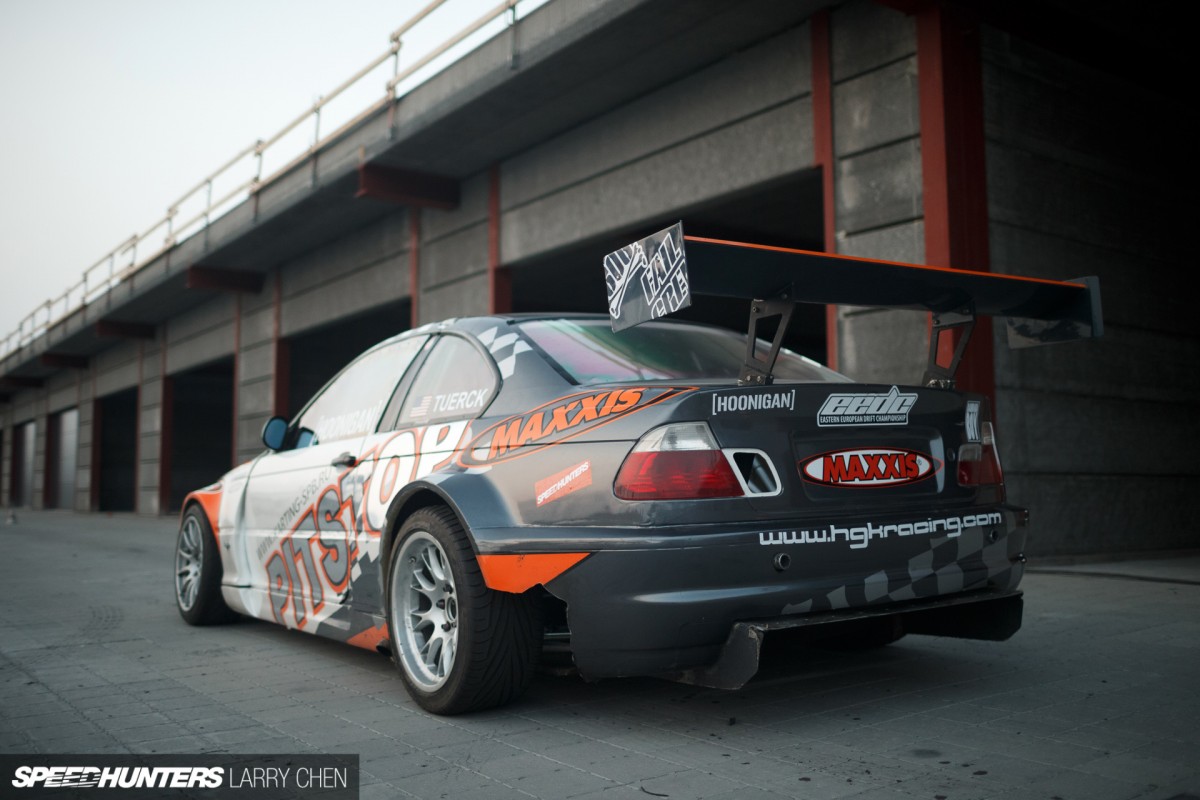 Actually, it's kind of funny when you think about it. Most of the kit cars out there are designed to be more affordable than the cars they are inspired by, but in this case it's the opposite. There's no doubt you could go and buy a cherry E46 M3 for a mere fraction of what what HGK's 'replica' will cost you.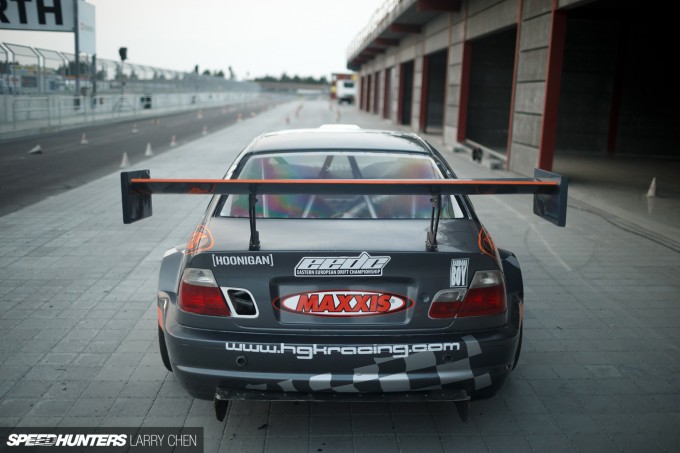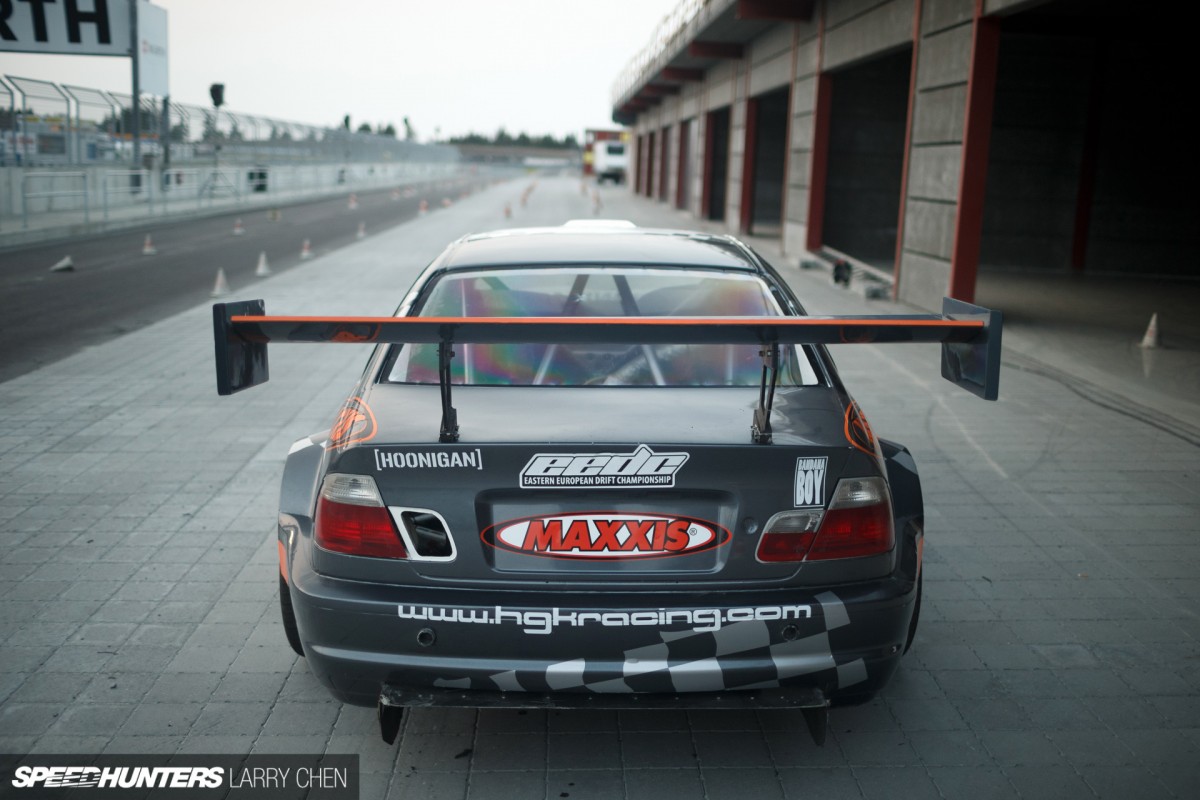 That's because, aside from the shape of its body, this car actually bears little resemblance to any E46 out there. In fact, I'd hesitate to even label it a BMW at all.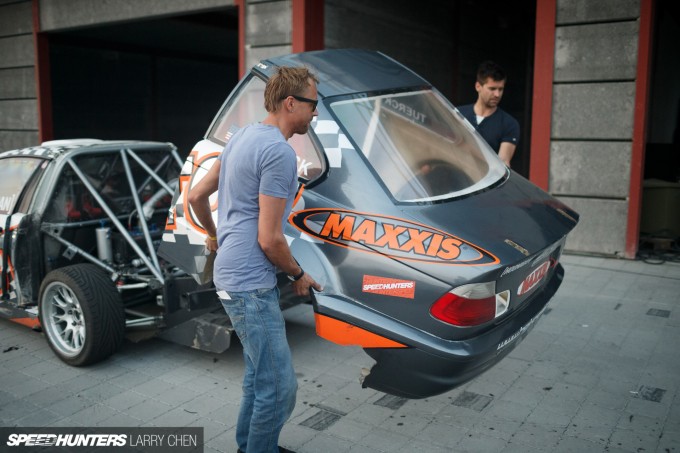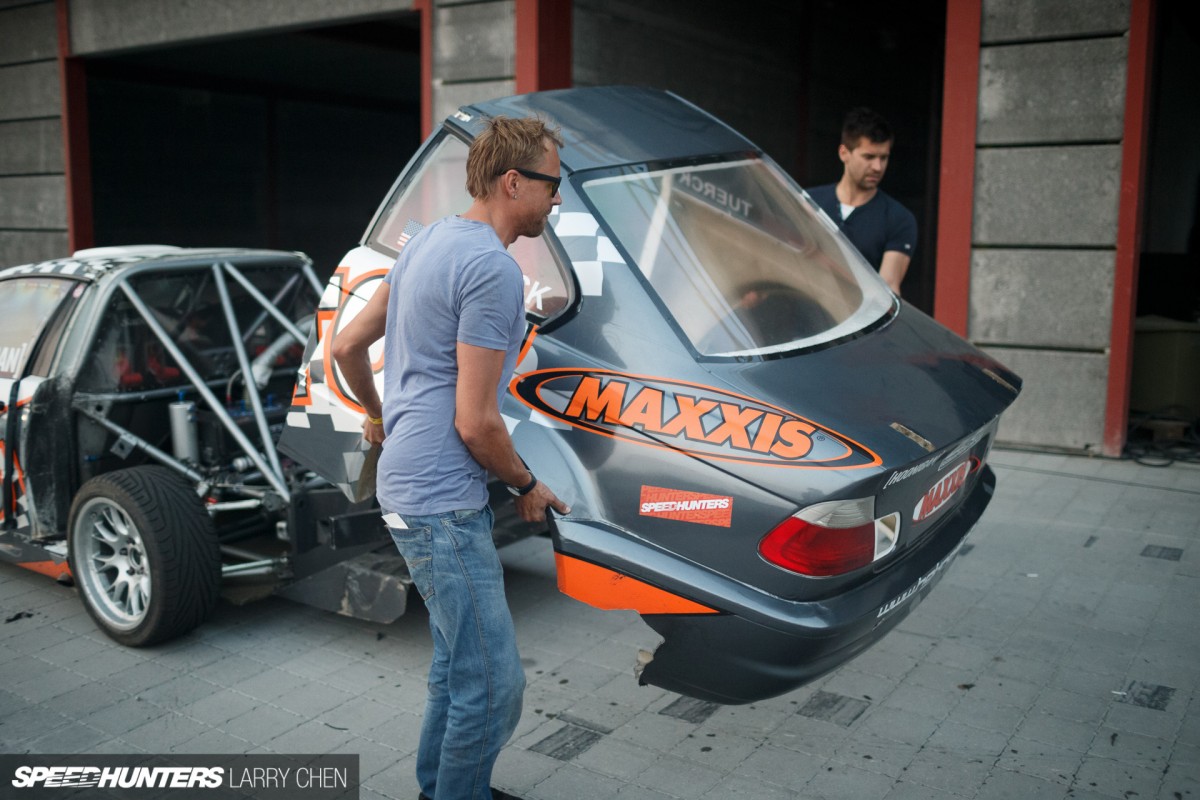 When you remove the car's lightweight fiberglass body panels, you'll find a vehicle that has been engineered and built entirely in HGK Motorsport's workshop.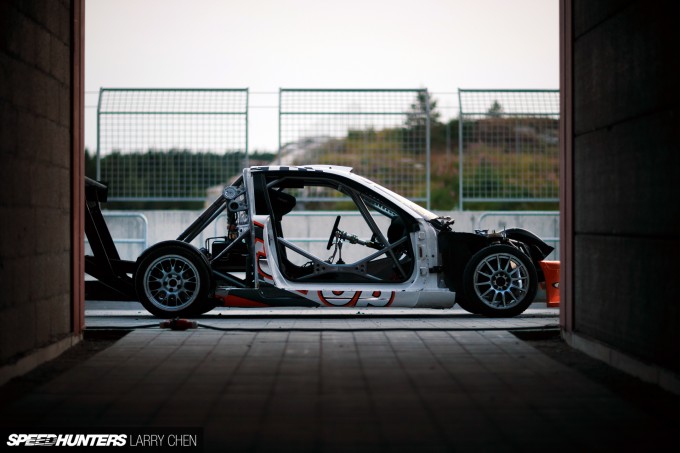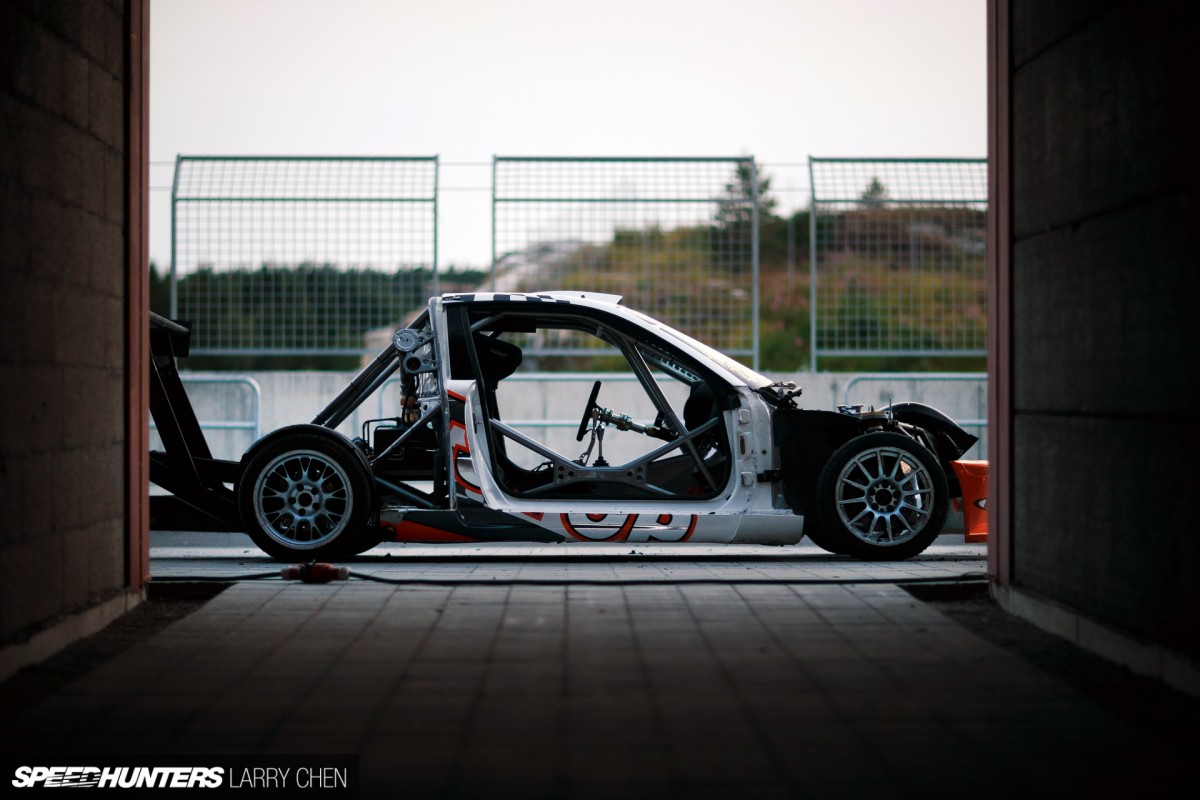 While this isn't the first tube frame race car out there, HGK's product is unique in that first it was designed specifically for drifting, and second, it's available on a made-to-order basis for anyone looking to get into a competition-ready drift car. Write them a check and nine months later you can have one of these to call your own.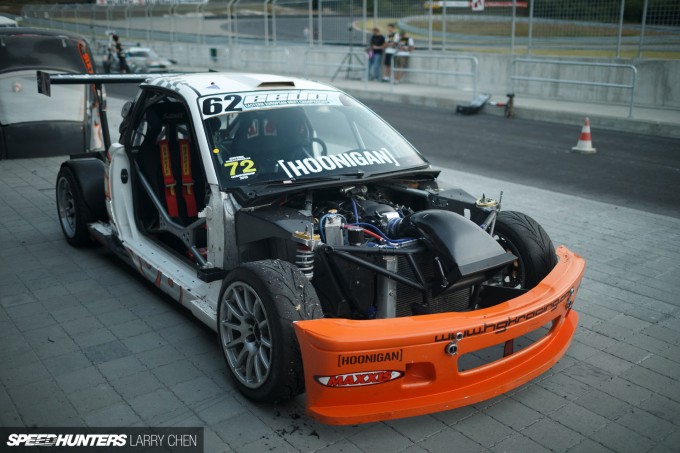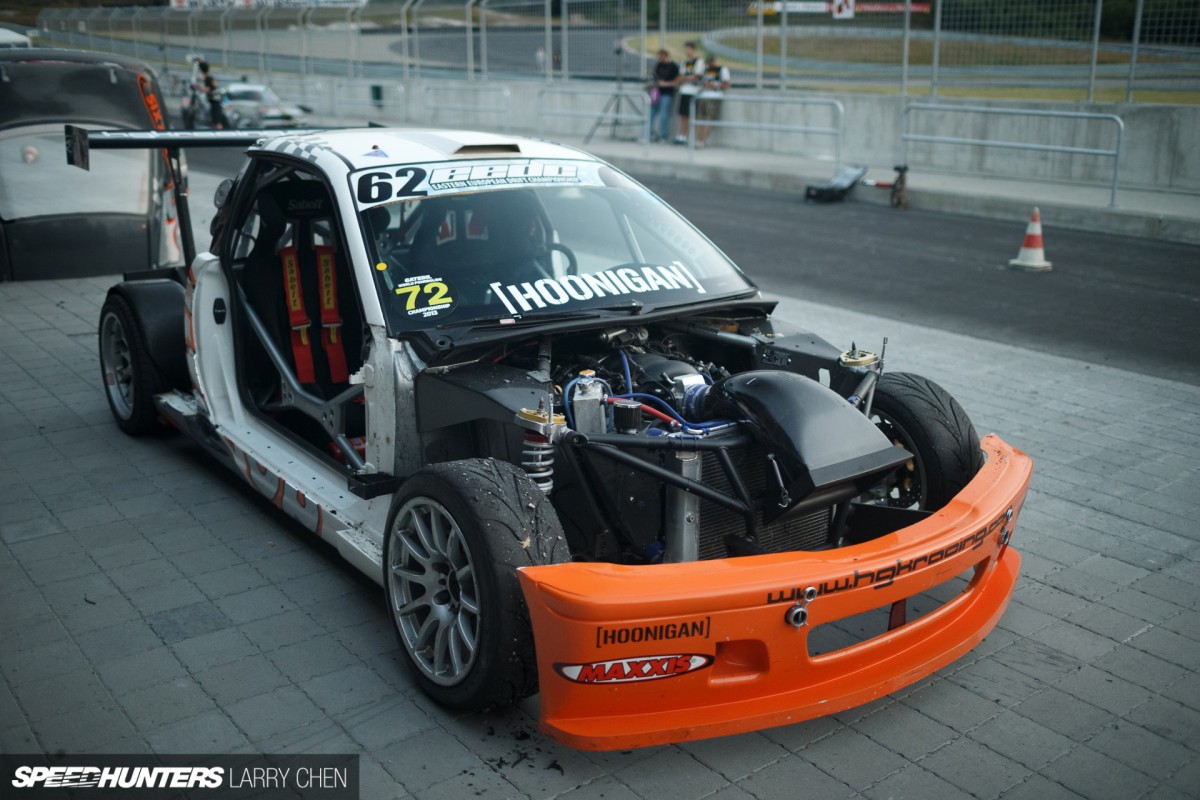 Although the shell is based on a an E46 coupe, all of the suspension parts have been custom designed and fabricated by HGK in order for the car to be driven sideways as quickly and as dramatically as possible.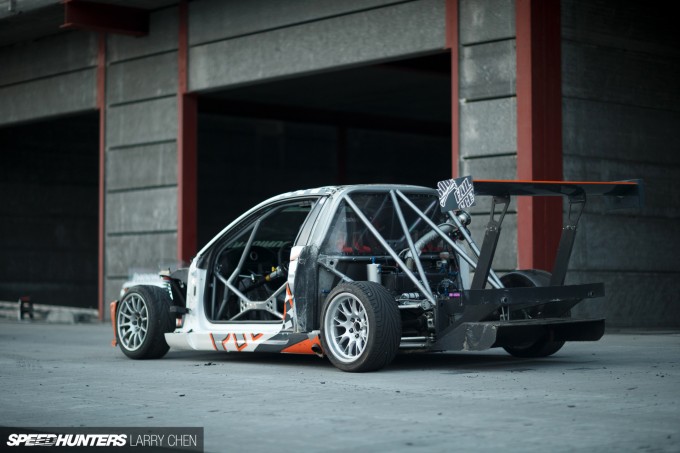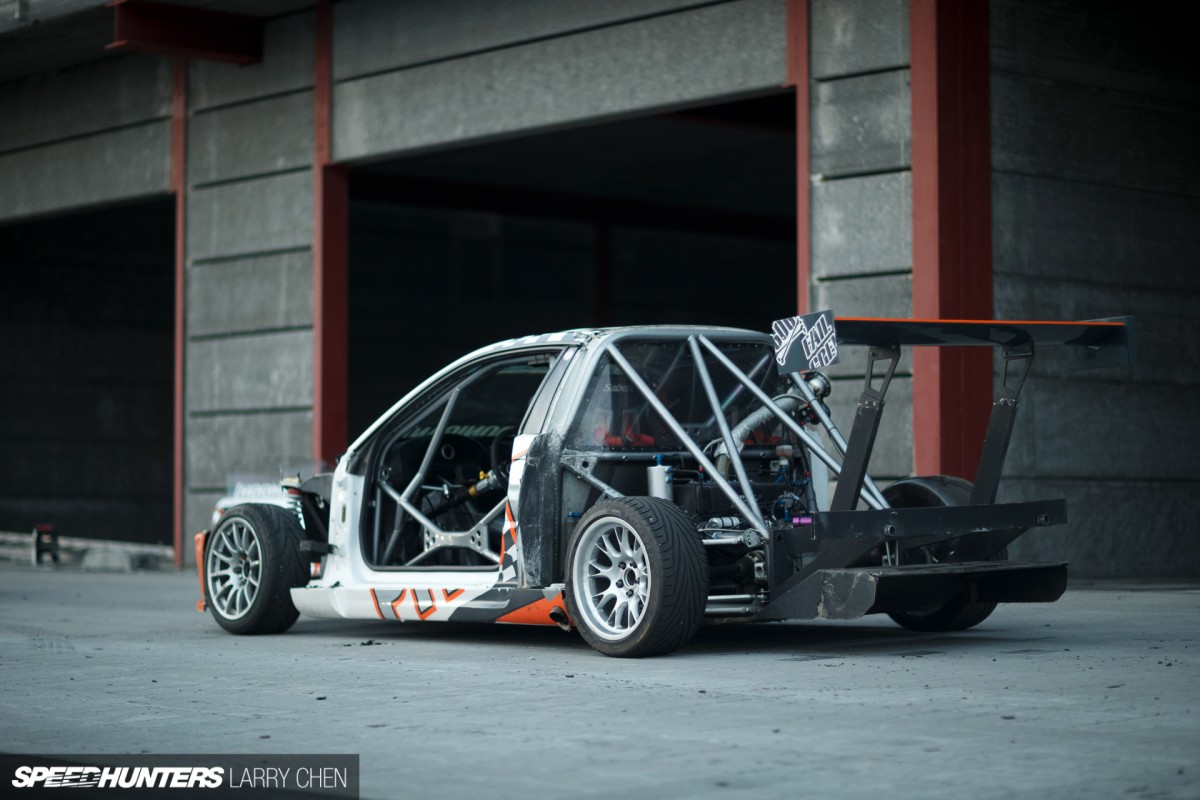 Whether you're wanting to go drifting or trim lap times, ideal weight distribution is something that every performance car aspires to. With a driver on board, HGK claims their car delivers that elusive perfect 50/50 weight distribution and with all the lightweight body panels and other weight-saving measures, the car tips the scale at just 980 kilograms.
It's got the goods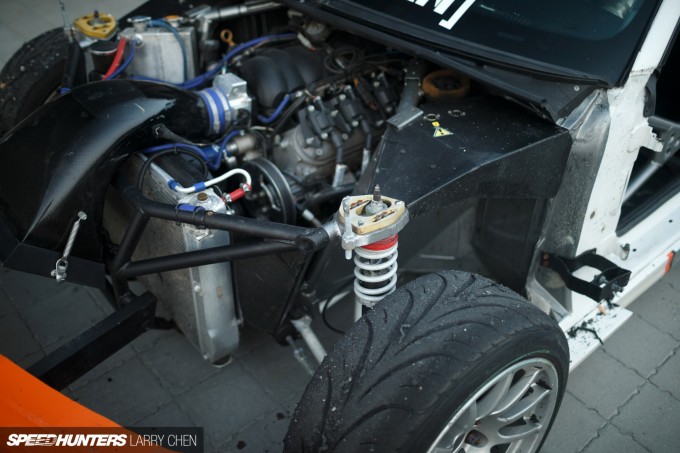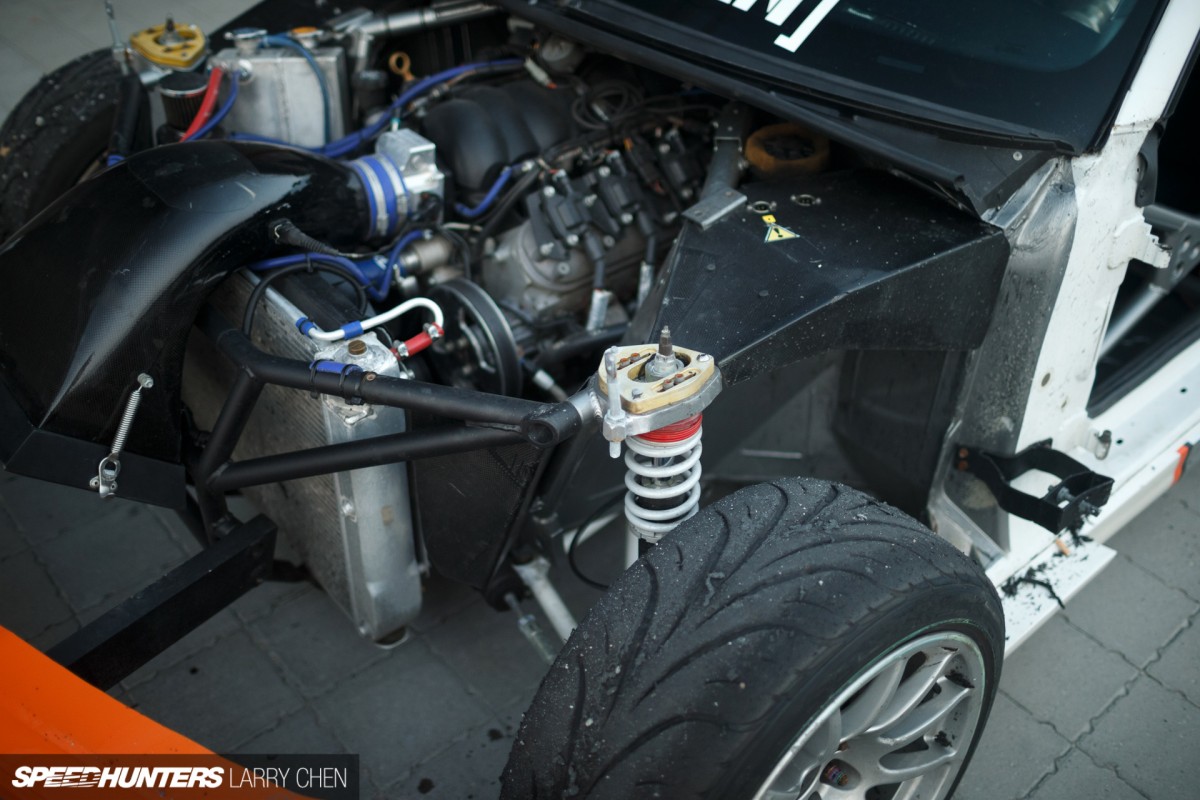 As for suspension, both the front and rear are custom HGK designs that use high end SACHS shocks on each corner.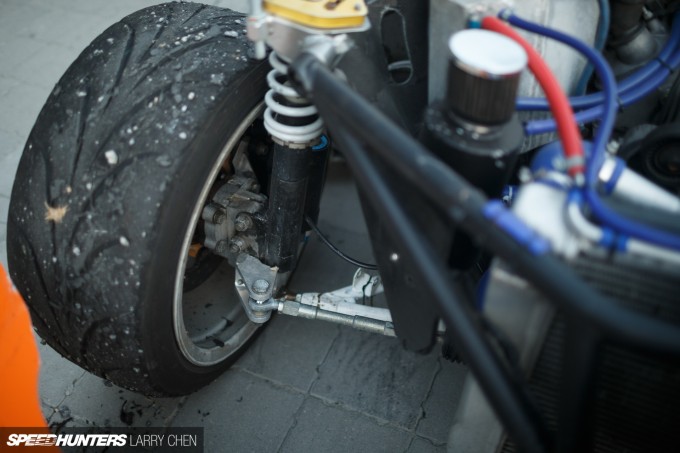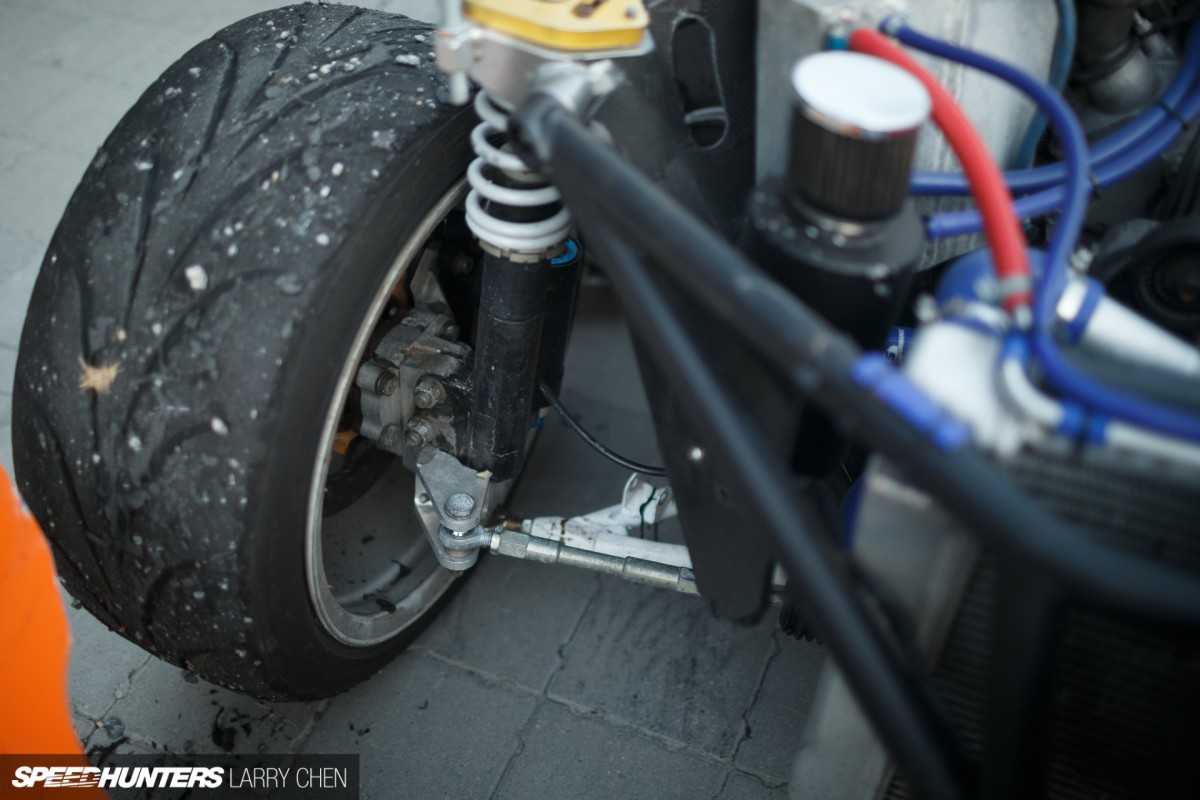 Perhaps even more important is HGK's wide angle steering kit, which can deliver steering angle of up to 67 degrees. Anyone who's even somewhat familiar with drifting knows how important this is.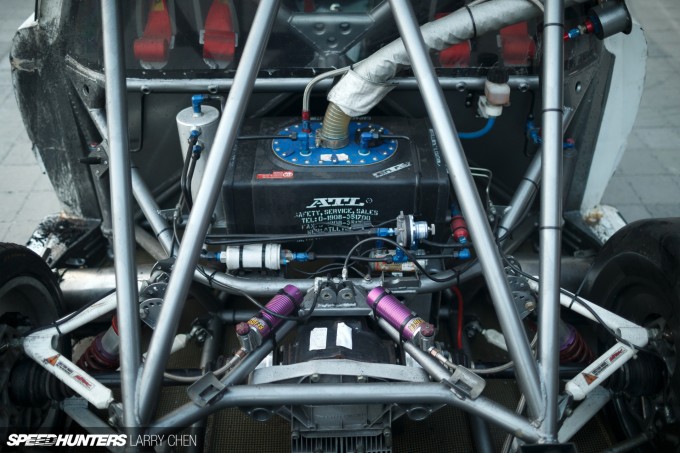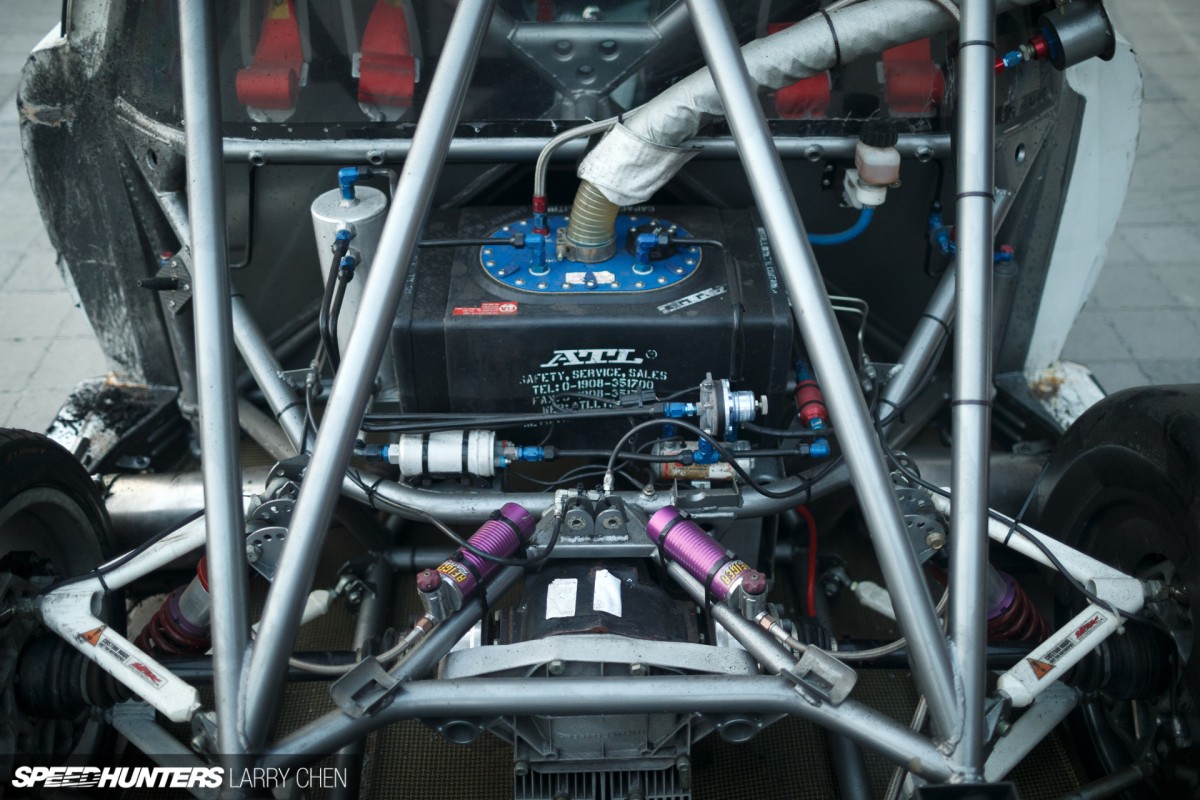 With the rear section of the body removed, the car looks almost like some sort of off-road truck. You can see the custom rear suspension here, as well as the ATL fuel cell which is mounted directly behind the cockpit.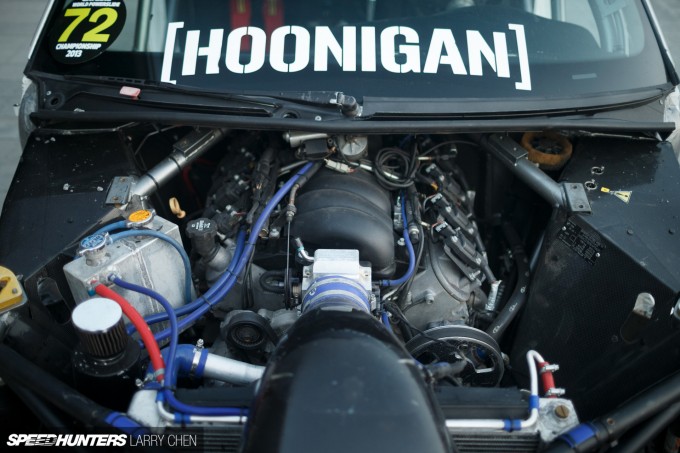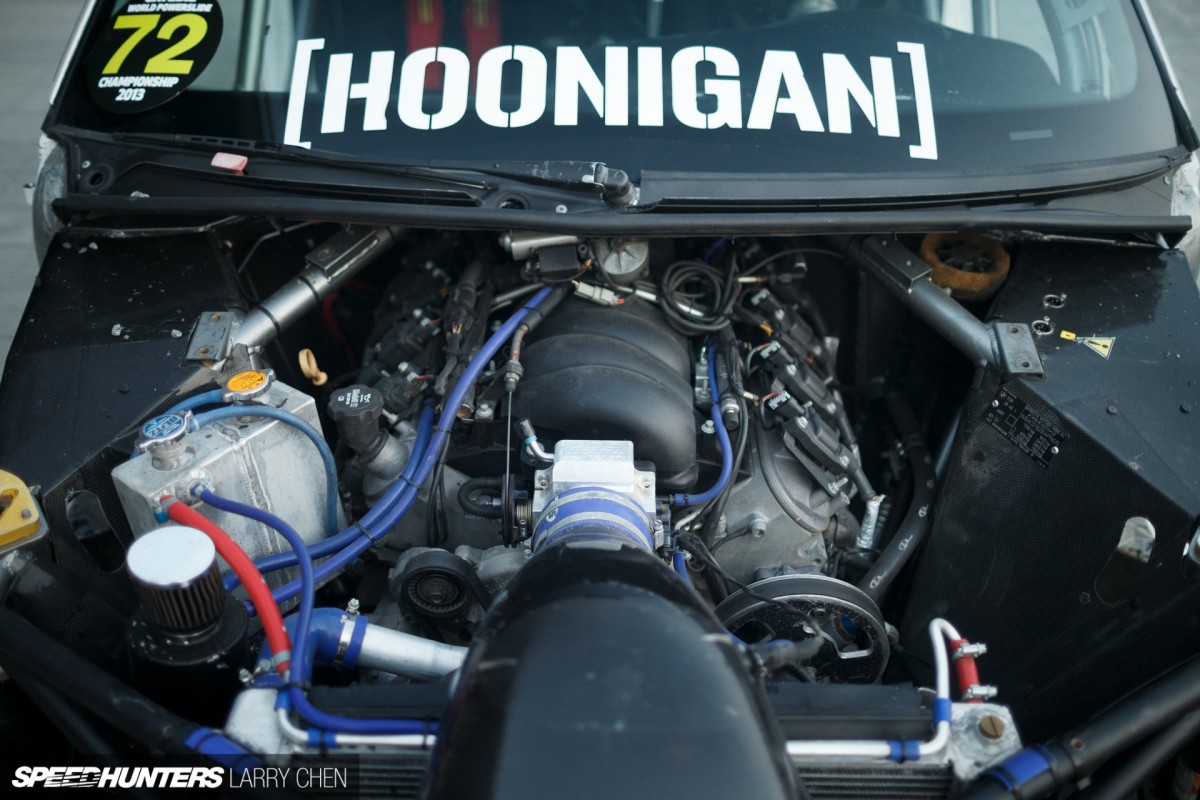 The whole idea behind HGK's project is to give customers a capable, turn-key drift car that will stand up to the immense strain that sideways driving puts on a vehicle. In that sense, it's not surprising at all to find that the car is powered by a proven GM LS3 V8.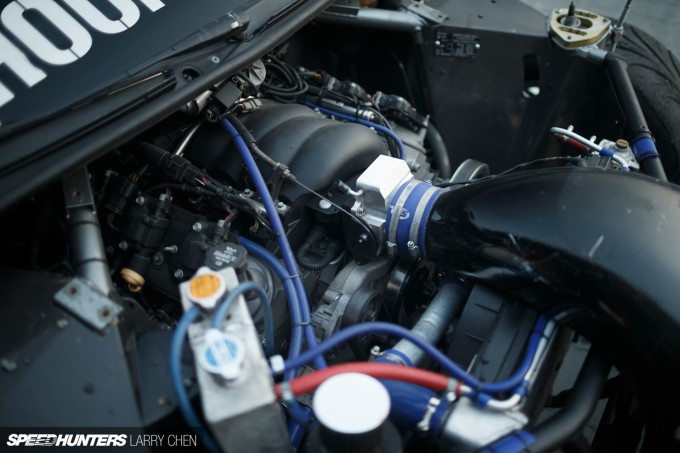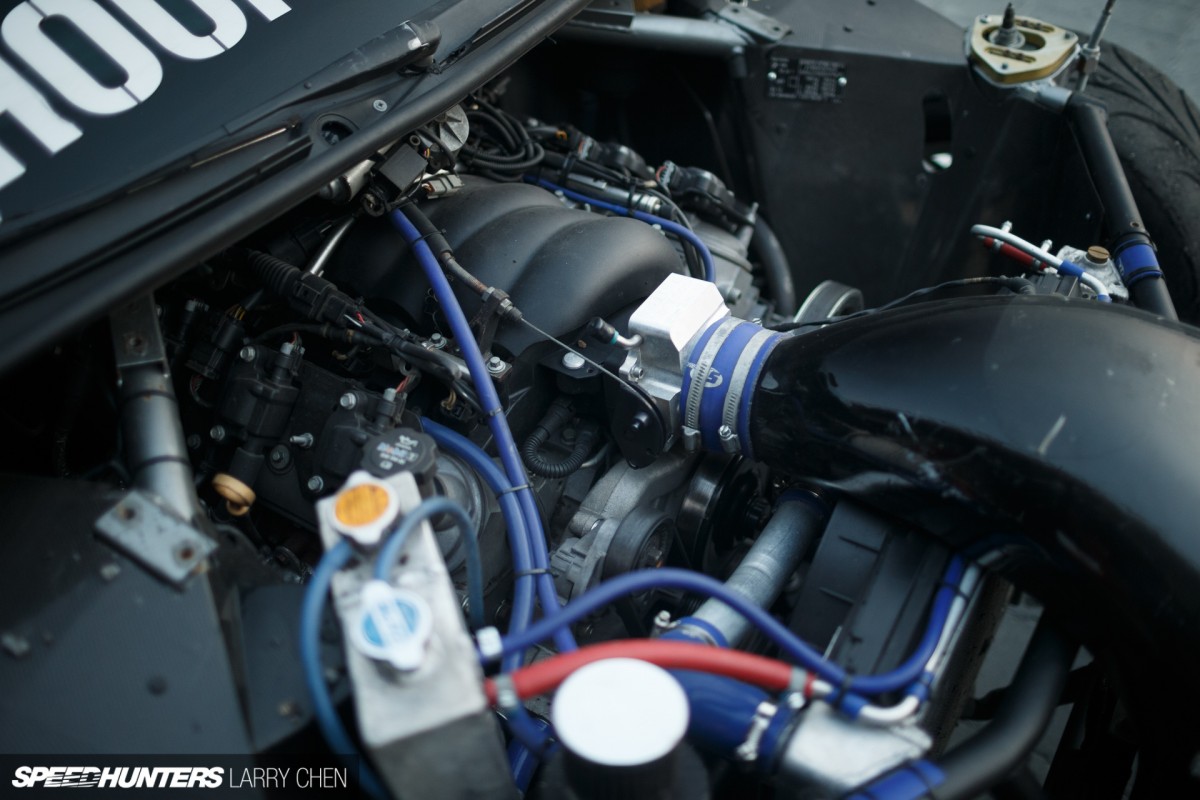 With a FAST throttle body and a VEMS ECU, the lightly-modified V8 is making 505 horsepower. While this might not be a huge number by the standards of today's pro drift cars, we all know that truly crazy thrust is just one bit of forced induction away.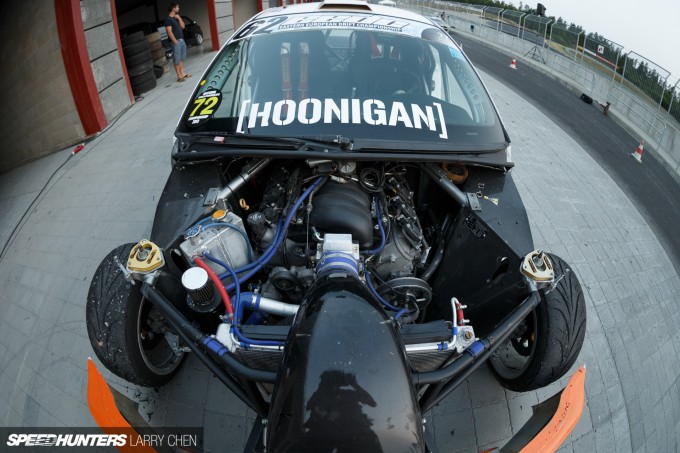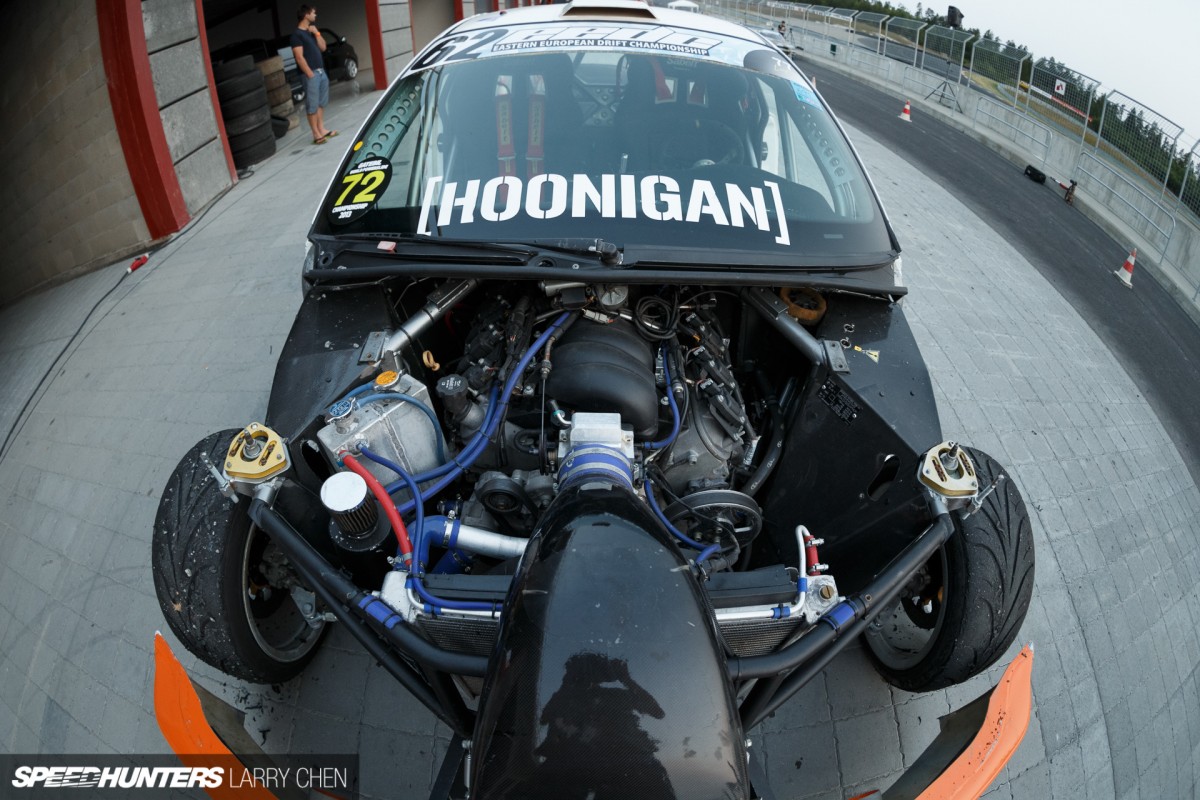 Equally important is the fact that the all-aluminum V8 is set well back into the chassis, which is surely a big part of the aforementioned front-to-rear weight split.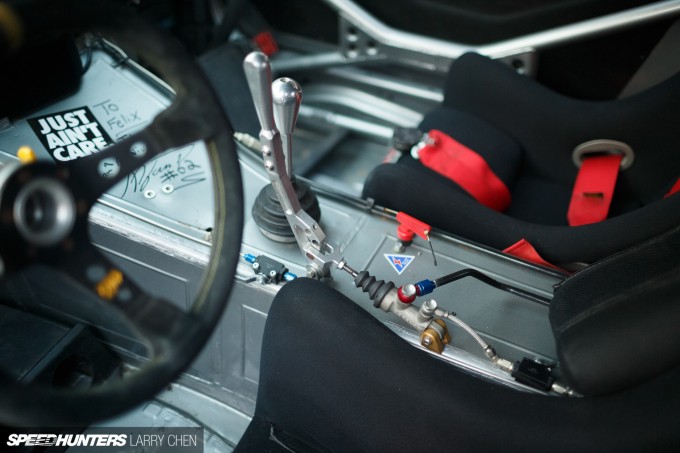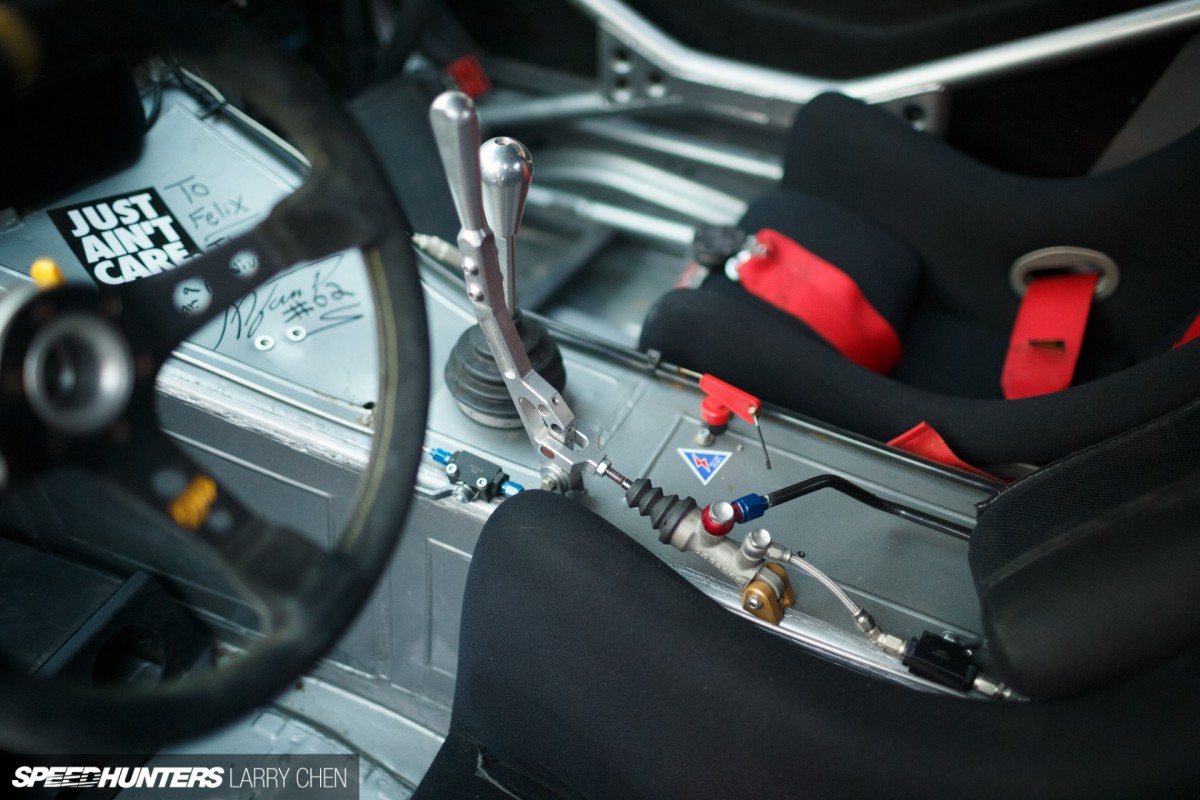 The LS3 is mated to a Tremec five-speed gearbox, and naturally the car is also outfitted with a custom HGK handbrake set-up with its own set of two-pot Wilwood calipers.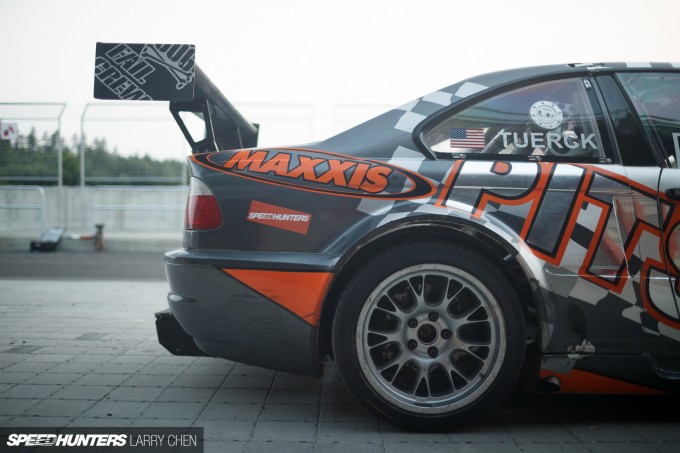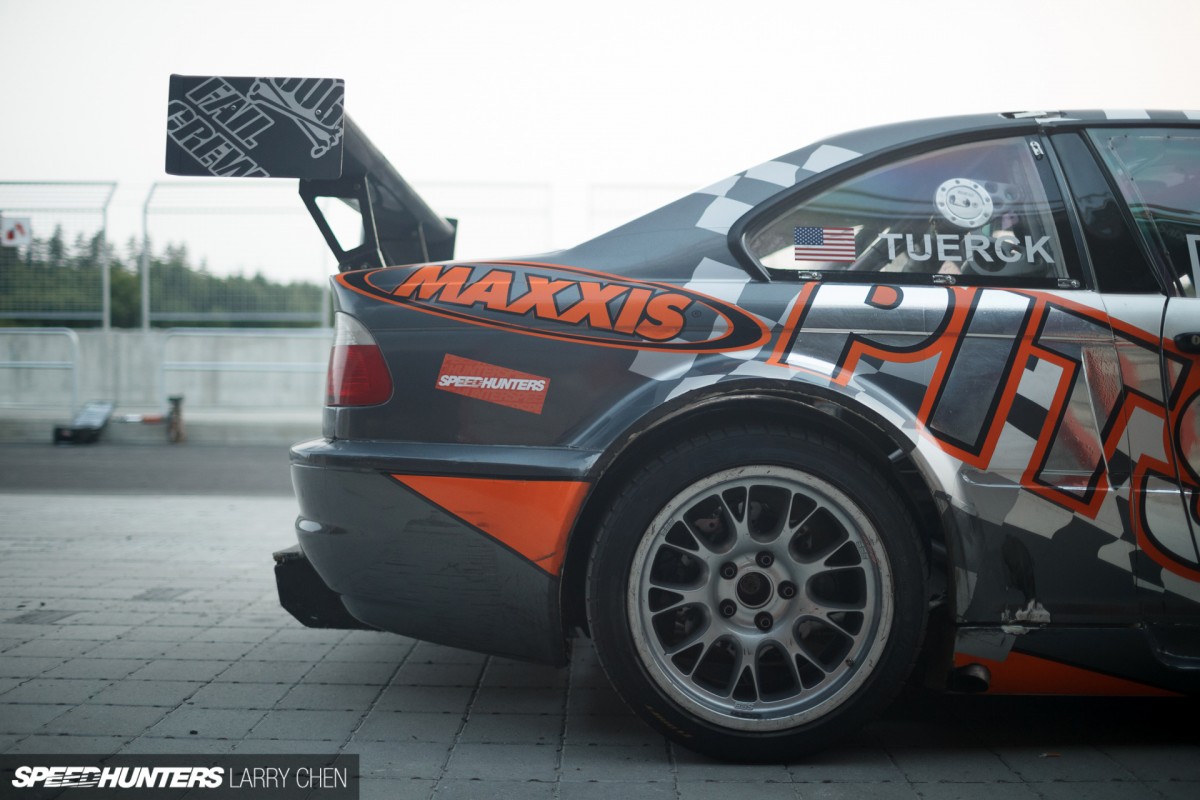 Normal braking duties are handled by a set of four-pot front and two-pot rear Wilwood brakes which are covered by a set of 17-inch BBS Motorsport wheels. There's also a JLS air jack system in there, which makes tire changes a piece of cake.
Built to hoon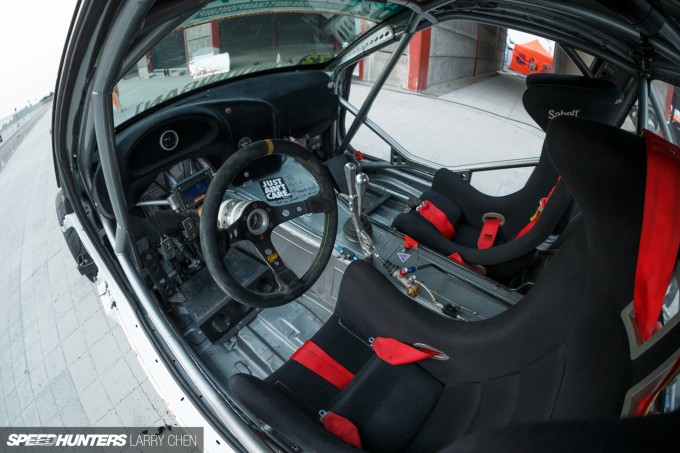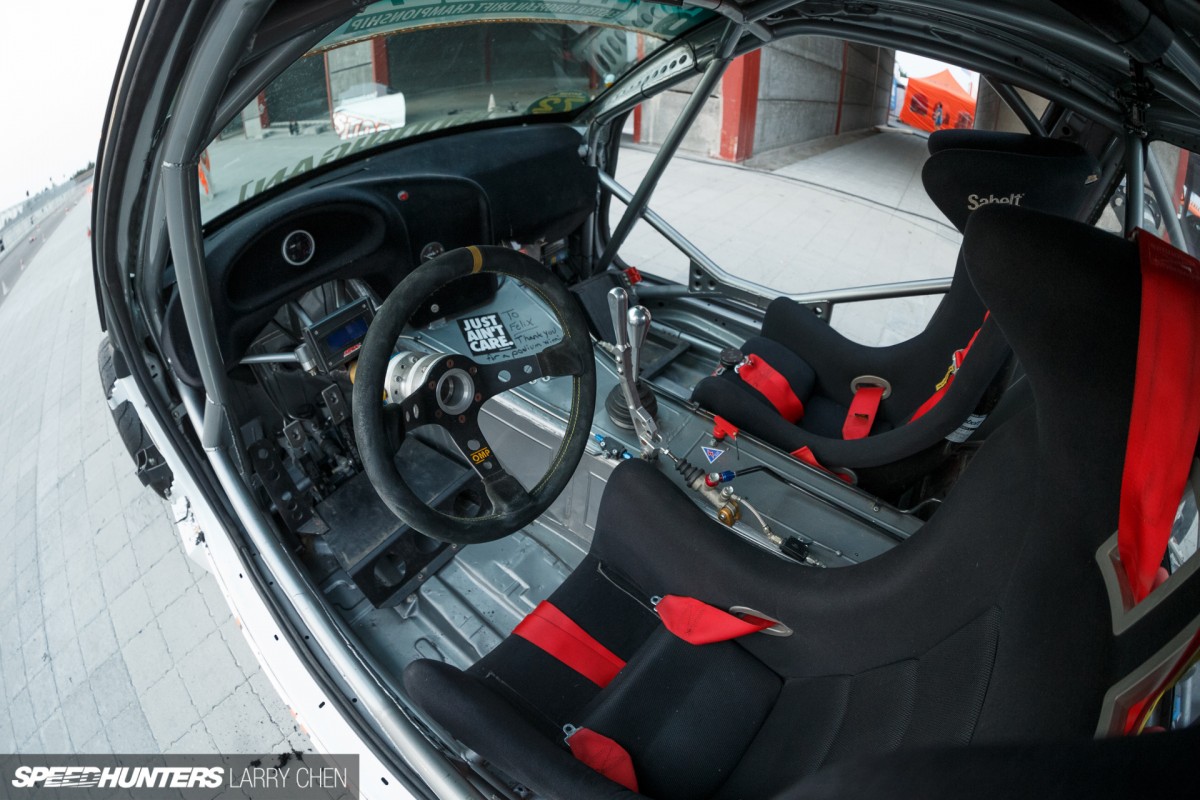 The drift-ready treatment continues into the car's interior, which along with the full roll cage, features an OMP steering wheel, Sabelt seats and harnesses and all the other safety equipment you'd expect on a pro-level car.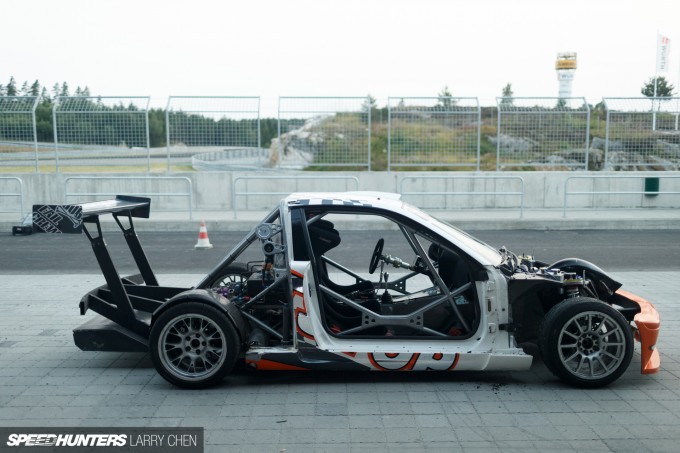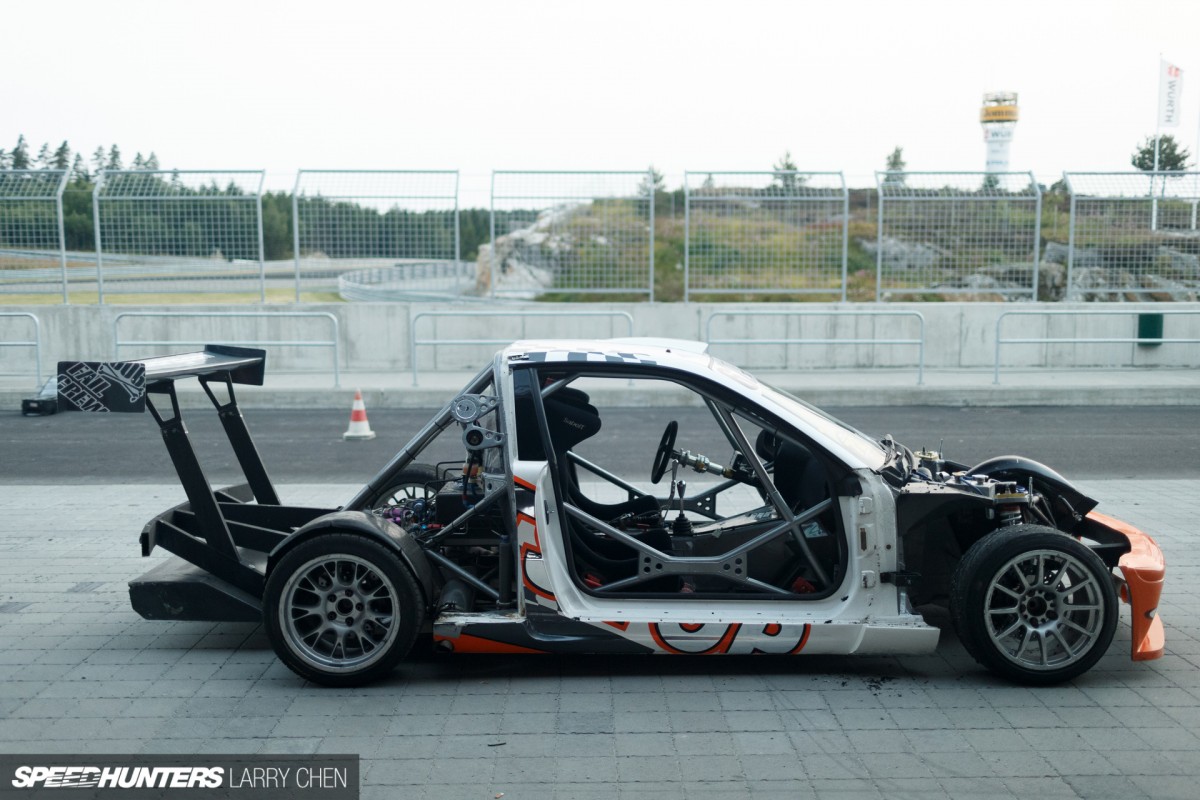 While all of the engineering that HGK has put into this car is impressive, it would be nothing without a talented pilot to properly demonstrate its abilities.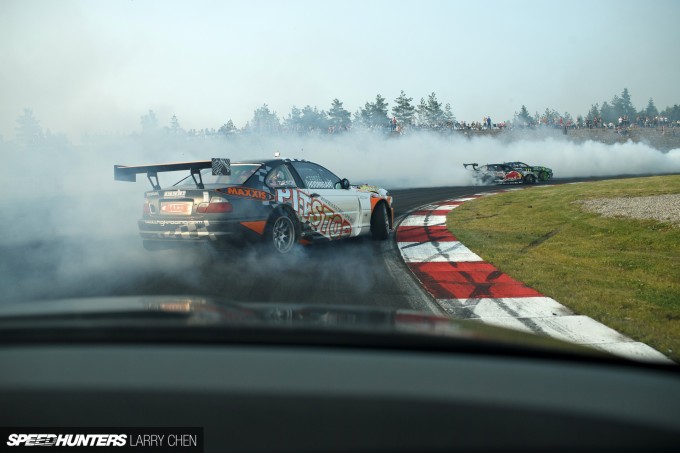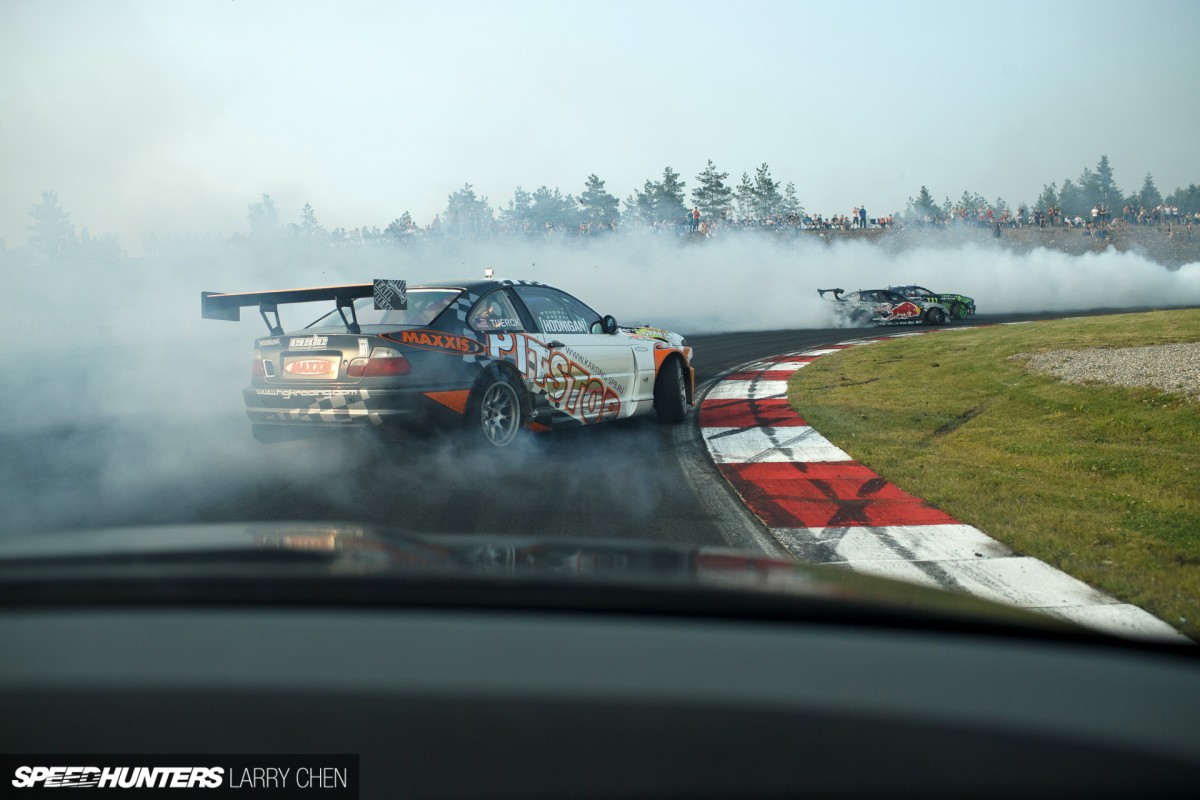 That's why when it came time for Gatebil last year, HGK decided to bring out a certain Ryan Tuerck and have him put the car to the test.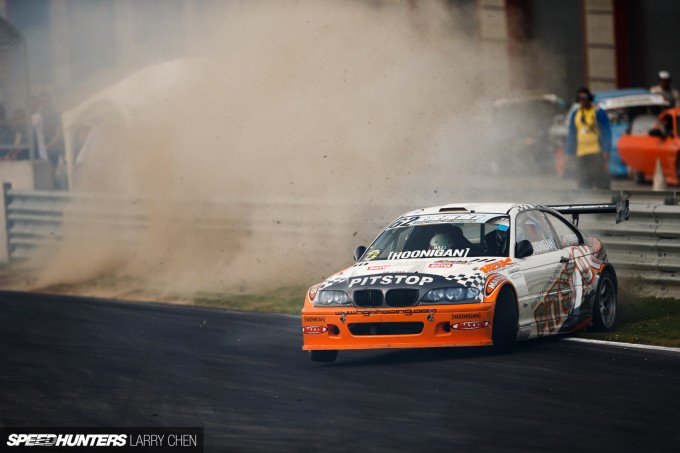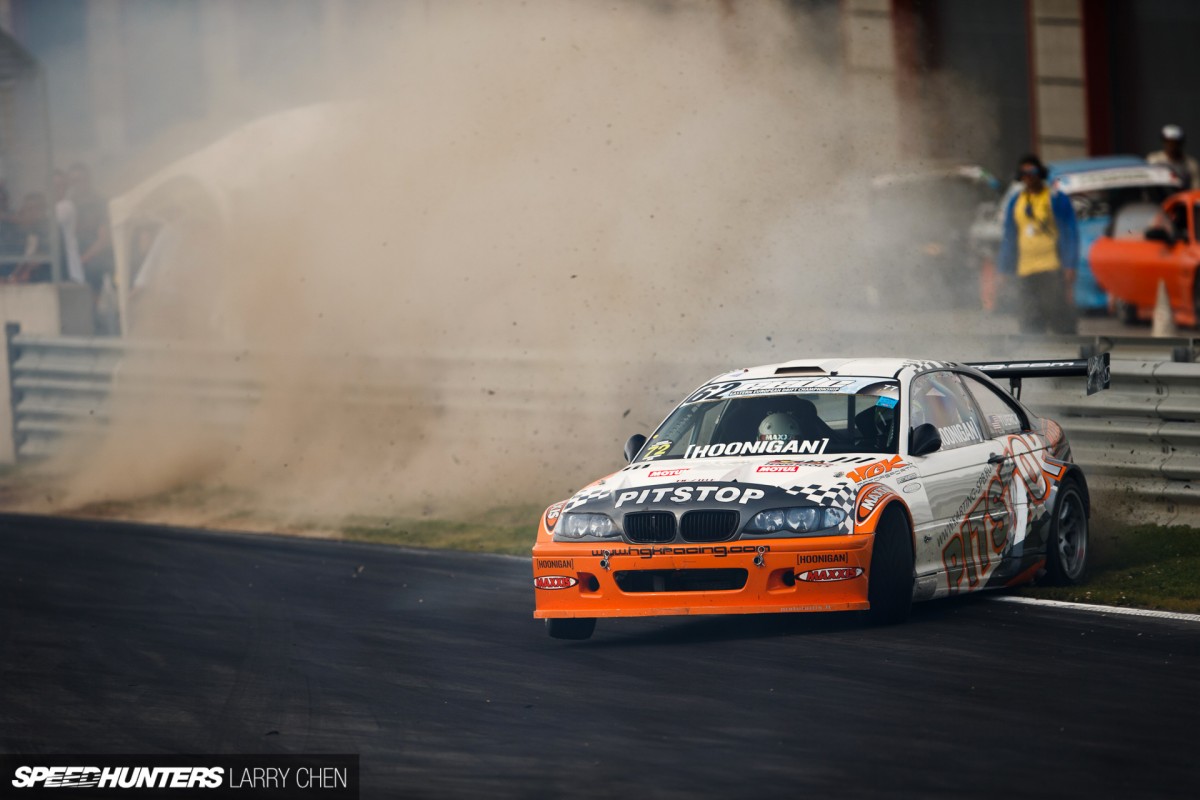 As you may have seen from the various images and videos that came out of the event, Ryan was able to put on quite a show behind the wheel of HGK's demo car.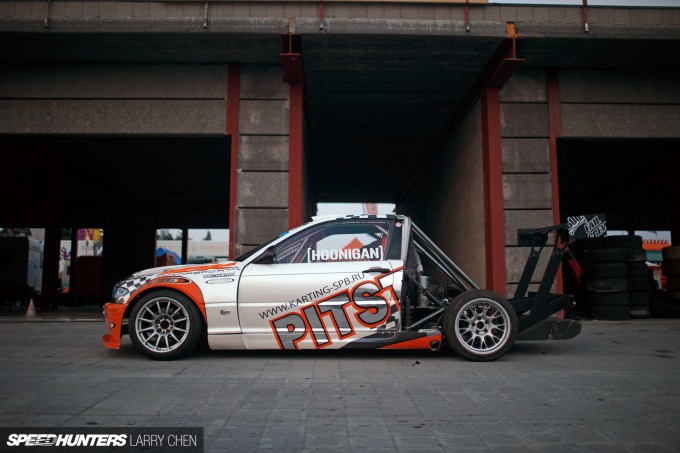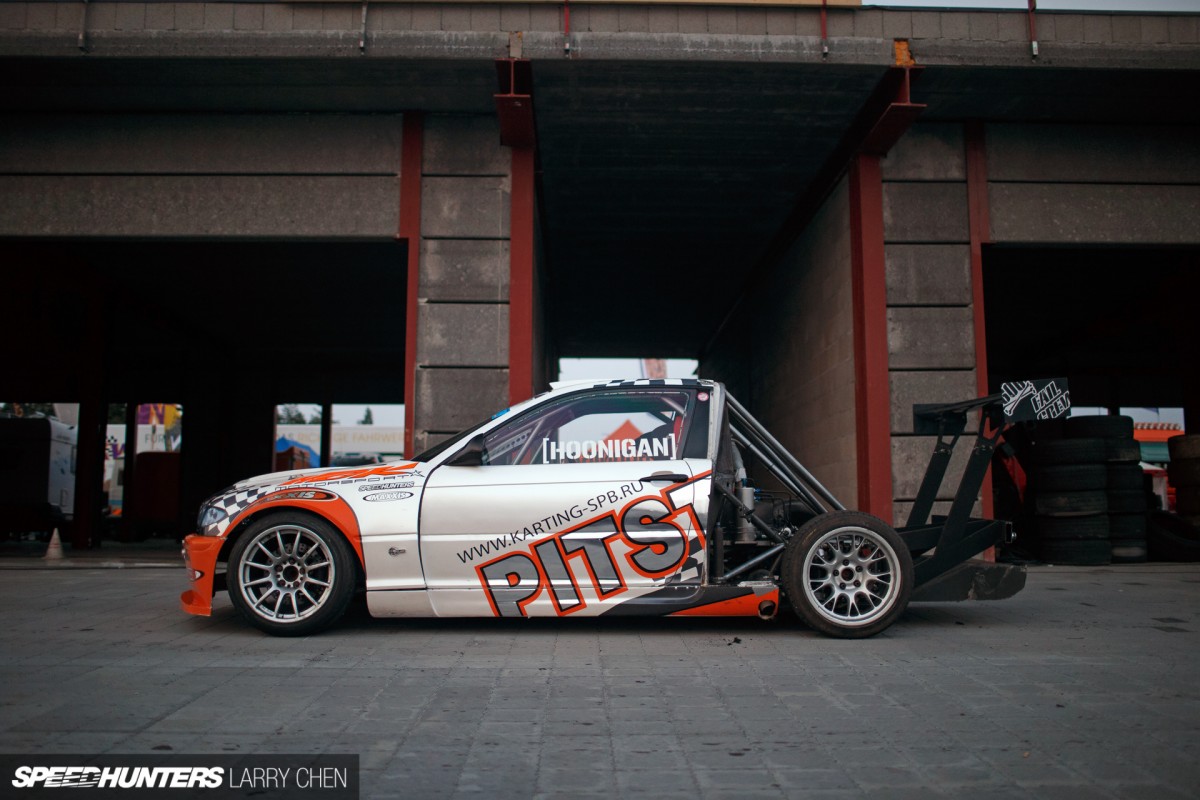 Regardless of how you feel about tube chassis drift cars and V8 swaps, it's impossible to not like what HGK has done here. I've always thought that kit car drivers were a little bit strange, but the guys who built and drive this are crazy – something that I mean in the best possible way.