When plastic was king
Back in the 1960s and 70s, plastic model companies were heavily involved with the auto industry as a whole. You could get promotional models from car dealers in the hope that you might be inspired to buy a life-size version of the little car you held in your hand. Elsewhere, youngsters would travel to custom car shows, see amazing show cars built by guys like Ed Roth and Dean Jefferies, and then buy plastic replicas of them and rush home to build them. It seemed that many of these show cars were built to sell model kits more than anything else.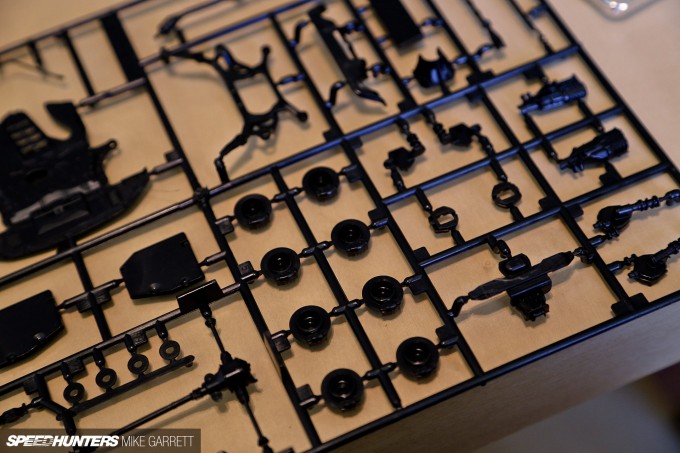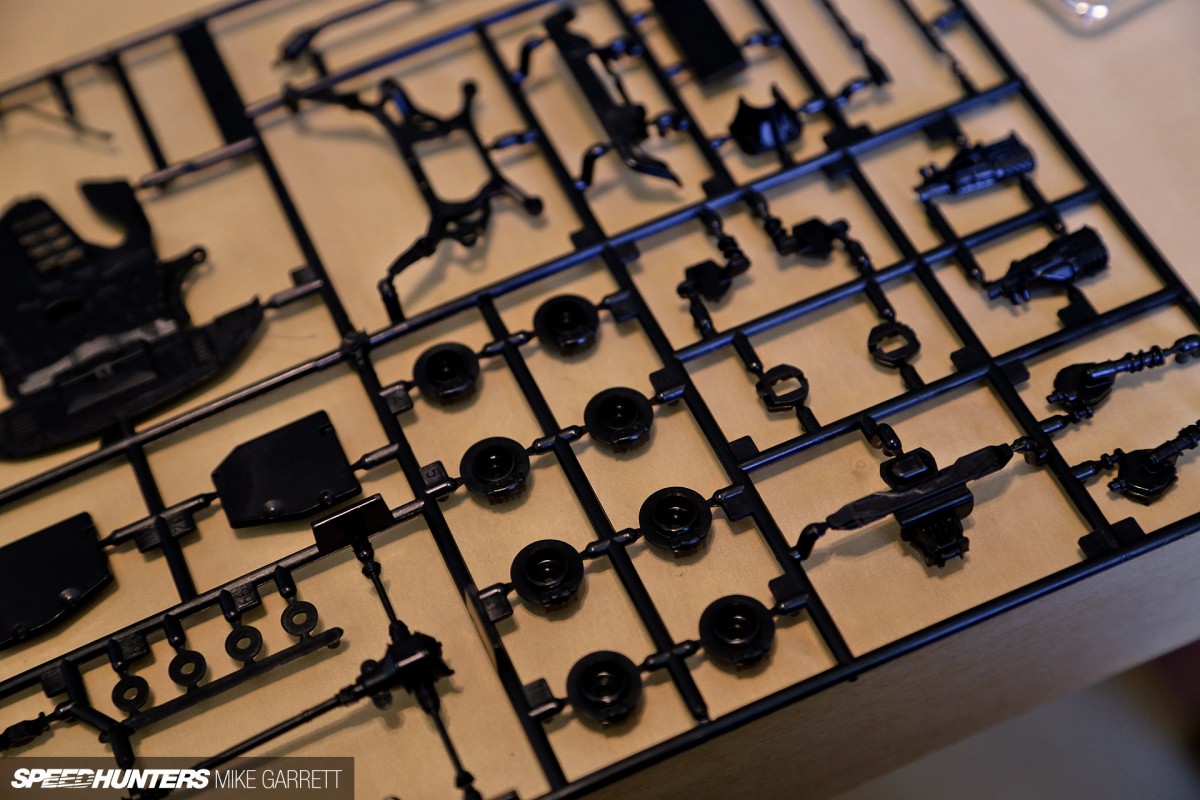 Today things are different. Sure model companies are still around, but they seem to cater more to hardcore hobbyists rather than acting as the window through which young people are introduced to cars. I suppose videogames have replaced scale models as the primary way kids are introduced to cars.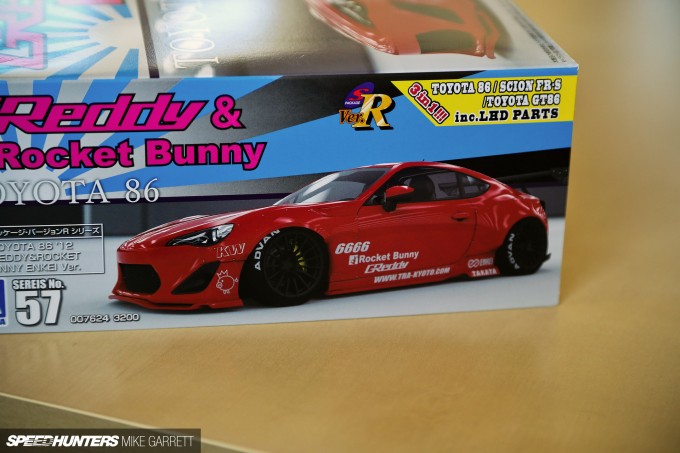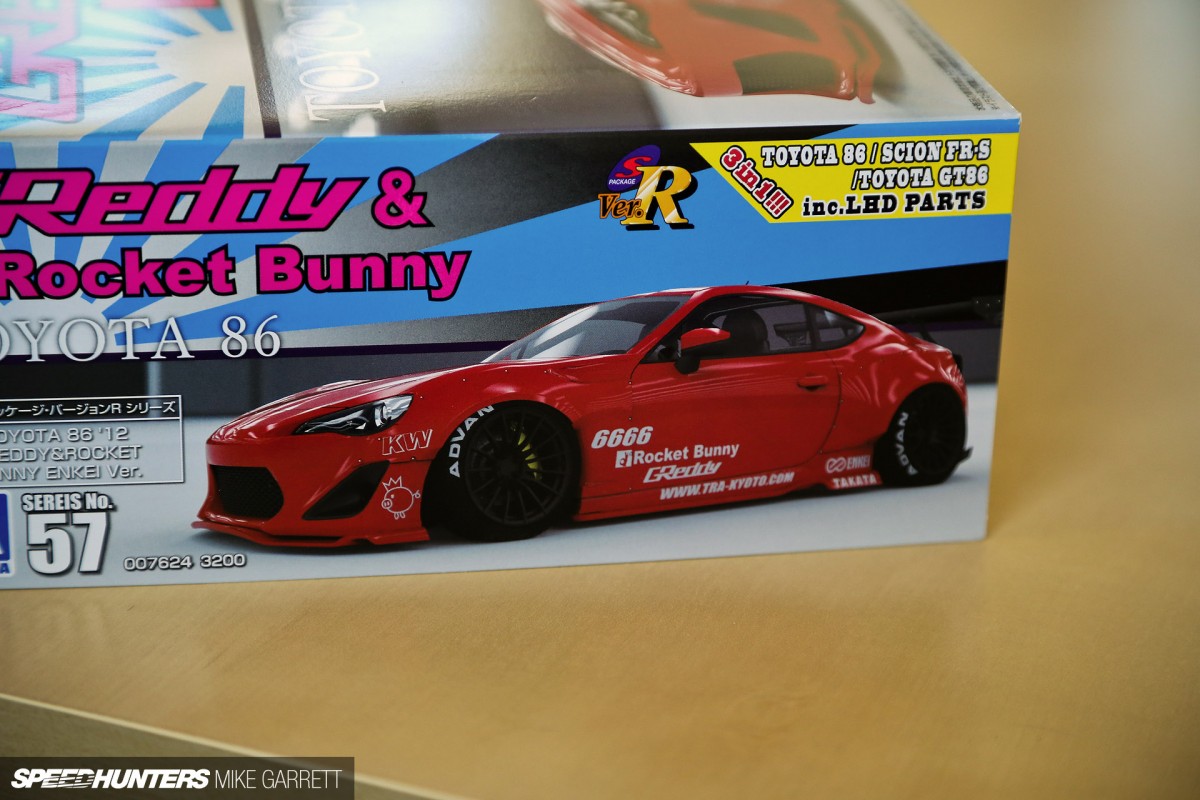 In Japan though, model cars still seem to be thriving. In past stories we've shown just how rich the scale auto hobby is in the country, and what especially impresses me is the way the plastic model industry closely mirrors what's happening in the real car world.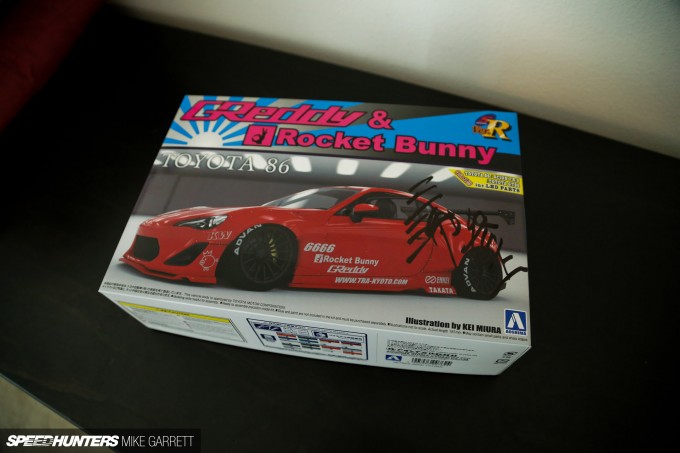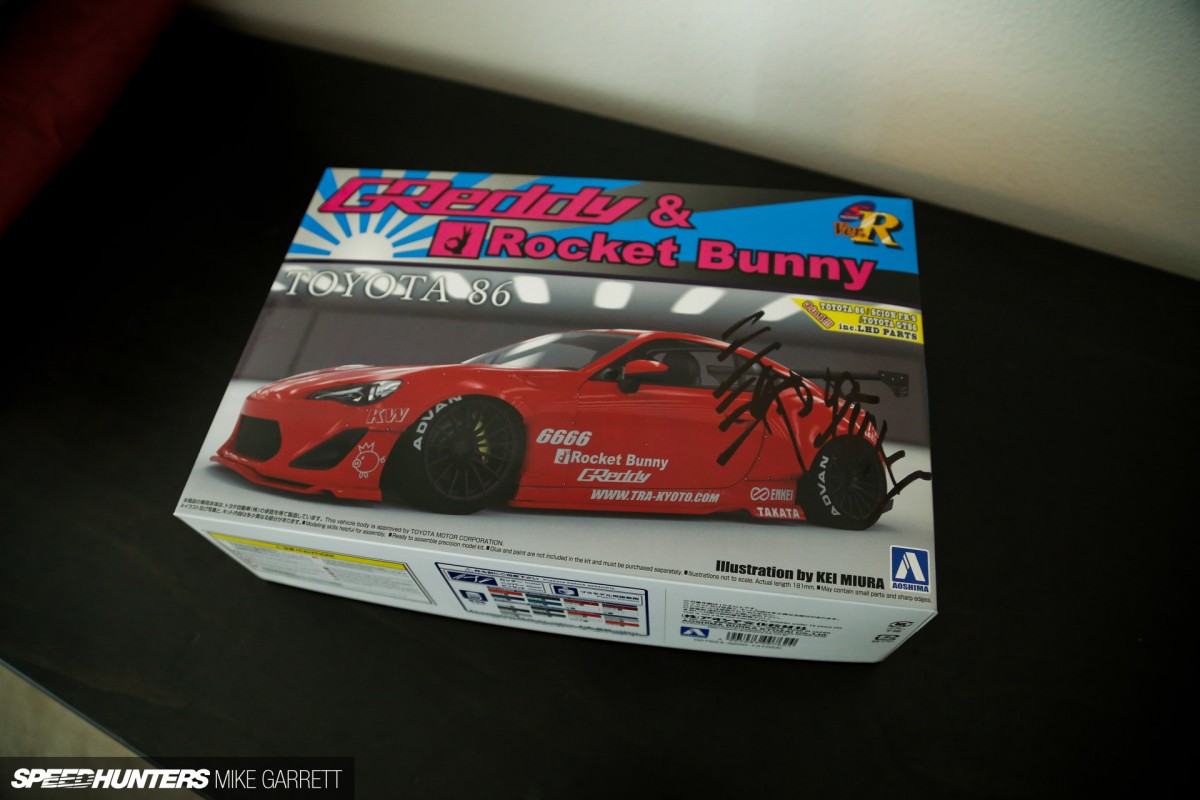 As an example of that, I thought I'd share with you guys a cool little piece of kit that arrived in my mailbox a couple weeks ago thanks to a friend from Japan. As you can see, it's an Aoshima 1:24 scale replica of the famous Rocket Bunny FR-S/86.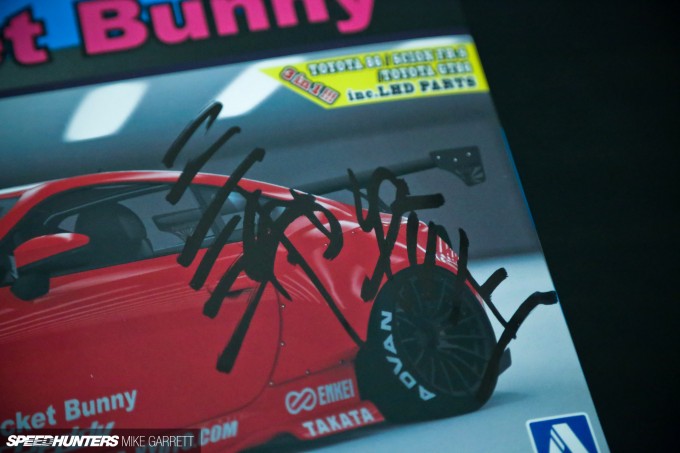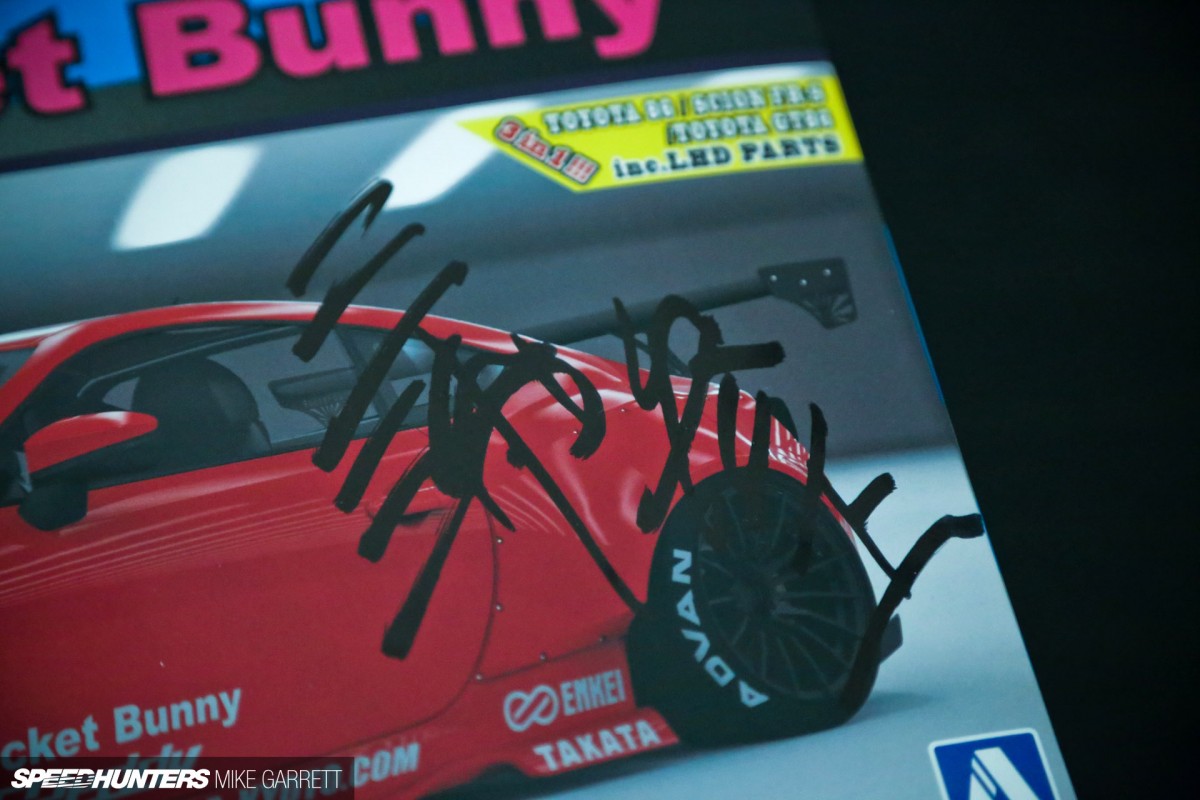 Better yet, the box has been signed by Miura-san himself which makes the whole thing that much cooler as a display piece for my shelf. But of course there's a lot more to this than just a cool-looking box, so I popped it open and took a look inside.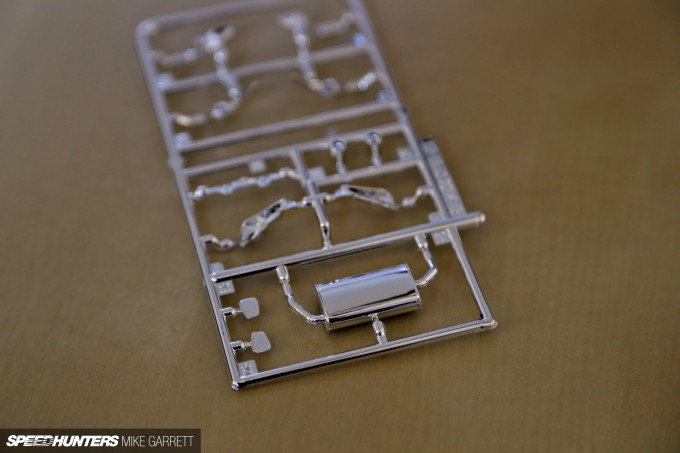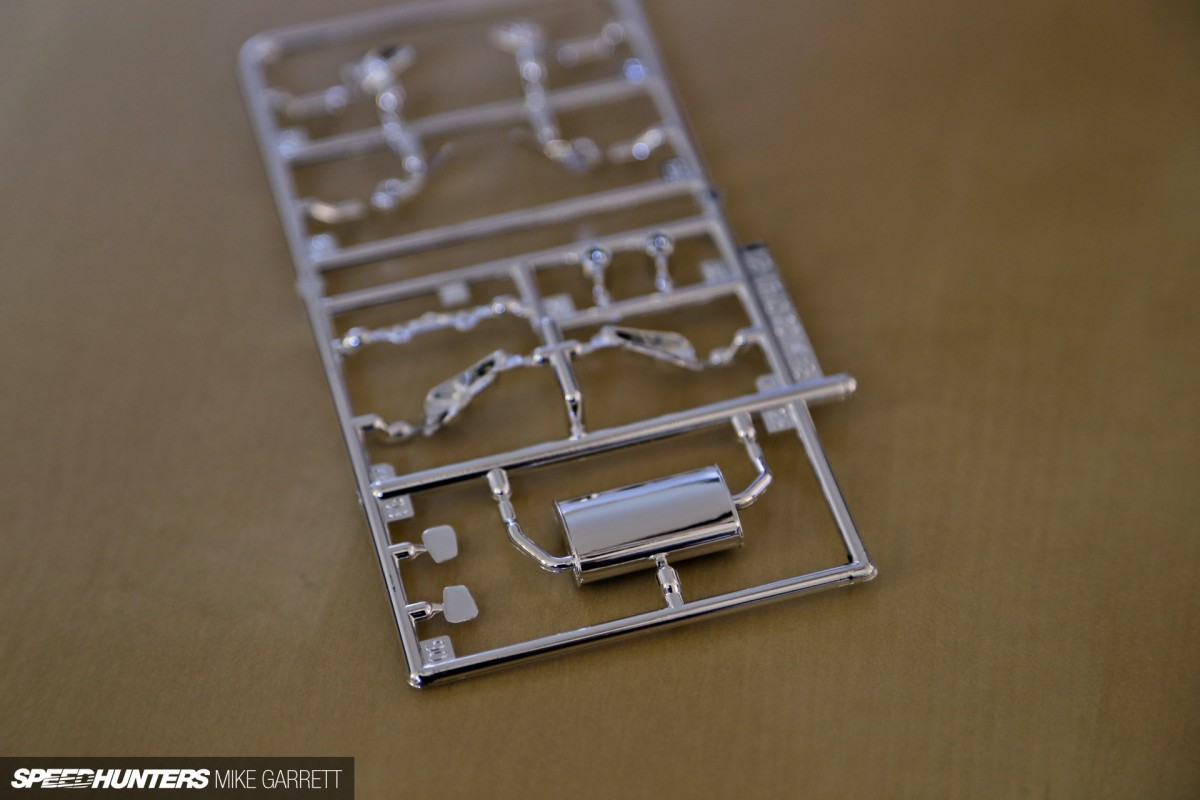 One thing I especially like about Japanese car model kits is the way they're designed to encourage customization. Again, it's not like unlike the old American kits that came with parts so the cars could be built be a few different ways.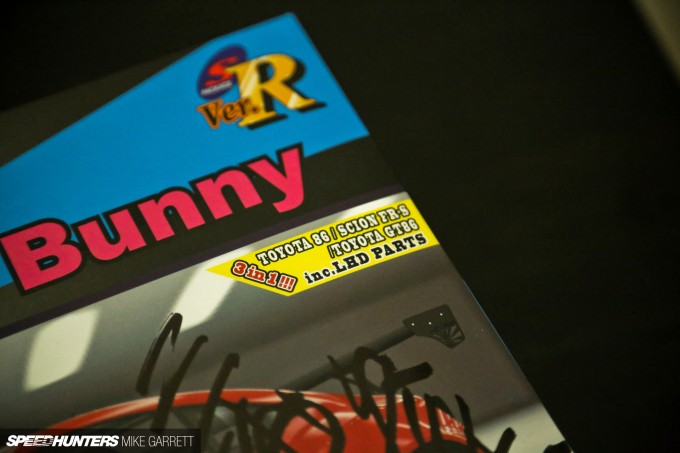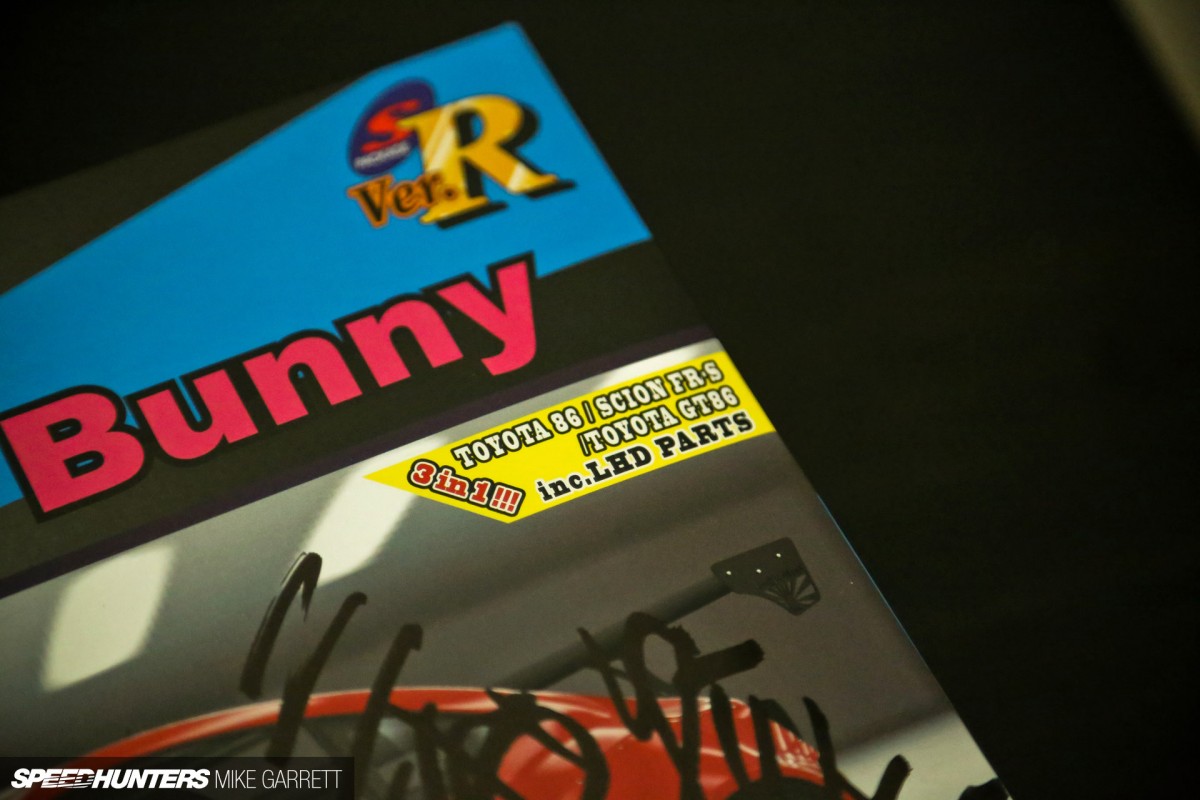 For example, this kit can be built as either a Japanese-market Toyota 86, a GT86, or a Scion FR-S, depending on your tastes.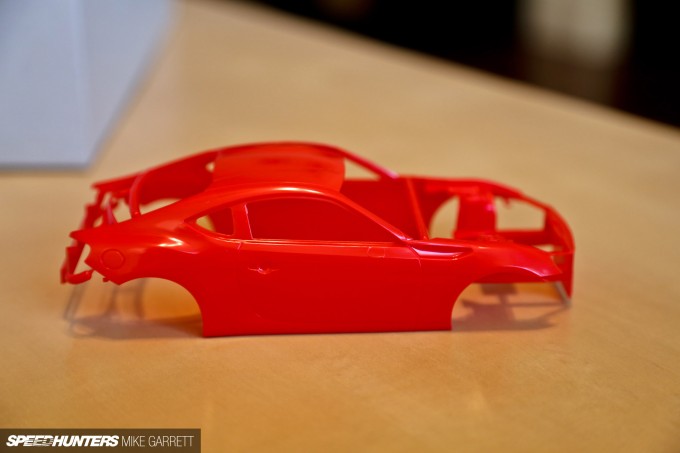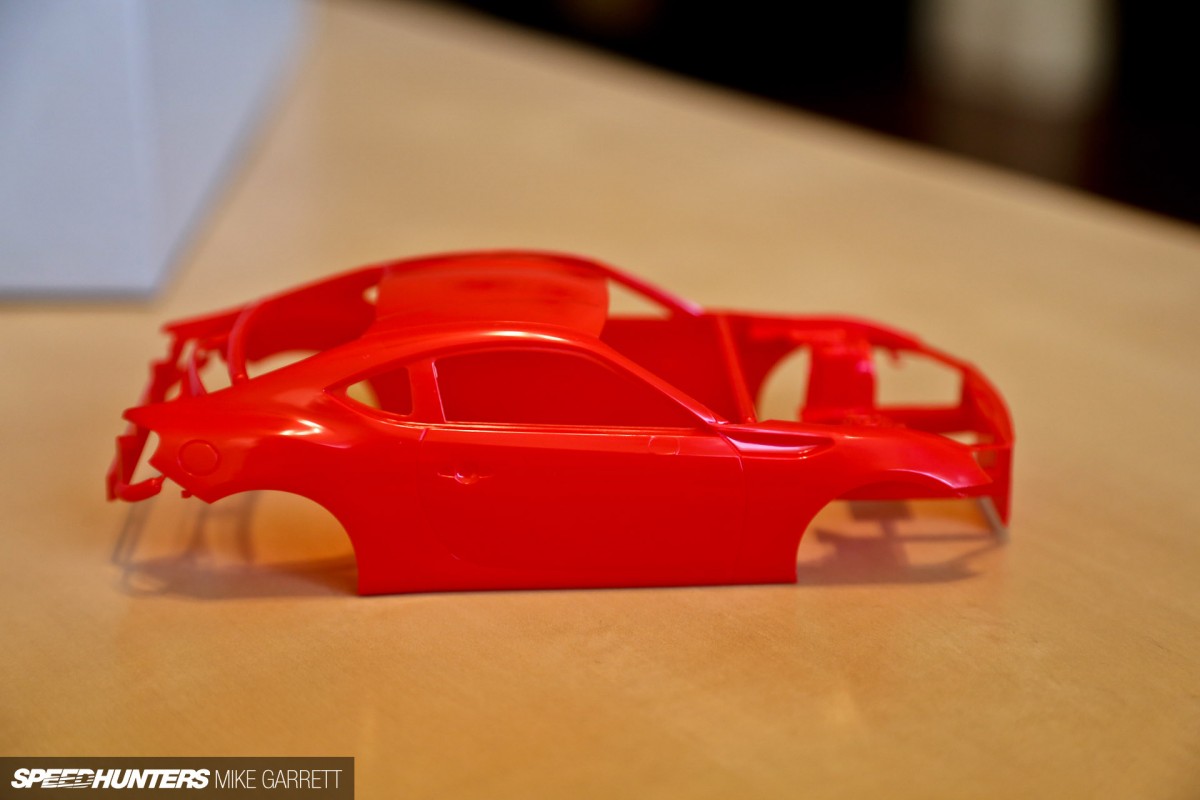 The basic body is the same of course, but which model you create depends on which emblems and interior parts you use. It's cool that you can add your own little touch.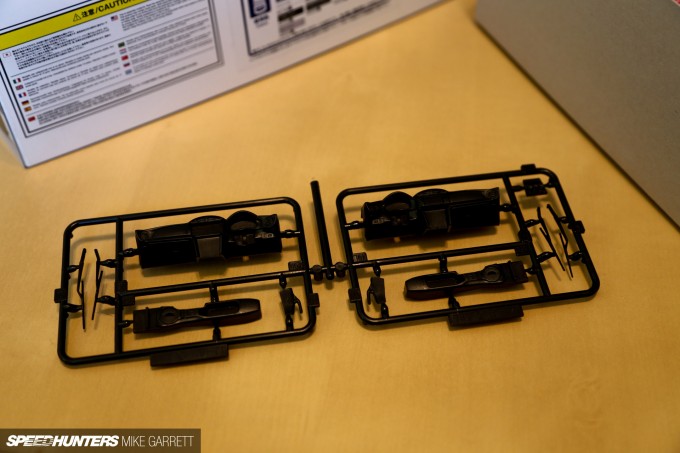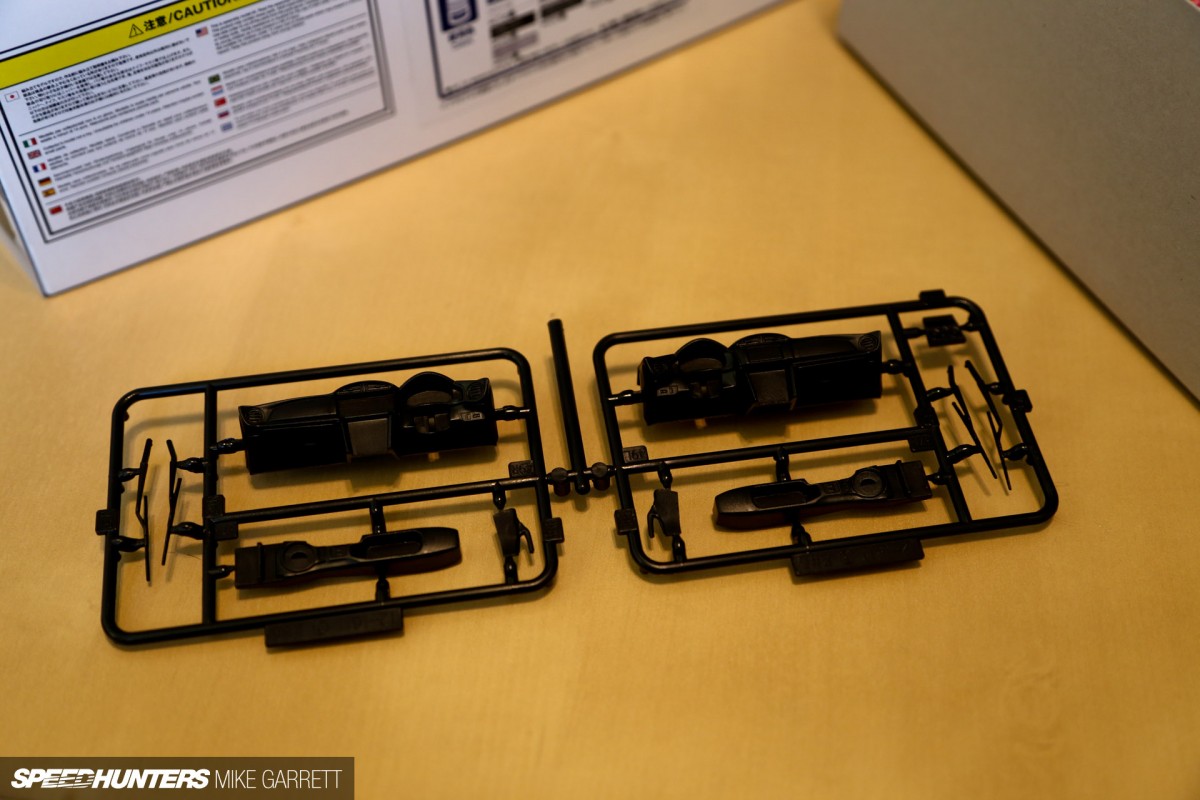 Here you can see the dashboard set-ups, which come in both right-hand and left-hand drive configurations.
Nailing the details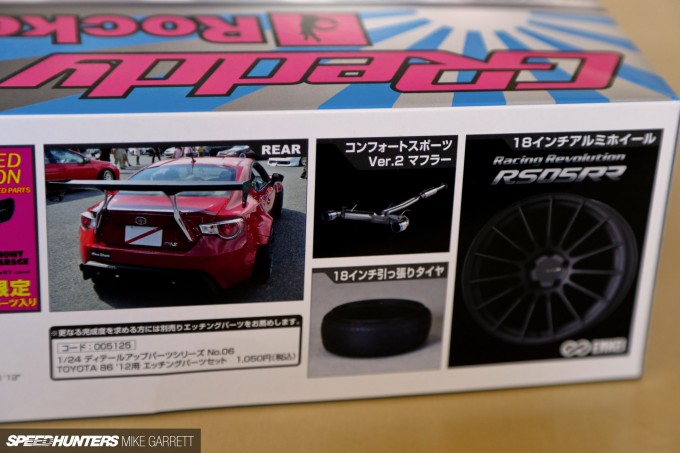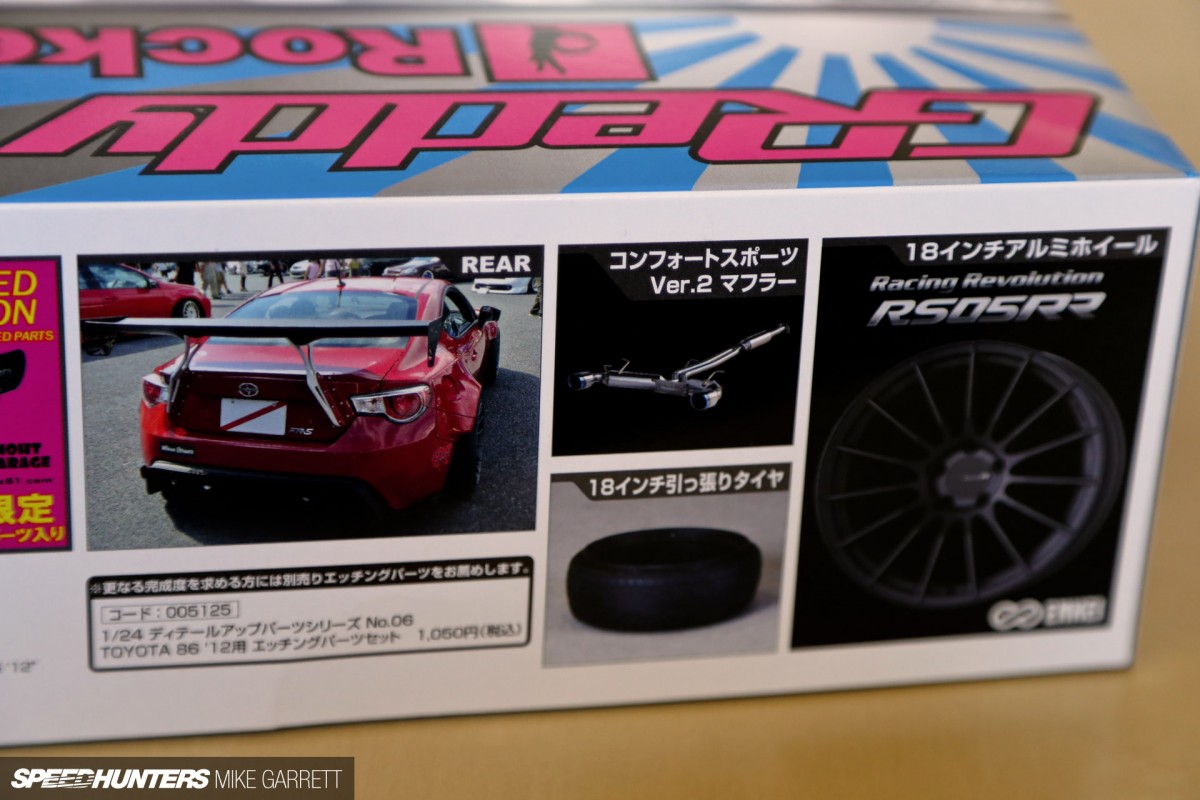 Another cool thing about companies like Aoshima is the way they work with real aftermarket parts makers to produce replicas of their products to go with the models.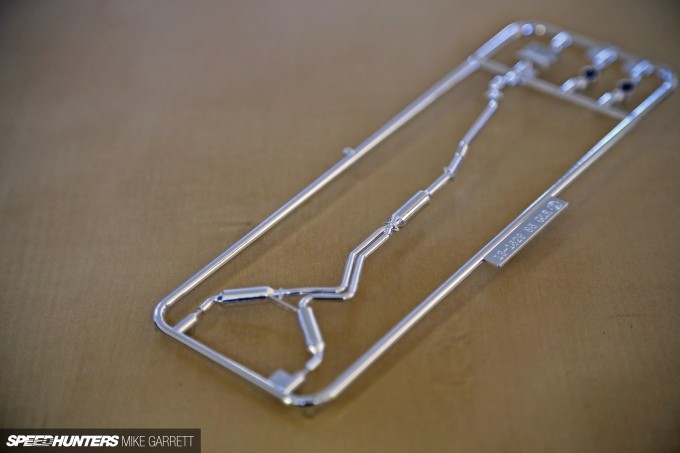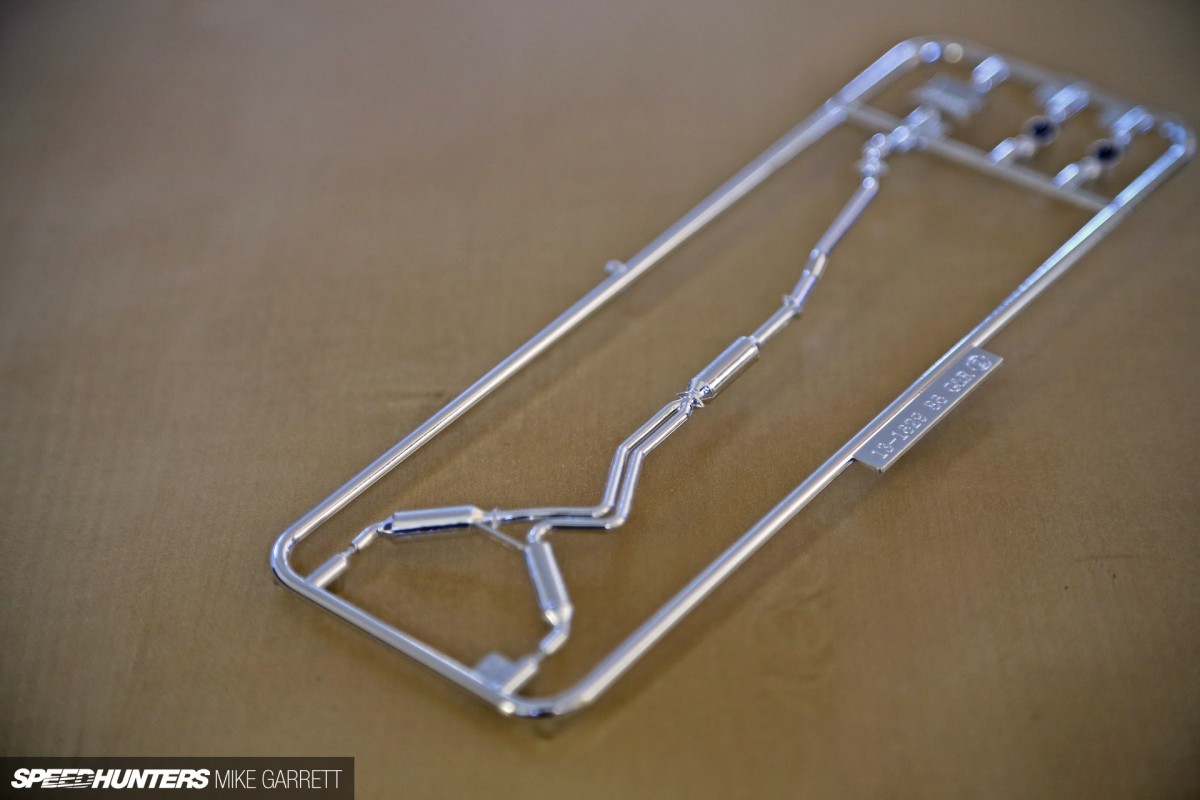 For example, here you can see the authentic Trust Comfort Sports exhaust system that comes with the car.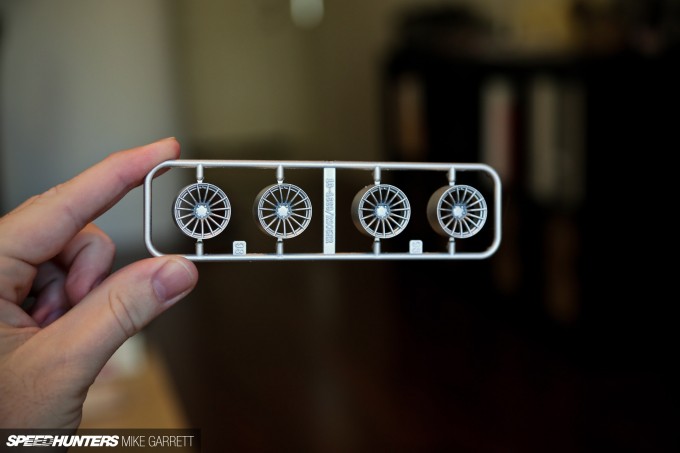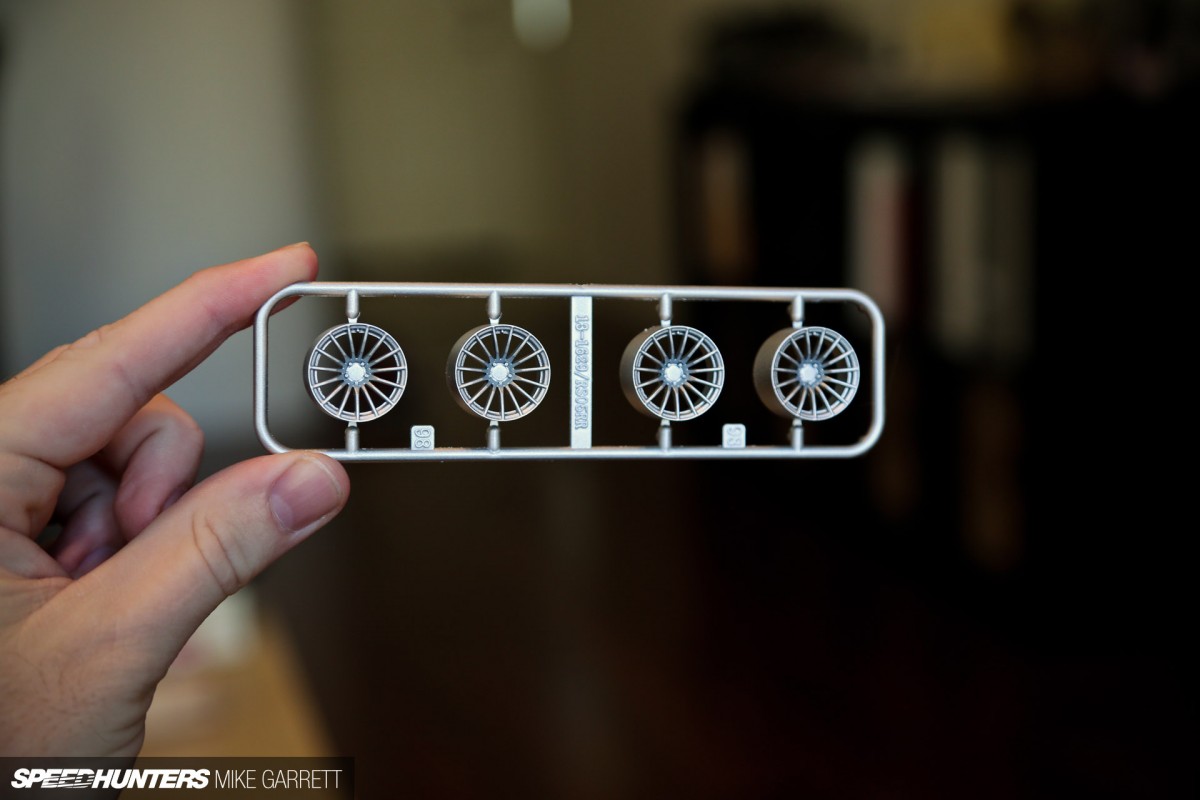 And just like real life, the model of the Rocket Bunny FR-S comes with a set of 18″ Enkei RS05RR wheels.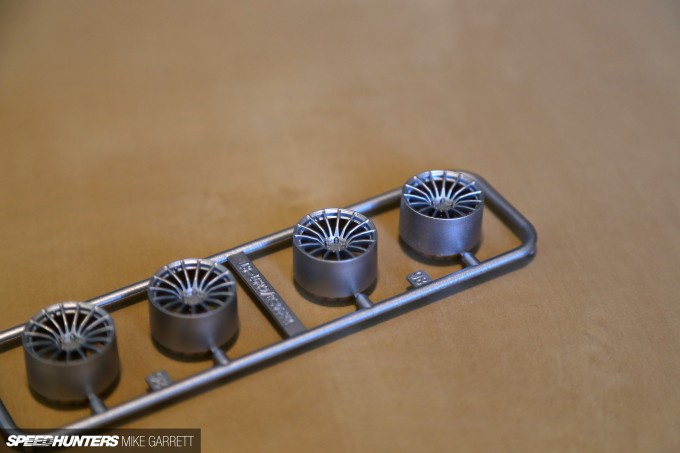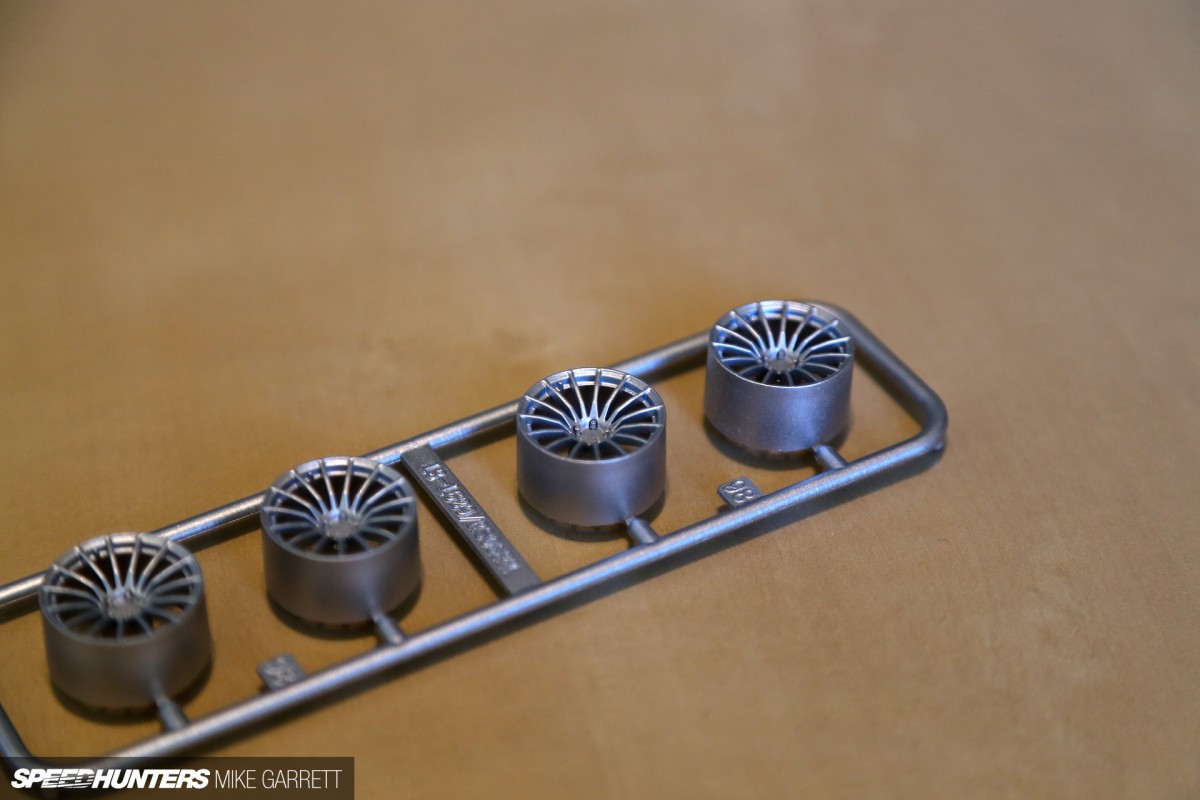 The detail on these things is incredible, and Aoshima has completely nailed the aggressive concave design that makes the real-life version of this wheel so great.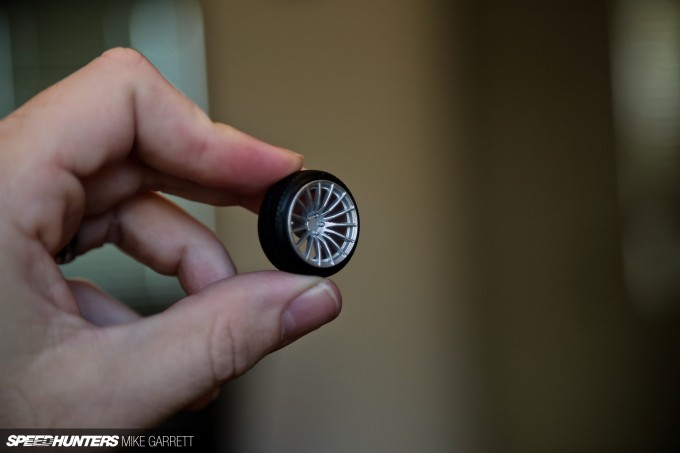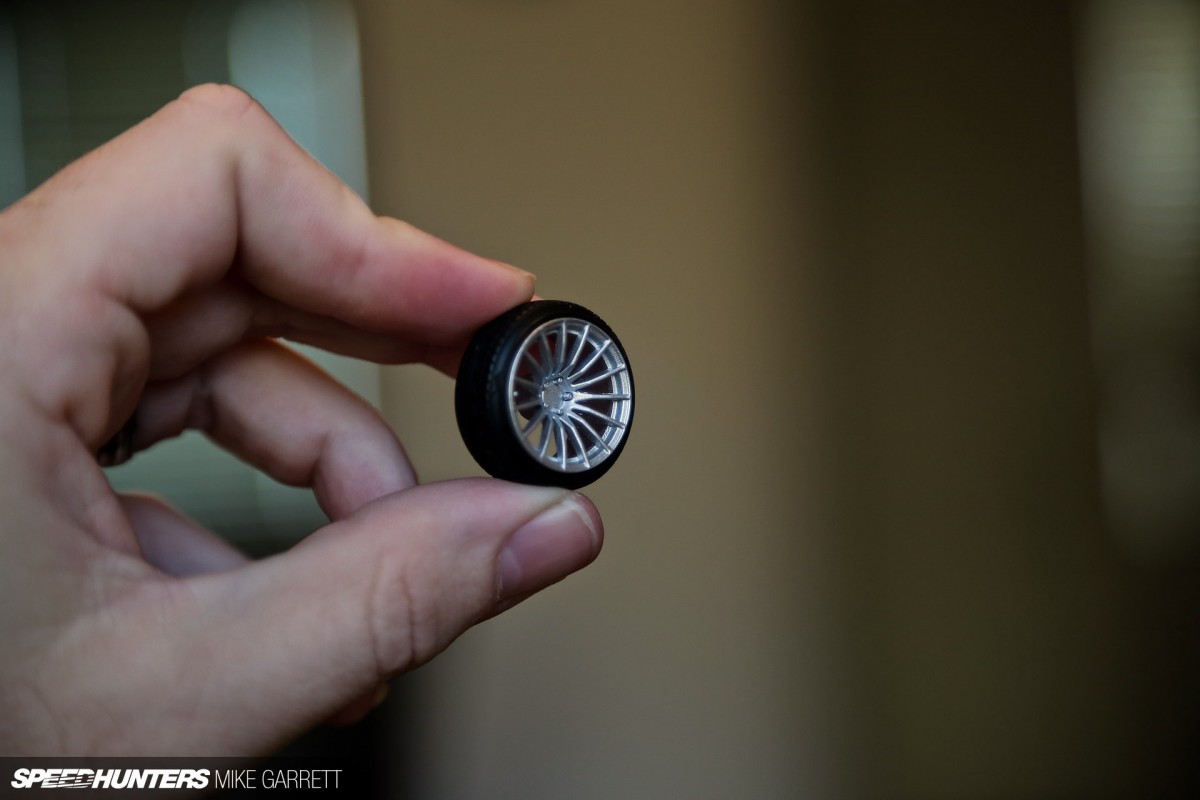 I couldn't resist taking one of the wheels off the plastic tree to see how it looked wrapped in one of the 18″ hippari tires that come with the kit. Pretty sweet isn't it?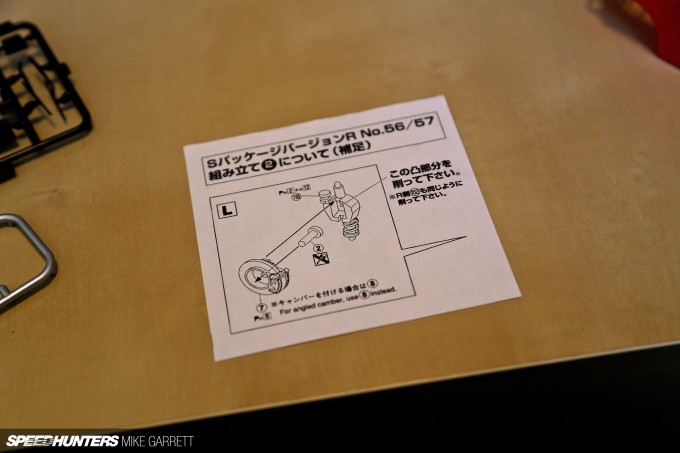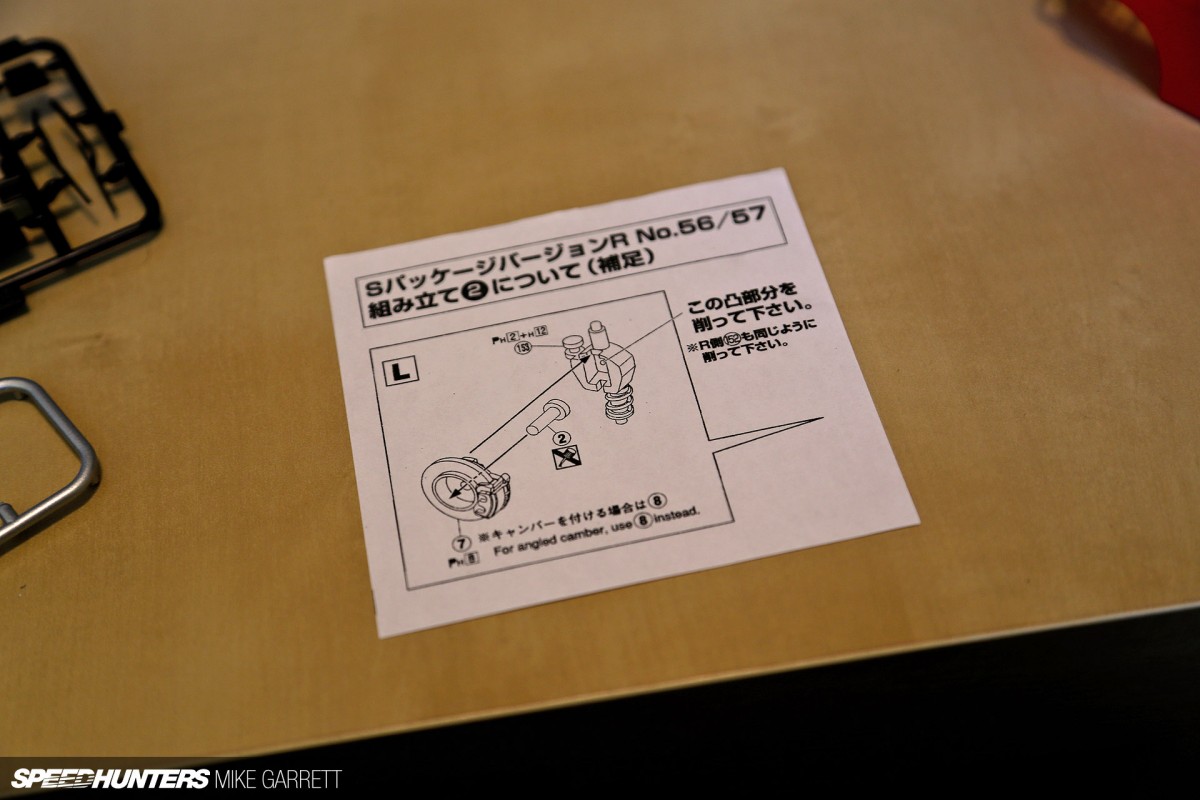 The kit even comes with special options to build the car with angled camber. They've really thought of everything here.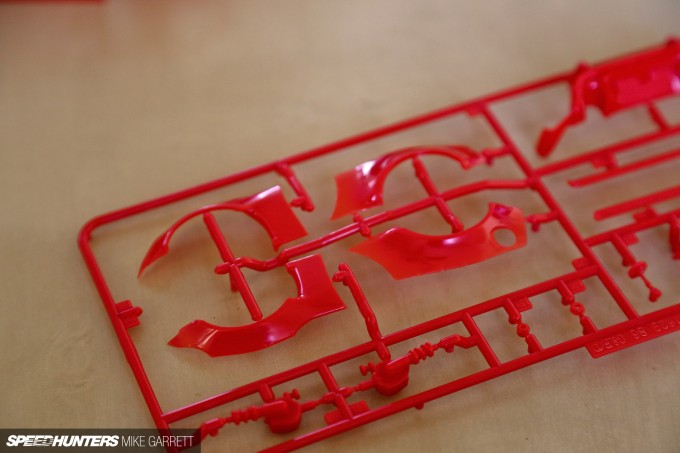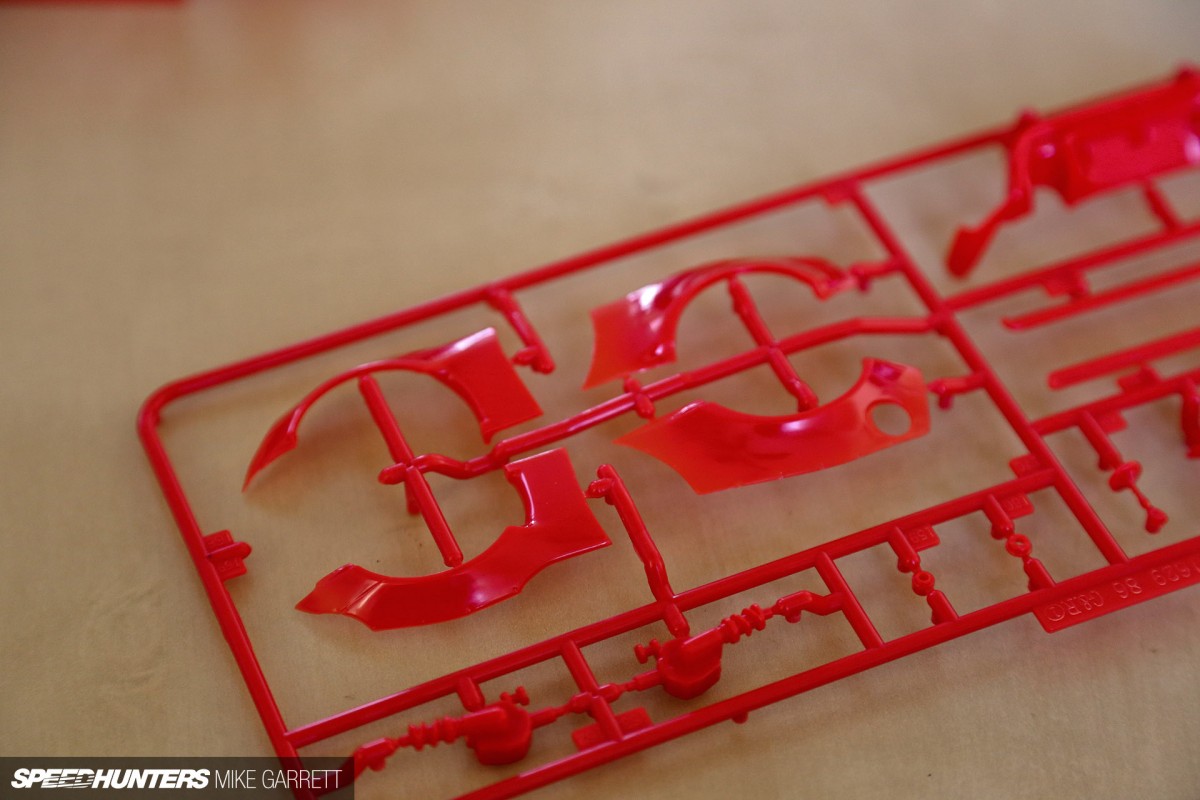 It goes without saying that the kit also comes with a complete 1:24 scale TRA Kyoto widebody kit. Unlike the real car, this won't require you to cut any metal – although you might need to shave a little plastic.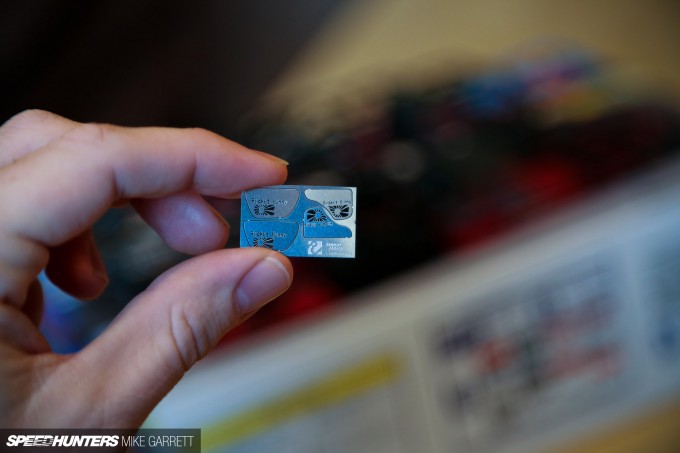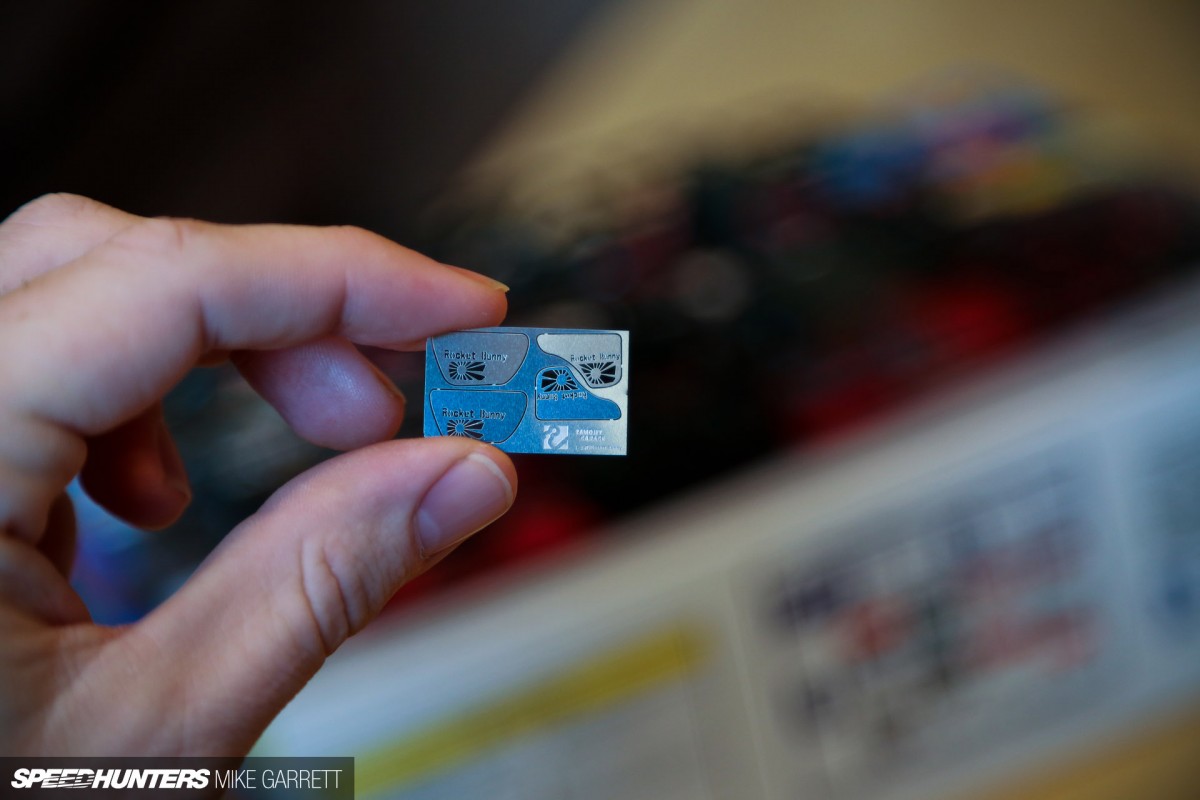 It even includes these highly detailed etched metal ends for the rear wing.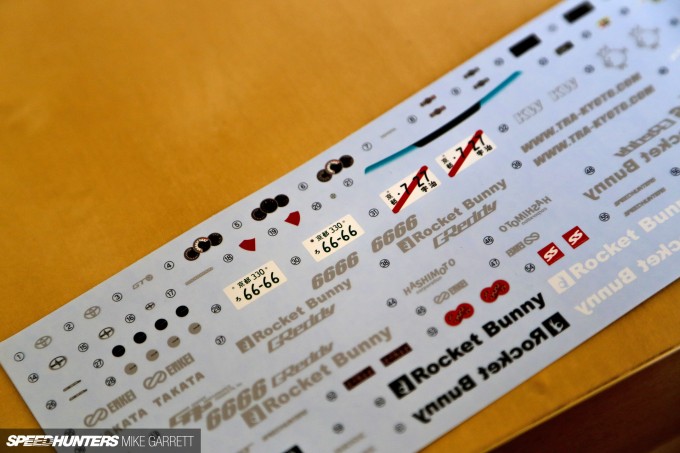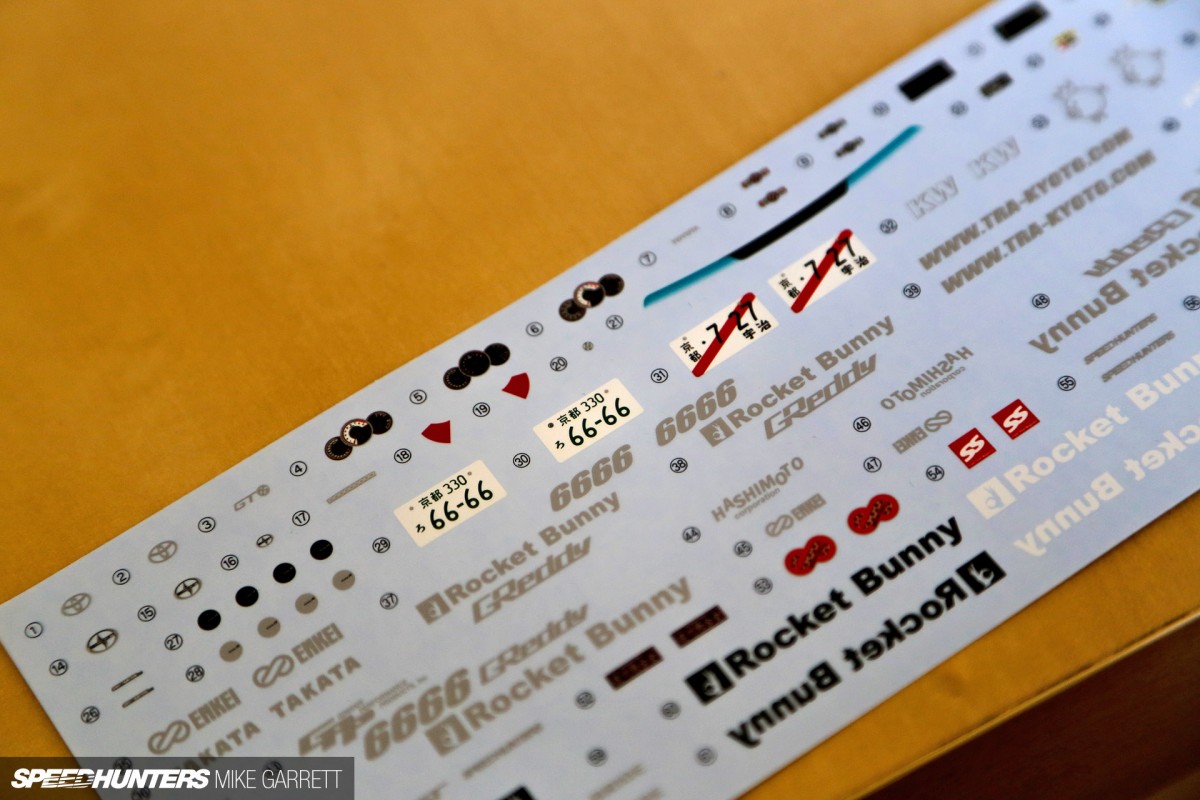 Check out the decal sheet, which includes different types of gauges, Japanese slash plates and even tiny little Speedhunters stickers. Nice.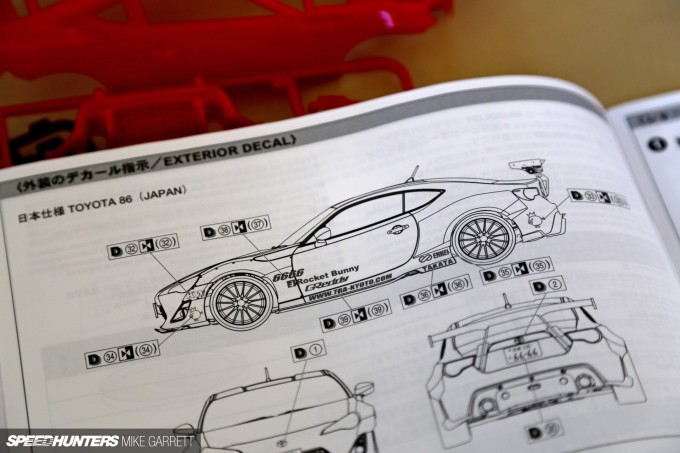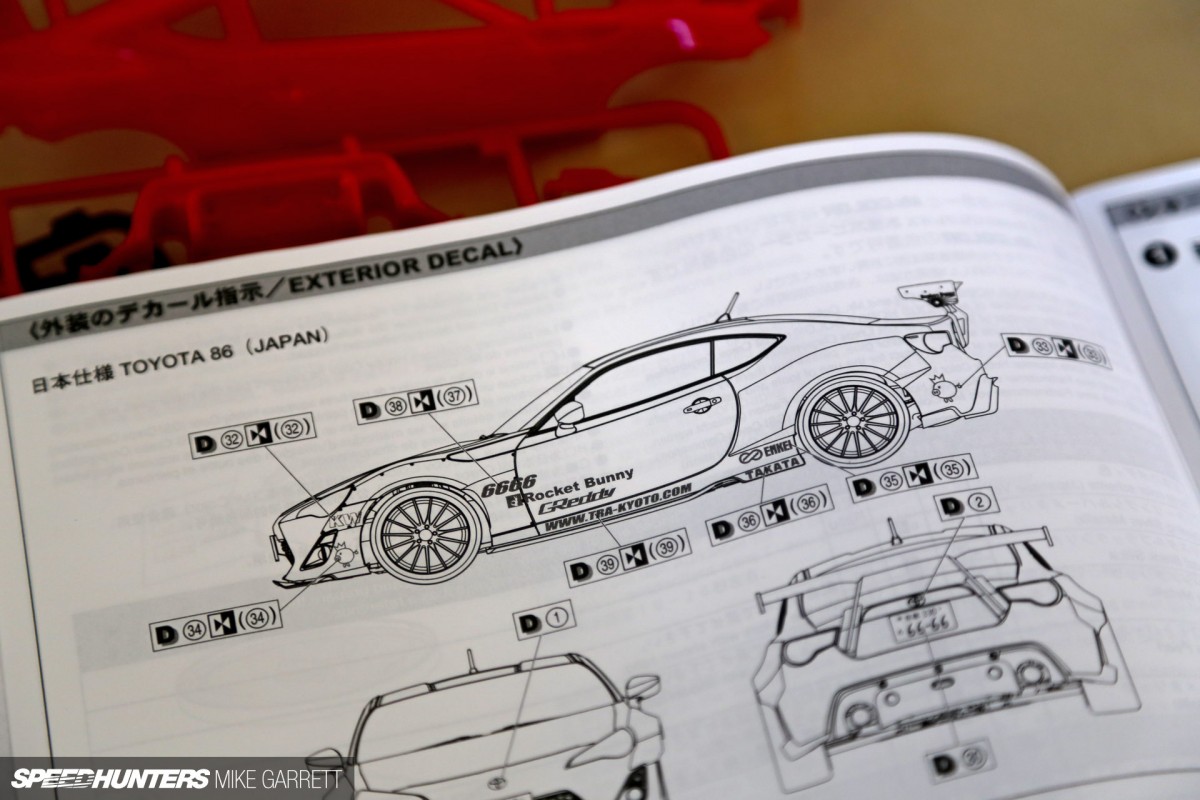 Of course even with detailed instructions, I've always found the decal installation to be one of the hardest parts of building a model kit. Maybe my hands are just too big and uncoordinated?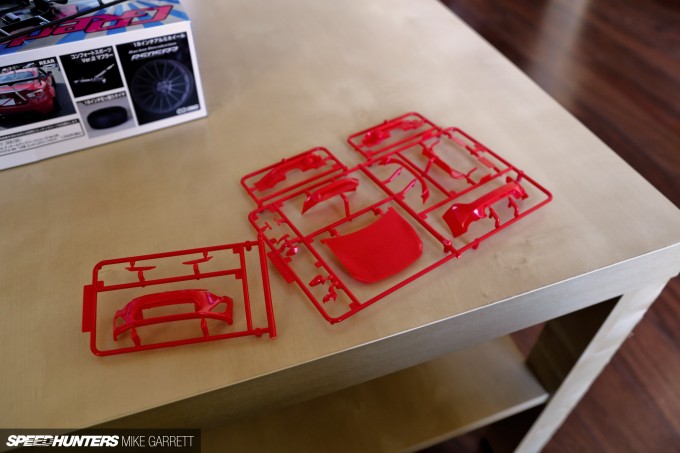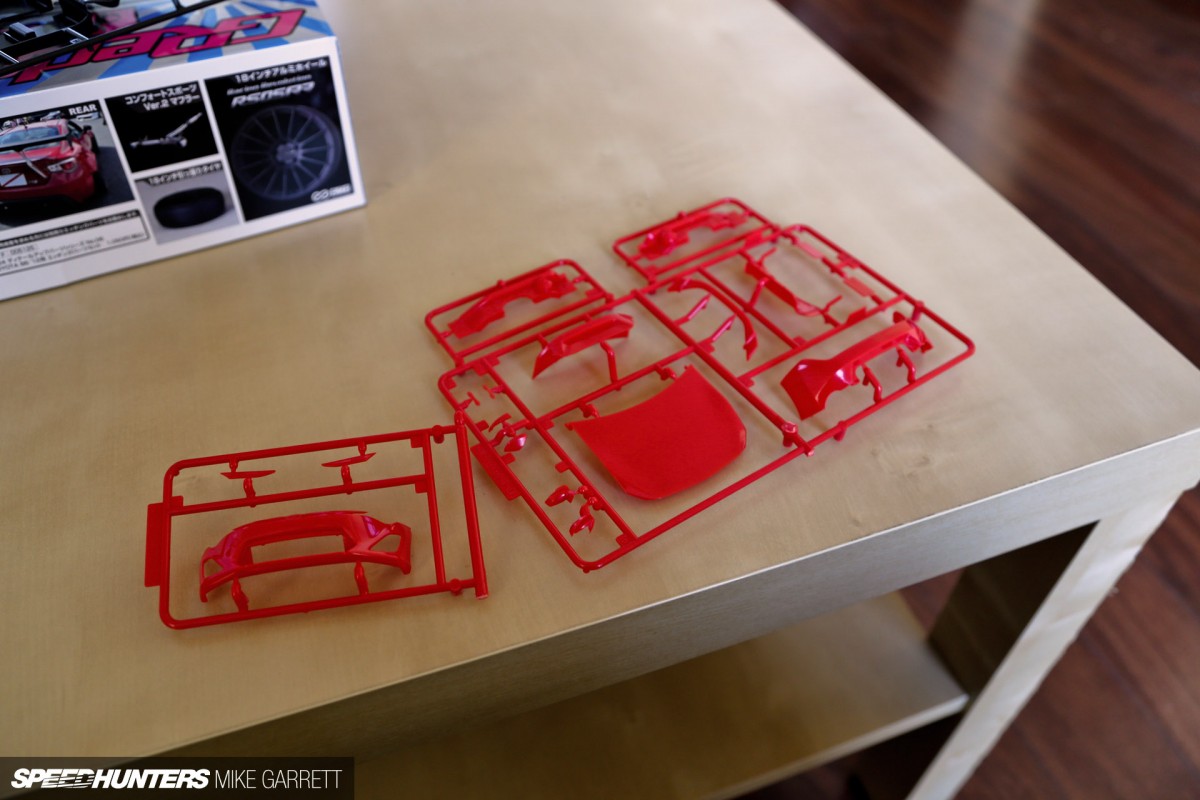 Right now I'm in the midst of getting ready to leave for Japan, but I'm certainly looking forward to digging into this when I have some time after I return.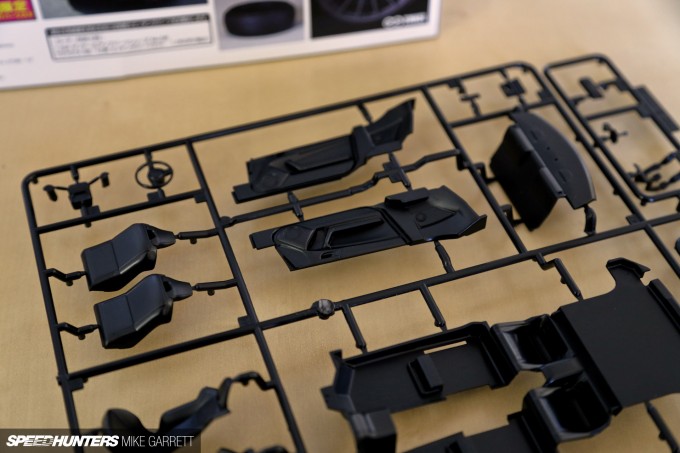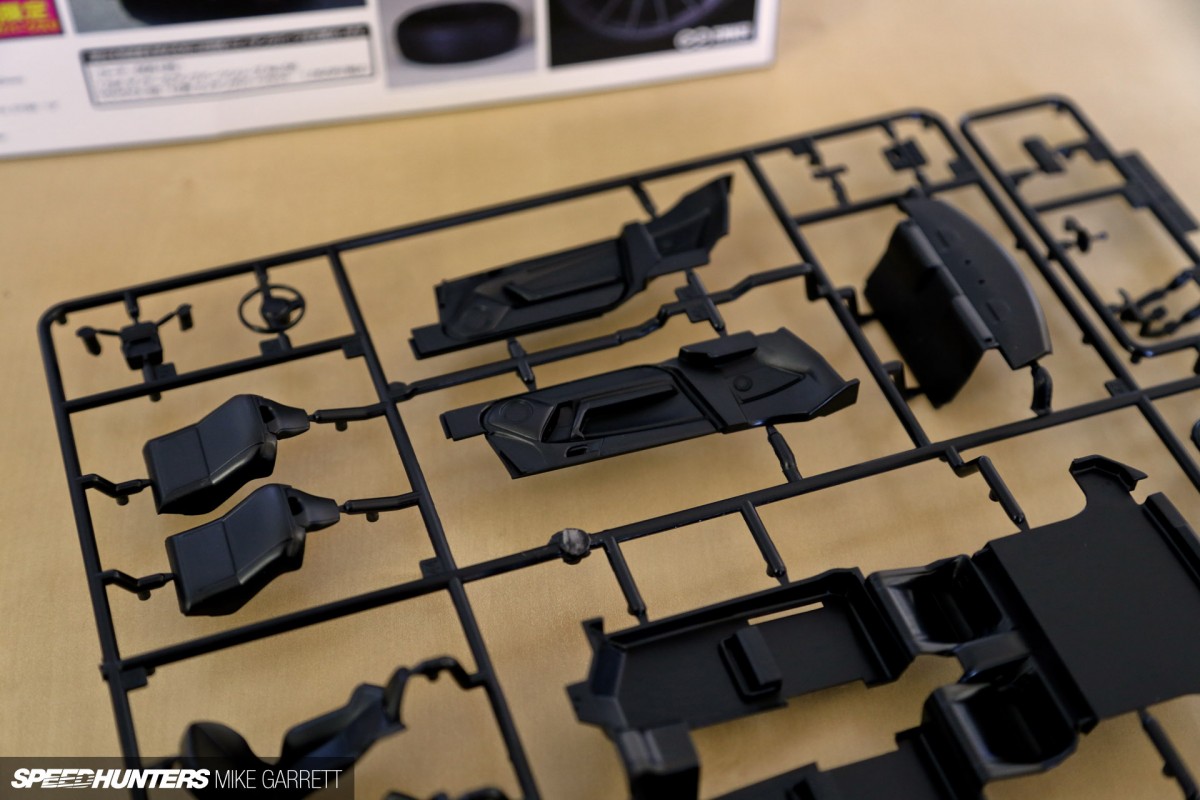 Besides just being a very cool, detailed model kit, I just like what Aoshima is doing here. This is one of the hottest cars out there right now, so it's only natural that you'd be able to build a scale replica out of plastic.
It's just like the good old days, isn't it?