2014 starts with a bang
It's just unrelenting. Japan never stops; if you're into cars, your exposure to them will never cease, even during the holiday season. Christmas in the land of the rising sun may only be little more than a commercial holiday where people have an excuse to eat KFC (I kid you not) and go out on dates but it's the new year's celebrations that the Japanese really give importance too. It's a chance to spend time with family and relatives, a chance for those that work away from home to return back to their countryside towns and relax for a few days. But it seems that those with a passion for cars get a few hours off from their family duties on the third of January. Call it a few hours of indulgence, the perfect time to get one's pride and joy out for a clean and a short drive.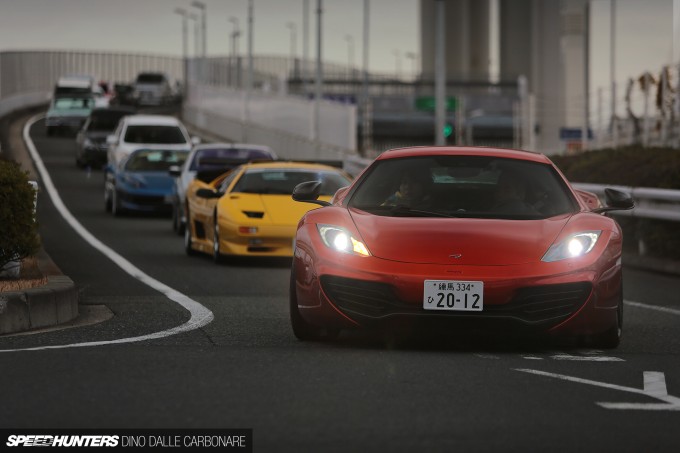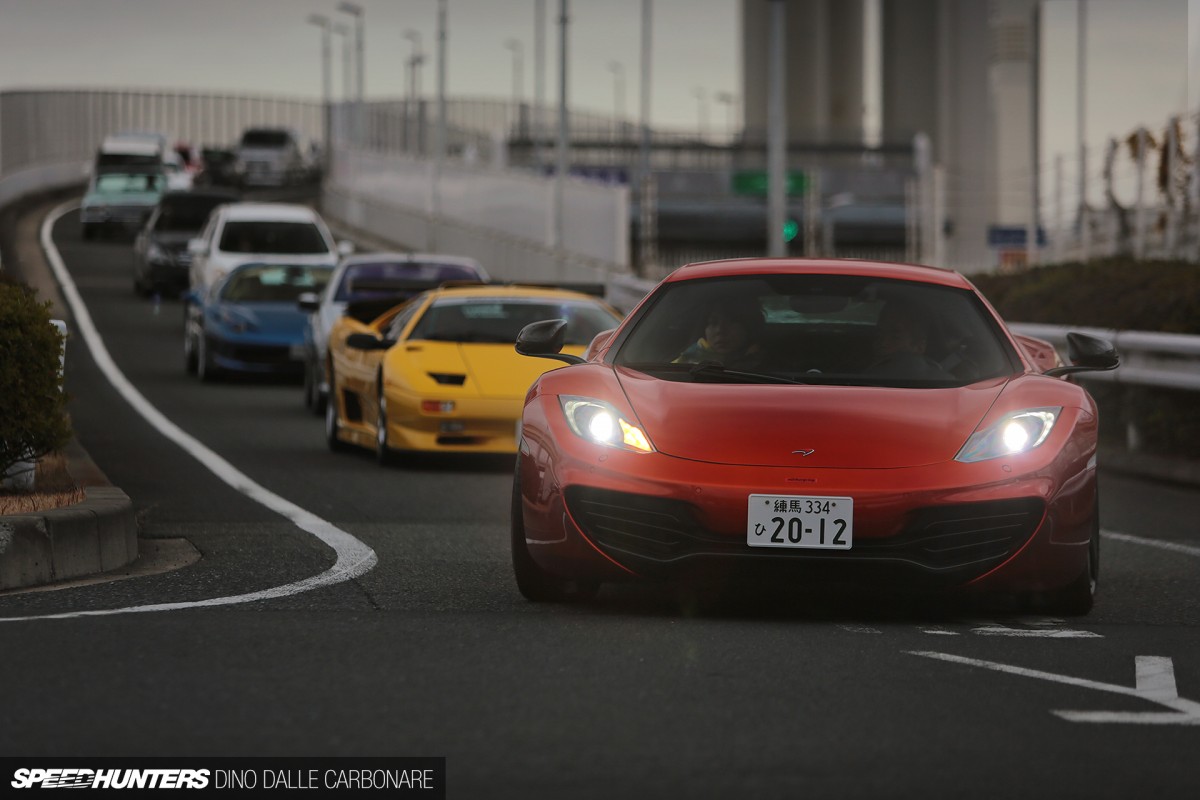 Supercar meets of this type are held up and down the country but as you probably know by now, if you happen to live in or in the proximity of Tokyo, then the place to head to is Daikoku Parking Area. Over the course of the year, I spend my fair share of time at this rest stop along the Wangan, but the 3rd of January is always different. This is when JDM rides get outnumbered; where the Japanese passion for everything 'import' is exhibited in an impressive parade.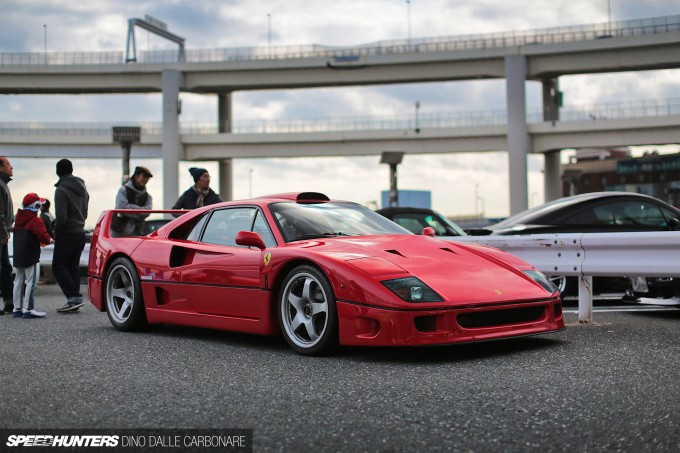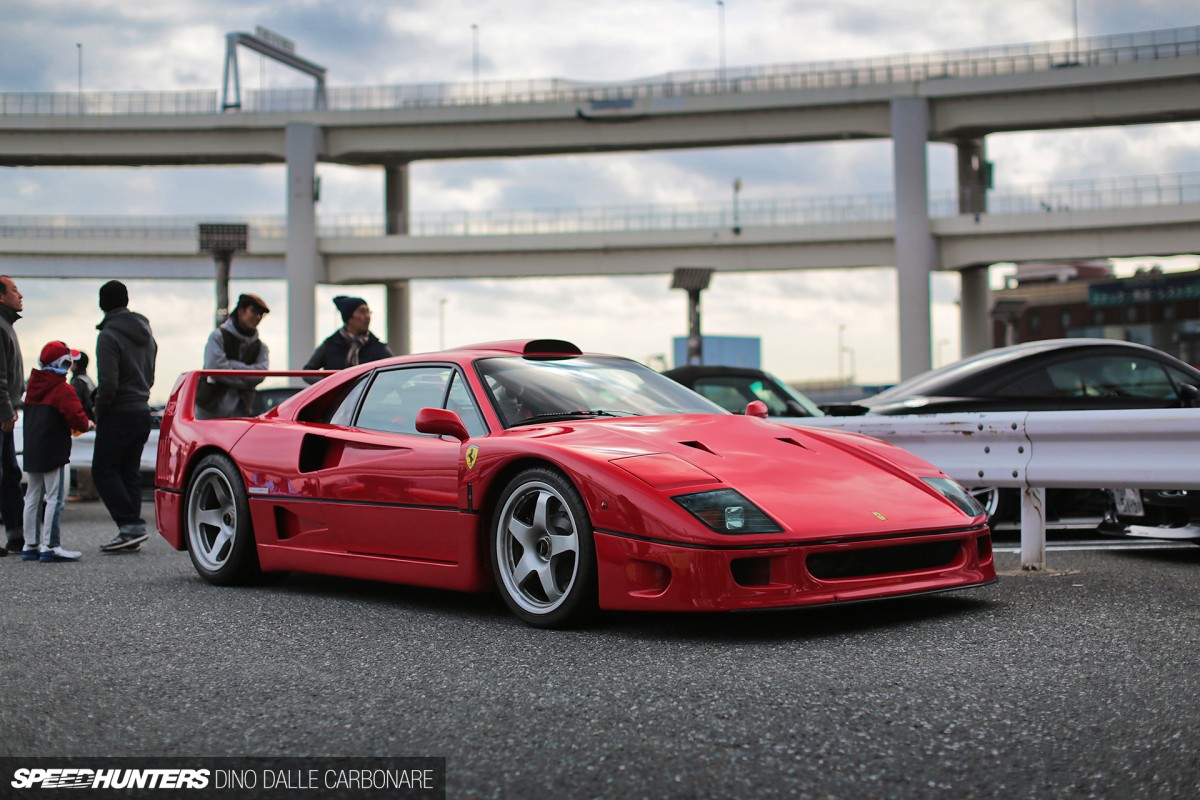 The mix couldn't possibly be broader. It's not so much the sheer opulence that impresses the most.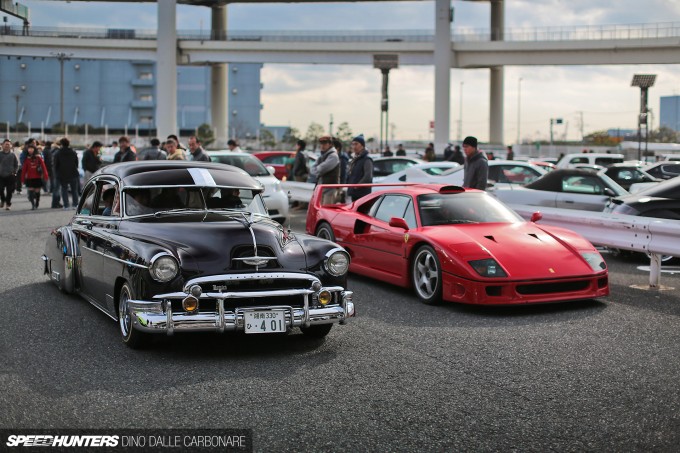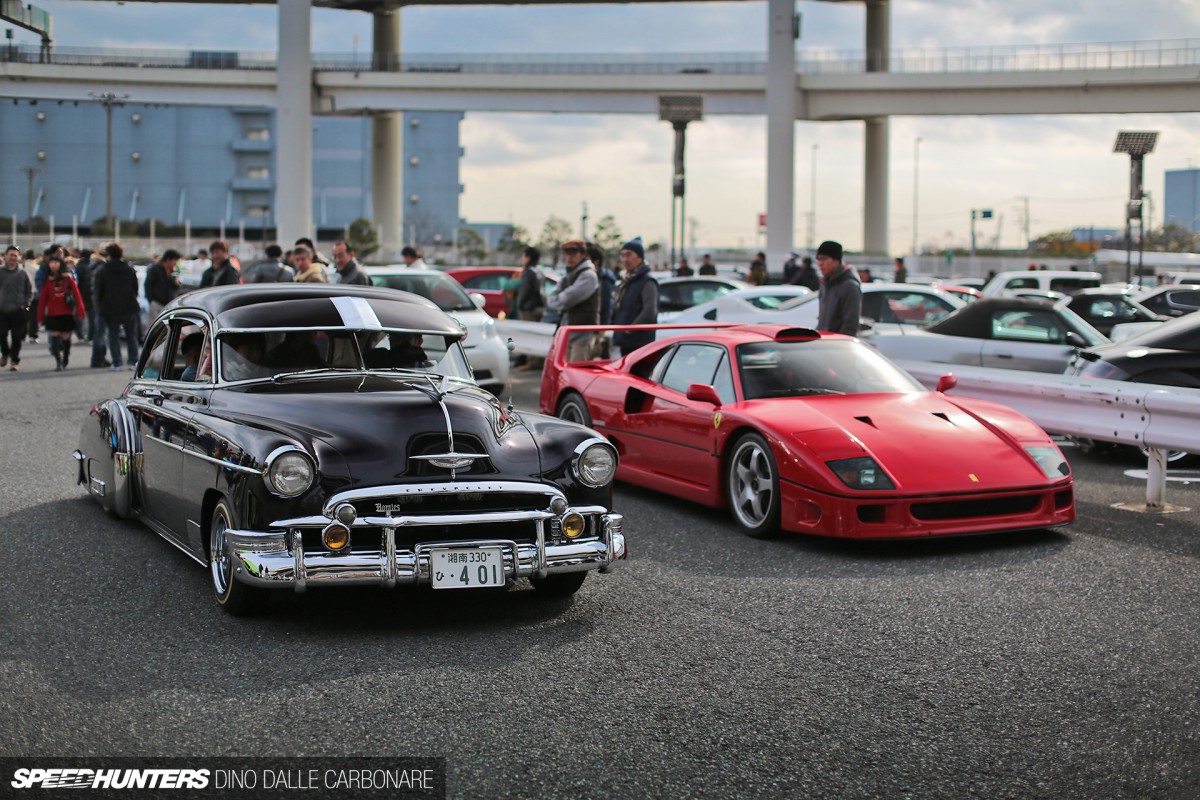 No, not at all. It's actually the mix of cars, styles, cultures and tastes. It's like the whole JDM scene gets thrown into a blender and is put through a few pulse cycles before being poured out.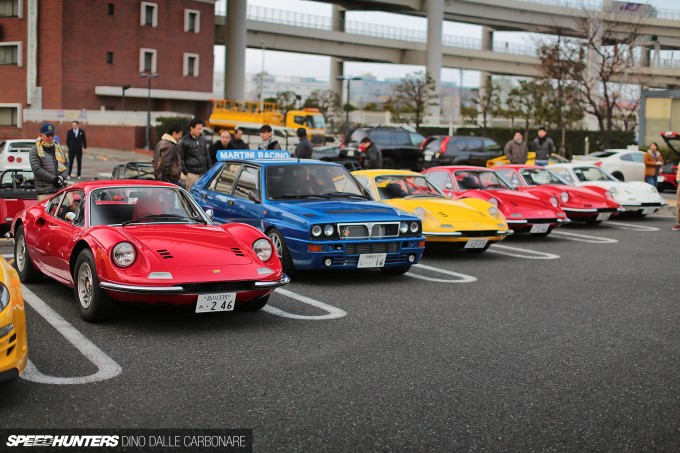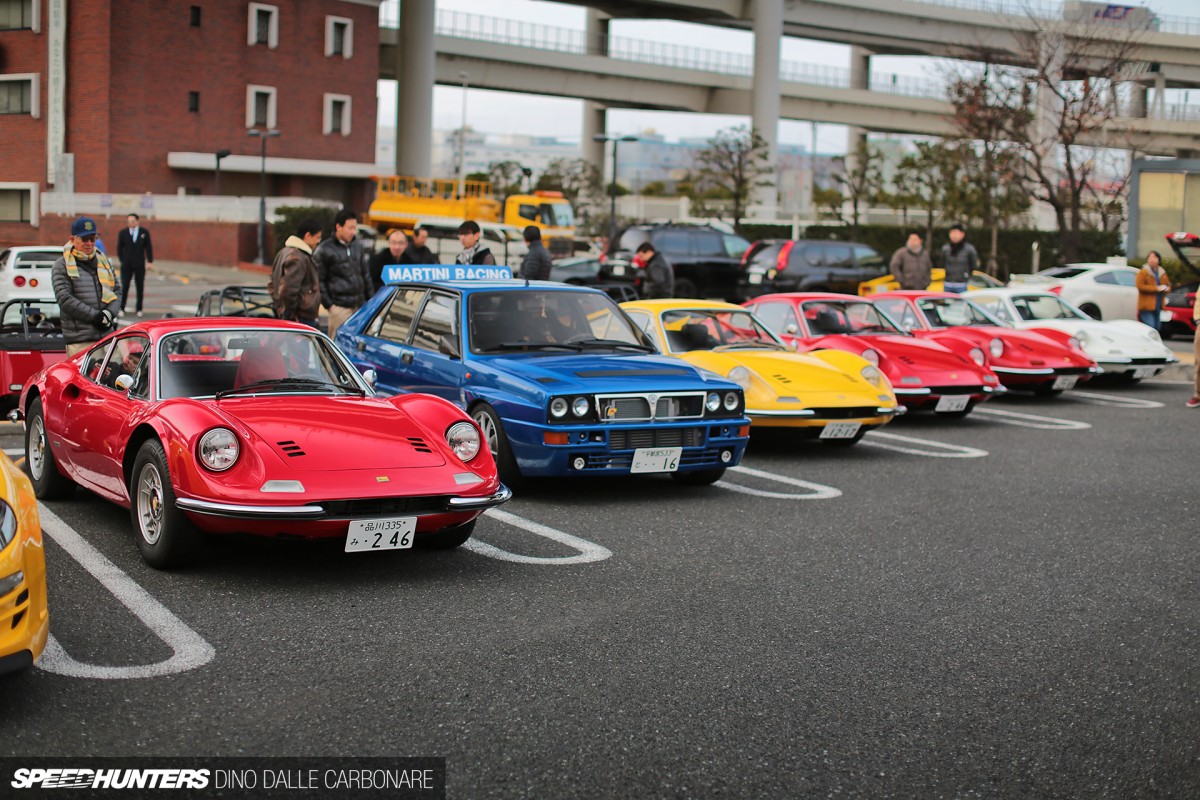 And for 2014 especially, the turnout was… well, I'm not going to sit here and tell you. Just have a scroll down for yourself and tell me if you've ever seen anything like it before. This is why we love Japan so much. I arrived nice and early, or so I thought. By 9am, most of the main parking spots had been taken up, and the first line-up of cars I saw was this Dino-fest 'spoiled' by the lonely Delta Integrale (or Deltone as it's often referred to as in Italy).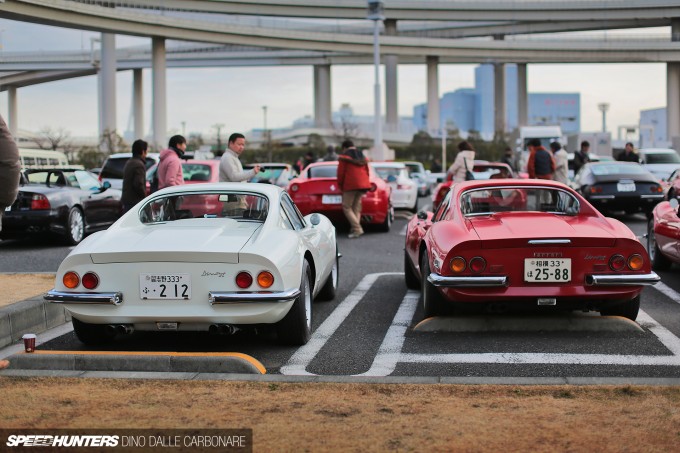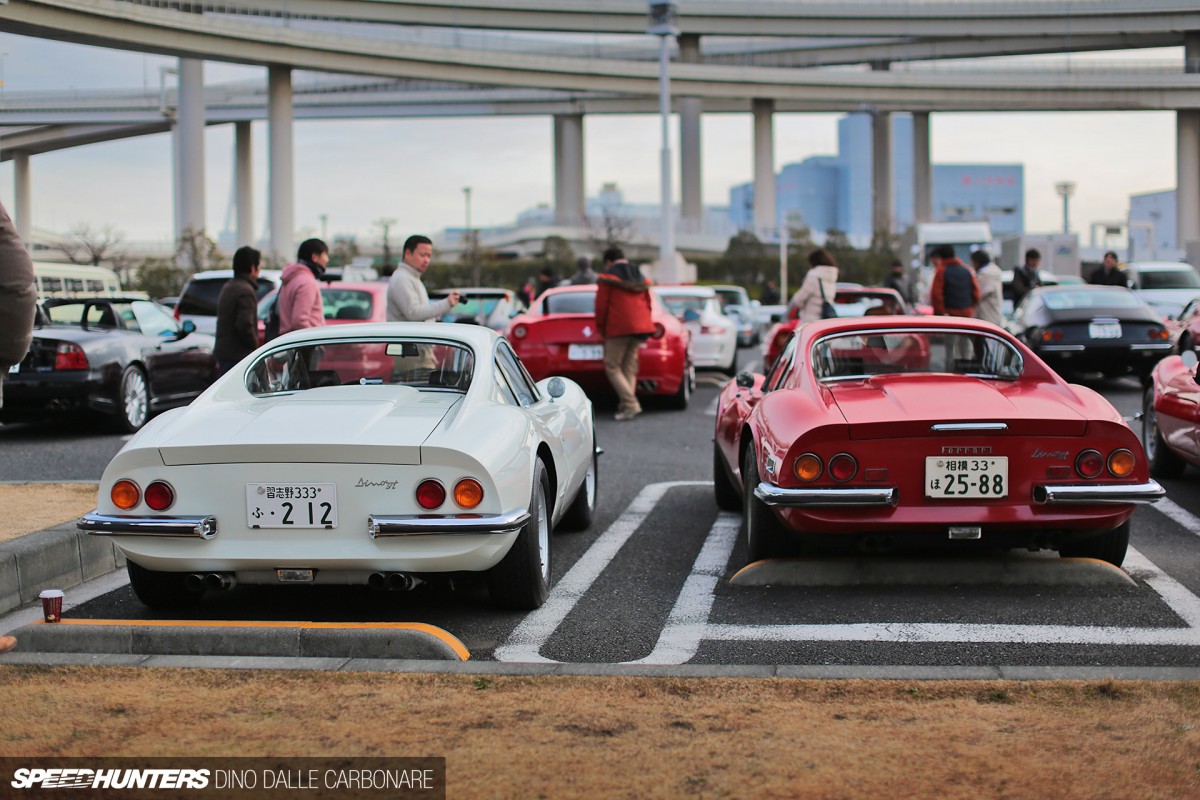 I see silly amount of Dinos on the streets of Tokyo. There must be a very high number of cars here, so it wasn't so much the eight cars present that provided the excitement this time, but that white example right at the top. I don't think I've actually ever seen a white one in real life!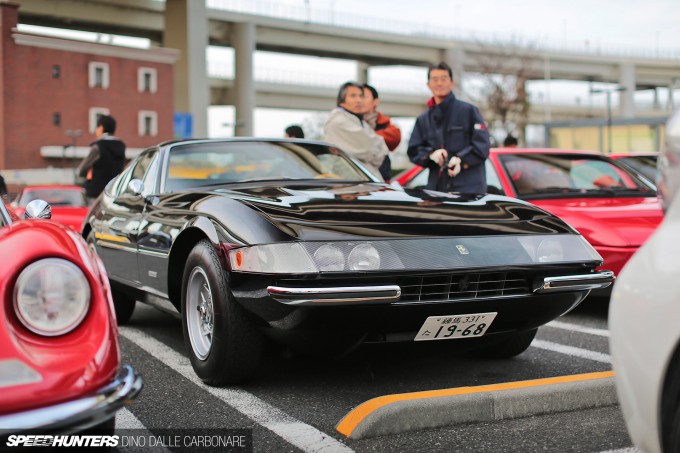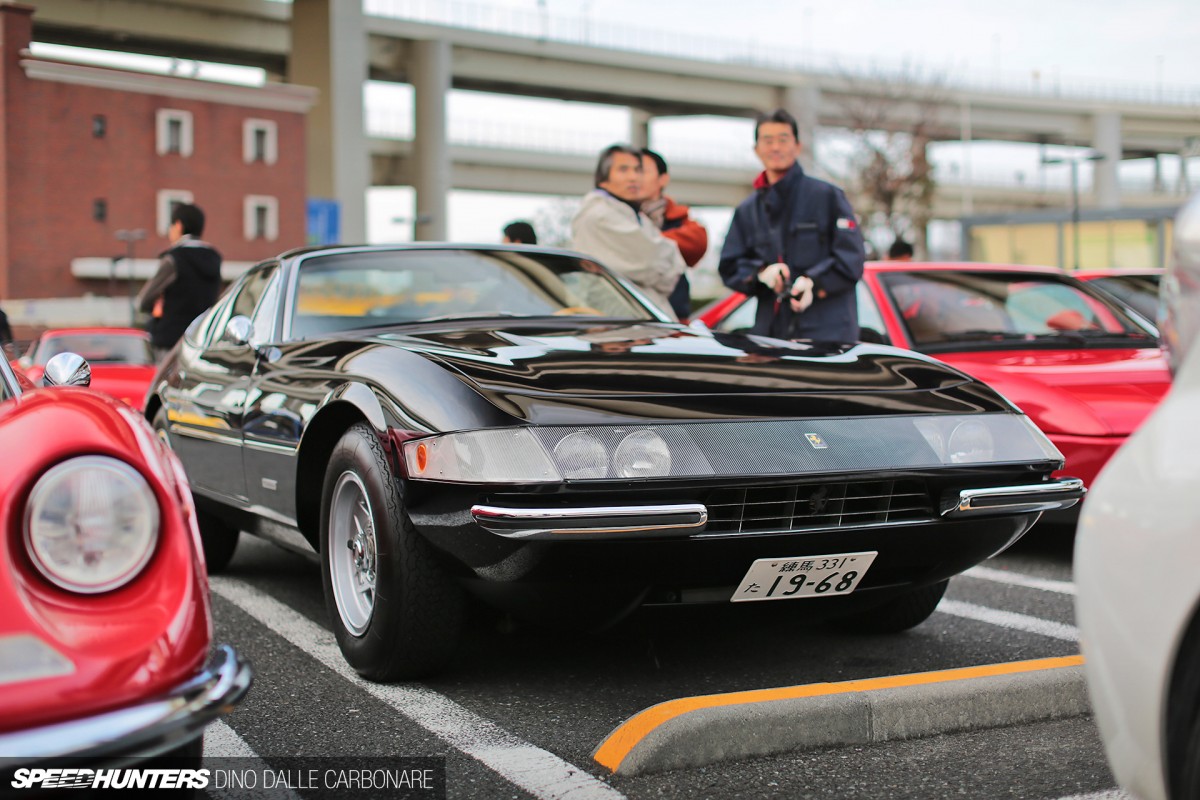 The day was all about spotting the rarities and this sublime looking black 356 GTB/4 – or the Daytona to you and me – was a pretty damn good start!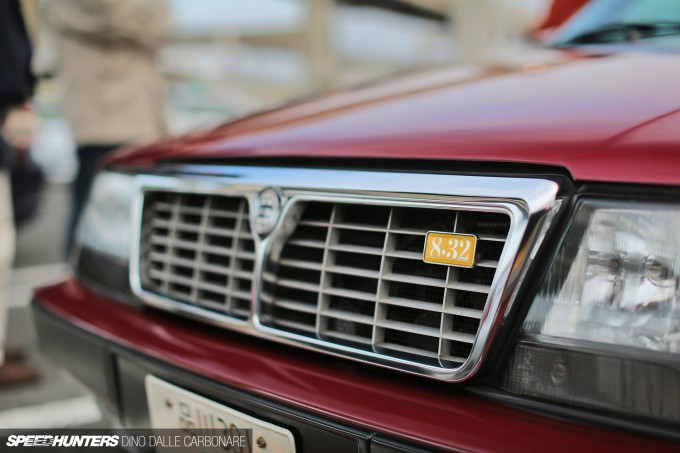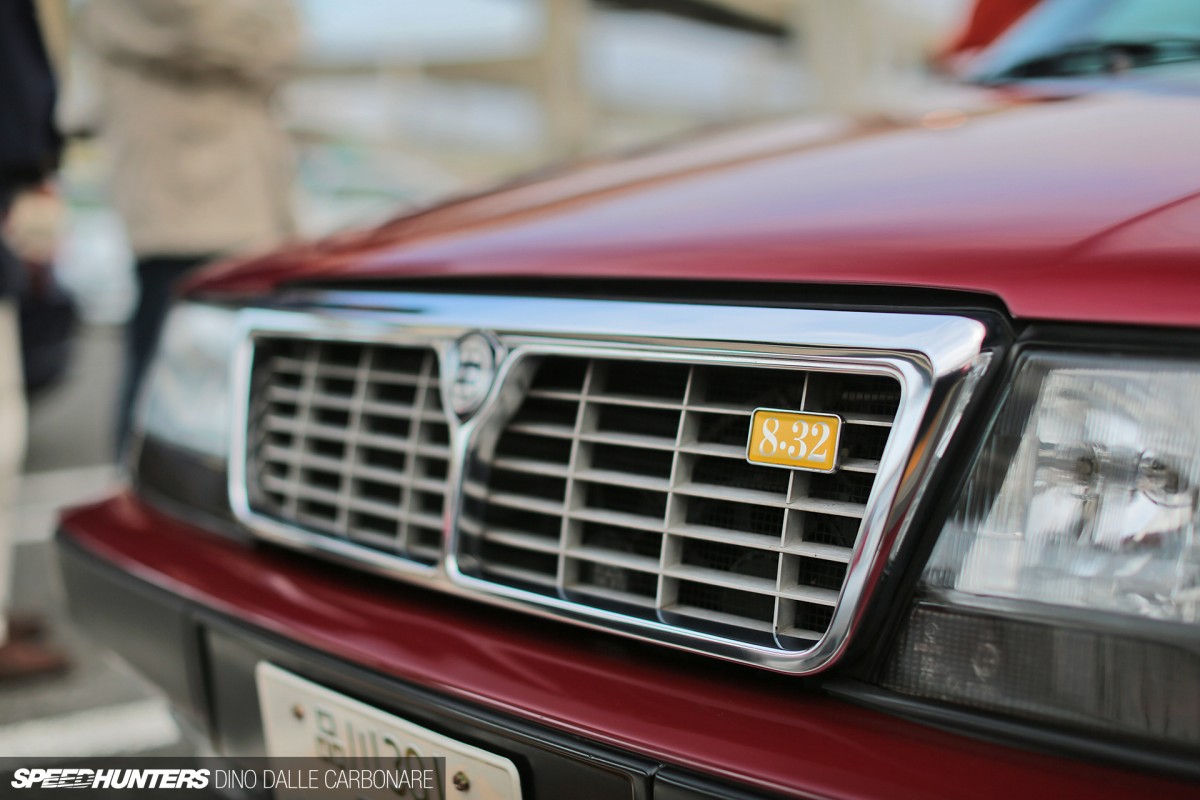 The Ferraris were making me all proud of being an Italian, but it was this Lancia Thema 8.32 that gave me one of the biggest grins on the day. Why? Well, not because it was a respected performance car – it was actually pretty bad – but the idea in itself was so damn cool. Shoehorn a reworked 3 liter V8 from the Ferrari 308 into the Thema's engine bay, mount it transversally and send all 215hp to the front wheels. This was in the era before they figured out how to make good FWD LSDs!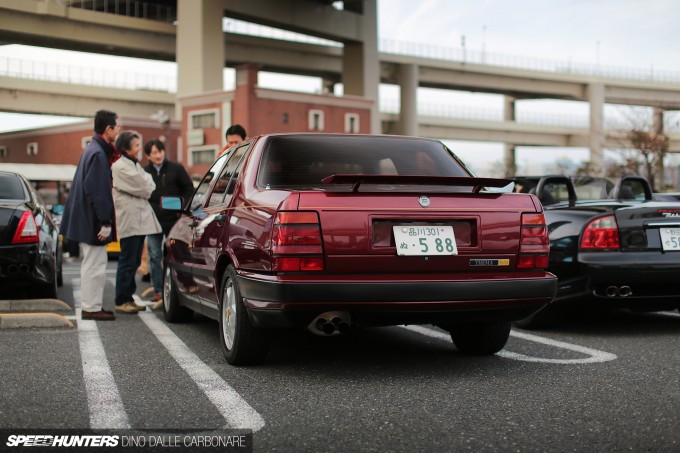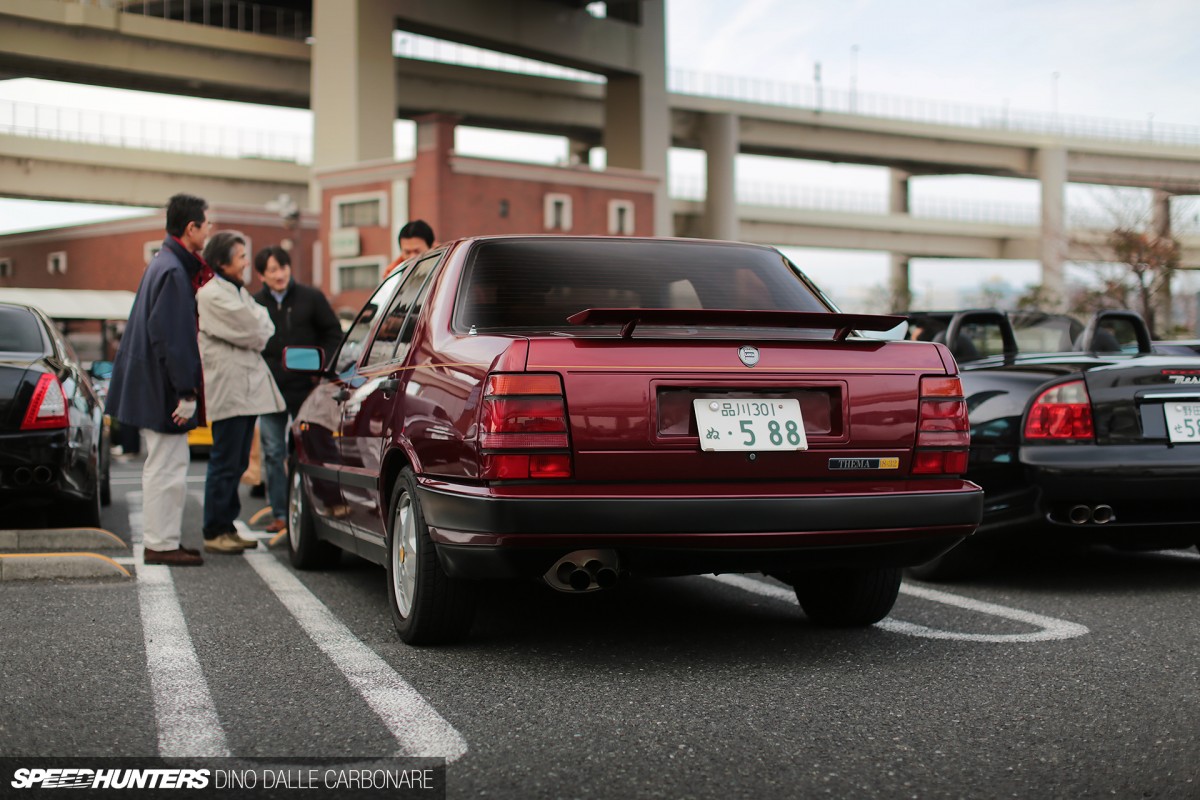 Despite some 'slight' torque steer issues and 'ever so slight' traction problems on anything but dry asphalt, it was actually a pretty damn cool car to have in the late eighties to early nineties. Italian flair at its best!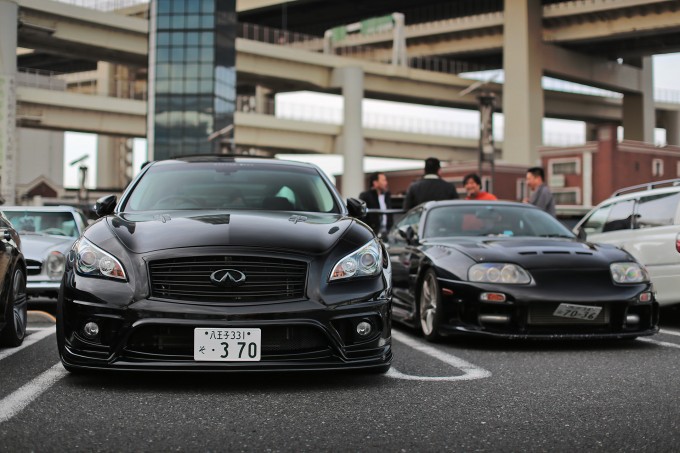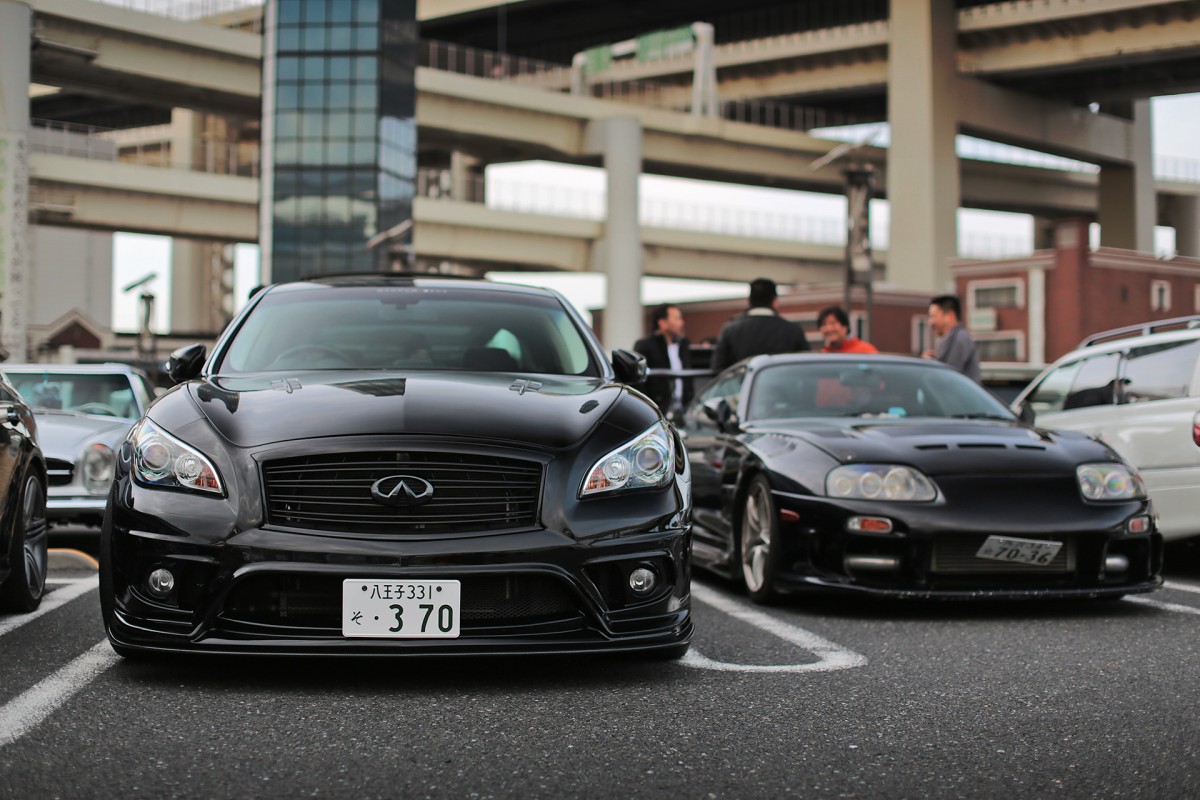 And from the eighties we're straight back into modern times with this mean-looking Nissan Fuga from Varis. This is actually their demo car, shown last year at TAS and still looking as menacing as ever. Like a lot of high end Nissan owners, Varis have gone for the Infiniti badge conversion to give that import feel to their JDM ride. The new Nissan Skyline (Infiniti Q50) is set to be sold as an Infiniti when it hits the dealers in March, but it will actually be sold through Nissan dealers, because unlike Toyota and Lexus, Nissan doesn't plan to open Infiniti dealerships. Yes, I'm as confused as you are but this is Japan and confusion is a part of daily life!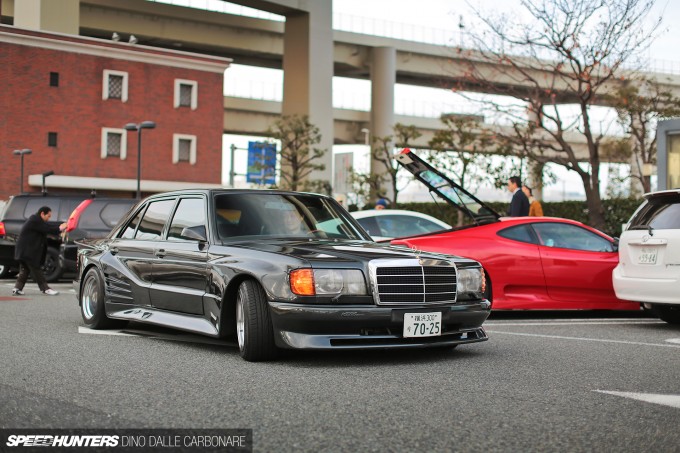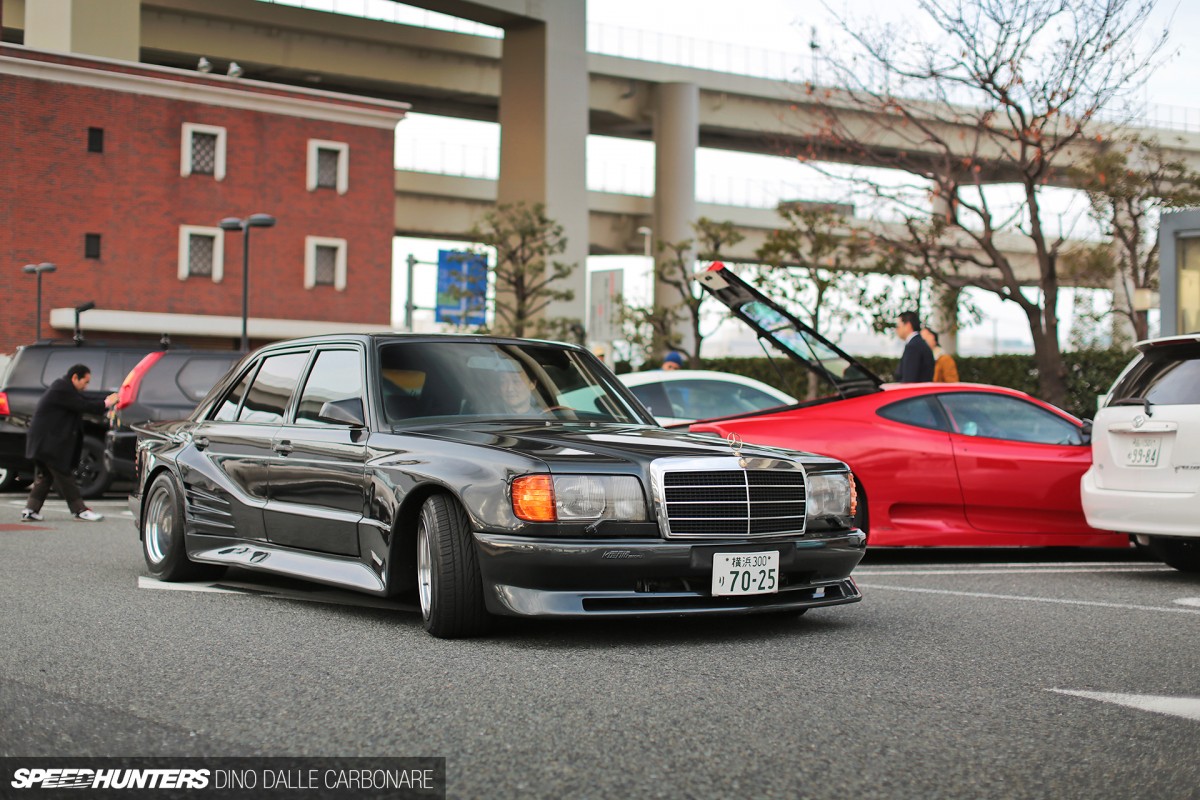 Boss. There's nothing else I can say about this insanely cool Koenig Special W126 Benz. When it quietly rolled in on its impossibly wide BBS mesh wheels, people just stopped and stared.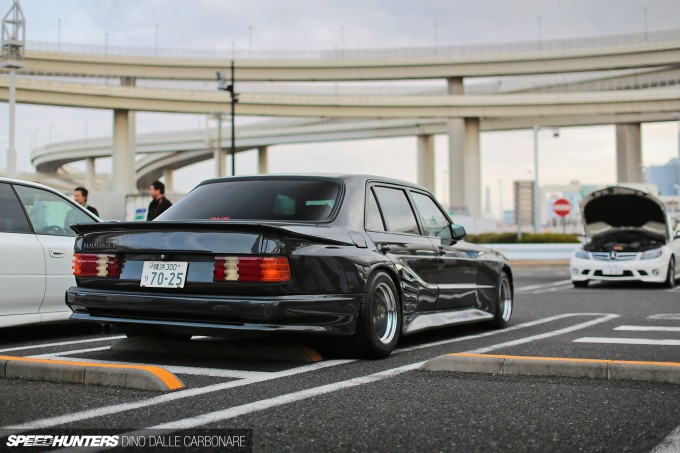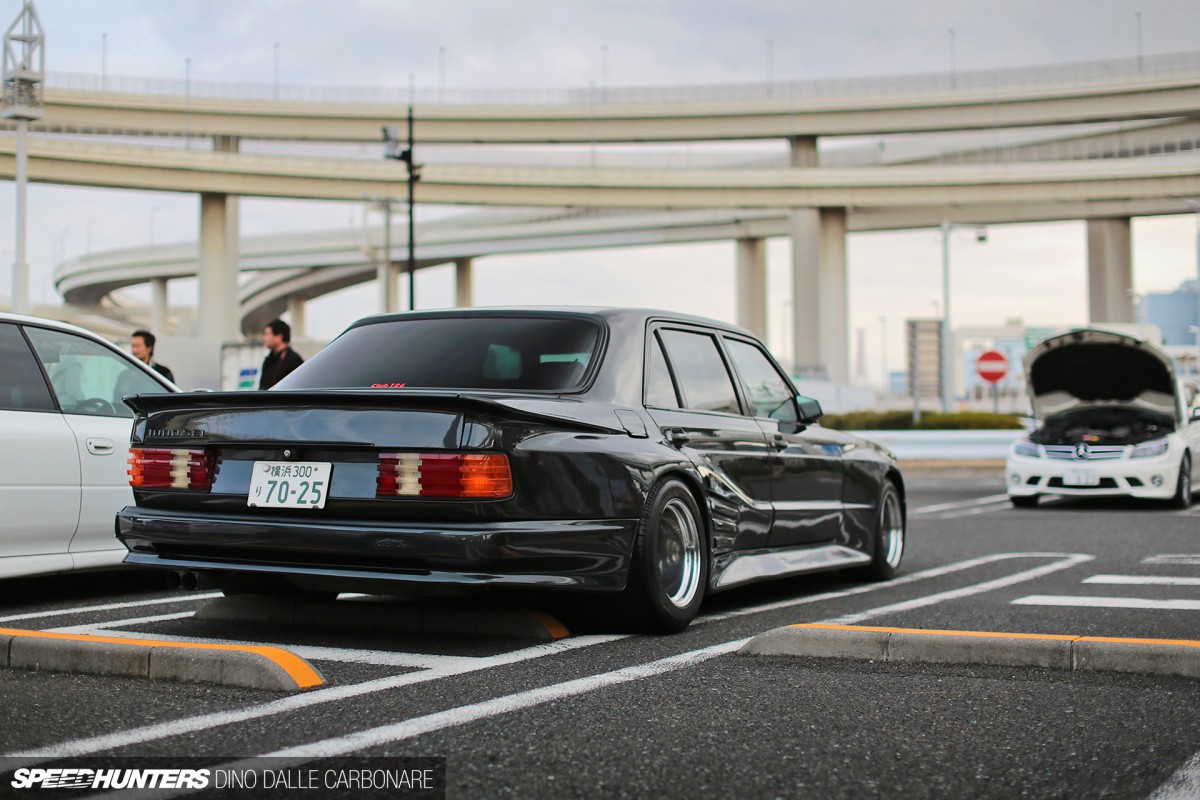 I remembered when I first arrived in Japan as a kid back in '93, I used to spot the odd wide-body kitted Benz around shady neighborhoods in Shibuya and Roppongi. It was cool to see this '1000SEL' – brought back some memories!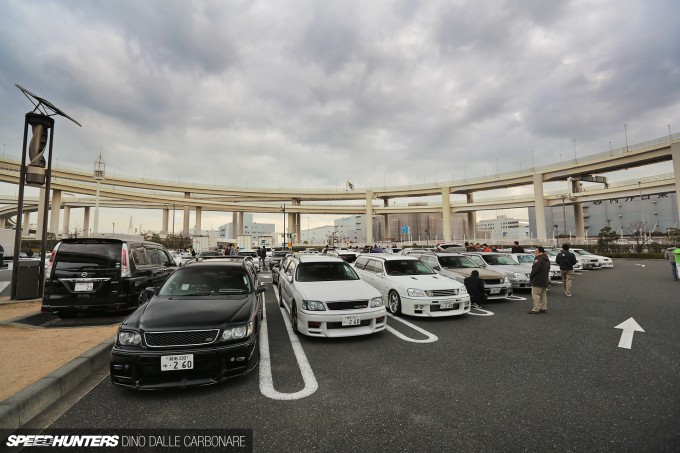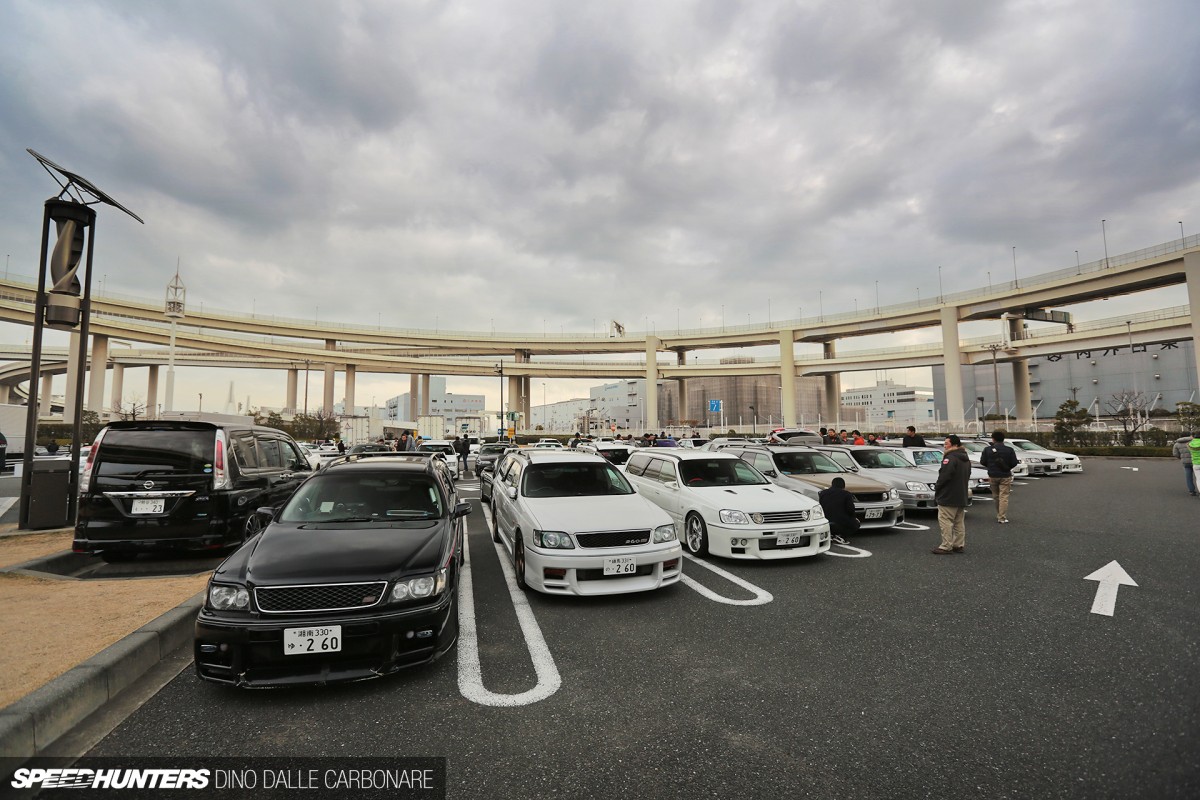 The Stagea crew obviously wanted to bring in the year with a bang and had a very nice selection of cars present on the day.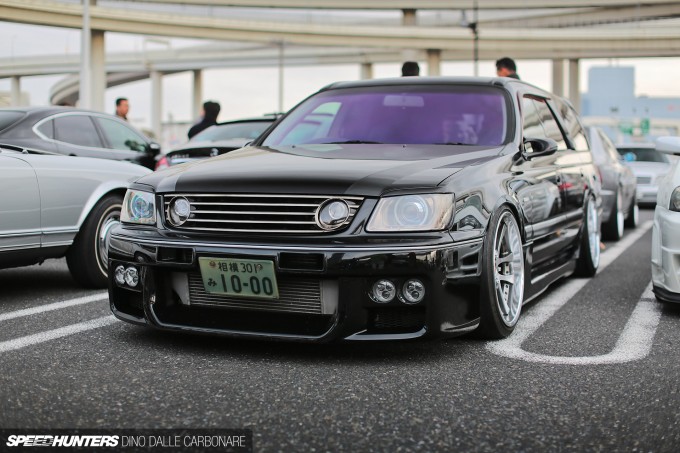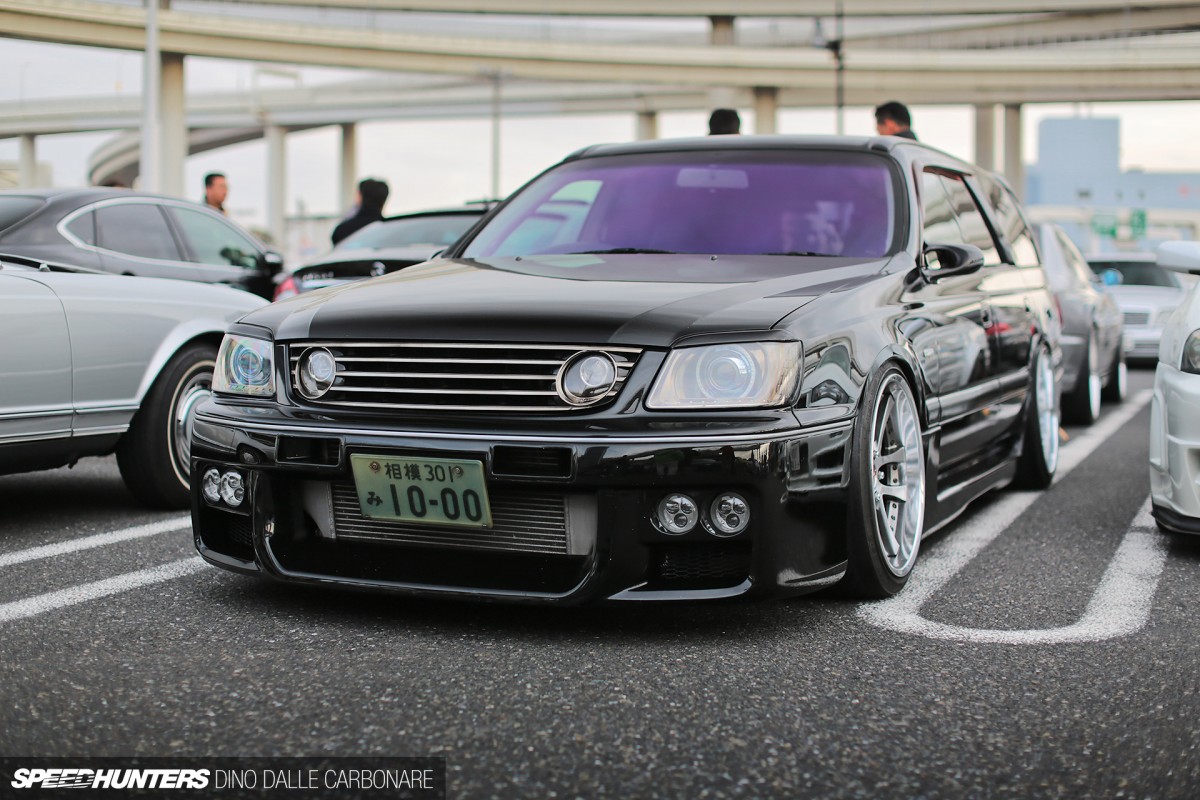 The VIP look on this particular car really made it stand out, especially sitting on some deep dish Weds Kranze LXZs.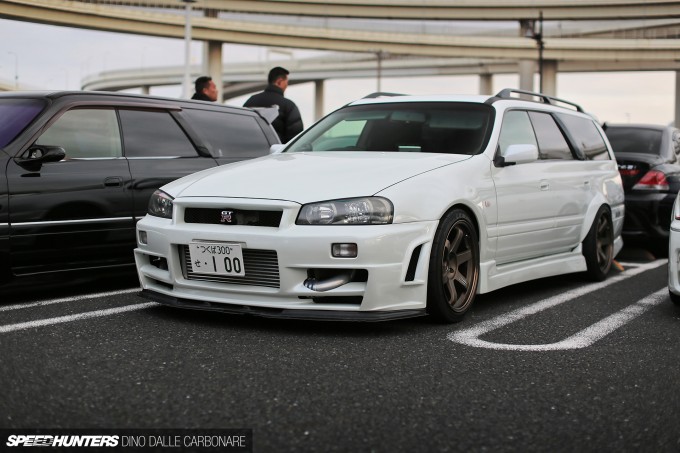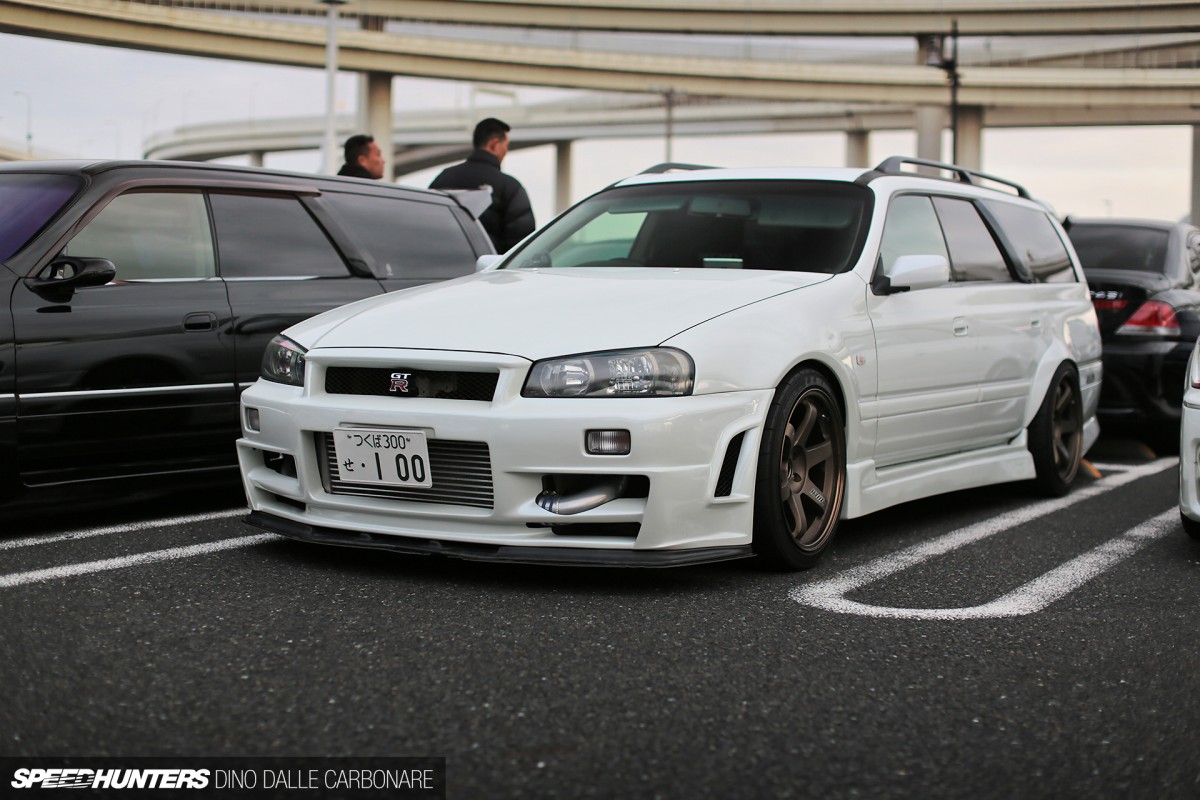 Mind you, a BNR34 face conversion on one of these old Nissan wagons always makes it an automatic winner. Oh and check out the rolled rear fenders.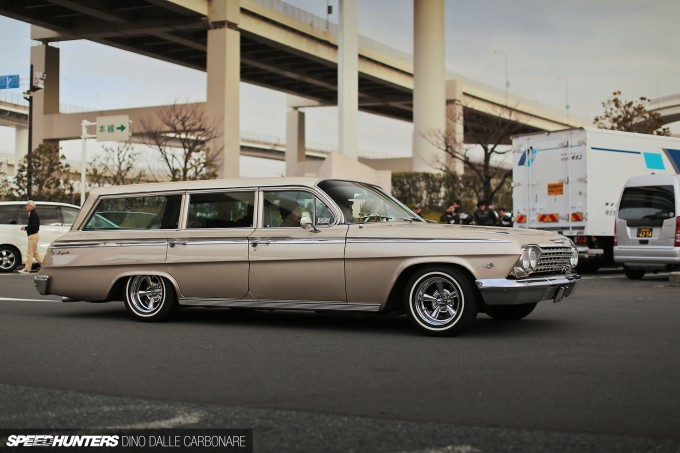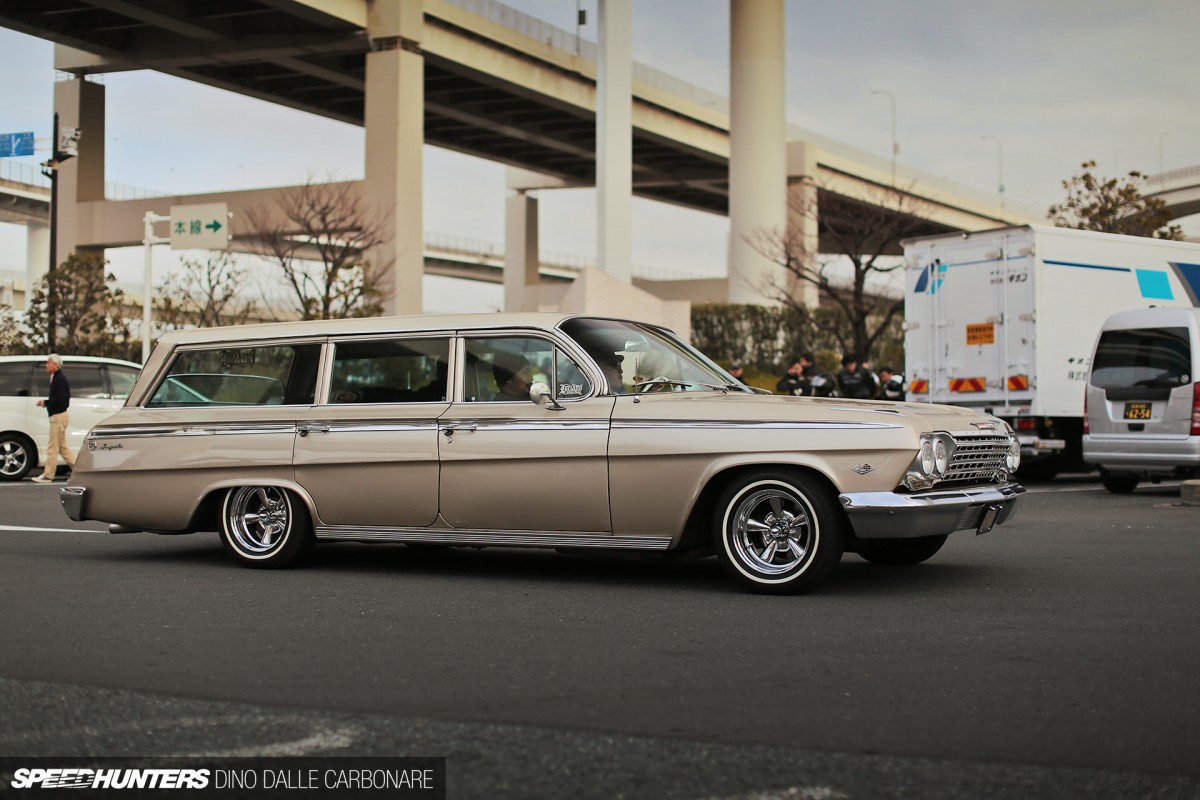 Every time I turned my head it was time for something totally different, so from JDM wagons it was onto this Impala wagon that looped around the PA until it found a bunch of other custom American metal to park next to.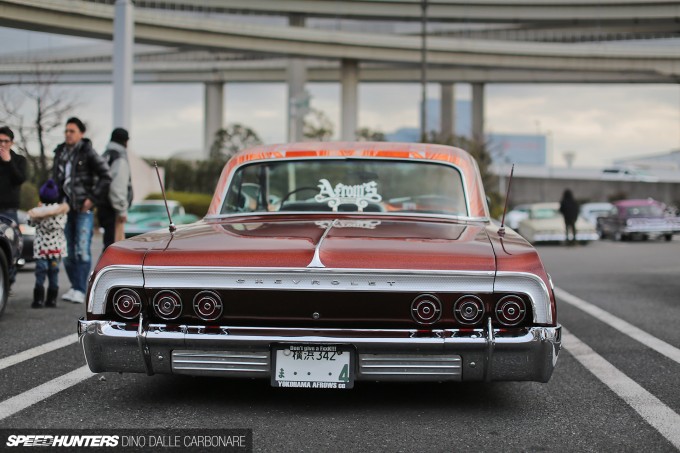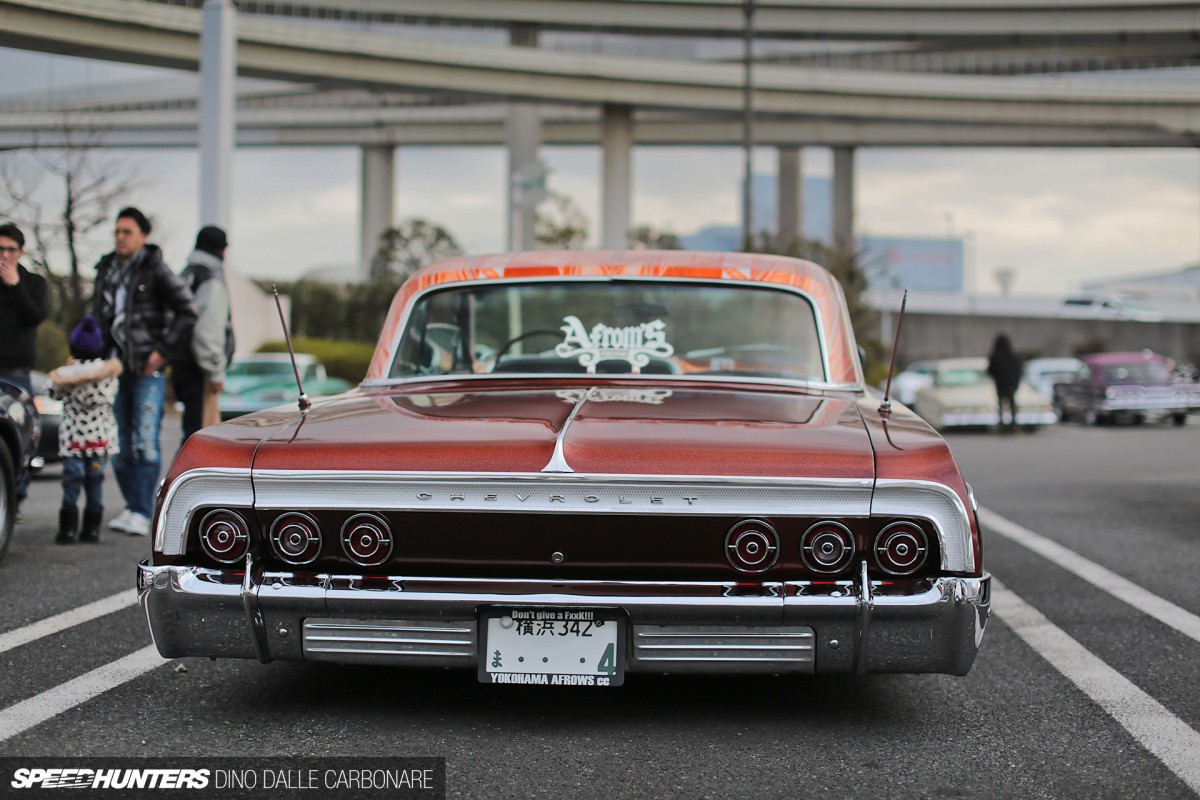 And when I mean custom I mean proper custom!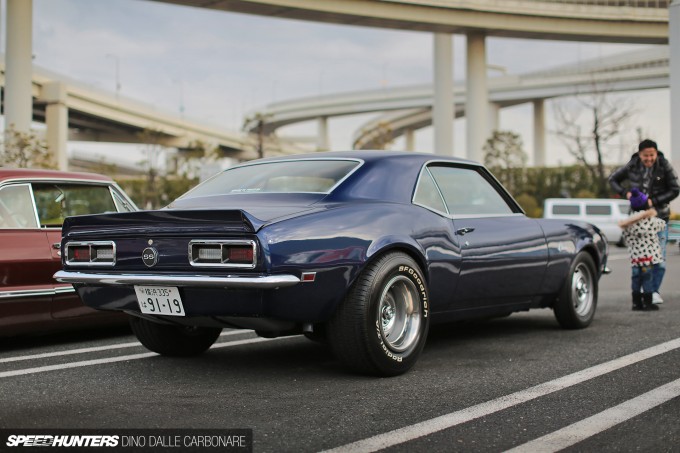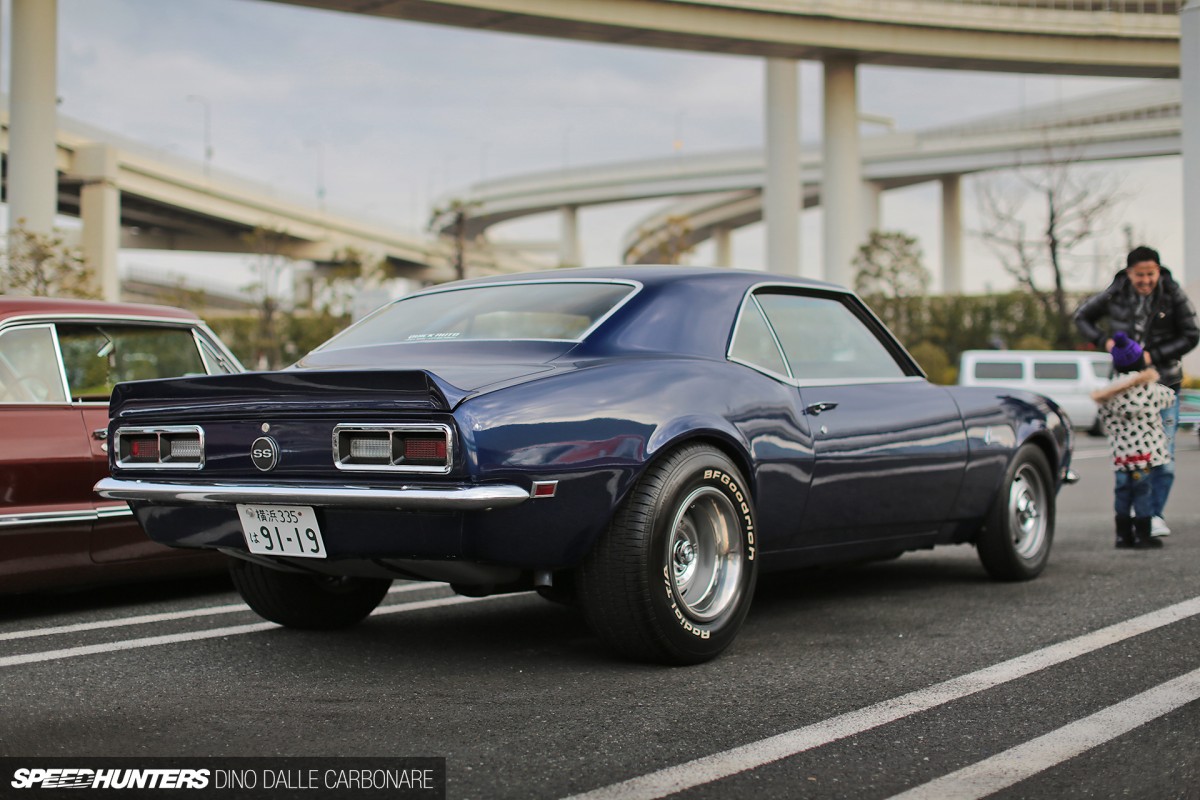 I thought I was at a Mooneyes gathering for a second!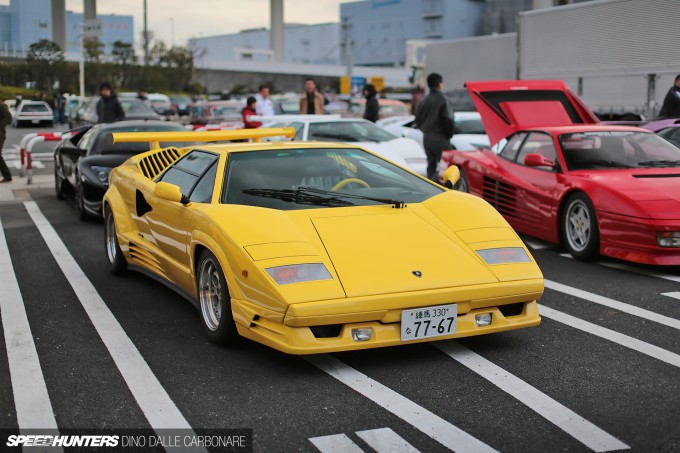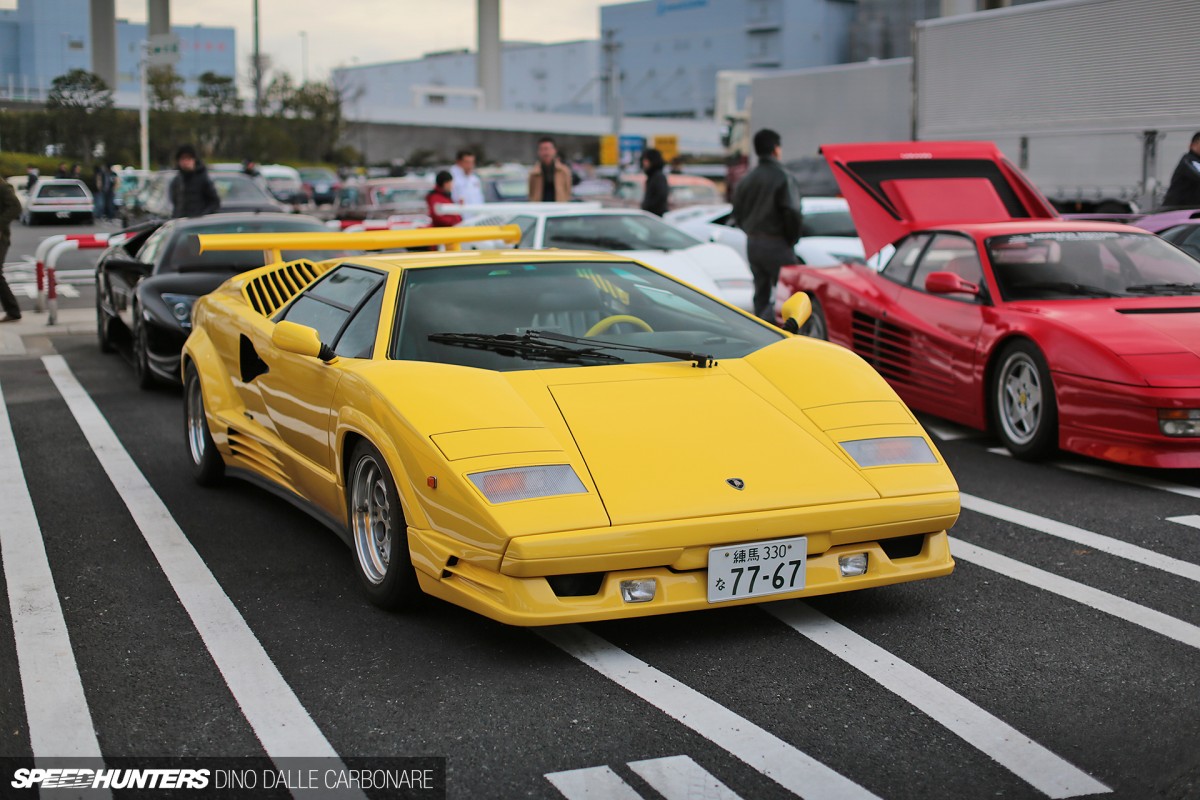 Daikoku and the Lamborghini Countach truly go hand in hand! There were quite a few present and later on in the morning, a spoiler-less 25th Anniversary turned up too!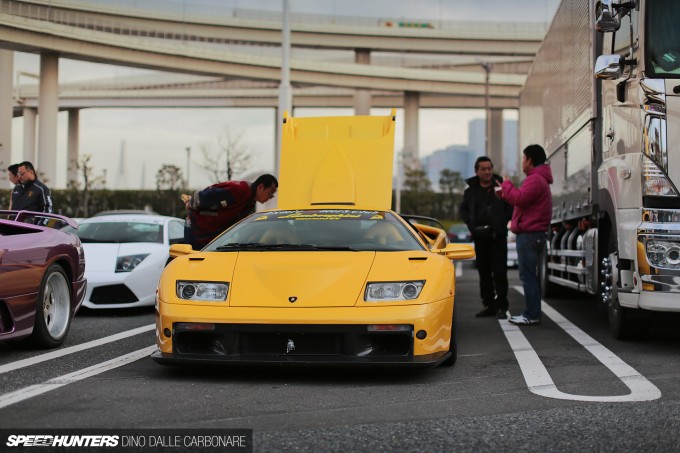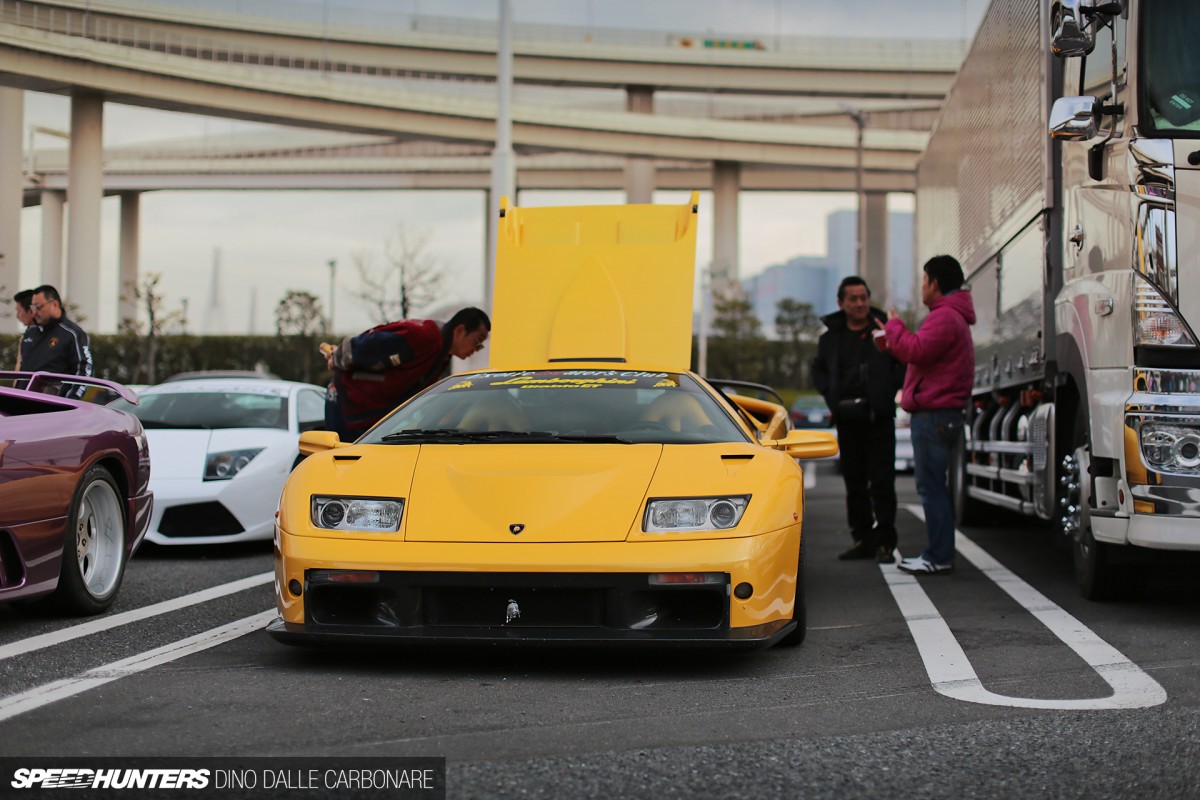 It's unbelievable the amount of customization that the Japanese do to their Lamborghinis. Even this GT was on aftermarket wheels and suspension.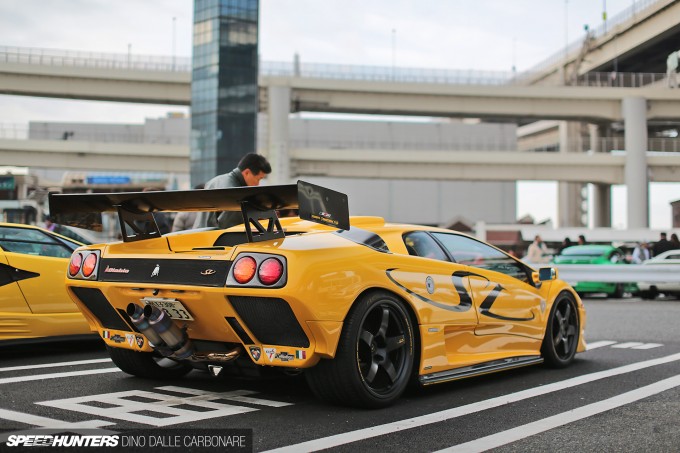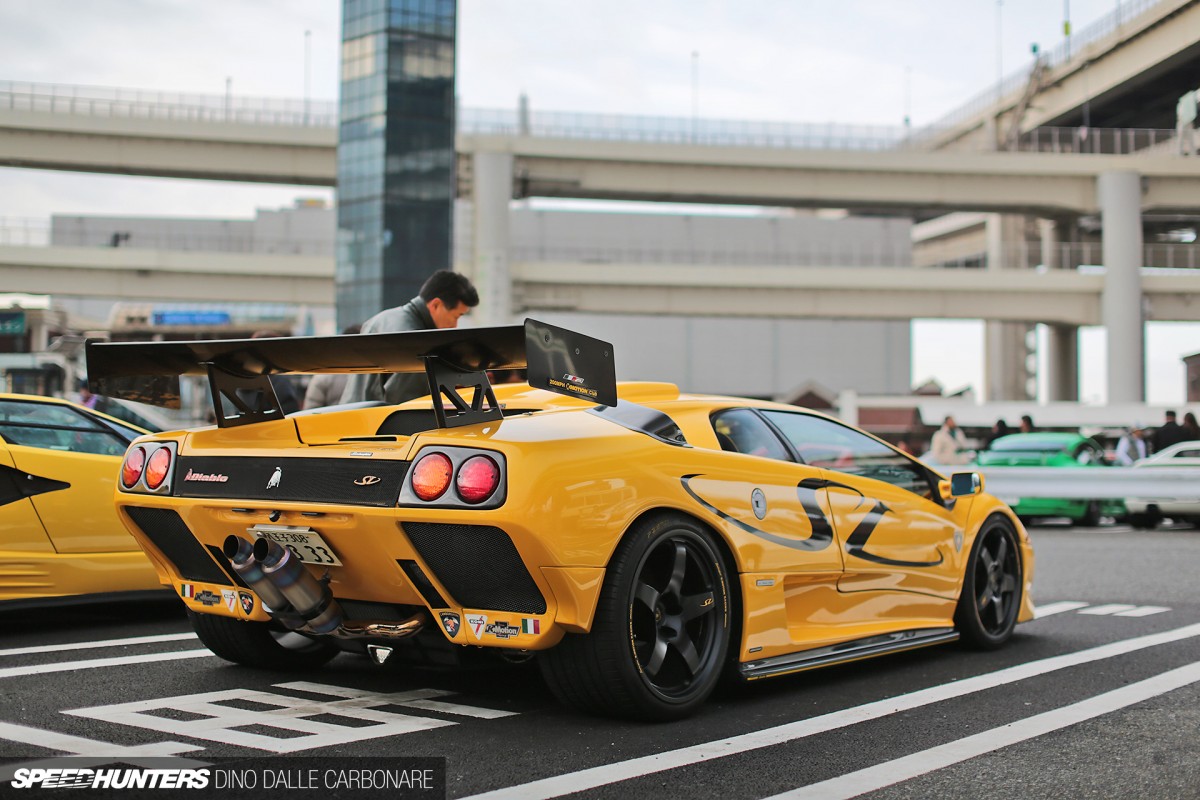 Of course, one thing most of these guys are really rather good at is making their Lambos so ridiculously loud that they should be immediately impounded by the police.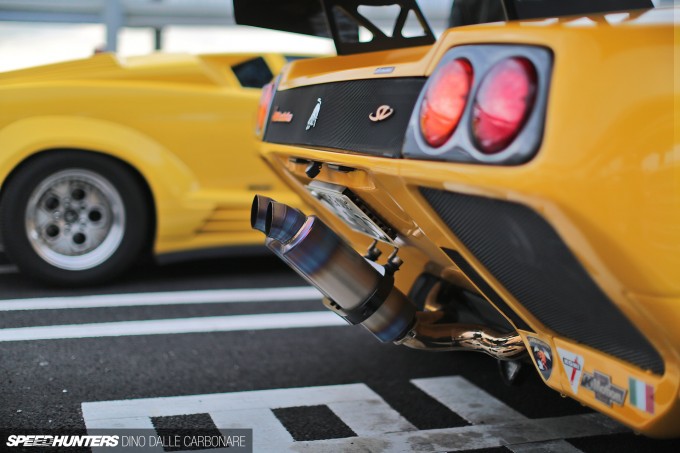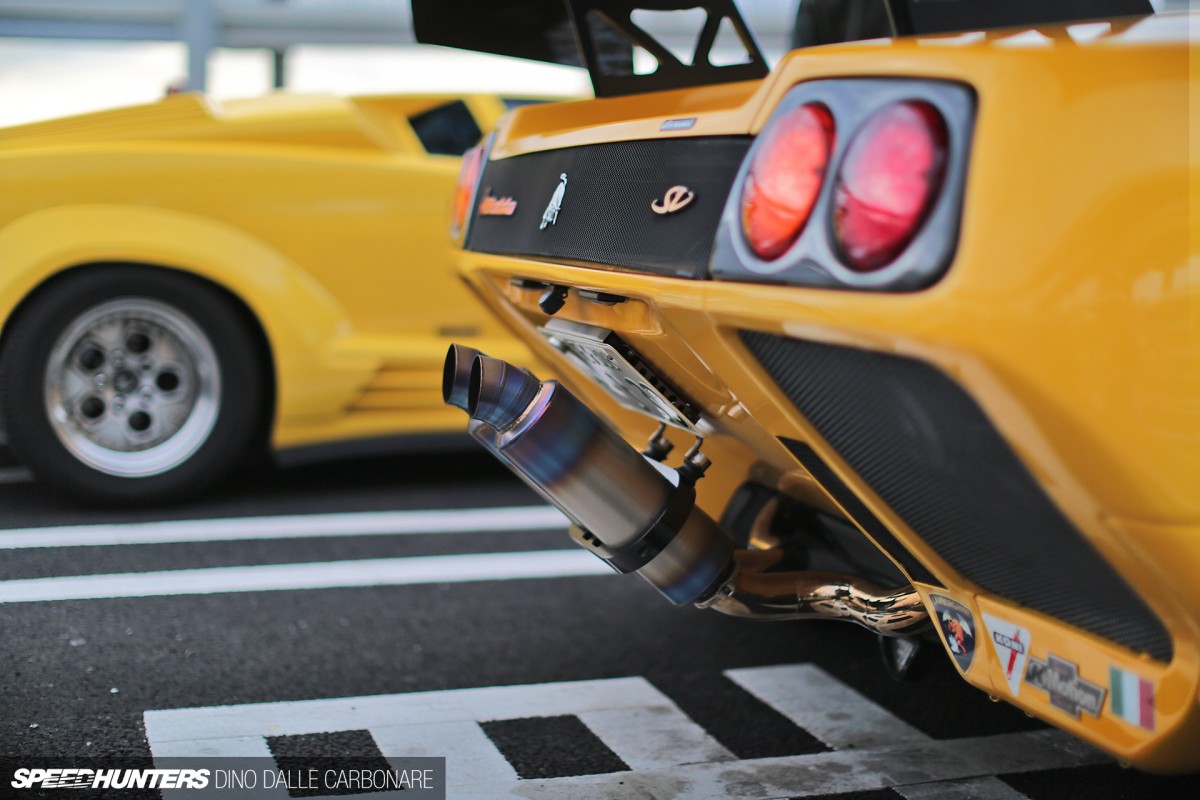 Some of the custom exhaust systems are works of art, like this titanium twin bike silencer set up on this SV, positioned right in front of the rear license plate so it's almost unreadable. As you do.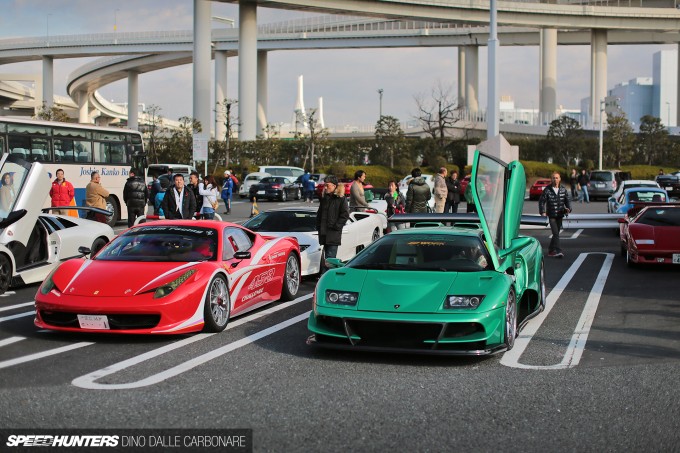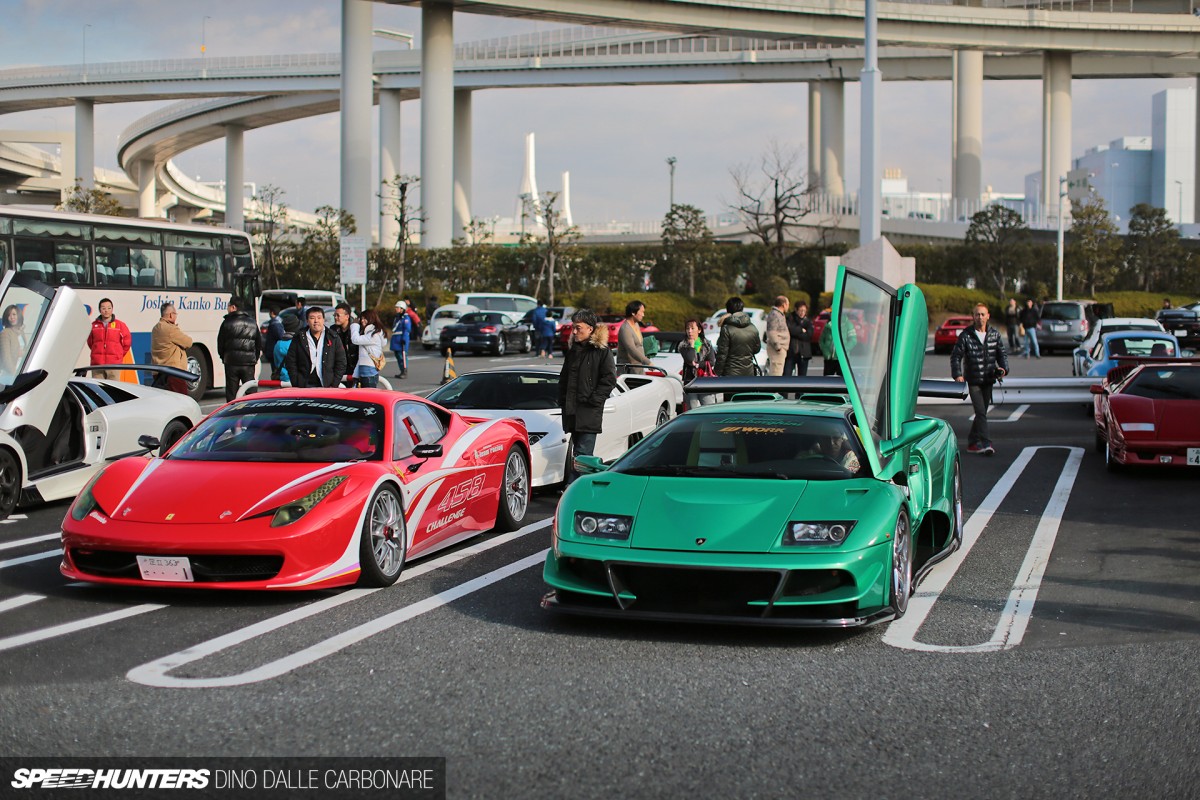 Along with the GT, SV and countless other variations was also this custom painted VT which belongs to a member of the A-Team, a well-known group of wealthy enthusiasts who aren't shy about showing off just what their cars are capable of on the Wangan, C1 and Aqua Line.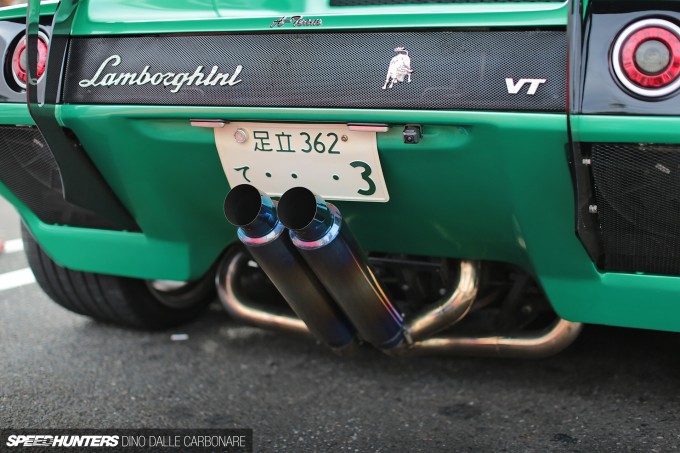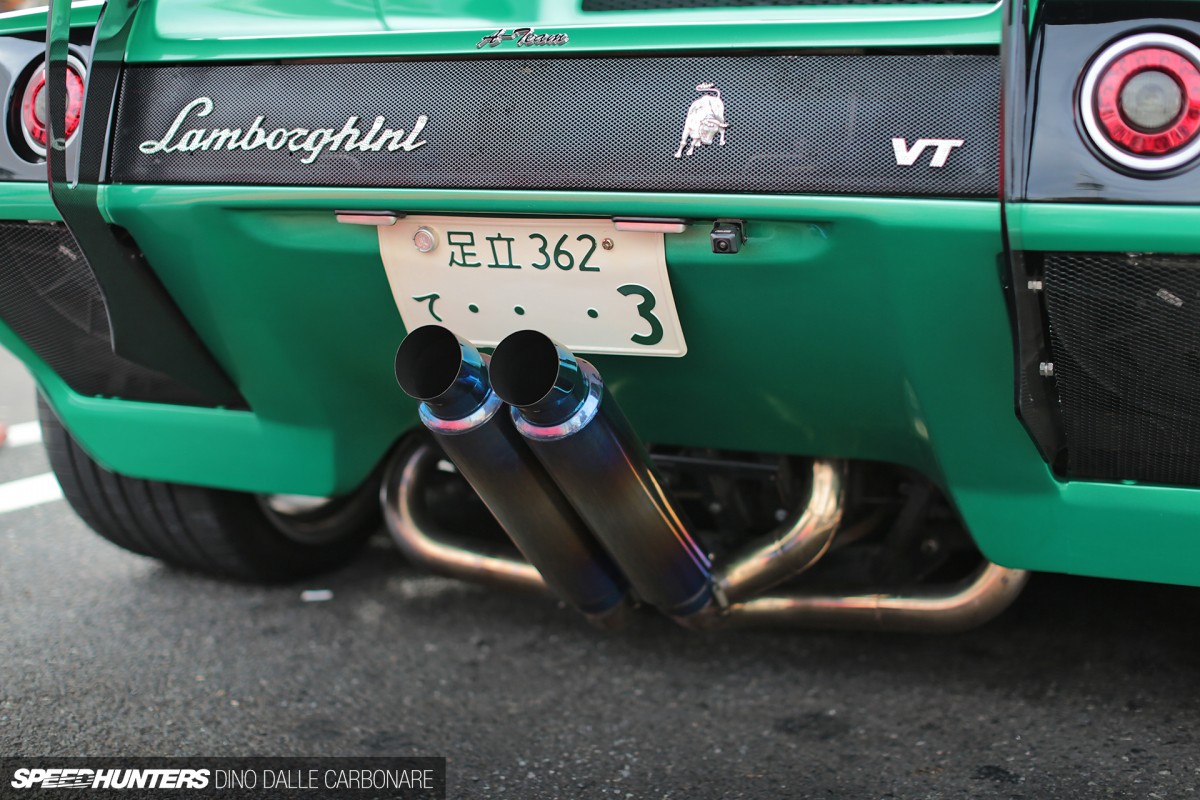 The must-have trumpets were also present of course.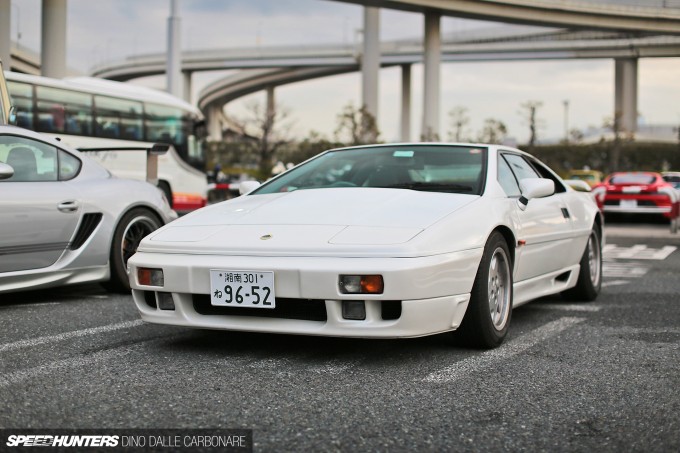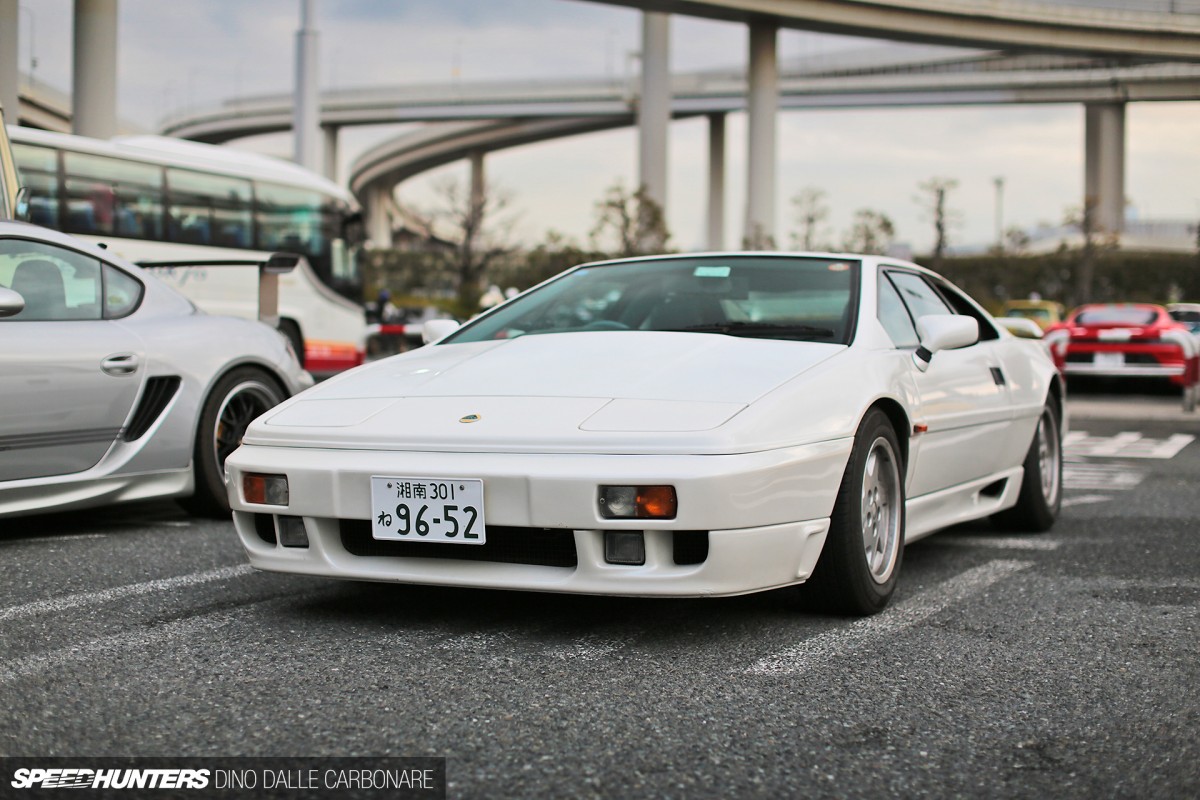 Next to all the raging bulls, this stock white Esprit almost looked plain in comparison but it was a much-appreciated addition to the insane line-up that was fast materializing that morning.
The 911 is never forgotten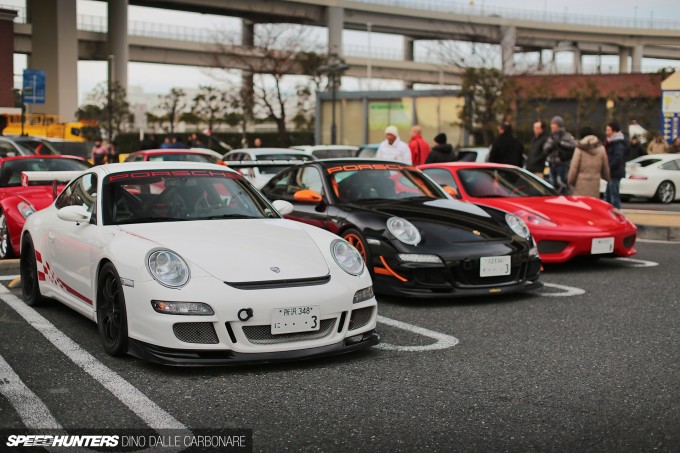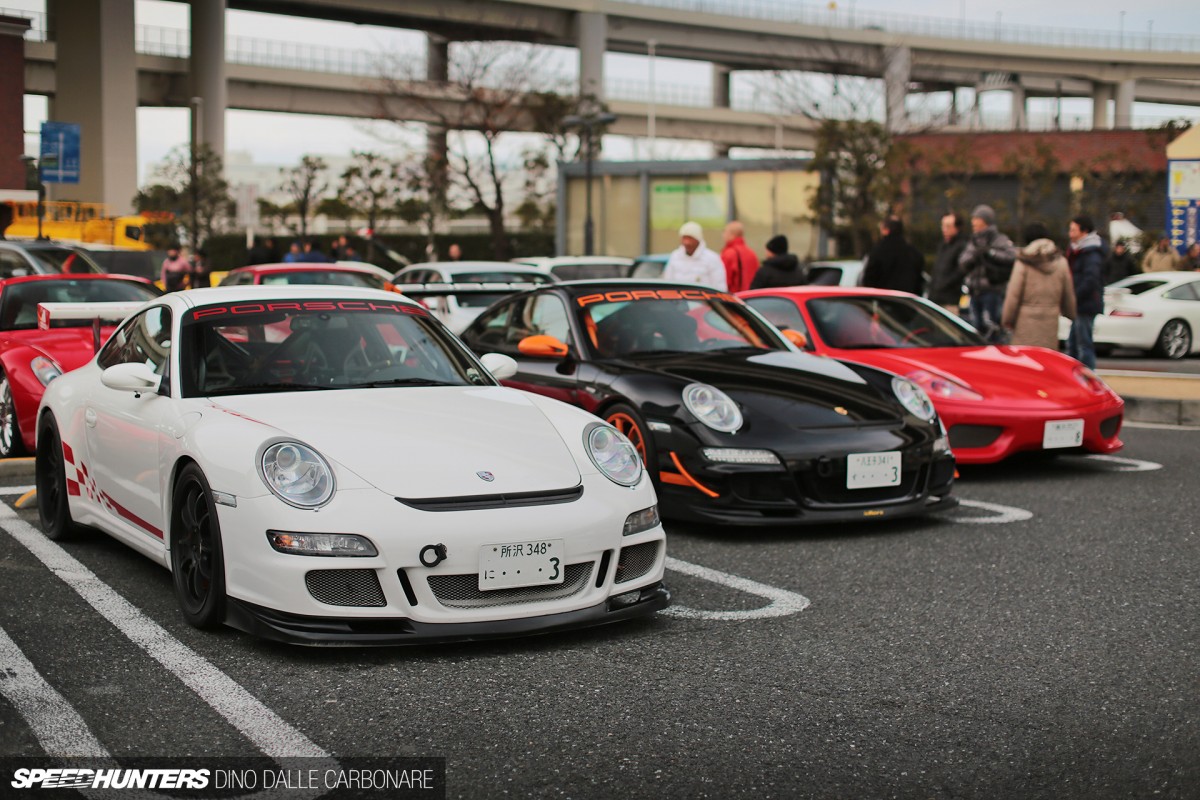 If you're into your Porsches then there were certainly some nice examples to look at. Japan is a place where even a 997 GT3 RS is just not raw enough.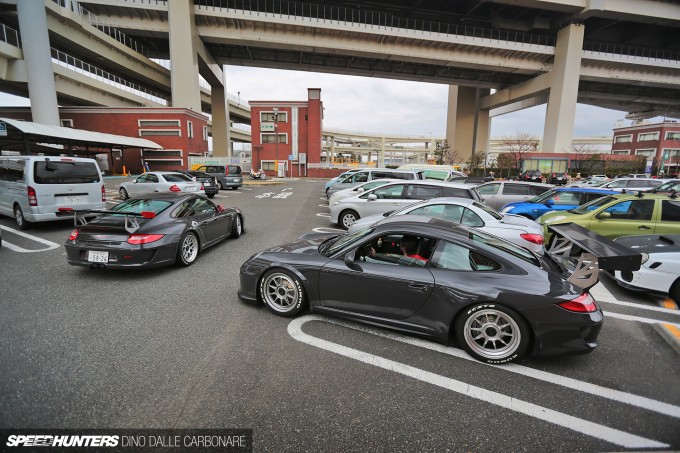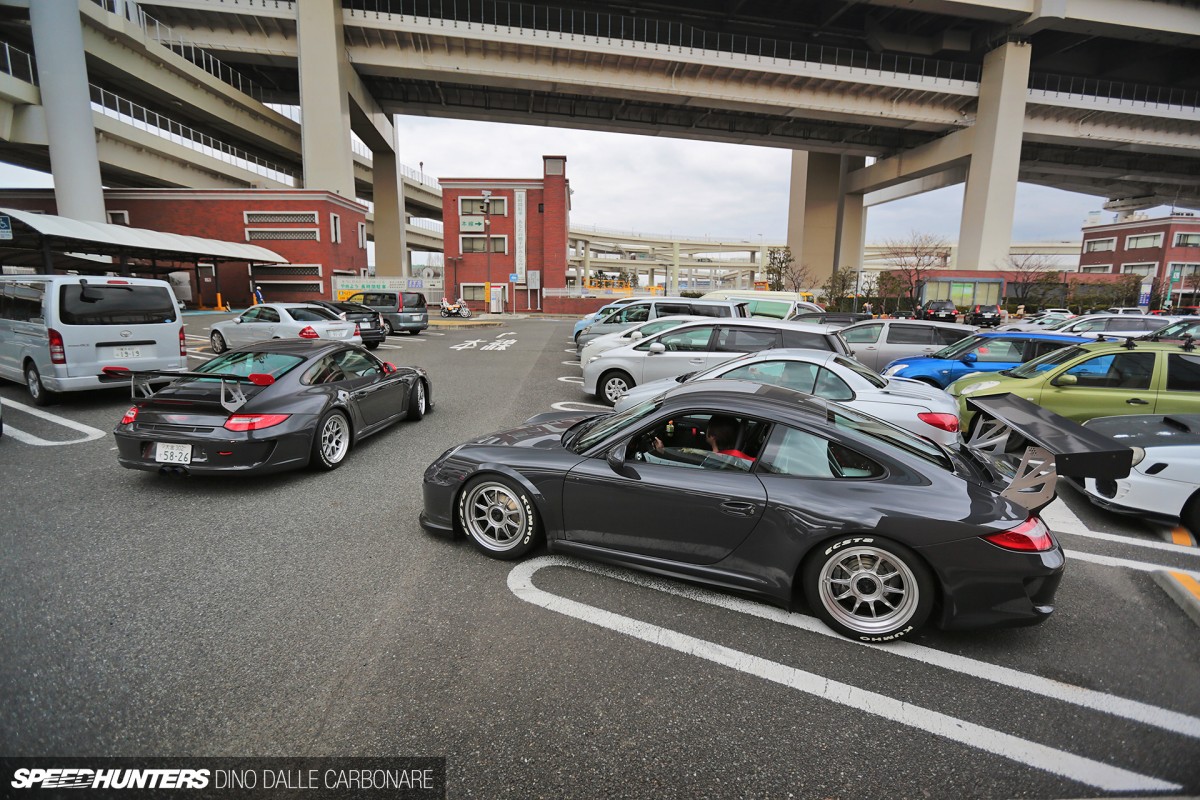 If you really must have a stripped track car for the street you might as well go the whole way and drive a 911 Cup car replica. These two were both completely stripped out and had their center lock lightweight wheels shod in Kumho Ecsta slicks, with the one on the right sporting a massive uprated rear wing.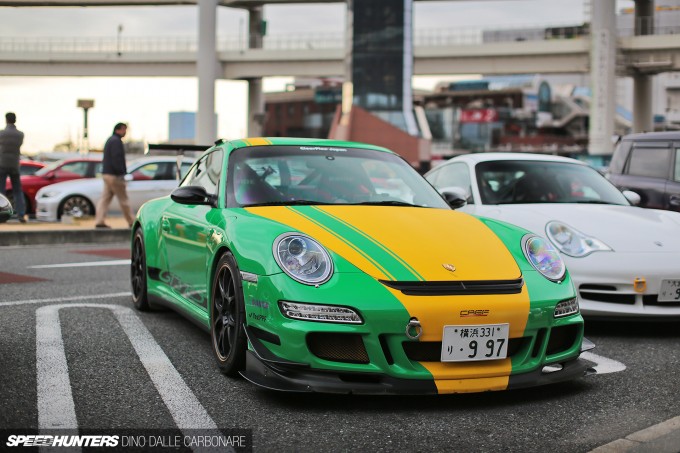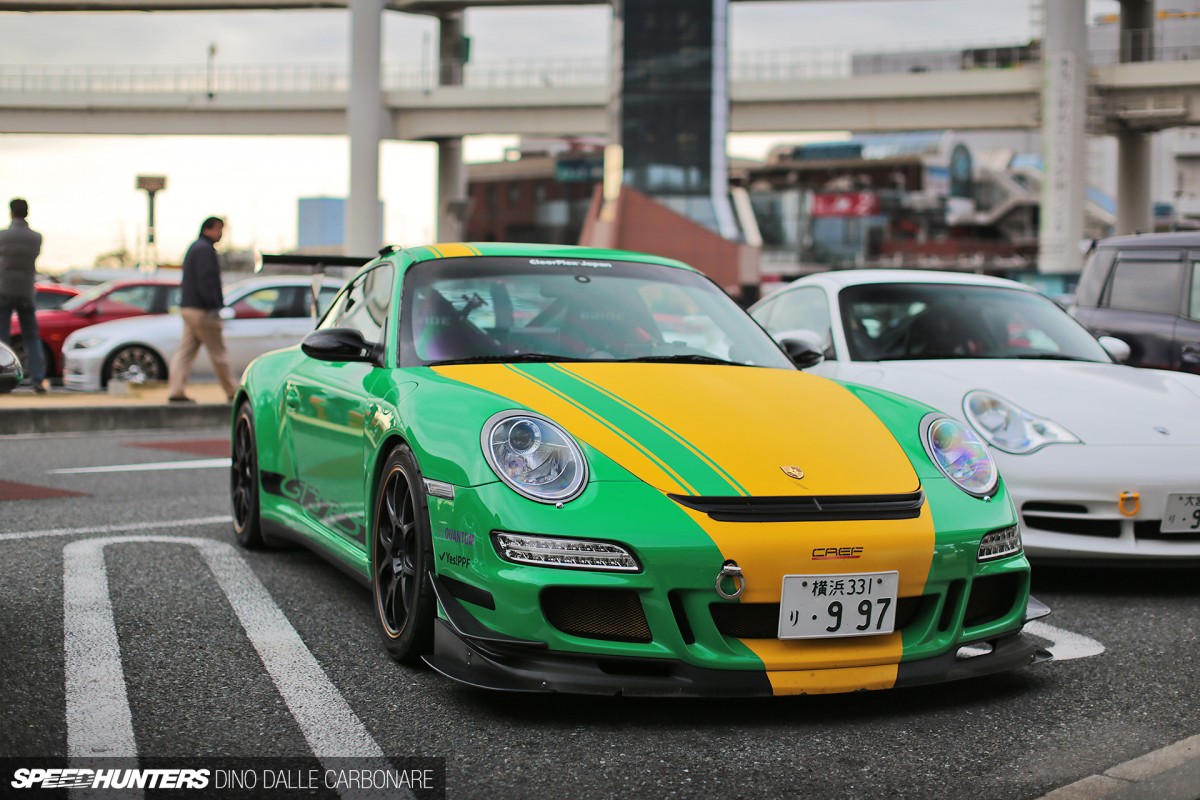 This particular car belongs to the owner of Creft, a respected Porsche tuning shop in Yokohama which specializes in making fast Porsches go even faster. This 997 GT3 RS demo car of theirs has had its engine rebuilt and fully balanced by Tomei Engine in Fuji Speedway, the same race engine outfit that builds Super GT and Formula Nippon motors for Nissan. Oh, it's also fitted with a sequential transmission of course!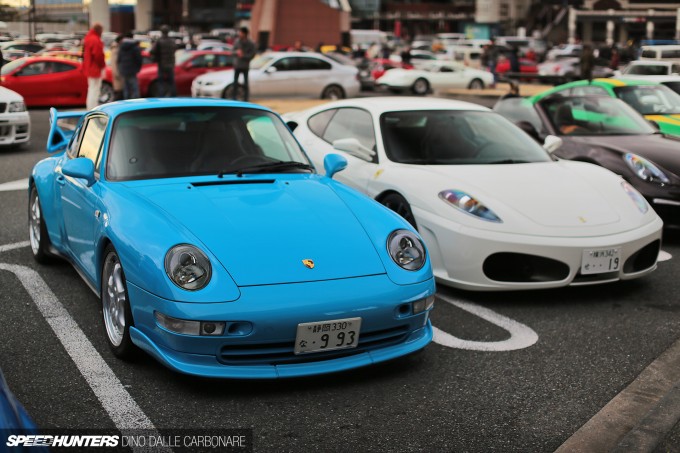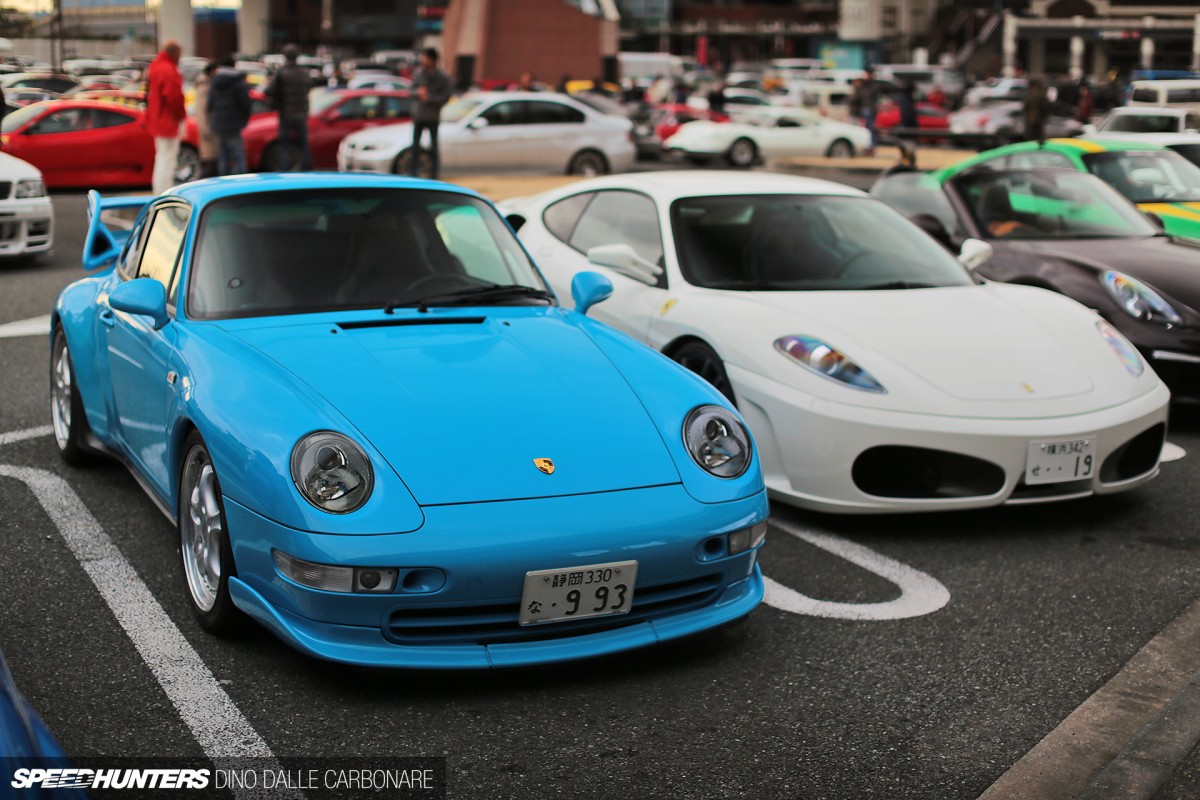 Is it just me, or isn't the lure of a 993 RS still incredibly irresistible? I recently drove an original 993 RS Cup Car for a magazine feature and while the power may not be special in today's horsepower-crazy world, the directness and involvement was simply eye-opening.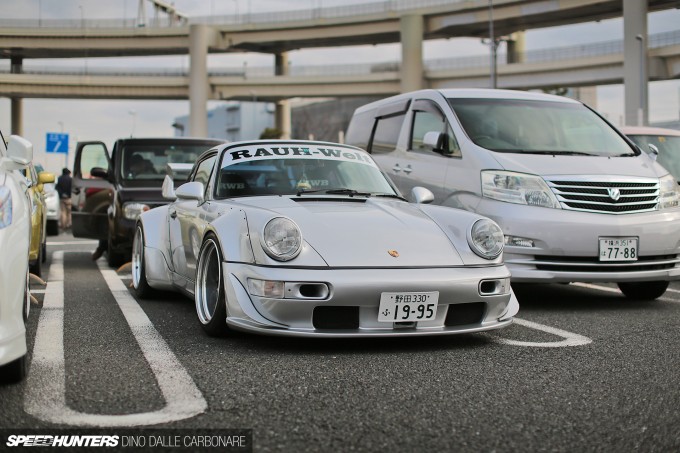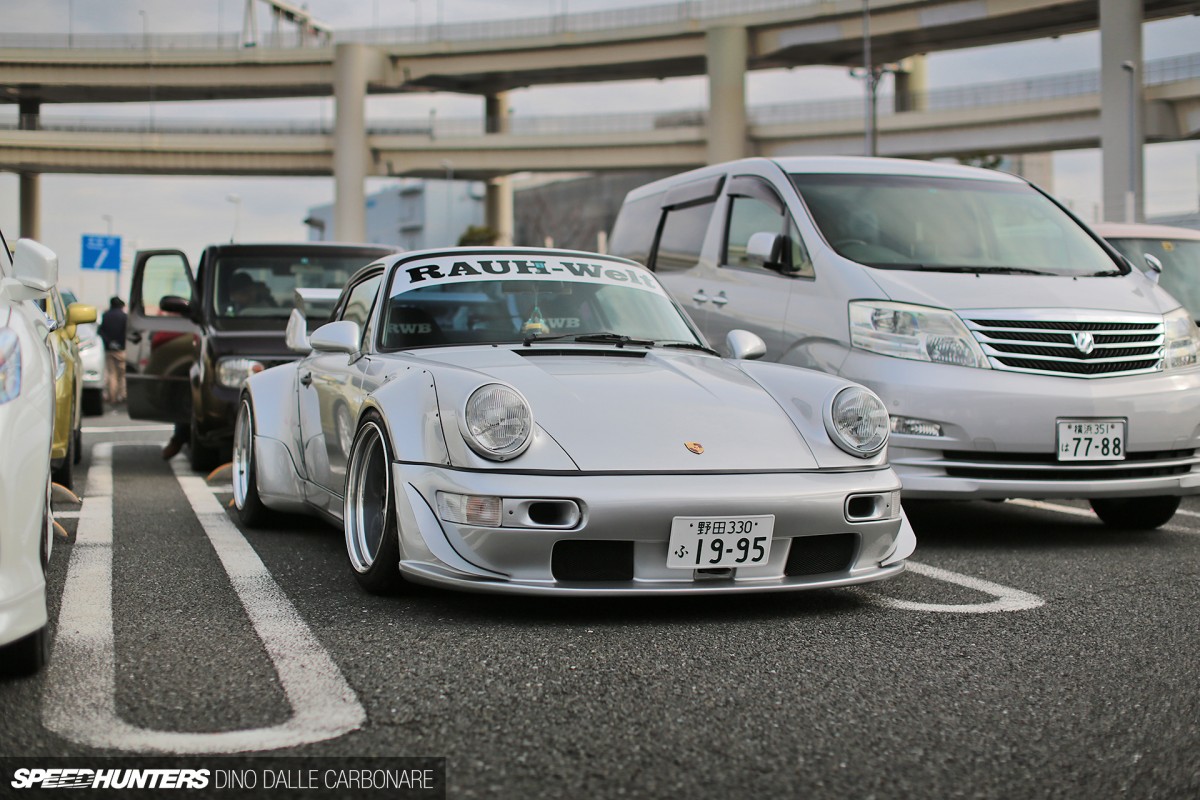 From race-ready factory collector's car, it's onto a Nakai-special, wide-body meanness with this RWB 964 which I just spotted parking up. Thankfully I noticed the owner left the lights on and made sure to tell him or his battery would have been toast by the time he left.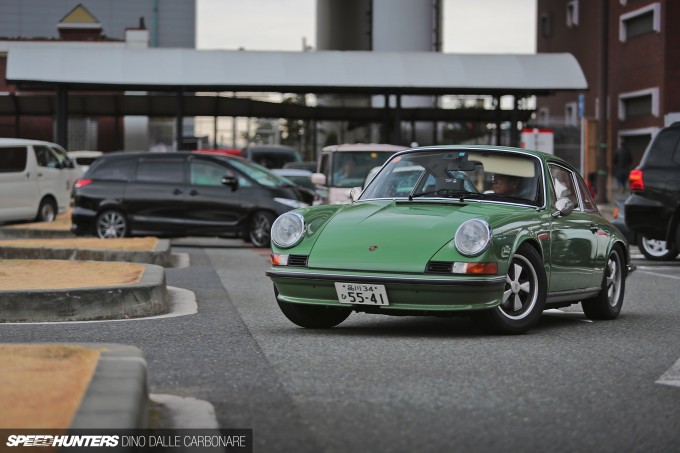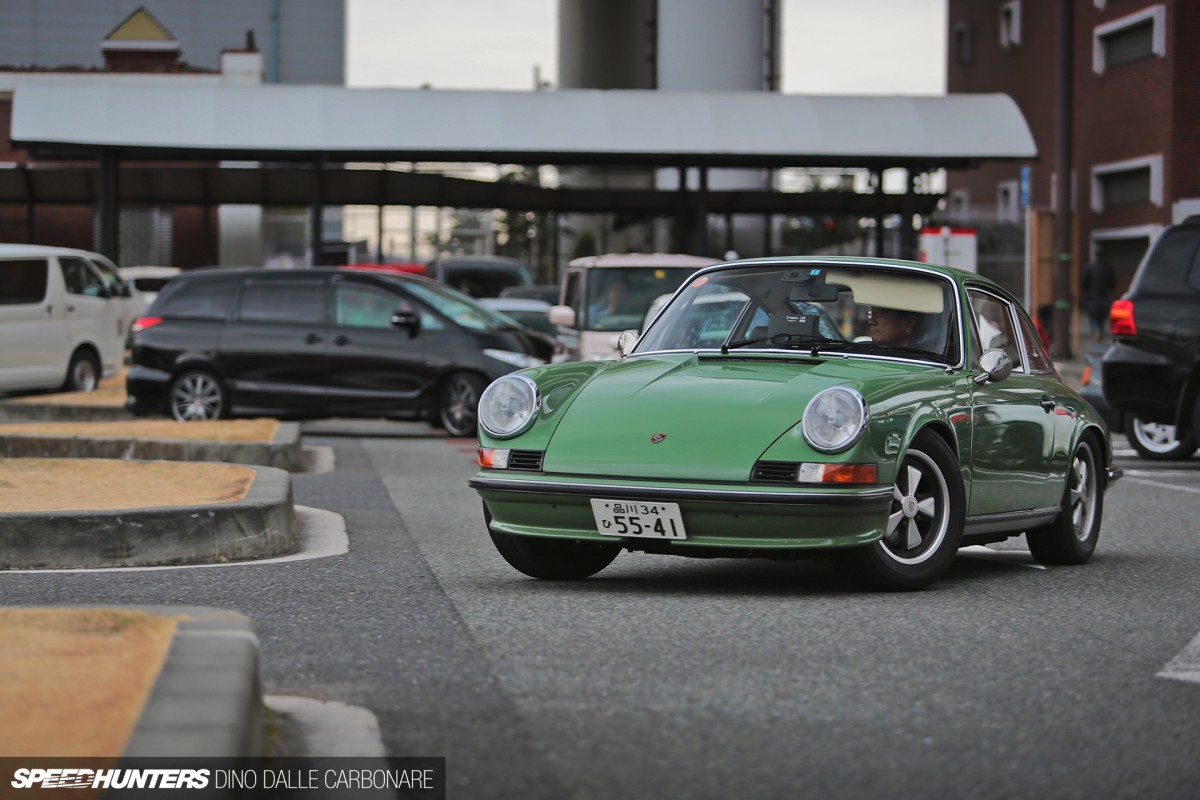 For the purist, a 911 S.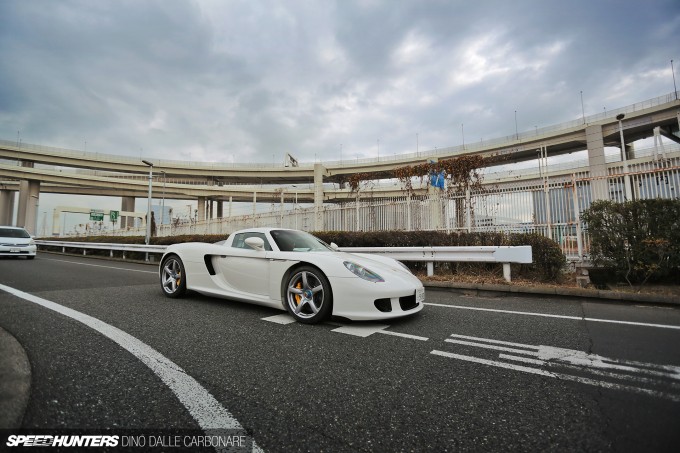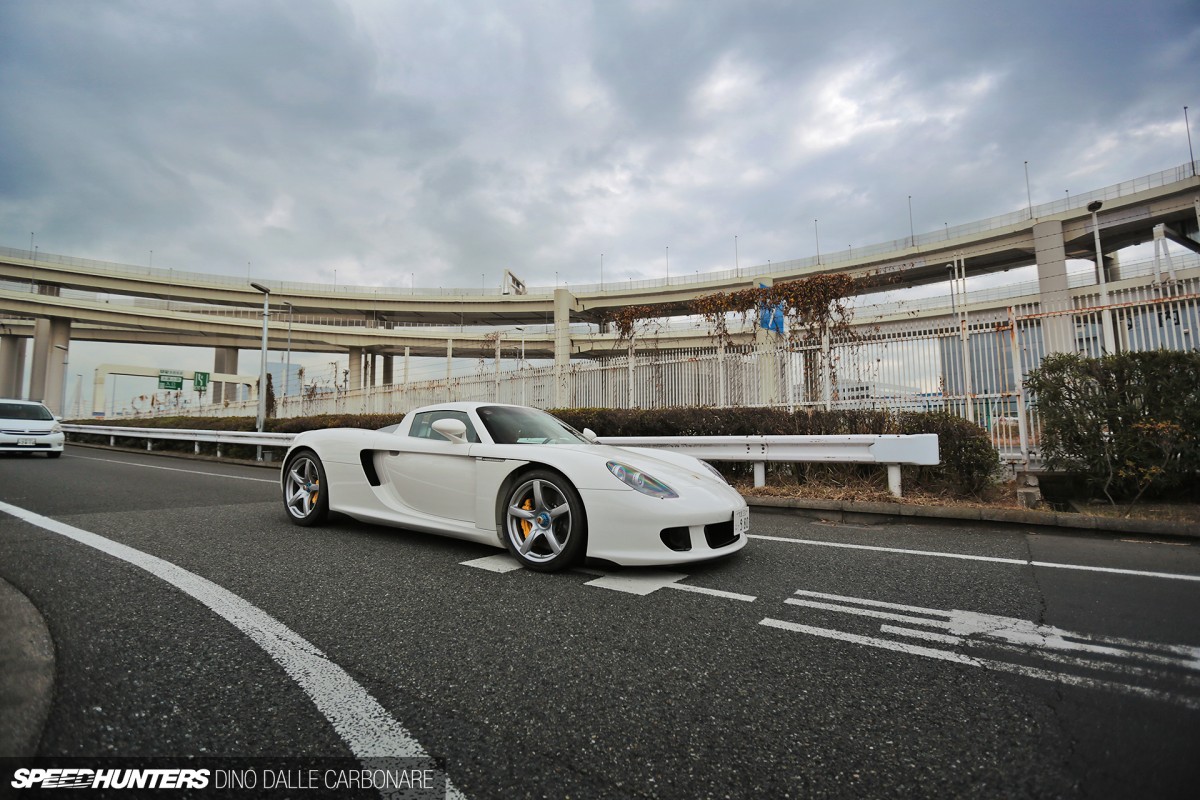 And for those that must have the absolute best of the best, a white Carrera GT.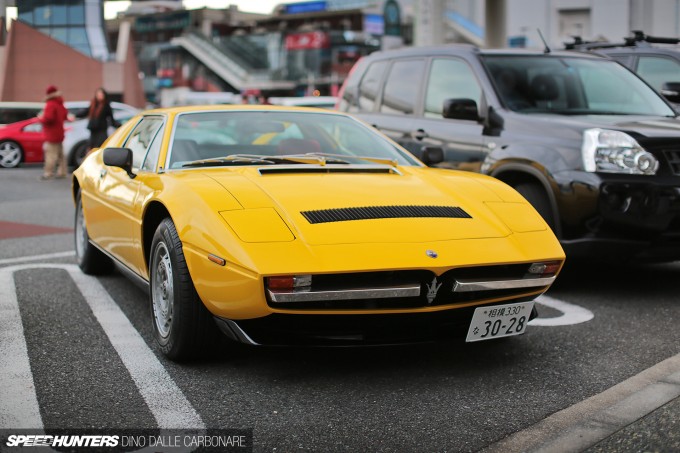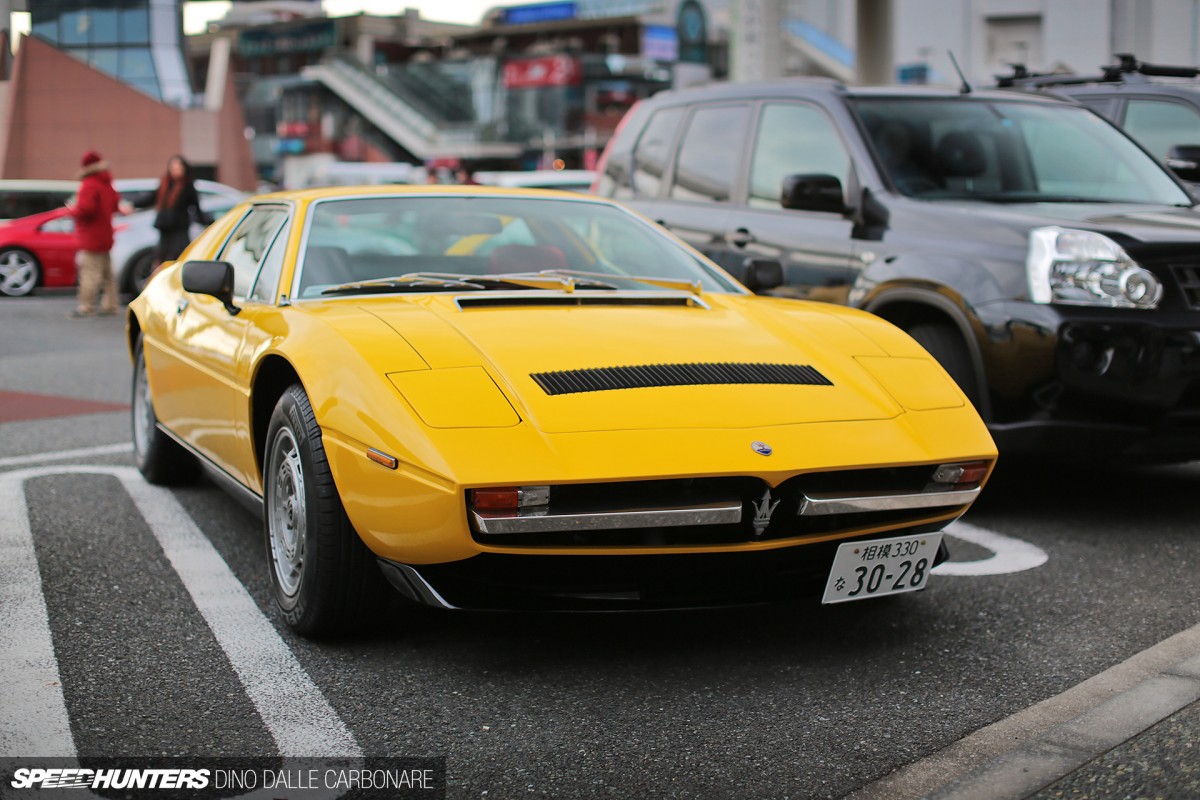 I noticed that a lot of low riders were making their way into the PA, so with the need for a little hunt I made my way down towards the shop area of the lot and ran across this yellow Maserati Merak. Built during the time when Maserati was owned by Citroën, this was an attempt at an affordable mid-engined sports car and it featured cool things like hydraulic suspension and power steering, borrowed from its French parent company of course.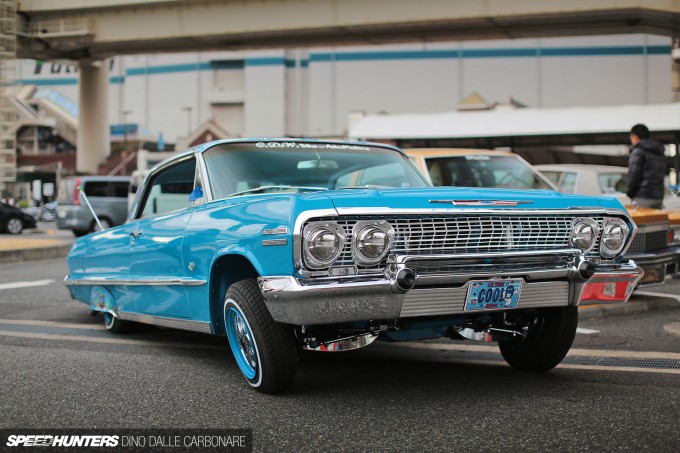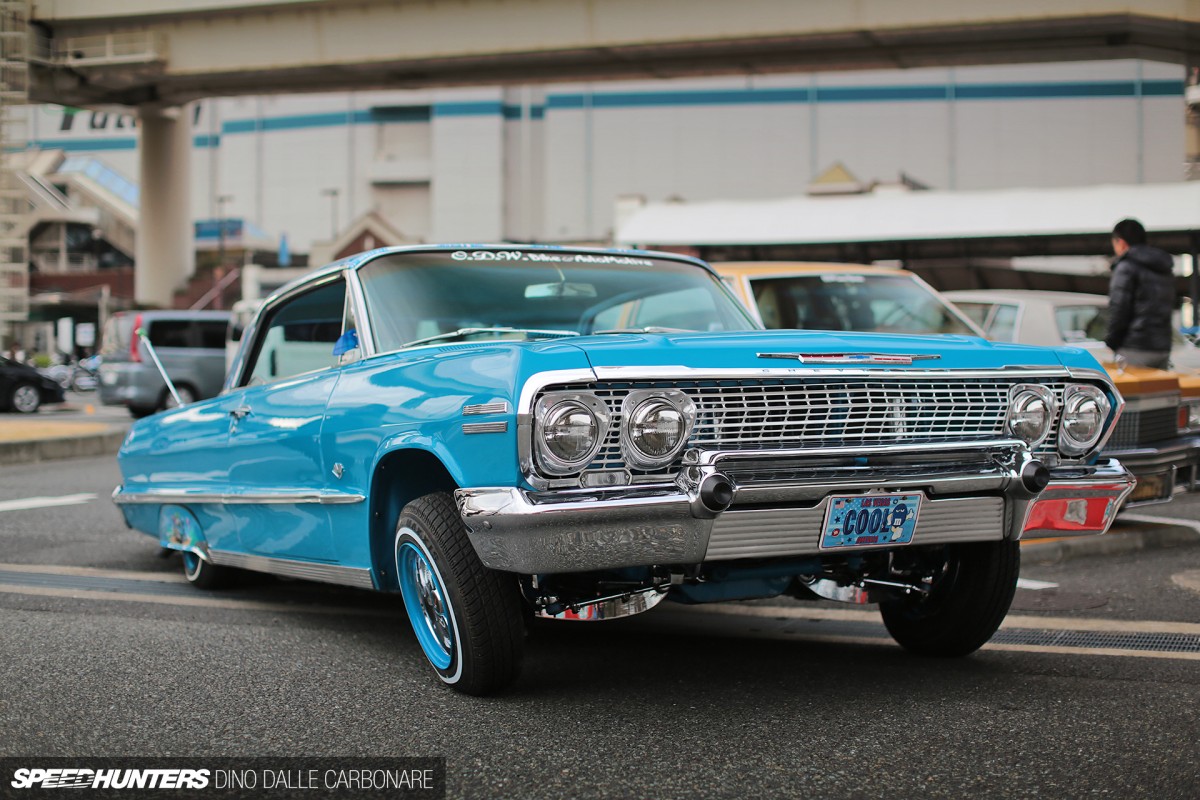 Yup, didn't take me long. I eventually found them and my word were they putting on quite the show!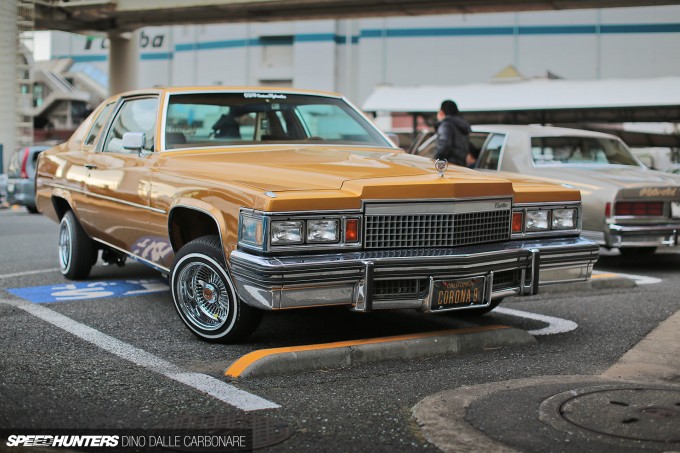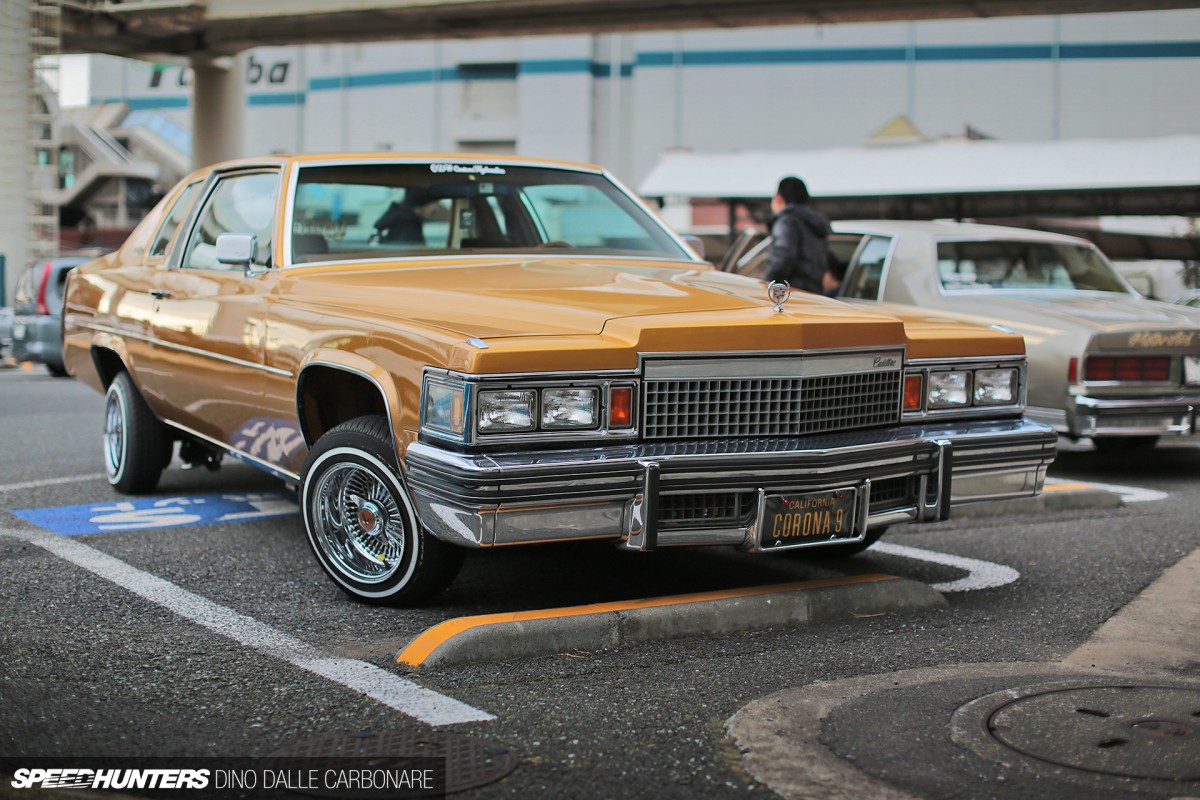 Can you say positive camber?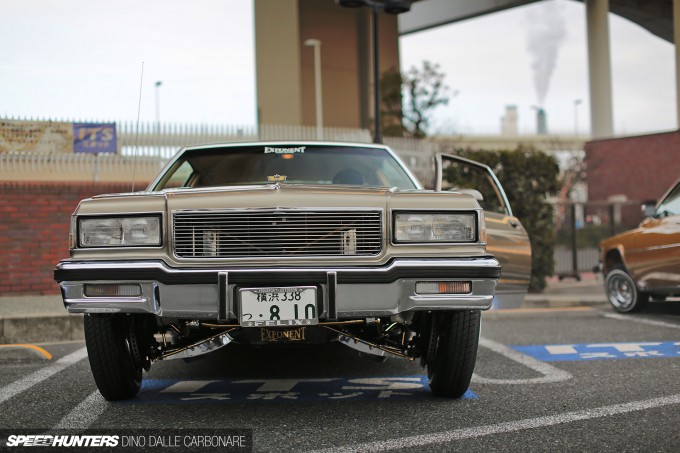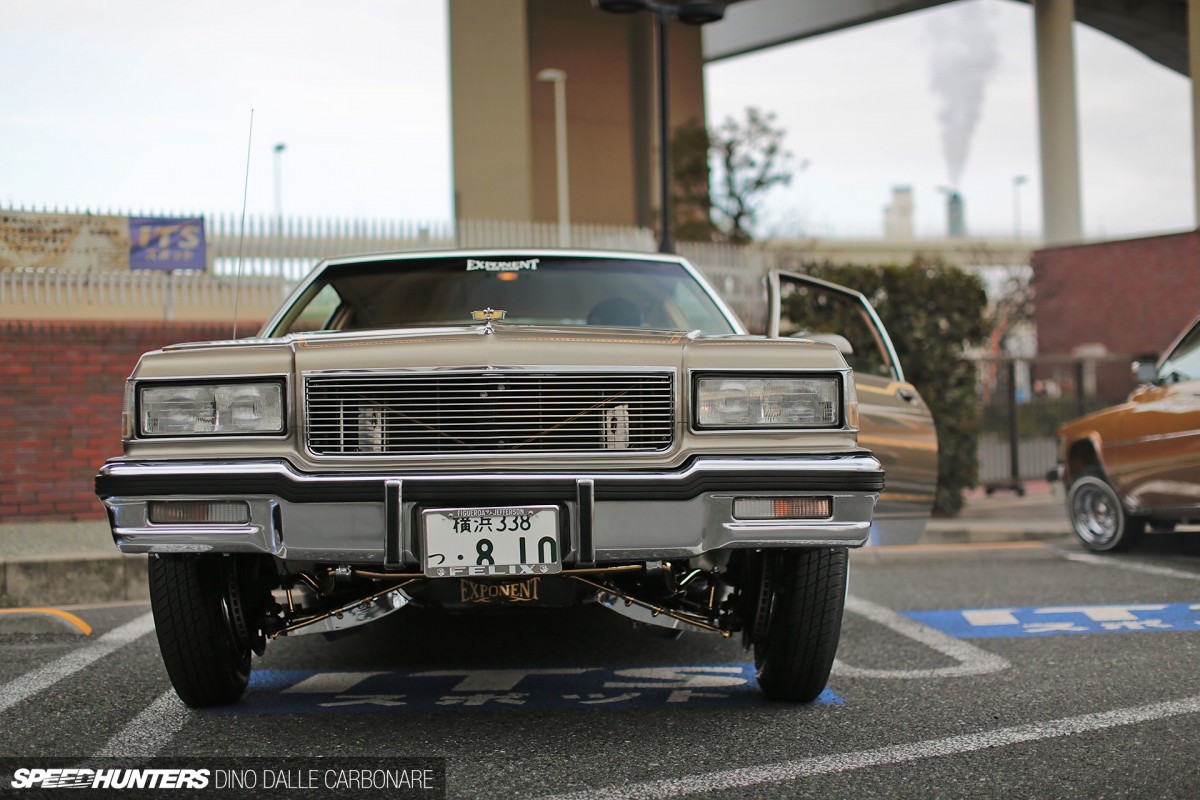 The attention to detail on these cars was simply mind-blowing, and to fully appreciate it you really had to get down on your knees and have a look underneath the car. The chromed suspension arms, the painted sway bars and the brake discs mounted inboard as they're obviously far larger than the rims these cars run!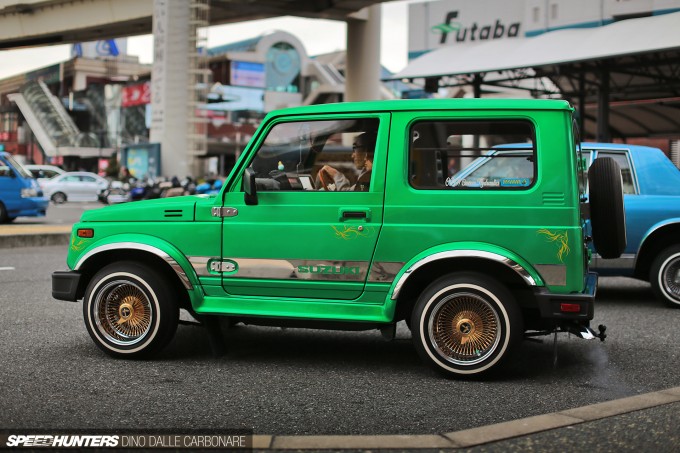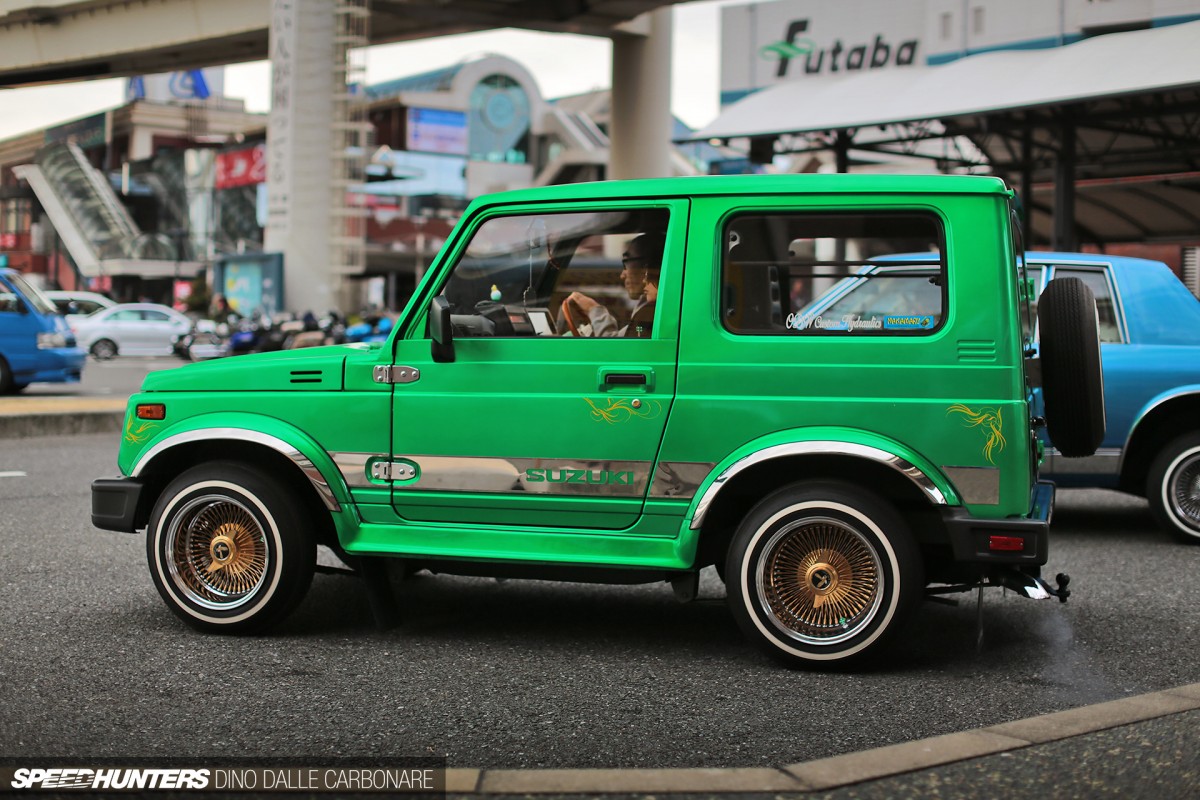 How about this for an 'only in Japan' sort of spot?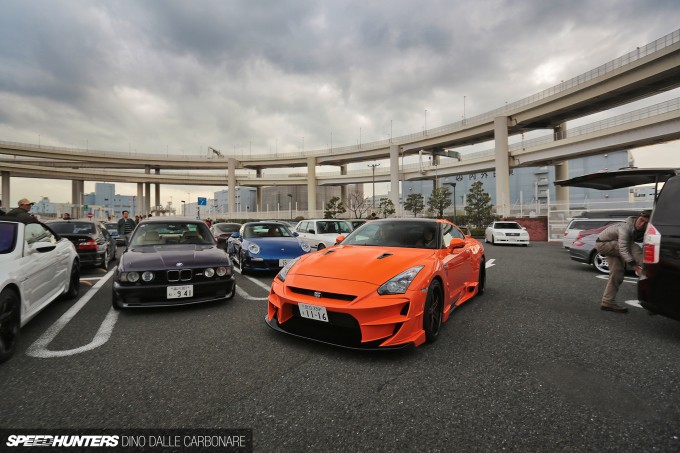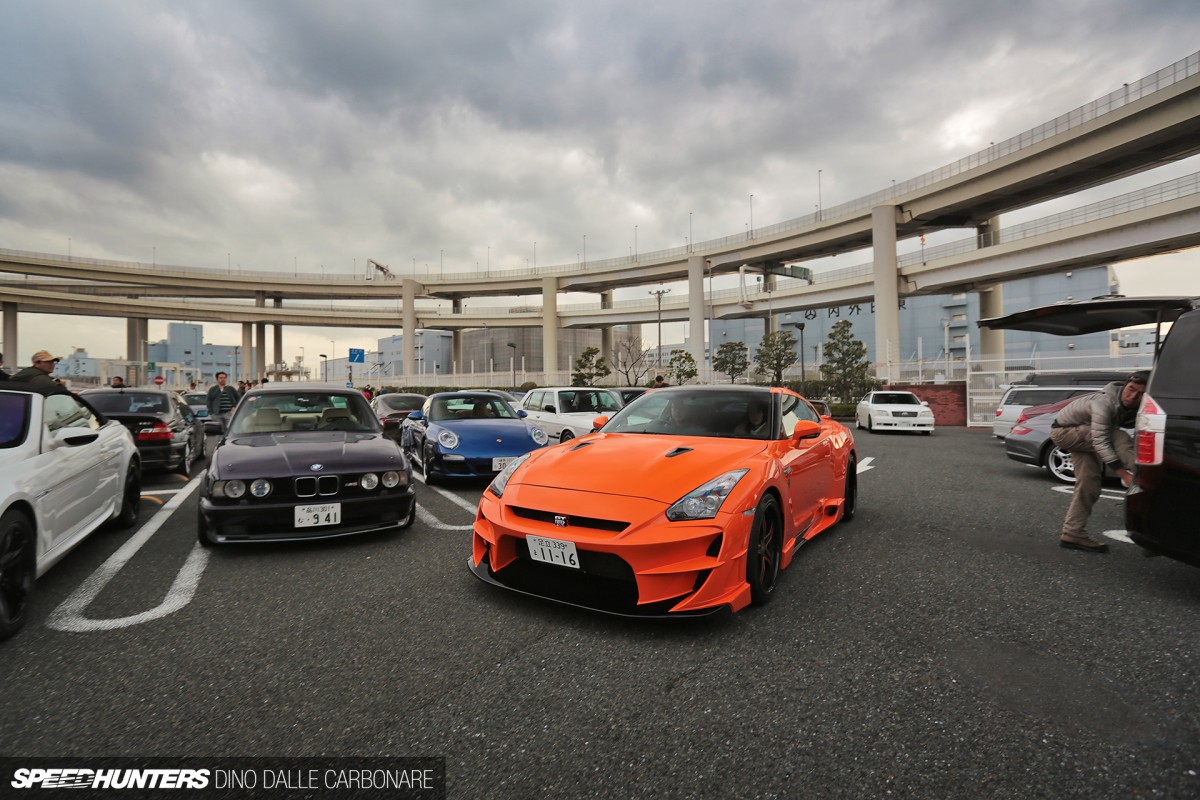 As I was heading towards the big group of Alpinas that were also present at last year's meet, this eye-catching, Abflug-kitted, Pentroof-tuned R35 rolled in. It's pretty cool to see just how wild some GT-R owners are going with their cars these days.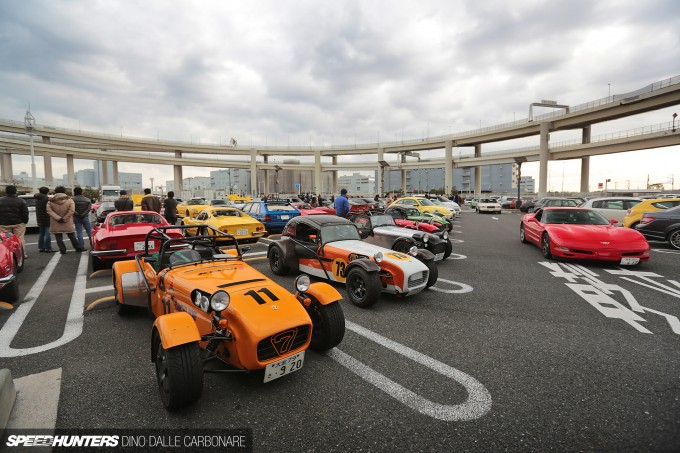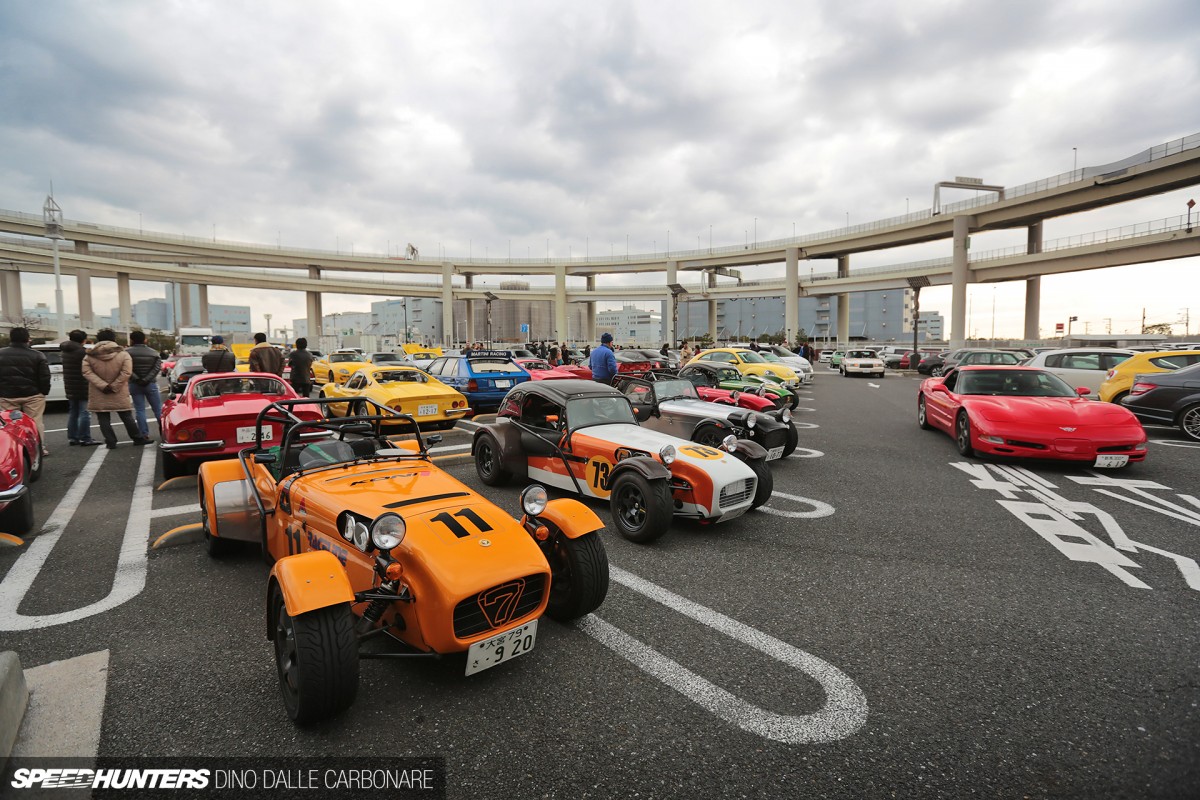 A small gathering of Caterhams had also formed by the time I retuned back to my car for a quick lens change. A very interesting new model of Caterham has just been released in Japan and I'll be getting behind the wheel of one pretty soon. Typical – just has to be in the middle of winter!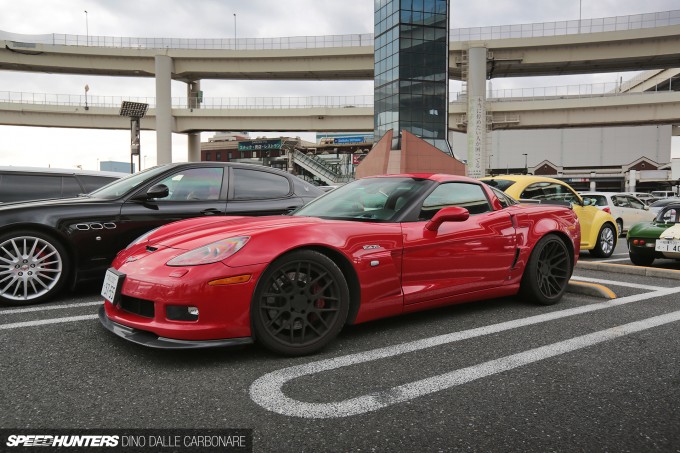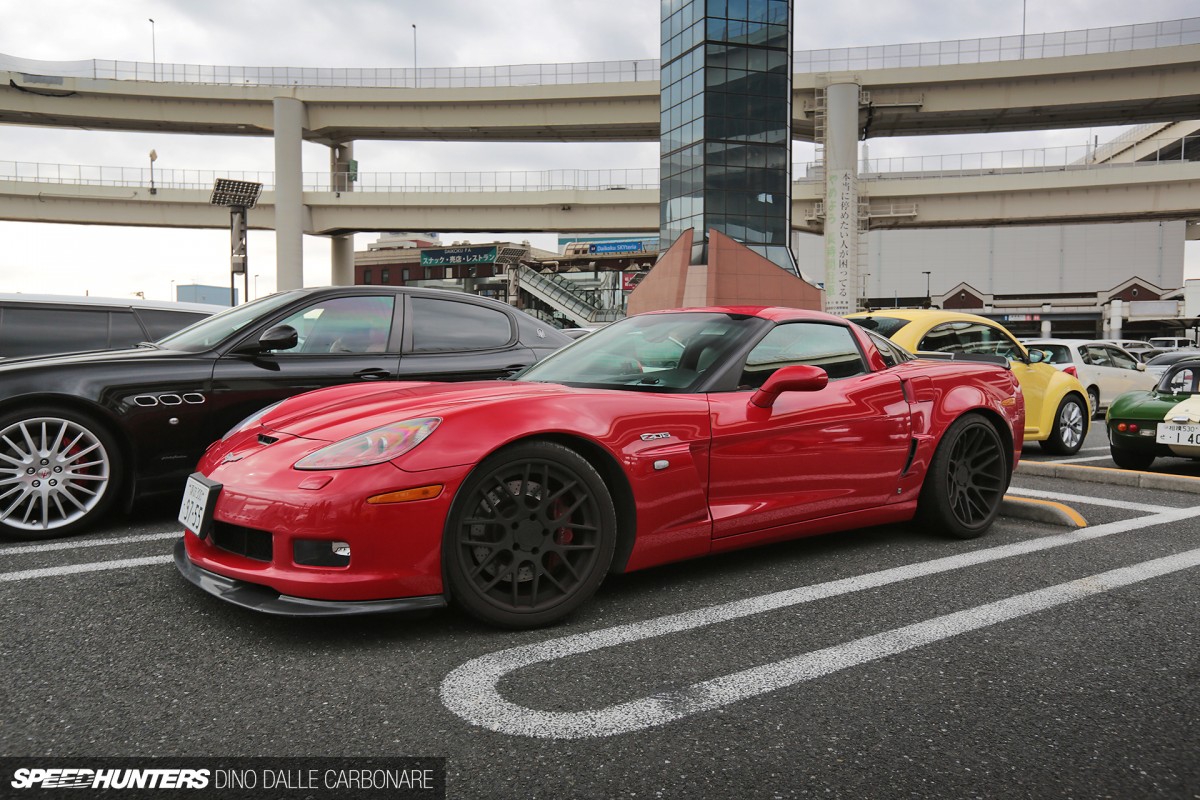 You probably spotted the distorted Corvette in the extremities of the above frame, and as you can imagine, it wasn't the only one present. I ran across this well-used (judging by the brake dust coating on the wheels) Z06. No C7s yet however.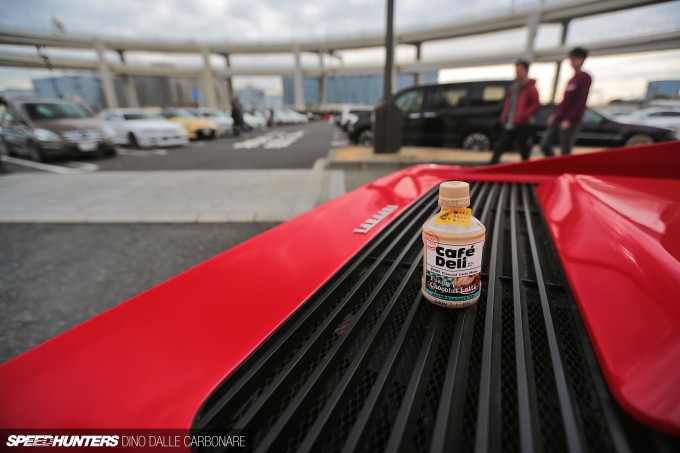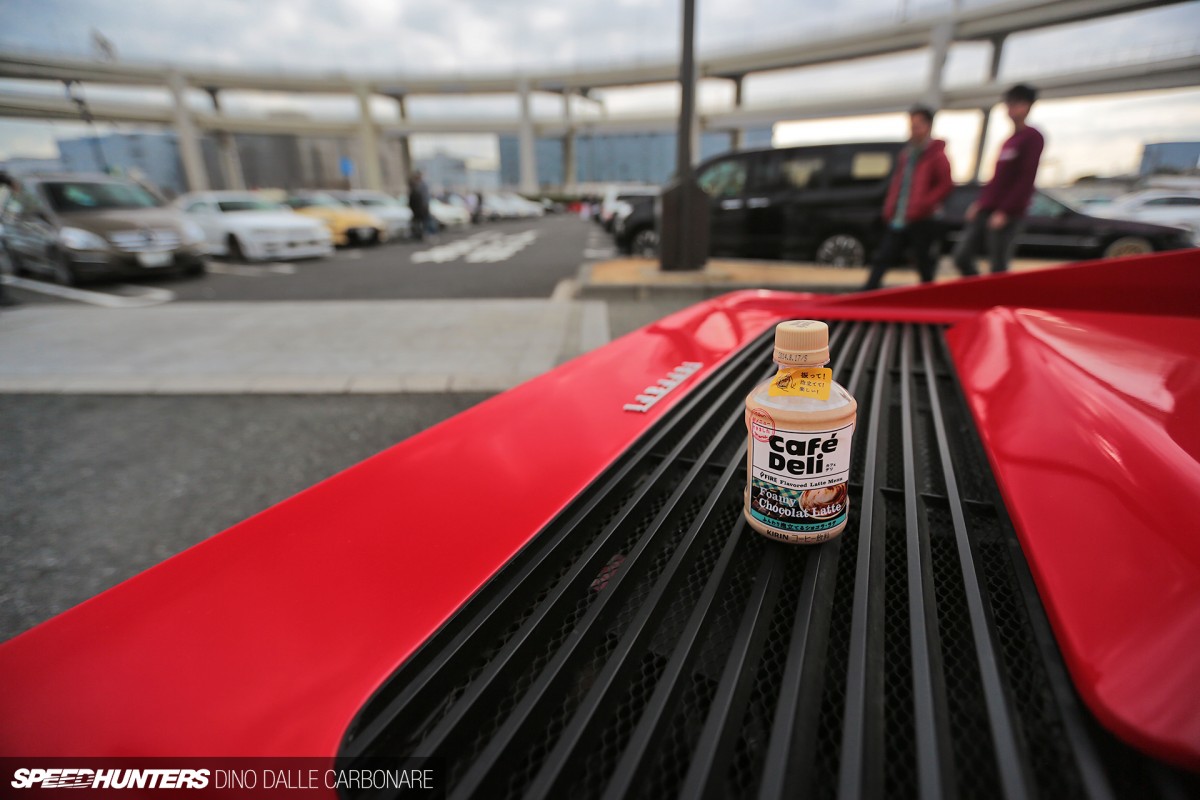 Prancing-horse-built, flat-12 coffee-warmer, helping  keep your Foamy Chocolat Latte at just the right drinking temperature.
They just kept coming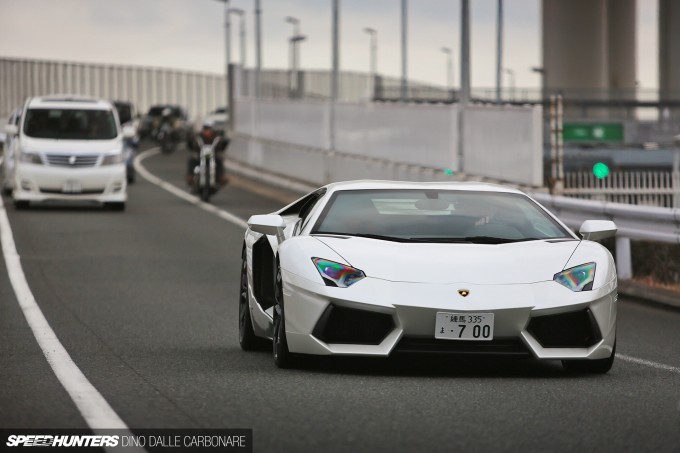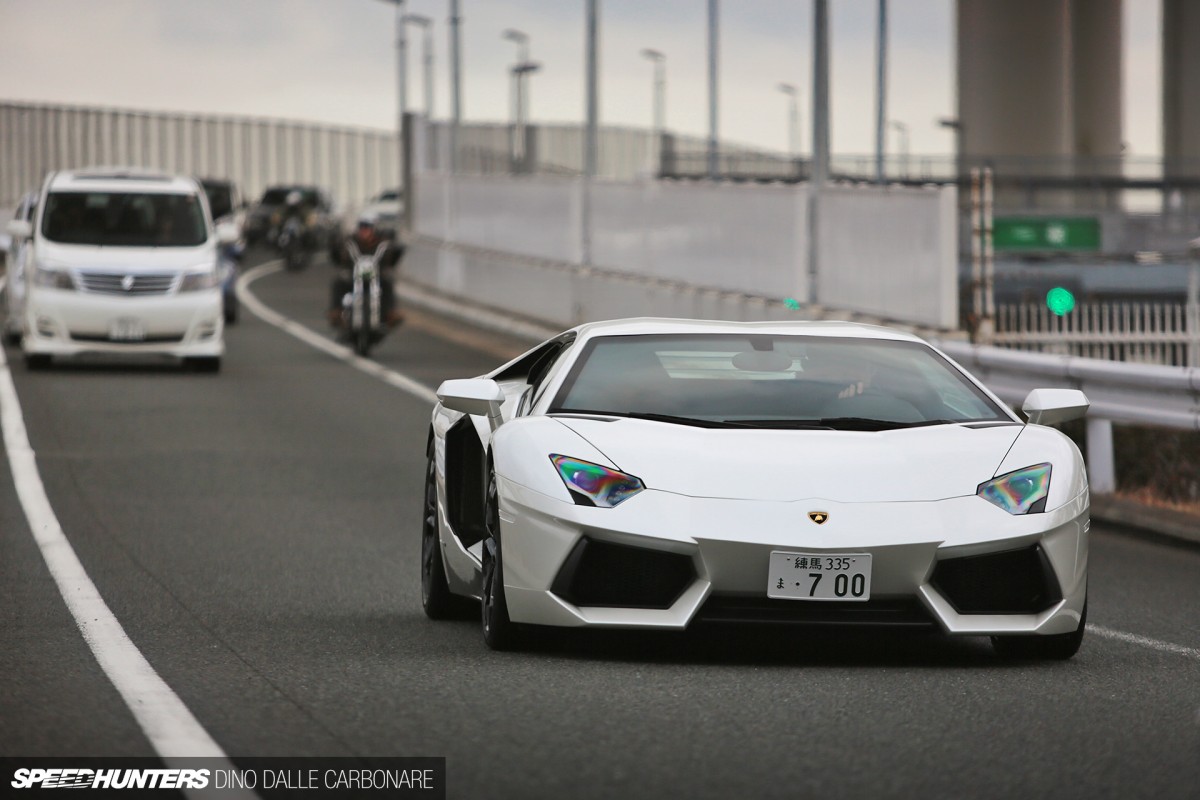 As we got closer to midday, the flow of cars entering Daikoku just didn't seem to stop.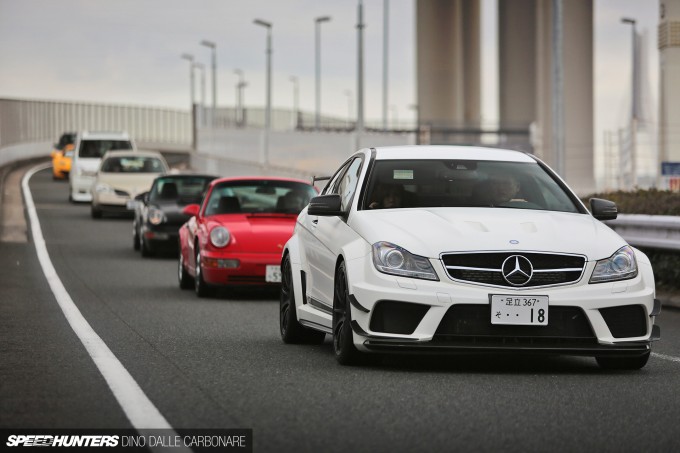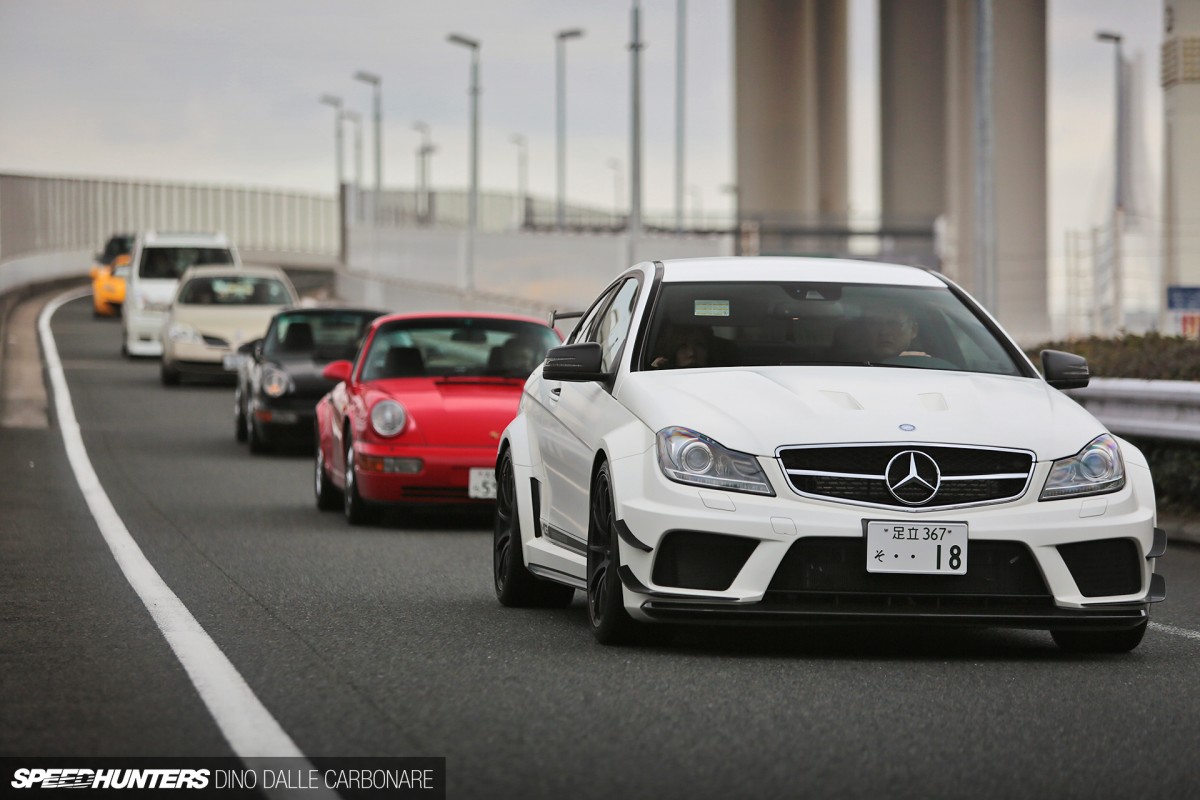 Quite the contrary actually – a slow moving line had began to form as supercars of every type were trying to slowly make their way in. With little to no parking spots left, it was taking a good ten minutes for cars to actually enter.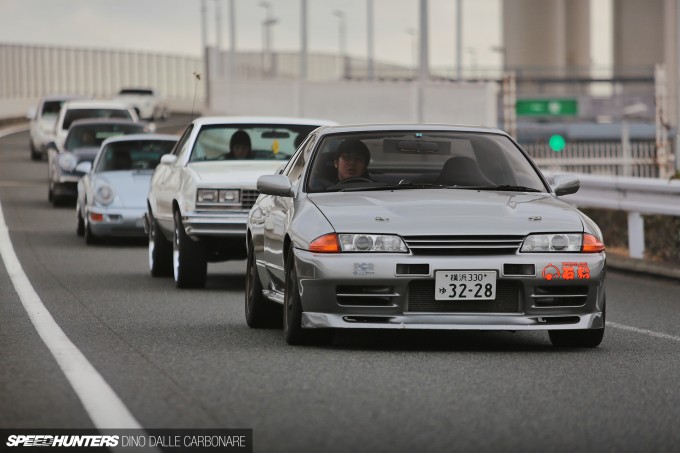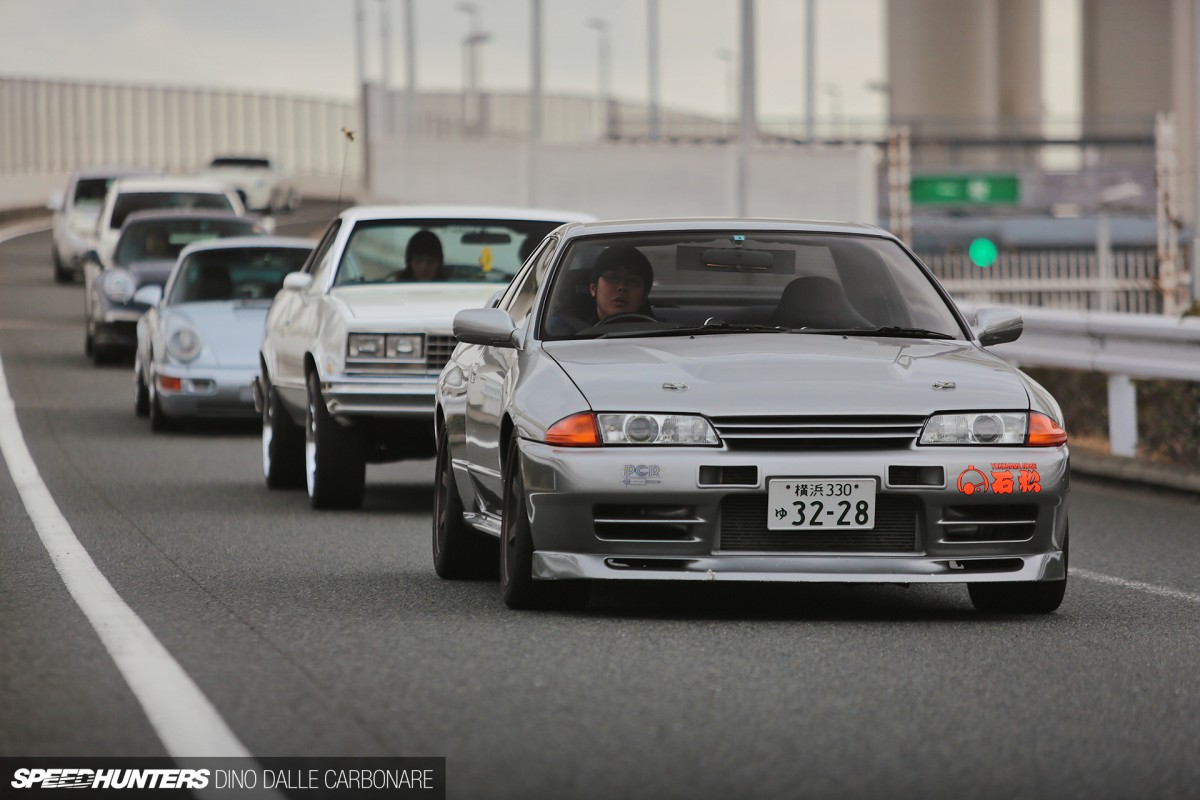 I just had to laugh at the variety of cars that were lining up; it was like the entrance to some kind of exhibition center as it gears up for a car show!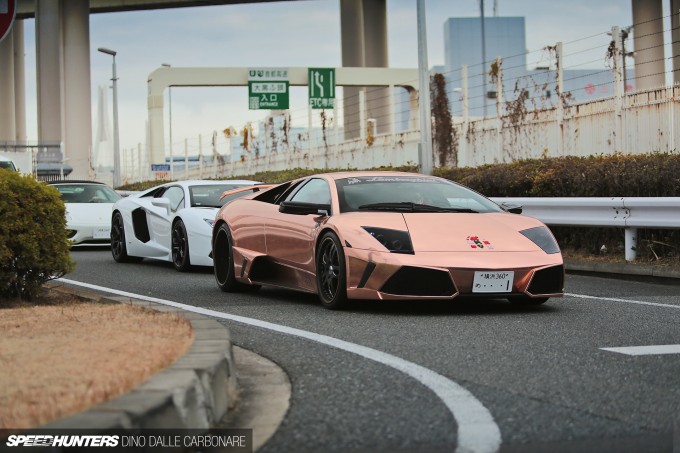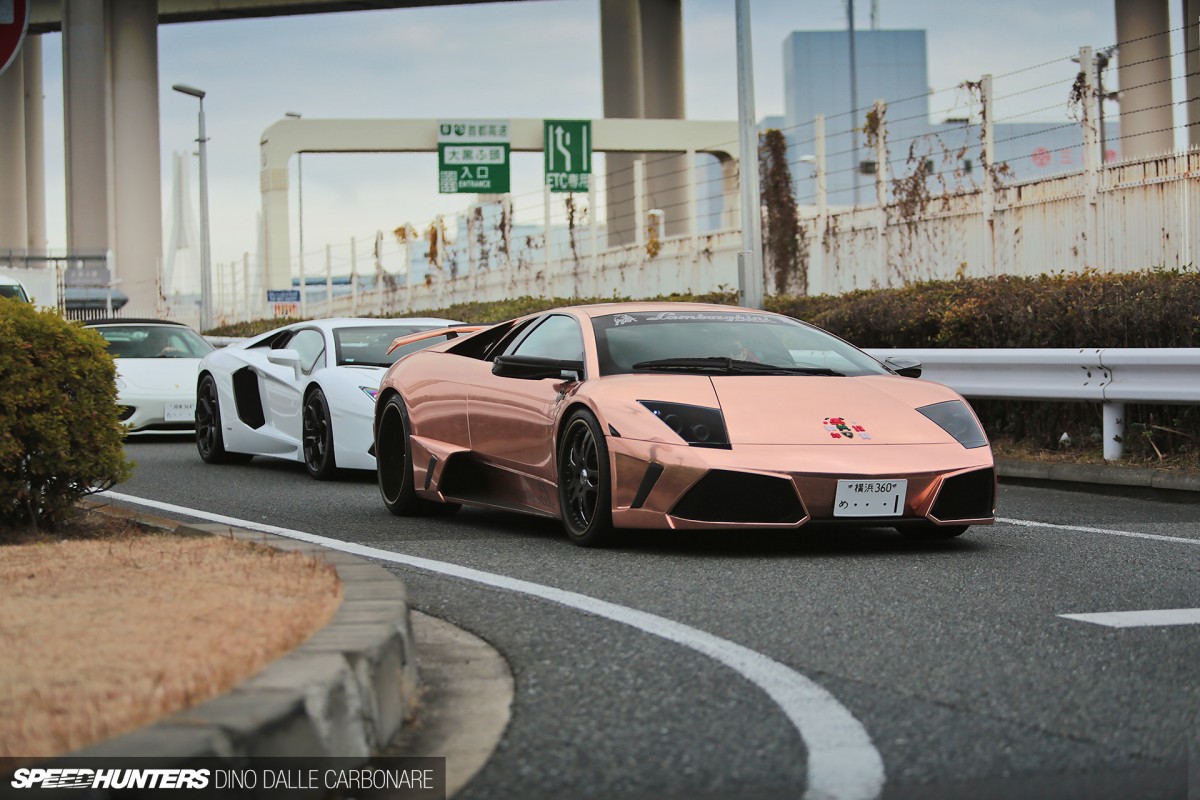 And it just didn't want to stop. Now if this was a regular JDM-car-oriented meet, the police would have closed the entrance to the PA and told everyone to go home by then, but strangely enough, they didn't seem to want to approach any of these supercar owners.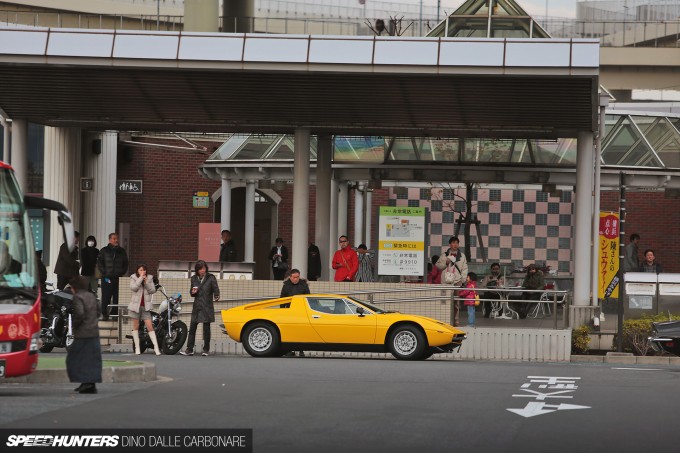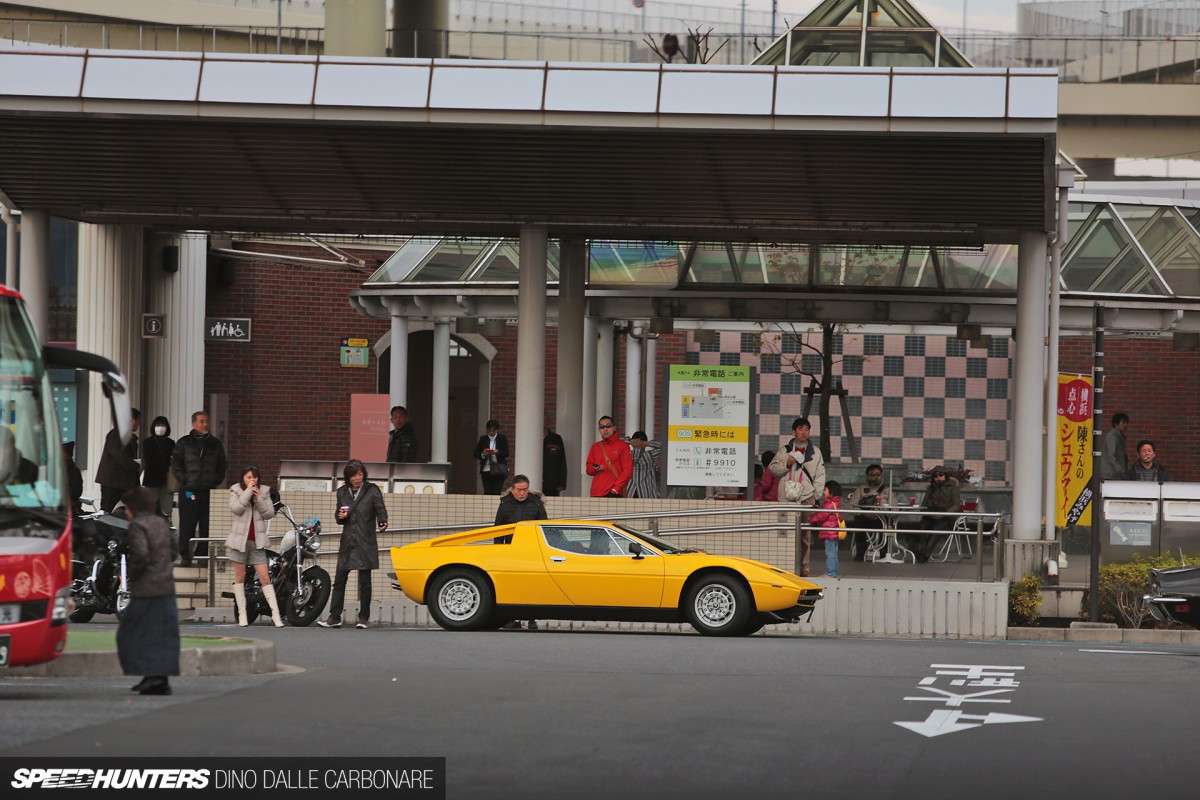 Some of the cars that had been present since 9am when I arrived were starting to leave, probably returning home to rejoin their families in some more new year's celebrations.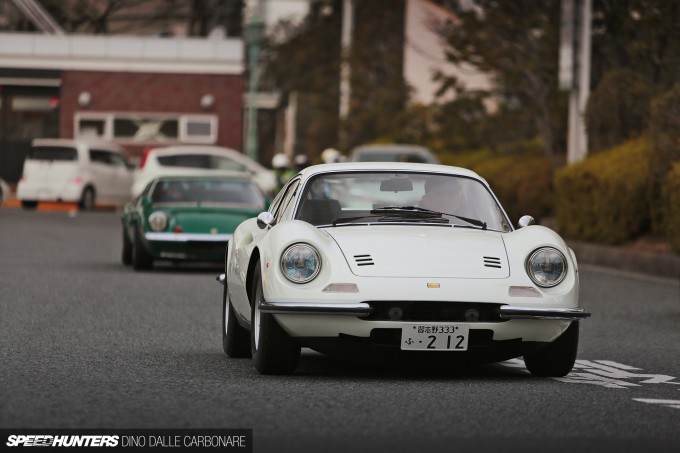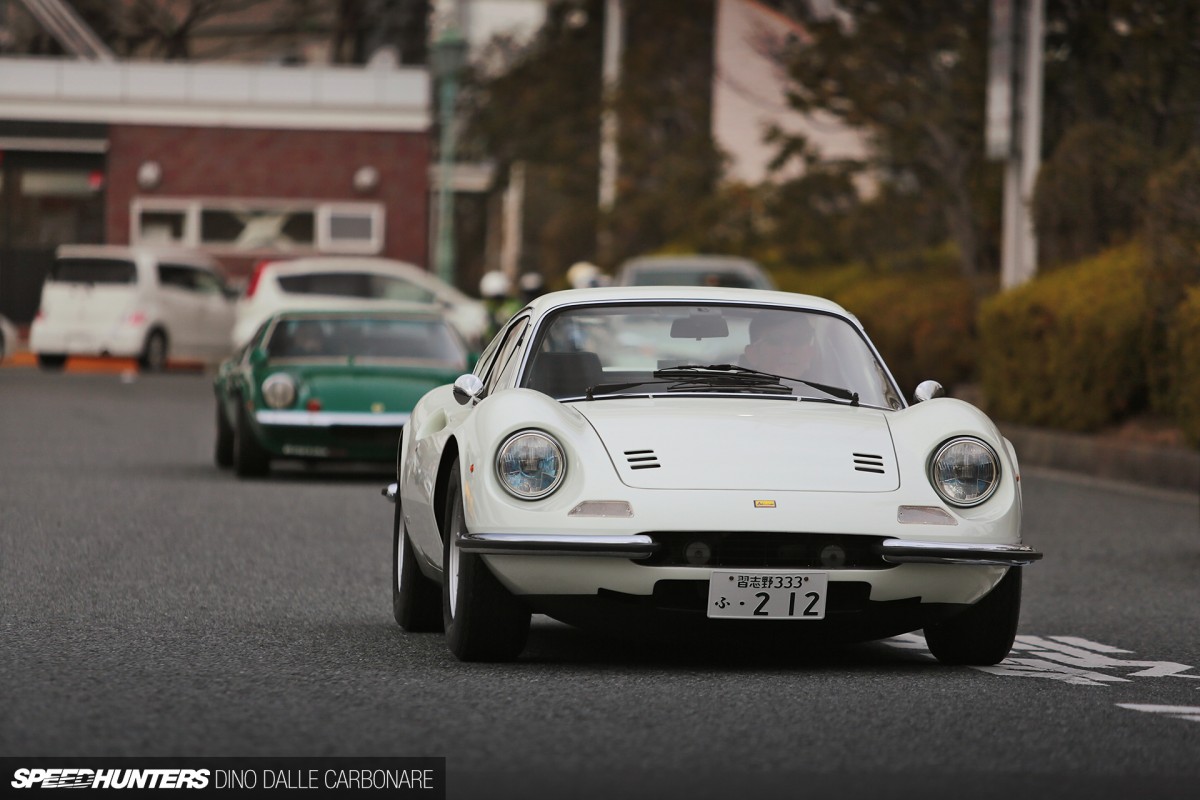 The white Dino was one of them. I was sad to see it go but at the same time it was great to see it moving and hear that V6 scream as it powered out of the parking lot.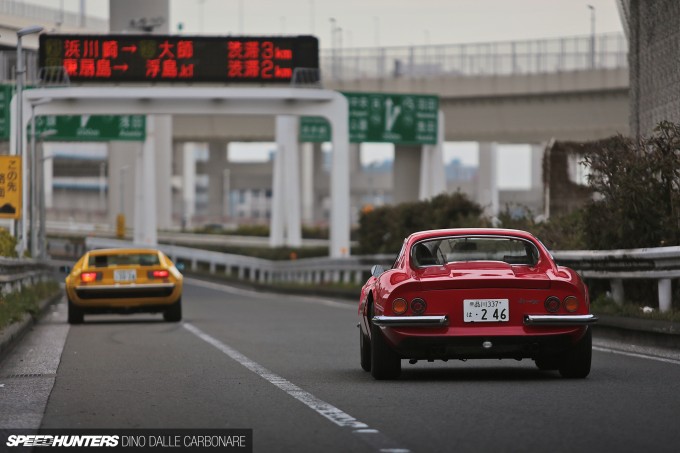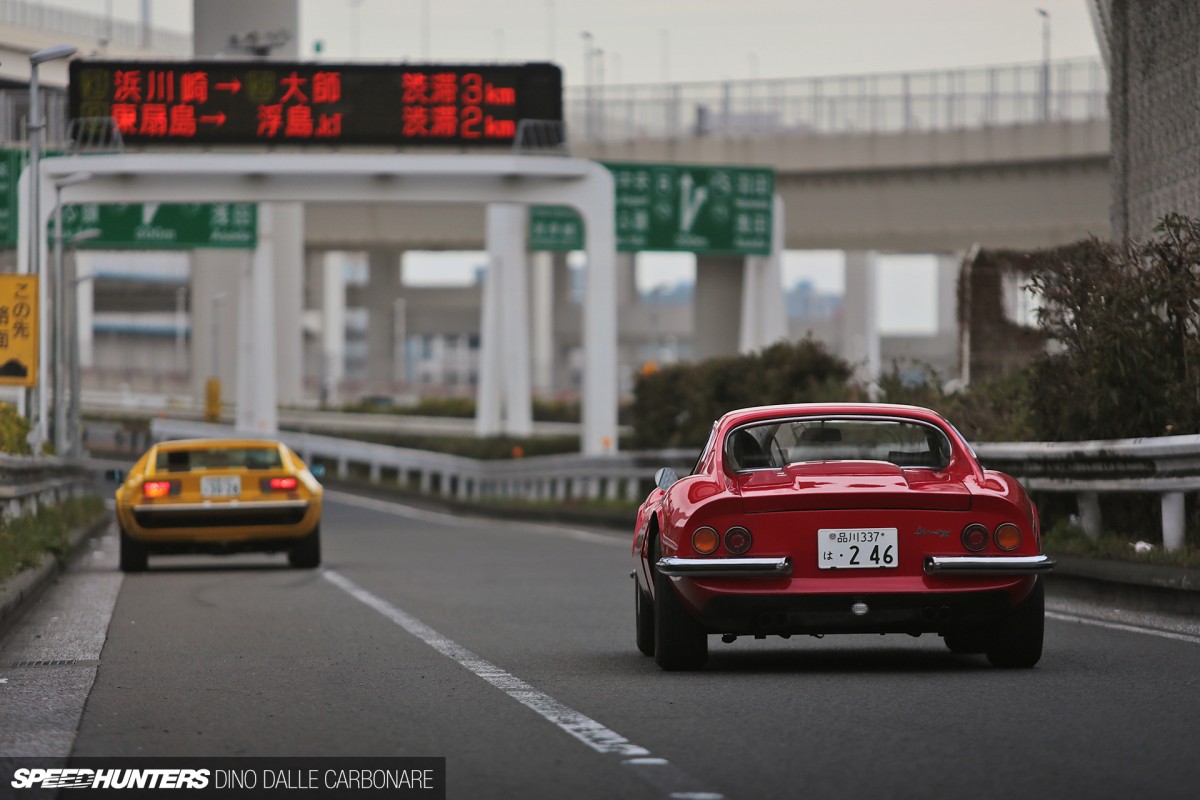 I've seen many cars exit through this access road which takes you all the way back up on top of the Yokohama Bay Bridge, but a Merak and a Dino? Yep, definitely a first!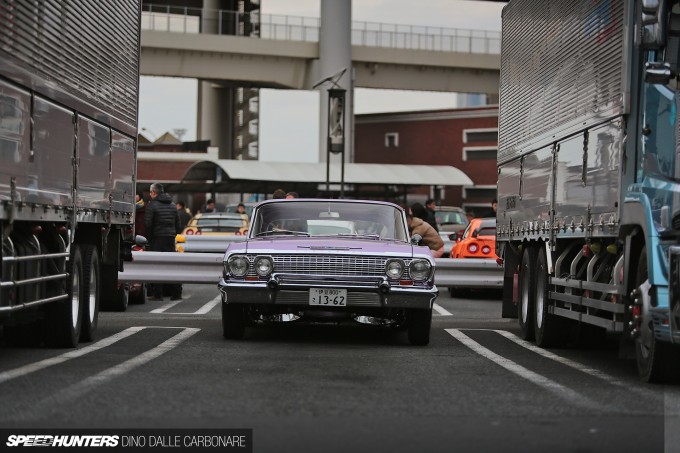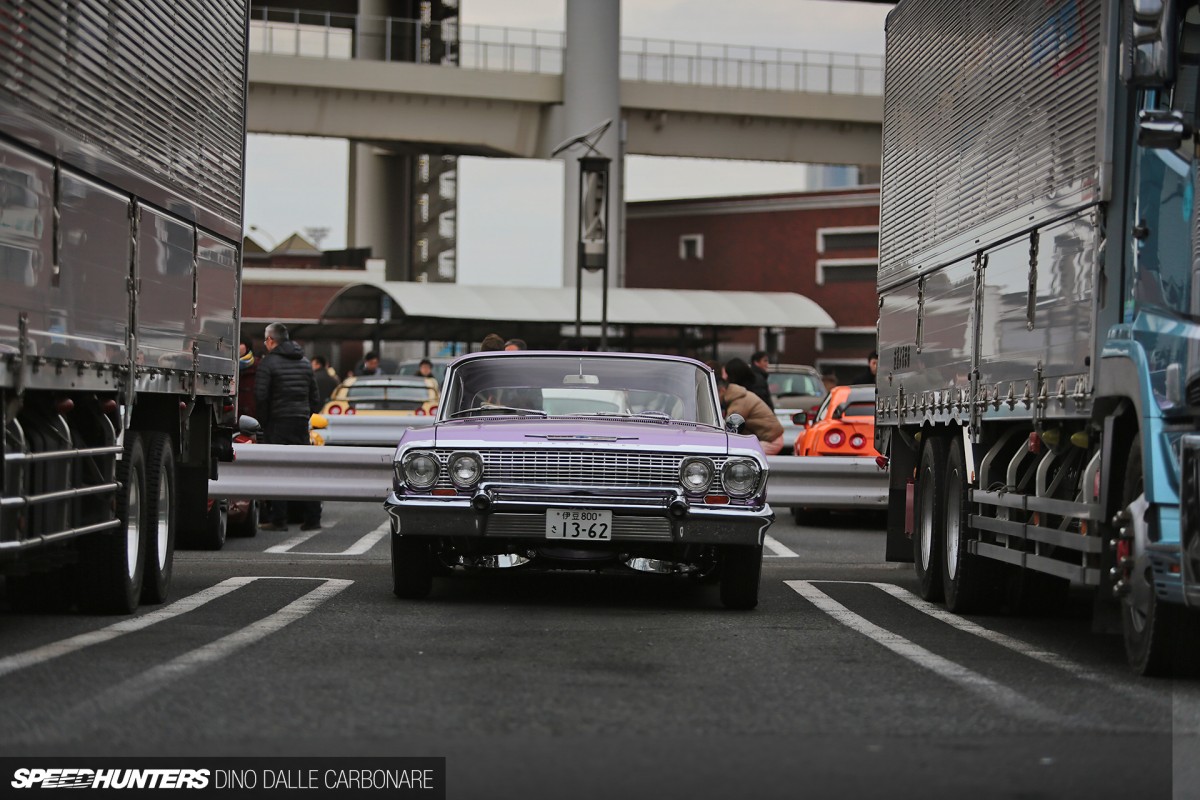 A lot of the later arrivals had to take up some of the truck and bus parking spots, which meant that sandwiched in between big rigs was the occasional interesting find.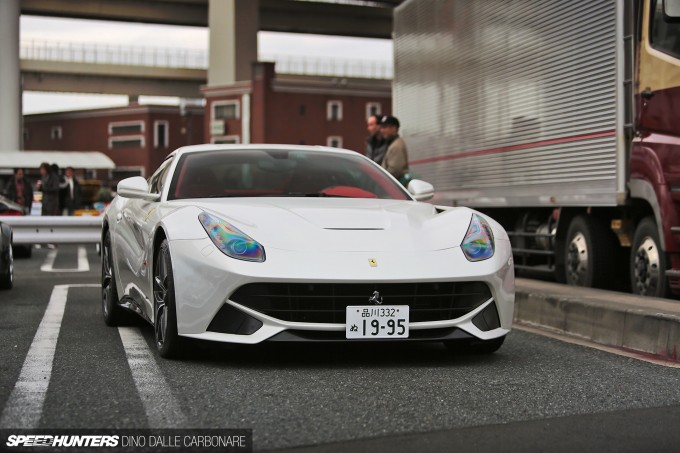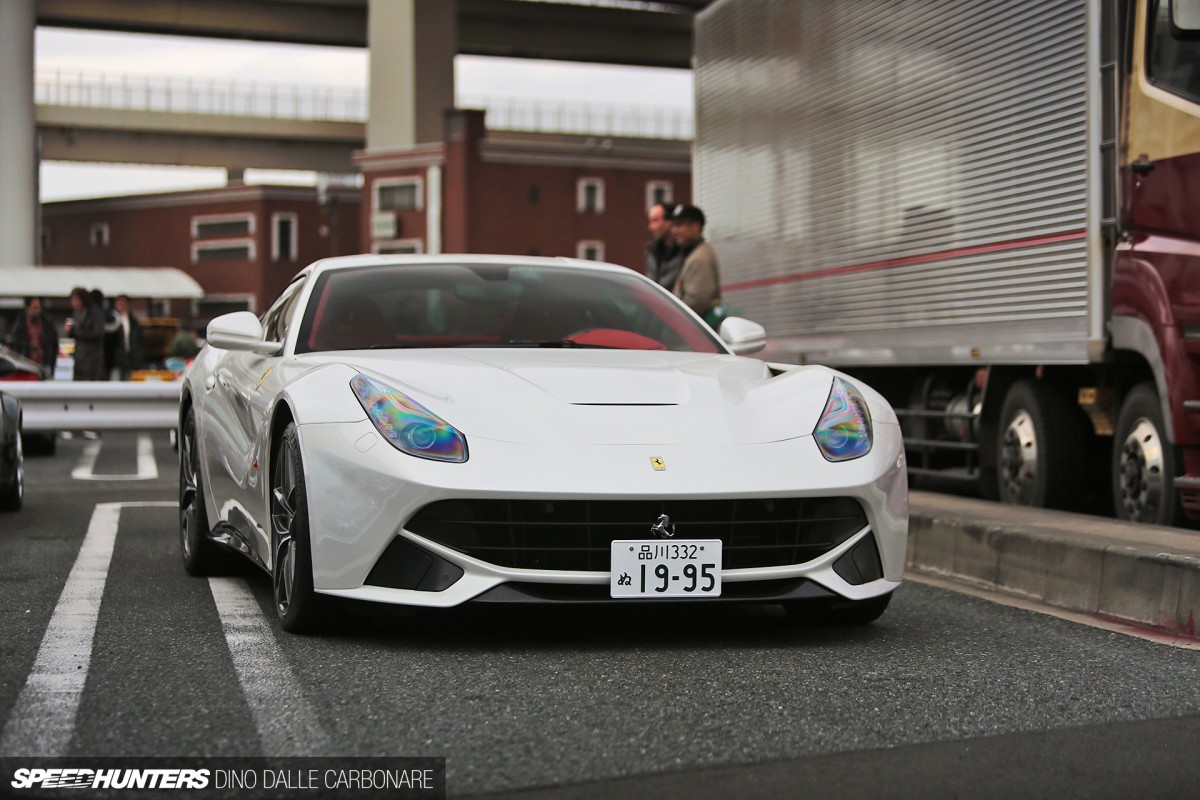 My legs went all wobbly when I saw this pearl white F12 Berlinetta, by far my favorite Ferrari right now. Its presence and stunning proportions are simply irresistible and I will be a very happy man if I ever get to sample that monster V12 powering it. Would be very cool to assess if it really does have 'too much power'!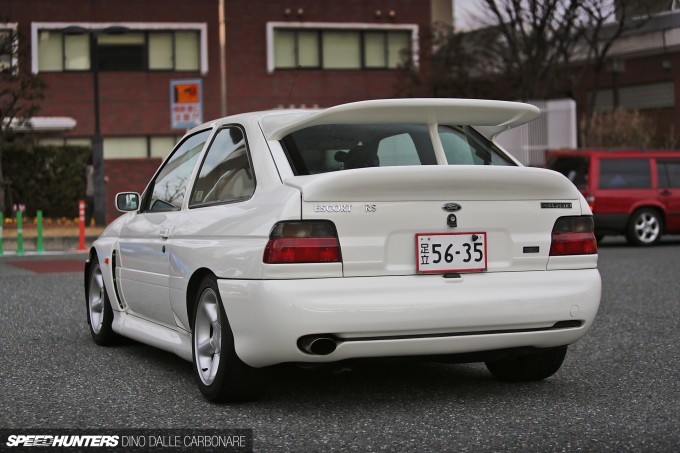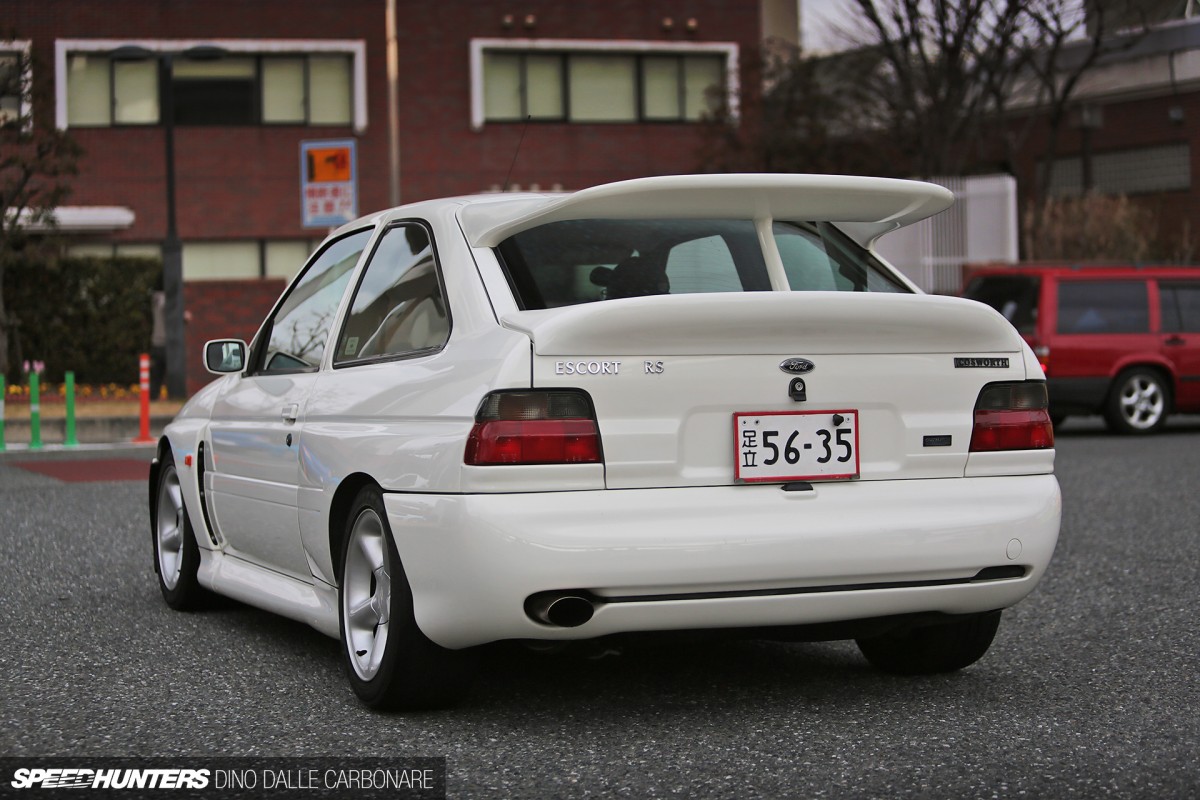 You're more likely to see a Ferrari Enzo in Japan than a Ford Cosworth. This Escort RS on dealer plates didn't seem to get noticed too much but I sure paid attention. Back when I was living in the UK, this was one of those cars that young kids dreamt about, before the JDM imports like GT-Rs and Evos became all the rage.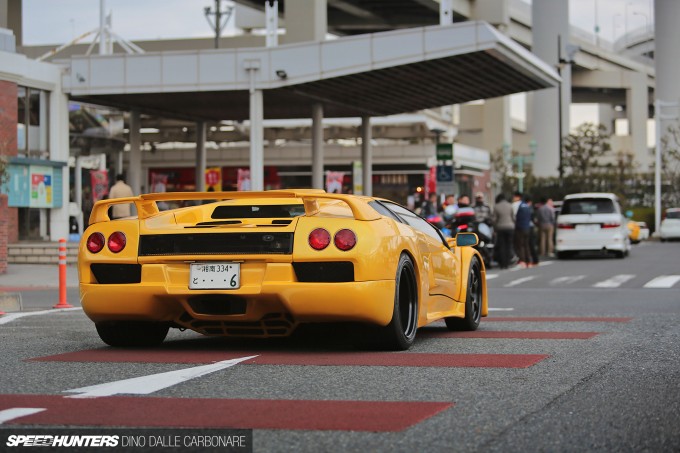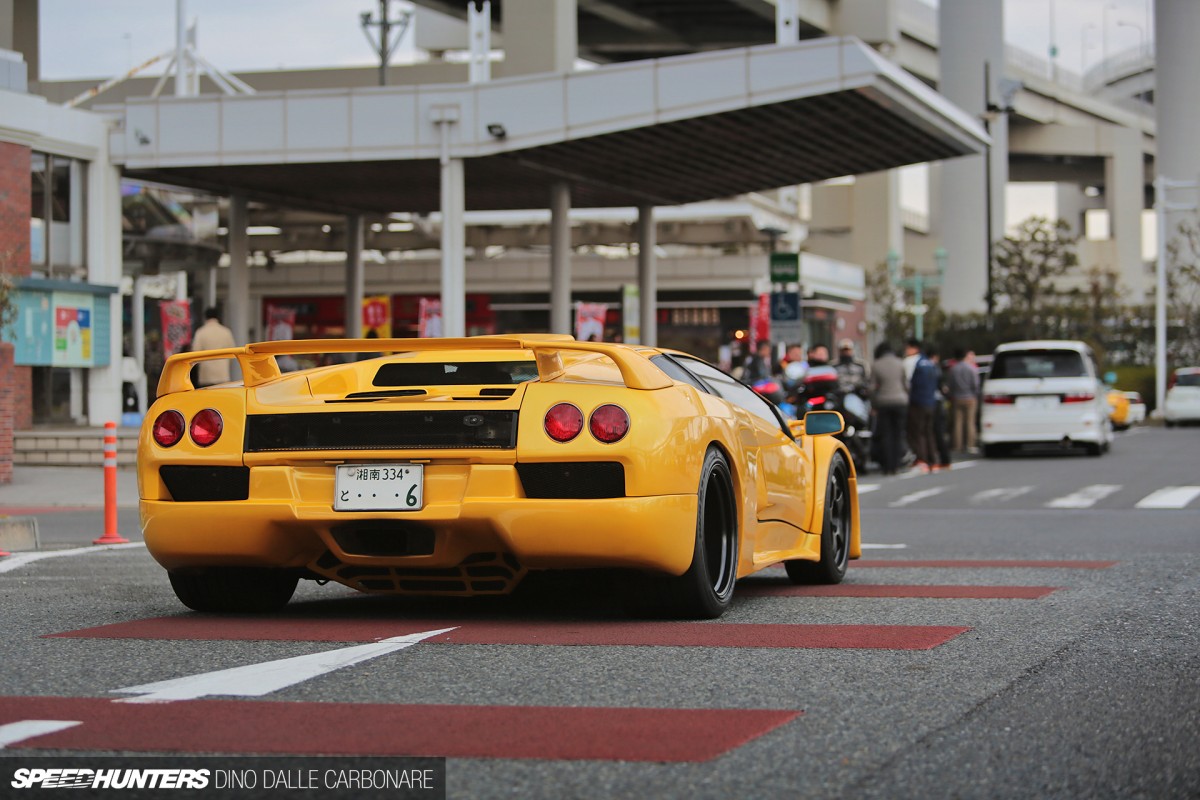 I just had a few moments to look at this strange customized Diablo before it left, but I managed to notice the H&E Sport Special Edition badges on the sills. As I may have mentioned before, the Japanese love their limited edition stuff – anything to stand out and this Diablo is definitely a great example.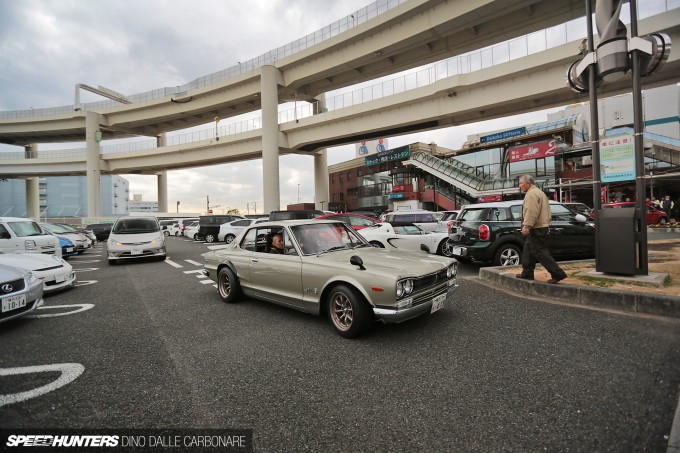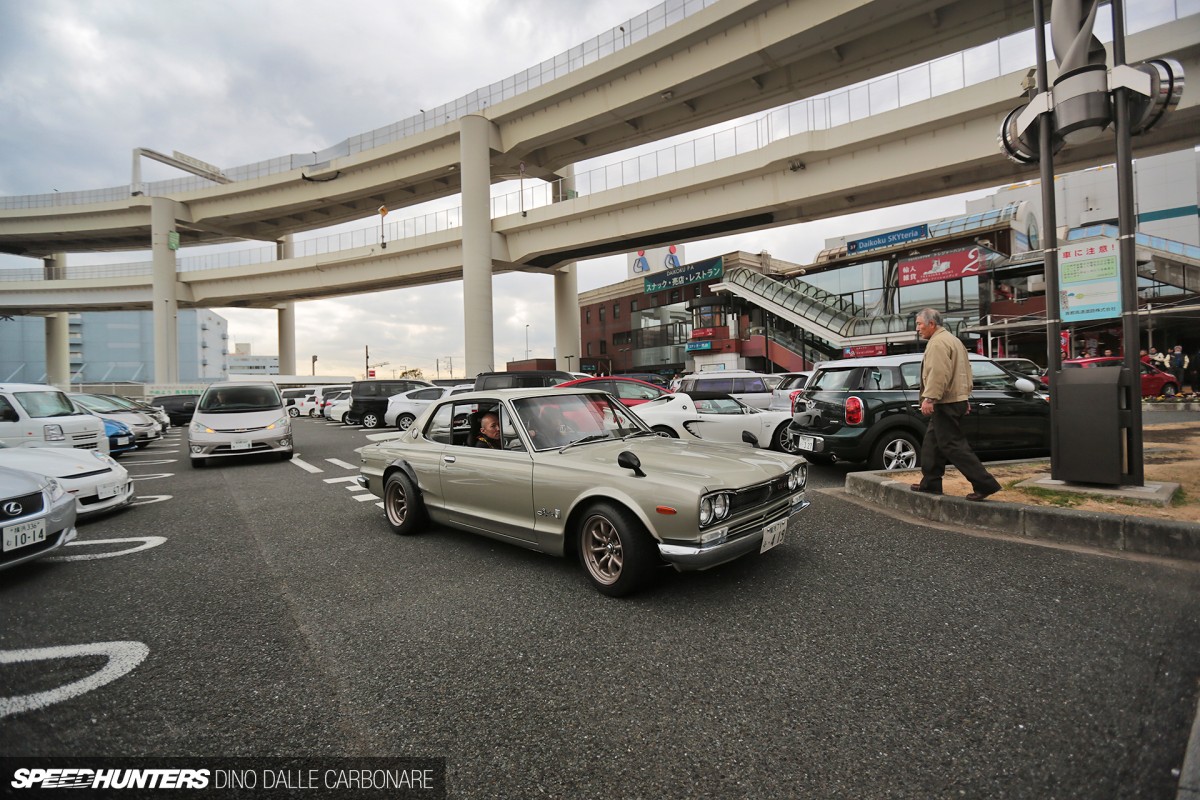 One of these meetings just wouldn't be complete without at least a little bit of kyusha goodness, starting off with the only Hakosuka I saw on the day.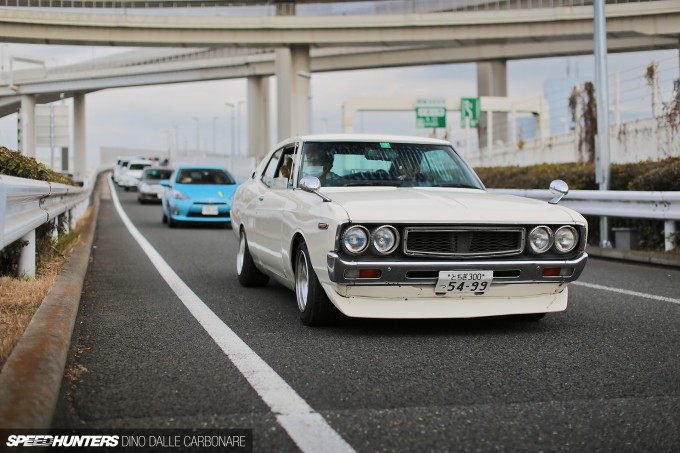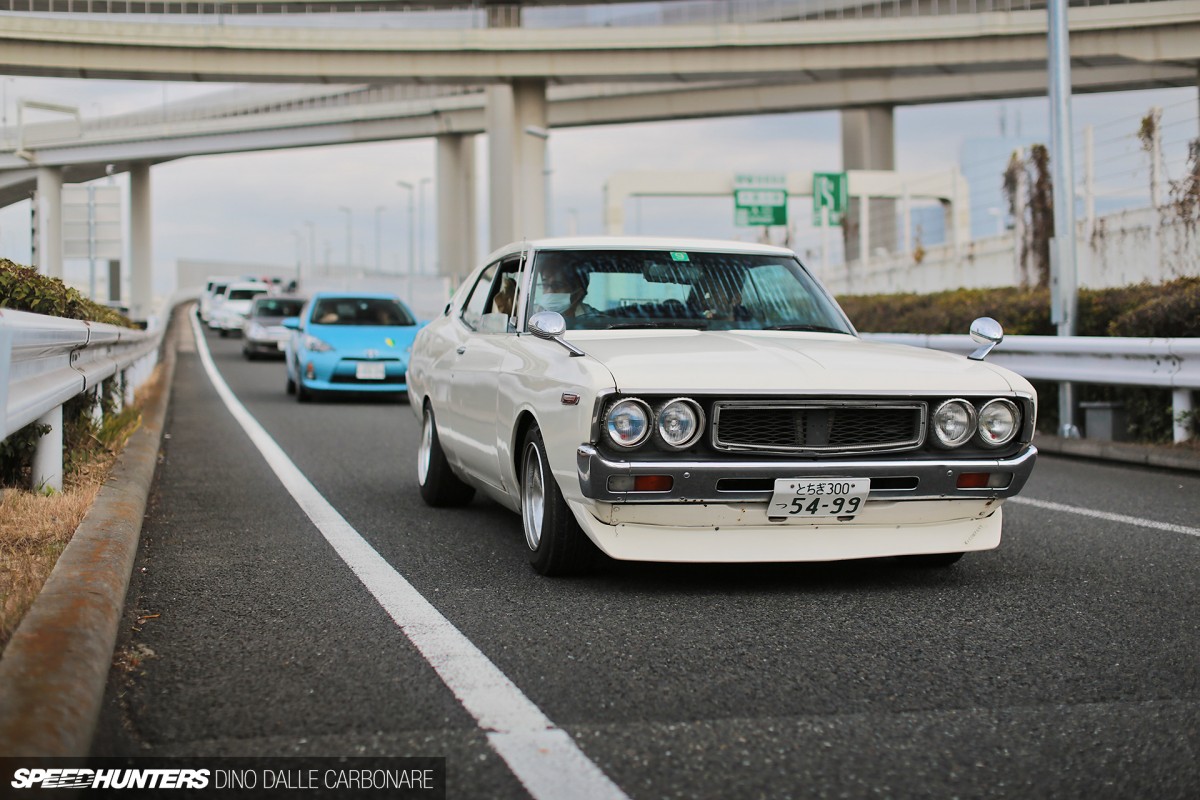 This Laurel made it all the way down from Tochigi prefecture to take part in the meeting. It's one of my favourite Nissan shapes, along with the Kenmeri.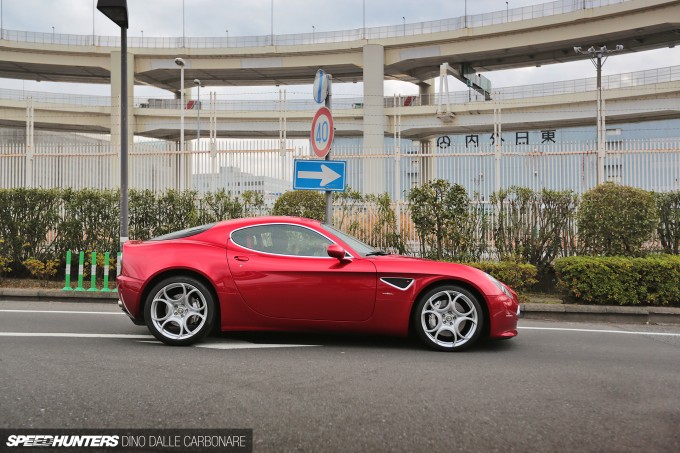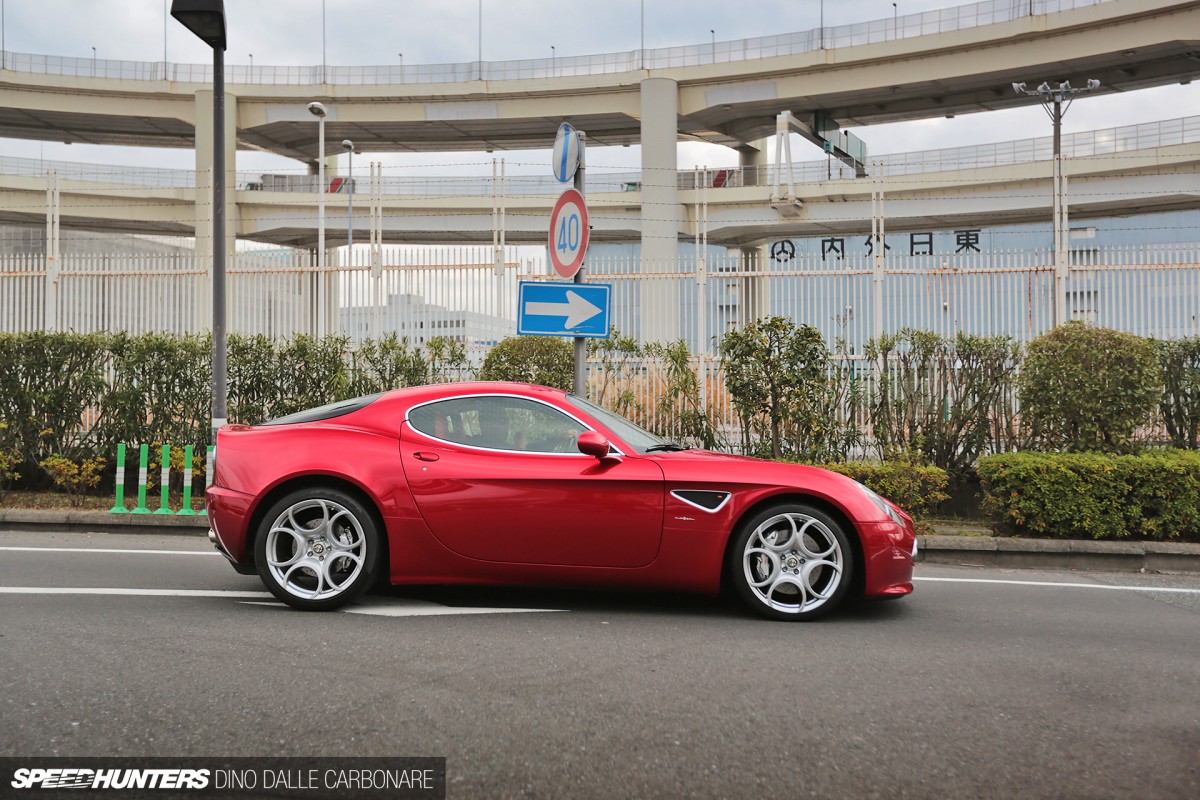 How about some Alfa Romeo love? 4C deliveries haven't yet started in Japan but that's ok as we got to treat our visual and aural senses with cars like this 8C.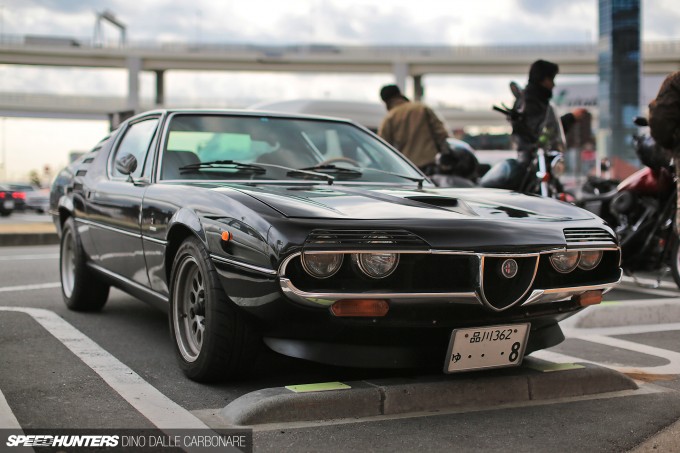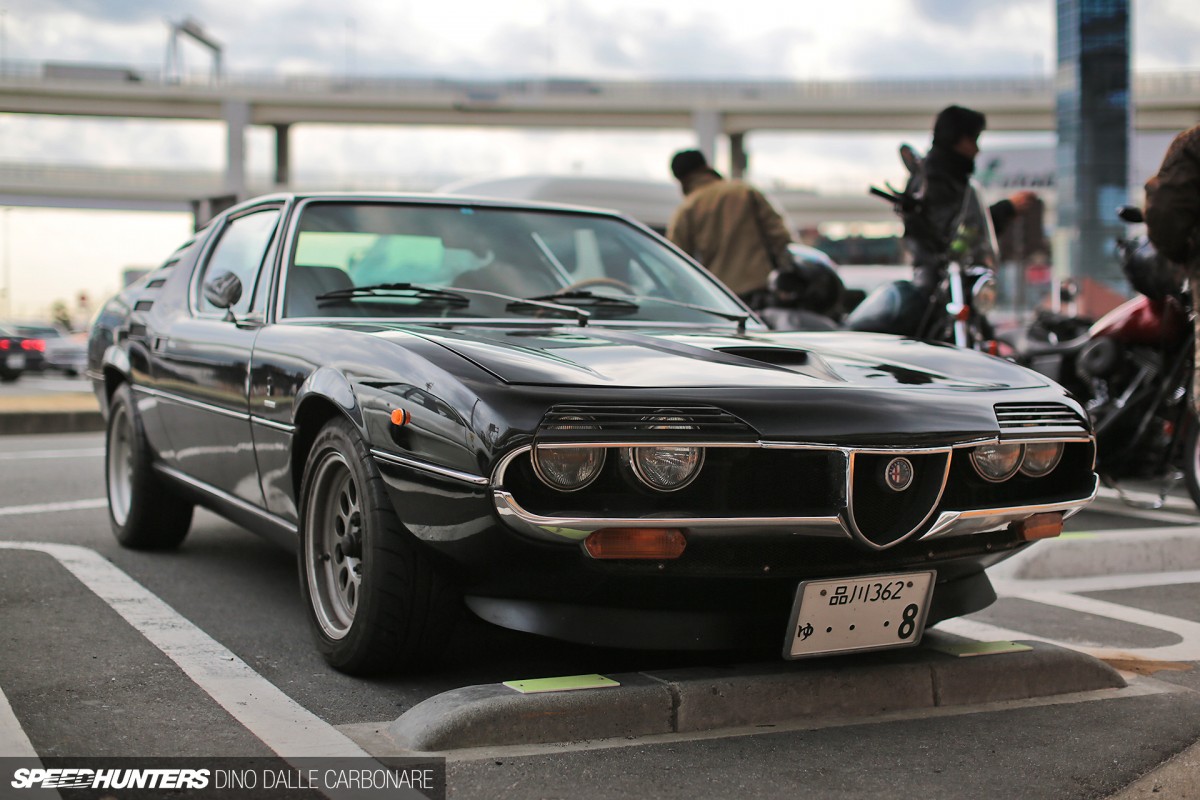 But if I really had to choose an 8-cylinder Alfa from history, it would have to be the Bertone-styled Montreal. I hadn't seen one of these since I was about 14 years old, so it was quite the treat.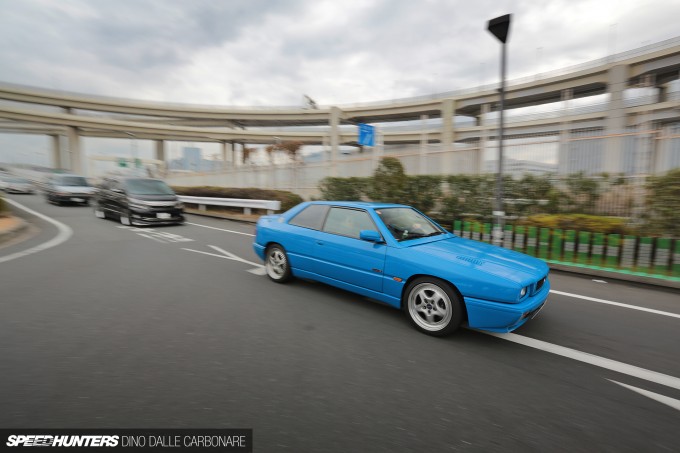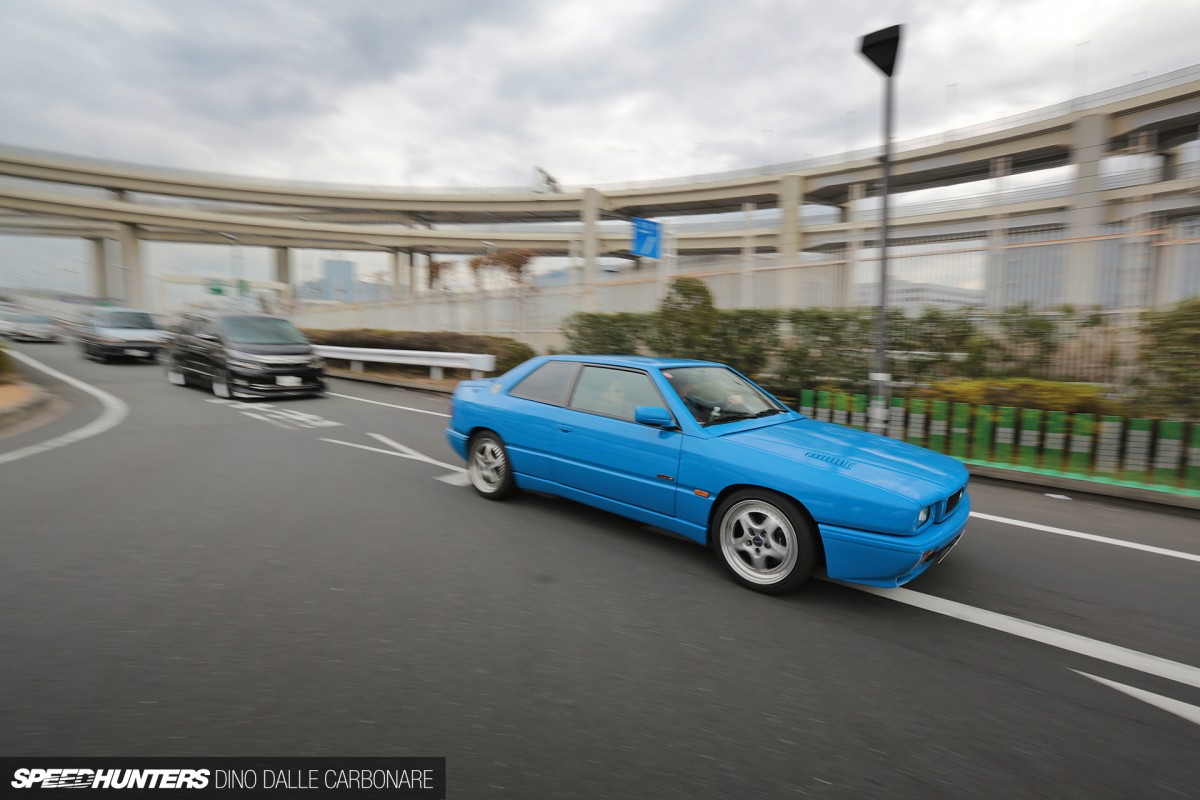 The Japanese have an incurable passion for all things Italian and it's really great to see. It means I have seen far more Italian historics and exotics in Japan than I've come across in Italy; cars that include this Maserati Ghibli, which I've spotted many times at Daikoku before.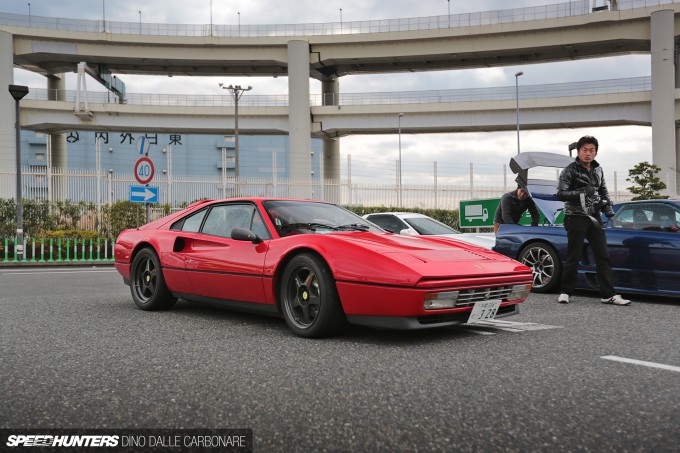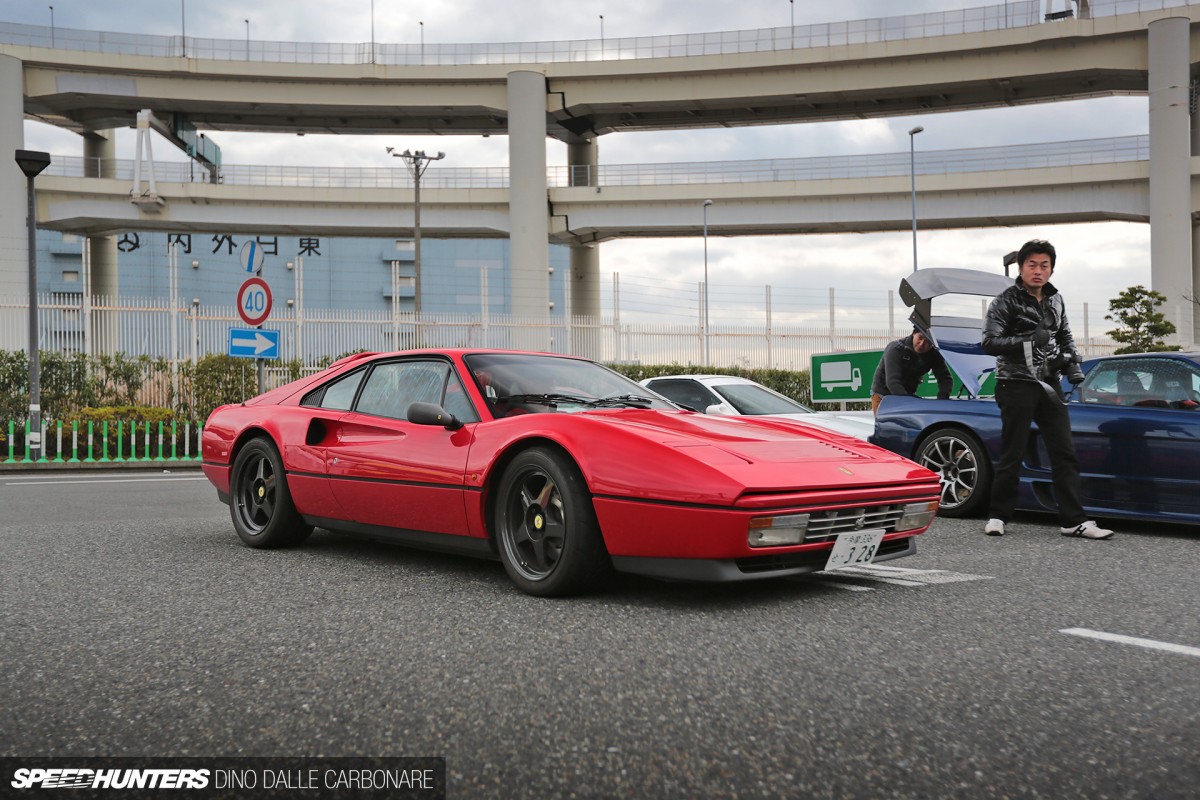 When it comes to wheel choice, the Japanese seem to be infallible if this 328 – and most of the cars at the PA – were anything to go by!
Opulence at the max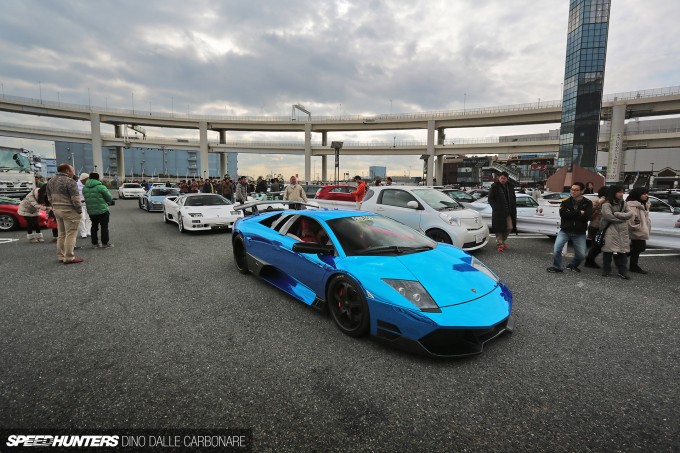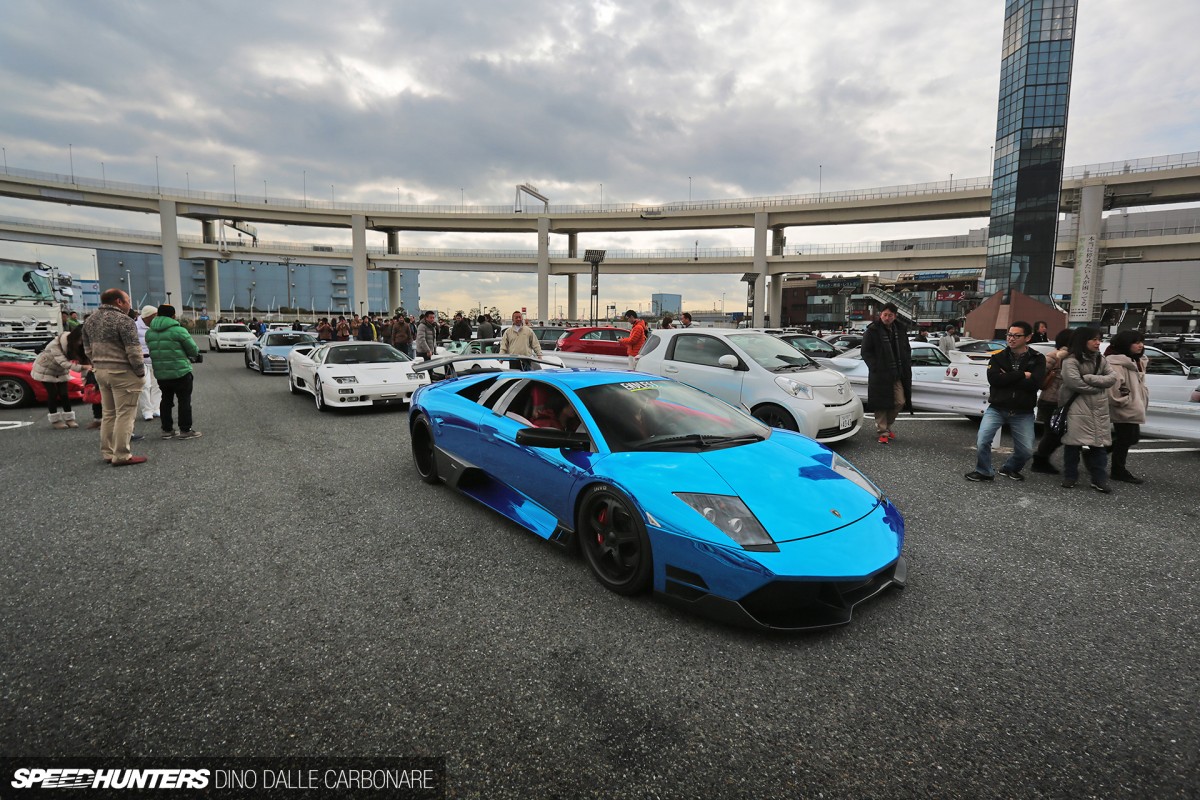 Wrapping your supercar is becoming ever so popular in Japan this last year. This chrome blue Murcielago reminded me of this Maserati!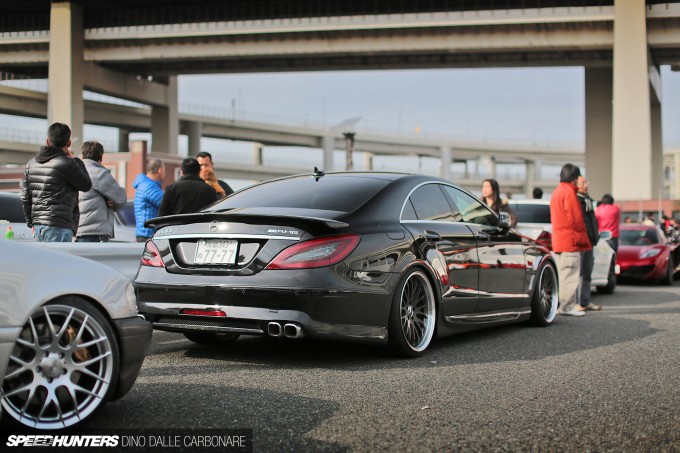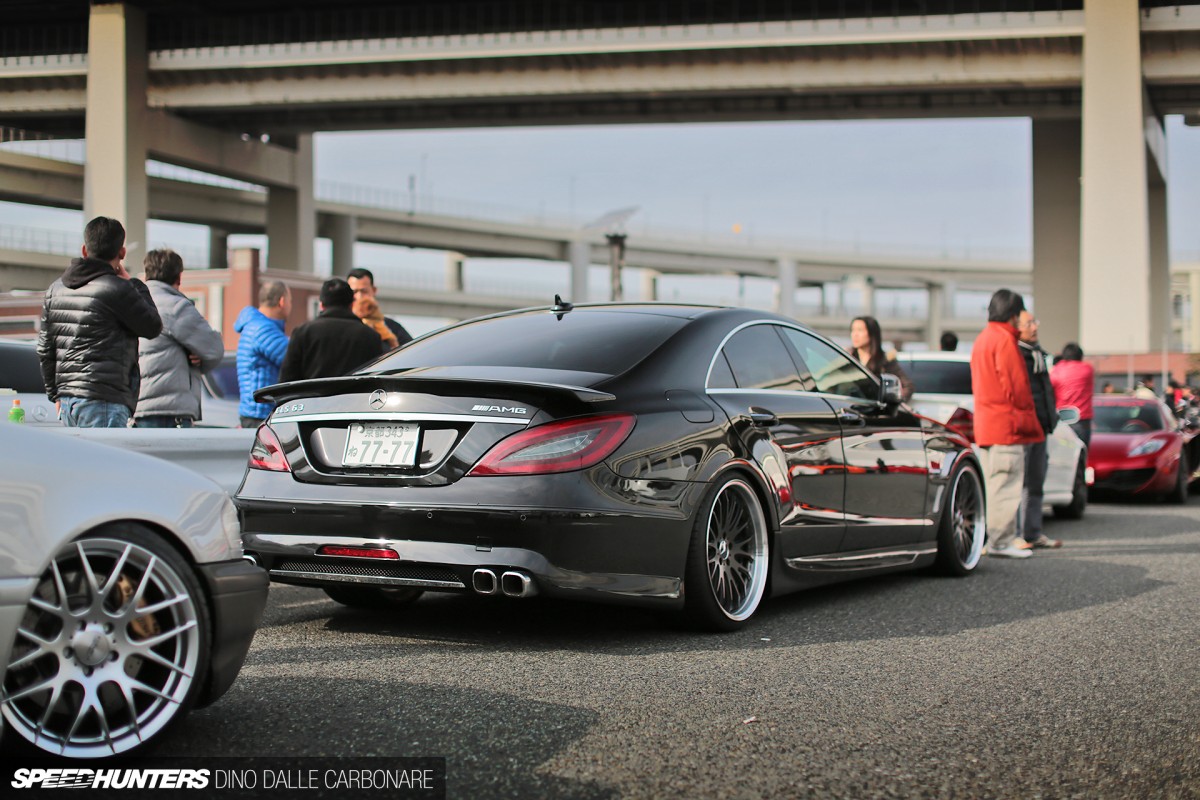 And how can I forget the Benzes. The Japanese love their AMGs as well as anything sporting the Brabus, Carlsson or Lorinser badges. I've just spent a pretty memorable time driving a CLS63 Shooting Brake and I know what beasts these new twin-turbo 63 models are! Can you say burnout?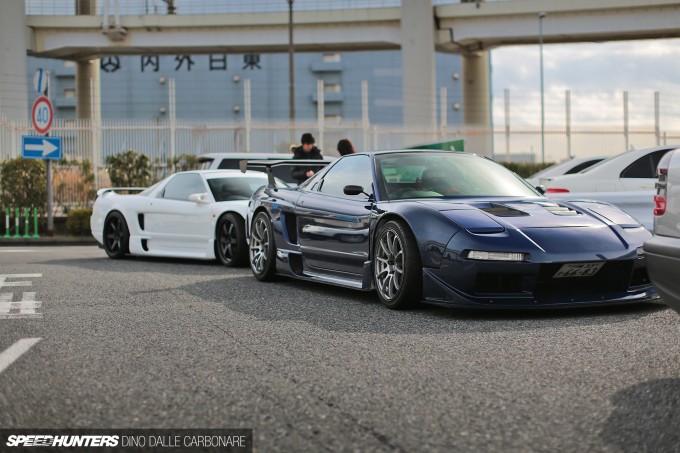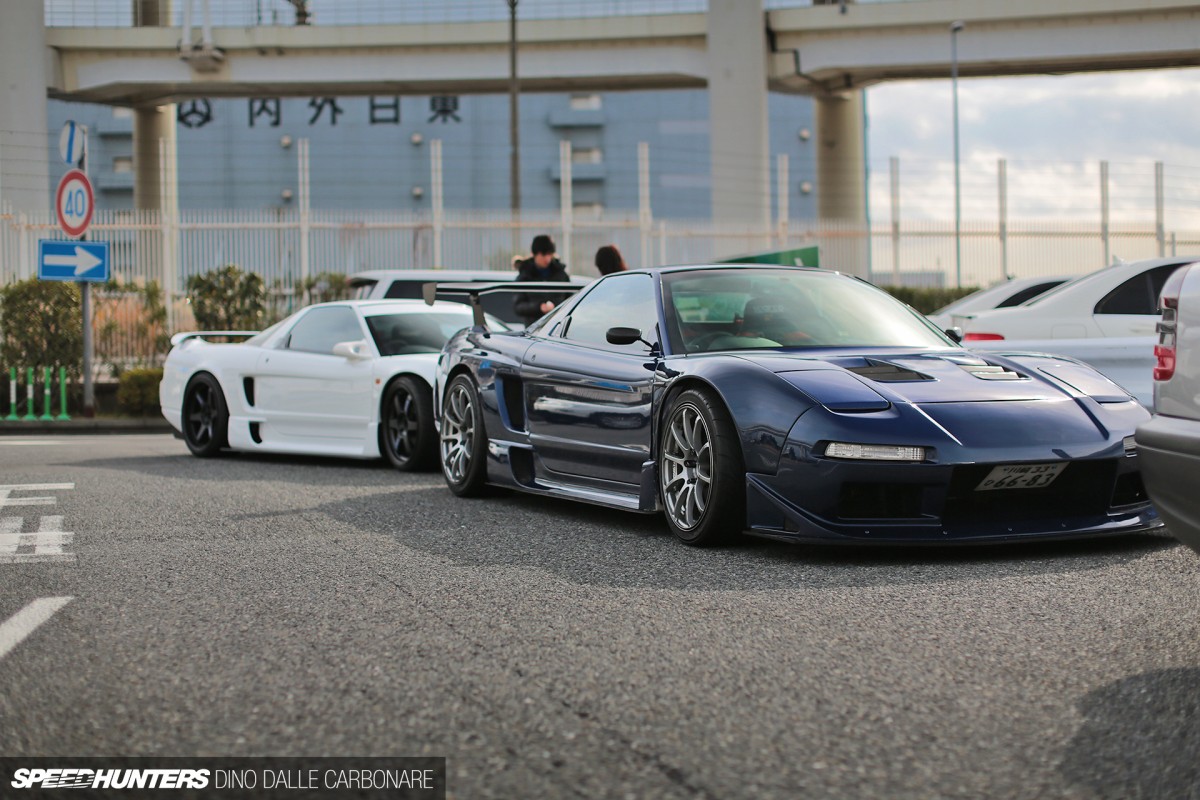 Honda guys, don't worry – there was something for you too in the form of this pair of NSXs that rolled in together. We've actually seen the white one on black TE37s at both the Street Car Nationals last year as well as Stance Nation in Fuji.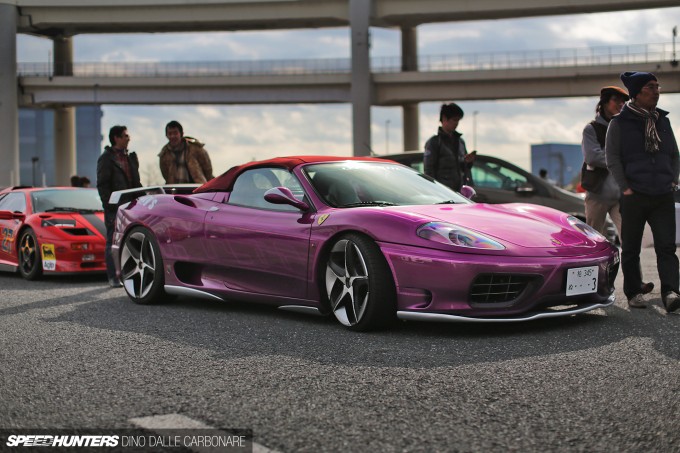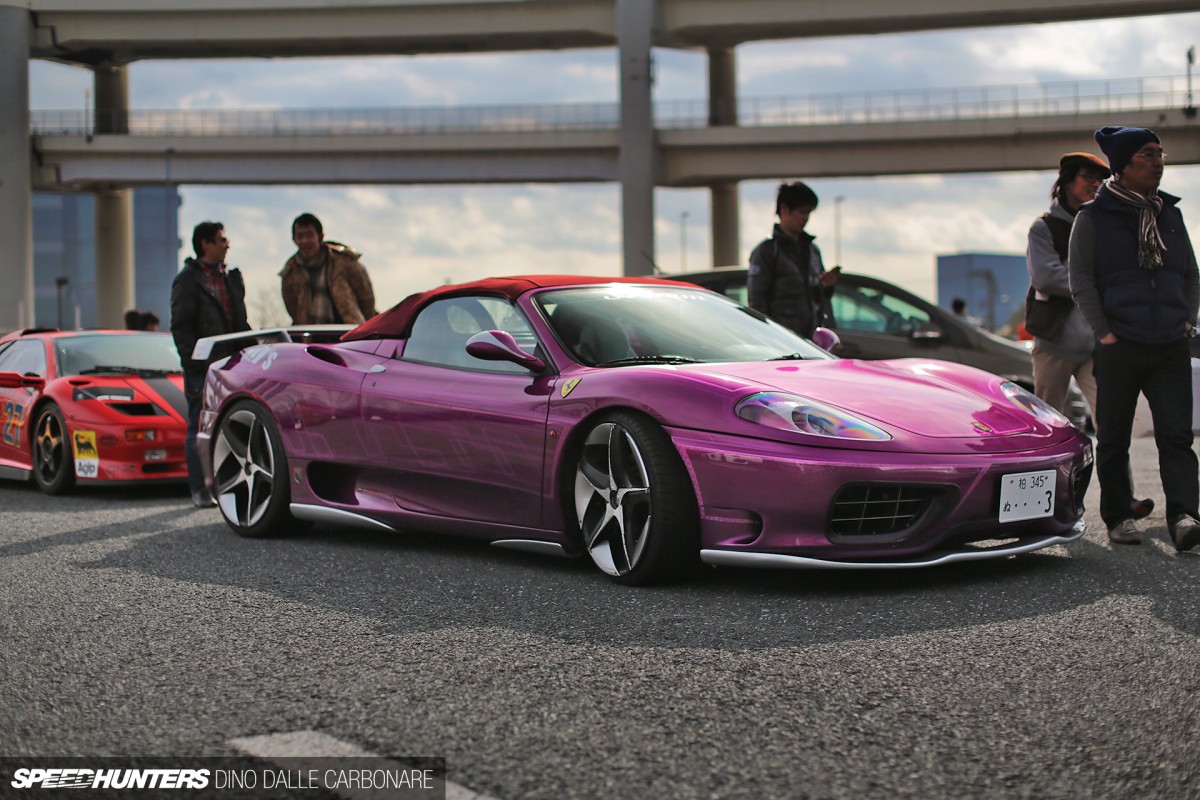 What is right for one, may not be right for someone else. Each to their own as they say.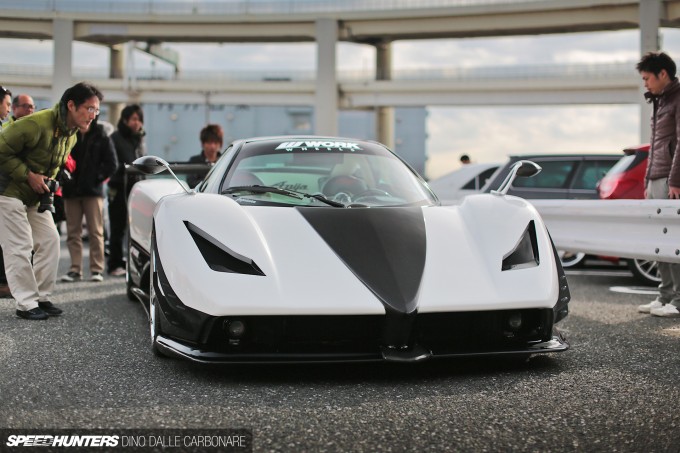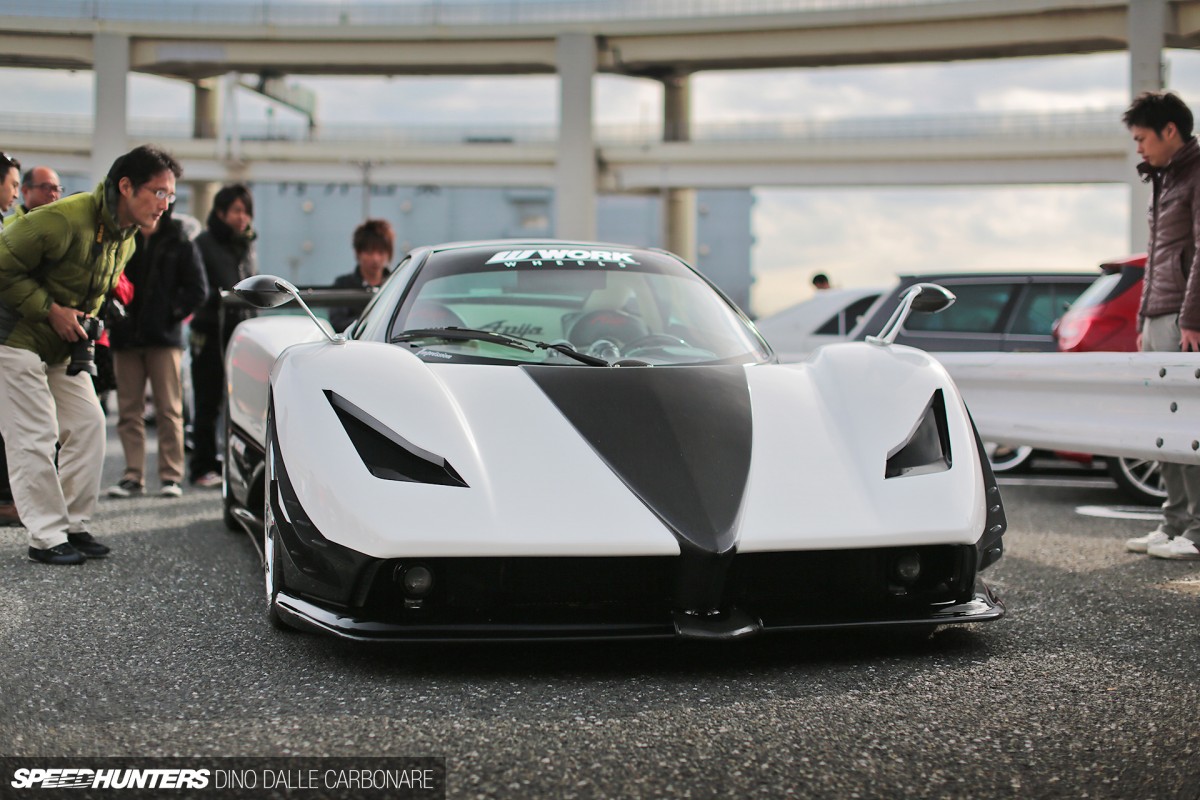 I've never imagined that anyone in their right mind would ever touch a Pagani. But of course I was very wrong. The owner of this Zonda, another member of the A-Team I mentioned earlier, obviously thought that his prohibitively expensive machine was just not bespoke enough. He customized the front end, eliminating the headlights and placing a pair of HID projectors on the extremities of the grille.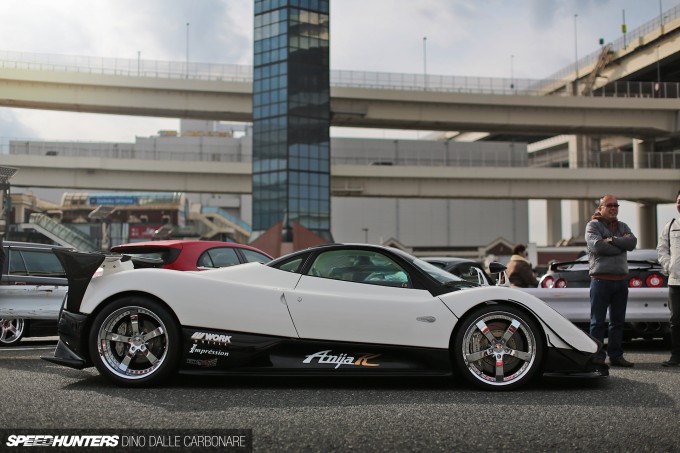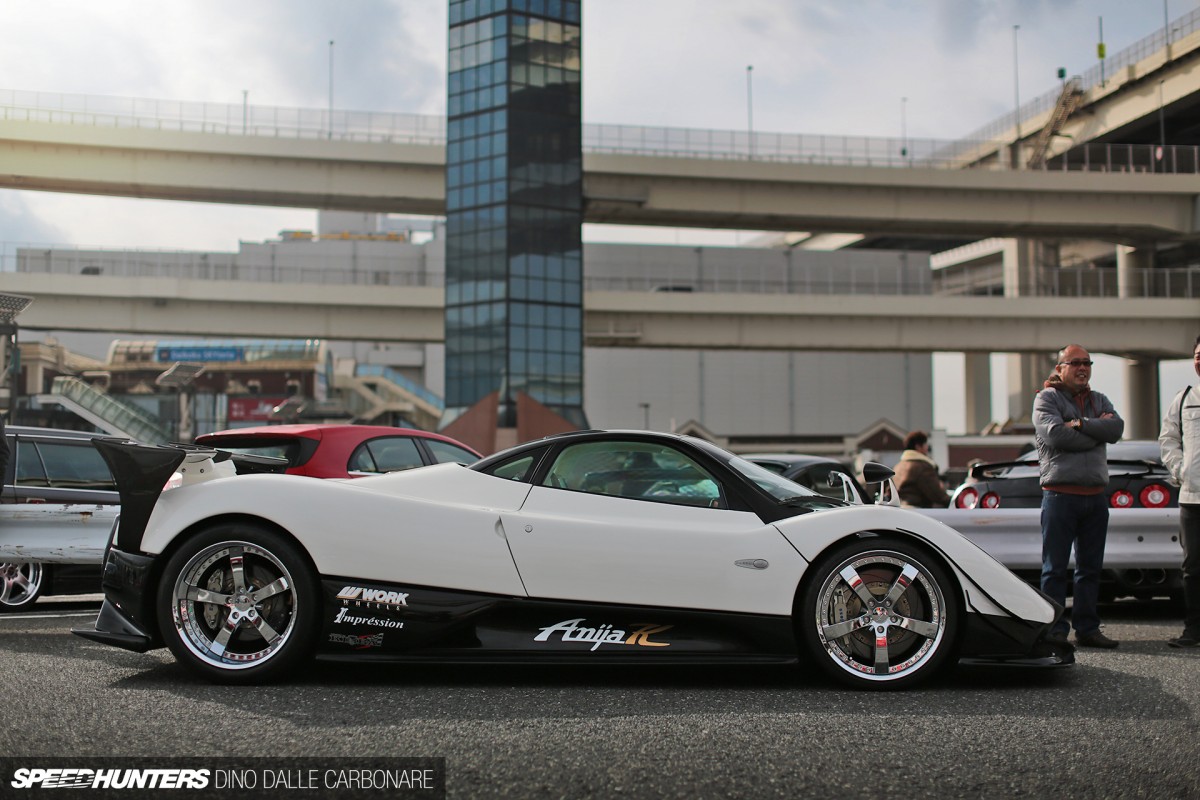 The Pagani lightweight wheels have given way to two-piece cast Work rims with an Endless braking system behind them, replacing the stock Brembo stoppers.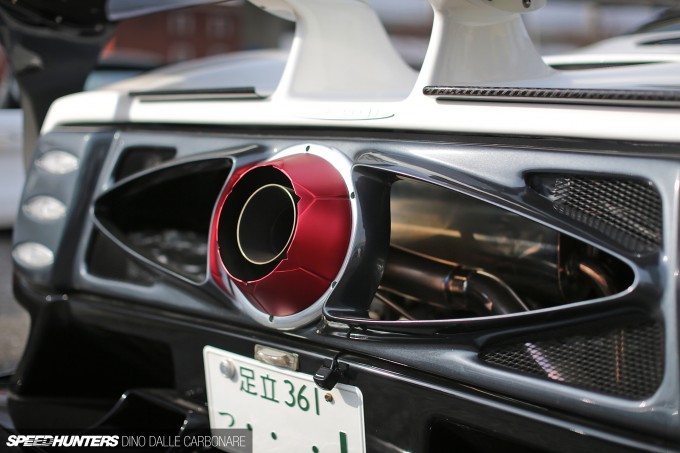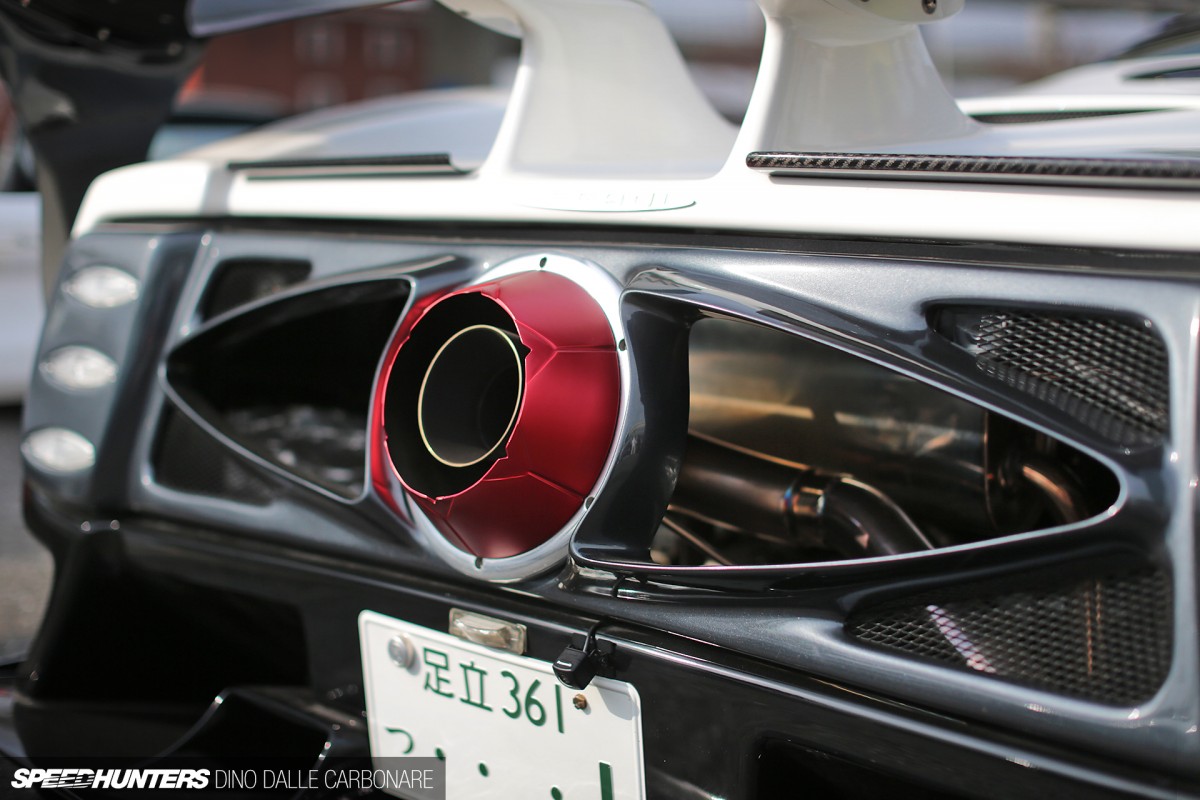 At the back, the Zonda's quad-exit exhaust has been ditched in favor of this afterburner set-up.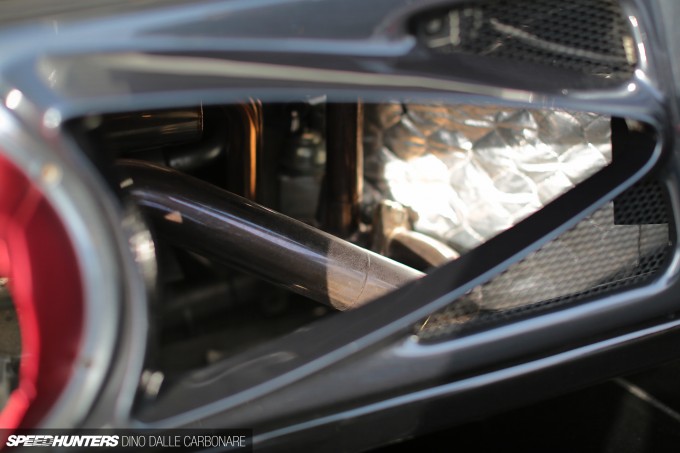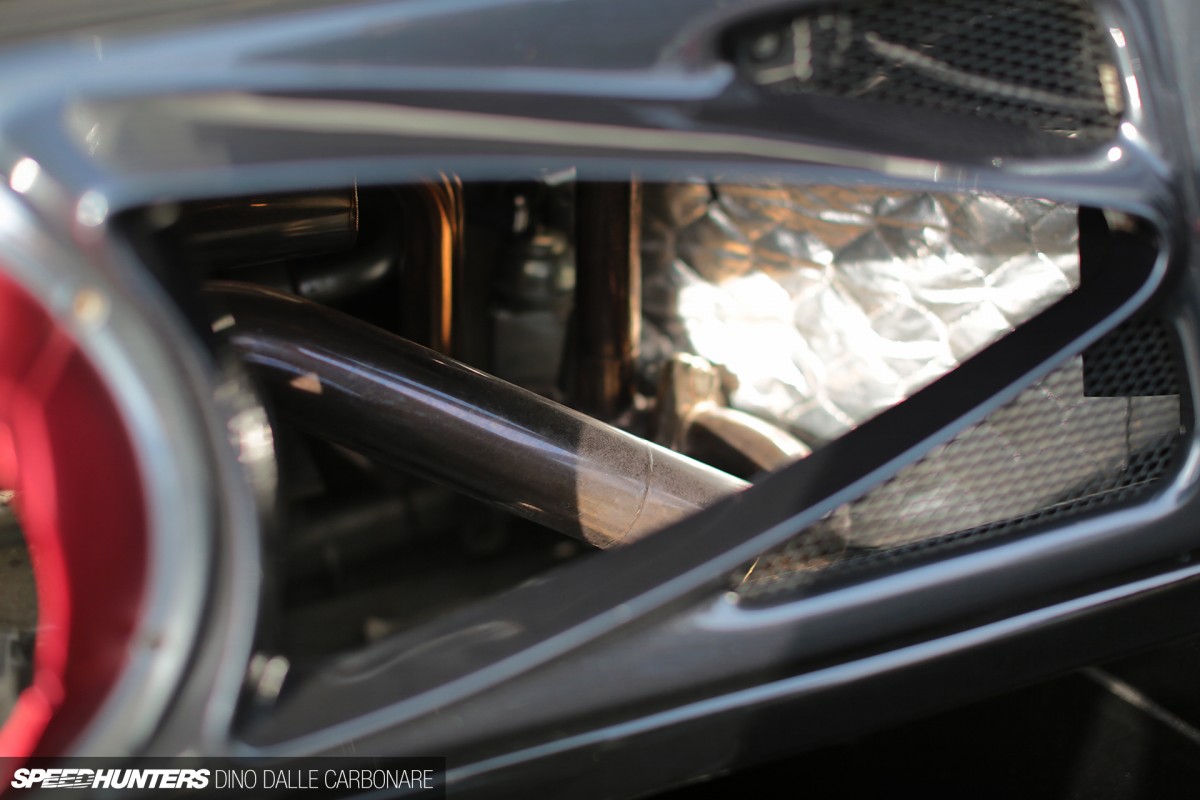 No inconel or titanium here; those are stainless steel pipes making up the new system.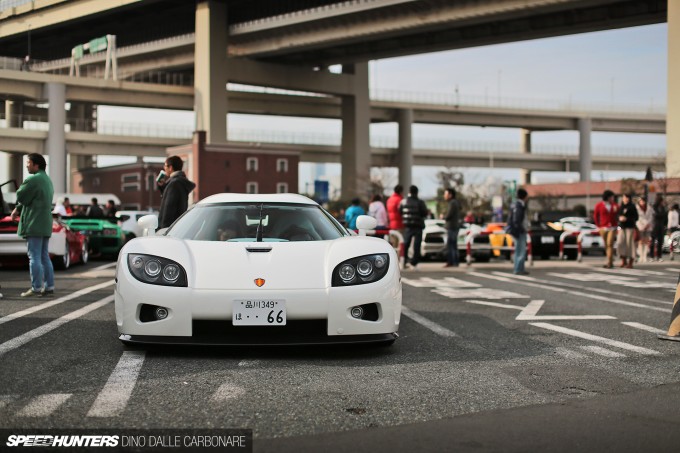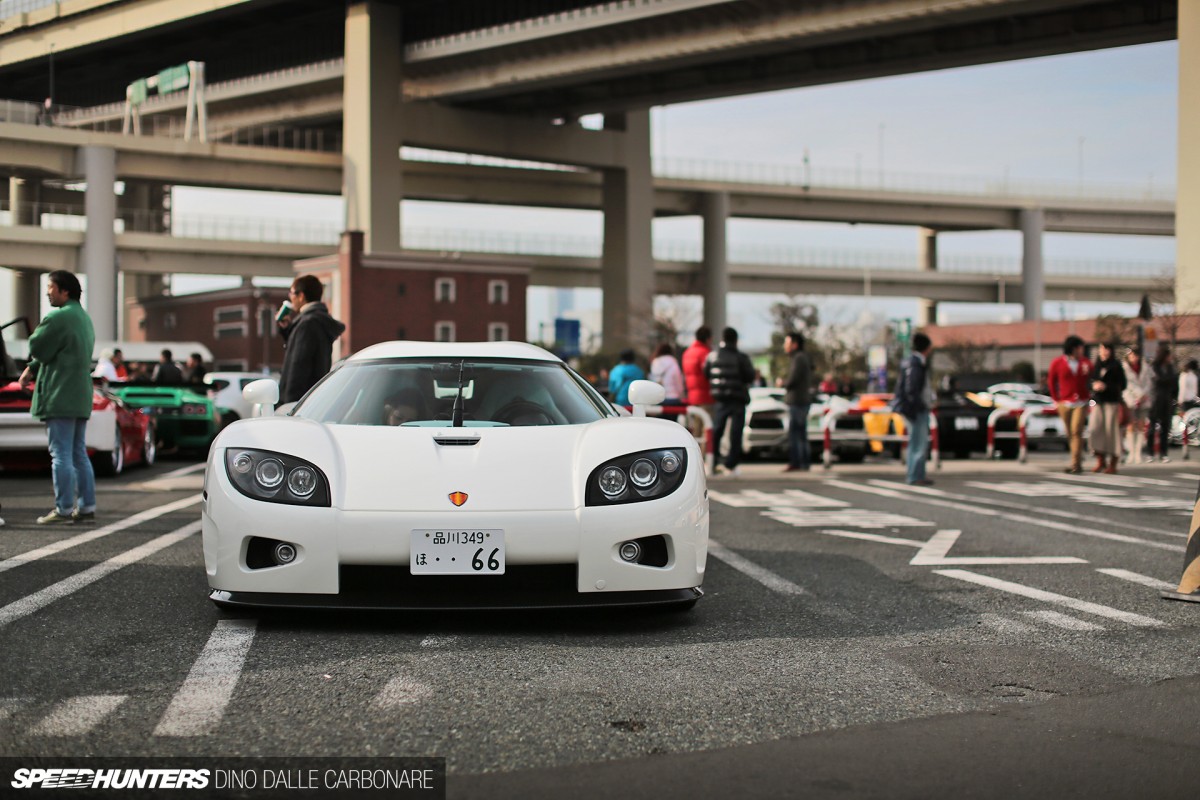 I really don't know how many Koenigseggs are actually in Japan but I'd guess there can't be too many, so it was really refreshing to see this CCX out and about. I had a few people ask me what it was as I was grabbing some shots!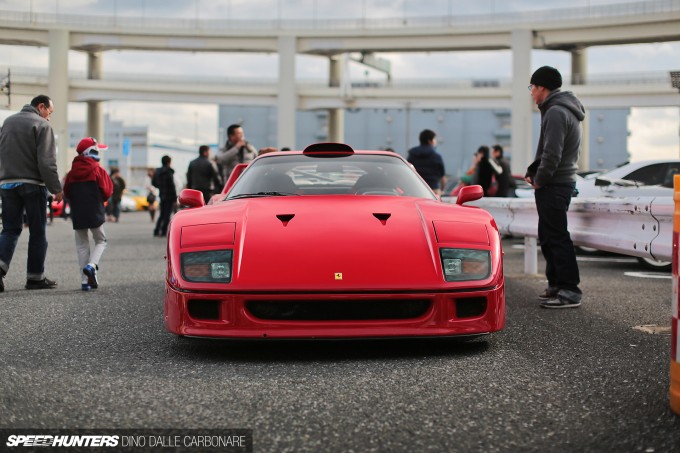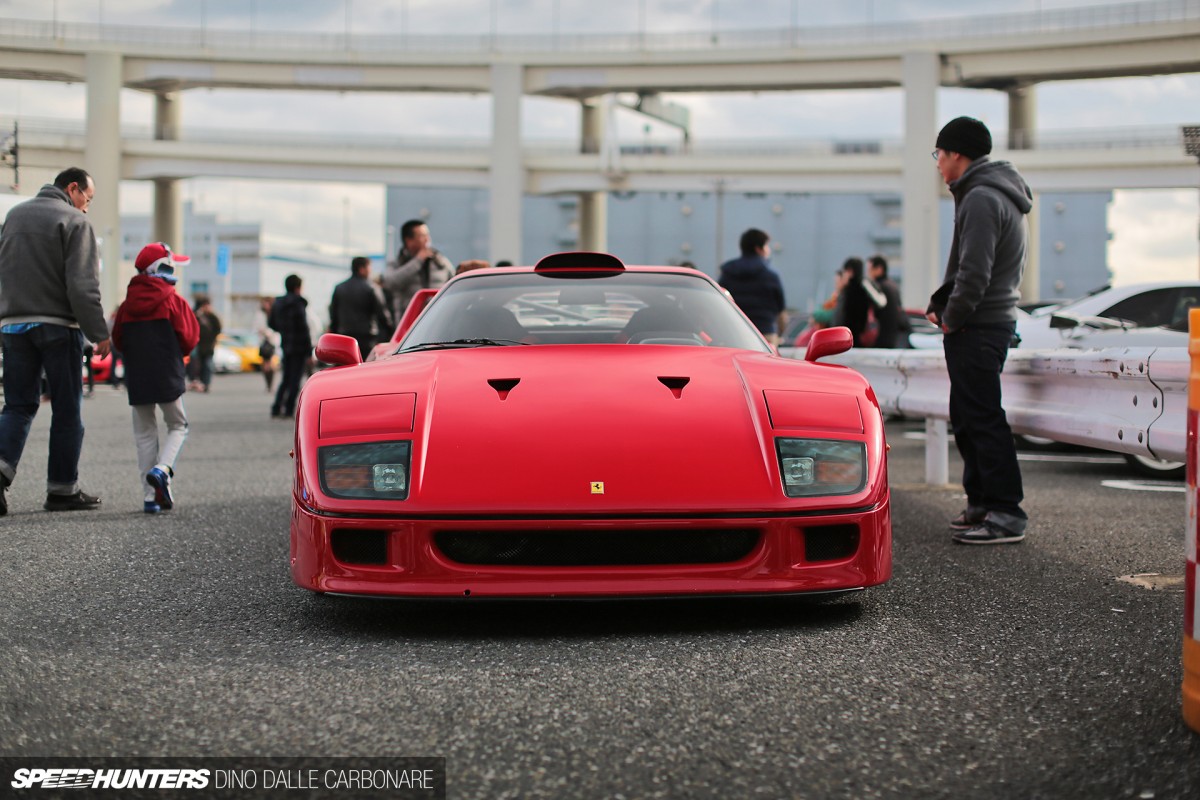 Once this F40 arrived I had reached total and utter satisfaction. I told myself I'd stay there until one showed up and my wish was granted. Curiously enough, it was fitted with a roof scoop, something I've never seen fitted to one of these jewels from the eighties.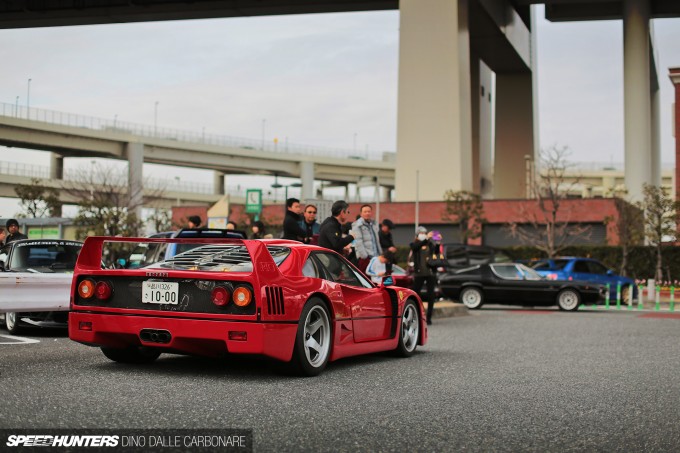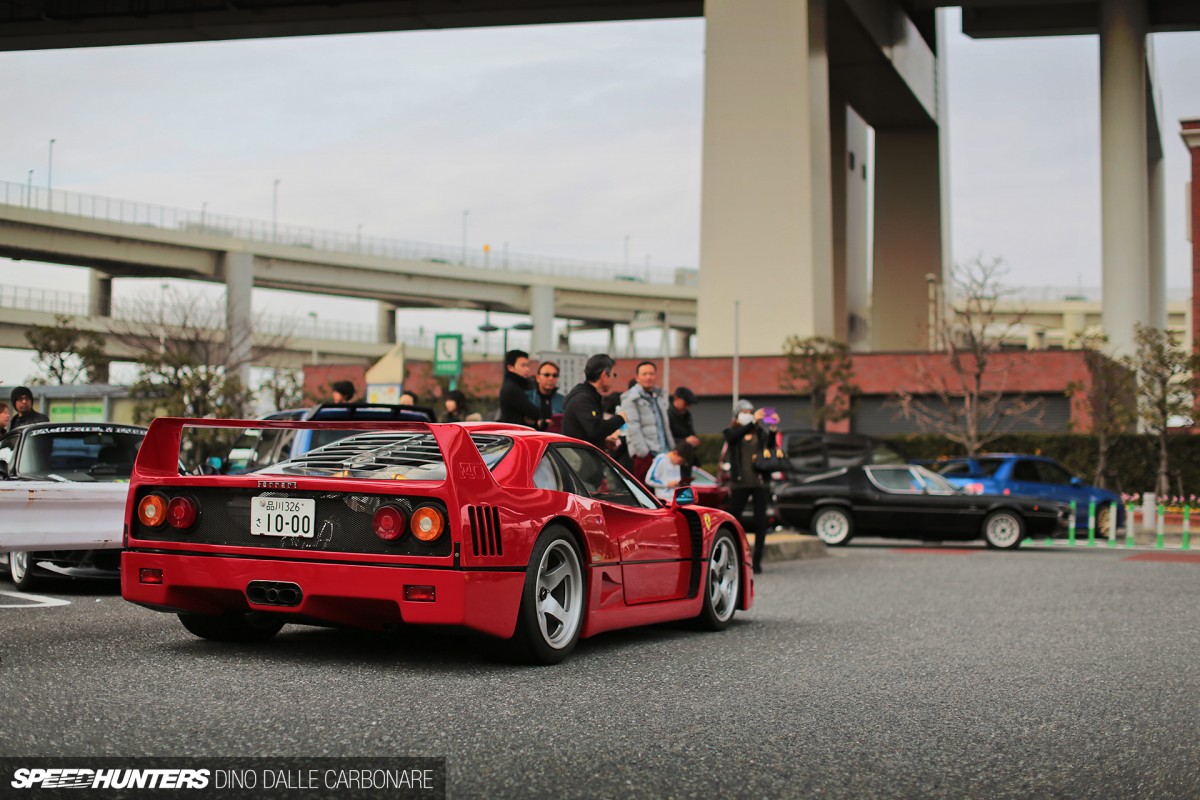 It was directing an additional volume of air onto the back of the car, cooling the engine bay as well as the two intercoolers. Other modifications I spotted, aside from the wheels, was a custom stainless steel exhaust system and Öhlins adjustable dampers.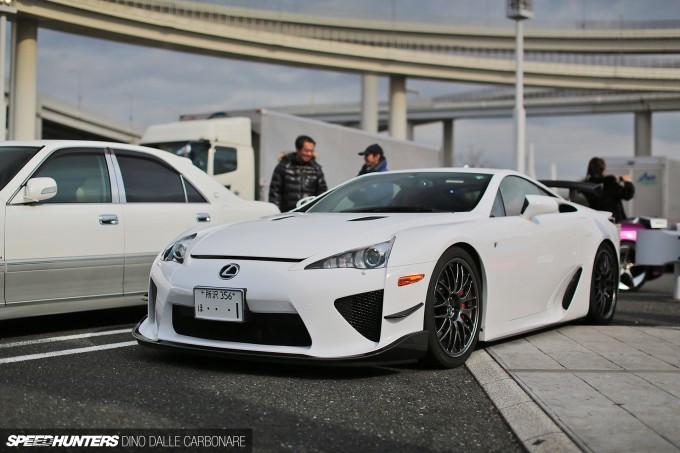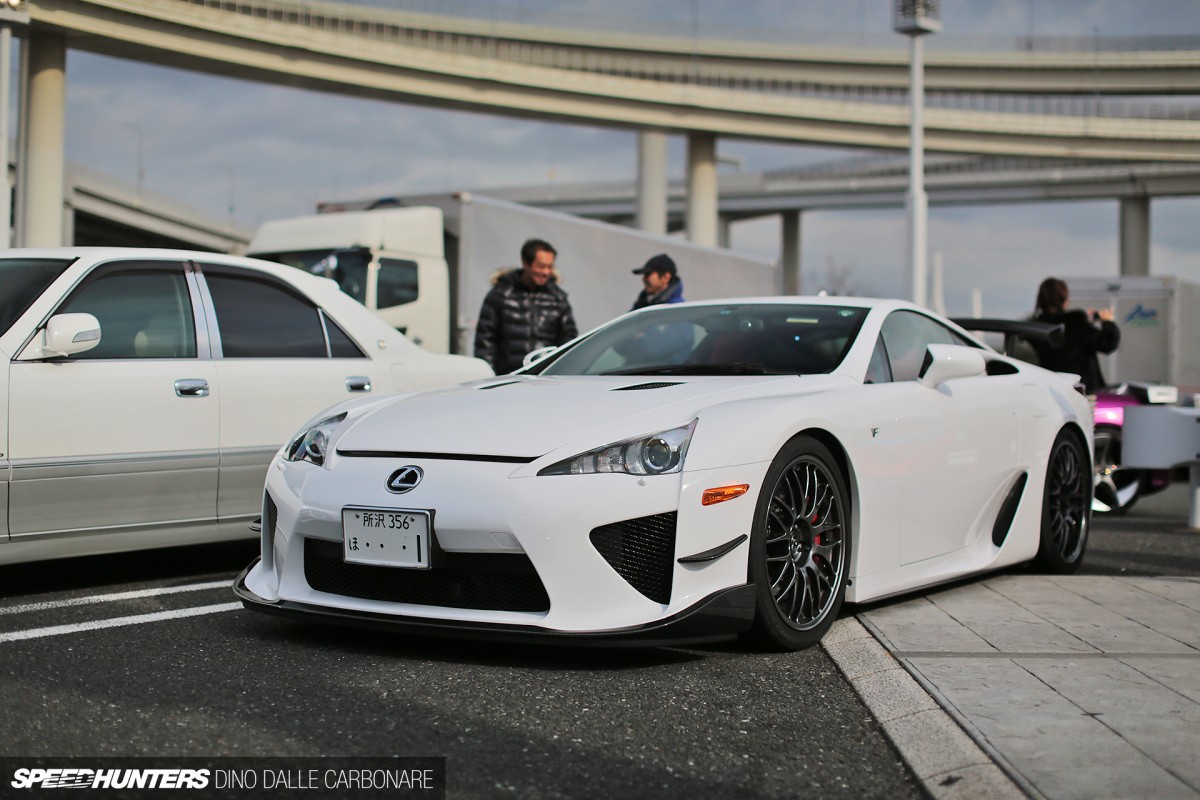 So I'll end here and I think this Lexus LFA Nürbugring Package – one of only 50 ever made – is the perfect car to finish up my first event of 2014. To say this has given me a boost of excitement and energy for this week's upcoming Tokyo Auto Salon would be an understatement. Japan – you rule!
Dino Dalle Carbonare
Instagram: speedhunters_dino
dino@speedhunters.com
Exotics Galore: Supercars At Daikoku PA
Other Daikoku PA related stories on Speedhunters