Road runners
As far as launch platforms for new cars go, Autosport International might not have the glitz and glamour of Geneva, nor the big manufacturer turn-out of Detroit. What it does have however is a core of dedicated attendees who are all looking for performance. I'm not just talking about big horsepower figures either, but balanced examples of engineering that offer exciting driving thrills for both the layperson and the privateer race team.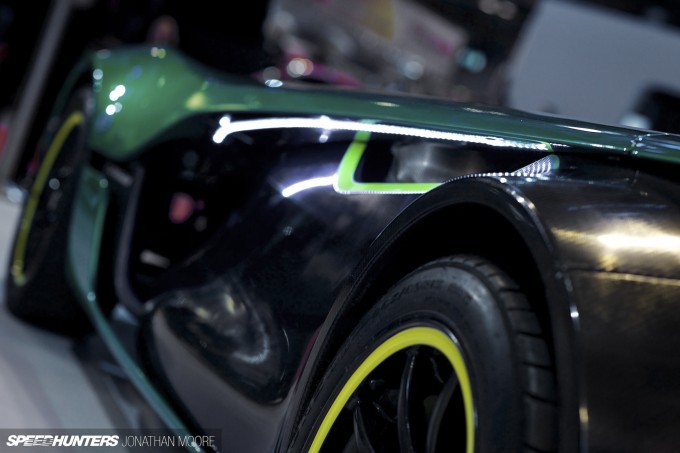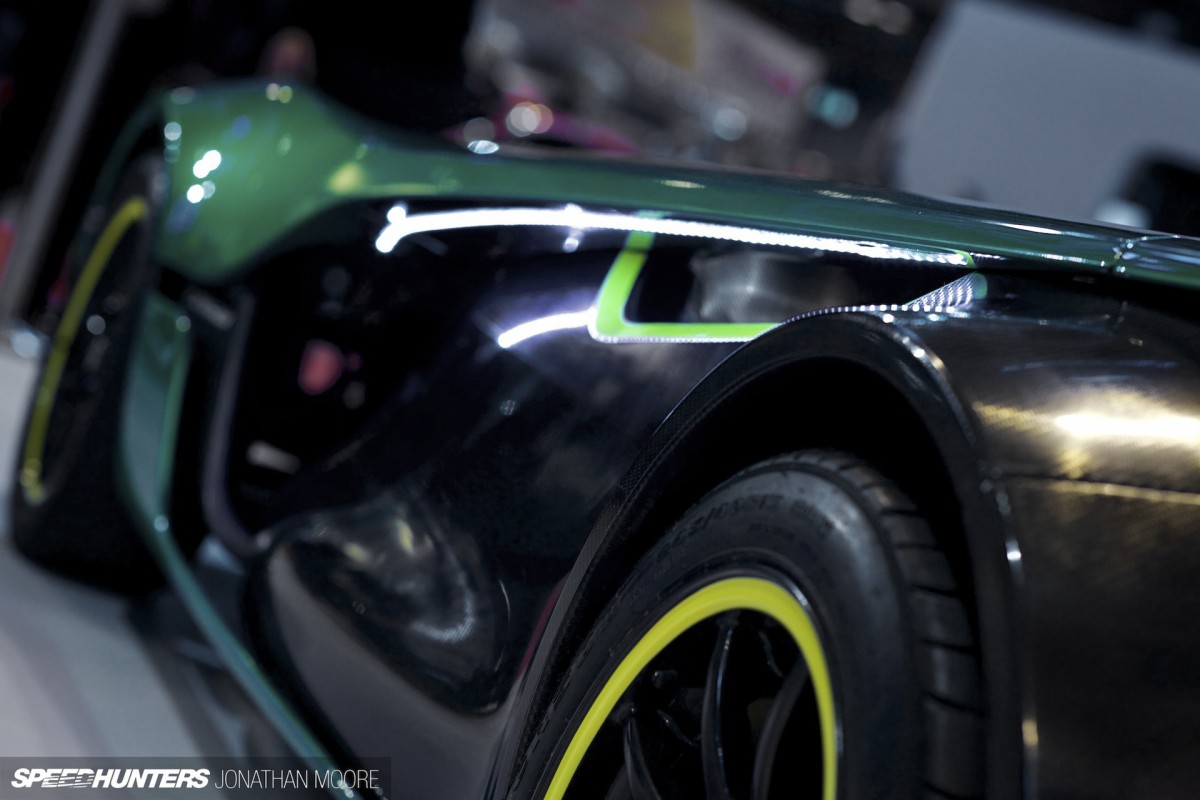 Detroit might have started to renew our faith in the direction the motor industry is taking, with the release of concepts such as the Toyota FT-1 and the Kia GT4 Stinger. But flying just below that high-level radar, Autosport offered a reassuring glimpse of what the British can do if we put our minds to it. You want light, RWD cars? Well then, you've come to the right place…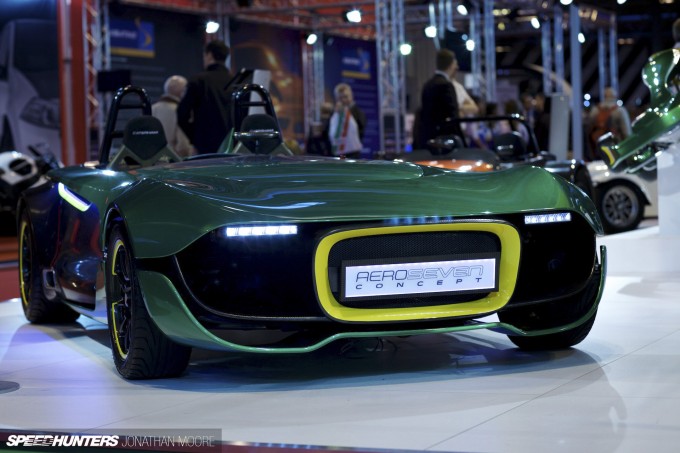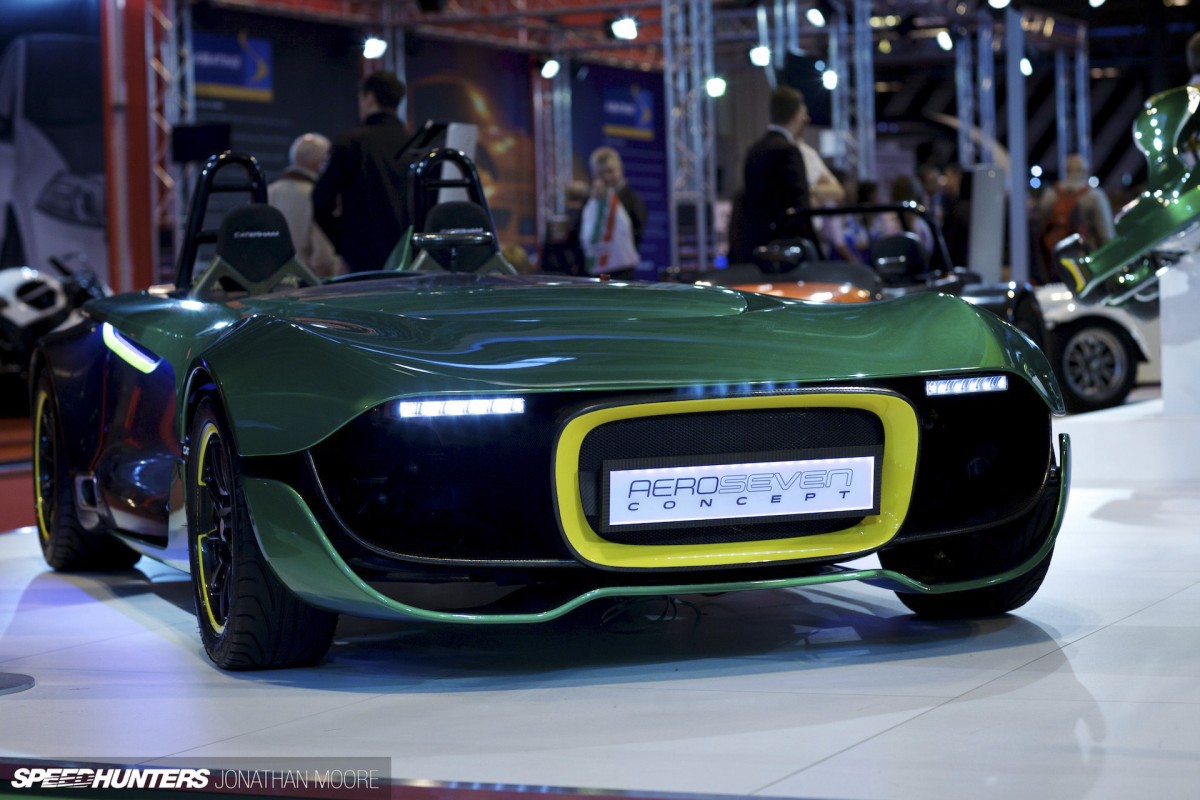 Autosport International was the launch location for a number of low-volume production sports cars, and the Caterham AeroSeven Concept was the first of them. It's touted as being the first of a new generation of cars from Caterham, which for so long have stuck with the classic body design of the Lotus Seven. It's not a complete departure from what they know best though – the low-slung, open-top feel of their previous cars is still very much in force.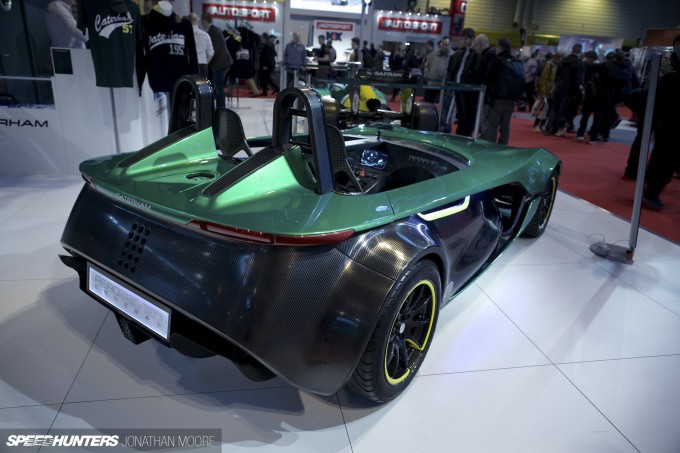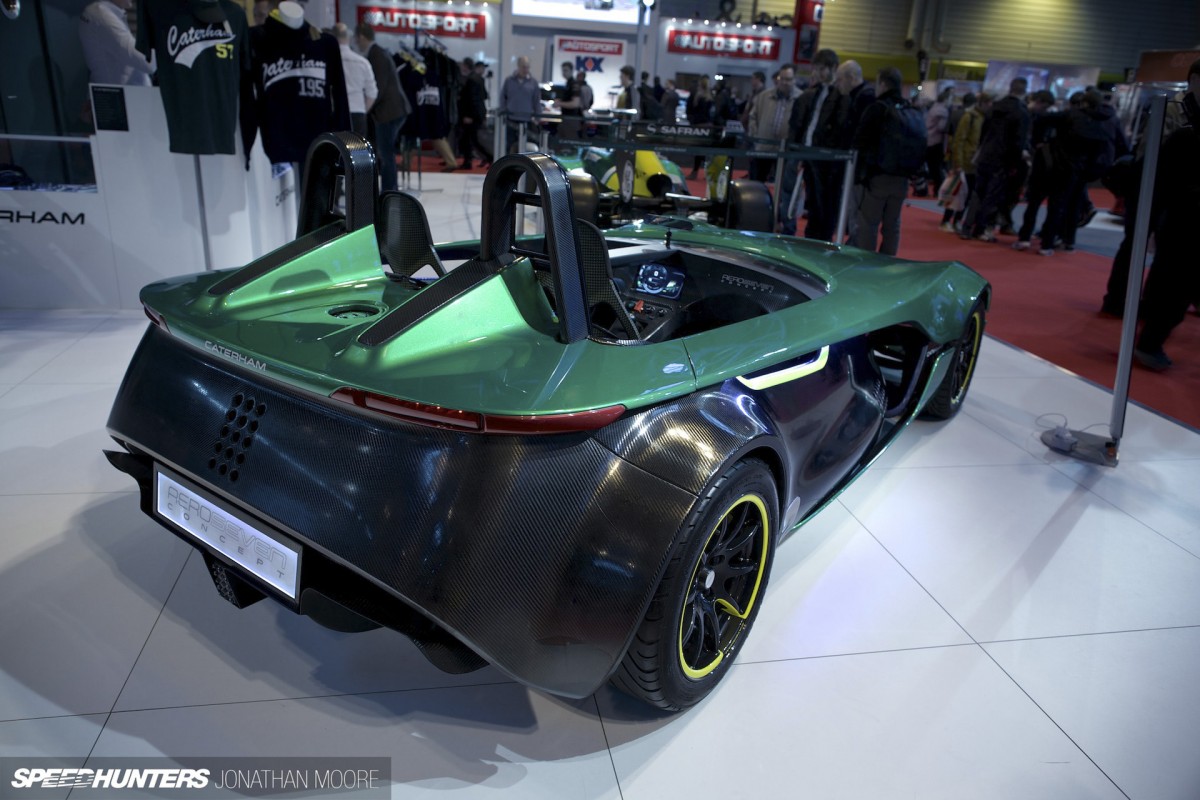 The body is completely carbon fibre and has been developed in conjunction with the Caterham F1 team, so you can expect it to be incredibly light and very strong. With the car being powered by an NA 2 litre Ford Duratec engine that's been fettled by the Caterham team to make it one of the world's highest-revving EU6-compliant engines, an aim to deliver just under 400hp per tonne and an expected 0-100km/h (0-62.5mph) time of under four seconds, it's going to need it too!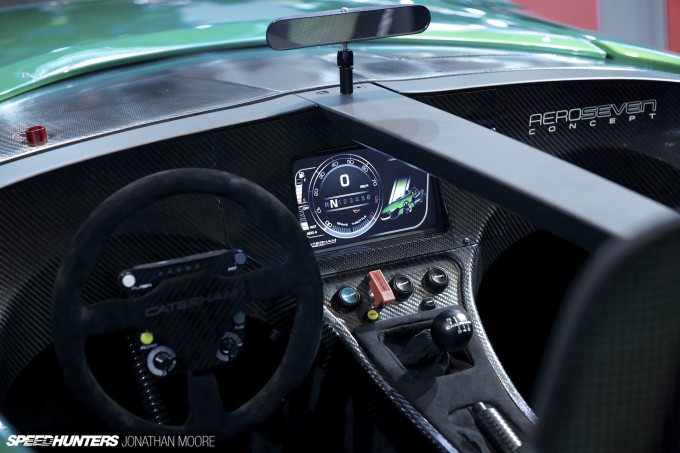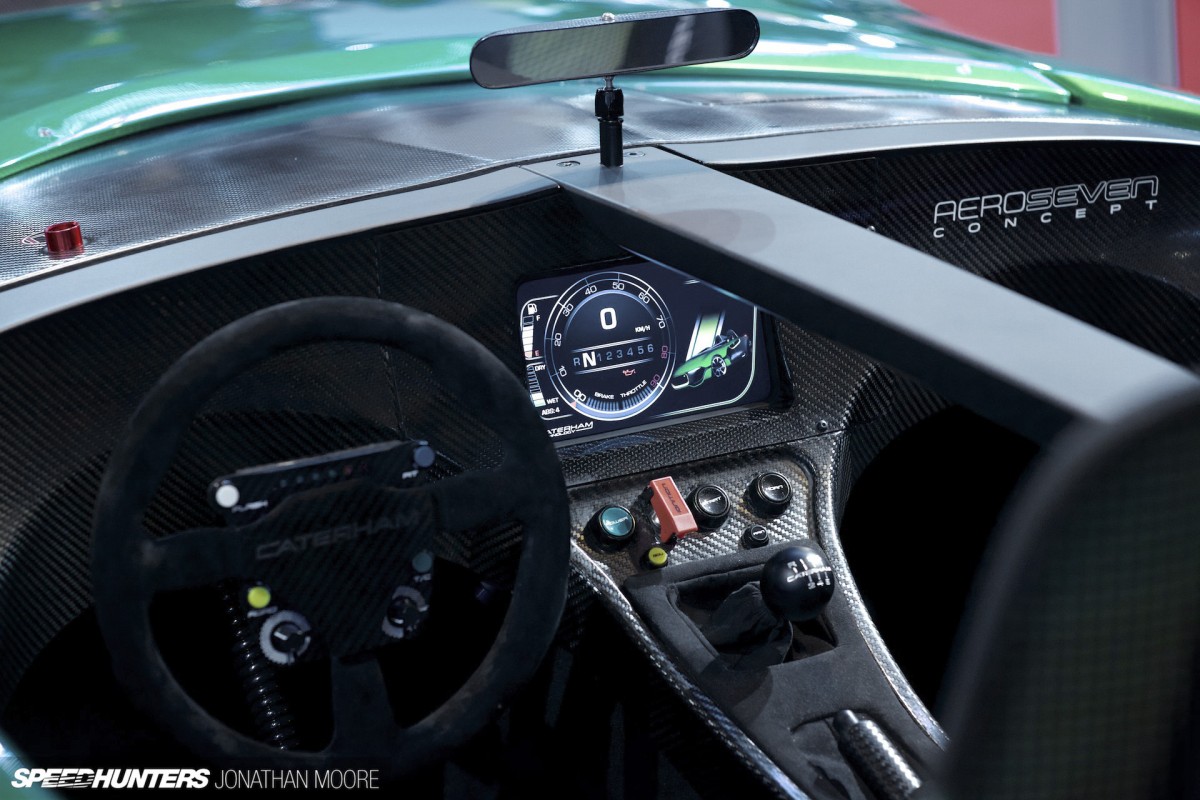 Power will be transferred to the rear wheels via a six-speed manual gearbox and, in a bit of a departure for Caterham, the AeroSeven Concept will be the first time any of its cars will offer traction control and launch control. They can both be disabled and will be controlled from the F1-inspired steering wheel, which will also enable switching between race and road modes. And in a move that's completely endeared the car to us, it's set by default to be in race mode. There's also that huge screen in the centre of the cockpit, offering information to the driver to replace the standard gauges, as well as fuel and oil levels. And maybe a fancy graphic or two as well…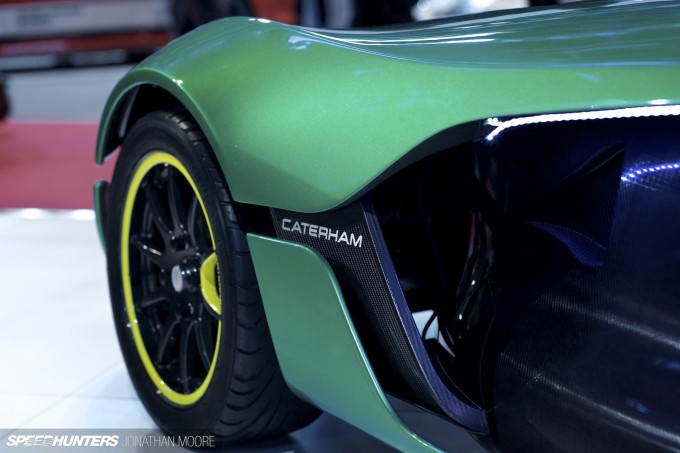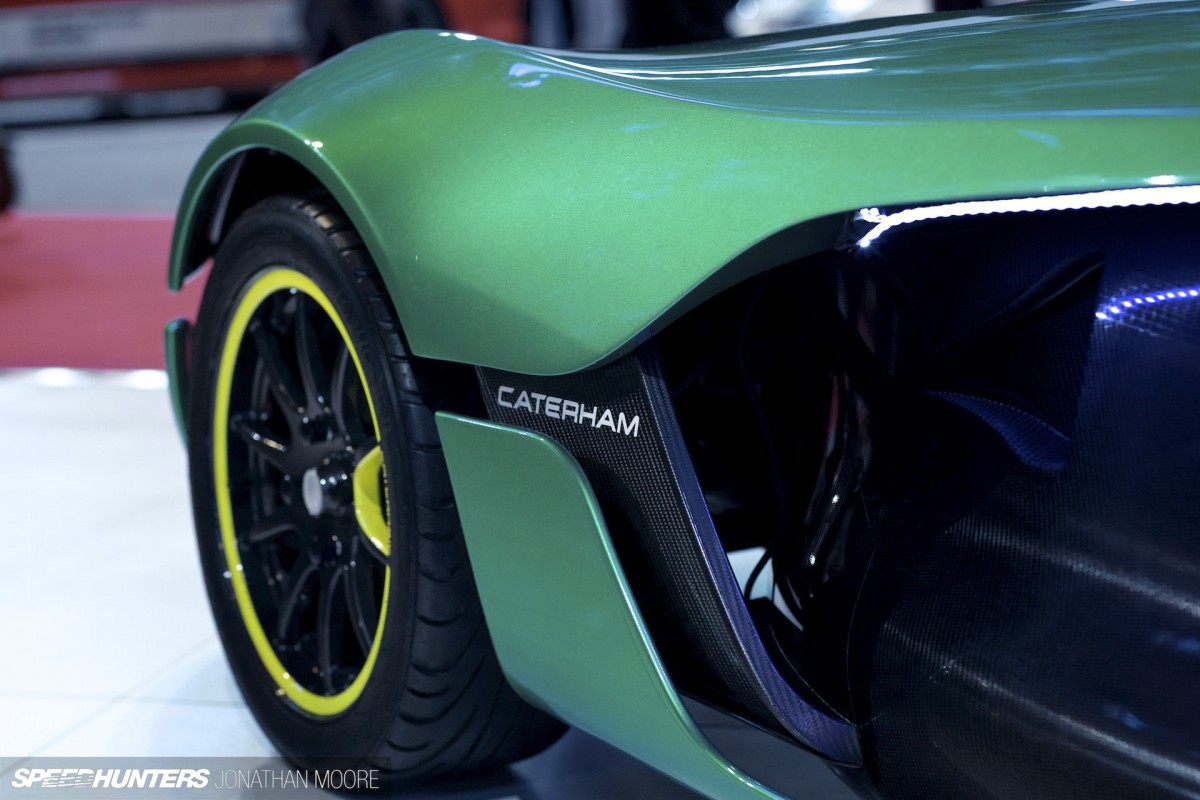 Of course, what Caterham are perhaps best known for is the way their cars handle and it seems the AeroSeven Concept will be no exception. With fully independent rear suspension and an inboard push-rod system at the front, both using double wishbones, this looks like being one seriously fun bit of kit to drive. With production models rolling out this autumn, we won't have long to find out.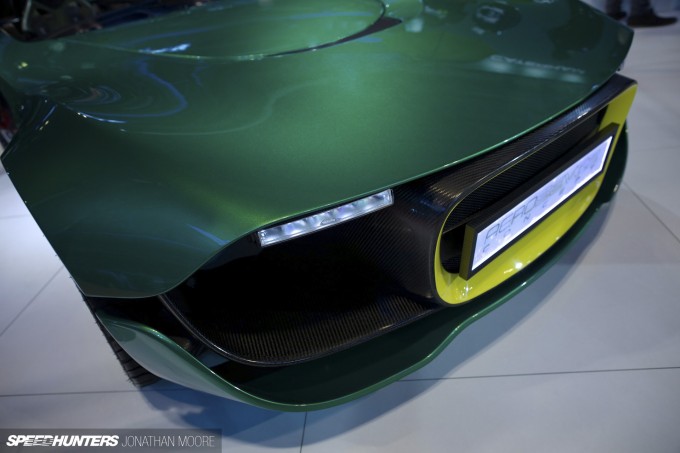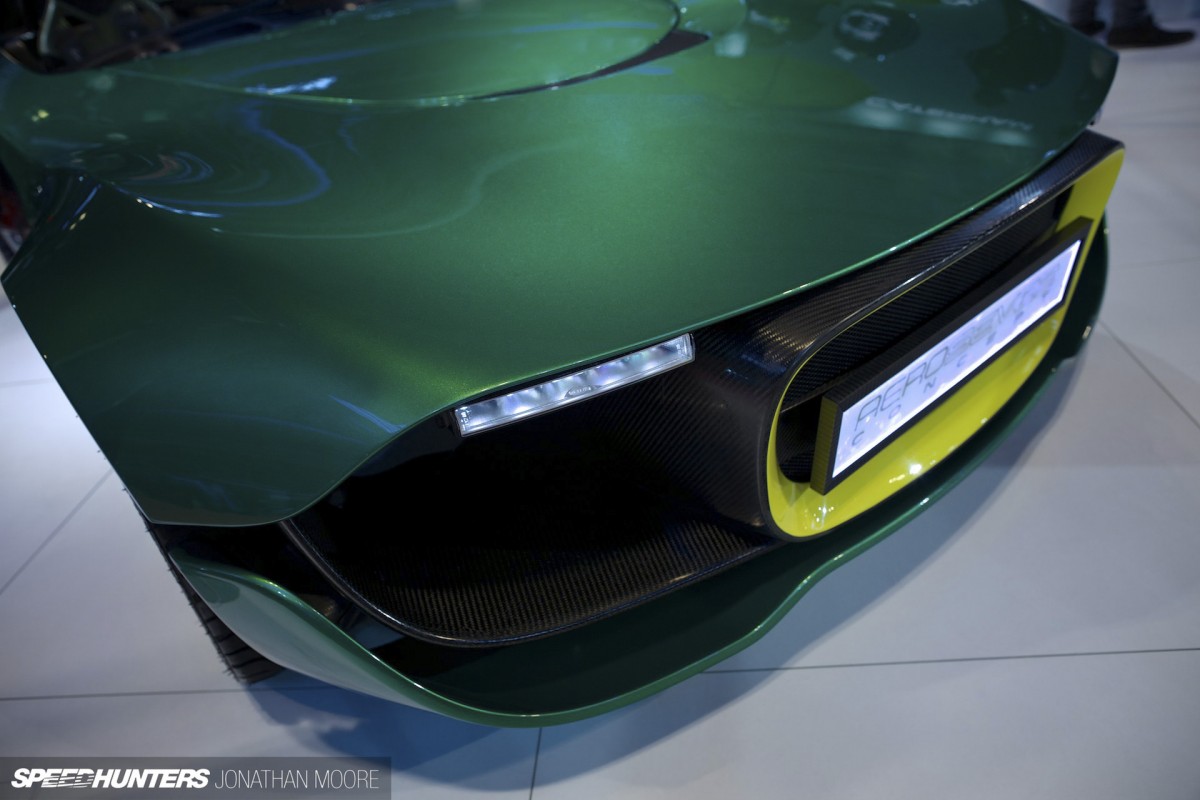 Although the capabilities of the car aren't in question, I'm not quite convinced by the styling. For some reason, the first thing it brought to mind was a rolled up newspaper that had been sat on. I don't think that's quite what Caterham's designers had in mind! With this car set to give hints for their future styling though, they'd better get it right. I guess it's all time to practise for the sports car Caterham will be developing with Renault in 2016…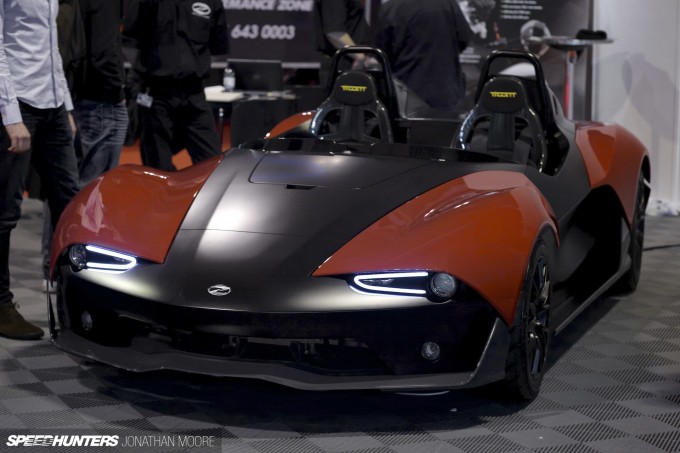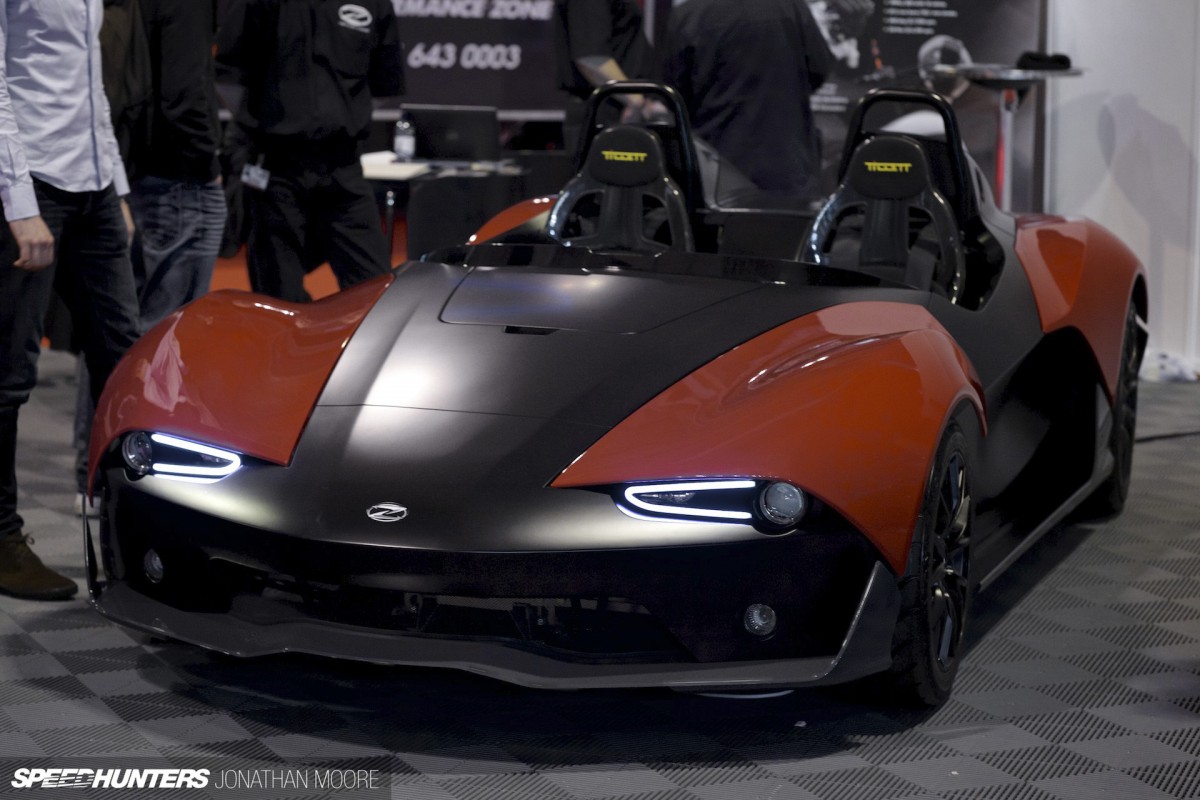 There's another reason for Caterham to make sure it gets things right though and this is it: the Zenos E10. Also launched at Autosport, the E10 is the first car to come out of the Zenos stable. But they're not exactly a stranger to the market… The two co-founders were previously CEO and COO at Caterham and originally met when they both worked at Lotus, so they know this sector well. And indeed, the Zenos has been purpose-built to dominate the affordable, lightweight sports car space.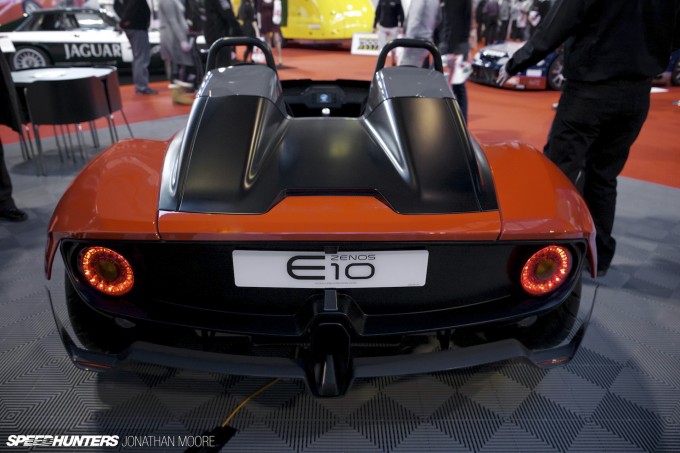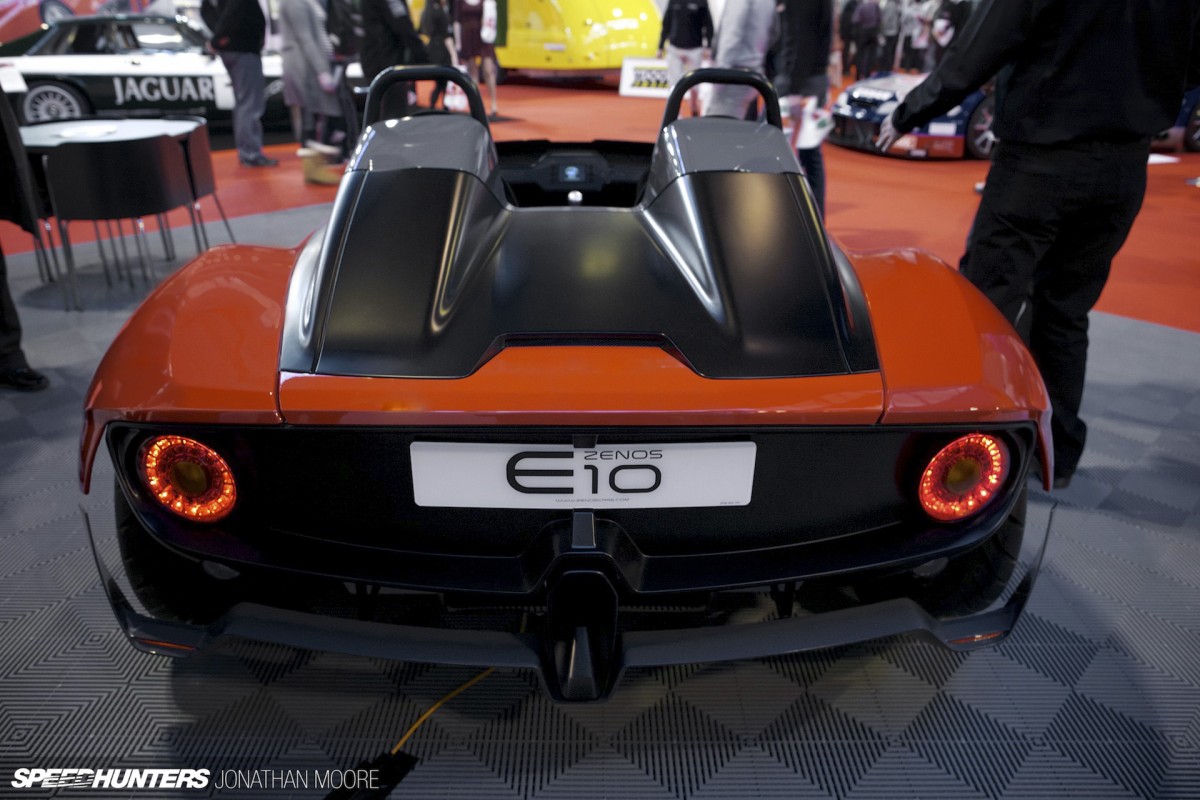 Of course, that all sounds great, but these guys really mean business. There's some fantastic decision-making that's gone into the E10: firstly, the car has been designed from the ground up to come in at a certain cost – one that the team felt was both reasonable for the end user and reflective of the qualities of the car. Every decision made has been done so in order to reach that final price. It's a pretty unique way of approaching things, but from a business point of view, it makes perfect sense. There are lots of similar cars out there but many of them are pretty pricey – the KTM X-Bow, the BAC Mono, etc. So how much will the E10 cost? Prices start at just £24,995!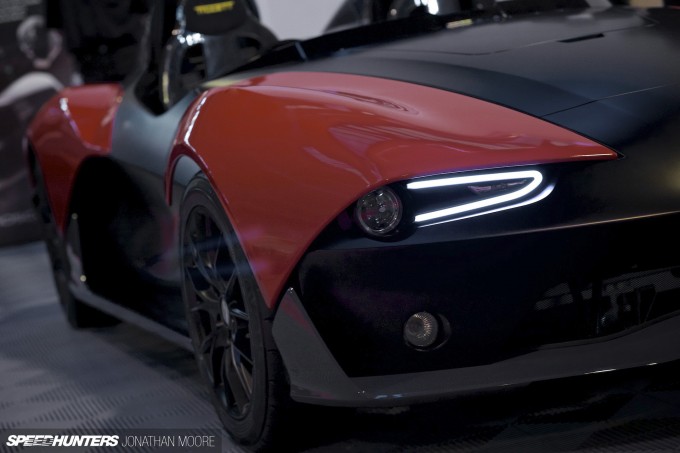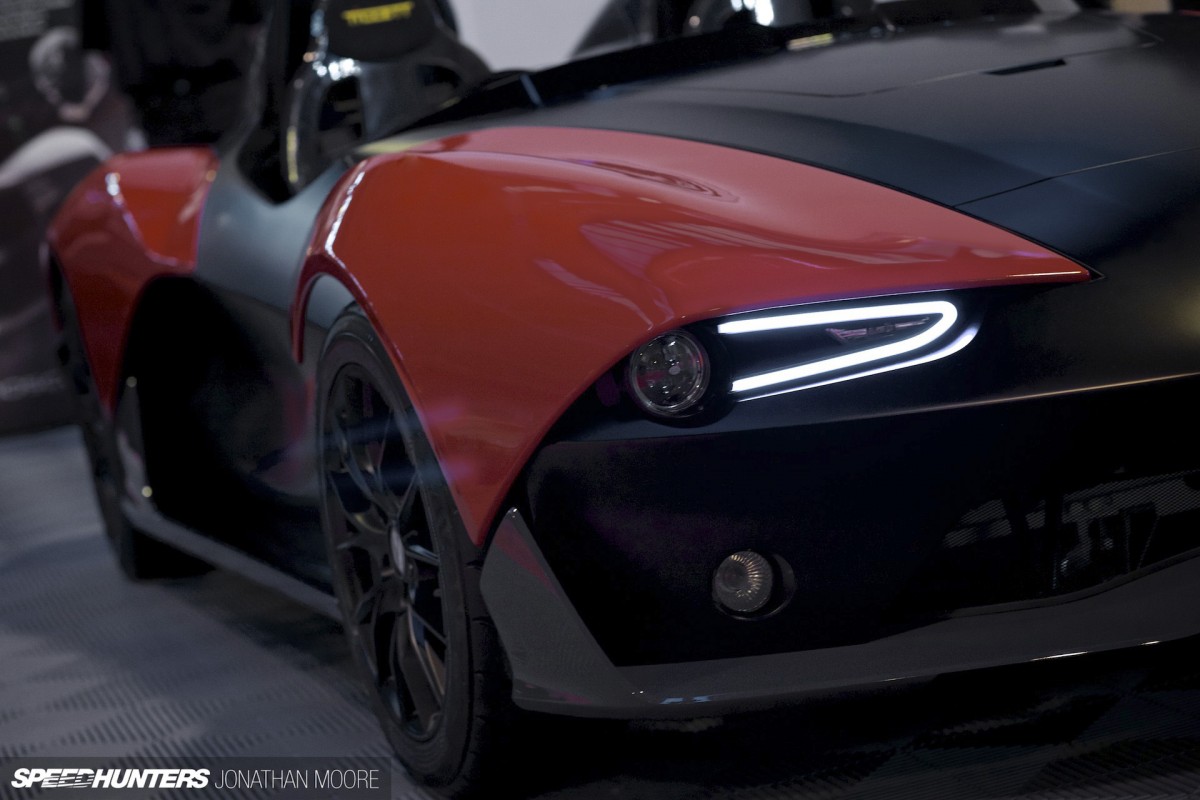 Ok, so right now, you're probably thinking that they couldn't possibly have made a decent car for that money – especially without the backing of a big manufacturer. But you'd be wrong and much of it has been down to some very clever design. With the car being aimed at track day enthusiasts – people who wanted a pure driving experience – a good foundation was essential. A carbon tub would be a great way to start of course but would be prohibitively expensive. Instead, Zenos is using recycled carbon-fibre over a core of plastic tubes (think drinking straws). This innovative solution is up to 70% as strong as normal carbon fibre and much, MUCH cheaper. That's our kind of recycling!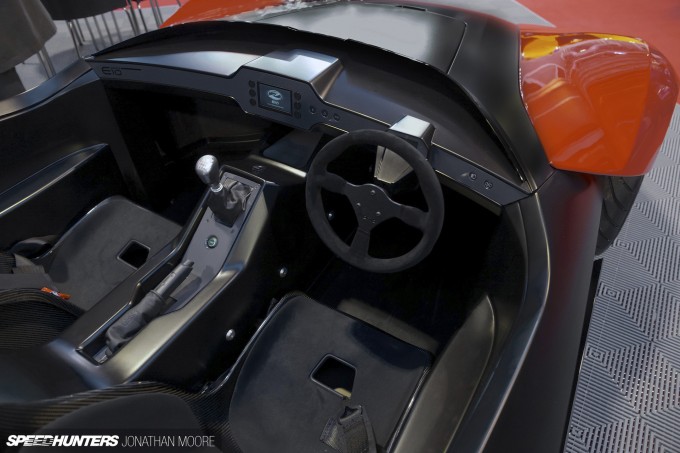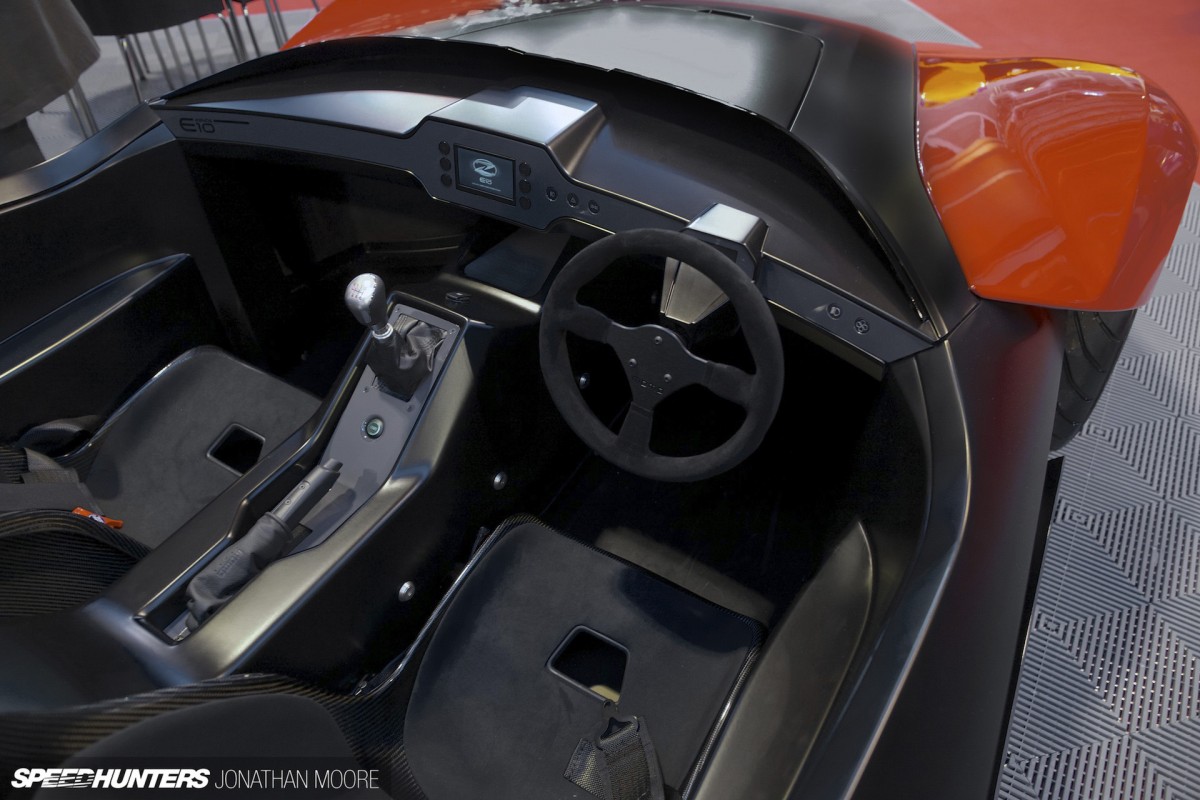 The tub will sit on top of a single aluminium backbone to which the suspension is directly mounted, with the engine and gearbox at the back being supported by a subframe. The body panels which sit over the top of the tub have also been designed to be easily replaced, should you have a bump. The result is a rigid, lightweight platform: the finished E10 weighs in at a mere 650kg!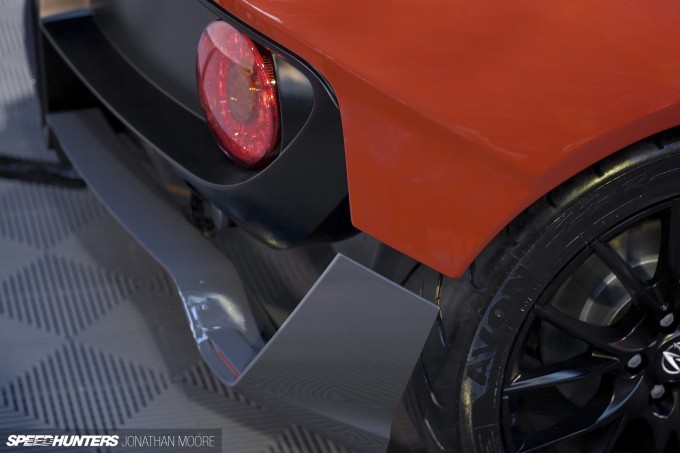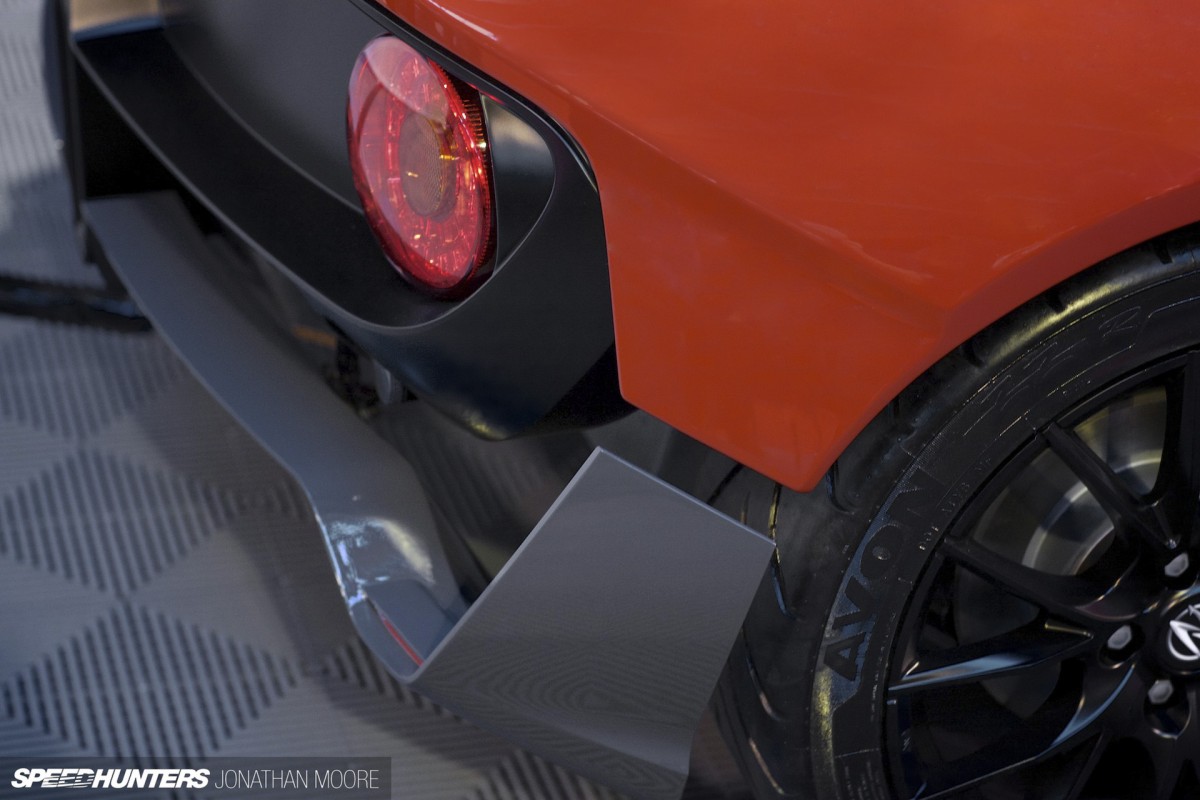 Talking of suspension, the E10 offers a similar set-up to the AeroSeven Concept, with a push-rod set-up at the front and double wishbones all-round, and the guys are working with Multimatic to develop the chassis, partners of Aston Martin Racing and entrants into several racing series themselves. Zenos know they have to get the handling right in order to make the package work, but with the background of their team, it seems an entirely plausible challenge.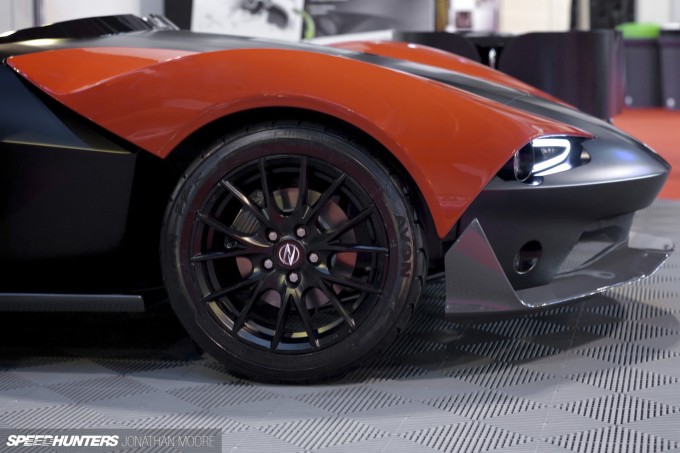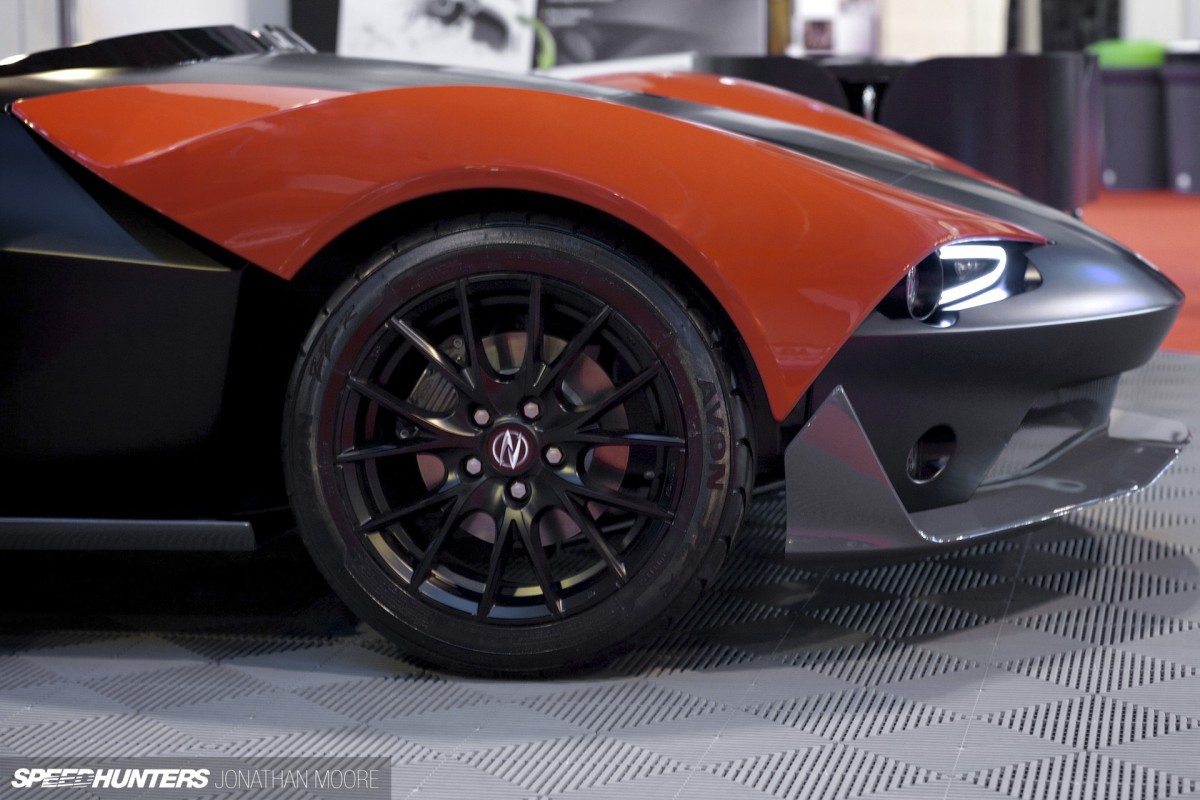 The car will be powered by a 2 litre, four cylinder engine pushing out around 200hp to the rear wheels, and it's expected that this will give the E10 a 0-60mph time of around 4.5 seconds. So it seems the company's co-founders have ticked all the right boxes: intelligent design, excellent handling and perfect pricing. With a roadster and a coupe also potentially in the pipeline should everything go according to plan, Zenos looks set to become a name to keep your eye on.
Racing pedigree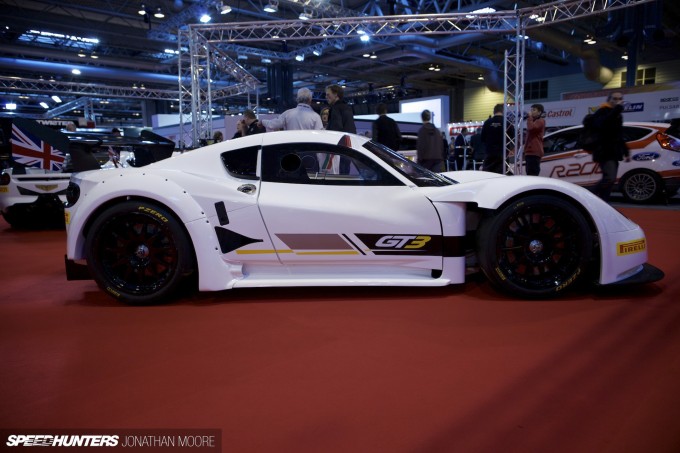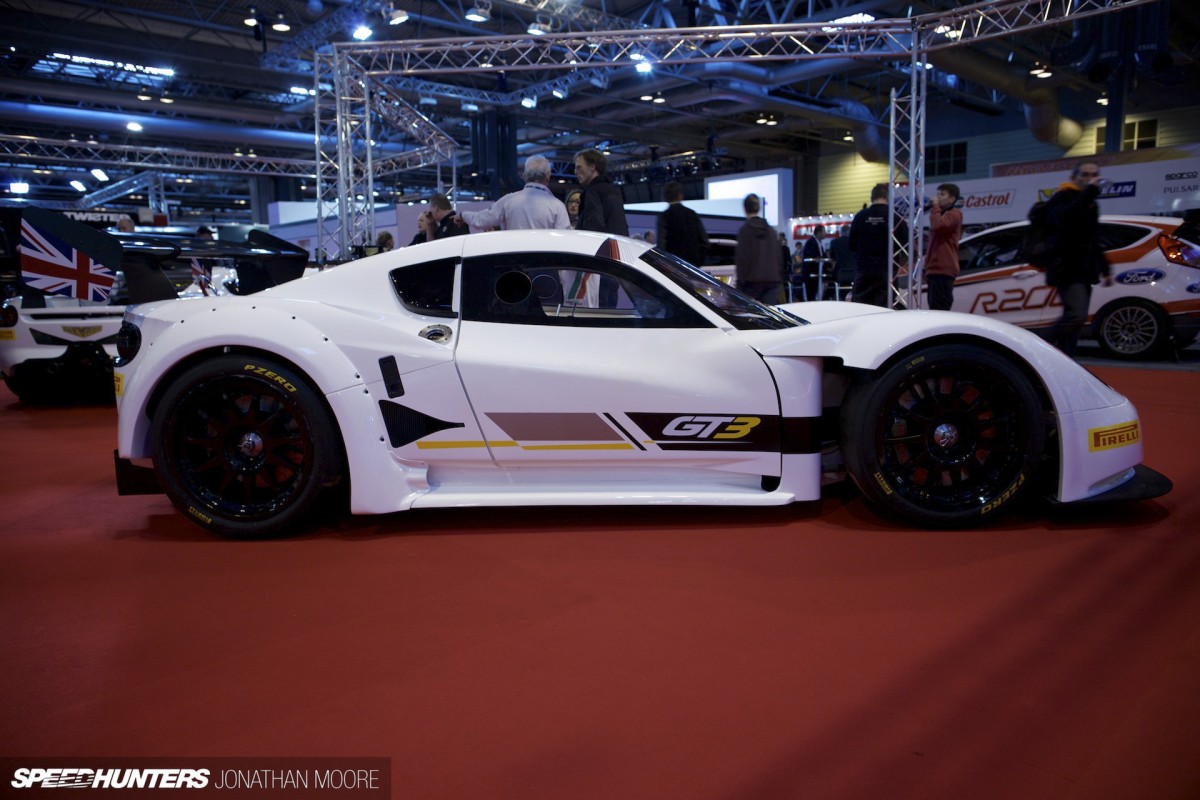 Of course, for a show focused on motorsport, it wasn't just road cars that were on display. I touched briefly on Chevron Racing Car's line-up in my first post from Autosport International, and their GT3 car is really a stunner. You might not be too familiar with the name, but Chevron are no beginner in the scene, starting way back in 1965. Founded by owner Derek Bennett, who had his own brief racing history in Formula Three, they produced some of what many have called the most beautiful racing cars of all time, most notably the Chevron B8 and B16.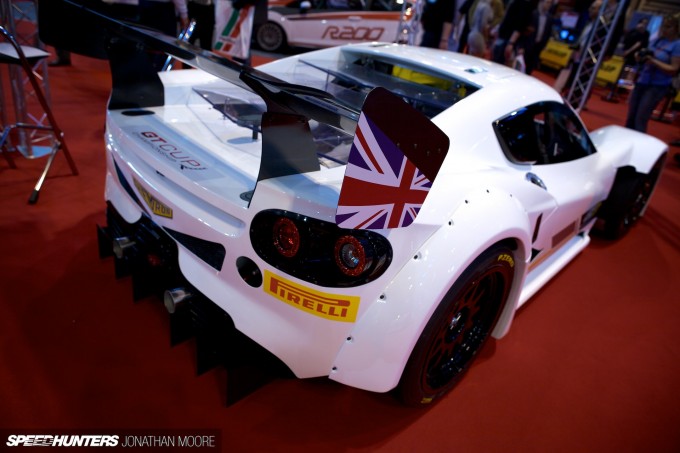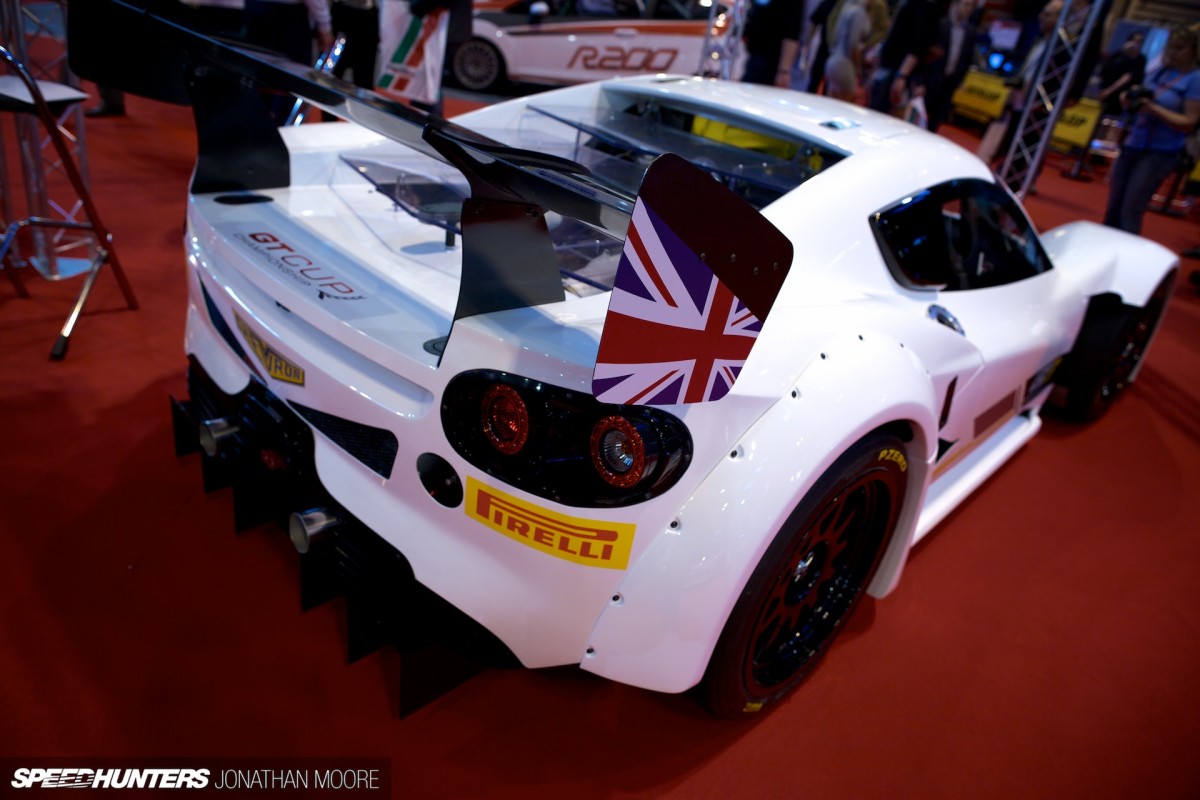 They've been supplying GT cars to privateer teams for a number of years now in the form of their GR8, but Autosport has allowed them to show off the latest changes in the line-up. The GR8 will now represent its basic GT model with its 2 litre engine, with the GT4 and GT3 models coming in above that with their more meaty V8s.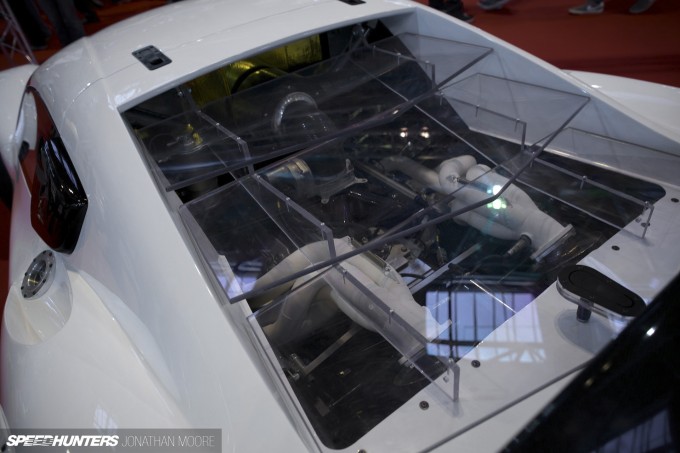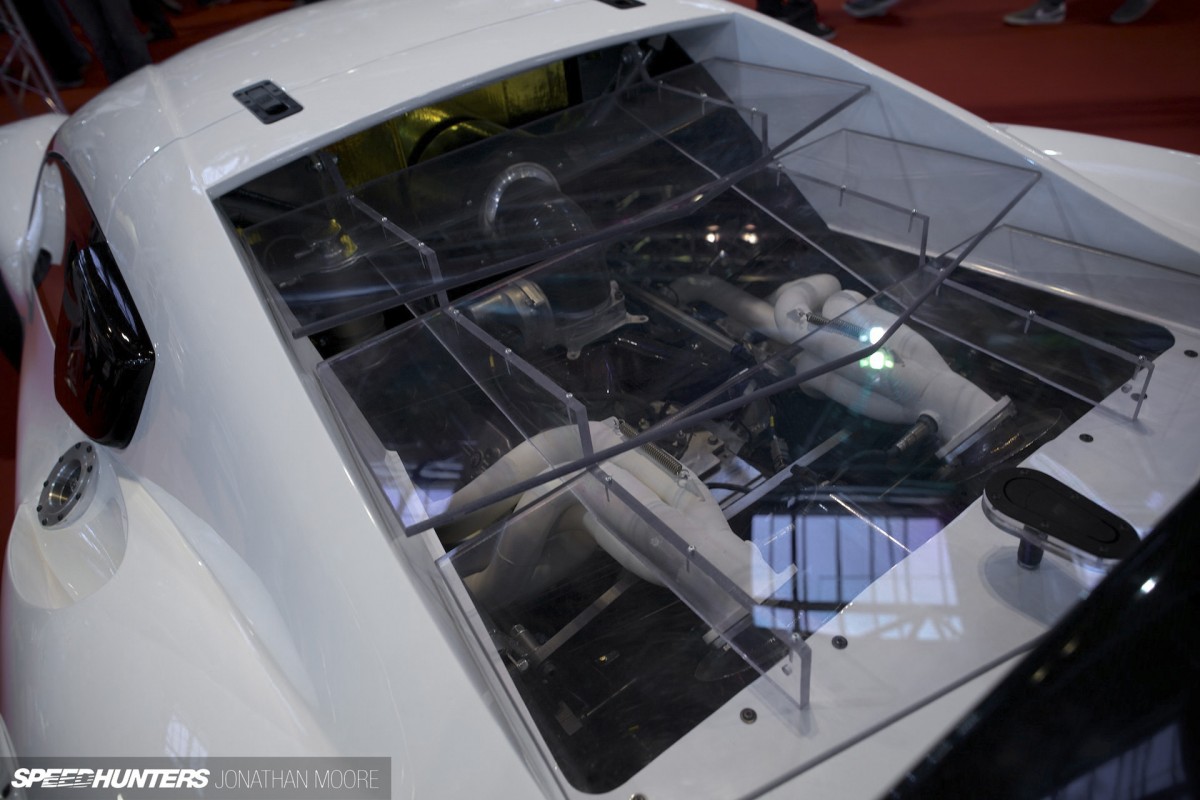 This lithe and nimble little racer will sport a 6.2 litre LS3 V8 from Chevrolet, custom-tuned to produce a conservatively estimated 440hp. Power will be fed to the rear wheels via a six-speed sequential Hewland LLS trans-axle unit, which overall should see 60mph approaching in less than four seconds. And you have to admit the engine bay with its acrylic cover looks pretty damn cool.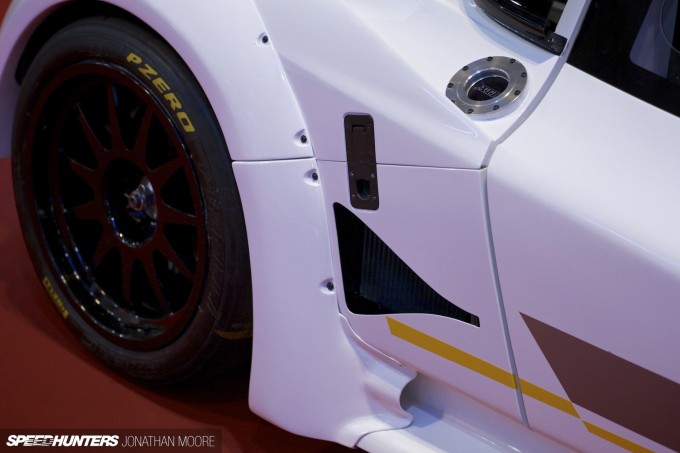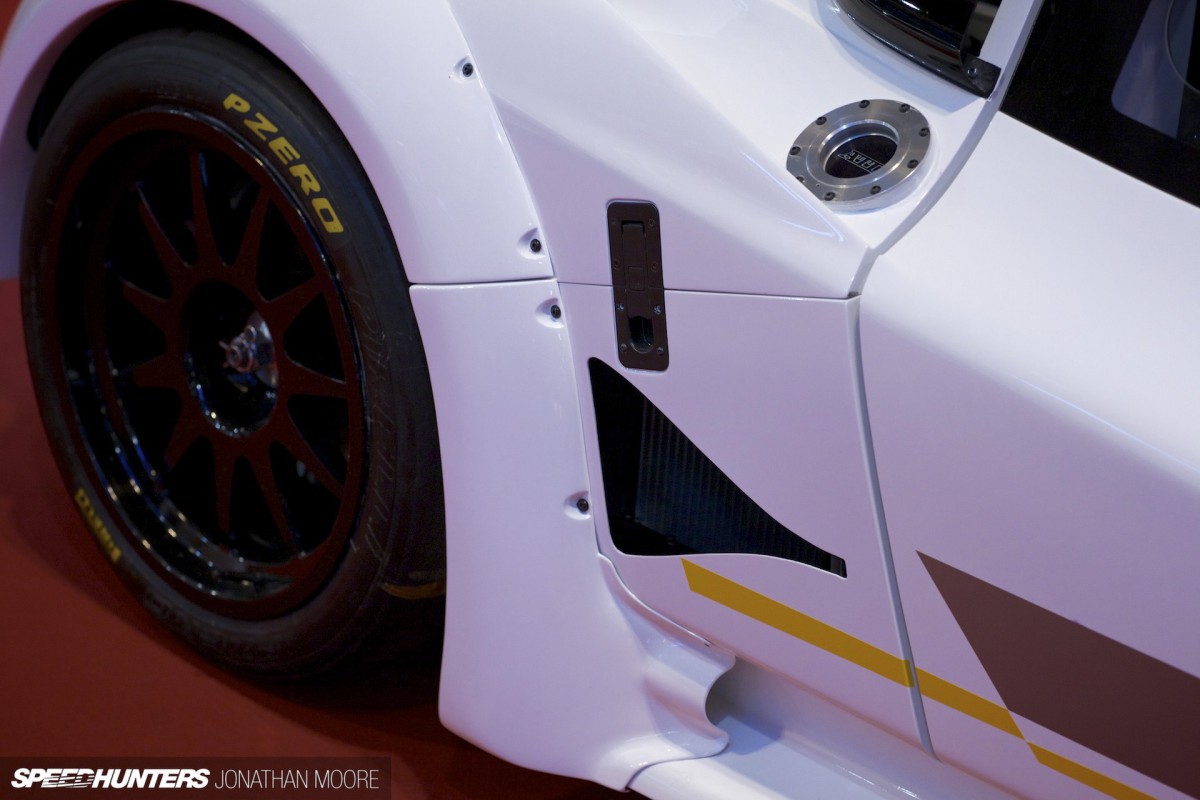 Everywhere you look, the car is teeming with a host of aerodynamic additions, from the widened, riveted overfenders to the NACA-style duct helping to supply cool air to the radiators. A huge rear wing, rear diffuser, front splitter and those cut-away front arches round the package out.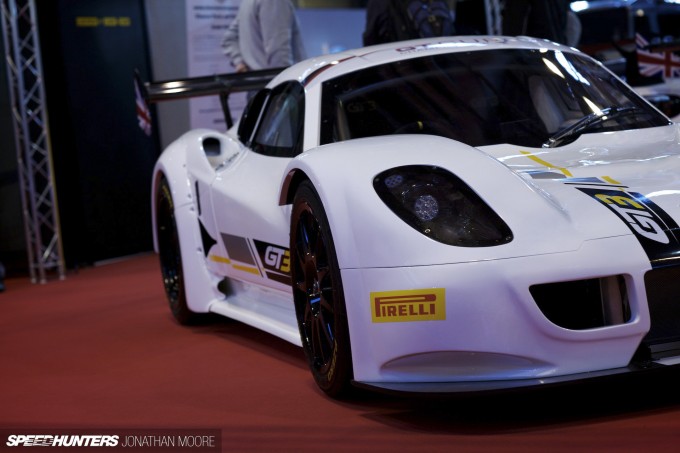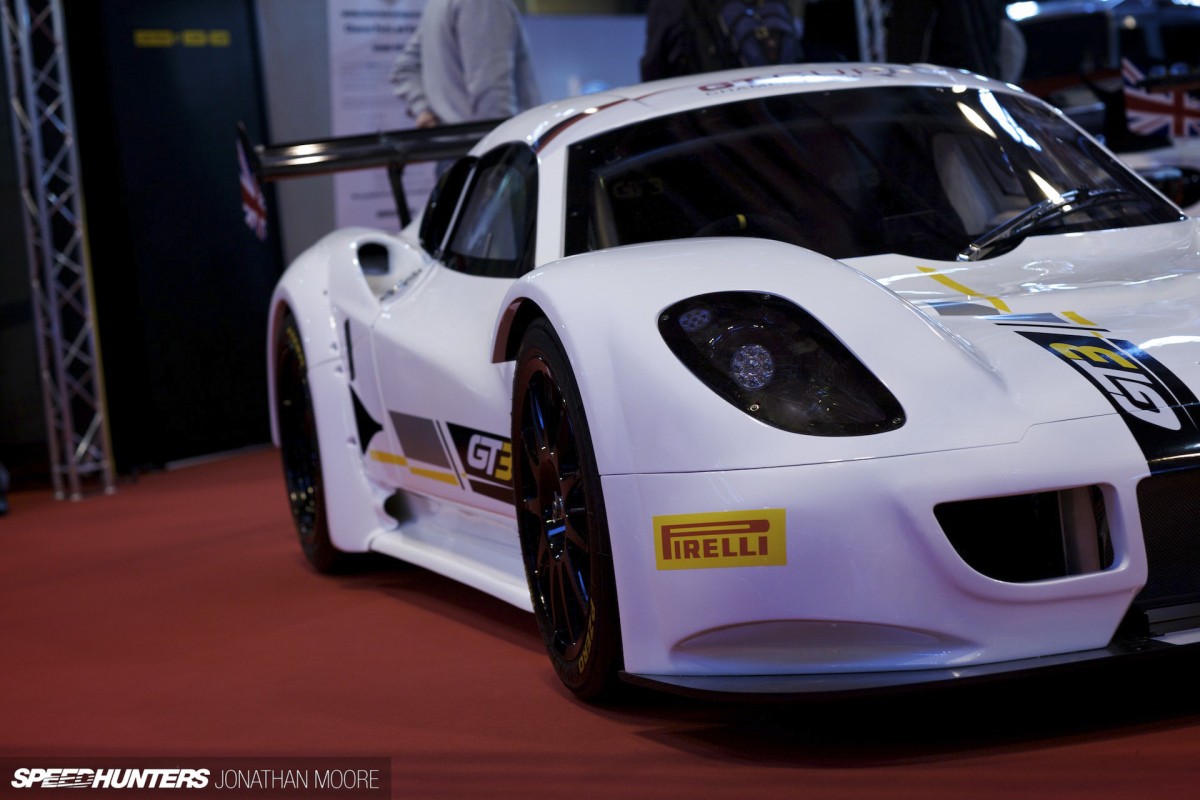 It's a testament to Chevron's design capabilities that everything works so well together. Alright, so I know the car wasn't built for people to lust over its looks but when it does look this good, it's hard not to be completely beguiled. God, I'm so shallow. There are rumours floating about of the possibility of a Chevron road car in the future though, so there may be hope for me yet!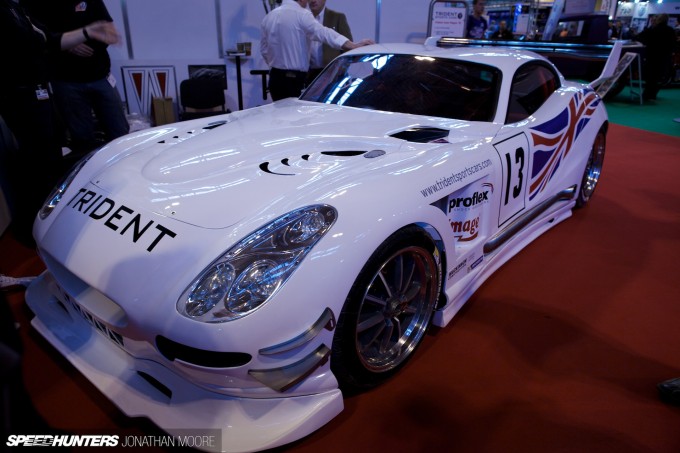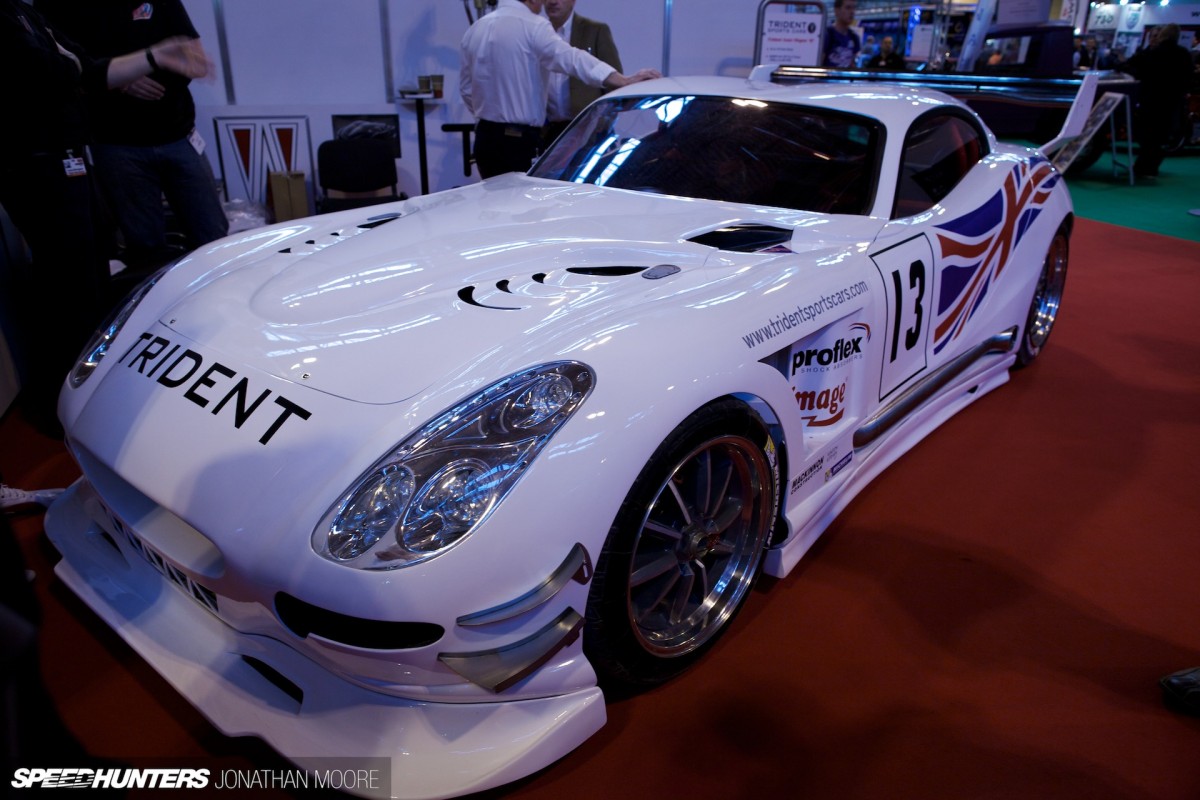 Up next was the impressive Trident Iceni Magna R GT3 car. This brutish racer is designed specifically for the GT3 class and it's based upon the roadgoing version. What's that? Never heard of a Trident Iceni before? Well, neither had we actually, but a talk to the engineers confirmed that they're not just some automotive unicorn – they do exist. Currently, each car is built to order, which is why you won't see many any on the road.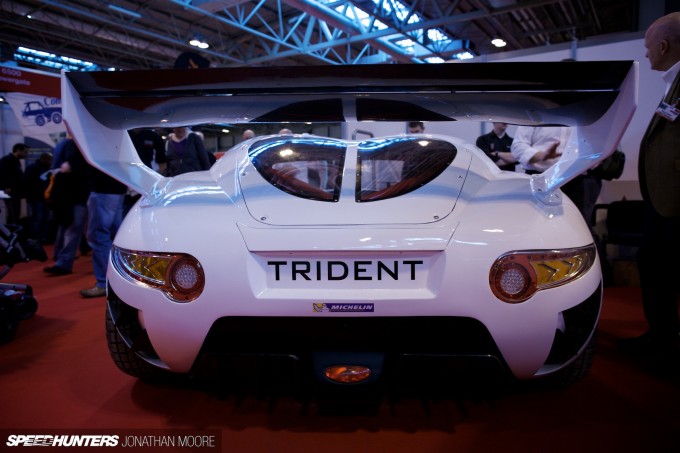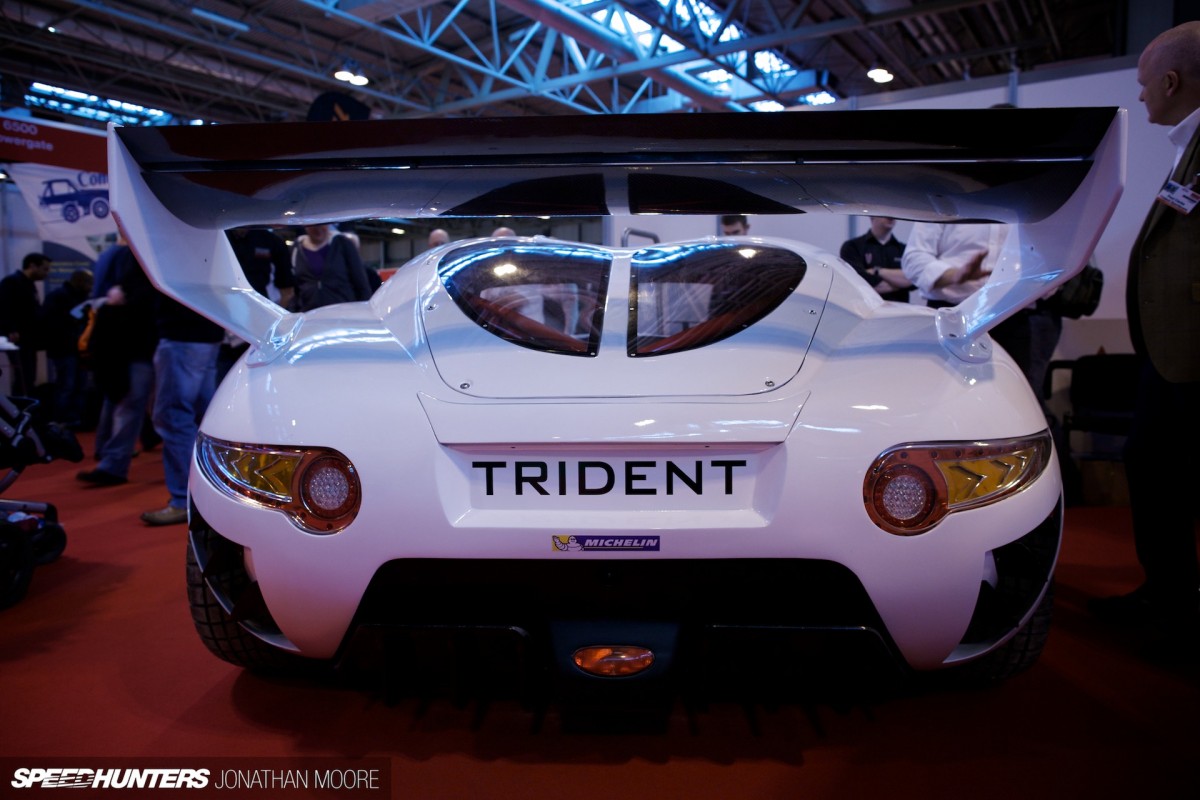 But while the road-going car is certainly interesting, this GT3 car is a different matter entirely. Built to go racing in the 2014 Endurance and GT Championships, Trident have certainly set their sights high. They've nailed some pretty unique design with the car too – from the sexy curve of the rear arch, to the glorious double bubble roof.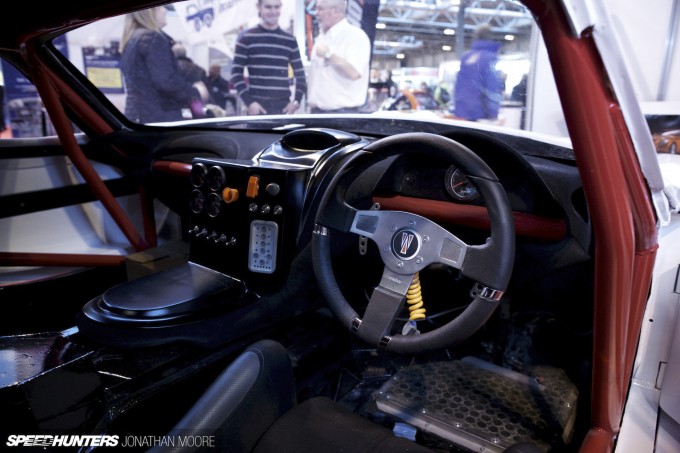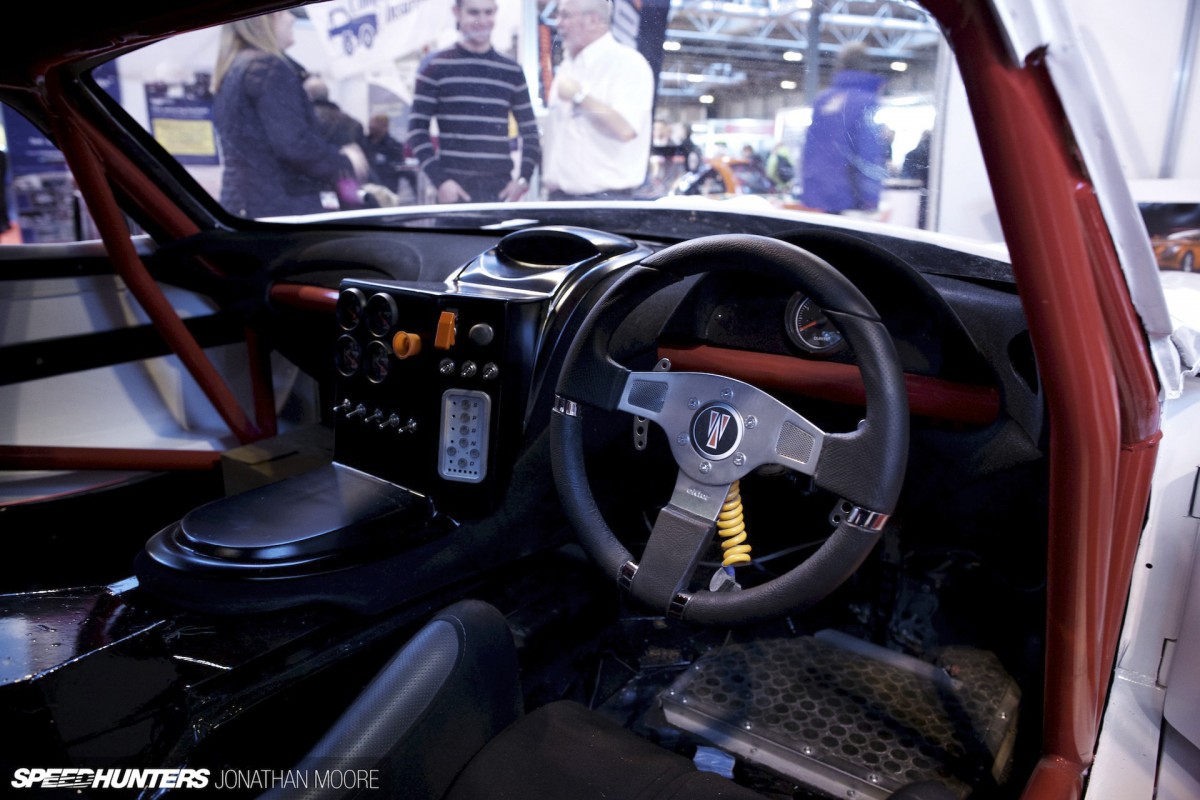 The interior's a focused place to be, with the FIA-approved roll cage extending right through the dash. Power is sent to the rear wheels through a converted six-speed automatic transaxle, with a manual paddle shift. But what's pushing it all along? Well, there's the really trick bit…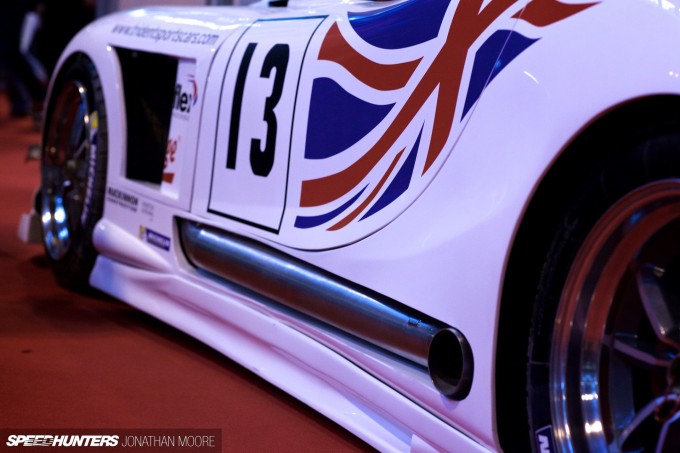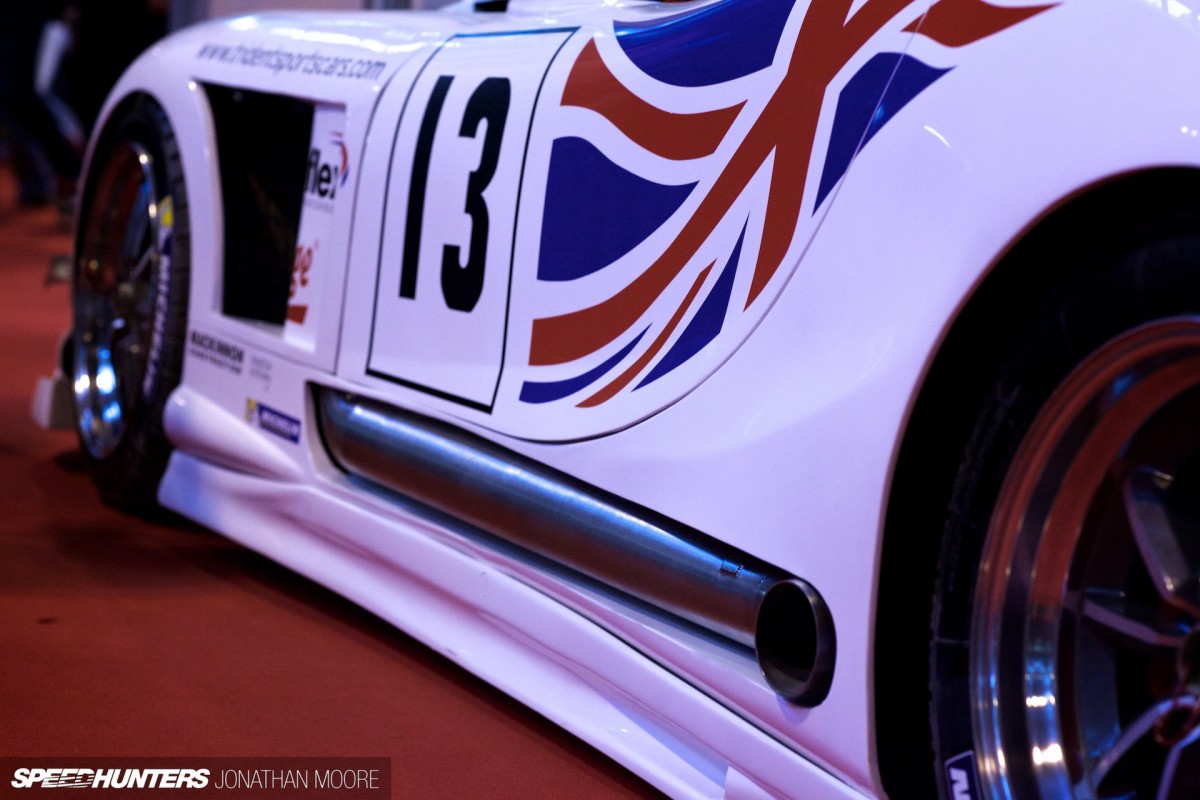 The Trident is a diesel! Of course, Trident are hardly the first company to use a diesel engine in a race car, but as far as I know, they'll be the only ones to use it in the world of GT racing. A 6.6 litre V8 turbo diesel provides 660hp, with a whopping 1057lb/ft of torque! It can also be run entirely on bio-diesel, meaning it will have zero carbon footprint. Who said eco cars are boring?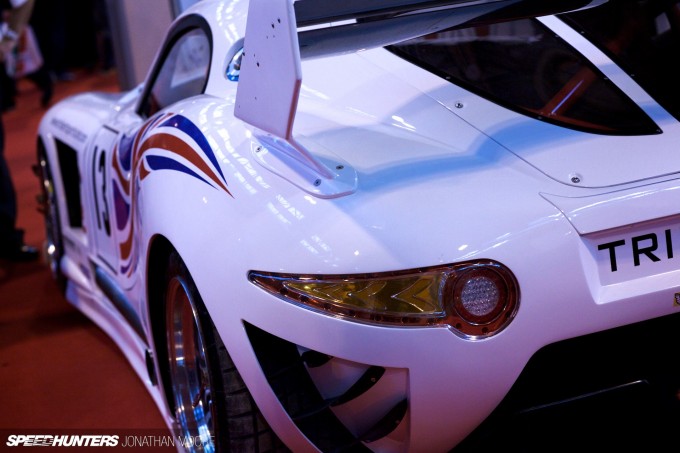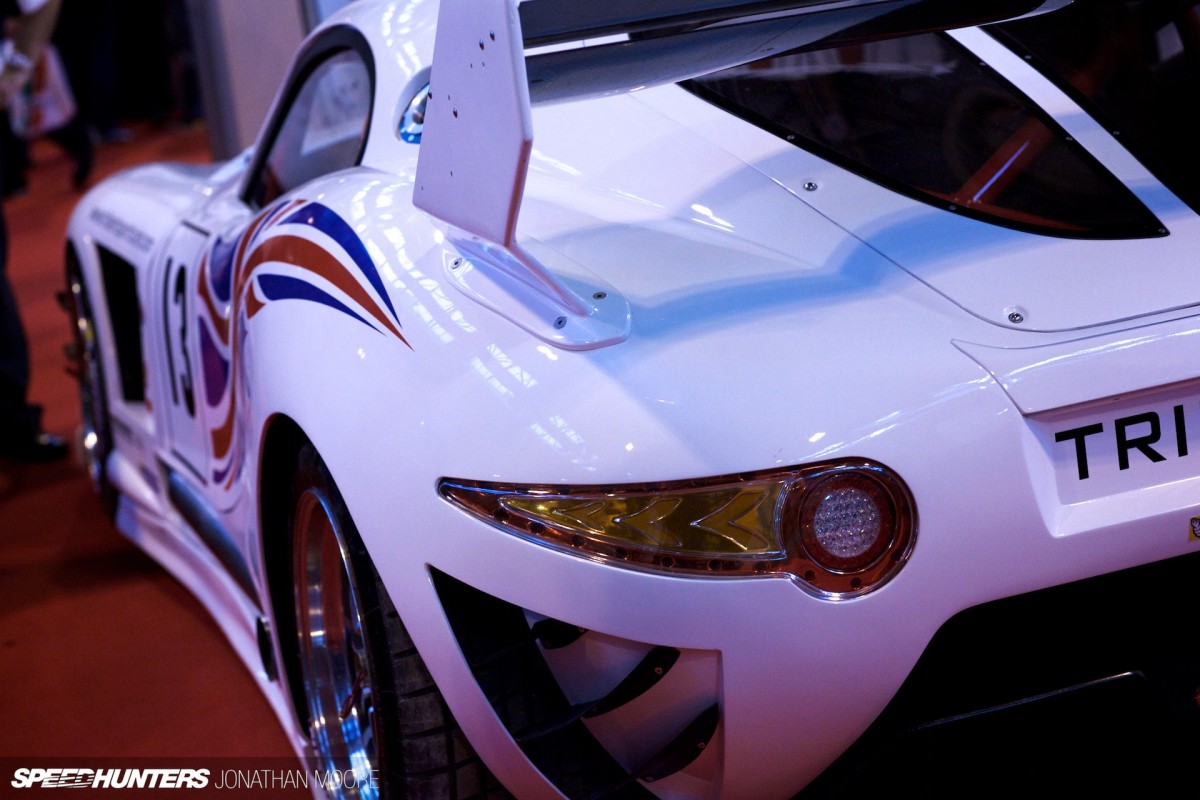 It also features Trident's patented 'Torque Multiplication' technology implemented on its road cars, which means that at a constant 70mph, the engine will be running at a mere 980rpm, but still developing 700lb/ft torque. That would result in an impressive 68.9mpg! Although it's less likely that it would win them any races of course…
Crazy creations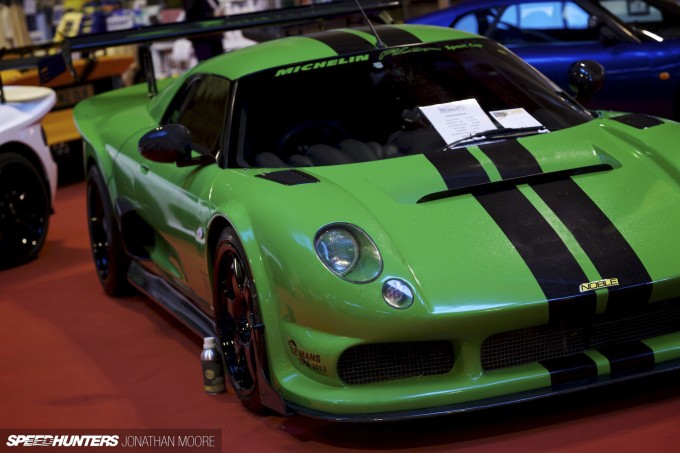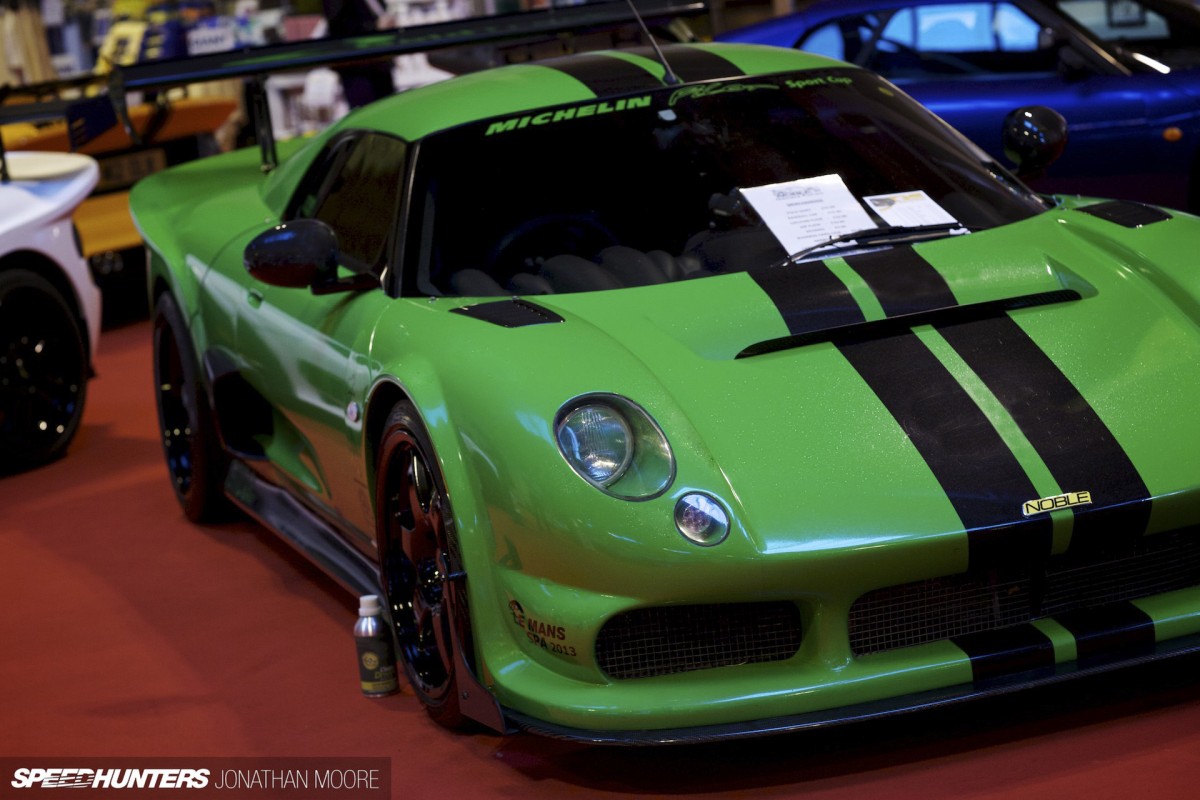 Of course, not every car at Autosport was being newly released to an eagerly awaiting public. Some have been around for a while, and while the original model may have already proved a solid foundation to start on, a little educated fettling never goes amiss.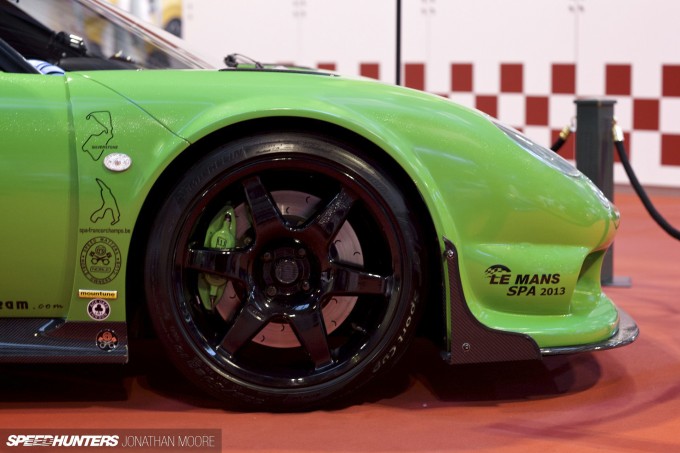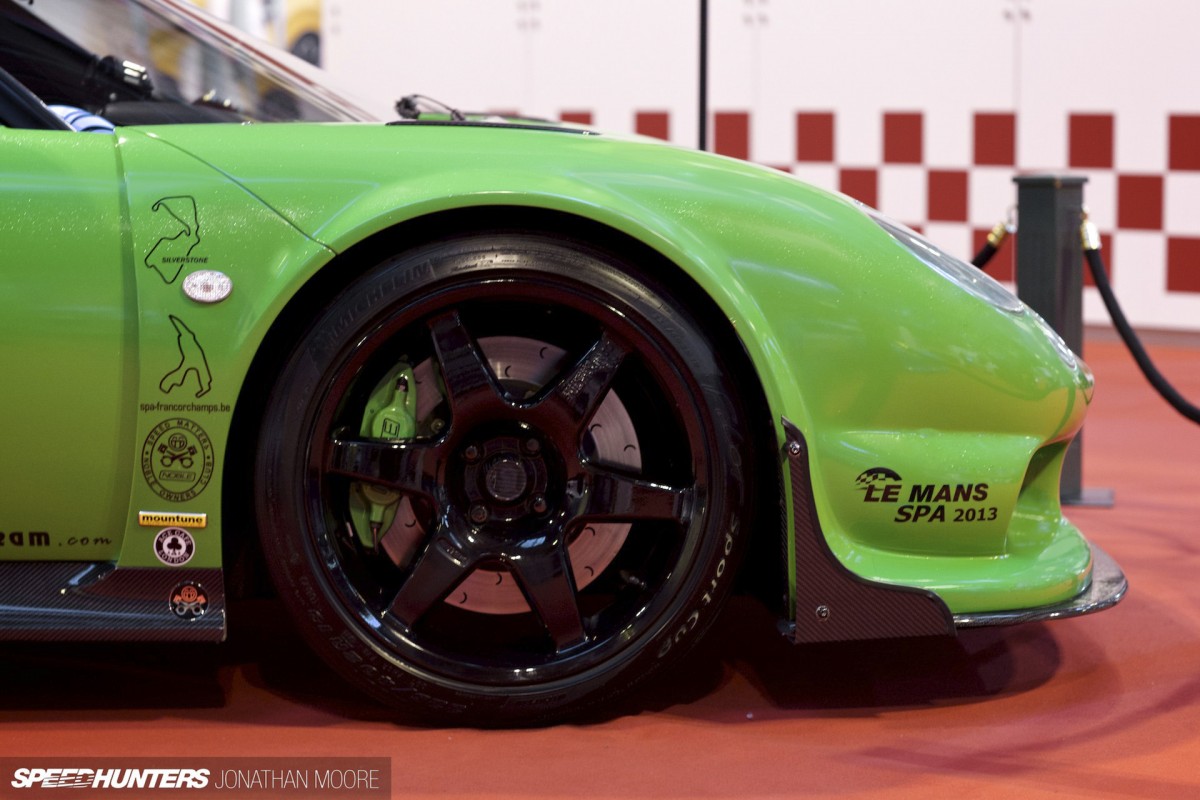 While we were admiring the collection of Nobles assembled in the Owners' Club area, this bright green example particularly caught our eye and it wasn't long before we struck up a conversation with the owner. Actually, talk might have begun when I was checking out the Silverstone and Spa track maps on the front wings – a chance to discuss the merits of the corners at Spa should never go wasted!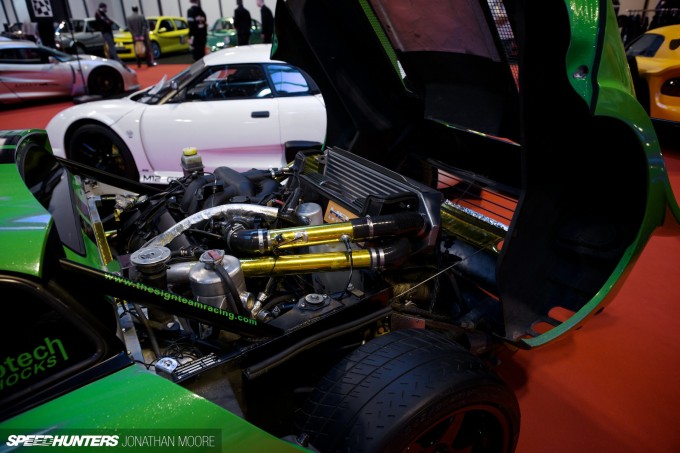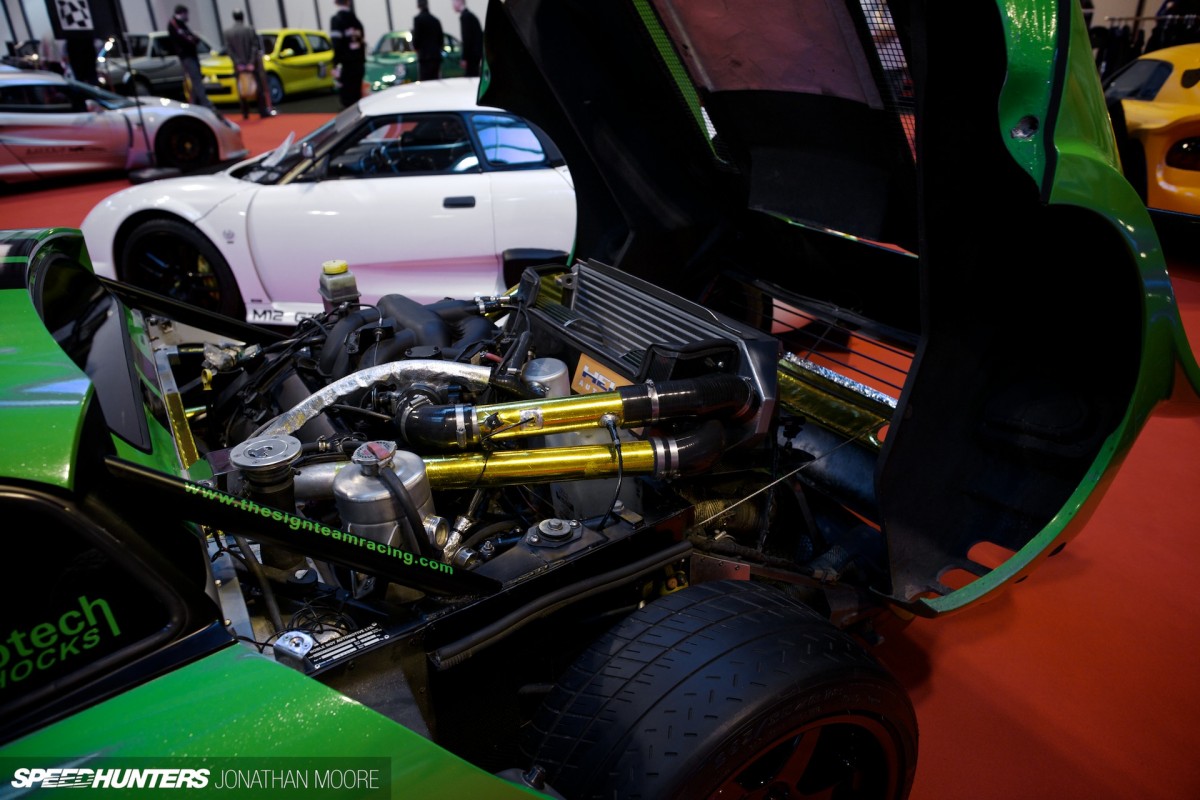 But this Noble isn't just about eye-catching looks with that bright green wrap. The Noble was never a slow car by any means, with 352hp coming from its 3 litre twin-turbocharged V6 and a body that weighs in at just 1050kg. But why stop there when you can have more? This particular example is now running around 620hp at peak power.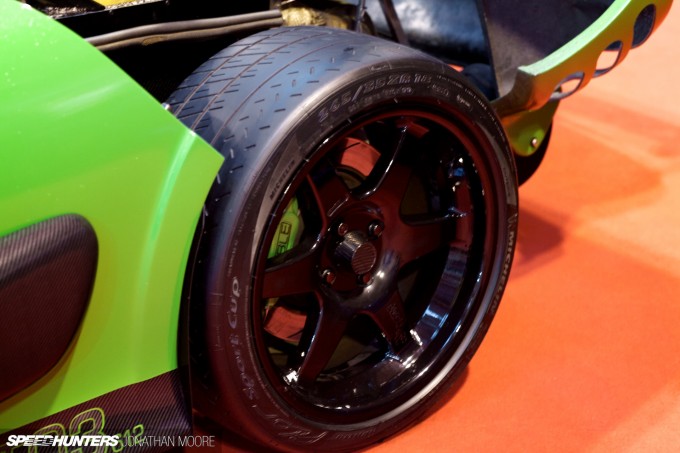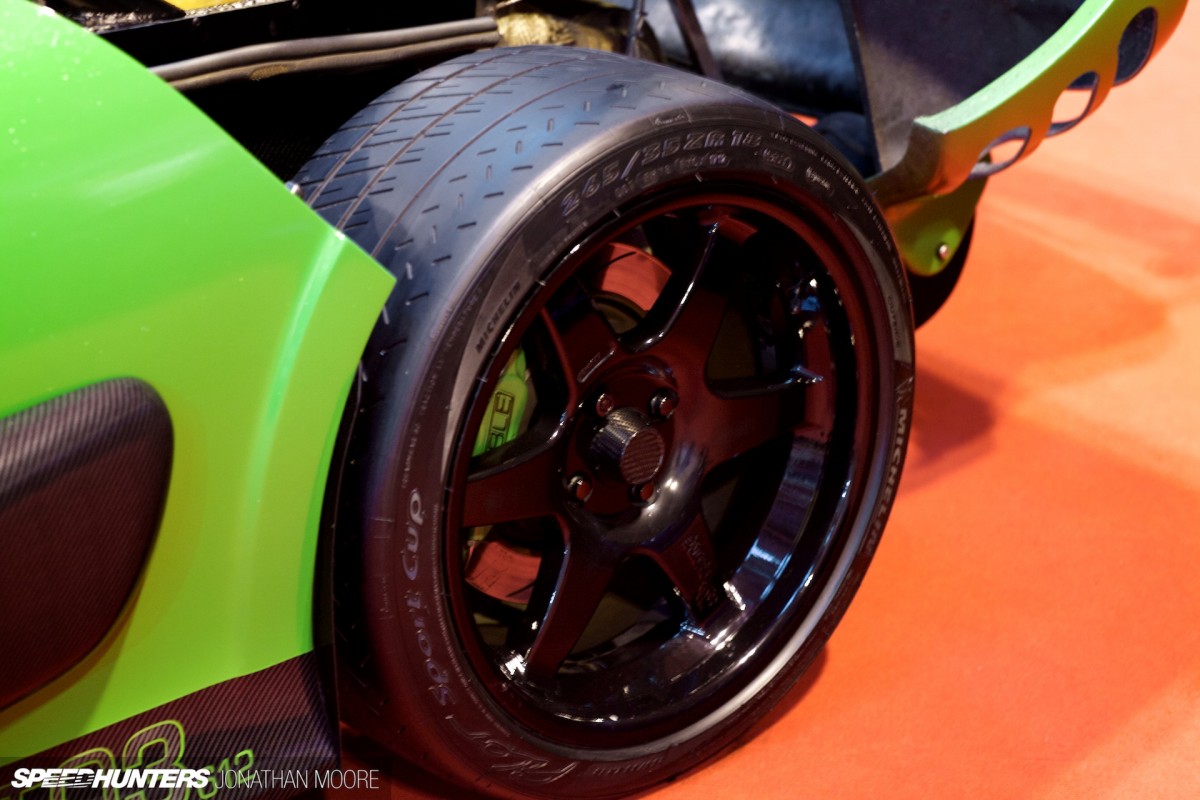 The owner is keen to implement cost-effective, but proven modifications and the car runs a water methanol injection set-up to keep temperatures down and reduce the chance of detonation, plus a widened rear track for extra grip. He's also beefed up the wishbones after hearing about a fellow club member's incident with one that snapped. Not something you'd want happening on track!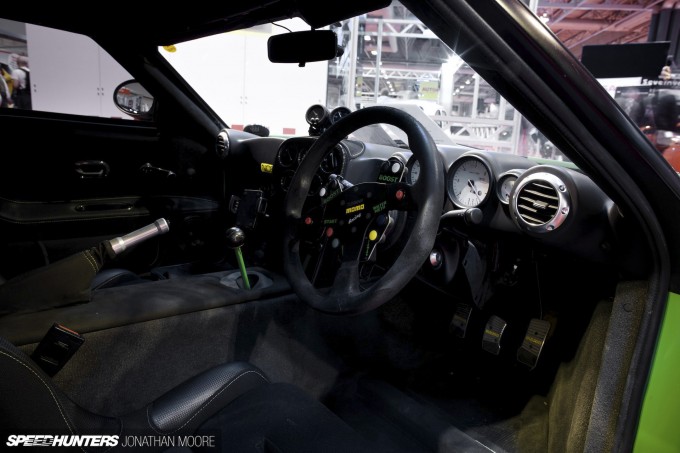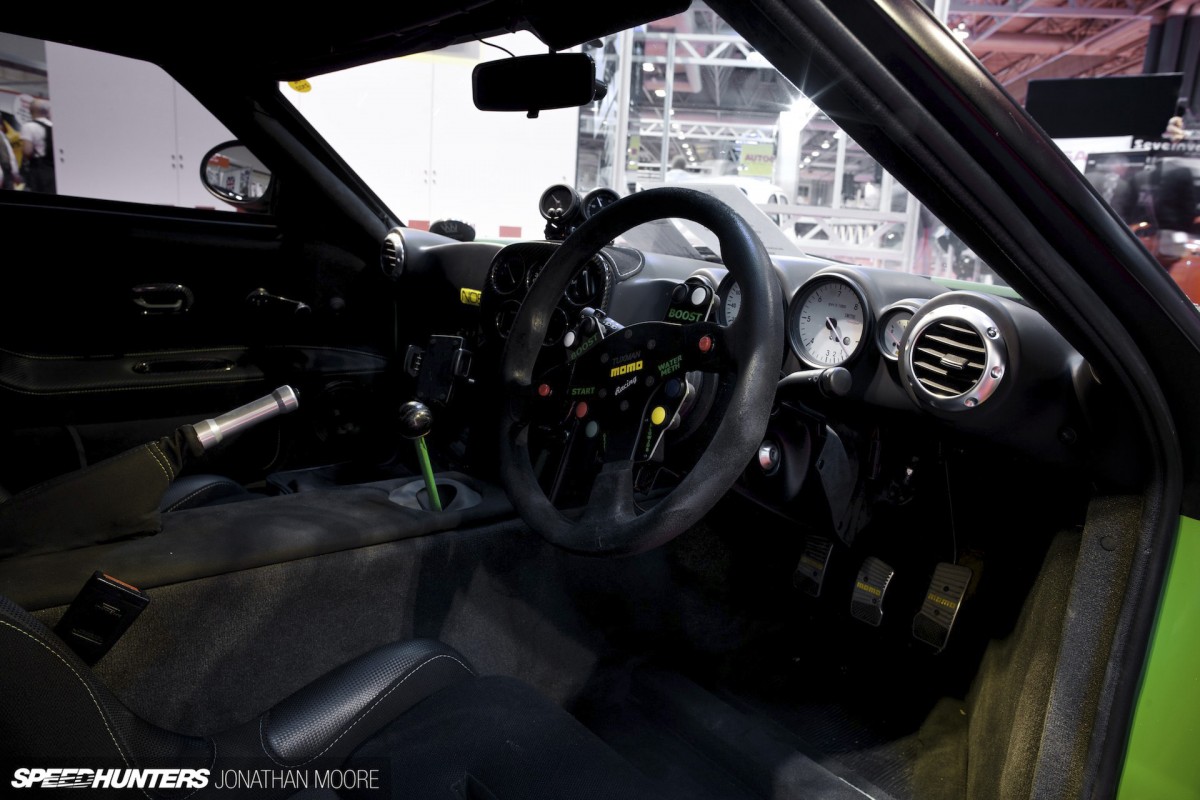 The interior of a Noble is a surprisingly pleasant place to be for such a track-focused car, but there have been a few modifications in here as well to improve things. A custom carbon-fibre panel in the centre provides the home for a host of extra gauges and the buttons on the steering wheel are set up to activate the water meth injection and provide high boost – changing the map on the fly and giving a push of extra power to overtake on track. Pretty cool eh?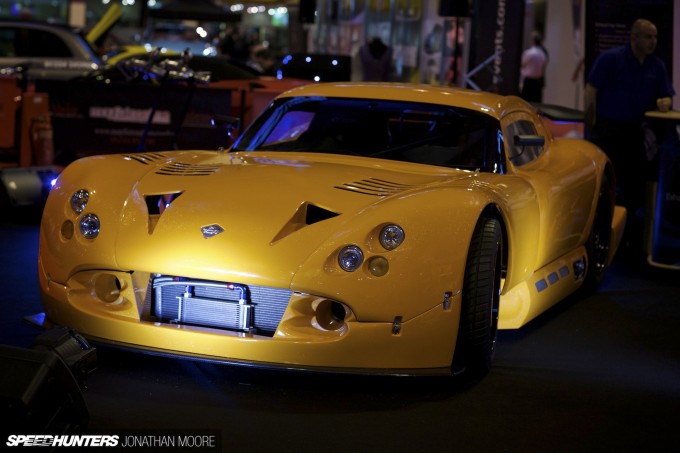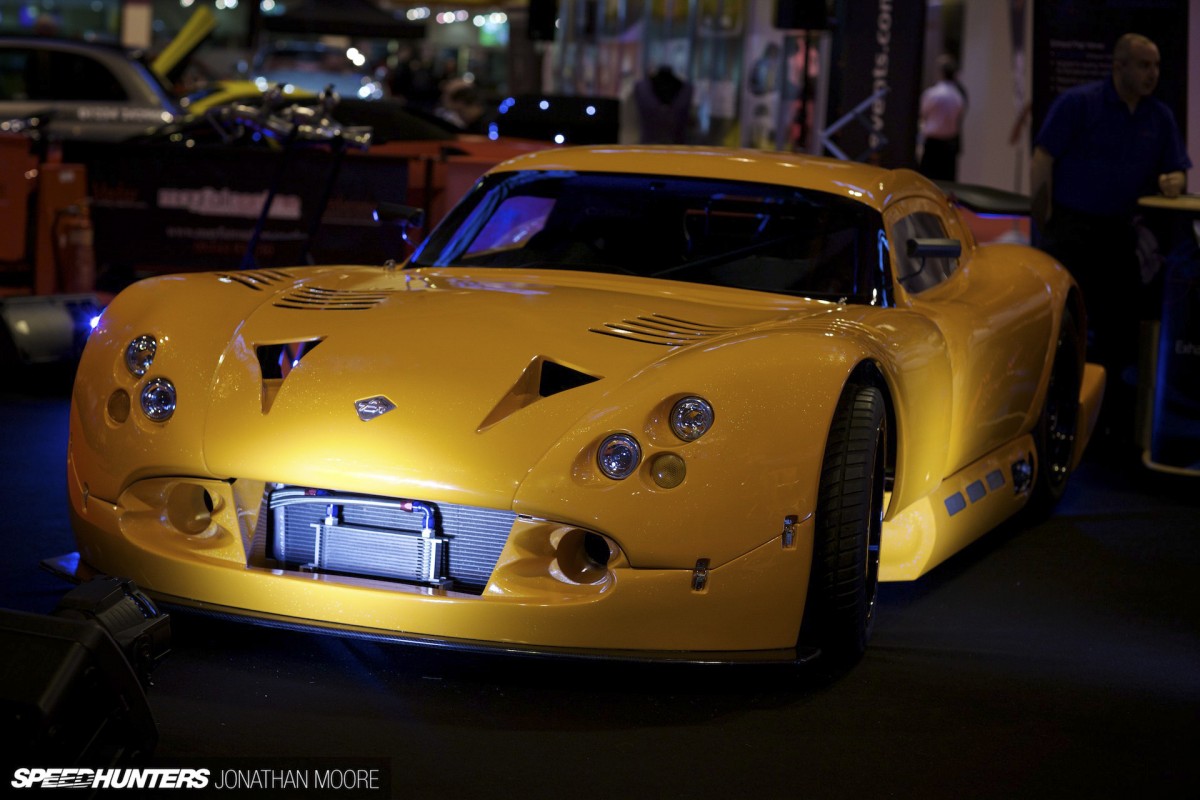 As we wandered the halls of the NEC, I was first alerted to the presence of this next car when Jonathan let out what can only be described as a squeak before darting off in one direction. As soon as I began to follow, I caught a glimpse of what had got him so excited and in turn made my own ridiculous noise. Could it really be the only existing TVR Speed 12? The legendary car that was supposed to be a McLaren F1 and Jaguar XJ220-beater, then had the brakes applied on the project at the last minute when Peter Wheeler, the then-owner of TVR, declared it 'too powerful for the road'?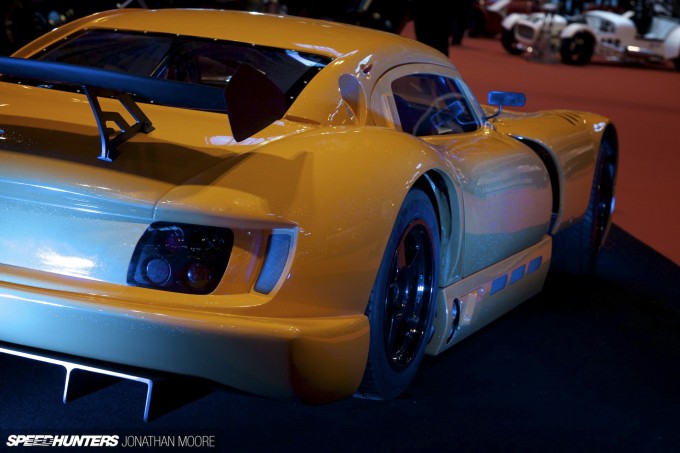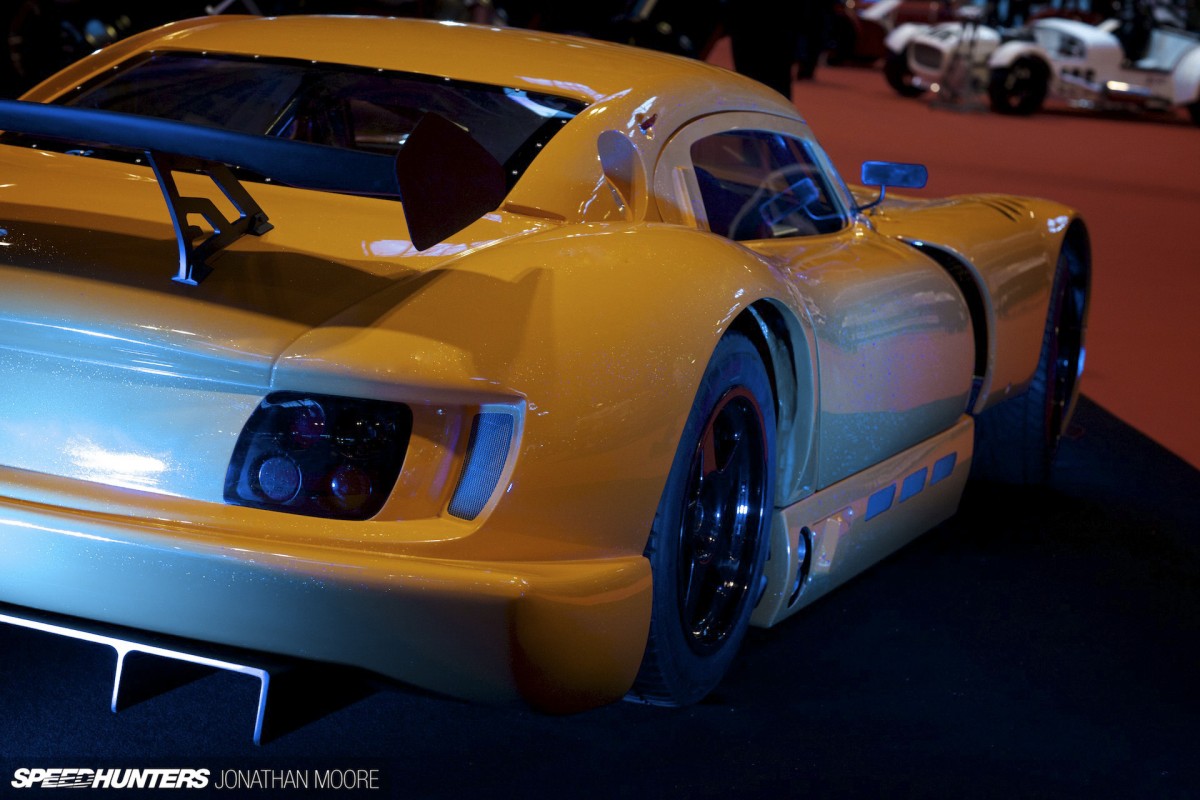 Well, no. But despite not being the real deal, this Tangerine British Racer is still a pretty insane build. It's based on a real TVR – a Cerbera to be precise. There's not a huge amount of the original car left though. The Speed Twelve-inspired bodywork has replaced most of the original panels but underneath that long bonnet is a bit of an intruder: an Aston Martin-sourced 7.7L V12 (presumably based on the power unit to be found in the One-77) that's had two turbos fitted to it. The result will supposedly see over 1000hp, so if anything, it's even more wild than the Speed Twelve it's impersonating!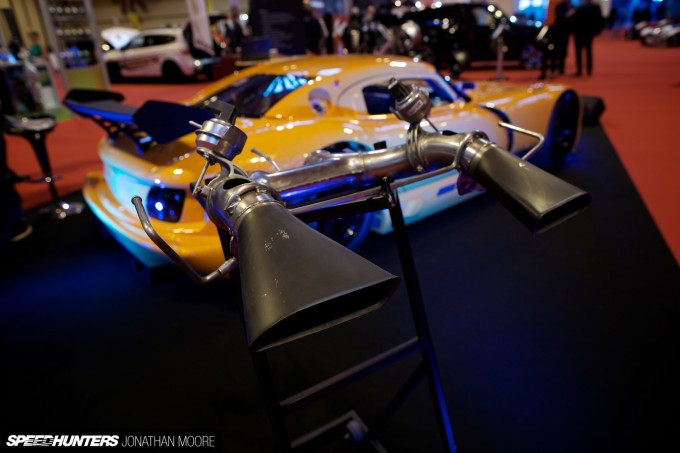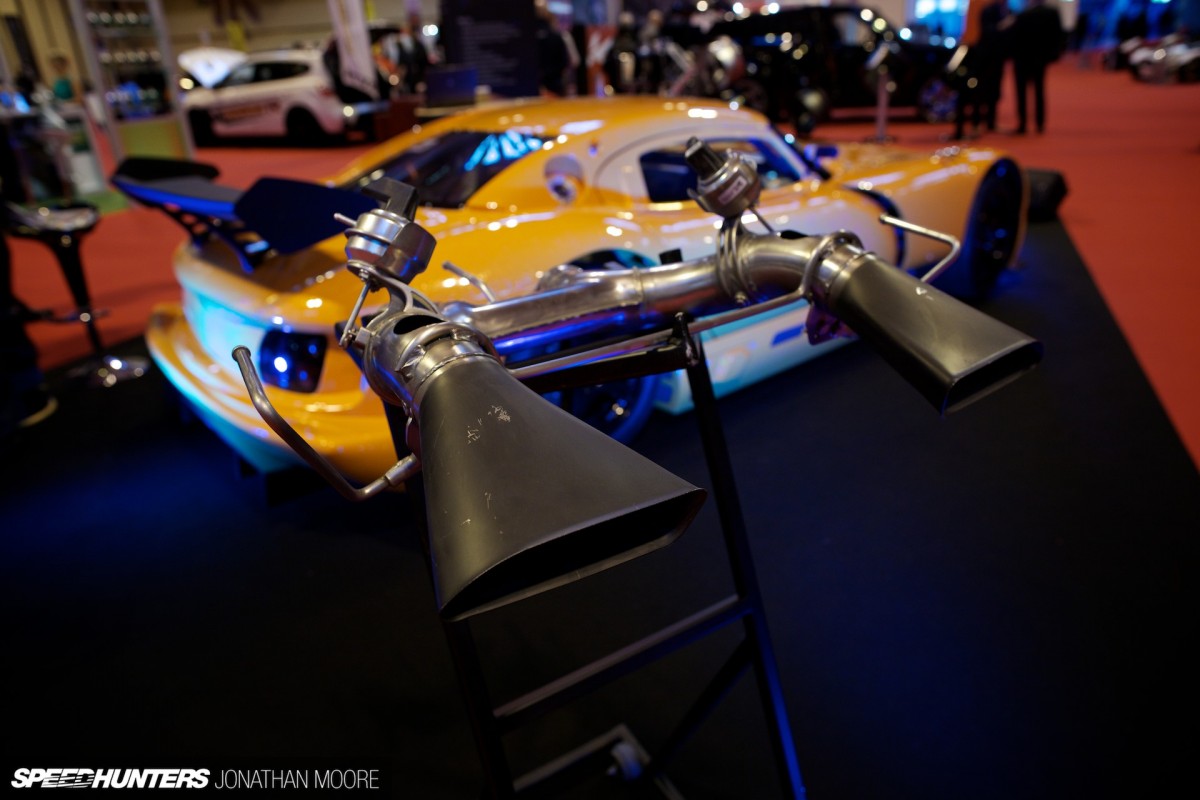 So what's the purpose of the car? Is it the product of some crazy scientist, or a race team that's looking for a new platform? Well it's actually being used to demonstrate the products of Helical Technology, namely its exhaust, complete with flap valves which control the exhaust note. It's quite the demo car don't you think?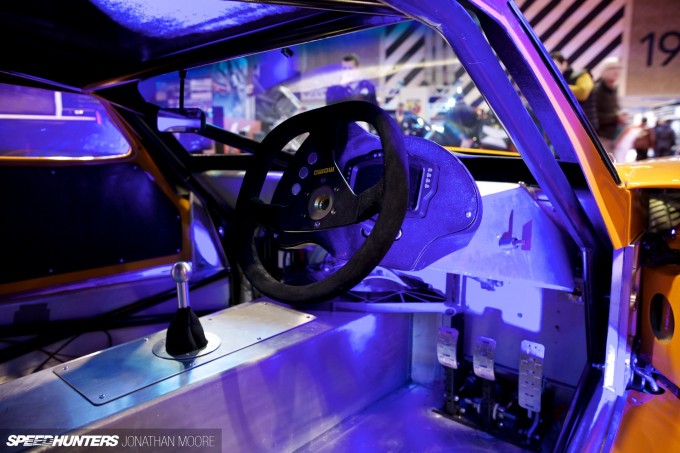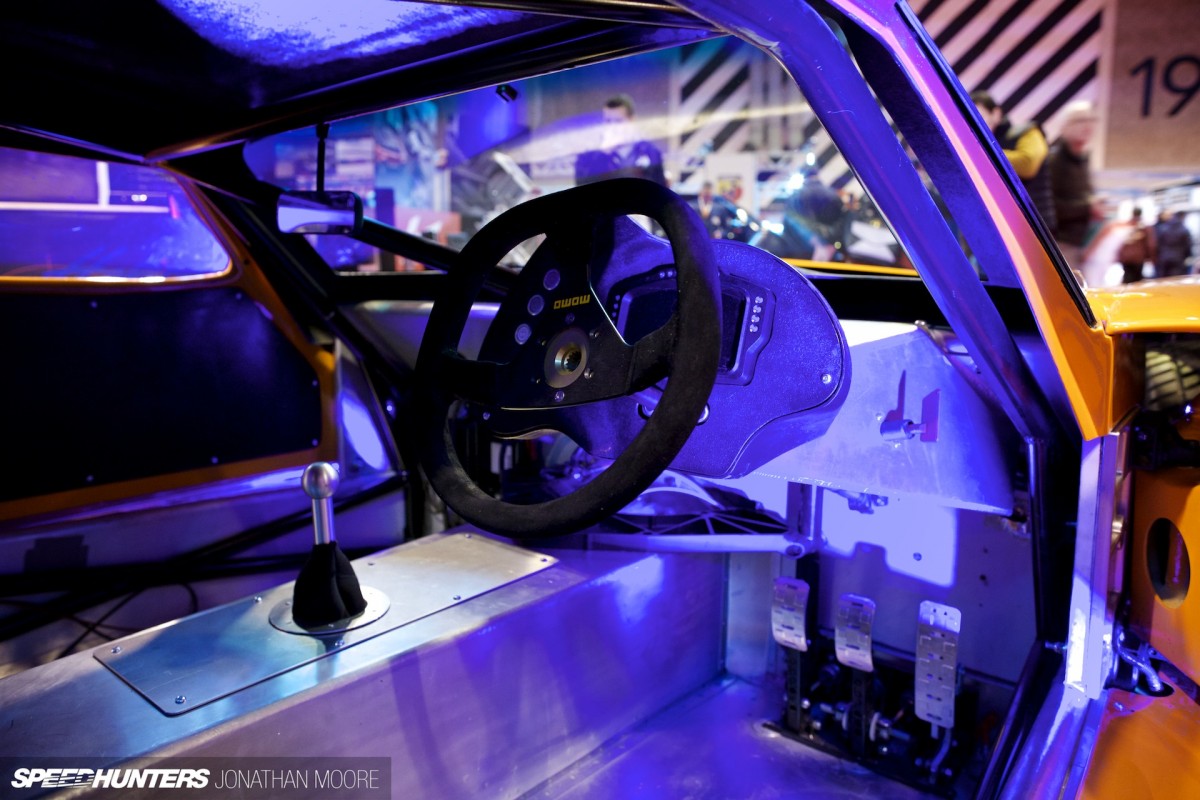 The interior looks like a pretty imposing place to be, with bare metal everywhere and that huge transmission tunnel dominating the space. A luxury tourer this is definitely not! The freaky blue light doesn't come as standard either…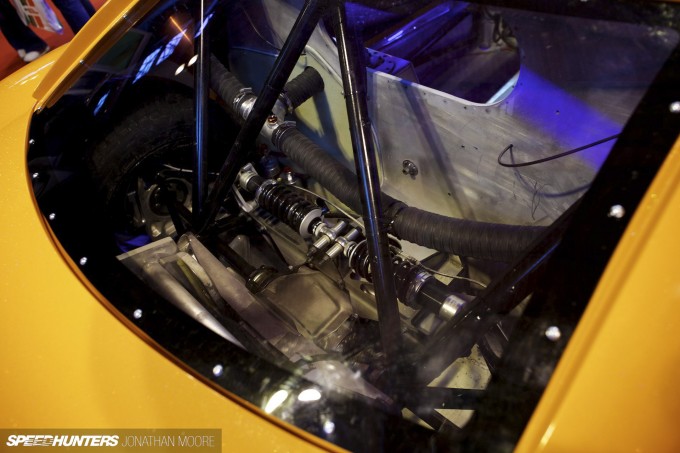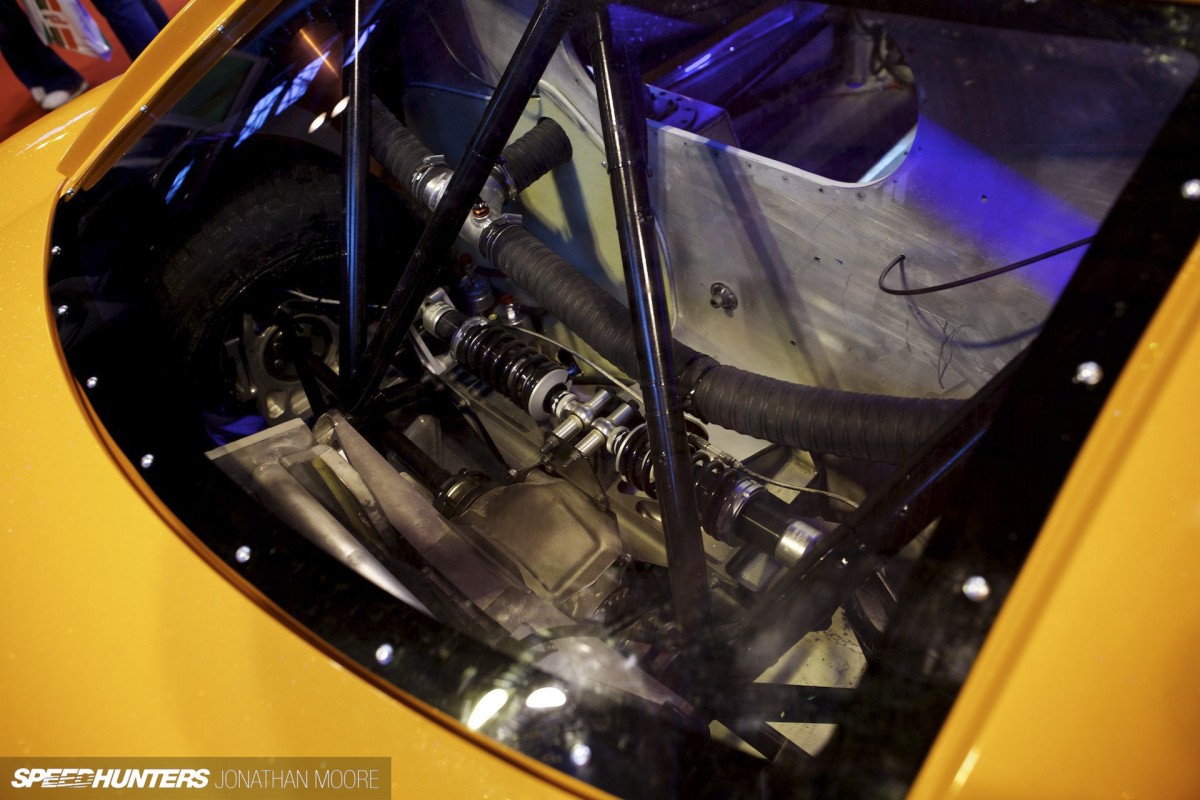 The original tube-frame chassis has been extended, and the car has been converted to run pushrod suspension, so it's a pretty serious set-up. The intention is apparently to sell the car off… dedicated track machine anybody?
The TBR concludes this spotlight-o-rama of some of my favourite British cars of the show. Who needs glitz and glamour anyway when you've got Birmingham?