All on the line
In describing any other sport you'd be hard pressed to use the words 'loud' and 'violent', with 'precise' and 'graceful' in the same sentence, yet such is the beauty of drifting. As mismatched as those ideals might be, in witnessing the automotive action sport live and at close range, it's easy to understand why it enjoys such a massive global following.
Although I don't get to as many events as I used to these days, drifting still excites me as much as it did when I first saw it in Japan almost a decade and half ago, and apart from the obvious sensory appeal, there are a few more reasons why…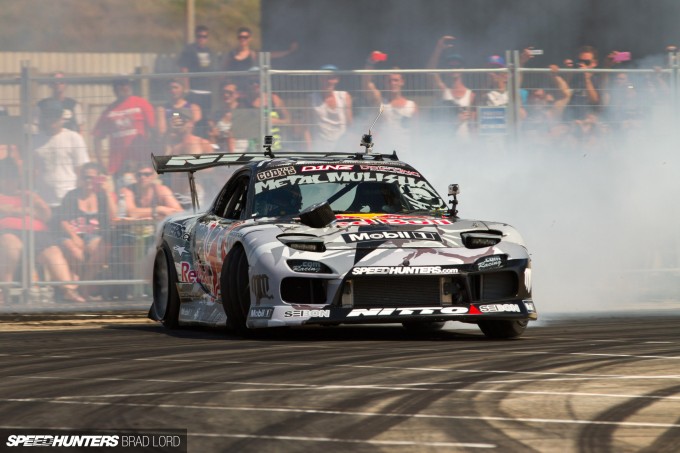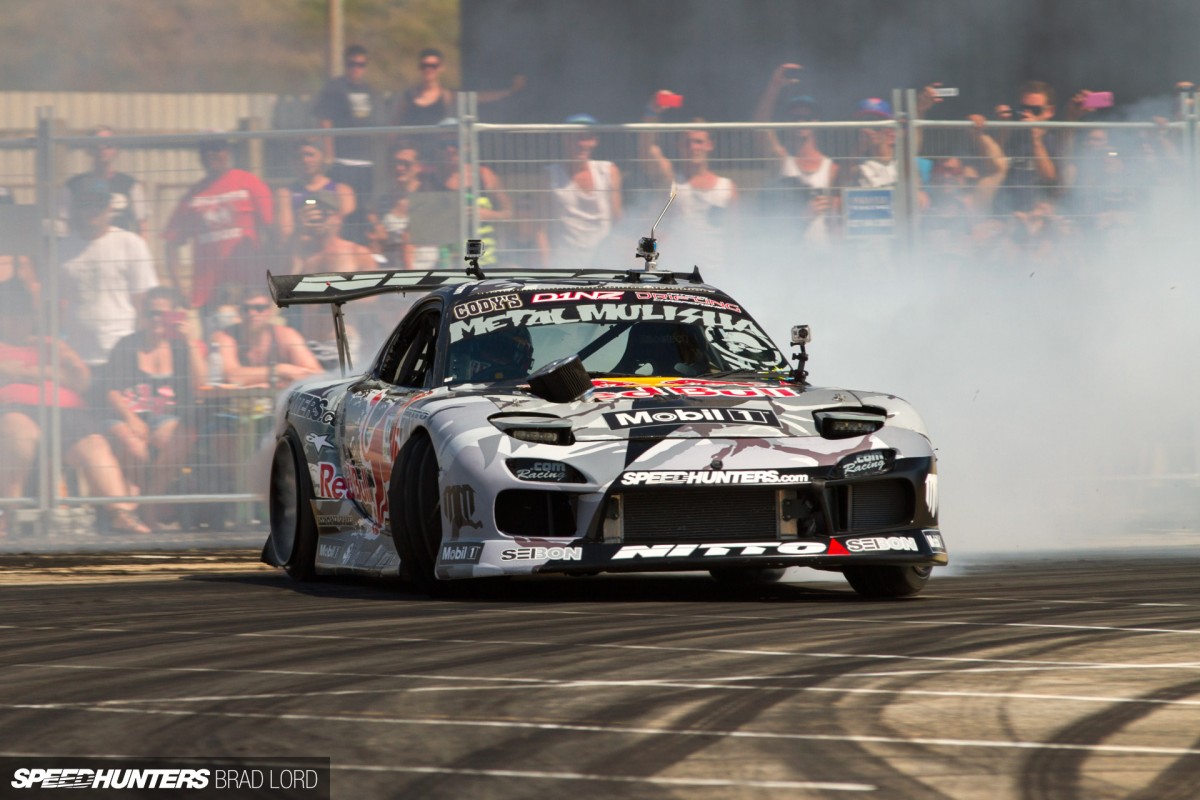 There's the fact that New Zealand's D1NZ series that's been running since 2003 is one of the best in the world, of course, but also having the opportunity to work alongside one of the most recognisable drivers in the sport: Speedhunters' own Mad Mike Whiddett. That said, with the third of six rounds of the 2013/2014 National Drifting Championship now complete, it seemed like a good time to catch up on Mike's season at home.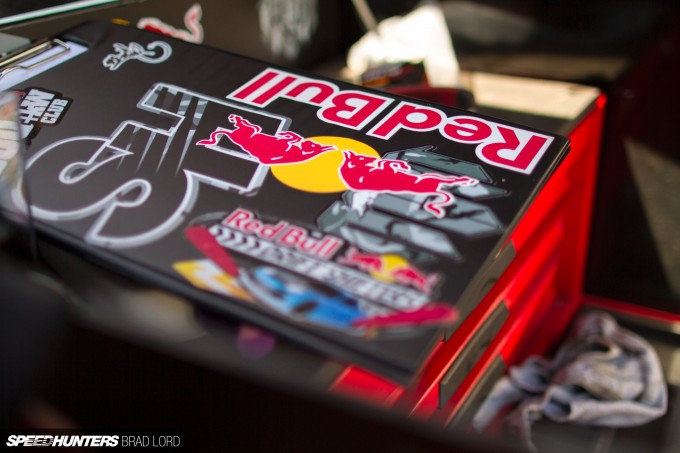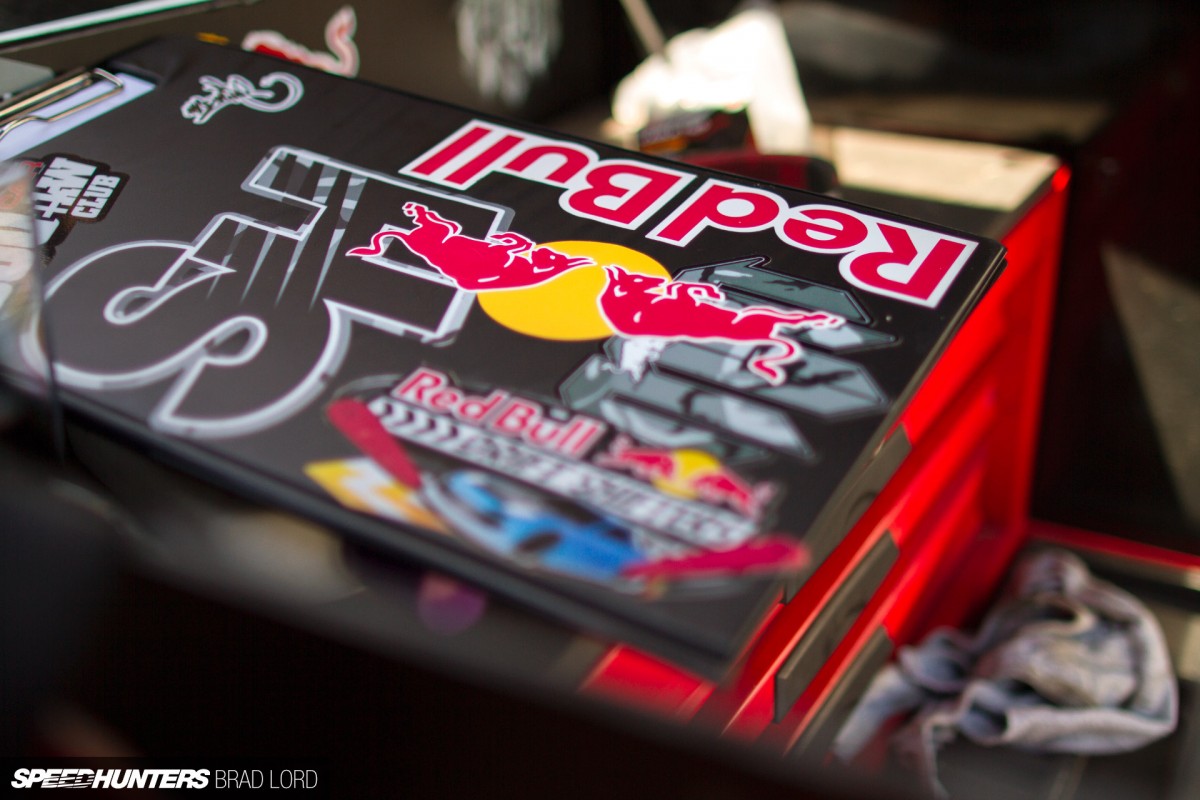 If you follow D1NZ, you'll already probably know that Mike has come tantalisingly close to being crowned the series' 'Drift King' in the 2011/2012 and 2012/2013 seasons. Although New Zealand's long-running national championship has always come secondary to his overseas commitments, I'm sure it's an achievement he'd really like to tick off.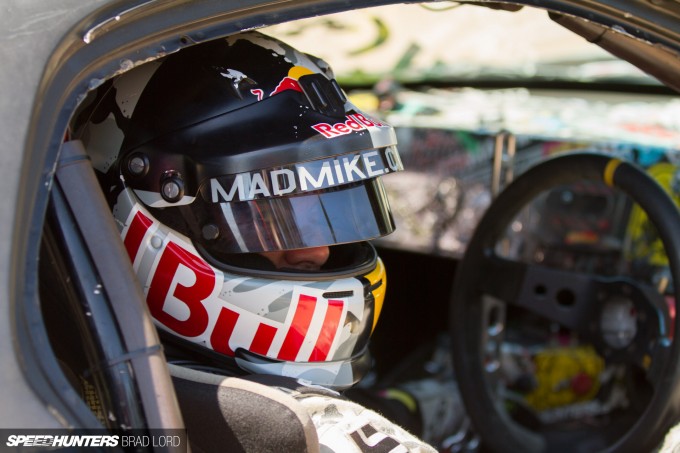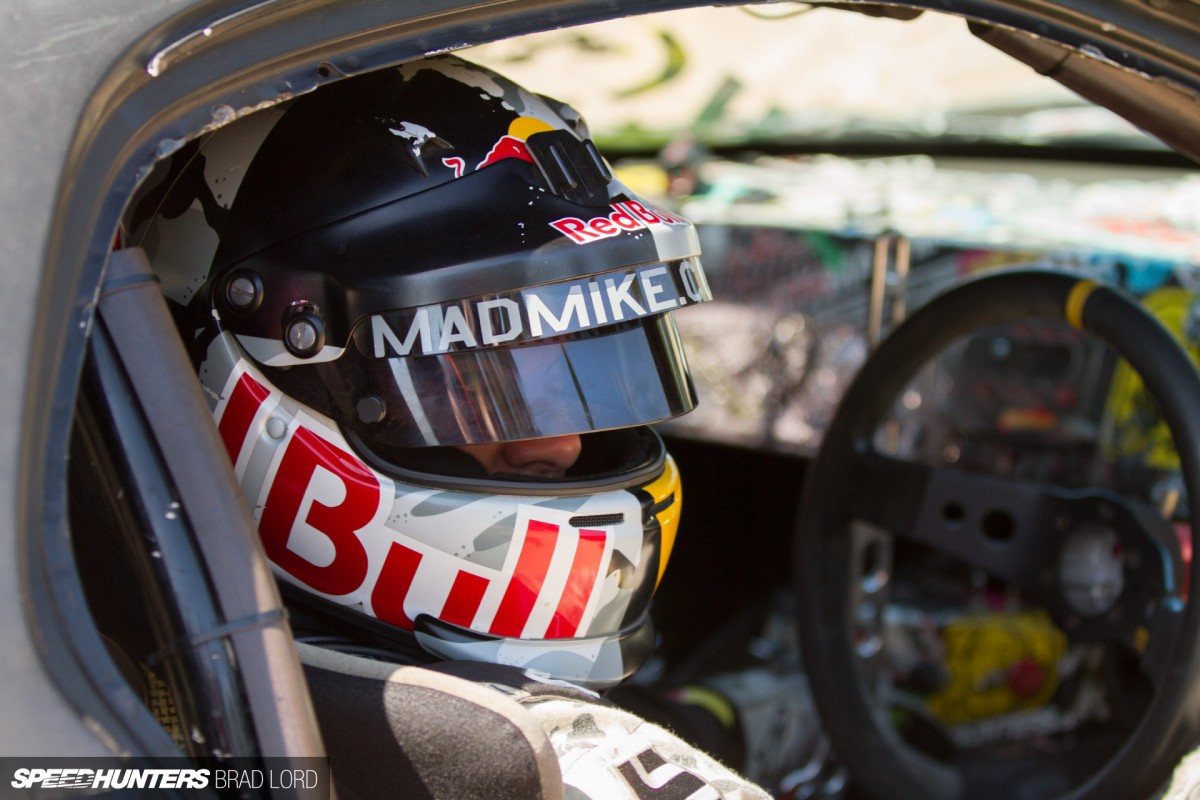 But thus far through the 2013/2014 Cody's D1NZ National Drifting Championship, there haven't been any clashes with other events, allowing him to fully commit his mind to the task at hand. In all the years I've watched him compete, I don't think I've ever seen him so focused, and it's definitely showing in his driving.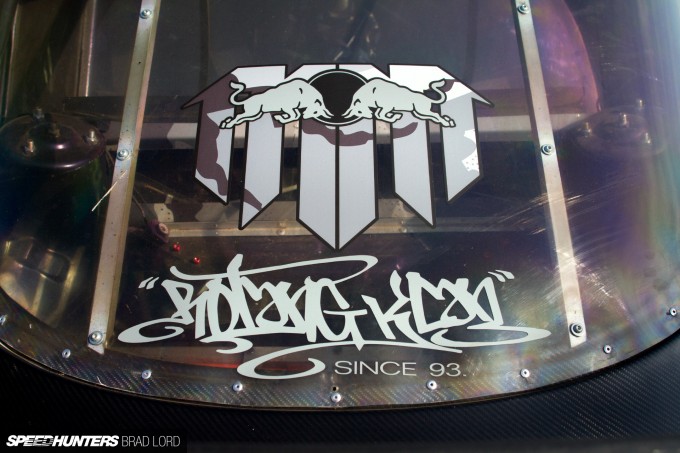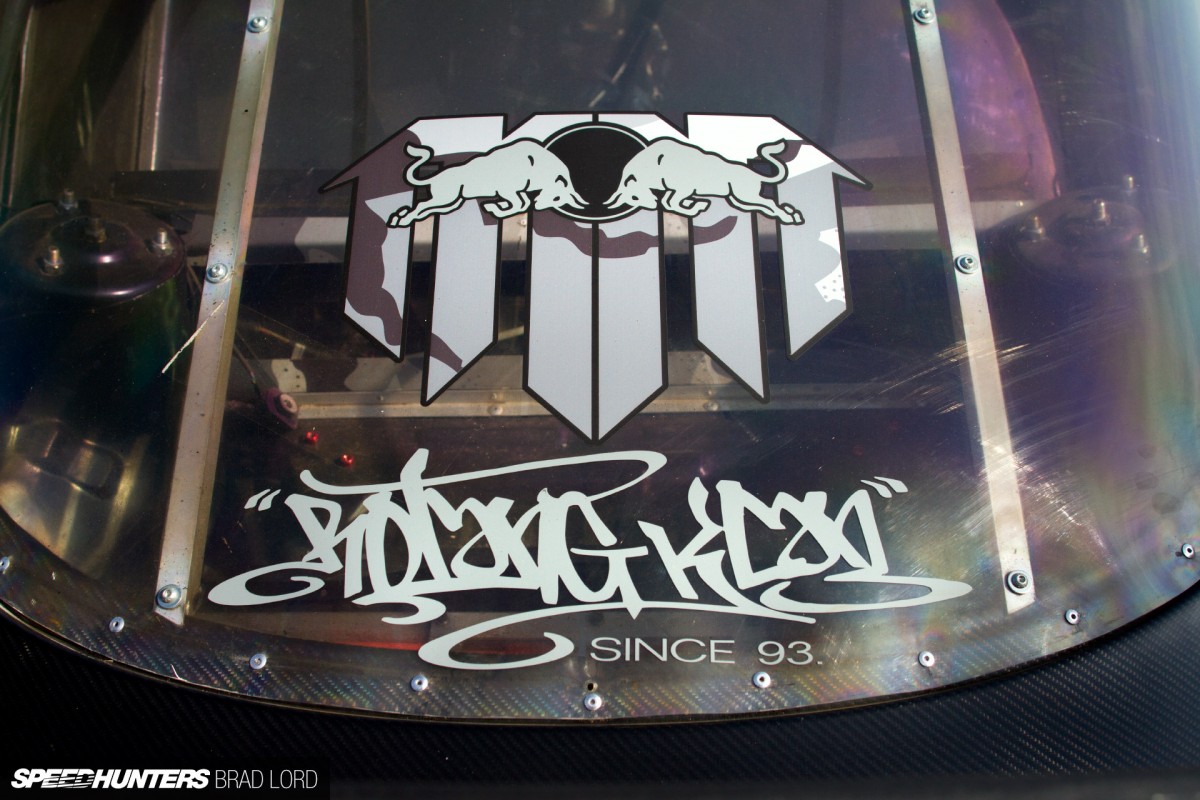 Ever since the rebuild of his 20B three-rotor turbocharged BADBUL Mazda RX-8 back in 2012, Mike's maintained that it's the far more competitive package when compared to his iconic, naturally aspirated four-rotor MADBUL Mazda RX-7. When you consider that the SE3P has more power, much more torque, a very cool custom-fitted Winters Performance quick-change rear end, and it's taken far less knocks than the FD3S which Mike originally built in '06 when he began drifting, it's understandable too. So why then hasn't he run it this season?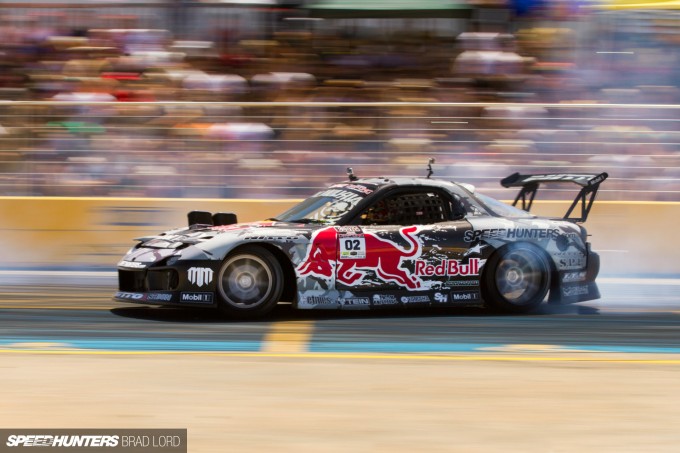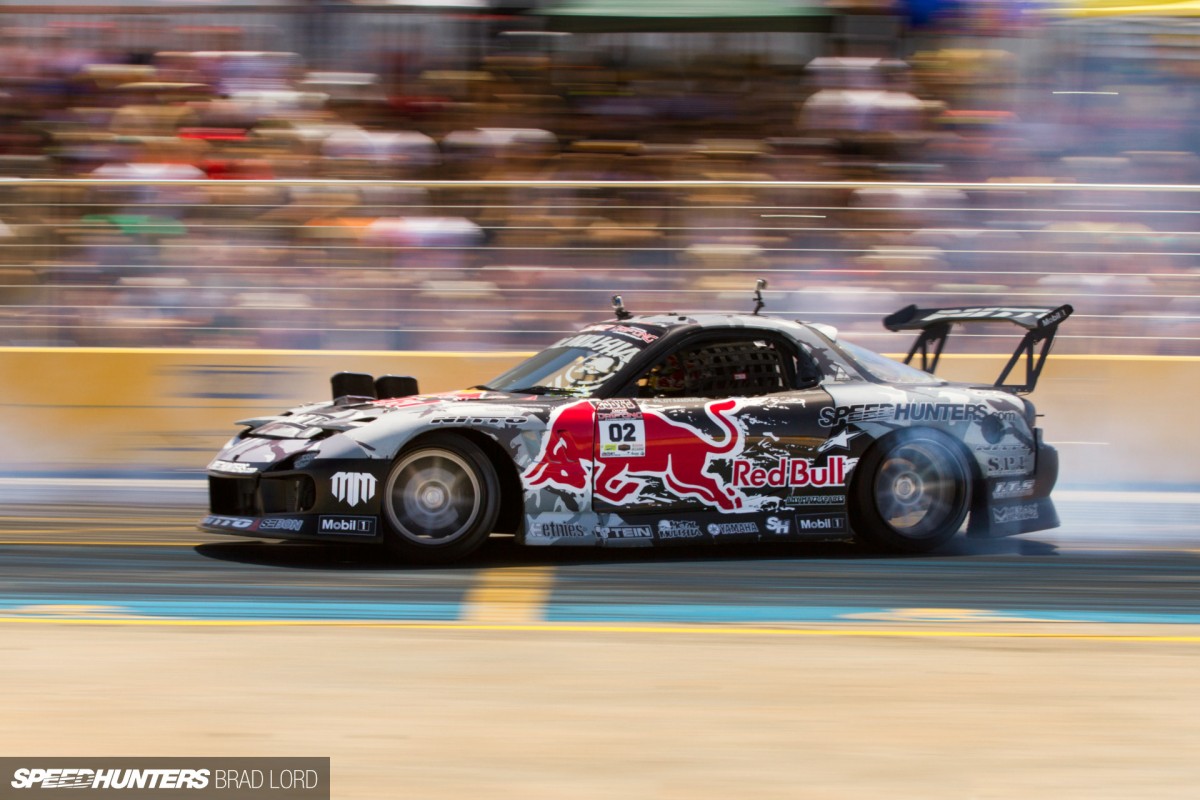 Well as it turns out, the team never actually planned to use the naturally aspirated, four-rotor RX-7 at the D1NZ opening round – or perhaps any of the events since – mainly because the FD wasn't even originally scheduled to be back in New Zealand in time from the Tectaloy International Drift Challenge at WTAC in Sydney. But when some crucial parts coming from overseas for the RX-8 hadn't materialised a couple of days prior to R1 (and months on still haven't arrived), Mike was stuck. Luckily the SOS call he put through to his shipping agent was answered, and amazingly, MADBUL was cleared through customs and was back on the trailer just a few hours after it had arrived in the country.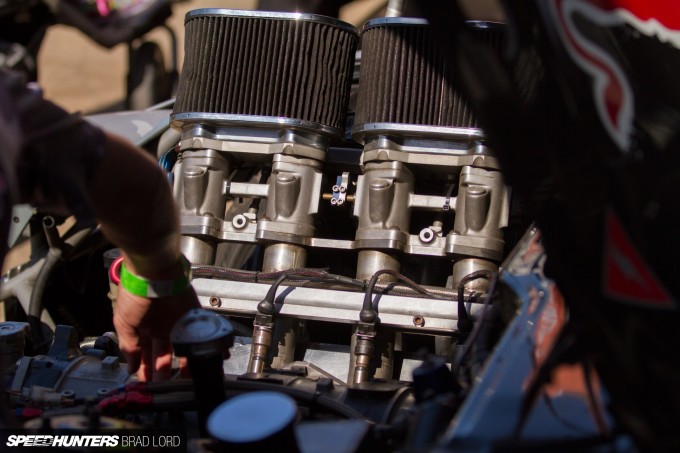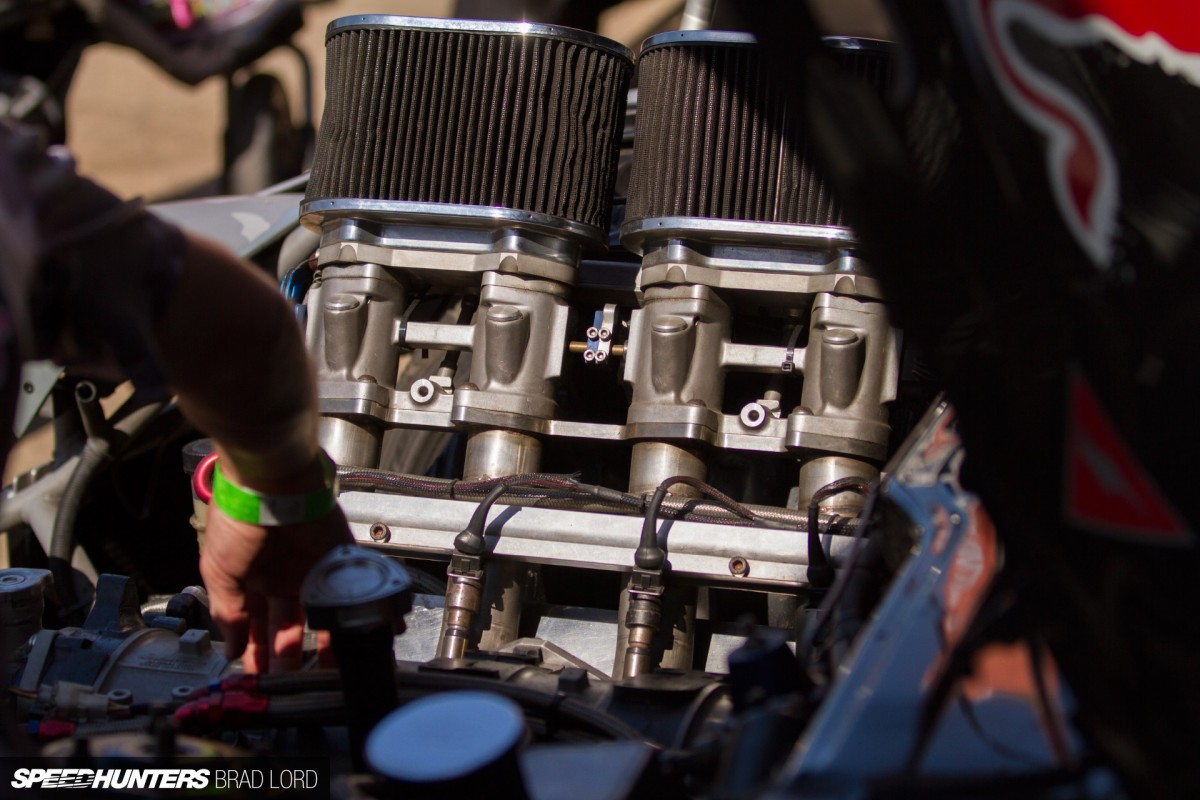 Considering the beat-down Mike had given the FD in Australia, and the fact that there was simply not enough time to properly re-prepare it for competition, no one was really surprised when issues began presenting themselves. First a loss of power steering, then a broken handbrake, and finally an engine that refused to fire on any more than three of its four rotors. But Mike kept his cool, qualifying in third spot and amazingly finishing up the weekend on the second step of the podium with a trophy in one hand and a bottle of champagne in the other.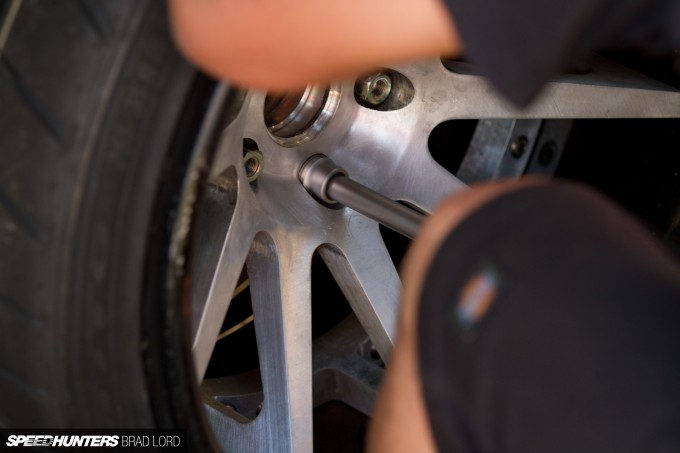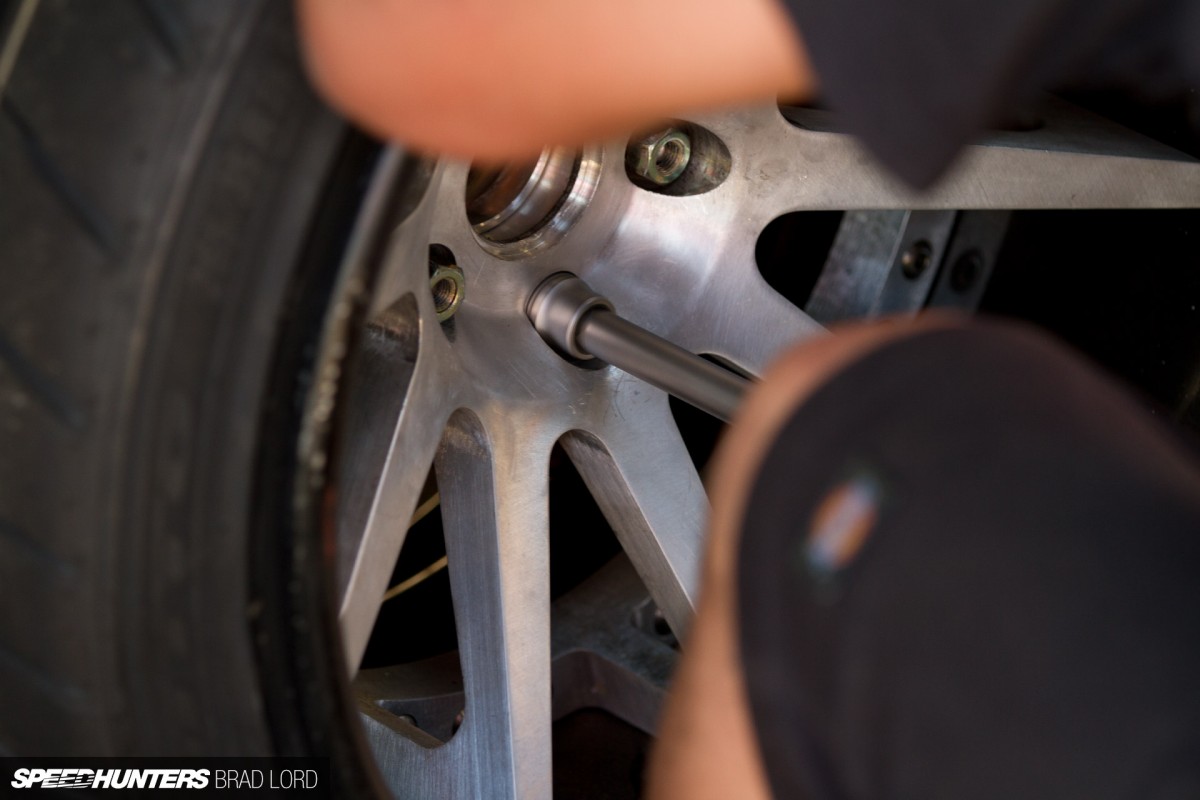 Those gremlins were all ironed out before D1NZ's Round 2 stop in mid-December of course, but that event provided more testing times for the team too. A blown diff and a smashed engine oil cooler were the first components requiring remedy, followed by a fault with the HKS six-speed sequential transmission that was causing it to jam. It seemed like a hopeless situation, but before qualifying began, a temporary fix was found that at least allowed Mike the reliable use of second and third gears. He adapted his driving style to suit, qualified second equal and took the round win when his competitor in the final battle, Gaz Whiter, bowed out of contention after crashing heavily on the first pass.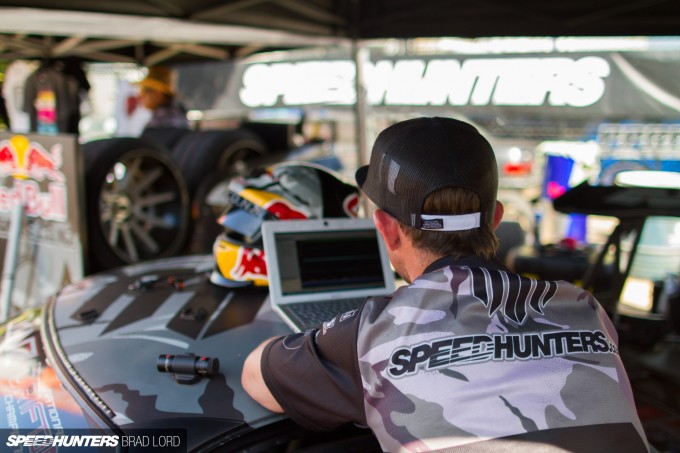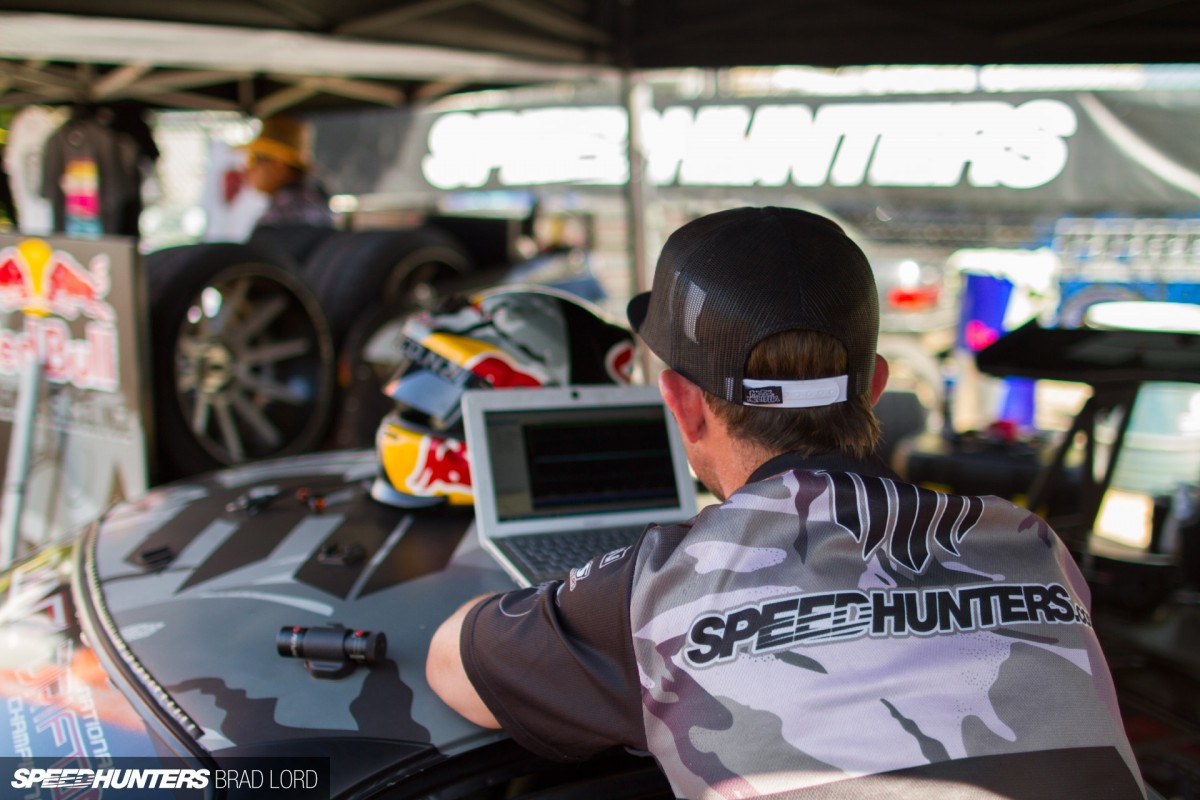 So, Mike's bringing his A-game – that's pretty obvious – but he's the first to admit that he wouldn't be if he didn't have such a dedicated behind-the-scenes crew. This season that includes Mike's engine builder/tuner and the guy behind that crazy six-rotor Mazda RX-4, Warren Overton of PPRE, plus suspension and chassis guru, Kaz Townsend of TBR.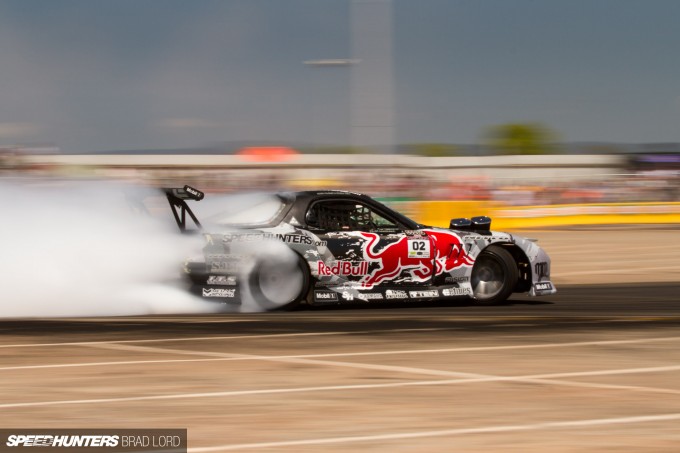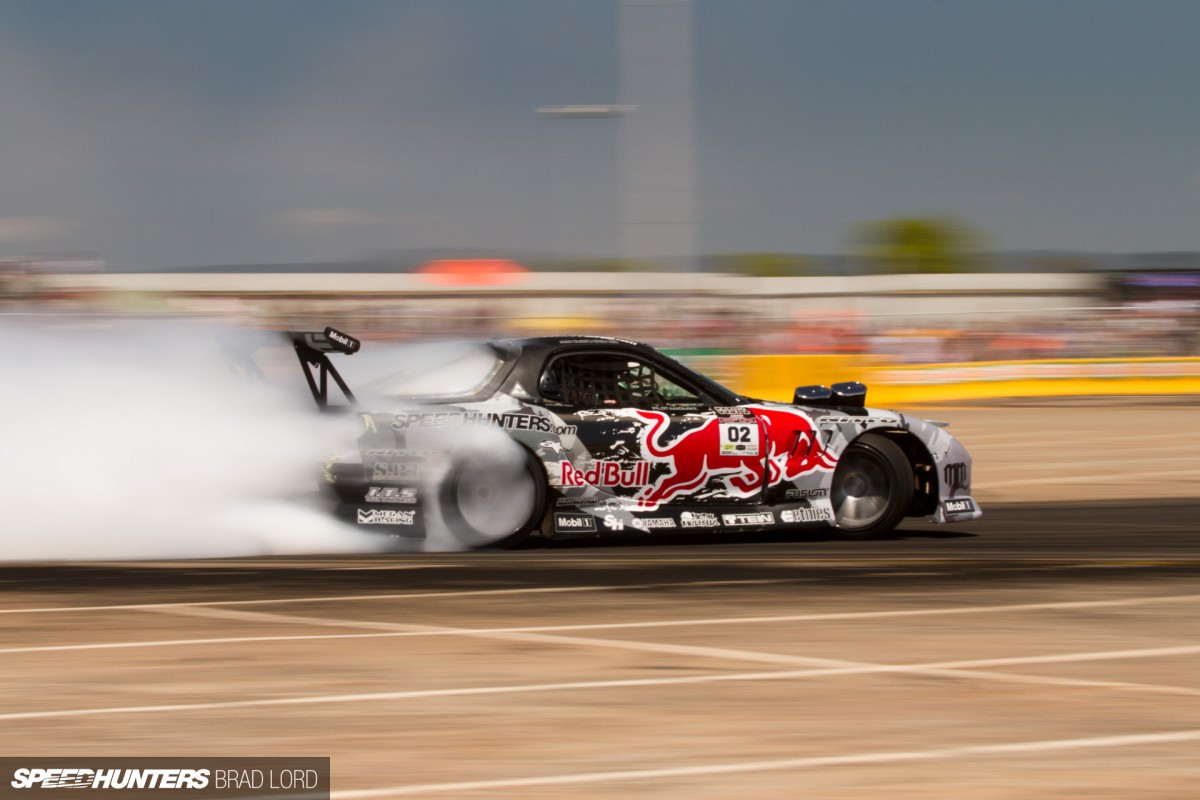 Albeit with a small buffer of points, Mike was right where he wanted to be and leading the D1NZ Pro charge when the third round of the championship rolled into the holiday town of Mount Maunganui over the weekend just gone. A solid result here could extend his lead nicely – something highly beneficial at the season's halfway mark…
Peak performance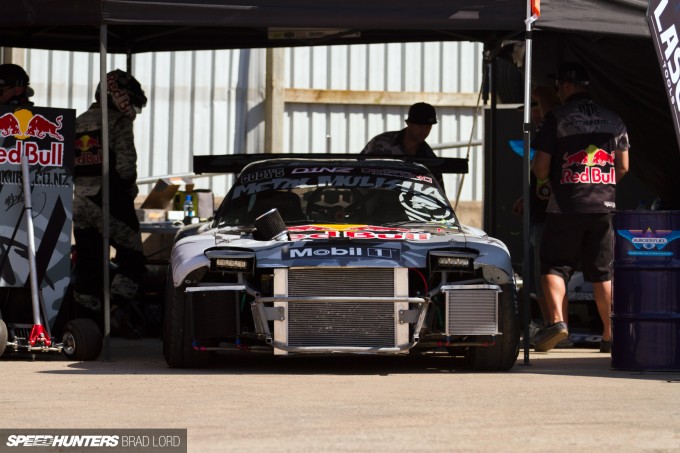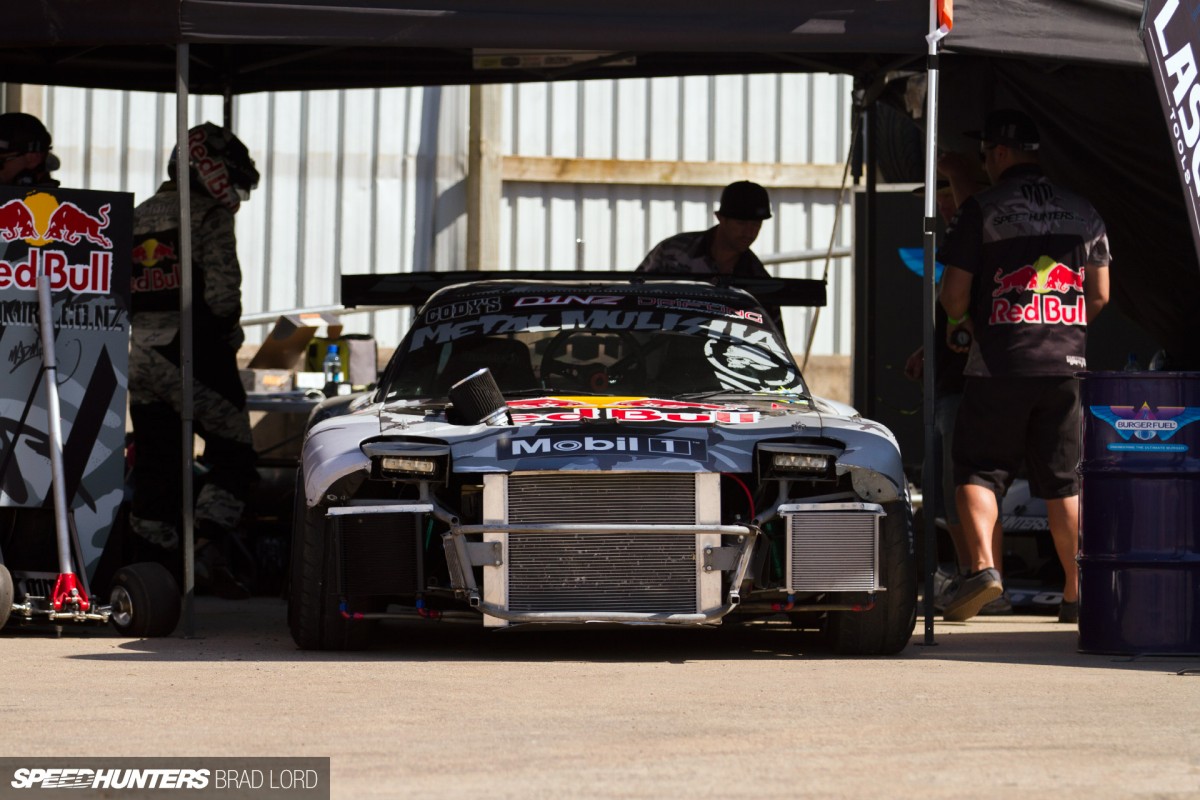 Like the previous round, the third stop on the D1NZ calendar wasn't run on a conventional circuit, but a custom-designed-and-built car park course. Despite its confines, the ASB Baypark Arena layout allowed for a reasonably high entry speed, which for Mike meant hitting the first of many clipping points (all of which were on the outside edge) in third gear, followed by a shift into fourth and then back to third to see out the judged section. In between it all he'd be left-foot braking, pulling on the hydraulic handbrake and punching the clutch to keep the torque-short engine on boil and the momentum going.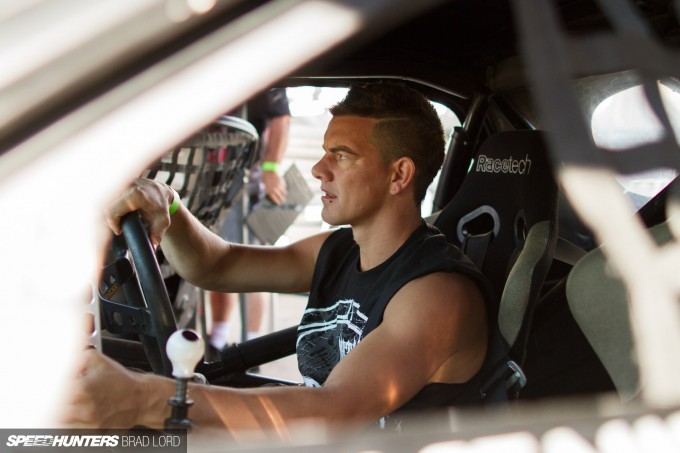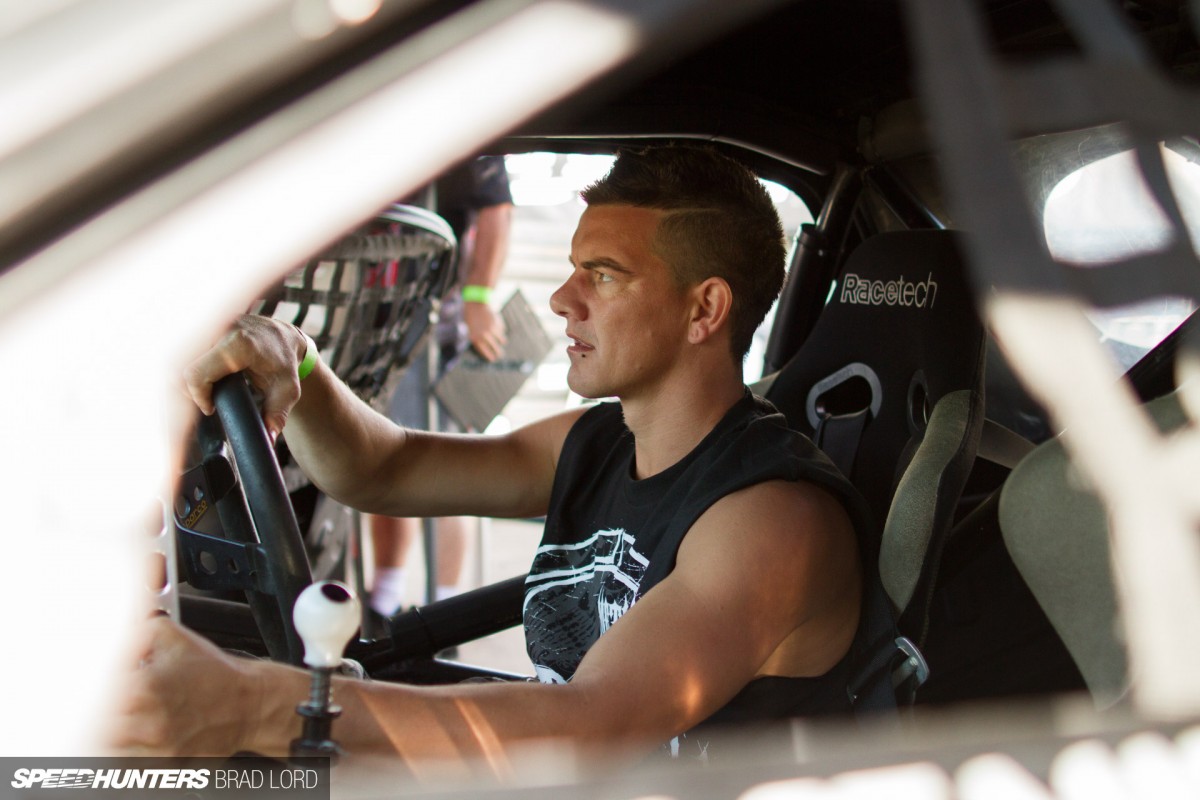 Despite his penchant for the sort of high speed drifting that only track-based events really afford, Mike has become a real force to reckoned with on these short, tight and technical layouts and quickly found his groove during Saturday's Pro practice sessions.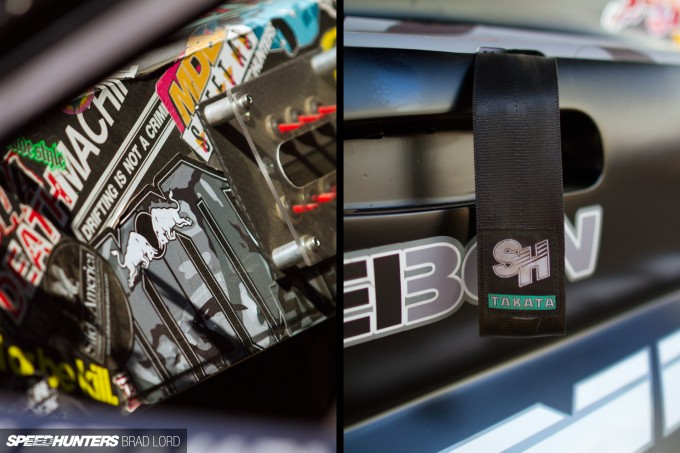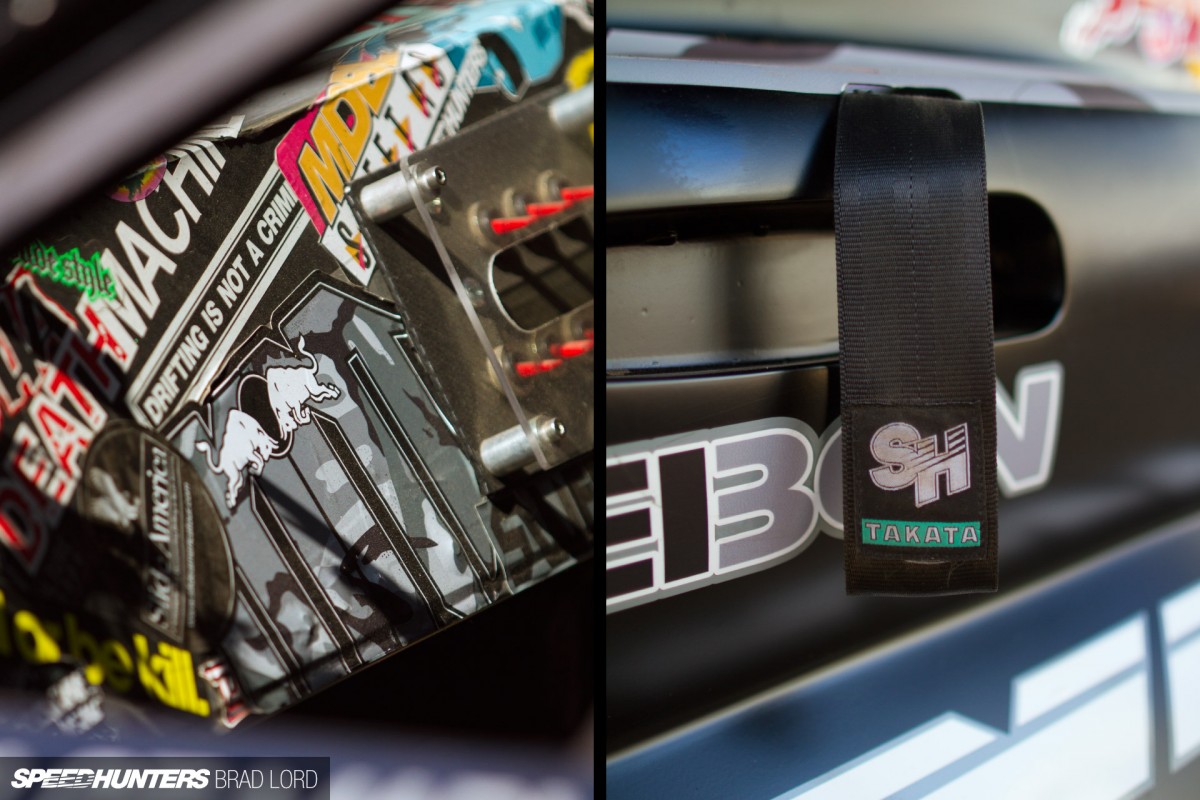 Unlike previous rounds, the car seemed to be behaving itself too. Well, as much as you'd expect from an angry and slightly-deranged beast like MADBUL anyway…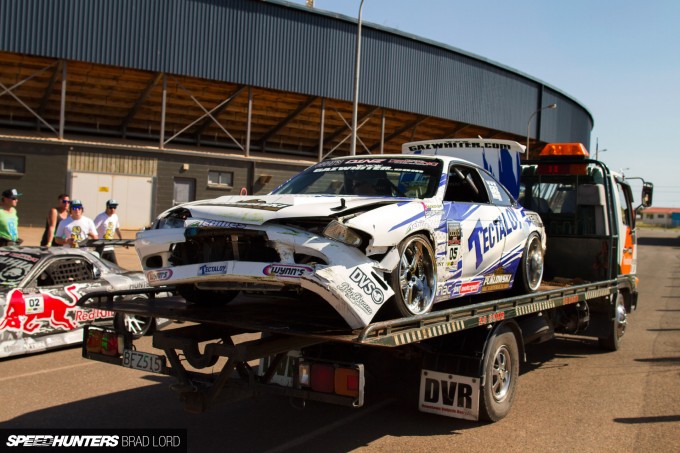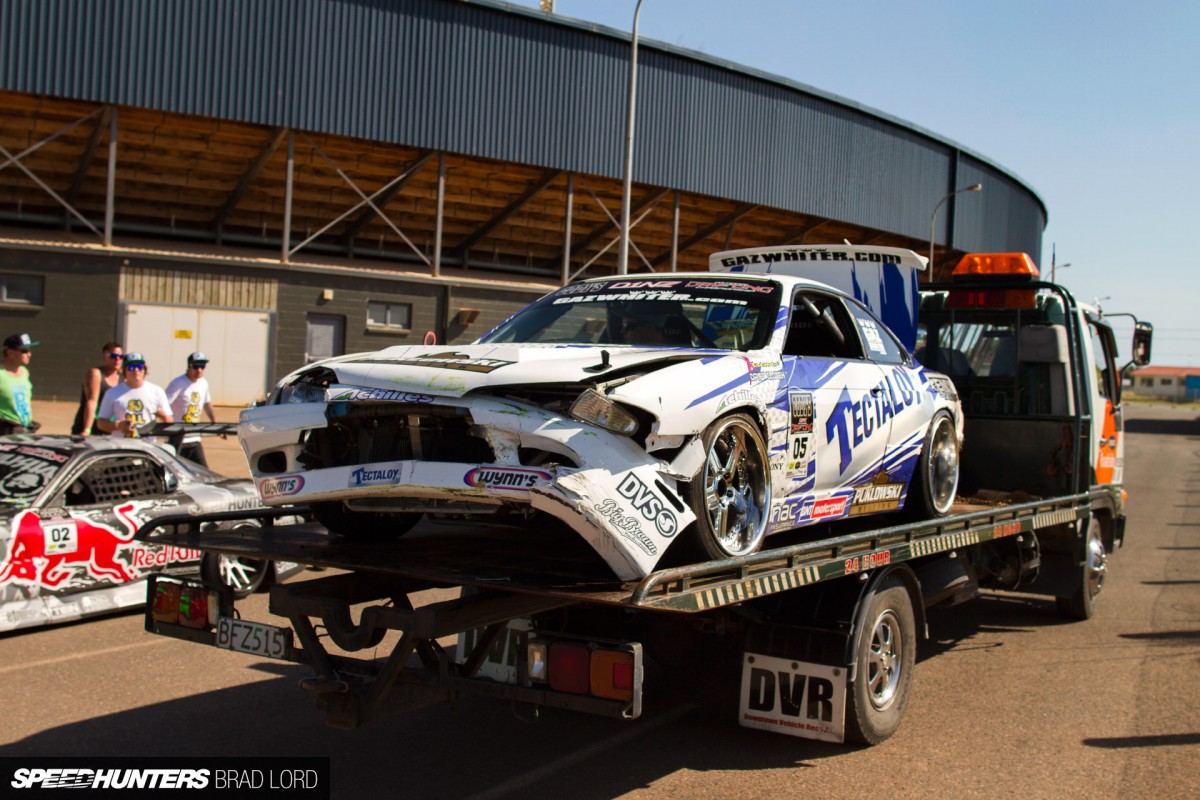 At the inaugural Baypark event last season, the unforgiving concrete barriers left many a car looking a little worse for wear. That included Mike too, whose RX-7 needed to be forklifted away after he ploughed into the wall while avoiding a head-on crash with a battle competitor. Come Sunday, it didn't take long for history to repeat itself for three-time D1NZ champion Whiter, who last year literally tore the whole rear end off his Silvia. Through mechanical failure, this time he made a bit of mess of the front…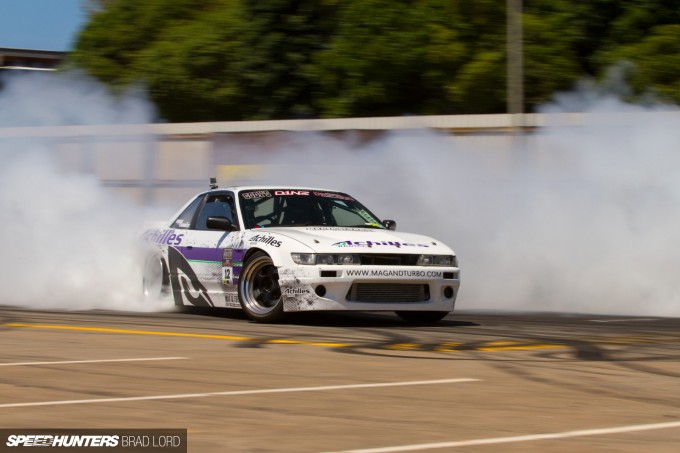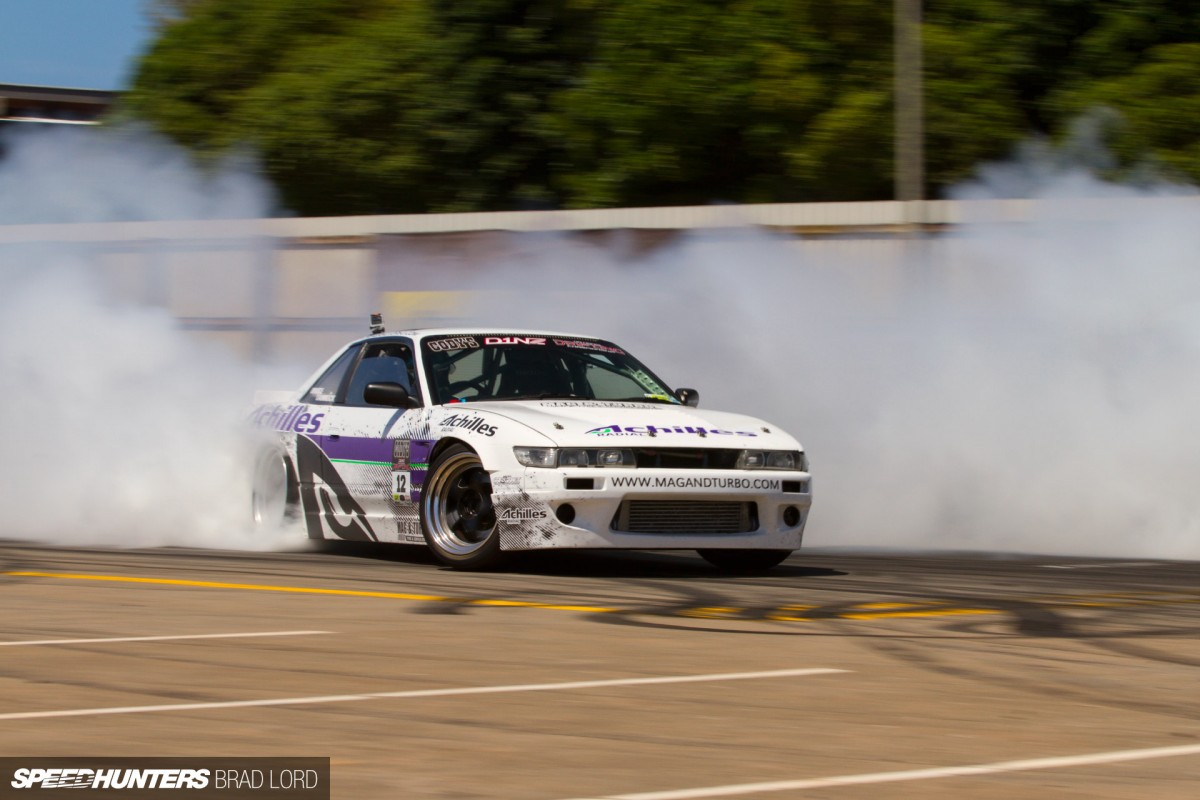 Most however, managed to keep their cars intact. On top of a decent Pro-Am field, around 27 Pro class competitors were signed up to race at Baypark with plenty of D1NZ's familiar faces in the mix – Bruce Tannock in his RB26-powered, Rocket Bunny-kitted Achilles Radial Nissan Silvia S13 included.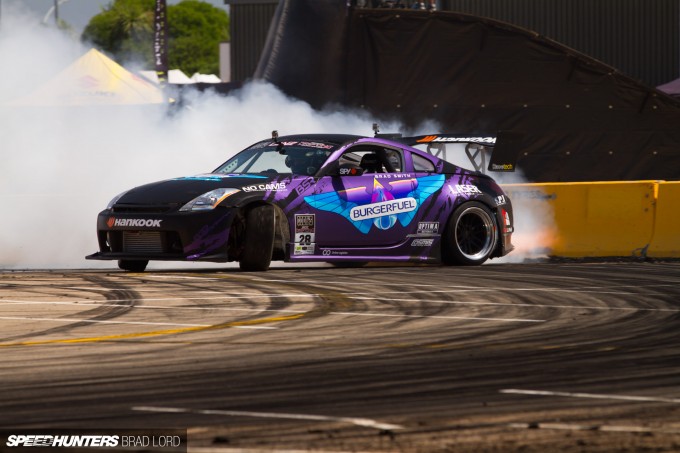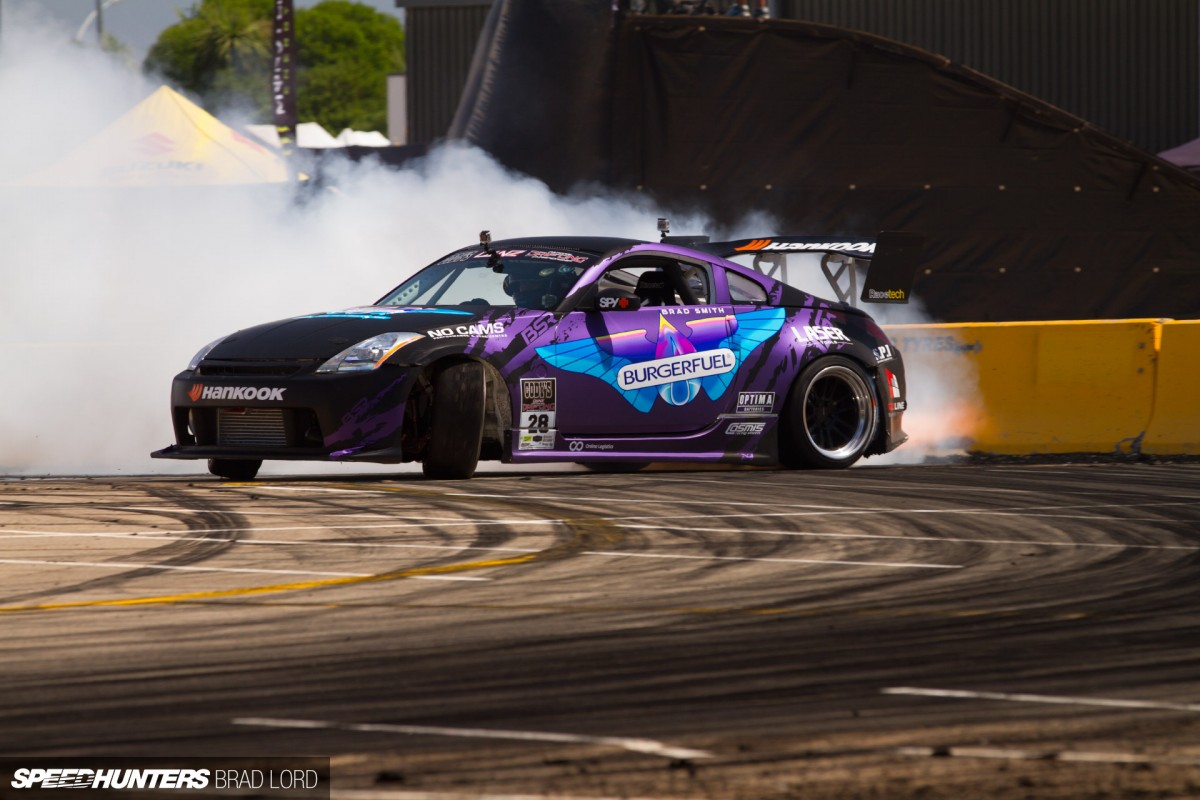 Then there are guys like Brad Smith, who has found his way back into the sport this season after retiring from national competition more than a few years ago. The new supercharged VQ35 Burgerfuel Nissan 350Z should be a bit of a weapon once he has things fully dialled in.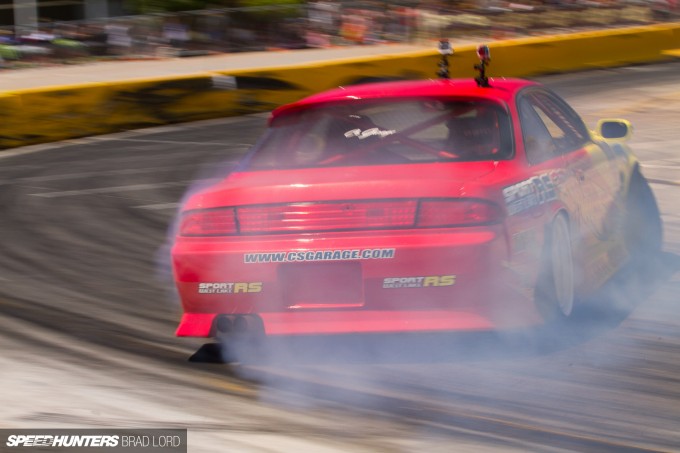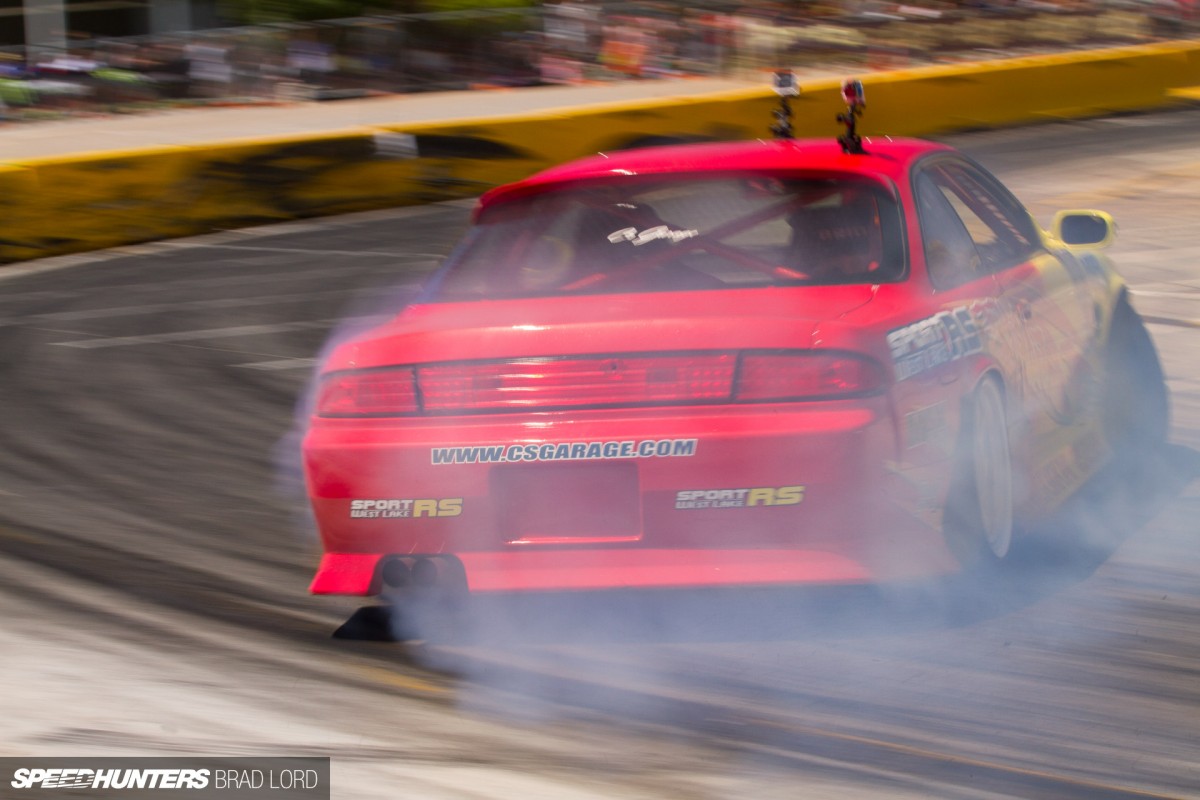 It was also good to see Adam Hedges' C's Garage Silvia S14 back and looking as beautiful as ever after taking a decent hit in its left rear quarter at the last round.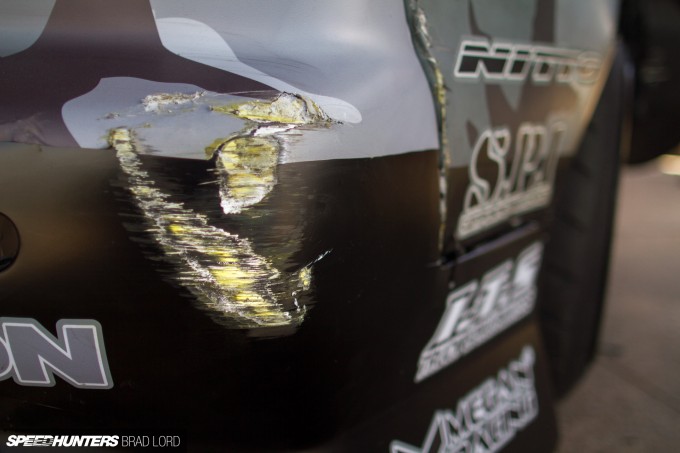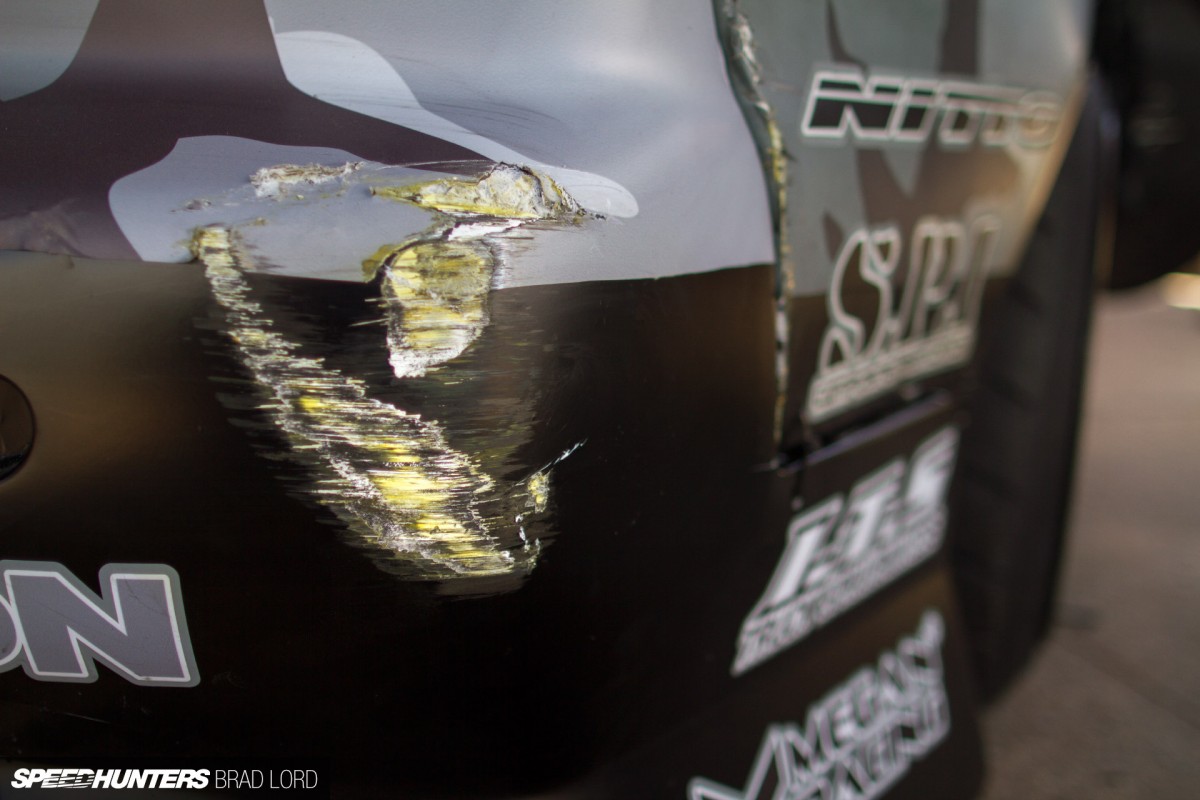 As the superficial scars around MADBUL's body showed, Mike had pushed hard during practice as he tested the utmost limits of the judges' desired drift line, leaving him quietly confident of a good result heading into the all-important qualifying session. With bonus championship points on offer, he knew what he needed to do.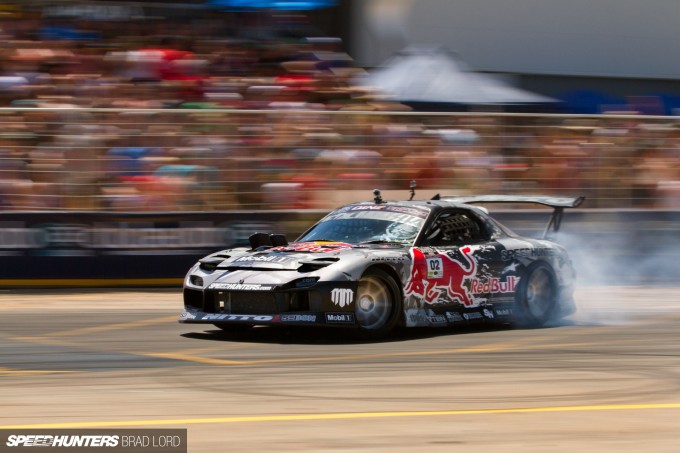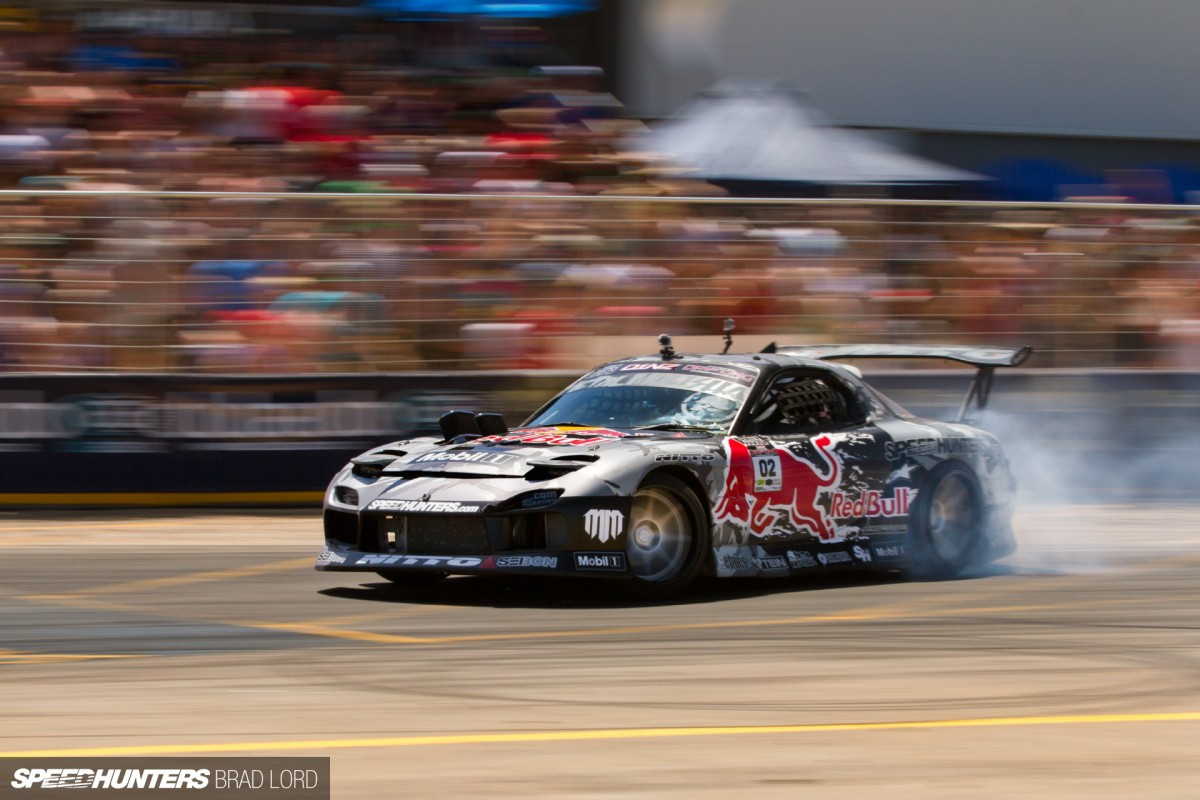 To say he delivered would be an understatement too. The first of two passes netted a 90.5 scoreline, which put him straight into fifth place. It was a slightly slippery run though, caused as Mike explained to me afterwards, by putting too much heat into the Nitto NT05 tyres, too quickly. A less aggressive approach on the start line – something proven during tyre testing – paid off, and 95.0 was the outcome the second time around. That matched the best qualifying run set by Achilles Radial team driver Andrew Redward, but on a count-back to both driver's lesser-scoring pass, Mike took P1.
Eyes on the prize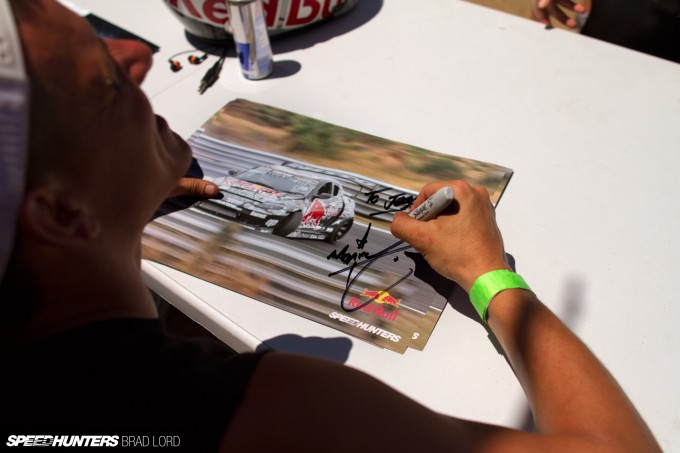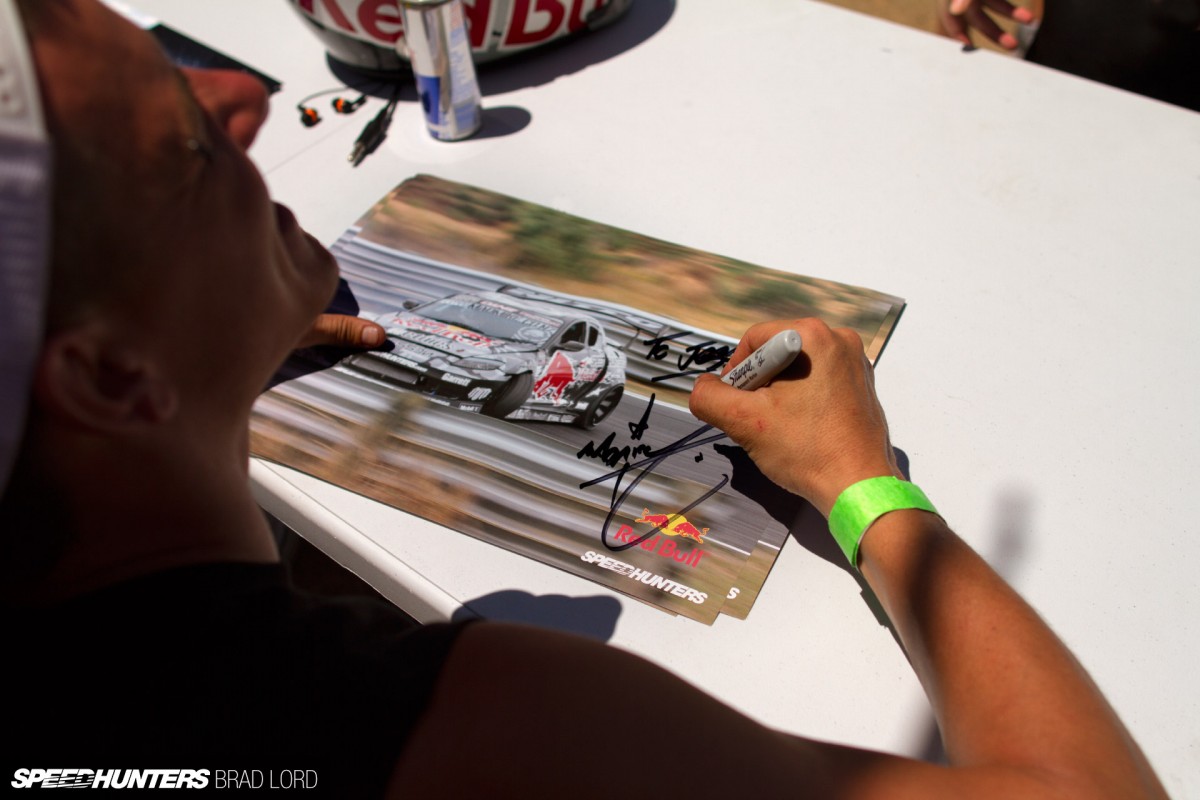 Before the battles commenced, the pits were opened for the lunch break, and the D1NZ drivers put their signing skills to use. I'm not sure how many of these mini posters of BADBUL reverse-entering the Hampton Downs' drift section Mike has autographed, but it's surely in the thousands by now.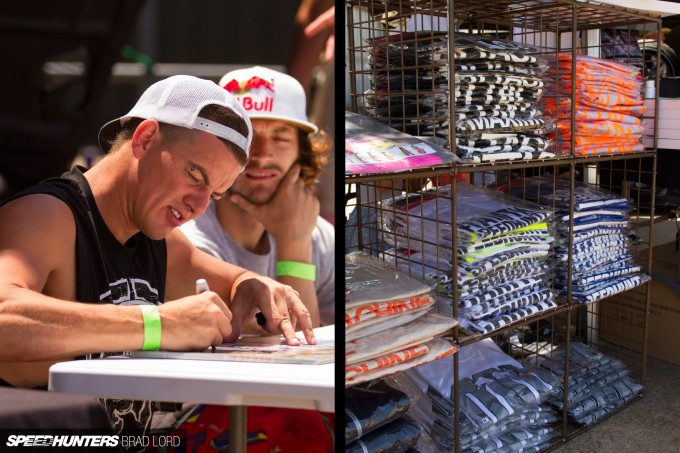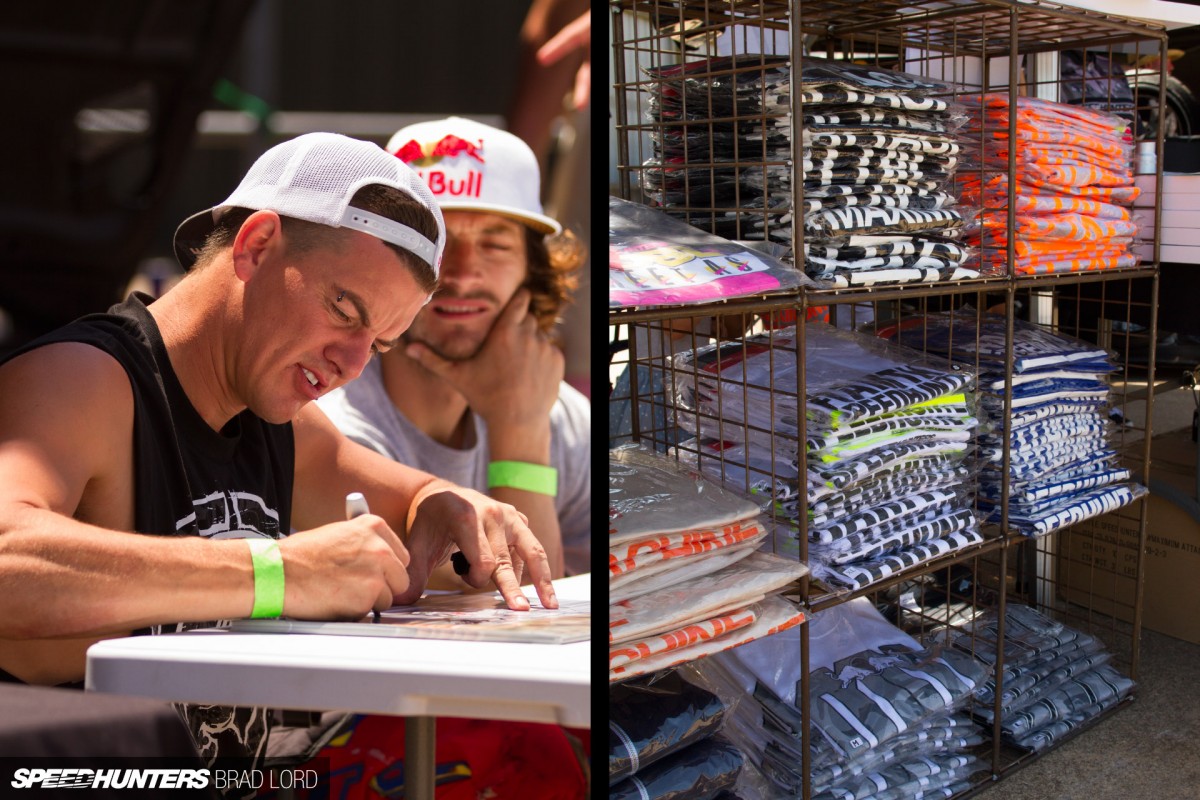 This time around he had fellow local Red Bull athletes Nick Franklin (FMX) and Jaden Leeming (BMX) to keep him company in the booth, and a fresh restock of Speedhunters merchandise. Big thanks to everyone who stopped by for some clothing, a book, or an accessory or two!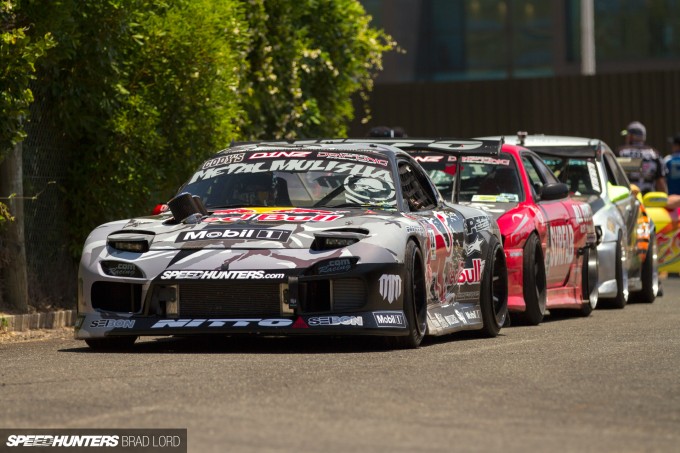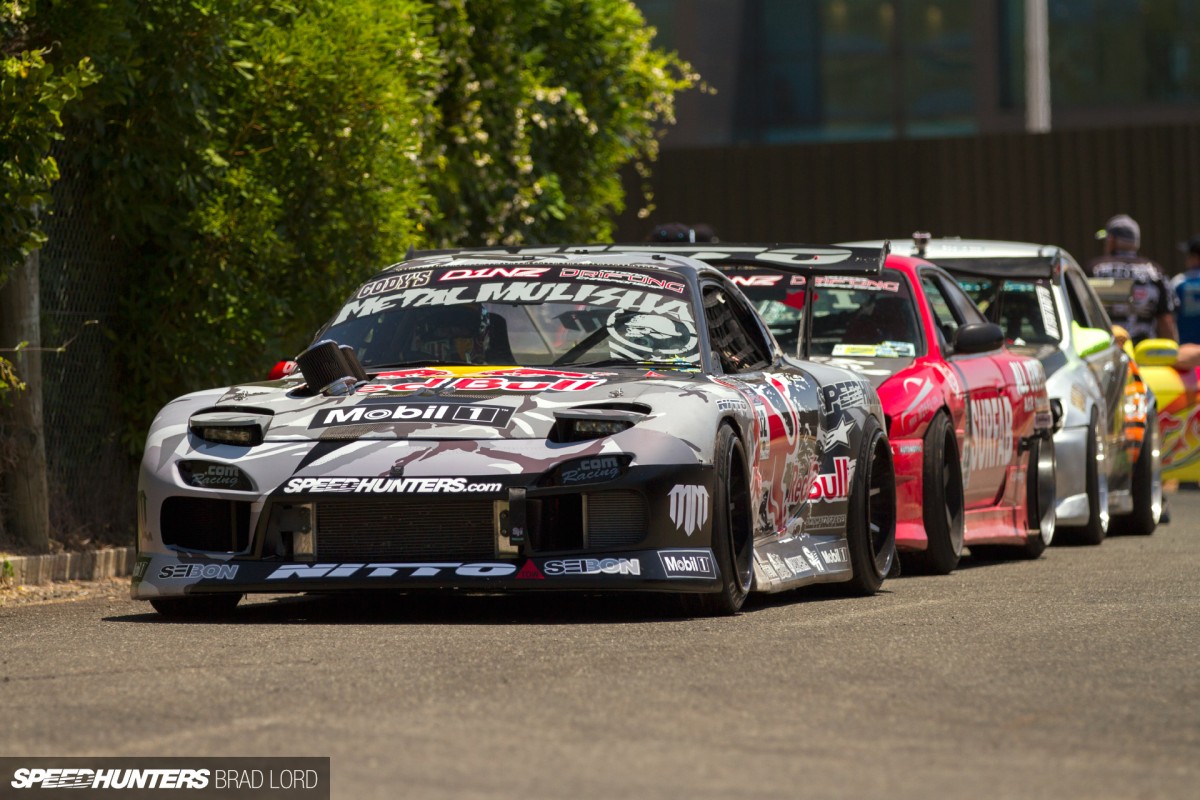 Because of his qualifying result, Mike received a free pass through the Top 32 and straight into the Top 16 for the first of his match-ups. Of course, because of the way the battles are formatted, he'd meet some of the lower-scoring qualifiers along the way, and according to Mike it's those battles that are often the trickiest to win in the chase because of measurable differences in speed in line. I'd never really thought about it before, but it does makes sense given the varied experience of the drivers in the D1NZ Pro ranks.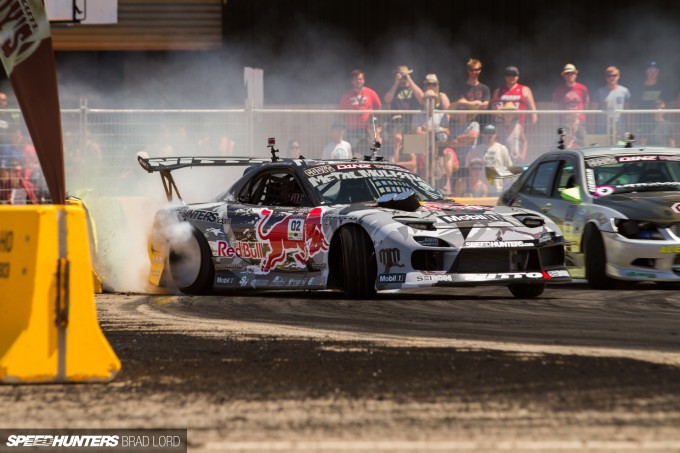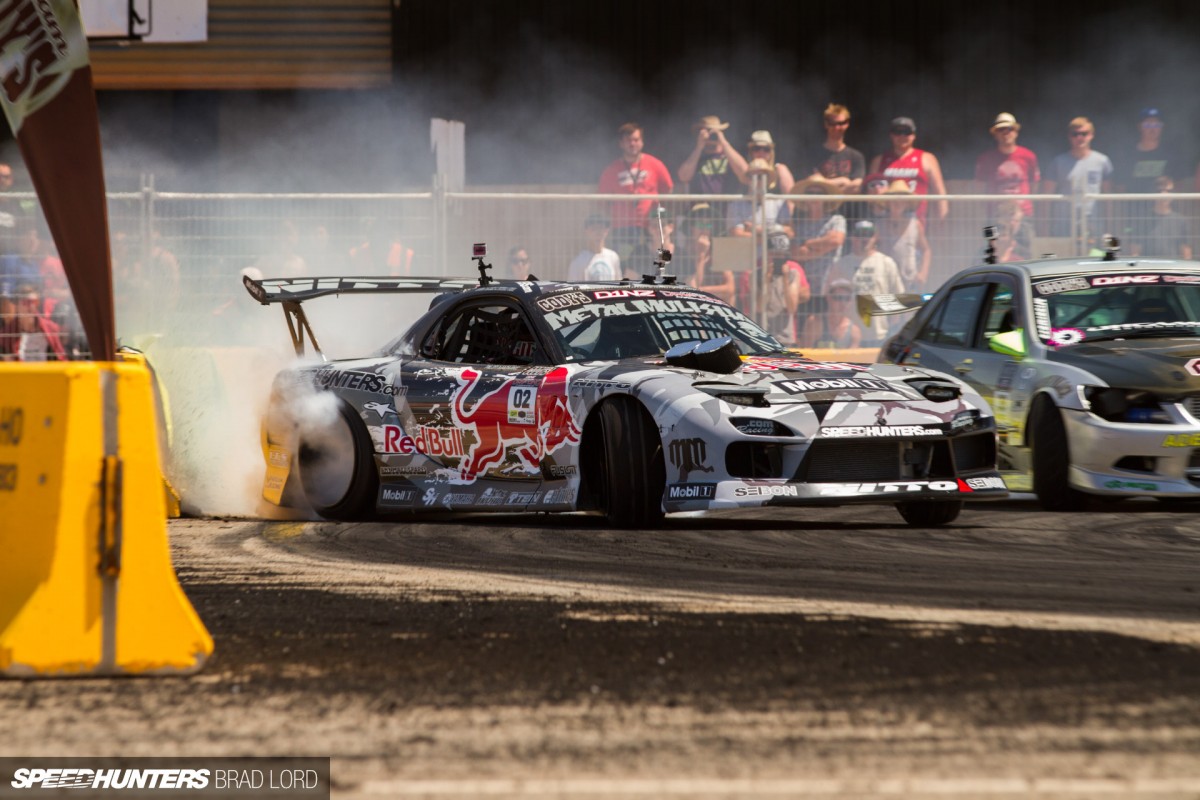 Although both Chris Jackson in the Surfab Nissan Silvia S15 and Aden Omnet in his Aden's Tyres 2JZ-powered Toyota Altezza (Lexus IS) kept Mike honest, he moved on to battle 'Fanga' Dan Woolhouse in the Top 4 semi-final.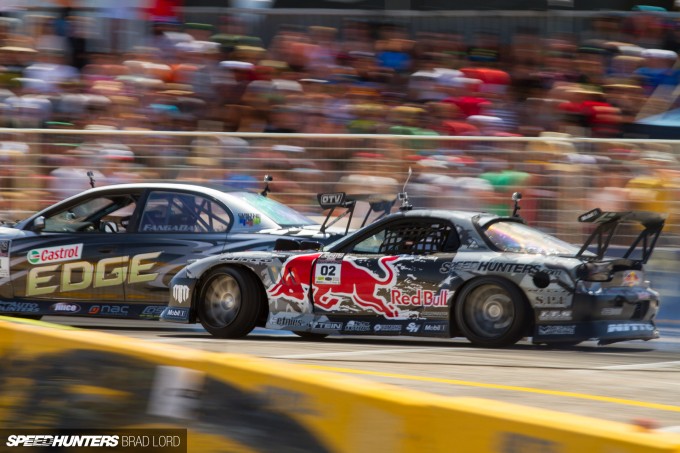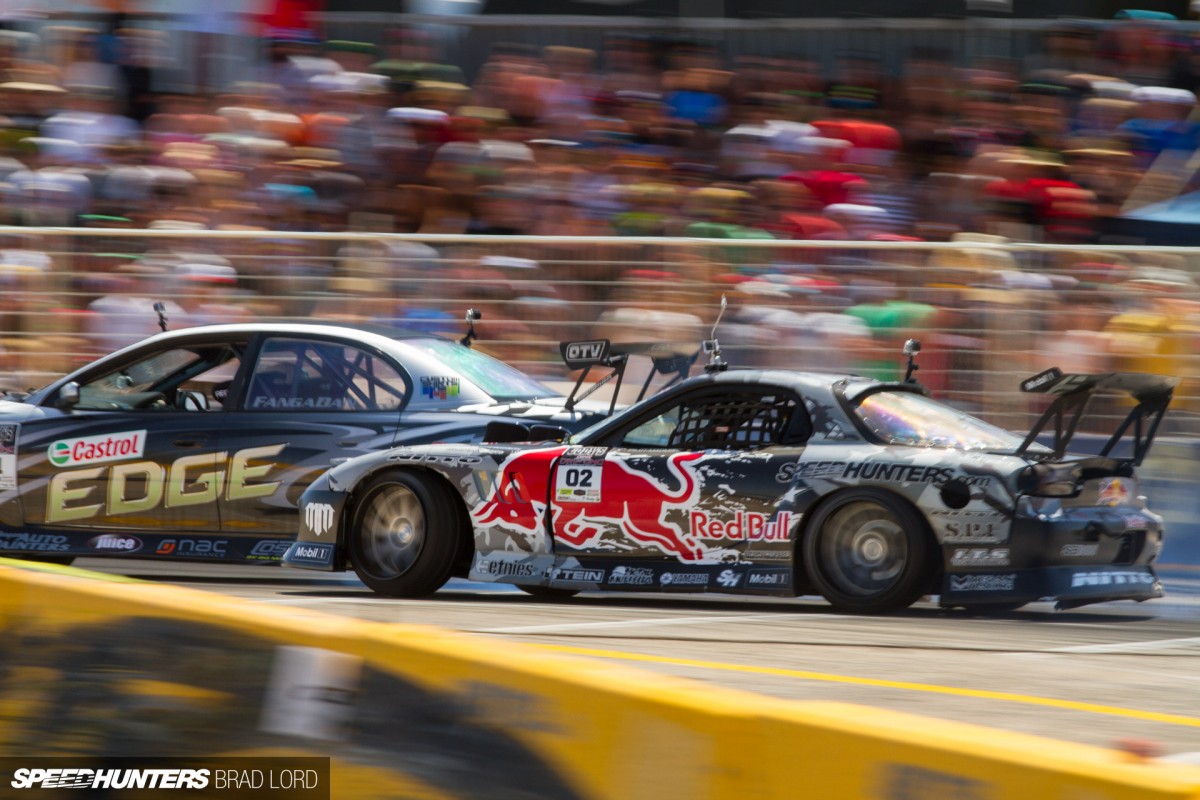 When Mike and Fanga battle it can easily go either way and given the aggression both drivers exhibited into the long, sweeping left-hand entry, unless one driver made an obvious error, it was always going to be an extremely close call. And that's exactly how it played out too.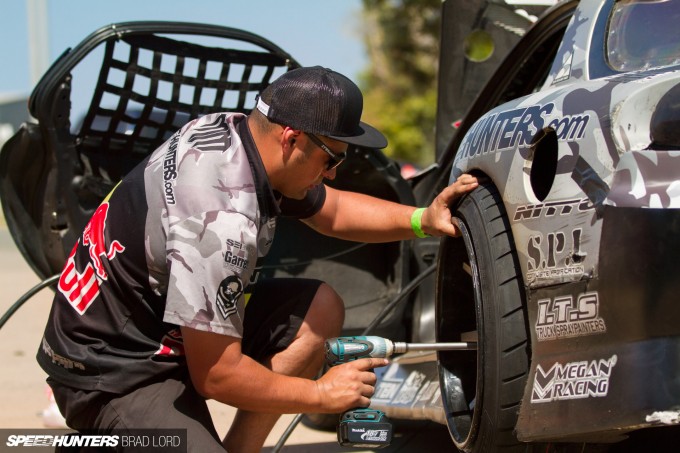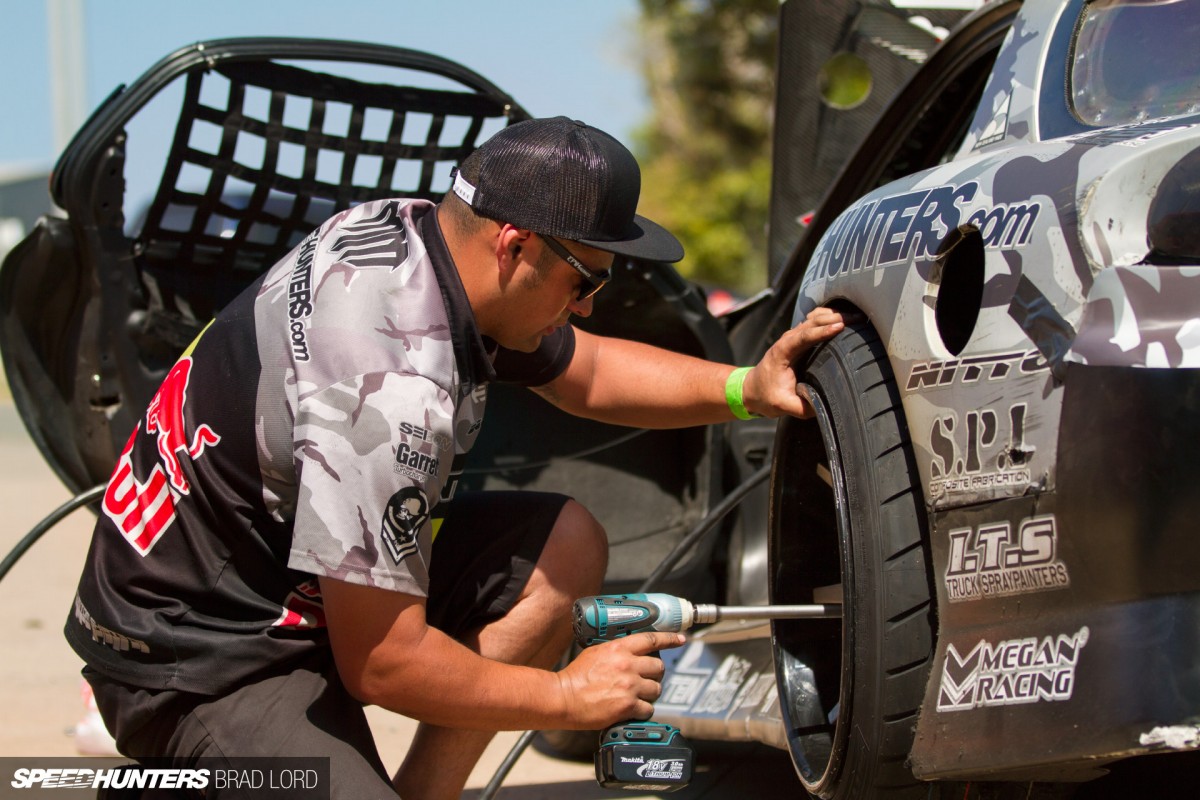 Mike thought he might have had the win in the bag given his chase proximity, but the judges saw it otherwise and called 'One More Time'. On the grid the team worked frantically to turn the car around for the re-match. Inboard air-jacks certainly help the cause in a high-pressure scenario like this.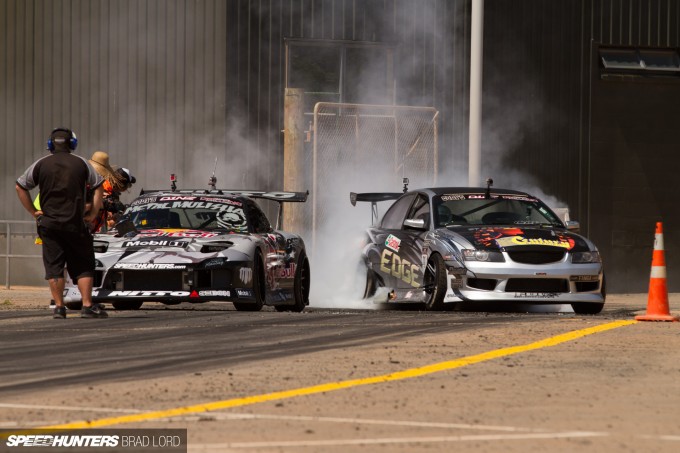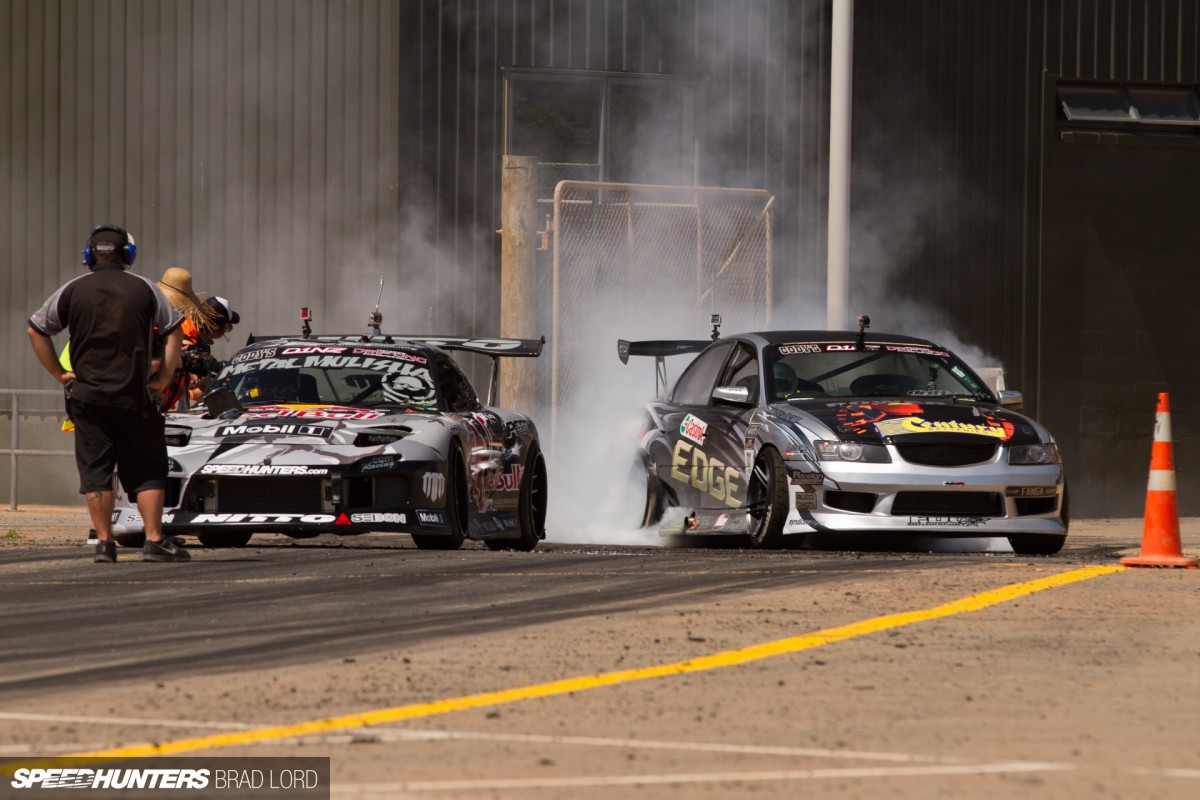 Like he had done in qualifying, Mike warmed the tyres to their optimum temperature and waited patiently on the start line while Fanga prepped his LS-powered GM Holden Commodore for battle.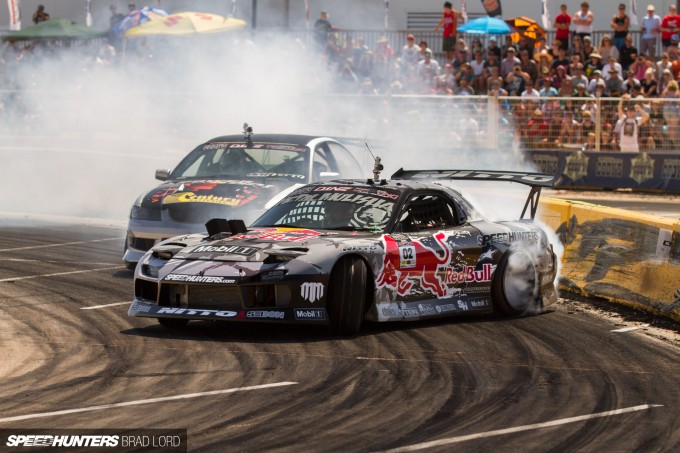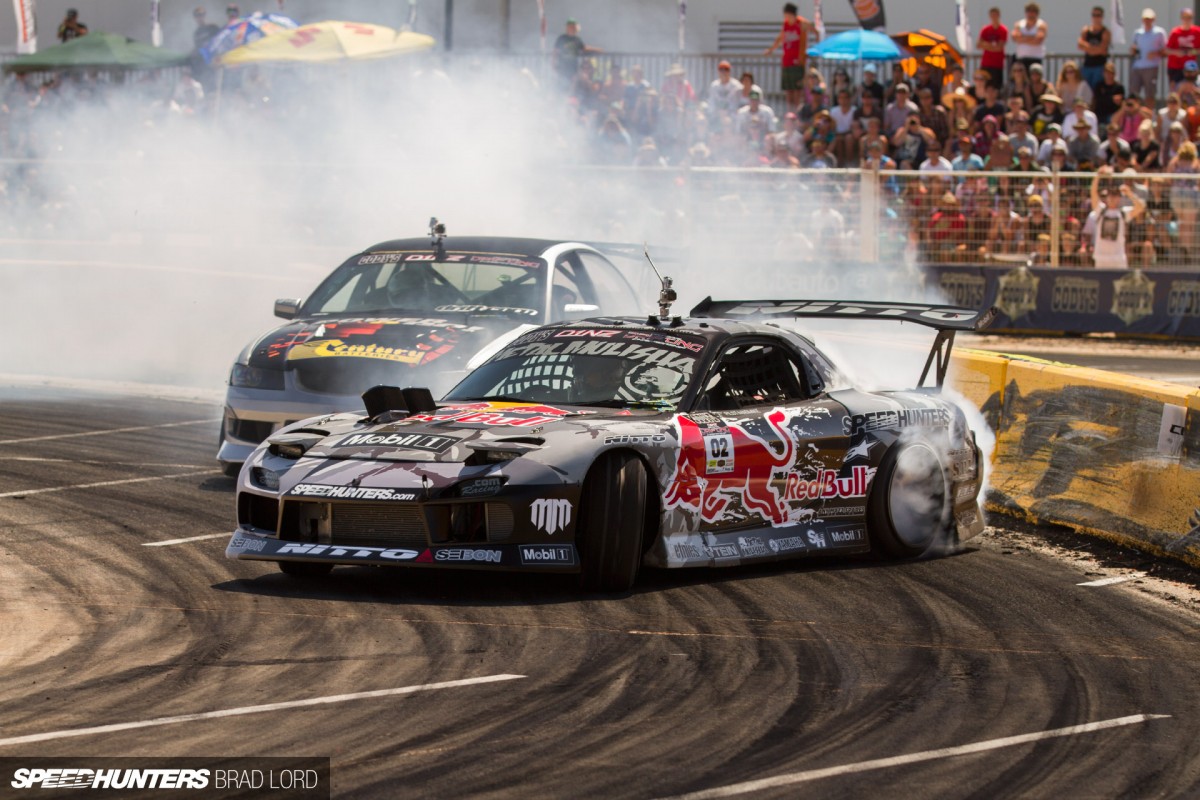 The pair went at it hammer and tongs, Mike leading first, then backing up his near-faultless run with a chase that couldn't be matched – his Nitto NT05s rubbing up on Fanga's doors.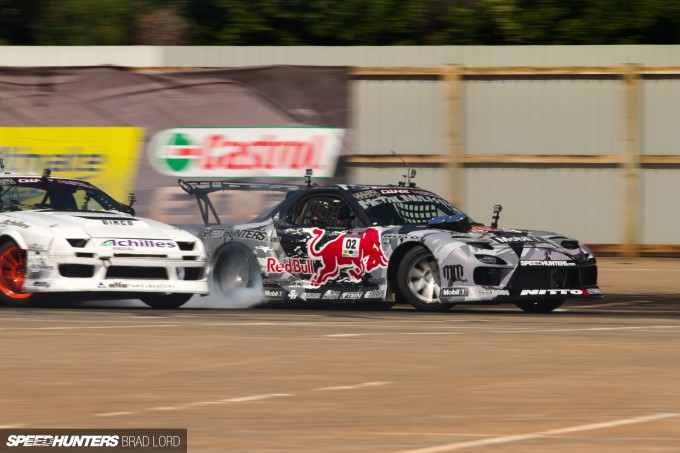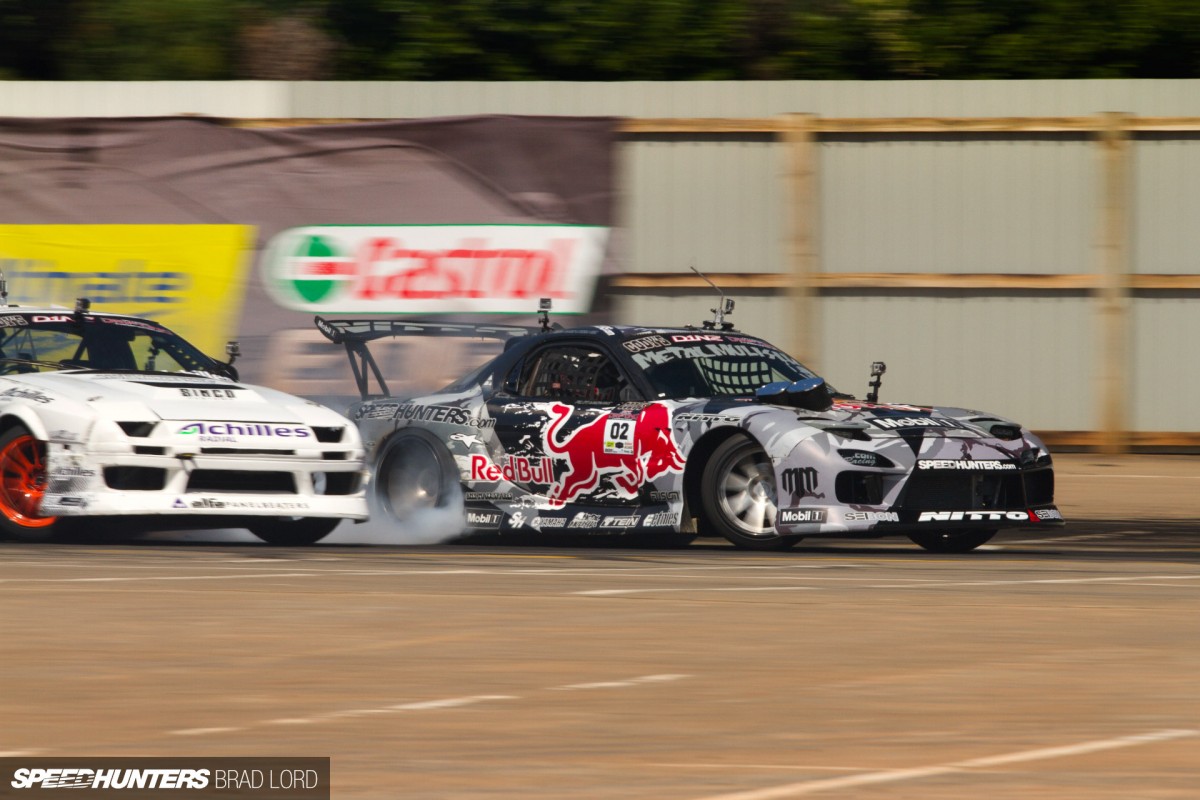 Throughout the battles, some of Mike's biggest threats had fallen by the wayside, putting him in a pretty good position regardless of what happened in the final against Andrew Redward. With his eyes on the prize, Mike laid down a solid lead lap, running the cleanest, yet most aggressive line he had all weekend to take the first pass points advantage.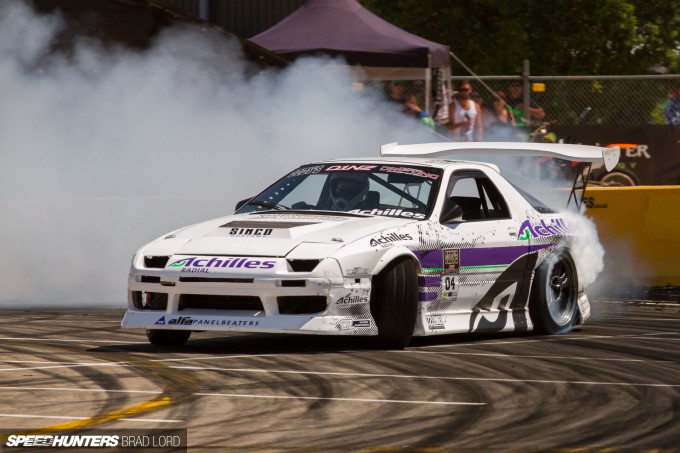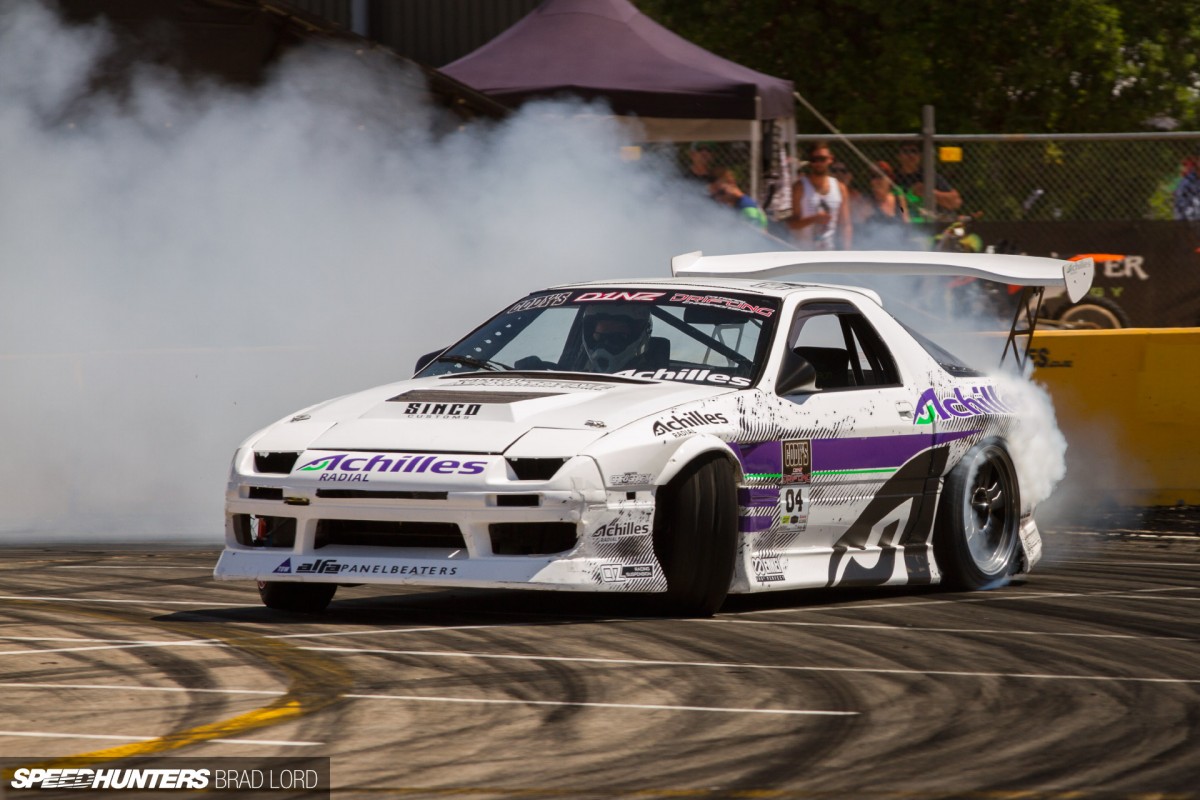 But as drifting always proves though, anything can happen, and as quickly as that advantage arrived, it was extinguished. A missed gear through MADBUL's sequential gearbox gave Redward the jump, and by the time Mike had recomposed himself and the transmission, the Achilles Chevy V8-powered FC3S was driving away for the win.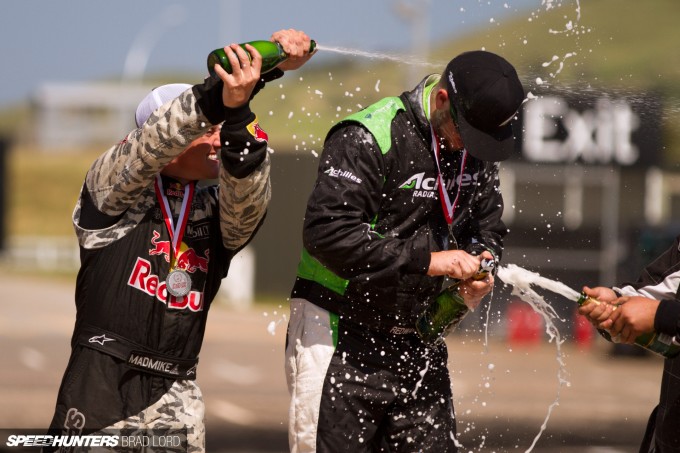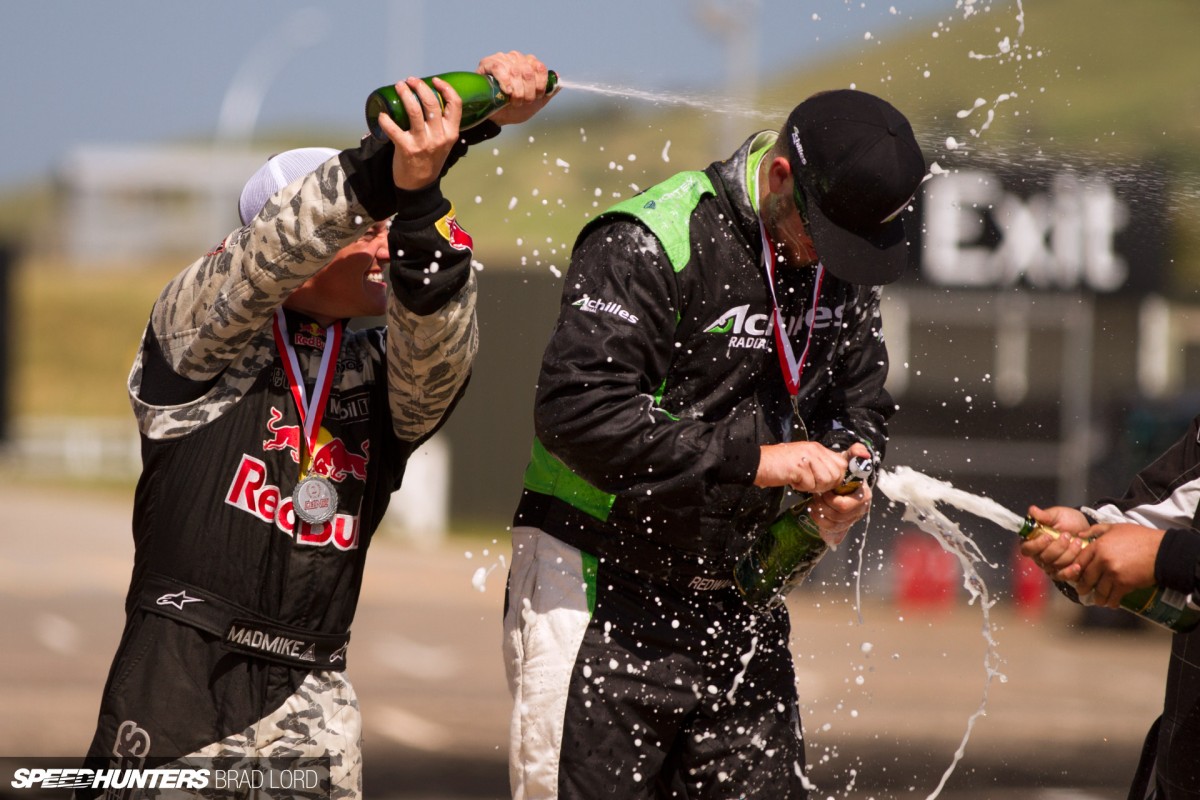 Mike called it a rookie error, brought upon by not pulling back on the shifter hard enough, but it wasn't worth dwelling on. The event belonged to Andrew, who not only matched Mike in qualifying, but drove the whole day with a bungee cord holding his shifter in third gear. A hard-charging Nico Reid joined the pair on the podium in third and the fizzy stuff flowed.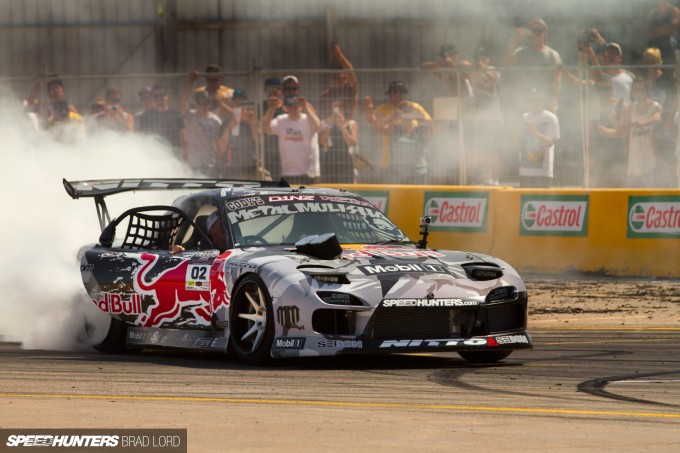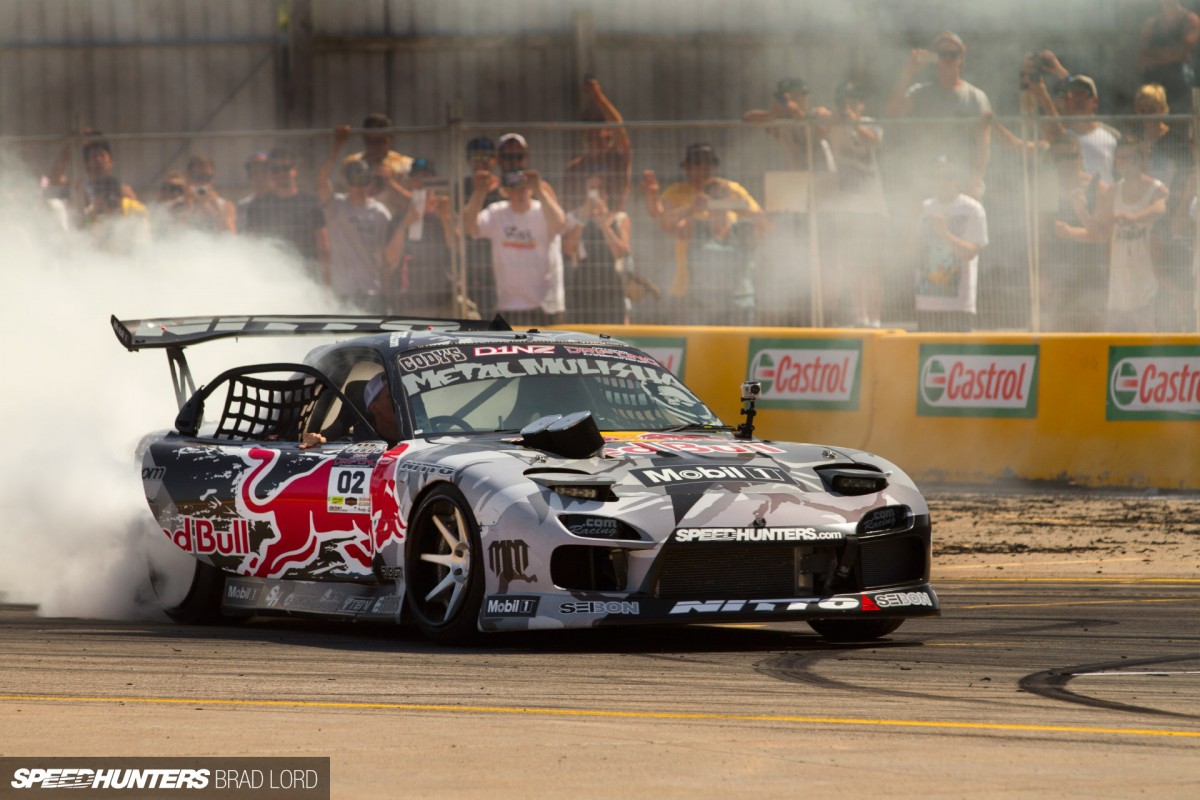 No D1NZ event is truly complete with victory burnouts, and Mike is always keen to oblige. It was a good way to end another solid event, and one that added another chunk of points to his championship tally, putting him a reasonable amount ahead of second place Gaz Whiter, and Nico Reid in third. With three events still to run – the next in a month's time at Taupo Motorsport Park – the series is still wide open, but for now there's no better place Mike could be.
I'll wrap this post up with a clip from Max Fouhy, recalling the events of D1NZ Round 2. Keep an eye on Mike's YouTube channel for a Round 3 wrap-up soon…