Built not bought
As anyone with first hand knowledge will attest, building a car can be a complicated and expensive process. But it doesn't have to be that way. Mark Beikhof's 1977 Volkswagen Golf Mk1 is proof that a simple idea can be be extremely effective when it's executed the right way.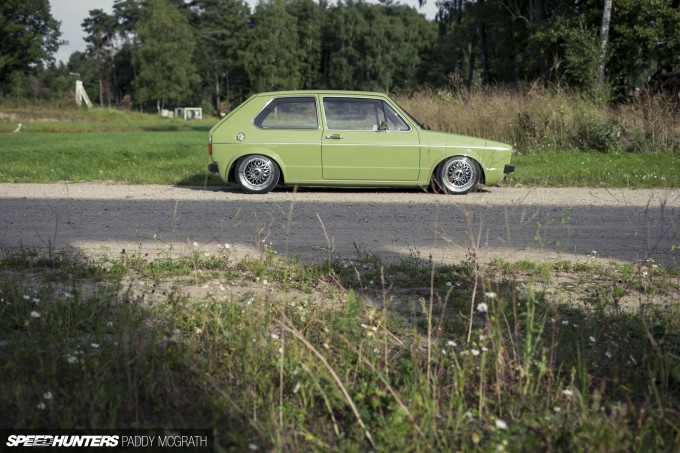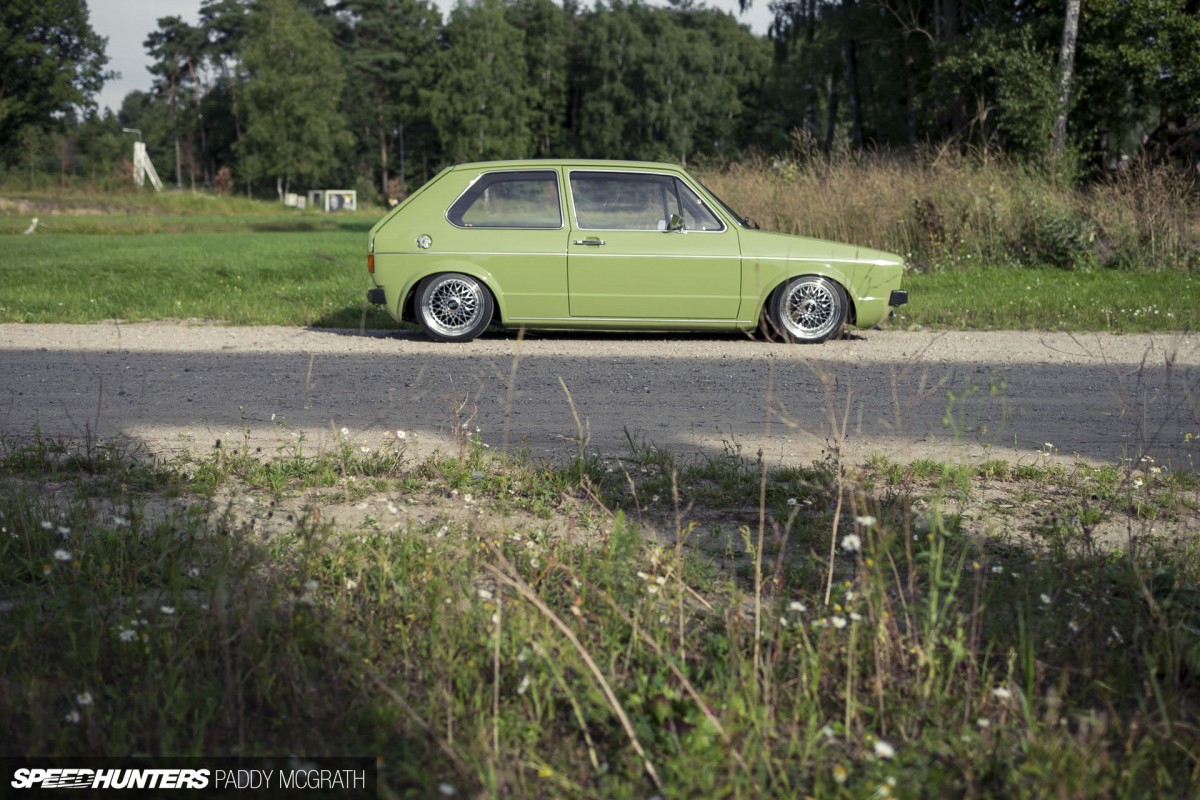 The Manillagrun (that's Manilla Green) machine isn't the first Golf that Mark has owned. Back in the day he was the proud owner of a Mk2, but at the same time one of his good friends had a Mk1 that was so clean, Mark vowed to take it off his hands if he ever decided to part ways with it.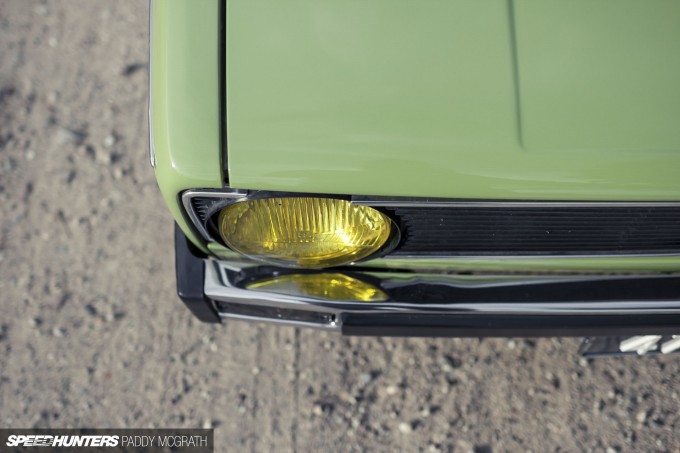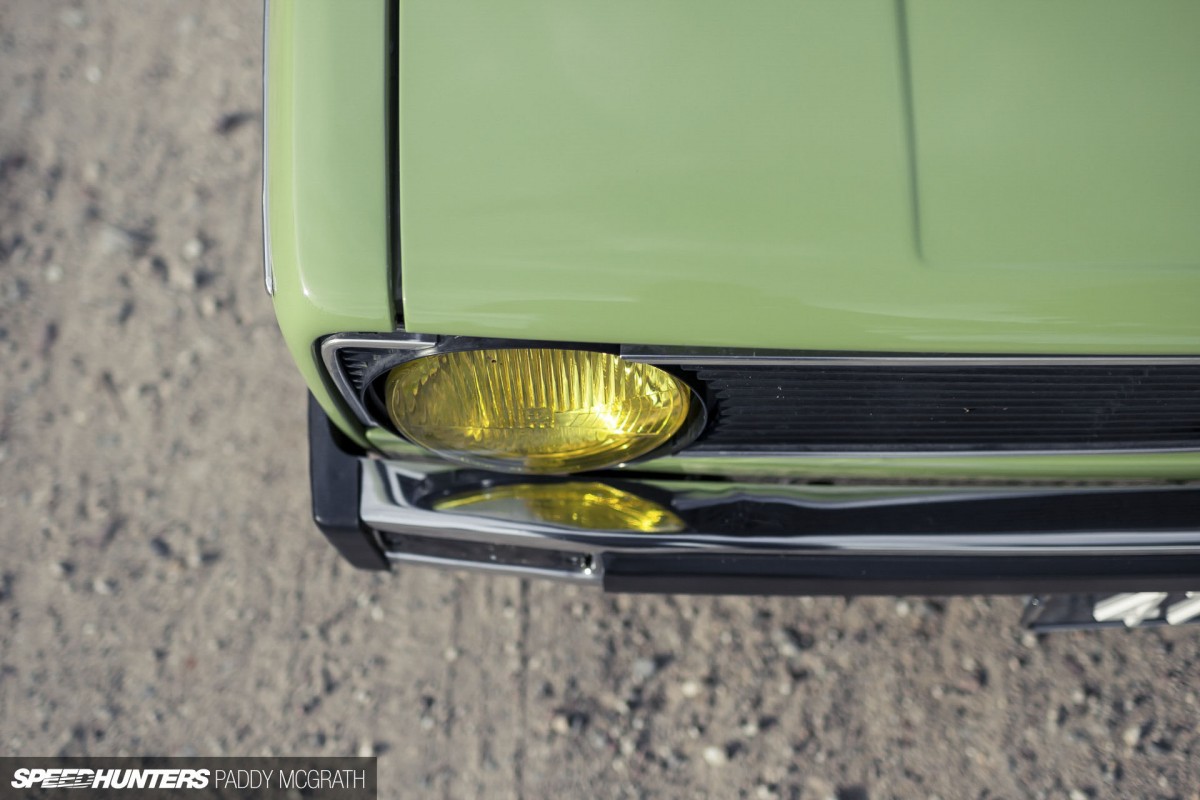 That day eventually came of course, but the timing couldn't have been worse. Mark had just bought a house with his girlfriend, and any spare funds he had – including those raised from the sale of his Mk2 – had gone into the property purchase. Although the missed opportunity weighed heavily on his mind for a while, as that old saying goes, good things come to those that wait, and after being without a car for a few years Mark was back in the market for a first gen Golf.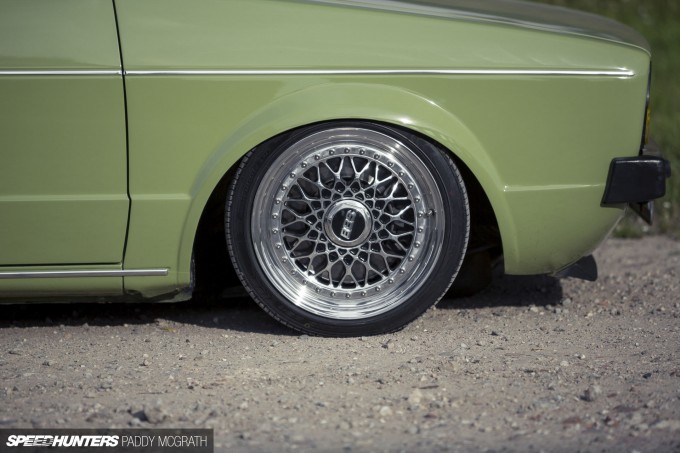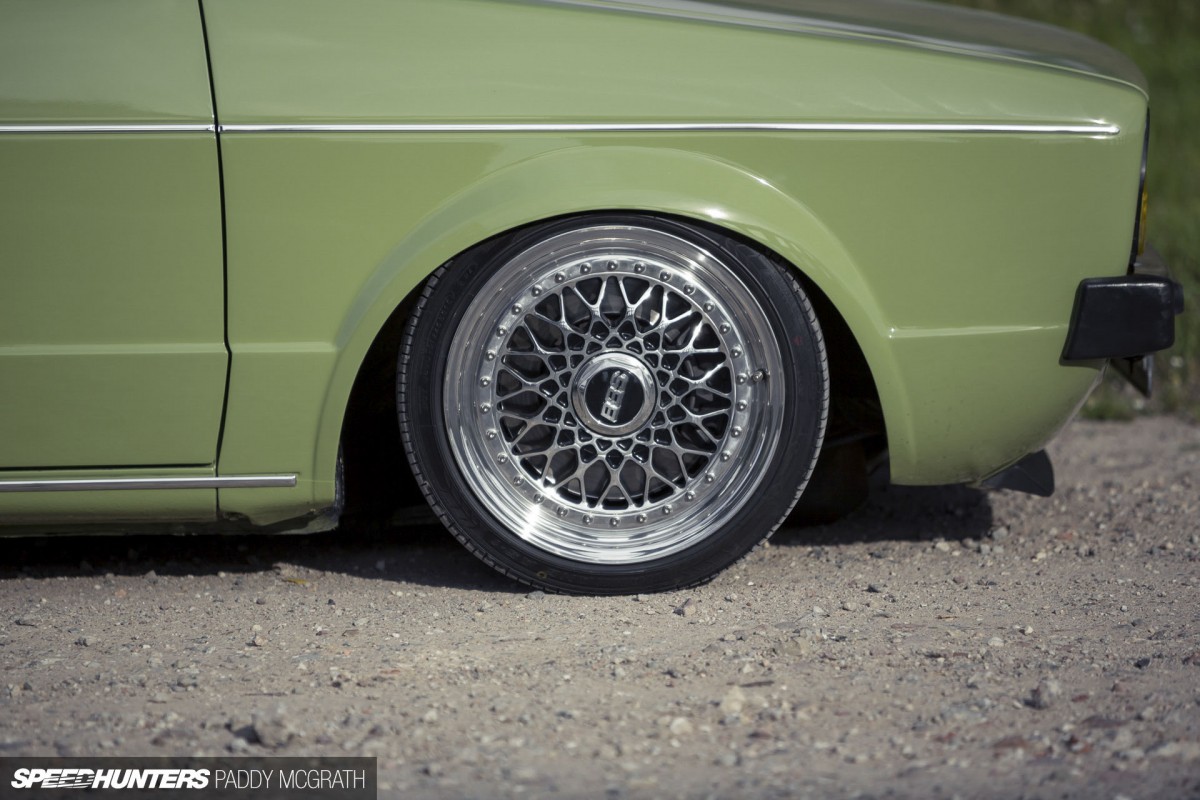 What he ended up finding was an original 1.1-litre, 49hp three-door – the poverty pack model in the Mk1 line-up, but nevertheless a perfect starting point for what Mark had in mind.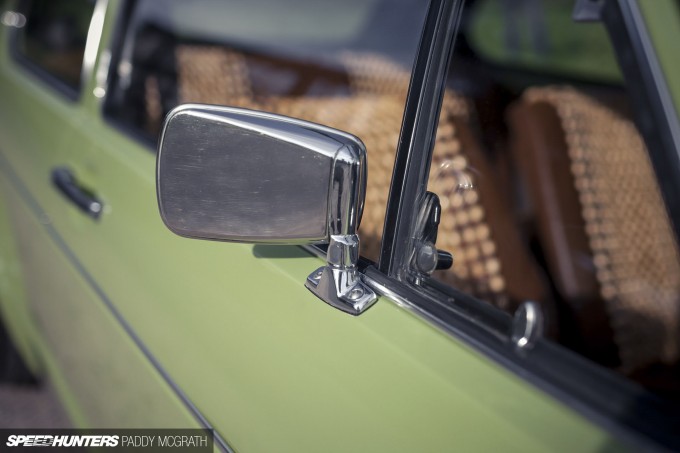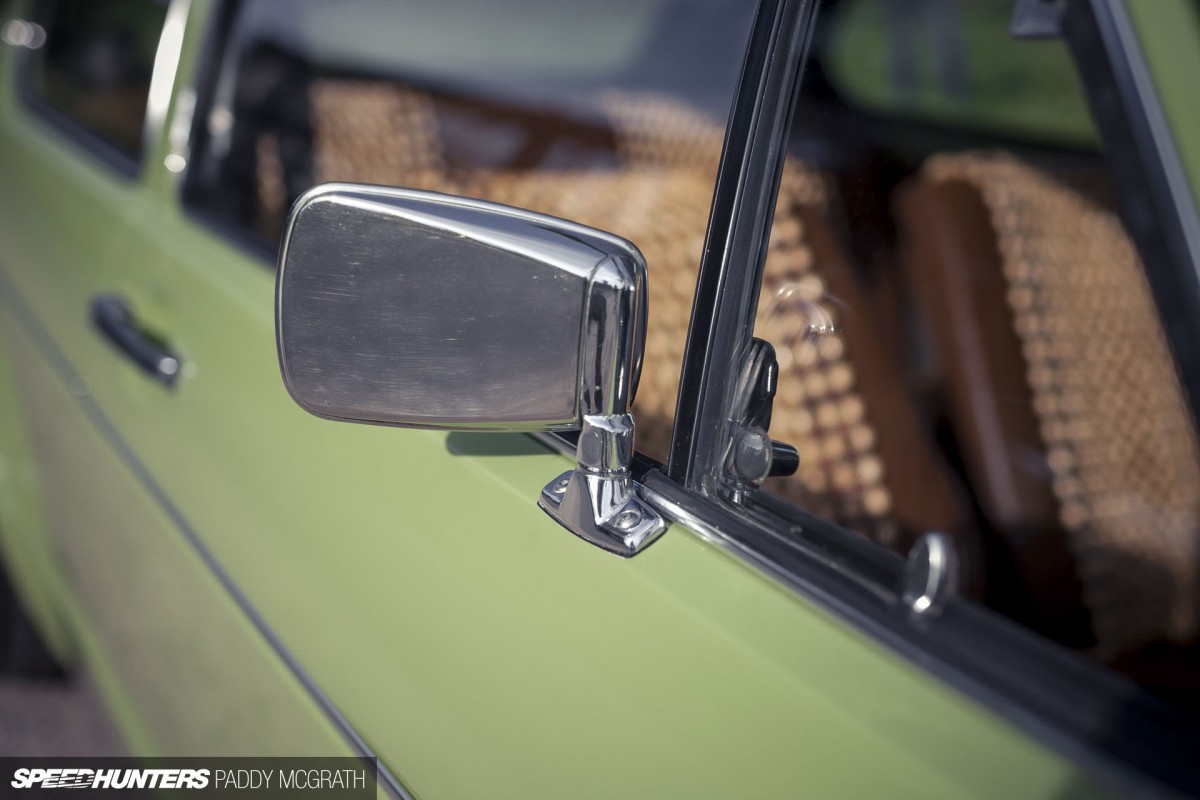 After a few months of driving it as he had found it, a plan was hatched around giving the Golf a quick tidy-up, a lowered ride height and a set of wheels. Three years on, that's essentially what Mark's ended up with – but only if you don't count the bit where the 'tidy-up' became an extensive nut and bolt restoration project.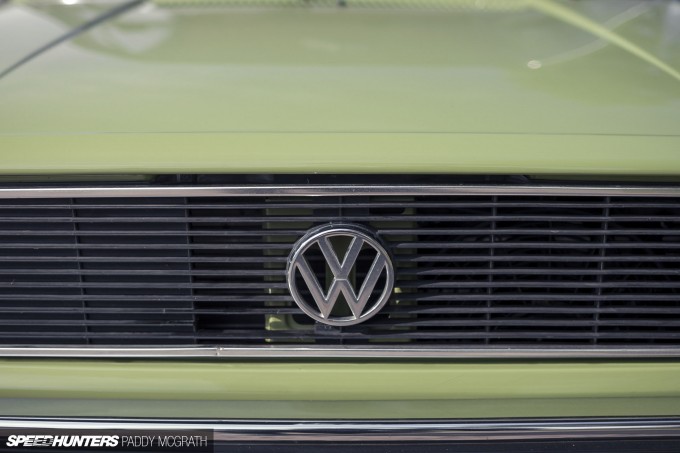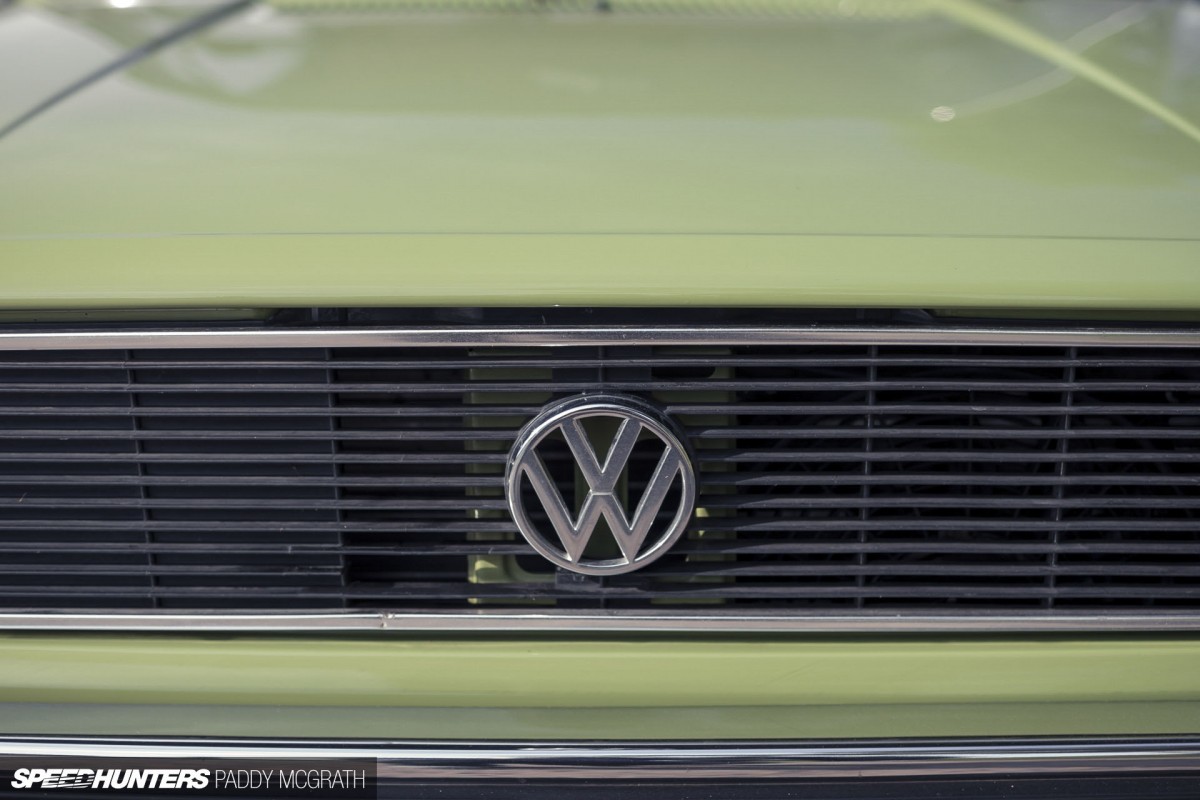 Although there was some rust around the place, for the most part the 30-something year Golf was in sound order. Once all the panels were tidied up and blocked back, the Mk1's classic bodywork was hit with the spray gun for a complete respray in the same muted green hue it rolled off Volkswagen's production line with.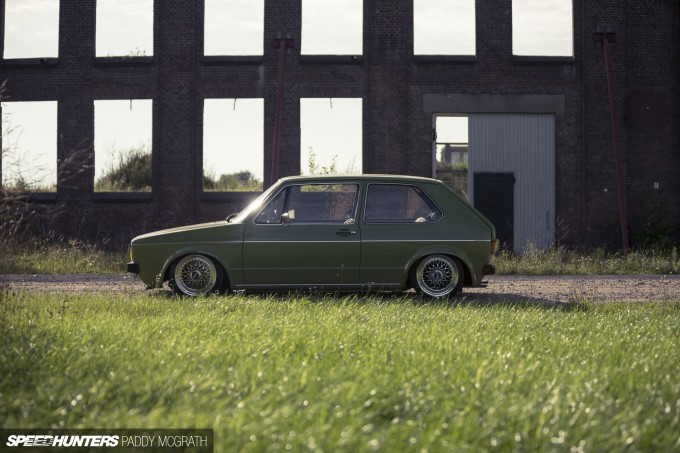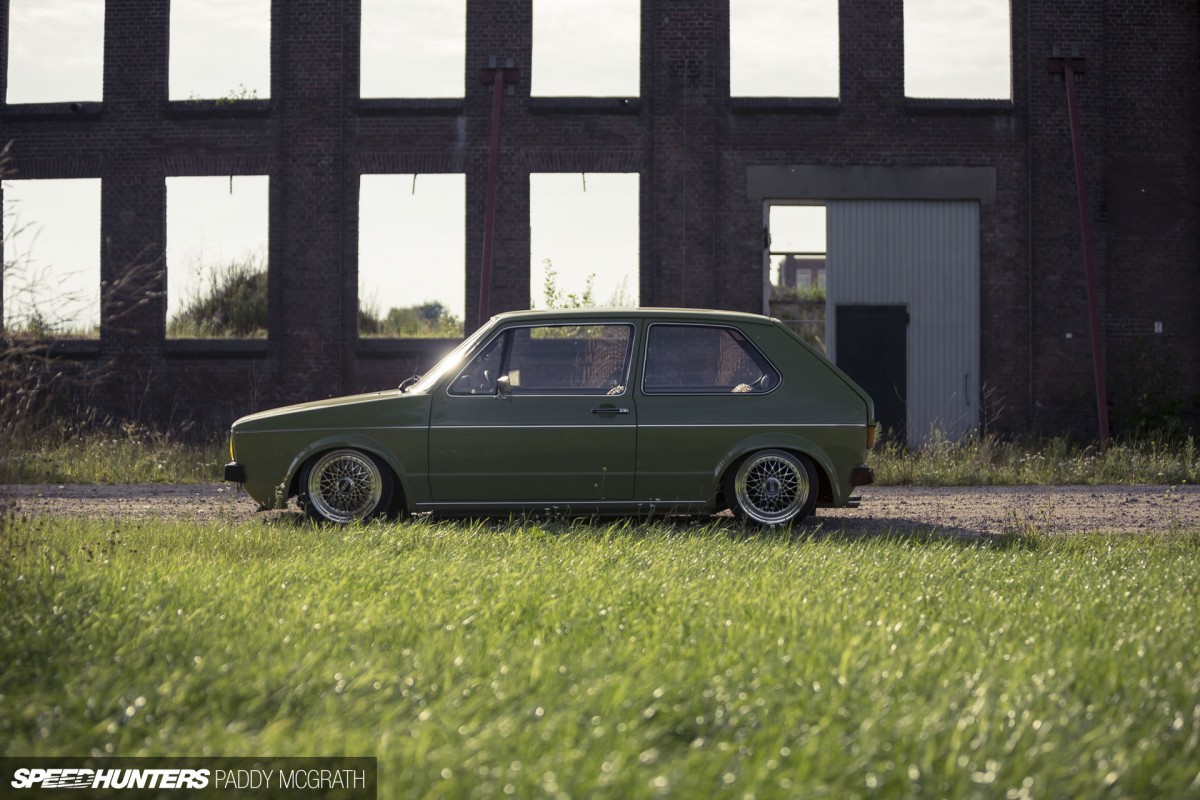 Although I've personally never had much to do with Volkswagen's iconic hatchback, I love the lines of the early model – especially in profile view and draped low over the right set of wheels. I don't know about you but in my mind, Mark's Golf absolutely nails the look.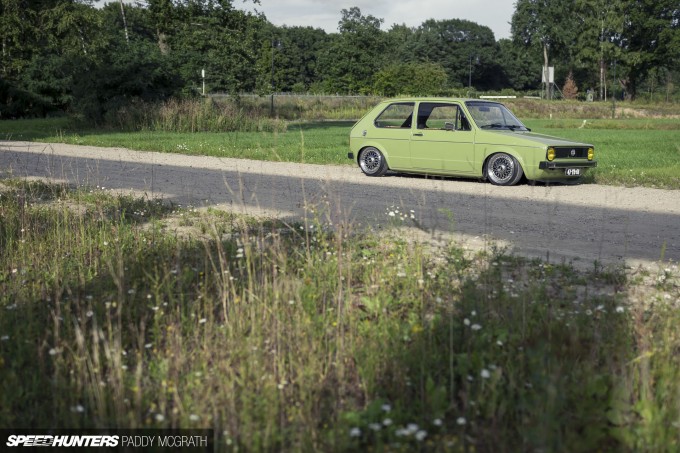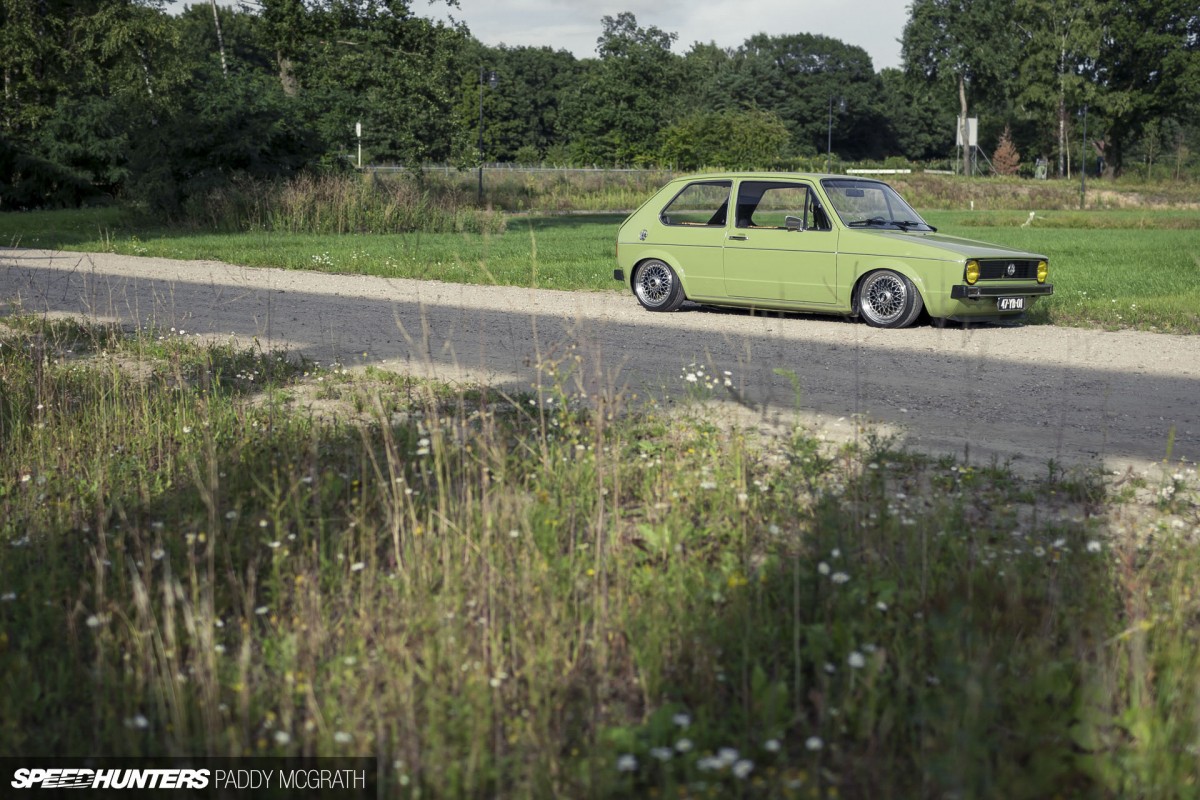 As straightforward as this build is though, there are a number of very cool details that set it apart from the multitude of slammed Mk1s still in service…
It's all in the details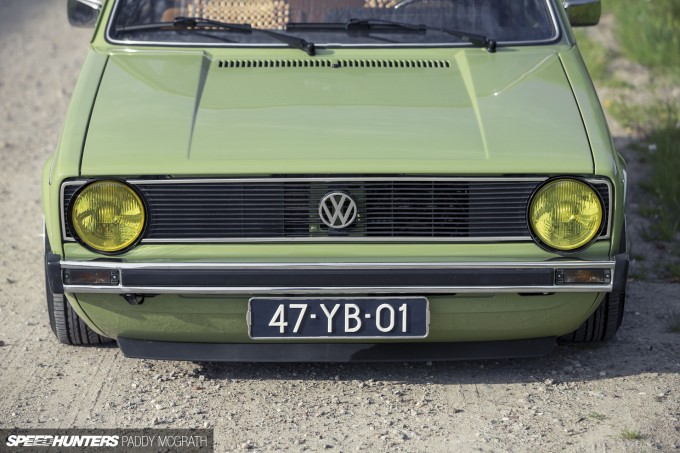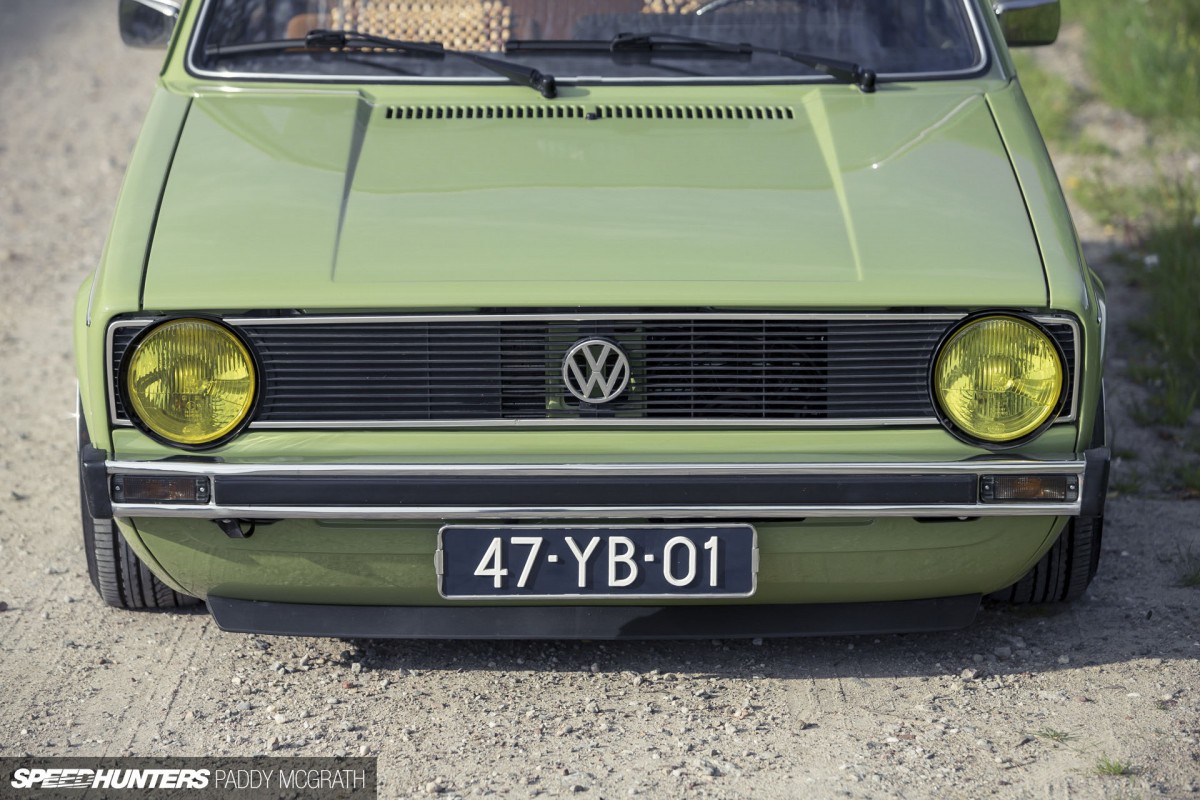 The bodywork of course, is factory true – right down to the subtle lip spoiler on the front valance, Mark tells me. He easily could have added the larger GTI equivalent here, but I think he made the right decision by not. Less is sometimes more, right? The tinted headlights are a neat addition too. Yellow over green doesn't really sound like the nicest combination of colours, but just look how well it works here.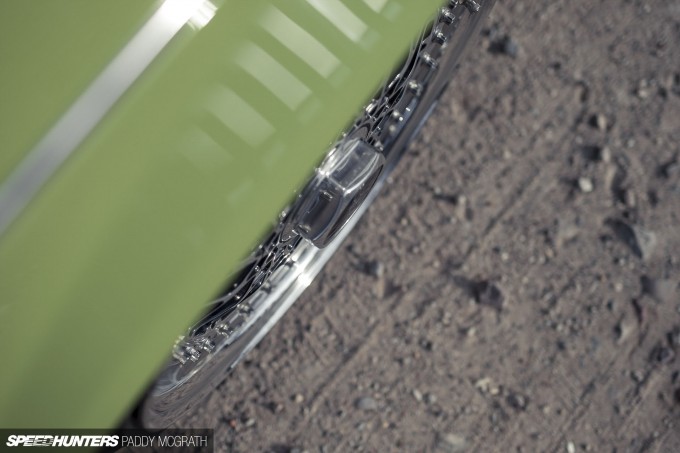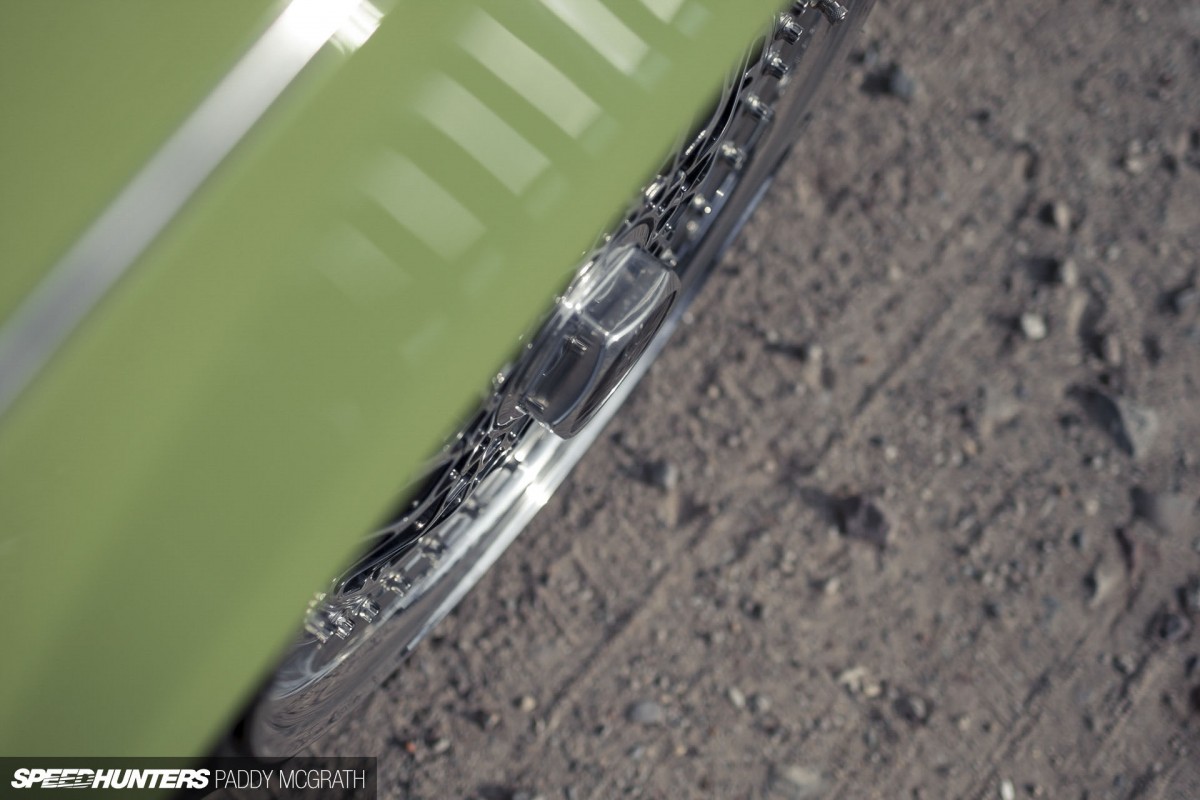 And then there are the wheels – a meticulously-restored set of 15-inch BBS RS artifacts that tuck neatly under the Golf's guards.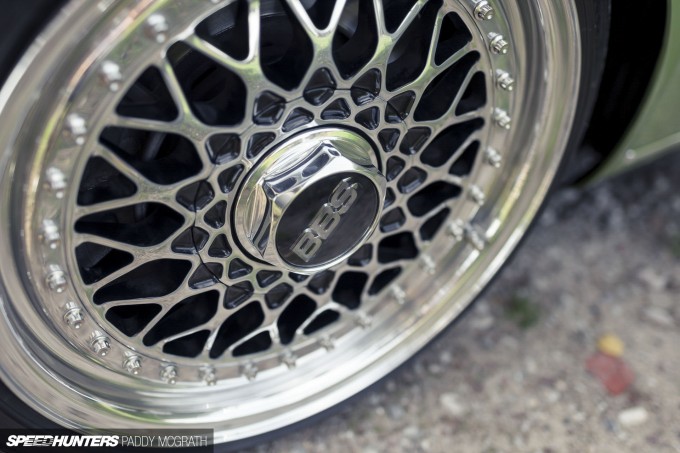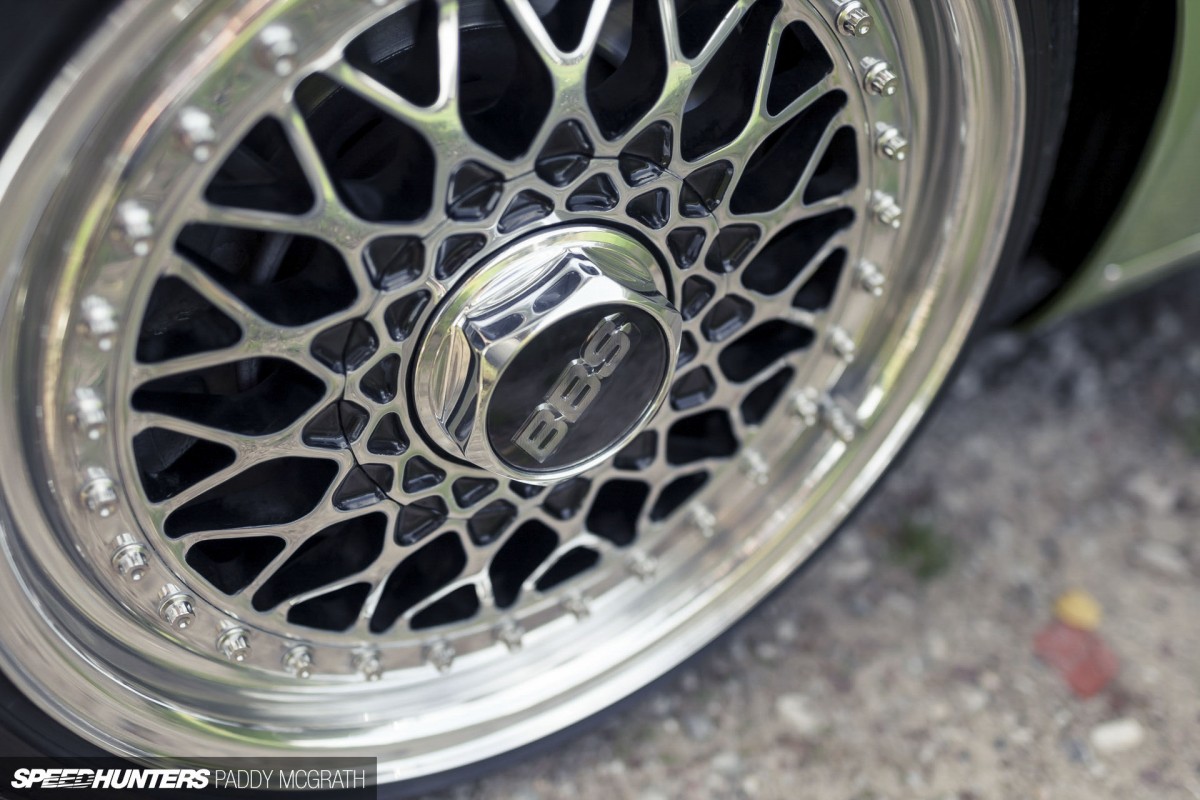 They definitely weren't this way when Mark first got his hands on them though. Having previously been treated to a rough coat of paint, he spent months scrubbing, grinding and polishing the split rims in an effort to bring the BBSs back to their former glory. Try as Mark might, with the result he had in mind, it was just too big of a job for him to handle himself, so he passed them all over to wheel restoration specialist JPS Work of Art. To this day, JPS refer to the overhaul of Mark's rims as some of its finest work yet, and looking at them now in all their gleaming glory, it's not hard to see why.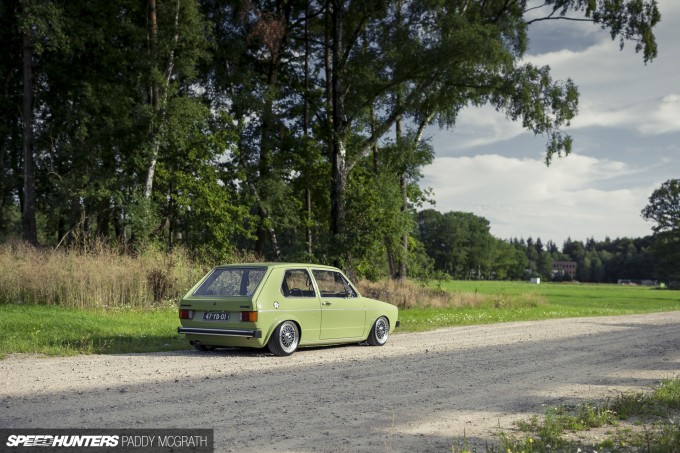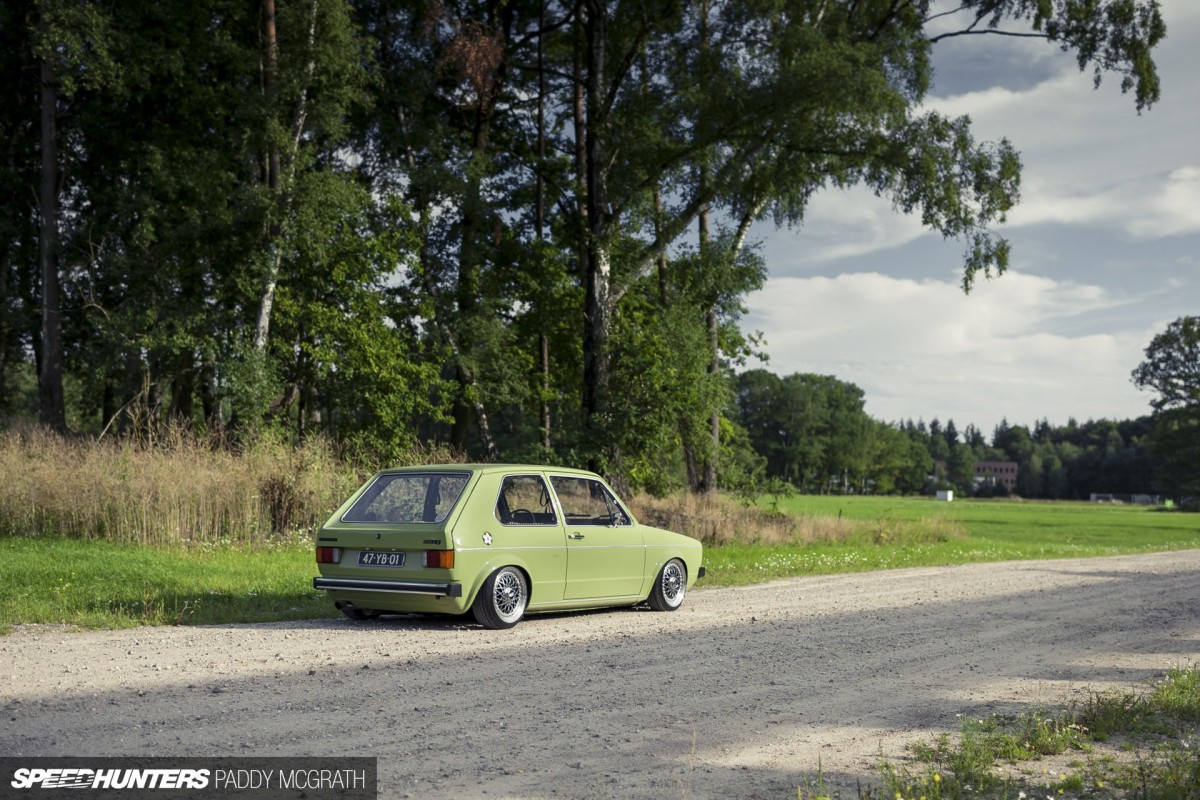 Coilover shocks originally addressed the Golf's factory ride height issue, but more recently, Mark's swapped static for air with a kit he pieced together himself. A little while back we brought you the story of a Porsche-inspired Mk2 Golf built by a guy named Henk Waaijenberg. As it happens, Mark is a very good friend of Henk and when he was piecing together his Mk2, Mark looked after a bit of welding work. In return, Henk cut him a really good deal on a bunch of parts he had left over from his air ride build, including four Firestone bags which Mark custom-fitted on his coilover struts, sans coil springs.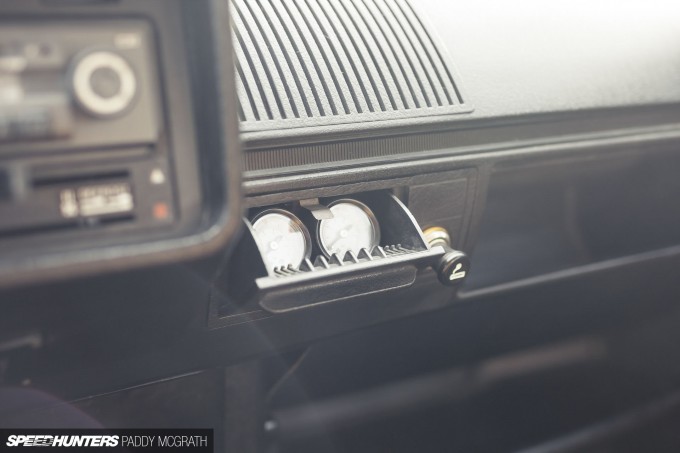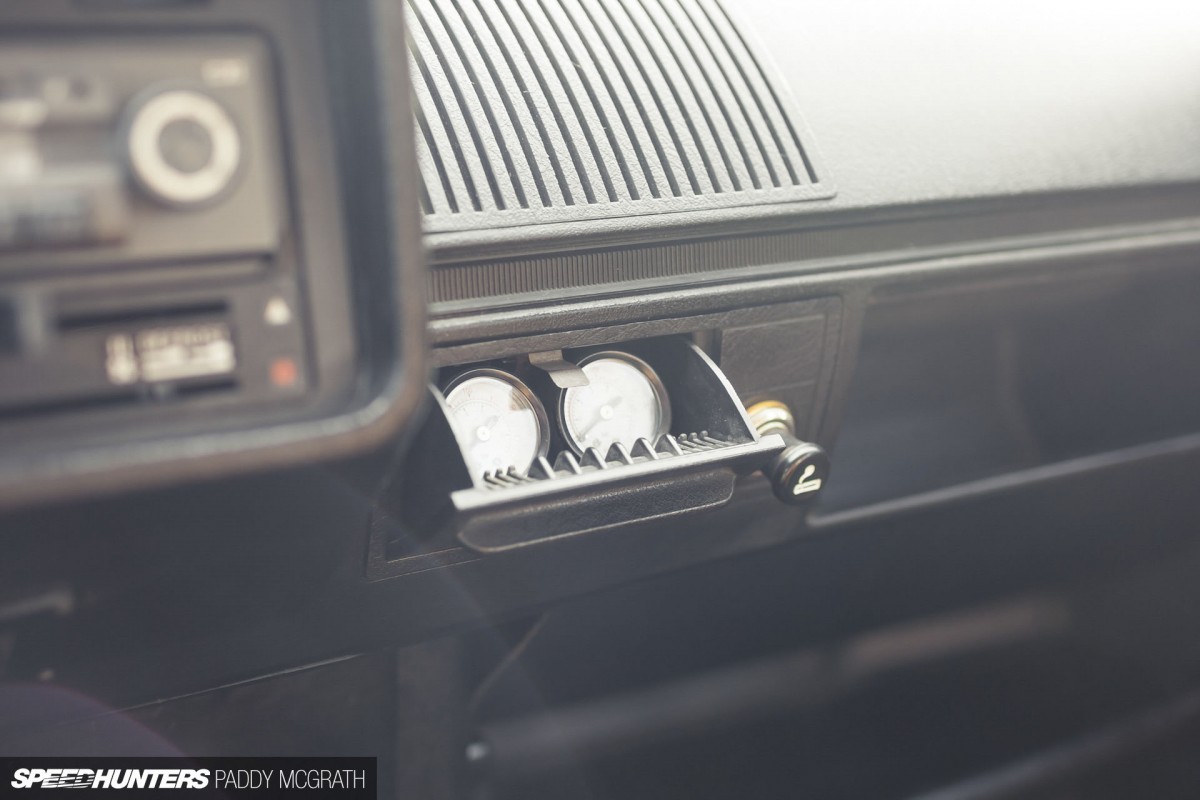 It's a very basic system, but it works very well. It's also rather stealth, as you see by the pair of air pressure gauges mounted in the ashtray compartment…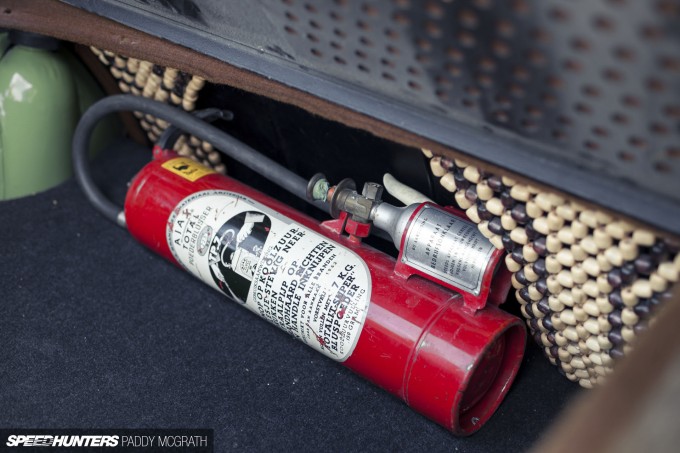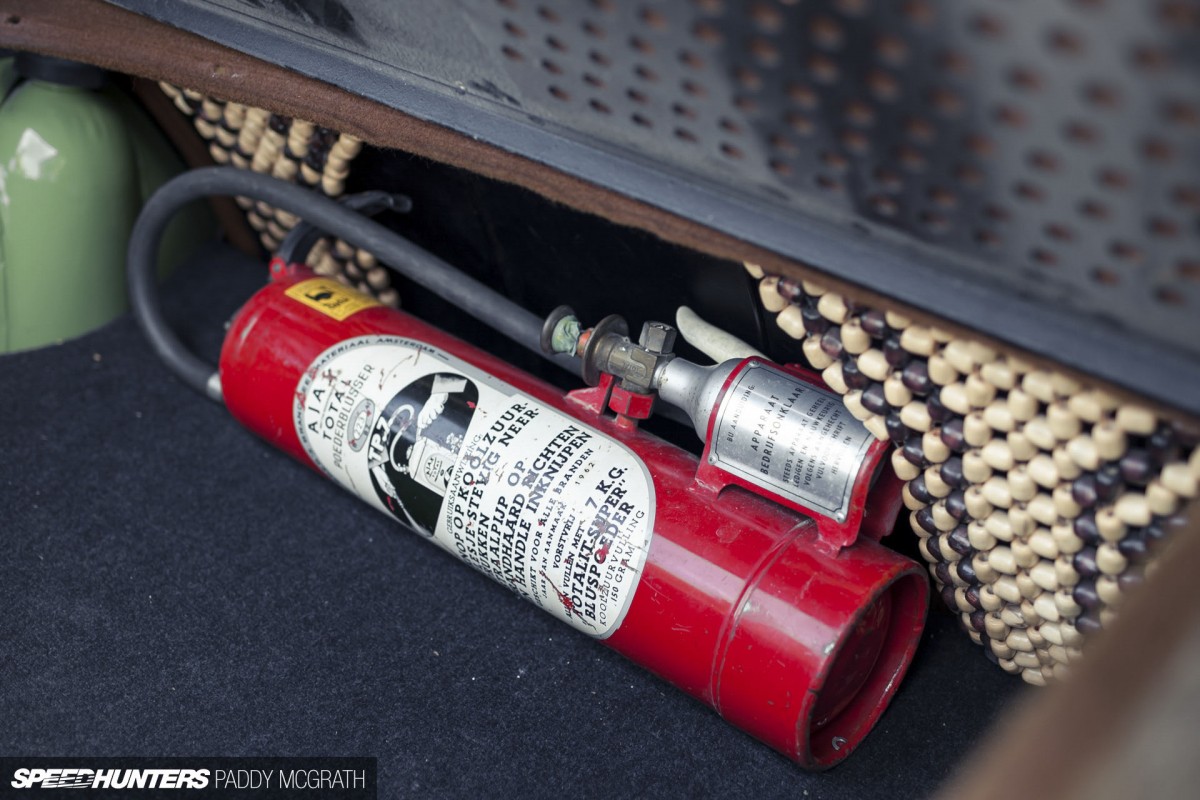 … and the air tank itself which is fashioned from a vintage-looking fire extinguisher. That has to be one of the coolest things I've ever seen on a build like this! To allow the system to function, a small compressor and an eight-valve set-up are tucked away out of sight.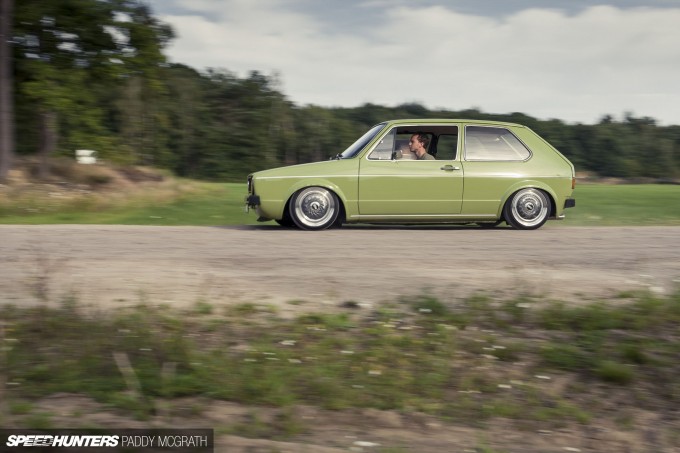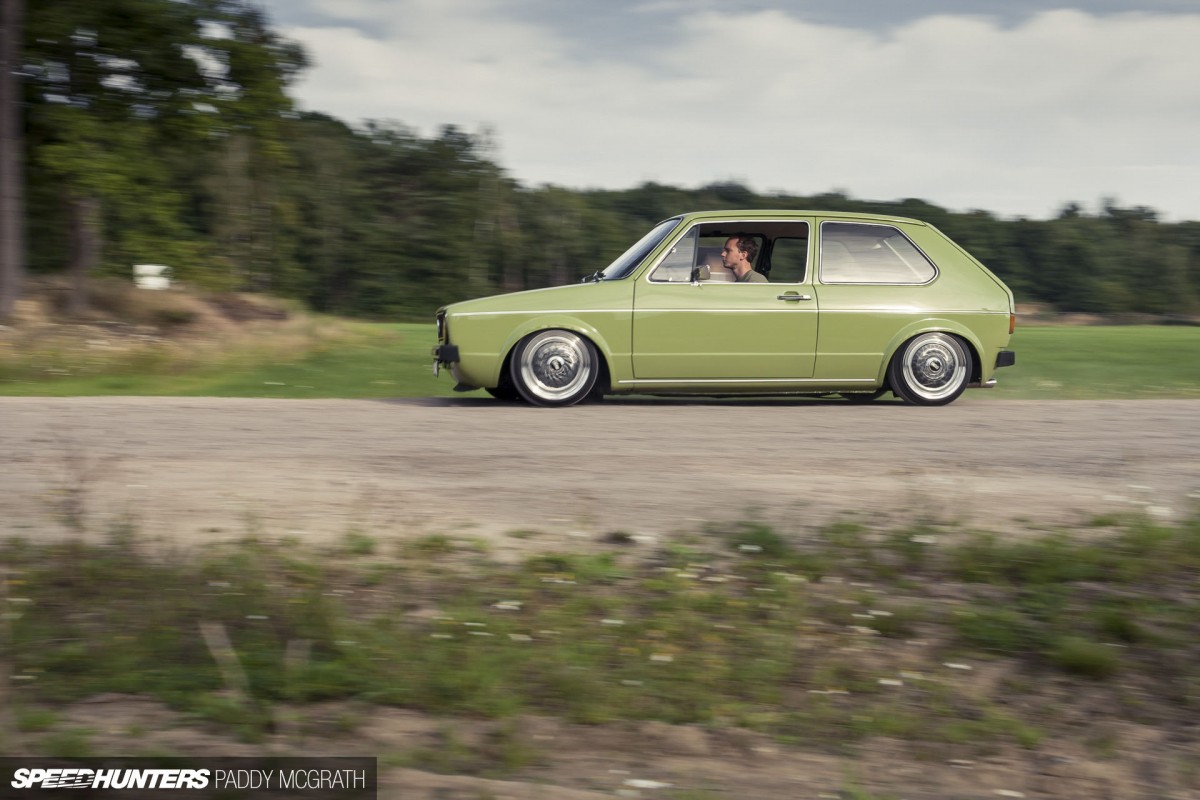 Because of the room under the guards and the relatively small wheel and tyre package that go under them, the Golf can be easily driven with a decent tuck and sit even lower when it's parked.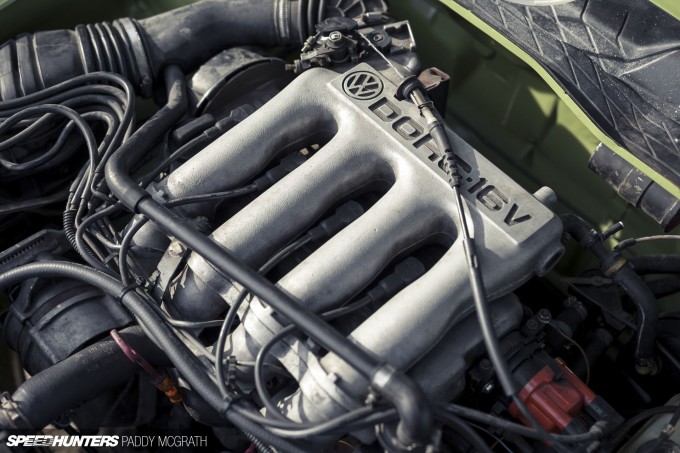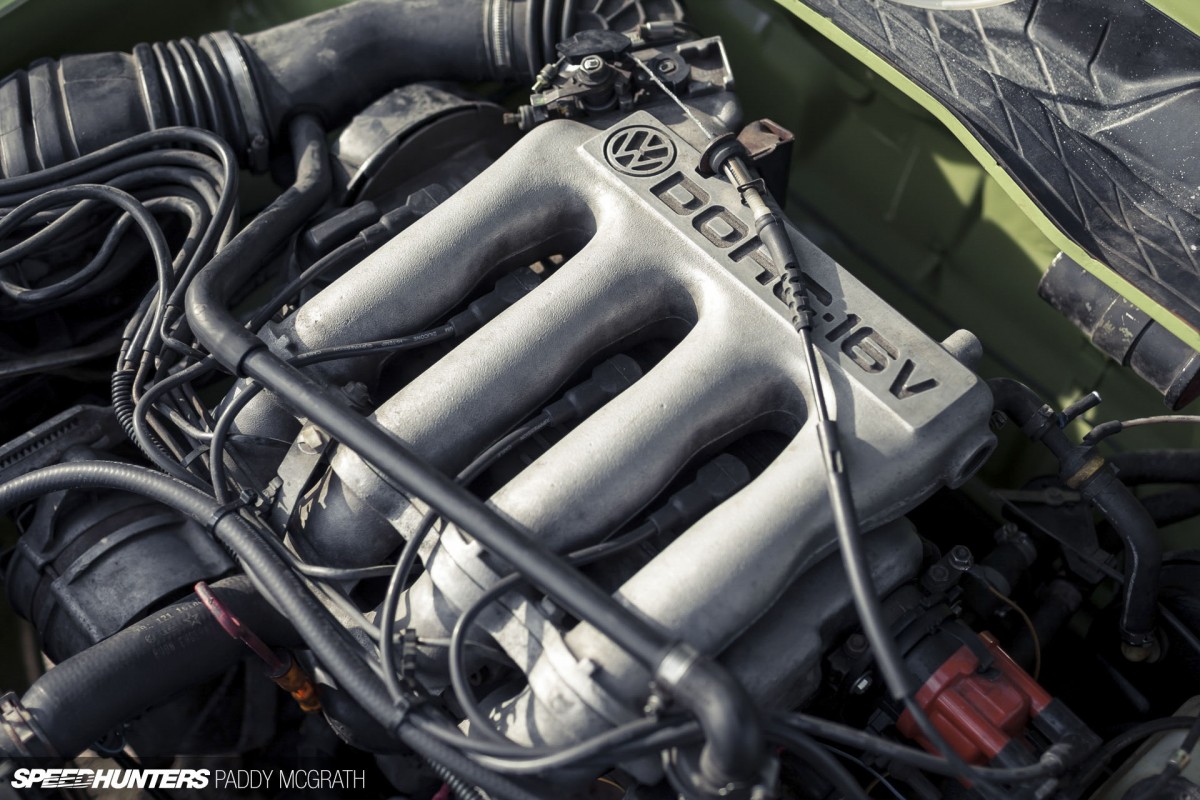 On the subject of driving, I need to make mention of the switch that's taken place under the bonnet too. Given that Mark likes to use his car as often as he can, the 49hp 1.1-litre mill was never going to cut, so it was duly replaced with a 137hp 1.8-litre DOHC 16-valve KR engine and corresponding five-speed gearbox from a Mk2 Golf. Although it wasn't a straightforward swap, requiring modified supports and new mounts, along with new fuel lines and tank, and a total rewire using the new engine's loom – with almost three times the power on tap, Mark says that it's much nicer to drive and far more fun. Given how small and light the Mk1 chassis is, I'm sure it's pretty quick too.
Welcome to 1977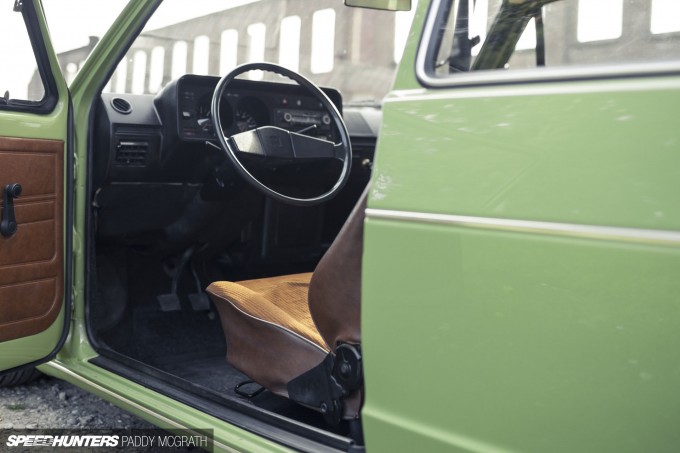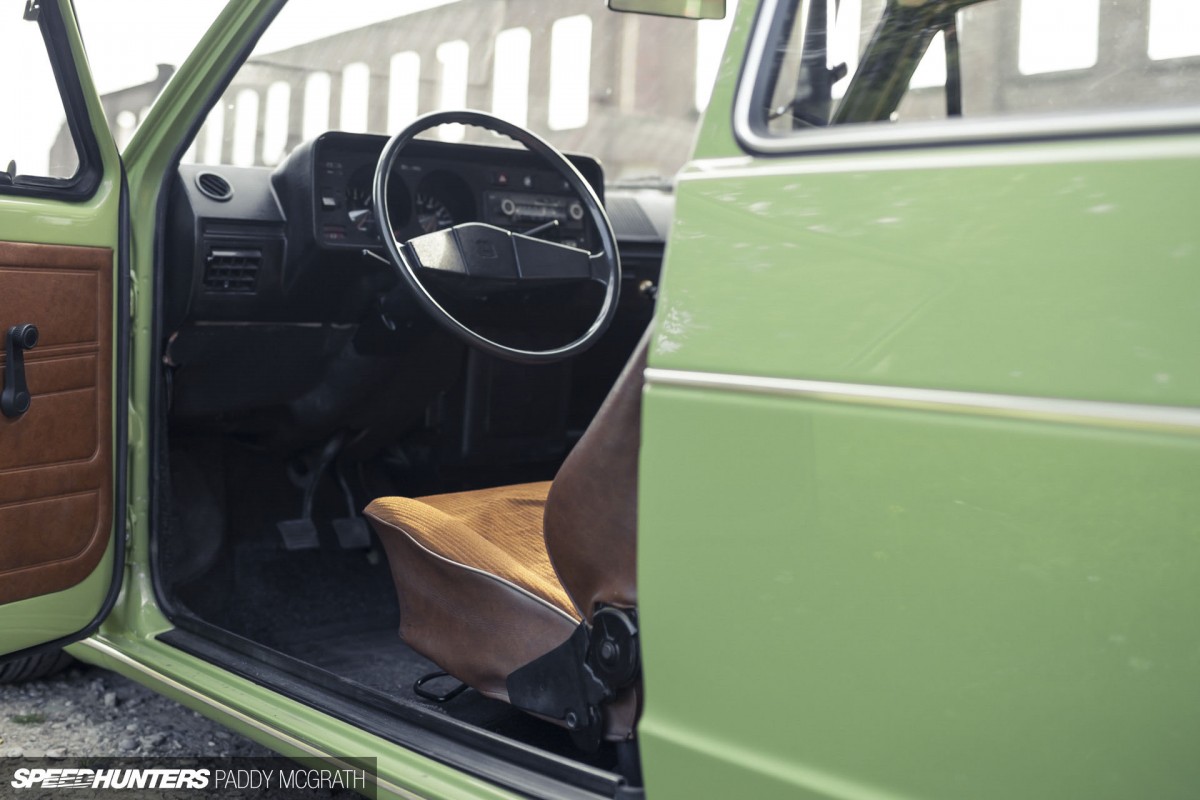 Having enough power on tap to embarrass proper hot hatches is one thing, but doing it in a car with a tan-over-brown interior straight out of the '70s, gives Mark's Golf some real sleeper appeal.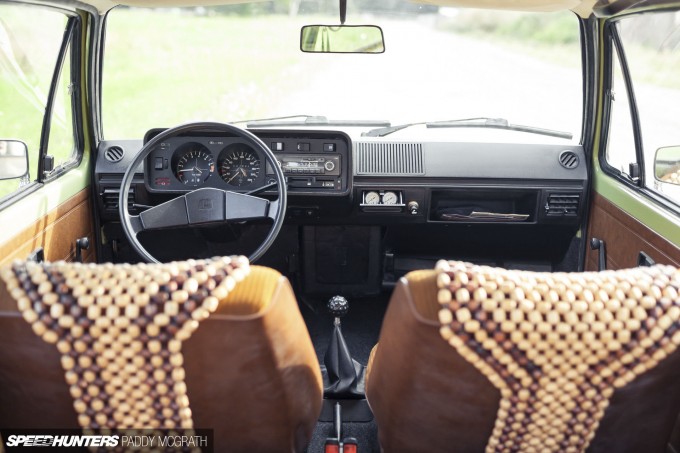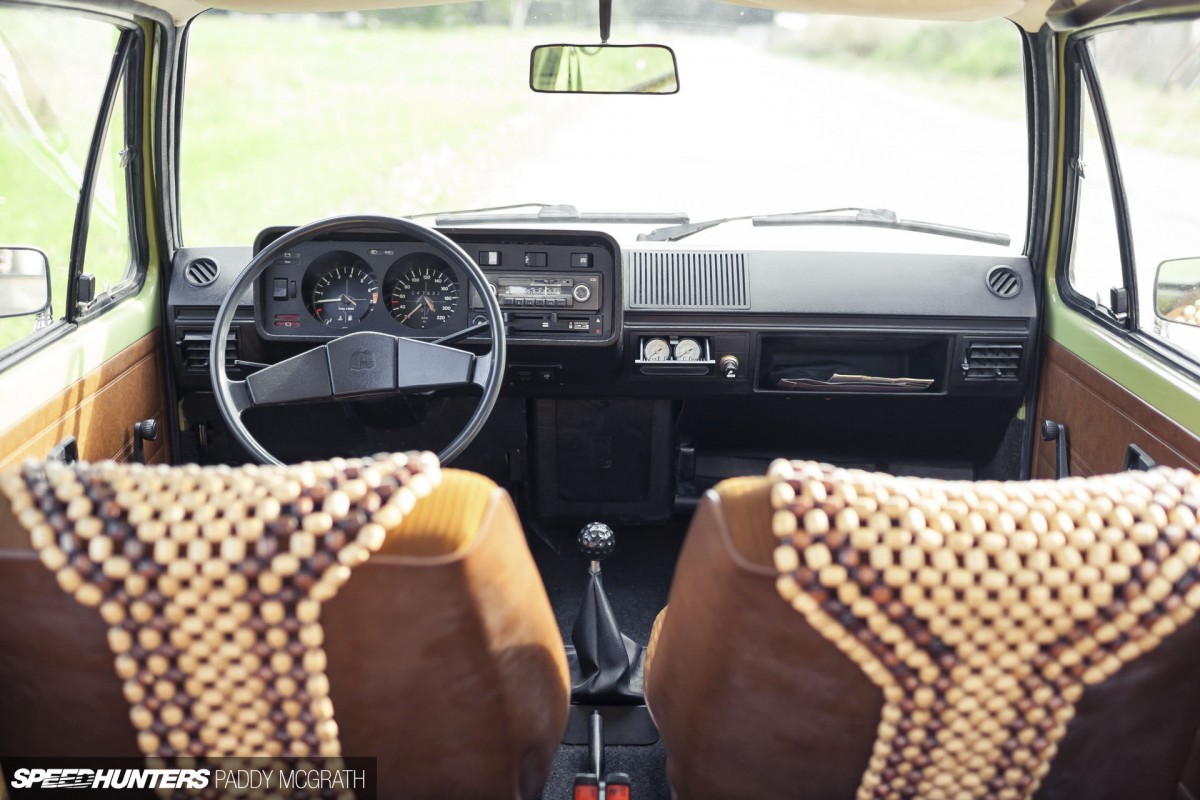 That's something further accentuated by the large thin-rimmed factory steering wheel, the push-button radio…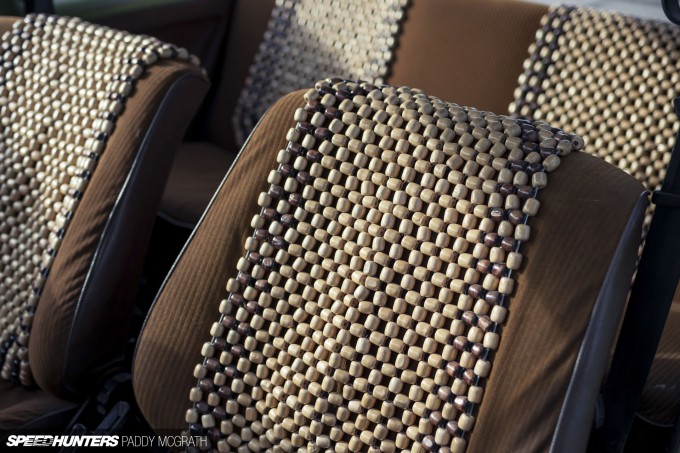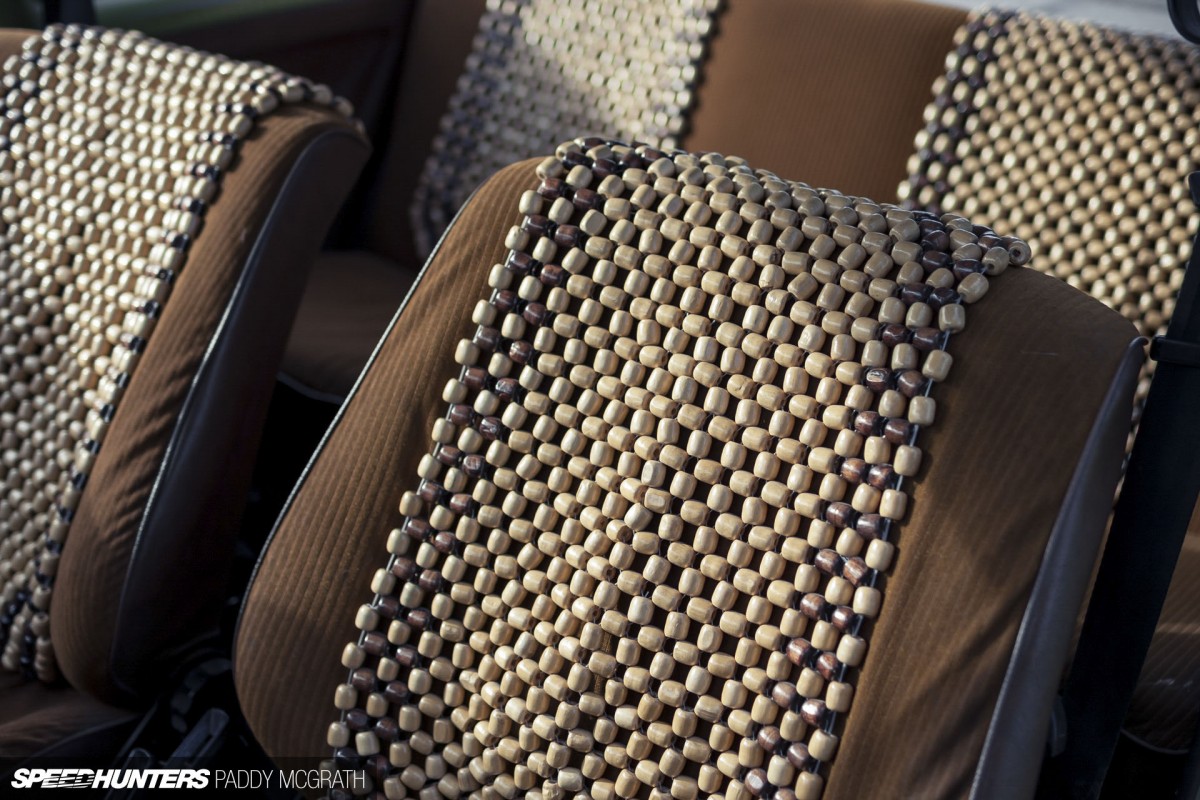 … and these kitsch seat beads that wrap around the original low-backs. All that's missing is a fondue set.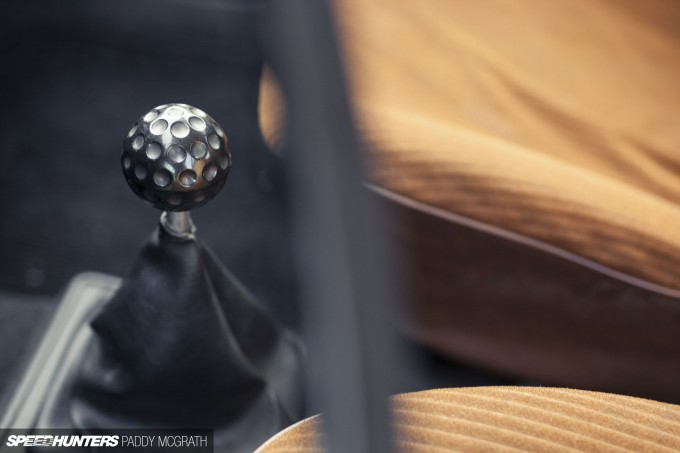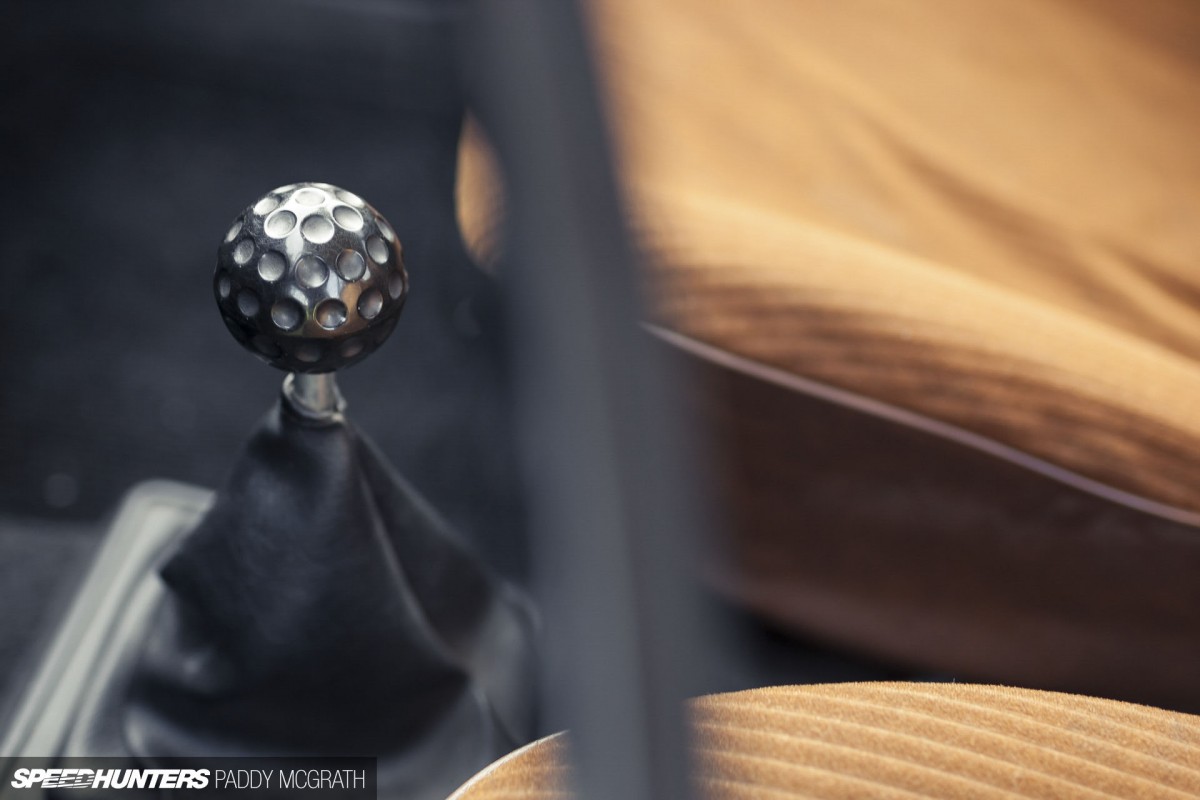 Mark admits that the beads are something he could probably do without, but no old Golf is every truly complete without its golf ball gear knob.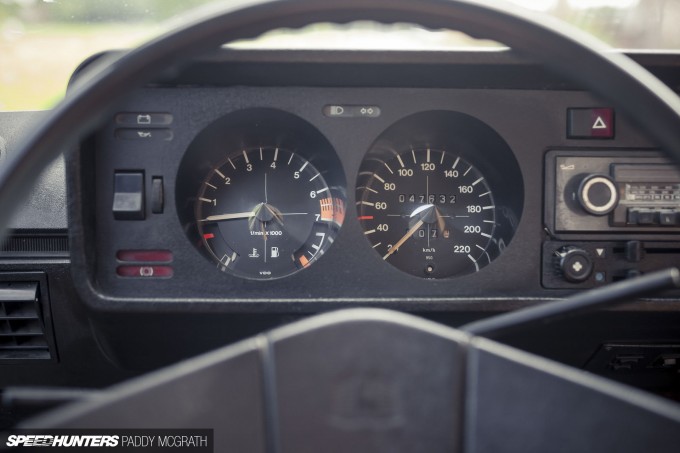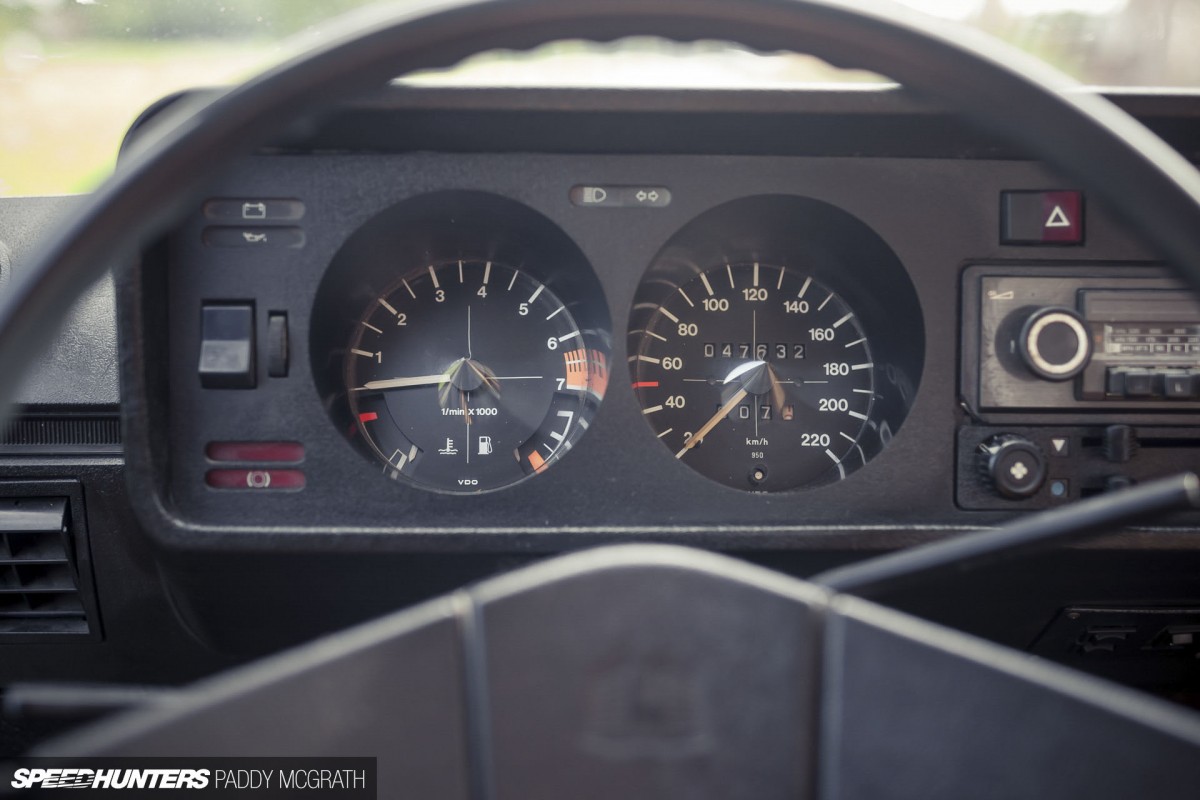 One addition Mark has made to the interior – or to the dash more specifically – is a rev counter-equipped cluster, which replaces the the car's original single speedo unit.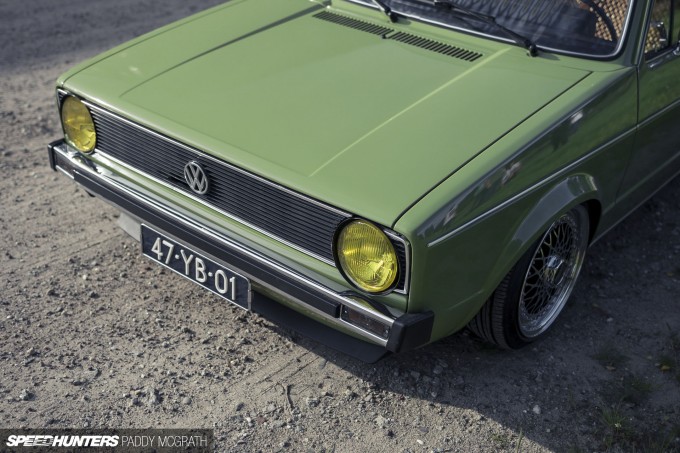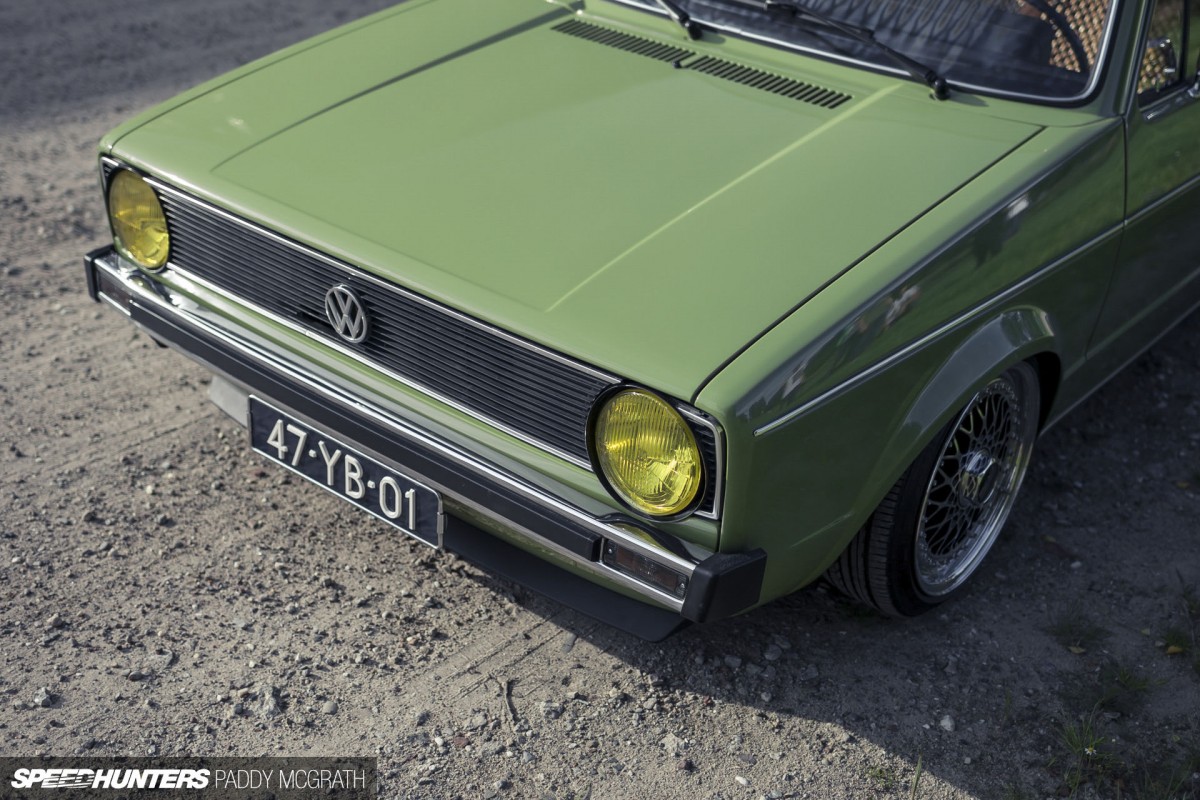 While he admits that the Golf will probably never truly be 100 percent finished, Mark's more than content with it for now and is planning on putting some miles on the clock and enjoying the car before he thinks about dishing out any more modifications. Although it was never built with shows in mind, taking the Mk1 to the Dutch DMPD event earlier in the year and having it parked up alongside his friend's cars was a nice way for Mark to celebrate his build.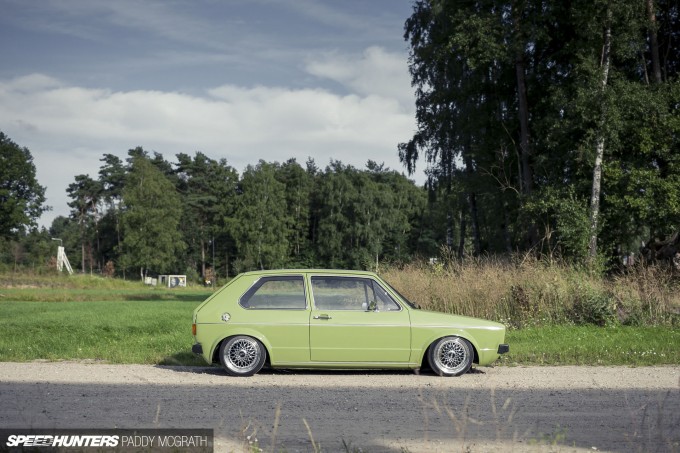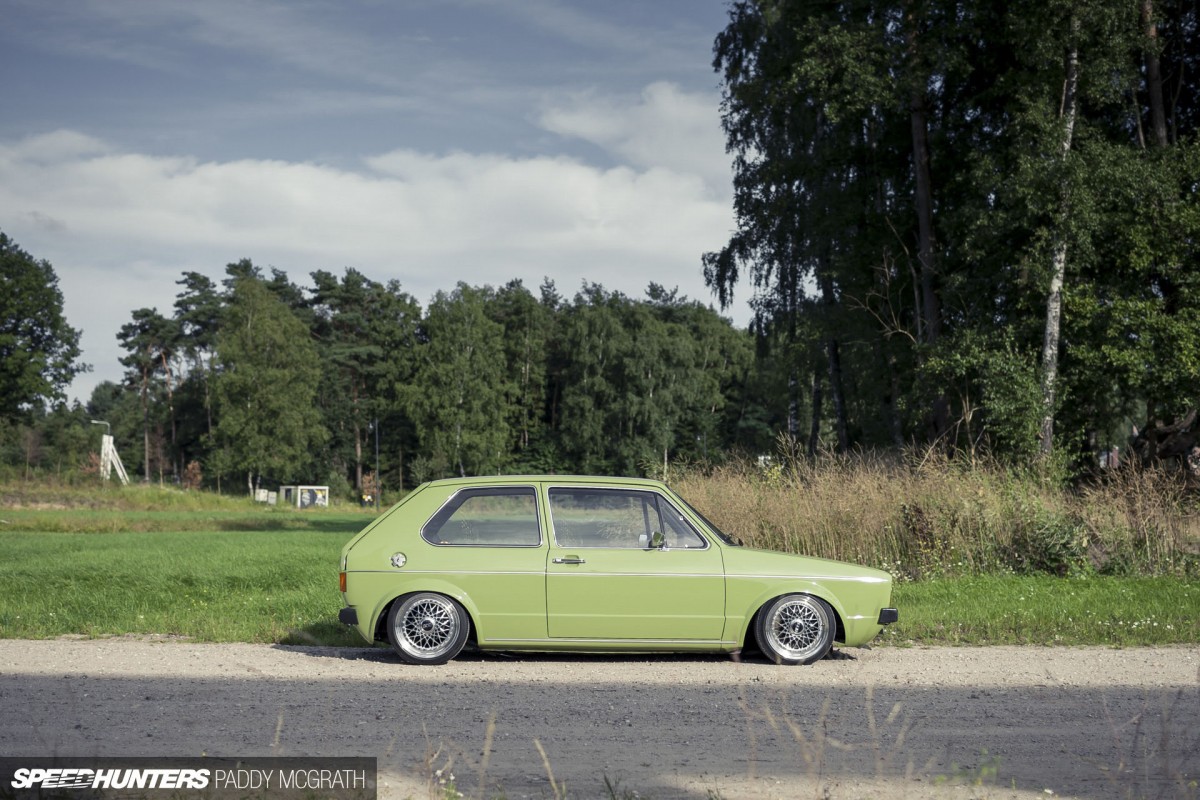 And really, that's what this car was all about – a journey to realise a long-time personal dream rather than one to appease the masses or become part of a scene. Mark simply wouldn't have it any other way.