SoCal style
Yesterday I wrote about how last weekend's Mooneyes X-Mas Party at Irwindale Speedway was held under rainy conditions – an extreme rarity for Southern California. There's no denying the impact the rain had on attendance at this year's show, but that doesn't mean there weren't plenty of cool machines to check out. That's what I'll be doing in this post.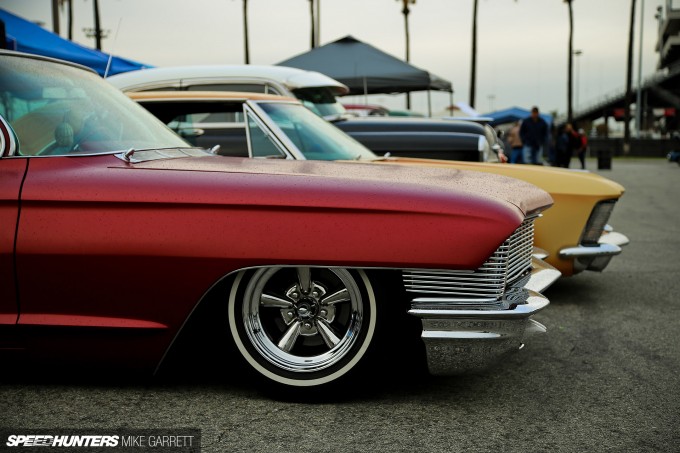 Historically, the X-Mas Party has always been held one week after the Mooneyes Yokohama Hot Rod & Custom Show in Japan, but it should be noted that the two events are actually quite different. The Japan show is indoors and features top level show cars from all around the country, with a mix of customized cars both from the US and from Japanese domestic makers.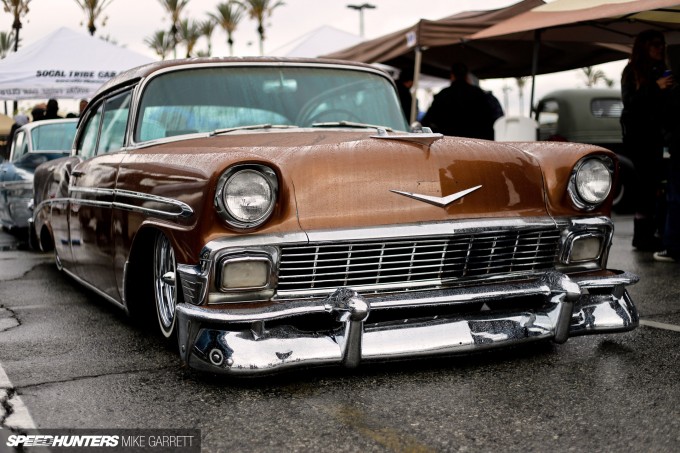 In comparison, the X-Mas party is more of a 'run what your brung' gig – an open meet that caters to both show cars and to daily drivers. There are really no rules as to what can or cannot participate.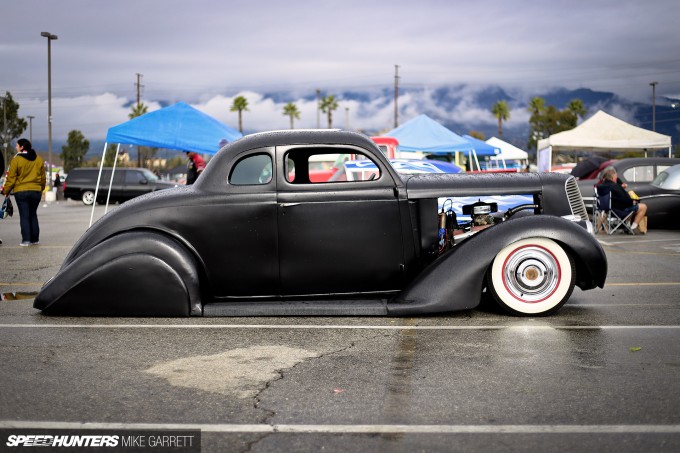 Traditional hot rods and customs from the '60s and earlier make up the meat of the Irwindale show, and of this group all the popular styles are accounted for.
There are lead sleds of all types, from mild period correct Mercs to Chevys that have been slammed, chopped and customized beyond recognition.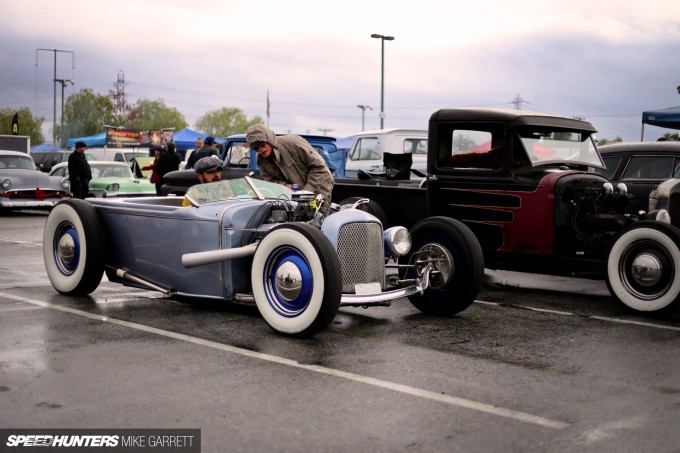 There are hot rods aplenty too, from clean and traditional coupes and roadsters to zombified rat rods looking like they emerged from some sort of possessed junkyard.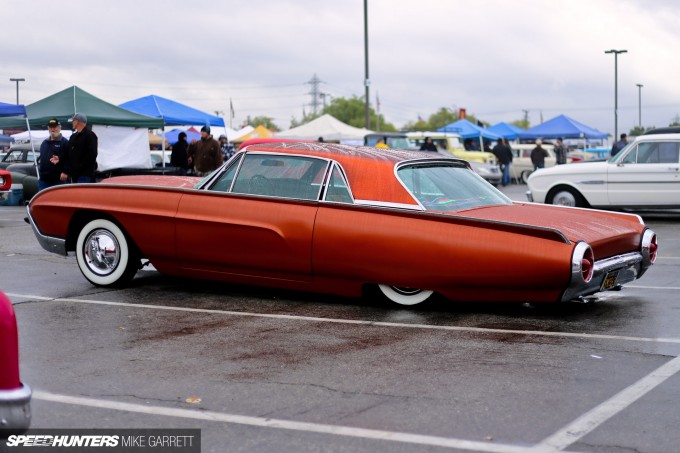 Representing the more modern side of the group are 1960s-style customs, usually sitting very low on a set of period correct wheels. The early '60s Thunderbird for example, is always a popular choice thanks to its space age design. It's practically custom right from the factory.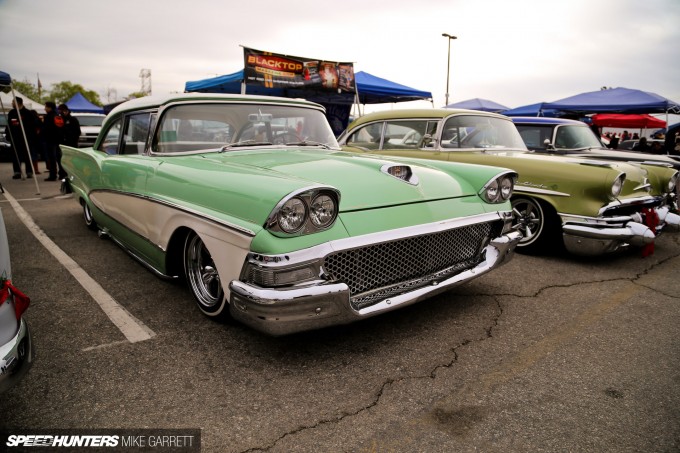 This '58 Ford from the Mercifuls Car Club is another perfect example of this style, dropped low on a set of Supremes with thin white walls. Check the custom grille work as well.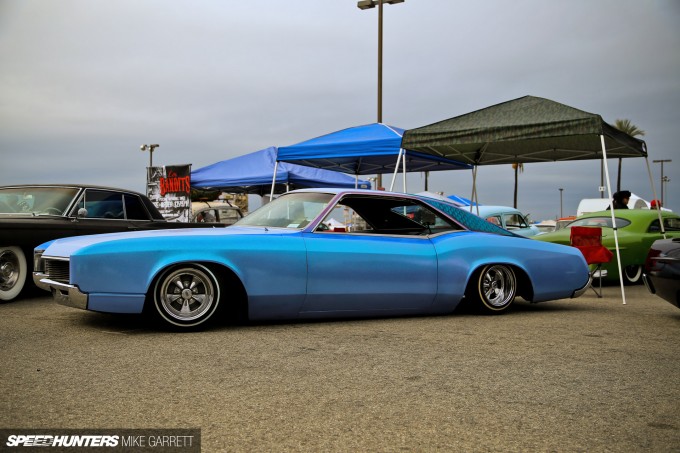 Often, the lines between these 1960s customs and traditional lowriders become very blurred, as evidenced by cars like this Buick Riviera. And speaking of full-on lowriders, there were plenty of those that came out as well.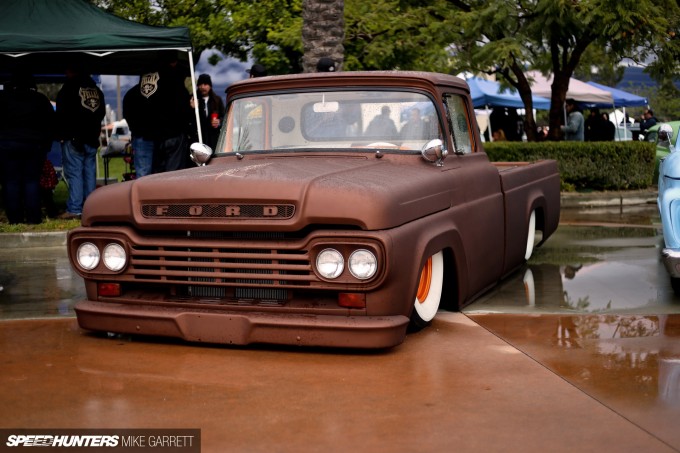 Add in the huge number of customized pickups, and you actually have a diverse and eclectic assortment of vehicles. That's just the beginning though.
Vans & VWs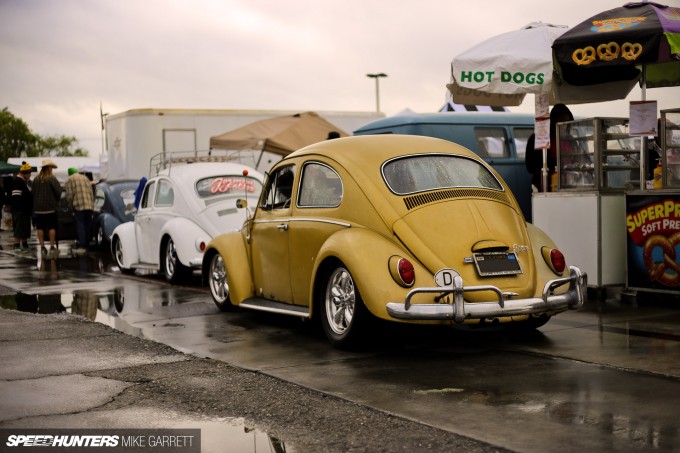 Historically, the X-Mas Party has been about traditional rods and customs, but as the years go on I've noticed the event has grown to include more and more vehicles from other scenes.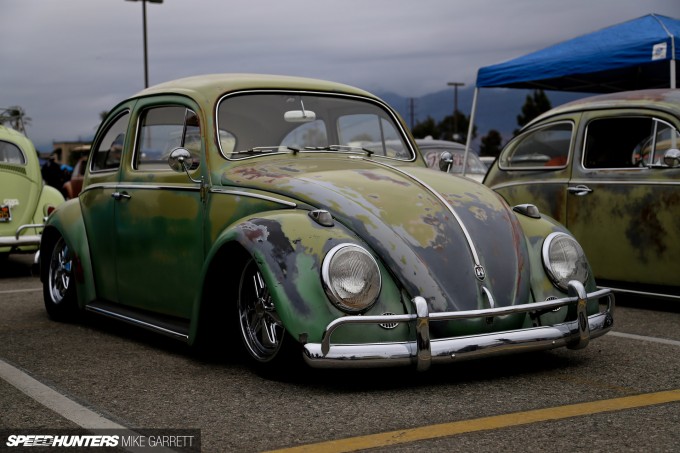 There always seems to be a few air-cooled Volkswagens at the X-Mas Party, but this year (despite the weather) there were more than ever.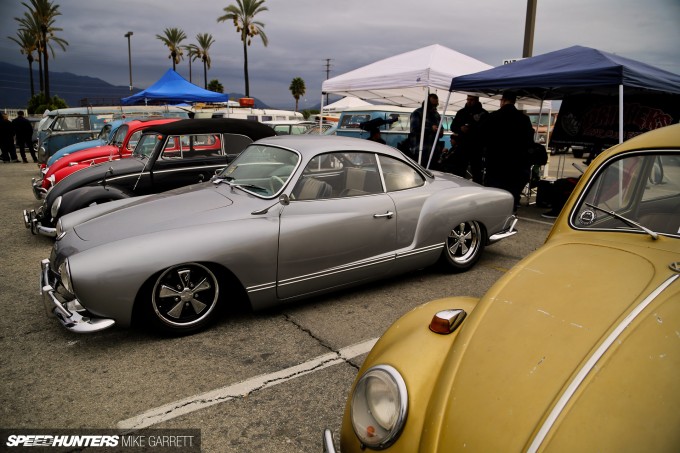 Type Is, Type IIs, and Ghias – they were all present and accounted for. Even without all the other stuff, the X-Mas Party would have been a pretty solid VW meet on its own.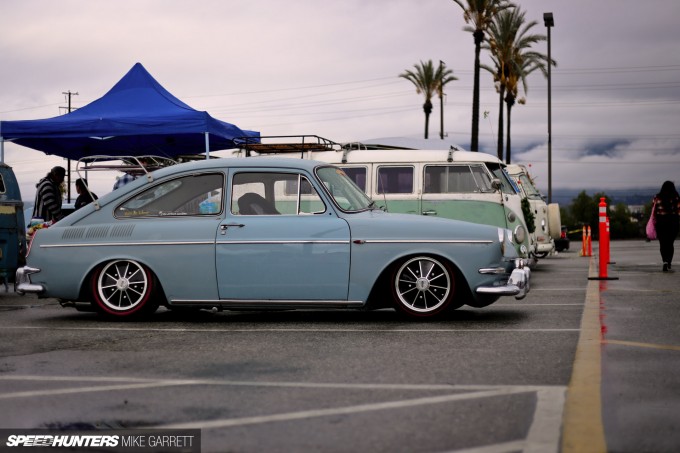 Let's not leave out the Type IIIs now. I especially liked this Fastback sitting on BRMs with old school 'redline' tires. Fresh.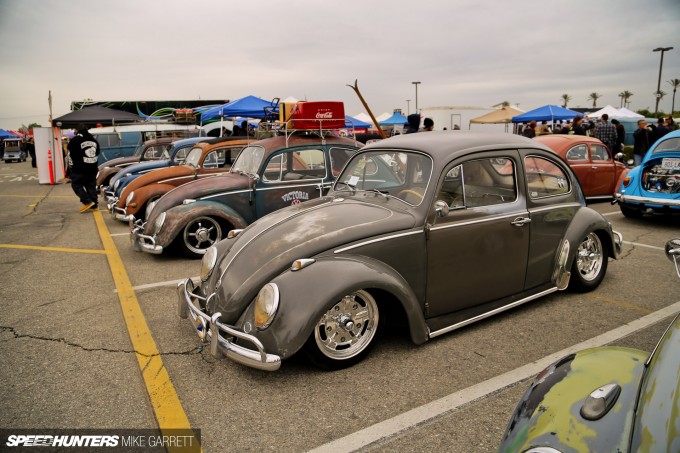 Fittingly, this Type I sedan is fitted with a set of Mooneyes own 15-inch full-polished Speedmaster wheels. It also looks like it has a narrowed front beam for maximum lowness.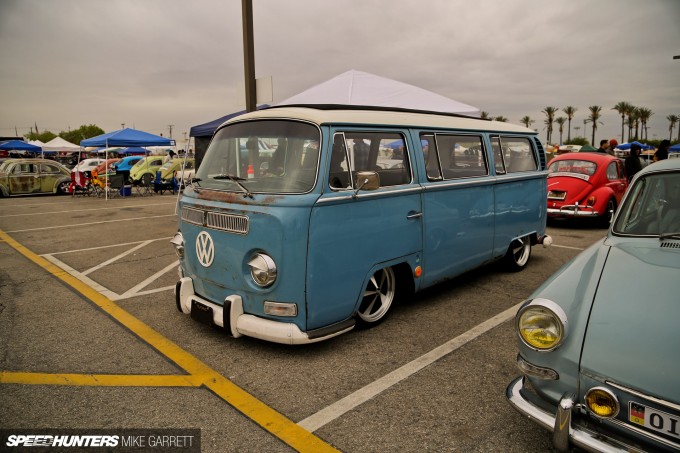 Patina and old Volkswagens just work so well together, don't they? This one's obviously had some work done to tuck those large diameter rims.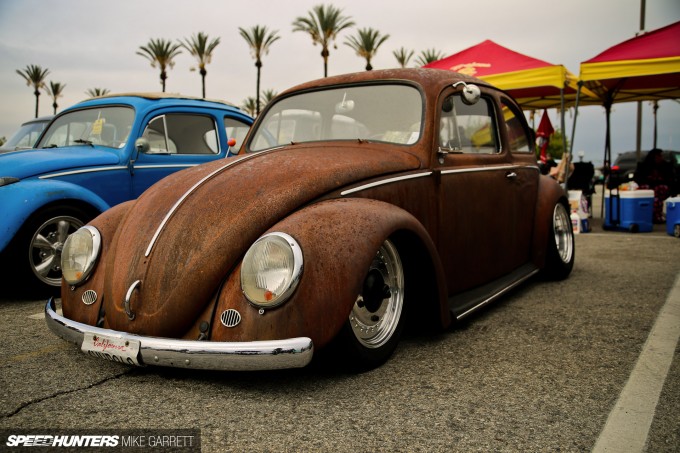 As you can see, all the VWs that did come out to the X-Mas Party had a cool style to them, and despite their German origins they fit right in amongst the traditional American machines.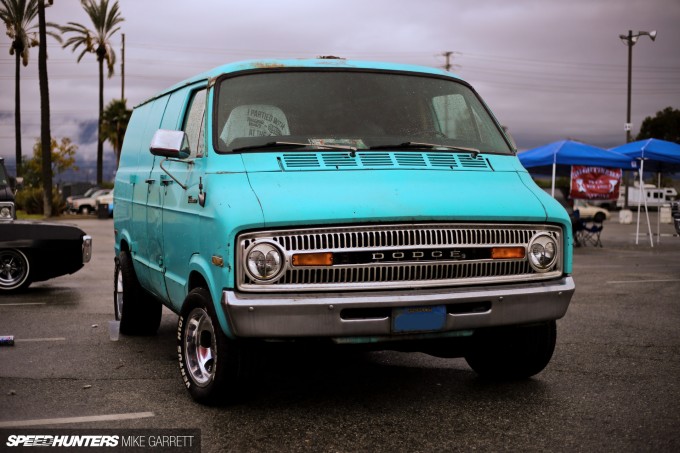 Another area where the show has grown is in the vanning department. Last year's event featured a special section just for customized vans, and it returned for 2013.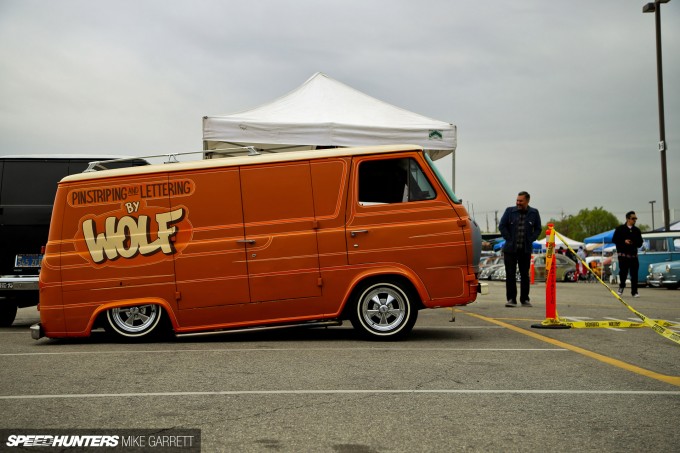 What better to way advertise your pinstriping and lettering business then by having a badass Ford Econoline with your logo on the side. Adjustable suspension gives it a cool nose-up stance, and that Cragar/whitewall combo is perfect.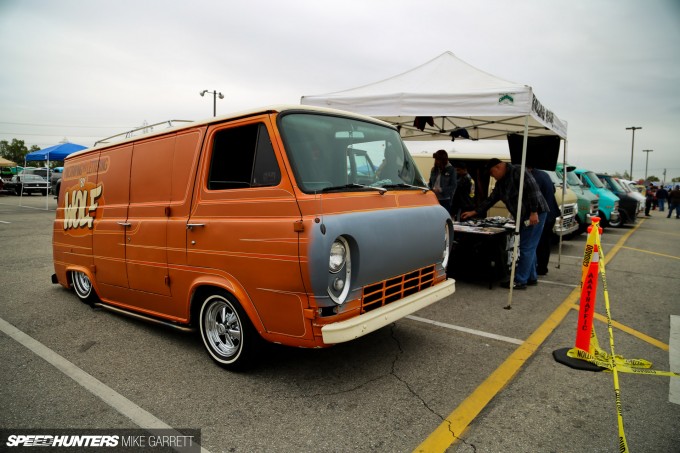 Up front, you can see that the Econoline's factory headlights have been rotated 90 degrees downward for a custom look. Cool.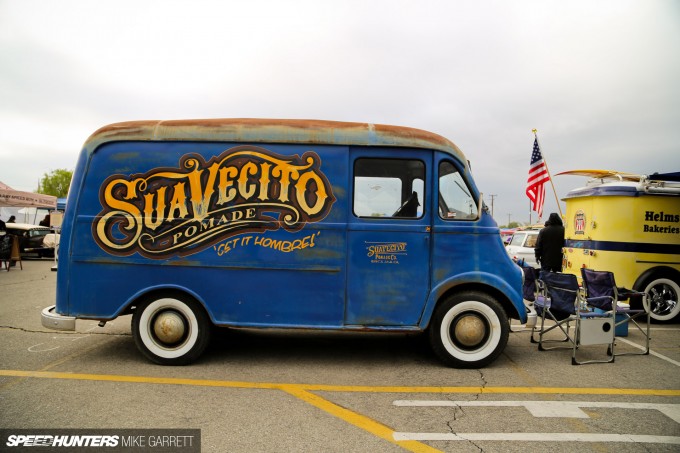 Another example of using a cool old delivery truck for your busines. This is one is from SoCal-based hair grooming product maker Suavecito Pomade.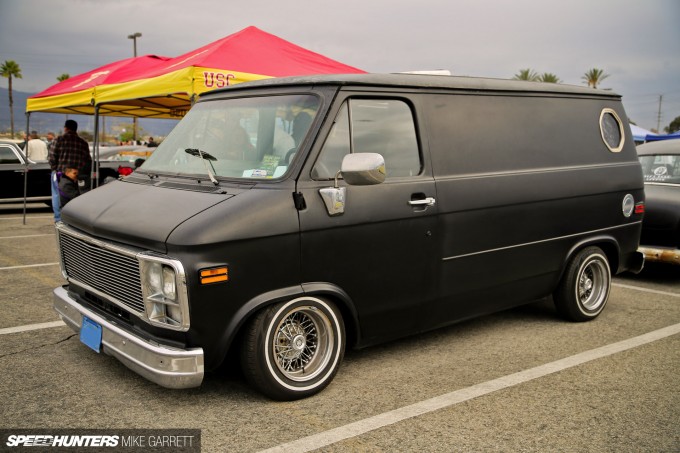 This lowered Chevy meanwhile is used as a work van for a shop called Stay Gold Garage in Long Beach. How about those wire wheels and custom rear windows?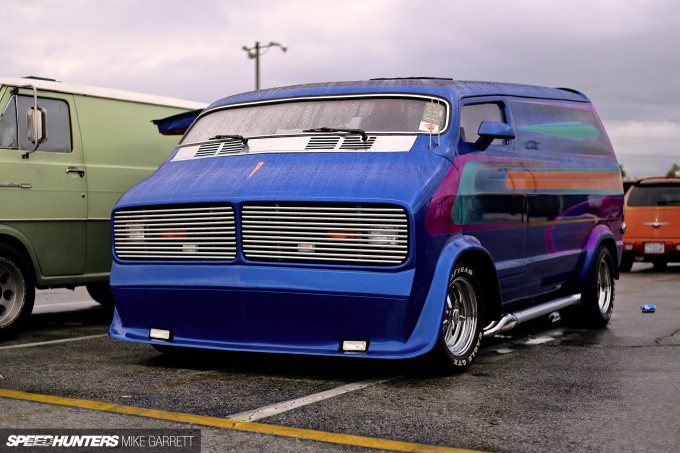 All good custom vans should have a name, and this one known as 'Nautilus' does not disappoint. That chopped and raked roofline is incredible, as is the one-piece flip up front end. The side pipes and wide mags are another necessity when doing up a '70s style van.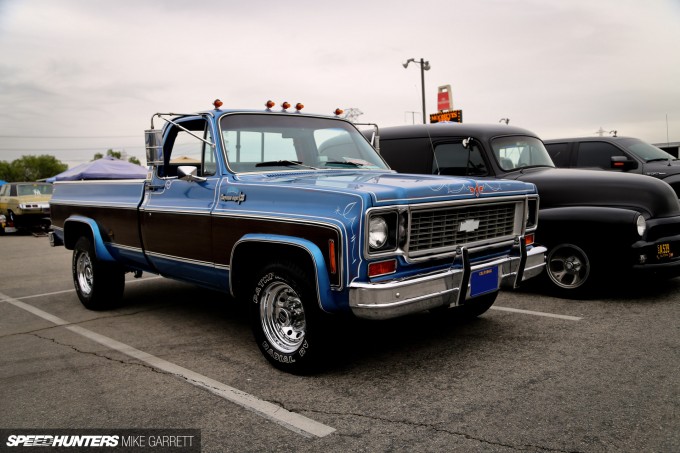 Although it's not a van, this Chevy pickup gave me an equally strong wave of 1970s nostalgia. The child version of me would have loved this thing!
Kustom life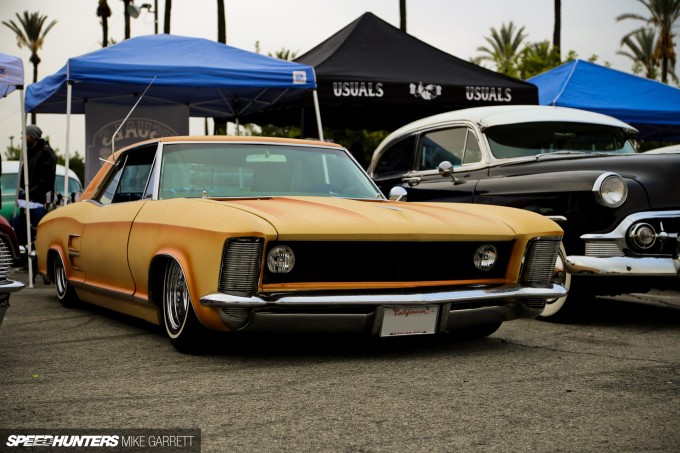 Aside from the vans and VWs, there were plenty of other vehicles that caught my eye, including this low-down Riviera. I like the way the custom paintwork only uses matte colors. As with the aforementioned T-Bird, these Rivis are models that had a lot of custom-style elements right off the showroom floor.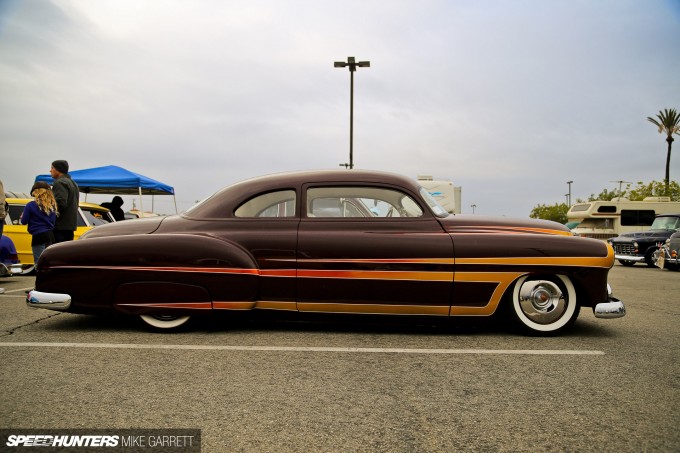 As usual, there were more '49-'54 Chevys than you could count. Thumbs up to the period correct scallops, and not-quite-slammed ride height on this one.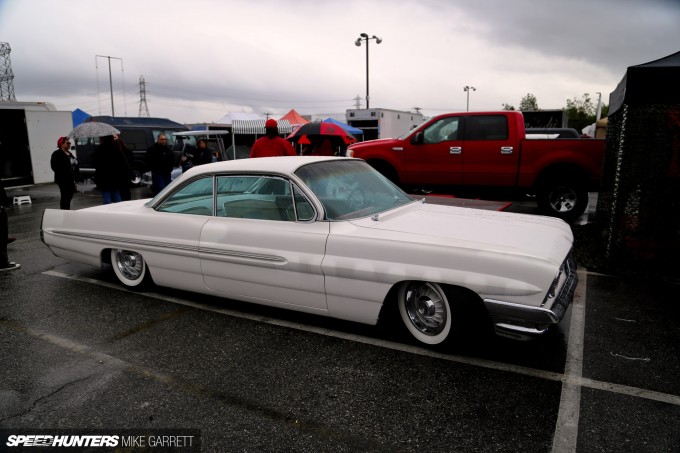 I saw this '61 Pontiac sitting in the garage at Gambino Kustoms in San Jose back in the summer, and it was cool to see that the Poncho had made its way to LA. As I pointed out then, this bubble top is wearing original Pontiac eight-lug wheel drums.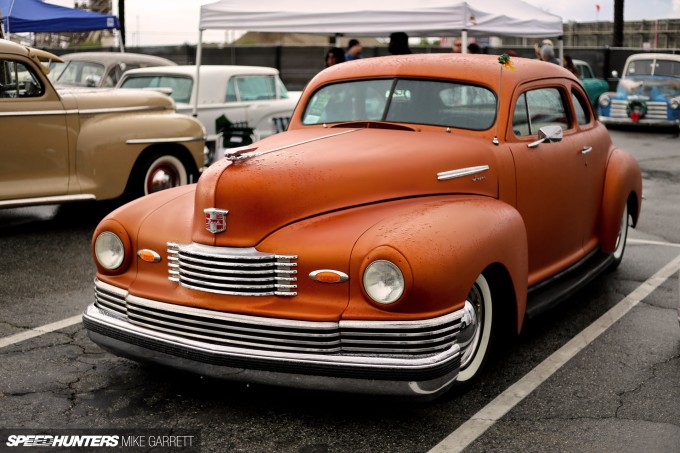 Along with the popular platforms, it's always fun to see the more obscure stuff, like this 1948 Nash.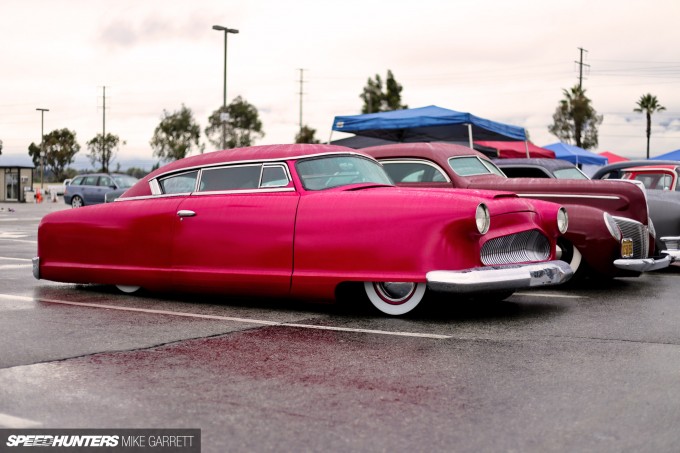 Here's another super-cool Nash. Or at least I think it's a Nash. This is another one of those cars that's been customized so heavily that its origins are hard to pinpoint.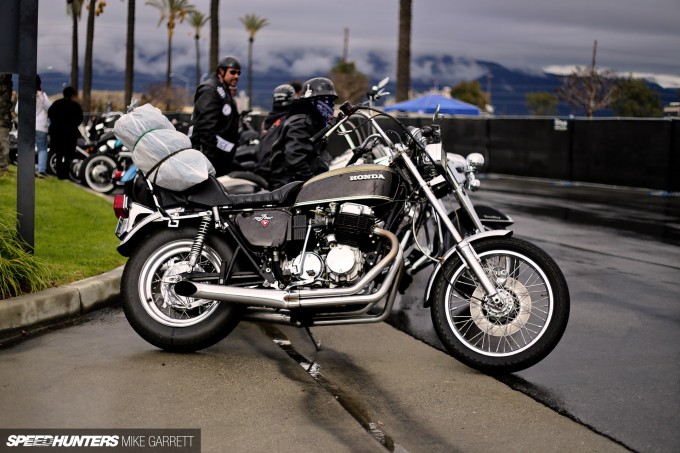 Vintage motorcycles are a huge part of the show, and though my knowledge of them isn't great, events like the X-Mas Party always make me want to learn more.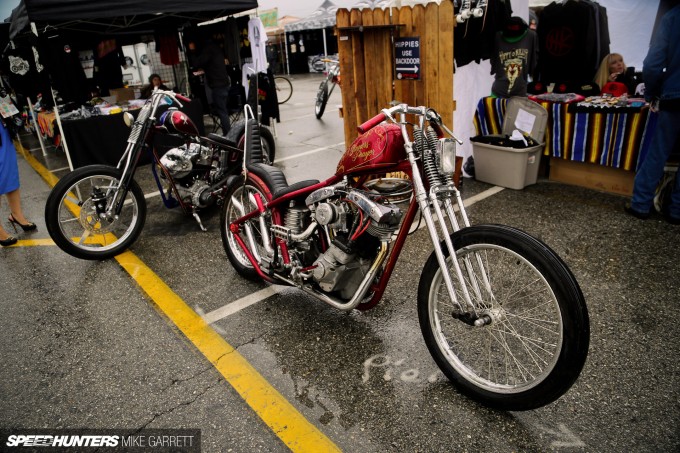 Without a doubt, the bikes add another big layer to the event and help make the X-Mas Party one of the California's best gearhead culture gatherings.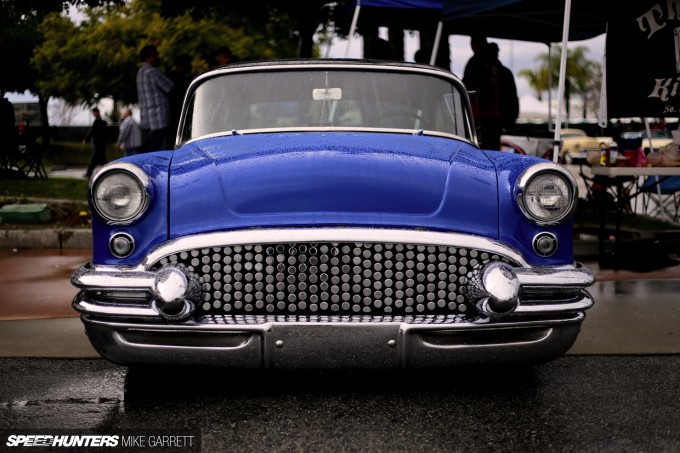 Two wheels or four wheels. Sunshine or rain storms. It's hard for me think of a better way to close out a year of events than with a trip to the Mooneyes X-Mas Party.