Winter, what's that?
If you're a car enthusiast, there are few places better to live than Southern California. SoCal is famously blessed with one of the most vibrant automotive scenes on the planet, and that's due in large part to its climate. No matter what season it is, chances are it's going to be sunny and pleasant outside, making it the perfect place to enjoy the car hobby all year round.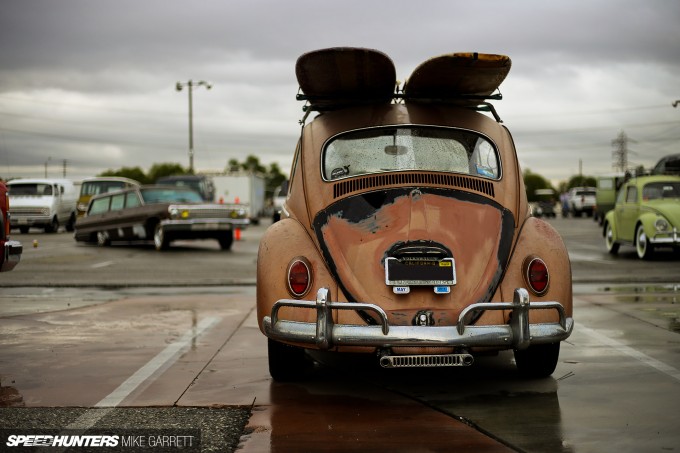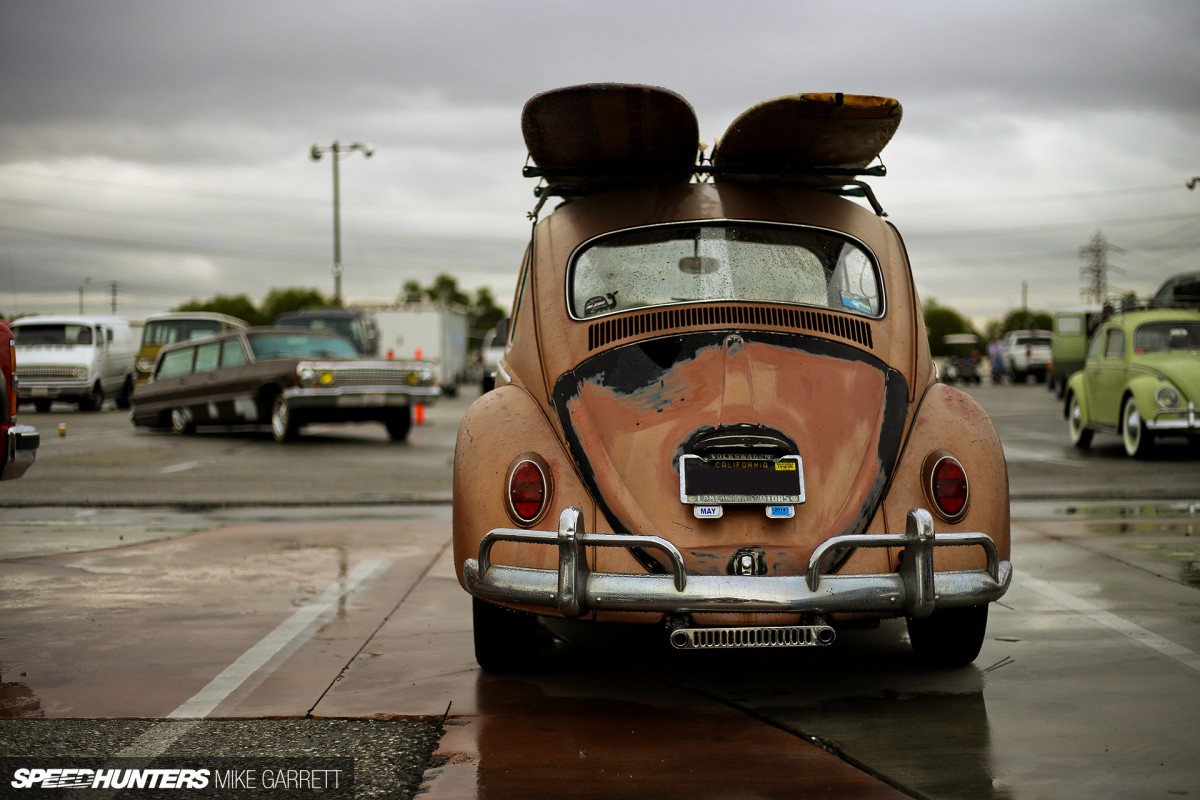 That doesn't mean however, that LA is completely immune to bad weather. In the winter months there's always the chance of cold storm systems coming off the Pacific, and just a small amount of rain can end up wreaking havoc on the area's normally sun-drenched freeways. It's always scary but entertaining to watch LA drivers struggle when that mysterious wet stuff falls from the sky.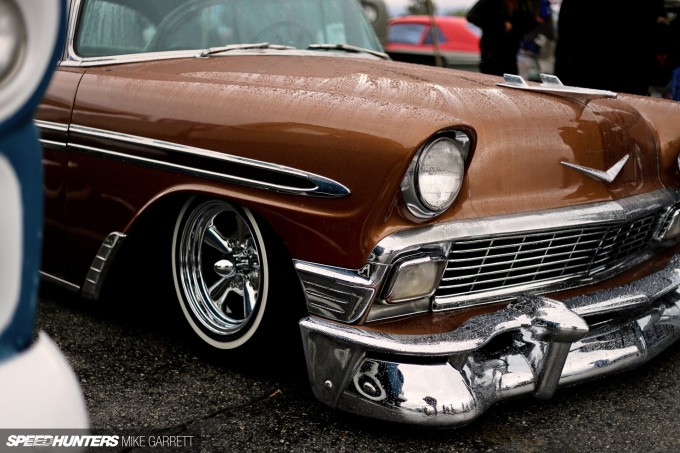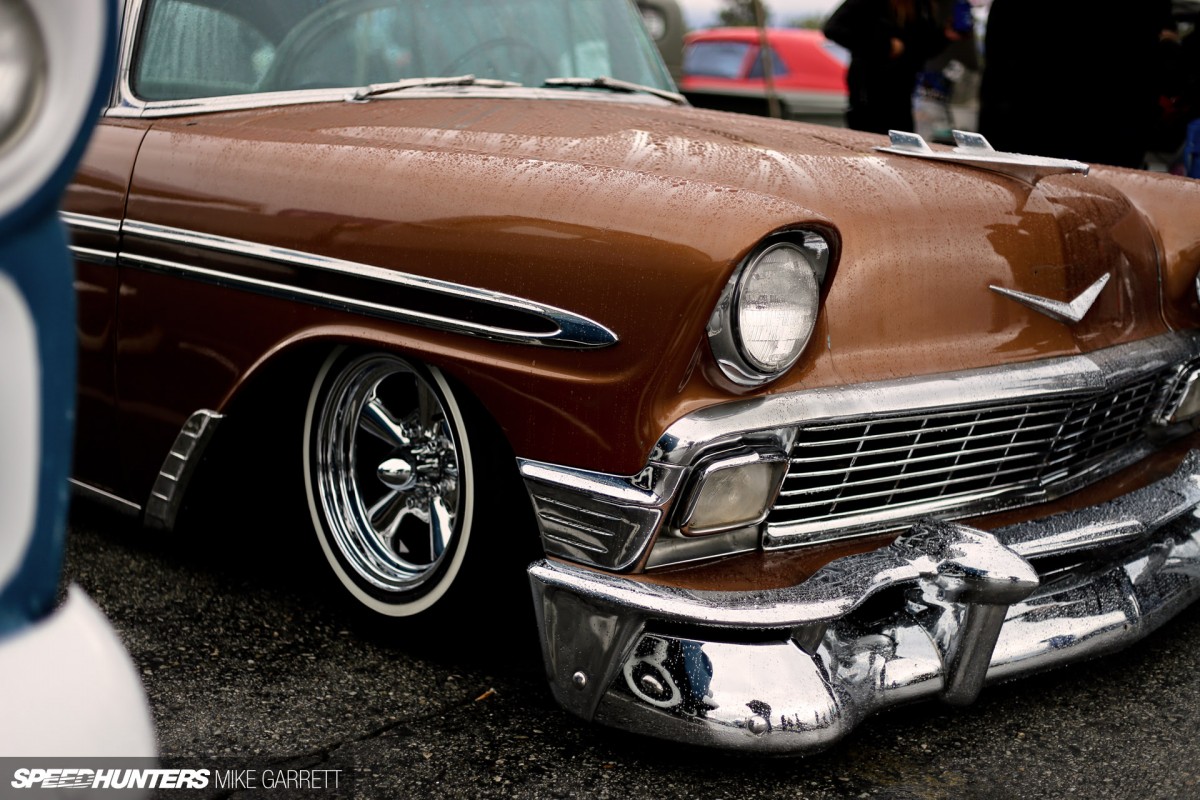 For the last week or so, the state of California has been hit by a stream of cold air coming down from Canada, making for unseasonably cool temperatures across the state. If you come from an area with a colder climate, you might be laughing at us complaining about overnight lows in the 30 degree Fahrenheit range, but ice and cold are something most people in SoCal just aren't familiar with.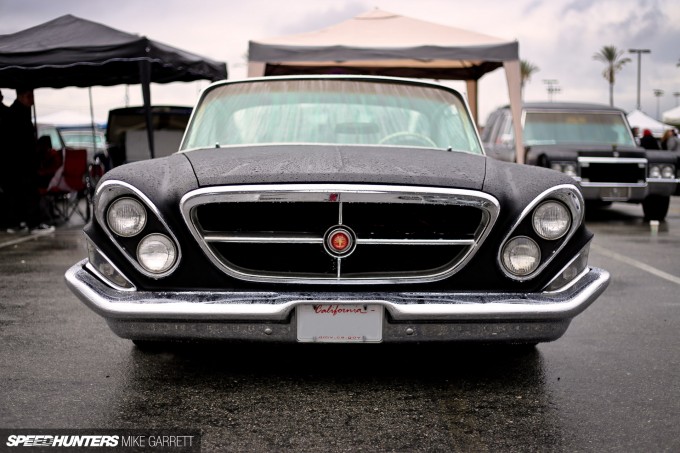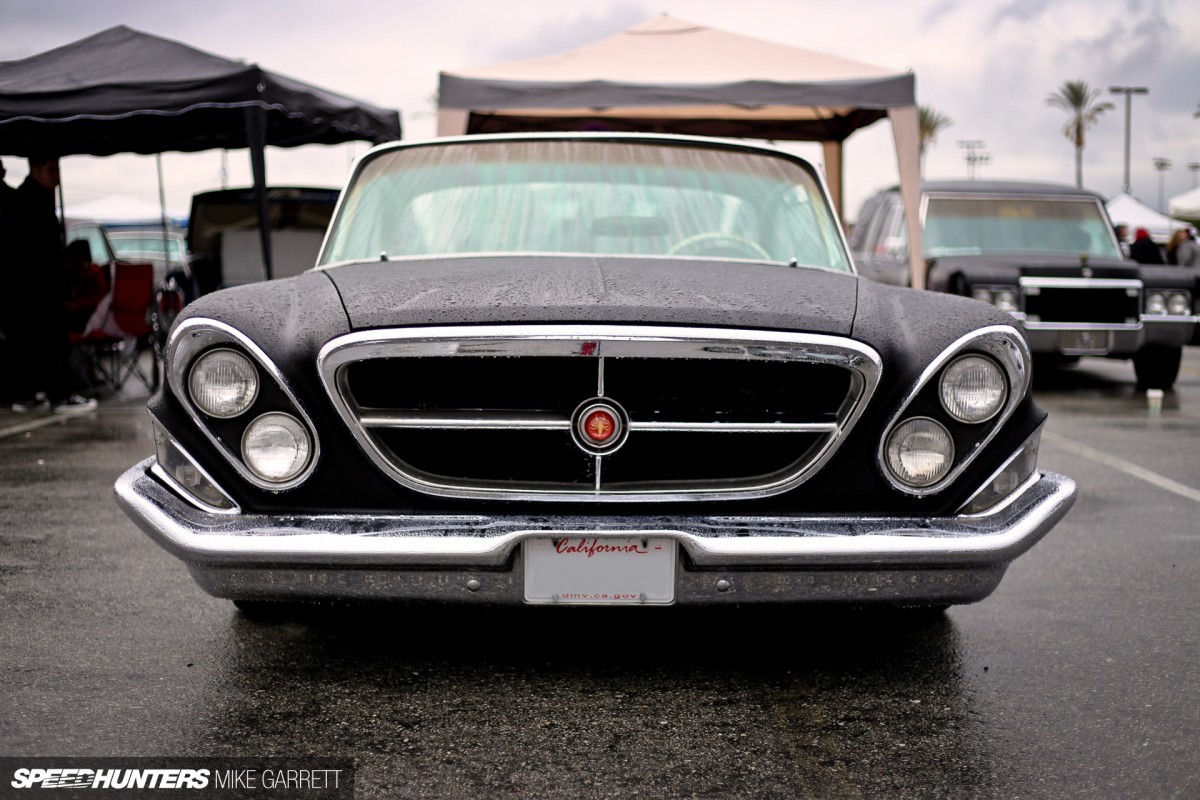 The cold front also brought some rain and snow with it, with the most of the precipitation hitting the LA basin during the middle of the day Saturday. Unfortunately, that happened to be the exact time that Mooneyes was hosting its annual X-Mas Party car show and drag race event at Irwindale Speedway.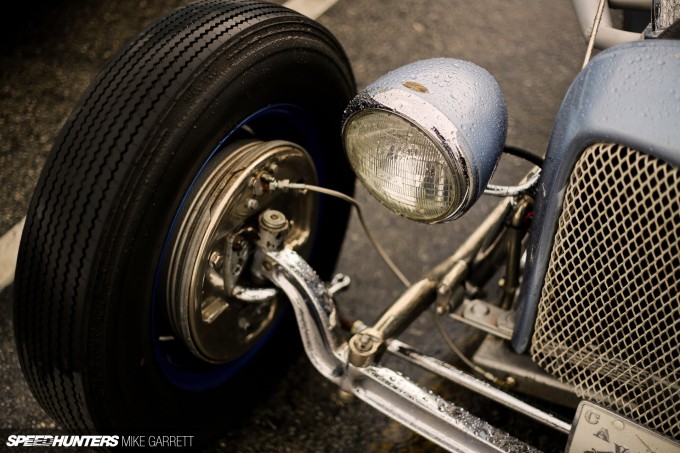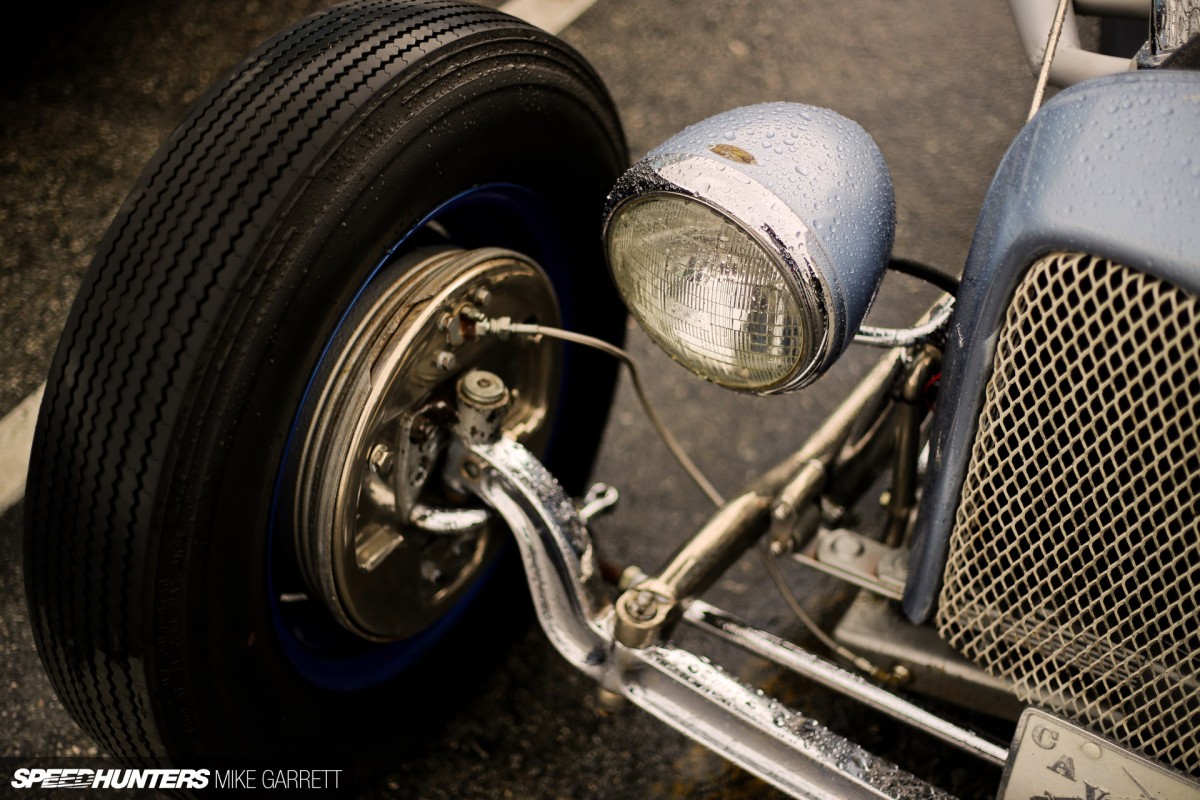 Typically, the Mooneyes end-of-year event is held under sunny skies with temps hovering right around 70 degrees – the kind of stuff that makes those from colder parts of the world dream about Southern California. That was not the case this weekend.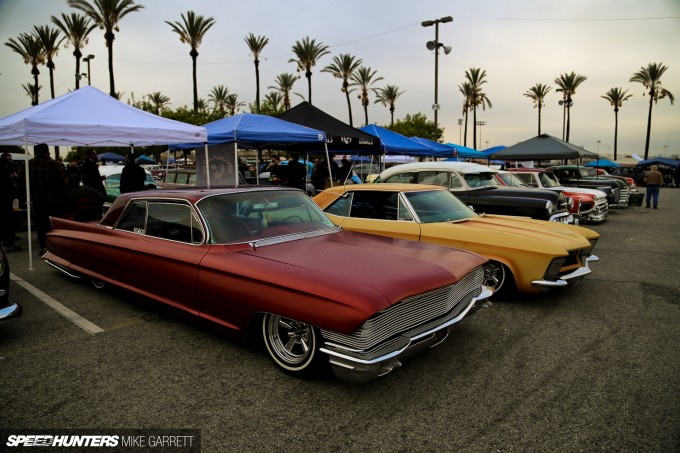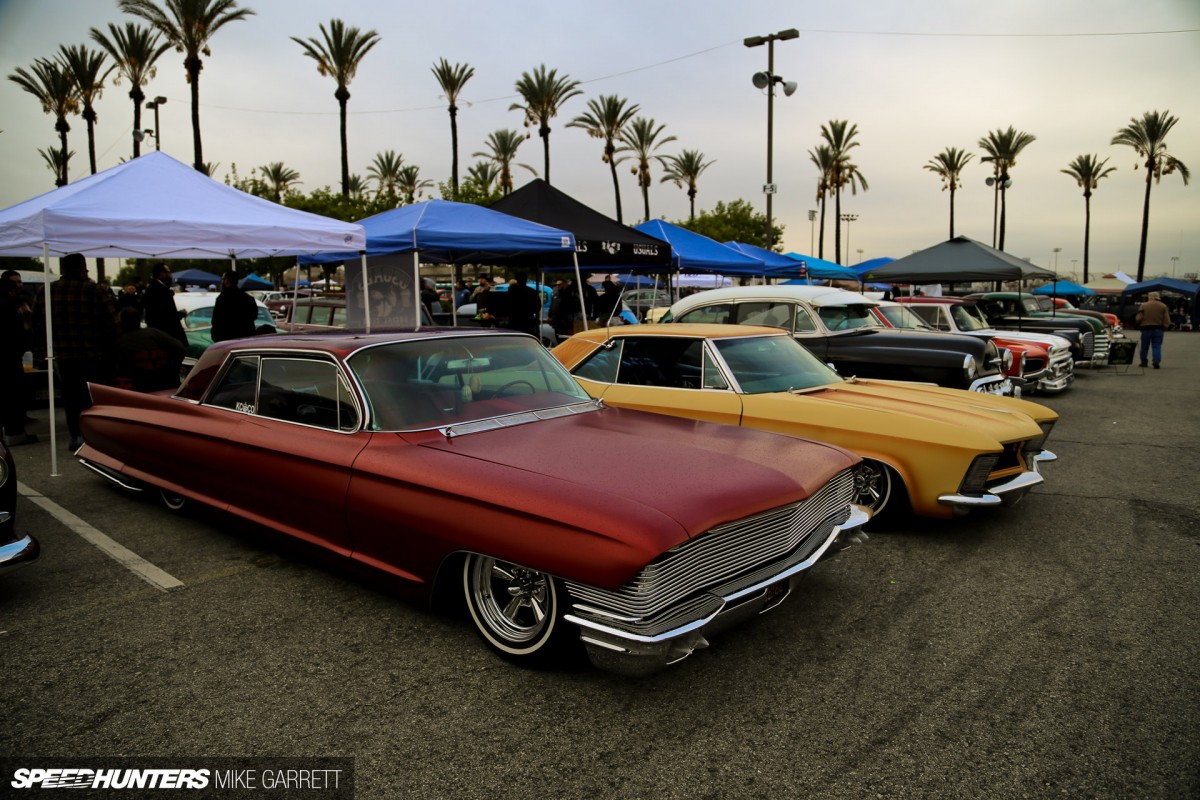 Of course, this wasn't the first time rain had fallen during this event. Back in 2009 a winter storm hit during the X-Mas Party, and the moisture in the air that day was enough to put the nail into the coffin of one of my old Canon DSLR cameras.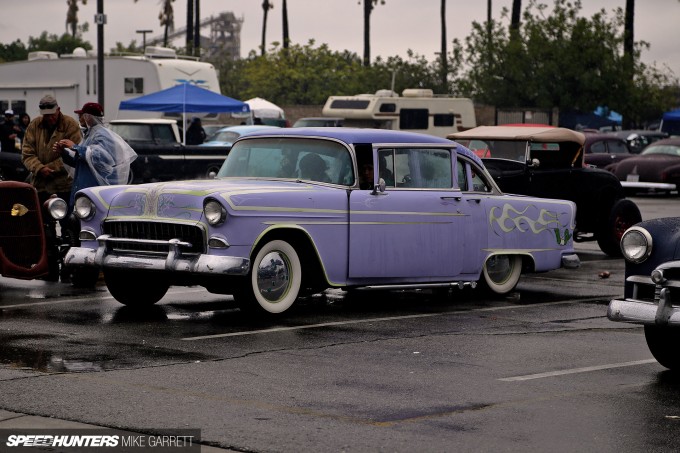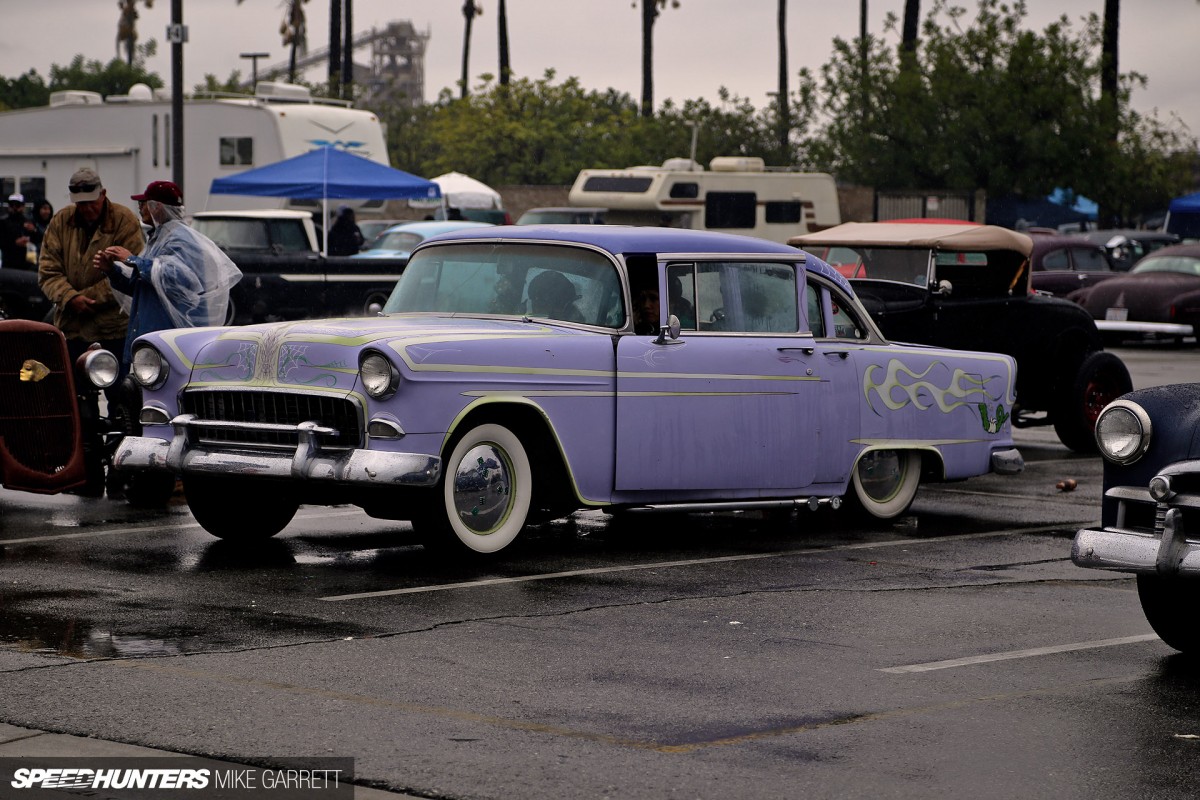 The event would go on rain or shine, and this time I came prepared with a couple of jackets, extra socks and some makeshift water protection for my camera. I headed to Irwindale Speedway early on Saturday morning, hoping to arrive ahead of the rain storm.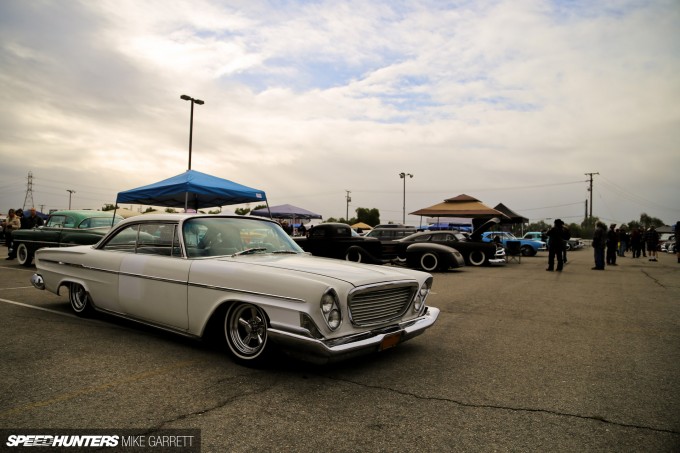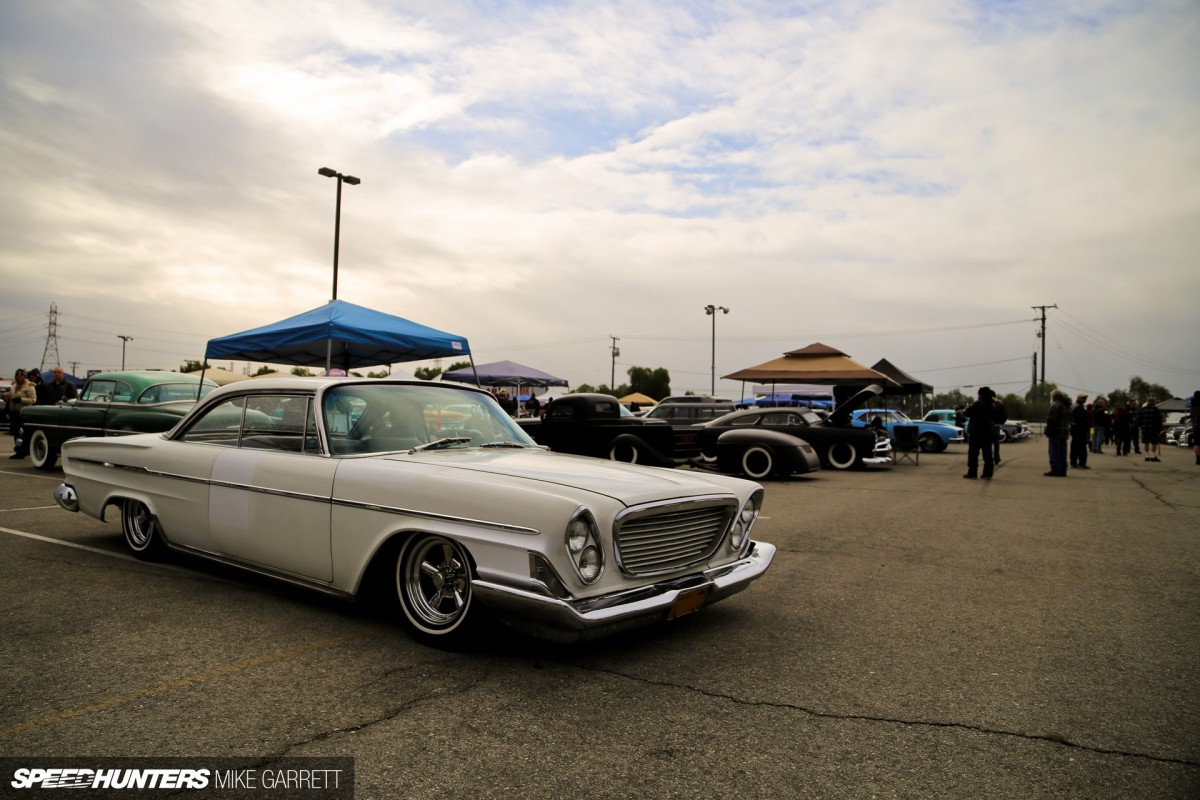 For the first hour or so everything was dry, but ugly looking clouds were moving in. It was also obvious that many had looked at the forecast and decided to stay home. The giant lot that's usually packed with show cars and spectators was much emptier than usual.
Rain or shine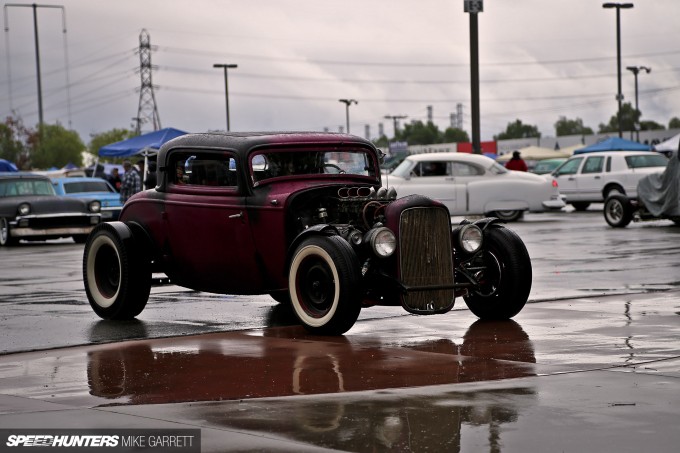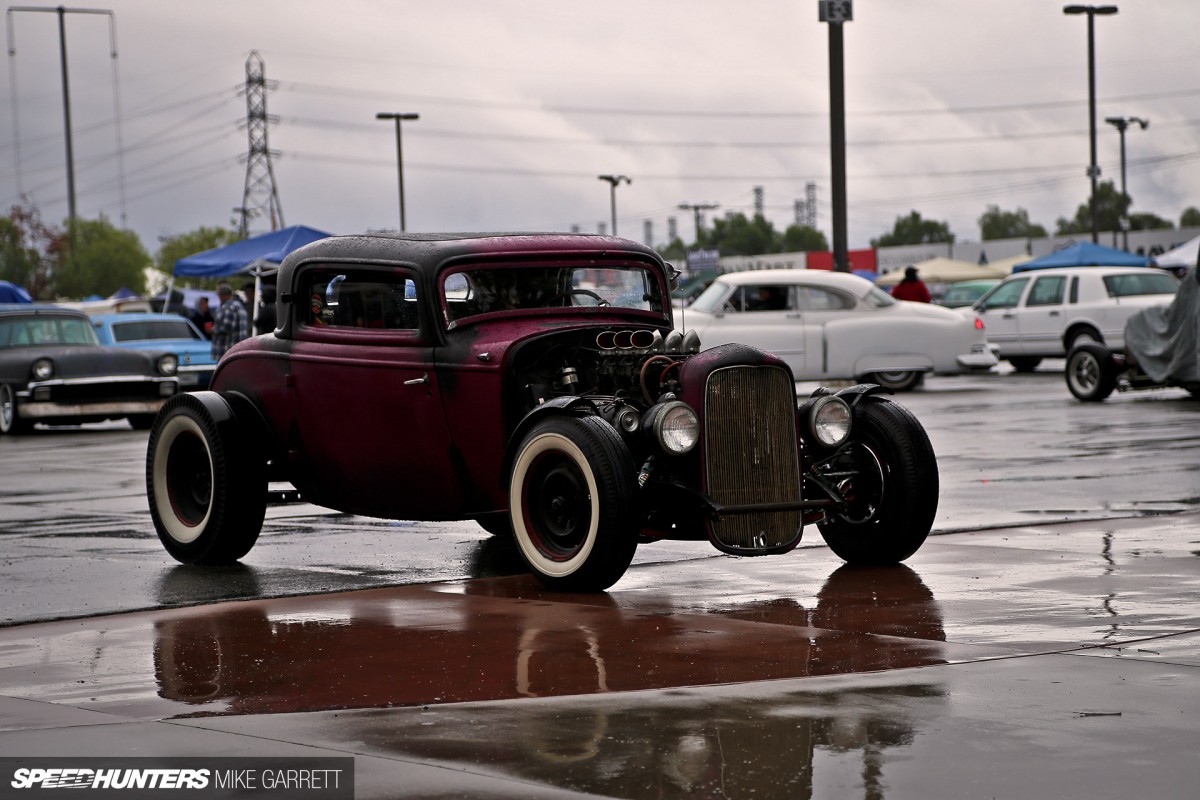 Then the rain began to fall. Not a downpour, but a steady cold shower that didn't let up for a couple of hours. During this time most people took cover under tents or inside their cars, hoping that the storm would quickly pass.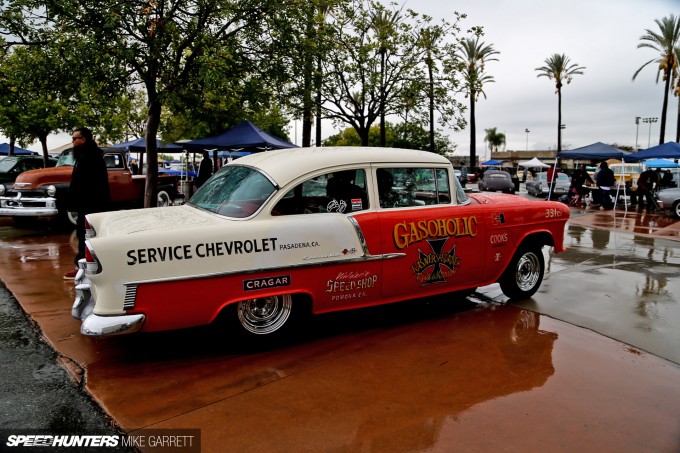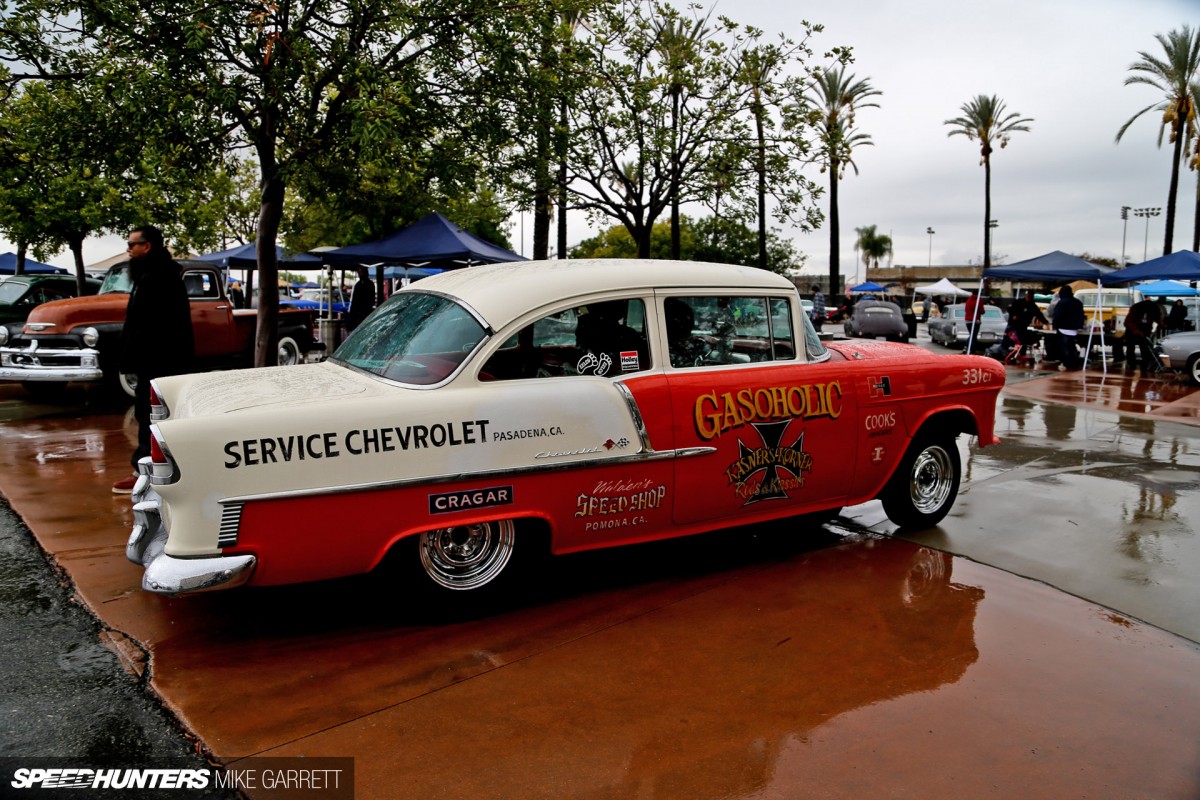 Drag racing on Irwindale Speedway's 1/8th mile strip is usually one of the highlights of the X-Mas party, but obviously that's something that's not going to happen in the rain.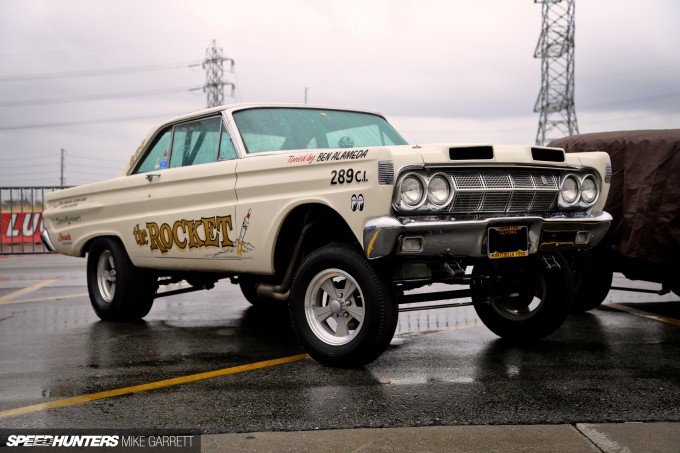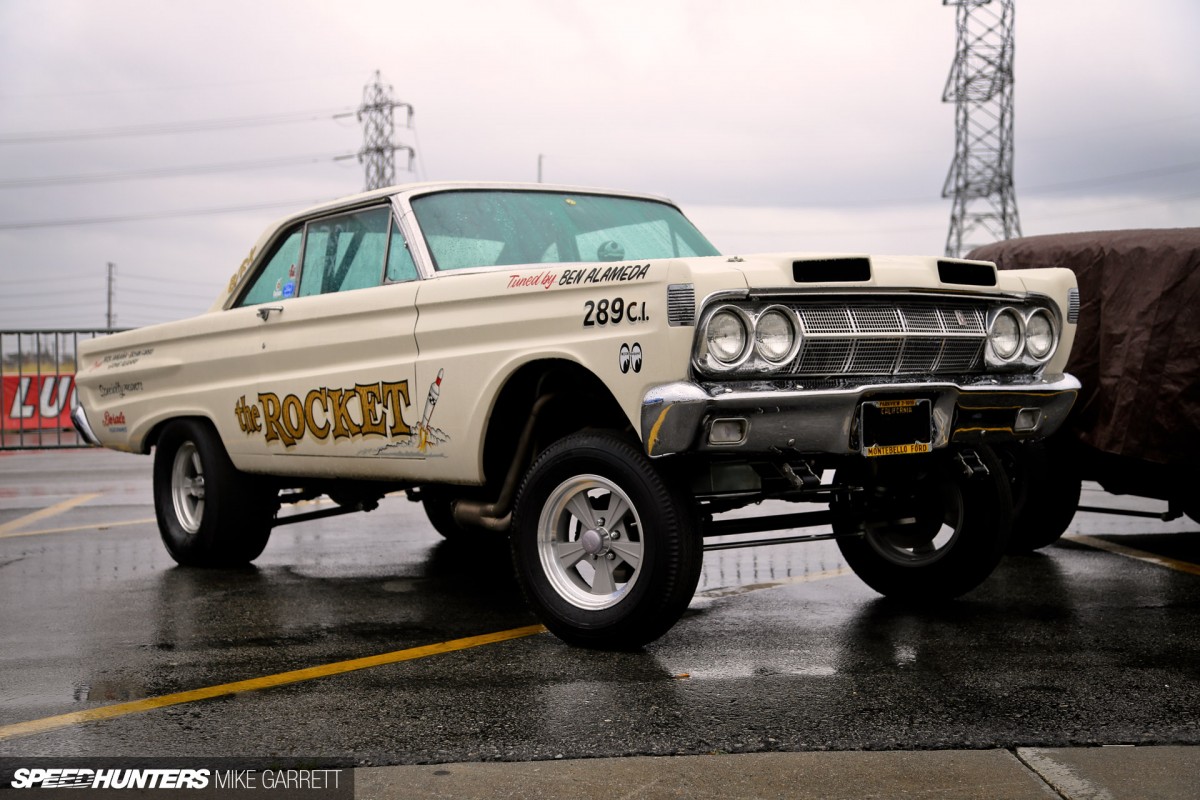 A group of dedicated drag racers did show up in the morning, hoping that the weather would clear out – but it just wasn't to be. Some loaded up their race cars and headed home early, while others made the best out of it and turned their machines into static attractions.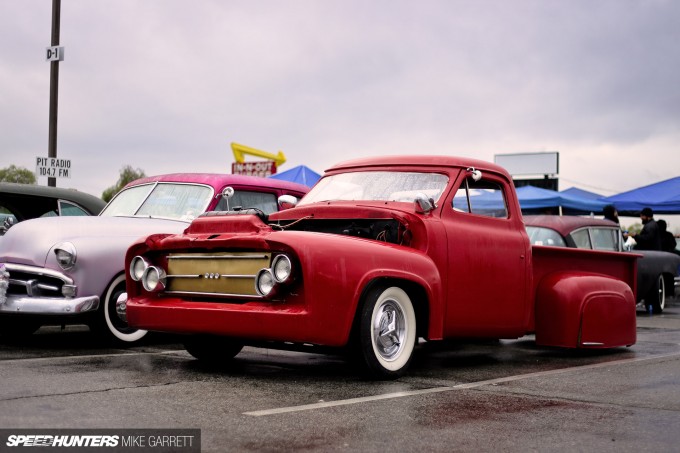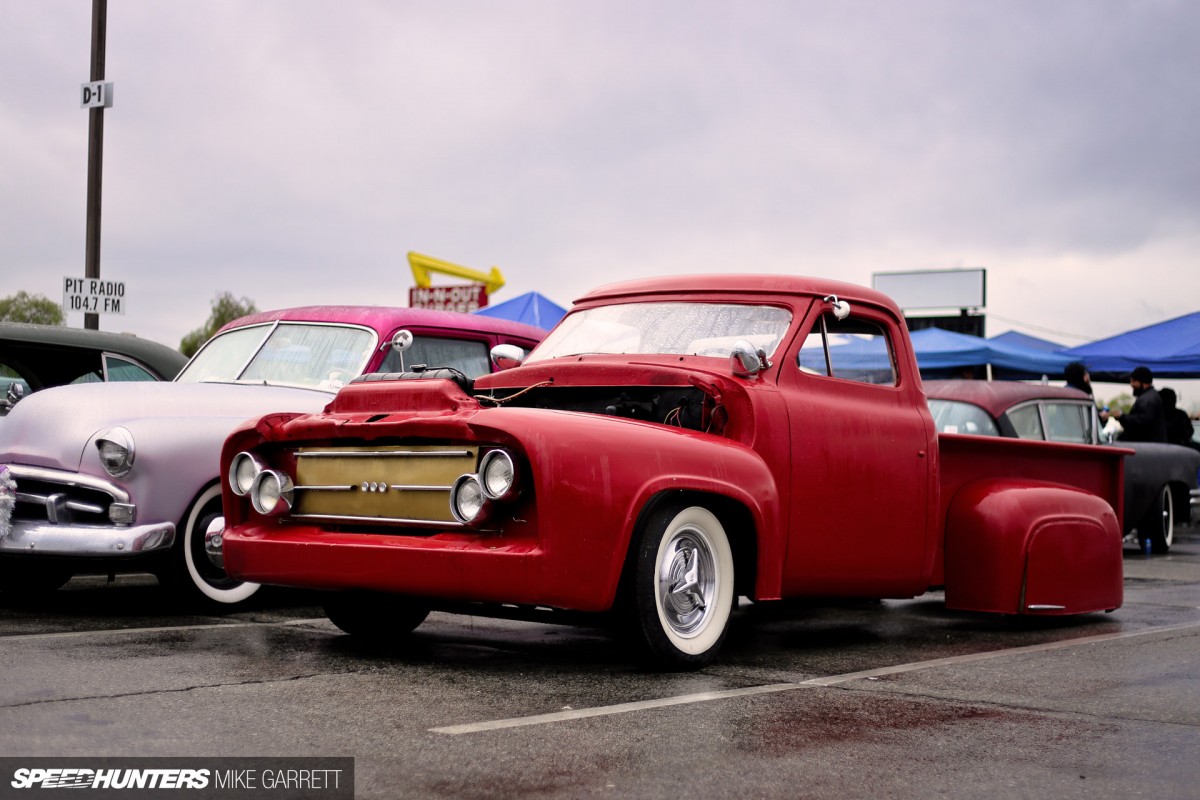 While the rain and cold definitley had a big impact on the turnout, that's not to say the show was empty. There was still plenty to see, with a good number of  both cars and spectators braving the weather to enjoy the event.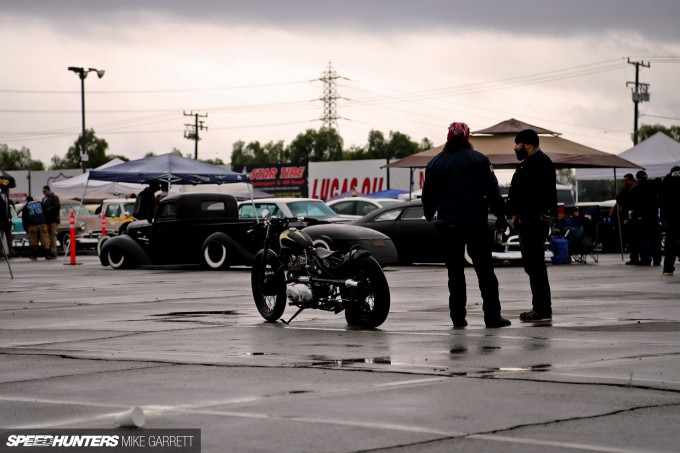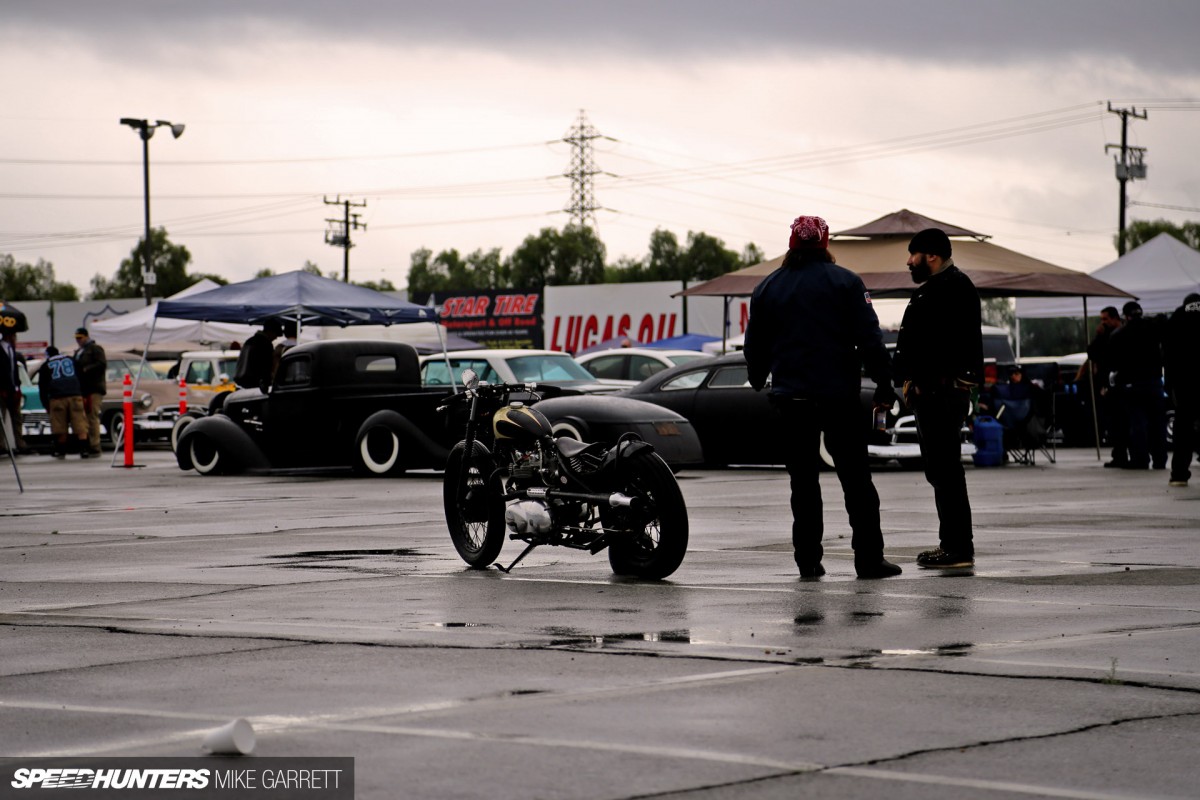 While I can't say that I fancy being wet and cold, I do think the weather made for an interesting event. At times it was even enjoyable.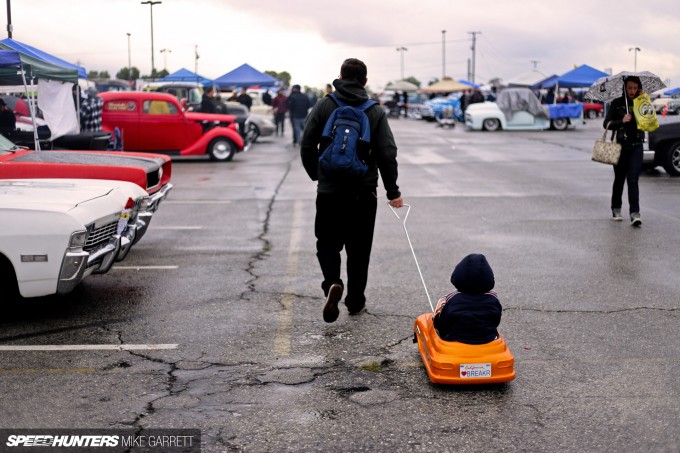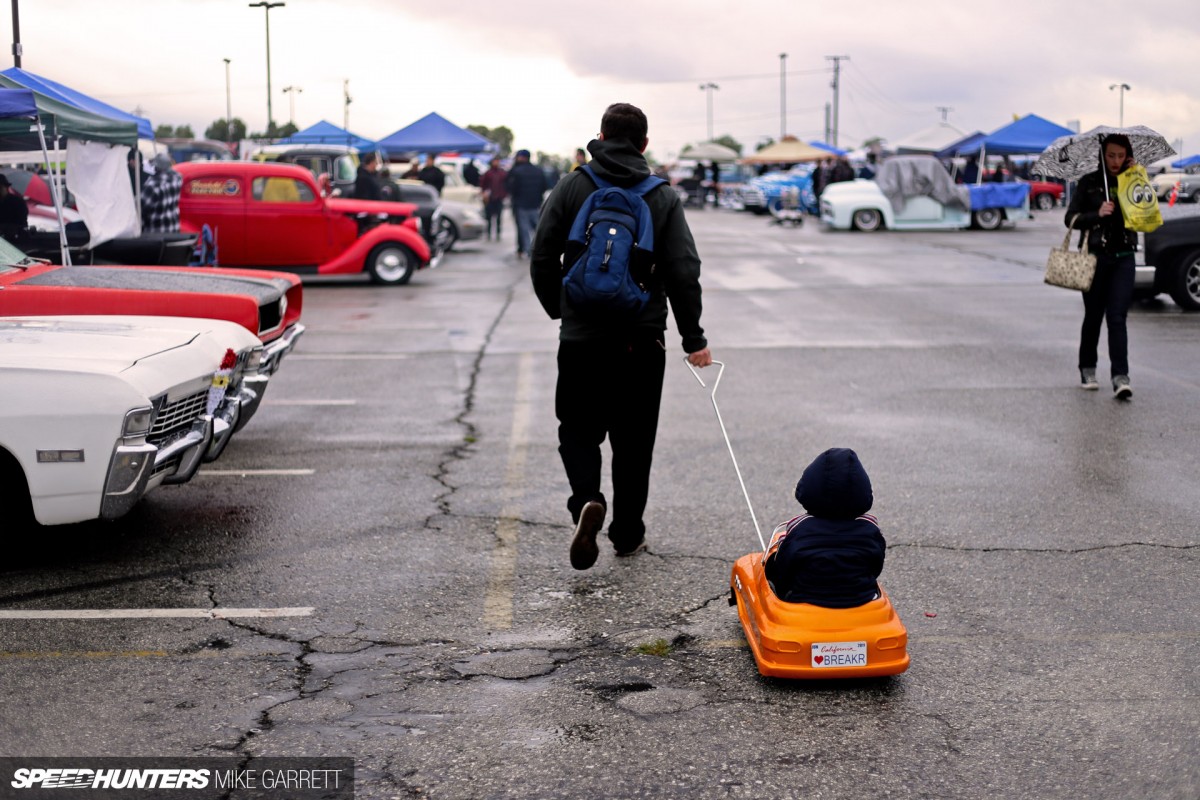 Typically the Mooneyes X-Mas Party has hundreds of cars parked inches apart from each other and thousands of specators walking around them, but things were much more sparse this year.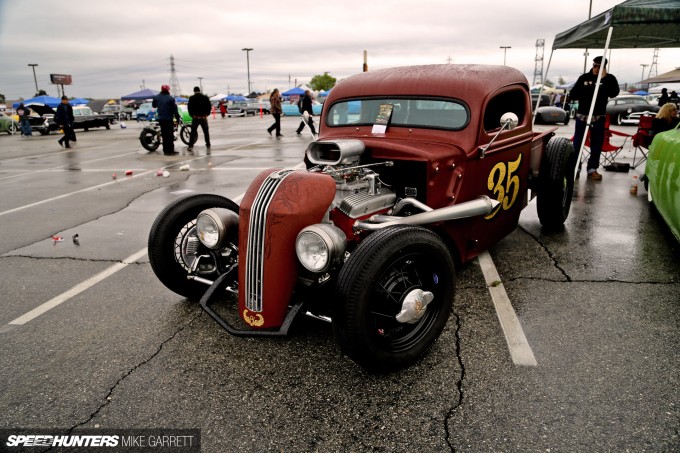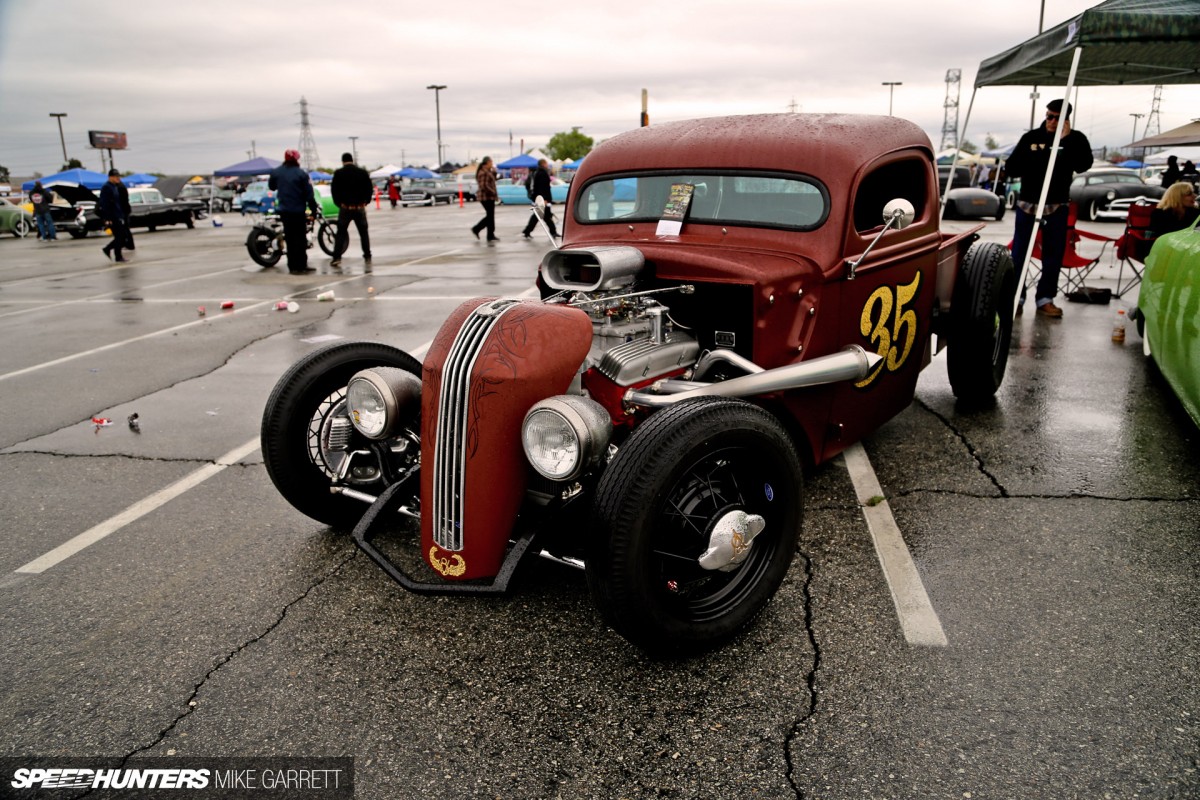 While I wouldn't blame anyone for wanting to stay home and be warm, it was pretty cool to see how many hardcore hot rodders, custom car owners and bikers came out in the rain.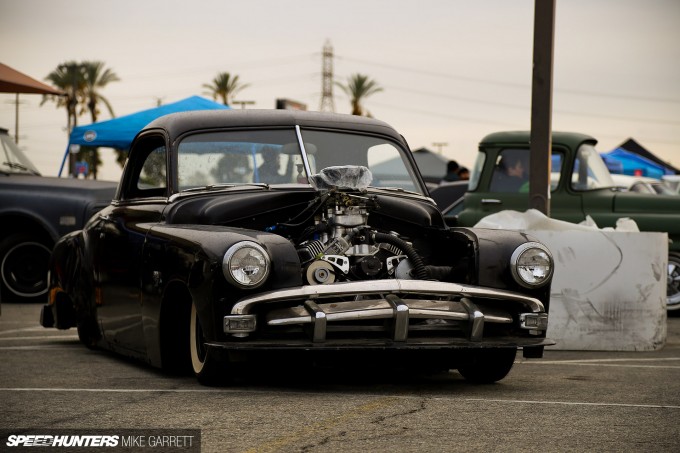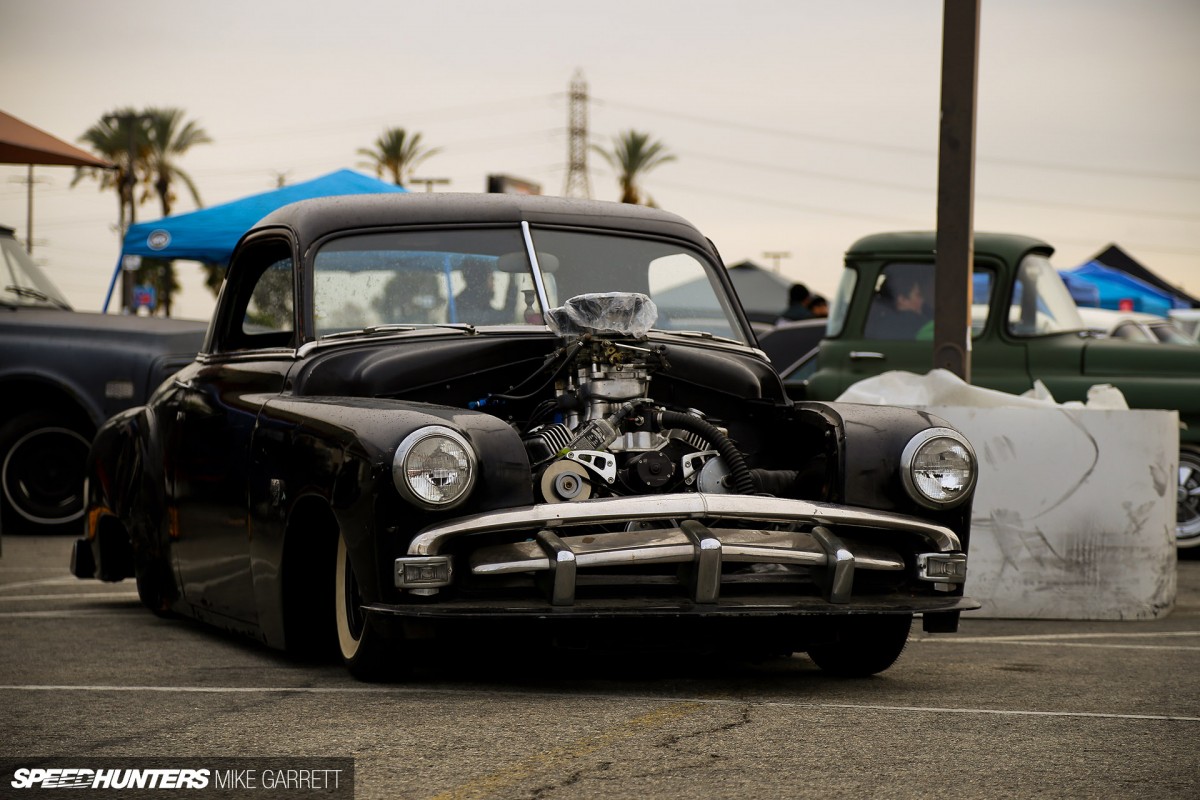 It's especially admirable when you consider how tricky some of these cars can be to drive, even when the weather is nice.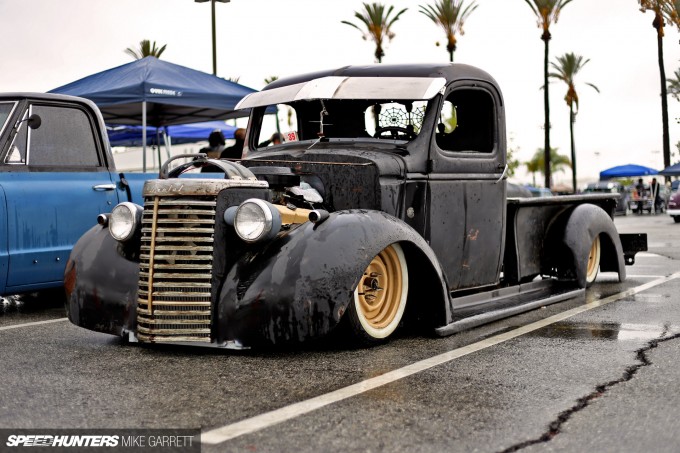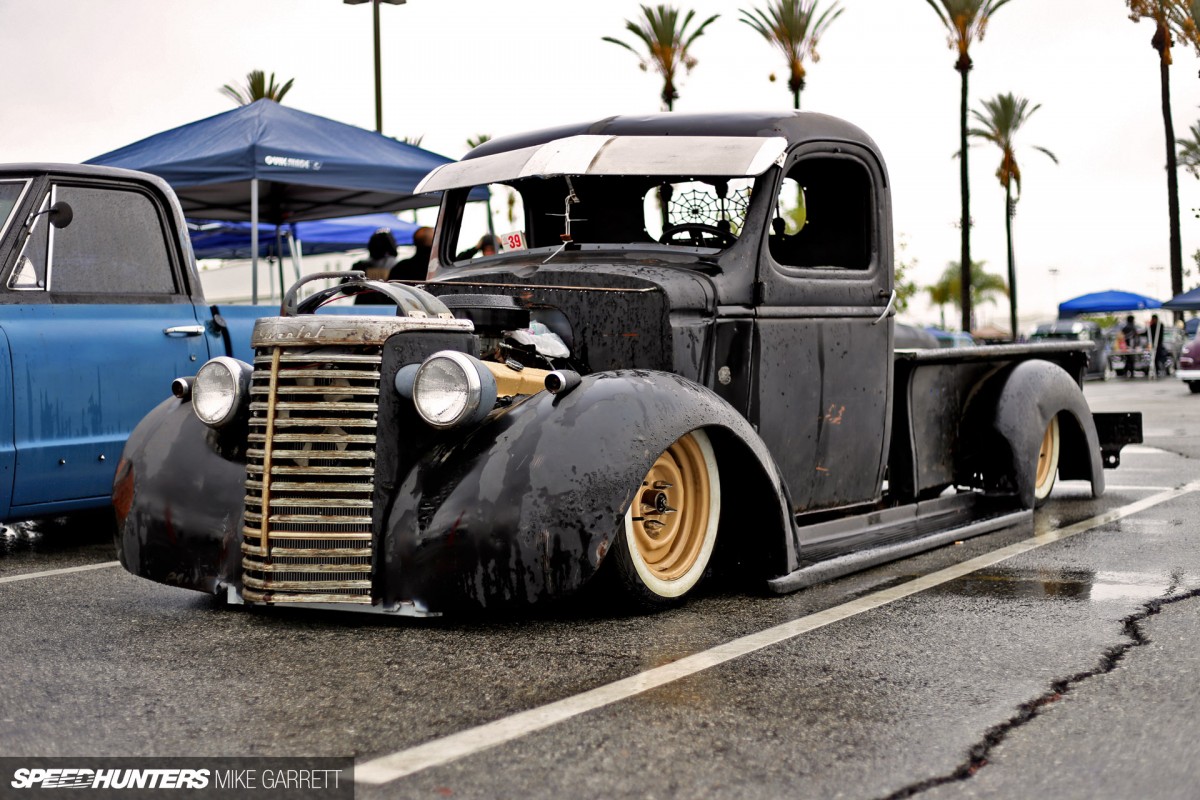 We are talking narrow bias ply tires, braking technology that might have been modern during the Eisenhower administration, and cars that lack windshield wipers or sometimes windshields altogether.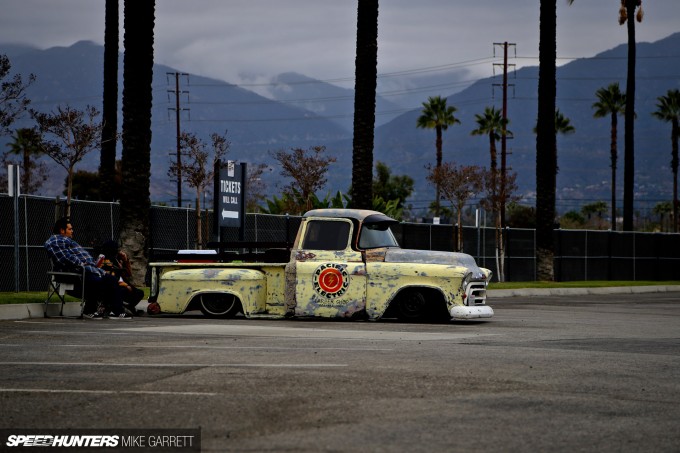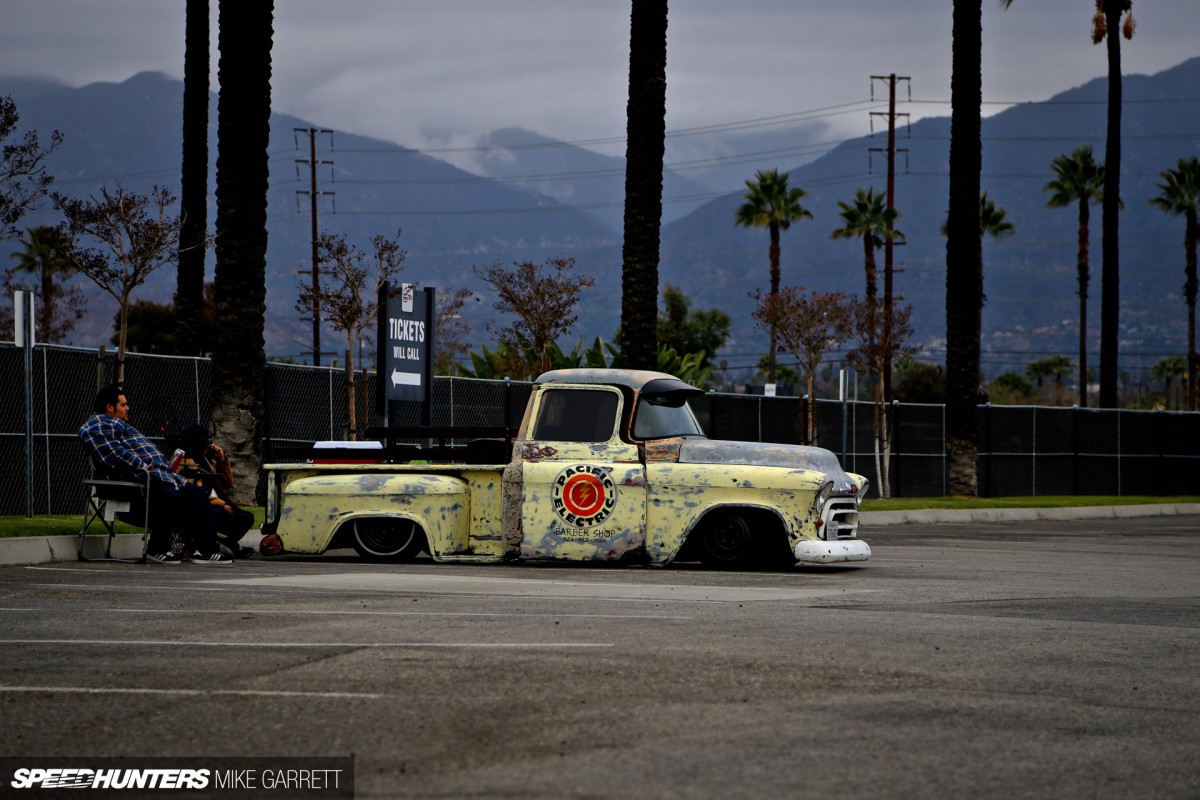 Driving on rainy LA freeways can be sketchy even in a brand new car, so I have the utmost respect to these guys who drive through the elements in their vintage machinery.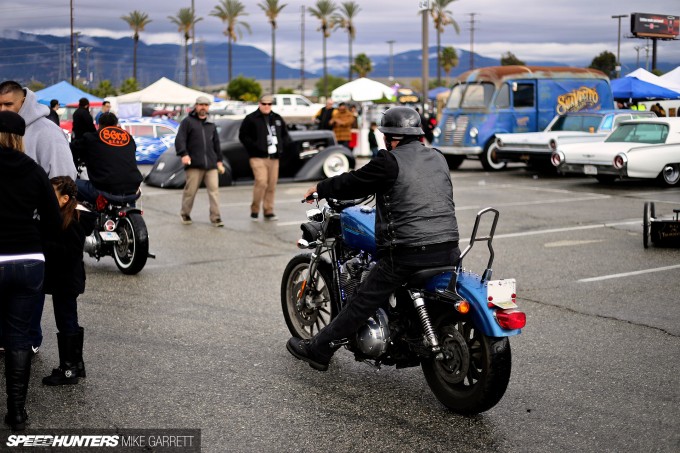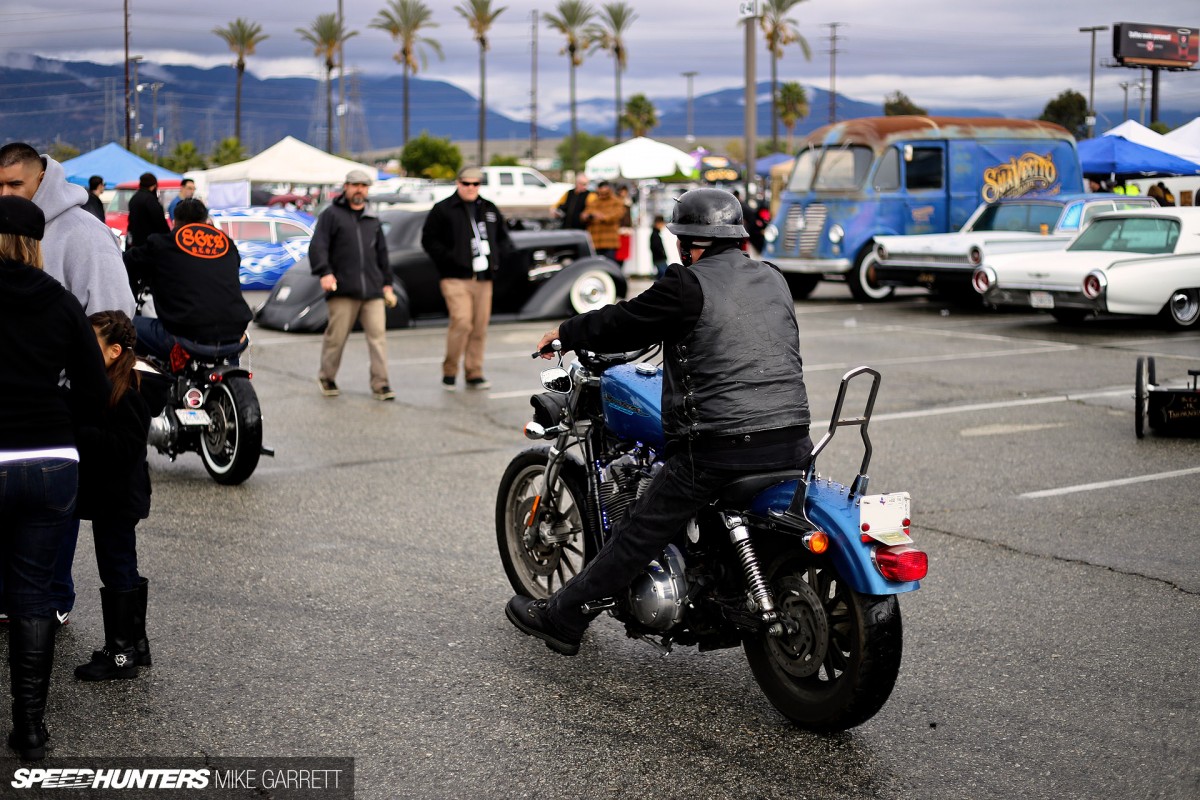 Then on top of that, there was the group of devoted bikers that rode out in the rain on their vintage choppers and bobbers.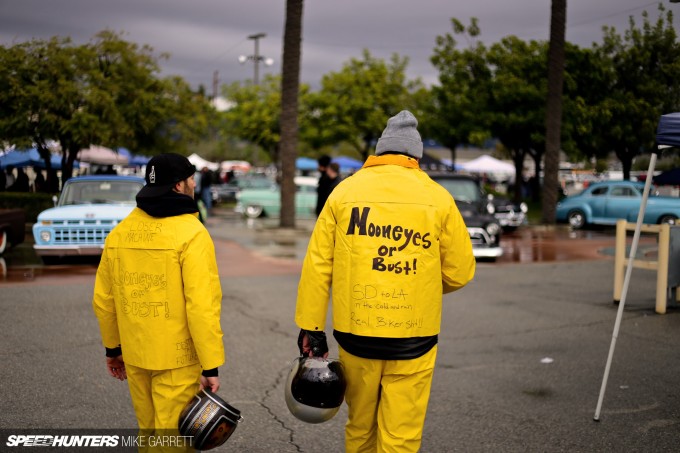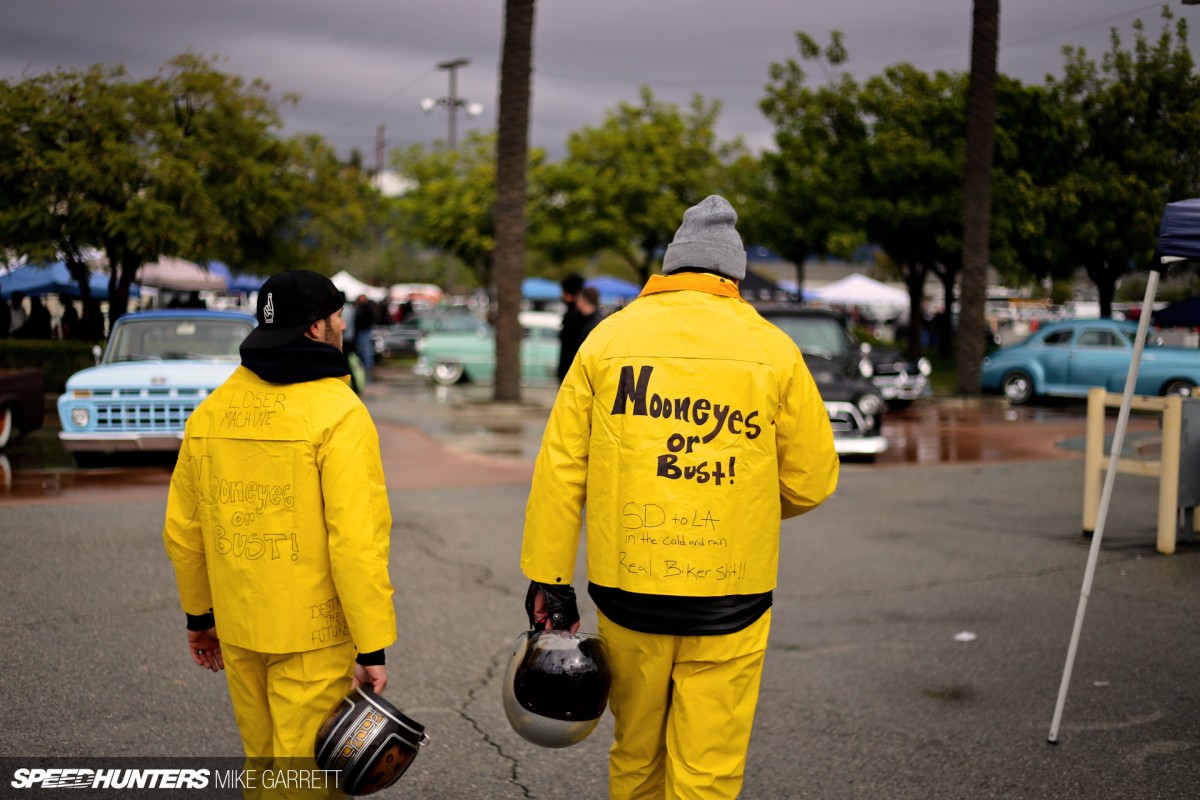 Mooneyes or bust! As you can see,  these fellows made the journey all the way up from San Diego.
Making lemonade out of rainwater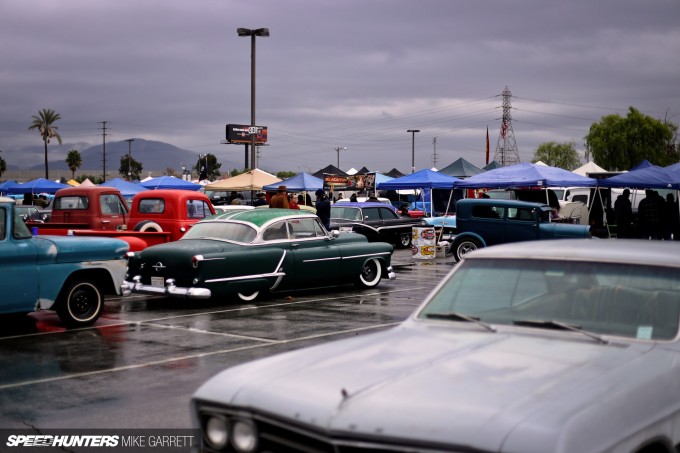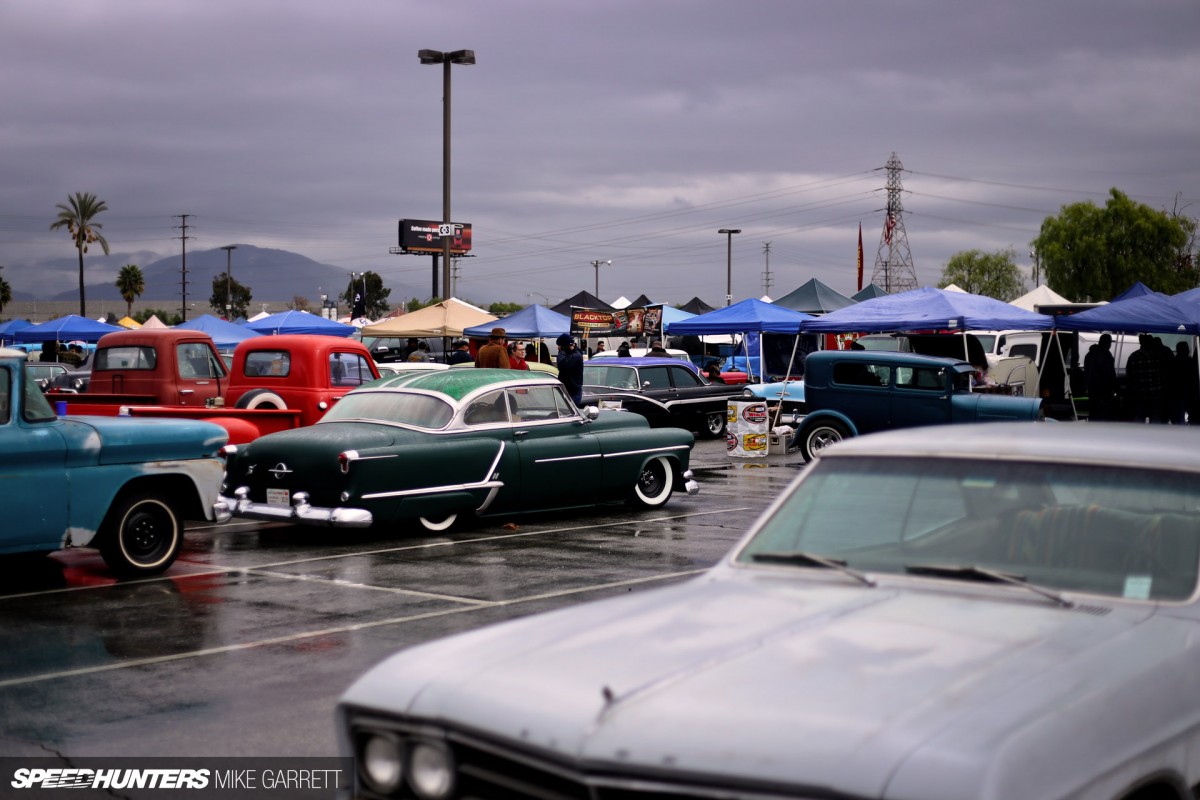 When it was clear that rain wasn't going to let up anytime soon, a lot of the people that came in the morning began to fire up their machines and head home.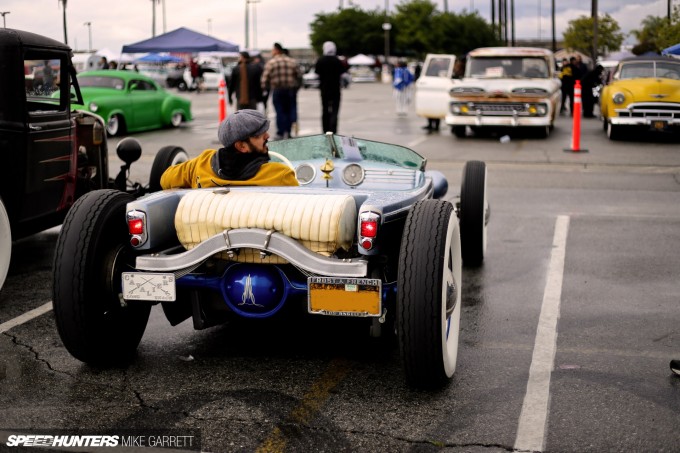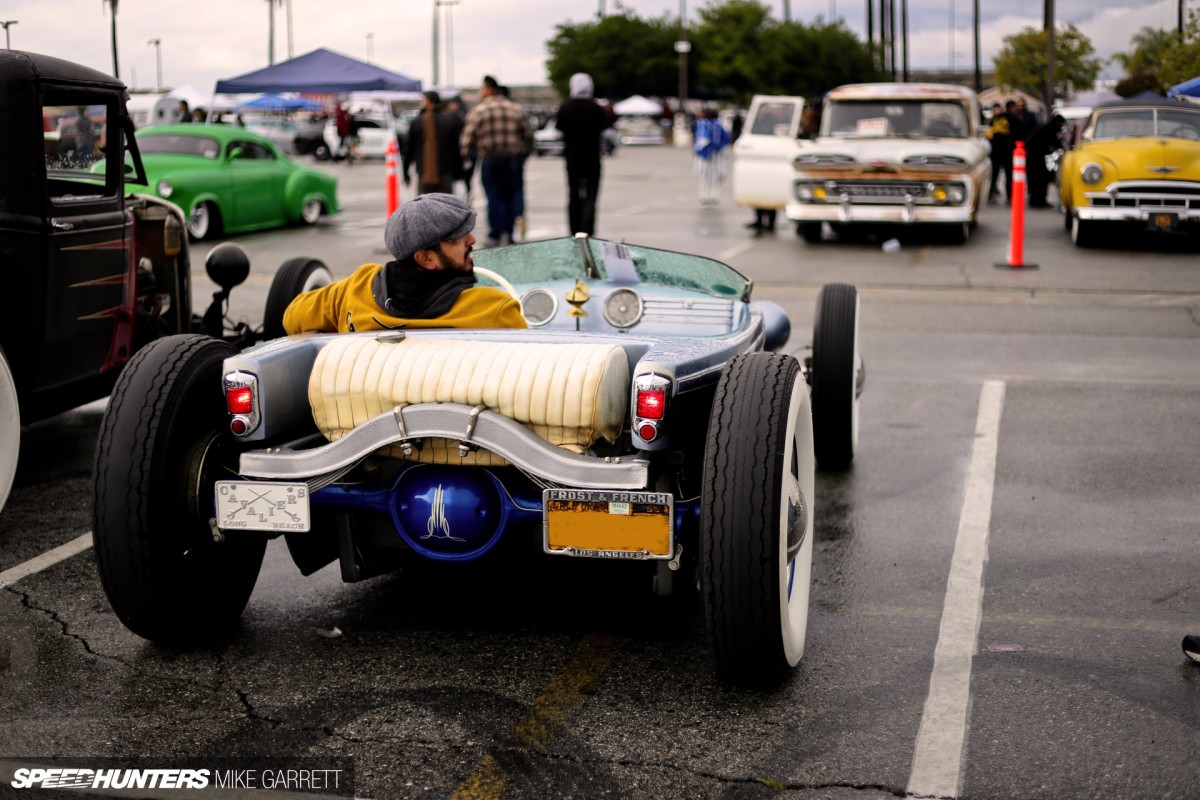 Others may have liked to leave, but when your car lacks any sort of protection from the elements, it's probably a good call to sit it out and wait for things to clear up.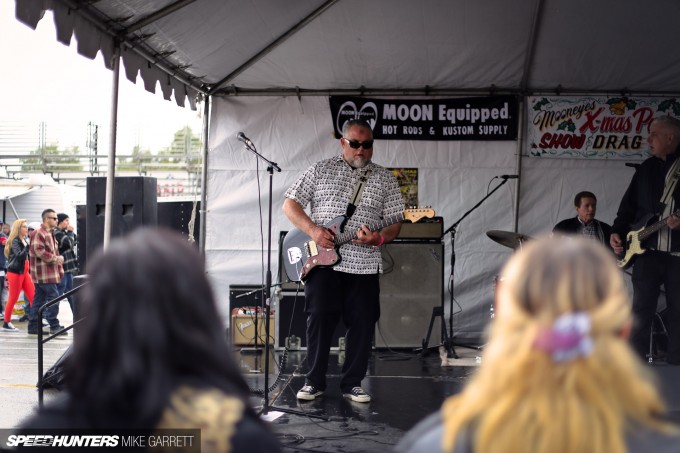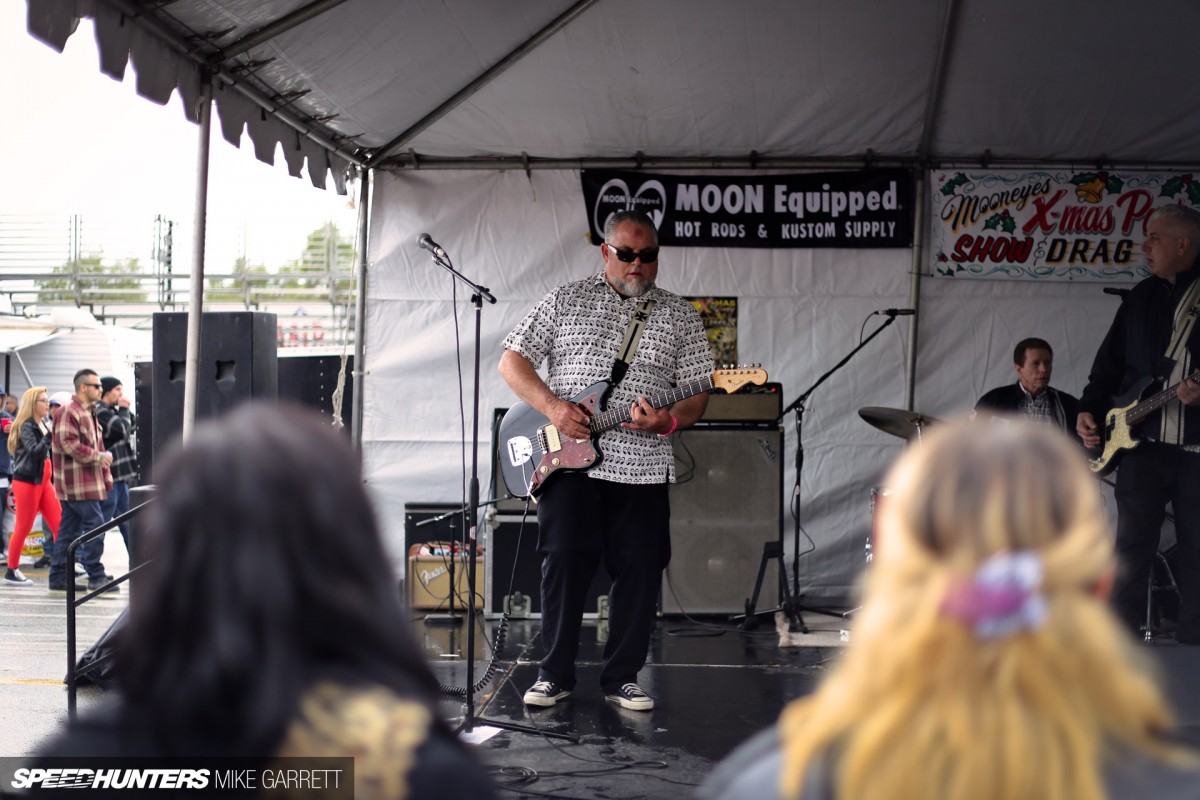 And there were plenty of things to keep showgoers entertained while they tried to stay dry. As usual, a number of bands came out to provide a groovin' soundtrack to the festivities.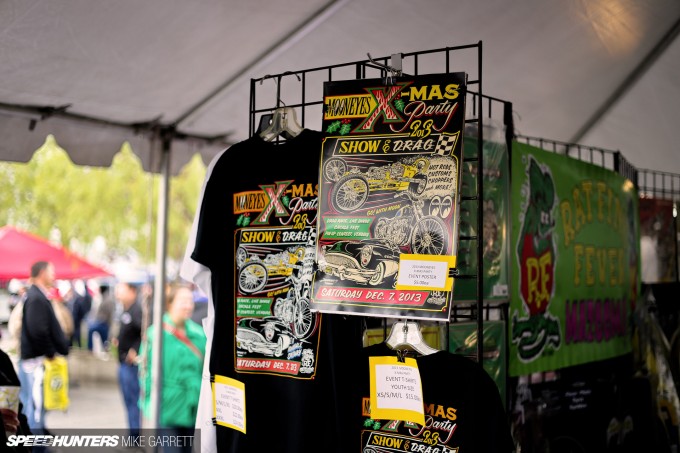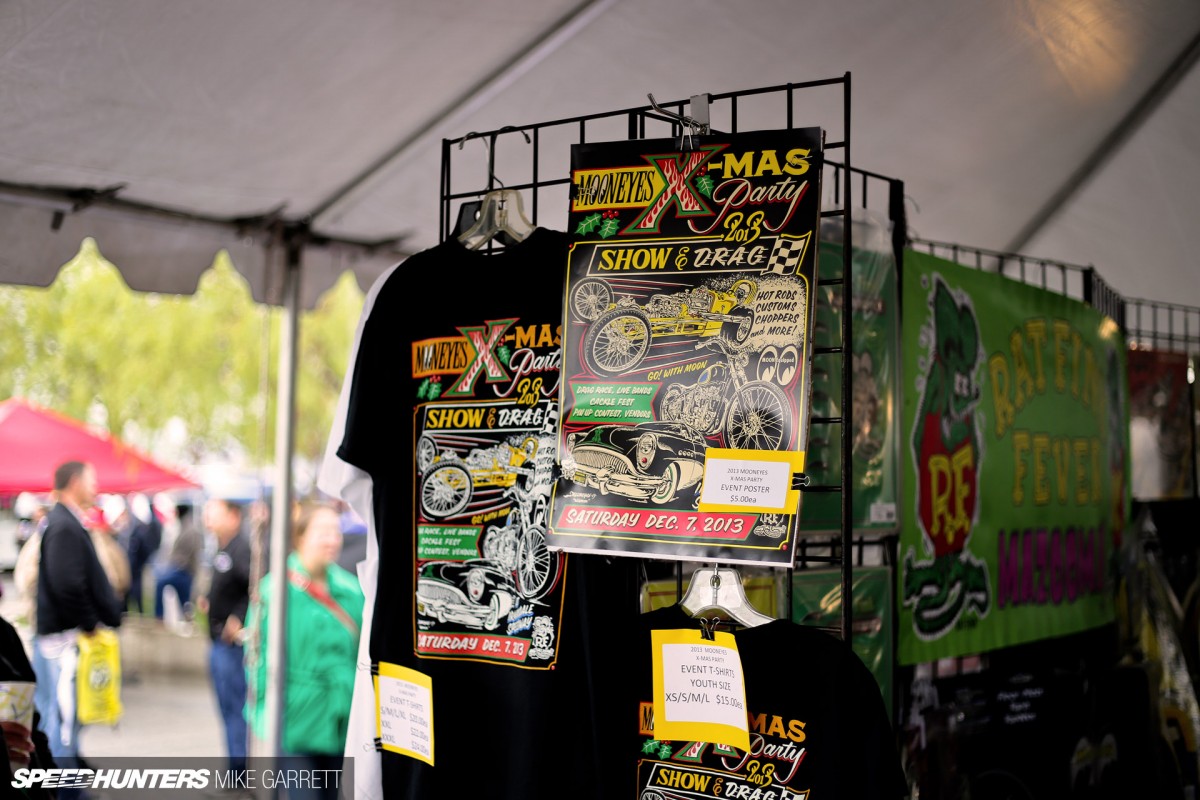 There was also plenty of cool stuff to spend money on in the vendor area. Each year I've made it a point to collect a poster from this event to hang in my garage.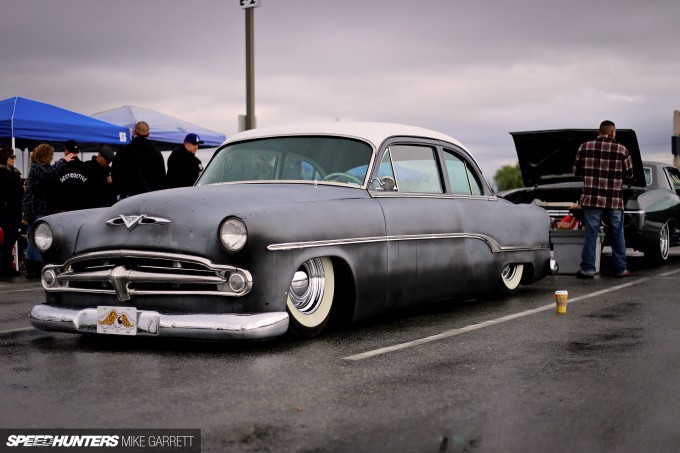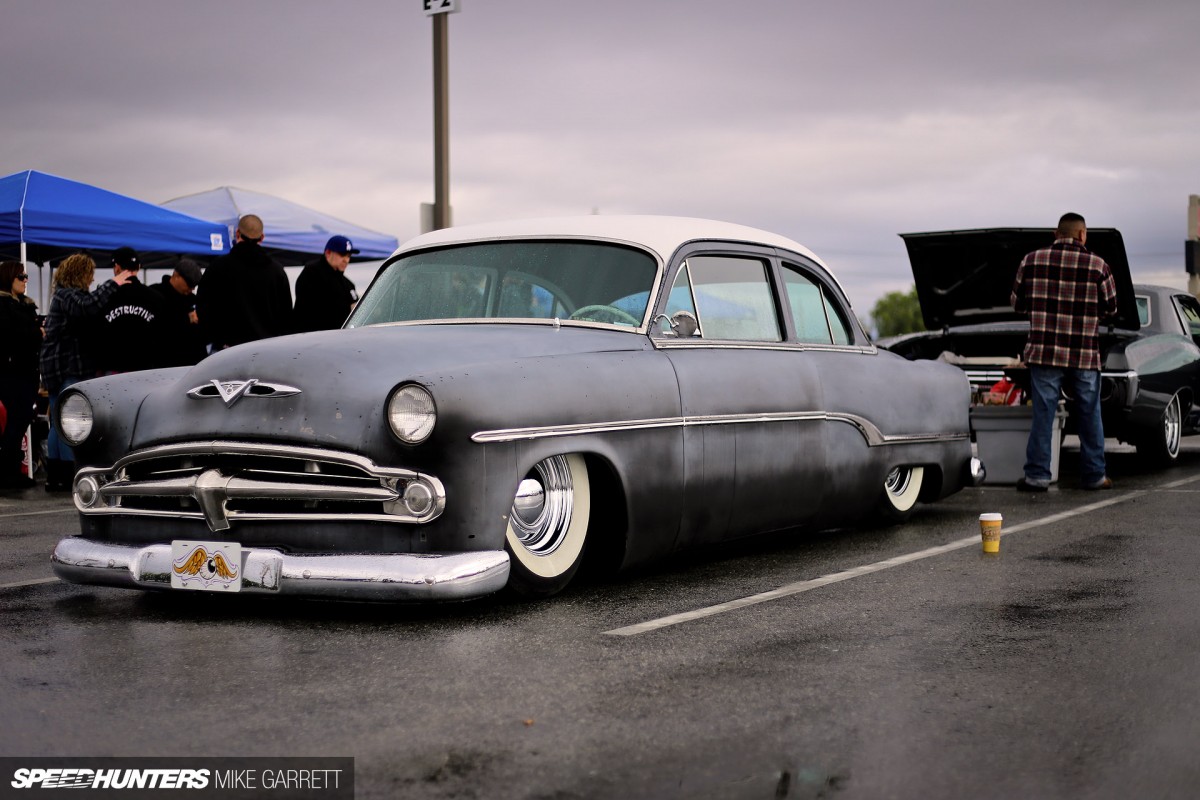 Eventually it did stop raining, but by that point the parking lot was looking rather empty.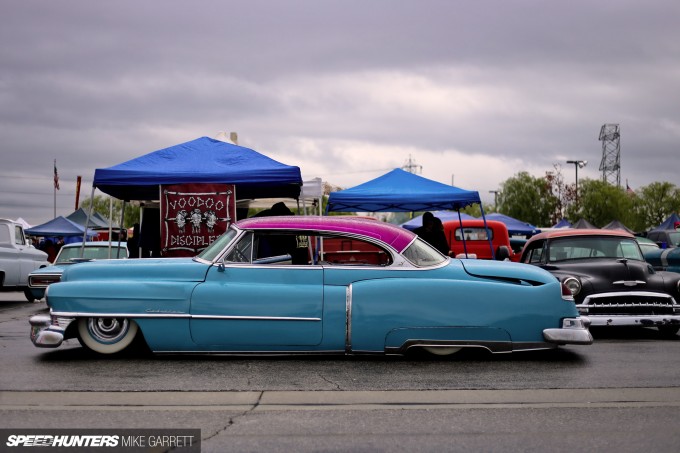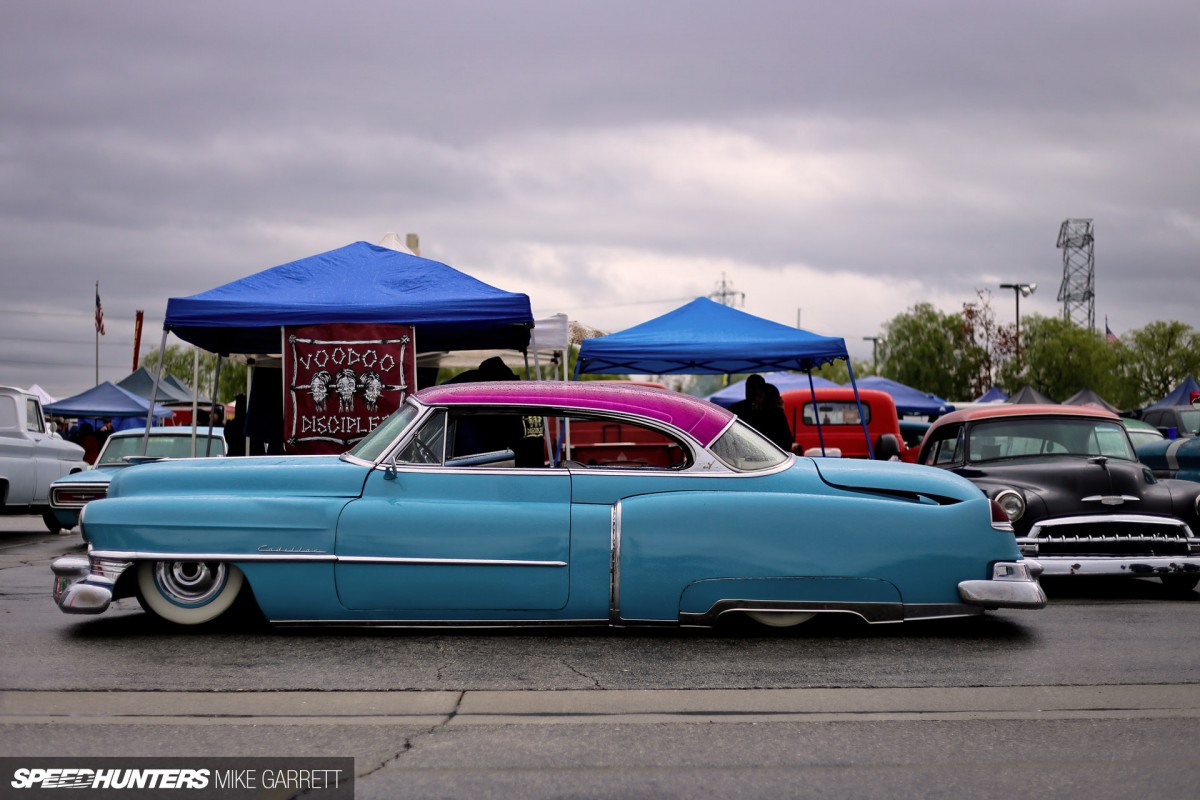 But again, to me there was actually something cool about this. For starters, the lack of crowds made for lots of opportunities to shoot from new perspectives.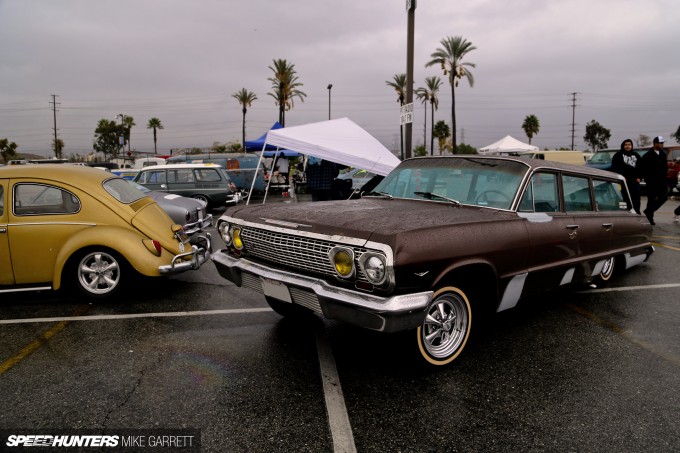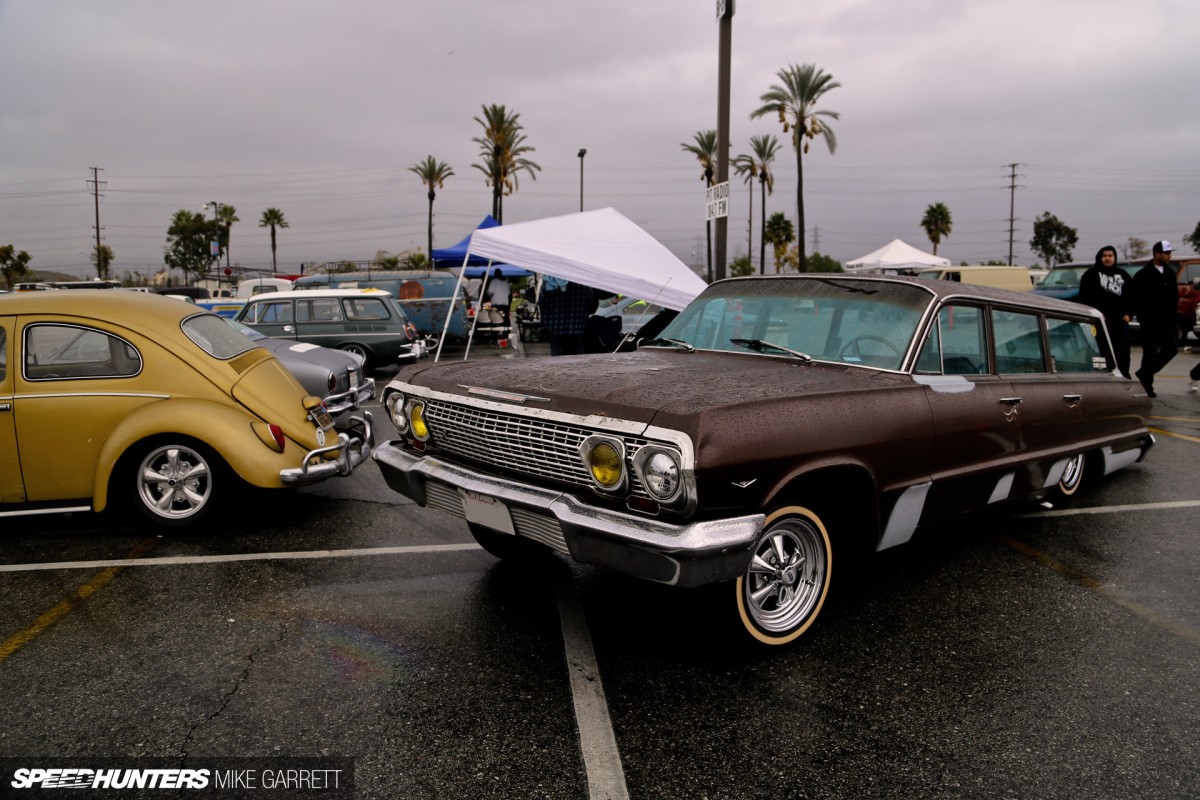 Aside from that, there was the simple fact that the rain added a unique visual feel to the scene.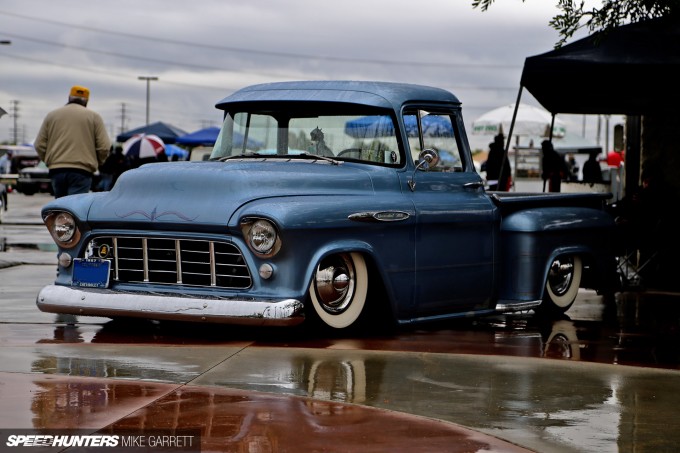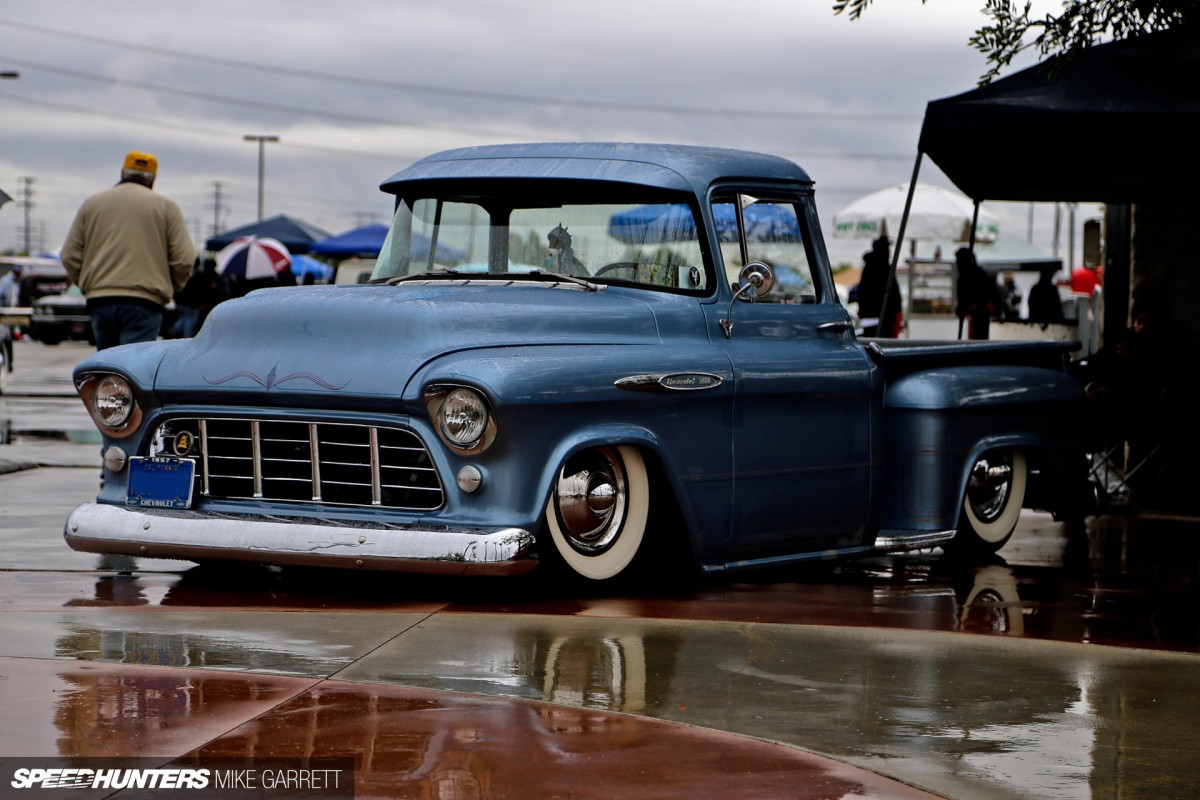 Here in California it seems that 99 percent of events you go to are held under harsh sunlight, so it was nice being able to play in wet and overcast conditions for a bit.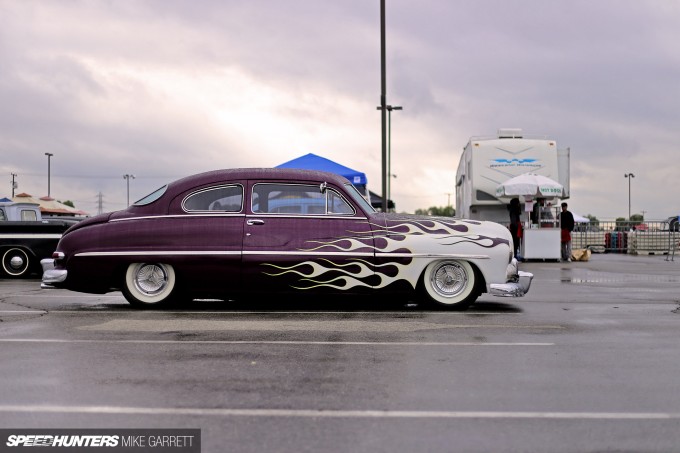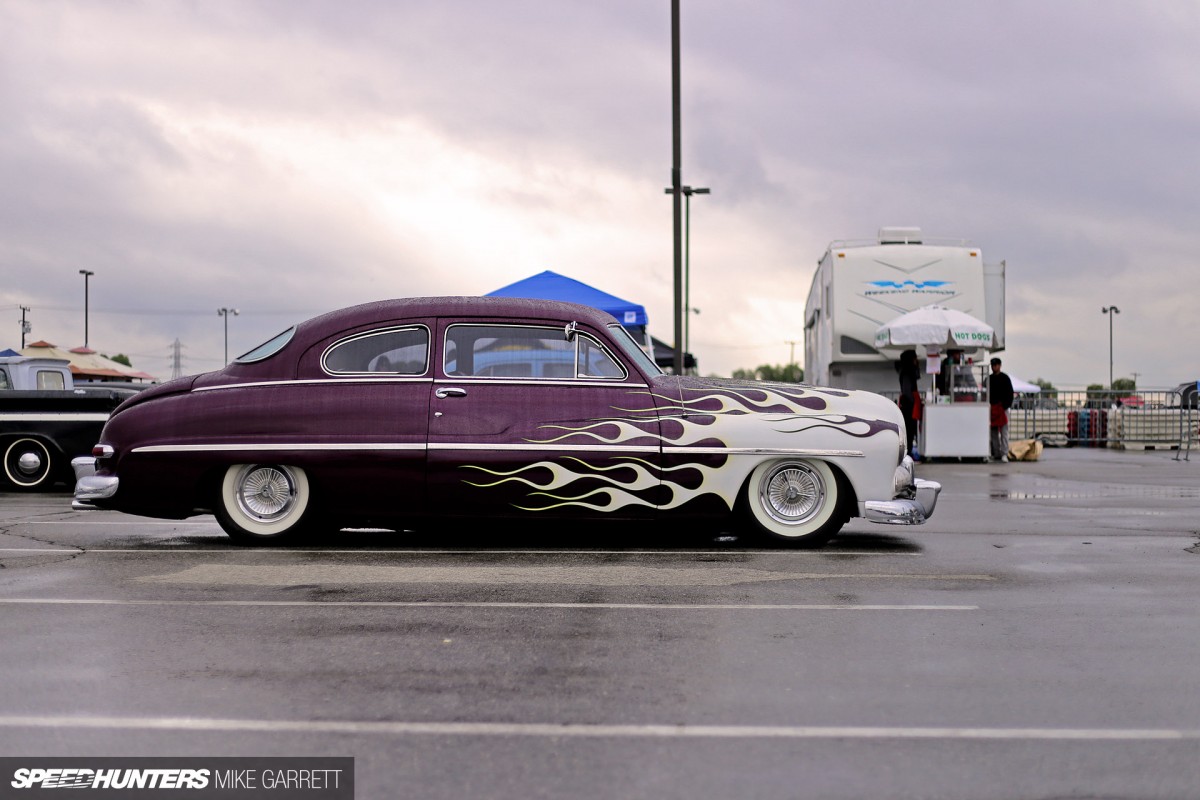 It's certainly not something I'd want to deal with every day, but every now and then it's nice to shoot in something other than 'typical' California conditions.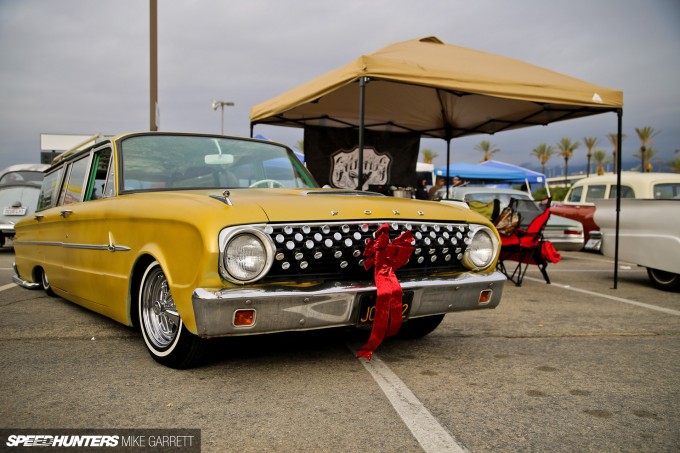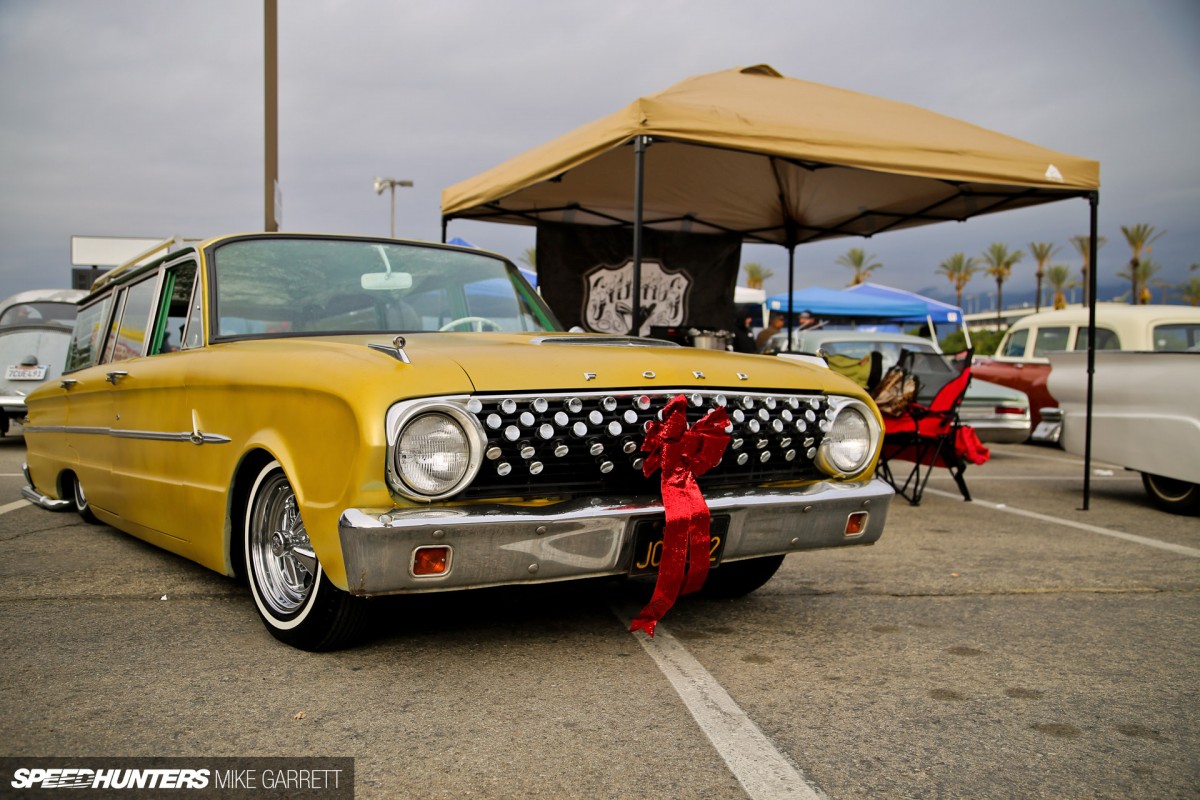 While the weather at this year's Mooneyes X-Mas Party was far from ideal, to me the unique shooting conditions and more importantly the opportunity to see the dedication of the hot rod and custom community made up for it.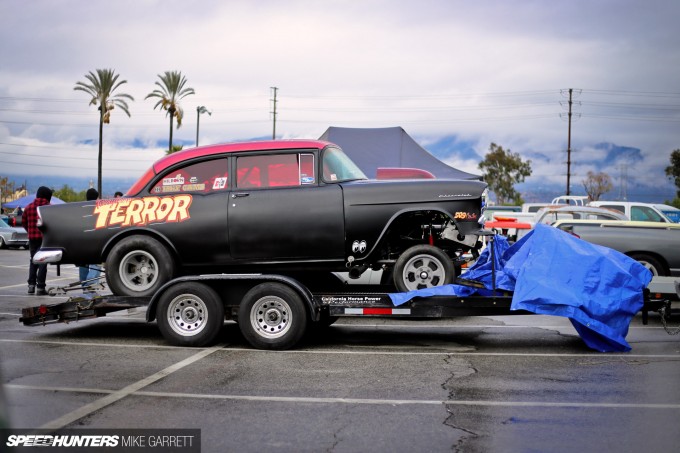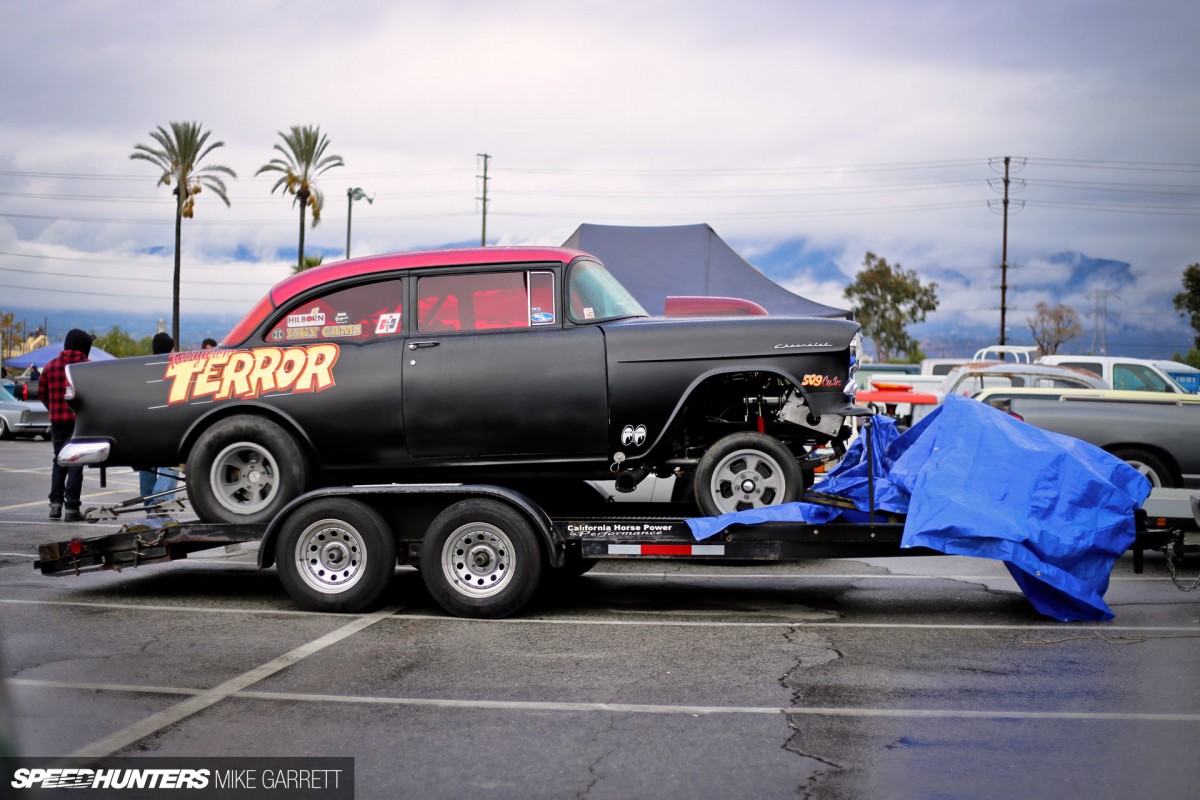 Having covered this event for five years now, I have to say that this was one of my most enjoyable experiences at the X-Mas Party – even if it wasn't one of those picture-perfect Southern California days.
I'll be back shortly with some more on the cool machinery that came out this year.