What's in it for you?
Why should you be bothered if somebody who was in some films passes away? What's it to you? How do you react? Since Paul Walker tragically died on November 30th, there has been a tsunami of reaction spread out around the globe from the Californian epicentre. Lots of people will jump on a bandwagon of emotion, almost blissfully unaware of what they're actually commenting on, but now the social media tide wave after his death has subsided and from underneath it has emerged a wall of action. But should you get involved? It's somebody else's loss right? I've personally heard comments such as "I never really liked the Fast & Furious anyway", as though that justifies relinquishing a sense of loss that may be felt. I think the key thing here is that in the intervening weeks it's become patently obvious that Paul Walker was very much one of us. As humans we all experience loss in one form or another, the older you get the more people you lose around you – friends, family and partners. That's the way it works.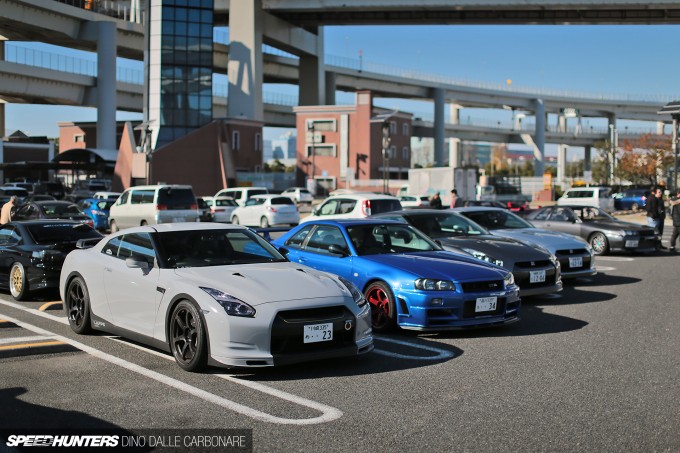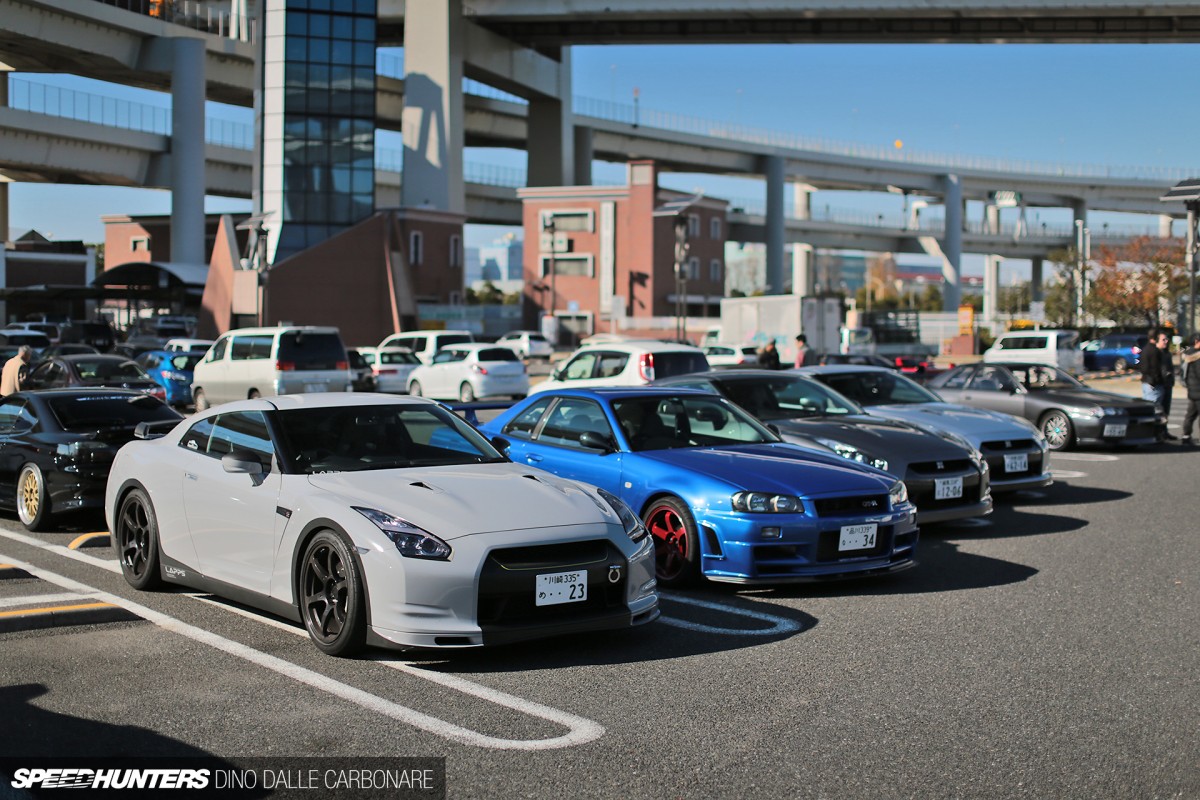 So this time it is personal. There's no guilt in saying that. It's the ability to relate to other human beings on multiple levels that makes us exactly that: human. Tributes have poured in and many of us have done what we know: got in our cars and headed out to spend time with like-minded souls. People who can relate. That's why I headed down to the instantly recognisable and iconic surroundings of the Daikoku Parking Area last Saturday to pay his respects. Of course the venue could only have been Japan's most well known parking area, one we're all too familiar with here at Speedhunters and one that has been at the very center of the Japanese car scene for many years. It was a chance for us, in our own little way to say goodbye, just like countless people around the world have been doing for the past weeks. With everyone's schedules being so full as we get closer to the holidays, the idea was to meet nice and early at 9am, wait for everyone to arrive and then after a couple of hours head out on the Wangan to another great spot: Tatsumi PA in the Ariake district of Tokyo.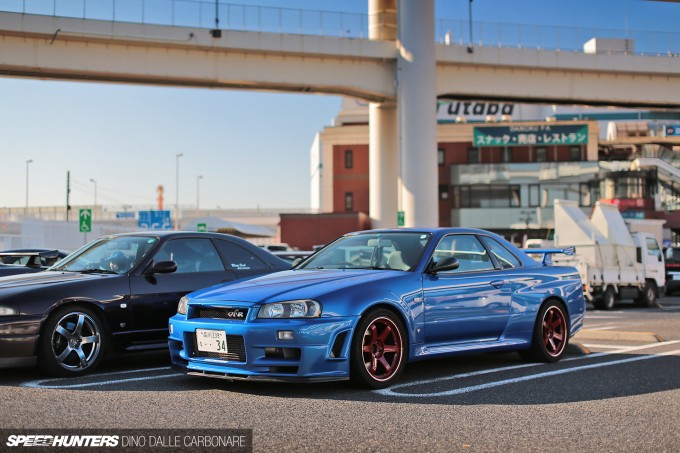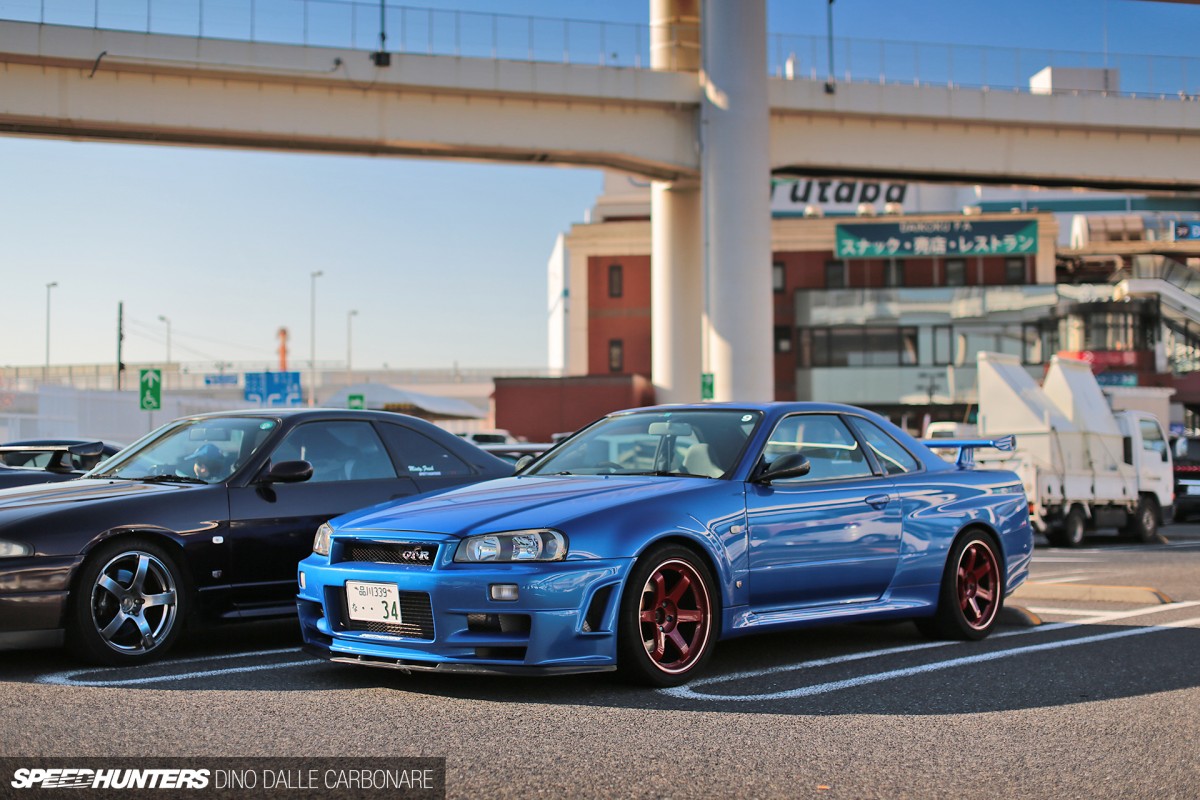 This was the perfect opportunity to uncover Project R34, which has seen very little use over the last couple of months. With the beautiful sunny weather it was a pleasure to crank the RB26 into life and wake up my neighbours. To pay my respects in my special way I had to make sure that there would at least be one Bayside Blue BNR34 at Daikoku that morning, for obvious reasons!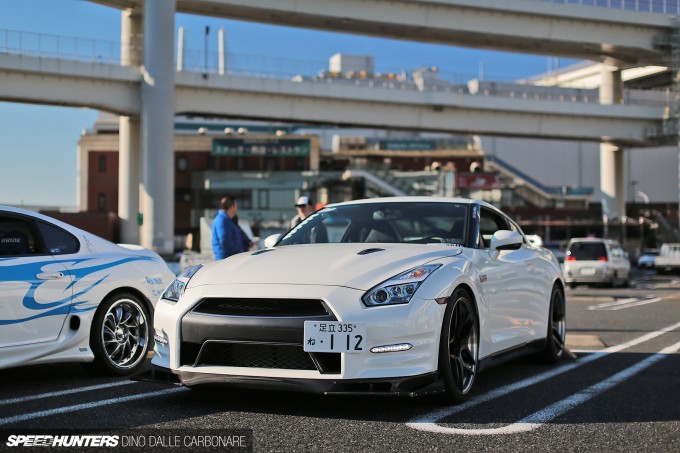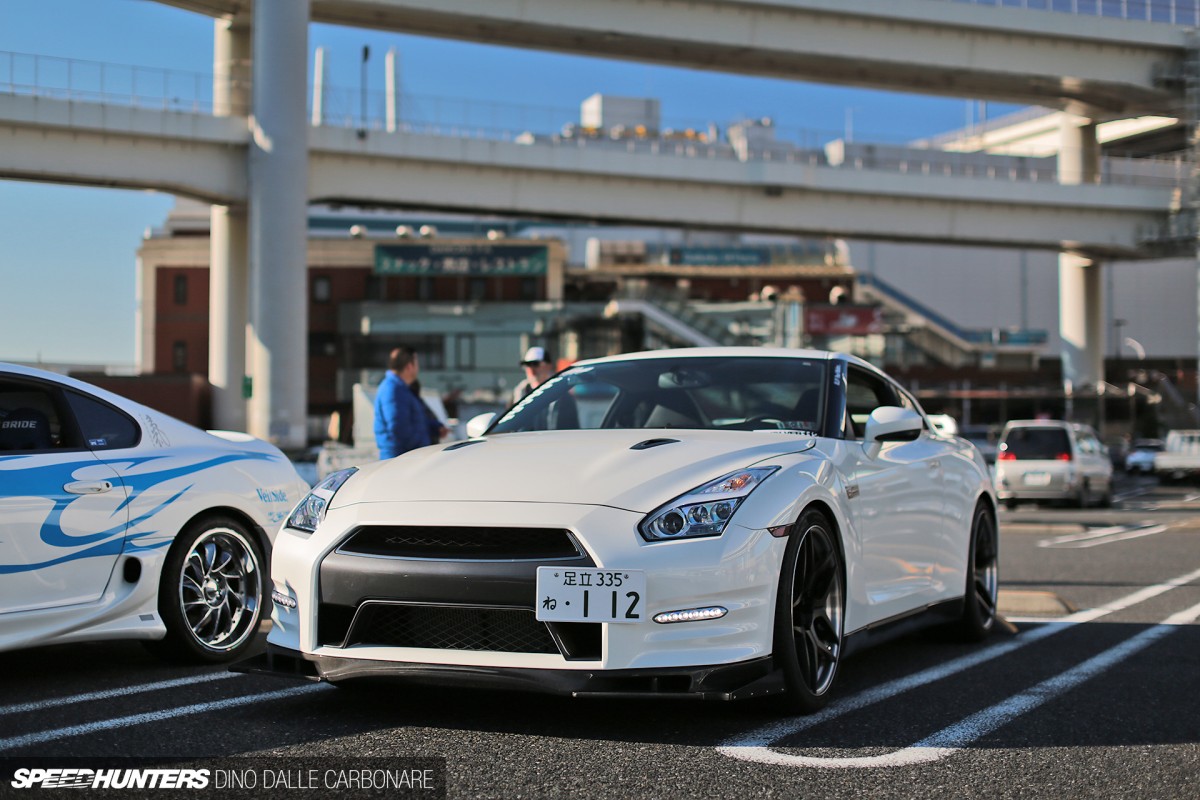 When I arrived, there were already some cars parked up and and this white R35 was the first one I headed out to check, not only because it looked really mean with a big set of aftermarket wheels but because it was actually a USDM car that had been imported into Japan! You don't see too many of these let me tell you!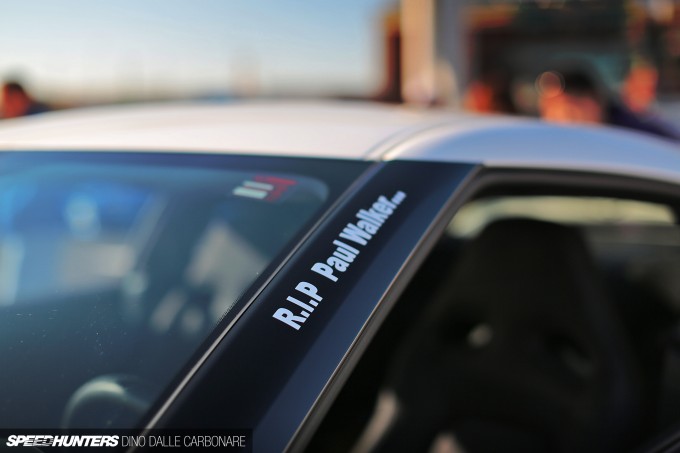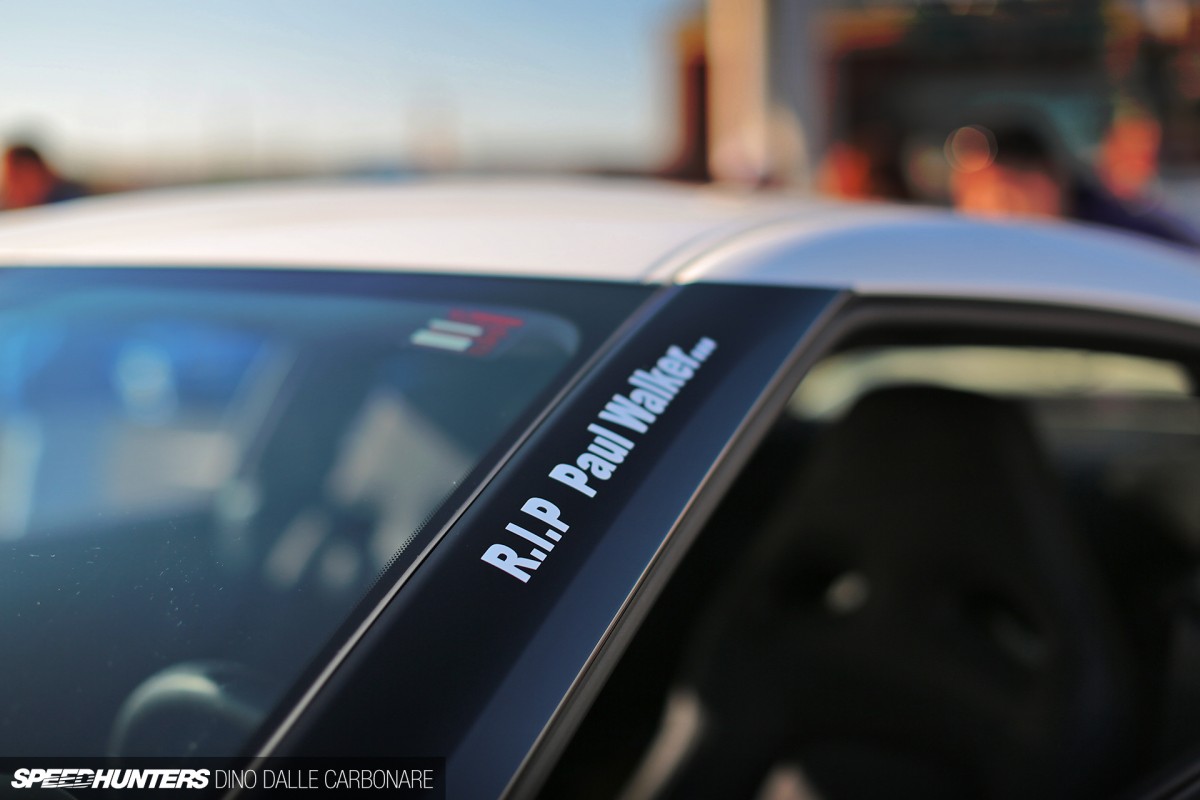 The owner had some custom stickers made up to commemorate Paul, placing a pair on his GT-R's A-pillars.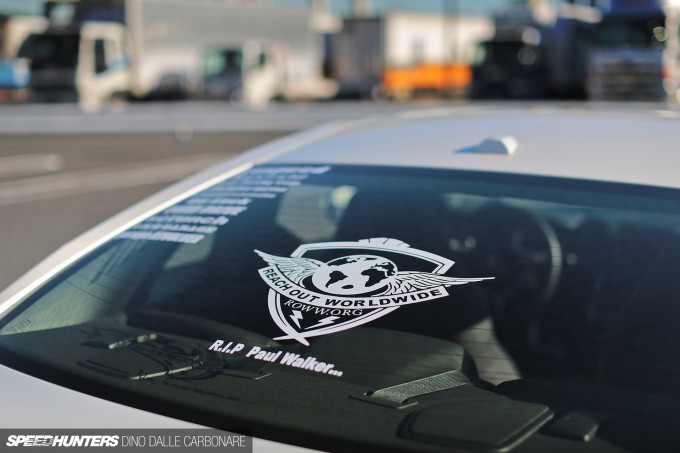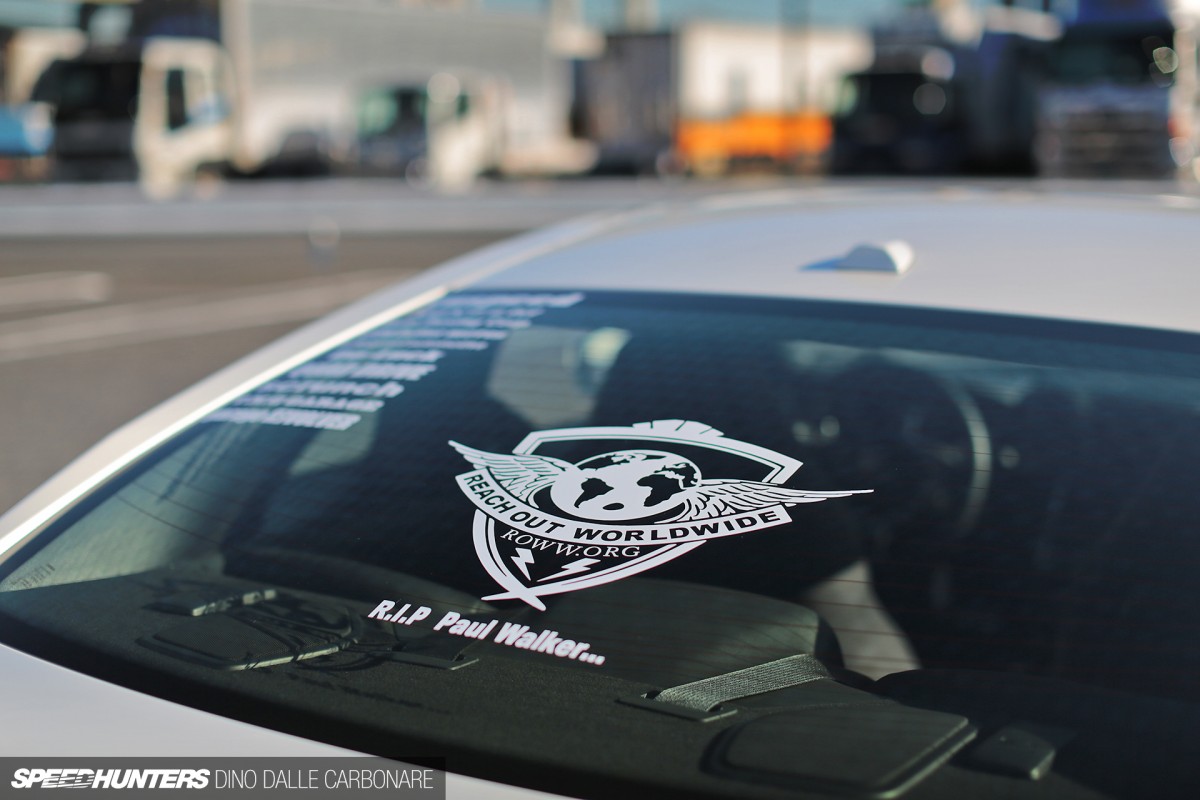 At the rear he even reproduced one of Reach Out Worldwide, the charity that Paul established back in 2010 to help people affected by natural disasters. It was a great car and the sticker really emphasized why we were all there.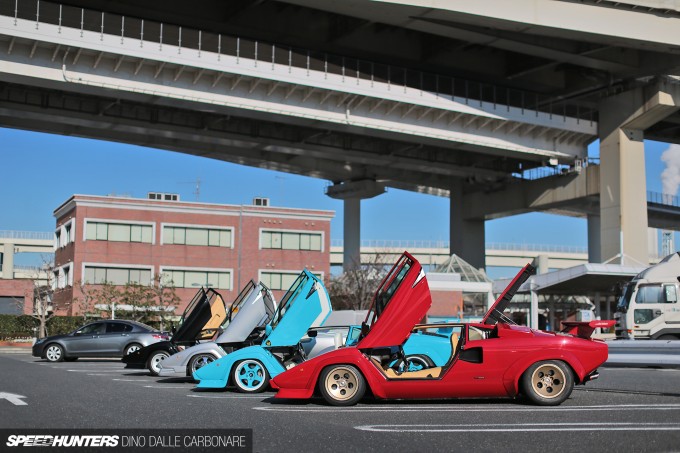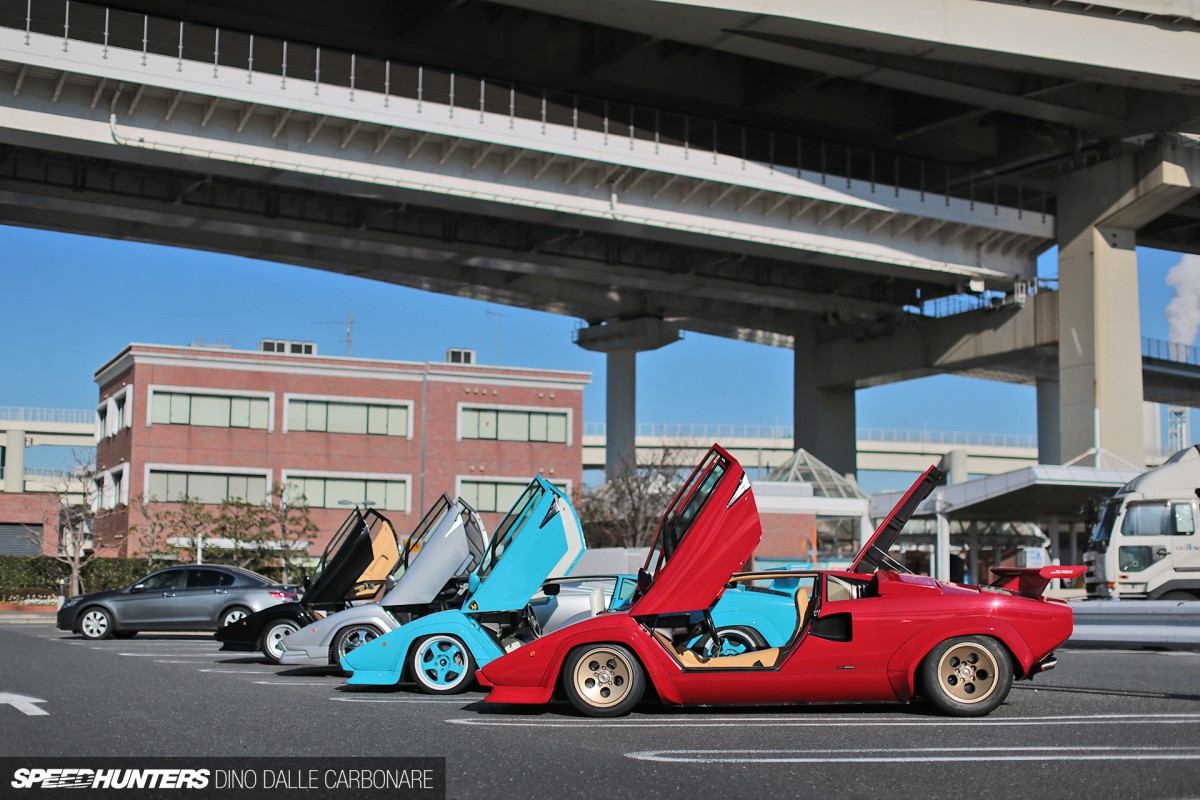 Now Daikoku PA is home to countless meets and gatherings almost on a daily basis, so while a lot of other cars that were there weren't part of our group, their presence was just as much of a great addition, much like these four Lamborghini Countach!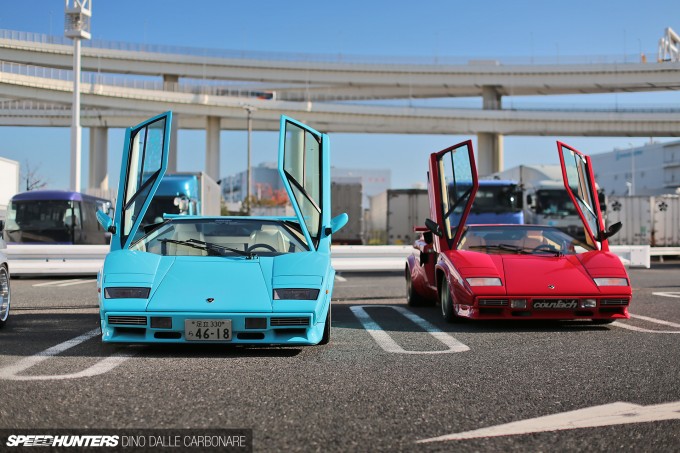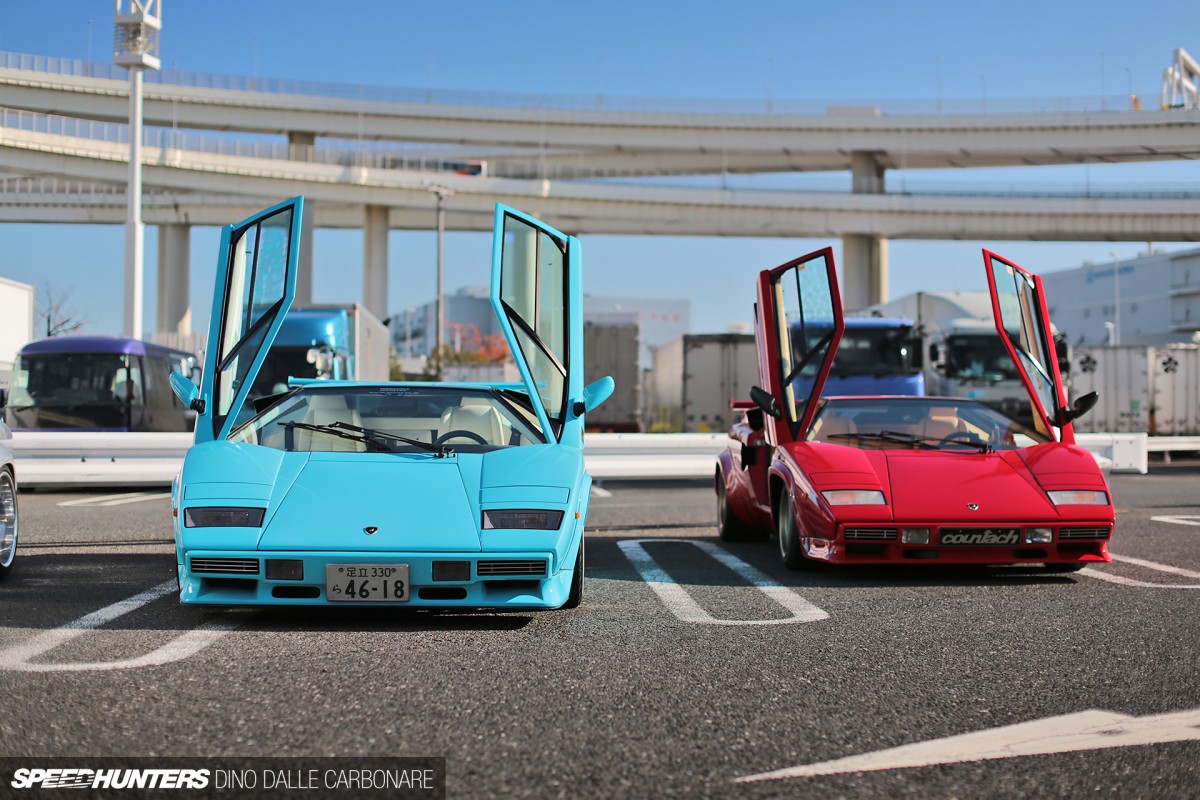 It doesn't matter how old they get or how many times you see these cars, the Bertone touch has made sure they will forever remain ageless and continue to have that amazing lure. I'm fairly confident in saying that outside of the Middle East maybe, you'll not see a wilder colour choice or interior trim on a Countach, and here it is parked up at a motorway service centre.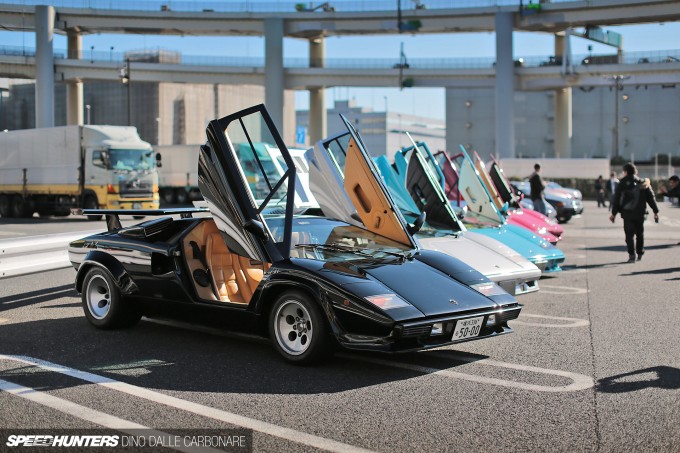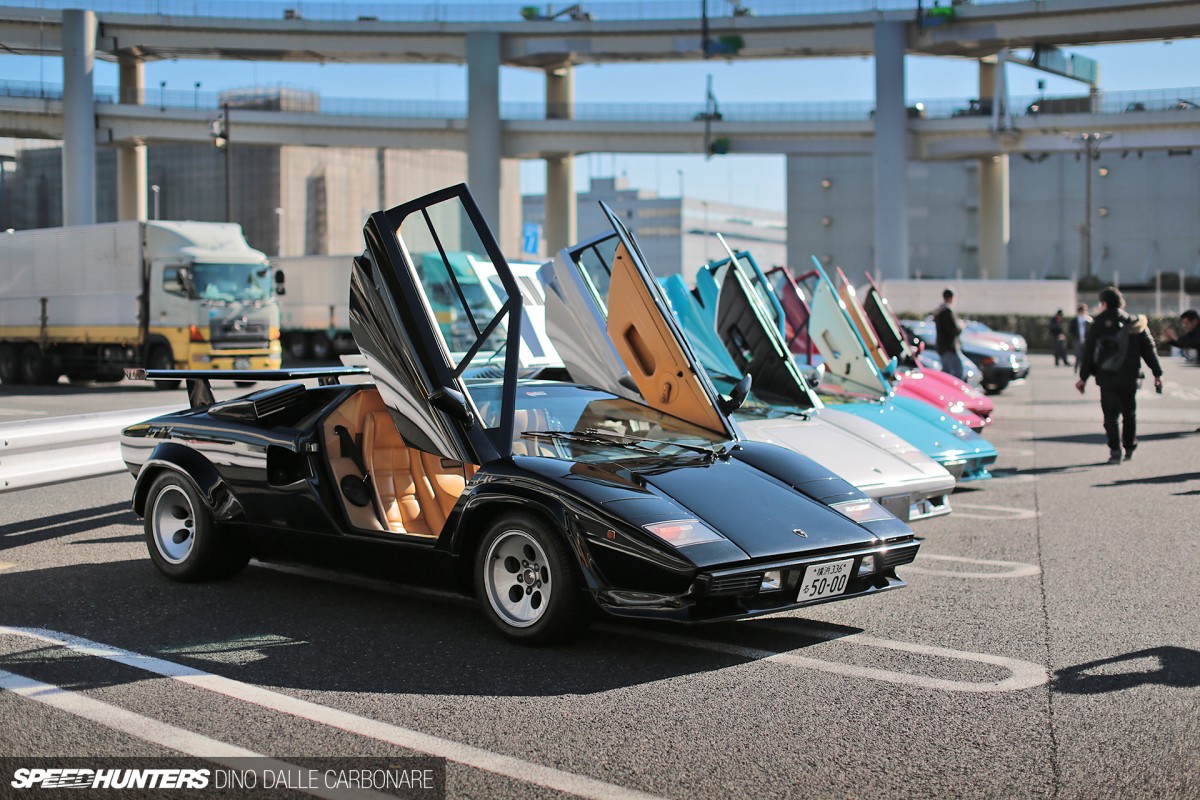 As the line-up grew, so did the spectacle. I'm sure people who are passing through the area must have wondered what the hell was going on. They'd probably never heard of Paul Walker or the Fast & Furious films, but if it makes them wonder and maybe ask the question, then that's a good thing.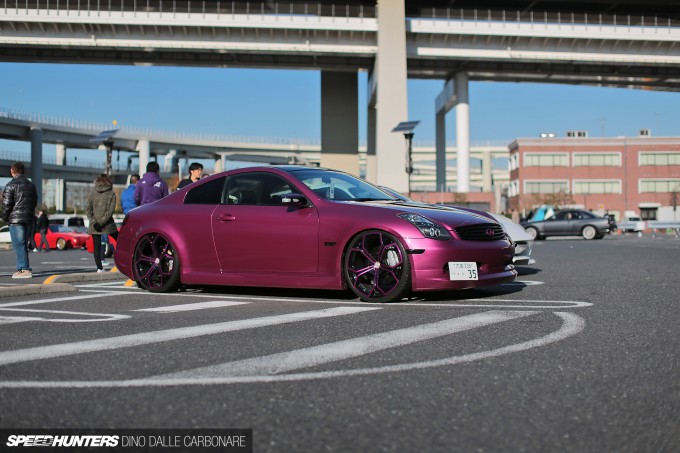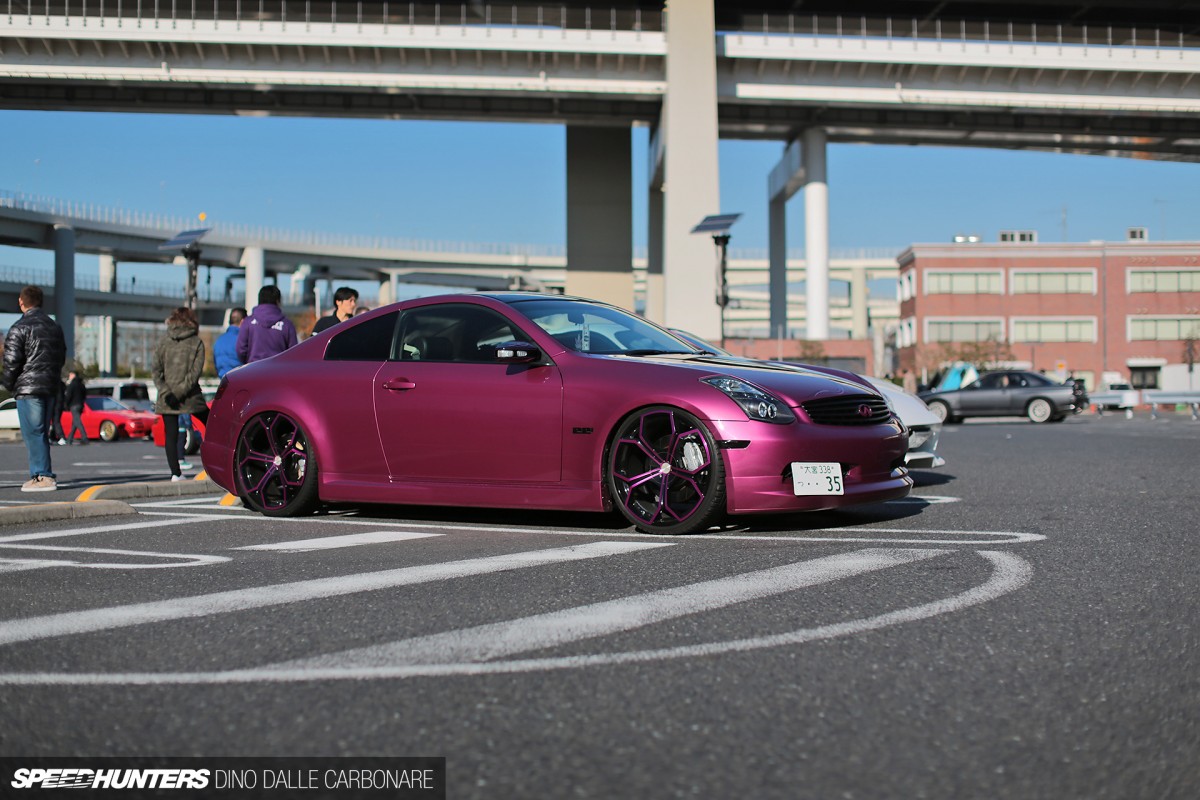 As you would expect, the movies were popular to many guys involved in many tuning scenes so it wasn't surprising to see cars running a more show-oriented approach like this V35 Skyline Coupe on massive 22-inch wheels. I actually followed this car on the way out of Daikoku later on and at every bump on the highway it was throwing out little clouds of smoke as the rear tires hit the inside of the wheel arches. Now that's being devoted to the low life!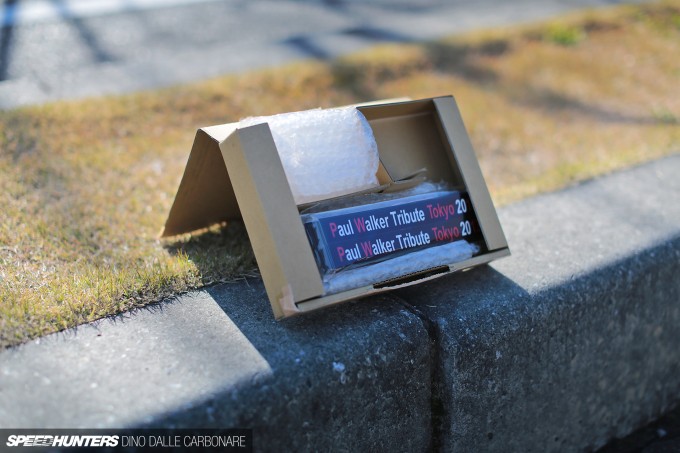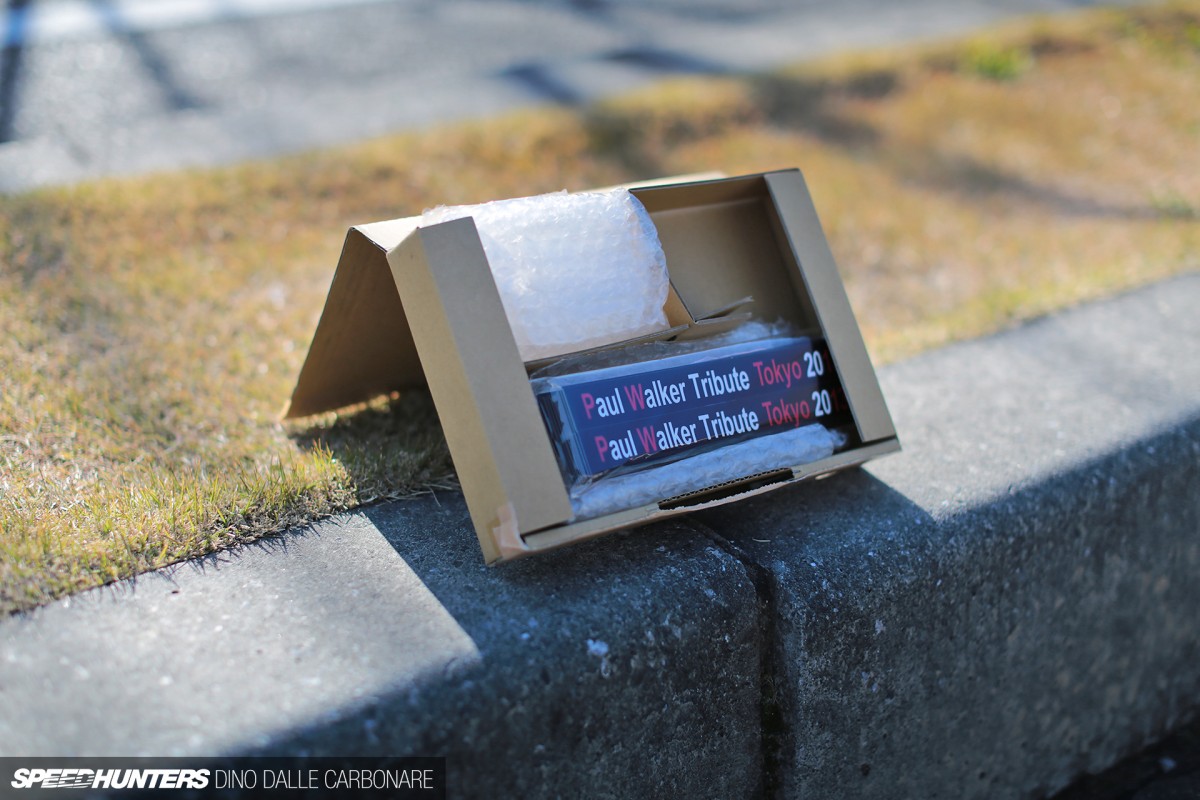 The organizers of the meet had even printed out some small stickers that we could all purchase with a donation that then got passed on to ROWW charity. It'll be interesting to see in a few months just how much money will have been raised on a global scale; everywhere I look, people are very publicly saying how much they personally have raised with similar meets. This honest transparency can only be a good thing moving forward.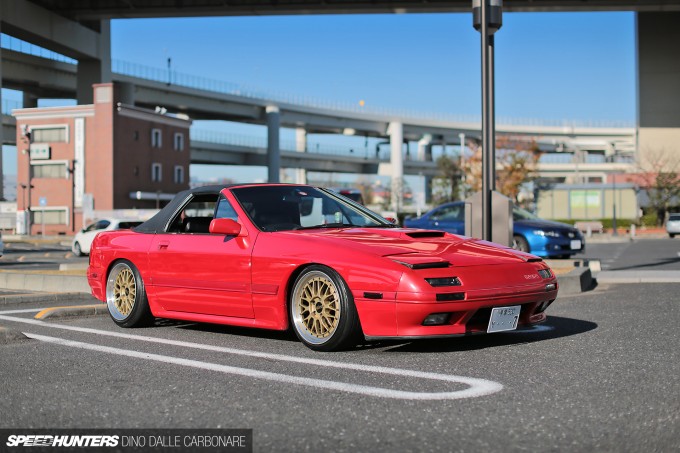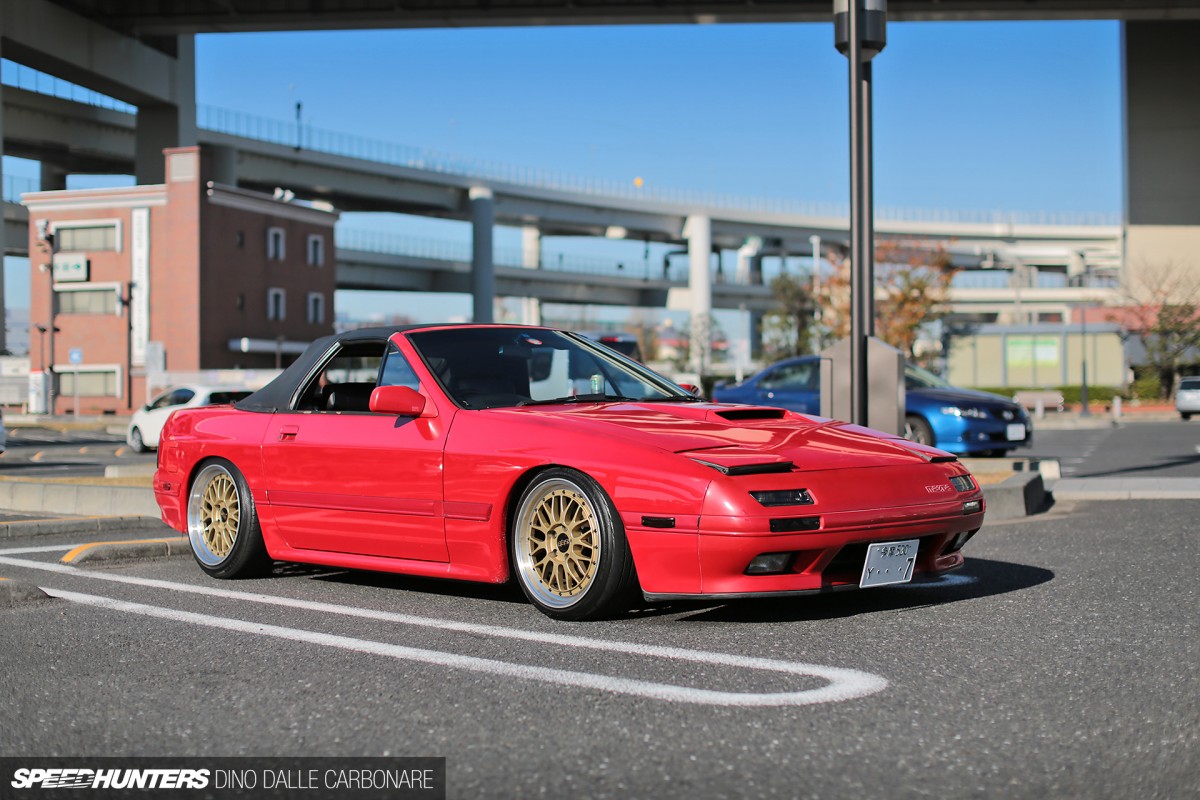 With a few GT-Rs already there, I was wondering when some rotary machines would start to roll in. Turns out I didn't need to wait much longer as this FC3S cabrio arrived from one of the American Armed Forces bases that are located around the Japanese capital. The car was sitting nice and low on a set of gold BBS wheels; a nice contrast against the red of the body.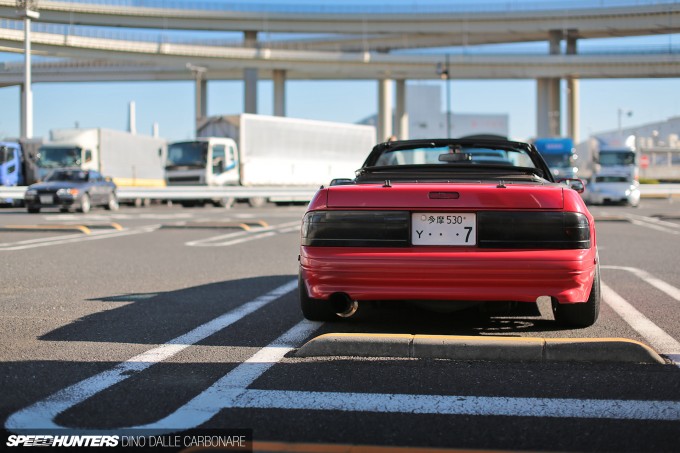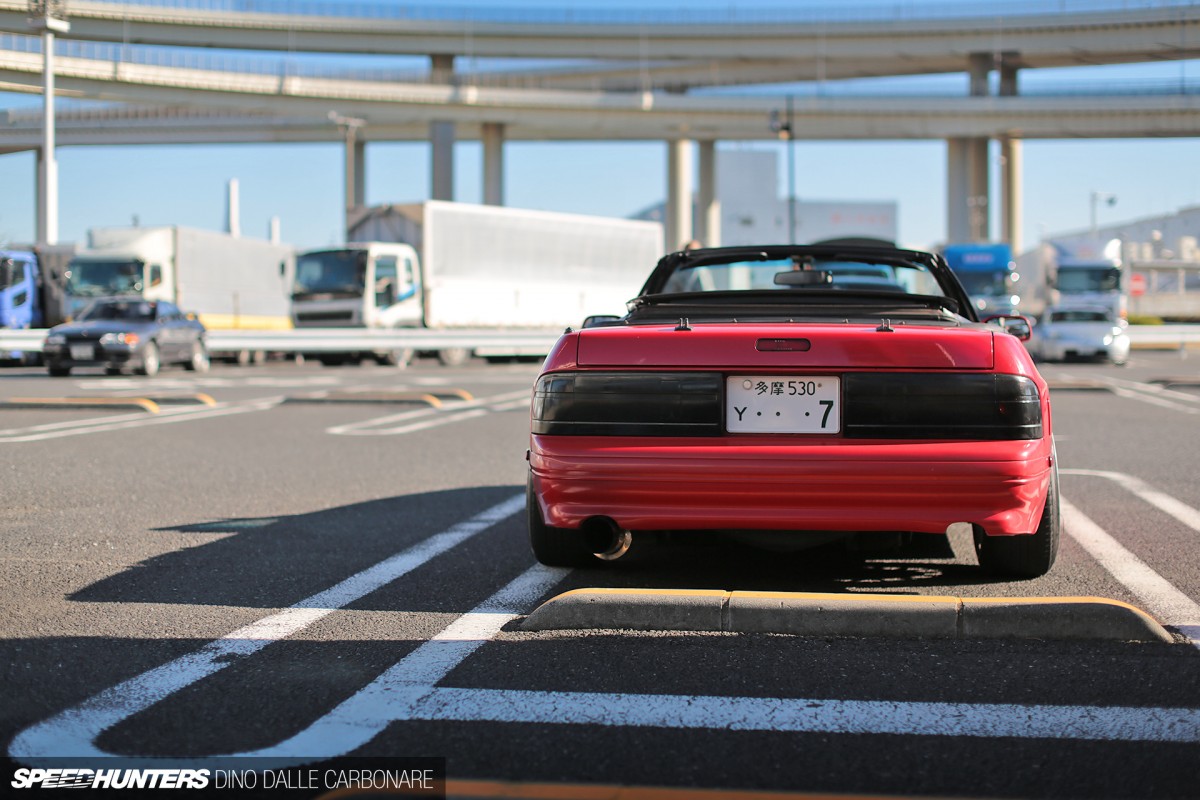 It may usually be sunny in the Kanto region of Japan throughout most of the winter but the temperatures make top-down driving a pretty cold affair. Hope this guy didn't forget his beanie and a nice long scarf! Maybe they're from Southern California where the sun always shines? Well, almost all the time…
A few surprises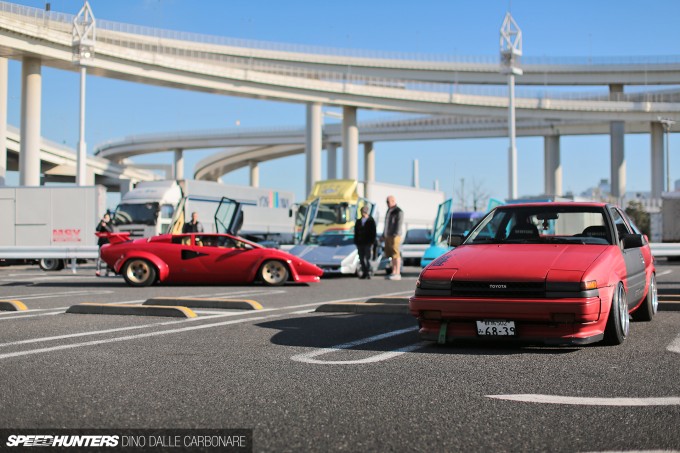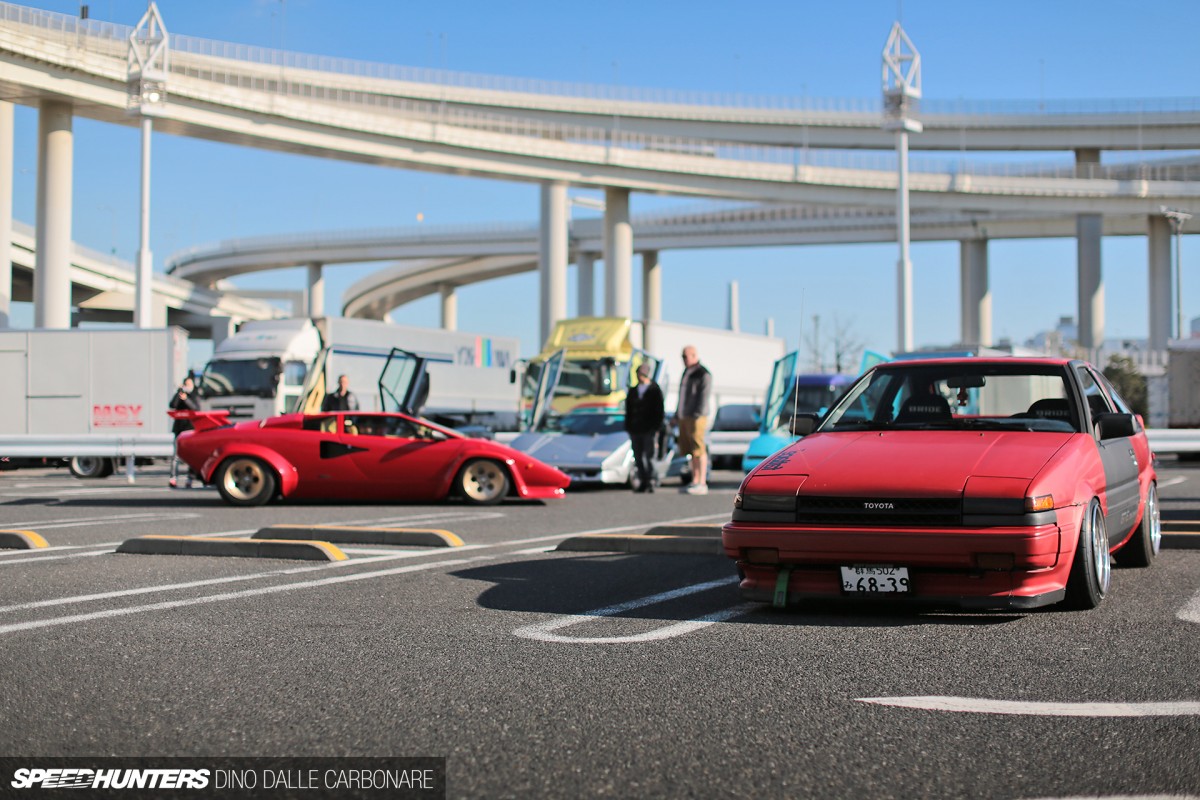 I really should stop doing this. When I saw this AE86 roll in I did immediately go over and take a few shots, but I didn't hang around too much. The somewhat well-used look of the exterior made me assume it was a weekend drift machine, sporting the odd battle scar here and there around the multi-colored body. But a cardinal rule in Japan should be to never make any assumptions.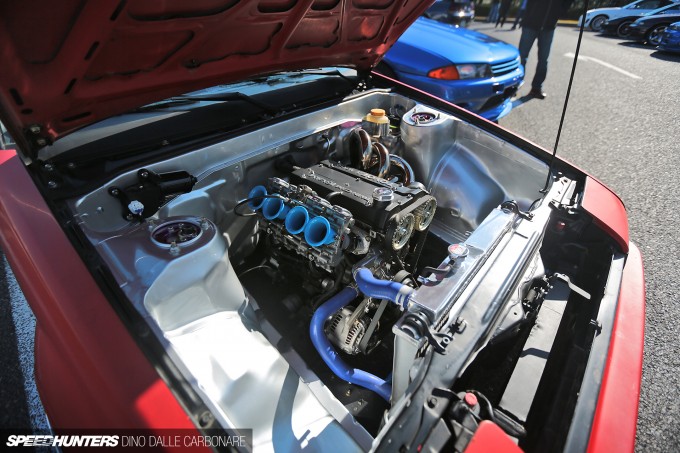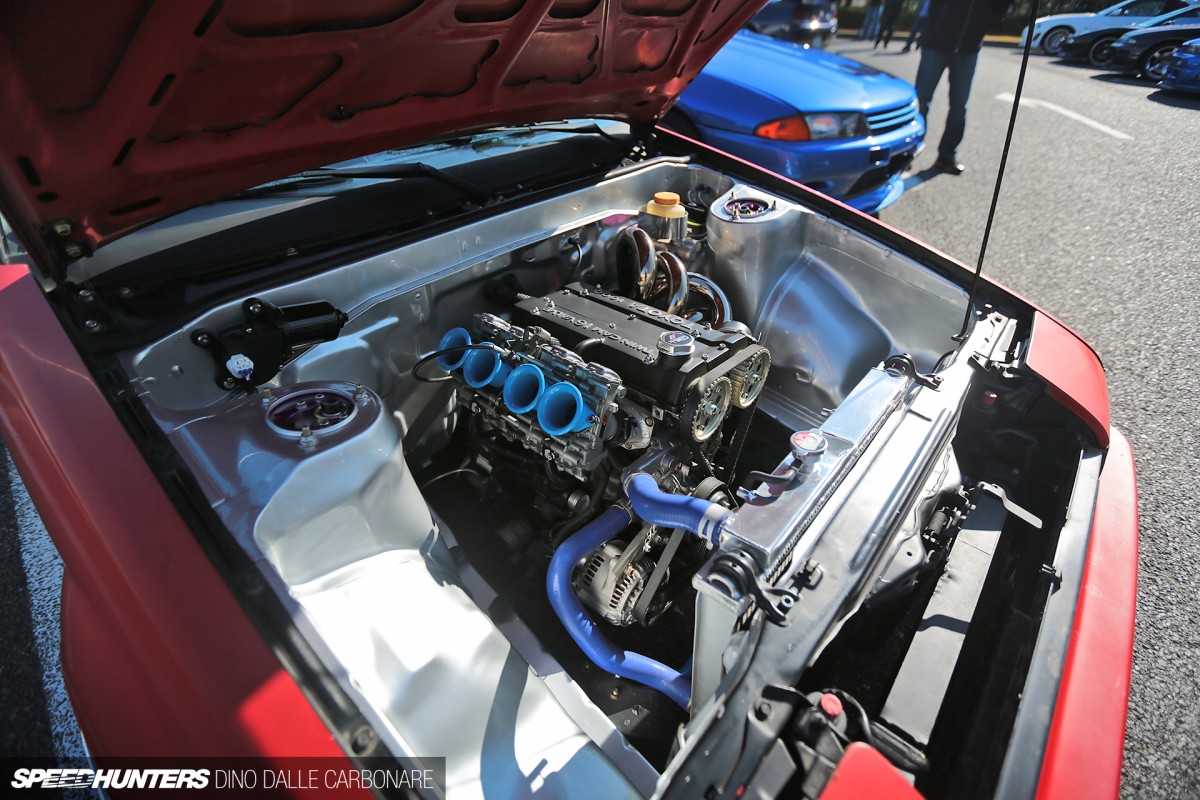 Once the owner opened up the hood, I realized just how important this rule is, because you literally never know what could be lying in wait in a Japanese-built car. The owner told me he wanted to create a stark contrast between the beaten up exterior, so went ahead and smoothed out and shaved the engine bay, tucking away ugly wiring and miscellaneous ancillaries before laying down a few fresh coats of silver.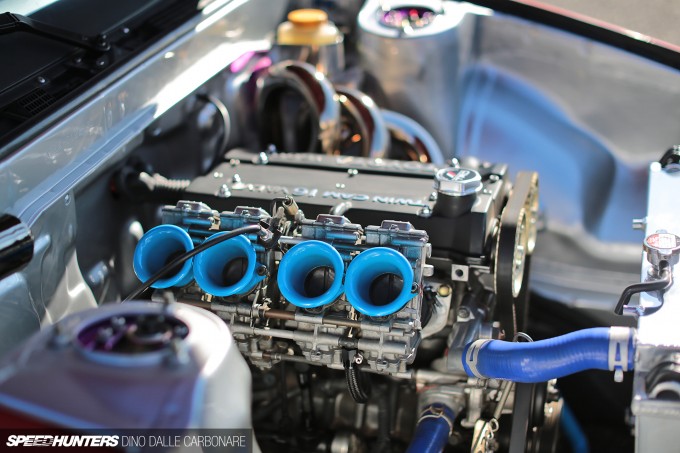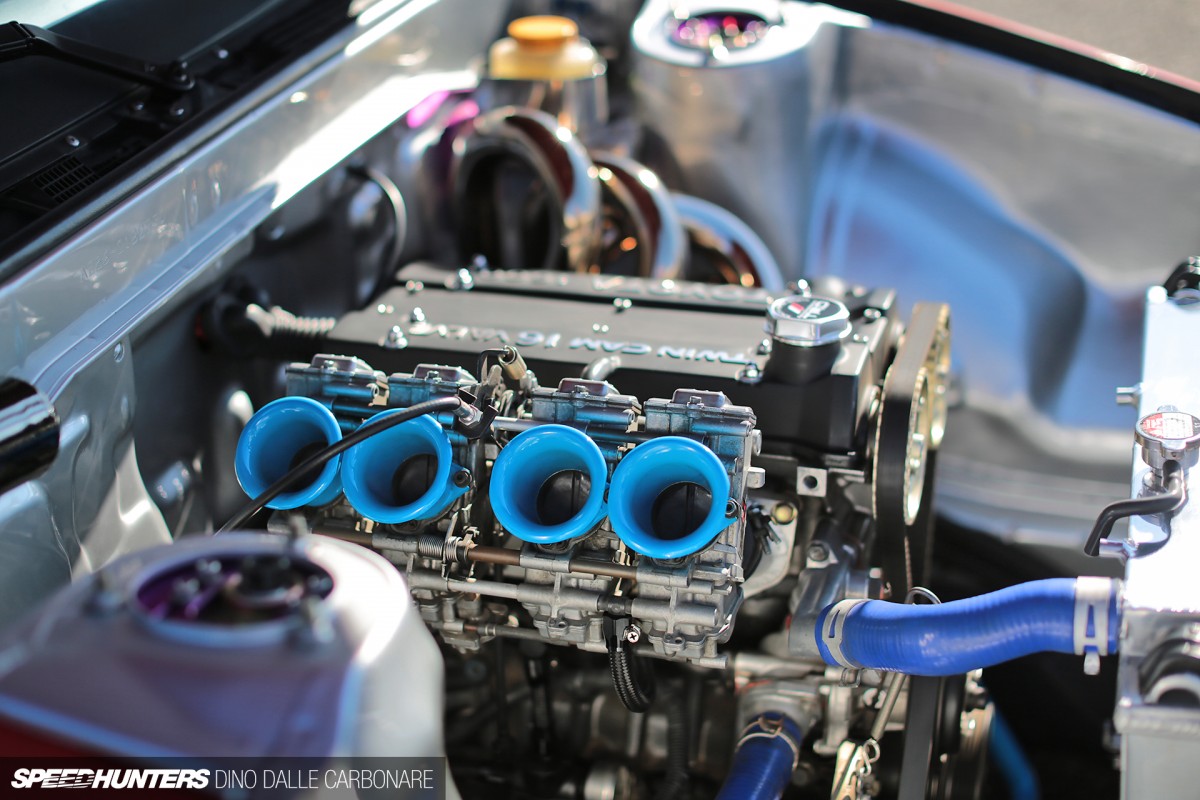 At the center of it all sits the 4AG, now breathing through a set of Keihin FCR motorcycle slide-type carbs and sounding absolutely glorious. As a soundtrack to the memorial, the assembled engines made a royal symphony.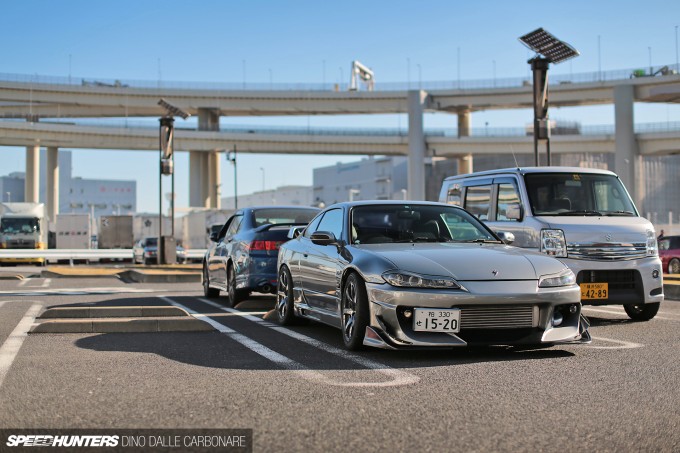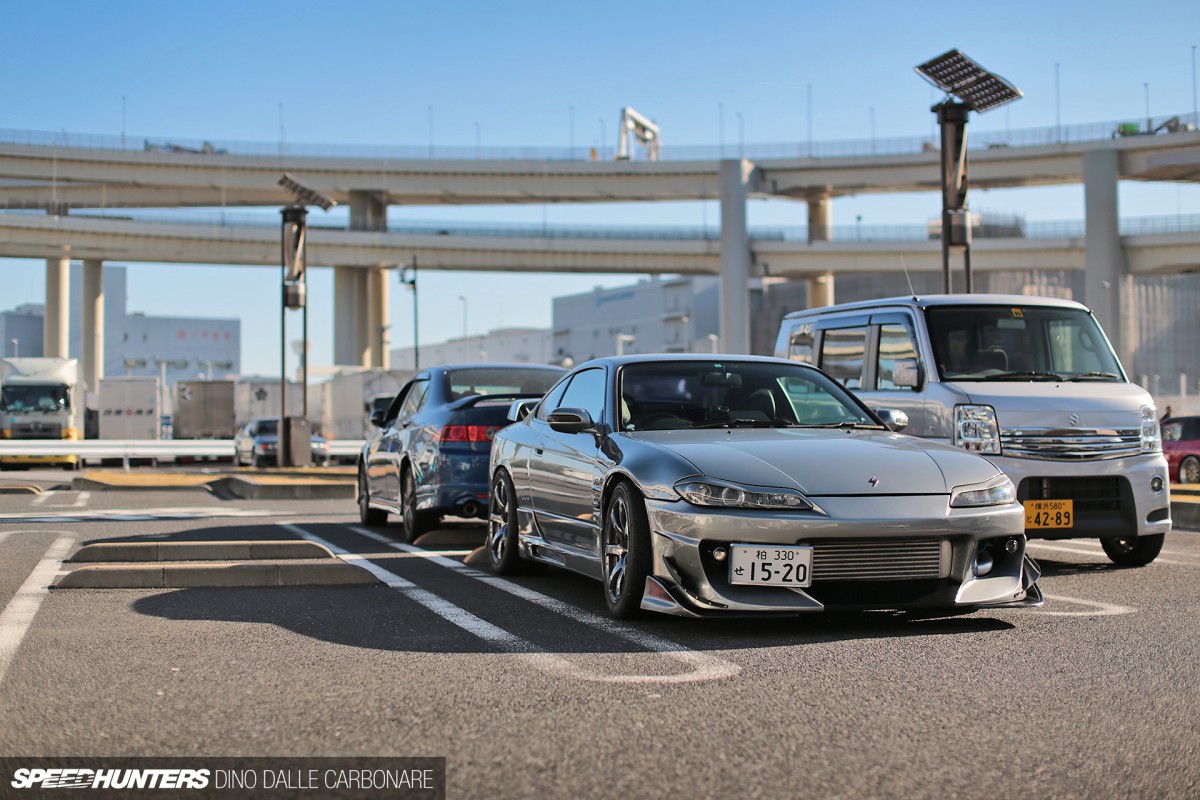 Can you get more JDM than this image? An S15 Spec R Silvia parked behind a Honda Accord Euro-R and next to them a Kei van! Maybe the latter was just an innocent bystander, but the Silvia's very much a car of its time and that time was the early 2000s when the F&F franchise was swinging into full effect.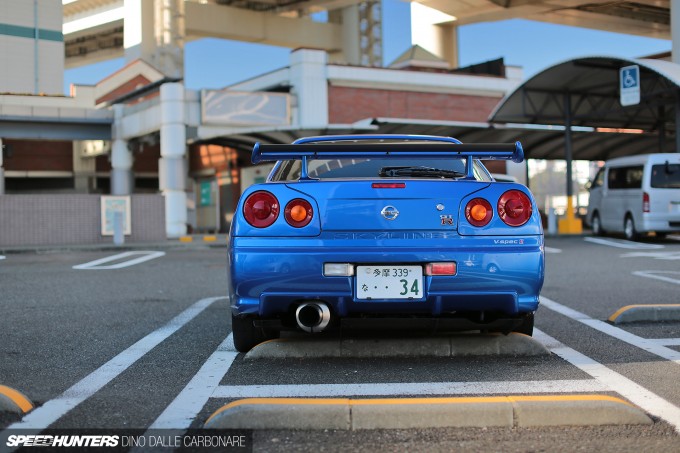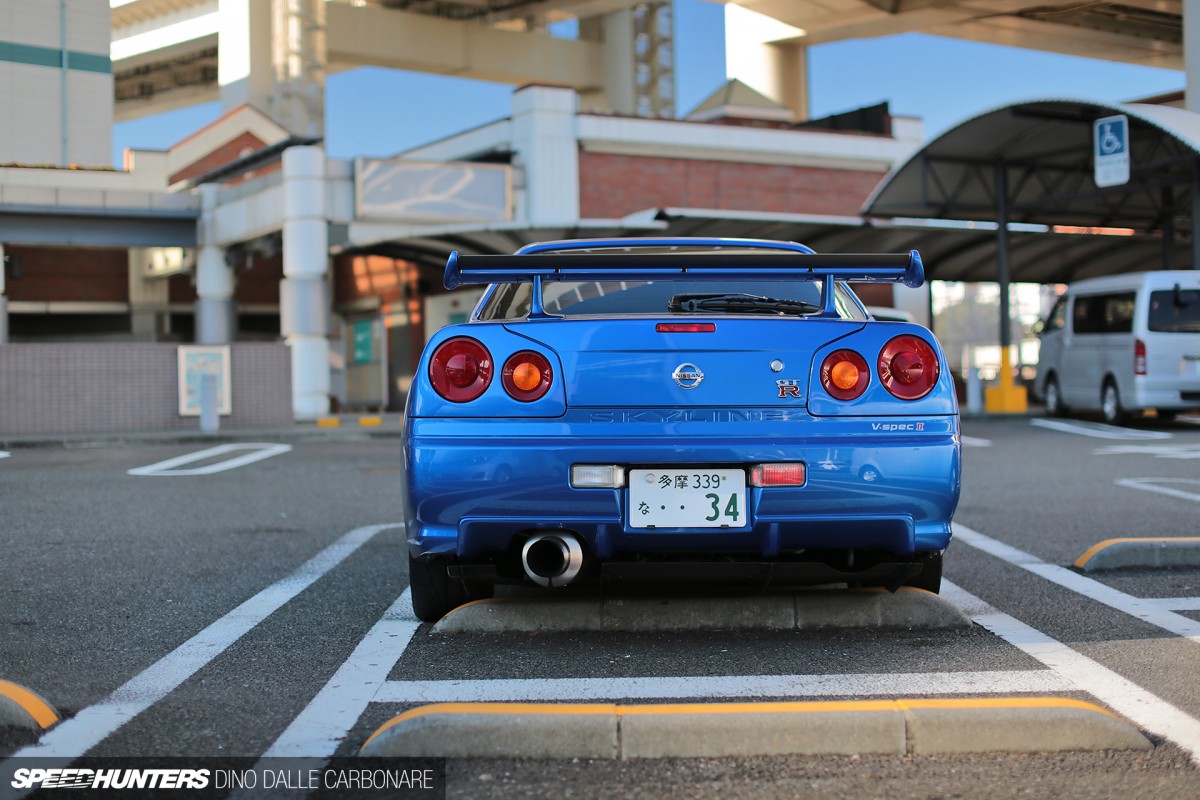 This R34 V-spec II owner was a bit shy, parking all the way down on the far bottom corner of the parking lot. Still, like I said this was a small event that had only been advertised via Facebook so it didn't necessarily mean every car present was there to join us. Cool nonetheless to see another TV2 san-yon.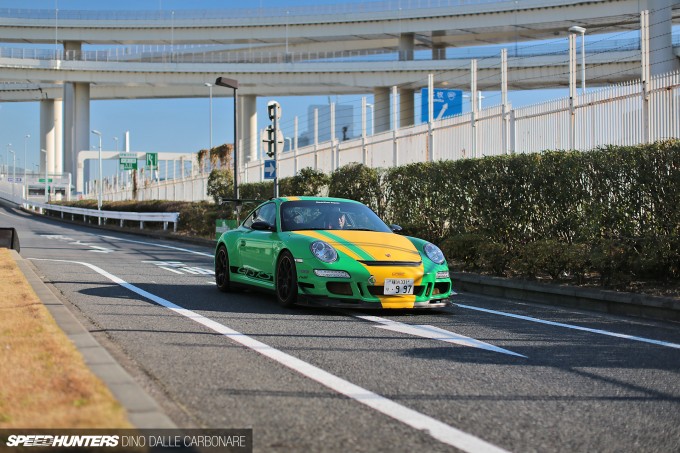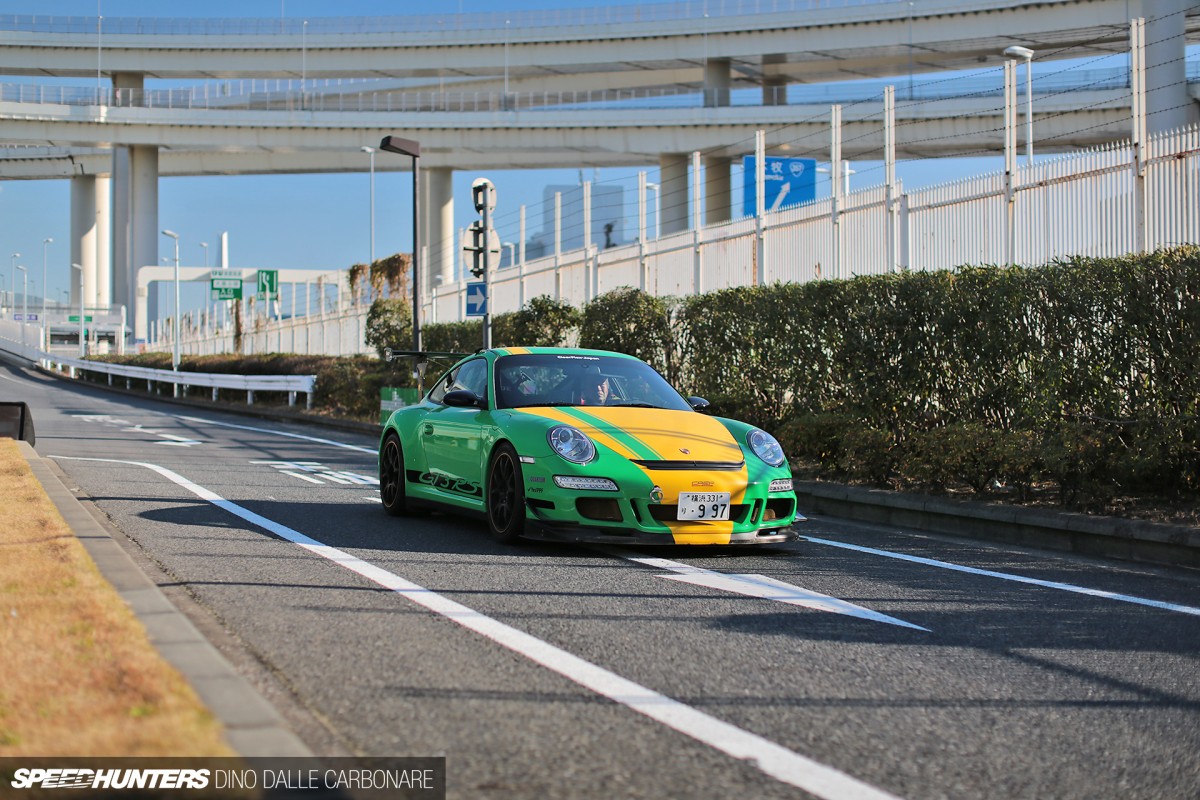 Porsche perfection right here: a 997 GT3 RS with huge rear carbon wing probably on the way to a track day, or maybe just back from a blast in the mountains somewhere. It raises a smile when you consider the breadth of Paul's own personal car interest that something like this should just pass by.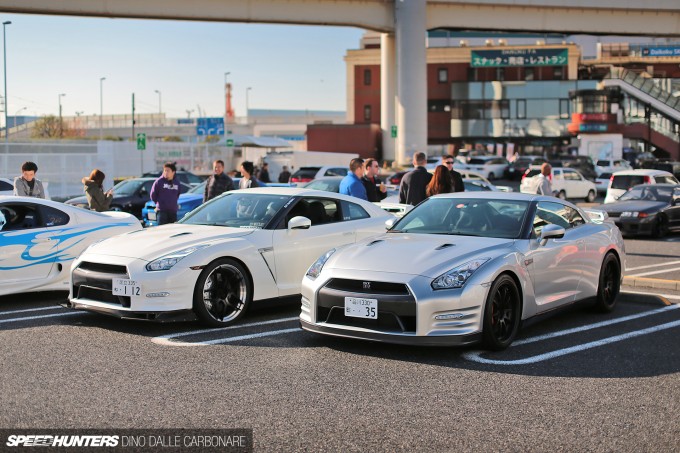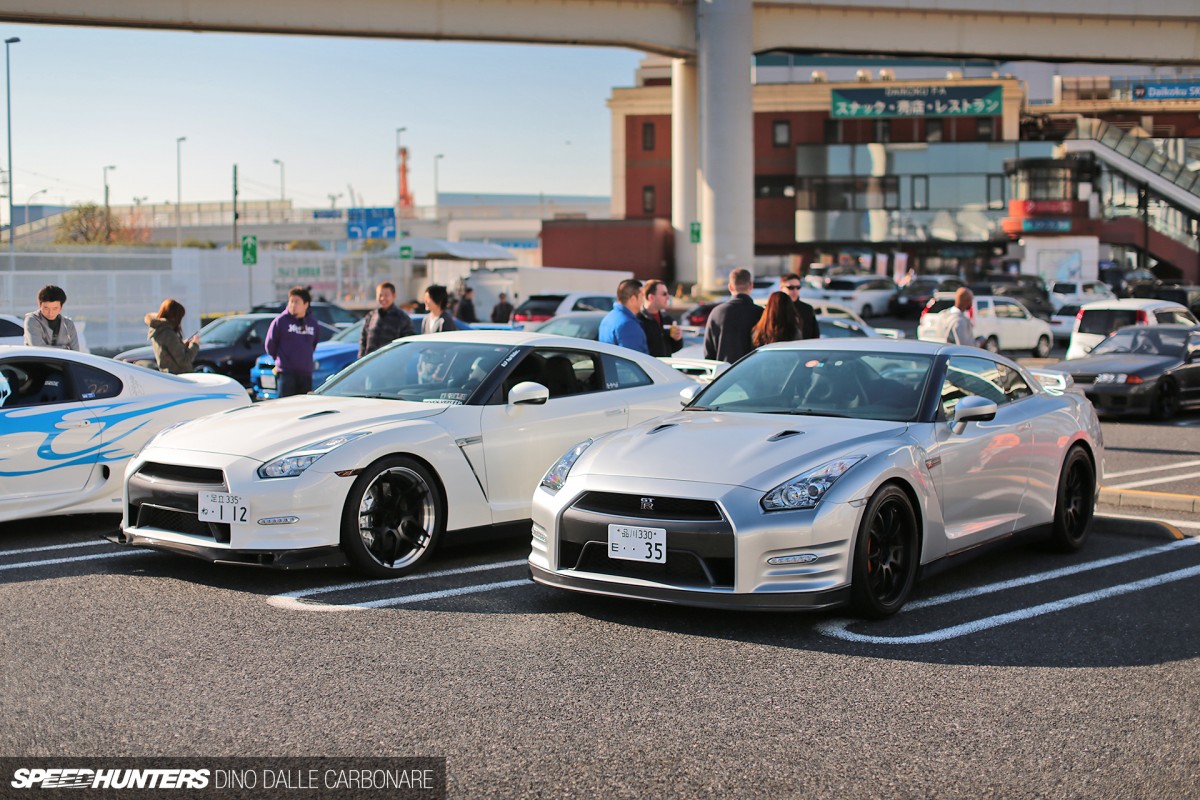 This was definitely a rare occasion because by the time I returned to our little gathering, a second USDM R35 had arrived. The car was on extremely rare 'E' Japanese plates which denote the car was exported from its original country and is being used by embassy-tied military personnel in Japan. Cool or what?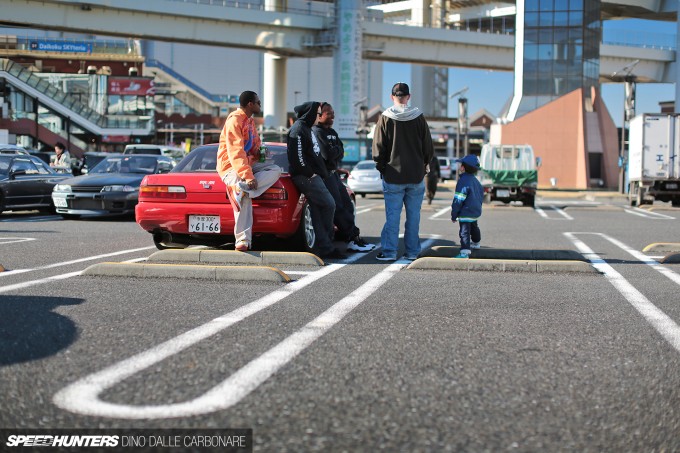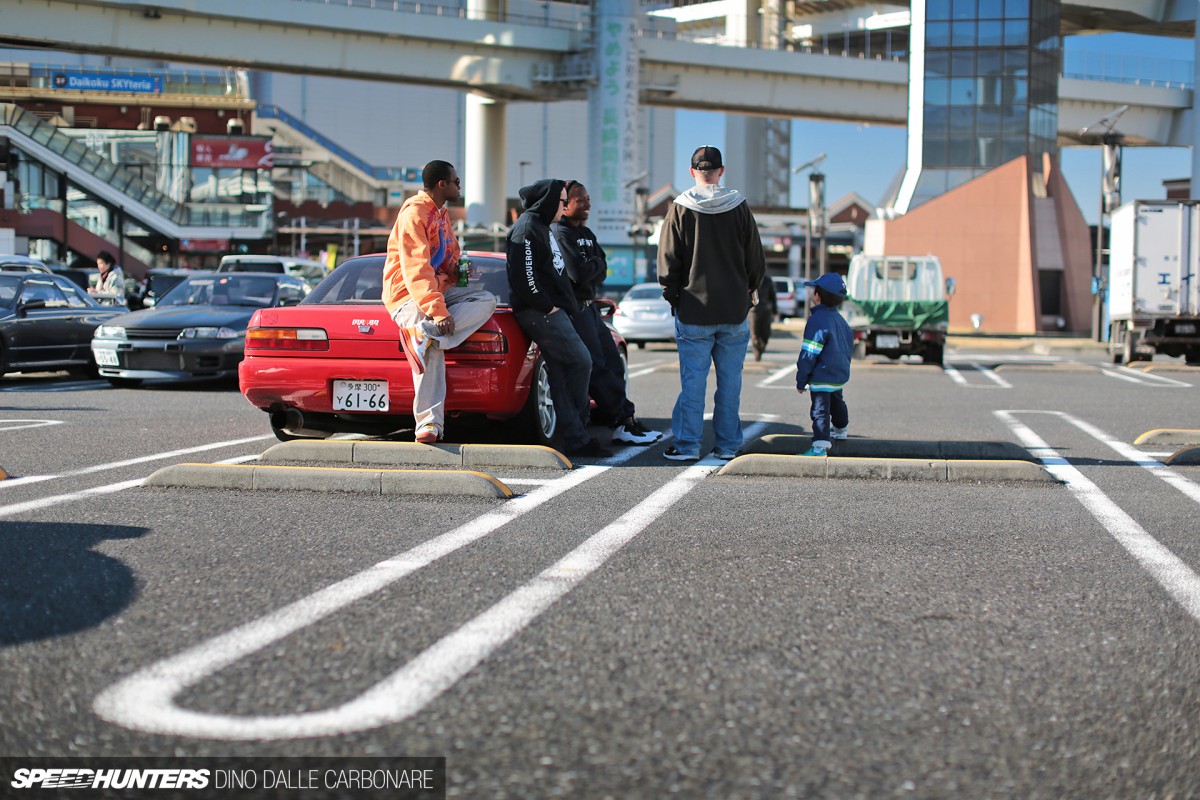 The GT-R joined a few other Y-plated cars that continued to arrive from the bases, giving a very special feel to the meet. I didn't get a chance to catch up with these guys but I wonder if they were street racers from the USA who had shipped over here? There's so many storylines to tell…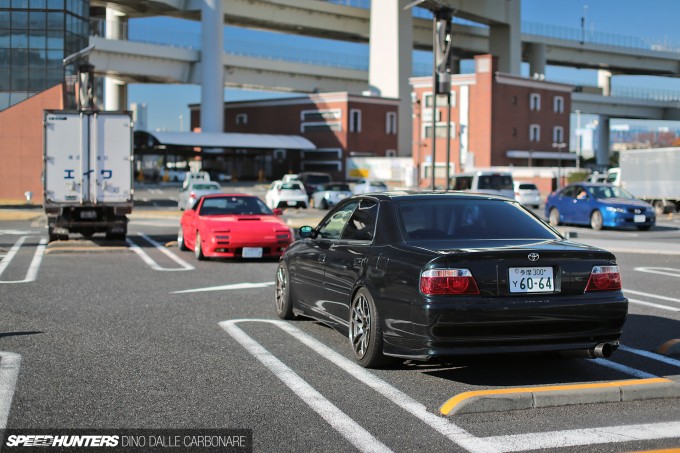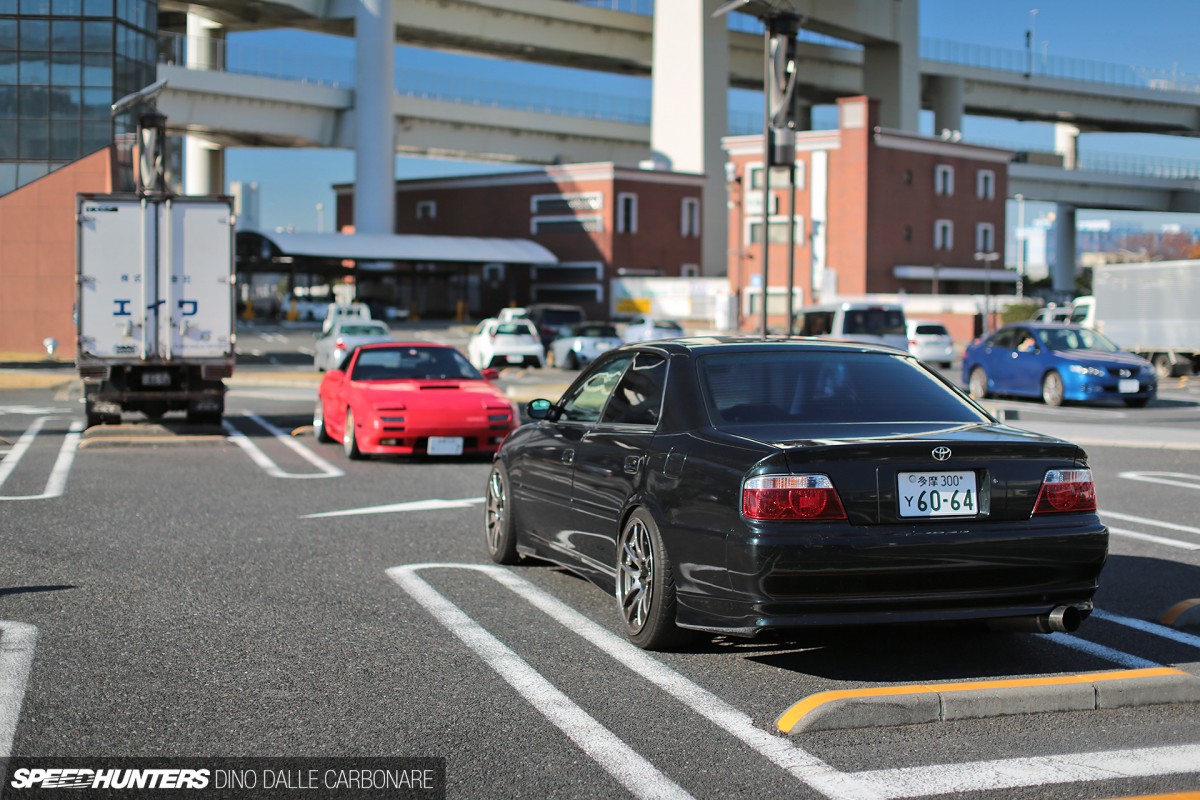 Another Y plater was this black Chaser on Work Emotions. I'm used to seeing so many JZX100s prepped for drifting, so I have to say it was refreshing to see a more street-oriented one with a more functional stance. Who knows, maybe this one will end up back in the USA?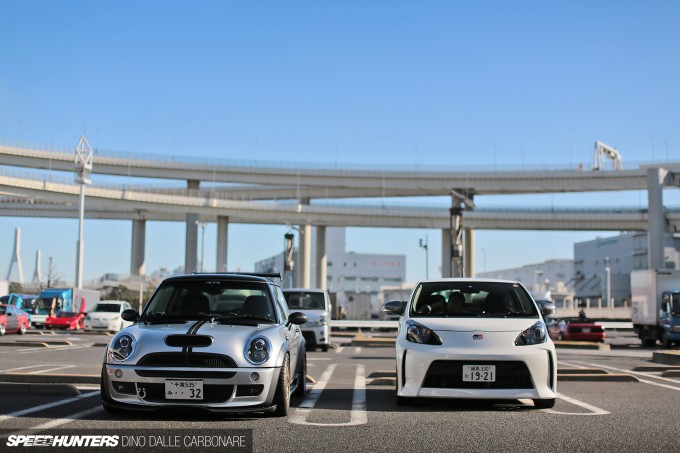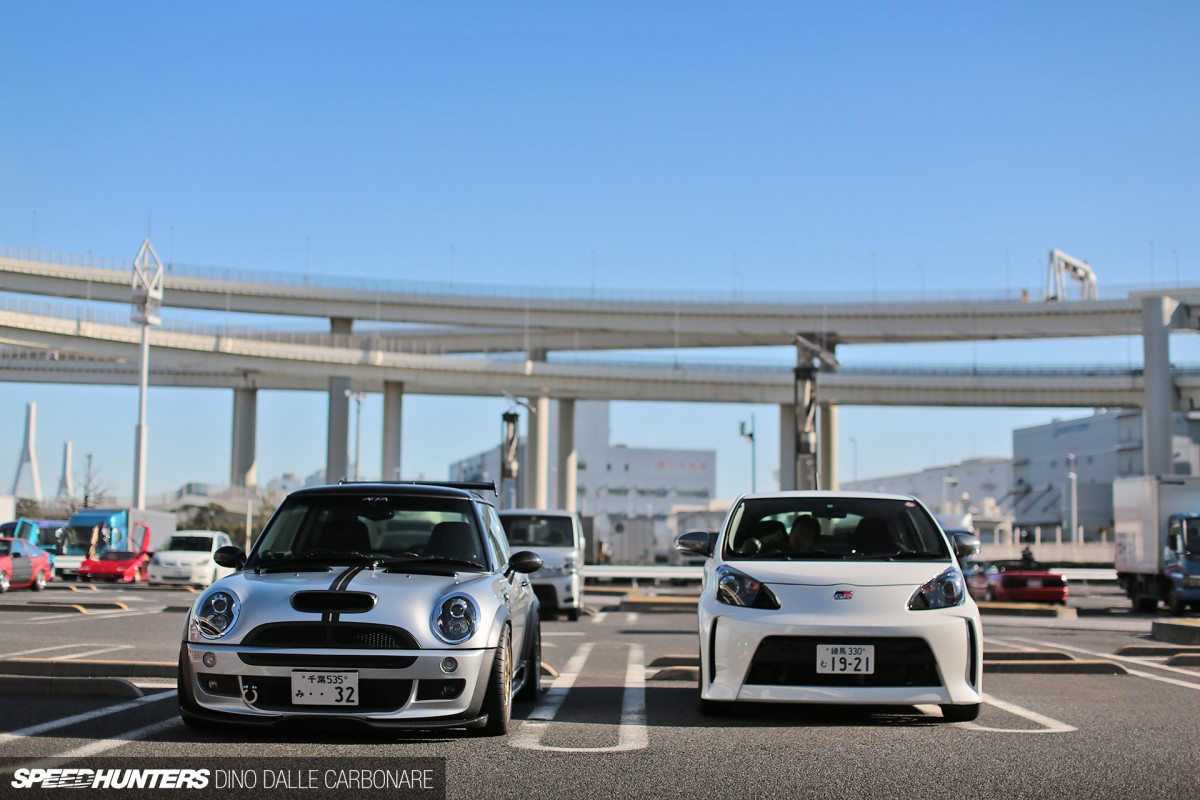 I don't know which was cooler here: the slammed and obviously pretty well-tuned Mini or the tiny supercharged Toyota iQ GRMN. Which one would you go for?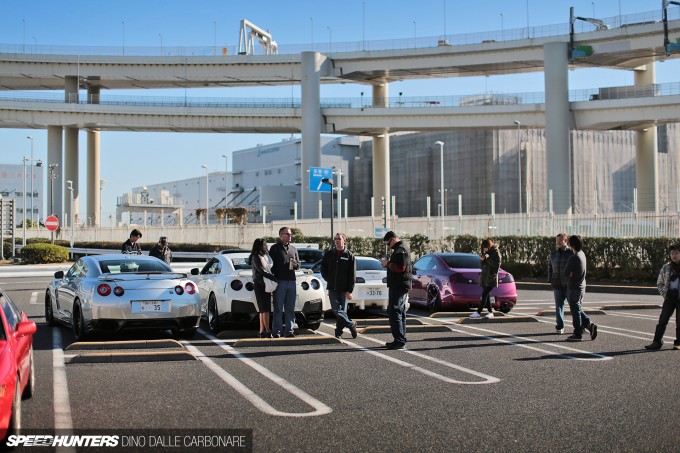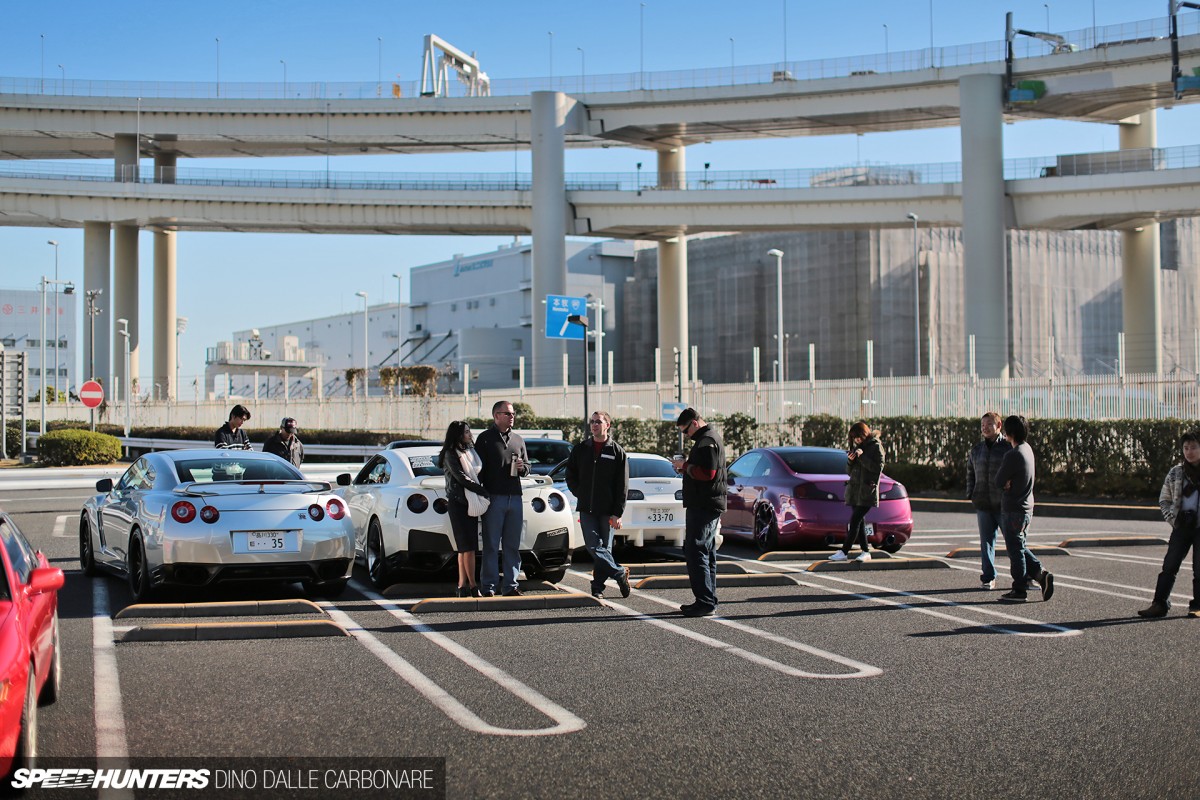 It wasn't long before we had a cool group of people – a good mix between Japanese and foreigners, doing the usual thing car guys do in these situations: talking about cars!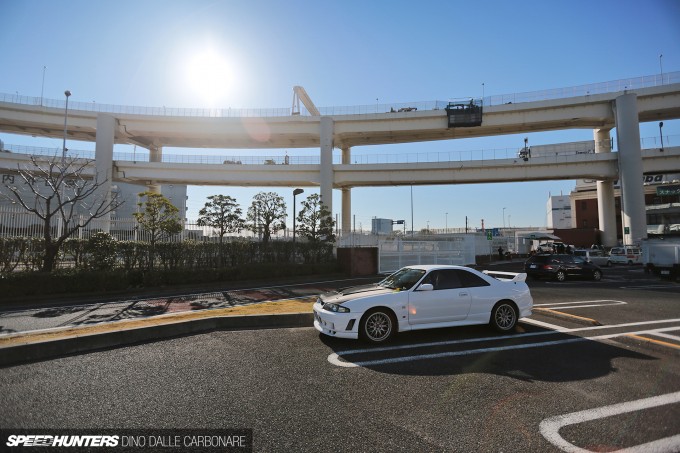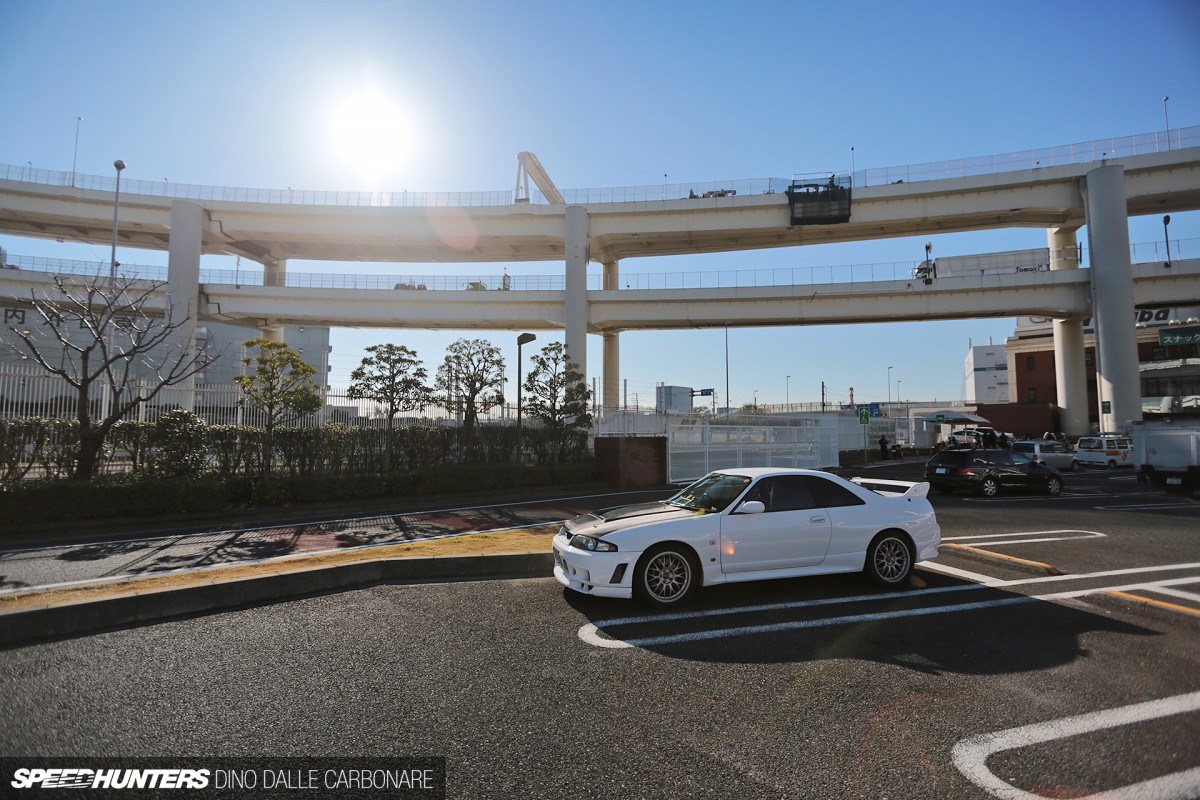 Paul was known for his Skyline appreciation, so it was nice to see some representation from the older GT-Rs as well. This 33 appeared and kept a low profile at one end of the distinctive car park. Still as visually impressive as ever…
A great mix of cars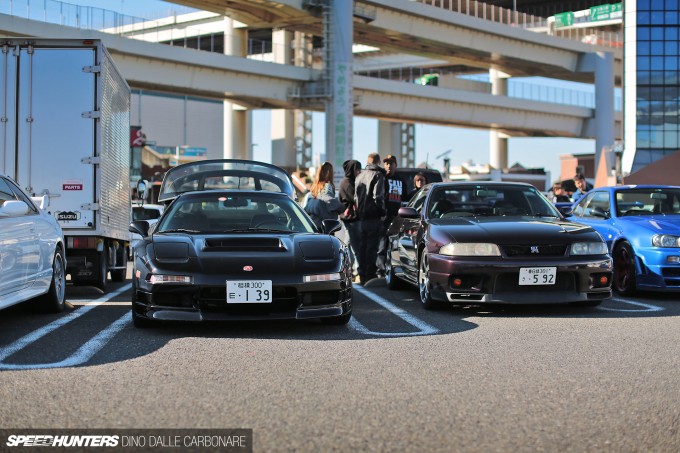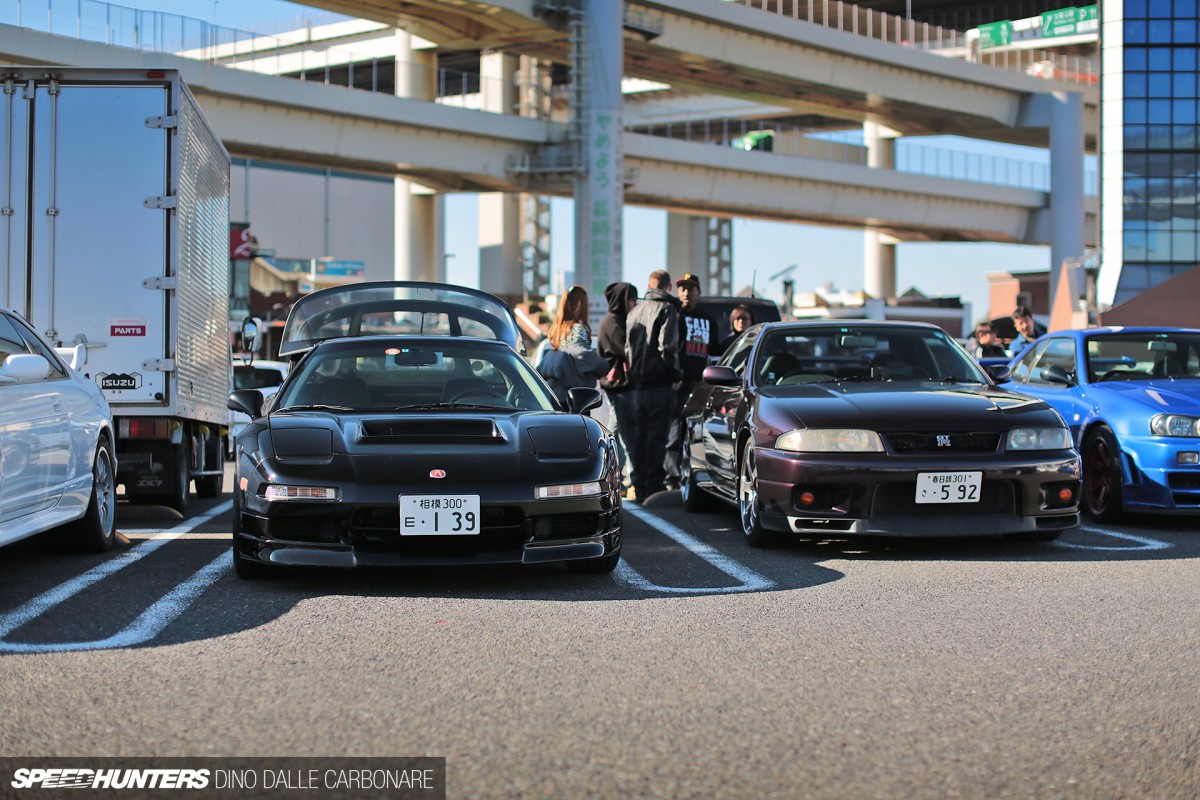 This Acura NSX was the third addition to the USDM group, and it was great seeing it parked up among the Skyline GT-R group.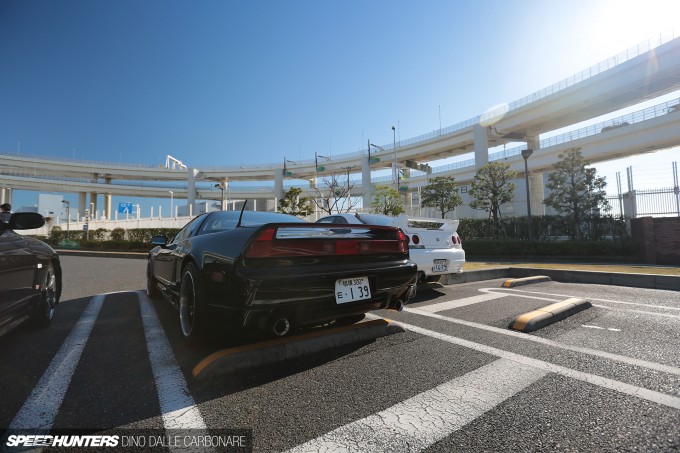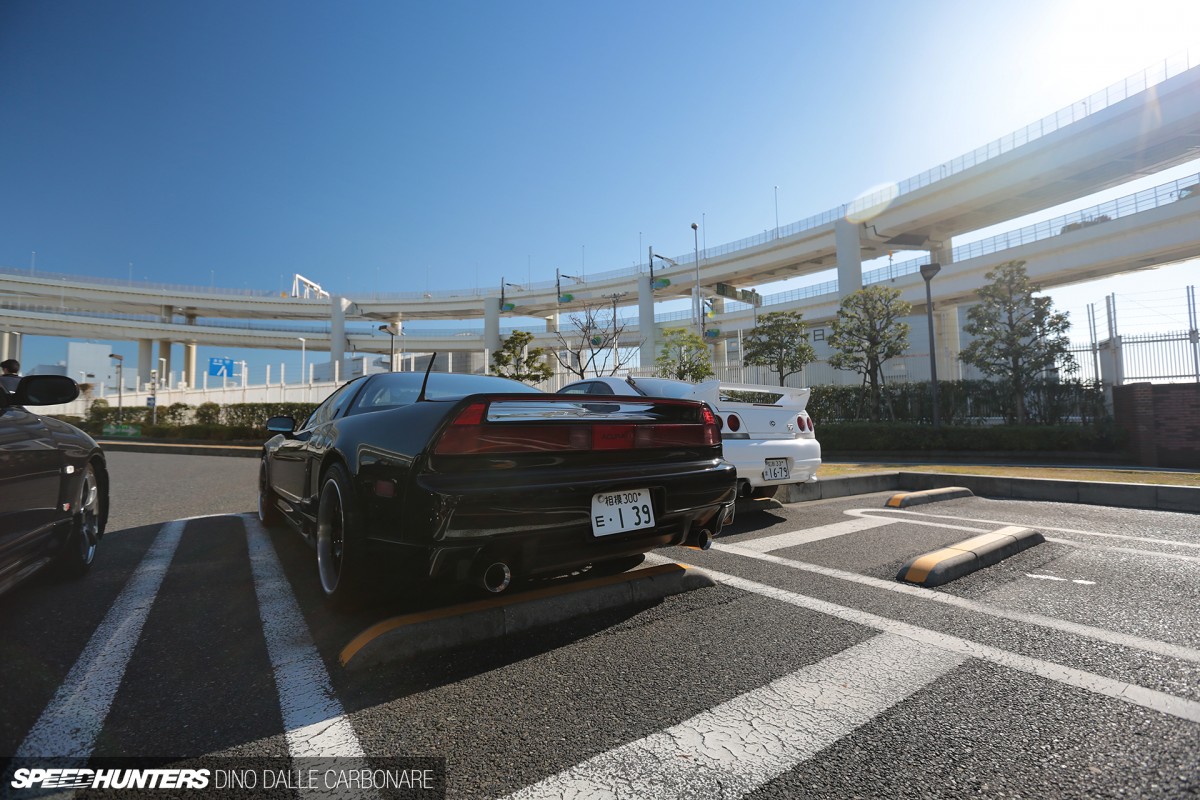 Unlike the R35, the NSX is a car you see a lot of US imports of; not entirely strange as the Japanese love to stand out and have something unique in their hands.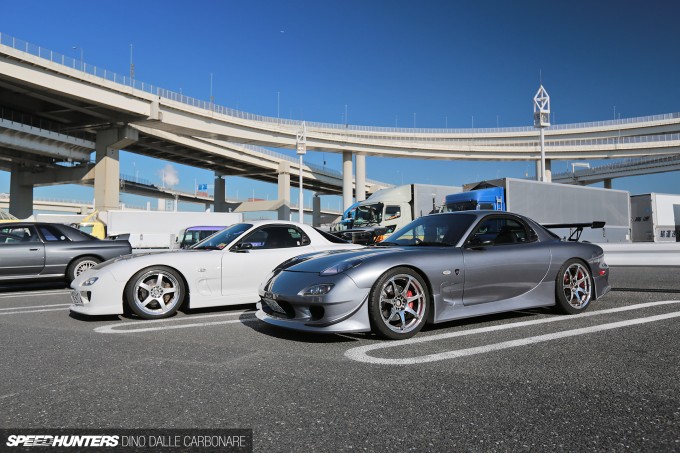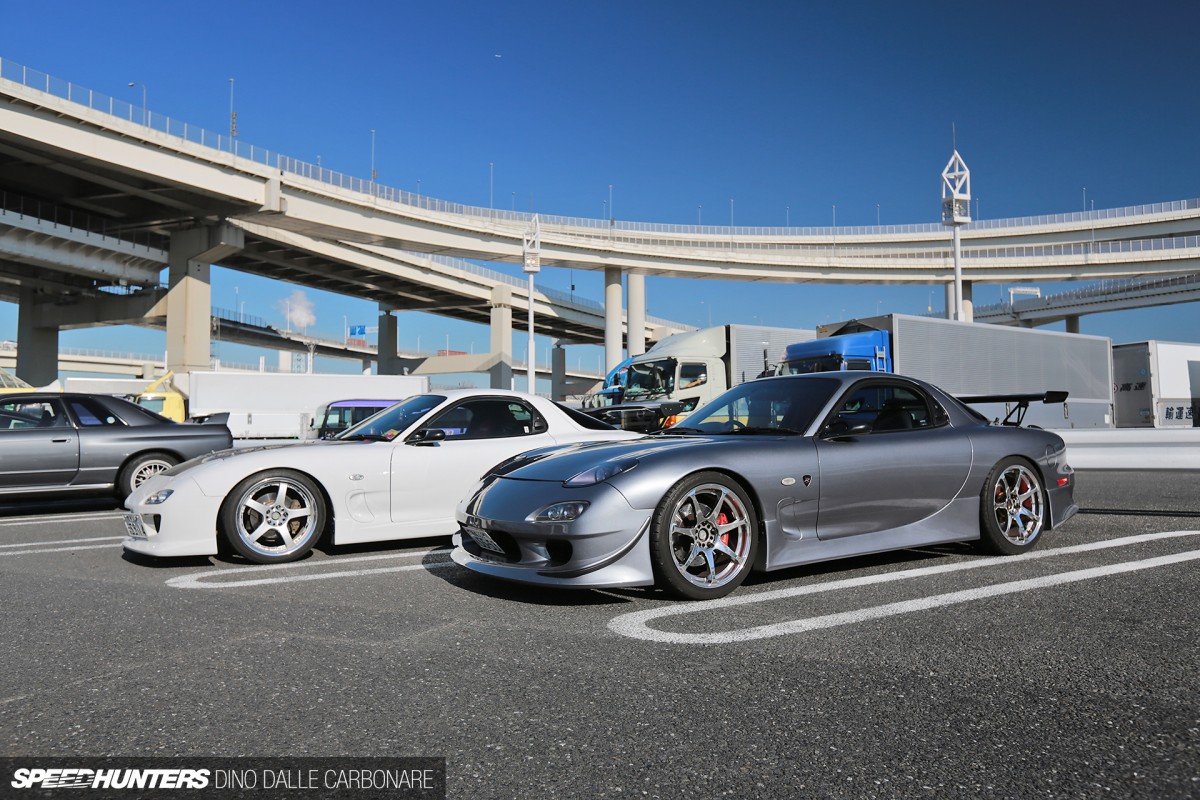 I knew more rotaries would come and I was right! Once again I'm reminded of how many great street cars there are here. Simple modifications on the surface, wings and wheels make me smile as I recall the outrageous modifications we saw in the earlier films.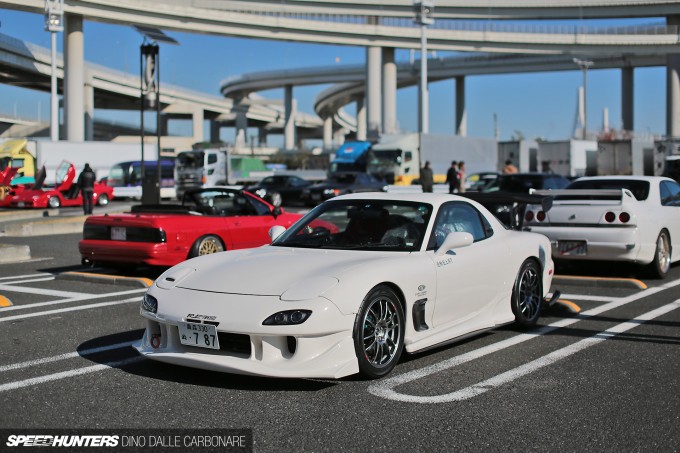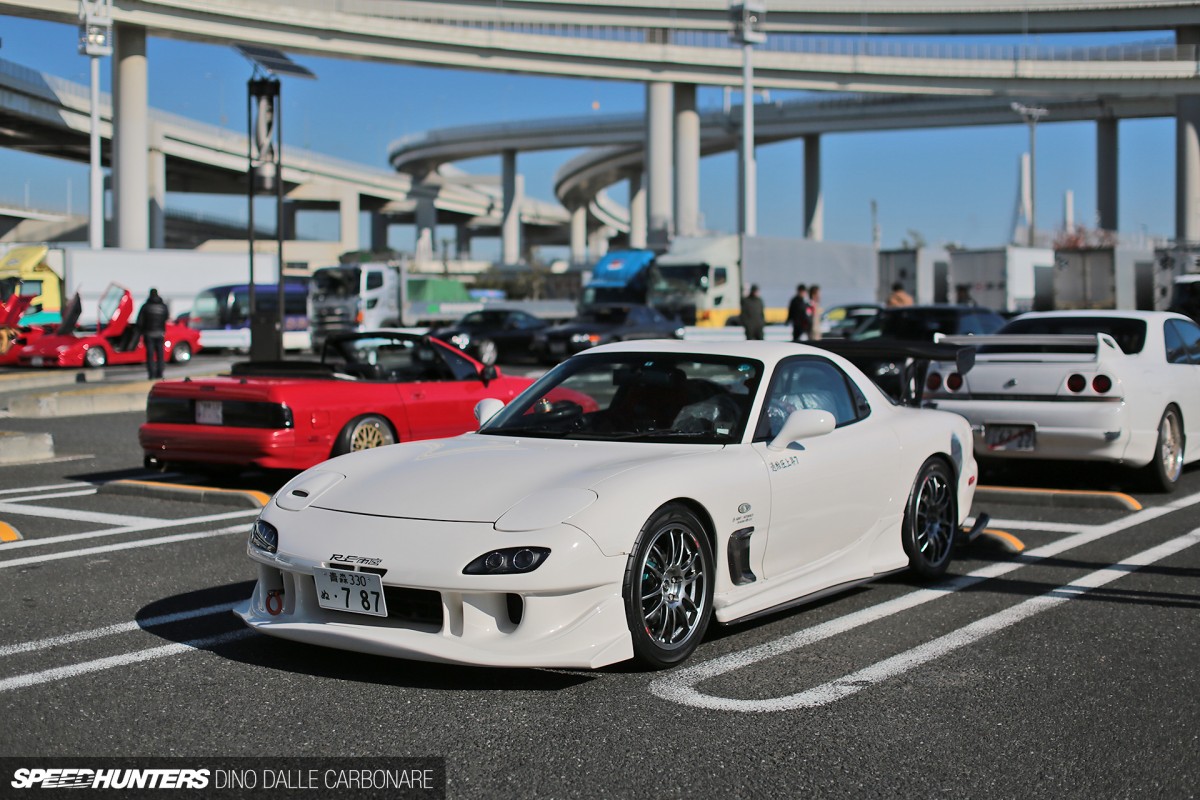 What would Daikoku be without a few FDs to spice up any gathering?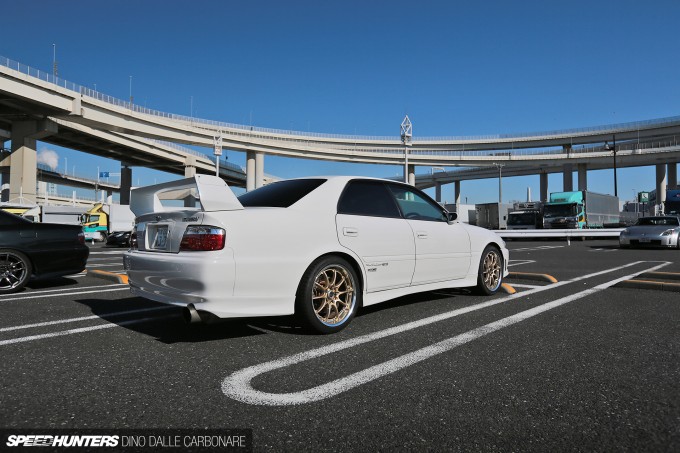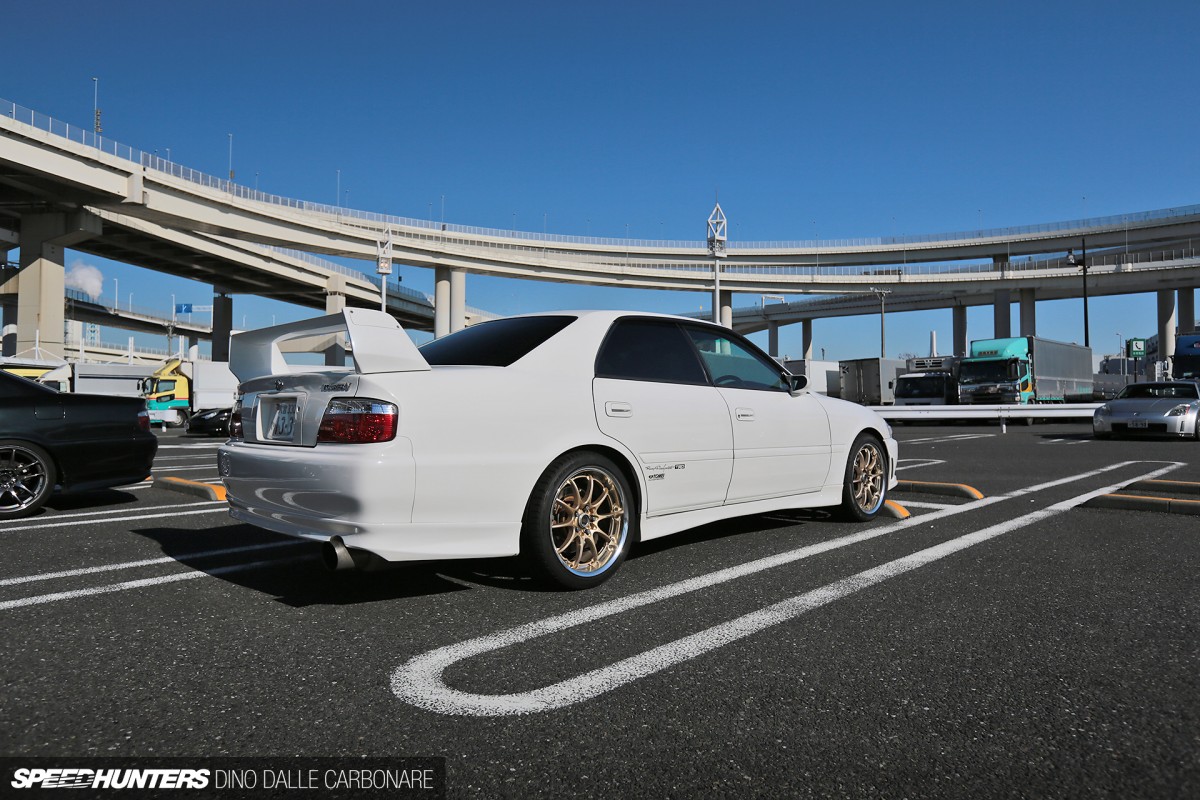 Back in 2006, when I was looking for a car, I was seriously considering getting a TRD-spec Chaser. I ended up going with the Legacy for the sheer practicality aspect of it, but every time I see one of these cars and that tall rear wing I can't help but think back and wonder 'what if'!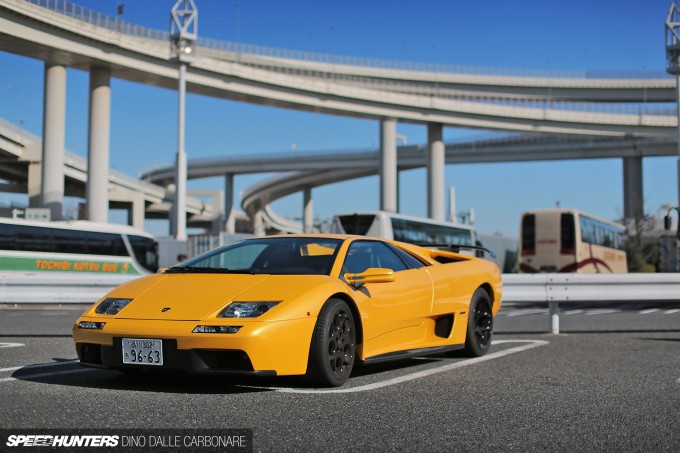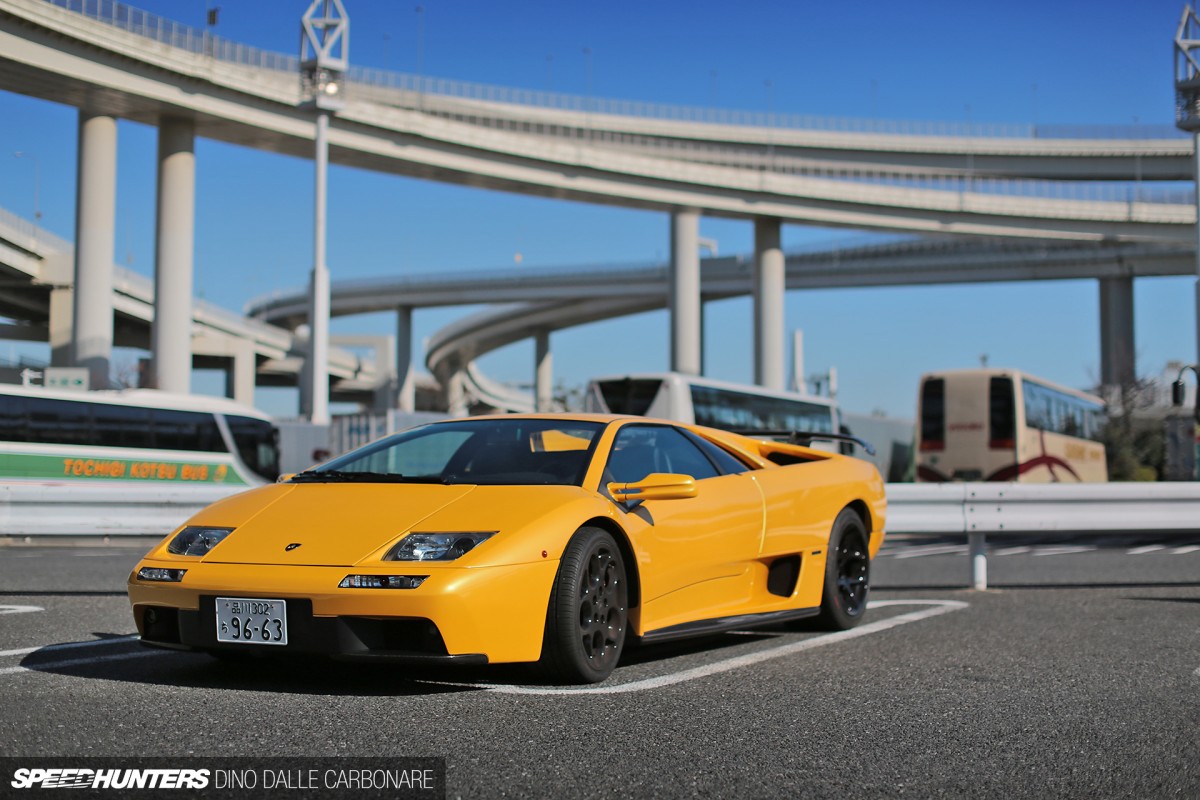 This Diablo joined the Lamborghini crew – a very well-kept example on stock wheels. I'm sure you guys recall what a lot of Lambo owners do to their cars over here, so it was quite refreshing to see a bone stock example.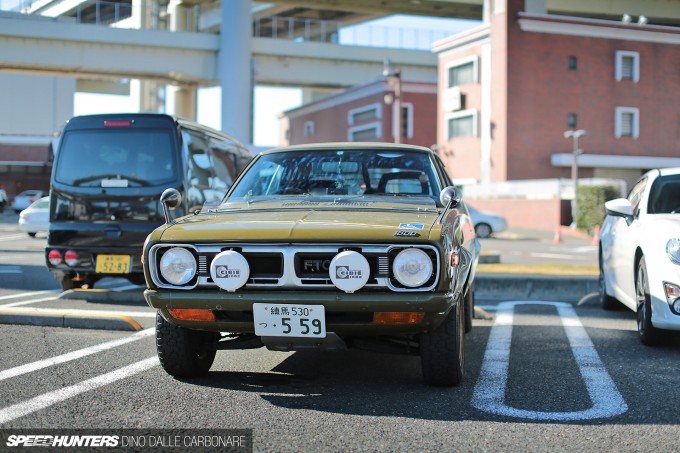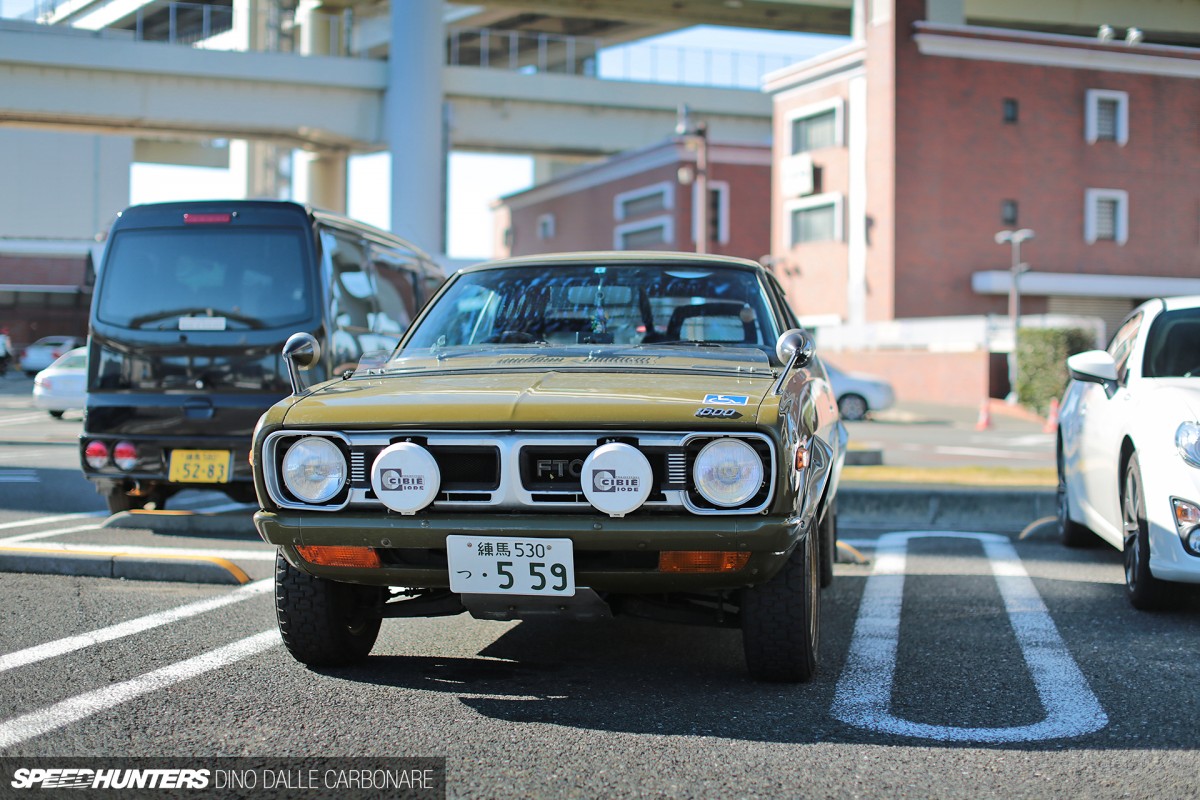 And a Daikoku trip would almost never be complete without a little rarity thrown in for good measure. This time round, that came in the form of a gravel rally spec Mitsubishi Galant GSR FTO 1600. The car looked to still be finished off with the original '70s deep green paint and was fitted with big Cibie auxiliary headlights up front.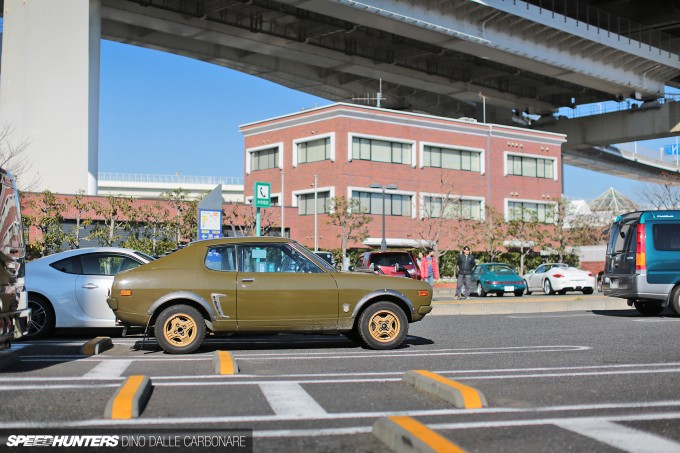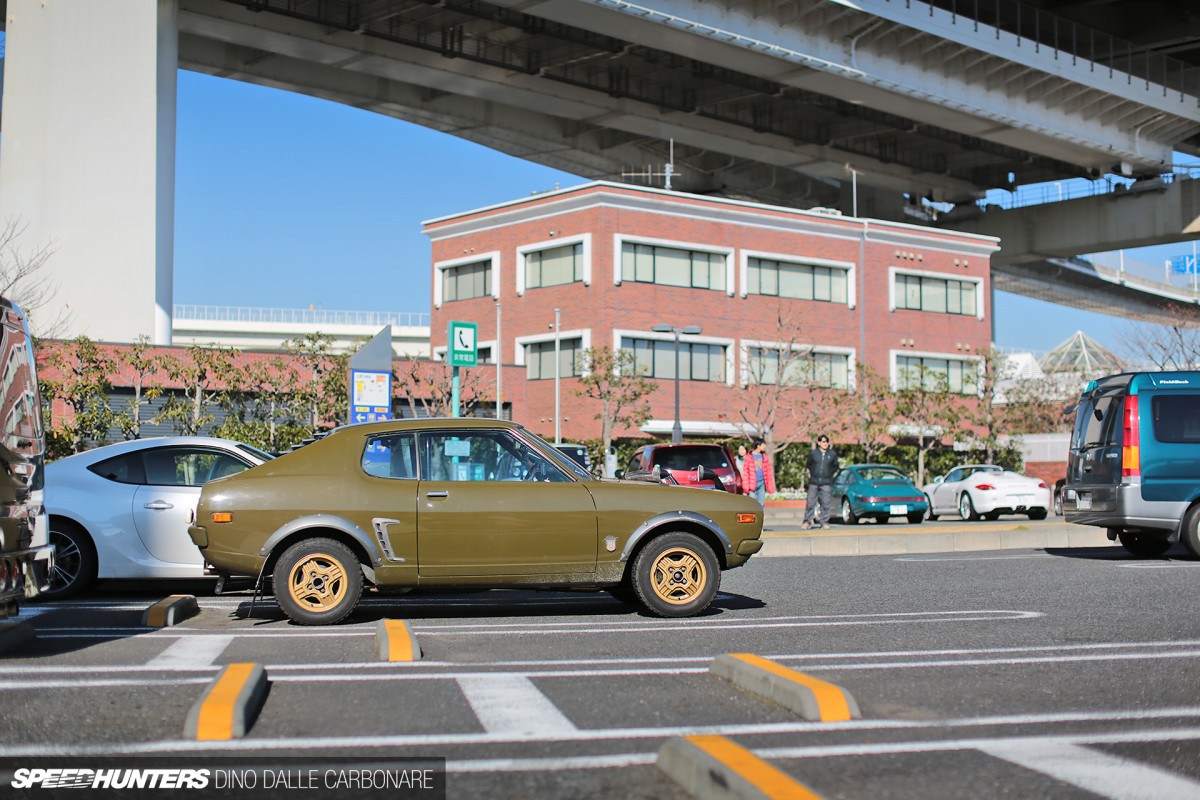 Love the rally stance and the chunky gravel rubber it was on.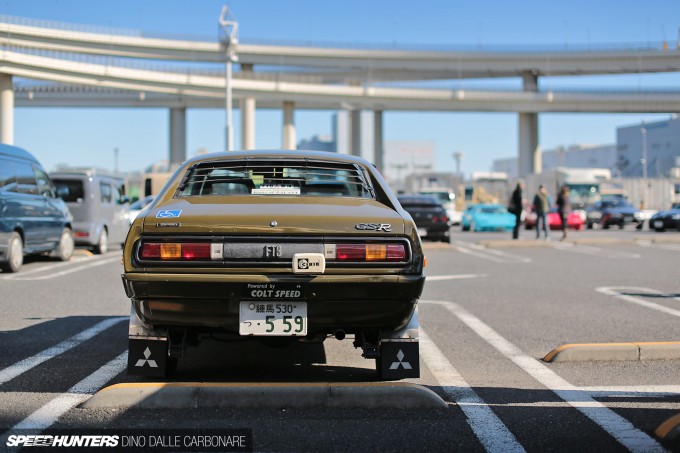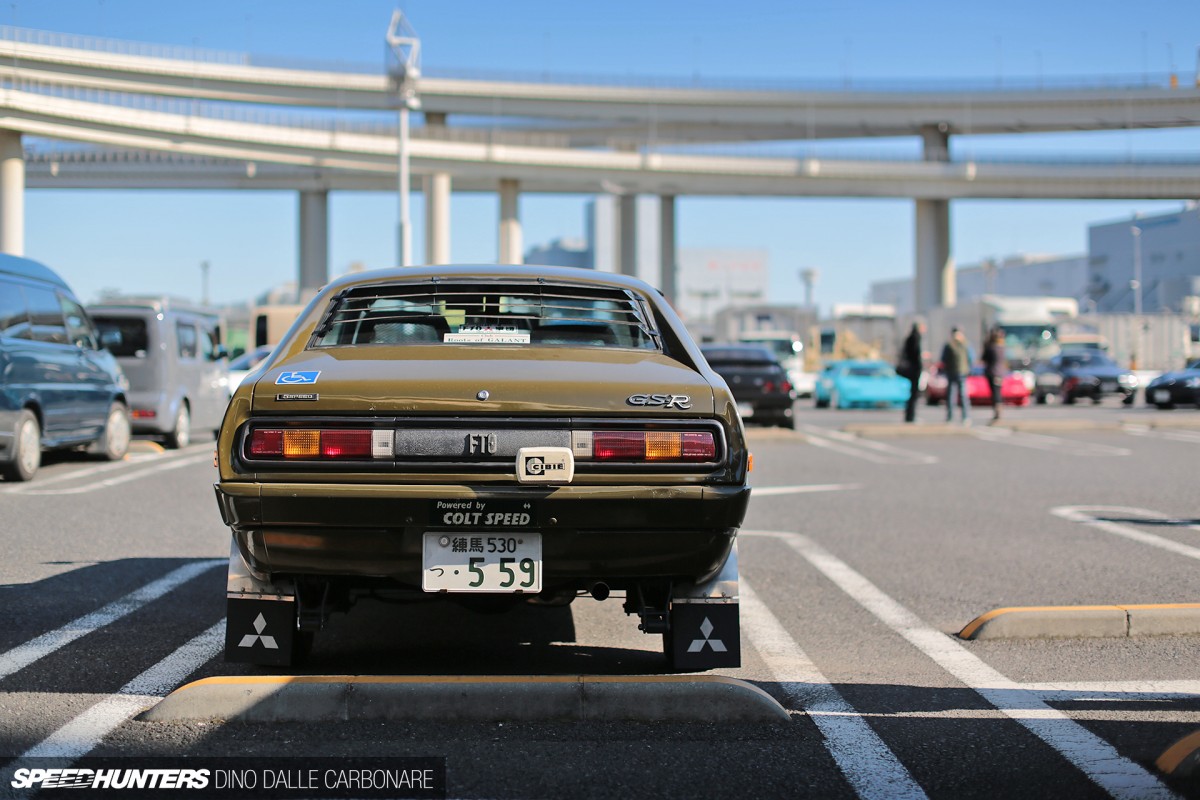 I love seeing where all the modern-day nomenclature for some Japanese cars comes from. A stunning car and great to see one so well-maintained and looked after and of course out being used. Seeing that there was at least one Japanese classic car that Paul Walker drove in one of the F&F movies, this unexpected arrival was more special than even its owner could imagine. It might not have been an Hakosuka, but that was fine.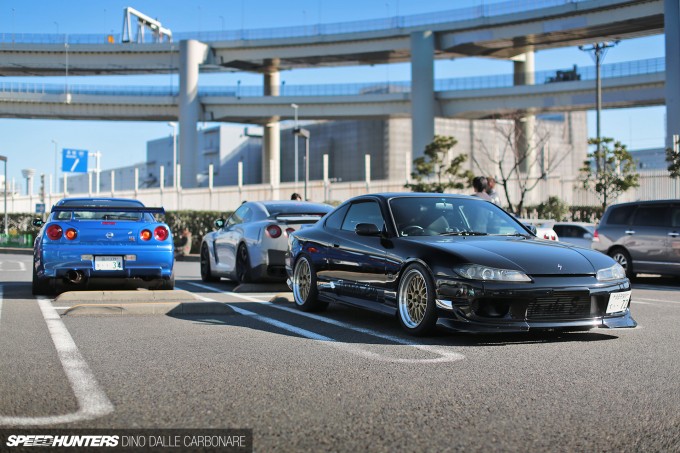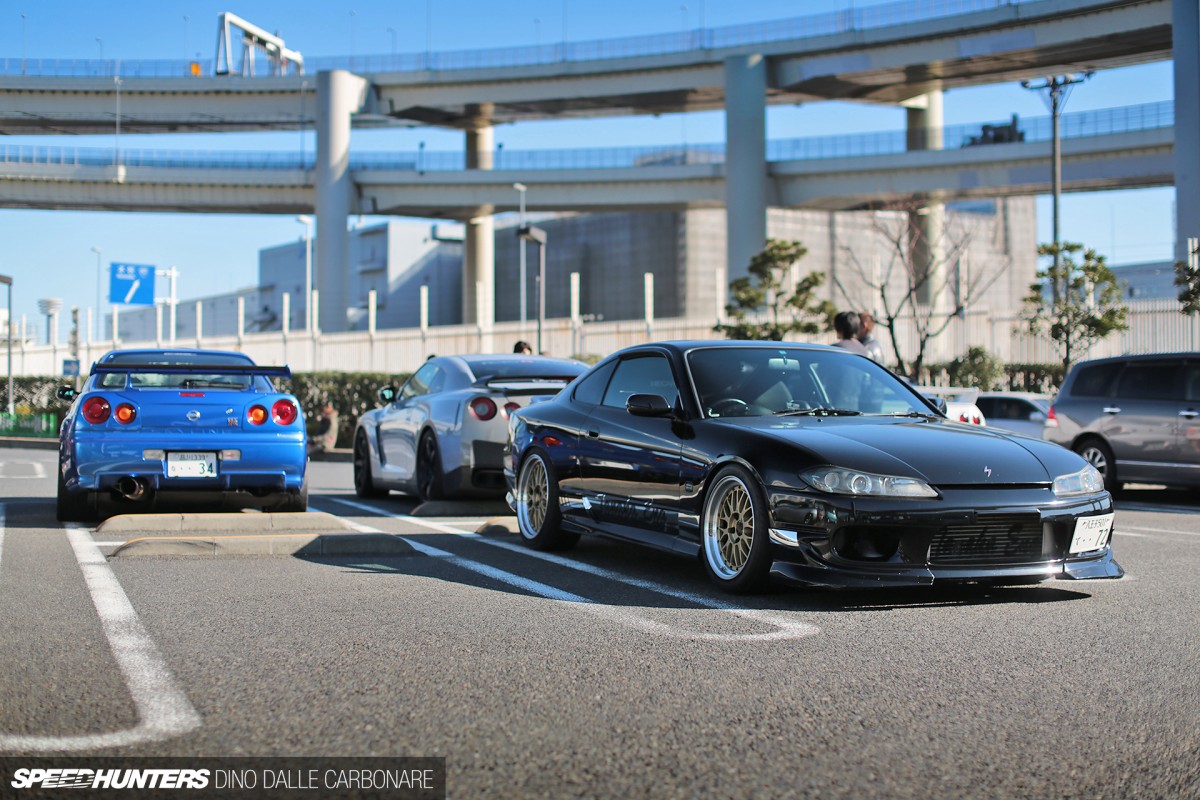 Nothing looks quite so right as a Silvia set up for grip, and especially one sitting on staggered wheels. The owner of this S15 said he went for the 17-inch fronts and 18-inch rears to give the car just the right balance and I think he pulled it off rather well. Thumbs up from me, that's for sure.
WANGAN!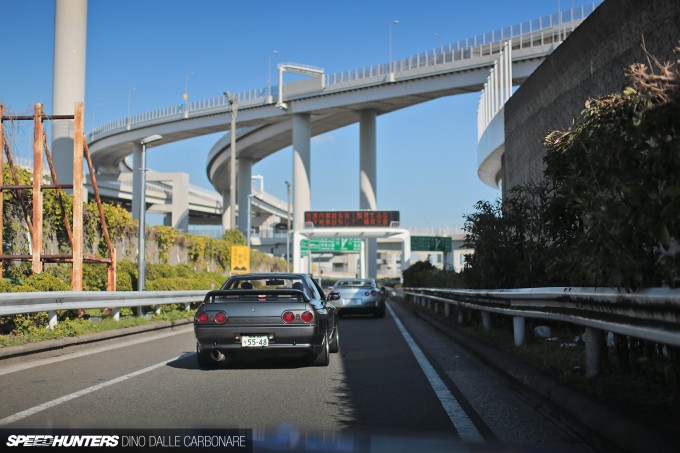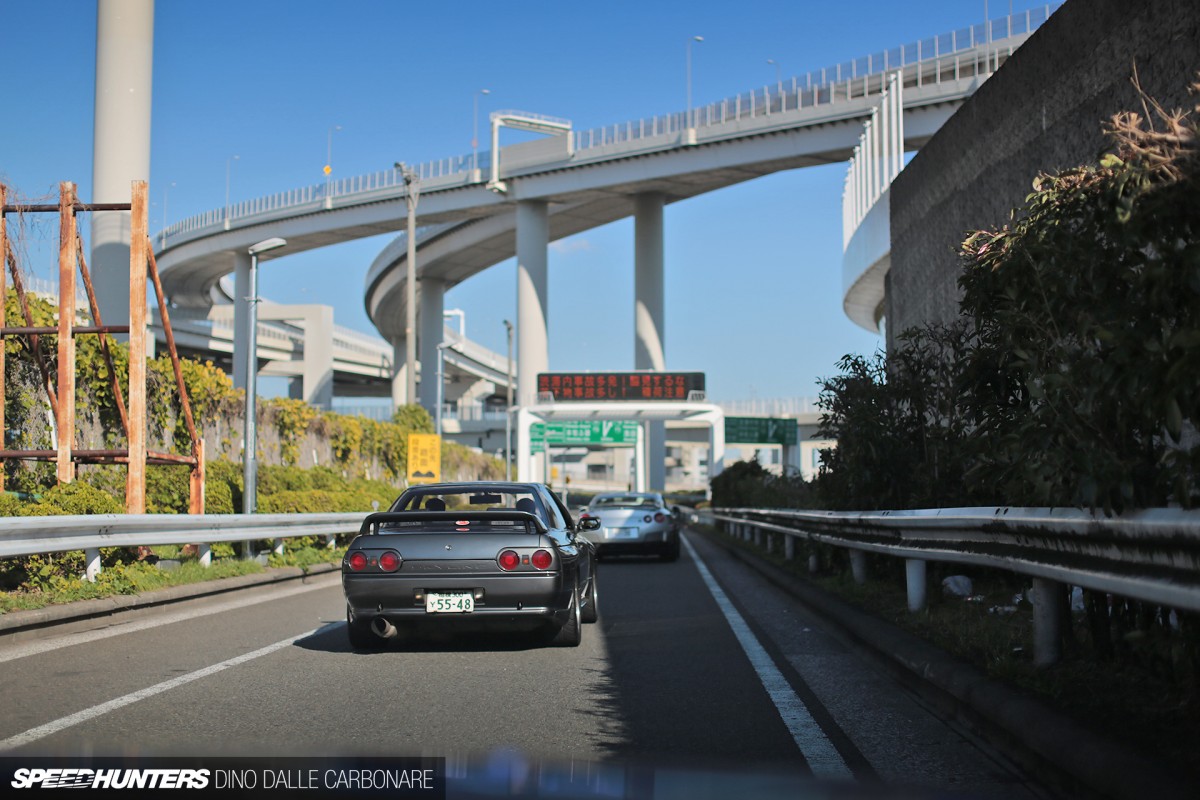 Seeing that by a little before midday pretty much everyone that was coming was already there, or had left to spend the rest of the day with the family, we decided to embark on a little run.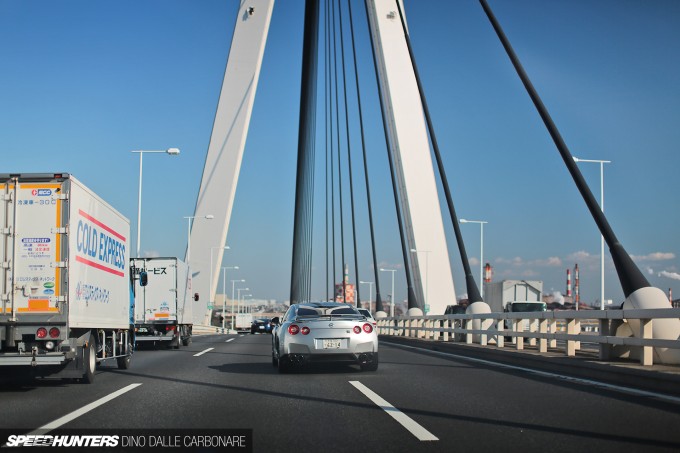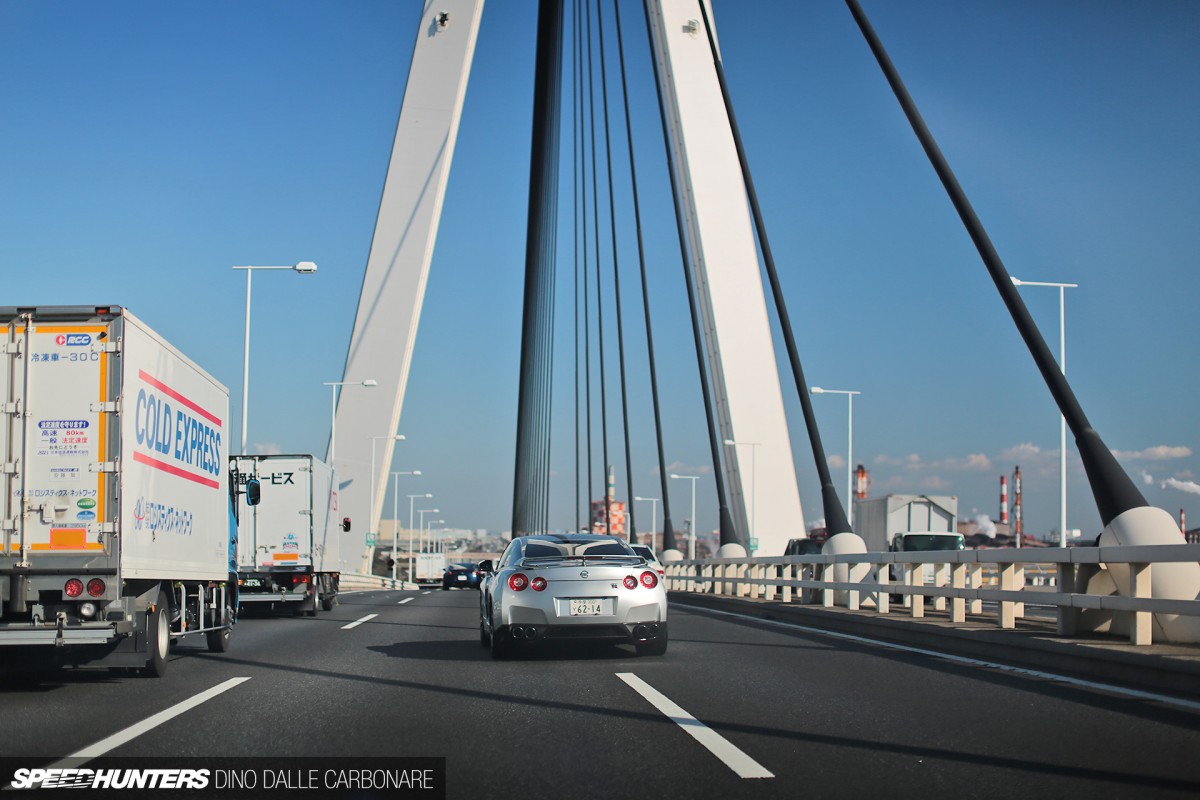 We grabbed the circular slip road that elevates you up all the way until the Yokohama Bay Bridge, and headed towards Tokyo.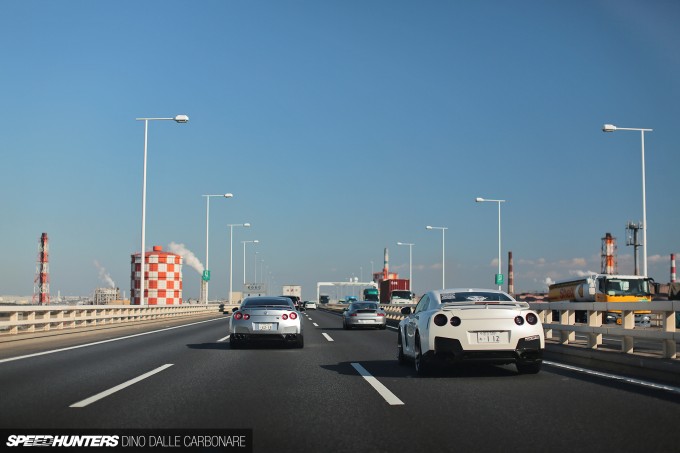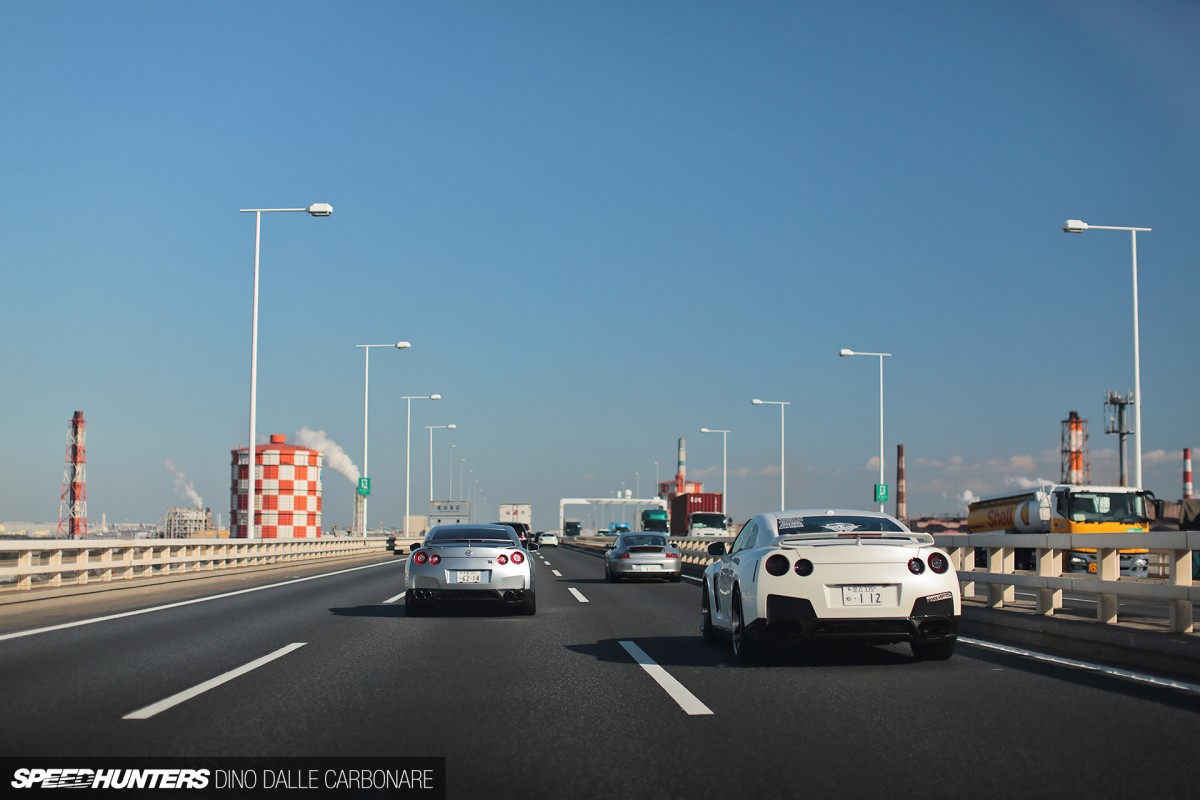 This piece of road is called the Wangan, or BayShore route and a drive like this with these sort of cars was definitely a must to pay our respects to Paul Walker in our own Japanese sort of way.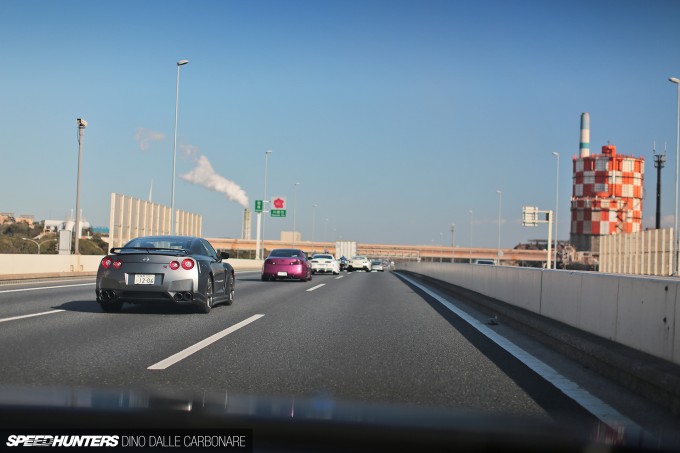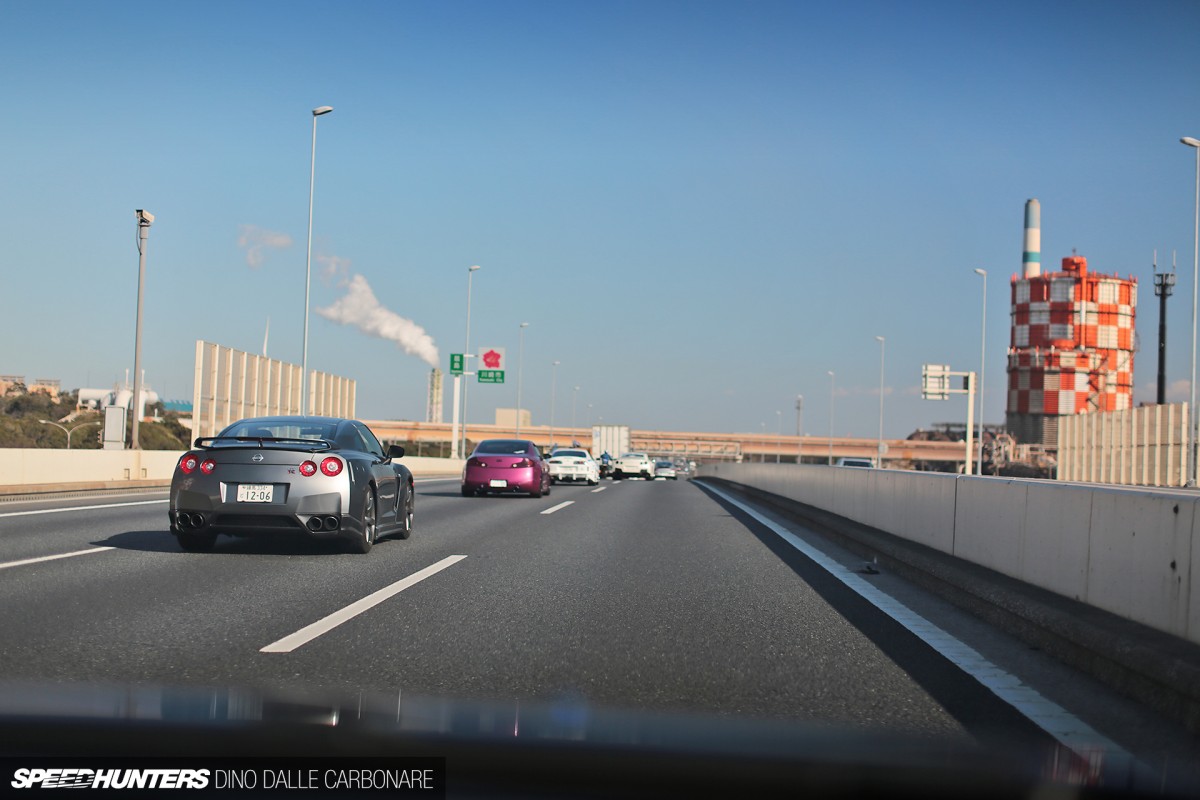 We passed the industrial area of Kawasaki, then on past Haneda Airport, all the time staying in convoy and making our exhausts sing away each time we hit a tunnel. All within legal speed limits of course!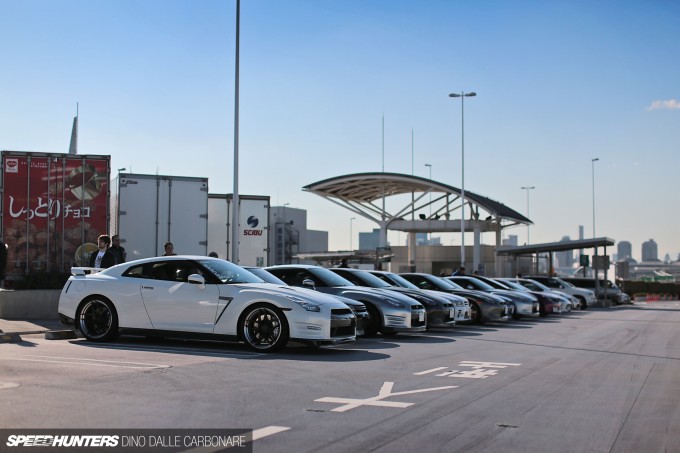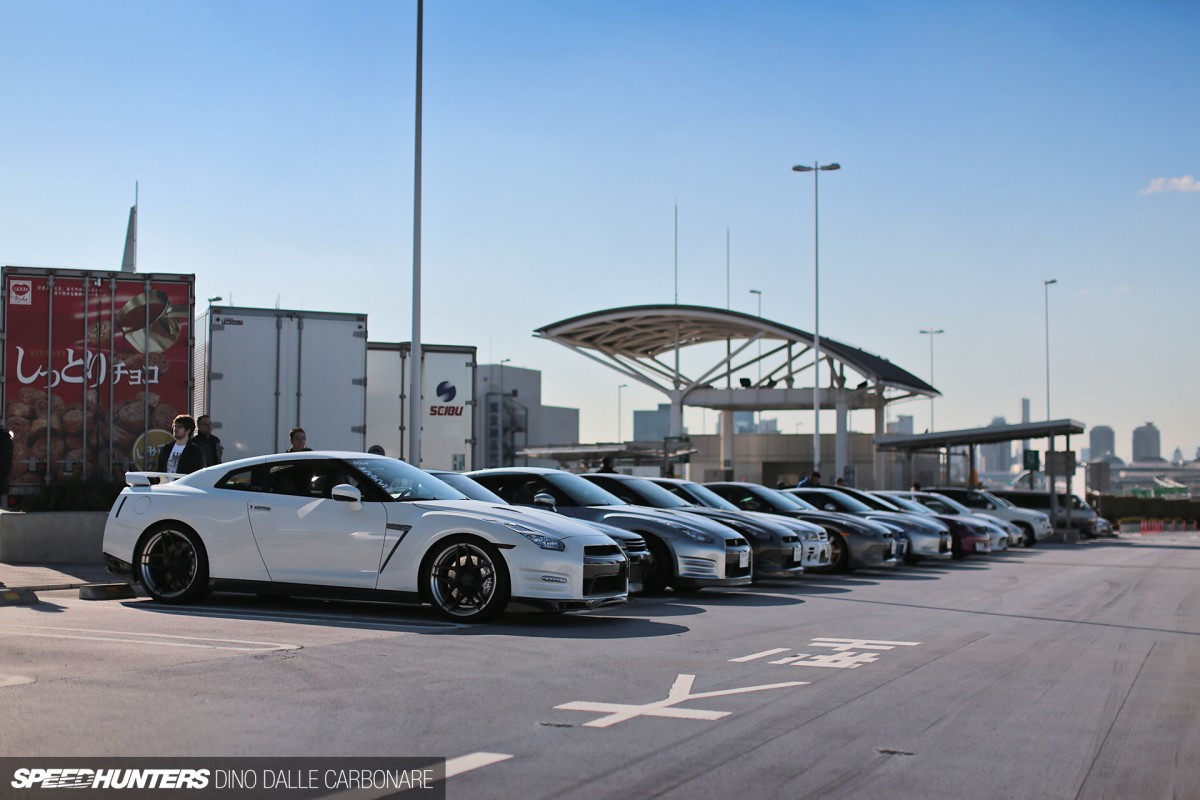 Eventually we arrived at the small Tatsumi Parking Area, a little truck stop that sits high above the Ariake area of Tokyo, and one that serves as the 'pits' for those that head out for some C1 runs during the night.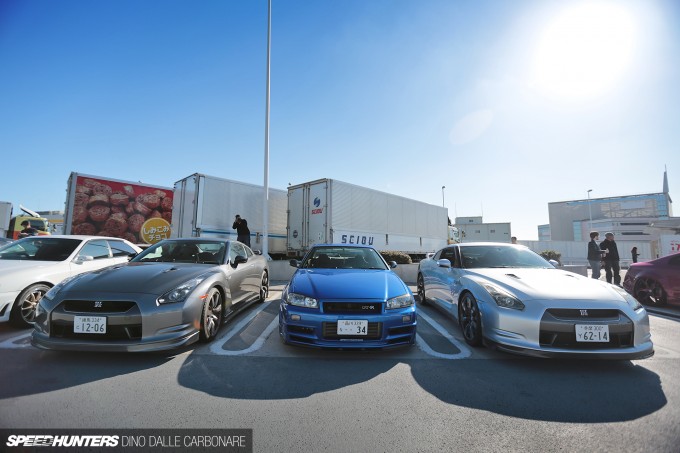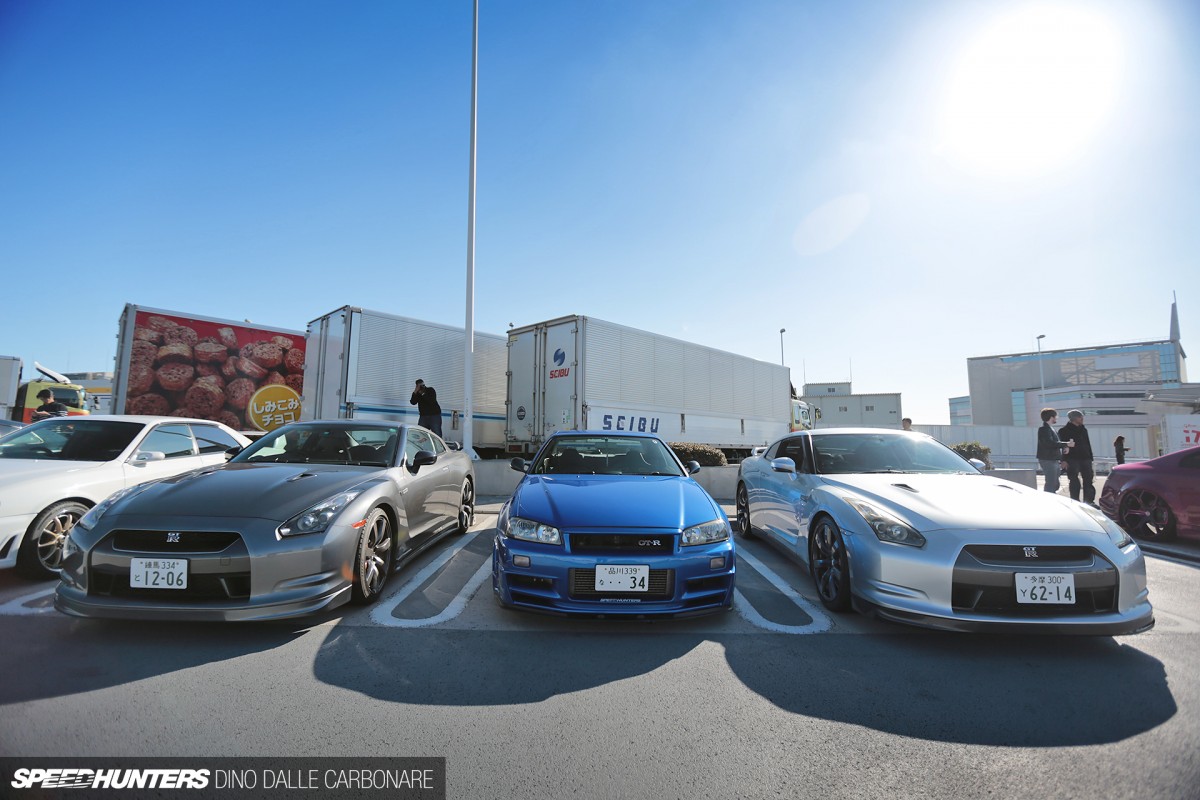 And people ask me why I'm not interested in getting an R35? Size really does matter. Ok lens distortion emphasizes the effect but you know what I'm getting at here.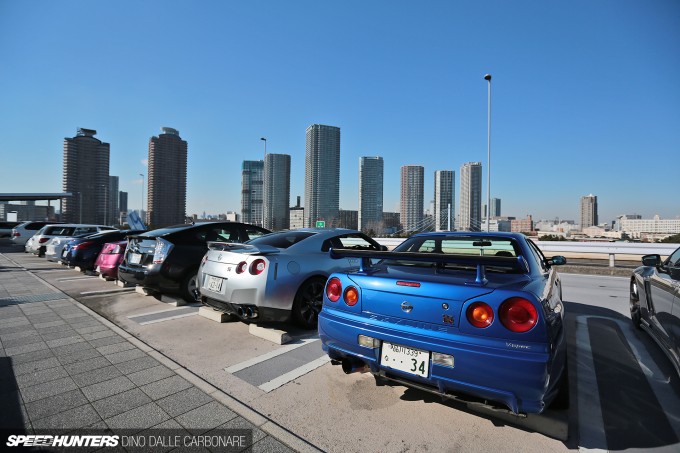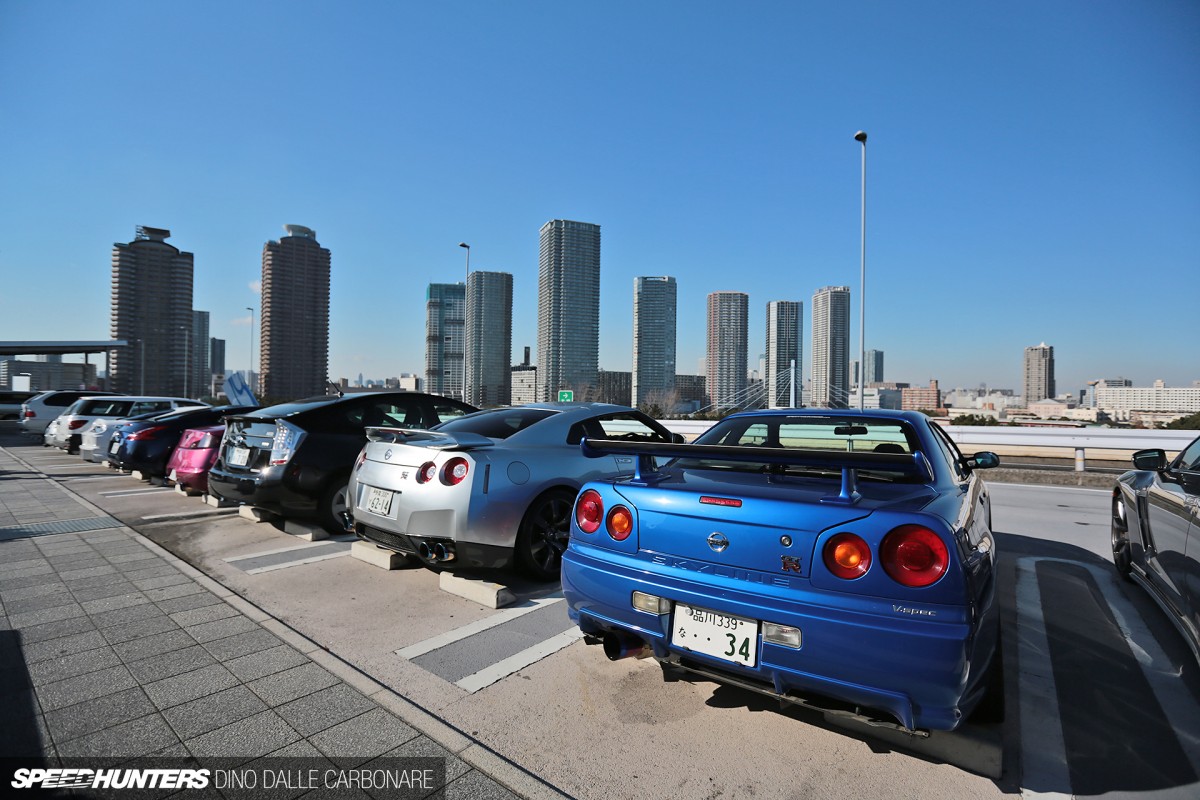 It may have been a small sort of meeting but what it lacked in numbers, it more than made up for in quality. We all knew we were there to pay tribute to a guy just like us, a car enthusiast that a couple of weeks earlier, sadly lost his life.
So that's how we spent a Saturday morning. Did it change the world? No. But did it mean something? Yes, to us it did. When somebody travels along with you in any shape or form, they help make you what you are. So in some small way, Paul Walker may have altered your car perspective through his F&F character, but the film above shows you the real Paul.
If you're in any doubt to why a human life should be celebrated in the way his has, watch that and doubt no more. The measure of the man will go on and is ultimately greater than he ever was on his own. That's why we pay our respects: because if you leave a life behind that is greater than the sum of the parts, then you're doing something right. Thanks for that Paul.
So what are you doing with your life today?