The name is Manfoot…
Volvo: hilariously boxy, mum wagon driving, antique dealer hauling, underpowered tanks. Heard it all before right? Tired clichés played out by people who react to what's put in front of them rather than going automotively exploring, and seeking the truth for themselves. That might sound like a cynical way of starting an article about such an upbeat project, but it's not meant that way. It's just I tire of people who use those phrases without ever looking beyond their own nose.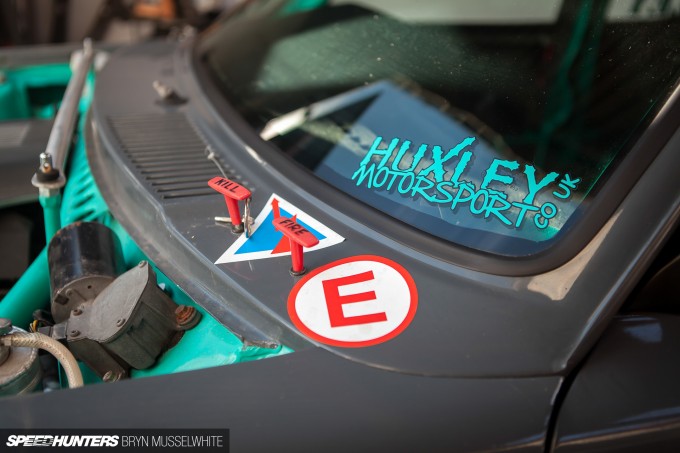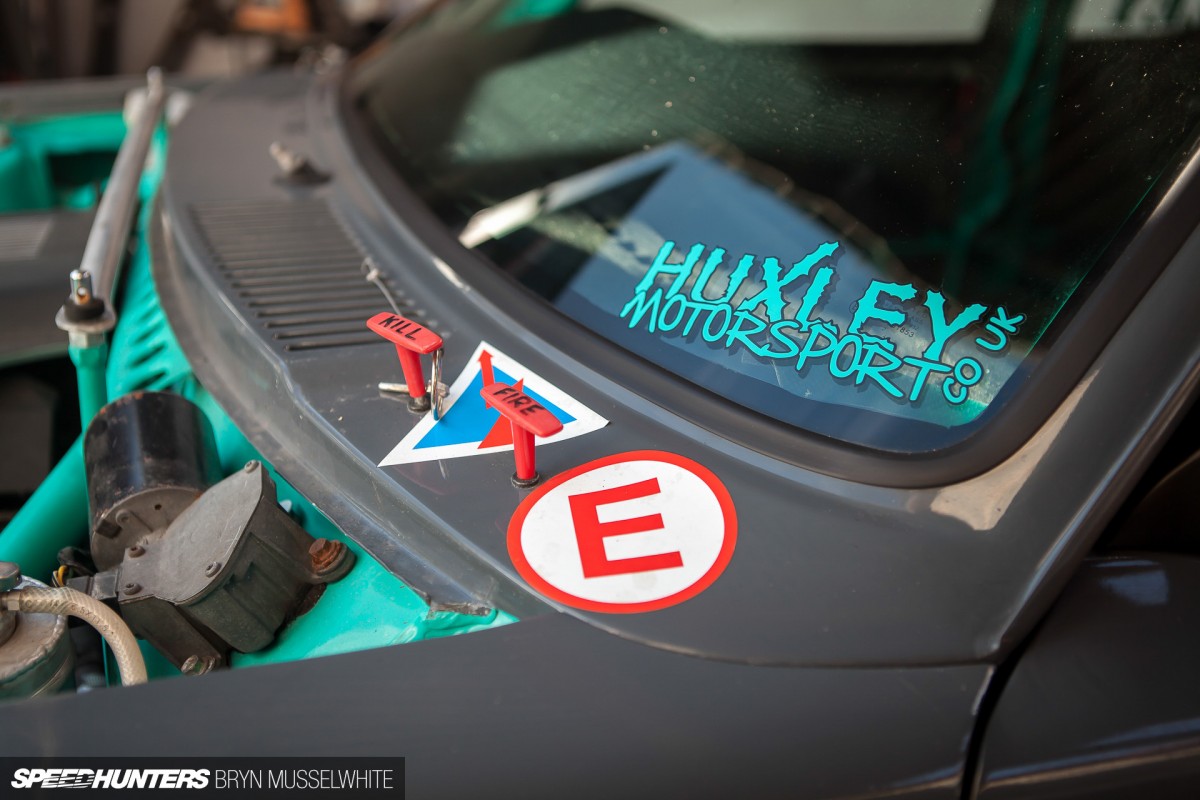 The Volvo revolution has been happening for years, it's not a new thing by a long shot. They've been fast for decades, now sideways, smoking and tinkling with heat, clods of rubber dropping off the rear arches as a massive turbo spools down after they've landed… Or not quite in this case.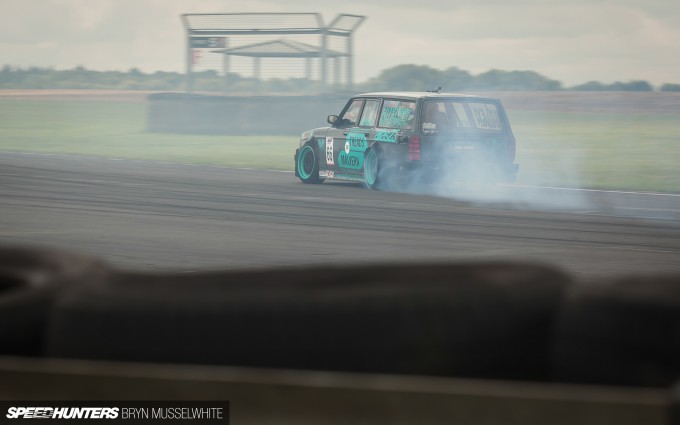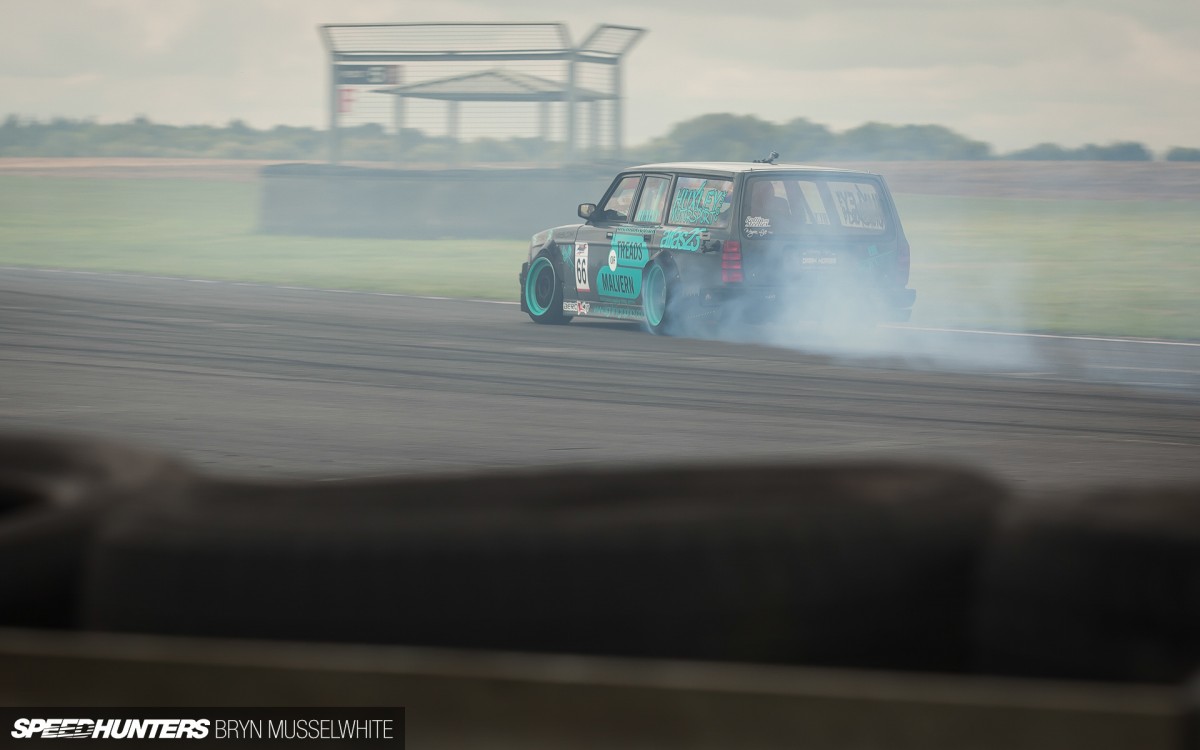 Because this one was built by Marc Huxley, who operates as Huxley Motorsport out of Worcestershire, England. Hux as he's known to pretty much everybody, isn't one for complying. He's not trying to be rebellious; it just so happens he kind of is.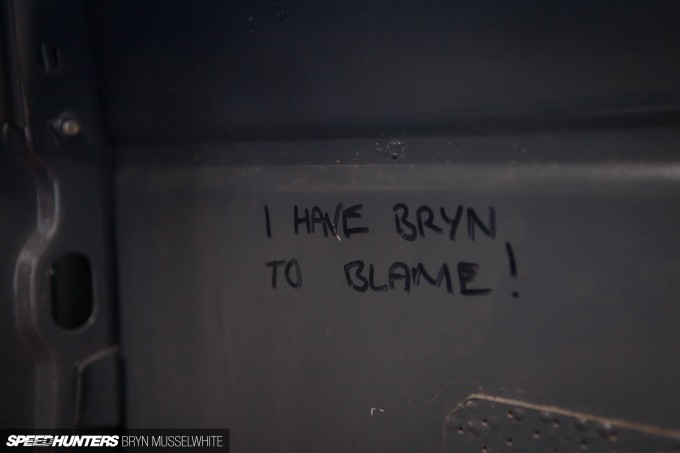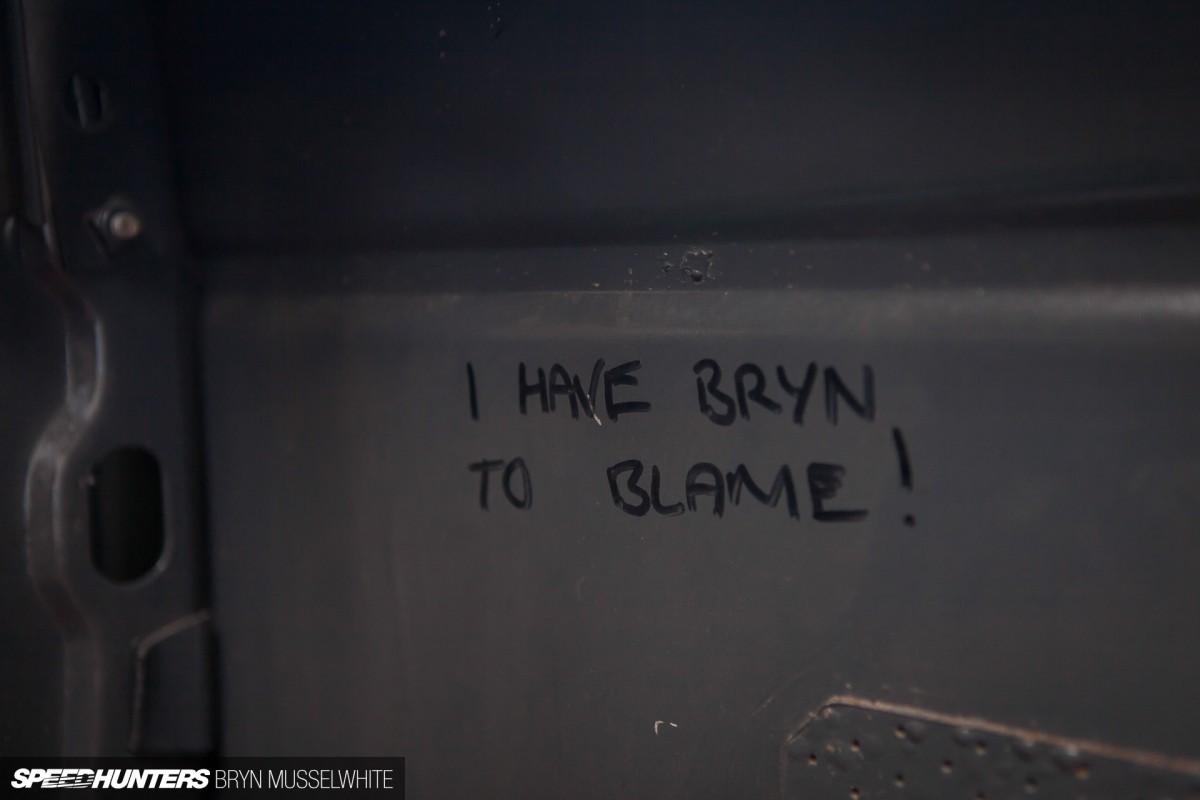 But that seems to be the Volvo way: it's an uphill battle to do anything with them it seems, so you have to be dedicated and by that I mean you first need to understand that you're probably doing the wrong thing. I'm speaking from personal experience here of course; had I known twelve years ago when I started my own Volvo wagon build how much hassle it would have been, I probably would have looked elsewhere. Putting the money and effort into something else would have been a wiser decision. But of course I didn't. I knew best huh? Which is why on the inside of my driver's door I wrote 'Only myself to blame'. So why has Hux written this on his in the same place?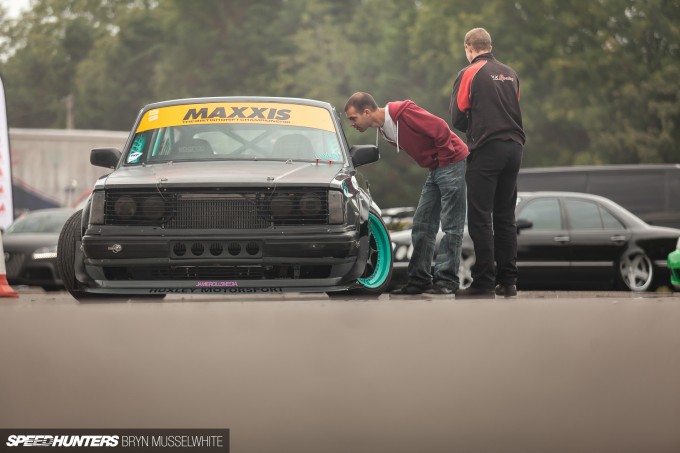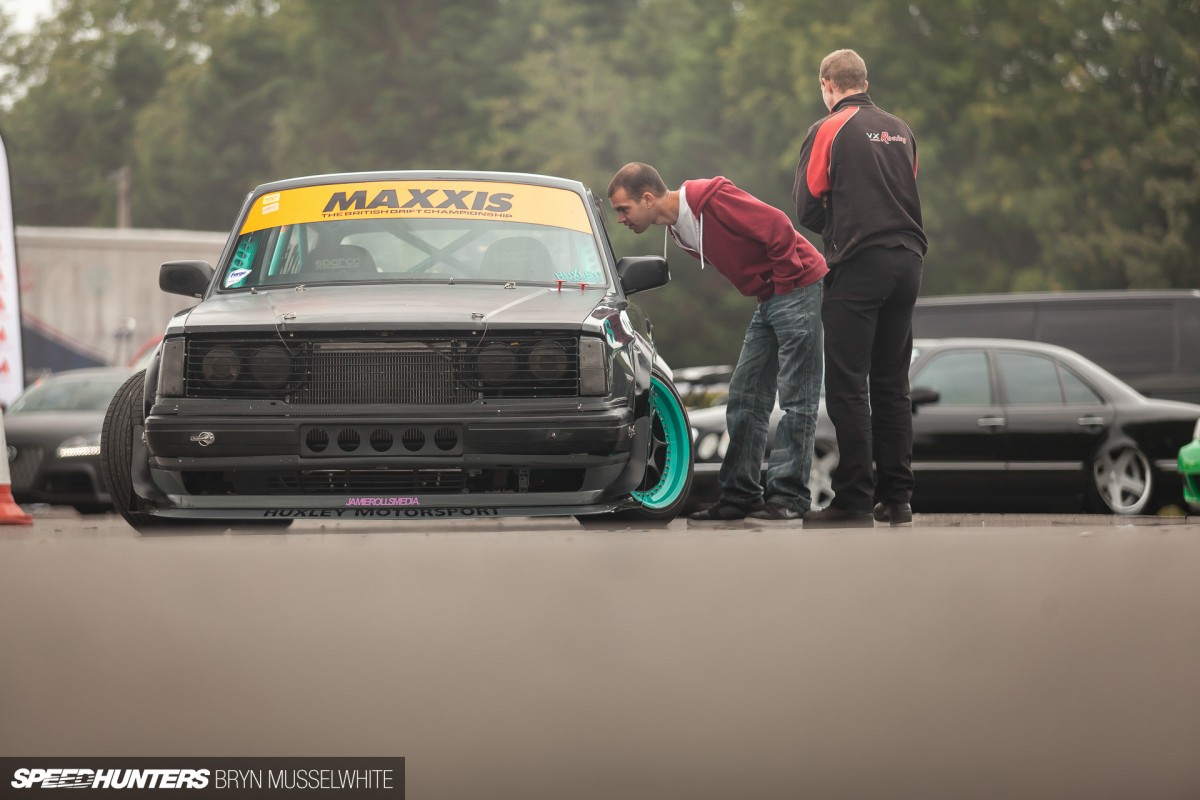 Because this is my old car. When I say that, I mean it in the loosest sense. As only the shell remains and even then it's been extensively modified. I bought this GL estate in the spring of 2009 as it had been converted to turbo power with a whole host of suspension parts and goodies. Stood in Hux's workshop in late 2011, I realised that both my time and skills were lacking, so we agreed I should pay him to swap all the good parts onto an already caged, original NA-powered shell.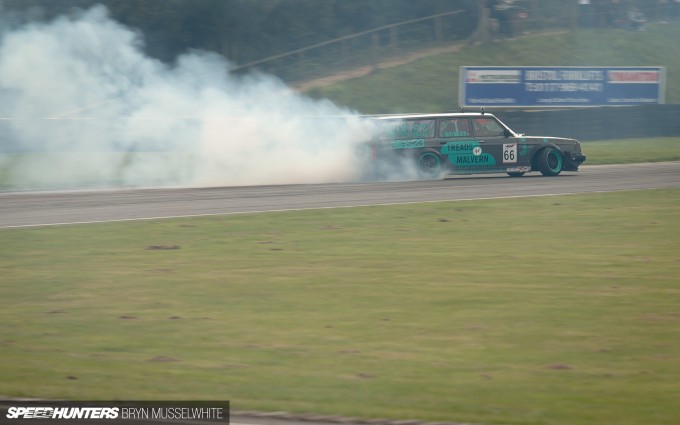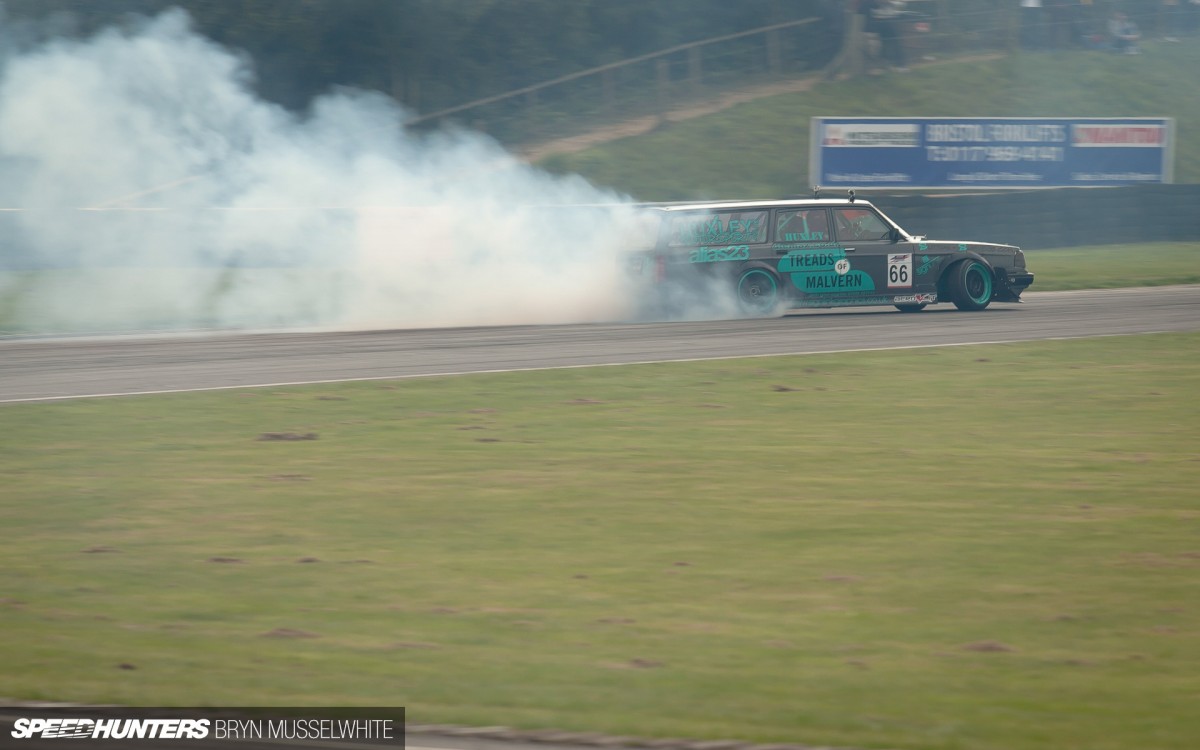 It was while that work took place that Hux started to make noises about building a drift-ready Volvo 240, but not a simple boosted and welded diff missile. No, what he needed was a top flight entertainer, a weapon to do proper battle with, because at the time he was competing in the British Drift Championship in an SR-powered KE70 Corolla.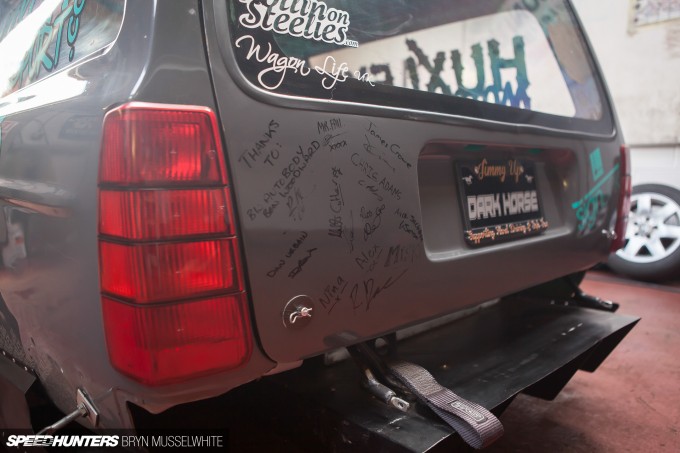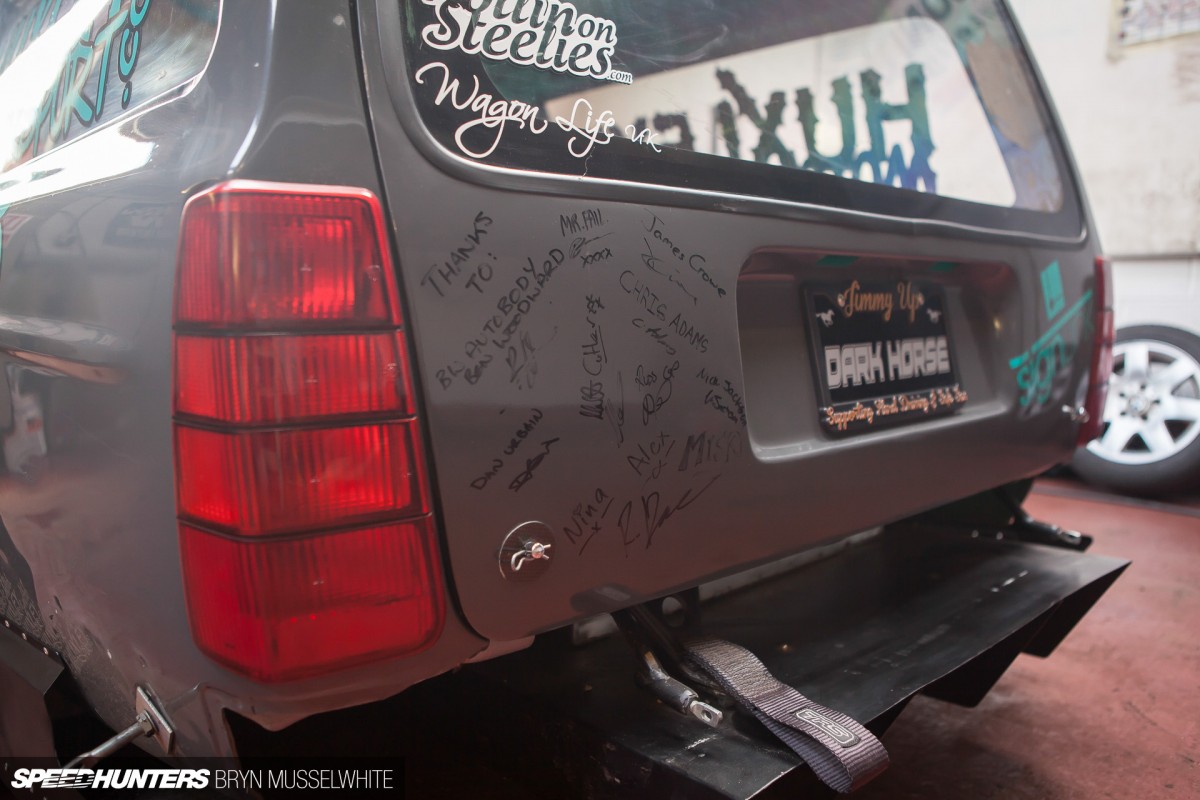 The Toyota was devastatingly effective, enabling Hux to move up through the ranks and eventually battle cars with masses more power than his own. But due to his #MaximumAttack style, rear light clusters were becoming harder to come by. I remember at one point he even considered altering the saloon to an estate as he'd found a stash of rear lenses.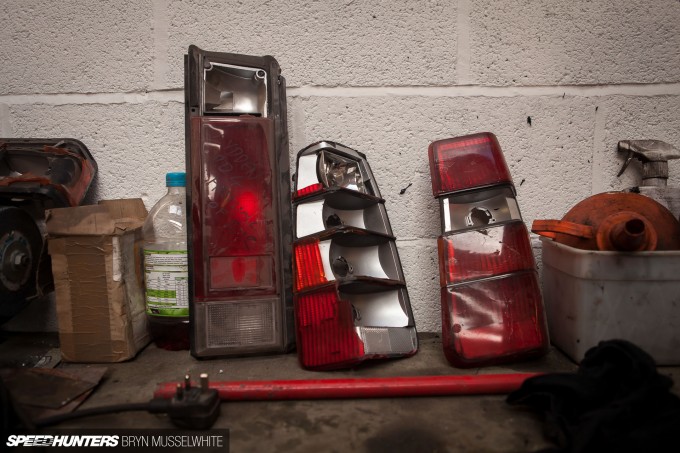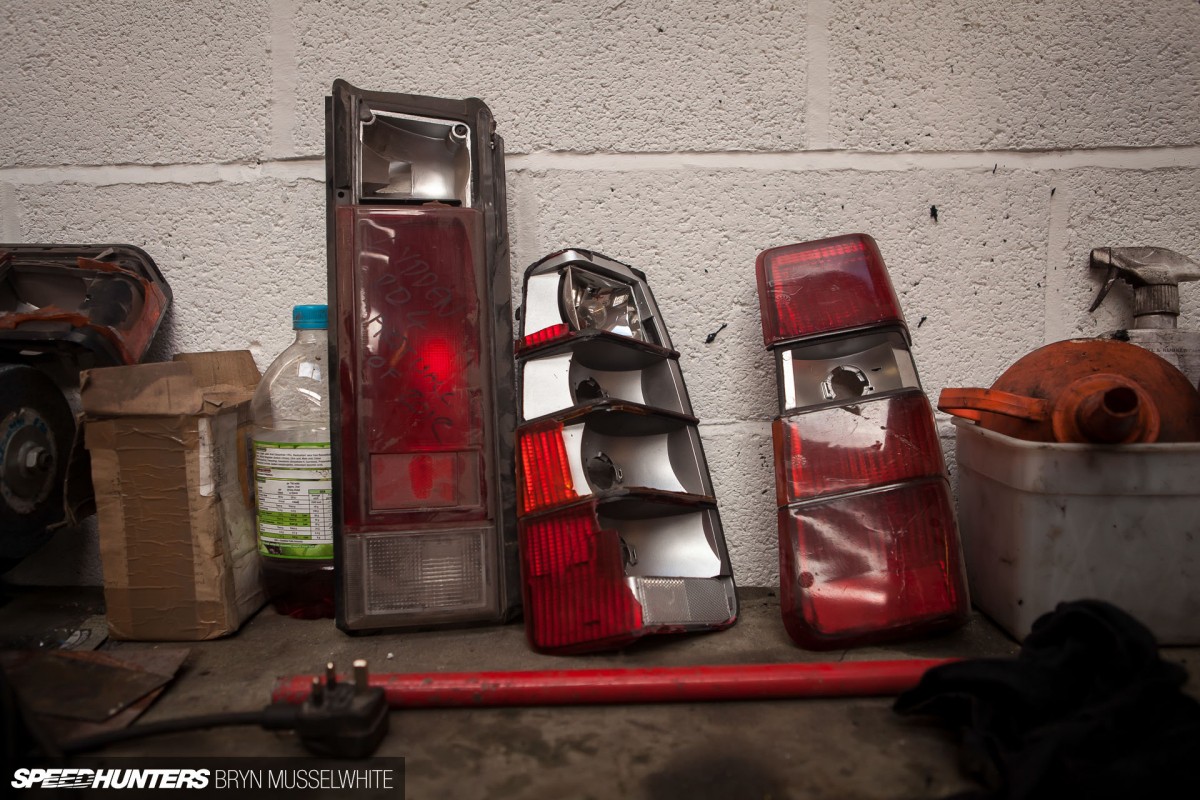 That's not to say he smashes cars up. No, he just battles hard and close.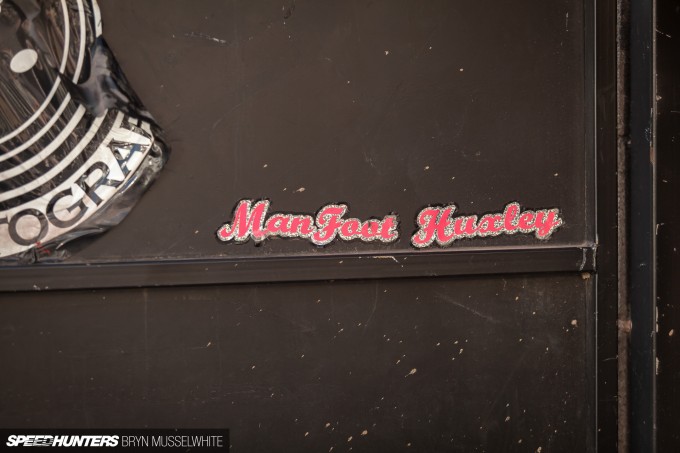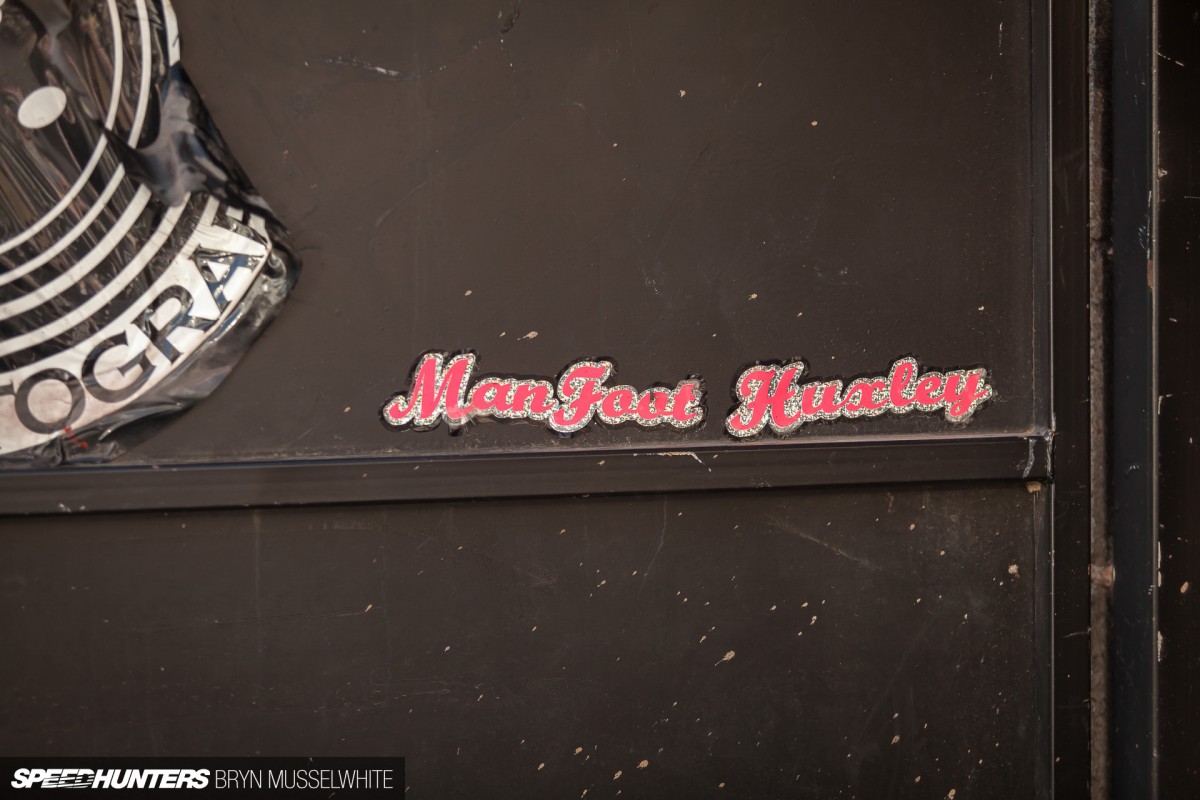 Because he is Manfoot Huxley! A hilarious nickname earned when he first turned his hand to drifting. Although he's been brought up in a family where motorsport is second nature – with father Brian campaigning a mean '67 Mustang on the drag strip – competitive drifting only became of interest a few years ago. With a background in quick early Ford Escorts, it was only ever going to be a matter of time though. The name emerging on his first licensing day when he managed to break the throttle pedal, handbrake and gear lever in a borrowed car. Hux just shrugs and smiles…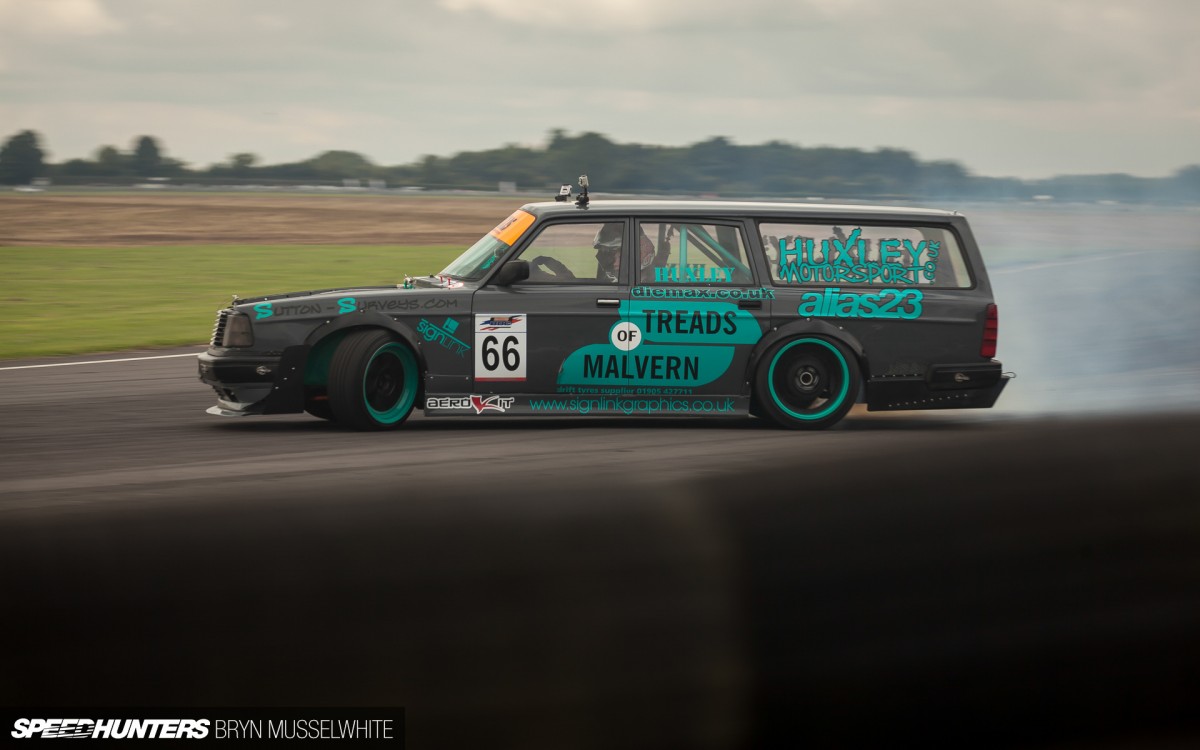 So it's kind of apt that he went with the Volvo idea – after all, they've got a reputation for being built like tanks. So why not? Well of course there are plenty of reasons why not, but Hux knew how to get around them…
Don't choose Volvo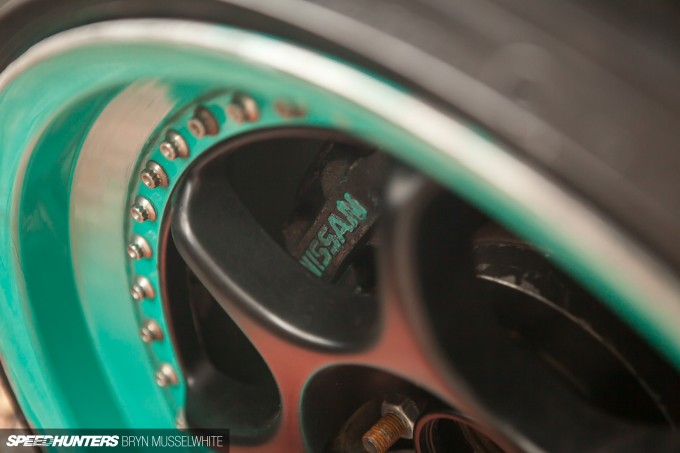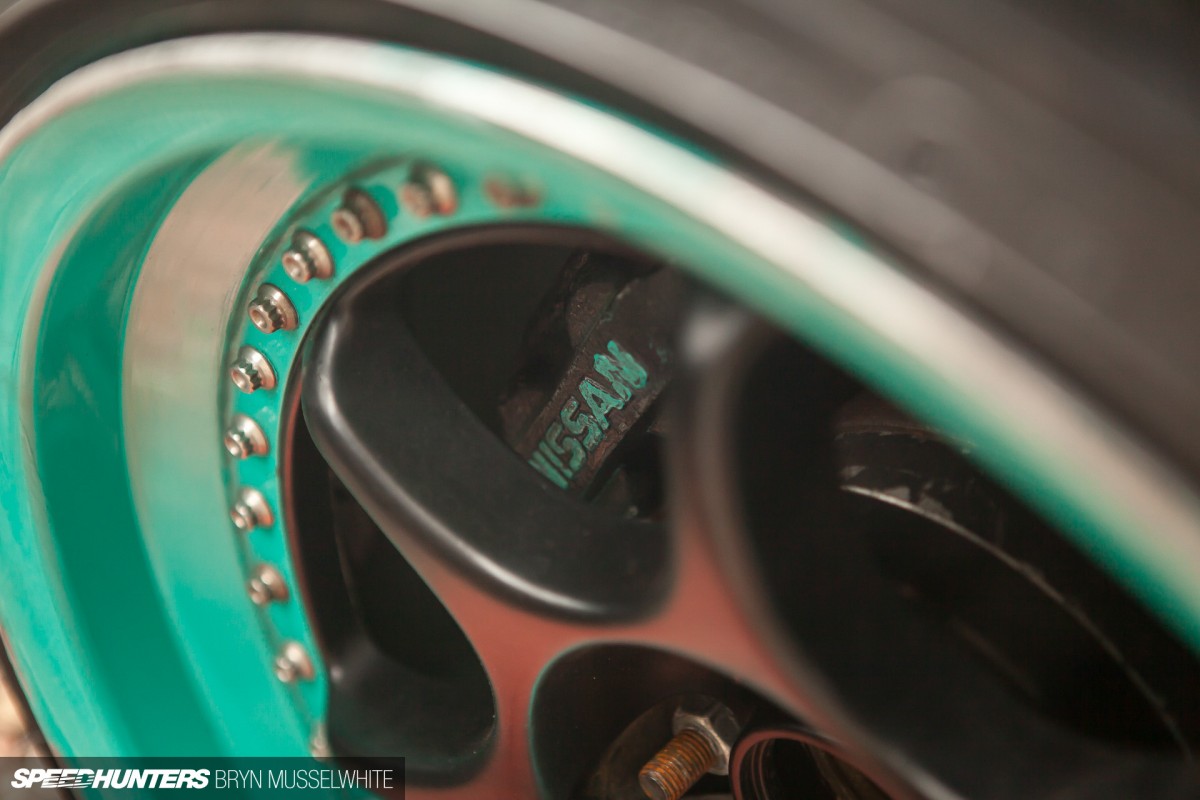 First up there are clues all over the build as to how he circumnavigated the lack of dedicated drift hardware for the Volvo platform. That's not to say he couldn't fabricate what is needed, but being a professional, Hux understands how draining – both in terms of money and time – creating those parts from scratch would be.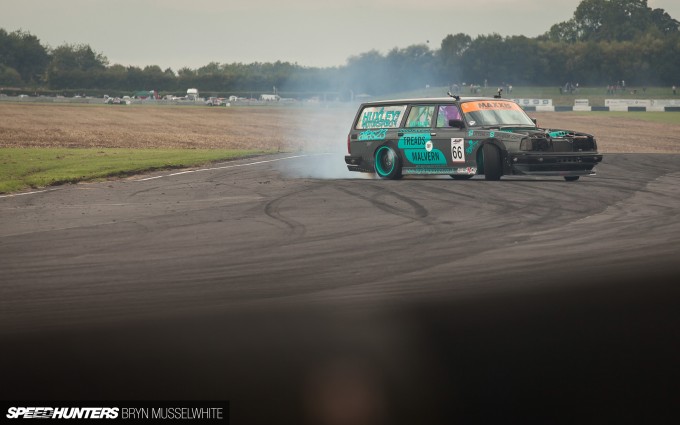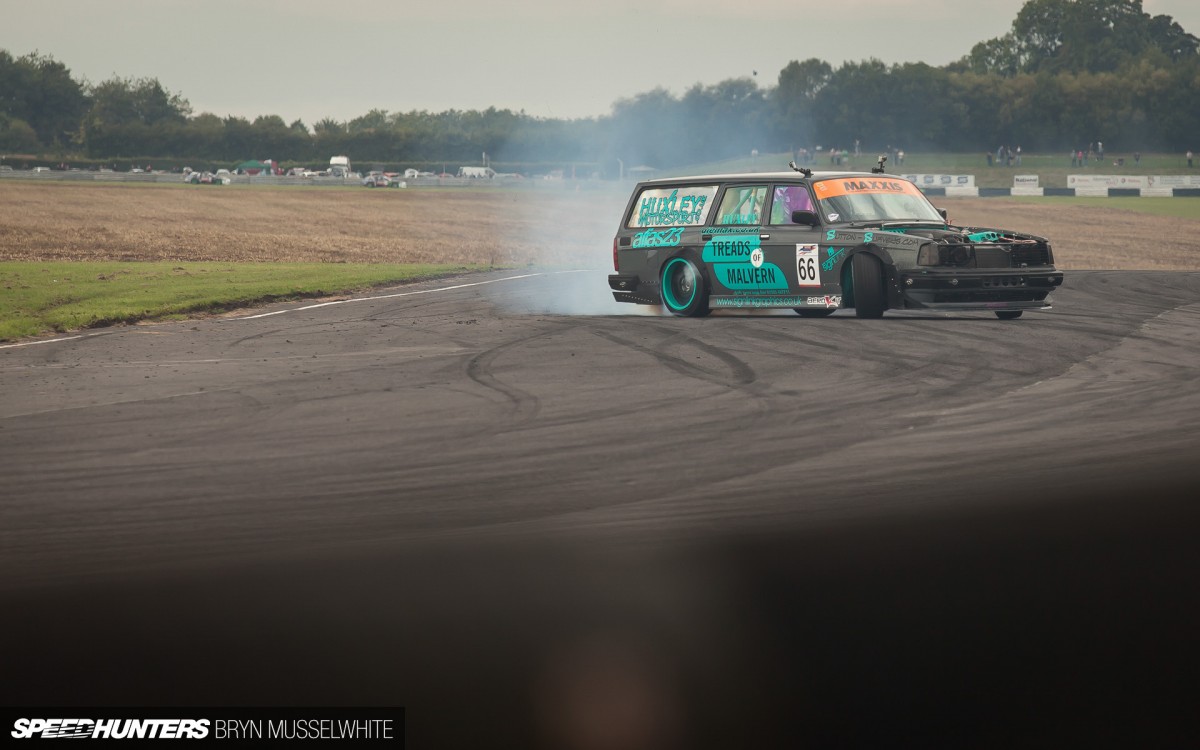 Oh yeah, I didn't mention did I? This entire build from naked, stripped and discarded shell to full blown competition monster took eight weeks. Well I lie, it actually took five because three of those weeks were taken up on another job. Yup that's right, FIVE WEEKS or thirty five days in total. I can remember seeing the Facebook album updates flying in and the progress was astounding.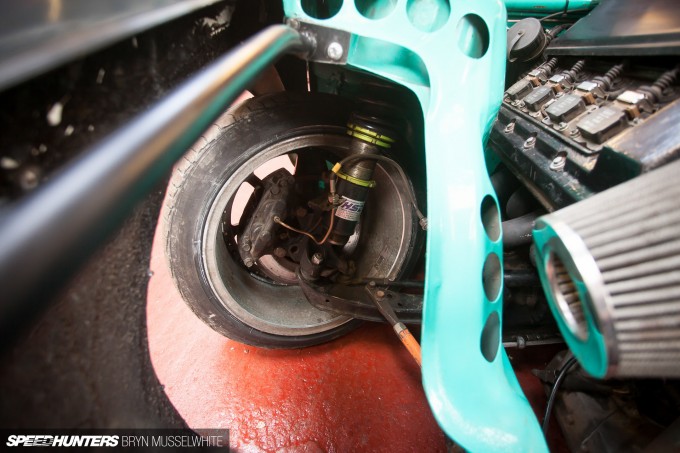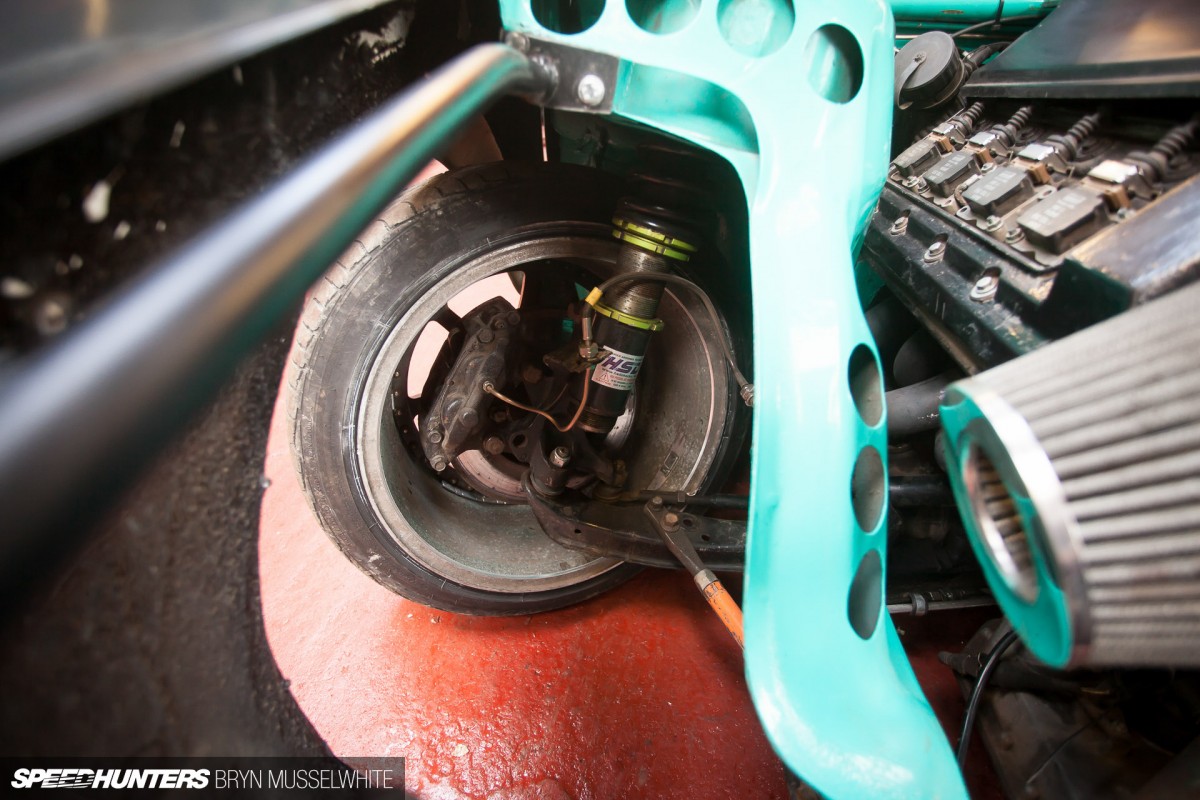 So as much as Hux has used proven components to help speed things along, that also meant junking everything Volvo and starting again. Tough choice huh? You can't deny that was a worthwhile route when you see the S14 Nissan front crossmember and suspension set-up in there now.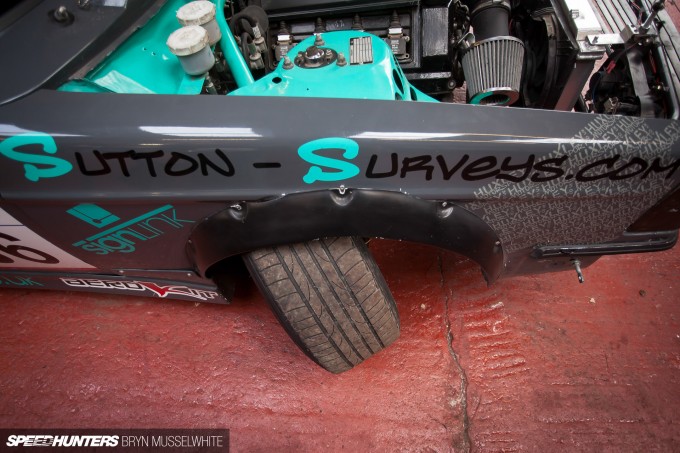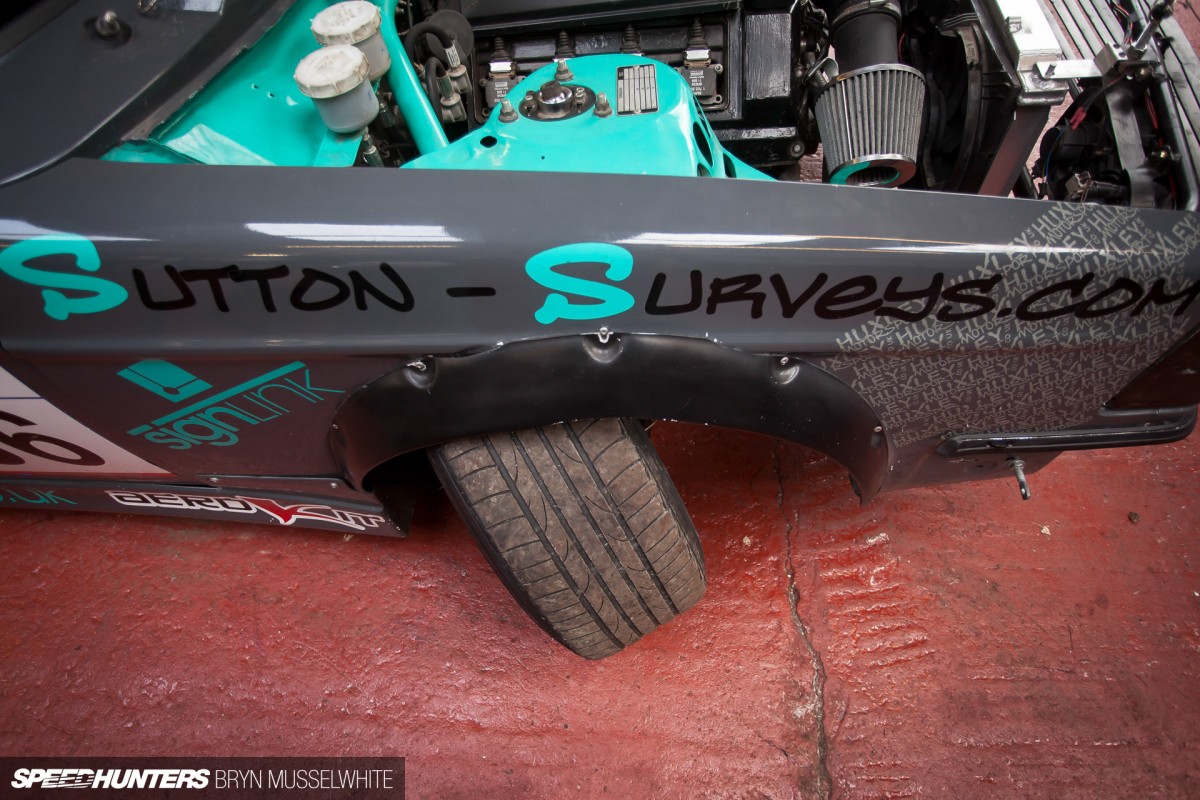 Hi, I'd like 64 degrees of lock please with off-the-shelf aftermarket components from people like Driftworks please? Okay!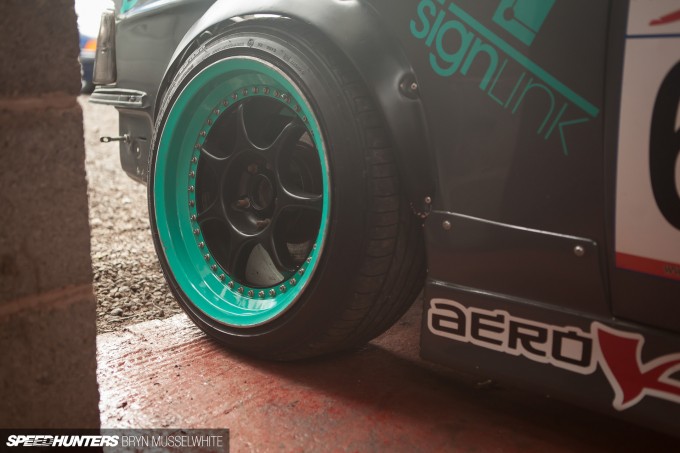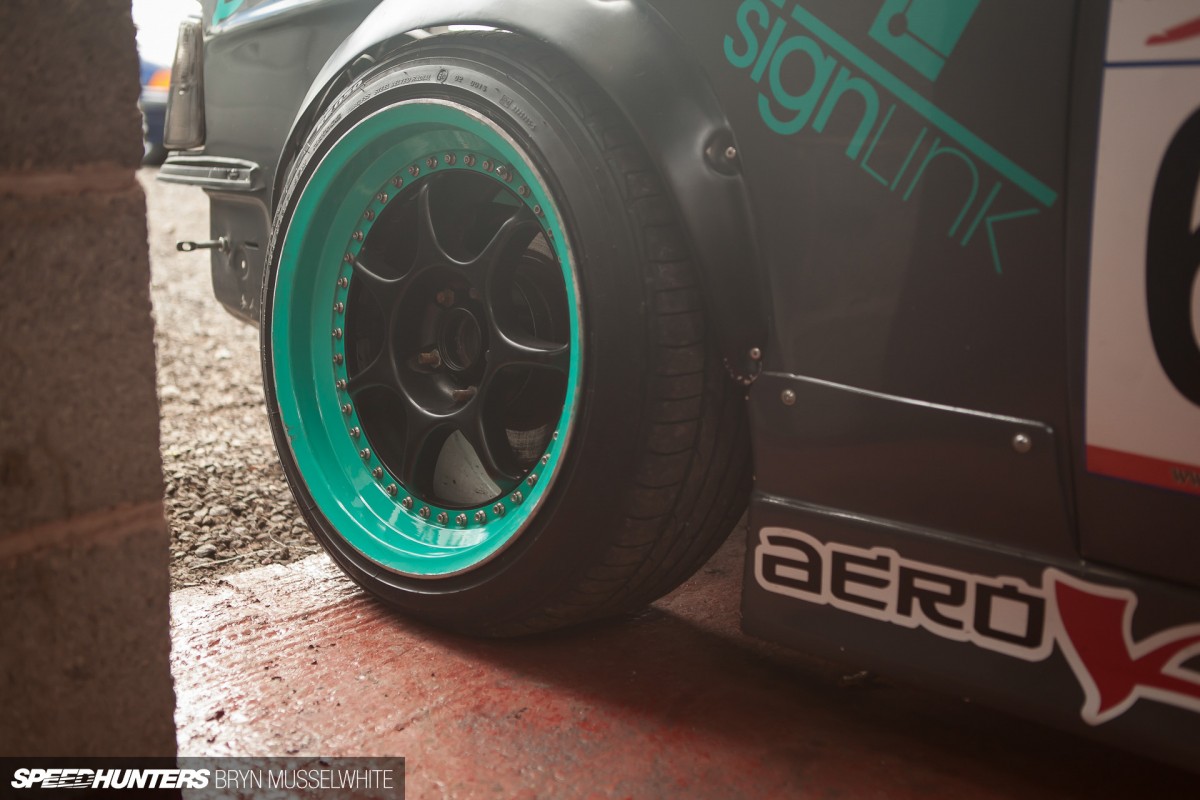 With the 5×114.3 Nissan bolt pattern comes a dizzying array of wheel choices, hence the 17x9in Enkeis Hux went for. The Japanese wheel adding a different flavour to the Scandinavian shape, although that's been altered so drastically you almost see every element separately now before identifying them as an overall package.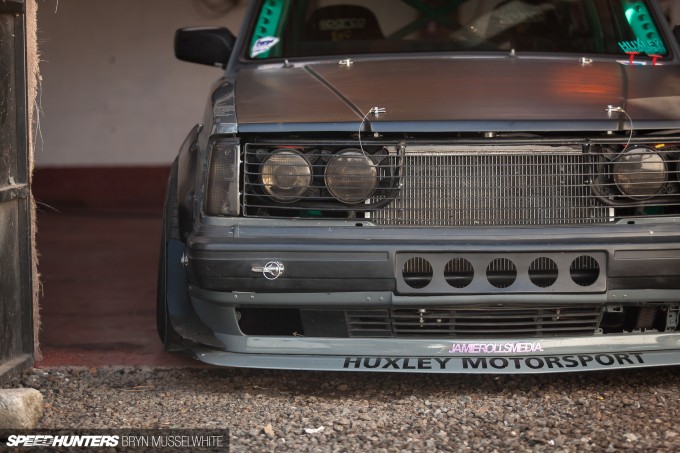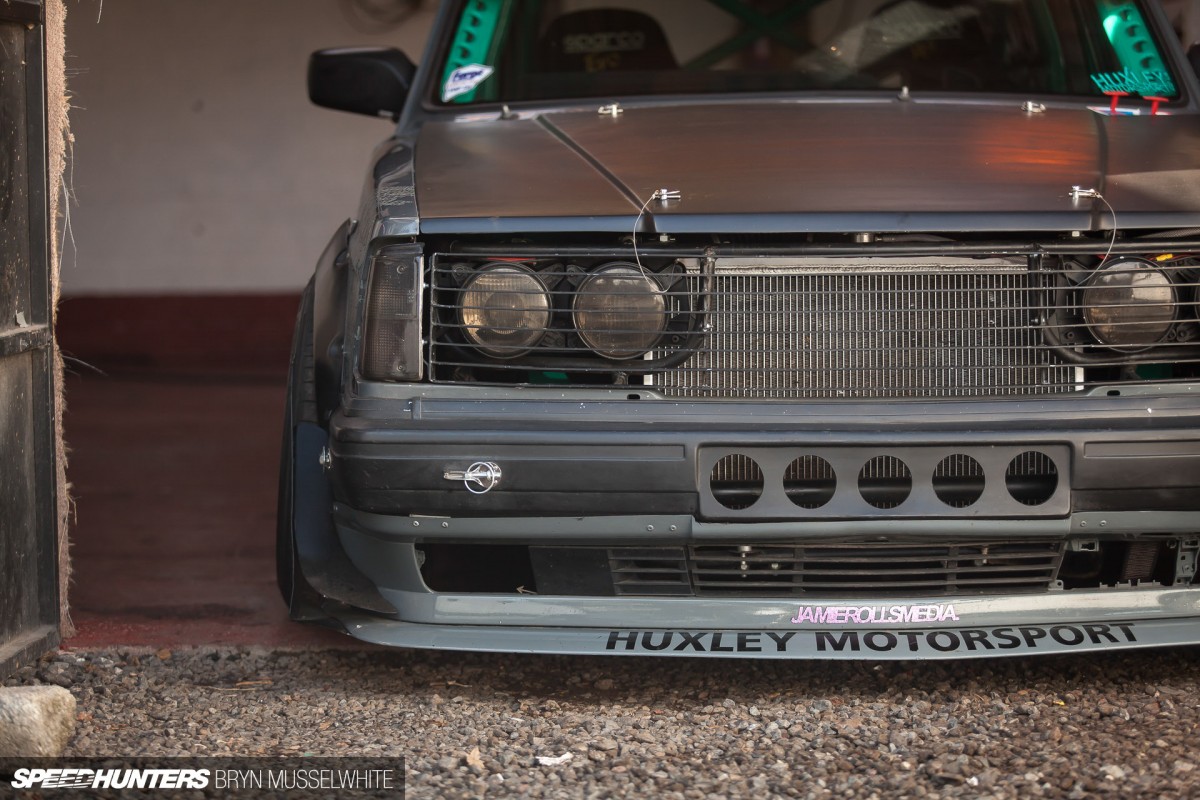 BMW was another favoured brand for Hux; he runs an E36 missile car and has built or helped build a lot of Bavarian-based metal. So he knew that using an E34 front bumper modified to fit the Volvo upper would be an easily replaceable part. The Dodge Charger inspired front grille also has a set of E34 lamps sat behind it, again cheap and easily sourced should needs be.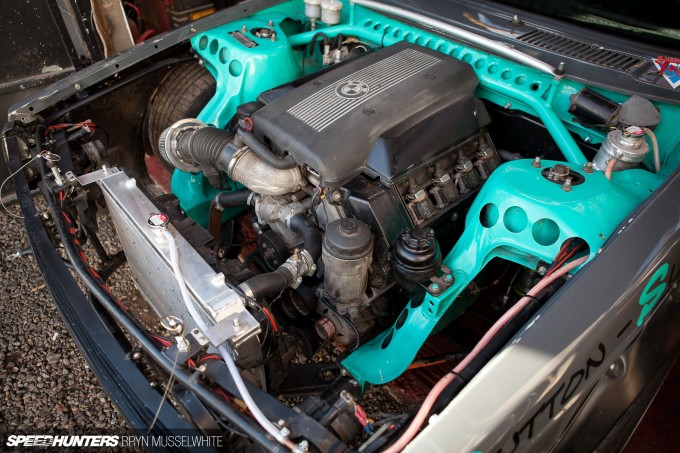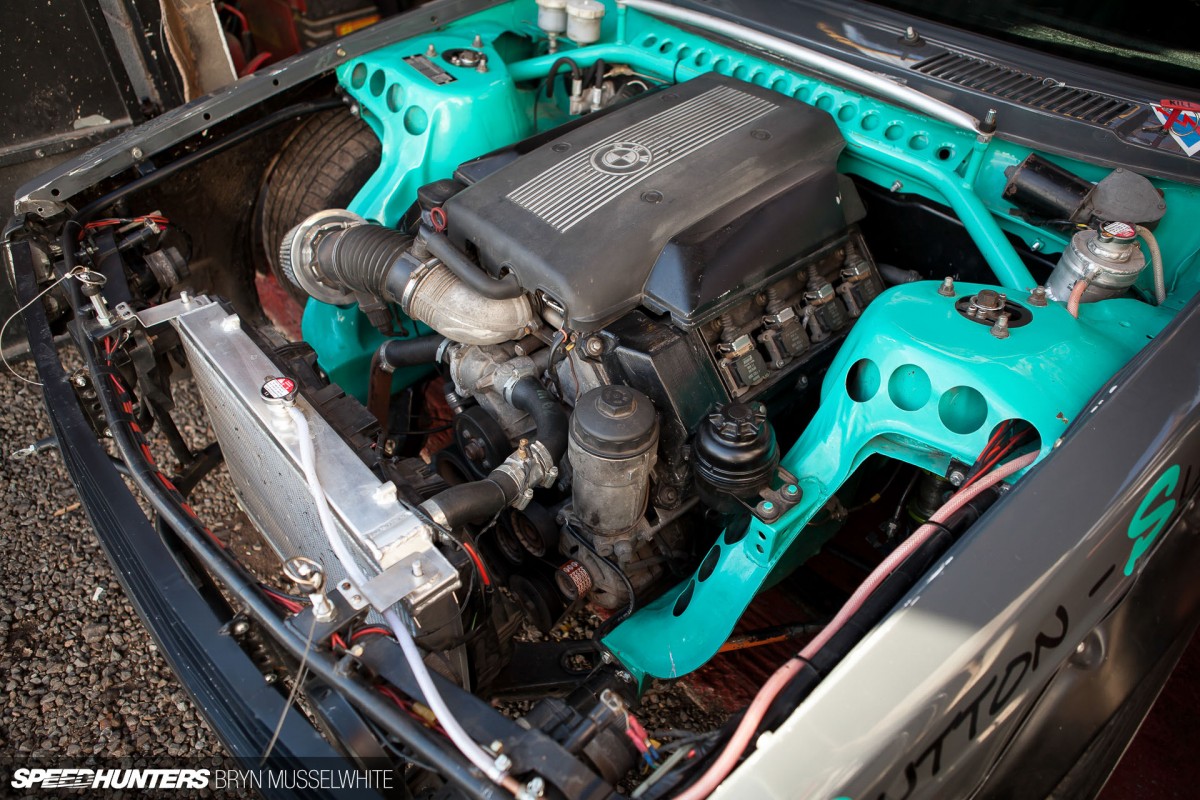 Another BMW component which can be replaced easily is the 4L V8. Standard aside from an intake and some custom-made Huxley manifolds, it makes a glorious noise and doesn't cost the kind of money an SR, RB or Volvo engine would to generate power. Bolt a turbo on and the whole lot becomes even more potent. I think you'll agree there's plenty of room in there.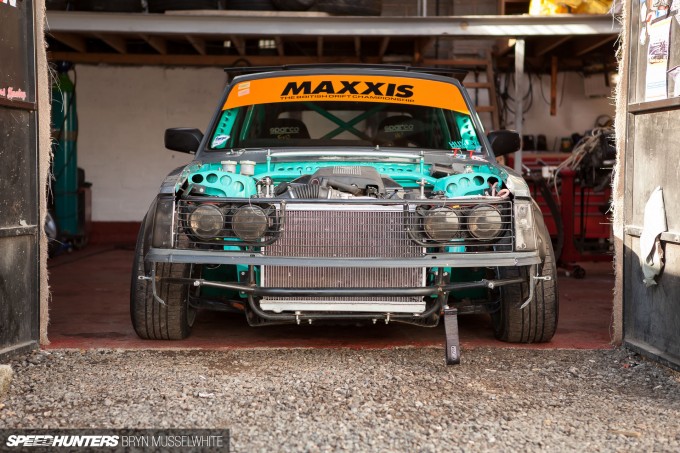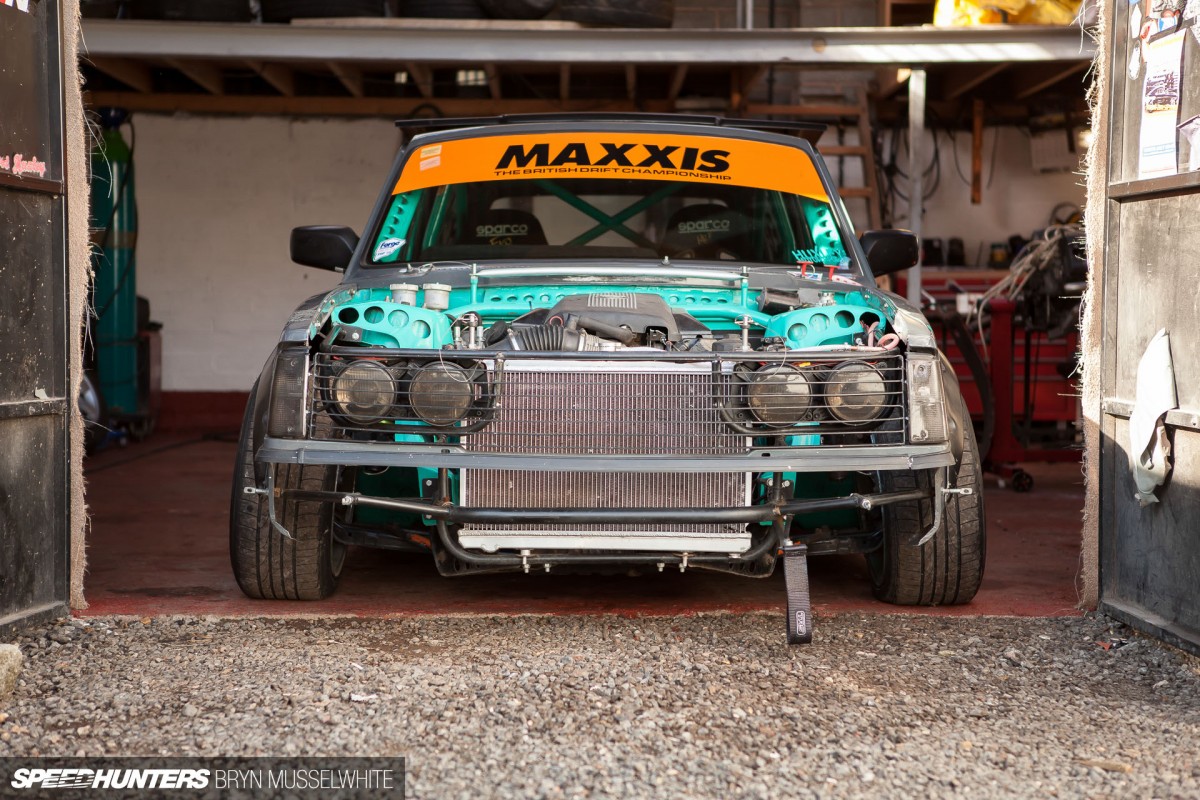 Because again, having space to work on the now drastically lightened shell is as important as what goes into it. The front end has had everything forward of the front struts removed and replaced with a tube structure. This means two things: one that everything is easily accessible and has its own dedicated mounts and two that Hux can replicate it in the workshop should he have to.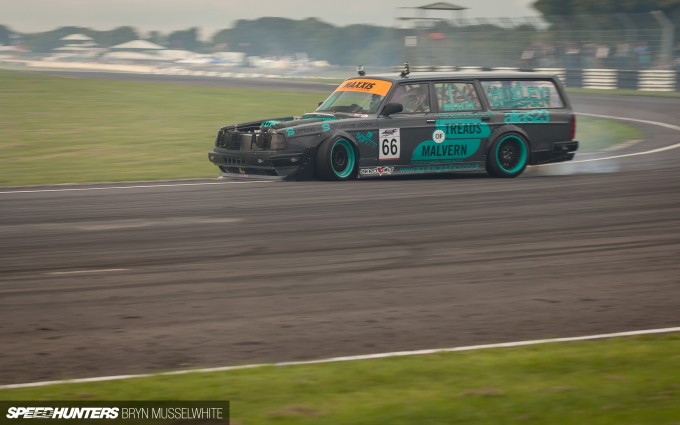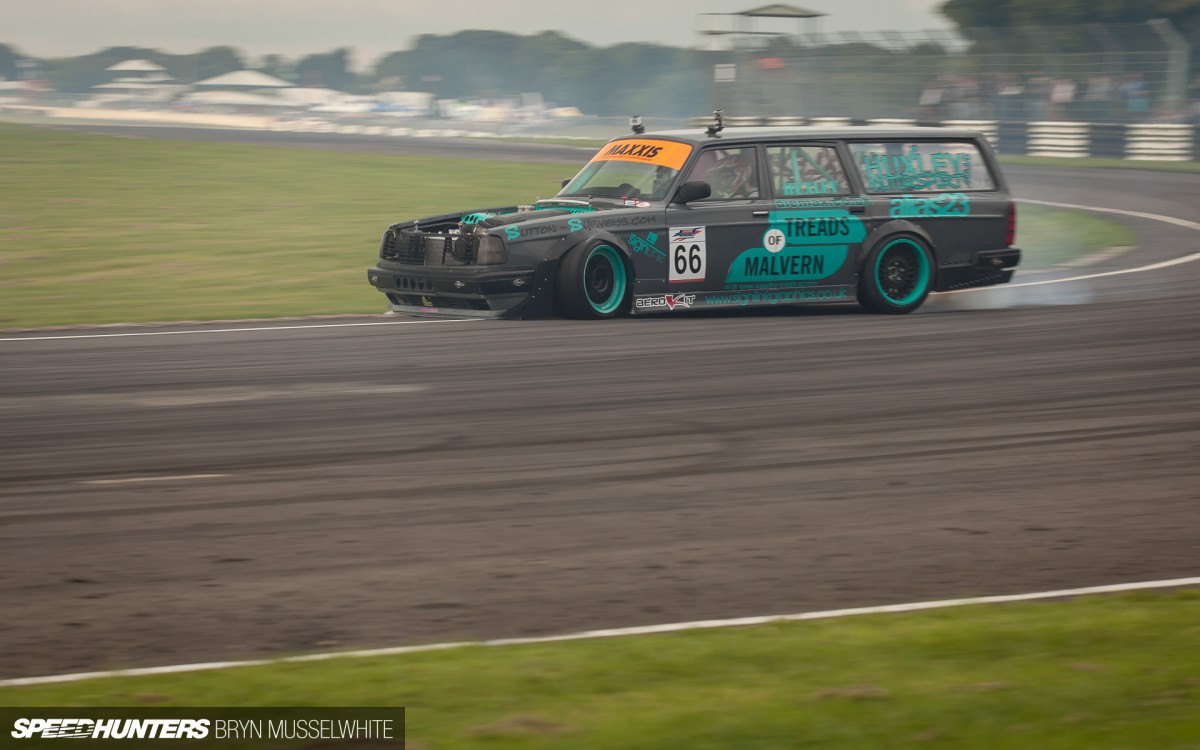 As well as working fast and hard, Hux is known for making his and customer cars low, really low, or #huxlow as it's known around the internet. So although at first you might not think it, those front arches are over the top of the swage line, which on a stock car is a good couple of inches above the arch itself. When I showed Hux this shot of the Volvo at the Forge Action day in September he smiled and said his work was done. Front tyres catching the arch?  That's low.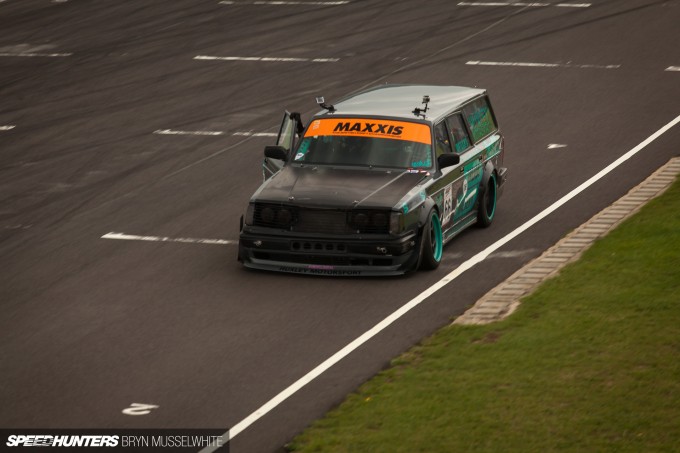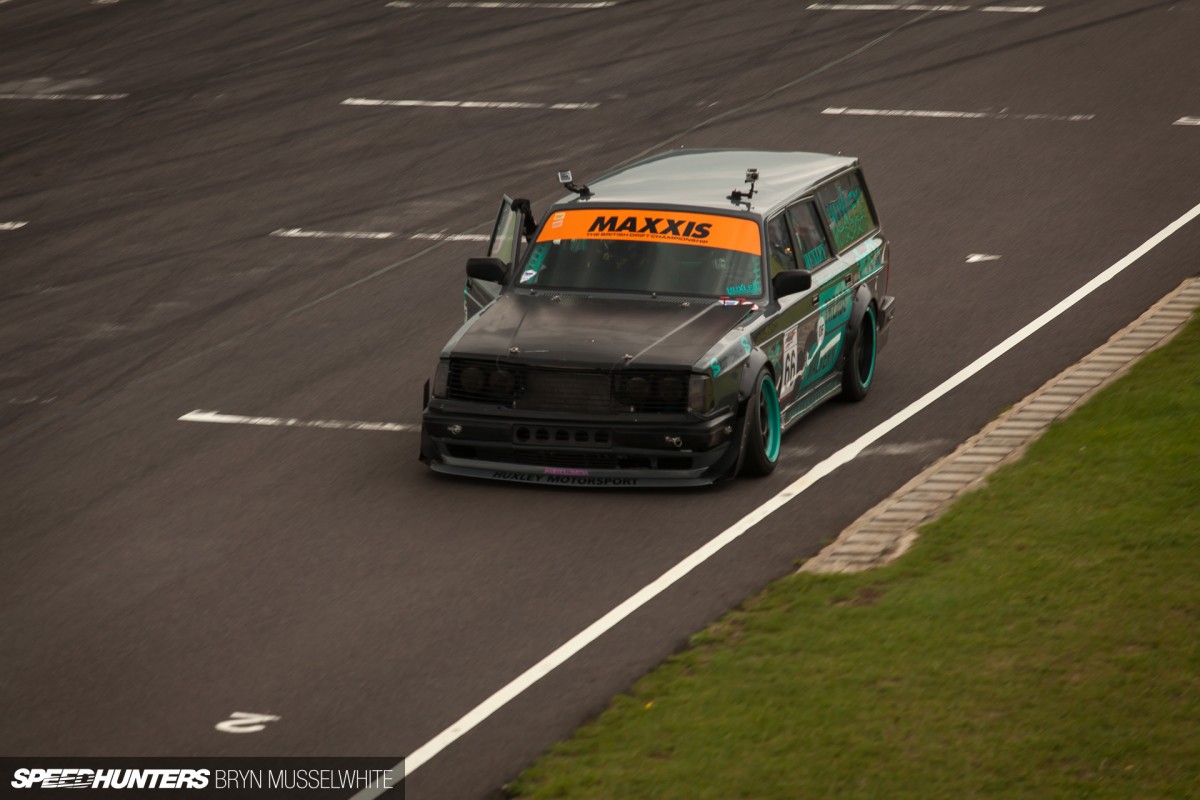 The other thing that's deceptive about the Volvo is just how big it is. Coming from a KE70 Corolla meant Hux suddenly had room to breathe (he is quite tall). It also created another problem he hadn't expected though: when transitioning or initiating for a drift, he has to be so much more aggressive than before…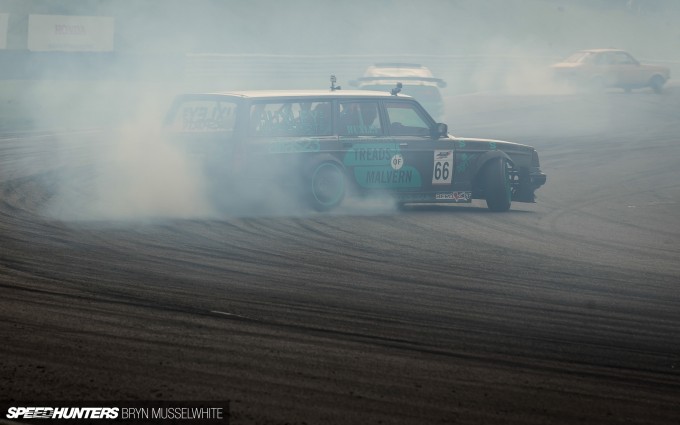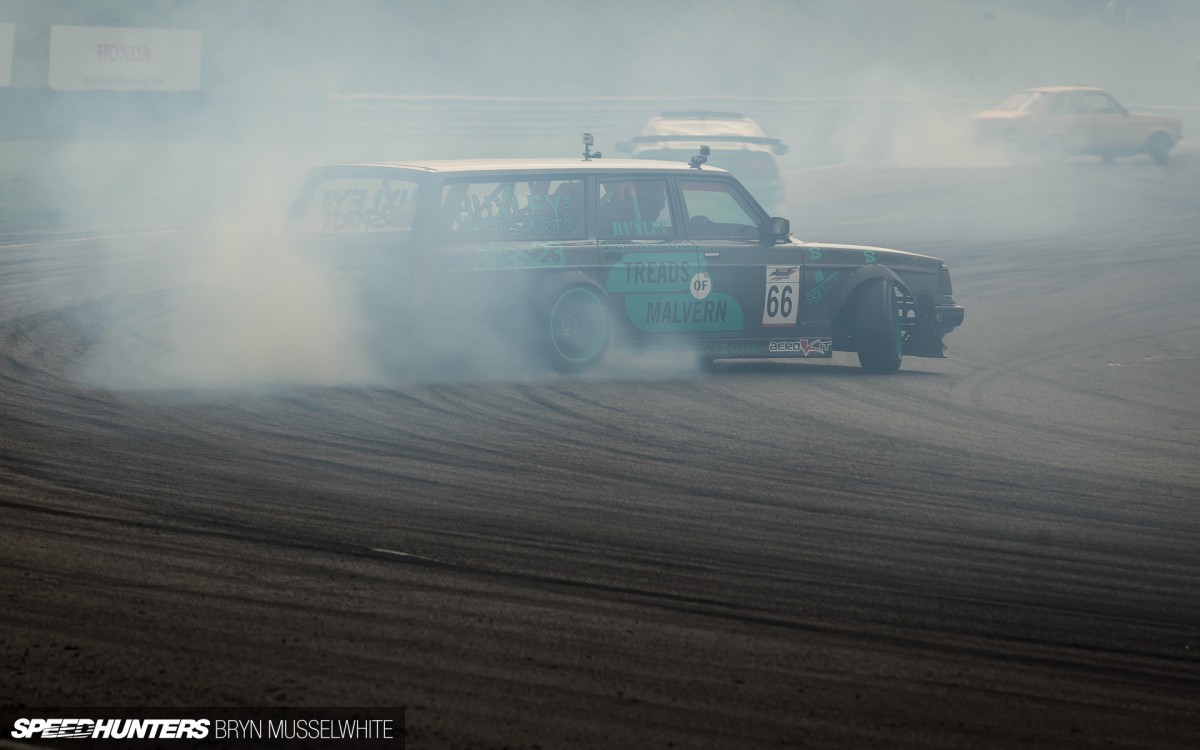 Because the big old Volvo turns into a massive air brake when it gets sideways. It's like trying to slide a wall. Most people would see it as a disadvantage and now Hux has mentioned it, you suddenly realise how few wagons there are in international drifting. Again he shrugs – just another reason to push harder then isn't it?
Harder, faster, safer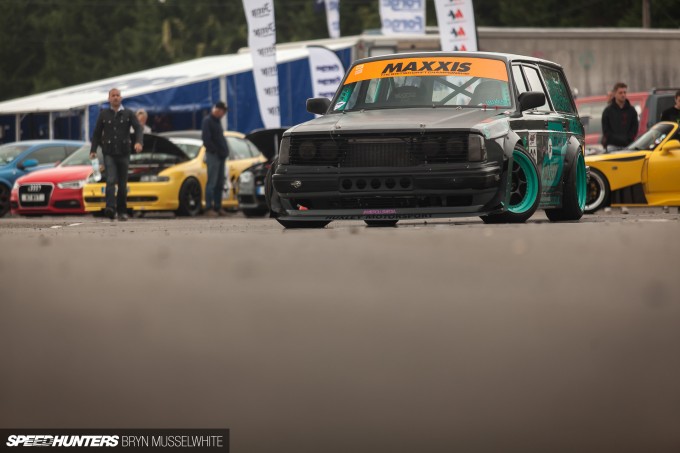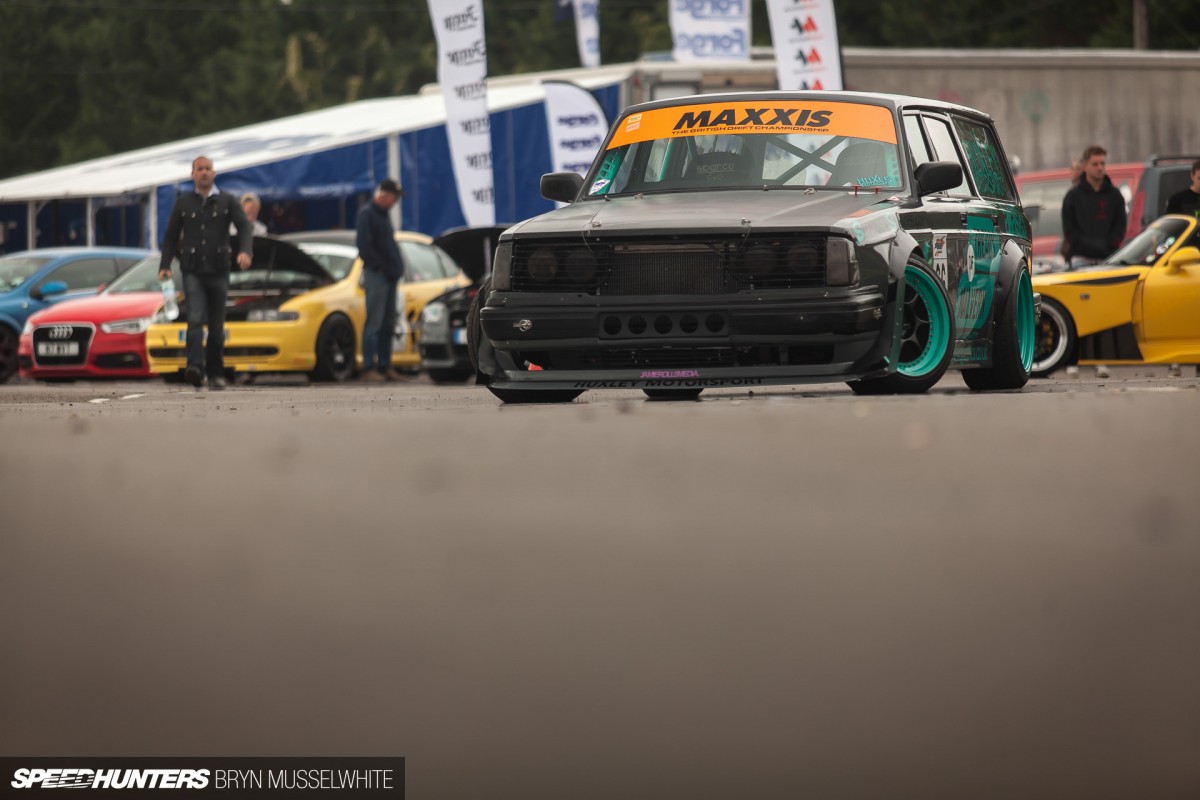 As an overall package the Volvo looks great from the outside, the aero work really adding to the aggression. I love the way it sits, poised and it really does belie the overall size when you stand next to it.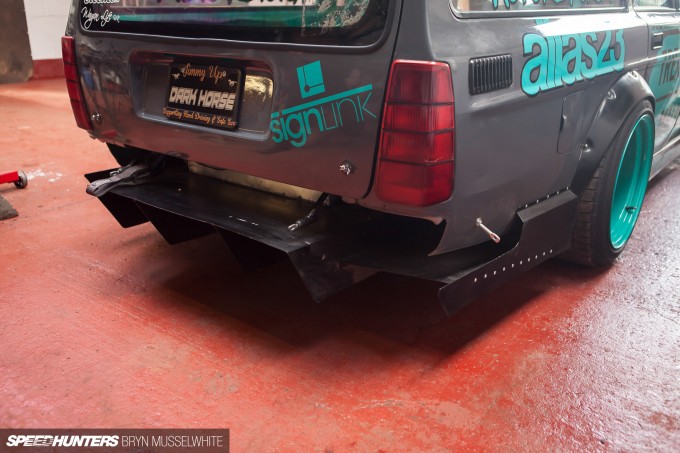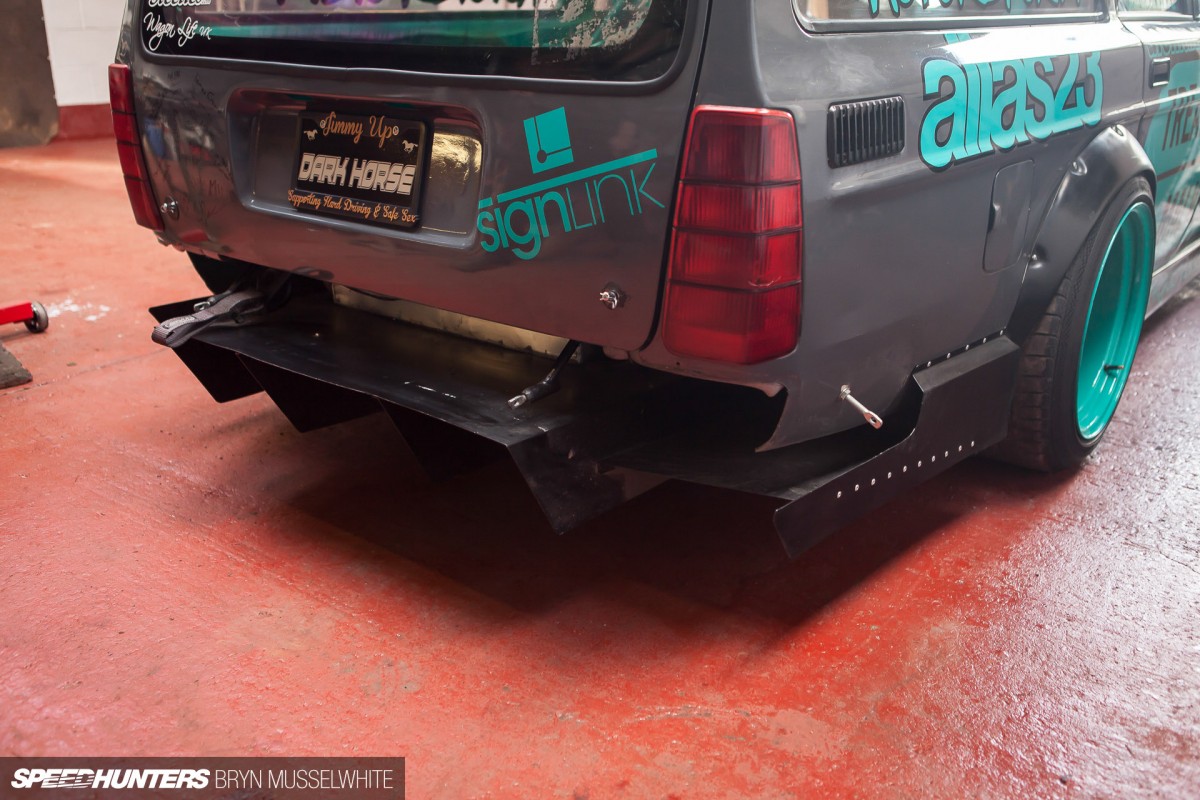 With the rear bumper cover removed, you can see the alloy fabricated diffuser that tries to funnel the tyre-generated smoke. It's something I've thought about on my own build and I'm still undecided. it works so well here because, well, it gets used for what it's intended. As with a lot of things on this build, I jokingly said to Hux that I'd have the coolest Volvo wagon in the UK until his appeared… Gah, I wasn't wrong.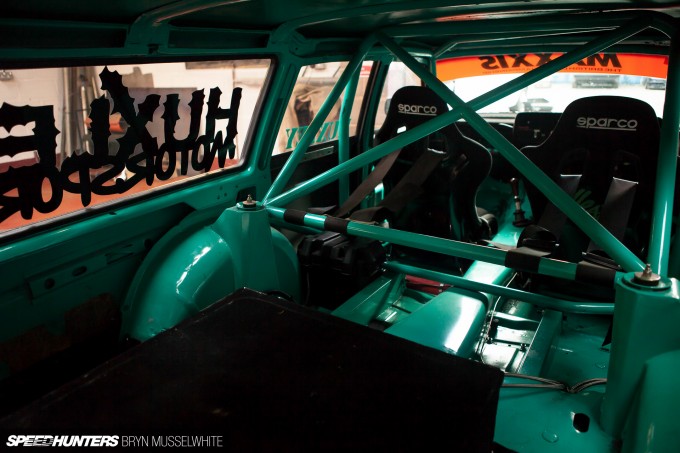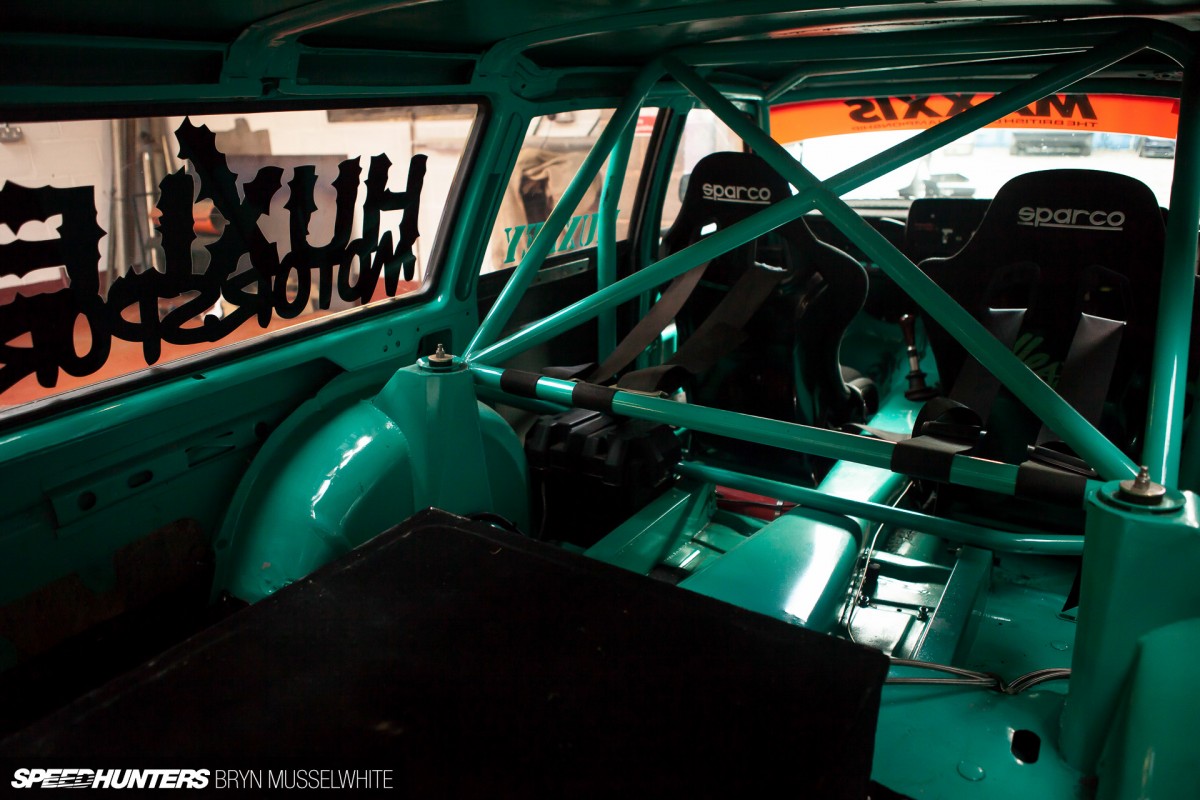 For me it's on the inside that it's the most impressive though. Once again, this thing was built in five weeks. This was a slightly rusty, stripped out interior full of scrap Volvo parts when the transformation started. Now look at it!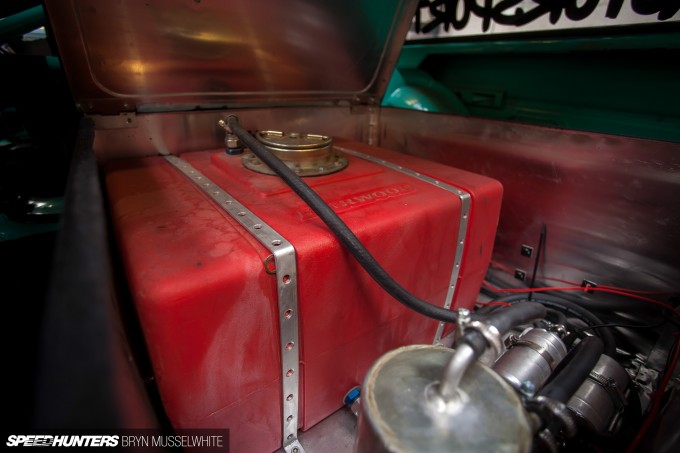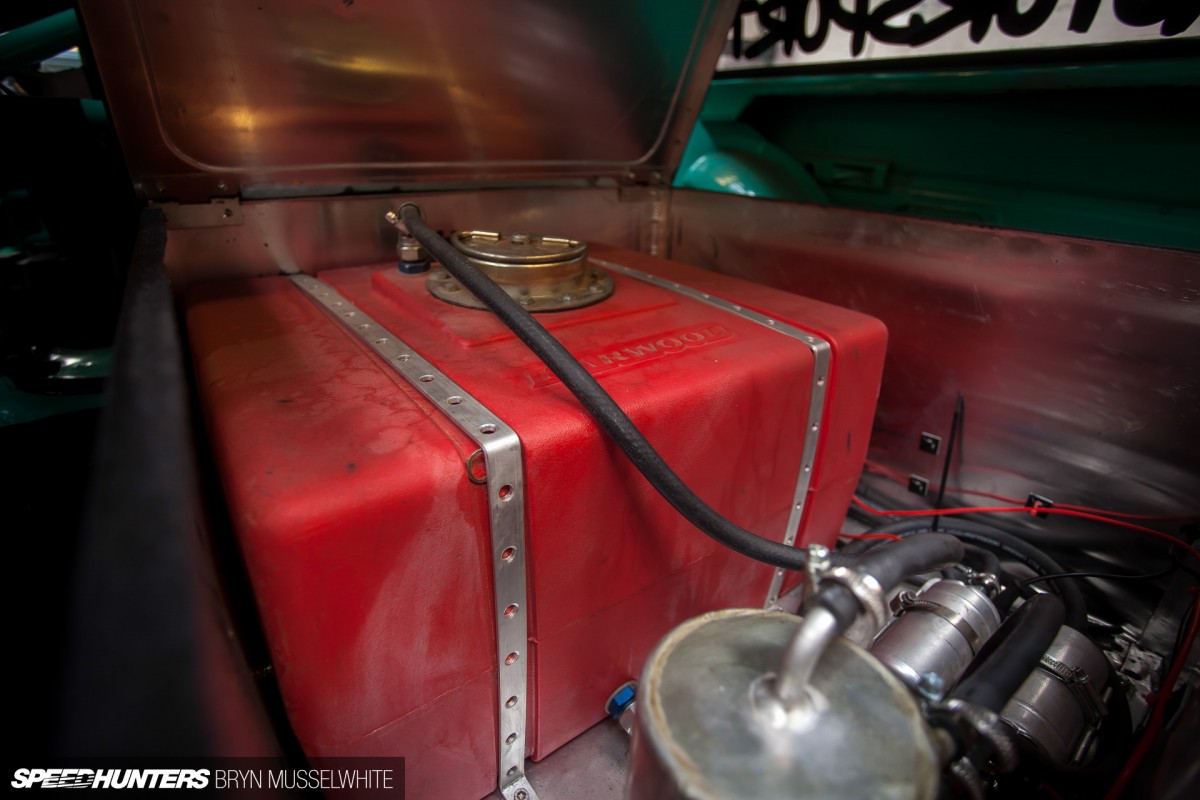 That flocked box in the back houses the fuel system, because of course this isn't a coupe or saloon where you can divide the boot area easily. So everything has been secured away for safety.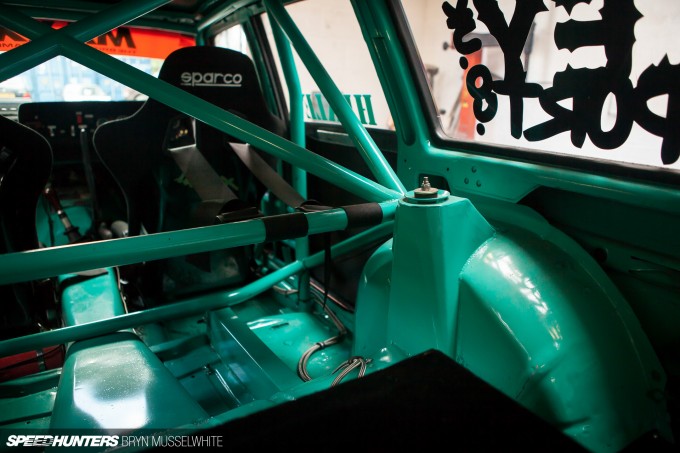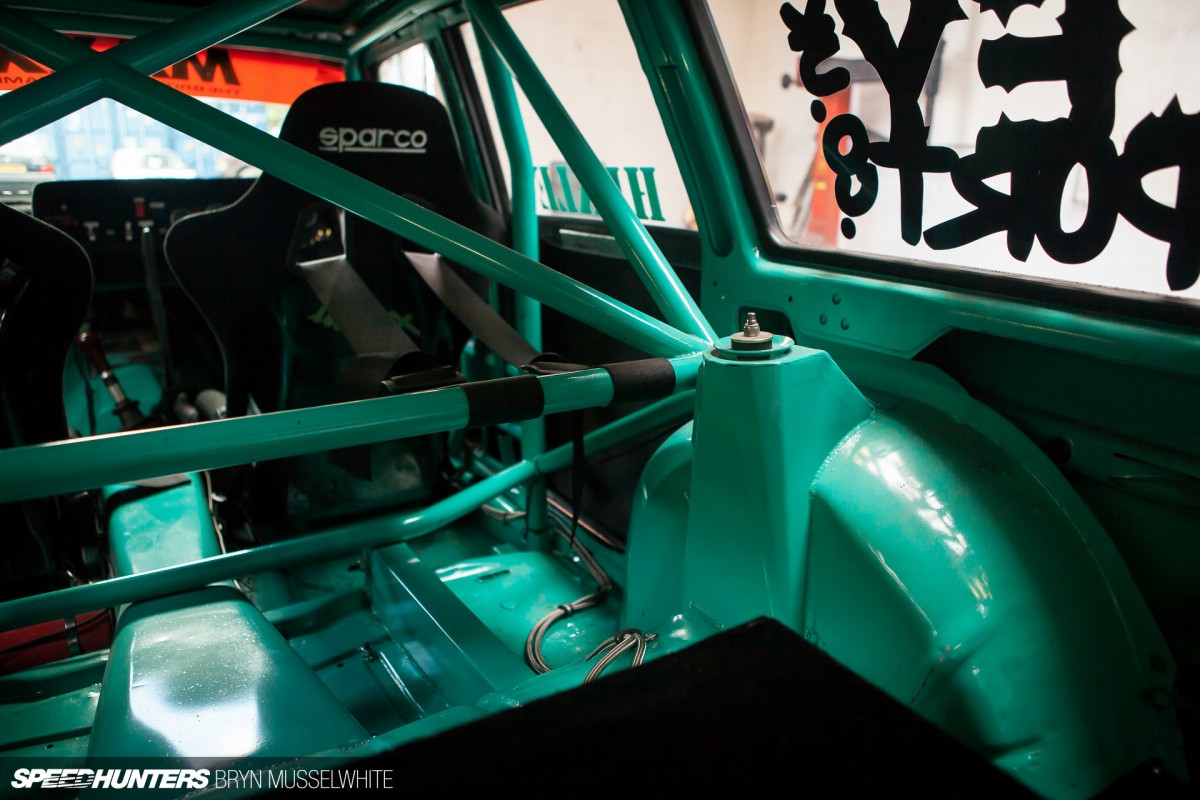 Here you can see the rear turrets that have been added. All tied in the cage, which has been constructed from 38mm tube with a 45mm main hoop.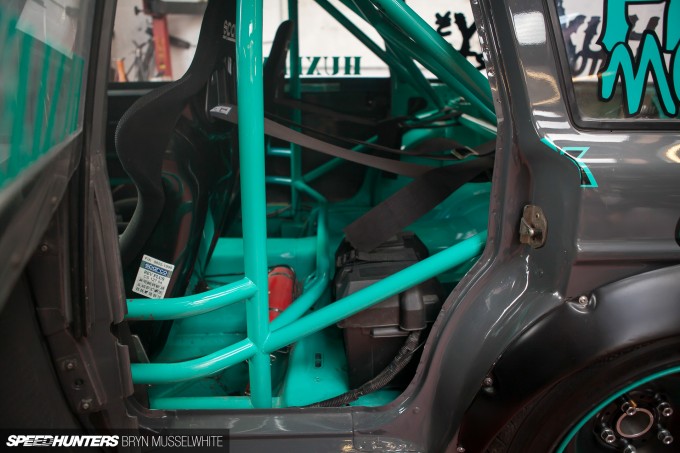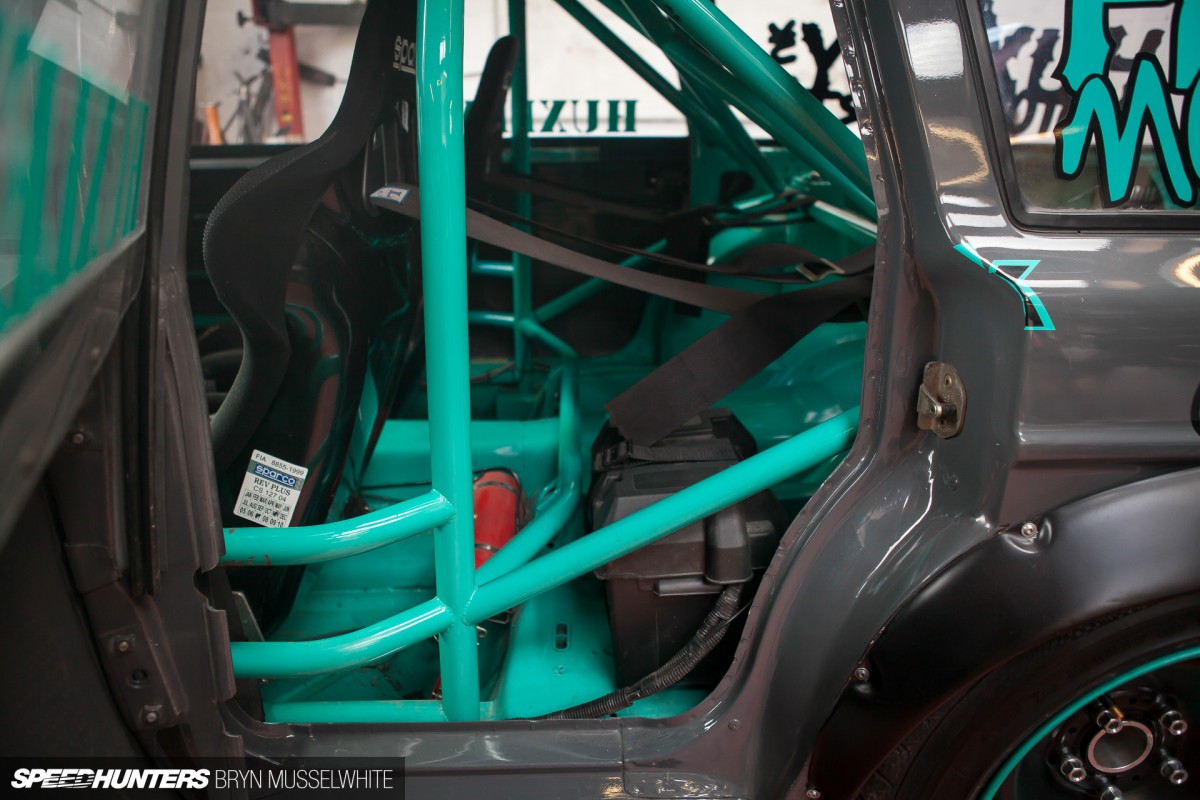 It really is a lovely piece of work. Look at the way he's tied the lower brace bar into the main hoop and the new transmission tunnel too. Those two bars bottom left look interesting too.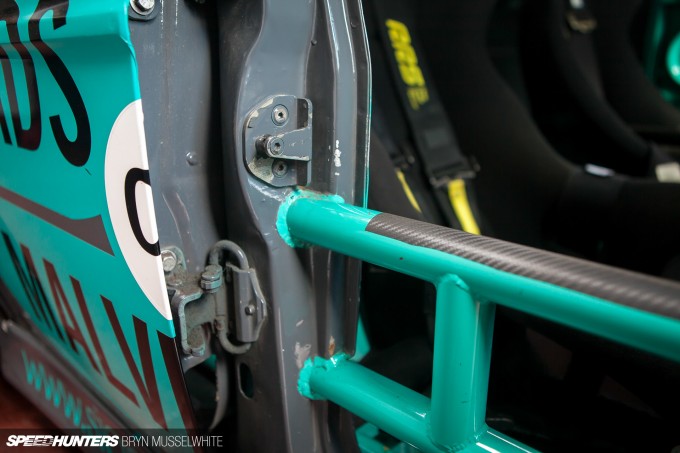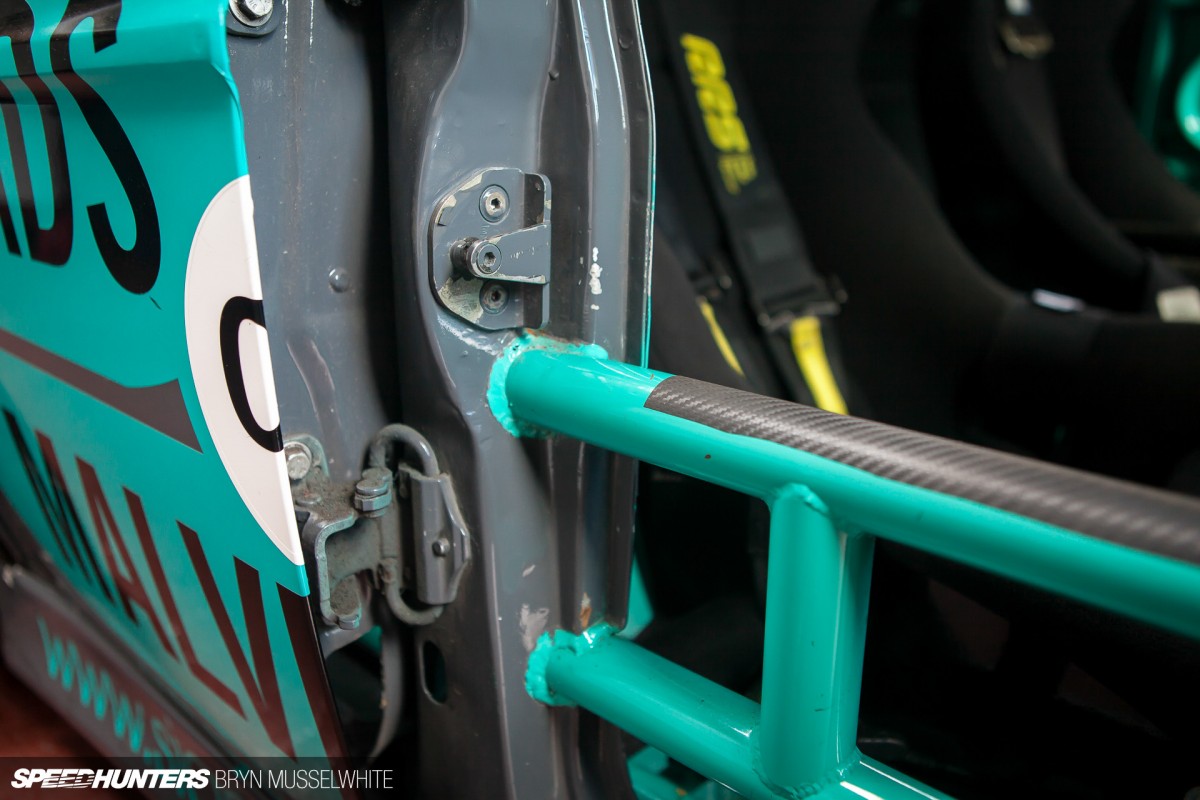 After being cramped into the little Corolla, Hux wanted more elbow room in the Volvo, which is exactly what he's got now thanks to the NASCAR style twin door bars that run through the B pillar. Strong shell? You bet.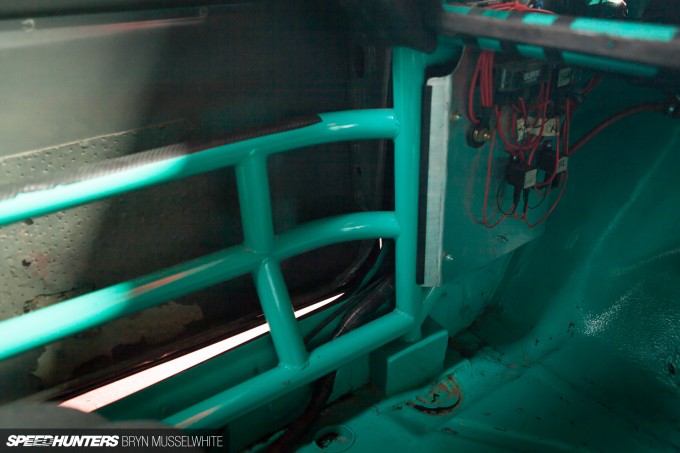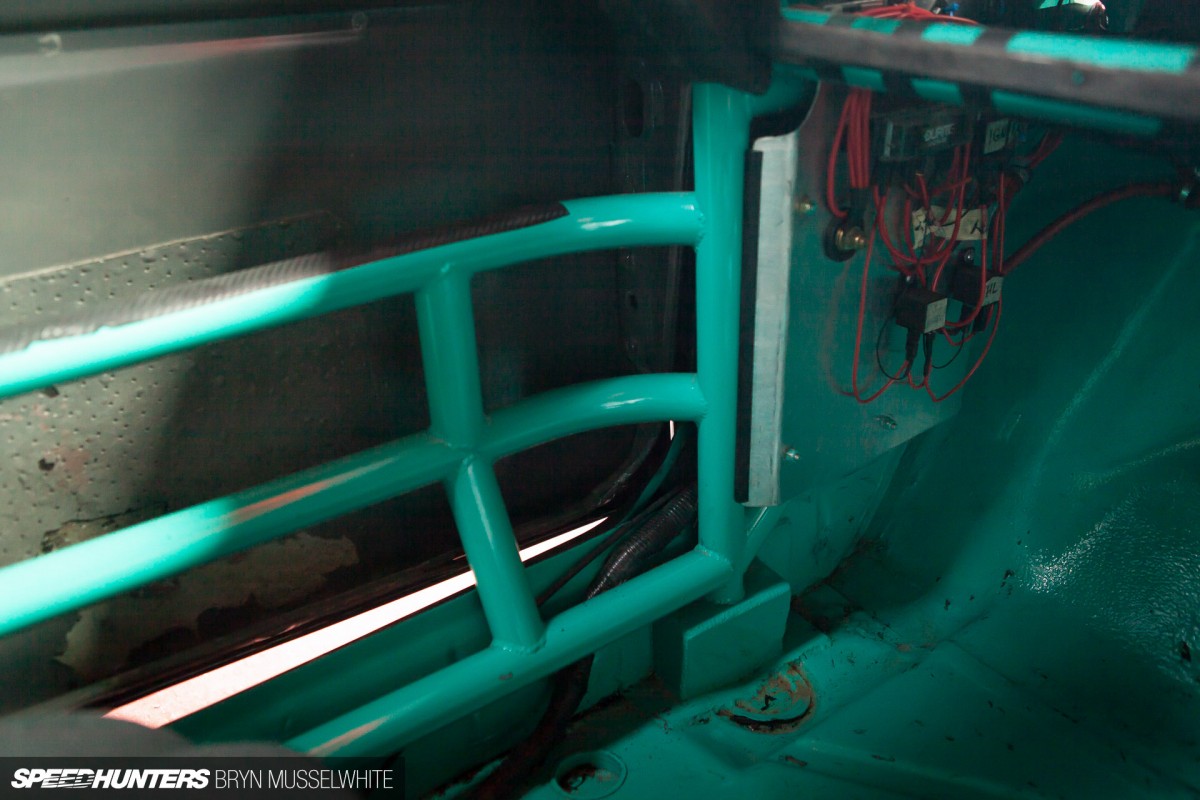 Given the proximity that I've seen the Volvo get to other cars at speeds approaching three figures, side impact protection is a massive consideration. You can see here that there are actually three bars with the lowest following the sill on the inside.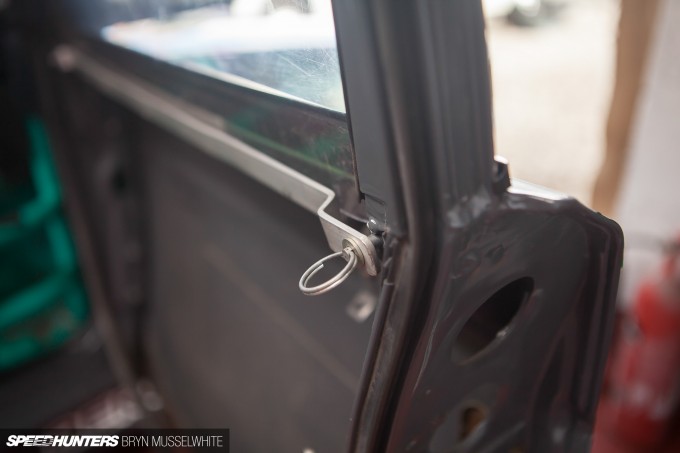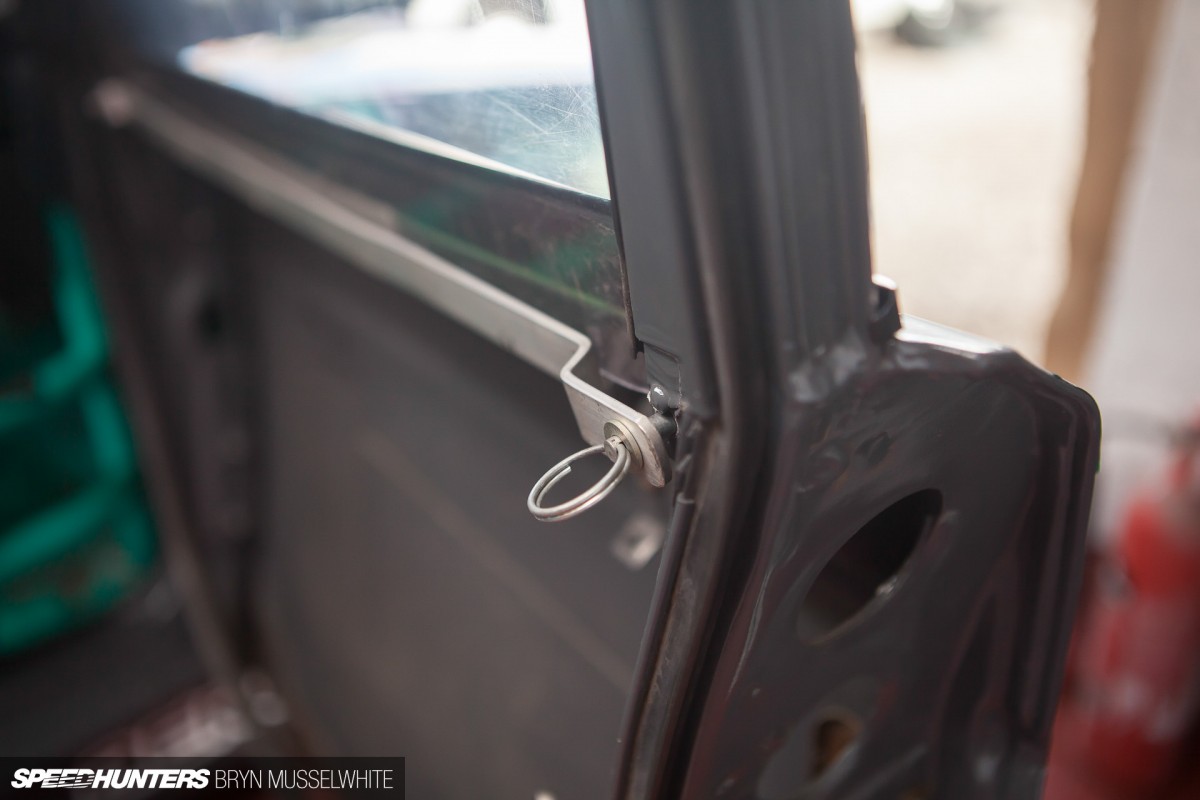 Because as you can see, there's not a lot left of the doors! This simple pin and alloy channel holds the polycarbonate window up and means removal is a quick and easy process on hot days.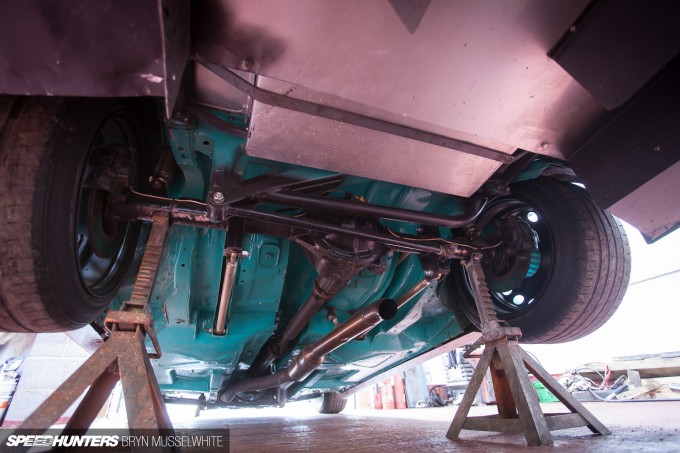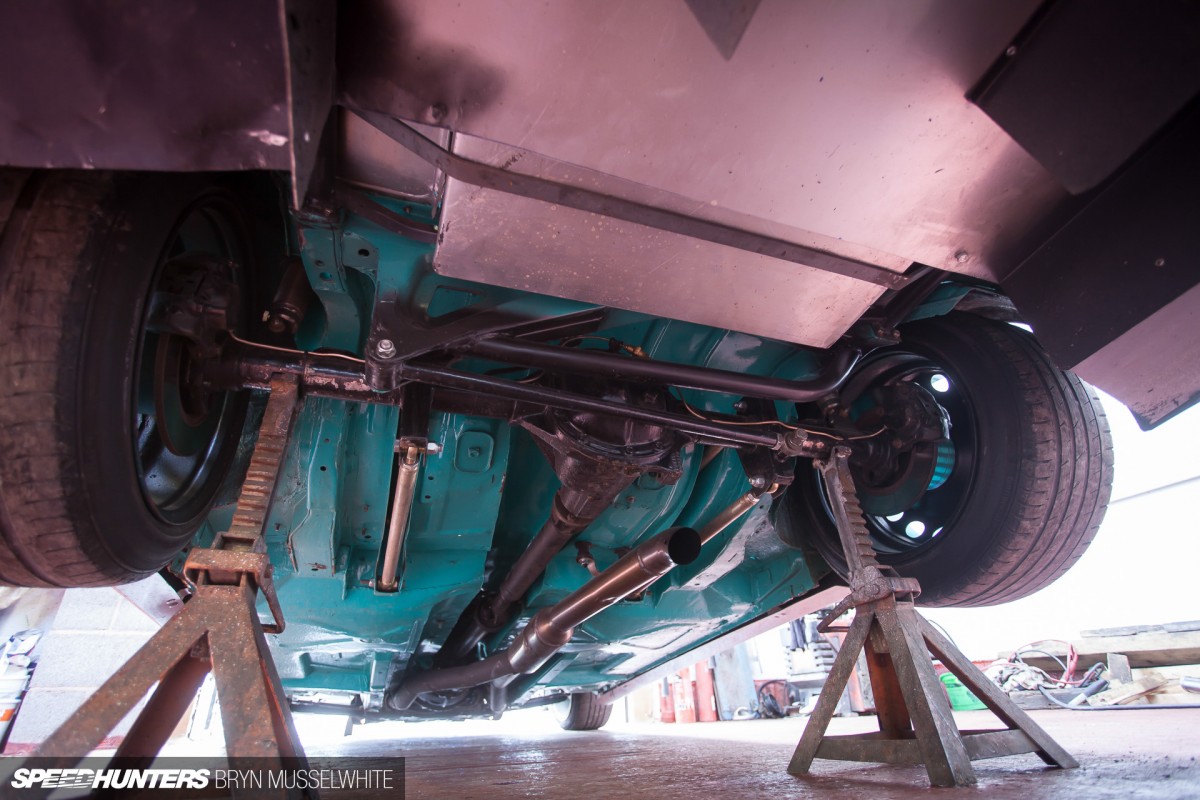 Wherever you look on the Volvo you can see love and ingenuity. So it might come as a surprise to find that after just one season of competition, Hux has sold the wagon since our feature shoot.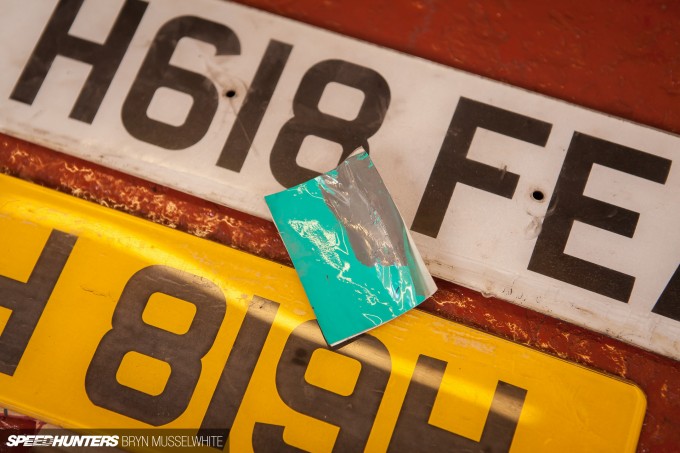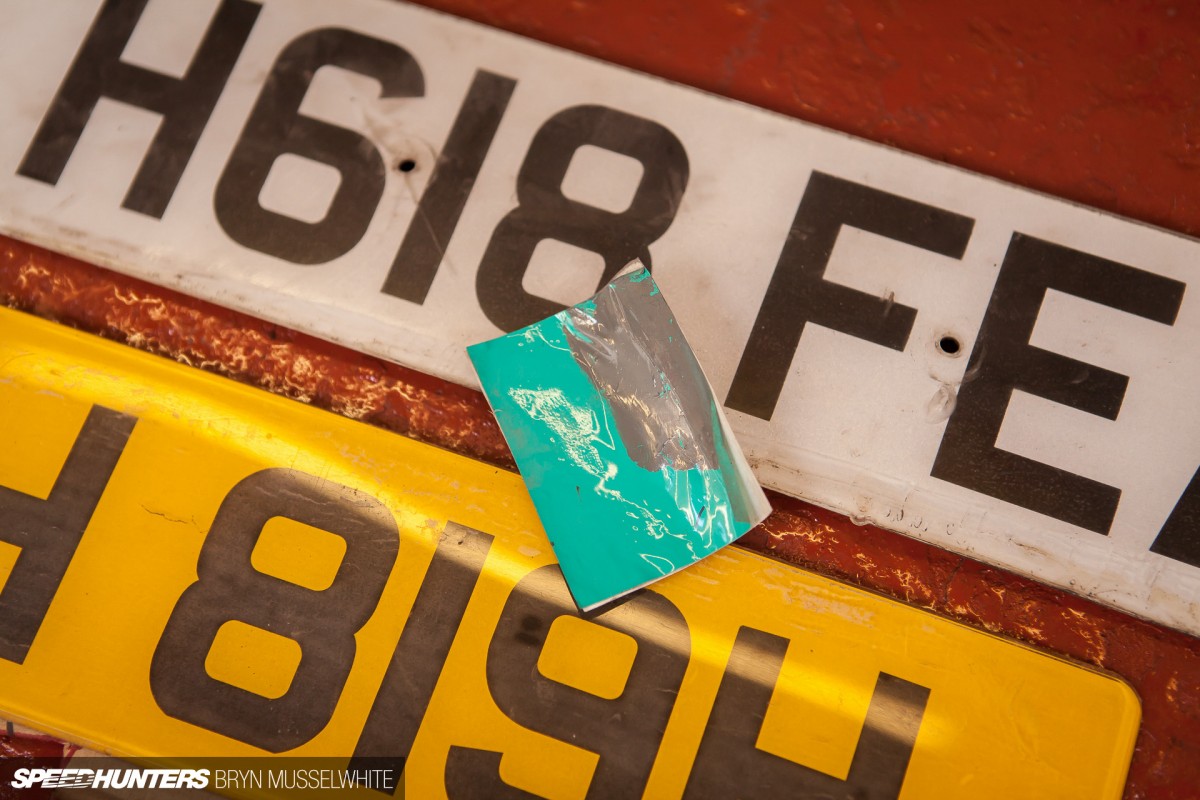 Why the hell would he do that after all that hard work? All I can tell you is that the 'dream' project came along, and as much as he's a driver, Hux is also a builder. So the Volvo was put back on the road in the guise you see it here and is now blasting around Essex in a new owner's hands.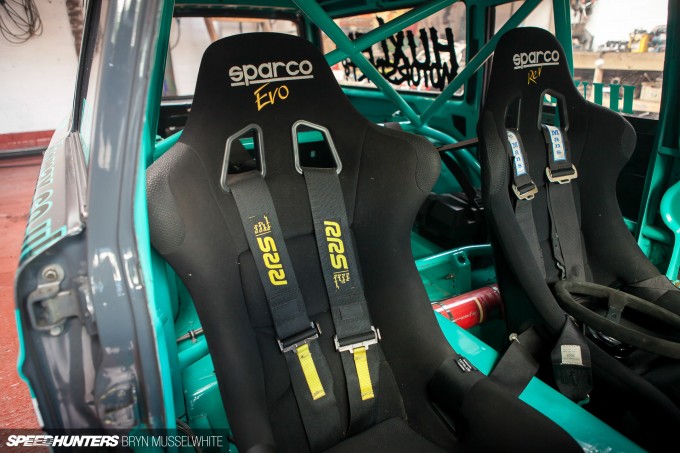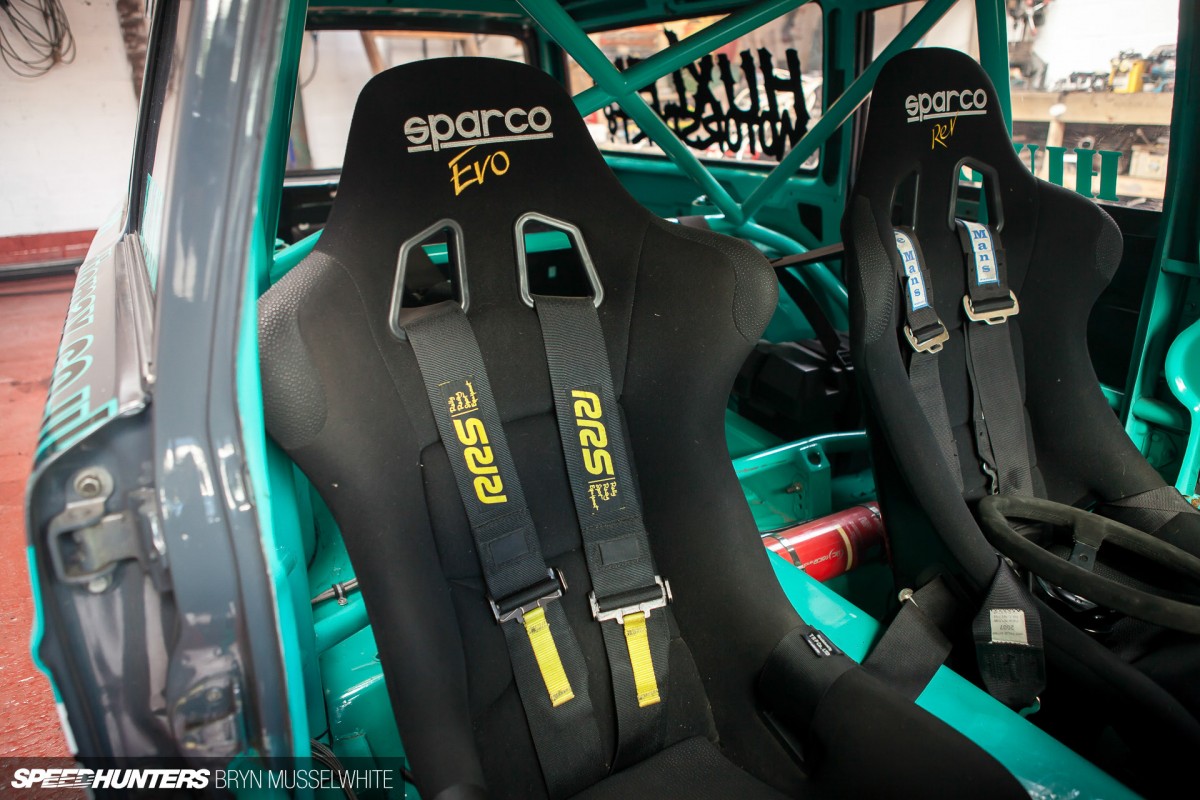 There was one last thing to take care of though: I needed a passenger ride. As a turbo-converted car I drove it to Italy and back, slept in there and did all sorts of things I probably shouldn't have told Hux about.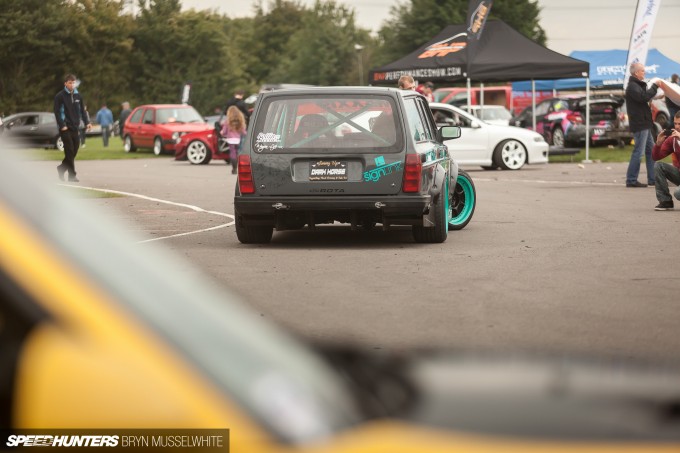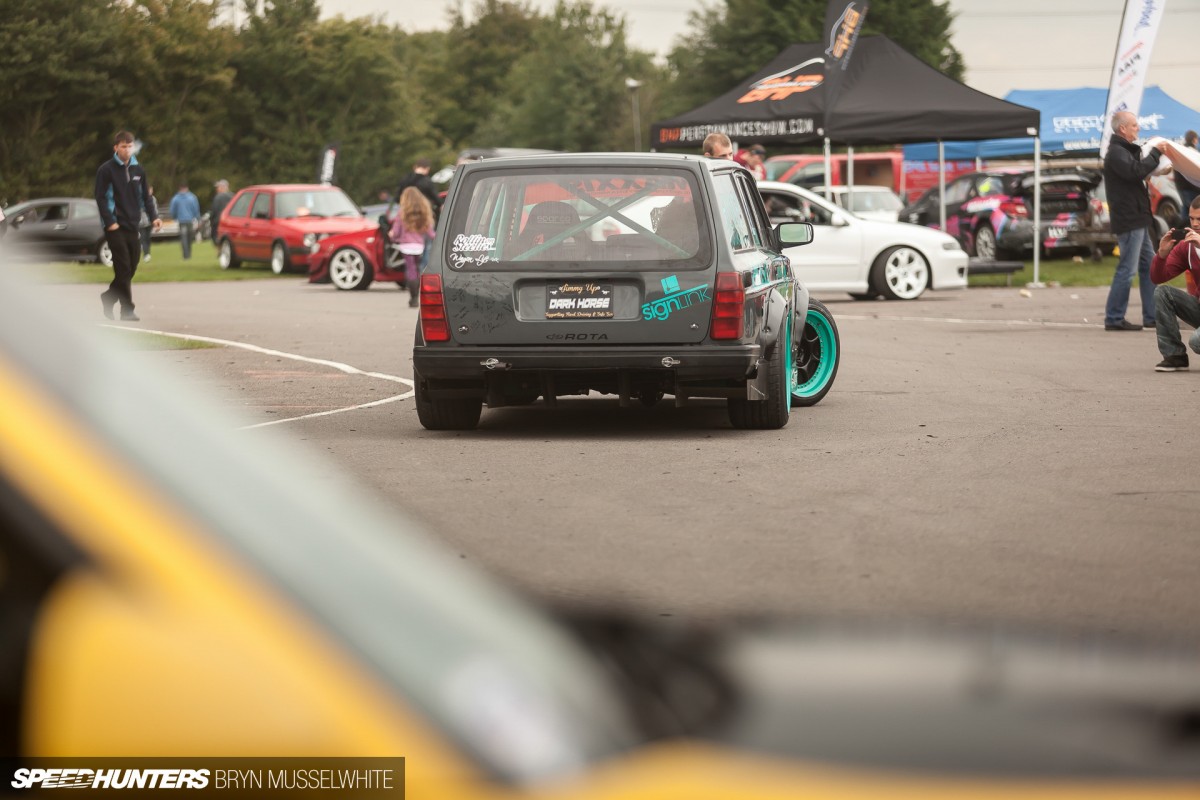 So at the Forge Motorsport Action day at Castle Combe, where Hux had been invited to do some drift demos, I stole a helmet and jumped in.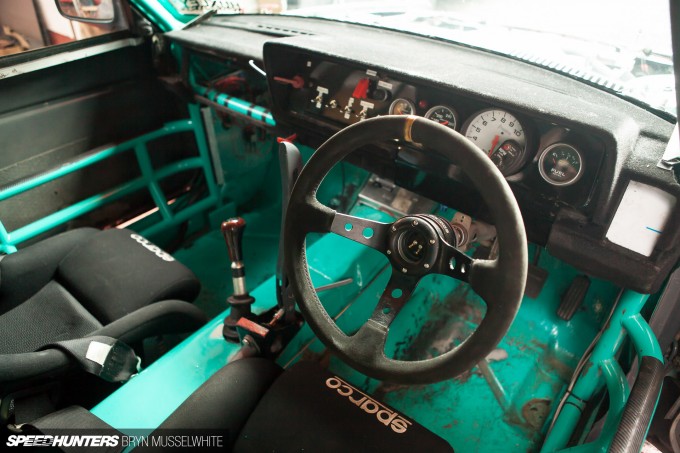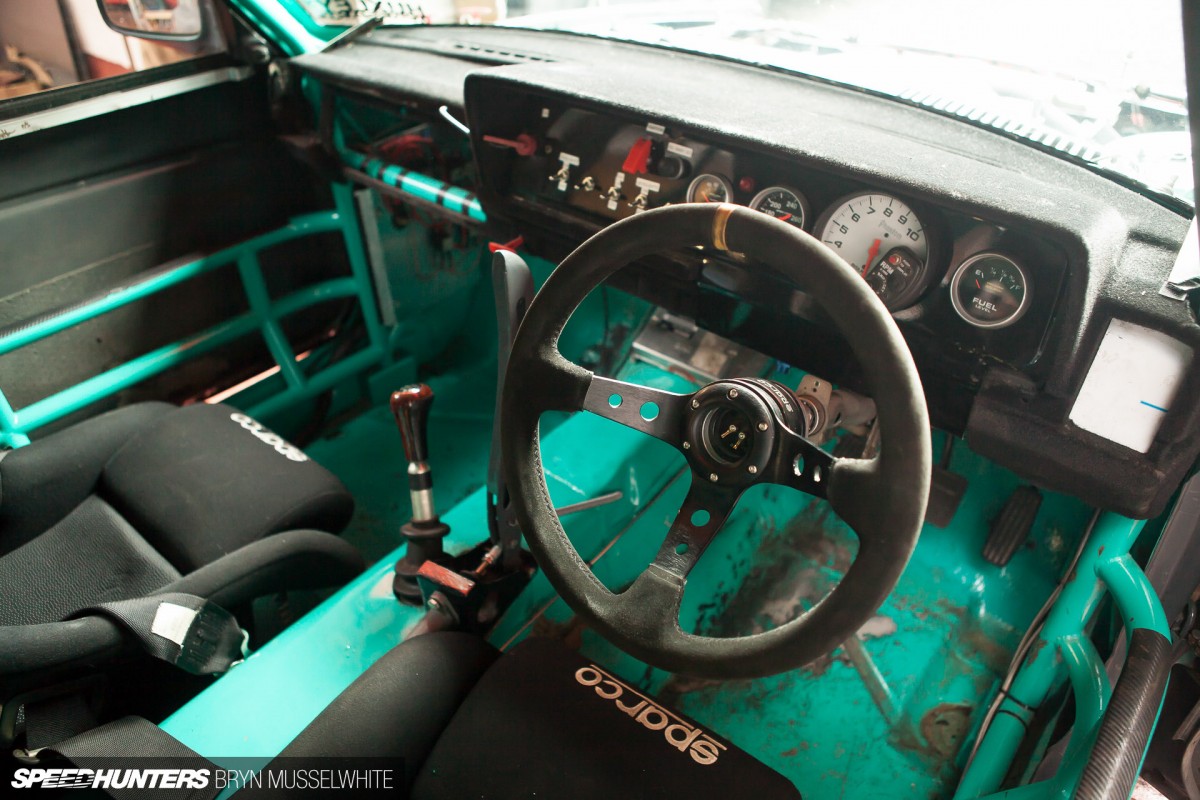 I don't think for a second that Hux approached that last session of the day any differently to any of the others he'd been out in. We throttled out of the pit lane and the low, solid ride and raw pull of the BMW V8 made me grin from ear to ear. Riding in a drift car is just a little different to any other circuit experience…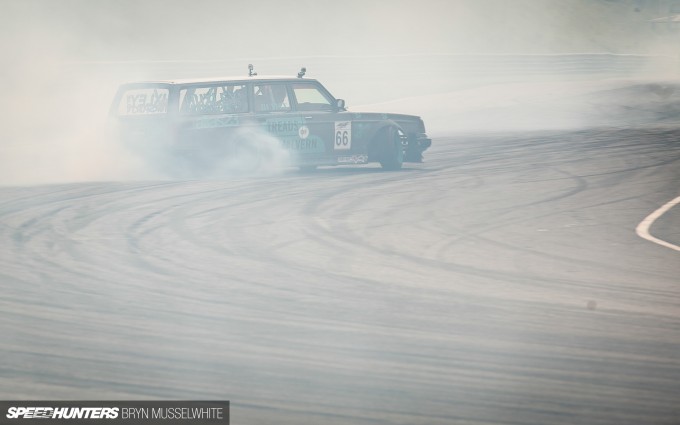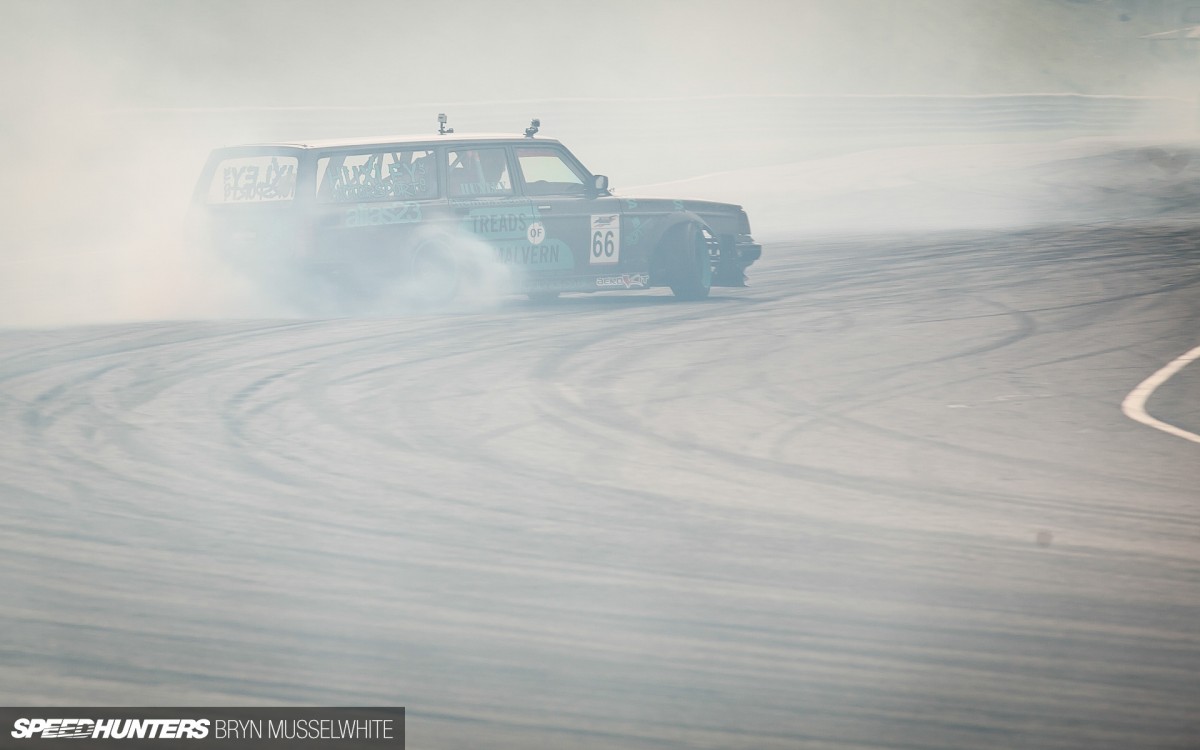 Because with a hard pull on the handbrake and a flick of the steering, Hux planted his manfoot hard on the throttle pedal. And snapped it off. As the revs dropped and we straightened I realised what had happened and laughed. Typical. We edged back round to the pits on tickover and prayers and realised it was game over.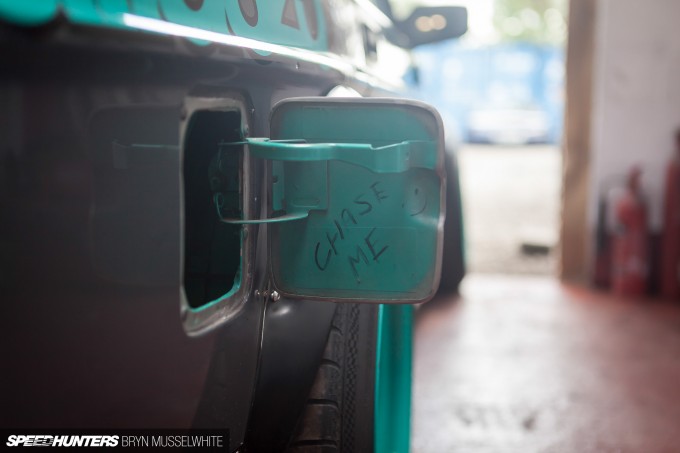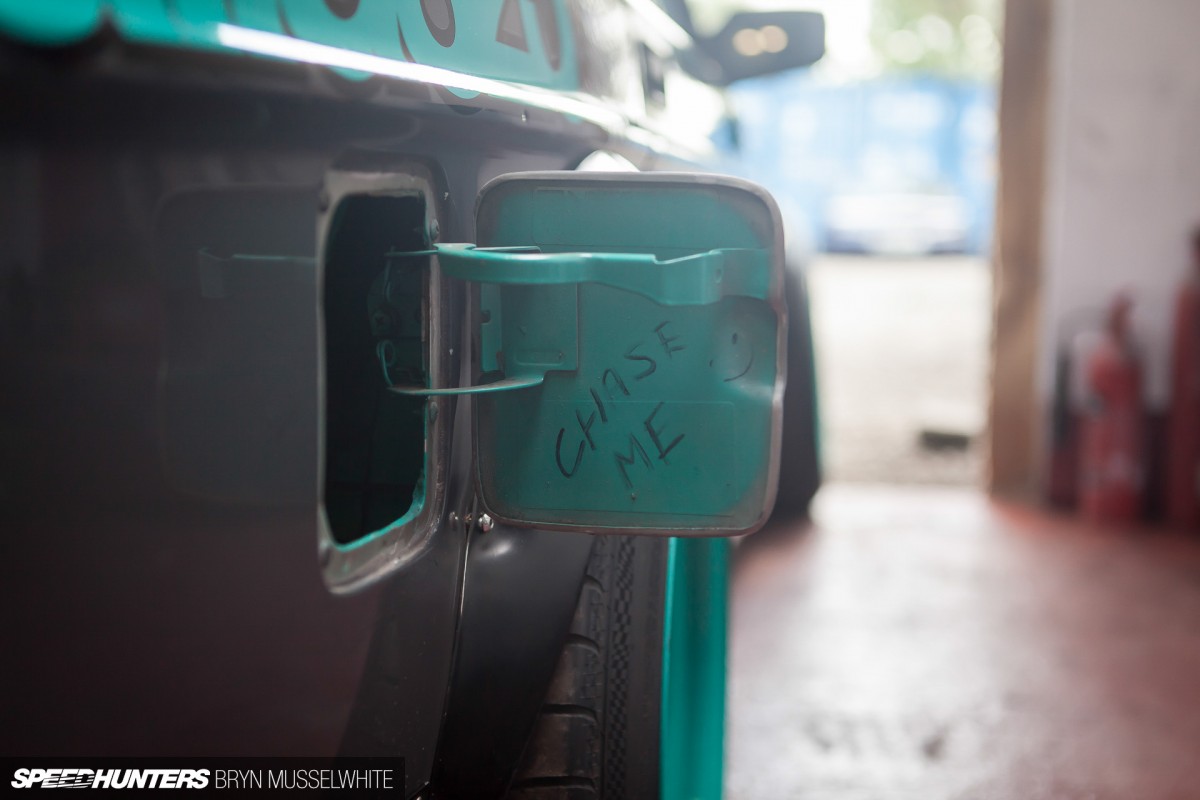 What Hux managed to do with just one initiation was to show me, and hopefully now you, how to have fun in a Volvo. Do it your own way; that's what they're really all about. As a base it's not an obvious choice and never will be. Parts are always going to be relatively expensive and that's just how it is. But the results can be amazing. Add in his often outspoken, larger-than-life persona and they become legendary.
It's not big, but it's clever. Long live the Volv8!