Takin' it to the streets
Cutworm Specialties' owner Jeb Greenstone likes to make things from scratch. When he had a hard time finding a body for the Model A he wanted to build, he decided he would try to make one instead. It turned out, made a splash, and now you're looking at the fifth hand-crafted vehicle that his shop has created; and their best work to date.
Originally stumbling across the hand-made aluminum pickup on Instagram, we made contact, then found out it would be at the SEMA show thanks to the UPS Ride Your Hauler To SEMA contest. What a stroke of luck! After walking around it a few times in Vegas and really taking in the details, it was obvious we'd picked a winner (pun fully intended).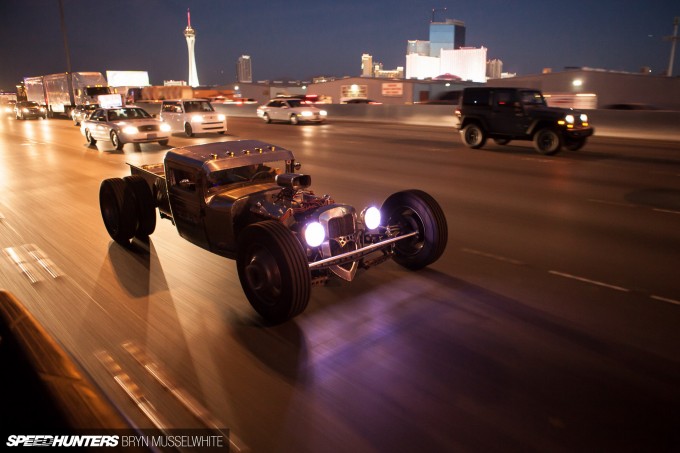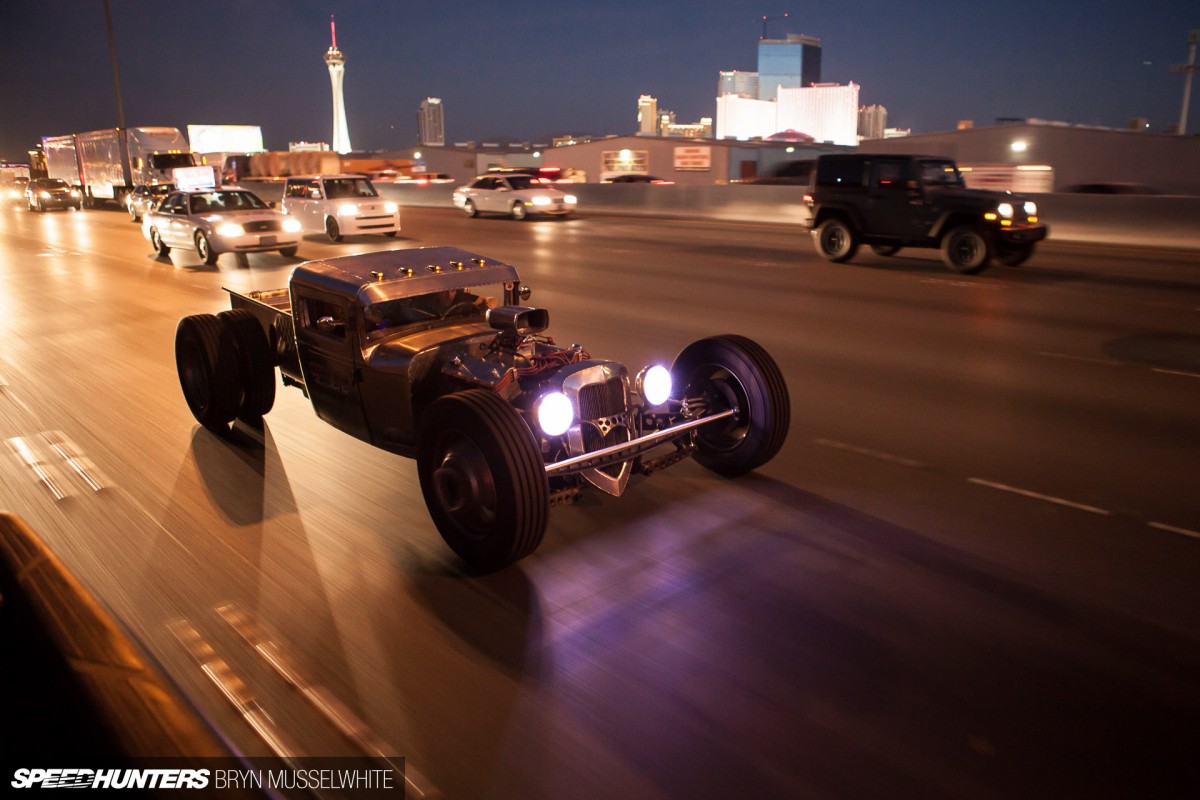 Smash-cut to our own Bryn Musselwhite highway surfing in the bed of a truck, howling with laughter as he made these rolling shots. Such is the life of a Speedhunter.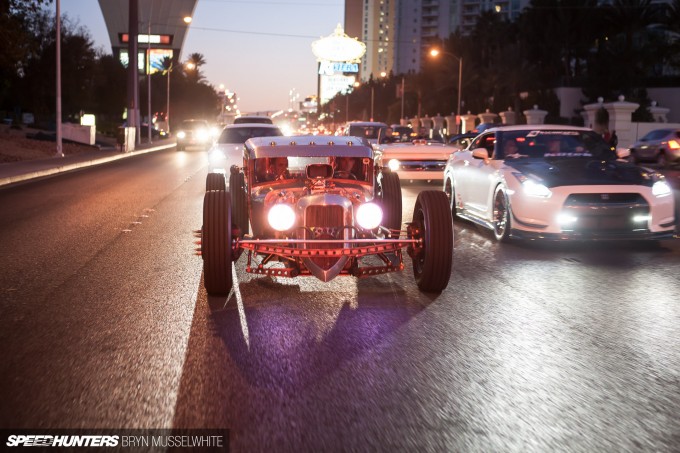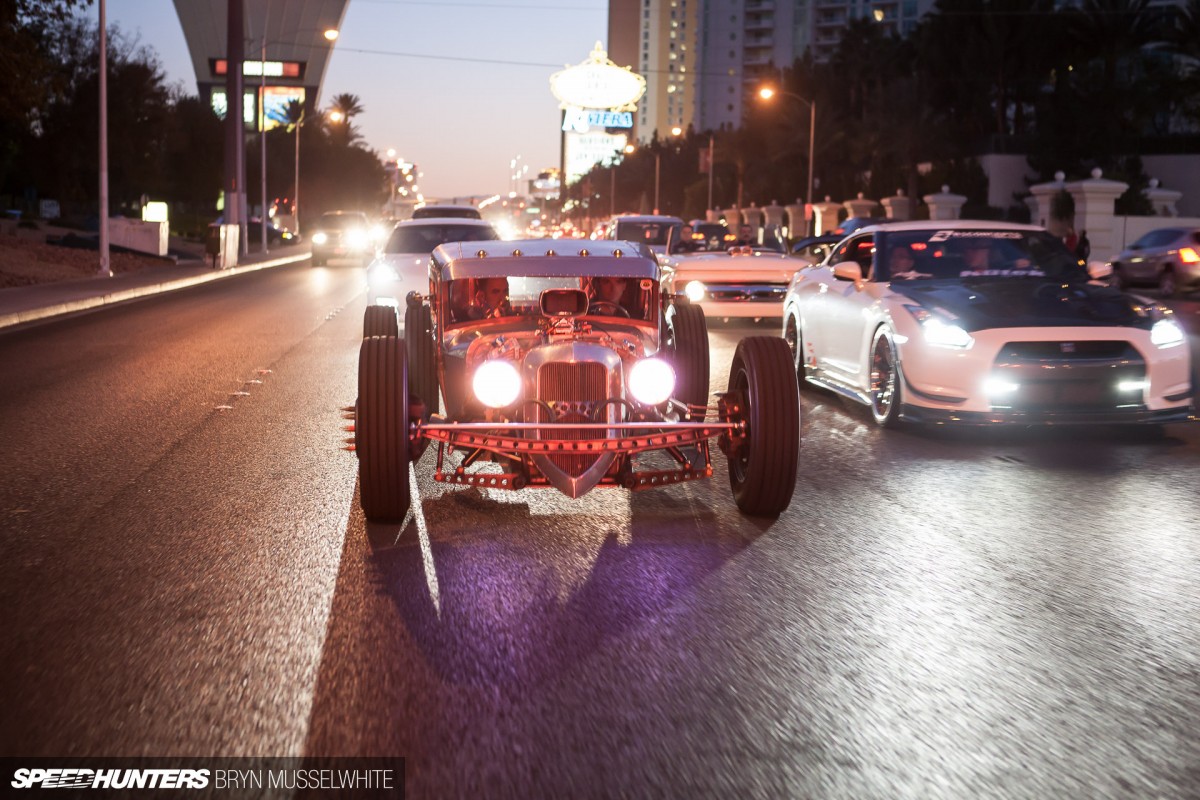 Bryn shot the dually literally the moment it rolled out of the SEMA show. When else would you find an one-off, aluminum hot rod driving down the street next to a Nissan GTR?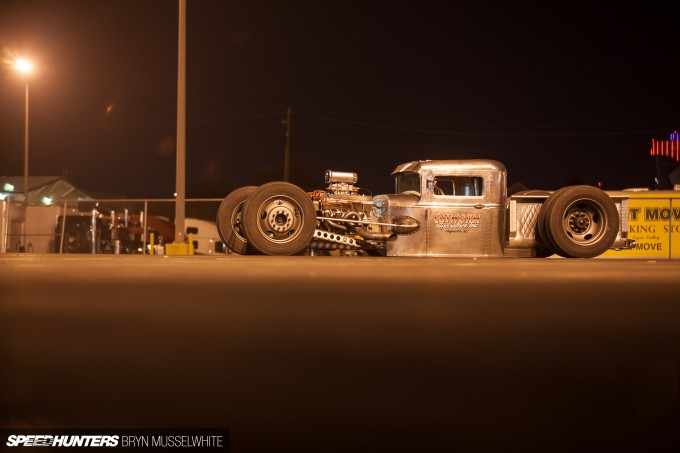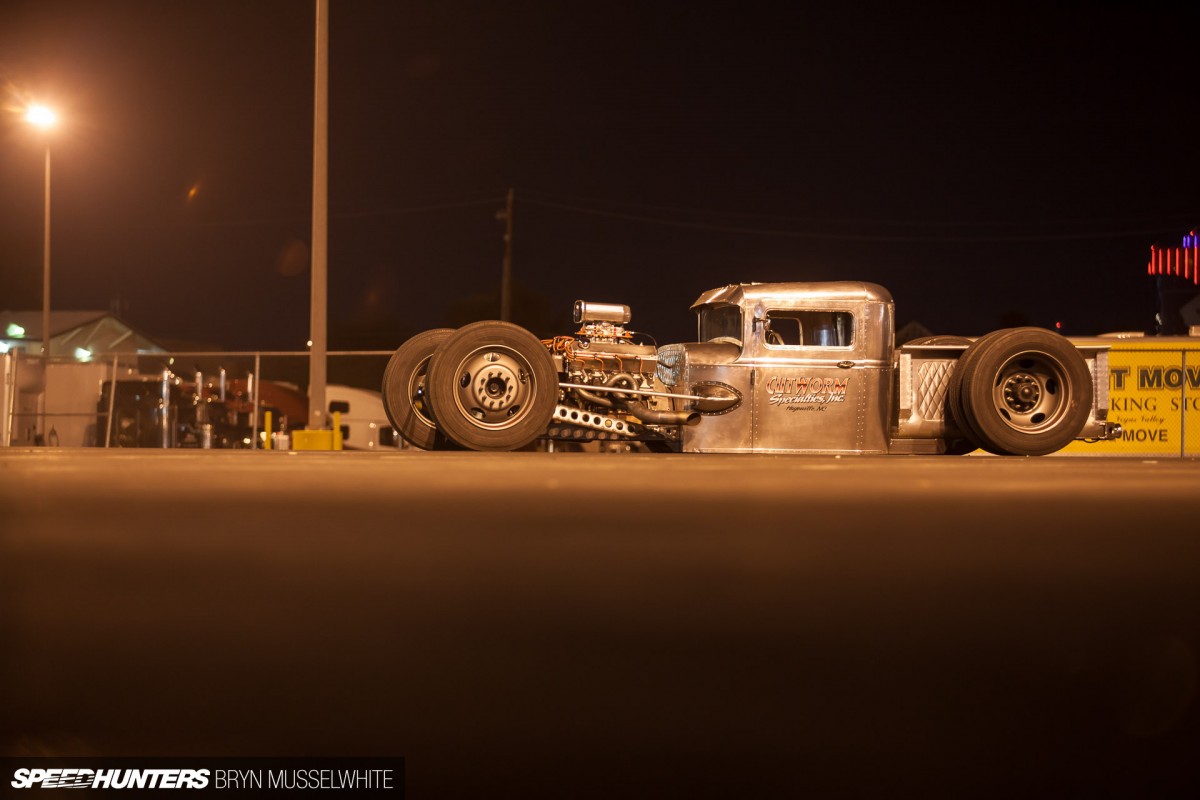 As cool as it was to see the dually roll, this was how we first observed it…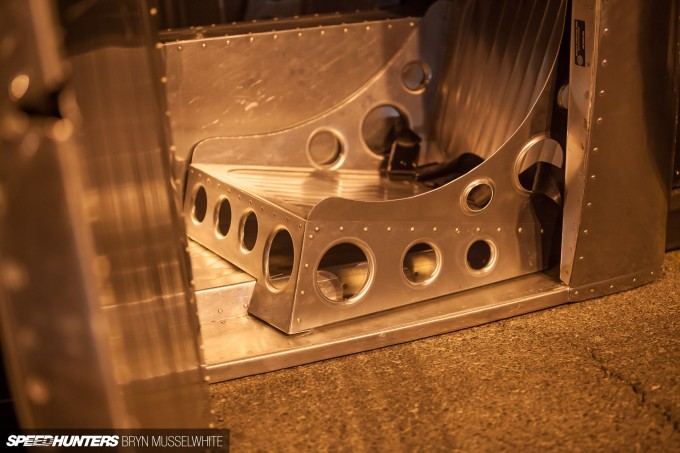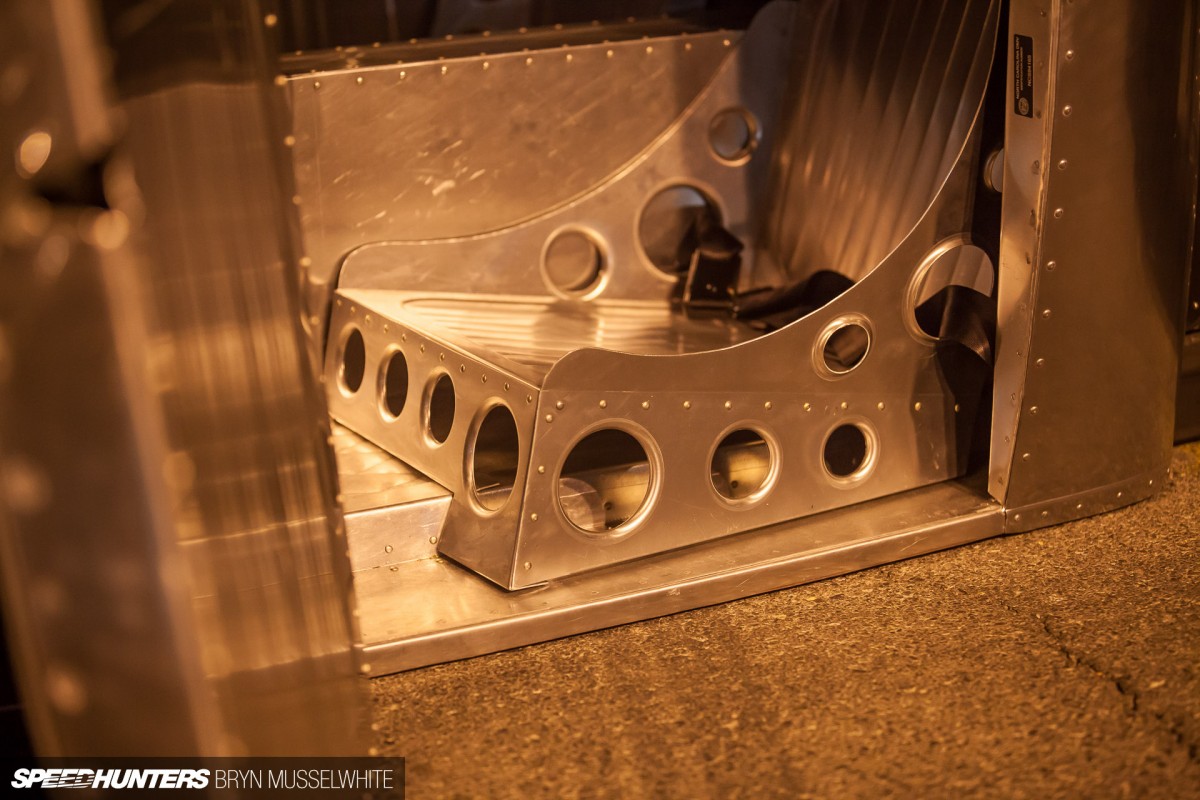 … positively laid out. I'm a sucker for almost anything that's this low, so Jeb had my full attention at this point.
Something from nothing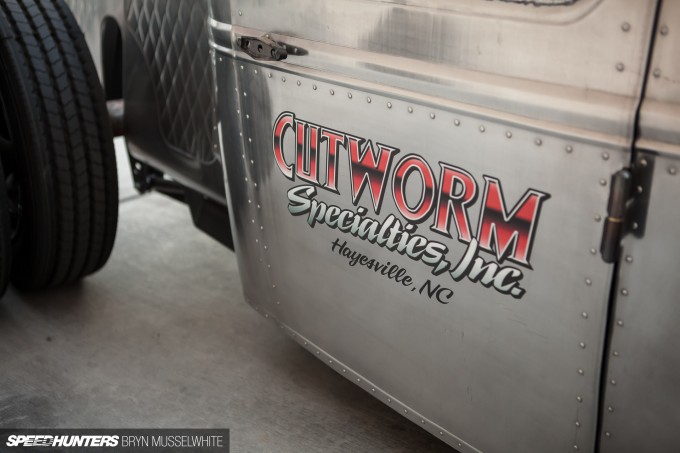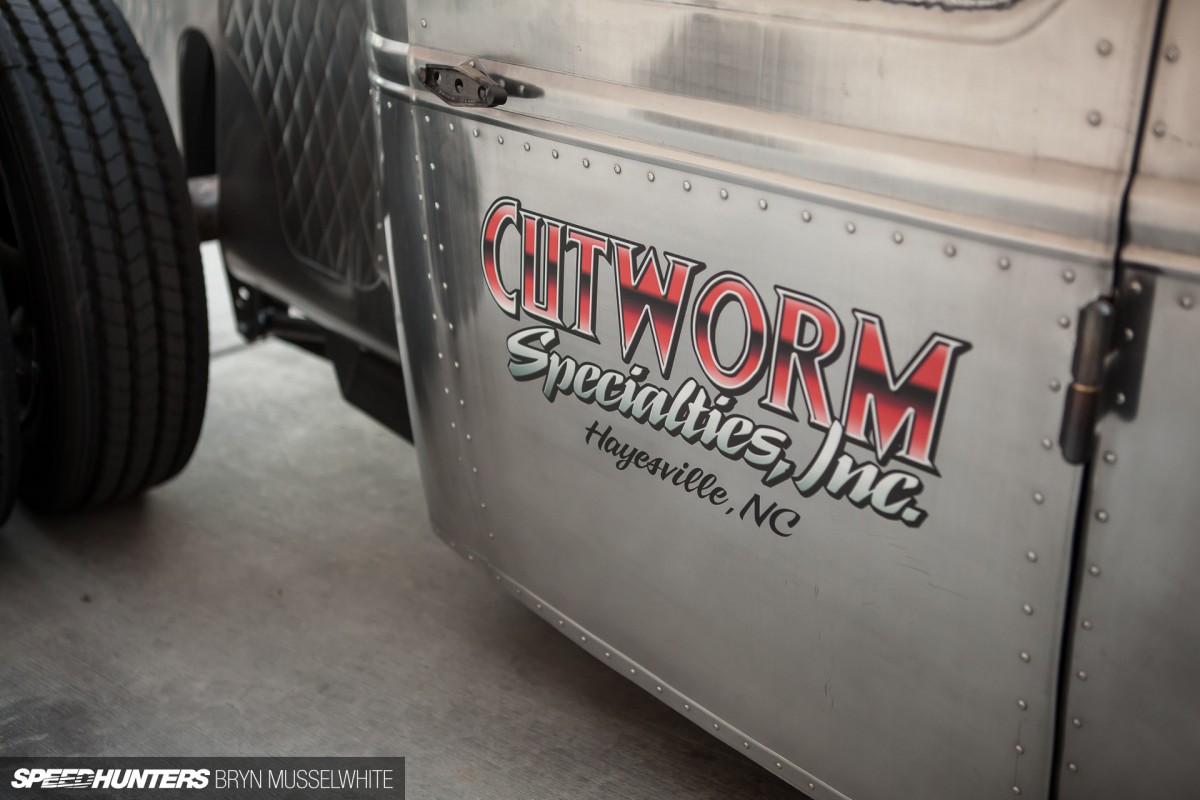 It wasn't just the road-hugging stance though, it was also the fact that this little pickup seemed to be built entirely from scratch. I didn't know that was Jeb's thing until later. Apparently this is the first body that he's built from aluminum, and he really prefers it over steel now.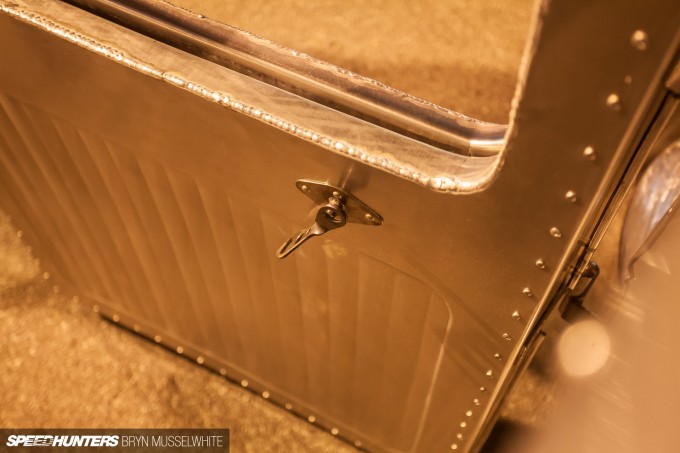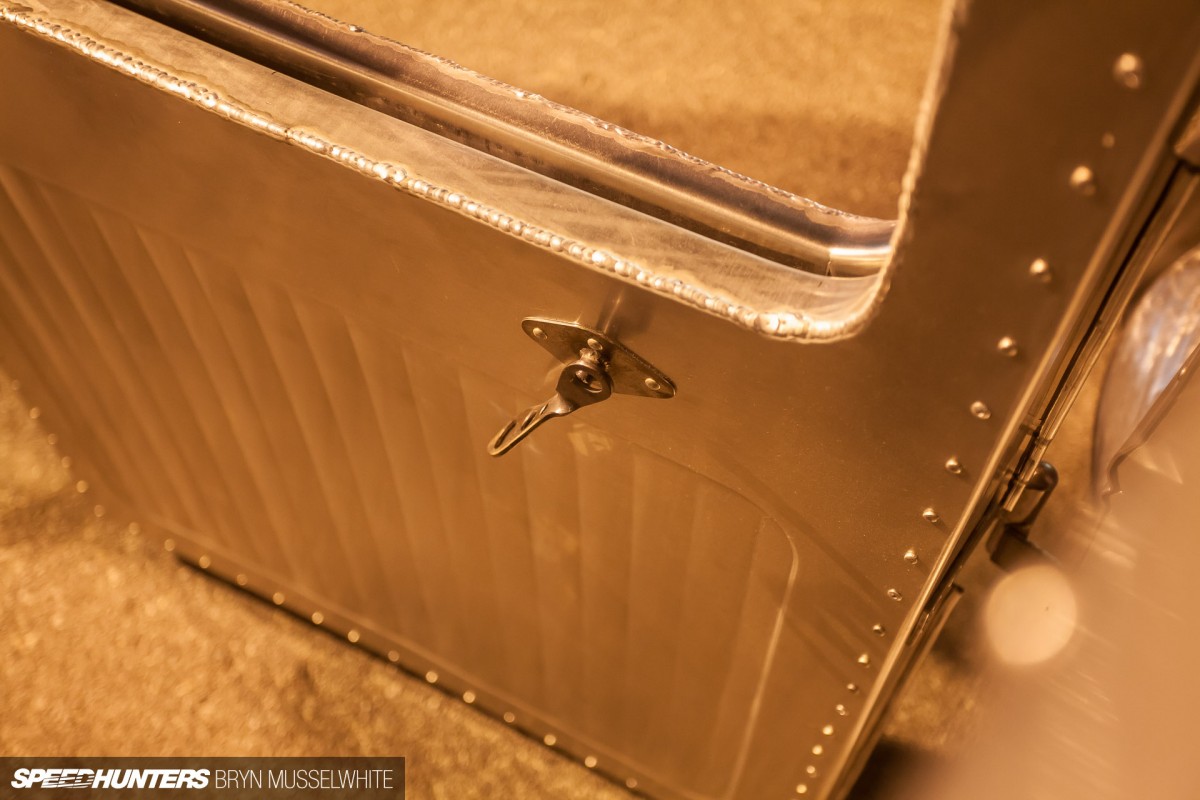 Thousands of rivets and miles of welding rod were consumed to hold this thing together and Cutworm's style is to leave it all exposed. It lends a utilitarian feel, and it also puts Cutworm Specialties' craftsmanship on full display. There's no hiding anything if you're going to build this way.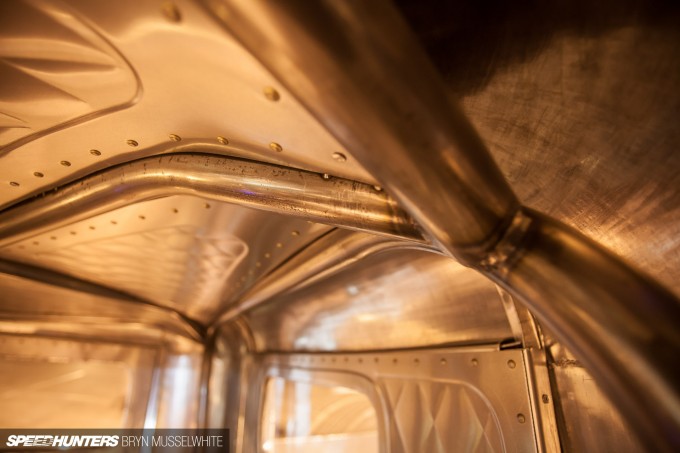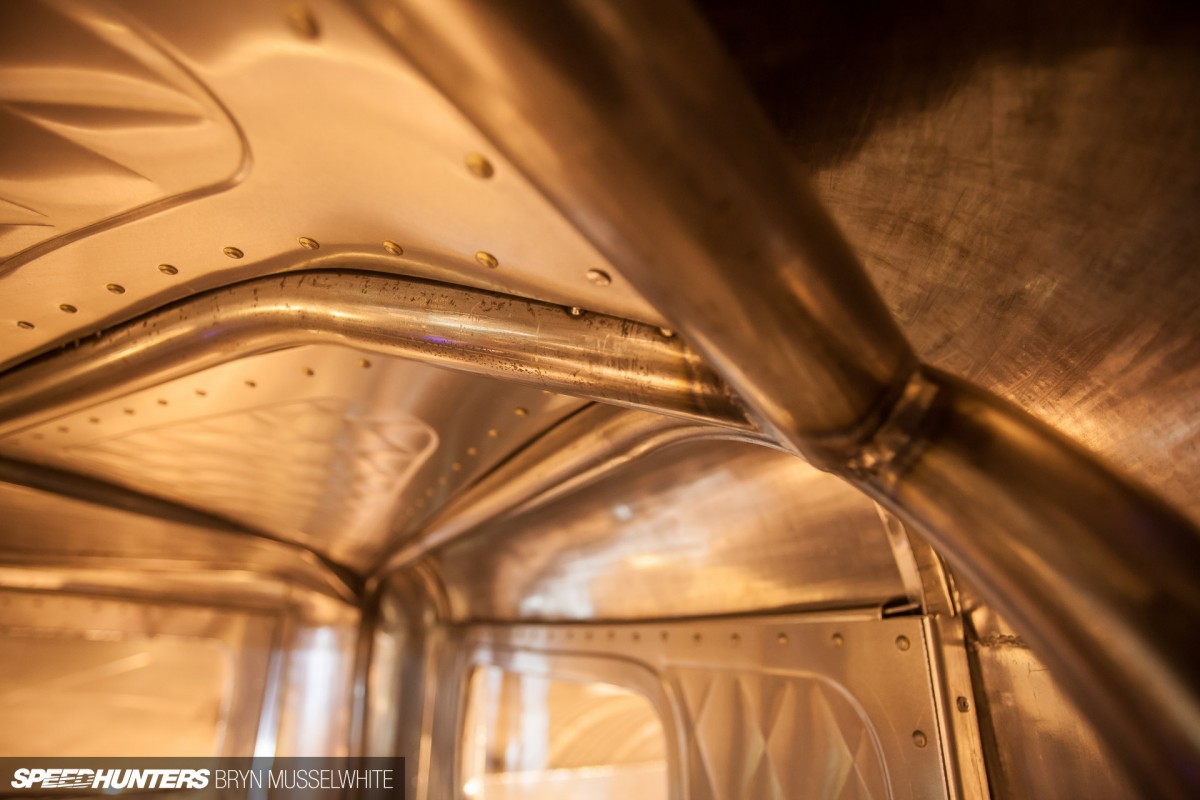 Jeb doesn't seem to be bothered by that, as the entire truck is uncoated. This is 'truth in materials' at its finest.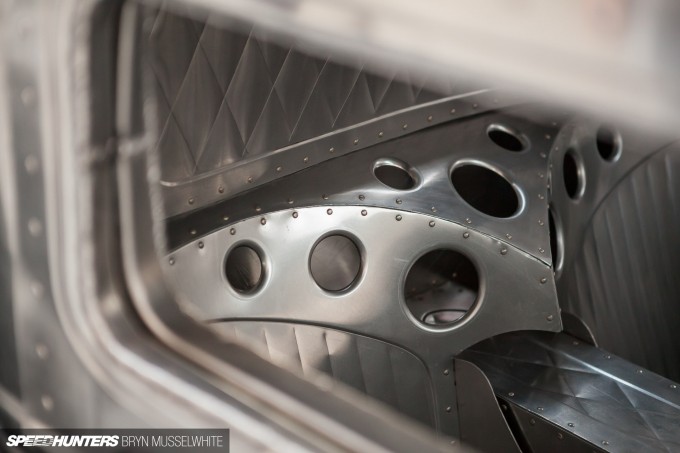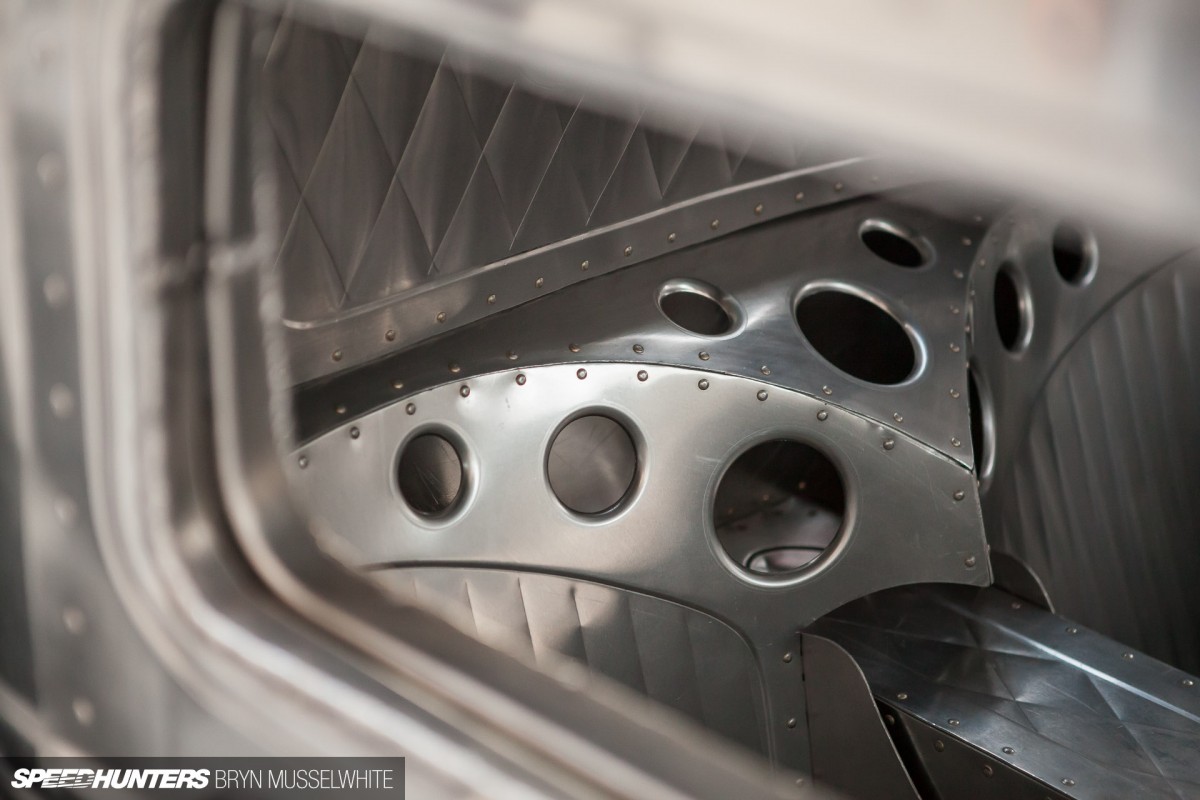 Of course if everything is going to be the same shade of brushed aluminum you have to find a way to make the surfaces visually interesting without the crutch of color or graphics.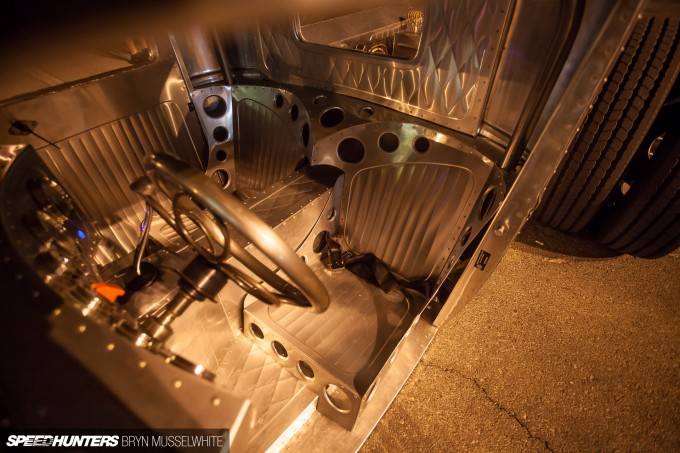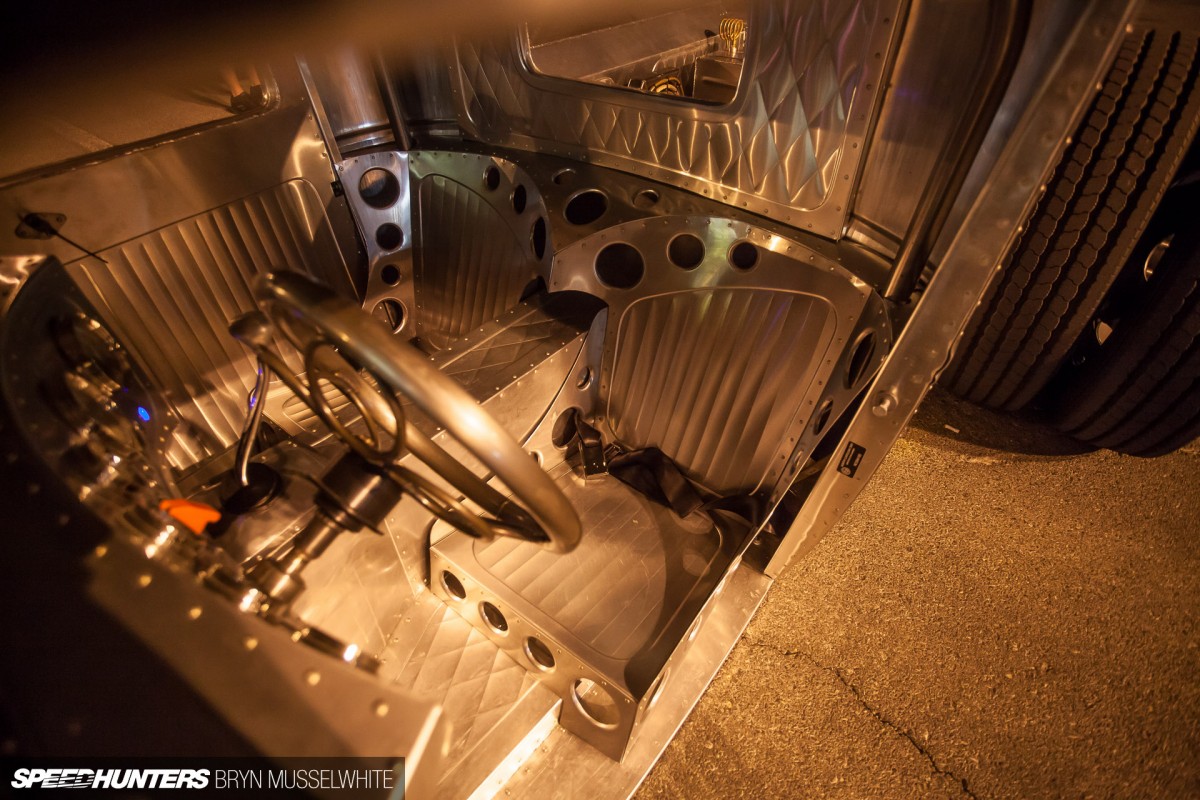 To this end, every panel has been embellished in one way or another; whether it's rivets, beadrolls or punched out holes. Check out the pleated upholstery cues on the seats and door panels, right where stitched leather would typically reside.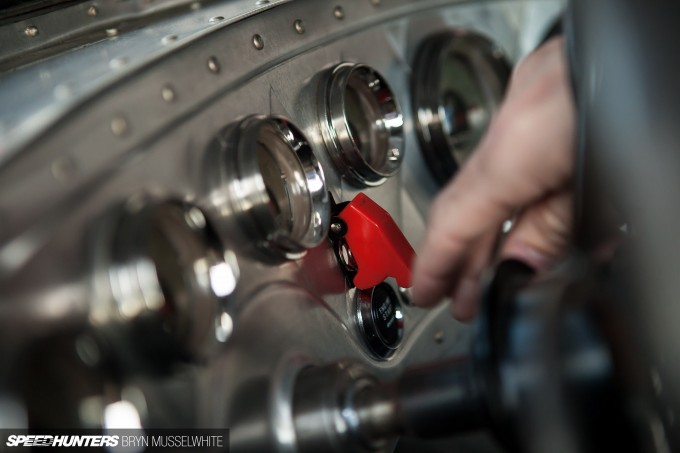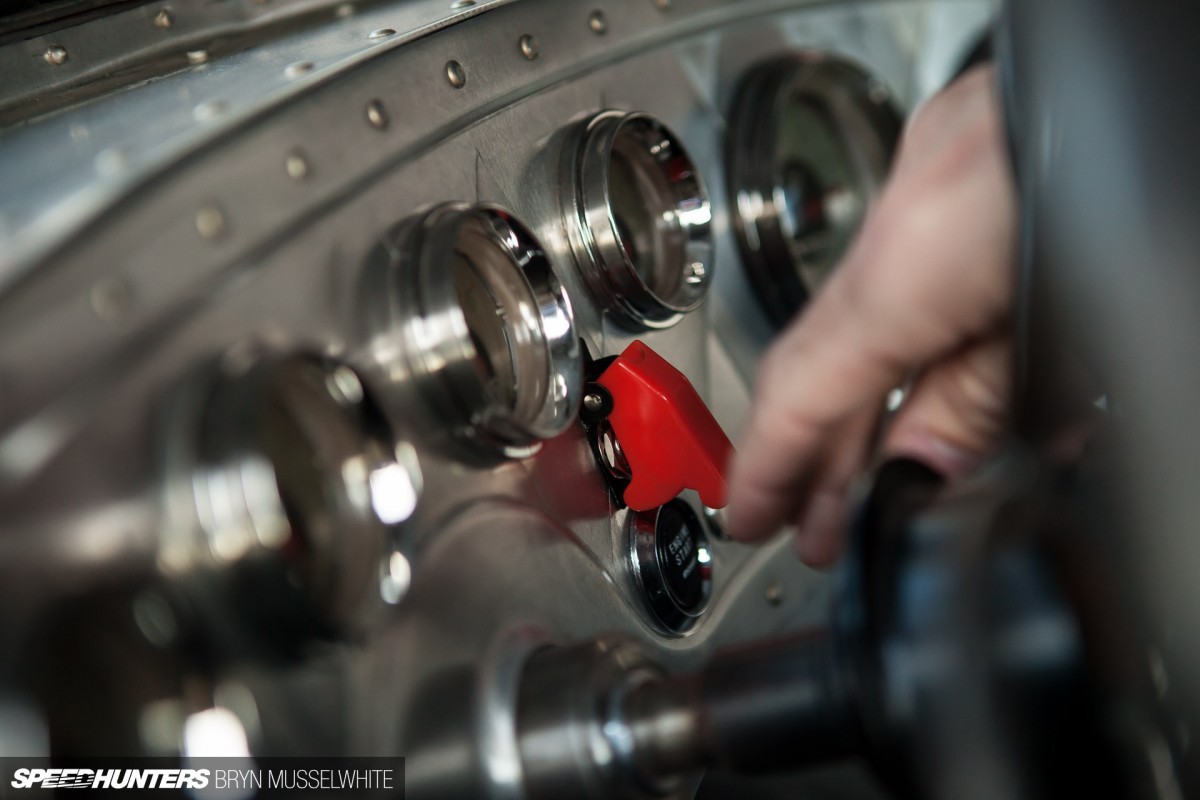 Modern buttons and gauges are mounted in the dash and a toggle-protected push button fires the engine.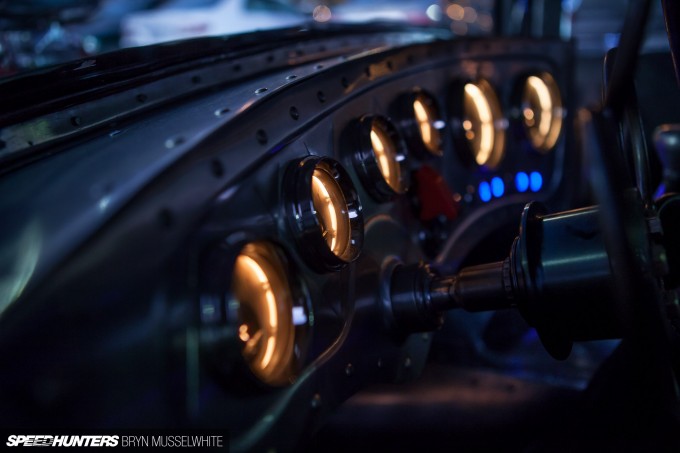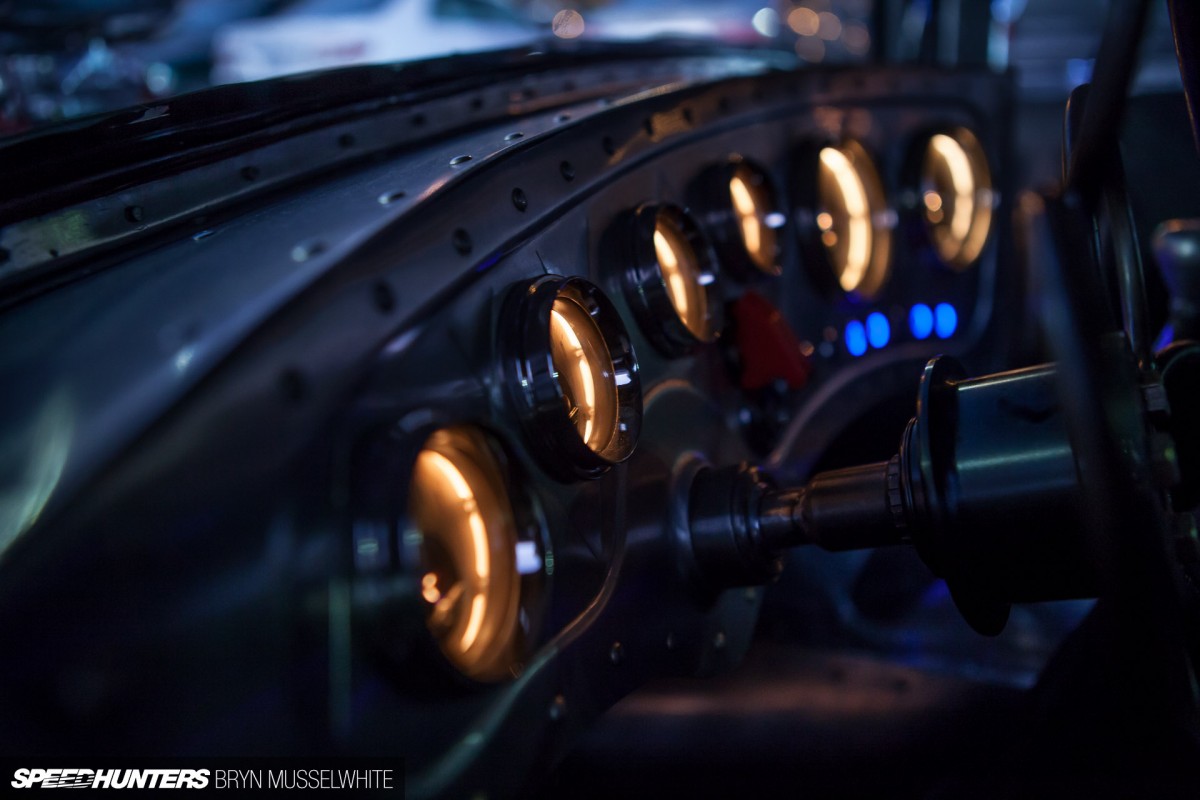 It all looks pretty cool lit up at night.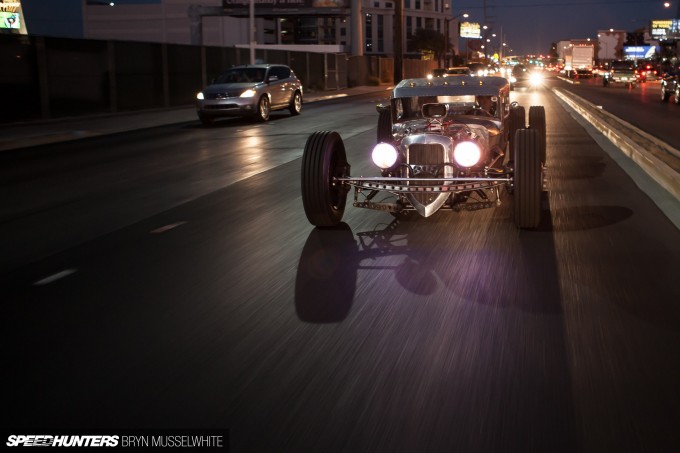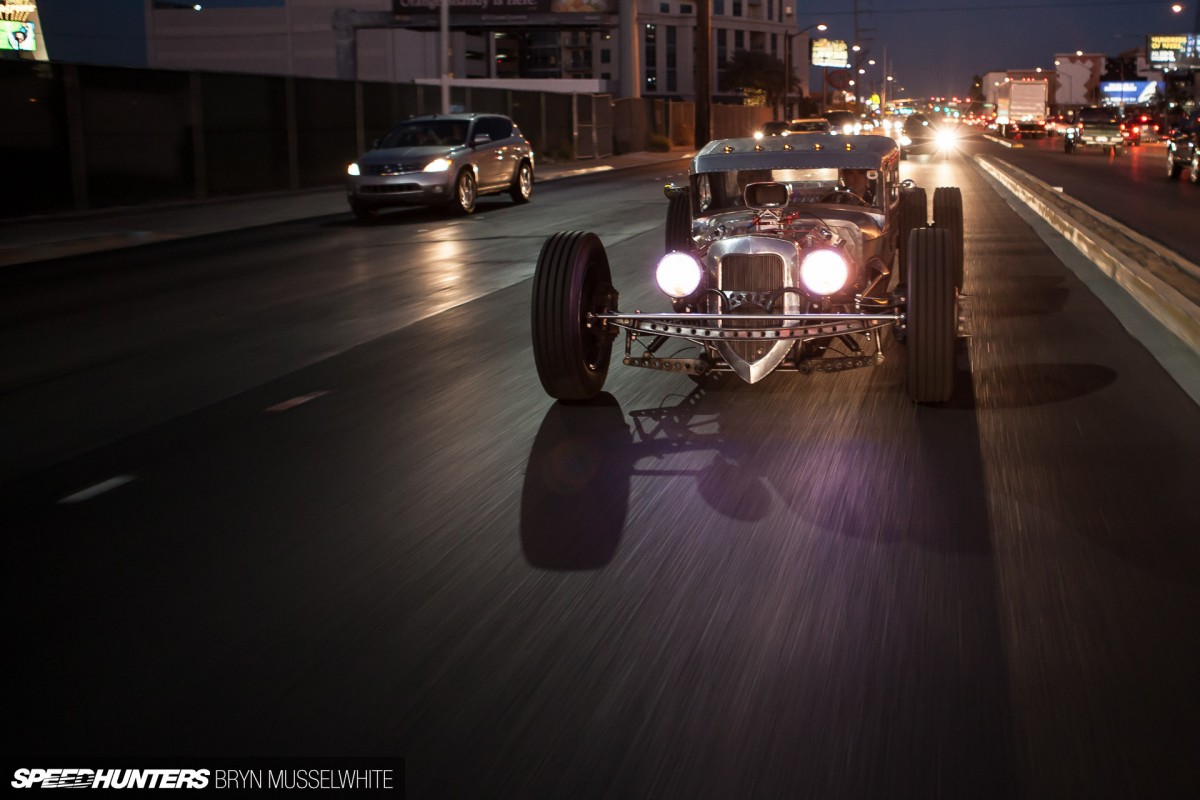 The alloy dually is certainly inspired by the Model A, with a grille designed after a '33-'34 Ford.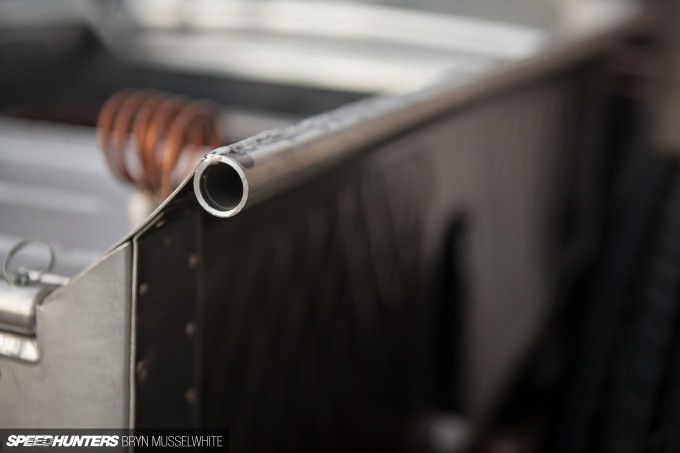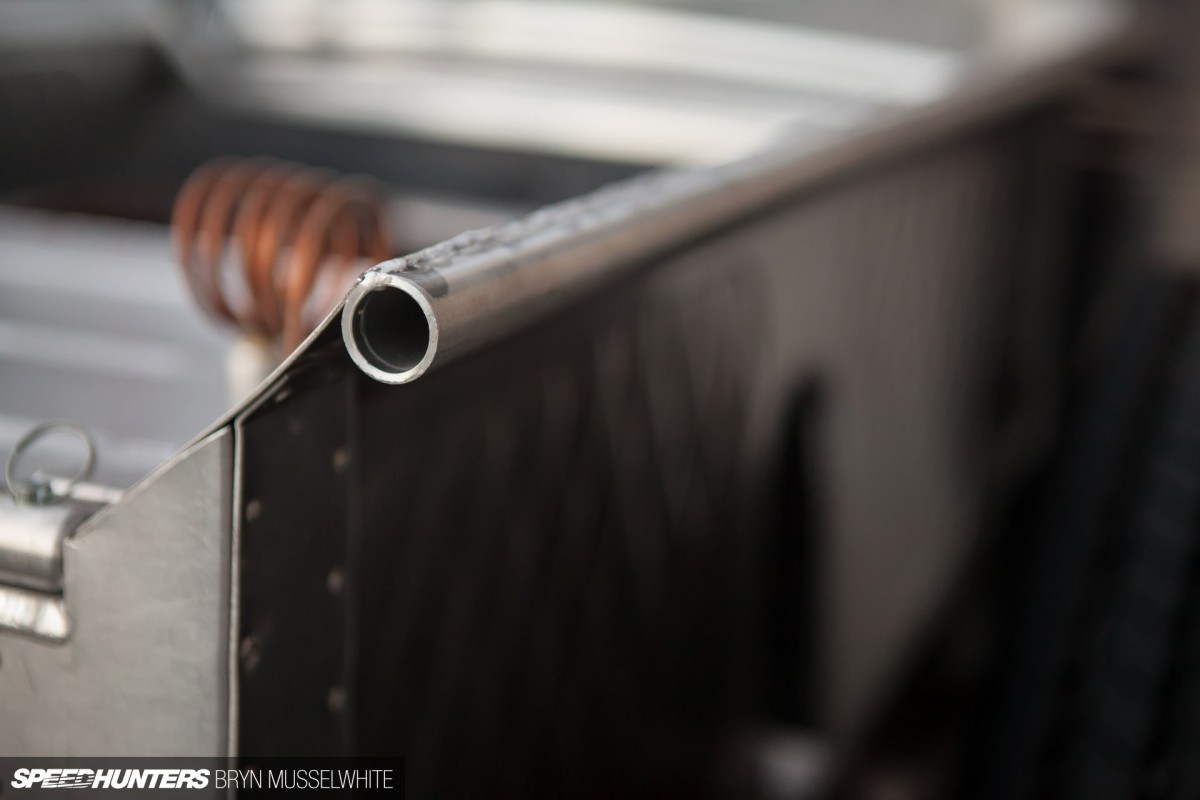 The bed also follows classic lines but was fabricated in Cutworm's own way, using tube for bed rails in place of the factory rolled sheetmetal.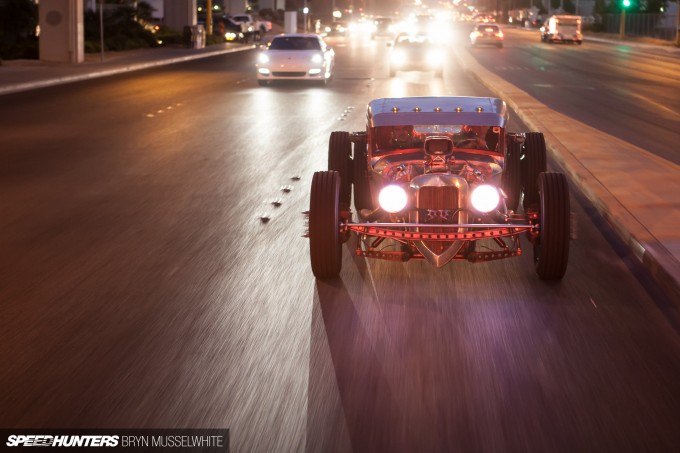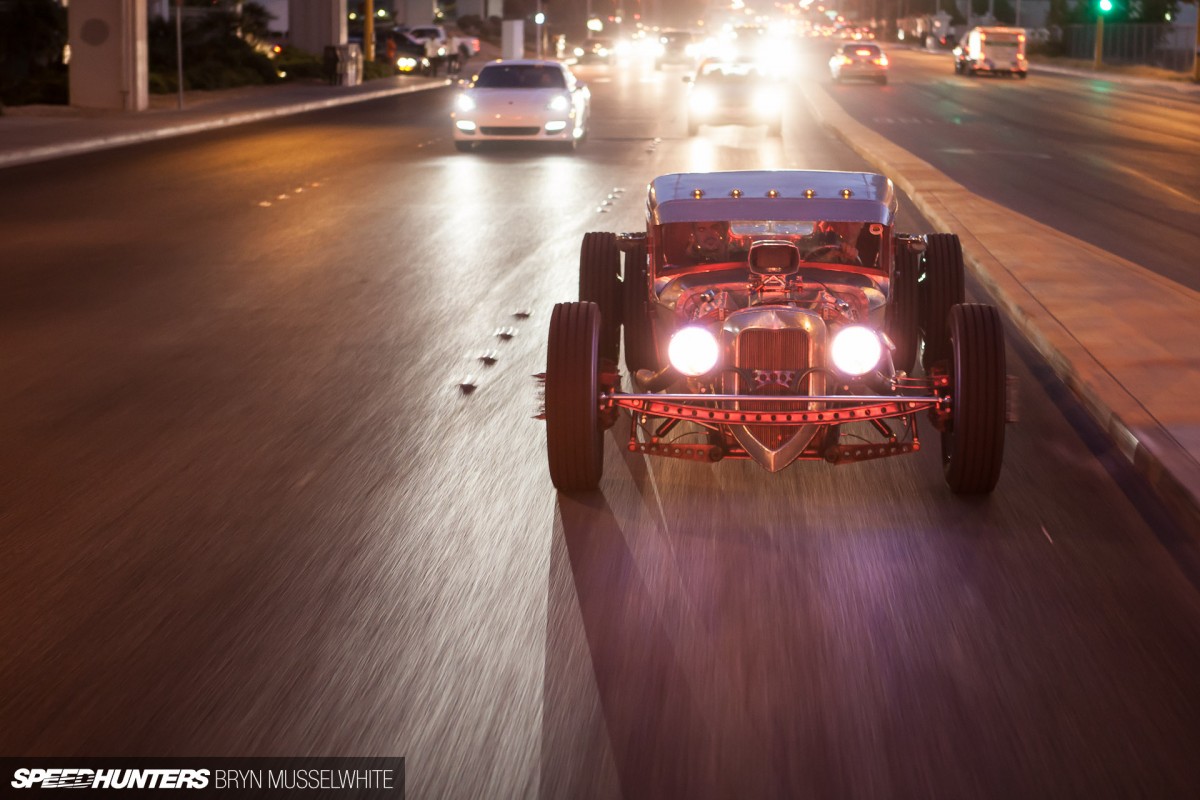 Being a dually the guys took the liberty of adding running lights to the roof.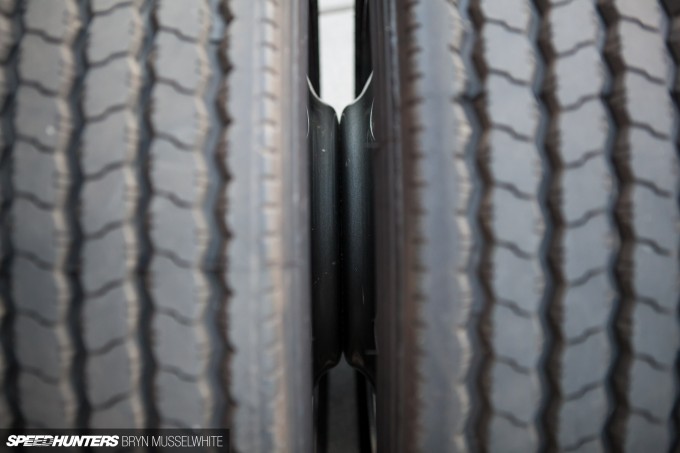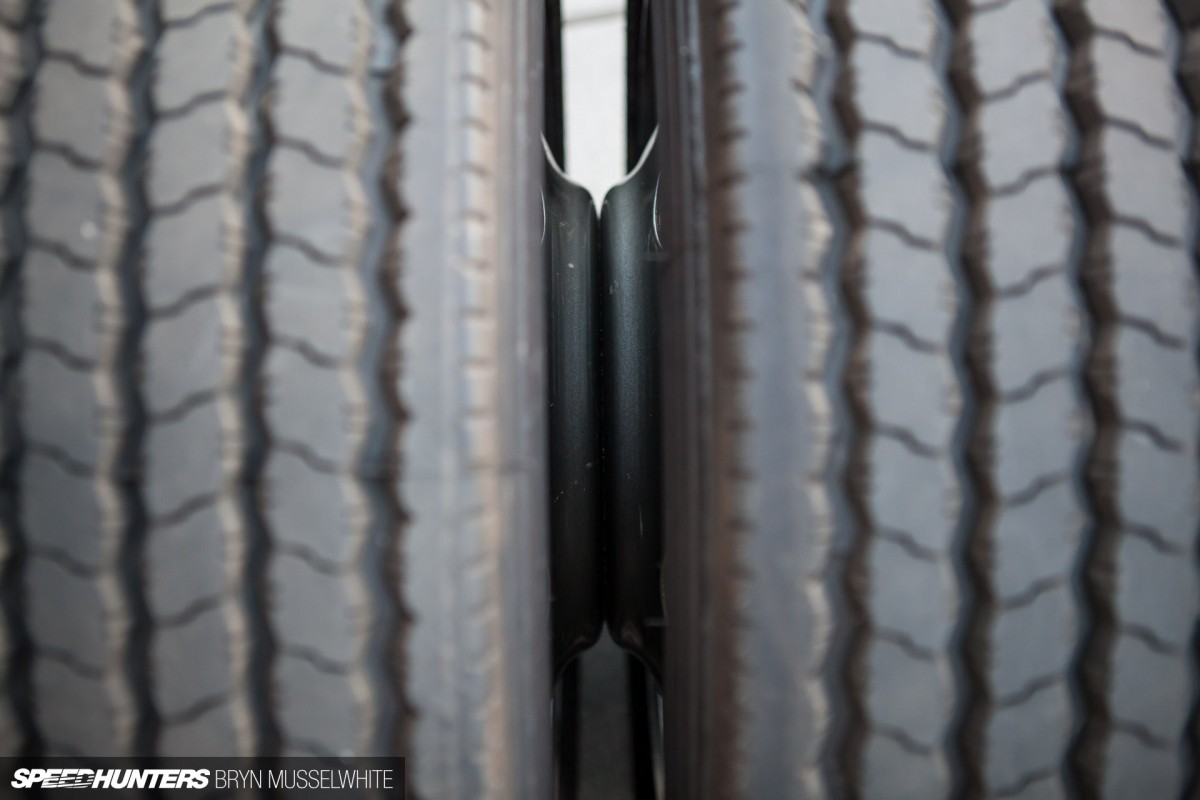 The most obvious part of the dually influence is the wheel and tire combo.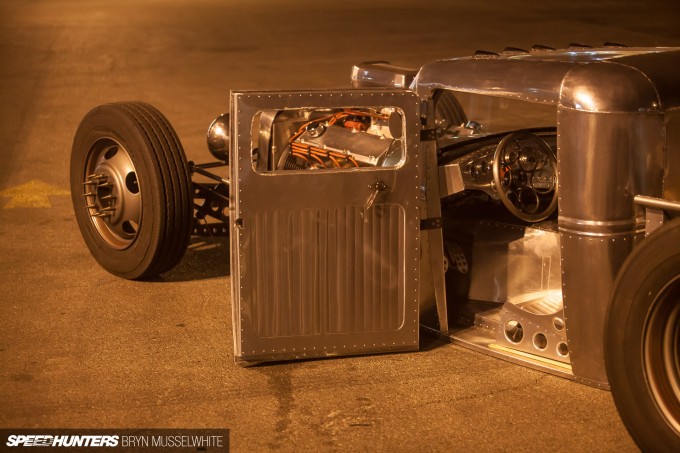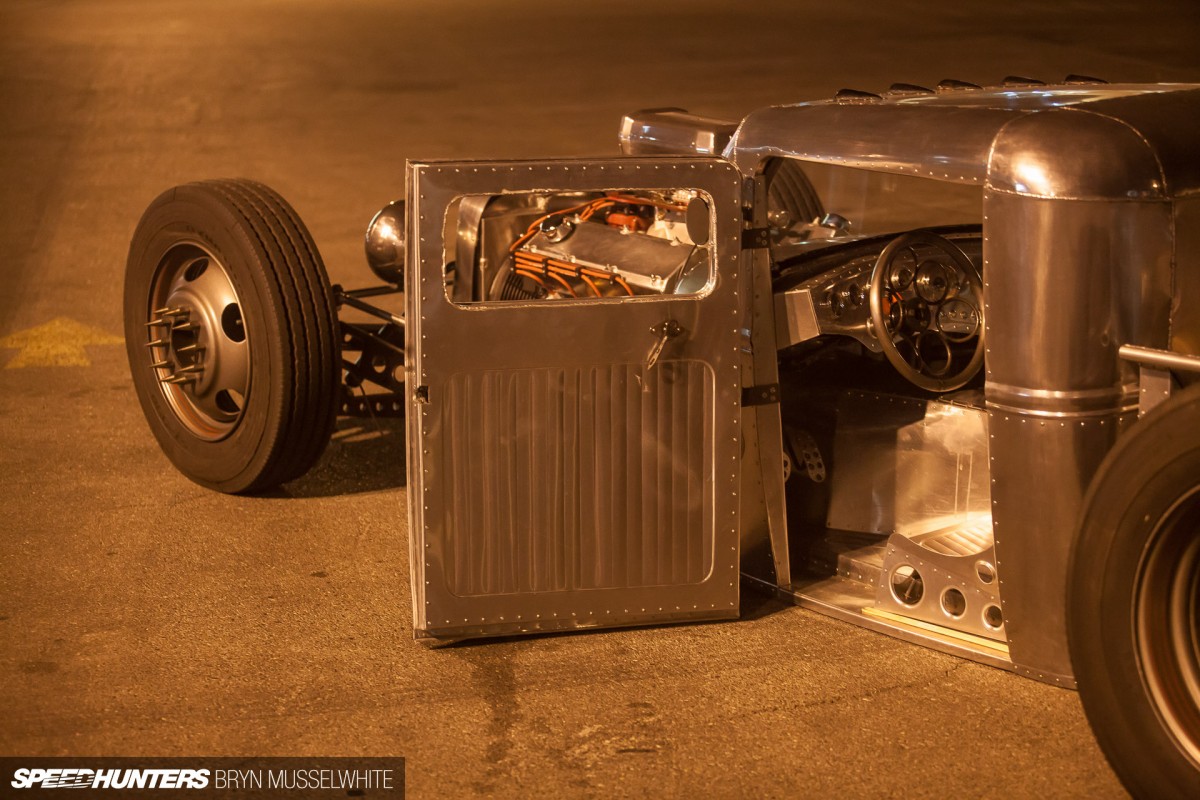 Massive compared to the little aluminum body, 19.5″ steel wheels wear commercial-style tires.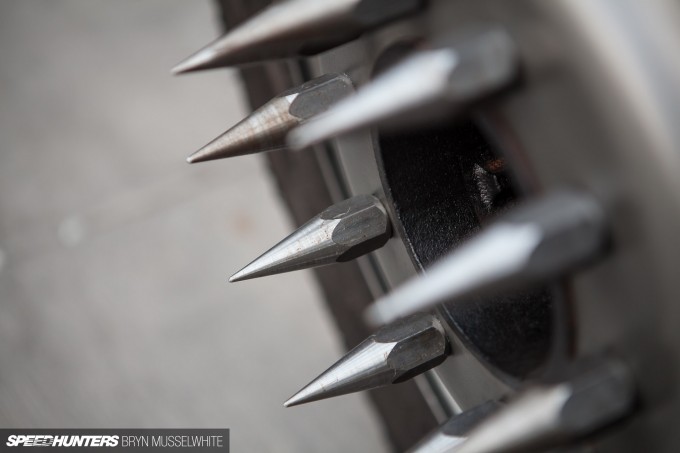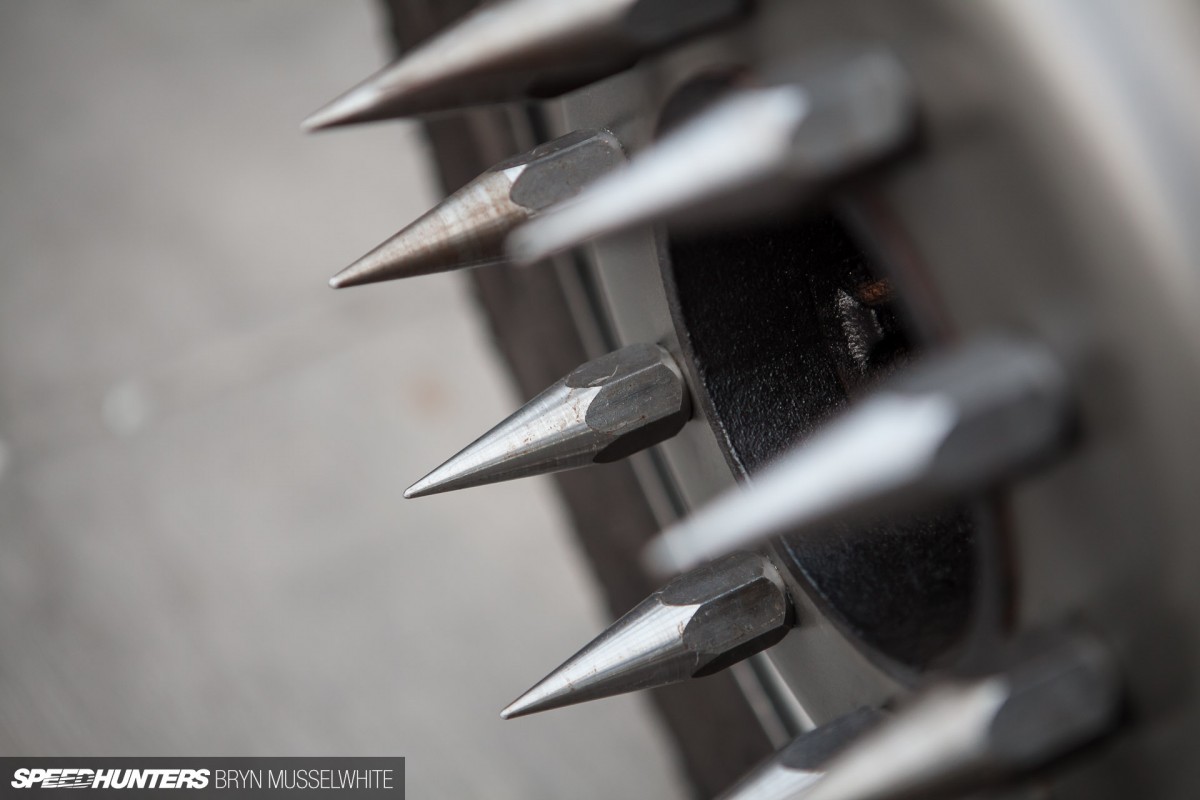 Jeb even machined his own lugnuts, which are a bit more dangerous than the ones you would find on a standard 18-wheeler.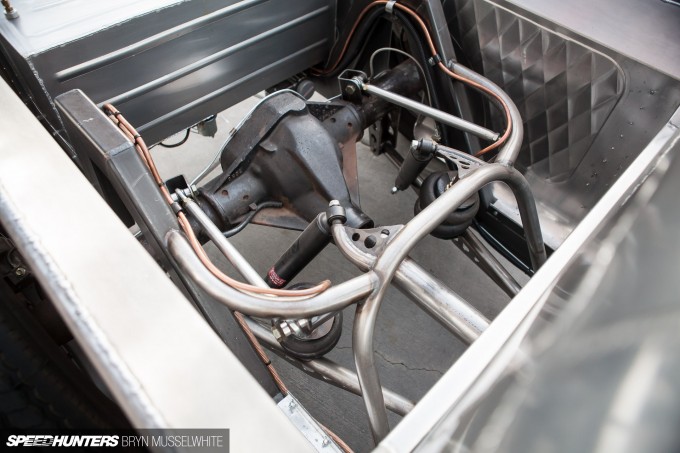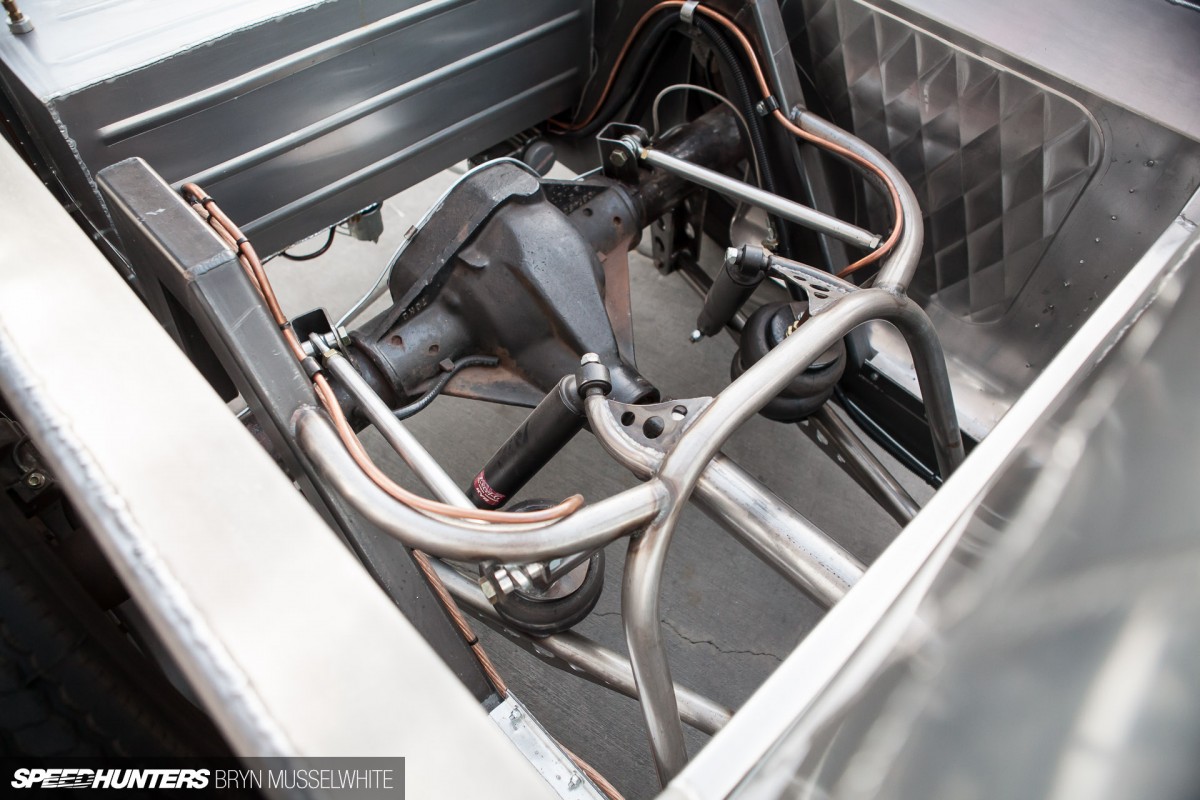 The dually wheelset came from a motorhome, along with a Dana 70HD rear axle. The cantilevered rear air suspension was obviously built from scratch too.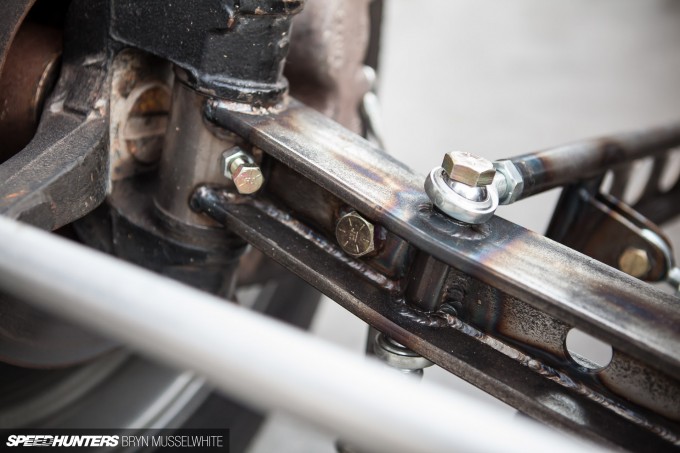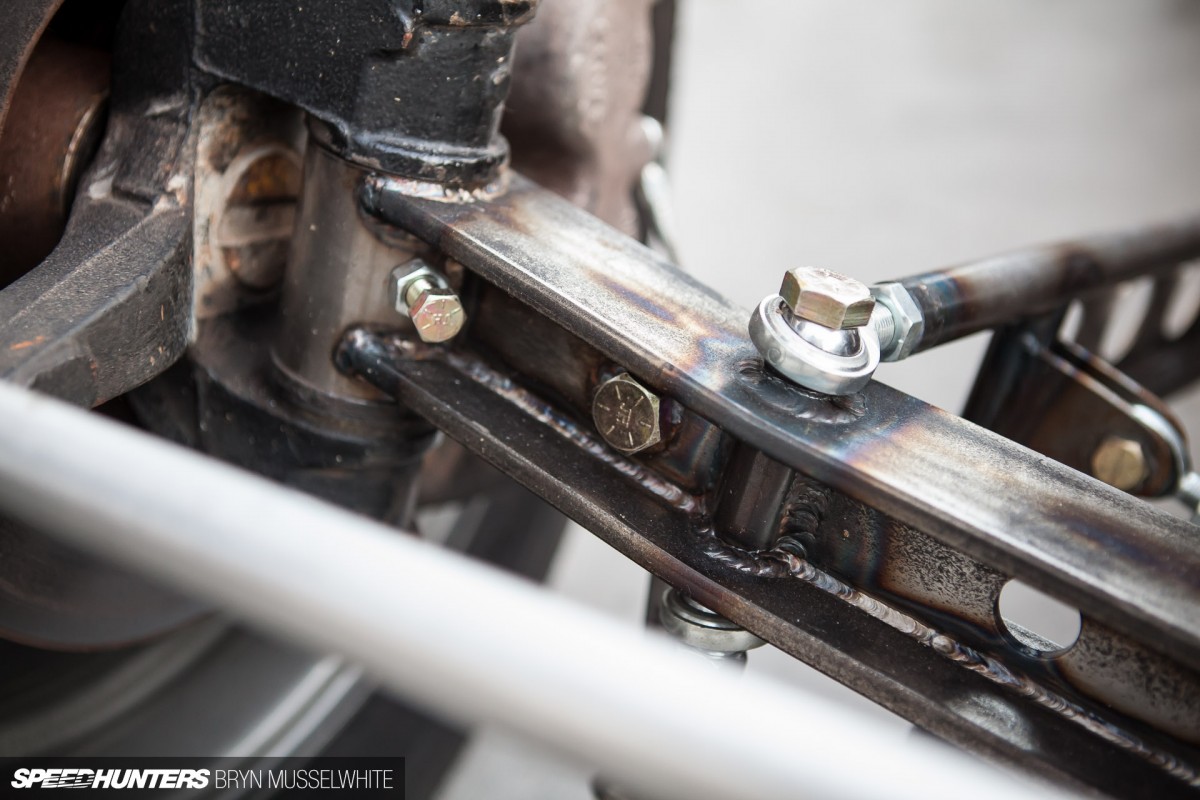 The entire front axle had to be fabricated since you can't exactly order one this wide from the Speedway catalog. Cutworm reused the spindles from the donor motorhome and bolted up Ford Superduty brakes.
The axle is located by monster radius arms and suspended by torsion bars. I had to double check with Jeb that the front suspension is in fact static, and apparently the wheelbase is so stretched that all he has to do is air up the back and drive away.
Is it loud in here?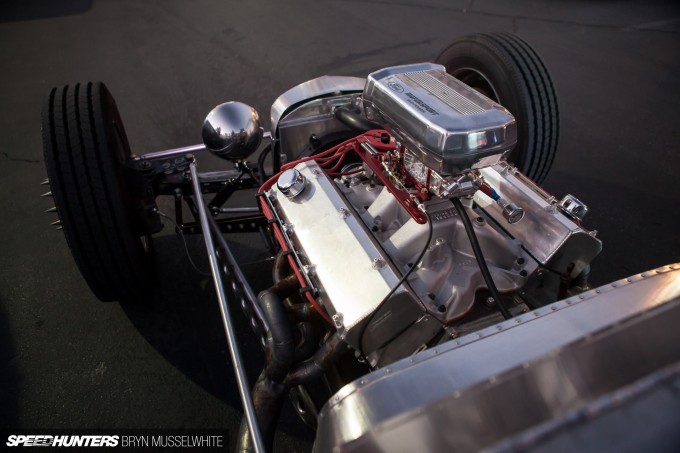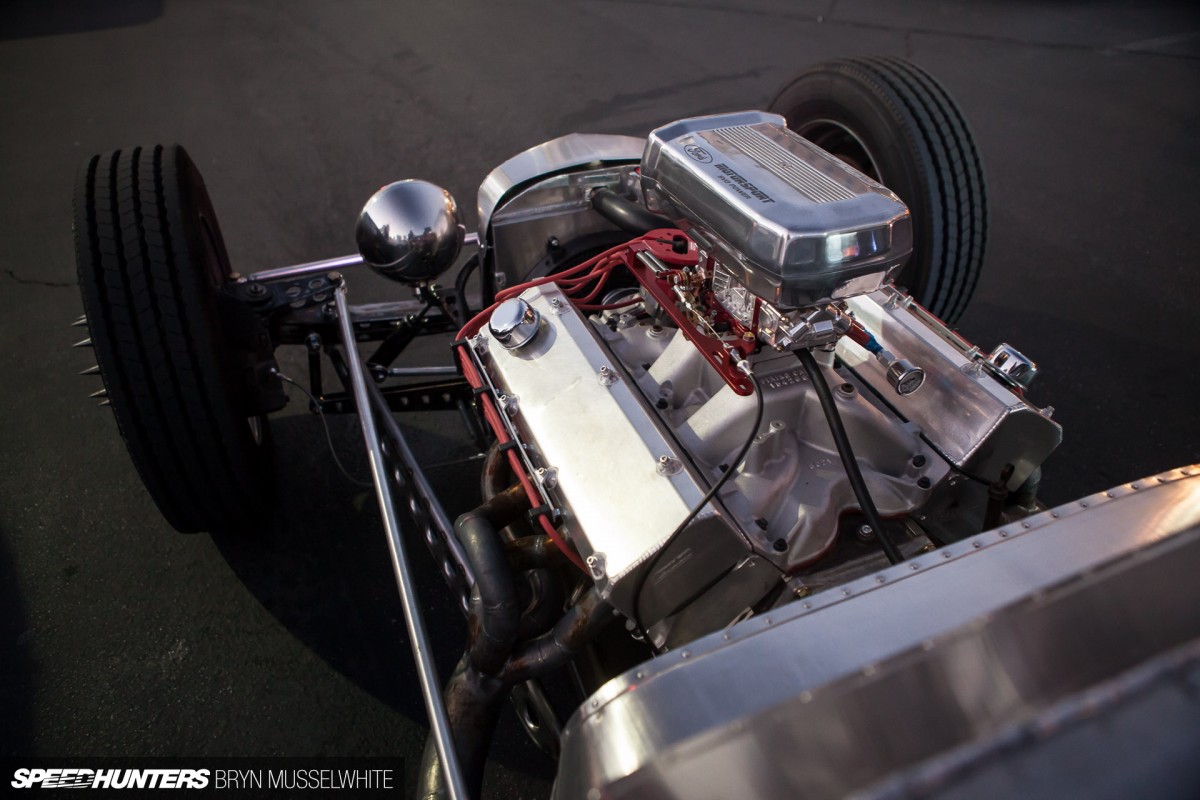 You might have been expecting a Powerstroke diesel to make an appearance, but Cutworm kept it hot rod-style with a gasoline big block Ford. The 460ci mill came from a '77 Lincoln Continental and was warmed over before being polished up.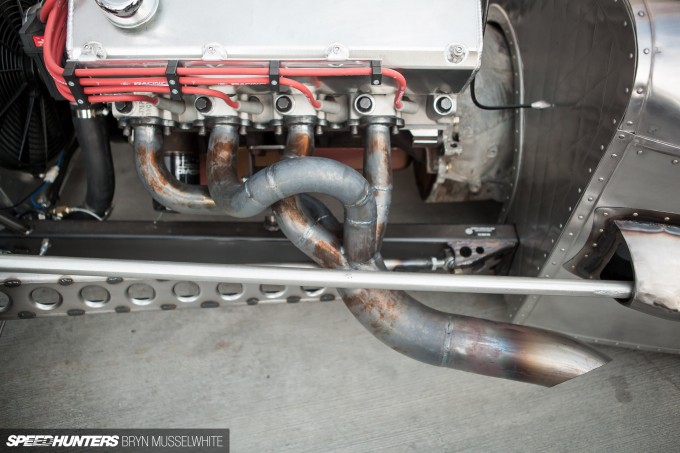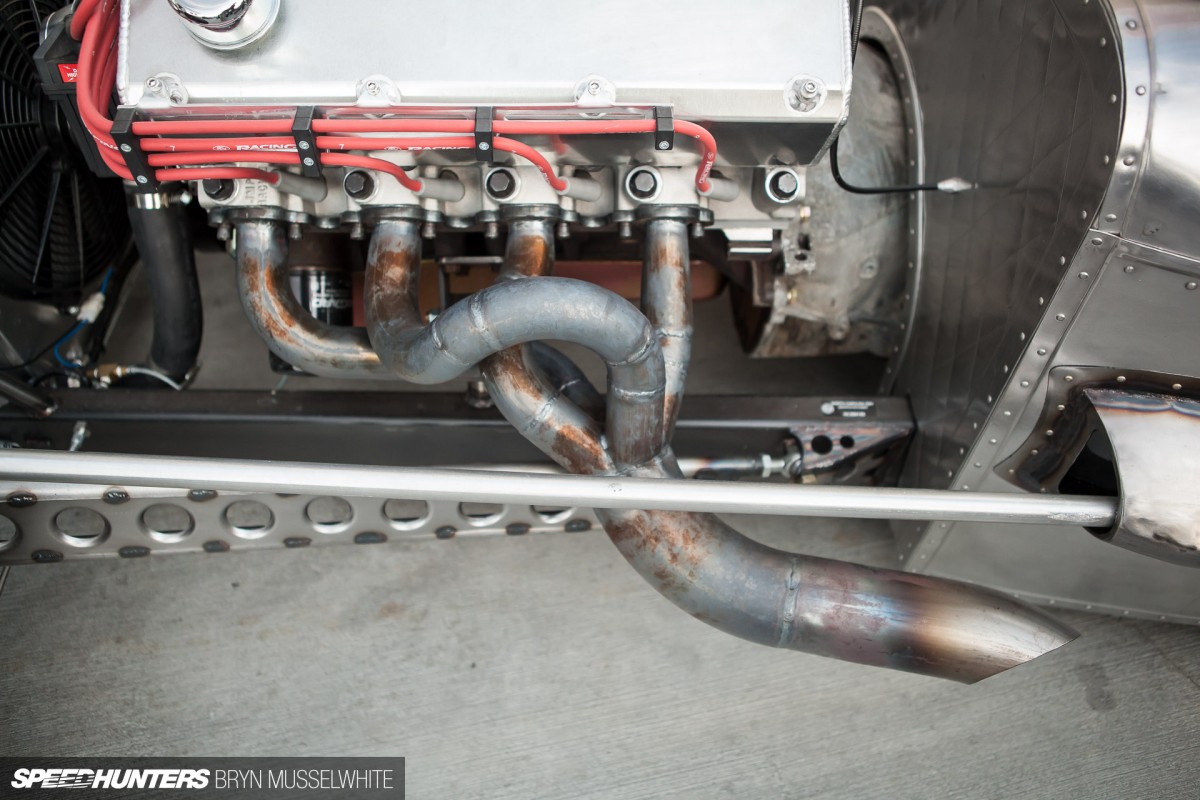 Of course Jeb had to build some headers from scratch too.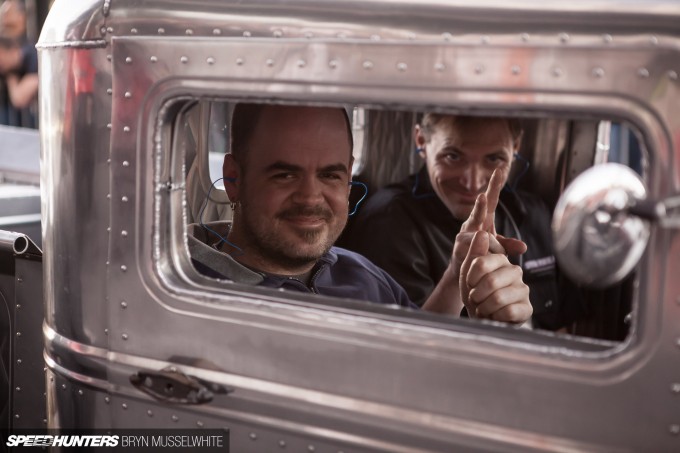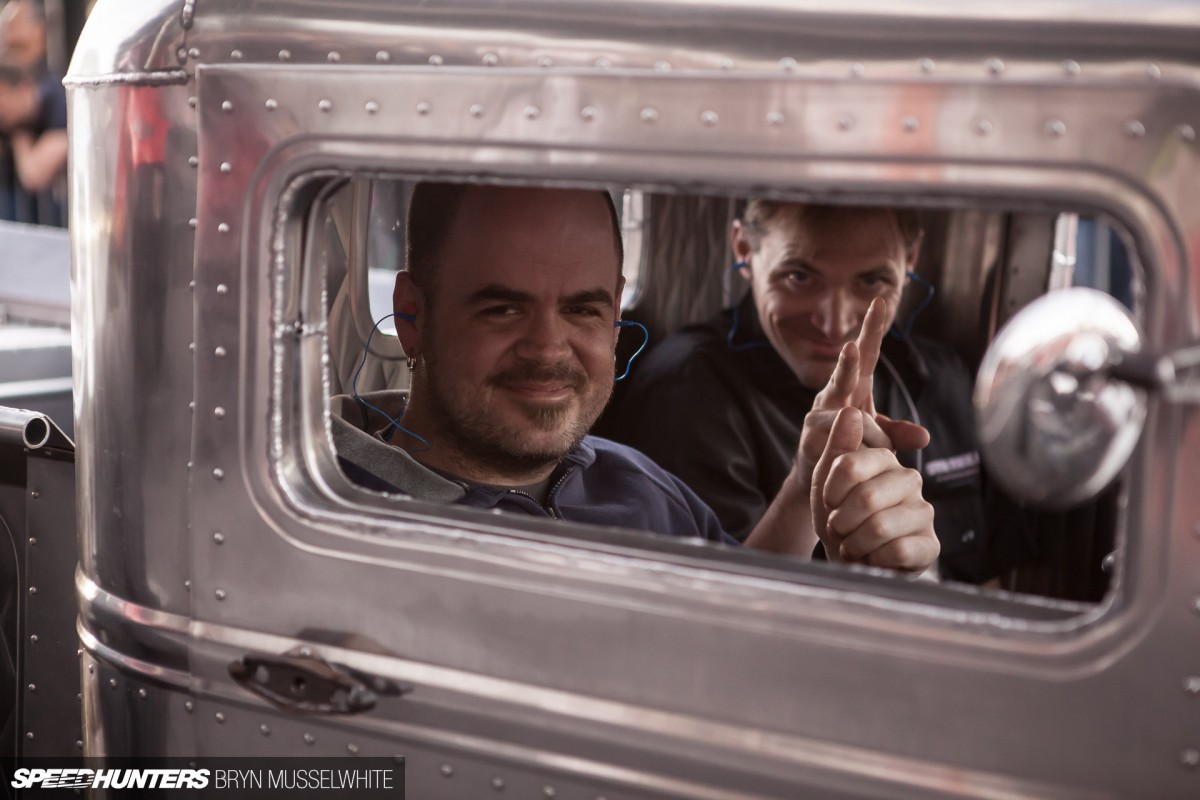 You think it's loud inside?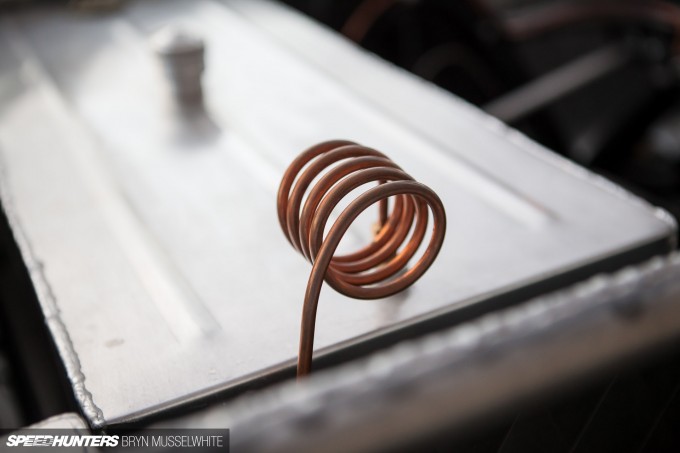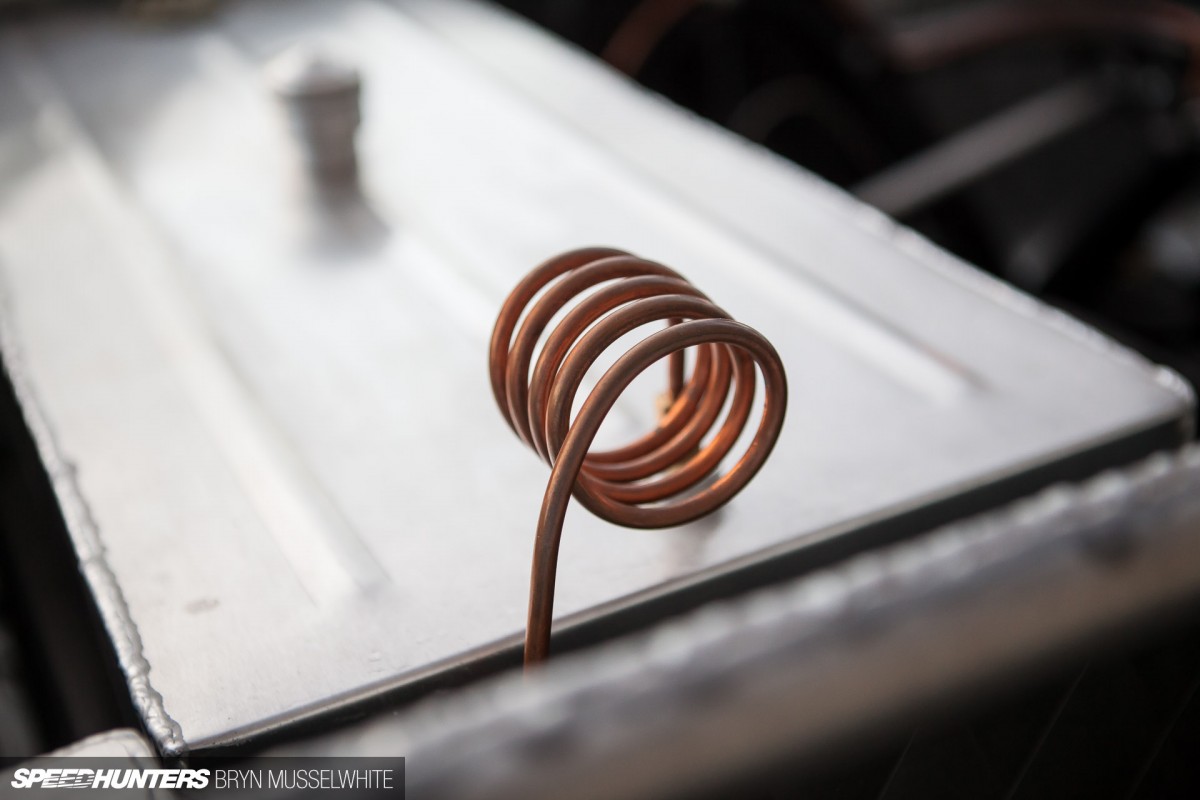 A hand-made gas tank is mounted in the back of the bed, with a copper fuel line that matches the copper hardlines for the rear airbags. Considering Cutworm Specialties' location in rural North Carolina, I wonder if there might be a bit of moonshine influence here too.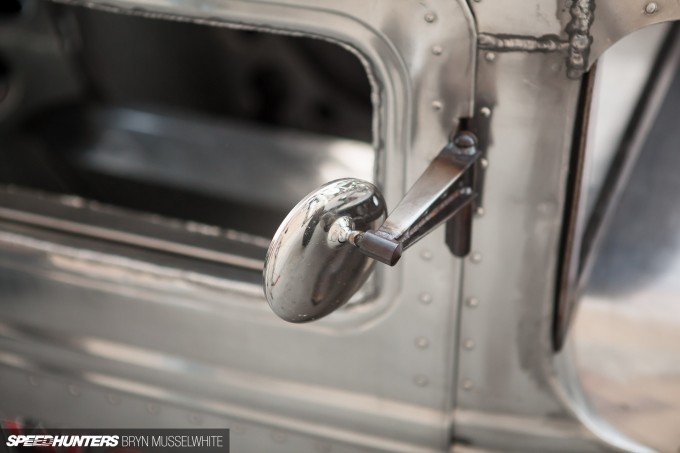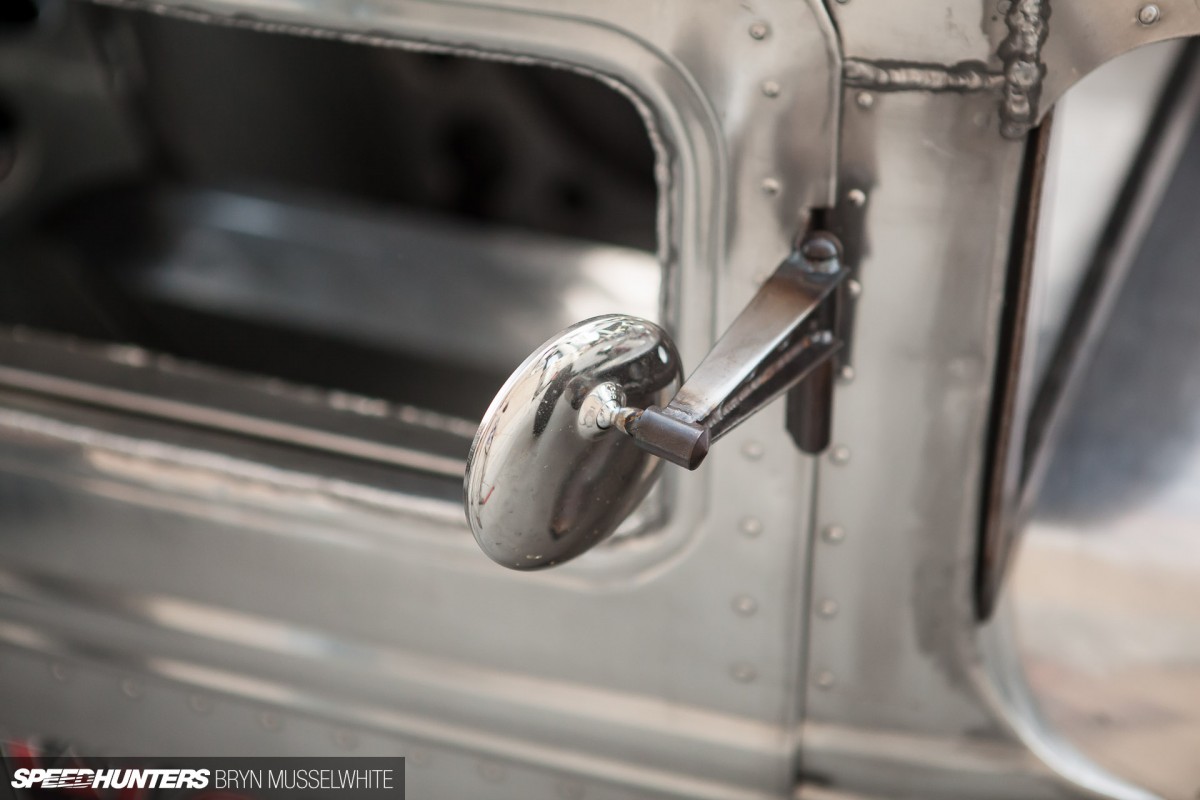 Old-style peep mirrors were removed from their clip-on mounts and new steel mounting arms were built…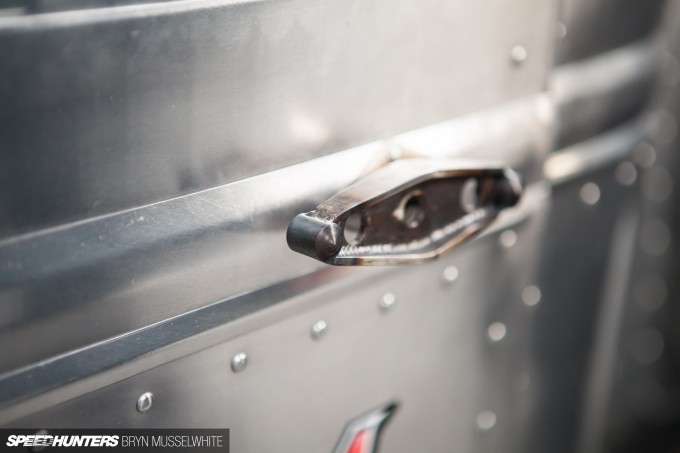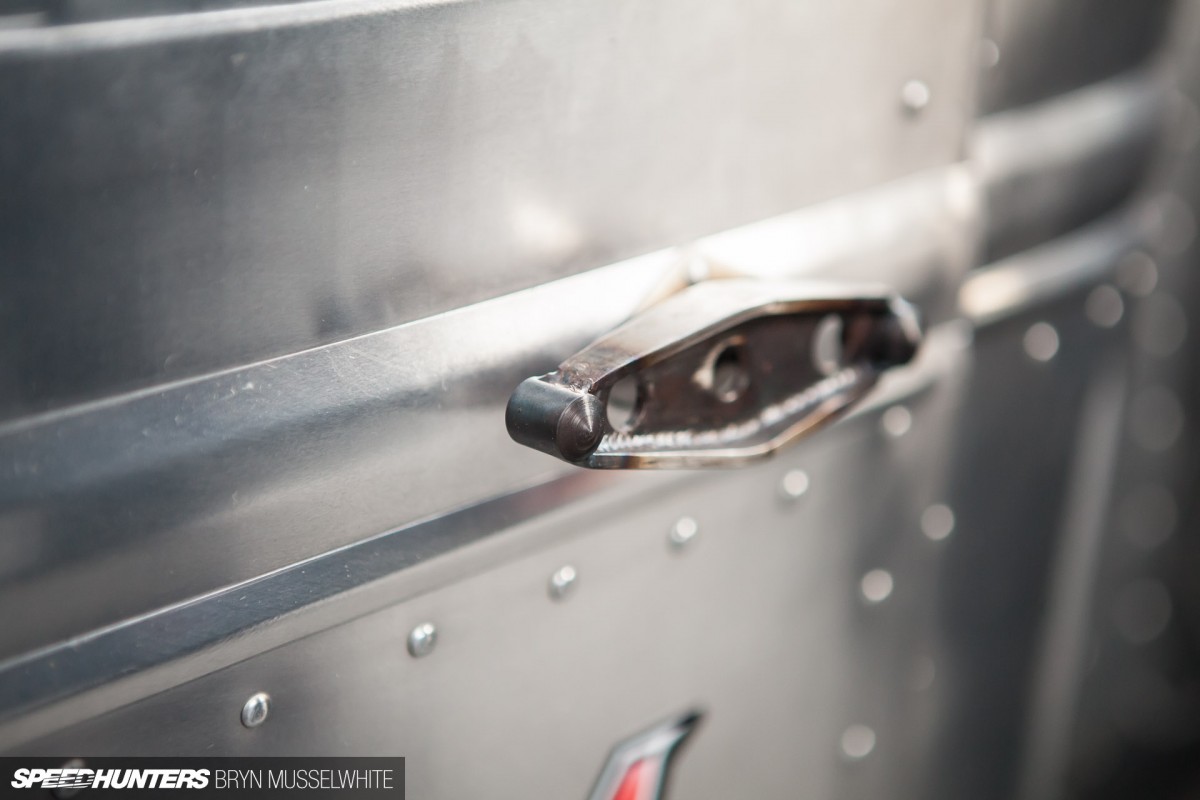 … along with matching door handles.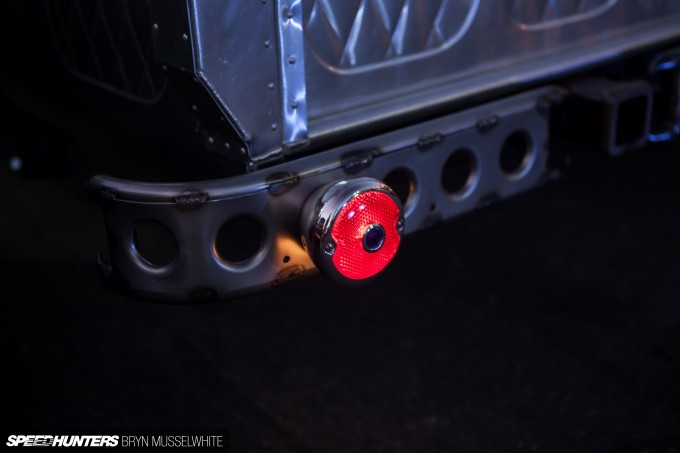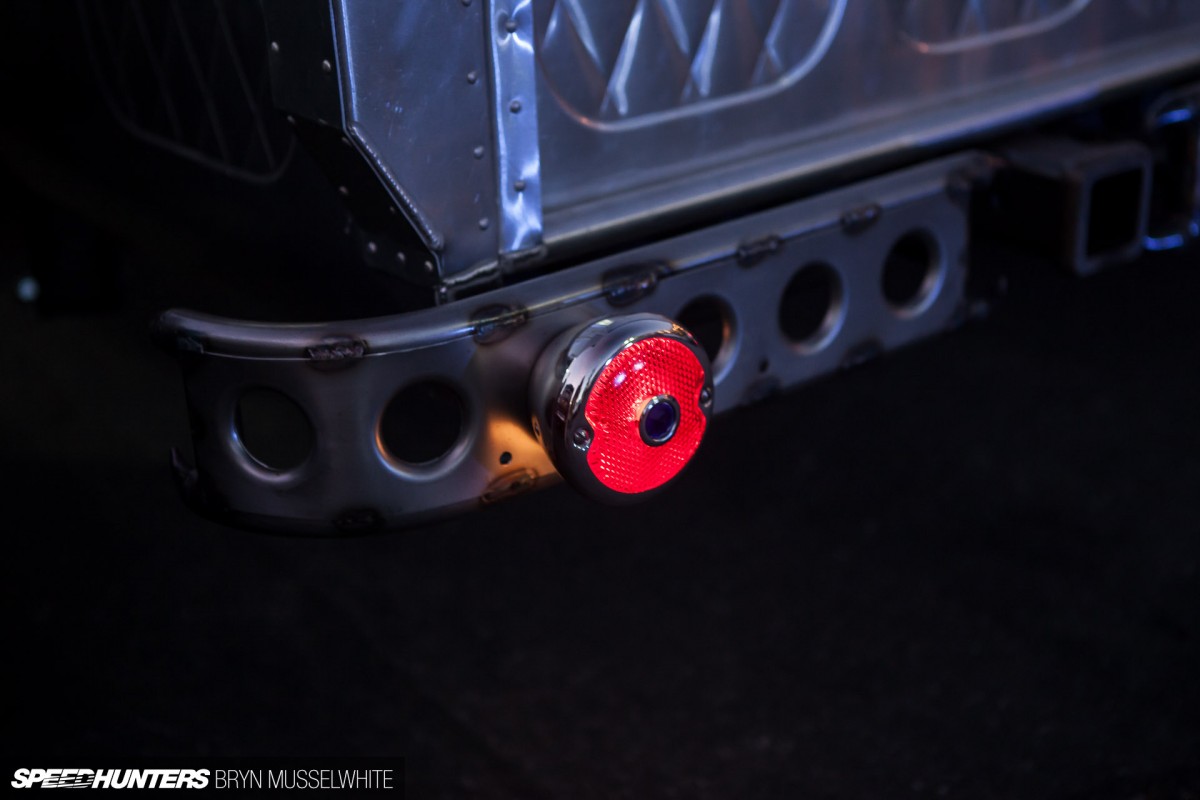 A bit more steel shows up on the rear dimple died bumper.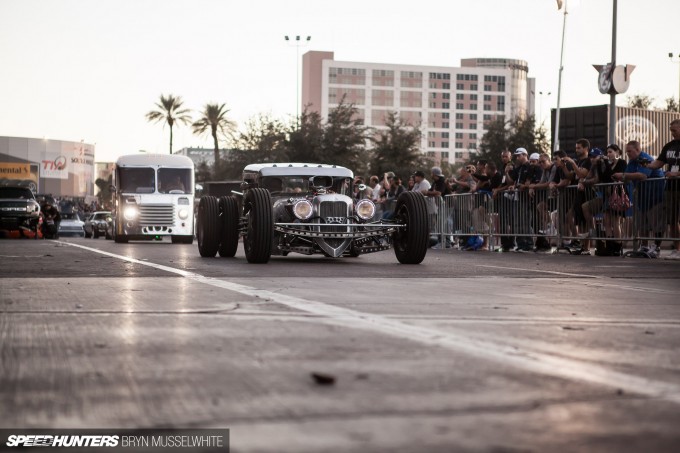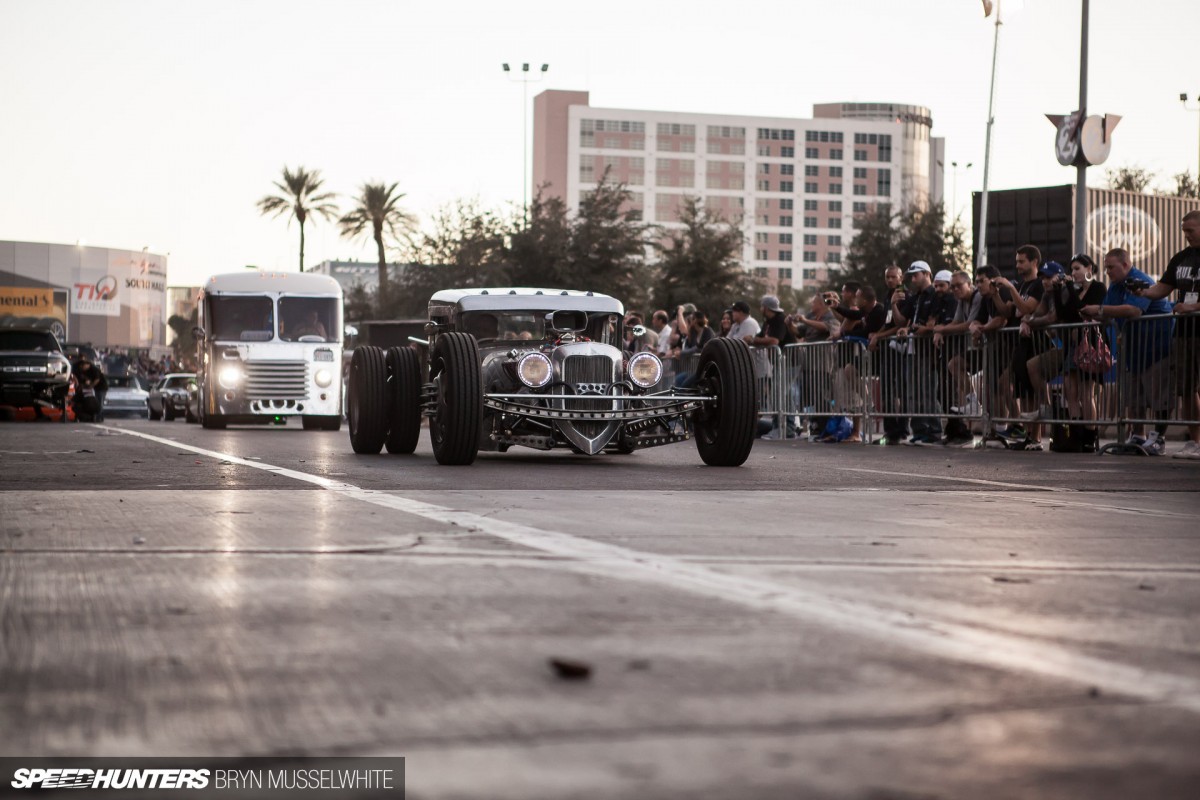 We're very glad that UPS chose the Cutworm Specialties alloy dually to bring to SEMA.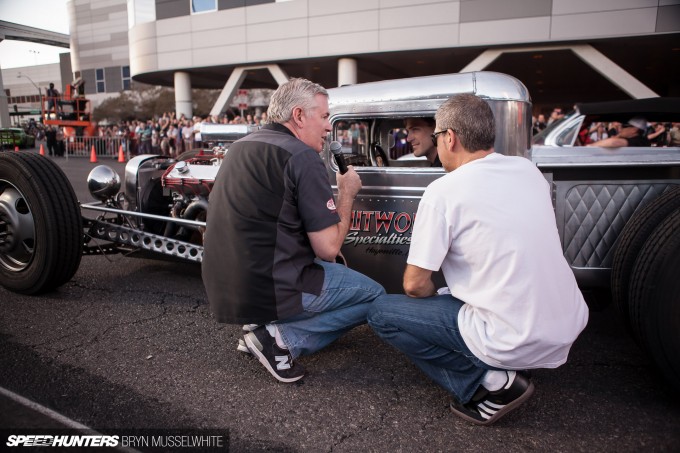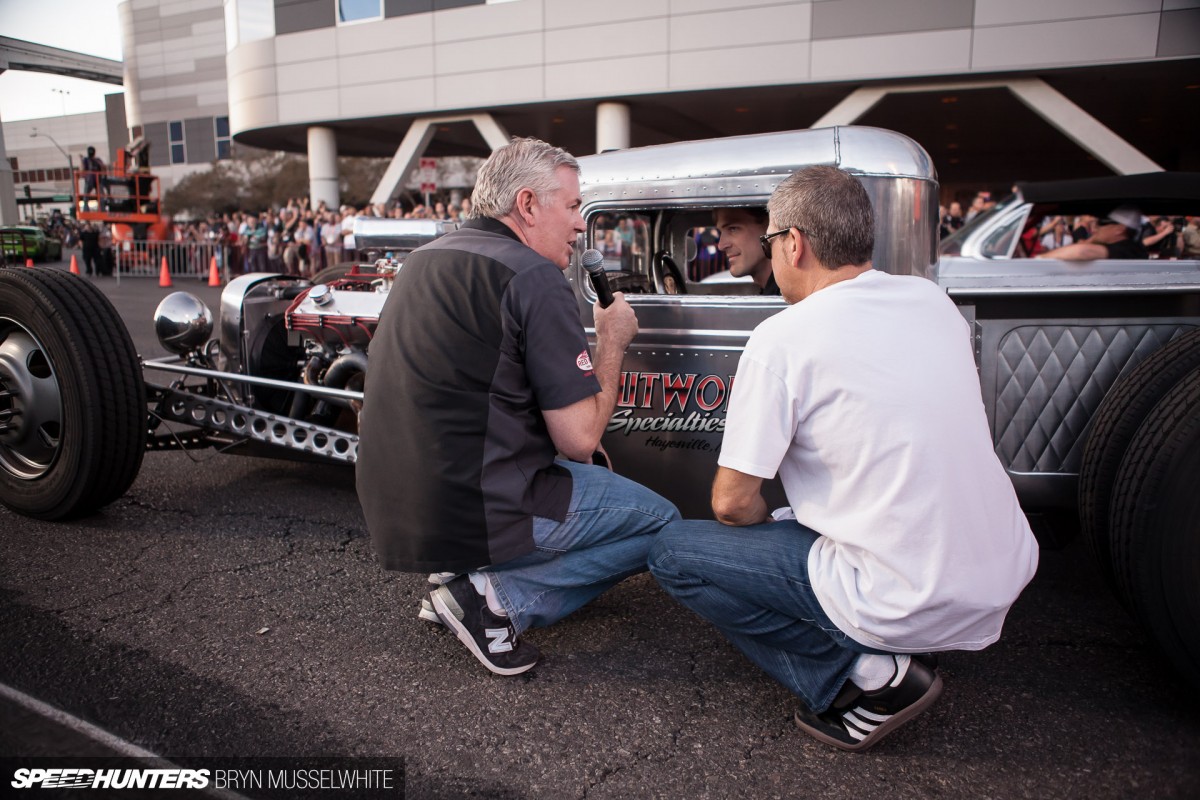 Based on the attention it received, we're not the only ones who feel that way either.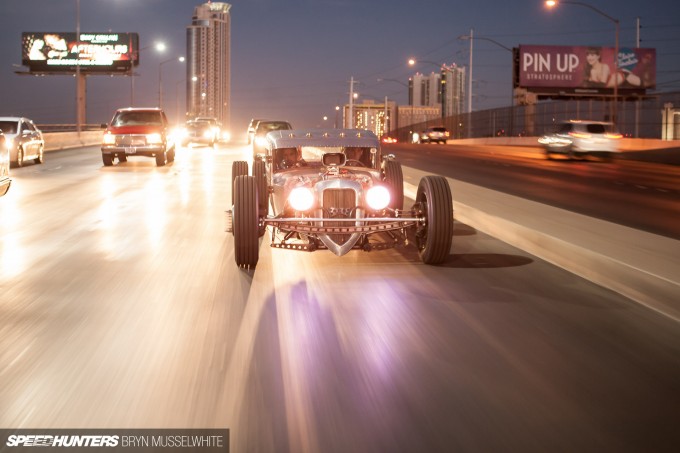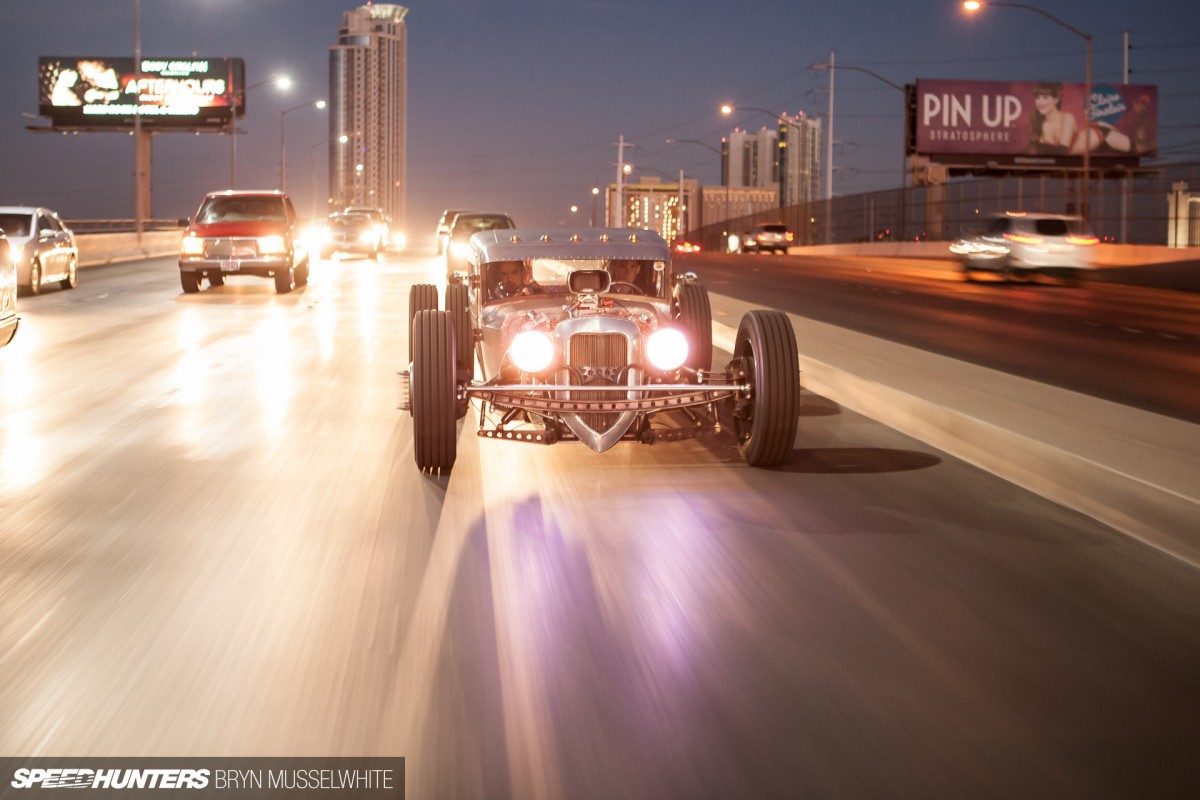 So this marks number five in Jeb's seemingly unstoppable stream of fully custom creations.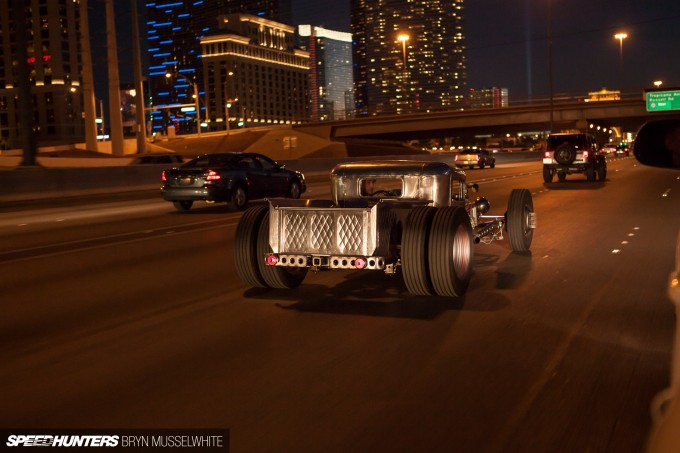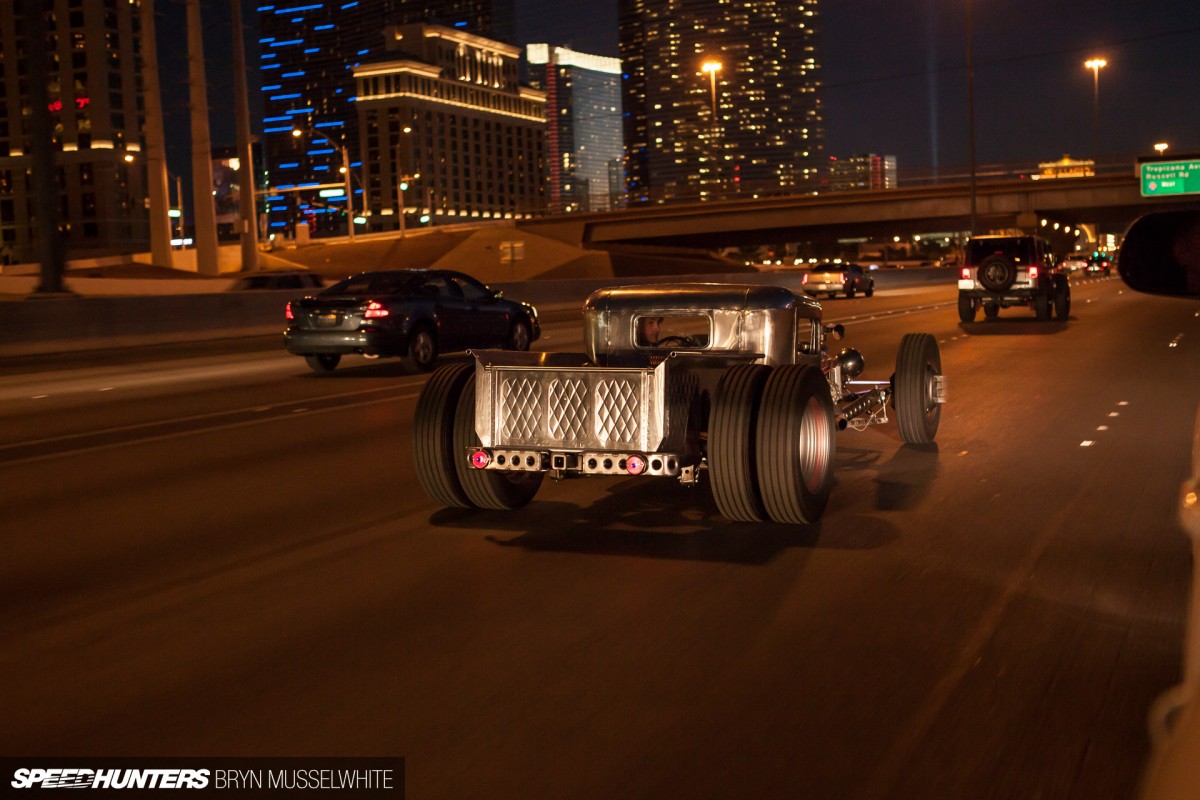 We can't even begin to guess what he'll come up with to top this one.