Zama warehouse gets raided
For those not fortunate enough to have had a tour of Nissan's private Zama heritage collection, the Nismo Festival qualifies as the next best thing. A rotating selection of cars are taken from there every time the event comes around, and the best thing is of course you get to see and hear them in action. One car I took special interest in was the NP35…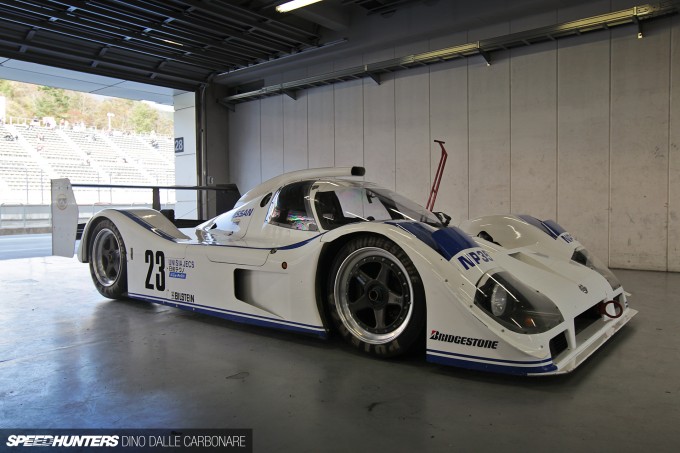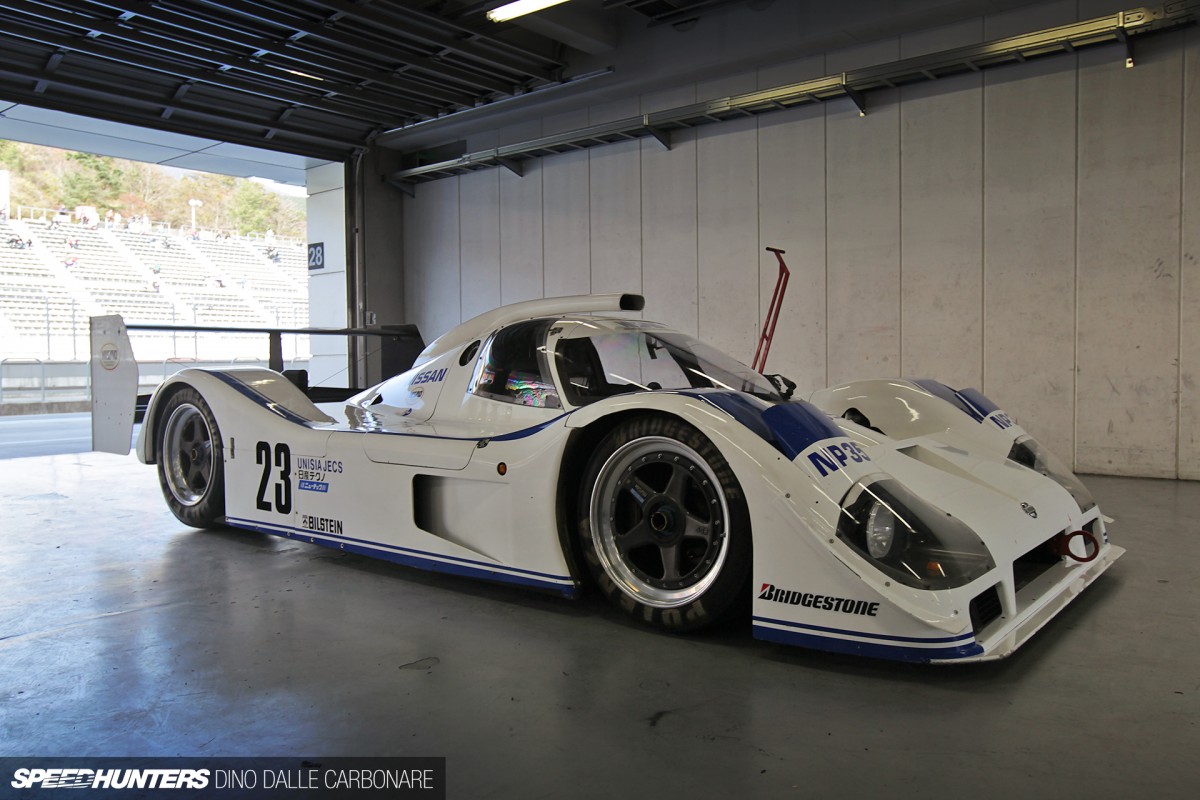 … a Group C racer that actually saw very little action, having been raced only once at the very last JSPC race in Mine back in 1992. It was far from competitive as Nismo never really had any chance to bring it up to pace…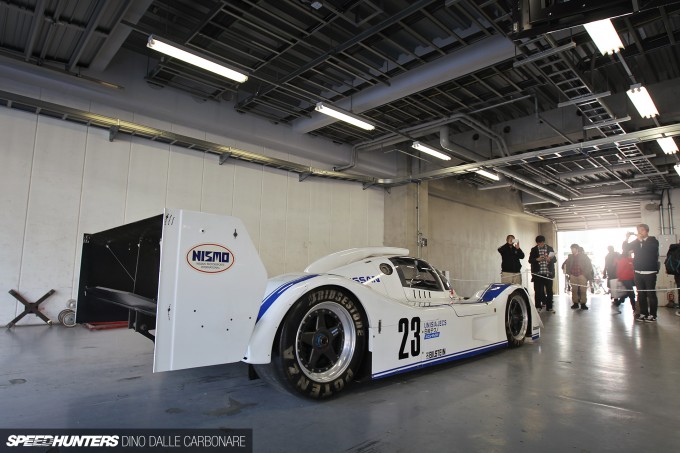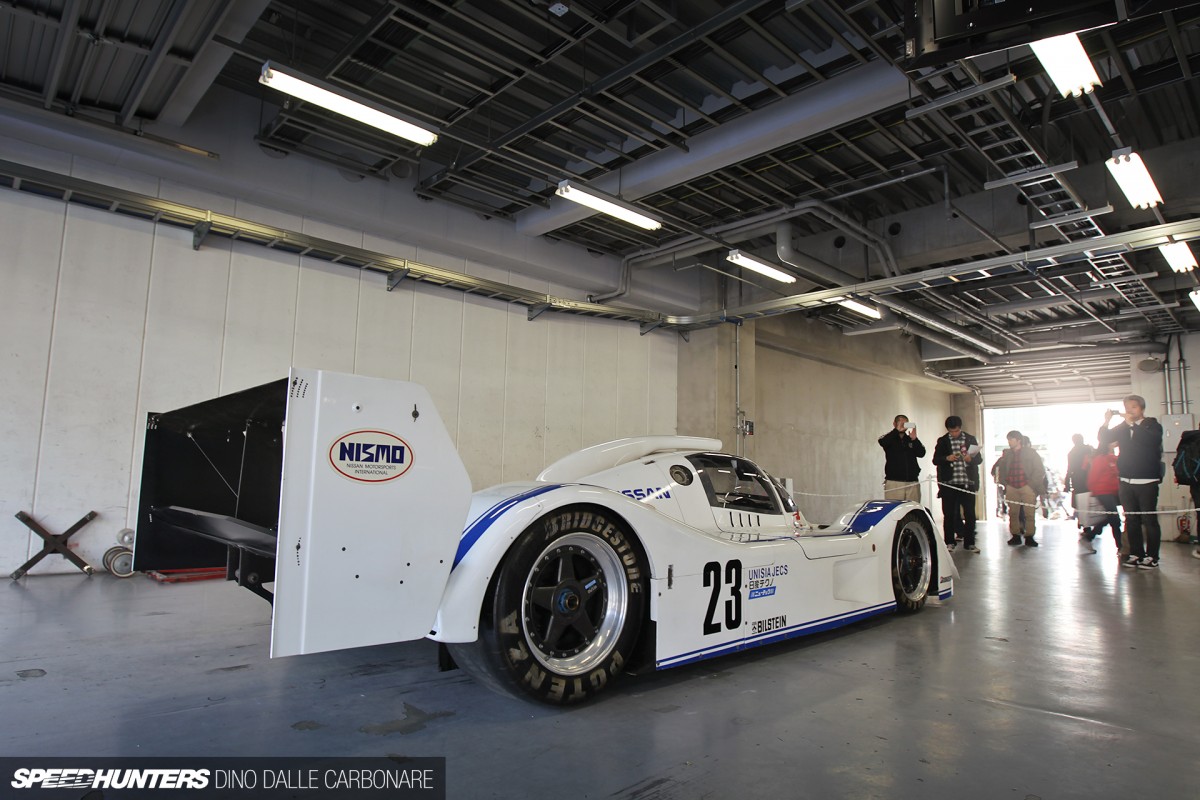 … but it certainly remains one of the most dramatic-looking cars the maker ever created; that massive rear wing and stunning early nineties prototype design joining carbon fiber construction and a screaming V12 engine that produced more than 700hp.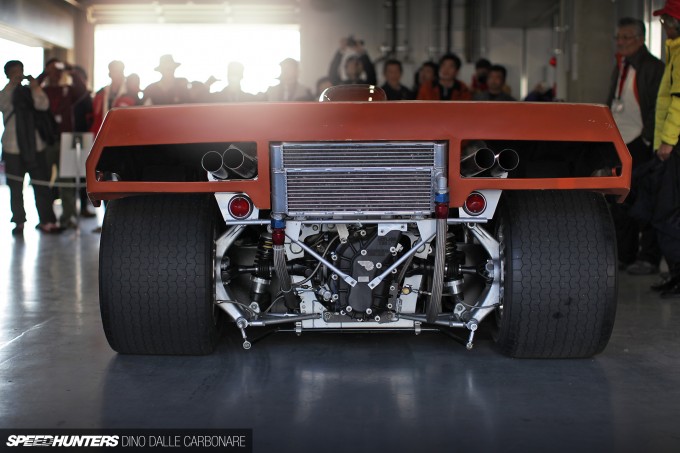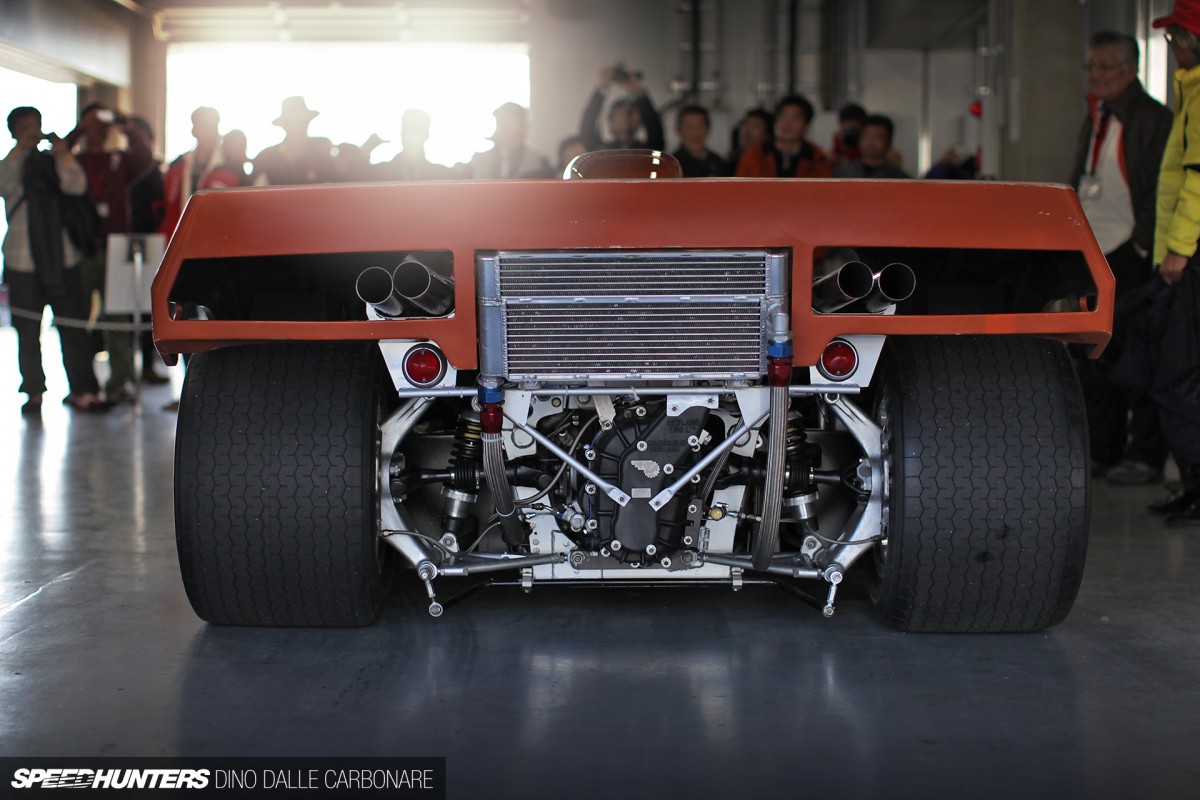 And if the operative word is dramatic, there were a few more cars from Nissan's history that qualified, like this second R382, sporting a typical Group 7 back end with exposed rear, suspension and bubblegum sixties racing rubber!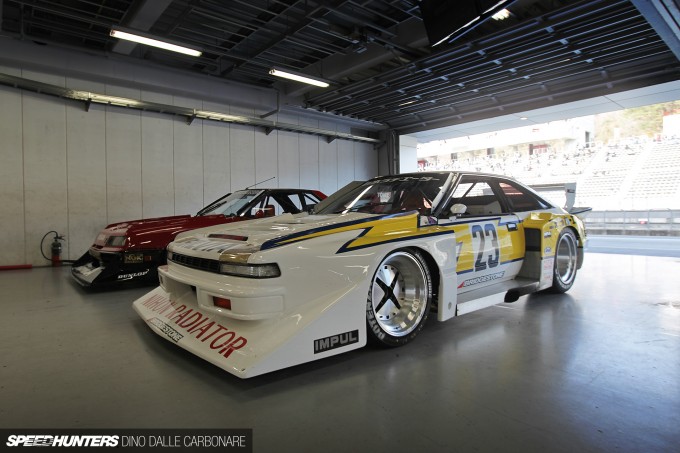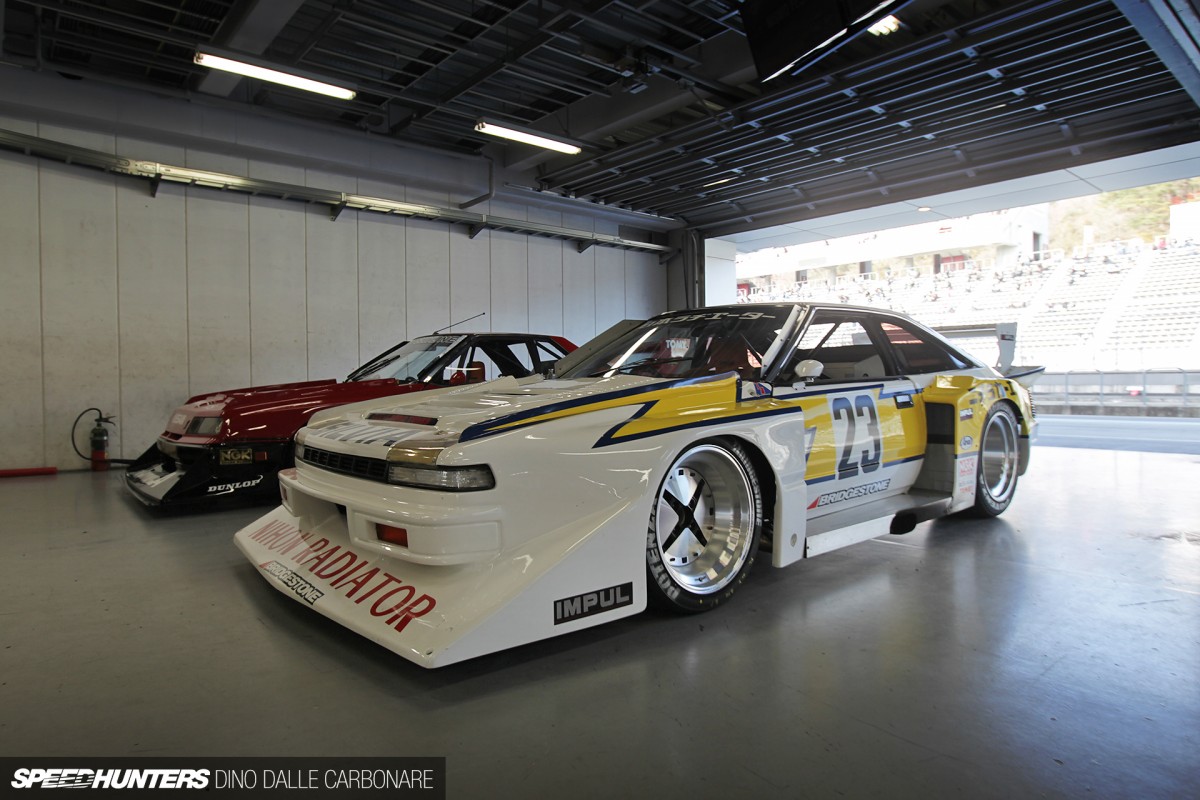 How about Hioshino's old Super Silhouette Silvia, a car that was attracting the attention of a few Kaido Racer owners that I got chatting to. It was cool to hear how these are the cars that they've based their passion on, attempting to recreate that exaggerated aero look on their street cars.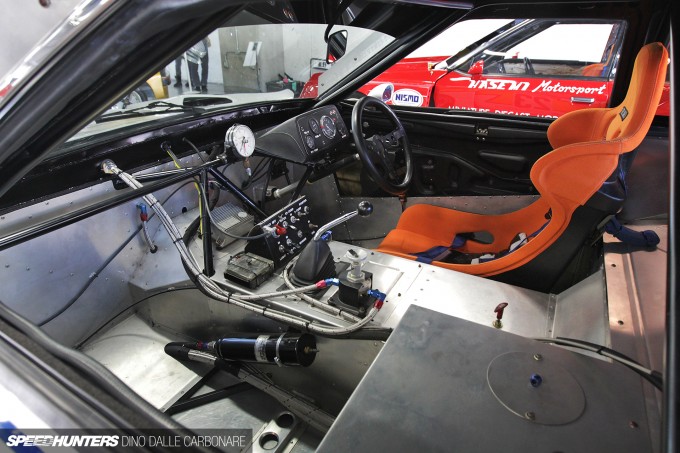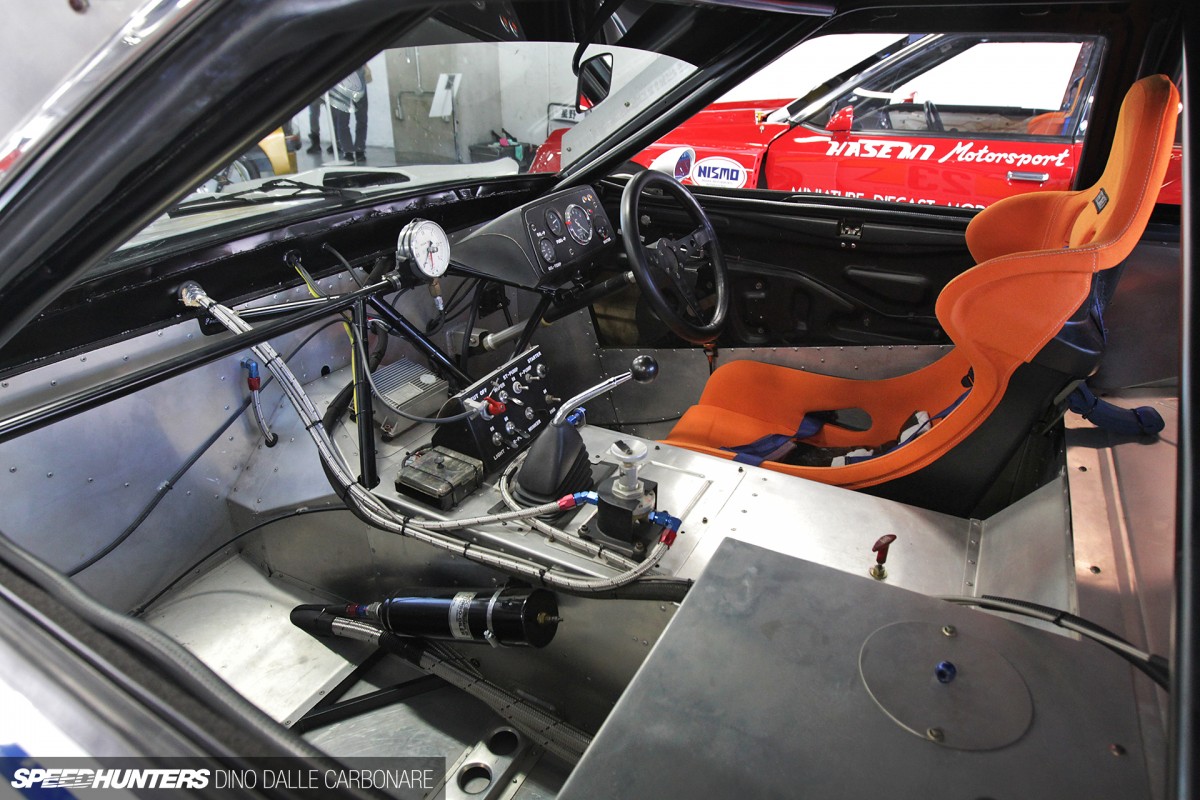 The car was based on a very modified mix of S110 and S12 chassis; as you can see, it's full-on race car in the cabin, with nothing really used from the street S12.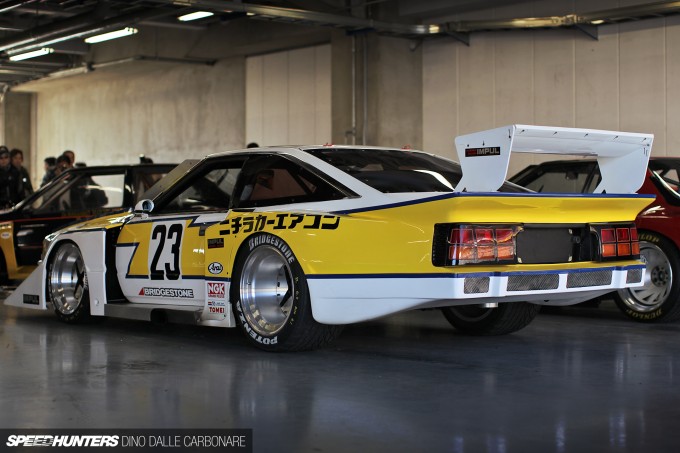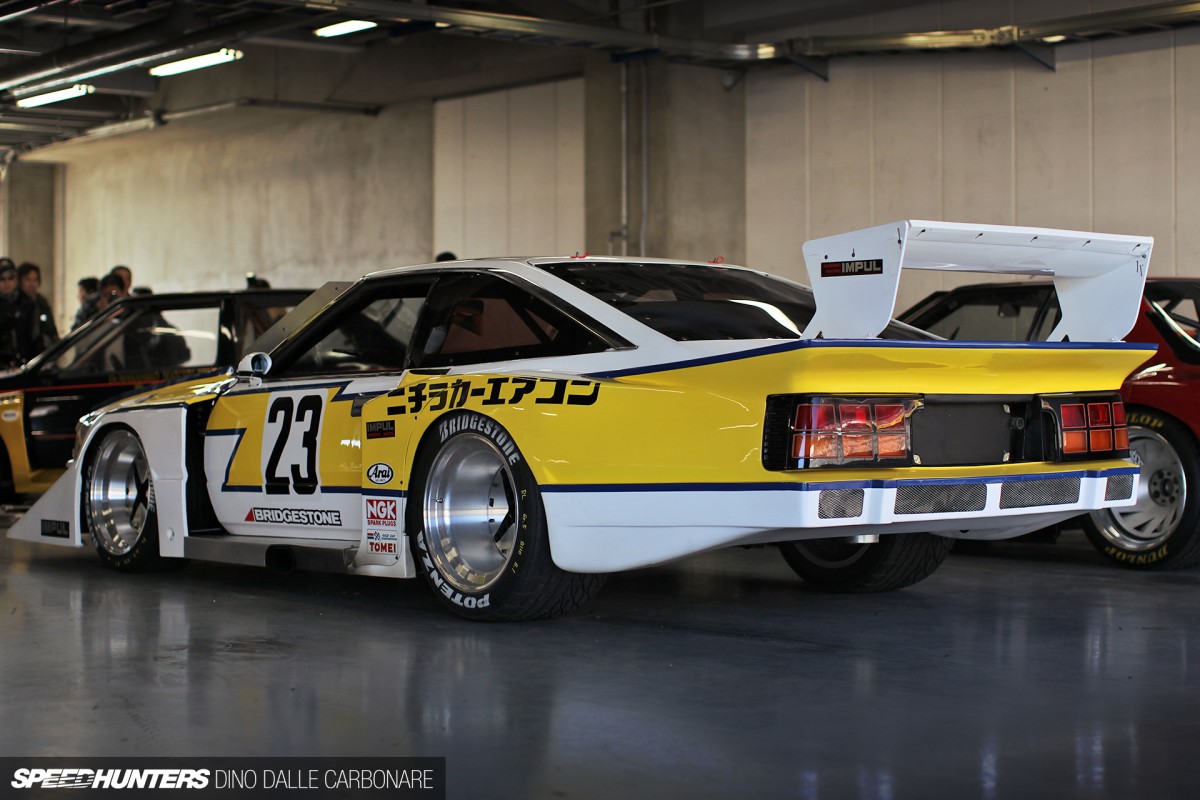 Got dish?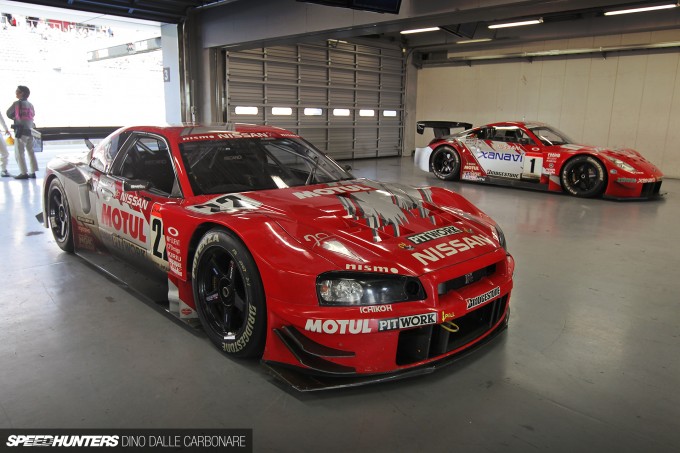 You're probably wondering why I still get so excited at the sight of an R34 GT500 car. It's hard to explain it but no matter how many times I see one, either the earlier ones or this last VQ-powered version from 2002, I literally lose it. I can't quite put my finger on it but I can't help but pore over every curve and detail, make comparisons to the street BNR34…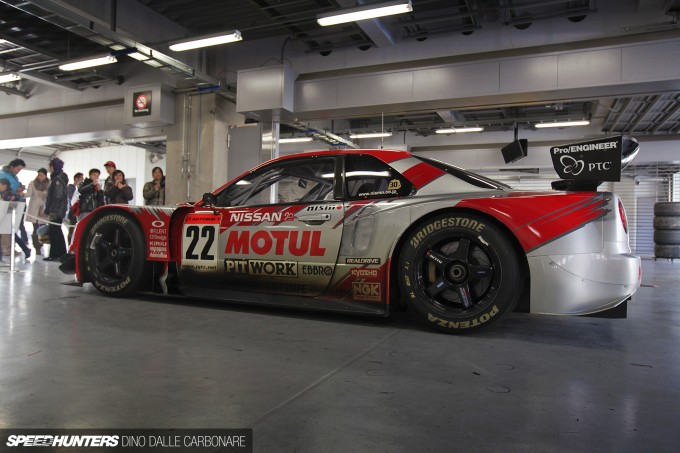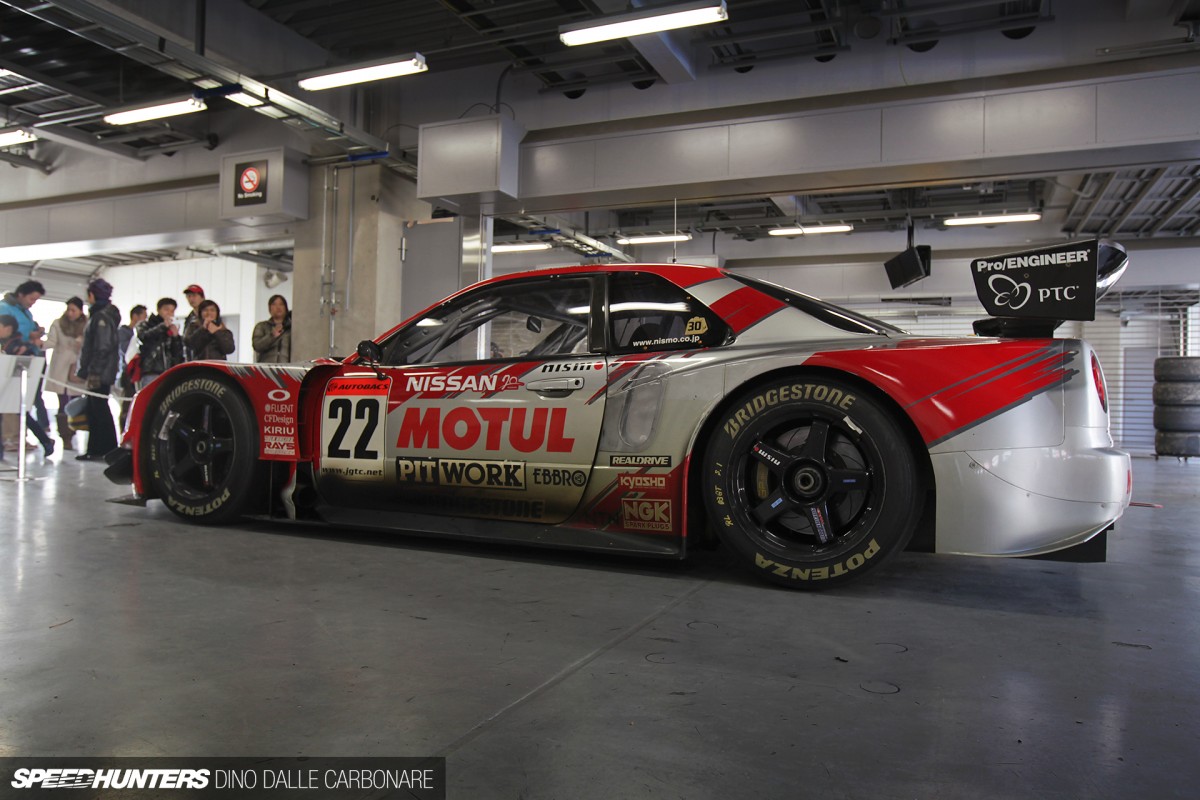 … and try to get some inspiration of mods that I will eventually end up doing once time and funds allow. These cars are the epitome of the R34 chassis…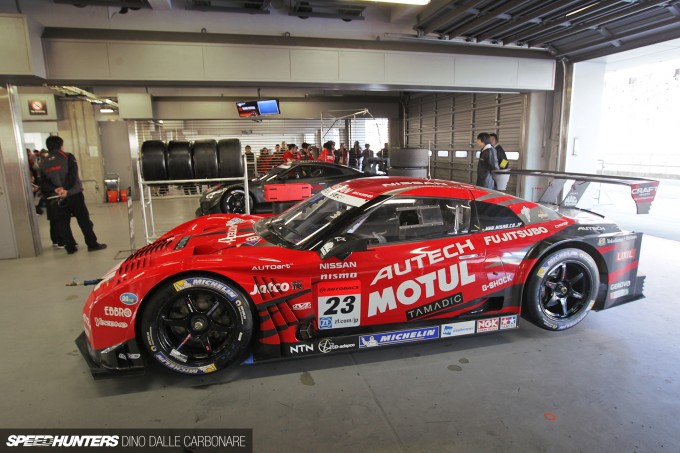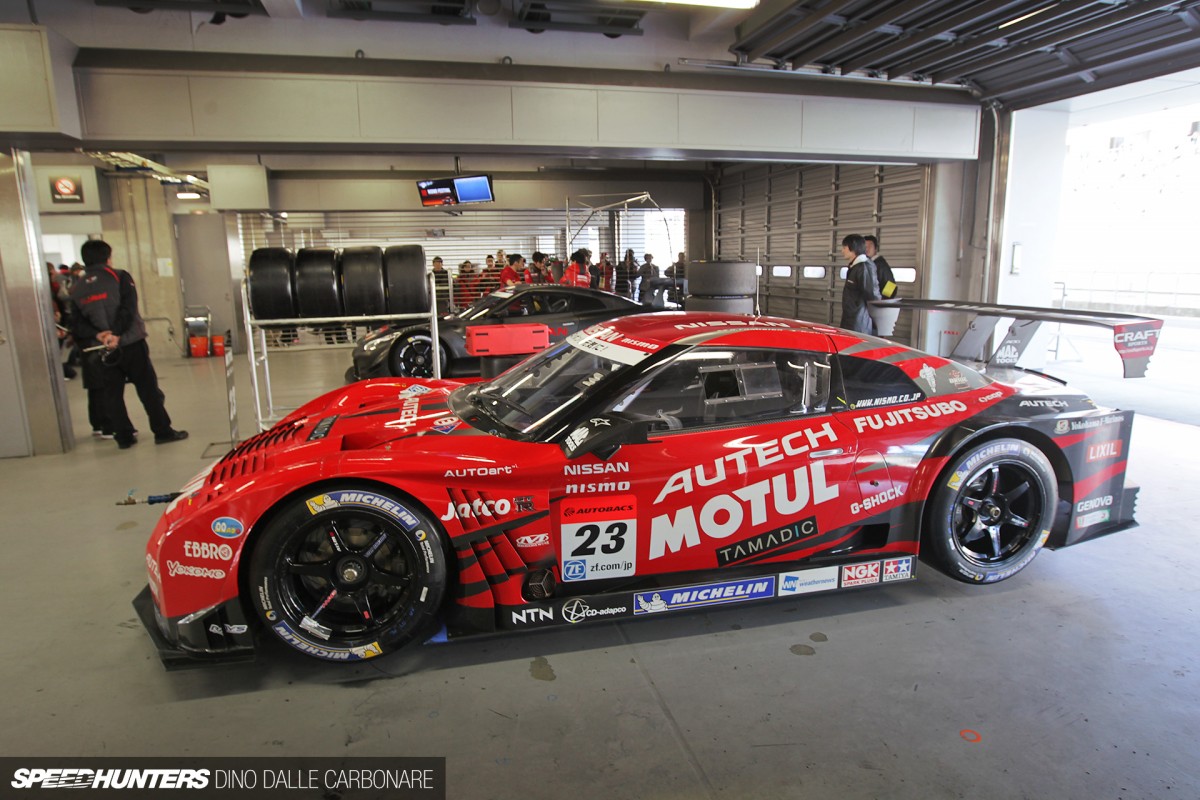 … as this year's GT500 car is to the R35, aside from the fact that it actually shares far less with the street car, the engine first of all not having anything to do with the twin turbo VR38. Still, these cars are as JDM as you can get, in a series that is about to change quite a lot, and we still don't know if it will be for the better or worse.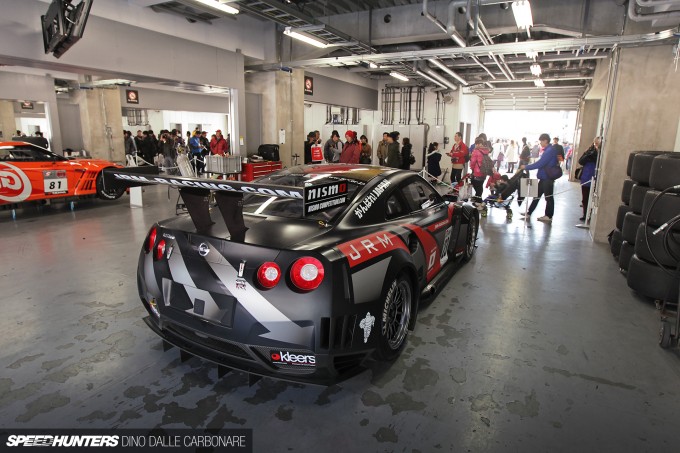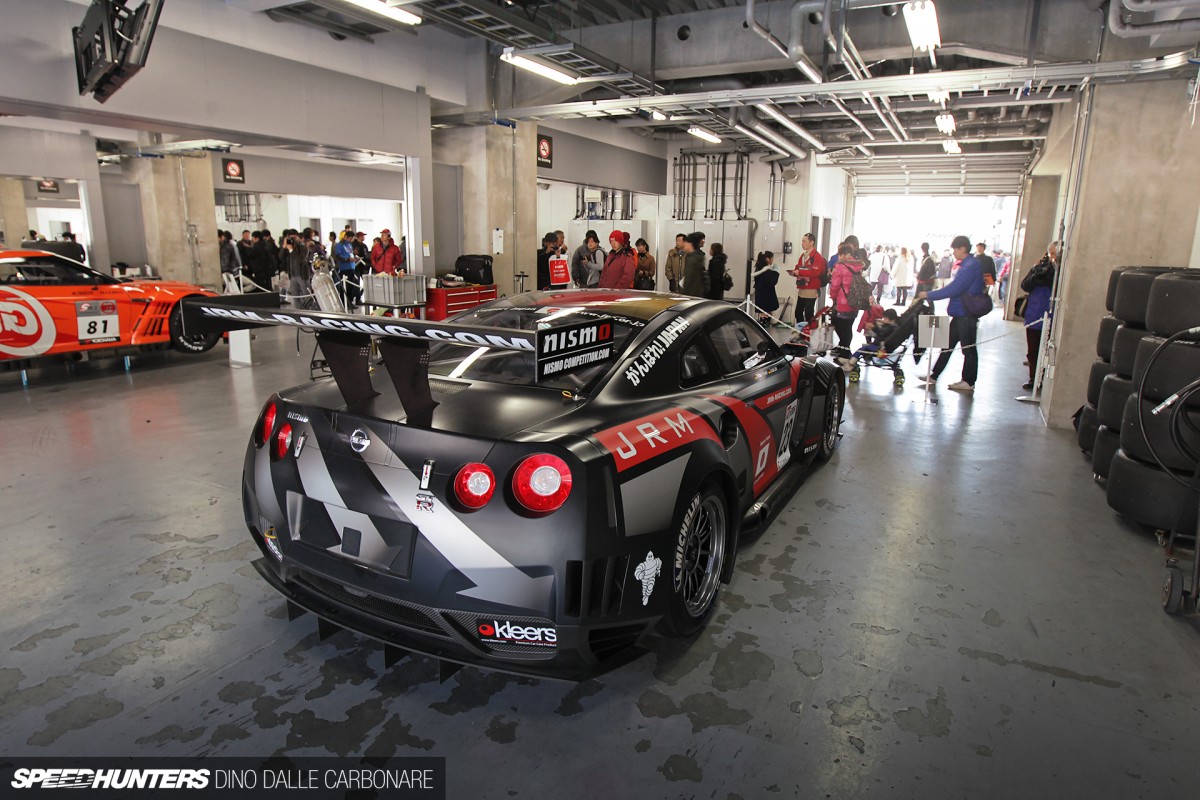 I thought I'd throw in a rear shot of the JRM GT1 GT-R, one of my favourite R35-based race cars ever made. Again, too bad it had a V8 and not a extensively modified version of the VR!
Tuner deals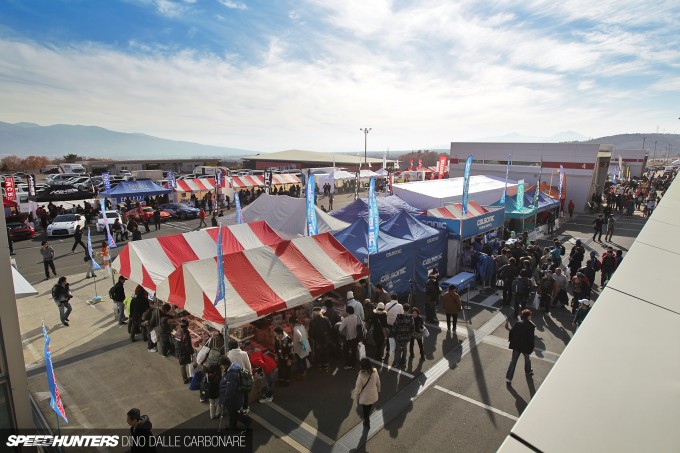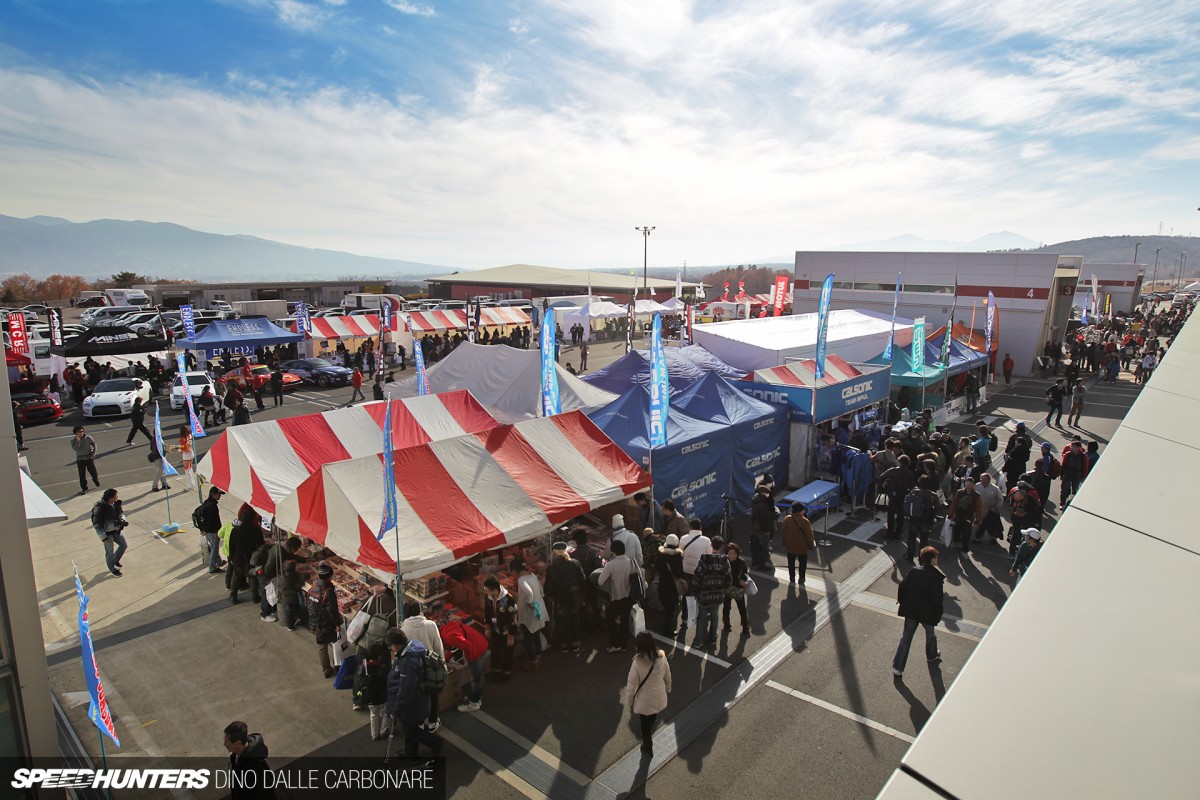 But let's leave the pits and head out into the paddock area, as there was much happening in and around the tuner stands…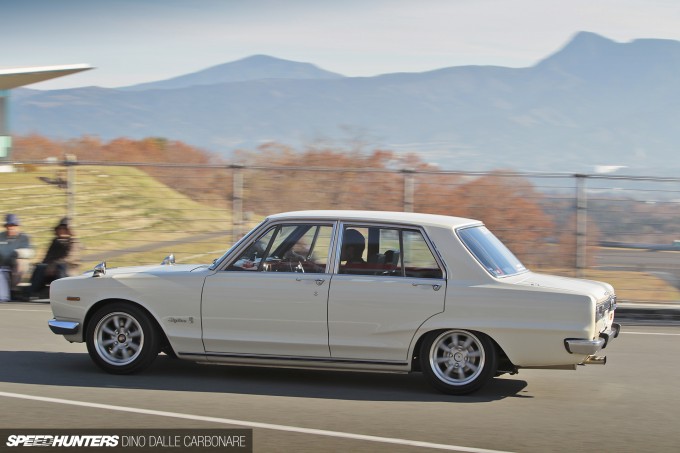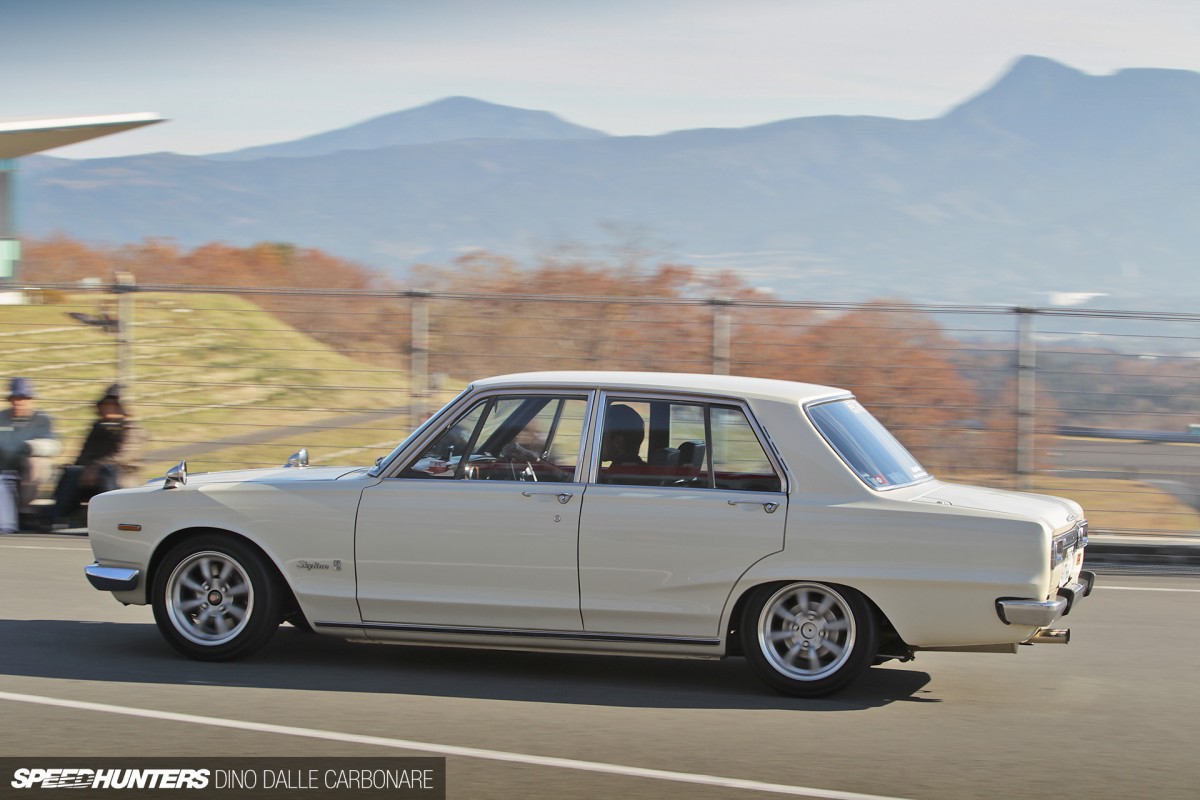 … with lots of cars still coming in to find a spot to park, like this four door Hakosuka.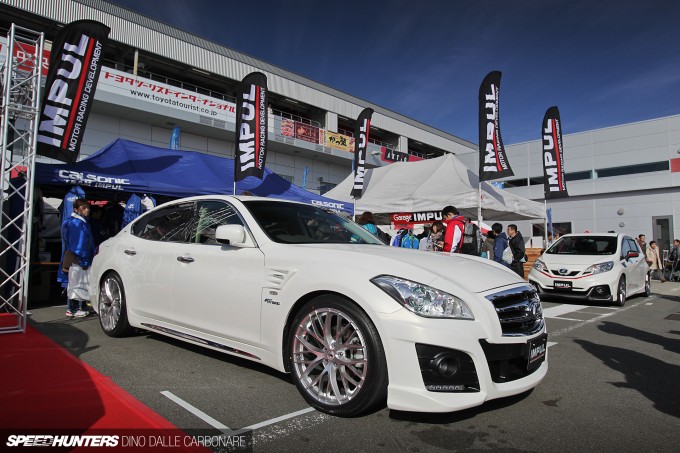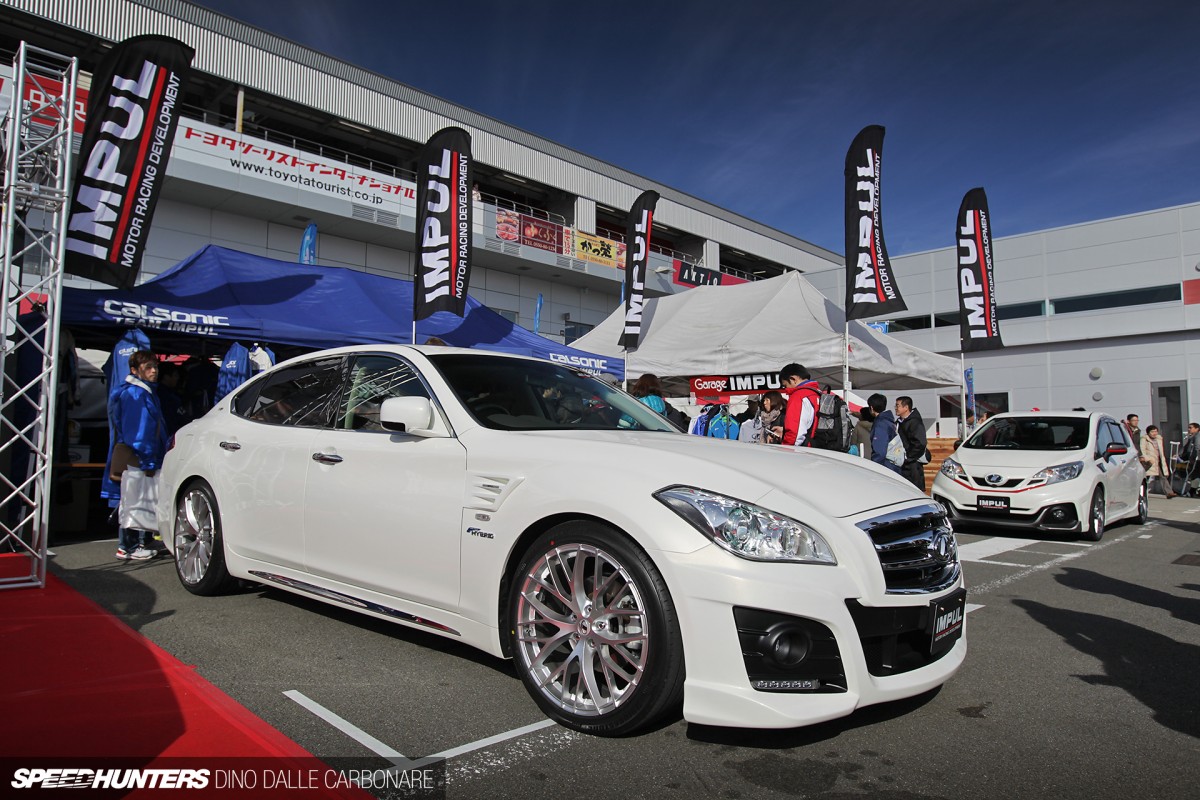 Serving as a little momentary break from all the GT-Rs and Zs on display I had a quick look over the Impul tuned Y51 Fuga, or Infiniti M45. The big luxurious sedan runs on a set of Impul tuned Öhlins suspension and is fitted with the full Impul aero package and rims. Power is also up slightly thanks to larger throttles and a remapped ECU. They also do a complete version of the new Note, which you can see in the background there – something that's pretty cool I thought.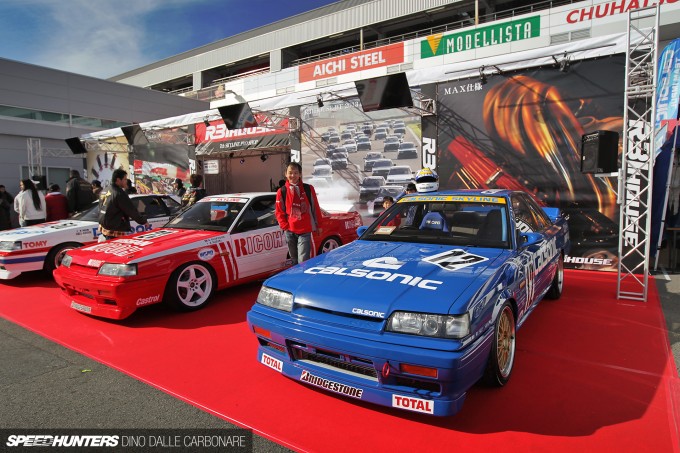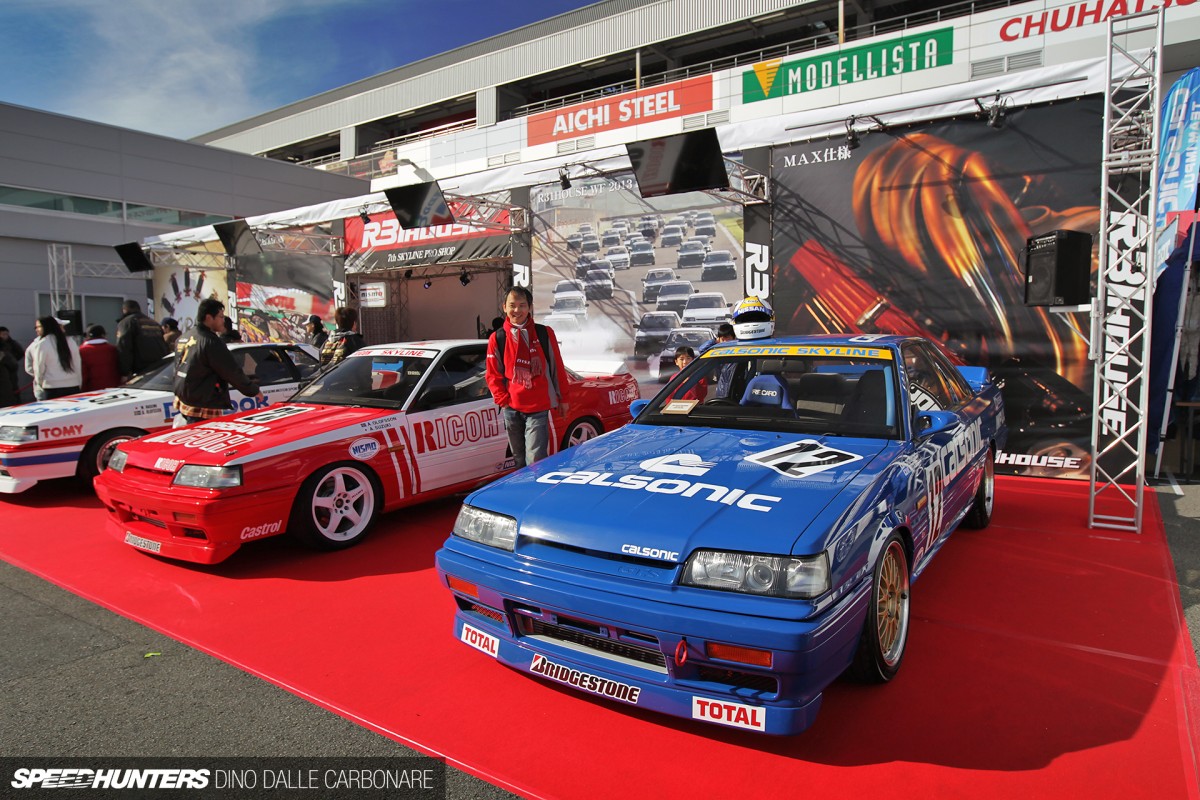 R31 House always have the biggest and most dramatic display at the event, and they had a nice trio of race-inspired street cars to show off this year as well as lots of discounted parts.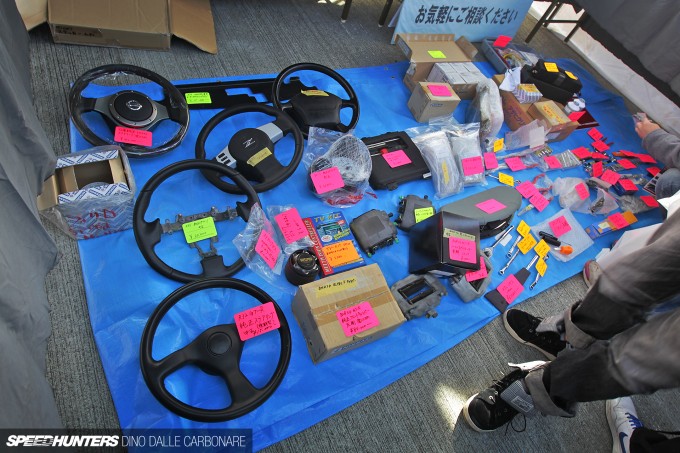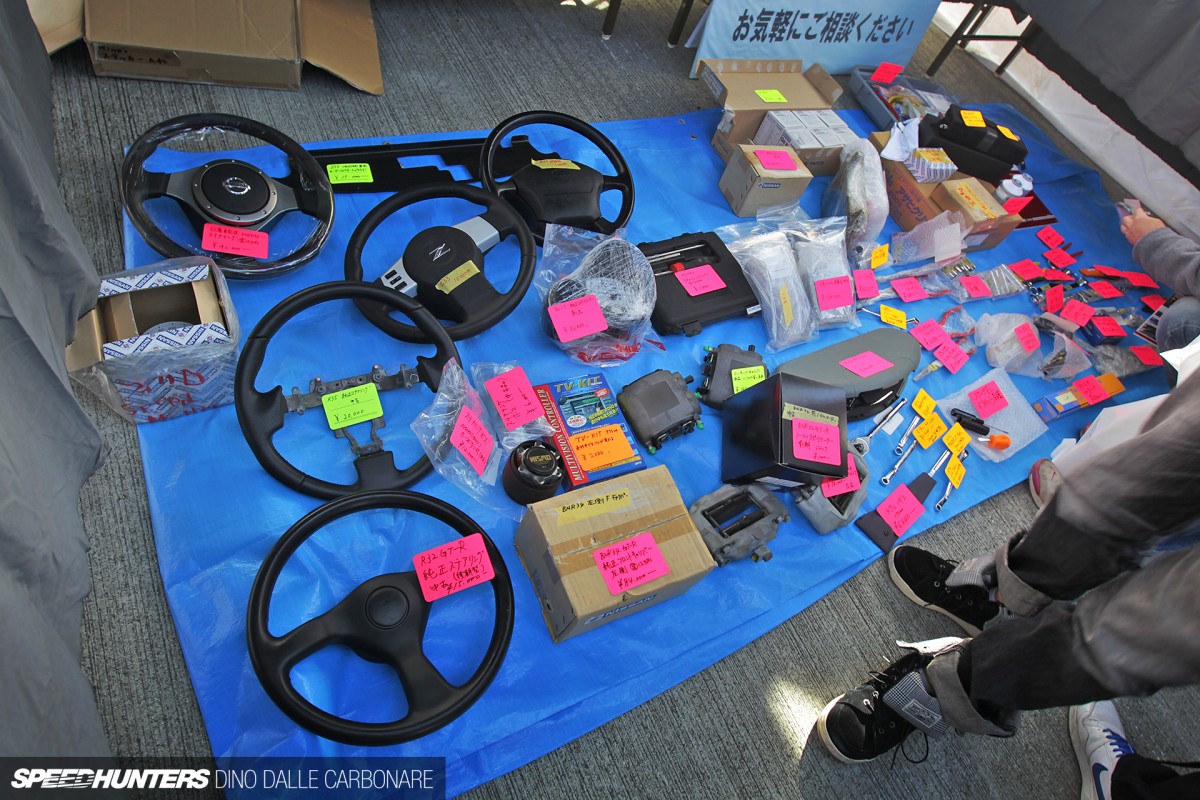 And the operative word at the Nismo Festival is indeed parts, or discounted parts to be more accurate. Every tuner had brought miscellaneous bits and pieces they were trying to clear out, slashing prices on even their regular stock on top of second hand stuff as you can see here…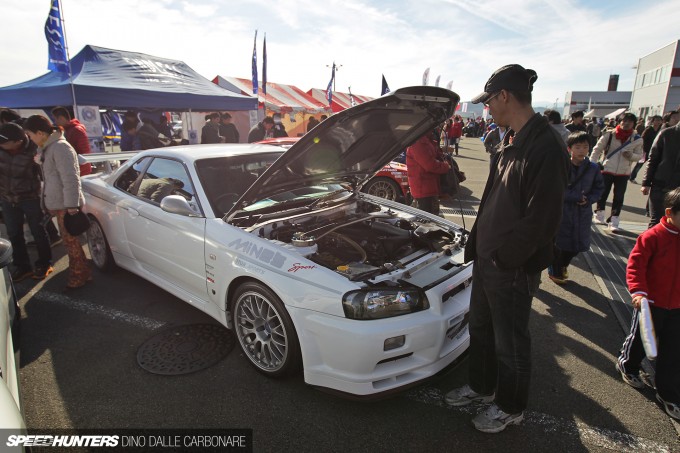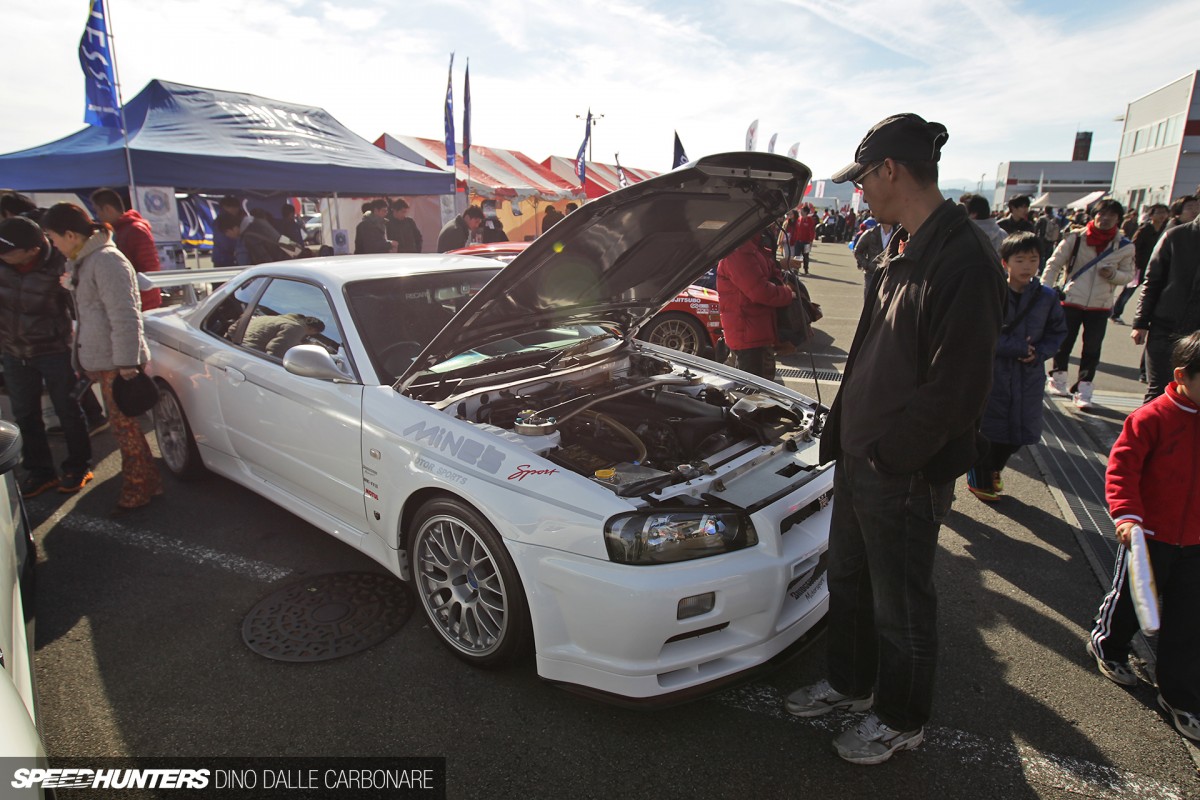 … at Mine's.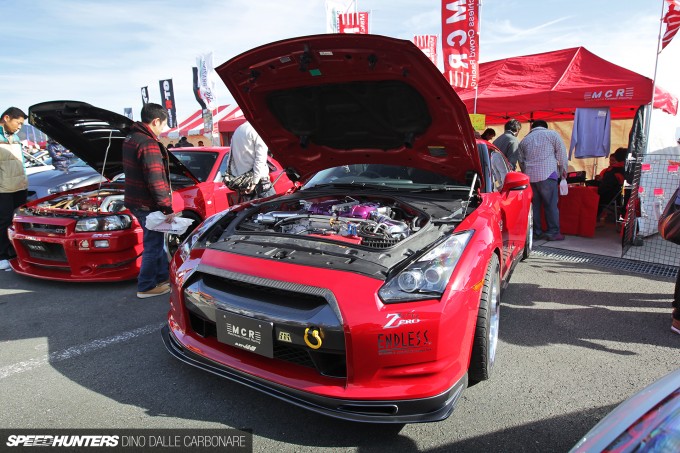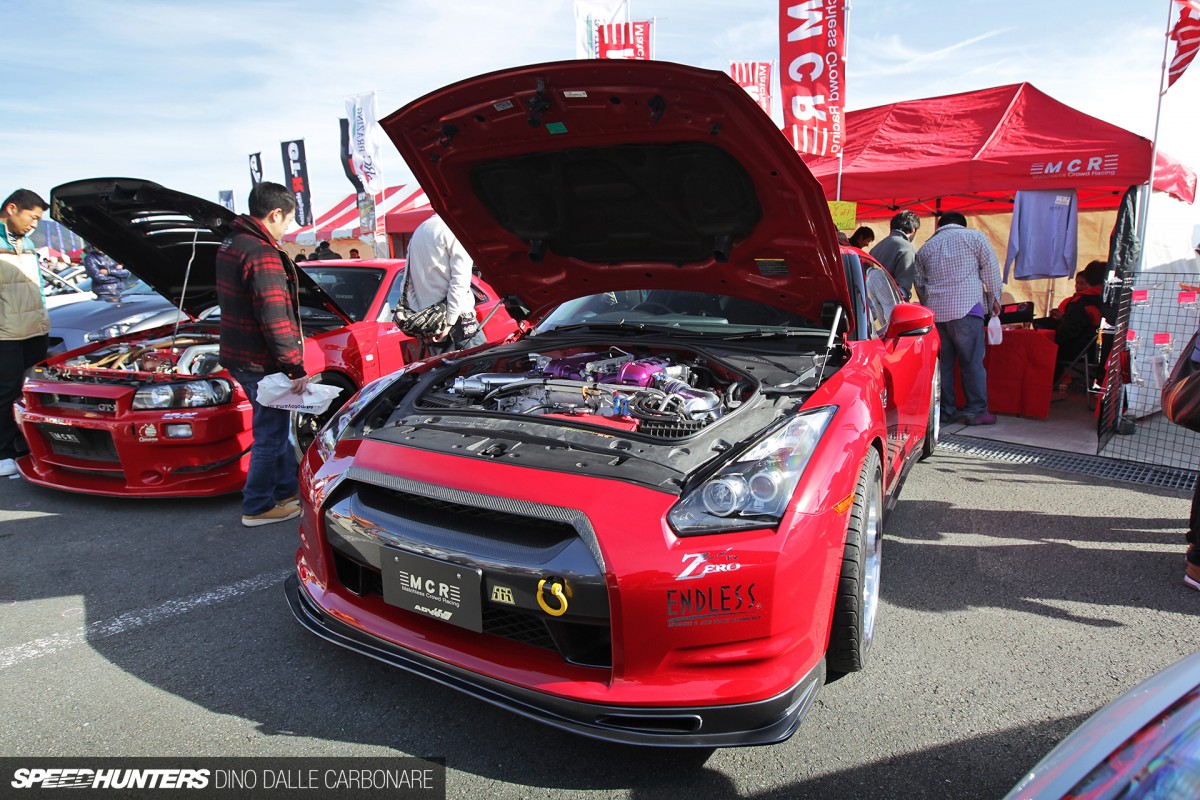 I didn't get to check out what MCR was selling as I was too busy looking at how Kobayashi's cars have evolved. MCR is always on the lookout for more performance and ways to fine tune their demo cars.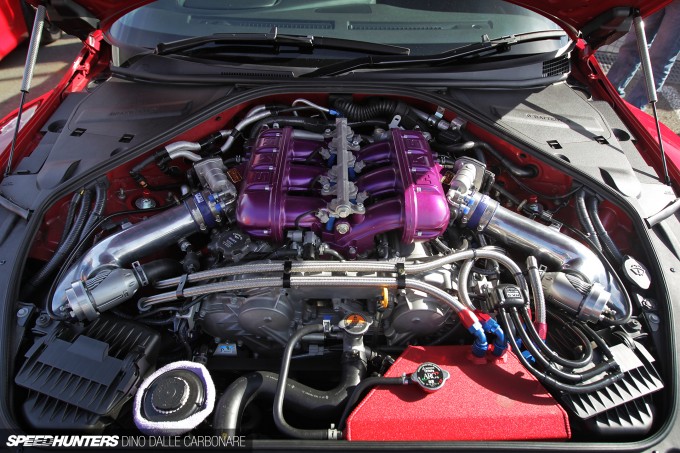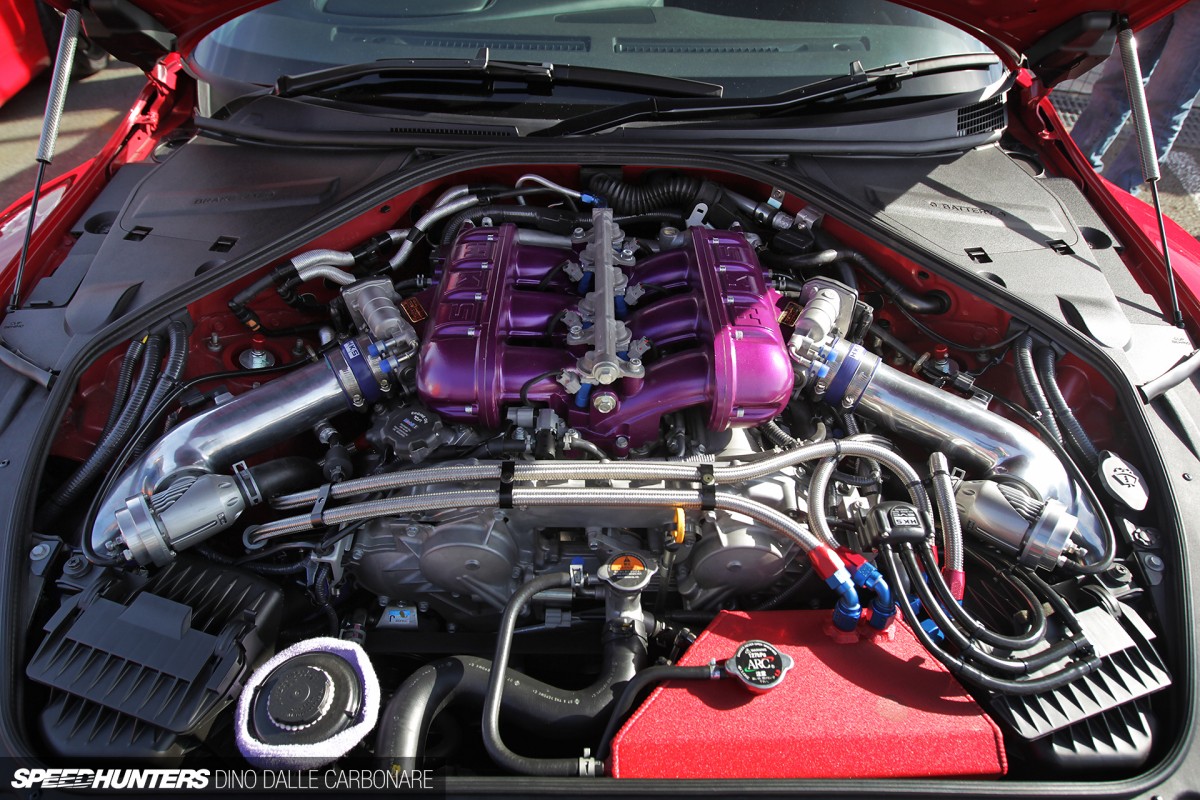 Lots of nice things happening under the engine bay; a new addition that I spotted was the powder coated radiator tank, as well the HKS intake plenum.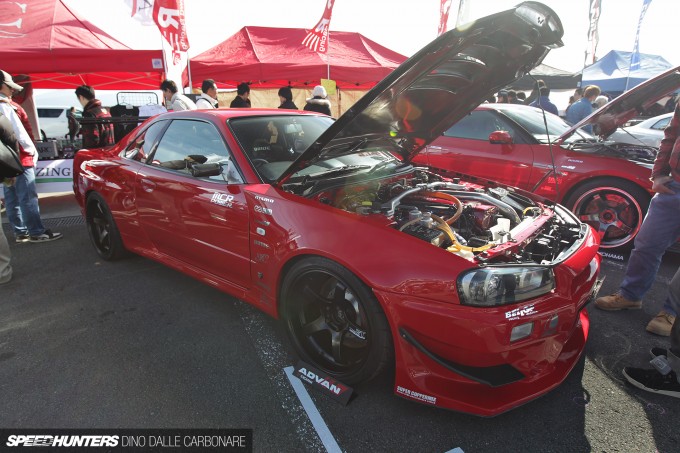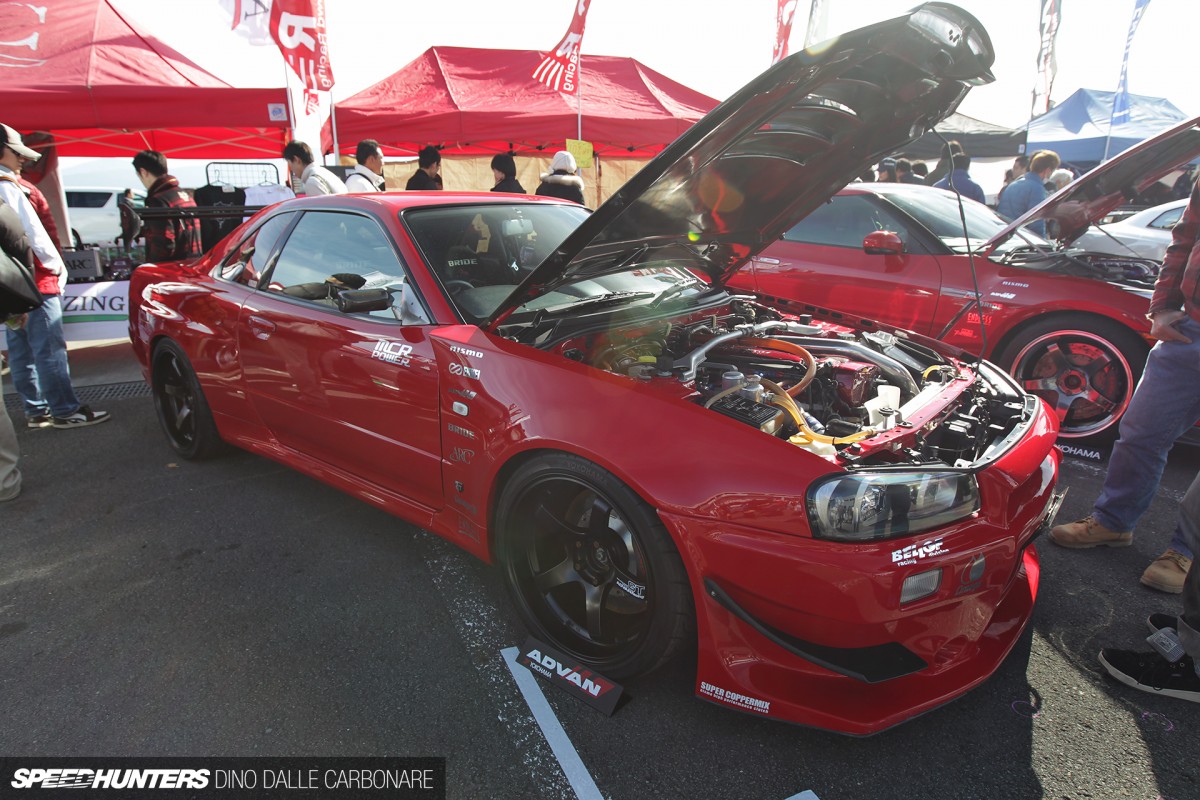 Their R34 was looking as stunning as ever; a tremendously focused machine and one that I've had the pleasure of riding in and being damn impressed with!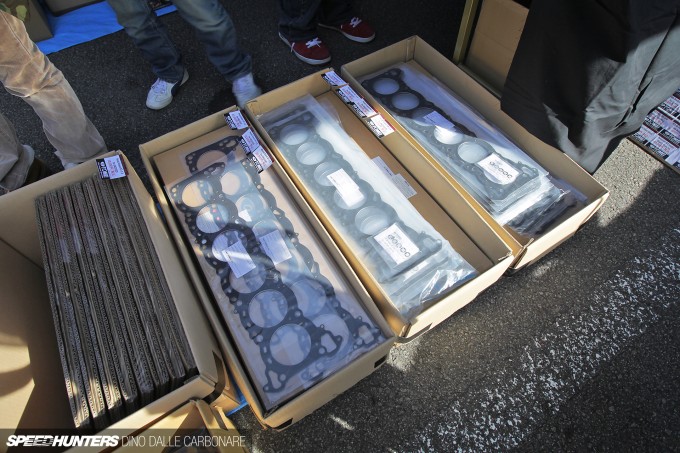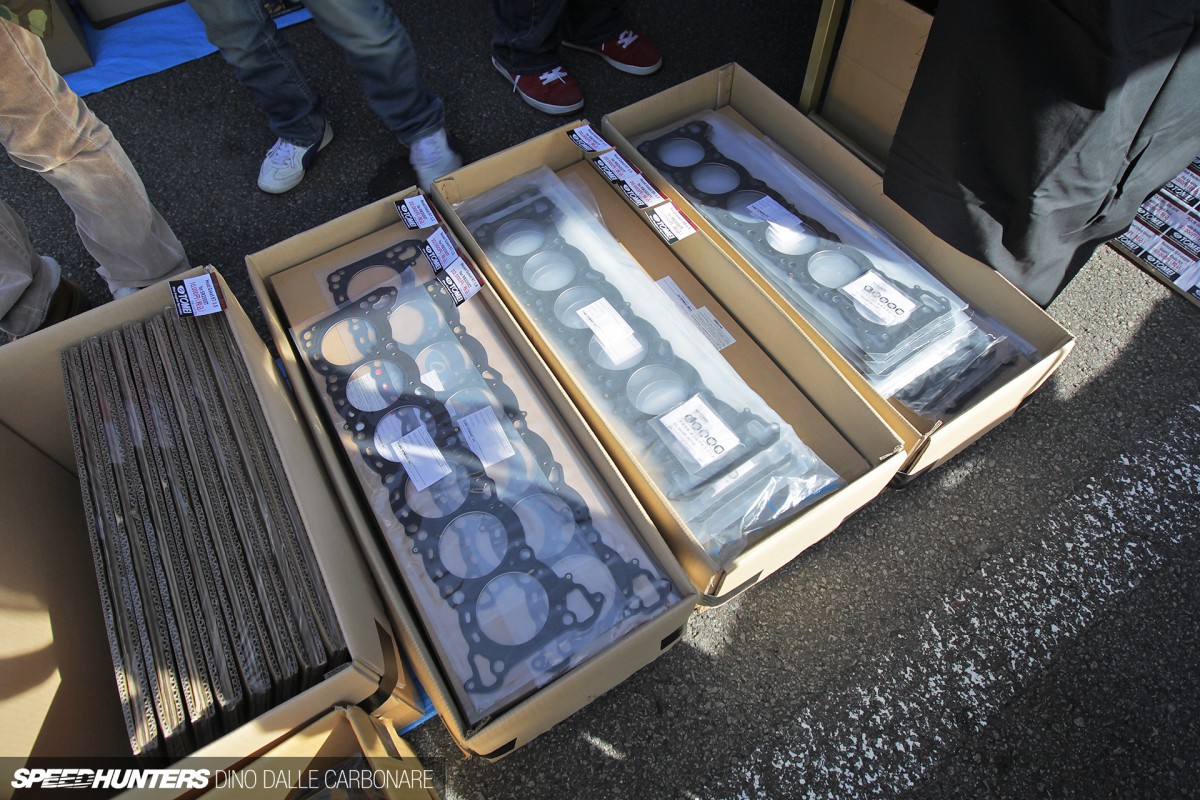 Over at Tomei Powered it was discount galore, which is probably why you could barely set foot inside their display. They had tons of stock of every type, from head gaskets and turbos…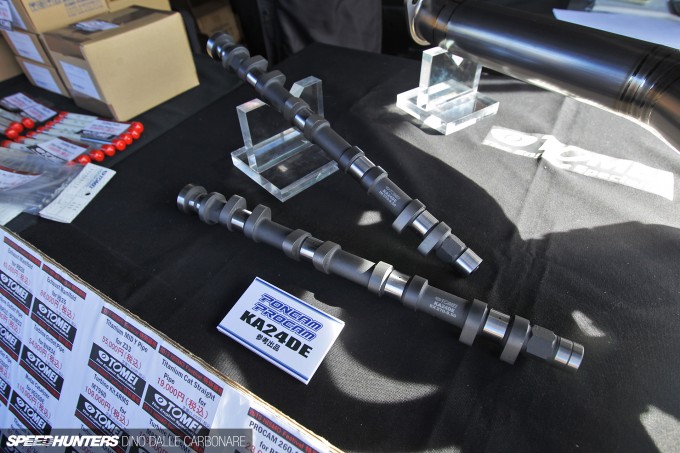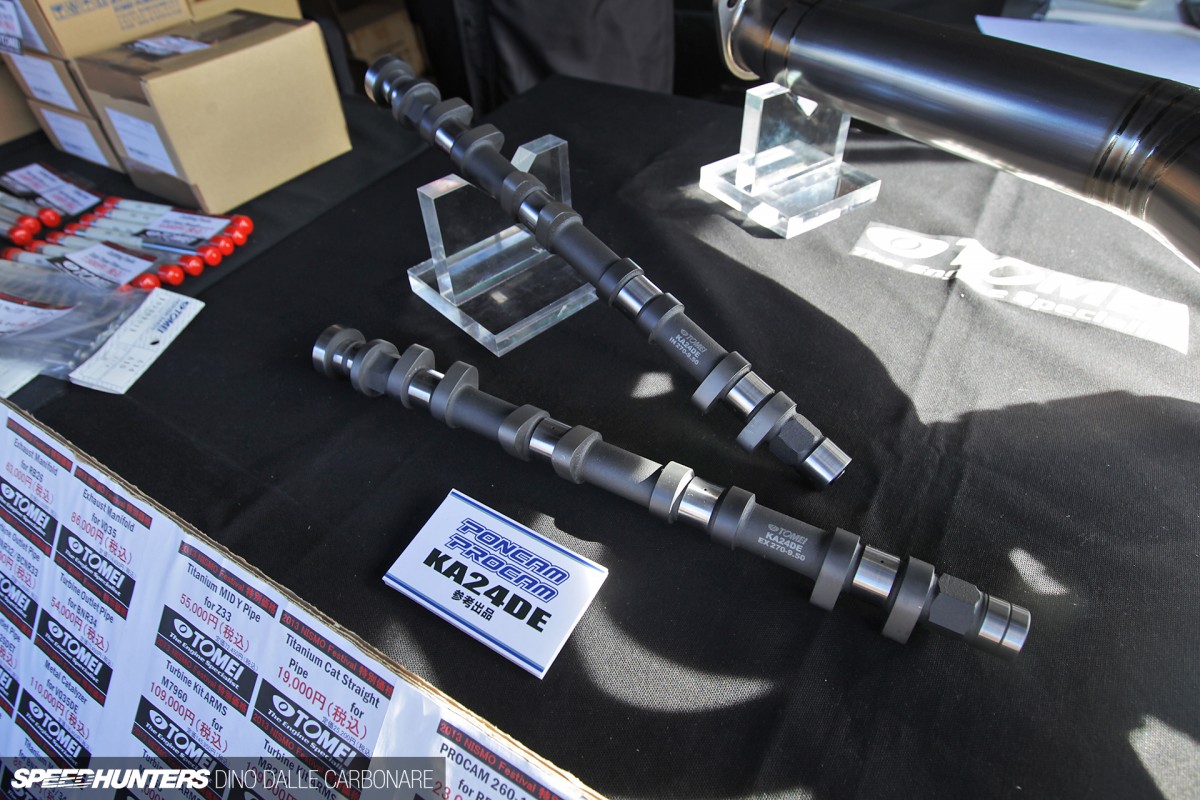 … to cams and titanium exhaust systems. The cams pictured were actually not on sale: they are Nissan KA24 prototype items that are currently being tested in their engine dyno and will be released early next year in a move to provide more tuning support for the 240SX's motor.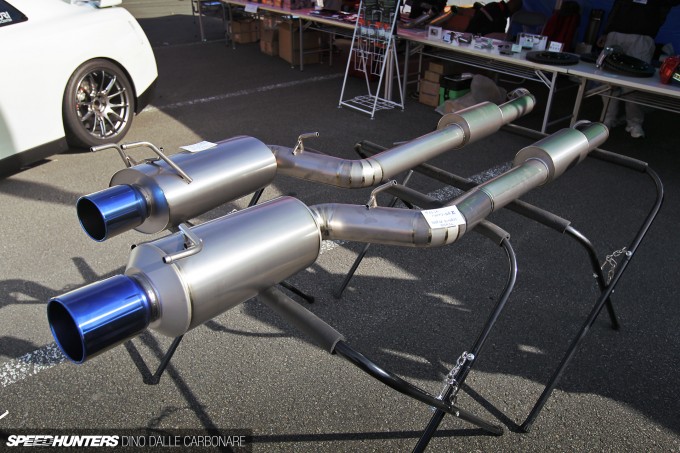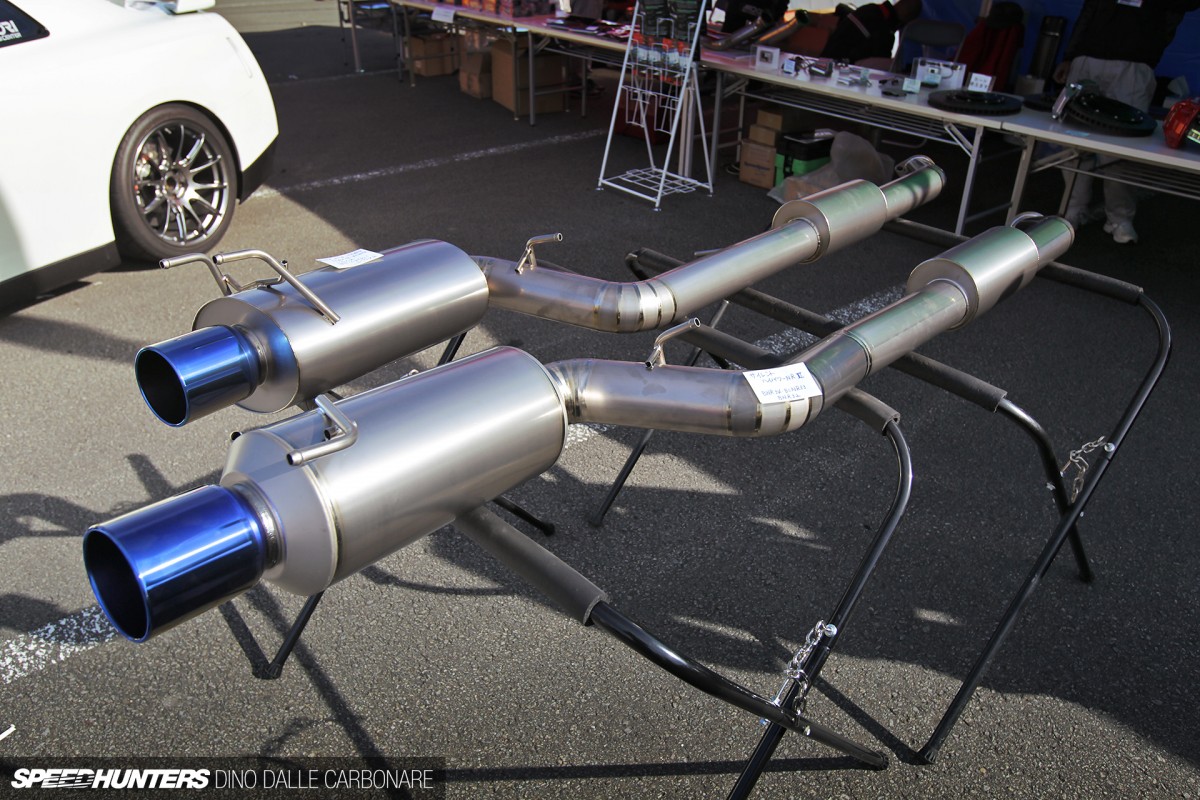 Check out these exhausts from Midori Seibi Center!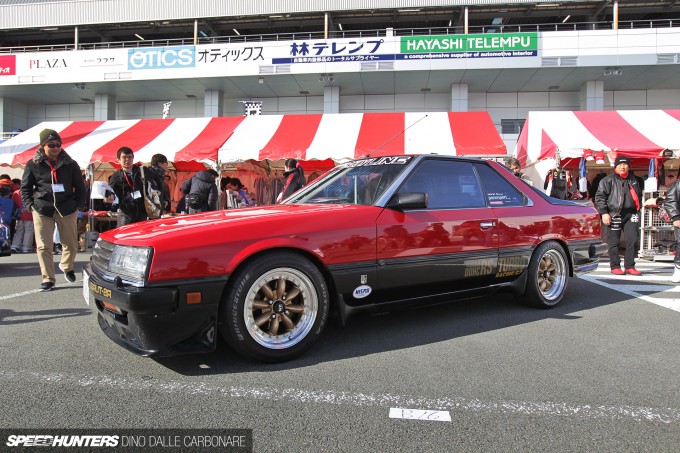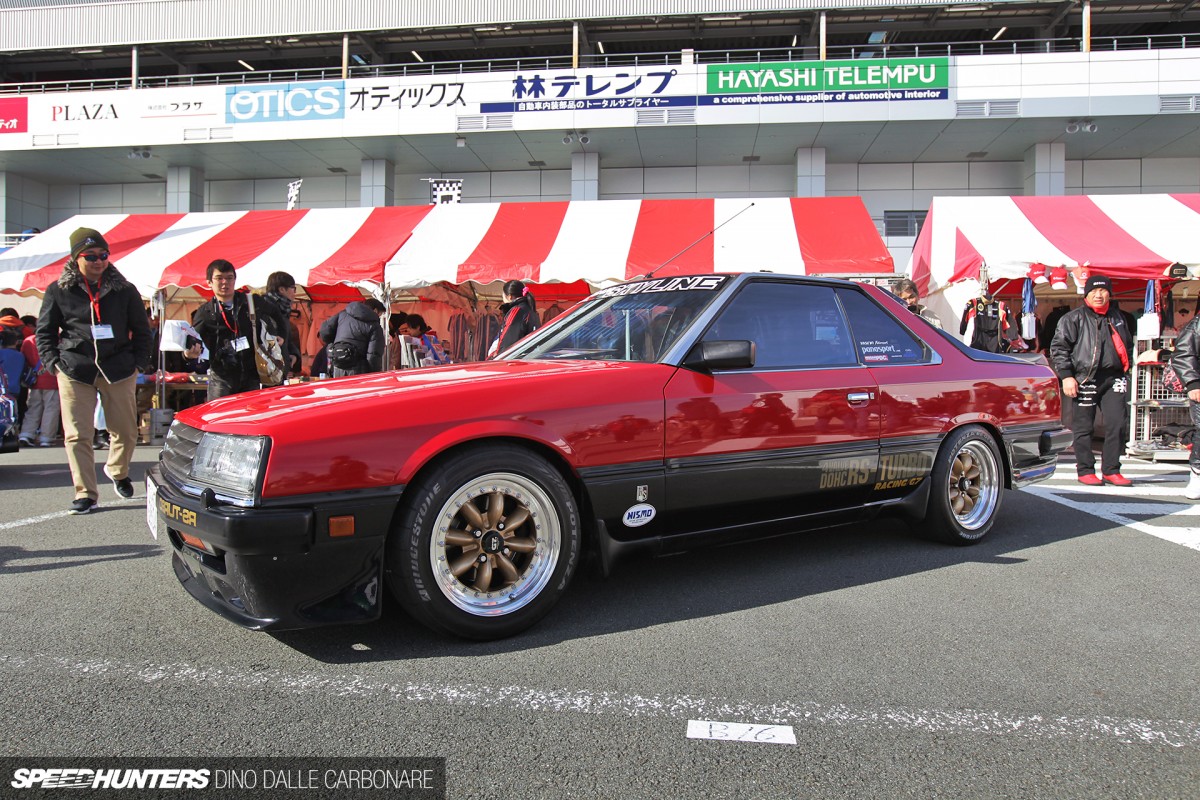 What does it for you? The more vintage sort of old school stuff…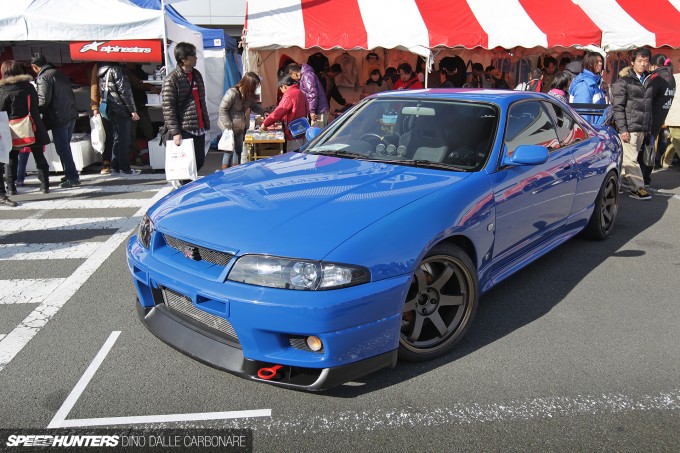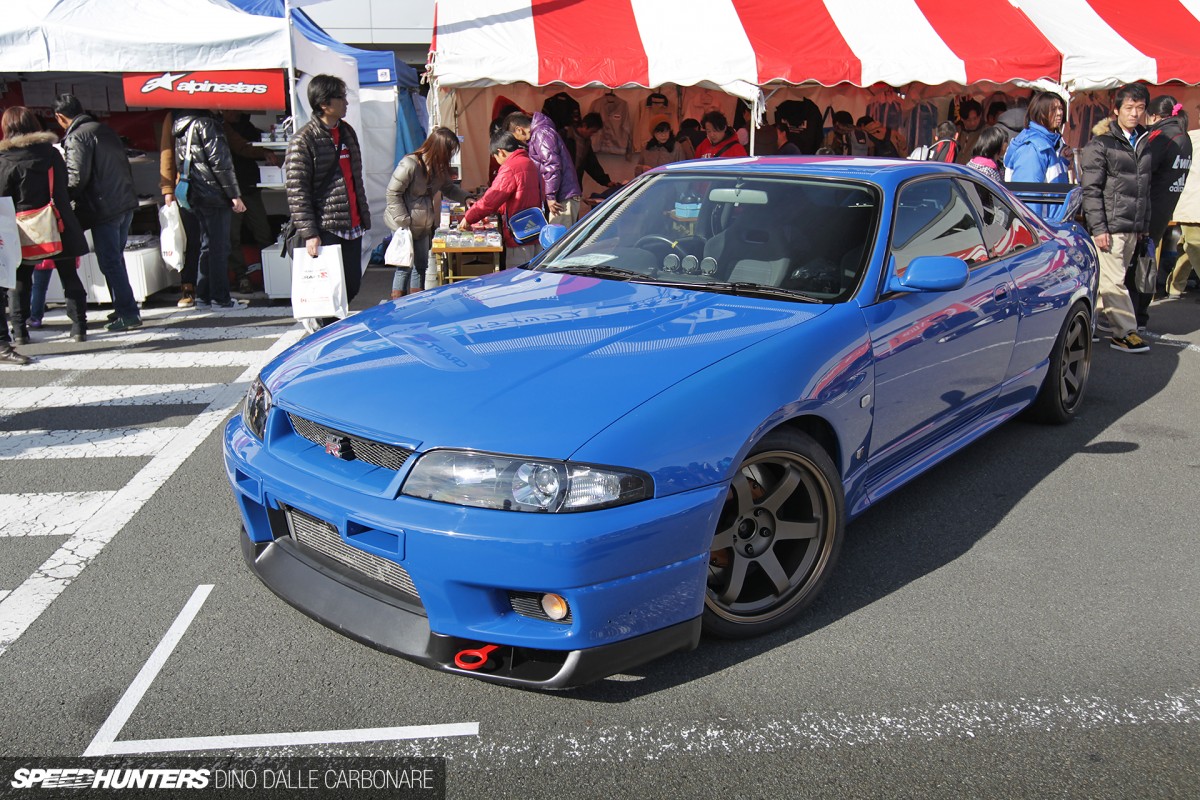 … cars that have become nothing less than legends…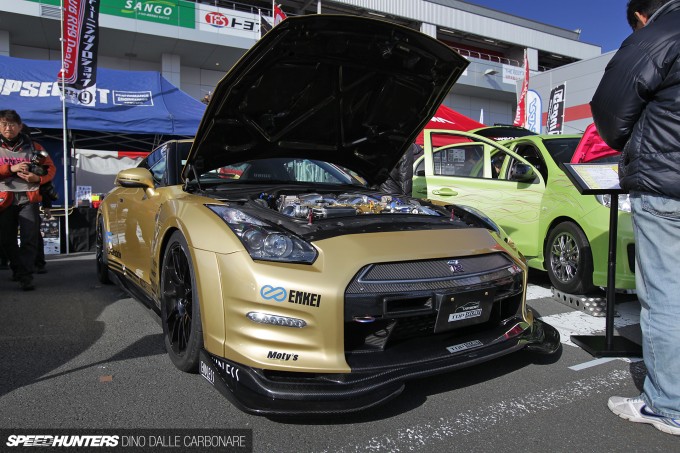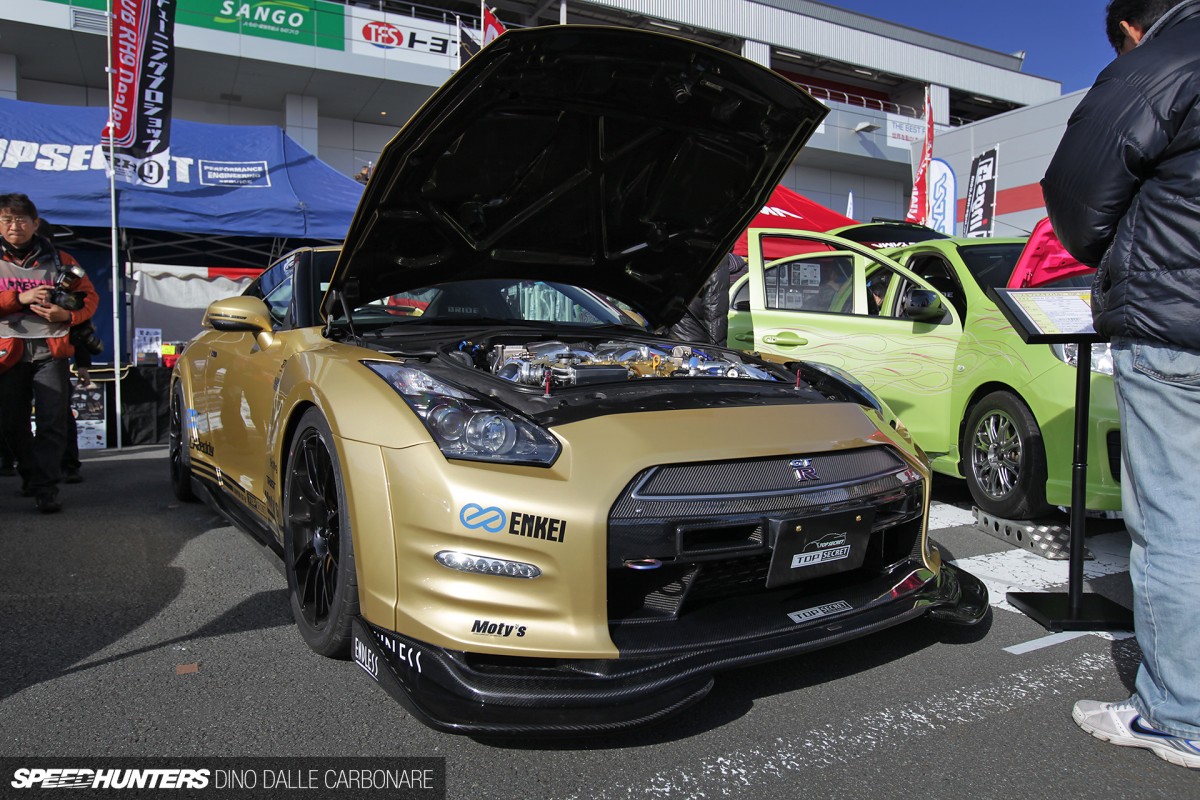 … or the very latest and fastest out there as Top Secret's demo car perfectly exhibits here; the same car that was sent to Nardò earlier in the year for the top speed run organised by Option Magazine.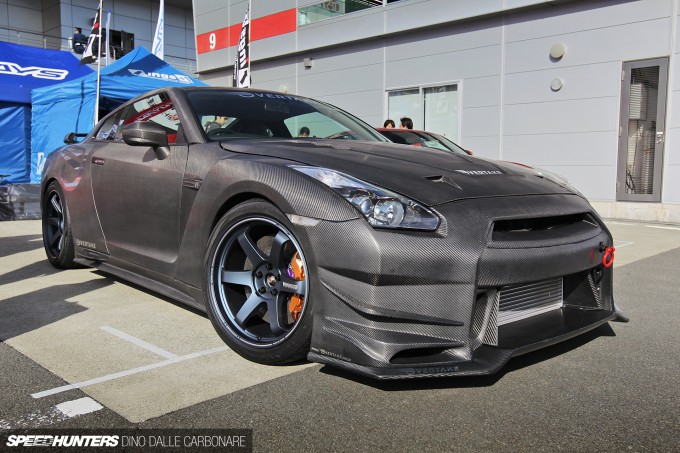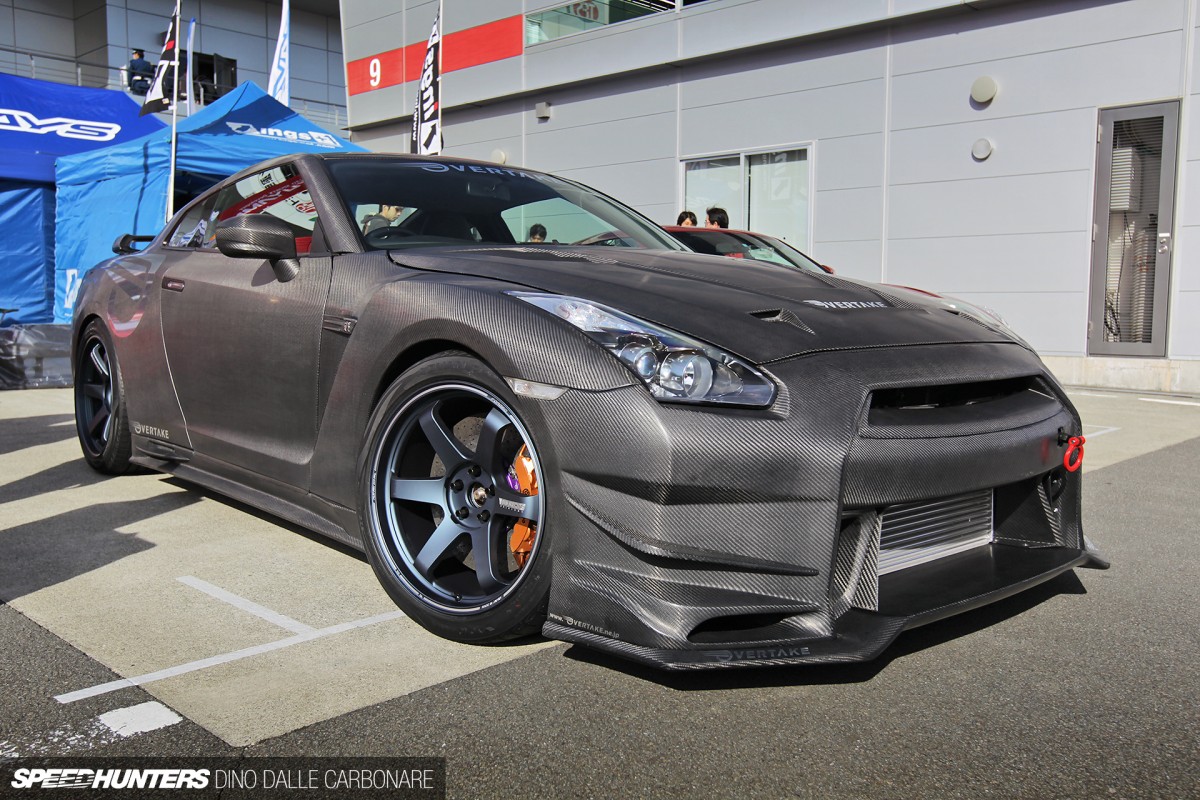 It's also very nice to see companies out there pushing the limits. If you recall, we saw the Overtake R35 at the R's Meeting earlier in the year and I was surprised at the rear dry carbon fenders the car was fitted with. It seems the company's pursuit of weight loss has pushed them to create pretty much every other panel in carbon too, including the recently completed front bumper. Add the set of soon-to-be-released Rays 20-inch TE37s…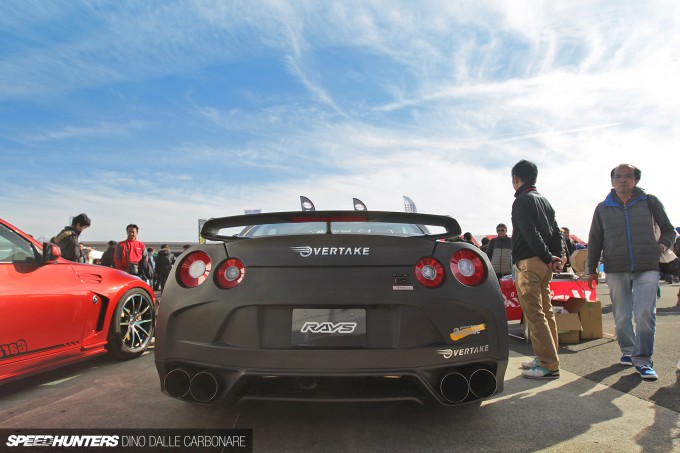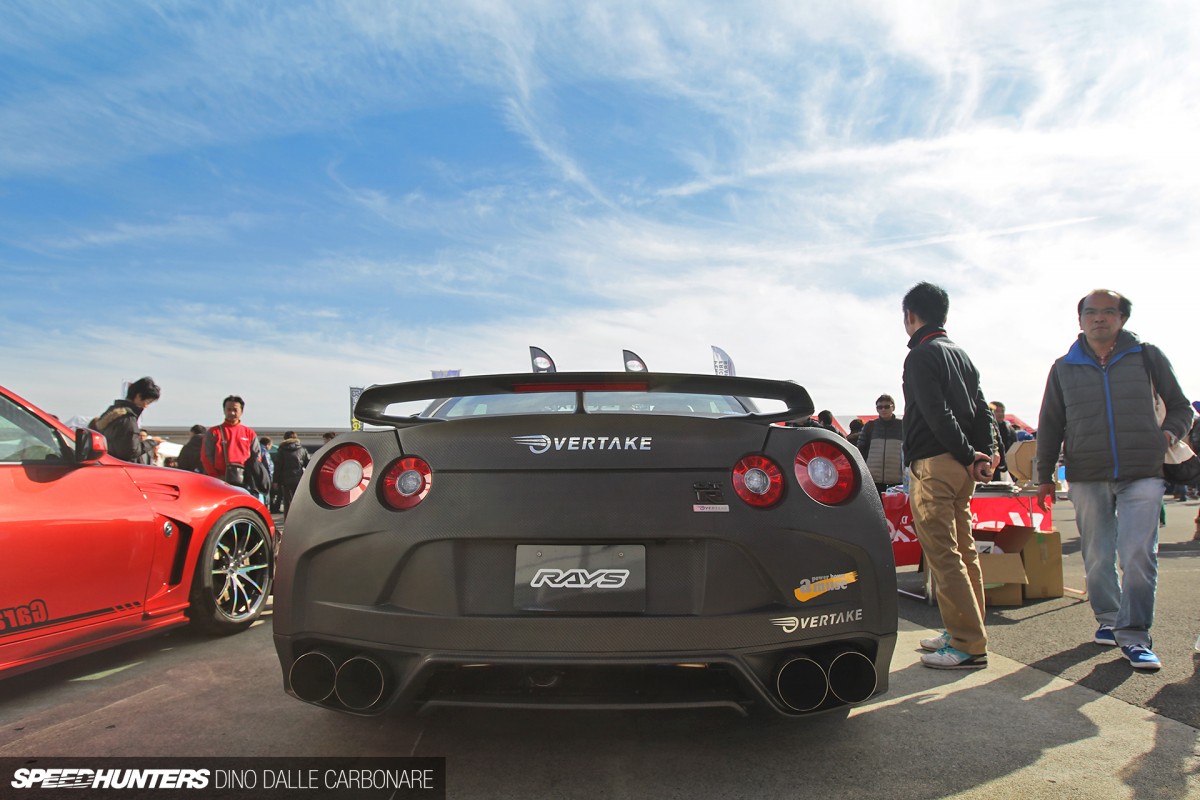 … and this was one of the most unique cars on the day.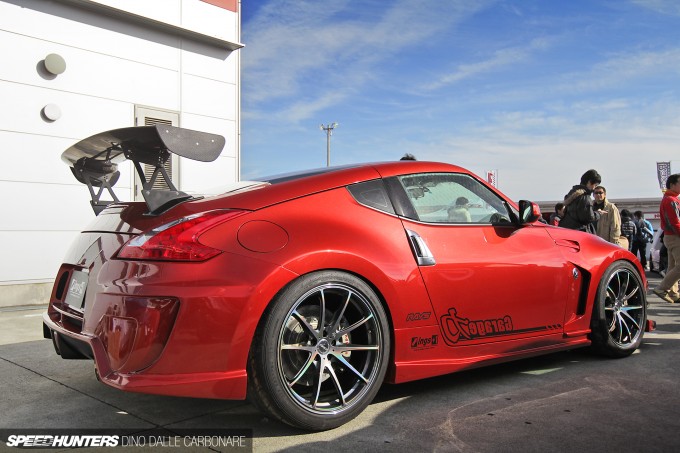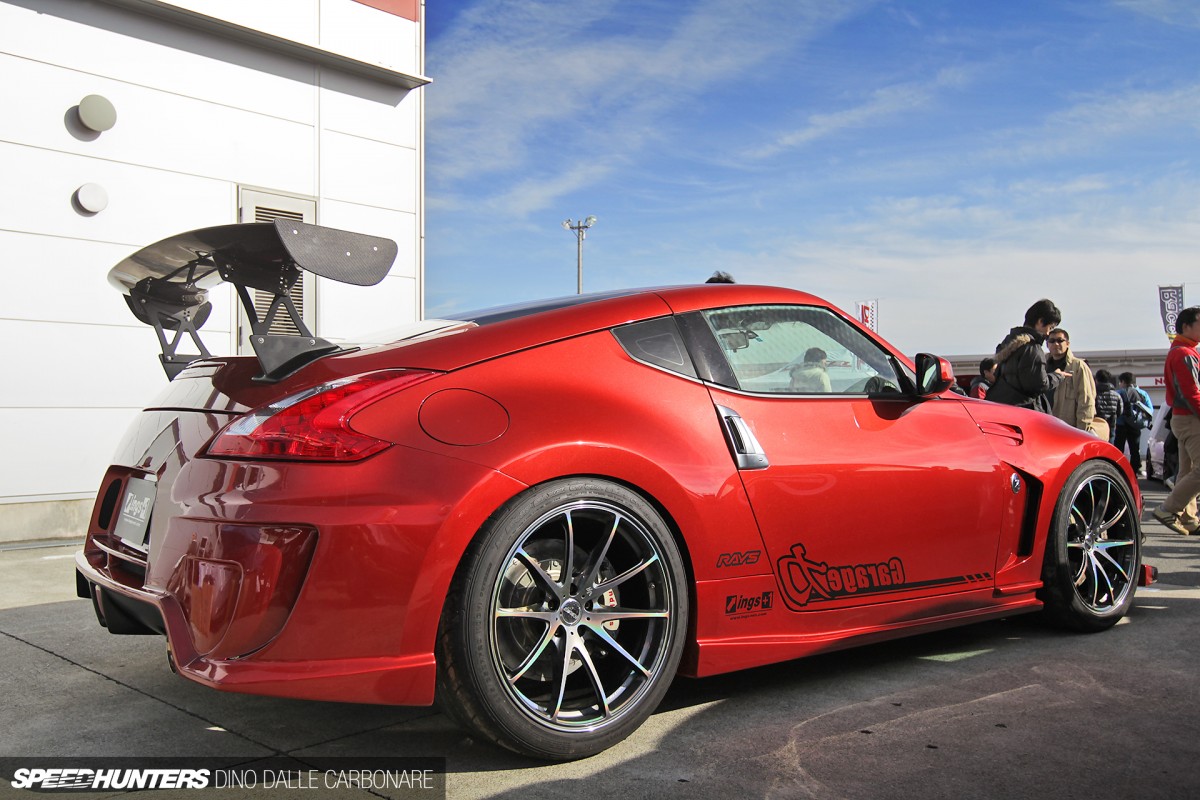 Next to it was this ings-kitted Z34 on Rays G25s that seemed to be sporting an almost burned titanium finish. Another set of rims for their 2014 line-up!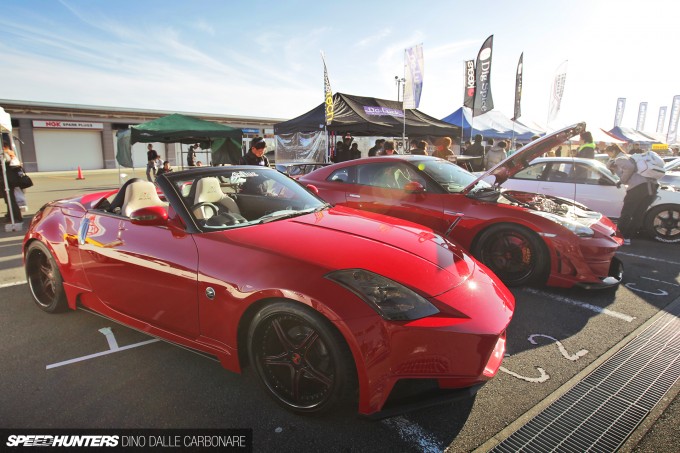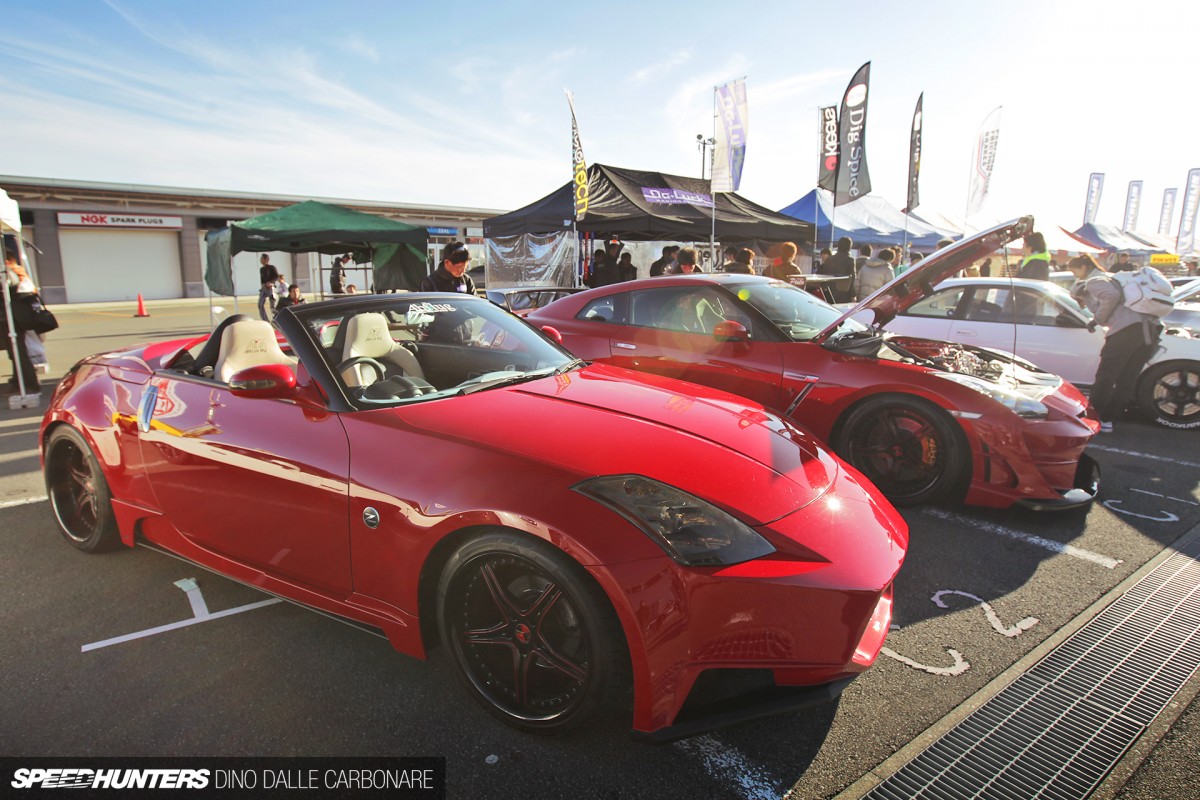 Pentroof is a tuning shop that I respect a lot. They are some of the most knowledgeable engine tuners in Japan and their partnership with Abflug does help them put together some pretty wild cars. In fact you can expect to see a couple of features from this shop very soon!
An ending to remember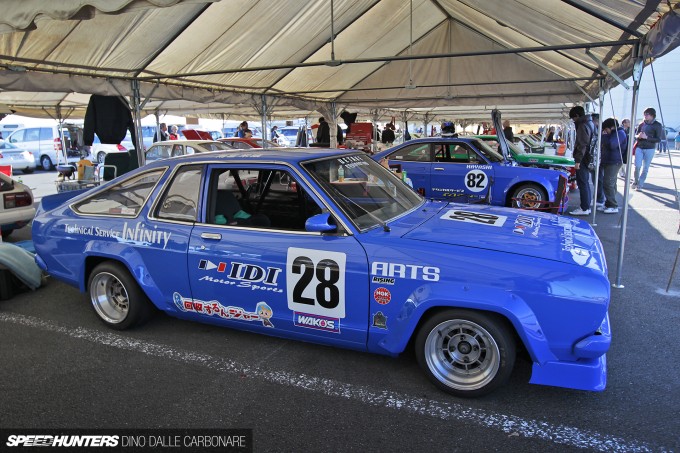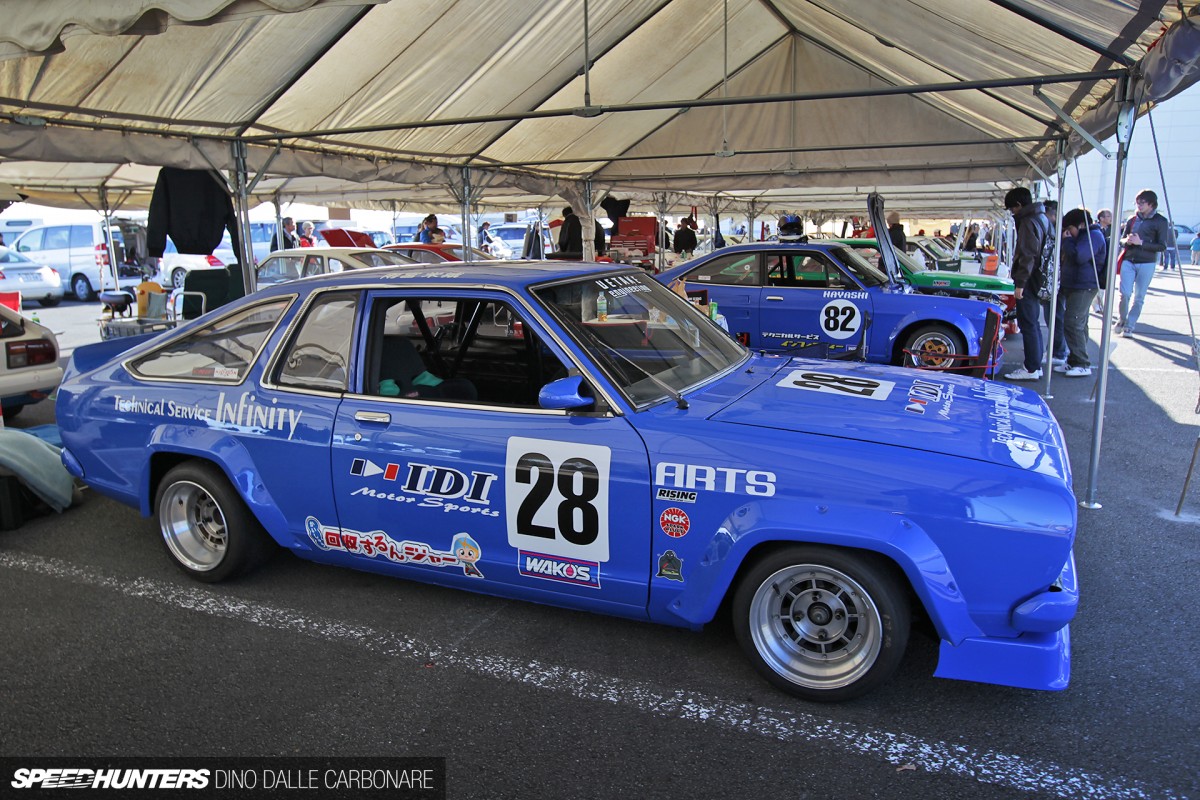 At the far side of the pits is where all the privateer vintage racers had set up camp and it's always mandatory to head over there and take a good look at the wide selection of Sunnys…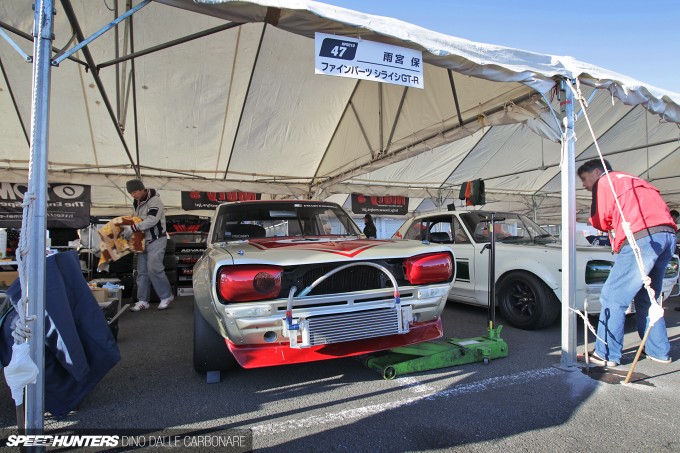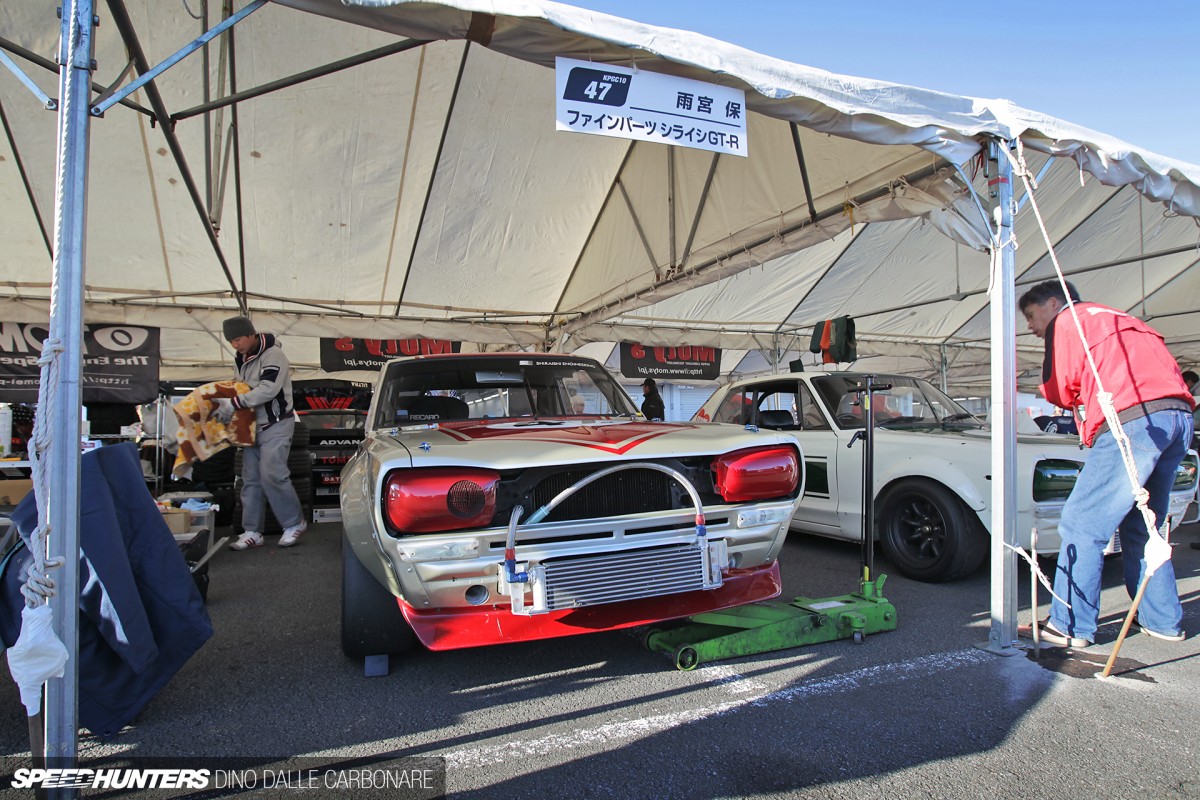 … and Hakosukas that are entered in the race. Nismo didn't bring their works KPGC10s so this was the place to get your Hakosuka fix…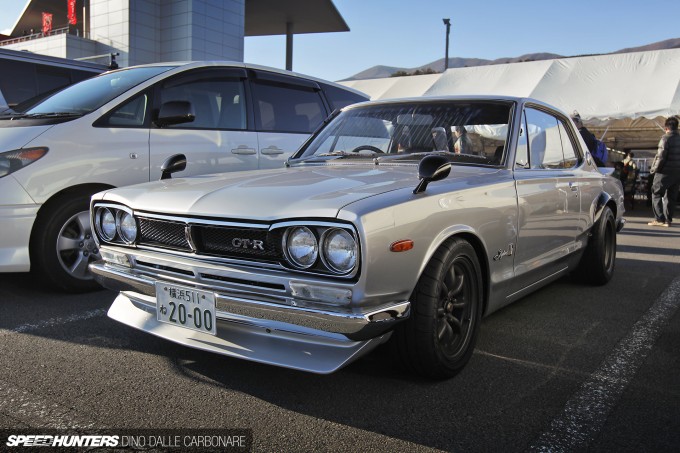 … as well as the parking lots too of course!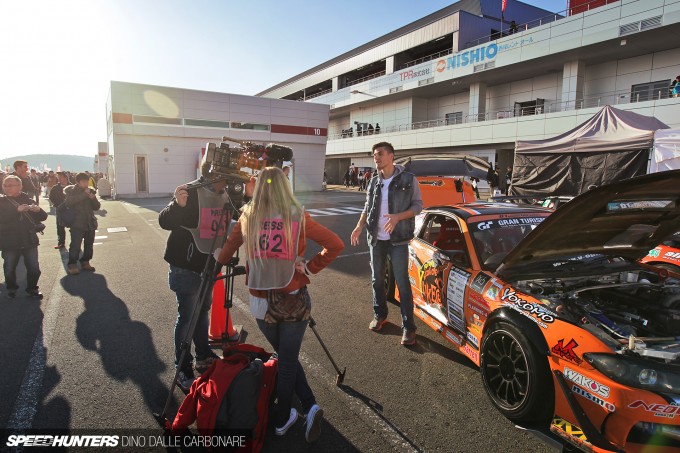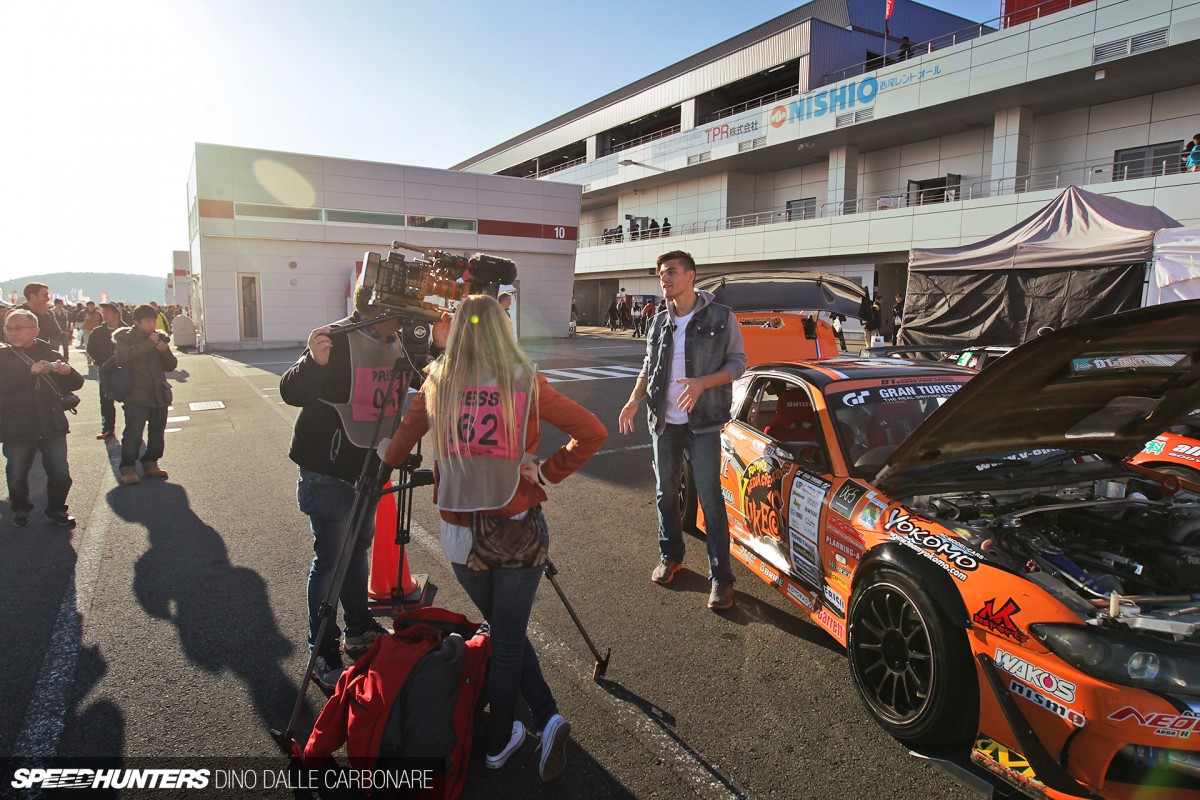 Our very own Fredric Aasbø had come over all the way from Norway, not to show his skills behind the wheel of a drift car but to present a Norwegian TV show all about cars. He was obviously impressed with Sunaga's 1000hp RB28-powered S15!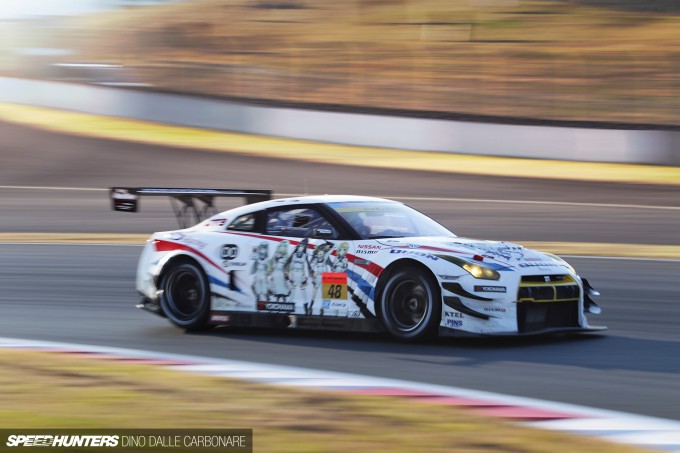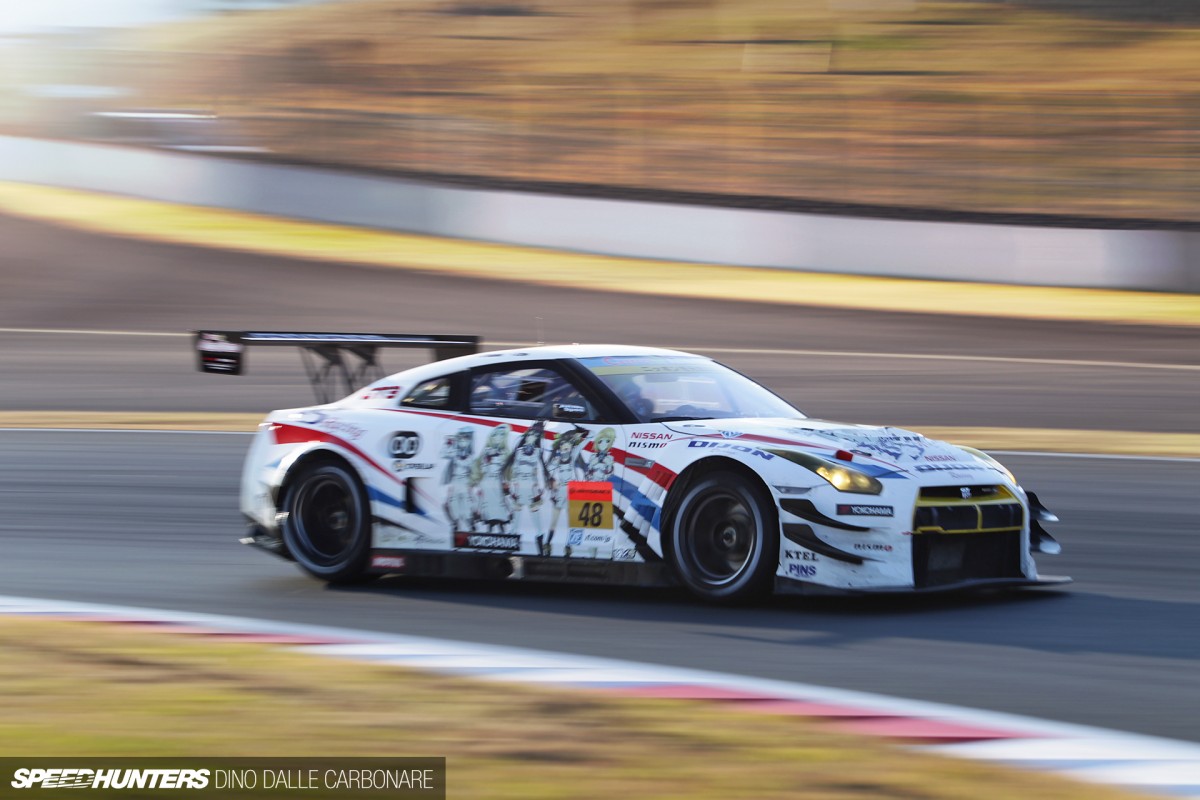 With the sun close to setting it was time to head out trackside once again…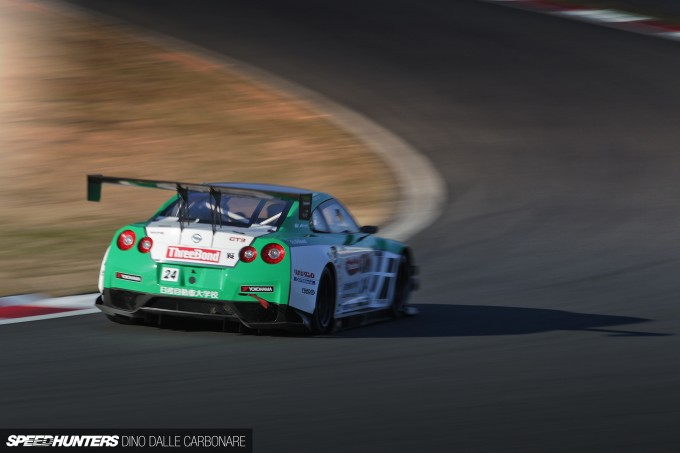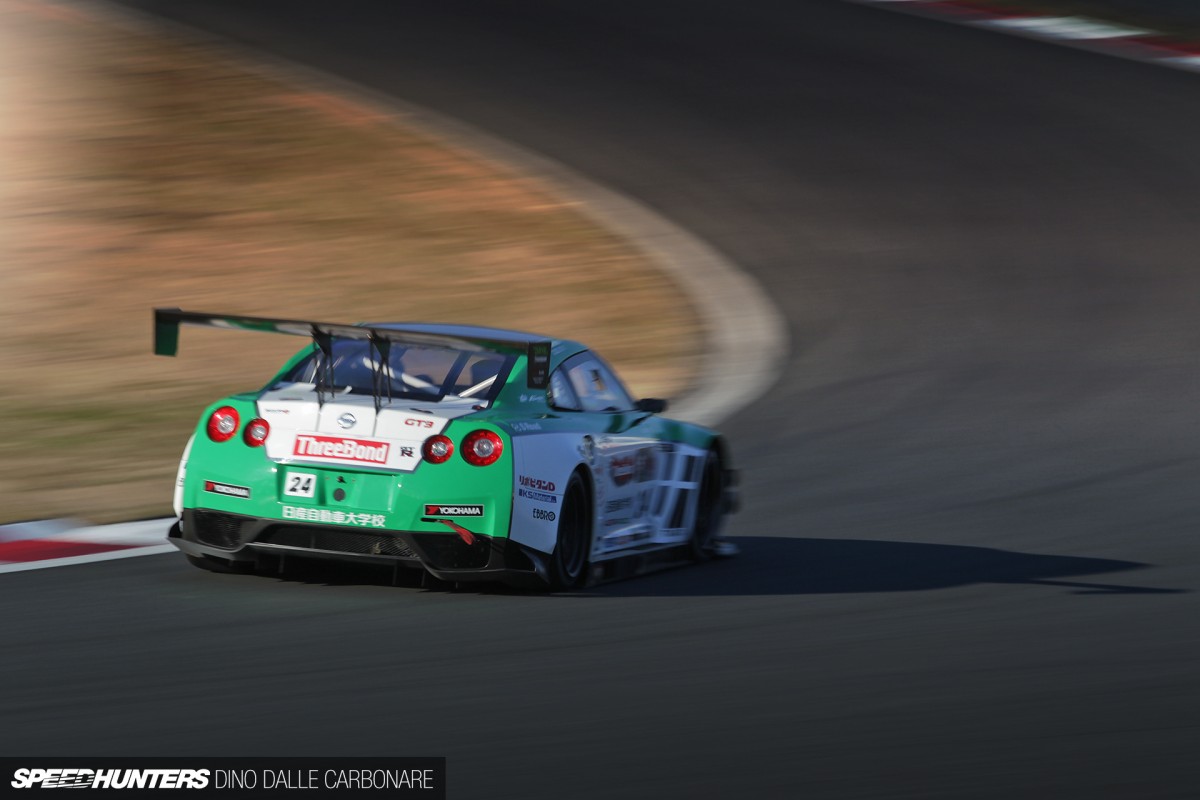 … to check out the Nismo GP race, where a variety of racers were all let loose on the track…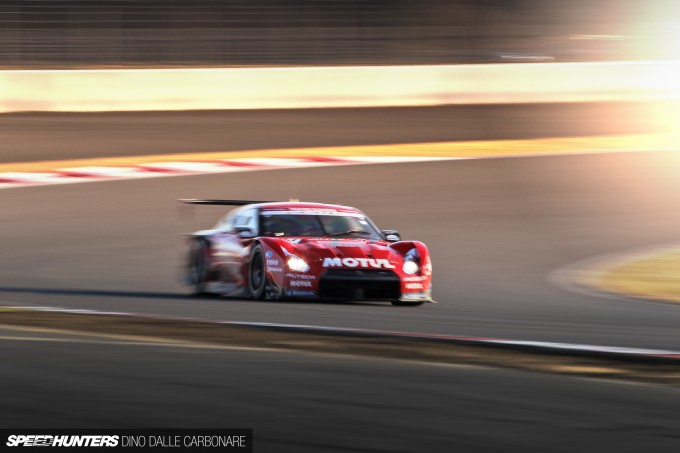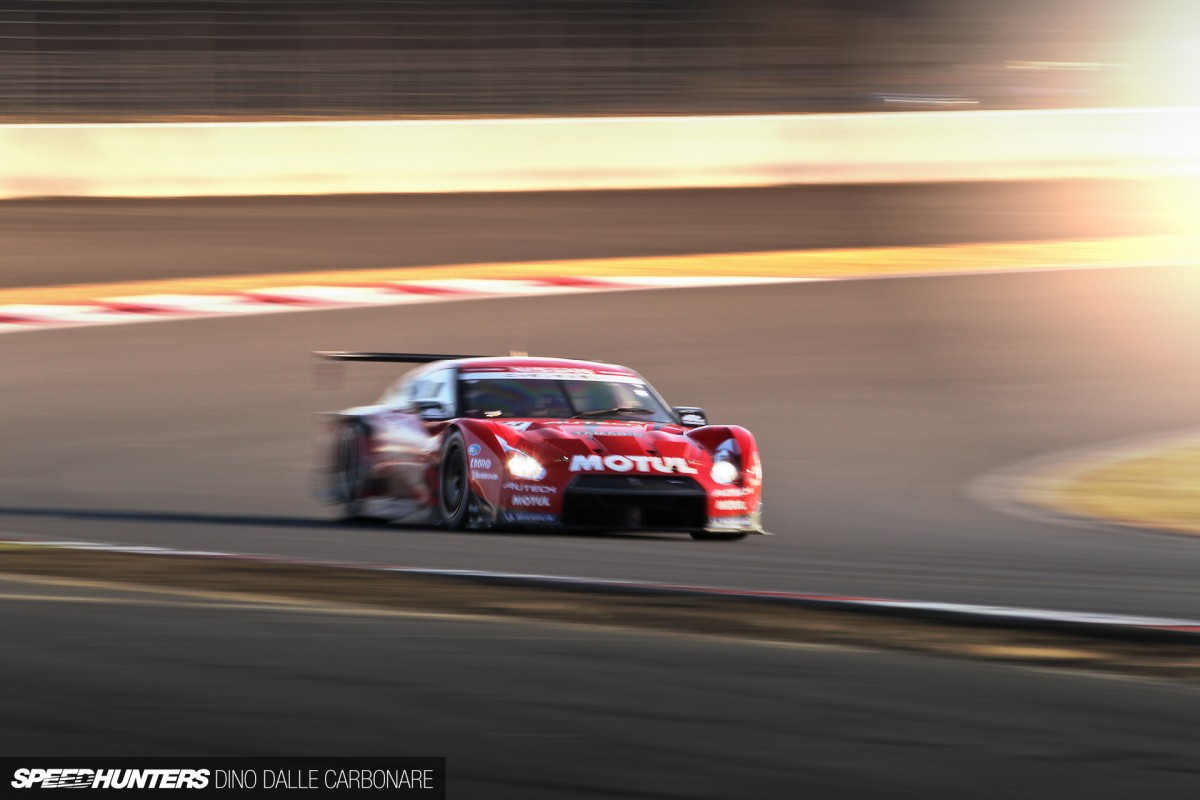 … for the final action-packed event of the day.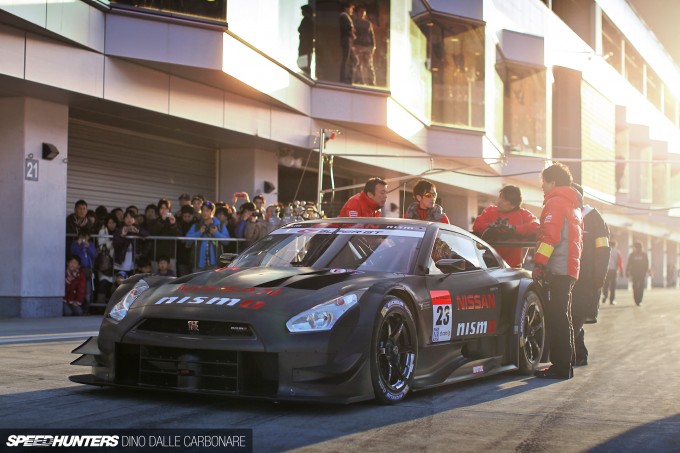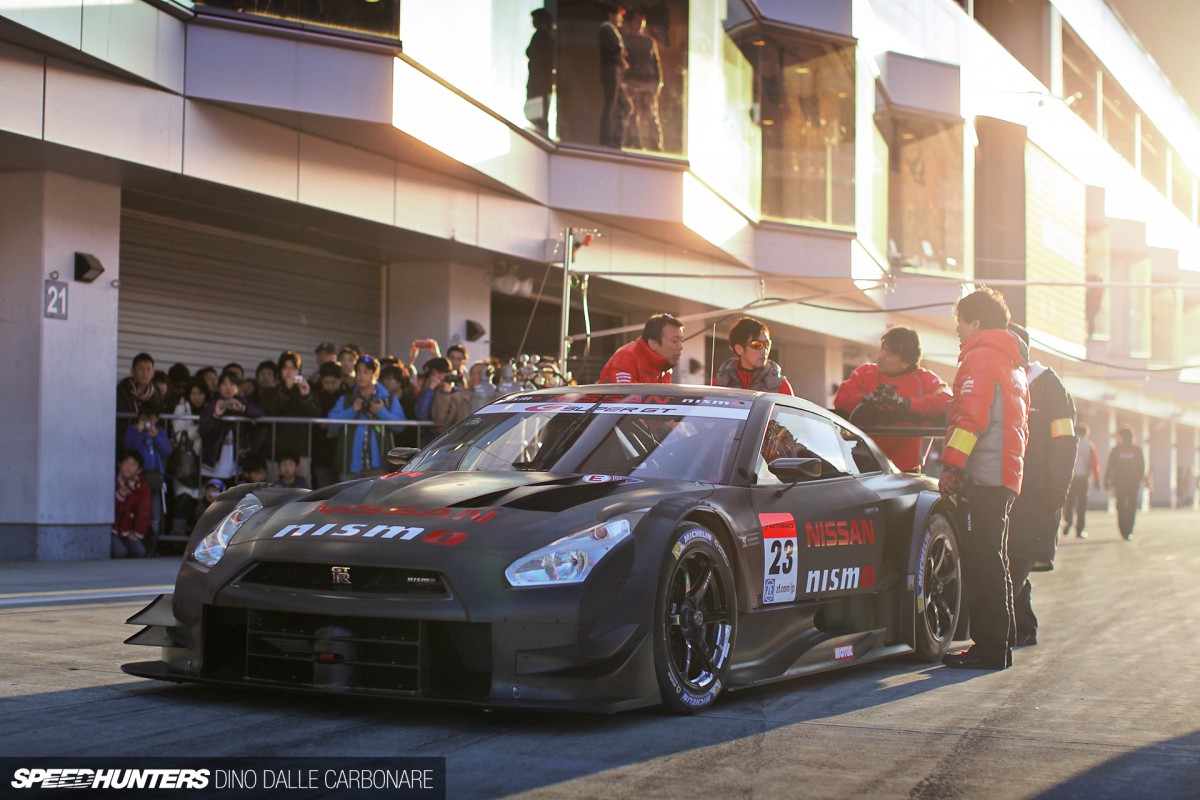 In the meantime, back in the pits the 2014 GT500 GT-R was being pushed out, ready for its parade lap which would come to an end…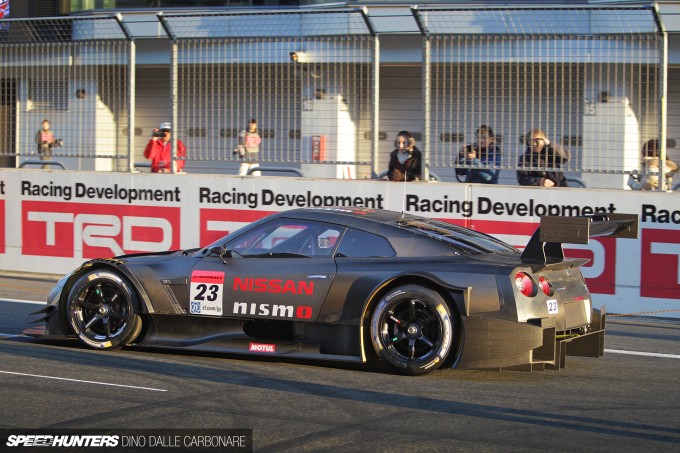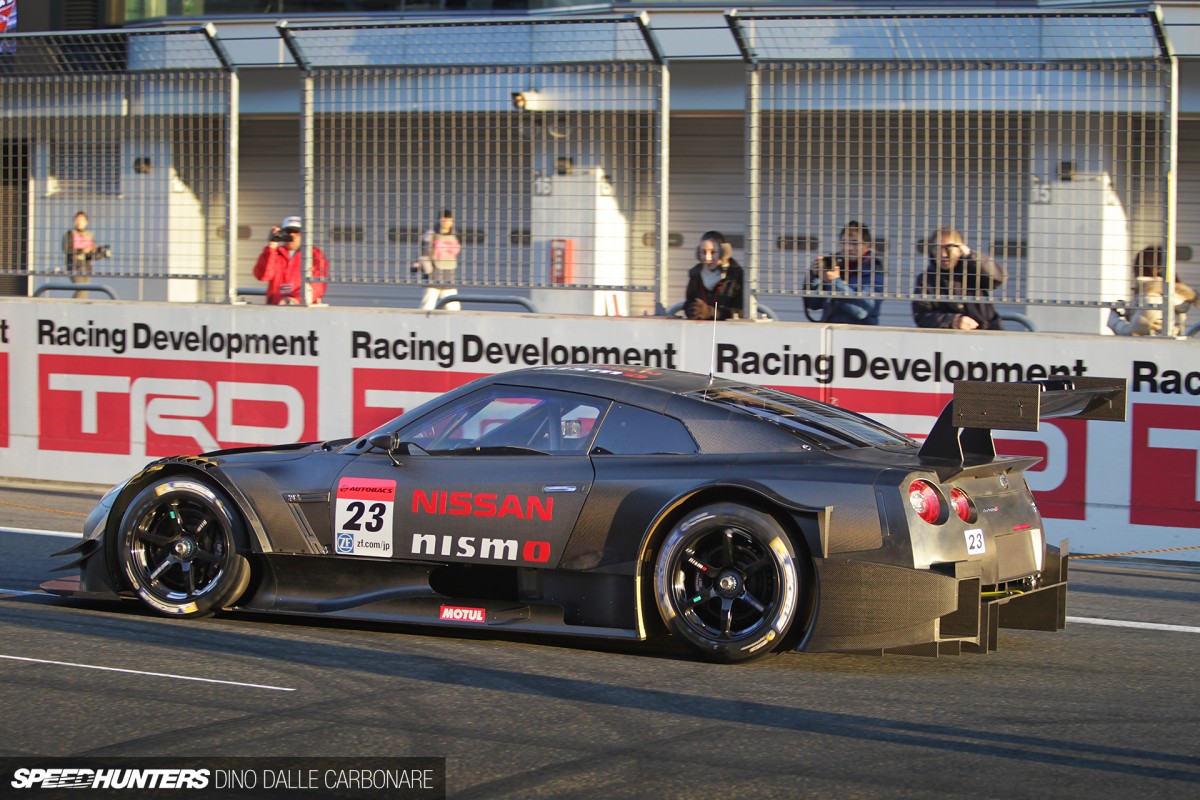 … in the middle of the Fuji straight where the closing ceremony would finish up the day's proceedings. It was very cool that Nismo had brought out the new car…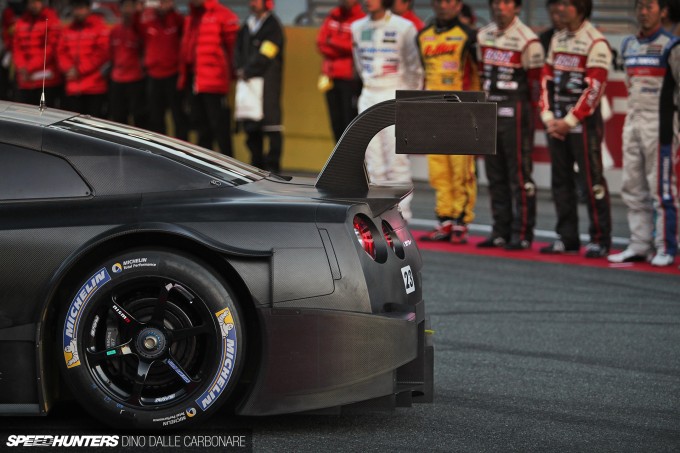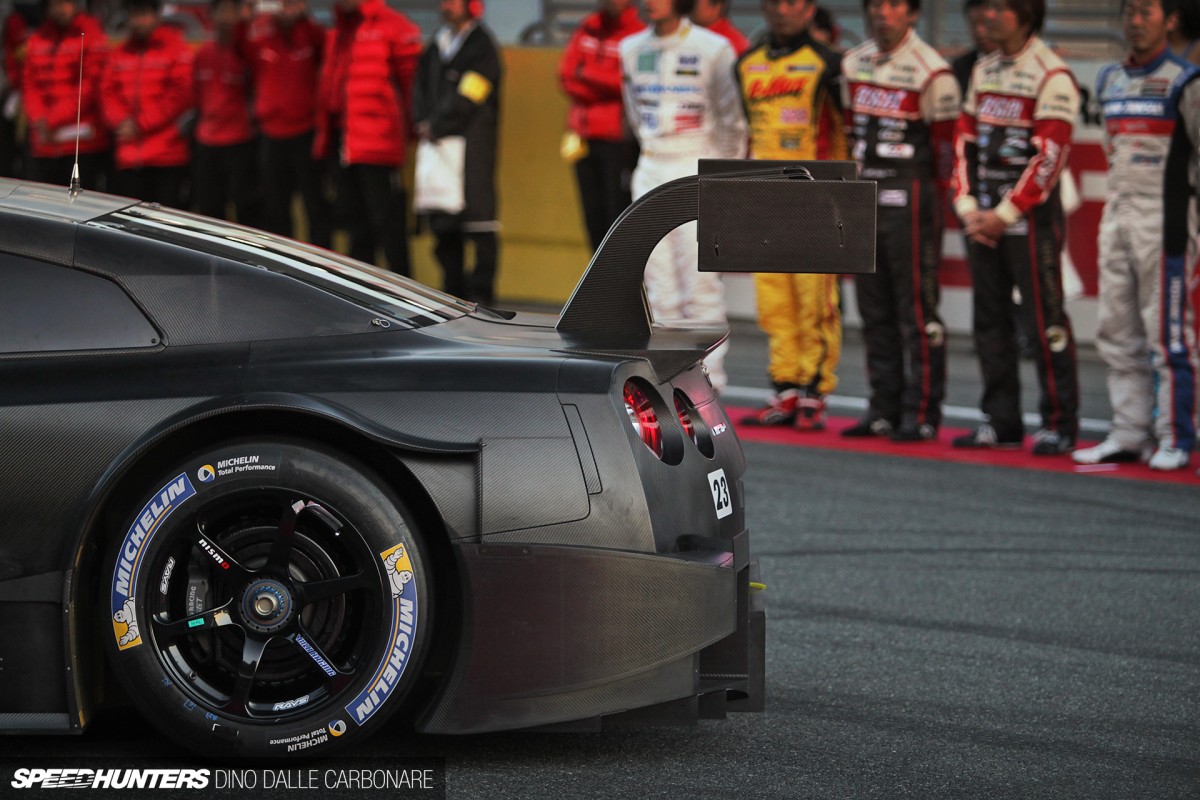 … allowing us the media – as well as the general public – to get close to it and see it in detail, getting us all excited for the all-new and revised series.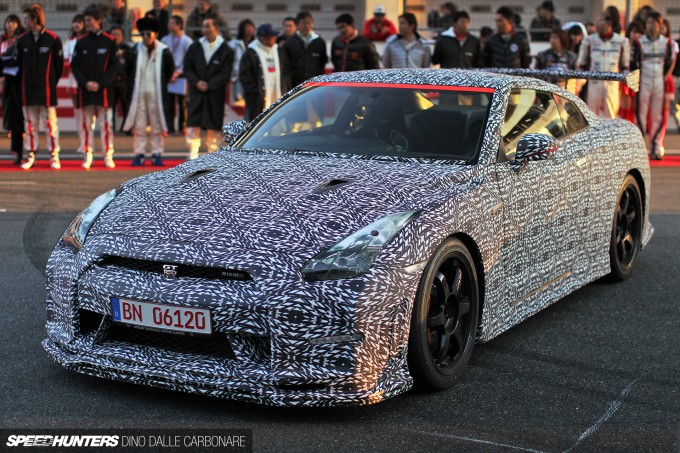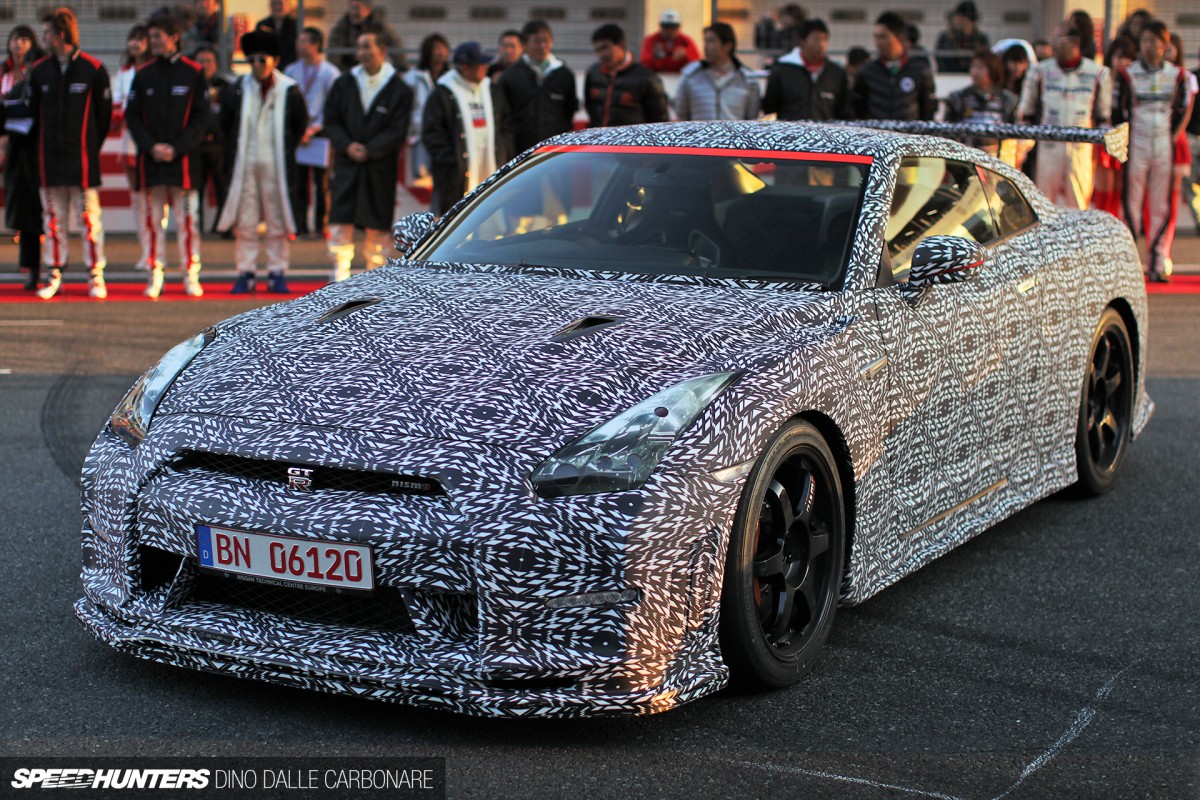 Not too far away was one of the two Nismo GT-R development cars that were run at the Nürbugring, but I won't go too much into this car as I've just driven the production version and you'll be seeing a full Dream Drive feature on that very soon!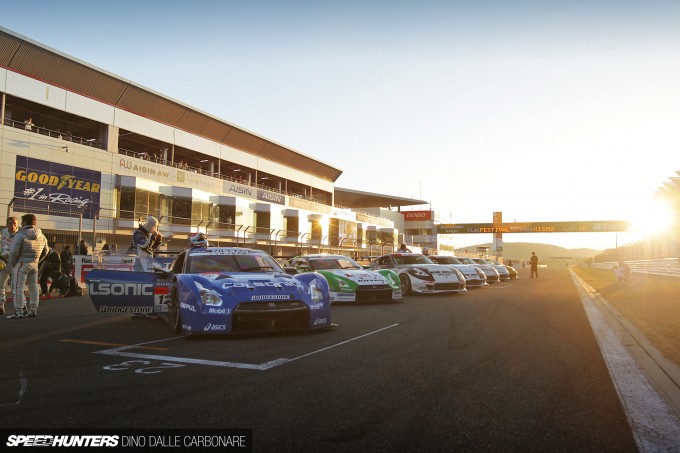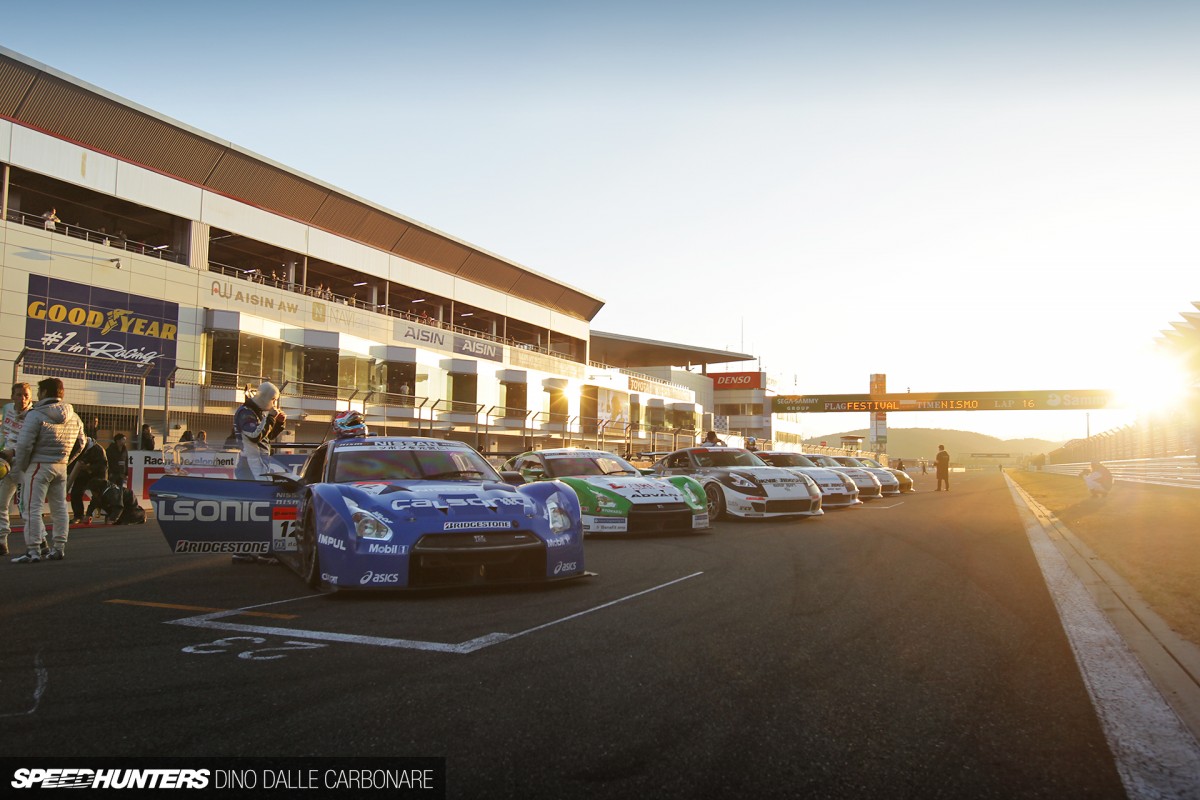 As always, the Nismo Festival is an event that celebrates all that is right with the JDM scene right now; a well-received manufacturer backed up by support of the aftermarket, new cool complete cars from Nismo and the exciting future of motorsports. Roll on 2014!