The theory of evolution
In this line of work, spending quality time with mind-numbing creations is something that comes with the territory. I wouldn't want to change it for the world of course, but the more time I've spent time around cars, the more I've come to value well-built and well-balanced machines as much as I do those that walk the fine line between genius and insanity.
If you've got the necessary skills and the right parts for the job, it's not hard to improve on something mediocre. But when the subject is an Evolution-grade Lancer from Mitsubishi's famed stable of performance cars, making refinements without detriment takes a little more thought.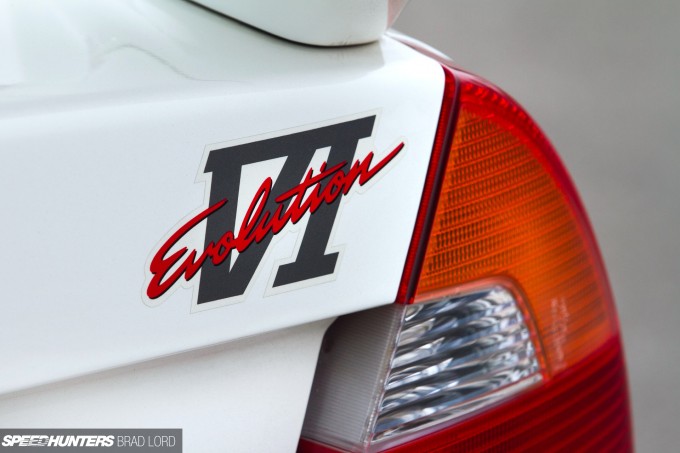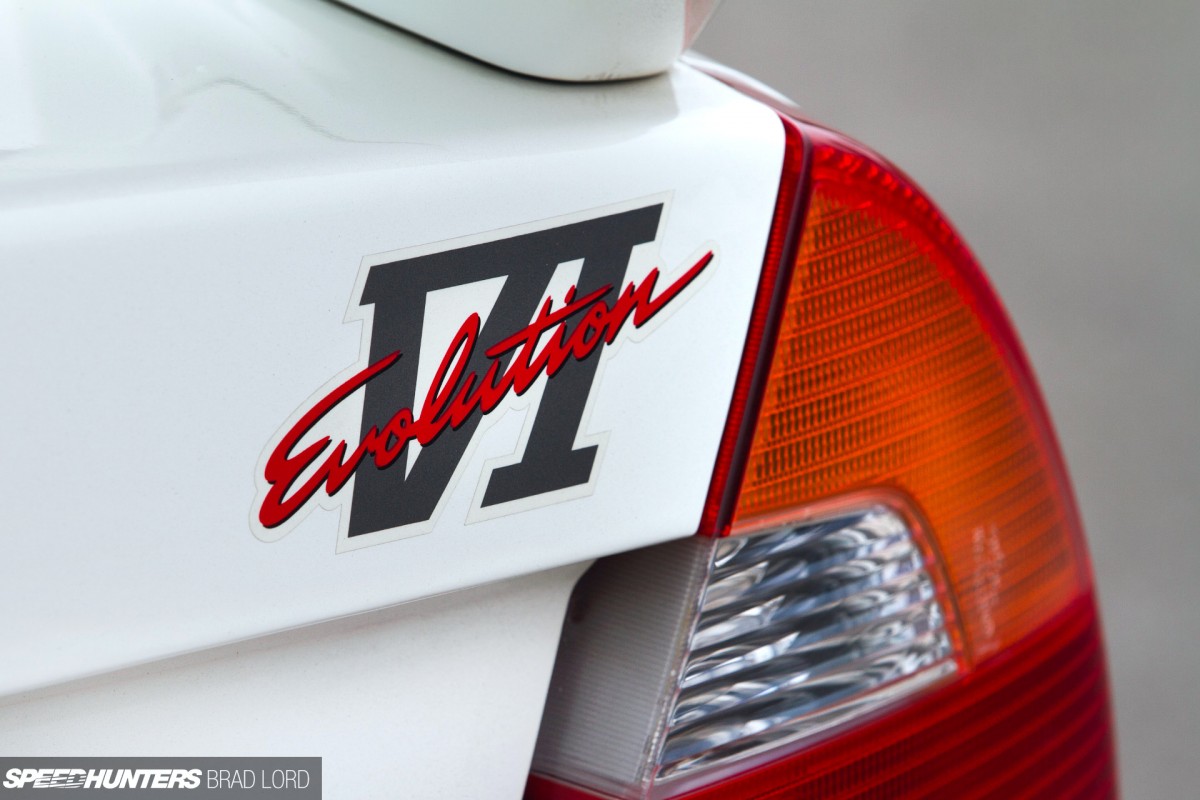 Which leads me to Cory Dryden's 1999 Mitsubishi Lancer Evolution VI GSR – a clean-looking machine I spotted making quick work of Queensland Raceway's full National circuit at November's Downshift Circuit & Coffee event.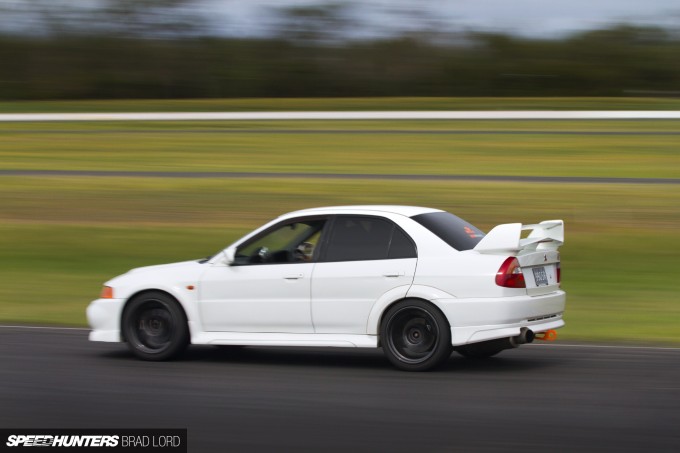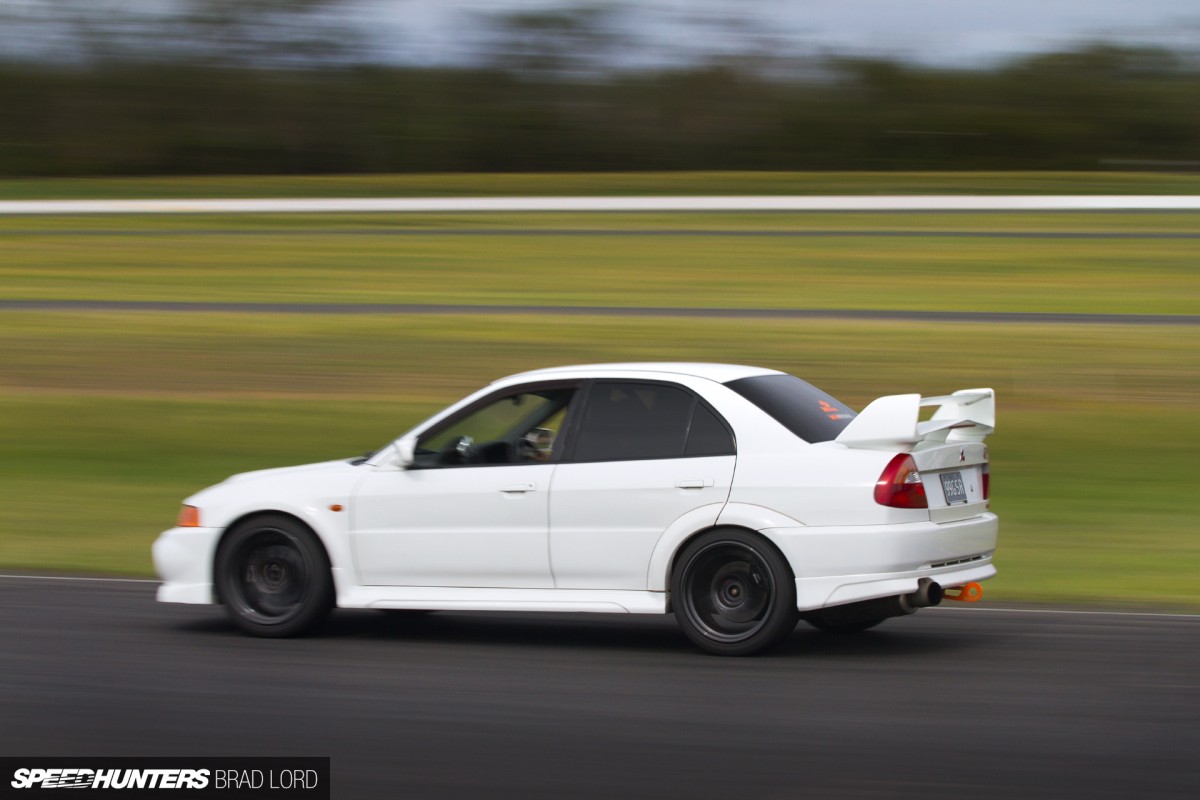 In a sea of other cars circulating the track, the Evo was conspicuous by its subtleties – a purposeful stance, non-descript looks (if that's possible with an Evo VI!) and a no-fuss quick-spooling 4G63. I knew it would be worth taking a closer look and I'm kind of pleased I did.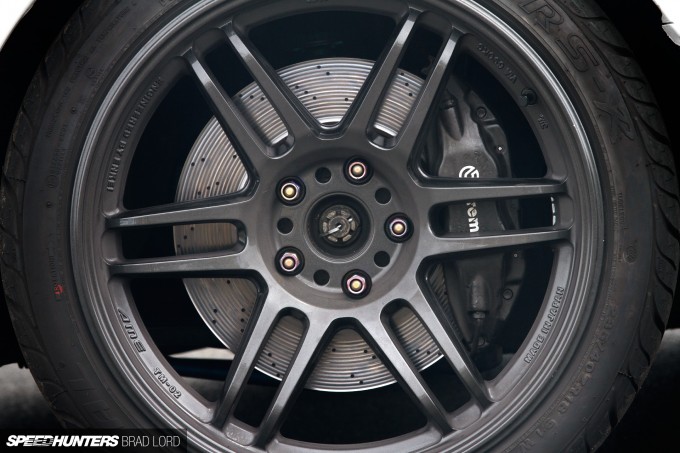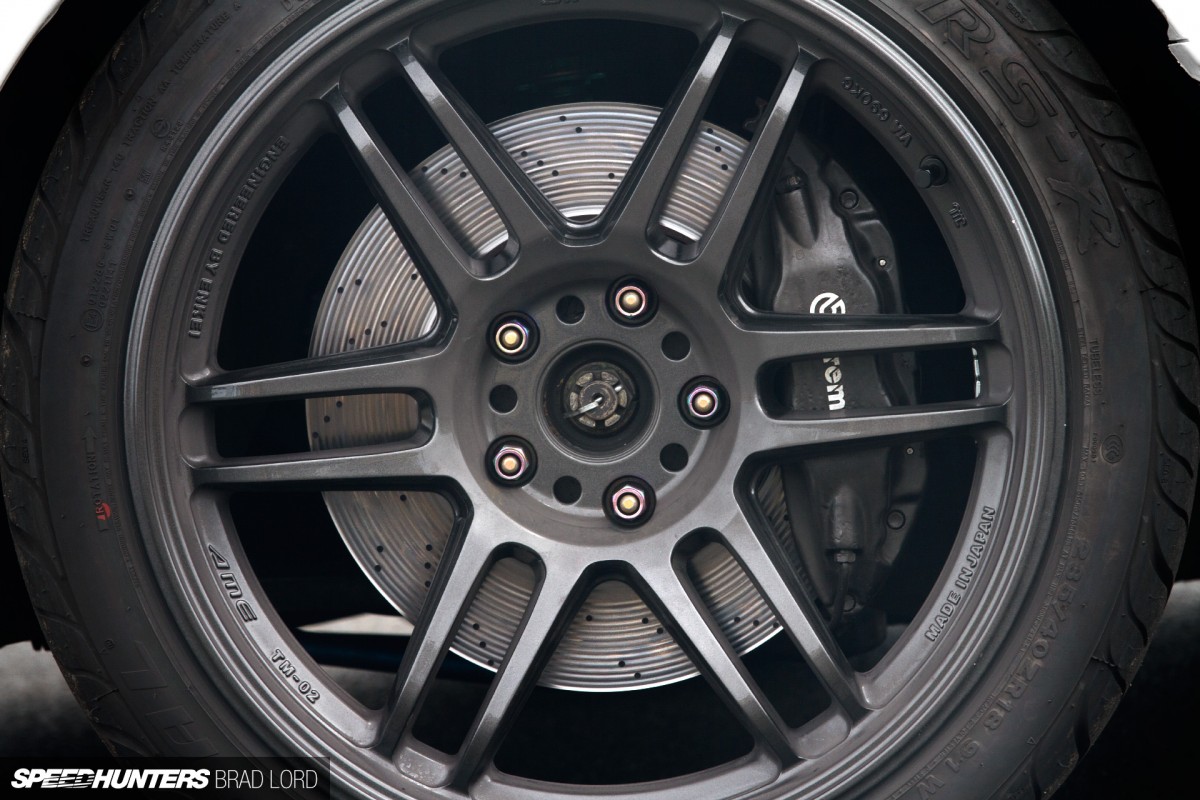 You won't find Cory's Evo overly modified in any one area, but rather built upon Mitsubishi's venerable rally-bred platform. And the sum of all those upgrades results in a tough street-legal and regularly street-driven package that's more than capable of holding its own on the circuit.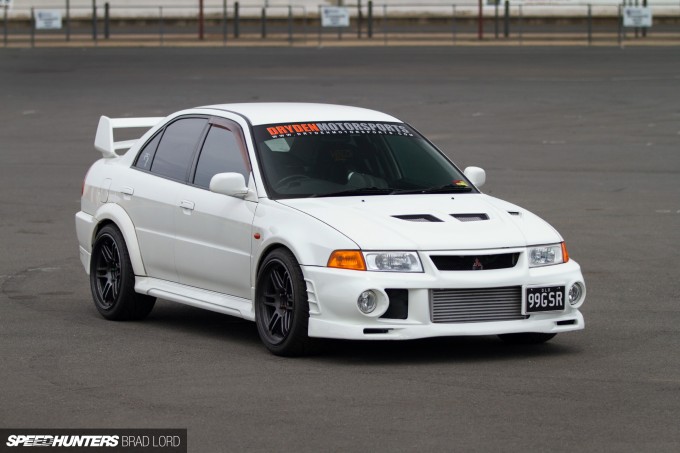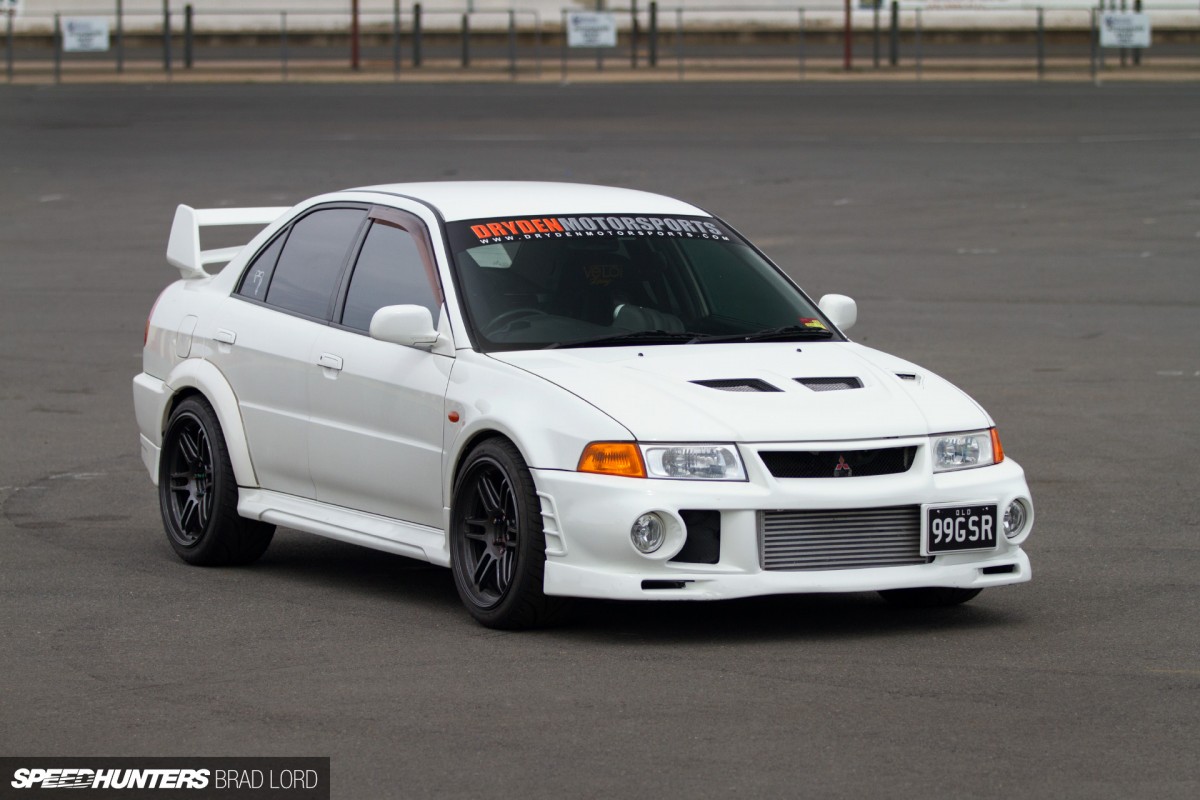 Of course, when Cory purchased the Lancer five years ago his plan was slightly different. A couple of quick bolt-on modifications were always on the cards, but as builds so often go, one thing led to another and before he knew it, the car was being prepared with a purpose.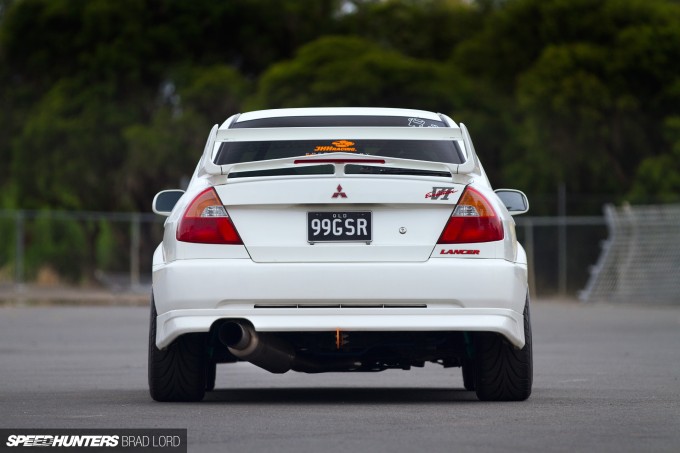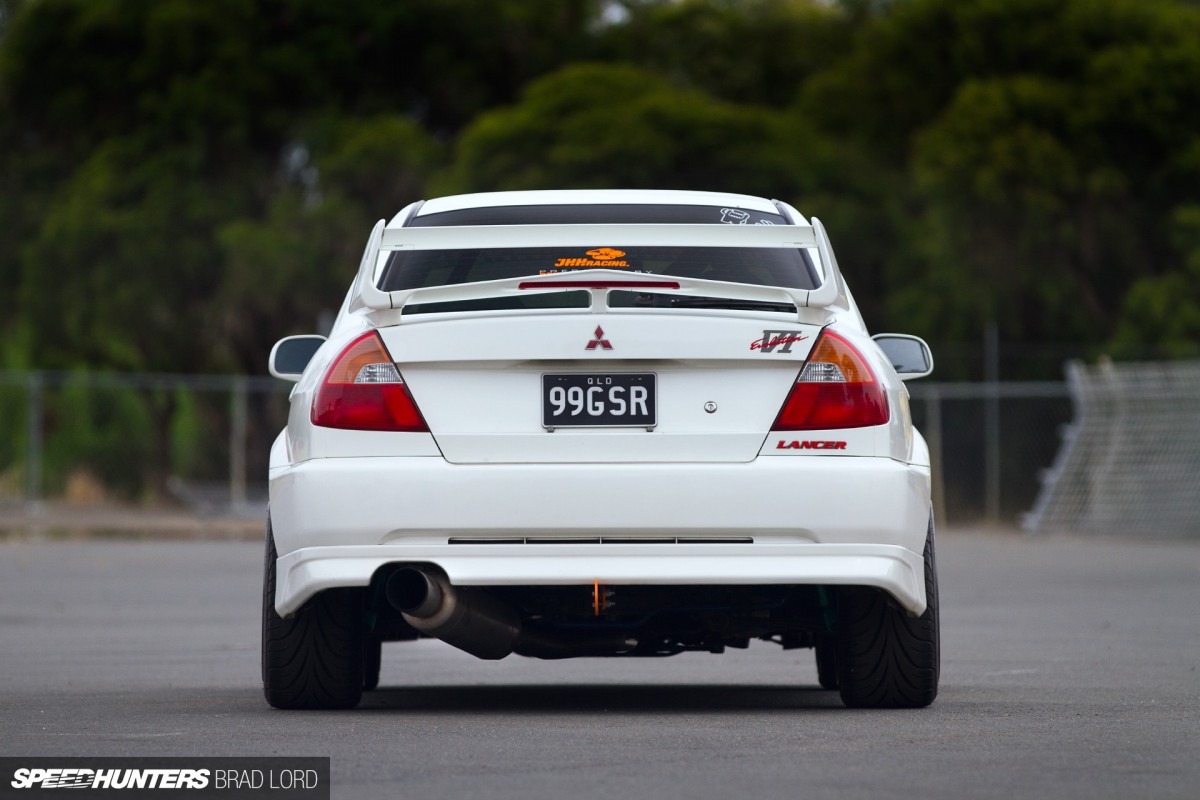 From an aesthetic standpoint, Mitsubishi got it absolutely right with the sixth generation Lancer Evolution. Cory thinks so, and saw absolutely no need to mess with aggressive factory appearance, or even the original Scotia White paintwork.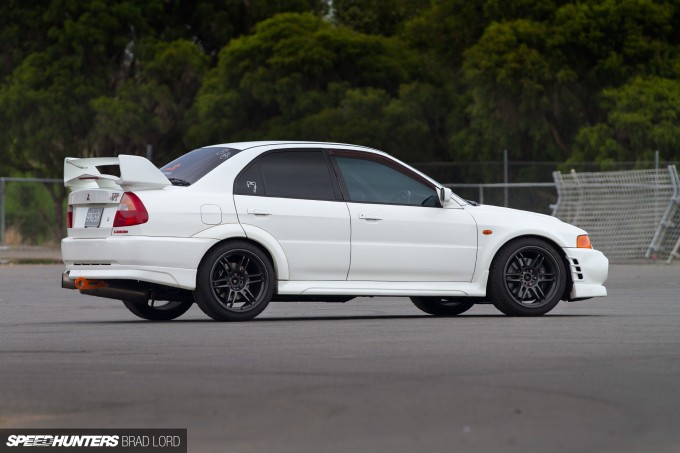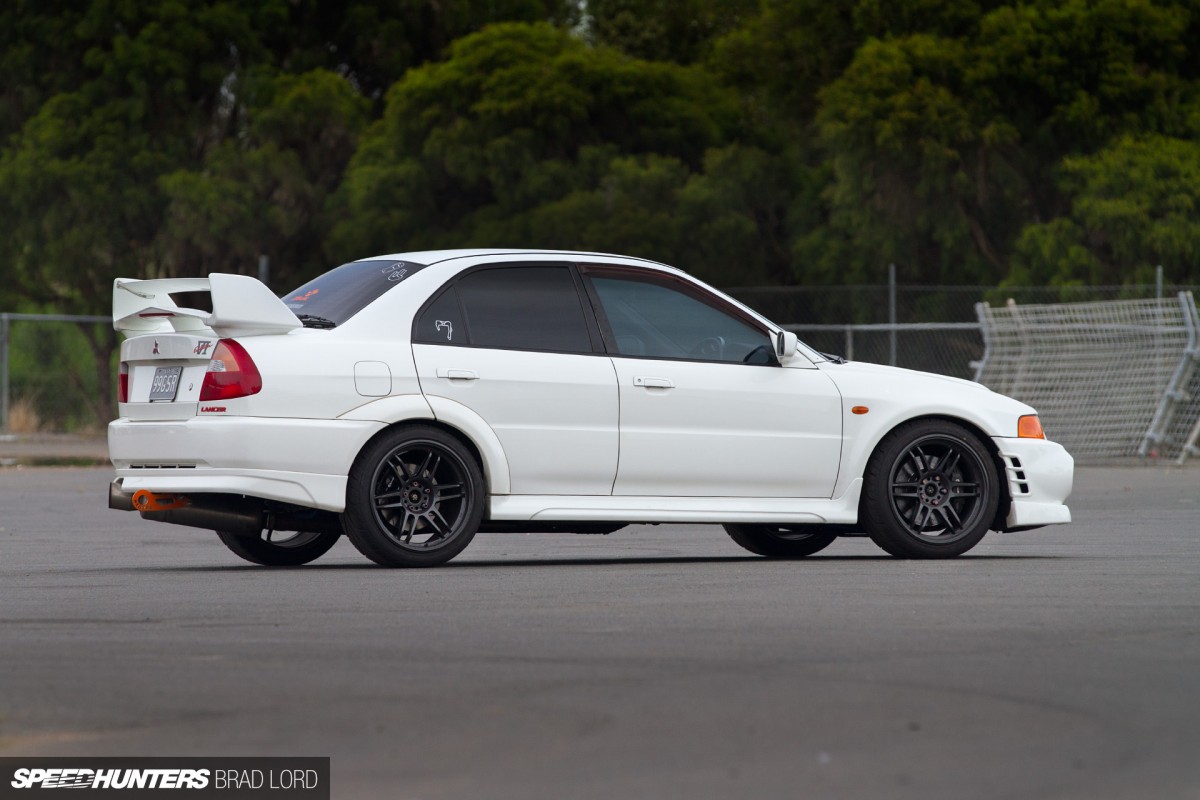 But beyond its factory Group A homologation upgrades, this is a car with plenty of tricks up its sleeve, created with a 'do it once, do it right' mantra, so I wasn't at all surprised to find quality parts used throughout. What I didn't expect was to see so many of them with Cory's name stamped on them…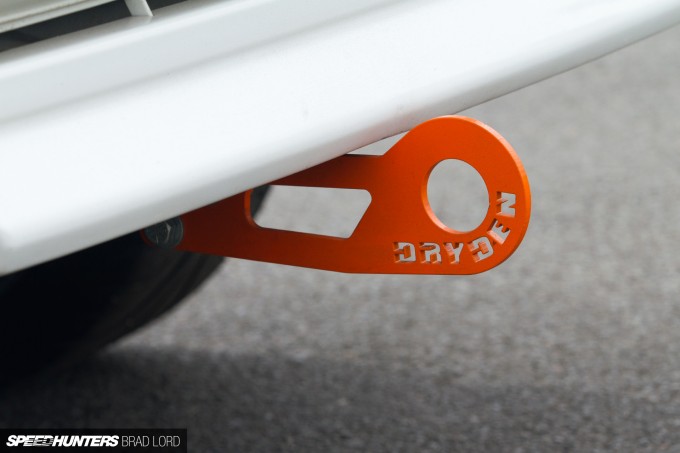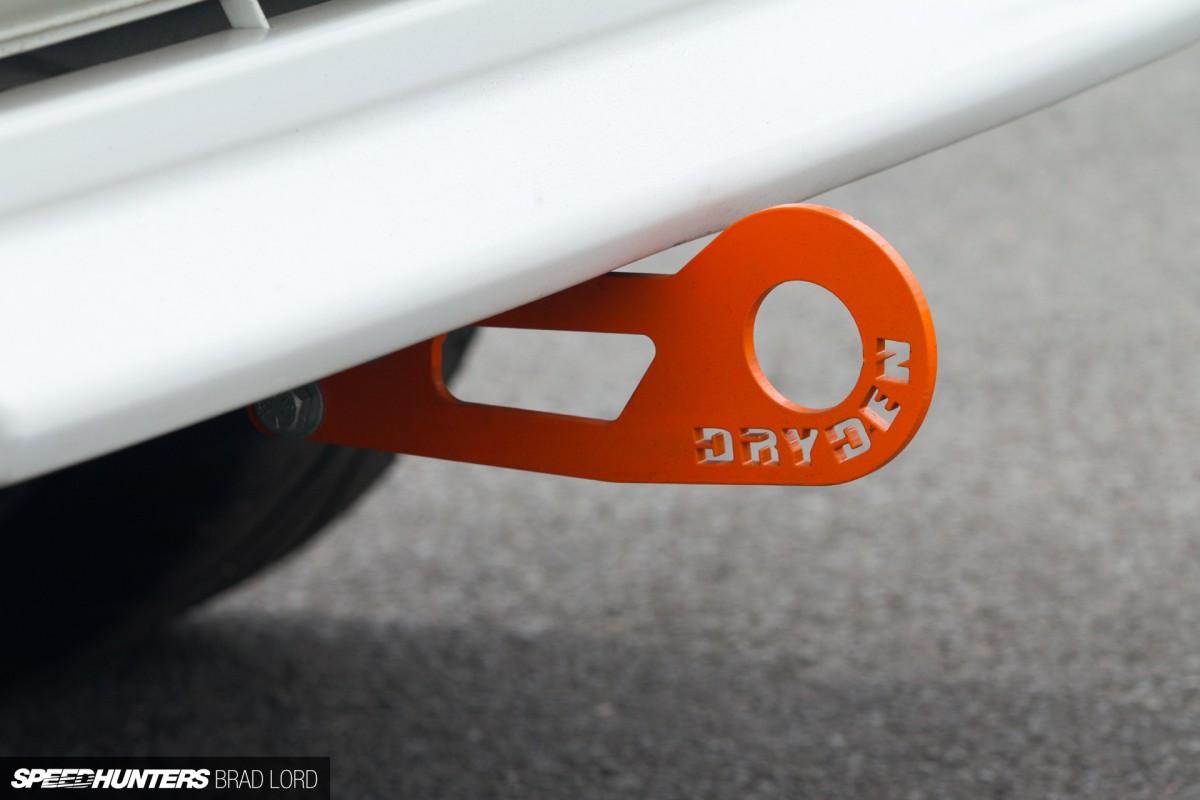 Actually, it's his family name, but it was Cory and few of his friends that initially decided to build parts for their own cars that spurred the idea for a small, fun operation back in 2008. It's still very much a part-time gig for Cory, but today Dryden Motorsports has customers from all over the world.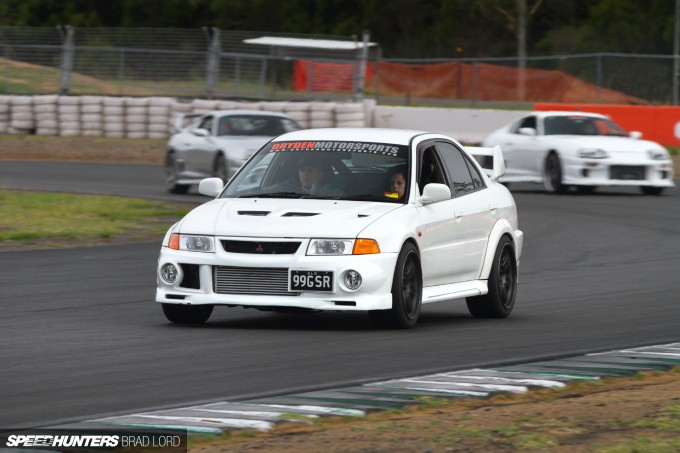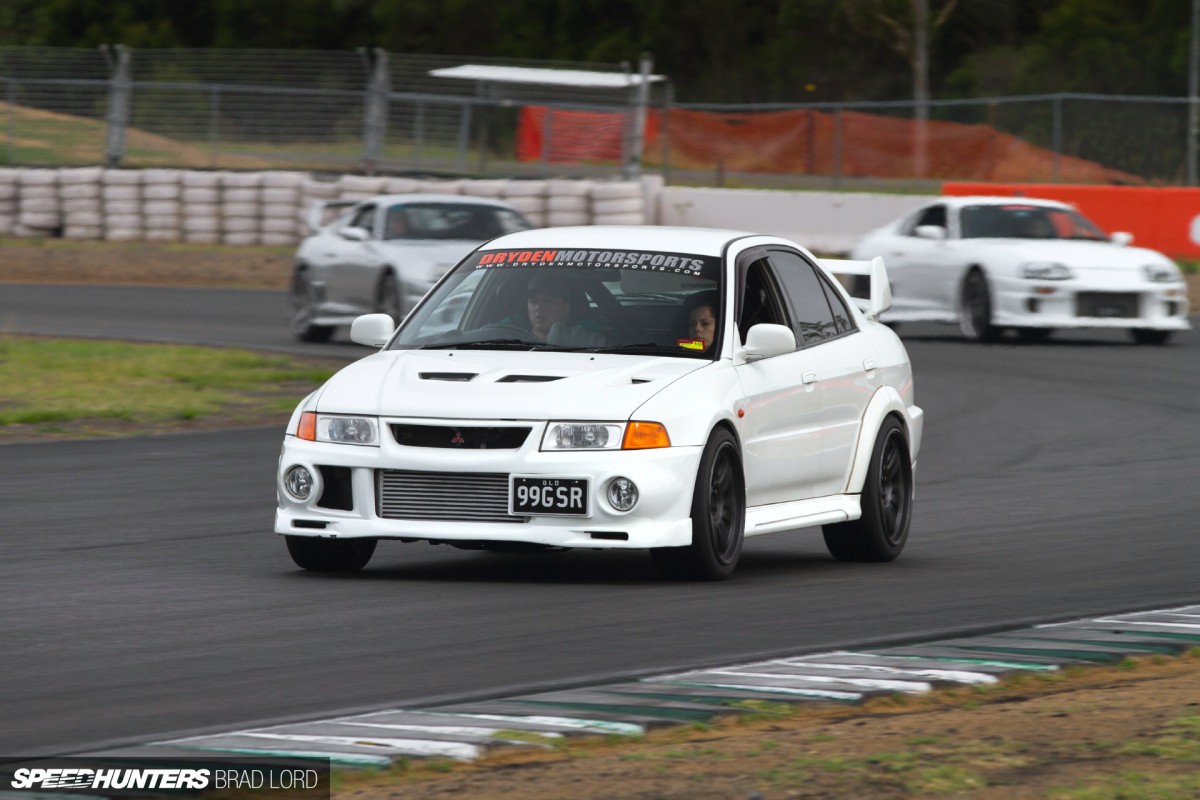 Naturally, a number of parts have been designed and engineered for the Evo variant, and Cory's GSR has provided the perfect base for R&D purposes.
So simple, so effective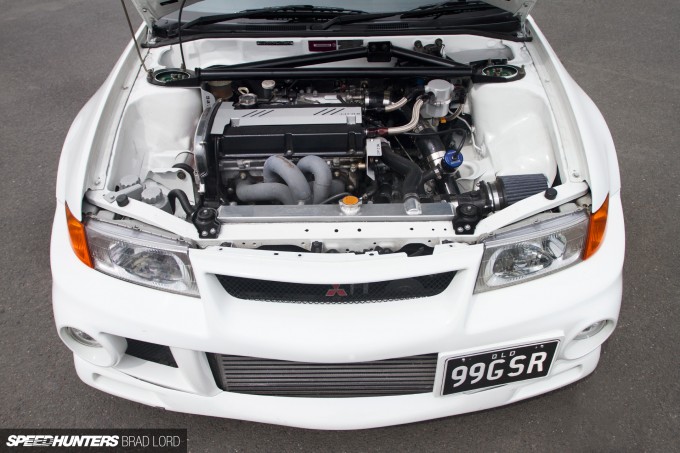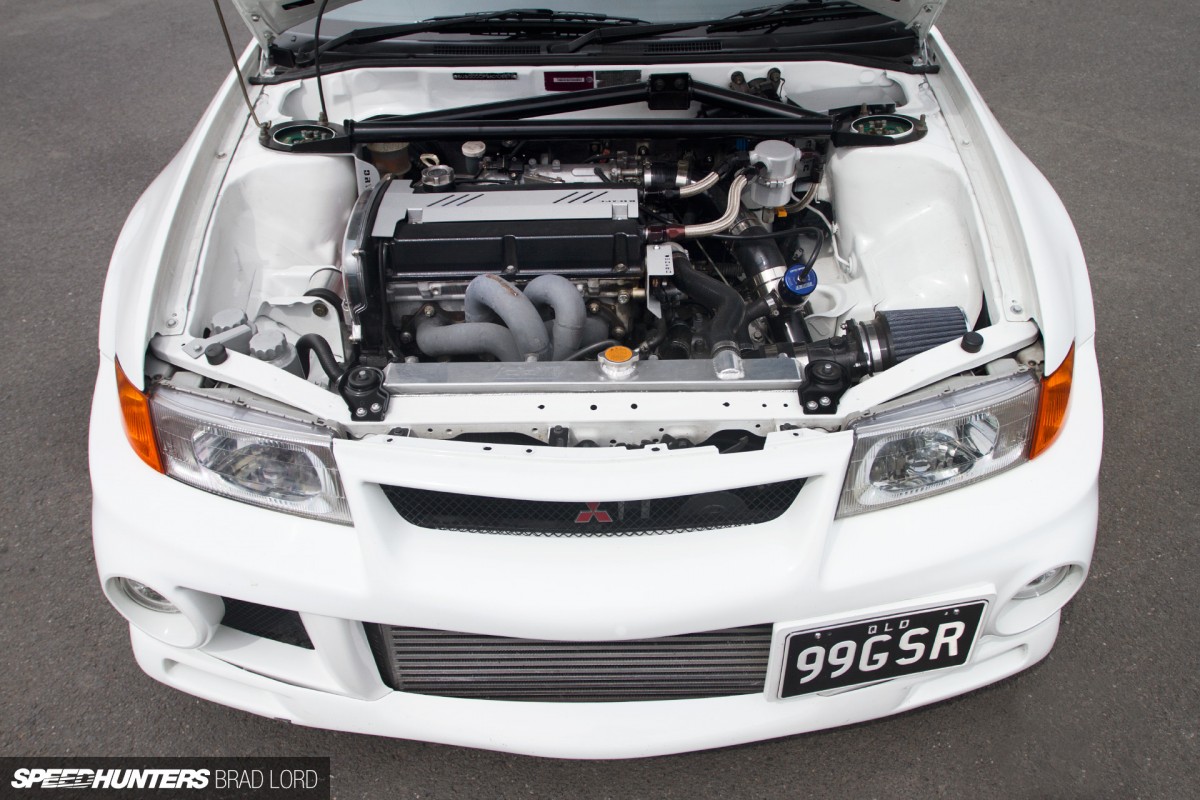 The engine was always high on the priority list for Cory, and during a deployment with the Australian Army in Afghanistan, planning out what he wanted to achieve from the Mitsubishi's venerable 2.0-litre DOHC 16-valve turbocharged powerplant was a welcome distraction from life living in a war zone. Eventually, he settled on a plan: a built 4G63 block was on its way from Slowboy Racing in Florida, USA, to Queensland, Australia.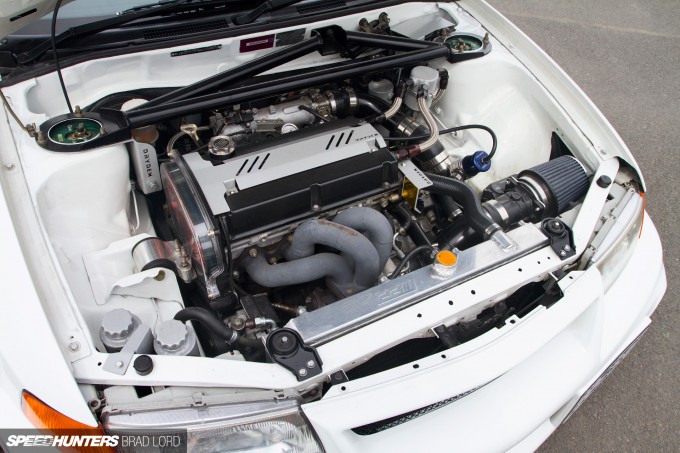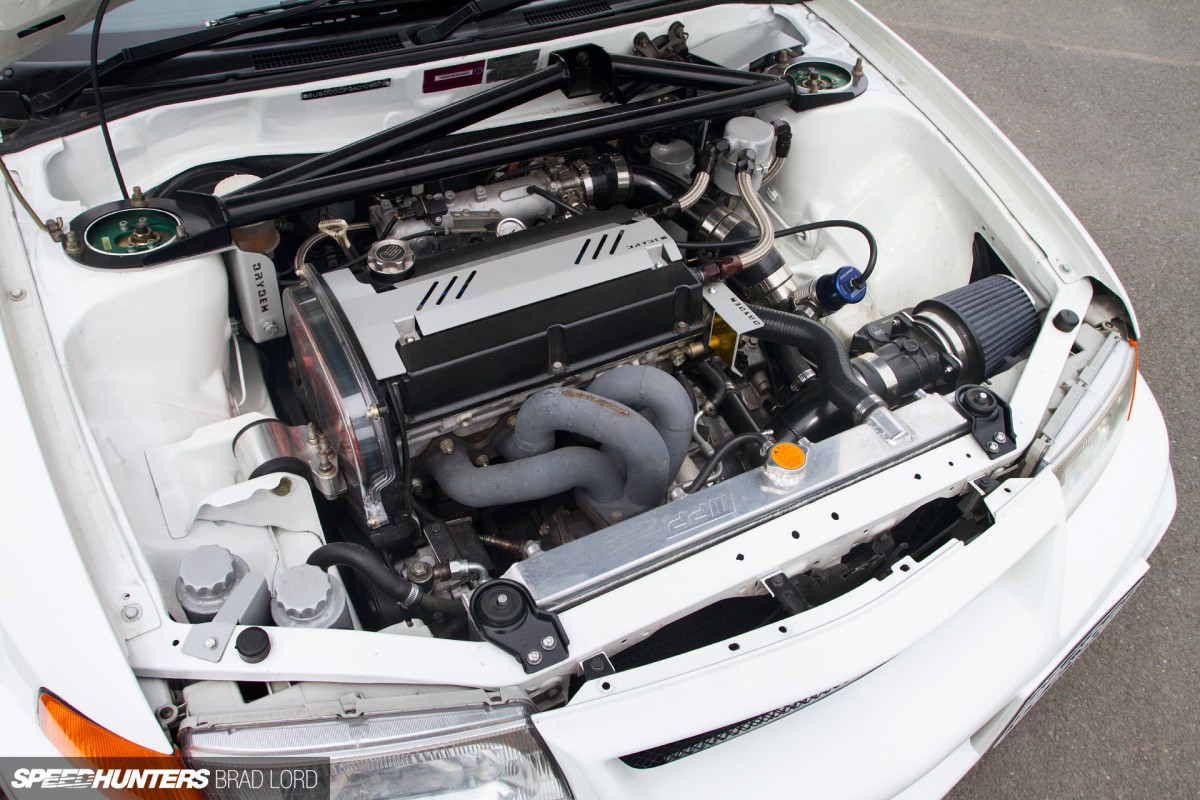 On his return home, Cory enlisted the services of well-known competition engine builder JHH Racing (a company with ties to a number of high profile cars including Mercury Motorsport's 'NITTO' Nissan Skyline BNR34 GT-R, the MightyMouse/101 Motorsport CR-X, and the Nemo Racing Evo) and the reinvention of this Evolution VI kicked into gear.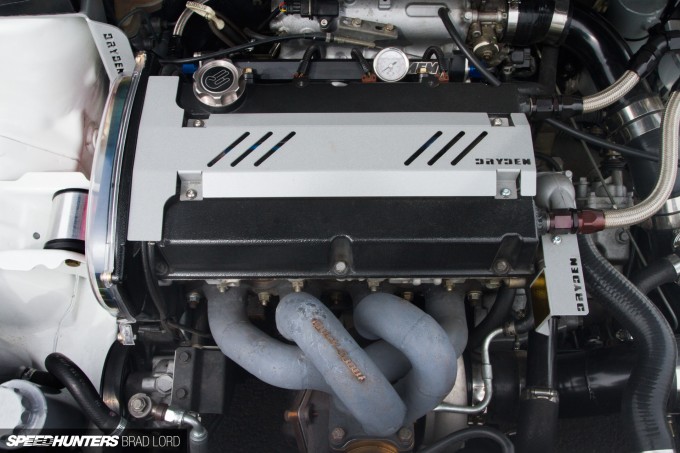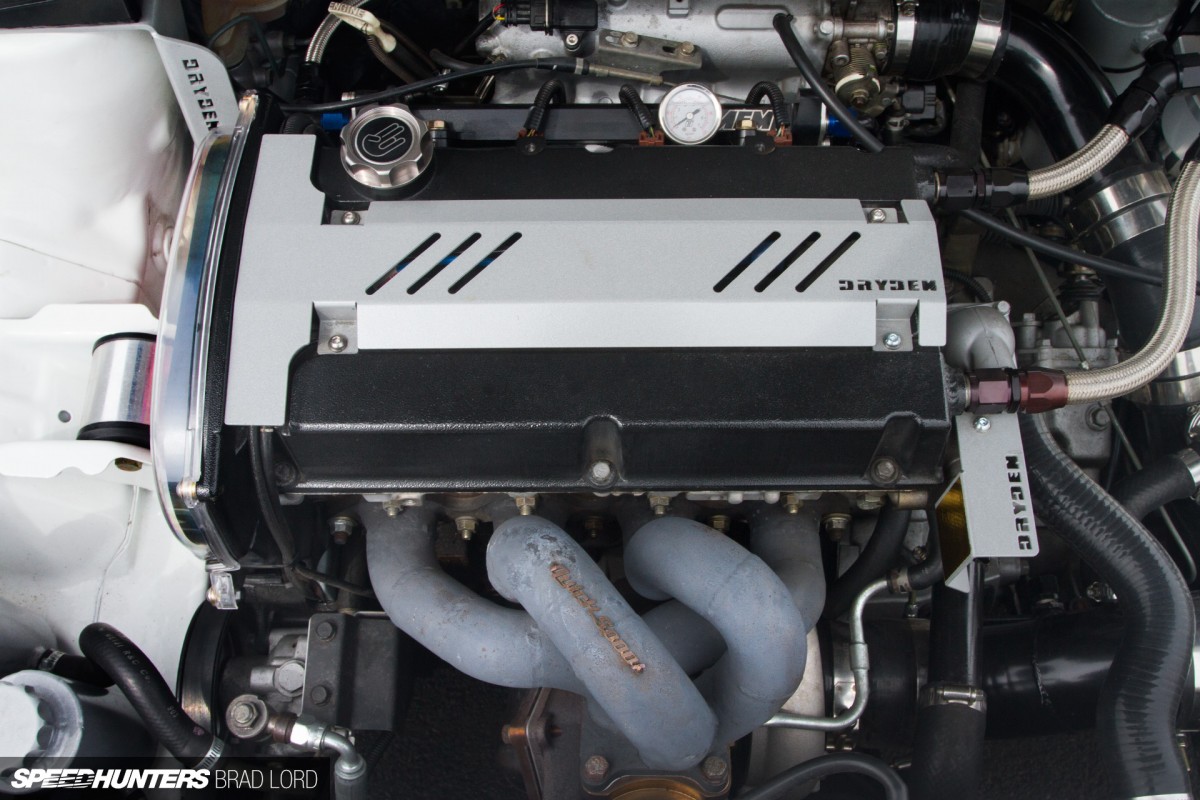 The 4G63 is one of those engines that responds extremely well to modifications, as long as you prod them in the right places with decent parts. Stroking to 2.3 litre provides a two-fold way to improve performance over the standard 2.0-litre in a street car build, bolstering low and mid-range torque and allowing a comparatively-sized turbo to spool up quicker. In this instance, Slowboy achieved the extra 300cc of capacity through a Manley 100mm forged crankshaft. Manley Pro Series Turbo Tuff  I-beam forged rods and Manley Platinum Series lightweight forged pistons feature too, collectively creating a stronger and more reliable engine base to build upon.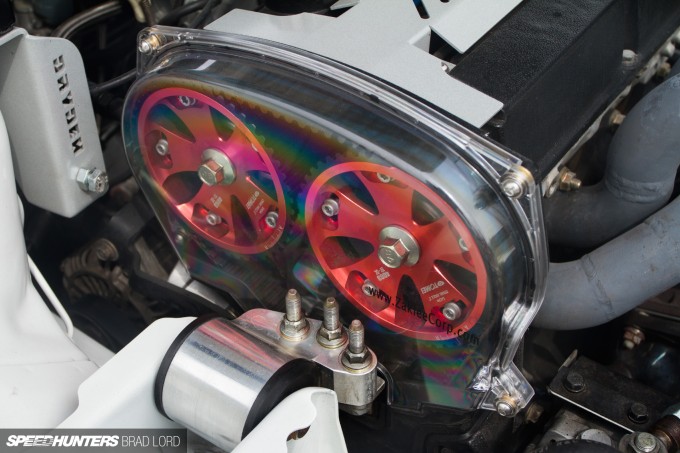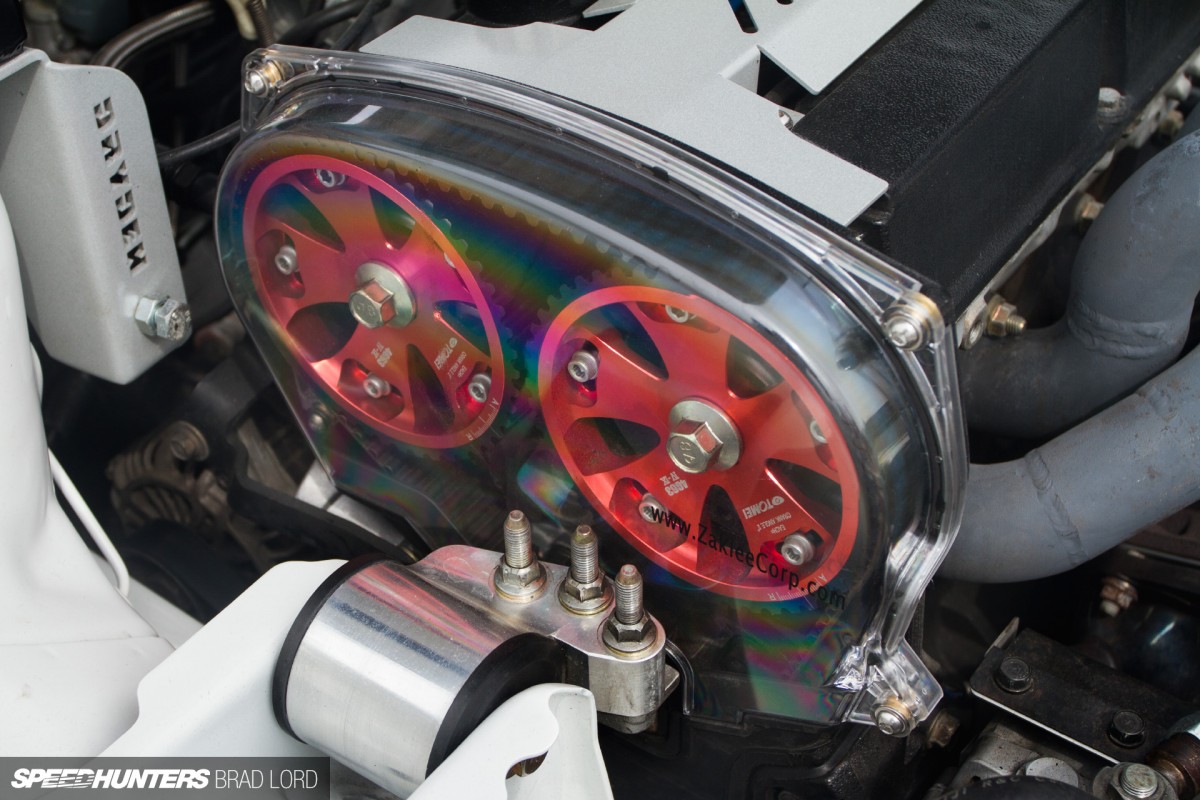 JHH gave the engine's DOHC 16-valve cylinder head a good going over too – enlarging and polishing the ports, fitting larger valves with GSC Power-Division Beehive springs and titanium retainers, and installing a pair of TX272 Kelford camshafts spun off Tomei adjustable gears.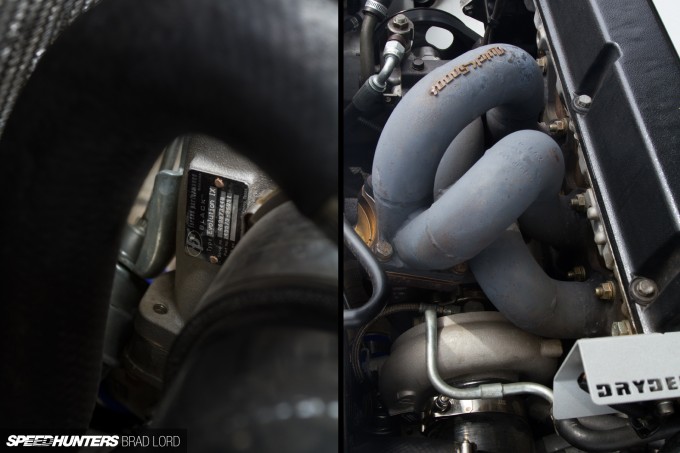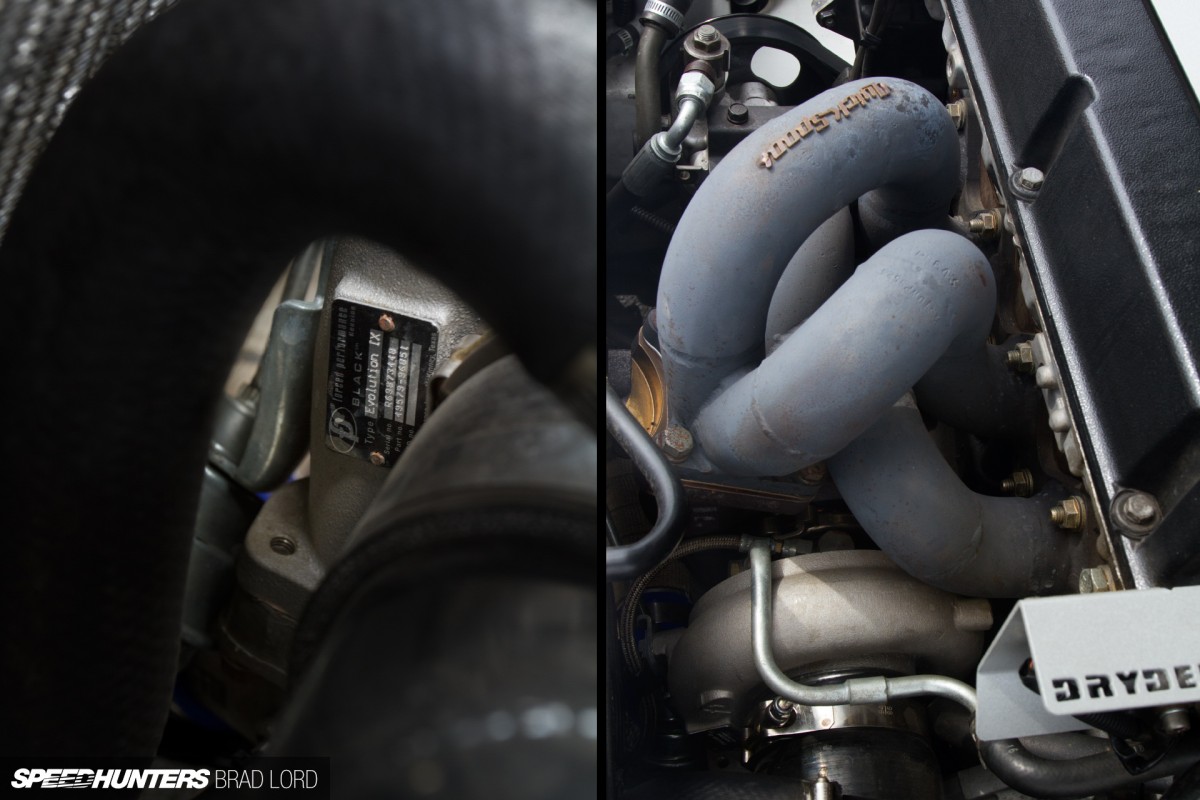 To make the most of the internal upgrades and increased flowability, Cory settled on a turbocharger system that would provide a nice balance between efficiency and power-making, and found exactly what he was looking for stateside with an FB Black Evo IX upgrade from Forced Performance that retains a factory design with an internal wastegate. Local custom fabricator Quick Spool knocked up a tubular exhaust manifold to suit the turbo and Dryden Motorsport took care of the intercooler pipes required to plumb a large Hyperflow 610i bar-and-plate intercooler up front.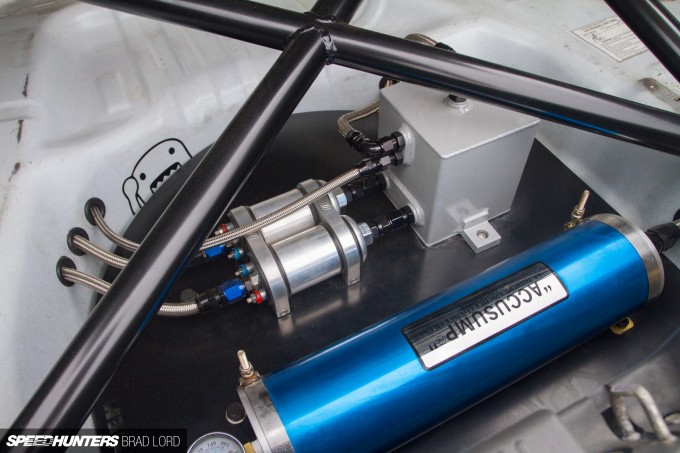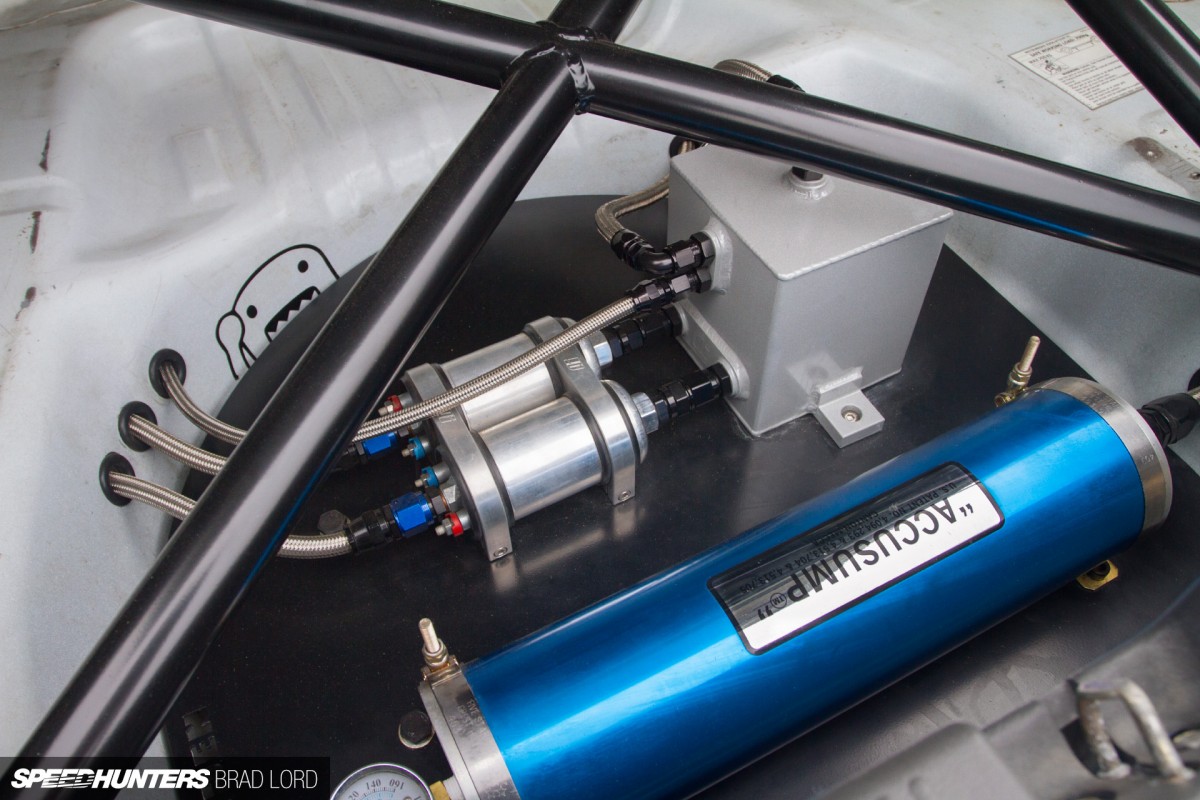 Cory's plan to run the engine on E85 bio-fuel goes some way to explain the heavily modified fuel system that culminates under the bonnet with a Turbosmart regulator, a high-volume AEM fuel rail and four FIC 1050cc injectors, but there's a tidy fit-out in the boot as well. The factory fuel tank and internal pump are retained, but to meet demand, two additional Bosch Motorsport 044 pumps and a custom surge tank have been employed, as are large Speedflow braided lines and fittings throughout. On the engine lubrication front, an Accusump accumulator provides an extra layer of protection at start-up and during low pressure surges when the Evo's getting a good workout on the track.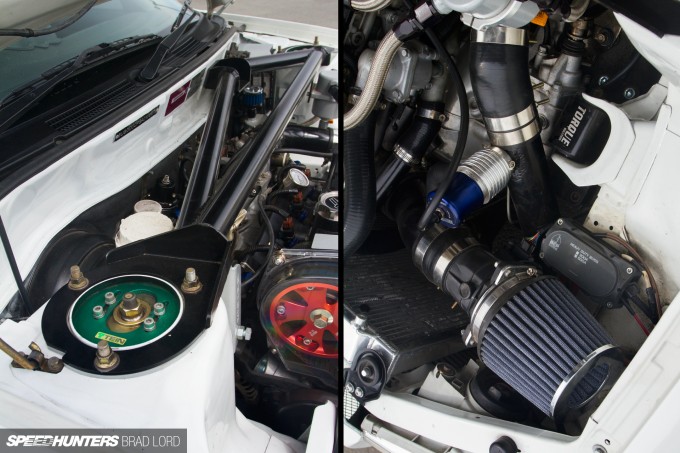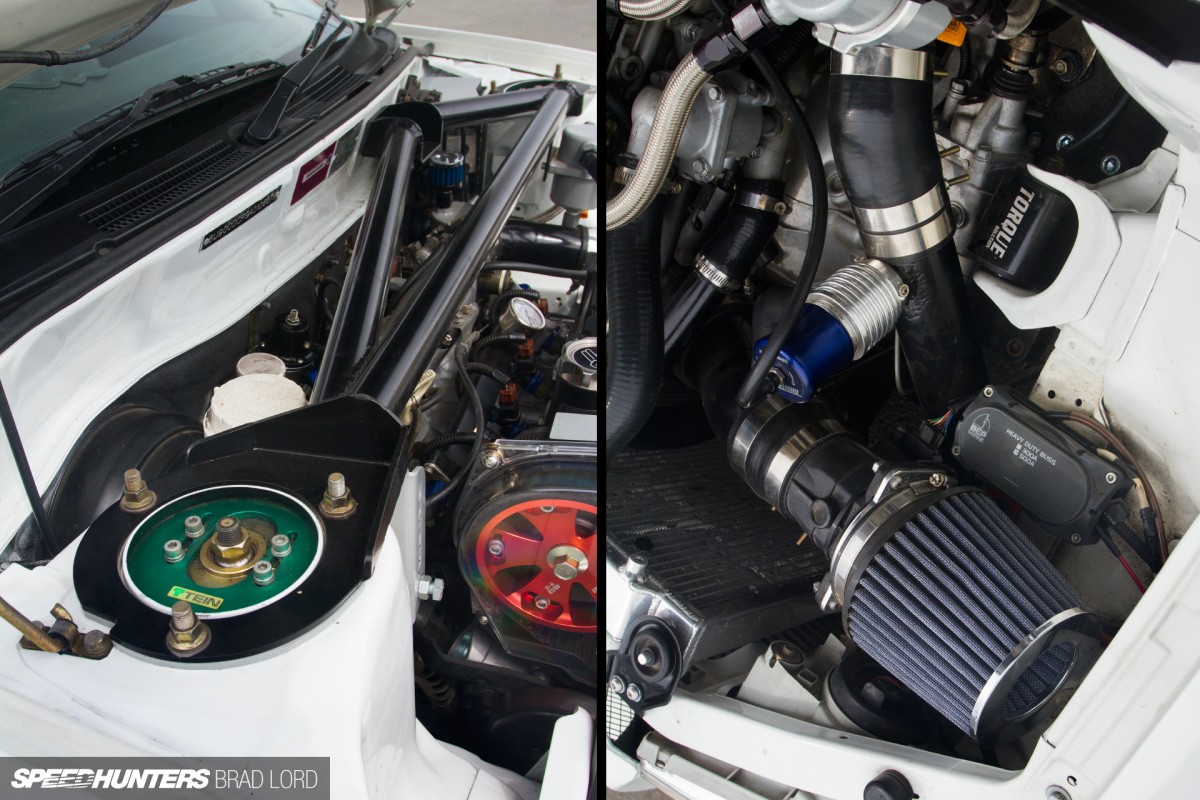 While the Evo was devoid of its engine, some time was spent plugging holes on inner guards and the firewall, plus tucking wires out of the way for a much cleaner look, while the 4G63 and its gearbox now sit on a combination of modified Agency Power Evo VIII engine mounts, and custom-fitted Torque Solution Evo VIII billet aluminum transmission mounts.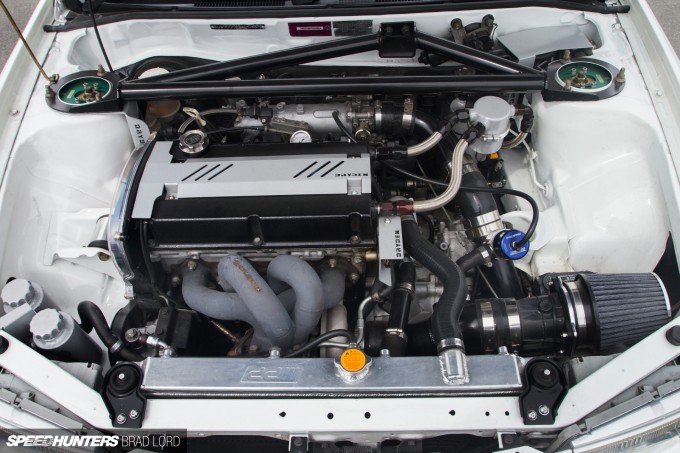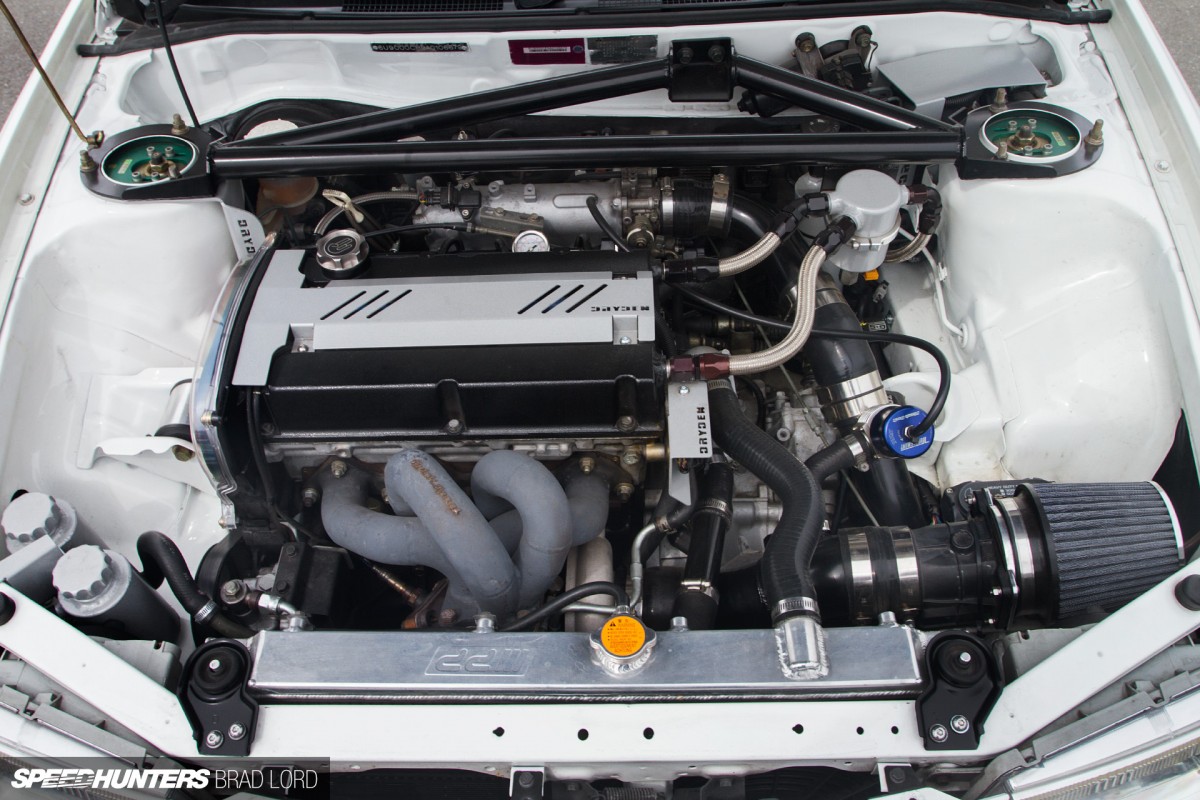 As far as numbers go, it all adds up to a dyno-measured 440hp at the wheels and 450Nm of torque to boot – solid numbers for a street car whichever way you look at it. But the real beauty is in the way that it delivers the output as realised through a Telphra-flashed Evo VII ECU – with as much throttle response as you'd expect from a factory arrangement, but on a much greater scale. And it's a gift that keeps on giving right the way through a decidedly plump powerband.
Ground control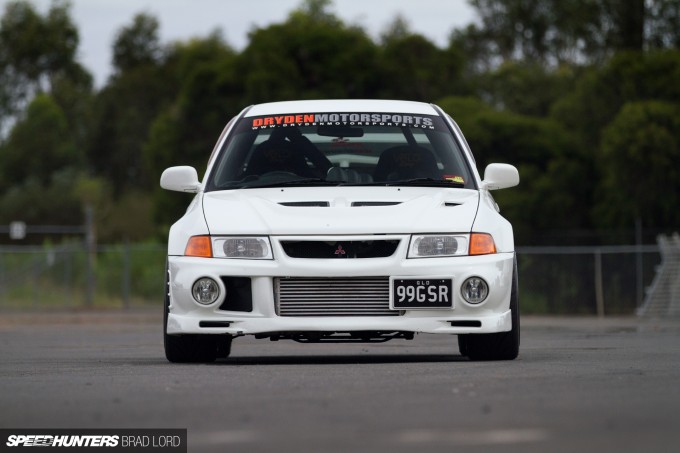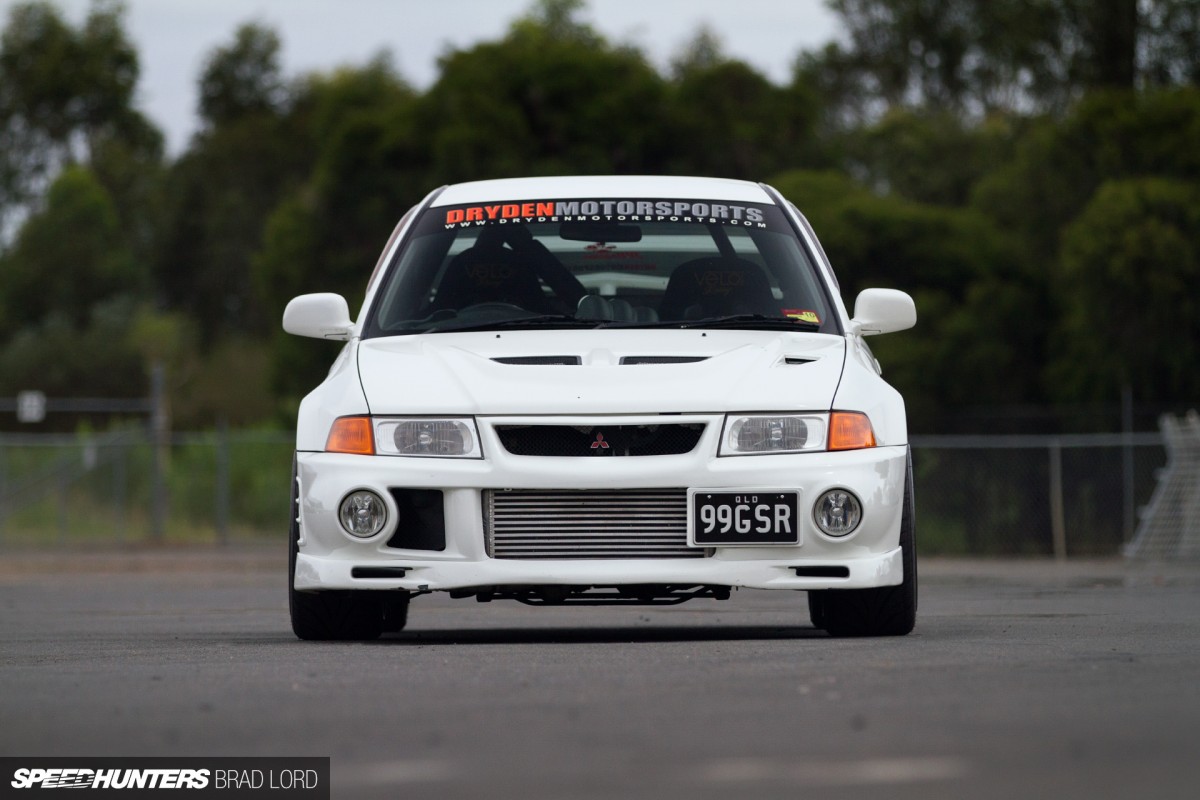 Although the Evo still runs its factory GSR-spec five-speed manual gearbox, there are plenty of supporting modifications to make sure it gets the power to the ground as efficiently and reliably as possible. Competition Clutch twin-plate clutch and lightweight flywheel aside, Cory's undertaken a rear-end upgrade that rids the driveline of its AYC system, and allows an RS-grade limited slip differential into this mix. In this case it's an Evo IX RS unit supported by Dryden Motorsport's own set-up, which includes a 'Mustache' bar and front support bars in its design.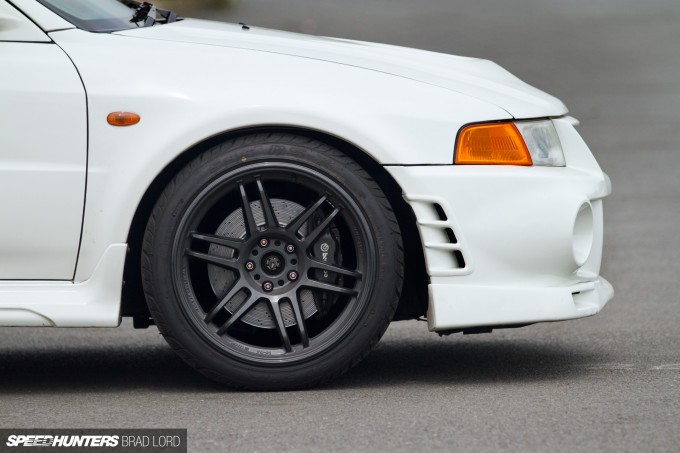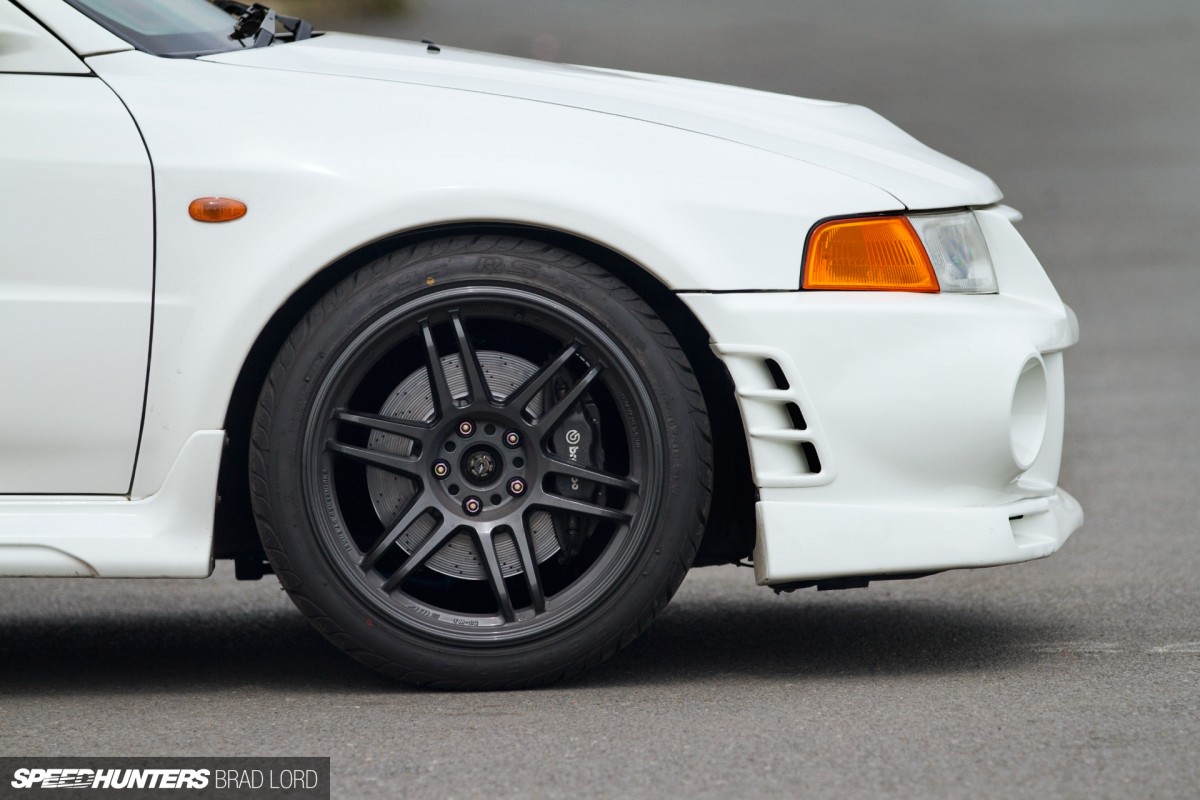 Further enhancements can be found in the suspension department, where Tein Mono Flex adjustable coilovers reside at all corners and Cusco sway bars upgrade the factory bars front and rear. The Brembo calipers are factory Evo VI GSR fare, albeit recoloured black, but with Endless PC35 competition pads and drilled Performance Friction rotors at the four-pot front end and Goodridge stainless steel lines throughout, they're far more effective in hauling the Lancer up from speed now than they ever were.
And what about the wheels? The simple white body/dark wheel combination always works well in my book, but I'm really feeling Cory's choice of Gun Black Taper-finished 18×9.5-inch AME TM-02 alloys here. For both street and track day duty, Federal's 595RS-R compound is used in 235/40ZR18 size.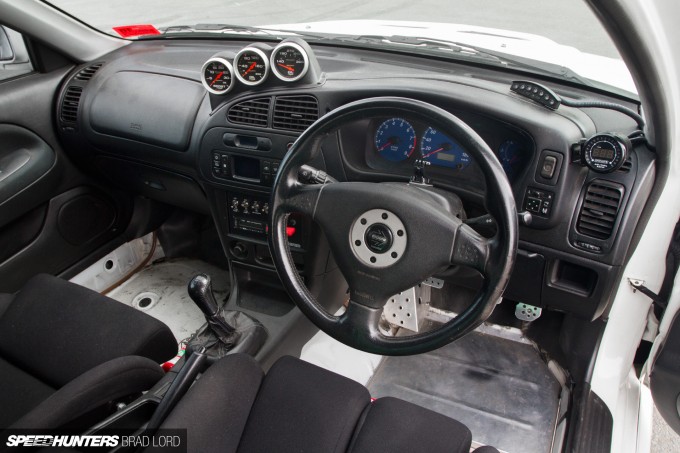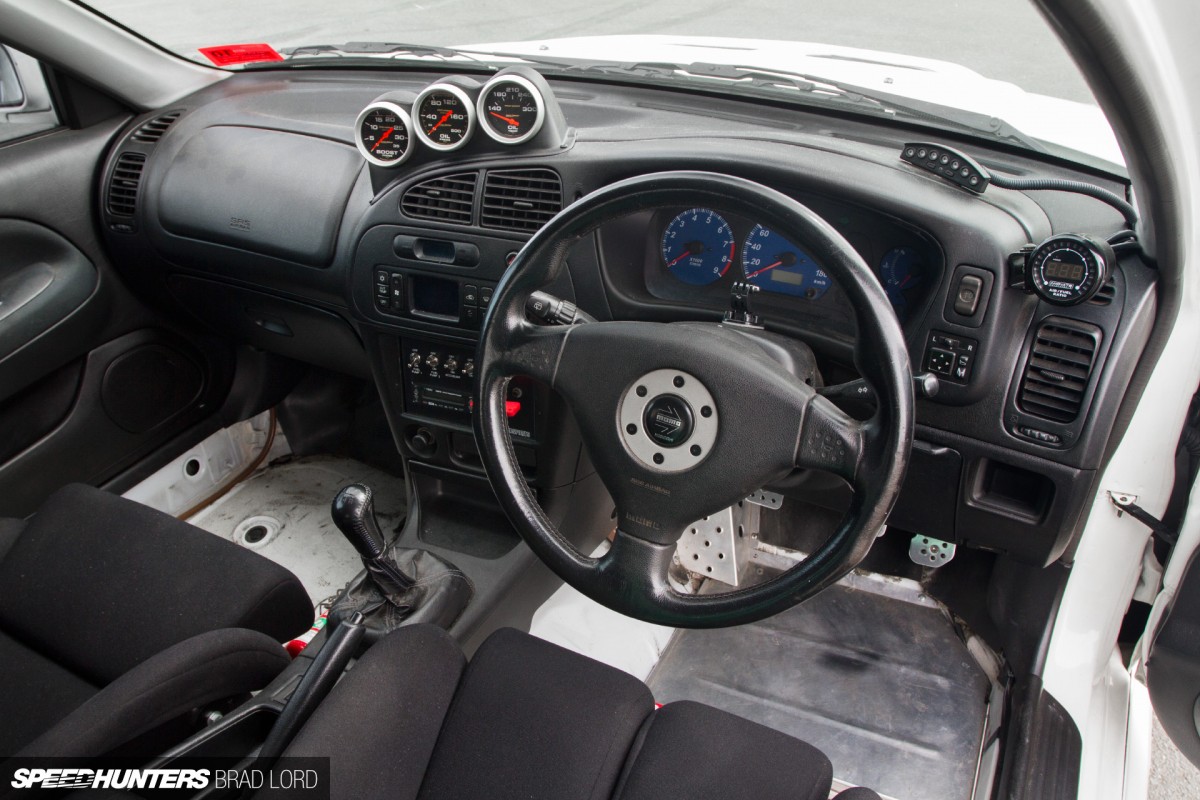 Peer inside Cory's Evo and you'll be greeted by another happy medium. Sure, with no carpet and the removal of all sound deadening, it's noisier in here than it would be otherwise, but with the full dashboard, door panels and roof lining still in place – not to mention the factory airbags to appease the authorities – it's maintained most of its creature comforts.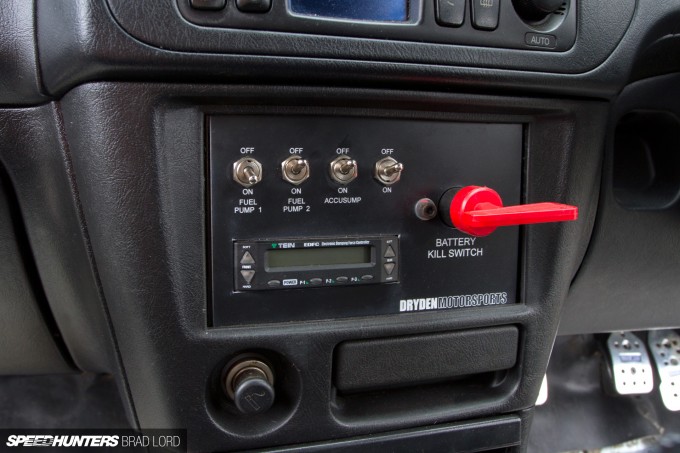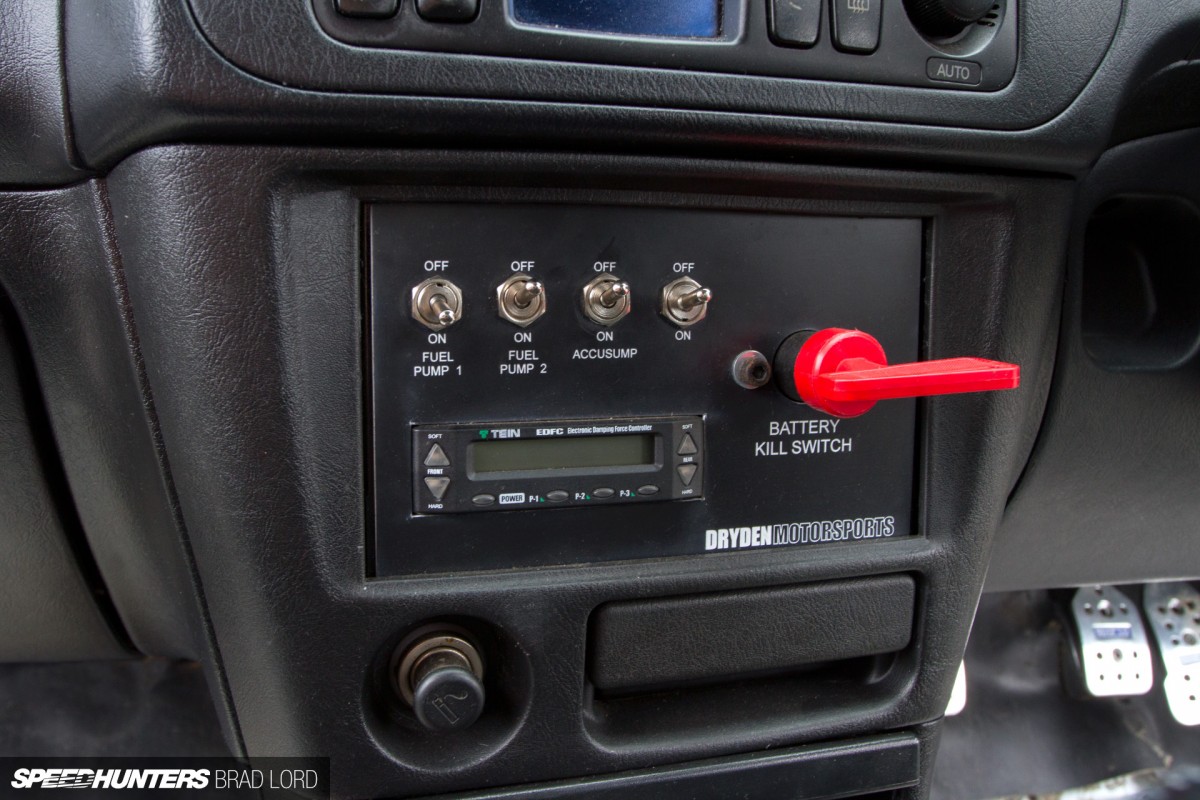 Well, a lot of them anyway – but really, who needs a stereo when there's the sound of a tuned-up 4G63 to enjoy? Obviously not Cory. This custom metal switch panel with machined lettering is pretty cool, don't you think? It makes a fresh change from faux carbon fibre wrap anyway.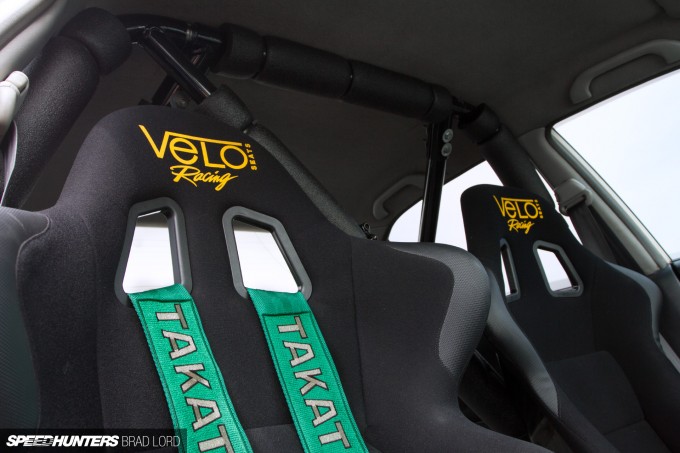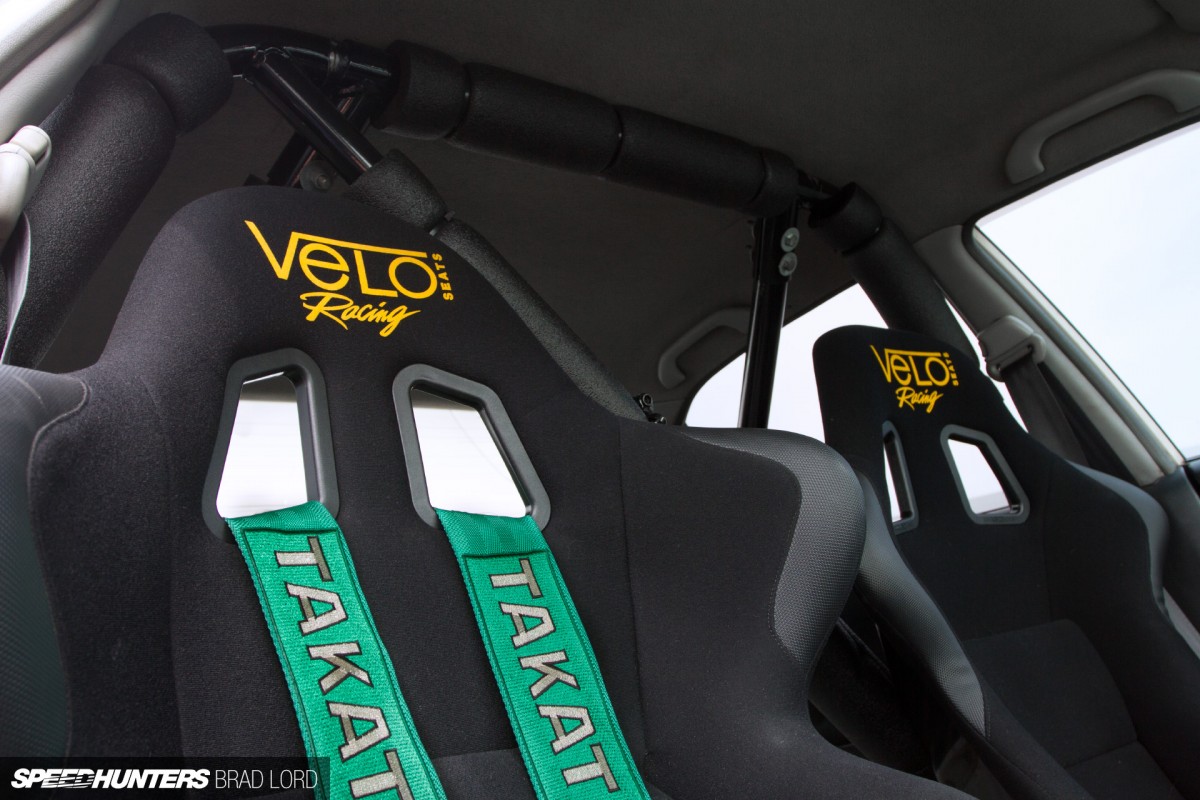 For some extra rigidity and some roll over protection, Bonds Roll Bars fabricated and installed a custom half-cage. That necessitated removal of the rear bench of course, but no one needs back seat passengers messing up their car's balance and power-to-weight ratio anyway. Locally-made Velo race seats on Dryden rails replace the heavy factory Recaros, and there's a Takata MPH340R harness handy when Cory feels the need to strap in extra tight. A JC handle suffices for anyone who rides shotgun.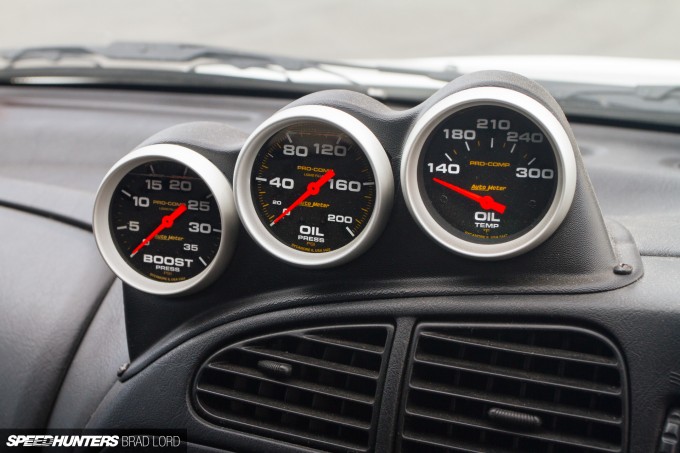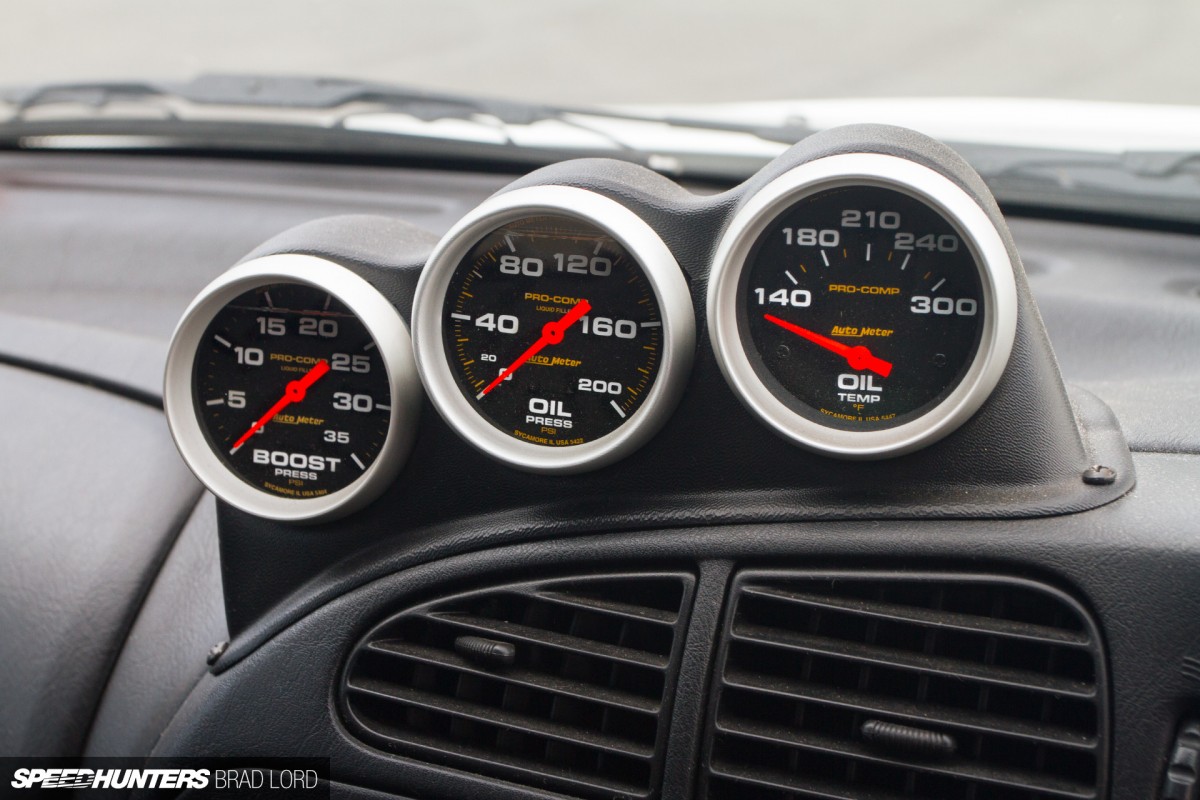 Although all-encompassing digital dash displays are becoming increasingly popular in performance tuning circles, analogue meters still have a place in this build. Along with the trio of dash-top Auto Meter gauges there's also an Innovative Motorsports MTX-L wideband 02 digital air/fuel ratio meter and an Ecliptech Shift-I sequential shift light in the mix.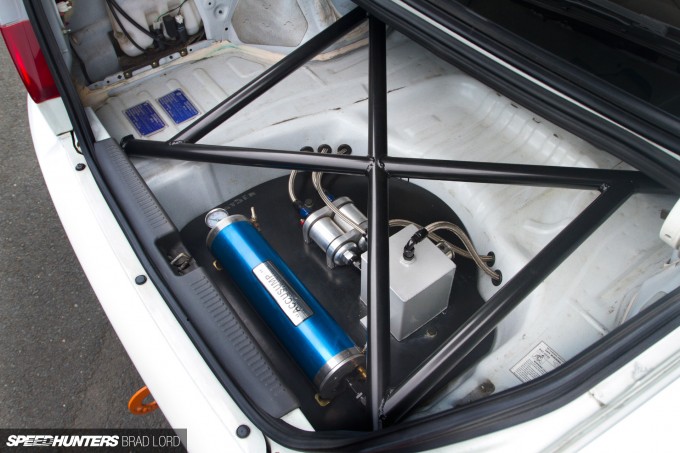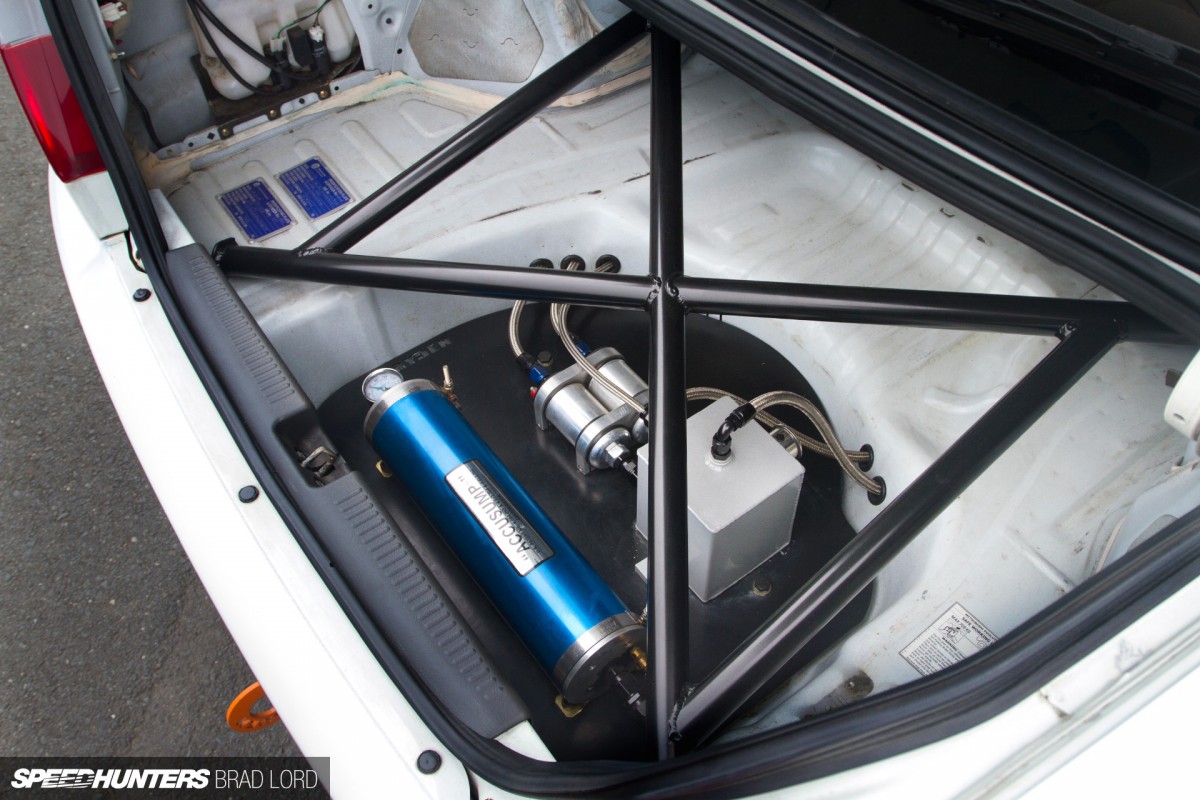 I gave you a closer look at the fuel system earlier, but here's a wide view of the boot that shows off the rather extensive Dryden rear strut/cross bar. You'll also notice the blue Queensland Transport Modification Plates, which have to be obtained through a compliance procedure if you want to drive a car like this one legally on the road in the state. Cutting corners was not an option for Cory, but I'm pretty sure you'll have that idea by now.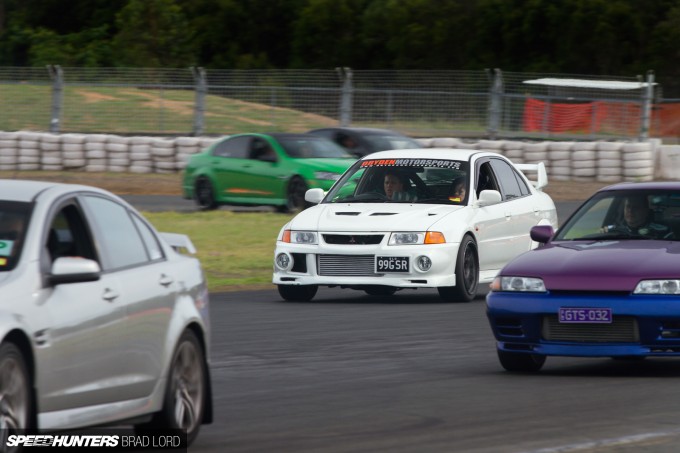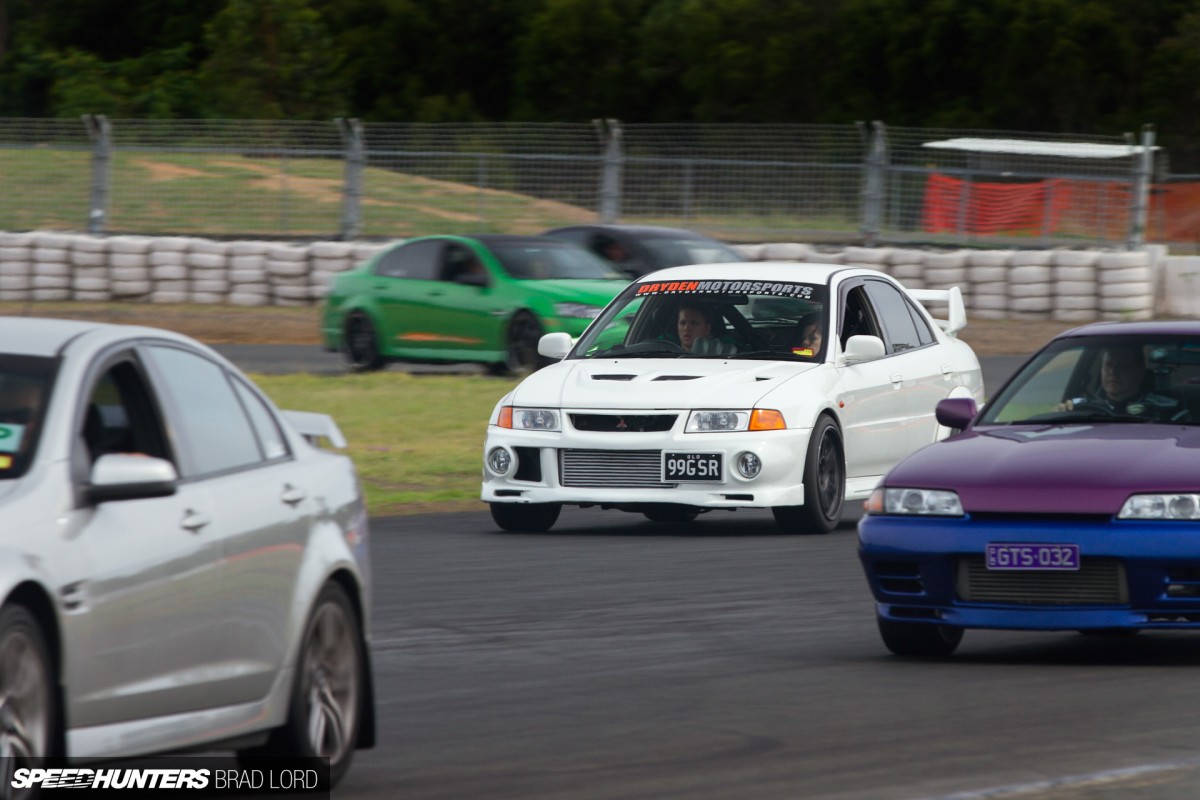 Although there are no plans for any more major work, Cory never expected his road car would become anything more than that, and look at where it is now. An entry in the Clubsport class of the World Time Attack Challenge might one day be on the cards, but for now he's happy to enjoy the fruits of his labour at local events, and meets like Downshift. With a car like this, I know I'd been doing exactly the same thing if I was in his shoes…