There is still hope
It's fun to think that my nieces and nephews have no idea what a roll of 35mm film is, because they can't grasp the concept that at one point in time there was no such thing as instant gratification while shooting a photo – unless you were using a Polaroid camera. It's understandable, as they grew up in a time of digital cameras capturing anything and everything, however I was lucky enough to have the chance to shoot with film when I first started my photography career.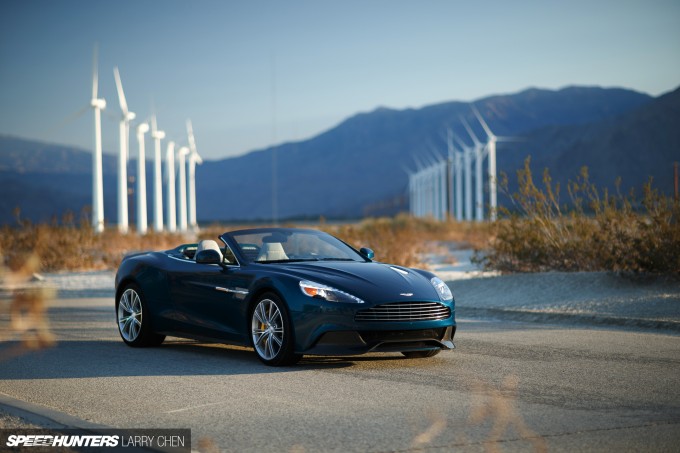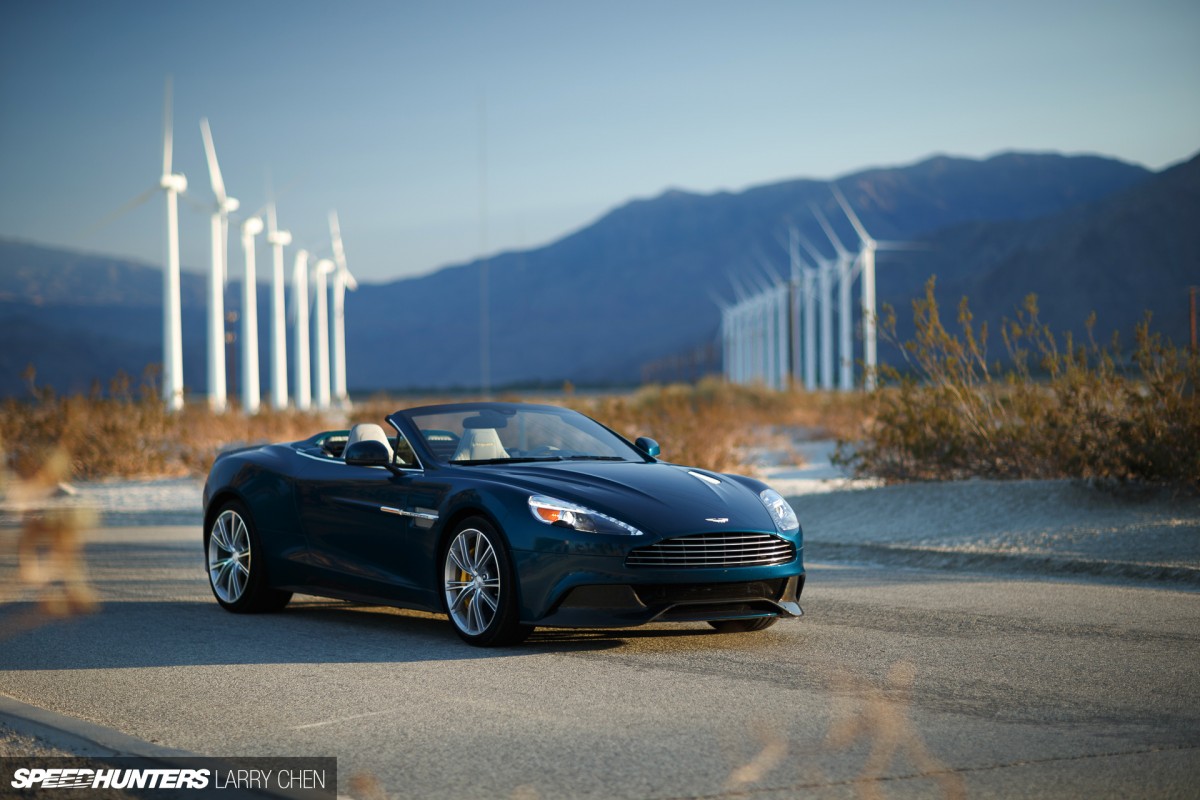 What I was not prepared for was the posters they had on their walls. What racing series does Justin Bieber compete in? All I know is when I was younger, my walls and my friends' walls were plastered with posters of Porsches, Ferraris, and Lamborghinis. When did it become uncool to have a passion for cars?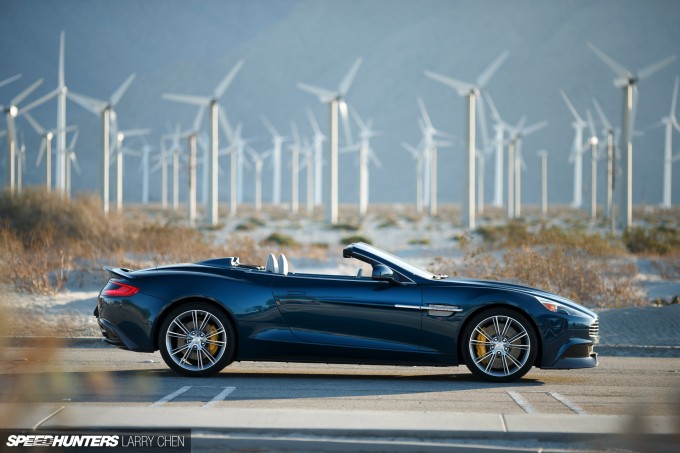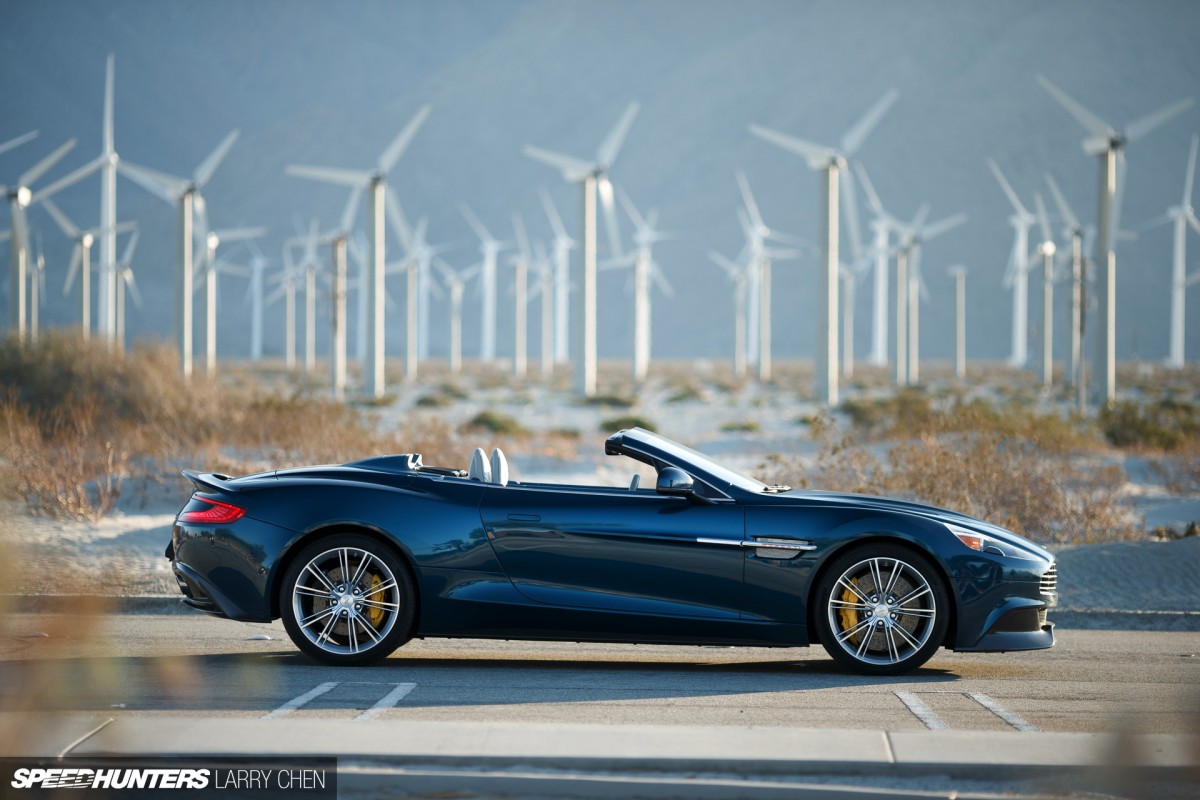 I blame the overwhelming amount of boring appliance cars on the road today that may as well be scrapped and made into a washing machine or a toaster. I would much rather walk and eat my crunchy toast than drive one of those vehicles. Which of course brings me to my point. If all new cars today looked as good and were as fun to drive as the Aston Martin Vanquish Volante, then maybe generation Y would take more notice.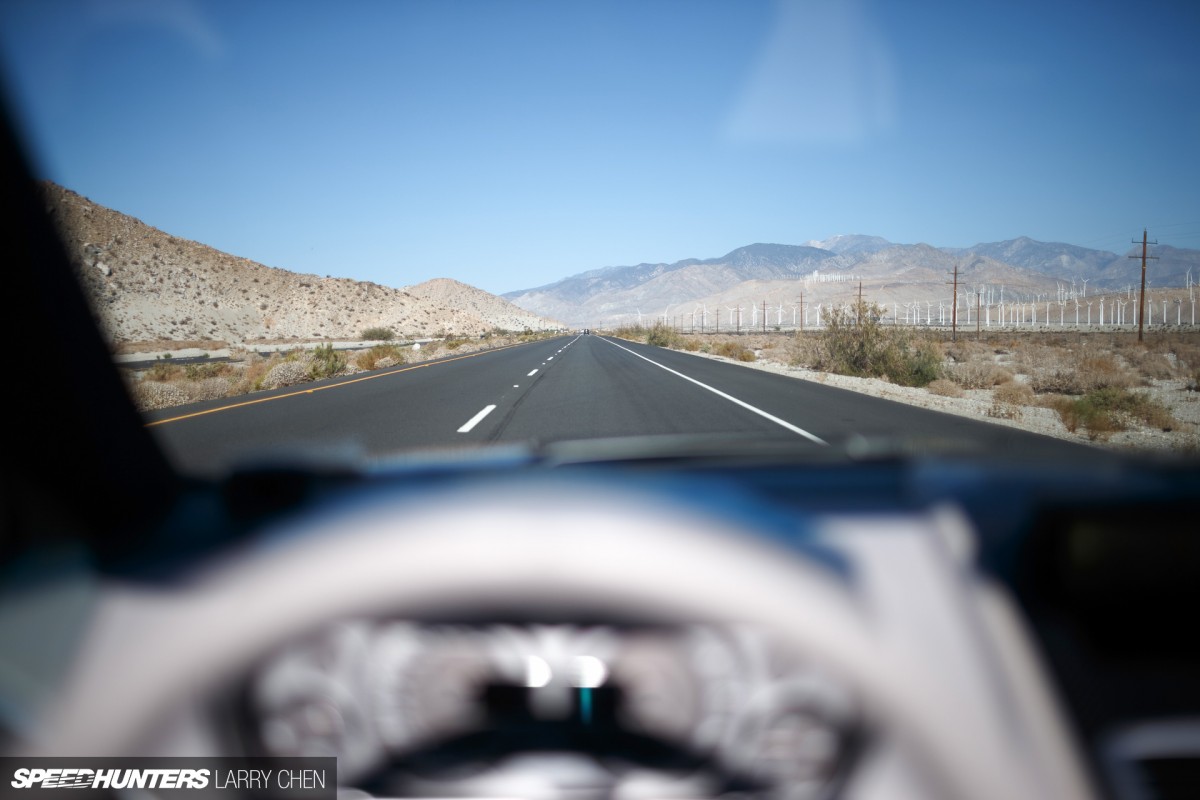 Recently, Sean Klingelhoefer and I headed out to Palm Springs to drive two new Aston Martins: the V12 Vantage S and the Vanquish Volante.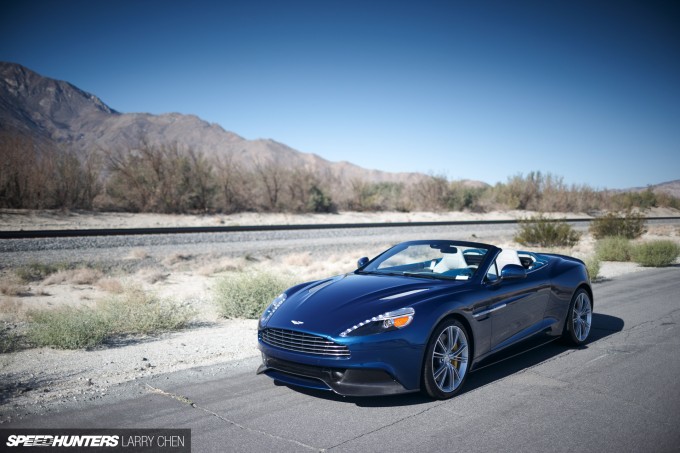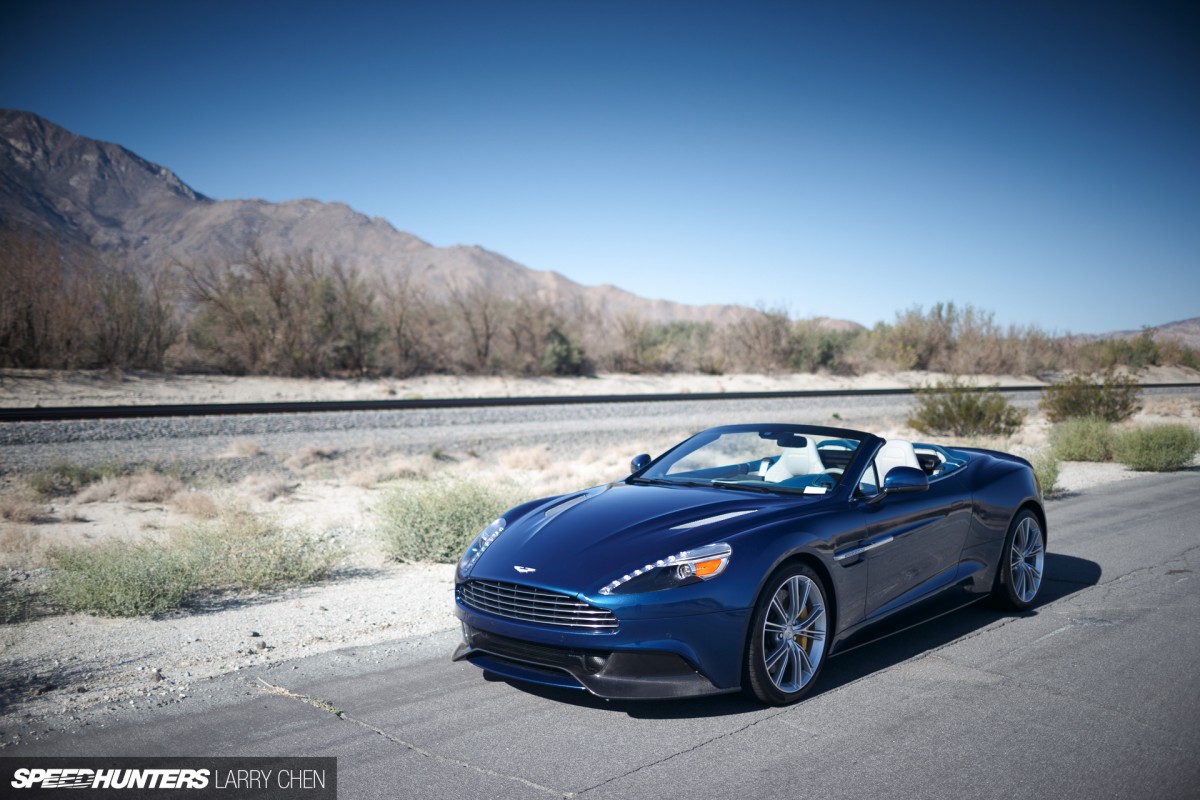 Early on in our drive we stopped to take a really good look at this sublime new convertible from the rather talented people in England.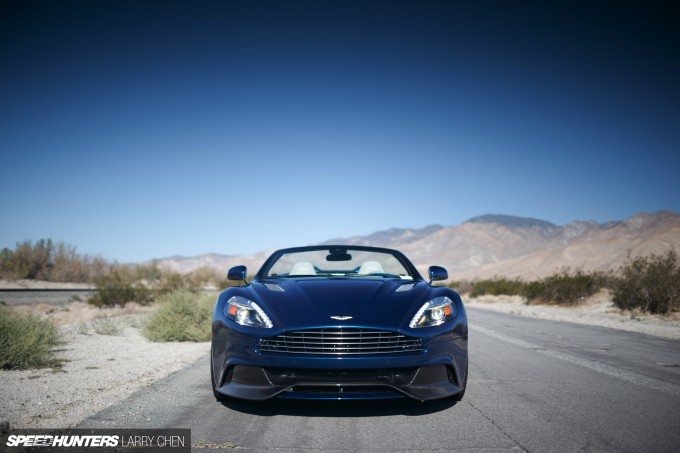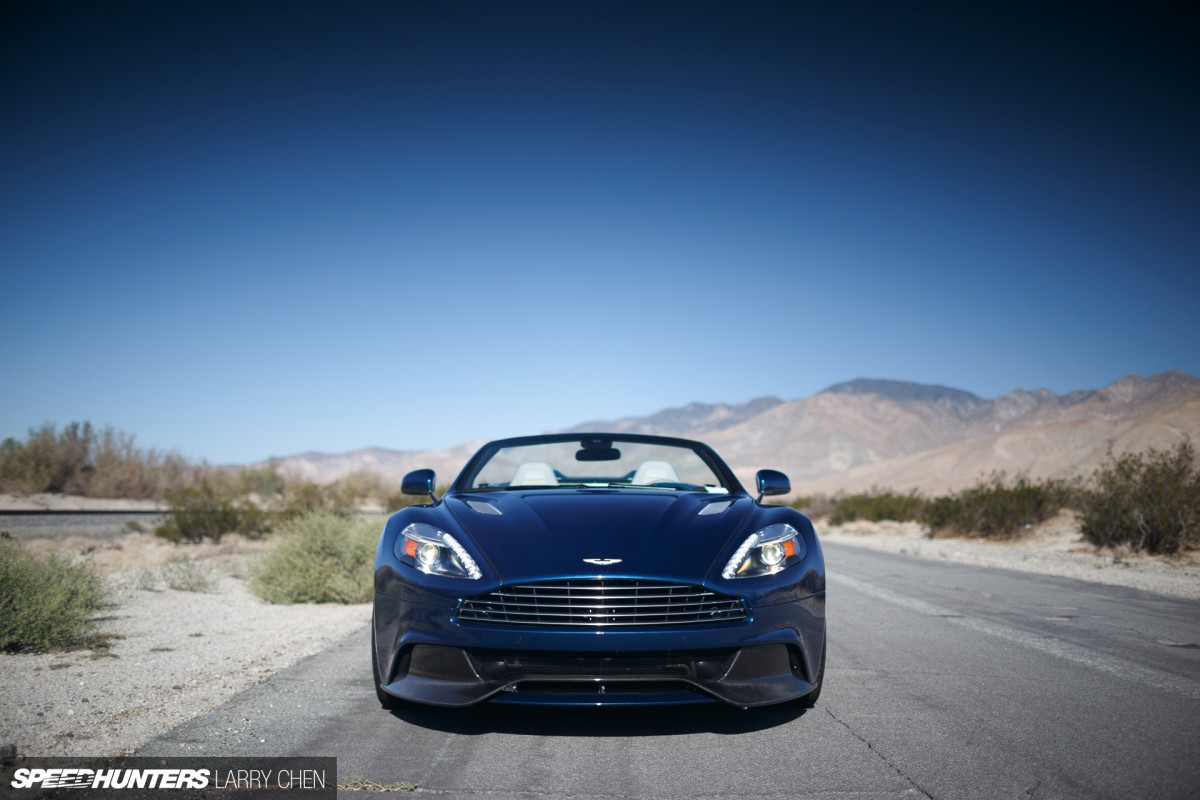 Of course there's no denying that this is an Aston Martin, with its distinctive company face, the almost bass-looking grille.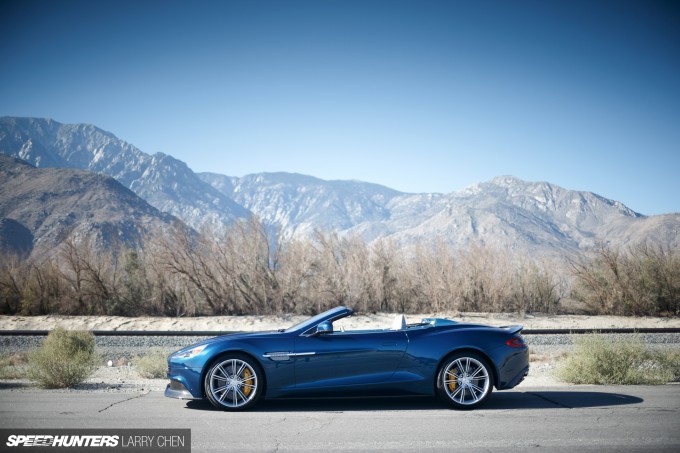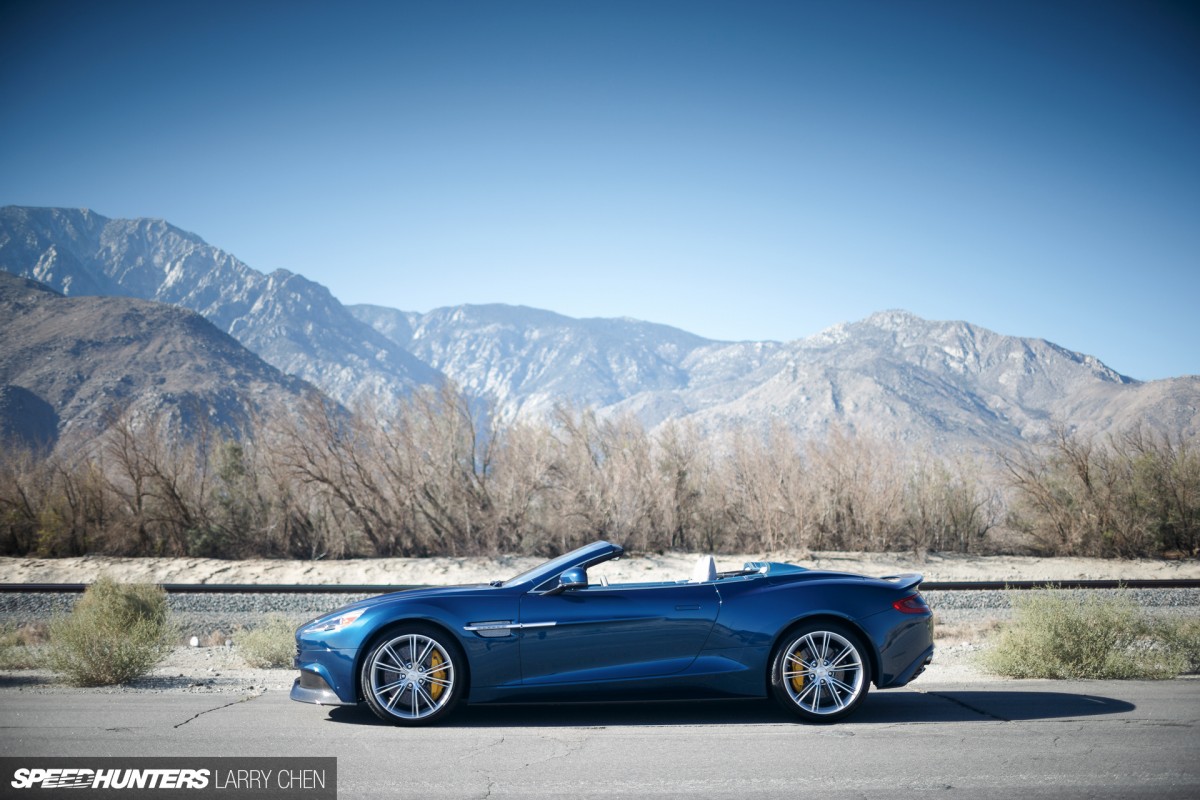 When Sean and I took a step back it made us wonder if there was a bad angle to photograph this car from. It's just absolutely stunning.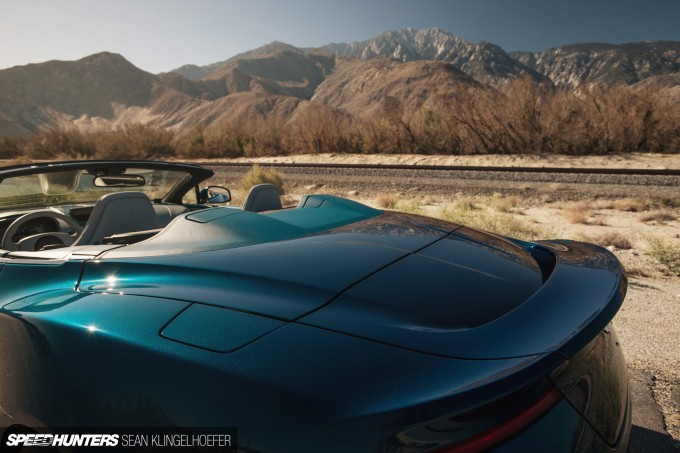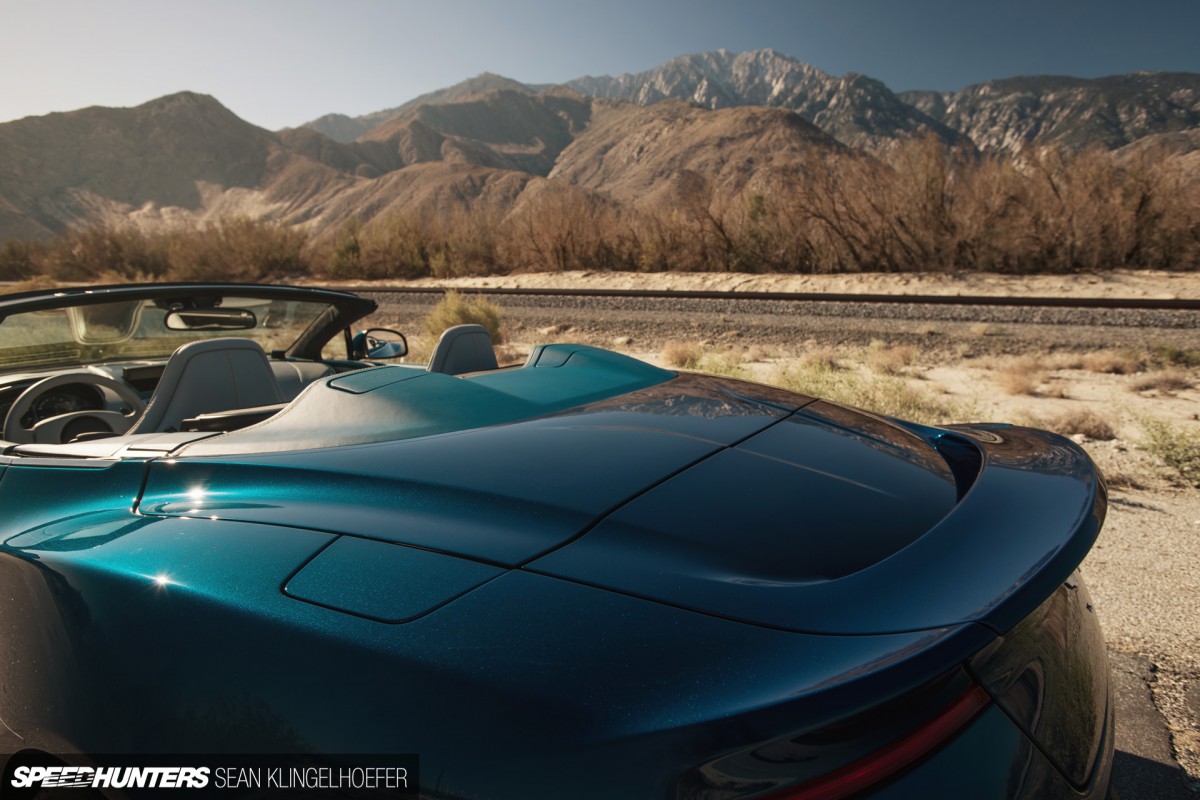 The lines of the car flow incredibly well, which makes me forget that there is a soft top hidden in the boot.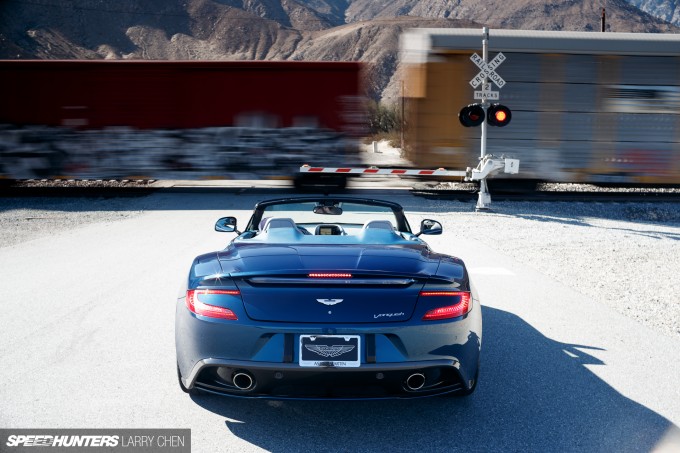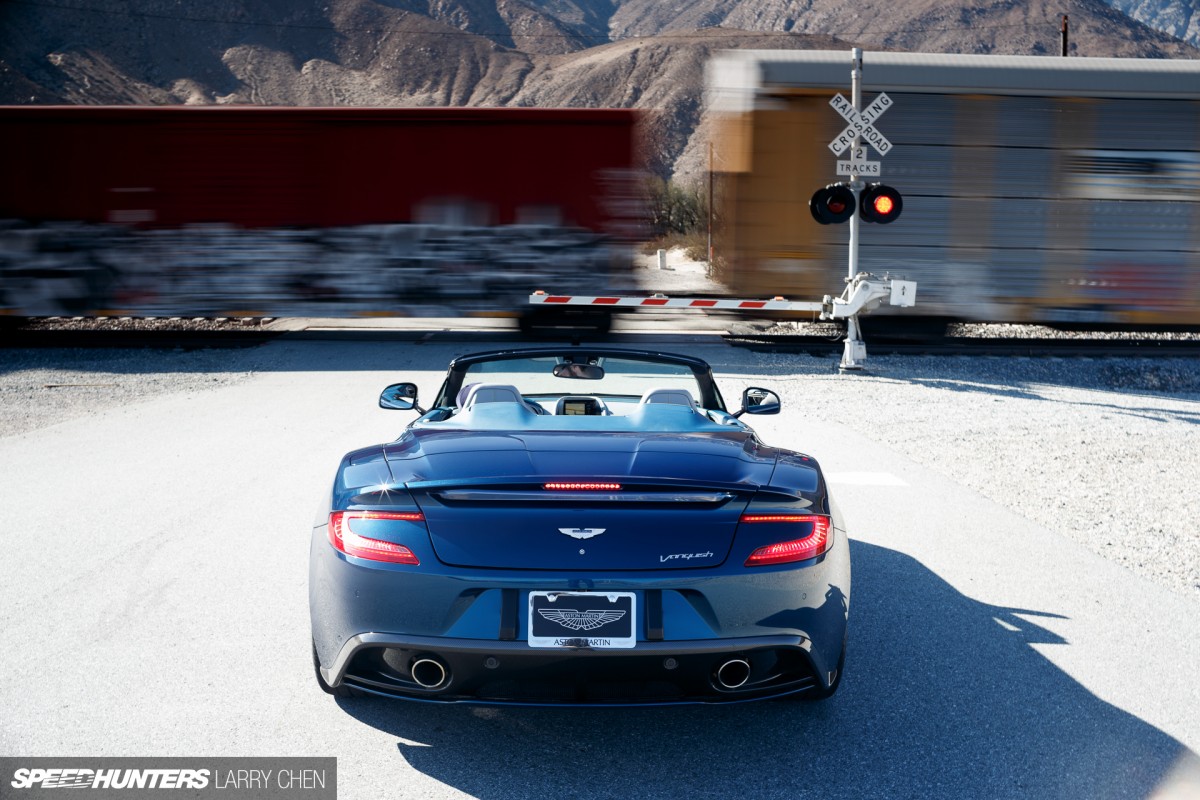 I figured I should let my partner in crime drive for a bit, since he was going to write a story about the V12 Vantage and I was to write the story about Big Blue, which meant I would be hogging all the seat time later on.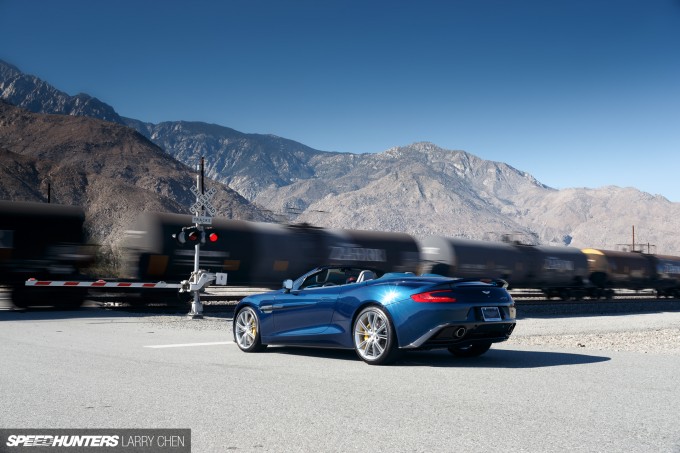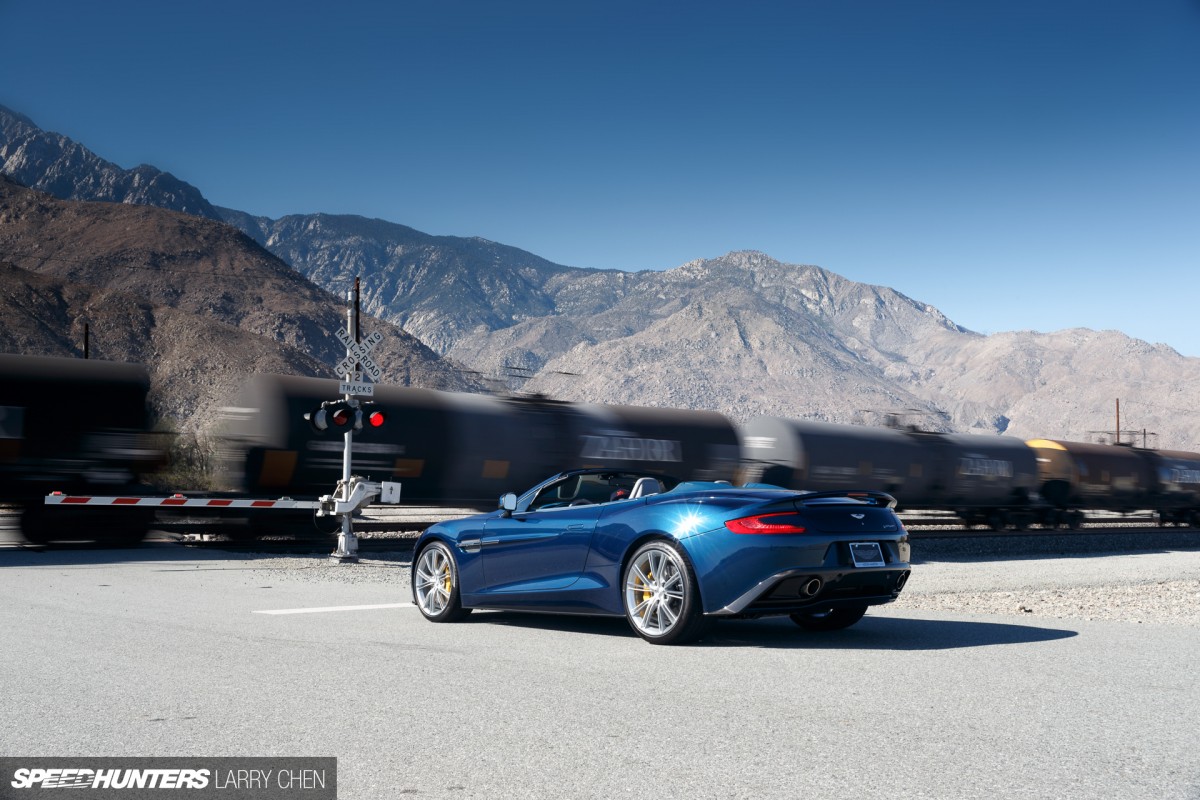 Railroad crossings never looked so good.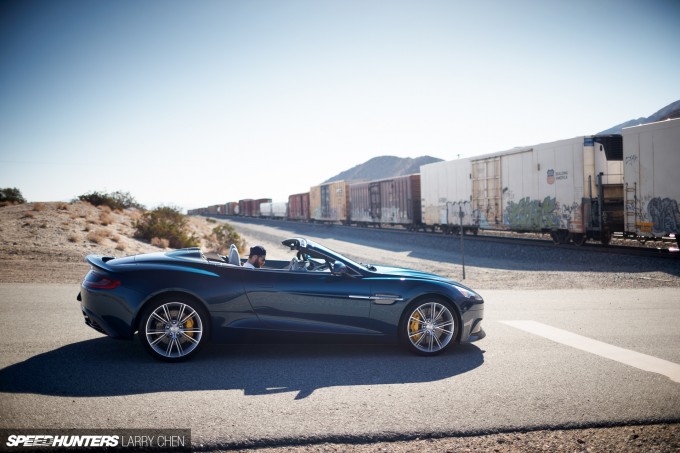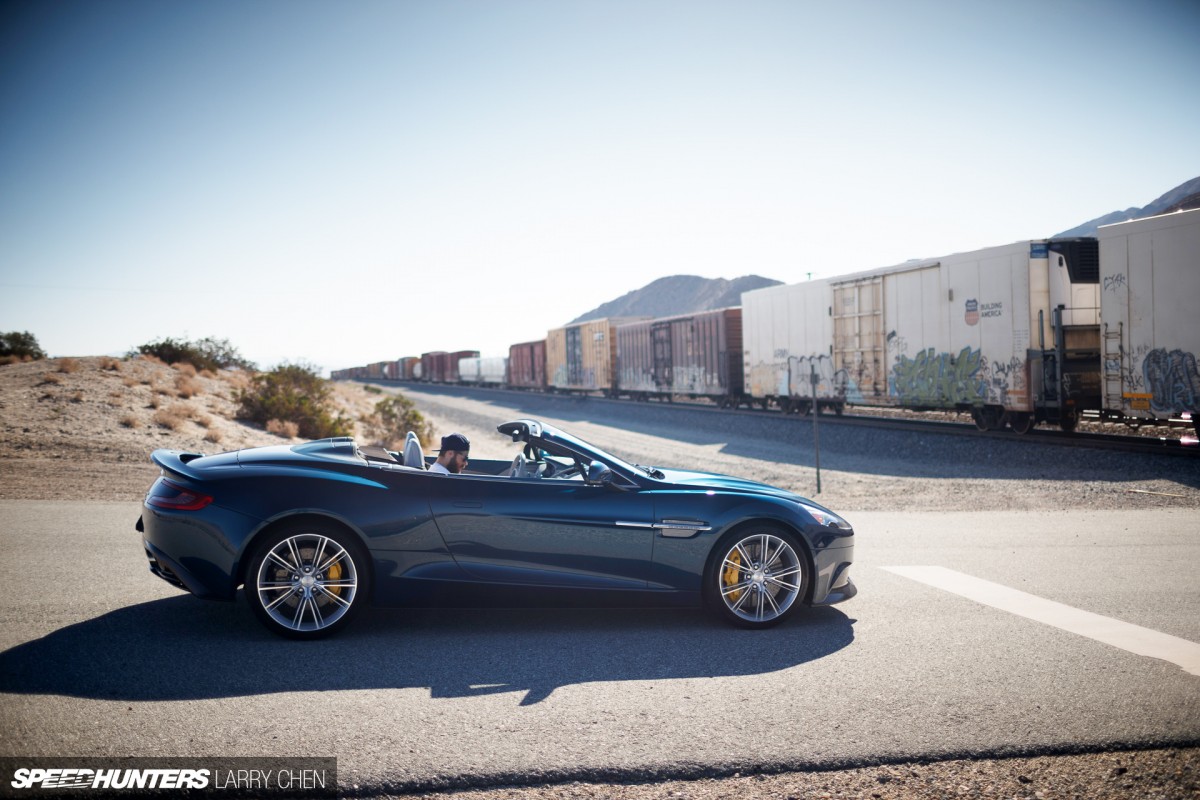 I gave it the nickname Big Blue because well… it's quite a large GT car compared to the Vantage. Not that I'm saying it's a whale of course, oh no.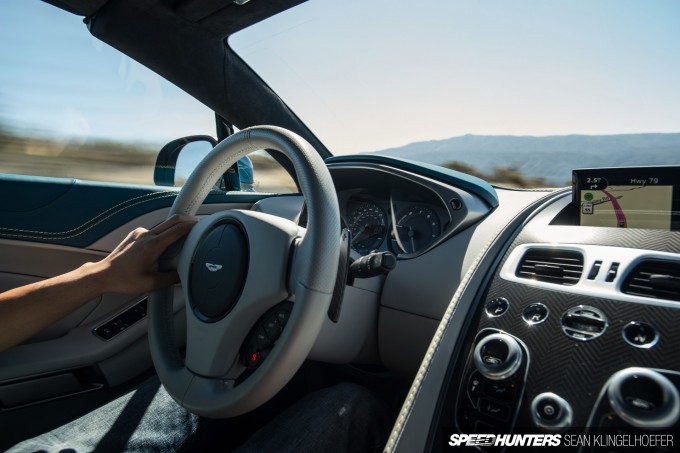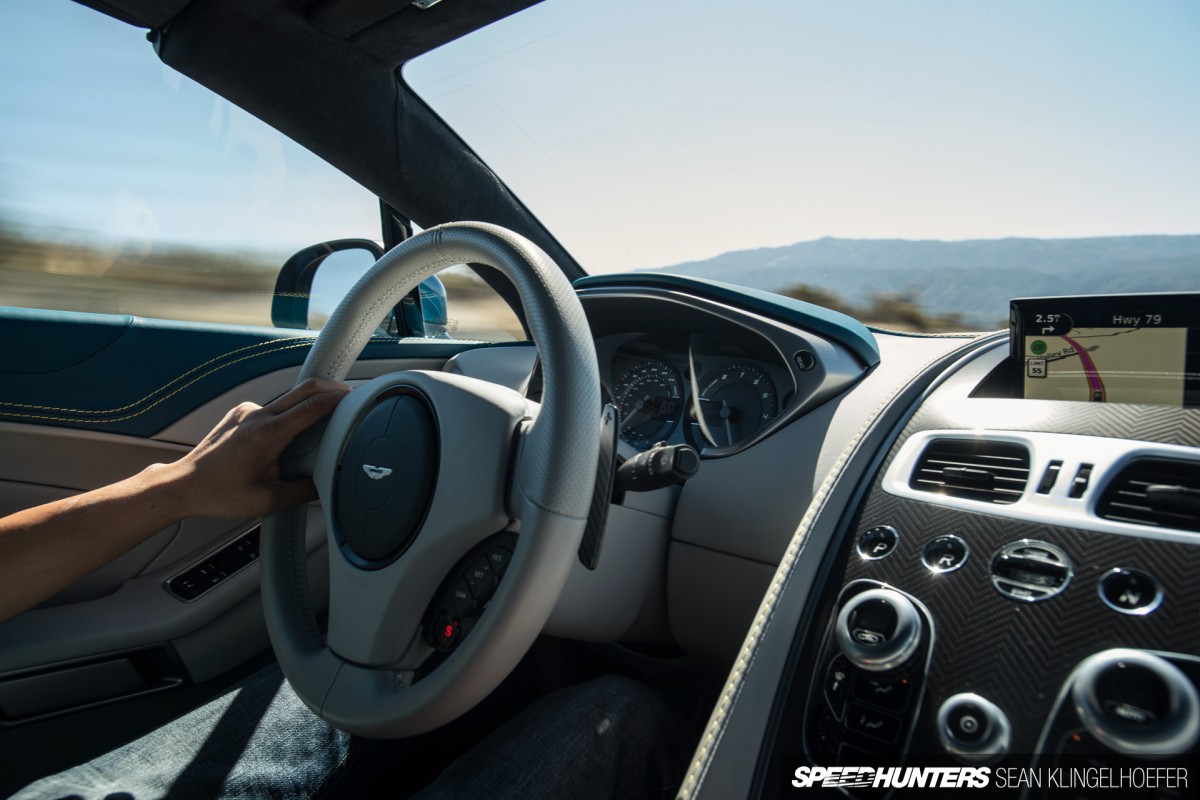 The important thing is that it does not feel like a big car. It feels quite lightweight and small when you're driving it, despite the long nose arcing away from you.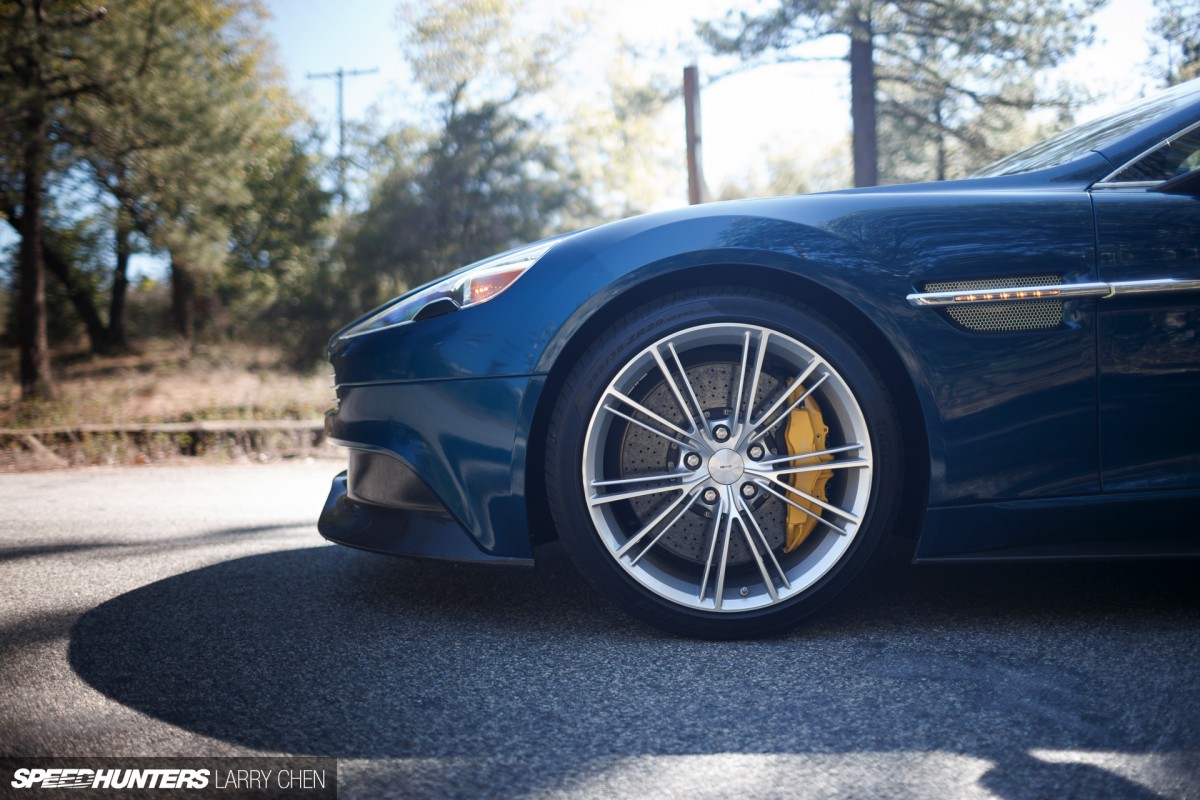 It certainly helps to have giant 398mm ceramic discs mated to a six piston caliper the size of my entire leg. Stopping really isn't an issue.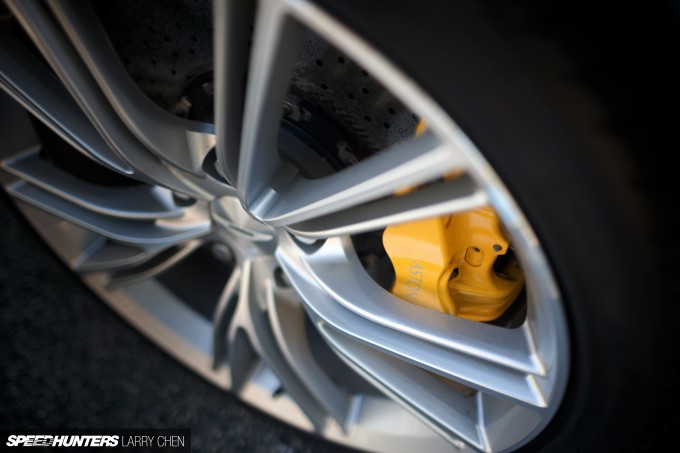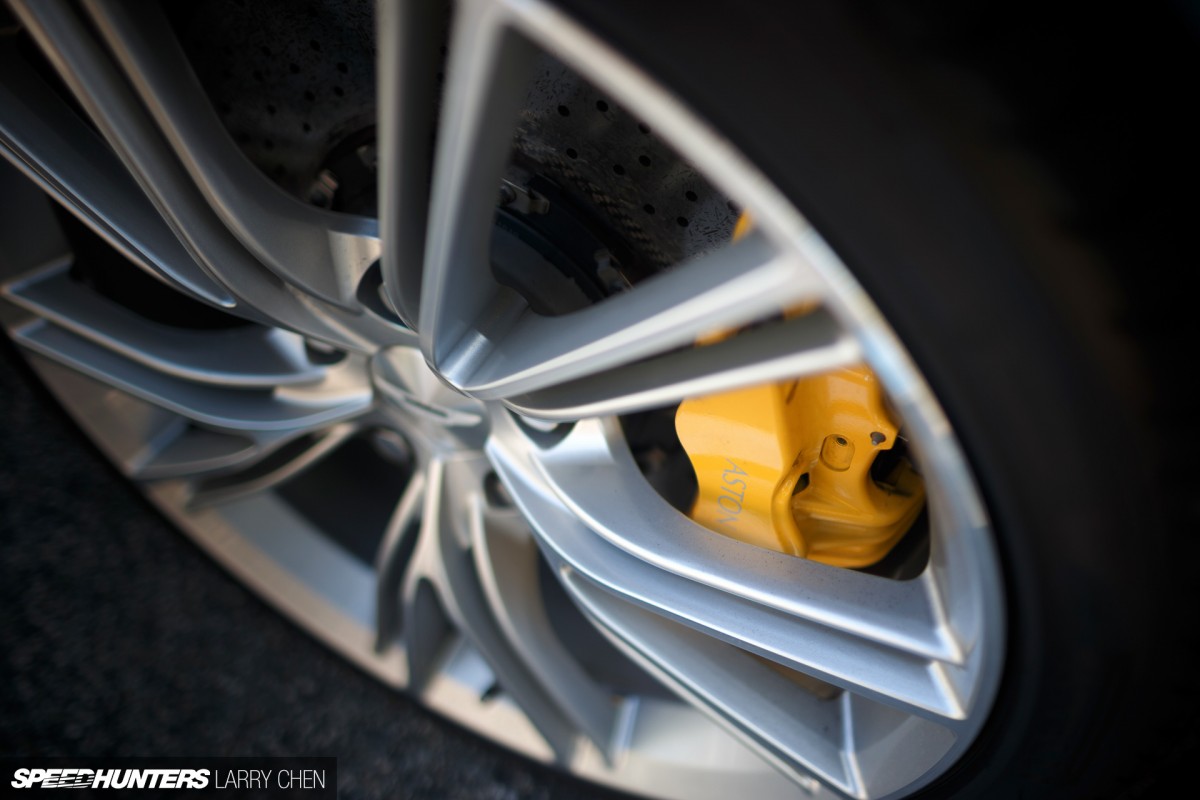 The impressive brakes are of course attached to a road car, so braking force was of course there right from the start. Most of the time I'd guess they were overkill, however the Volante has the power to require them, plus they look great.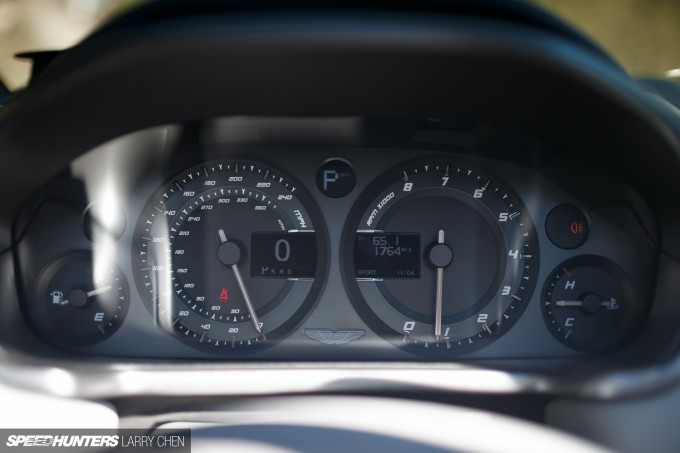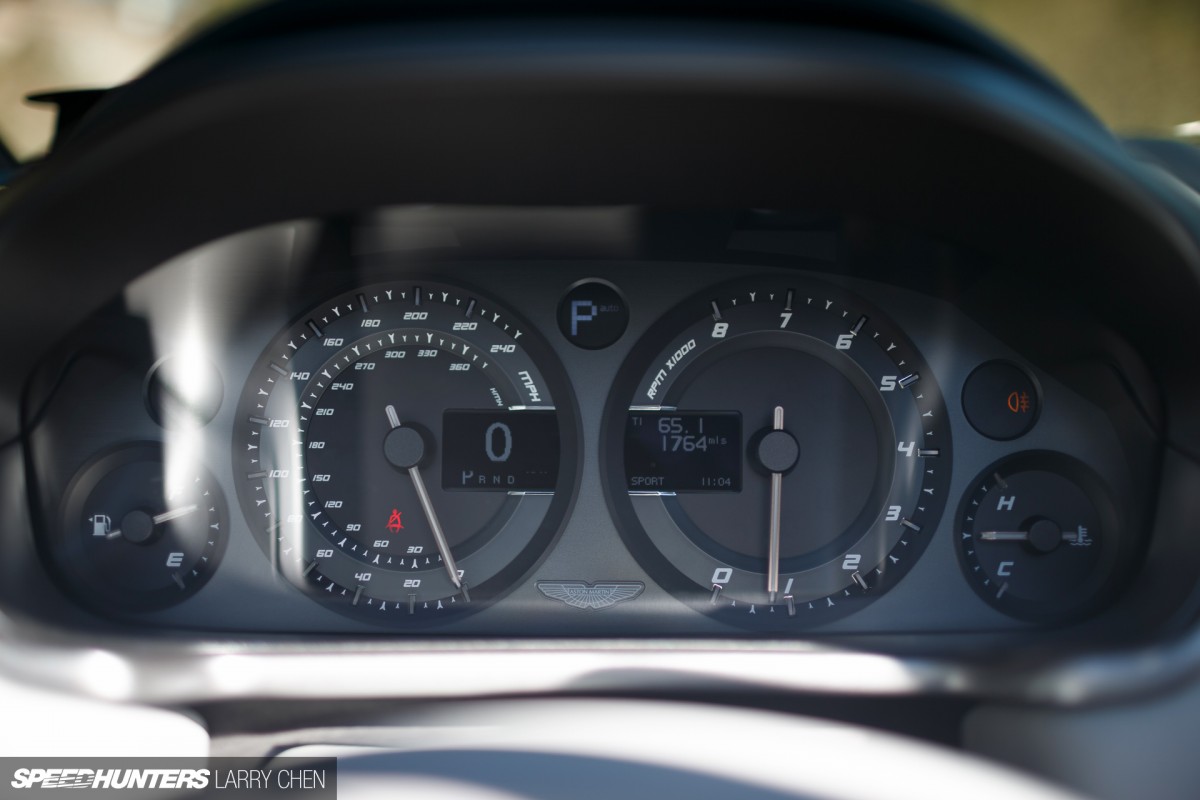 I really can't stand many new sports cars when they only come with a digital dash. Part of the fun of driving one is watching that analog needle climb its way up to the redline. I just love the classic look of the gauges.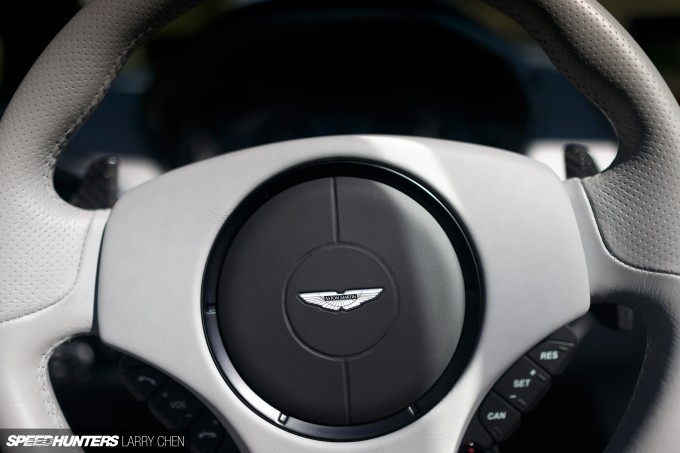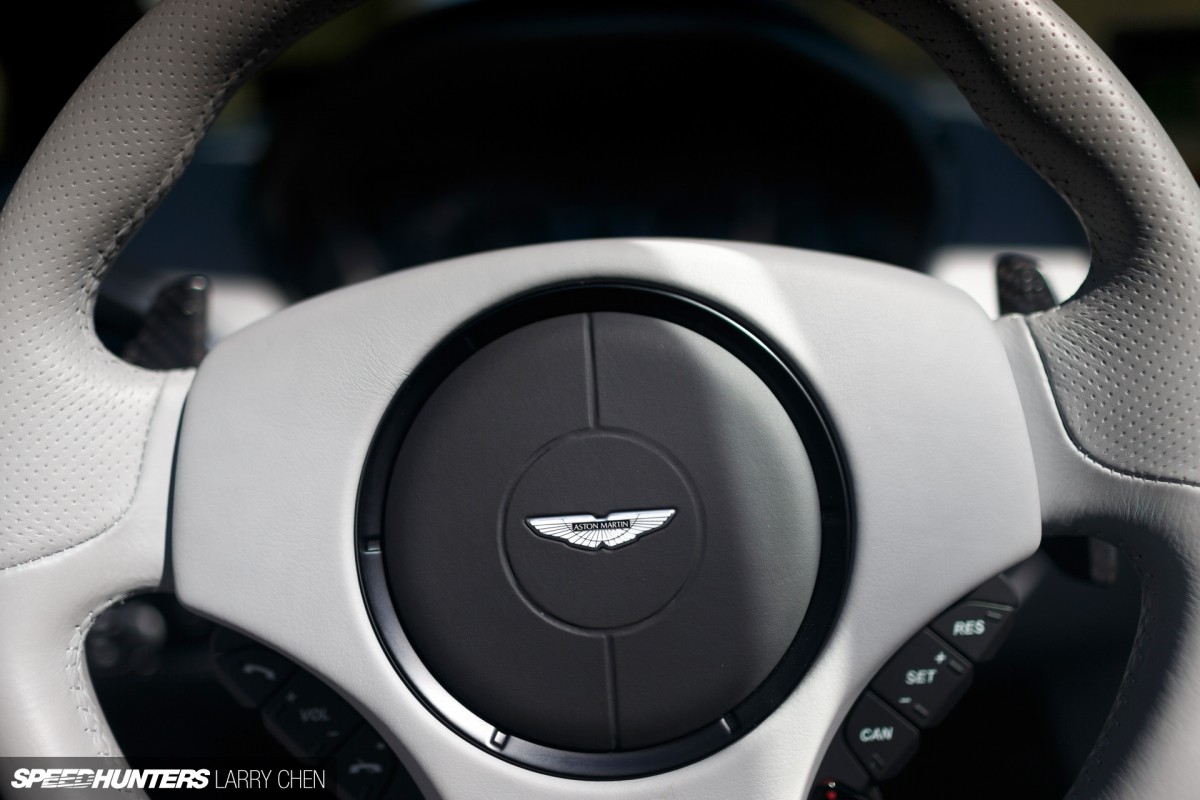 Aston Martin recently started providing electronically-controlled steering which changes based on your speed. It's not something that I could honestly say I noticed while I was driving, but the feedback through the wheel was constant and connected with the road.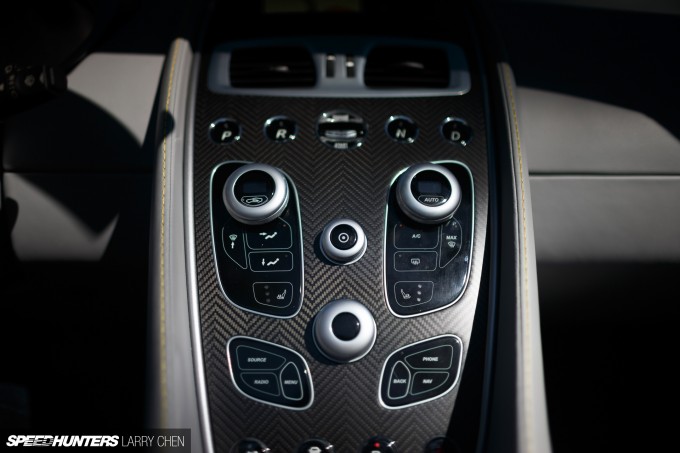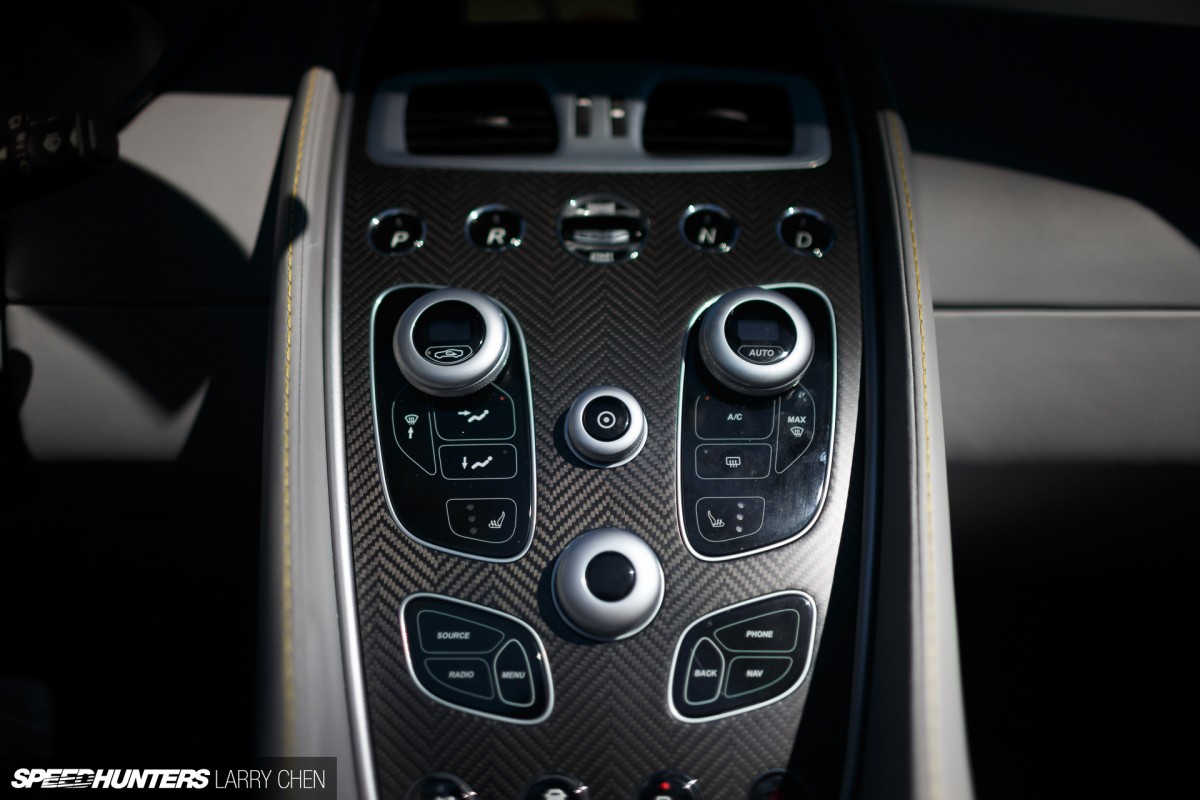 The thing with the Aston is that it's a complete experience: every button and switch felt just perfect under my fingers. Material choice is of upmost importance on a car like this and Aston have got it very right.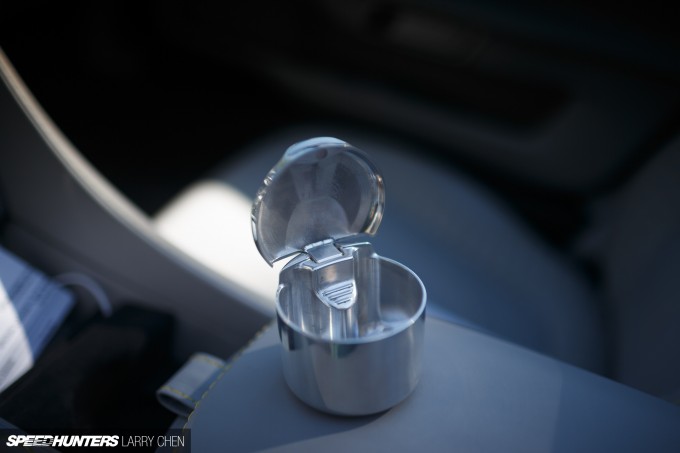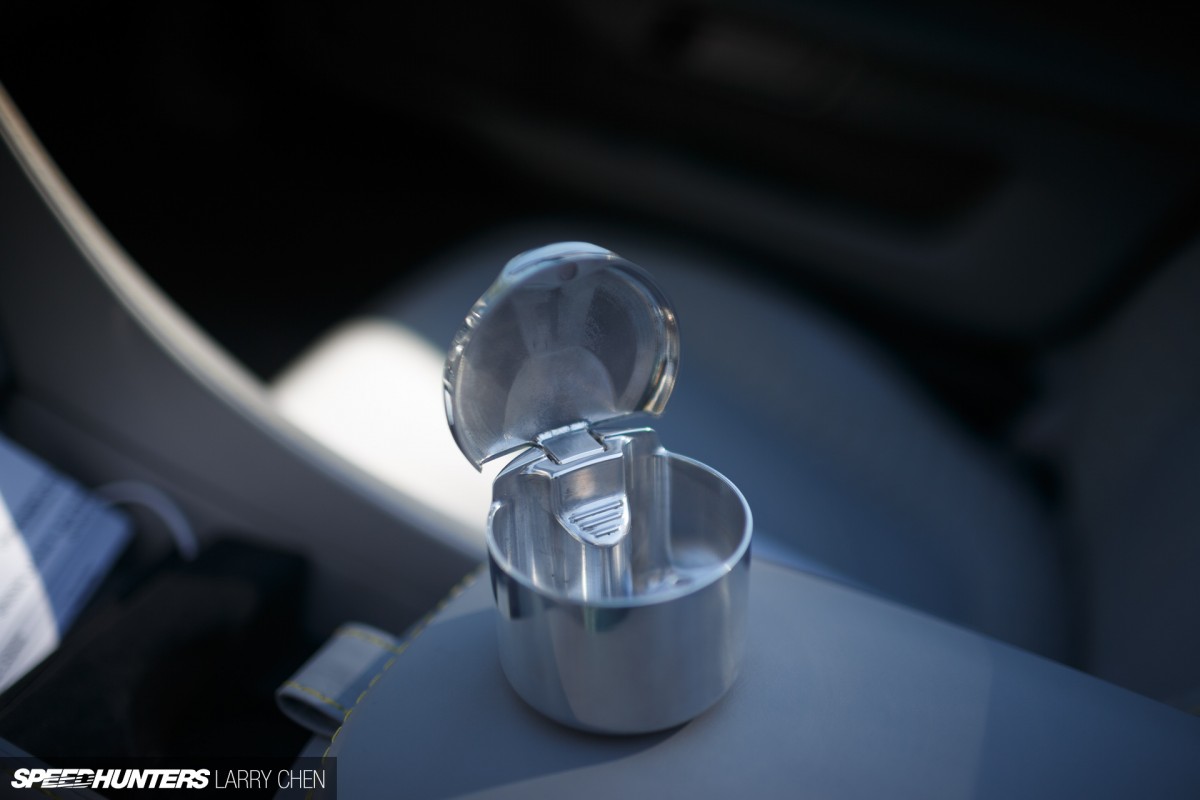 Just look at this as a perfect example: the ashtray is machined out of a solid block of aluminum. I nearly took up smoking just to utilize it. I guess with a history that encompasses a couple of James Bonds, smoking is still cool in Aston world.
Pit stop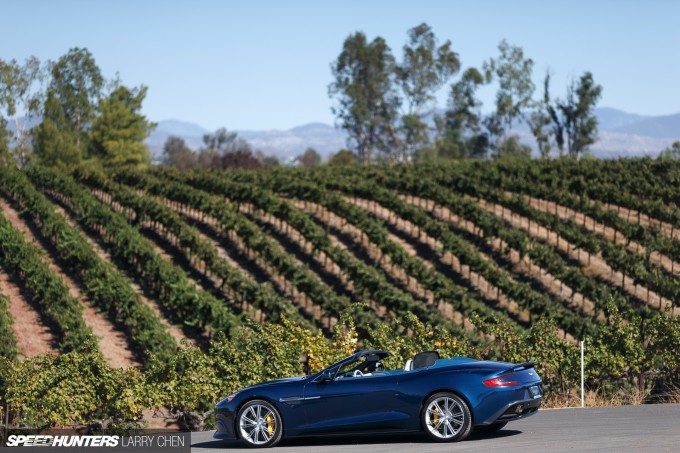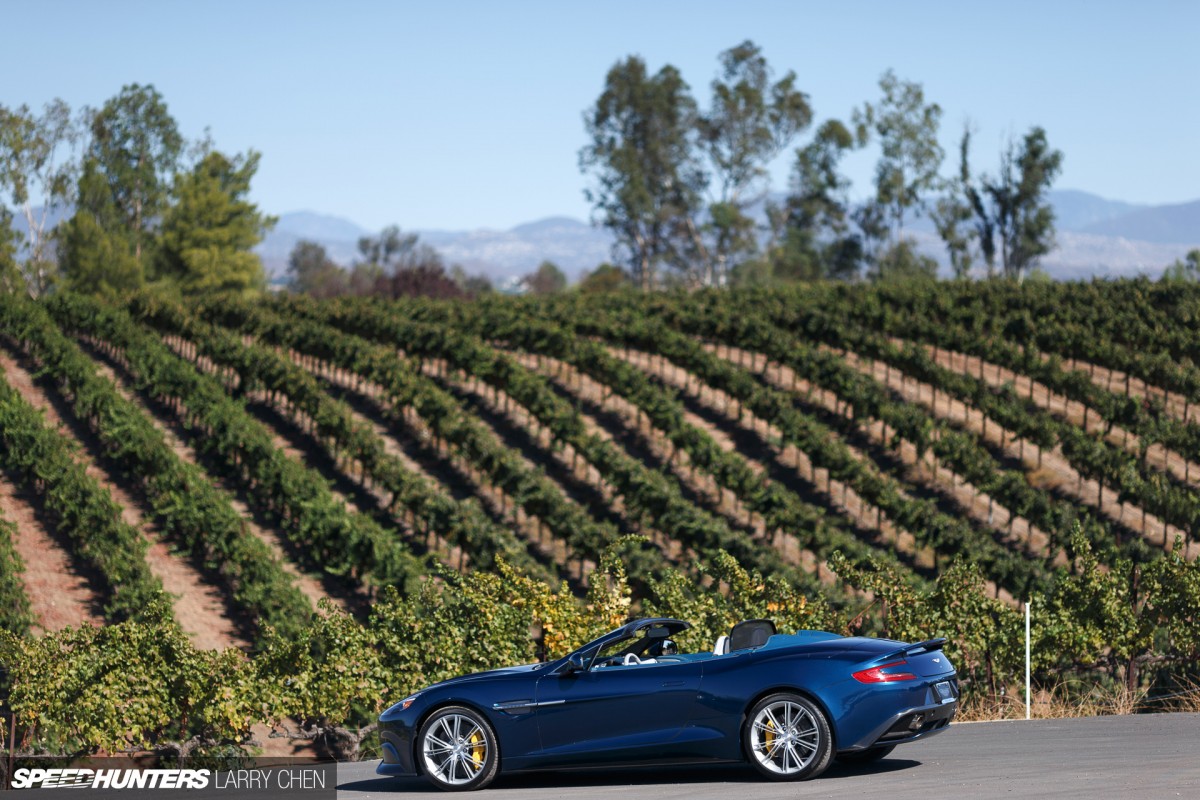 Lunch was planned for a local southern California winery. At first it seemed a shame to even consider stopping. We did of course, but after ensuring we took the long route to get there. Any car this good just begs to be driven: this is true #JoyOfMachine.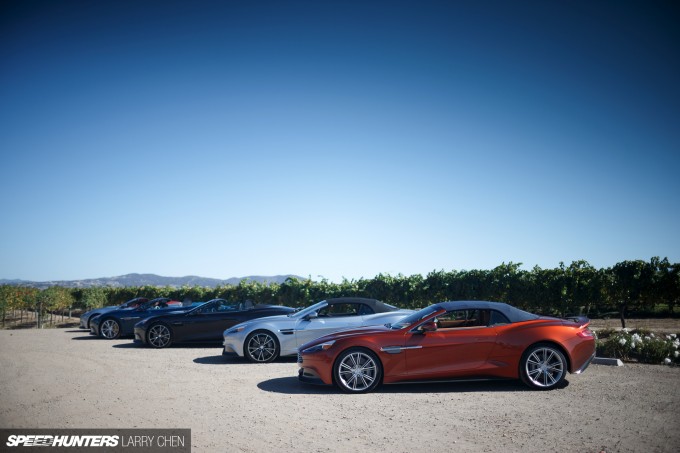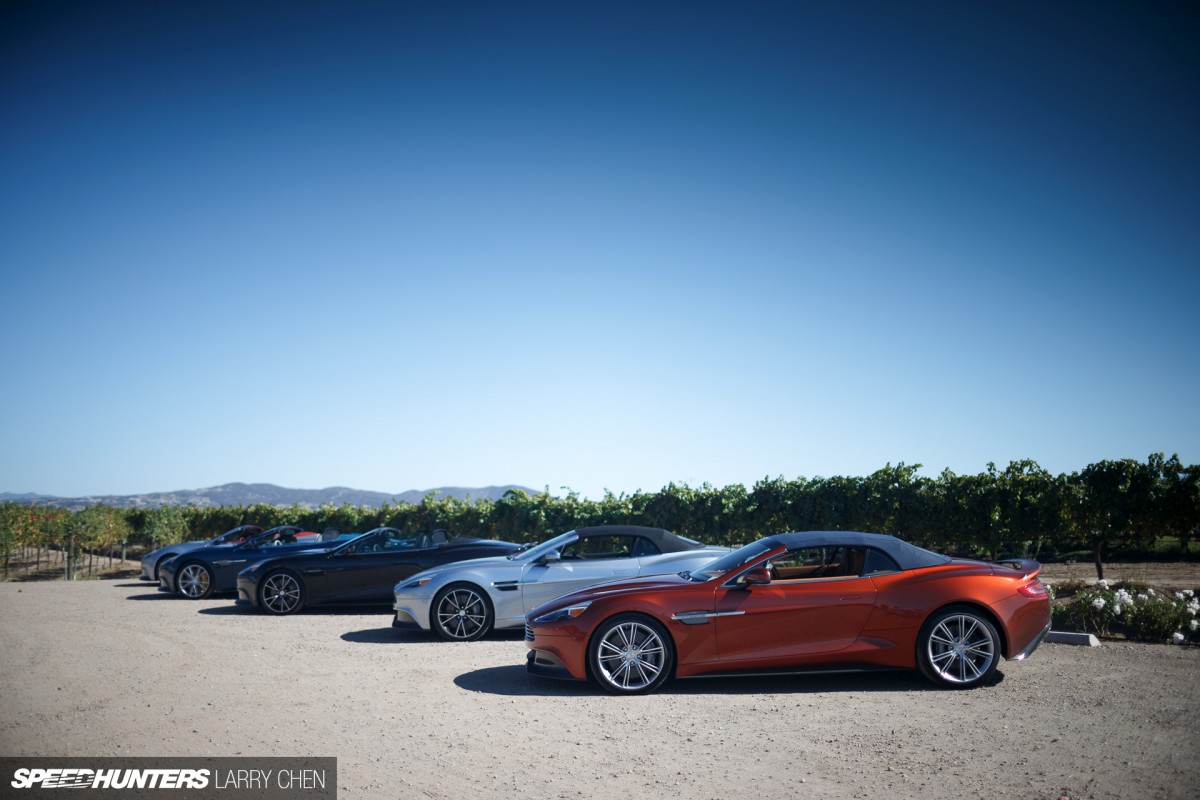 An impressive line-up huh? One on its own is enough to stop you in your tracks, but with the other journalists all converging on the same spot for lunch we were treated to this sight on arrival. I'm sure I could have filled up right here on automotive nutrition, but lunch called so it would have been rude not to.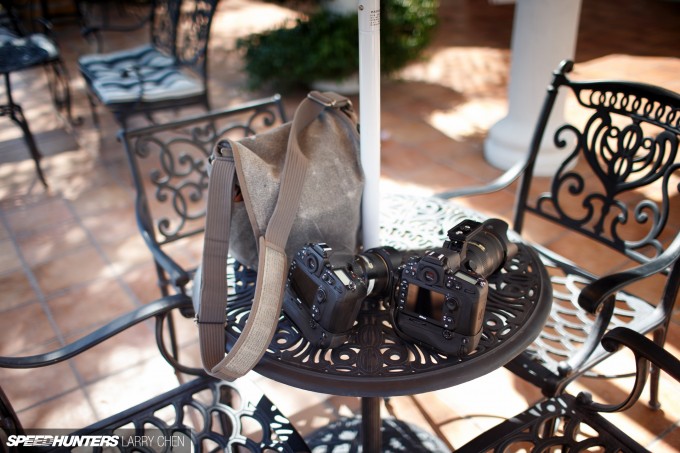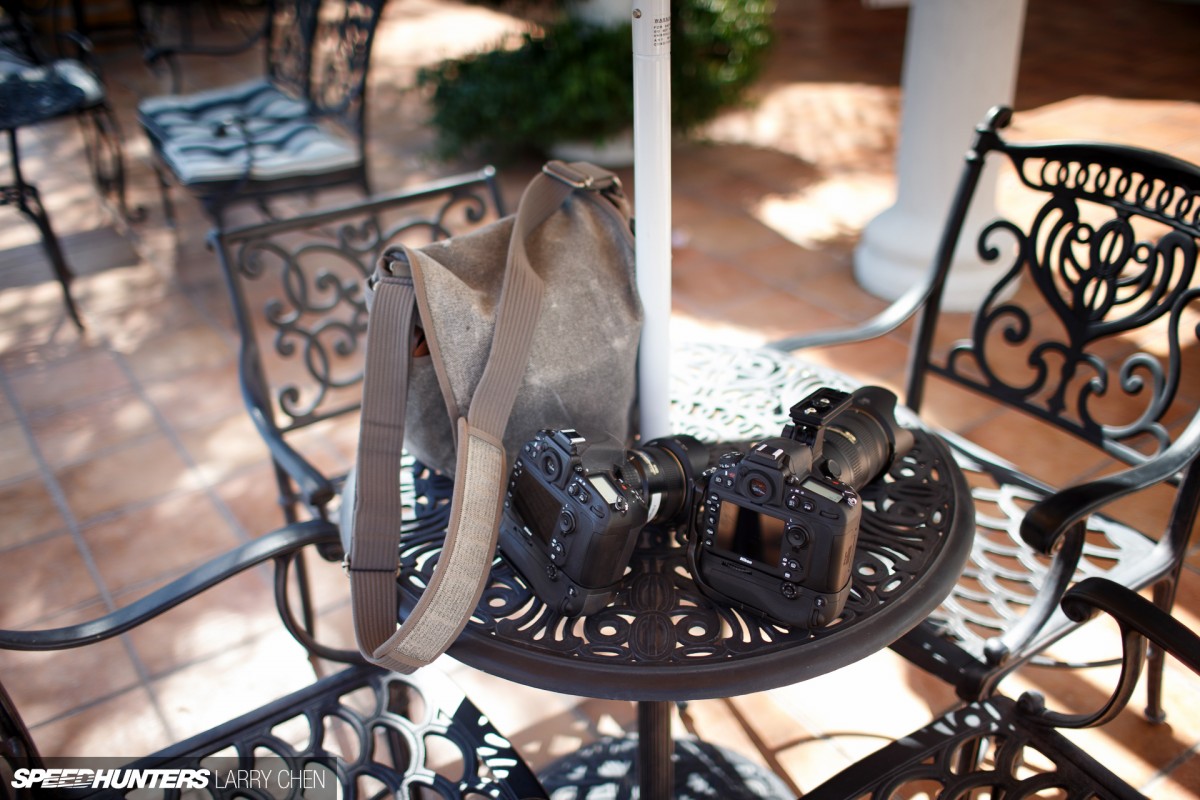 Seeing as our cameras are an extension of our hands, it's very hard for us to part with them for very long, but we figured we needed to stock up on something to keep us going, so grabbed some food before heading back to the car.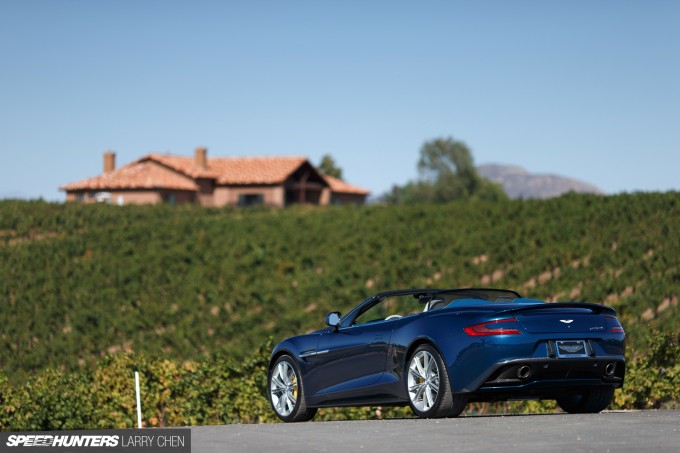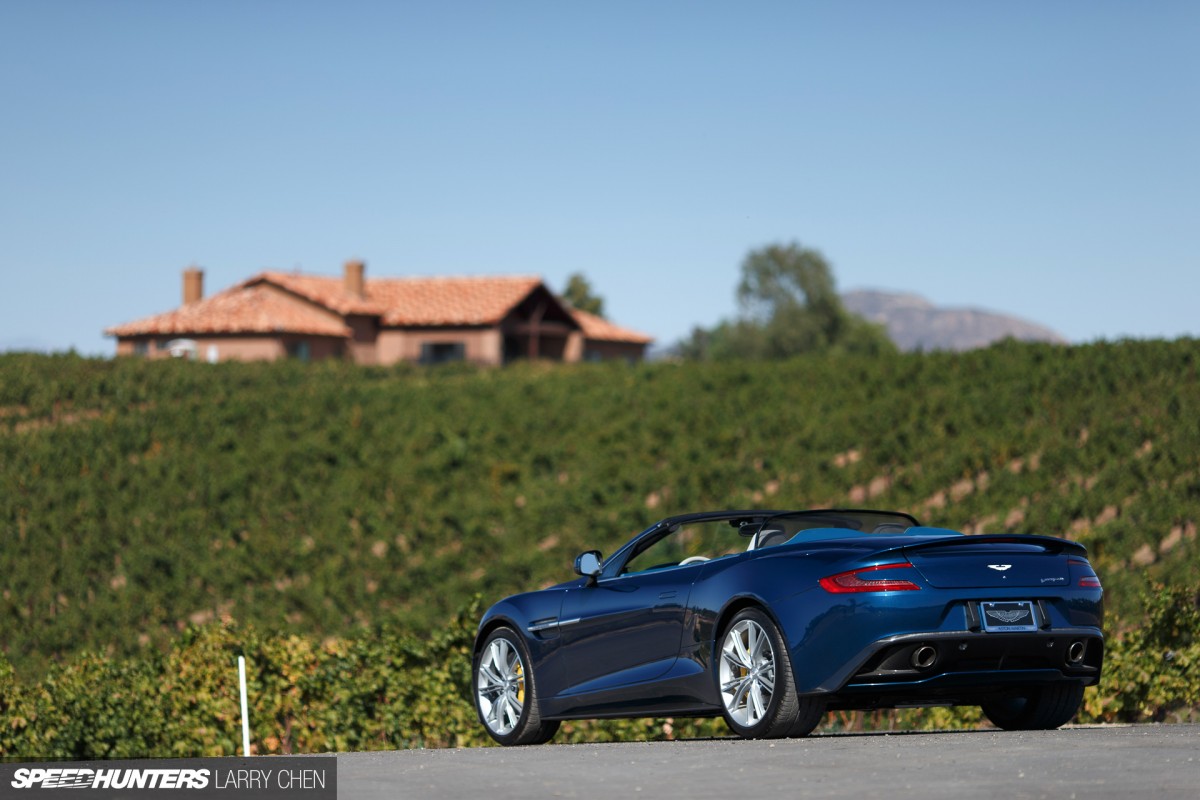 Driving the Vanquish Volante with the top up on a sunny day is just something that you should not do. At all costs.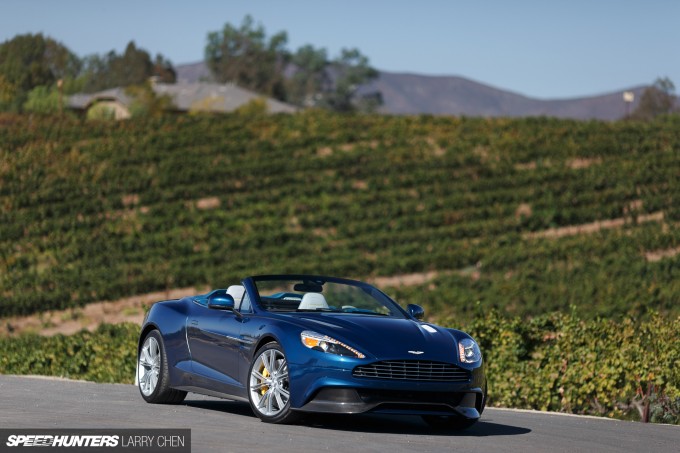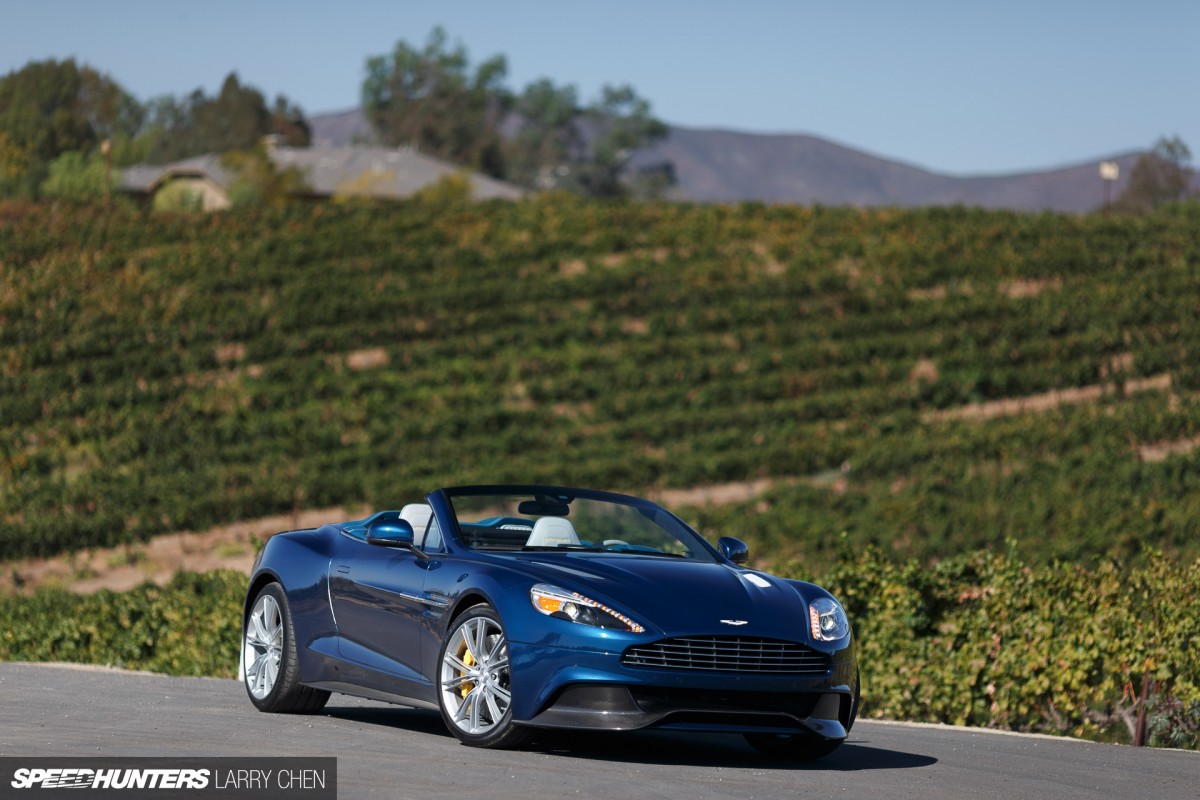 In fact, it's such a crime that I think it should void the warranty. Top down or death.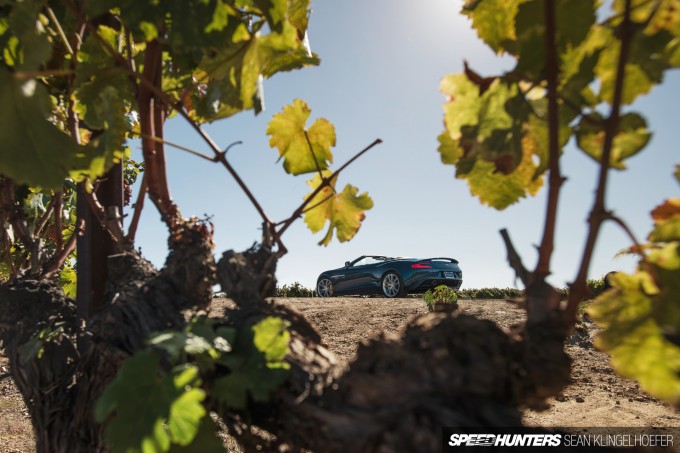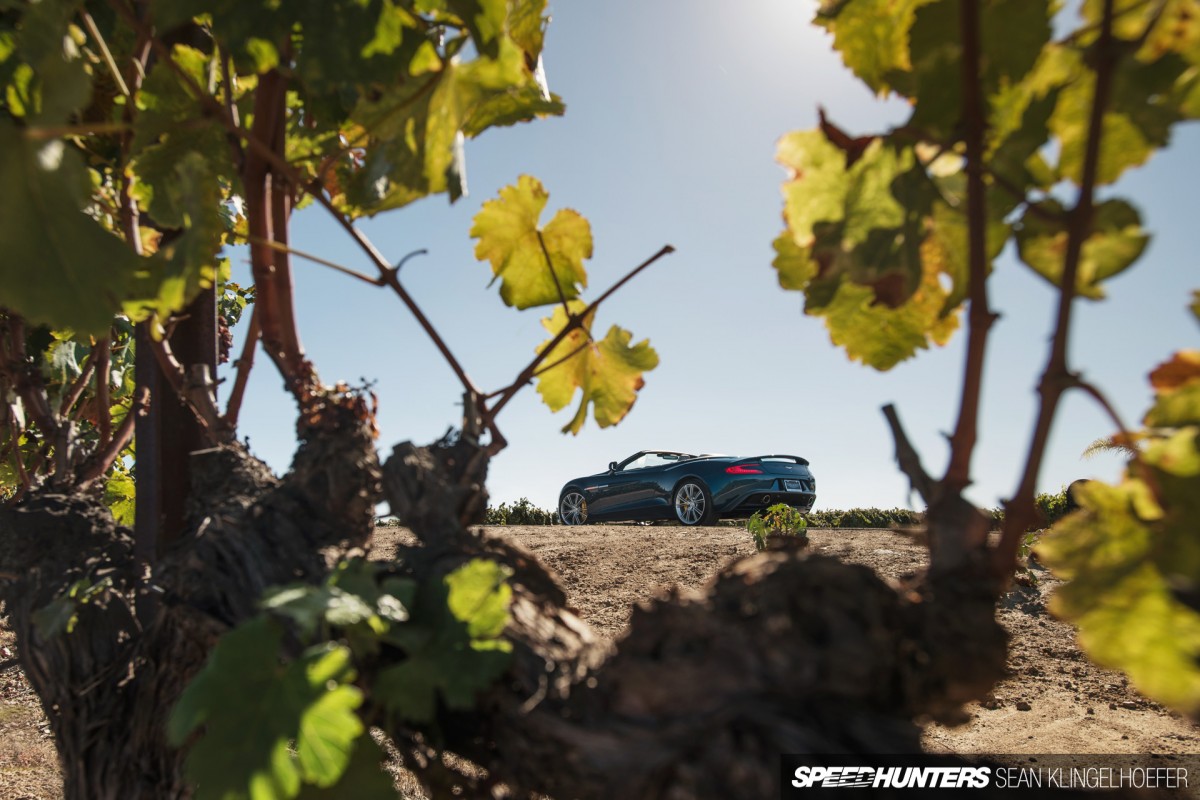 To get a better sense of the Volante, we headed into the mountains to drive on some winding roads: the kind of roads you just hope and secretly trust the Aston will love and reward you for finding.
That fuzzy feeling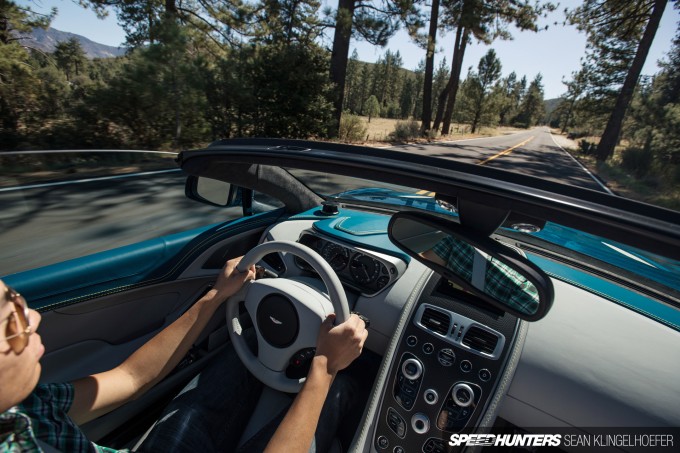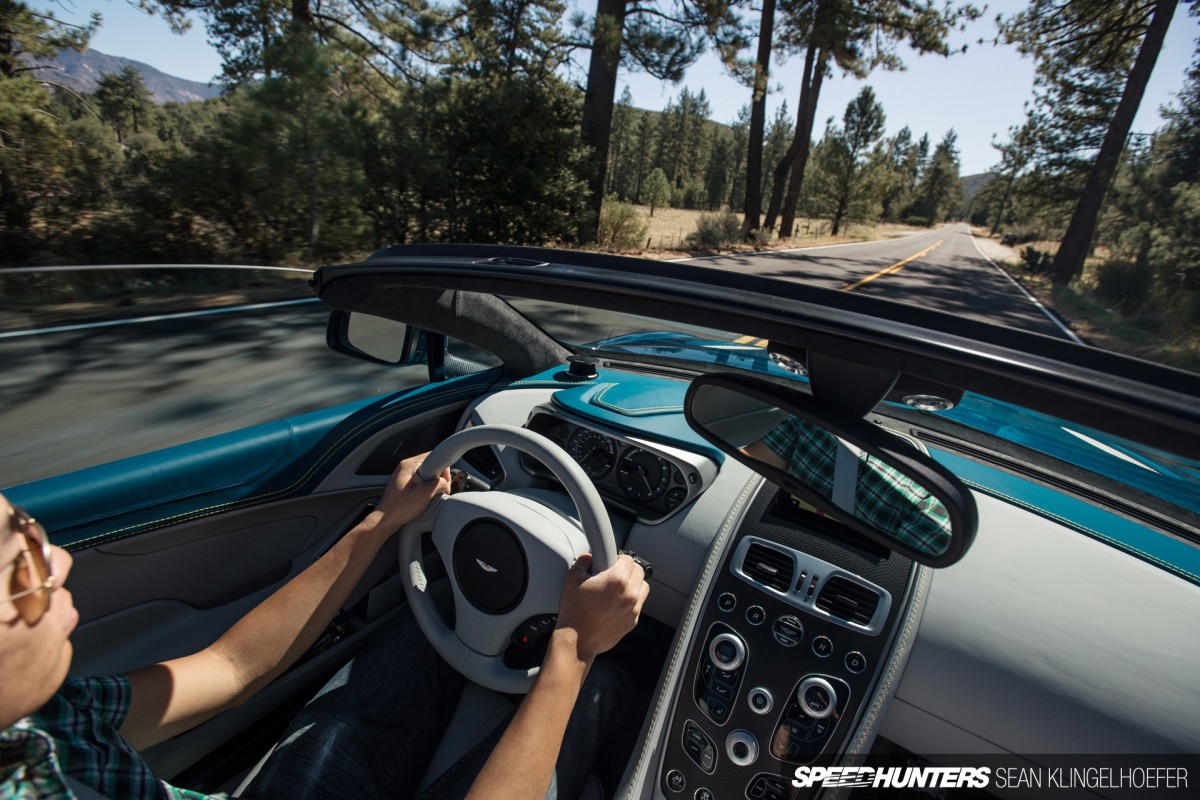 It's not scientific, but if a car makes me feel like a million bucks while I'm driving it, then it's a keeper for sure.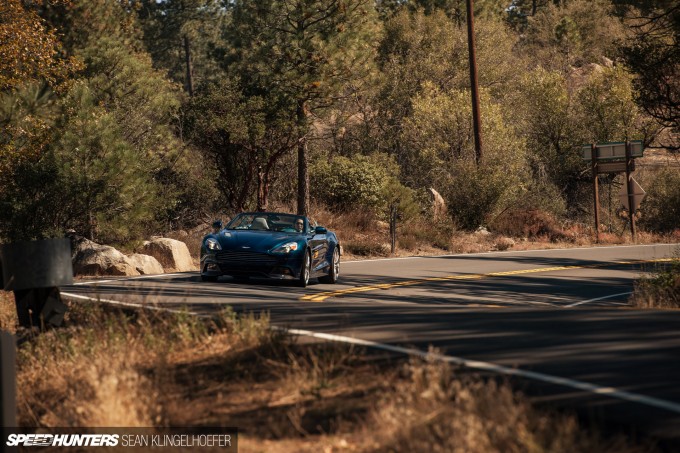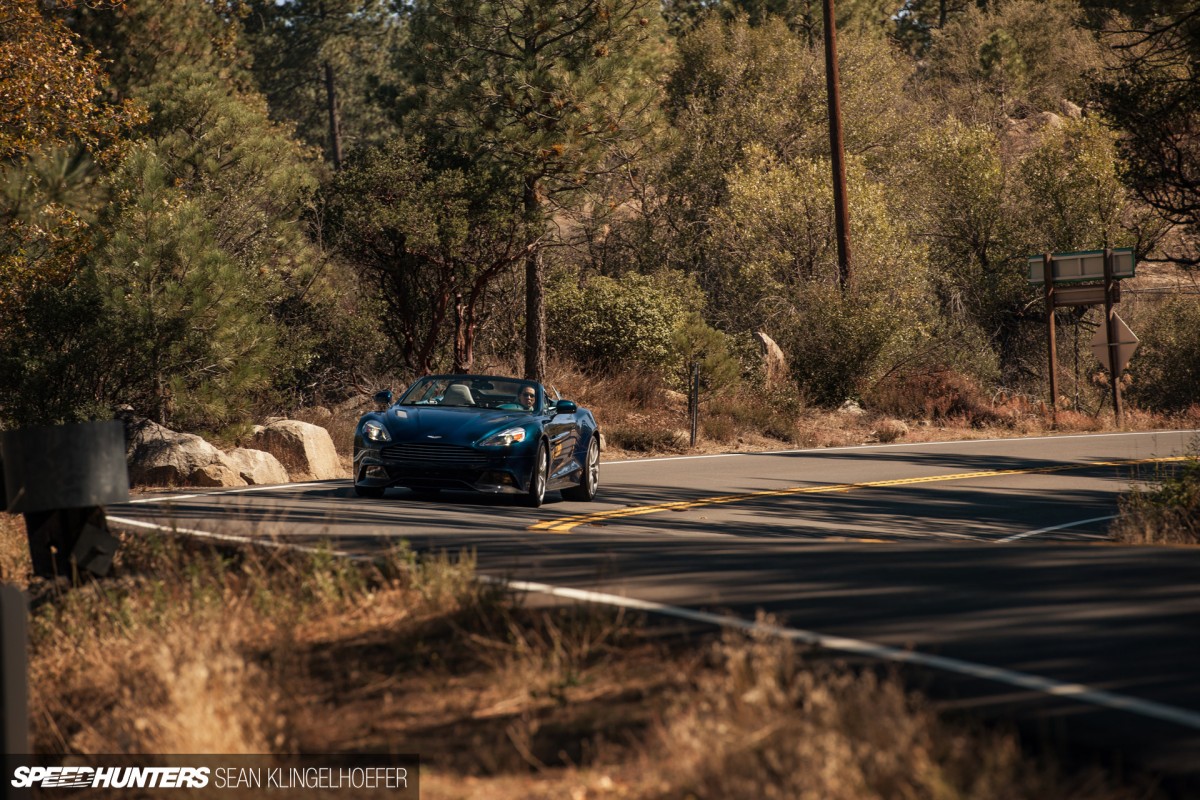 Driving such a machine in the canyons has given me hope: there are new cars out there for people like me after all. Just maybe not my wallet.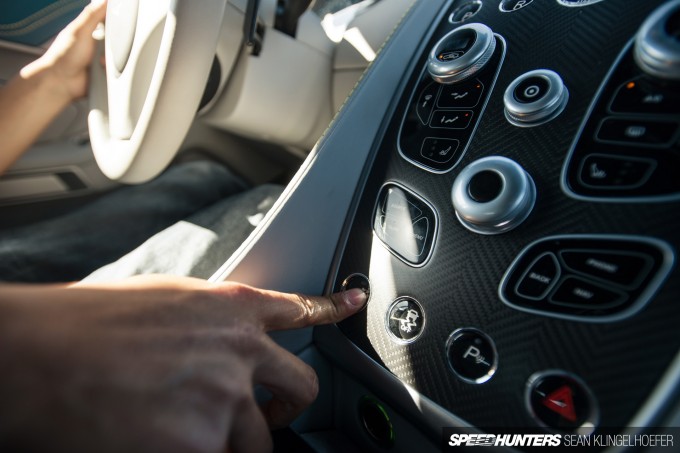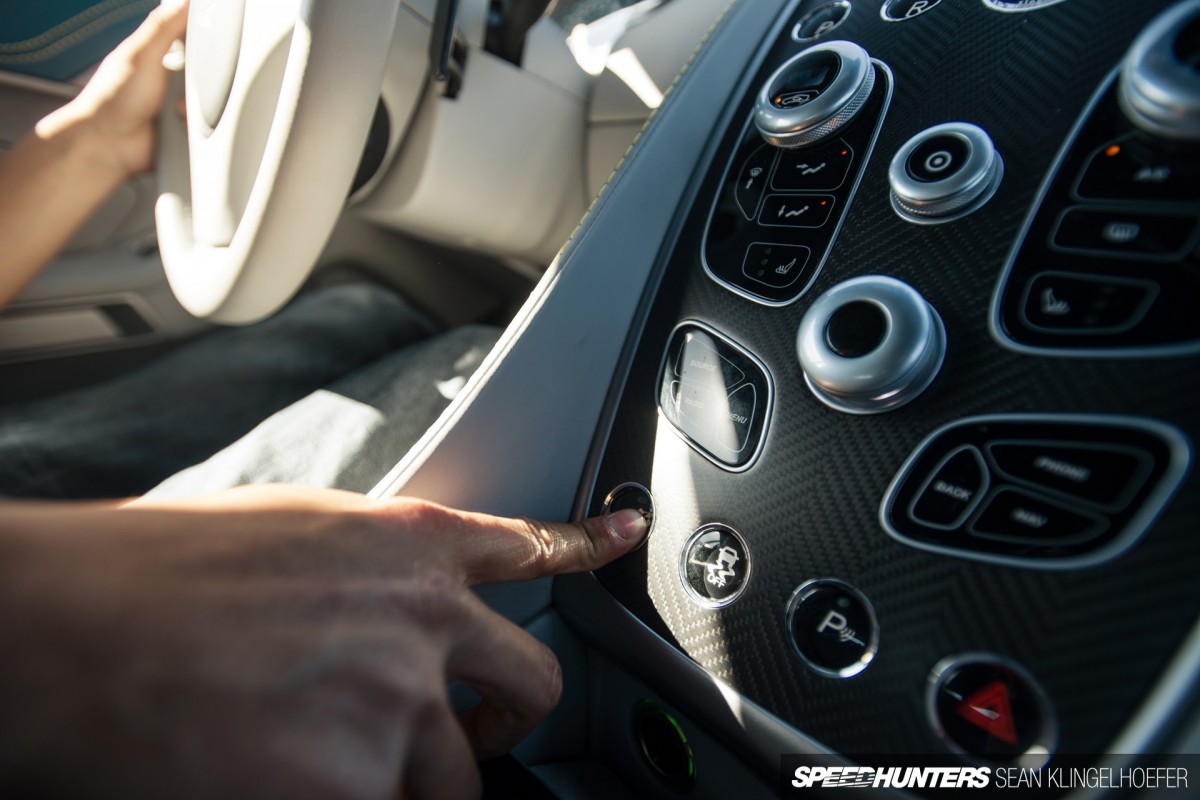 I had a chance to try out the launch control and I was surprised it wasn't as violent as many other cars with this feature that I've tried. It still let the tires slip a little, which required just the tiniest bit of countersteer. You could really feel that 565hp going to work.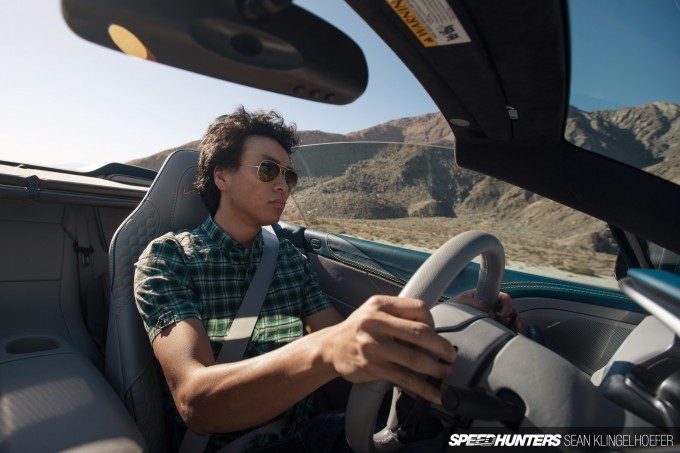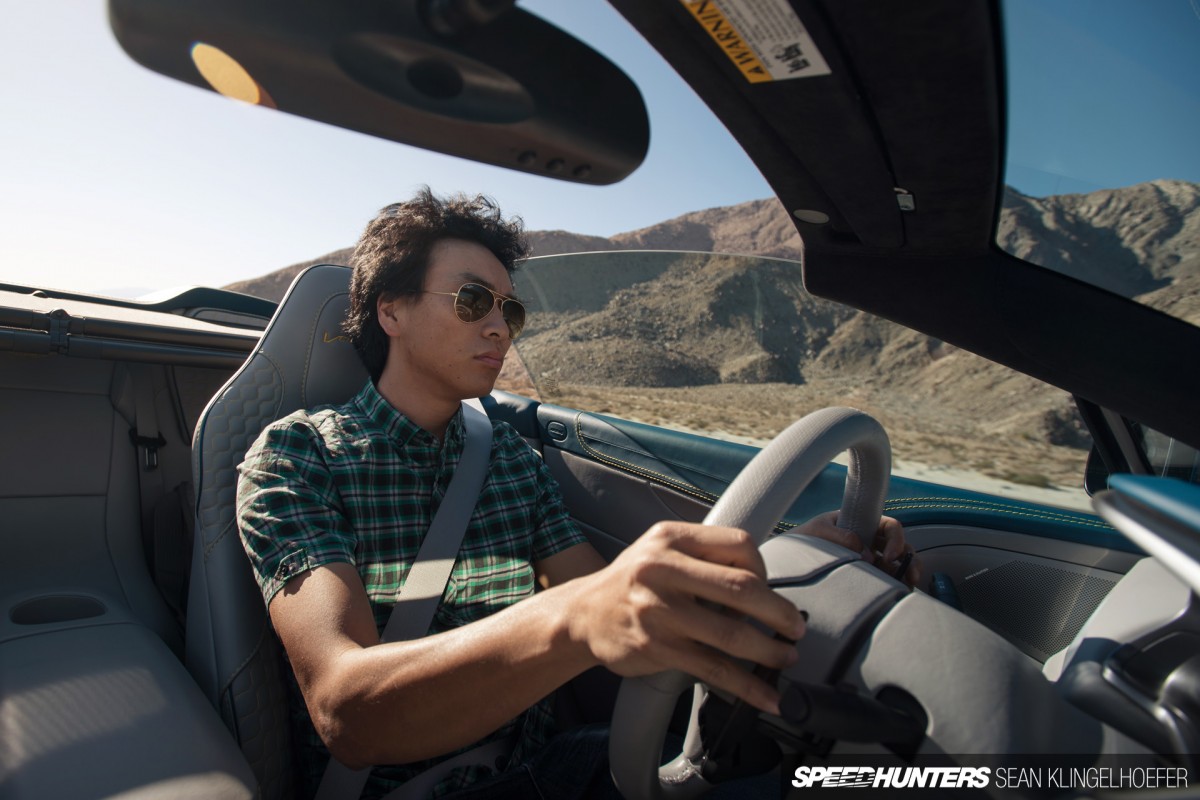 We decided to find a suitable shooting location to enjoy the car whilst watching the sun go down together. How romantic.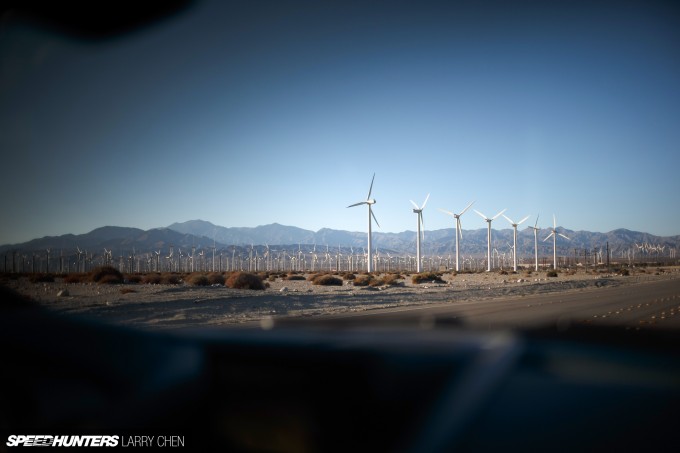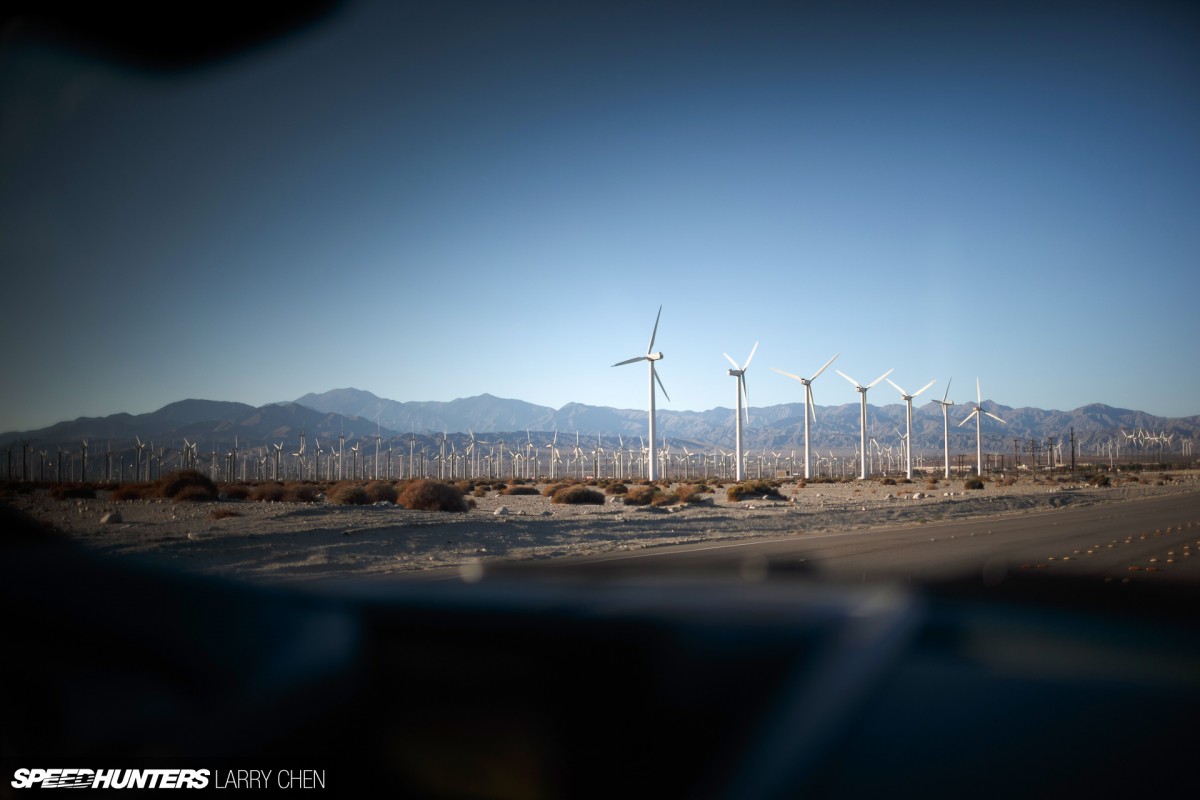 Right outside of Palm Springs, there was a field of wind generators which made the perfect backdrop to end our journey.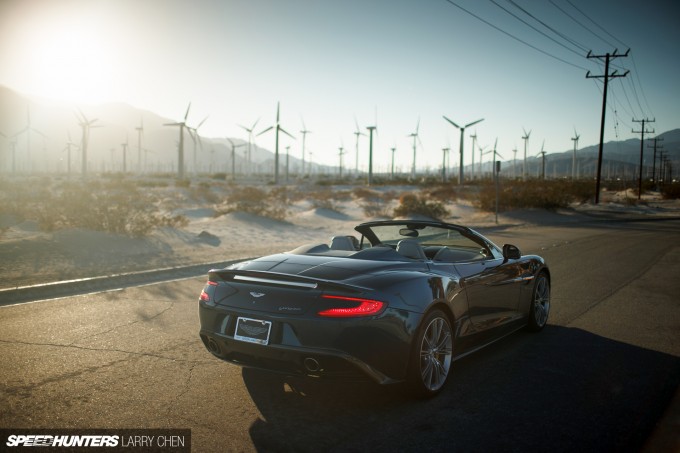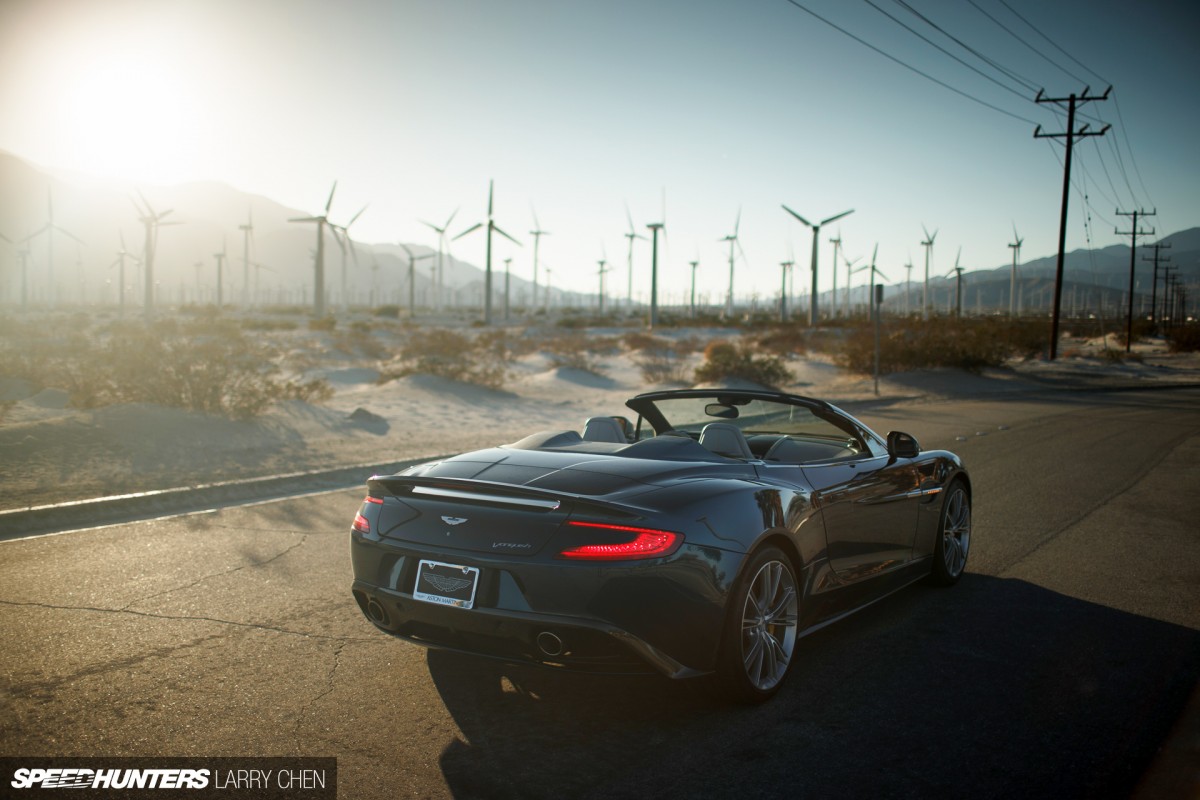 The great thing about driving an Aston Martin is that many people in the States don't really know what it is until they see the badge, so it flies under the radar.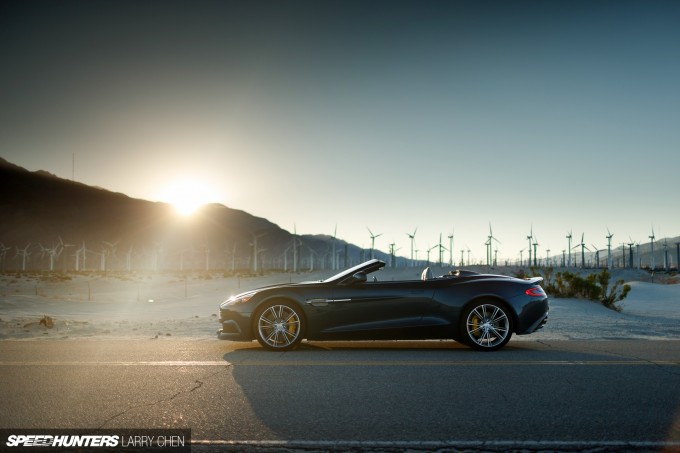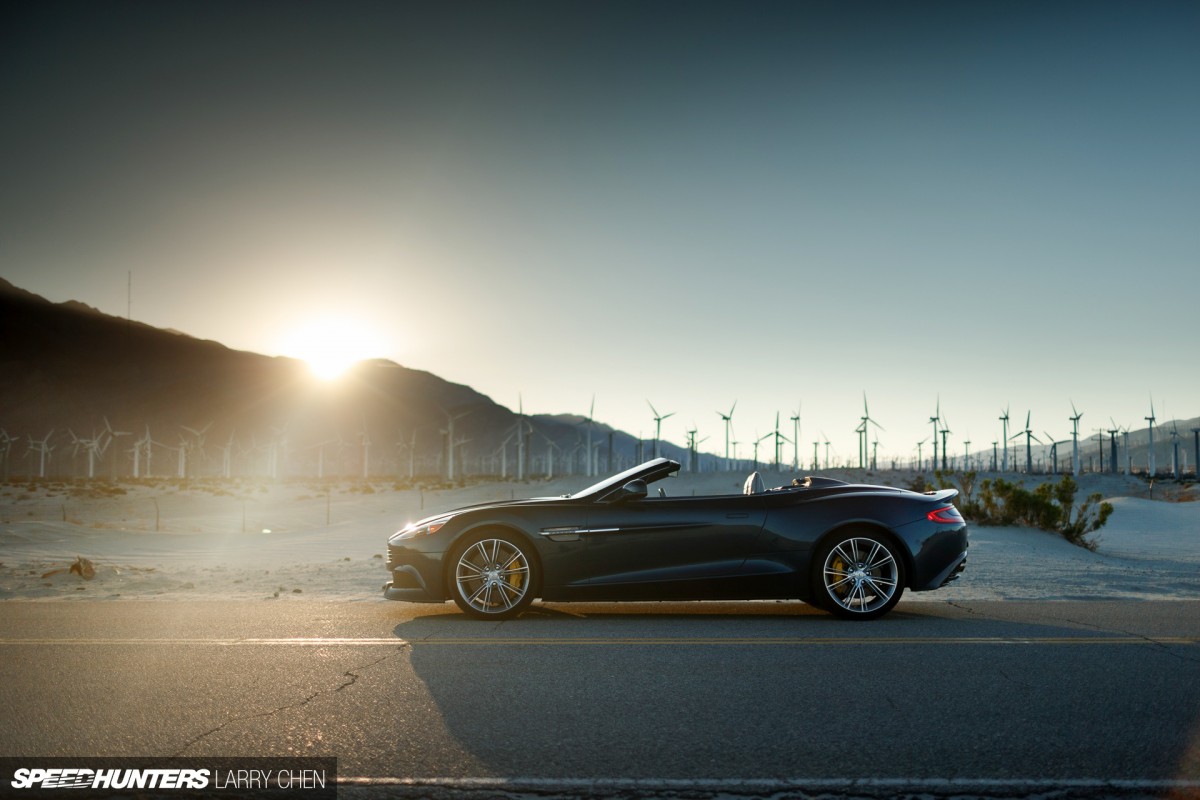 This is the perfect daily driver with some pep, but it doesn't attract unwanted attention.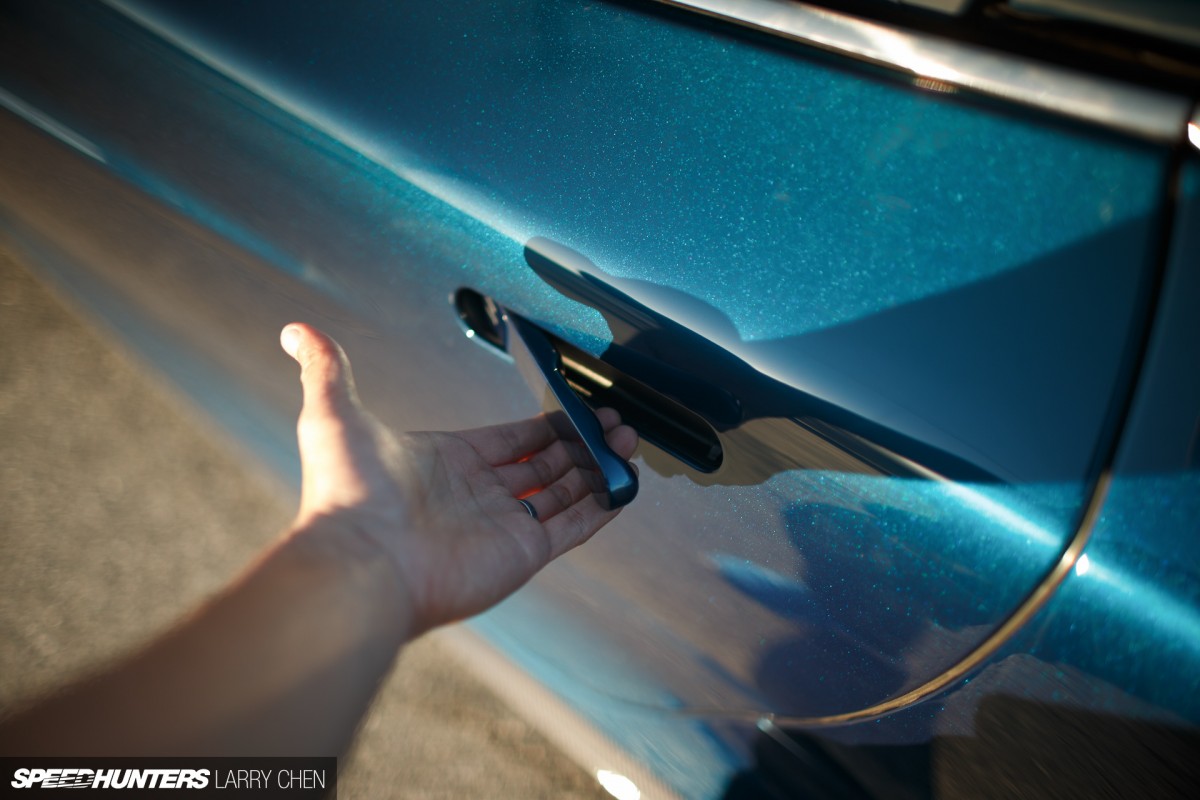 Everything screams high quality when you look closer. I just love the design of these door handles.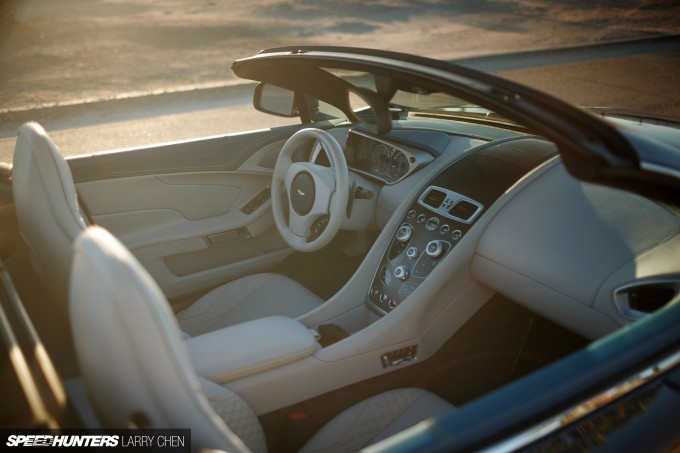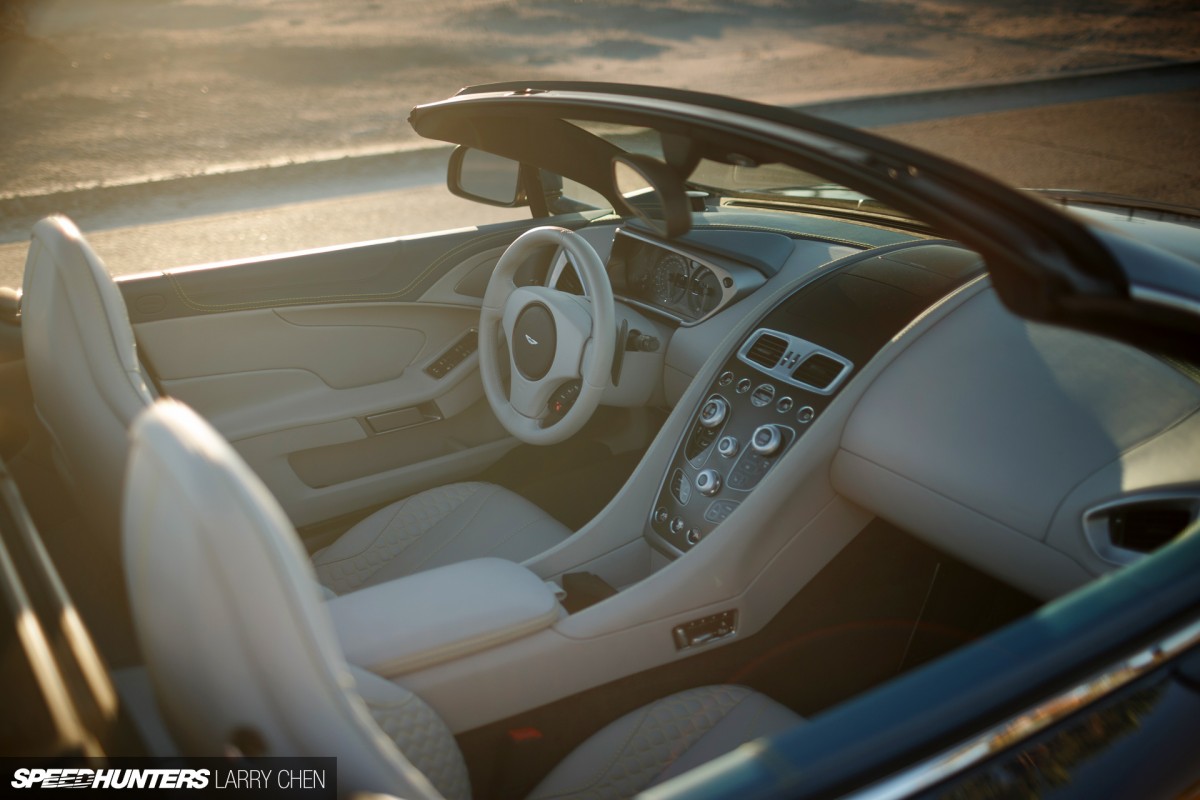 The leather is very high quality and Aston Martin goes to great lengths making sure the leather they use comes from farms that do not use barbed wires, which tend to produce leather with scratches and other imperfections.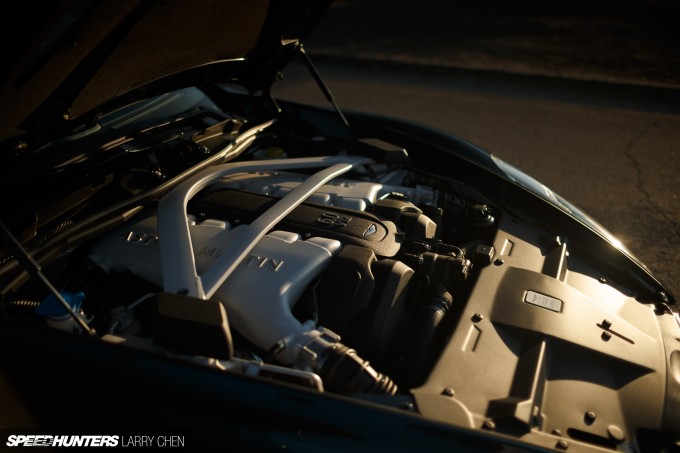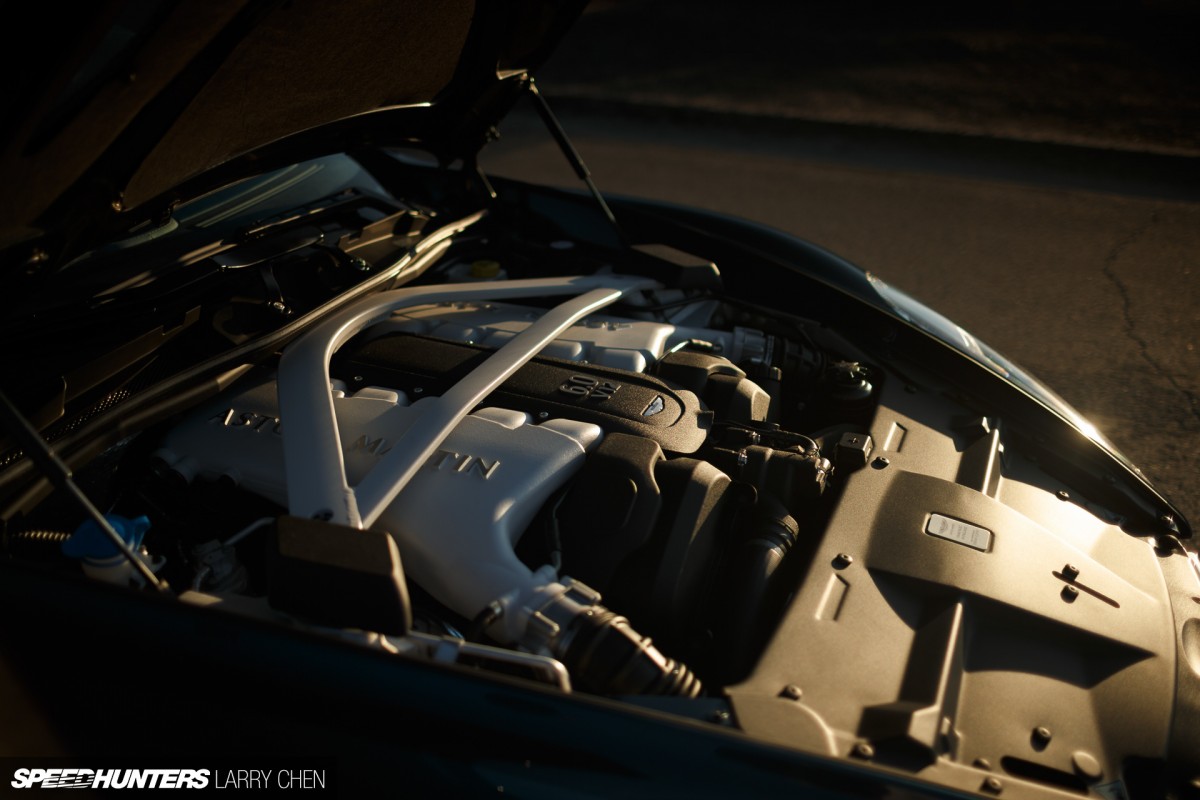 The six liter V12 creates such a symphony of sounds. Without sport mode engaged it makes this ever-so-subtle sound in between shifts at redline. It reminded me of the pit lane at Spa Francorchamps or the Nürburgring, where the GT3 cars would drive with the pit limiter on.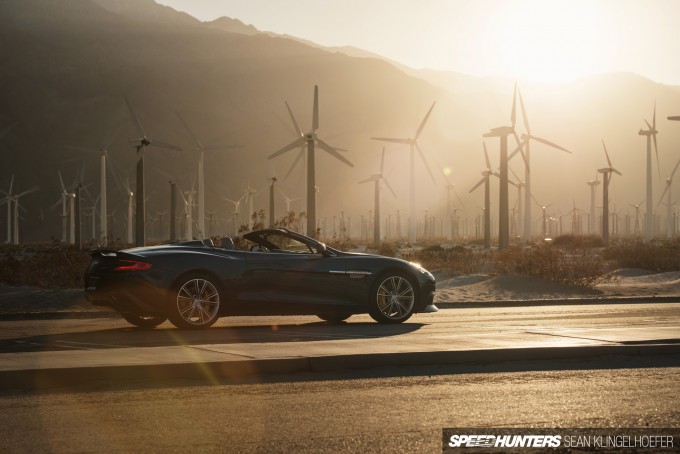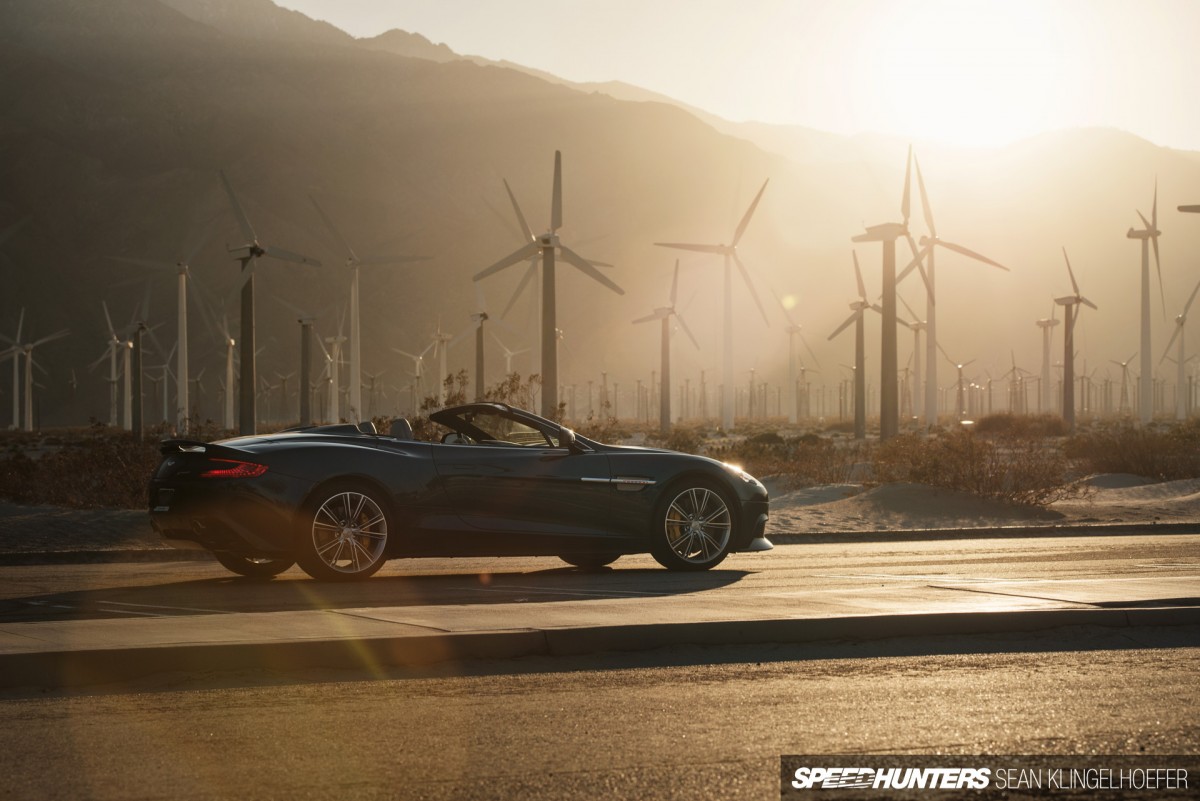 The sound from the motor with the top down and foot to the floor made me wonder how such a luxurious car could make such a noise.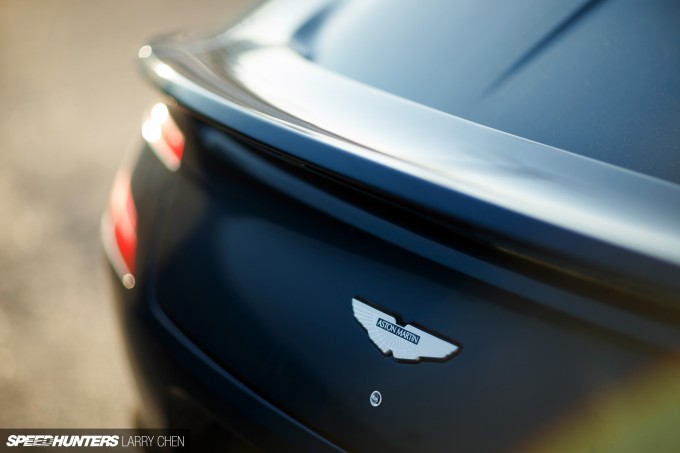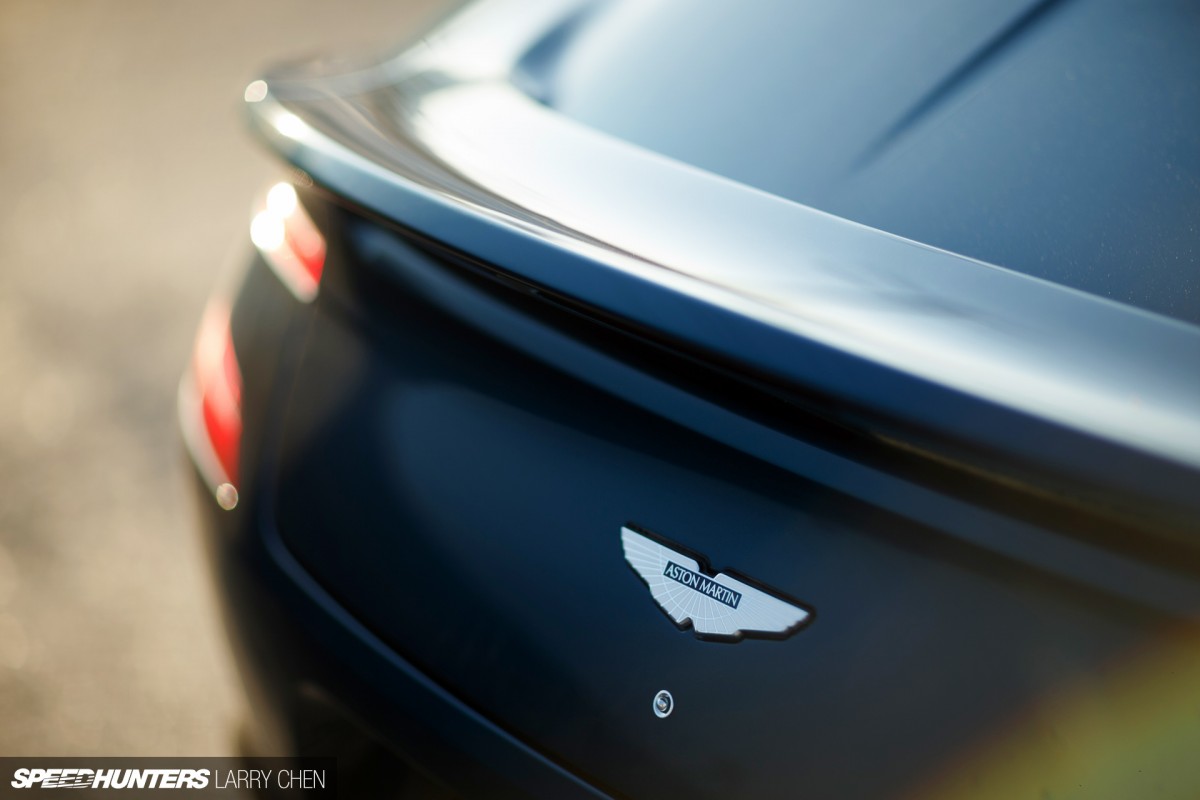 Aston Martin has built a driver's car. If I was stuck in a cubicle all week, then every waking moment not driving this car would be spend day dreaming about driving this car.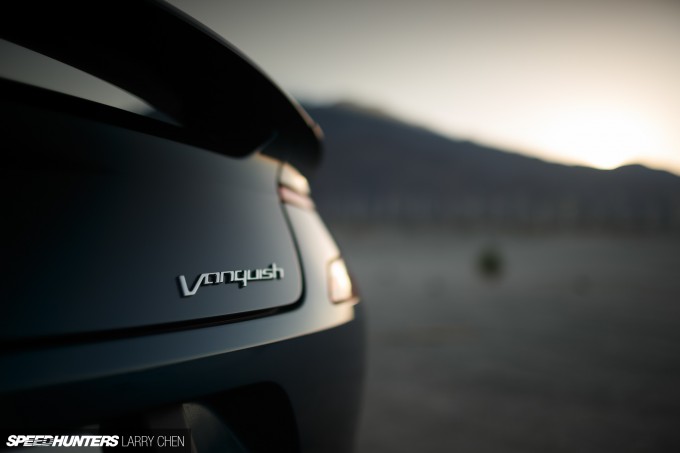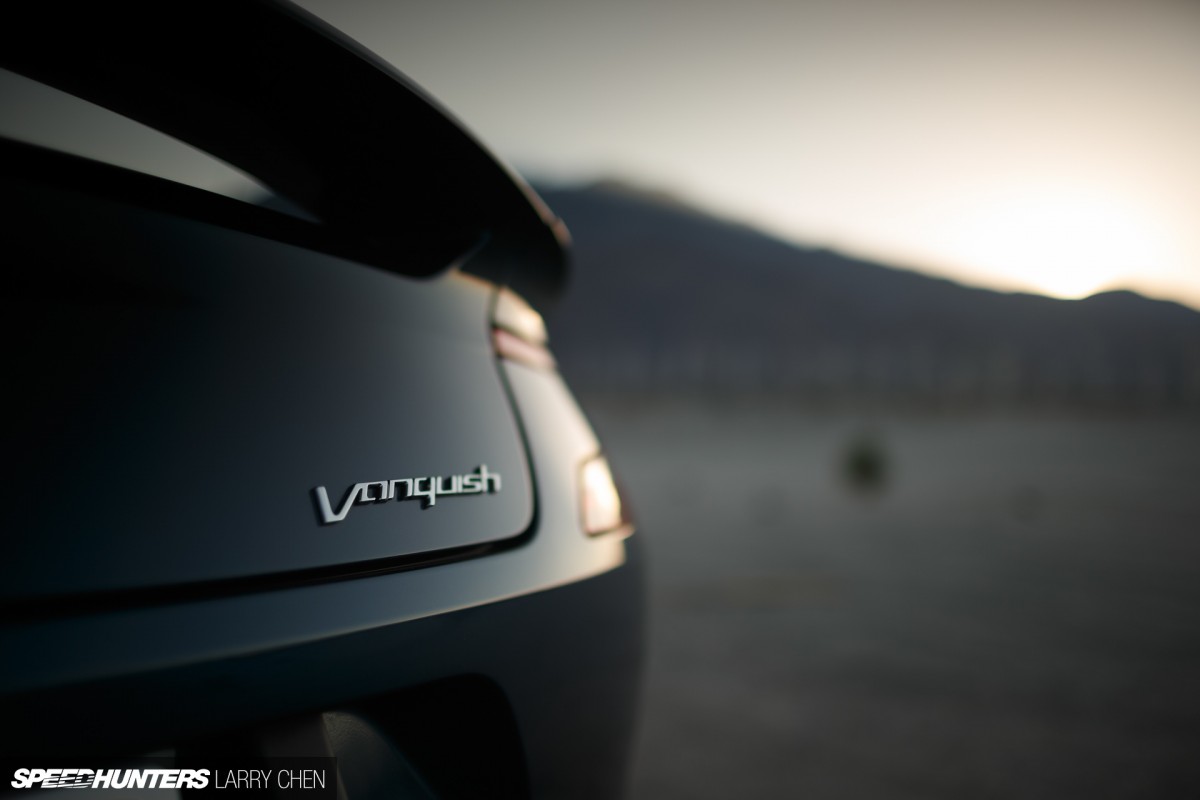 Normally it doesn't attract as much attention as most other cars in its price range, but Sean and I had people following us, taking photos like we were celebrities.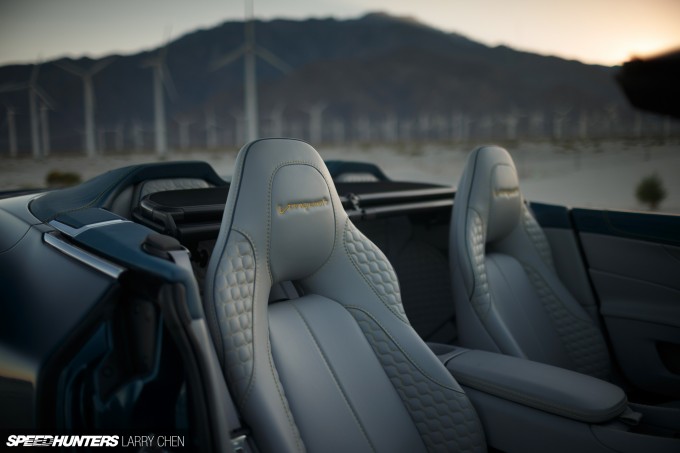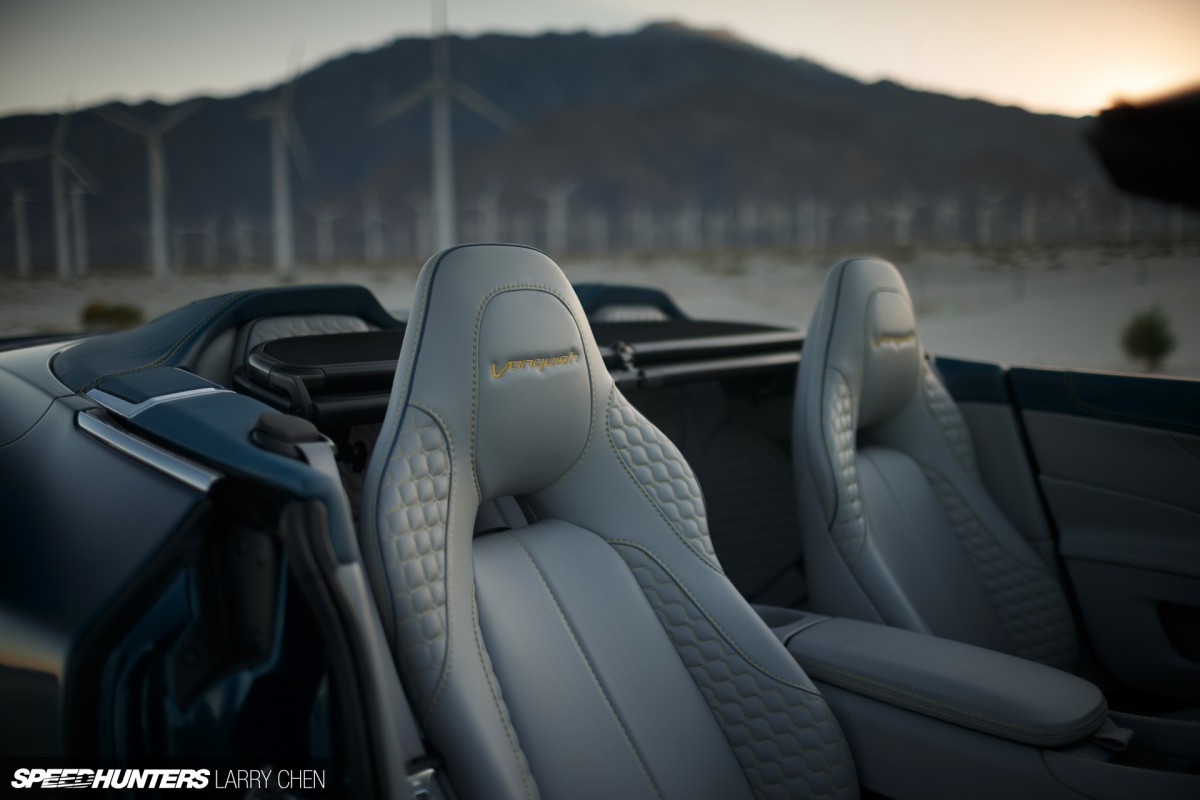 Just look at those seats: they're like a work of art. It's such a shame that I have to sit on them. Although it's not entirely bad to sit on a work of art.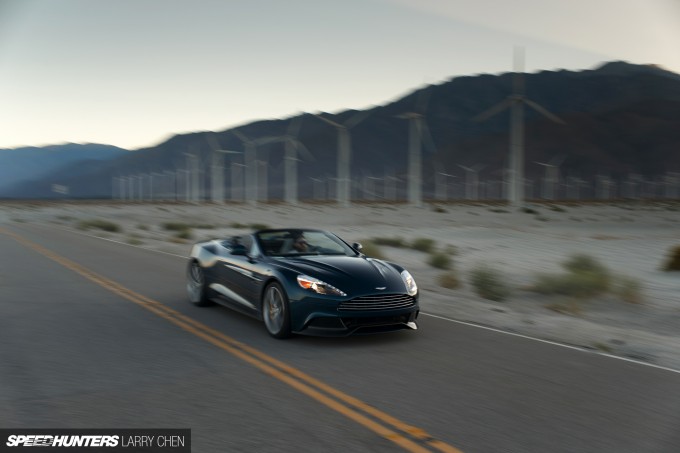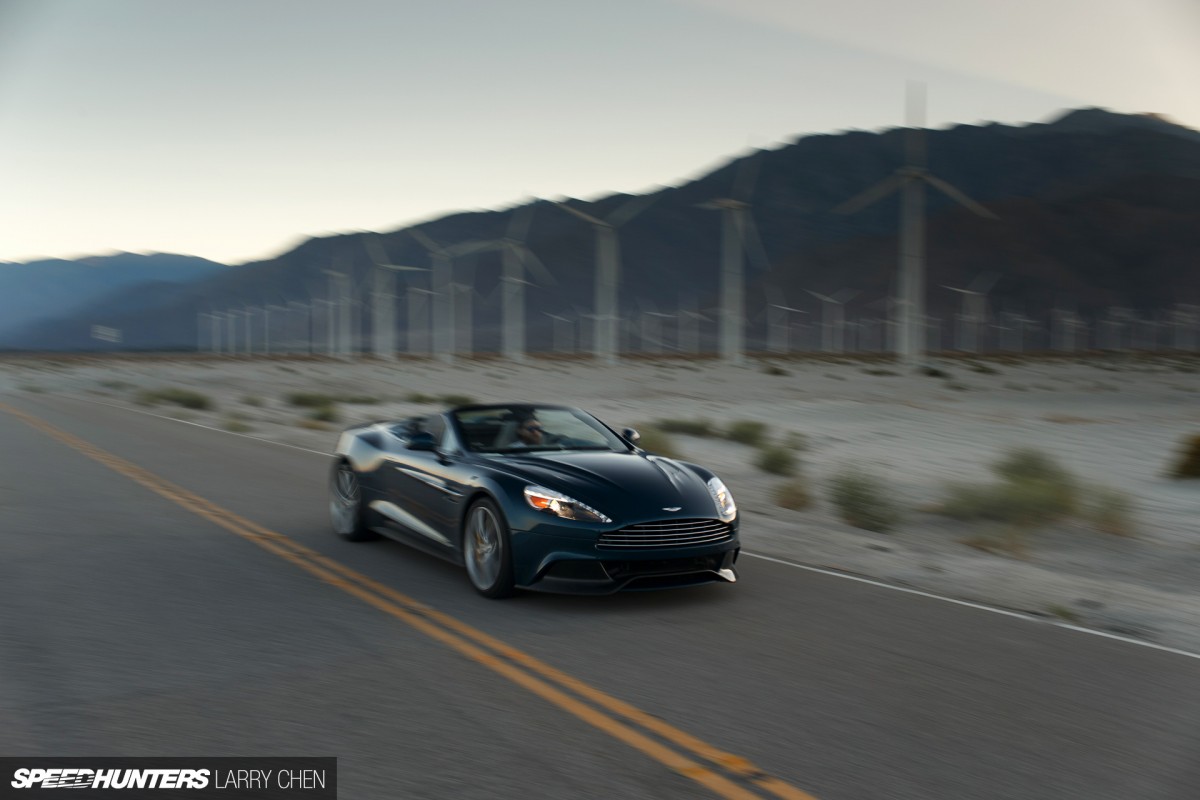 Driving this Aston Martin makes me a bit sad, as I've been missing out on so many good cars. I don't know when, or if I will ever be able to drive a DB5, but I am glad to have experienced a part of such a unique brand.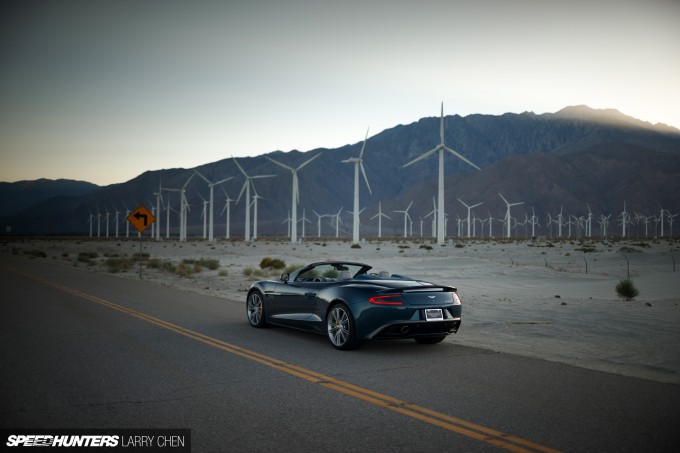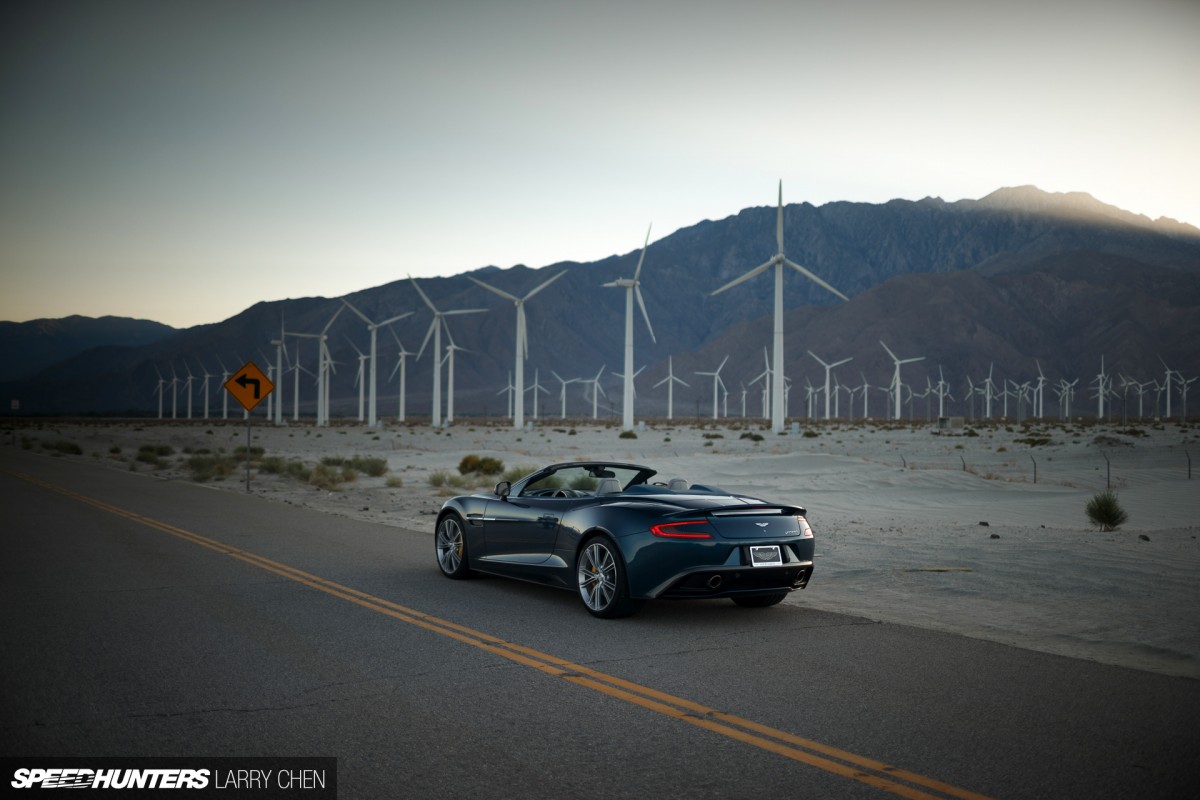 One of the major flaws of new cars is the fact that they're only designed to last a few years before they're recycled into toasters. Not this one though.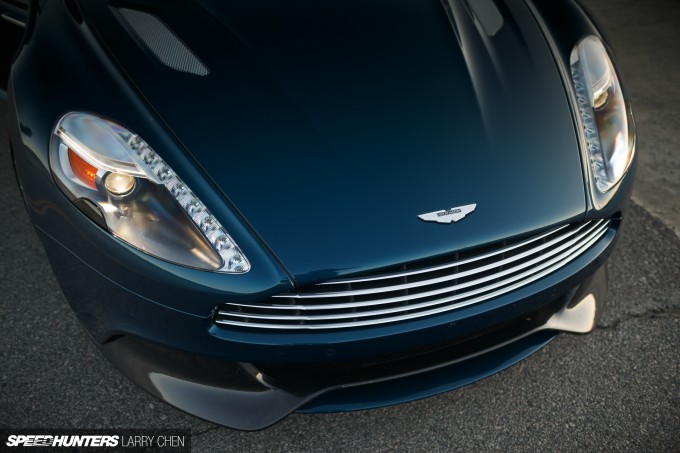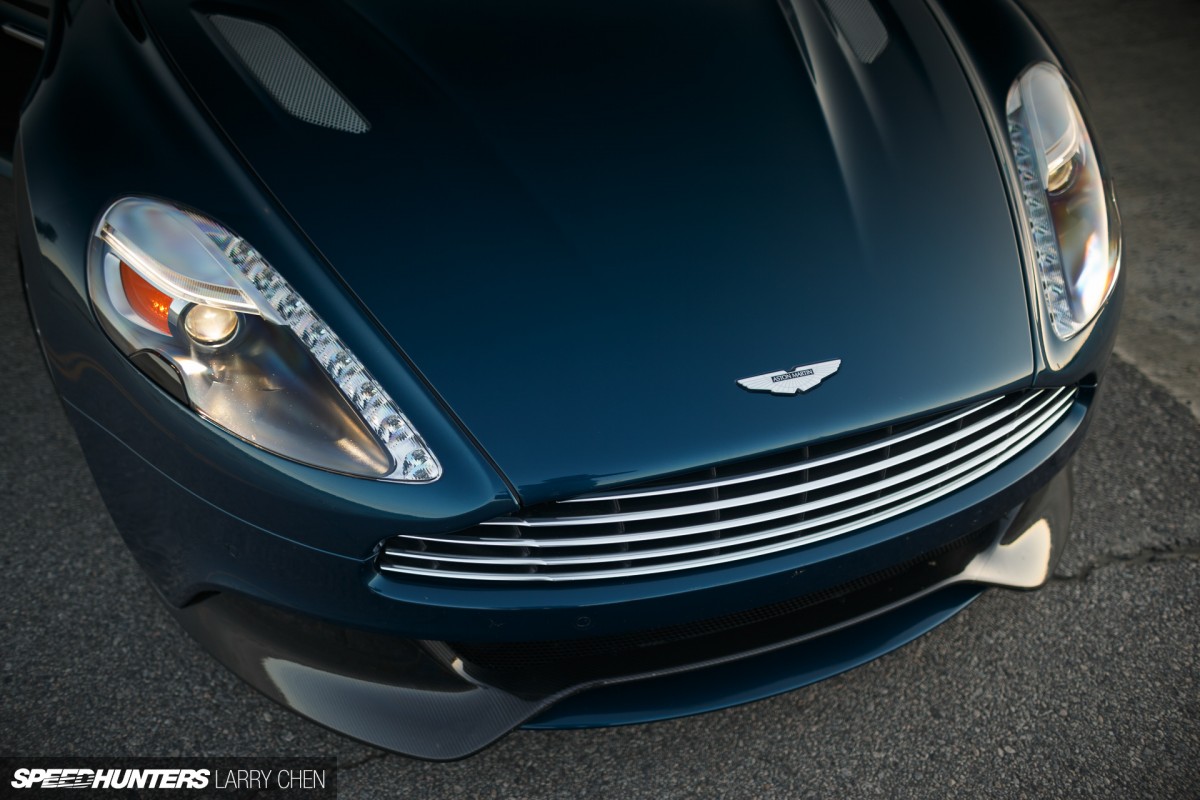 Aston Martin has its own restoration department, which meticulously restores cars from any generation. Anything is possible with a deep enough pocket. The Aston Martin Works program has been around for such a long time that even some of the original guys on the DB5 assembly line are still working at the program restoring cars with custom tools that they have been using since the beginning.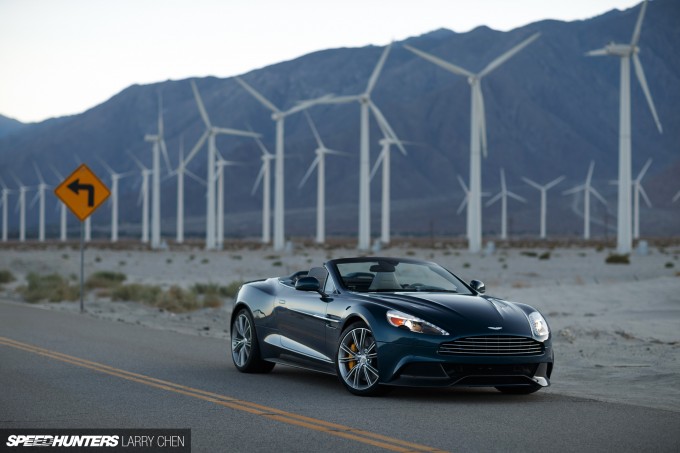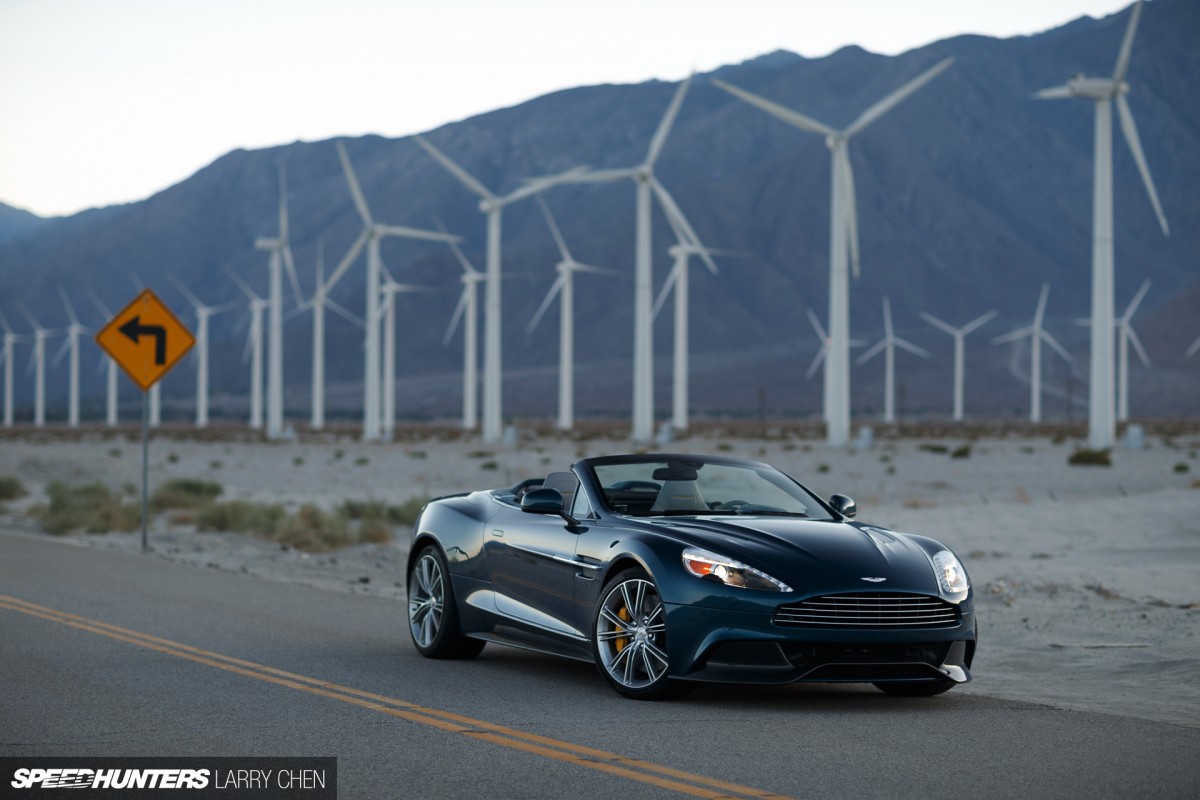 I can really appreciate that kind of dedication to their past and the brand, because it means that there is a good chance in thirty years we will still see this brand new Vanquish Volante still on the road. That can only be a good thing, because I for one will hopefully be there with my film camera to share the experience of another rare and special moment.