The beginning
While out at the Odaiba round of D1 the other weekend there was one car that was attracting probably more attention that any other drift car. It wasn't even entered in the competition for the simple fact that it isn't finished yet. But like you and me, this is one drift machine that the whole drifting community – at least the Japanese one – has been patiently waiting to see out in action.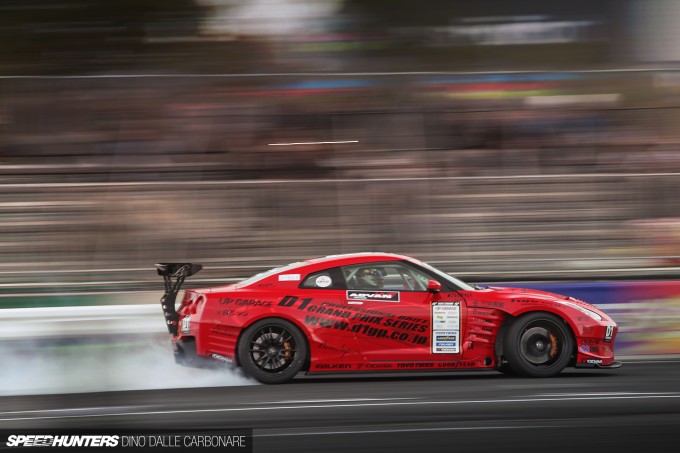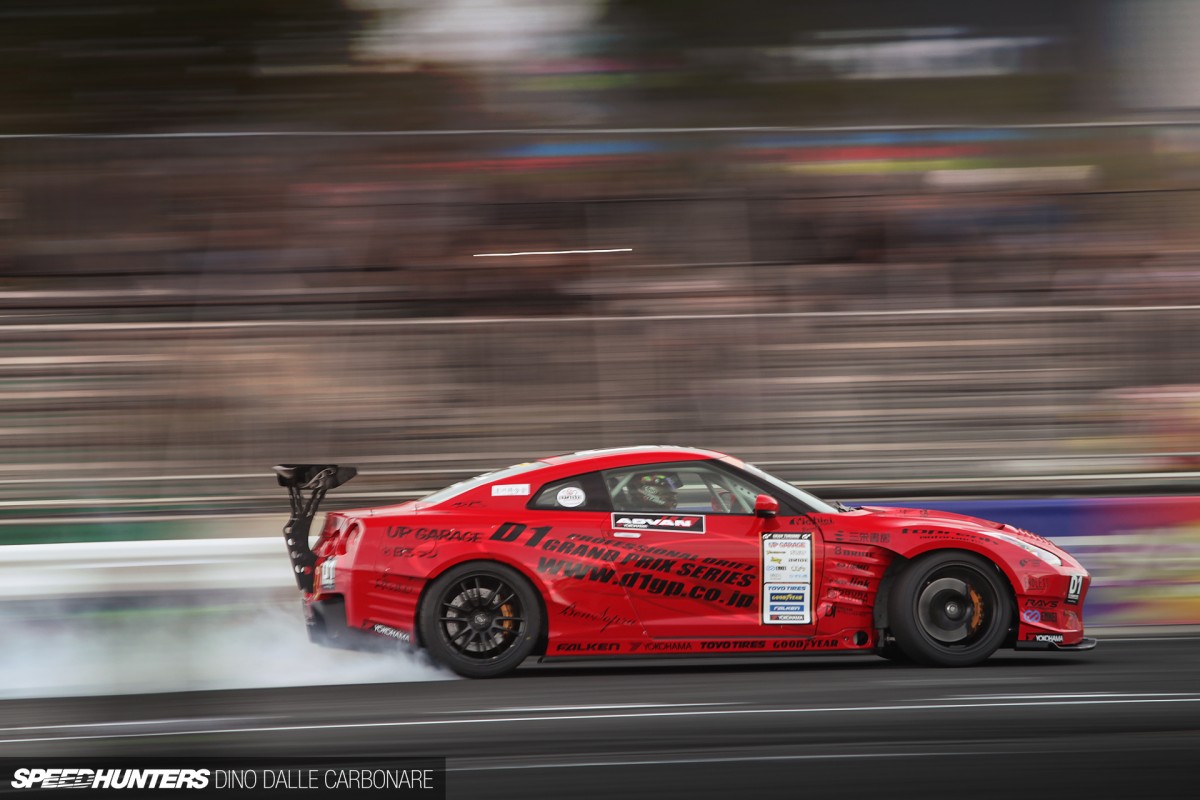 It all started off years ago, back at the Blitz HQ in West Tokyo where Abe-san, the chief mechanic of the famous JDM tuning brand, had the idea to embark on an all-new project that would replace Nomuken's extremely competitive ER34 sedan. The idea was to turn Nissan's flagship supercar into a professional drift machine: something so opposite to what the R35 was developed and built to do. But with a need to inject much freshness into D1 they thundered ahead, dedicating all their spare time and showing their progress at events like the Tokyo Auto Salon.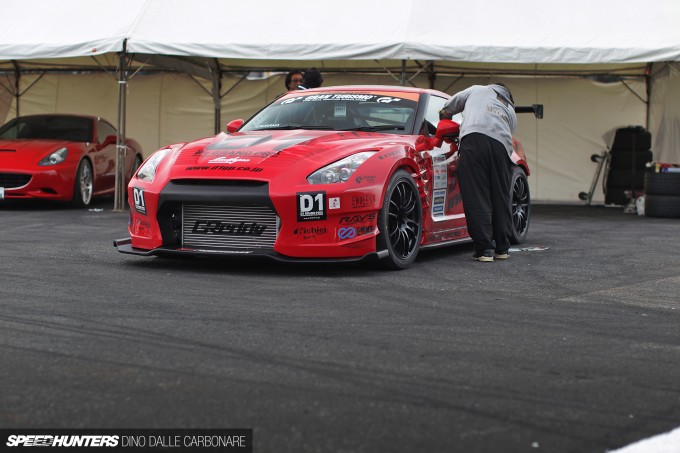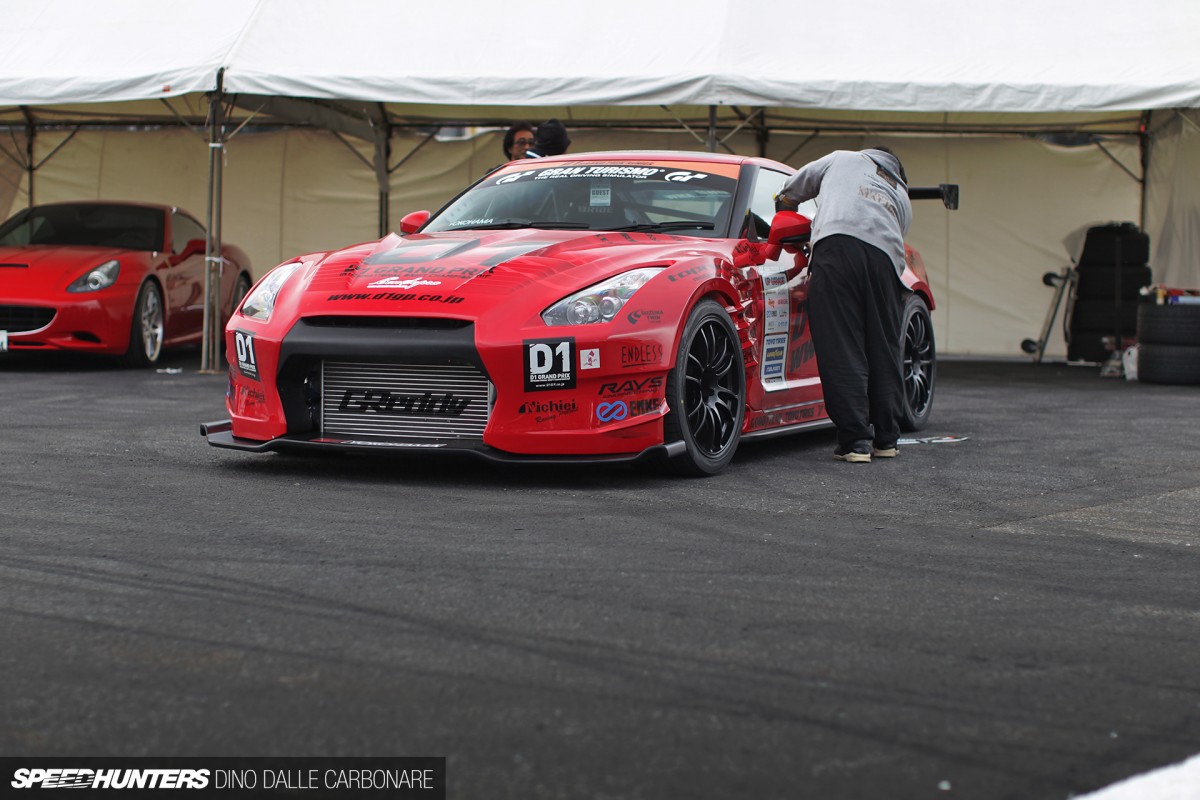 The GT-R's dual-clutch transaxle transmission was replaced with a Hollinger sequential and a custom fitted BNR34 rear end while the VR38DETT was tuned to develop a healthy amount of power with a pair of top-mounted turbos. Nomuken took the car out for an initial test drive at Nikko and while the car did drift it was not achieving the extreme angles that are expected of a pro-level car. Much still needed to be done but with lots of custom work required they ended up dropping the project shortly after. That's when Ueta-san at BenSopra stepped in. He took the car off their hands and used it as a base to not only showcase one of the hottest aero kits of 2012, but help launch his new brand.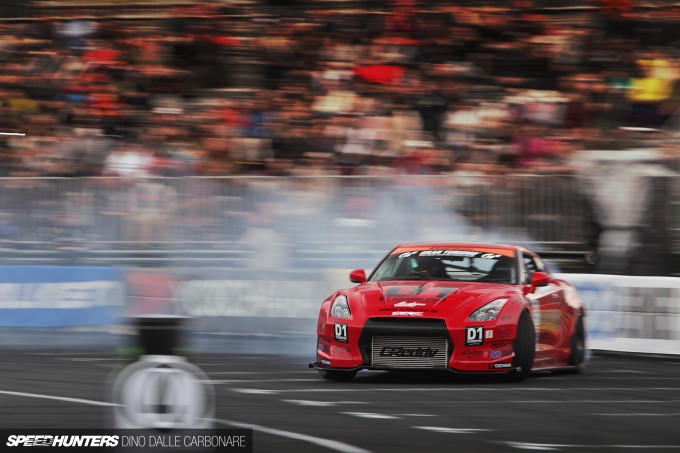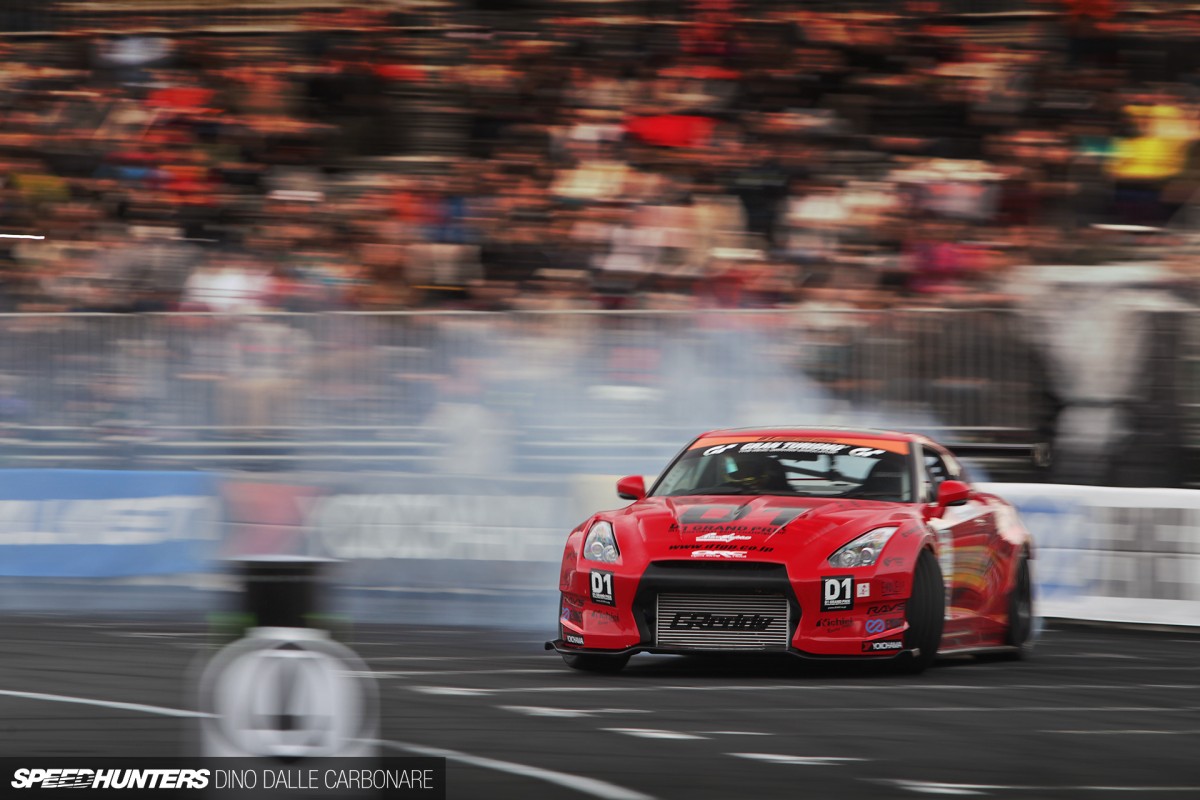 While the car spent most of last year being paraded at shows and events as a promotional tool, the idea to continue what Blitz started is something that Ueta-san has never abandoned. That's why the car was entered in an exhibition run at D1 Tokyo Drift…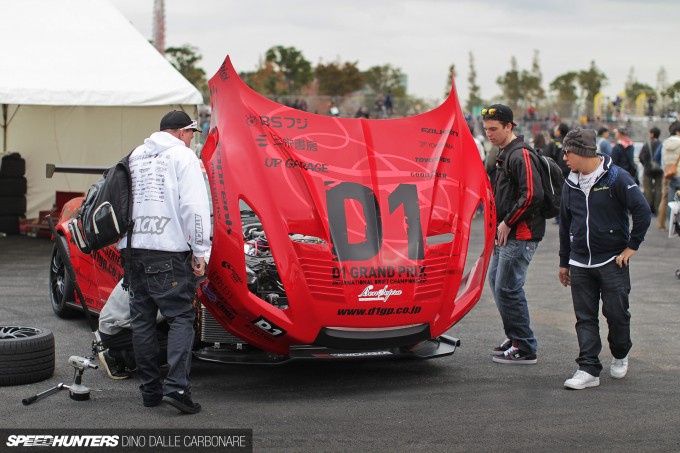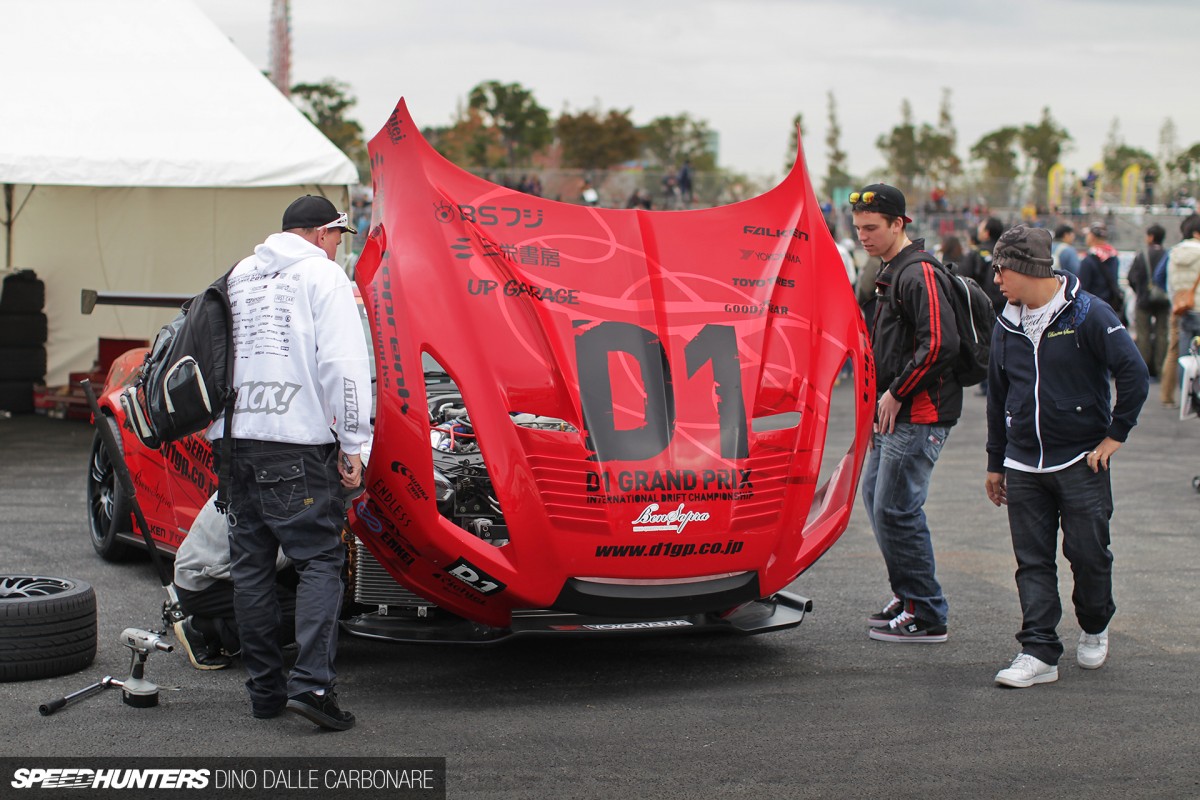 … a gesture to show people that eventually the idea is still to make the GT-R competitive, and at the same time test out some new parts that were custom made for it. At the beginning of the event on Saturday, I met up with Ian Baker – the man behind World Time Attack – and Jake Jones aka Drift Squid, and had a quick look around the car.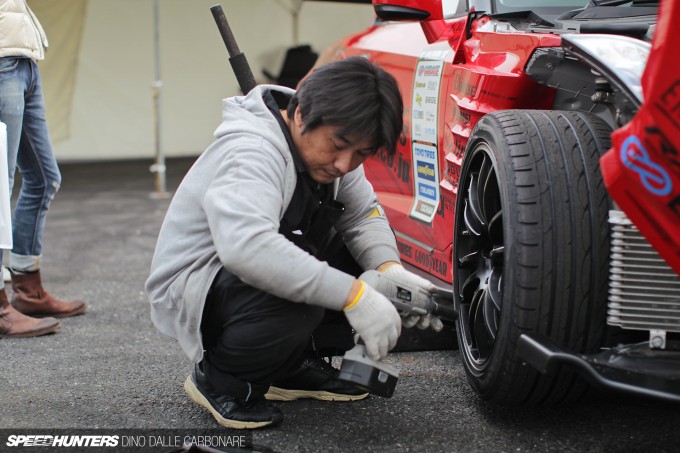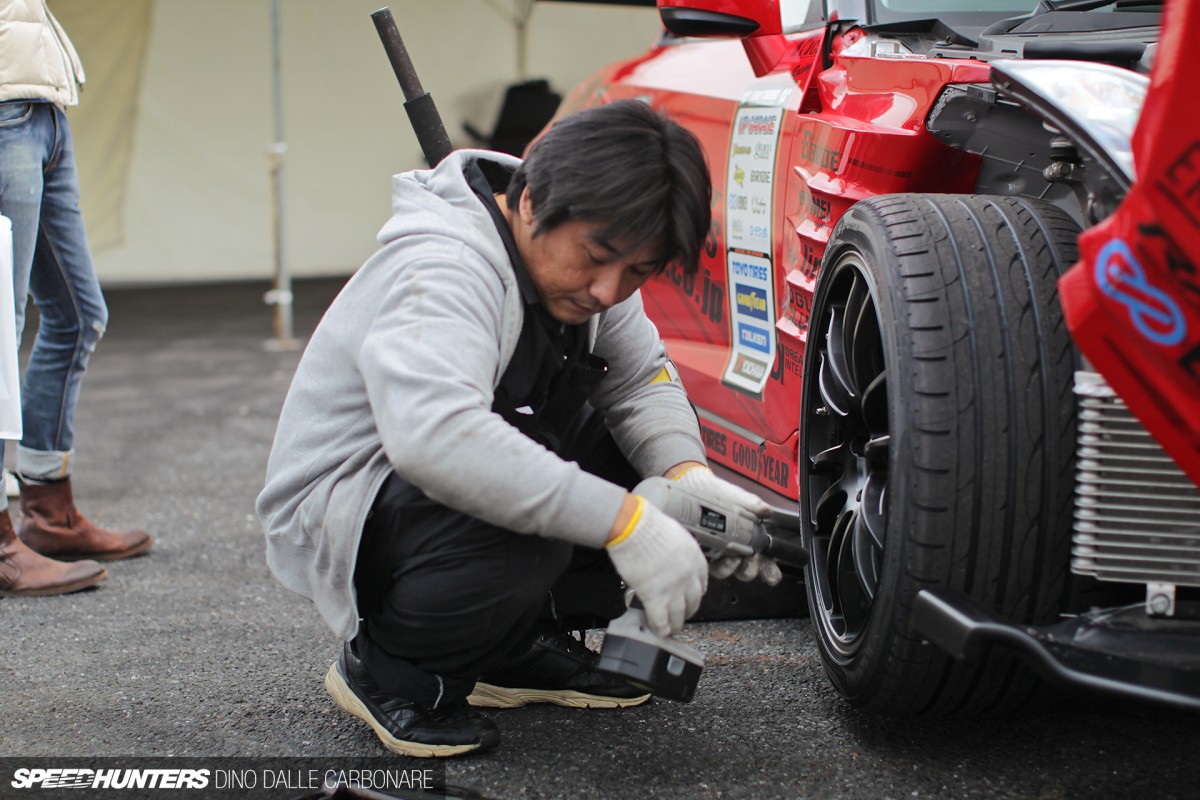 It had been a while since Mobara earlier this year when I first saw the car in its new red livery, and while the project has progressed slowly due to other cars that BenSopra are working on, some small but important changes have been made.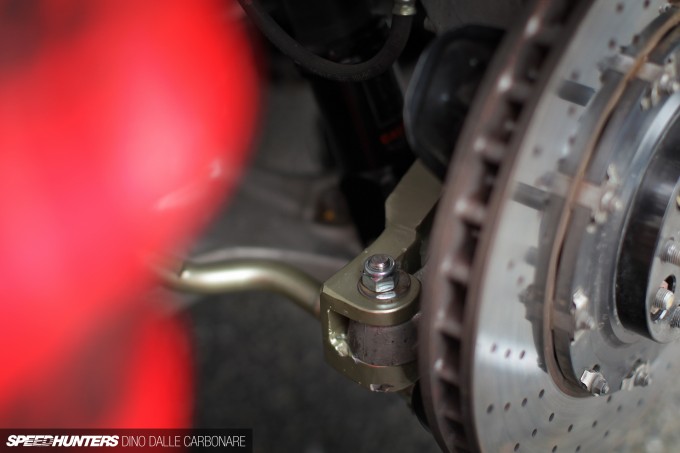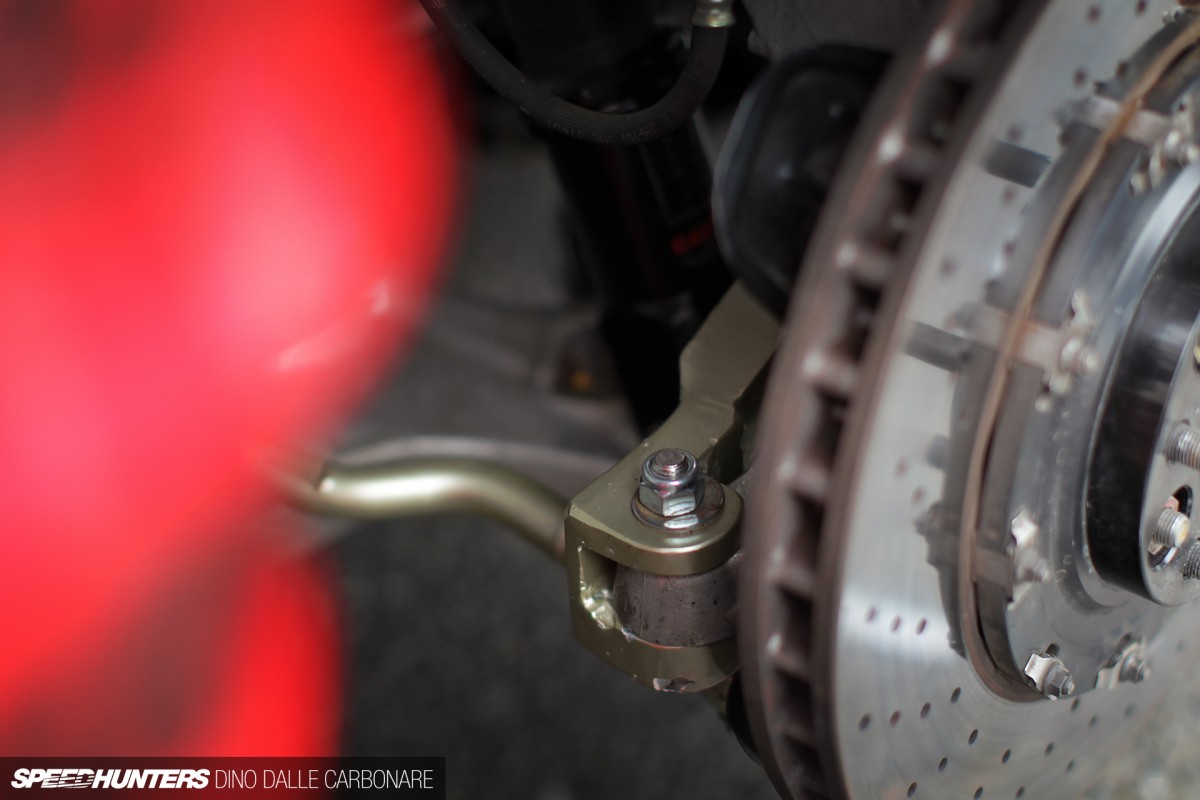 Most of the work has been centered around suspension geometry and some custom components to allow for more steering lock.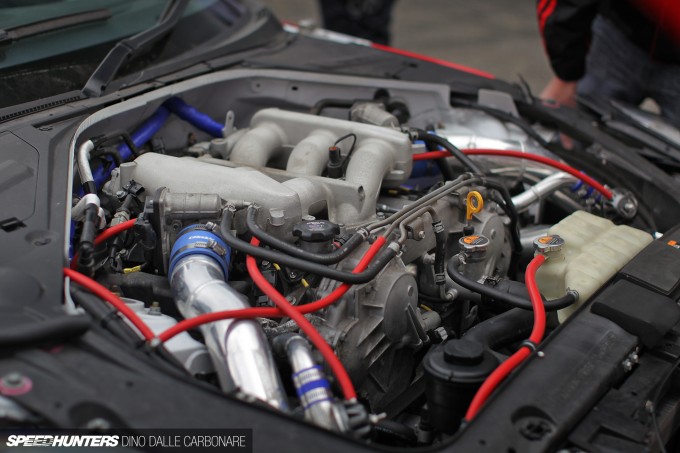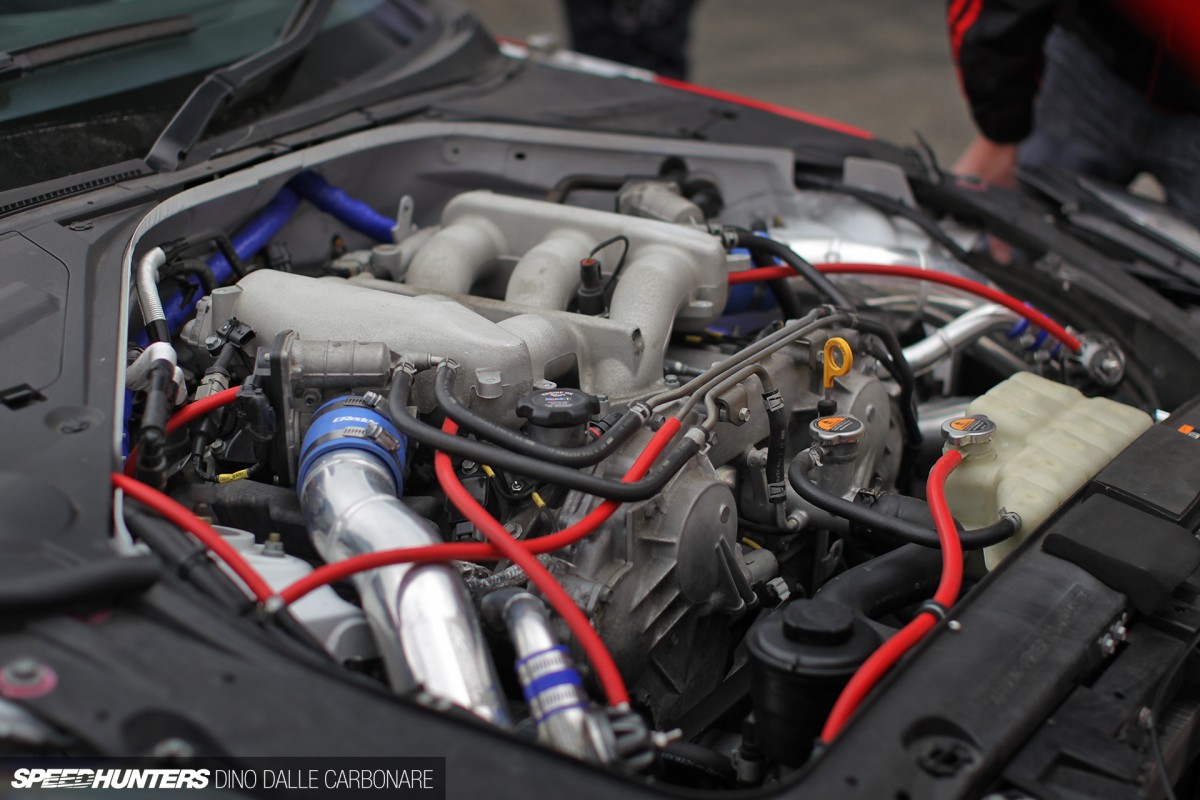 Since the original Blitz-built engine is now powering the 380SX they built early in the year, the R35 received a fresh stock VR38 which has been lightly tuned for more power and response. Once the car's handling is completely sorted out, Ueta-san plans to go wild with this motor too, matching some of the most powerful D1 cars in the horsepower department.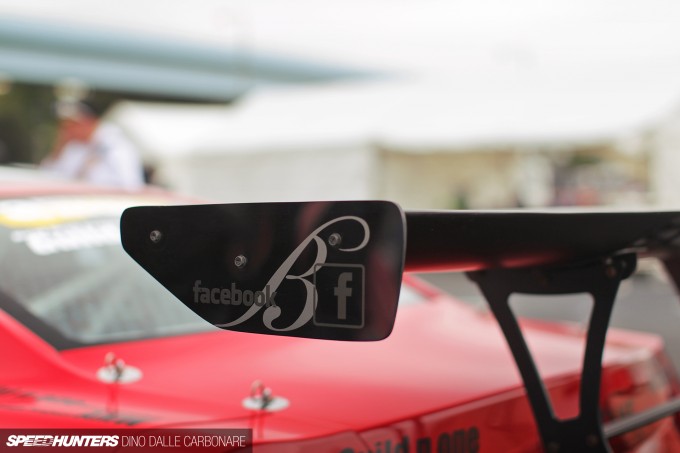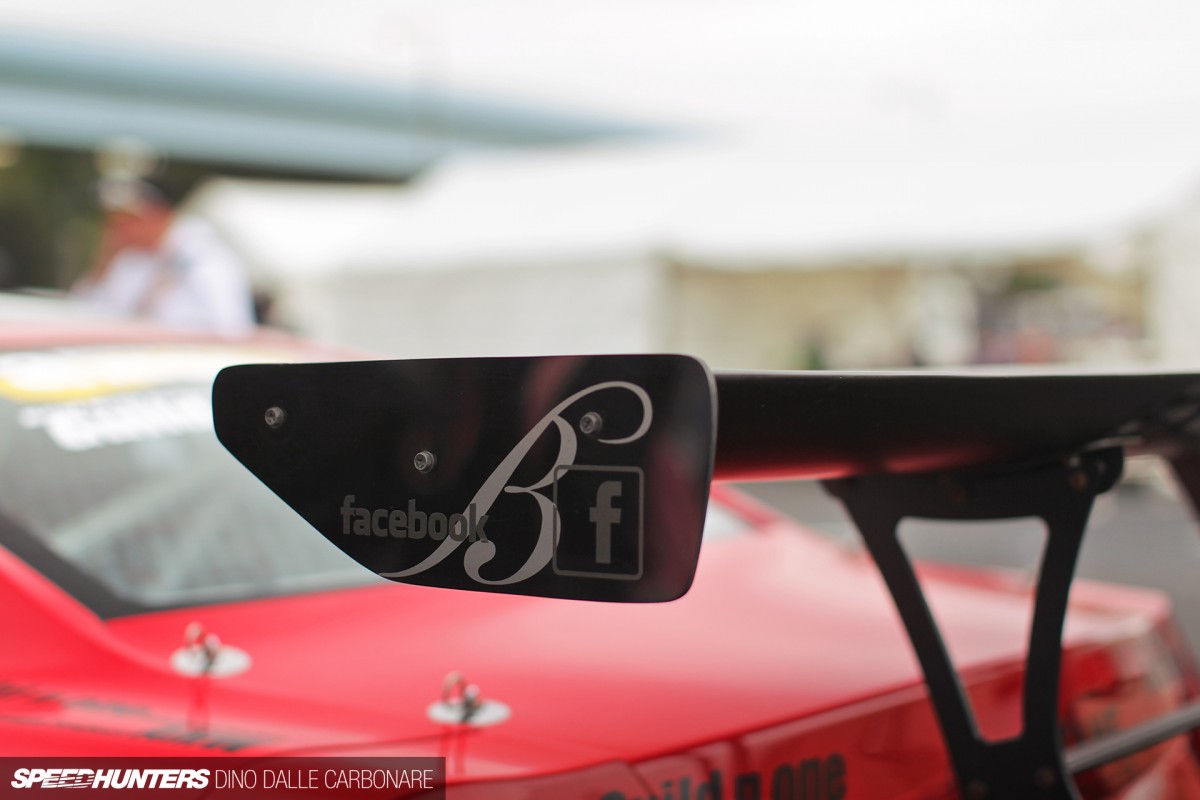 We actually had to wait until Sunday to see the car in action…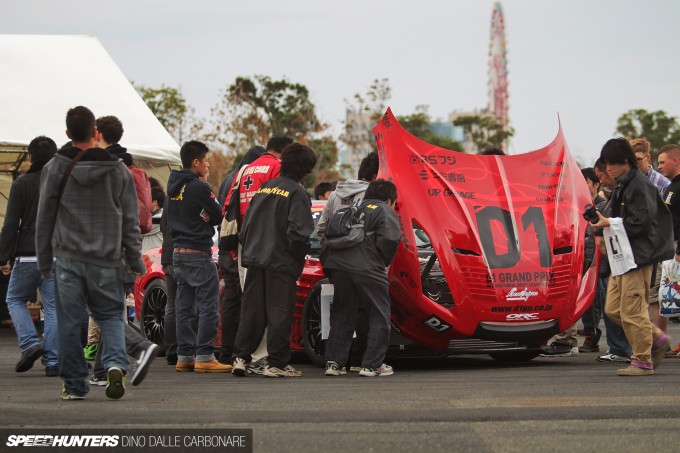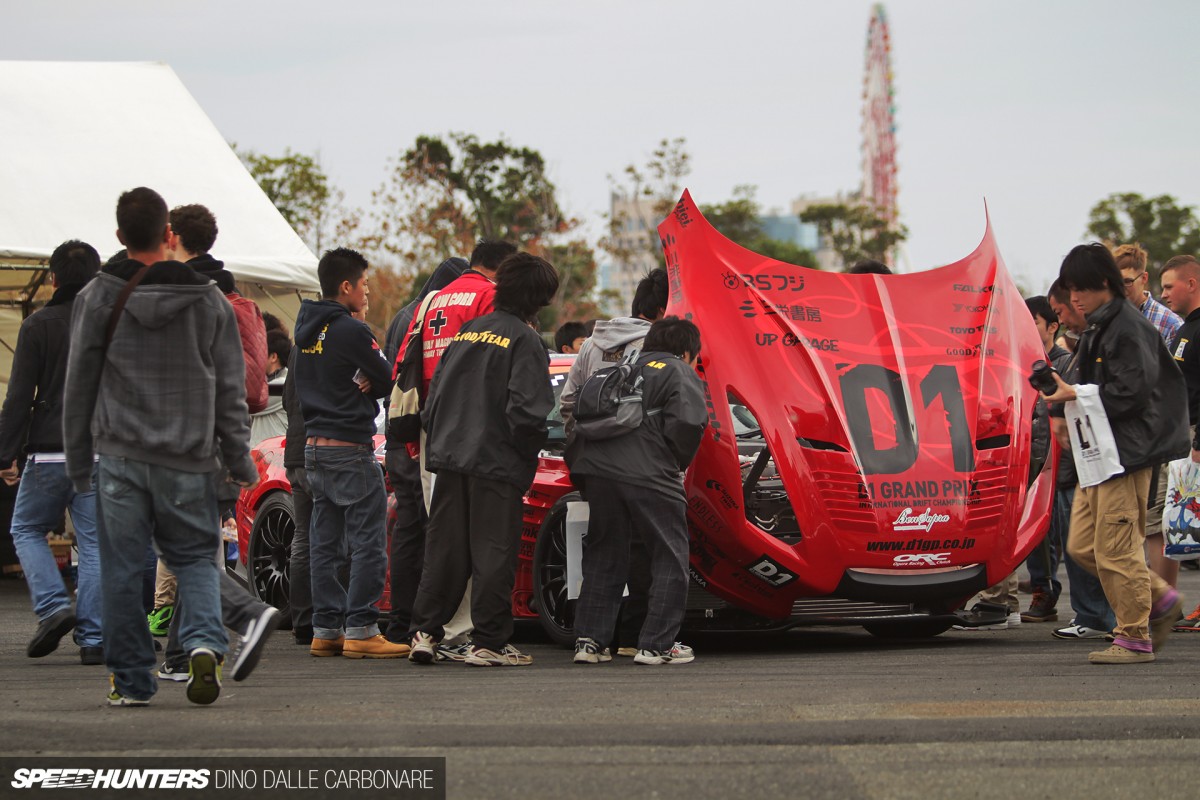 … as it was due to go out during the lunch break, drifting in the Super Car Exhibition along with cars like a Lamborghini Murcielago, Ferrari California and a 991 Carrera. Despite the more expensive metal in the session, it was the BenSopra GT-R that really grabbed people's attention, a crowd quickly forming around it…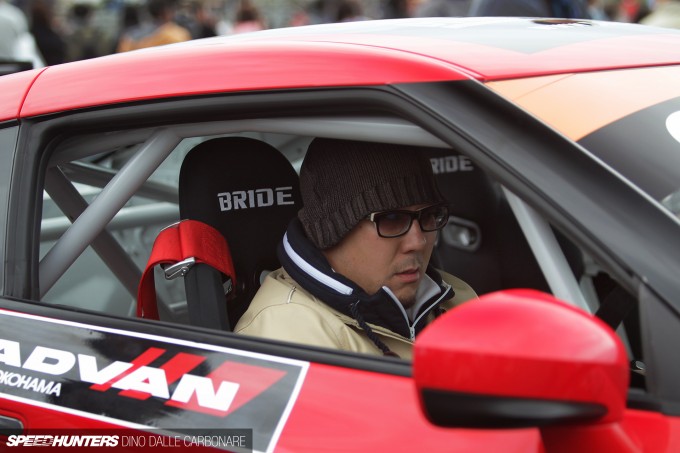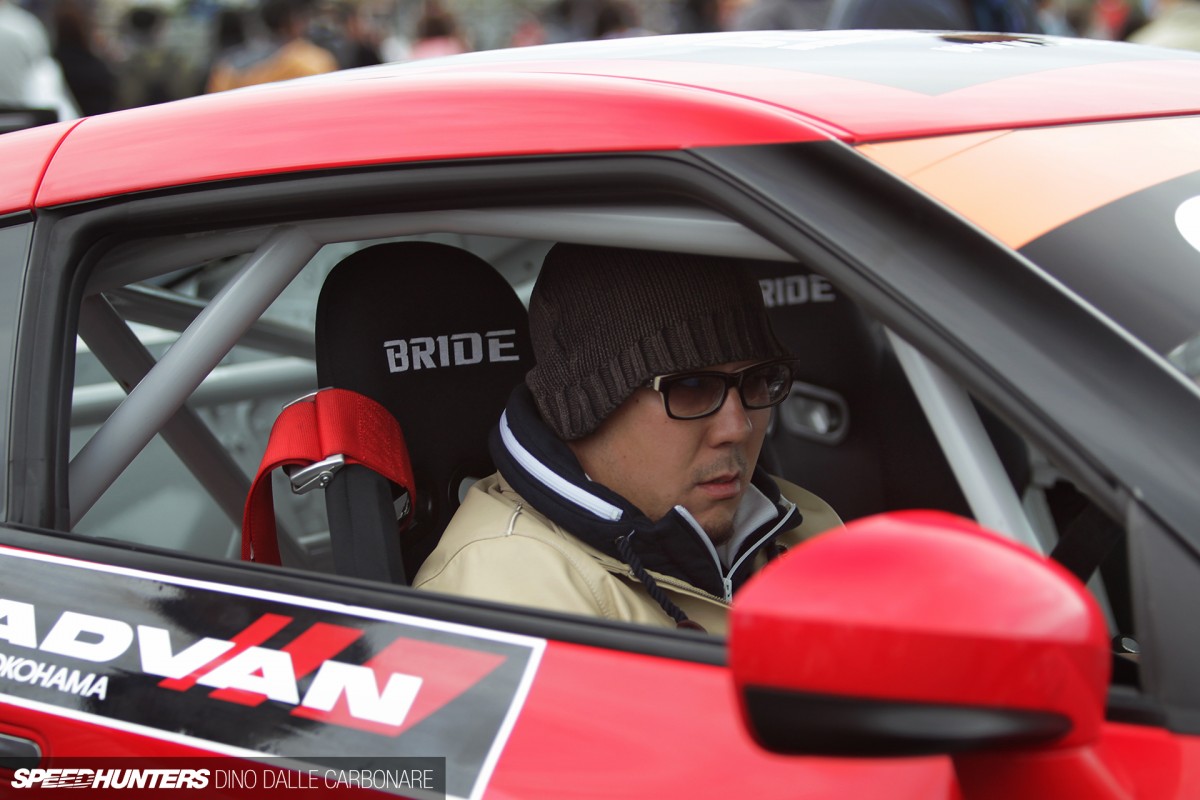 … as Ueta-san jumped in and gently warmed up its engine.
Angle is key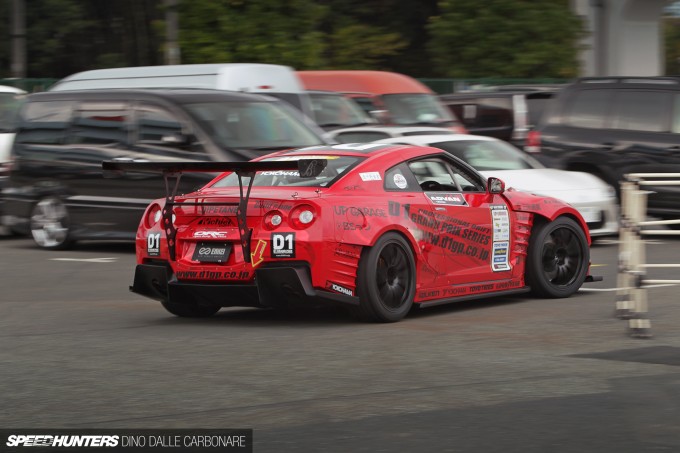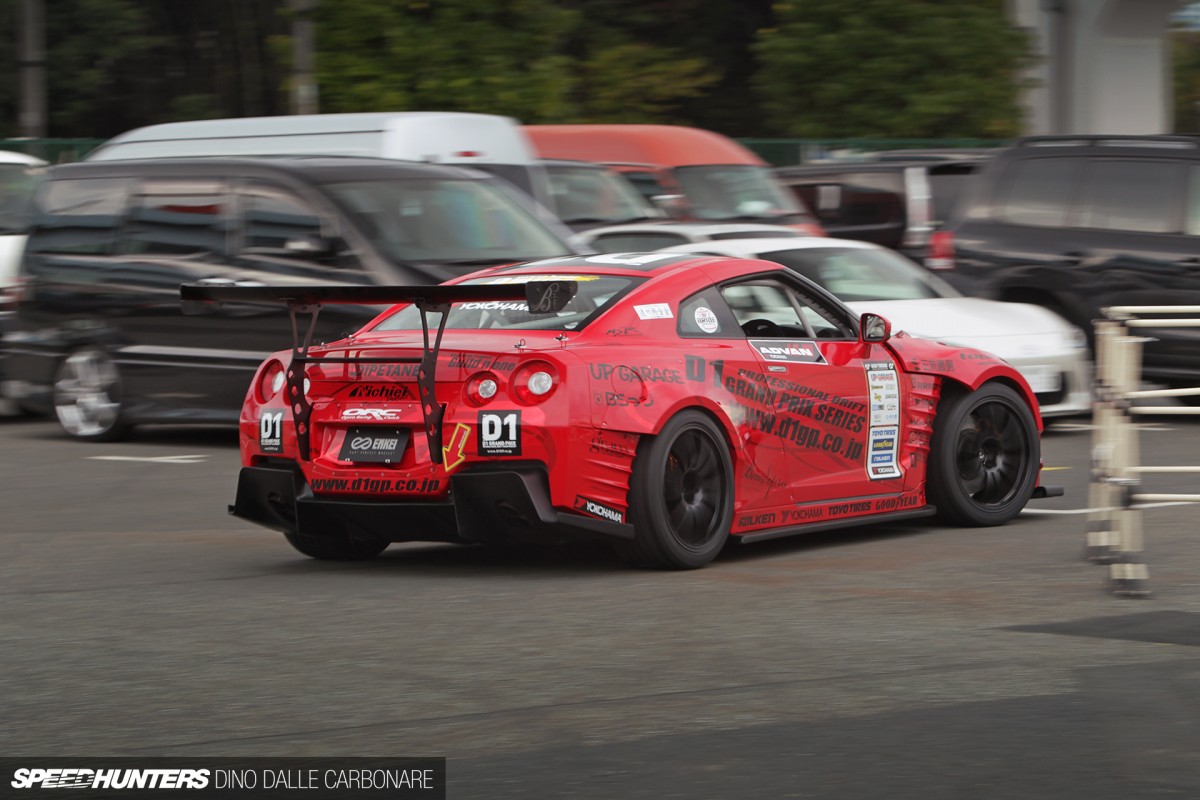 With all temperatures in check the car was driven off into the pit area…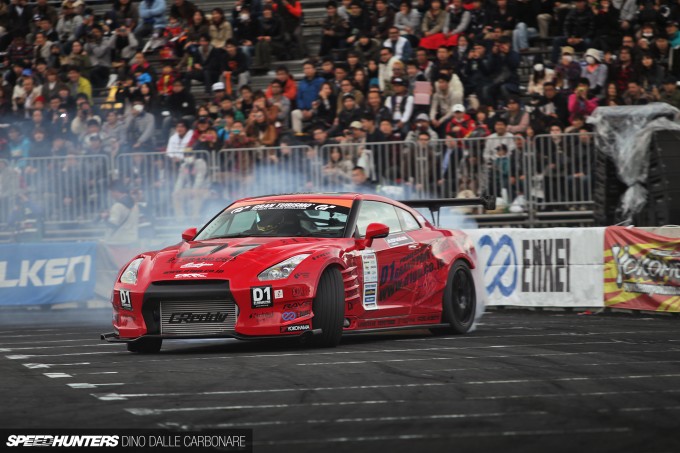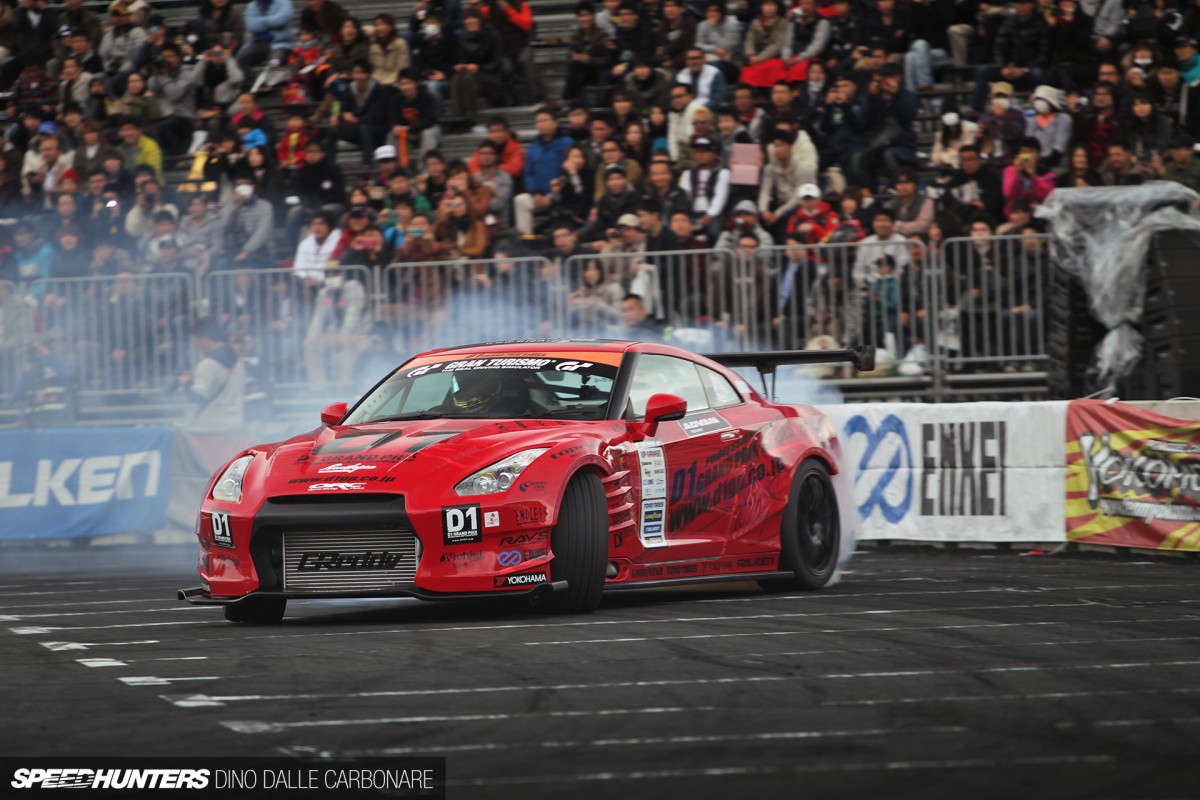 … and handed to Ueno Takahiro who would be doing the driving. After having had only a couple of practice laps the night before, he seemed to get used to the car very quickly…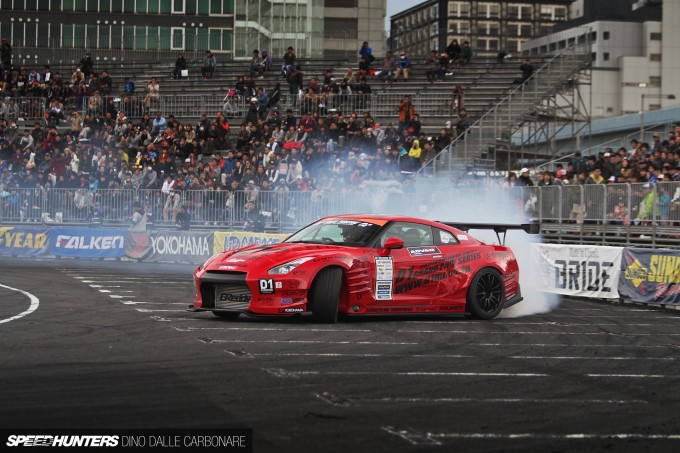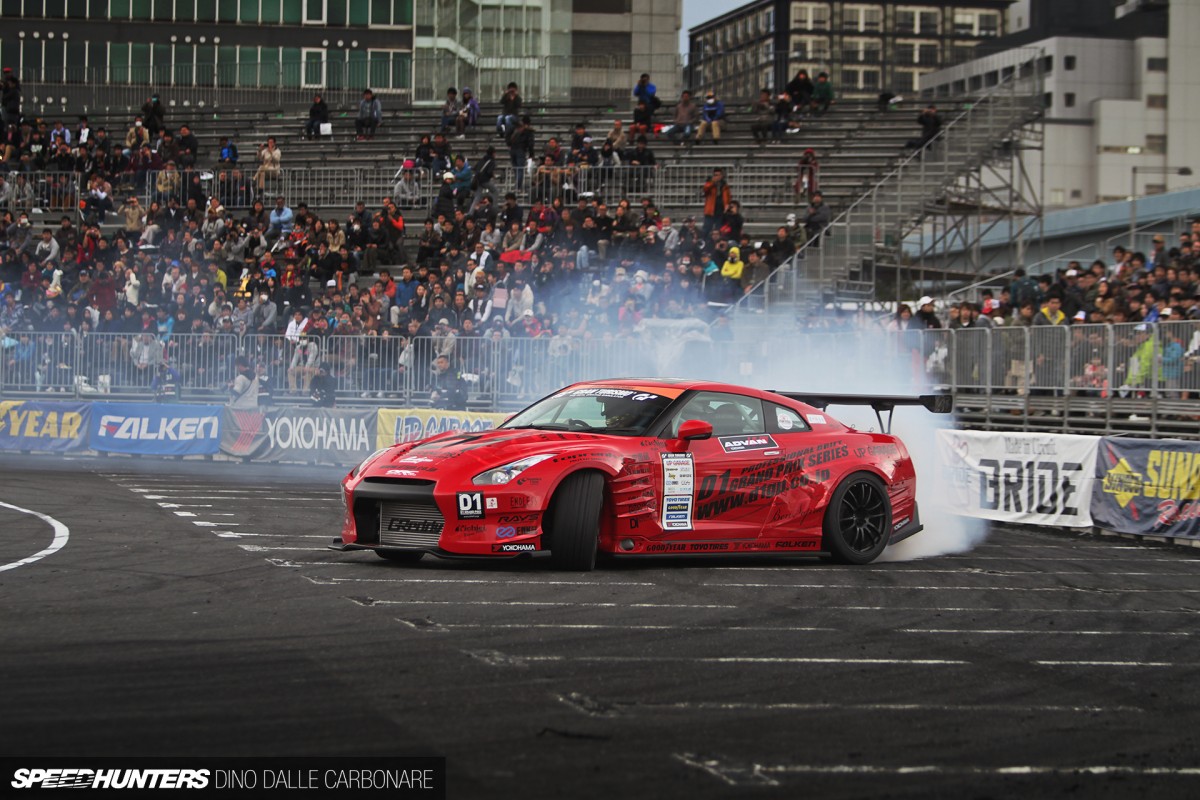 … not afraid to push it to the angles that it's now capable of achieving.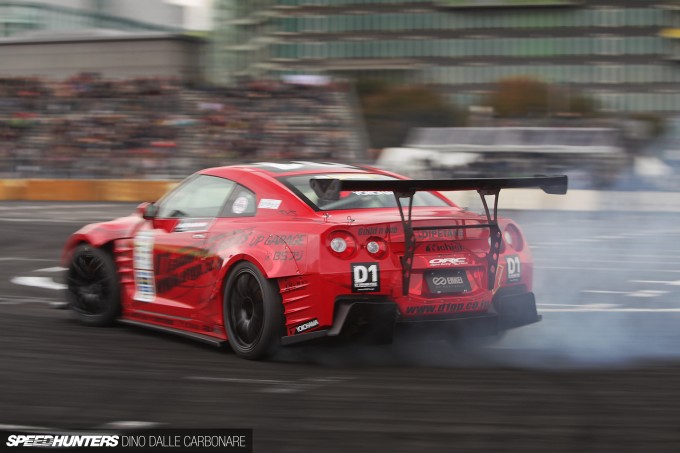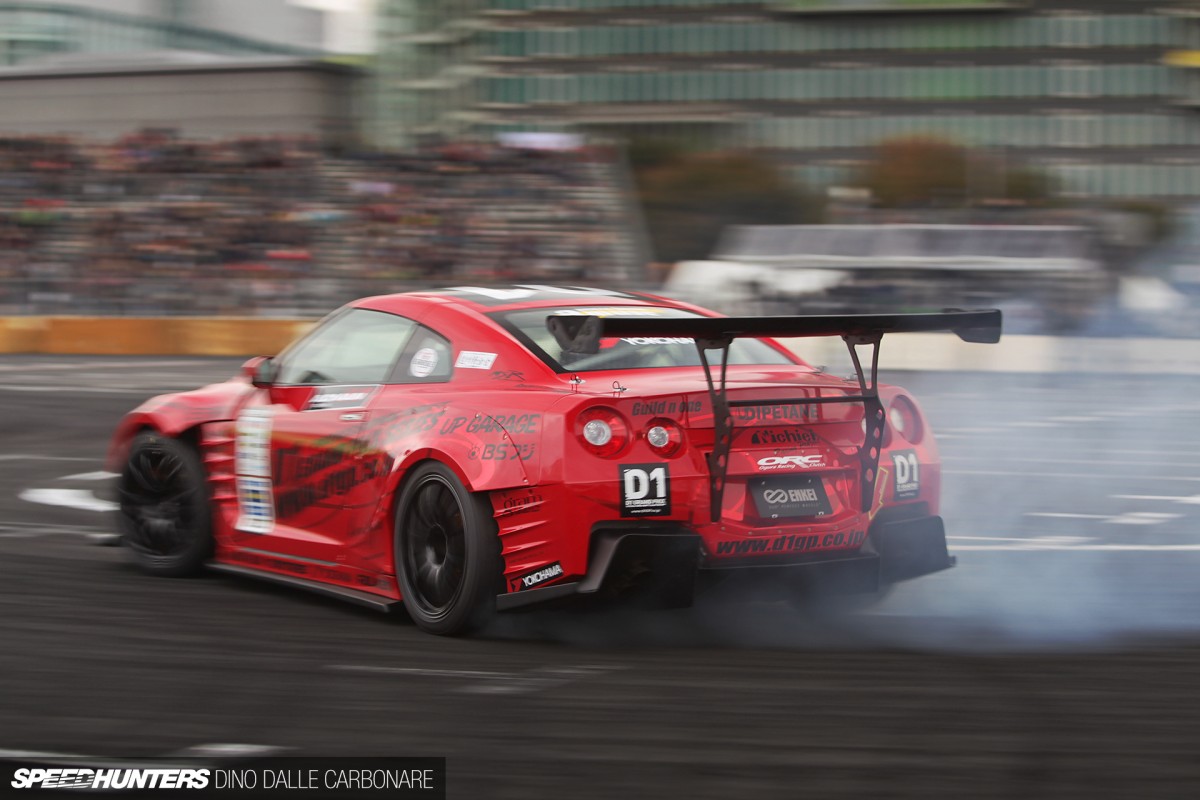 The big GT-R has also been fitted with an all-new exhaust system which produces what can probably be described as the loudest and fiercest sound I've ever heard coming out of a VR!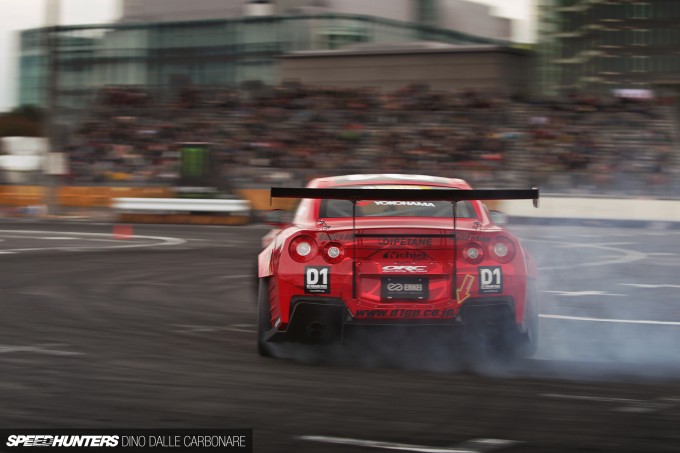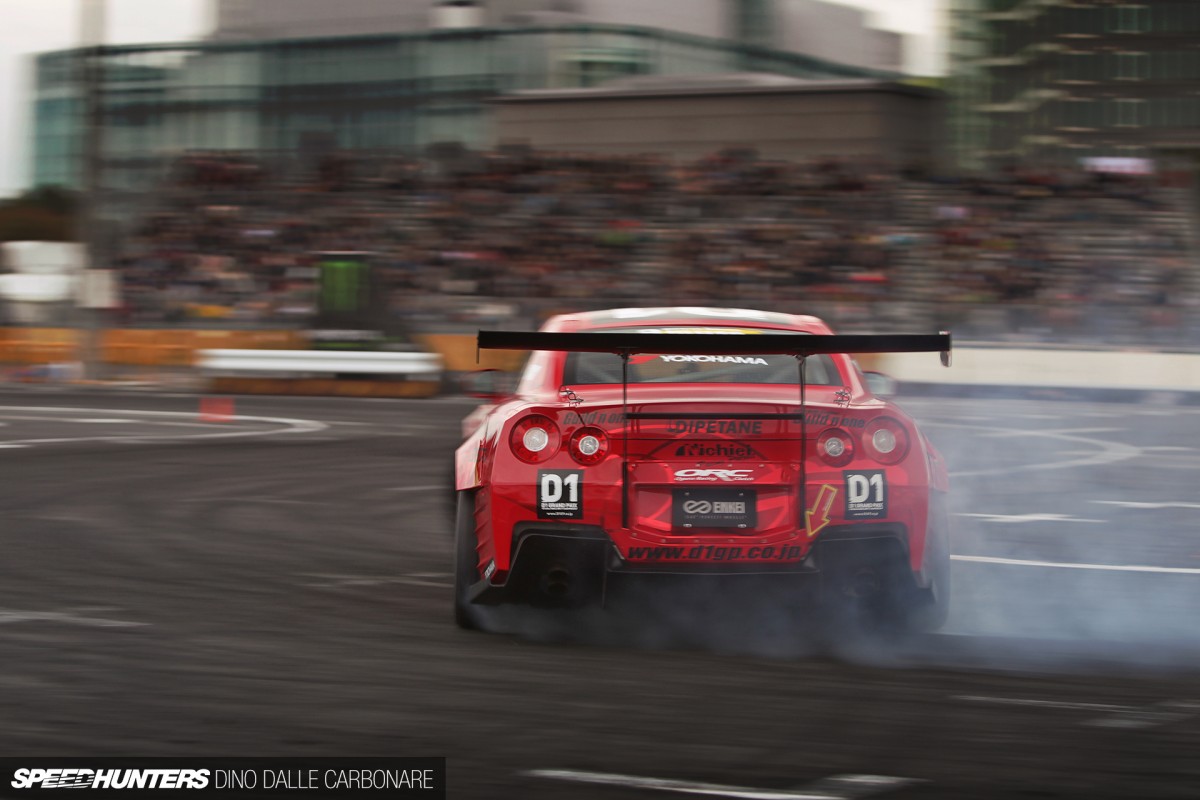 Ueno-san was having tons of fun with it, after the exhibition saying that it was surprisingly easy to throw around for such a big car and that the steering was very accurate and responsive.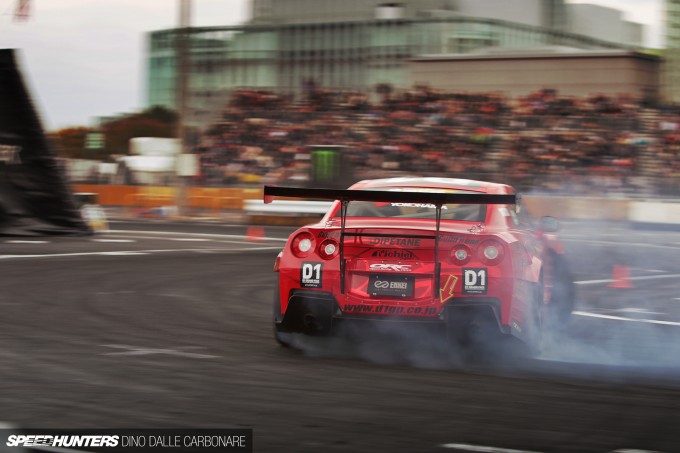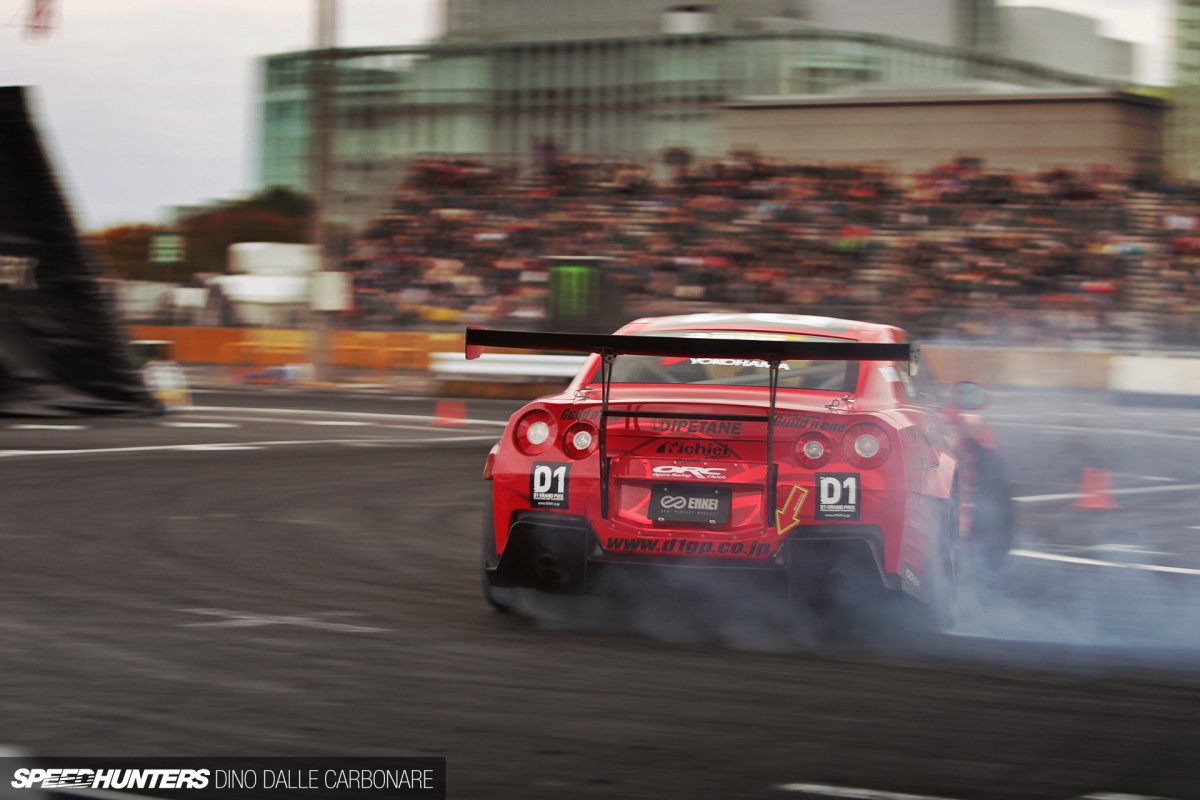 The engine too is apparently very smooth and always ready to deliver an almighty wallop of torque at each prod of the accelerator.
The next step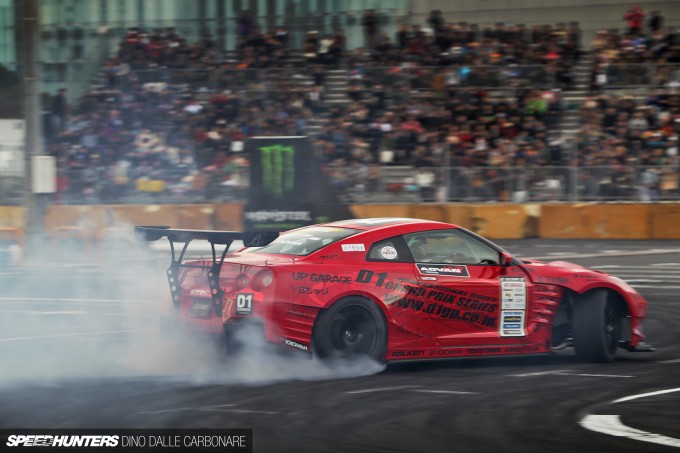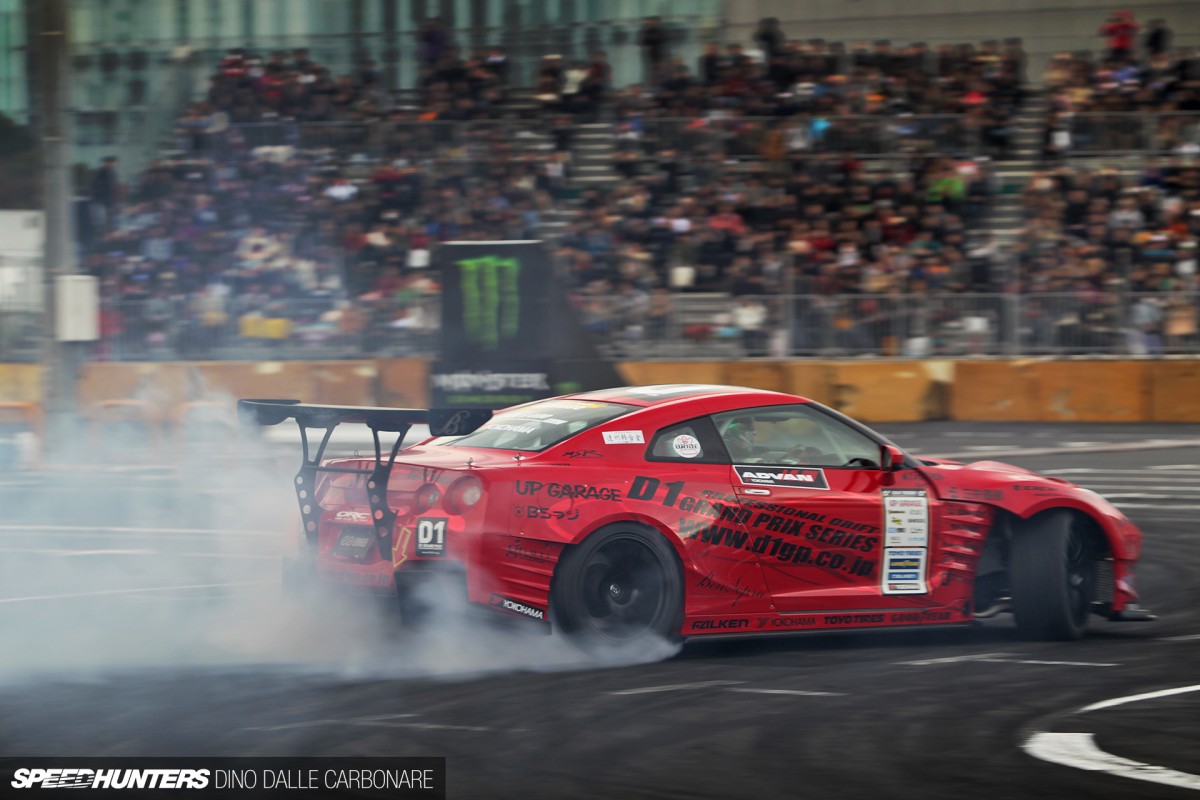 He wasn't afraid to stay on the power either, lighting up those massive 20-inch Yokohamas with ease, as can be seen here as he is just about to lift off and flick the car in the other direction as he enters the last section of the Odaiba course.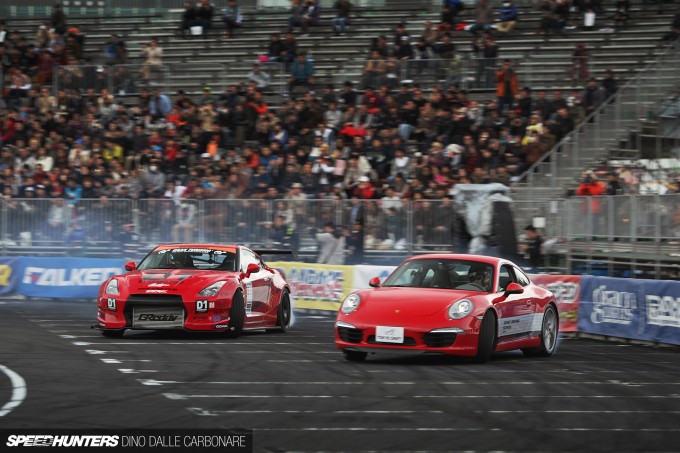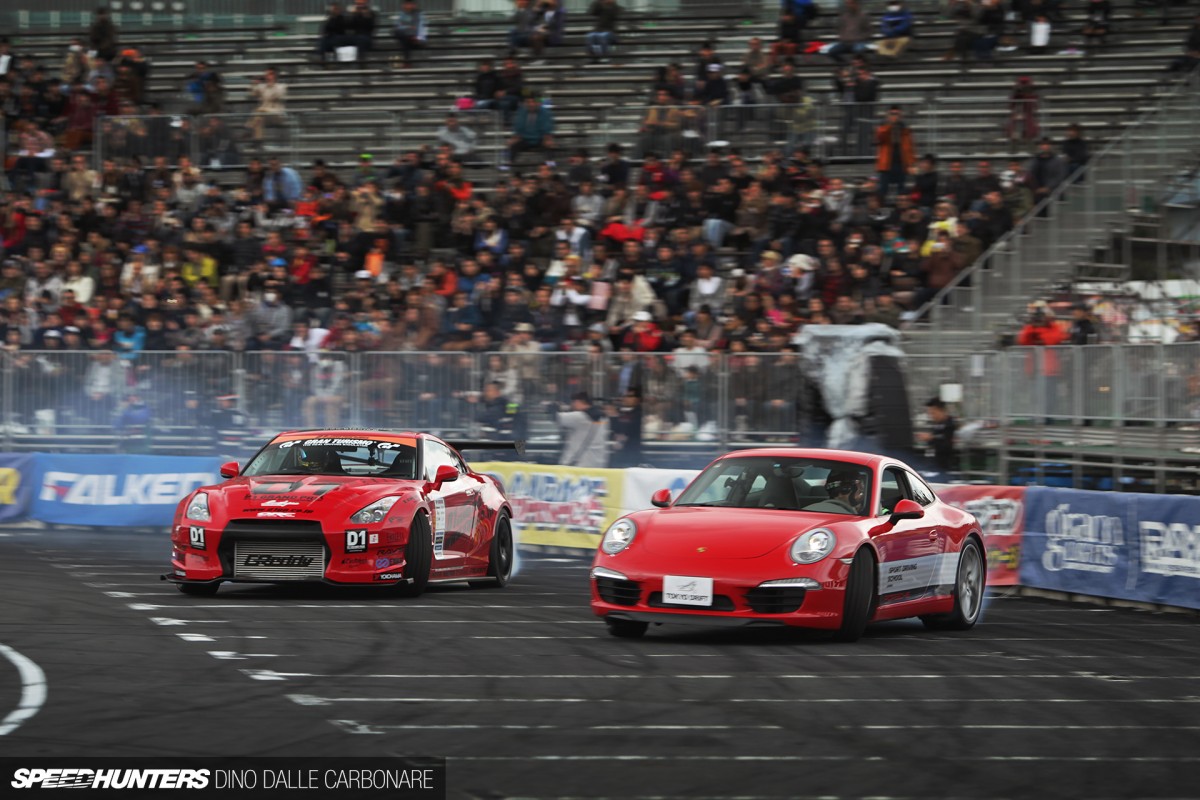 Here he is chasing Orido in his Porsche 911 in one of the tsuiso runs they went out on.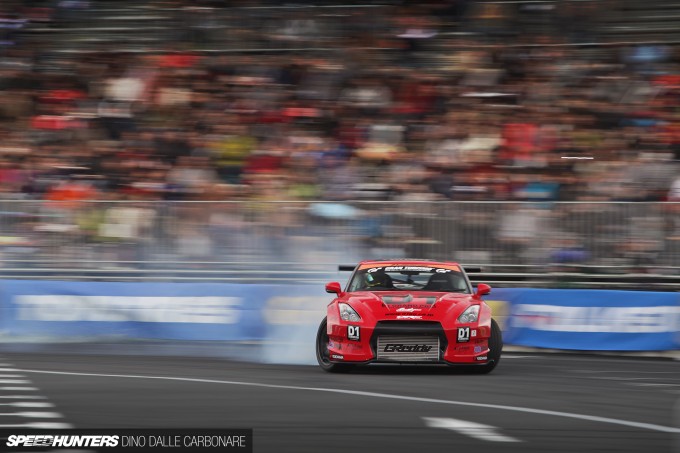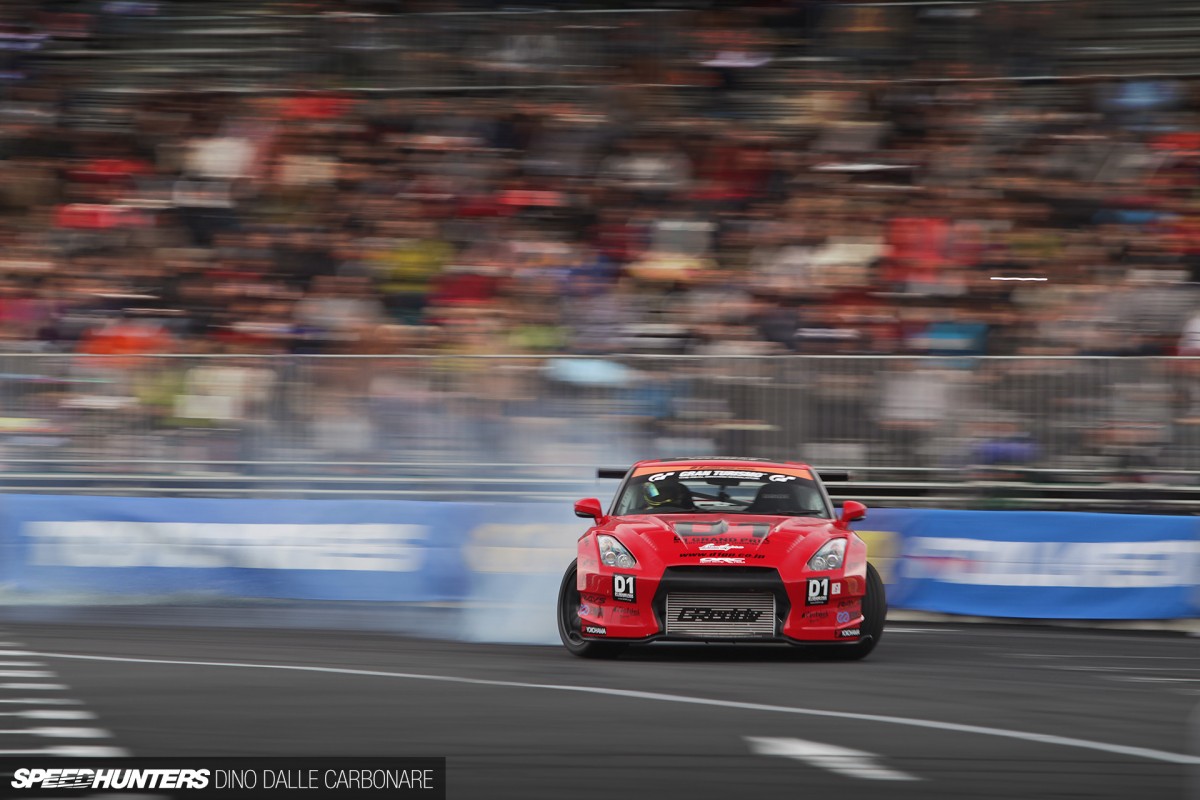 It's been so many years in the making, I'm sure I'm not the only one that would really like to see it completed and entered in a full D1 championship. Each step has turned it into a more focused drift car and when it gets a more powerful engine and a few more suspension tweaks it will really be ready to go.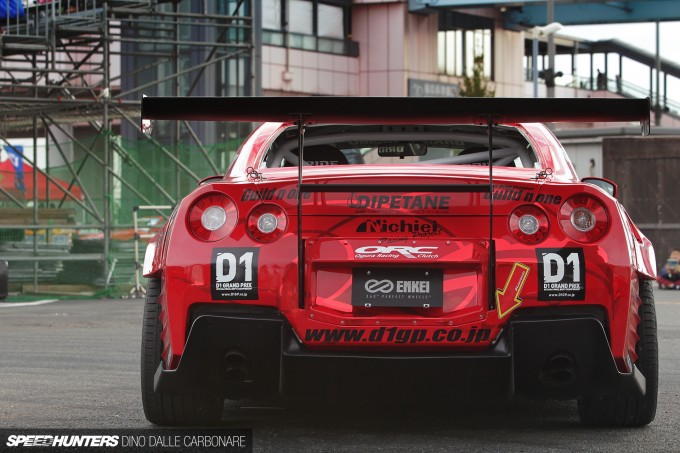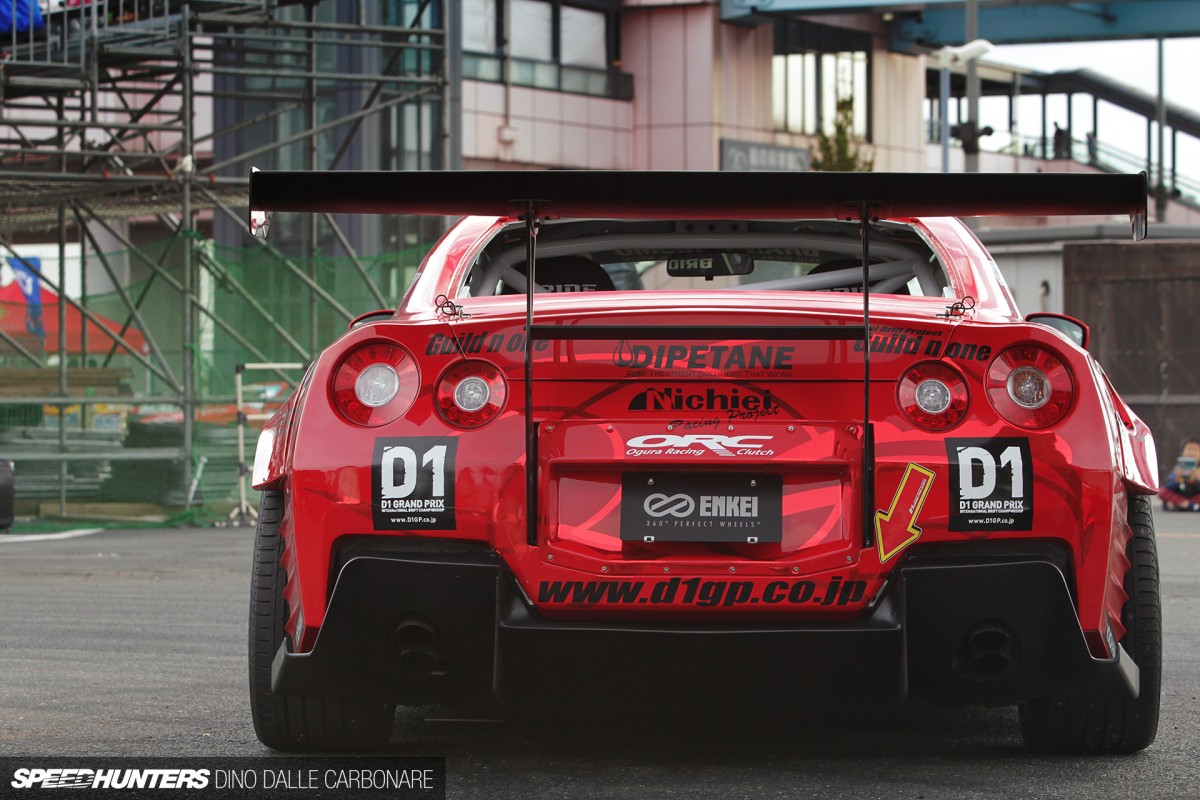 It's cars like these that D1 really needs to keep excitement levels high…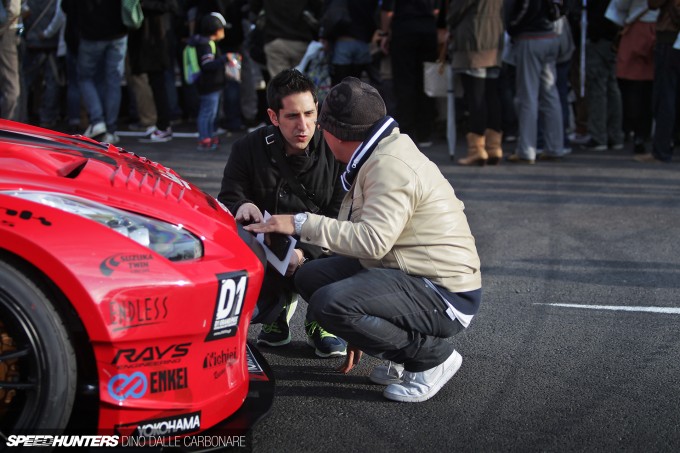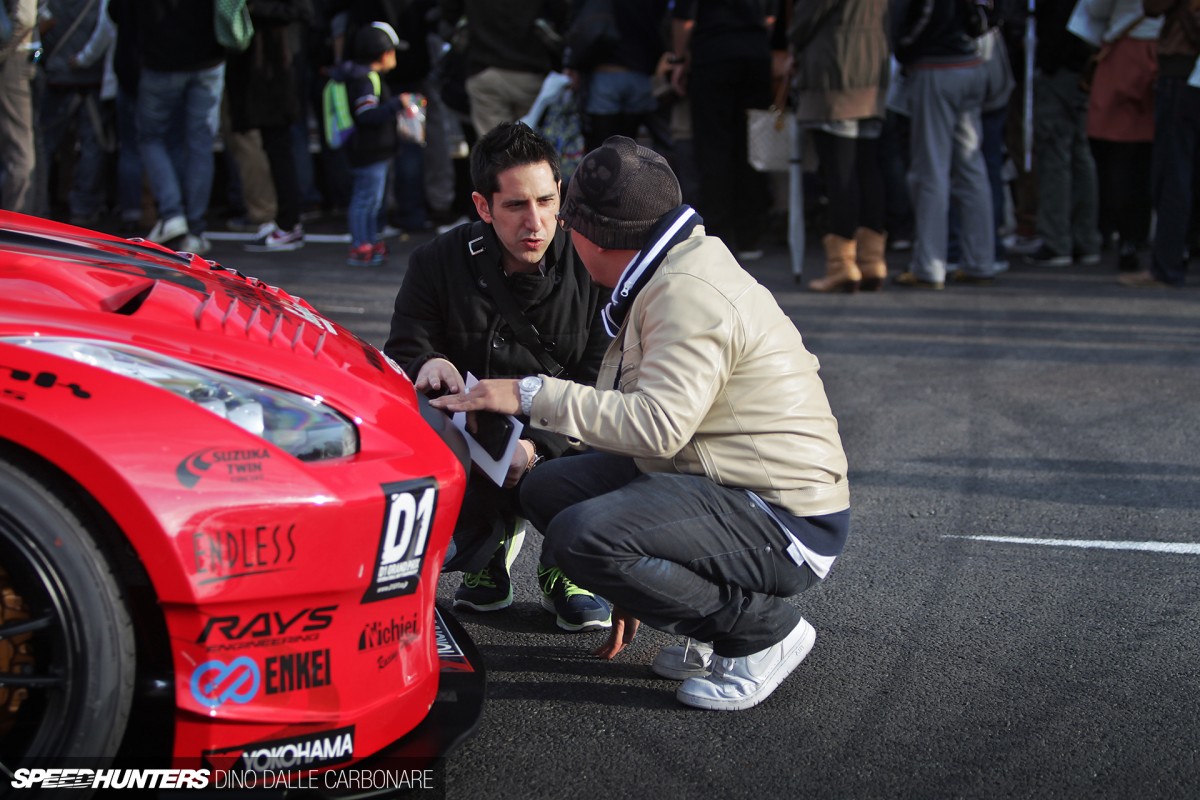 … and judging by who Ueta was talking with at the end of the day, there might be even more interesting things happening with this GT-R in the future. Before that happens however, BenSopra is set to show yet another cool project early next year at the Tokyo Auto Salon. Topping the wild R35 conversion they came up with last year and then the 380SX this year will be difficult, but I'm sure they will manage to surprise everyone yet again.