Work hard, play hard
I'm sure you'll understand this but I'm going to say it anyway: Speedhunters is very much a global community, and I use that last word with a purpose. For those of you who don't know me, my name is Elizabeth White and I'm the Partnerships Manager around here. Hi! Yes that's Magnus Walker and yes that's our latest book project, but there's far more going on than just those elements. Let me explain myself…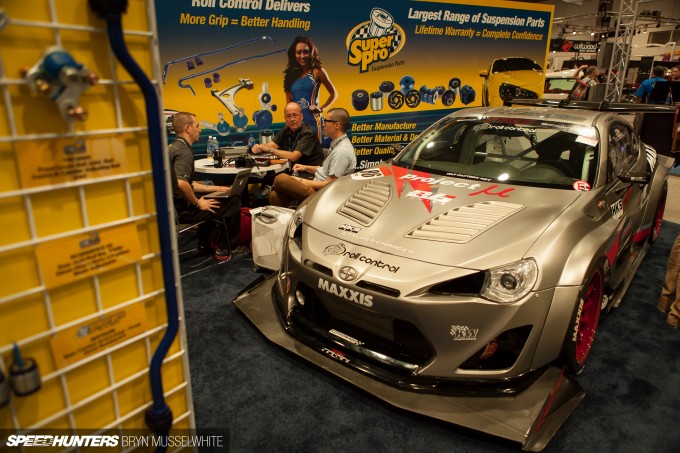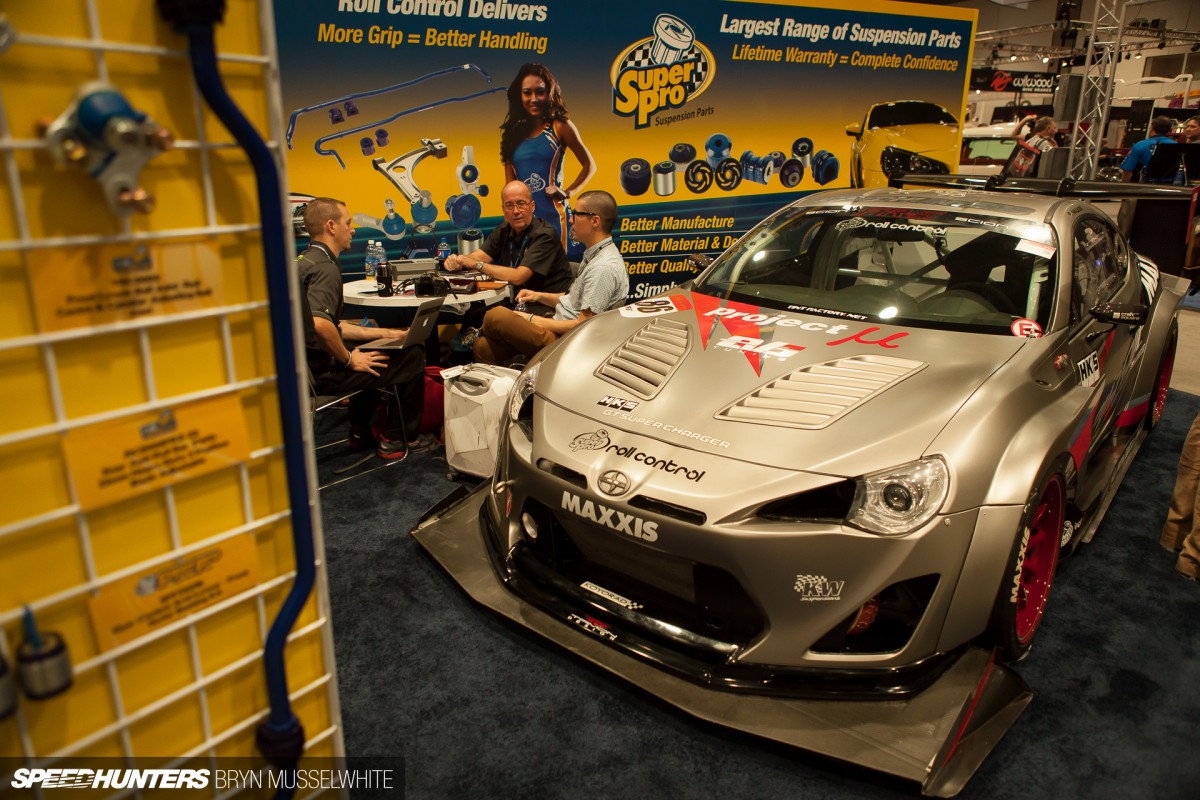 Put simply, people do business with people, so Bryn asked me to use the SEMA show as a chance to show how we do that business and why the people are so important in the process. Why? Because it's a part of our world, in fact it pretty much is my world! In this very digital age, we need to retain the human touch and SEMA is quite possibly a best chance to do this all year.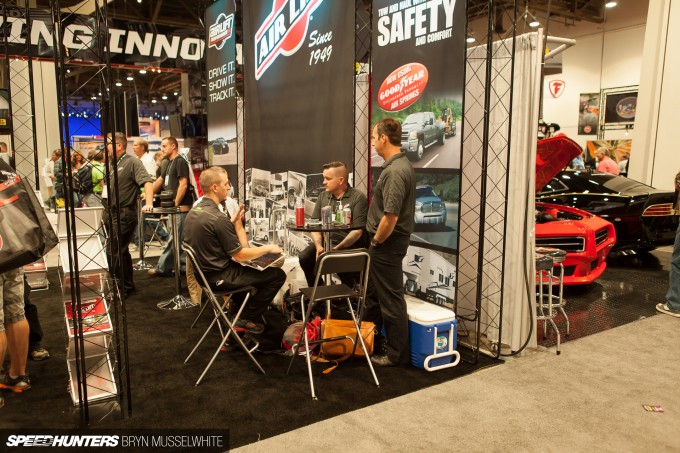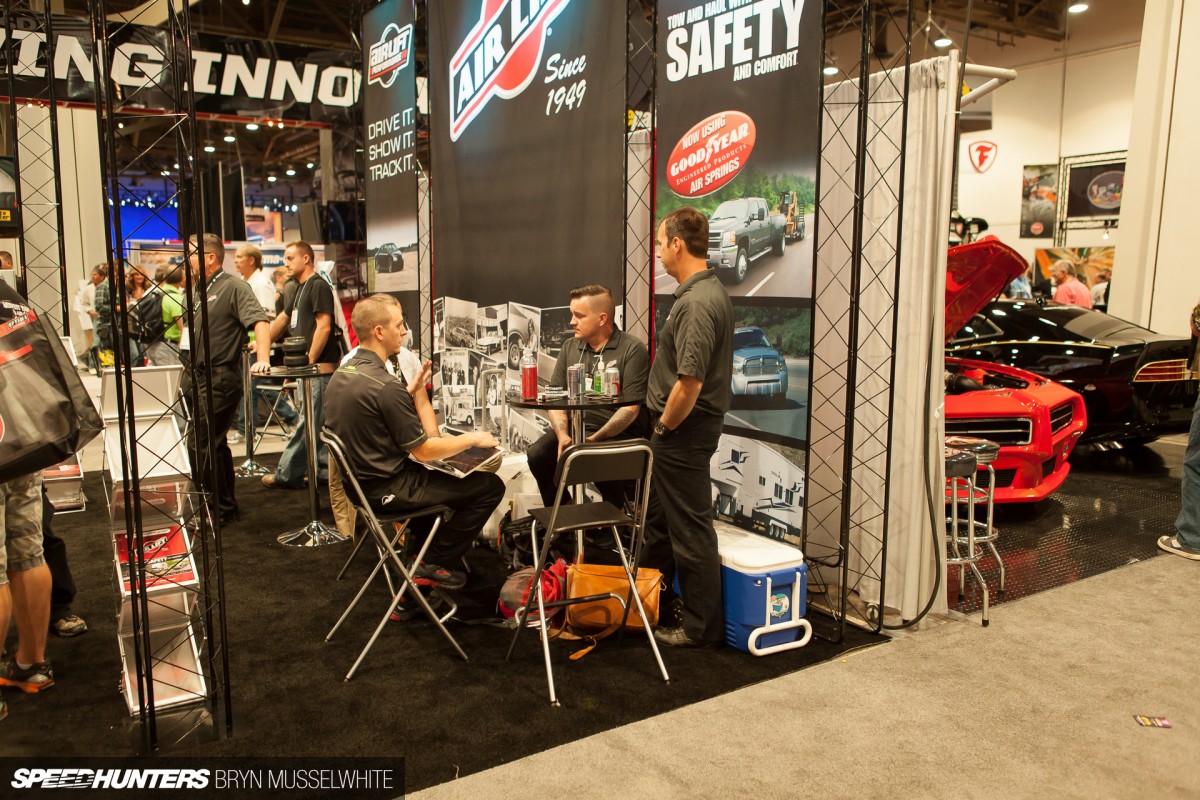 So SEMA – what is it for a start and why is it so important to us? The name of the show is an acronym for a trade association consisting of manufacturers, distributors and retailers of specialty equipment (Specialty Equipment Manufacturers Association). In the halls of the Las Vegas Convention Centre you'll find auto restorers, street-rod builders, restylers, car clubs, manufacturers, publishing companies, race teams and more. Globally there are very few shows that have so many important people crammed into one place.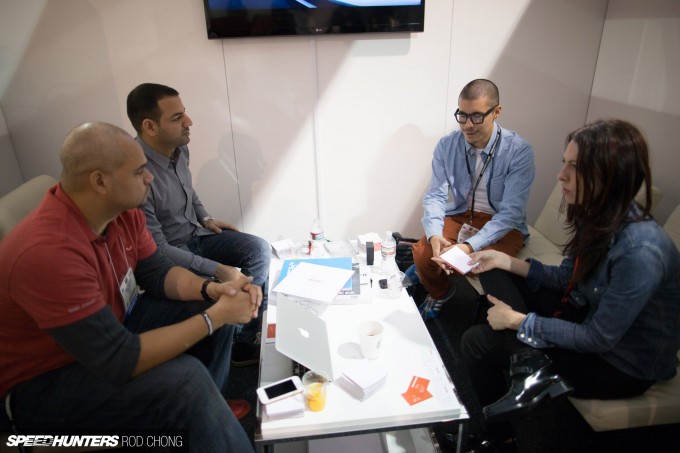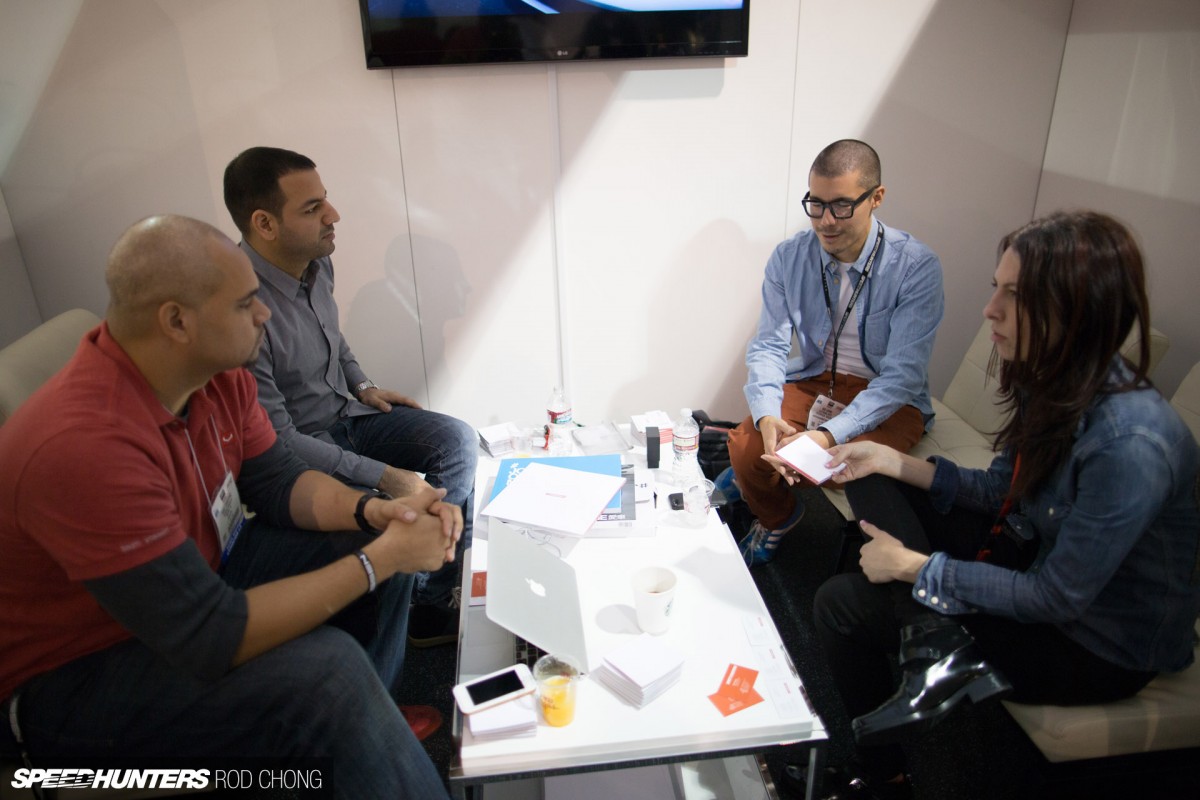 Increasingly we have immersed ourselves deeper and deeper in the two dimensional world of the internet. This allows us to explore so many new opportunities but at the same time, you're not actually sat opposite somebody. Up close, in these formal yet still personal situations, you can see how a person reacts to a question or idea. These are real life emoticons if you like; the instantaneous reactions enable you to achieve so much more than you can on email or even a conference call.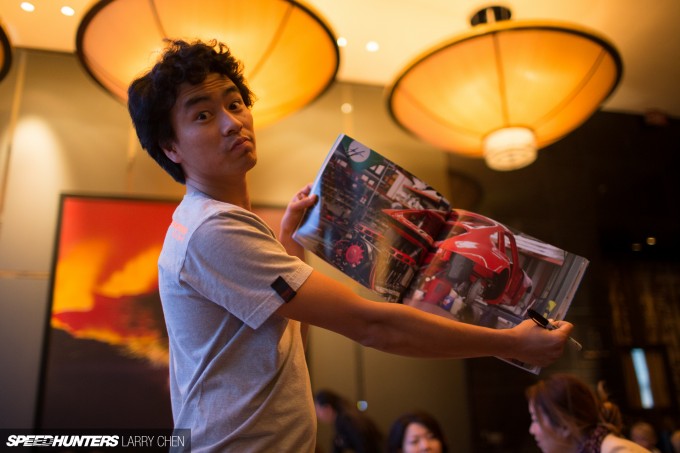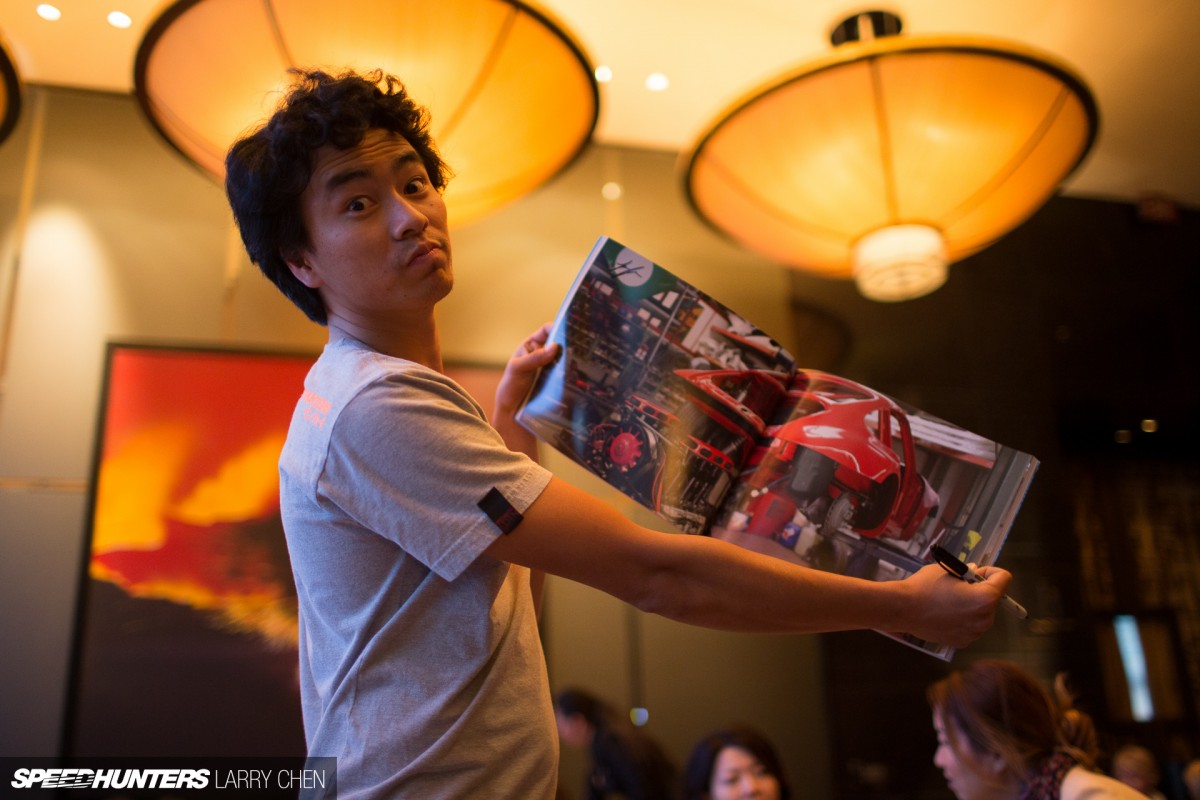 For example I met virtually the entire Speedhunters team via Skype and phone, before I actually met them. But I enjoy the human element of business – genuine, personal interaction. People define real business and the relationships carry with the person as much as it does with the brand, if not transcend it.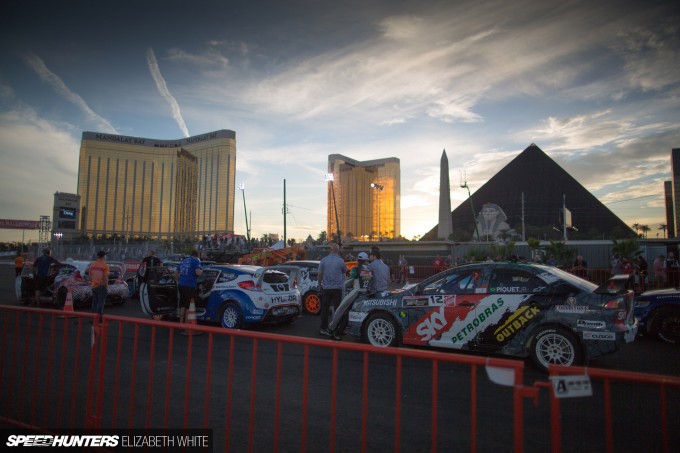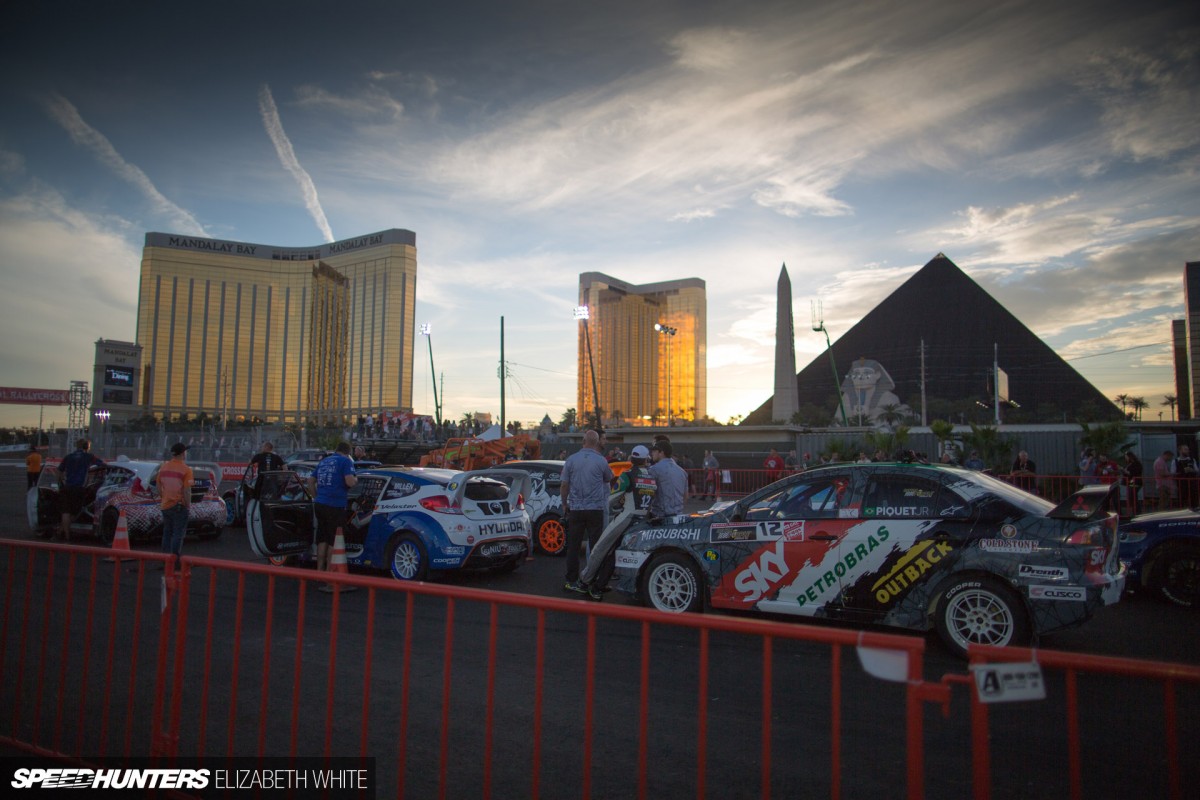 The first thing to explain is that you have to be determined. Looking in from the outside you could be forgiven for thinking that SEMA is all parties and cool products, but the pace is relentless. You should probably prepare with a week in the gym and a week's sleep. Did I? Of course not, I was far too busy and my 4am alarm call on the east coast of America pretty much set the tone for the week.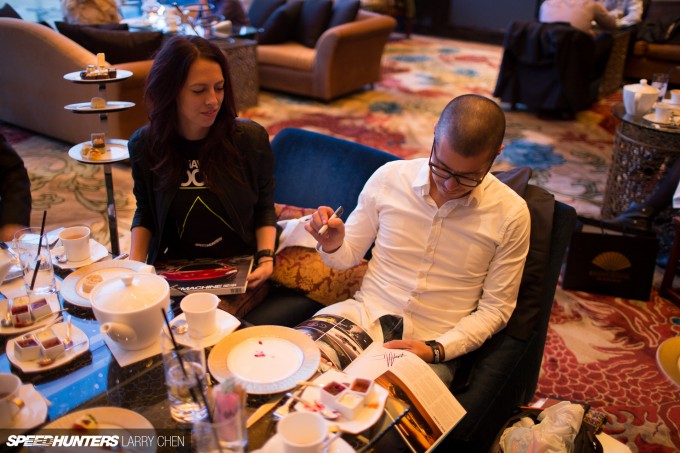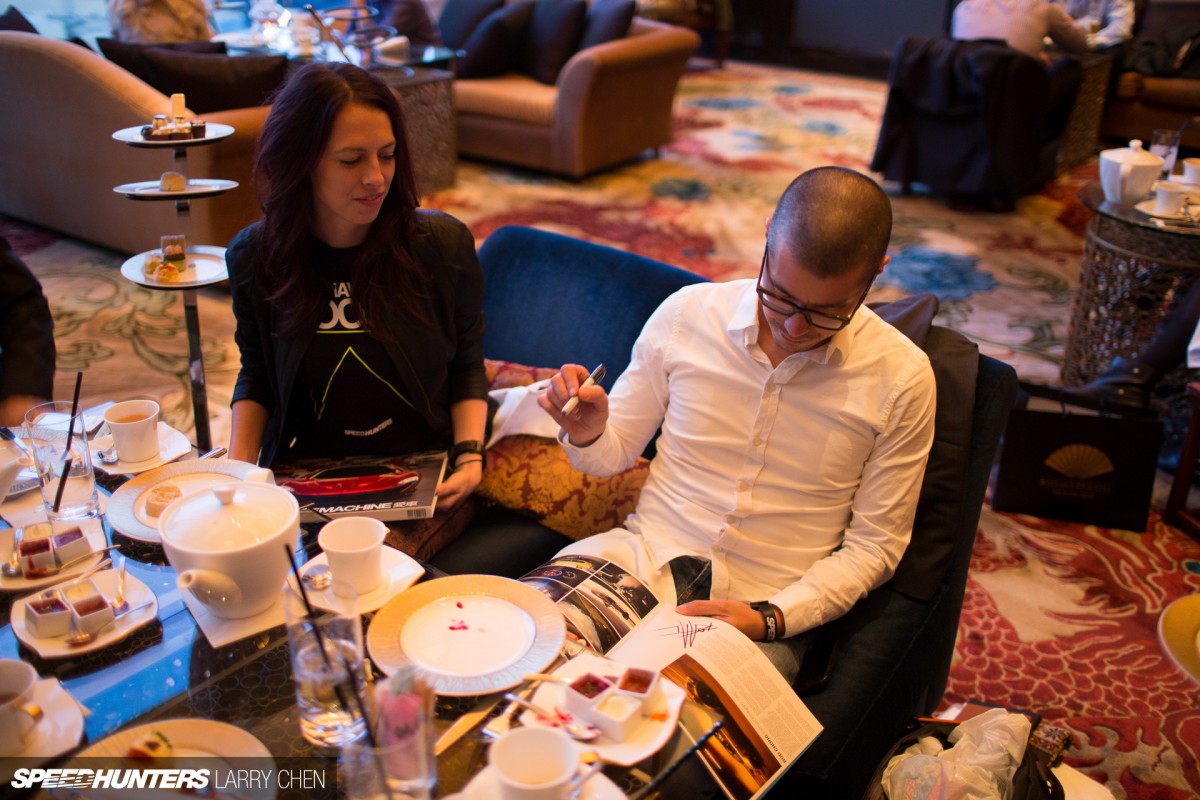 Of course I'm not alone in this stretching of time, or the constant need for 28 hours in a day: the world's industry feels the same and that's why we're all here. That first day turns into a marathon of 24 hours. I'm not sure how long I expected the adrenalin to keep me going, but this is what I love to do, so I was going to keep pushing.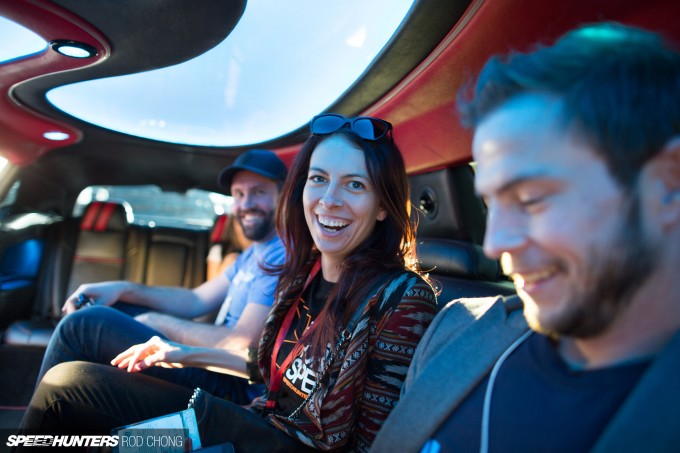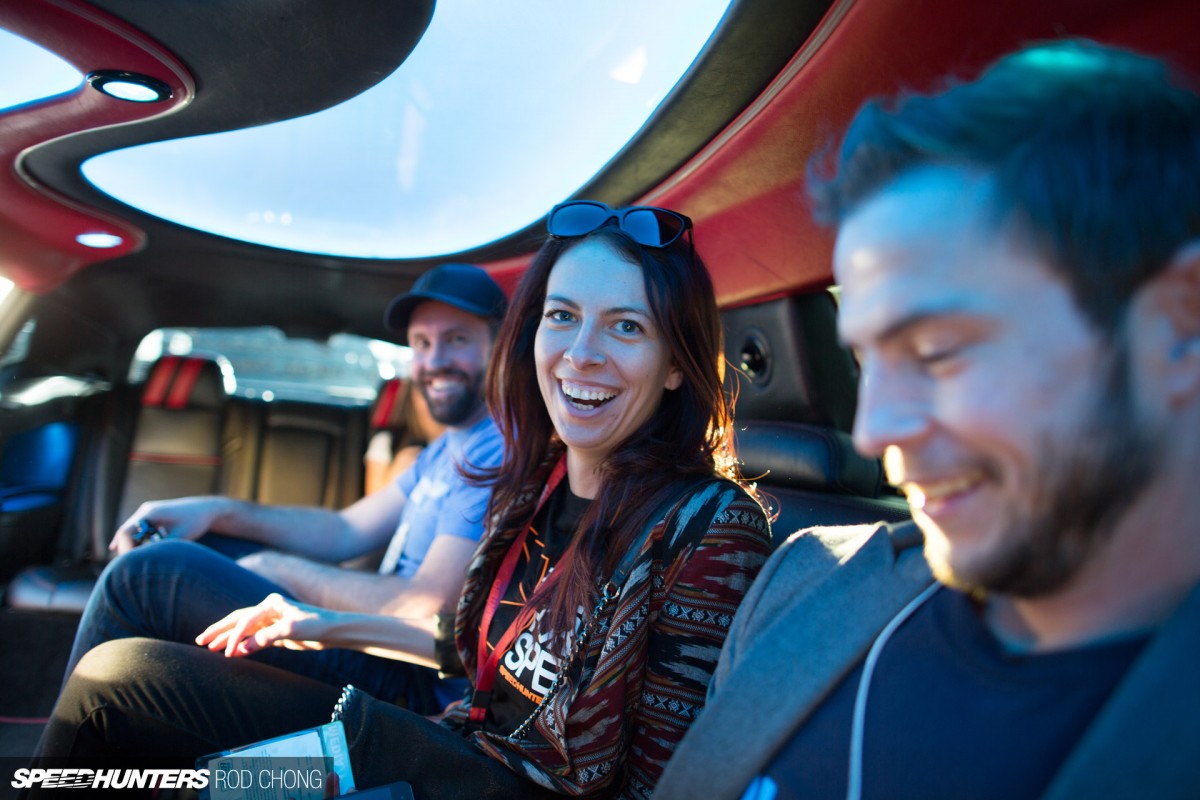 Trust me, it's certainly not all about limos in Vegas, but I had to show you at least one in my story or I think you'd probably be disappointed! It does make me laugh though that you actually end up being quite cramped and lined up as though you're on a school bus in one of these things. We're very lucky at Speedhunters to know there are better ways to spend your time on wheels.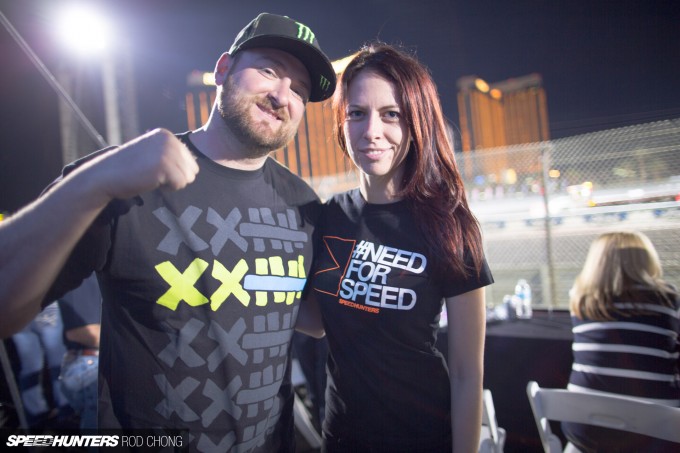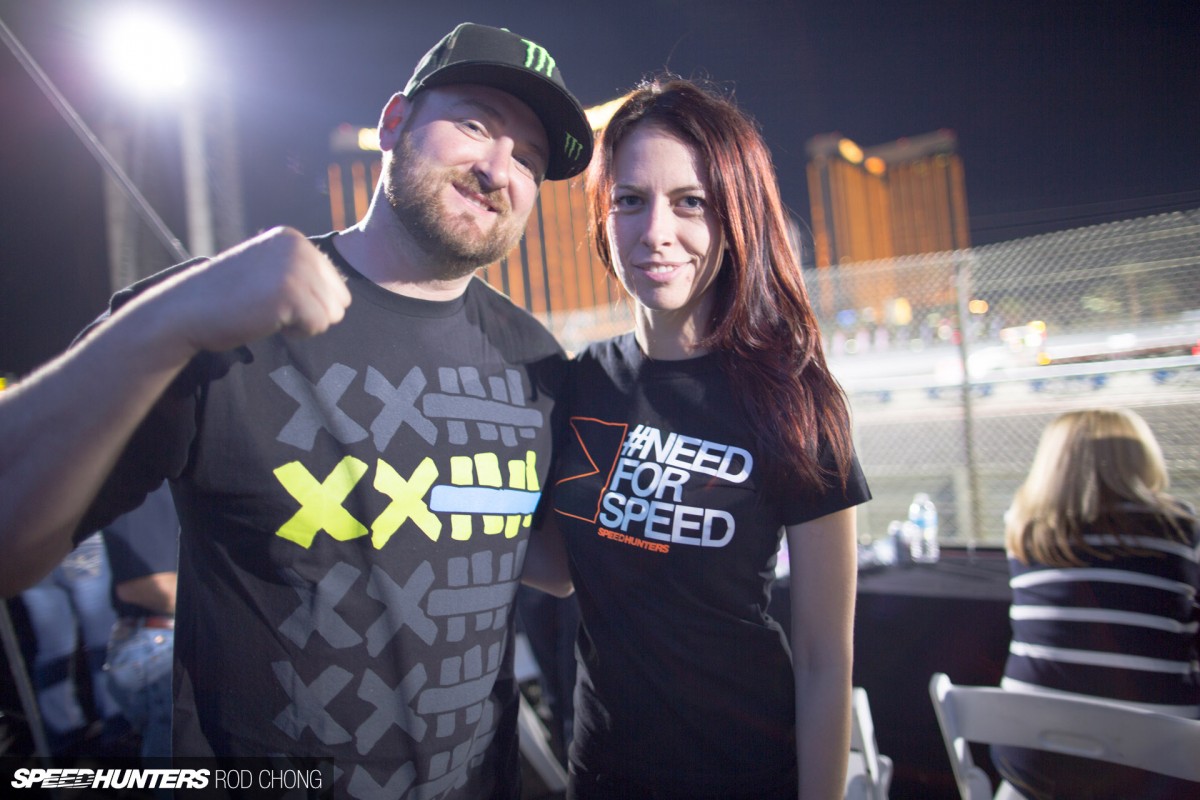 Seeing people you know in the social melee of the show is a good feeling; as faces appear out of the crowd and smiles grow it reminds me why I do this job. We're all the same because of our enthusiasm and Vaughn Gittin, Jnr. could quite possibly be the most enthusiastic man of all, having just arrived back from a whistle stop tour of Europe…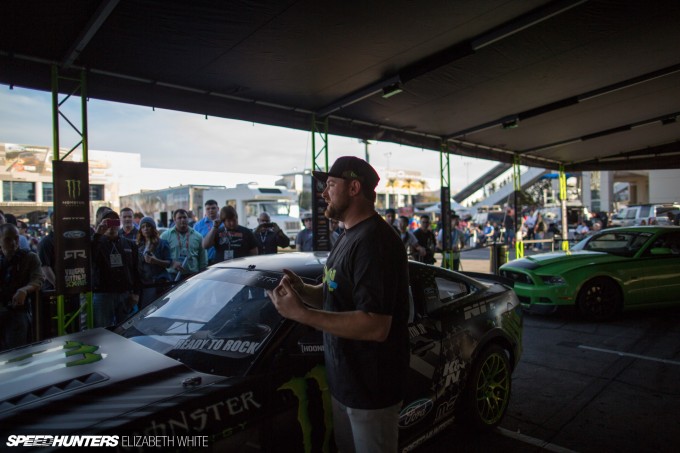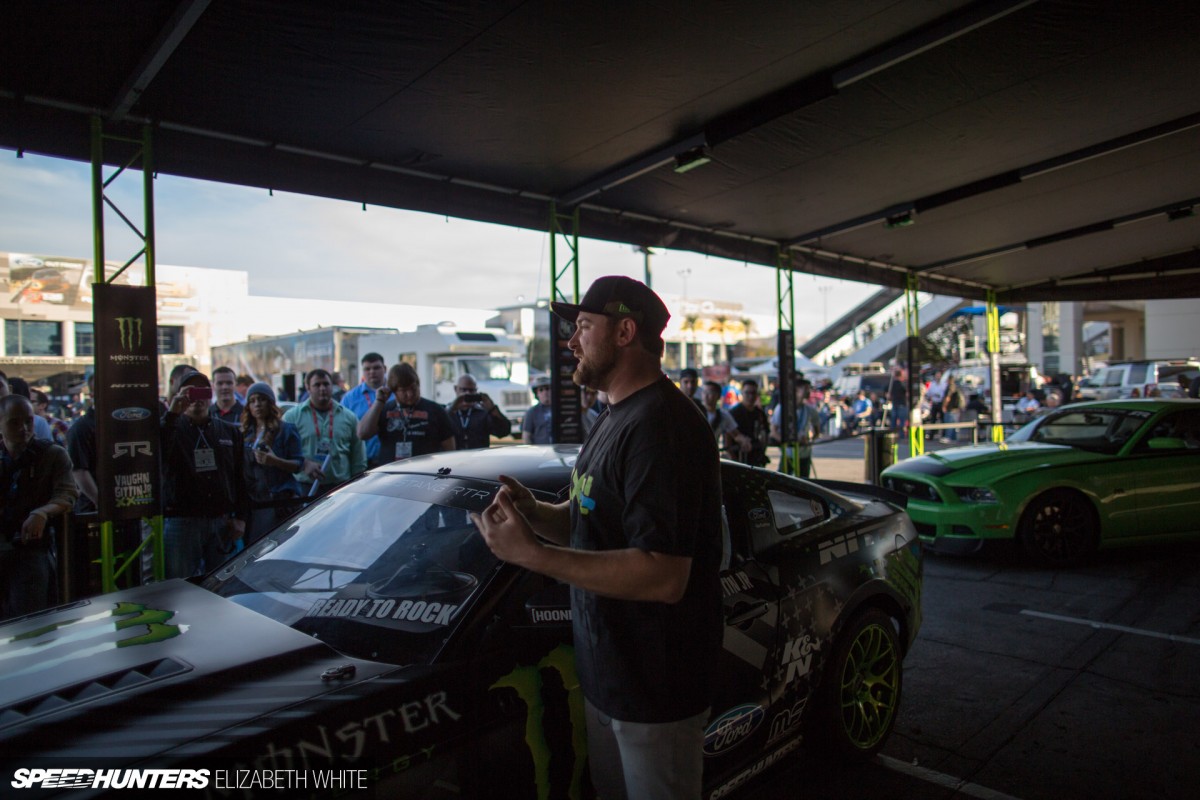 Now here he is at SEMA putting in the hours and dealing with the crowds of fans. His attitude is infectious and anybody who names a special edition Mustang 'Ready to Rock' deserves all he gets. Vaughn really is a great inspiration when it comes to living the dream; he knows it's about giving back as much as you get though… As do we.
Bearing gifts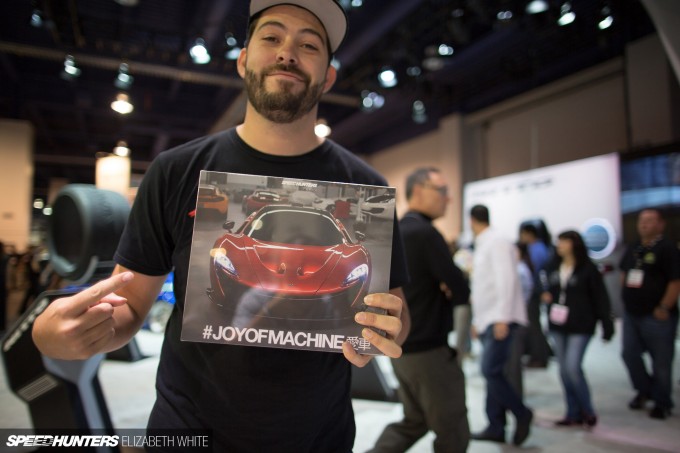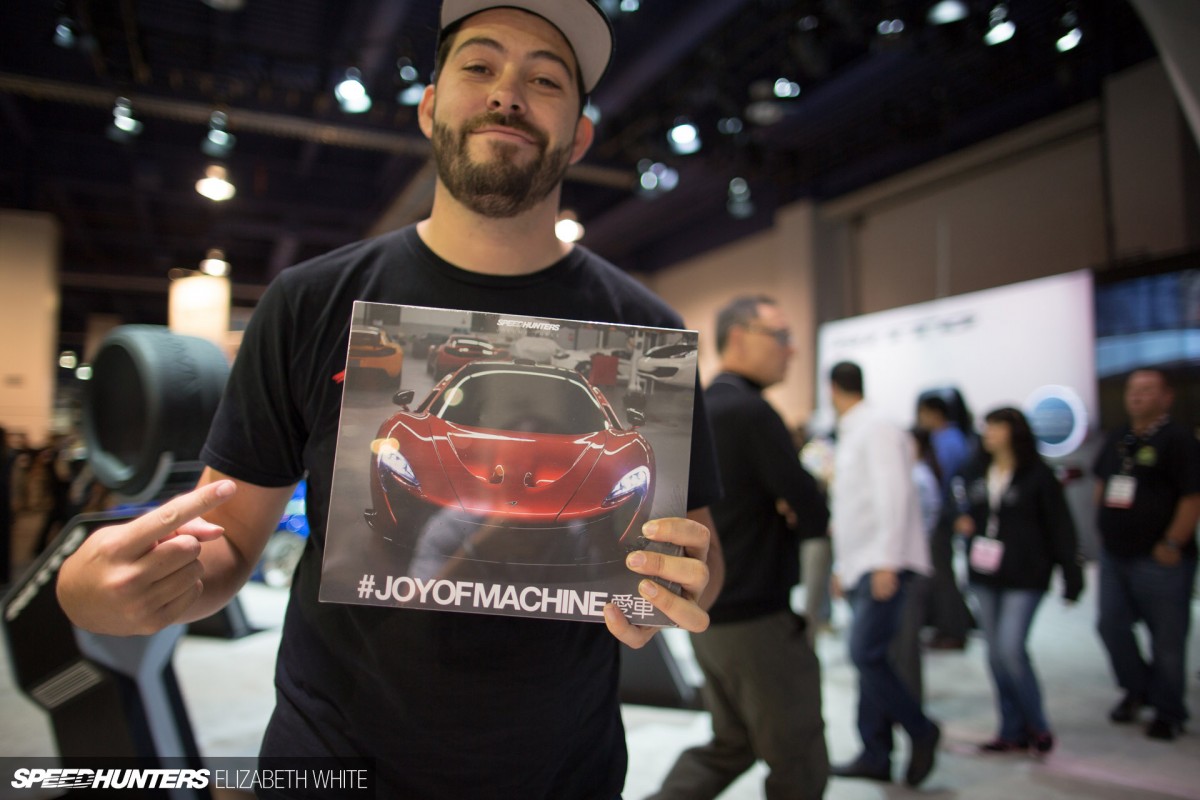 The over-riding thing for me is the passion that surrounds our particular area of interest. It's what helps keep us going and I know that might sound cheesy or clichéd, but it's true. So it's with no small feeling of pride that we had a limited amount of #JoyOfMachine books with us to gift to friends.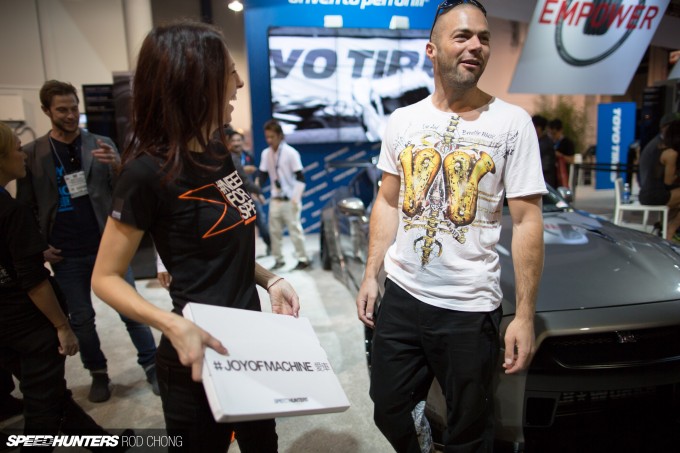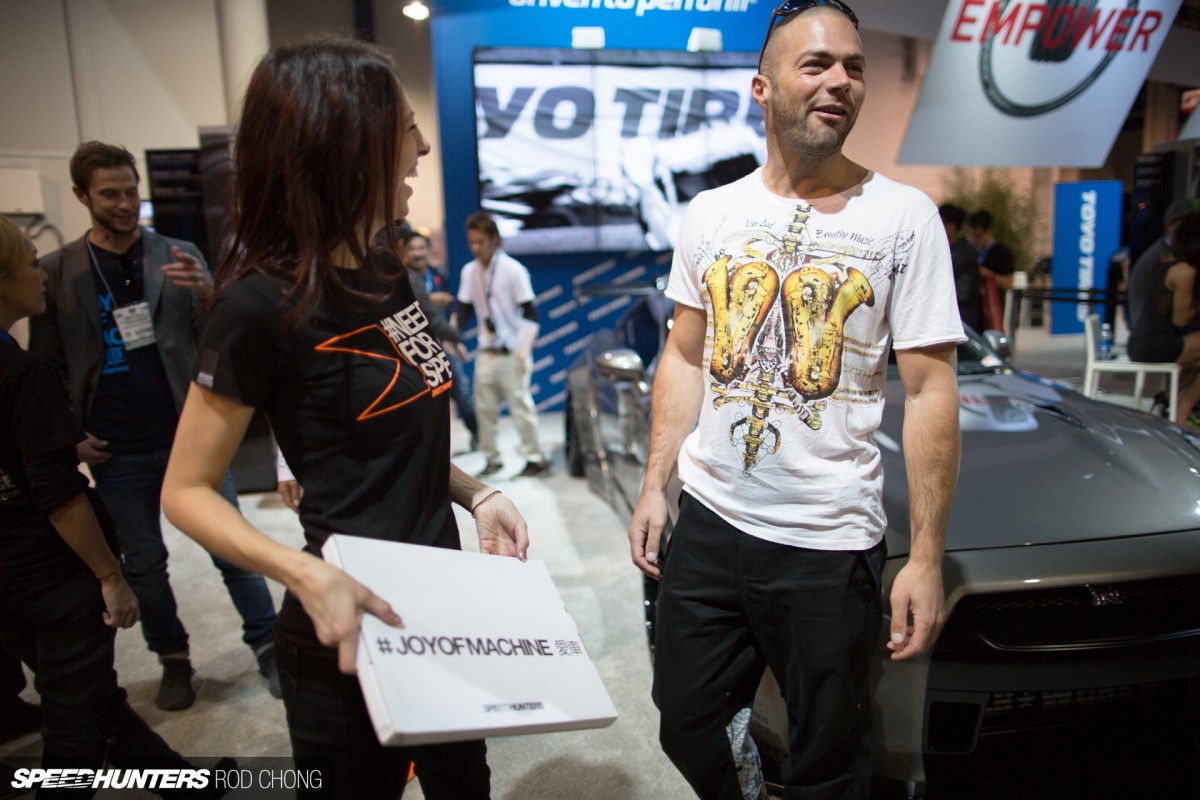 I was amazed to see Carl Taylor from the Players Show on the show floor, so grabbed the opportunity to give him a copy early on. Carl makes the most of his Vegas experience and there's a reason why the series of shows he co-organises is called Players!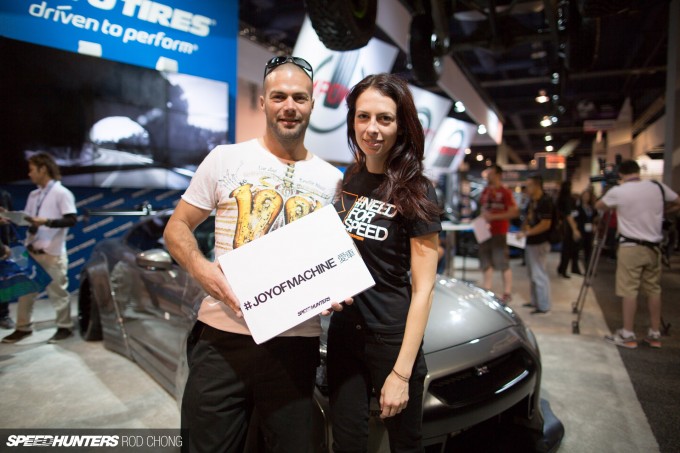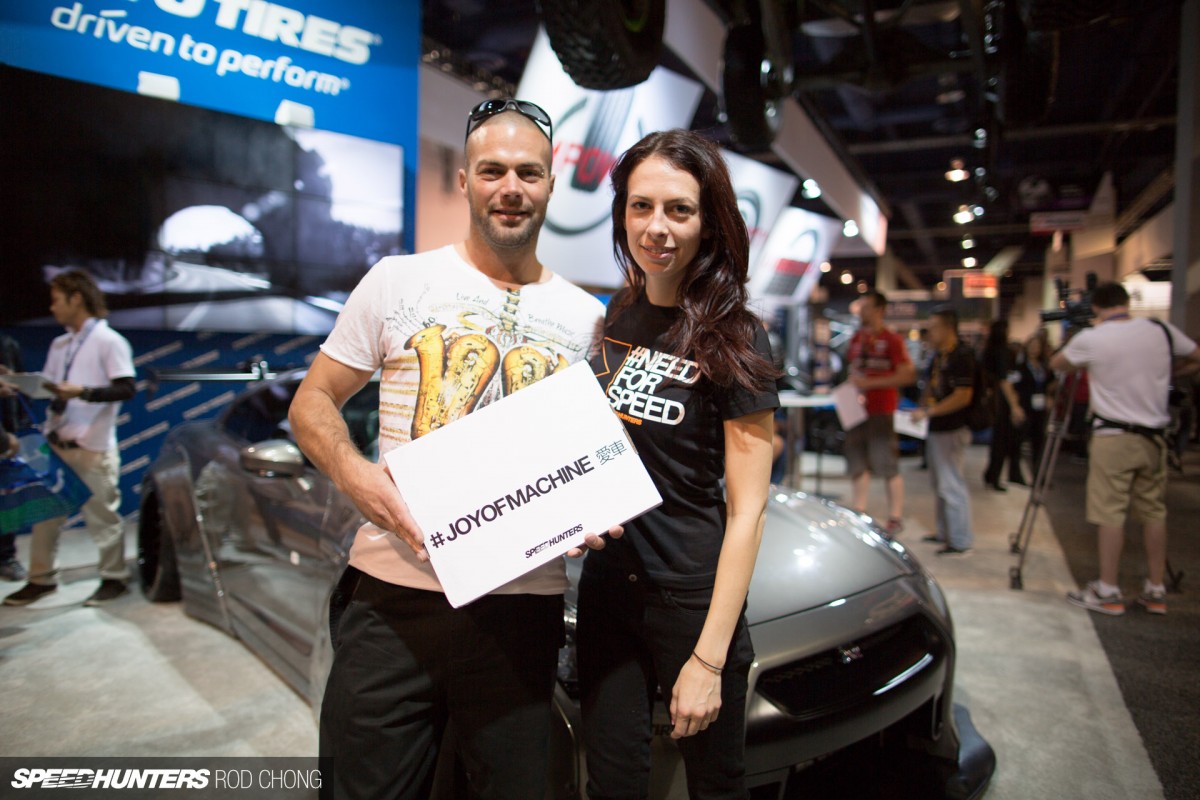 I'm fairly sure this is one of the only pictures where he's not moving or laughing his head off all week, so we had to include it. You won't see this again in a hurry.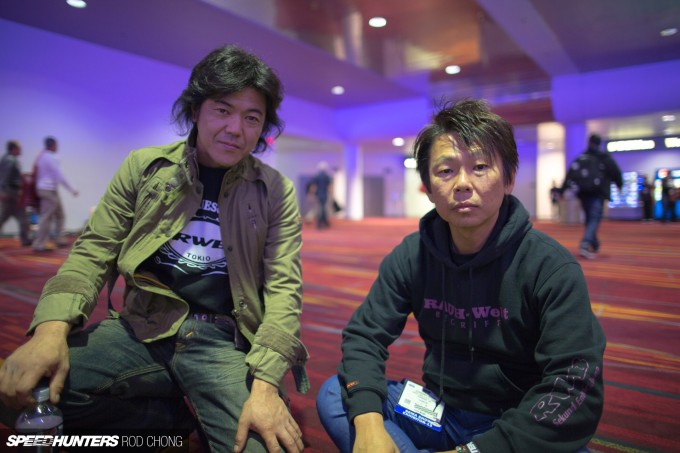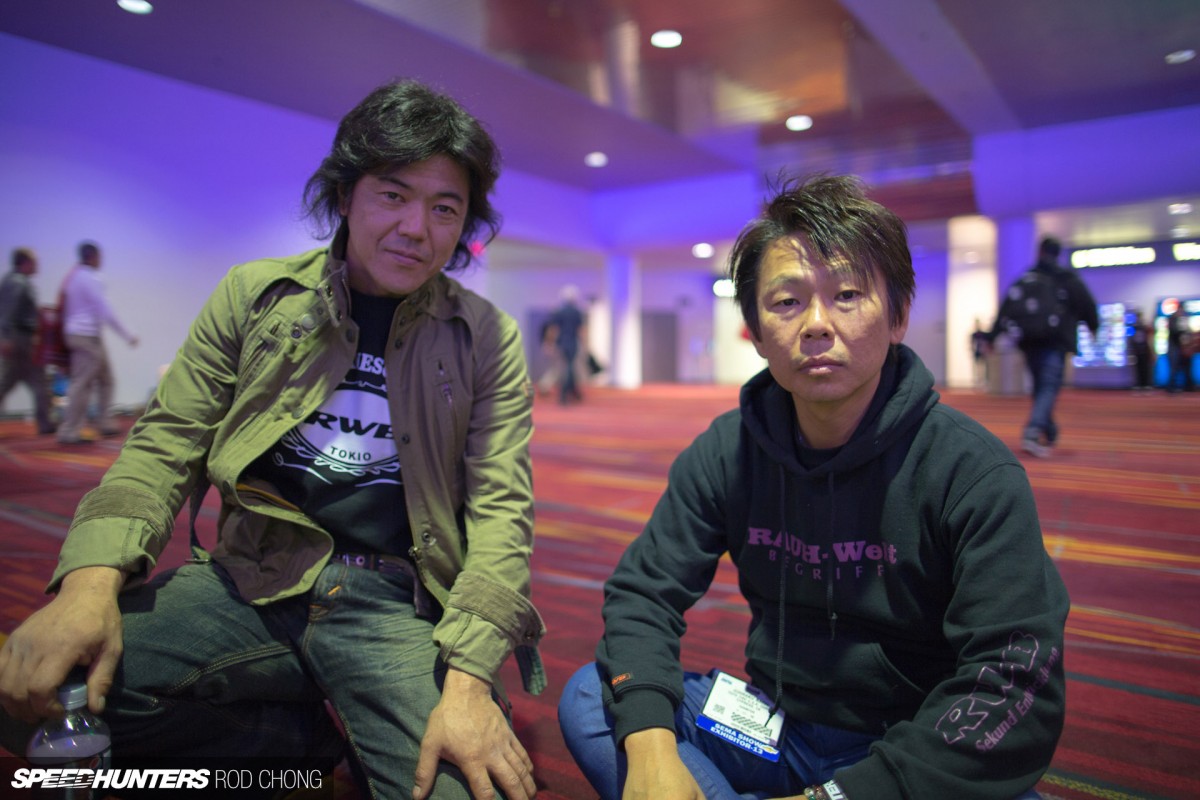 Sharing our work this way is a universal method of leaving a memorable calling card. Like I say, we're proud of the new book so it makes sense that we want to share it with our partners and friends. Nakai and Toshi from RAUH Welt should need no introduction to you: their approach to Porsche ownership and modification has proved as controversial as it has popular over the last few years. But as much as they're a part of our story, we're a part of theirs.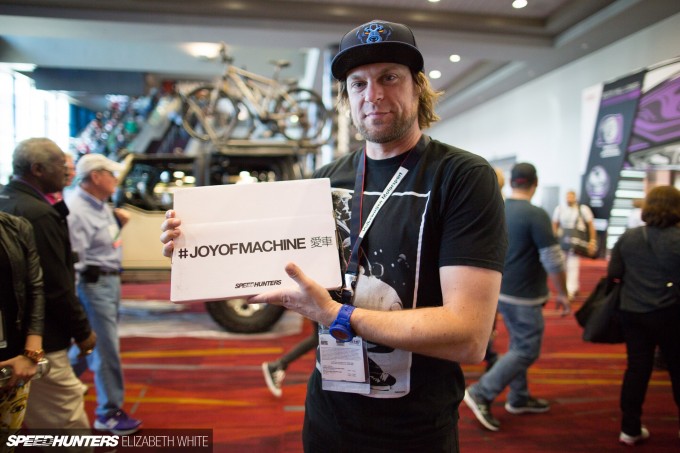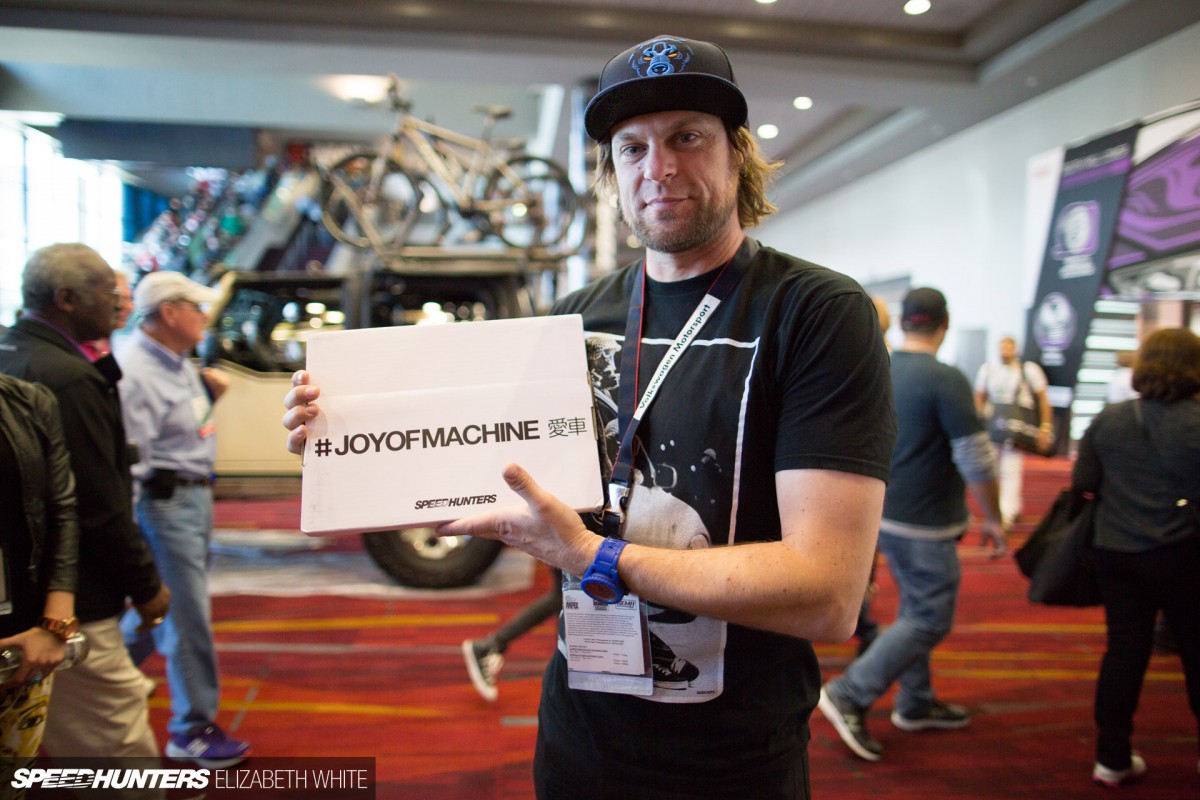 Walking the halls and stands, you need to keep your eyes peeled the whole time. JJ Larson from Dubkorps glances by. His killer Audi wagon was on the site earlier this year and it's always good to check in and see what changes and plans people have. We're all car people after all the business is done of course.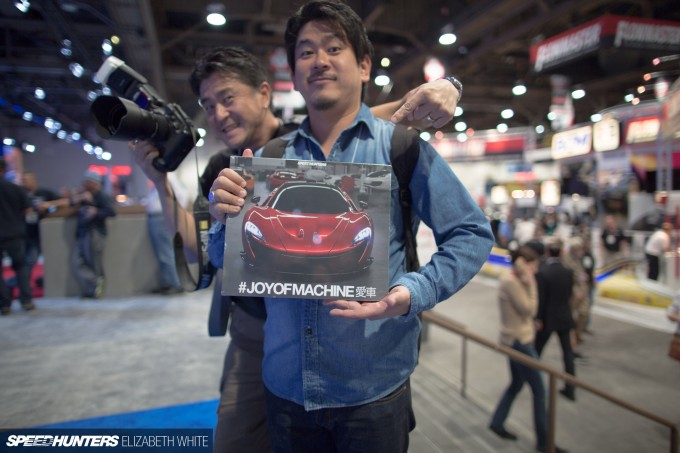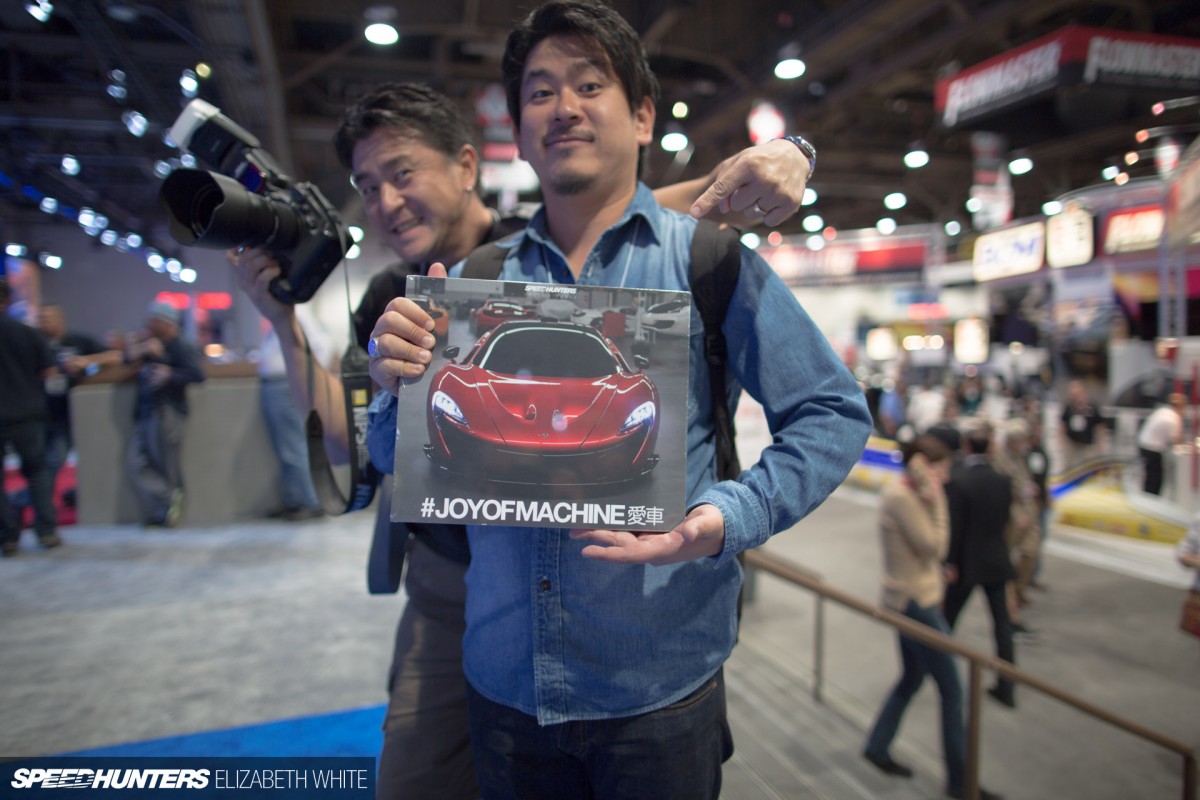 What the book also shows is that, contrary to popular belief, we're massive fans of print media, so it was a pleasure to meet up with Ko-hey Takada, Editor-In-Chief of Motorhead magazine over breakfast and then hit the show floor. He liked the cover, which is a huge compliment given the quality of his own publication.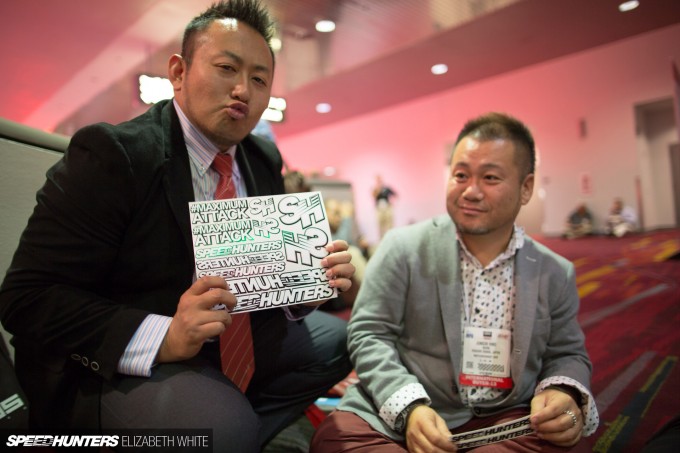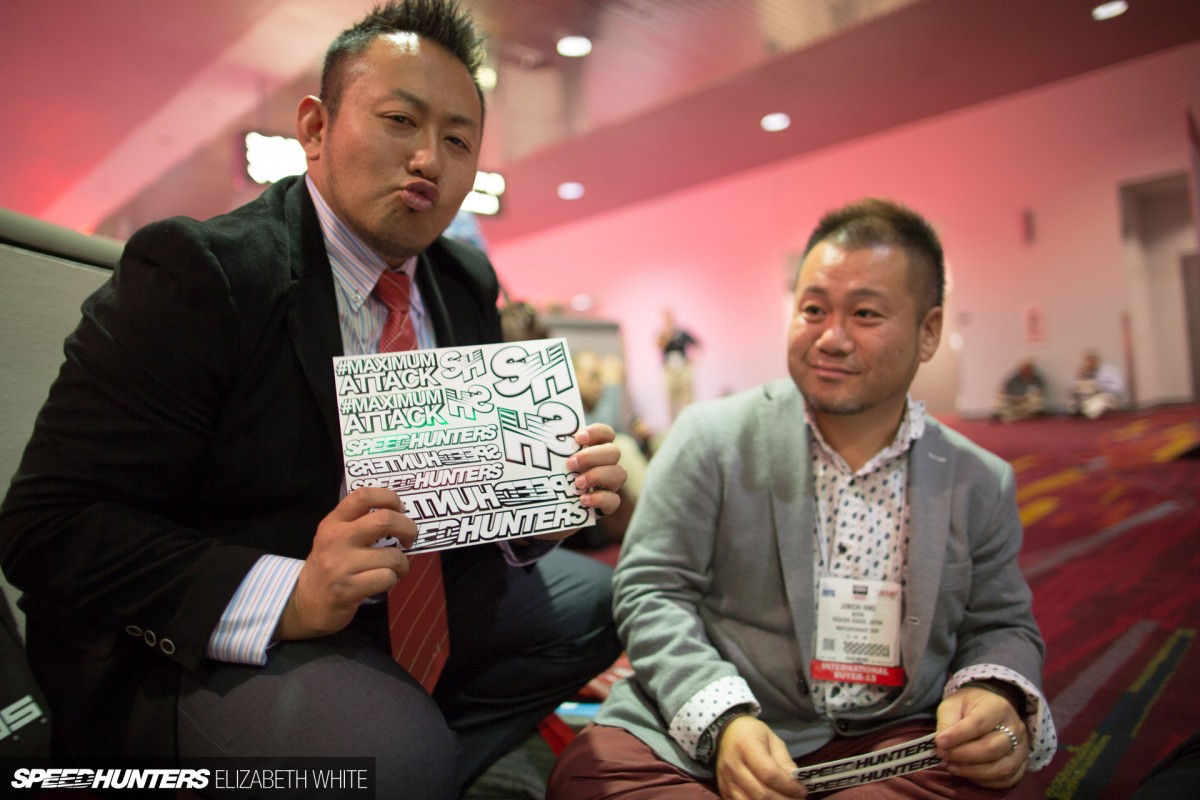 There are of course many international customs you have to understand, from business card exchanges to cultural differences. We just happened to have an informal meeting, sitting Japanese-style on the floor with the guys from Work Wheels.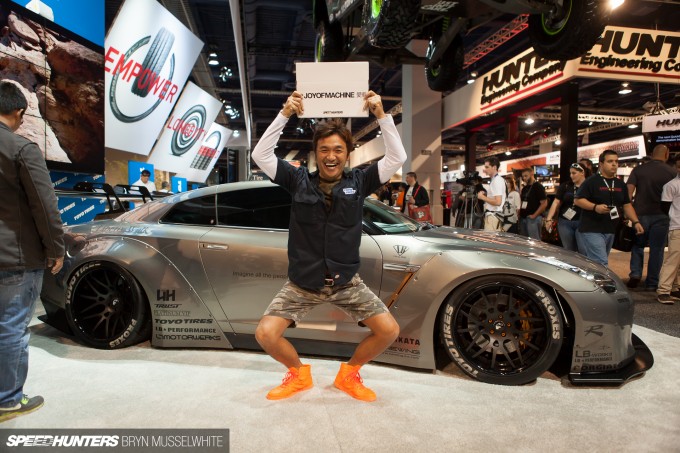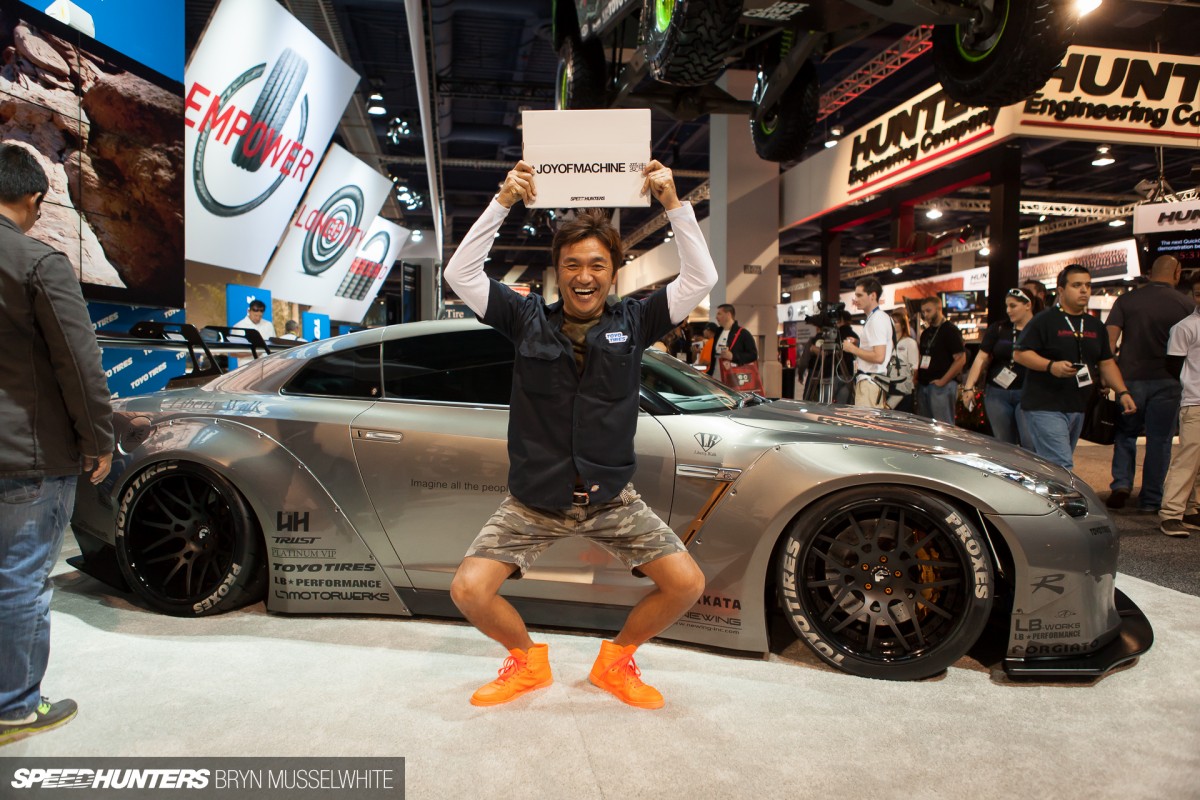 Quite possibly the story of the show – whether you like it or not – was the Liberty Walk 458. We debuted the Ferrari on the Friday before the show, thanks in no small part to the good grace of Kato-san, owner of Liberty Walk. Again the personal process of a face-to-face meeting is vital in understanding somebody. With such a dramatic worldwide impact, it was a pleasure to find him full of fun and obviously very much enjoying the show. This is what we call work; is that allowed? Another book, another happy recipient.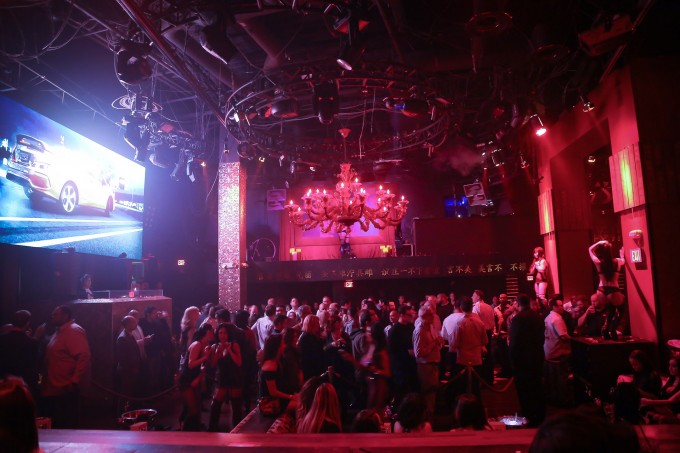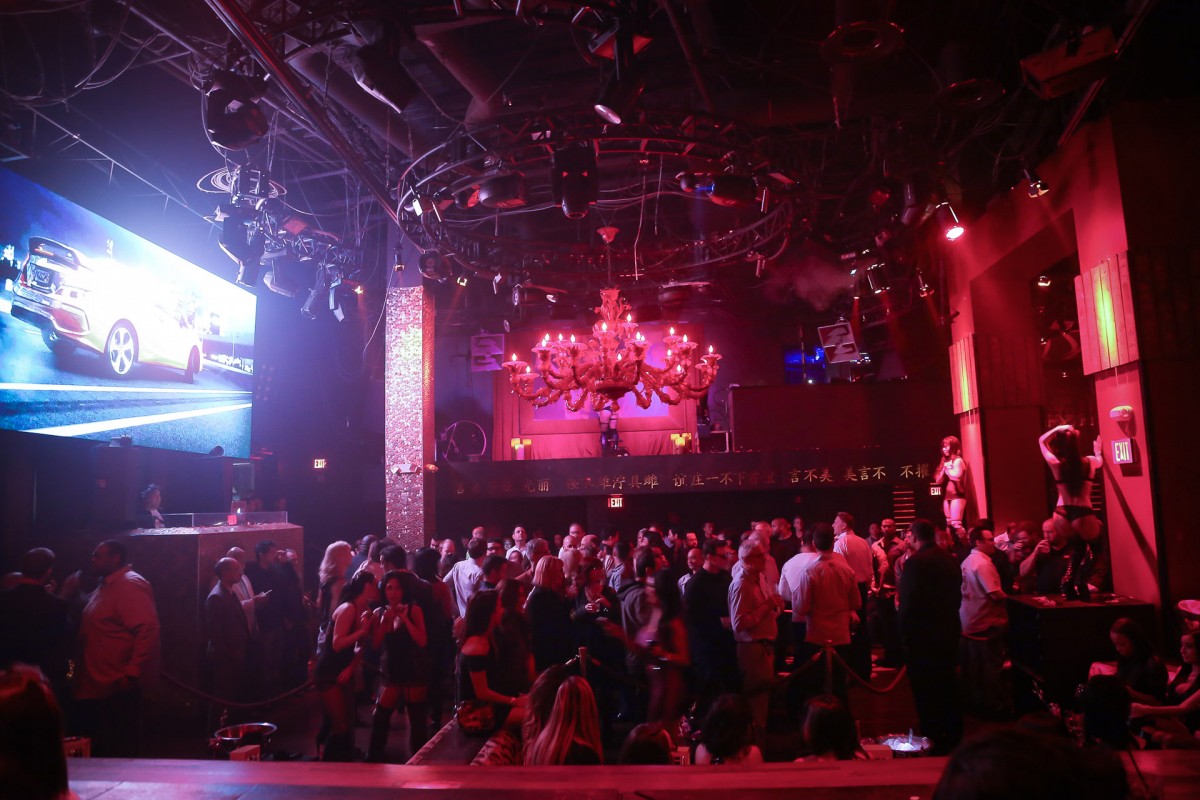 So come on, I know what you're thinking… You guys must have had a lemonade or two at some stage? Maybe succumbed to a party or ten? Well yes, there's a little bit of that which goes on. Of course I'm very much a stay-at-home type of girl, early to bed, early to rise and all that. Sometimes. But not in Vegas, so I'm going to use the industry soirée held by Honda as a good example of a manufacturer understanding that you need to have a little fun mixed in with your business.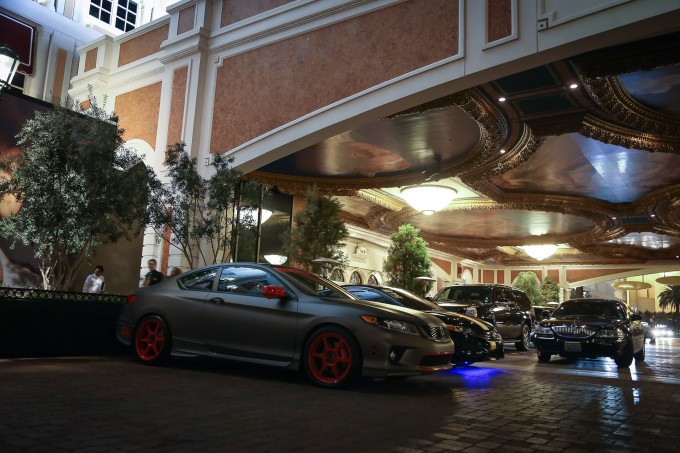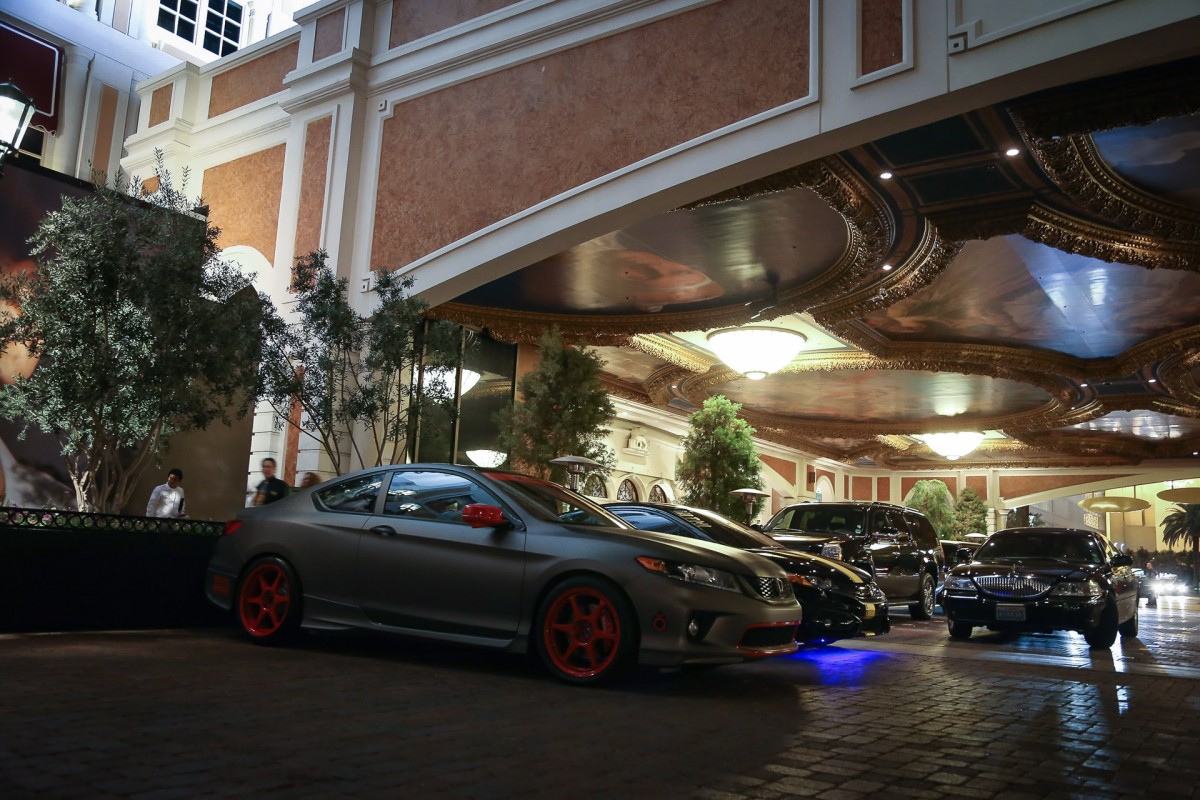 The event was held at the Tao Nightclub. Of course there were a few of Honda's latest offerings outside but even those had been themed for Vegas with individual wraps and wheel detailing. Manufacturers understand the importance of having a presence in the aftermarket, as obviously today's secondhand Honda buyer may well be the new car buyer of tomorrow.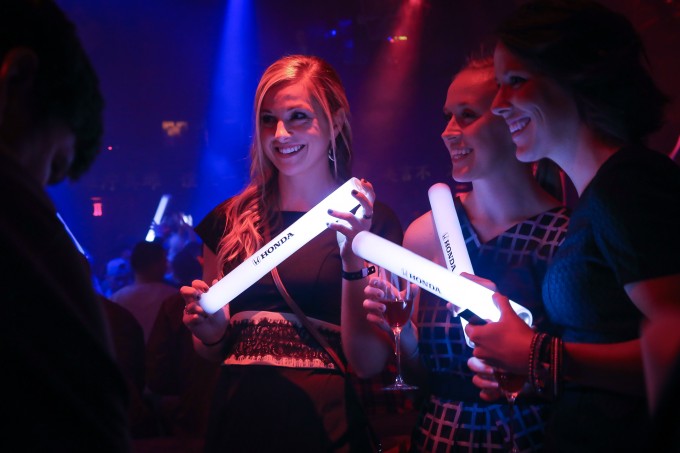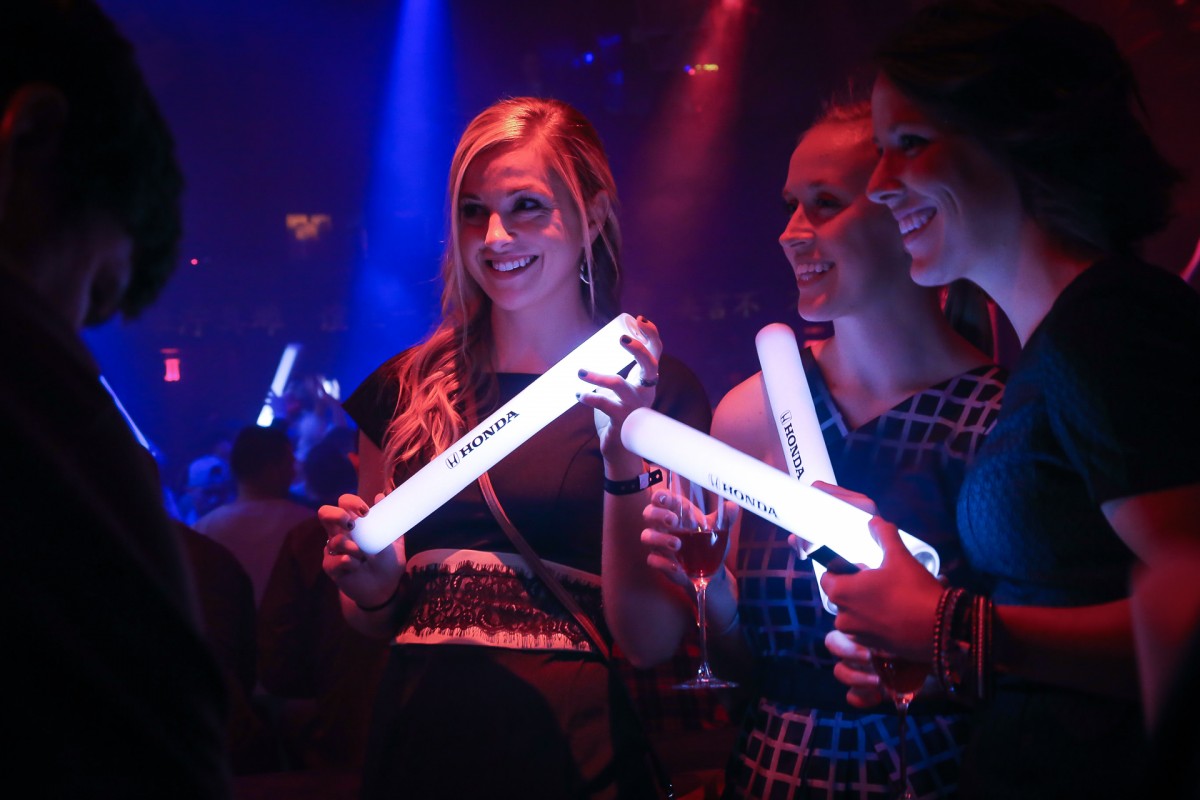 Plus the surroundings put everybody in a good mood. SEMA really is 24hrs a day and the work doesn't stop, but there's always a new way of enjoying it if you go with the flow. Thanks Honda!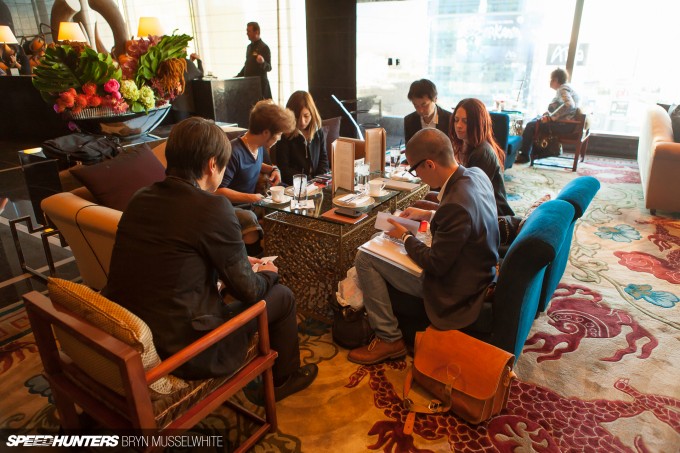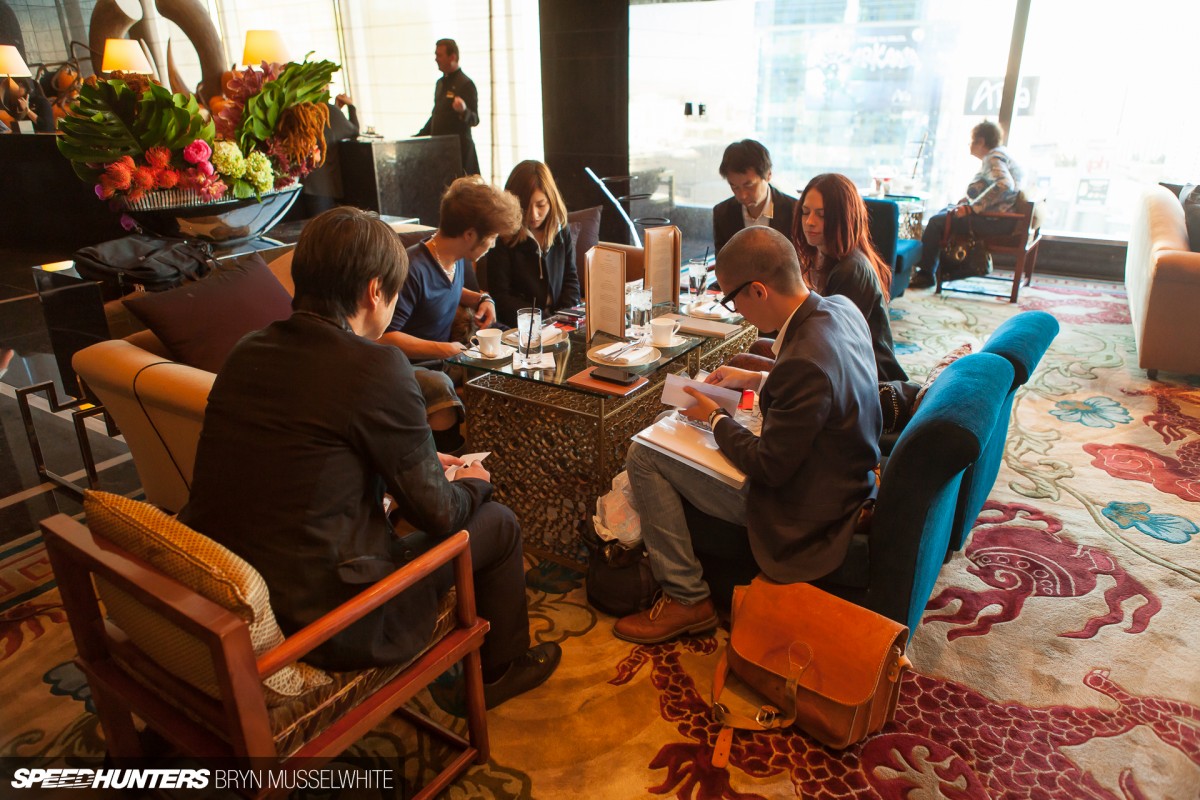 Given the scale of SEMA and Vegas, add in a little Speedhunters sense of adventure and meetings can happen anywhere. So it was in an elevated tea room I met Kei Muira for the first time, the creative force behind Rocket Bunny. Like Kato-san, he has been creating waves and discussion with his approach to styling. The one vein of common ground I've found that spans the language and cultural barriers is that passion I referred to earlier: the eyes that shine, the smile confirming a translated compliment or the simple act of affirmation achieved by shaking a hand. These reasons are why we meet, why we talk and create plans. Without this interaction, I very much doubt we'd be where we are today.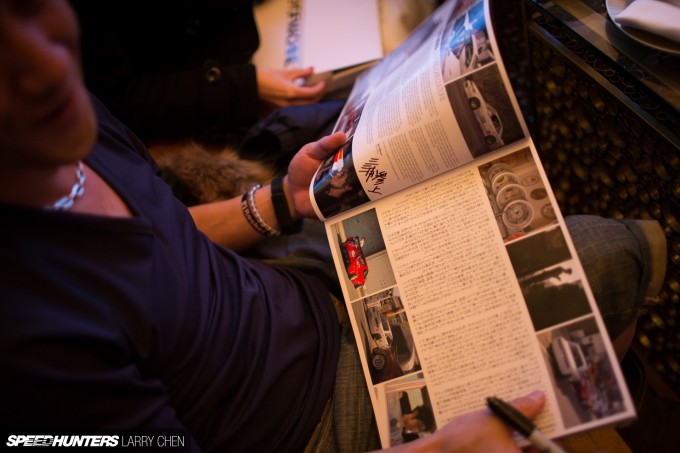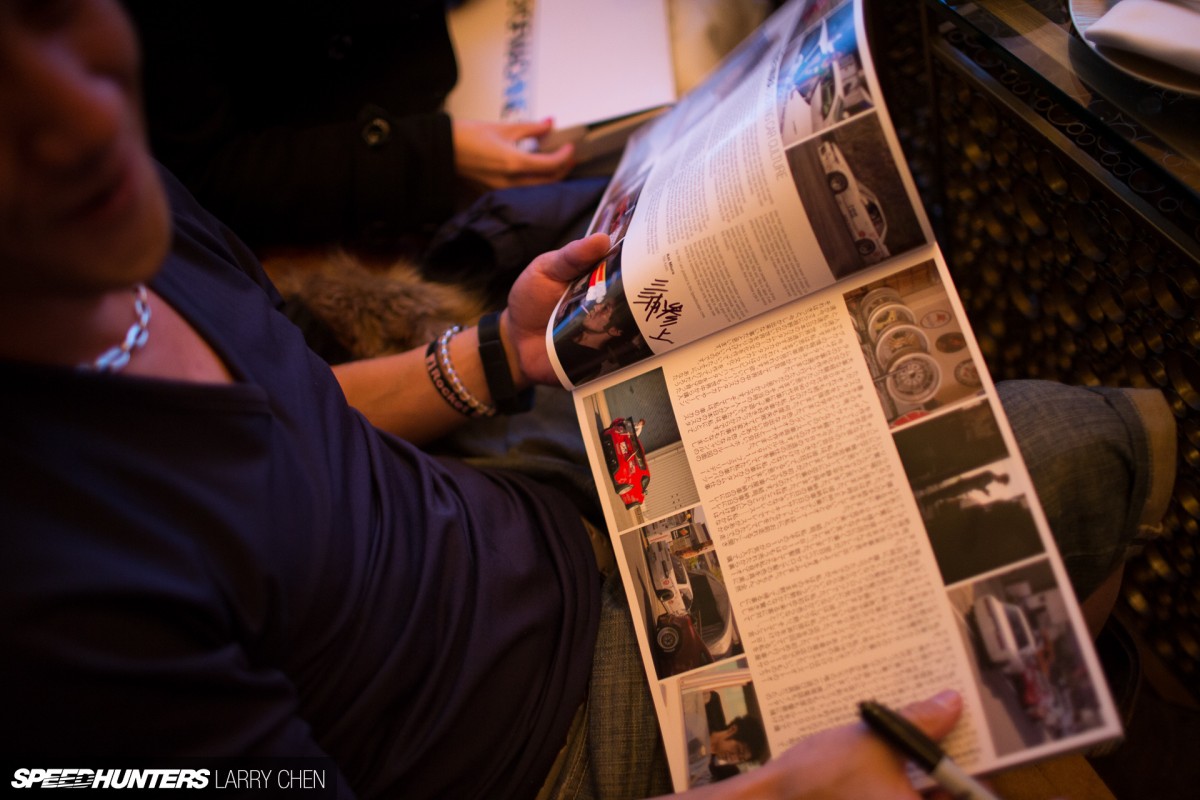 This is #JoyOfMachine and quite probably why Rod asked Kei to write the intro to the new book. Which of course we then printed in Japanese as well as English. This is respect, pleasure and business mixed into one. This is SEMA.
Elizabeth White
Partnerships Manager