I want to take you higher
Up until last week I'd never been to the SEMA Show, so as with any new event I attend, I went in with an open mind. You have to be careful as preconceptions can often subconsciously blinker you; stopping those new influences from entering your mind.
Oh what the heck, I'll admit it right here and now – I love off roading! I own a couple of Range Rovers and a beach buggy, and I giggle like a small child when I drop into a massive puddle of mud or slide across a rutted field at 40mph. So discovering that roughly one third of SEMA is dedicated to the off road market was a huge bonus for me. Bring on the knobbly tyres…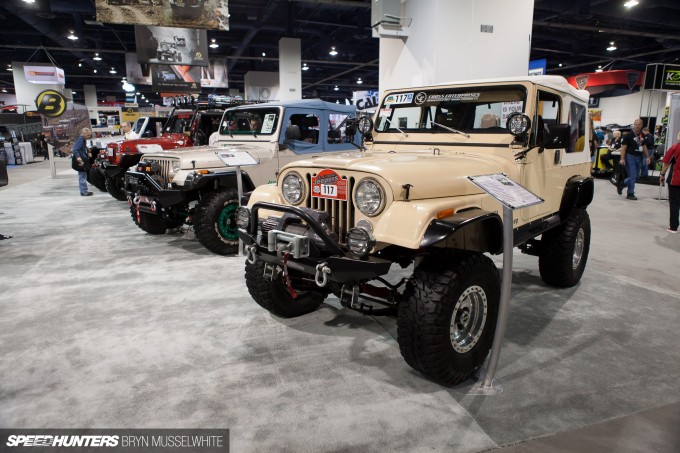 It might sound rather naïve but I was completely unprepared for the sheer amount of Jeep metal. But seeing as it's America's longest established off road brand, I guess it's no surprise really. What did surprise me though, was how popular off roading was at SEMA. Combine the street trucks, lowriders and race cars and I'm pretty sure it outnumbered all of the other automotive sub-genres. And that's why I'm going to explore and take a closer look at it, because aside from my personal passion, heading off road can bring huge adrenalin kicks.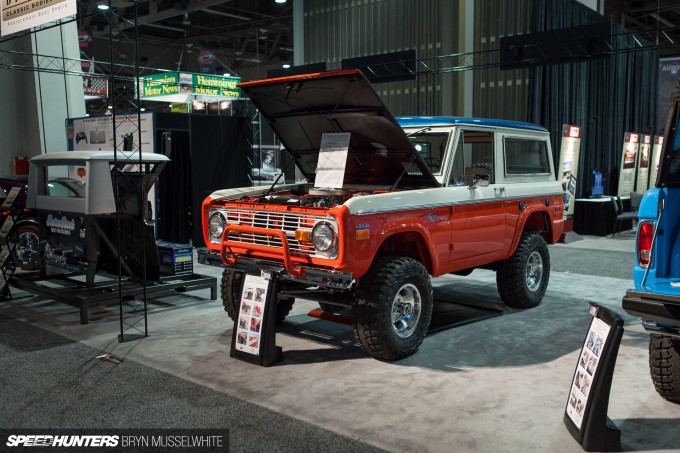 As well as plenty of Jeep product there was the gorgeous early Bronco reproduction, with whole bodies now being produced to order. So what would normally be a rusty, beaten up base, can now be found in fresh metal.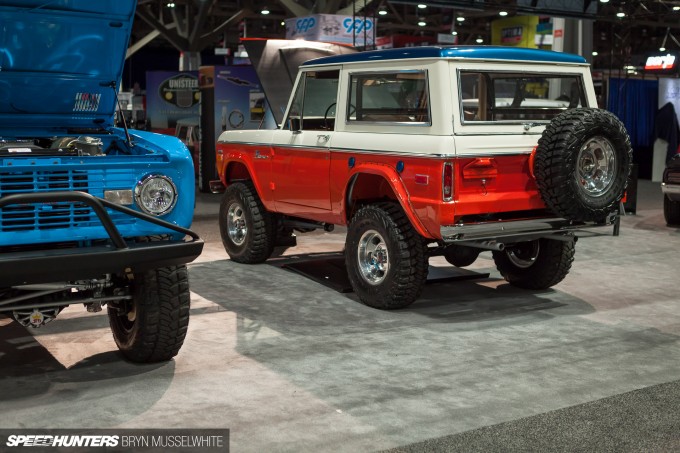 I love the triple tone paint job and period fat-slot mags. Add a surfboard hanging out of the back window and you wouldn't see me for dust as I headed down the Baja Peninsula.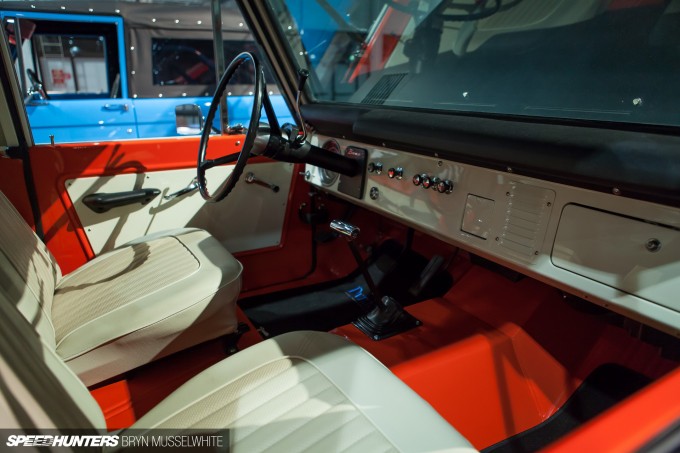 I'm going to take a wander through the developments that have been made in off roading over the years, as laid out here in the halls of SEMA. But I'm an old school guy at heart, so as much as I love modern luxuries I can really appreciate the simplicity of this Bronco. The flat vinyl seats you will slide off on an incline yet stick to your skin when it's hot, and a steering wheel the size of a bus to throw around when things are getting hectic.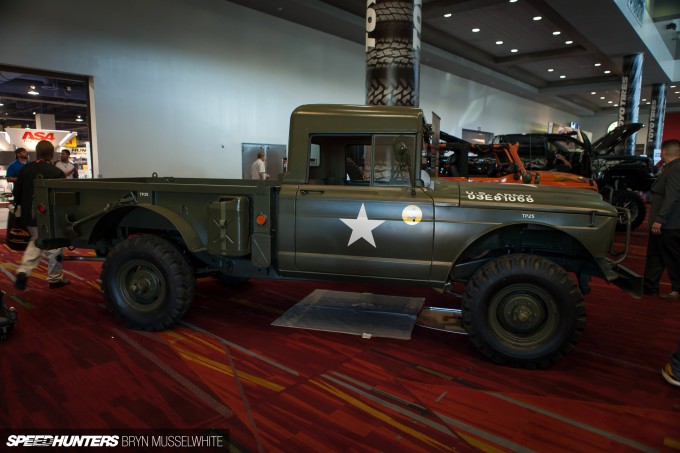 Lesser known than its smaller brother is the Kaiser Jeep M715 Military truck from the late '60s. This is quite possibly my ultimate Jeep product. Well, either this or a forward-control M677, but as I never saw one of those at SEMA, this is it right now. But aside from the obvious practicalities, I genuinely have no idea why that is. This coupled with a modern diesel powertrain and some bigger wheels and tyres would keep me happy for a long time.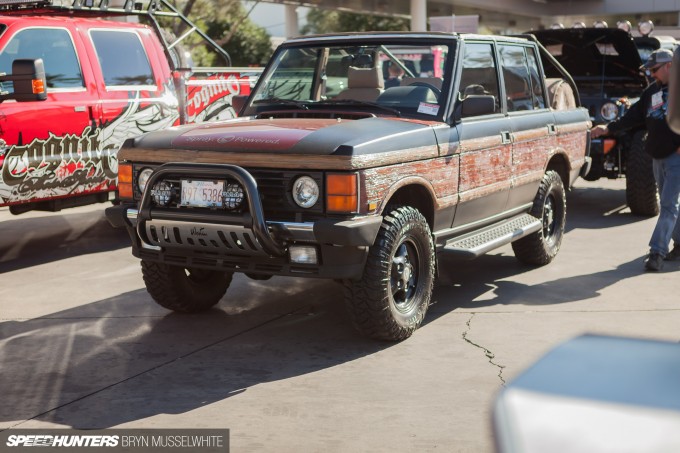 Seeing as I'm British, I was naturally drawn to this Range Rover that I found outside. During the '70s and '80s a few coachbuilders in the UK converted 'classic' shape Range Rovers in to convertibles, shooting platforms, fire engines and six-wheel behemoths for the Middle Eastern market place. This example is actually a run-out 'soft dash' model which came with early production run features from the later P38 model.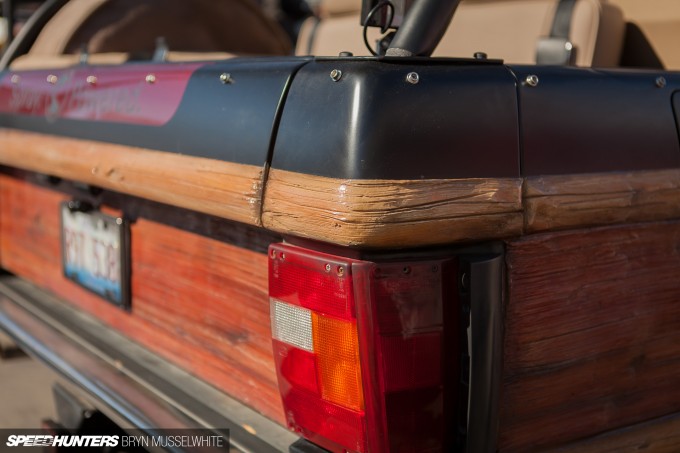 Although it did have poppers for a canvas roof, in the heat of Vegas it definitely didn't need it. The wood effect trim was a nod to wagons of past and not at all British – more wild west theme park. But given the surroundings, it really works for me. Maybe this is what we should have to get around in next year instead of a Cadillac hire car…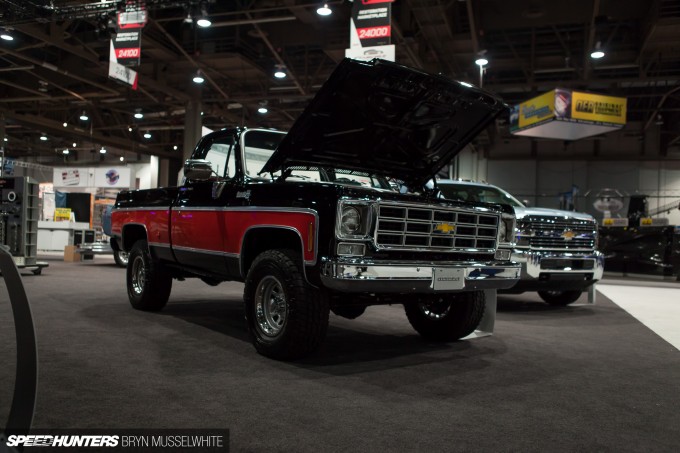 Chevrolet was celebrating its history with this Blazer – another American automotive icon.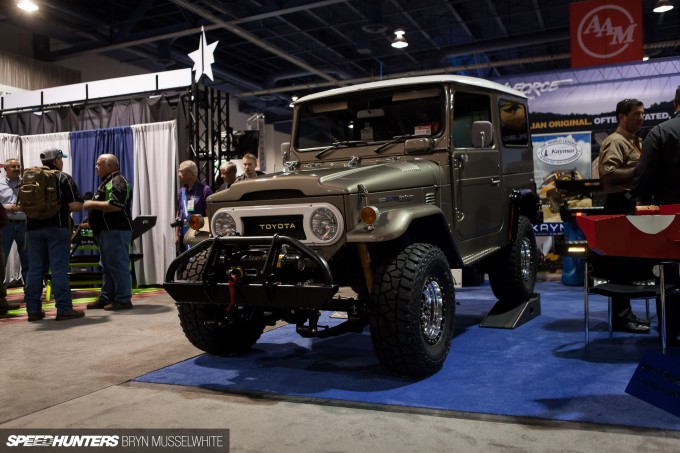 For all the Japanese manufacturer fans here, you'll be glad to see I found this Toyota FJ – a model instantly recognisable and as popular now as it was when it first came out. As far as I know, you can still purchase this style of Land Cruiser new in Australia, albeit in a slightly updated but similar form. Does anyone know for sure?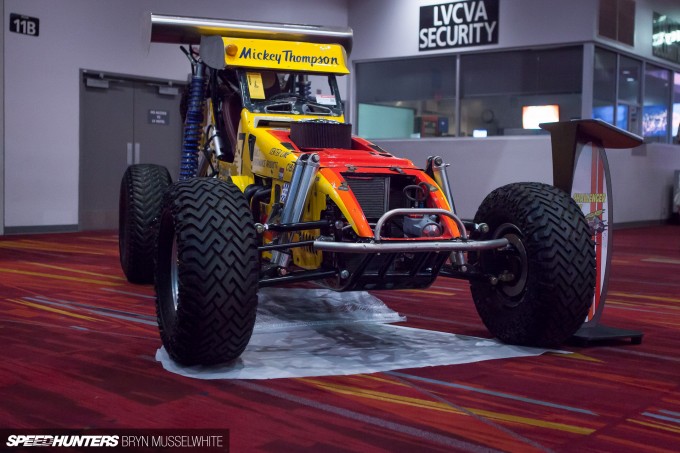 Inside I also found this legend: the Mickey Thompson Challenger IV. Built in 1977/78, this thing broke the rules of conventional thinking at the time. For a start, when most people preferred rear-engined VW power, Mickey opted for an American V8 up front.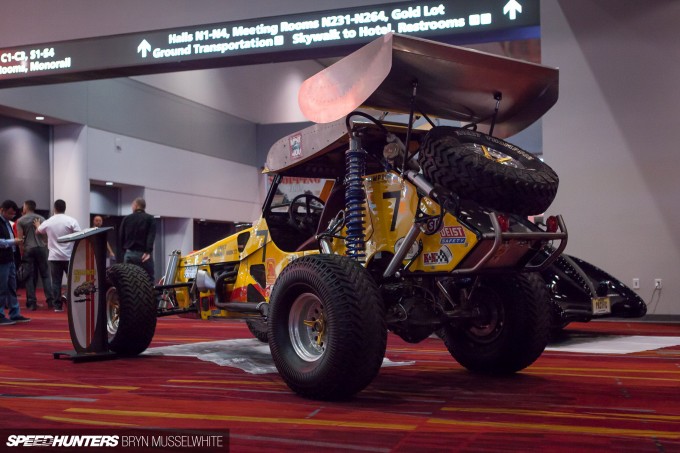 Those are 41-inch shocks on the rear, which gave the Challenger a huge advantage over its competition. More power and more suspension travel meant higher speeds. And yes, that wing is functional. Are you beginning to see why I like this stuff so much yet?
Newer. Bigger. Bolder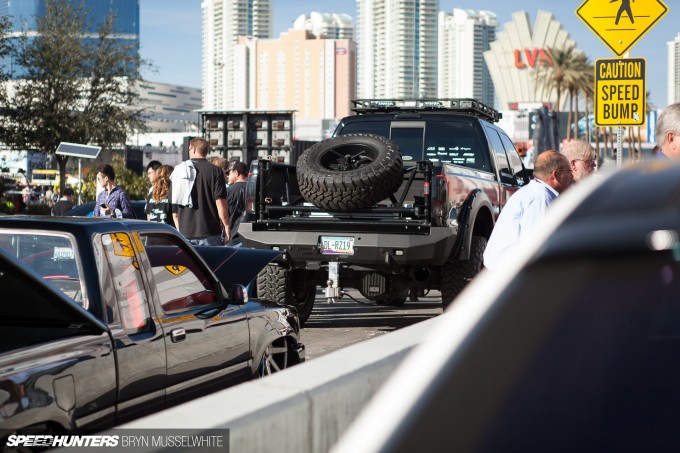 Like I say, everywhere you look at SEMA there are trucks.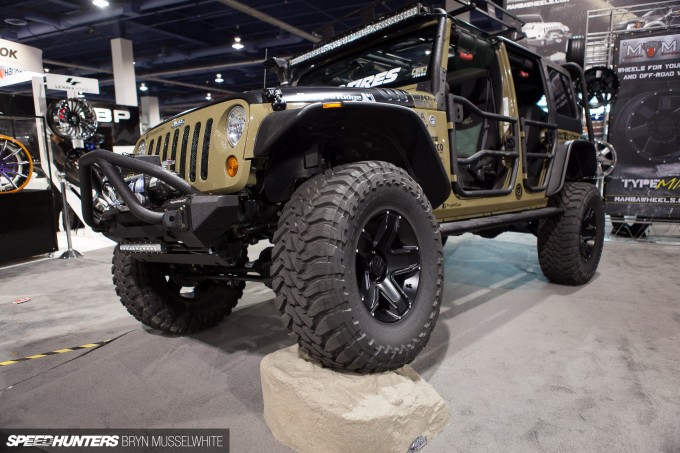 But if they're so common, how do you stand out in the crowd? As ever, it seems to all be in the details, although the fake rock business must be about the most popular right now. Those little boulders of joy were everywhere.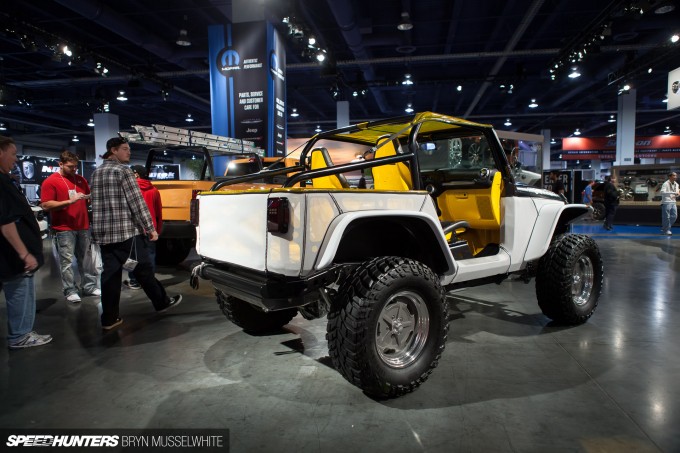 It surprised me that the most innovative thing I saw at the show wasn't from the aftermarket, but a manufacturer. Quite possibly my favourite modern off roader at the show was this Jeep on the company's own stand. I love the yellow and white colour combo and the old school Salt Flat wheels are a particularly inspired choice.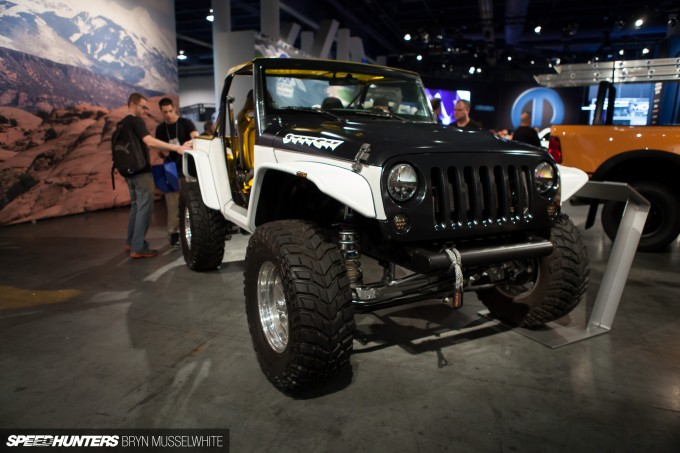 The thing that really impressed me the most was the 'zip-off' bodywork. Yep, you read it right – the whole lot aside from the frame, bonnet and grille is actually made out of white mesh. The black lines are the the zips. Essentially what this is means, is that after a hard day in the mud you can simply remove a good proportion of the body and throw it in the washing machine. You'd probably want to be careful not to shrink it on a boil wash, though…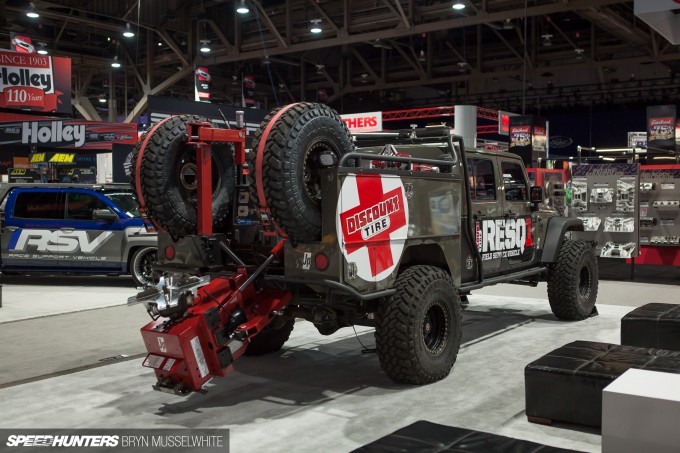 Whilst Keith and I were wandering the halls after hours, he mentioned that this service wagon is based in Pheonix at his local tyre (or should that be 'tire') shop. The first thing to register here is its size: massive. It was laden with tools and a tyre changer too, naturally.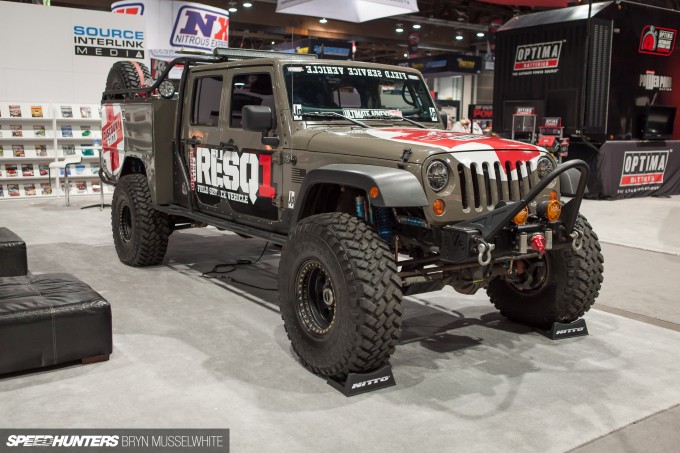 Those big, open and exposed front tyres – that could no doubt crawl over the gnarliest of rocks – and the miltary ambulance-style paint job really flicked my switches.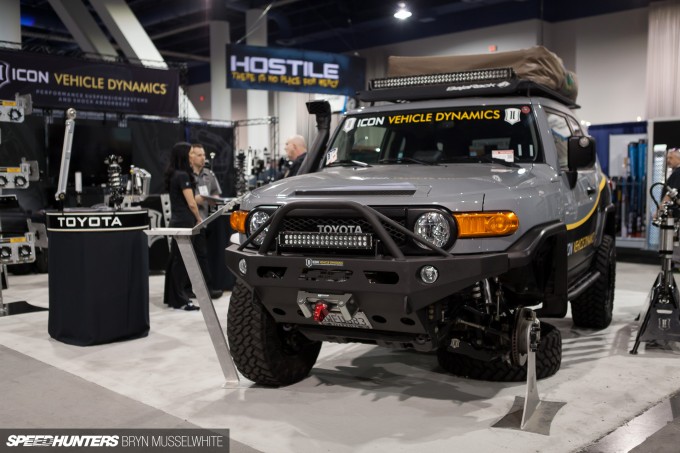 It's not quite all Jeep around here though, and another update model I love is the Toyota FJ Cruiser. In fact, I've even looked at importing one into the UK, although that might be a way off yet as the money involved buys a lot of Range Rover.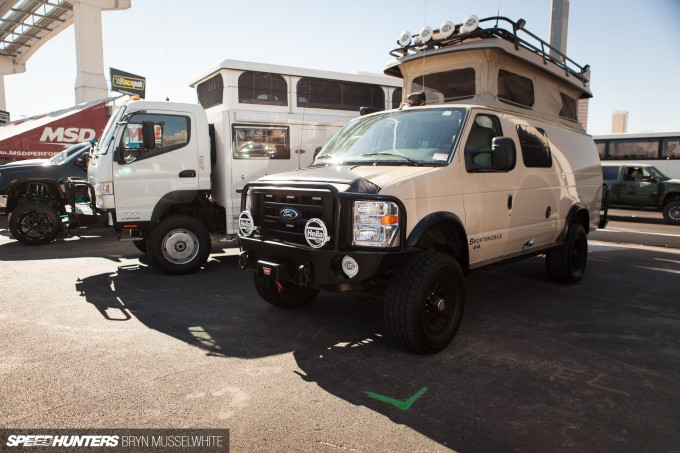 The thing about off roading that really appeals to me is the many different ways you can get in to it – from simple pay and play days, to trials events, to expedition type activities. Two of my friends drove to Australia from the UK a few years back and their Land Cruiser was decked out pretty well. This Ford based Sportmobile takes it to the next level though.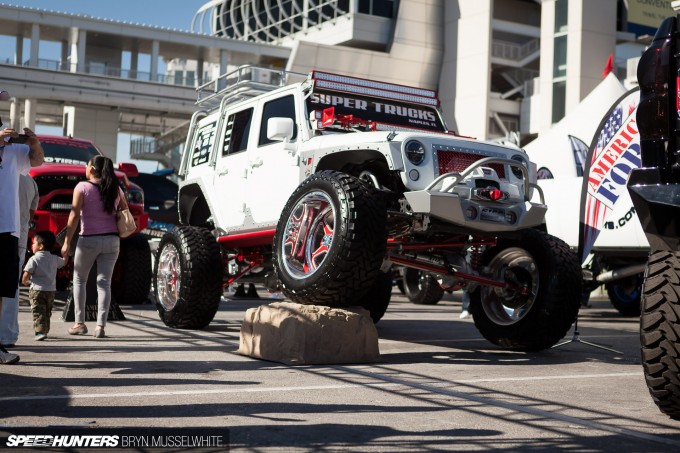 I did mention that there's a show truck element to the newer end of the market and here's some proof. No matter what you make of it, I think it's quite easy to draw similarities between this and many other scenes; the VIP world, or the excesses of time attack aero for example. Yes, I know the latter is meant to be practical, but there's a simple honesty to somebody who just chooses to be flash instead of hiding behind the justification of some other means. This creation is the closest thing you'll probably find to a kids toy, which is what we all wanted when we were that age, right?
I think I need some accessories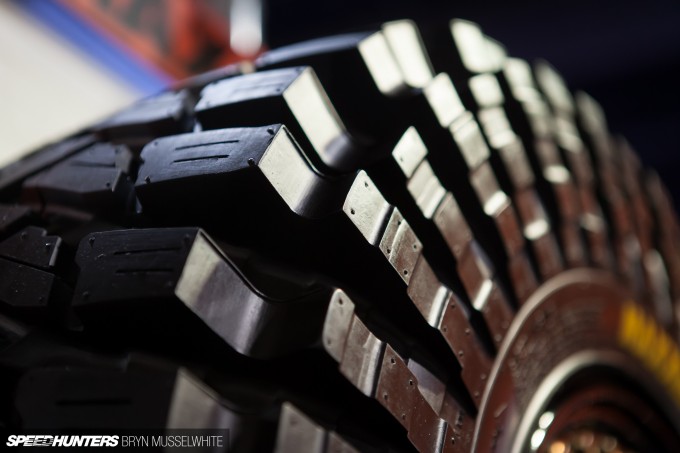 Tyres are big business here, which is obvious since every vehicle needs them. Agressive tread patterns are a given, but the variety is something else. Just as you'd wear a slick for track work, there are variants for rock crawling, sand and these, which were designed for heavy mud from what I could tell.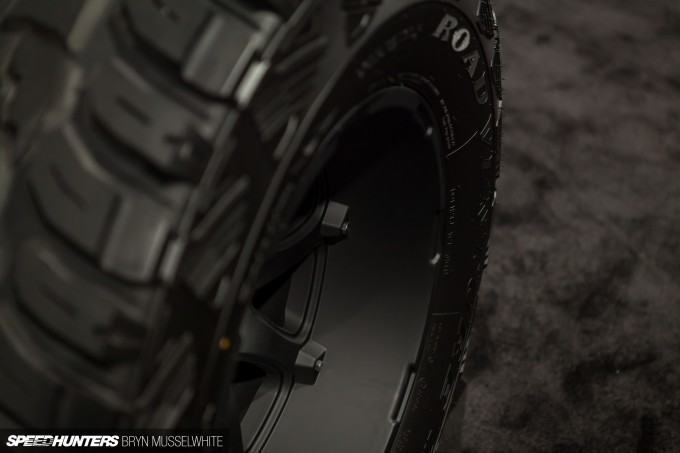 Of course, wheels play a huge part in this scene as they do in any other. You want dish? Virtually every wheel I came across has its centre buried somewhere way back. Satin finishes seemed to be really popular too.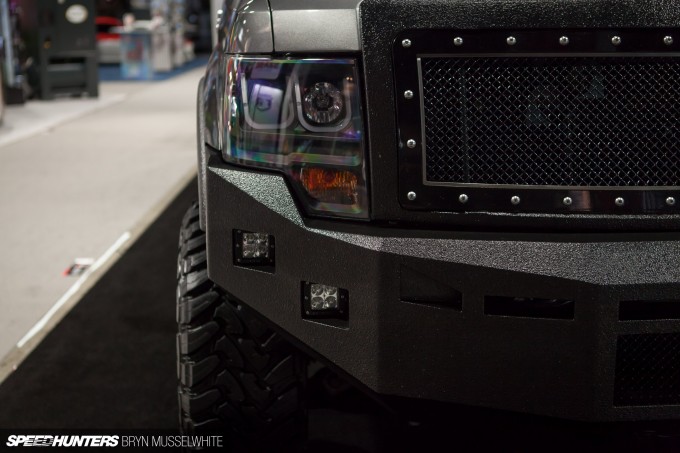 In fact, as I touched on in my first SEMA post about that very subject, the whole surface game is changing around us. You can read what I was thinking here.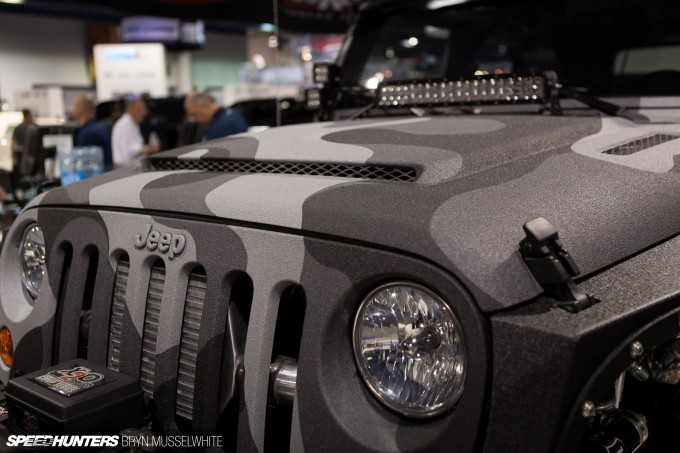 From satin to more committed textures too – I was hard pushed to find anything to polish. Every surface is designed to withstand a beating in the forest or on the trail, although I'm yet to be convinced that crackle is going to be easy to clean. Although crackle camo means I don't really care – I just want it.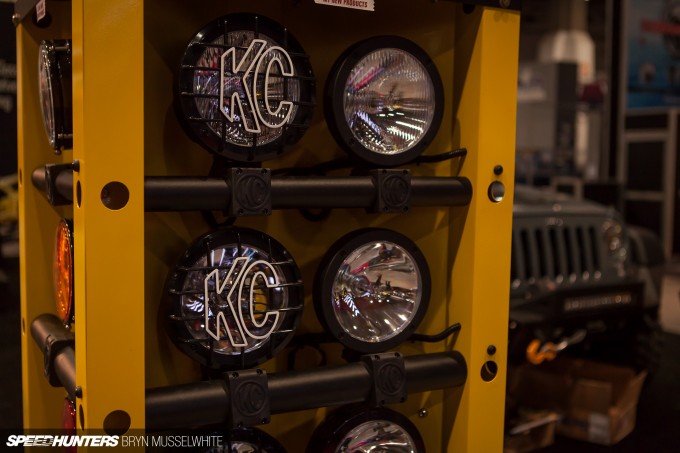 My beach buggy proudly wears a pair of KC Daylighters: a light synonymous with old school off roads. It's great to see that the company is still going strong today.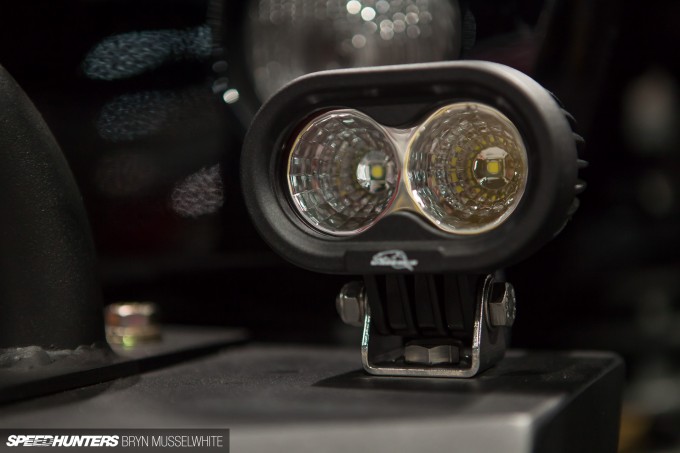 But more up-to-date LED technology and low voltage solutions were everywhere. With increased strength and reduced size they're the natural choice for harsh off road environments.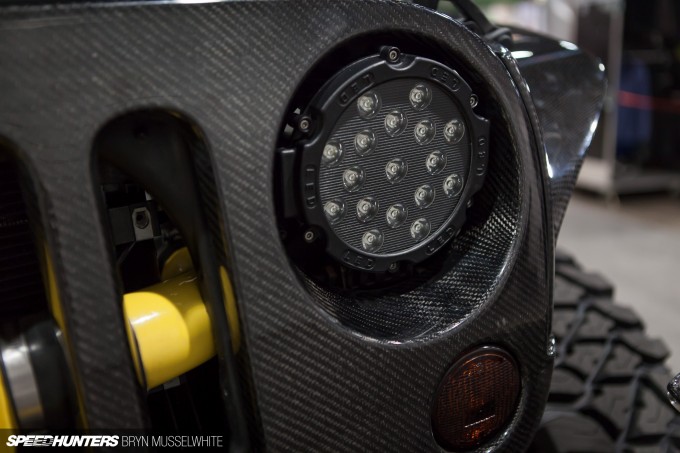 This Jeep had its standard lamps entirely replaced with new LED units. And yes that's carbon…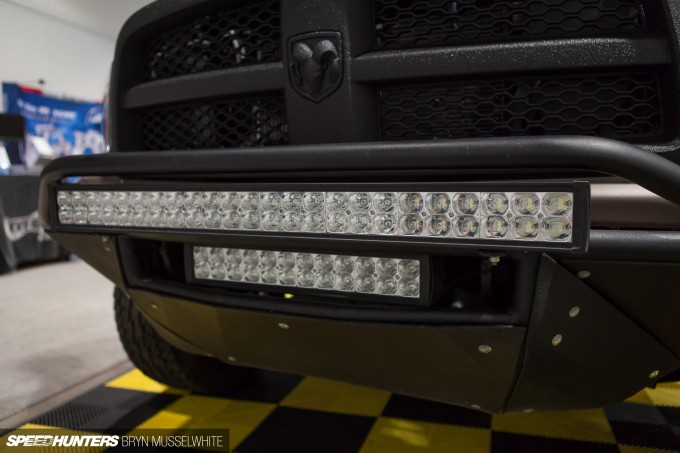 This Dodge Ram shows off a couple of must-haves – crackle finish and LED light bars, which are unbelievably bright compared to a conventional line up of spots. Even HIDs would have trouble keeping up with a bank of these.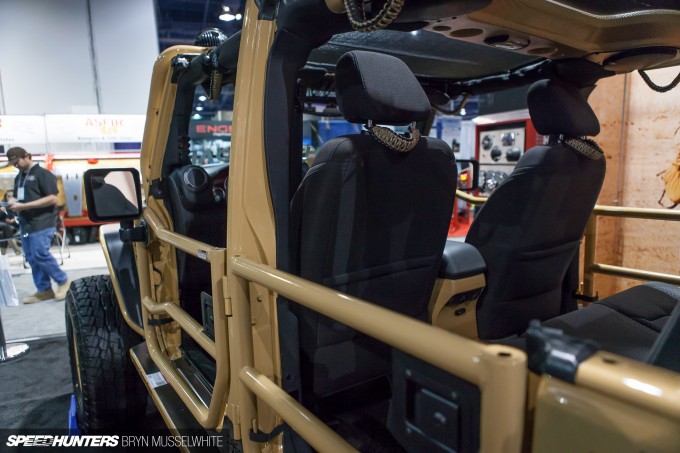 Off roading is very much a game of adding strength and ability, whilst trying to save weight wherever you can. Doors replaced by simple bar structures and hard tops left at home are the norm.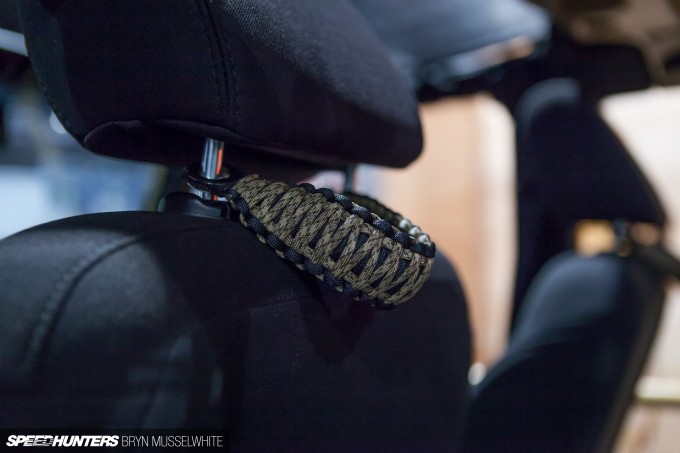 I like small details like these grab handles. Surely I'm not the only one that can imagine seeing these used inside a drift car?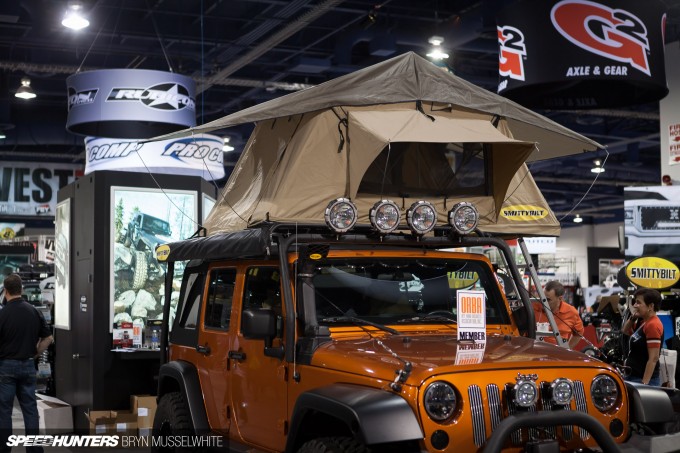 Another thing I've resigned myself to owning one day is a roof tent. At the end of the day when the nearest hotel isn't an option and sleeping on the ground is for old cowboys, you'll find me on the roof.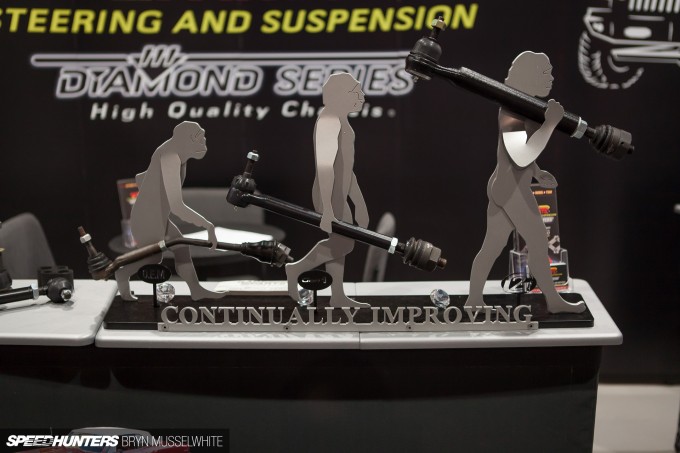 This kind of sums up off roading for me. Everything is getting bigger and stronger as we go on; modern materials and manufacturing processes allowing better technology with more affordability. But what happens when this meets the mad scientists' imagination? Read on…
The freak show is out there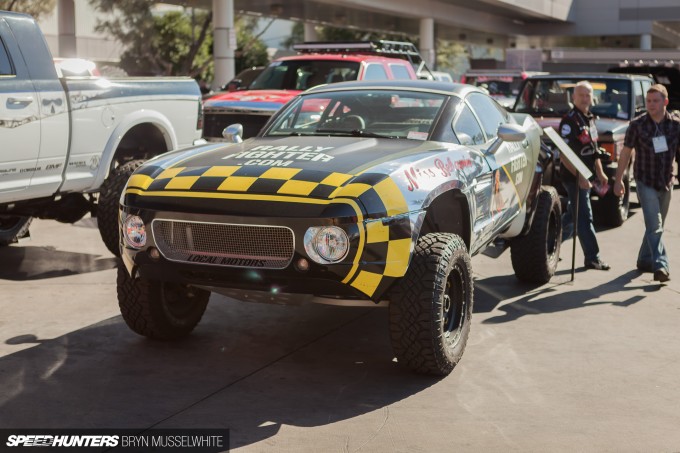 Now this is more like it! The best of both worlds perhaps? The Rally Fighter is made by Local Motors, or should I say built by one of its customers. It's not a 'kit car' – just a different way of doing things. I really like it. The first time I saw one was around a year ago and I reckon at some stage I'm going to have to drive one to see if it does the job as well as it looks like it might.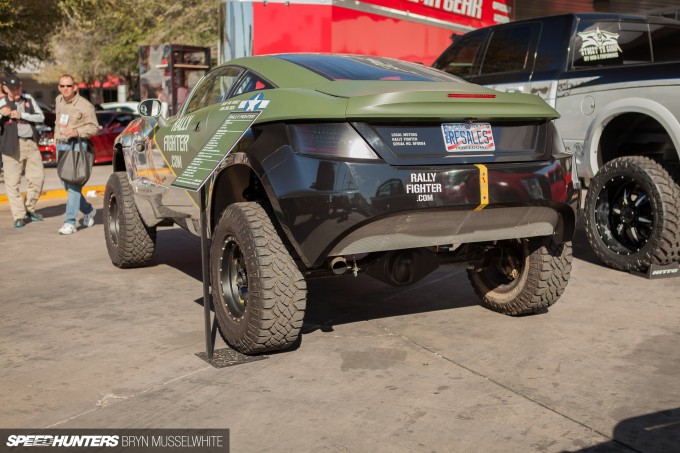 It's the perfect mix of coupe and off roader, with purposeful lines and enough capability to be taken seriously.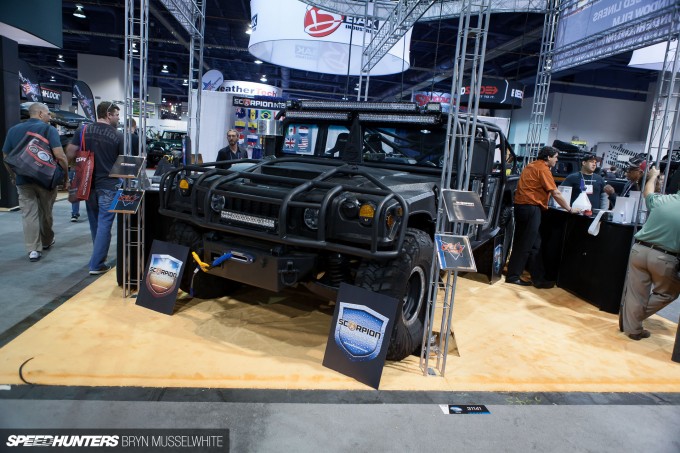 When it comes to being taken seriously, there are few better ways than arriving in a Hummer. Because of its lack of interior trim I think this was originally a Humvee – the military version. Judging by the accents floating around the stand, I think these guys had come up from Mexico. Let's face it – in this you could pretty much draw a straight line from wherever you started to Las Vegas.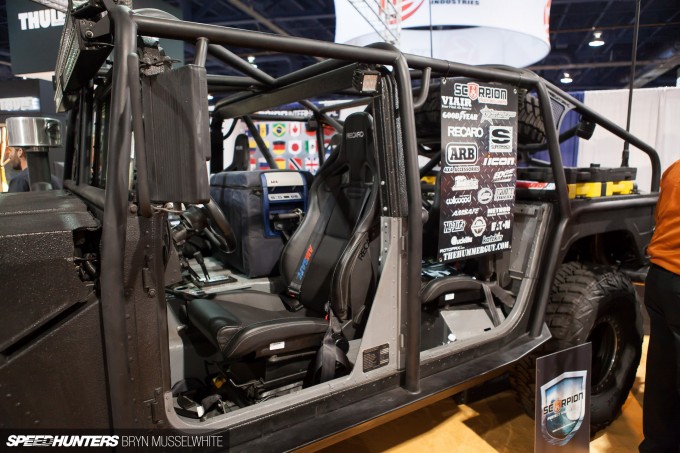 Bang-up-to-date Recaros and a cooler in the middle of the front seats – that's happiness right there. I borrowed a Hummer in 1999, which at the time was one of only five in the UK. Nothing I've driven since has left an impact on me like that did.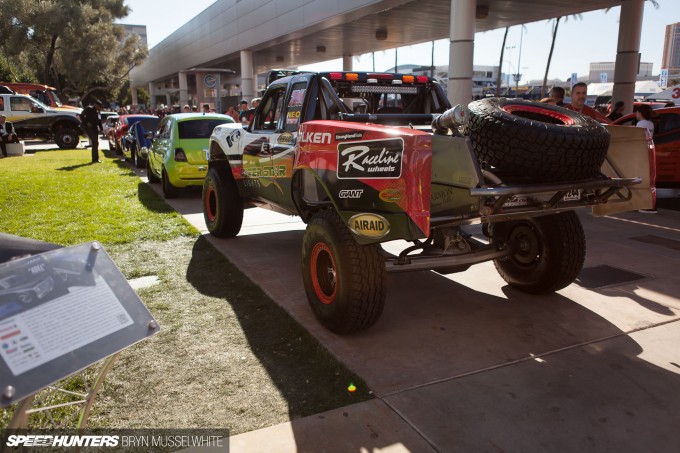 Something else I've always wanted to try out is a proper race truck. The effortless way in which they absorb terrain at three figure speeds hypnotizes me every time I watch them on videos.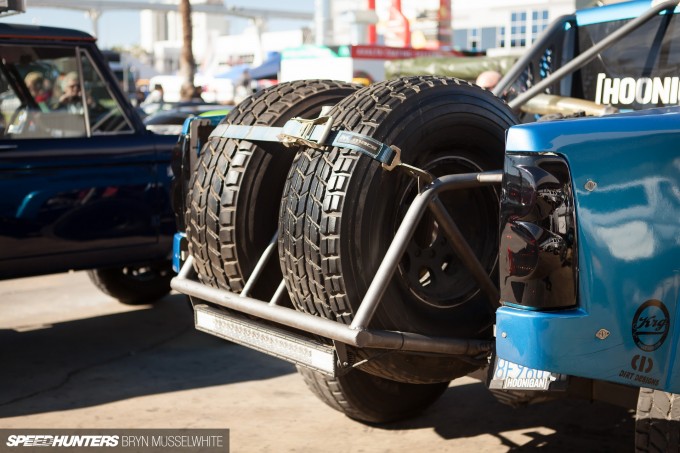 Carrying spares is all part of the plan here. The pits might be 50 miles away so there's no limping it in and letting somebody else do the dirty work.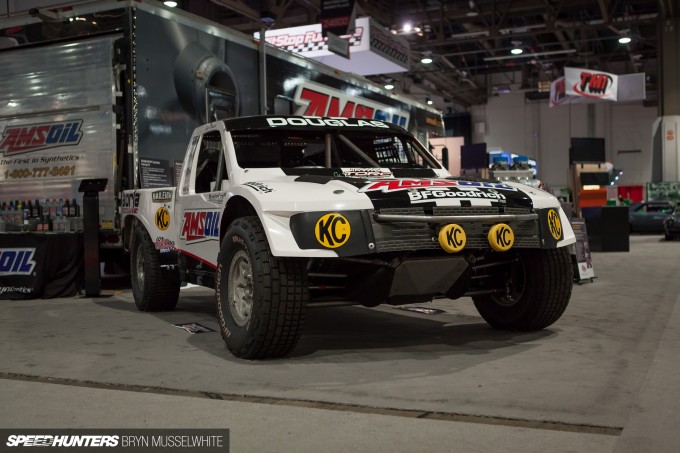 In fact the extra levels of preparation that go into Trophy Trucks like these is incredible. Can you imagine driving a NASCAR over a ploughed field – sideways – and then jumping a small house as part of the race?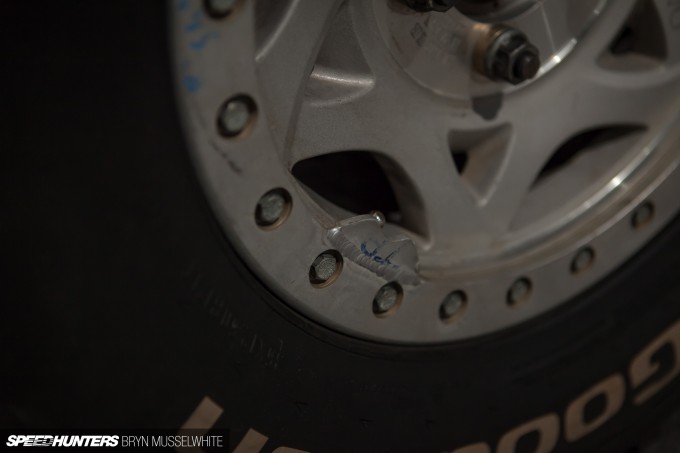 Bead locking rims are part of the deal, ensuring tyres don't come away from the wheels because of the low pressures involved, or when you catch a flat. They also keep dirt out of the beads when cornering at speed.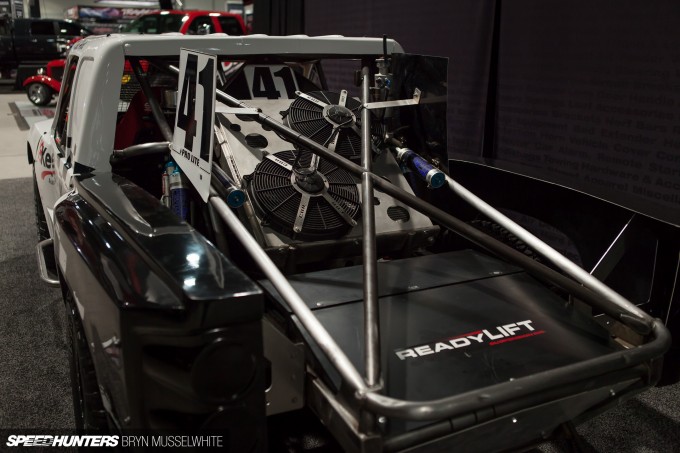 Of course, like most high-end race vehicles, every component is specialised. Here you can see vital and vulnerable coolant system components mounted out of harm's way on the spaceframe. Production-style bodywork gives the fans something to relate to.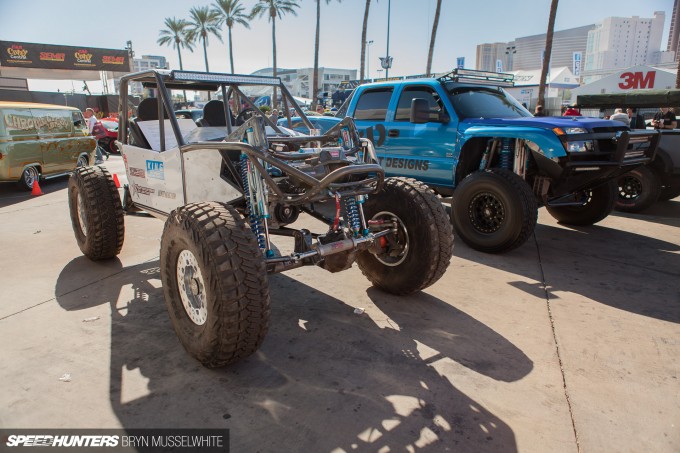 Some people don't need bodywork though. This extreme rock crawler is built for the big boulders and mud bogs, where its lightweight, compact frame won't catch and snag on anything, and therefore enabling wild entry and exit angles.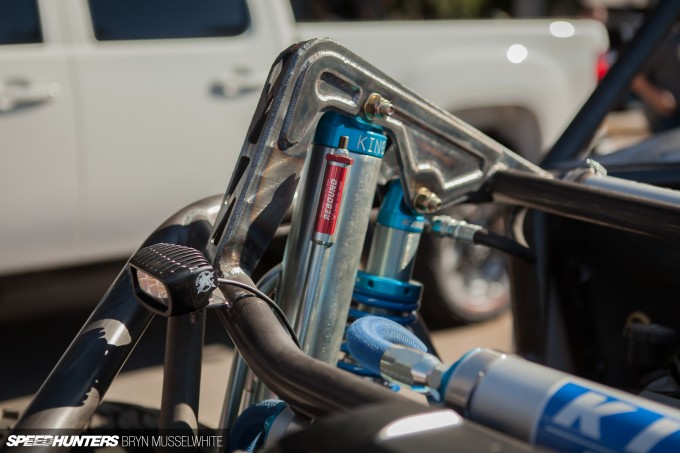 Huge, long-travel shocks are mounted on bare metal frames so any stress cracks can be seen clearly.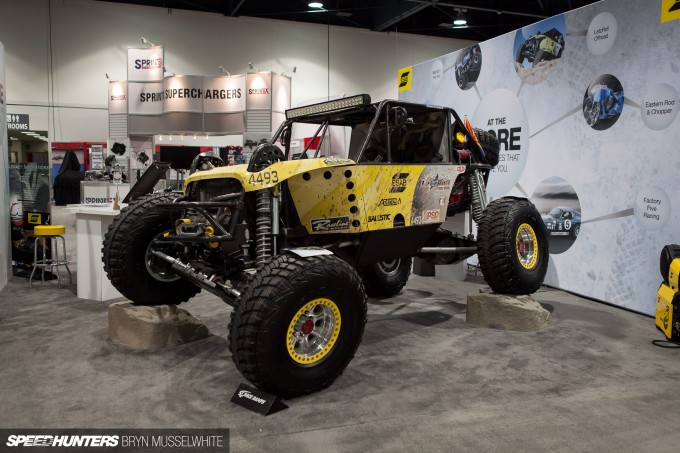 Look – more little rocks! The purity of design you get with these machines really appeals to me. Function rules the roost.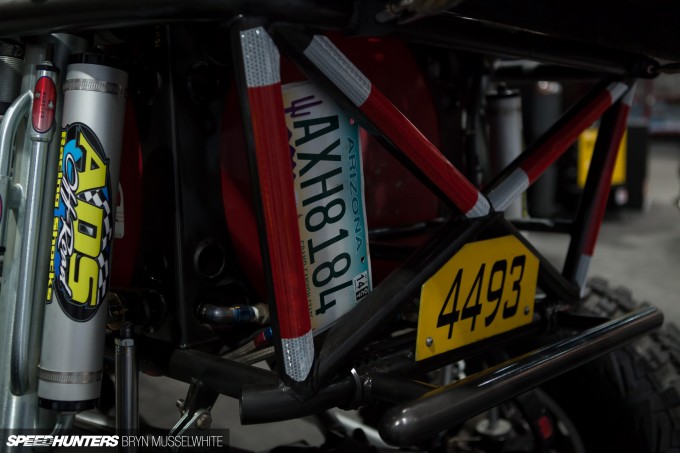 Although, it would appear in some states this sort of thing is road legal!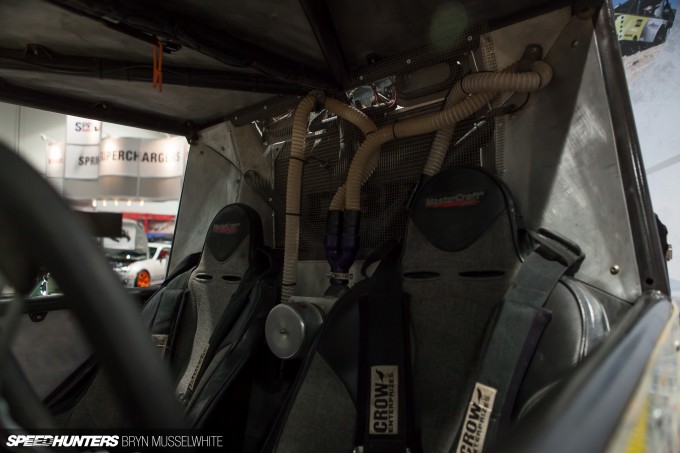 With open cabins and minimal bodywork, filtered breathing systems are a must to make sure you don't inhale half a desert whilst thrashing around or competing.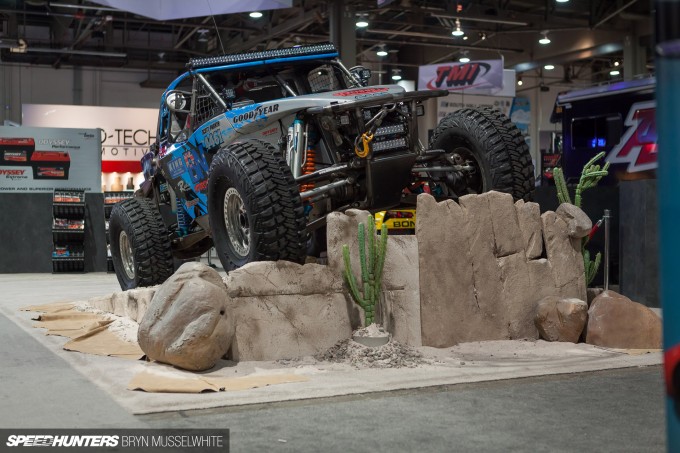 What it all boils down to for me, is the simple toy factor of these off roaders. They are the remote controlled cars of my youth, the kind of thing you threw around the garden and crashed into rocks. Now as an adult, you can do it for real.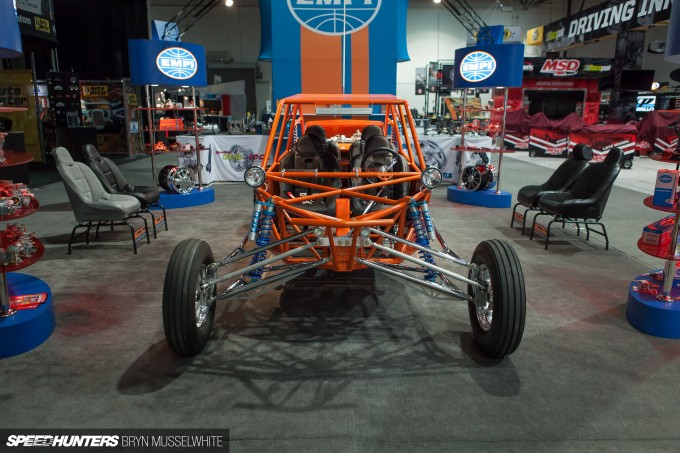 There's one last scene-stealer I want to show you. As Keith and I wandered the halls after the show had closed, I got to spend a few quiet minutes with EMPI's Sand Pincher. It's been around for about seven or eight years now and is a real deal sand rail…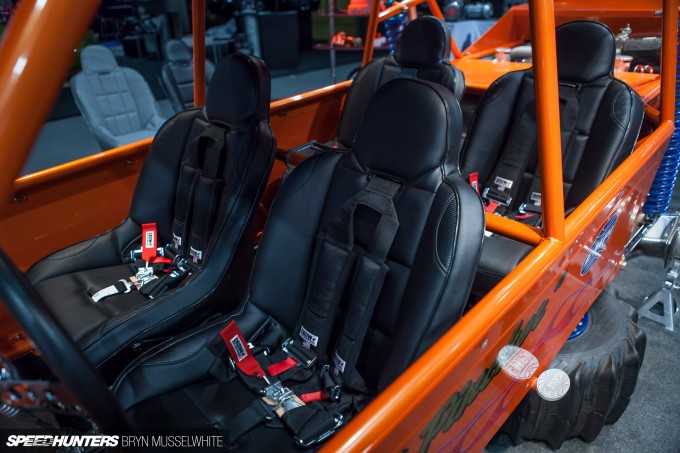 … with four-up seating for shared fun. You can just make out the rear paddle tyre stowed underneath the rear – ideal for sending up rooster tails of sand in the dunes.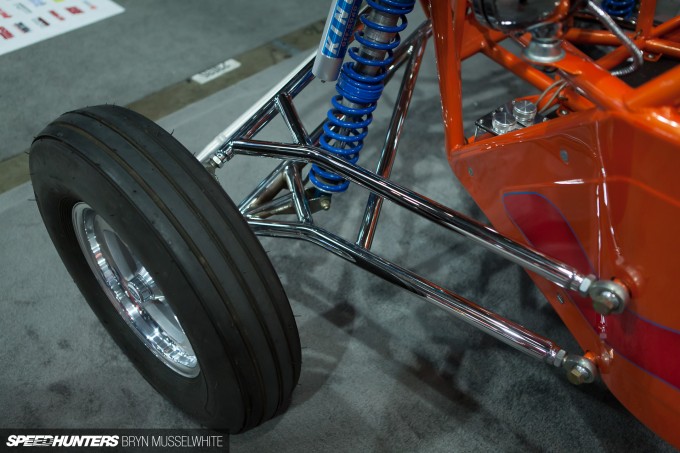 That beautifully executed chromoly suspension with long travel shocks and a hot Type 1 VV motor out the back all create the ultimate combo for me. Well, the kind of combo I'd like to stick on a trailer behind a lifted Jeep that is…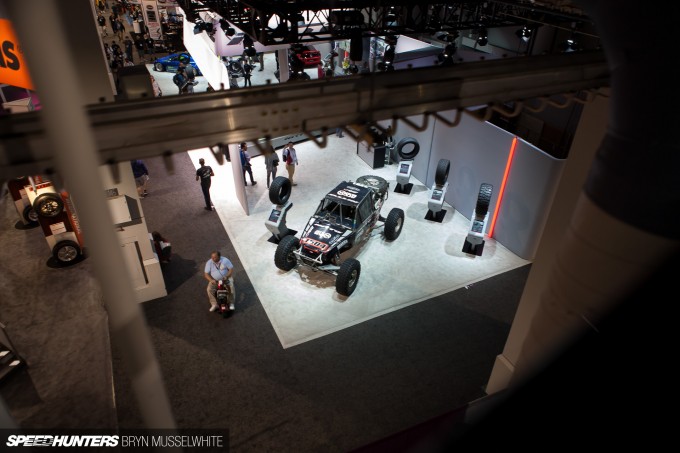 I don't know if you're into circuit racing, grass track, VIP or whatever, but hopefully you'll be able to draw some parallels between your own preferred scene and off roading. Big wheels, power, purpose and a healthy dose of individualism means that maybe you should have a go yourself.
SEMA sure made me want to get dirty…