Japan does Vegas
Let's be honest for a moment. If someone were to ask me where they should go to see the latest and greatest in Japanese tuning and car customization, I wouldn't say SEMA. For that you'd be much better off skipping Vegas and heading to Makuhari Messe for Tokyo Auto Salon in January.
With that being said, SEMA still provides plenty of interesting stuff for fans of JDM style, and the show has become an increasingly popular place for Japanese builders and companies to show their stuff to a global audience.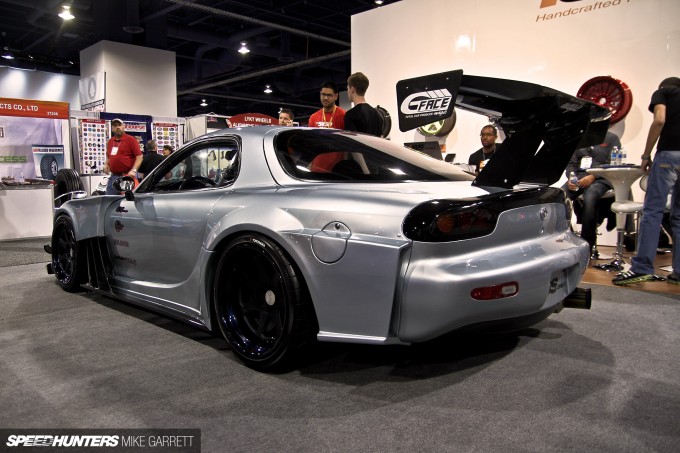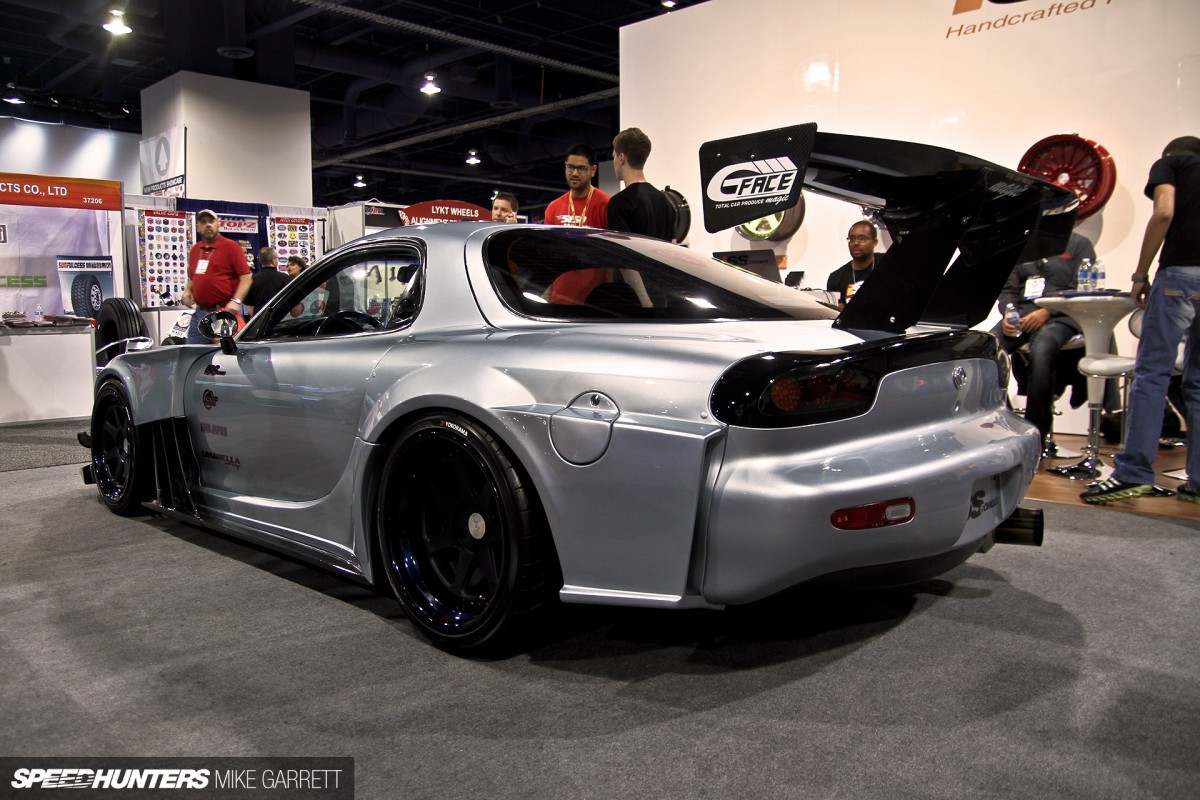 So for this story I thought we'd take a look at some of the modified Japanese cars and Japan-derived styles that made an impression at this year's show. Whether it was aftermarket companies, private owners, or OEMs, there was lots to see.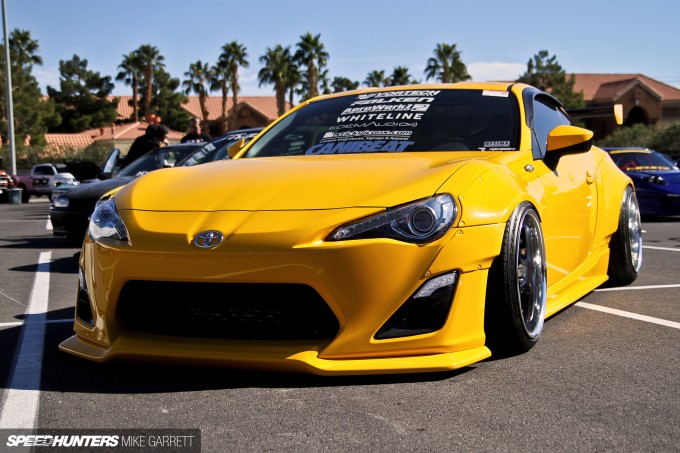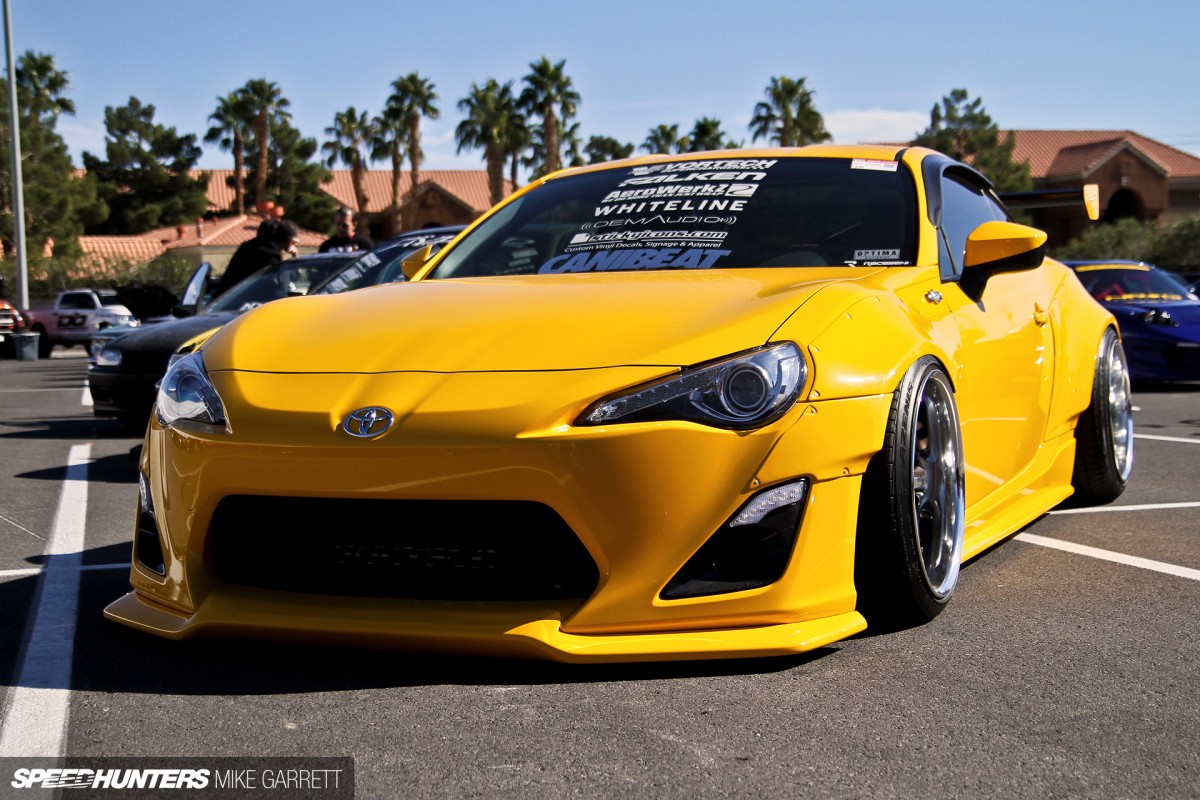 Let's just get this out of the way now. It seemed like a good 75% of all the Japanese vehicles at the show were a Scion FR-S or Subaru BRZ of some type.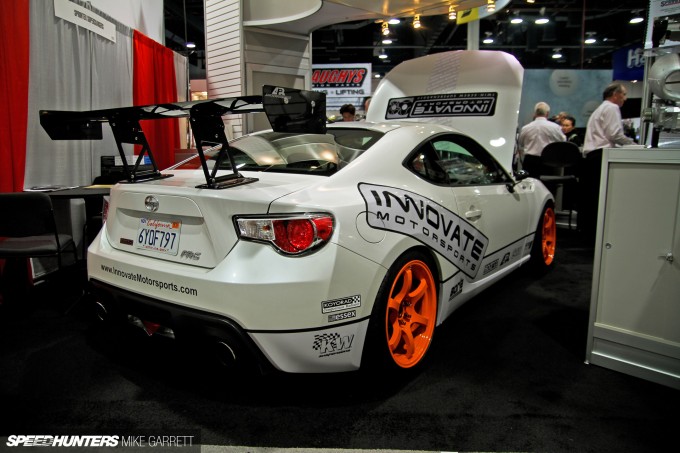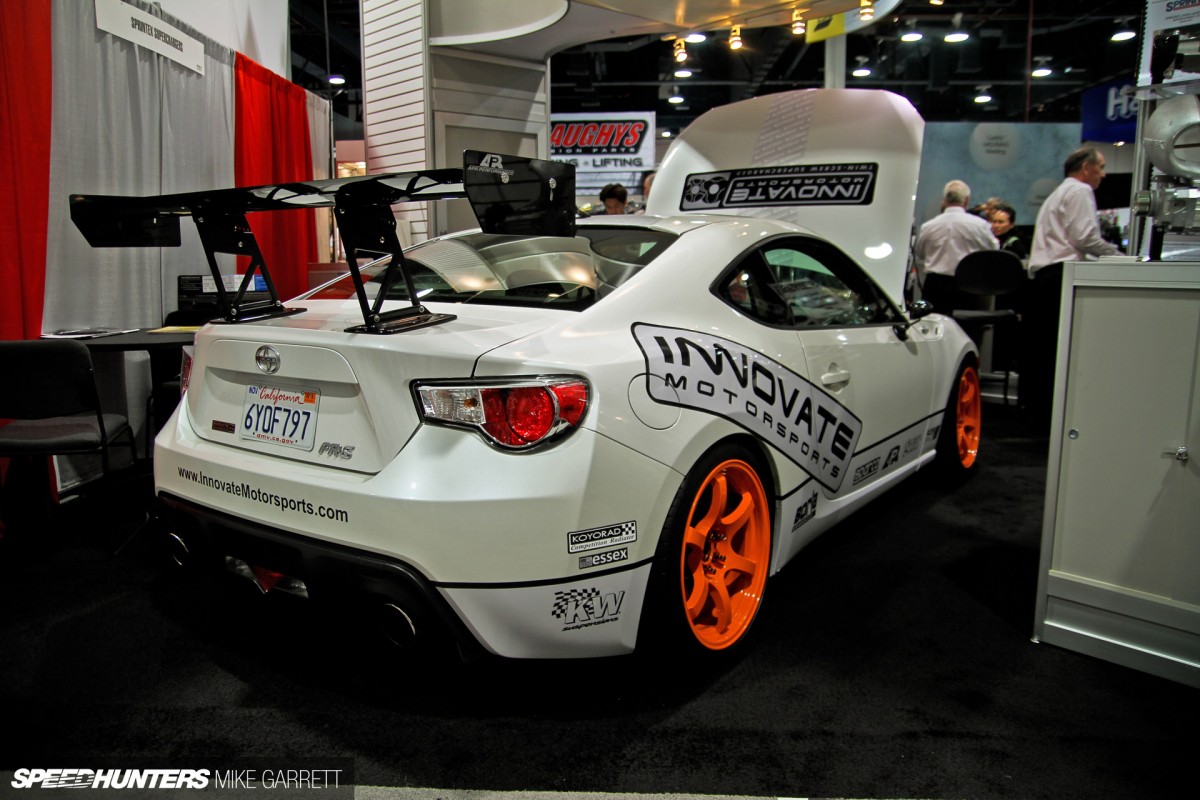 Among the FR-S and BRZ crowd, there were many different styles present. Some builders were showing off track-oriented cars…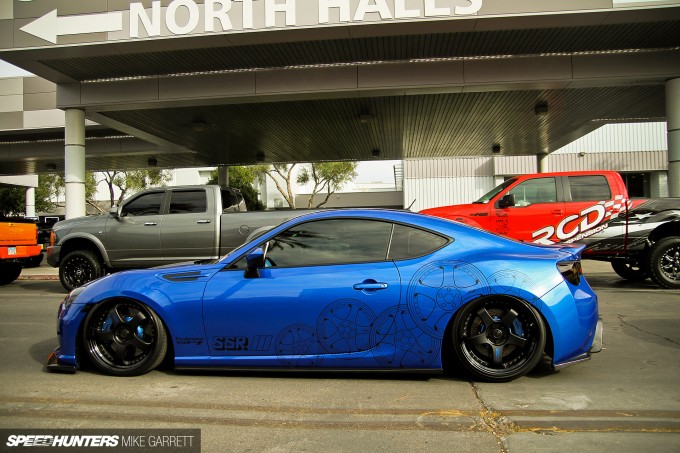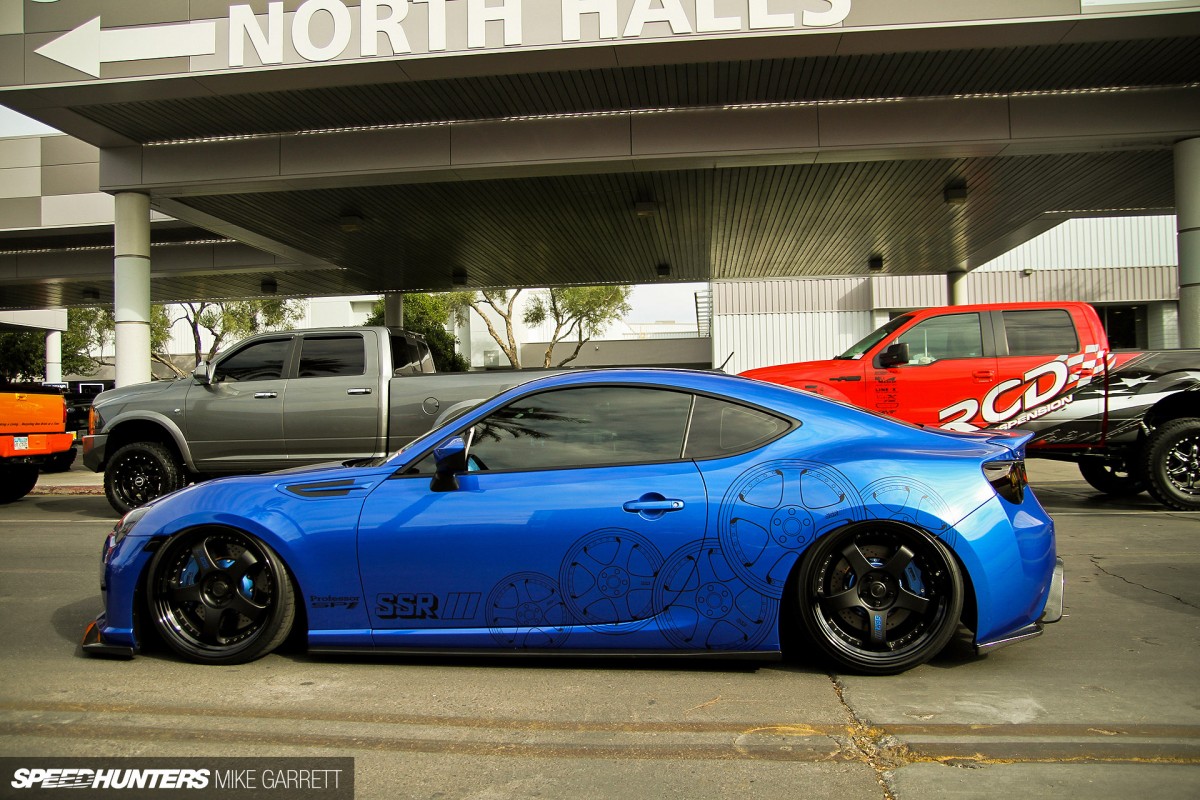 …while other cars like this airbagged BRZ on matte black SSRs went for the street look.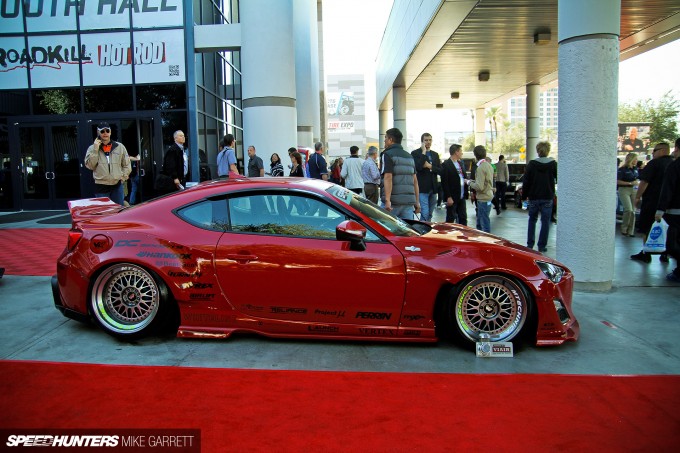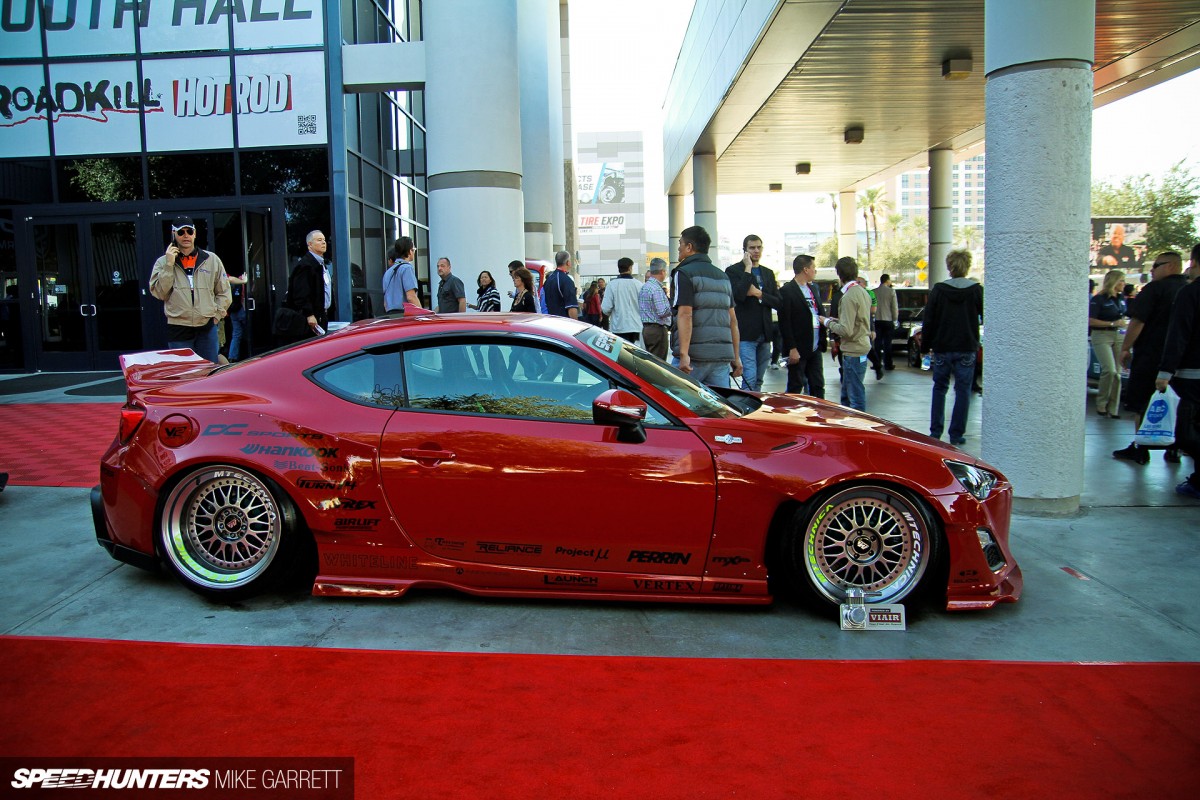 Of this FR-S and BRZ group, it seemed that at least half of the cars were equipped with Rocket Bunny kits of some sort.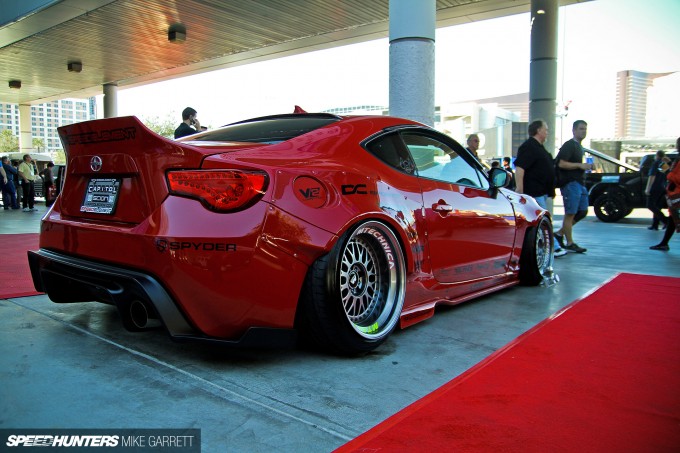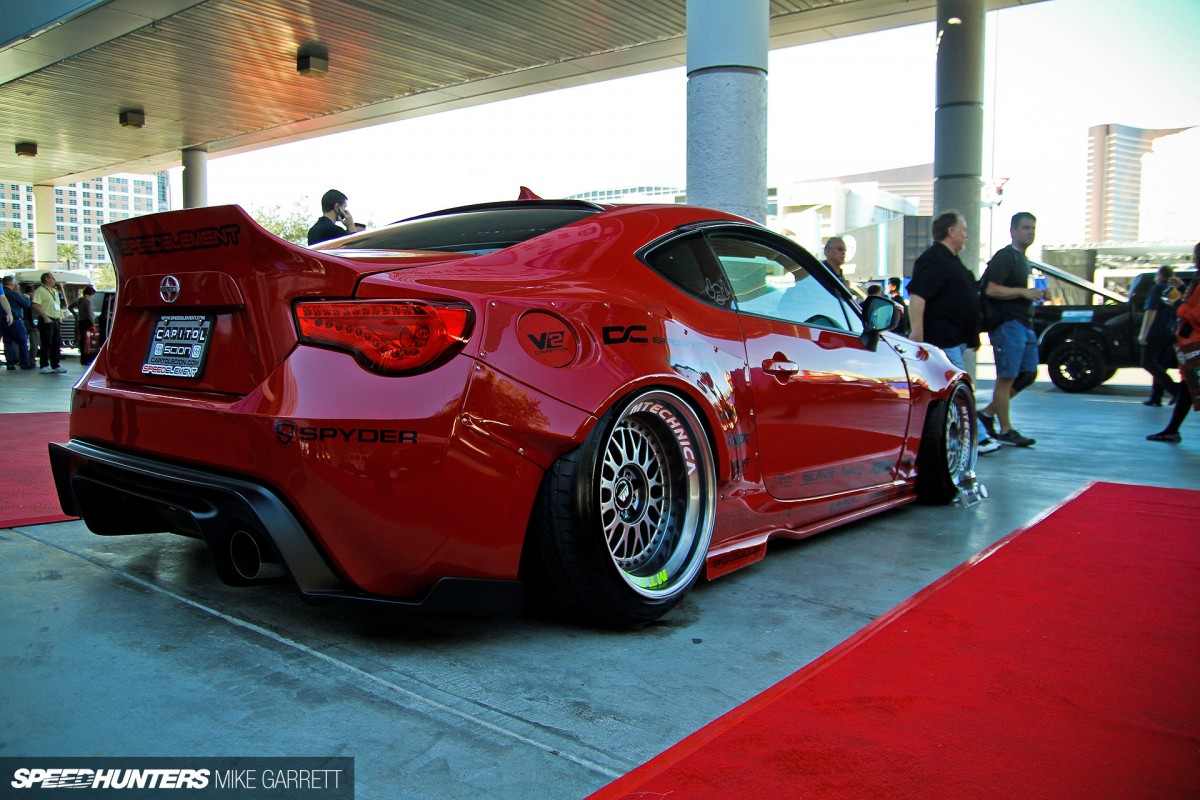 Miura-san's bodywork has really become the de facto choice for these cars, and you'd almost believe the FR-S actually left the factory looking like this.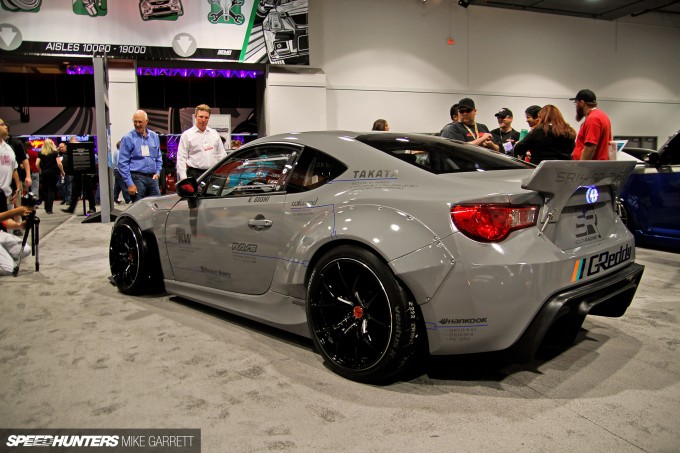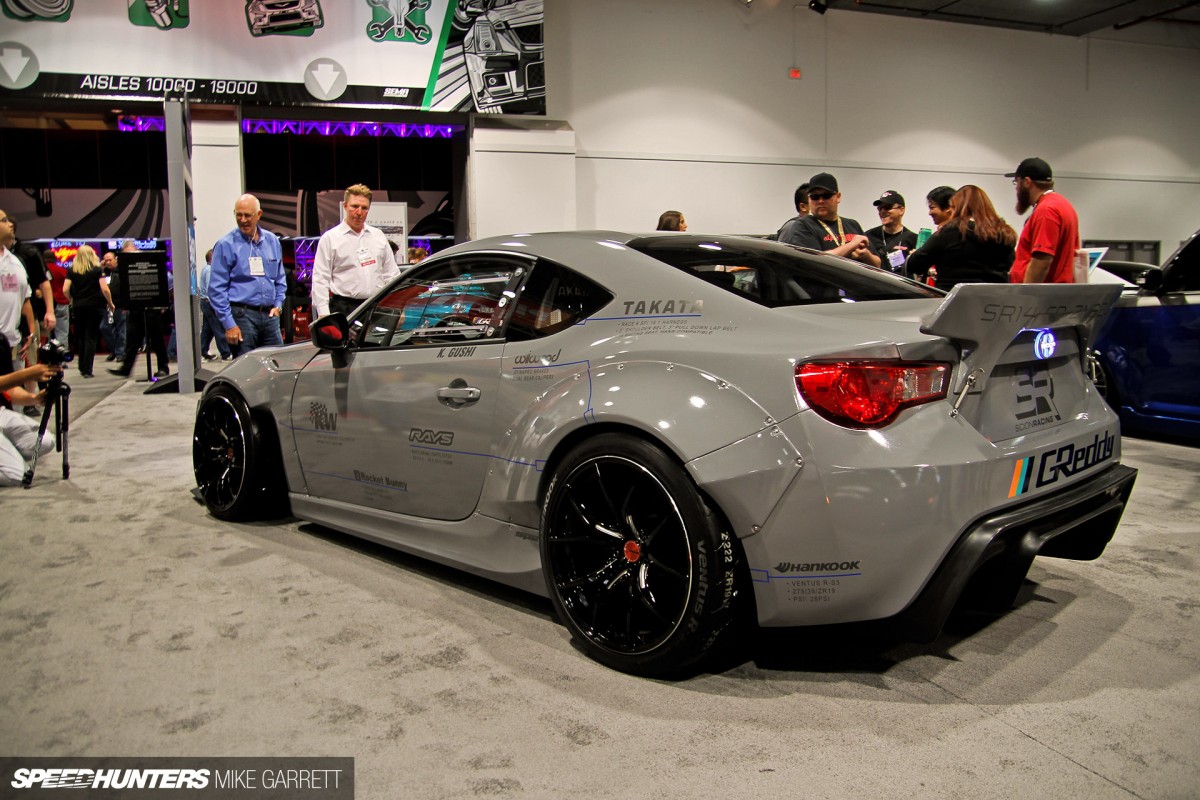 Of SEMA's Rocket Bunnies, I think the most impressive specimen was the 2014 Greddy Drift FR-S.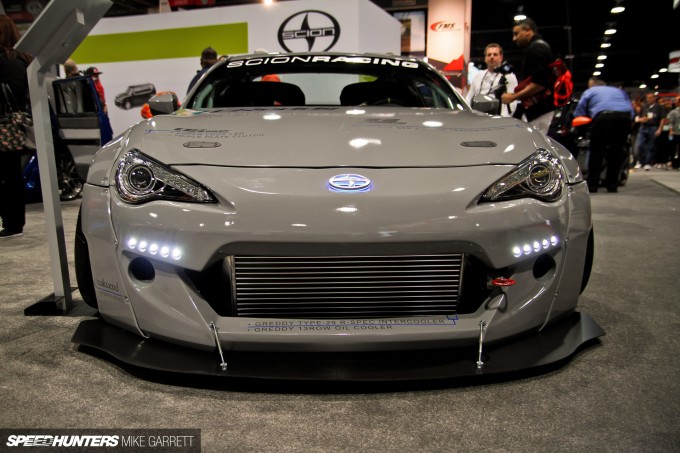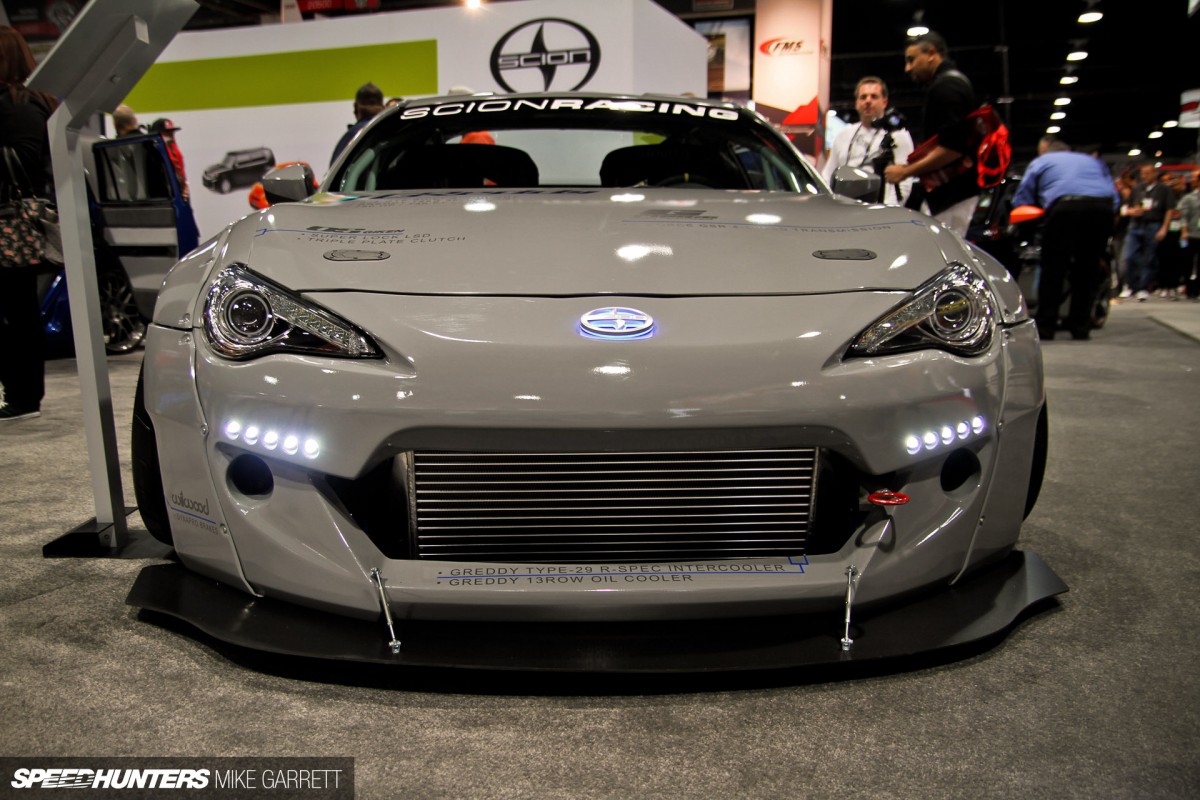 It's looking like this car will become Ken Gushi's chariot during Formula Drift next season, and besides the new V2 Rocket Bunny styling…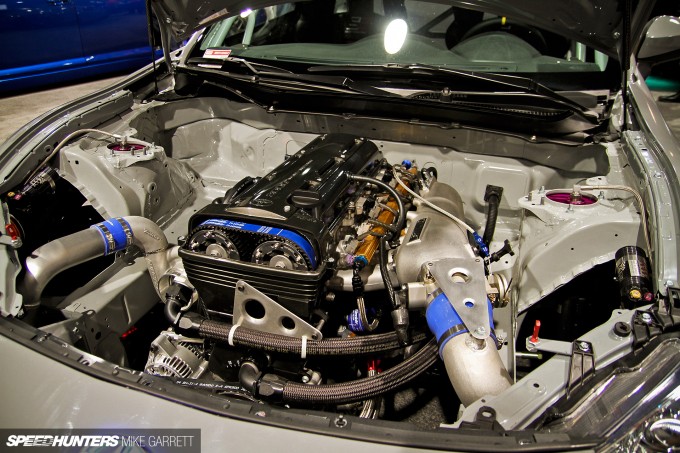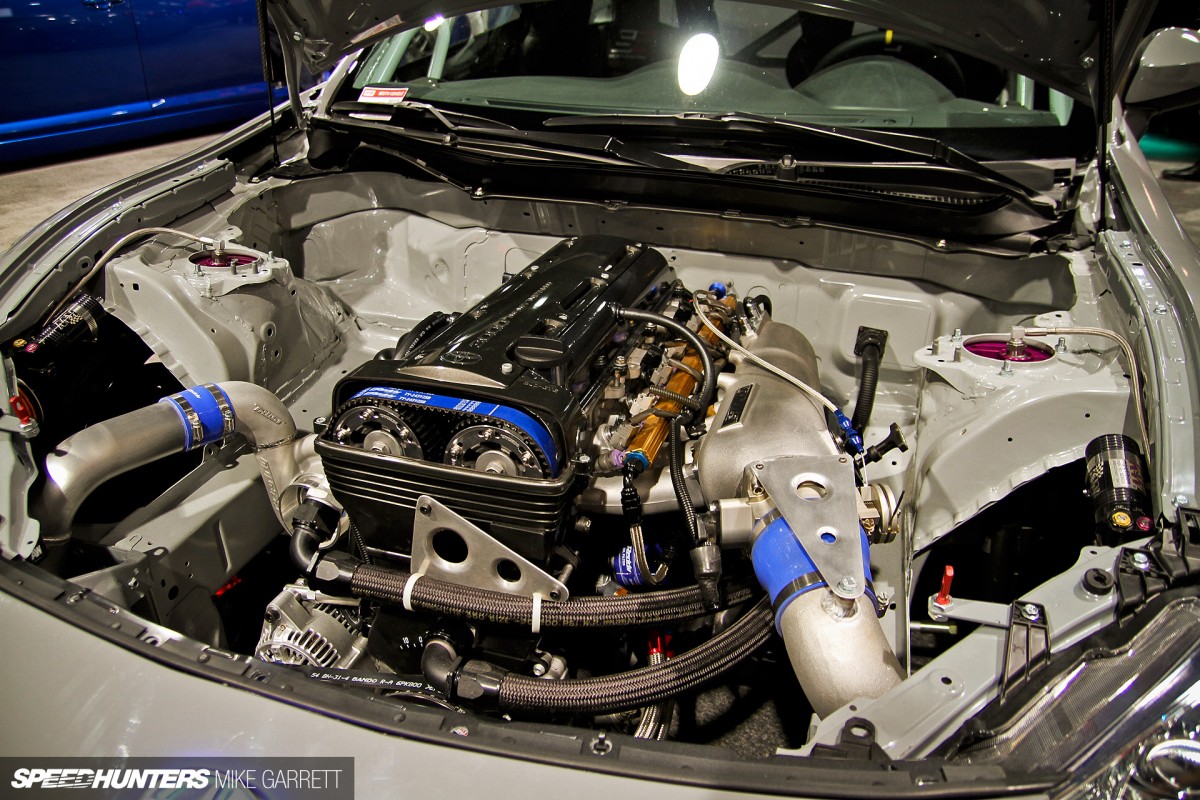 … it seems the team is leaving the flat-four behind in favor of a 2JZGTE making 750 horsepower. This should be fun to watch come next year.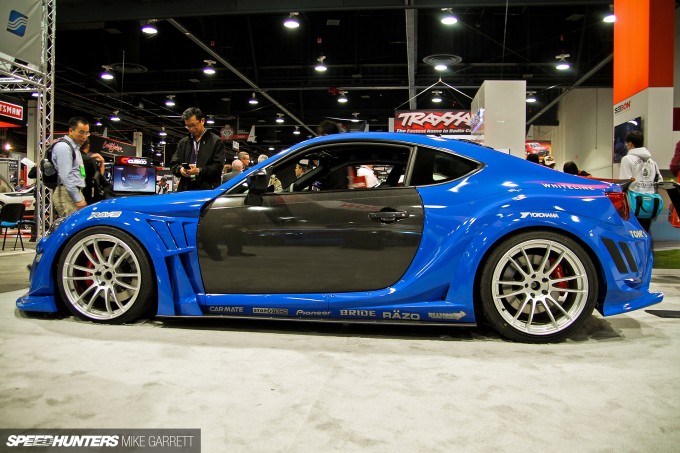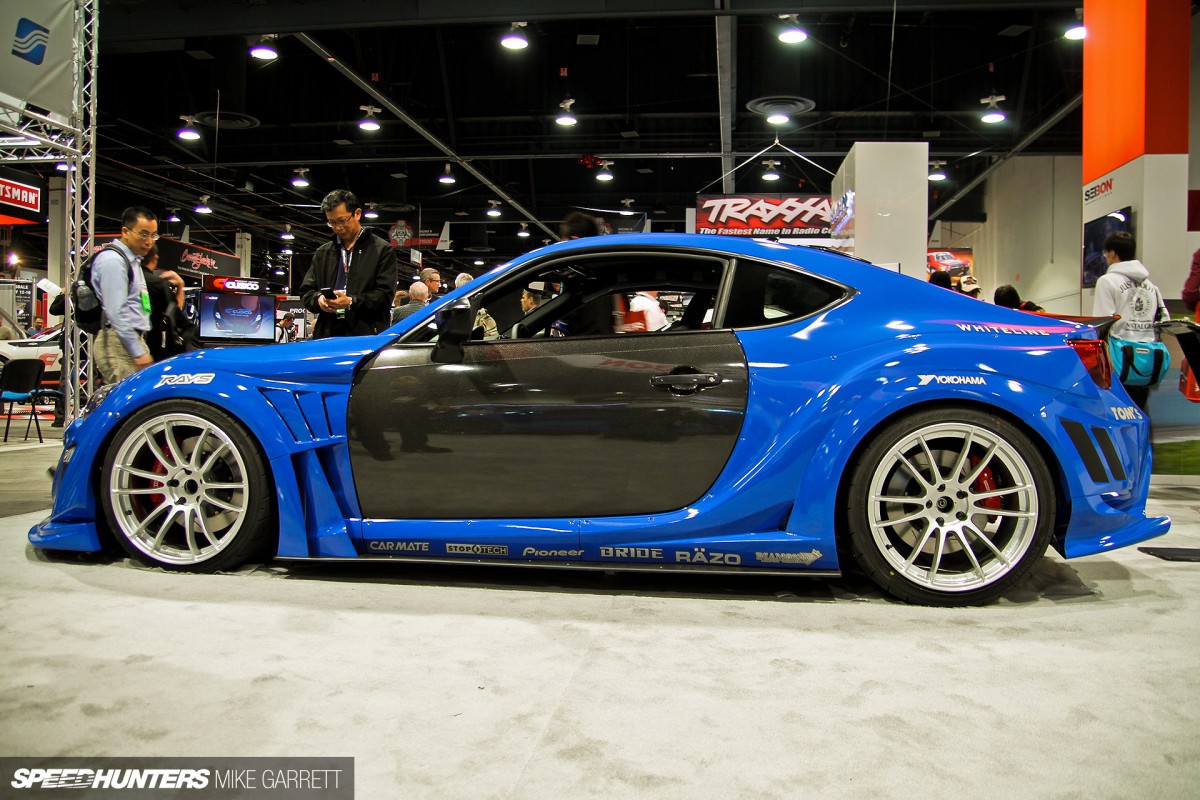 Had your fill of Rocket Bunny? There were other wide-body machines being shown, like this BRZ wearing a Varis kit and also sporting a Kraftwerks supercharger beneath the hood.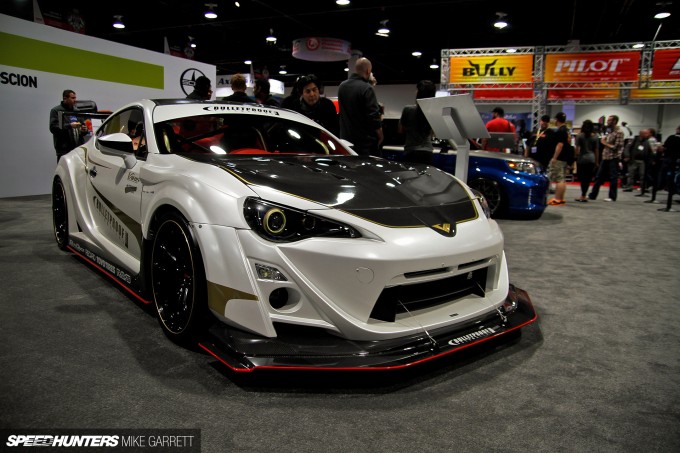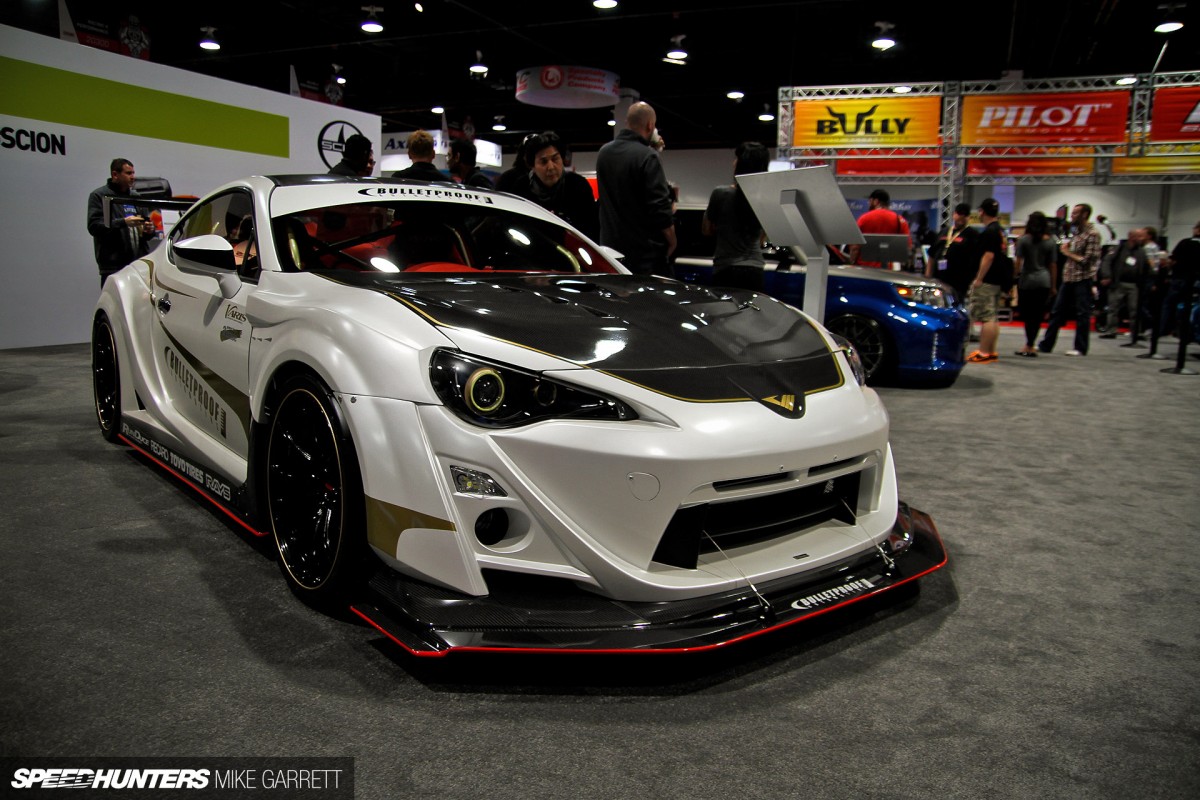 Bulletproof Automotive's FR-S was also running a Varis wide-body conversion, with a Powerhouse Amuse turbo kit providing extra grunt under the hood.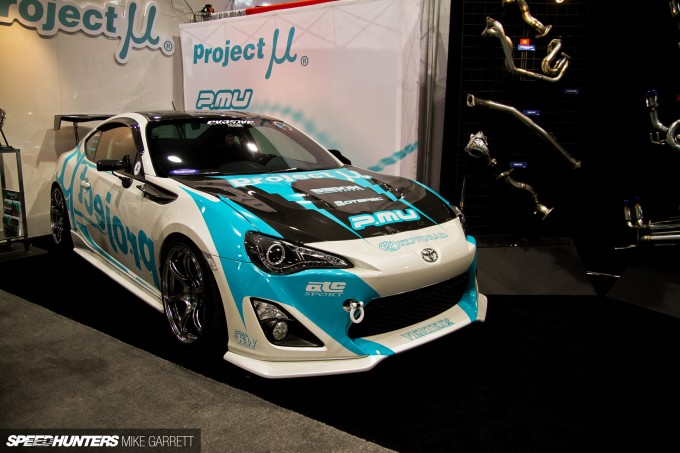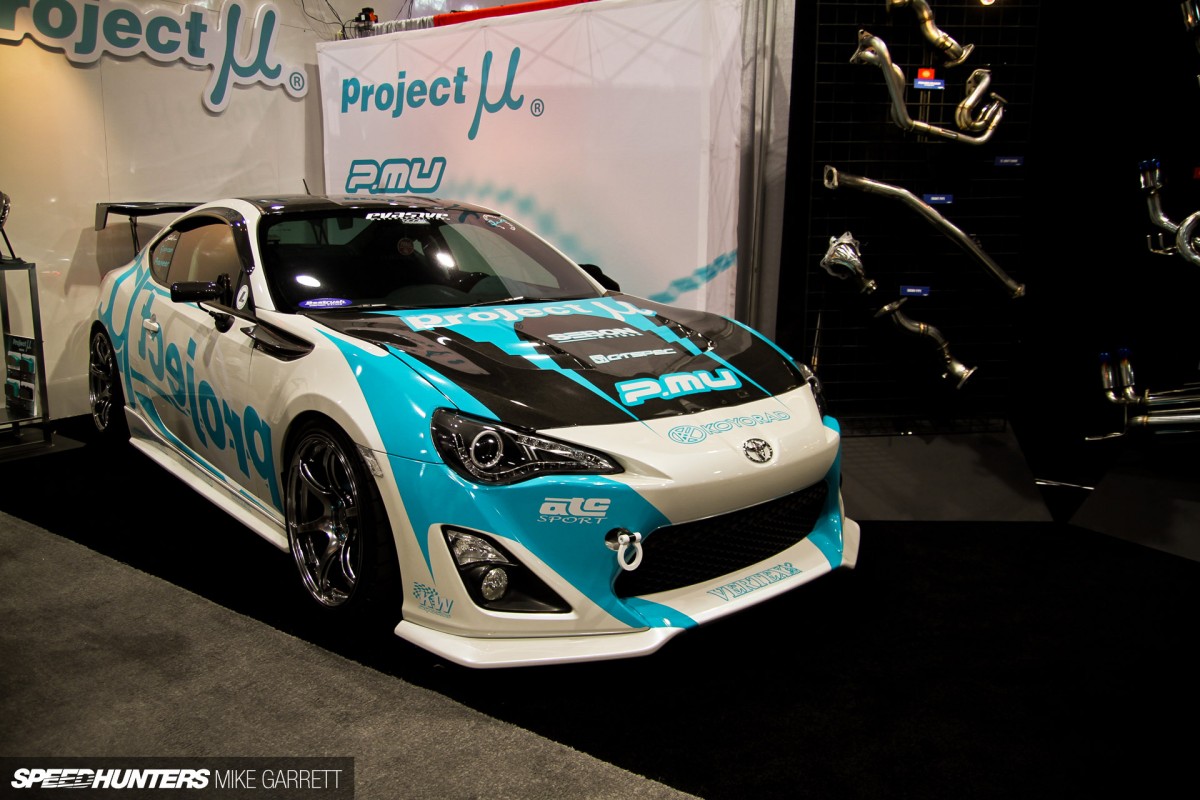 Here we have the Project Mu FR-S demo car looking like it was plucked directly from the halls of Tokyo Auto Salon.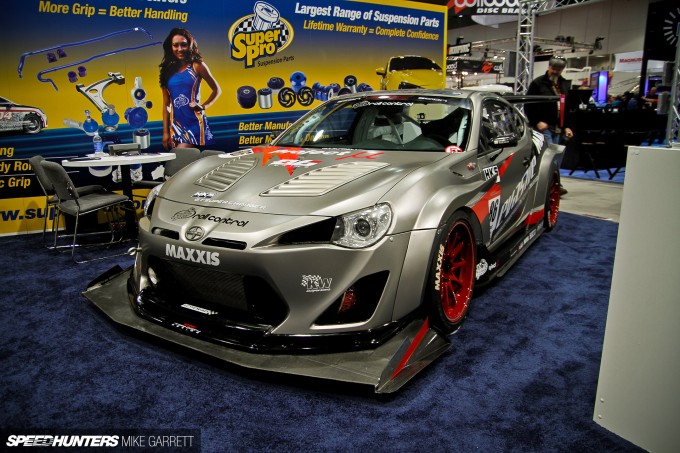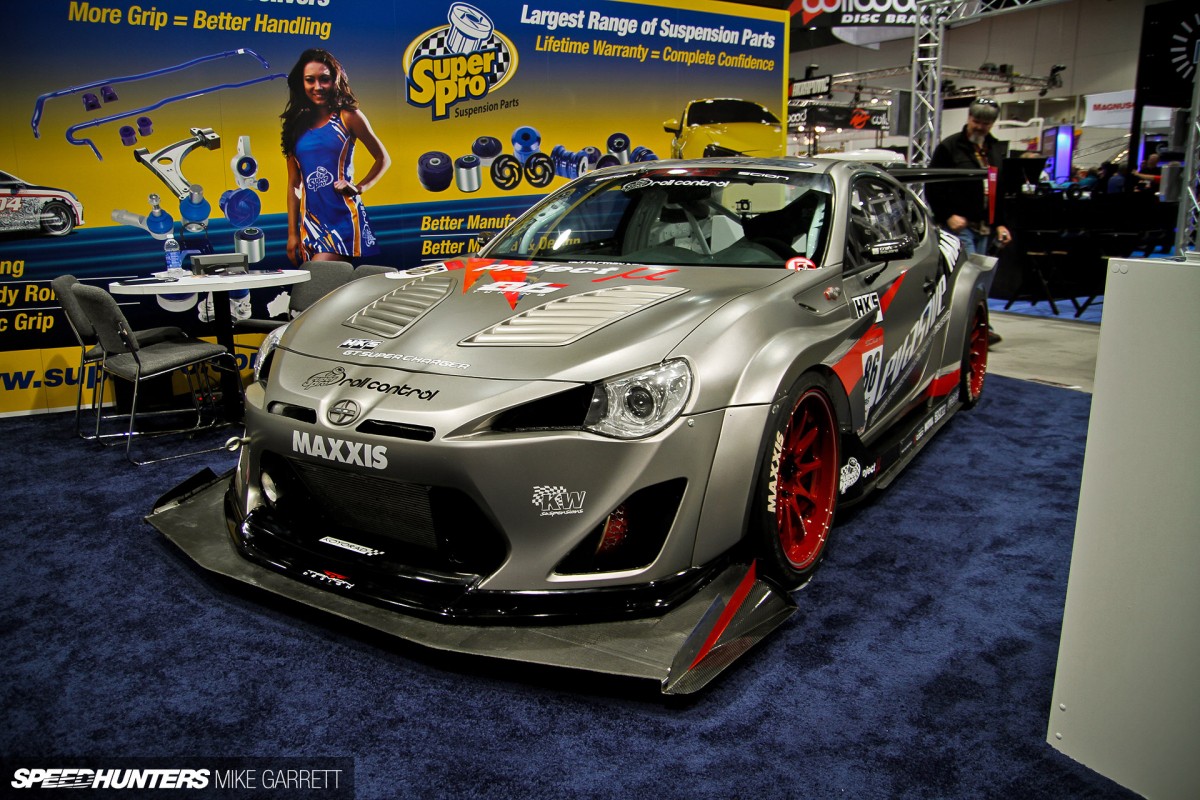 The Super Pro booth was home to the familiar shape of the Evasive FR-S , now featuring new coloring and some additional bodywork since the last time we saw it. When it comes to the US tuners, it doesn't get much better than this.
VIP mania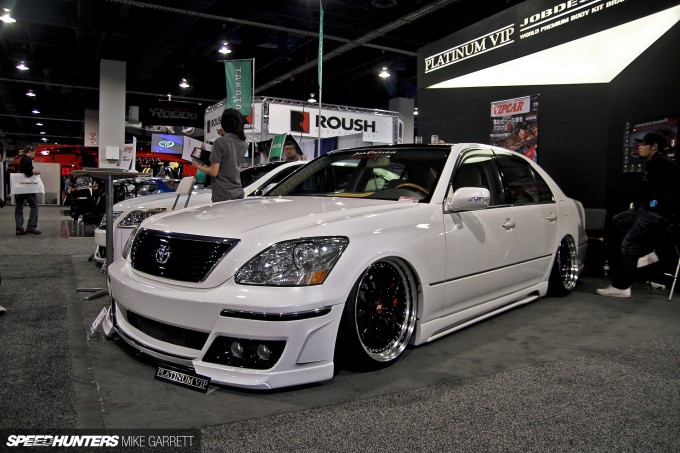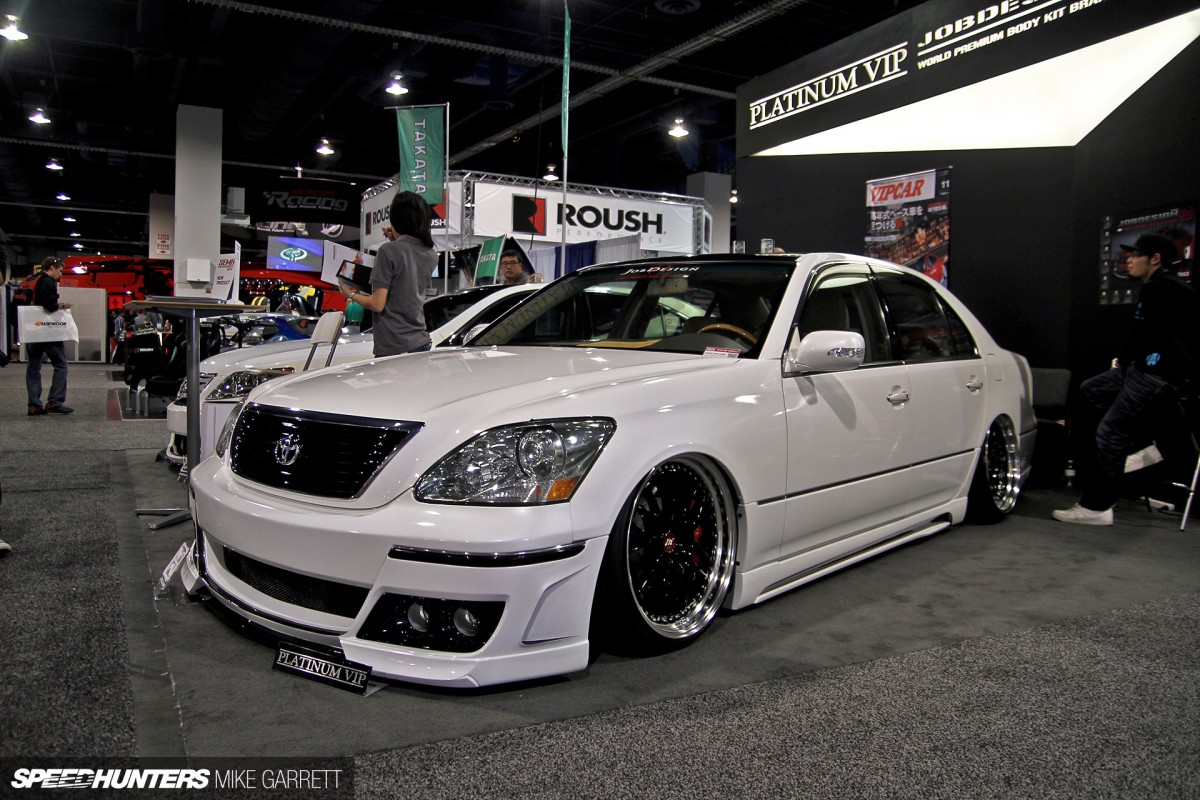 Aside from the FR-S/BRZ wave, VIP cars also had a strong presence at the SEMA Show this year. When you think about it, these heavily customized Japanese luxury sedans are really a perfect fit for the show.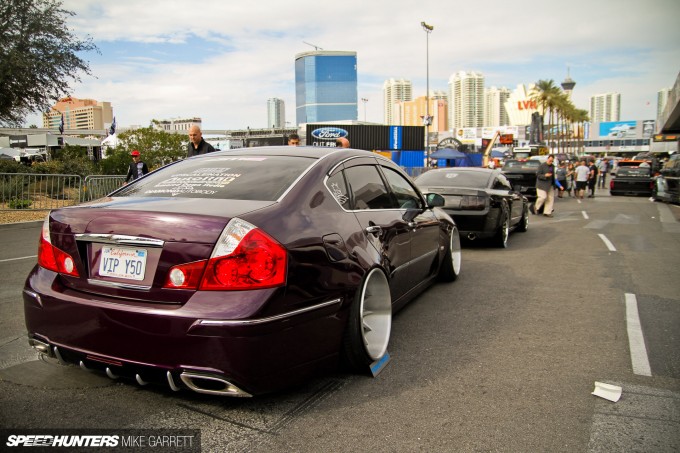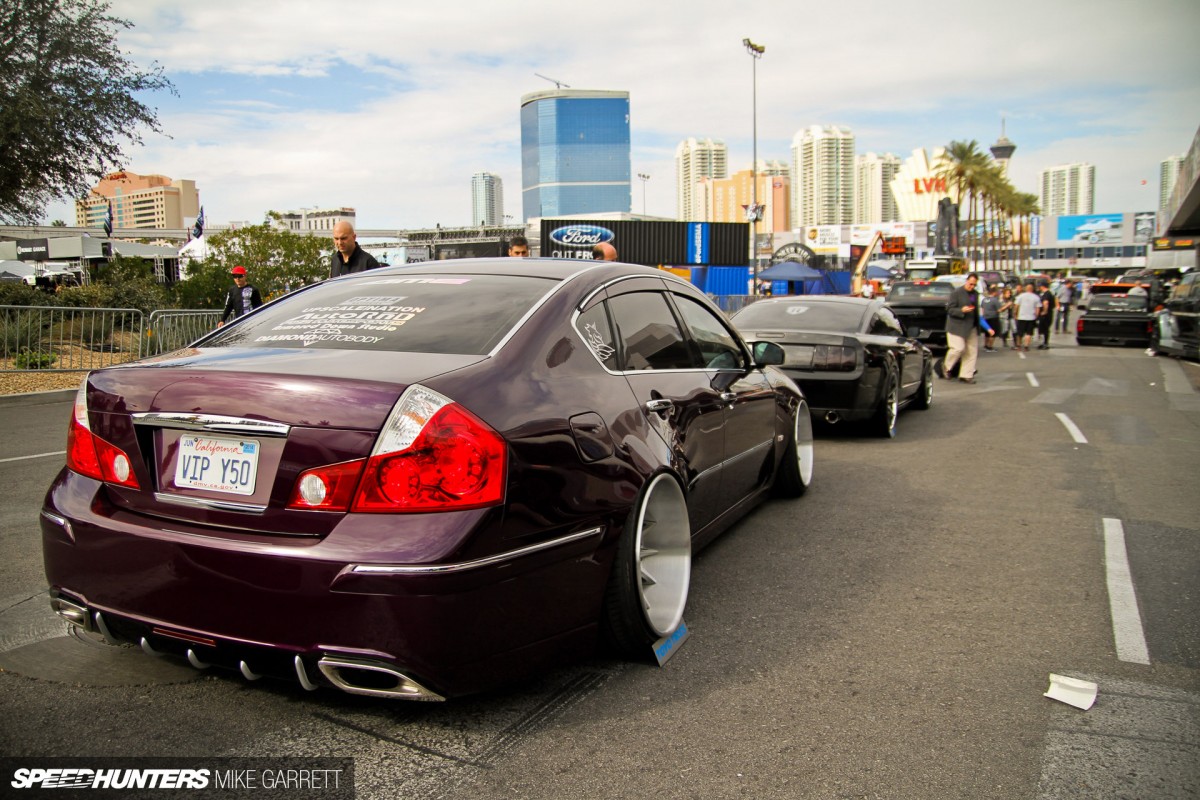 They might be more subtle and detail-oriented than the majority of the outrageous SEMA show cars, but I think they have an appeal that expands beyond the traditional VIP fan.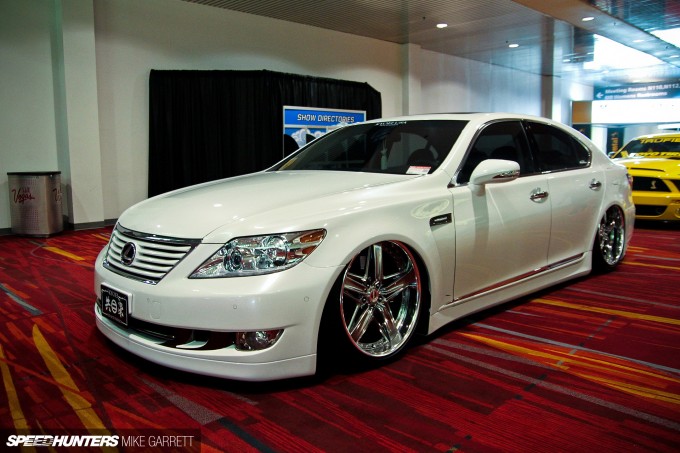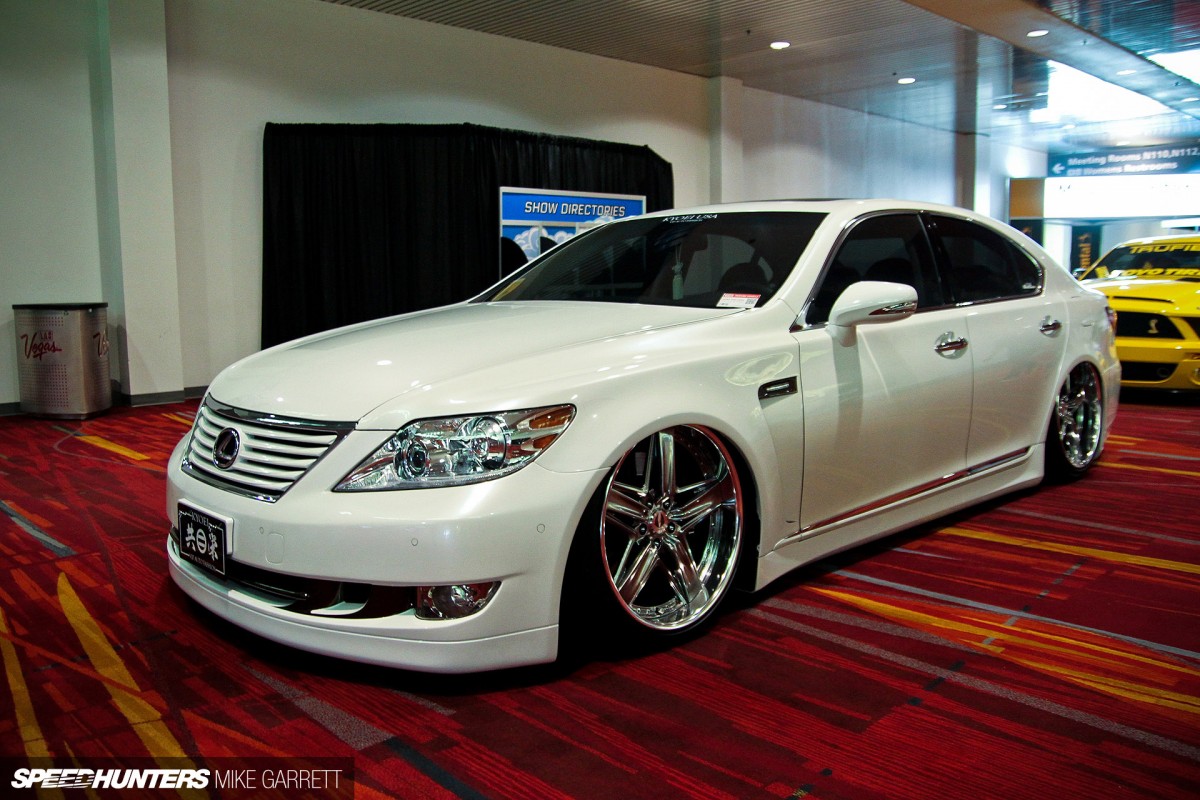 During my time around the show, I spotted lots of hot rodders, truckers and others checking out these VIP cars – admiring their bodywork, ride heights and precise wheel fitment. It's all part of the blend of people that SEMA brings out.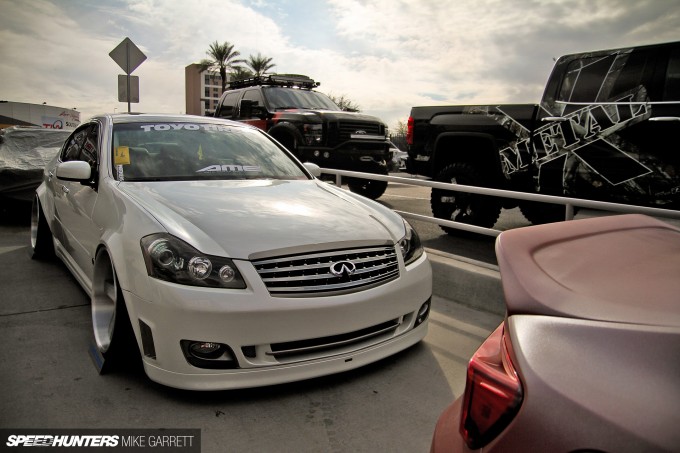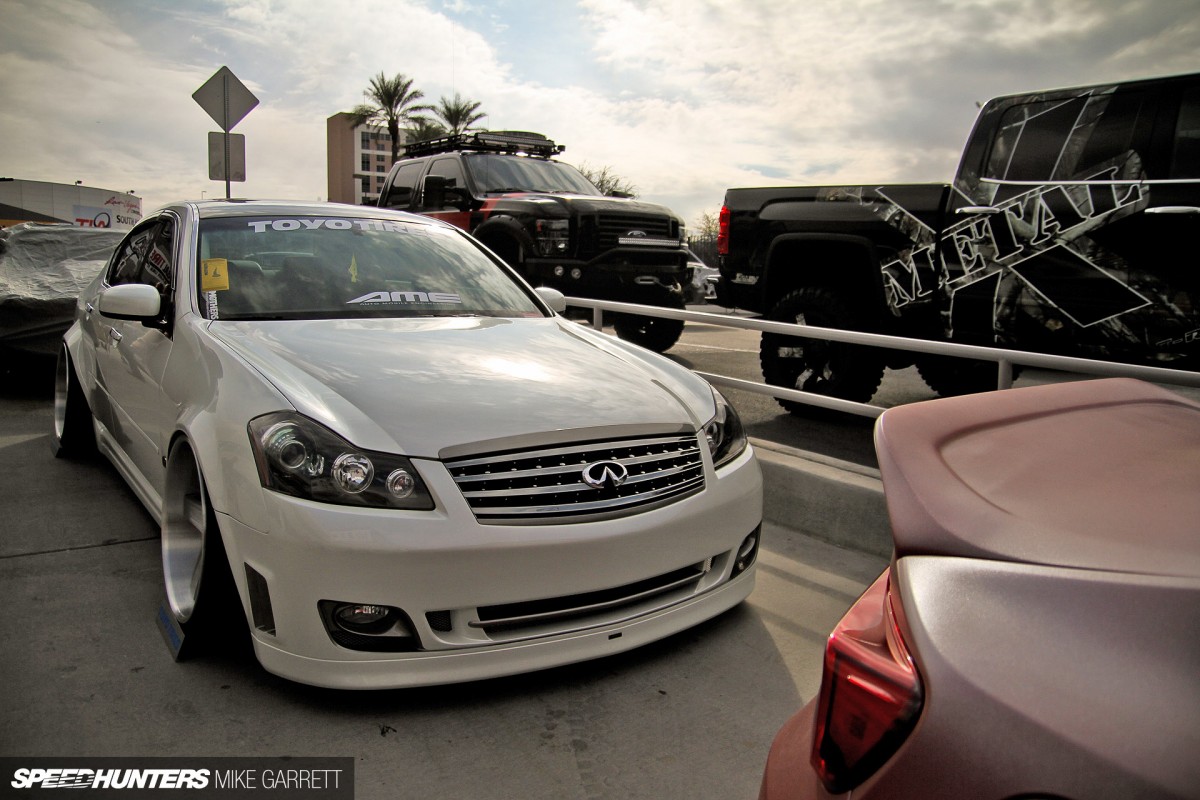 And who can blame them? In the last couple of years, the level of VIP cars in the states has been rising quickly. Where we once saw basic aero kits and off-the-shelf parts, we are now seeing one-off bodywork, creative fabrication and other more personal touches.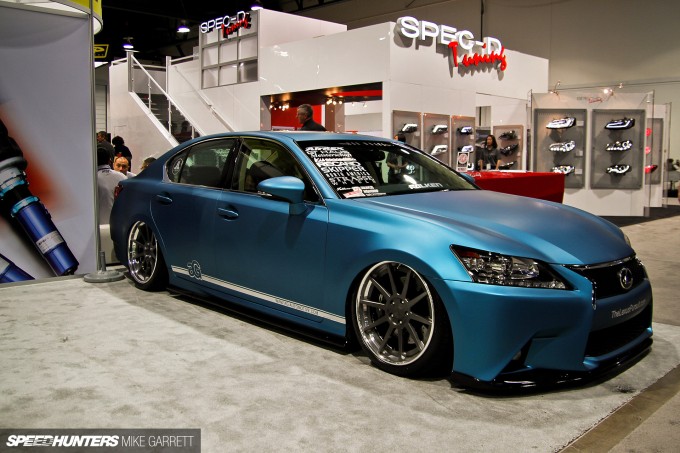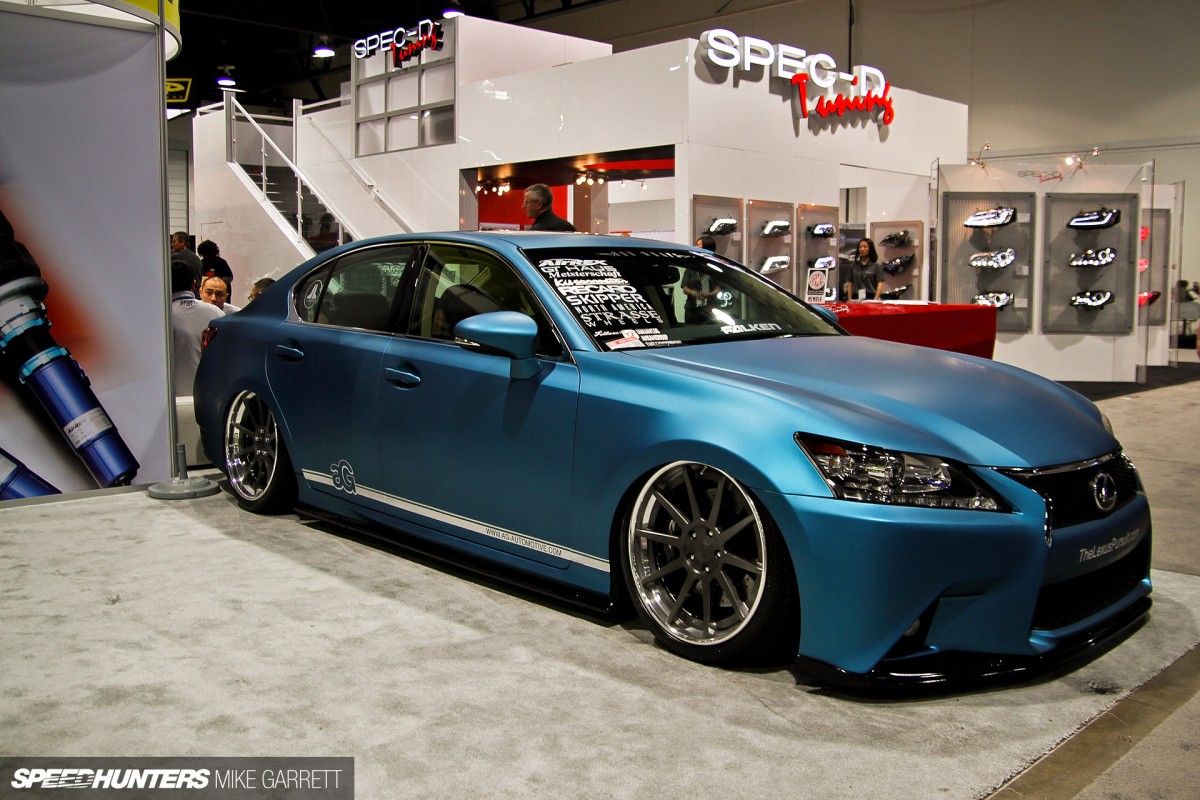 Here's the latest version of the Lexus GS looking pretty choice with air suspension and a matte blue wrap.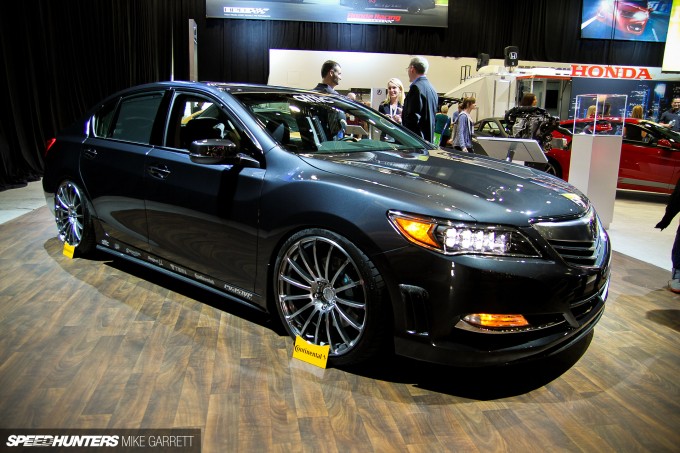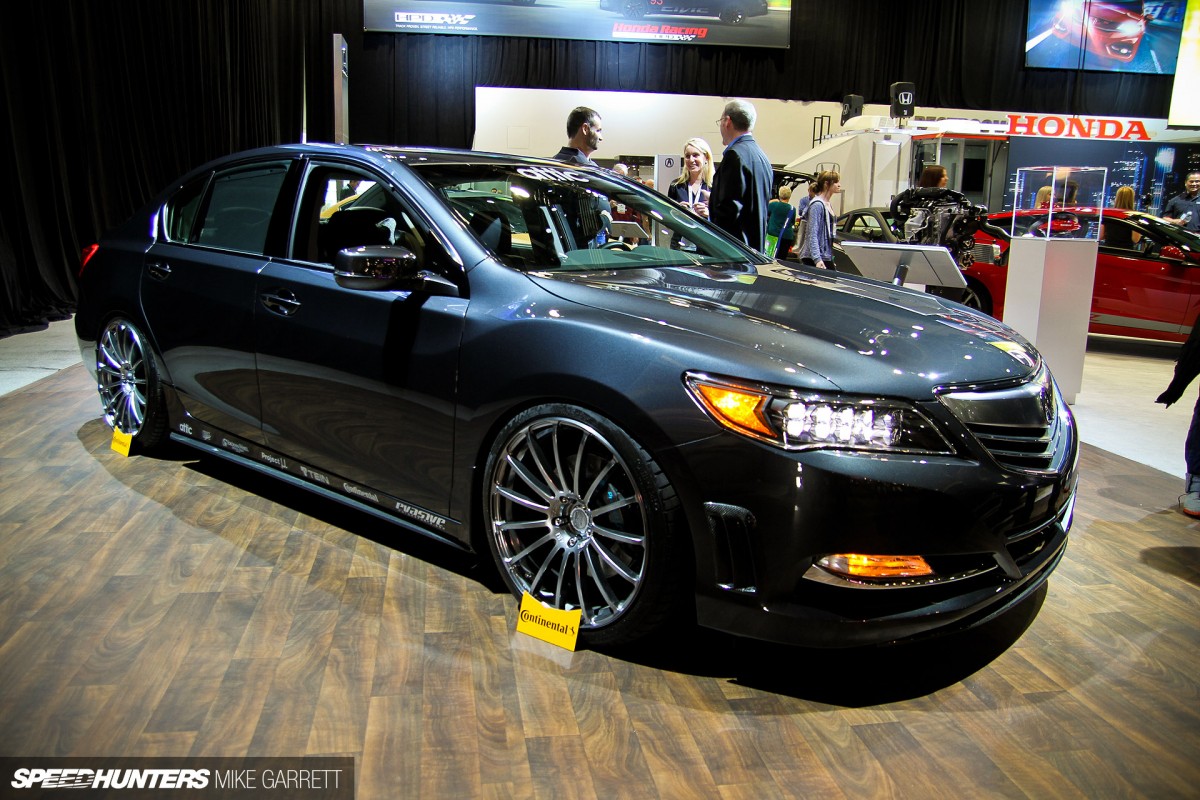 Even the OEMs were getting down with the VIP thing. Acura brought out this 2014 RLX with some tasteful body upgrades, 21″ Advan wheels and additional tuning from Evasive Motorsports.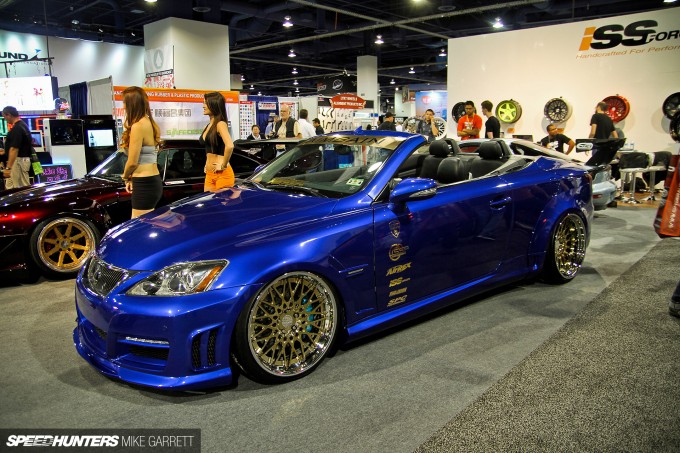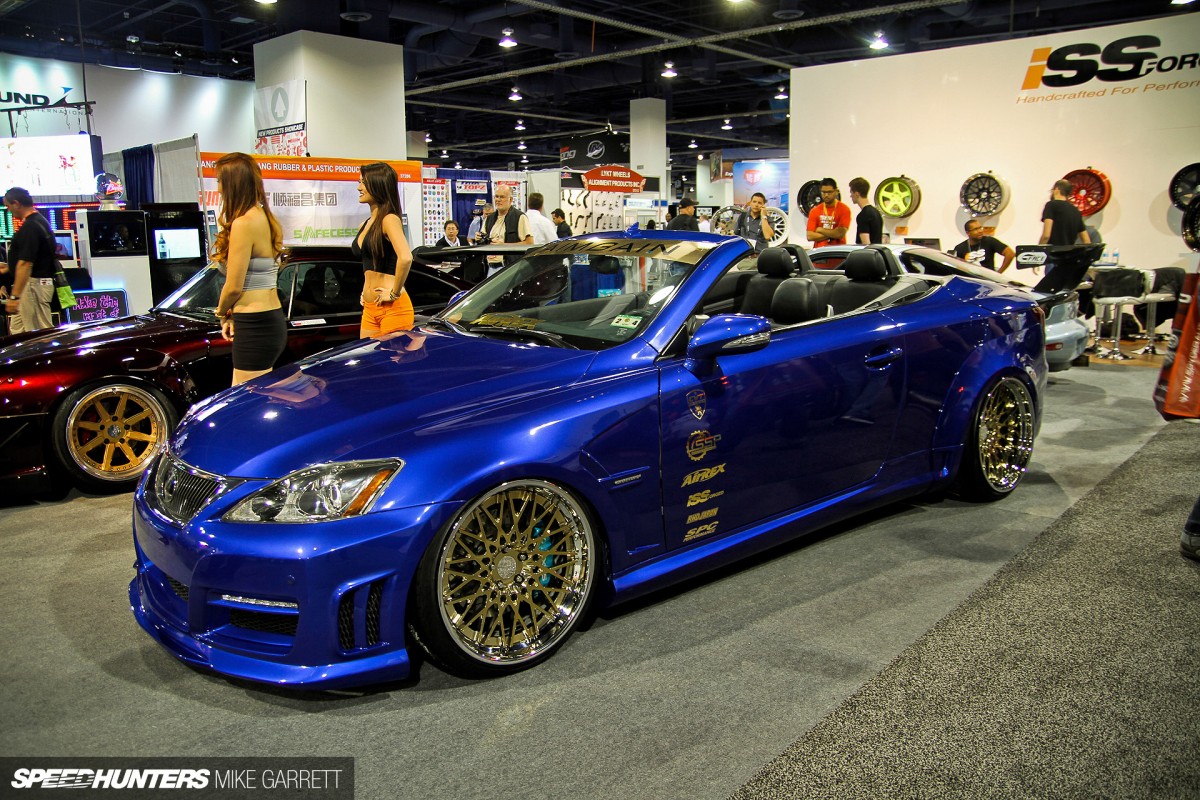 Of course the VIP influence expands outside of the traditional four-door luxury sedan. Here's a wild-looking Lexus IS convertible with Aimgain aero and a set of iSS Forged wheels.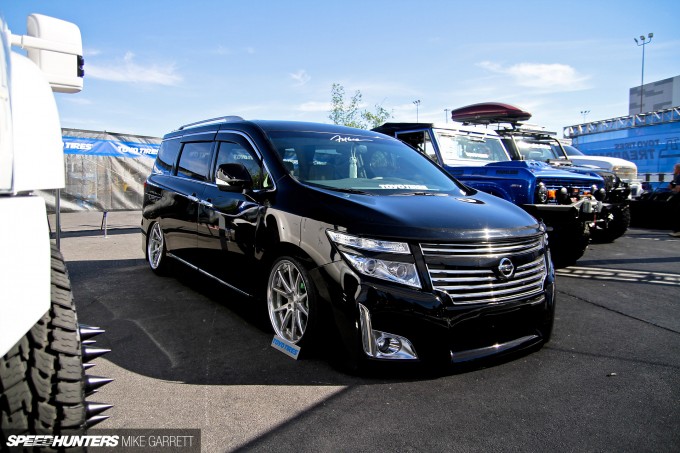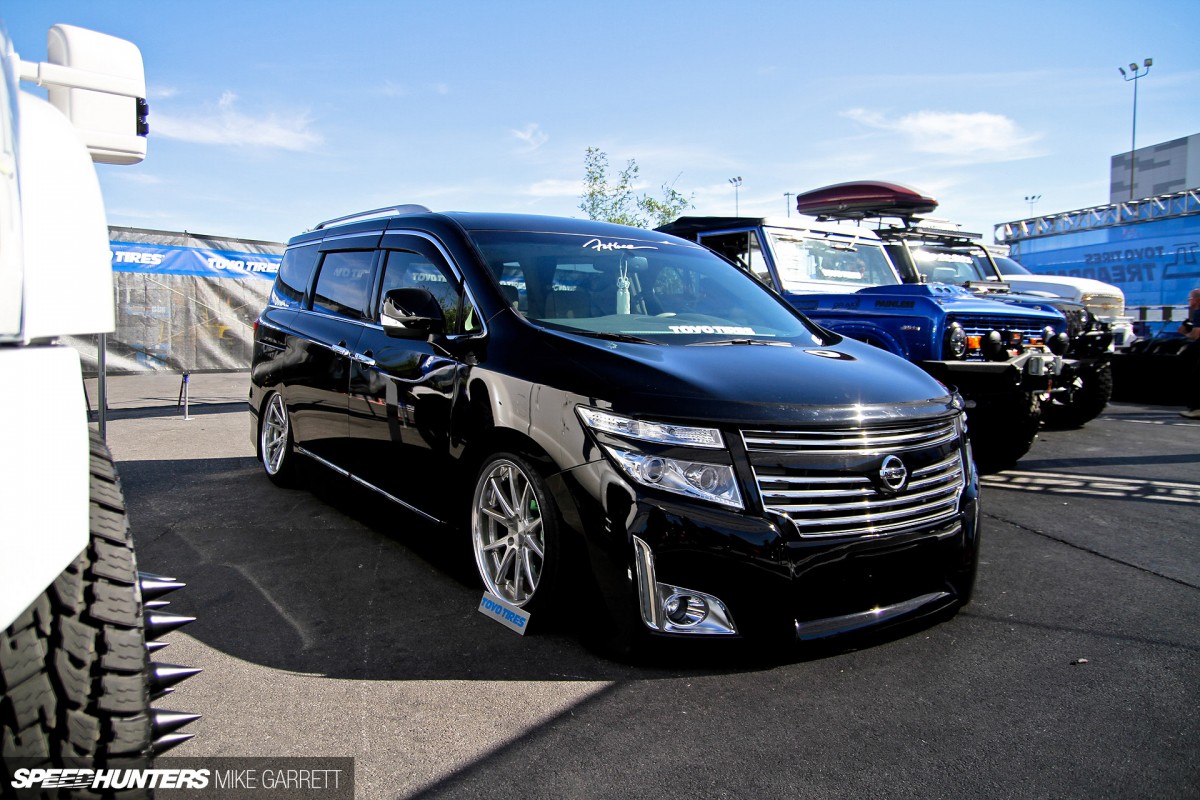 There's Mark Arcenal's Nissan Quest minivan, which has gone through the not-so-easy process of being converted to a JDM-spec Nissan Elgrand. I'd say the result is worth the effort though.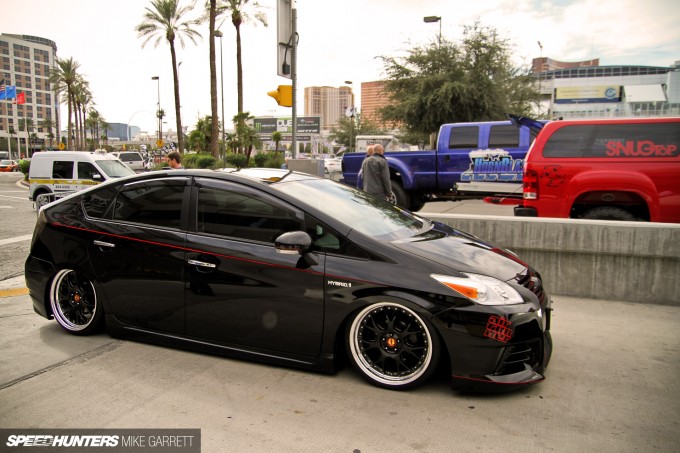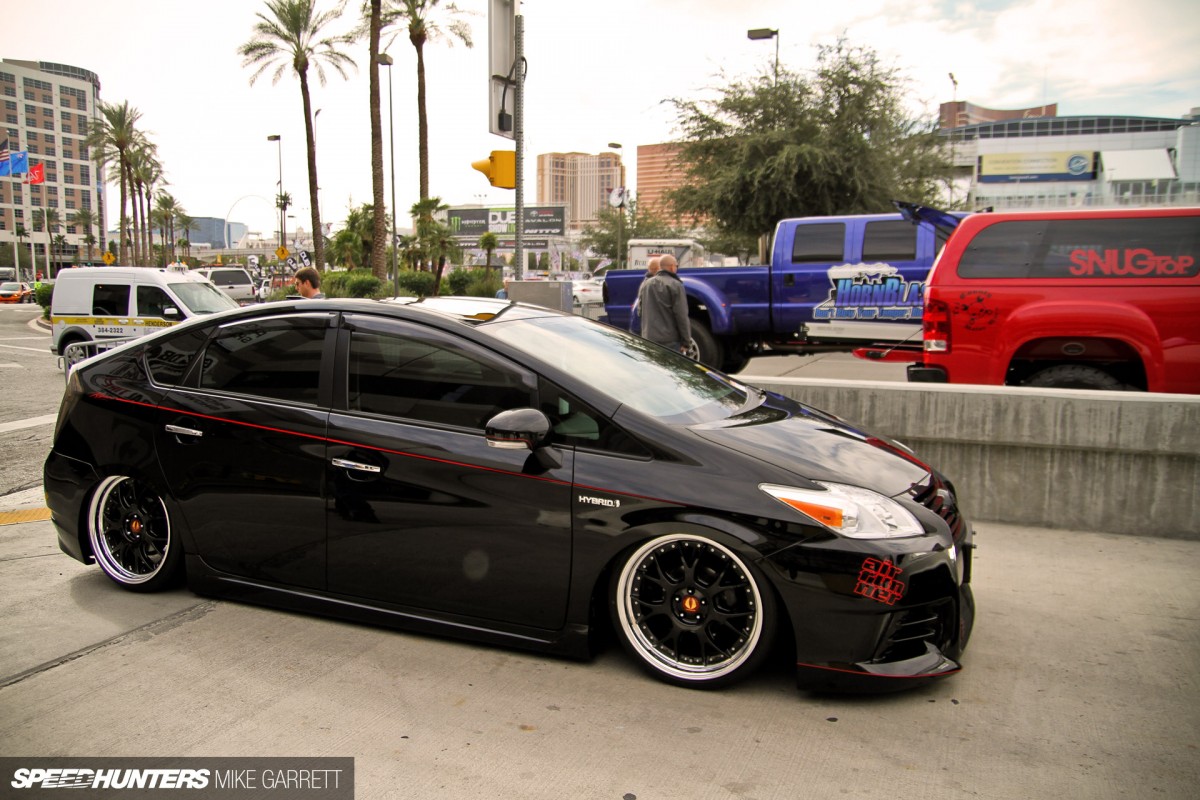 What better way to balance all the crazy lifted trucks outside than with Kyoei USA's airbagged Prius? I'm totally down with this.
The other guys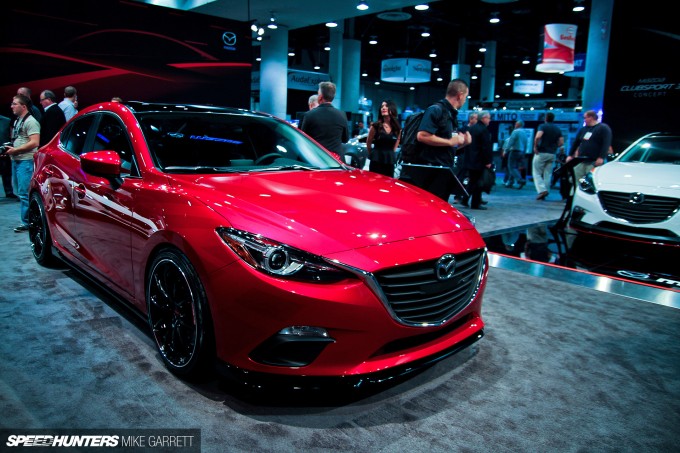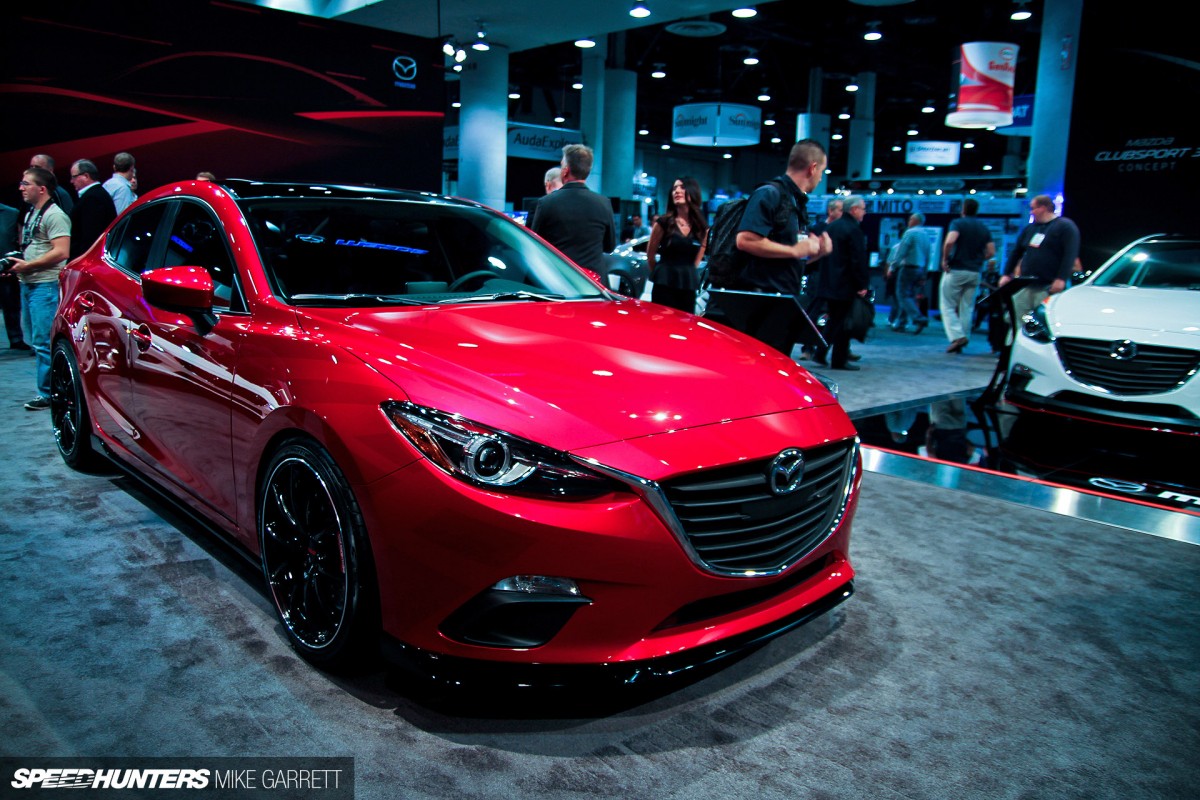 Elsewhere, Mazda can always be counted on to bring some cool cars out to SEMA, and this year their booth featured both the new Mazda3 and the Mazda6.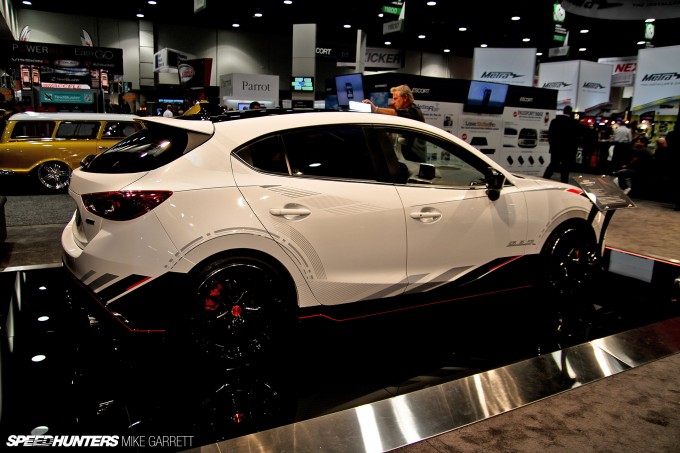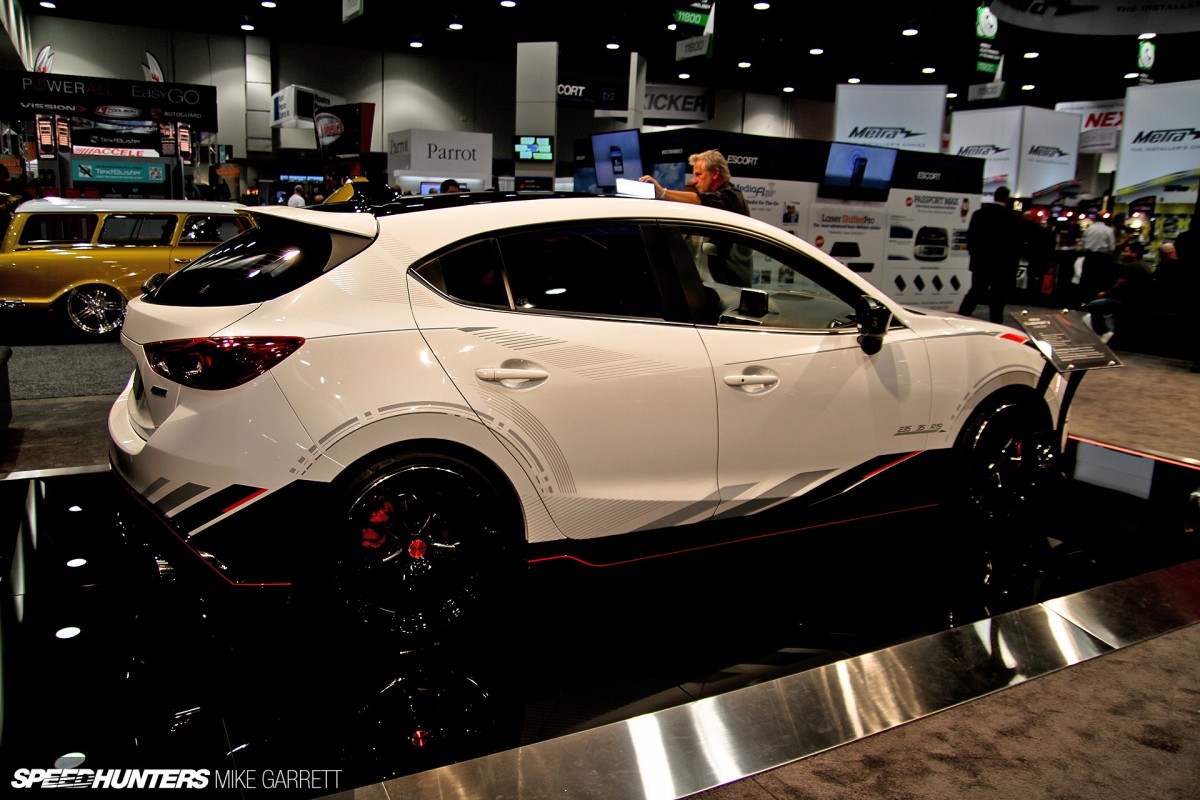 This is the ClubSport3 Concept, with upgraded suspension, OE aero parts, Brembo brakes and a set of 19″ RAYS 57 Motorsport wheels.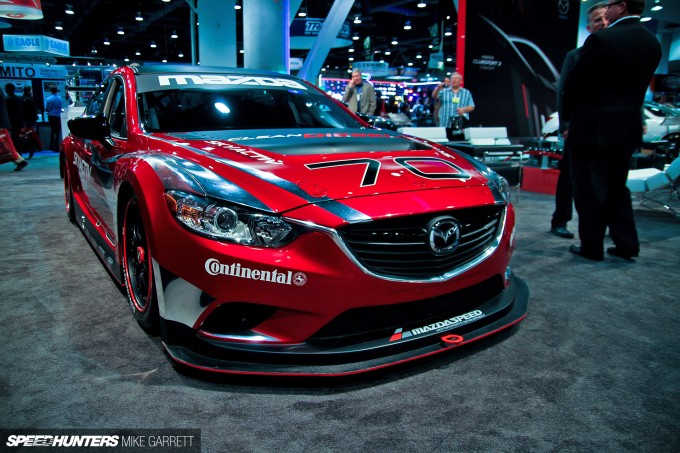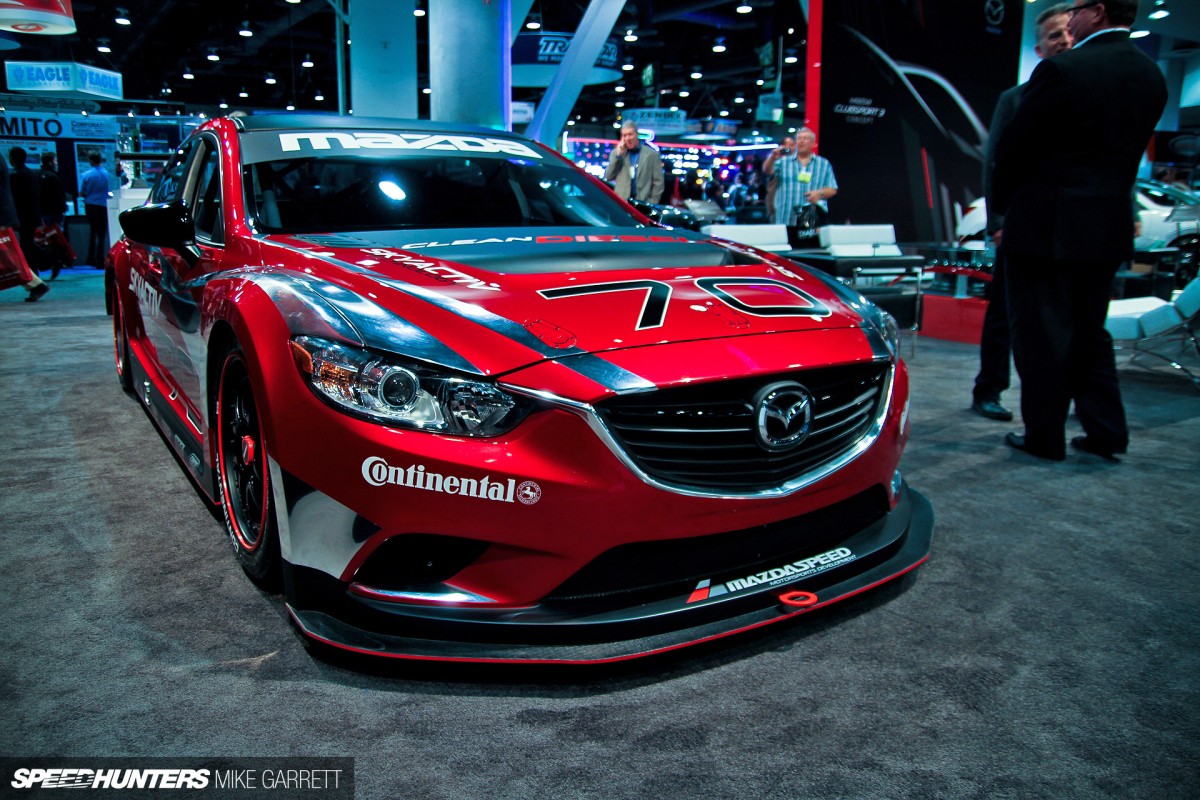 Perhaps the coolest car in the booth though, was the Mazda6 diesel competition machine. Surely one of the most interesting Japanese factory race cars in a while.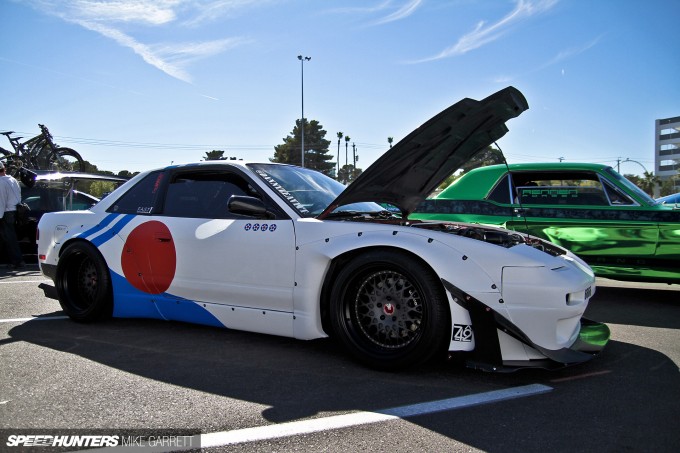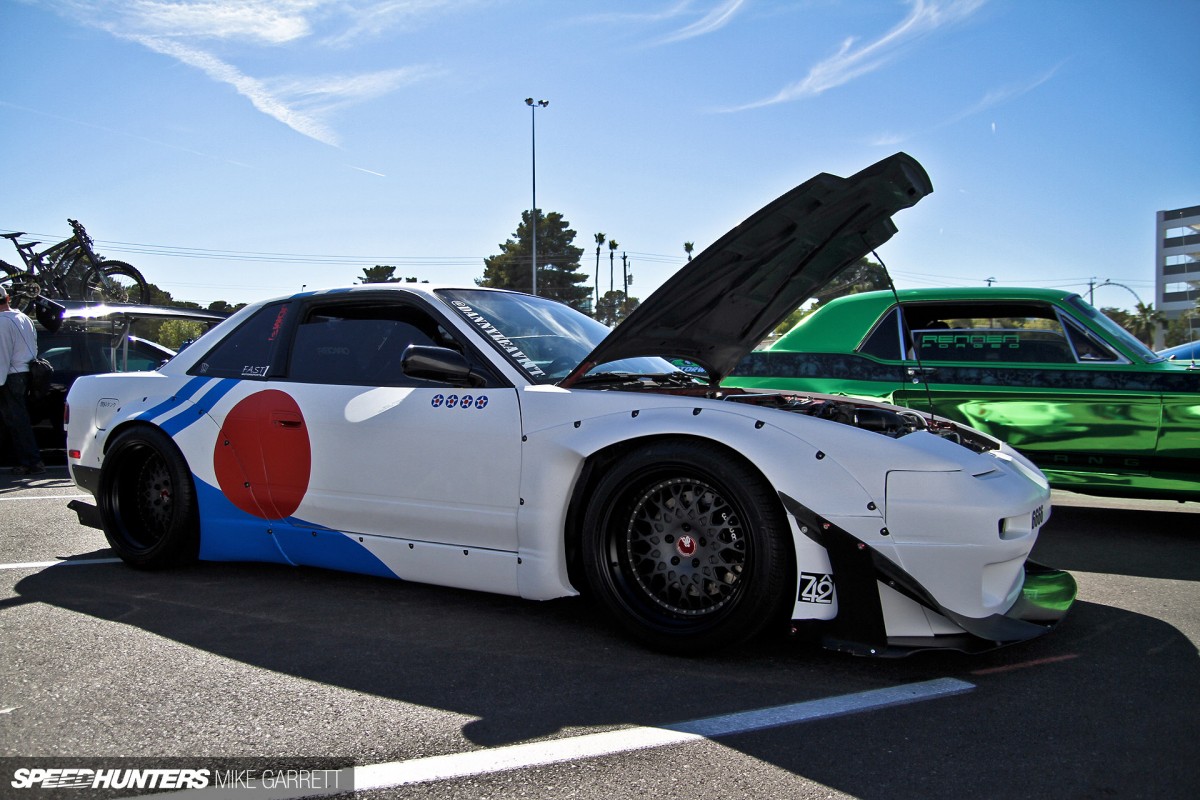 Moving on to some of the other assorted Japanese machines now, I came across this cool Rocket Bunny-equipped S13 notchback with an LS1 swap. Another example of the popular military/warplane theme.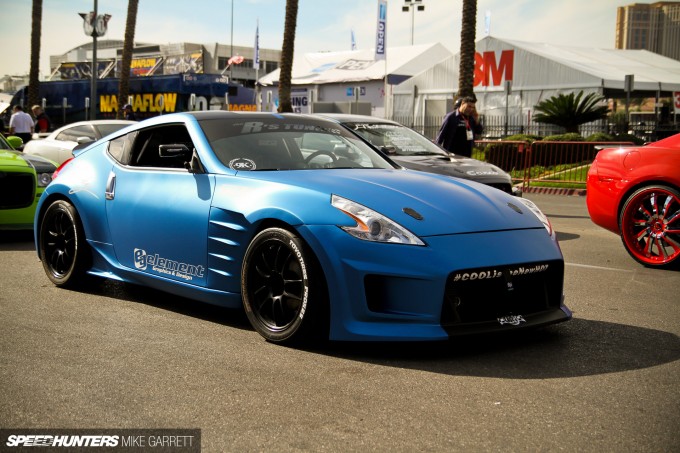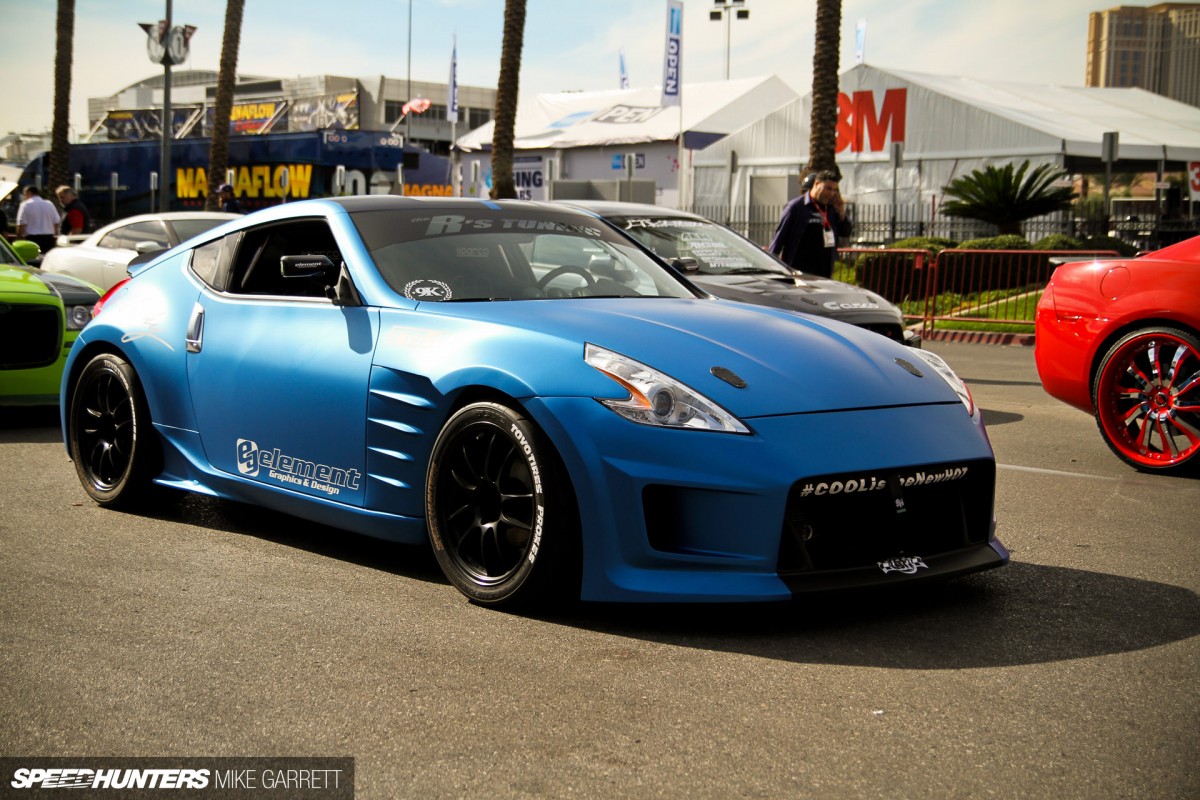 Here's the R's Tuning Z34 370Z which is equipped with a Speedhunters tow strap, tirebomb kit and a radiator from our friends at CSF Radiators. Thanks for the support!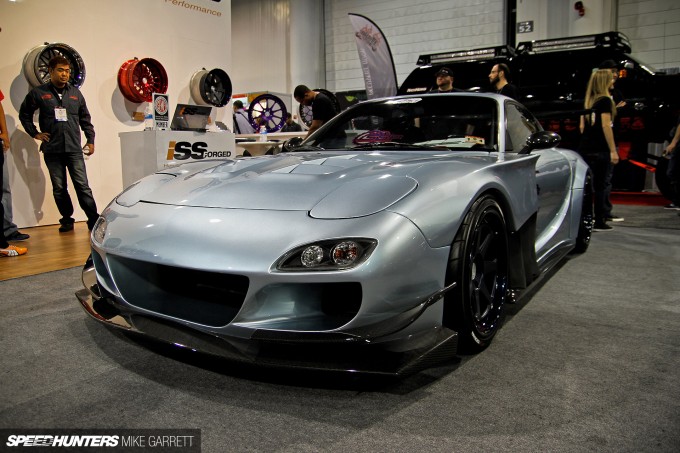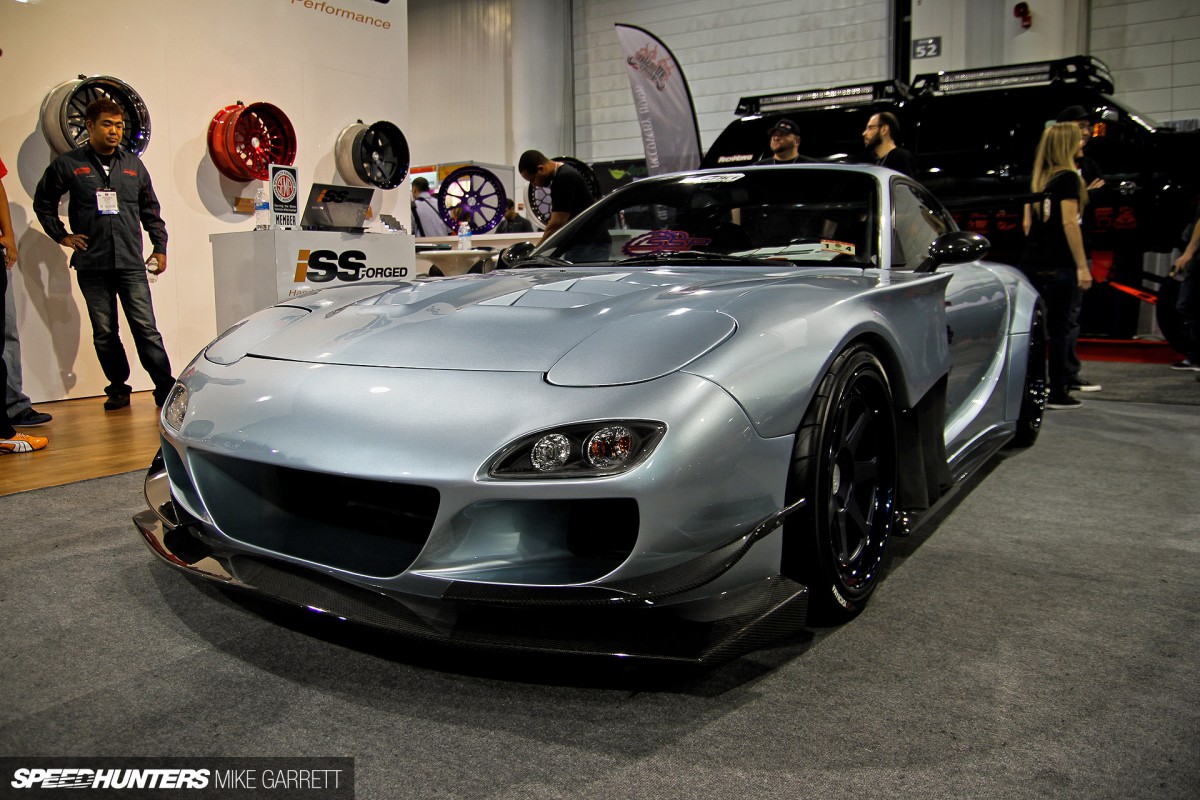 One of my favorite Japanese cars of the show was this FD3S RX-7 in the iSS Forged booth. It's wearing a full widebody conversion from Japan's Total Car Produce Magic…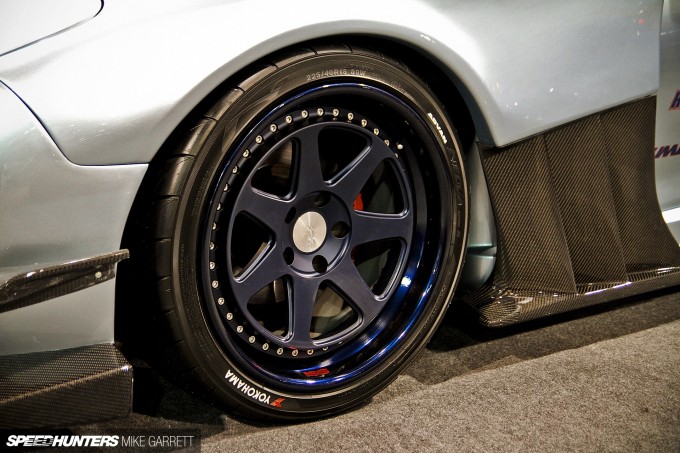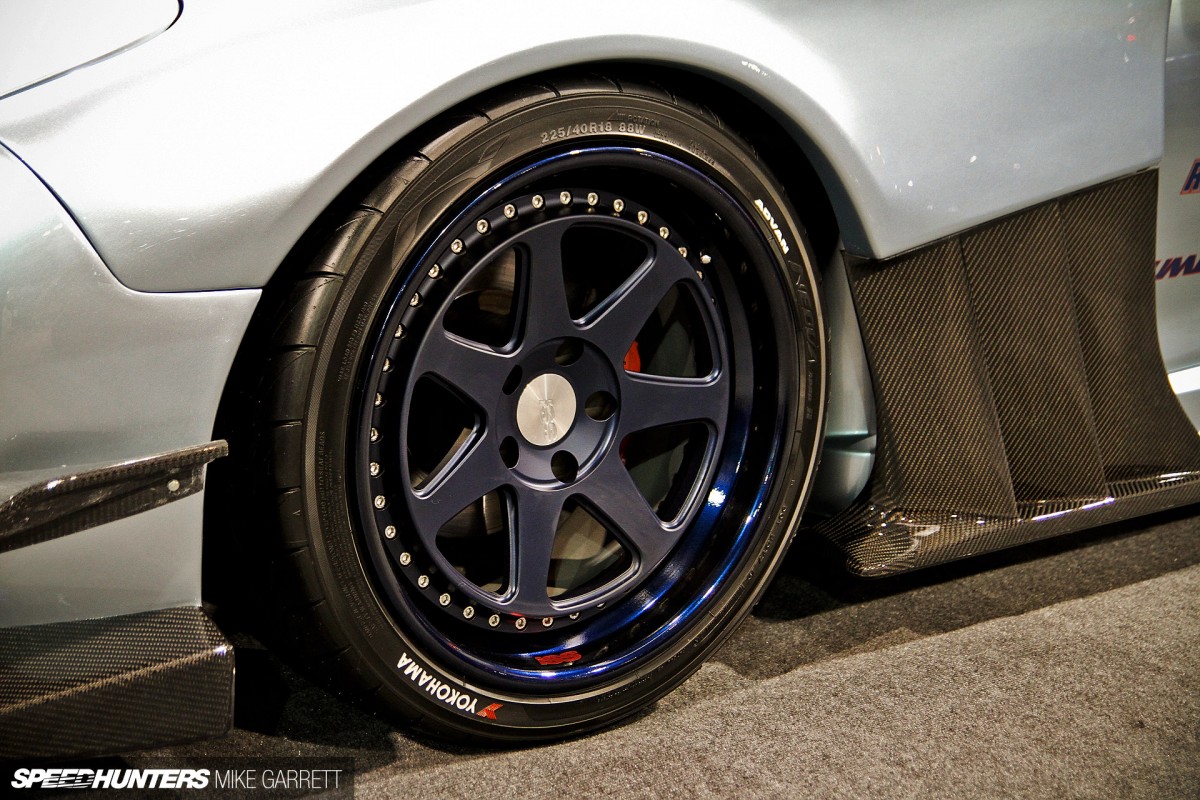 … and the 18″ iSS wheels are a perfect match for the car's circuit-inspired bodywork.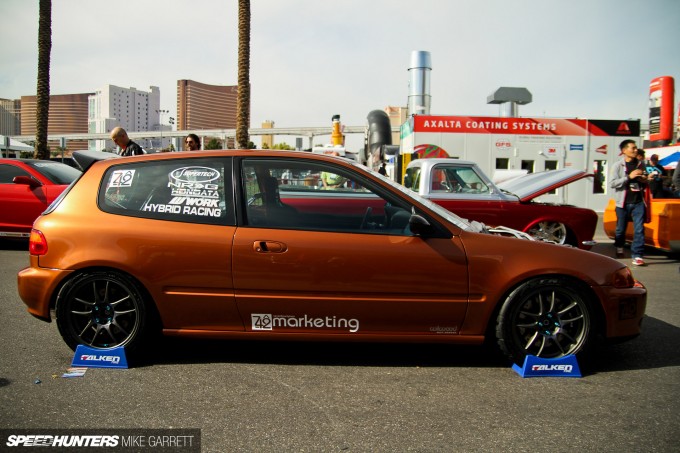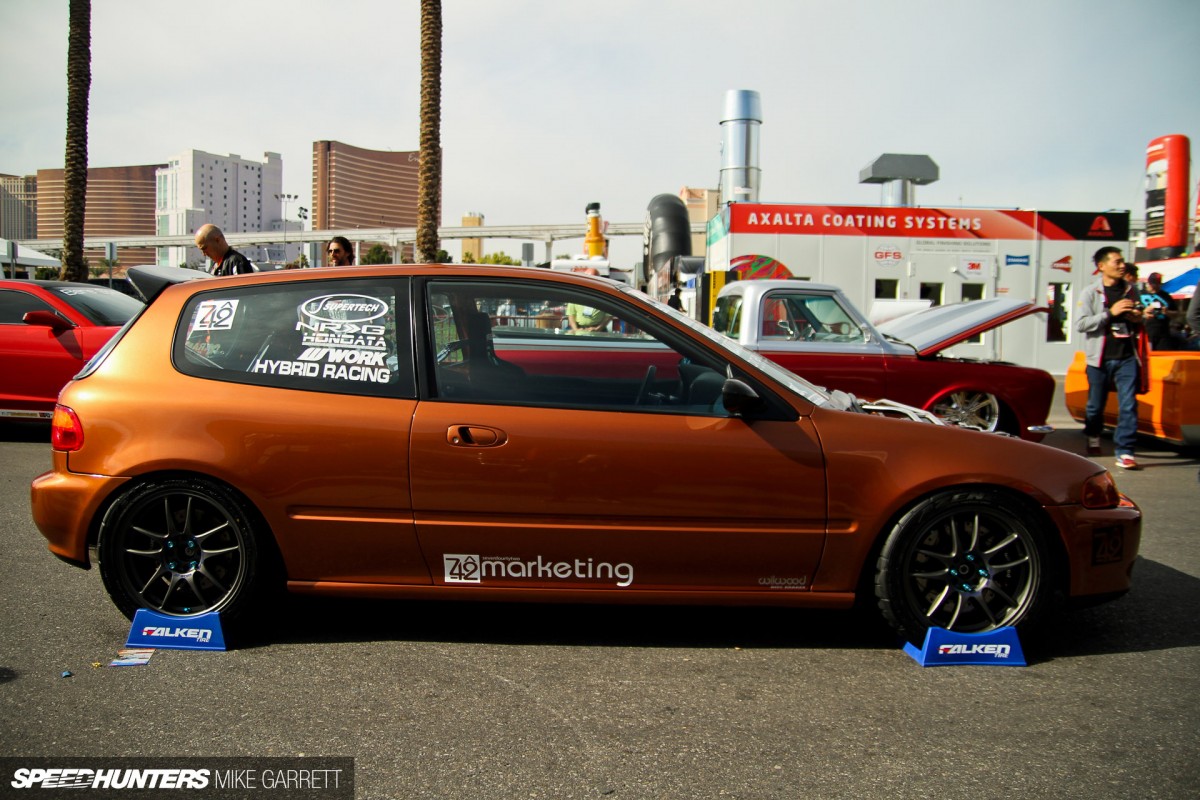 One thing you won't see a lot of at SEMA are older Hondas, so that's why it was nice to see this super clean and super functional EG hatchback.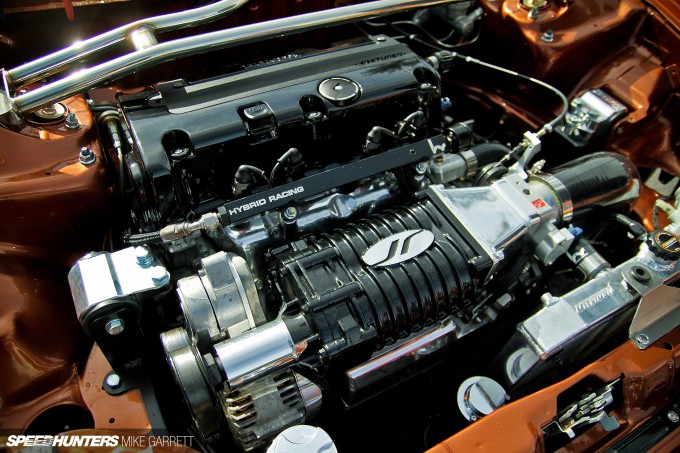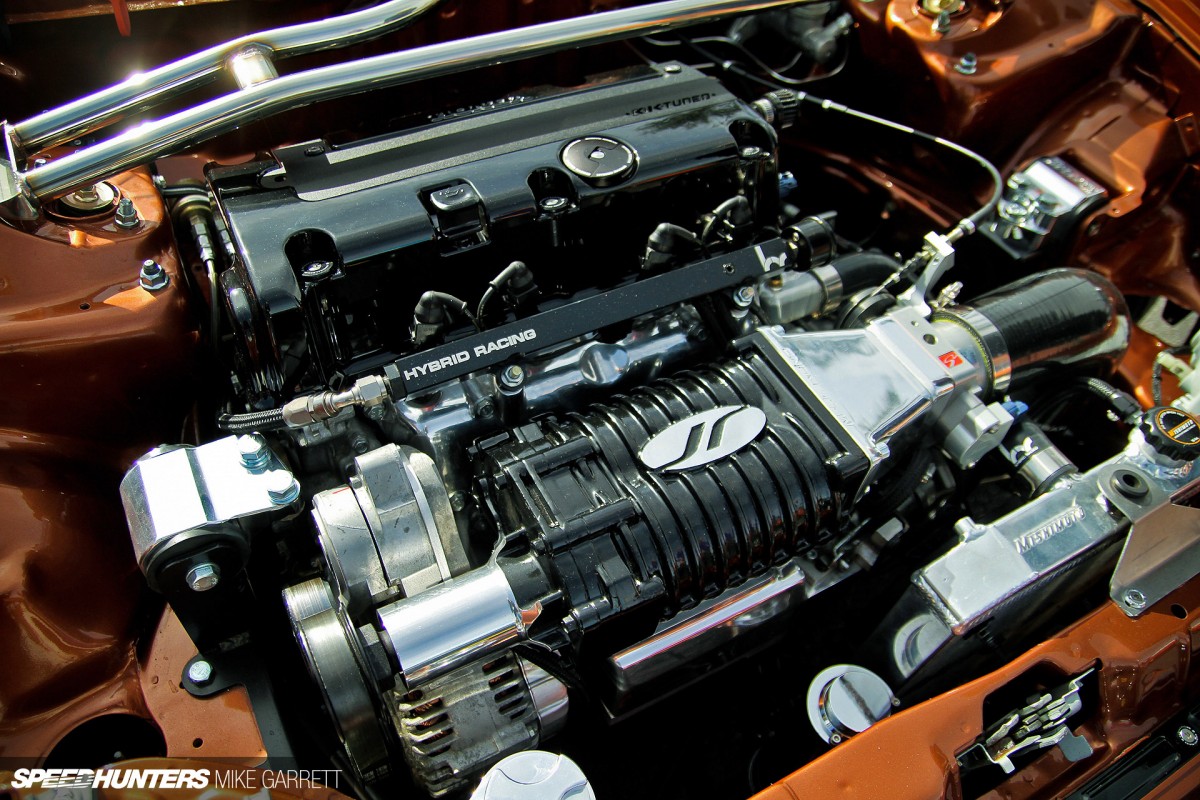 The Civic's highly detailed engine bay was filled with a K-series swap and a Jackson Racing supercharger. Yeah, that's gotta be fun on the track.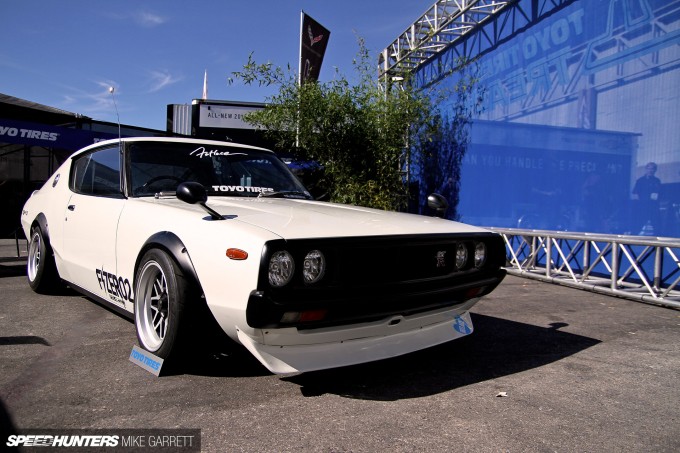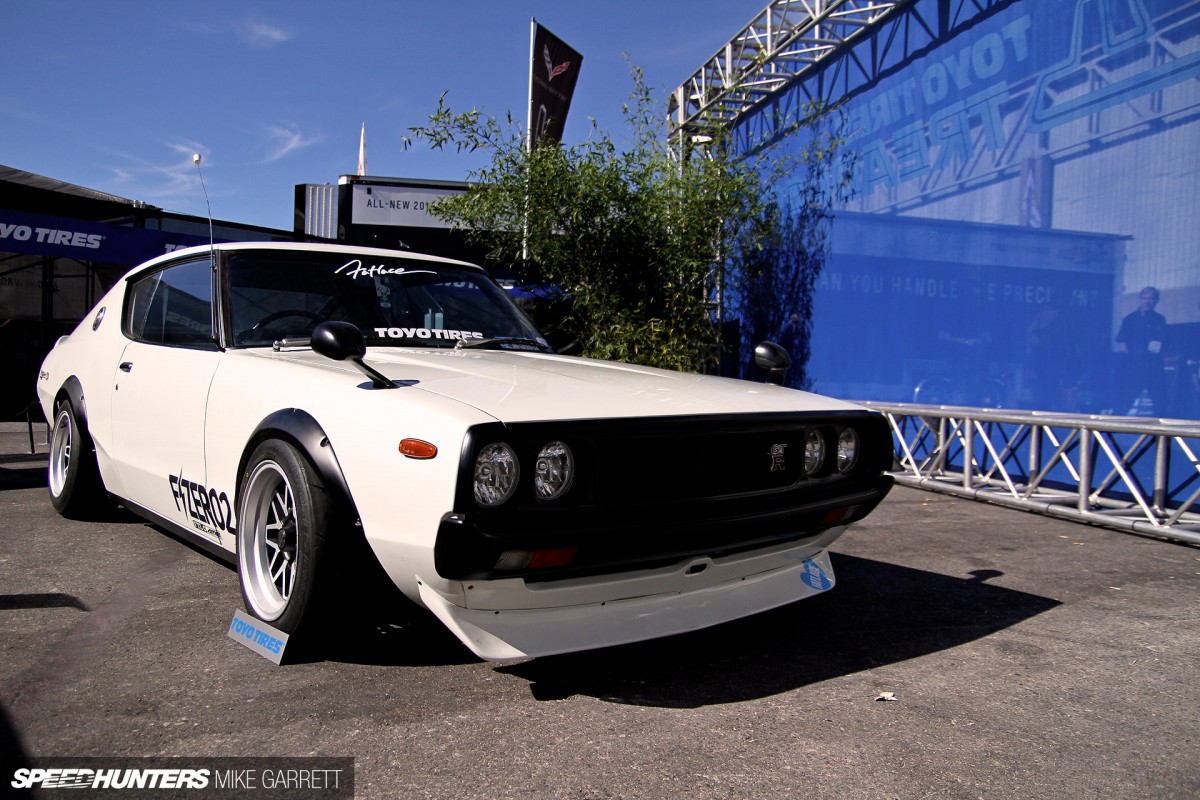 Felix from Fatlace brought out his newly refreshed Kenmeri Skyline, which I think was the lone Japanese classic car represented at this year's show.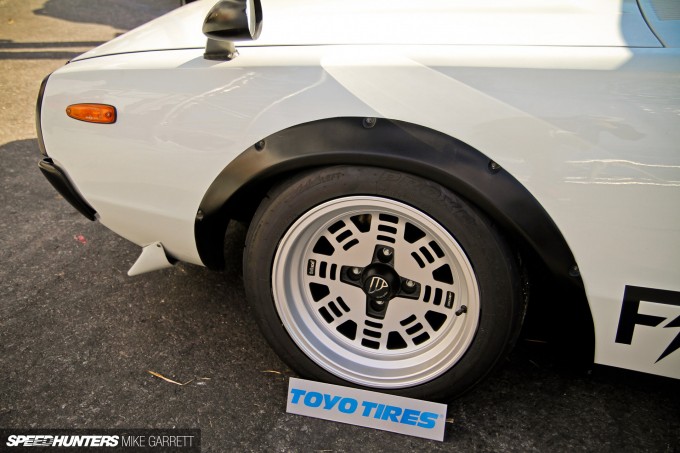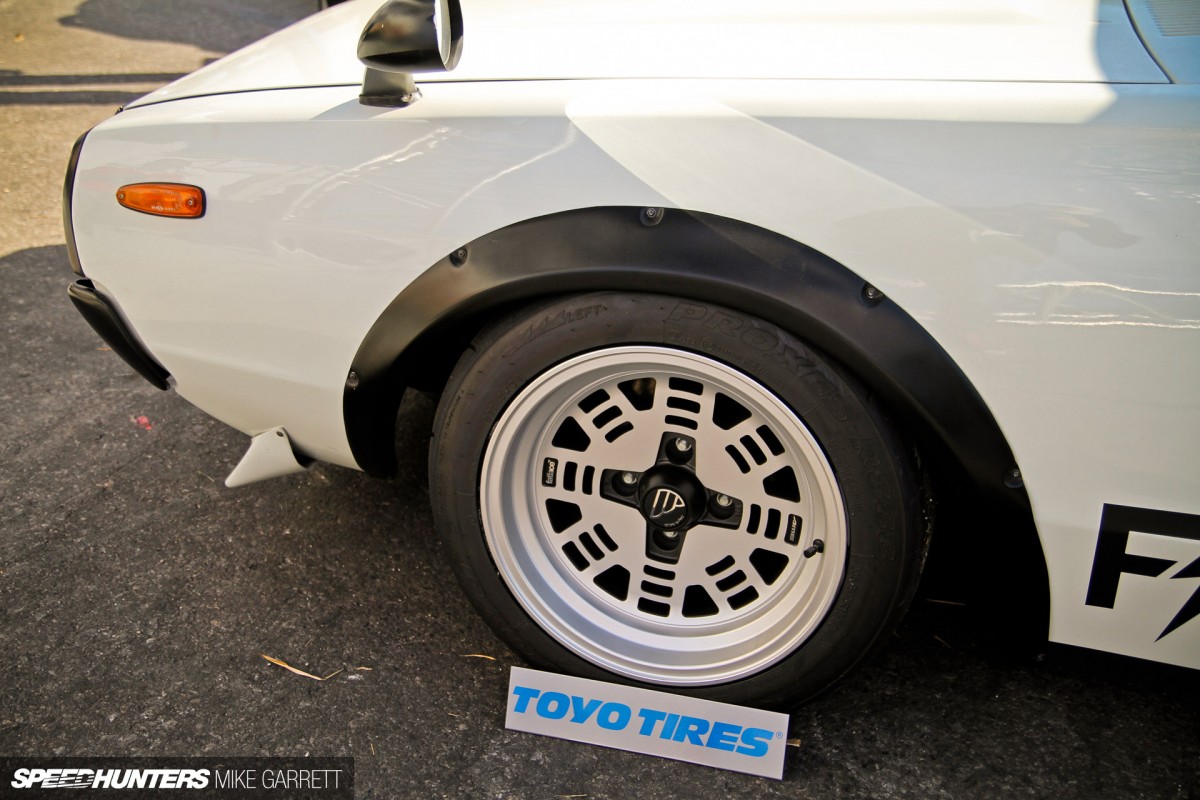 Naturally, the Skyline was wearing a set of Fatlace's new 15″ F/ZERO wheels.
Not Japanese, but…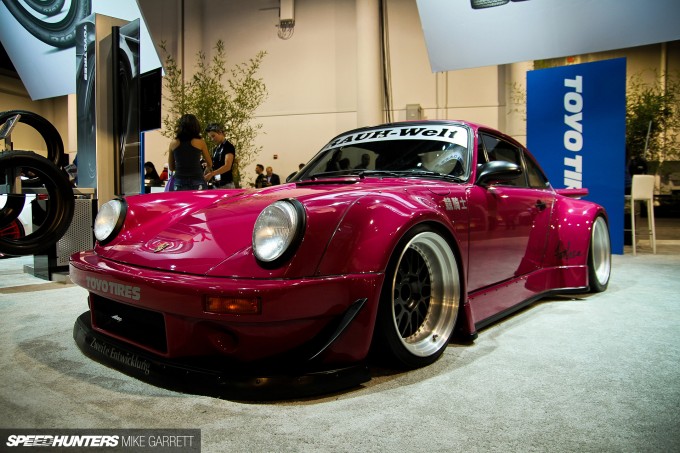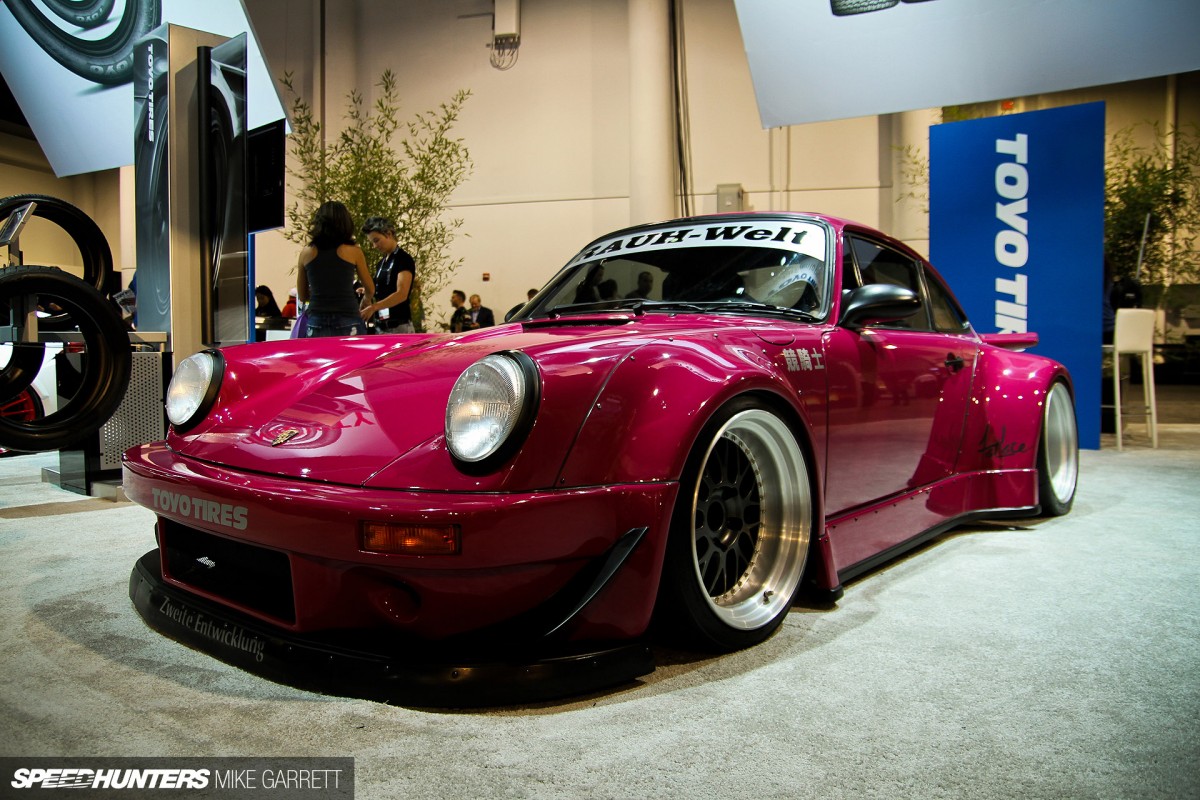 Aside from the cars that are actually made in Japan, SEMA also featured plenty of non-Japanese cars that had been customized by Japanese builders or had a strong Japanese influence.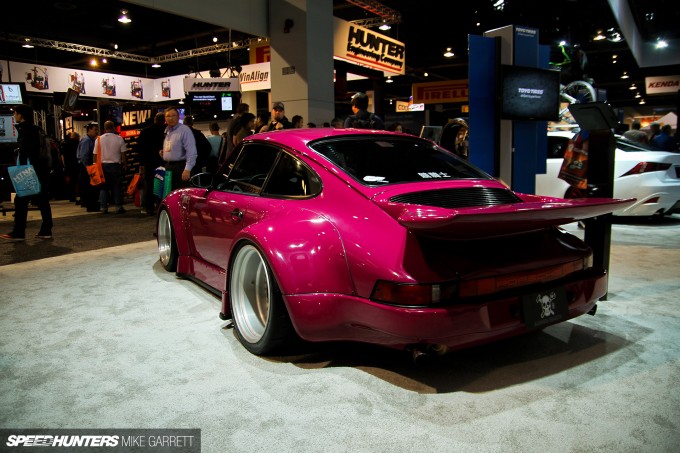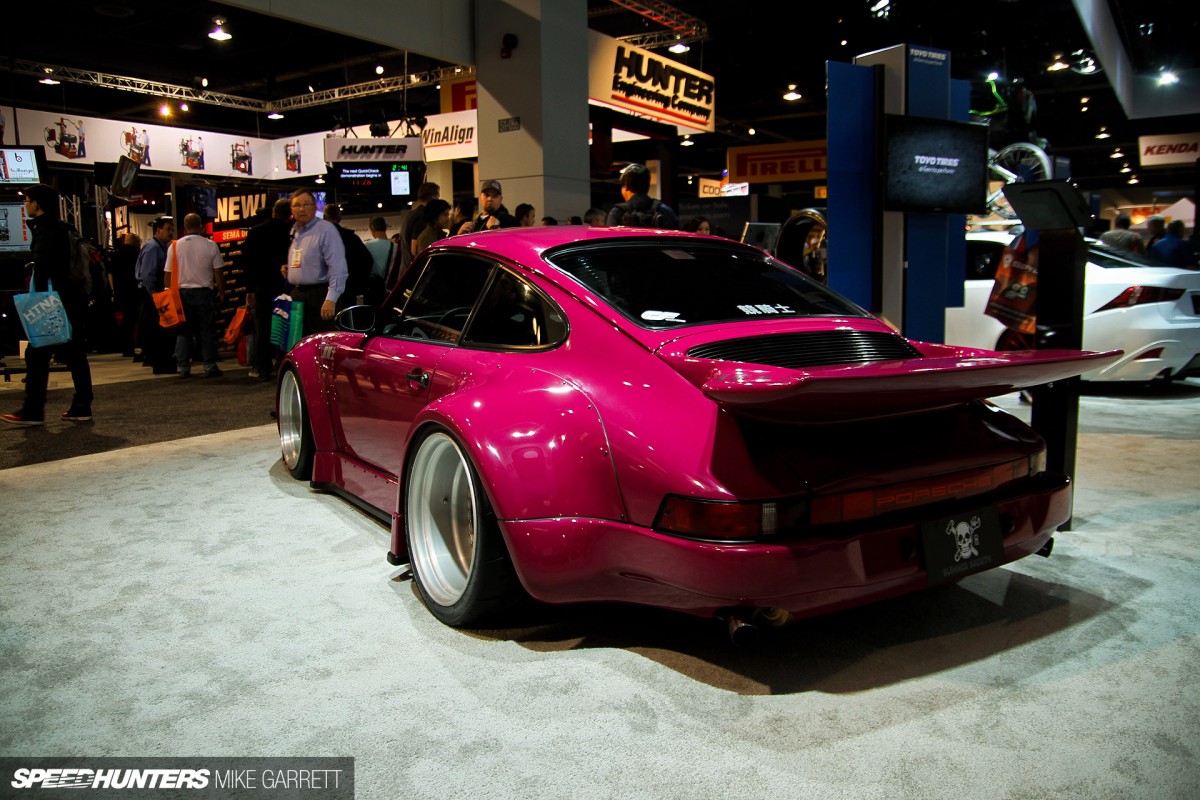 For the past few years RWB Porsches have been a big part of SEMA, with Nakai-san's latest American creation being this flat-spoilered beauty in the Toyo booth.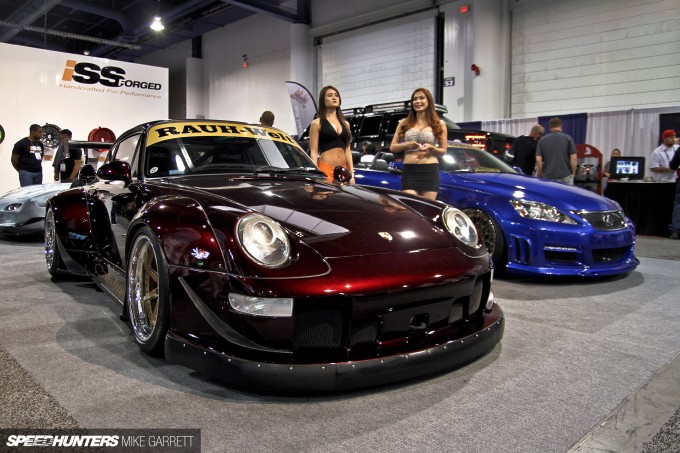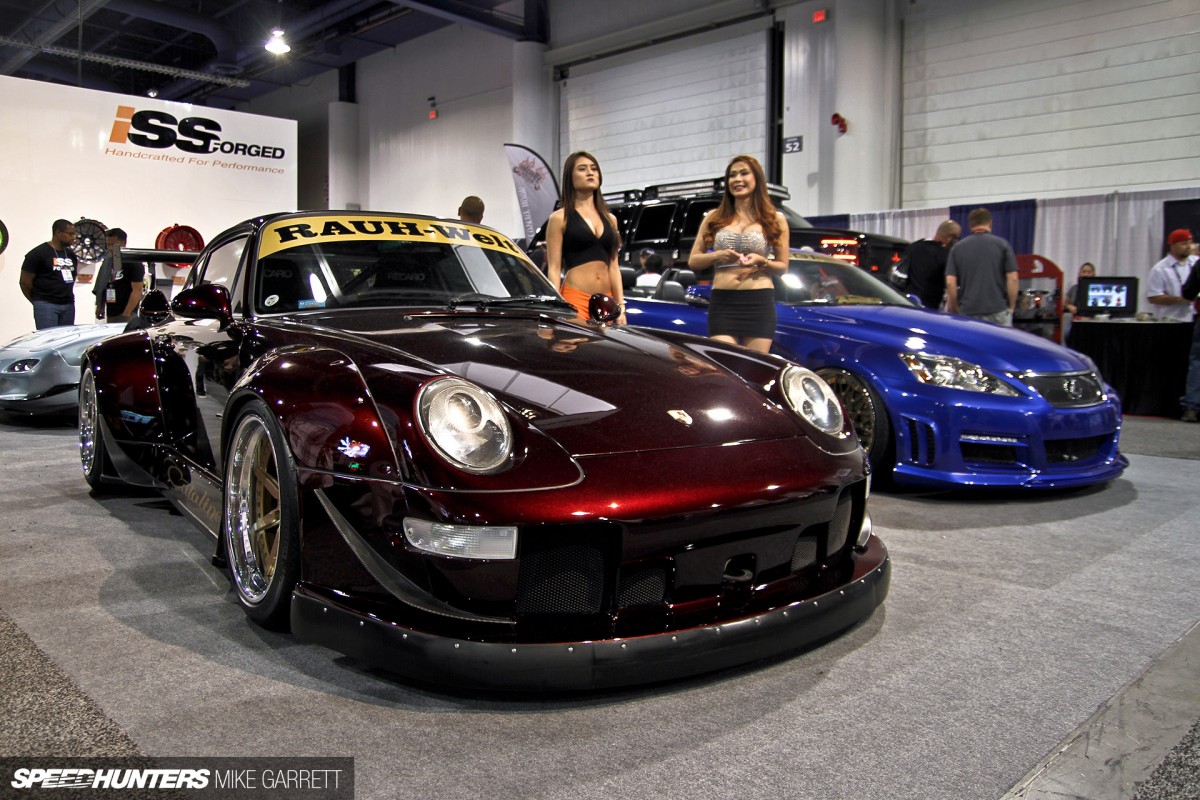 Representing the great state of Texas, I also found the Catalina RWB 993 in the iSS Forged booth. That paintwork is stunning.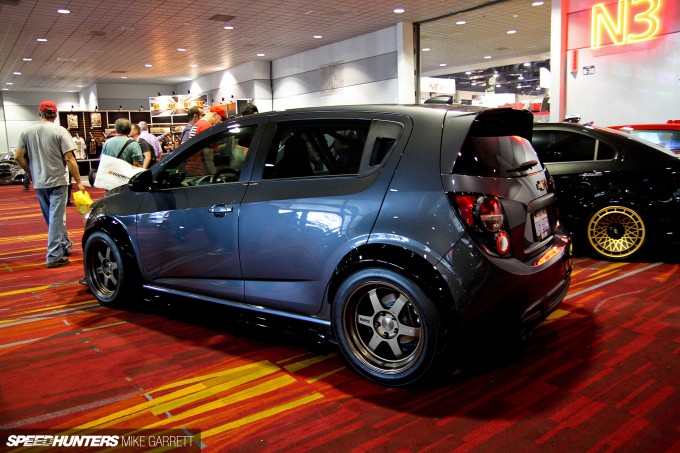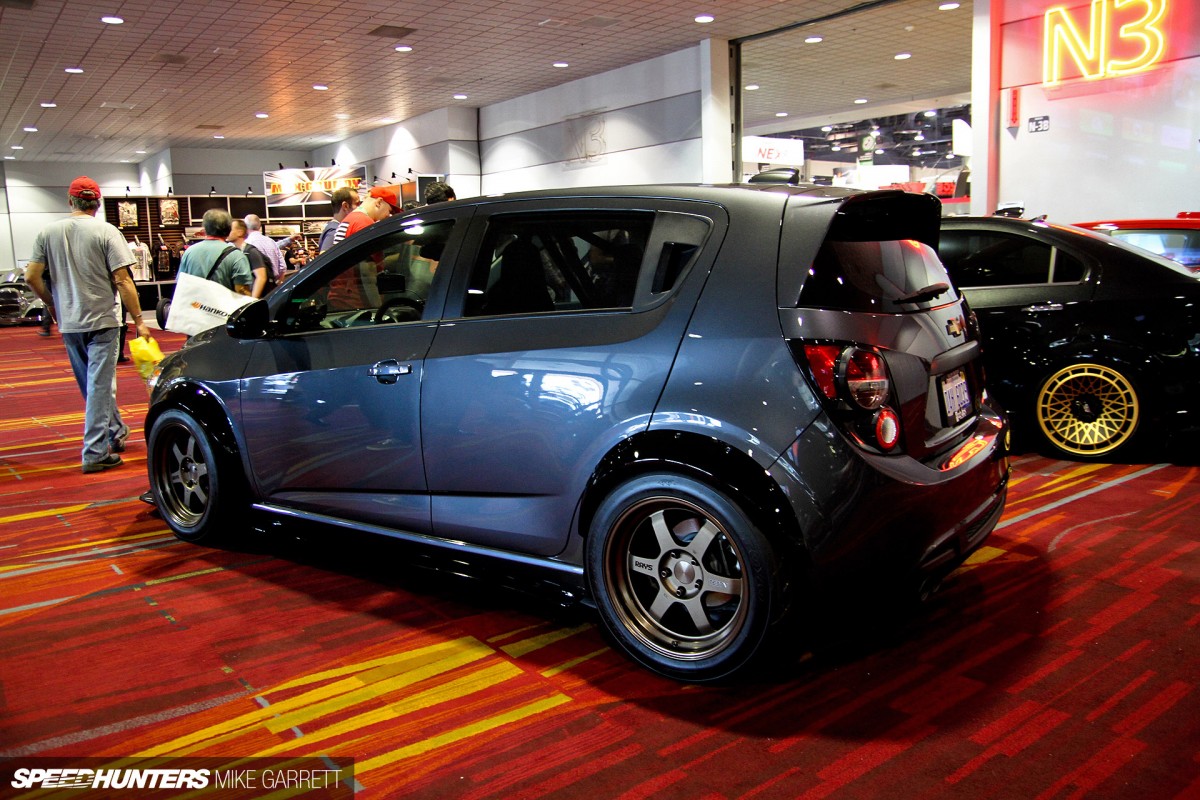 This is a Chevy Sonic, but Peter from Modified Magazine equipped his project car with set of bolt-on flares and Volk Racing TE37Vs. Cool.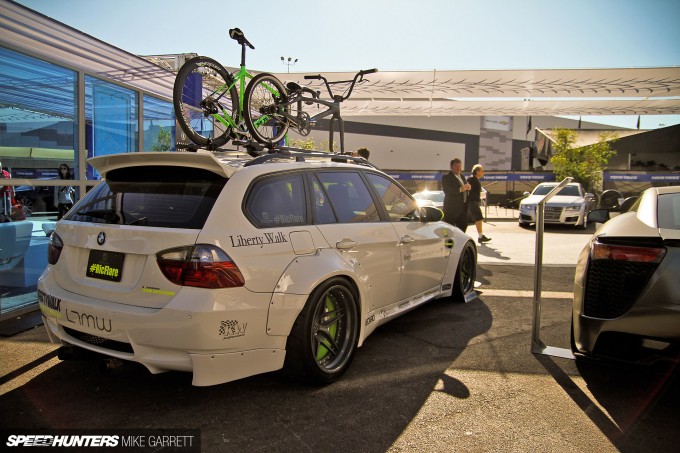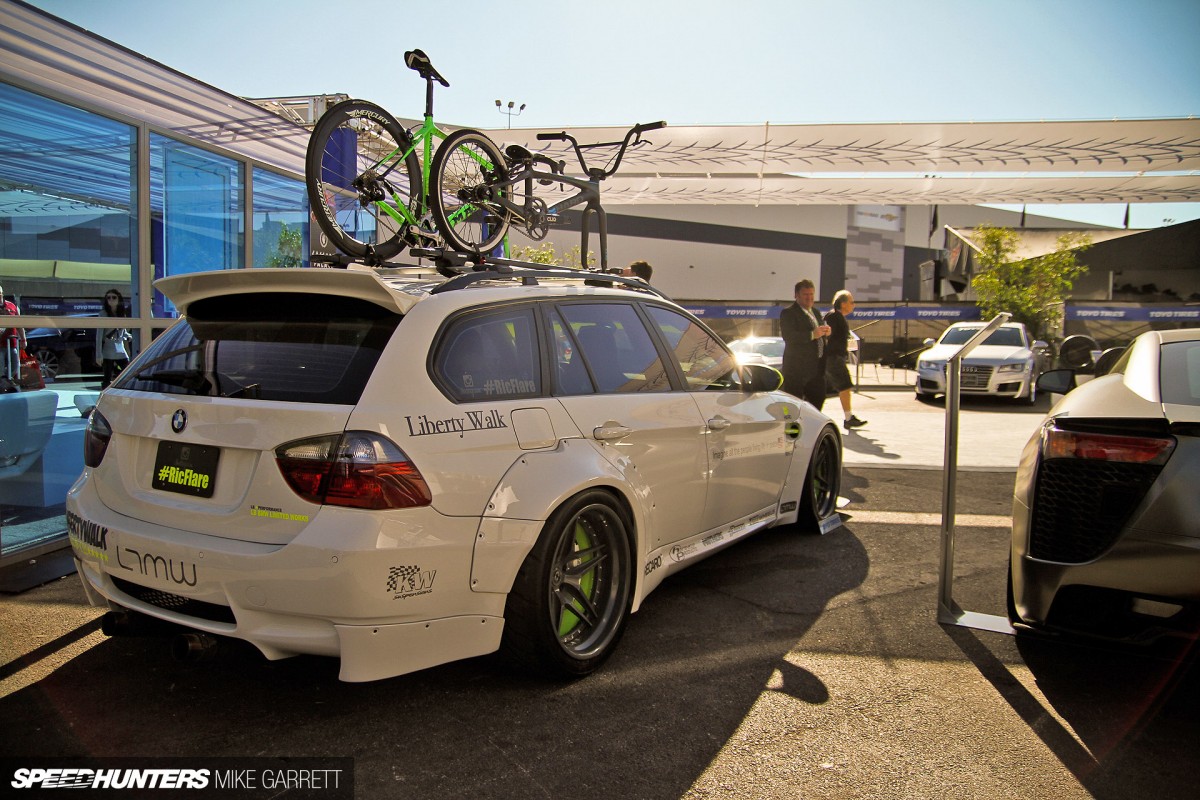 You've already seen the Liberty Walk treatment on two-door BMWs, but how about on a wagon? This 3-series wagon was put together by our friend Mickey Andrade, and it's hard not to love it.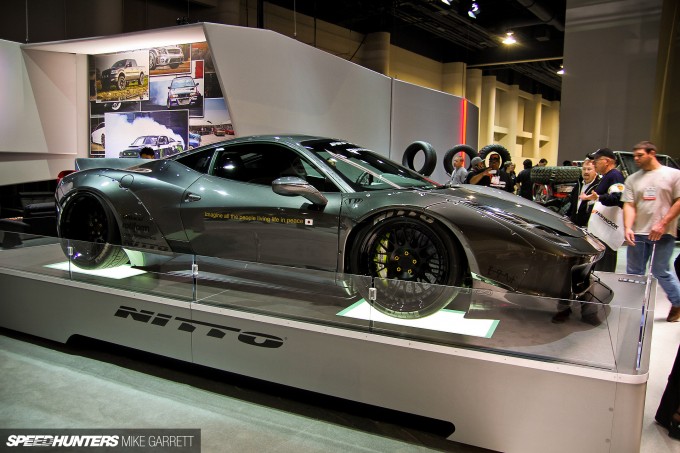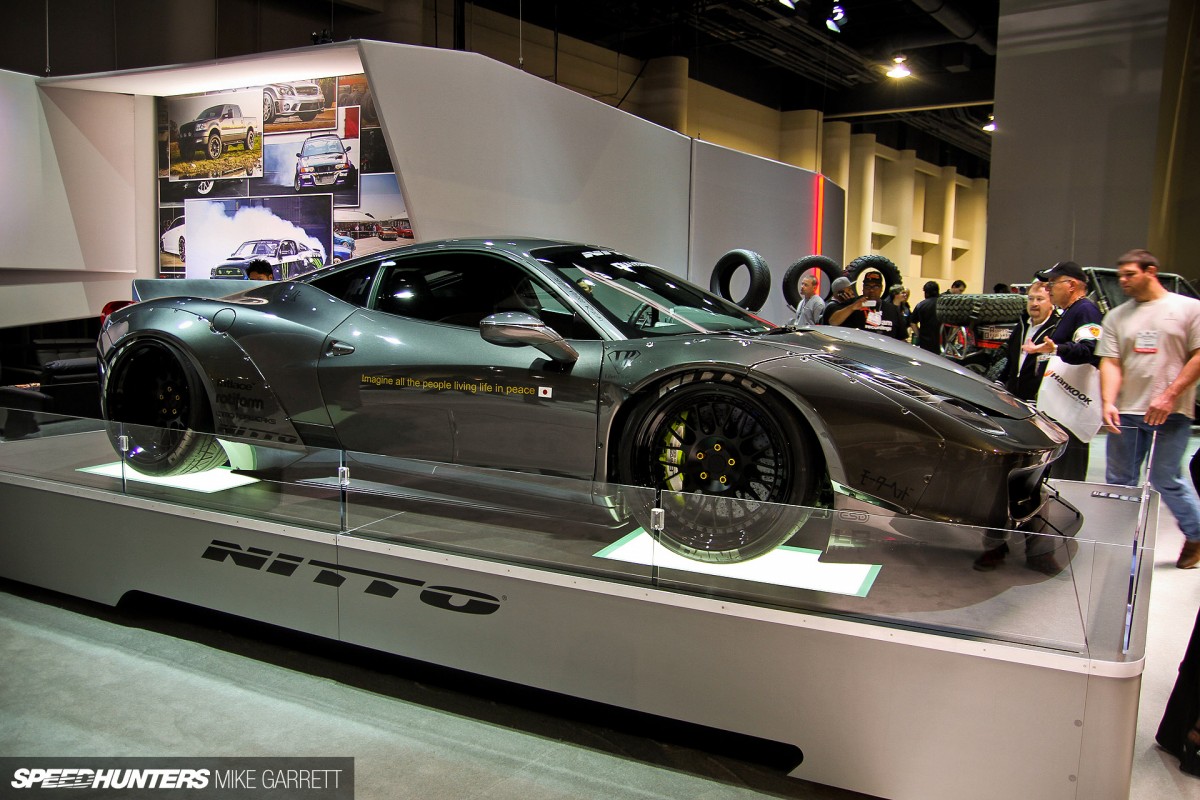 And why not finish with the car that set the internet on fire? Love it or hate it, the Liberty Walk 458 is the perfect way to close out the Japanese side of the 2013 SEMA Show.