Welcome to the jungle
Ready or not, the 2013 SEMA Show is here!
While the doors at the Las Vegas Convention Center have not yet officially opened for SEMA attendees (the event starts Tuesday morning local time), over the last couple of days the place has been a hive activity as exhibitors roll in, set up their booths and prepare for the big week ahead.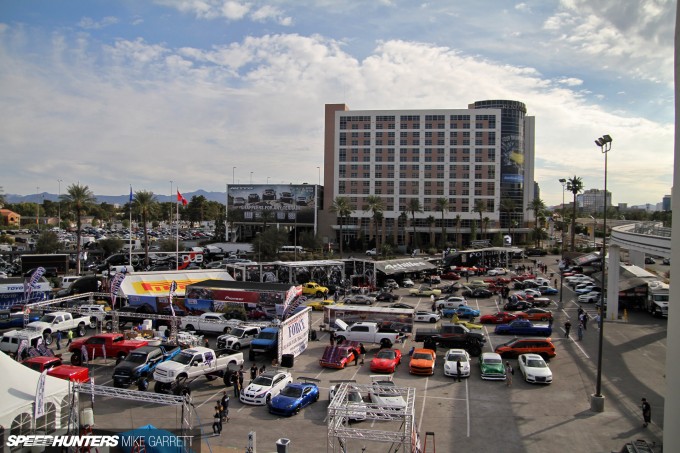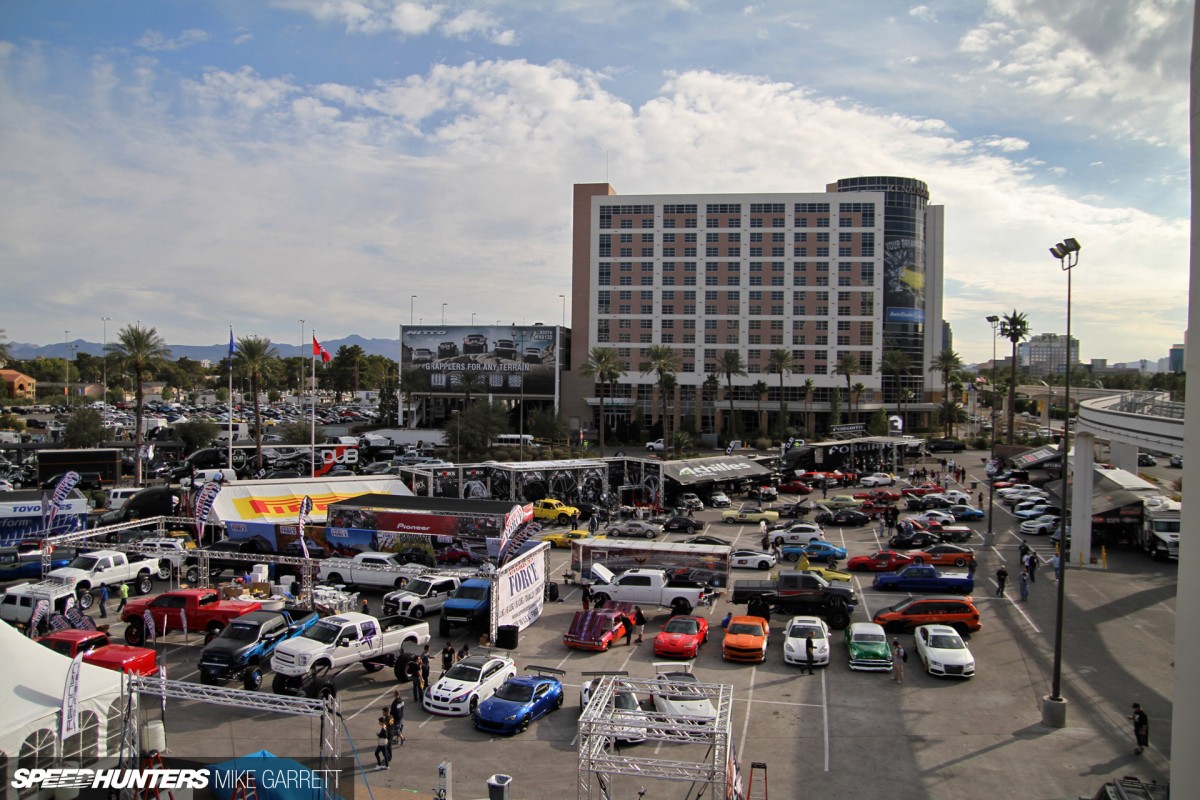 Speedhunters team members from all over the world are converging on Vegas for the SEMA Show this year, so you can look forward to detailed coverage throughout the next week or so. I was the first with my boots on the ground, driving in on Interstate 15 this morning and enjoying the last few moments of tranquility before the madness really begins.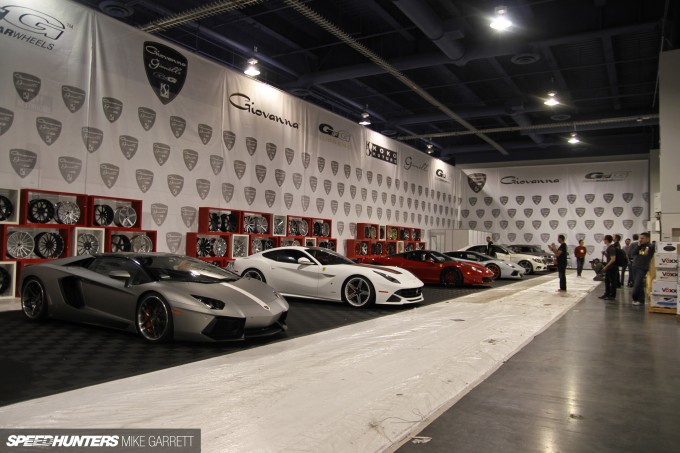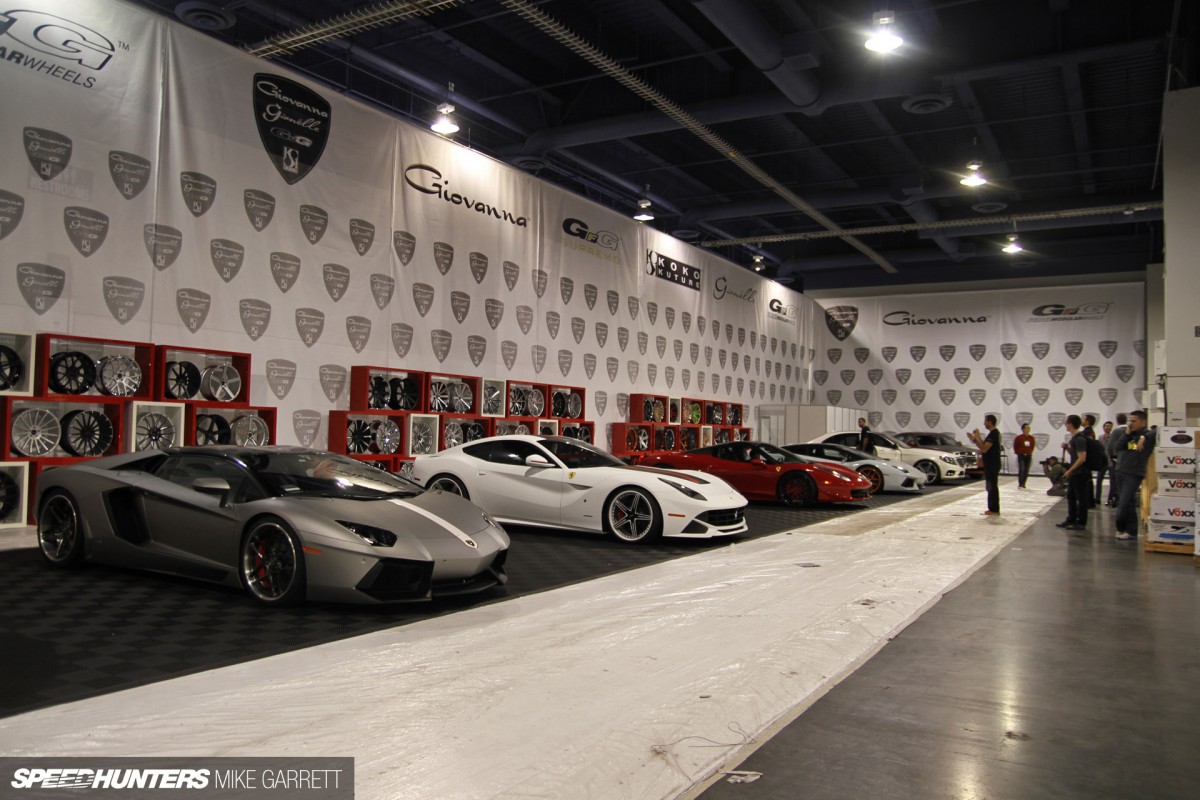 After checking in at my hotel, I headed directly to the convention center to pick up my credentials and take a look at some the last-minute preparation going on.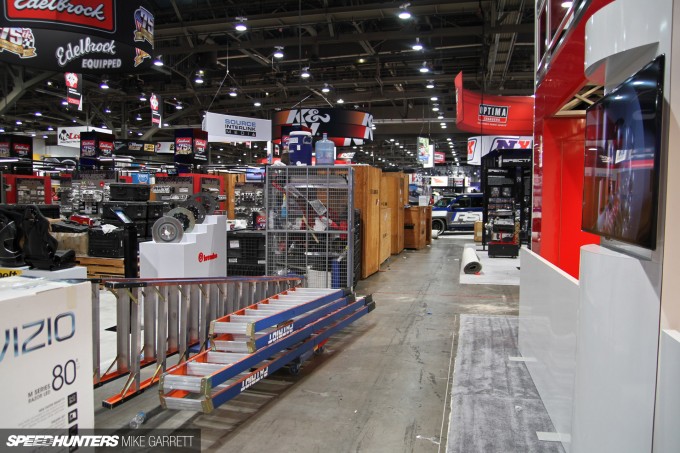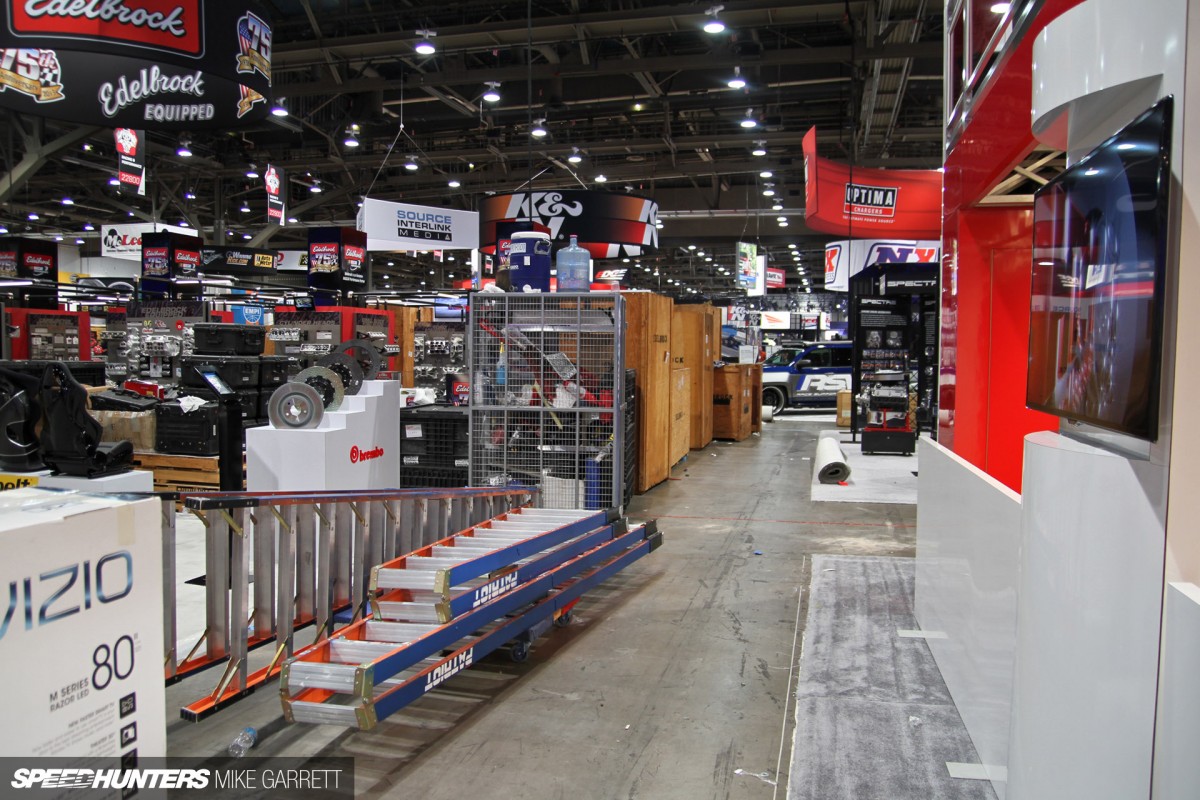 With less than 24 hours until SEMA opens, the show floor is still a bit of a mess with booths being built and display vehicles being put into position. The pure logistics of setting up this massive show never ceases to amaze me, and it's hard to believe that everything will be ready for the thousands of industry visitors that will flood through the doors tomorrow.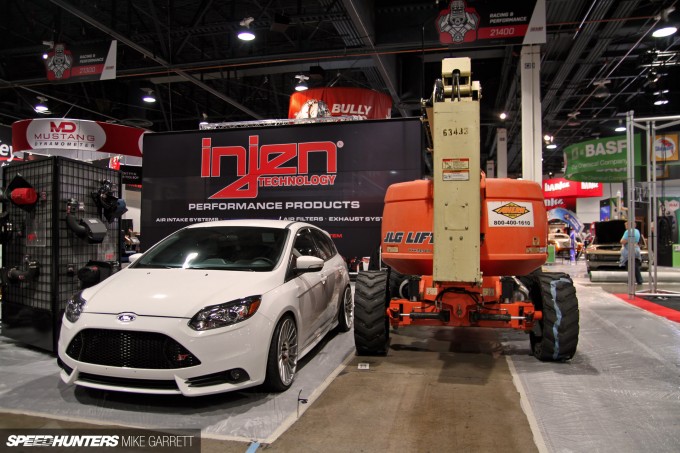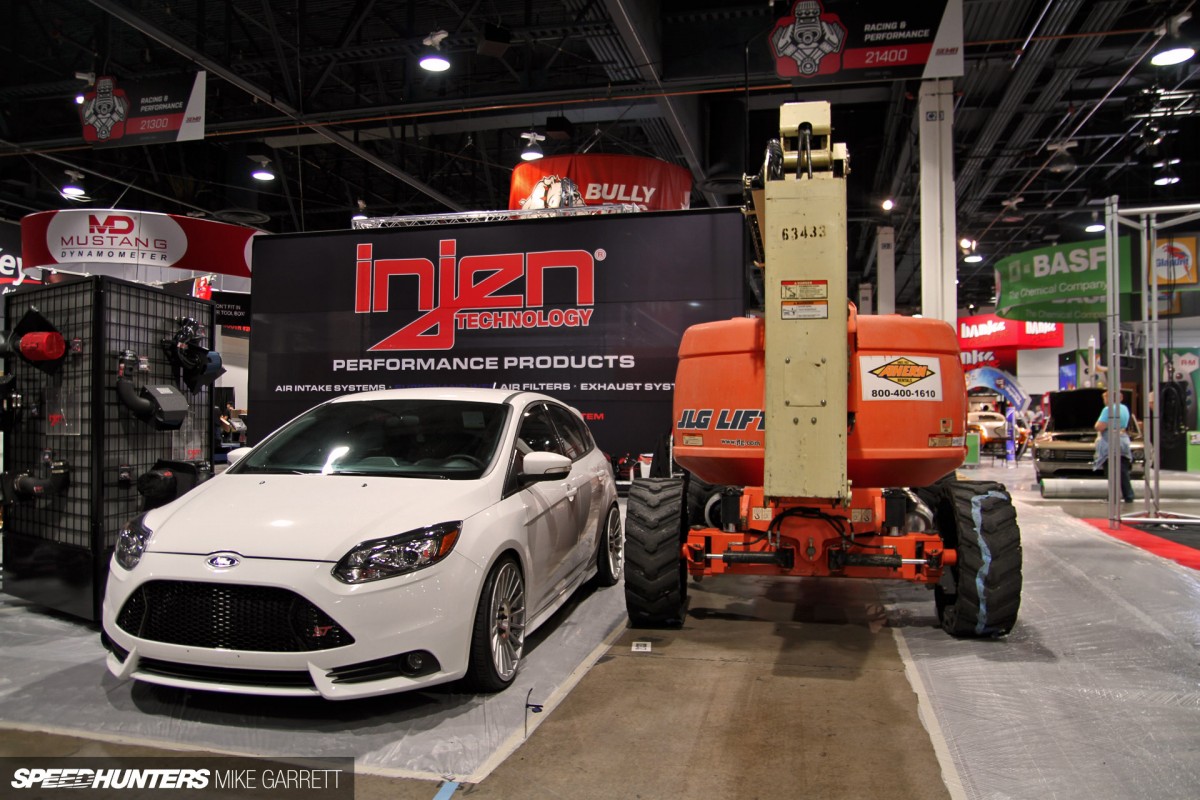 At this point, you might want to bring a hard hat as there are cherry pickers, forklifts and huge crates being moved all around. Couple that with the occasional sounds of modified cars being rolled in and you've got some well-orchestrated chaos.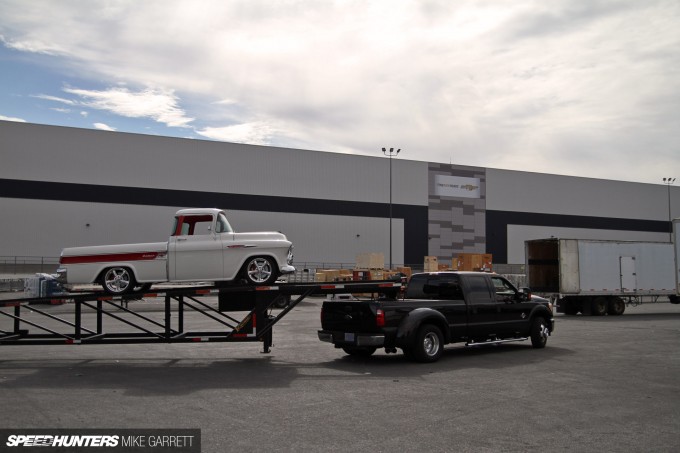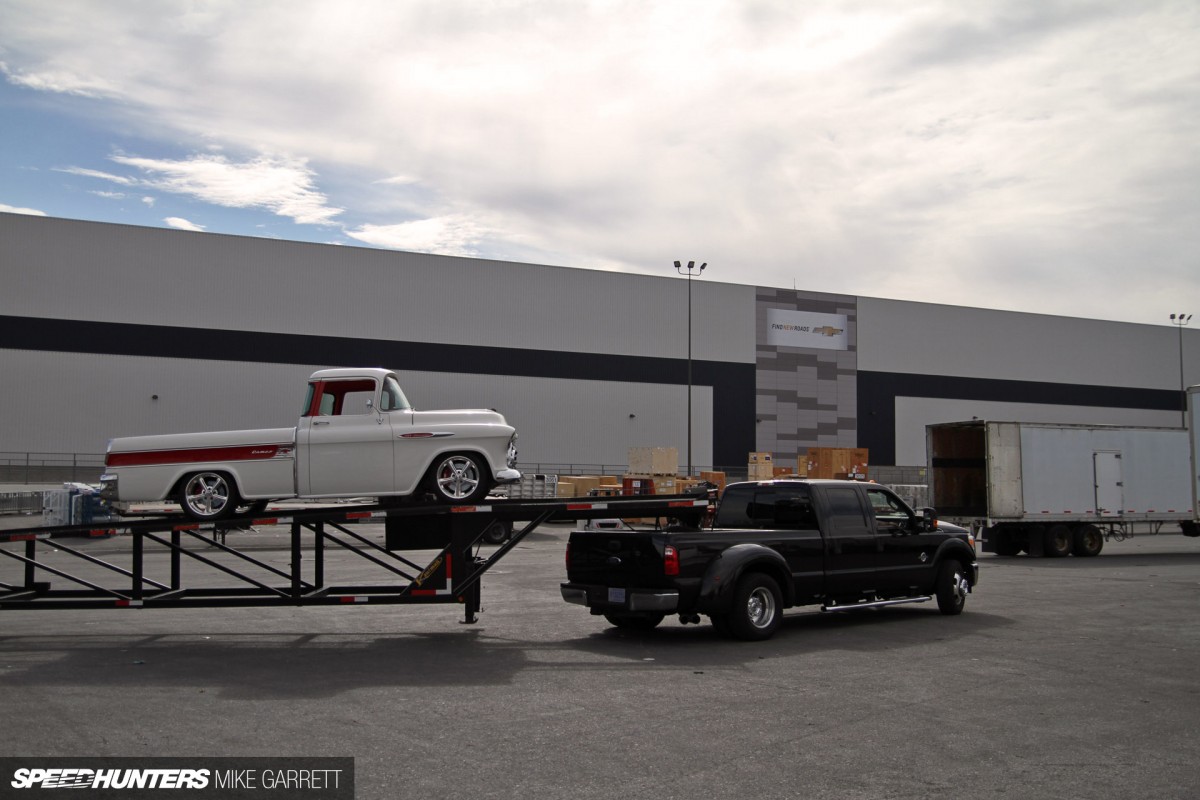 Outside, the madness continues as the last arrivals queue up in the loading zones, with most show cars on trailers and a smaller number arriving under their own power.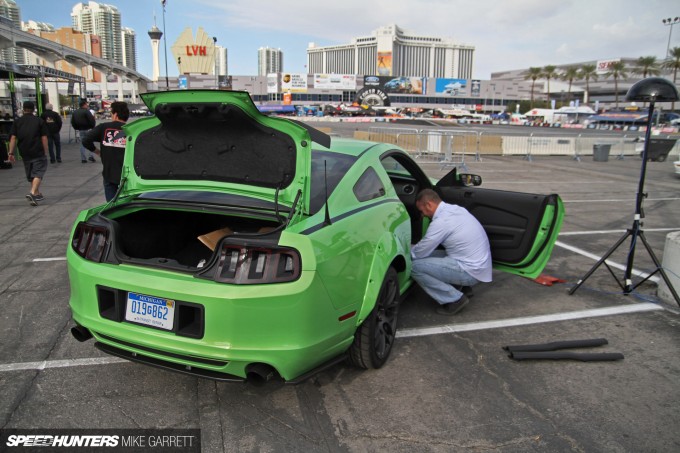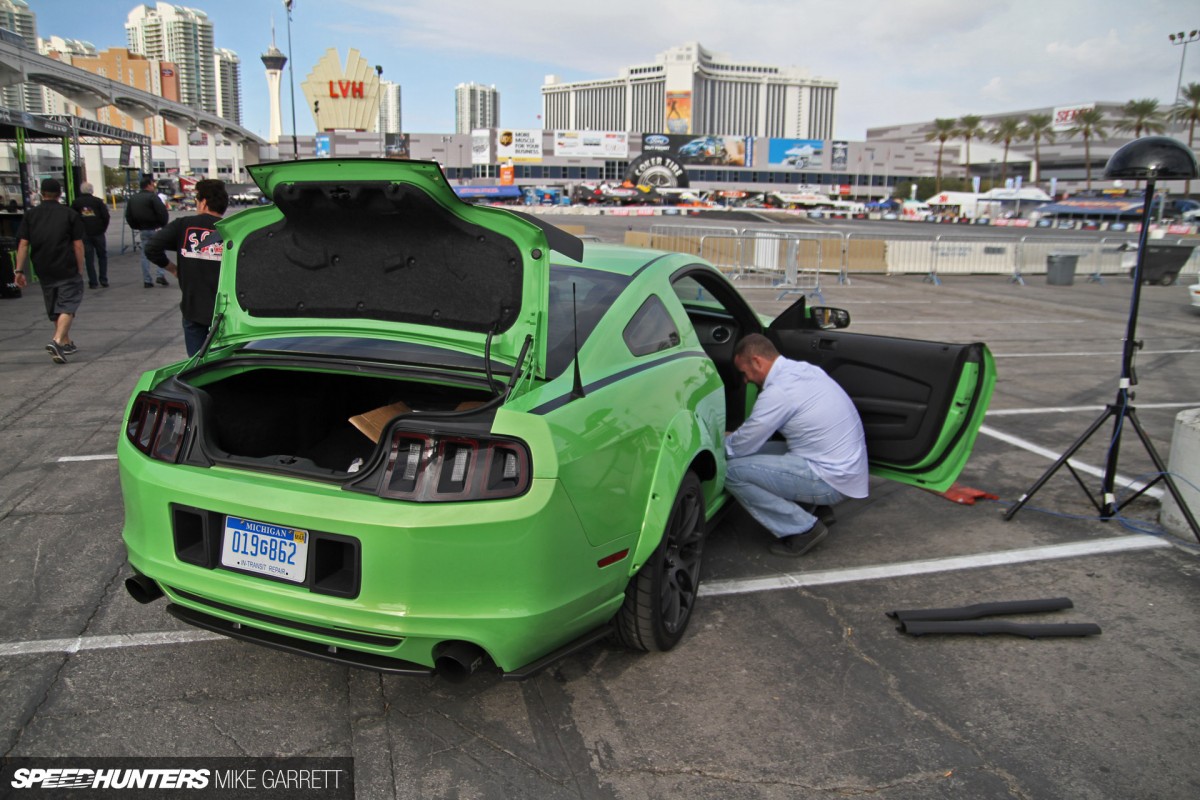 One member of this latter group was our own Keith Charvonia, who arrived this afternoon from Arizona with the Double Down RTR. As I write this, he's getting the wheels fitted and rolling the Mustang onto the show floor.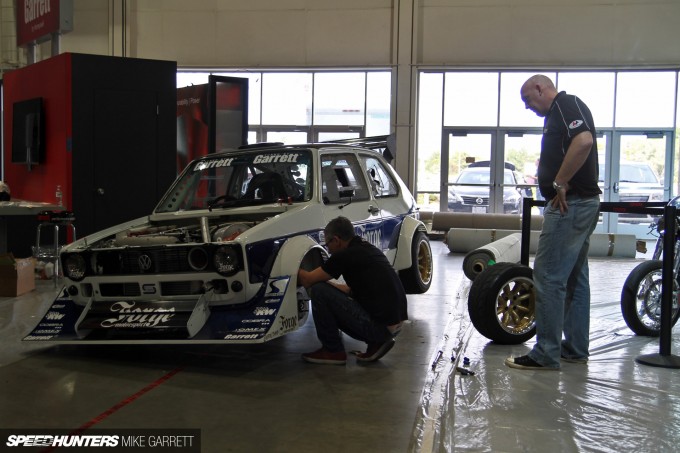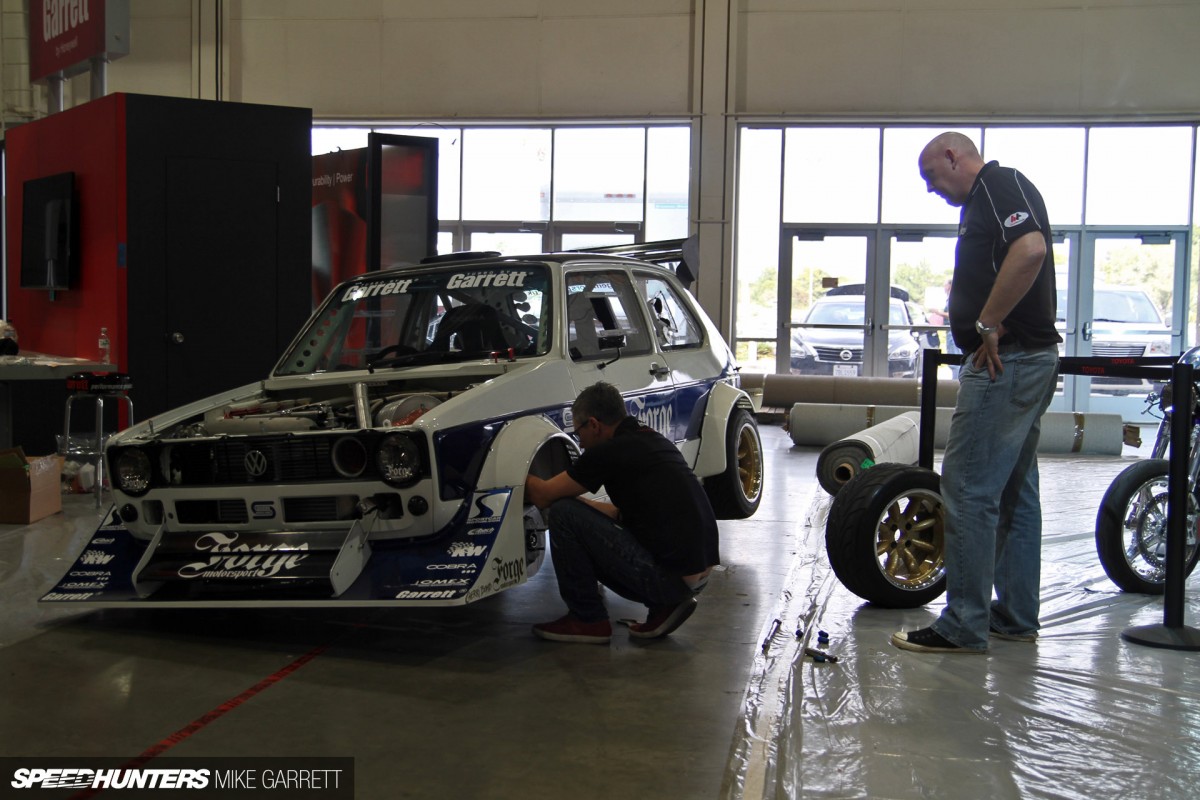 Anyone familiar with SEMA should know that getting a car ready for the show is never as easy as it seems. All through the convention center, people were putting the finishing touches on their cars.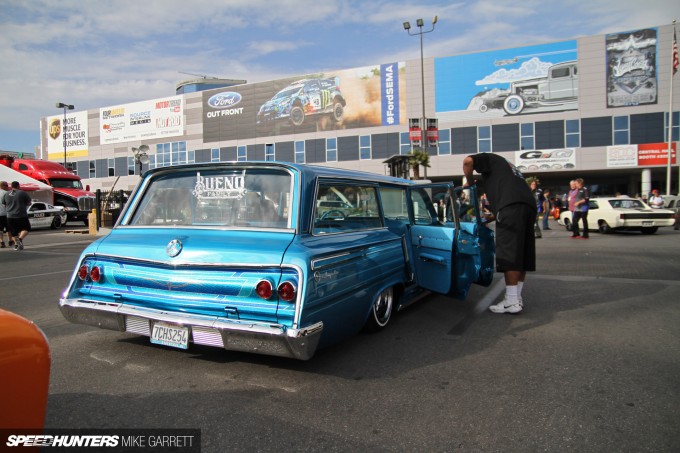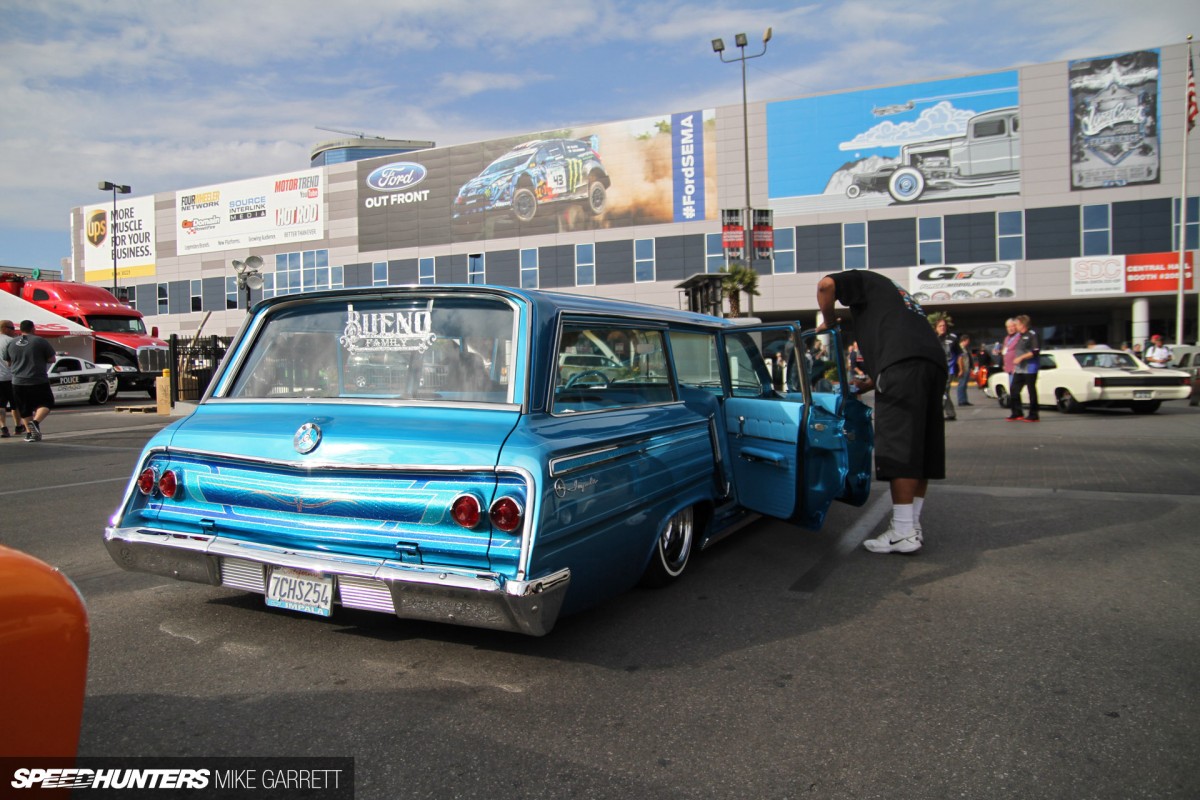 For some it's as simple as a quick detail…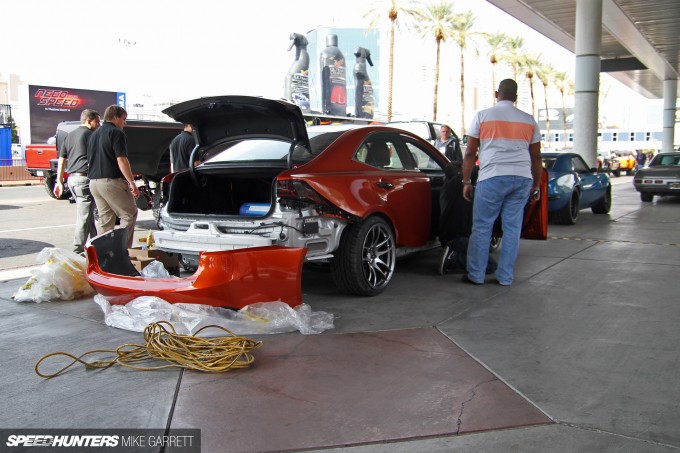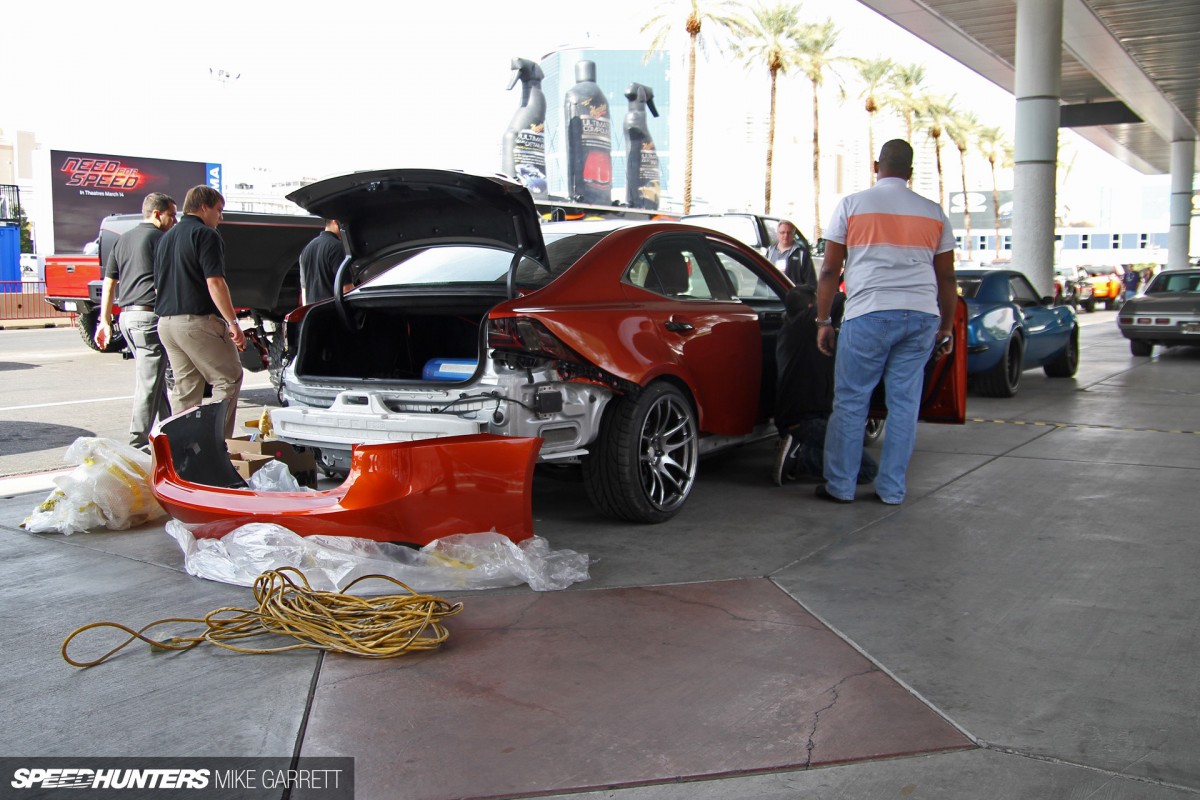 … but for others there's a lot more involved. It seemed like a few people were practically building their cars right at the show. Nothing like the last minute SEMA crunch, right?
A sneak peek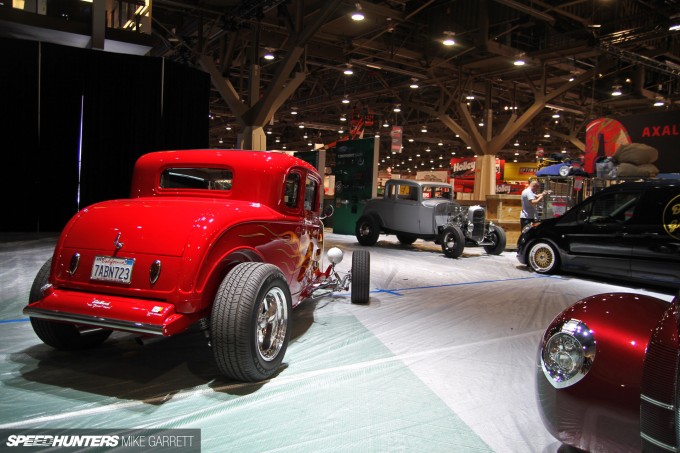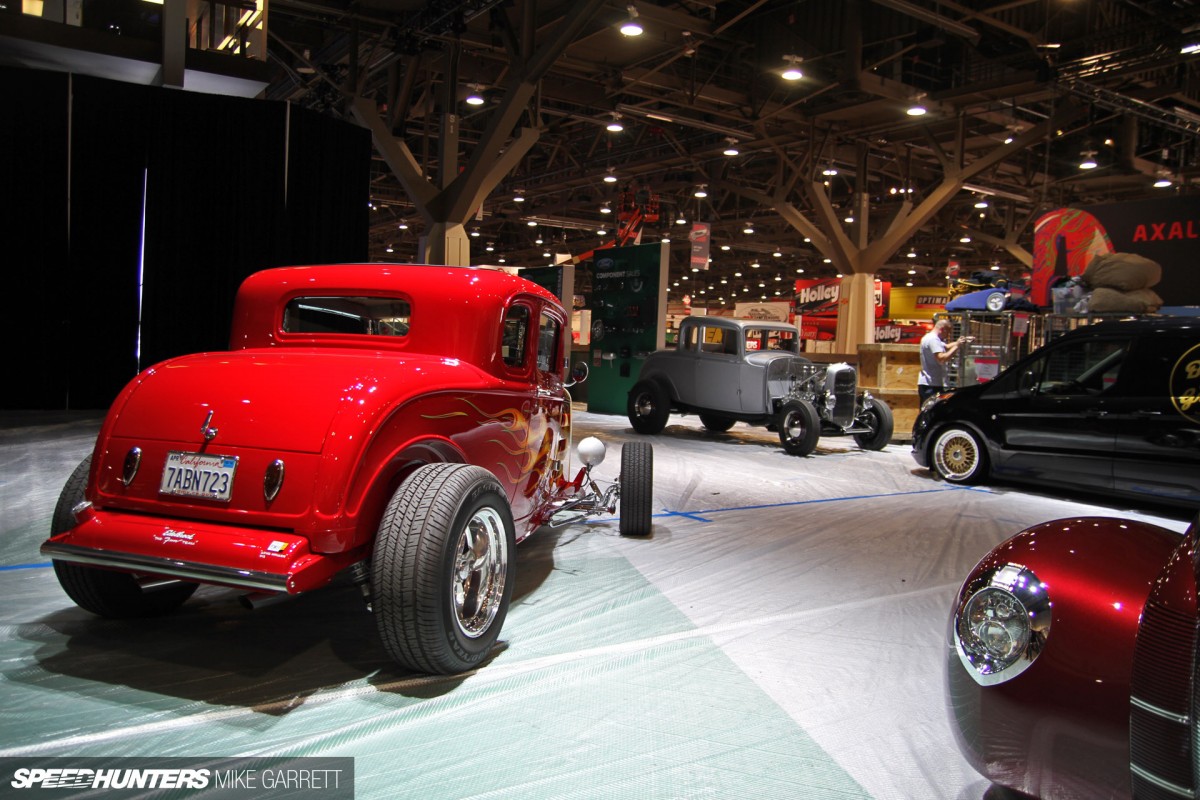 Yet despite the chaos and the fact that many cars are still under wraps, I actually think Monday might be my favorite day to visit SEMA.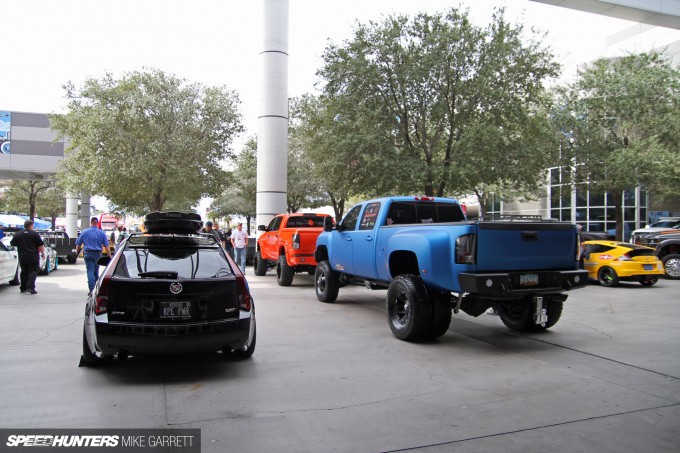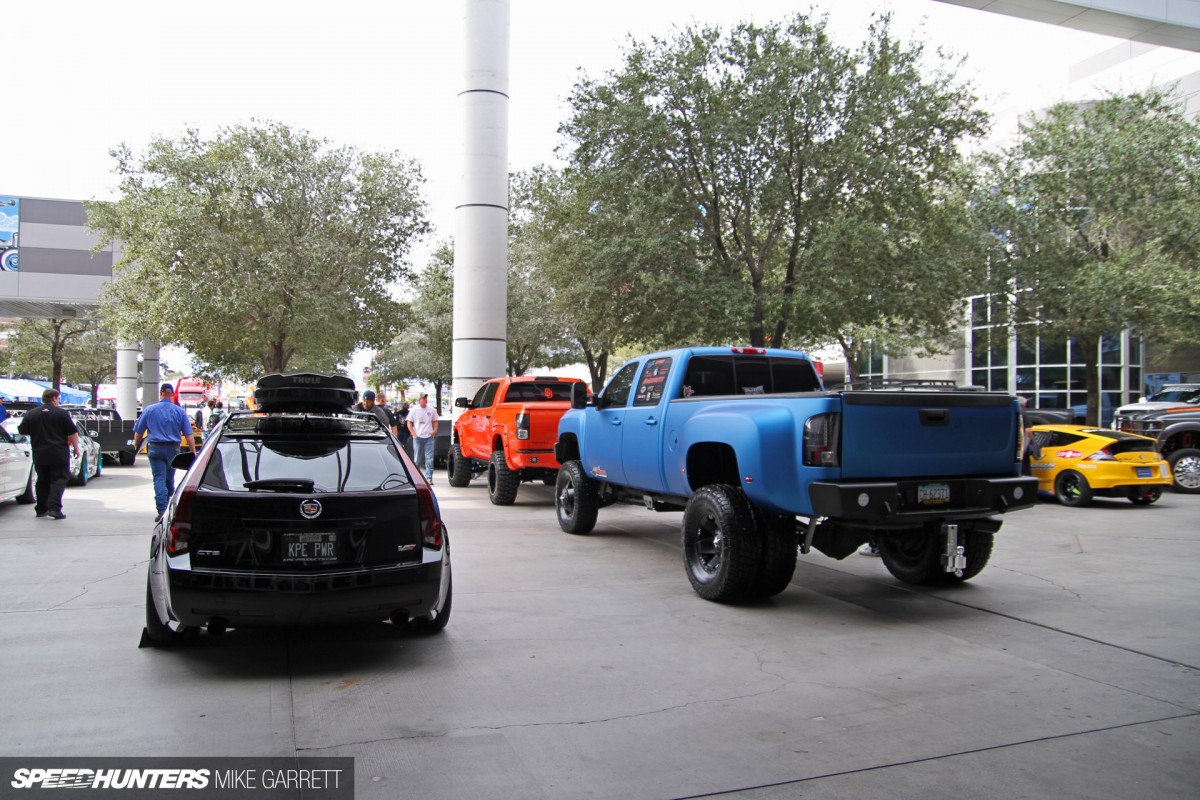 First off there's the crowds, or should I say the lack thereof. You can bet that by tomorrow, there will be a lot more people in a scene like this.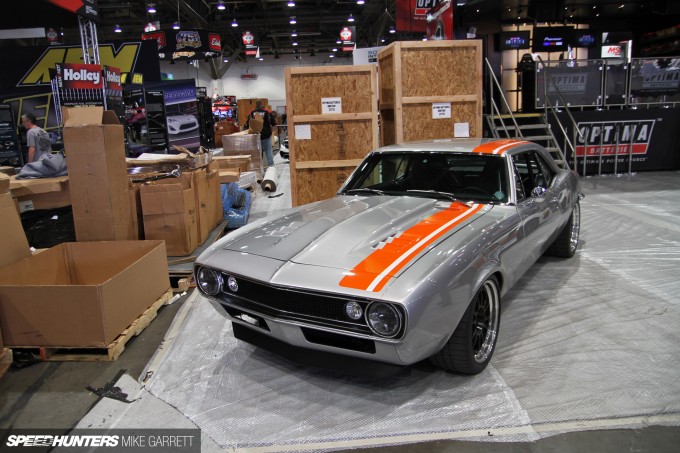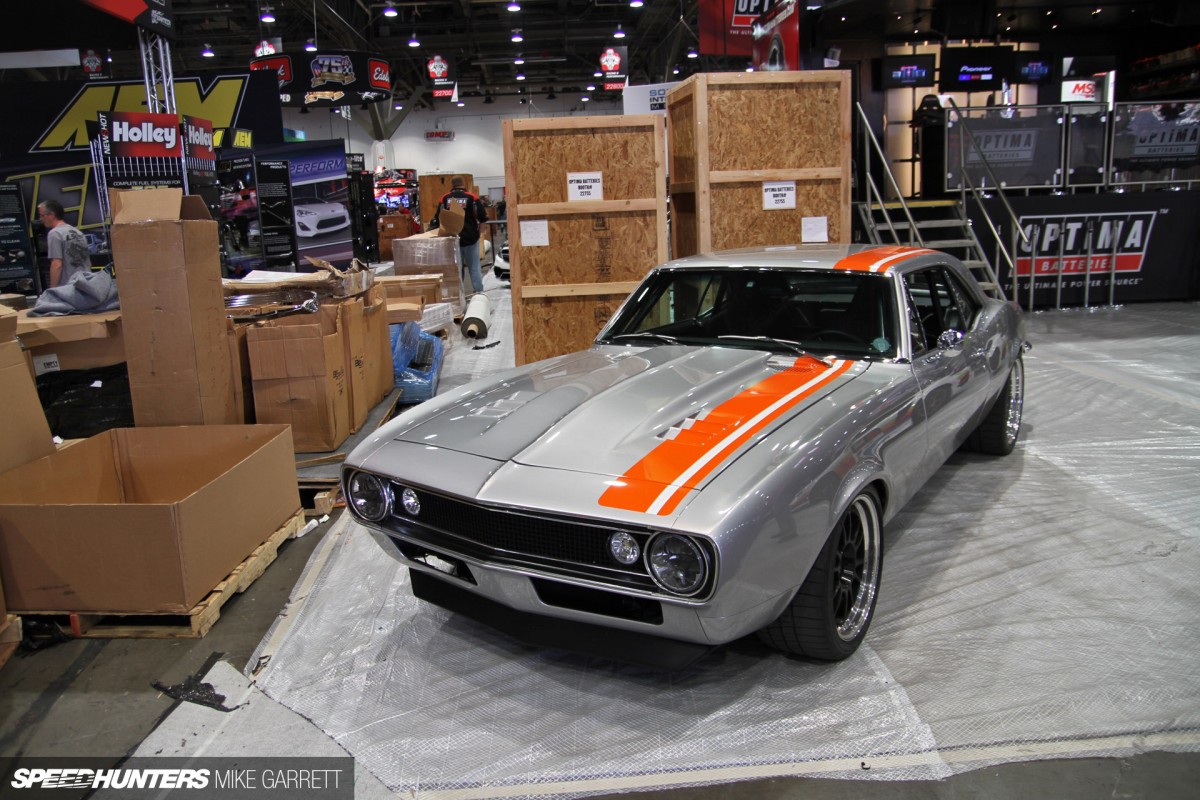 And I'm sure anyone who's ever tried to take photos at a large event knows how difficult it can be to shoot with thousands of people walking around.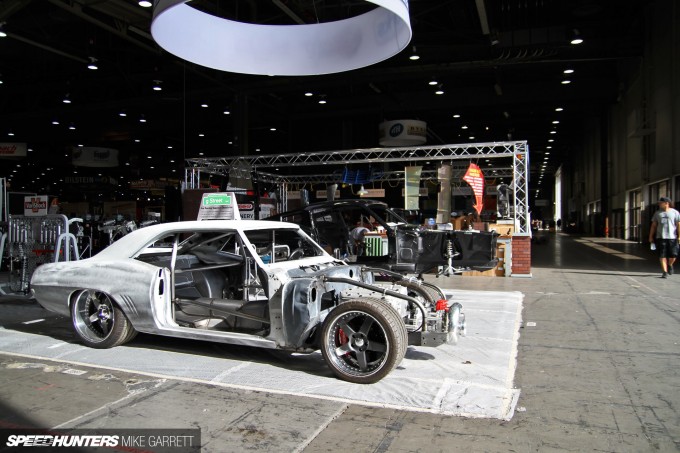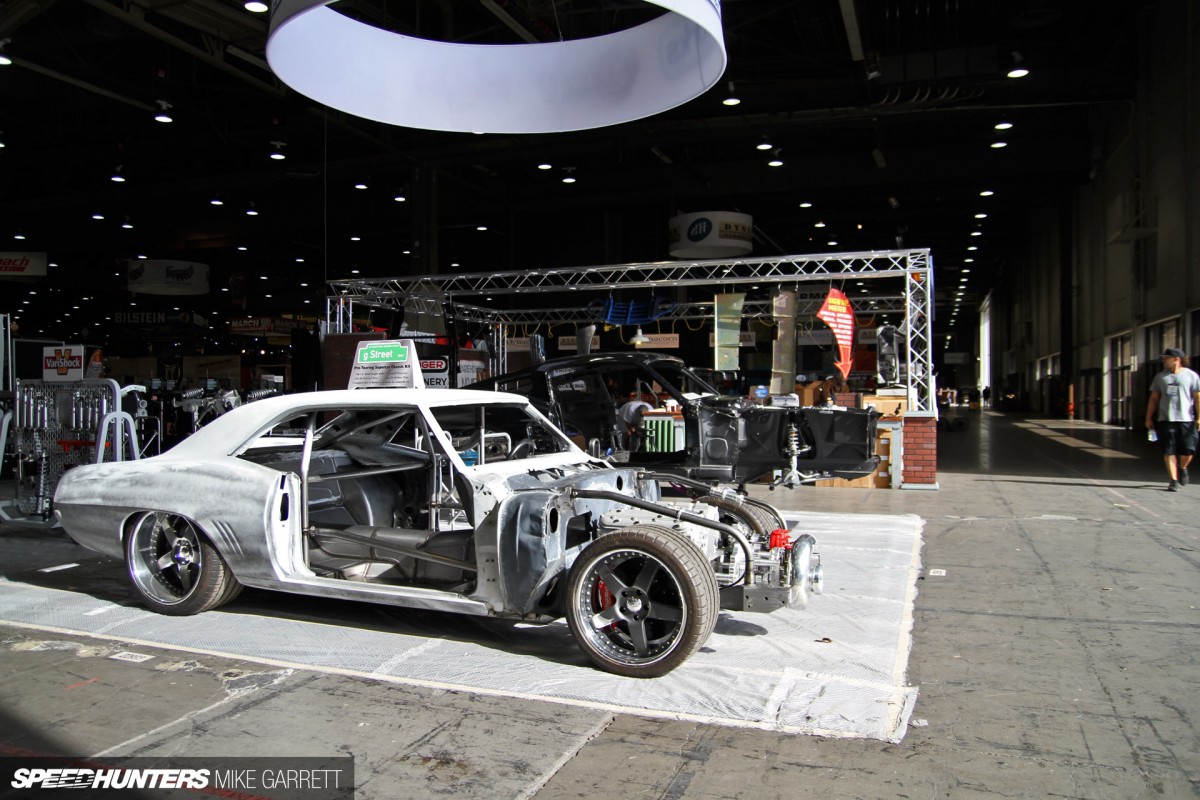 The other reason I like SEMA's set-up day is because I'm just plain excited to be here. While it might be the toughest and most hectic week on the calendar, I still look forward to the show every year and can't wait to see all the new stuff.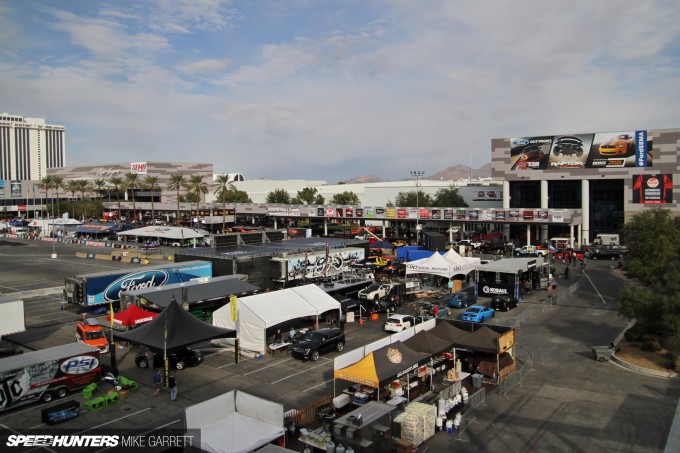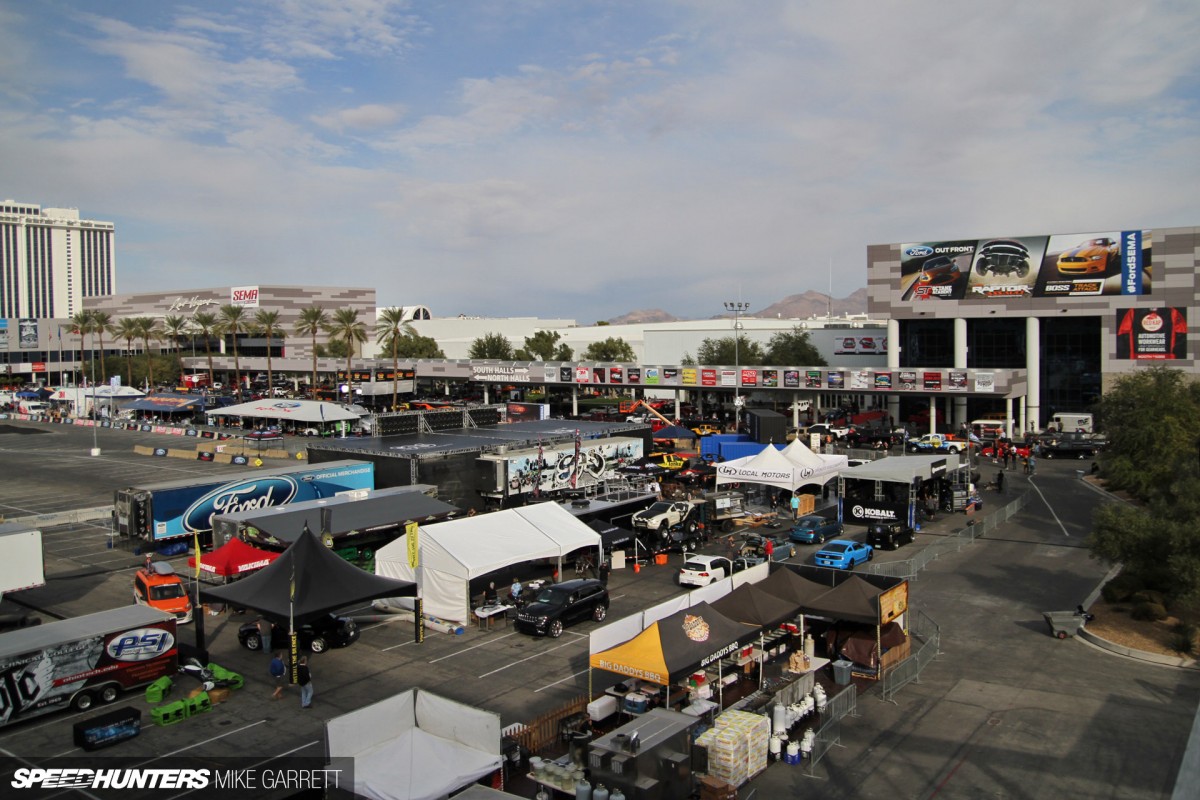 I know I won't like everything I see at SEMA this week, but that's part of what makes the show such an adventure. It's the good, the bad and the ugly of the automotive aftermarket. We'll try to focus on the good though.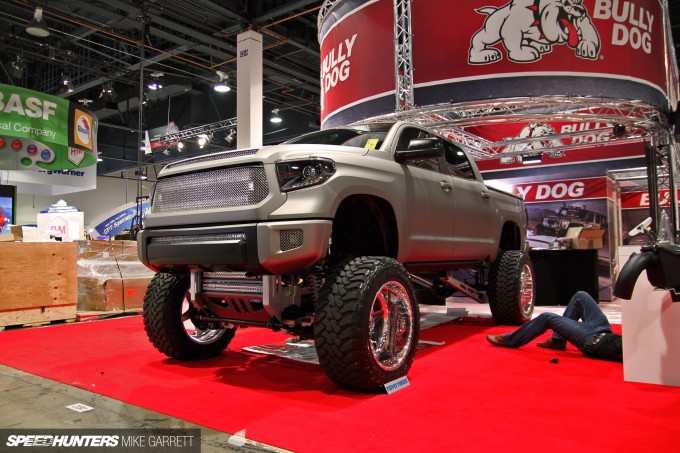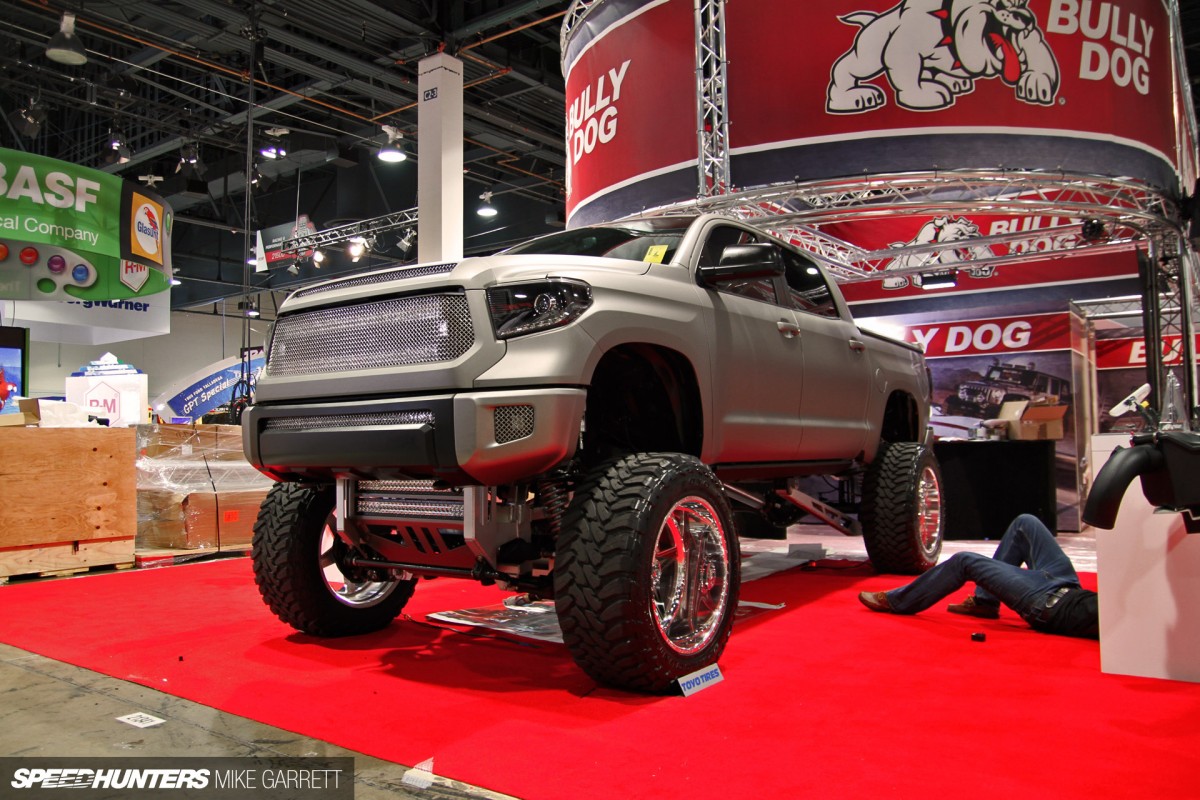 At SEMA, you're guaranteed to see vehicles from opposite ends of the ride height spectrum, from the rows of jacked up brodozers…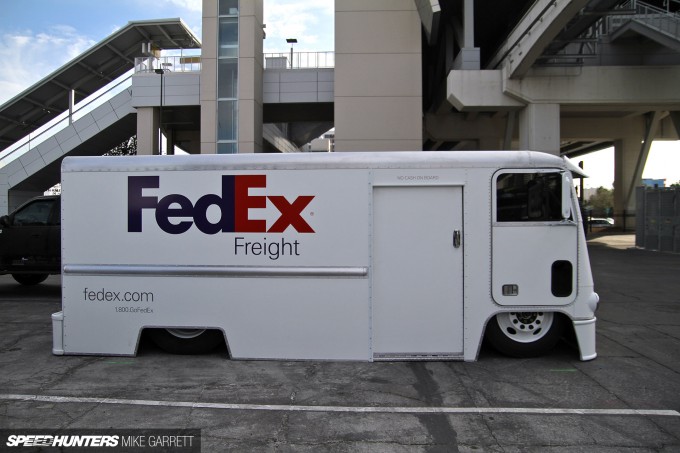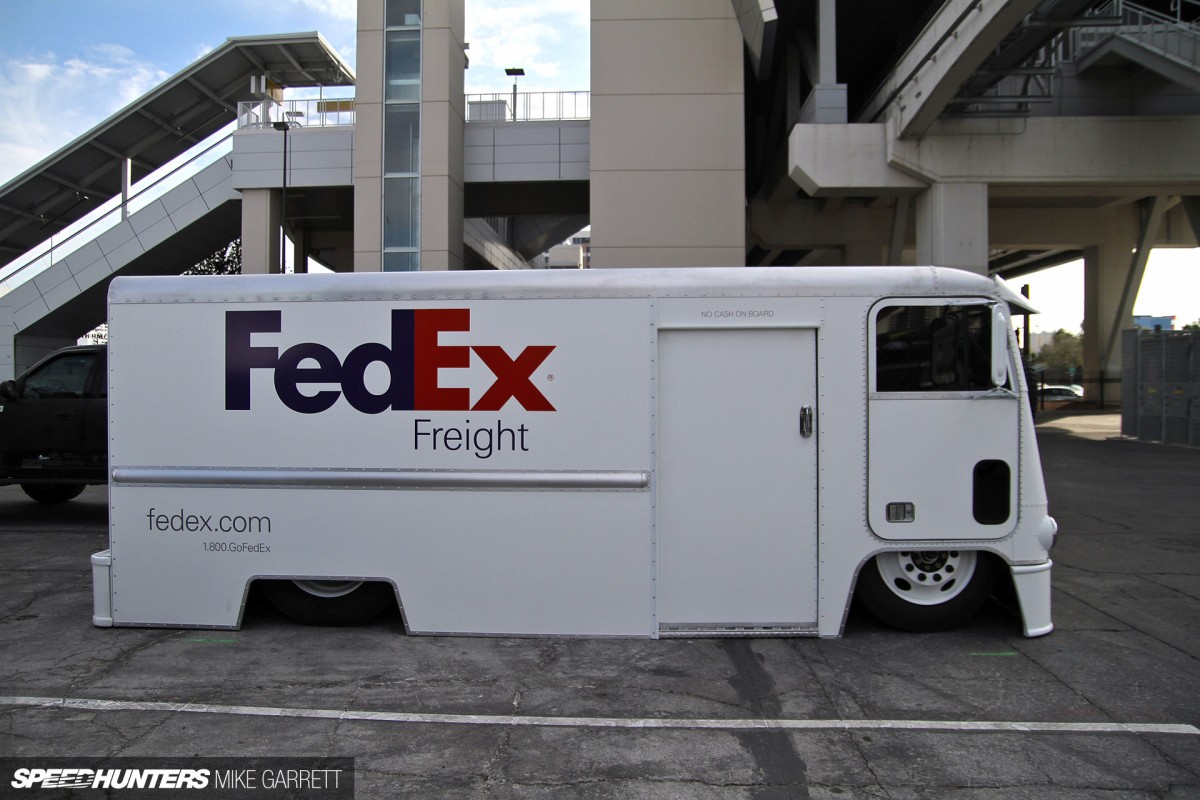 … to some of the lowest custom vehicles on the planet. How can you not like a FedEx delivery van sitting on the ground?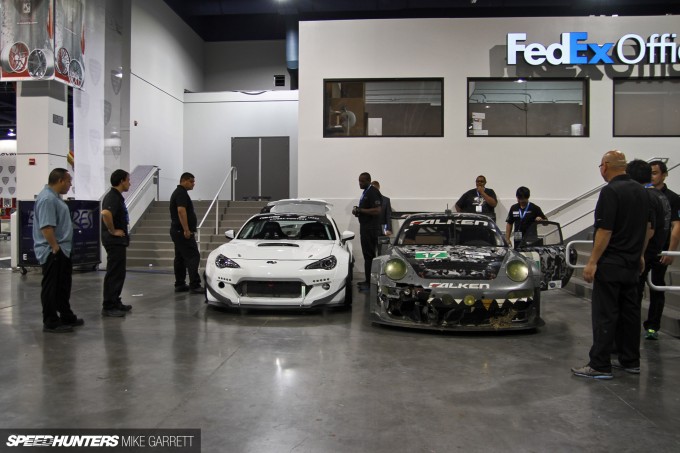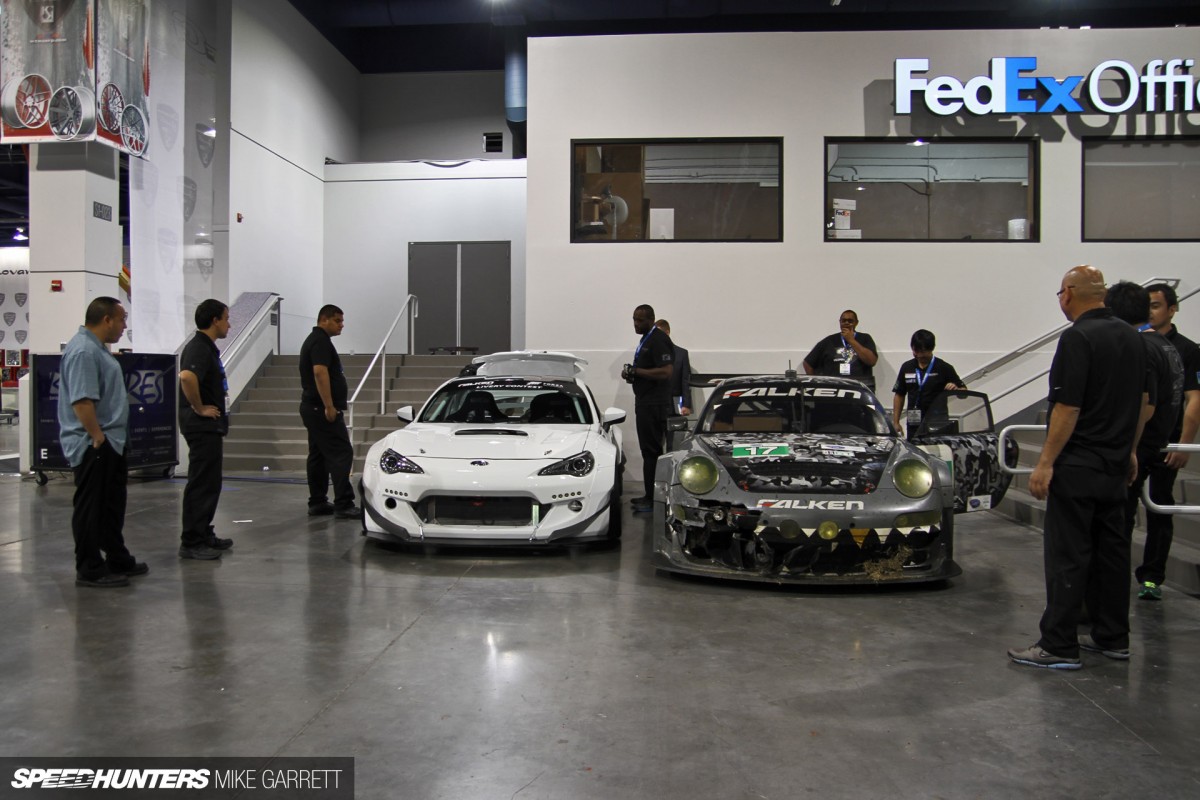 Over in the wheel and tire area, I found a couple more cars being put into position. On the left is the Subaru BRZ that Dai Yoshihara will drive in Formula Drift next year and on the right a very battle-worn ALMS Porsche.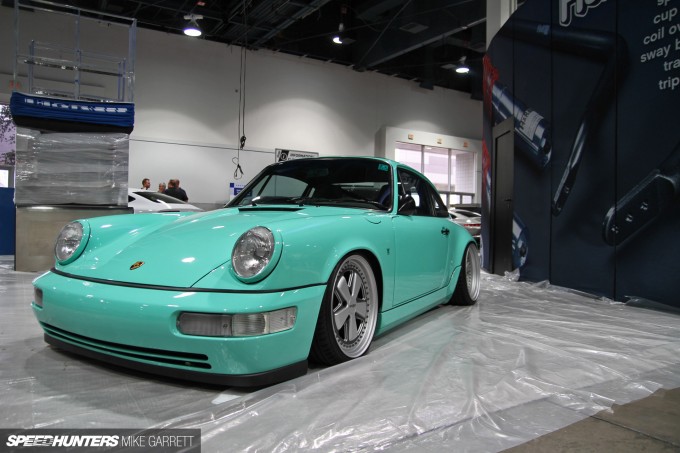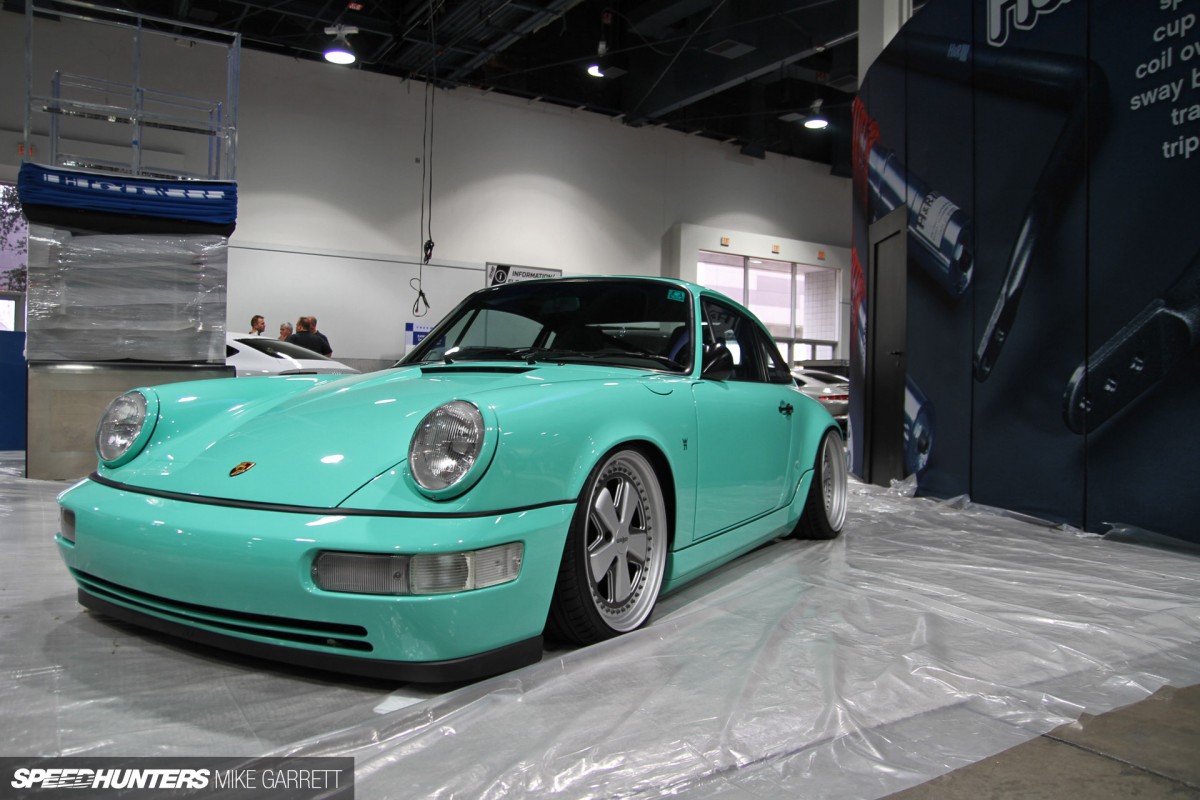 Speaking of Porsches, here's a very familiar looking 964 with some not-so-familiar wheels…
First impressions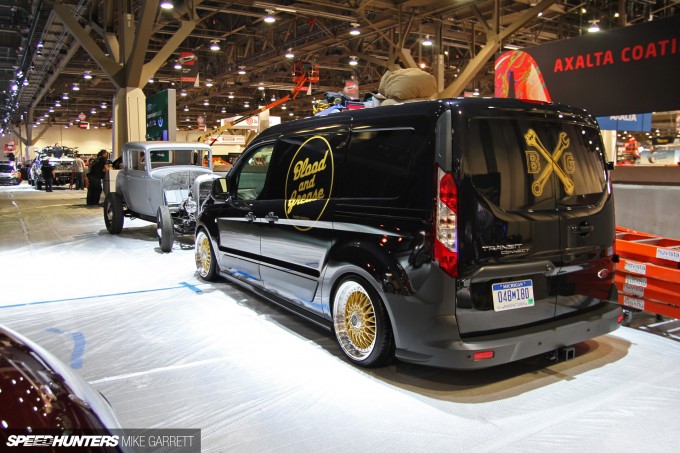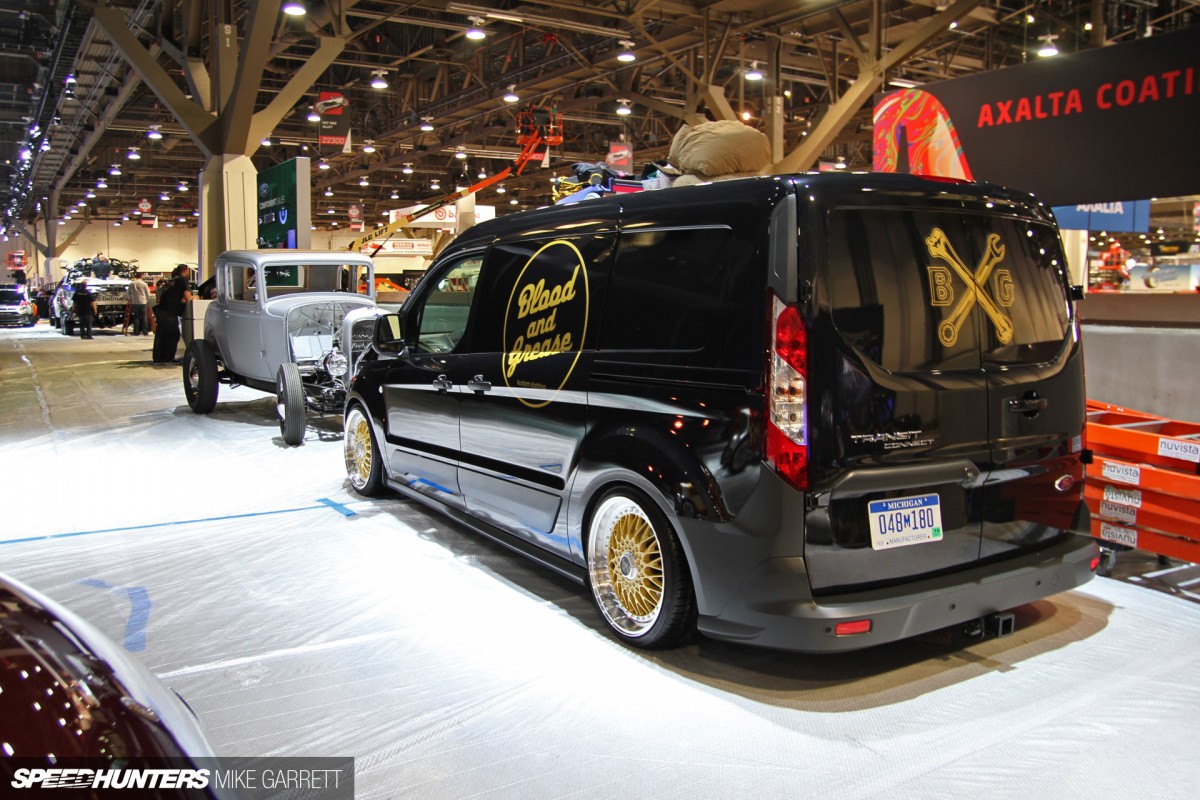 While I've really only had a sneak peek of this year's show vehicles, I already have a few favorites. Custom Ford Transit Connect vans? Yes please.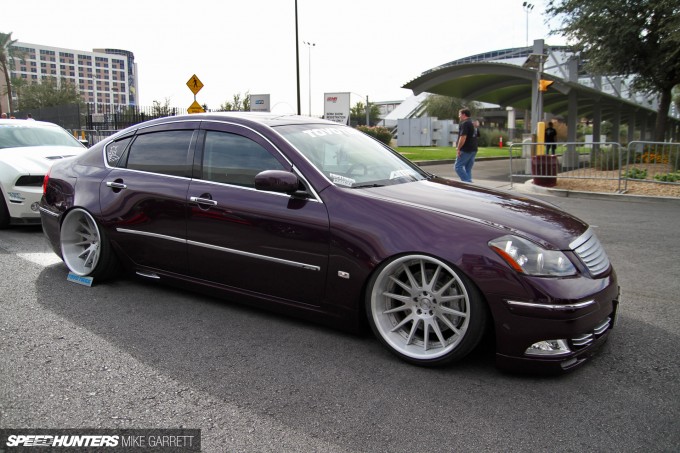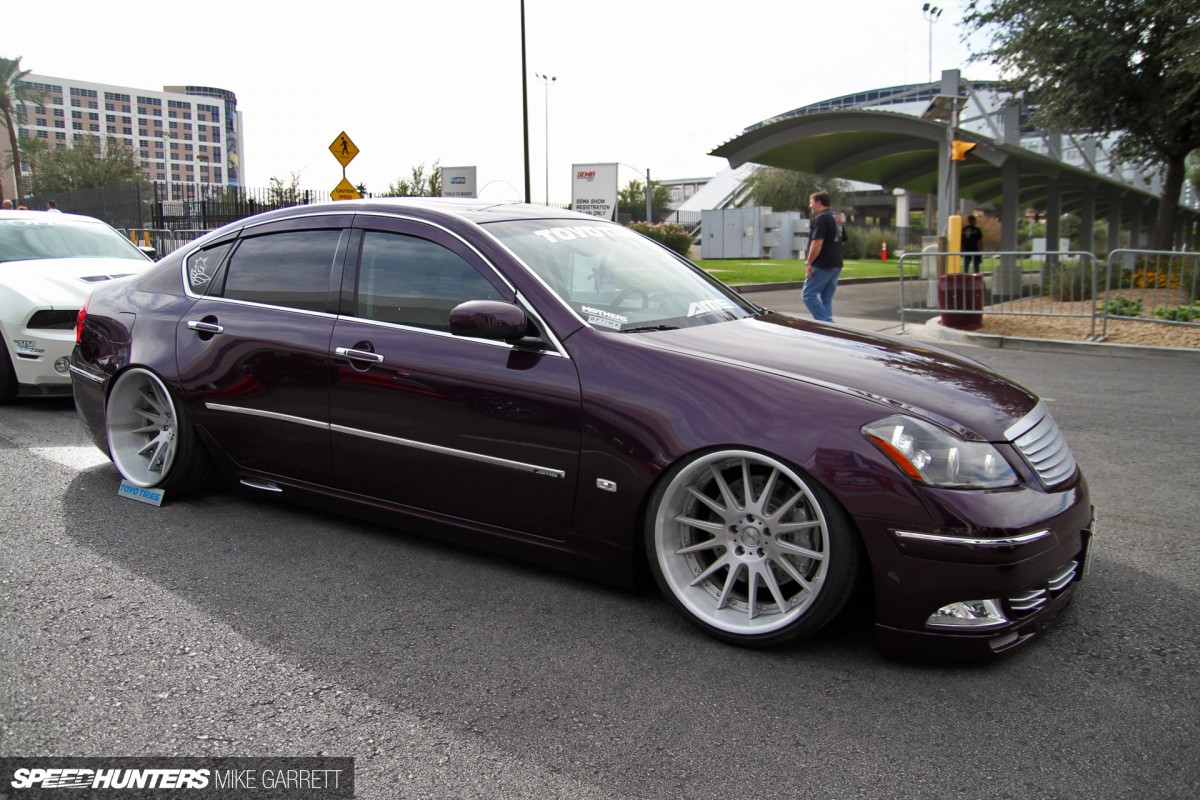 Like VIP cars? I spotted lots of them parked up around the convention center during today's reconnaissance mission.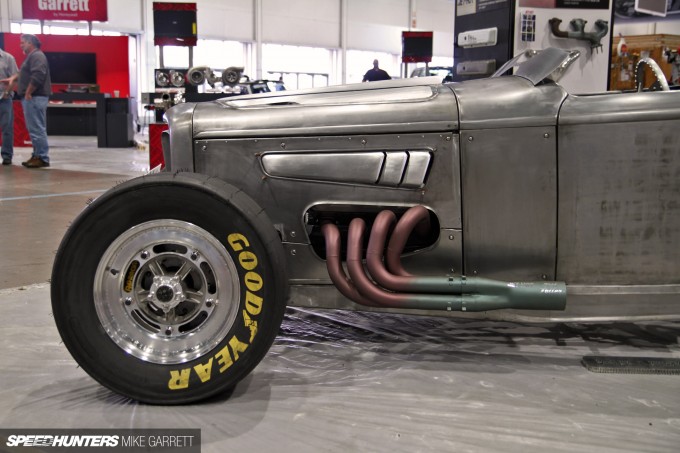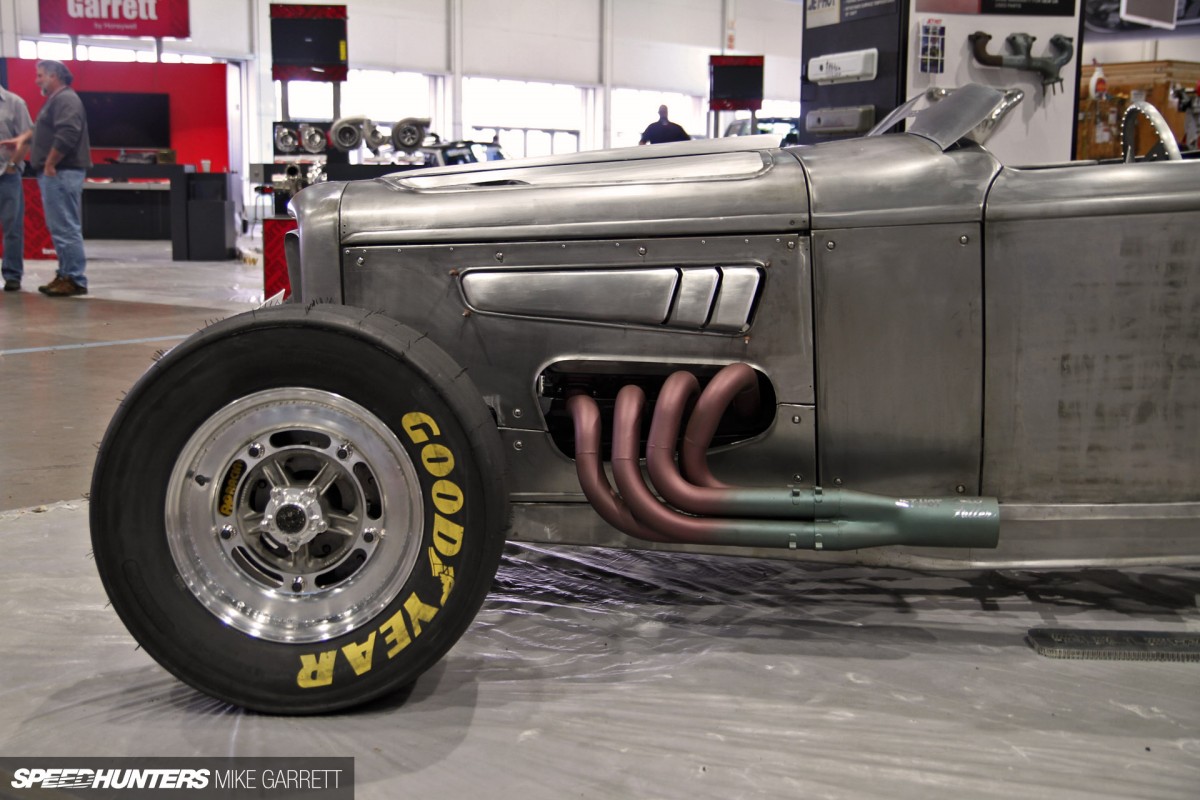 Naturally, we will have up-close looks at all of SEMA's coolest and craziest builds as we make our way through the coming week.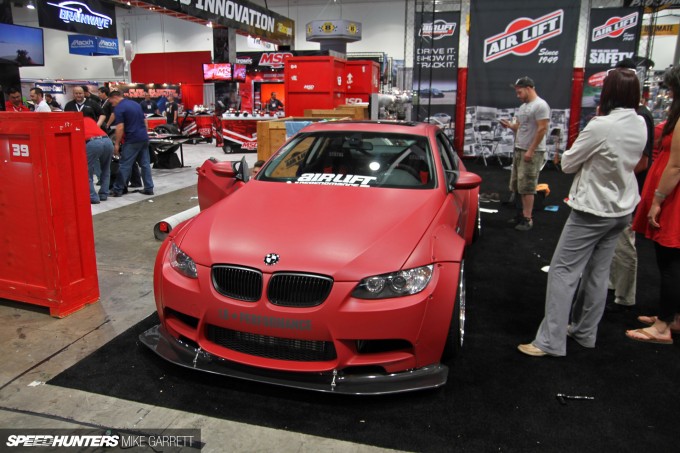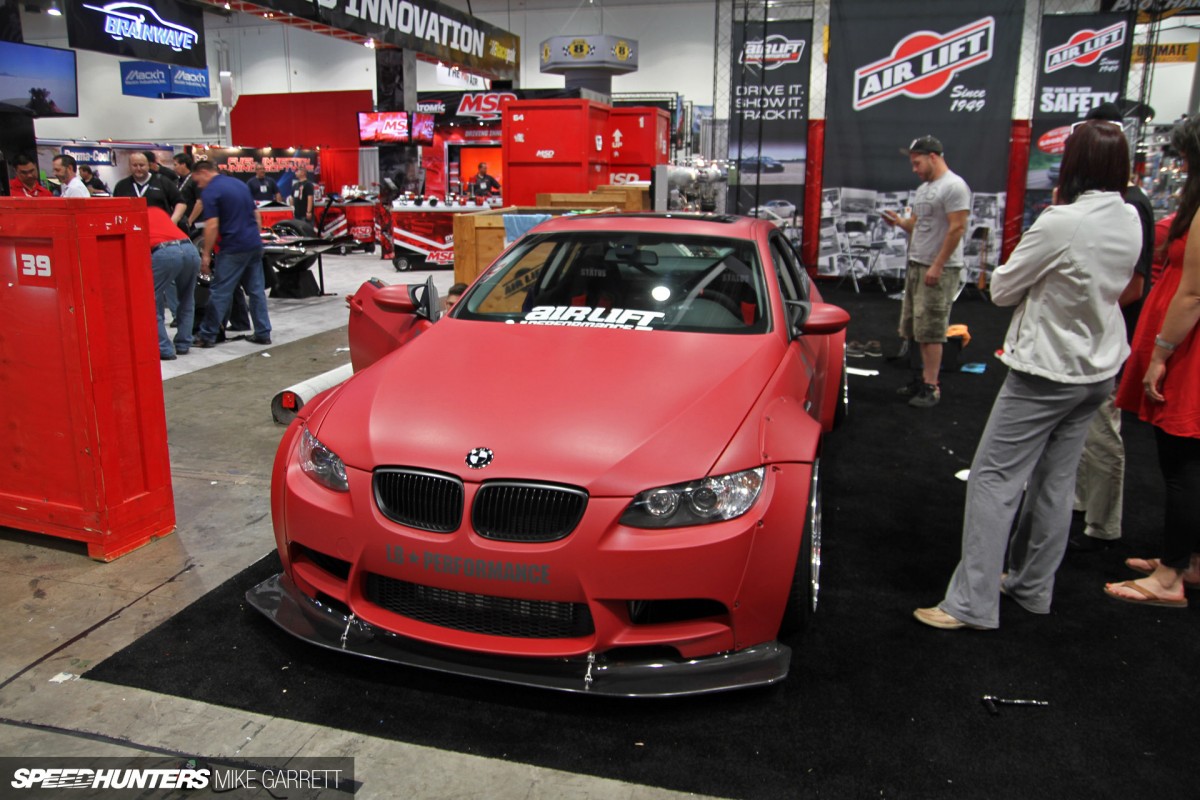 During my fleeting visit today, I was also able to pick up on some of this year's trends.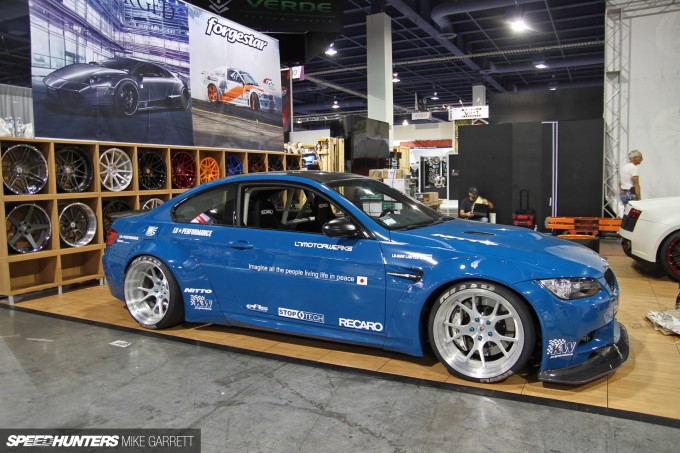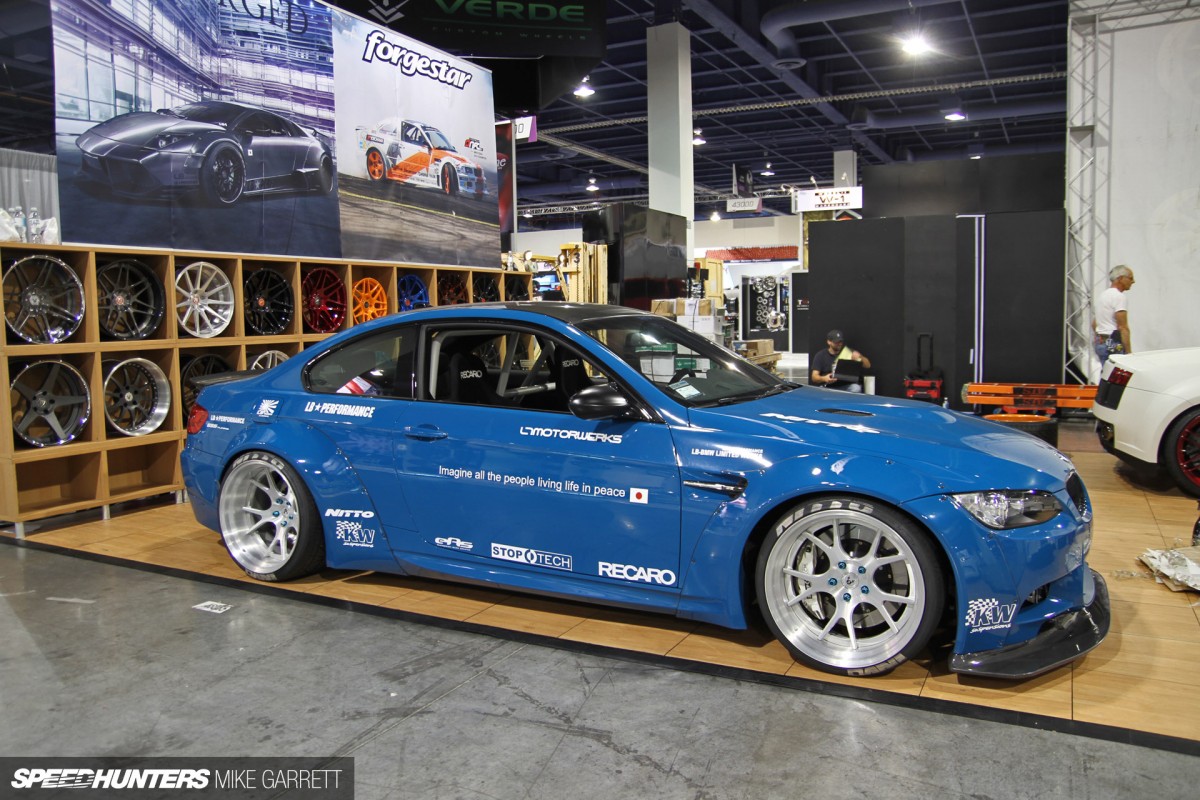 One initial observation. It seems like you can't go more than a few steps without seeing a car with bodywork from TRA Kyoto, Liberty Walk, or a combination of them both.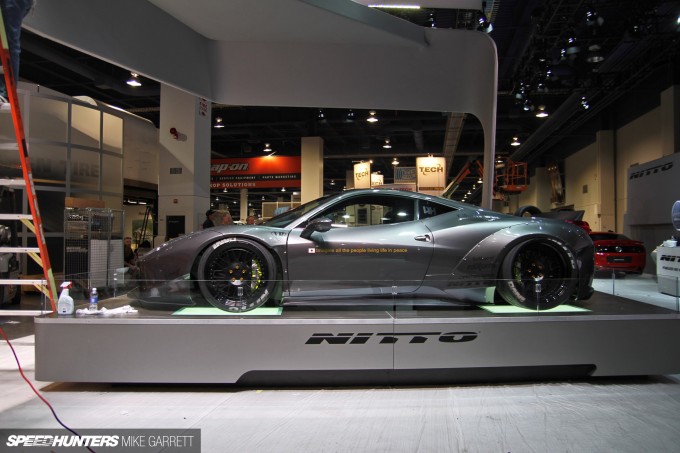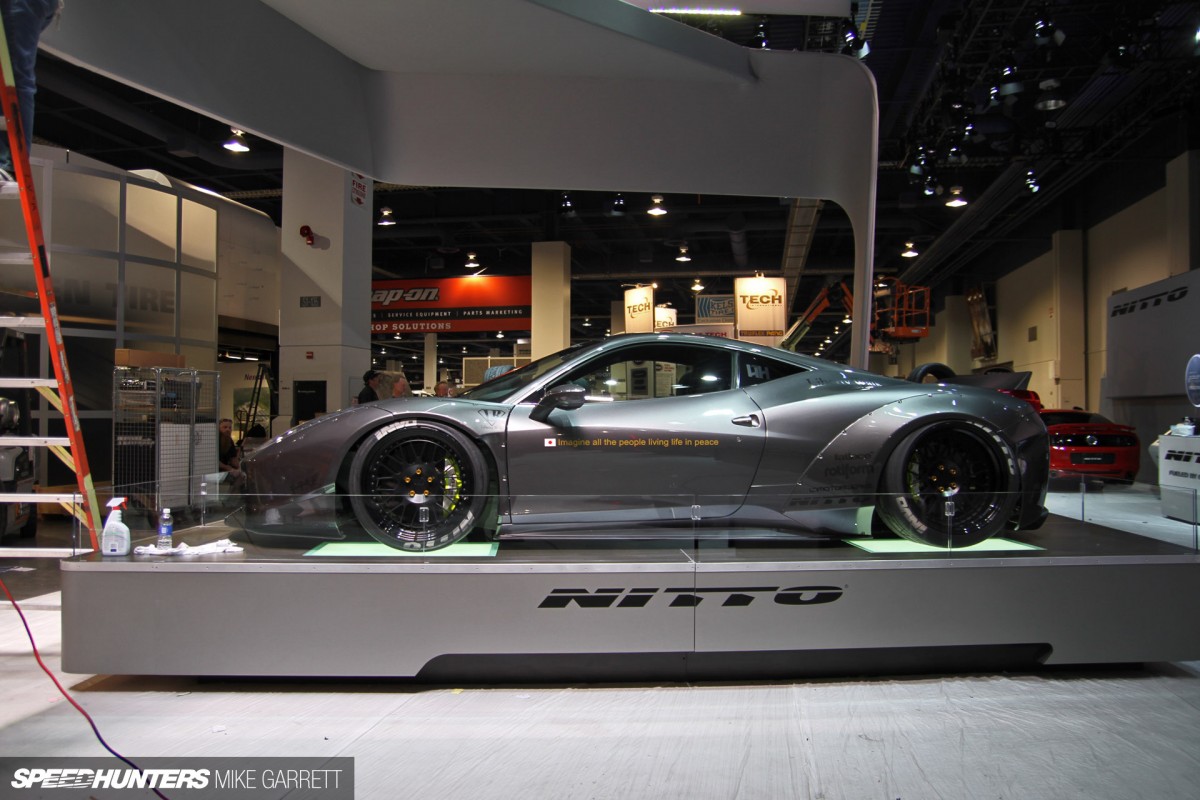 There's the Liberty Walk Ferrari 458 in position in the Nitto Tire booth. Our feature has already blown up this website, and the 458 is sure to be one of the most talked-about cars at the show.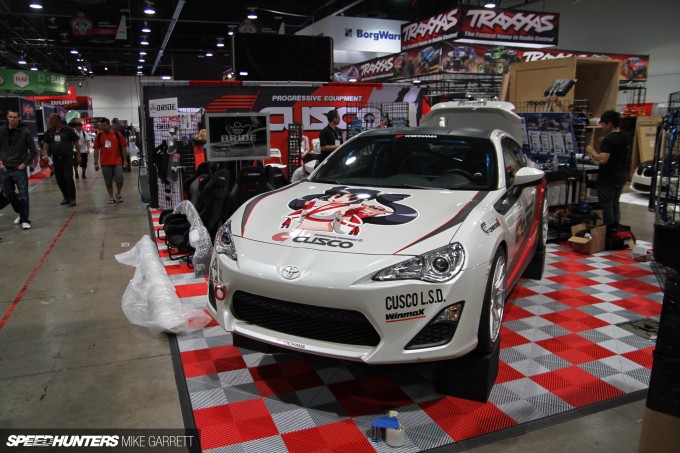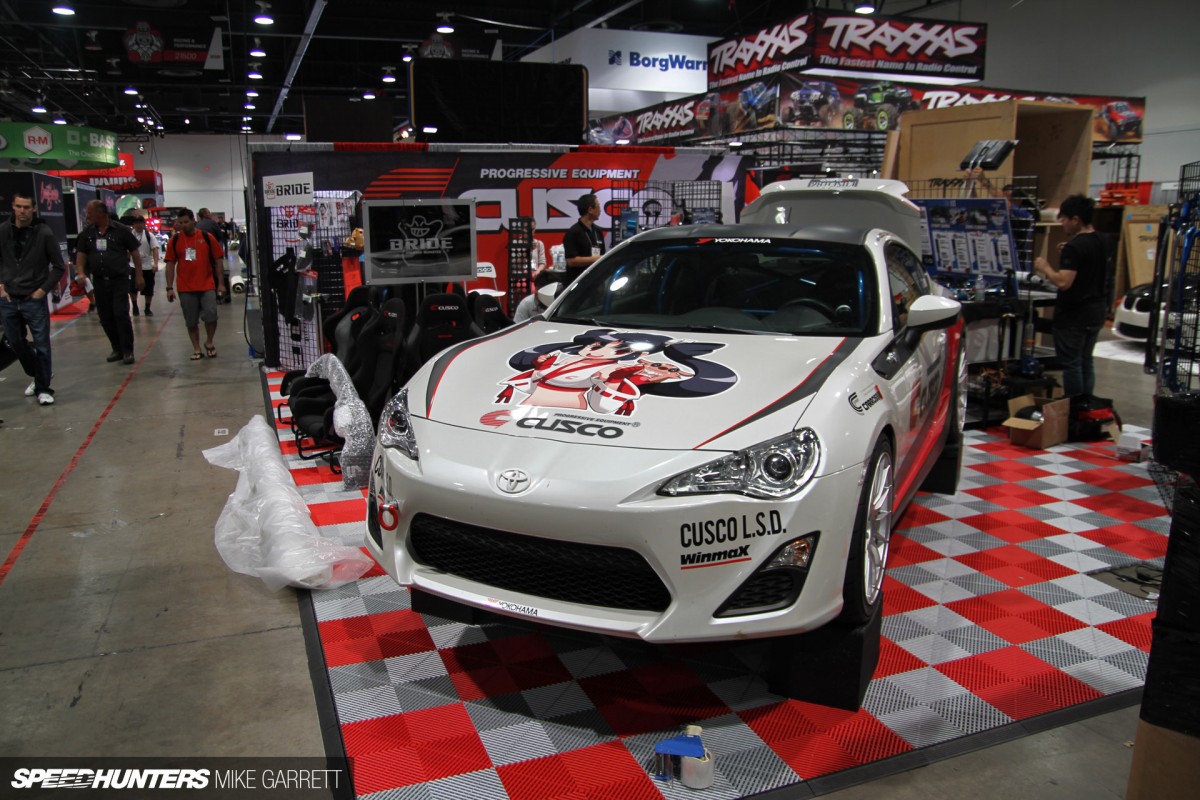 No surprise here, but the Scion FR-S and Subaru BRZ are still some of SEMA's most popular platforms as they continue the tuning market renaissance.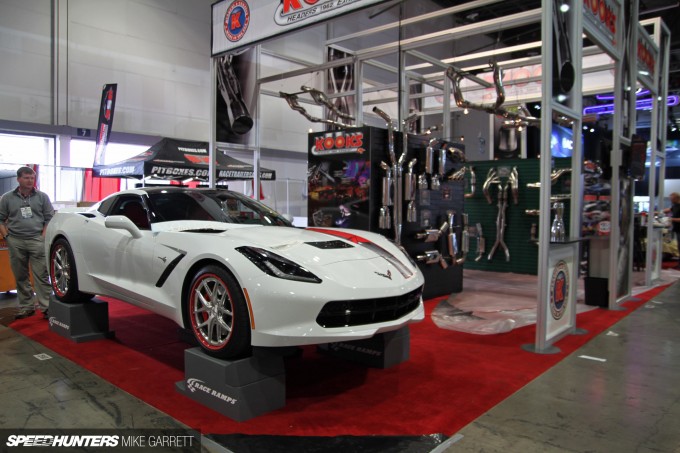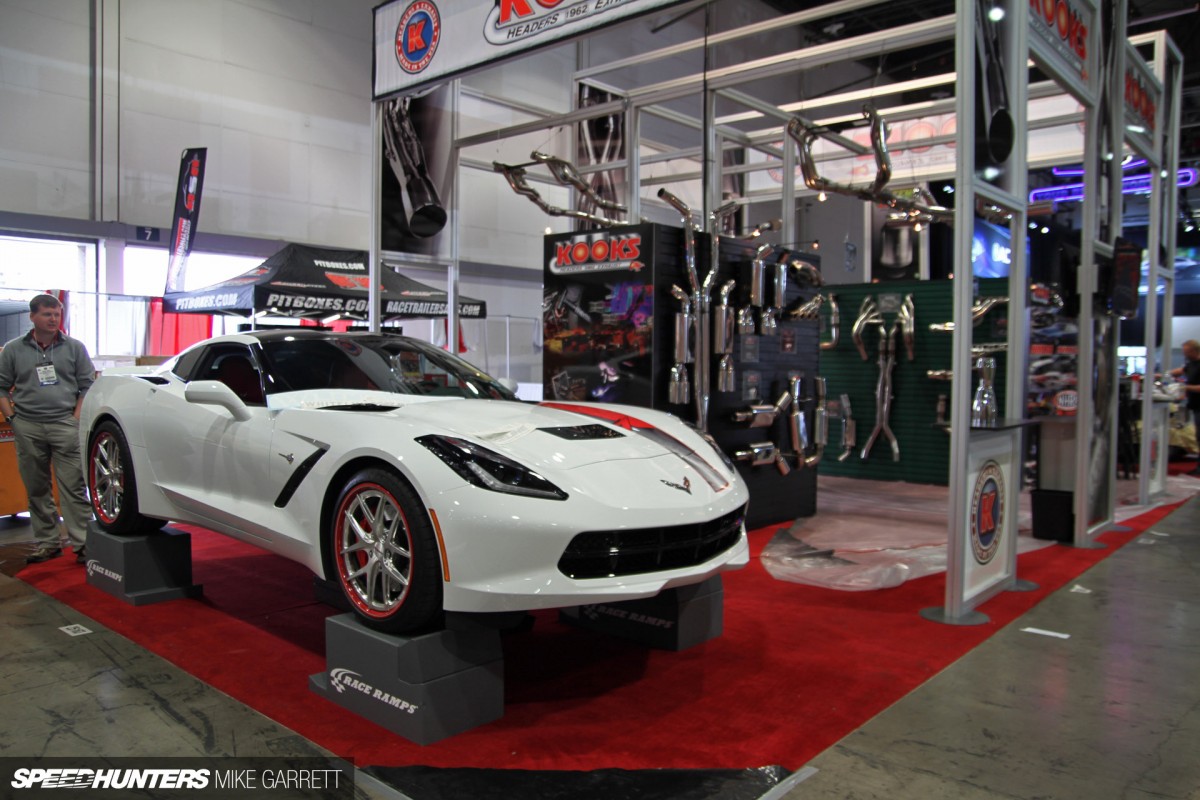 Appearing for the first time this year are modified examples of the new C7 Corvette. I spotted my first C7 in the wild last week, and already the show is full of new 'Vettes with aftermarket suspension, wheels, power adders and more.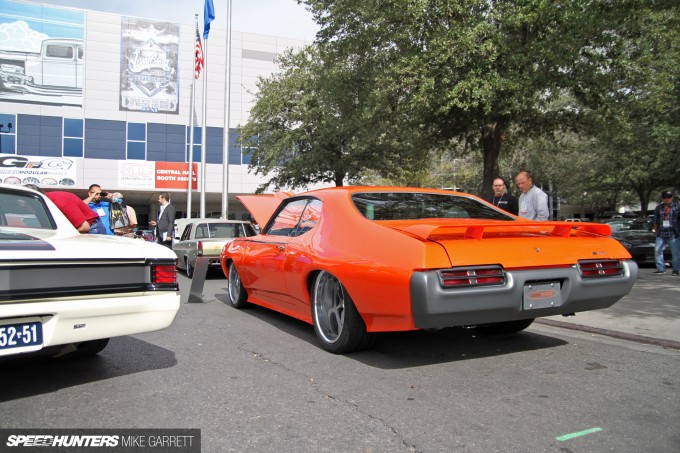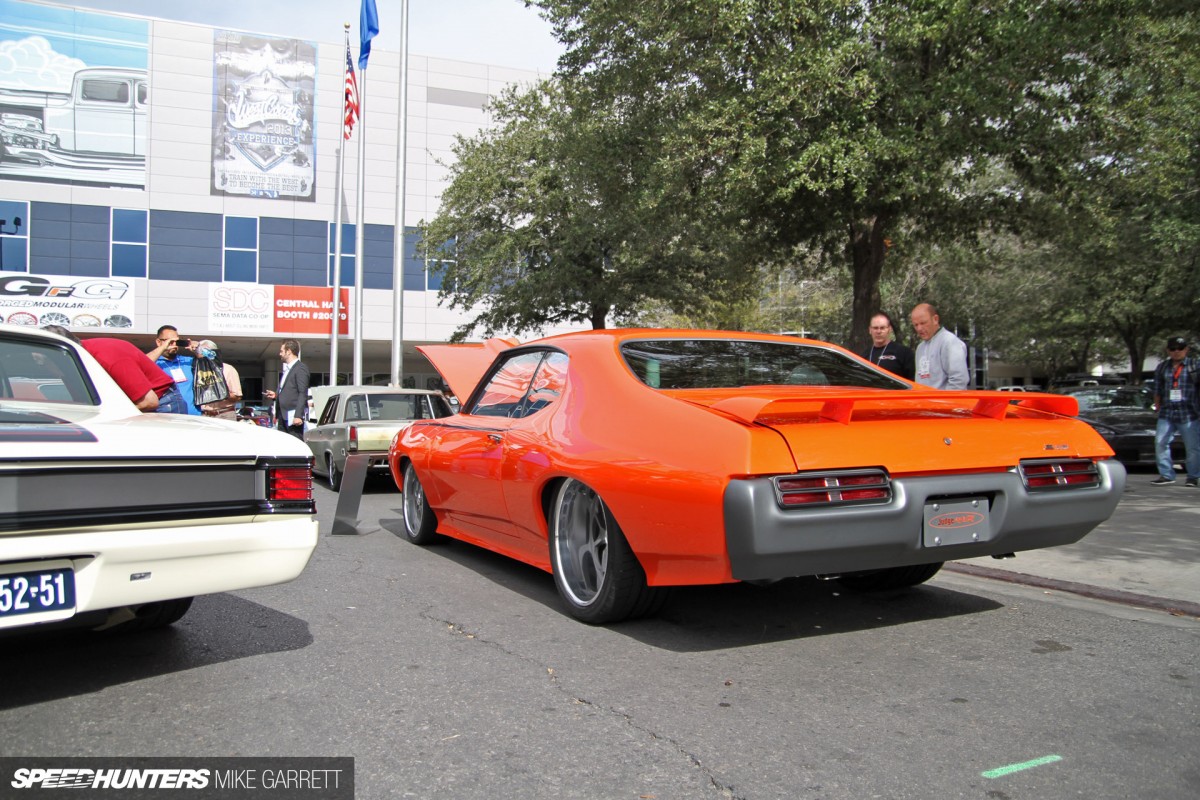 It seems like Pro Touring style isn't going away either. SEMA is once again filled with classic muscle cars that have increasingly big rubber and modern horsepower to match.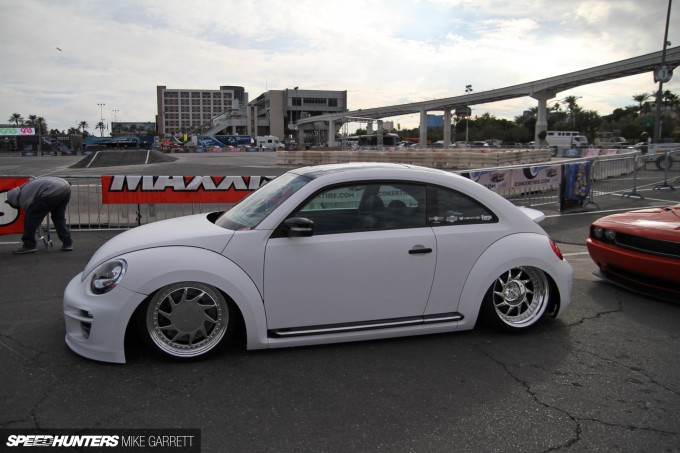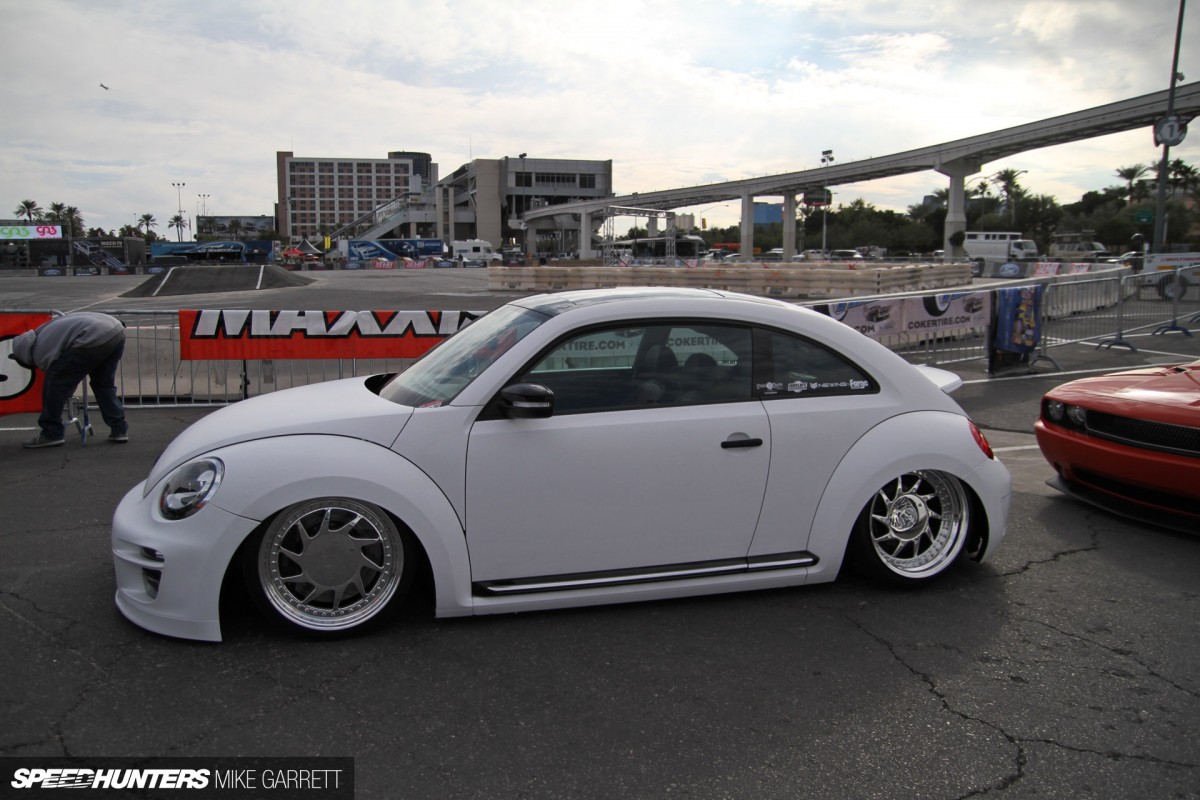 My initial impressions also suggest a heavy European car presence this year, but this will be something we'll have to investigate further as we make our way through the show.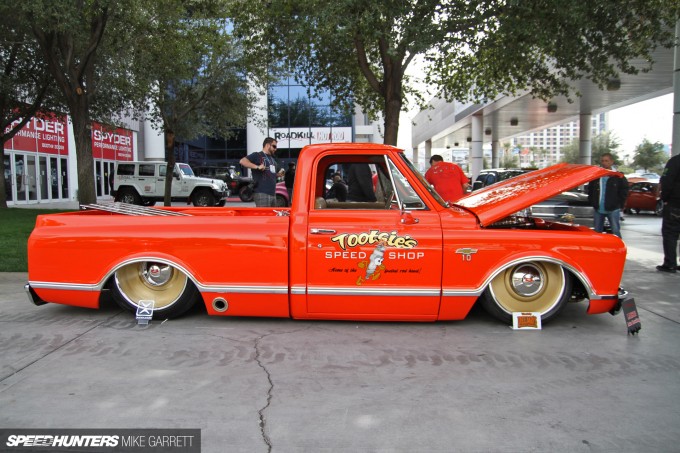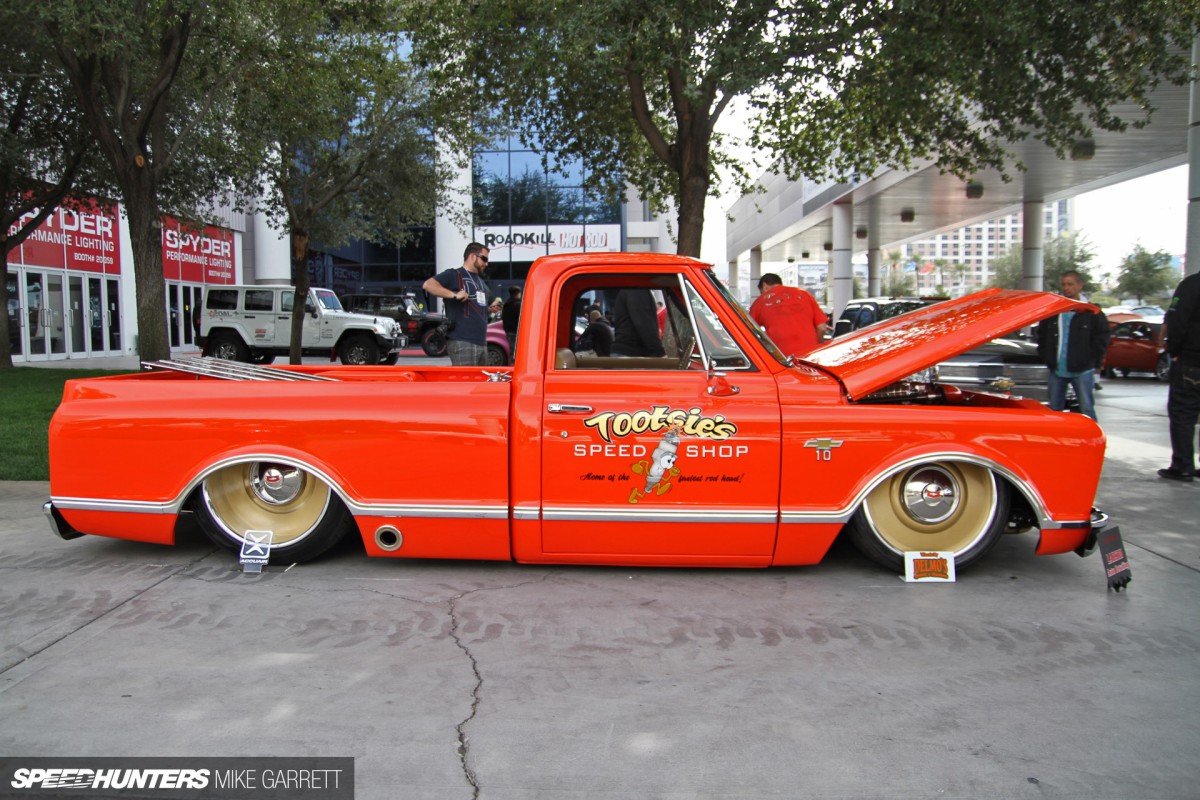 I was going to say that this post is just the appetizer to the full course meal of SEMA Show coverage we have in store, but it's not even that. Maybe it's the salt and pepper shakers or ketchup bottle that's already on the table?
Whatever it is, we are in for a crazy week in Vegas. Bring it on.