One more month, I swear!
I feel as if I should start this story with an apology. This time last month I was certain we'd have the car up and running by now, but unfortunately that's still not the case. I think that sometimes I'm just so eager that I get a bit ahead of myself – I've never been an overly patient person. Especially when I put these stories together and look through all of the progress we've made, I get so worked up and start feeling even more impatient!
With old cars nothing is ever as simple as bolting A to B or fitting this with that and getting it right straight away. But would it be as fun if everything was ridiculously simple? Is it really that unfortunate that things aren't always easy? Or are the challenging parts what make a project as a whole so rewarding? Quite often the phrase 'If it were easy, everyone would do it' crosses my mind.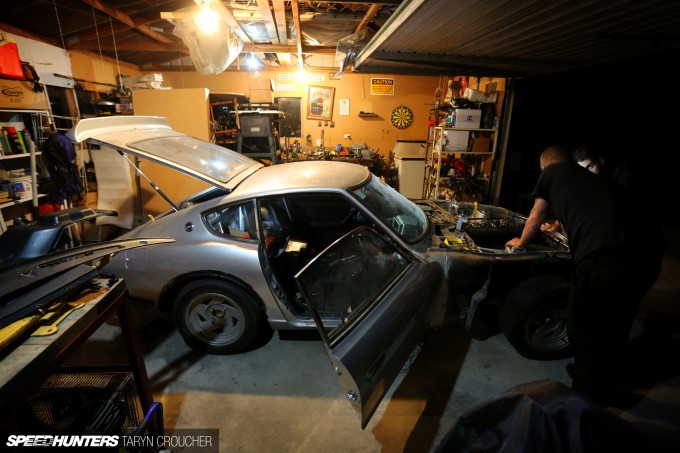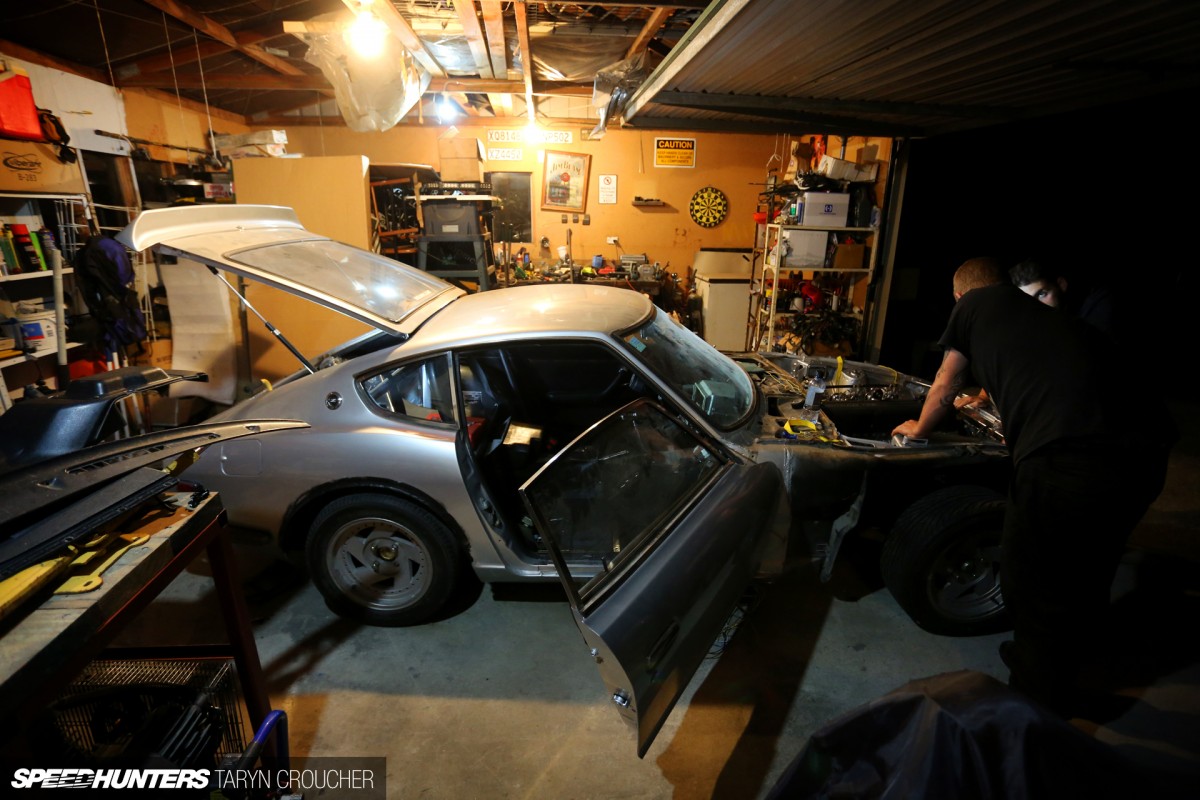 This phrase is also pretty relevant to the next part of this story: rewiring the car. This was definitely a task that I was going to leave up to a professional auto-electrician to undertake…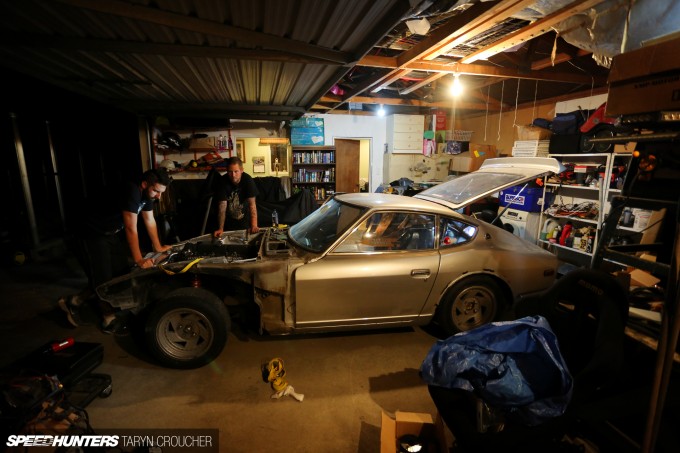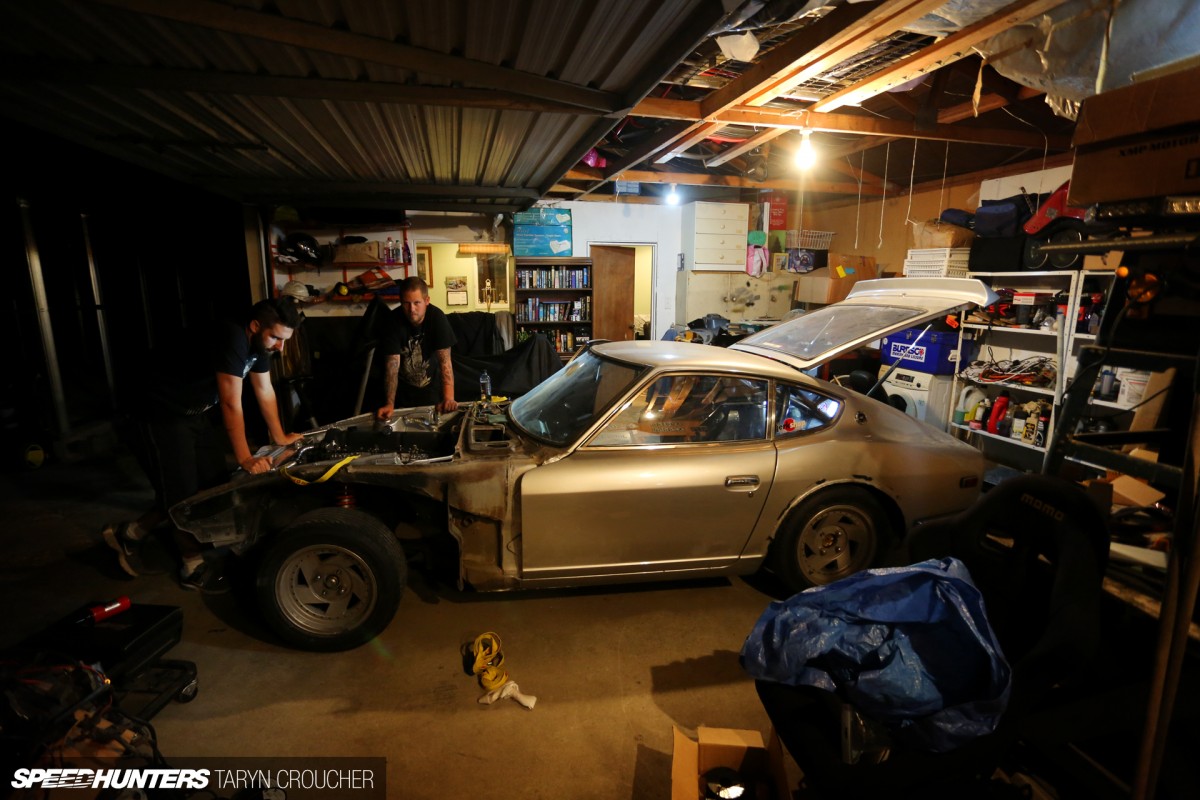 … so a few weeks ago we trailered the Z over to our friend Michael Thorley's house so that he could completely rewire the Z from headlights to taillights. Mike does the rewiring for quite a few well-known cars in our D1NZ drifting series, so I knew he'd be the perfect guy for the job.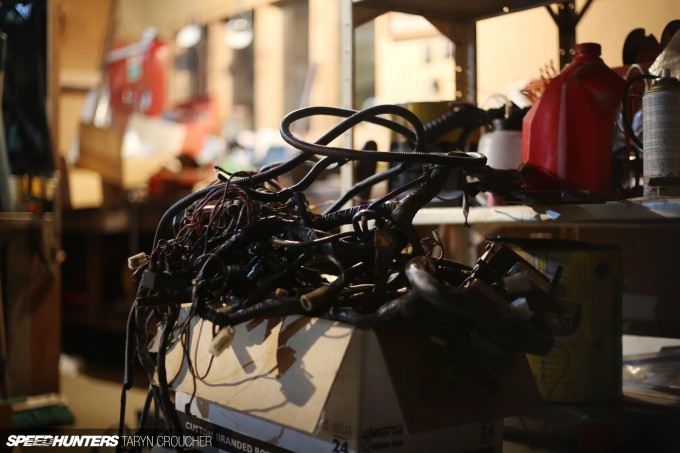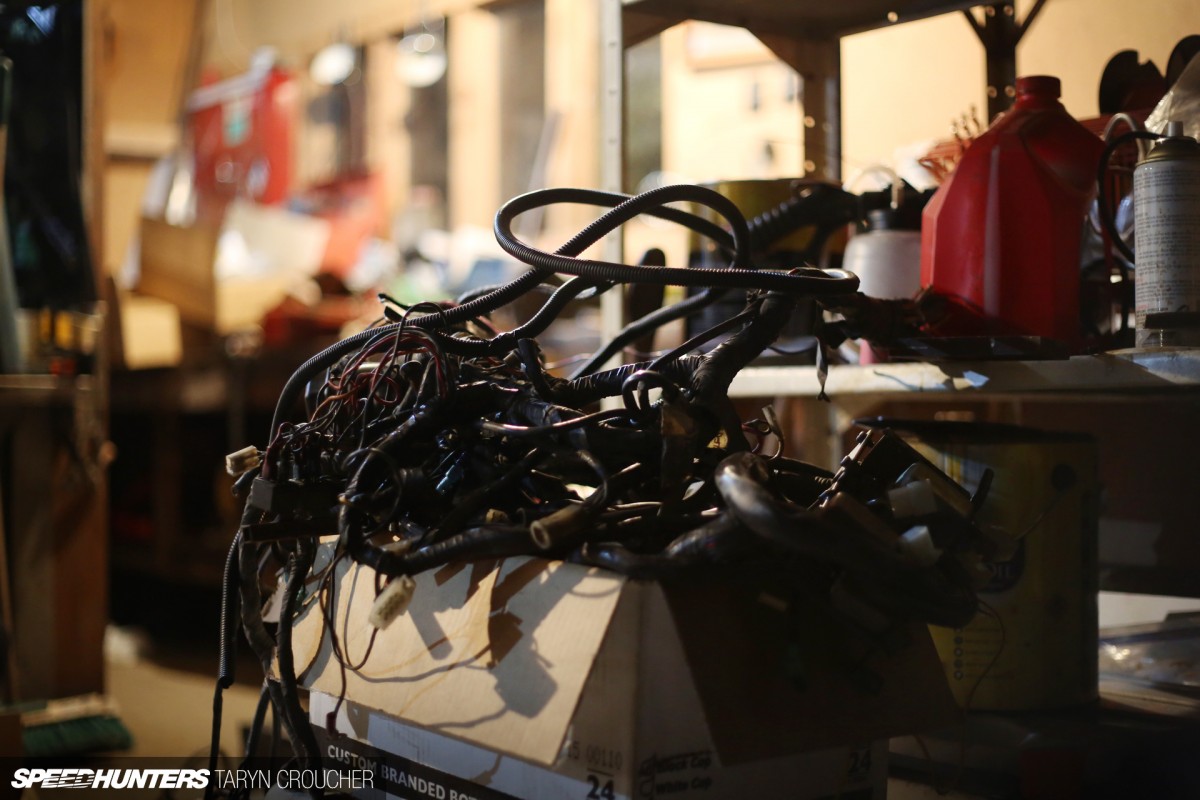 Mike got started by pulling out all of the old wiring so that he could start afresh. It was so satisfying getting rid of all the worn, tatty-looking looms – especially considering how much this box weighed! There was also a lot of wiring from the old EFI system that was no longer needed, which we were able to get rid of. Once these were out of the picture we could start from scratch; that way we could fully eliminate any problems that the 30-year-old wiring might have potentially caused down the track. With the Z having gone through two decades of modifications and 'quick fixes' (as I discovered a few months ago!) this definitely seemed like a smart move.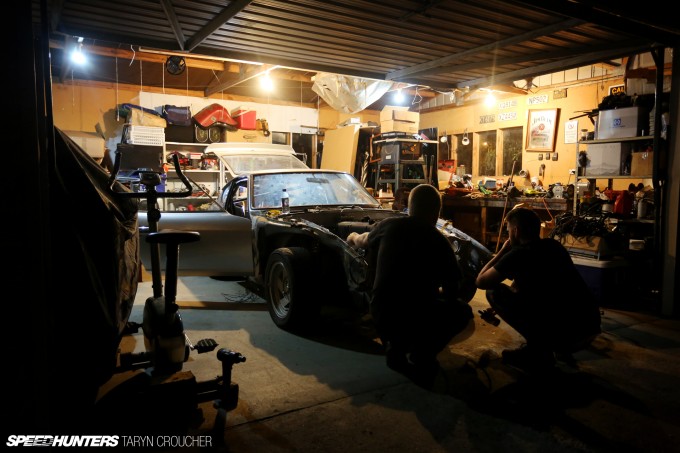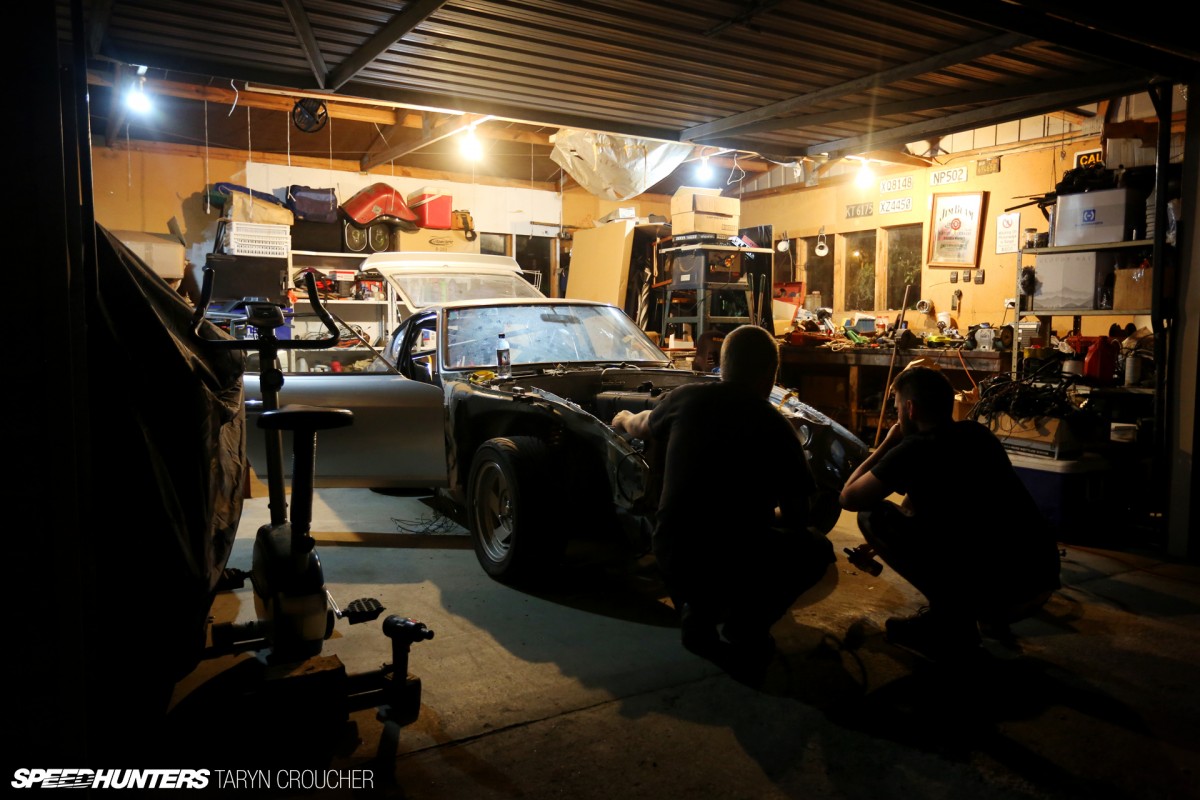 First we had to figure out the best way to run the wiring through the now shaved and detailed engine bay without creating too much mess or distraction from the star of the attraction…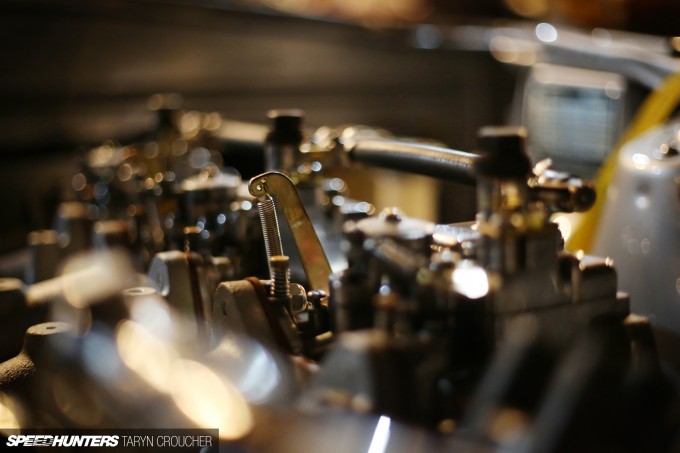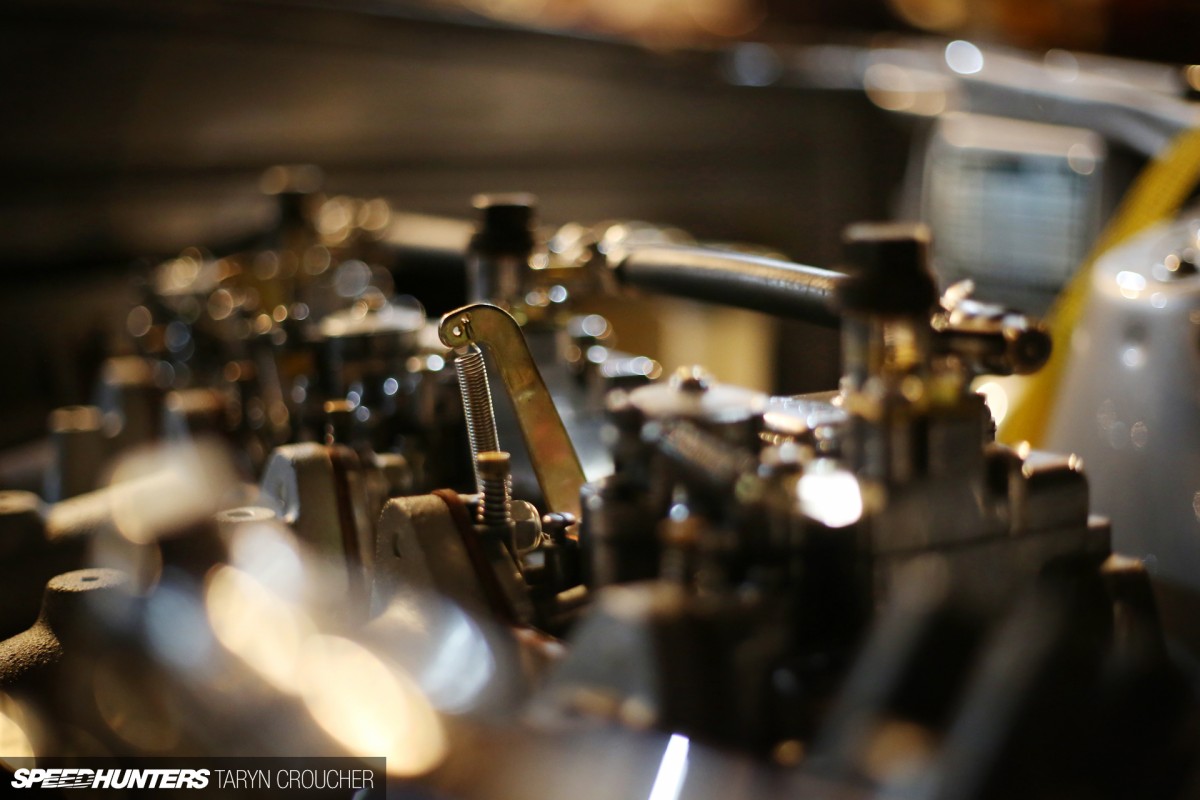 … the freshly rebuilt triple 40mm Mikuni-fed L28 motor.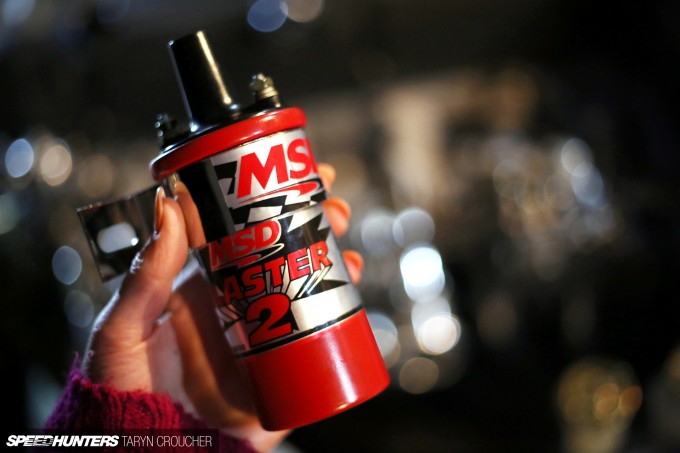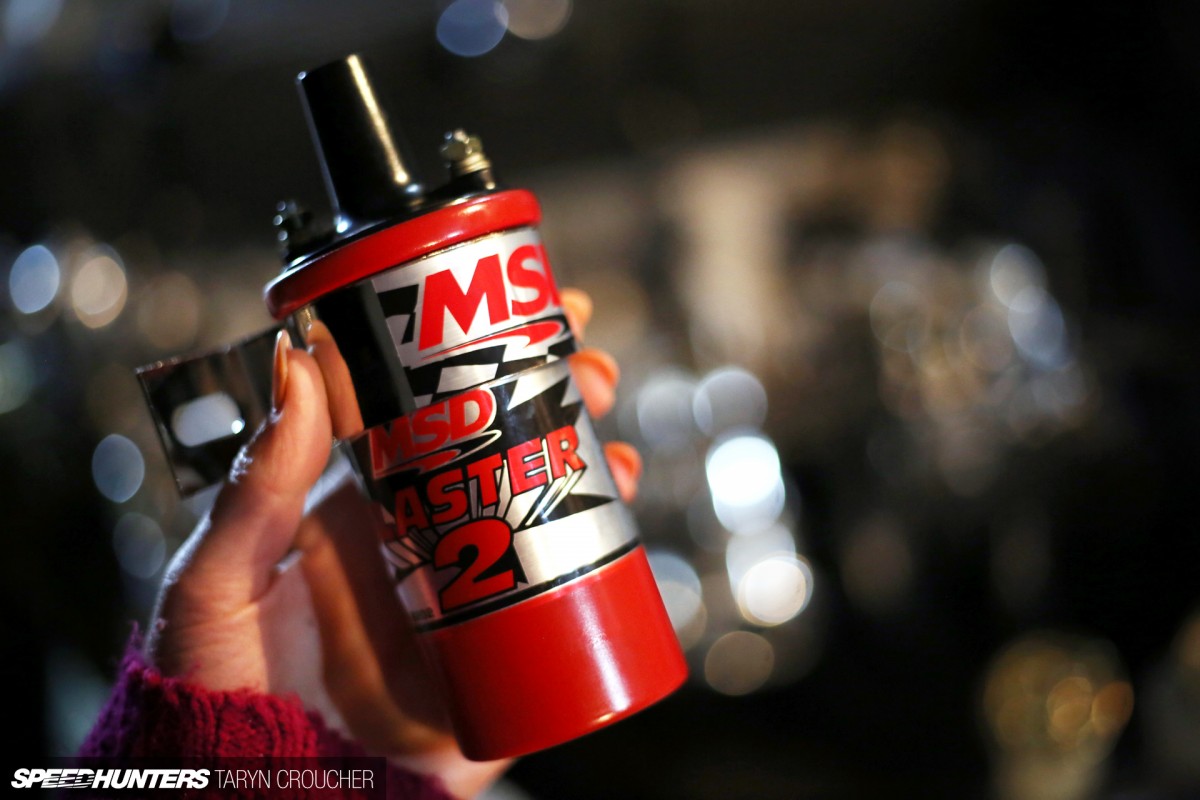 In recent weeks I'd already gone out and bought an MSD Blaster 2 coil and a 280ZX distributor…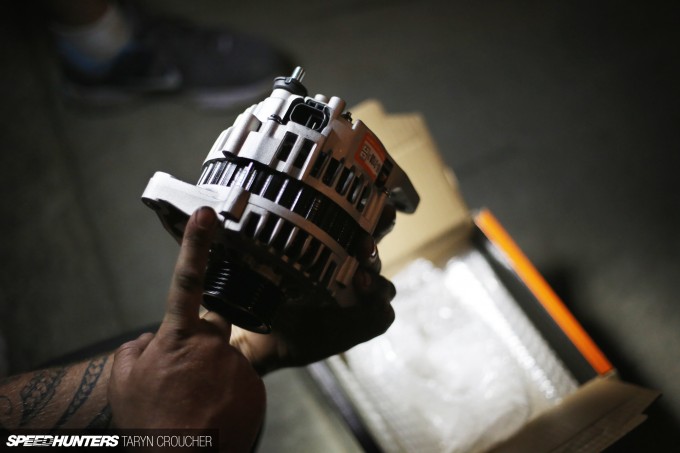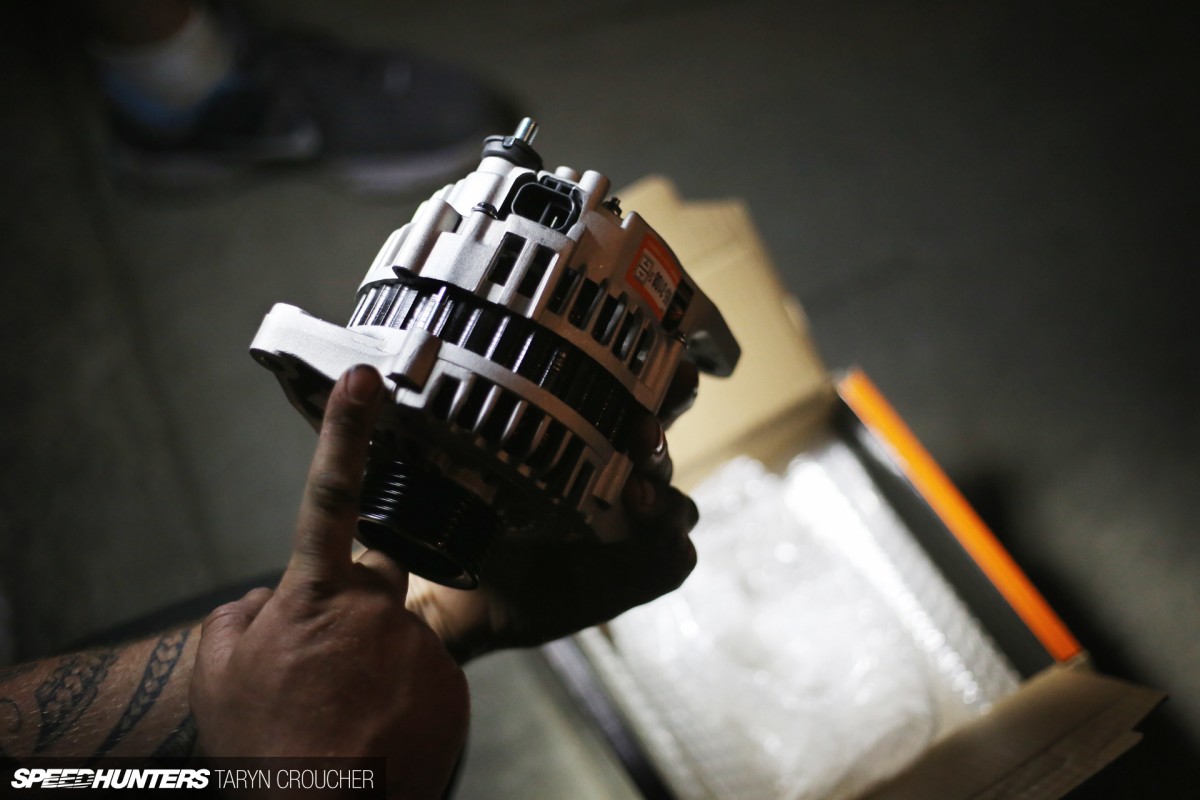 … and purchased a new alternator – but the pulley offset was wrong so I'm currently waiting on the new one to arrive. The old alternator was charging intermittently, so not replacing it would have really defeated the purpose of rewiring the car. After all, reliability is the ultimate goal from all of this!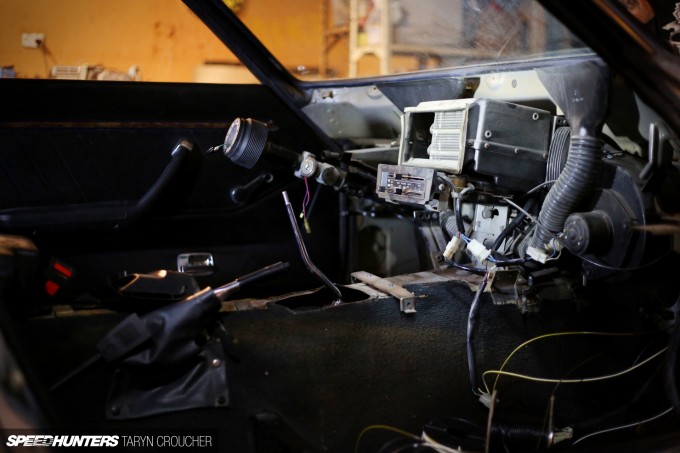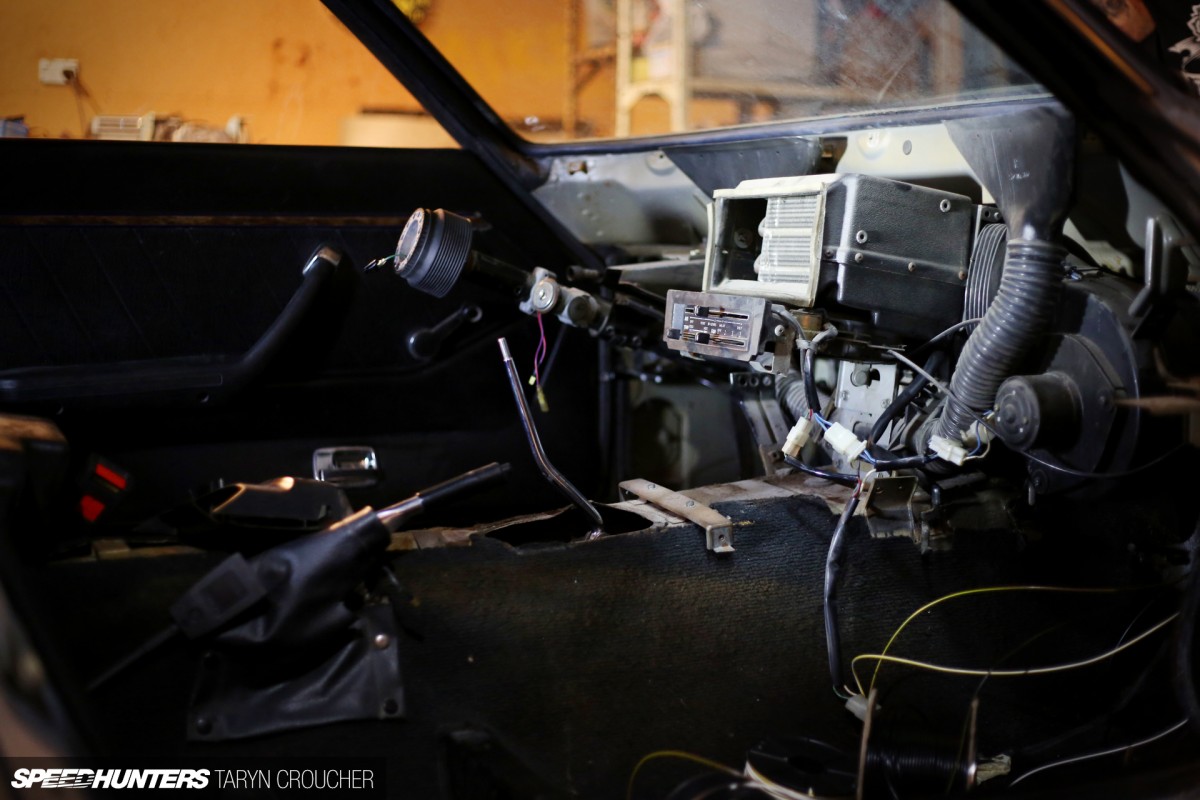 When I say fully rewired I mean the wiring for all of the interior too, including everything under the dash, gauges, indicators, light switches. Even the old glass fuses are getting replaced with more modern fuses in a new fusebox.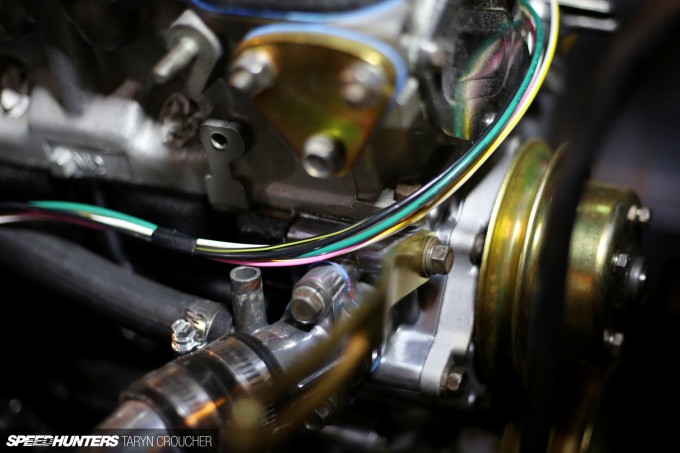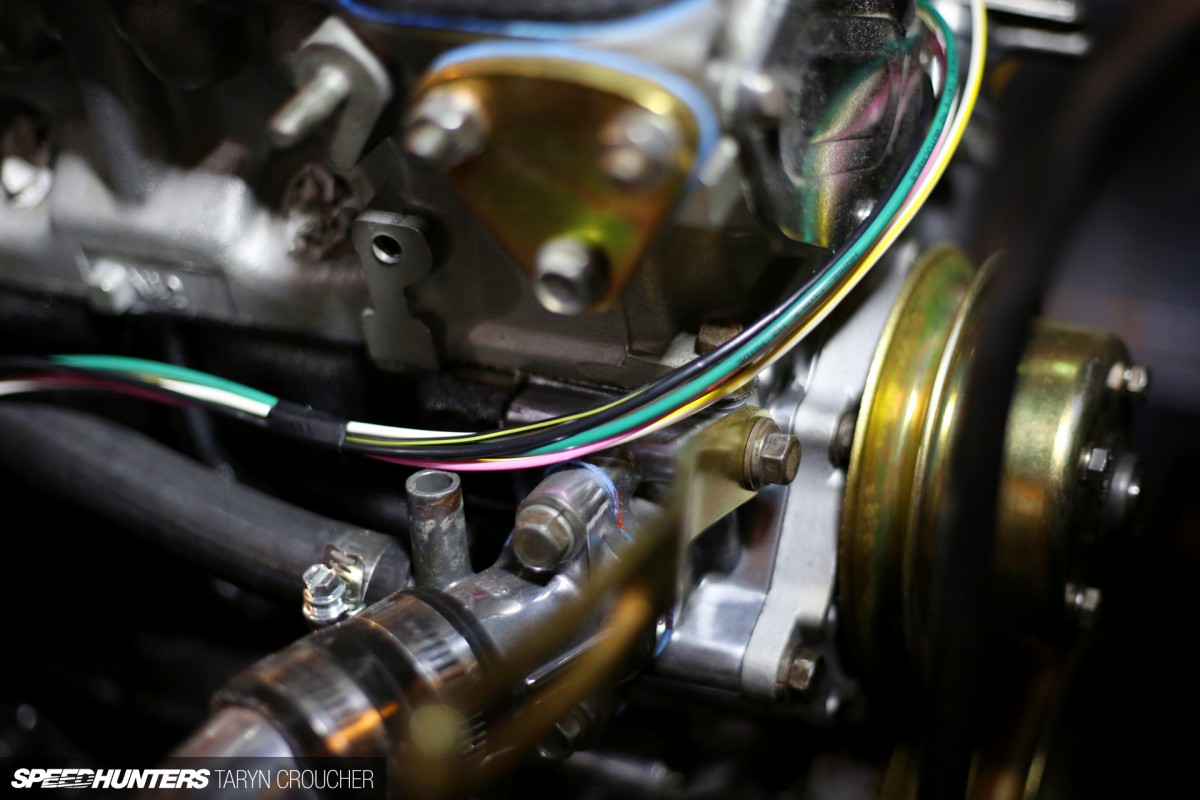 Perhaps a few of our readers might be able to shed some light on this for me, but I'm still unsure whether I need the coolant bypass line that runs from here to the thermostat housing, or can it be blocked off? Most Zs I've seen don't actually have this and the research I've done so far hasn't really given me a helpful answer.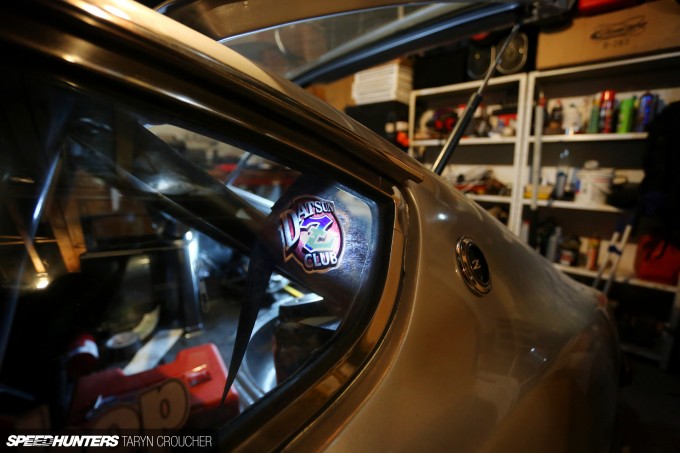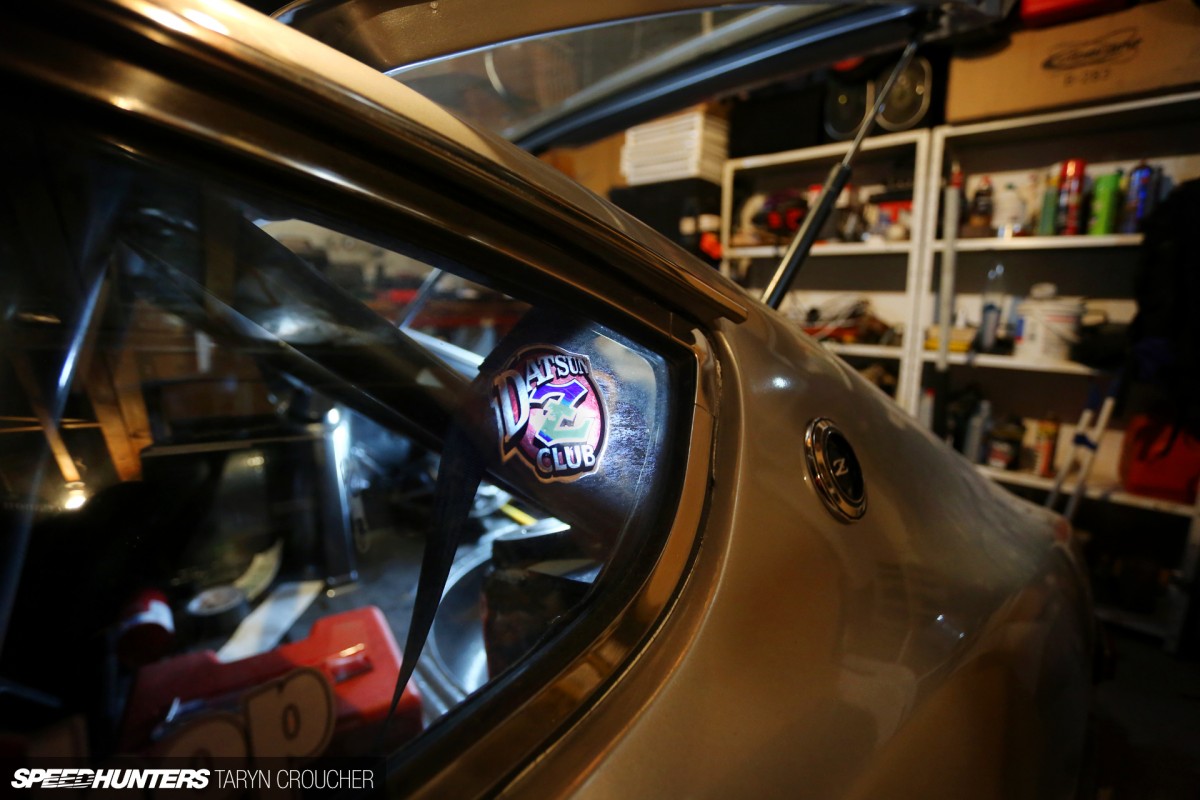 While we left Michael to get the rewire underway, there were a few other things I had to address while we waited to get the Z back home again…
New goodies from around the world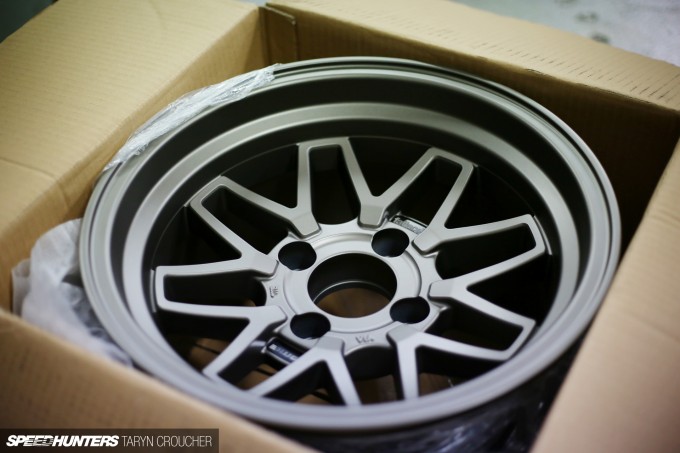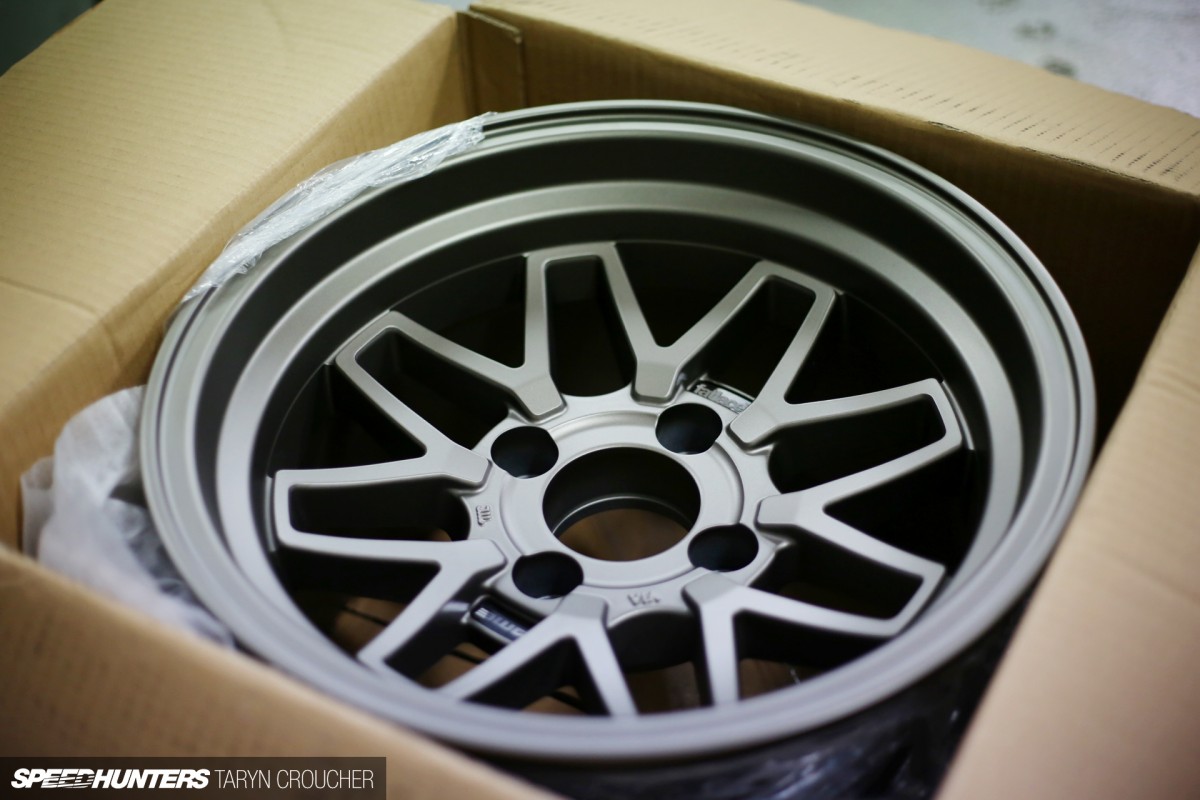 … the first was to unpack a brand new set of 15×9.5-inch Fatlace F/ZER02 wheels. As soon as I saw the design for these earlier in the year I knew I'd have to acquire a set for Project Z. Inspired by vintage designs from the AME Wheels catalogue back in the 1980s, Fatlace and AME recently collaborated to redesign a new range of wheels, and the F/ZER02 is one of the products that resulted from this. The feeling you get when the courier van containing your wheels pulls up outside can only be compared to the childish excitement of waking up to discover that Santa has delivered you Christmas presents!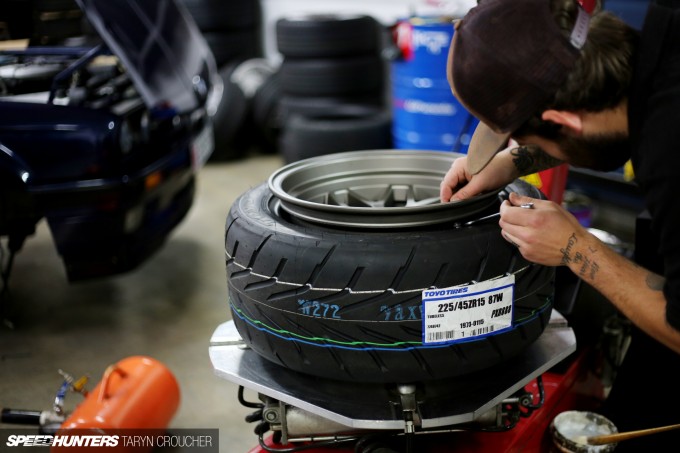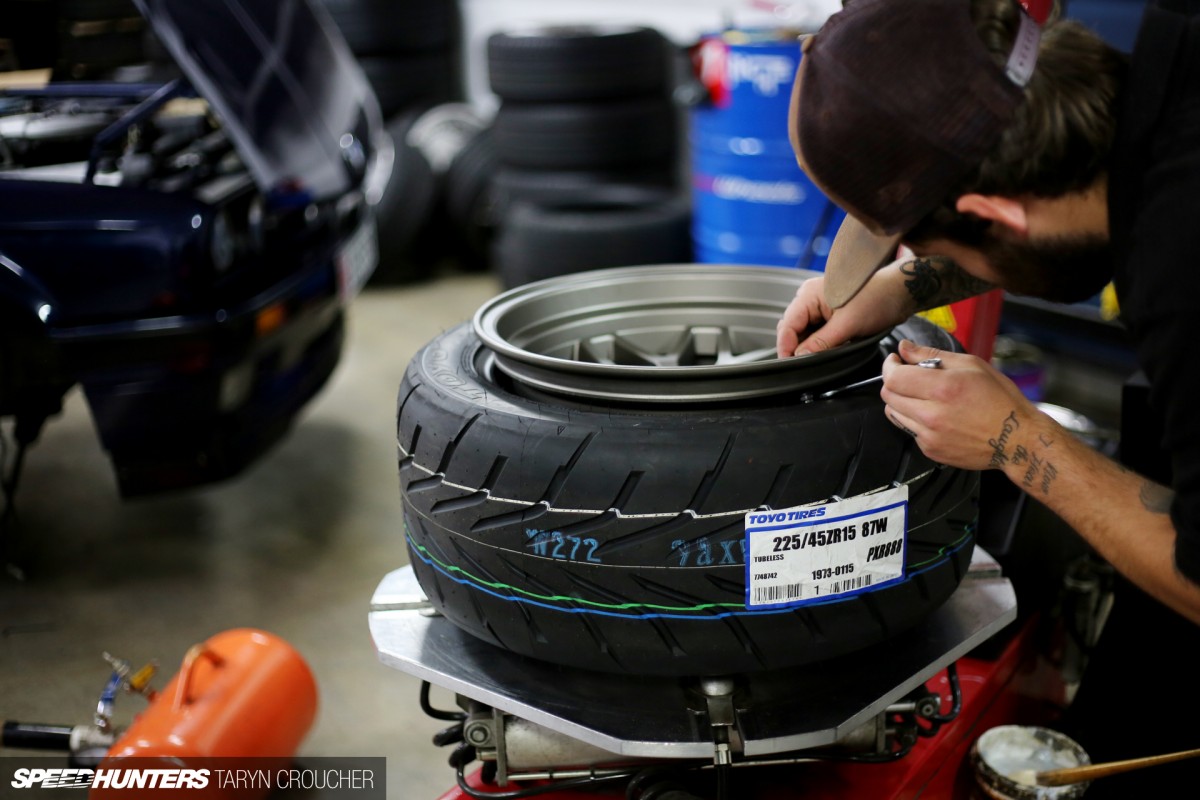 I took the F/ZER0s straight down to my friend Zach at Precision Wheels, who was able to order me in the tyres I wanted…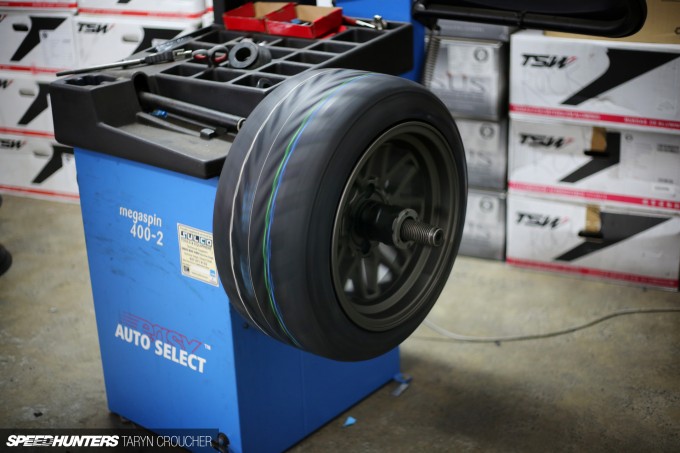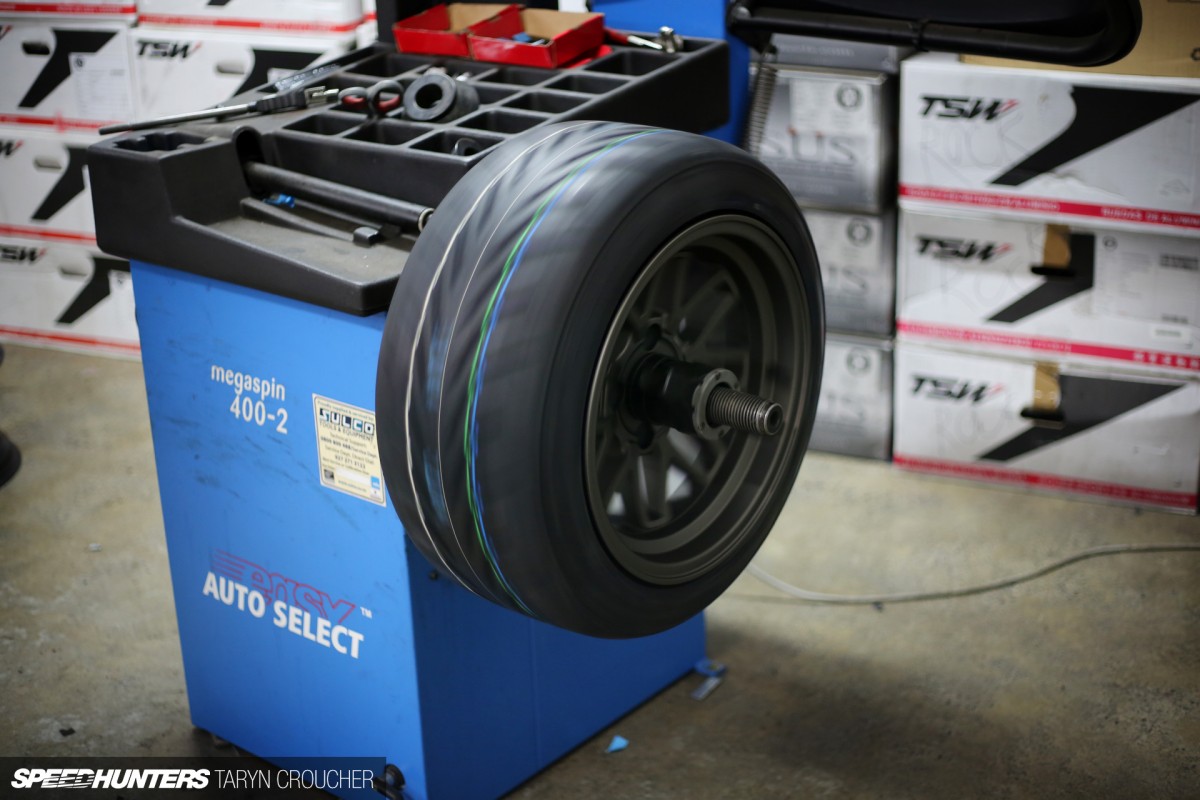 … and mount and balance them all in one day. Zach is an all round good guy who also happens to have a pretty sweet beard, so I know he's trustworthy.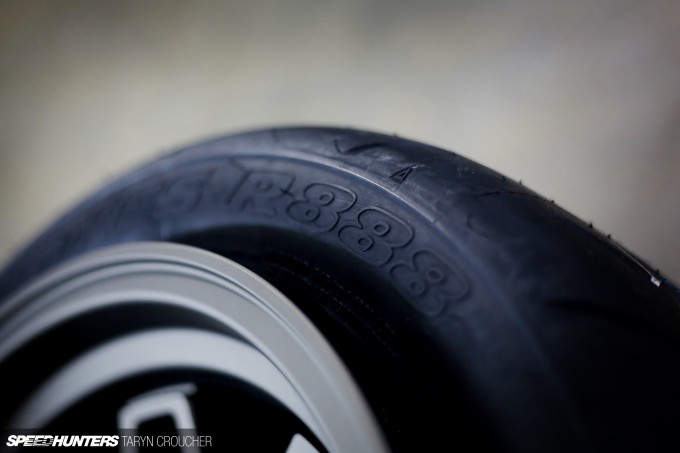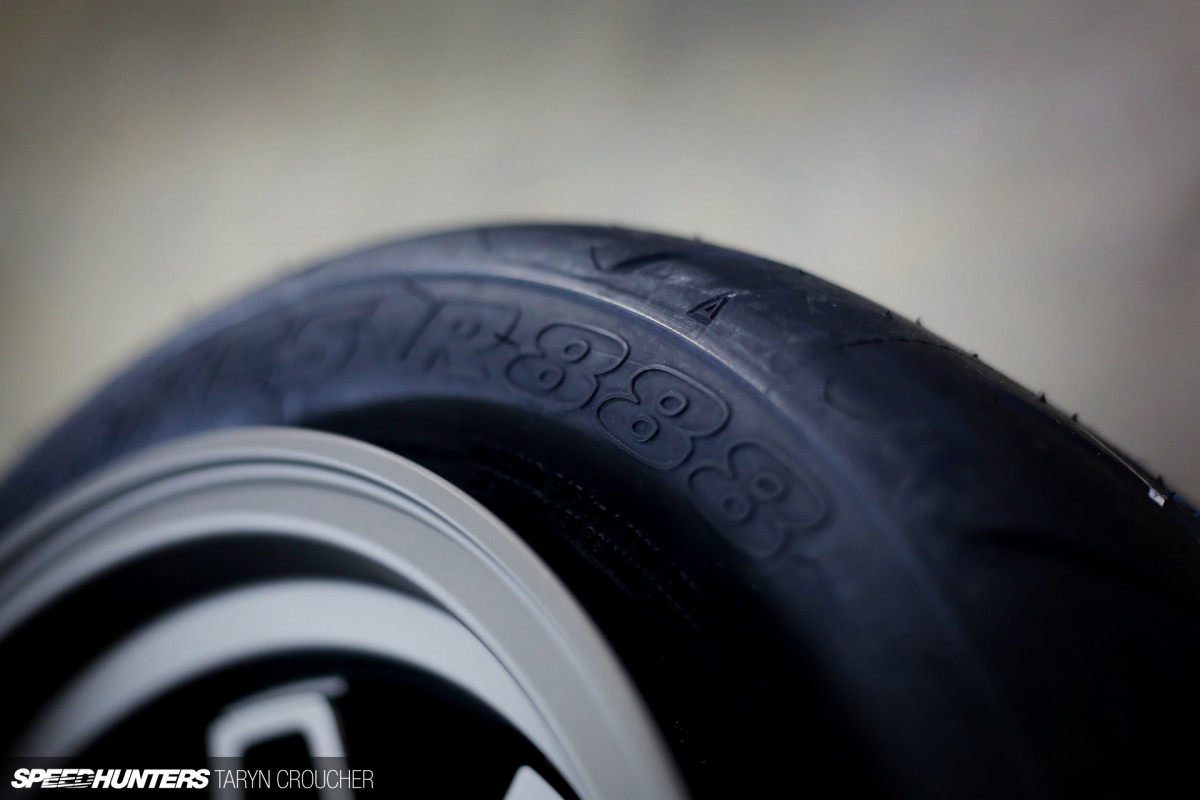 Seeing as these wheels are going to be a second set mainly for track day use I decided to go with 225/45 Toyo Proxes R888 semi-slicks, mostly because of their functional purpose but also because they look pretty badass. With the AME's matte granite finish and chunkier tyres, they should give the S30 a whole different look and I can't wait to see it.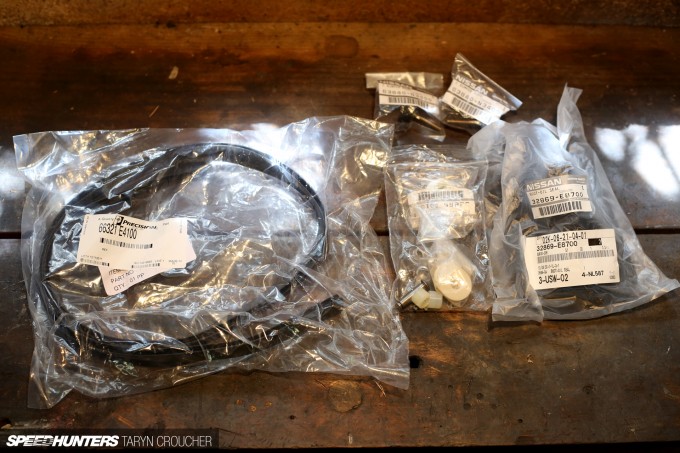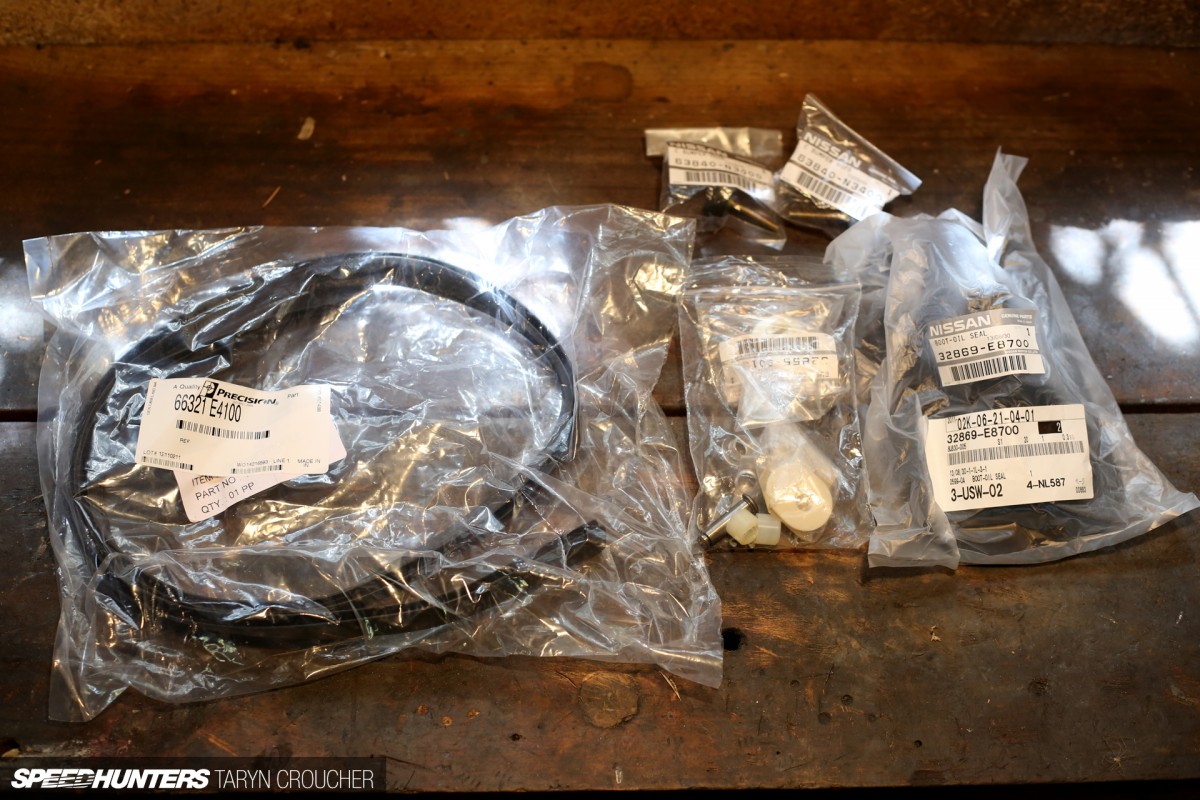 As I mentioned in one of my previous posts, the more new parts we buy for this car the more all the old bits stand out and look old and crappy. Z-car parts aren't as easy to source in New Zealand as they are in Japan or the United States, so often when we've figured out that something needs replacing it'll be a few weeks until the replacement part actually arrives on our doorstep. To make things worse, often the shipping costs are more expensive than the parts themselves!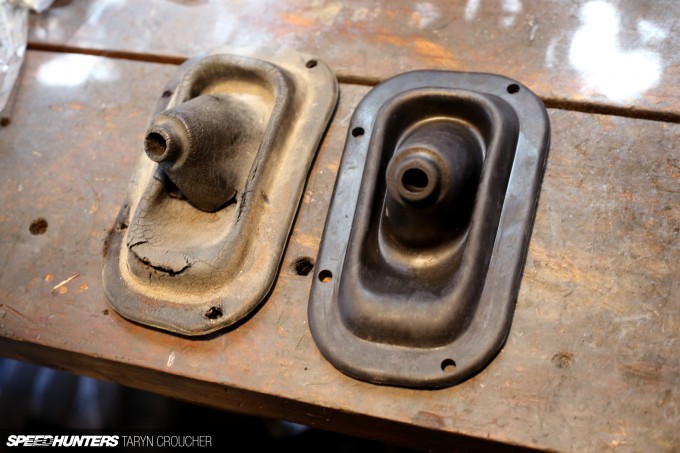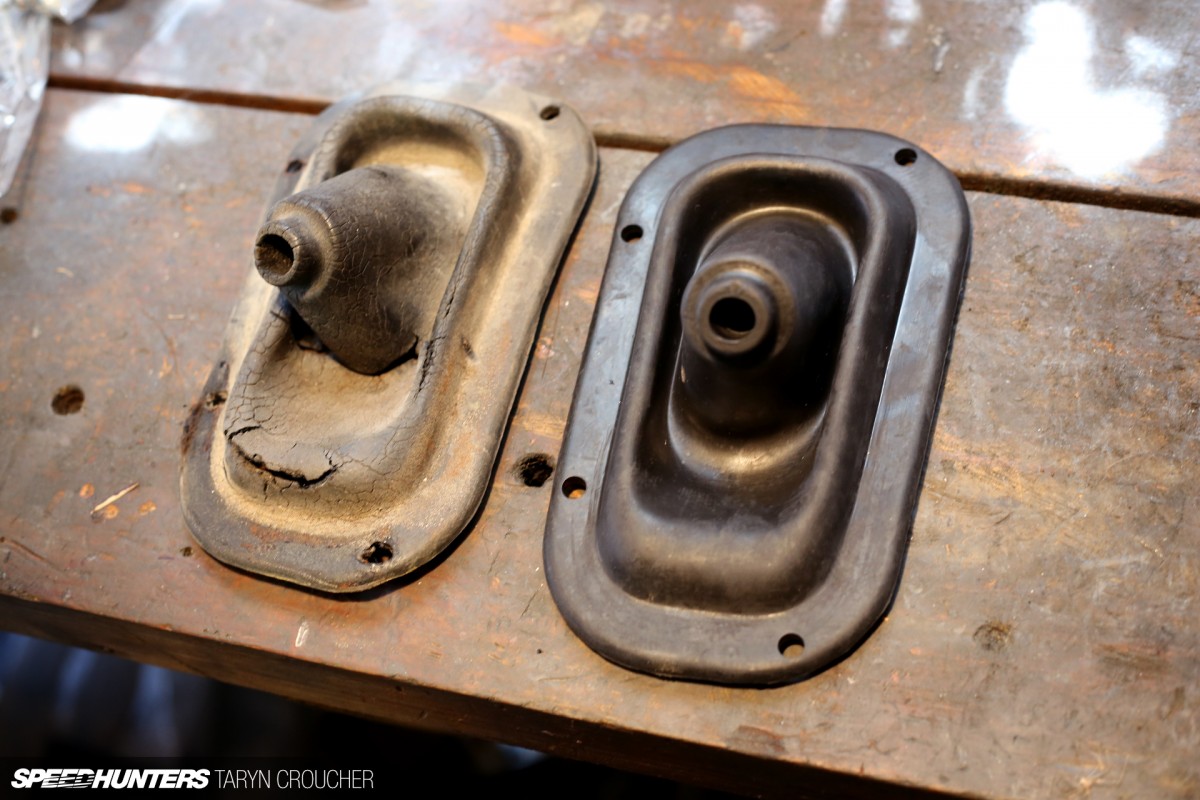 Here a a few examples of old crappy parts needing replacing: the original inner gear boot was so old that the rubber was hard and cracked and falling to pieces. I couldn't bear to put something like that back into the car!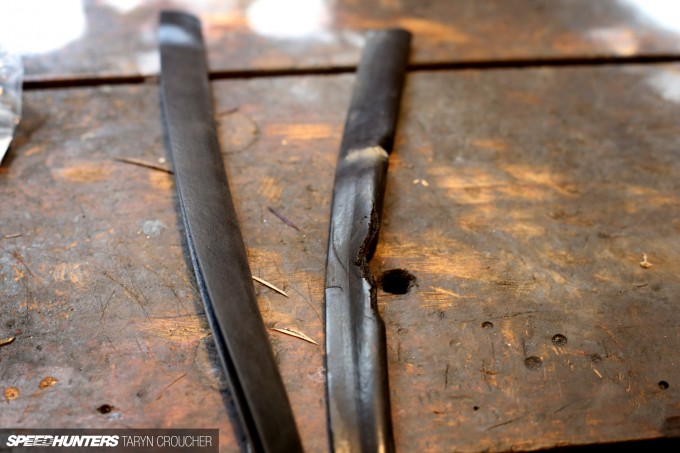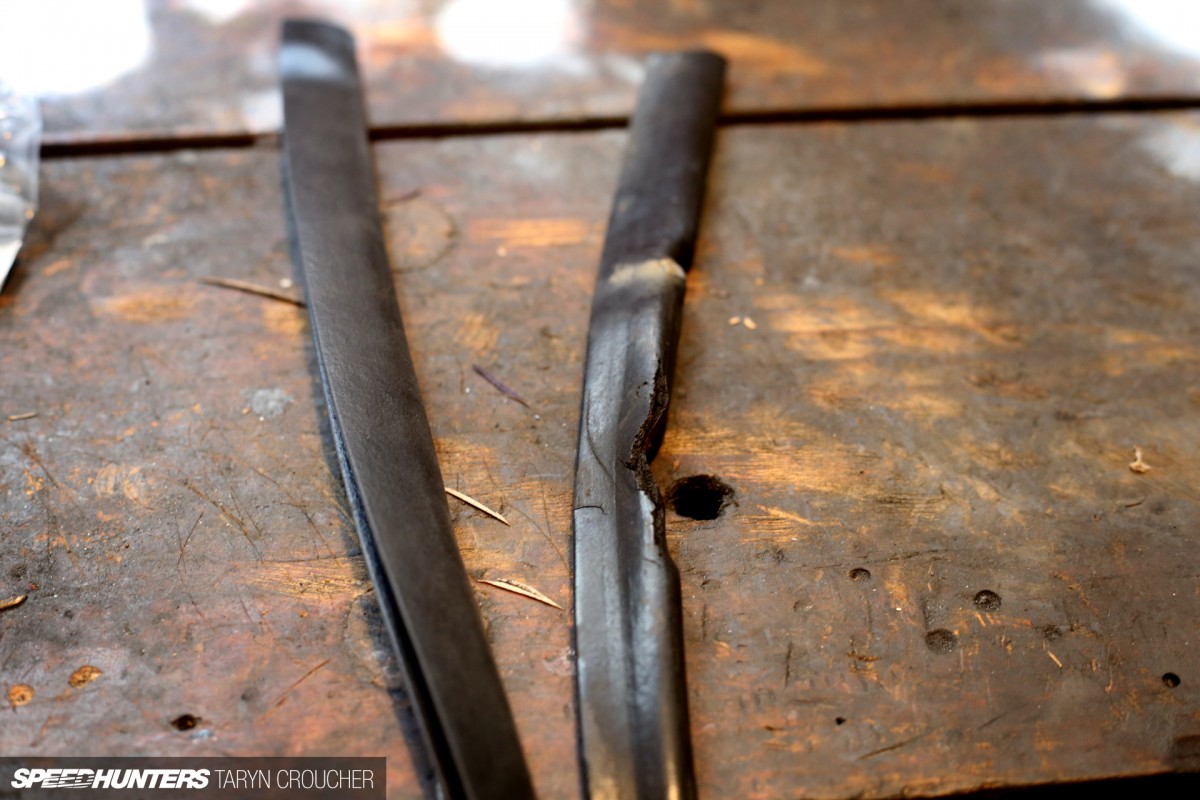 The weatherstrip that sits between the bonnet and the top of the firewall was also worn and a bit dead-looking so this has now been replaced too.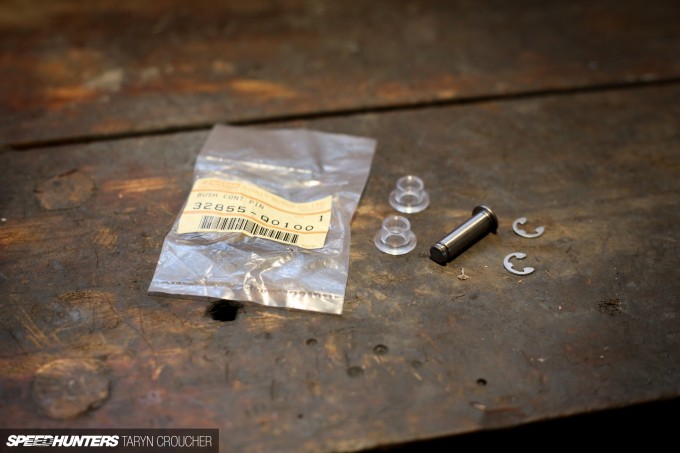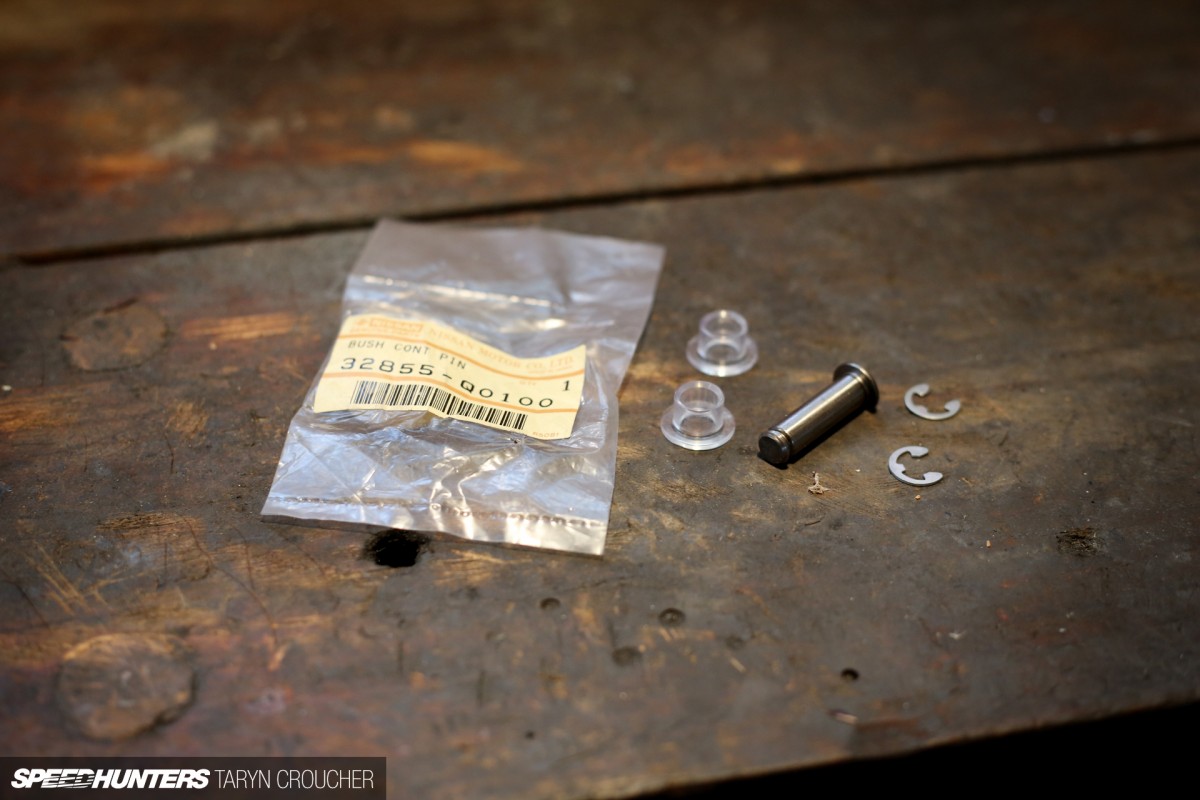 Although not a visual change, I was surprised at how much of a difference new shifter bushes and a new shifter pin made. The gear shifter had a lot of slop in it before and it feels much nicer and more direct now.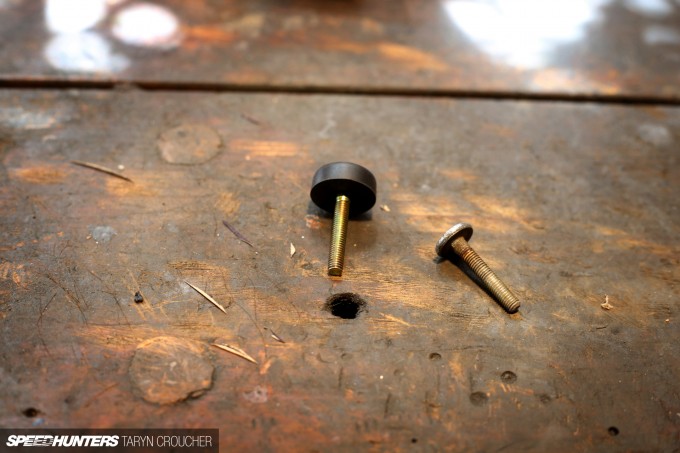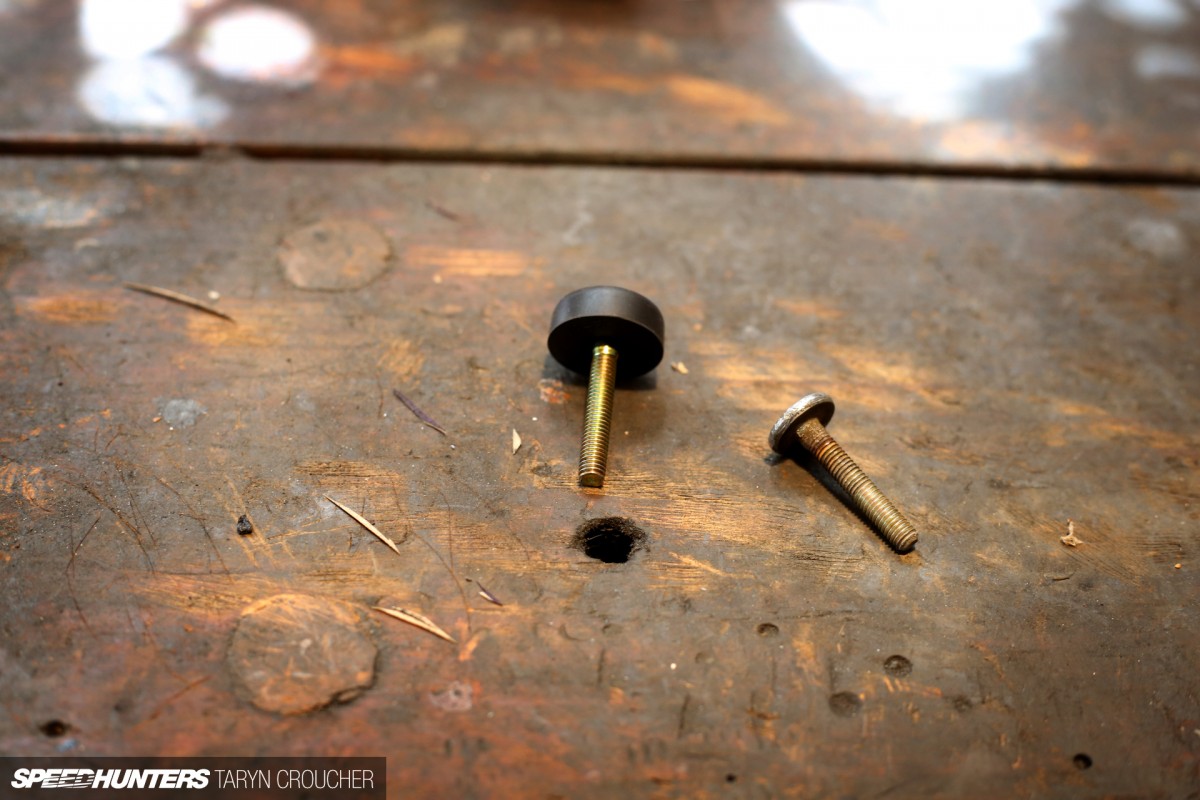 Here you can see the new bonnet stoppers or 'hood height adjusters' as they're called, next to the old ones – you can see the old ones were starting to corrode and had lost the rubber off the top! Parts like this aren't really a big deal when you look at them individually like this, but I know they'll make a world of difference when they all finally come together.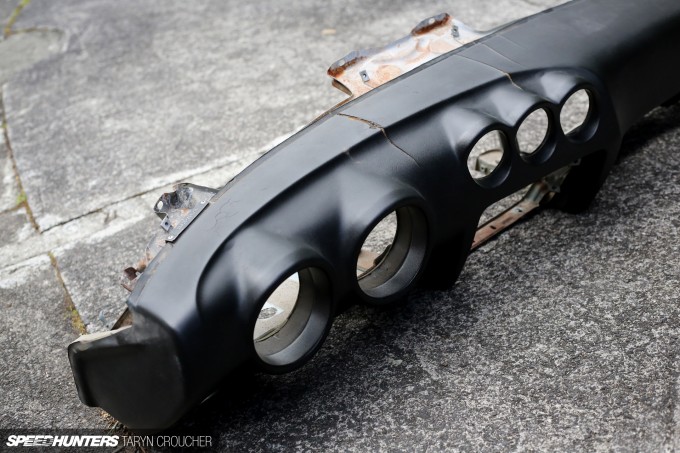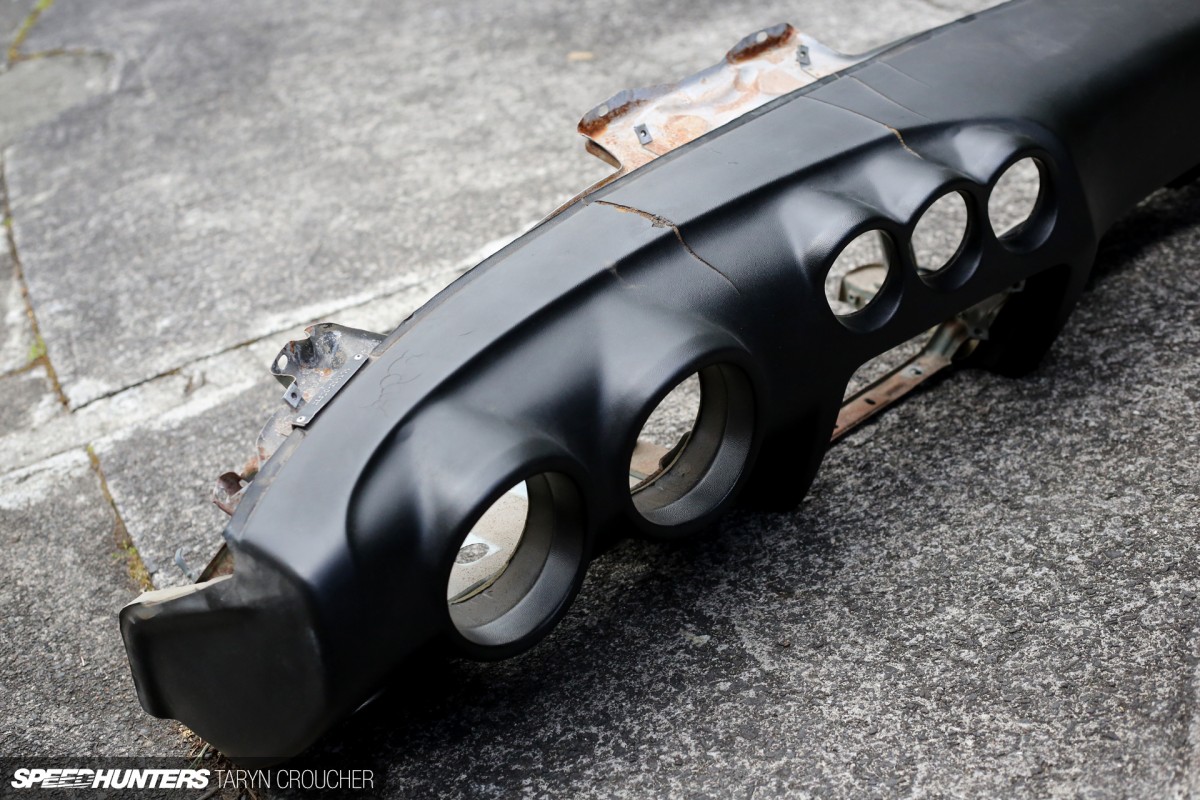 One thing that can't be so easily replaced however, is the original dash. The old vinyl is covered with cracks and I think most people I know with an old Z-car have the same problem. I've been trying to figure out a cost effective solution to getting this fixed for some time now…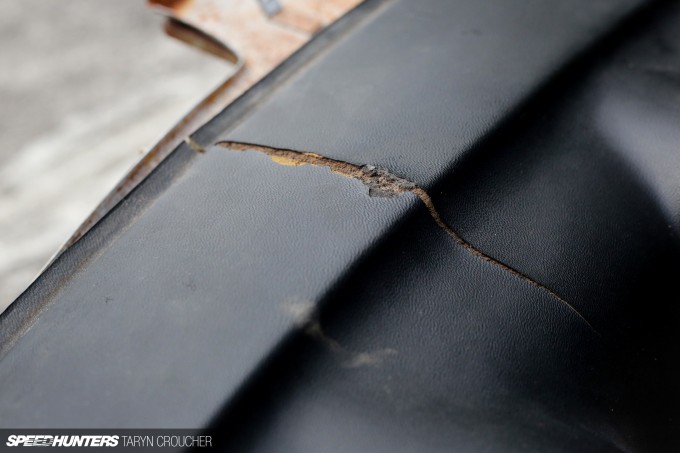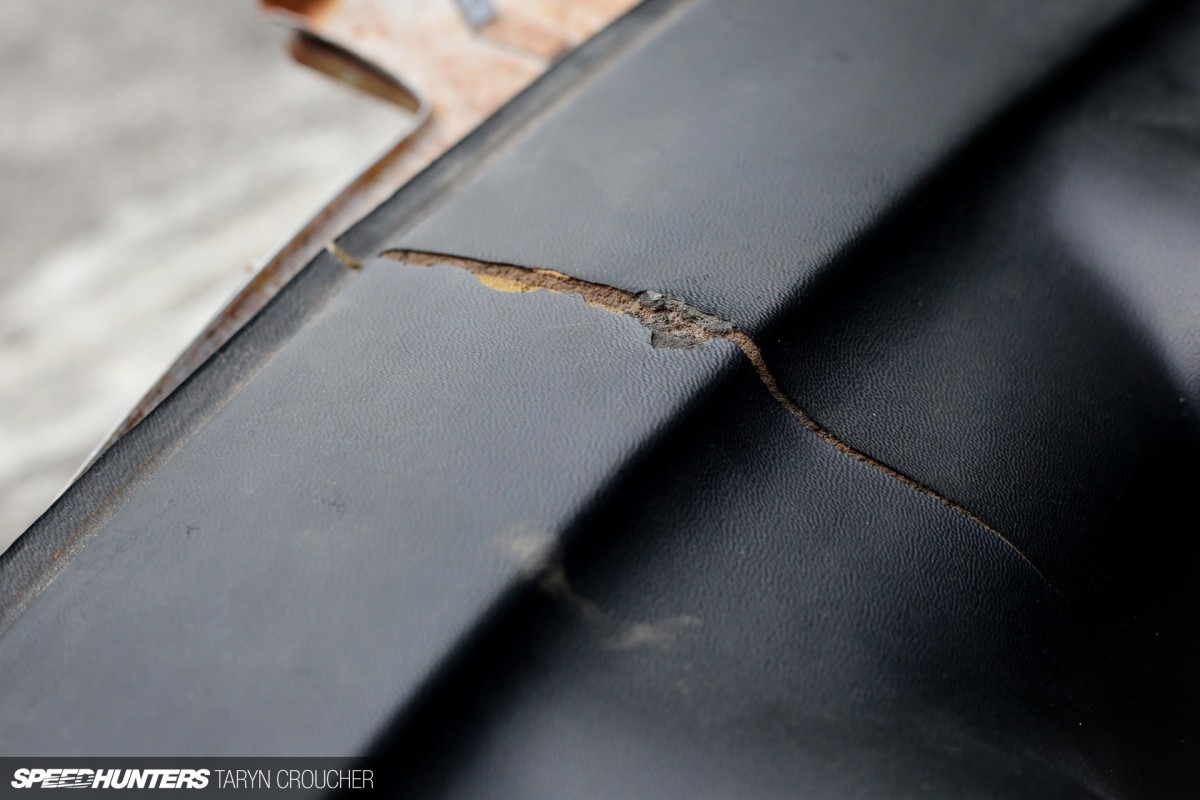 … but unfortunately I don't think one exists. It looks like we'll have to fork out the extra cash and get it properly refurbished to bring it back to original factory quality. A friend recently had his dash restored and this cost upwards of $1000 – ouch!
Last weekend the Z found its way back home to our garage once again…
The prodigal G-nose returns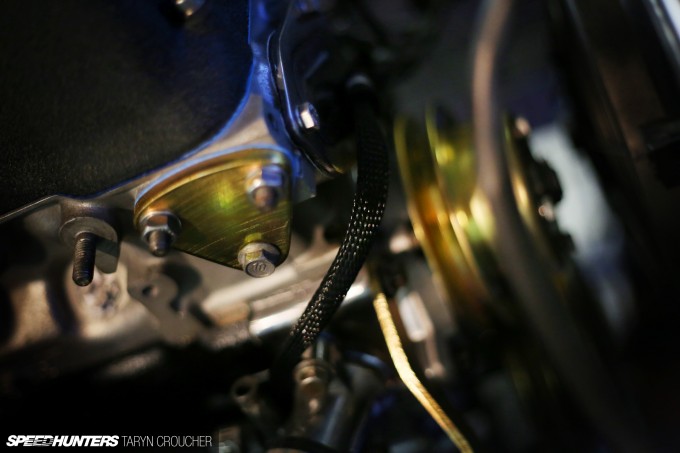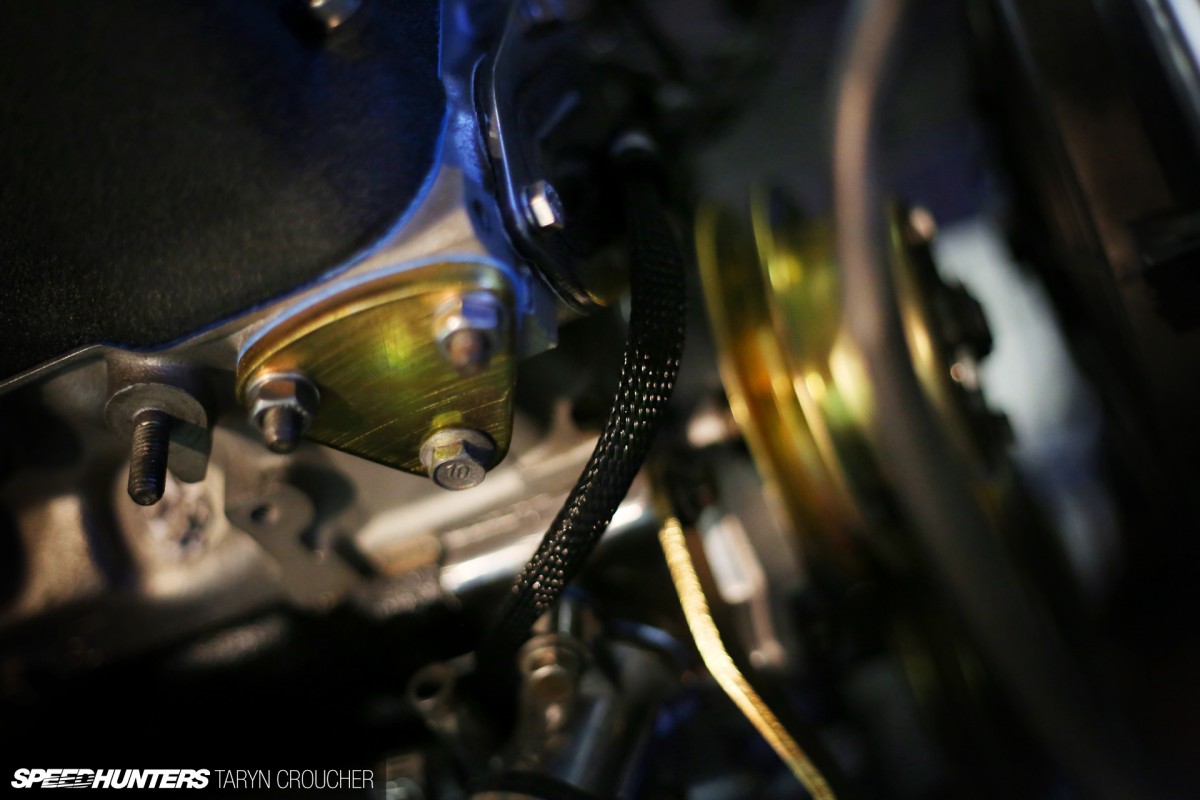 … where we were able to do a final inspection of Michael's handiwork. The wiring is discreet and camouflaged in braided sleeving – it's so discreet in fact, that there's not really that much of it to take photos of. We're not talking over the top show-spec quality, but it is clean, functional, and simple with nothing too distracting – exactly what I wanted.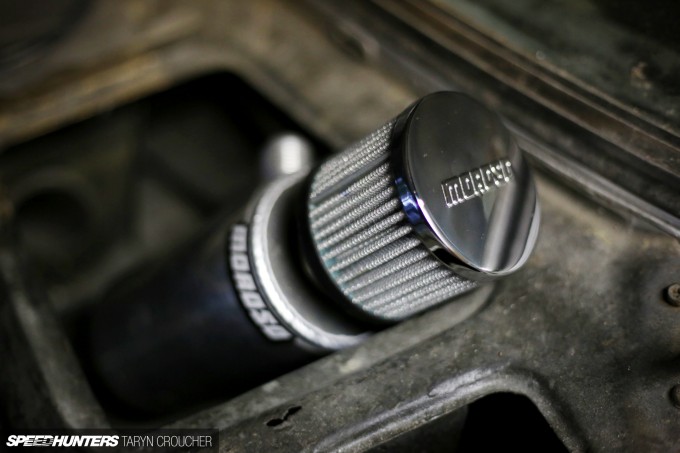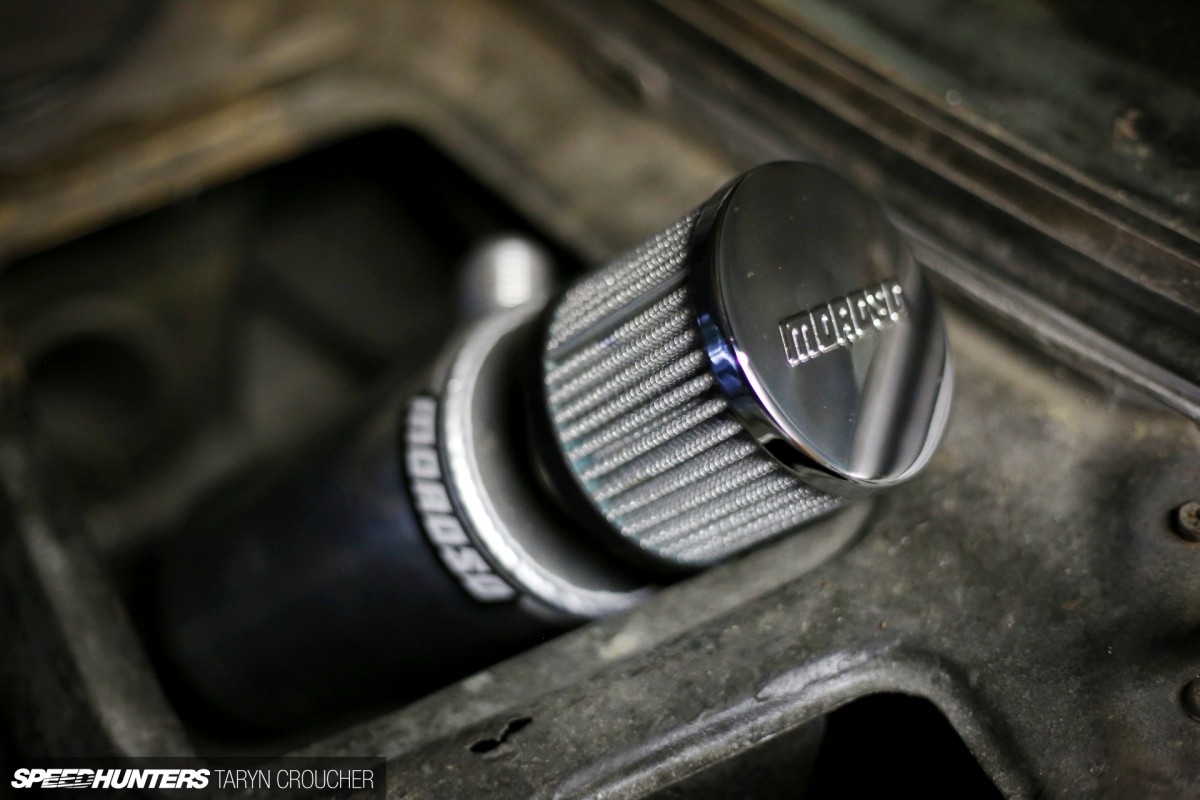 The catch can for the crank case ventilation still needs to be mounted too – although we can't really decide where to put it without ruining the aesthetics of the engine bay.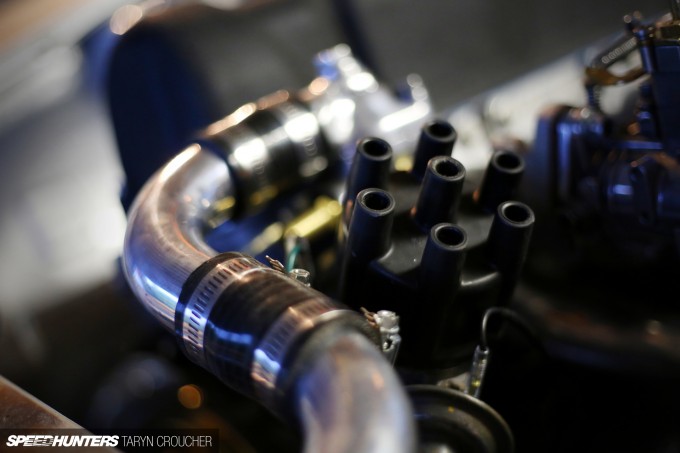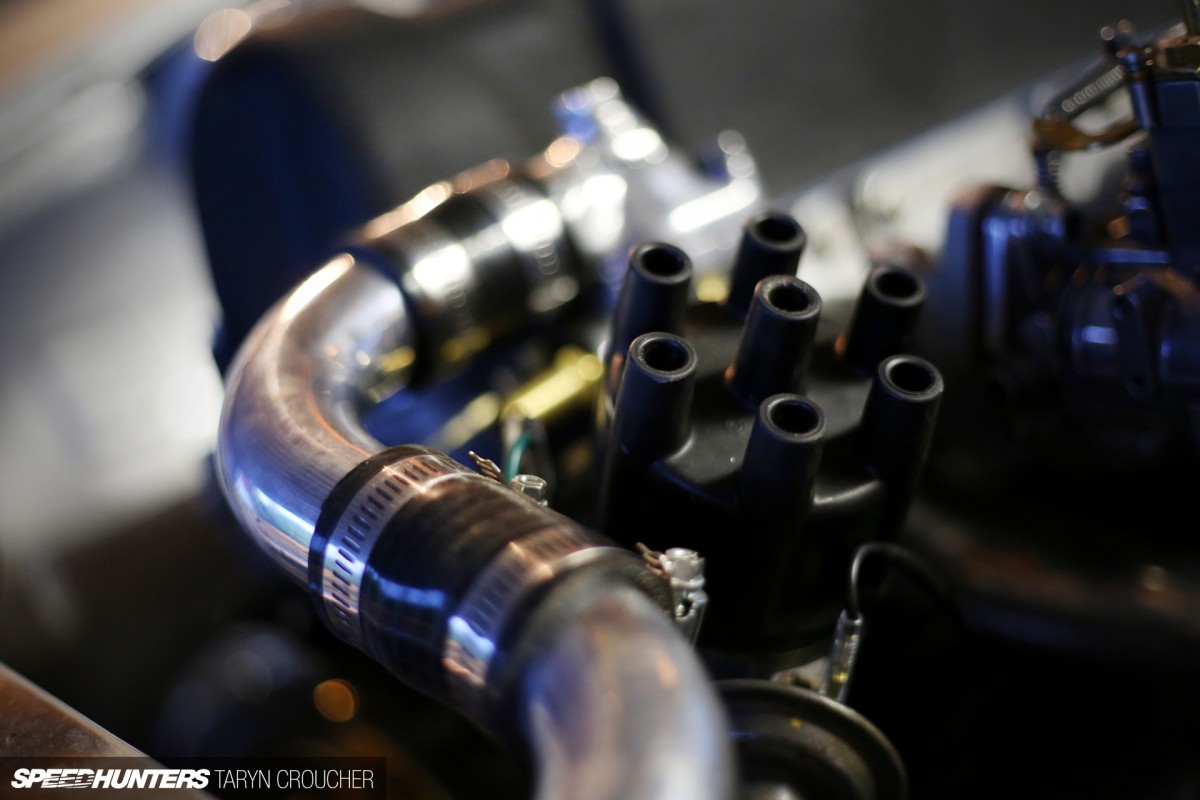 Then once the new alternator and ignition leads arrive, we'll be able to sort out the ignition timing and hopefully start her up.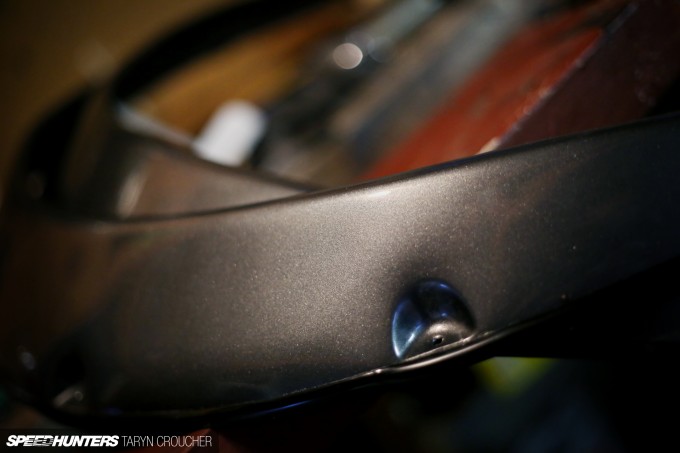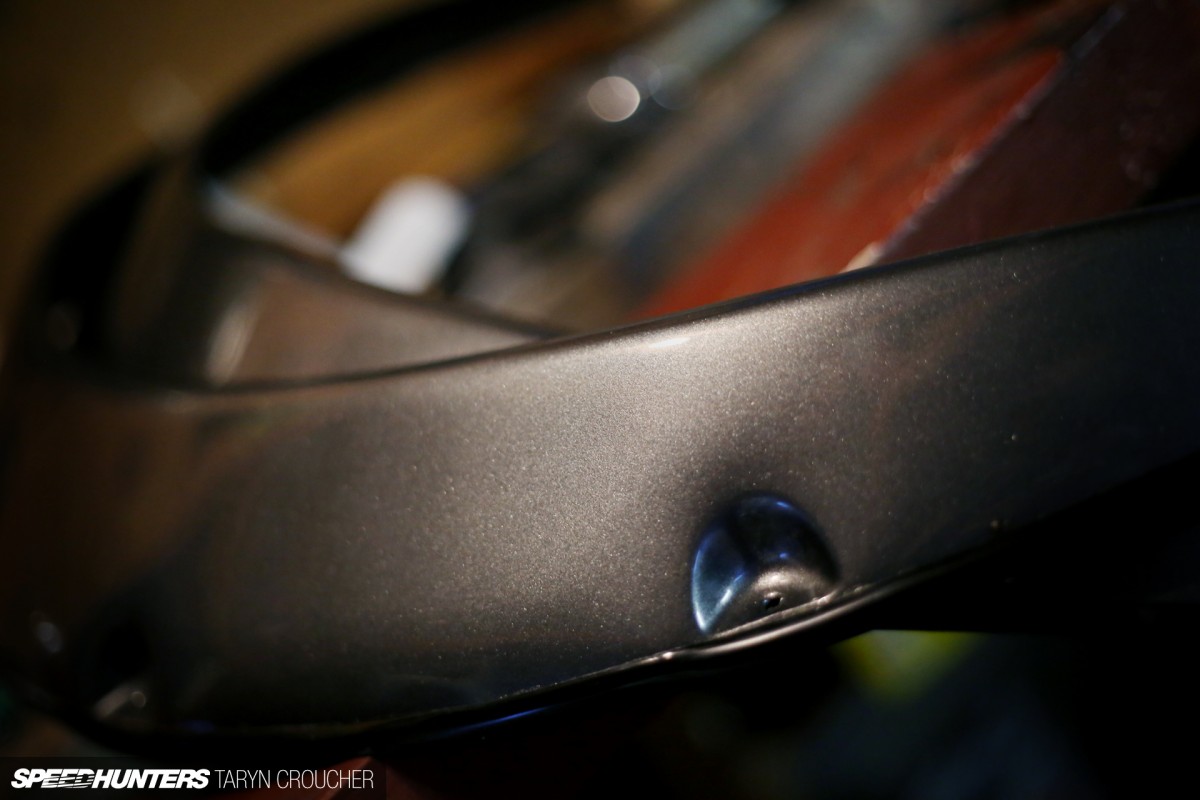 The rear flares have just come back from being freshly re-painted and are ready to be screwed back on now too.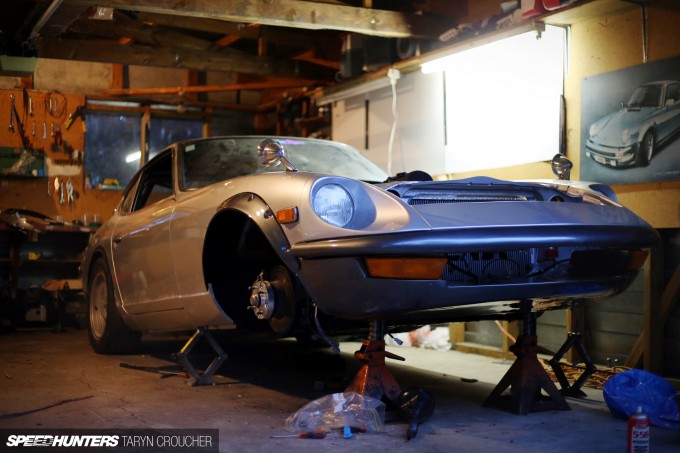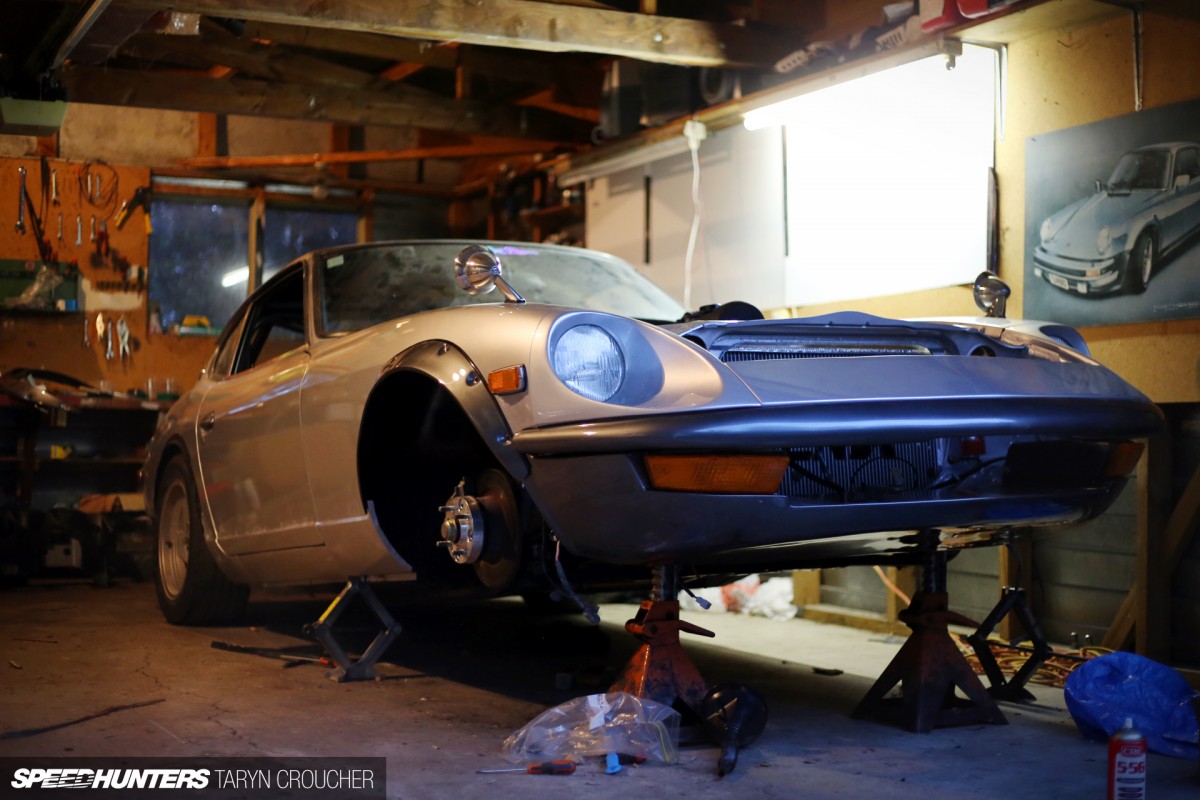 Over the weekend we put the front fenders back on so at least the S30 is actually starting to look like a car again…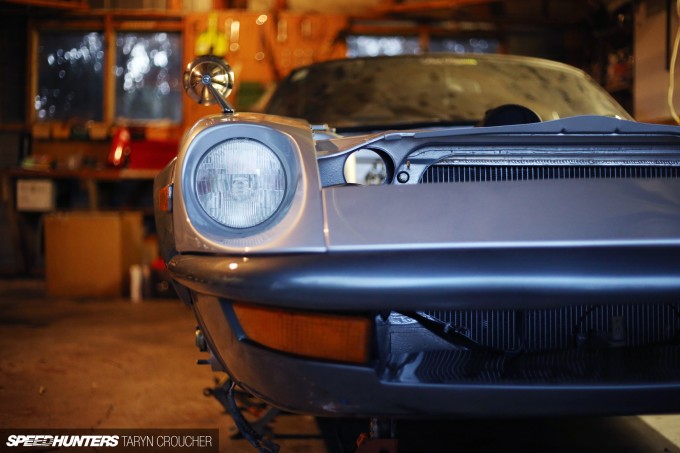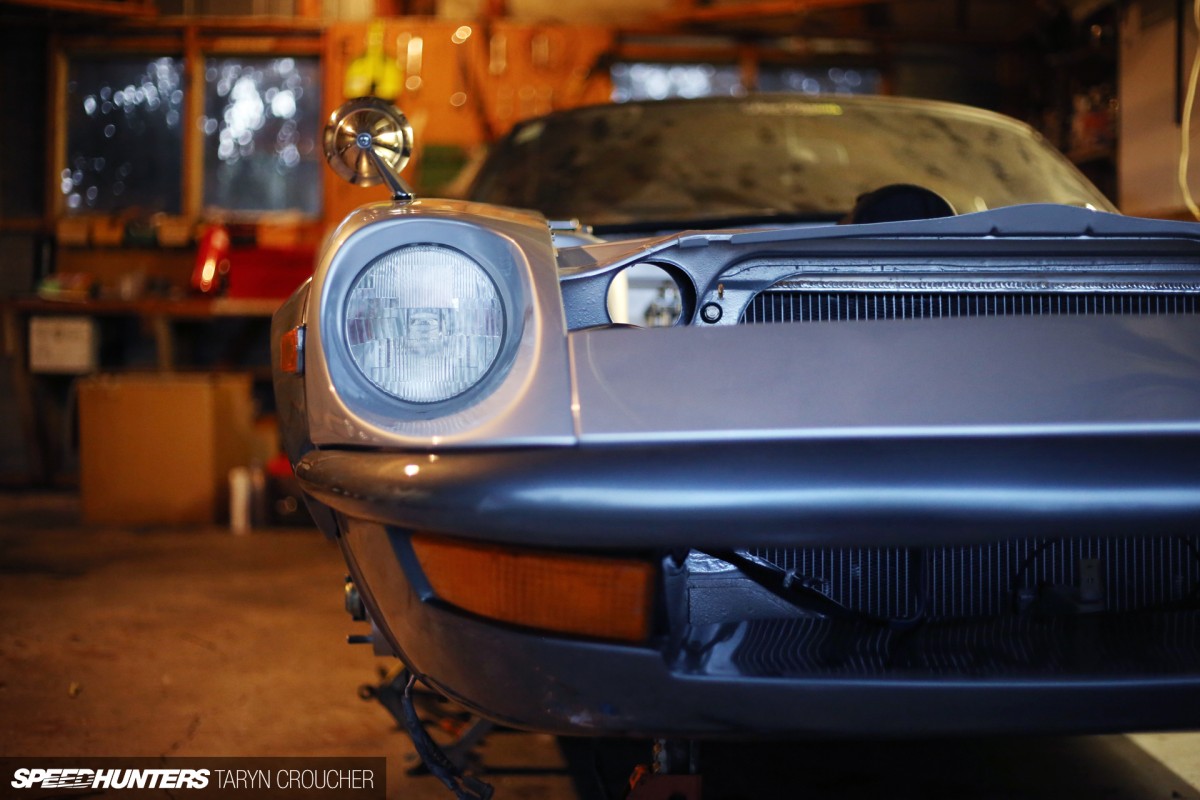 … especially with the front bumper back on too. The 'G-nose' bumper is one of my favourite features of the car, and I just can't imagine Project Z without it now. It's such a sleek, sultry addition to the already elegant lines of the S30 chassis. Without the G-nose, to me the Z is like a cupcake without icing. If you don't have a sweet tooth it isn't a problem I guess, but if you do, well… it's just not the same!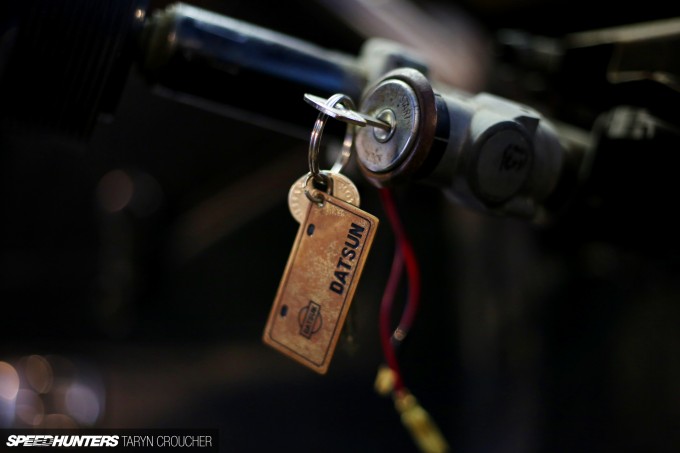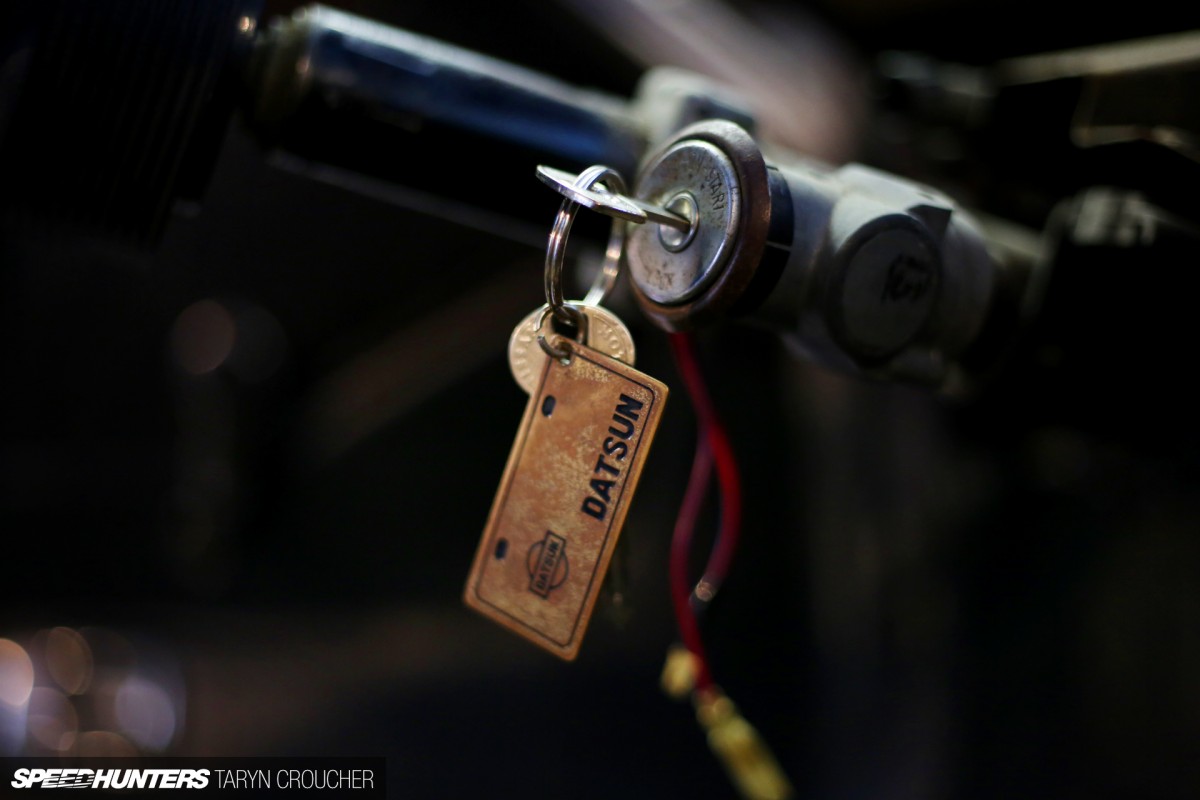 I've learnt my lesson; I'm not going to get you excited this time and tell you next month the Z will be moving under its own power. Instead I'm going to try my best to repress my impatient streak and try to embrace the challenges we face in putting this car together. Having the Z back up and running by the end of January seems like a pretty realistic deadline right now, so I'm not going to put too much pressure on myself. Having something to look forward to is a good thing, and believe me, I'm really looking forward to turning that key clockwise in the ignition again. Good things take time, and that's fine by me.