Stance the JDM way
My brain gets truly tantalized with an incredible exposure to cars here in Japan, and this week in particular that exposure has been rather diverse. After all the slammed rides at Sunday's Stance Nation show, it was on to the halls of the Tokyo Big Site where I had to hunt down the hottest new cars and most exciting concepts which you will be seeing soon on the site. But before we get into that, there is still much I want to share from Fuji Speedway, so prepare your senses to be tickled by yet more exceptionally built cars…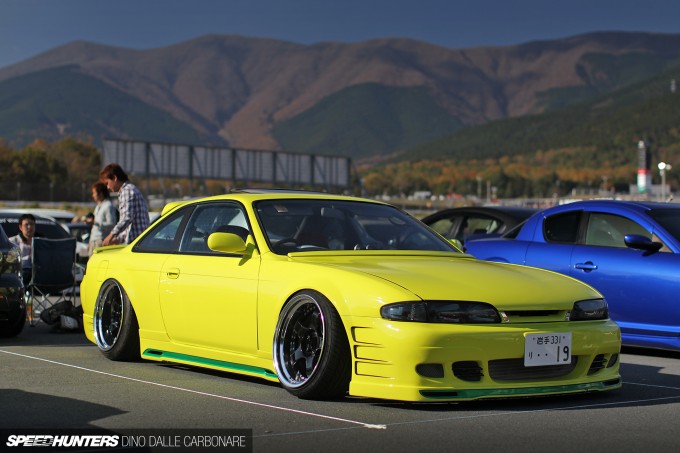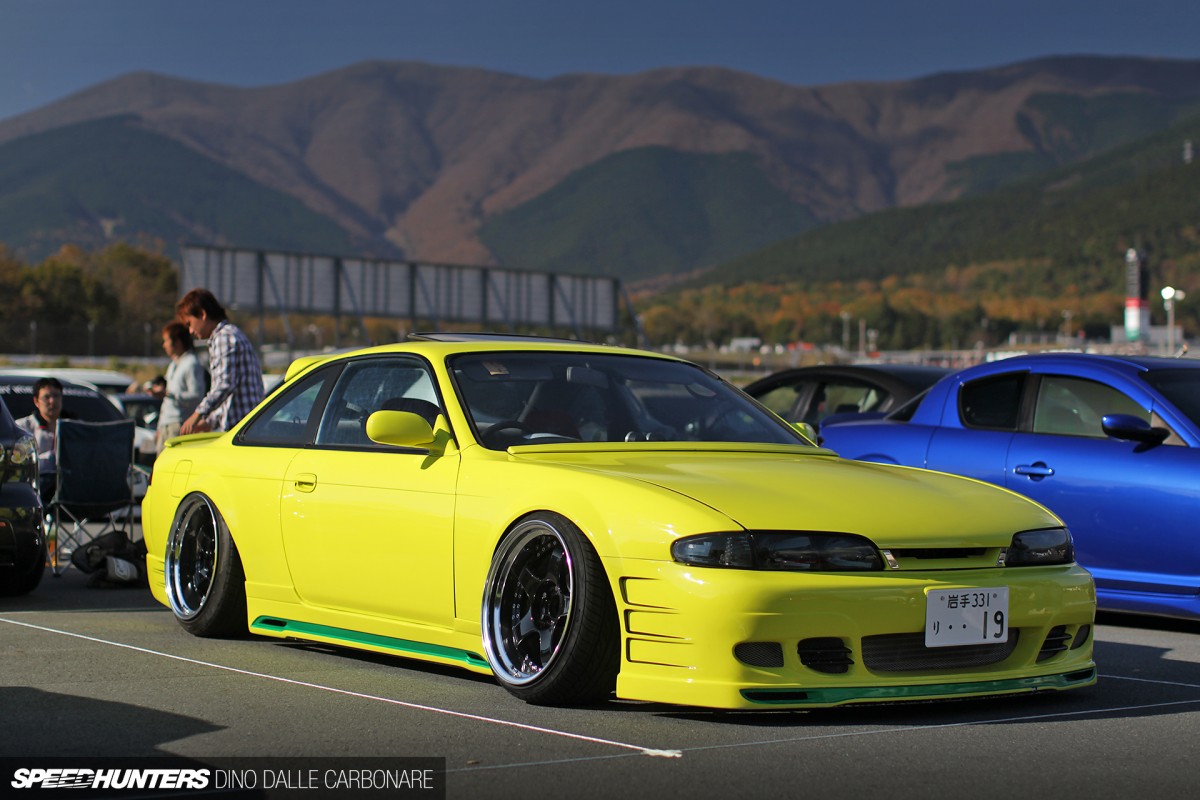 … that despite being so different between each other all share one common quality – they look damn hot!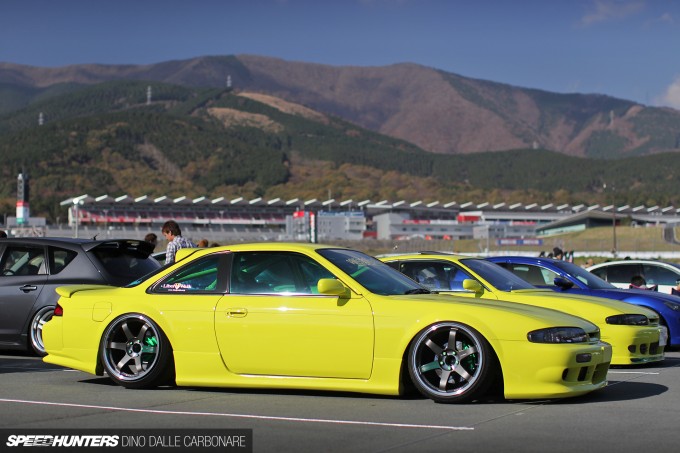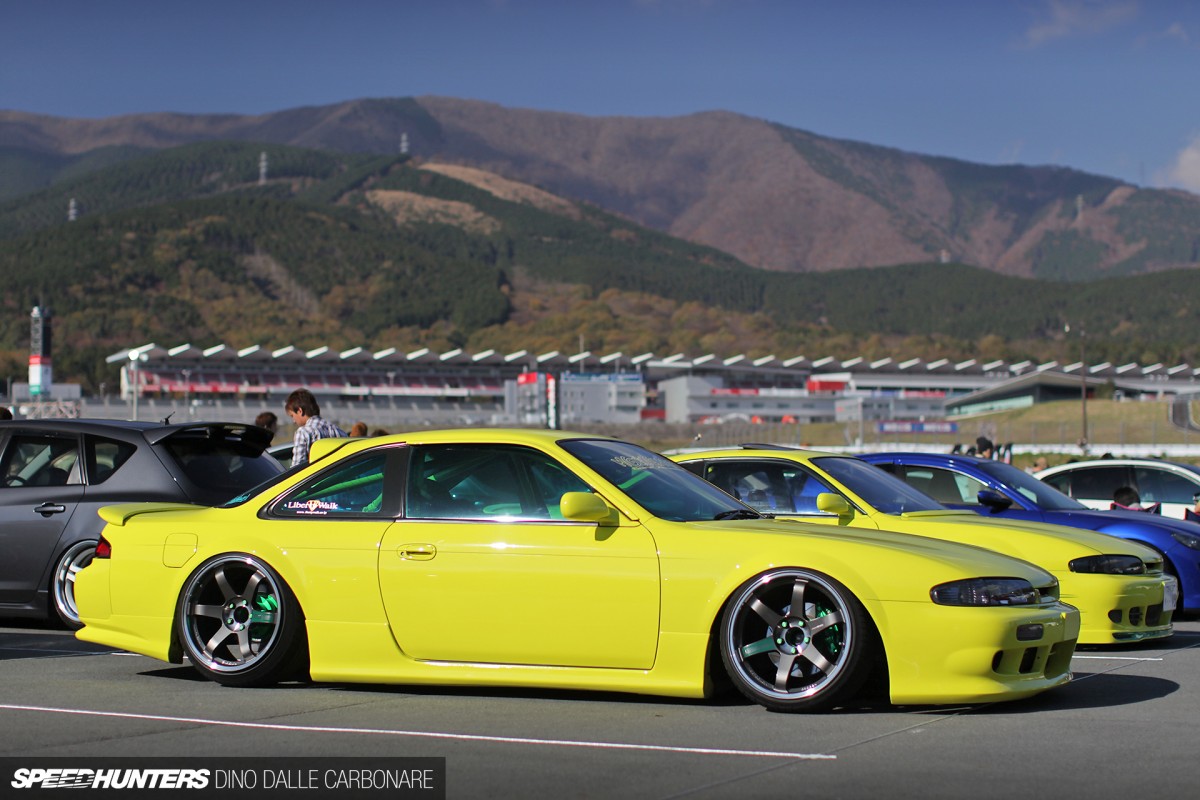 Take the Moccomans S14 for example, a car we have seen before, but one that continues to impress for its simplicity. It sits low on a set of custom painted RAYS TE37SLs and that retina-piercing yellow is one color that is hard to forget. Subtle detailing includes the extended front and rear overfenders and the green tint of the glass to match the color of the brake calipers and the TE37SL logo on the wheels' spokes.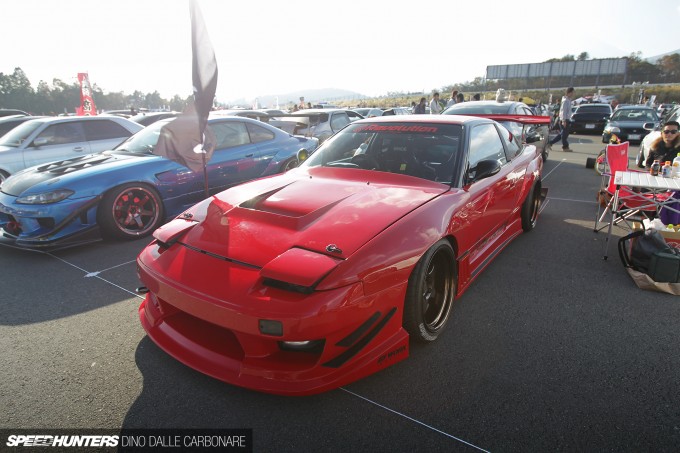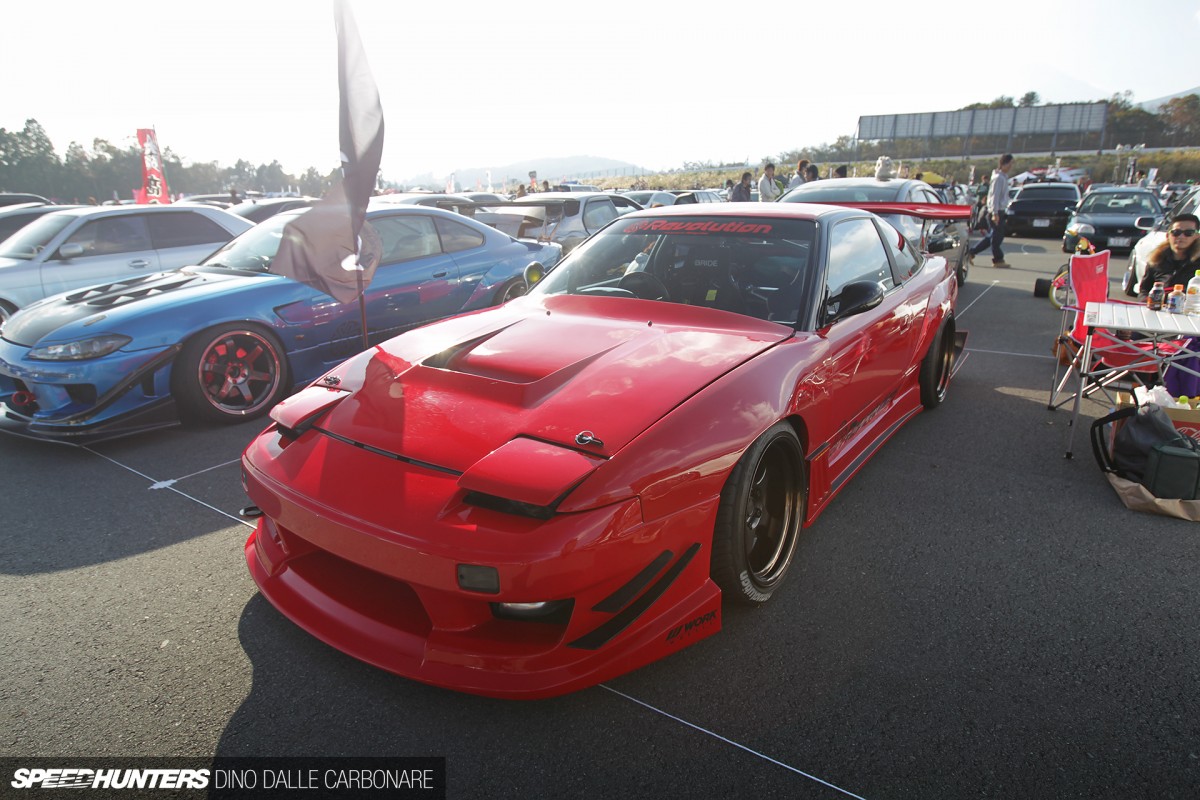 Another cool S-chassis car was this Revolution 180SX from Garage Mak in Nagano, which had a more functional time attack feel about it. Having visited that shop in the past, I can safely say that it doesn't just make show cars, there will be plenty of substance to back up its looks.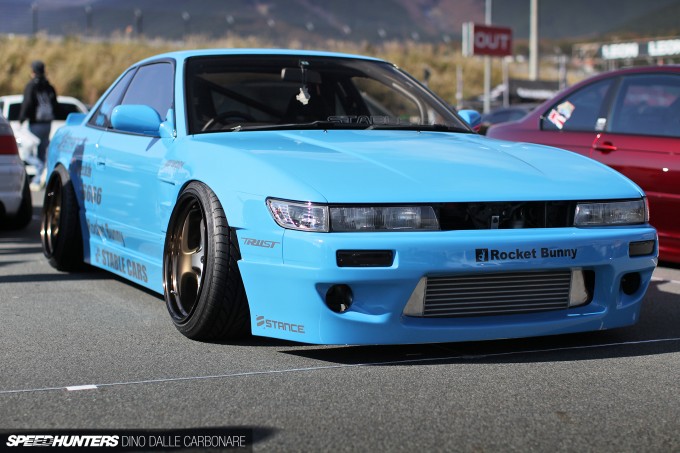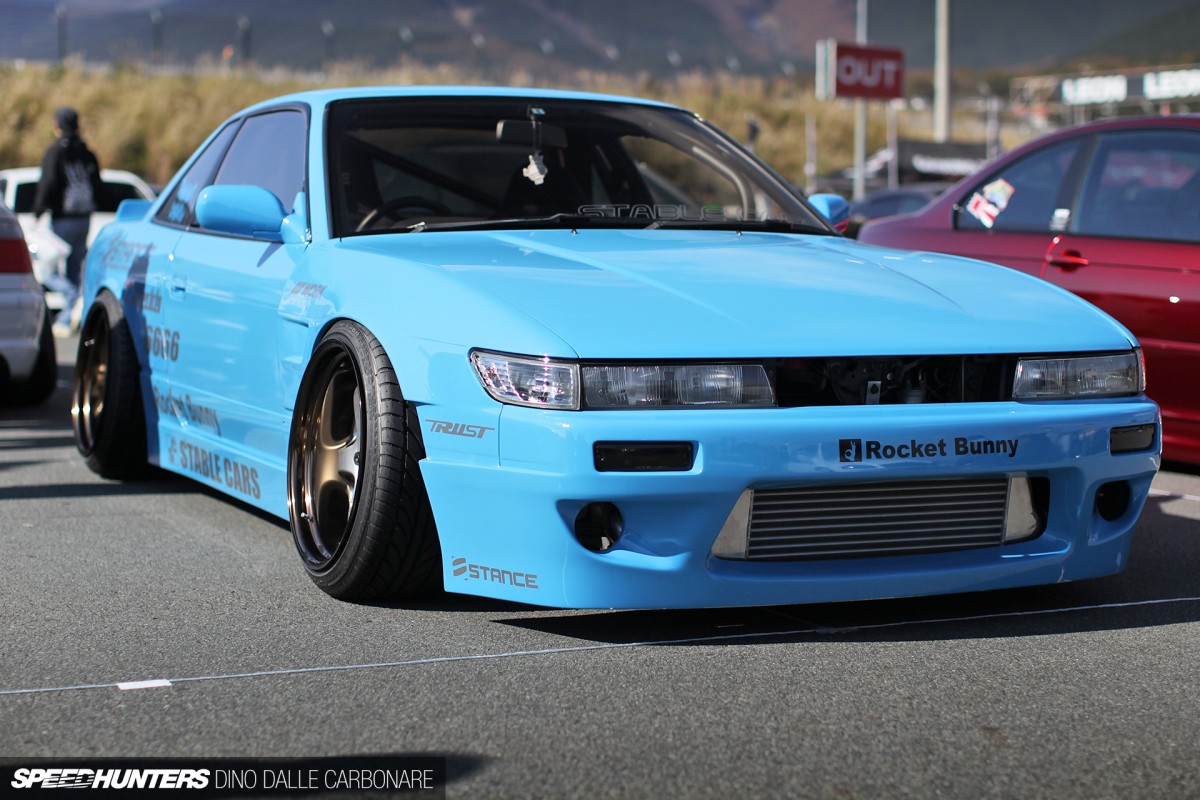 The S13 is one of my favorite Silvias for the simple fact that it's the most basic design of all the generations. Add Rocket Bunny aero into the mix along with aggressively dished Work Meisters and you just can't go wrong.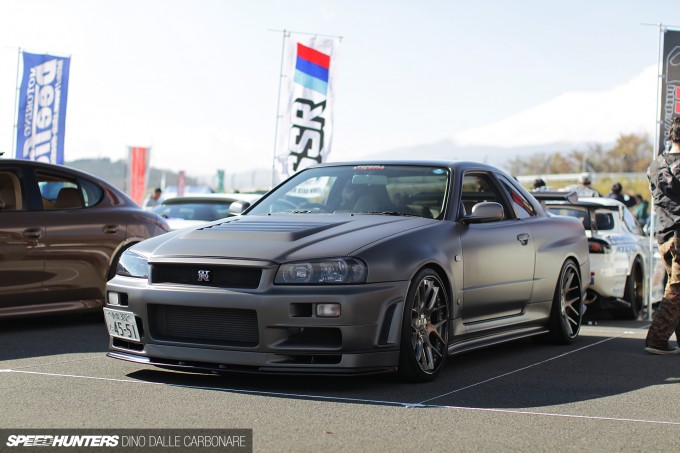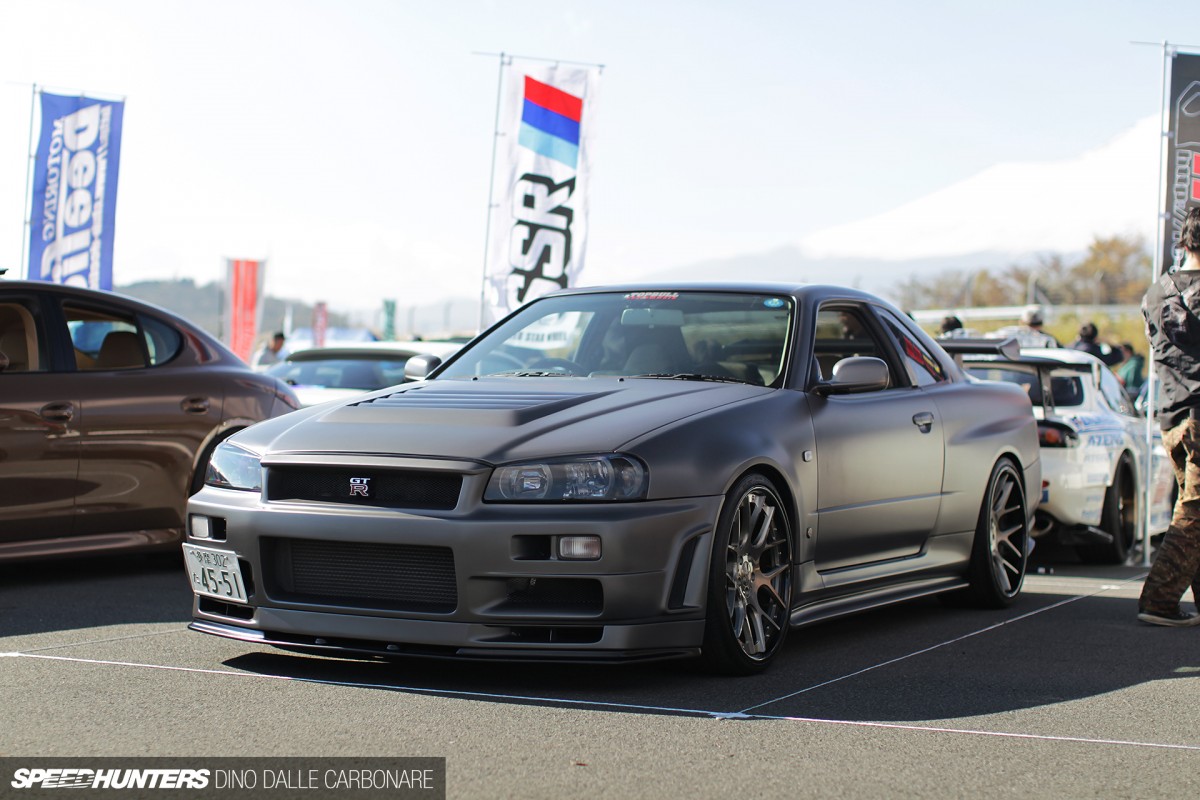 While this must be the only BNR34 I've seen at these sort of shows, it's cool to see that people out there are doing different things with their GT-Rs. For someone that would never take his car onto the track or onto a winding mountain road, the more dress-up approach to a san-yon might be a more viable solution. I certainly did like the matte finish and that Nismo carbon hood is something I still dream of at night!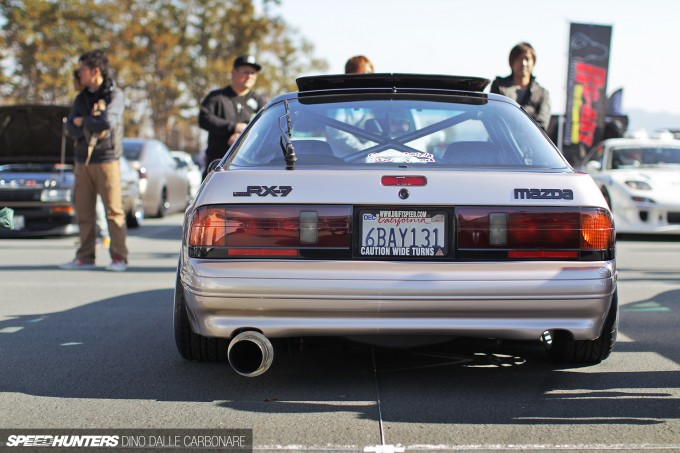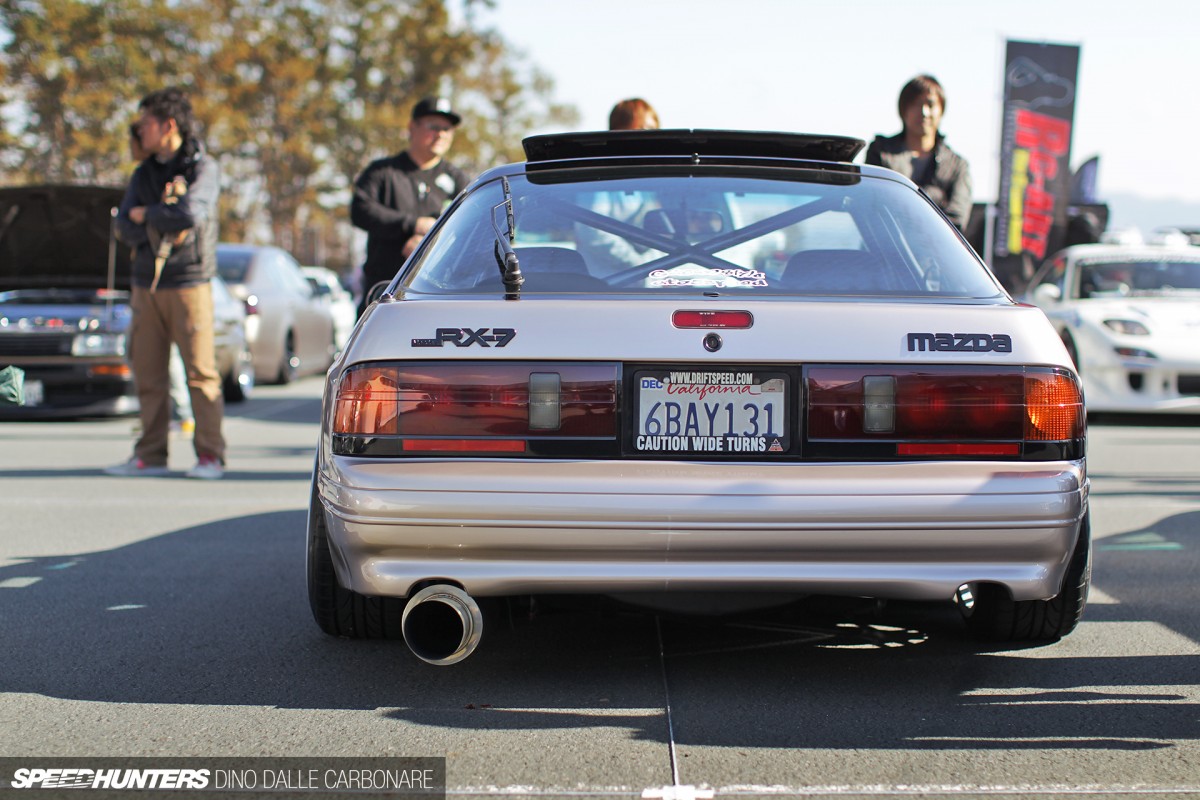 In the comments section of the first post someone asked if there were any RX-7s. Well, yes there was and this FC3S was the one that stood out the most with its good mix of performance and looks.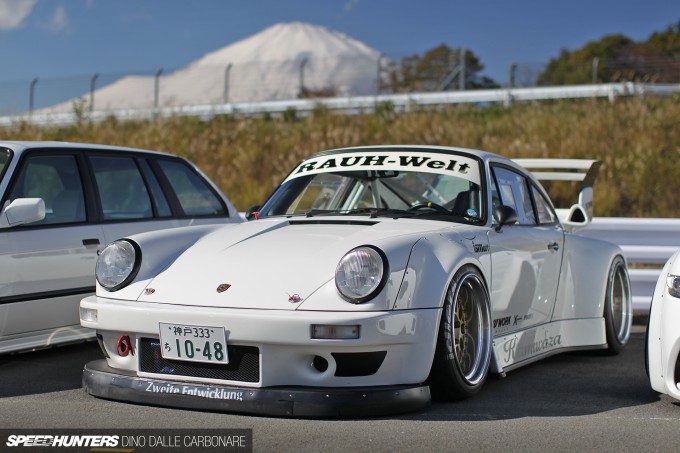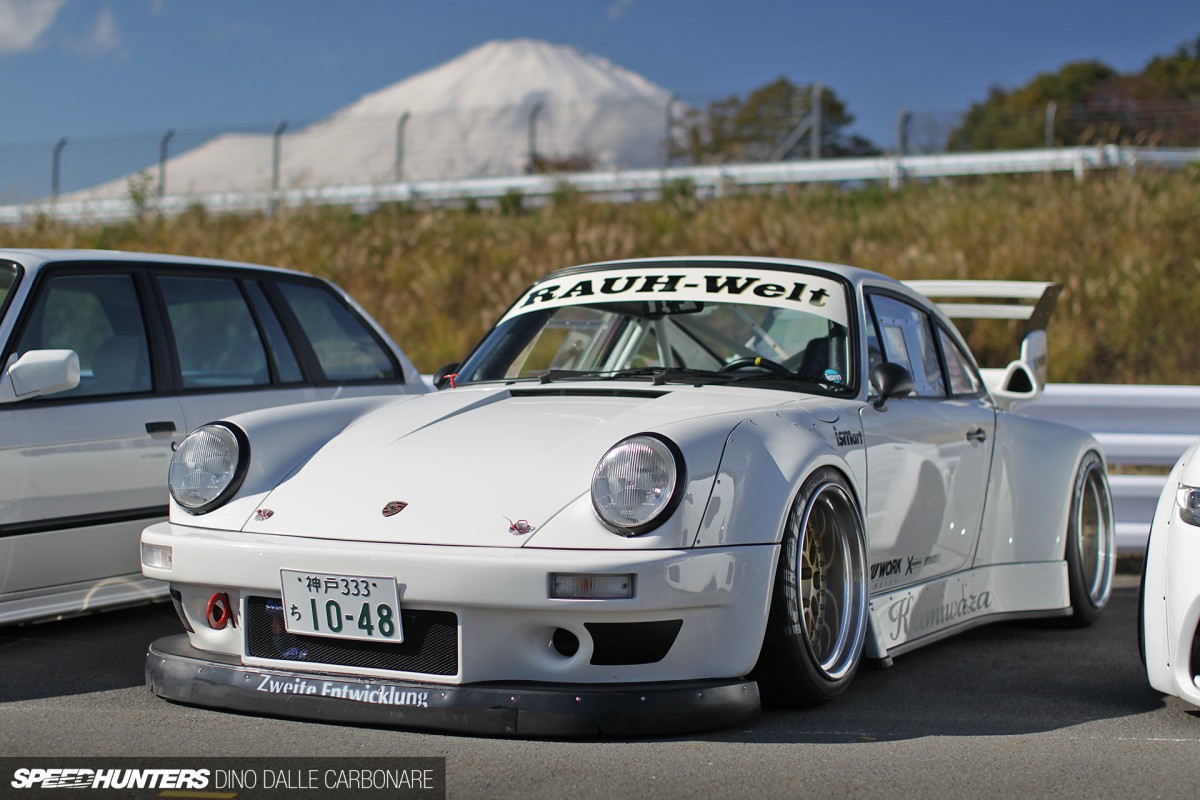 Toshi from RWB – the owner of the green 993 I featured previously – drove his new Kamiwaza 930 all the way up from Kobe. It was on display on the ismart display…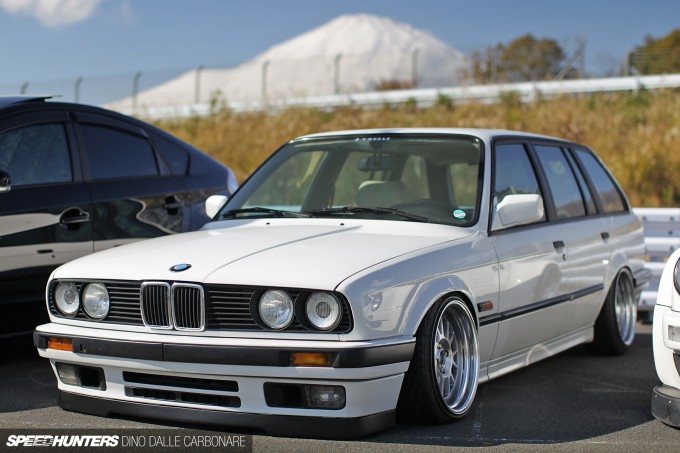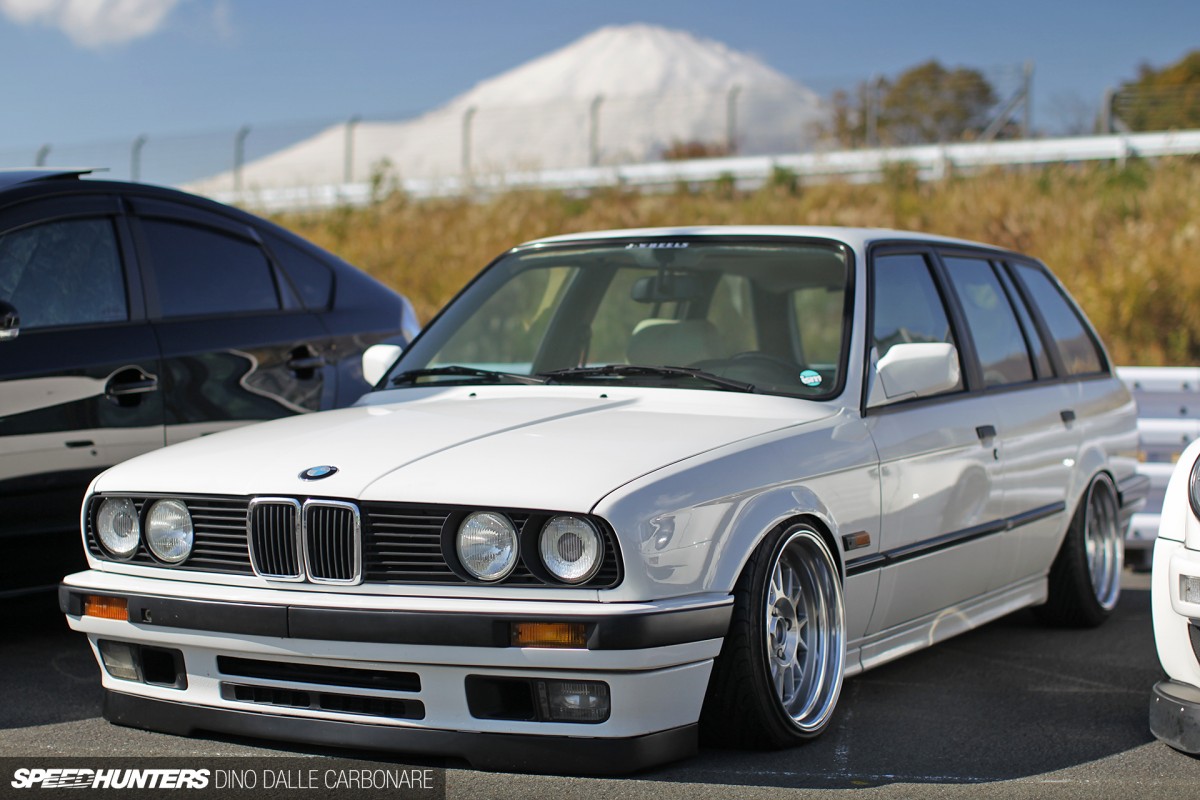 … right next to this superb interpretation of a slammed E30 wagon. The guys at ismart certainly know how to make a car look good!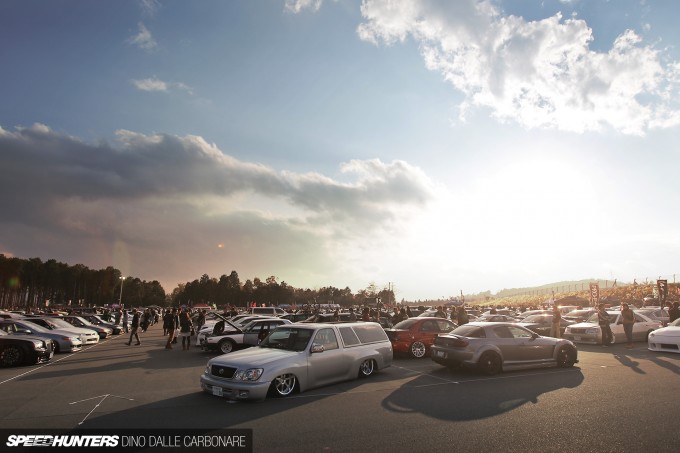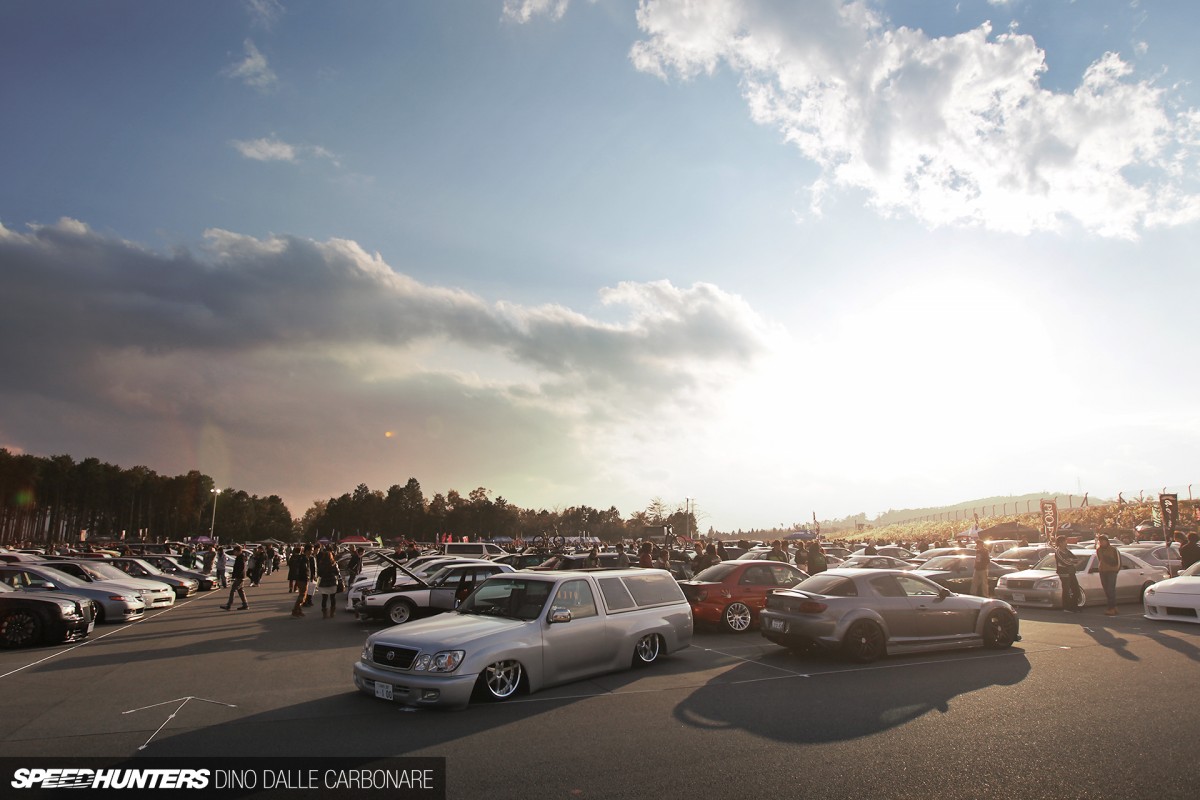 As the day progressed I did my best to keep up a good pace and check out everything that was on offer, but with time not on my side I had to be far more selective that usual. There was just so much to see…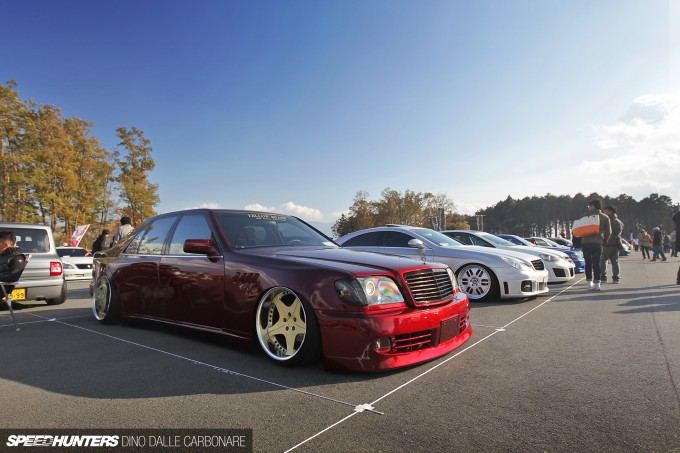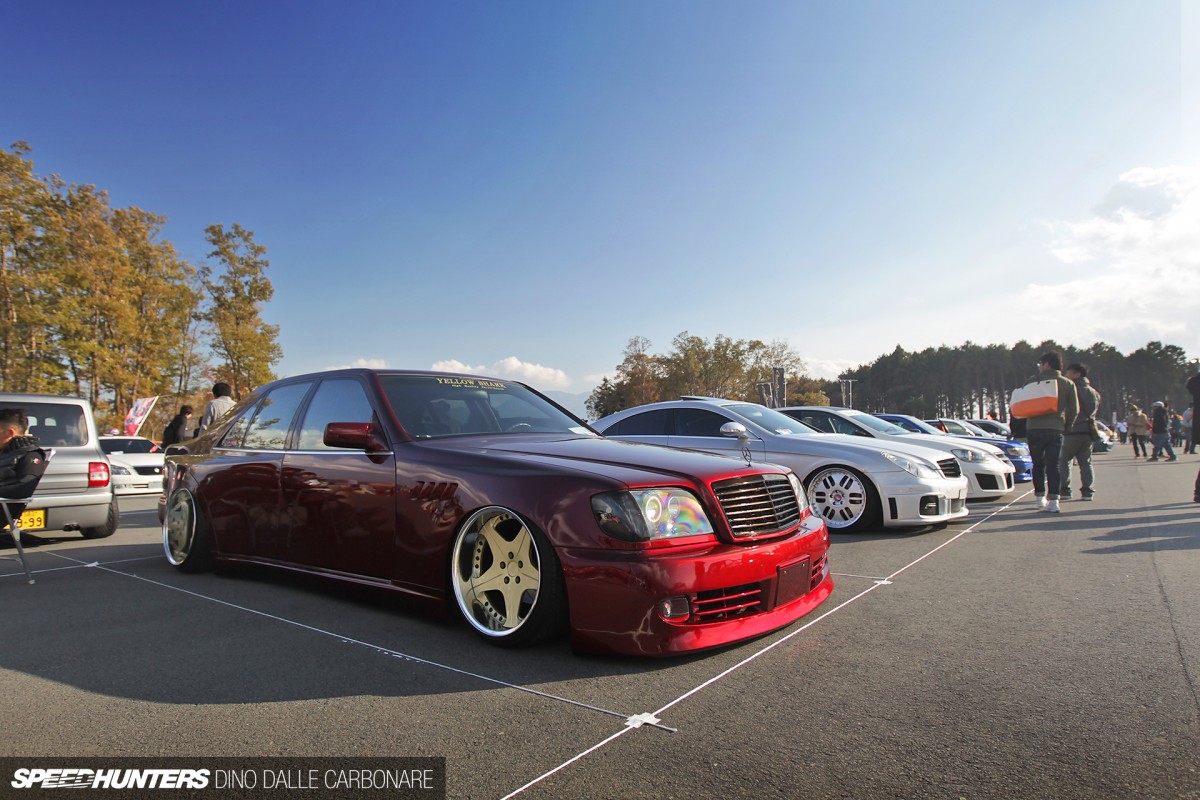 … and as usual it's always the wilder VIP rides that grab my attention the most. I still can't believe how crazy some owners go – something that this Mercedes-Benz-themed Celsior seems to do rather well. I've seen this particular car before, but that rear widening still stops me in my tracks every time.
Standing out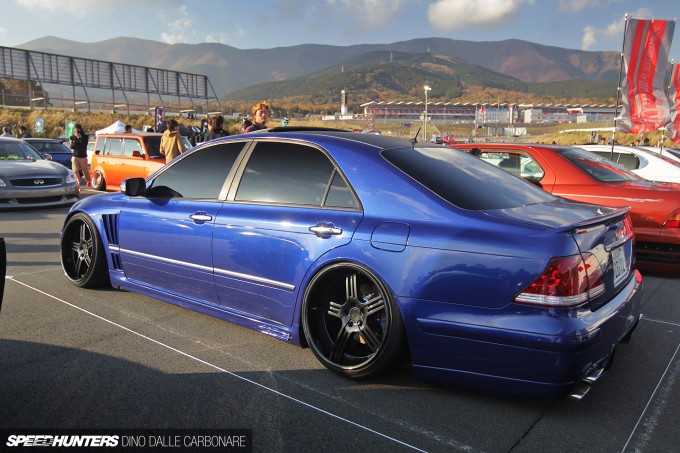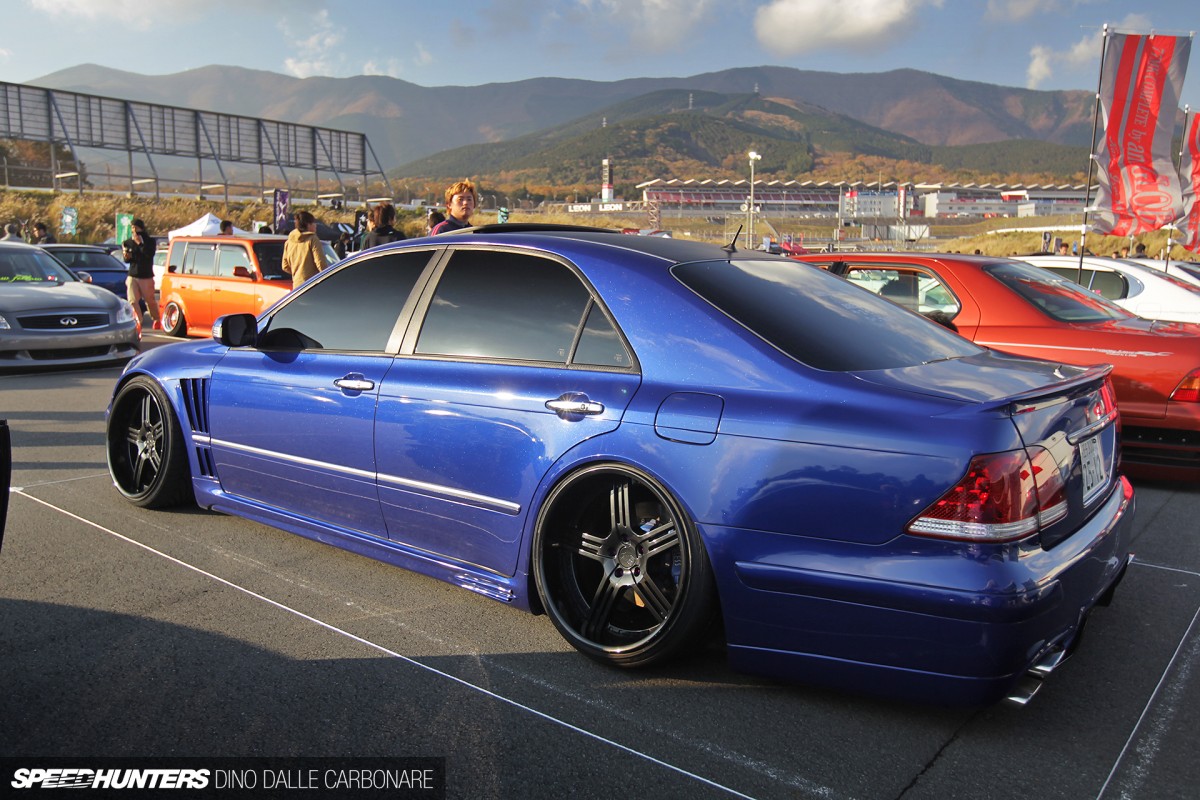 It's so cool to see this generation of Crown Athlete modified in such a way, especially considering the Japanese police used the model as a patrol car. Subtle fender flaring and Super GT-inspired venting behind the front wheels really do add to the overall character.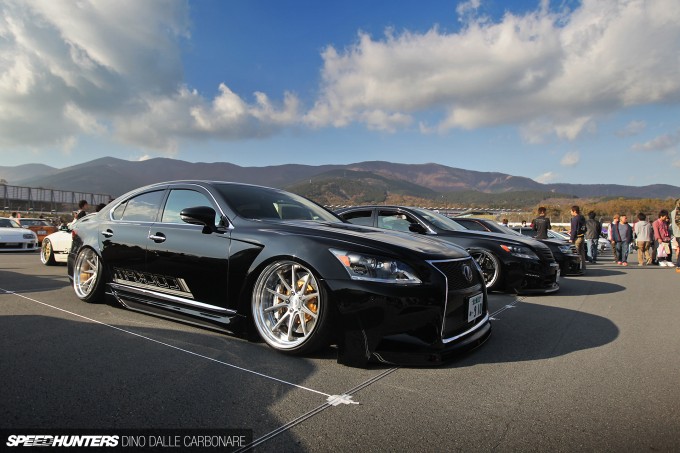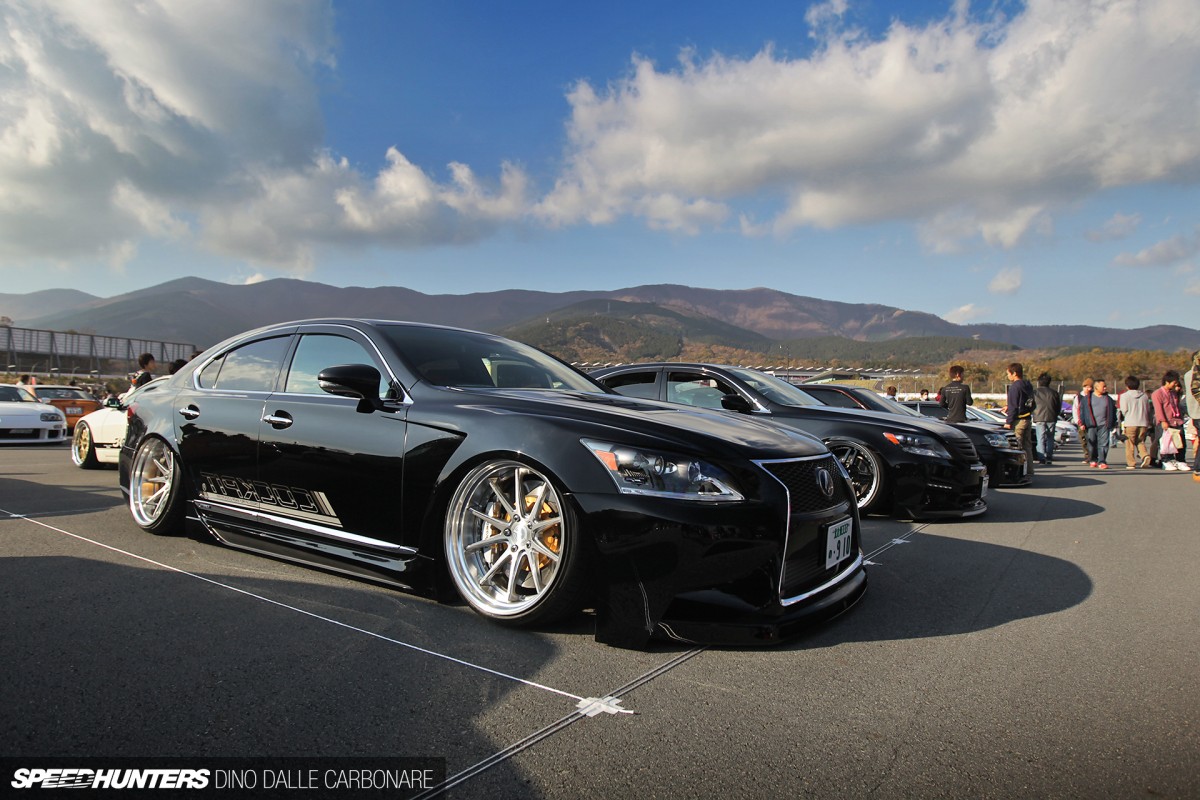 I'm glad to see that Elvis Skender of Stance Nation also thought this LS from Cockpit was one of the best cars on the day. I find it incredible that the new-gen LS is already being modified to this extent. This thing oozed presence and I still can't get over the size of the Brembo brakes it was fitted with.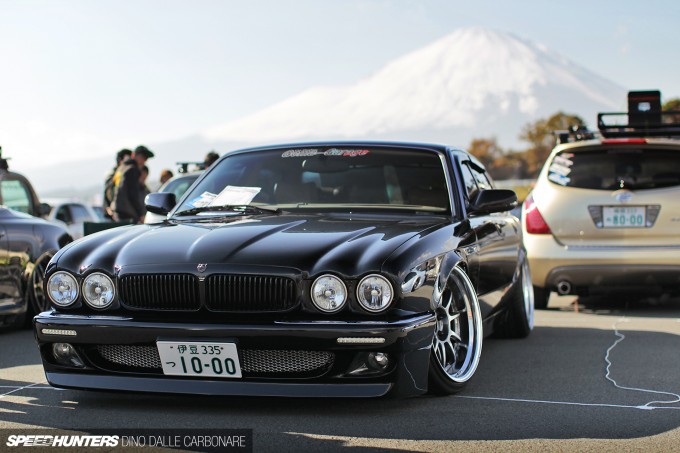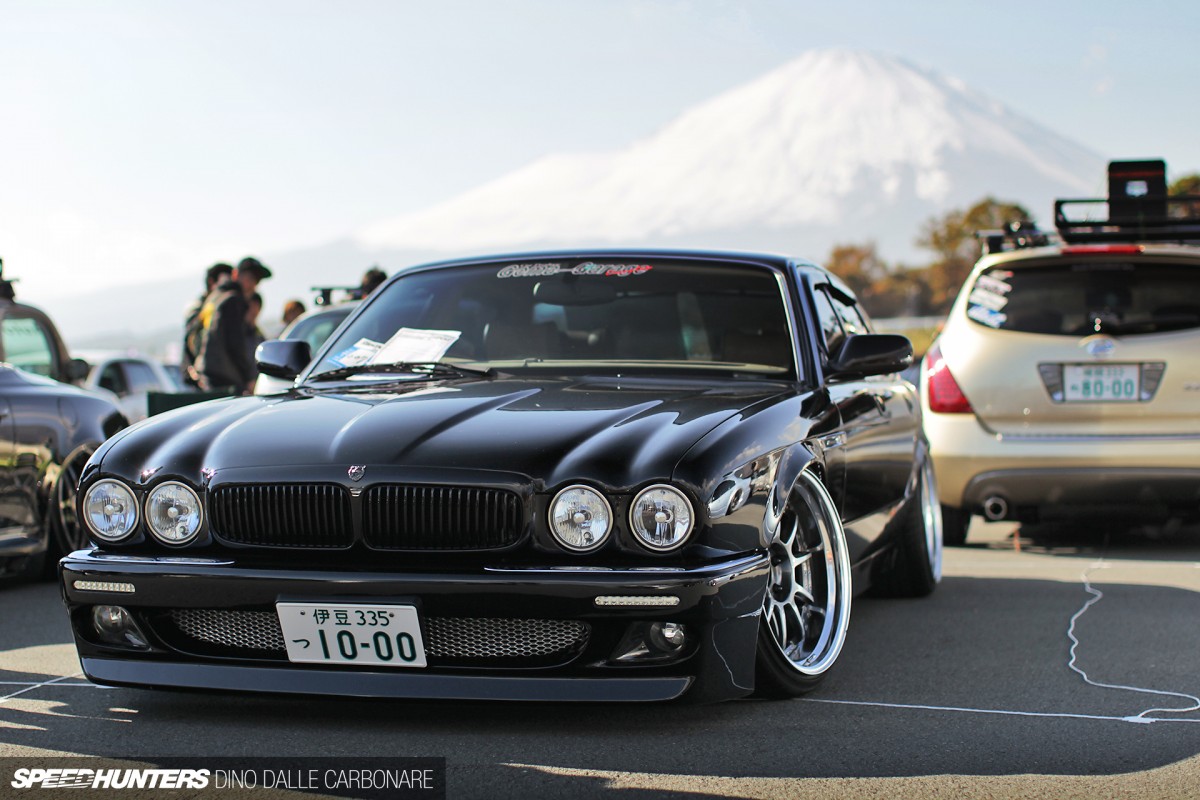 Out of all the VIP rides this Jaguar XJ from Goma Garage was probably the most original. I've seen Junction Produce do nice things with the XJ but this just looked so fresh and so in your face, while still managing to retain elegance. Big thumbs up to these guys!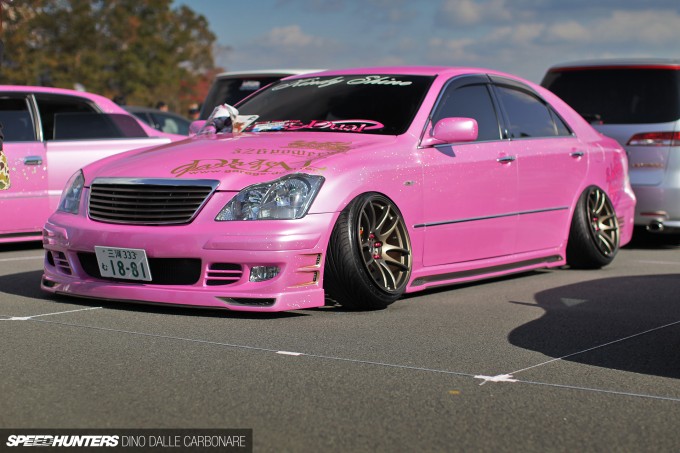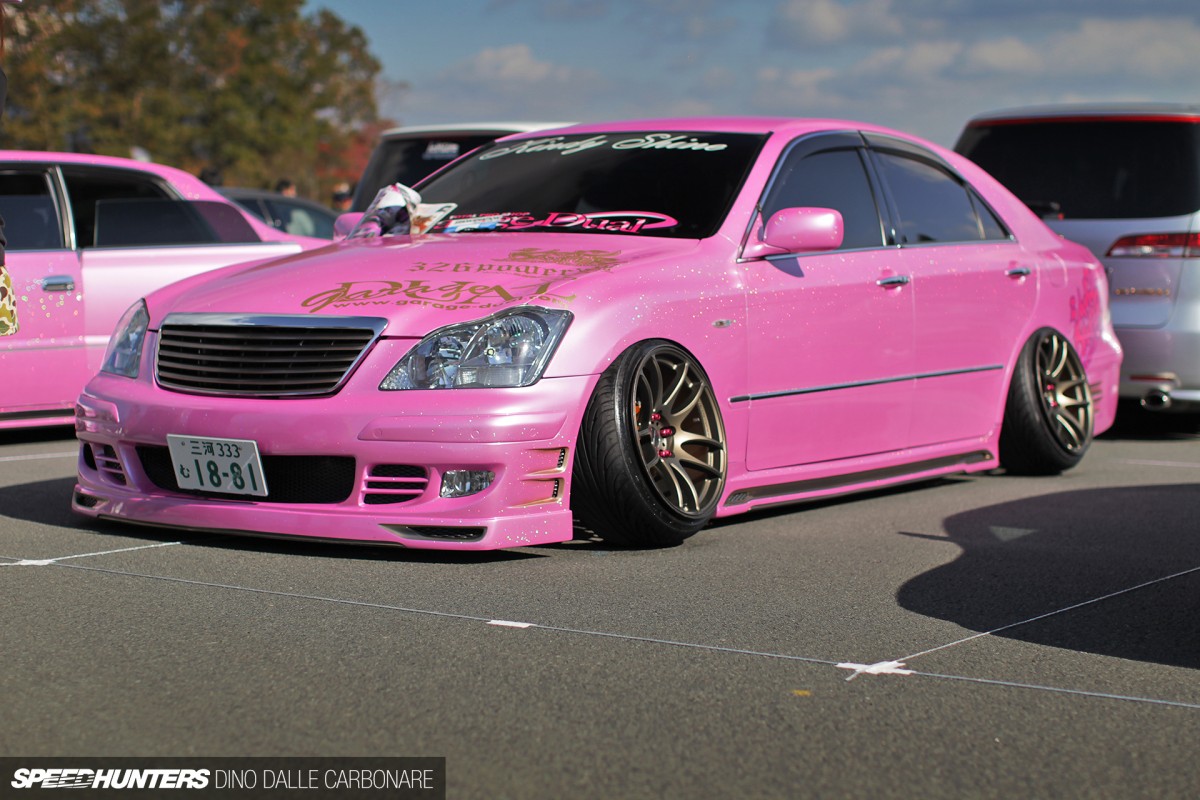 This is what happens when VIP meets drift – an Athlete with some serious Yankee attitude.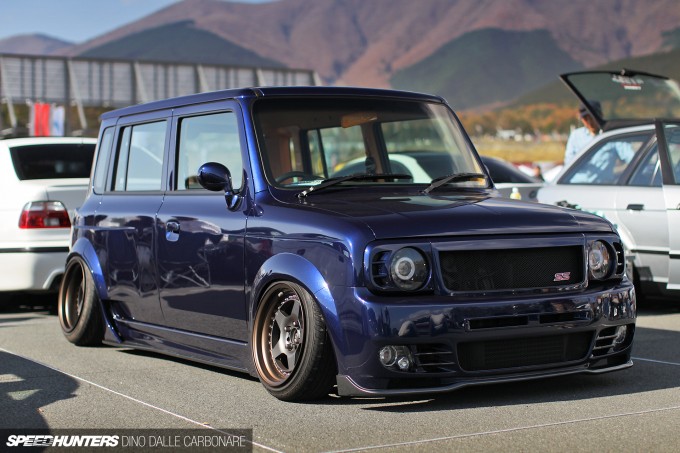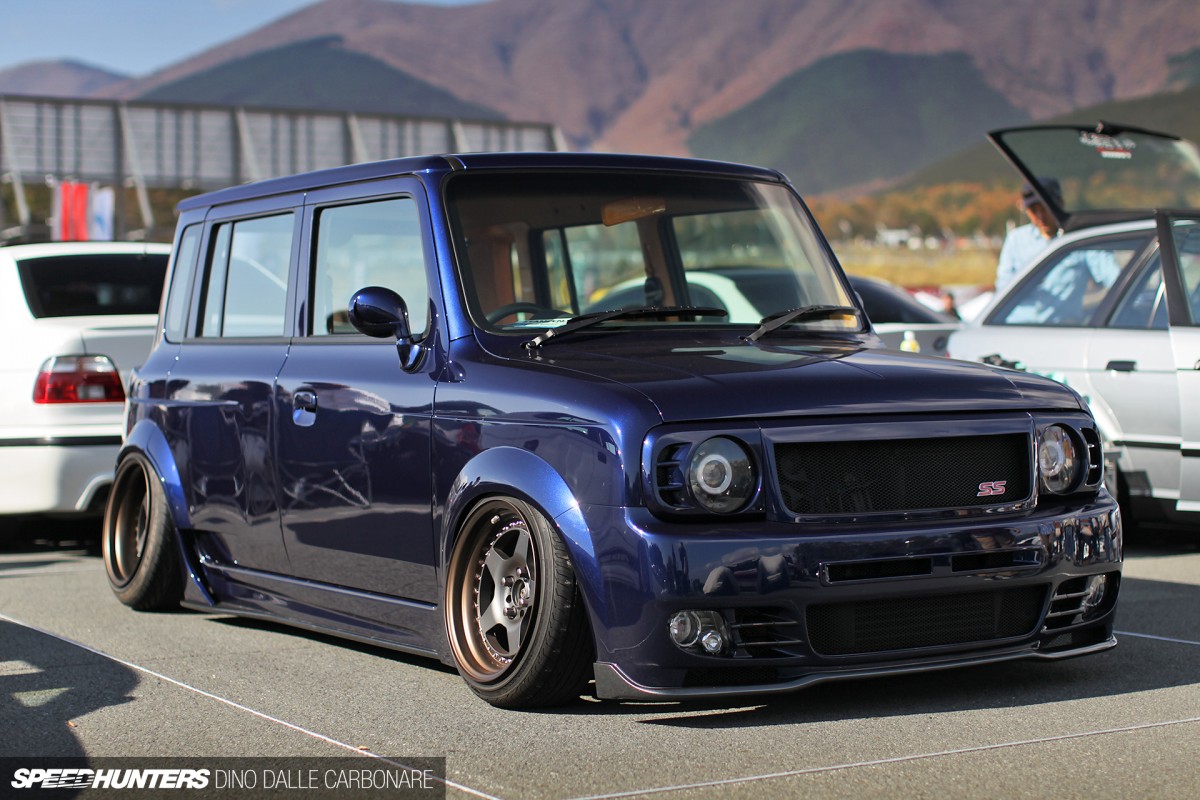 With Japanese manufacturers continuing to assume that the motoring public need boxes on wheels, it's great to see that people still manage to create something so special out of these sort of models. Nothing pumped fenders and an aggressive fitment can't fix obviously!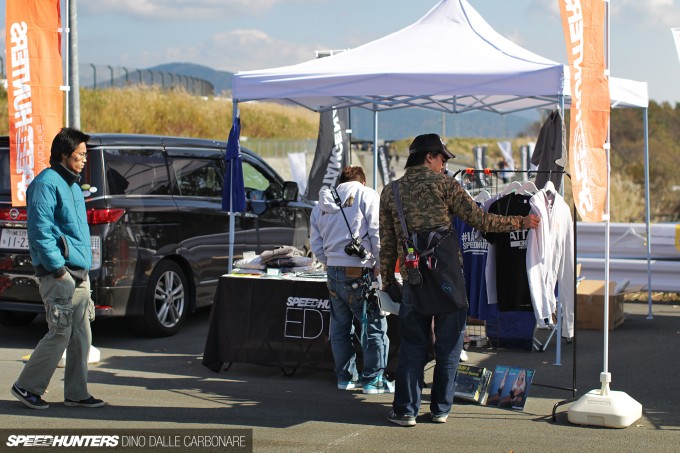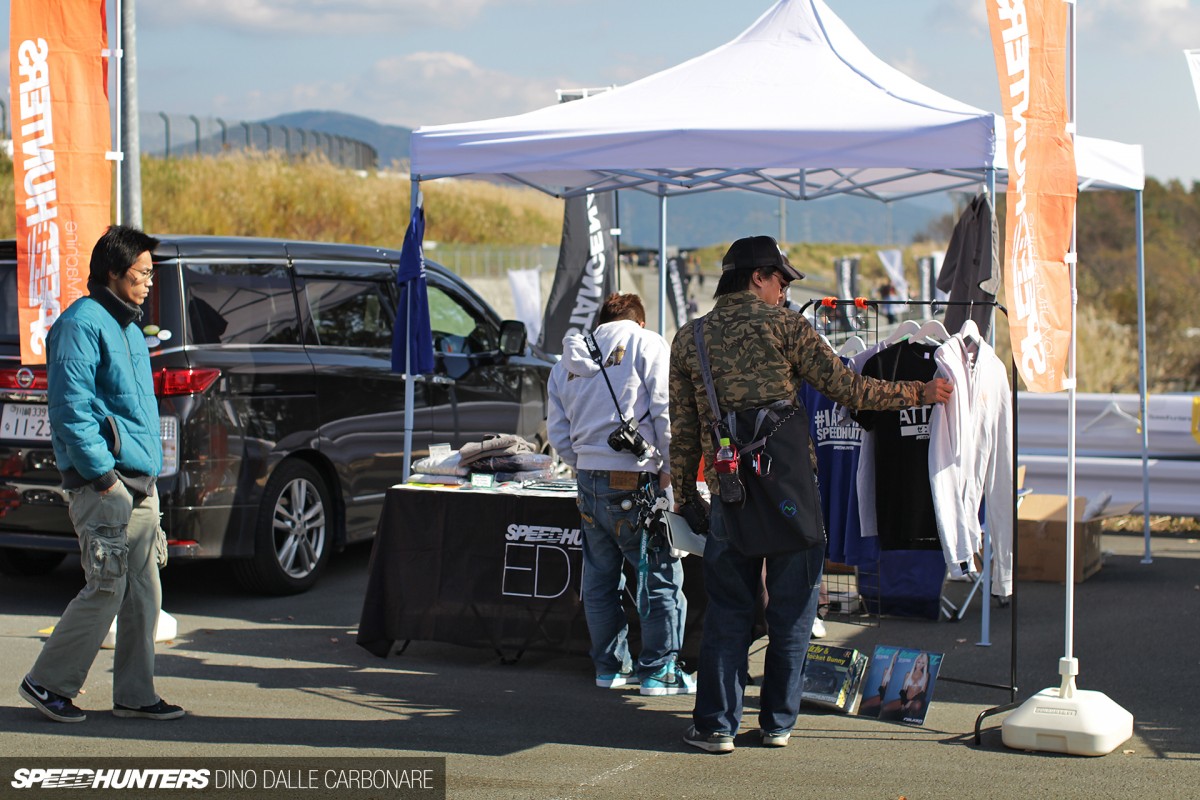 Once again we had a booth out at Fuji Speedway, and I really have to thank everyone that stopped by to chat to us and pick up some merchandise. That includes the guys that dropped off the GReddy x Rocket Bunny FR-S model car. 皆さん、ありがとうございました!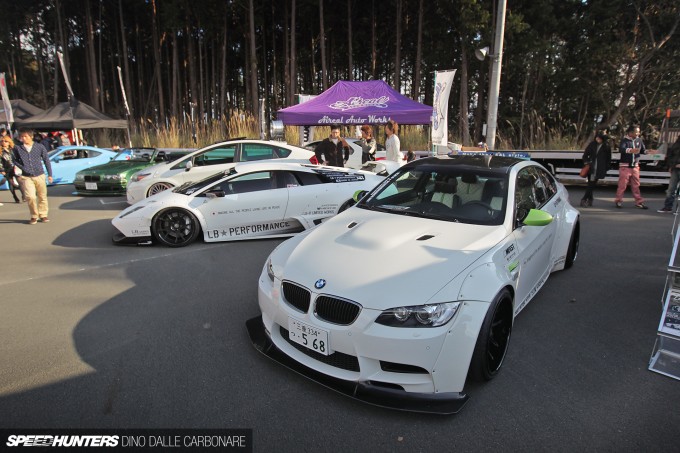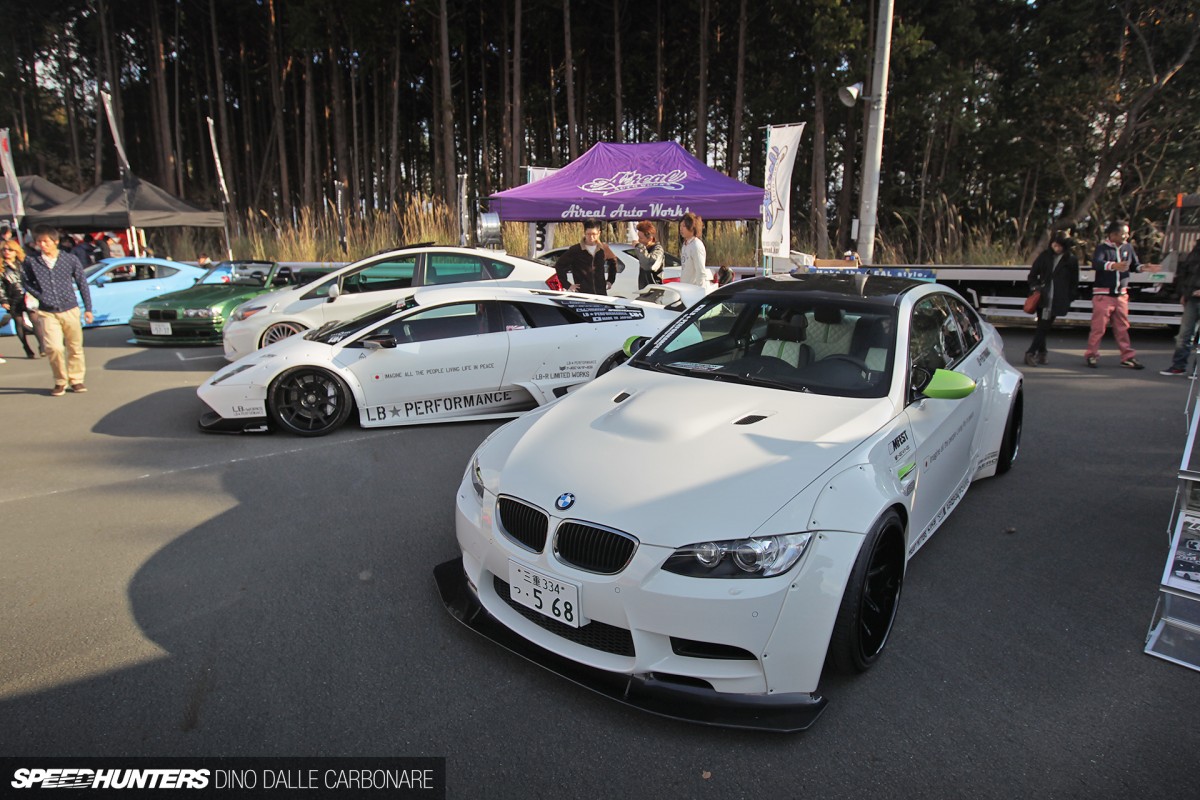 After literally stealing the SEMA Show, Liberty Walk obviously has no intention of slowing down and were at the show with its BMW M3 and Lamborghini Murcielago…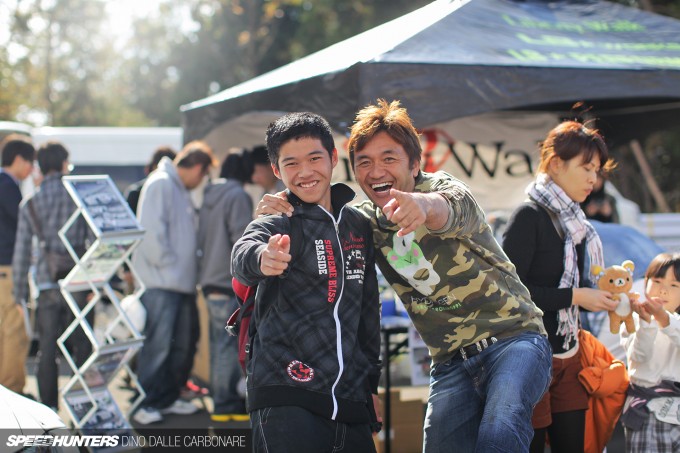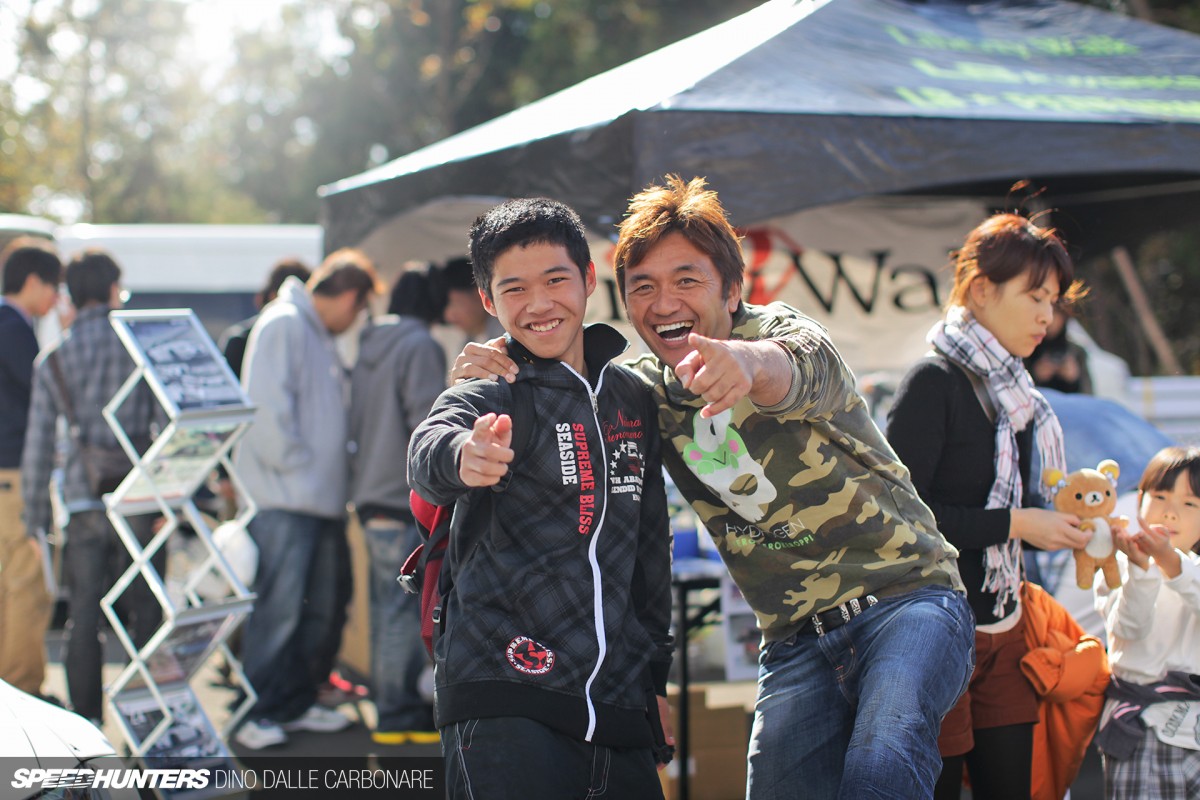 The charismatic Kato-san was there too of course, and as usual, creating his own fun-filled atmosphere around the booth.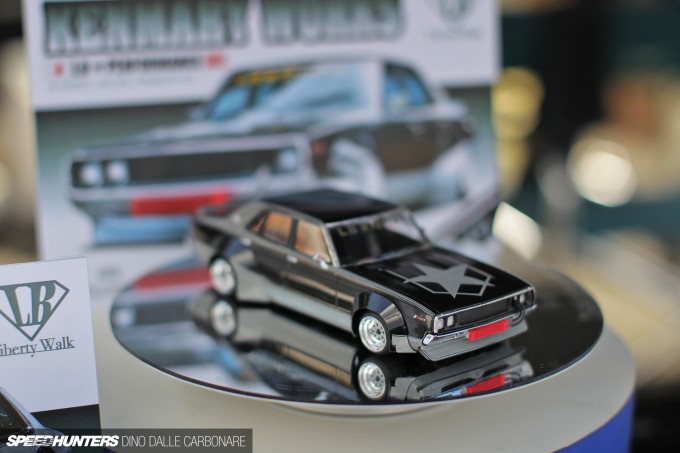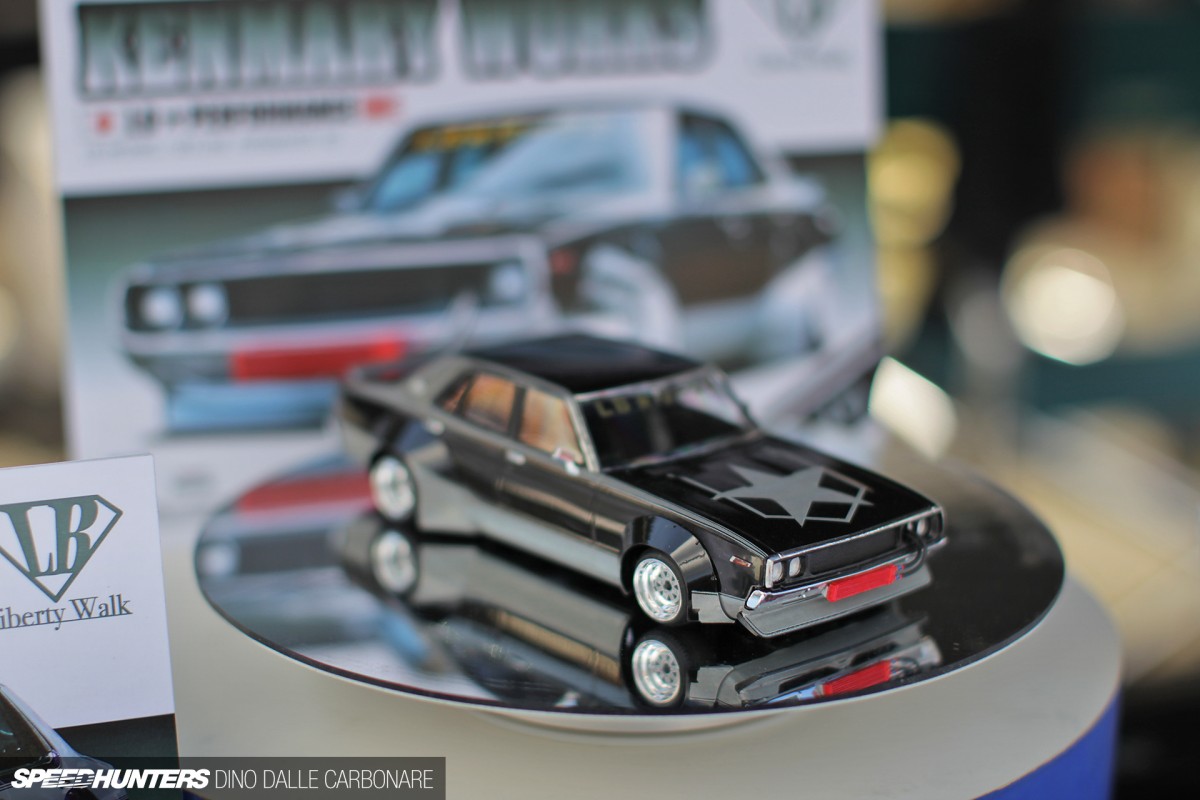 The company even had some cool models from 124Motoring of its more favorite rides…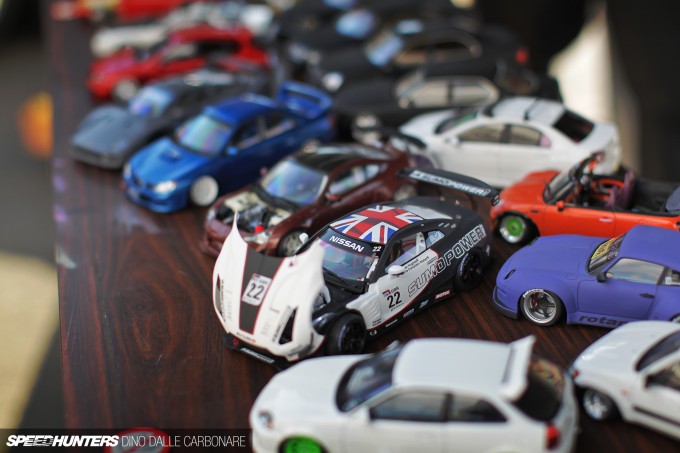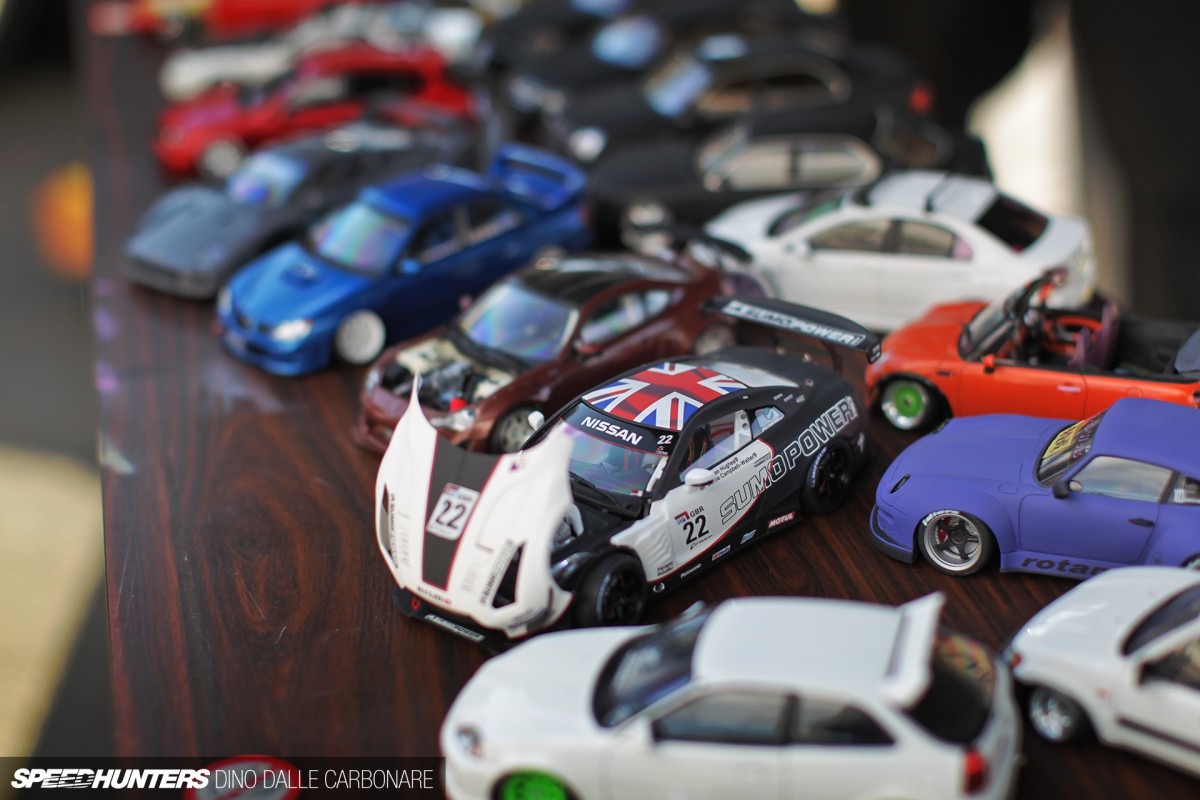 … as well as a ton of other stanced cars we are all familiar with. I was blown away at the detail of these hand-built creations!
Variety of fitment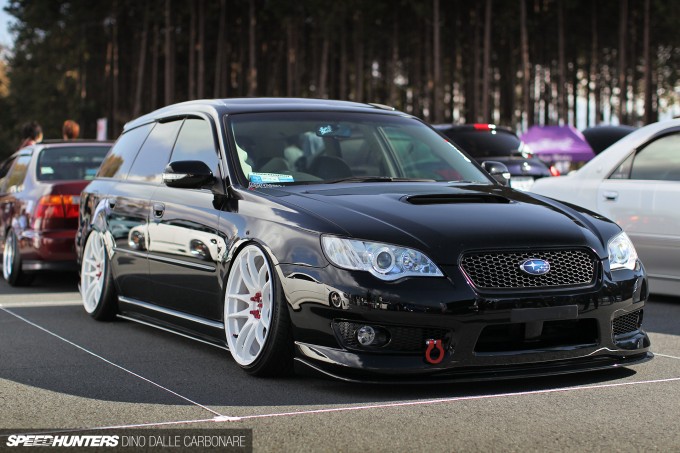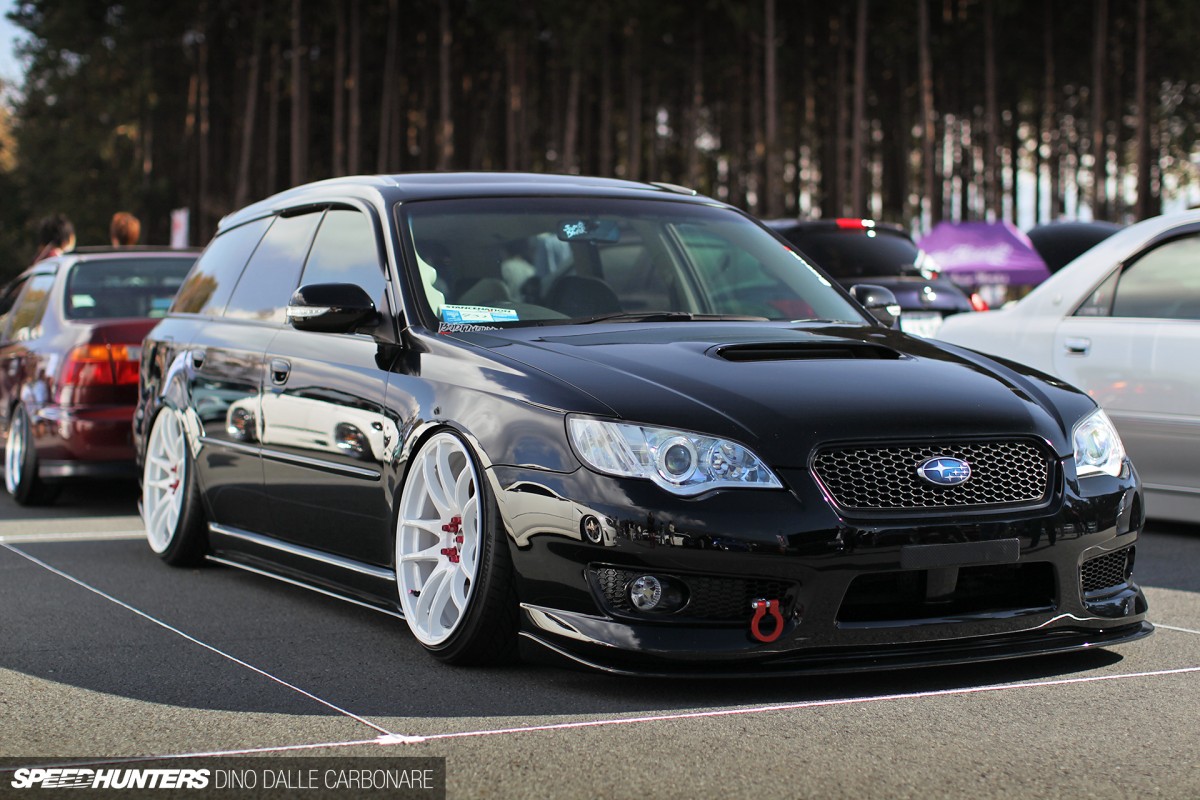 Being a Legacy owner myself, I just can't help but admire some of the things the Japanese manage to do with their cars. That said,  I just couldn't keep my eyes off this kouki BP5 sitting on Work rims. The simple approach of gently cut and rolled fenders, a subtle front splitter and side skirts truly bring out the beauty of this car. But if this isn't low enough for your taste…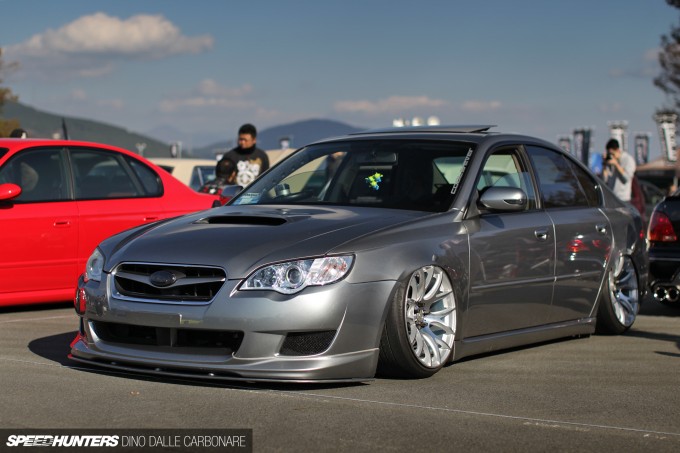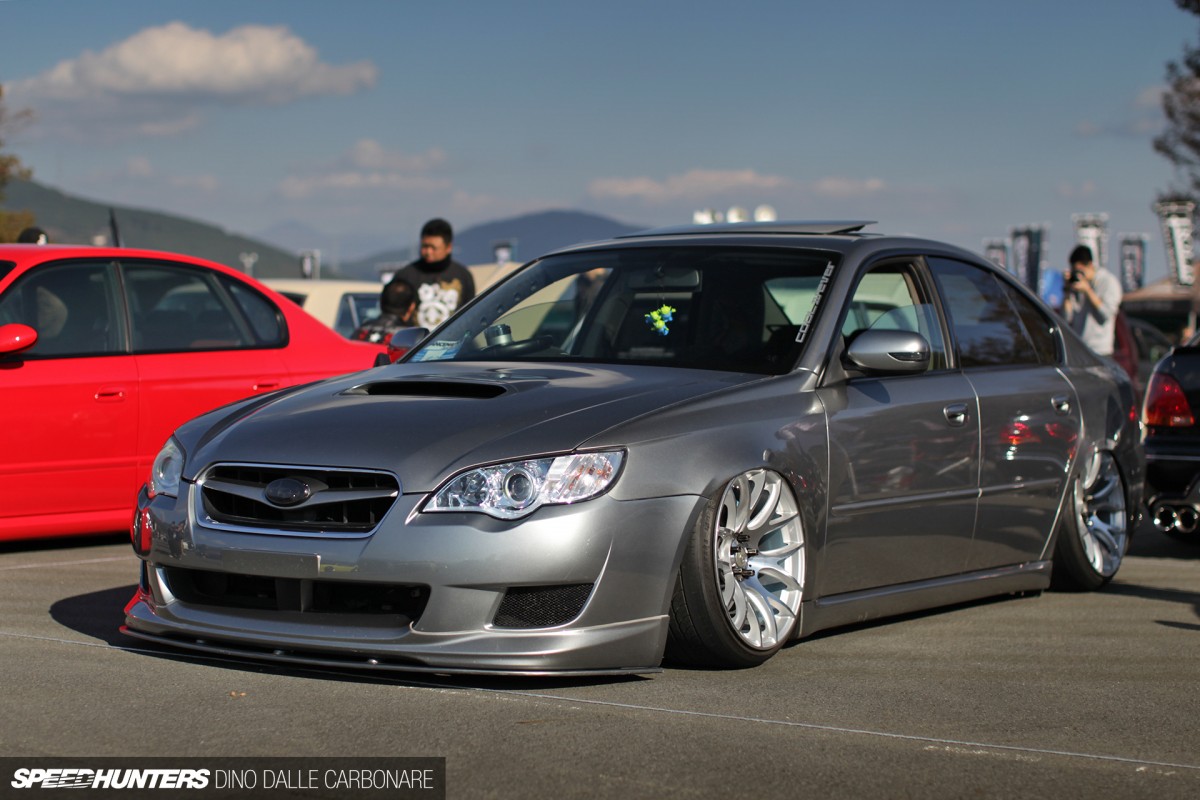 … then this sedan on airbags that was at Slammed Society a couple of months back, still ticks all the right boxes…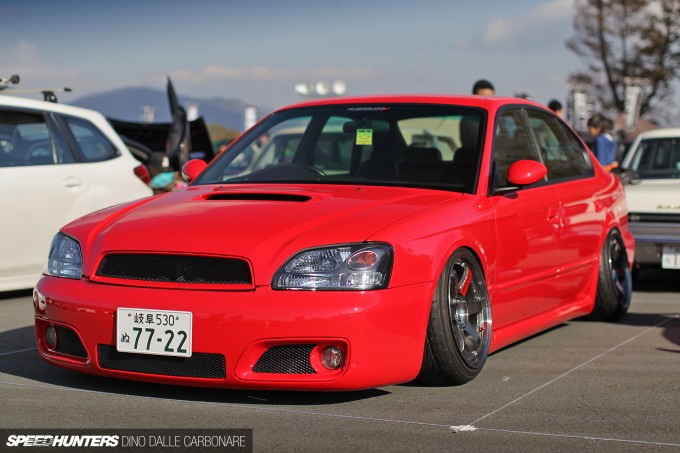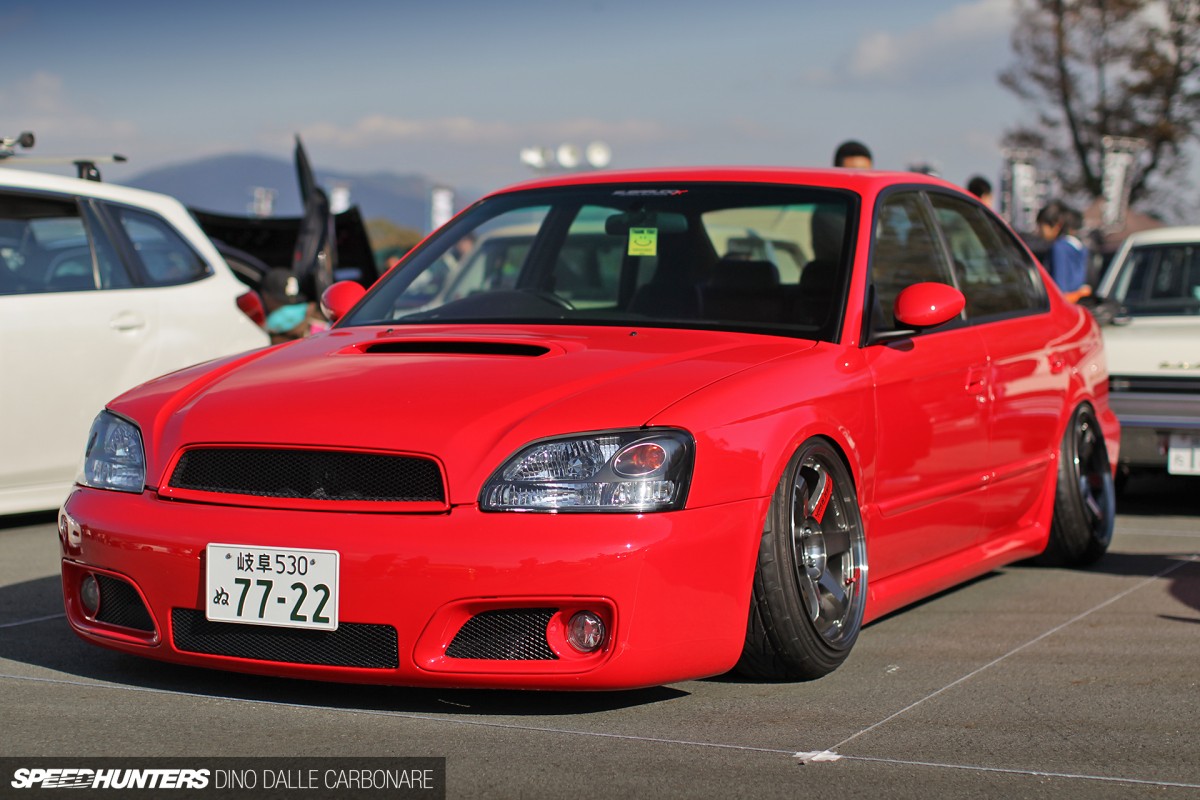 … while this red Blitzen BG5 on TE37SLs continues to set the standard. I really want to do something with my daily driver now!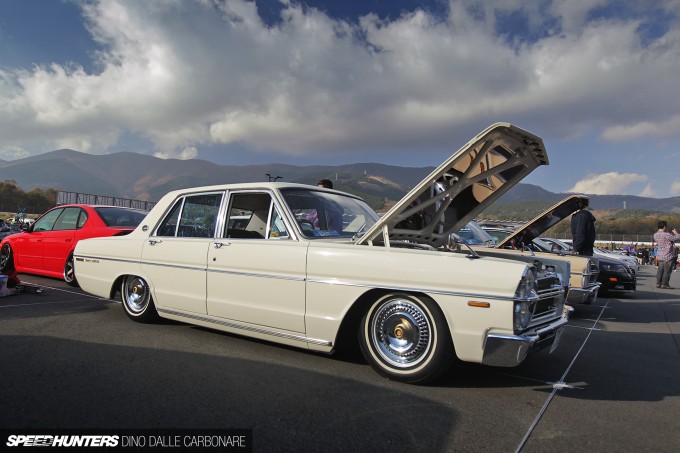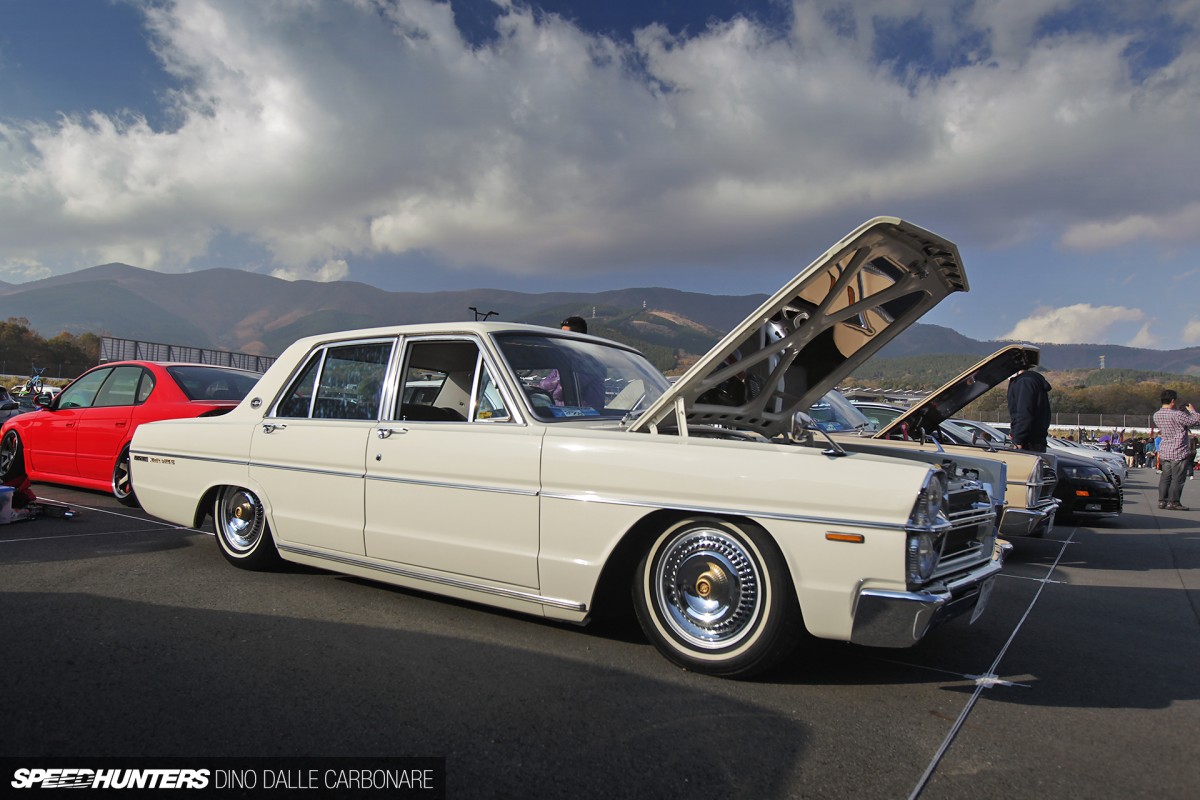 Right behind the Blitzen was this vintage Gloria, which kept the old school look but spiced it up with a nice lowering job. These older cars are a very important slice of the current style-oriented movement in Japan, which fuses many tastes together.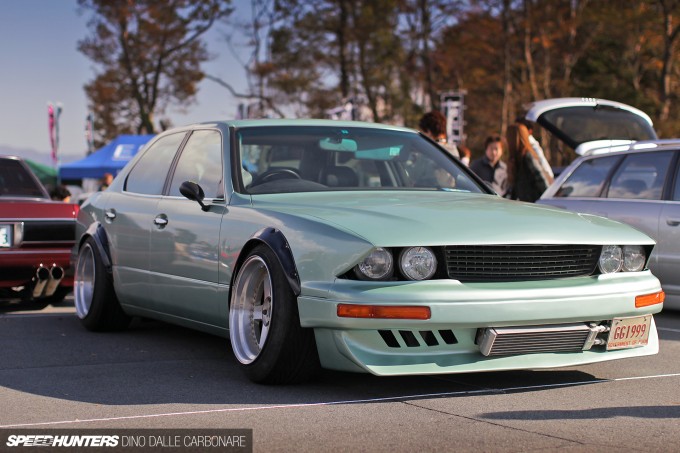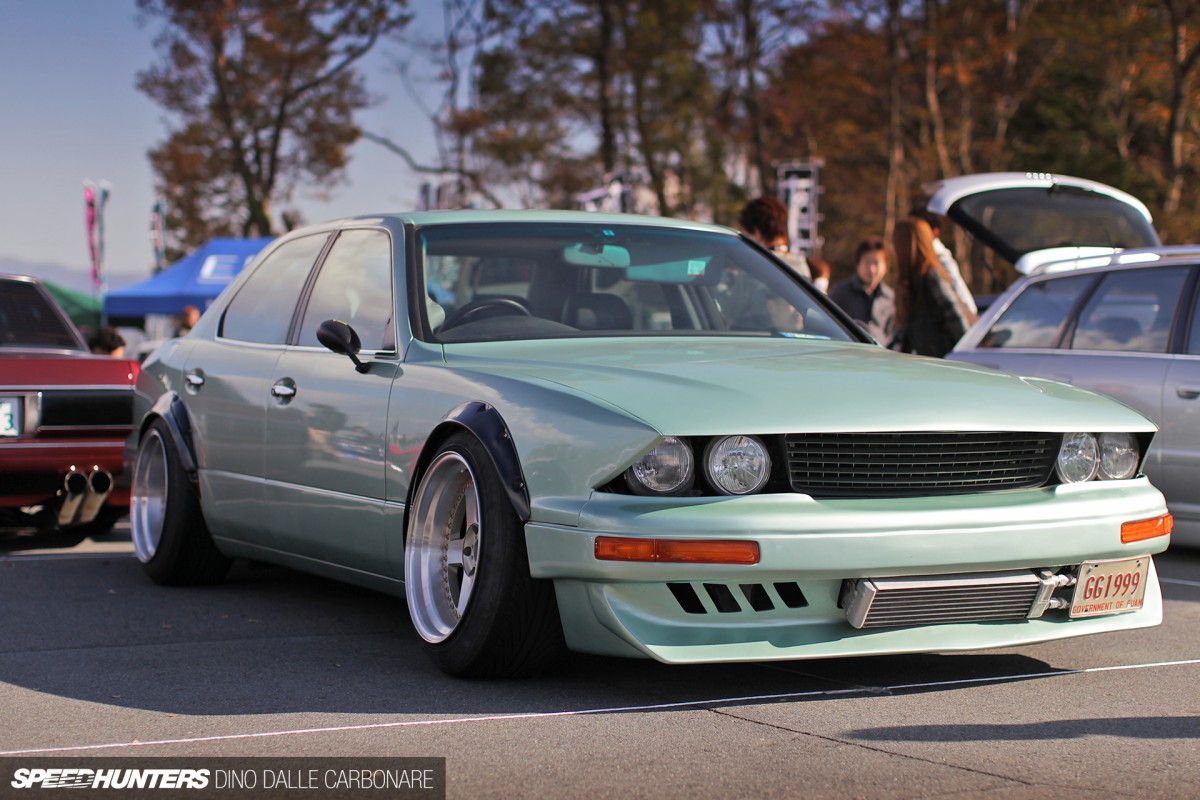 After looking at this Celsior countless times, I still don't know what to make of it! The Kaido Racer front end and bolted on fender flares is definitely something I've never seen on this chassis, making it undeniably unique.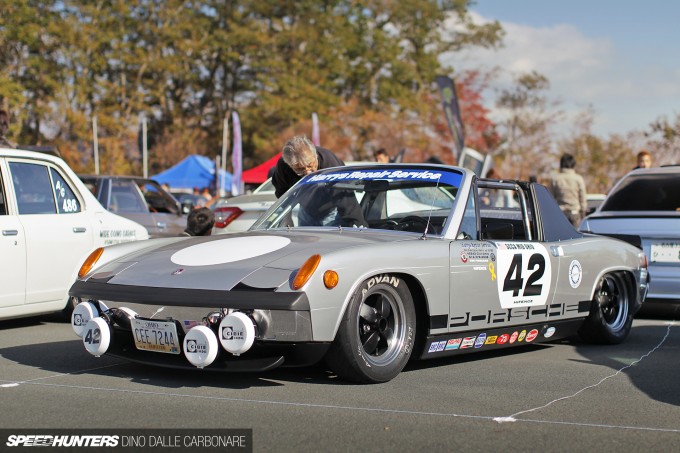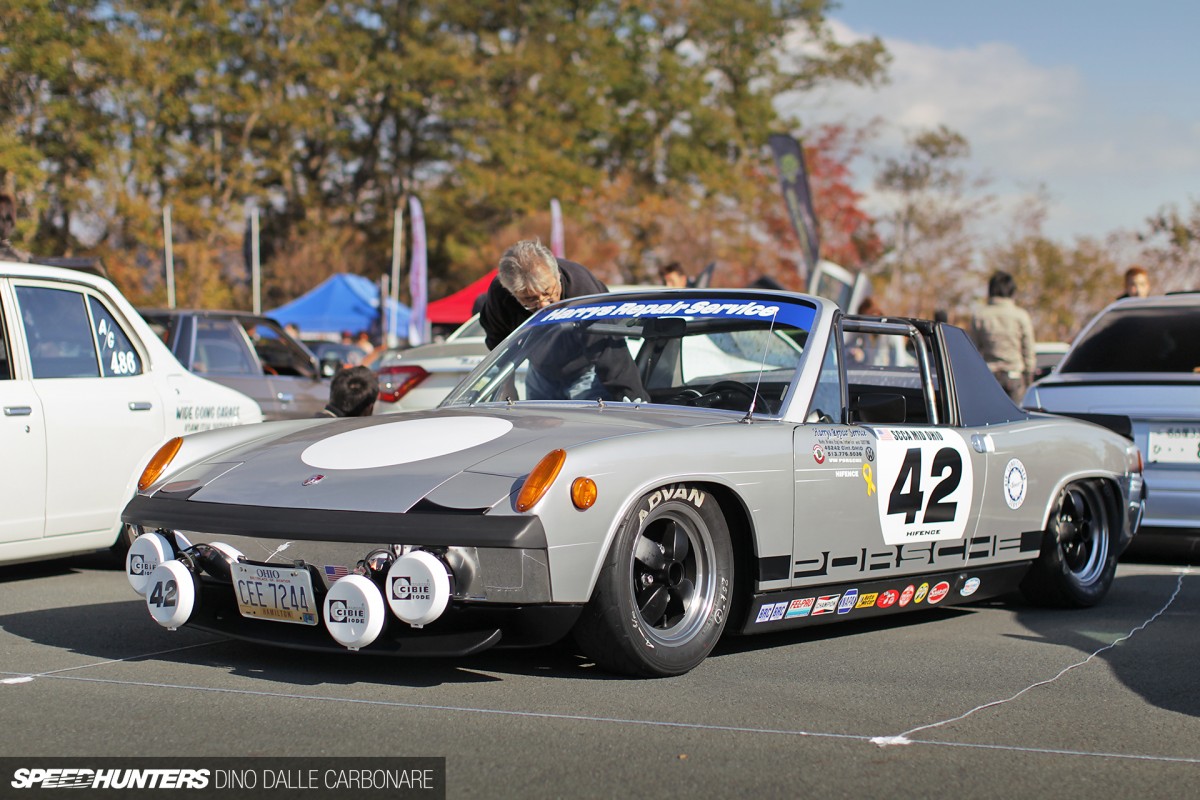 I remember seeing this 914 earlier this year lining up to get into the Mooneyes Street Car Nationals in Odaiba, so it was quite a nice surprise to bump into it at Stance Nation. It's the perfect example of the sheer variety one can expect to see in Japan…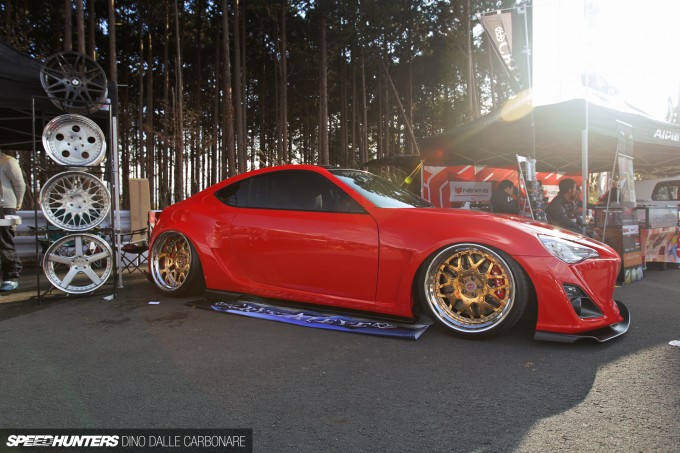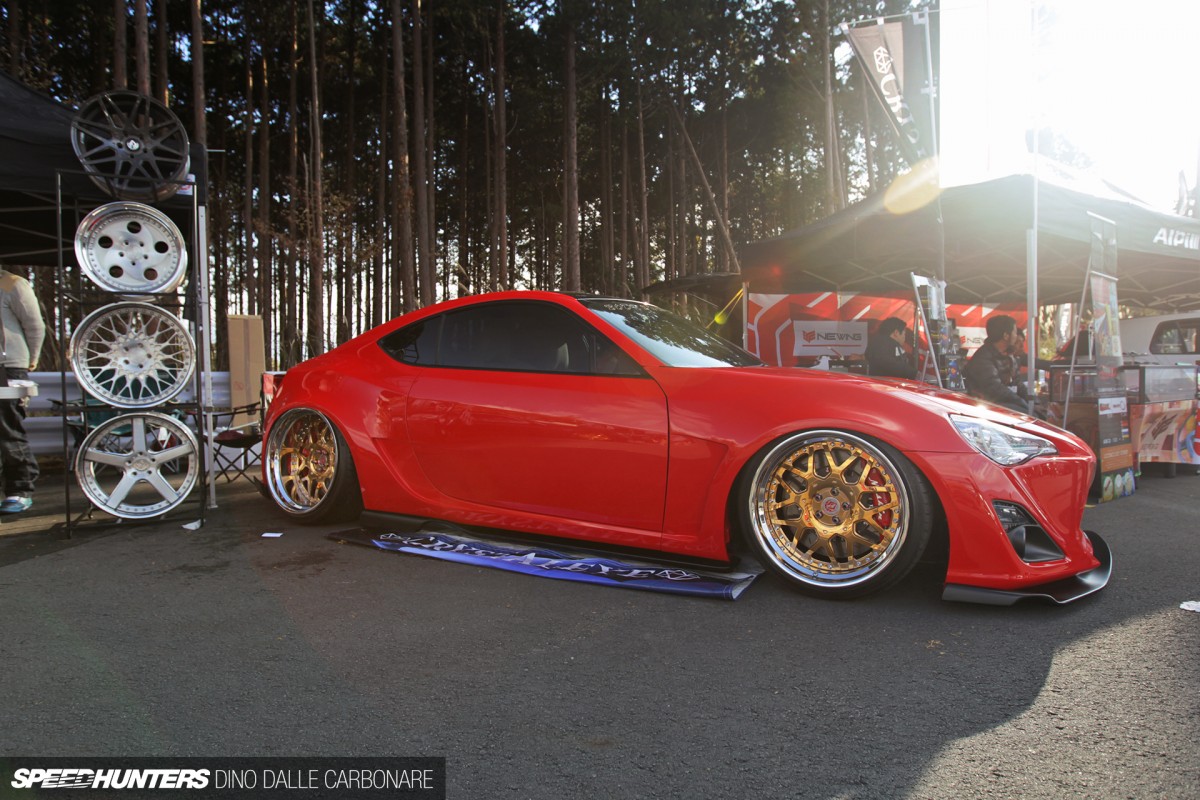 … with everything and anything being considered as a base for a project. The 86 of course has become the new favorite, and it was cool to once again see this shaved and smoothed ZN6 on VIP Modular wheels that we were first introduced to at TAS back in January.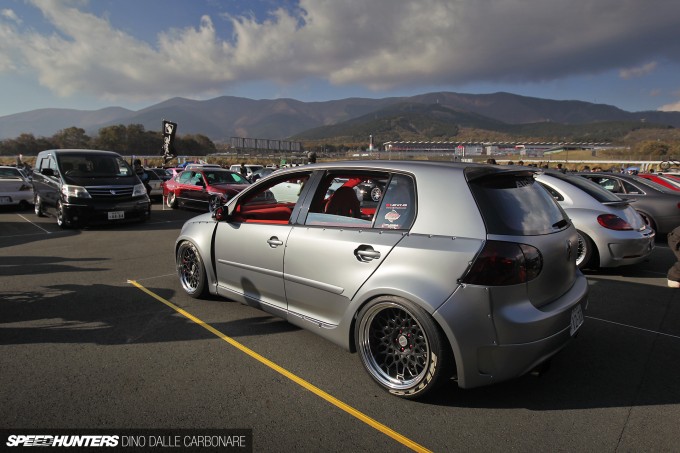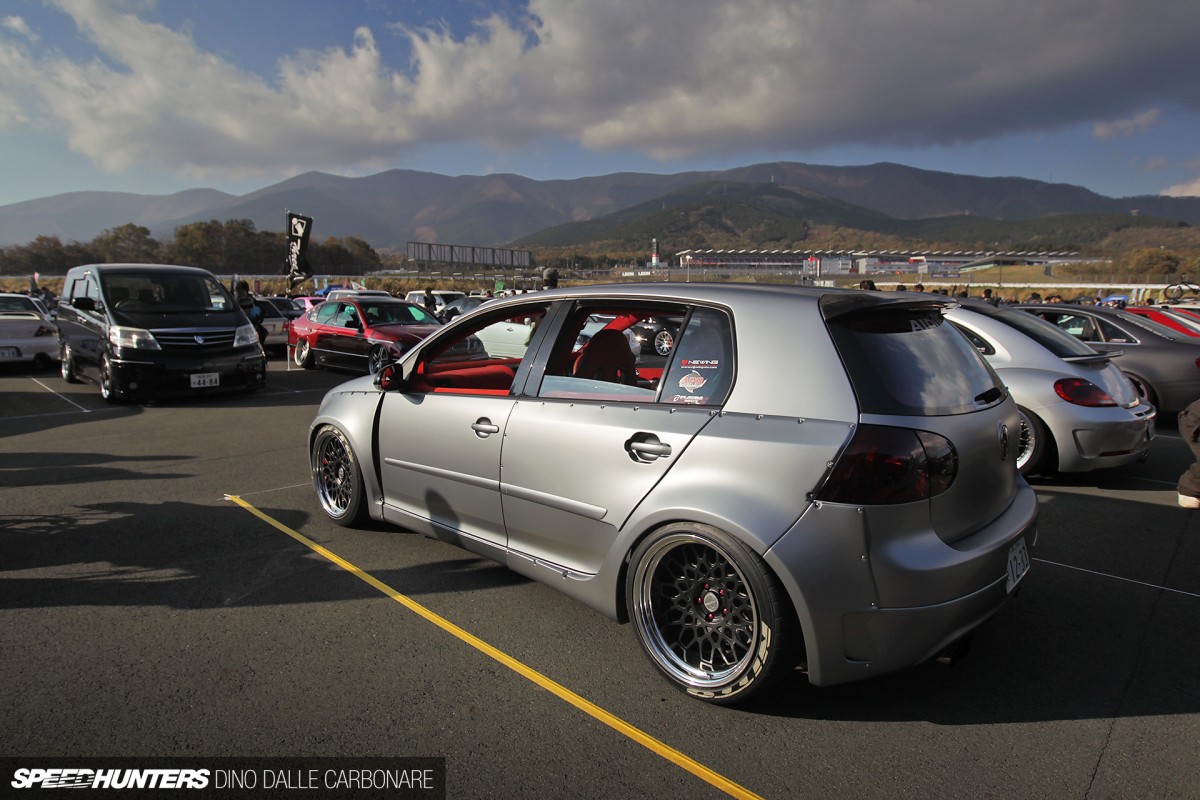 This was really funny; after seeing the Newing Golf I went up to Miura-san and told him someone was attempting to copy him. He turns around and replies that he's the one that designed and made that kit some years back, before the overfender craze really took off in the show scene. I couldn't help but smile. Damn, is there any kit this guy hasn't made? He literally owns the JDM!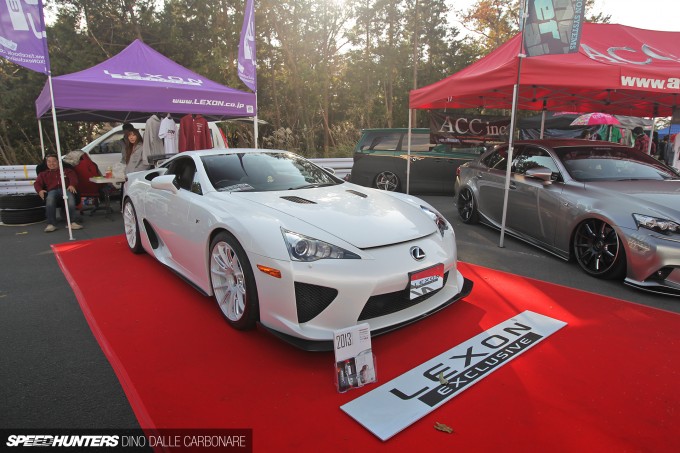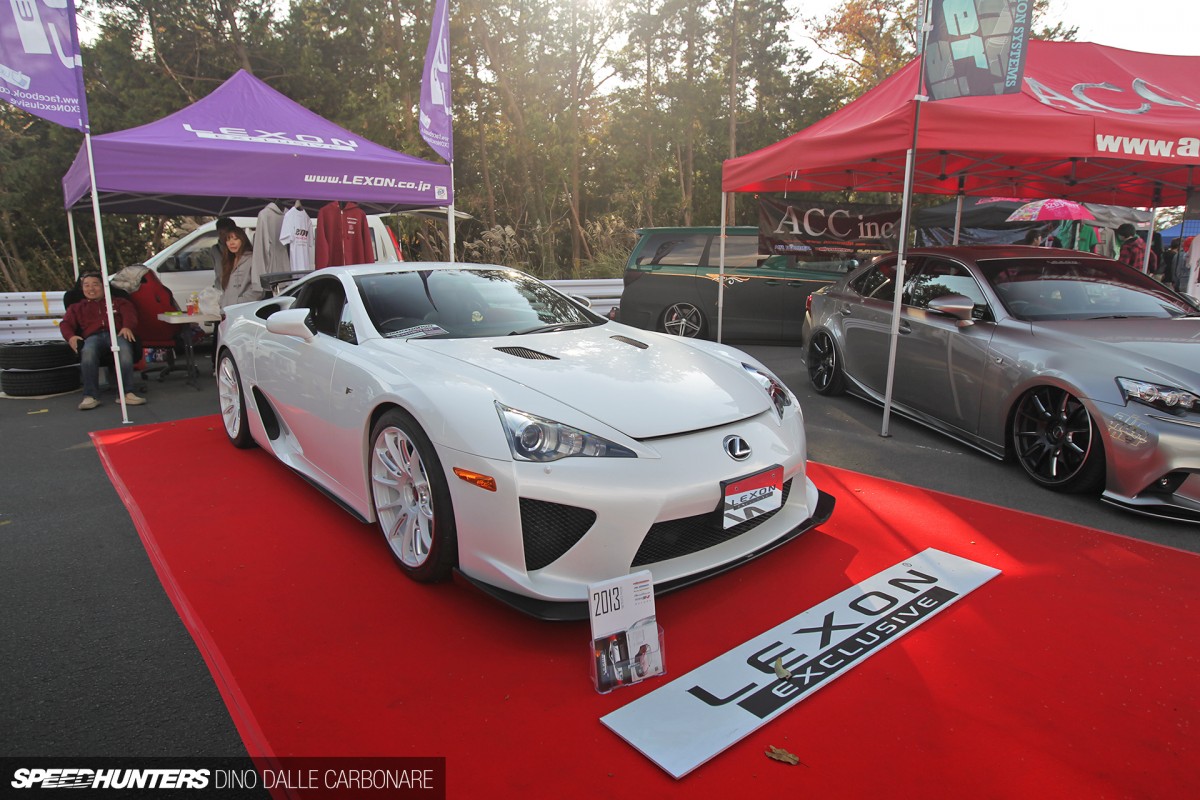 Lexon LFA on RAYS rims – pure sex and nothing else to add. Please, overfenders need not apply here!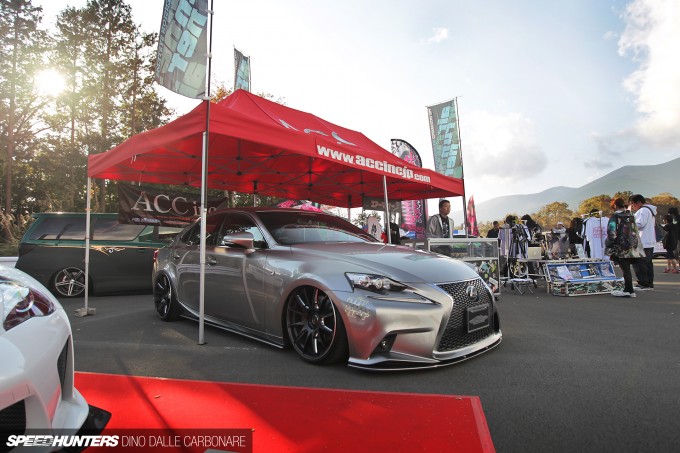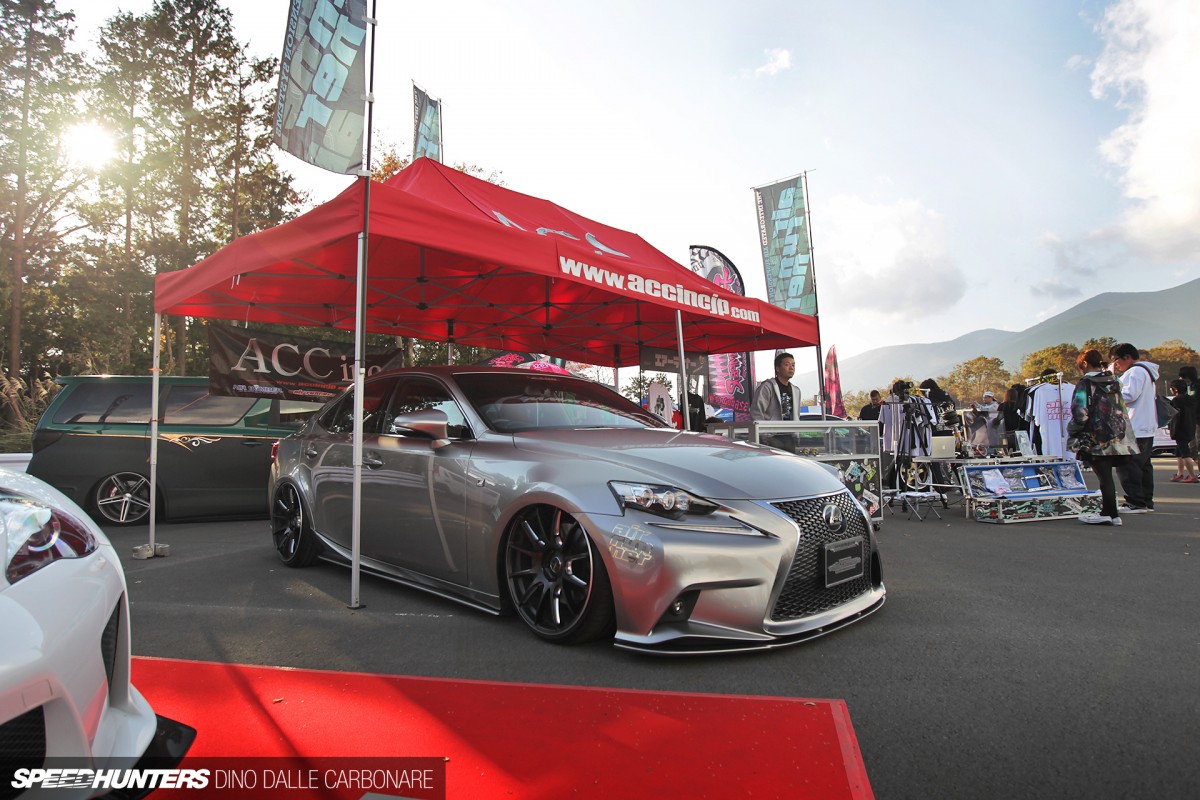 And right next to the best Lexus ever made it was onto the slammed new-gen IS from ACC Inc. wearing what has to be the sweetest front bumper I've seen for this car. Talk about giving your Lexus a concept car look!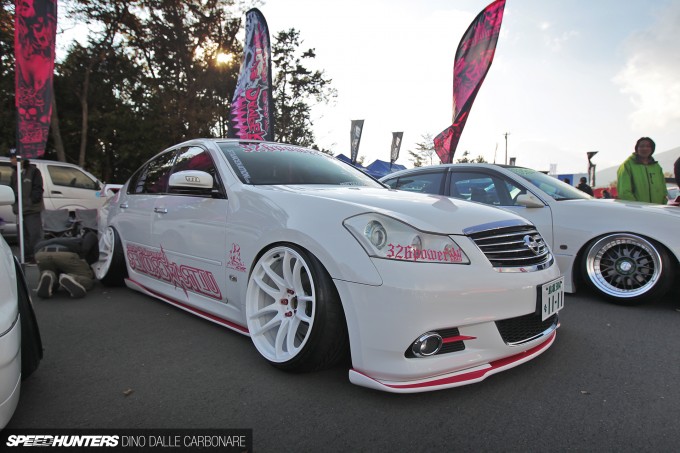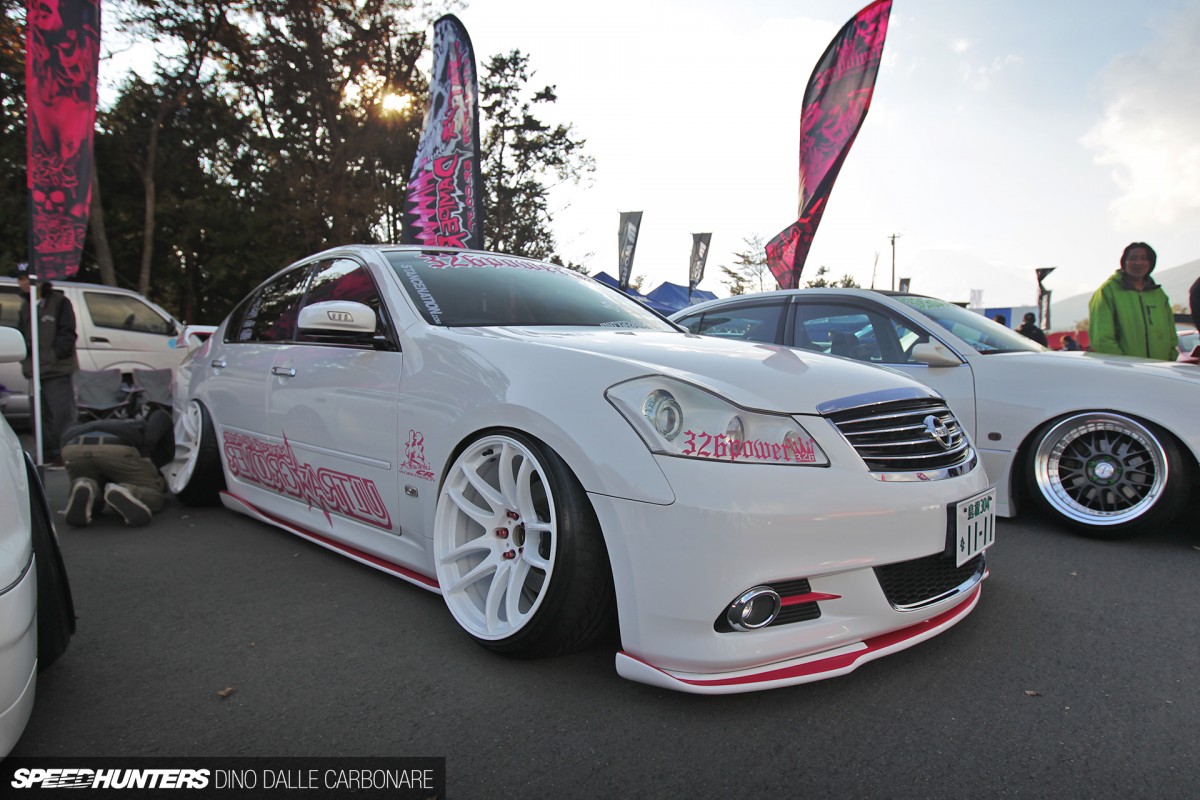 326 Power had a cool line up of cars that included this Fuga on Work Emotions…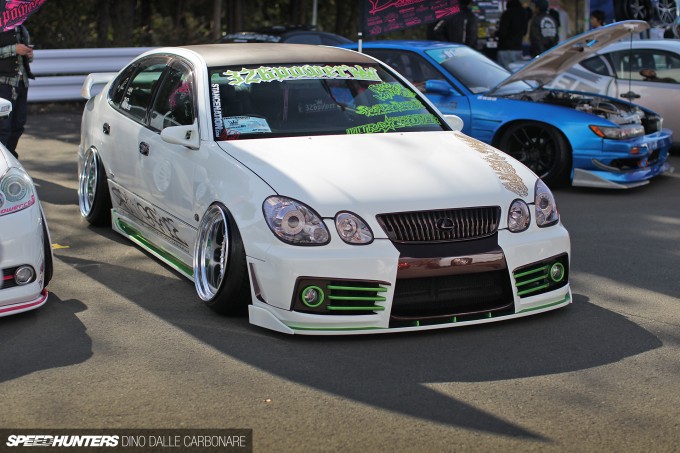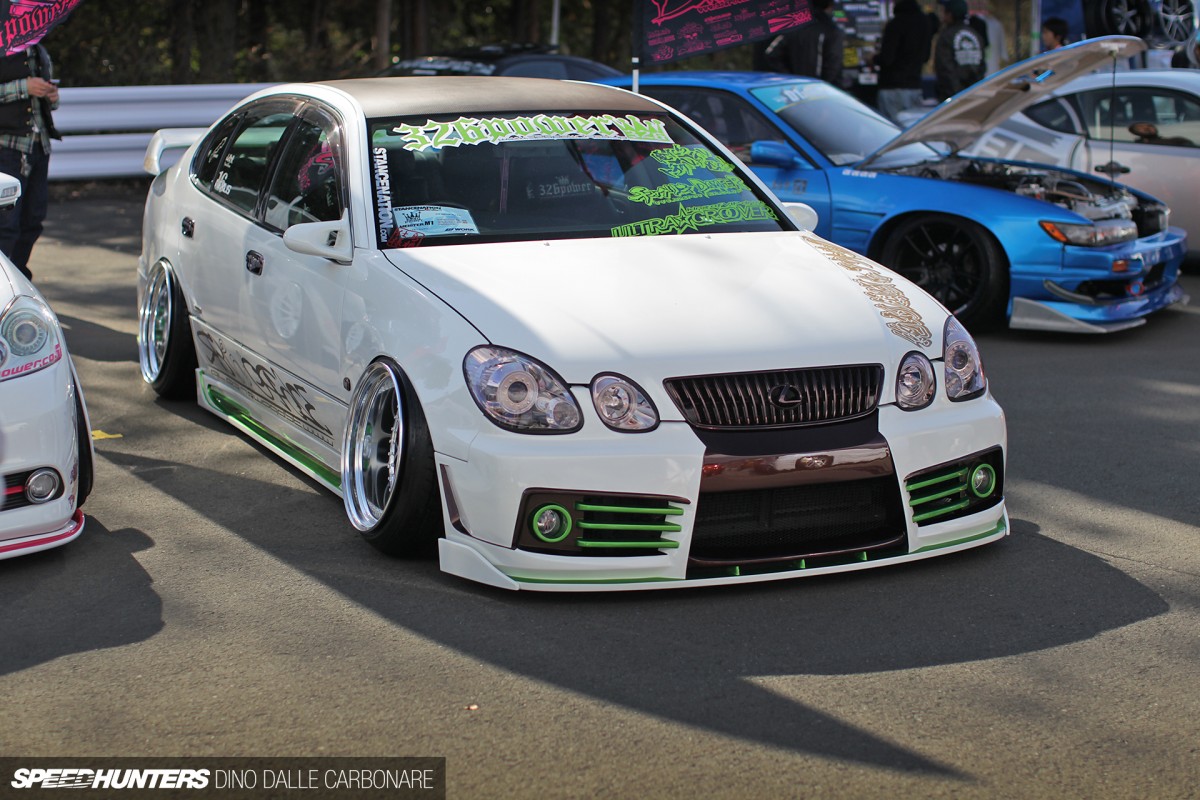 … and this Aristo that couldn't possibly be more recognizable as a 326 Power creation.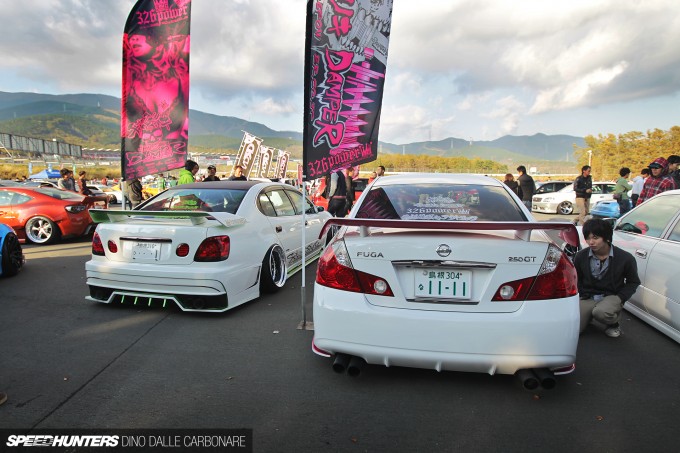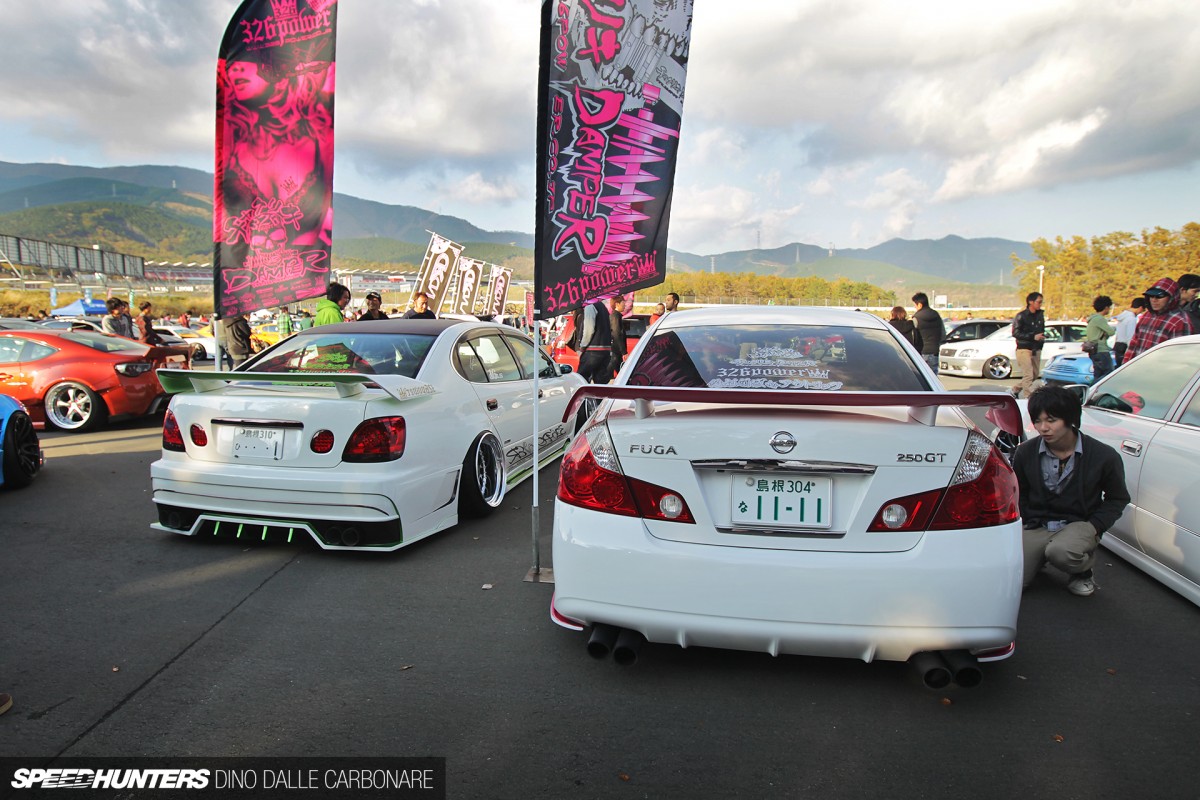 2014 will be the year I head down to Hiroshima and explore the scene down in that part of Japan. They certainly know how to create unique cars!
V8 love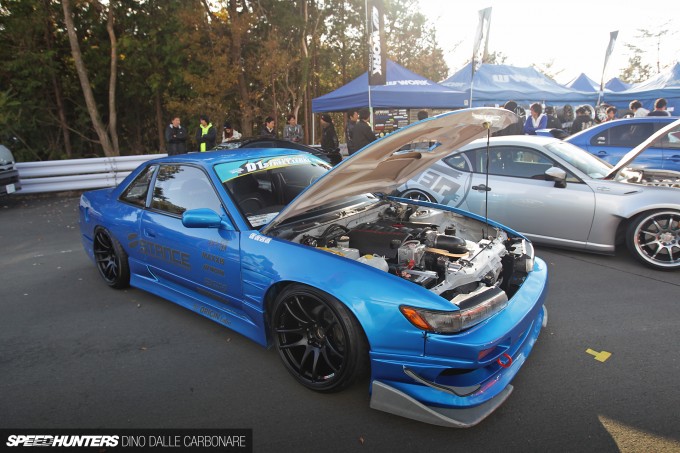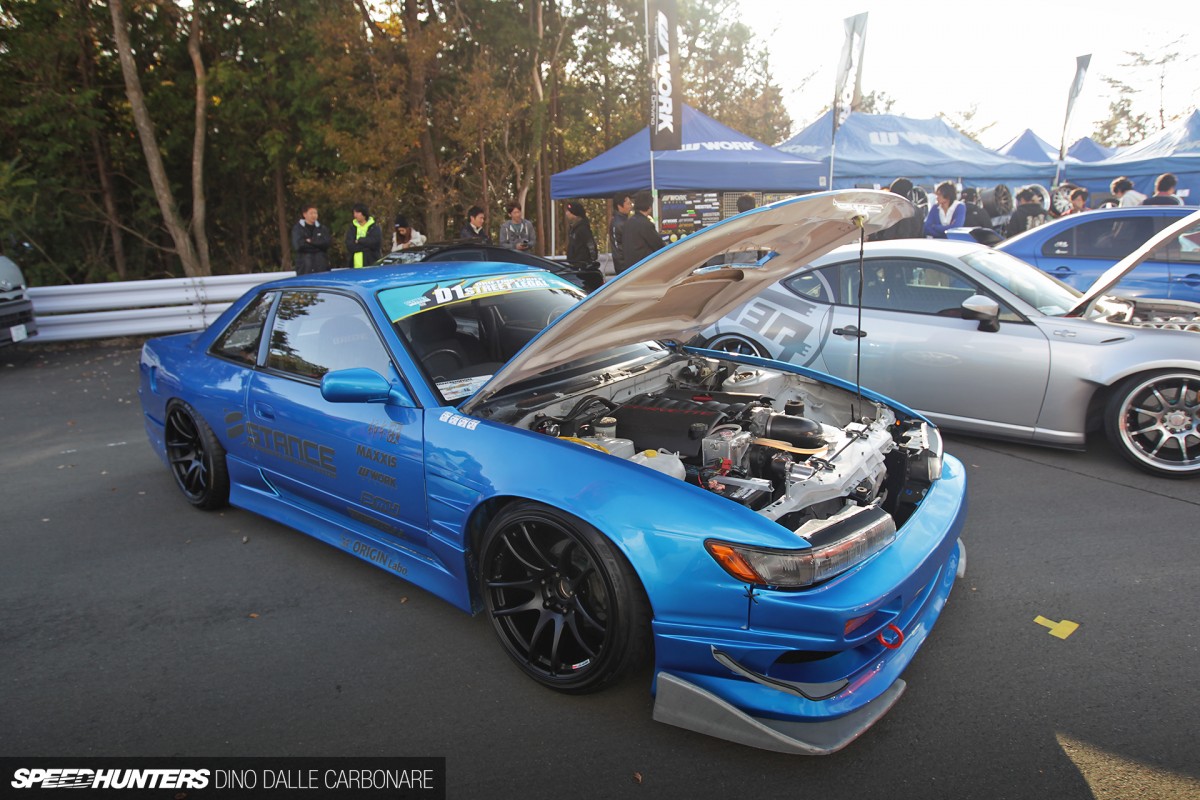 It was like a big V8-swap party at the Work Wheels booth with this D1 Street Legal S13 showing off its Corvette motor…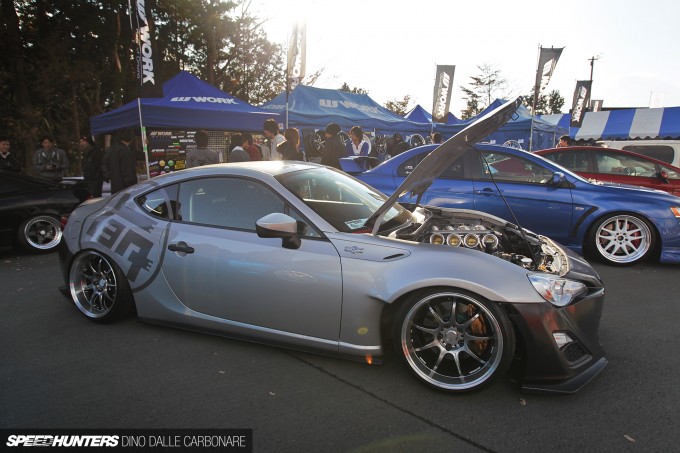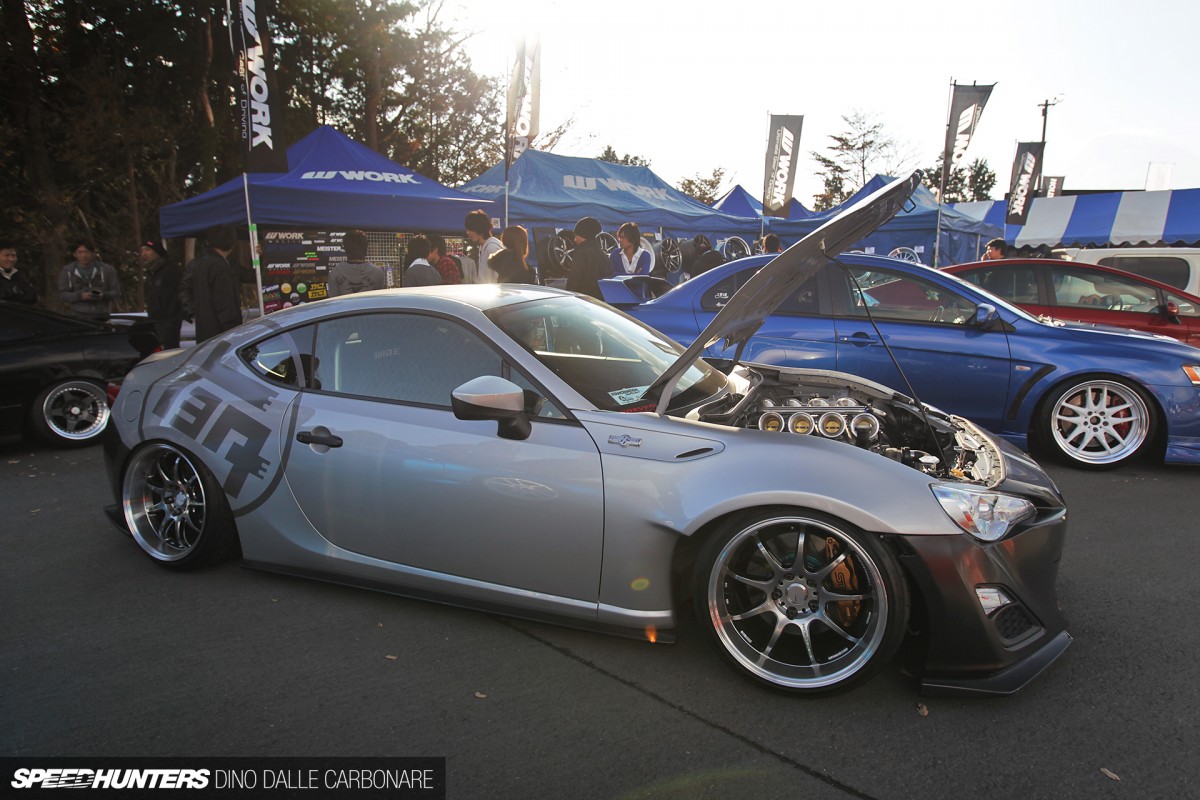 … and right next to it this ZN6 from Todoroki Jidousha. It's been aptly-named the V86…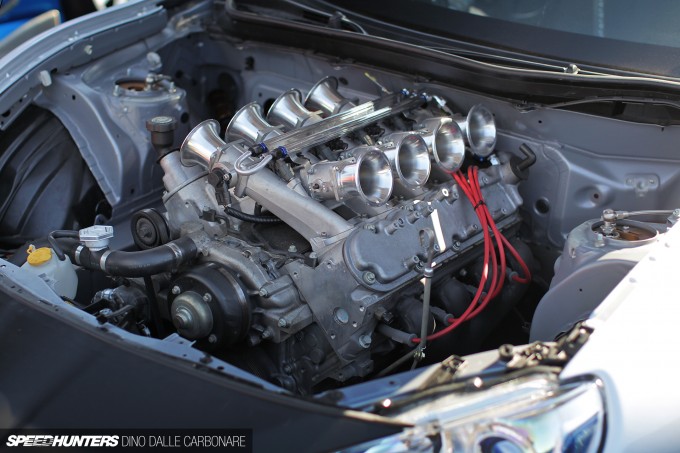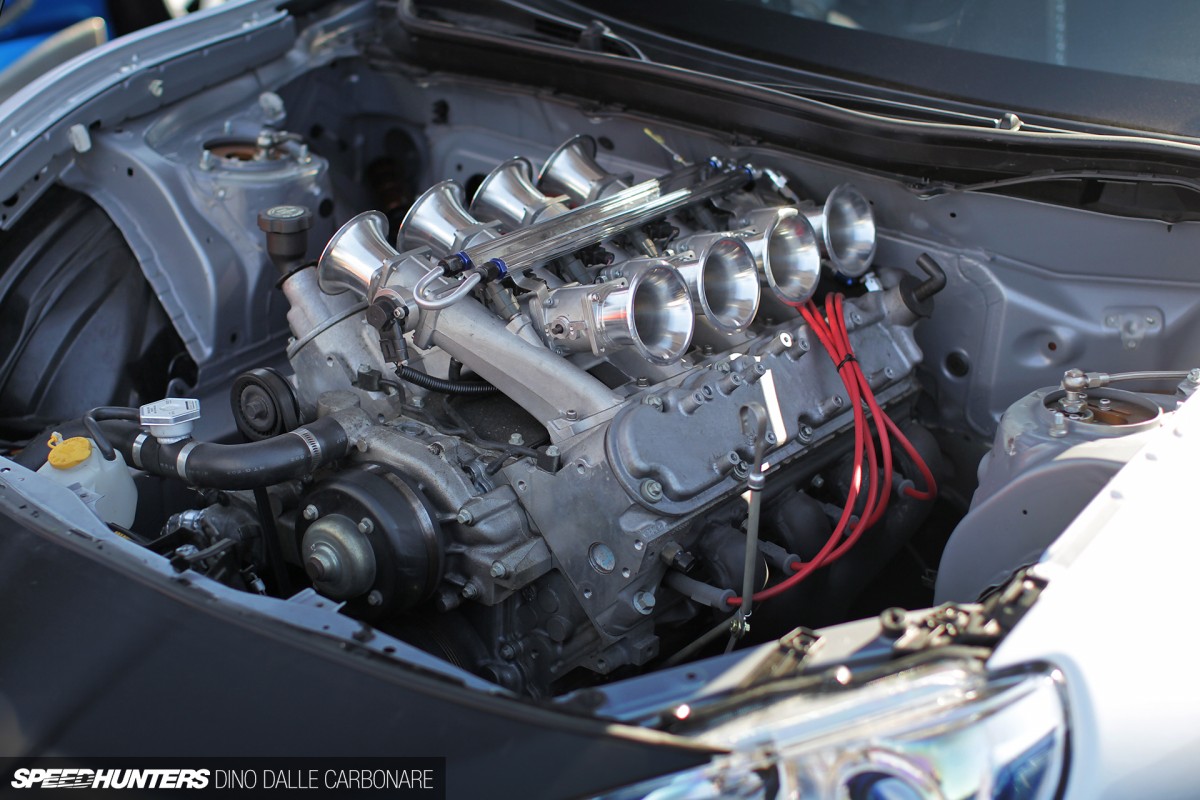 … because it has swapped FA-power for a good dose of individually throttled LS-power. The motor still runs no exhaust system and with those open headers it's easily as loud as the RS-R TRD V8-powered 86.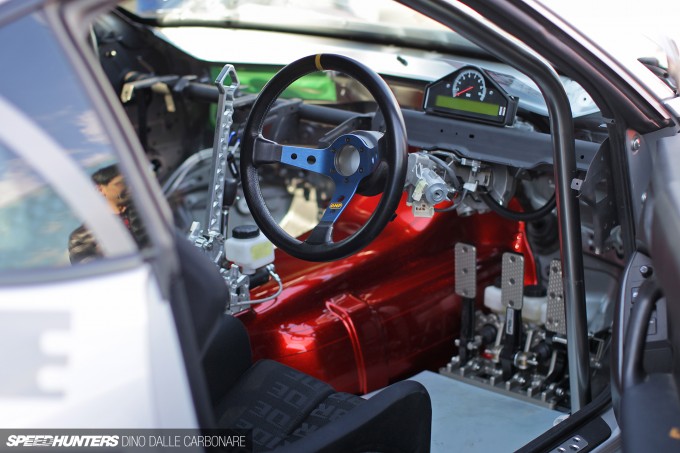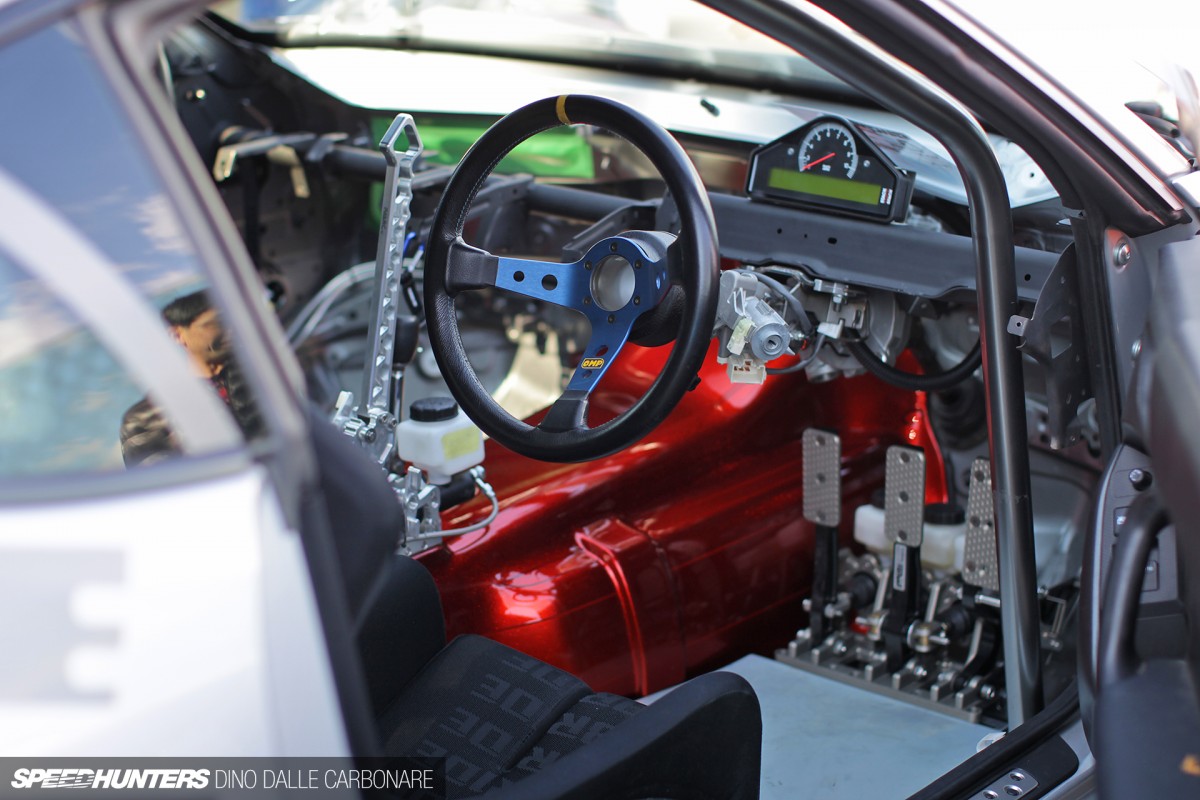 The interior has been fully stripped out with a big transmission tunnel built to house the LS's gearbox. Check out the cool additions like the Stack meter panel and the FlatWell pedal box.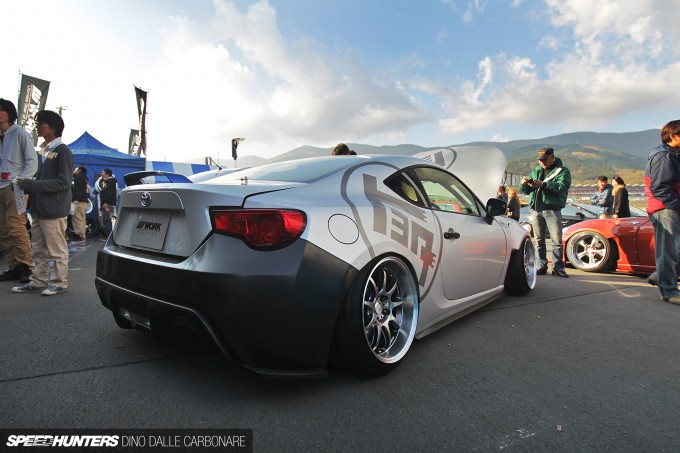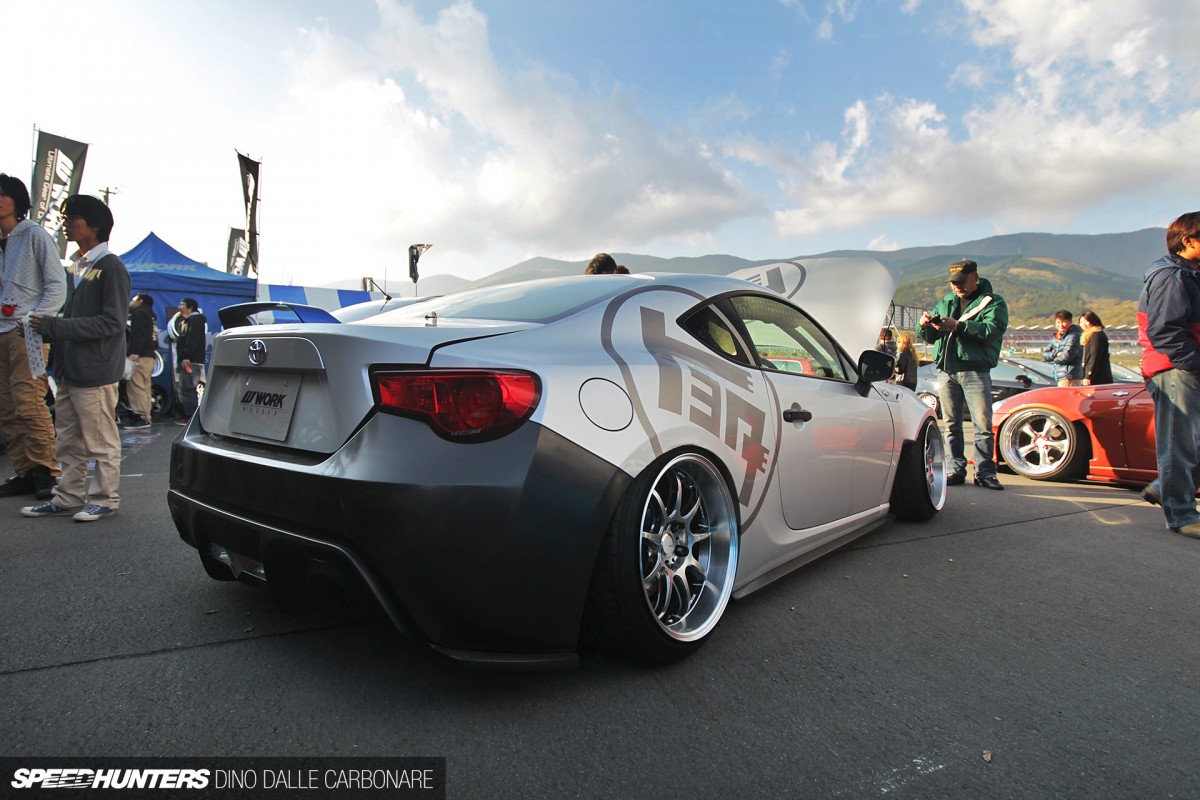 I really can't wait to feature this wild drift machine once it's completely finished!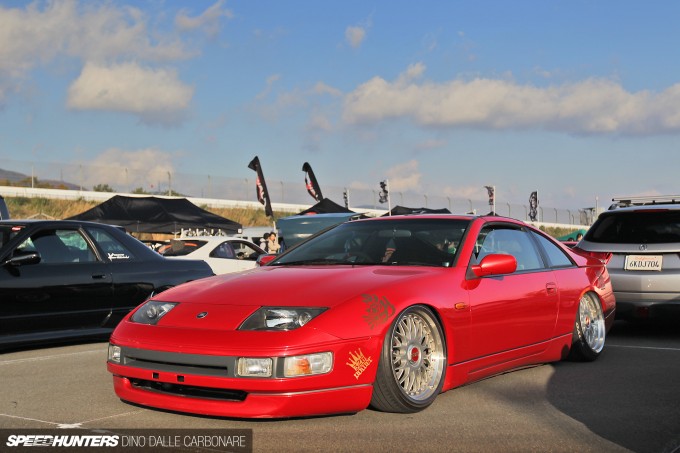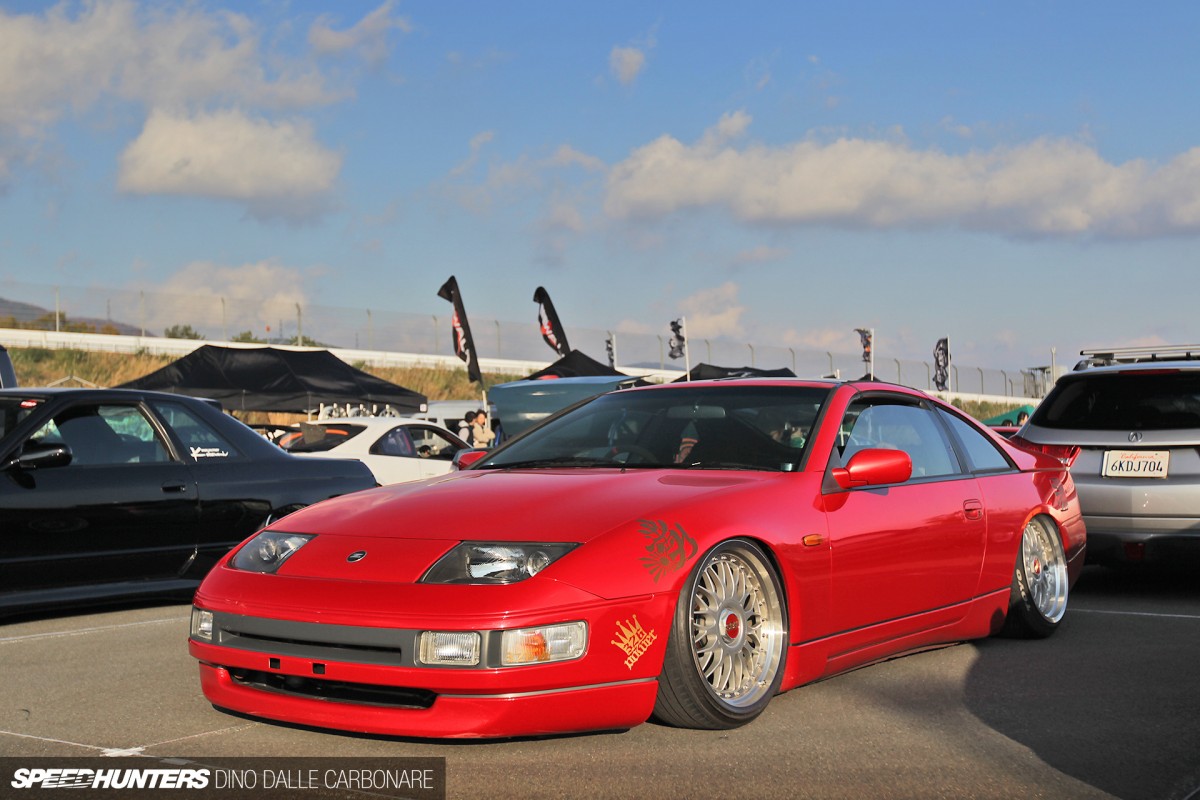 Simplicity however, always has its place as this Z32 manages to show.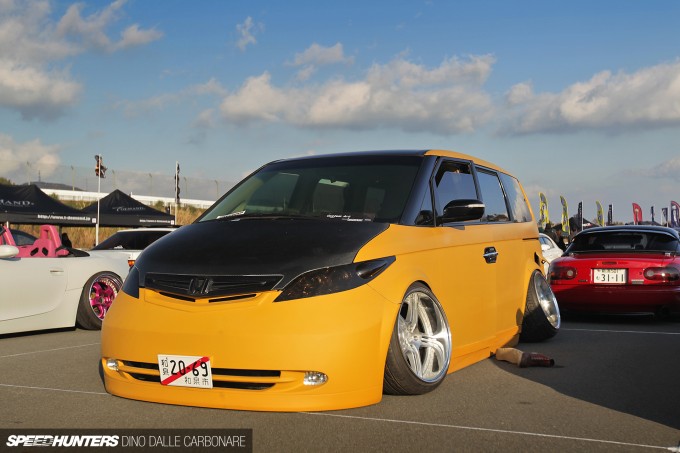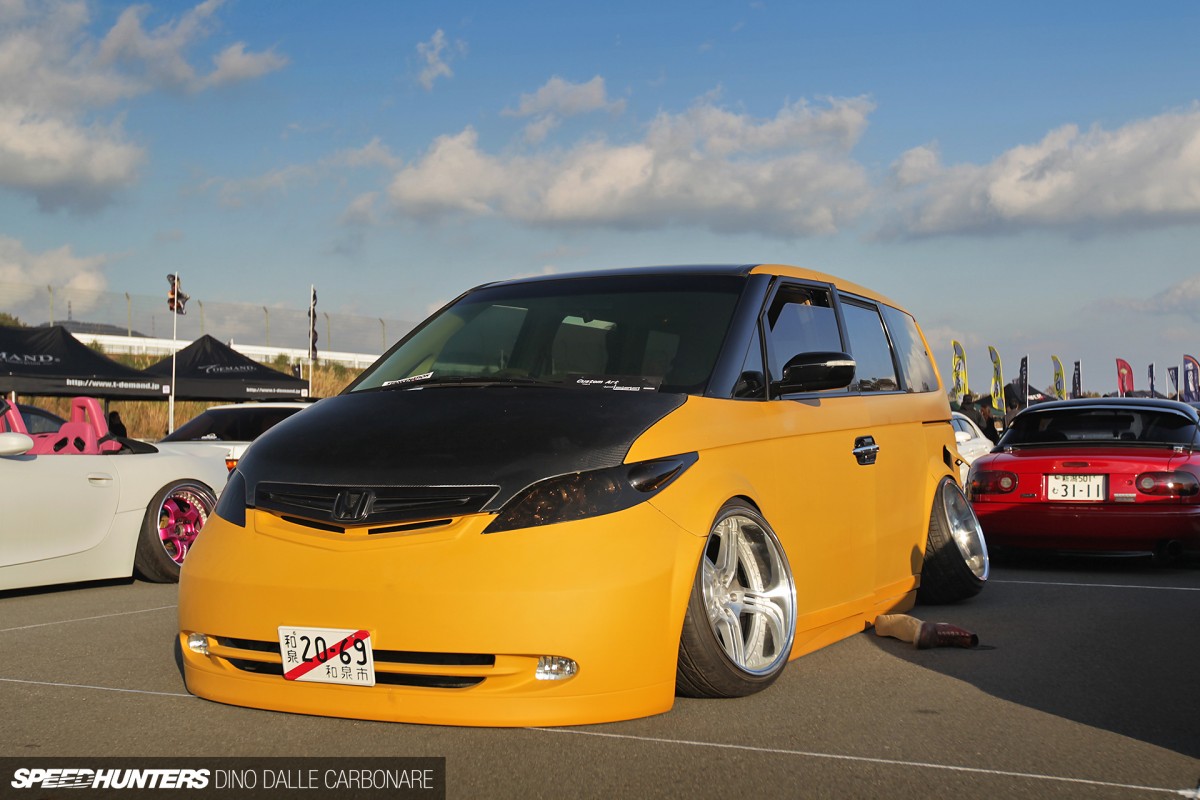 I didn't get time to check out all the cool vans that were on display on the top corner of the P7 parking lot, but I just had to grab a quick snap of this zenki Honda Elysion, which has been turned from minivan to badass van.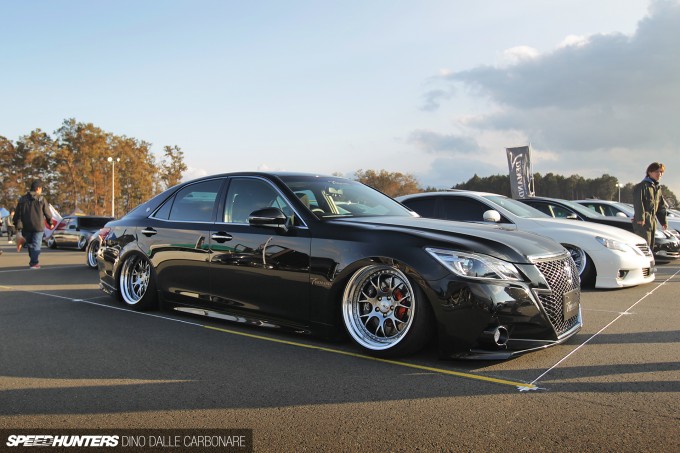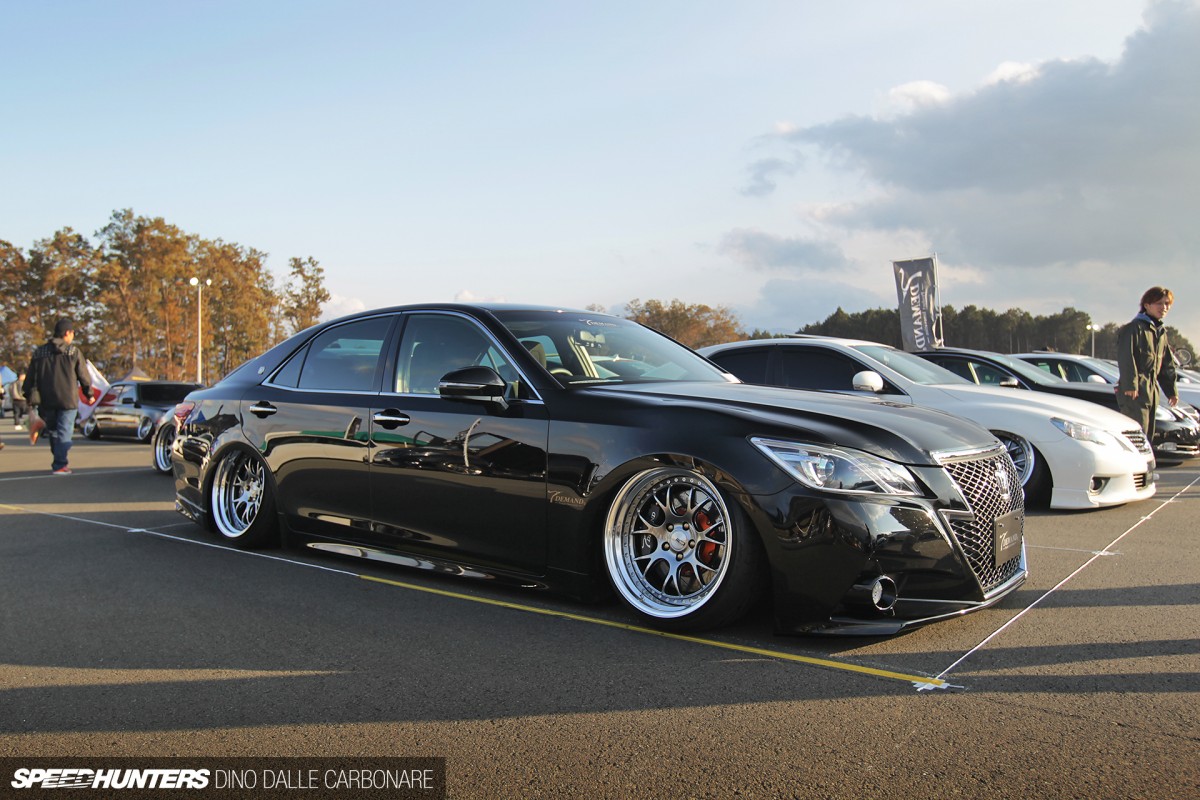 The new-gen Crown has only been on sale for a couple of months, but the VIP scene has done a good job of quickly catching up with the first round up of aero parts. The speed things move in this scene shows how popular this sub-genre has become.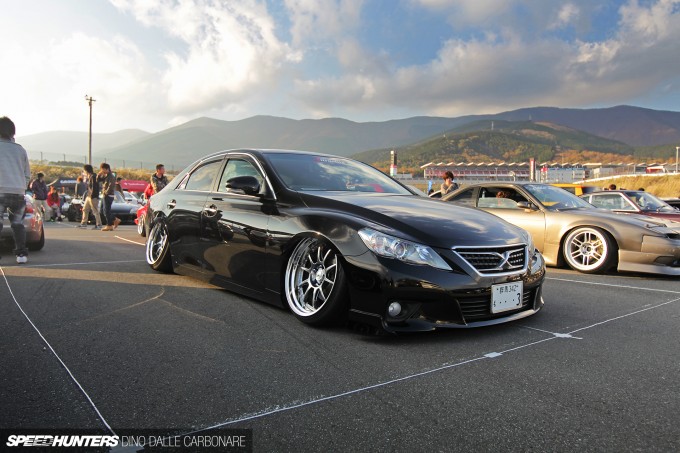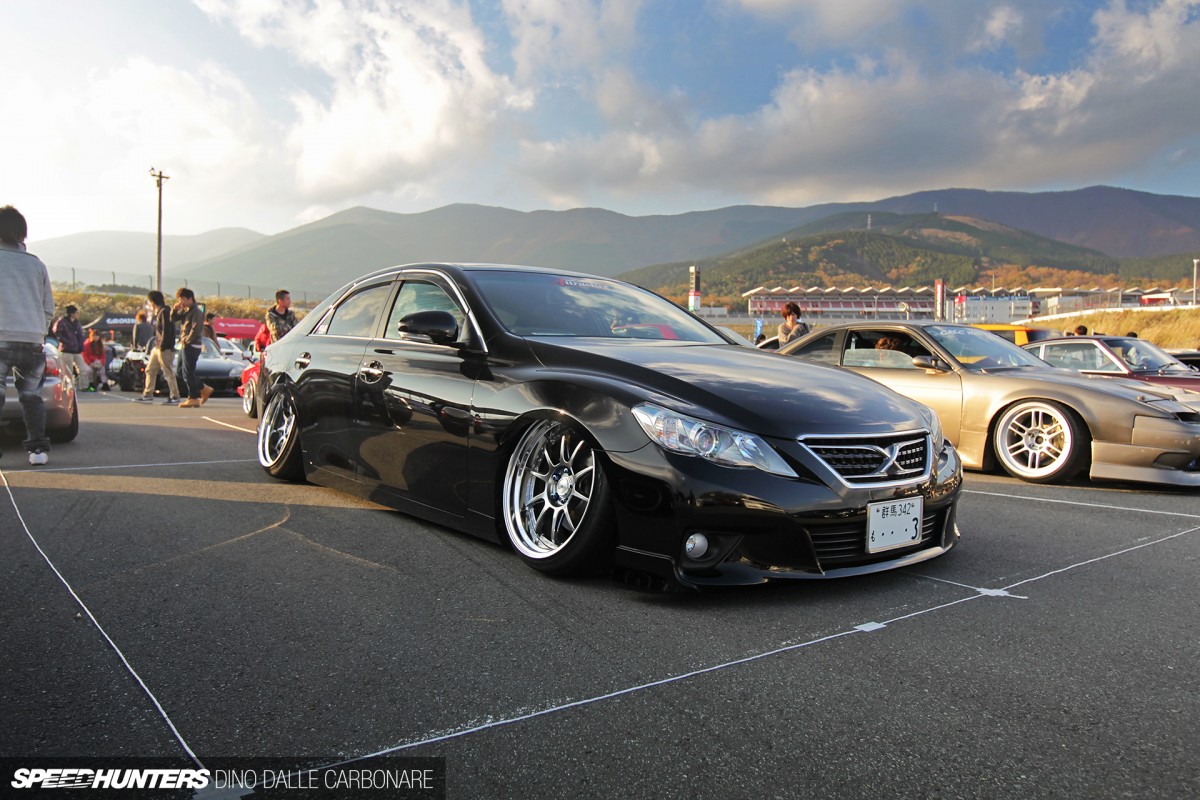 And another favorite from Toyota – the Mark X. This car from Attractive sporting a big dose of demon camber.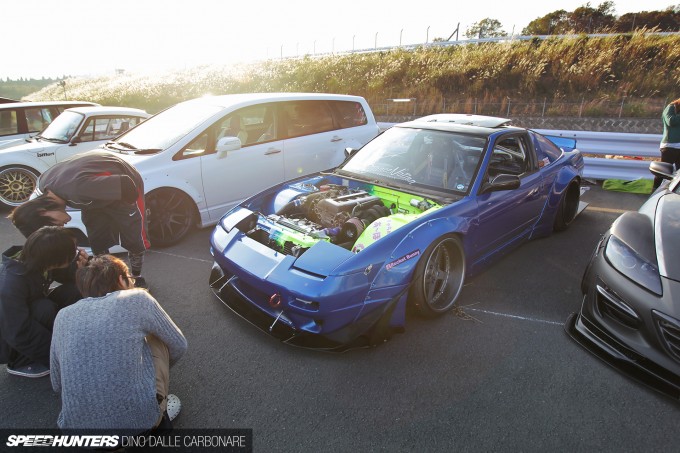 Rocket Bunny x Team Bad Quality FTW!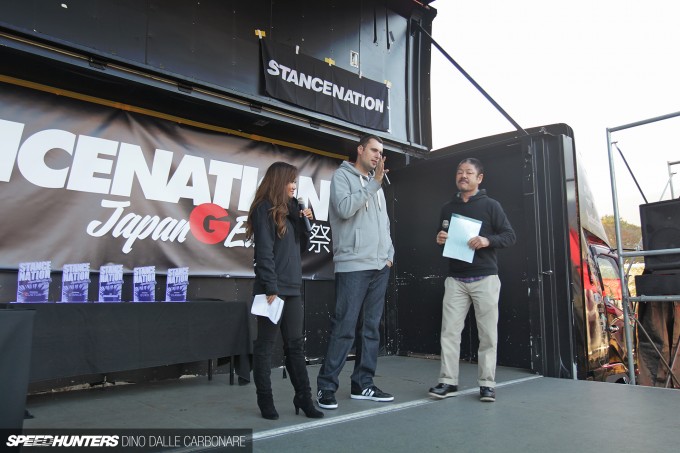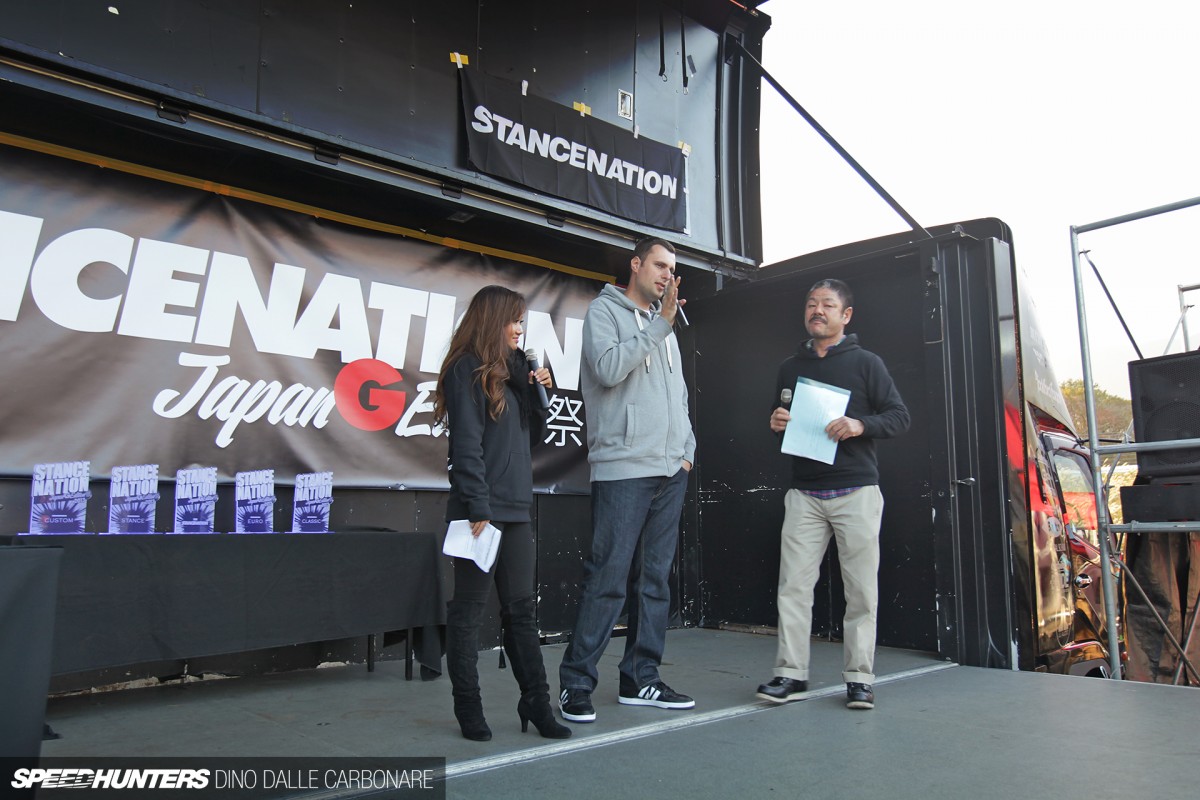 At the end of the day Elvis jumped up on the stage and announced the winners he had picked for the pre-decided classes. I certainly wouldn't want to have had his job on the day, because with more than 700 cars on display singling out the best would have been a headache. That said, I think he did a very good job of choosing the cars that in their own ways pushed each area of the scene along…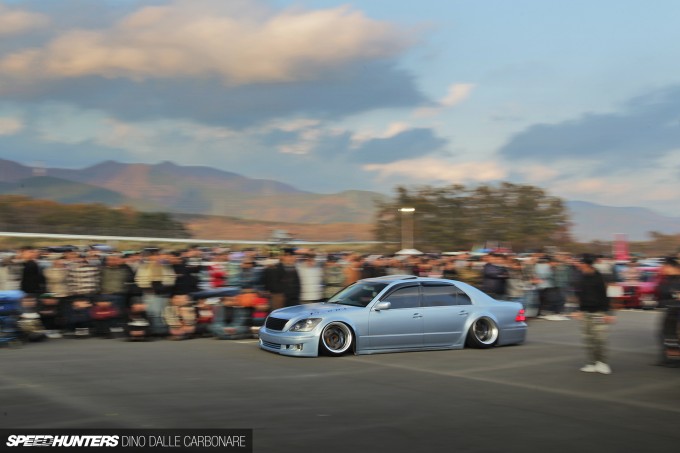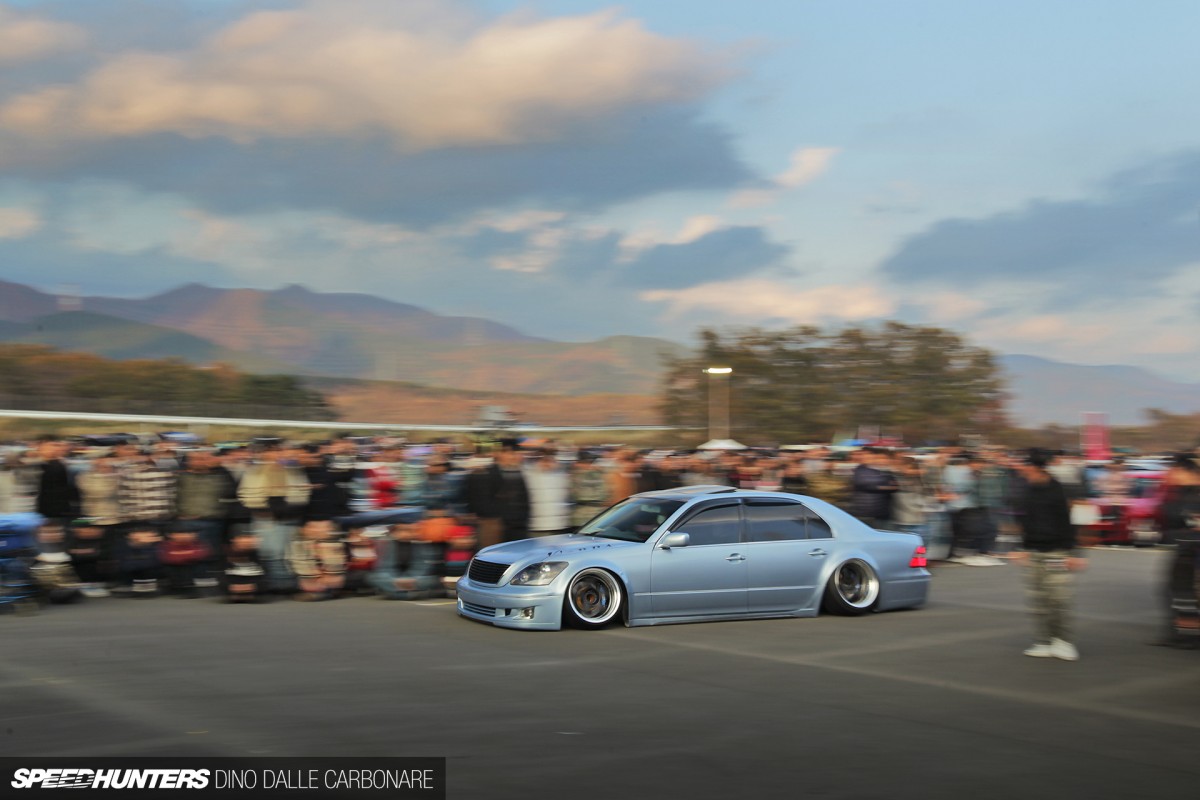 … cars like the static Celsior we saw in the previous post, seen here scraping bumpers, skirts and a whole lot of metal on its underside as it drove in front of the stage to receive its award.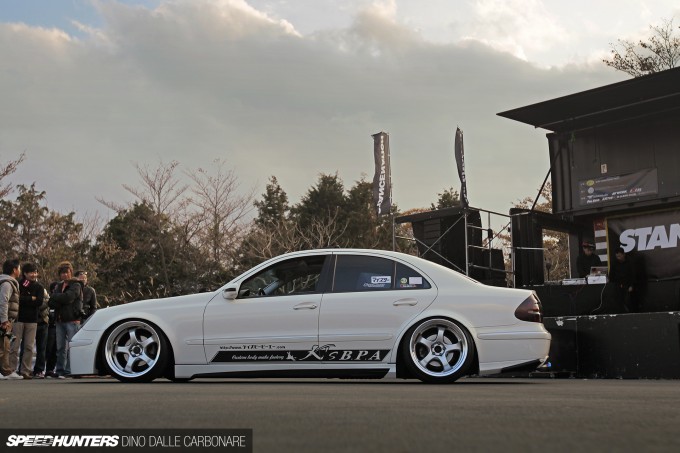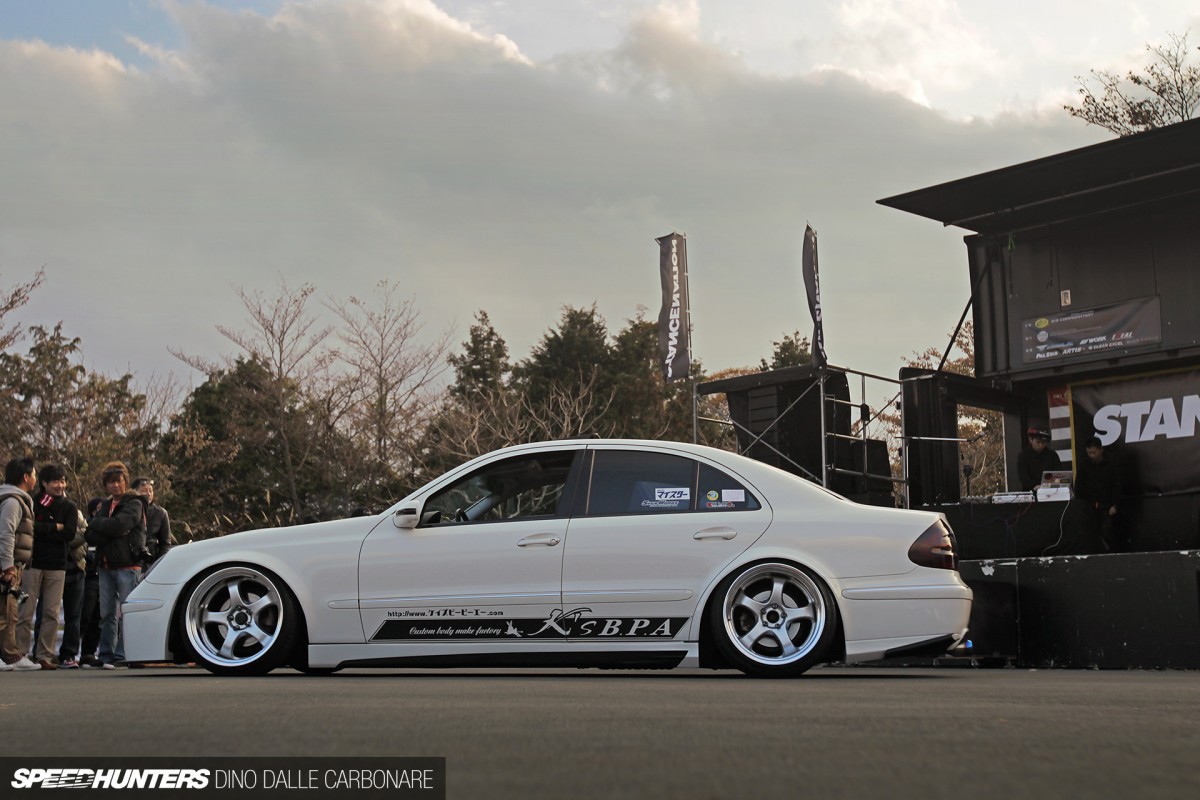 Another good pick was this Mercedes E-class – a great example of how Euros are slowly gaining popularity in this scene. As Elvis said on the mic, these cars are still not popular platforms over in the US. Maybe things will change soon…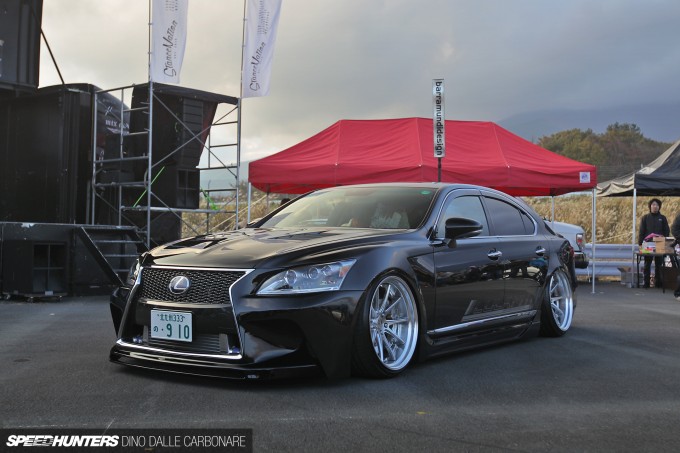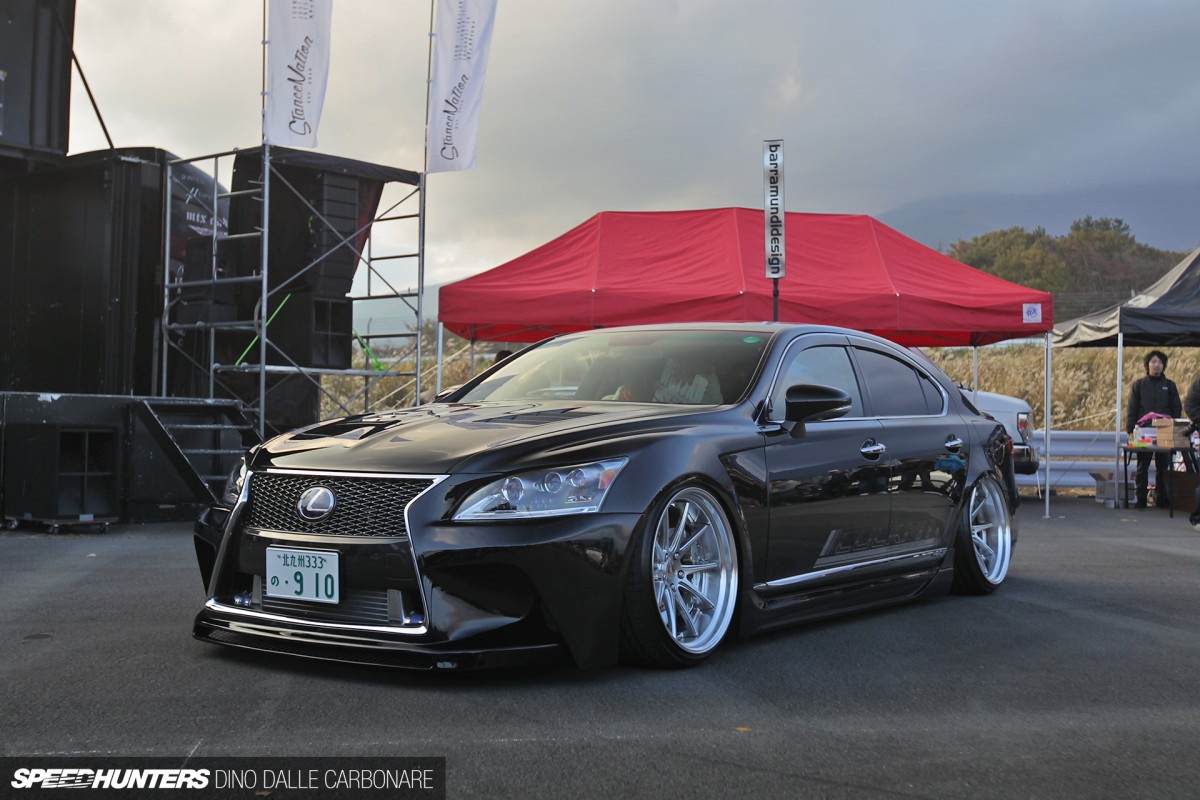 The overall winner? That would be the Cockpit LS – a great example of where VIP and stance is at now, and where it is going. That wraps up the Stance Nation Japan G Edition – hopefully the first of many more shows in the land of the rising sun.