Viva Las Vegas
Global RallyCross is one of the few series that I have followed since day one. It has grown from a small series that just traveled around North America to a series that is truly global in just a few short years. The year before, the GRC finale was held in Las Vegas during the SEMA show. This time they literally built a track right on the strip.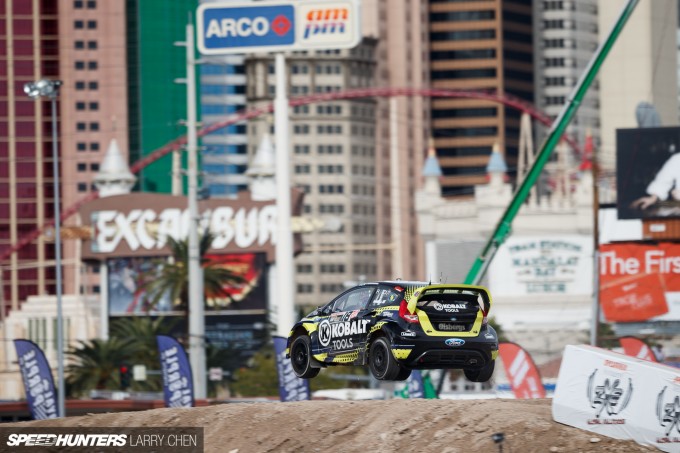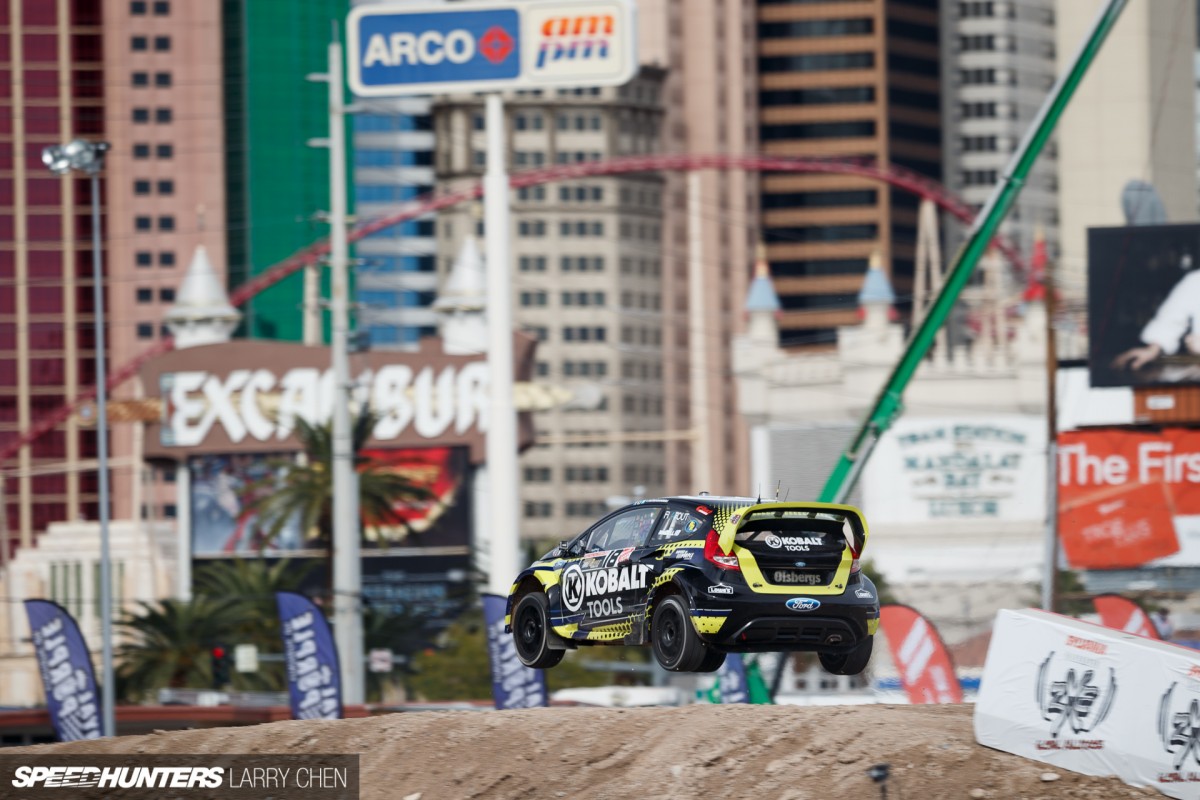 It was the perfect backdrop for flying rally cars.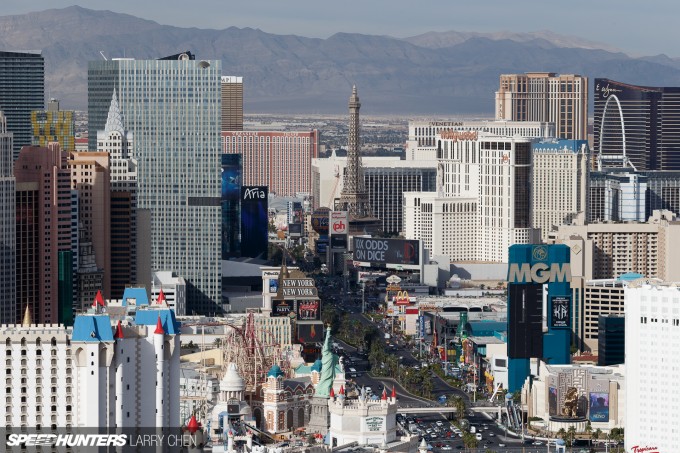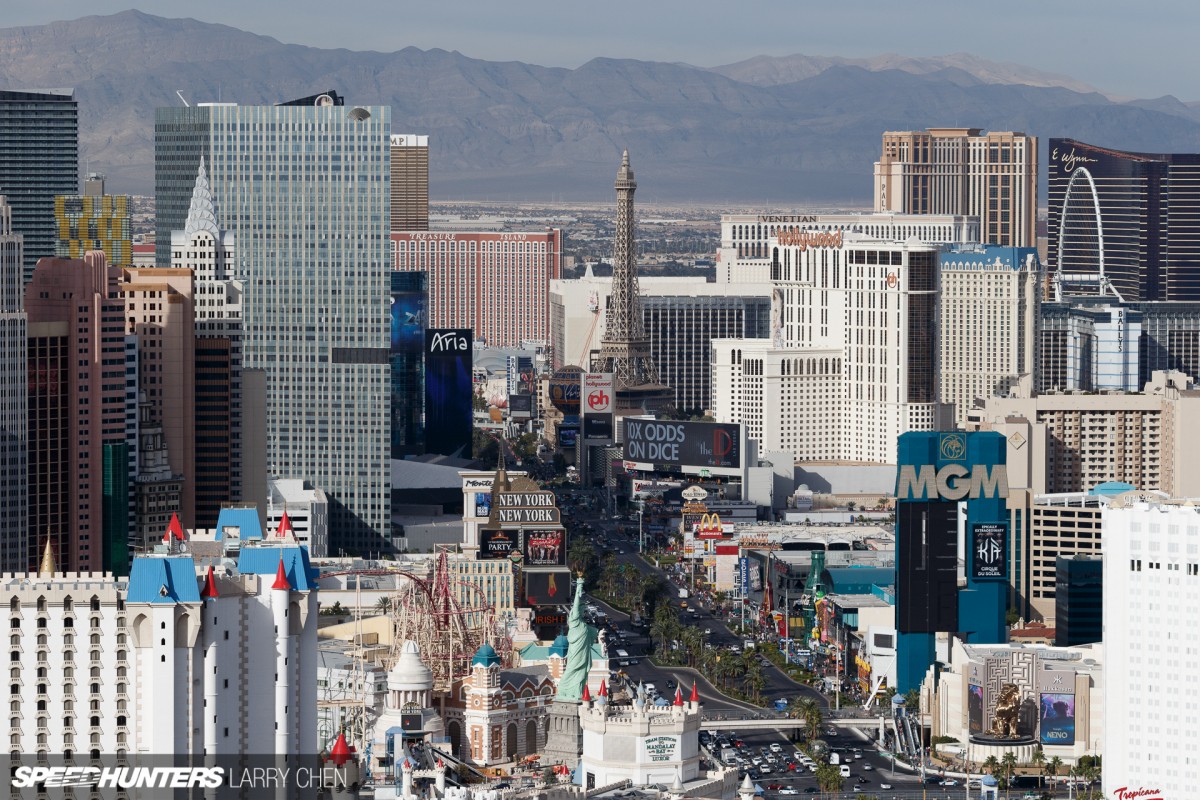 To get a better vantage point of the track layout, I crossed the street to get on the roof of the Mandalay Bay.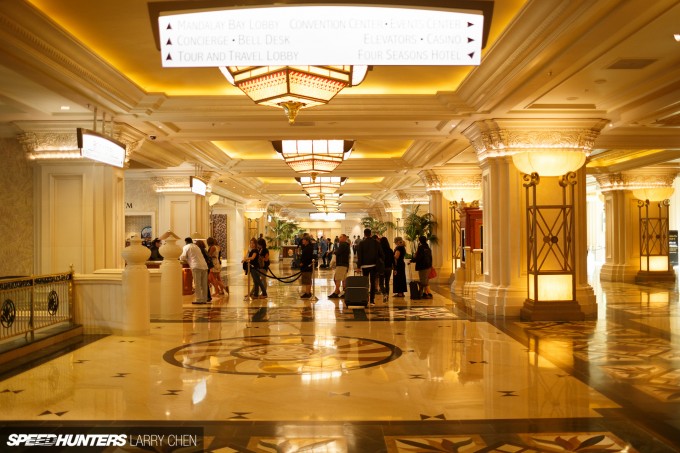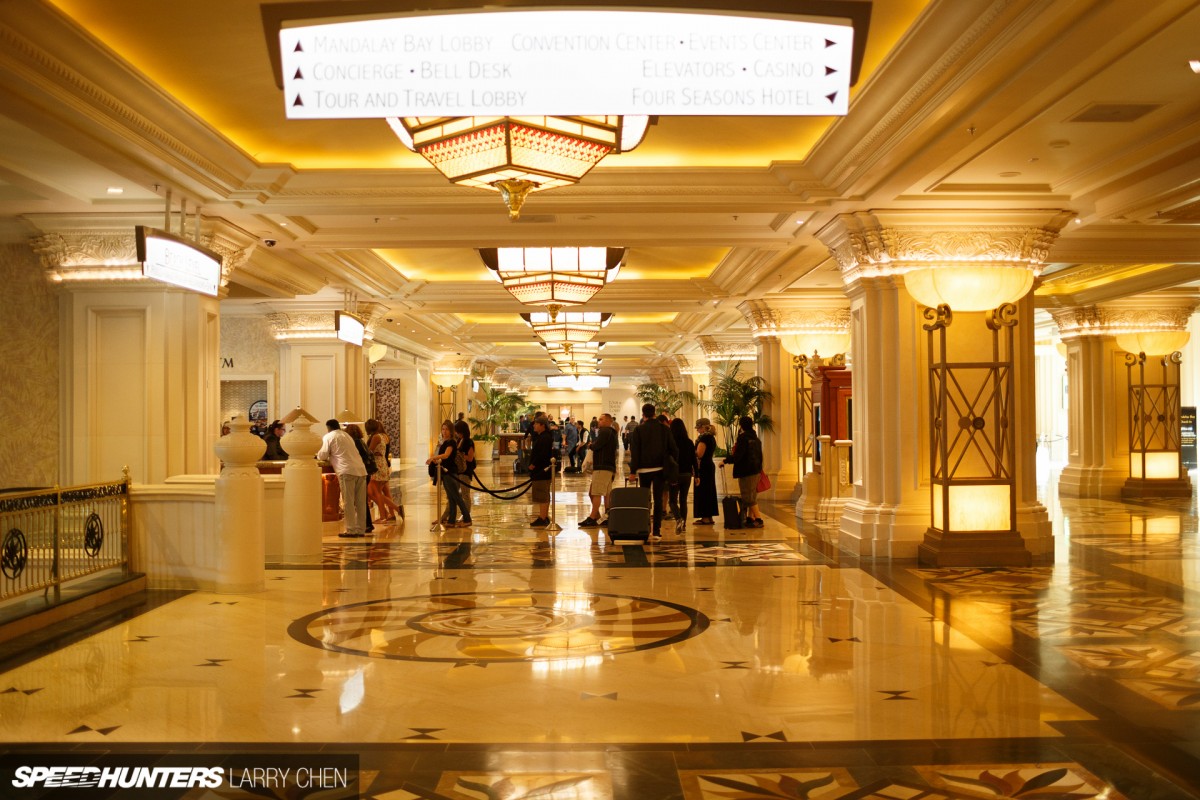 Speedhunting in a Las Vegas hotel. That's what SEMA is about right?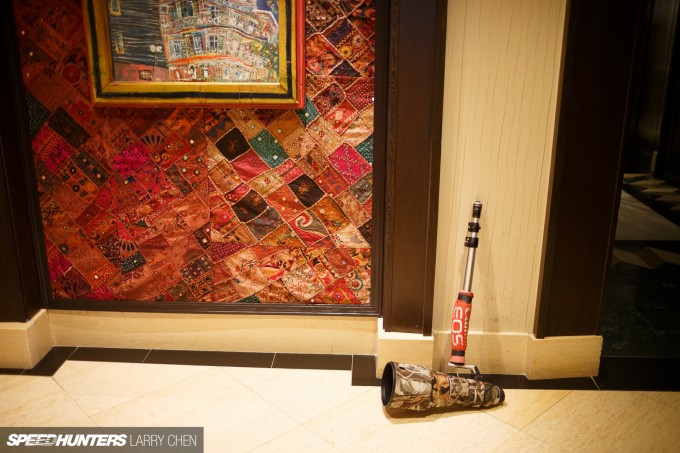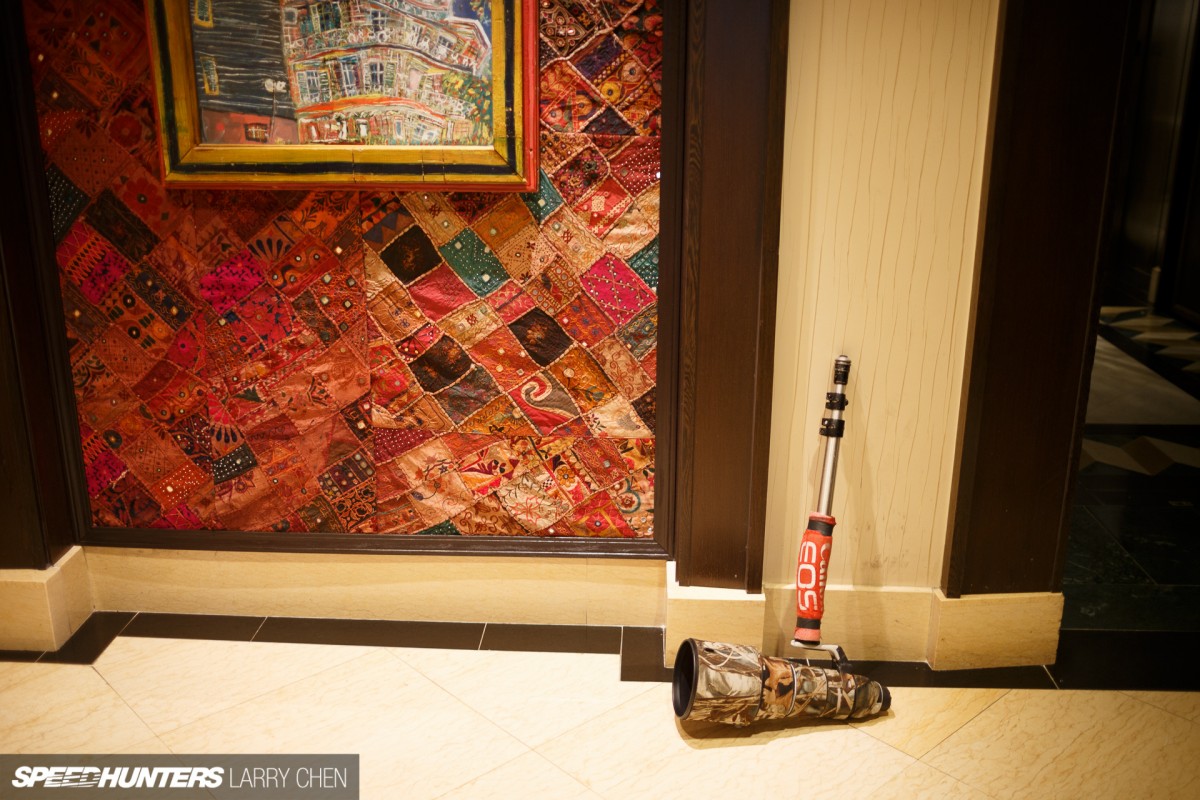 Don't mind me, just waiting for my elevator. I quickly headed for the top floor.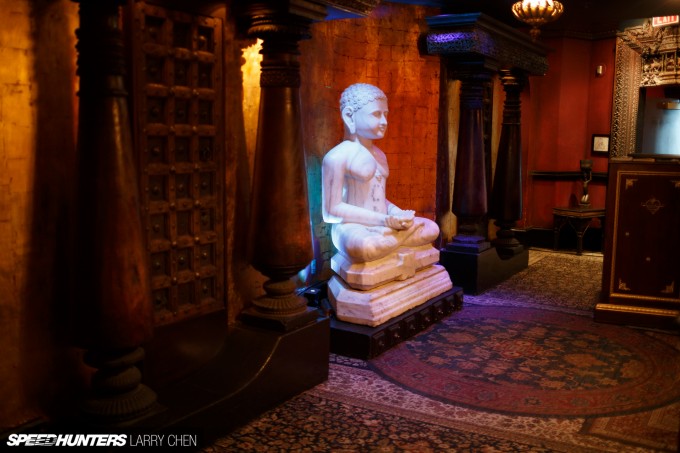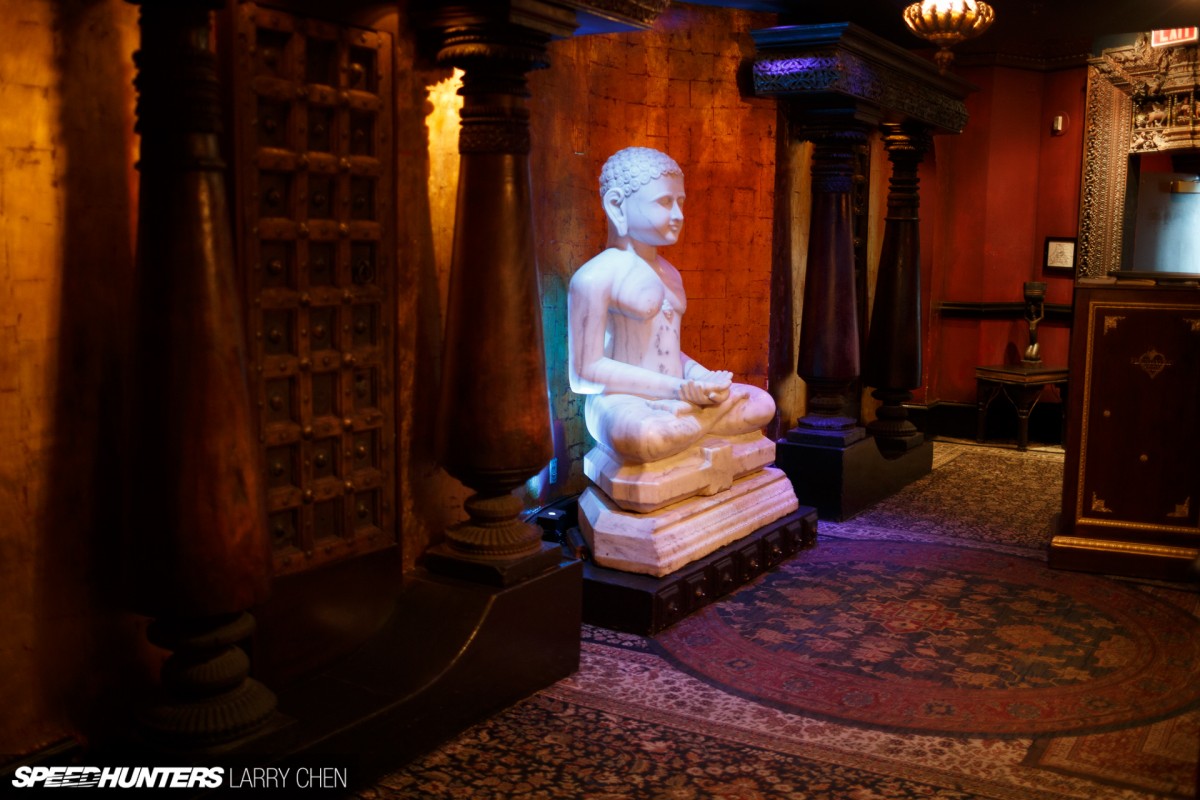 The top floor has a massive private club, with all these interesting statues.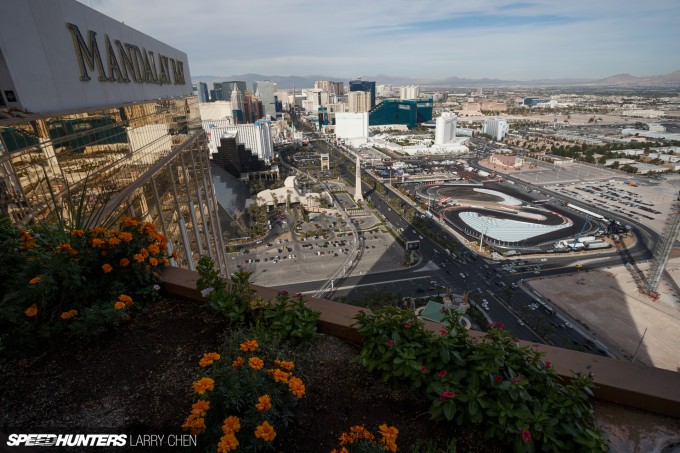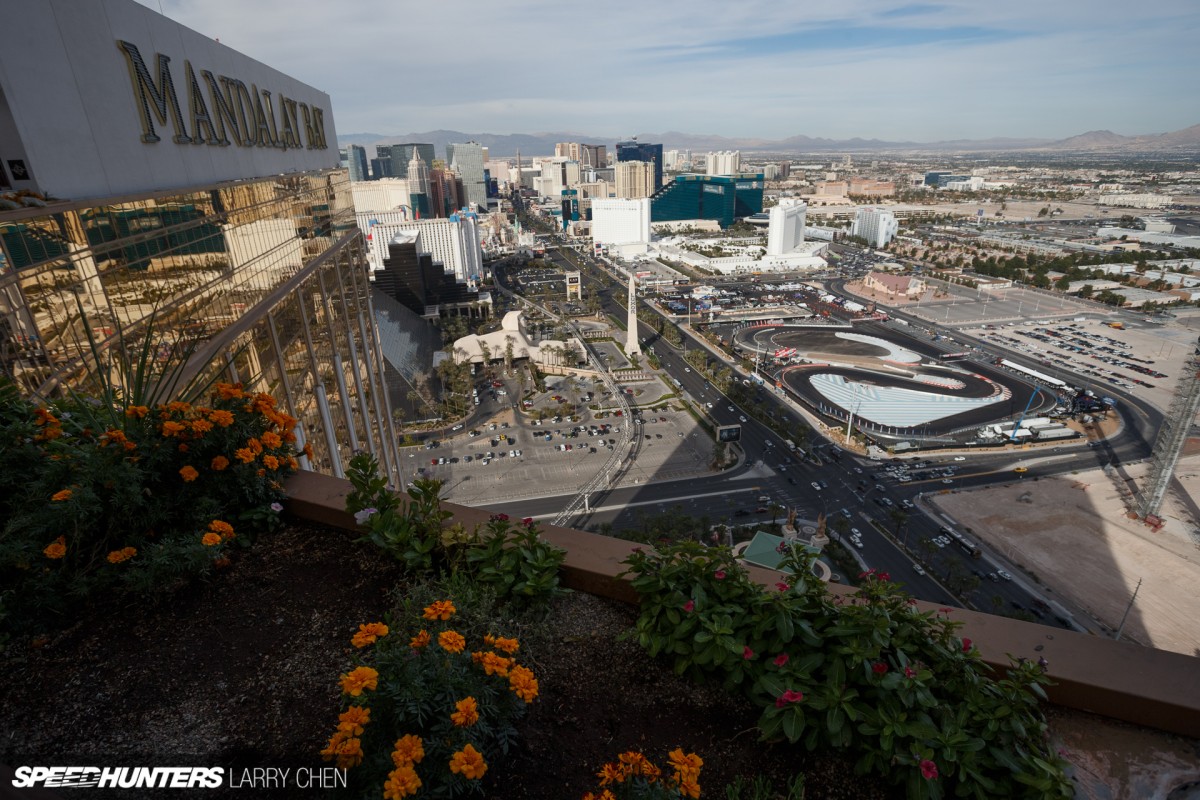 Outside, the view was incredible. You could pretty much see all of Las Vegas.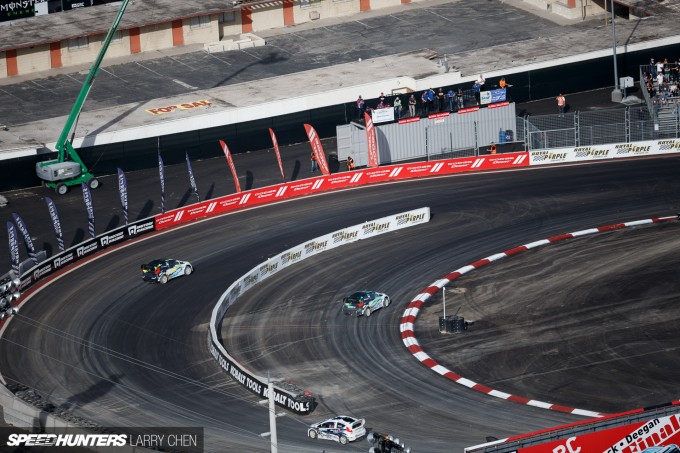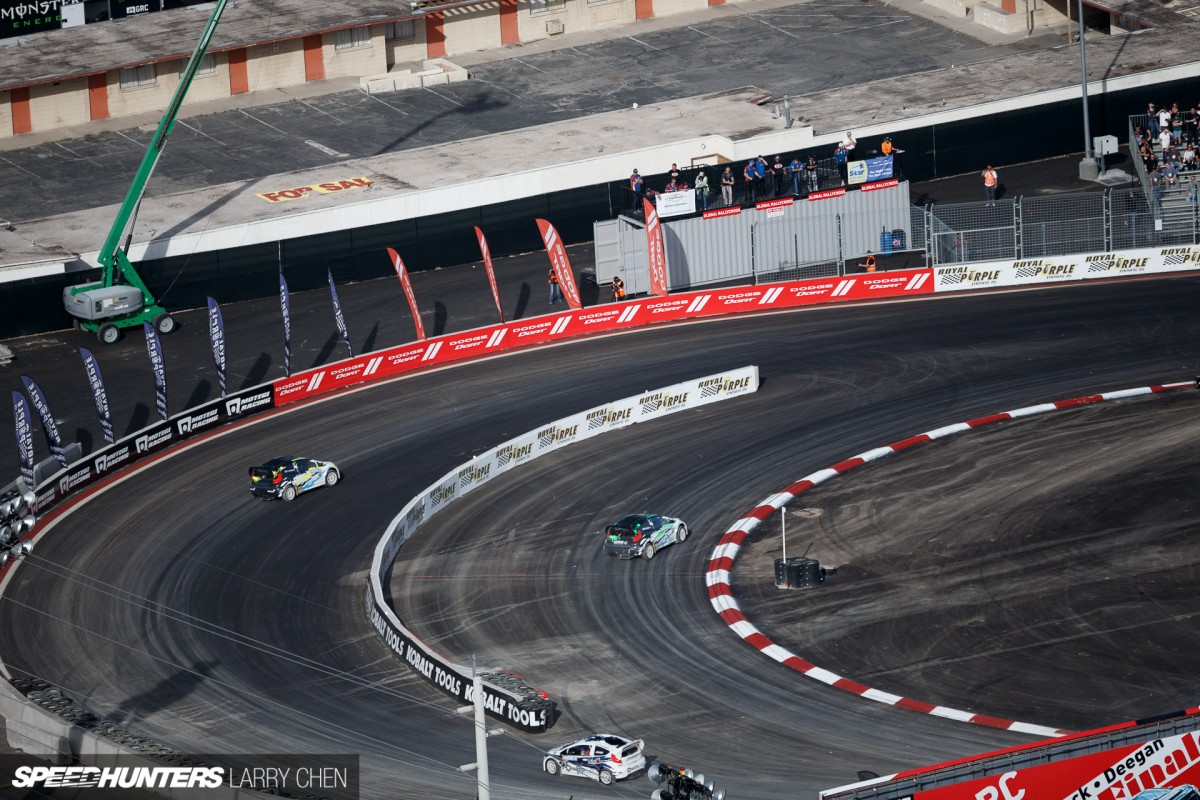 GRC courses are all designed with a 'Joker Lap' shortcut. Drivers can utilize this shortcut once per race, and it encourages passing.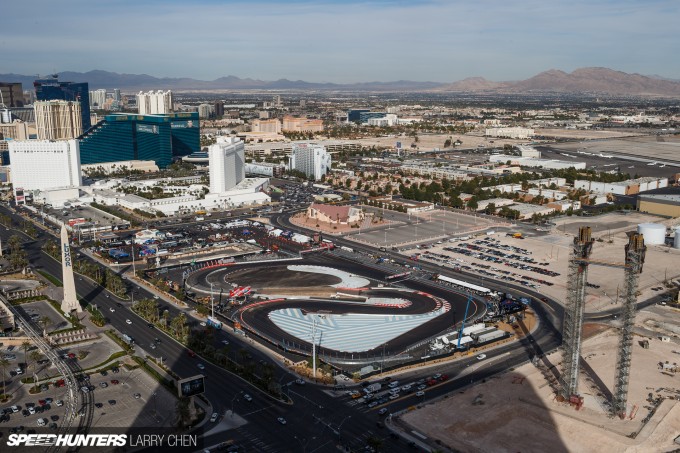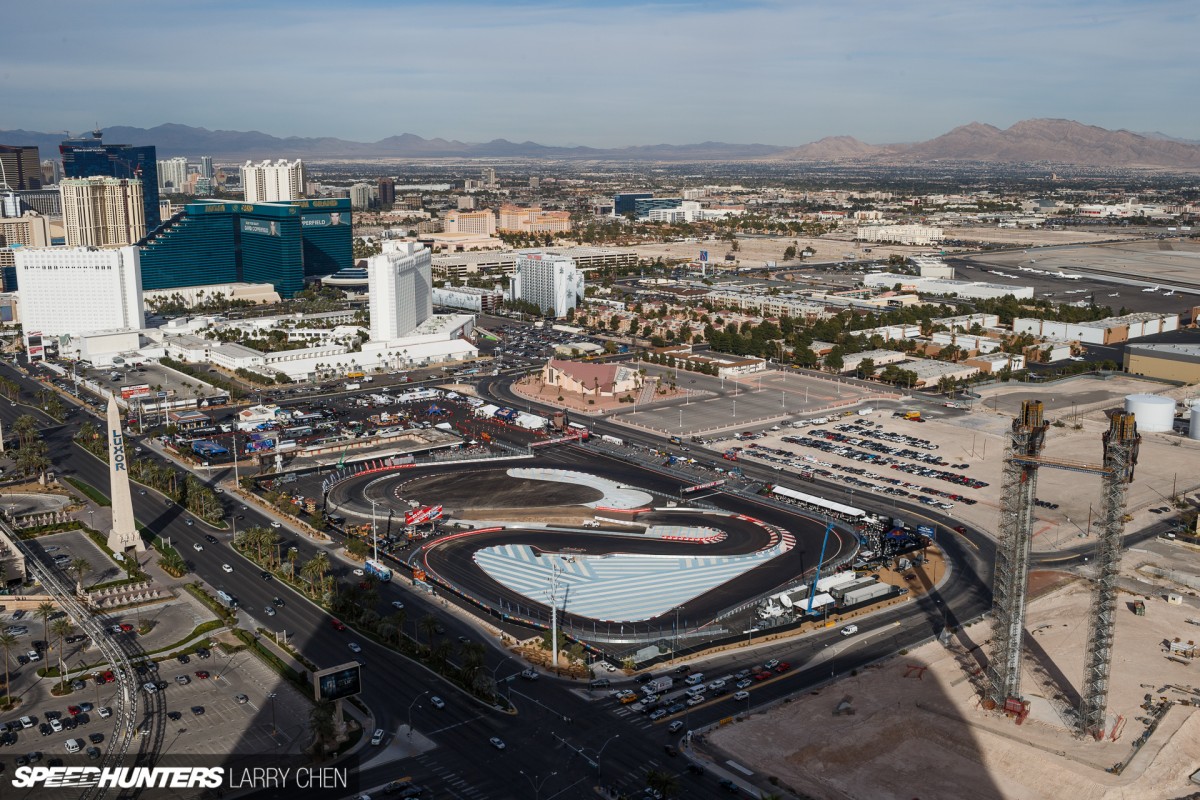 The course in total was only half a mile long, but it was more than enough to provide intense rallycross action.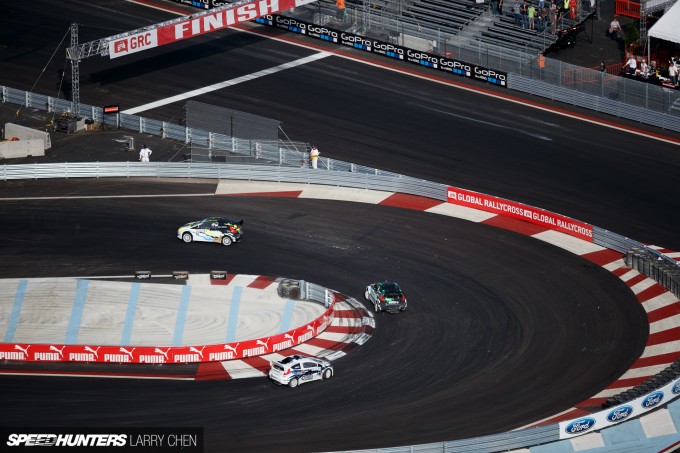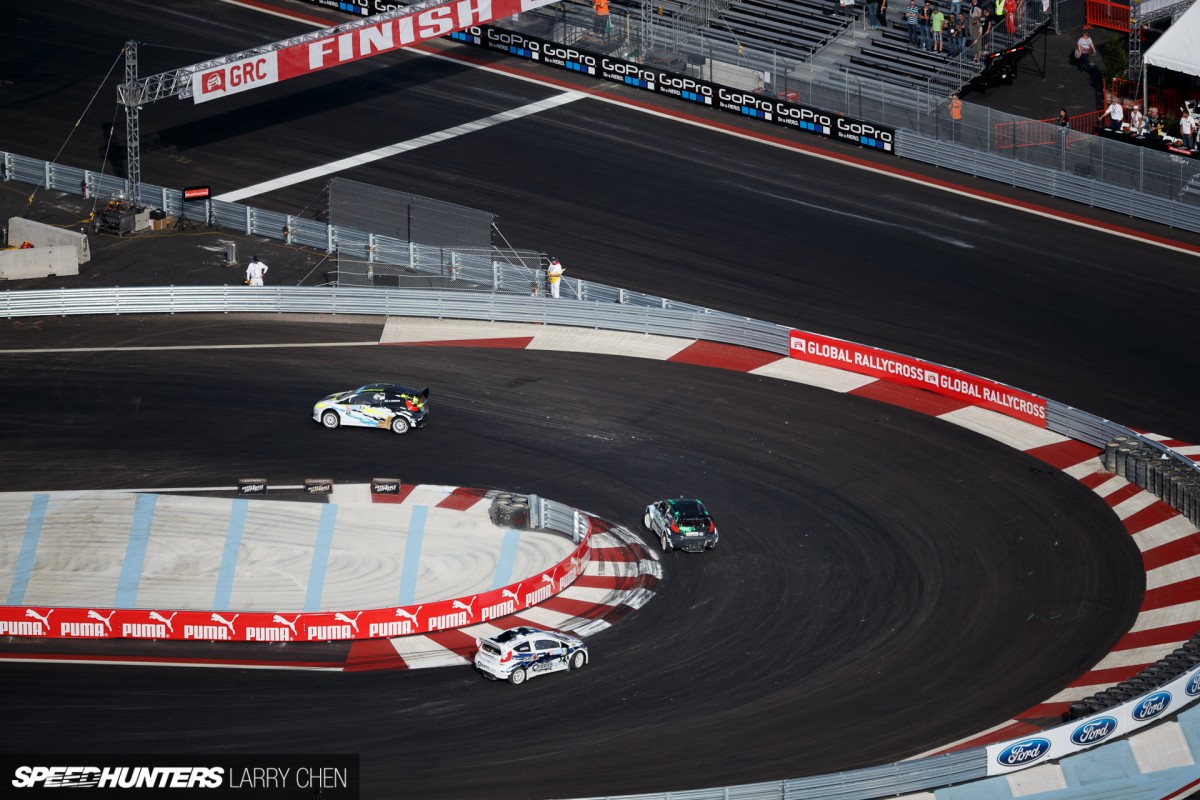 The entire course was painted and dressed up the night before the main event.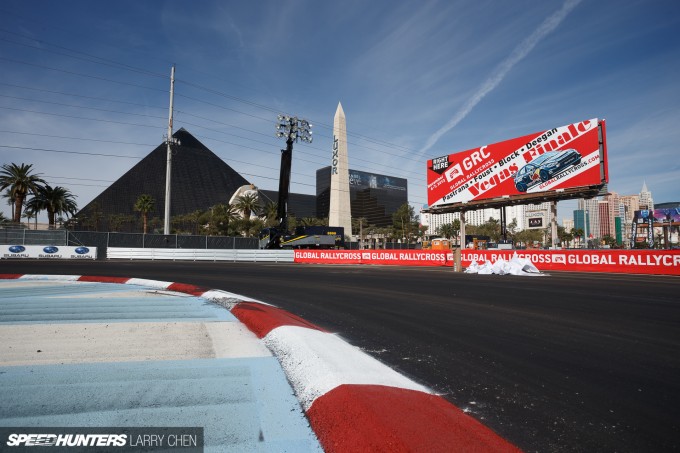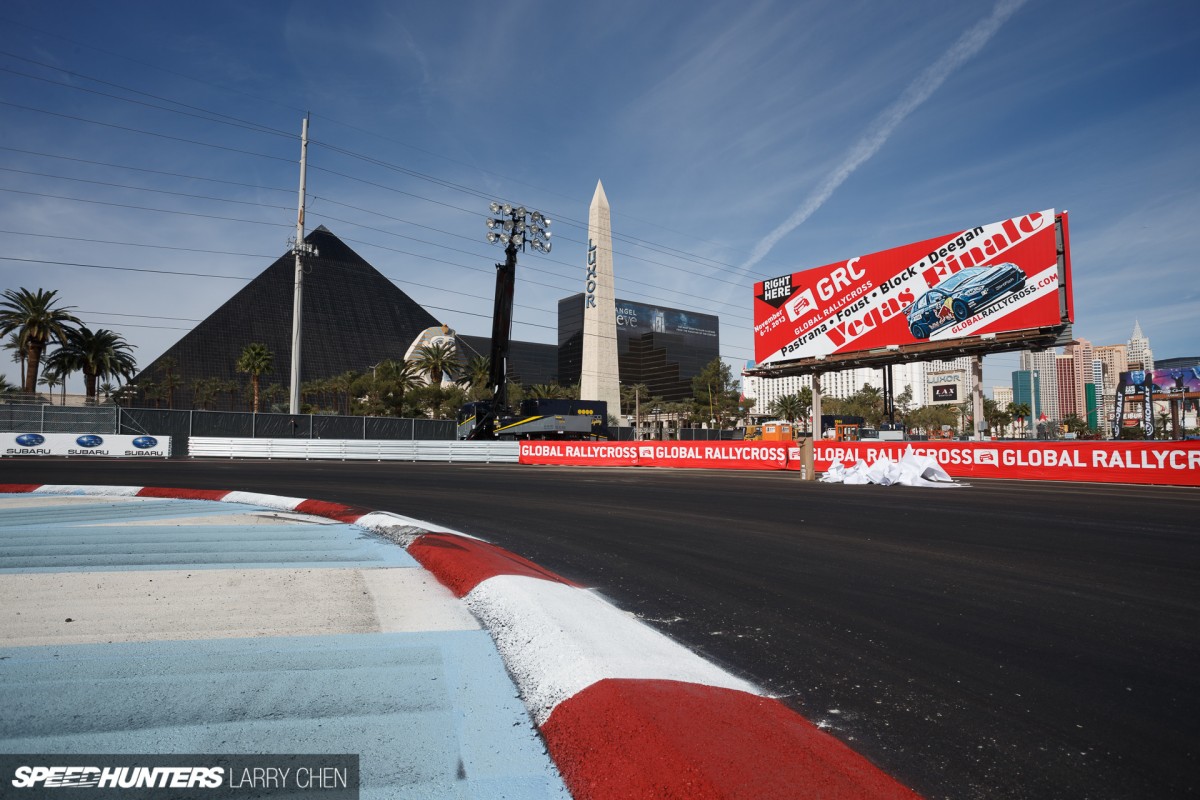 They even added real rumble strips, for those curb-jumping rallycross cars.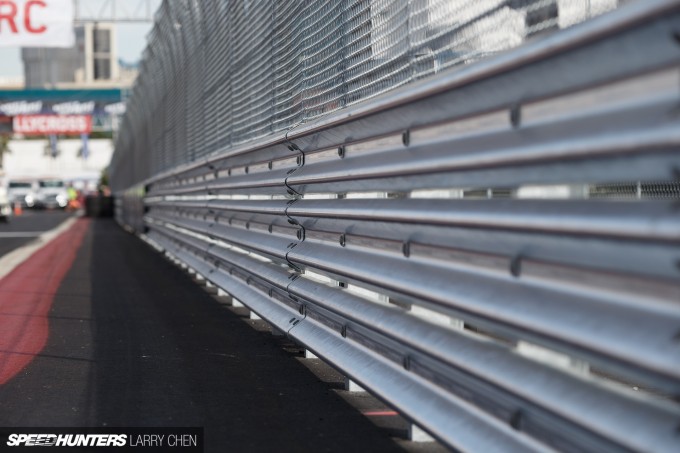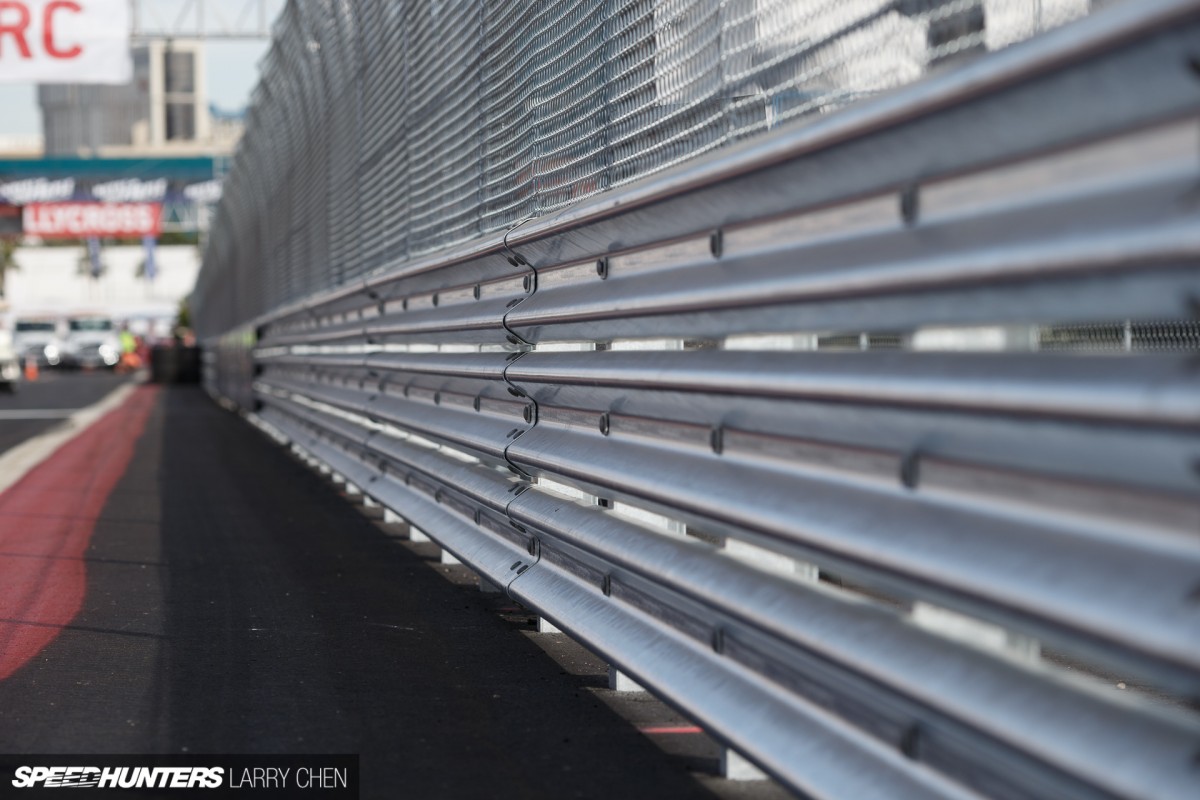 To top it all off, they added real Armco like you would find on any real race track.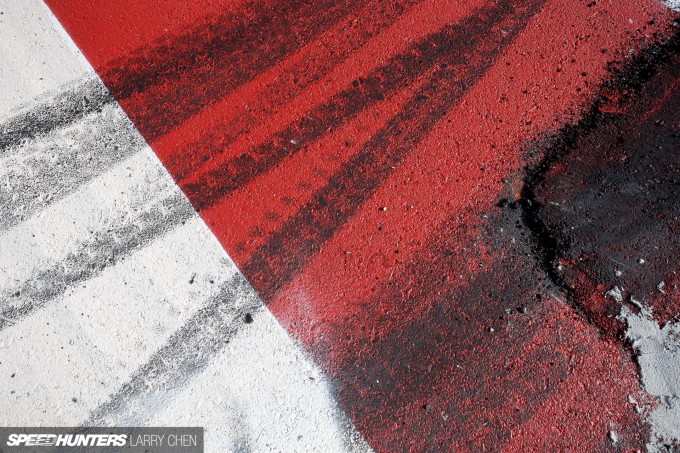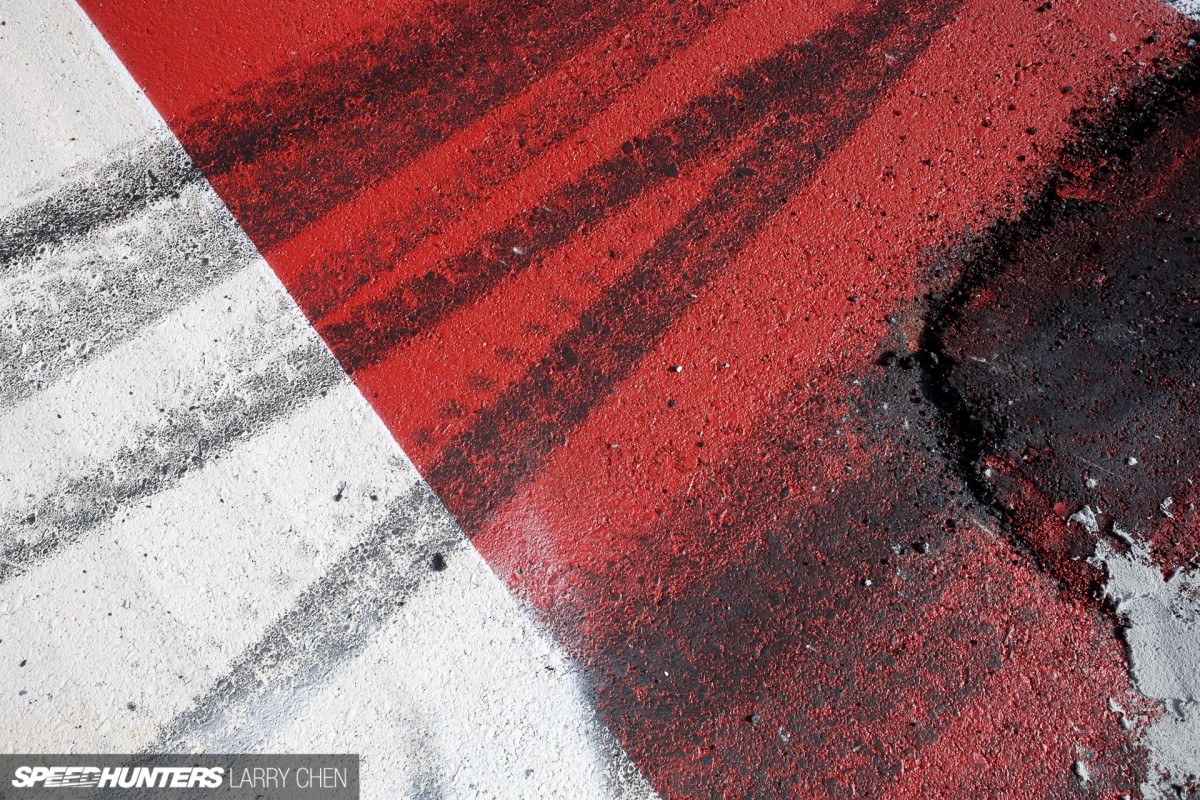 It's built well enough to be a permanent race track. After all, when you have the Eiffel tower, castles and pyramids on the strip, why not a rallycross course too?
All for the show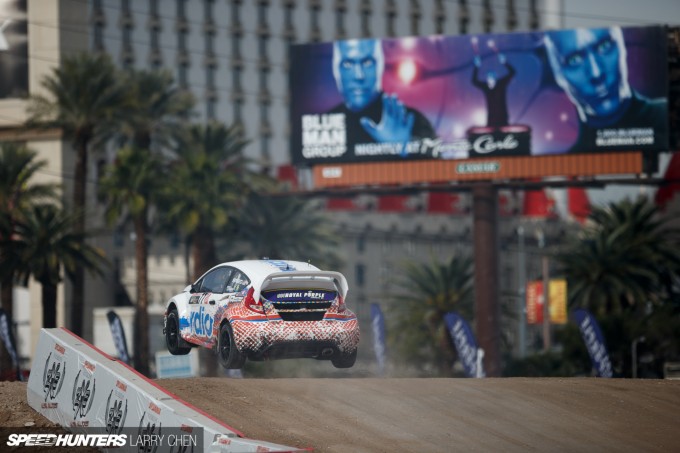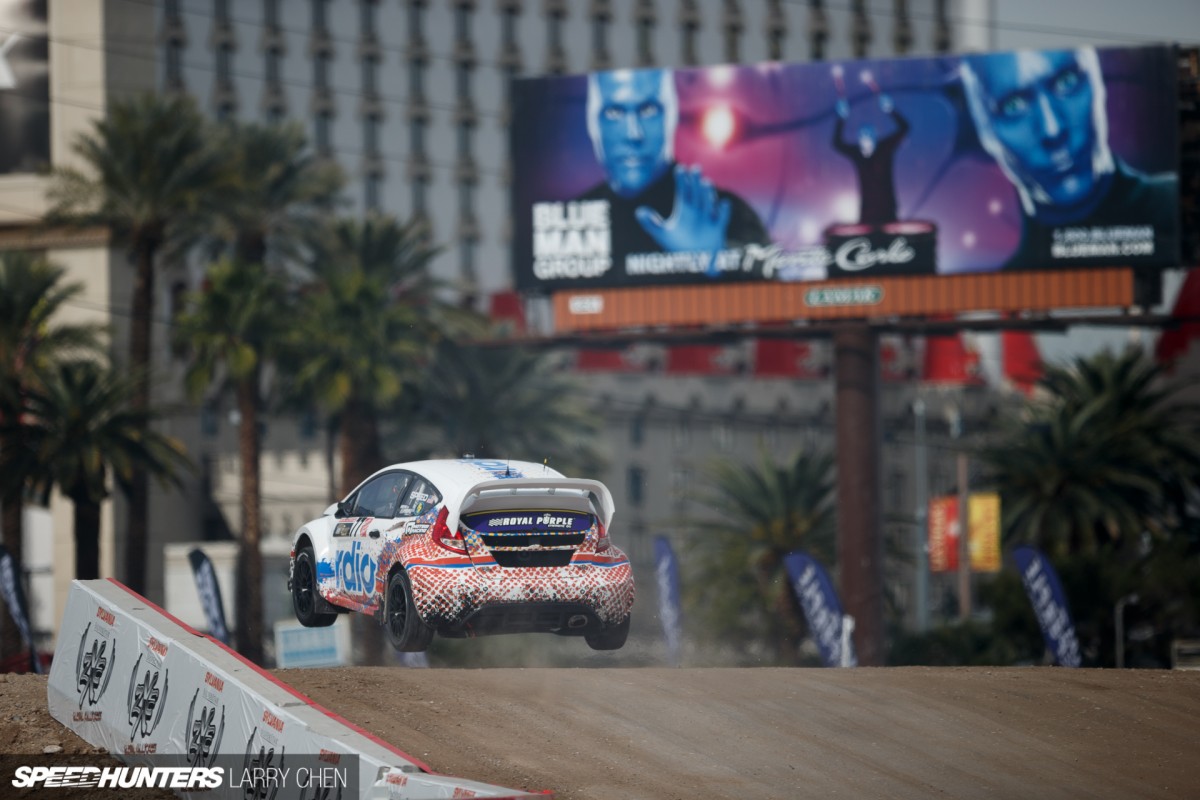 One of the things that really impressed me about this particular series was their production value. Historically they've always planned the events around television coverage, however this time, they actually built quite a few stands as they were expecting a decent number of spectators since the SEMA show was in town.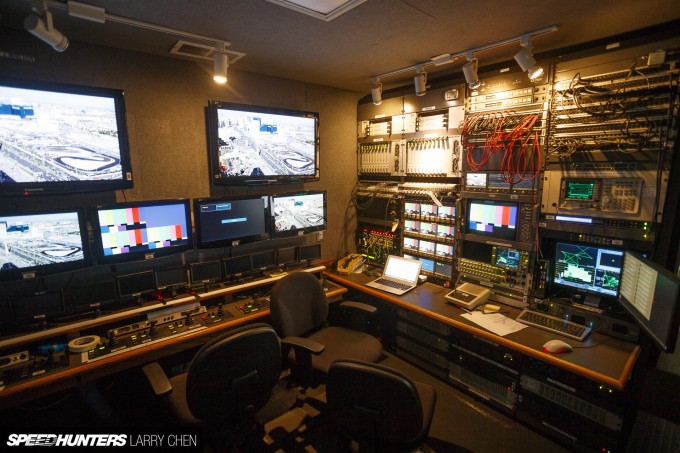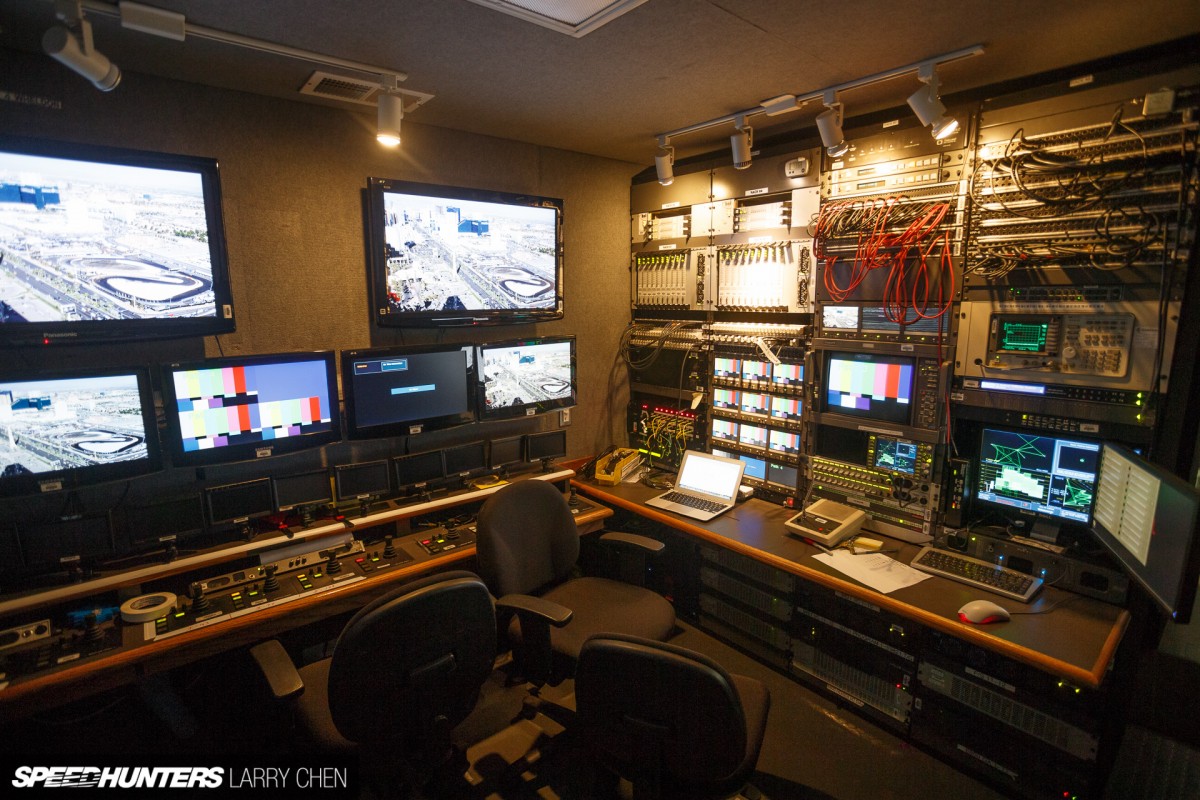 That doesn't mean they'll be skimping on their TV coverage though. I had a chance to check out the inside of their command center, which looked more like a war room.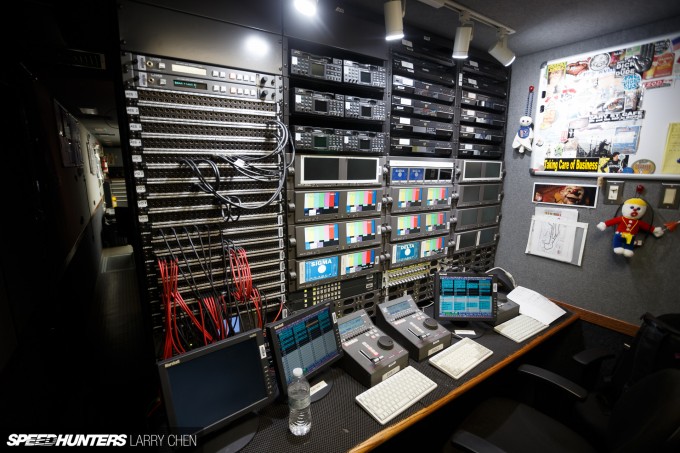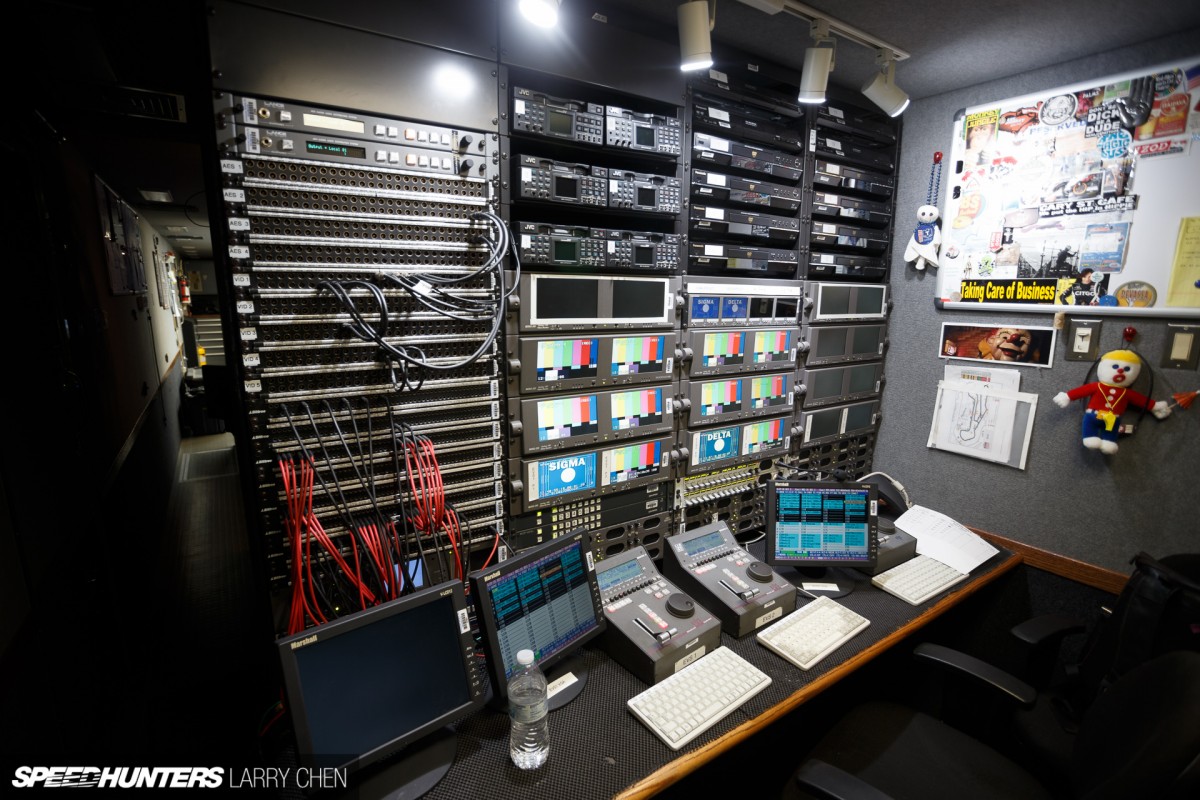 Right on the other side was a room full of hard drives which stored the live feed for immediate playback.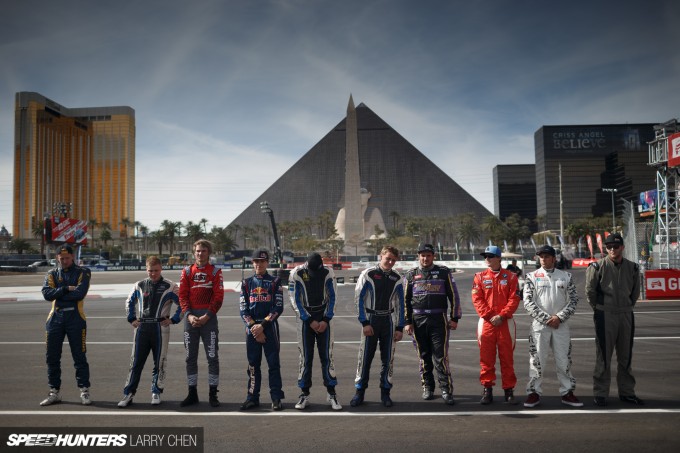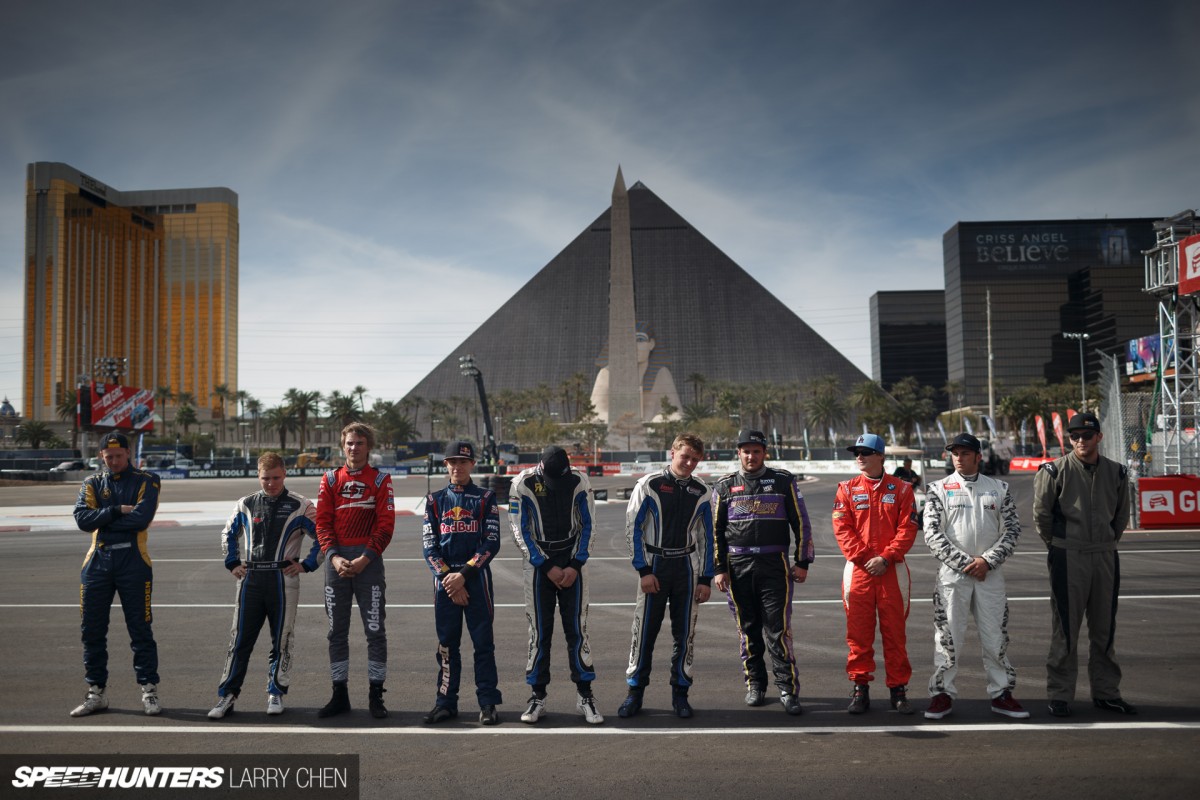 GRC also has a feeder series for up-and-coming drivers. This year was its first year and they had six events in total including the Las Vegas finale.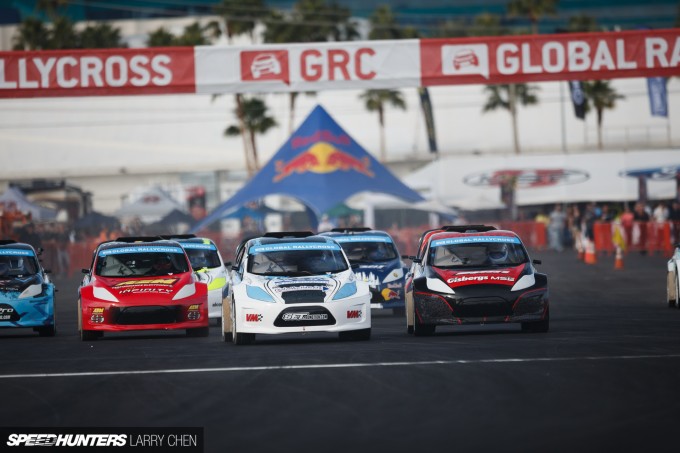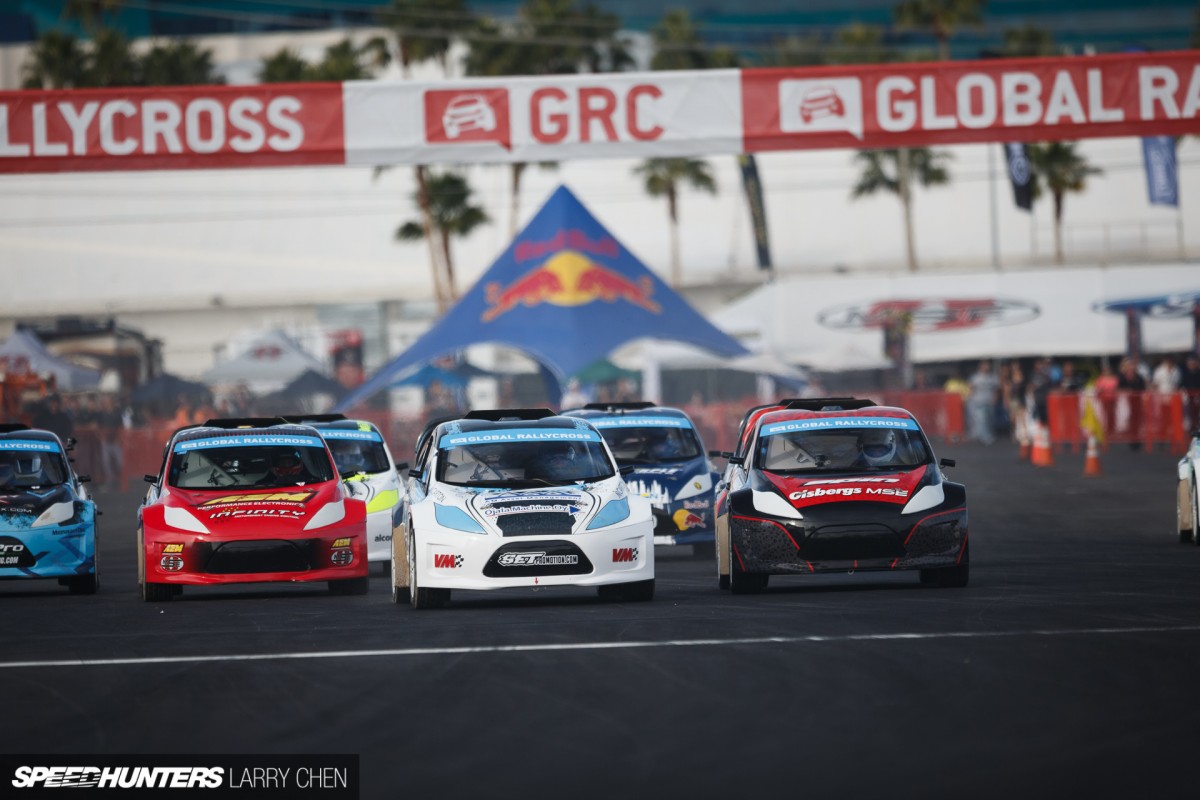 The cars may not have as much power, but they still manage to put on a great show.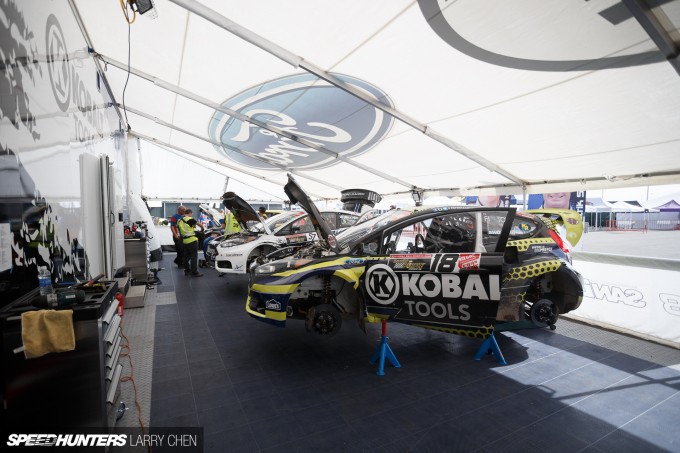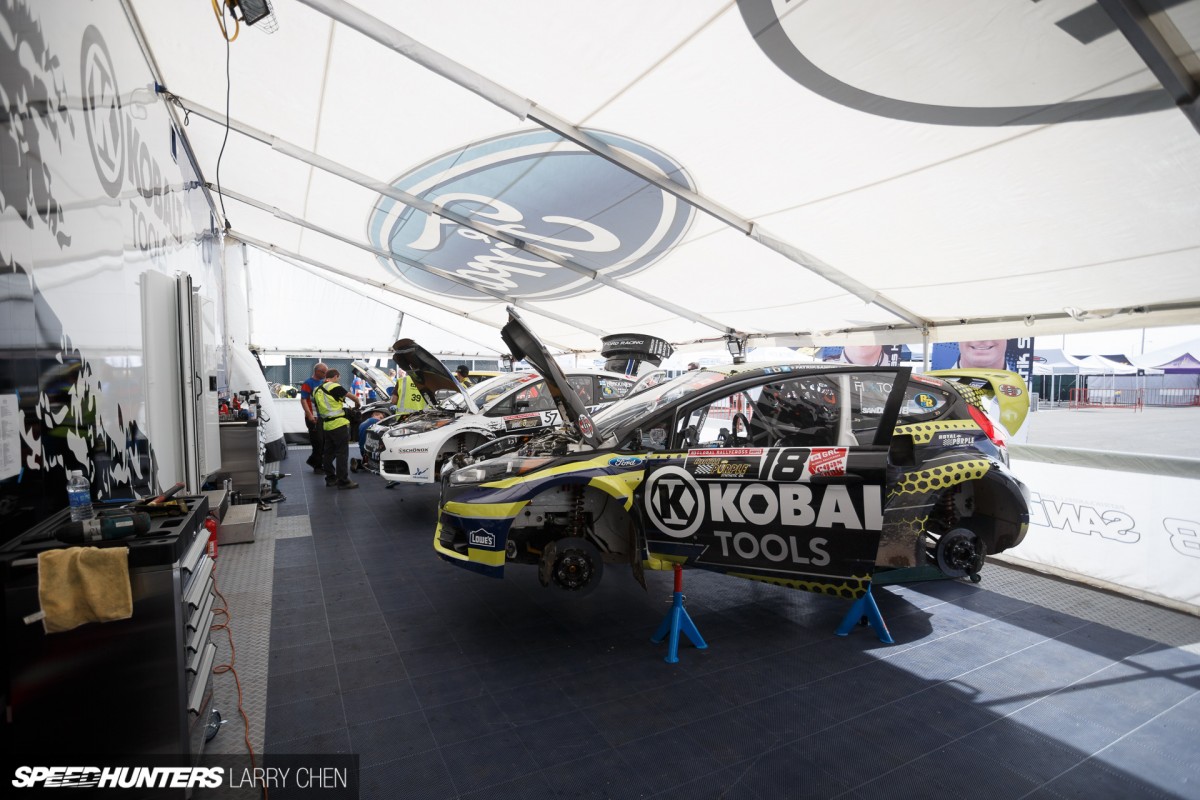 With the main event around the corner, the teams didn't want to take any chances.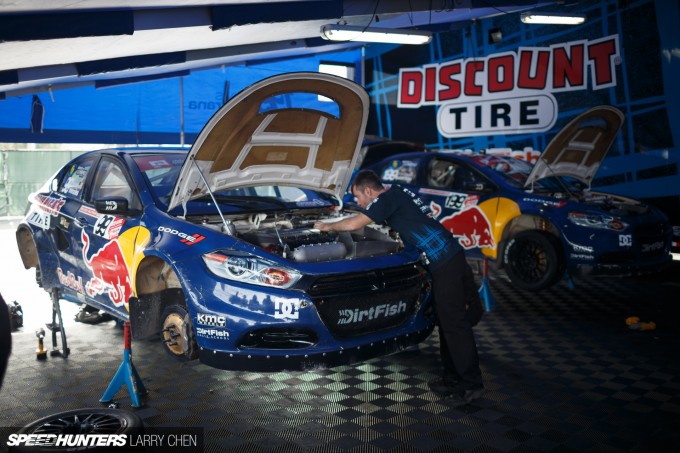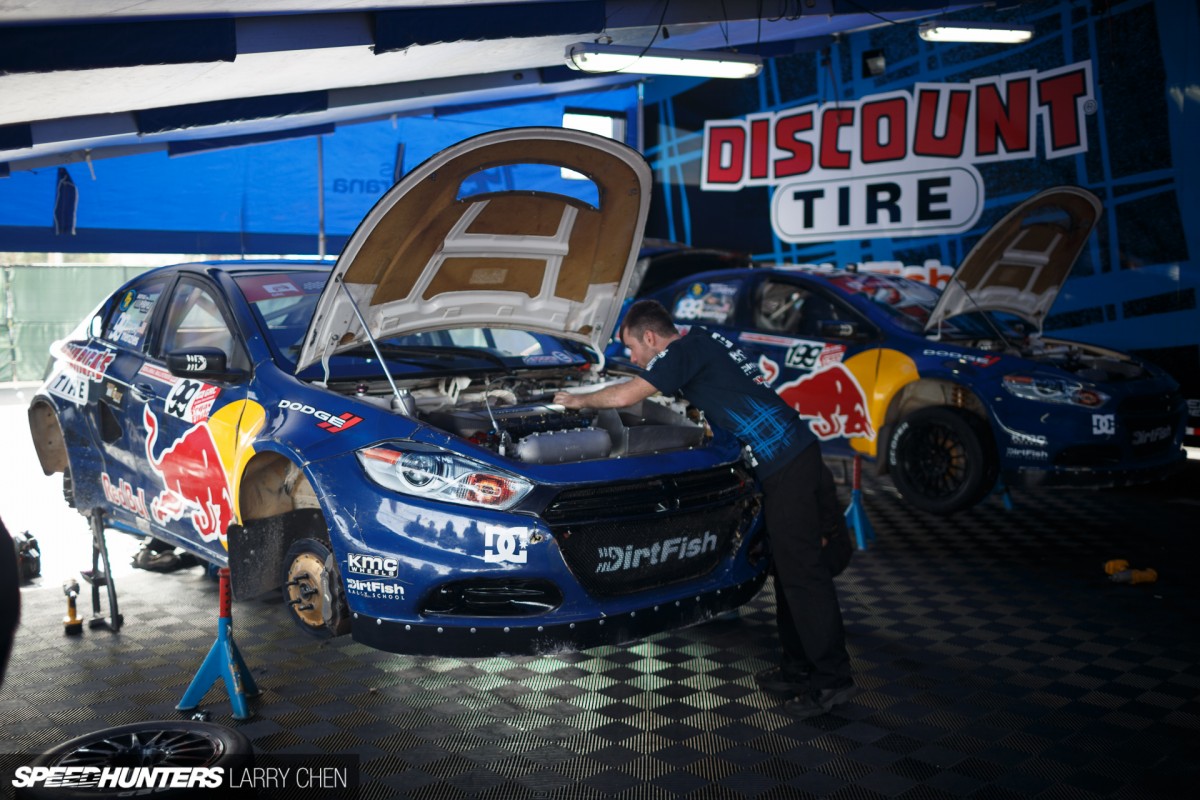 The Travis Pastrana Discount Tire team had some motor issues the day before and they swapped in a new engine overnight.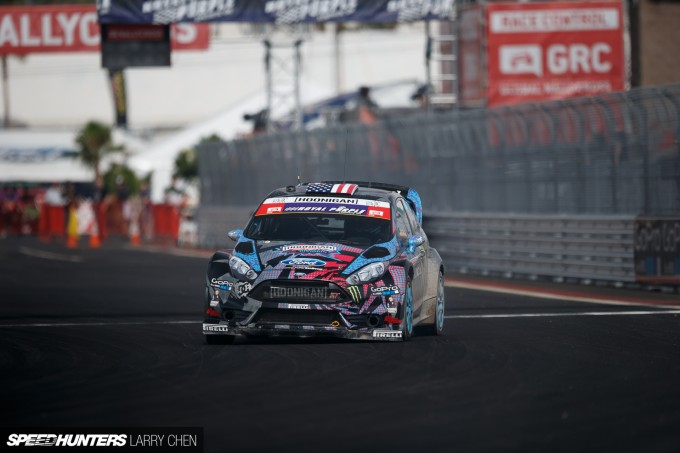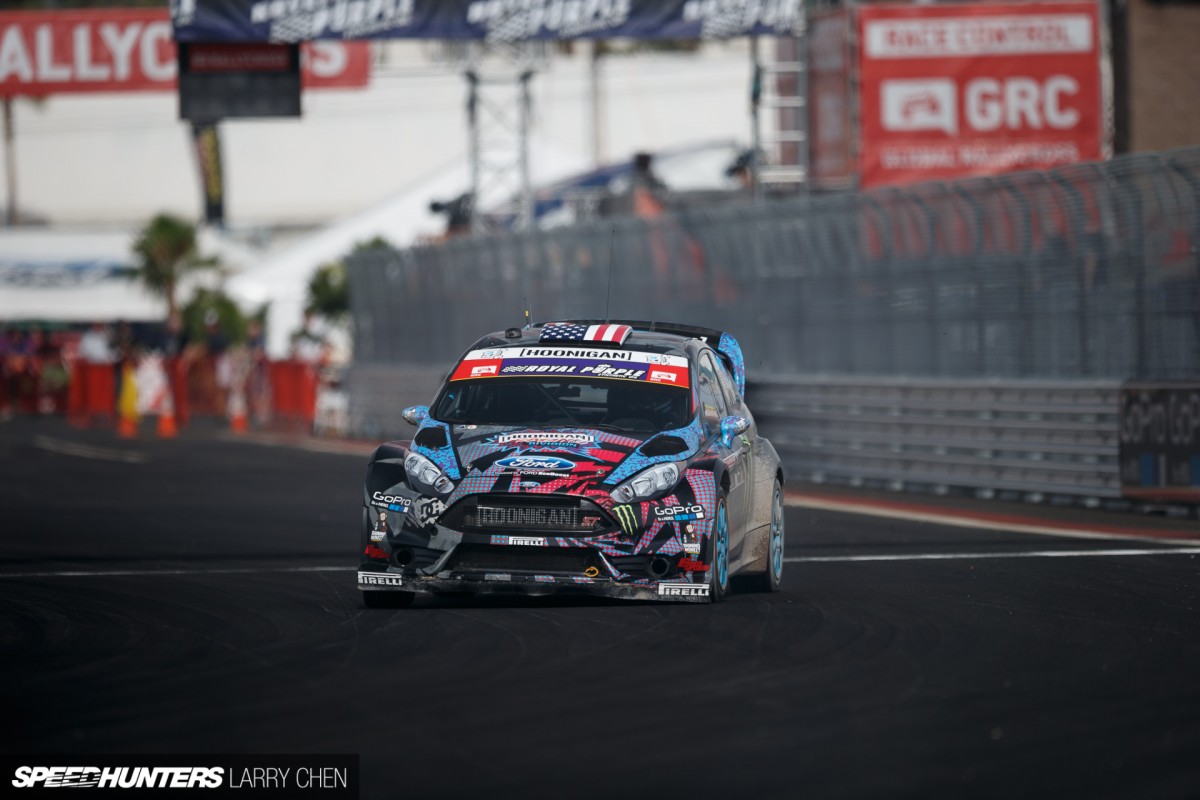 Ken Block was super fast all week, but something was lingering over his head. He was in the same situation last year and he was even leading the race when his car caught on fire.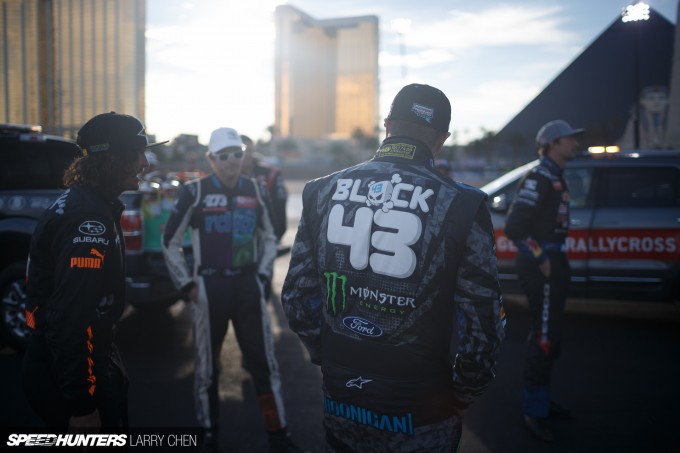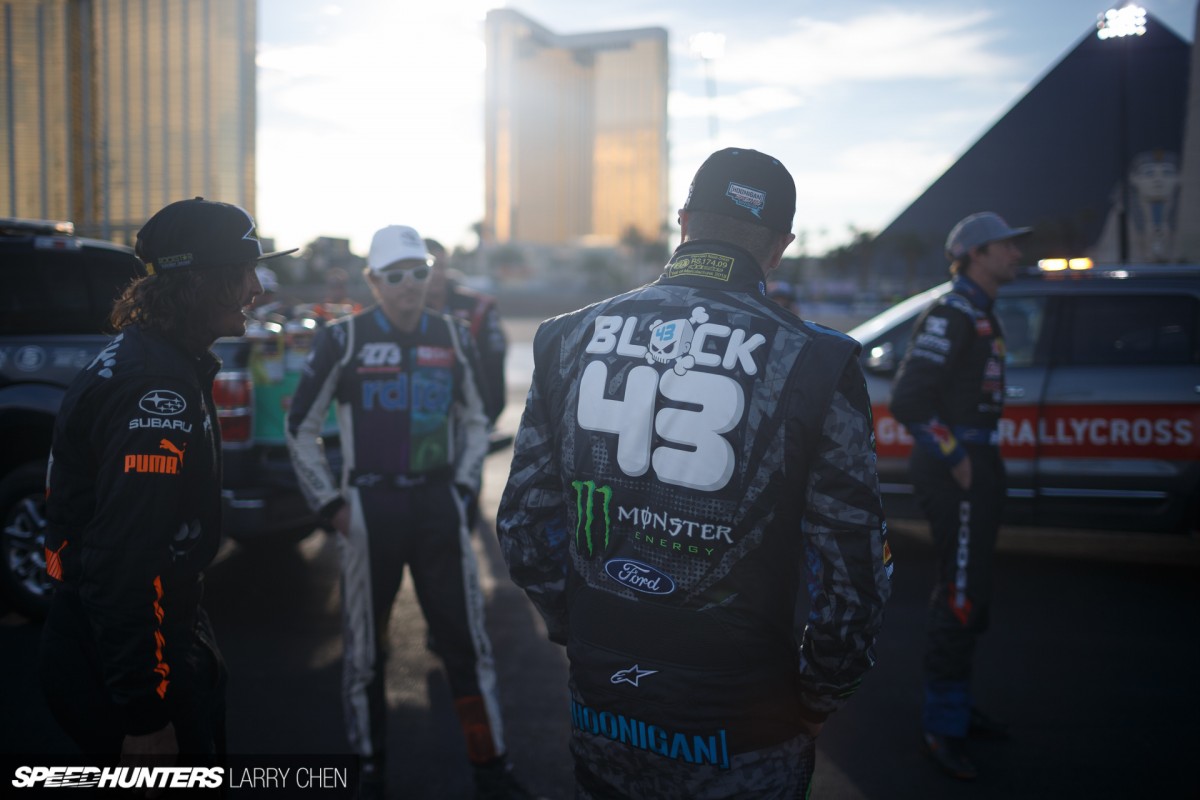 Ken was still looking for his very first GRC win; he was feeling confident.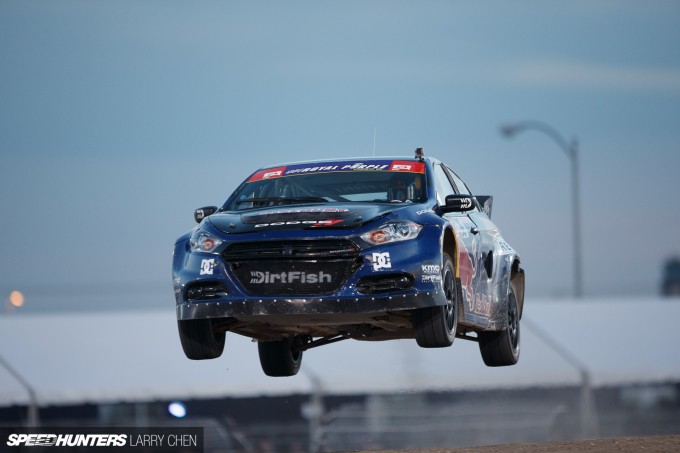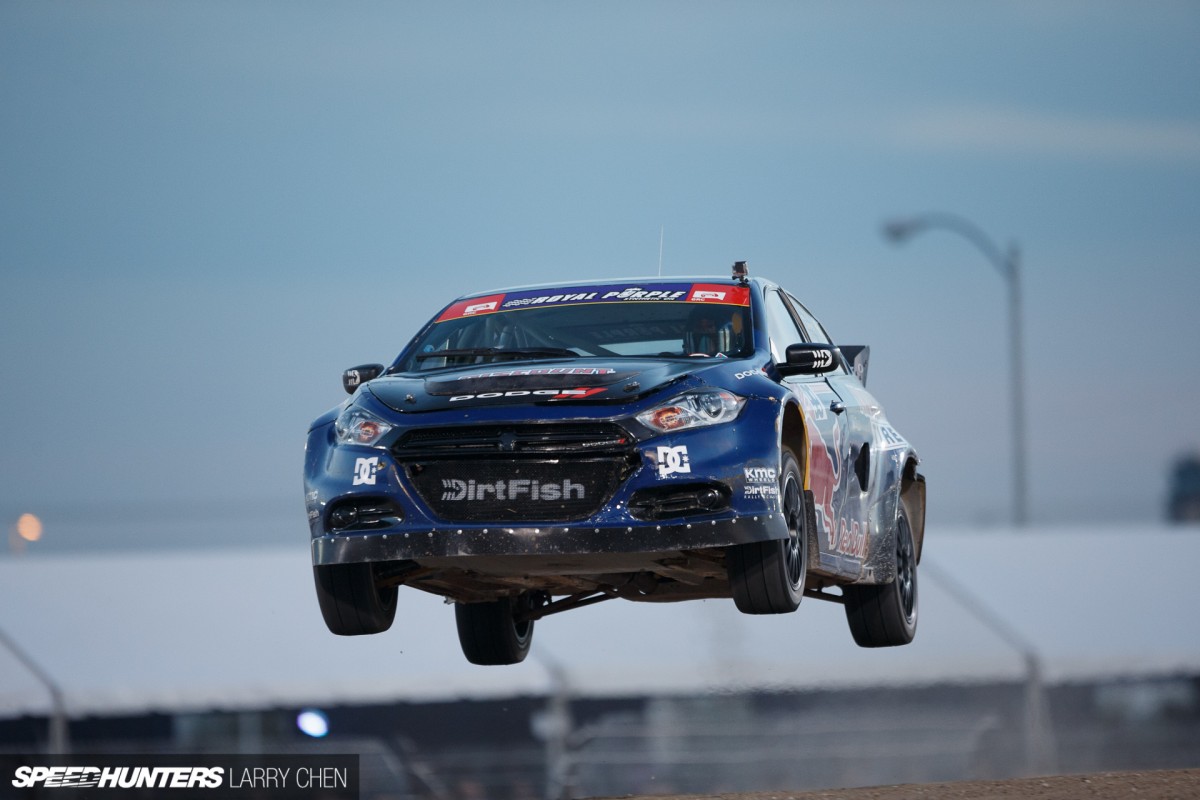 Ken's good buddy Travis Pastrana was looking great in the Dodge Dart.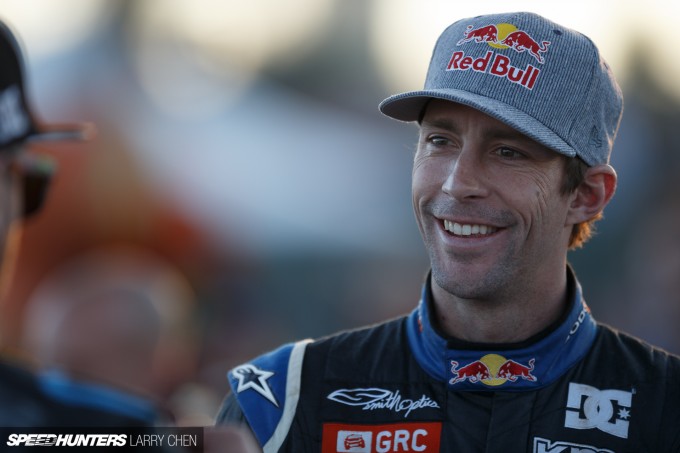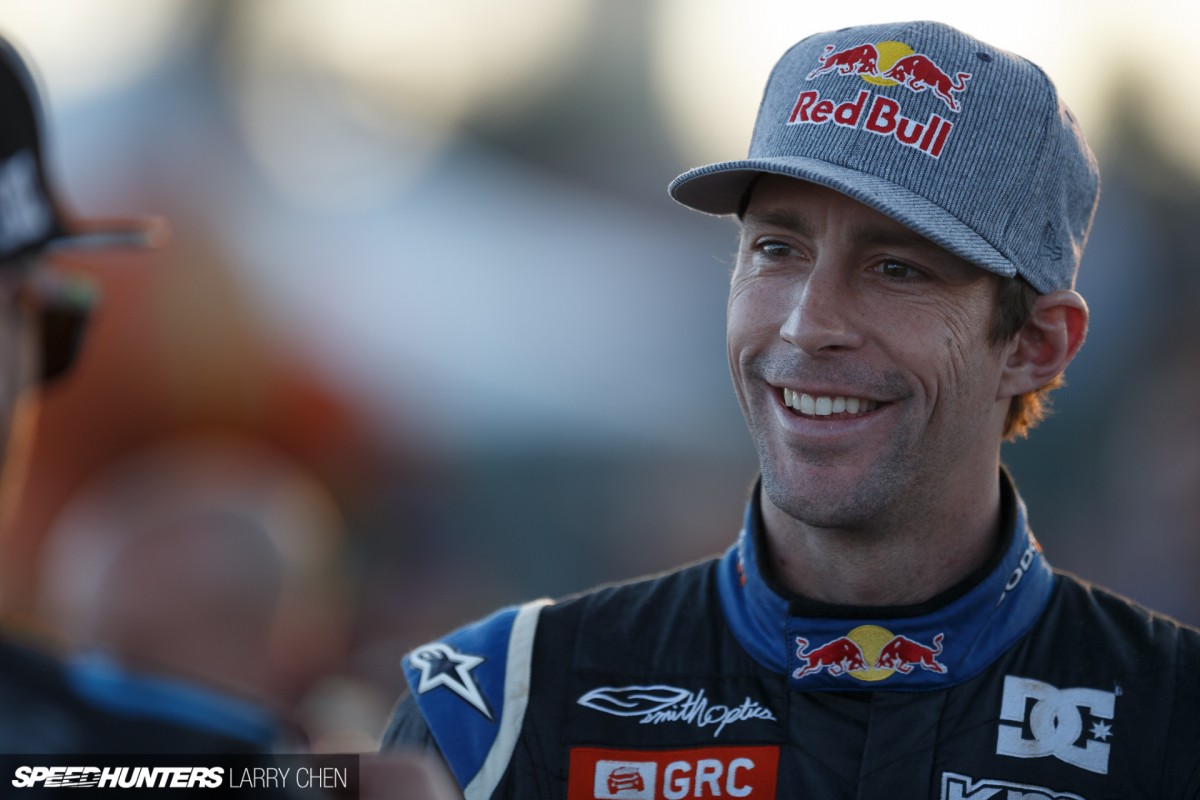 As with many other drivers, luck has not been on his side when it comes to finishing races. Something always seemed to get in the way.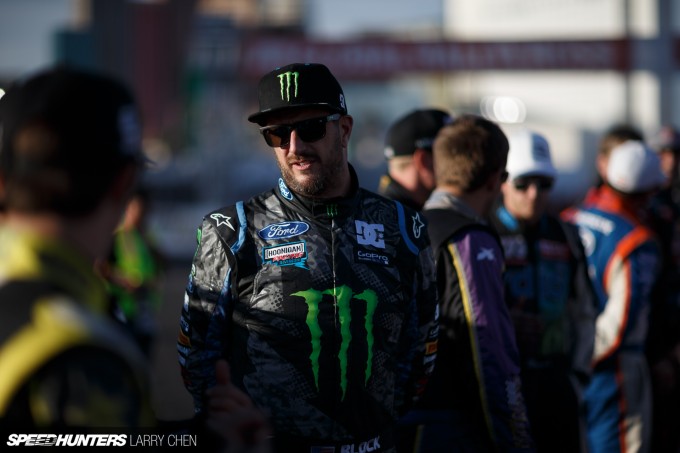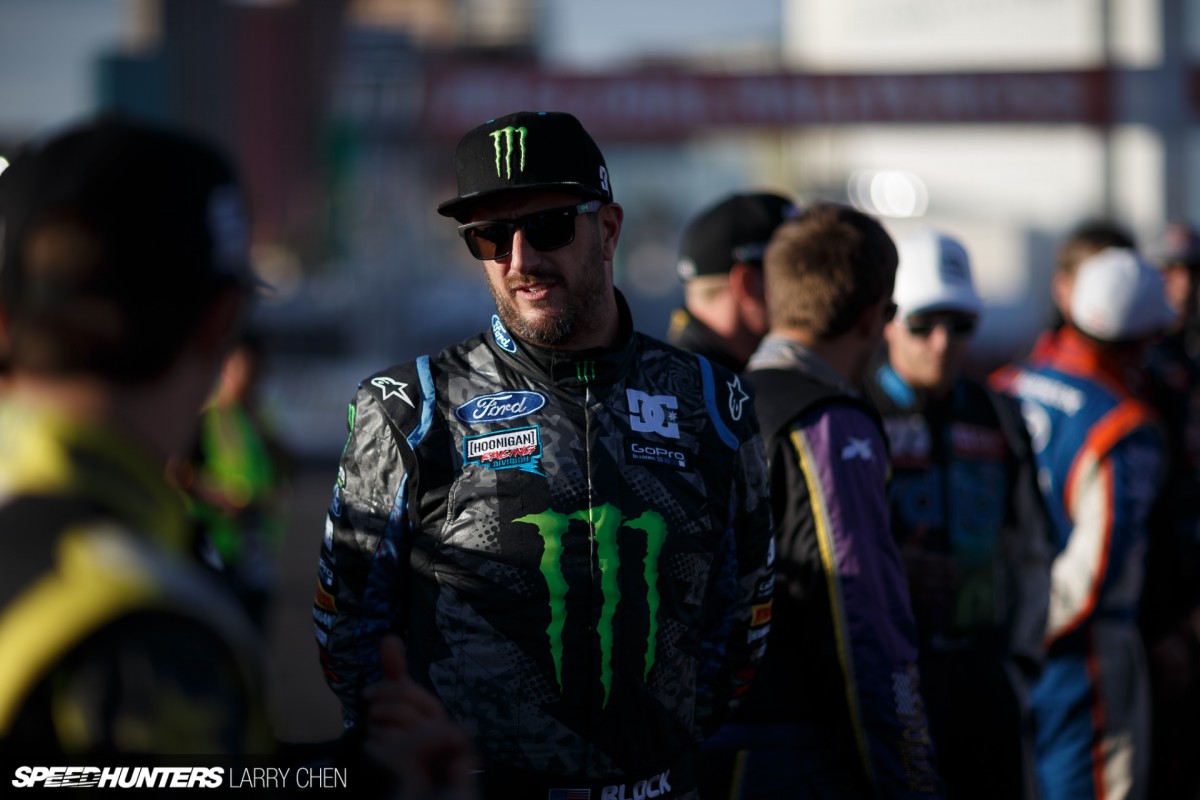 Ken mentioned that when he's waiting at the starting line, in a few seconds he will either make it through the first corner, or he'll be in the wall. There is almost no way to know what the outcome will be.
The finals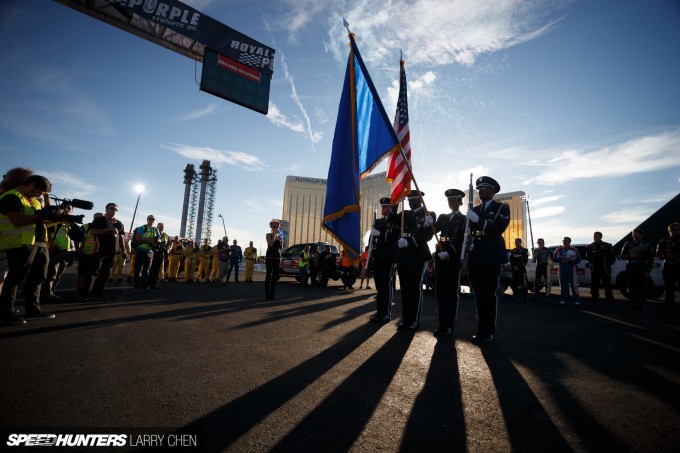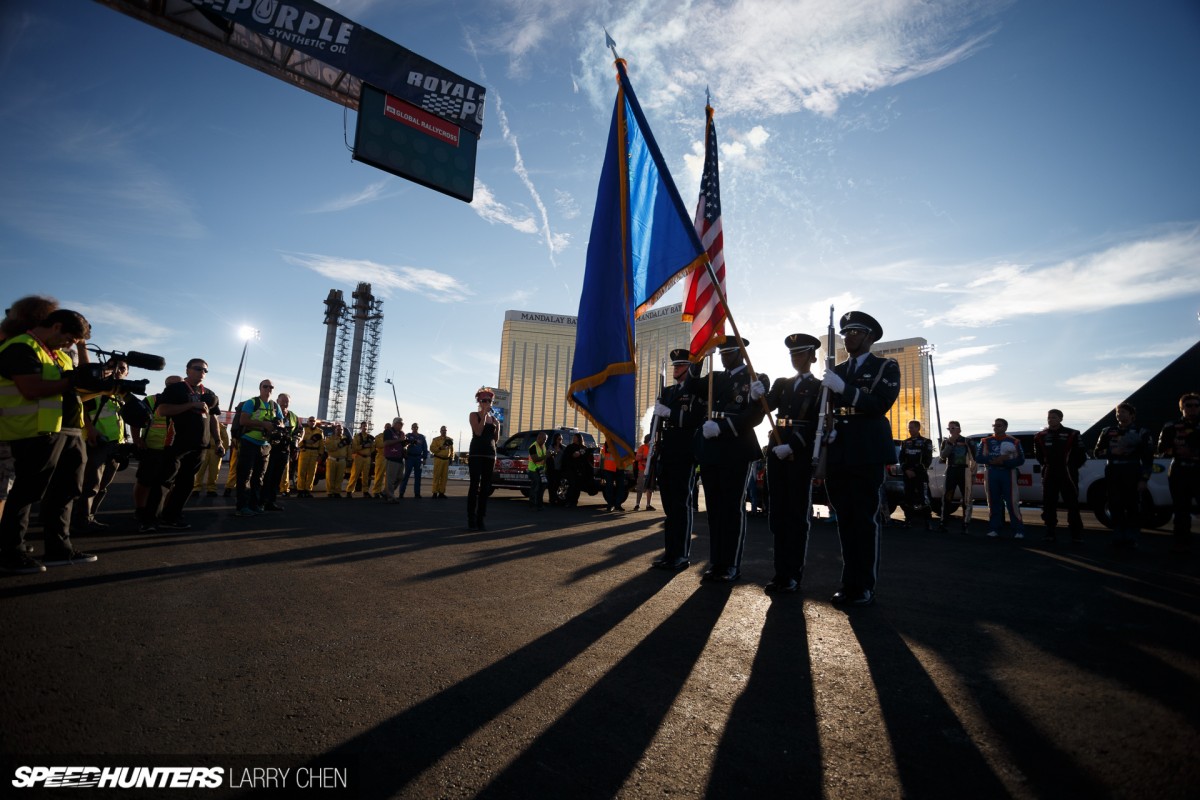 The sun was setting over Las Vegas and the main event was under way.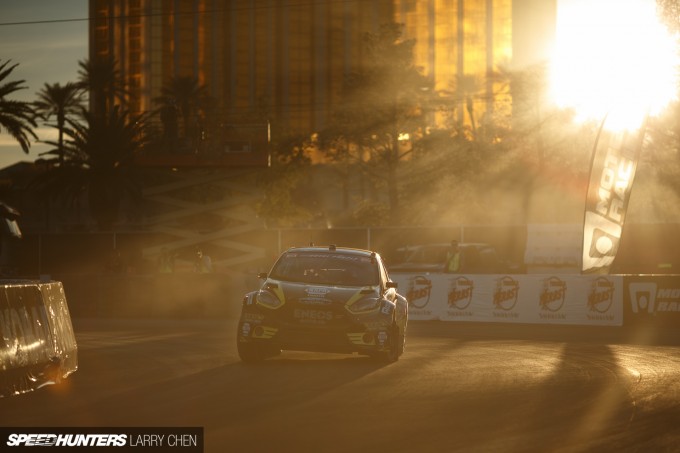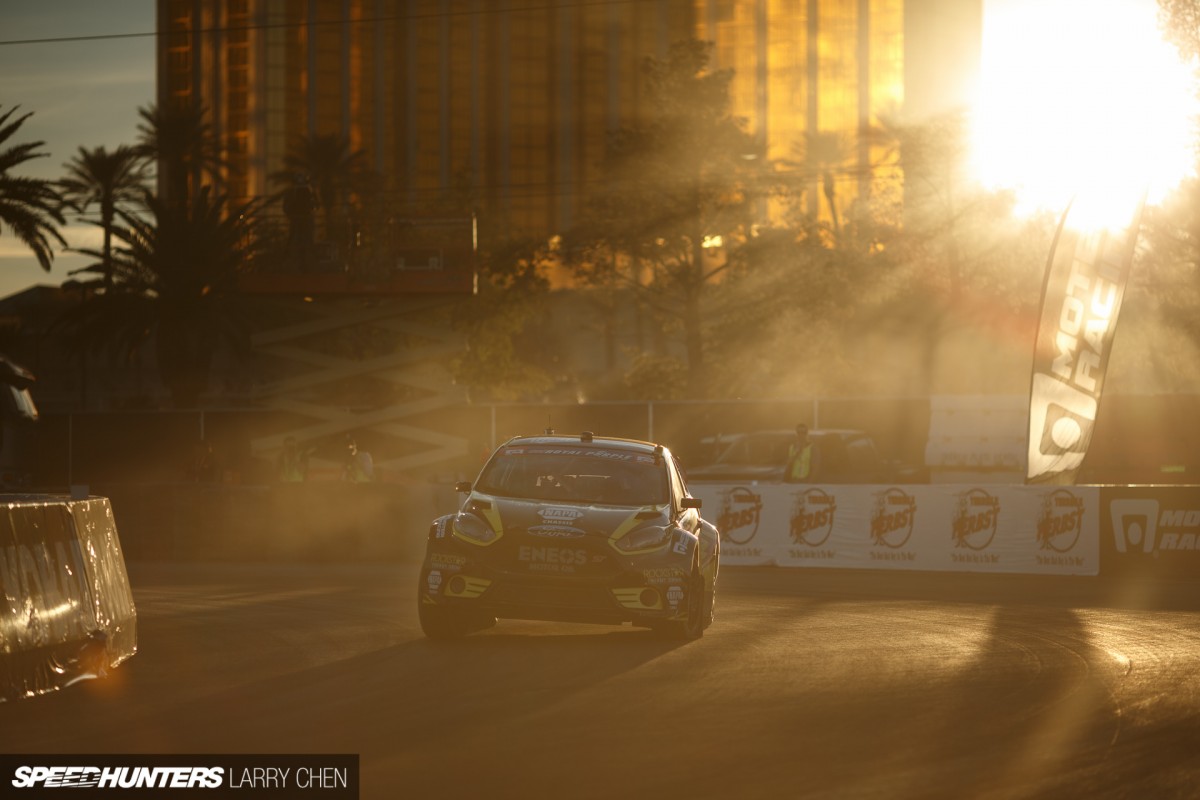 The first couple of heat battles went without incident and it looked like Tanner was in a position to win overall as he won his heat race with ease, putting him in the best starting position.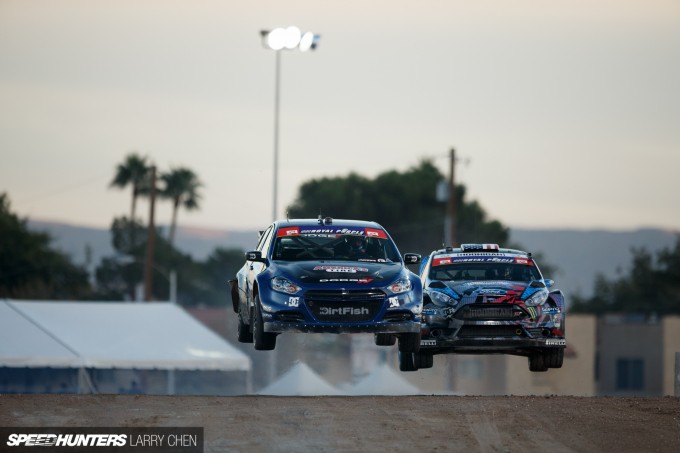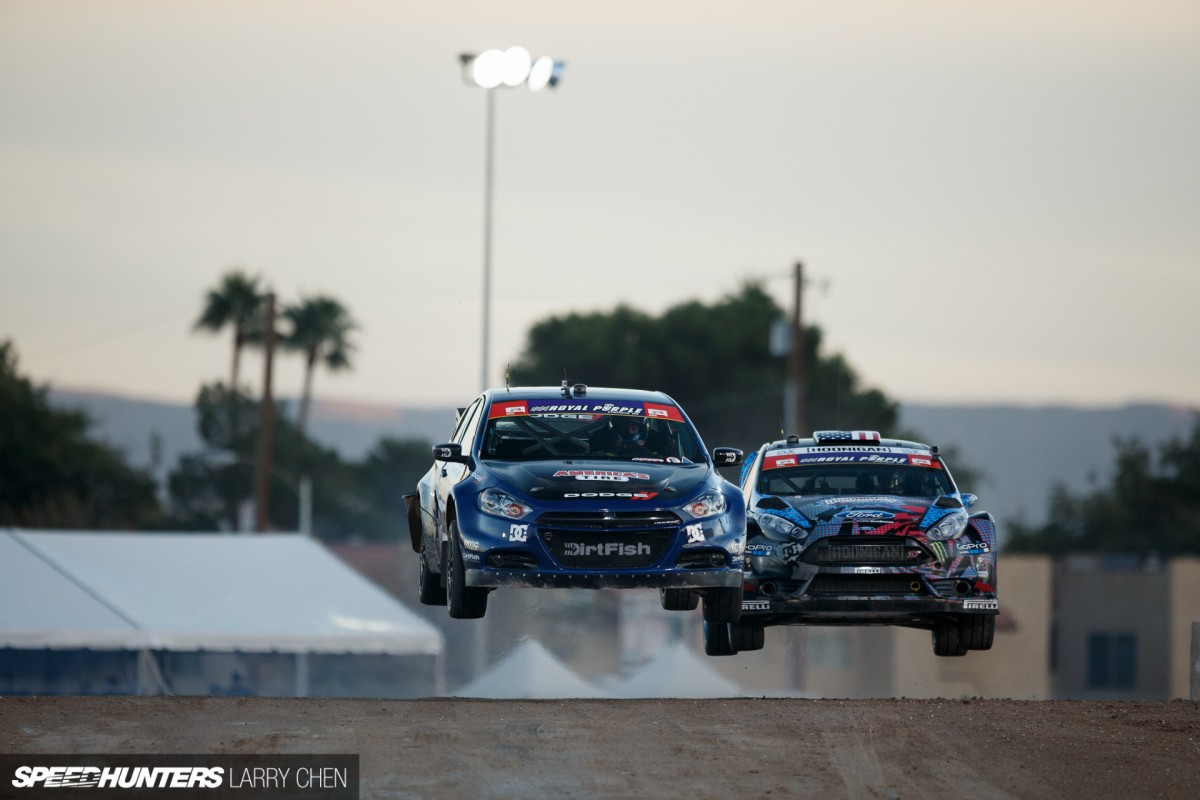 Block and Pastrana battled it out lap after lap in their heat race, with Block taking the win, giving him the front row.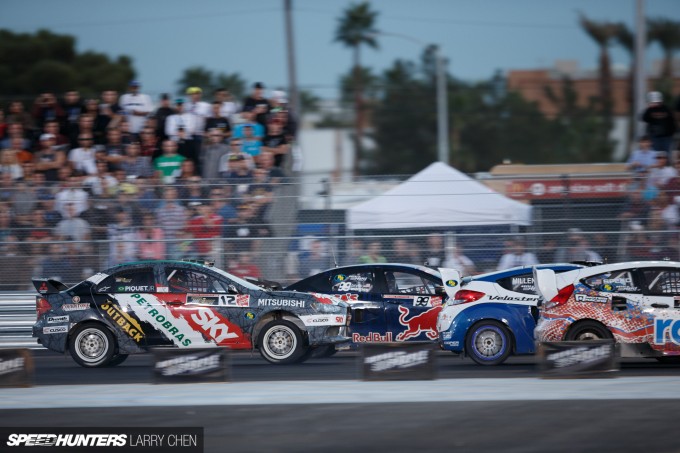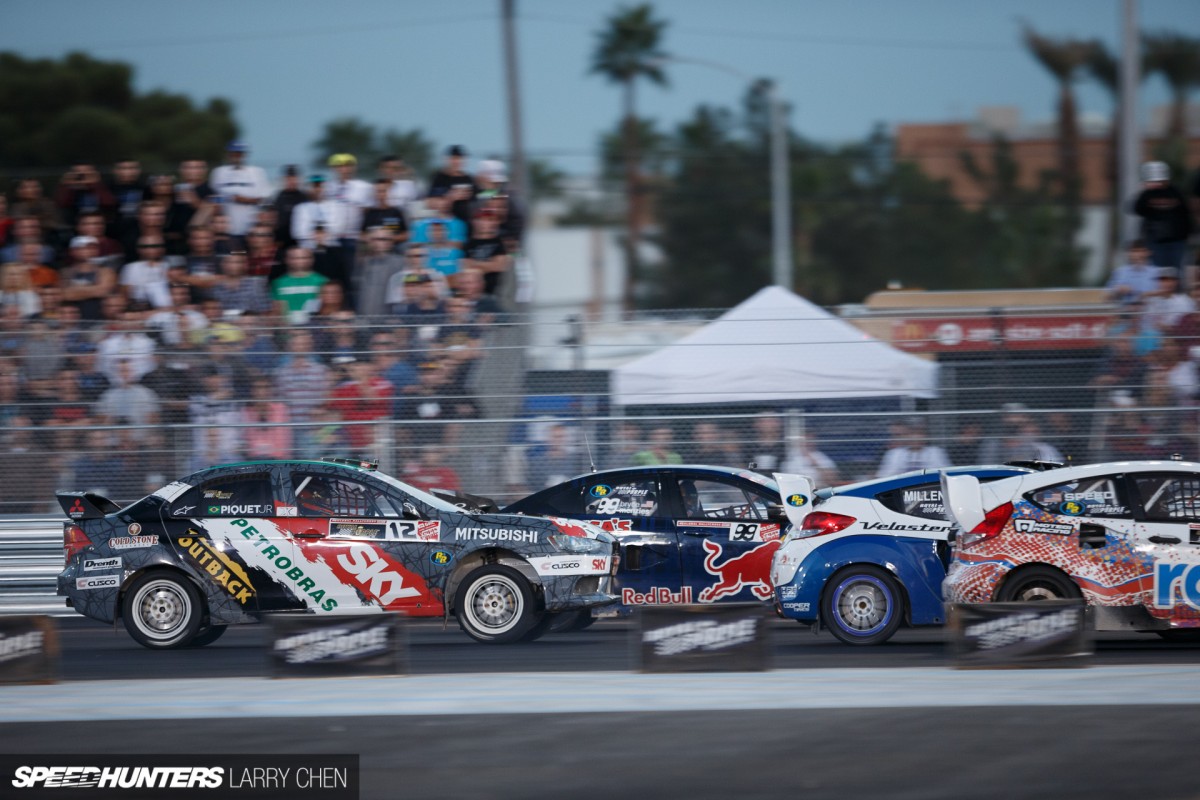 After all the dust had settled, the grid was set. All that was left was the last chance qualifiers to battle it out once more just to get the final spots in the main show.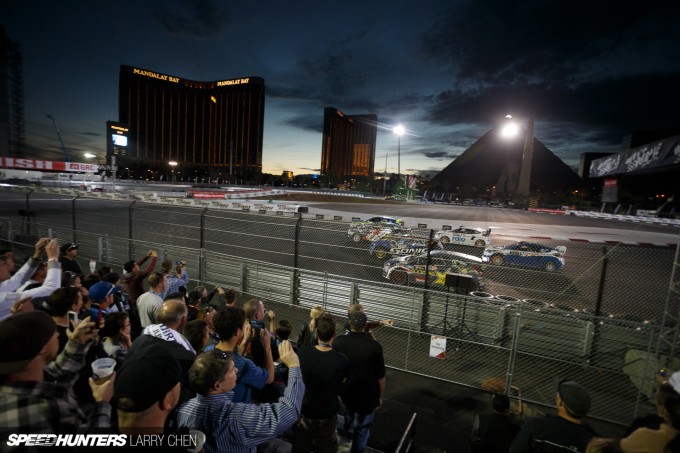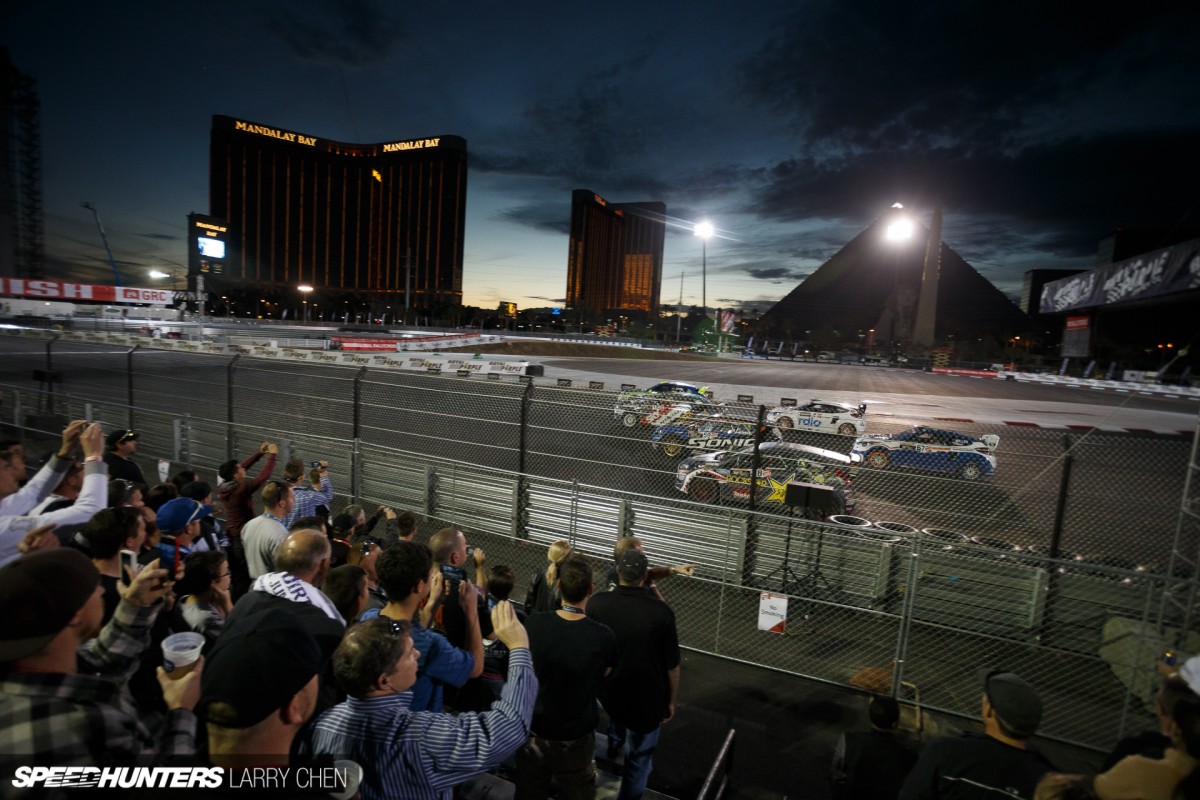 In a blaze of glory the last chance qualifiers were off. The packed crowd cheered on as they fought hard for the last few spots.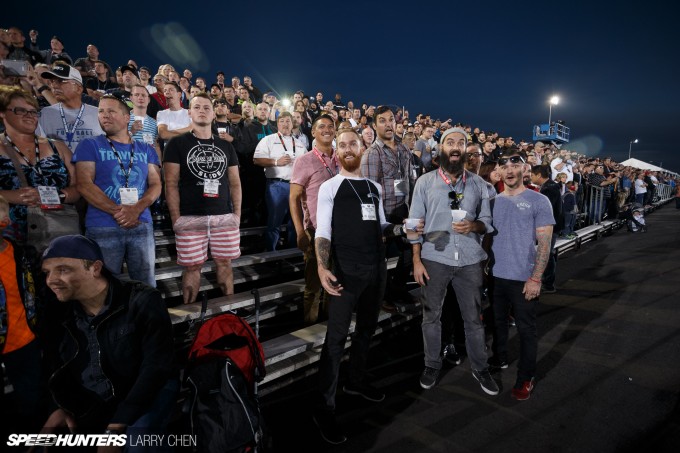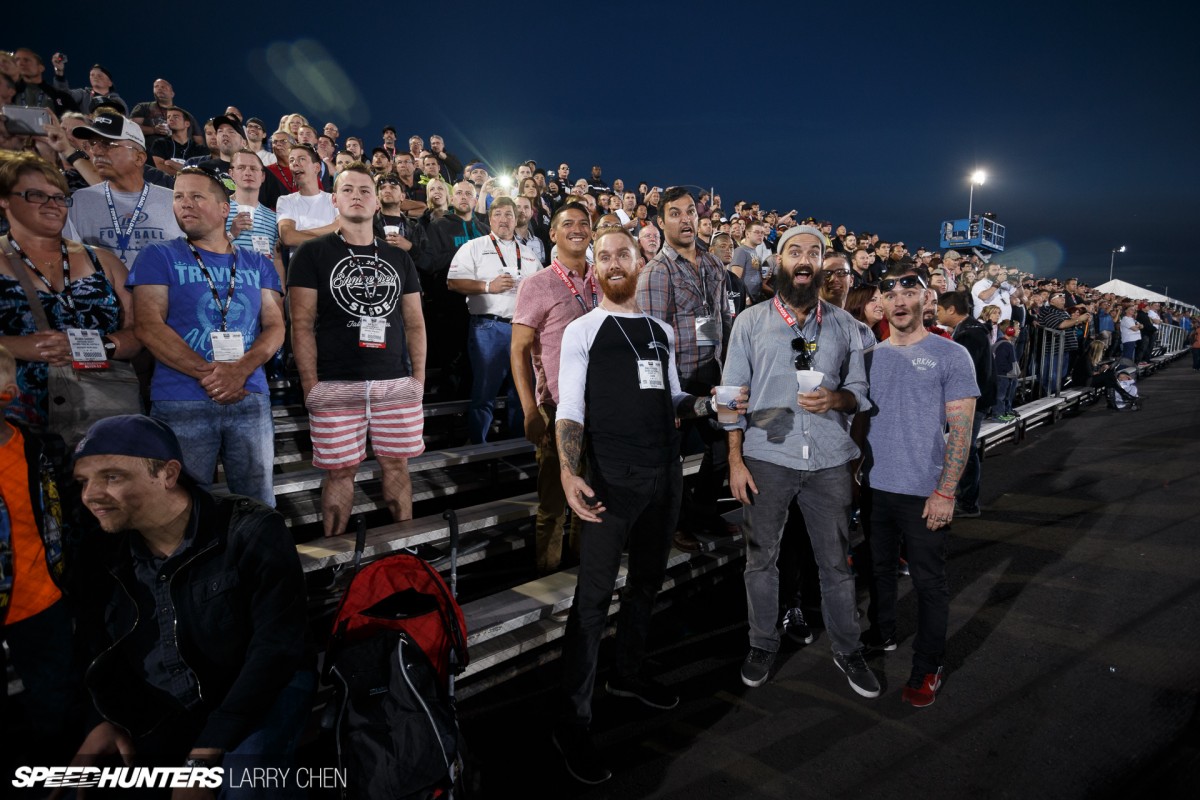 I was actually surprised how many people came out to watch the show. They even ran out of room and many people had to stand to watch the finals.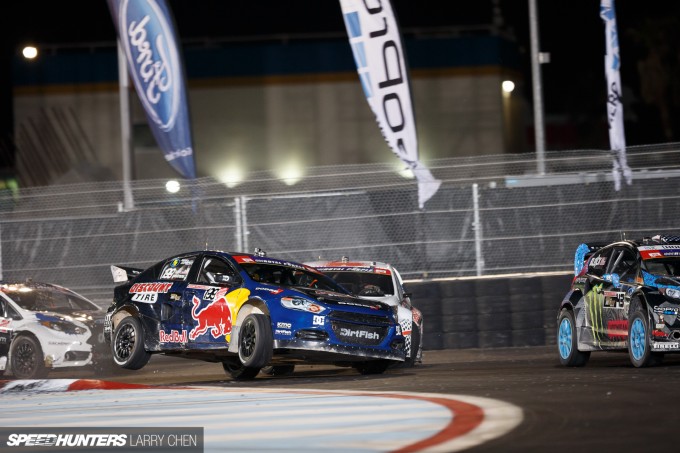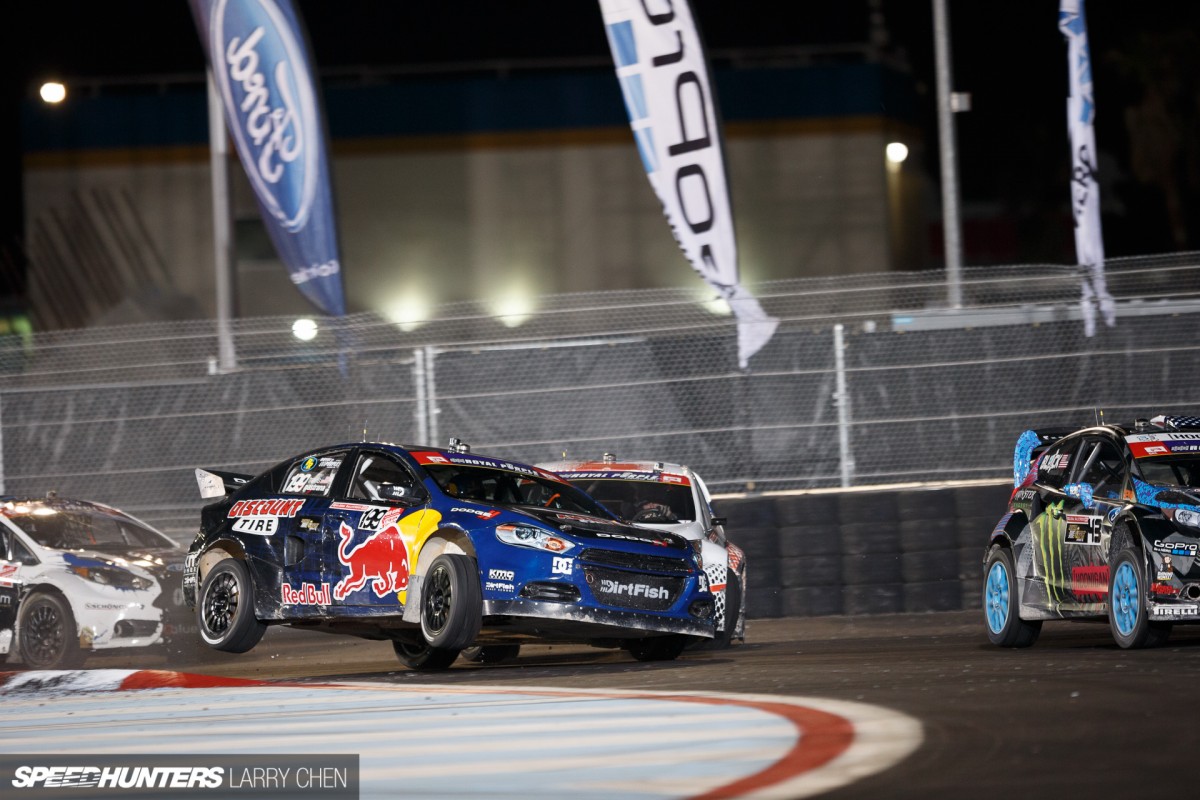 The finals started with a bang as always, with many cars making contact going into turn one.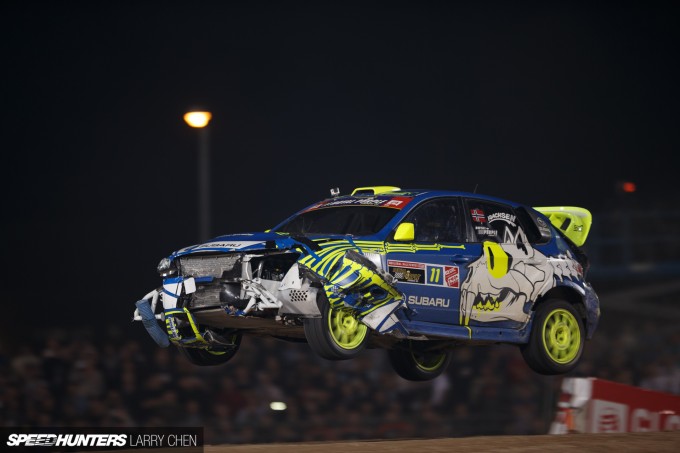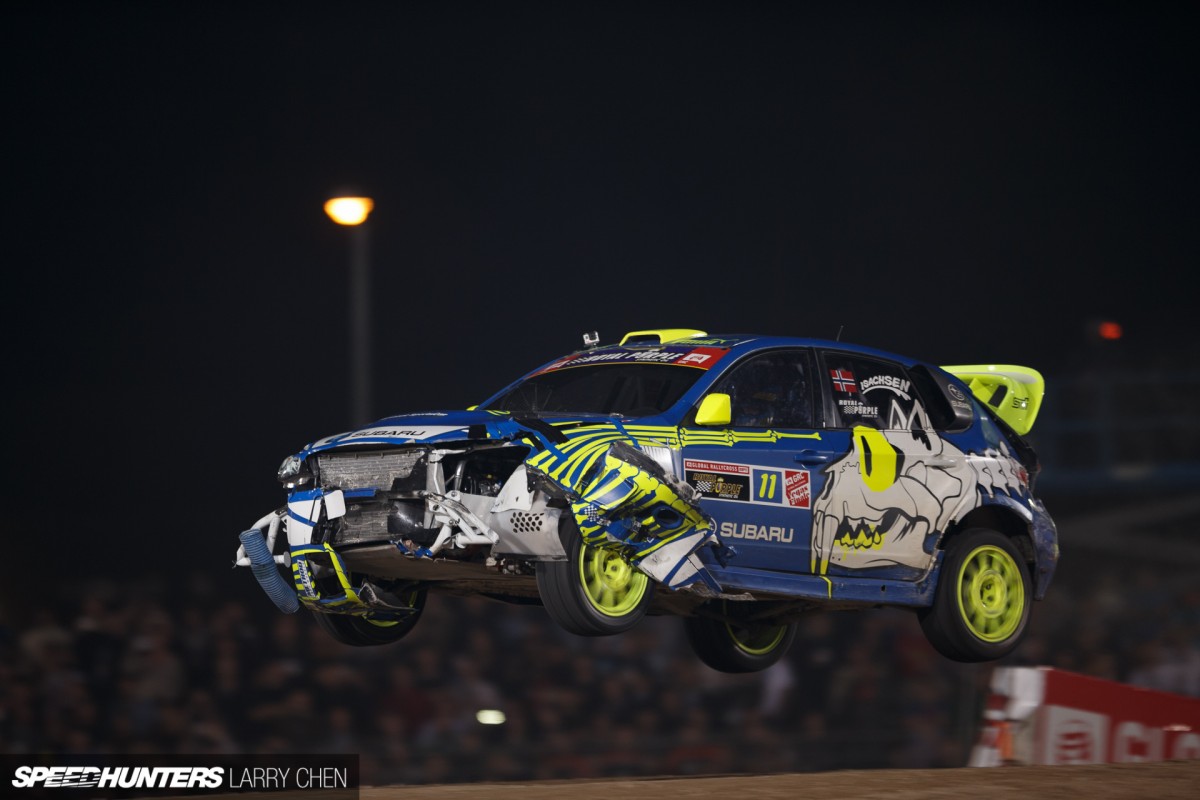 Norwegian driver, Sverre Isachsen, was not so lucky but at least his car was still running after the crash.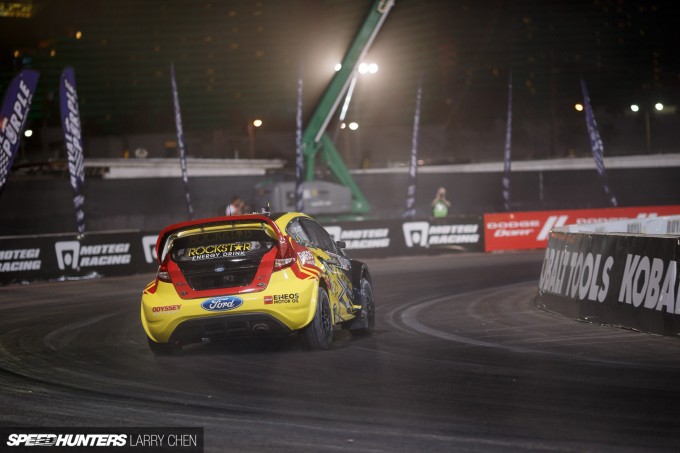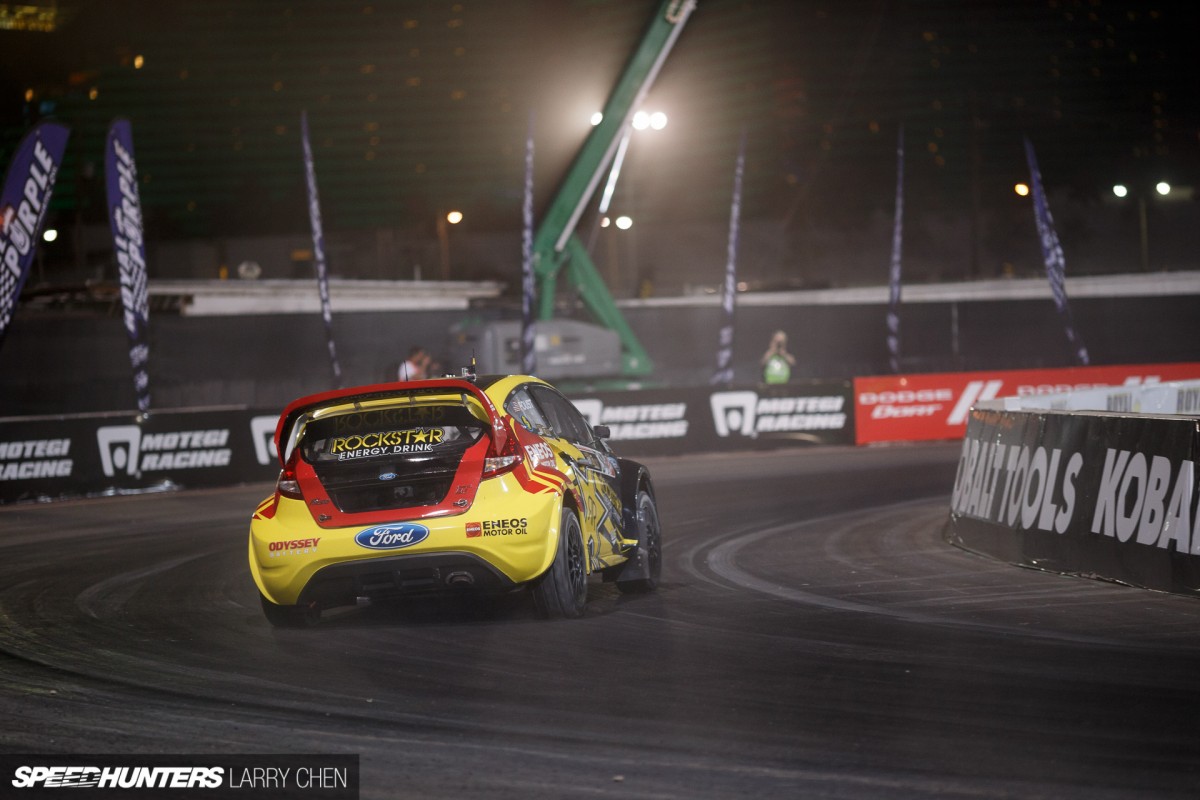 Tanner Foust started with a siginificant lead, but GRC officials deemed that Tanner jumped the start. He had to make a stop in the penalty box.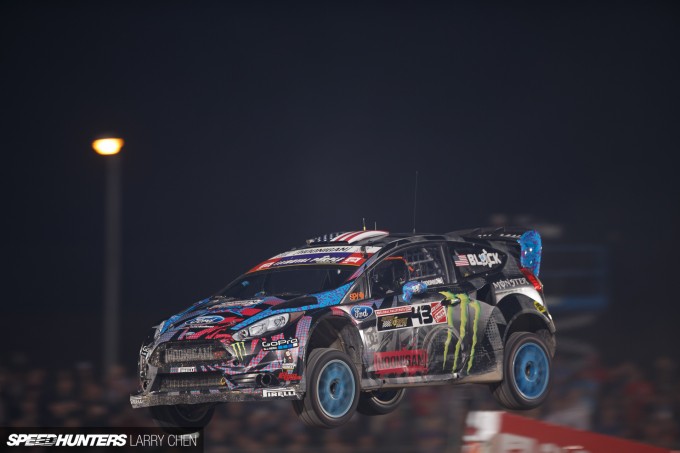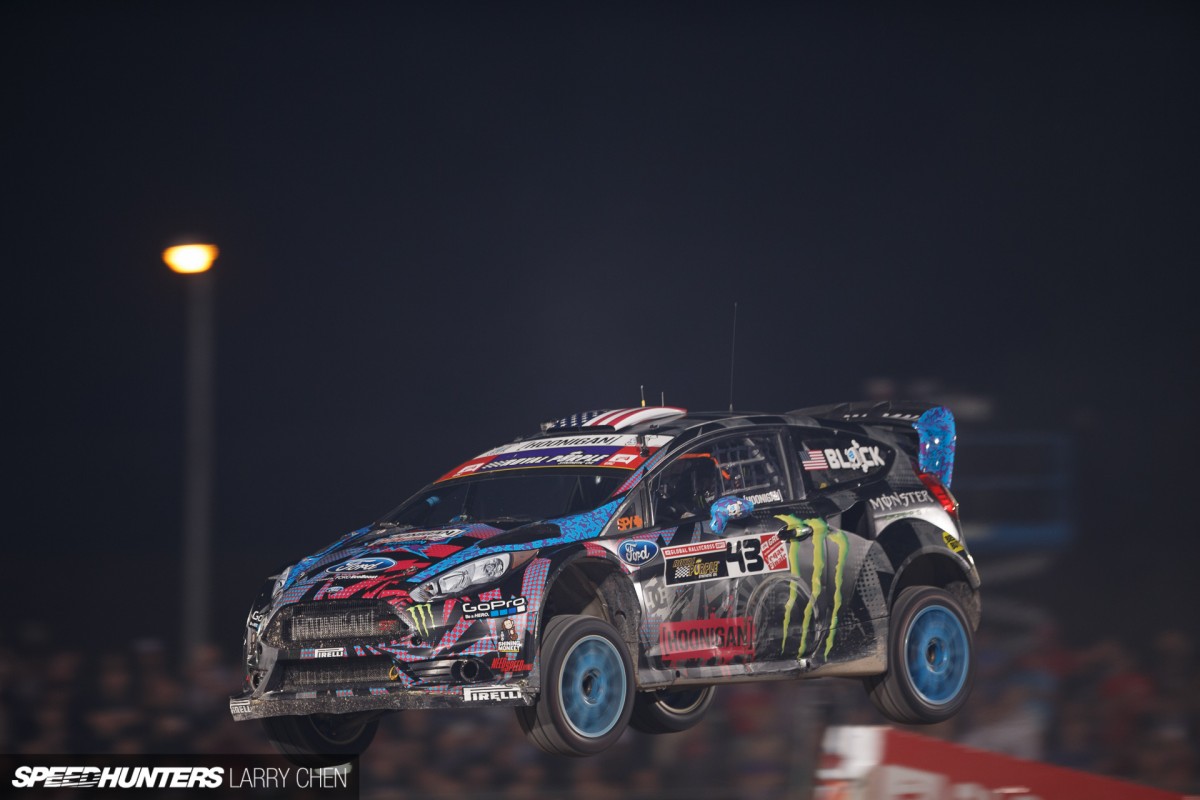 Which gave Ken Block a chance to take the lead. He drove as smooth as he could, and with a big gap between him and second place, he easily crossed the finish line to earn his very first GRC win.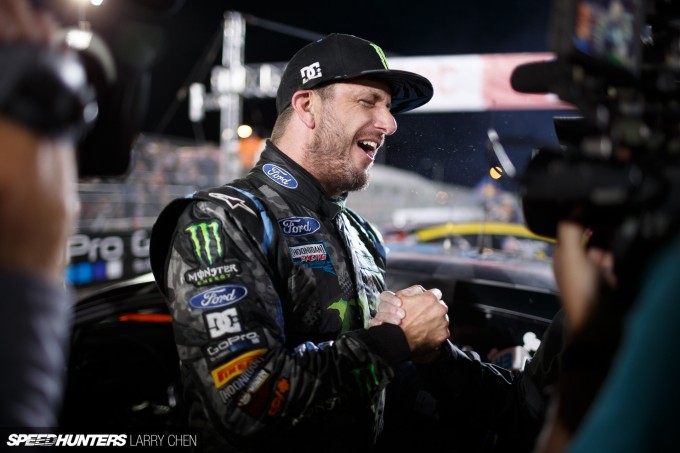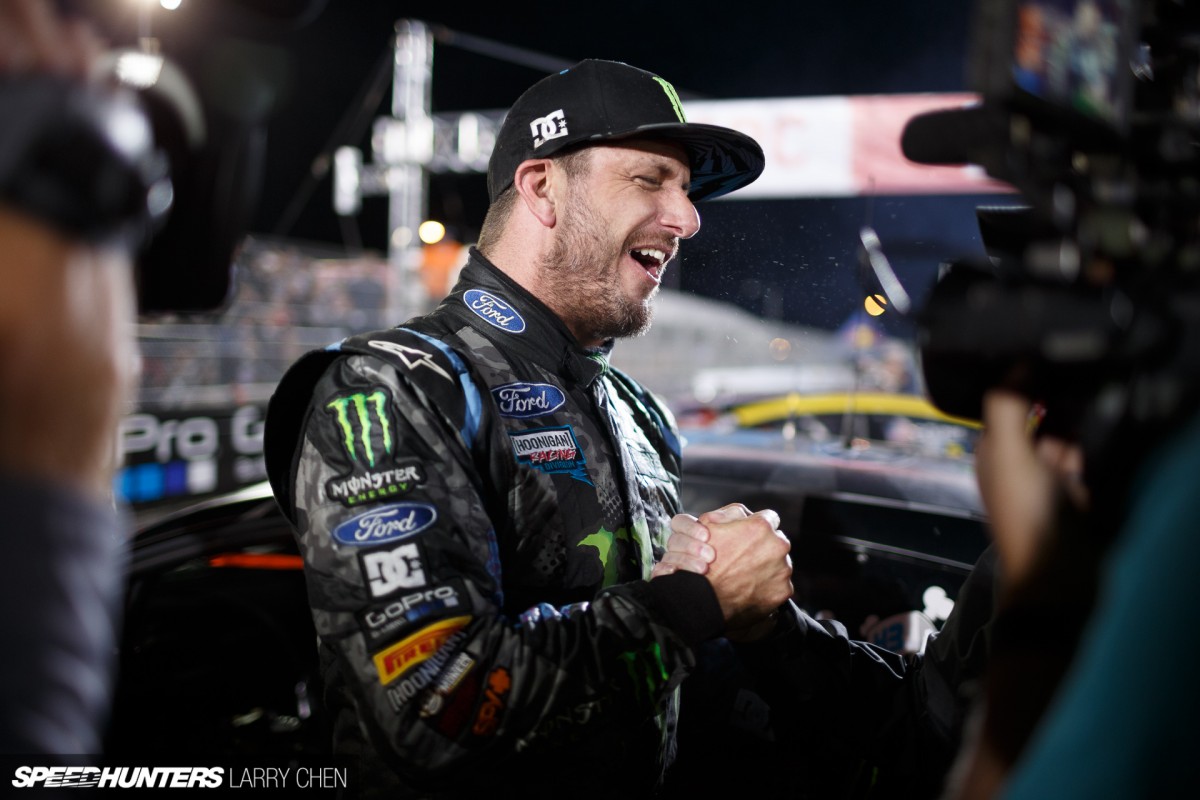 It's been a long time coming, but it just goes to show that hard work and persistence pays off. I think this one was for all the haters out there.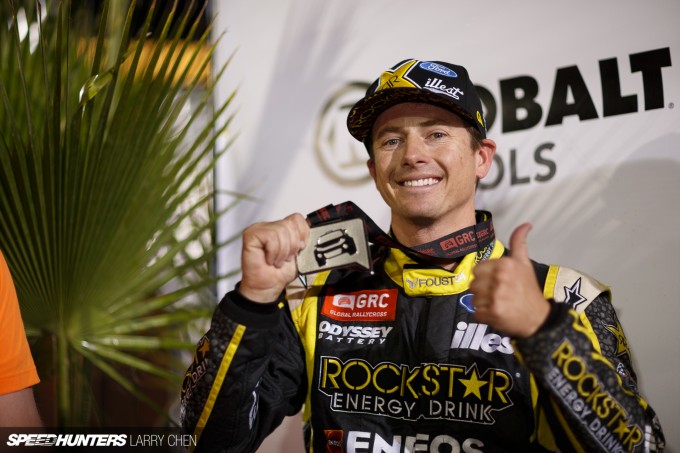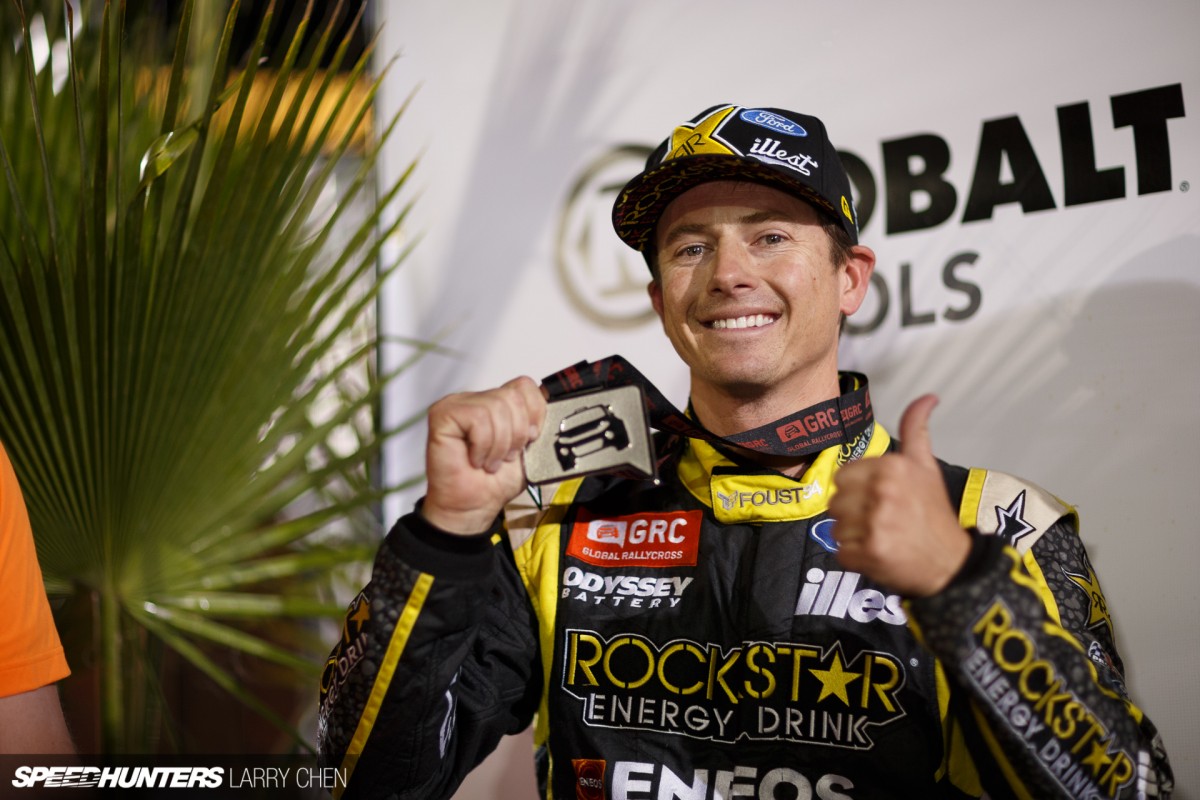 Tanner came in second place but he was still in high spirits.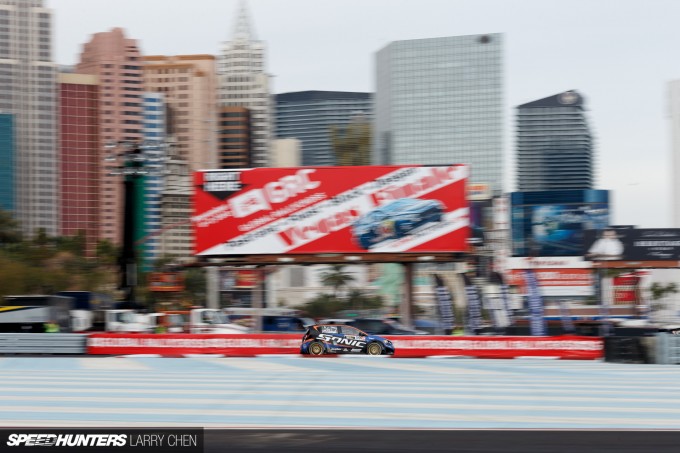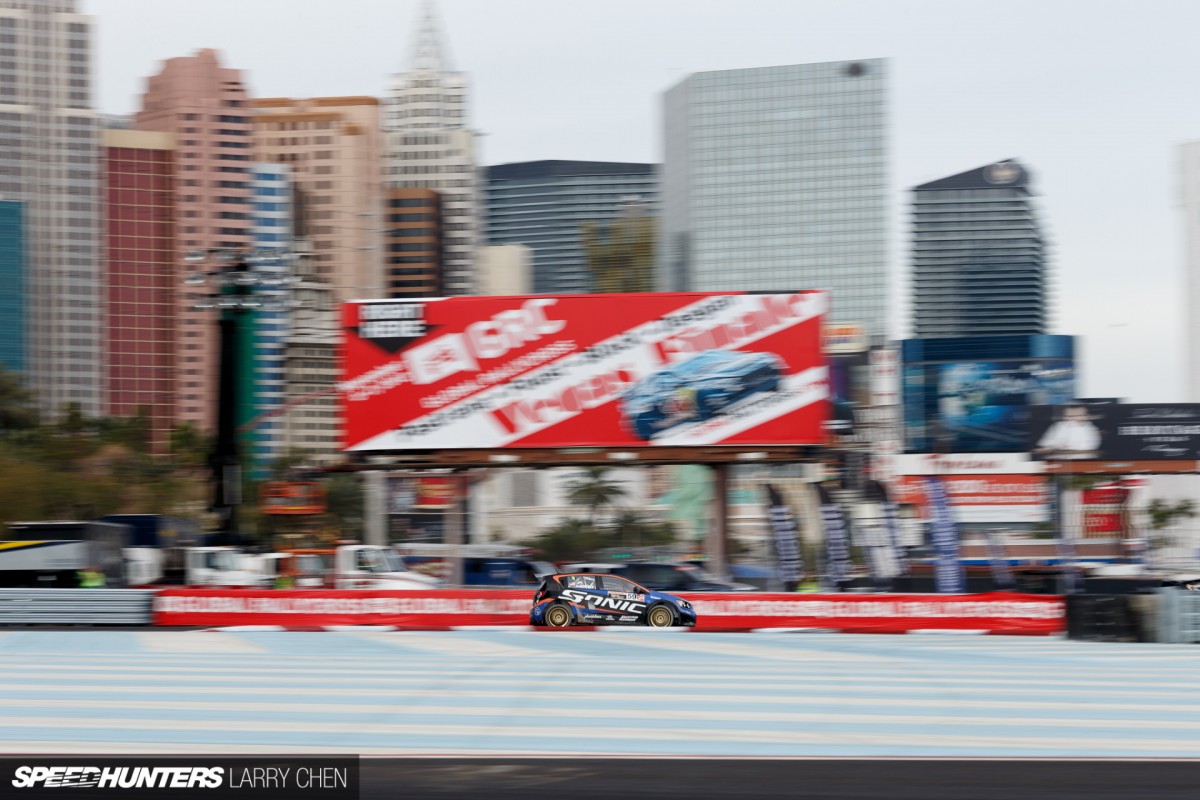 It will be interesting to see what GRC has in store for us next season, as it already seems like more manufacturers will try to campaign cars of their own.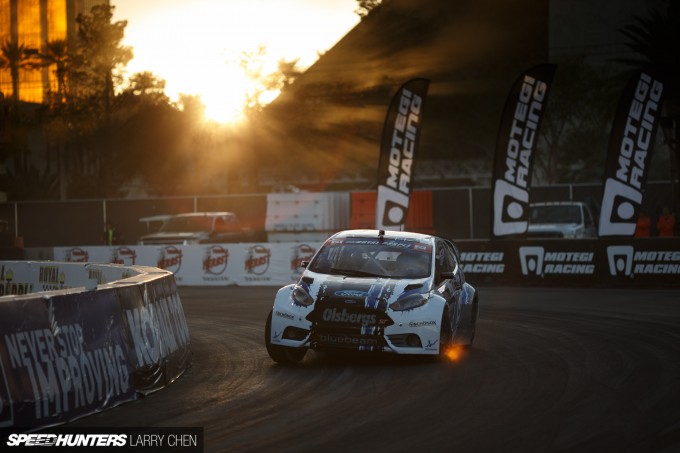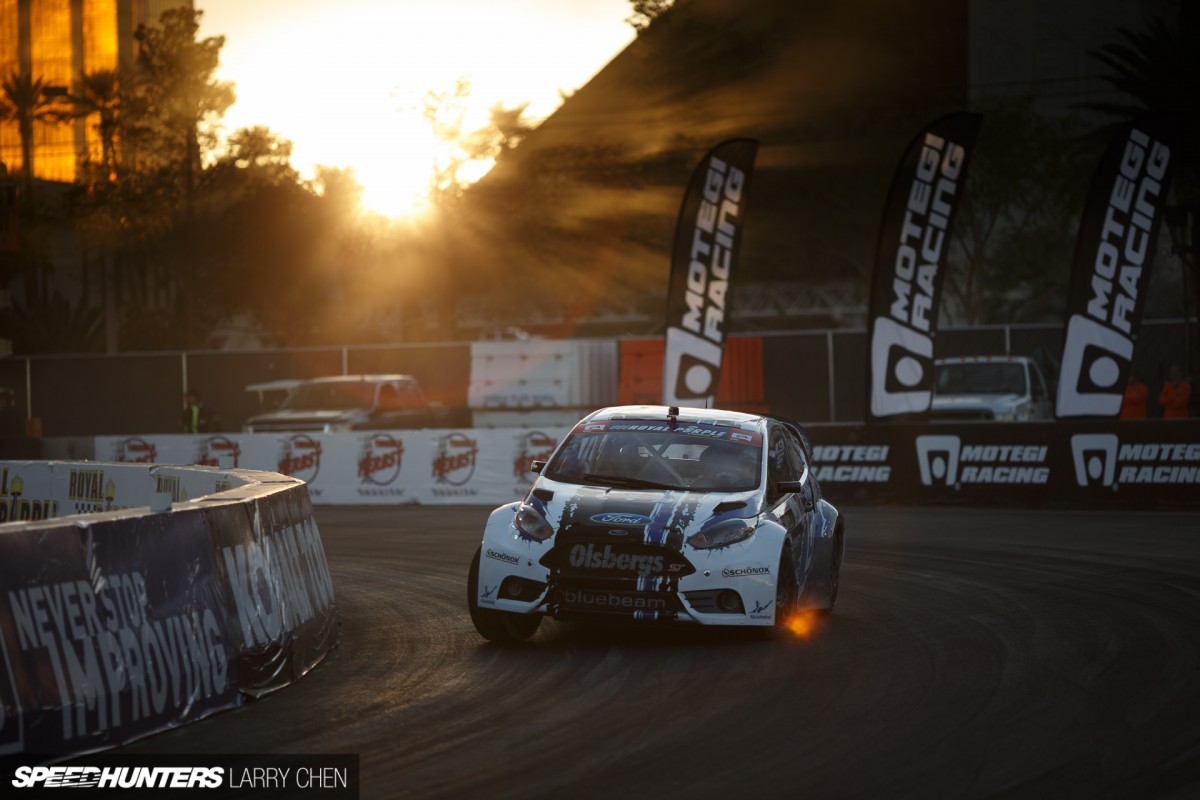 Finnish driver, Toomas Heikkinen, won the championship even before the season was over, breaking Tanner Foust's championship streak. This was the first event Toomas did not podium. It should be interesting to see if he continues to dominate the series next year.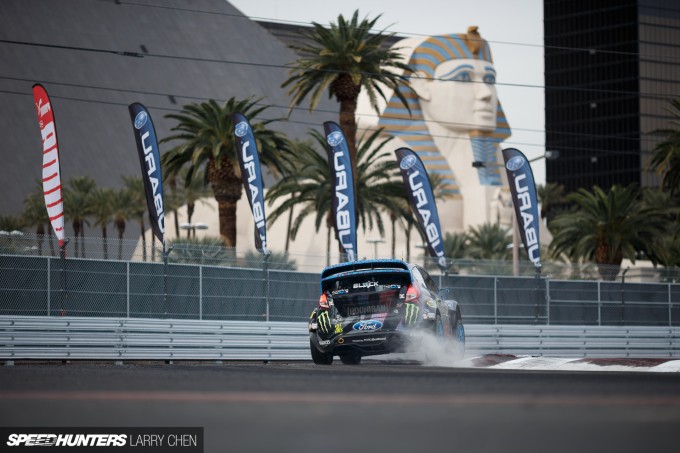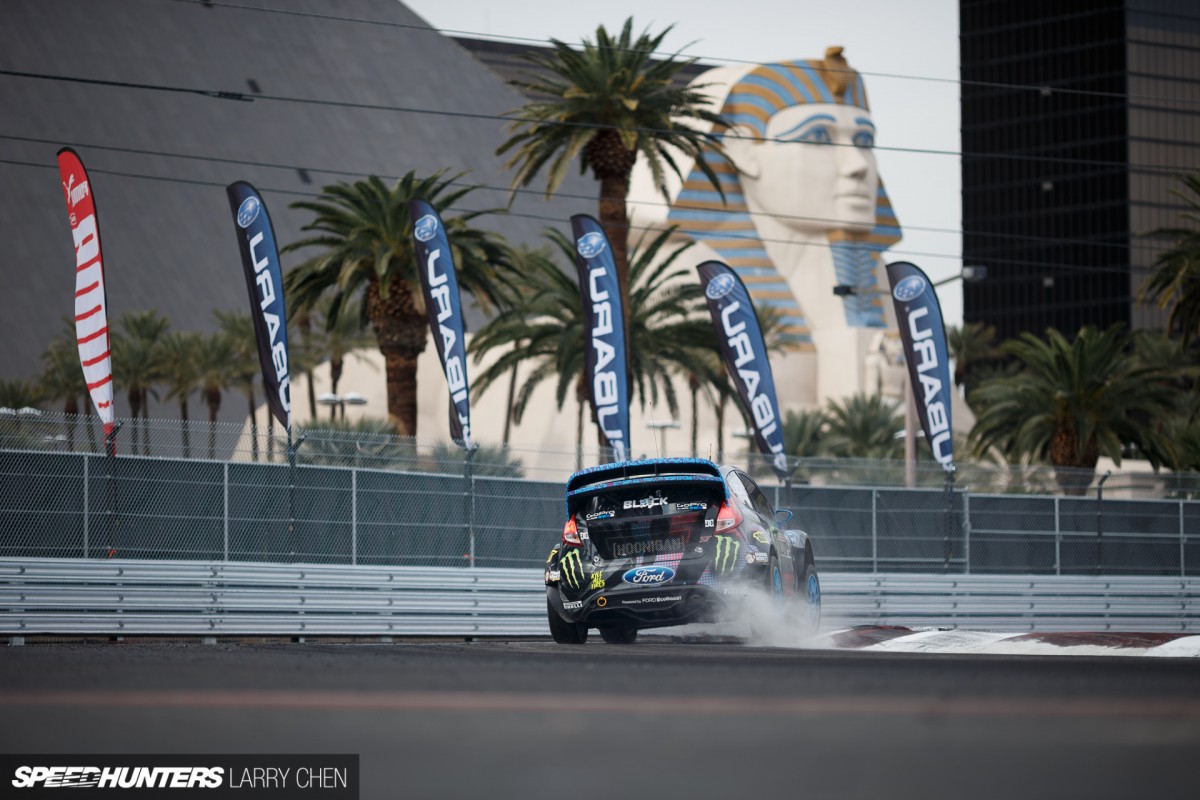 This time there were no tire failures, no fires, just clean fast driving and a bit of luck which gave Ken Block his first win. I'm sure it will be the first of many.