A curious sighting
I love Japan – I really do. I wouldn't have spent more than half my life here if I didn't. But there are some peculiar things about this country which casual observers just wouldn't understand. Japan can be a curious place that's full of bizarre surprise. From the sheer differences between Eastern and Western culture, to traditions and the weird things you come across during your day-to-day life. After a while that initial element of surprise slowly fades away; you continue to notice peculiarities, but – just like the locals – no longer give them more than a uninterested glance. Here's a good example: if I happened to see a middle aged man dressed as a woman and sporting a disturbingly-short mini skirt as he casually awaits his stop on the train, it wouldn't be anything that would particularly grab me. Live in Tokyo for some years and these sorts of things become frequent occurrences. Cars too, fall into this category. It's actually come to the point where I just don't even acknowledge exotics driving by anymore.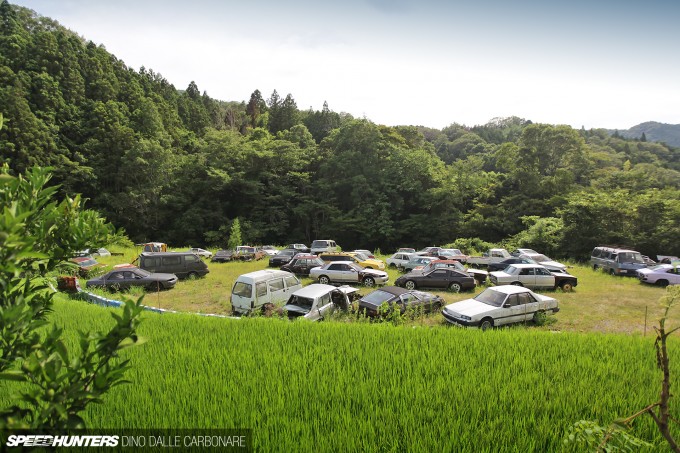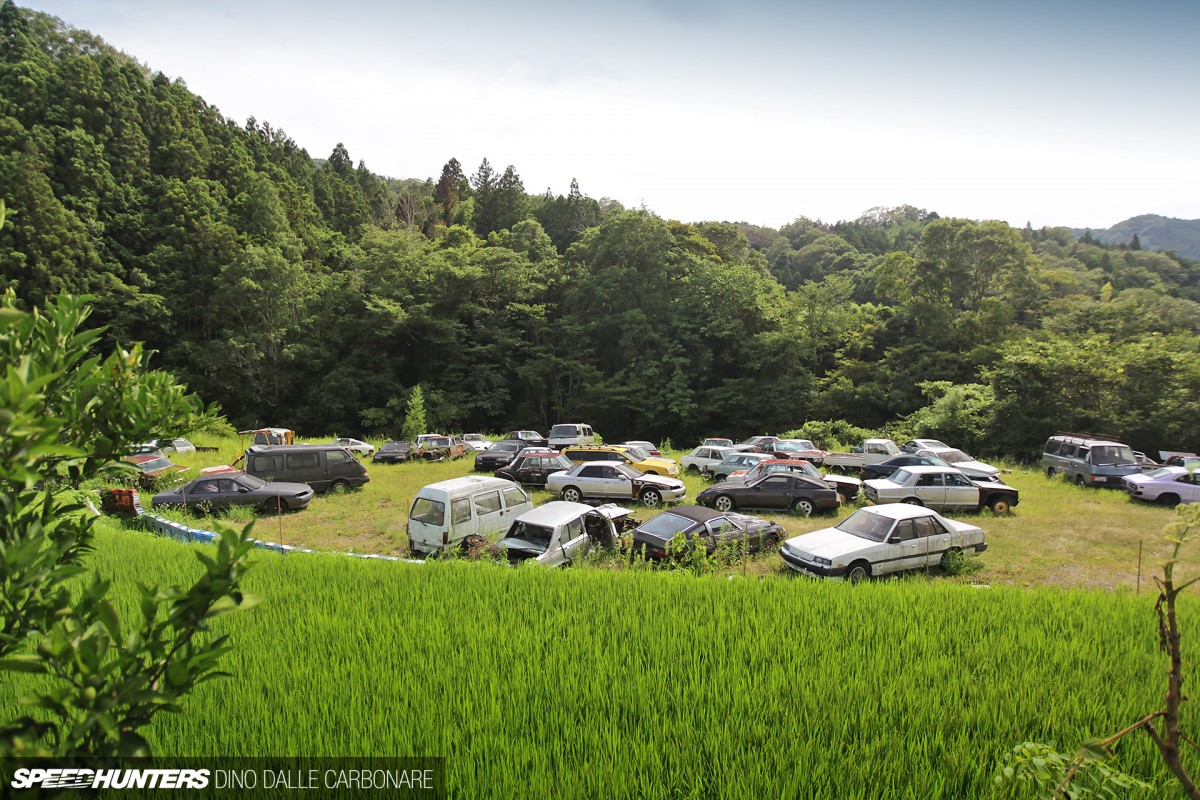 There are so many supercars out on the streets of the capital, and with the line of work that I'm in, even modified domestics have began to seem almost normal. Therefore, I can say the element of surprise is somewhat missing in my life. It's not that I'm jaded, but more a case of being a little spoiled, if that makes any sense.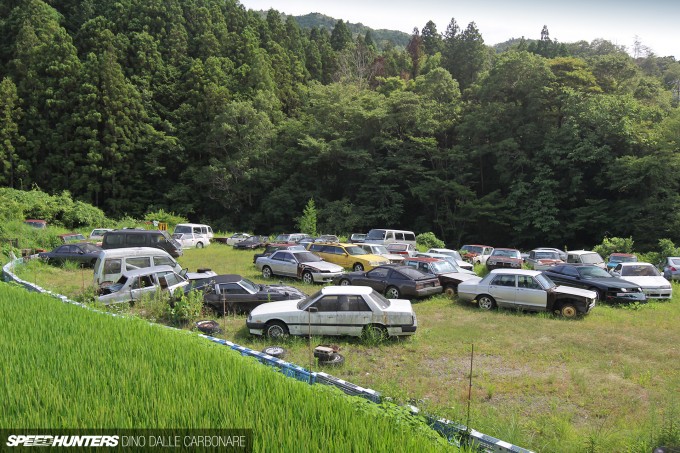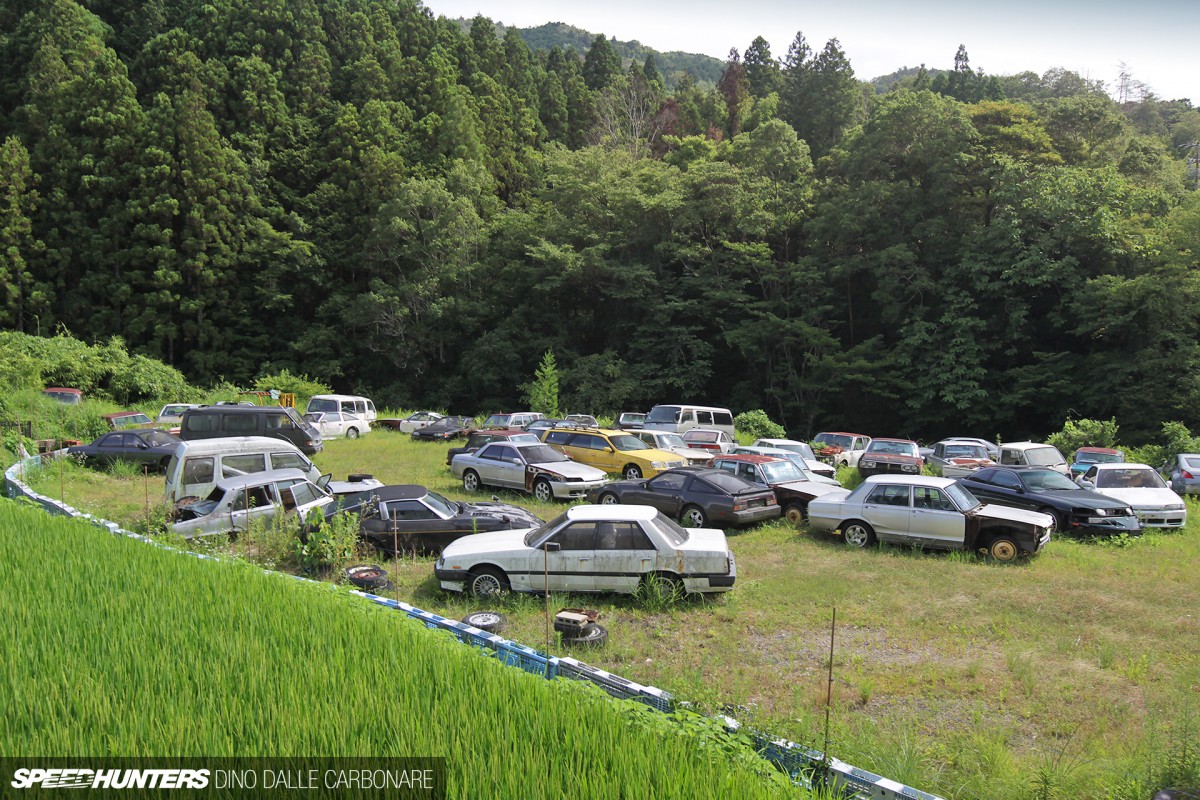 So I'm very glad that back in August, when I dropped by Rocky Auto to shoot its carbon Hakosuka, we decided to take the half-hour drive up to Watanabe-san's private garage in the mountain area around his house. Because it was there – just a few kilometers from our destination – that I spotted abandoned Japanese classics scattered randomly across the hilly terrain on each side of the road, an culminating with a sudden high concentration of cars in a wide open space. So once I had finished photographing Watanabe's garage…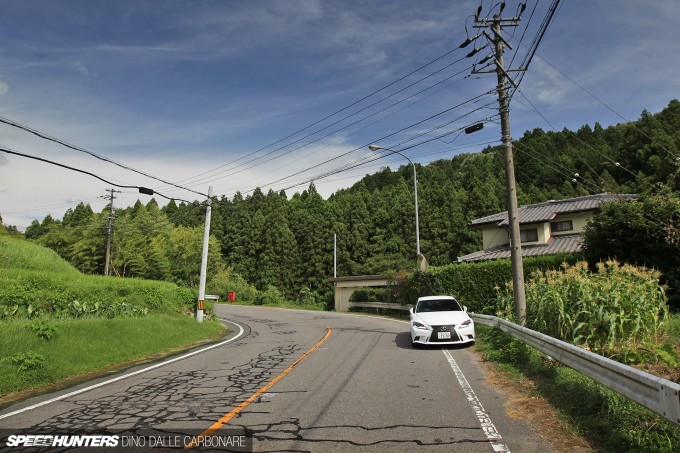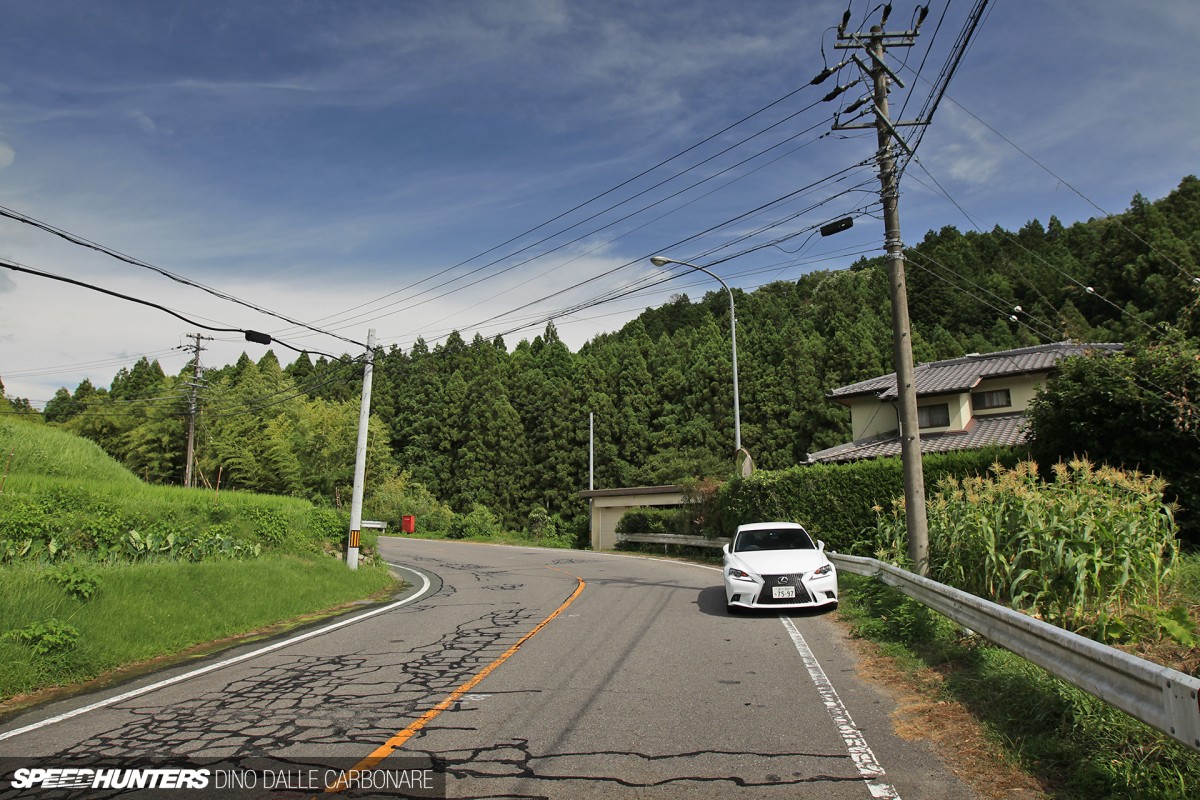 … I just had to take the Lexus IS350 press car I was driving back down the road for a closer look.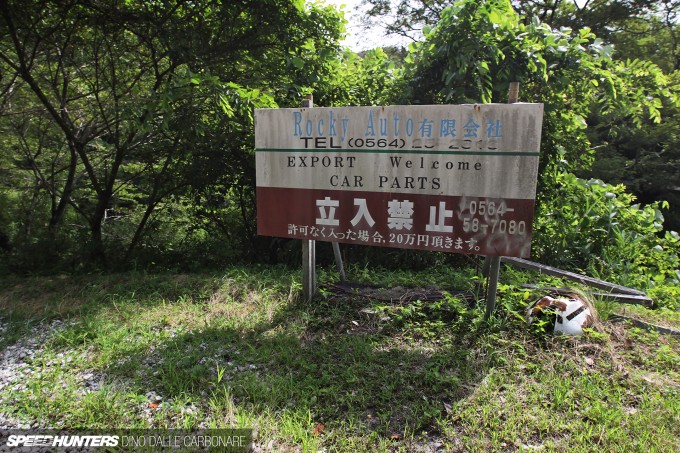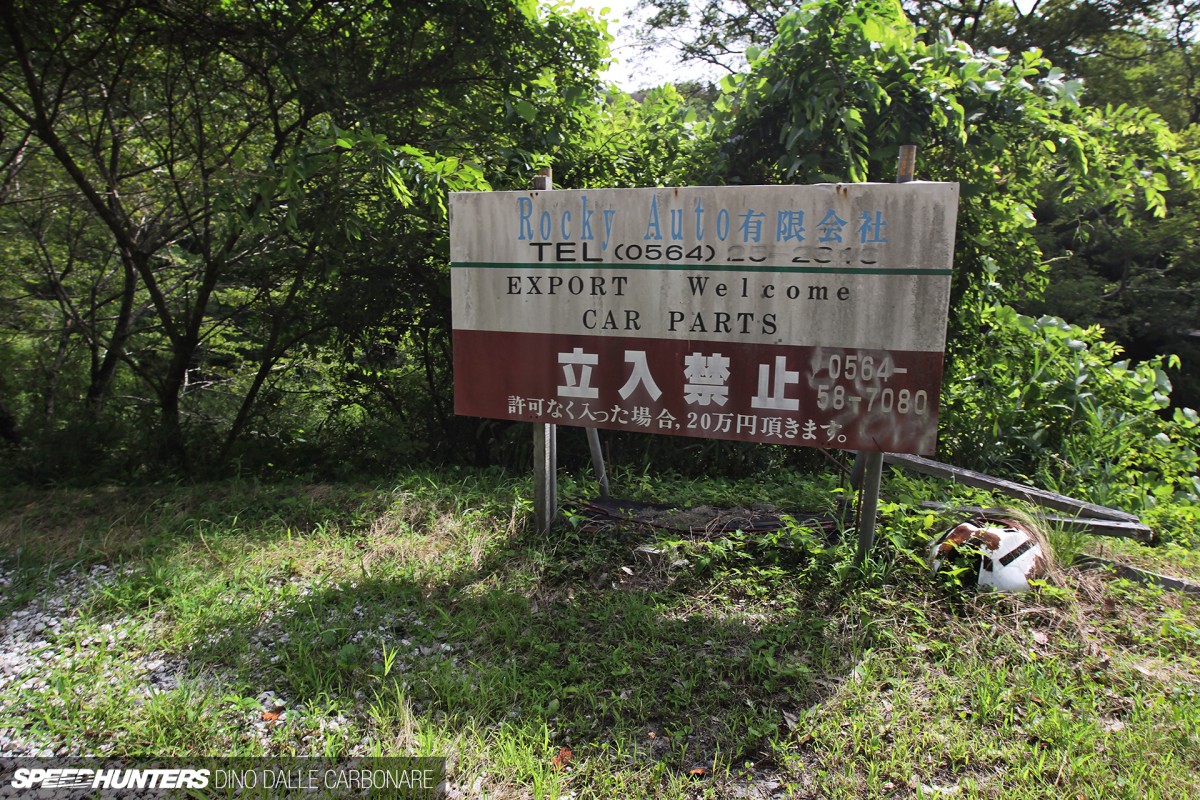 It turned out that a long time ago this was a yard where Watanabe-san stored some of his stock. As business picked up he ended up moving his operation to the center of Okazaki city, while this area and the hills around it – which he owns – remained a space to keep cars he no longer needed.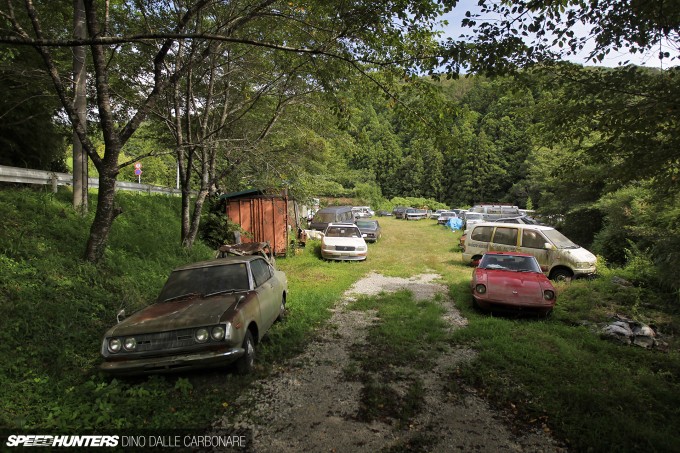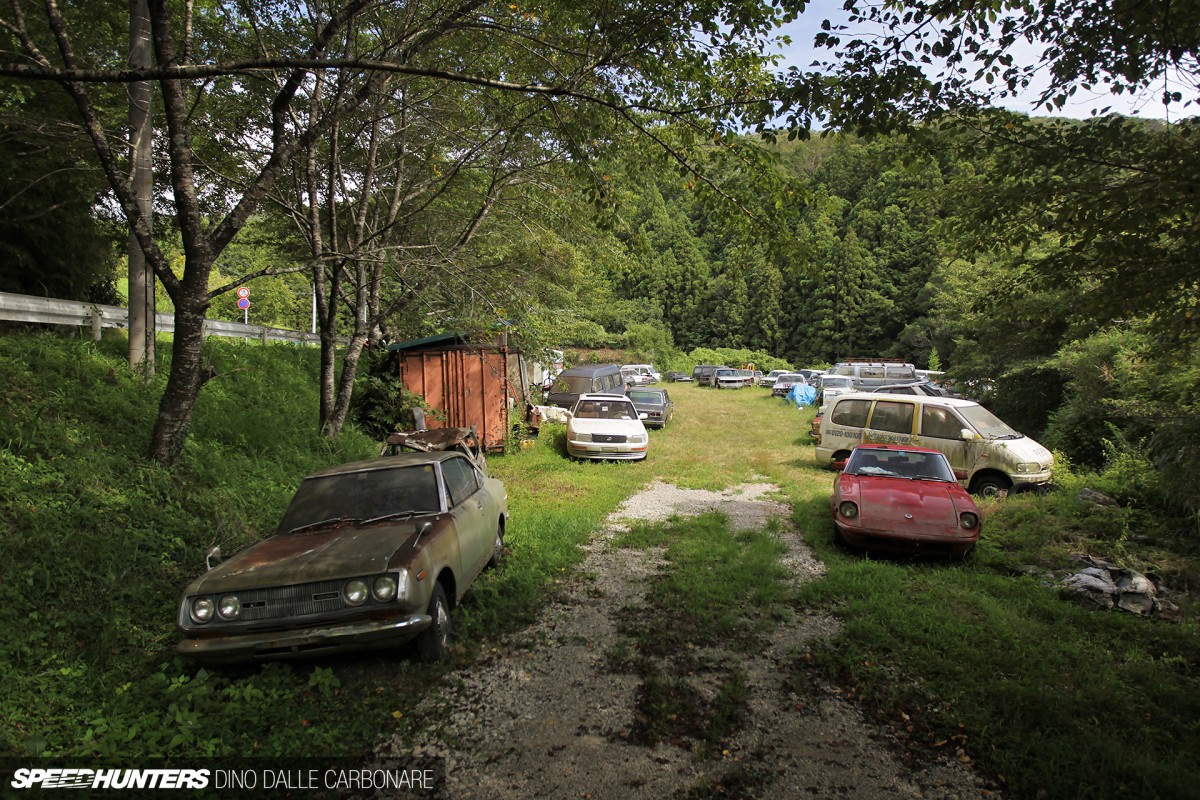 After jumping a little fence I walked down the gravel path where a welcome sense of surprise hit me.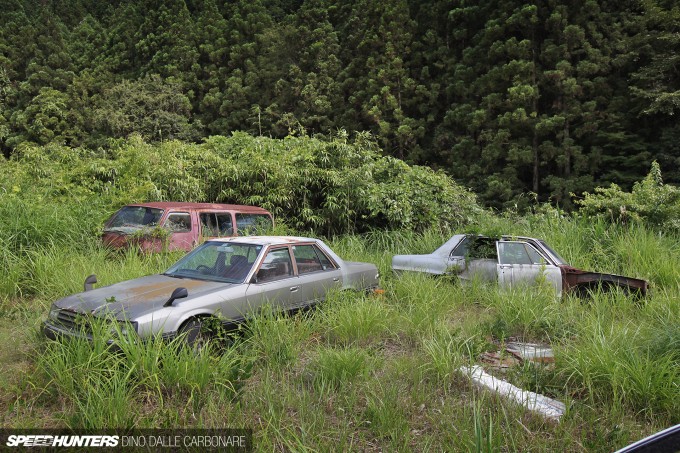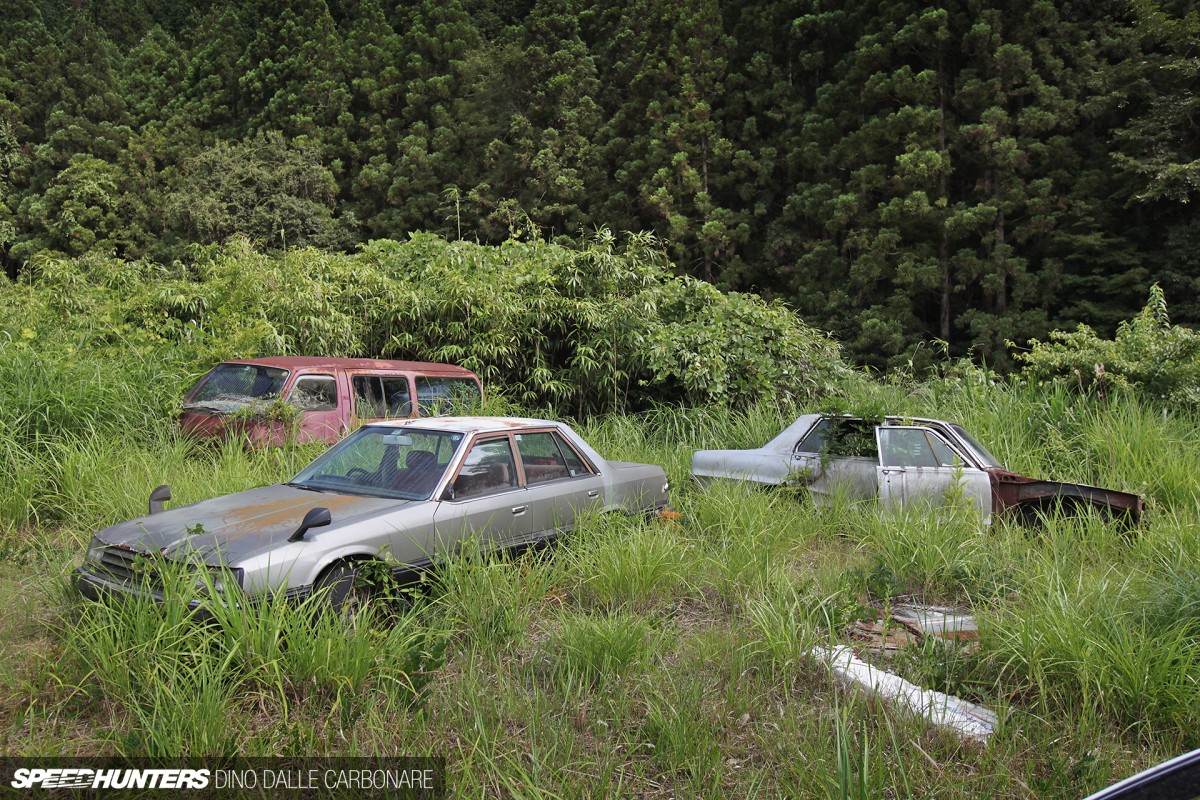 What the hell did I stumble on? But more to the point, 'What a bloody waste.'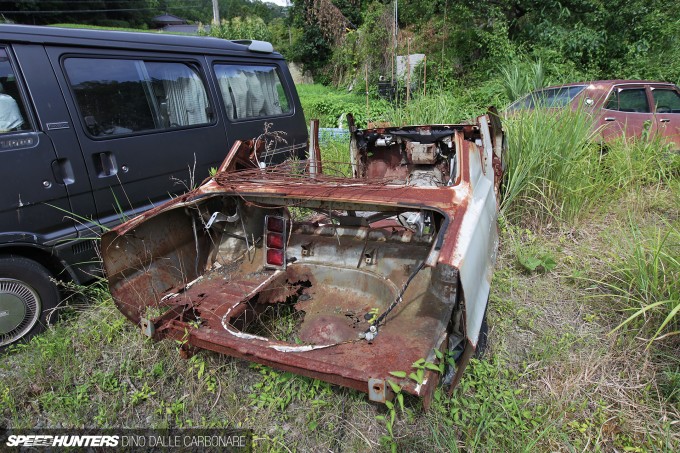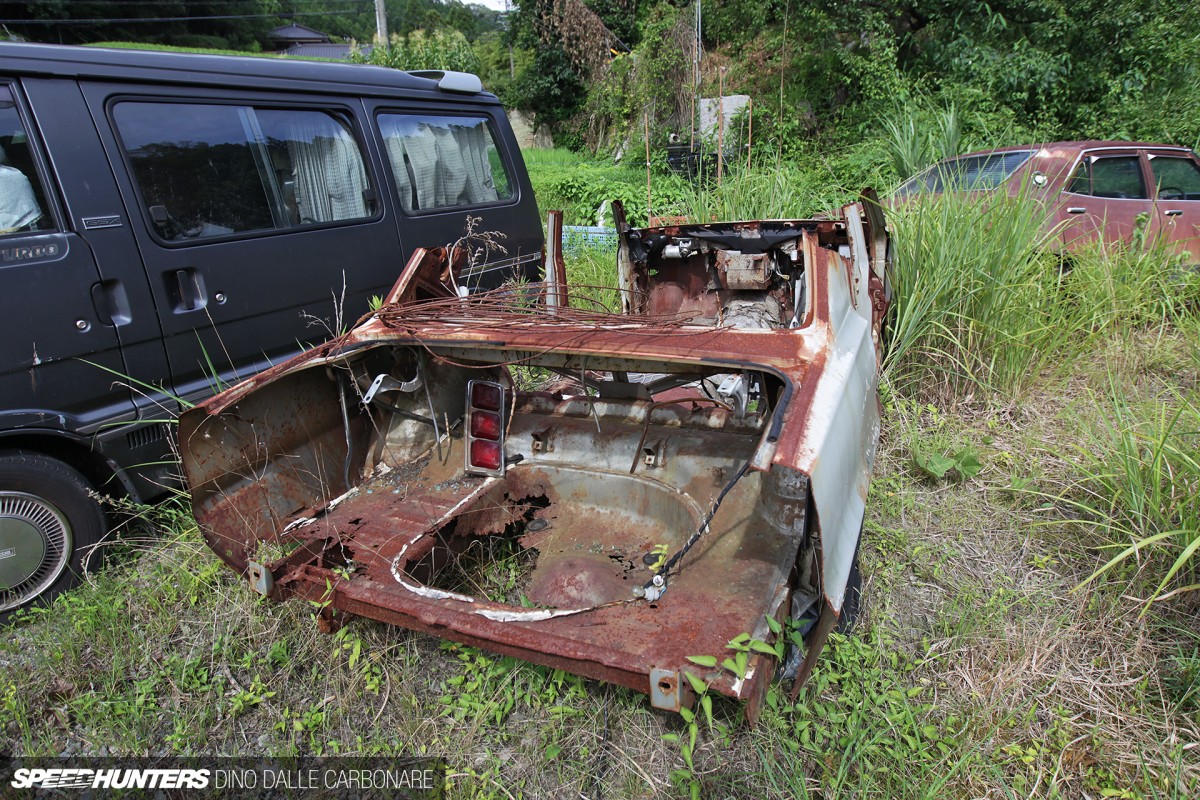 There is no hiding the fact that the sort of work Rocky Auto performs on vintage cars generally requires donor cars to be sacrificed. Engines need to come from somewhere…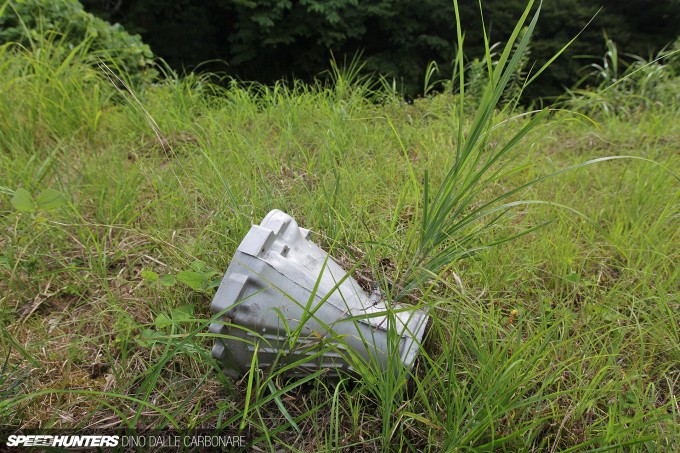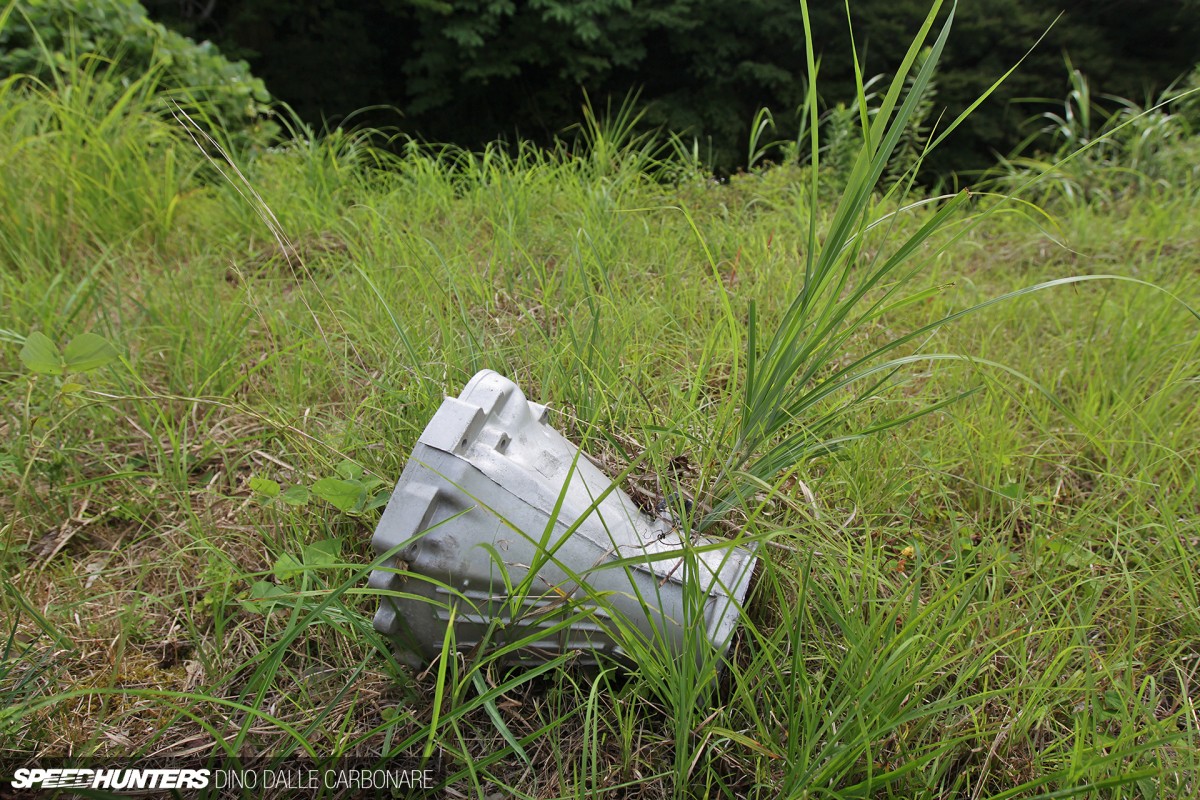 … as do transmissions…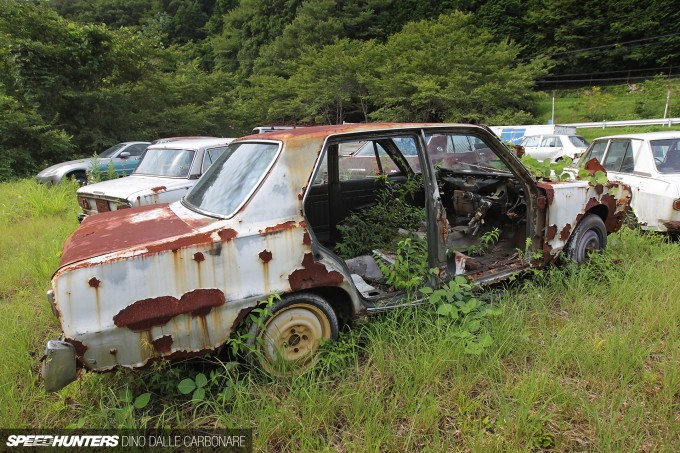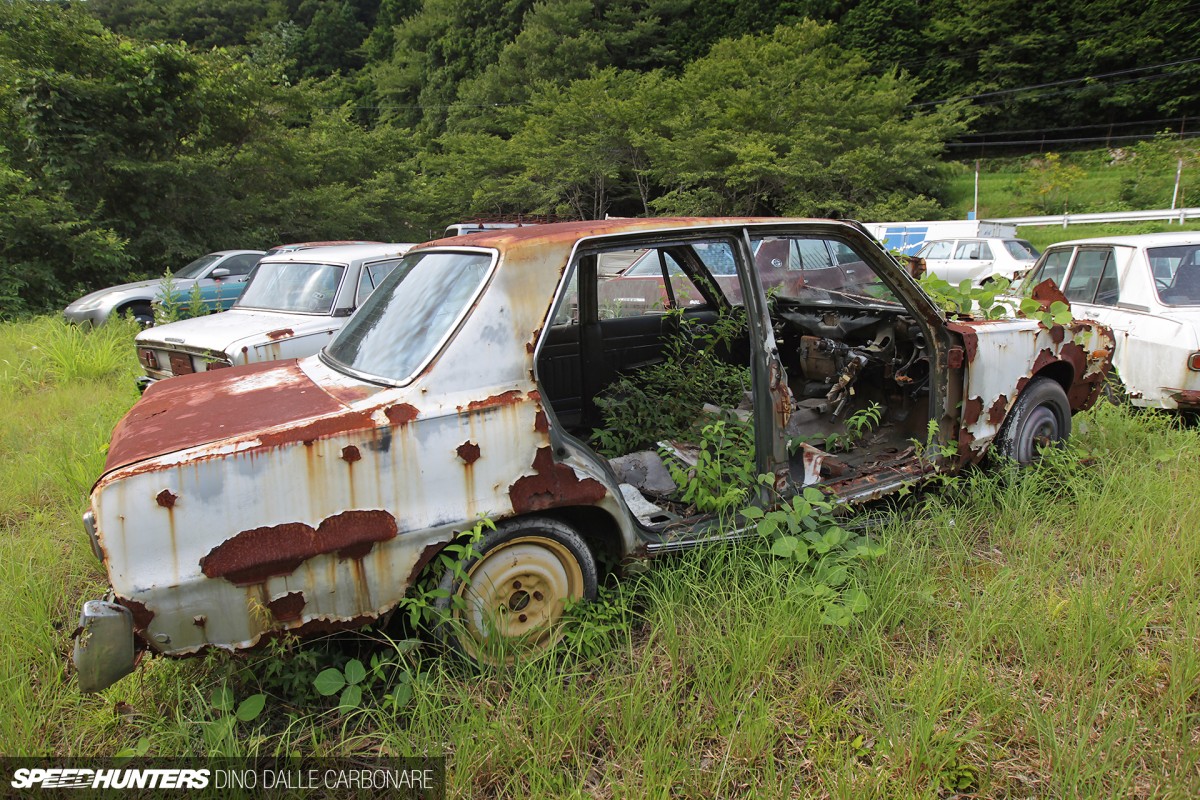 … and of course, the occasional body panel too. Over the years Watanabe-san has sourced an incredible number of donor cars – vehicles that were found at junkyards or bought cheaply at auction, like this four-door Skyline.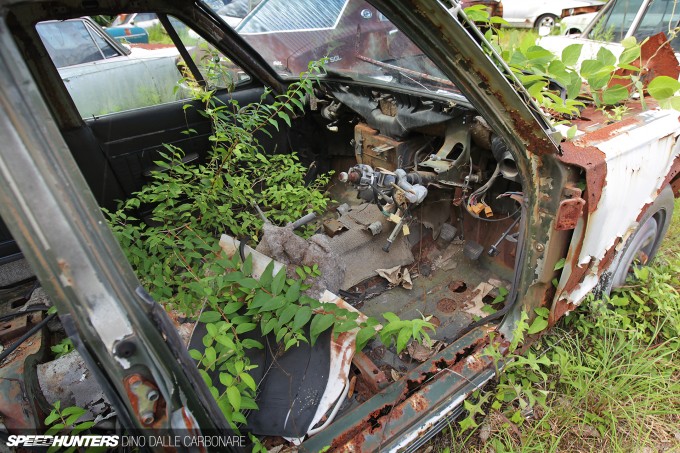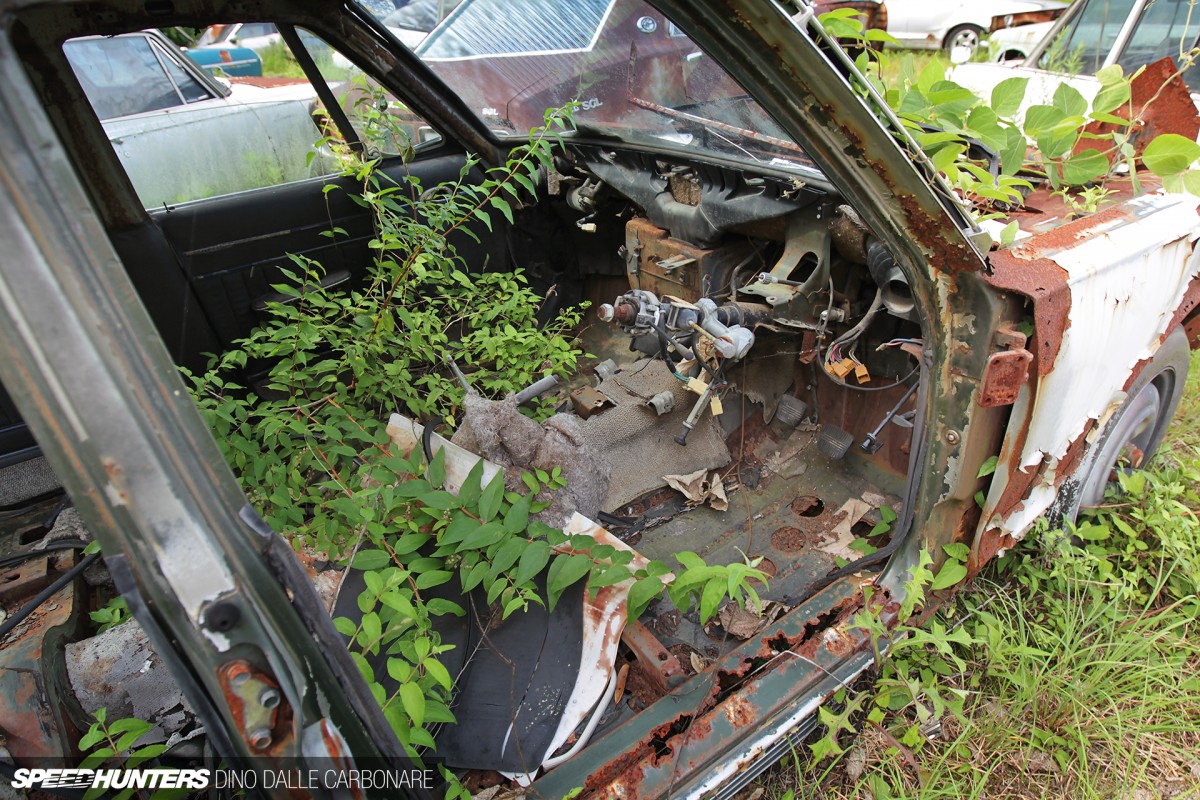 They have served their purpose and after being gutted they have been left here to rot away.
Stuck in limbo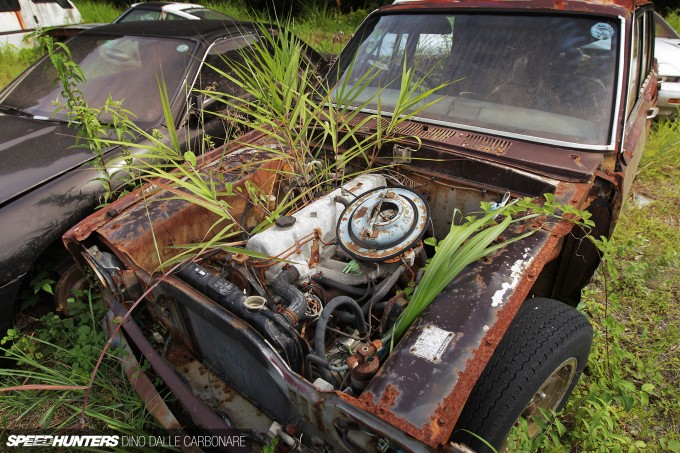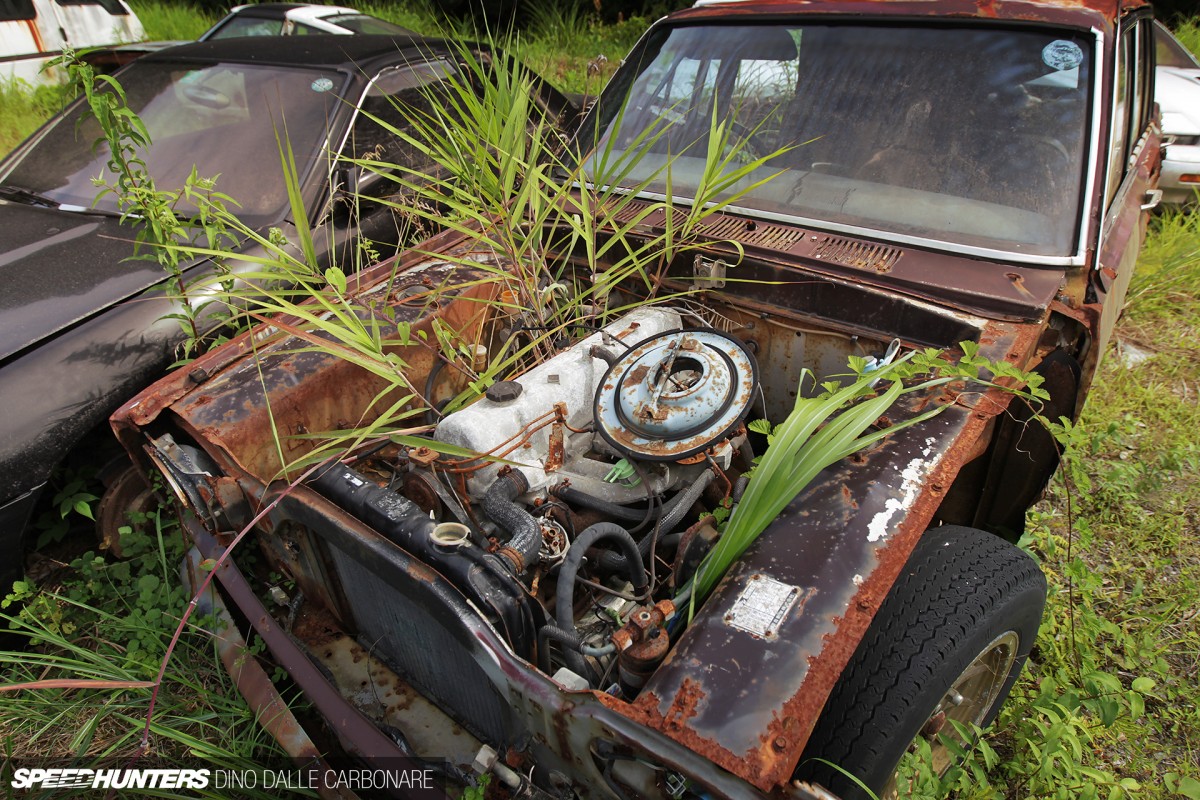 Seeing years' worth of vegetation growing out of dashboards and engine bays was almost poetic. Once the pride and joys of their owners, they were now stuck here, in limbo, rusting away into nothingness.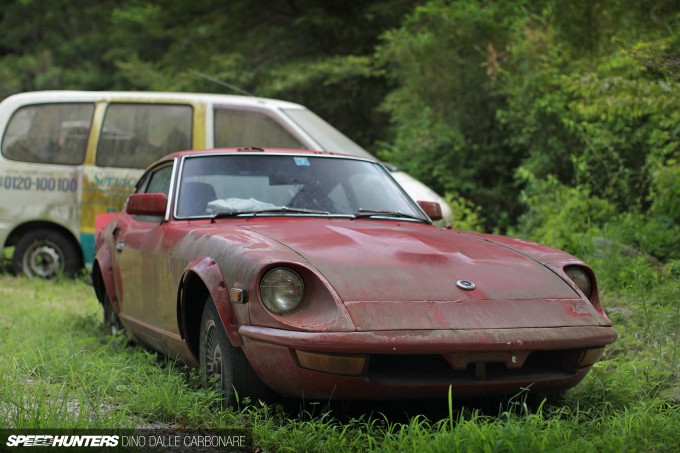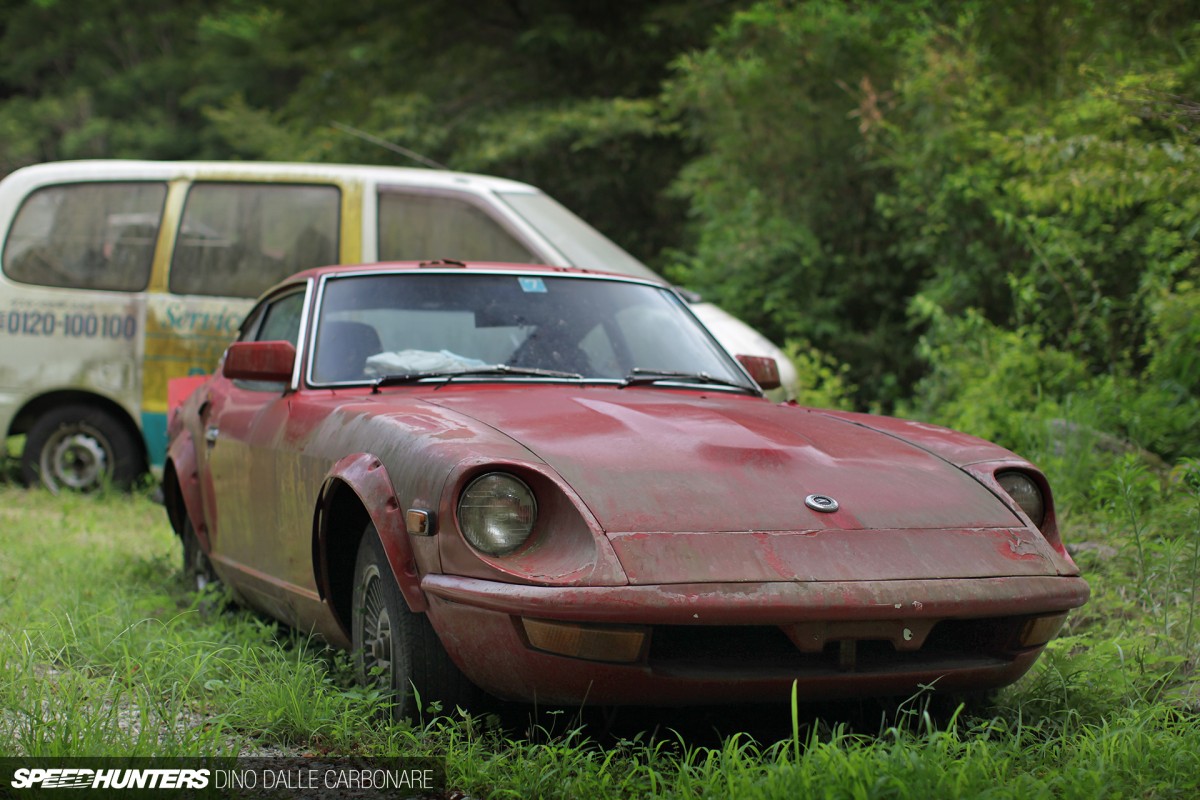 I'm sure I'm not alone in seeing the potential in every single car that I noticed sticking out of the tall grass…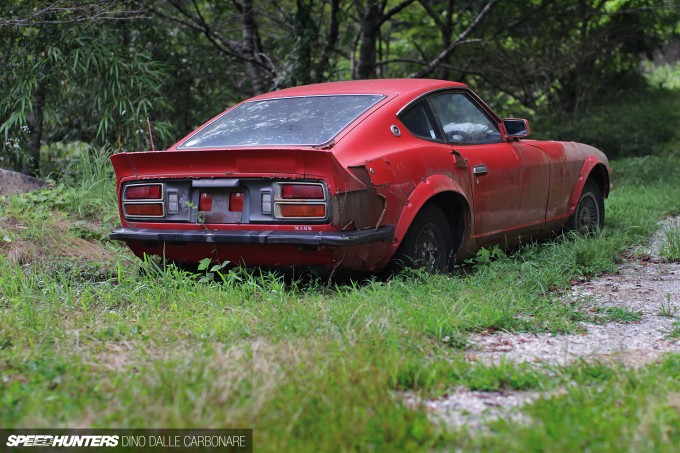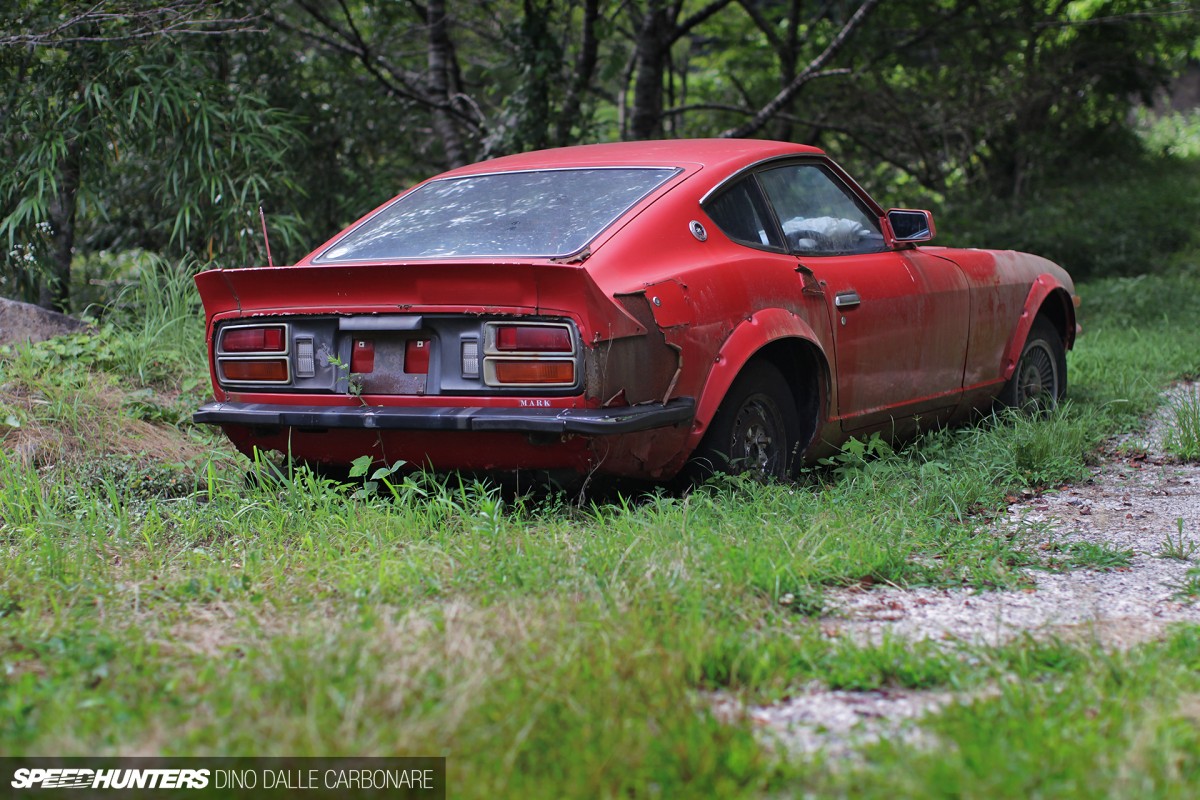 … cars like this S30 Fairlady, which wearing bolt-on fender flares and a ducktail rear spoiler, had obviously been someones modified project. The correct offset wheels are long gone, but even with chunks of paint missing, it's hard not to think, 'What if.'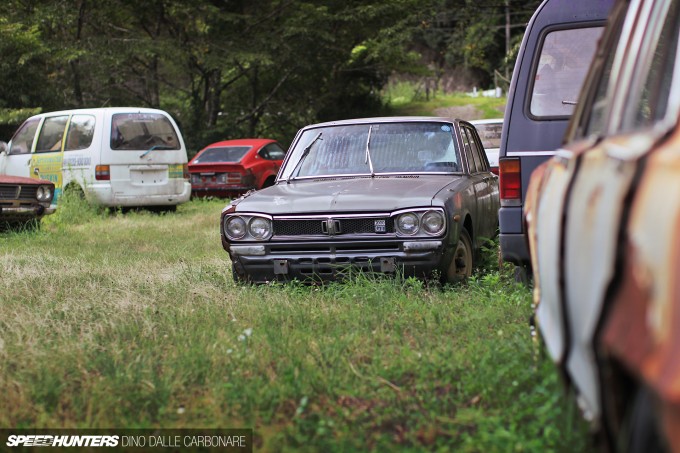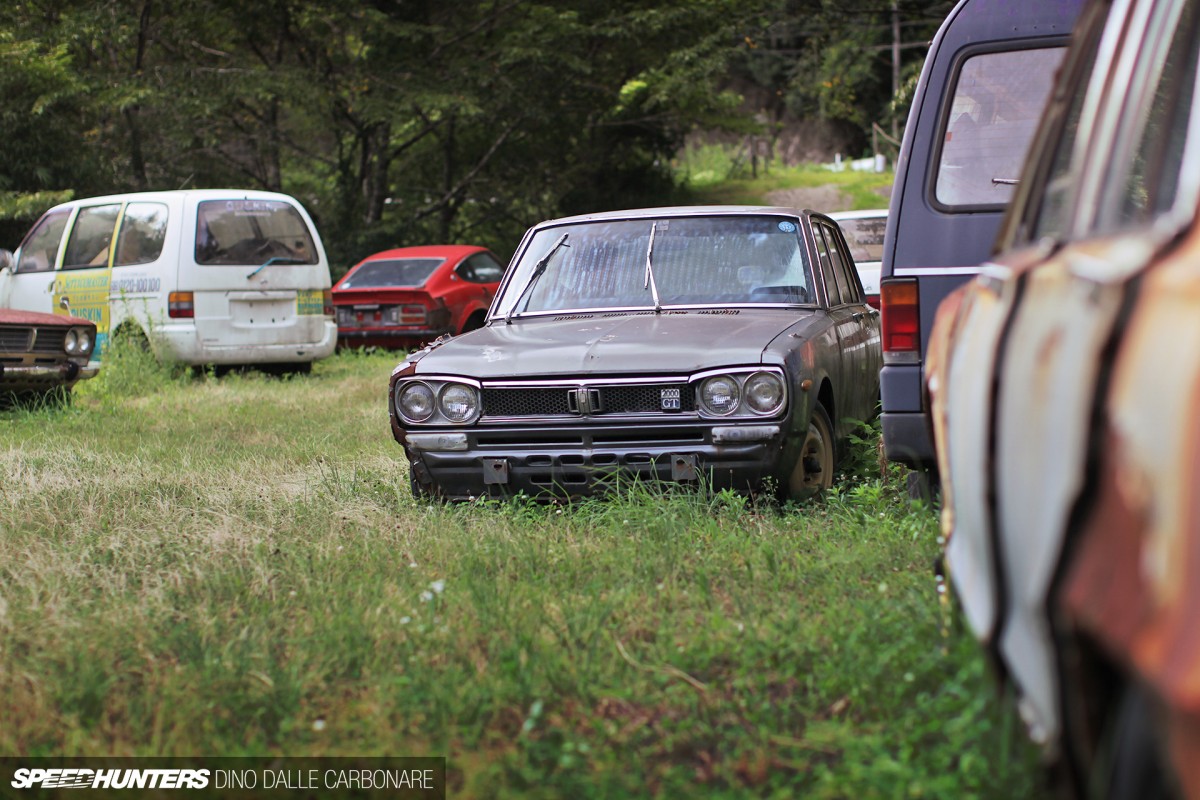 Not too far away was this GC10 Skyline 2000GT; that unmistakable Hakosuka front-end instantly striking a cord with any enthusiast…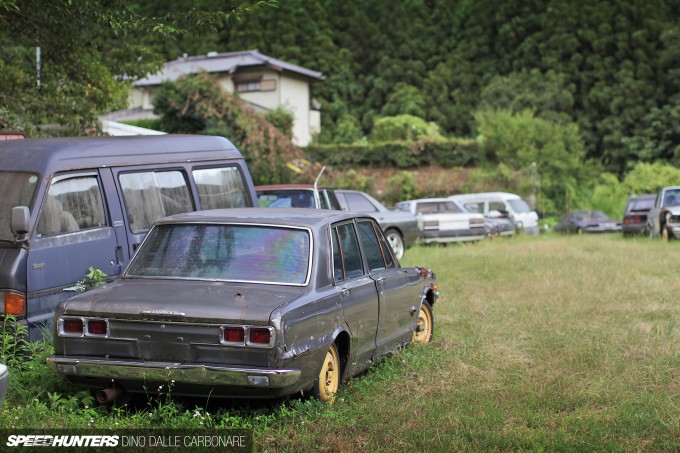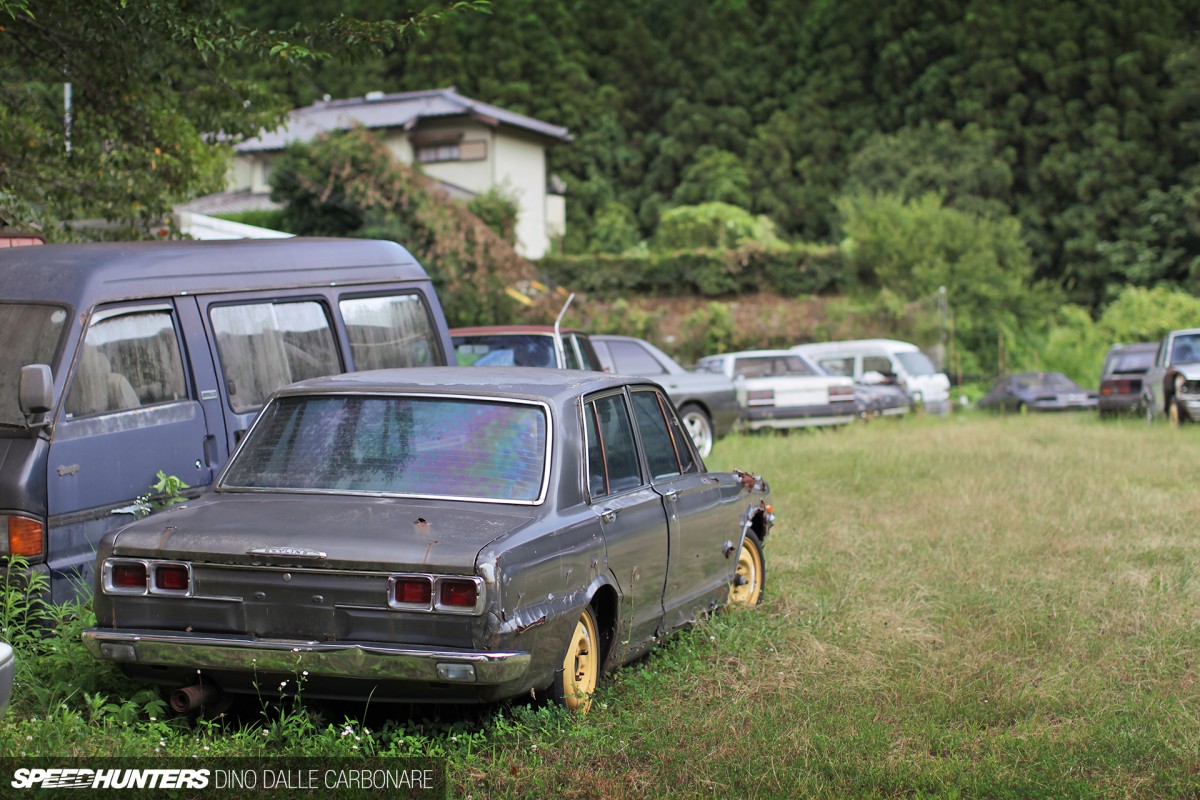 … despite this being a pretty run-of-the-mill four-door sedan. It was among some of the best condition cars in an eerie place I couldn't help but baptize, The Kyusha Cemetery.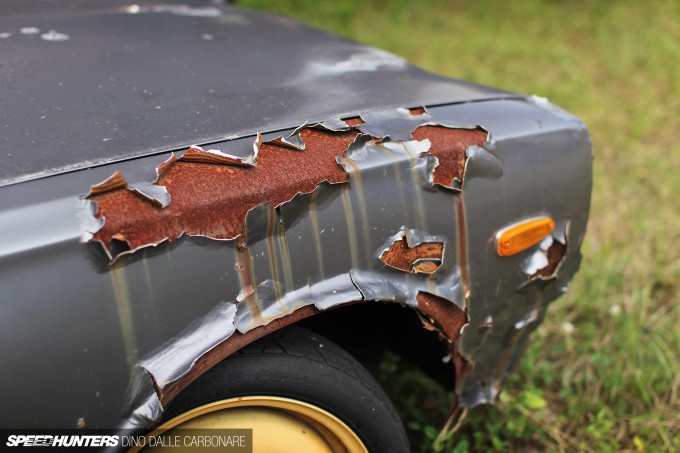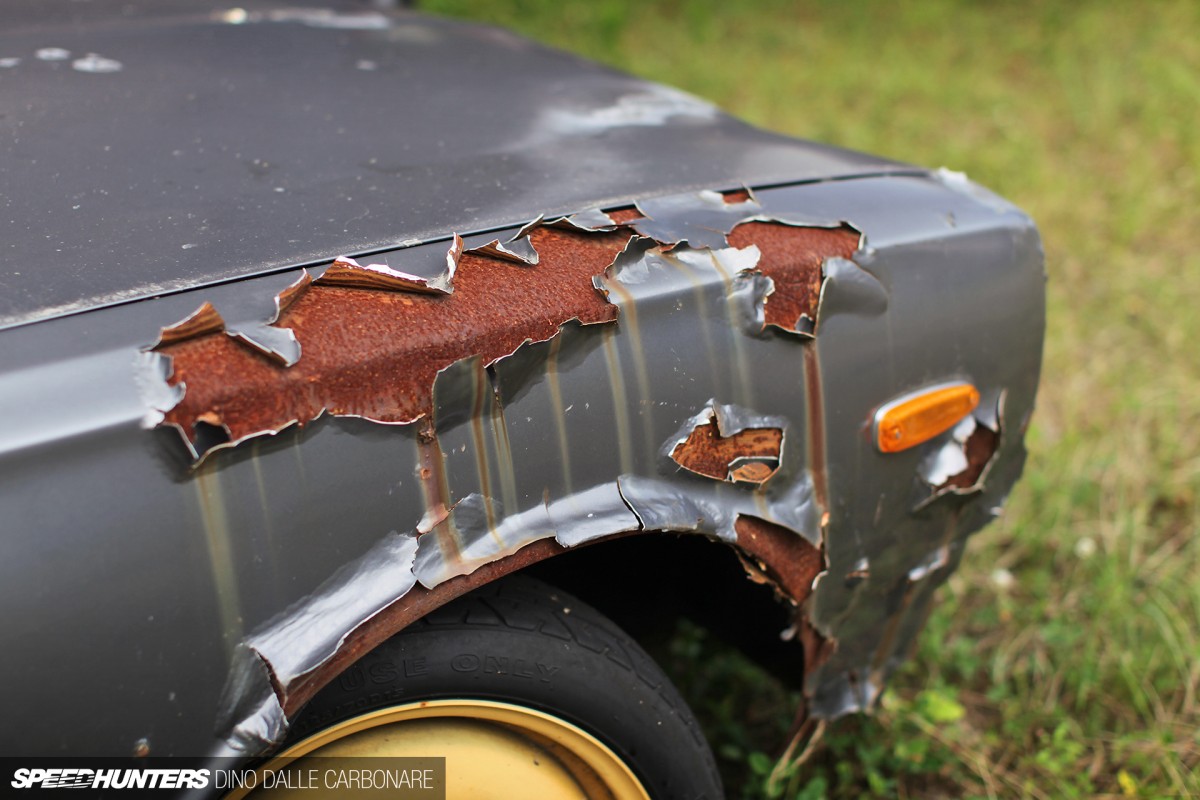 Nothing a bit of a sand-down and a fresh coat of paint couldn't fix? Probably not…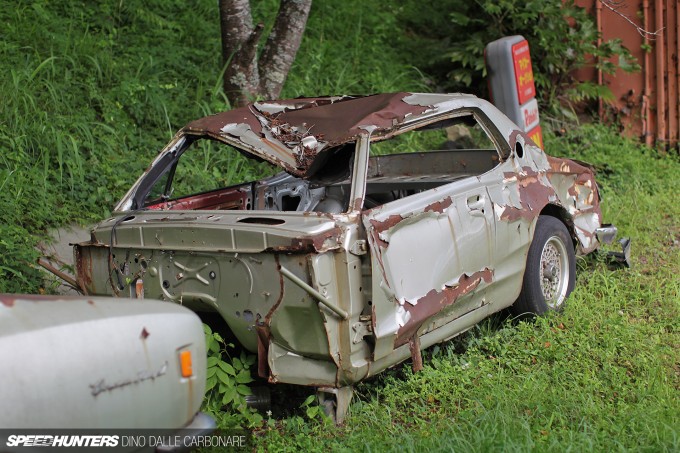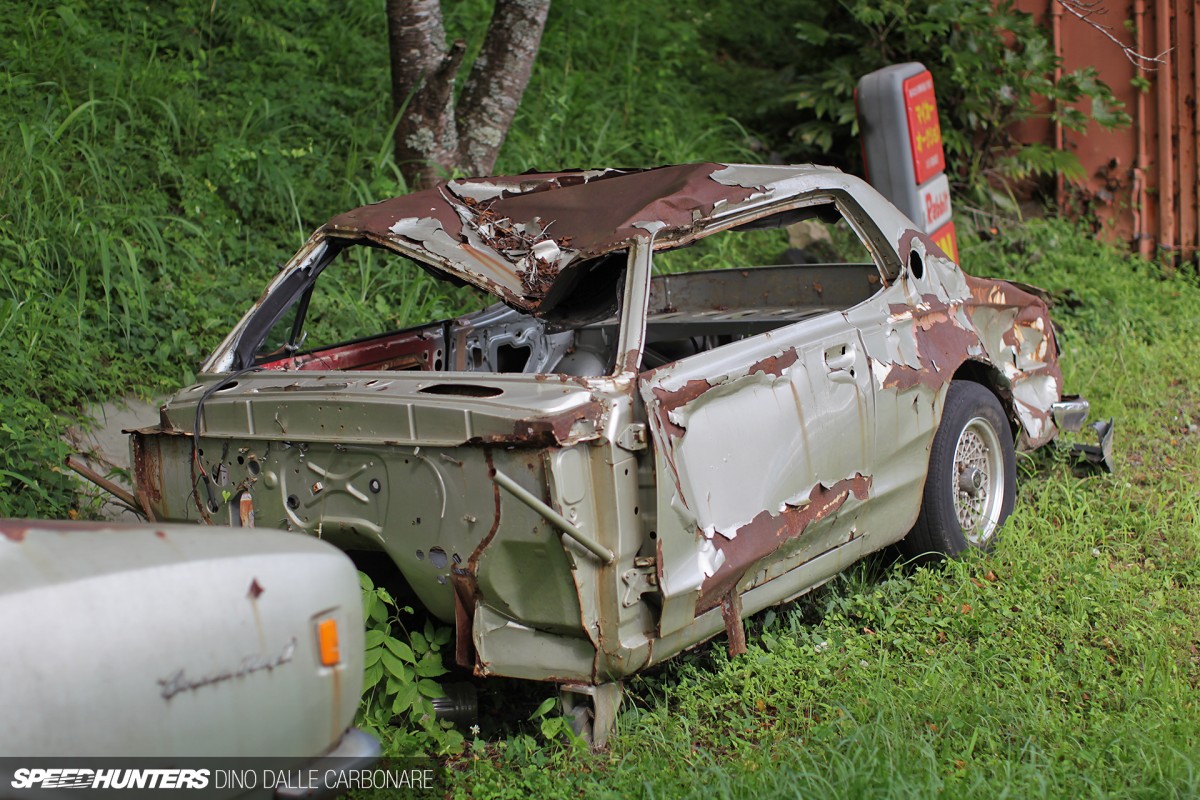 Other cars however, didn't fair too well – like this rolled and very sorry looking KGC10. A shell that could still donate both of its doors perhaps.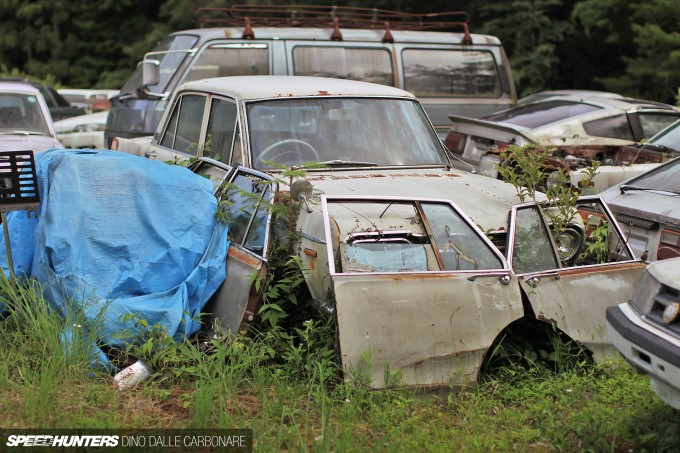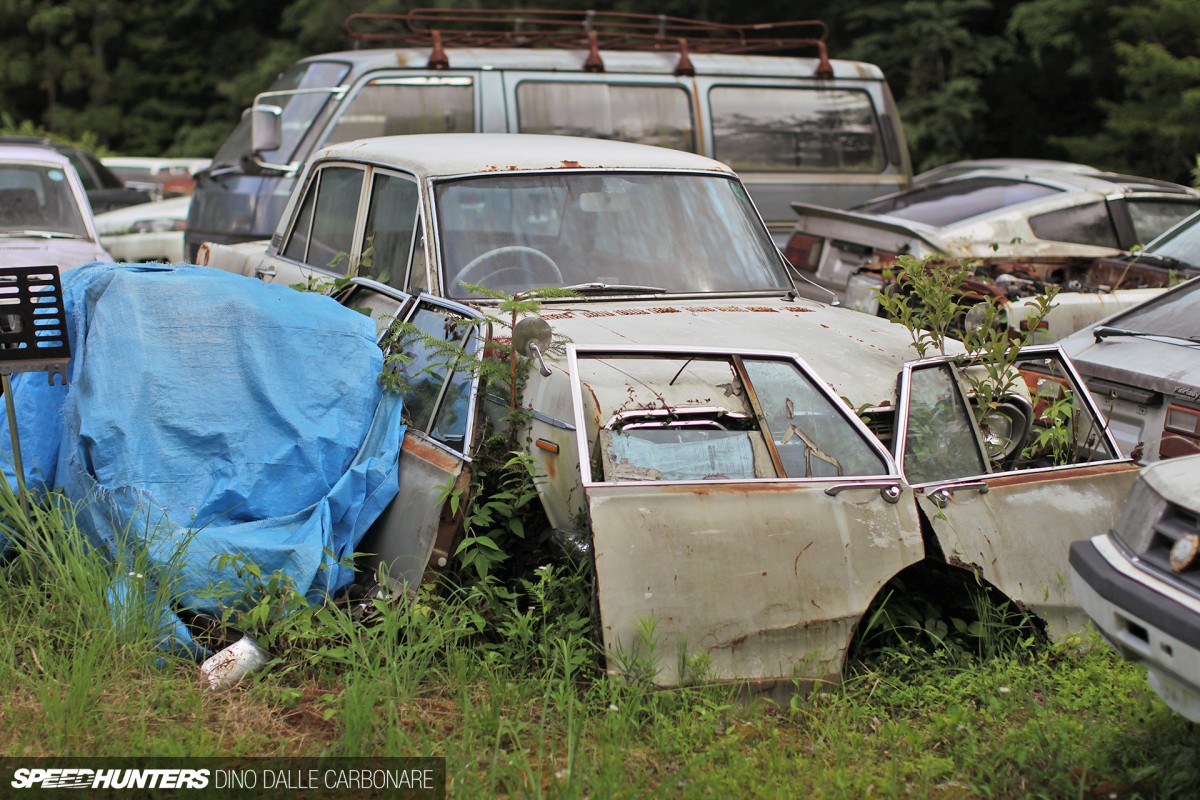 Did I say doors?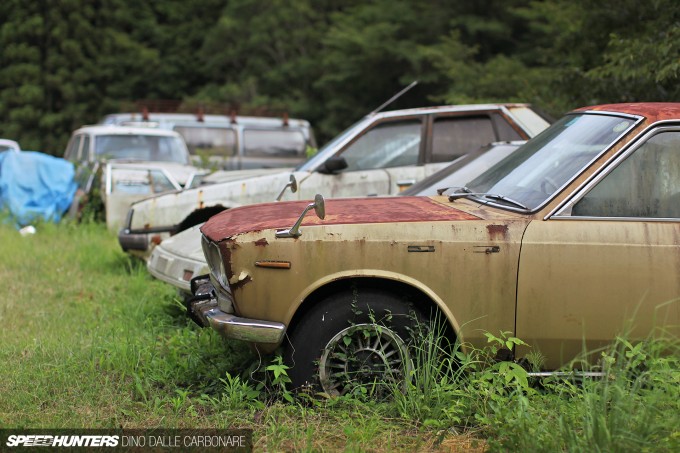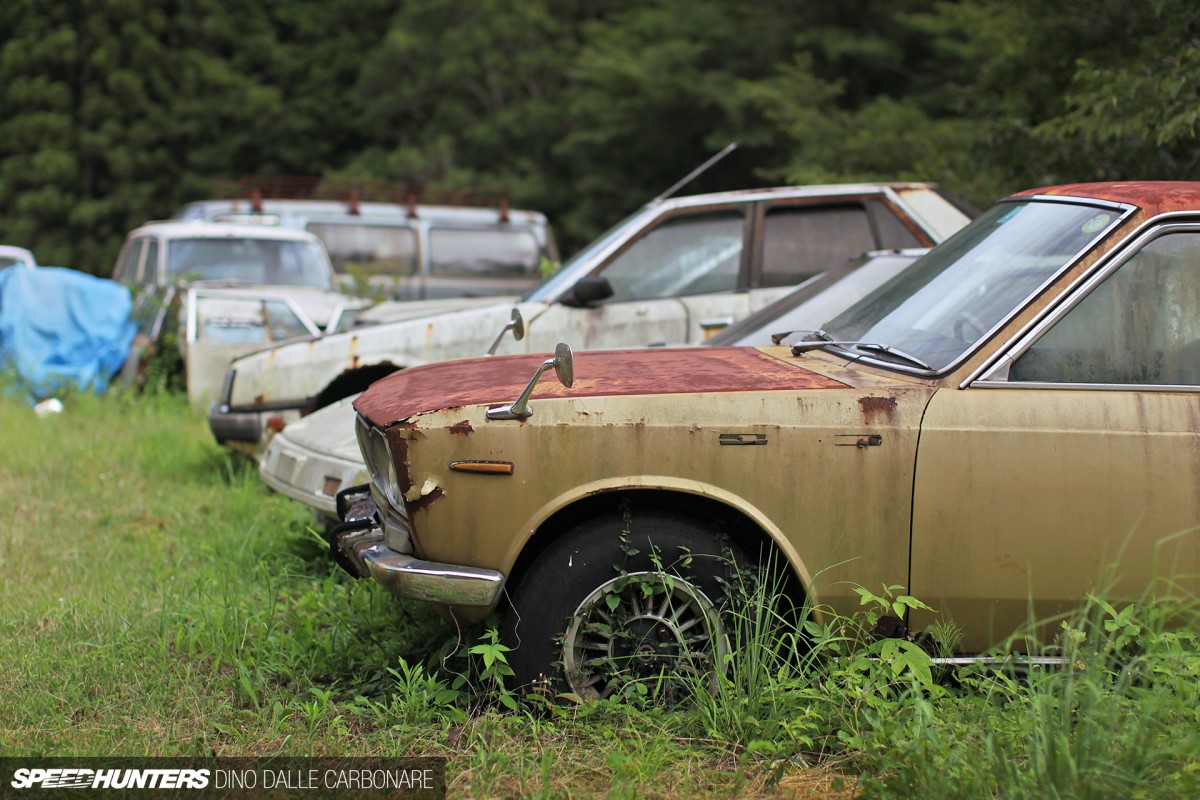 With cars filling the whole area right up to the…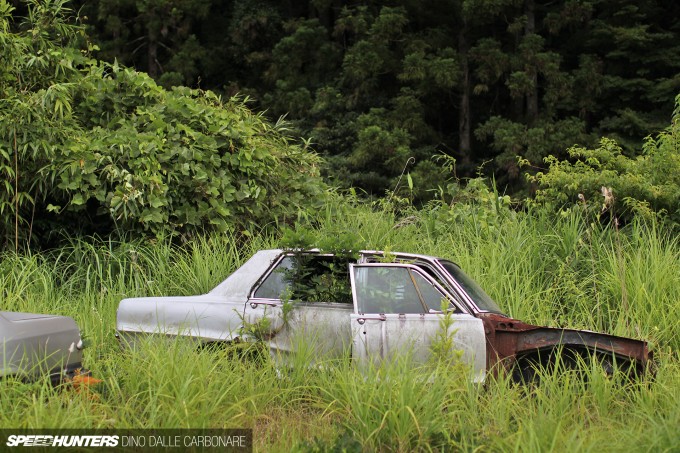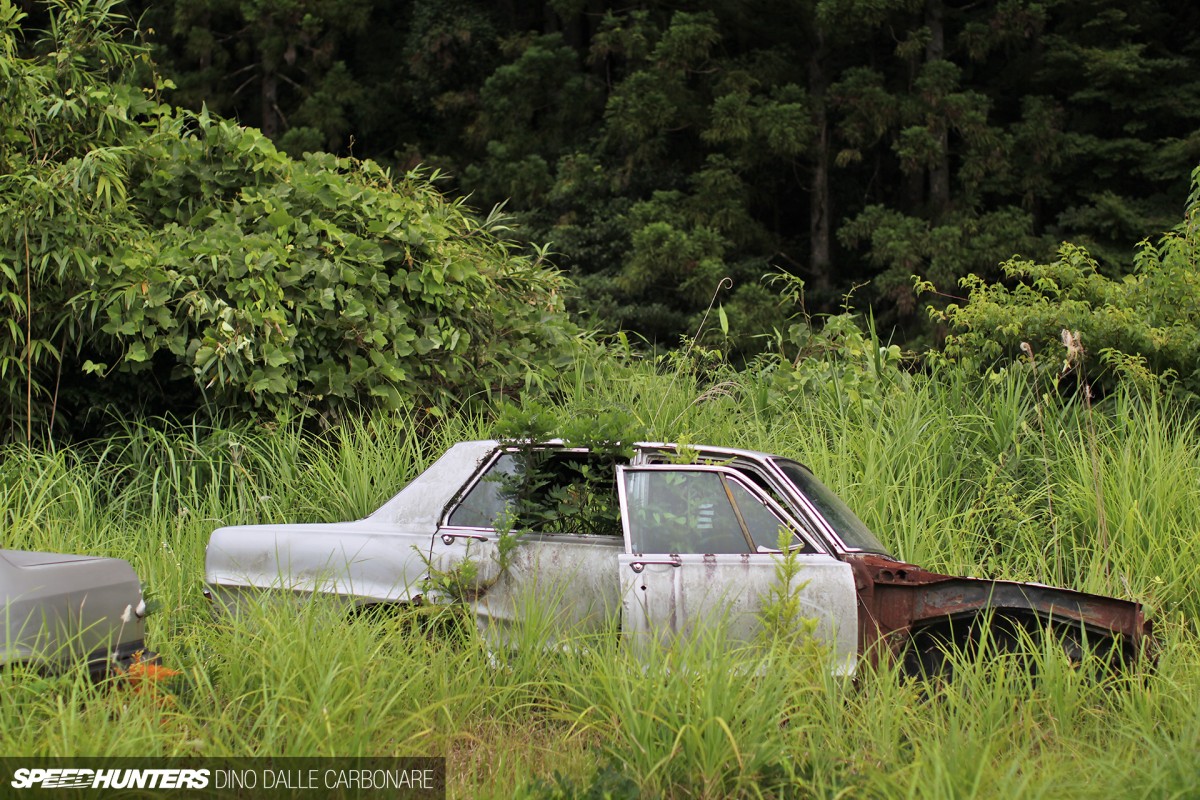 … thick neighboring forest, I continued my walk.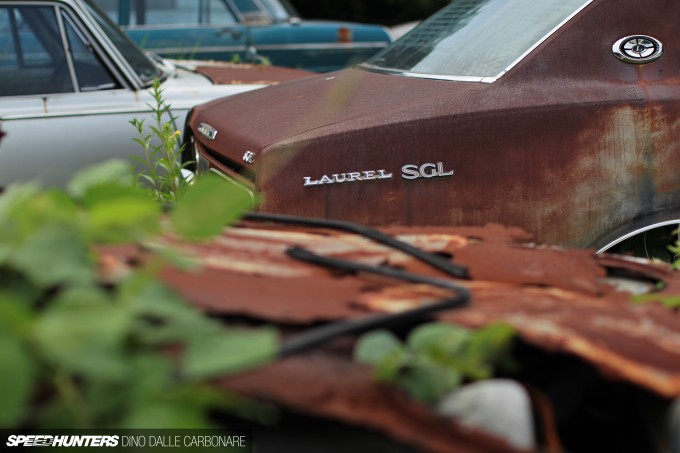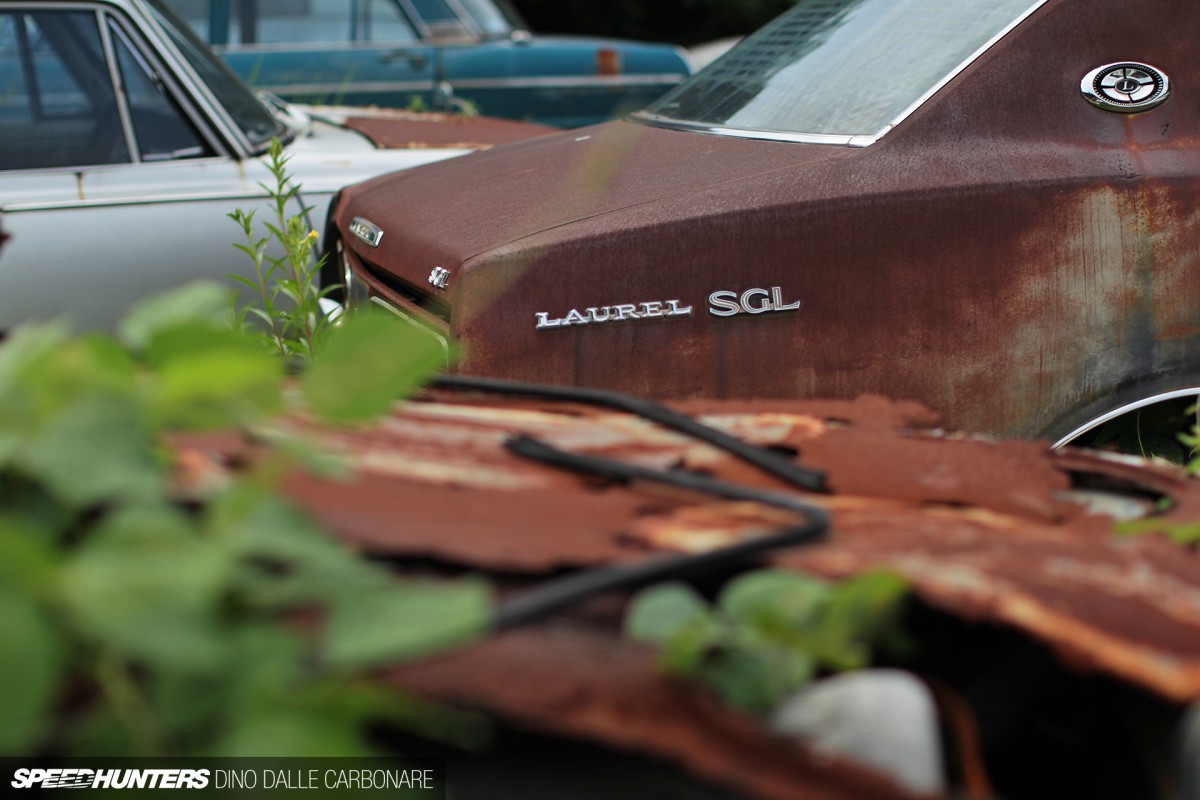 The element of surprise was reintroduced with pretty much every other glance I took.
The element of surprise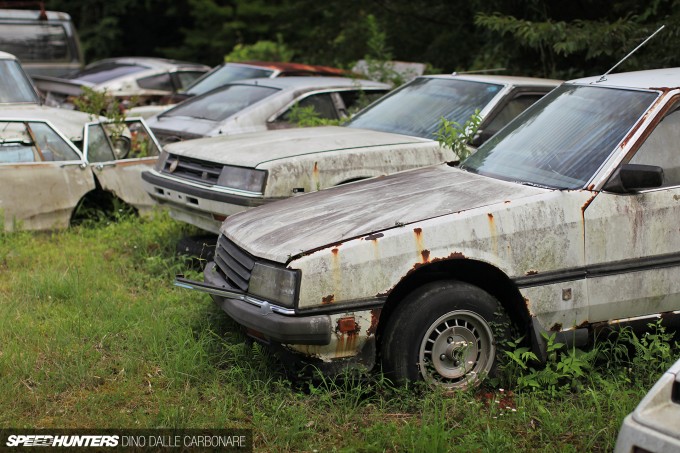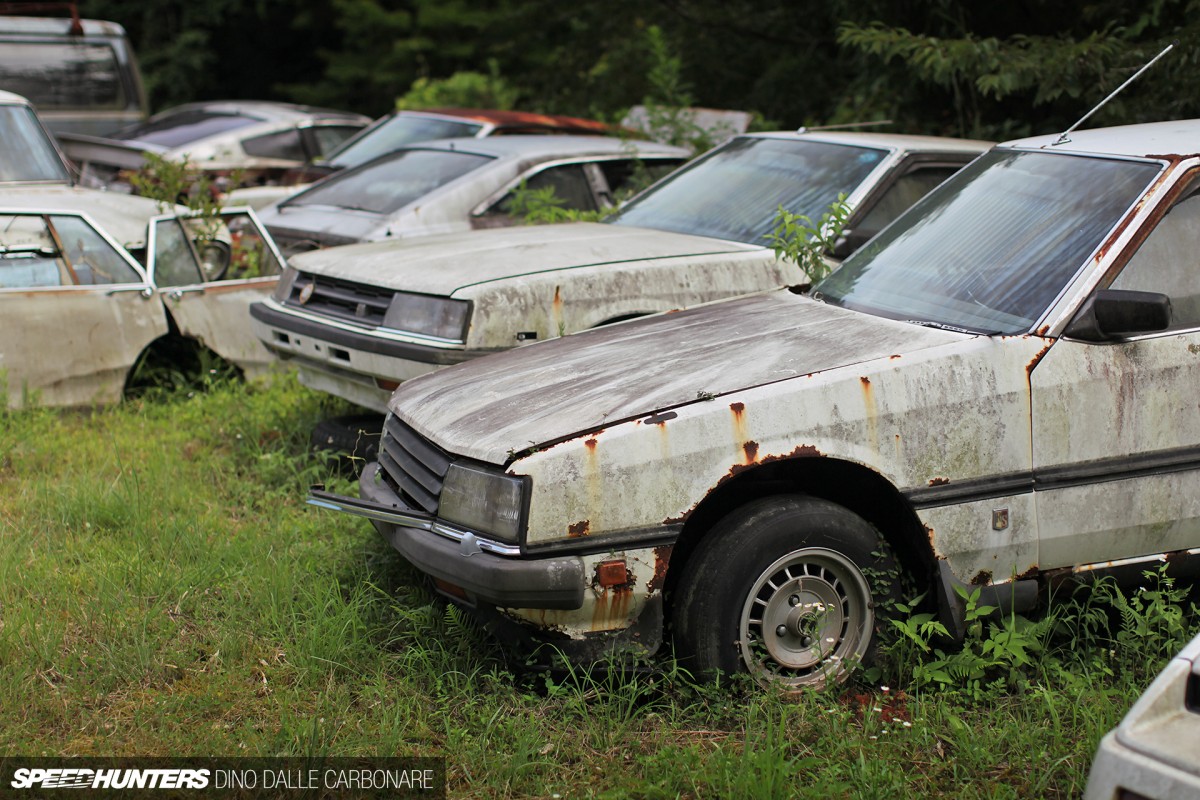 There were some slightly more modern cars laid to rest too, like this R30 Skyline sedan.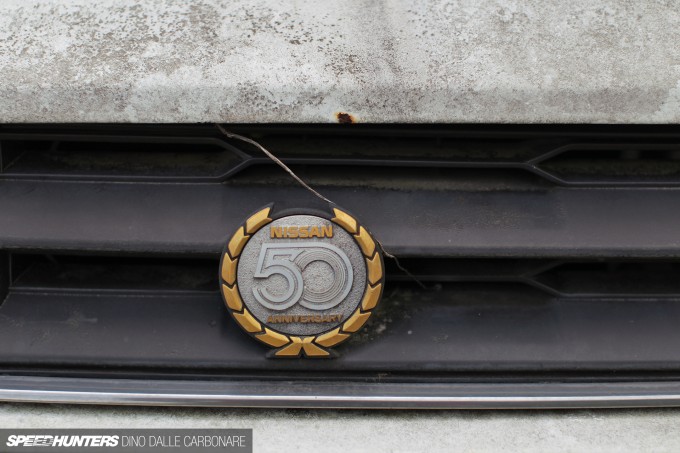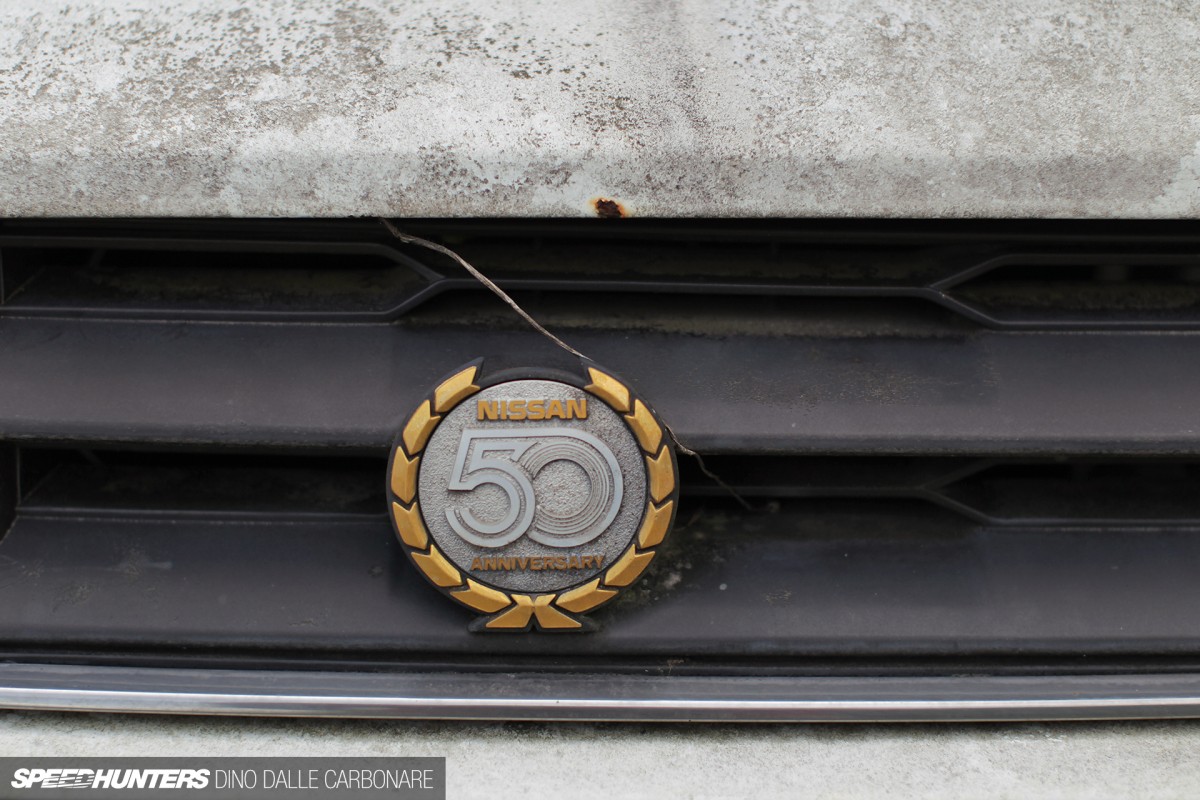 The one next to it, still proudly displaying its 1984 Nissan 50th Anniversary badge on the grille.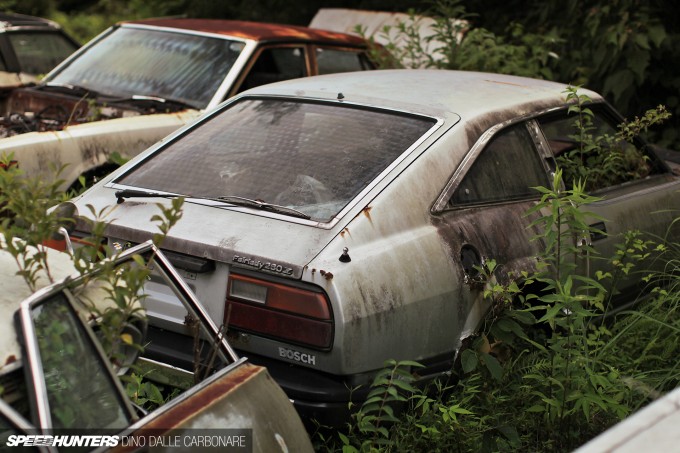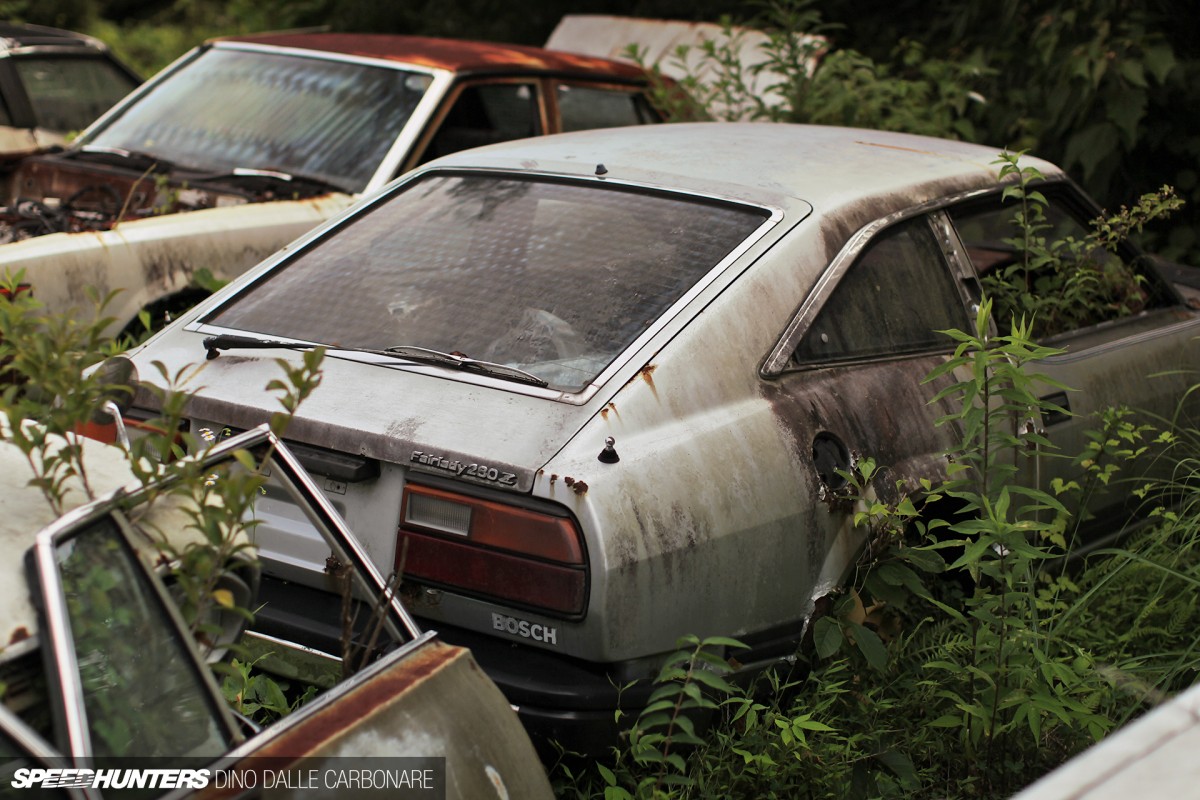 This 280Z was buried in foliage so deep that only a few sections were visible.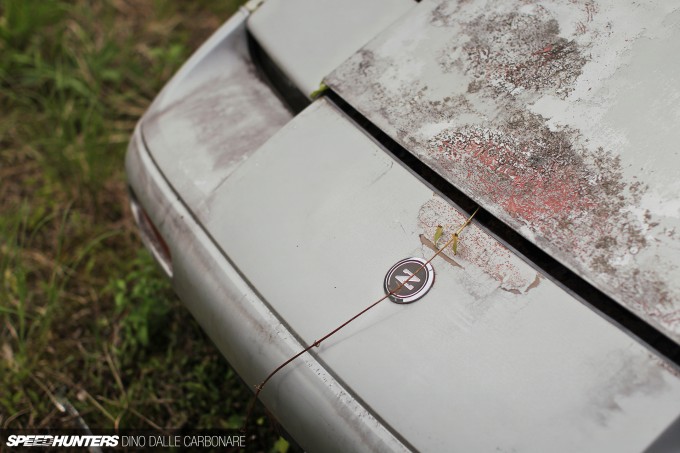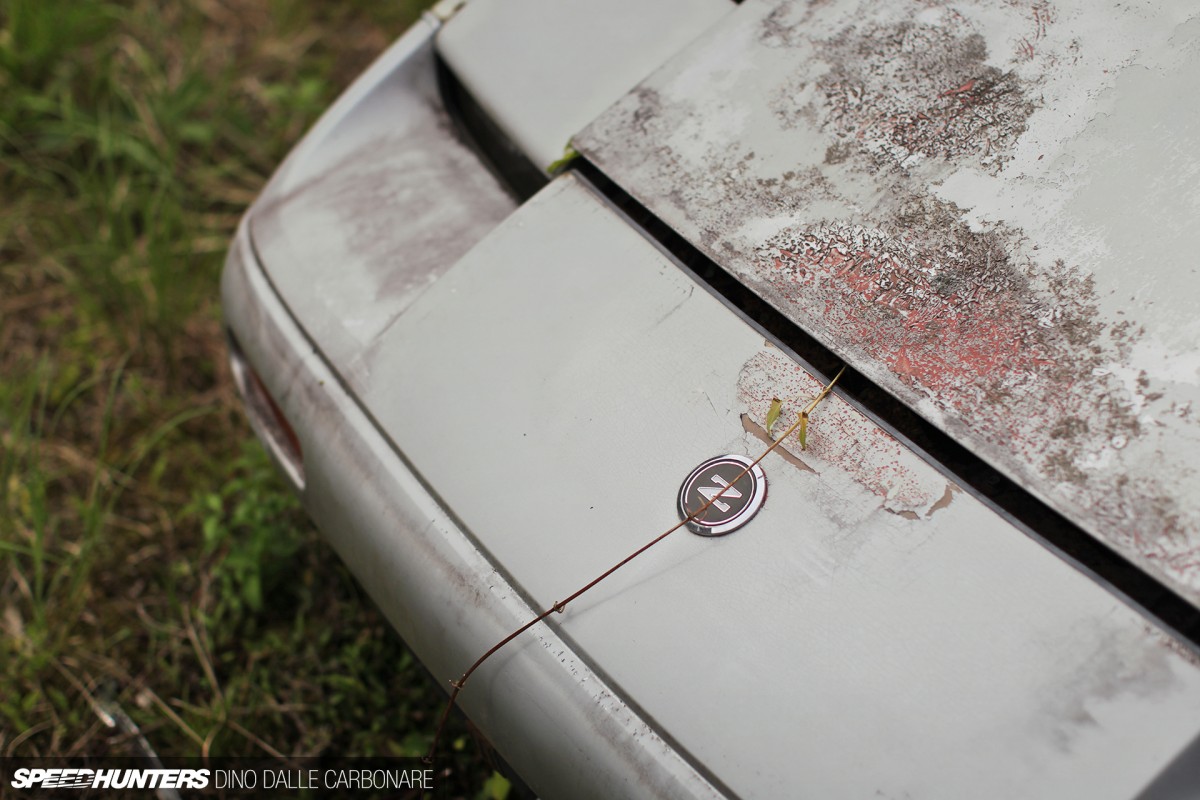 In fact, I had to take a bit of a hike in my flip-flops just to get to the front of the car.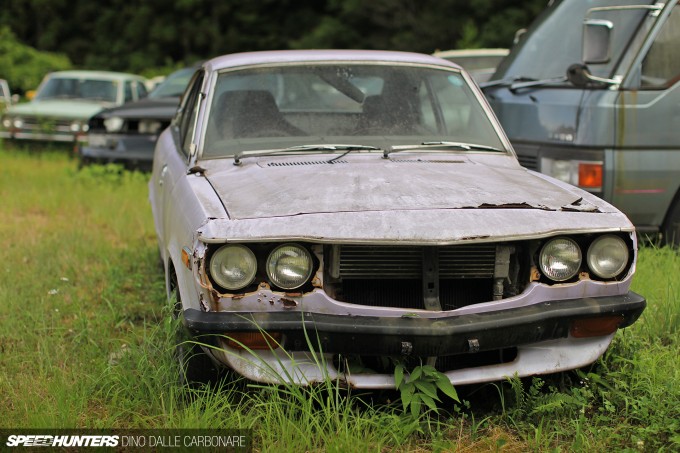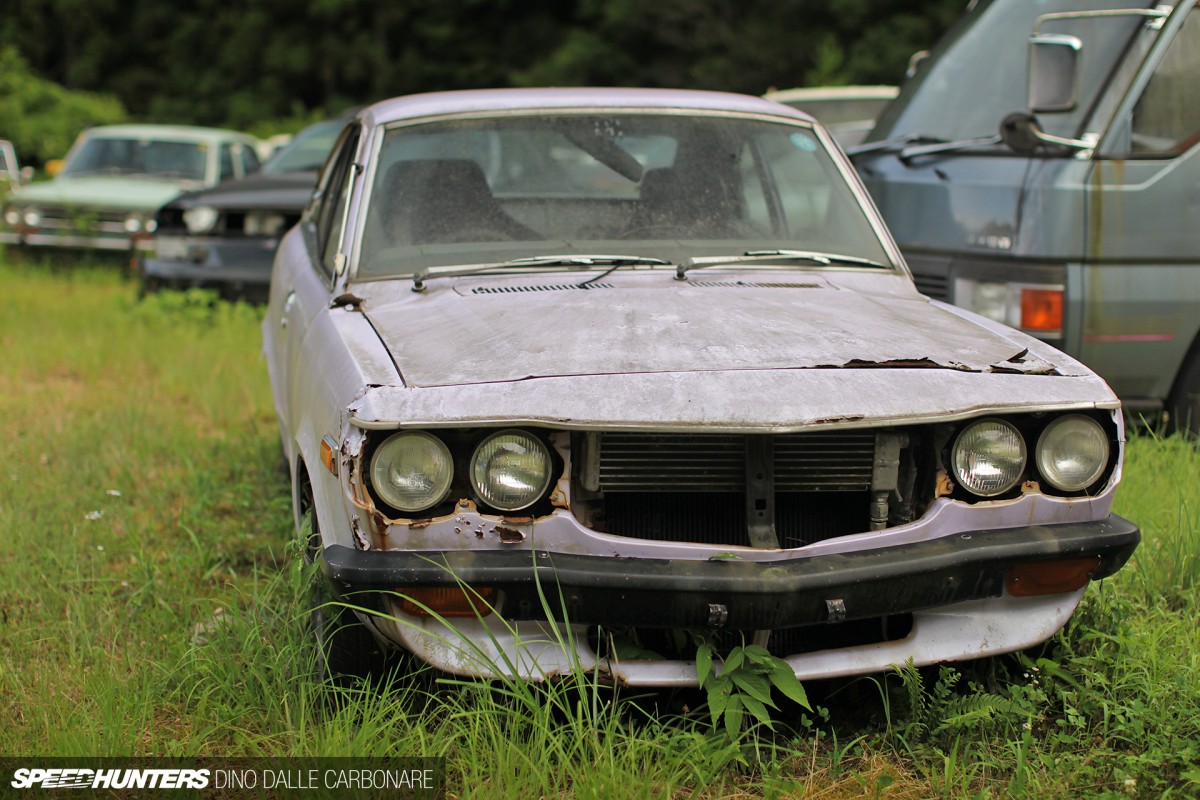 This Mazda Savanna RX-3 looked like it hadn't spent too much time sitting in the same spot…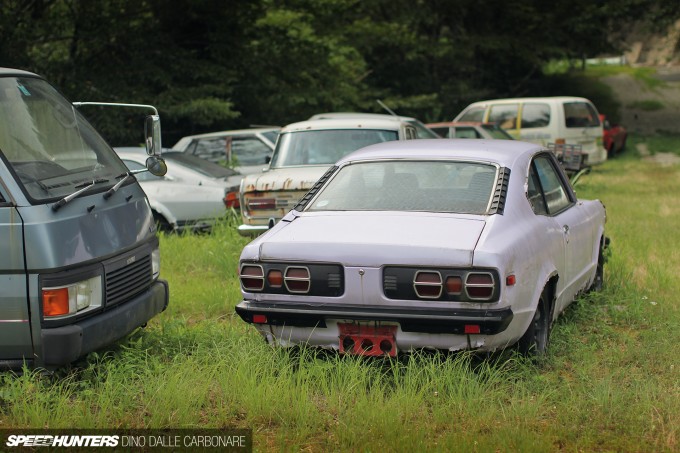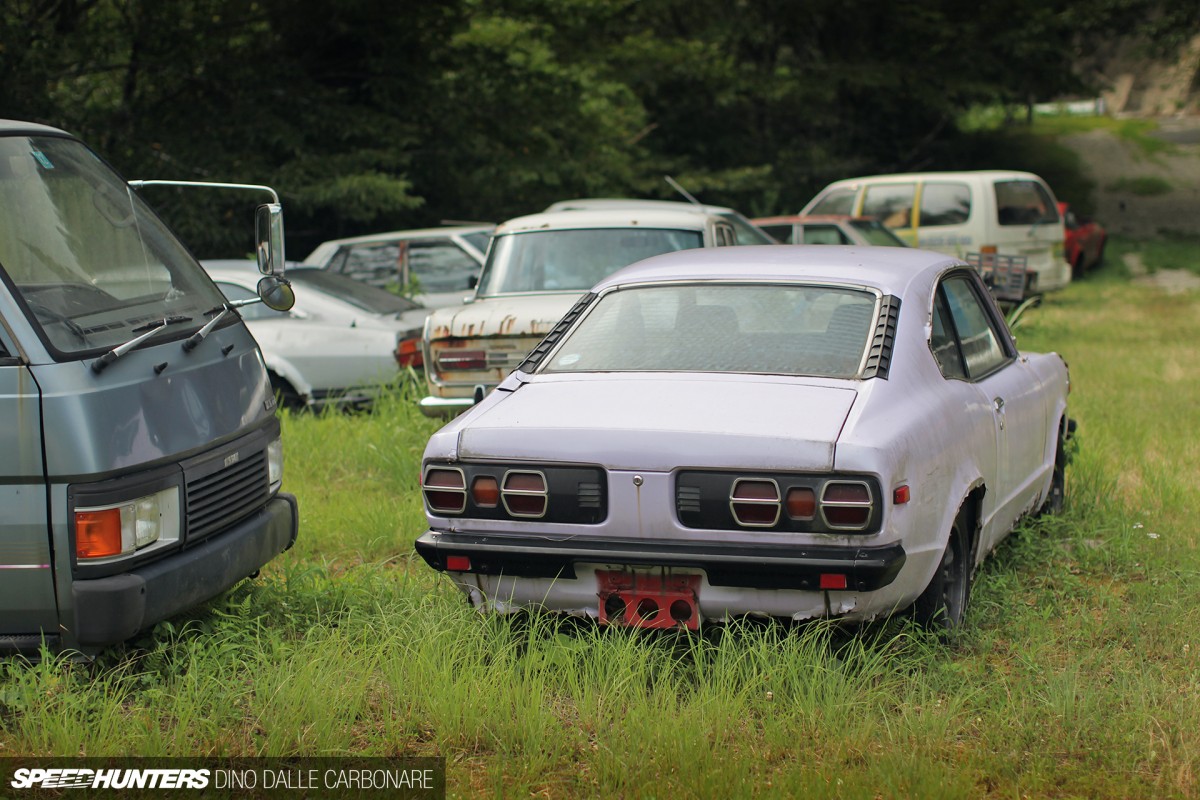 … and seeing that it was positioned sort in the middle, I think it was probably one of the last cars to be added here. Curious faded light purple body color aside, this thing appeared to be in totally salvageable condition. With a bit of rust here and there and a nice set of Watanabes, it was just begging to be rescued!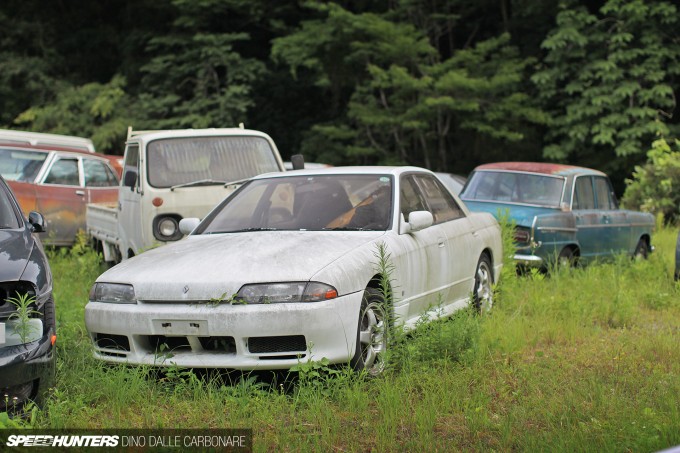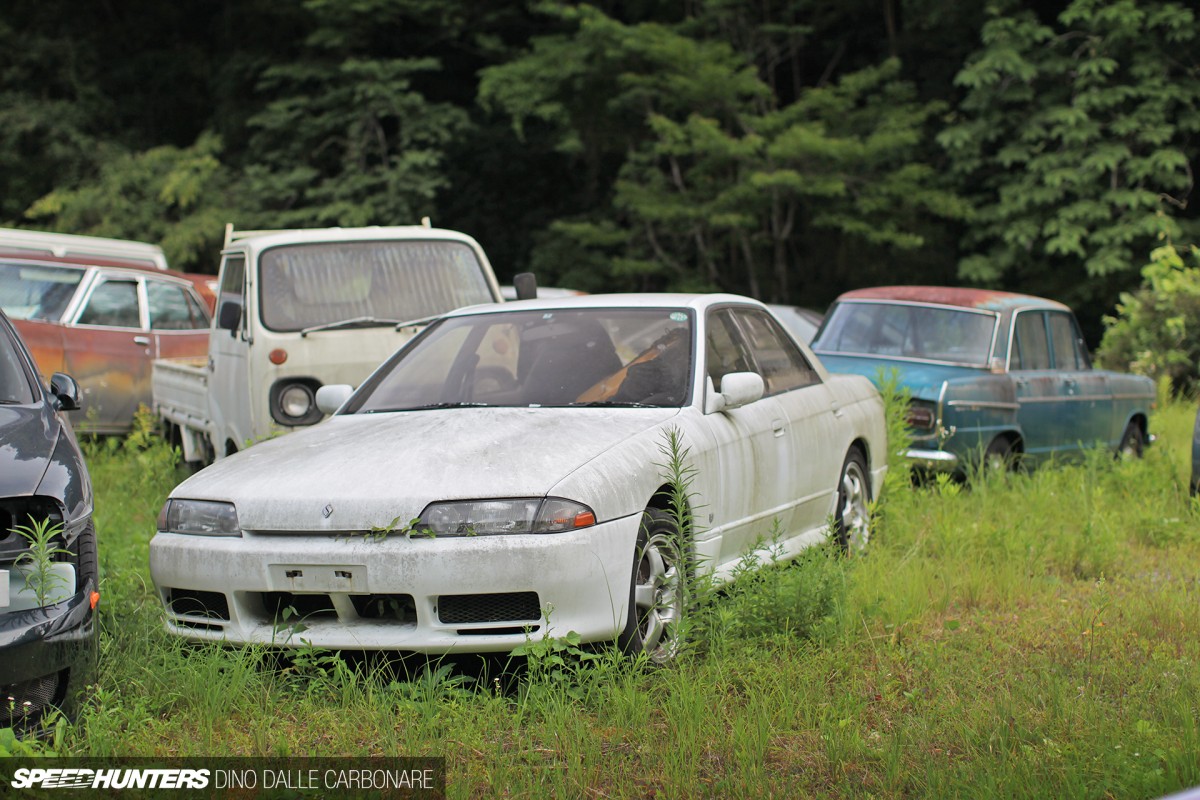 The RB20DET….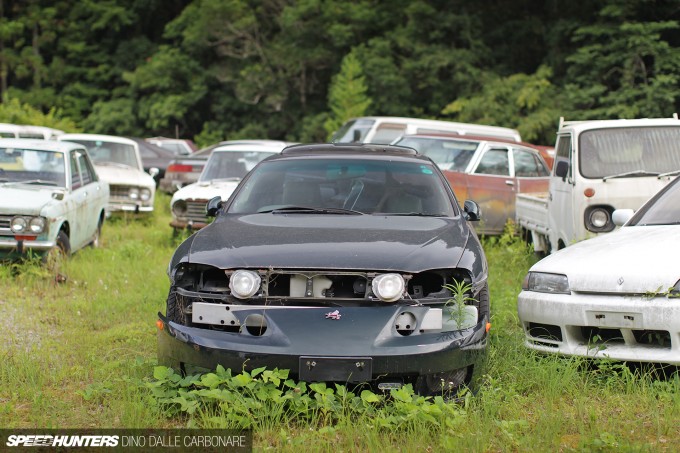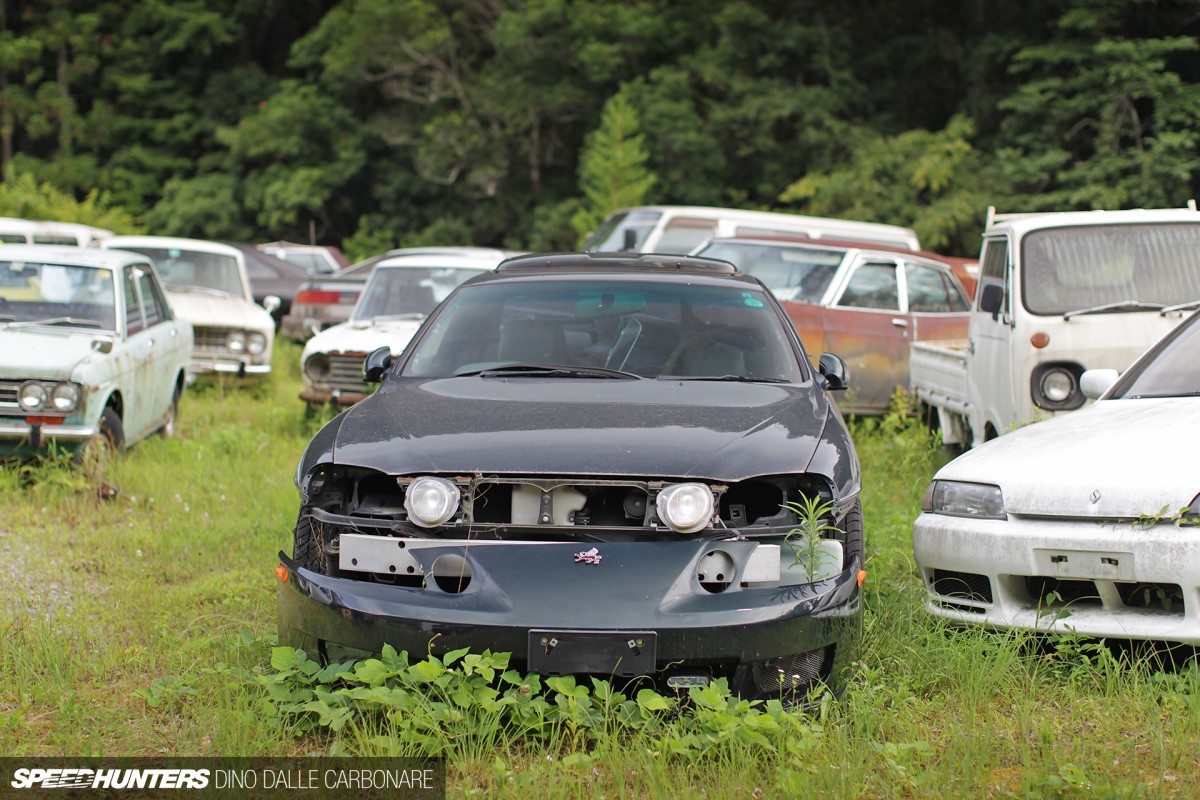 … much like the 2JZ-GE or GTE, are some of the most popular engines that Watanabe transplants into the restomod classics that he creates, hence the R32 sedan and this Soarer being some of the other cars I spotted.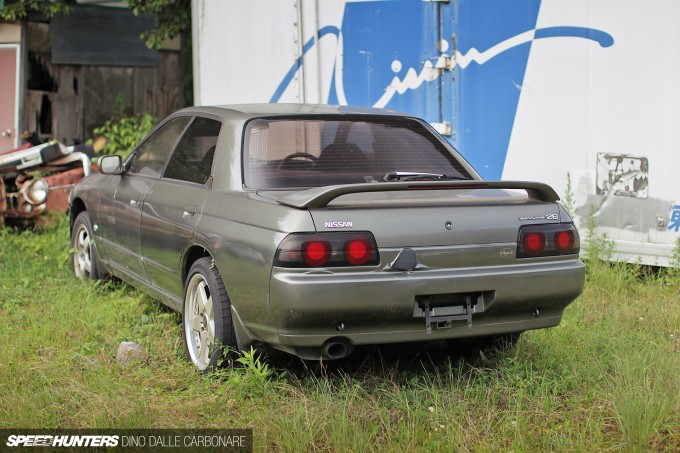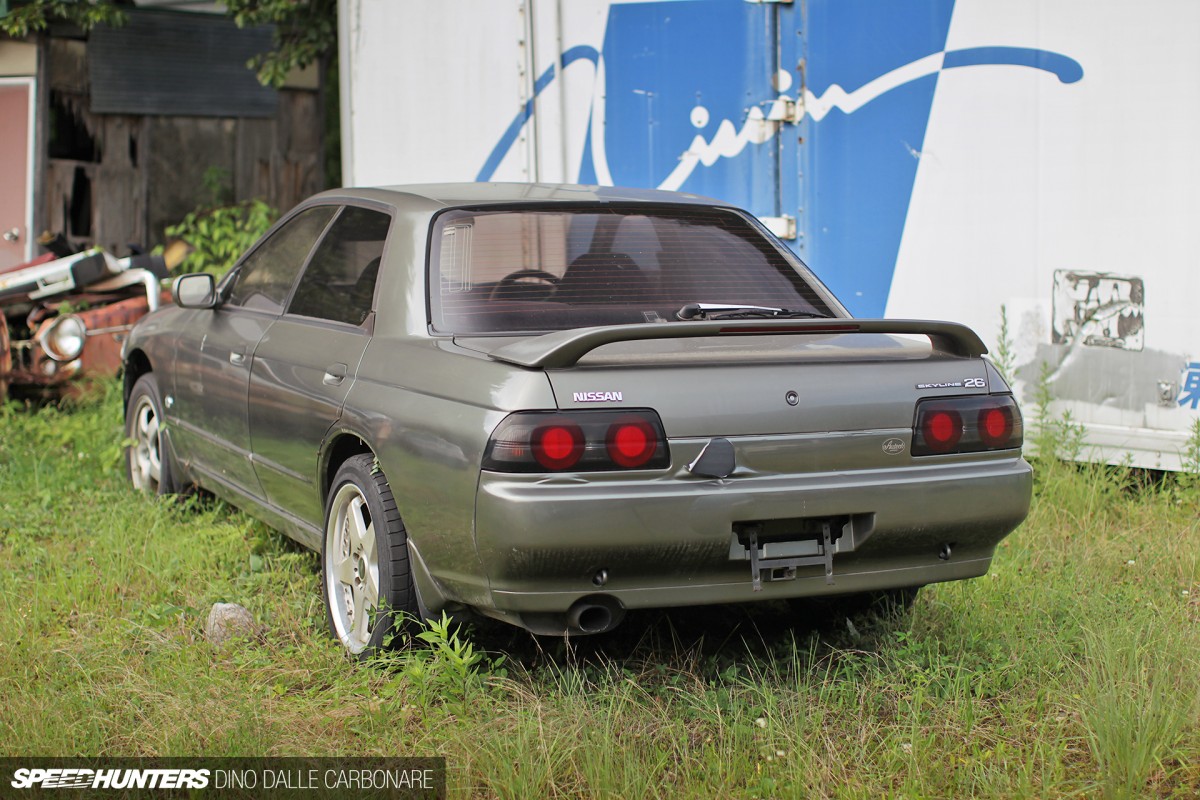 If you recall my story on the Rocky Auto secret garage, I did touch on the fact that the Autech version of the R32 sedan is a sought after model for Watanabe-san…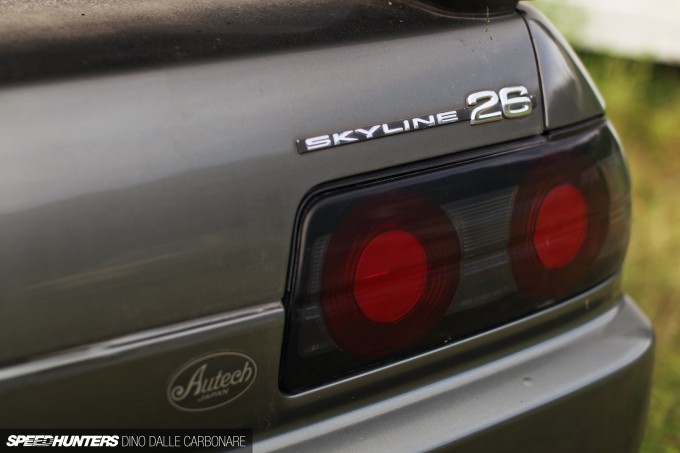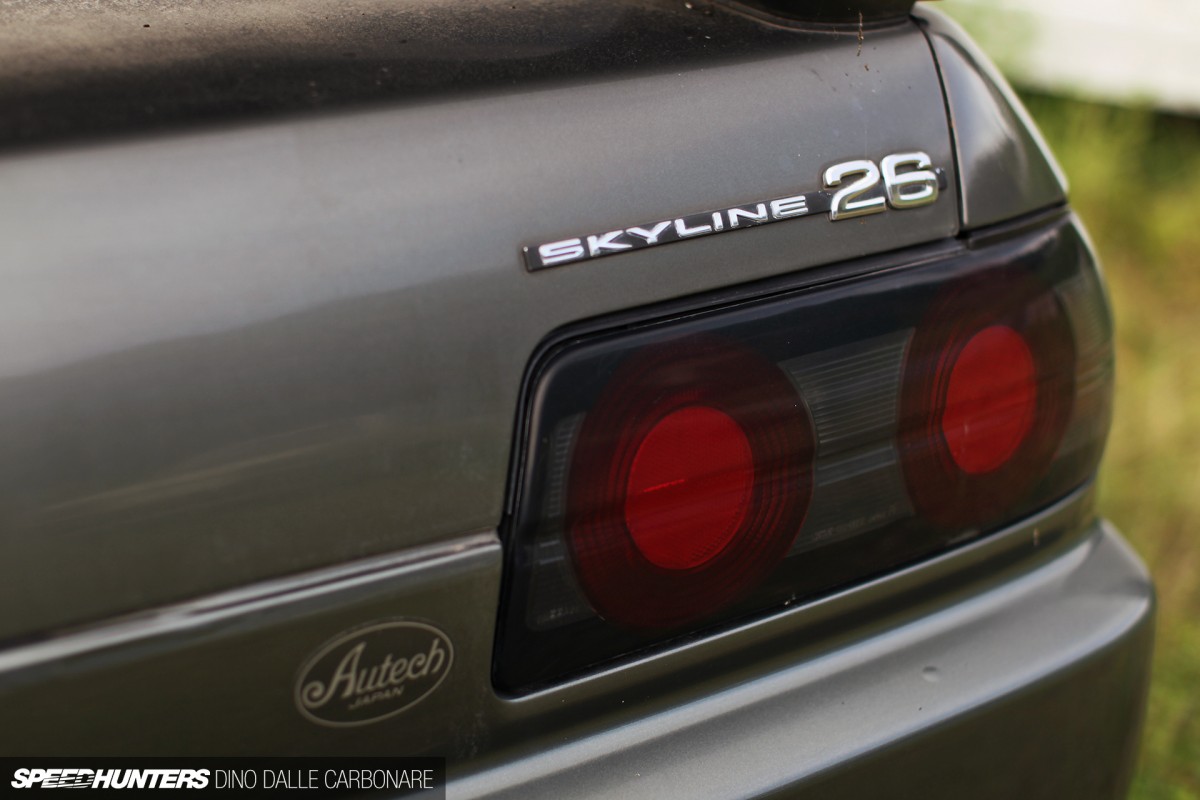 … mainly because it came with a hand-built naturally aspirated version of the RB26 – the RB26DE. Add a nice custom exhaust and a set of velocity stacks into the equation and you have the perfect engine to swap into a '70s Nissan classic.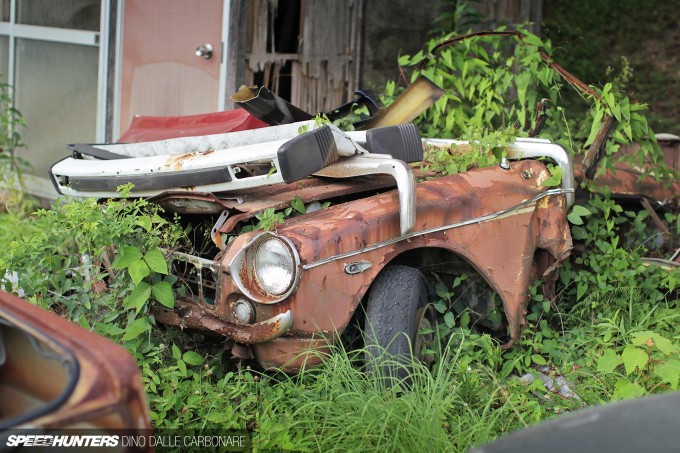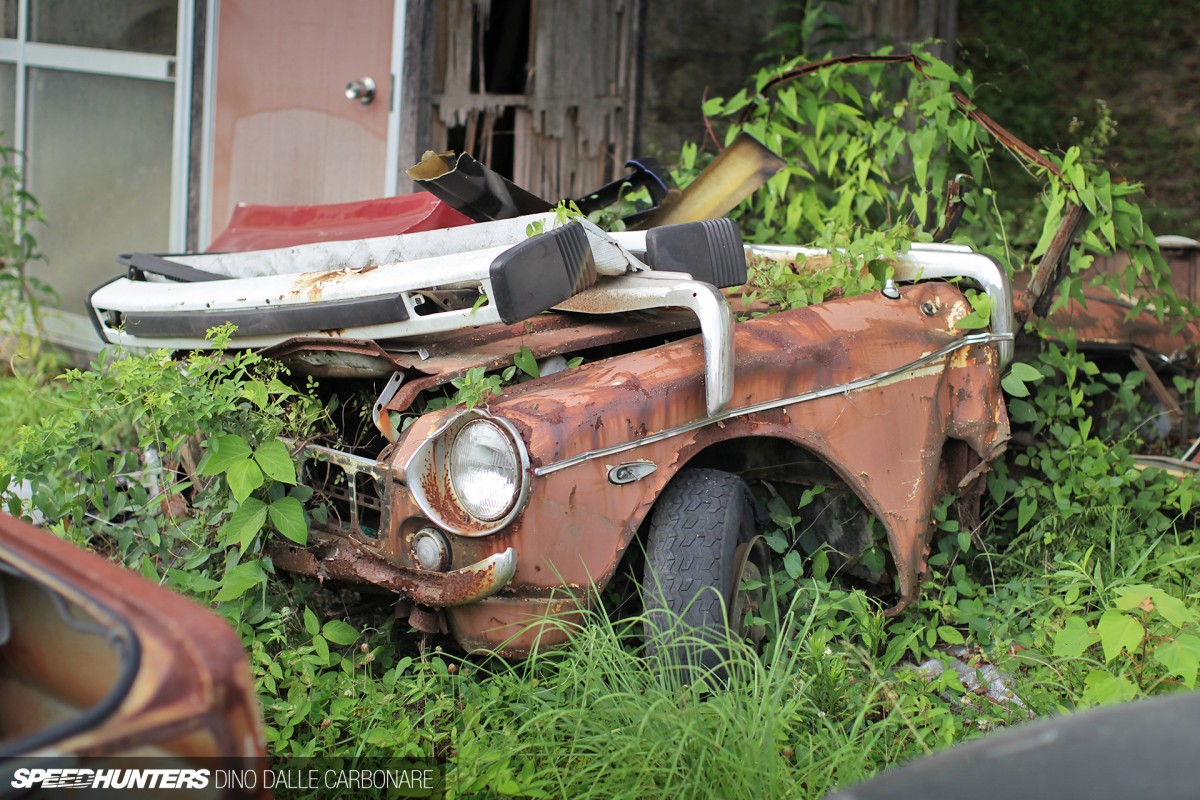 Out of all the cars I stumbled across, this one was probably saddest looking – a mid-'60s Datsun Fairlady 2000 that had been cut in half and turned into a place to stack random body parts.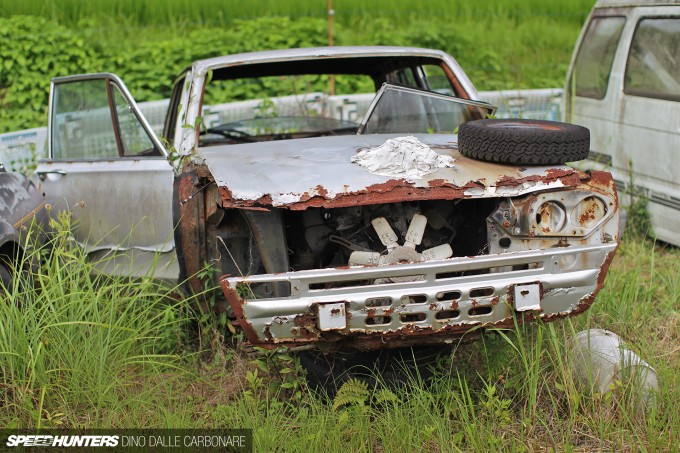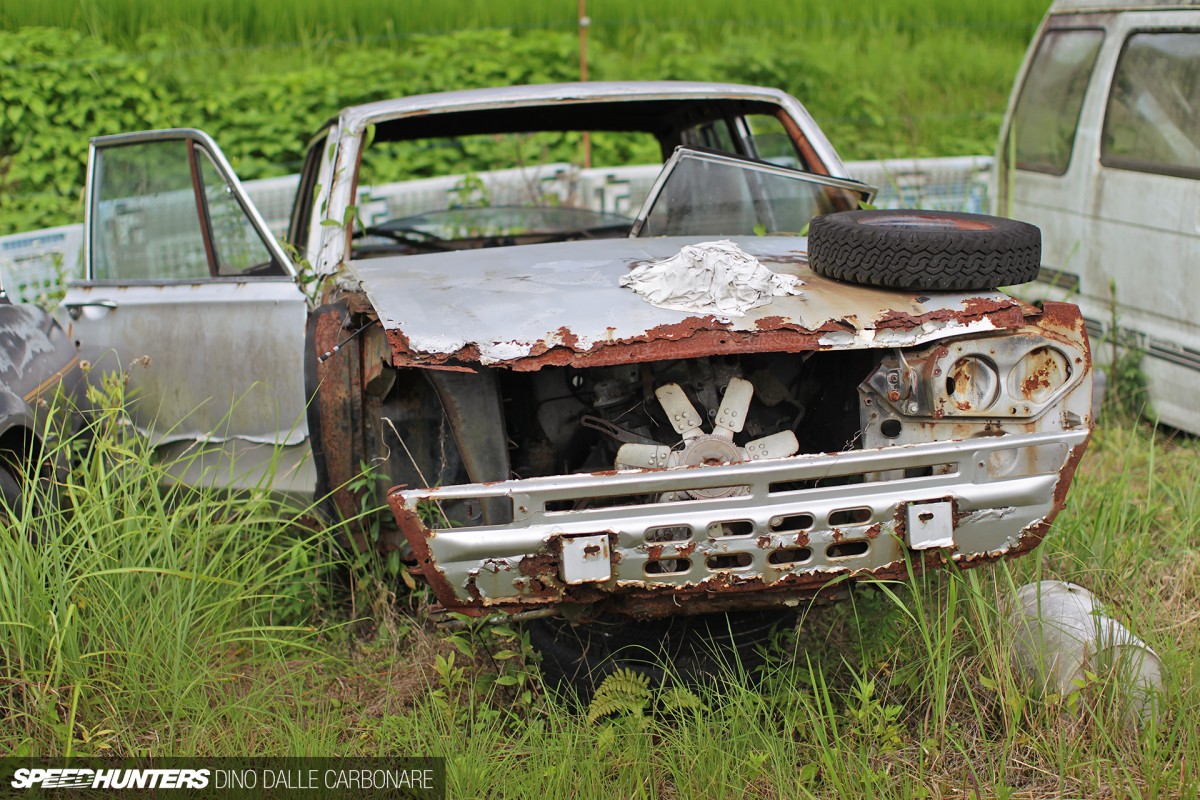 All of this was conjuring up the same exact feelings I had back in 2009 when I came across a few decaying old Skylines up in Tochigi-ken parked in an abandoned gas station.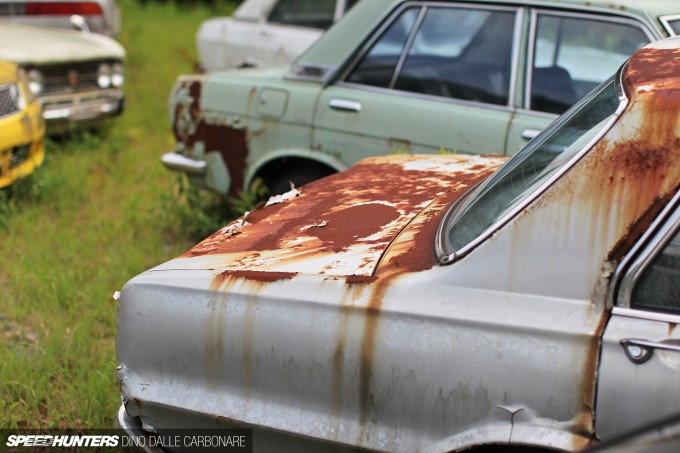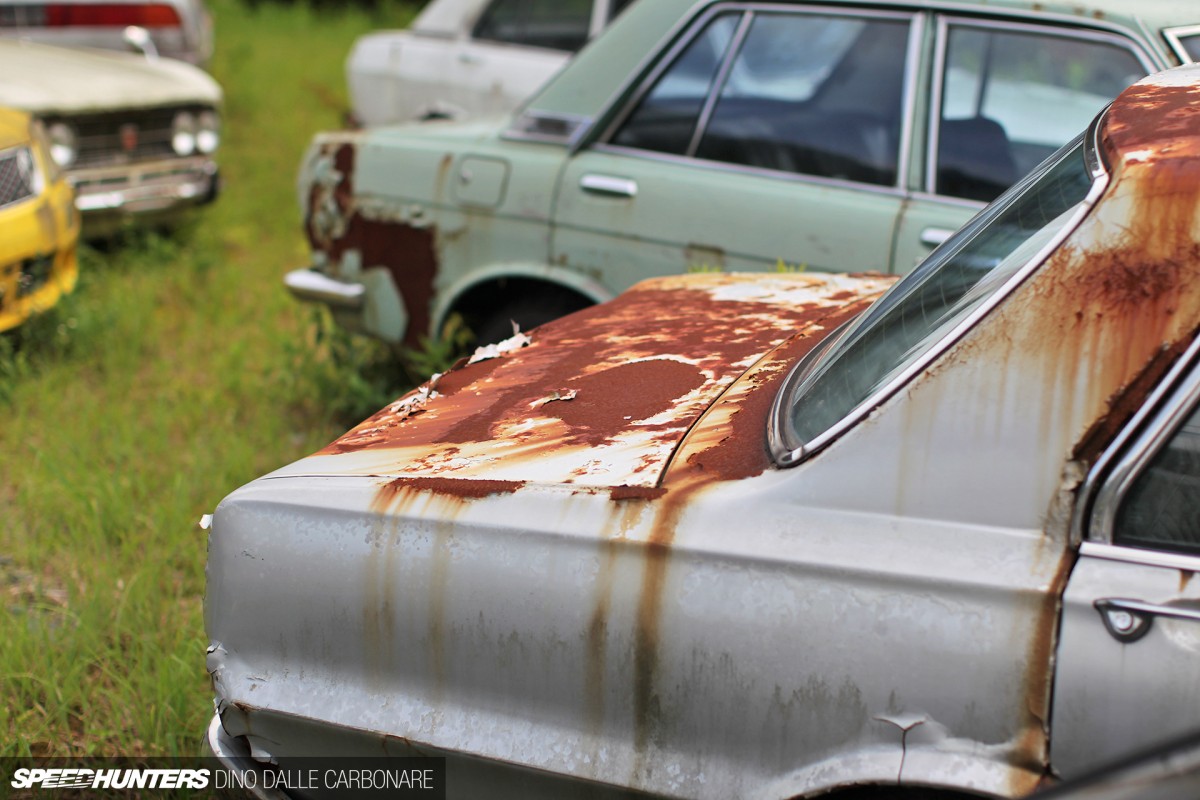 It's exciting coming across a sight like this, but at the same time very depressing. Perhaps 20 or 30 years ago nobody really cared about these old cars…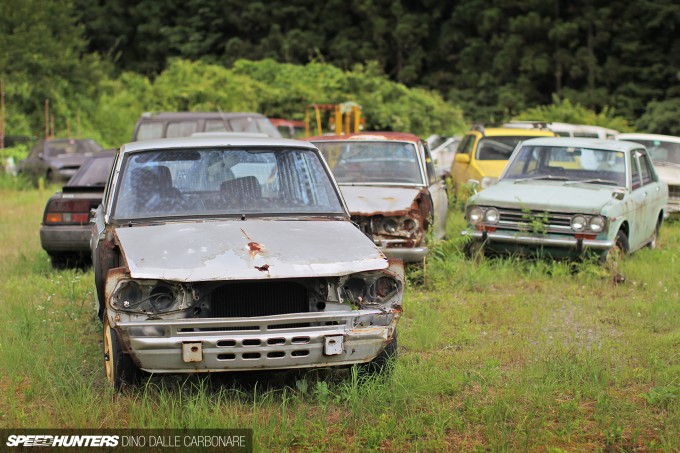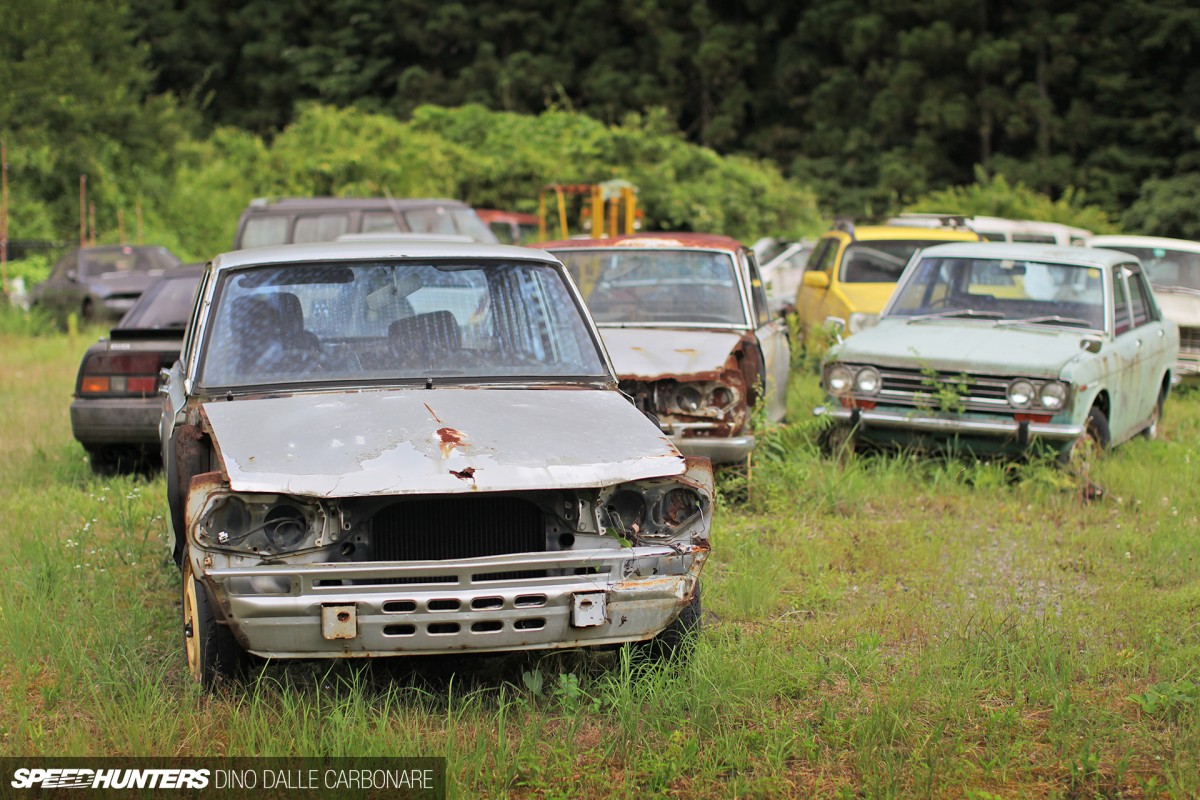 … but now, as the vintage car scenes continues to grow every year, well it's almost upsetting.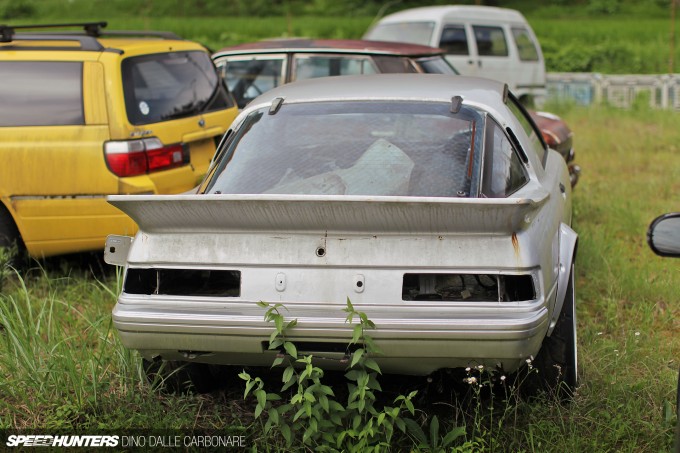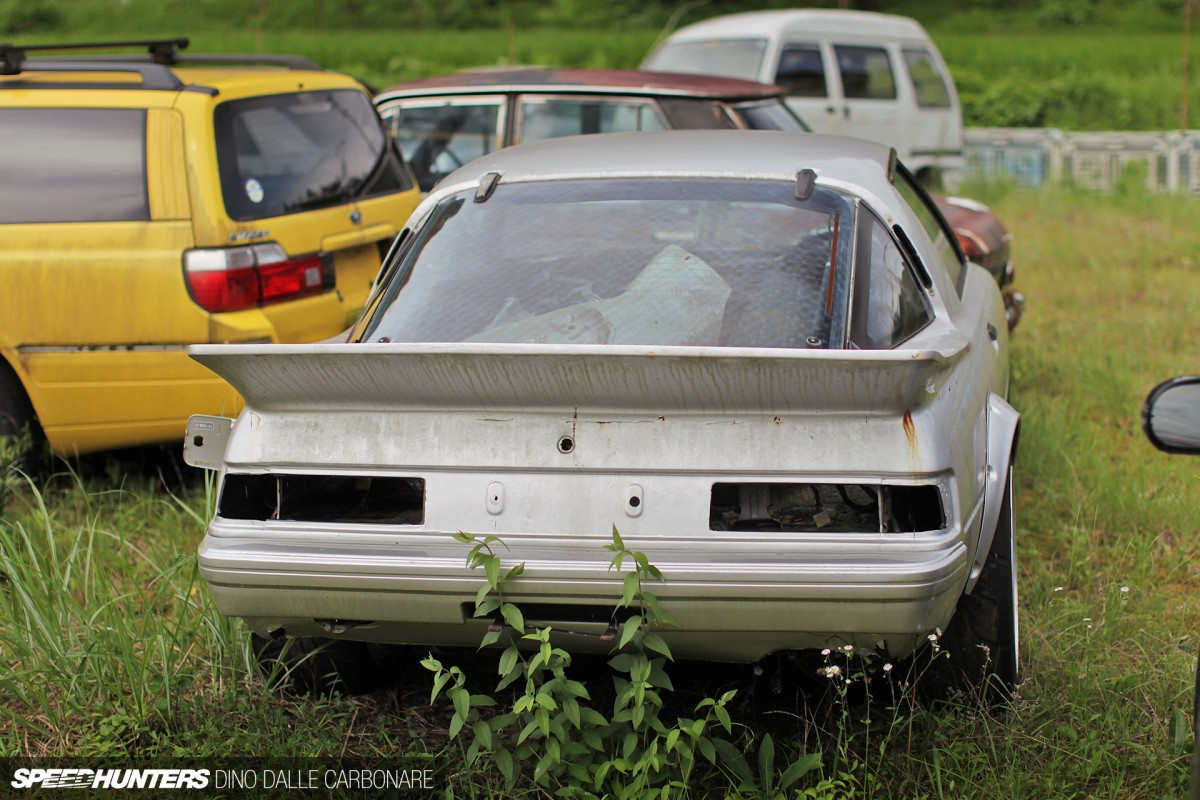 One more for you rotary guys. Gotta love the kaido racer influenced rear spoiler on this SA22.
Rust has won the battle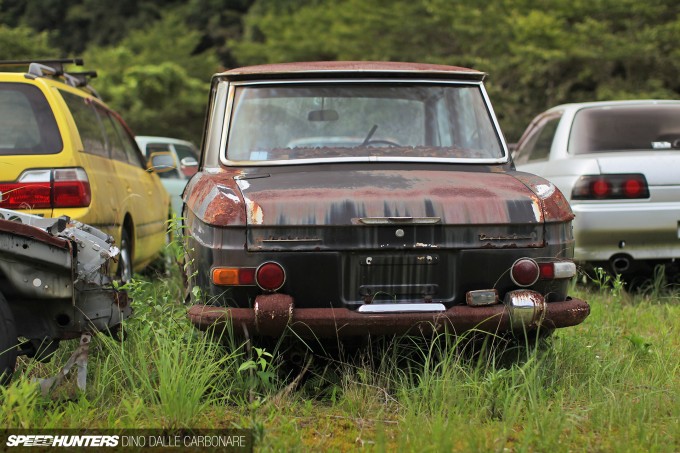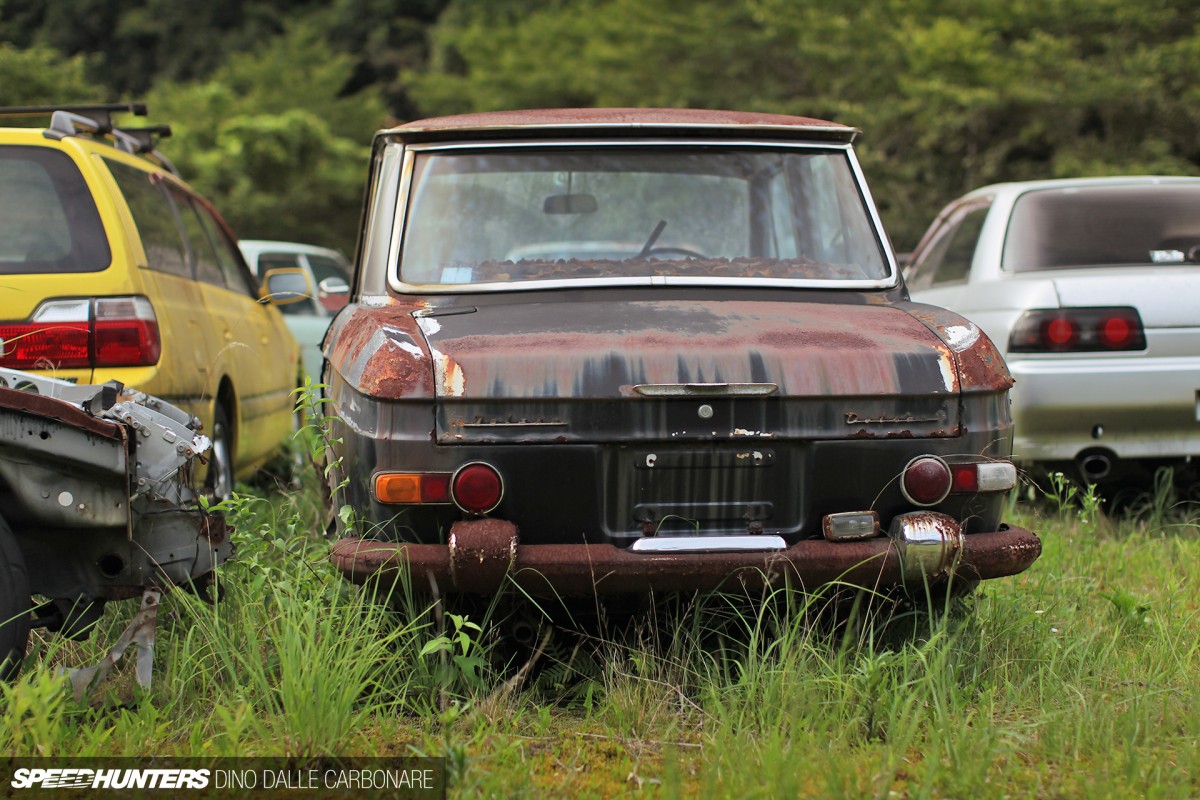 Here is another unique find – a Datsun 410 Bluebird…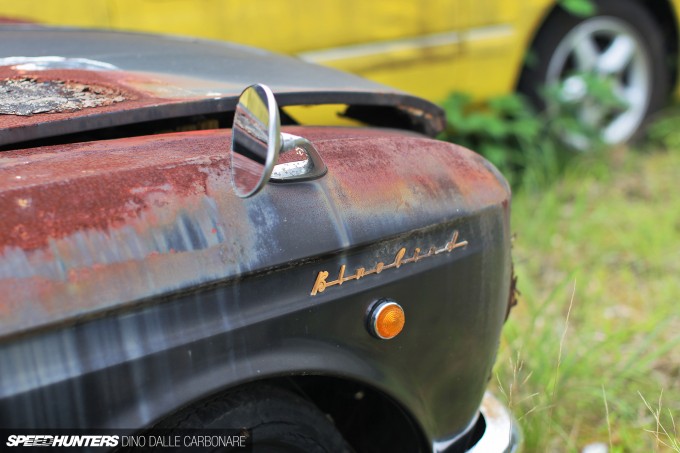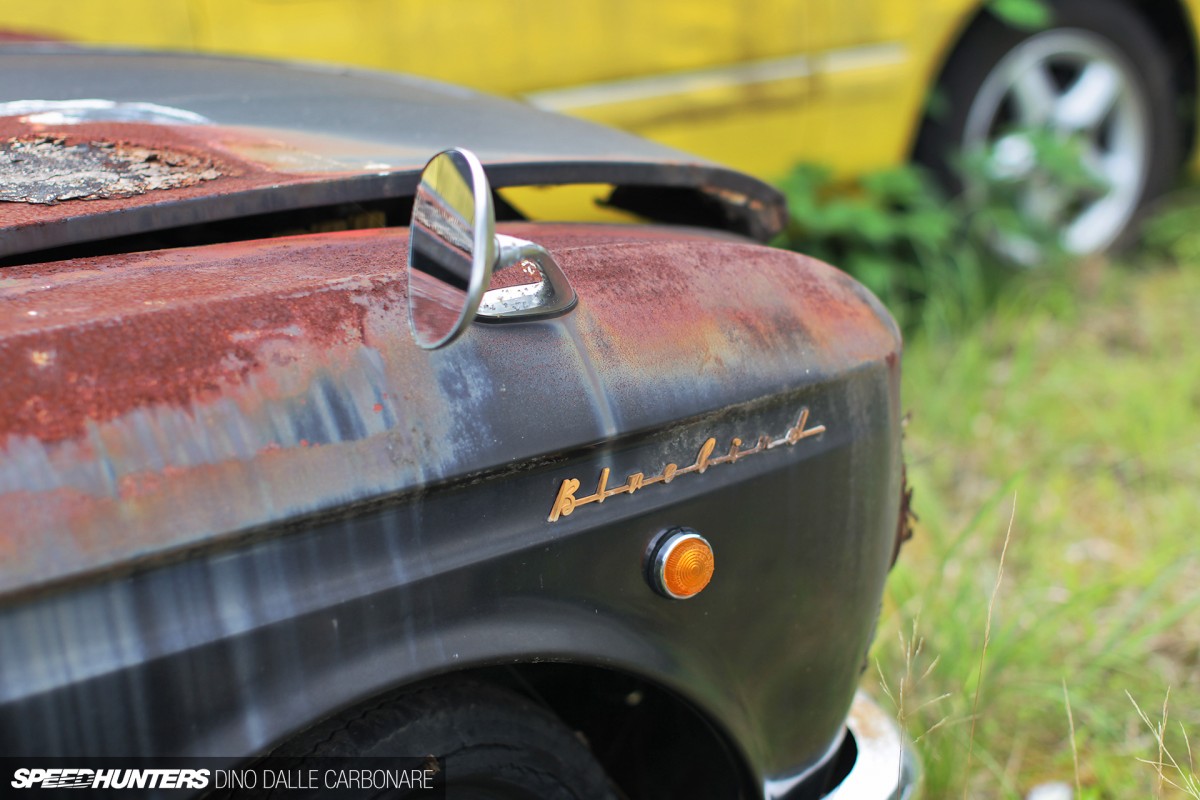 … a popular sedan from the mid '60s that has done a decent job of fighting the unavoidable decay that years of exposure to the elements brings.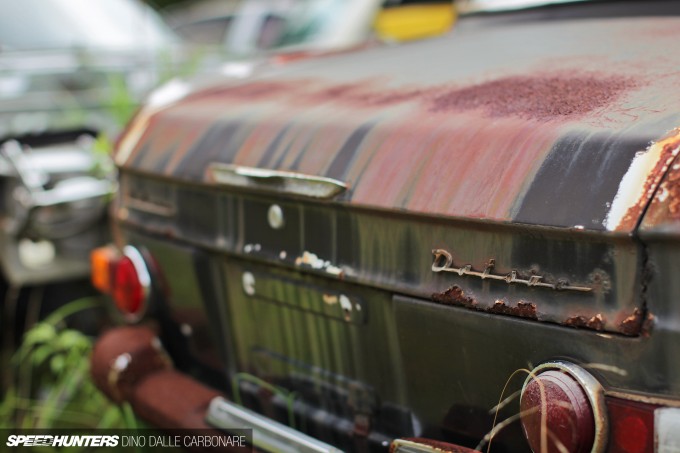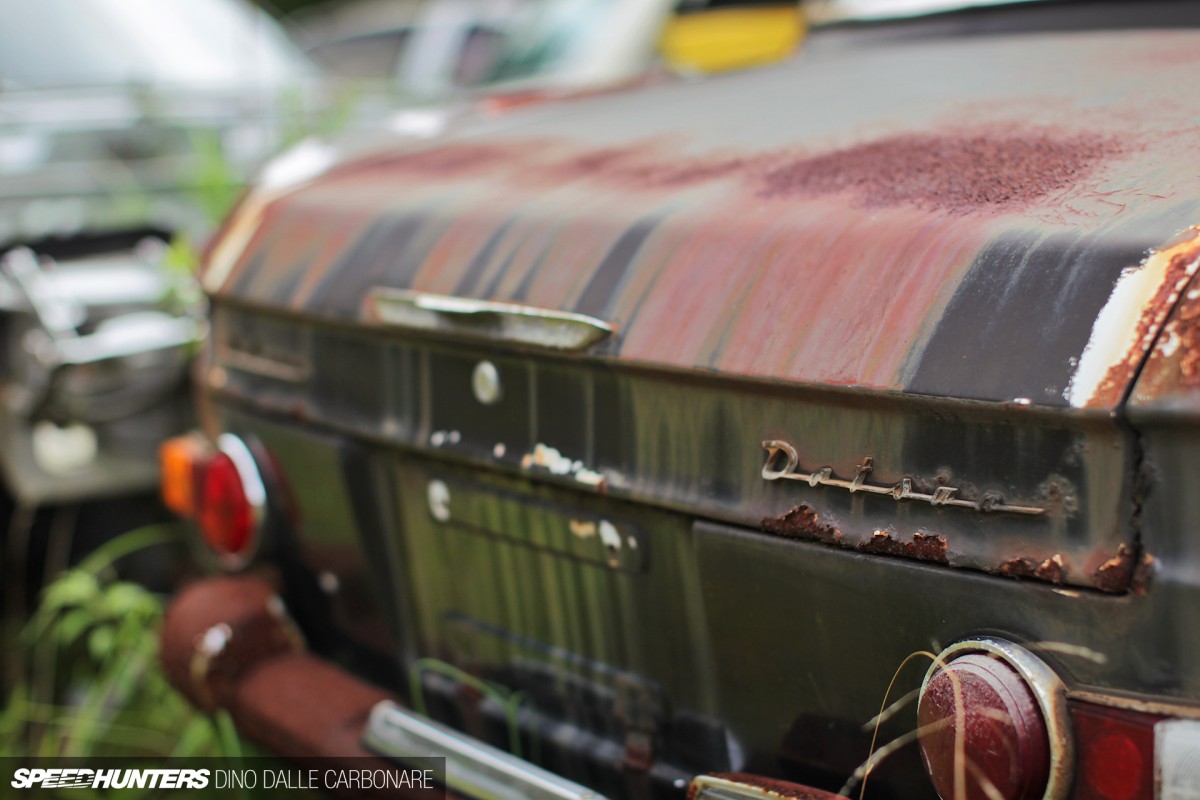 Underneath all that rust there is still lots of character from a bygone era.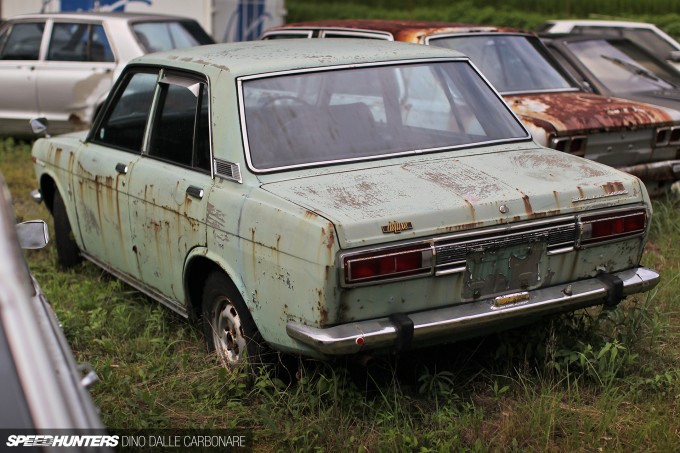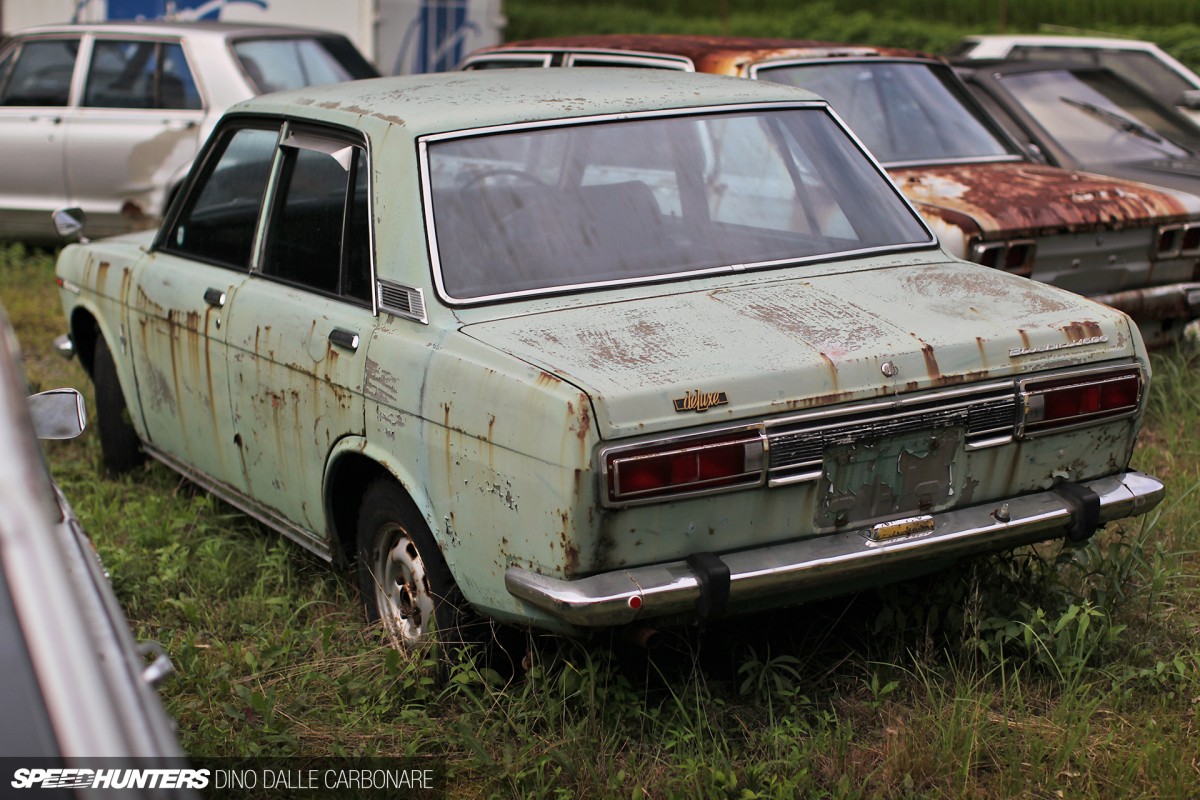 The next generation of the Bluebird, the 510, was also well represented with this 1600 Deluxe sedan.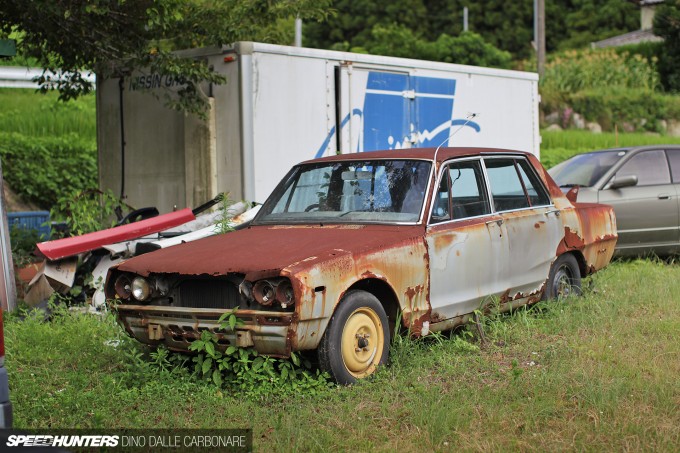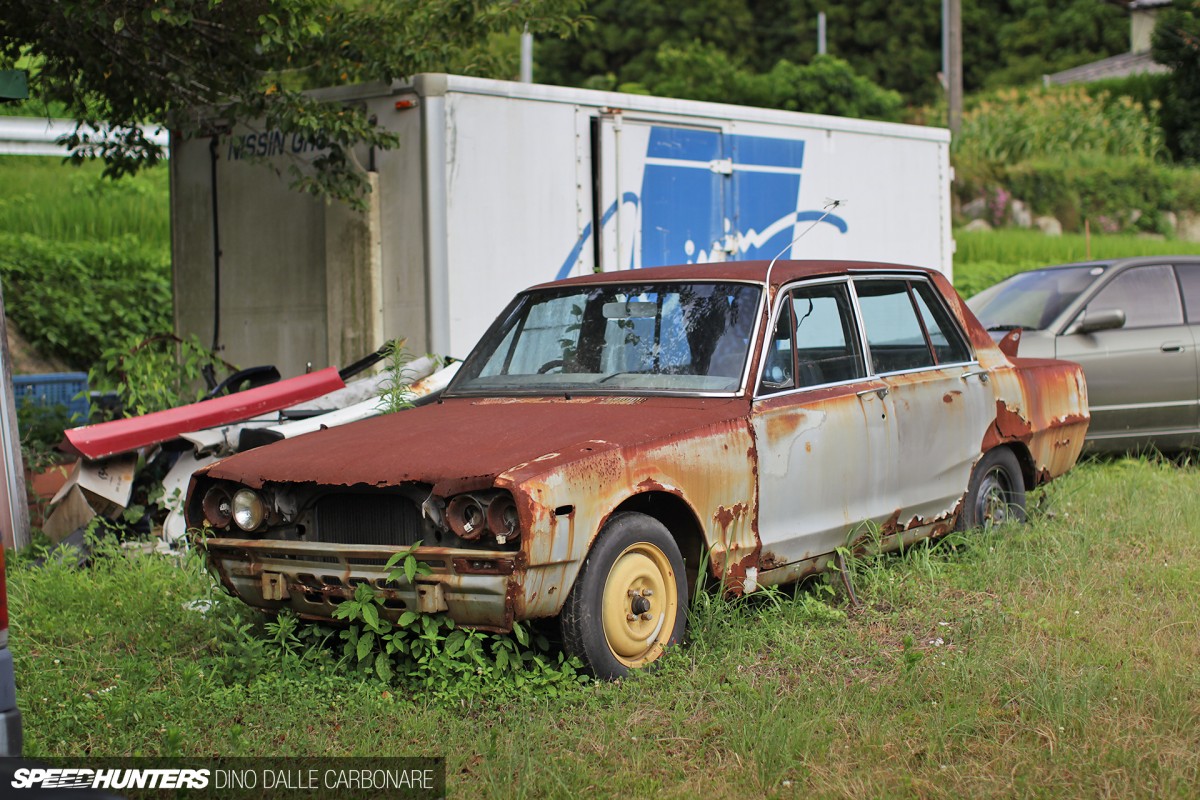 However for a lot of the cars there, there is no denying the fact that rust has very much won the battle…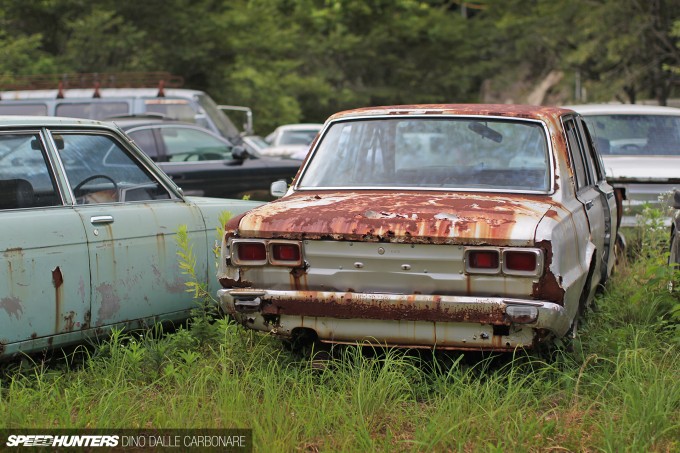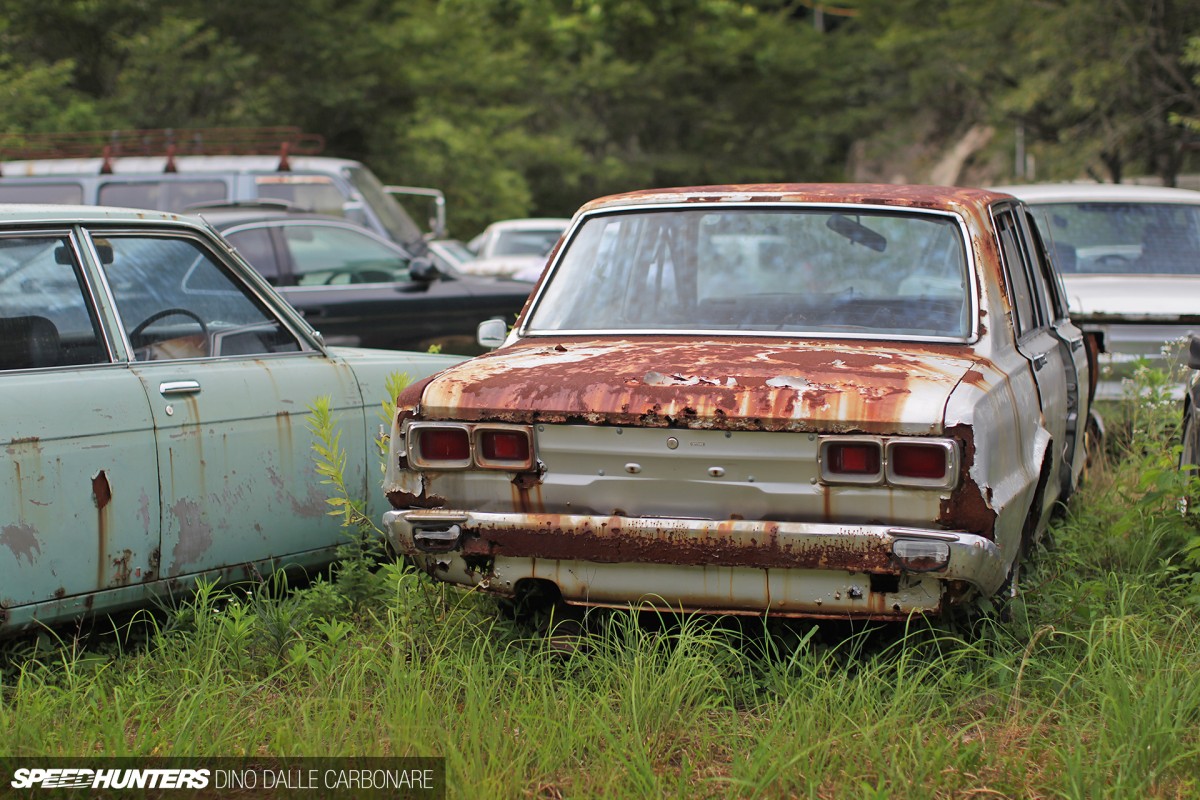 … there is very little that can be done for many of these cars…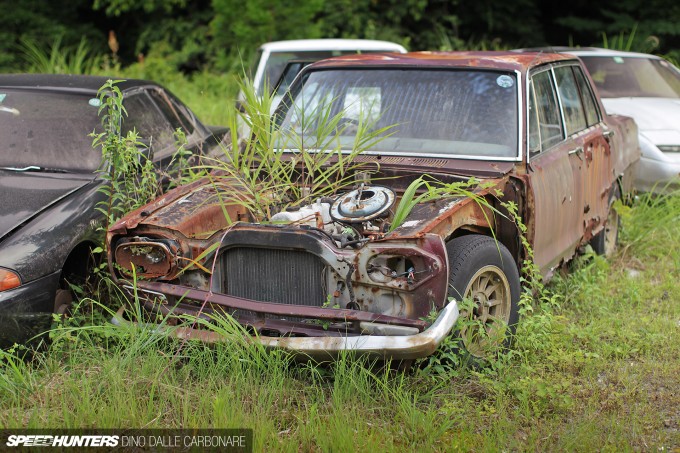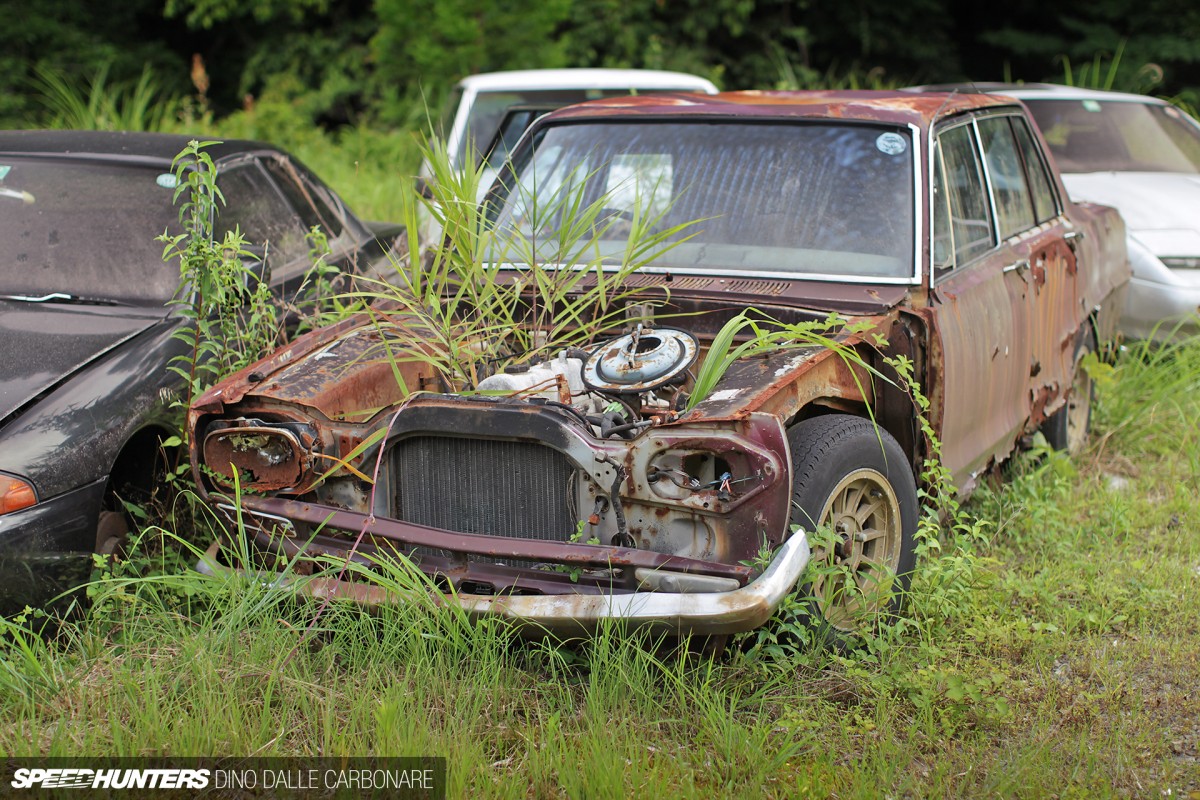 … they have literally become part of the environment that surrounds them.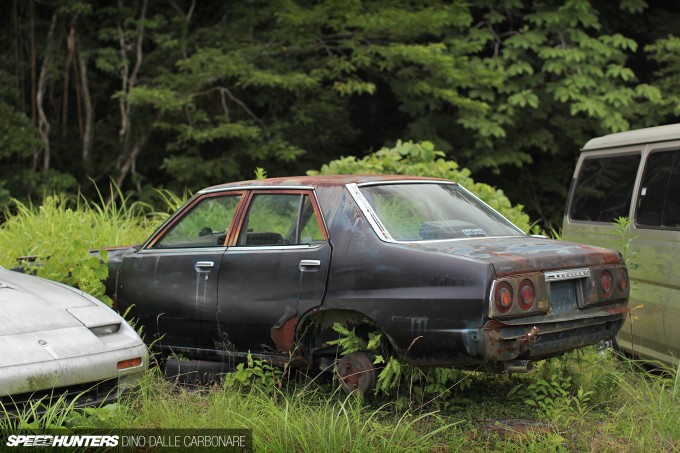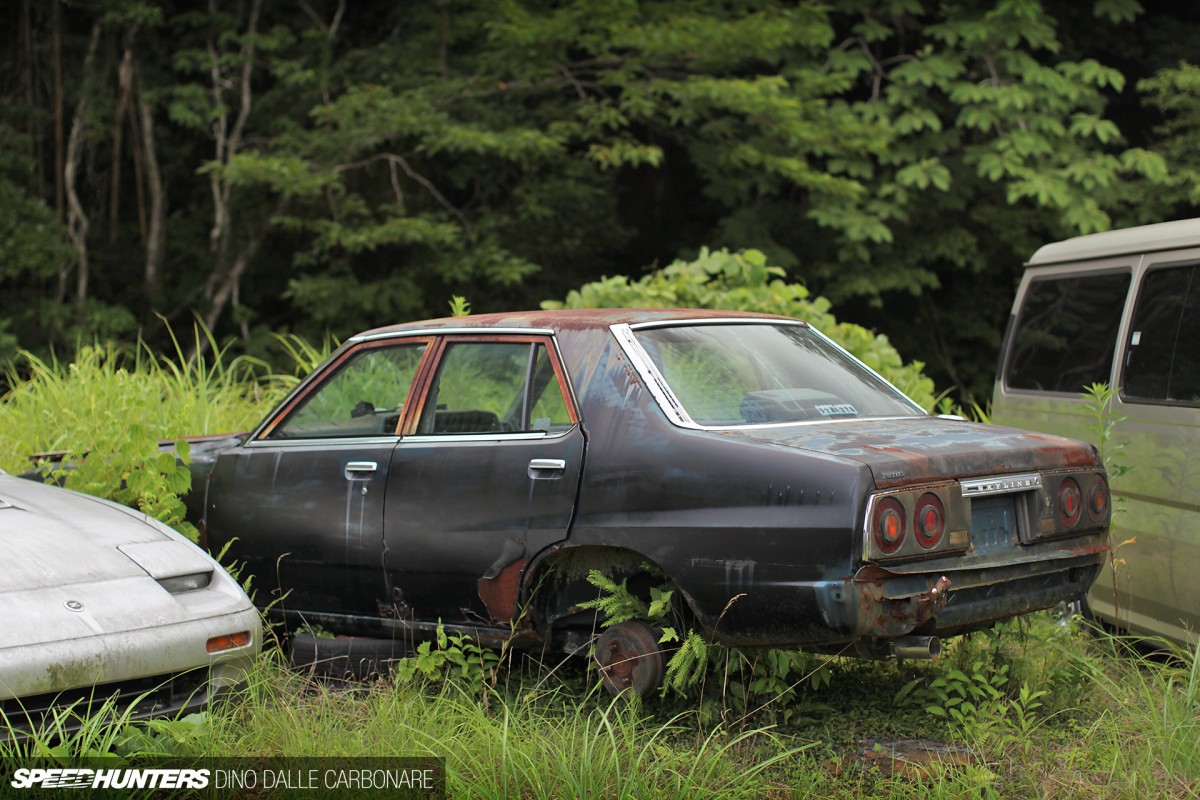 After spending 30 minutes or so wandering around I had to get back to my second photo shoot of the day…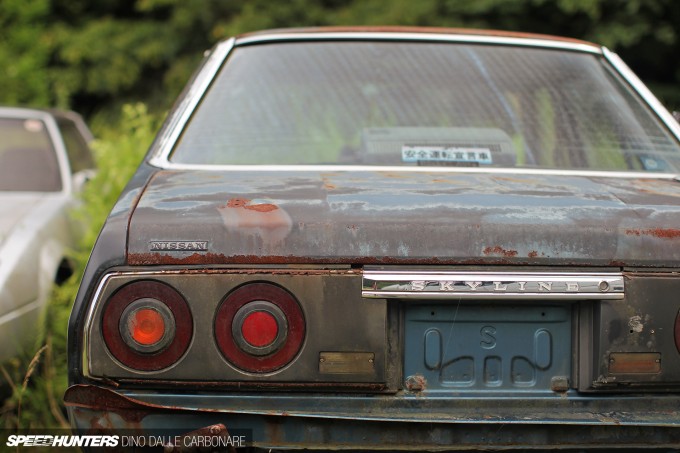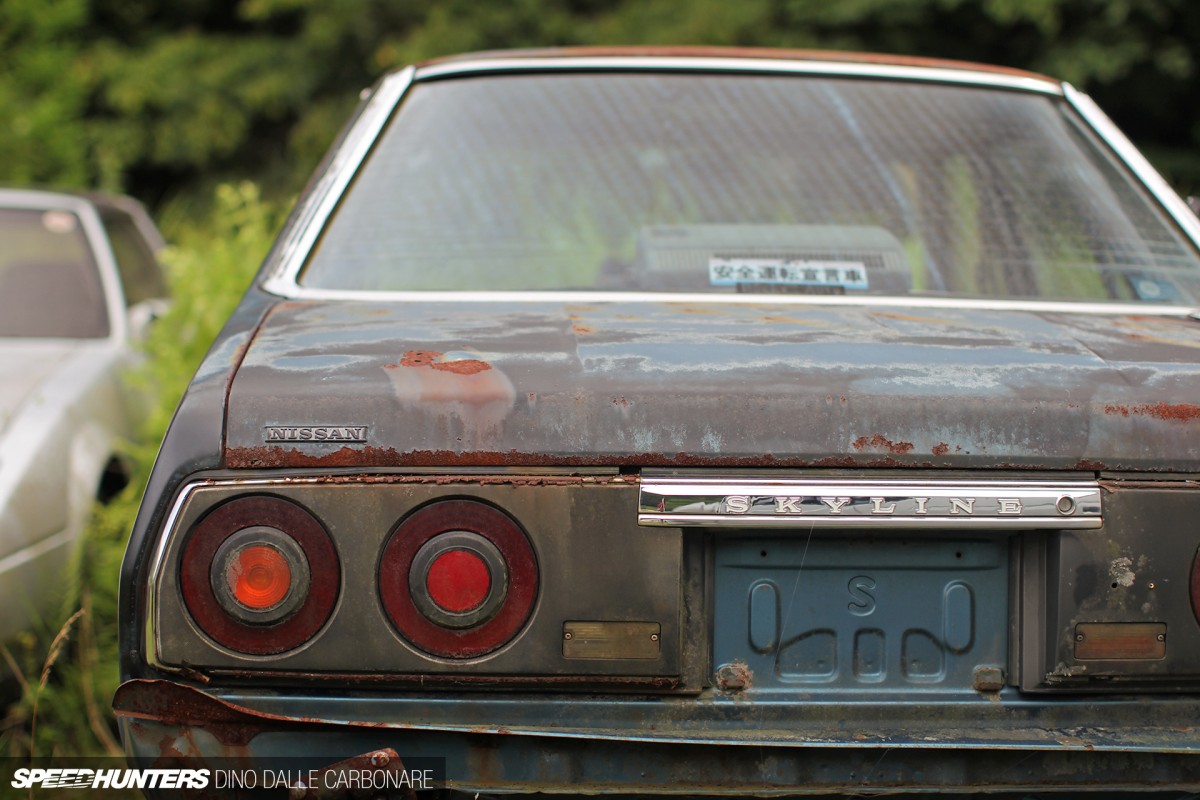 … so I slowly began to retrace my footsteps back to where I came from; quietly leaving these cars in their undisturbed, and likely final, resting place.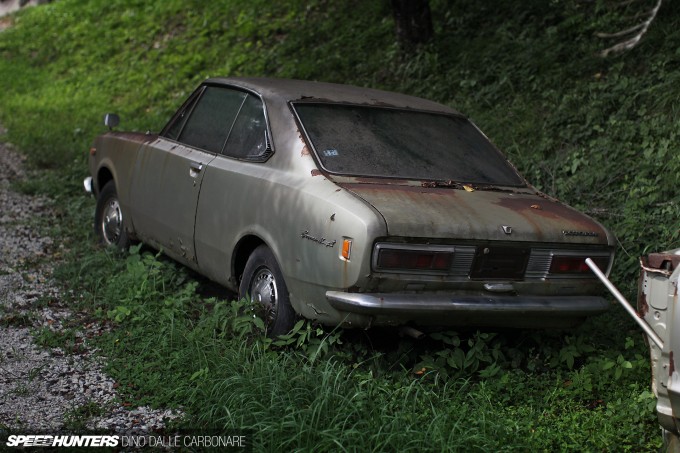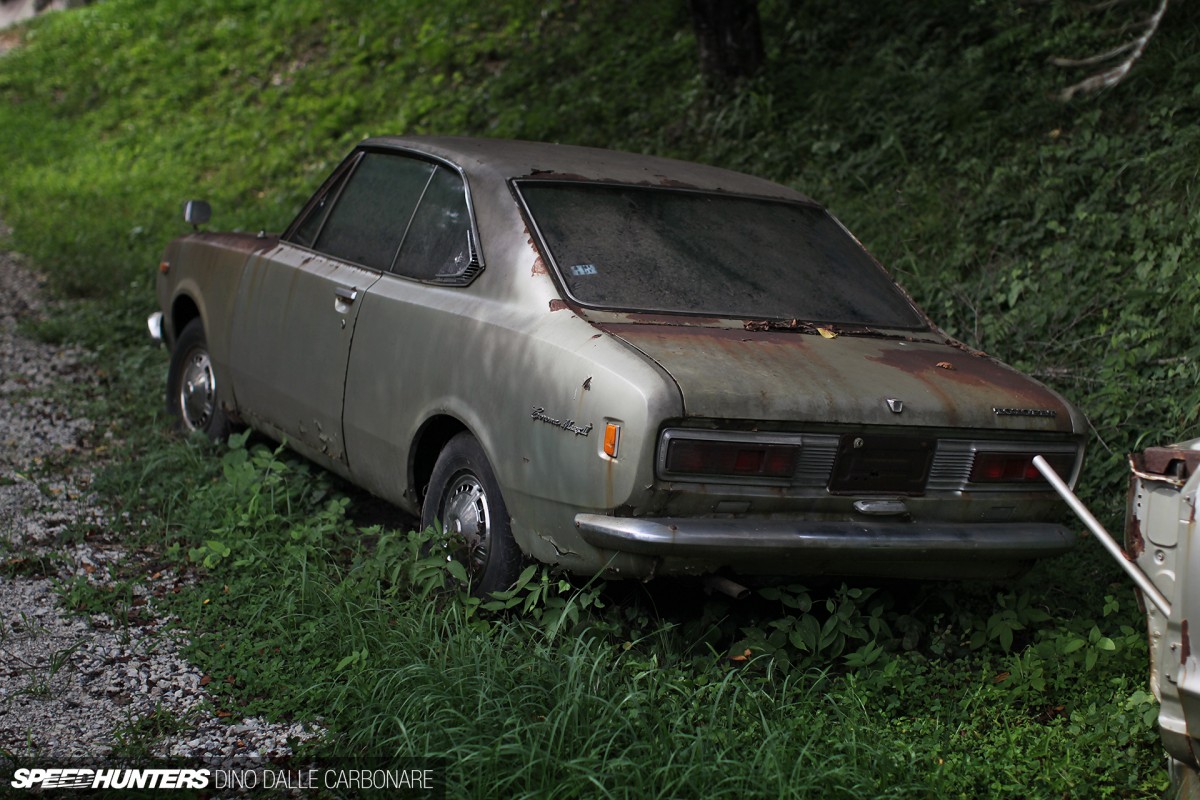 So it seems that Japan can still surprise me. My Speedhunting adventures definitely take me to some pretty cool places, but this particular 'car yard' is one that I definitely won't be forgetting anytime soon.