The lure of drifting
Drifting has always been about the show. It's a curious type of motorsport: one that could potentially grow into an international series but unlike other forms of car racing it's not based around the unquestionable aspect of time. There is no stopwatch to determine a winner and here lies drifting's main issue: it's is a judged sport, winners are called based on the opinions of judges and a set of guidelines and rules created by the organizers of each series. That's why D1 is different from Formula D, and that's why other championships around the word all have their own feel and style. Can drifting ever evolve onto an international level? I personally don't think so…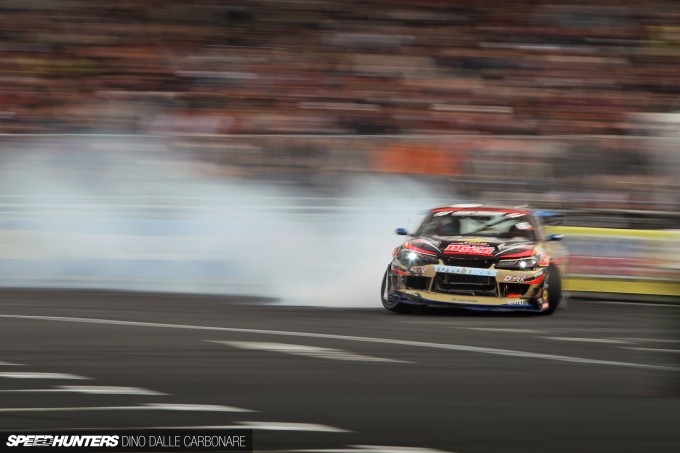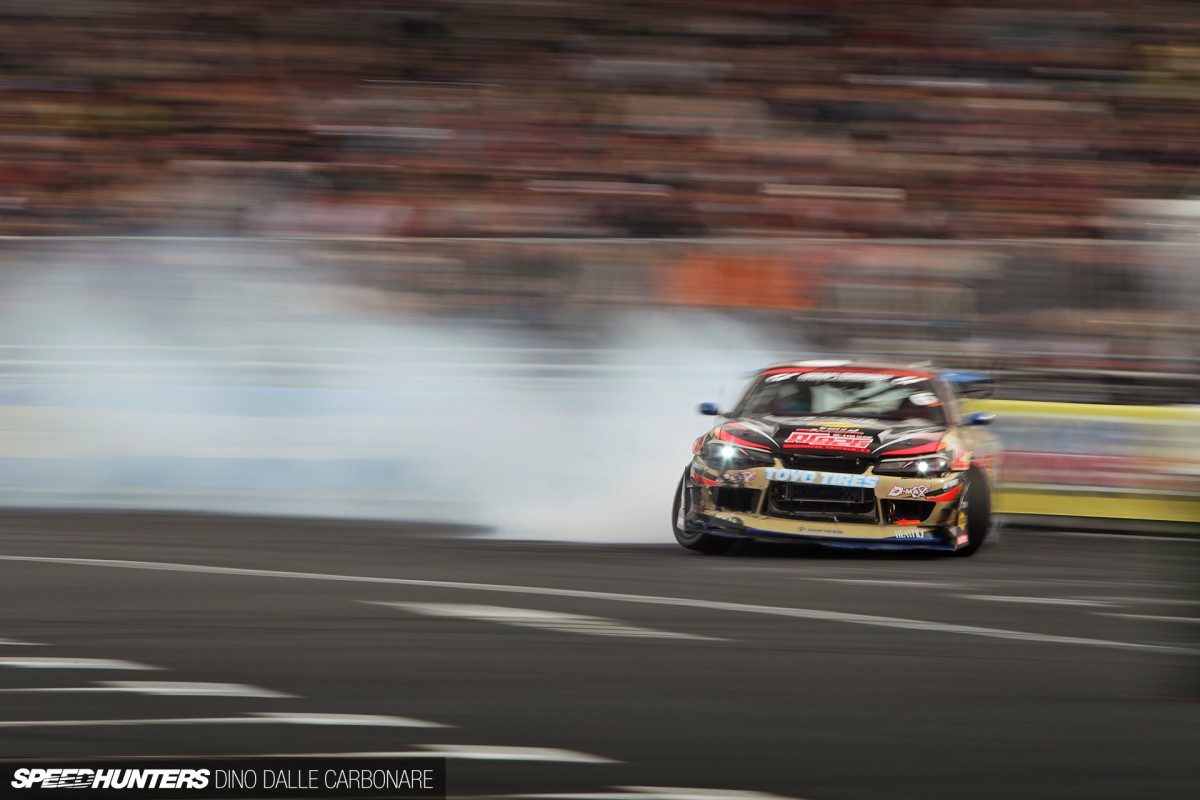 I think there are just too many different opinions on so many different aspects of the sport: the driving, the preparation of the cars, what drivers are expected to do in competition.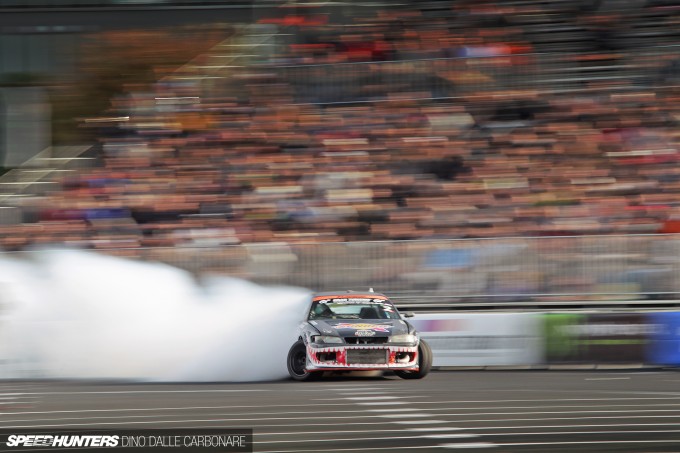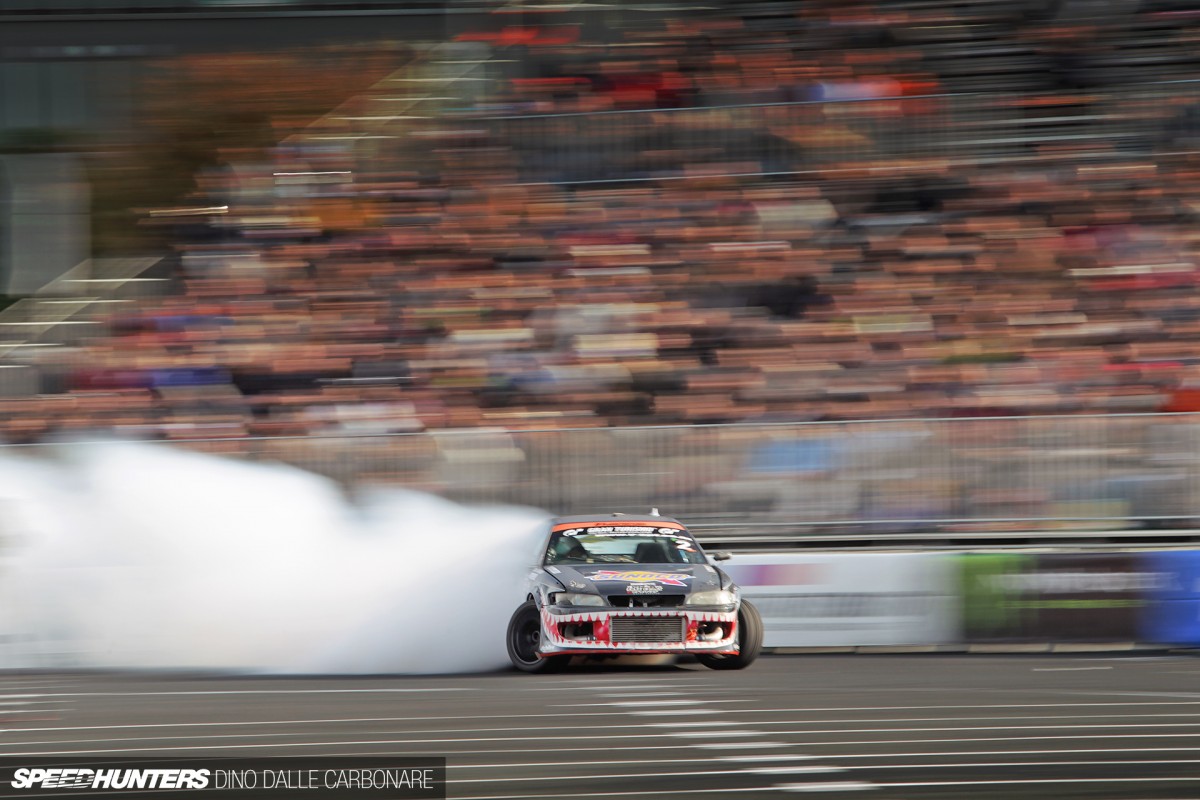 But then again, all of this is what makes sliding cars around a course so entertaining: the different way drivers go about it at the wheel of very different cars. On Sunday at Odaiba it was this aspect that I was concentrating on: the entertainment of it all, the Exhibition round serving as a reminder of why, many moons ago, I was so drawn in by this sport.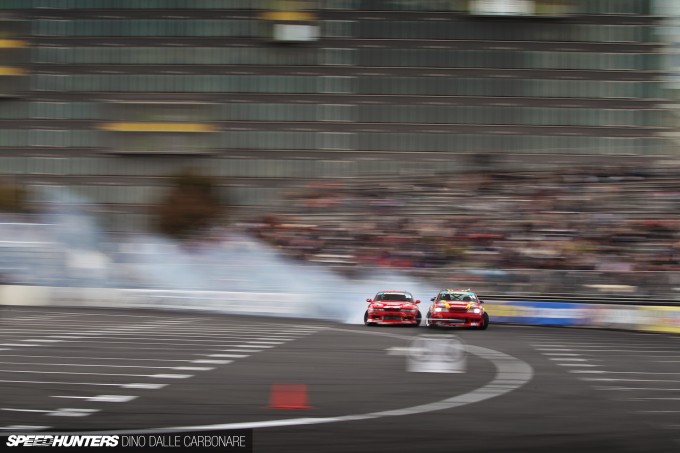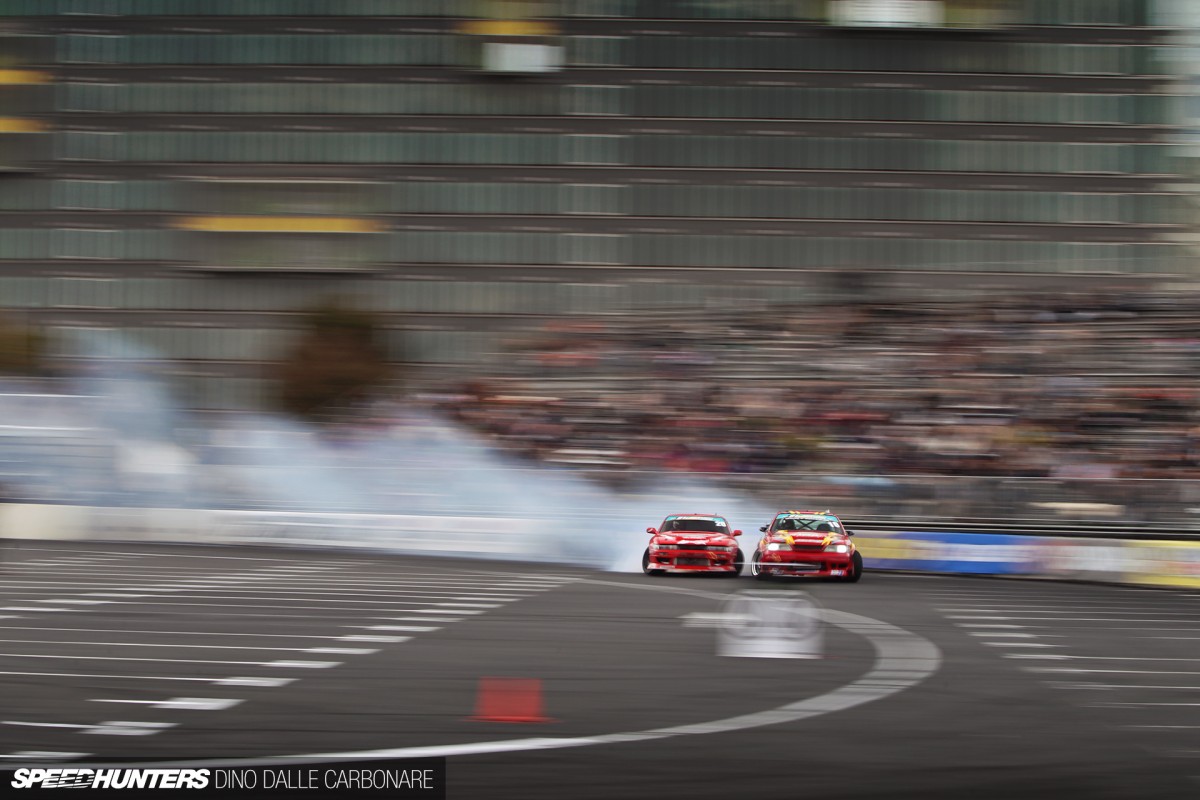 Without thinking about the disappointing turn D1 has taken, the questionable judging calls that continue to happen…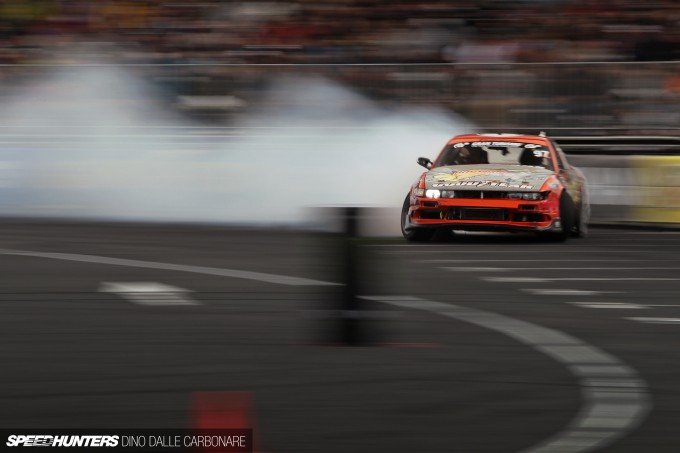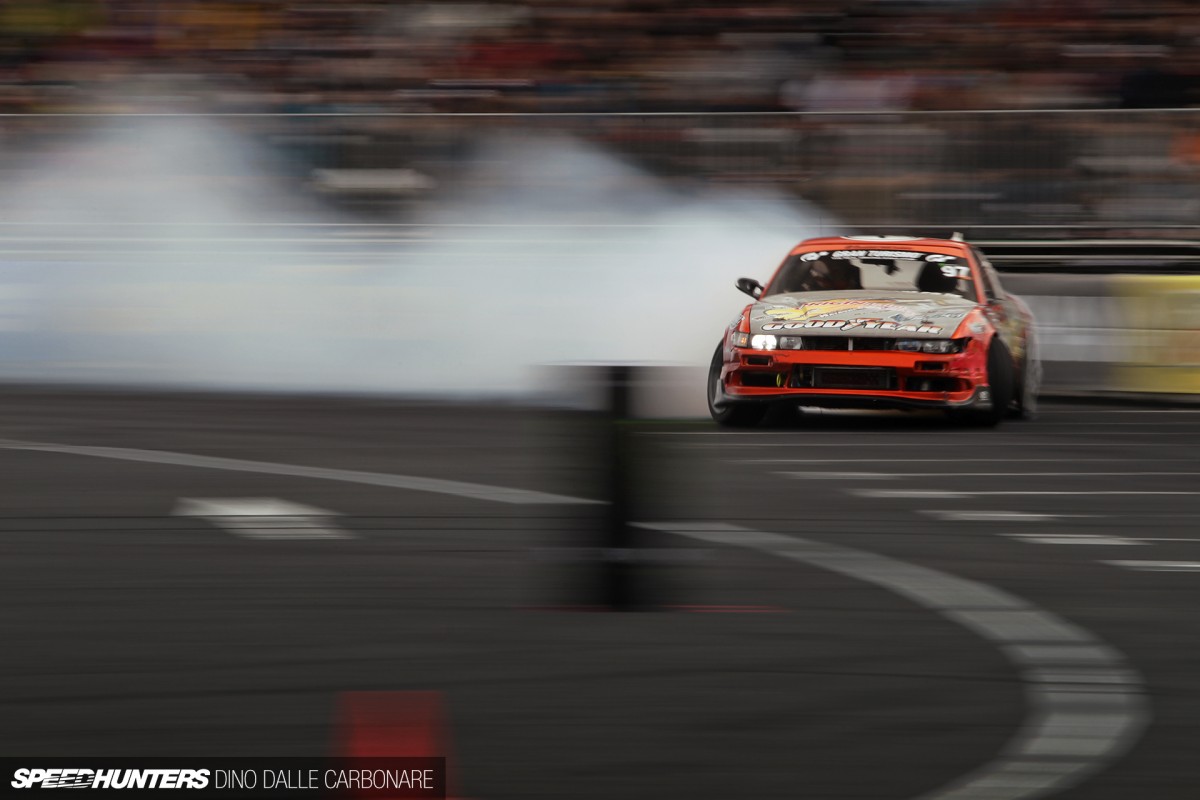 … and the whole staleness of the original formula that just feels quite dated these days, without all of that in the way…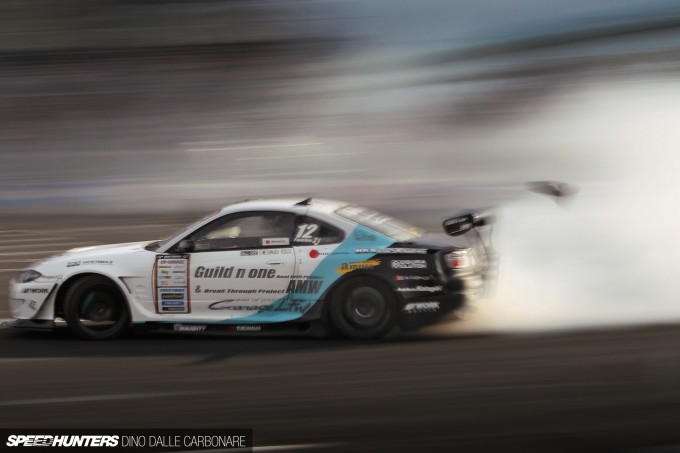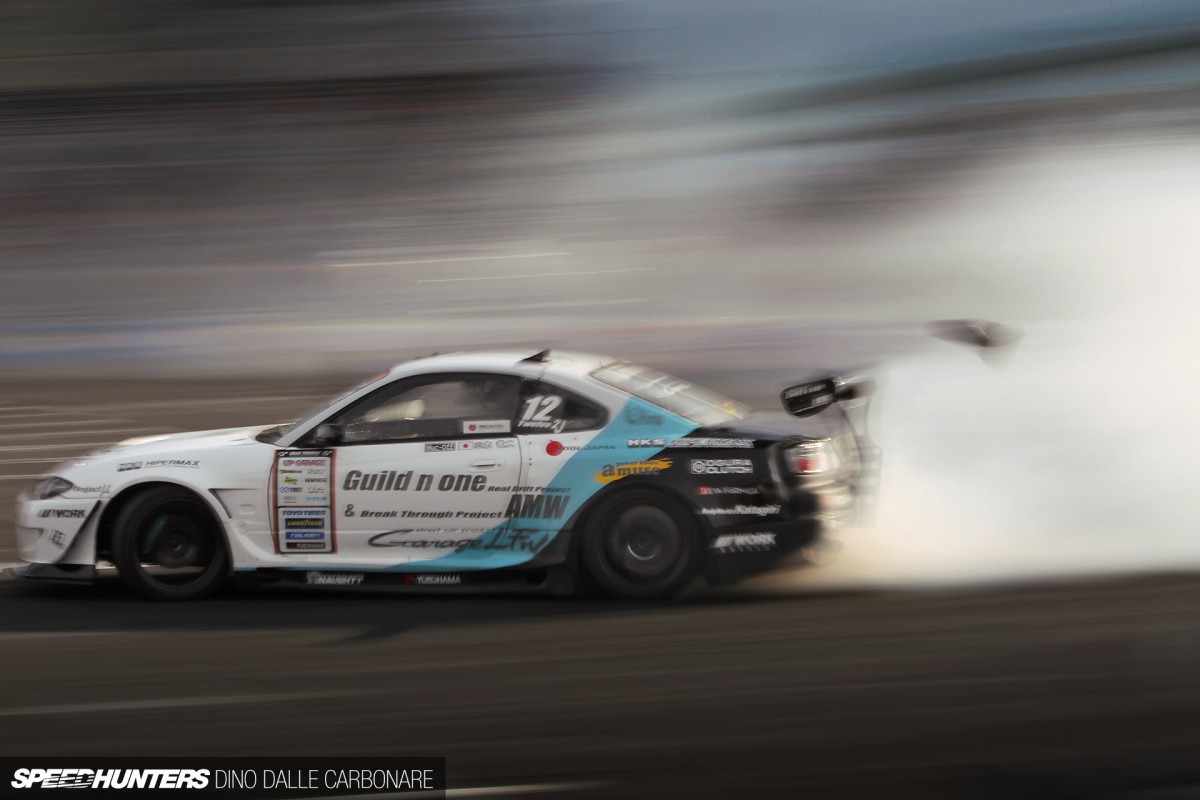 … I could truly enjoy it all. And despite none of the drivers actually fighting for valuable championship points, it was so cool to see them push so hard just to put a show on for the crowds that flocked to Odaiba that day.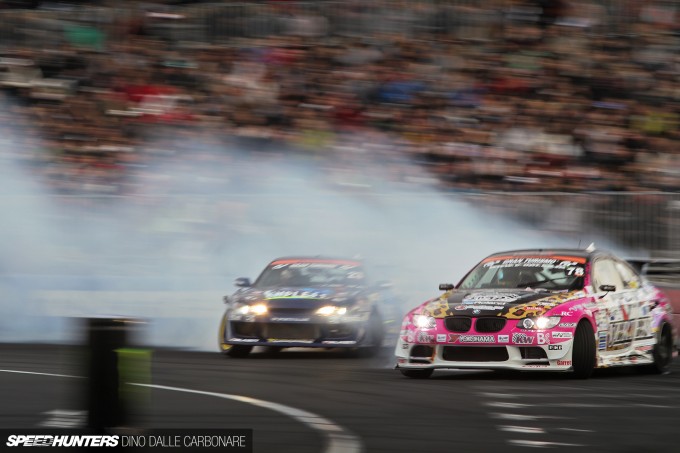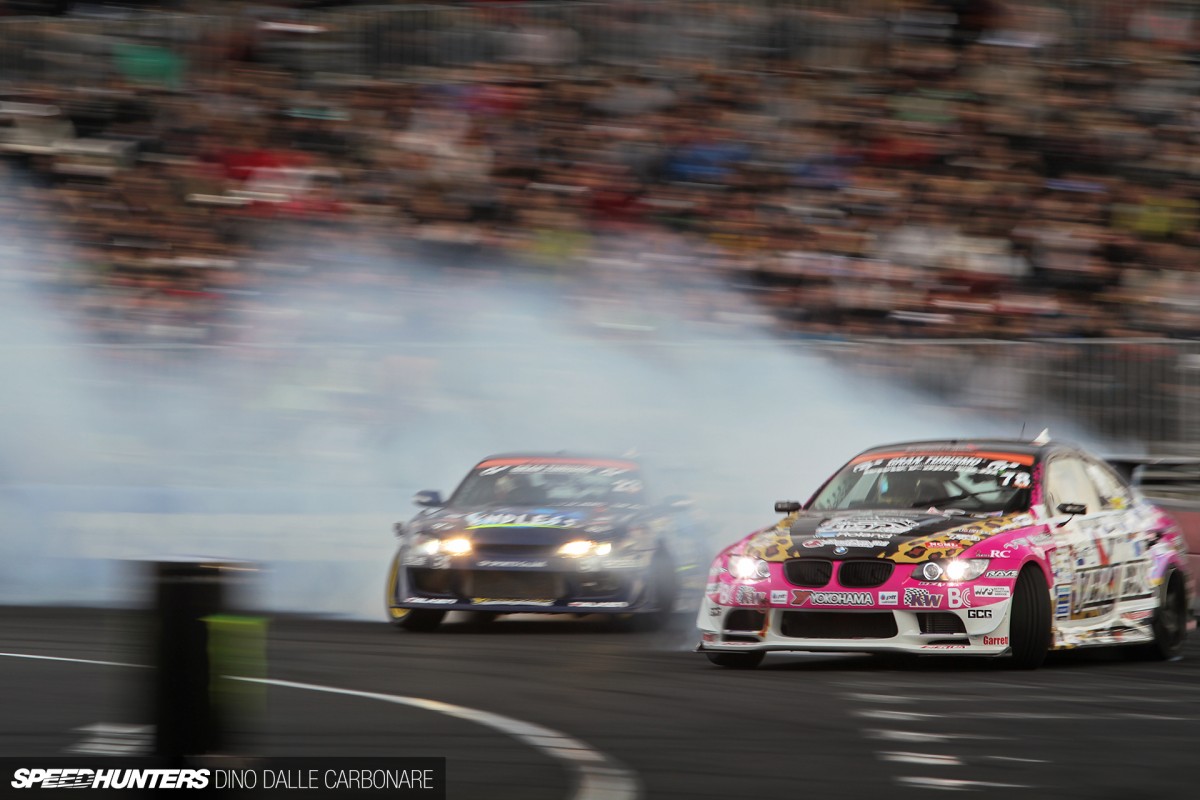 After my first post from the event I might have come across slightly uninterested in D1 and everything about it, and while that might be true to some extent, what I must stress is the importance I think drifting still has in Japanese car culture. It remains a defining factor of the so called JDM and it's been quite impressive to see how it has grown and how all the drivers have pushed their skills and techniques at all levels. Plus, it's so much damn fun to shoot!
International talent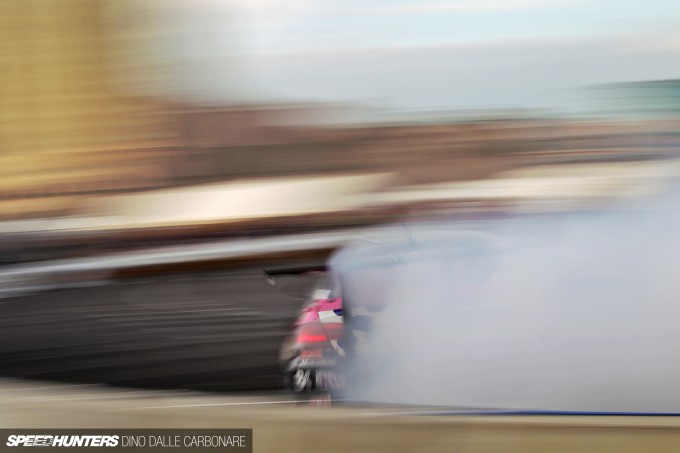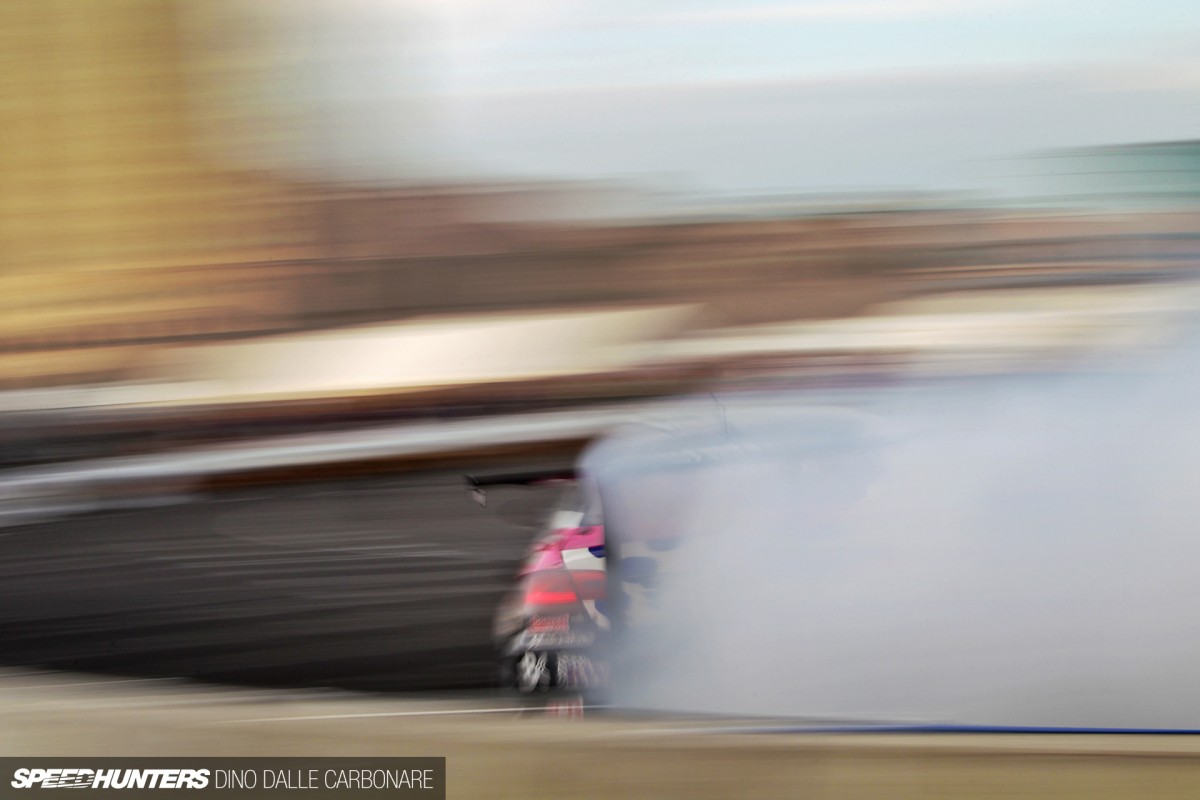 The Exhibition round is run much in the same way as a regular round…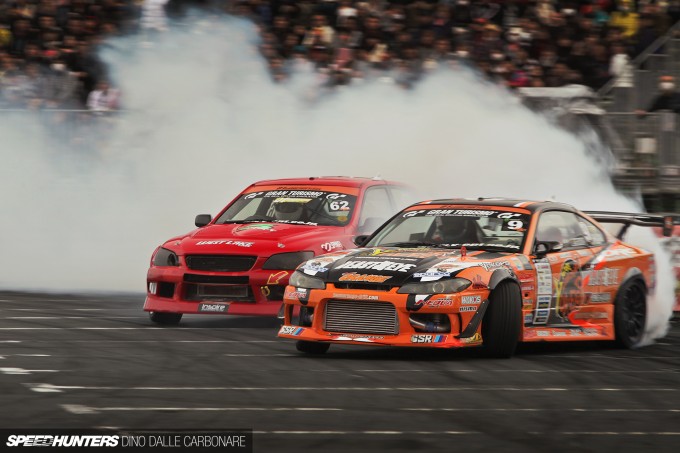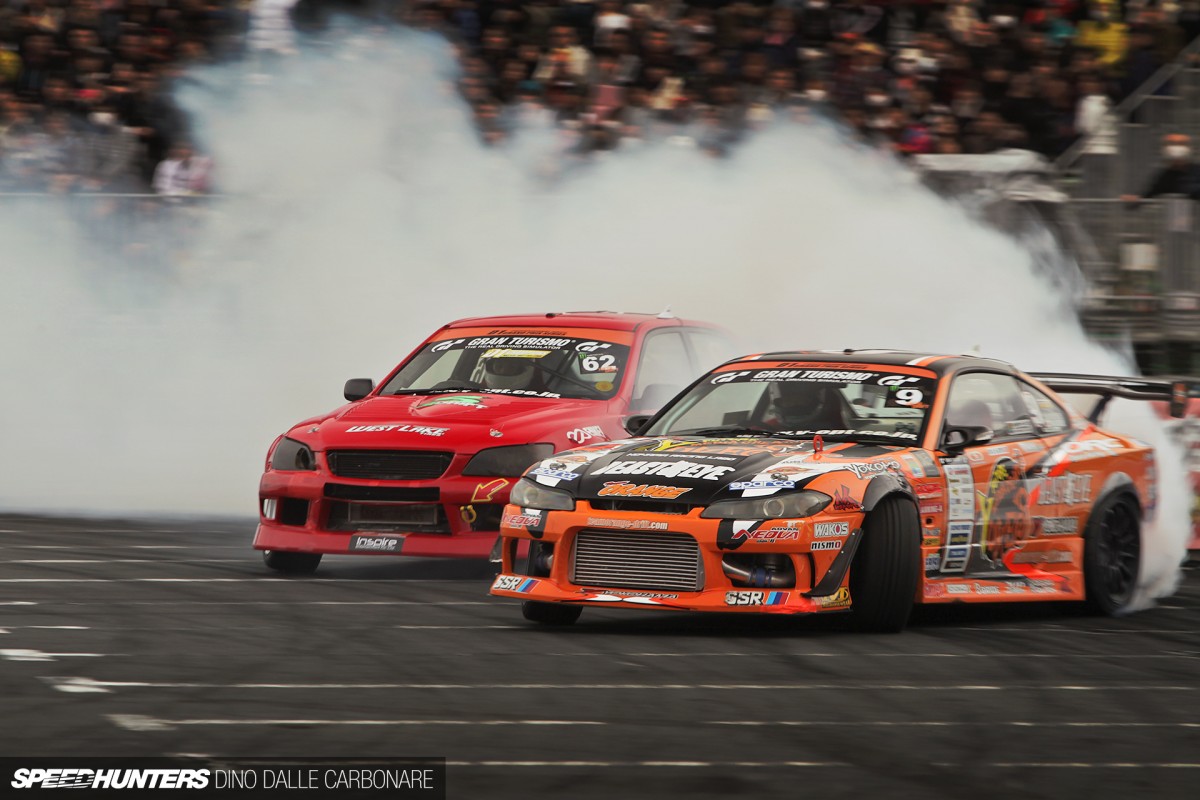 … but international guest drivers are thrown into the mix to spice things up. And while D1 organizers still assume that anyone from outside Japan is lacking in the skills department, in practice it was quite the contrary with drivers like Chanatpon Kredpiam – and his borrowed Altezza – putting in some impressive runs…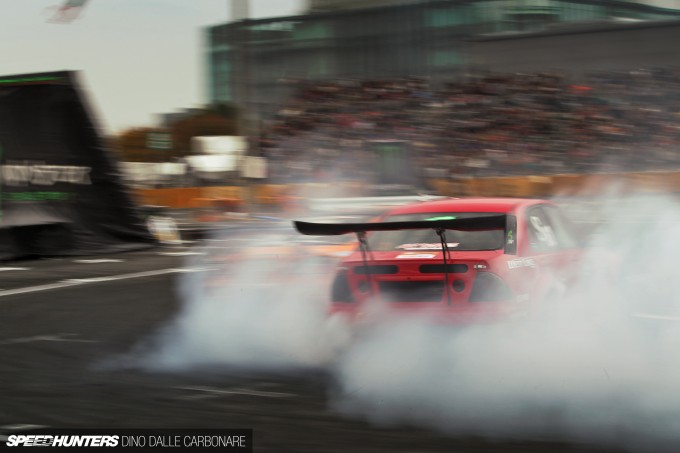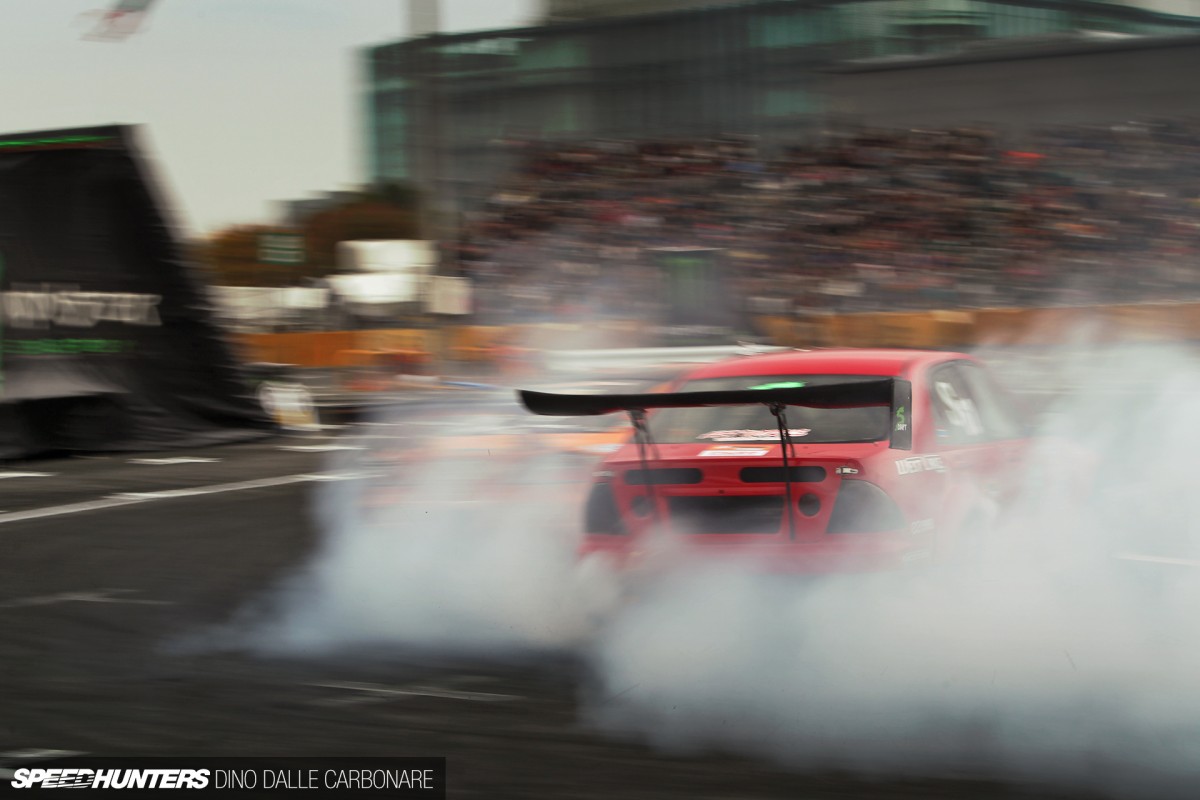 … and beating established drivers like Team Orange's Naoto Suenaga.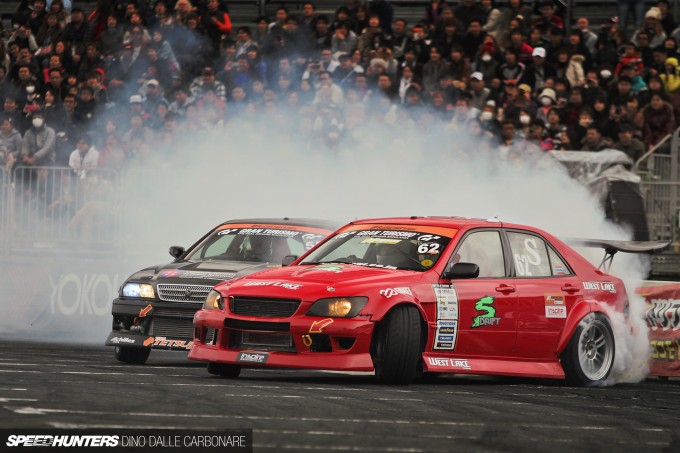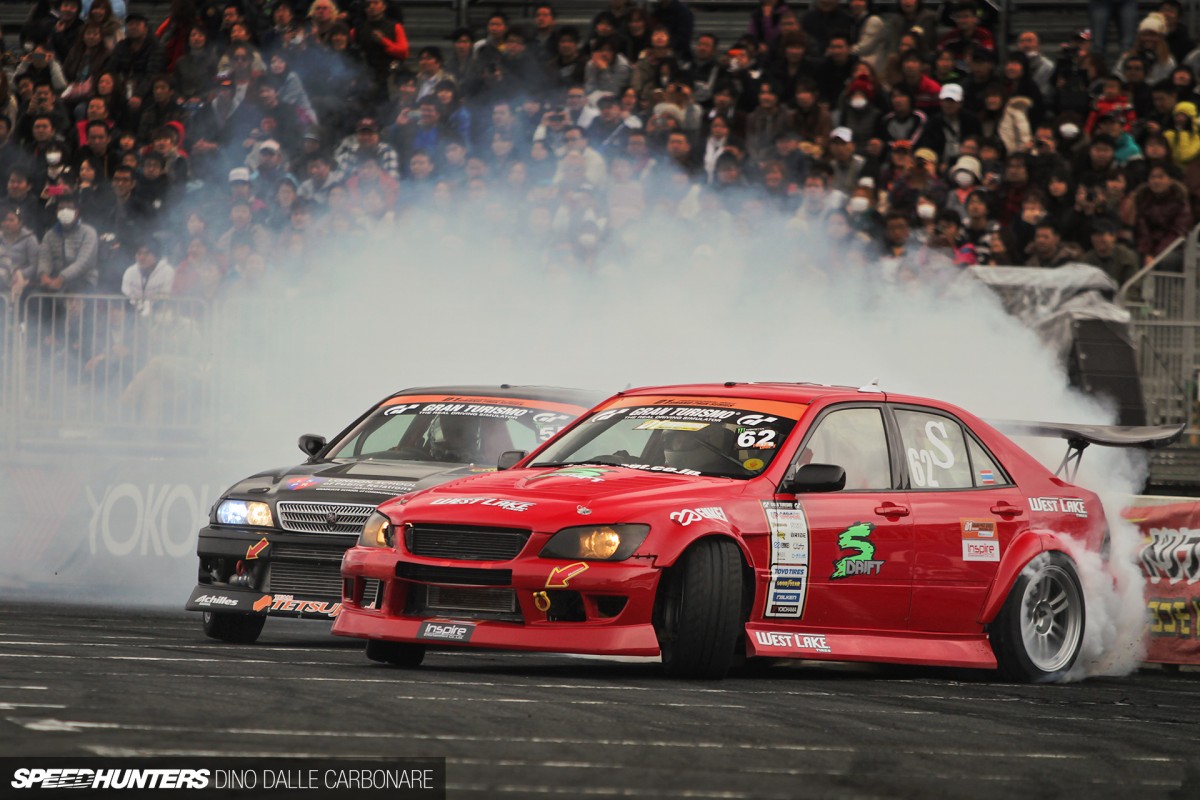 He went on to win against Amandio…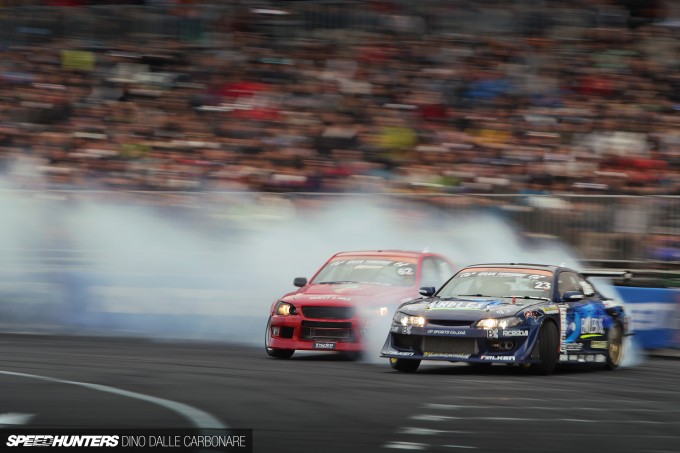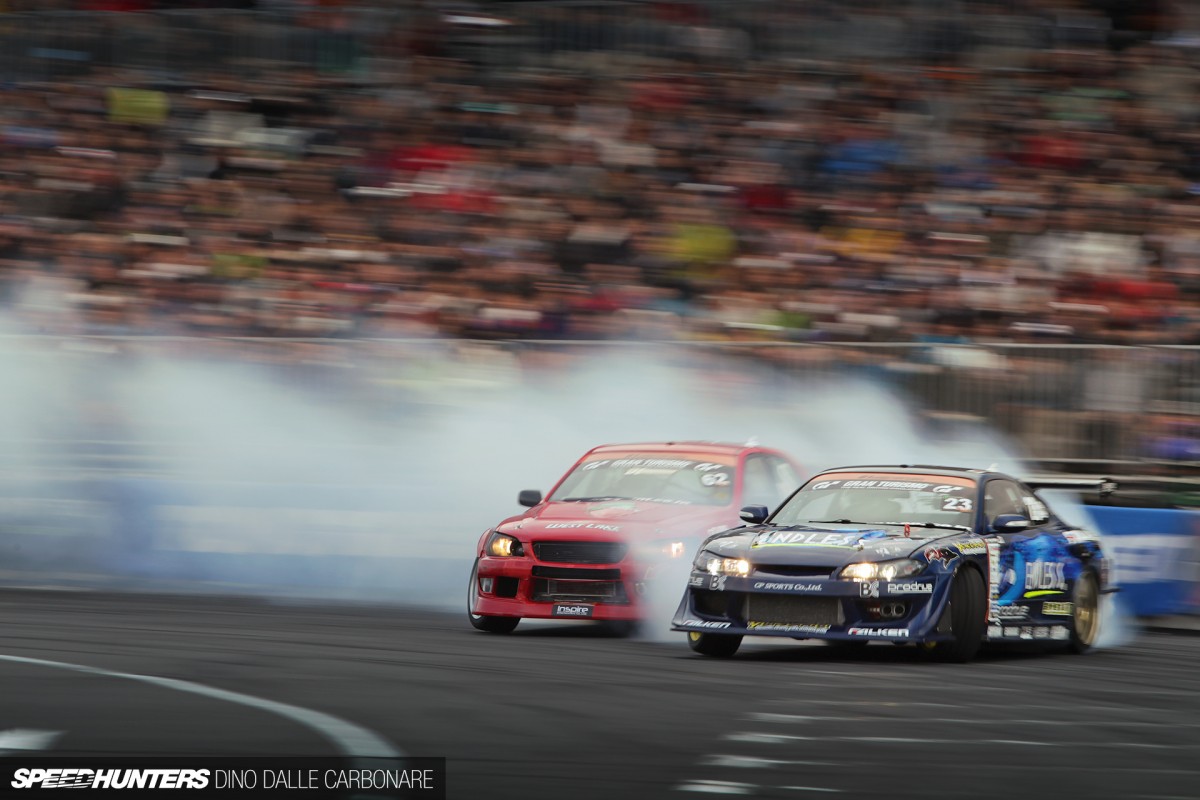 … and then saw it off with the mighty Koguchi. Unfortunately he wasn't able to win this tsuiso but he did put on a good fight.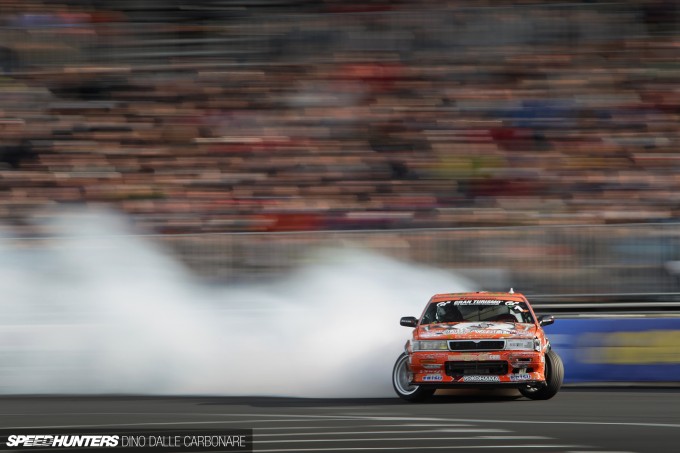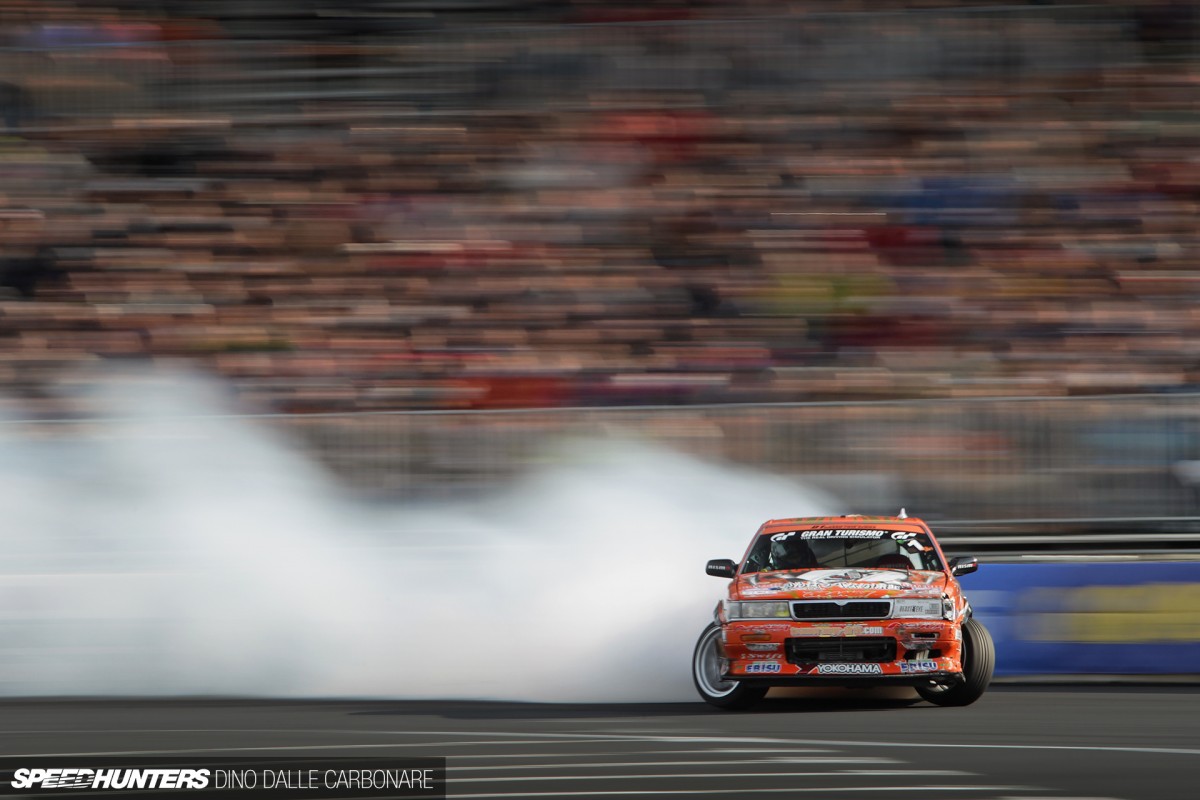 Kumakubo's Laurel was still looking pretty battle-scarred after hitting the wall the previous day…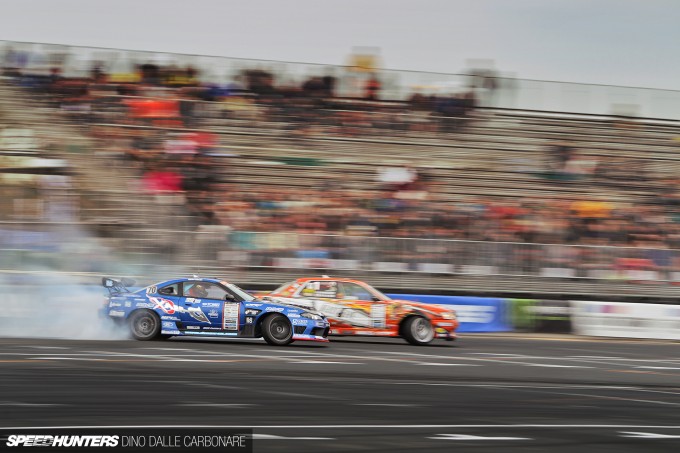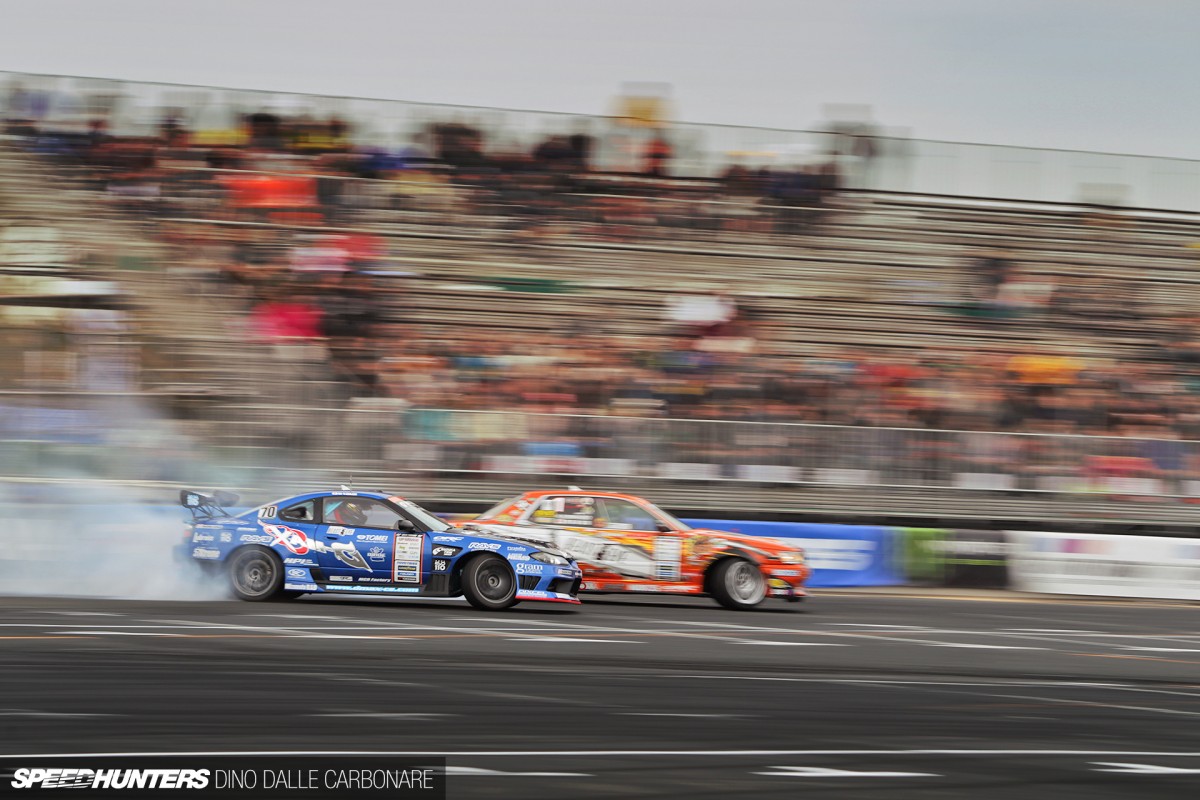 … but he kept an aggressive pace going into the main judged corner with Yokoi and his D-Max S15 hot on his tails.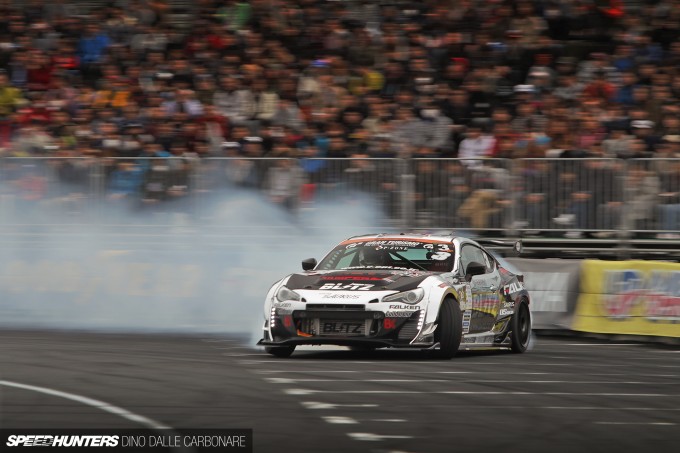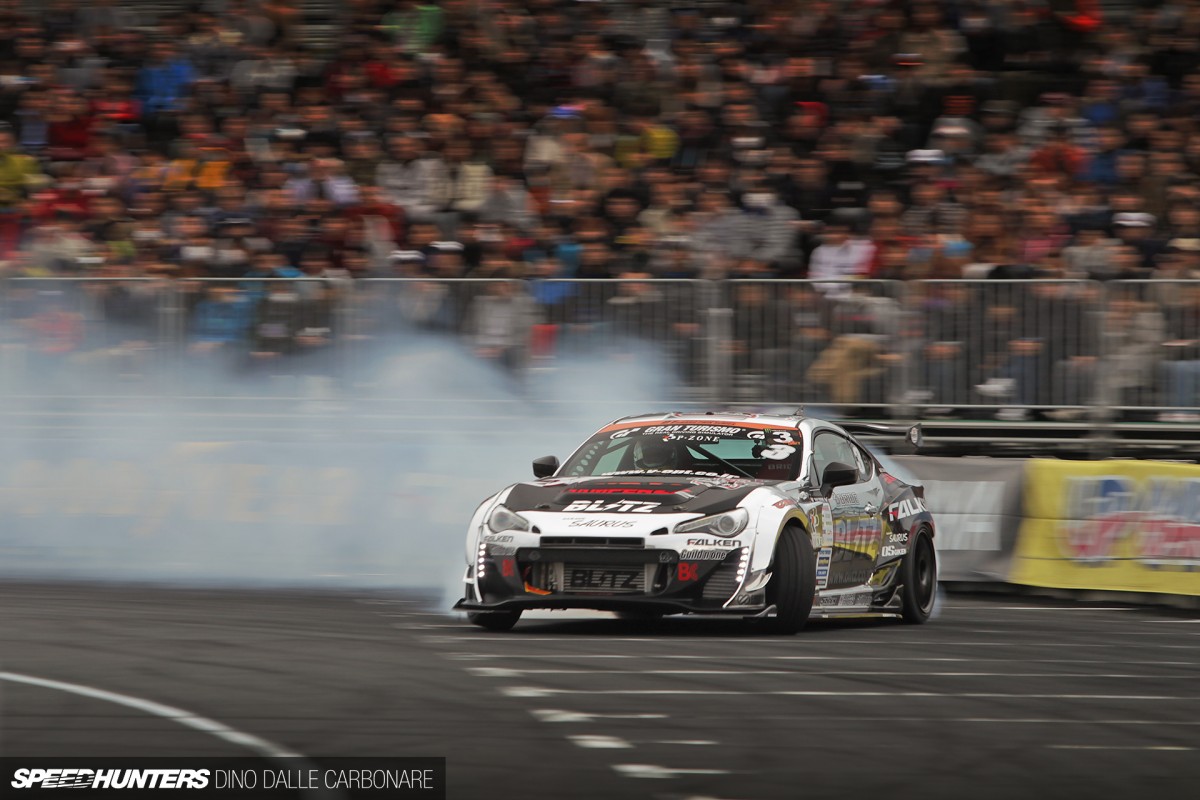 Back in Mobara earlier this year, I saw one of Nomuken's first outing with the new Blitz 2JZ-powered ZN6, and it's definitely come a long way since then but despite that, it's proven to be quite the tough year for the man behind URAS. But despite the car not being competitive quite yet, I do take my hat off to him for having challenged himself and having retired his ER34 Skyline four-door.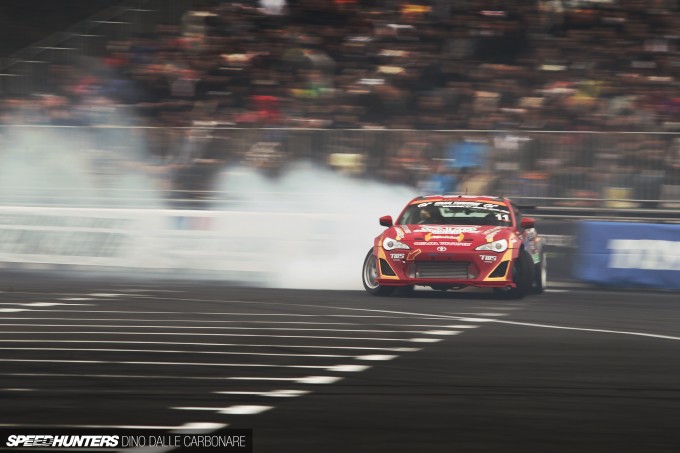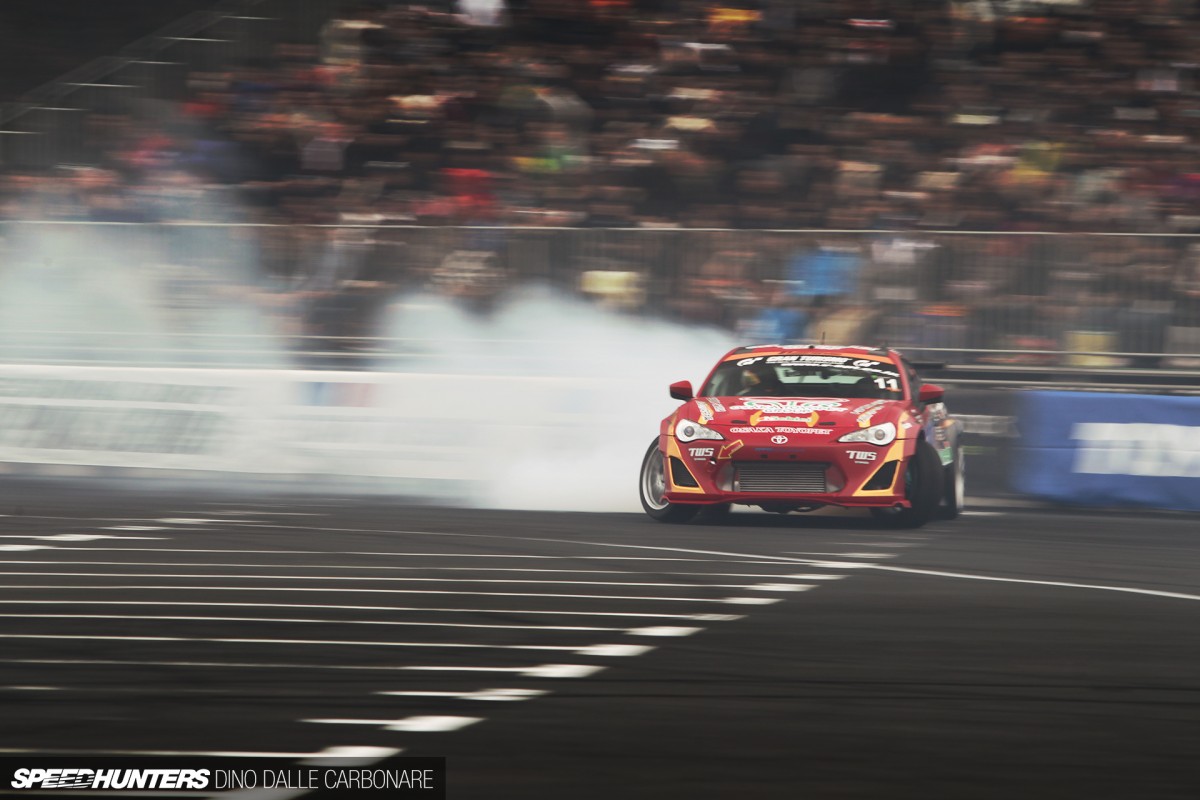 And along with Nomuken, Taniguchi, Orido and Hibino it looks like Imamura will be joining the 86 club for next year too.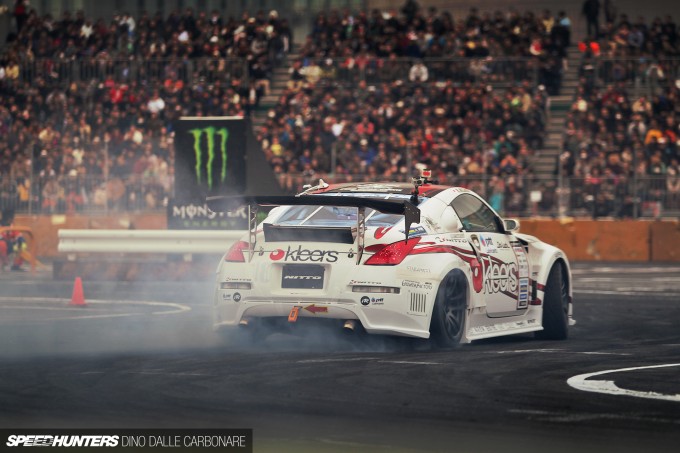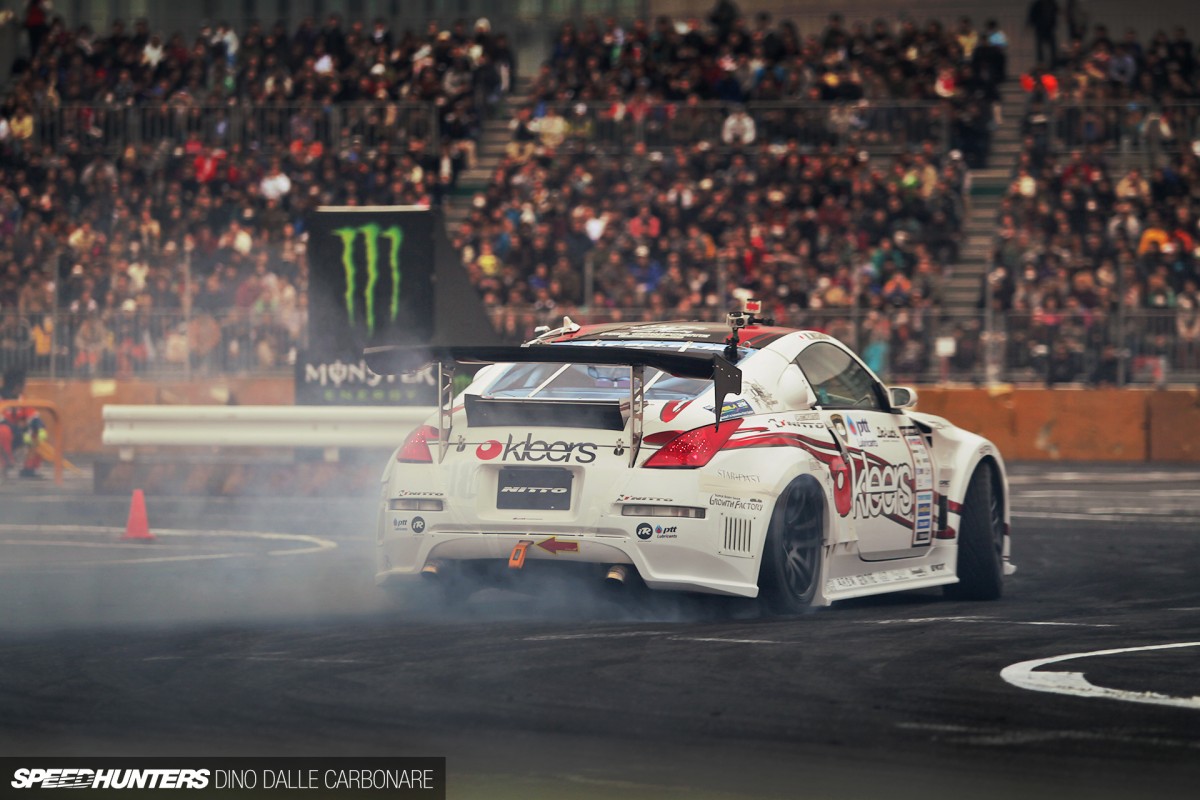 The Do-Luck Z33 was one of the most exciting cars I saw during the whole weekend at Odaiba and I decided then and there that it deserves a full feature.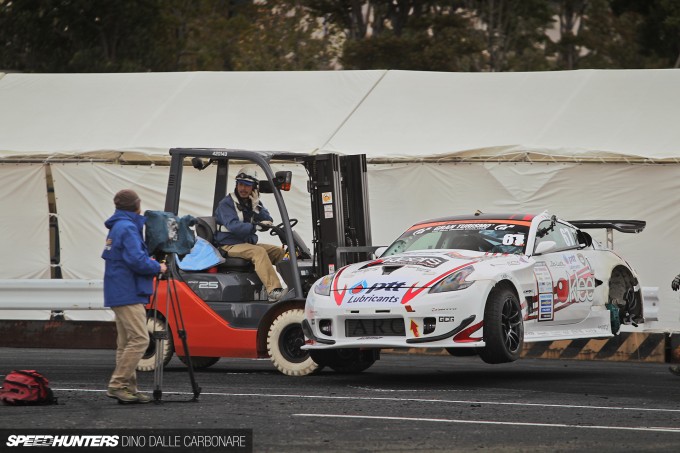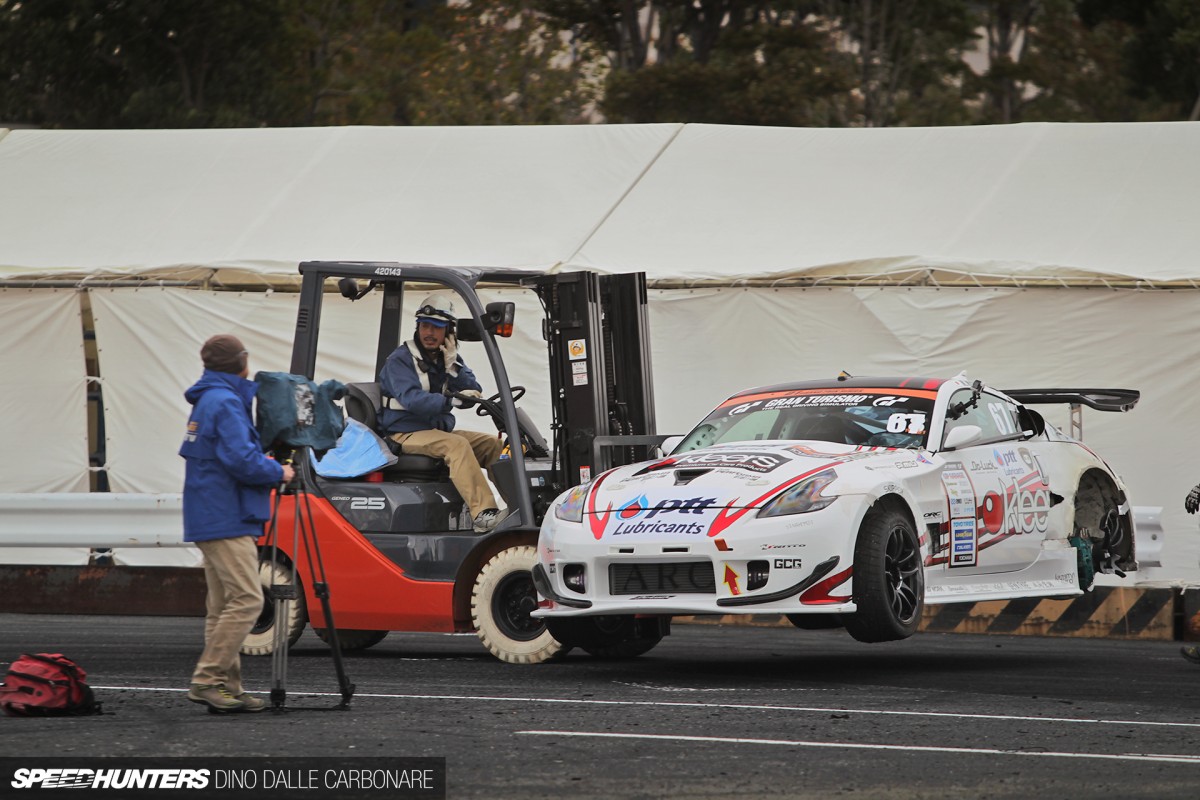 However, after Davide Dorigo ripped off one of the rear wheels after getting caught up in one of the barriers, it looks like I may need to wait a while!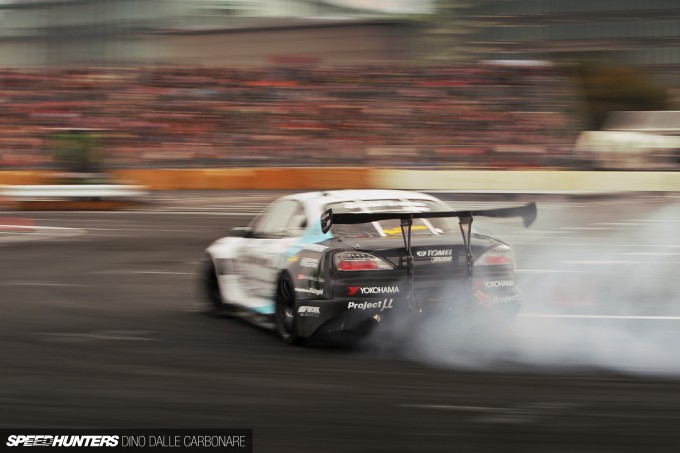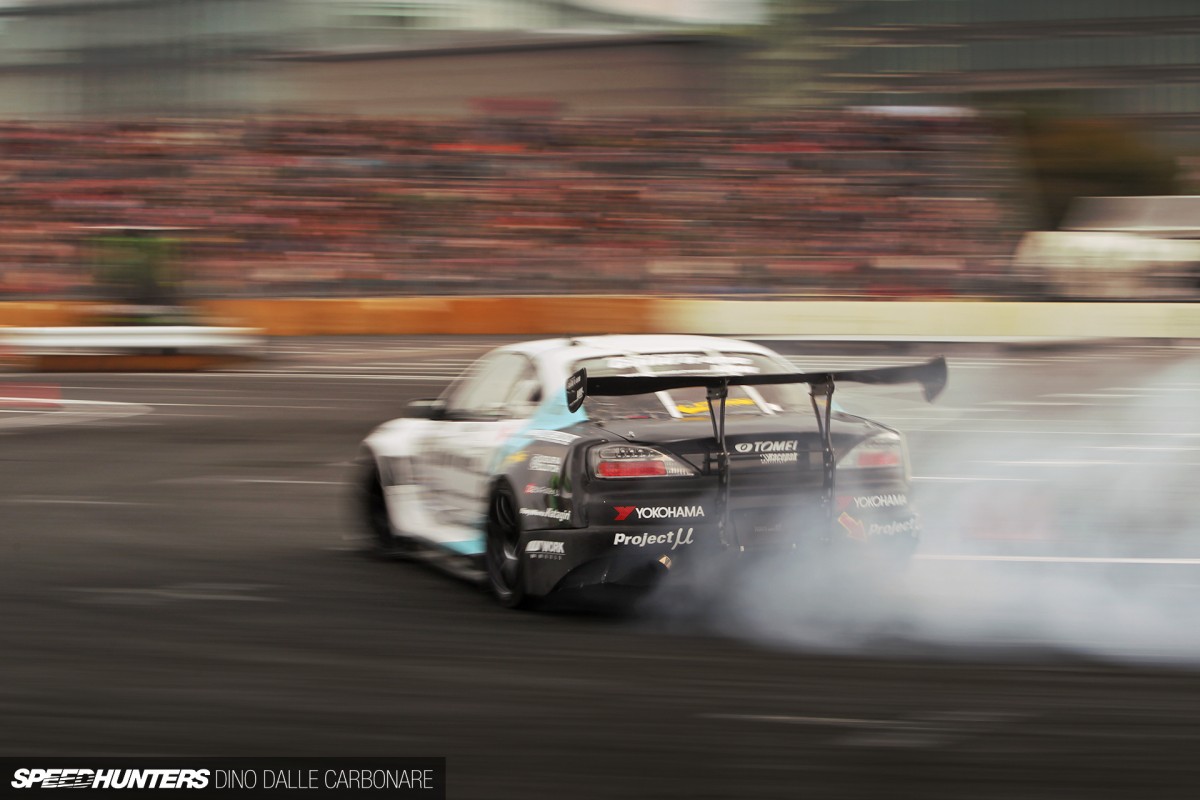 It was also very cool to see Top Secret's old driver, Miki Ryuji back in D1. He was driving in the Exhibition runs, onboard the Guild AMW with LFW S15.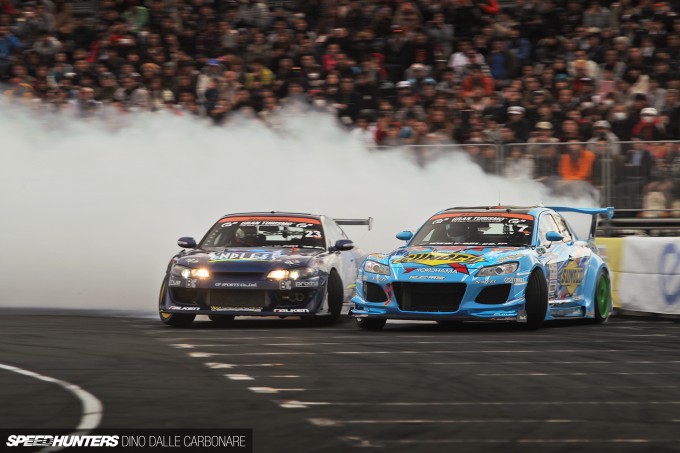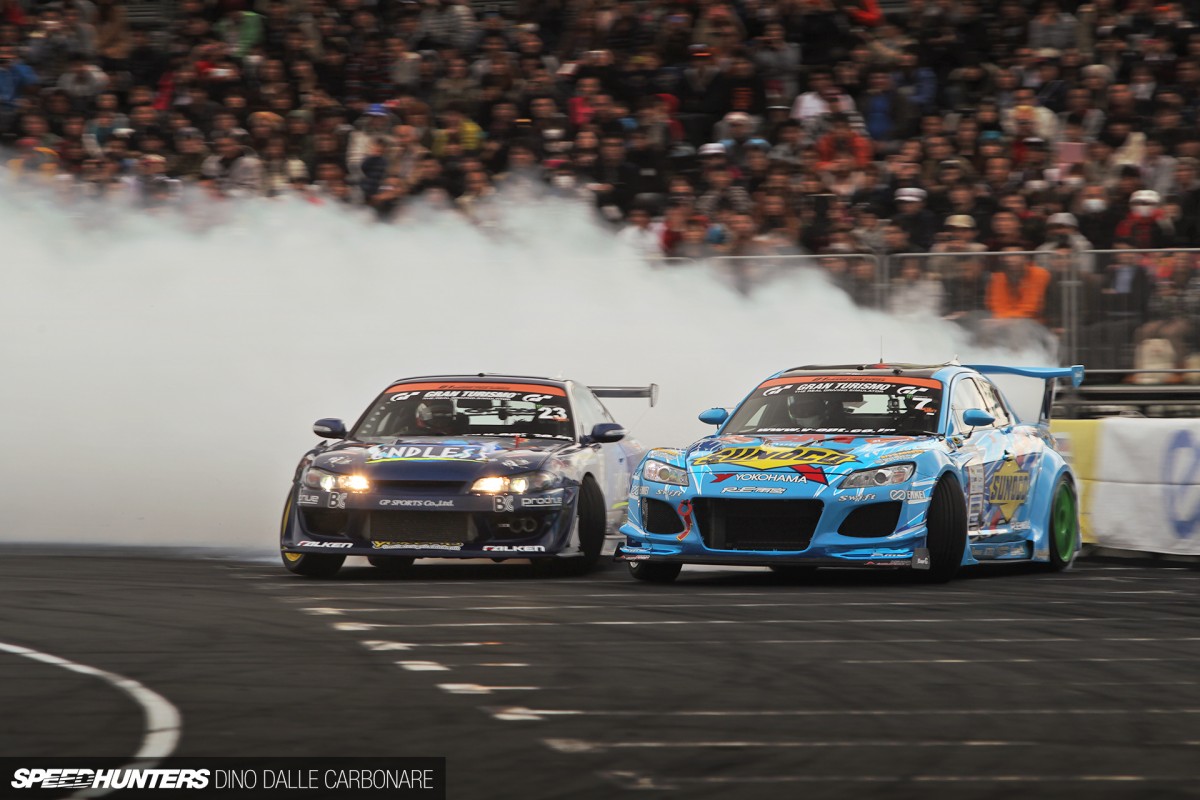 As the morning run of battles continued, Kogichi seen here going against Suenaga in the RE-Amemiya RX8…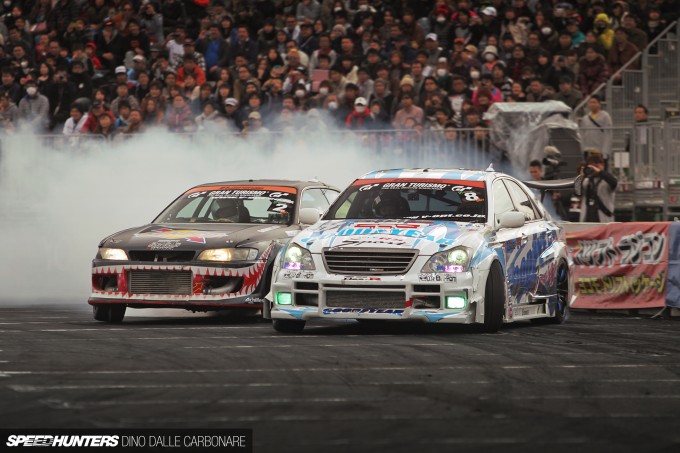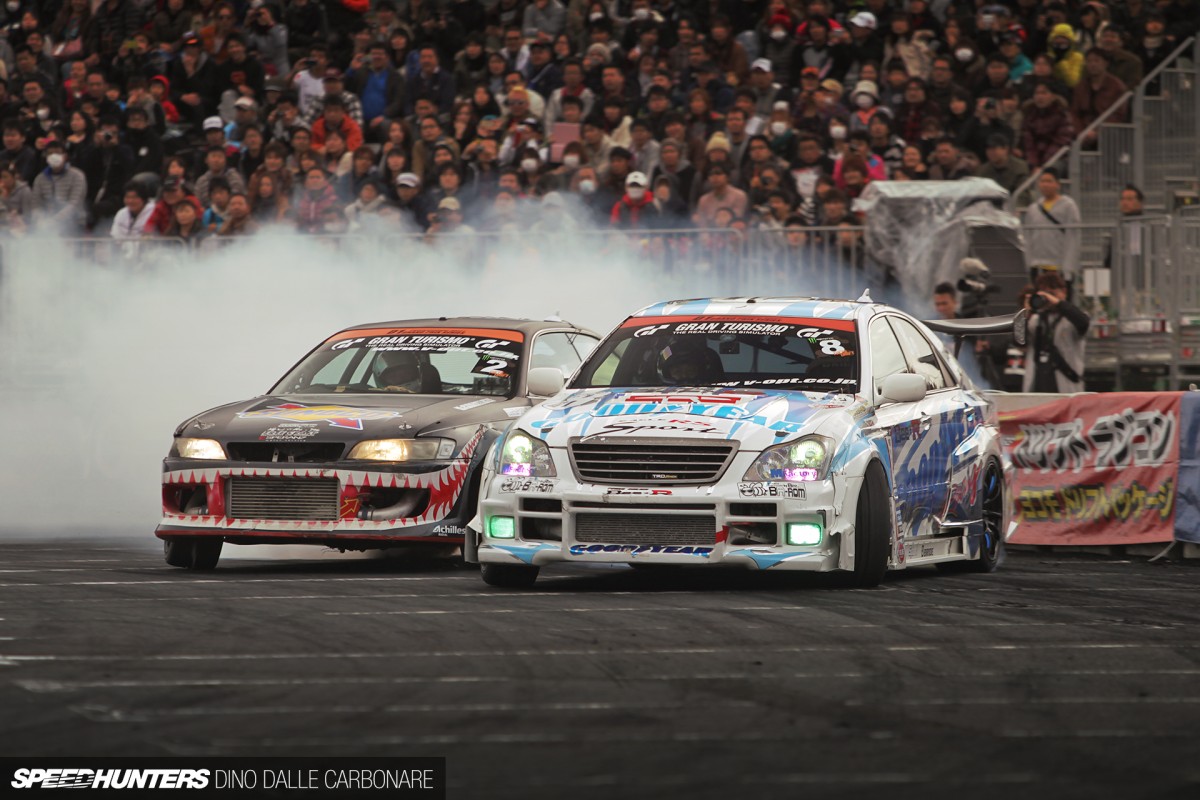 … it was this particular battle between Tokita and Saito that I remember the most. I couldn't believe Daigo was managing to drive that borrowed JZX90 so hard, and staying so glued to Tokita's big Bee-R Crown.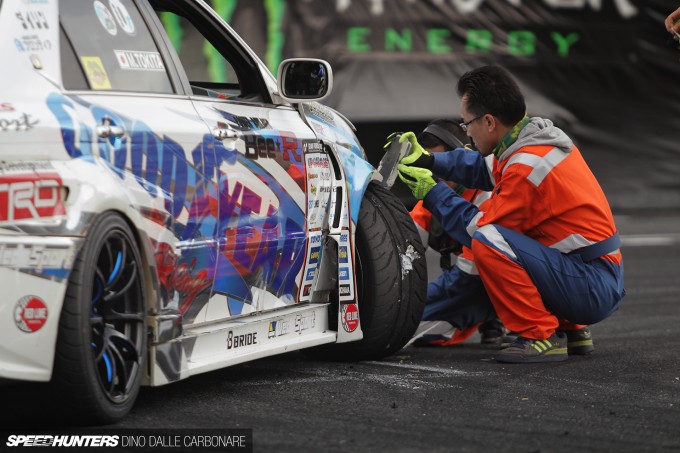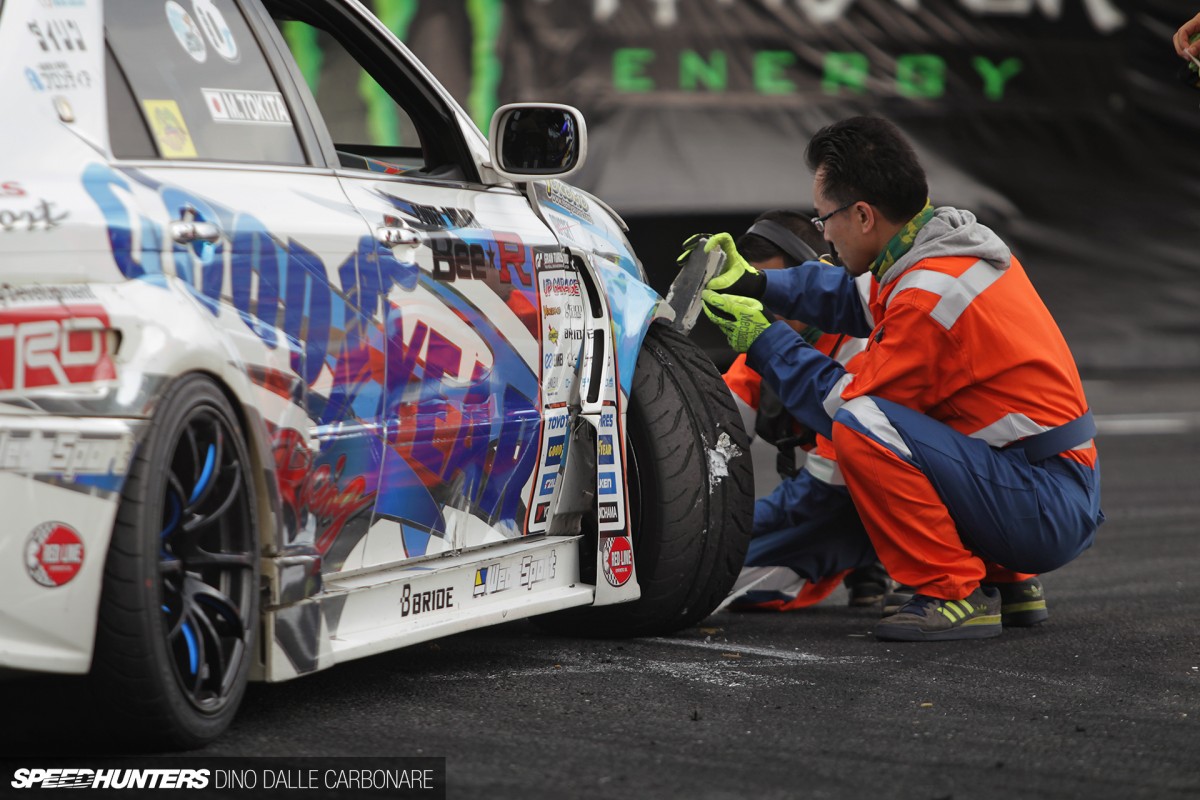 Except he ended up keeping a little too close as the two drivers swung around the tighter second corner, Saito hitting the Crown and damaging the front driver's side wheel. Tokita was given the win due to the impact.
The atmosphere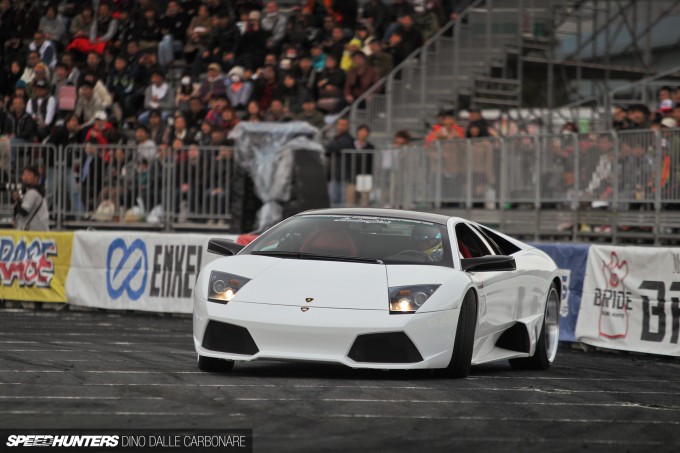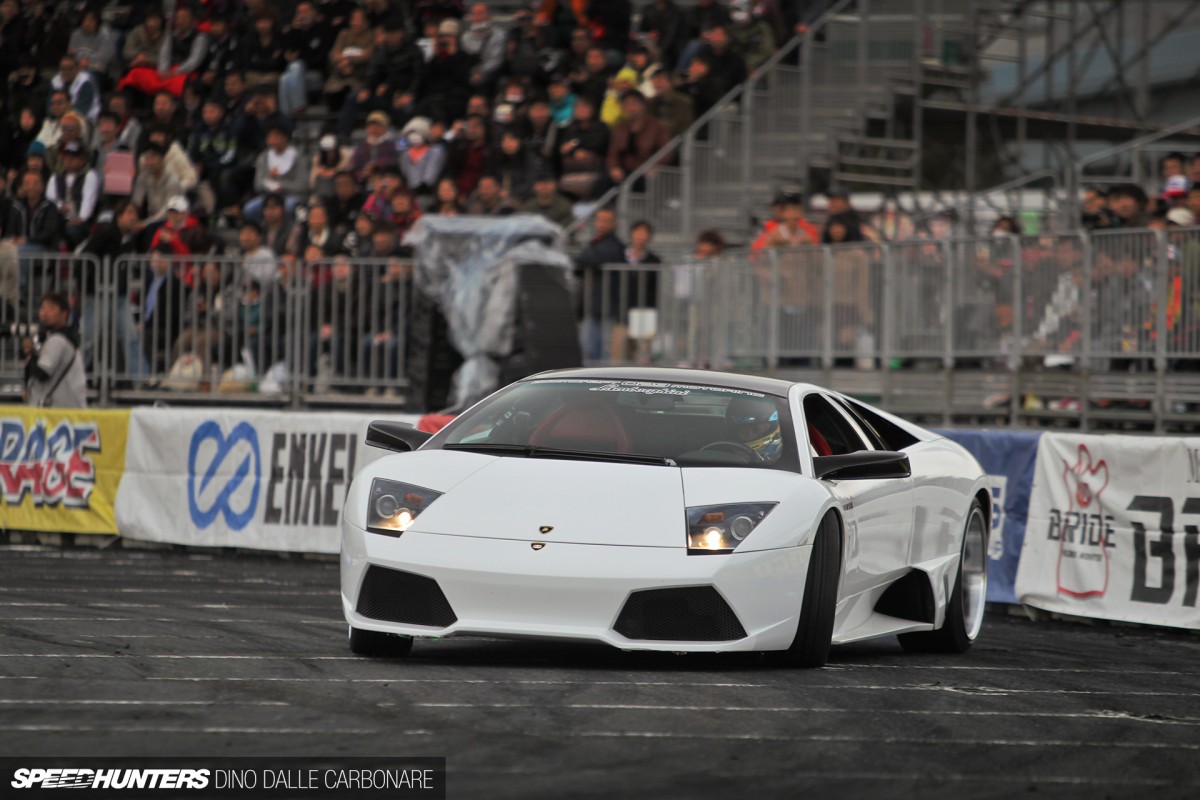 Closing up the morning action was a short super car demonstration where cars like this Lamborghini Murcielago were thrown around the course with little concern for their value. Not something you see every day that's for sure and pretty scary to watch as you can't help wondering, what if…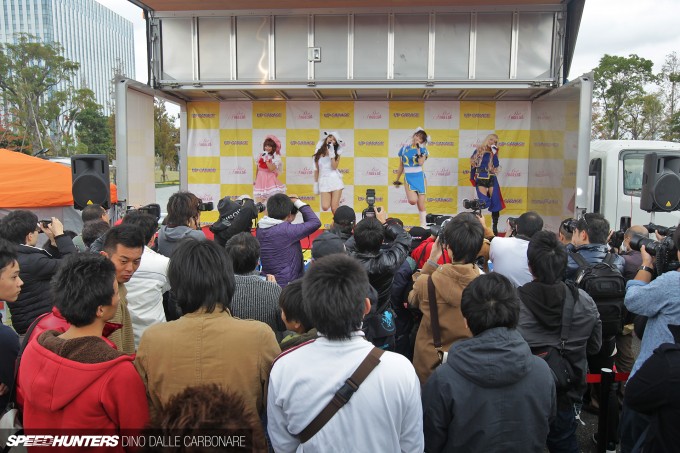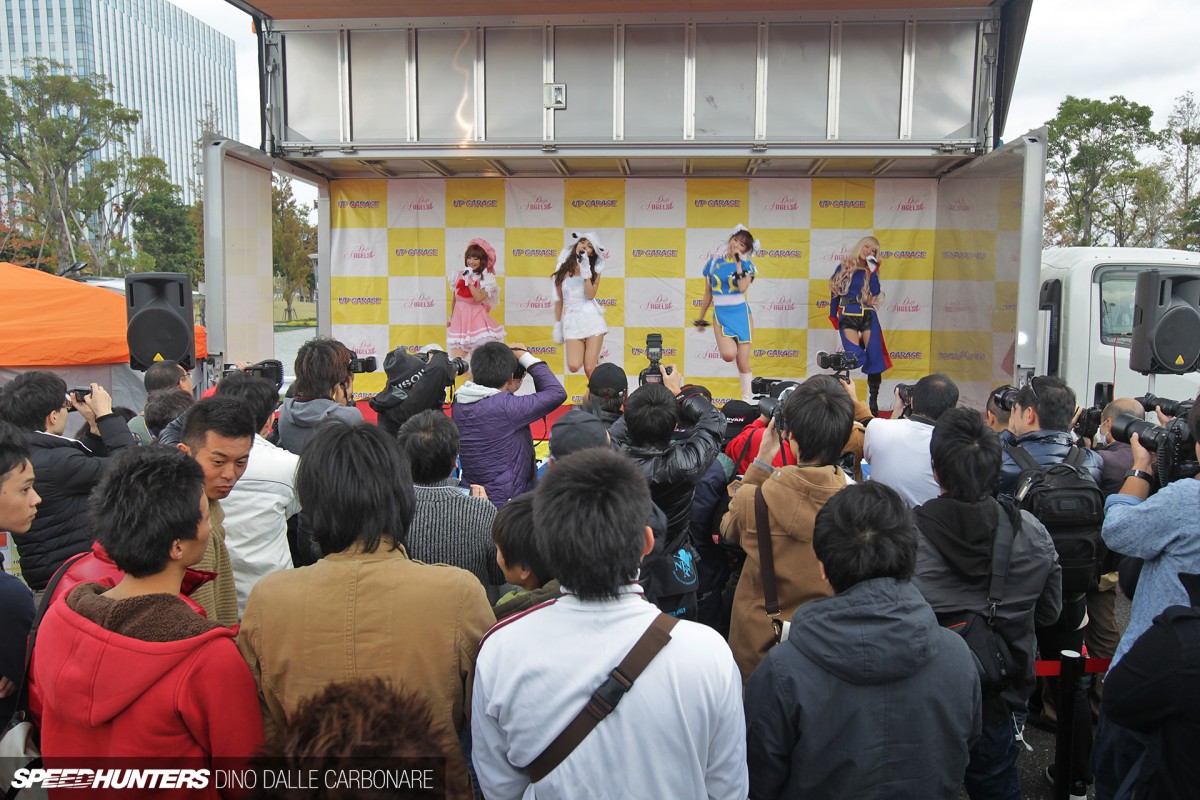 This is of course Japan, and while cars are interesting and all, a lot of people do flock to these events to check out the race queens and campaign girls. I managed to use my gaijin-ness to push through an overly excited and rather protective crowd of otakus who were dancing and singing along with the girl's performance at the Up Garage booth. It wasn't long before the weirdness around me was far too much so I got out of there quick…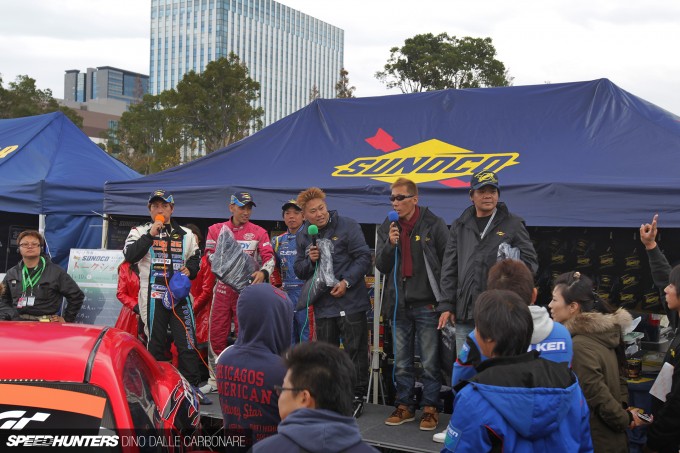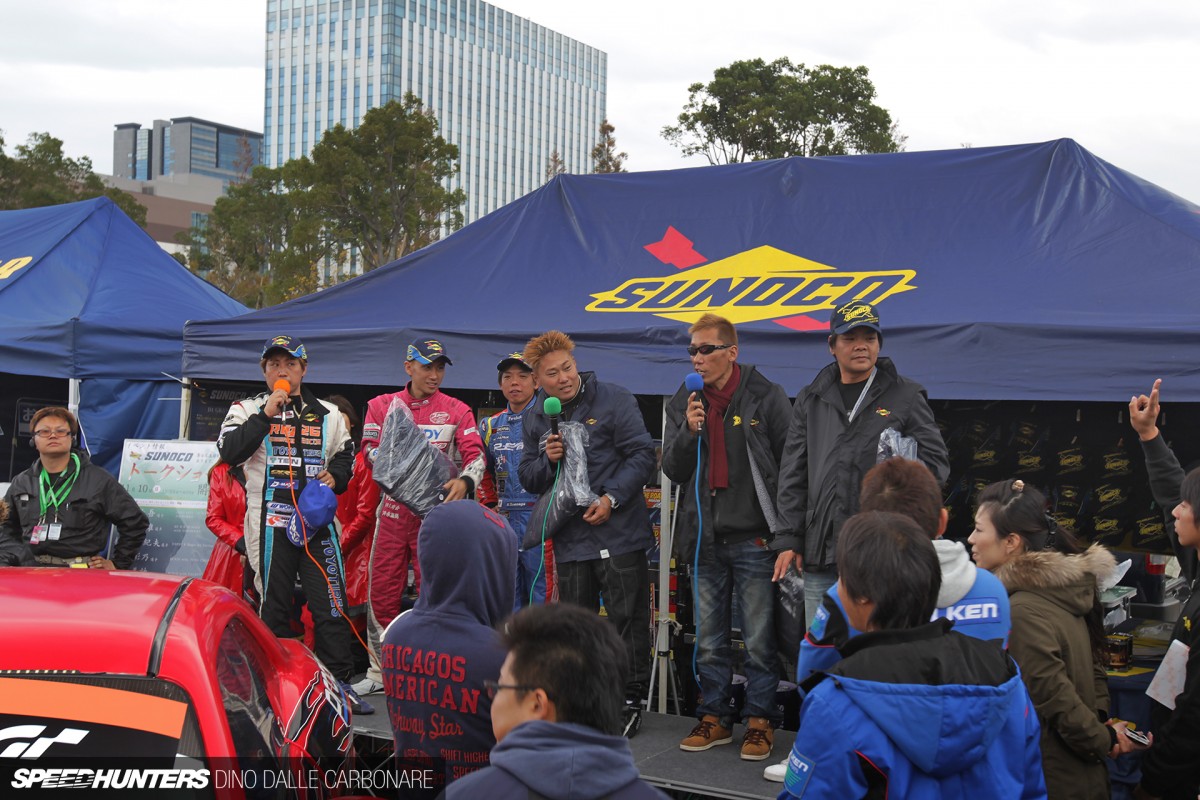 … and headed a few booths up to check out a jan-ken-pon (rock/paper/scissors) session held by a few drivers, where winners could walk away with Sunoko hoodies and autographed caps.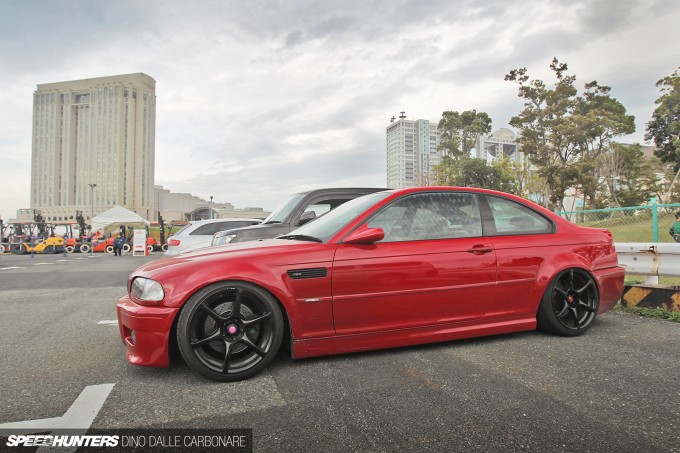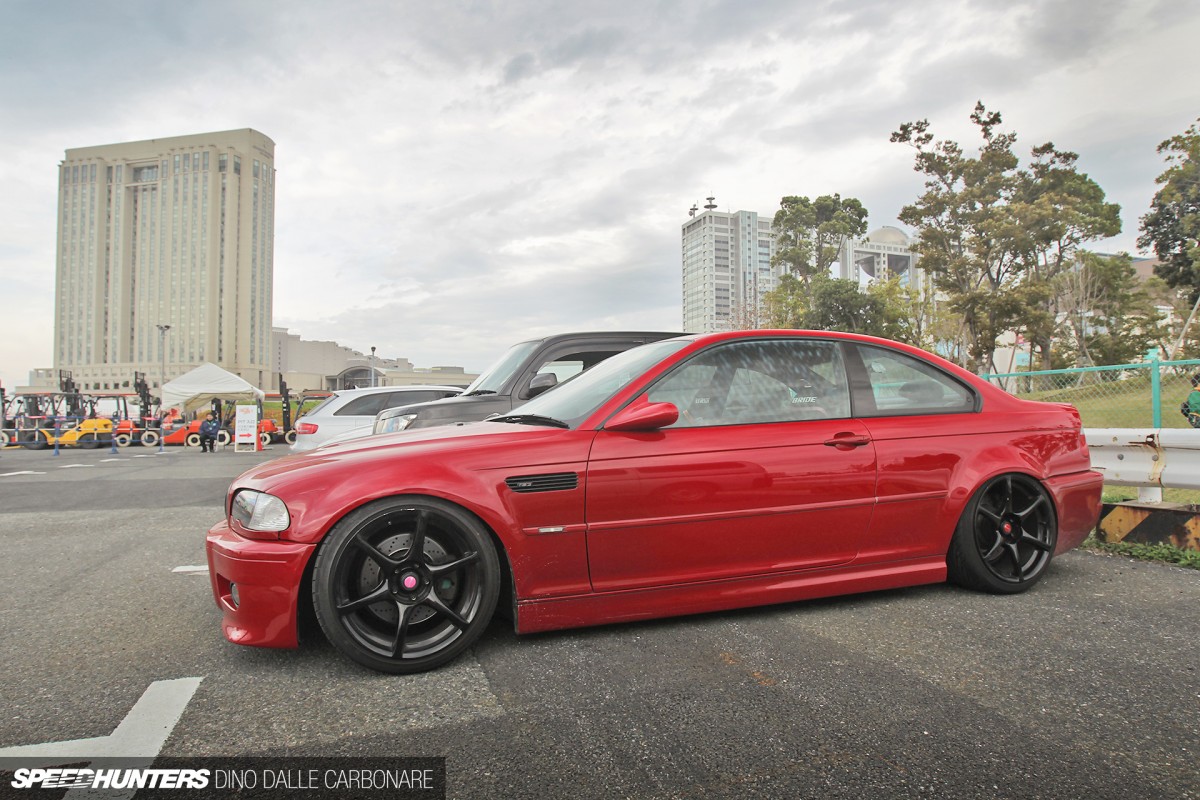 Not being one that enjoys crowds too much I headed towards the pit area and on the way had to stop on the staff parking to grab a quick shot of Doriten Kawasaki-san's slammed BMW M3 drift car. I still can't believe how hot this car looks with a simple set of black BNR34 wheels!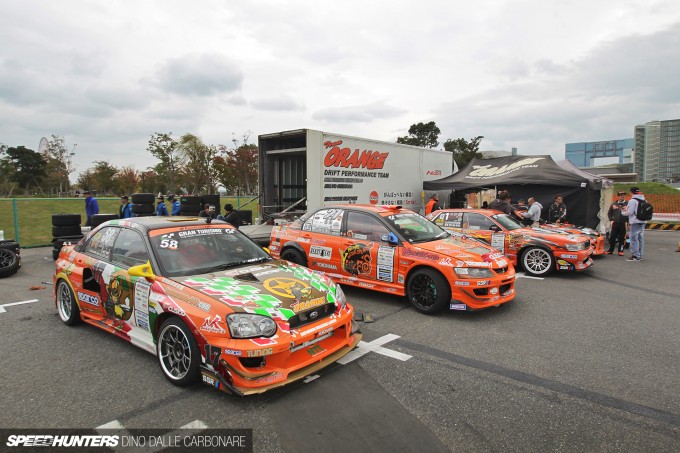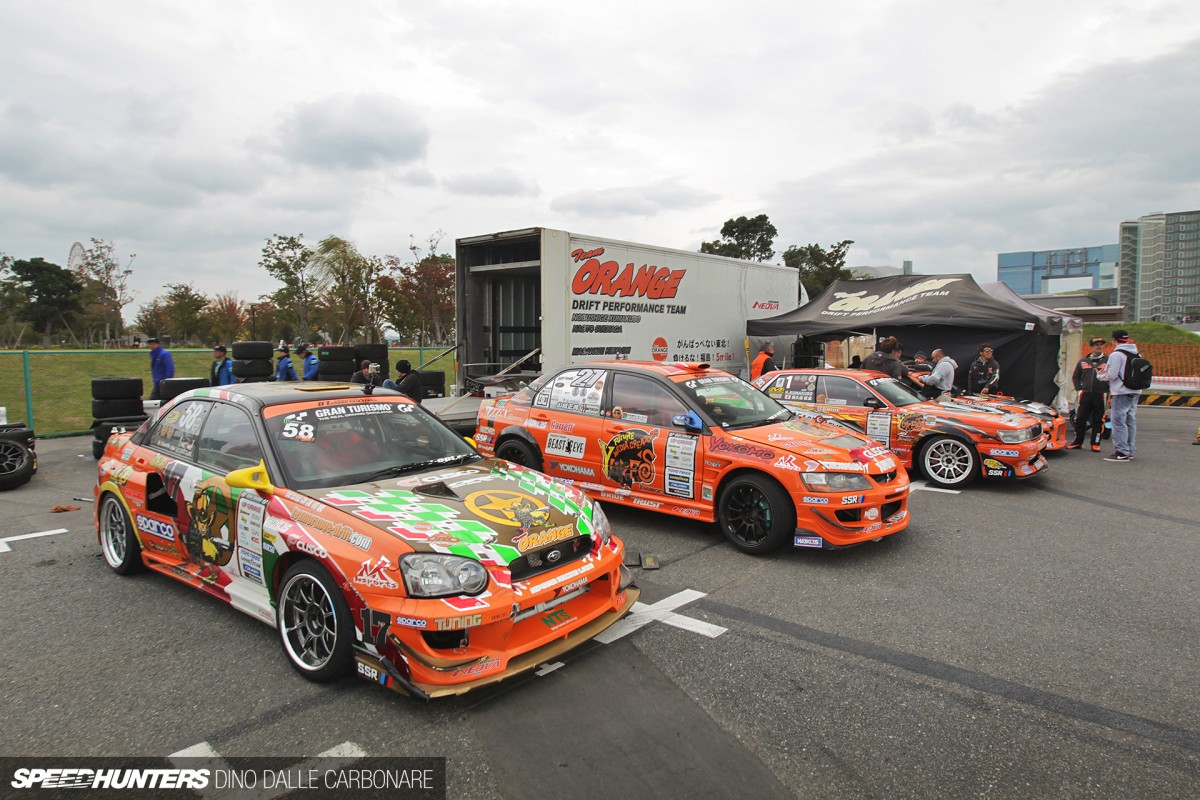 After saying hello to the Team Orange guys…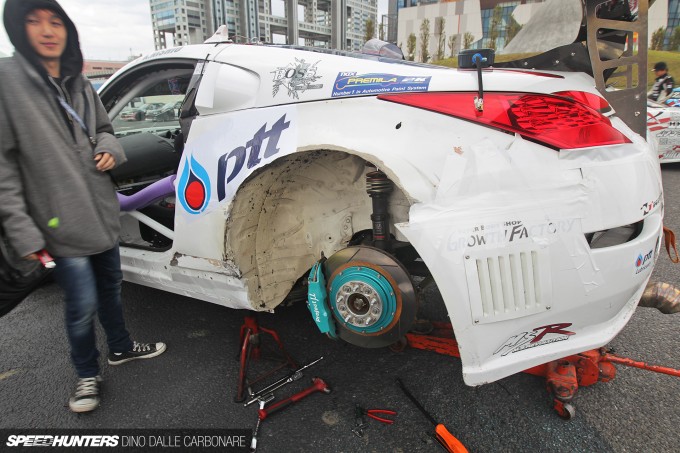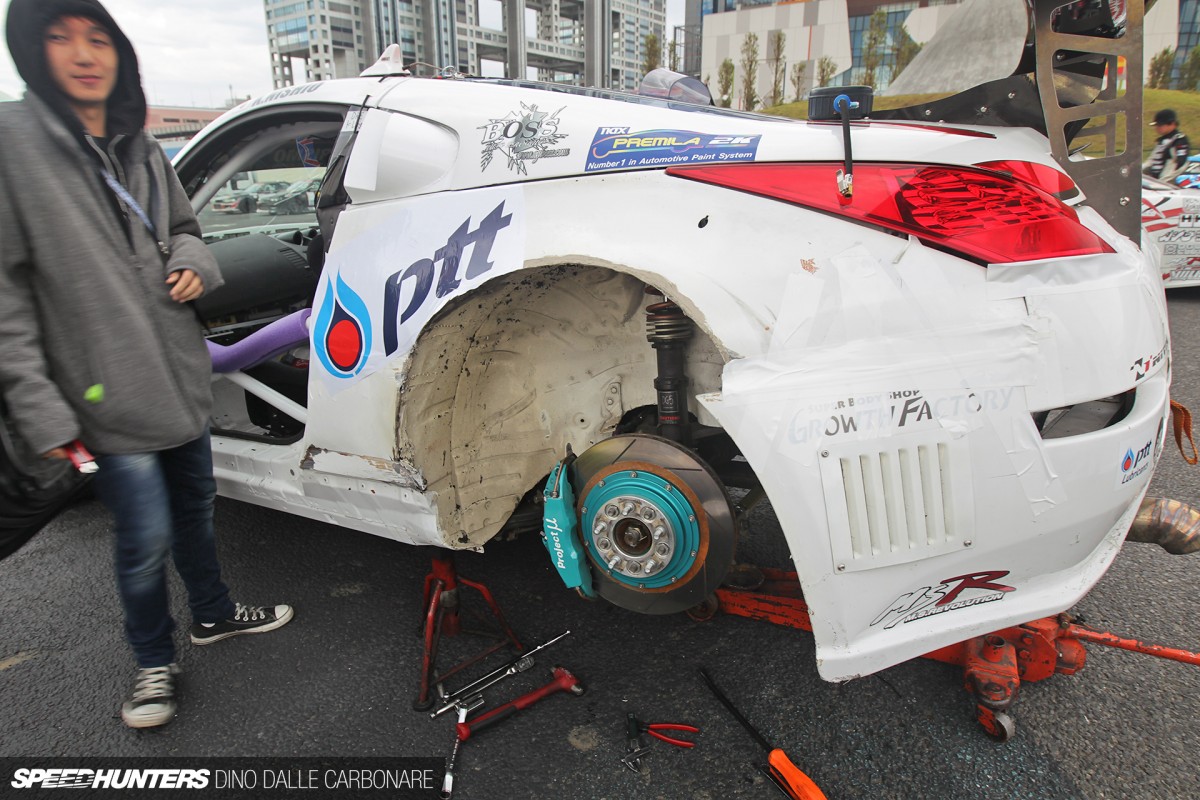 … I quickly headed for a little nose around at the Do-Luck pits to see the extent of damage that impact with the barrier caused the Fairlady Z. Let's just say that rear wheel is now running some rather extreme toe out!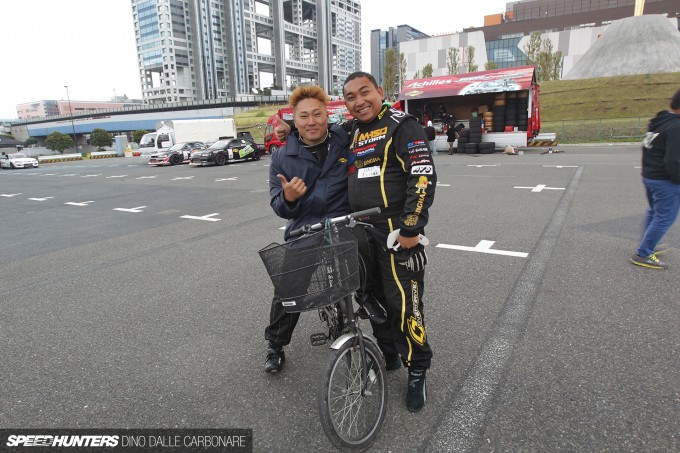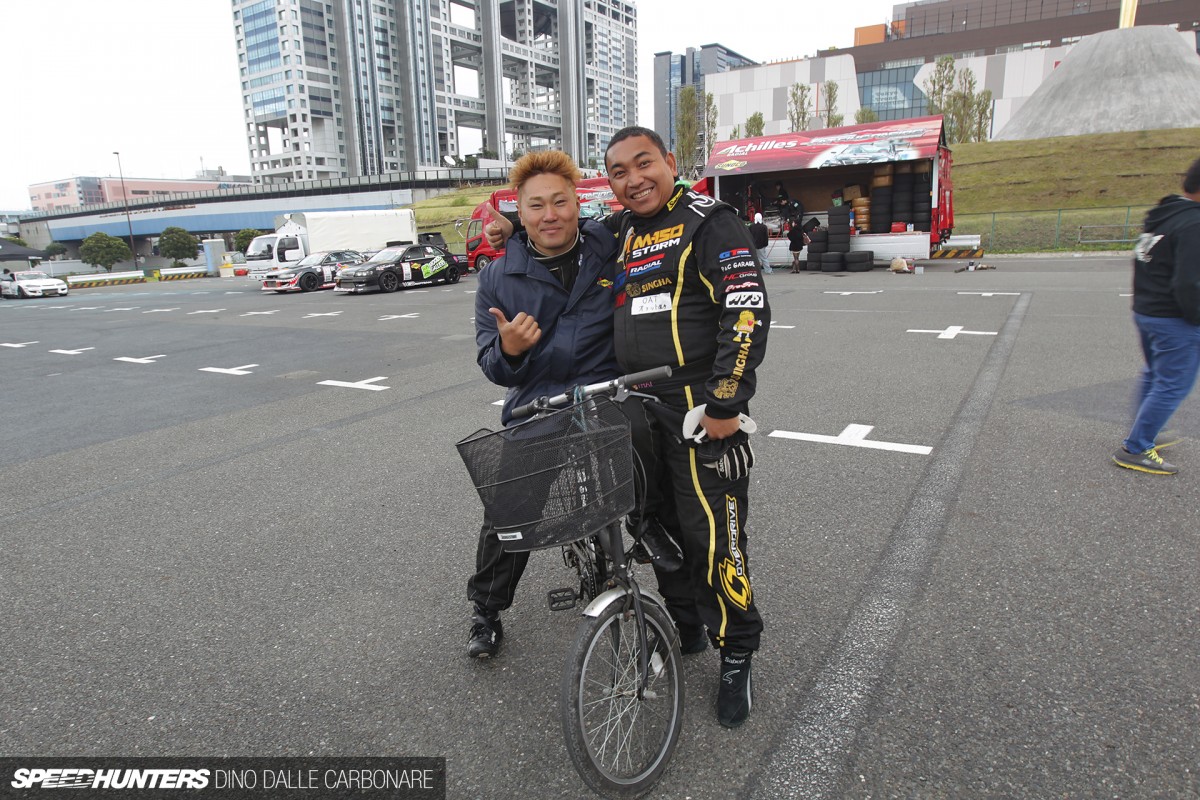 Walking the paddock I ran across Daigo and one of the most friendly guys I've met in drifting, Thai driver Nattawoot Krepradab who drives the RE-Amemiya-kitted Overdrive M-Storm FD3S.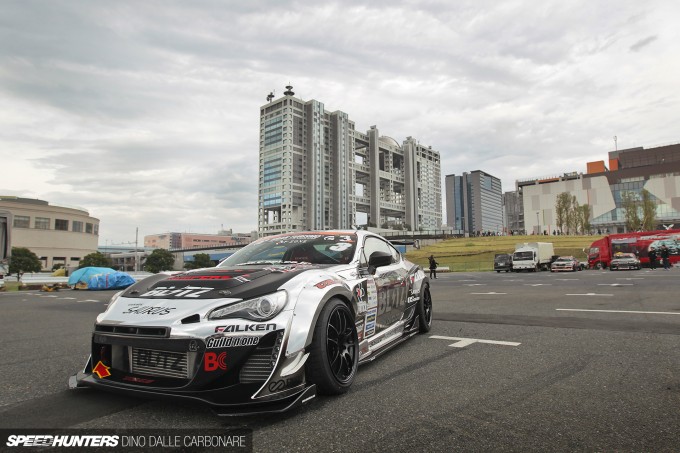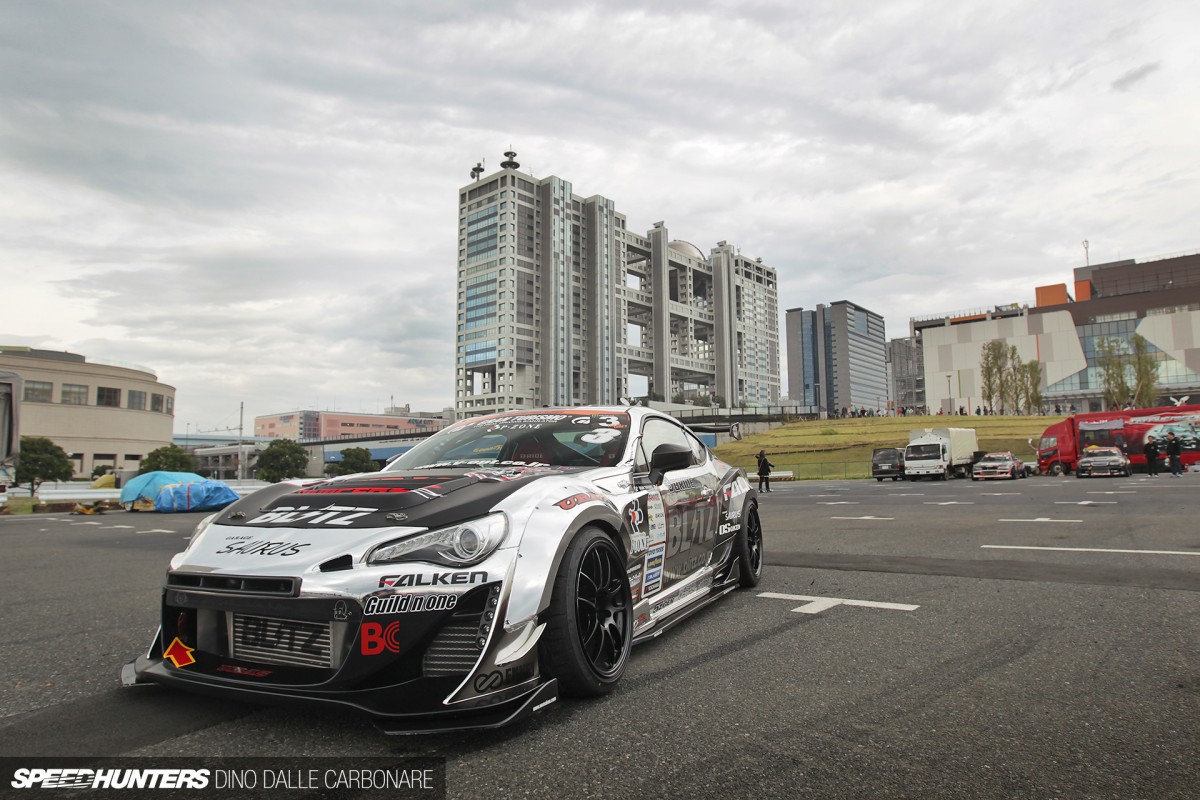 Odaiba always provides some impressive backgrounds, especially with the futuristic Fuji Television building in the background. Fuji TV are the guys that air D1 coverage on Japanese TV.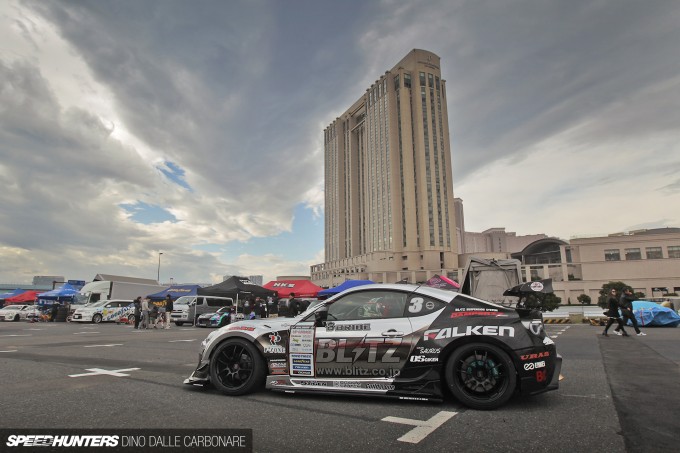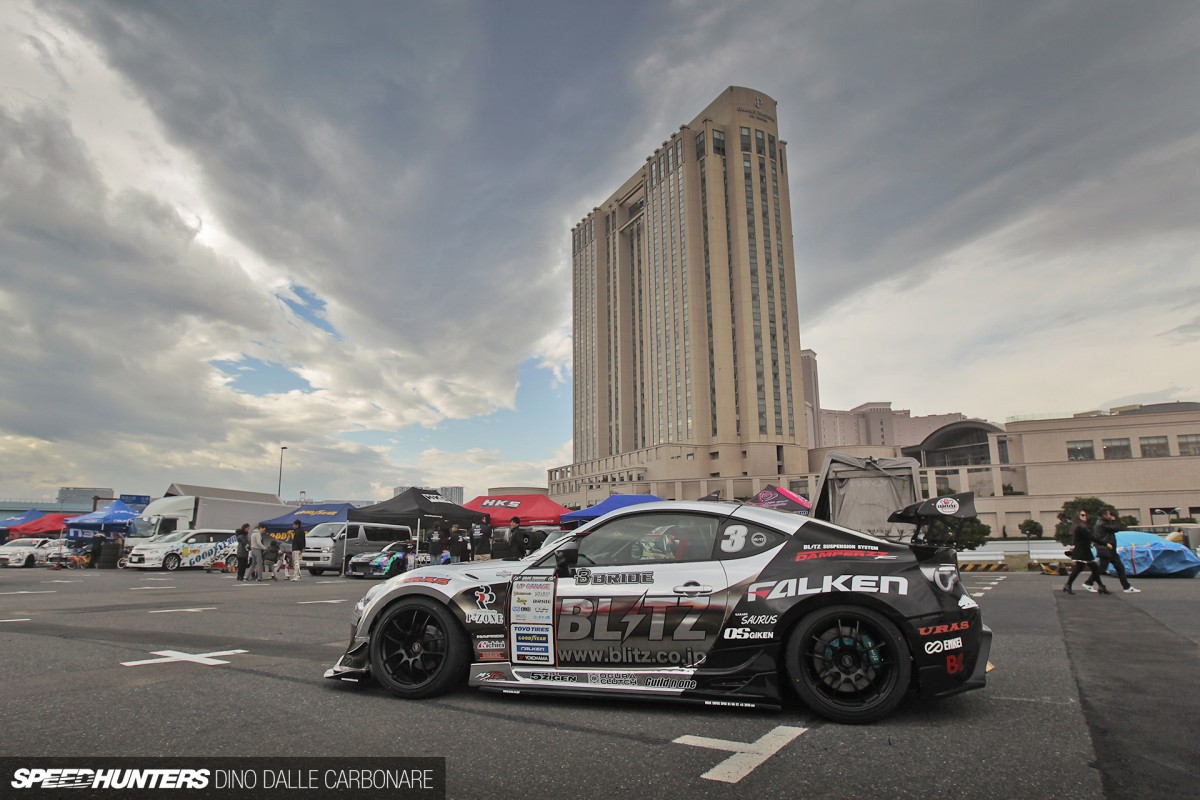 I have no idea how many 2JZs have been dropped into a ZN6 chassis, but every time I see one, I'm reminded how cool it was to have been present when the very first one in the world was being completed. I am of course taking about Fredric Aasbø's 86X that he and his crew put together before Gatebil last year.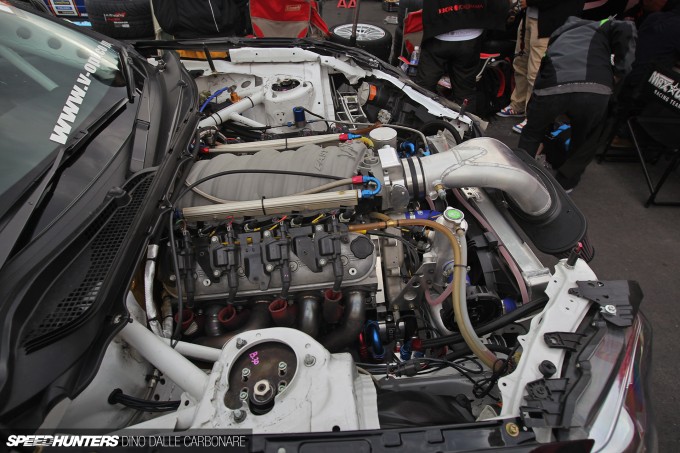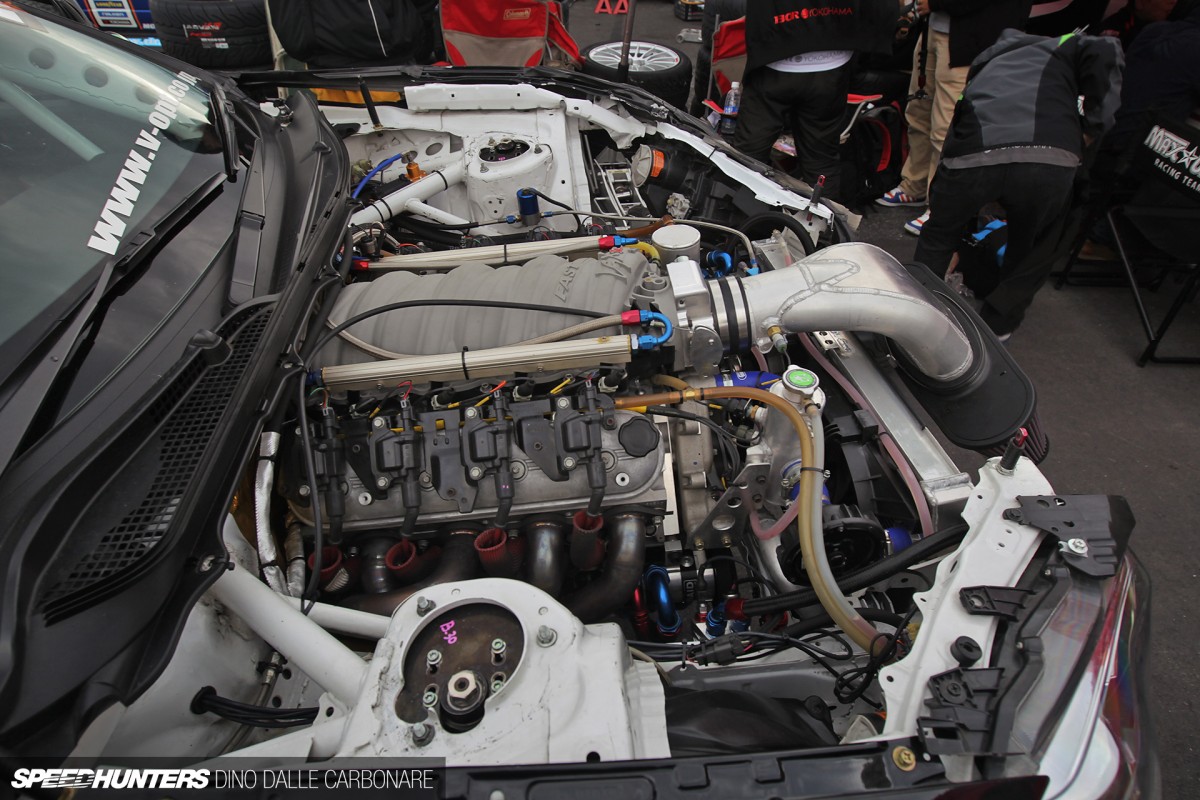 Not too far away was Orido's pit and his V8 beast of an 86…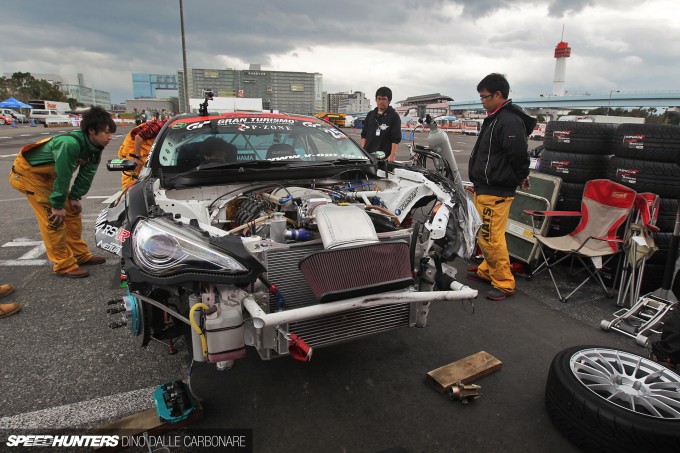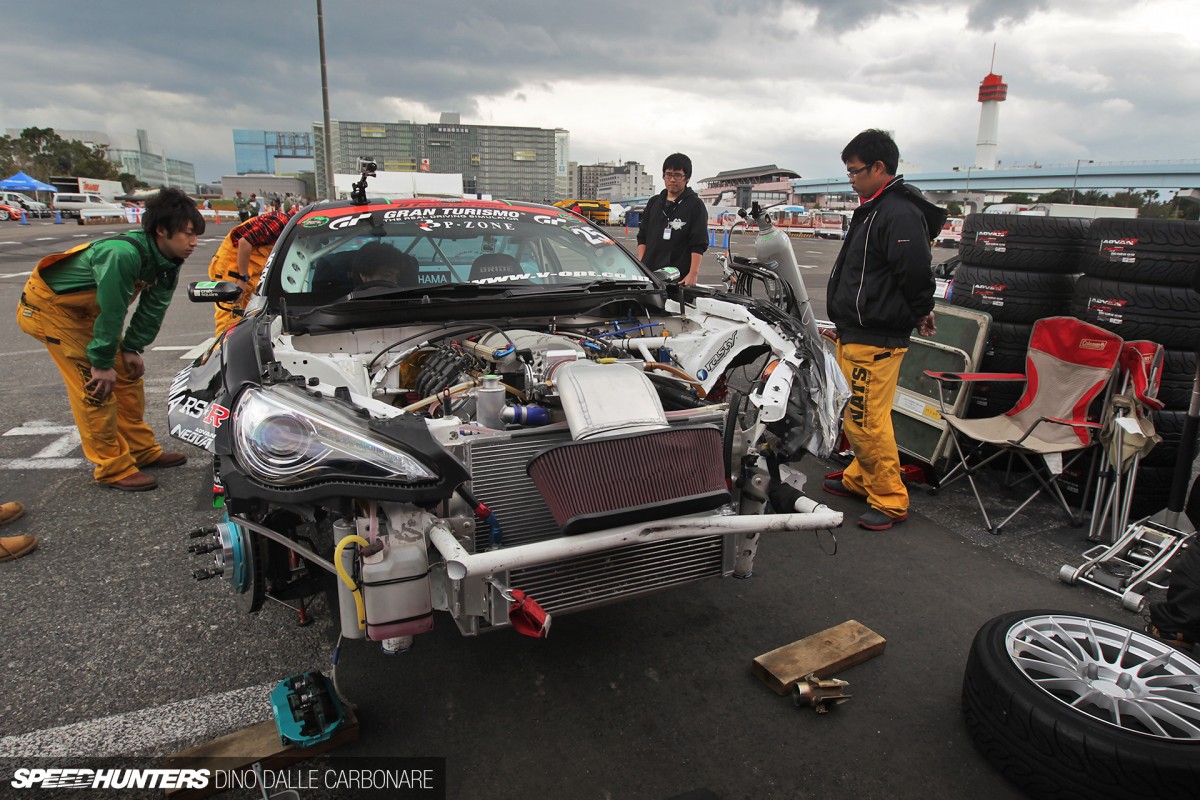 … which had one almighty crash the previous day. While the car was fixed up pretty quickly…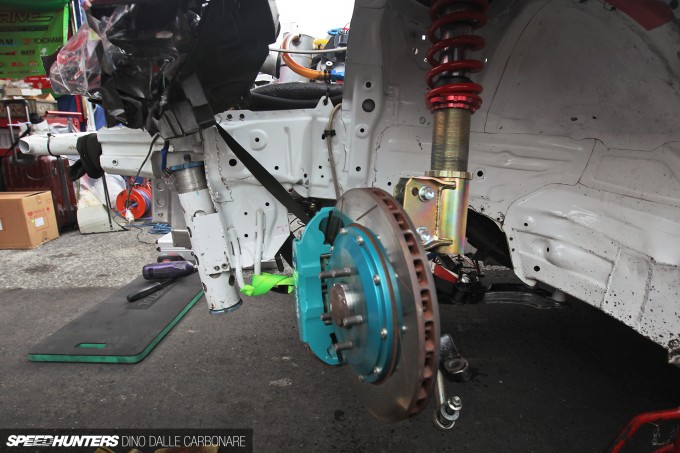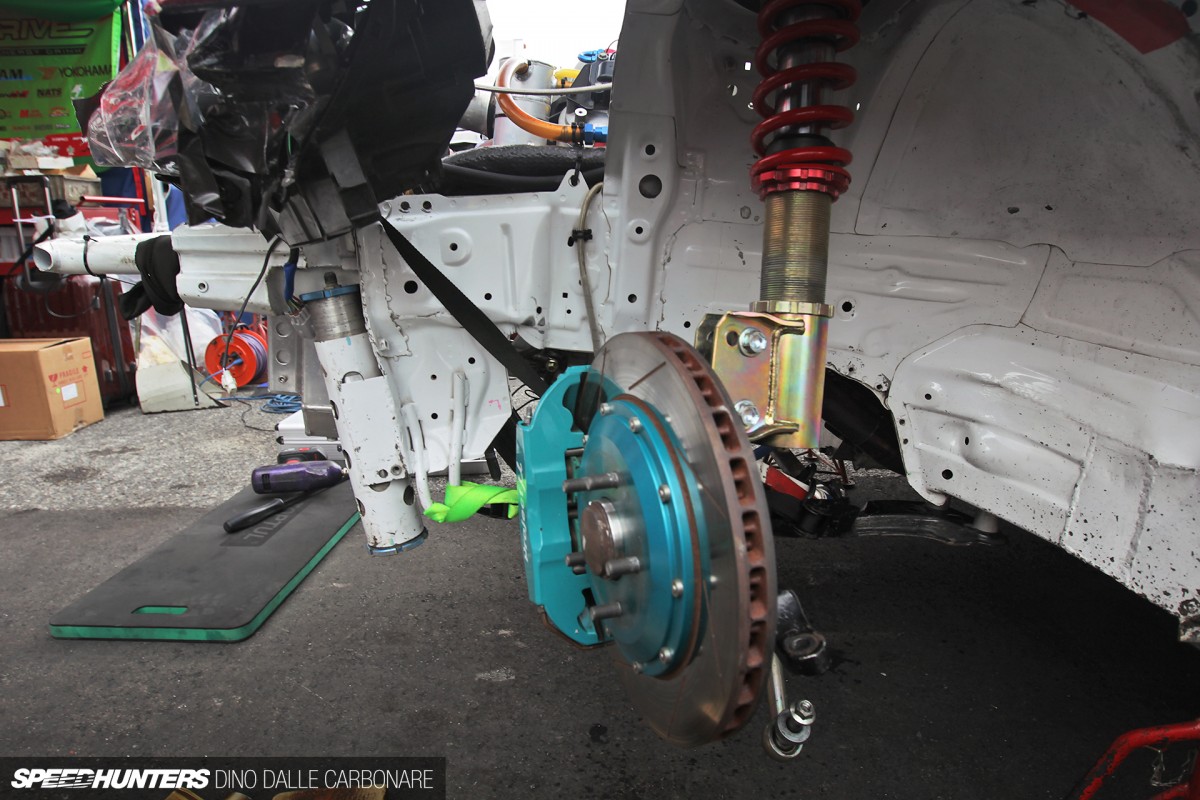 … one peek inside the front wheel arch revealed the impact had caused some pretty severe structural damage. I'm sure they will figure out to get the car straightened up for next season!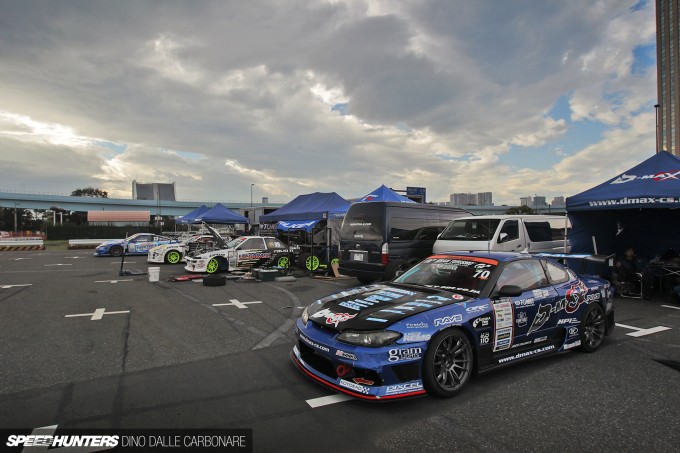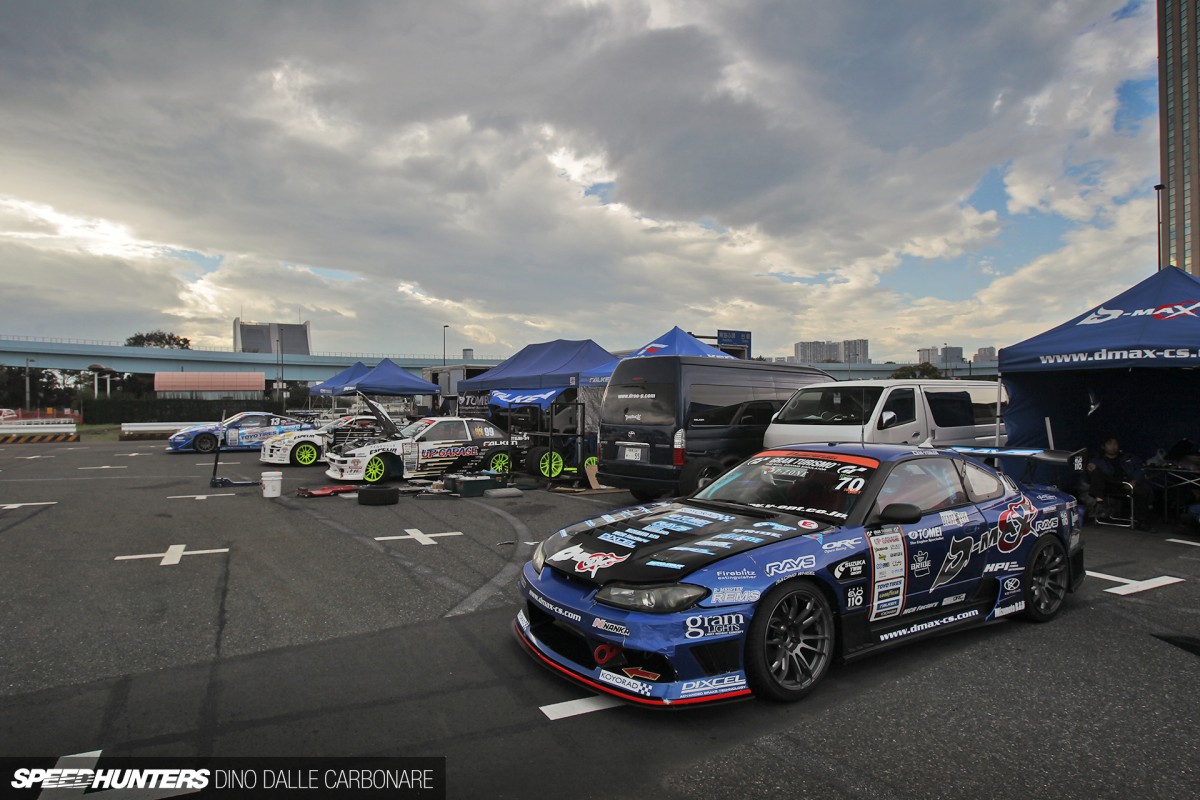 I headed all the way down to the end of the pits, pastd the D-Max S15 of Yokoi…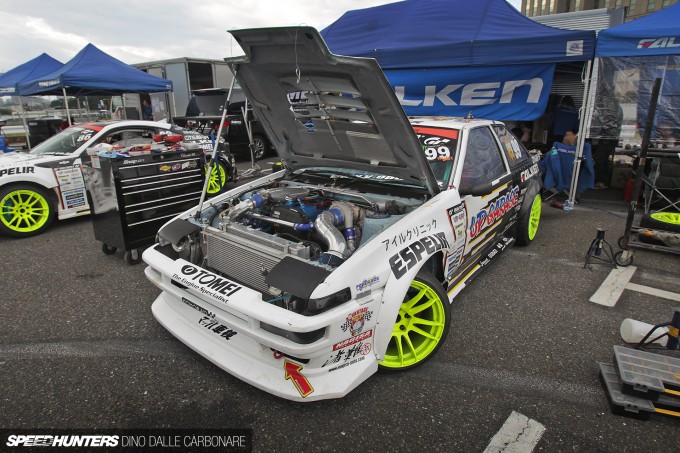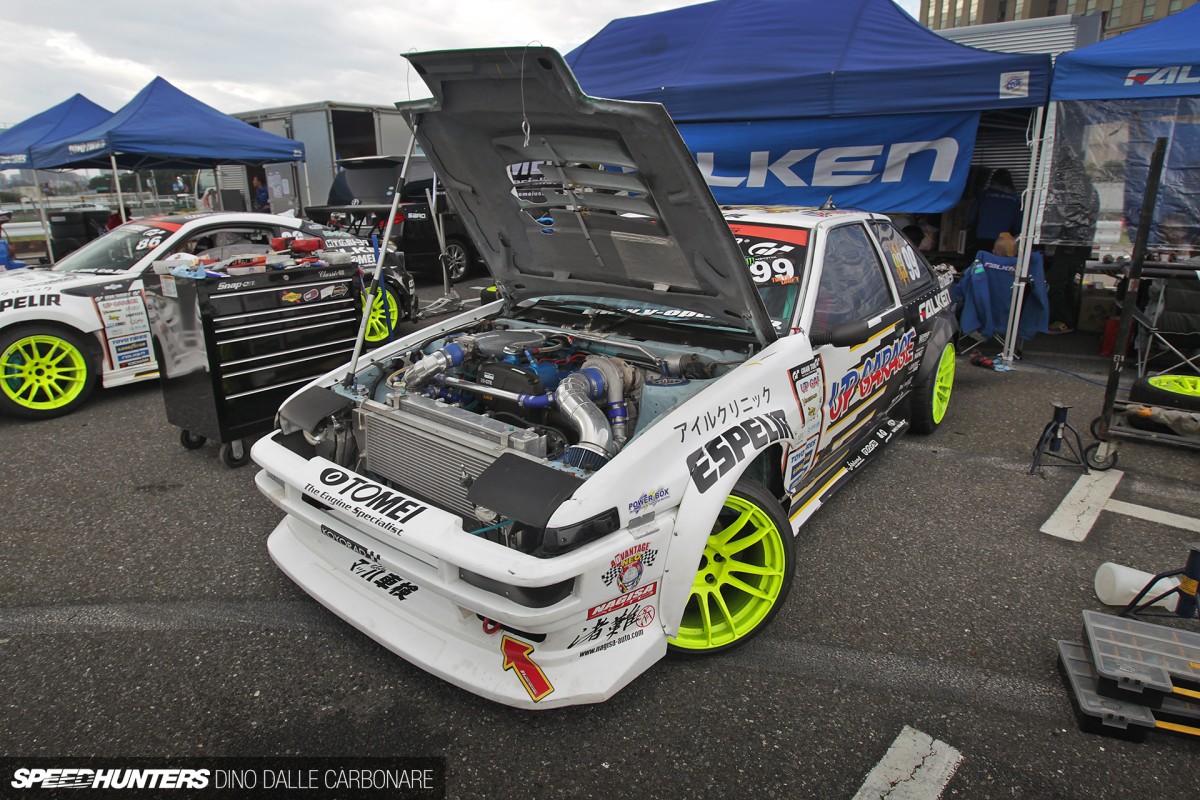 … and on to Droo-P to check out what still remains one of the coolest cars in D1: Hibino's old AE86, which is now driven by Matsukawa.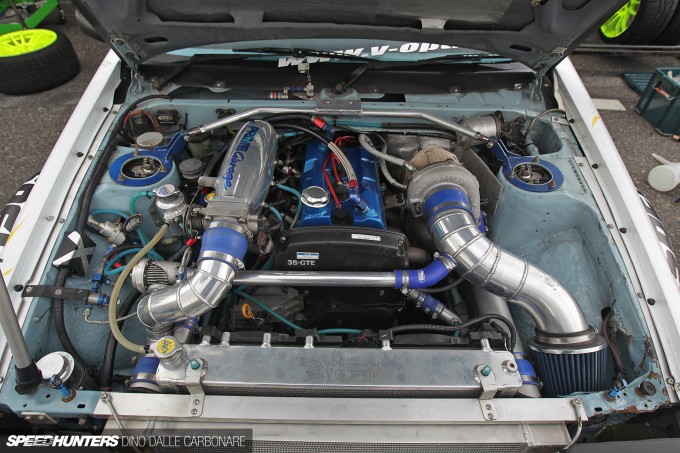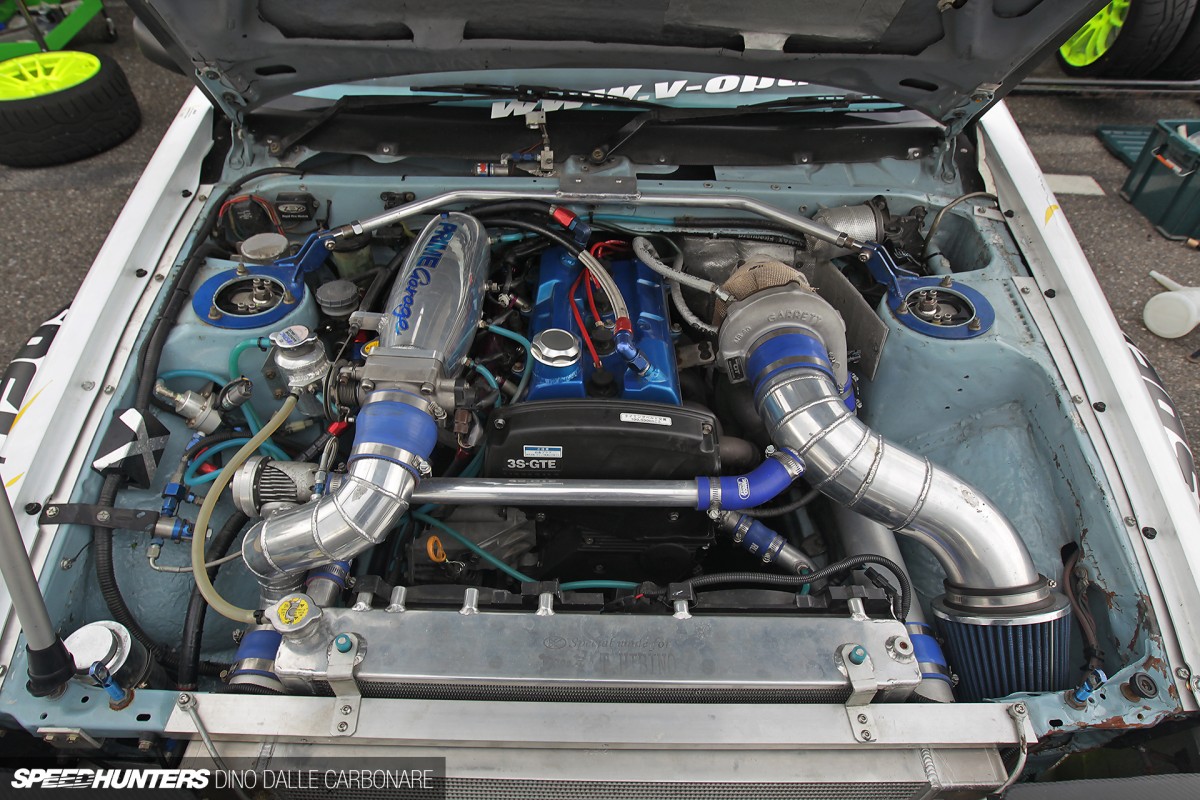 The 500hp, 3S-poweered hachiroku is still proving to be more competitive than Hibino's new EJ26-powered 86. While it's cool and very respectable that Hibino has challenged himself with a new car, it's just as cool that Droo-P have kept competing with this old car!
On with the show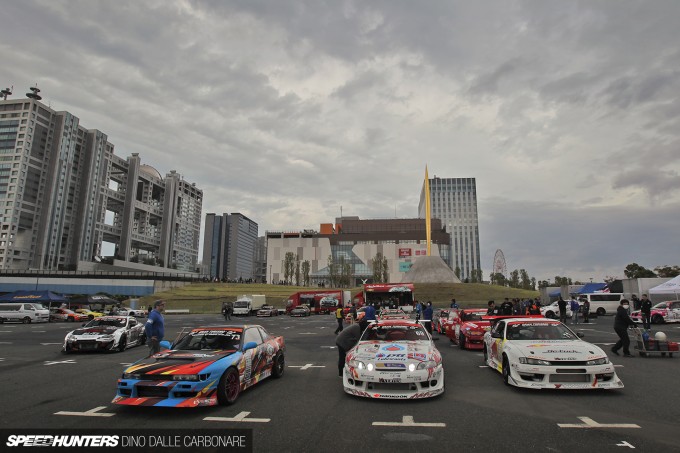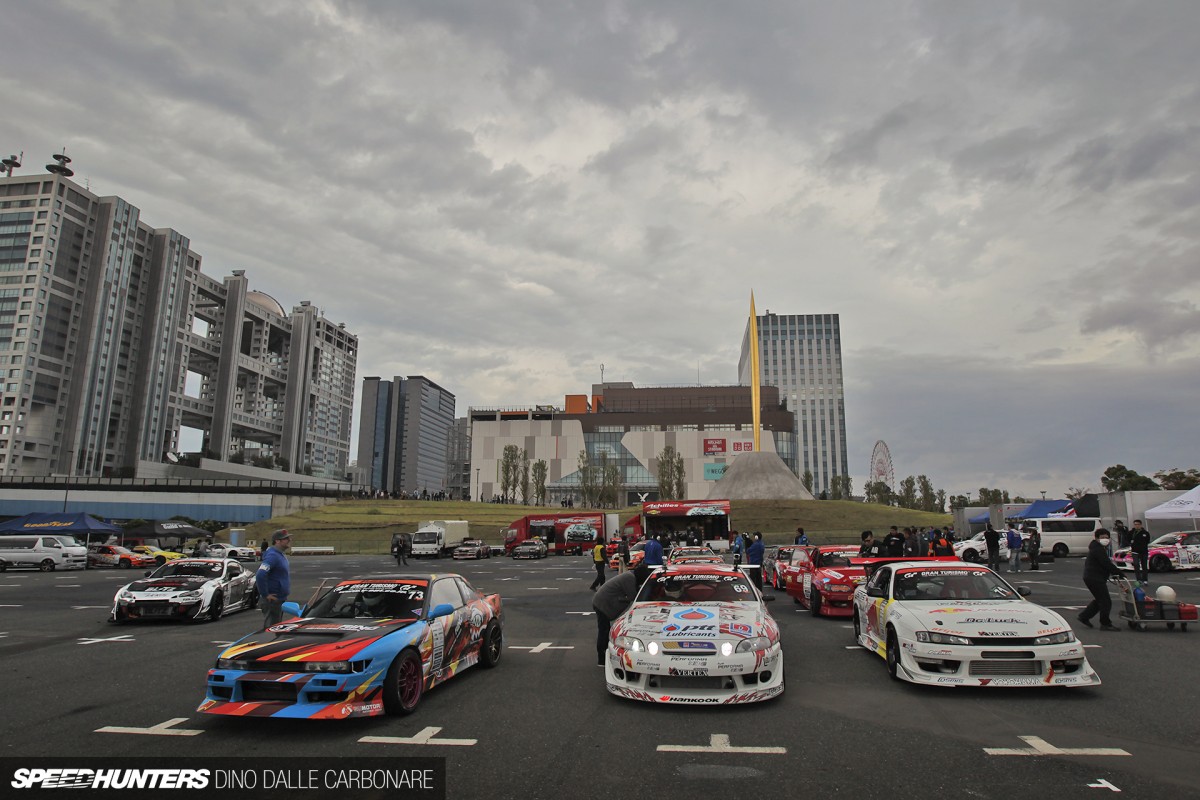 Time flies when you're having fun, and after spending a good hour looking at all the D1 machines and chatting to people, it was time to head back trackside…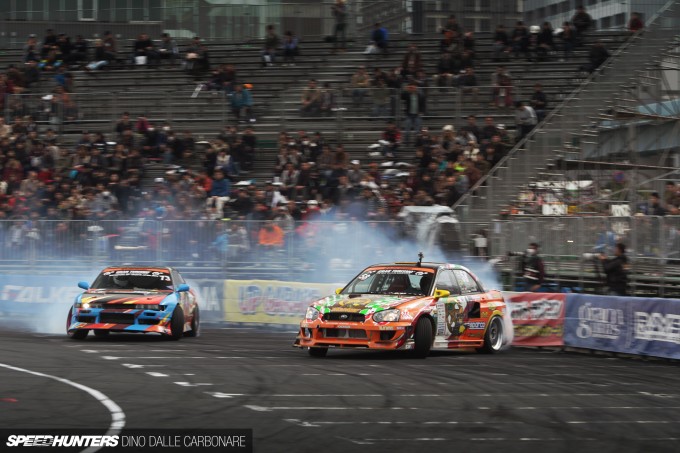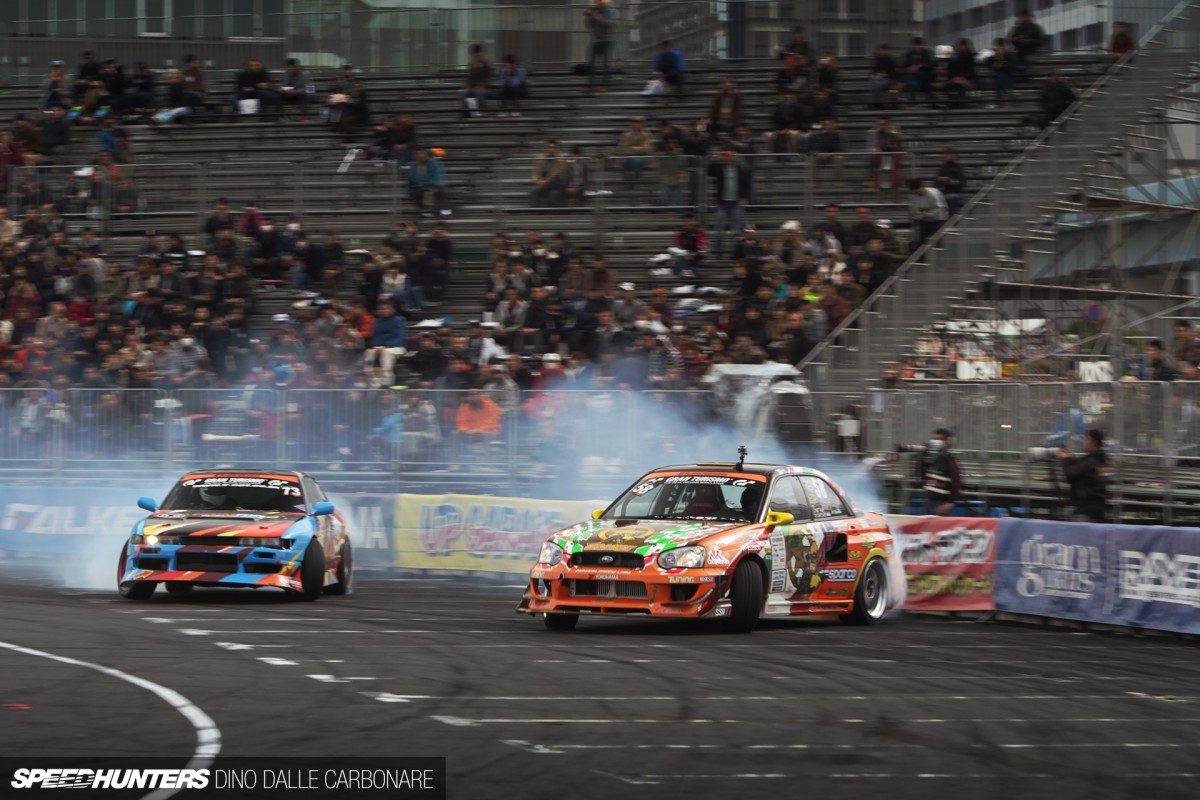 … to check out the next series of battles, which kicked off with Italian driver Federico Sceriffo showing off his skills behind the wheel of his Team Orange Impreza.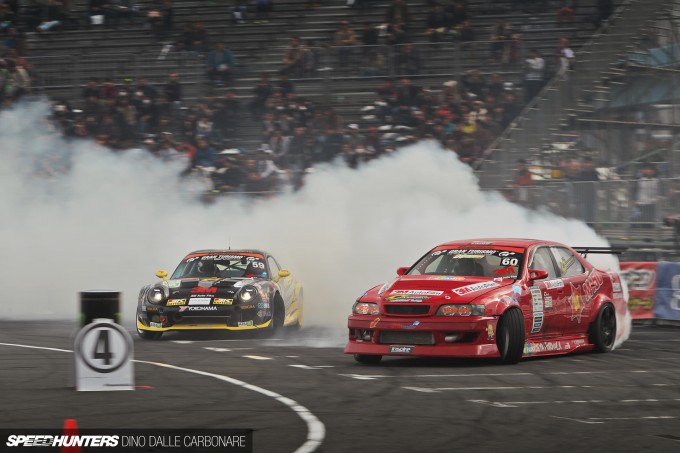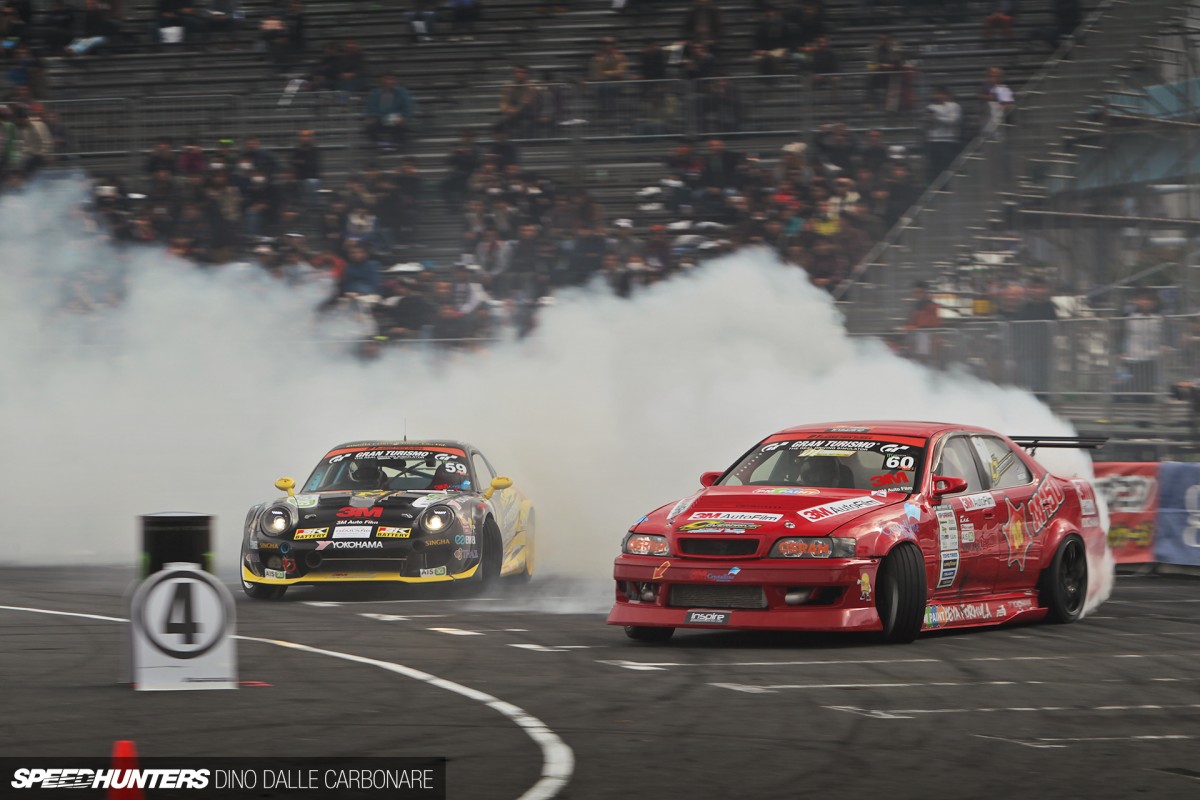 The foreign drivers continued to entertain, like Saranon Pornpatanarak and Nattawoot Krepradab seen here, the big JZX100 against the little FD3S.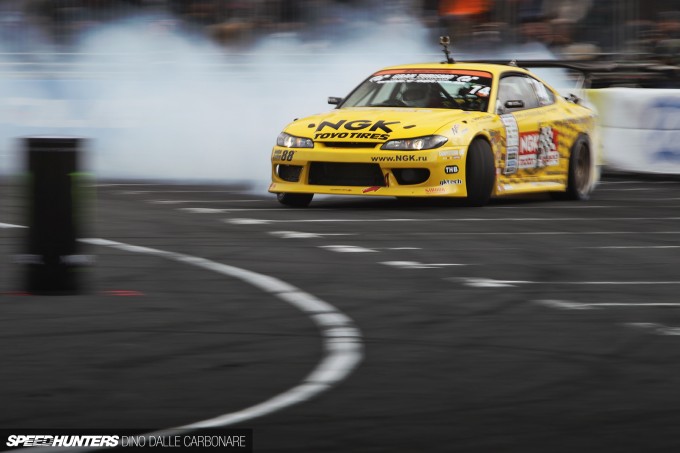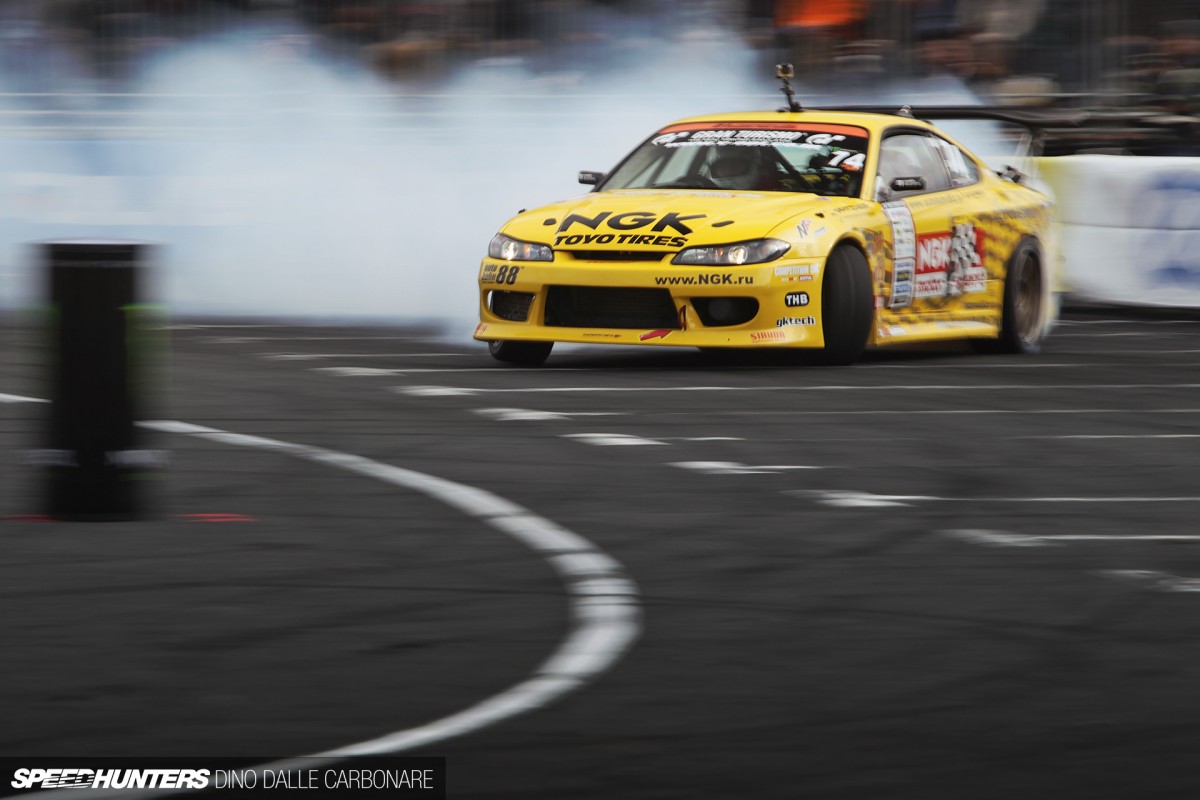 Russian driver Gocha Chivchyan has single-handedly made me like the Russian style. His driving, along with what I've seen from Russia and Siberia online, has made me want to check out more drifting from that region of the world. How about some ice drifting Russian style? I'd be up for that!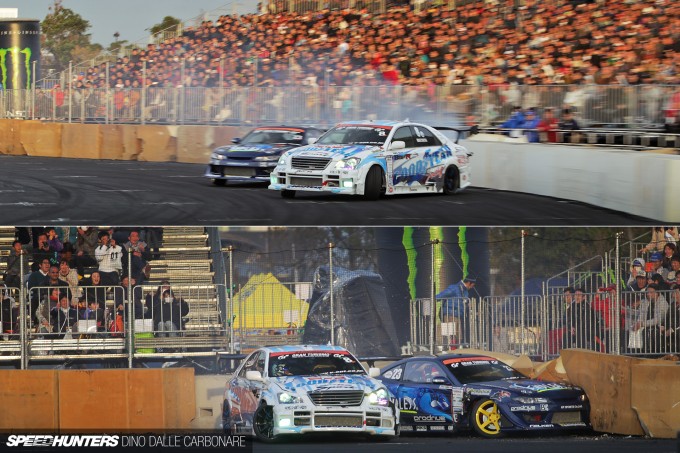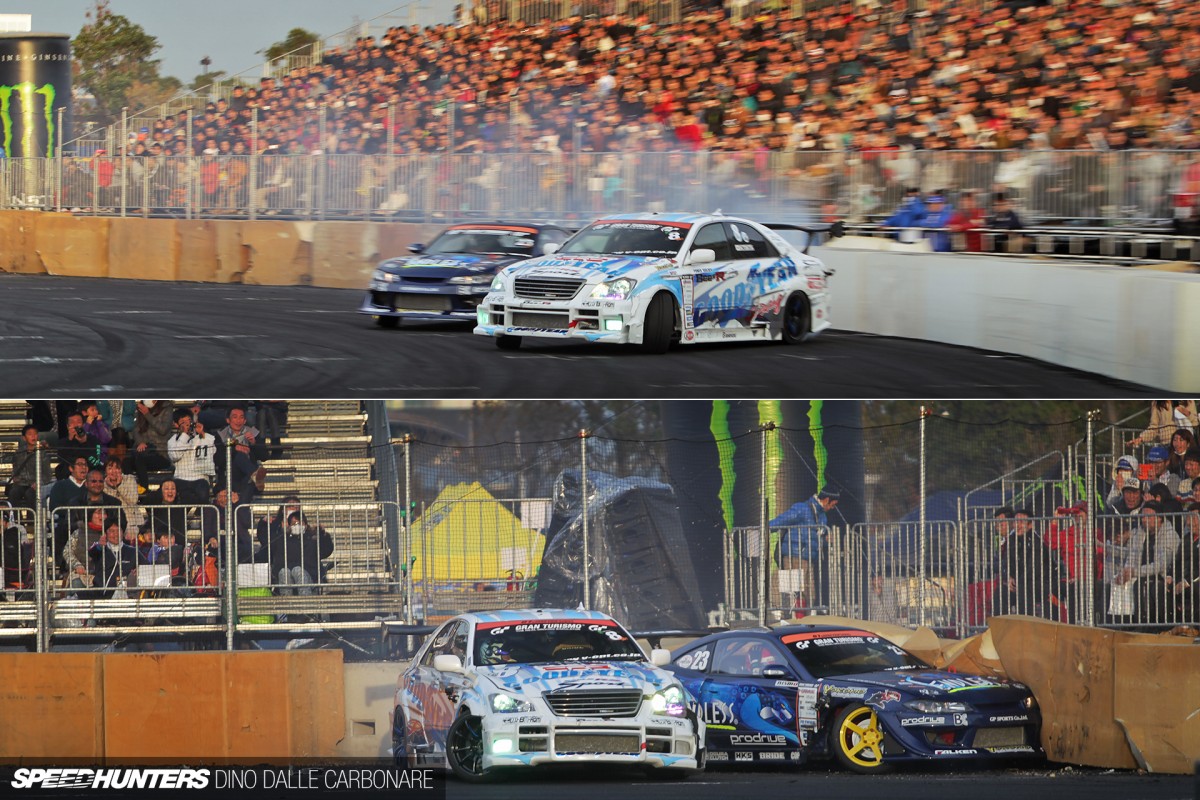 The final however came down to two Japanese drivers: Tokita who had managed to fix up his car after the incident with Saito, and Koguchi. Tokita put on a clean and aggressive run putting good distance between him and the Endless S15, but while chasing Koguchi the Crown's momentum proved too hard to overcome and the extra speed Tokita had taken into the corner wasn't scrubbed off in time. The resulting smash ended the battle…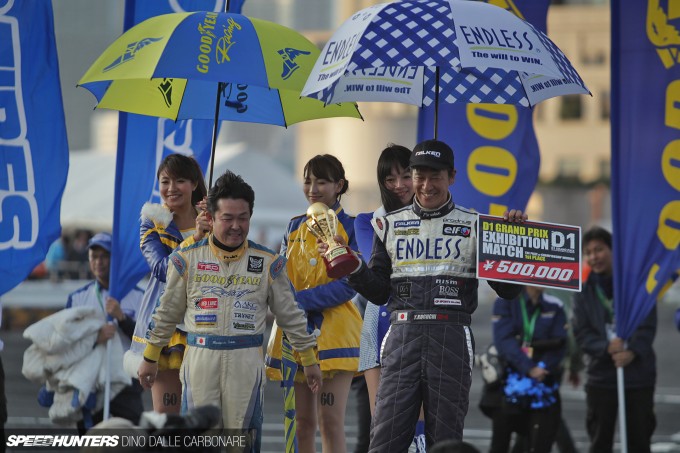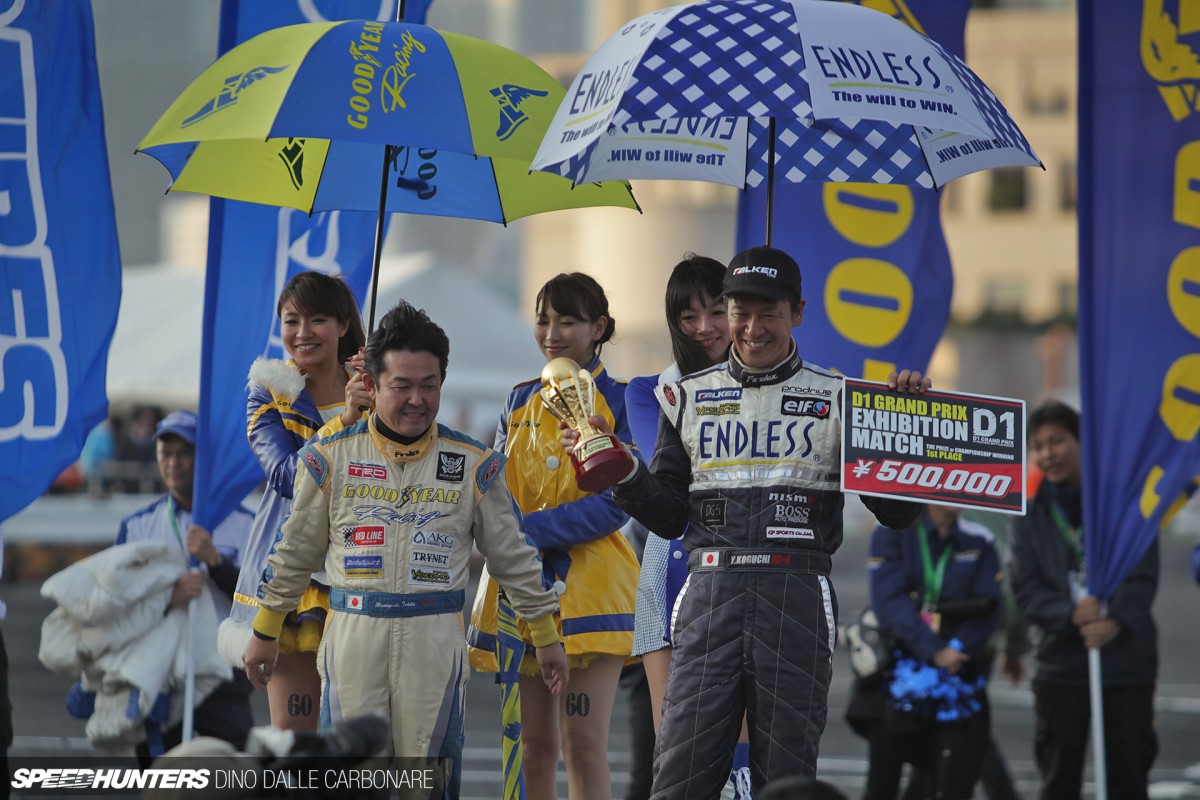 .. and Koguchi was awarded the win along with the $4,985 prize money. So after a weekend's worth of D1 I do have to ask myself, have I missed it? It's hard to say I didn't; the lure of seeing such well-prepped and driven cars definitely still sparks some excitement in me, but the whole way in which it is run still very much bores and even angers me. I will definitely try to hit up some rounds in 2014, but I think the more grassroots events are still the ones I'd prefer to cover for you guys!
Dino Dalle Carbonare
Instagram: speedhunters_dino
dino@speedhunters.com
D1 Related Coverage on Speedhunters