Attacking Time
I've not had a chance to check out any time attack events this year, and when I heard that Global Time Attack and Super Lap Battle were joining forces to hold a mega time attack event I knew I had to check it out.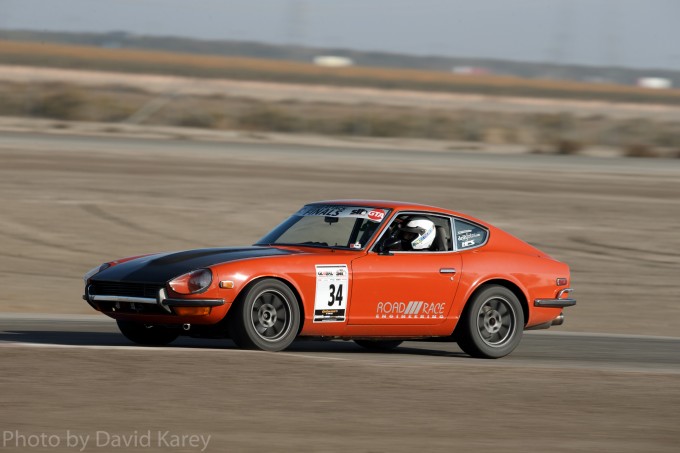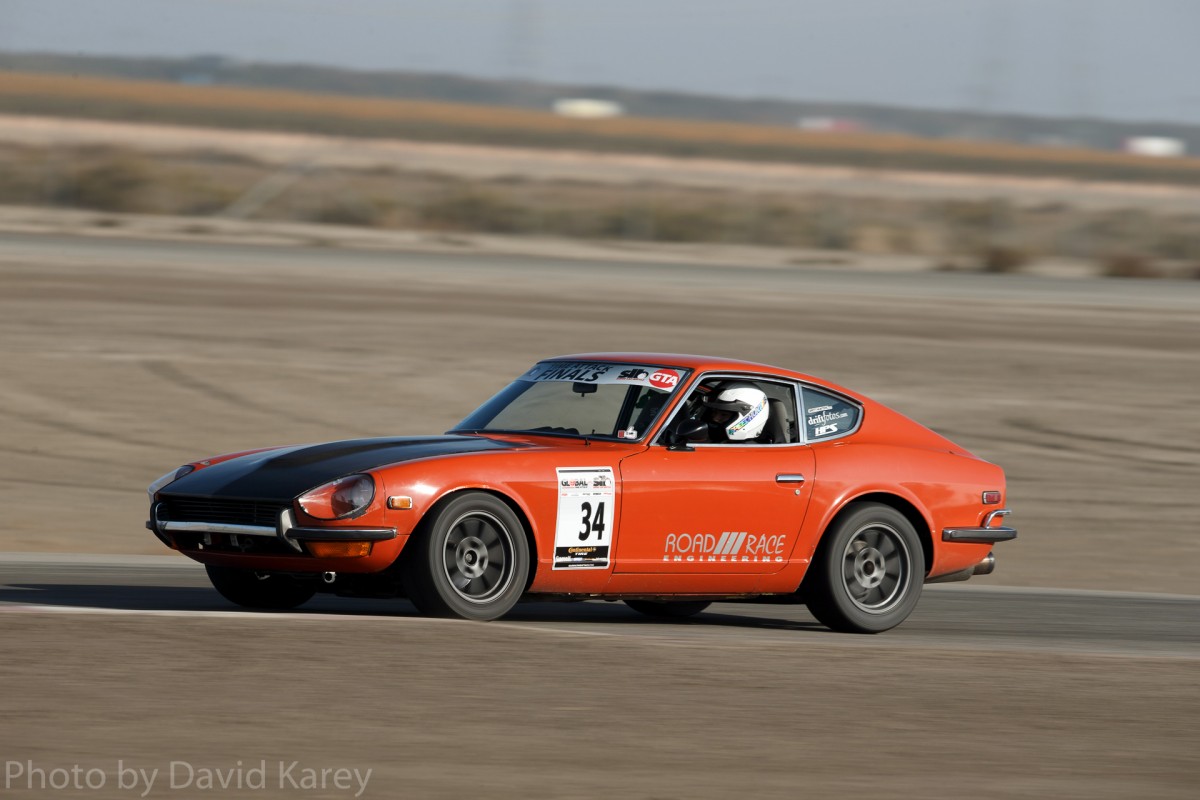 Lucky for me, my project car was ready for its first real track day, so I figured why not enter my first time attack event at the same time.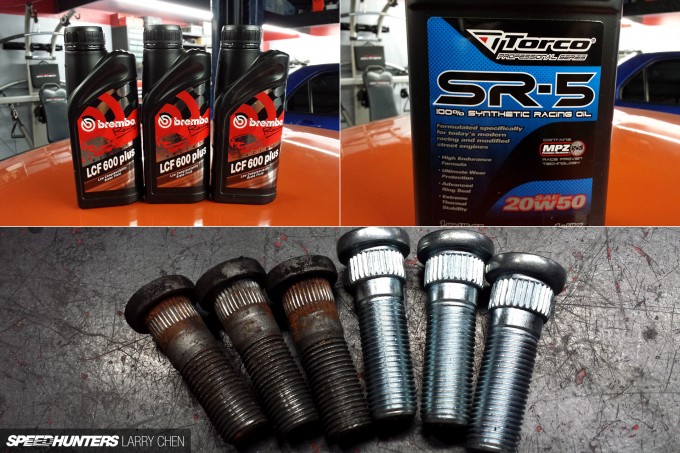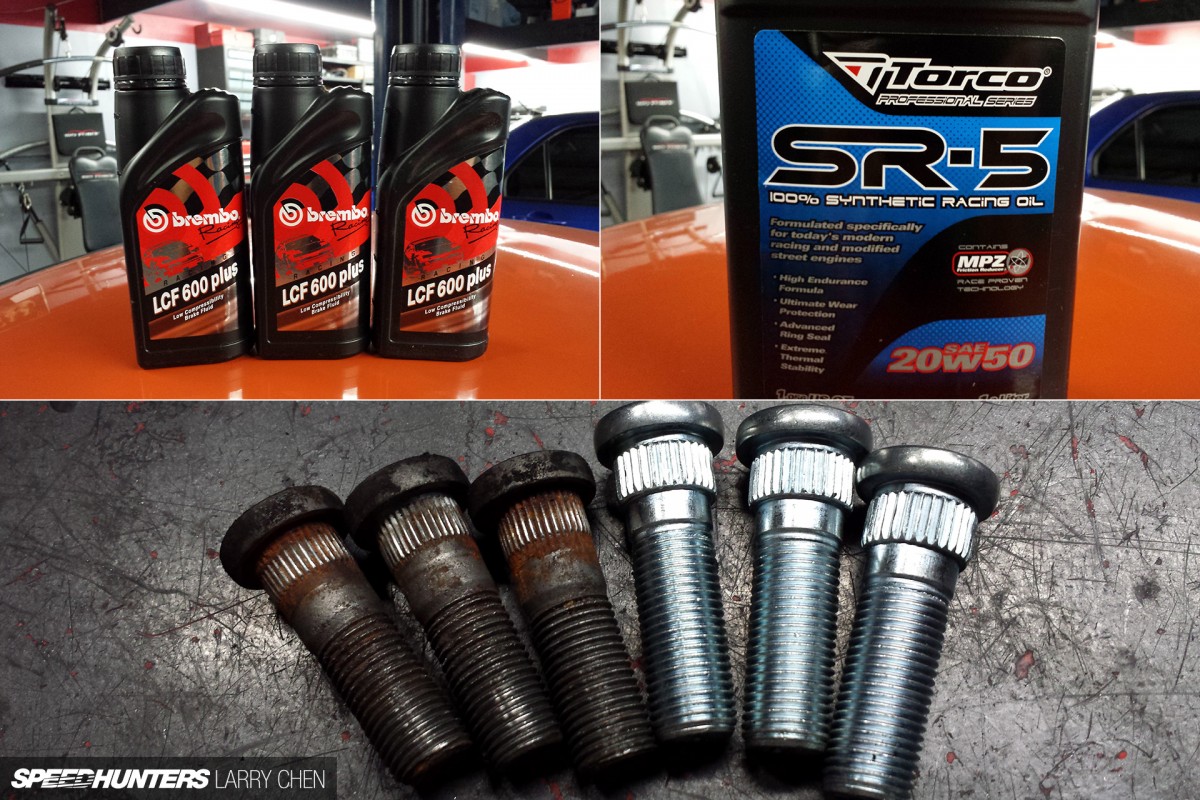 There were just a few minor things I needed to do the night before the event. I still had the stock wheel studs, which were too short and unsafe for track use, so I went to my local auto parts store and bought extended ones for only $1.50 a piece. I also had ancient brake fluid in my system so I figured I may as well flush it with some LCF 600 from Brembo. Since I had stock brakes with the drums in the rear, I needed as much help as I could get in that department! I also decided to change my oil with some Torco SR-5 racing oil since I've put 500 miles on the motor since I swapped it in. They were fairly hard miles too so I figured it was time to change it.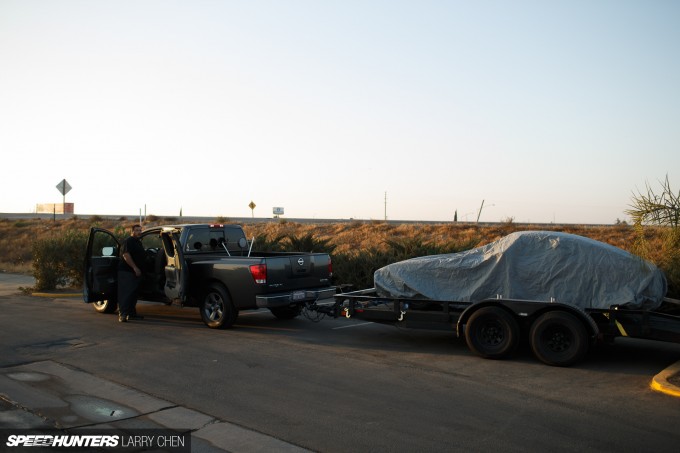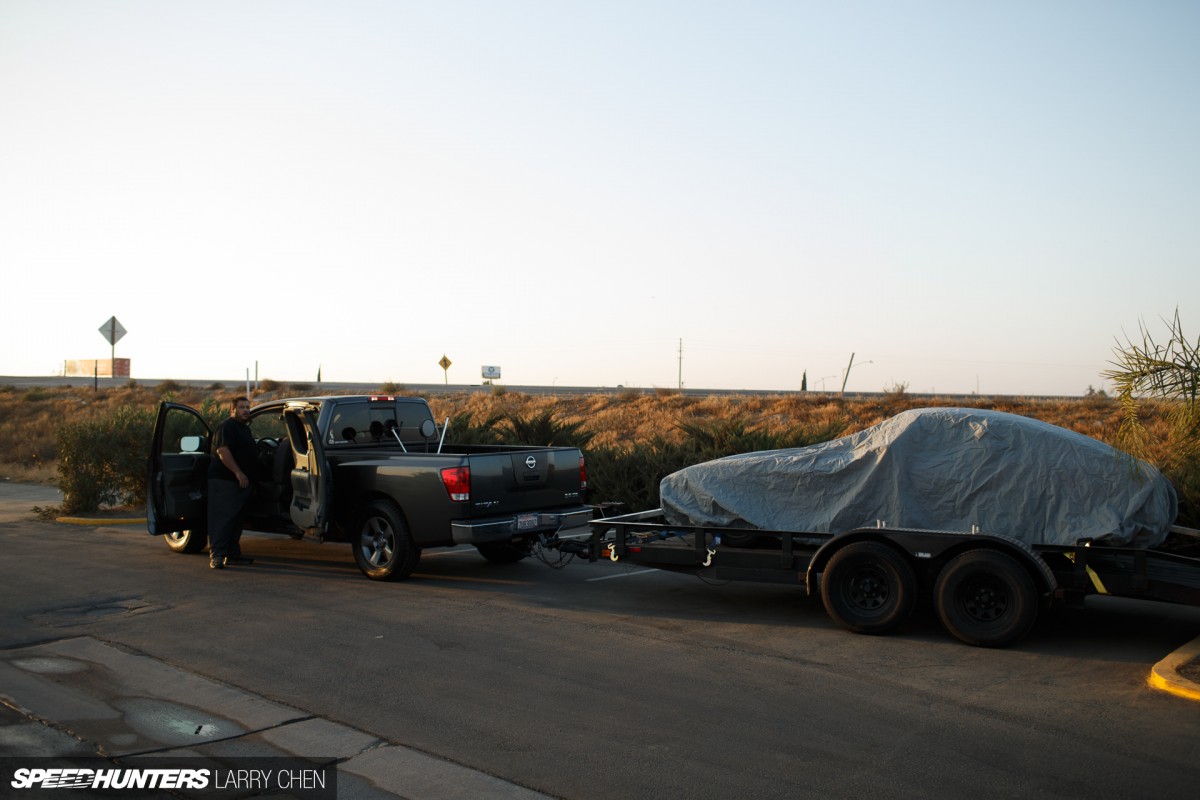 My friend David Karey and I trailered the car to a motel nearby the track overnight, and to our surprise the truck and trailer was still there in the morning when we woke up.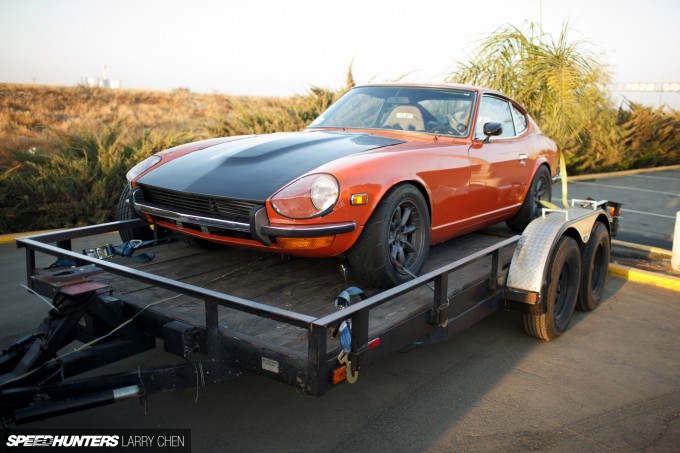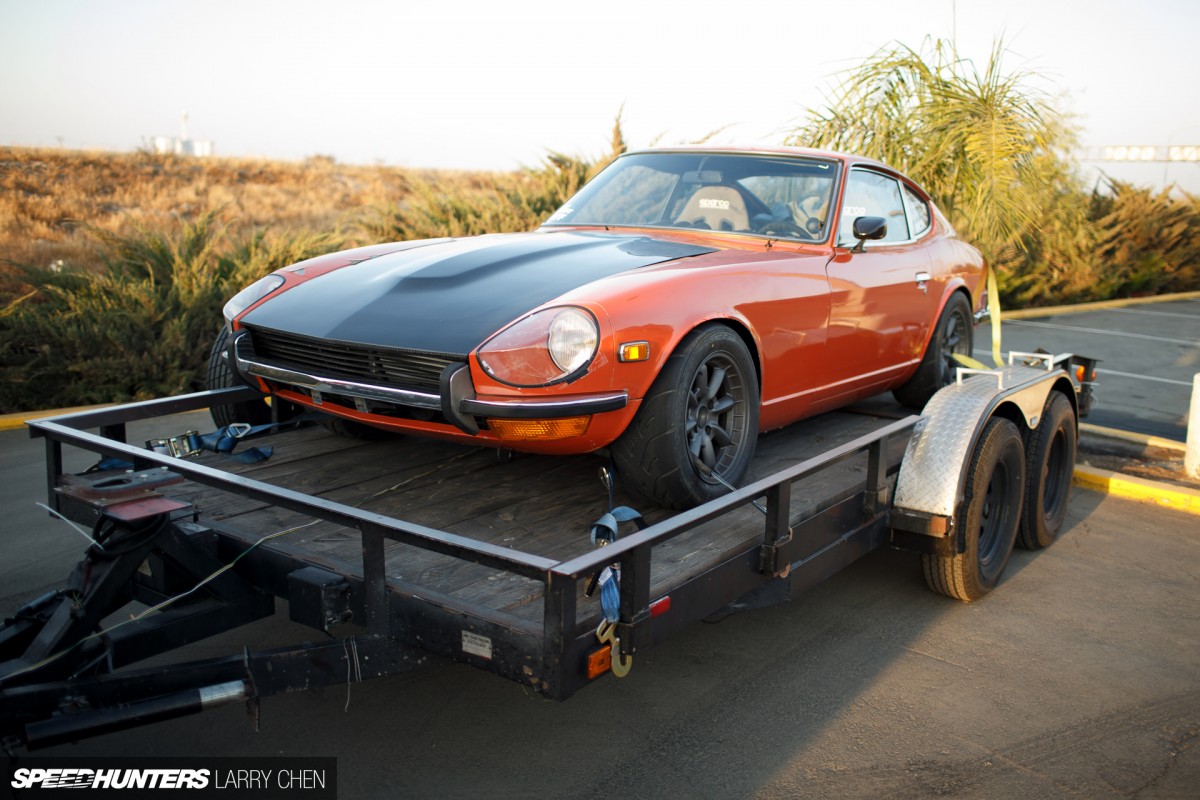 Trailering my own car to events has been a relatively new thing to me. I usually drive my car to the events that I compete in, as I was certain that I would be able to make it home. Seeing as this was a brand new motor and that it was my first time on Button Willow I figured it was a good idea to trailer Ole Orange Bang.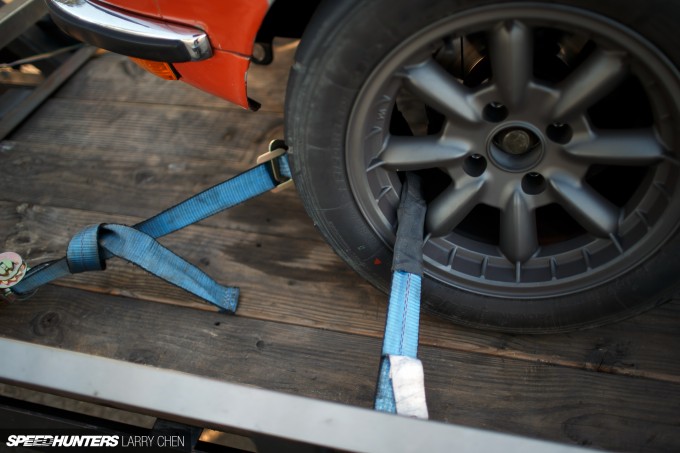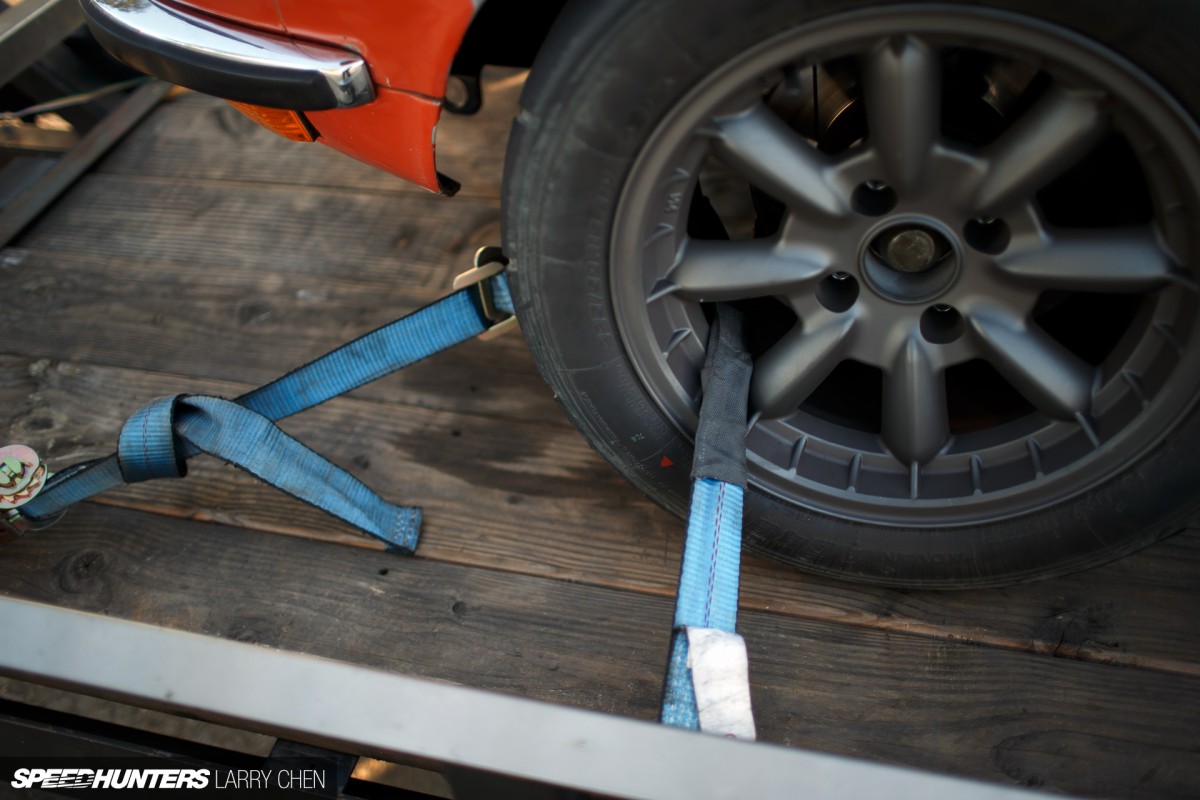 I didn't want to scratch my brand new Enkei Compe wheels so I used special straps with a teflon sleeve.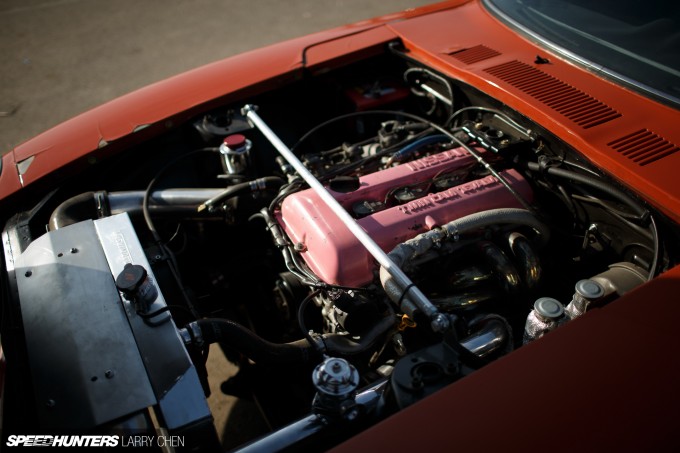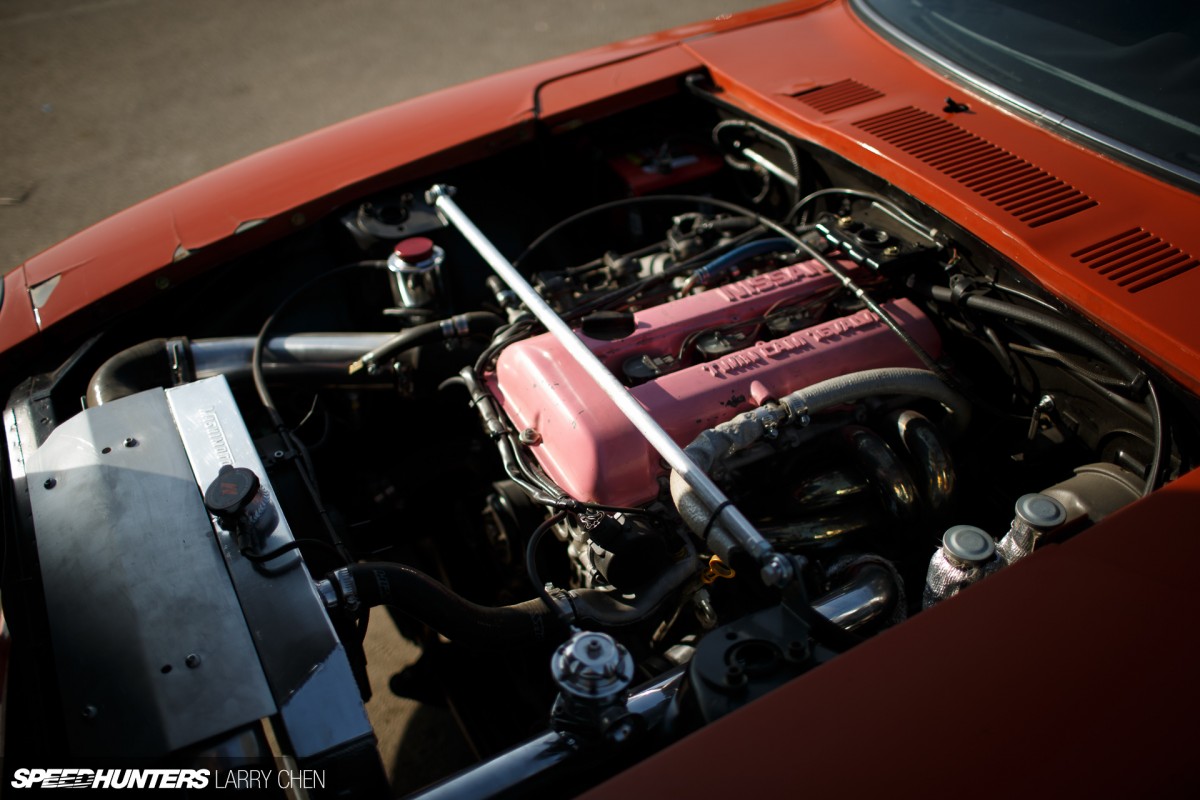 I was planning on installing an oil cooler as well as some ducting for the brakes, but we simply ran out of time as I decided to compete last minute.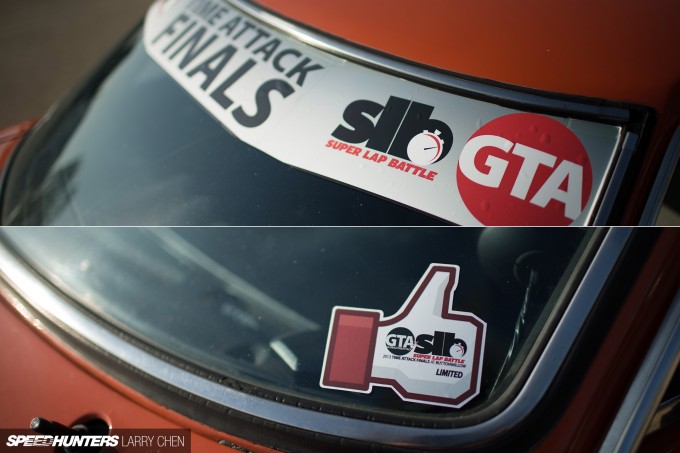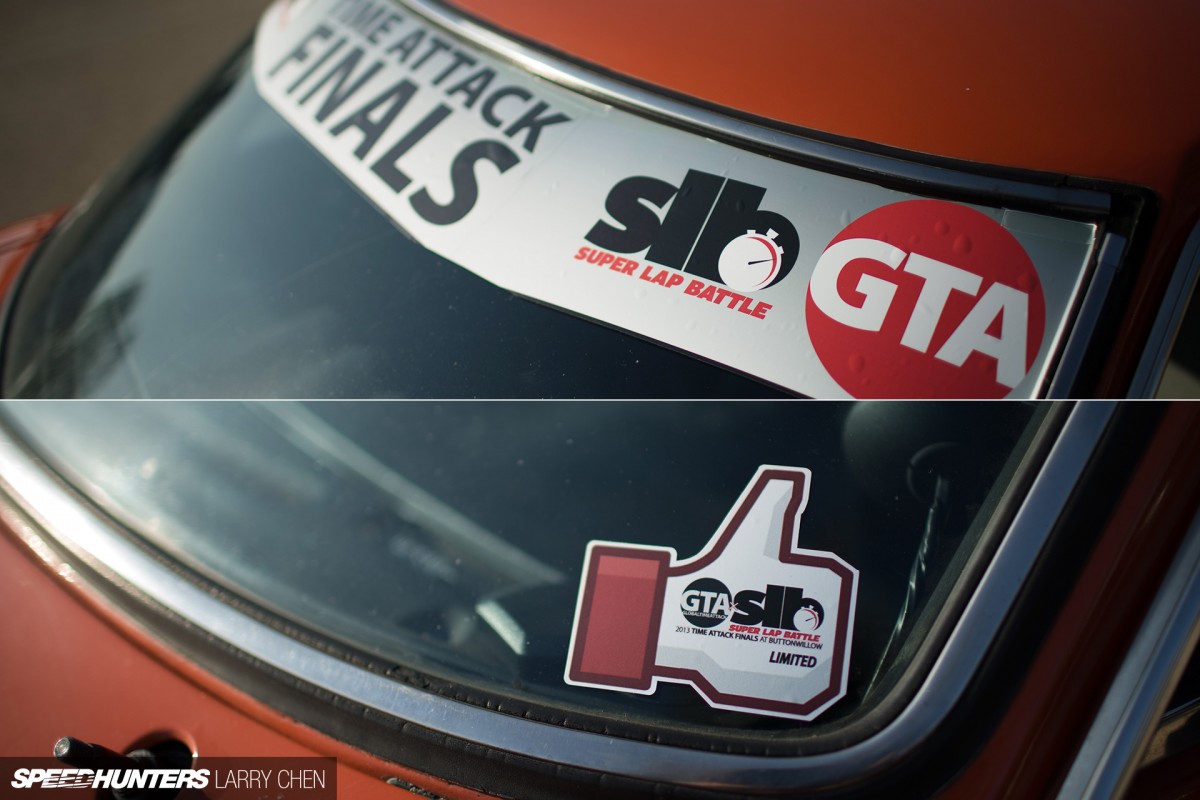 I was put into 'Limited Class' due to my R-compound tires. If it were up to me, I would have used a set of street tires, but currently I don't have another set of wheels to put them on.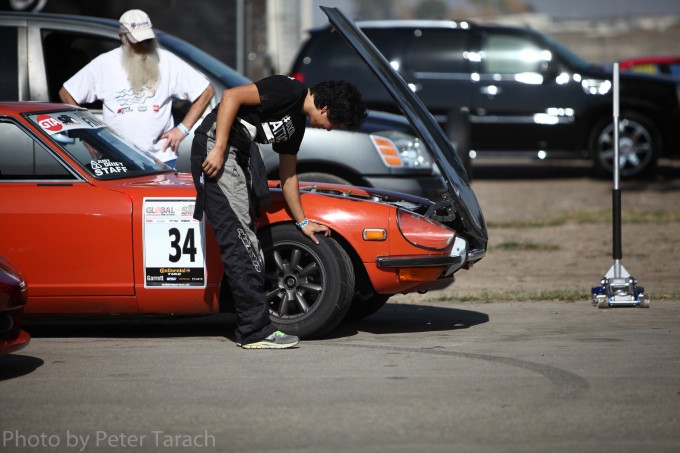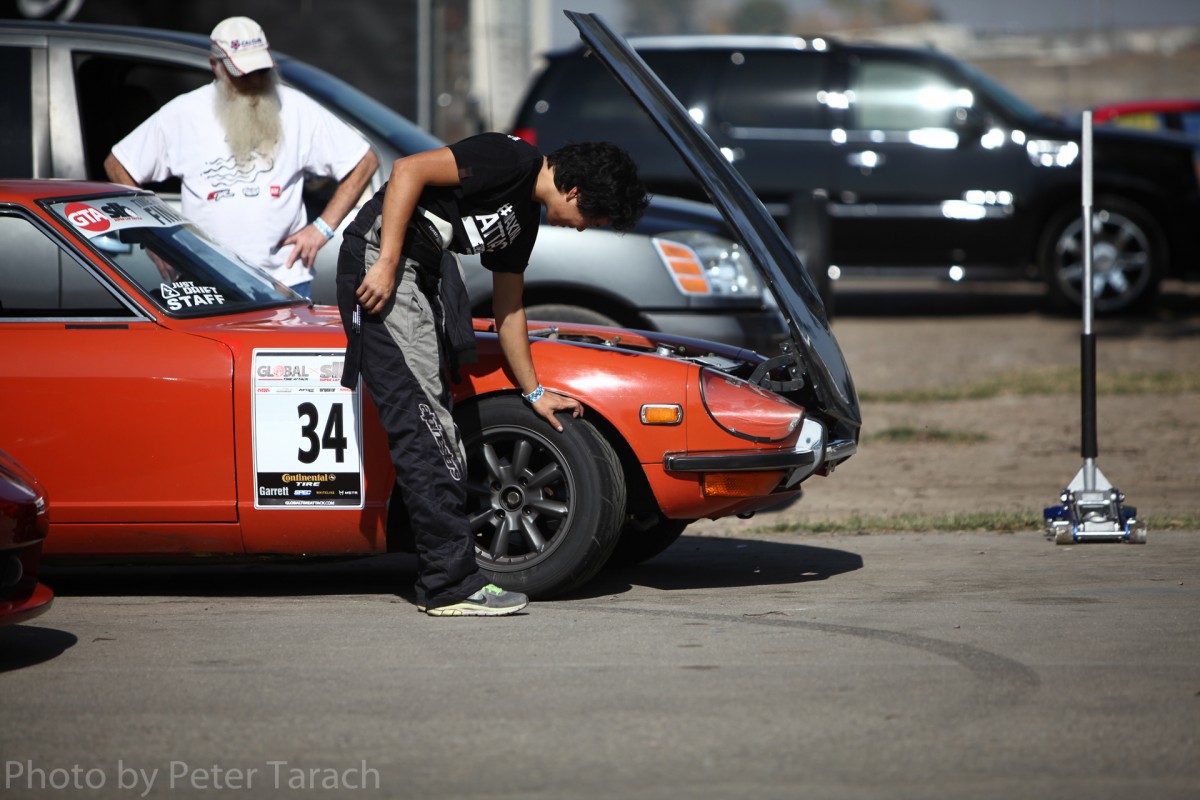 Once again I would be pulling double duty as a photojournalist, and a wannabe racing driver.
The other side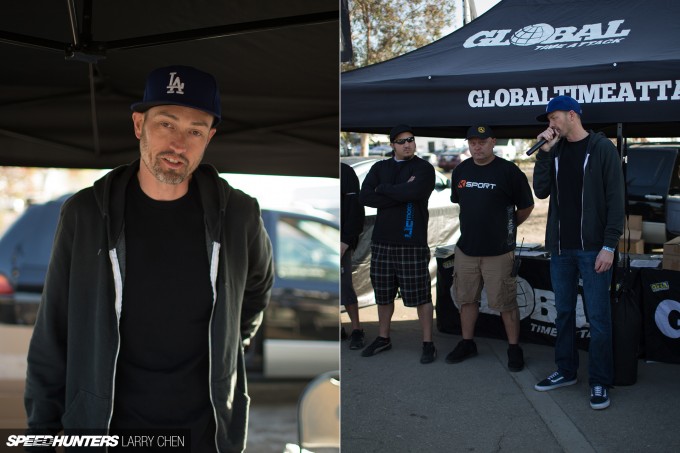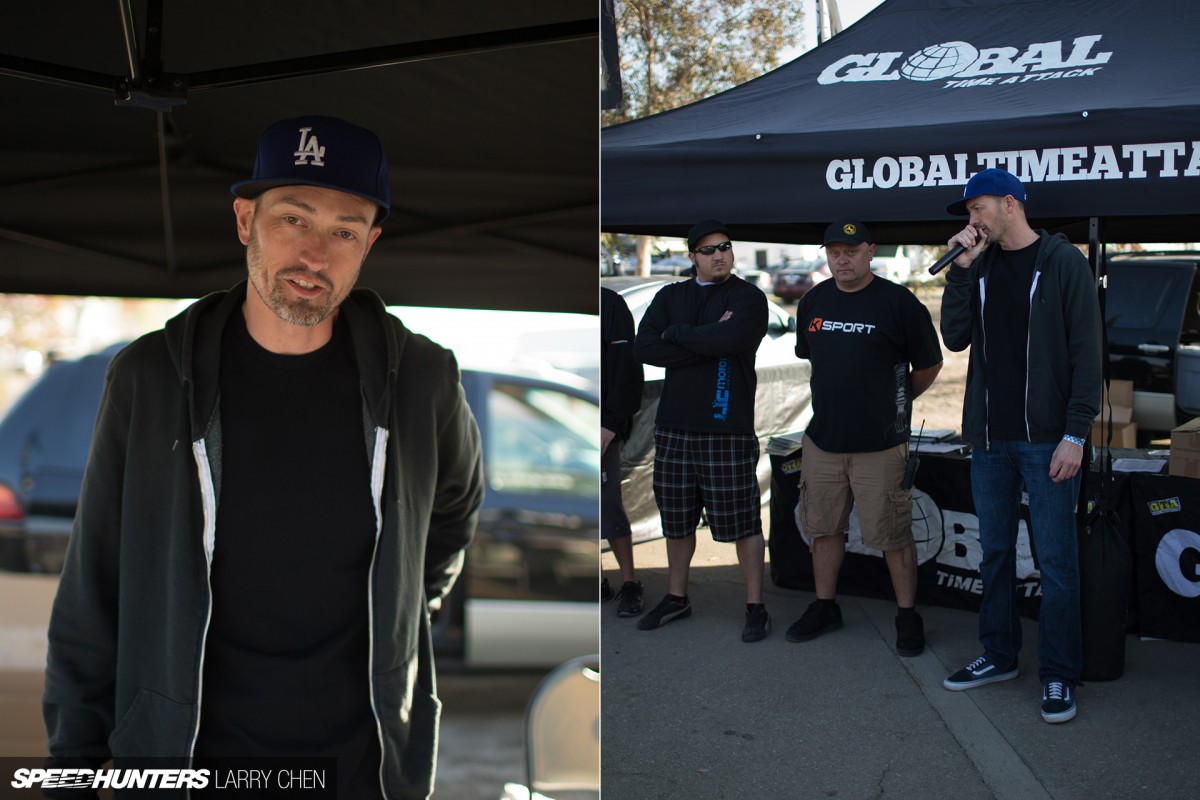 Global Time Attack is the brainchild of my good friend Jason Dienhart. I've been following the series since day one and his passon for this growing motorsport shows as he is a one-man show. He does everything from the drivers' meetings to registration, to announcing, along with the help of volunteers.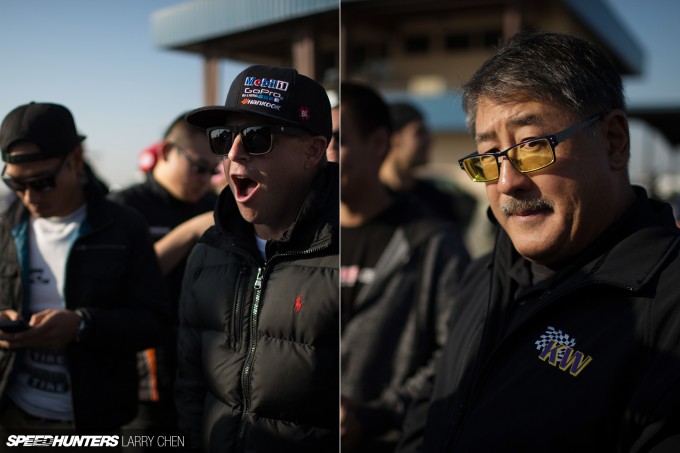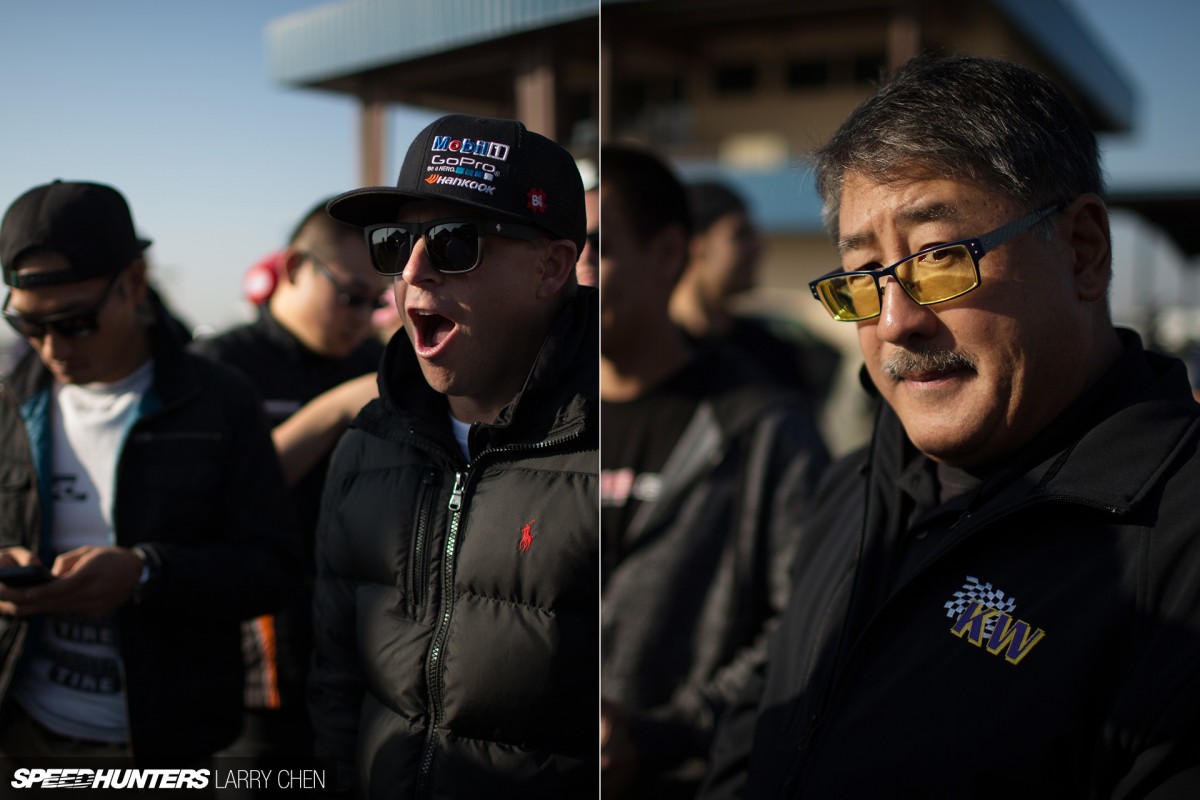 It was so weird to be on the other side, as I actually had to pay attention during the drivers' meeting. As always there were the usual time attack suspects, including Tyler McQuarrie, who was hoping to beat the Limited class record that weekend. Also in attendance was brainiac chassis engineer Mike Kojima from MotoIQ.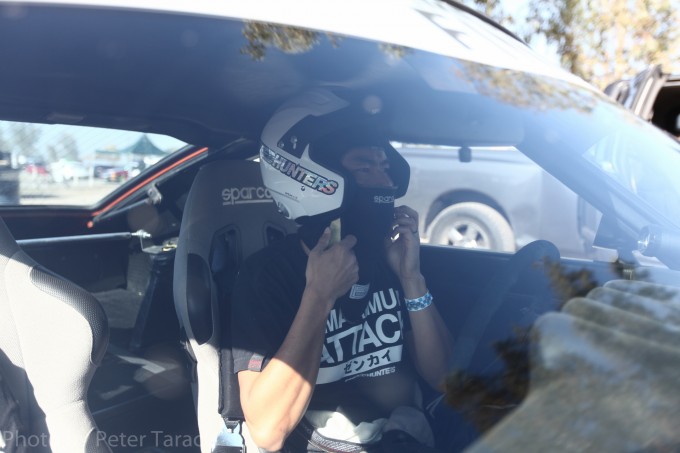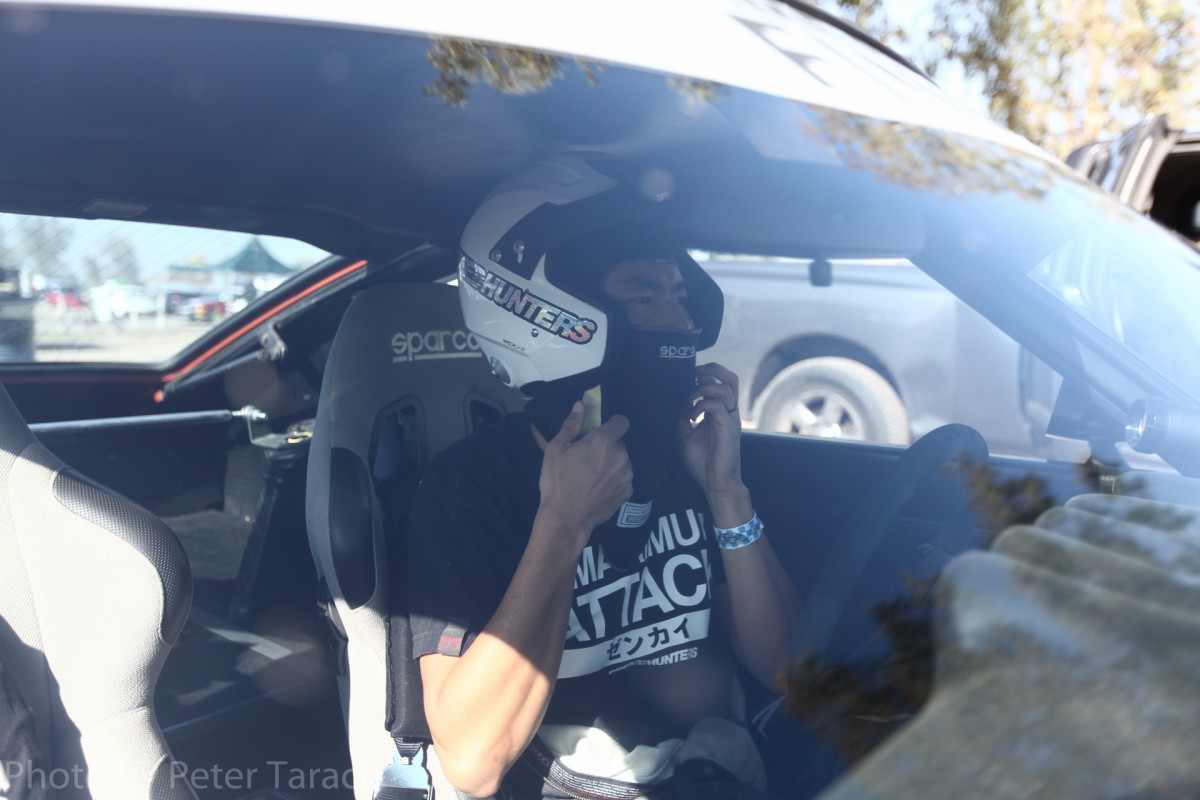 I wanted to make sure I got as much track time as possible since this was my first time driving this very high speed course. So I strapped in ready to go #MaximumAttack right off the bat. These kind of things should be in my blood because when I was competing in Solo2, we only had three chances to drive a course that we had never seen before.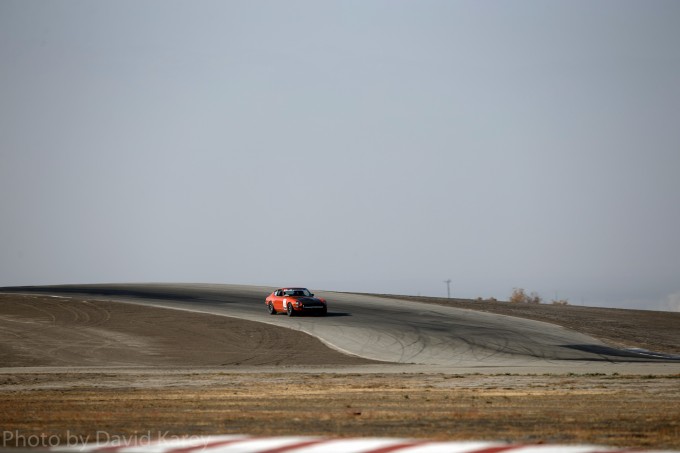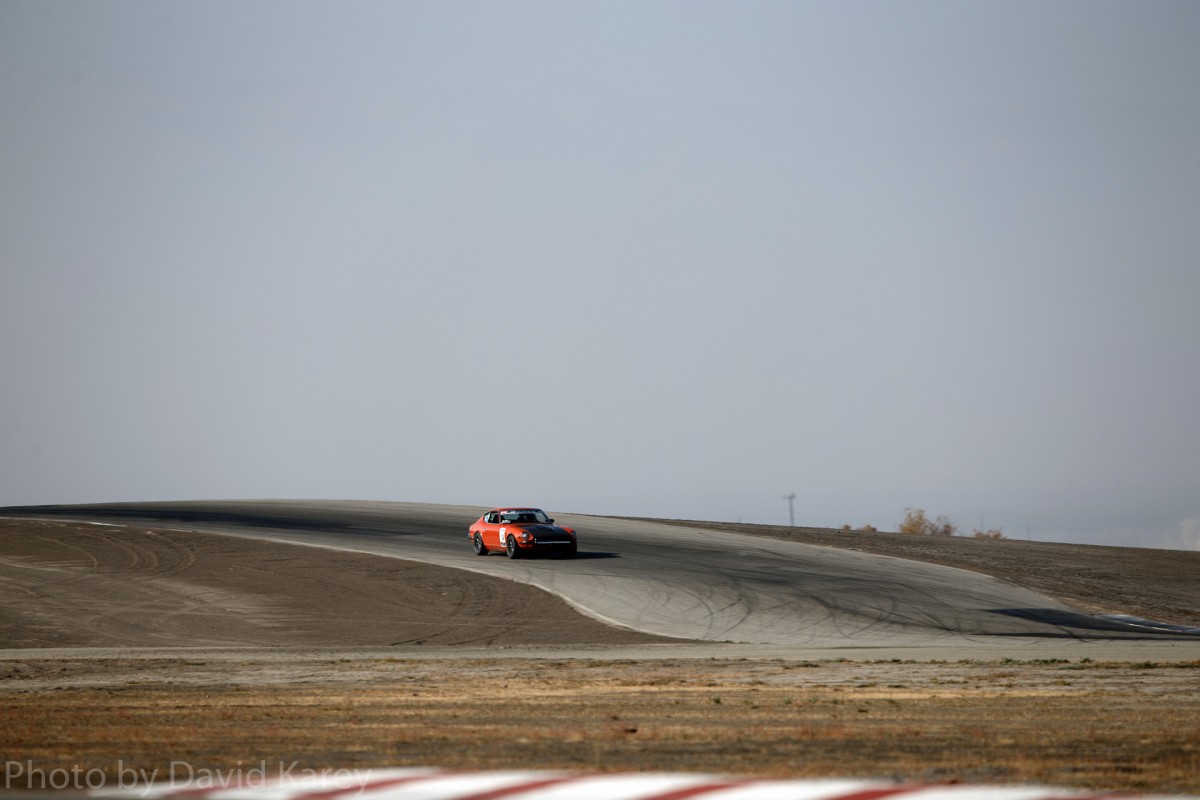 What I didn't account for was the massive elevation changes – those are something I'm not used to, as well as the totally blind corners.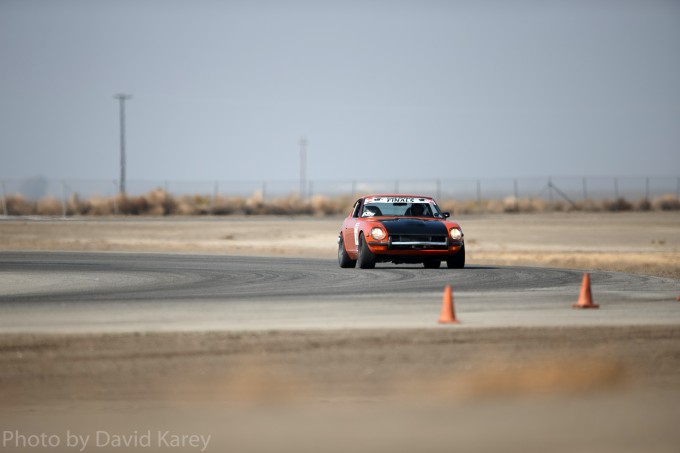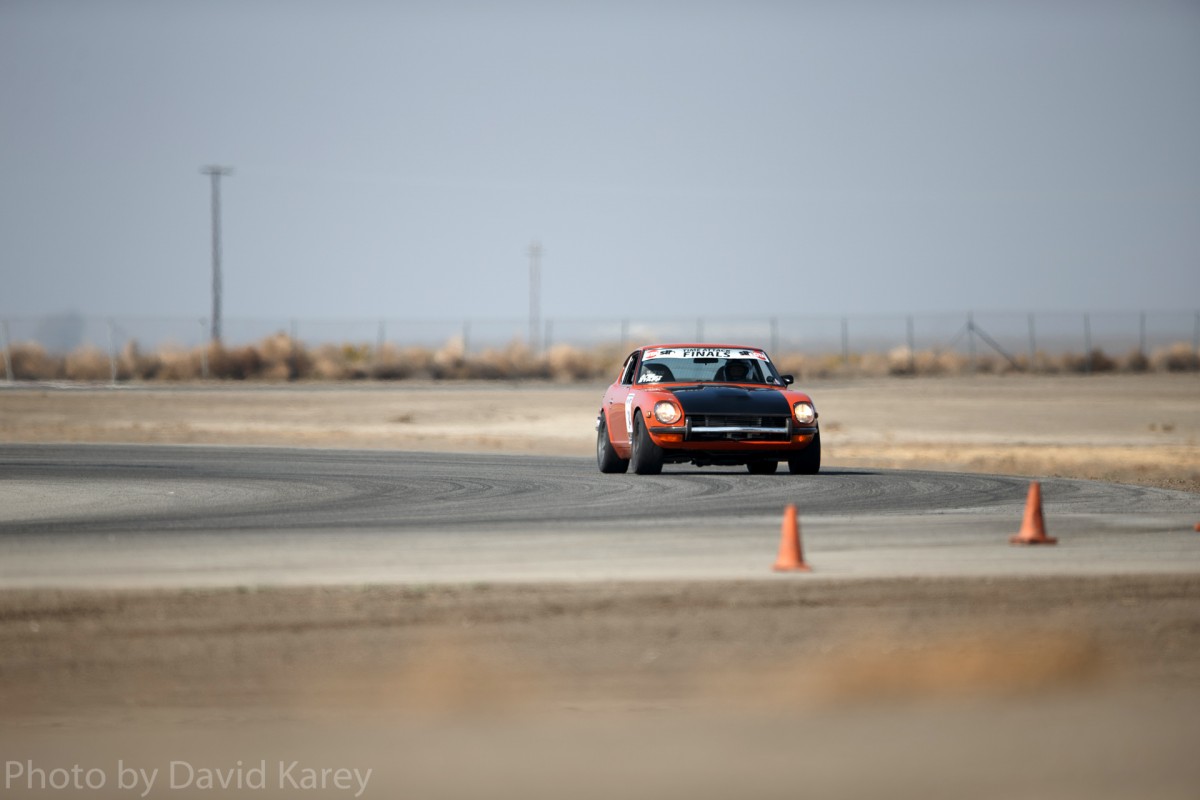 The corners that I could see were not much of a problem, but it also didn't help that this track doesn't have markers.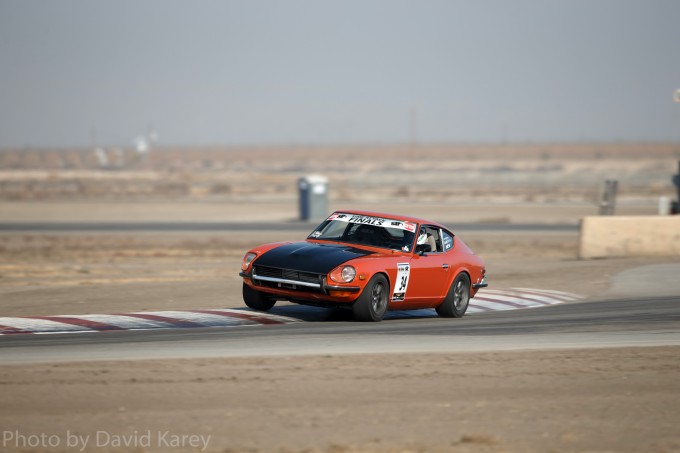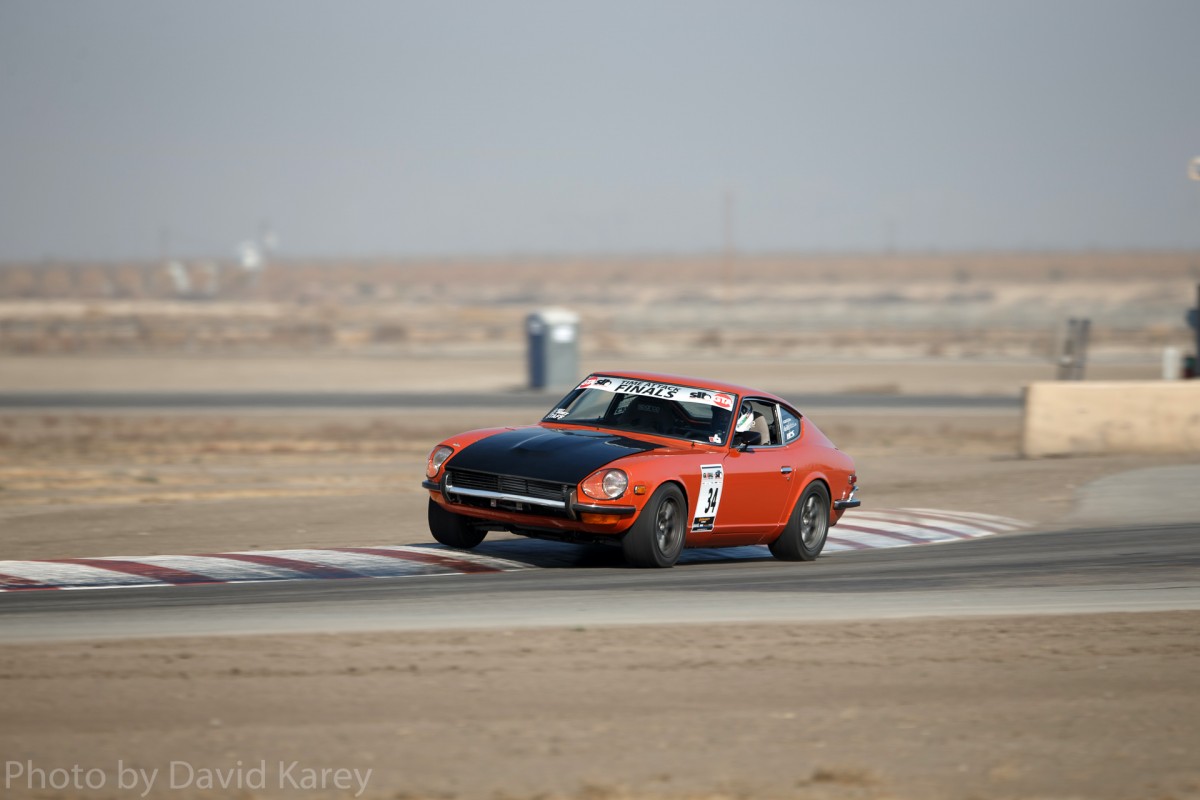 The more I drove, the more I figured out where I could cut the course or jump the curb. As I found out later there are many curbs that you should avoid at all costs.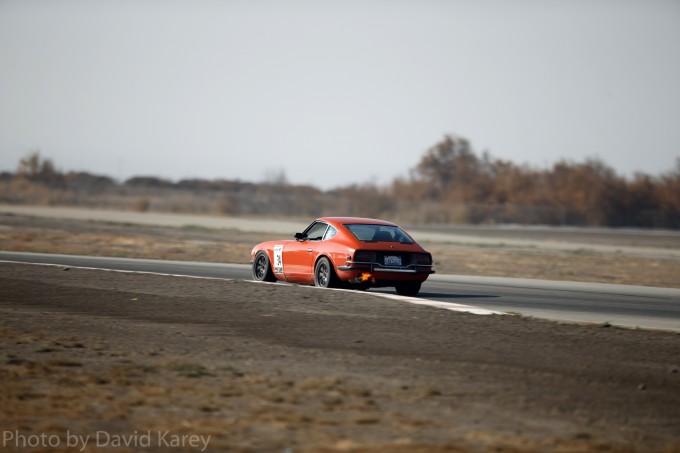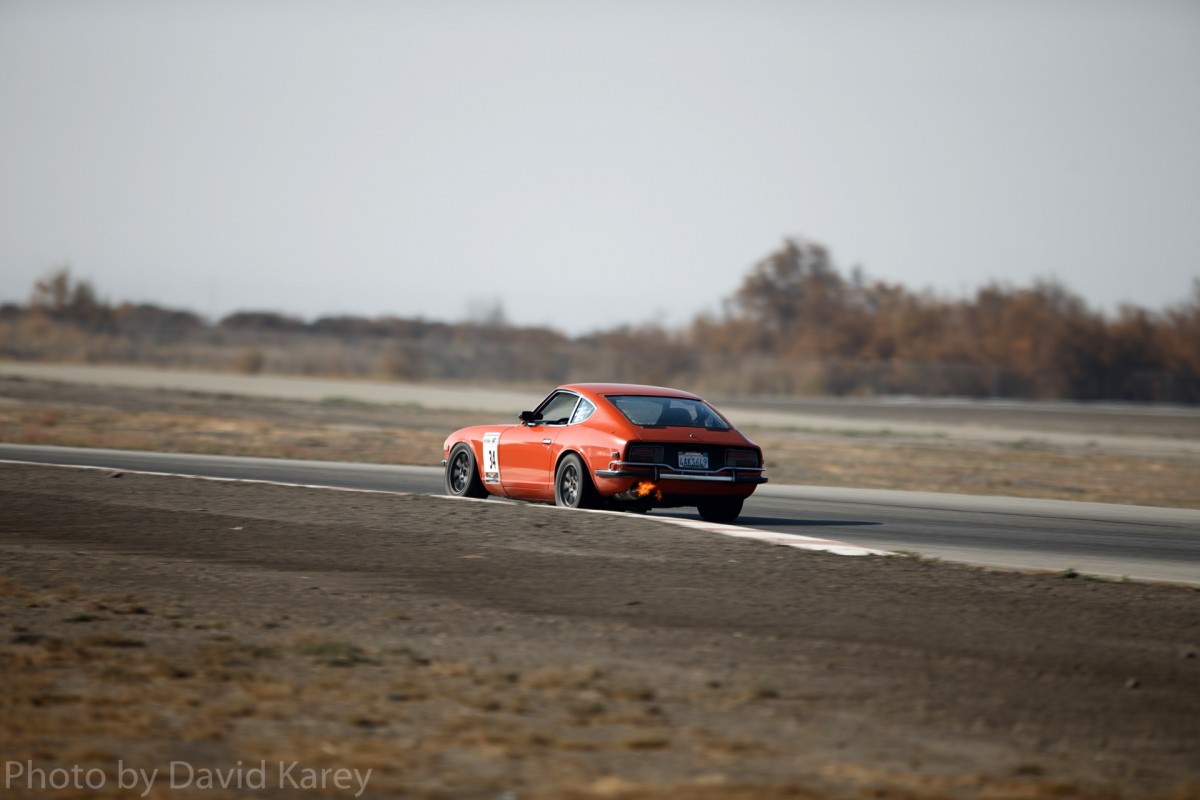 Out of all the photos of Ole Orange Bang, I think this is my favorite, taken by my buddy David Karey of AmDrift.com. He caught me going through the esses perfectly as I was up-shifting from third to fourth.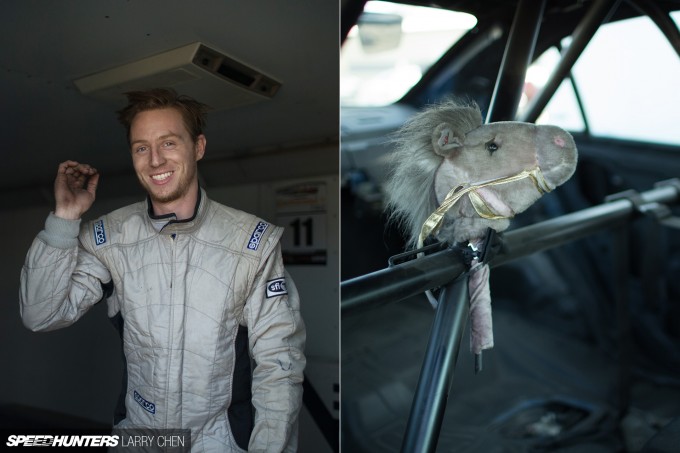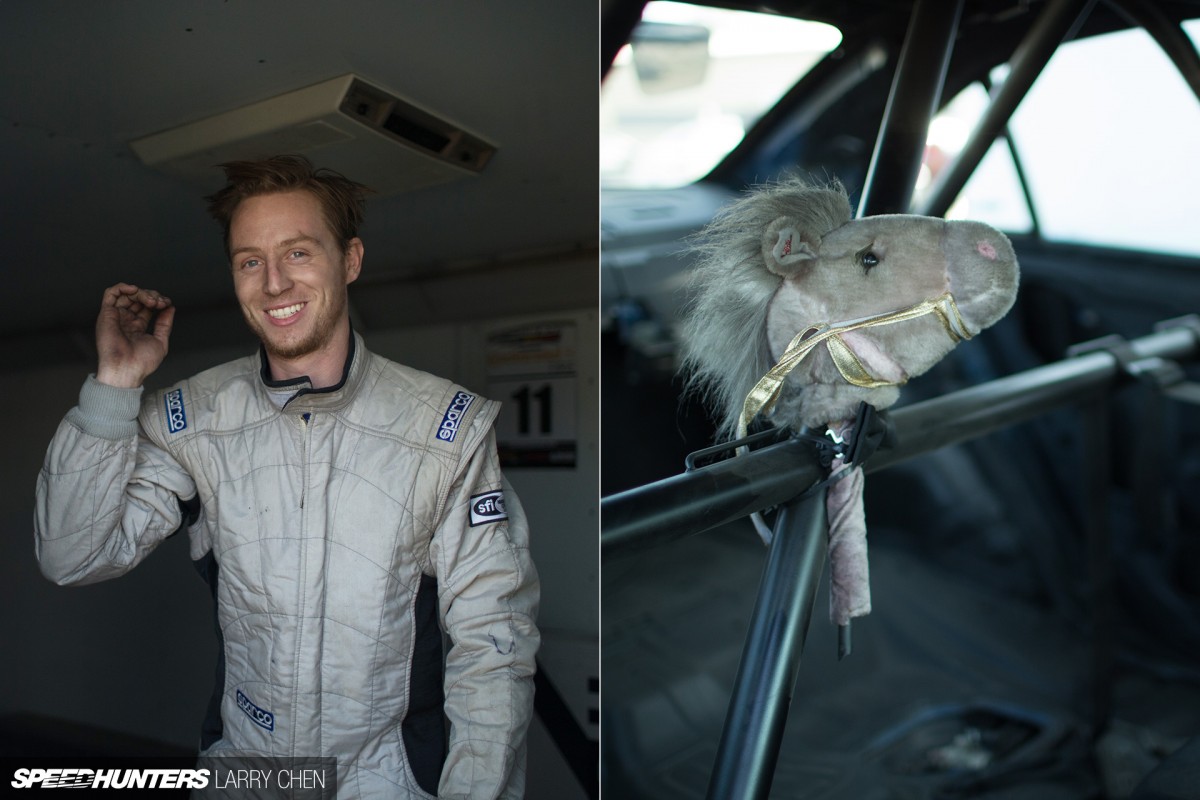 I was embarrassingly slow my first time out, netting a 2:13 and change. I know there's so much more time in my car, but I would need to learn the course. So I asked my buddy Ryan Gates, who also designed and built the 311RS that Suzy Wallace drove in New York, for some pointers.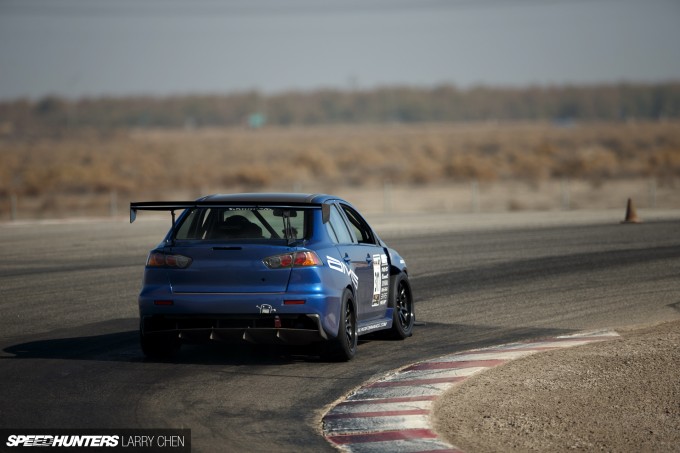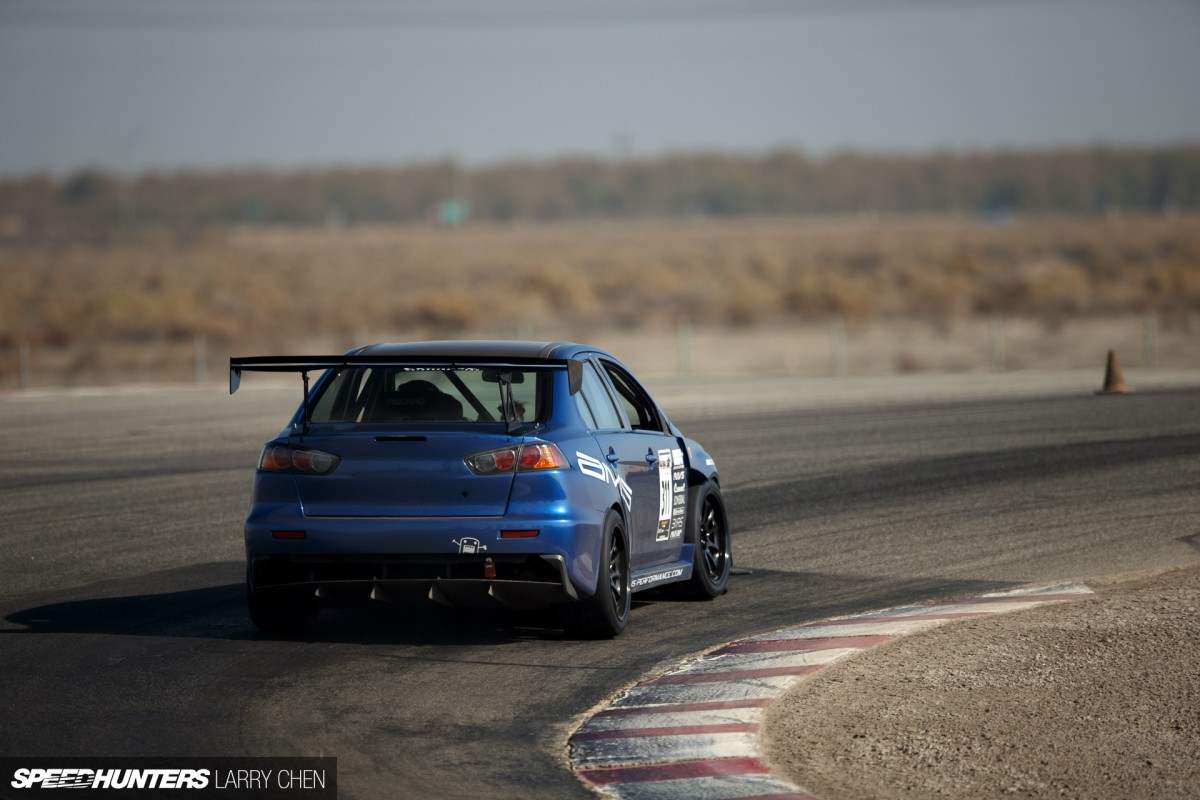 He was incredibly fast, which is so awesome because he can really put his money where his mouth is. Watching him drive totally and completely legitimizes the 311RS project.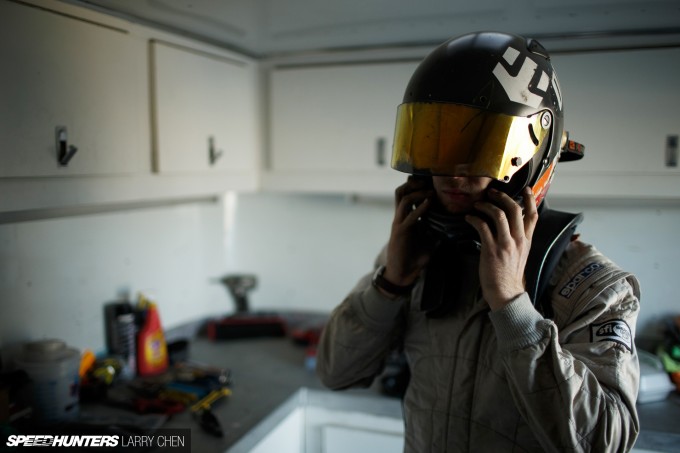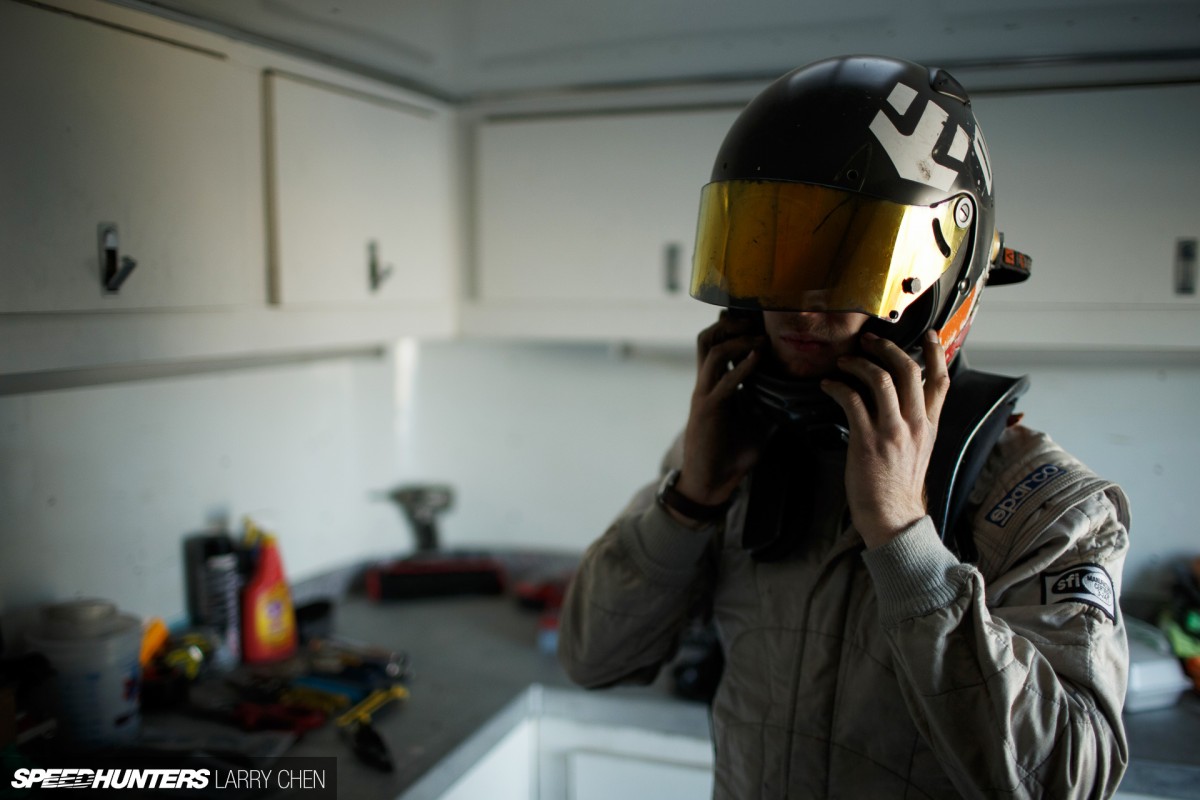 He ended up getting third place in Limited AWD class just less than 2 seconds away from first place. Ryan was actually not very happy with the results as he was going for a class record. Back in 2011 he actually pulled off a 1:47 with the same car.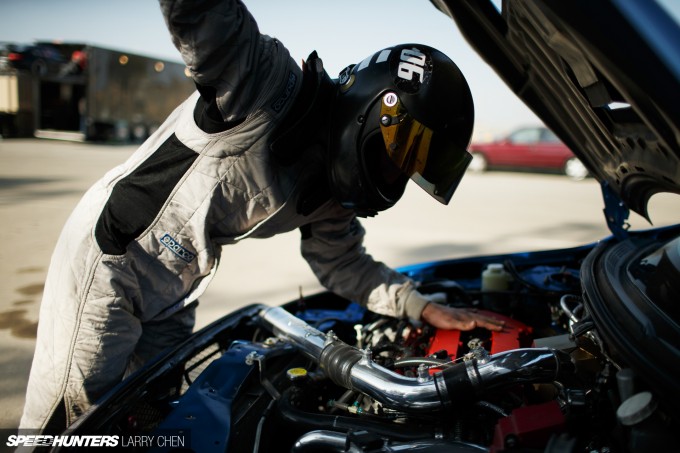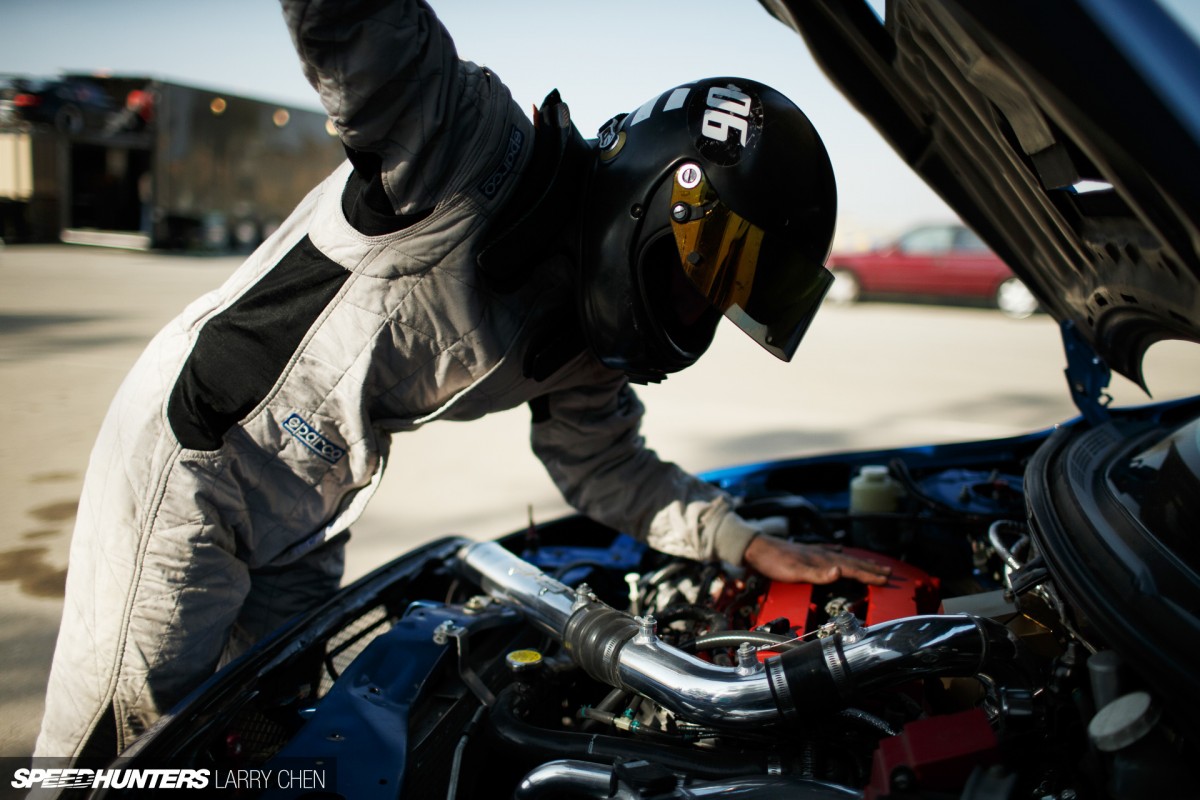 With 780hp to the wheels he was expecting to get into the 1:46 range. Seeing as he's not driven this car for two years, he most definitely needed more than four 20 minute sessions to get back into the grove.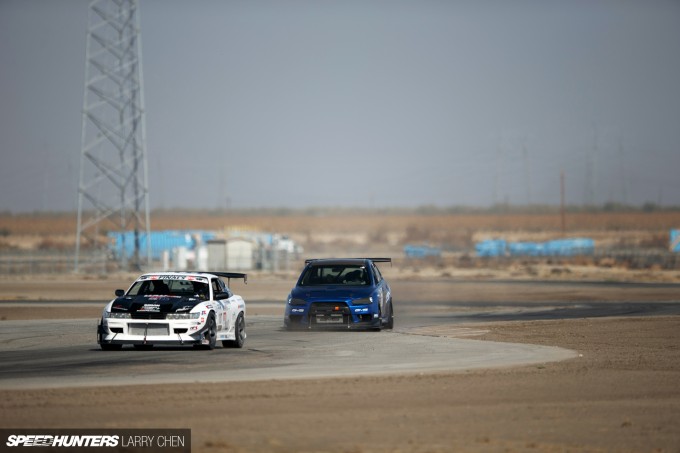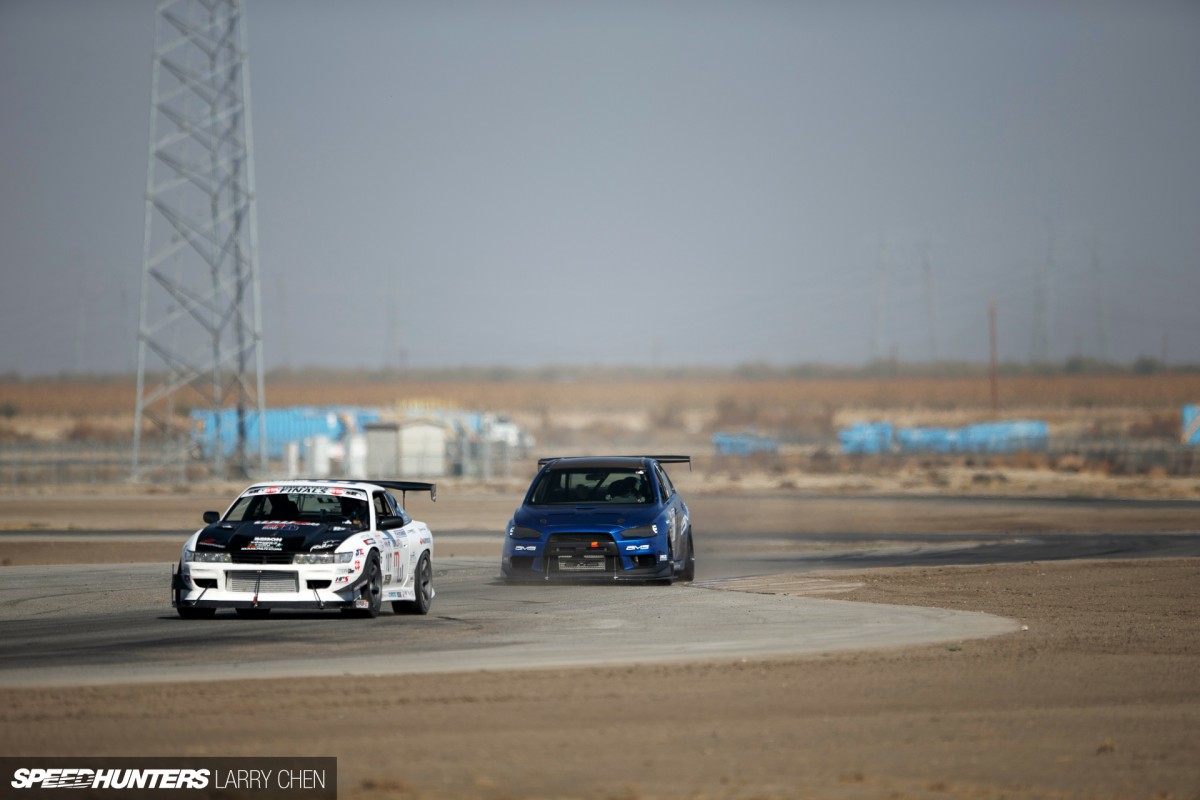 He mentioned to me that it was a real slap in the face and a wake-up call: he'd assumed because he laid down such good times before that he could just walk in and take the win easily.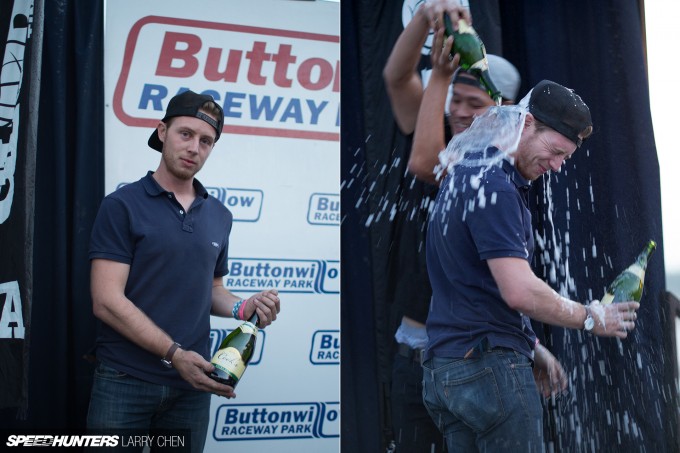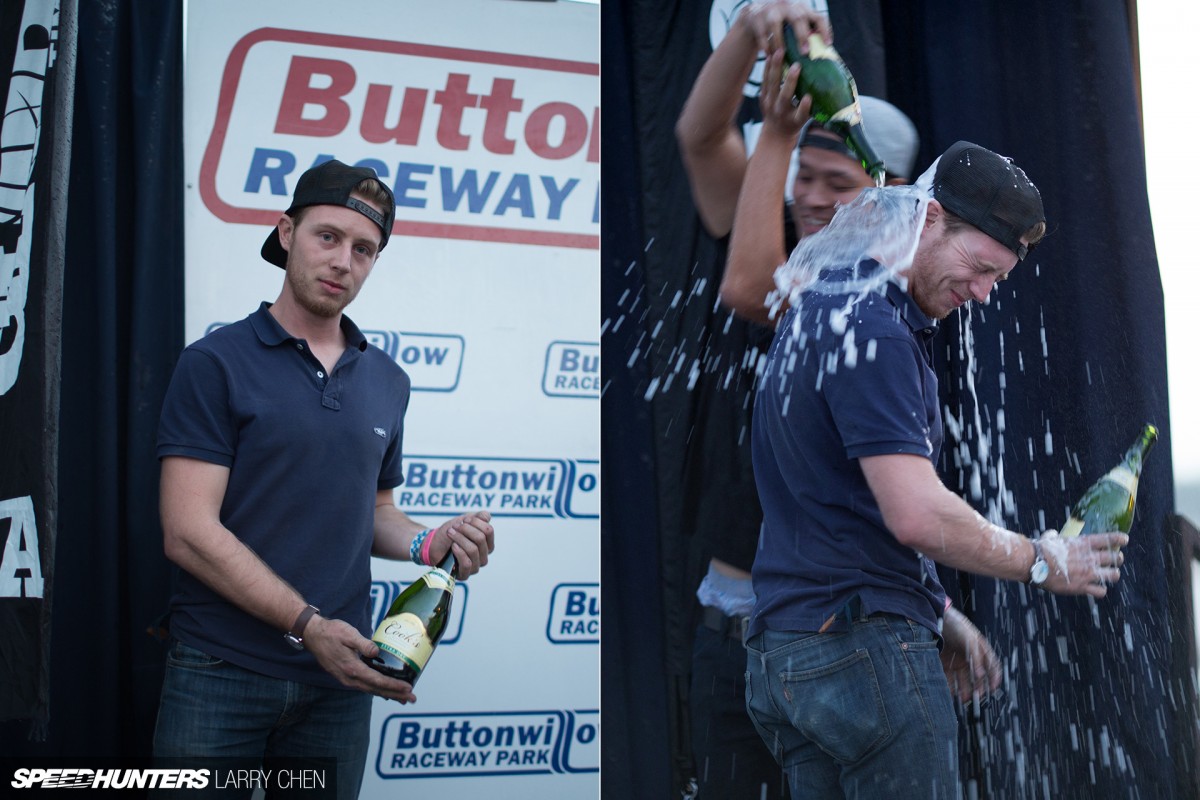 At the end of the day it's a good thing because he'll now focus more on driving, and hopefully next time around he'll be able to take home the class record.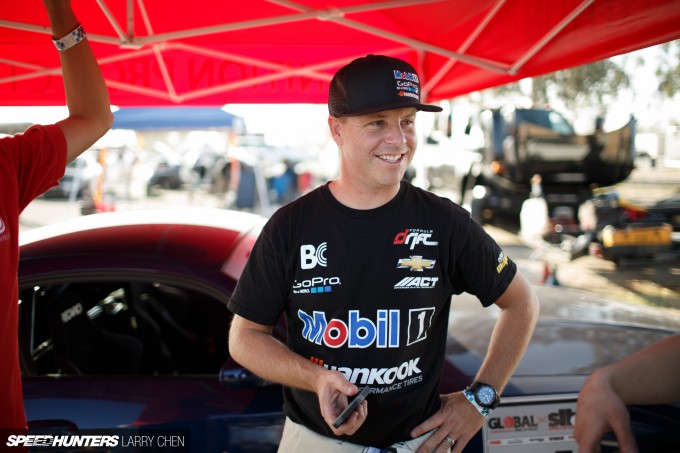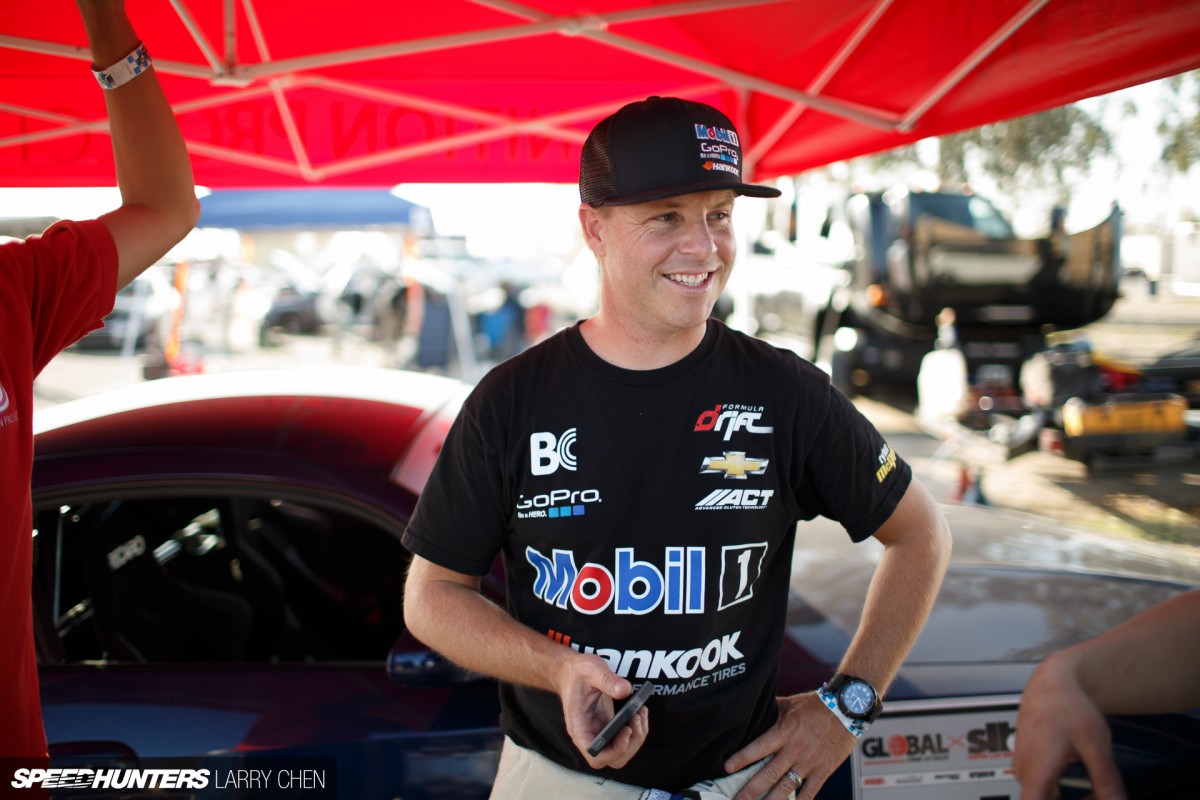 After my first session I went up to Tyler McQuarrie and told him how hard his job was. I just couldn't believe the times he was getting out of the Platte Form a.g. BMW E46 M3.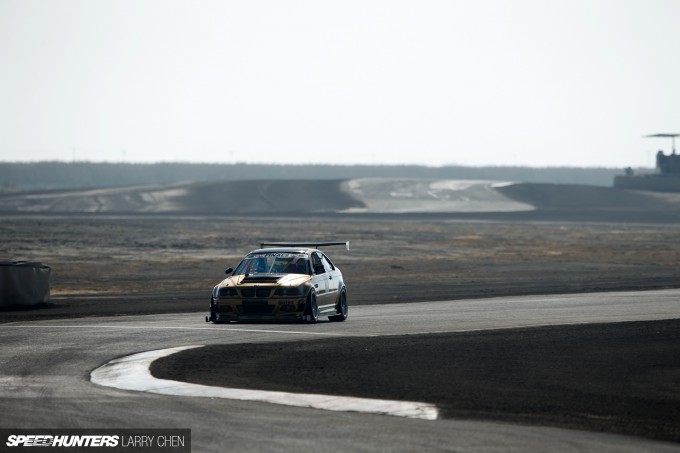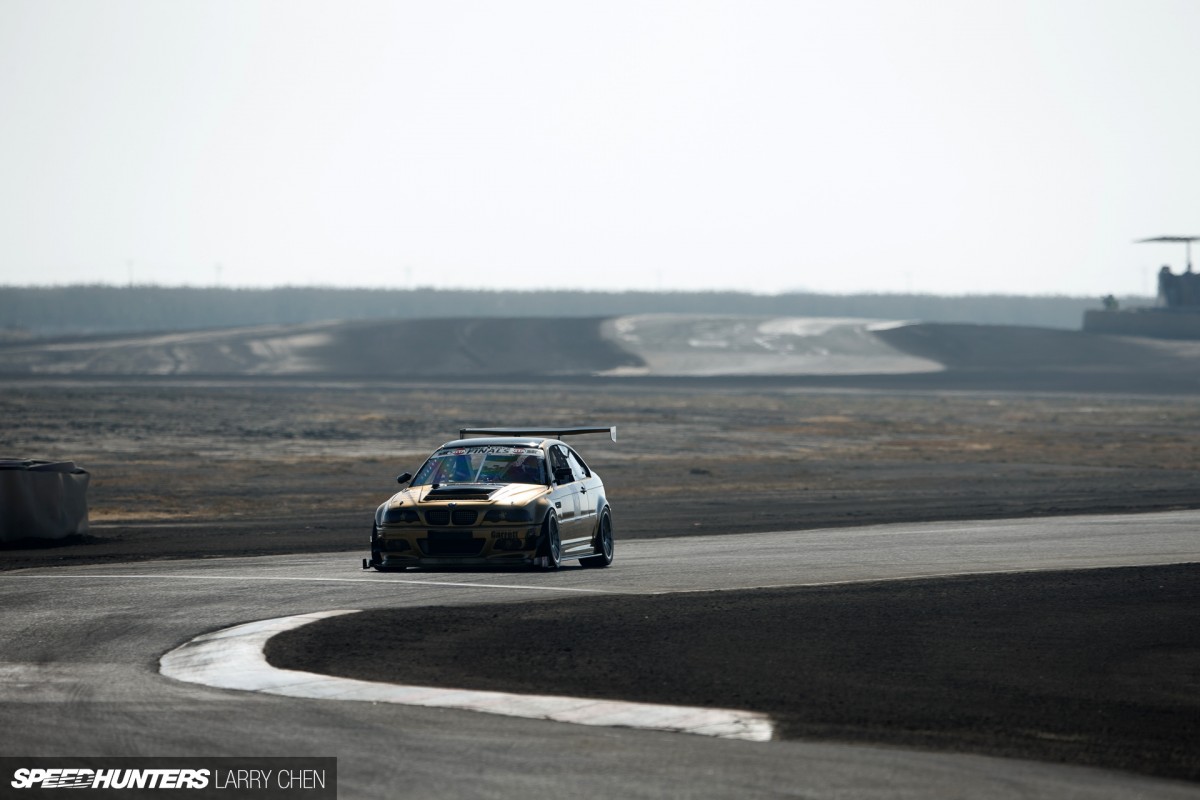 He finished in first place in Limited RWD with a 1:48.038 which was good for a new class record.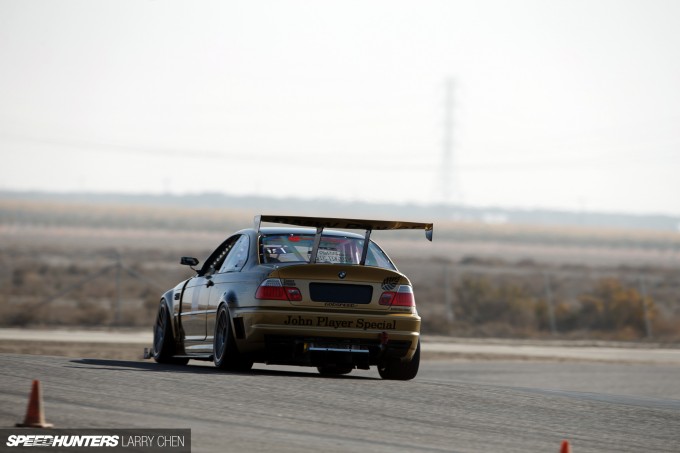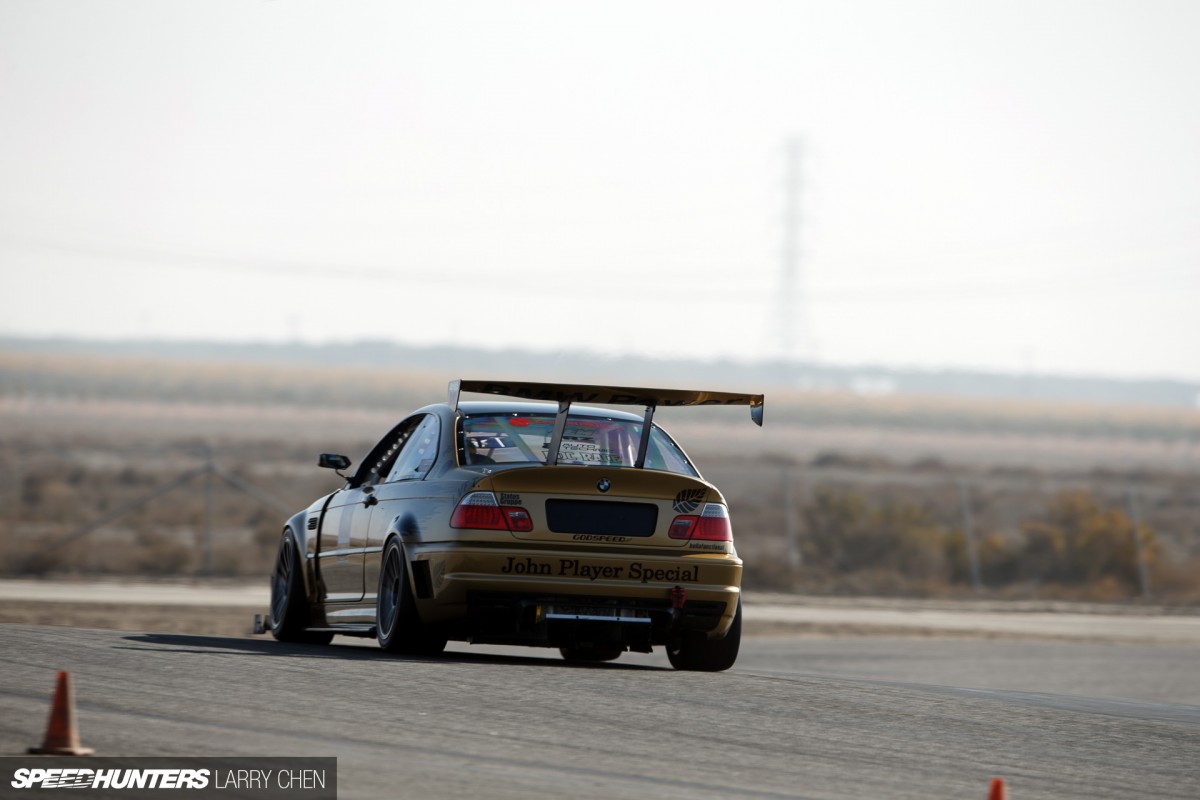 Tyler said that he had a mid 1:47 in the car, but the differential gave out before they had a chance to improve their record.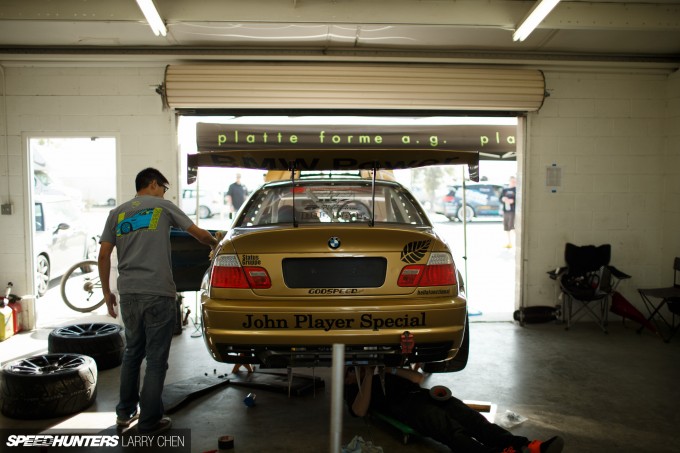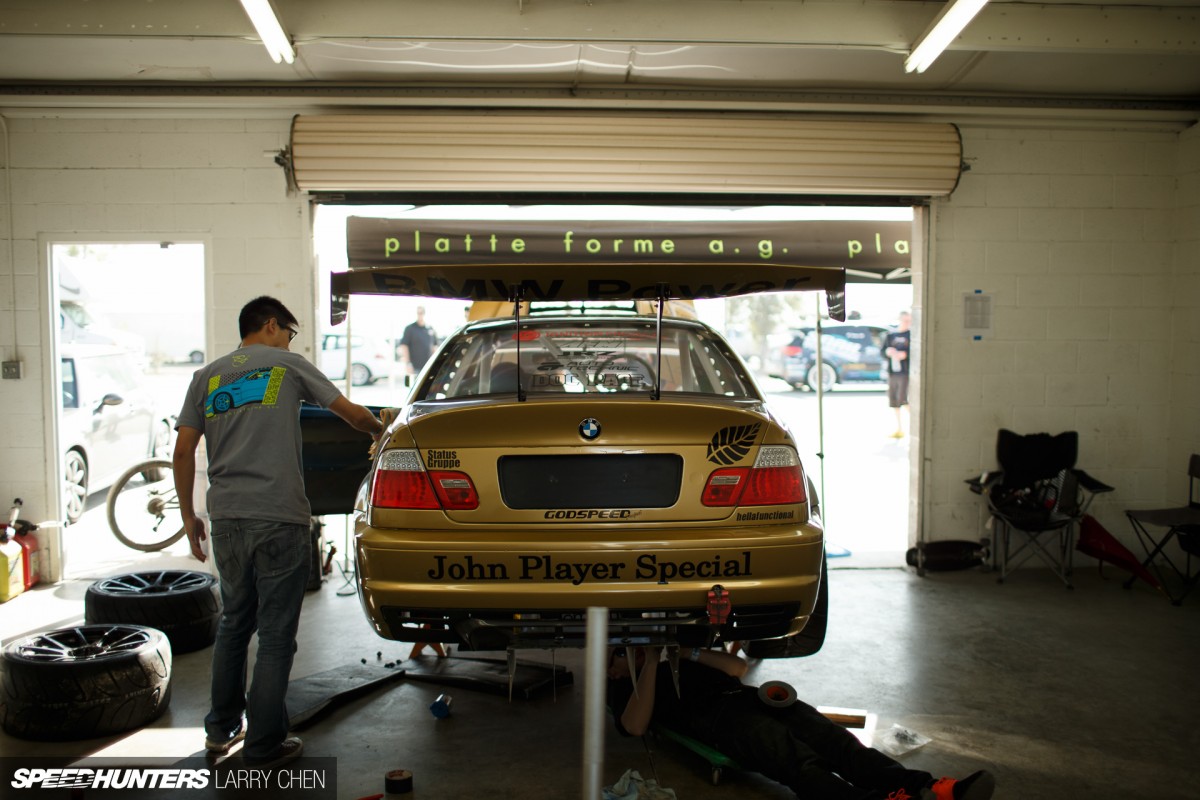 His record setting lap was also good for fastest time of the day.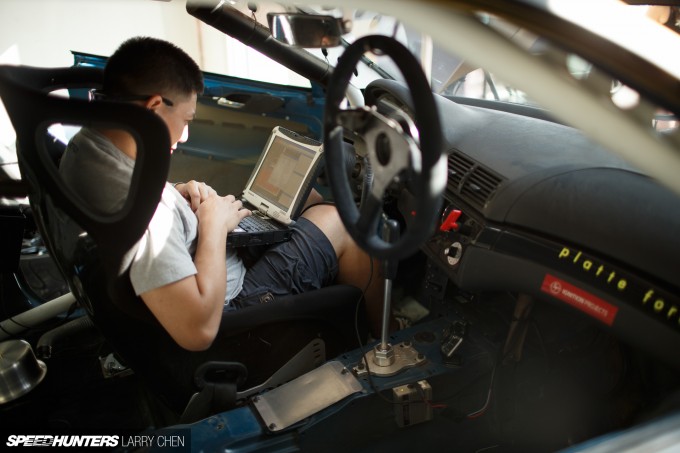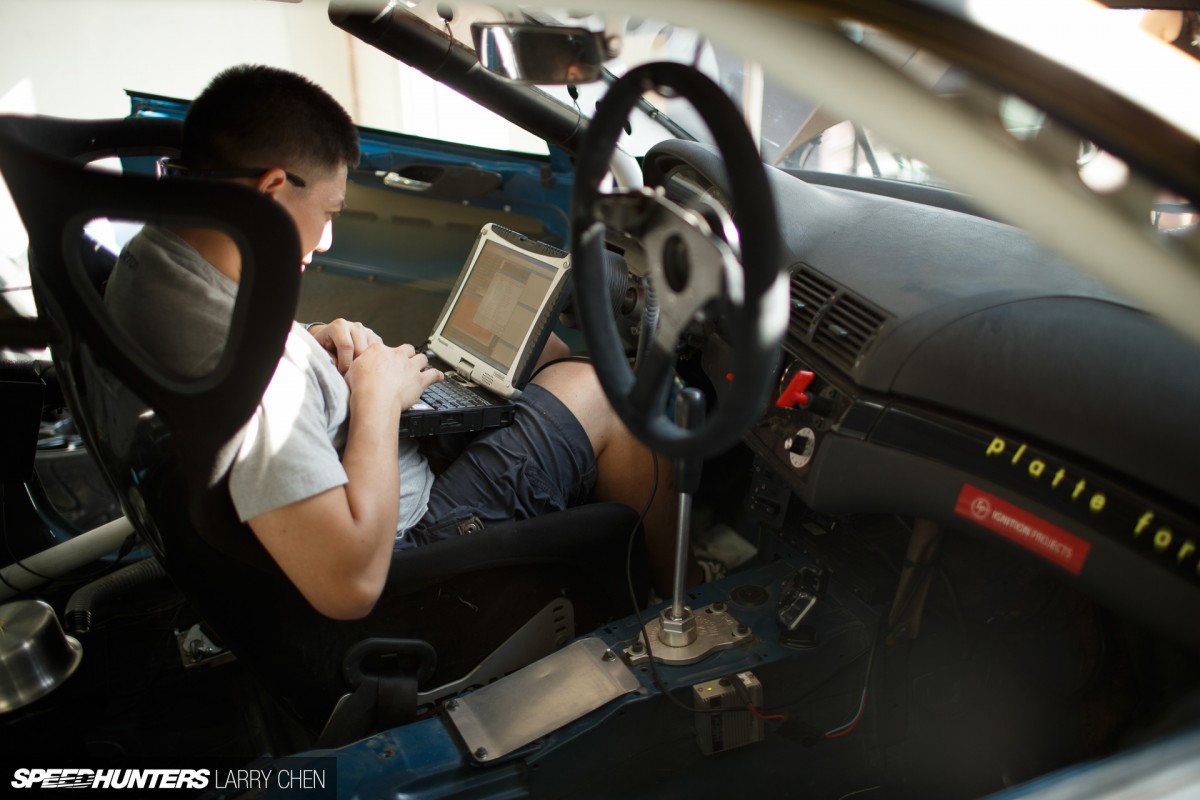 I'm on the edge of my seat just trying to keep my tiny car on course. I couldn't imagine driving such a beast on Button Willow.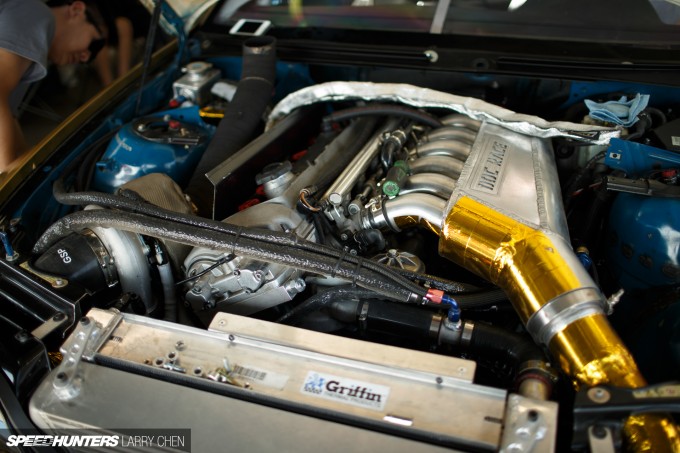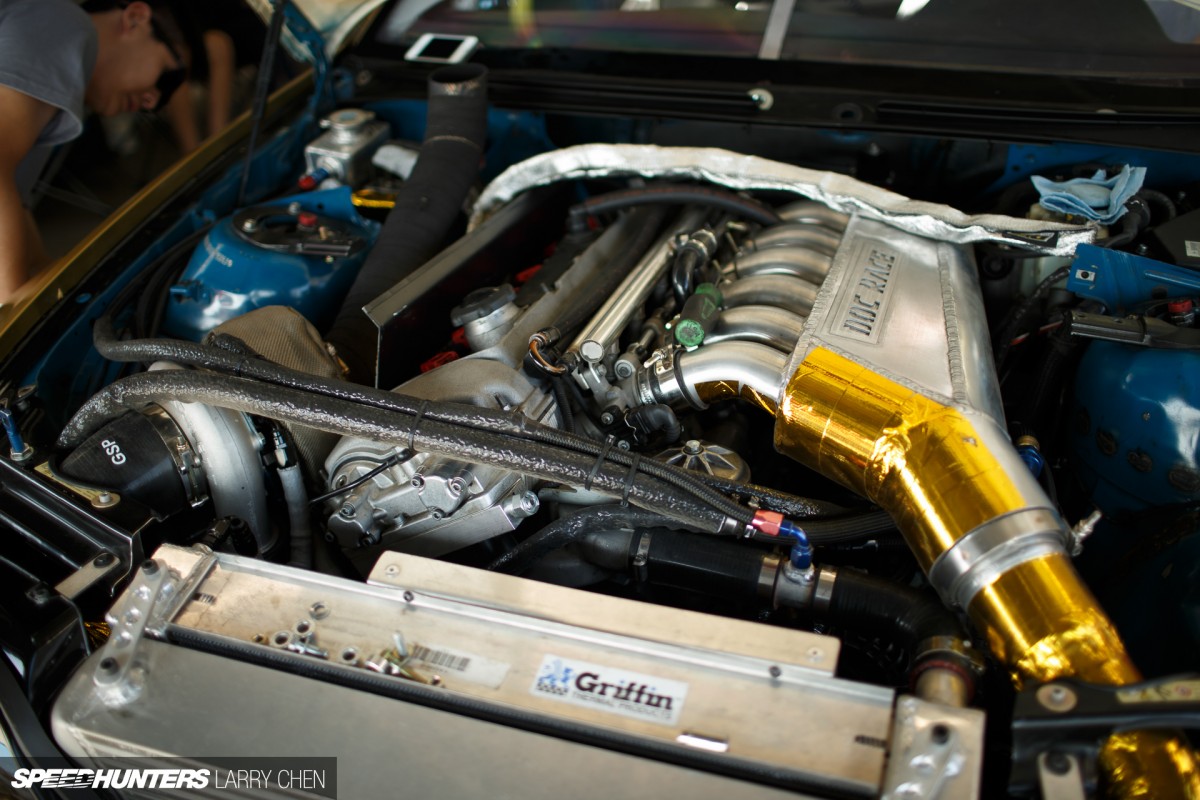 The team will be back next year with more power and they're looking to improve their time. With Tyler behind the wheel I would not be surprised if they get into the 1:46 range.
Half time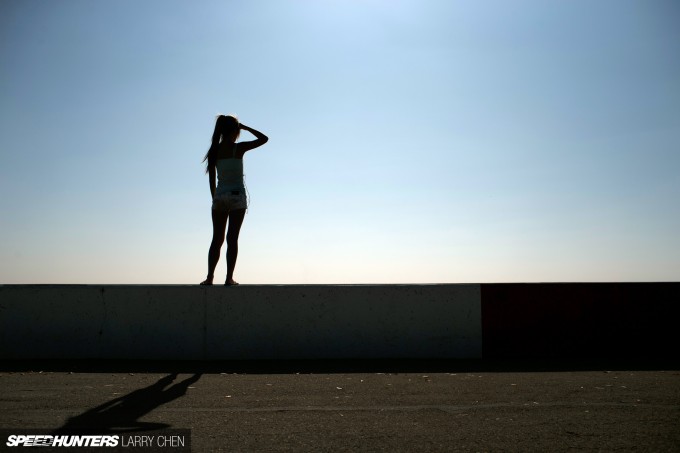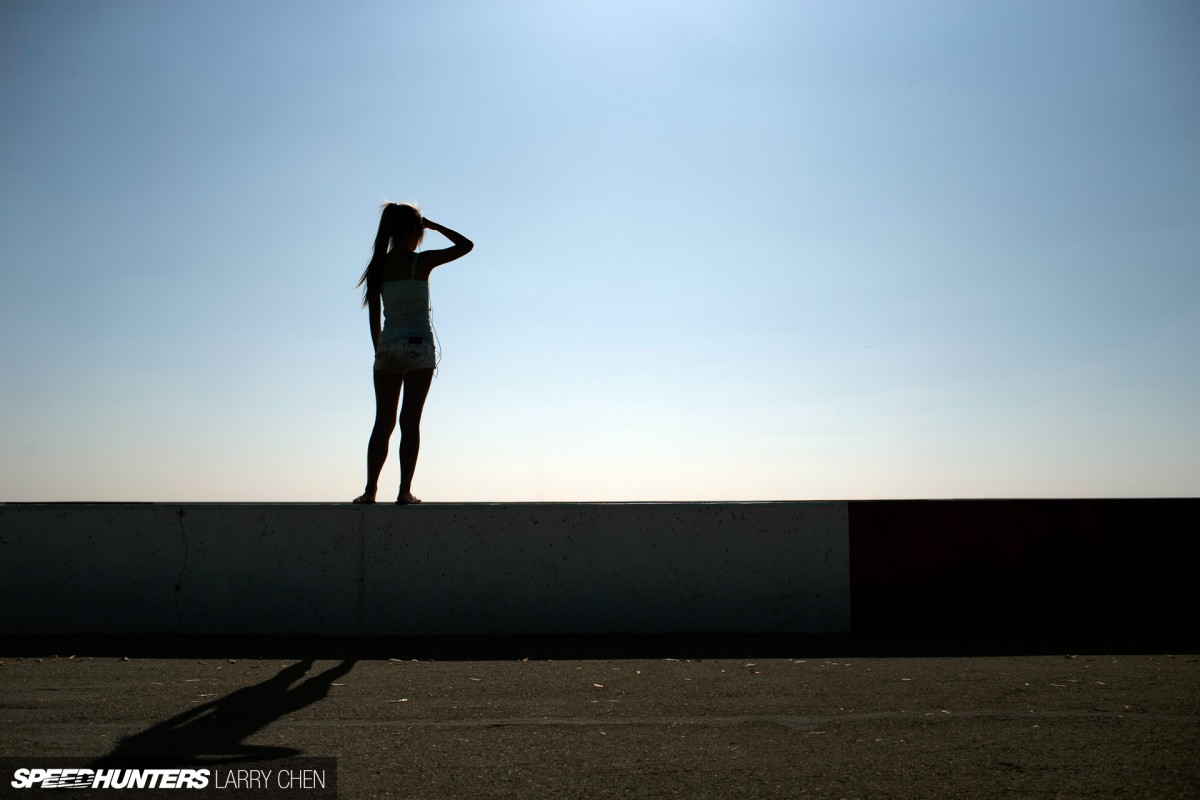 It was high noon which meant two sessions were over and it was time for a much needed lunch break.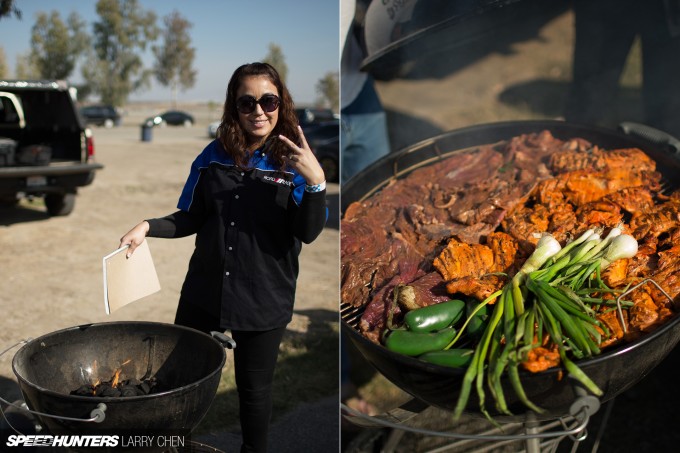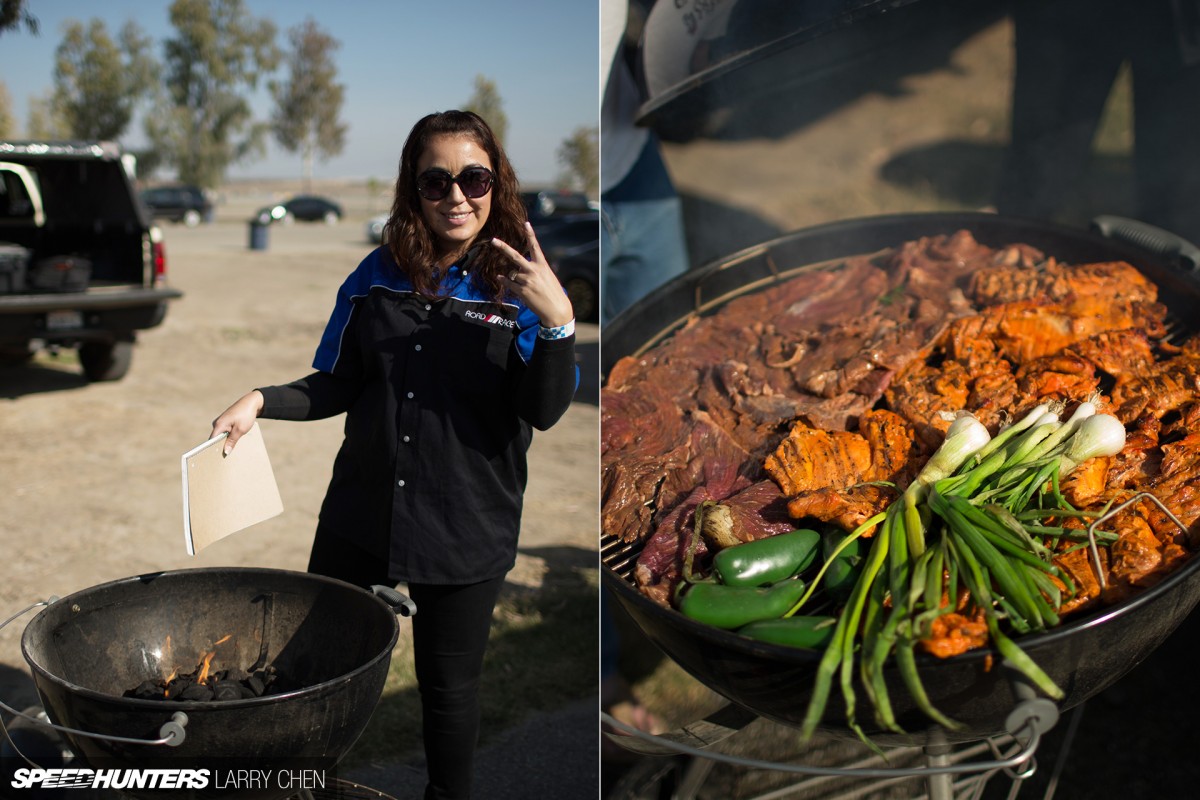 Road Race Engineering mom, Rossy Welch, took charge of our pit area and made sure everyone was fed before going back out on track.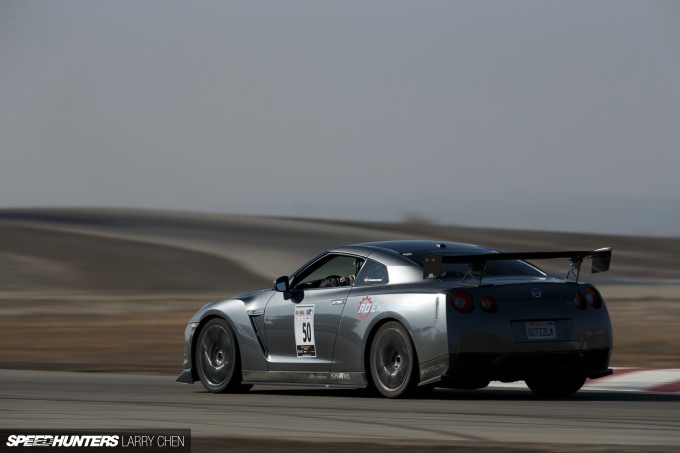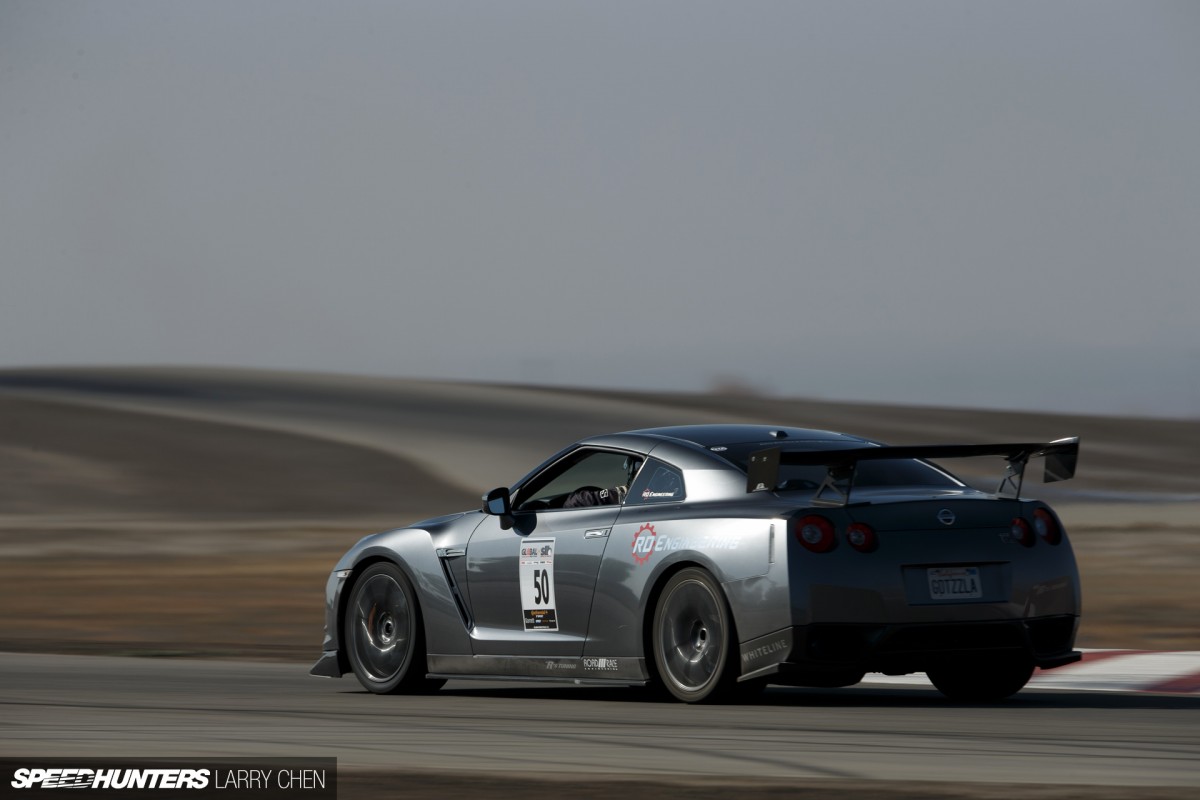 It was a little intimidating to pit next to the other guys from RRE, as they were much faster than me, but I took the opportunity to learn from them.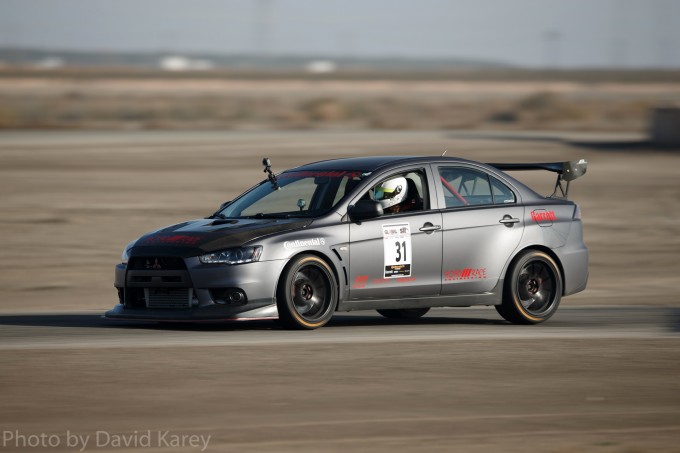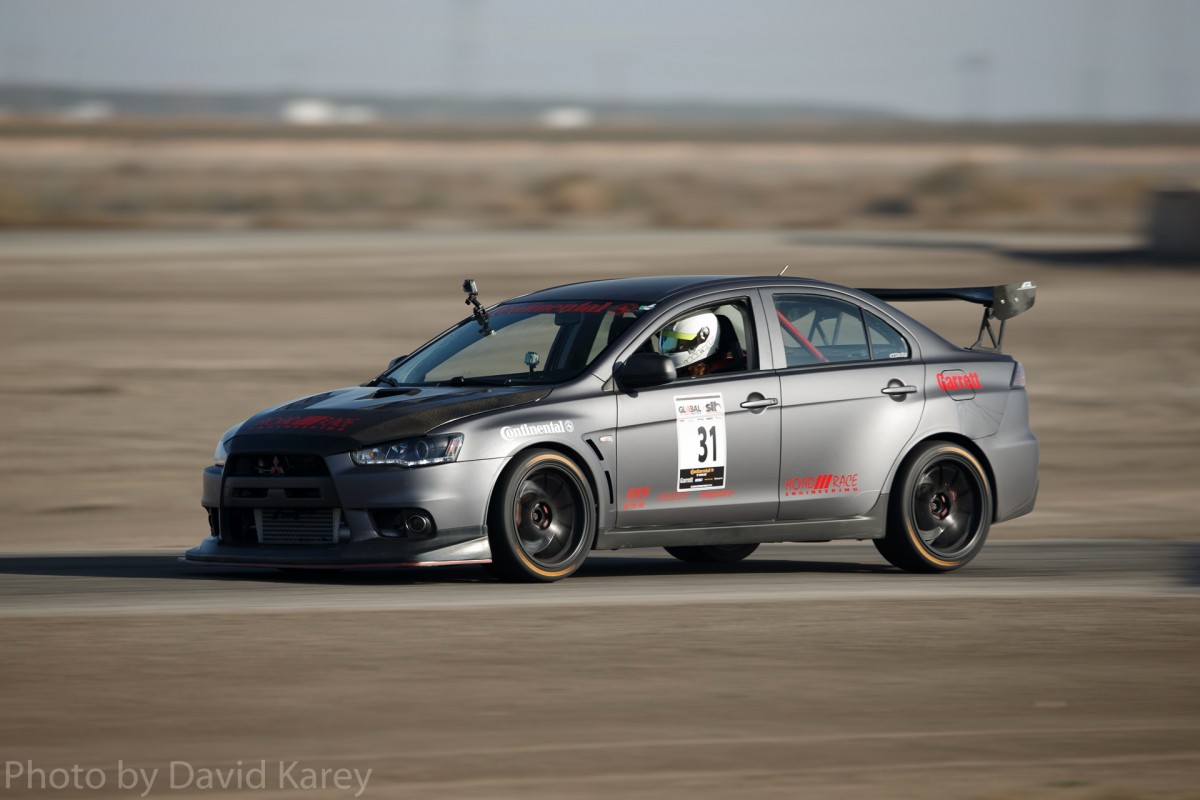 My friend Coco Zurita is a pro BMX rider for Red Bull, but he also played the role of racing driver for the weekend. He brought out his Evo X for some hot laps.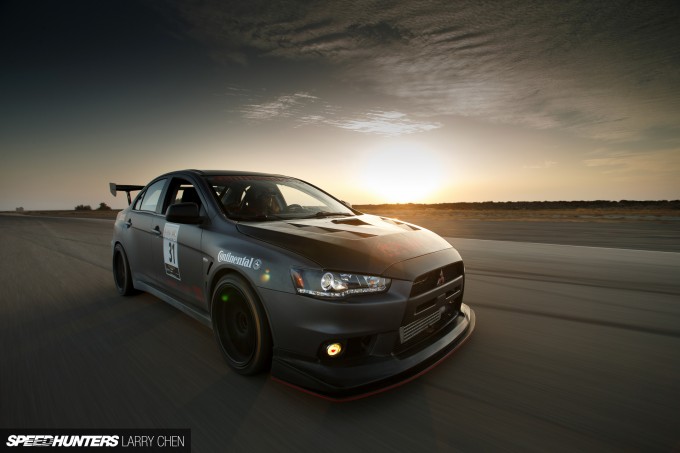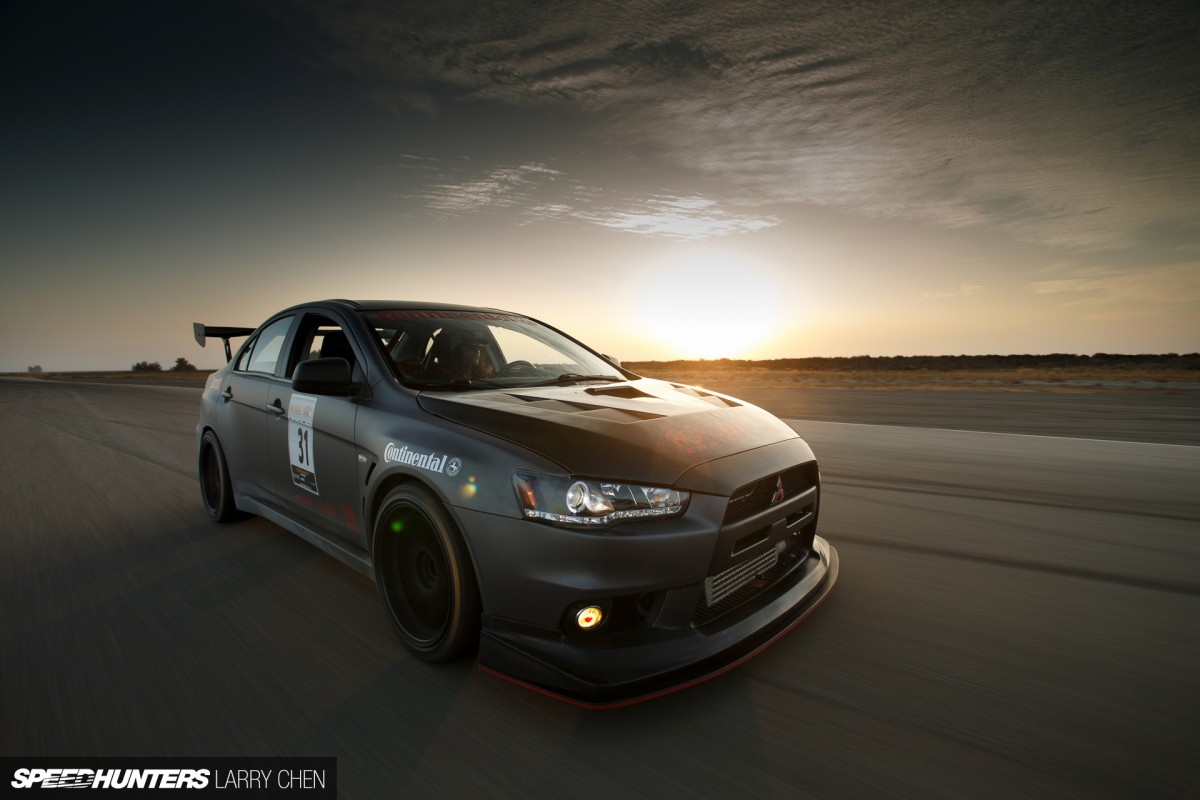 He ended up getting 2:00.492, which was not bad considering the motor was nearly stock.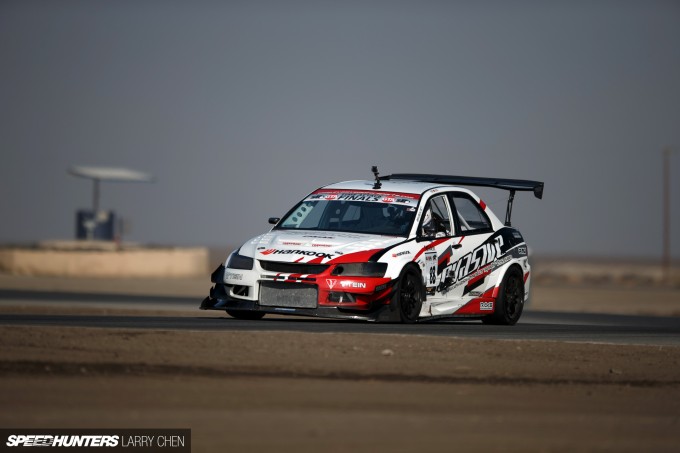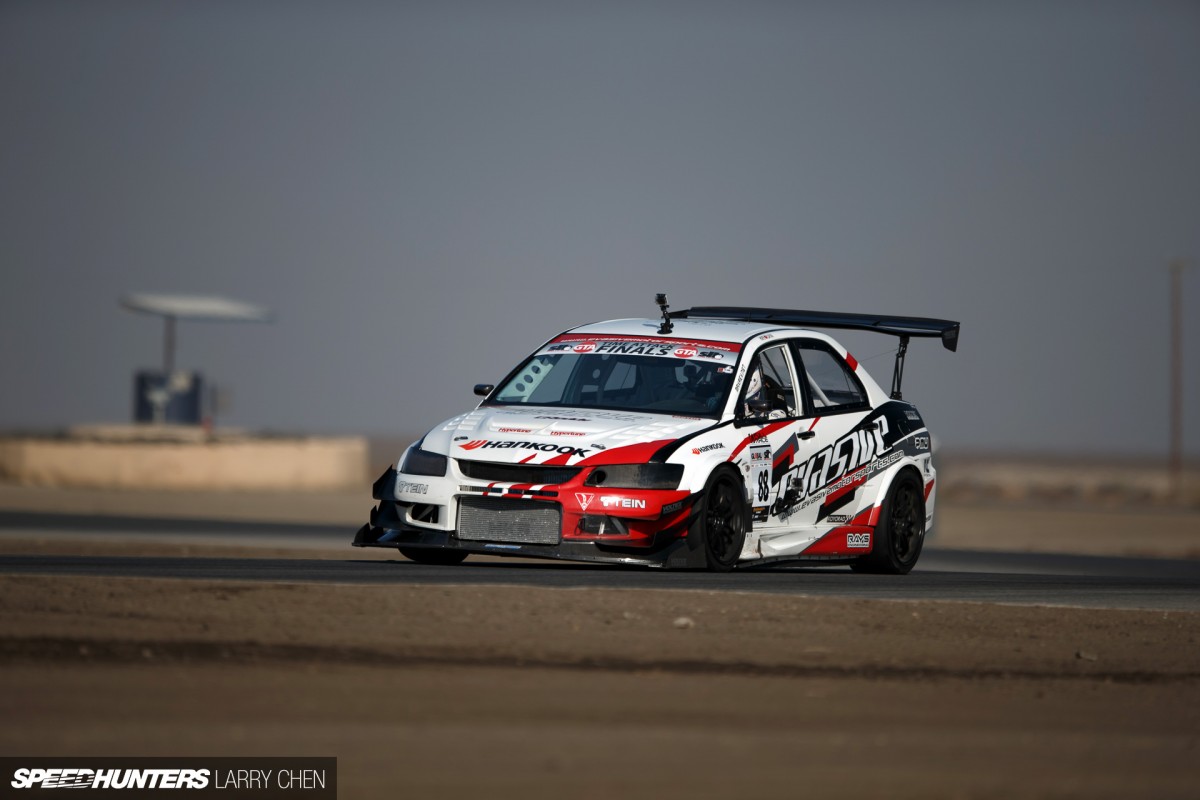 There was an absence of the real heavy hitters in the North American time attack scene, but a few notable names made a return including Michael Chang in the Evasive Motorsports Evo 9.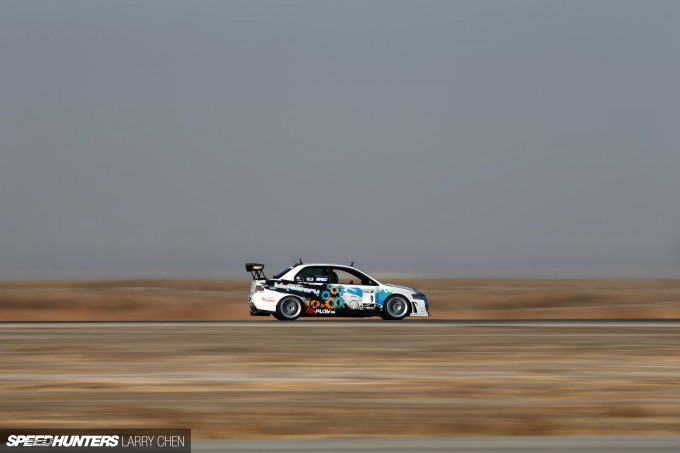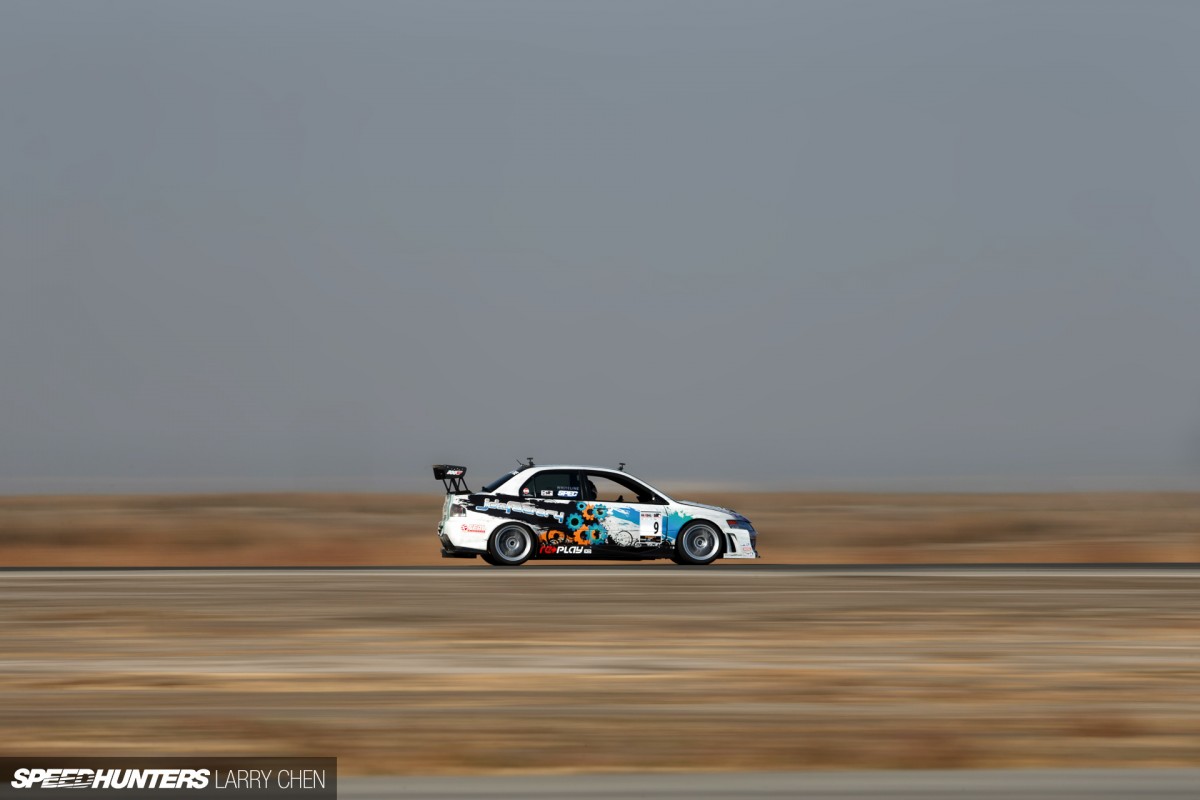 It seems like the class to be in was either limited RWD or AWD: both classes were super stacked with very talented drivers.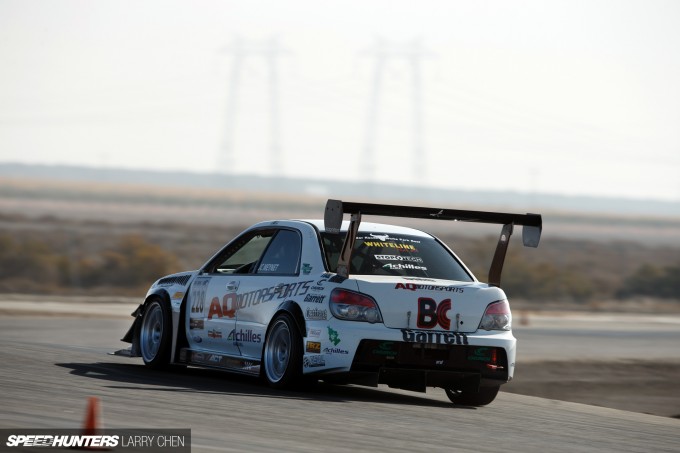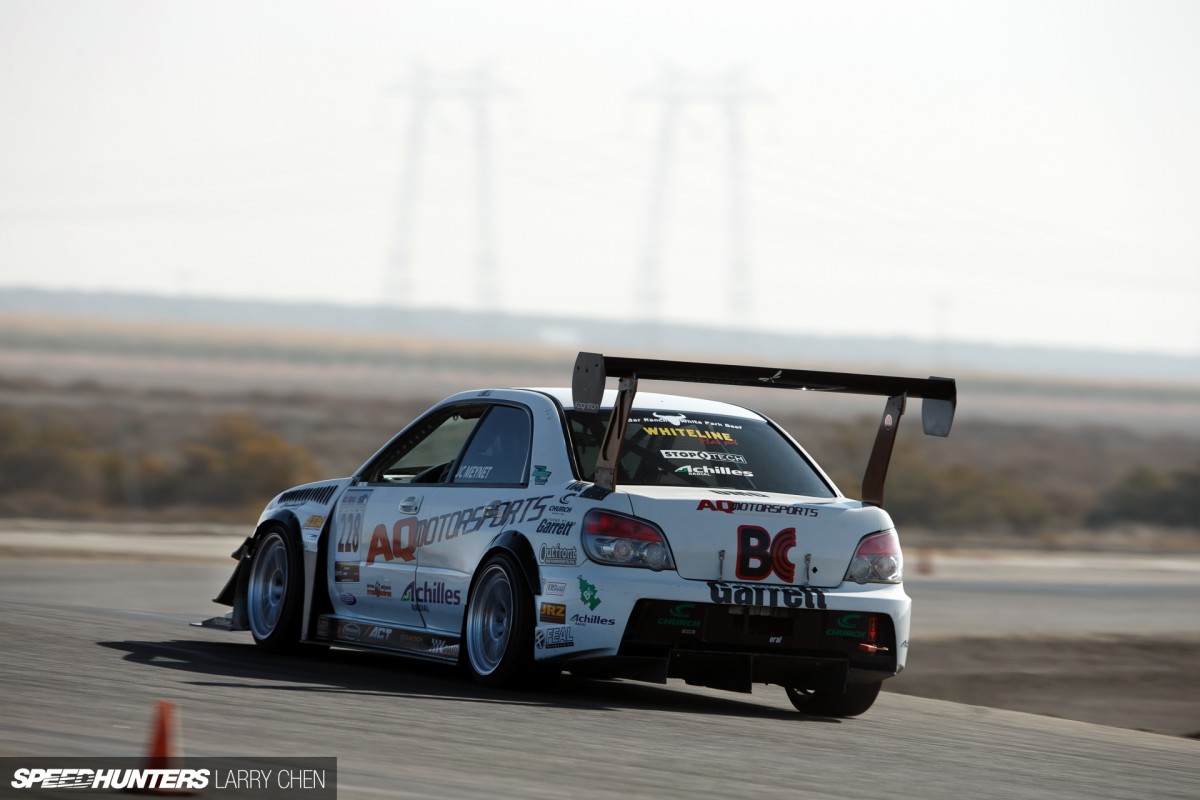 JC Meynet brought out his mean looking AQ Motorsports Subaru STI, but he was just one place shy of a podium finish.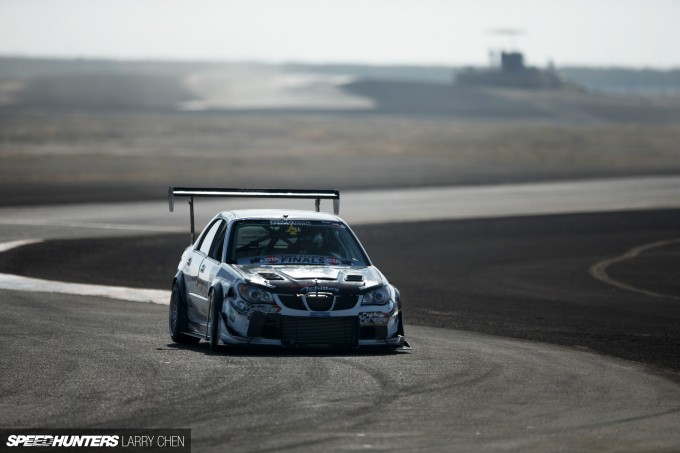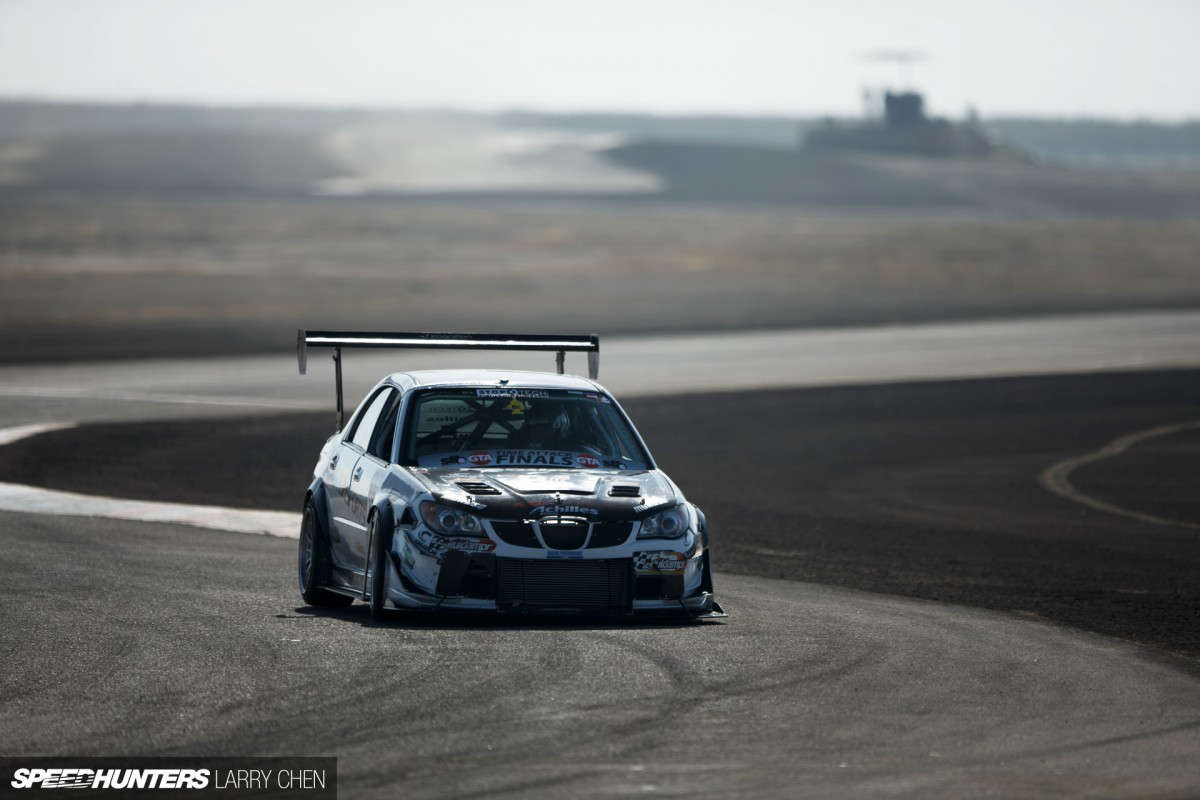 He couldn't get the time out of the car due to various mechanical issues. Although he still retains the class record with a 1:48.550.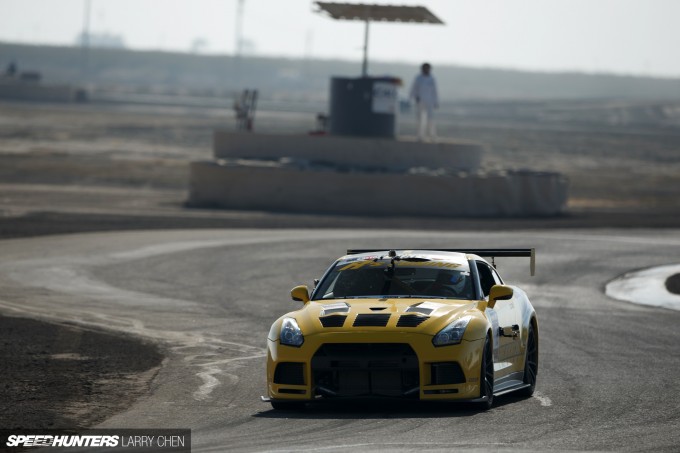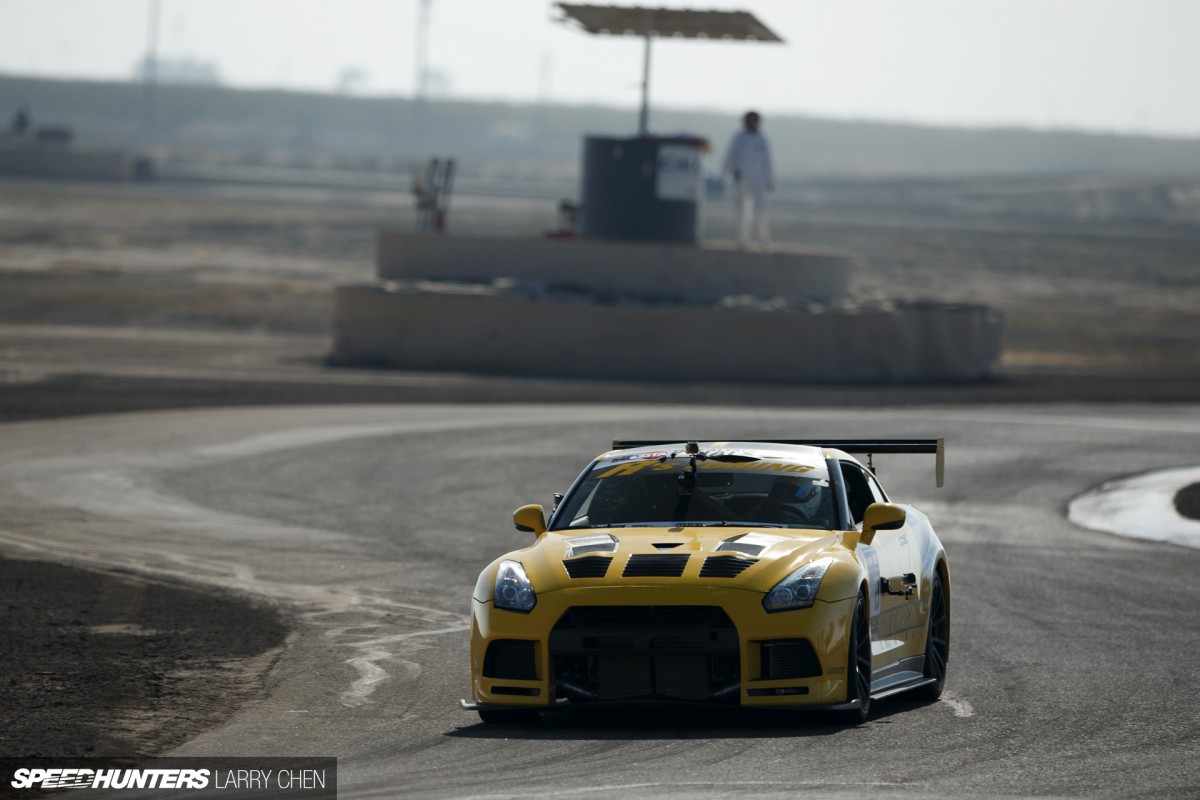 Just a few days earlier I shot this R's Tuning GT-R at the Optima Battery Challange. This time it's back with driver Ron Chang. It finished in sixth place in Limited AWD with a time of 1:54.287.
Respect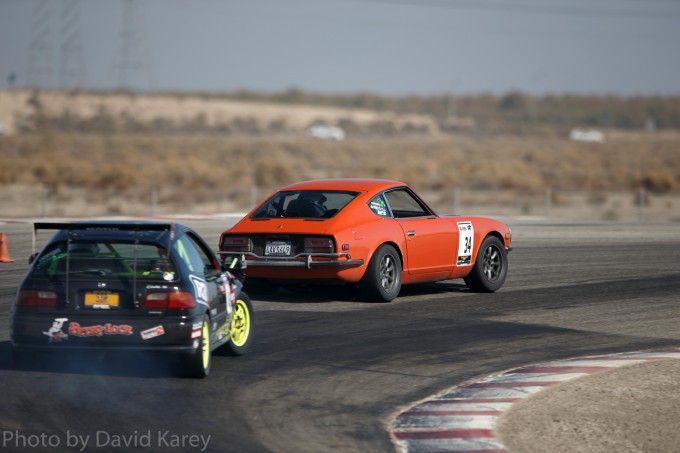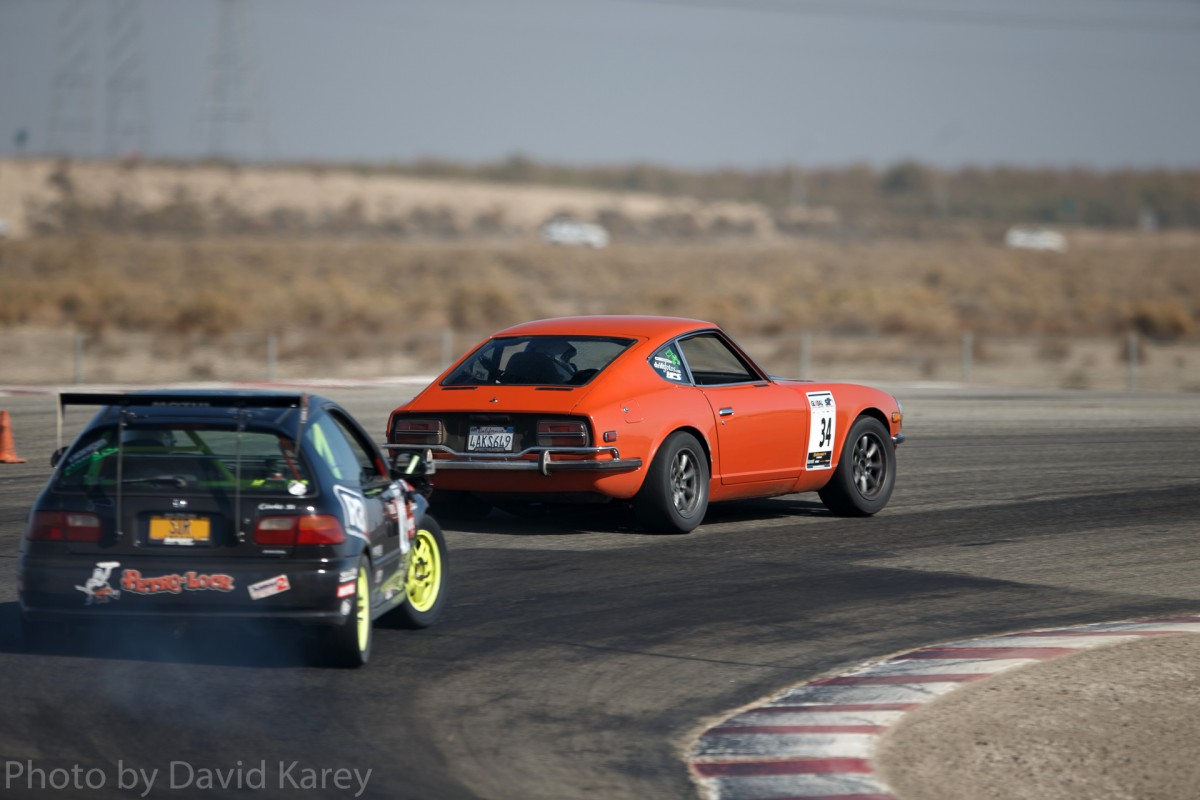 Sean Klingelhoefer told me that I would have a new found respect for the Honda Civic after driving Button Willow, because of how fast they are around track.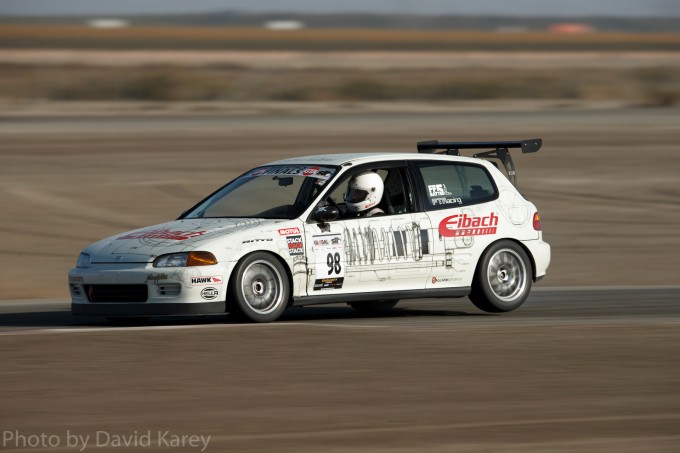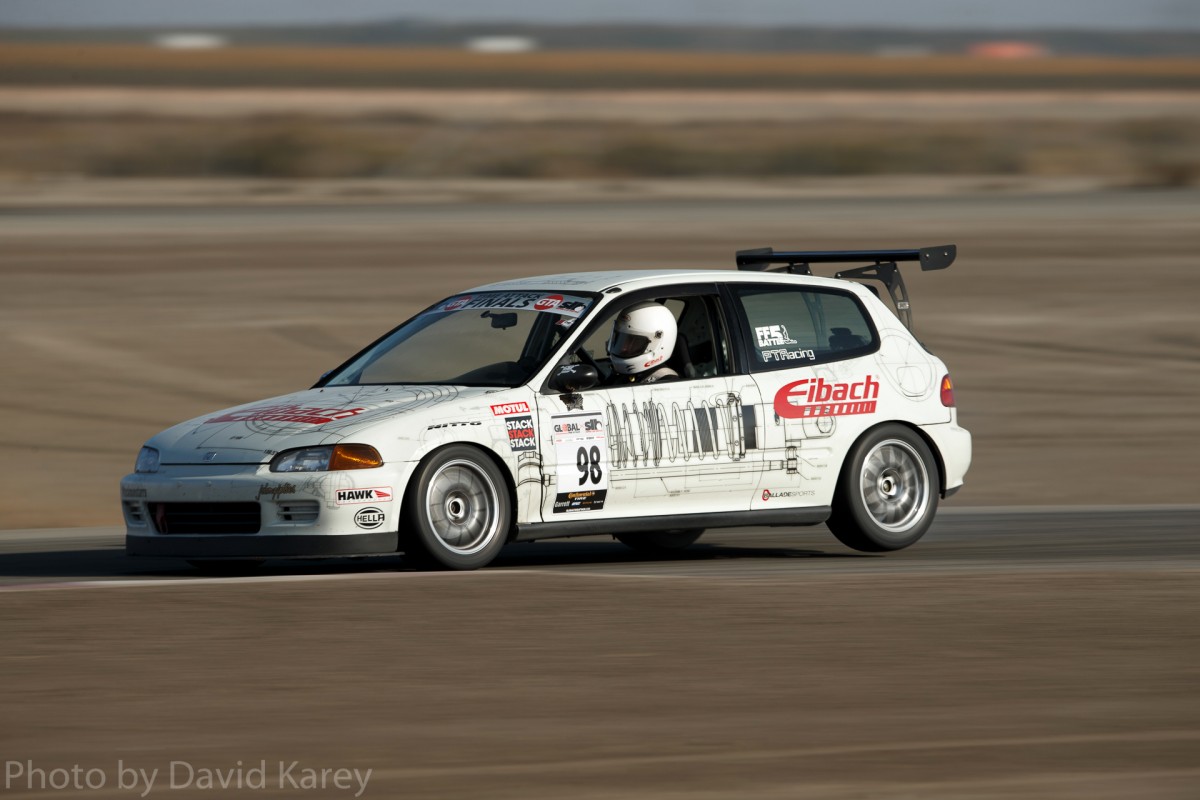 I've always known how fast they were: even back in my Solo2 days the fastest cars in my class were always '89 Civic SI coupes. They were naturally light, and they handled like they were on rails.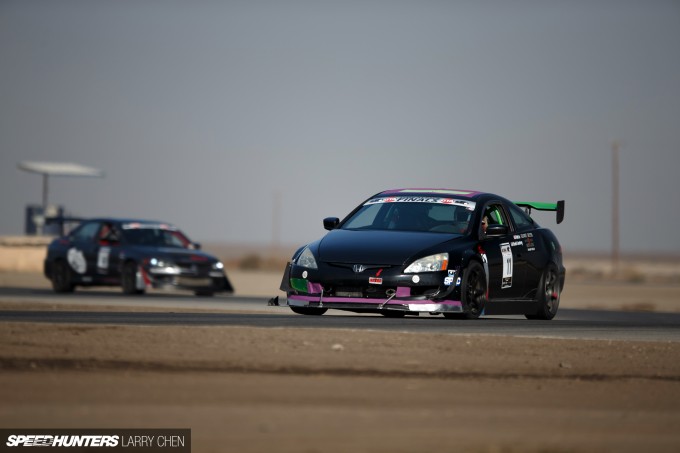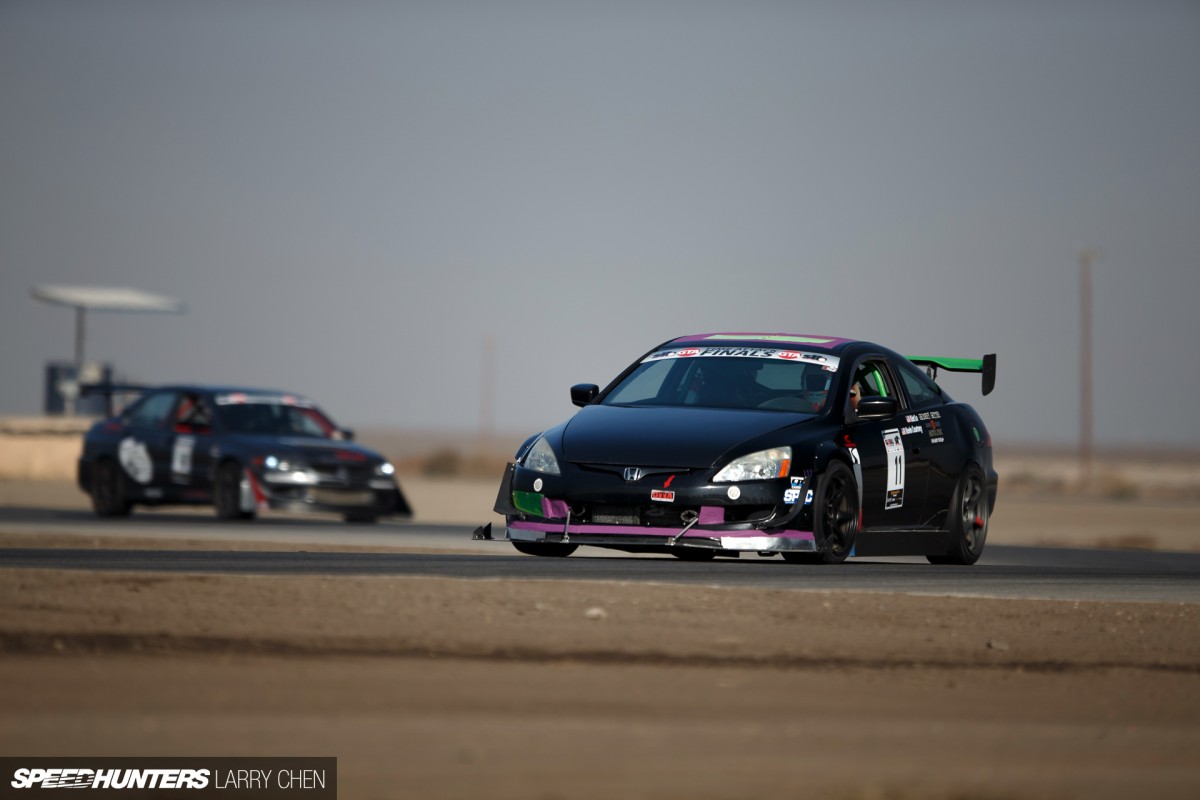 Button Willow is very high speed, but it's a great equalizer, because you have to drive with commitment.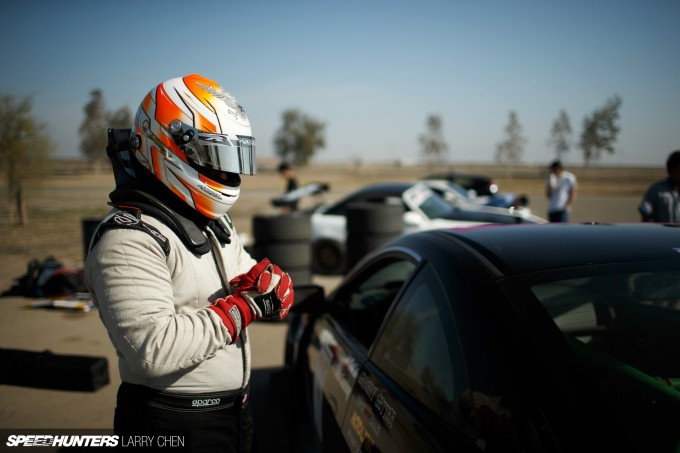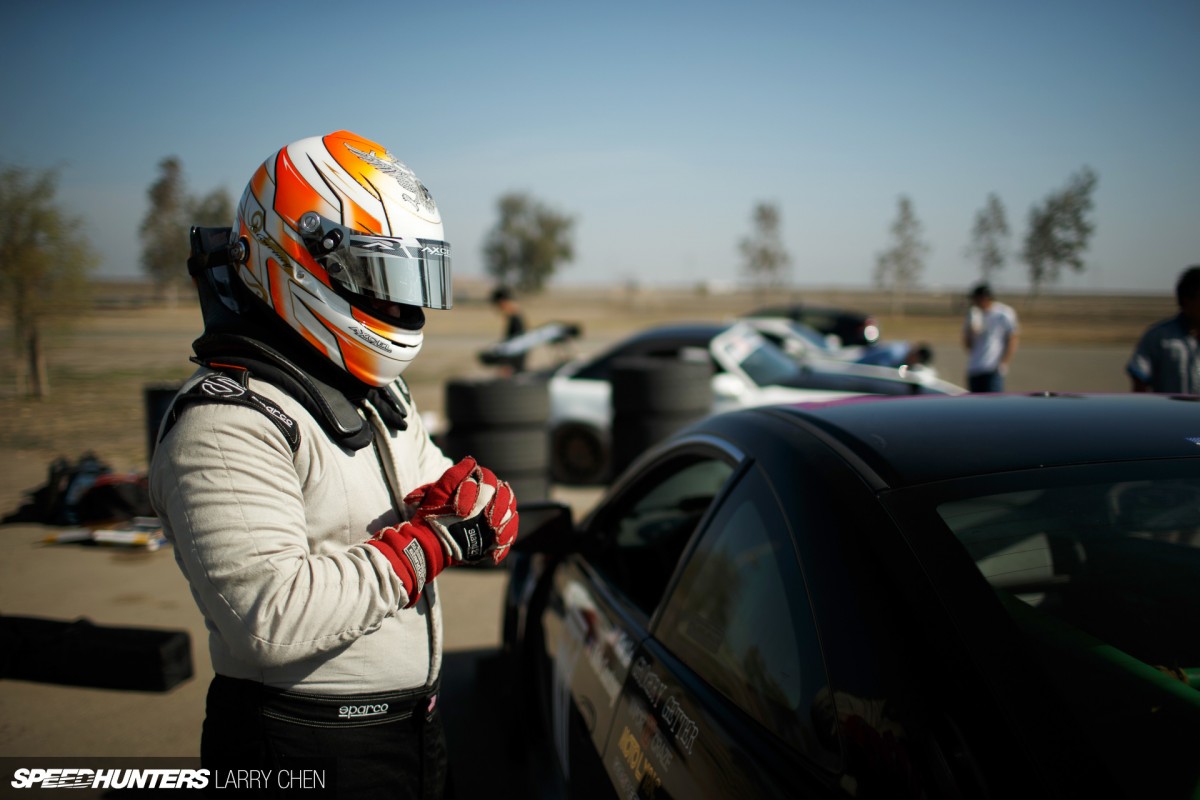 It's crazy to me that this Honda Accord driven by Kevin Courtney can net a time under two minutes.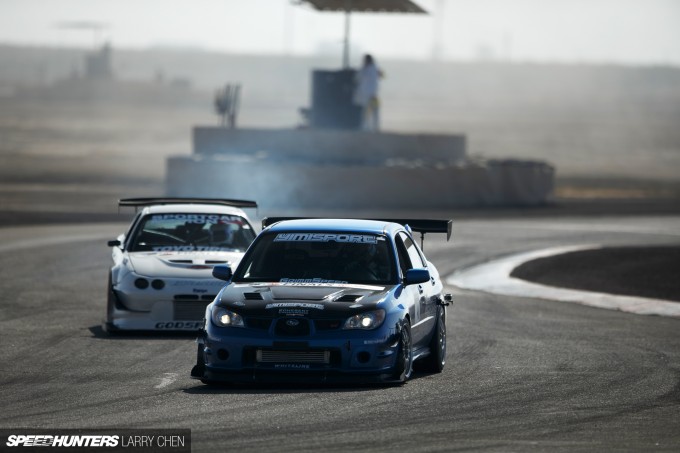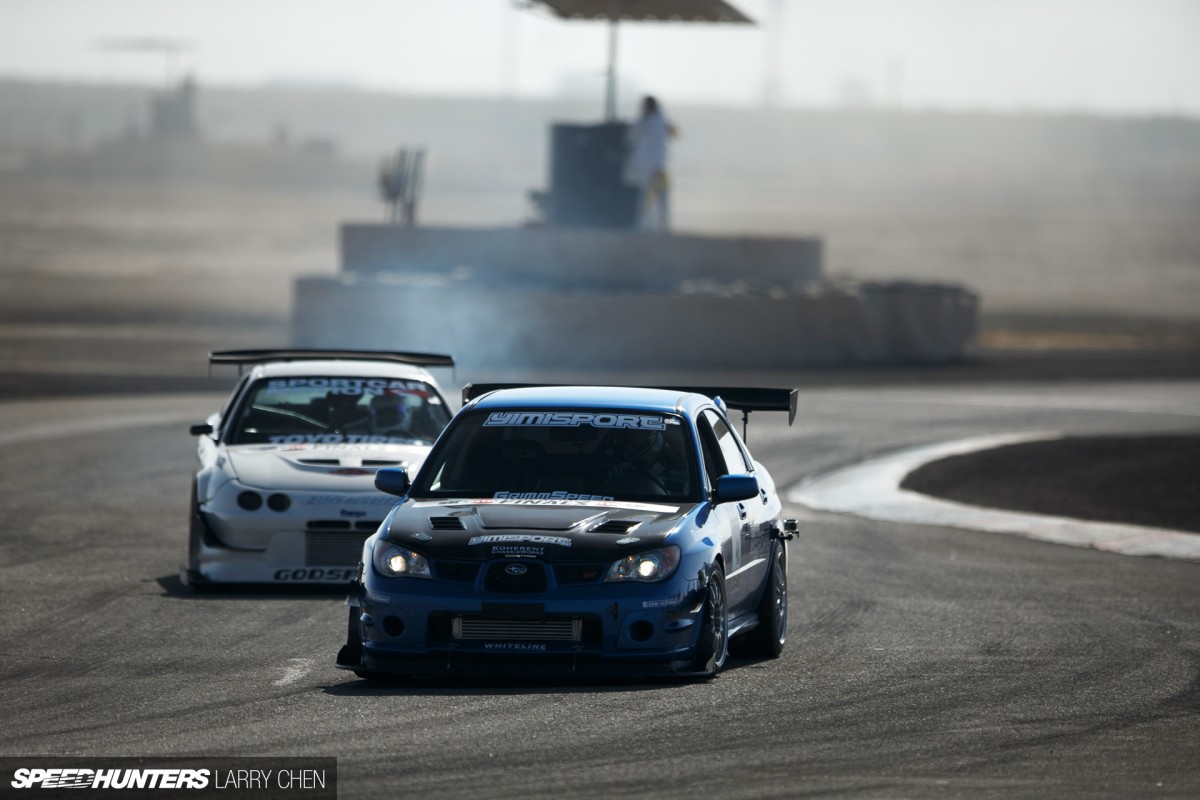 It doesn't matter if you have a FWD, RWD or AWD, as Tyler McQuarrie says: if your car is fast at Button Willow, it will be fast everywhere else.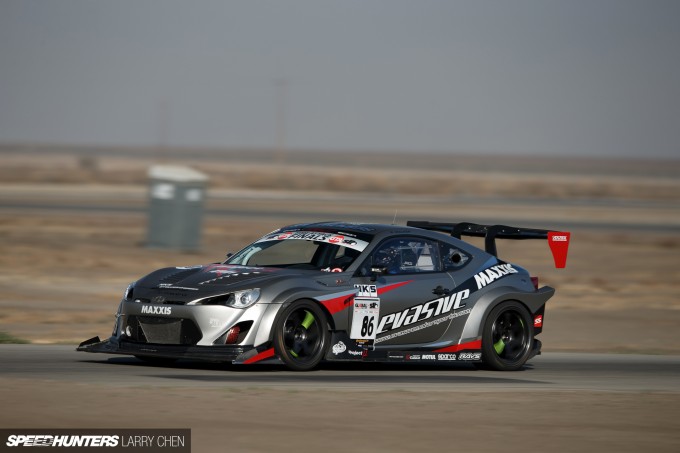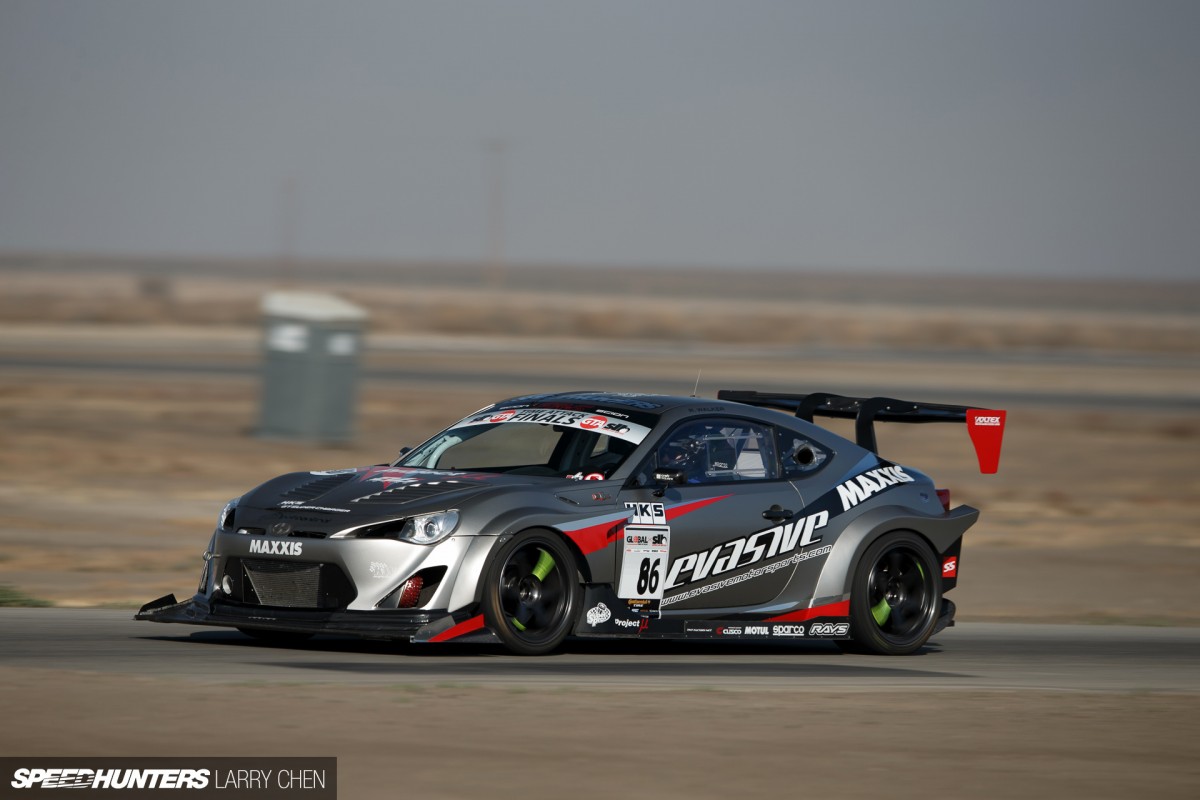 Just a week prior, the Evasive Motorsports Scion FR-S was at the SuperPro booth at SEMA. The last time I saw it on track was when it drove at the Pikes Peak International Hill climb.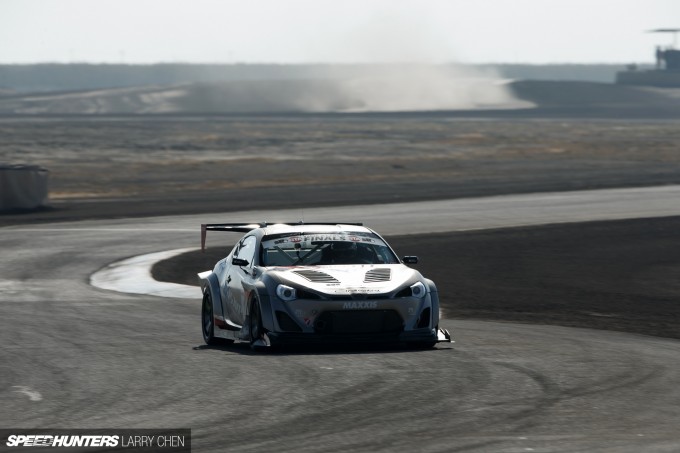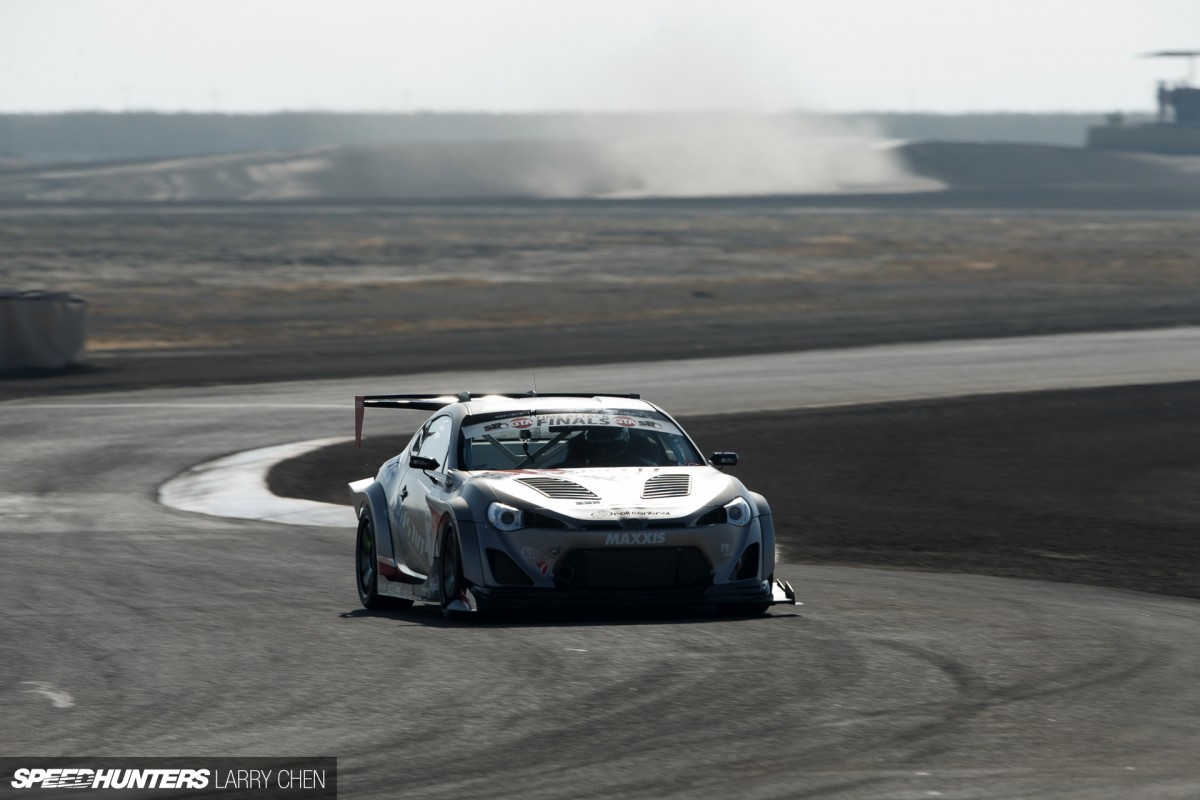 I was really looking forward to seeing what time it would pull, but unfortunately the Turbo FA20 gave way during practice.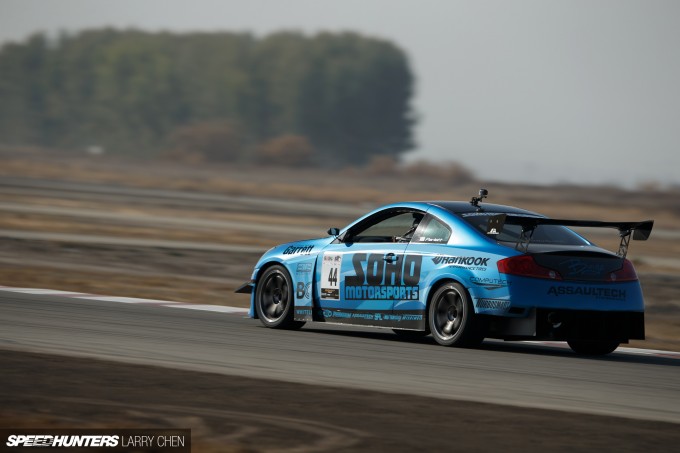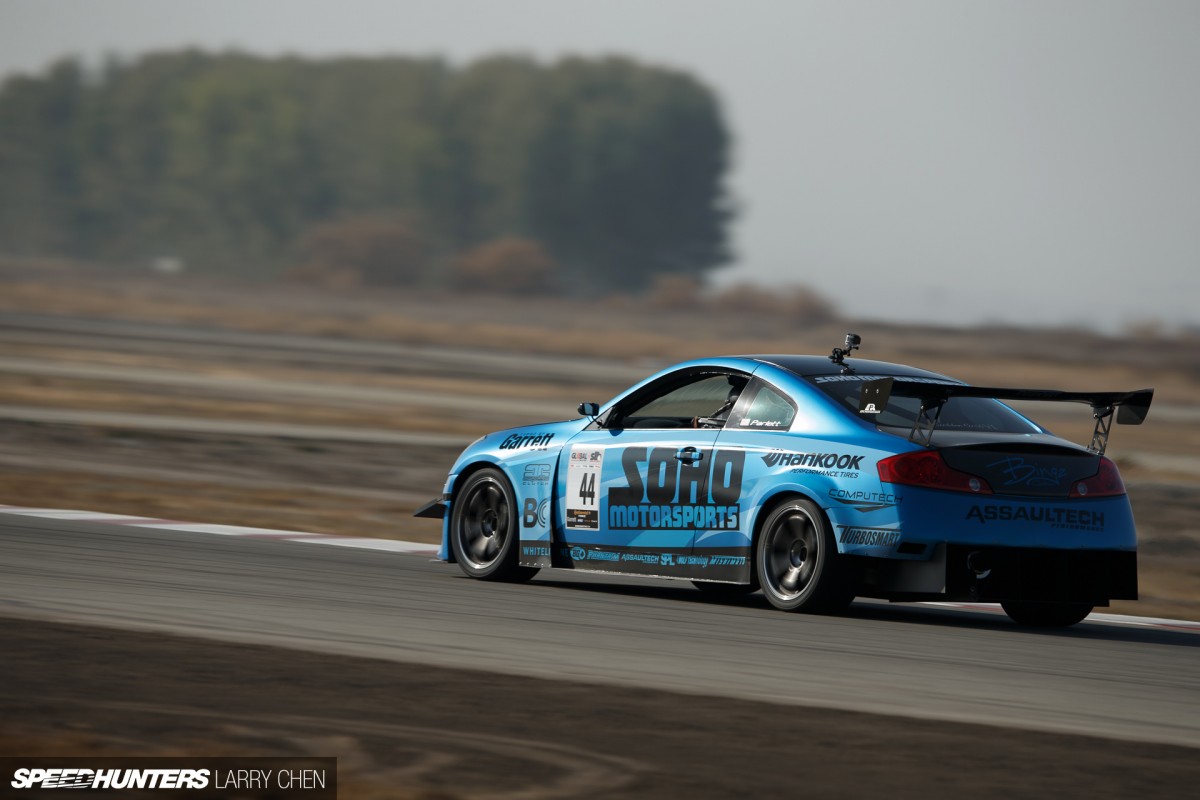 The guys from SOHO Motorsports came all the way over from Charlotte, NC just to compete in GTA. Things were looking great until they had some contact with another driver on course. After some precision hammer work the aero was fixed and they were back on track.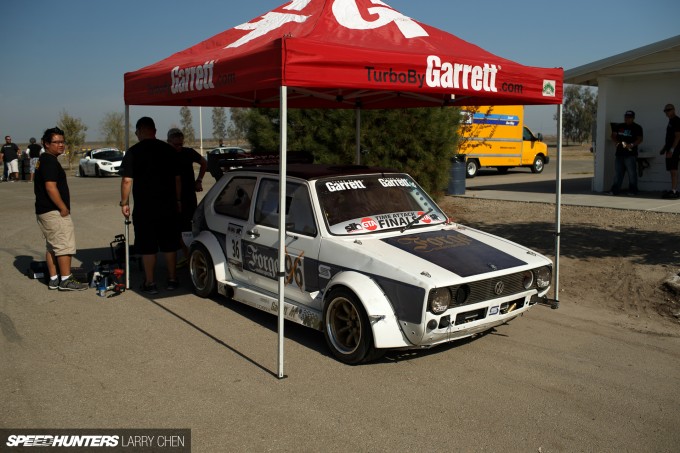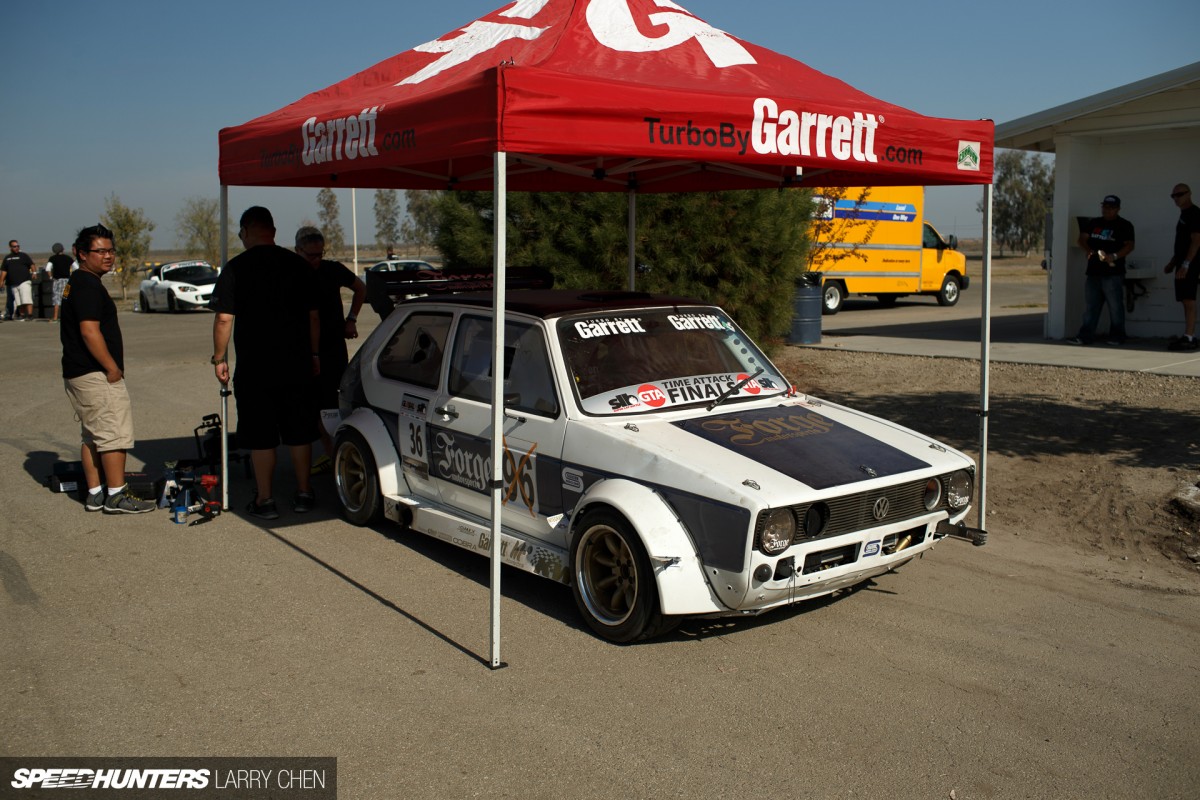 The Forge Motorsport team was the furthest away from home, coming all the way from the UK. I was really looking forward to seeing what this Golf could run, but it had a very bad off in the first practice session.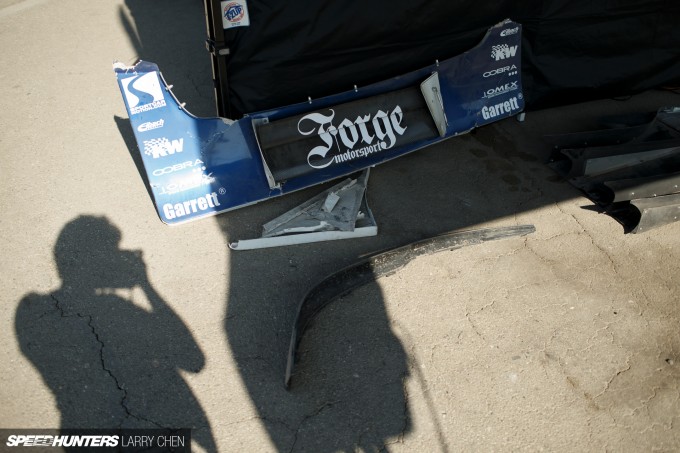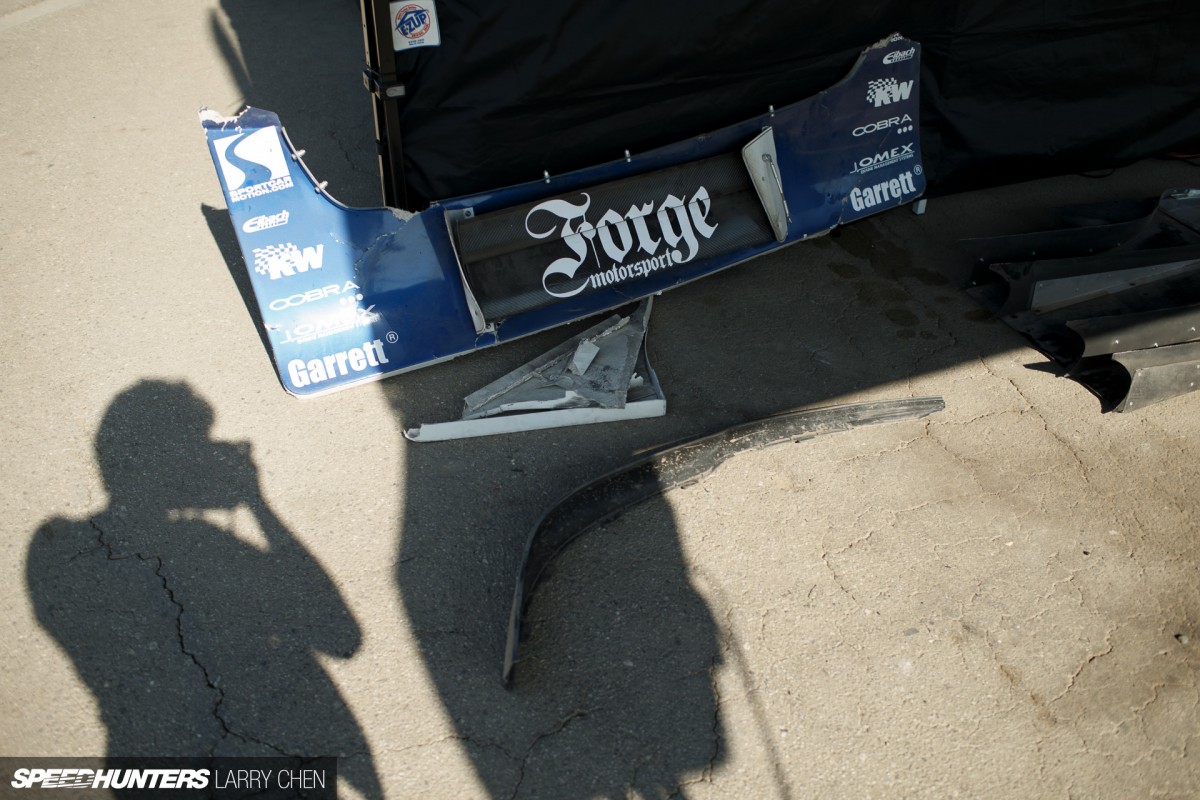 In fact I was following right behind them when they went off. At least all they lost was the front splitter.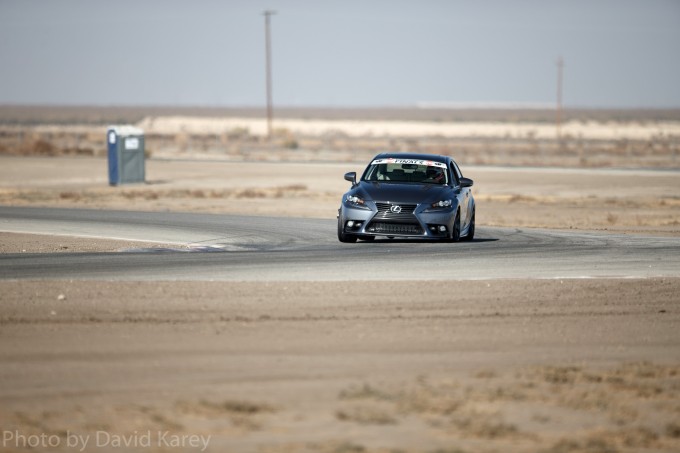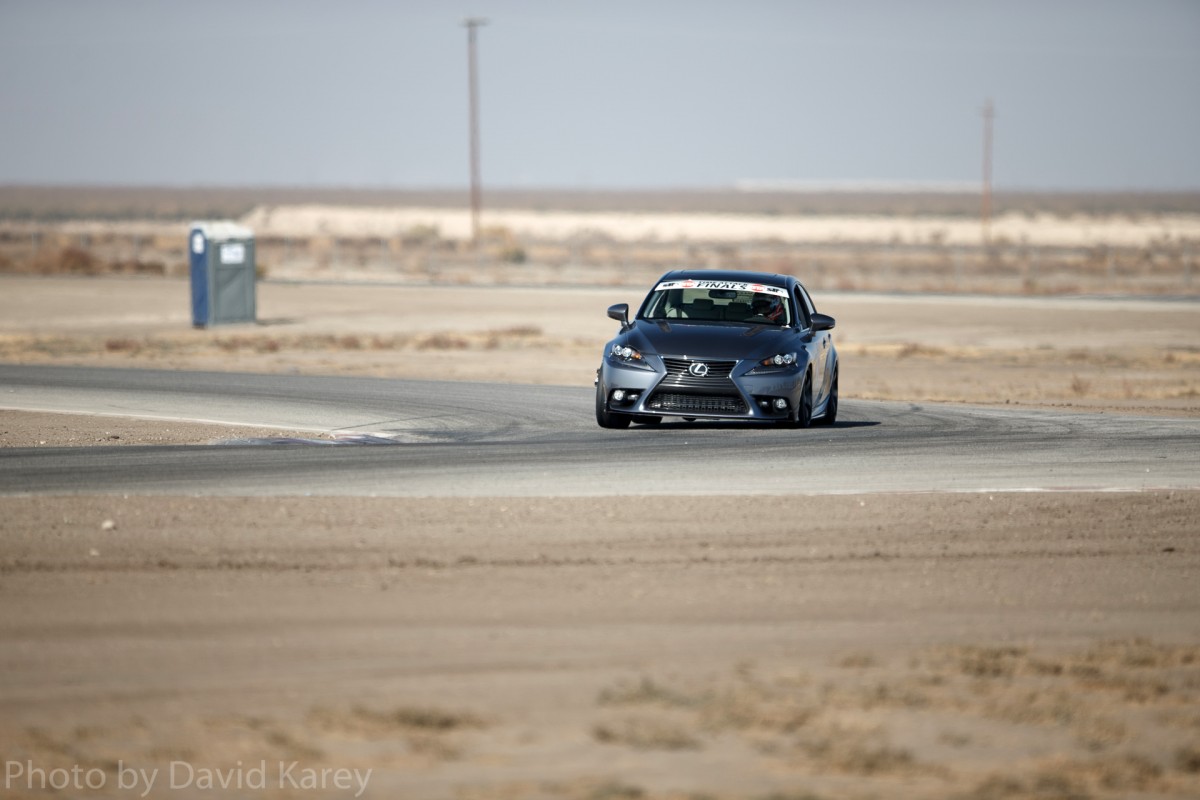 Formula Drift Champion Daijiro Yoshihara was also out shaking down this Lexus IS powered by a Brian Crower 3.4 liter 2JZ stroker motor.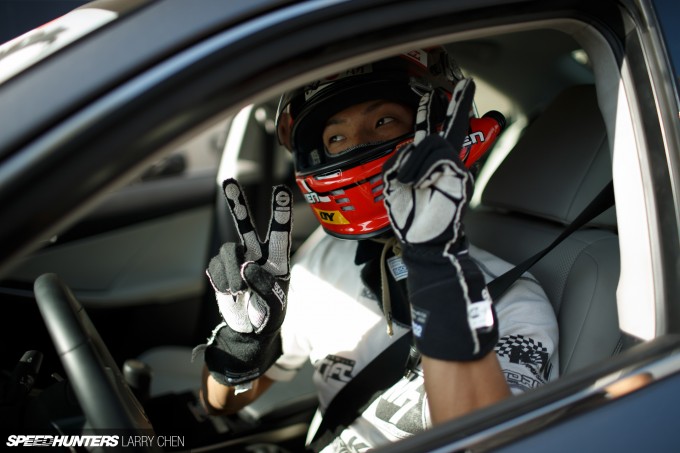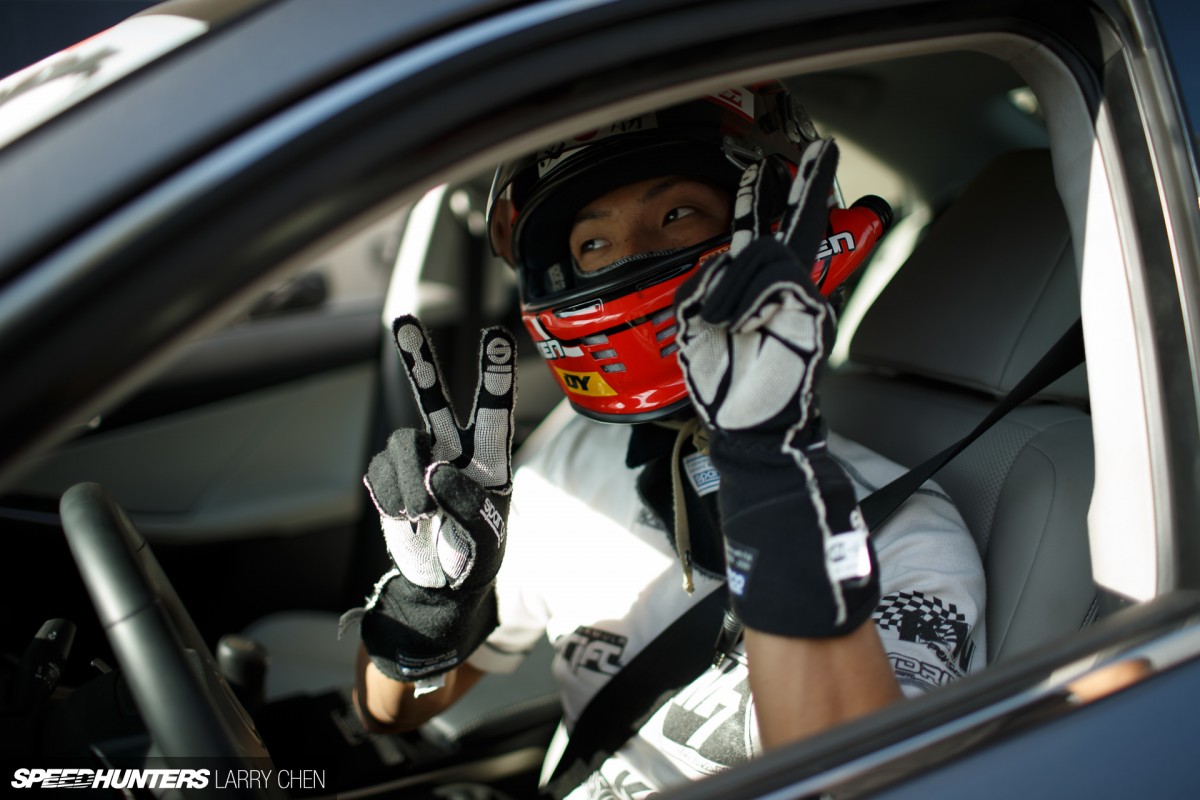 I asked if I could follow Dai to show me the line since it was my first time, but he was very unsure about the car since they were just testing.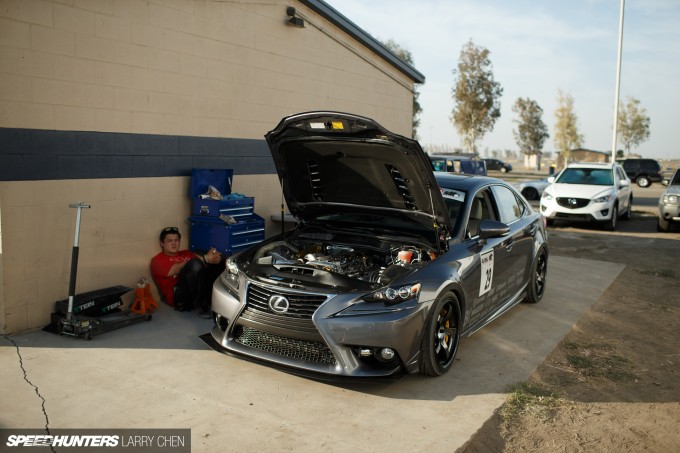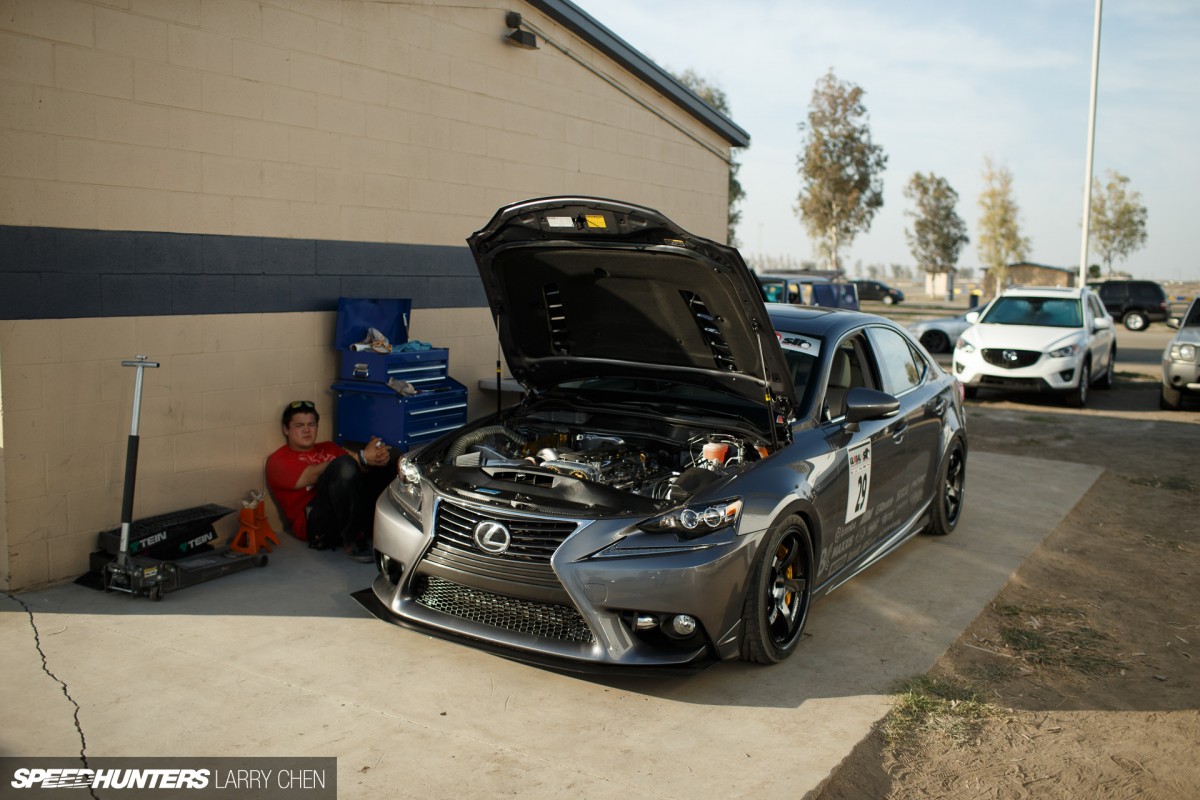 He was actually planning on competing in street class, but since he's a professional driver they bumped him up into Limited class even though he was running street tires.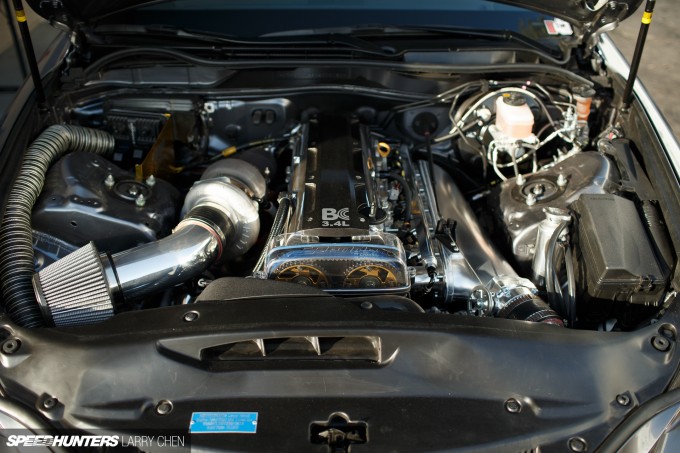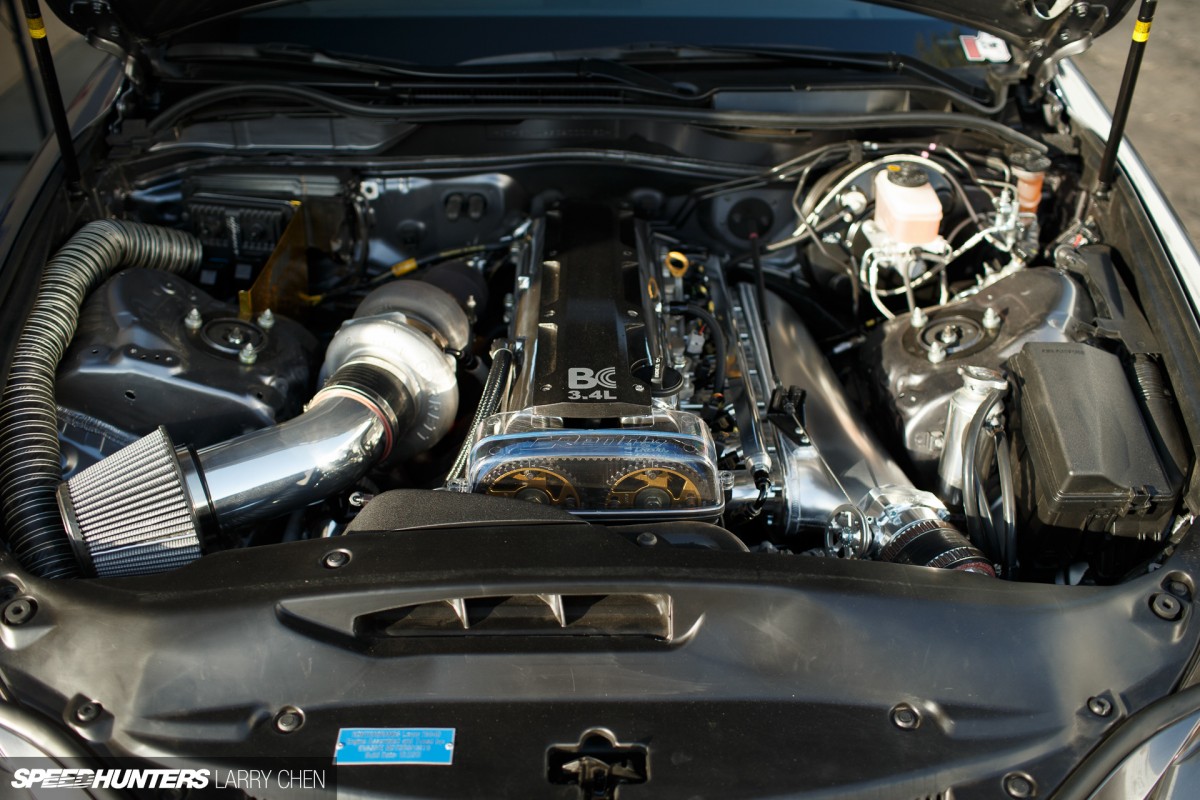 The engine bay looked so clean, and the motor looked at home in the large luxury sedan.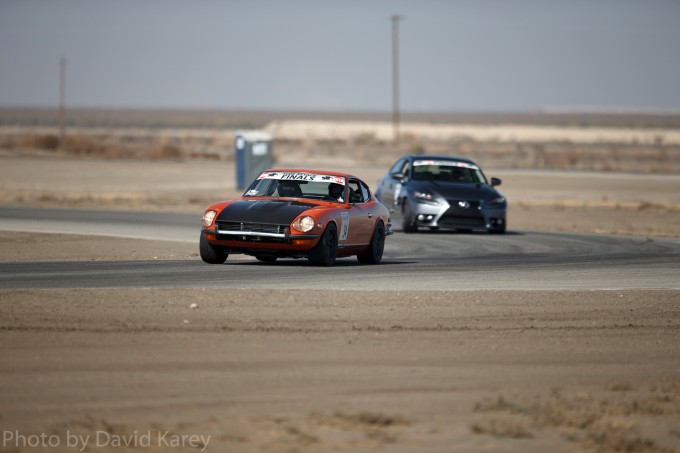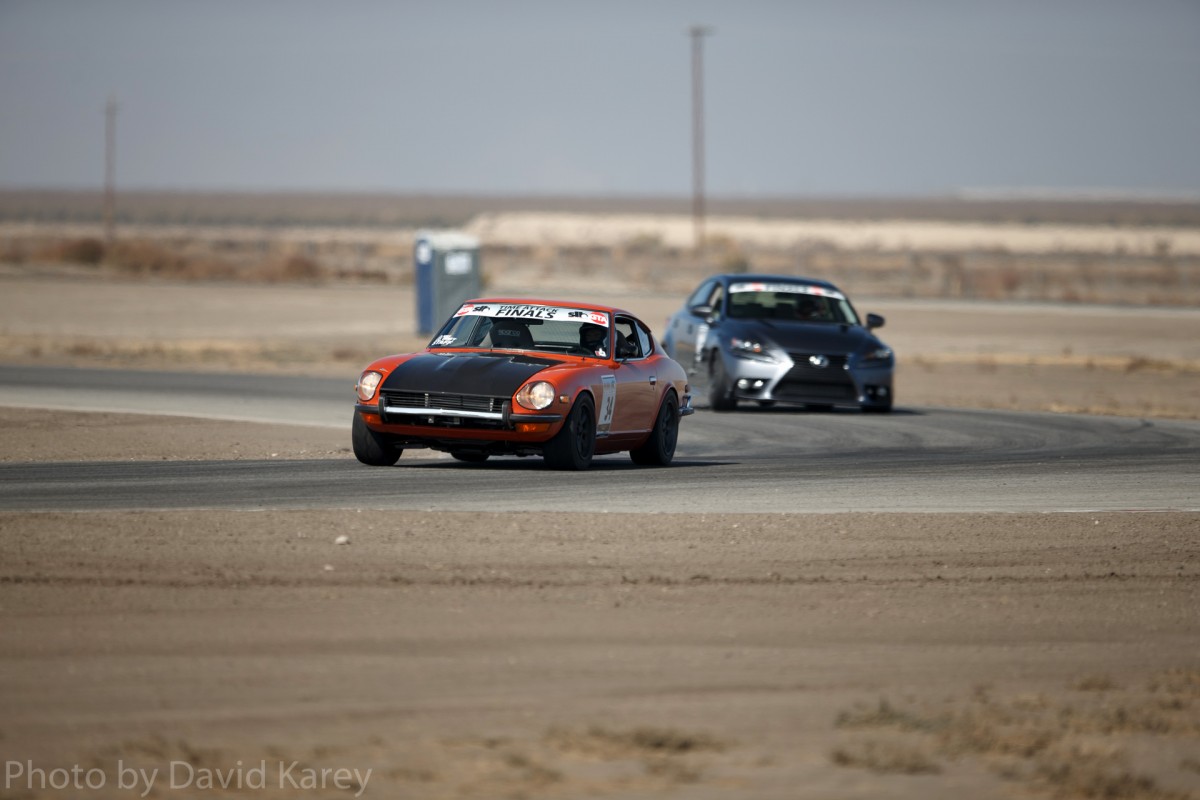 By the end of the day I was getting the hang of the track. The car ran amazing, with plenty of power on the straightaways. However, the major flaw with the car really showed after trying to do more than one hot lap.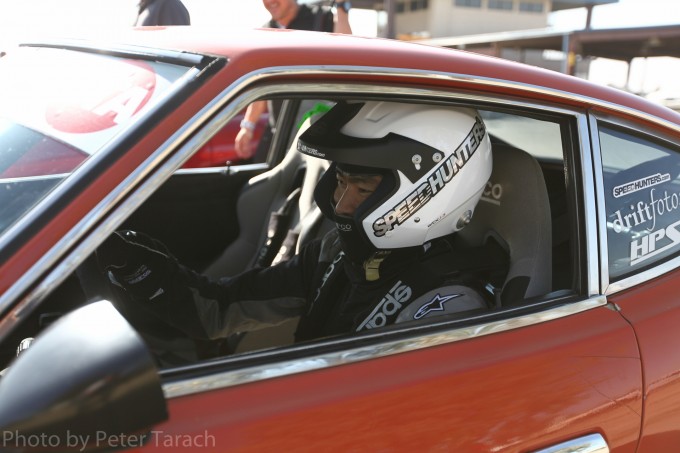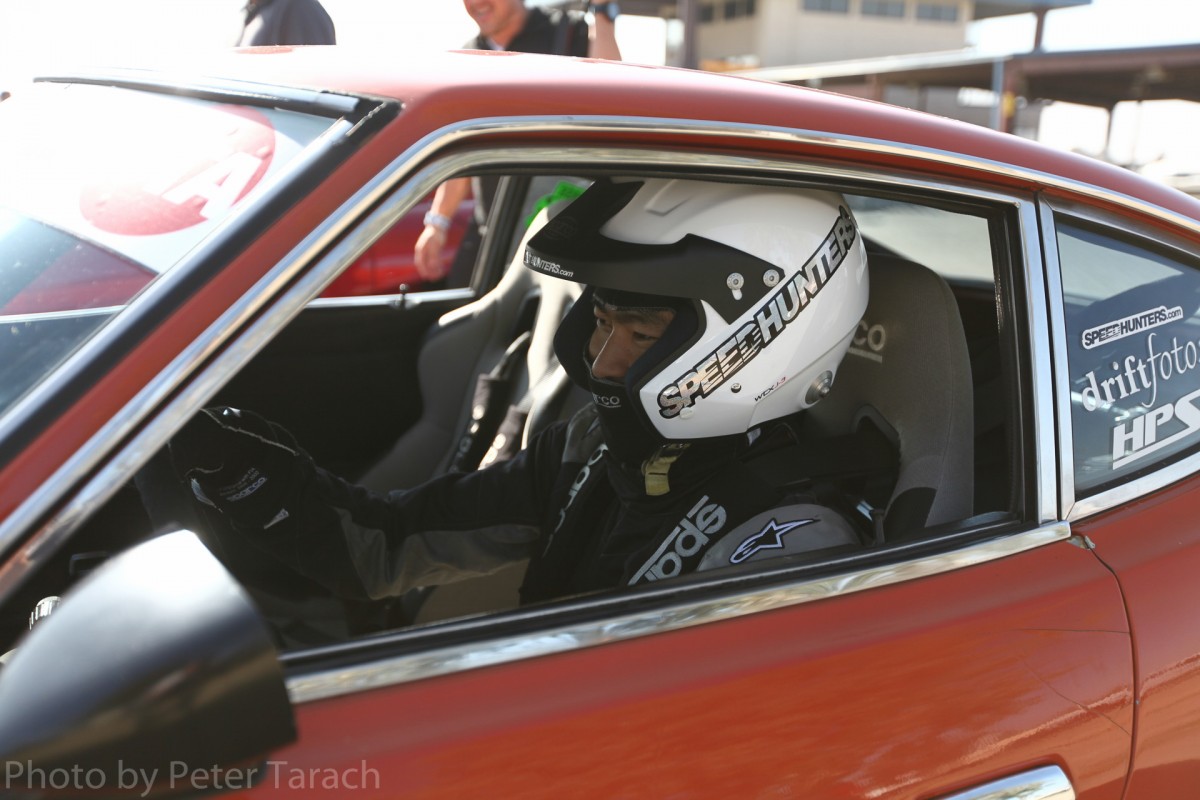 Because I had the stock braking system it would fade terribly even before I could finish one hot lap. By the last corner I would have to smash my pedal as hard as I could, just to get the car to stop. I've never run into this problem before because for one I've never had this much power and on top of that I usually use Ole Orange Bang for auto-x, which of course does not even let the brakes get warm.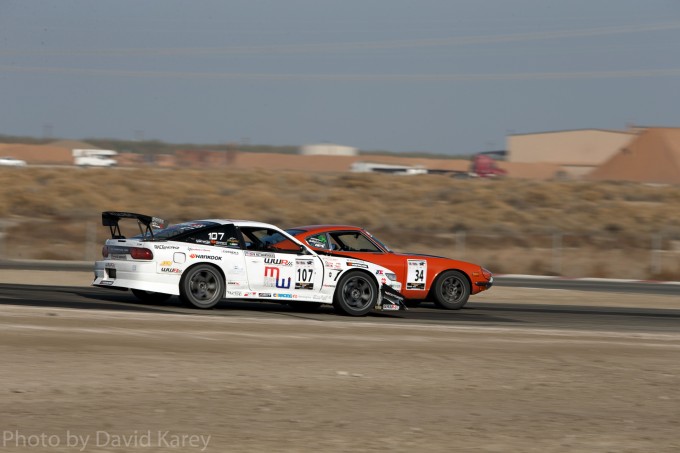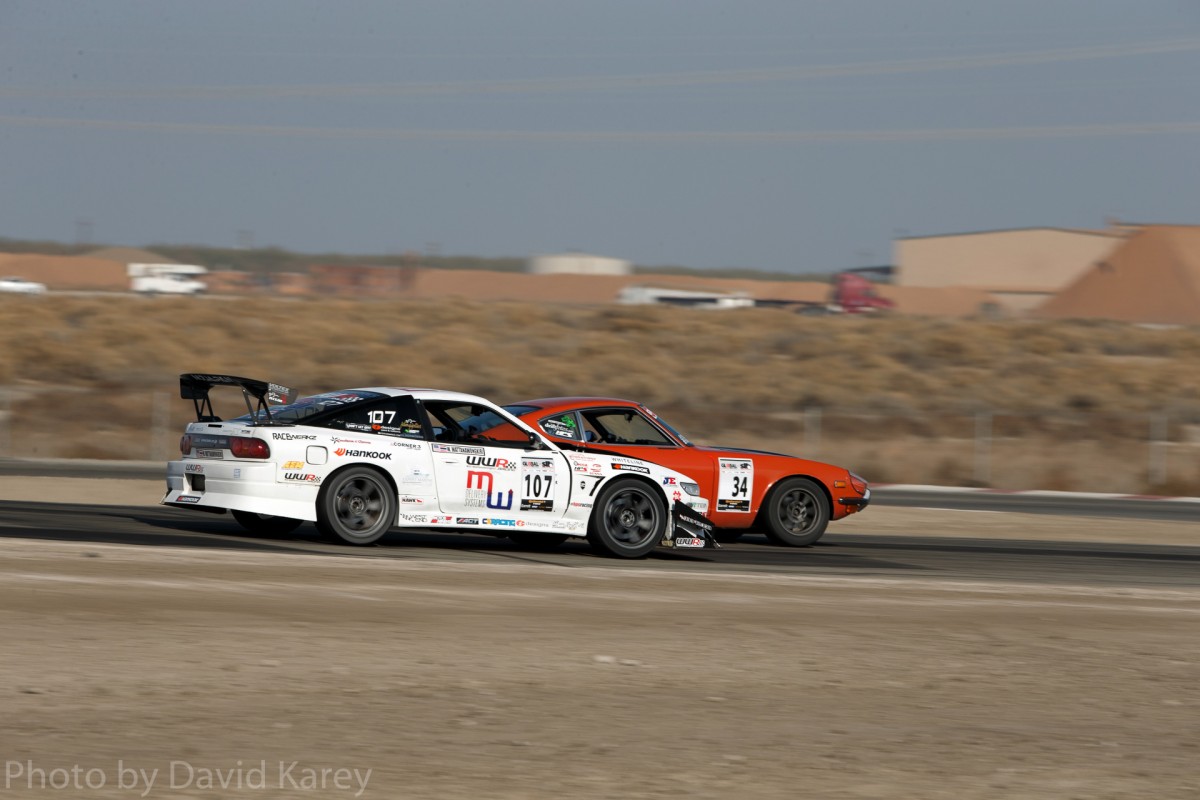 With better brakes, I feel like I can probably shave off five seconds, and with more experience on the track I'm hoping to get down to the two minute mark.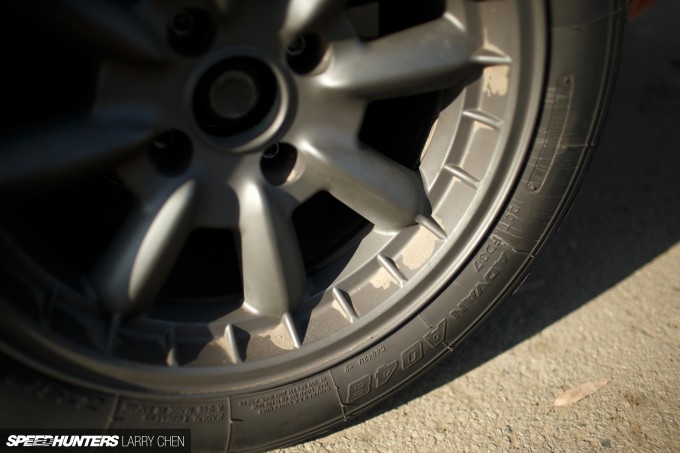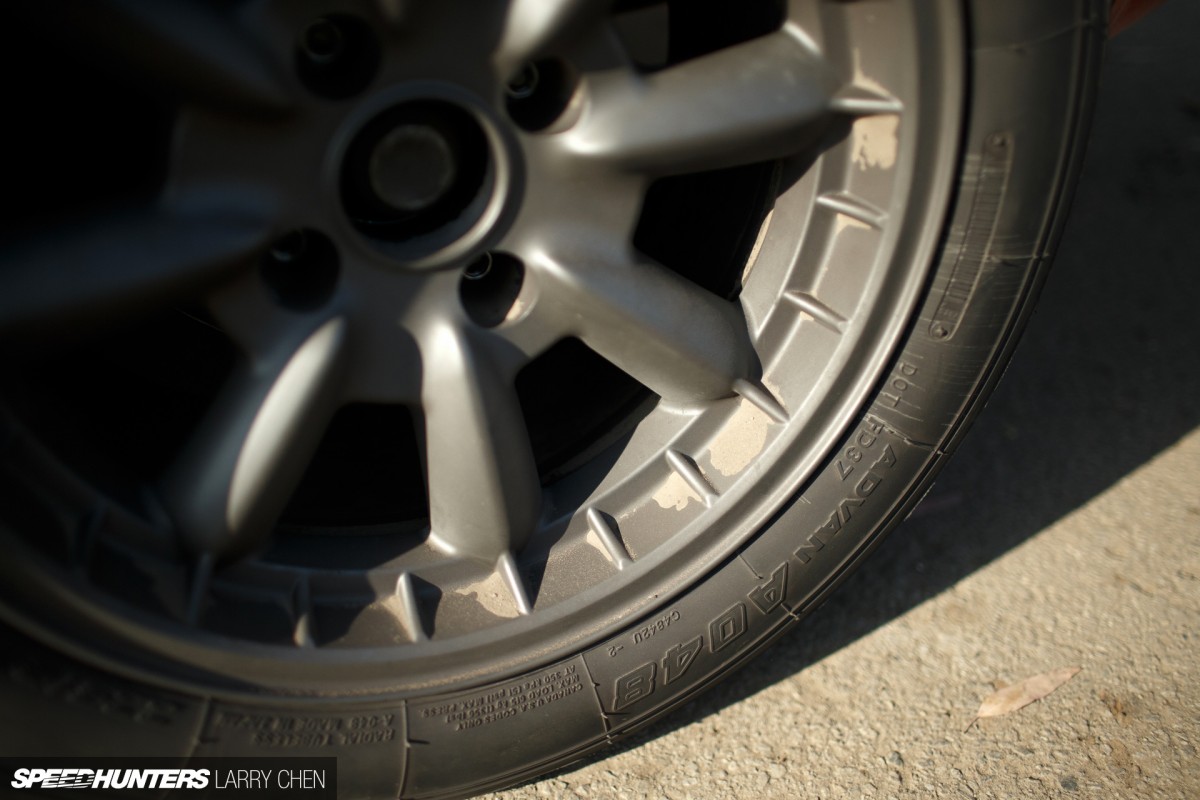 I went off course a few times, but it was nothing too bad. In general the car was very easy to drive with very neutral steering.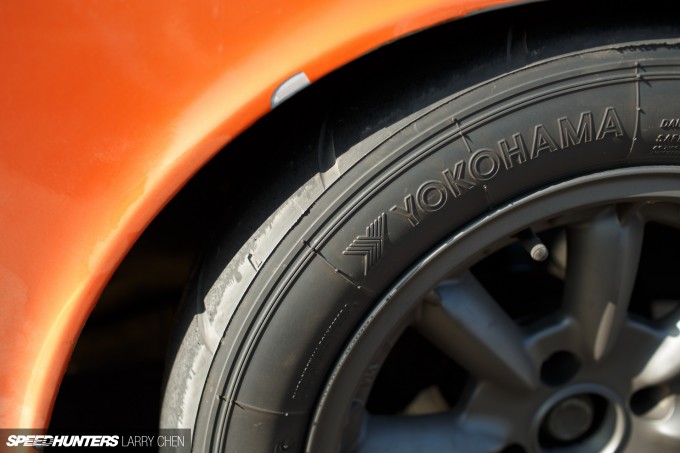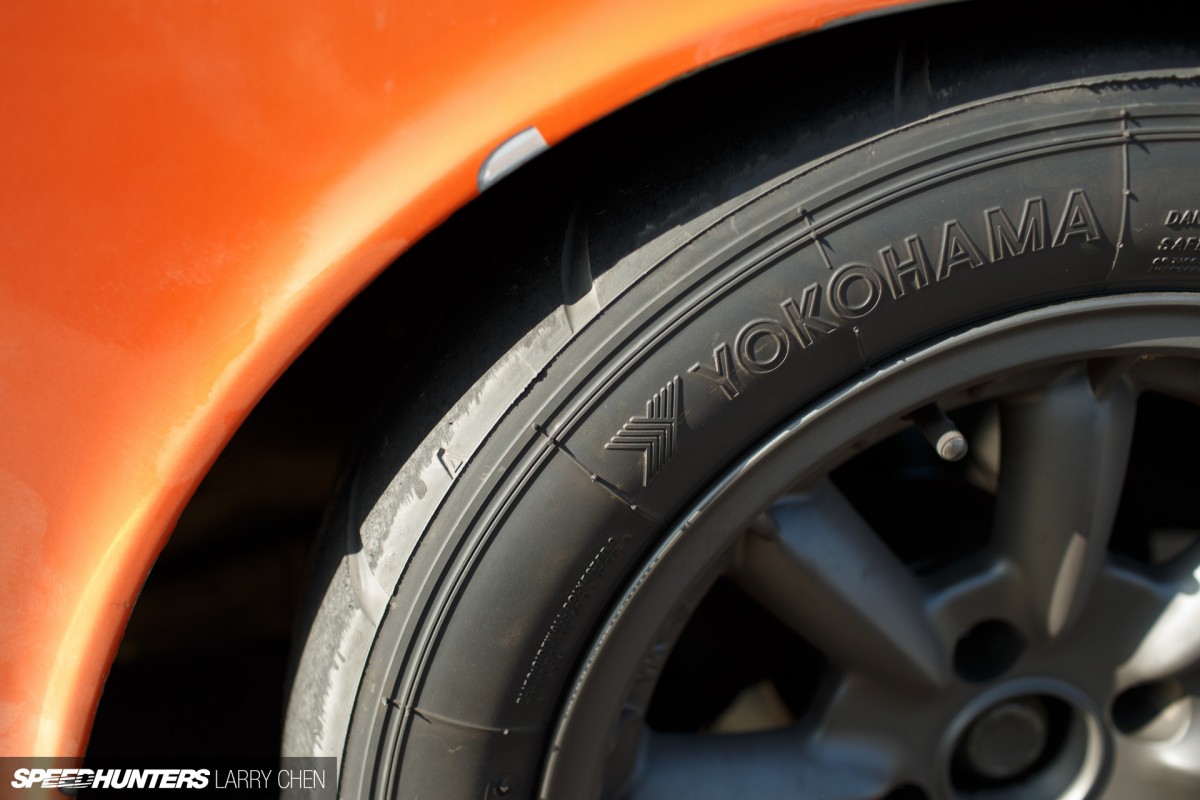 I still had plenty of rubber left after the sagas of chasing drift cars and competing in time attack, so I'm planning on driving as much as I can during the off season.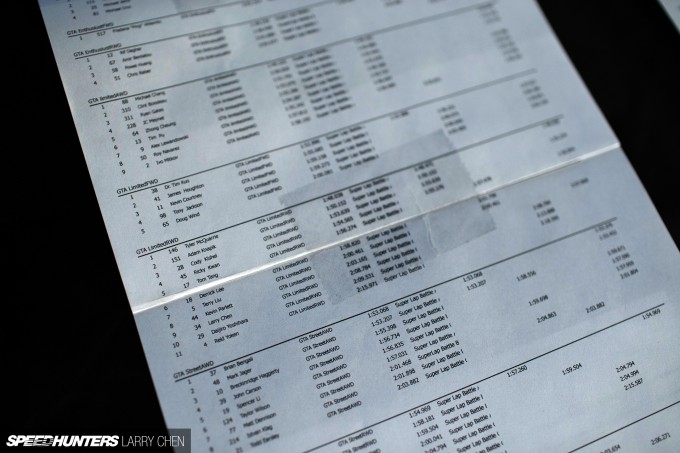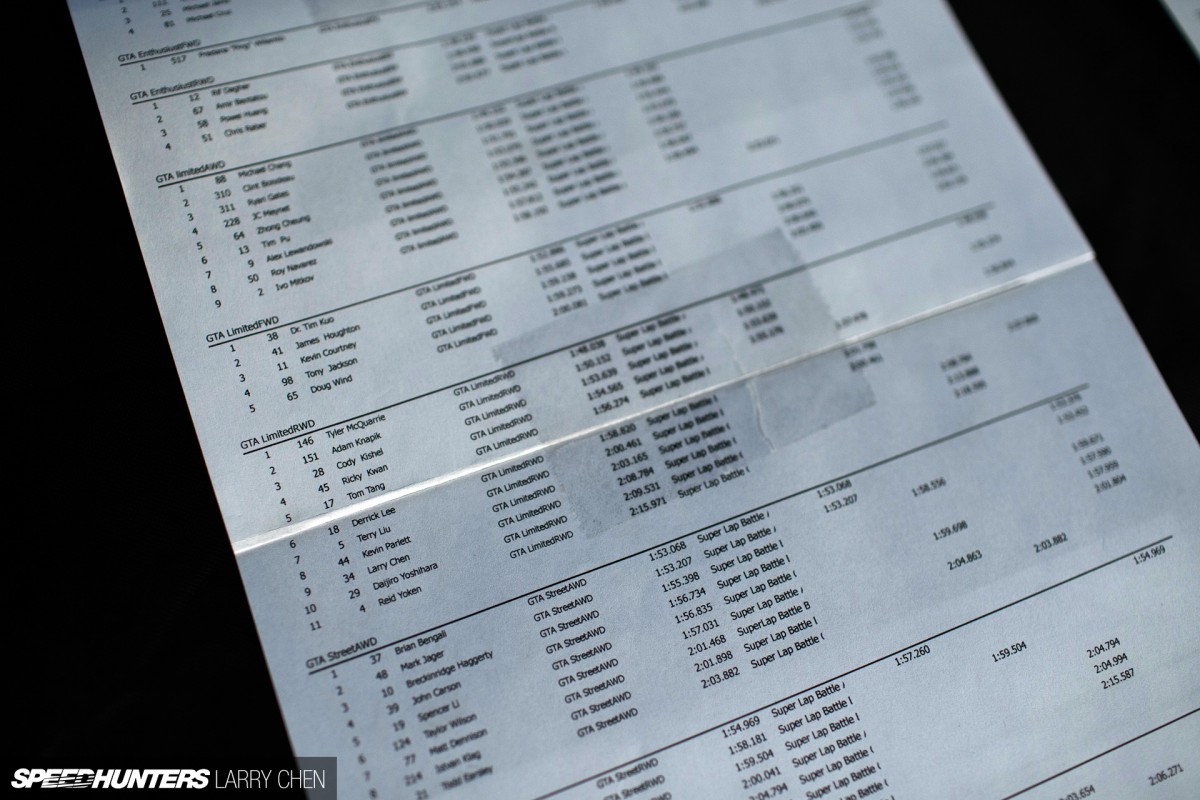 I have a new found respect for Button Willow, as I've always hated that track as a photographer, but as a driver I absolutely love it and can see why it is so popular.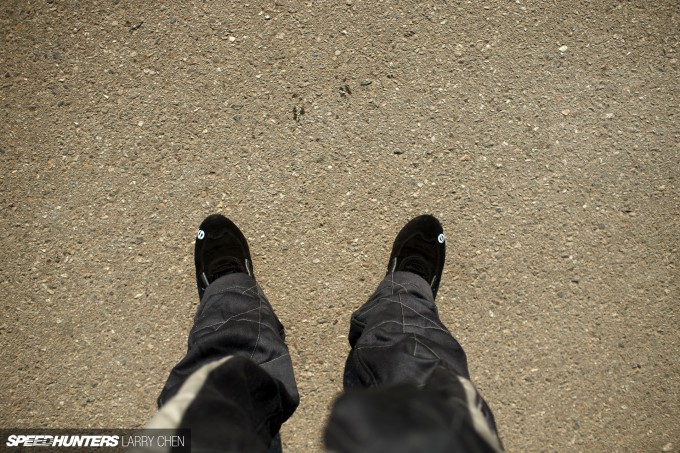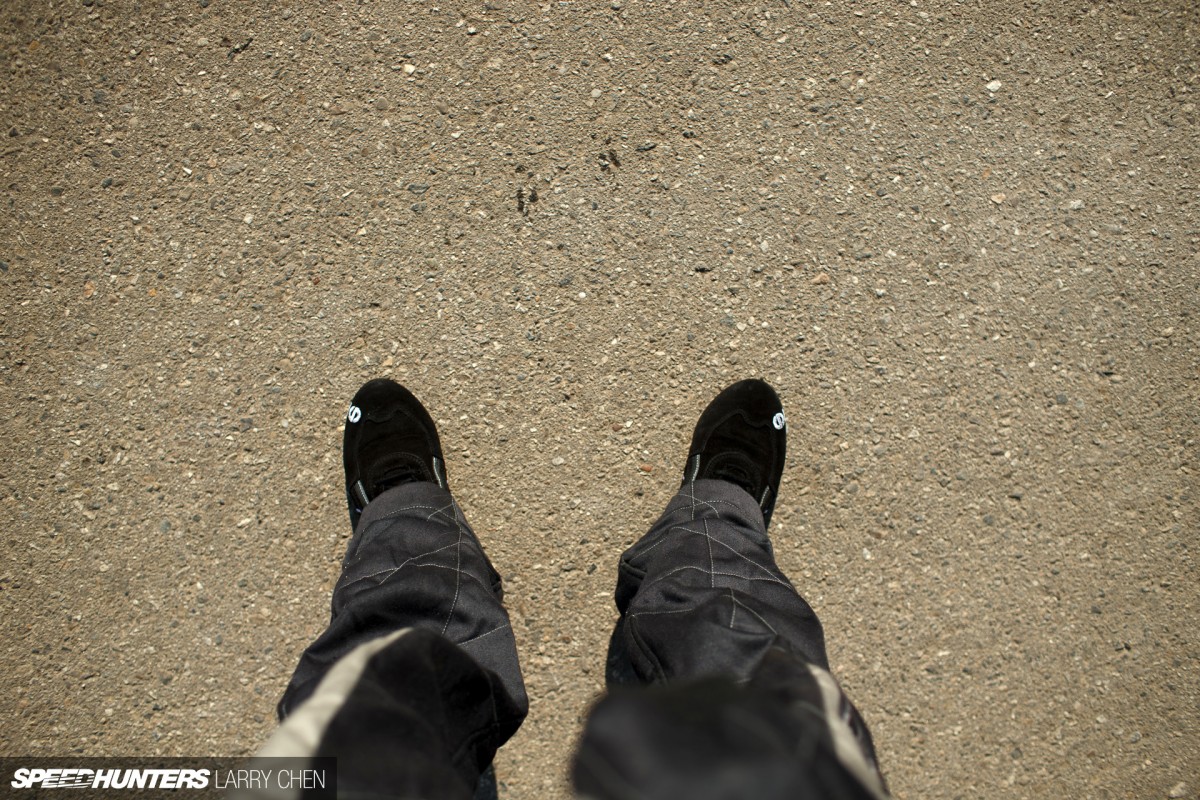 Covering the same event that I was driving in was not very easy, but of course I couldn't do it with the help of my friends David Karey and Peter Tarach from Modified Magazine.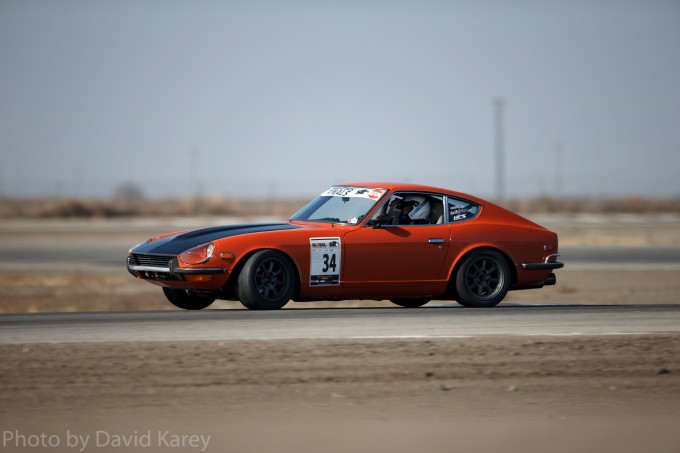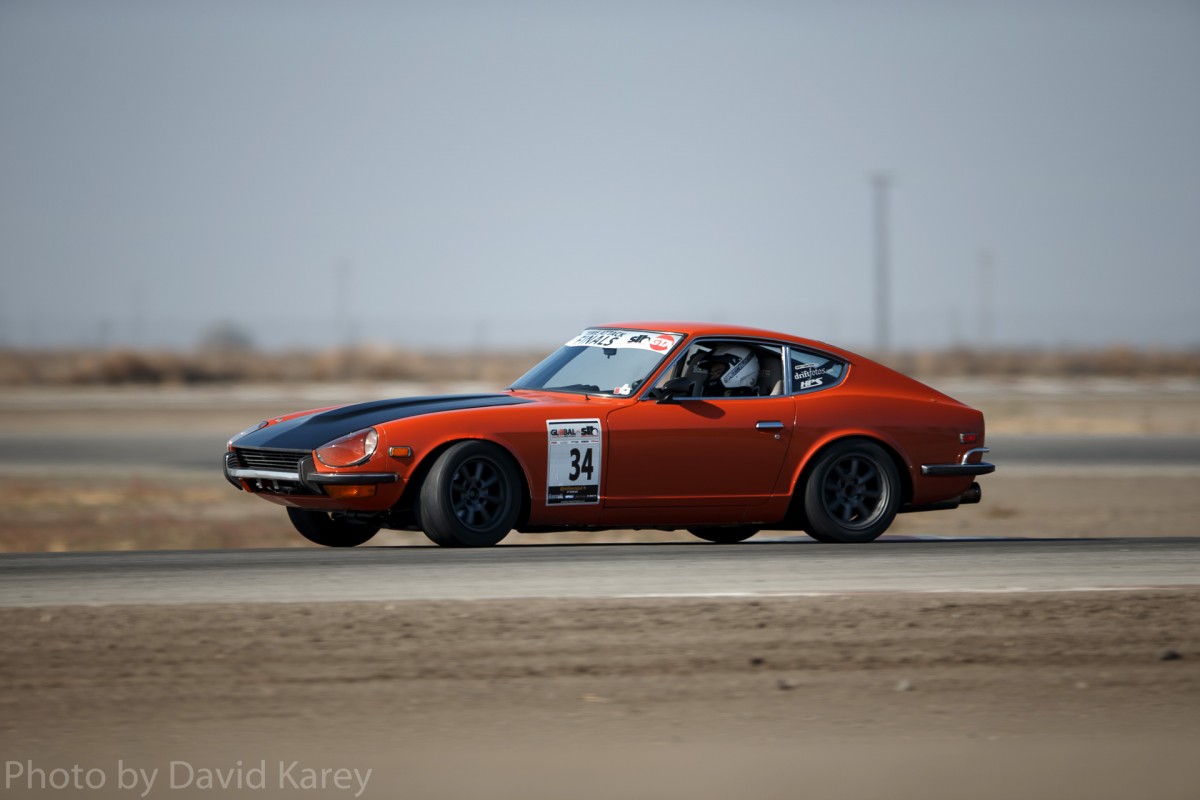 There's so much left for me to change on Ole Orange Bang and I was glad that nothing broke, which meant I could have driven to the track and back if I wanted to, but I'm glad I trailered it there because I can tell the stock turbo is about to quit any moment. So next up is a better turbo, maybe slightly more power, and of course big brakes, because, as I learnt, there's no point in going fast if you can't stop!