Good things take time
For a motorsport form so simple in concept, time attack racing holds a lot of appeal. With an almost unlimited scope for innovation, no real bounds on vehicle base and multiple entry points defined through a variety of classes, it's kind of easy to see why too. But above all, the one thing I believe has helped the circuit-based code grow exponentially in recent years is the fact that on-track success can be measured in more ways than one.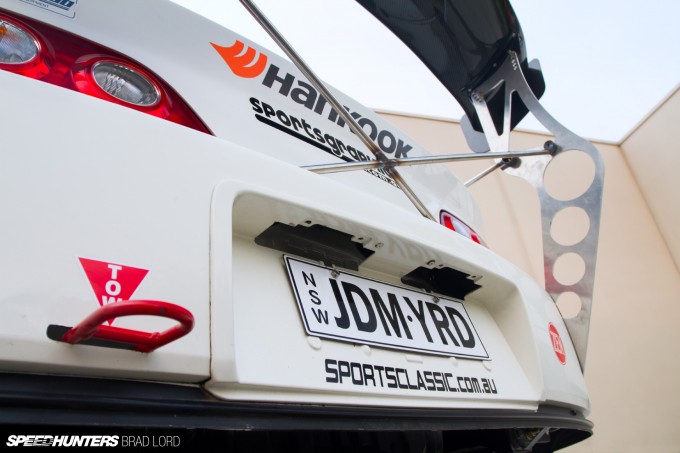 In that respect it's not hard to draw parallels between time attack and drag racing. Outright winners are always going emerge at the end of the day, but for many, the satisfaction and renewed drive that comes with setting a new personal best elapsed or lap time, is much more important than standing on the podium.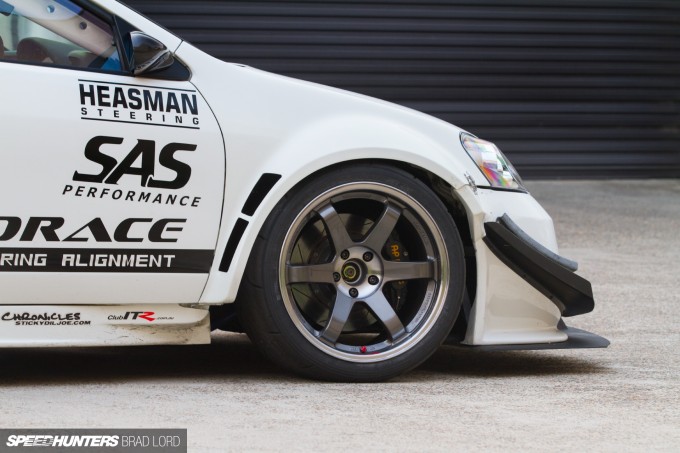 We saw some amazing creations come out of the woodwork for this year's Yokohama World Time Attack Challenge, but in the sea of Lancer Evolutions and Skyline GT-Rs, one machine that caught our eye was a serious-looking DC5 Integra Type R from the workshop of Sydney-based Honda performance specialist JDMyard.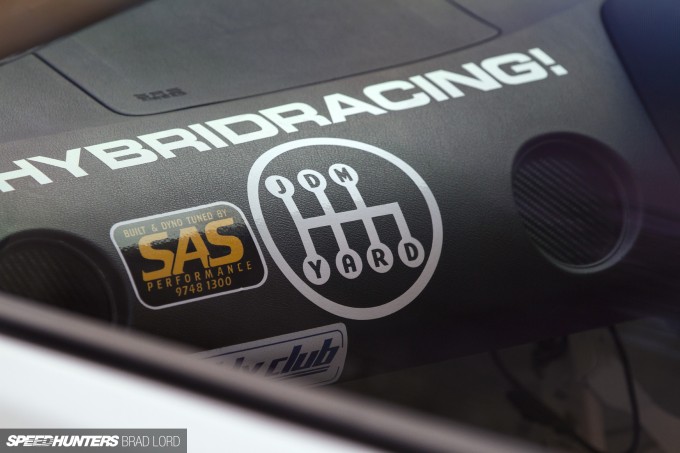 But as I found out while I was putting this story together, this isn't the first time the Integra has made an appearance on Speedhunters.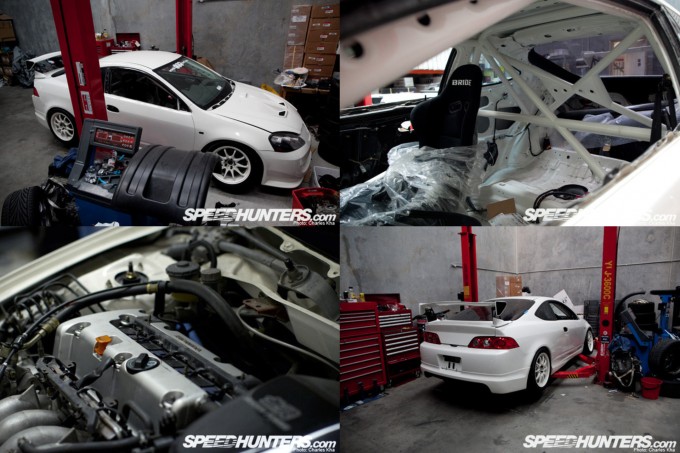 Back in 2011, when some of the team visited Sydney for WTAC's second event, JDMyard was one of many destinations on Speedhunters' workshop hit list. During that visit, a feature on the company's K24-powered EG Civic hatchback was undertaken and a small story about a customer's car in the throes of being converted from road to race spec was pieced together. As it turns out, this is that car pictured above – albeit now owned by JDMyard, and in a finished and somewhat different guise than what had first been envisaged.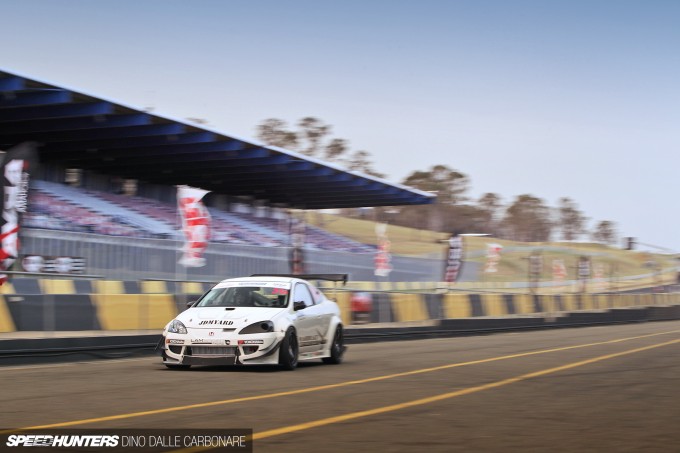 For JDMyard's Yonas Liu and Zi Yap, purchasing the Integra was a bit of a no-brainer. Given the car had lived on and off in the back of the workshop for the better part of eight years, not only did it feel like part of the furniture, but Yonas knew it had real potential. He wasn't wrong either, because on its very first WTAC outing last month, driver Adam Casmiri punched out a 1:37.7770 lap time for 14th place outright in the hotly-contested Open class. A closer look was definitely in order.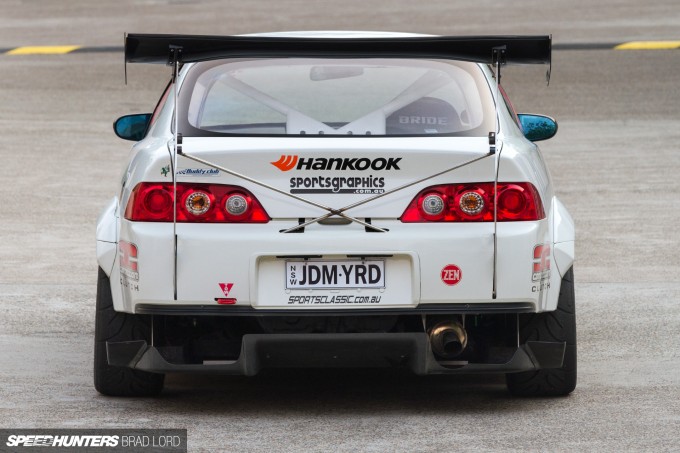 From a purely visual perspective the Integra looks like it means business – something achieved through a variety of specially selected aero parts.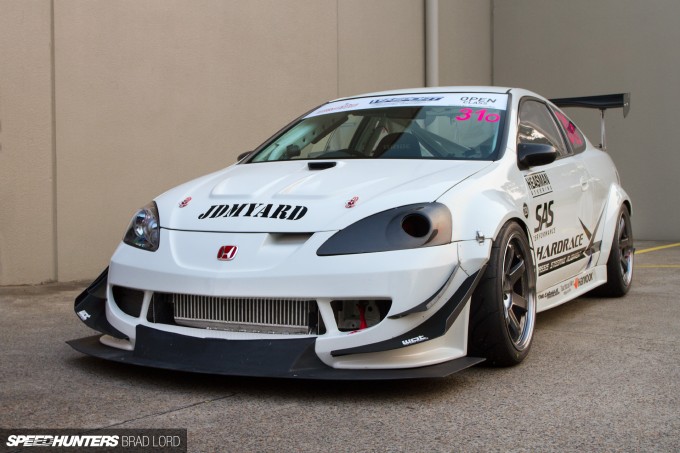 The wide FRP front guards, rear flares and side skirts are Buddyclub fare, while the modified front bumper and carbon fibre bonnet are both from the Mugen catalogue. In an effort to shed weight, the factory steel doors have been replaced with carbon equivalents from FRP Magic, and the rear hatch lid with its heavy glass swapped for a Backyard Special FRP unit fitted with Plastic Performance Lexan.
Crazy aero seems to come with the WTAC territory, and the JDMyard certainly isn't an exception to the rule. Like the front splitter and canards, the huge wing brackets and stays that support the APR GTC500 carbon fibre GT wing, are all custom JDMyard items, while the factory rear bumper has been cut short to accept a First Molding diffuser.
Force fed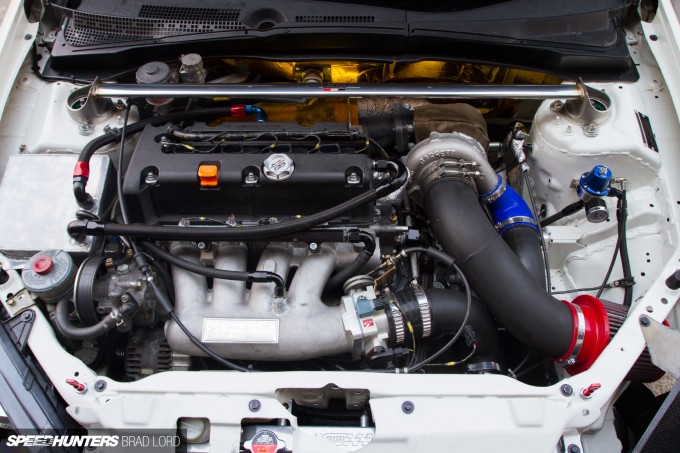 Although the Integra still retains a K-series motor, it's a very different beast from the one it was blessed with from the Honda factory. Displacing 2.4 litres, the K24A DOHC iVTEC mill that's taken up residence between the front struts is not only larger in capacity than the original, naturally aspirated Type R-spec K20A, but thanks to one rather obvious upgrade, it's making much more power. What might surprise you however is the fact that the core engine remains largely stock: from the crankshaft to the cams to the 10.5:1 compression. K20A Type R valve springs and 50 VTC cam wheel are the only exceptions to the rule.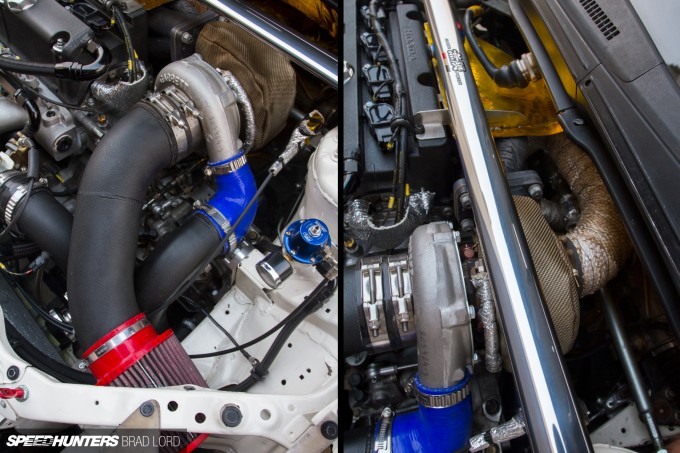 Although the Integra's previous K24 N/A build made decent numbers – 281hp at the wheels no less – it had quickly became apparent that the set-up was limited by the Integra's weight, and that to be competitive in the company of some fast and very well-sorted front-wheel drive time attack machines, a more radical approach to modification was needed. Suffice to say, Yonas found what he was looking for in a custom turbo package based around a Garrett GTX3076 designed to support up to 650hp. An MAPerformance stainless steel Sidewinder exhaust manifold is utilised in the new set-up, along with a Turbosmart wastegate and blow-off valve, and a custom JDMyard front mounted intercooler arrangement.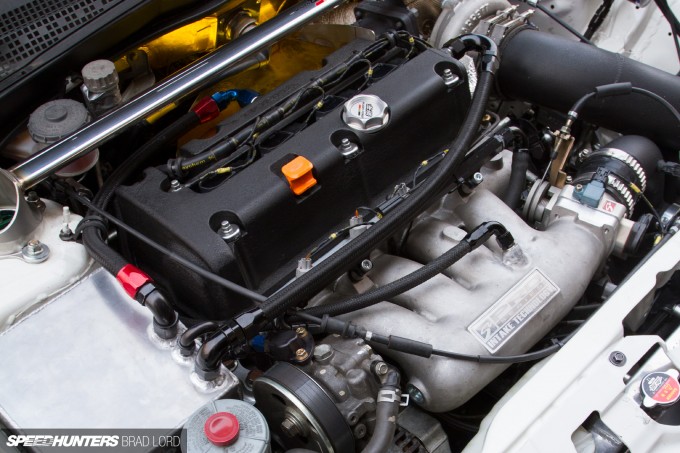 To adequately fuel the fire, a number of upgrades have been made on the intake side of the engine equation, including a Skunk2 Pro Series intake manifold/plenum fitted with a 70mm Skunk2 Pro Series throttle body, and dual Bosch Motorsport 044 pumps supplying a quartet of Injector Dynamics 2000cc injectors.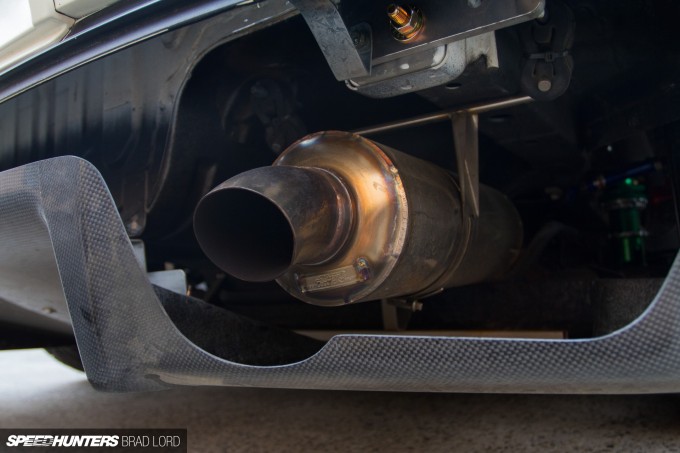 With the boost-fed K24, the Integra makes all the right noises, something helped in part by a custom JDMyard down-pipe running into a full stainless steel exhaust system from Mugen's exclusive N1 racing catalogue.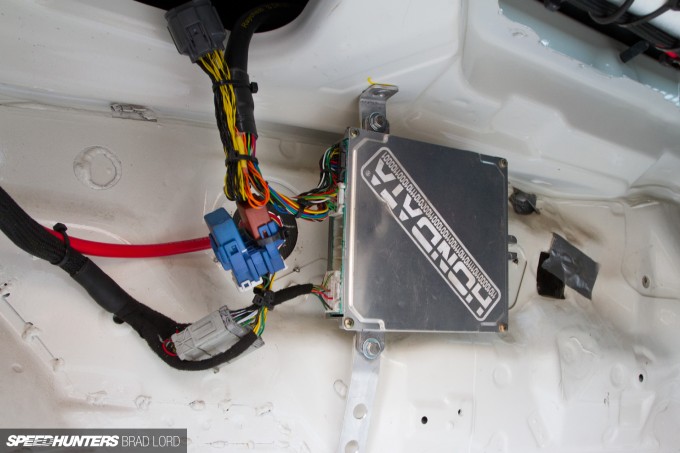 Wired in through a Rywire Mil-spec harness, Hondata's K-Pro engine management system was an easy choice for Yonas, and through tuning by local Honda tuning veteran Adrian Norton at SAS (Silverwater Automotive Services)…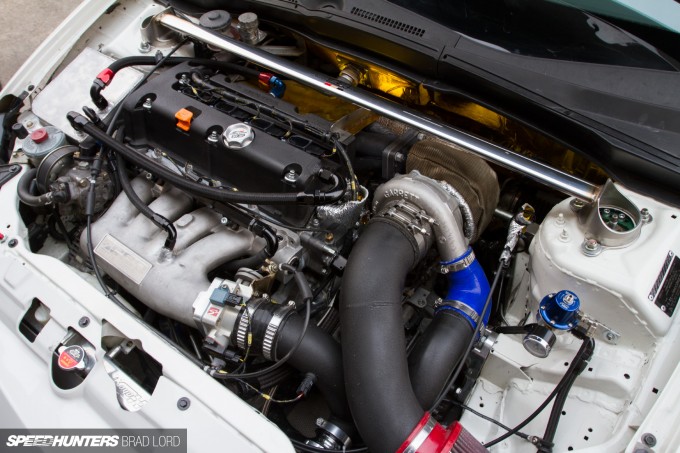 … it all adds up to a solid 322kW (432hp) at the front wheels on 14psi (.95bar) boost.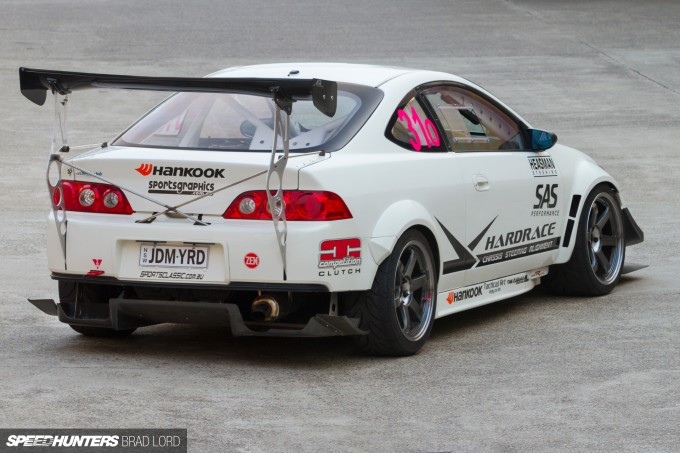 Although it's not hard to build a big horsepower Honda, the challenge is getting the power to the ground through the front wheels in an effective manner. Technically speaking, the DC5R still utilises its original Type-R spec Y2M3 six-speed manual gearbox, although Gear-X close ratio gears and a 4.0:1 ratio final drive, along with an OS Giken limited slip differential, have collectively now found their way into the casing. A Competition Clutch twin-plate is used too, as well as a pair of heavy-duty Level 2.9 driveshafts from DSS. The latter were an absolute necessity.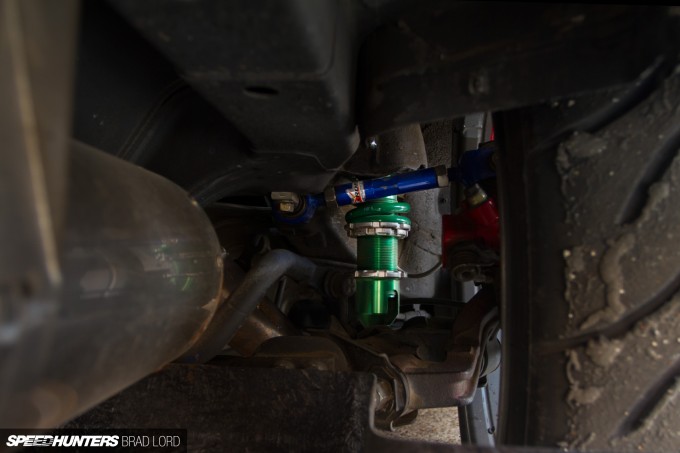 I don't think anyone could question the DC5R's handling prowess in production form, but for racing duty the factory layout has been optimised through a series of upgrades beginning with Tein Type N1 adjustable coilover dampers at all four corners. Larger sway bars from Cusco feature front and rear, and to make the most of the modifications there's a full catalogue of Hardrace components, including adjustable camber arms in the rear and spherical lower control arm bushes in the front, too.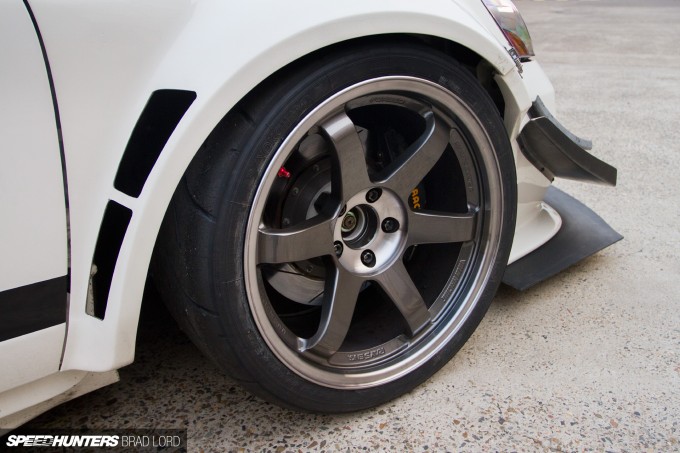 With at least 500hp being generated at the engine, a suitably wide front wheel and tyre package was always a prerequisite, but it wasn't until I got close up to the RAYS Engineering Volk Racing TE37 SL wheels and Yokohama ADVAN A050s, that I realised just how wide. That's a lightweight 18×11-inch forged alloy rim wrapped in a sticky 295/30R18 semi slick! The rear end gets a slightly more modest 18×9.5-inch and 245/40R18 combination. Through the timeless spoke design of the RAYS wheels you can make out the equally-impressive AP Racing brakes which feature six-pot calipers over two-piece slotted rotors.
In the hot seat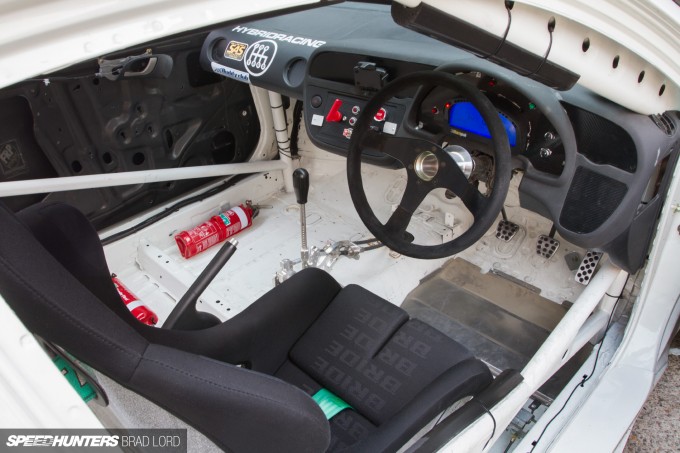 With a quick-spooling turbo, short ratio gears and so much power trying to find its way through the front wheels to the ground, you'd imagine that things would get pretty busy in here in the heat of the time attacking moment. But you don't actually have to, because JDMyard fitted a camera in the car for its fast lap at WTAC last month, and it goes some way in showing  just how manic this machine is when it's pushed hard.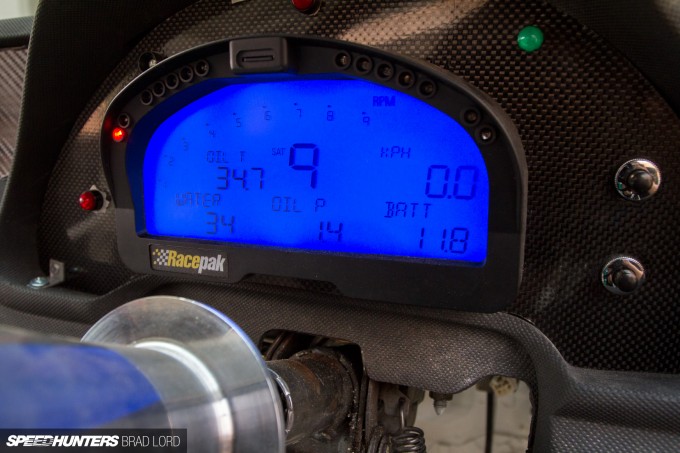 As you would expect in a build of this nature, the interior space follows a simple layout. The original dashboard has been retained, but the factory analogue cluster has been replaced with an Haltech IQ3 RacePak digital display and data logger mounted in a carbon fibre panel.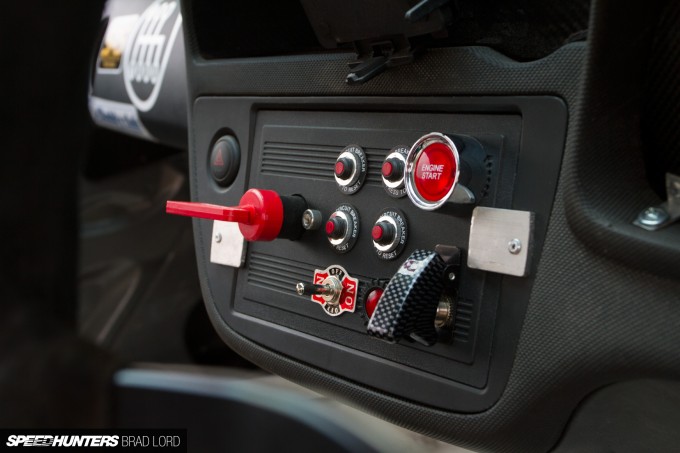 The double-DIN space where you'd normally finally find a head unit on the other hand, has become mission control.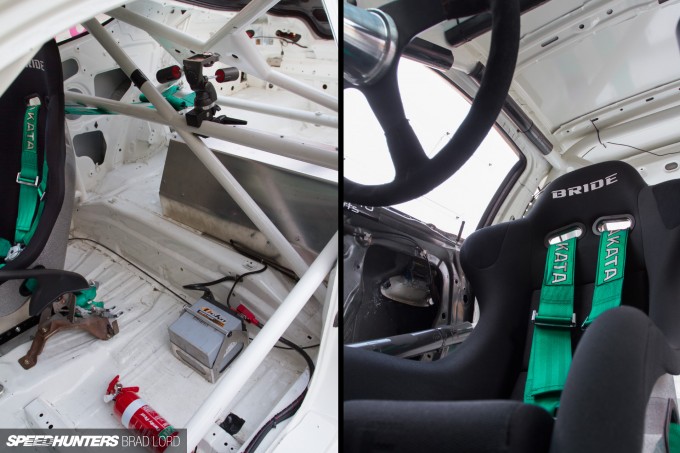 The vast majority of race prep in this area was completed by the first owner and that includes the full integrated roll cage and the extensive seam-welding that's evident right the way through the car. The Bride Zeta 3 FIA seat and Takata MPH340 harness look very much at home too.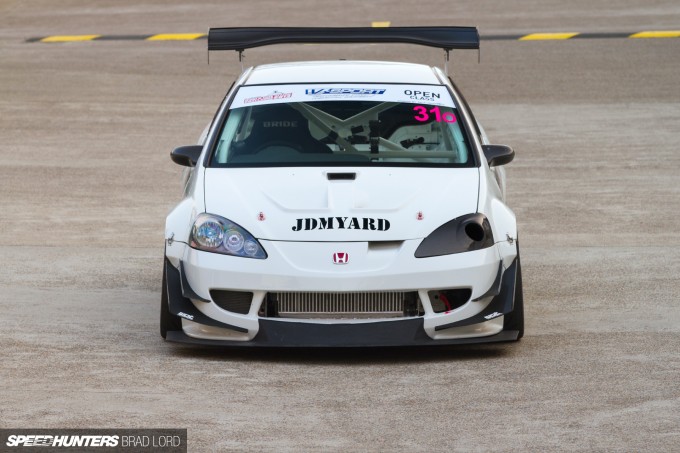 Although the JDMyard DC5R was a long time in the making, on the surface it's still a very new build. In fact, apart from a shakedown a few weeks prior to to WTAC, it was totally untested in turbo guise going to the event, which made the result it achieved at Sydney Motorsport Park all the more sweet for Yonas, Zi and their team.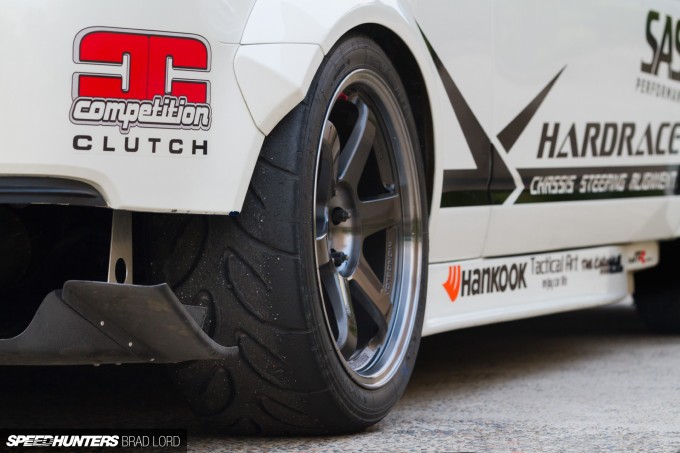 Now the focus is on developing the package and extracting the full potential from the platform, and Yonas tells me that aerodynamic refinements, more weight reduction and a lot more track time are all things in the pipeline for the Integra.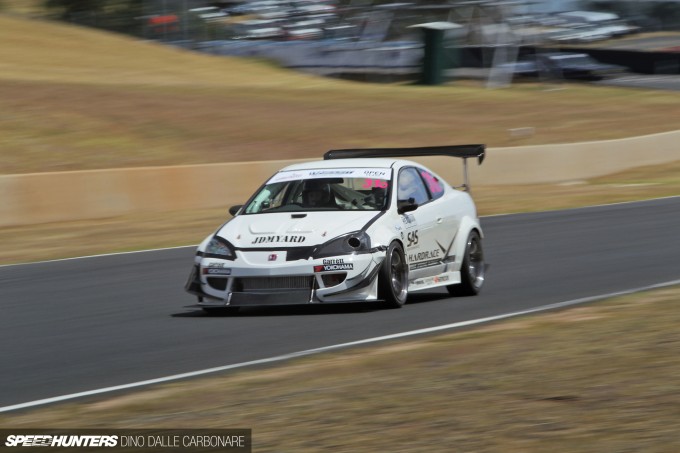 I don't know about you, but I get the distinct feeling that this is just the start of much bigger things to come.