Getting into the driver's seat
Up until the point I stepped into the Pagani Huayra and hit the start button, the line between fast cars and supercars was still a little blurry to me. Performance is not just about numbers; it's not purely defined by acceleration and top speed, it goes far deeper than that. It was thankfully due to a change of plan that I was lucky enough to make such a realization, as the day before I was to take the Huayra around the mountain roads that circle Lake Garda in Northern Italy, Luca Venturi  – Pagani's PR man – decided to call the guys at Autodromo di Modena to see if the track happened to be free the following day.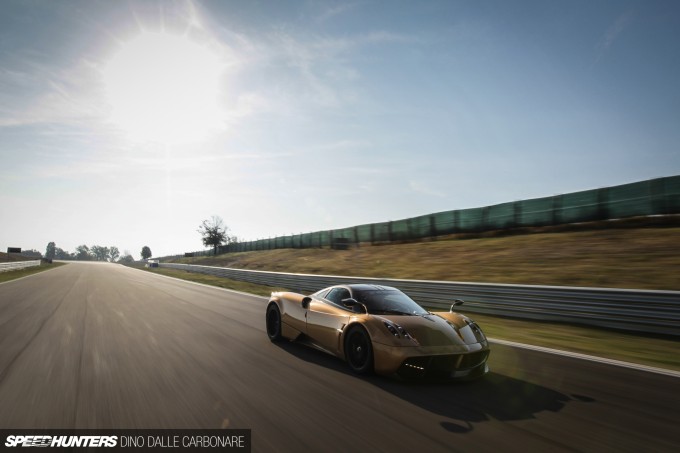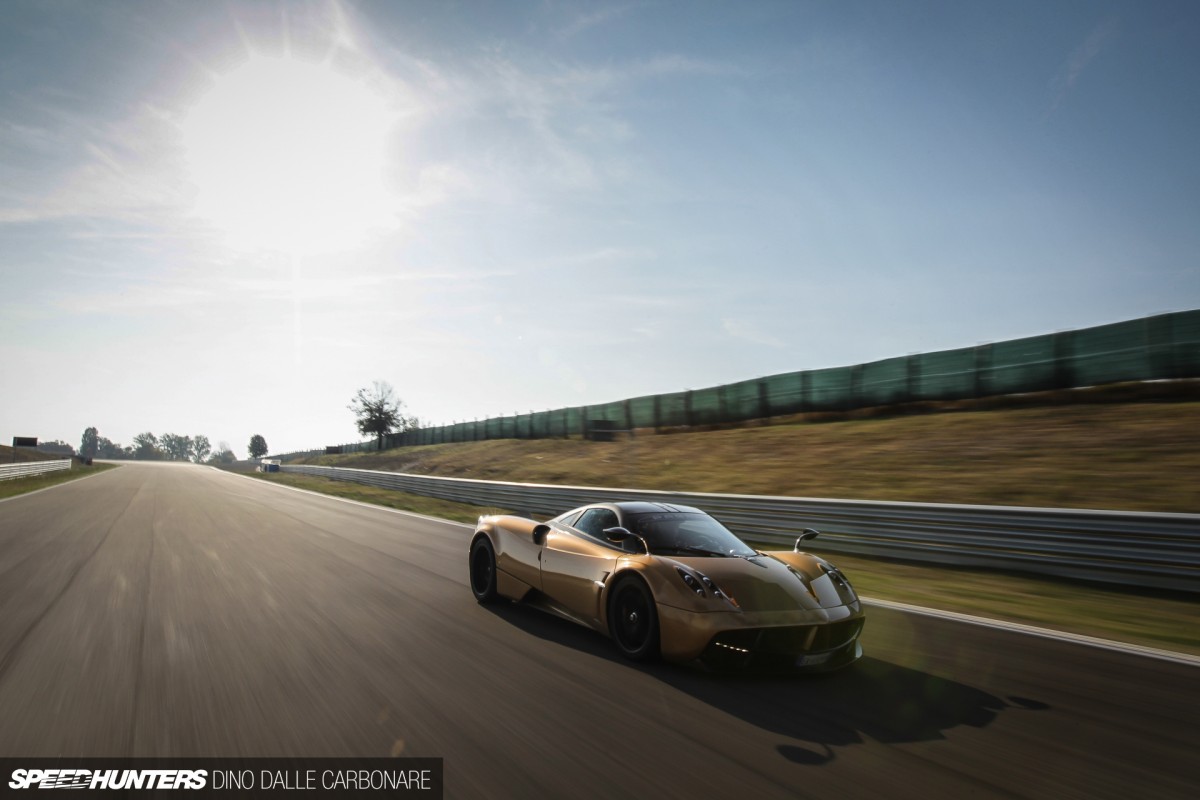 Thankfully it was. With so much shooting to do that day up in Verona we decided it would be better to run a Dream Drive around this technical little track just outside Modena city. After all, after a quick confirmation from Luca, it turned out I was to be the first journalist to ever take the Huayra for a proper hot lap session on track. No pressure then!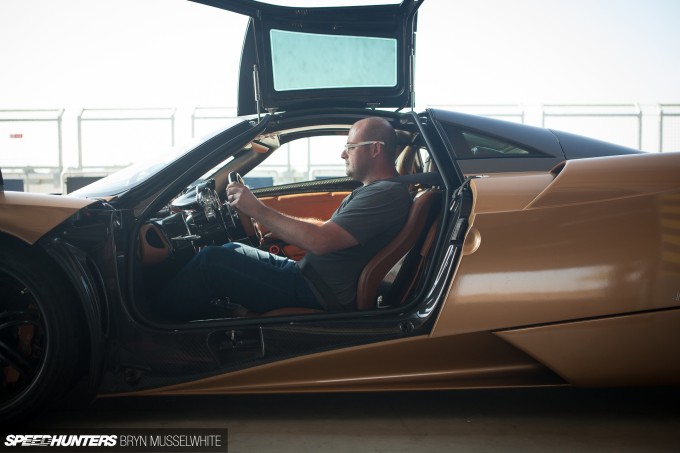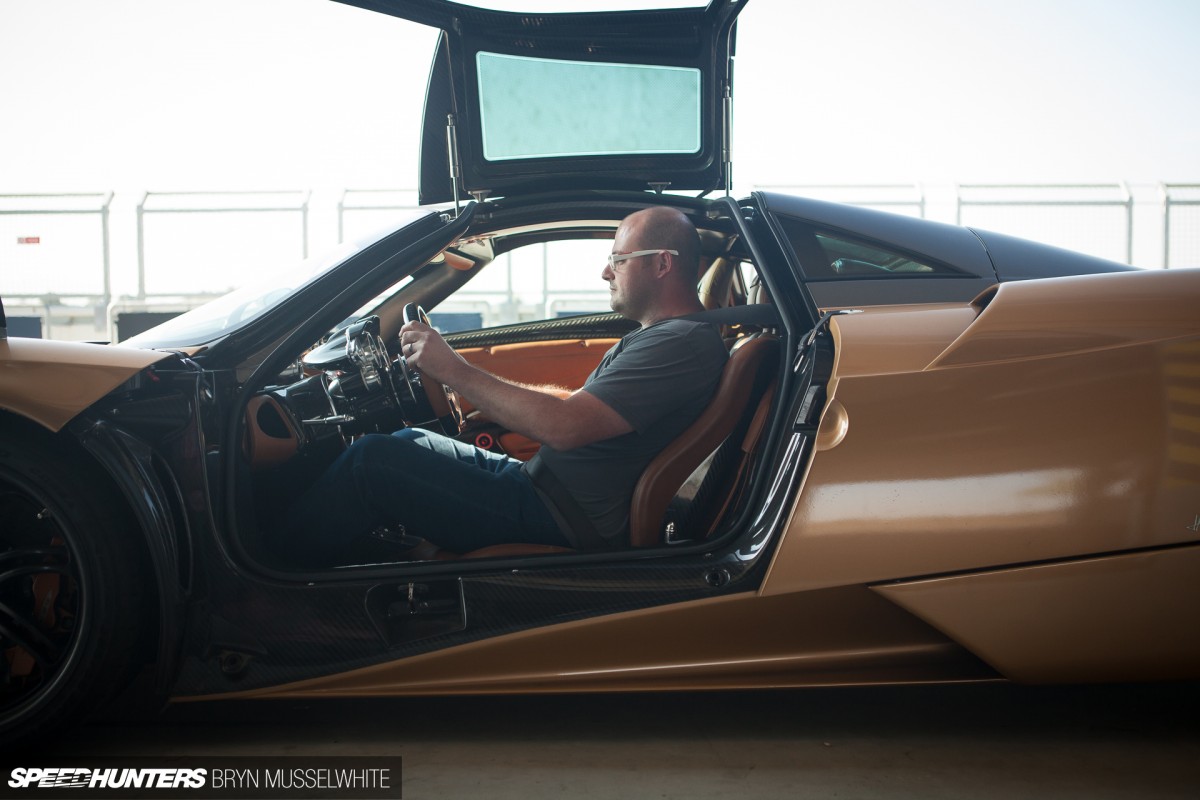 With the shots with Davide Testi completed, and the Huayra nicely warmed up, it was my turn to jump into the driver's seat.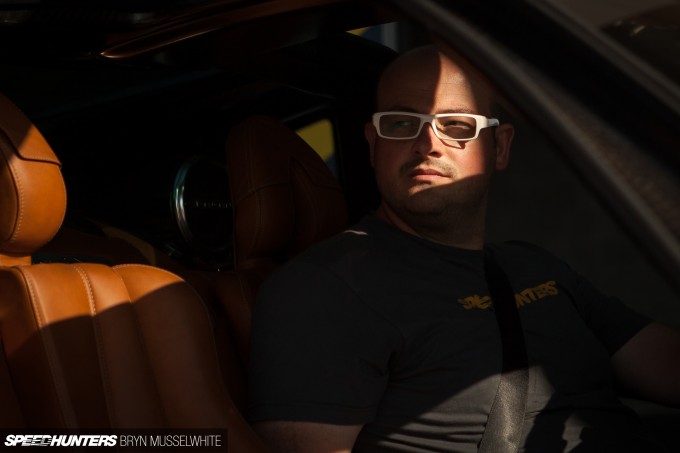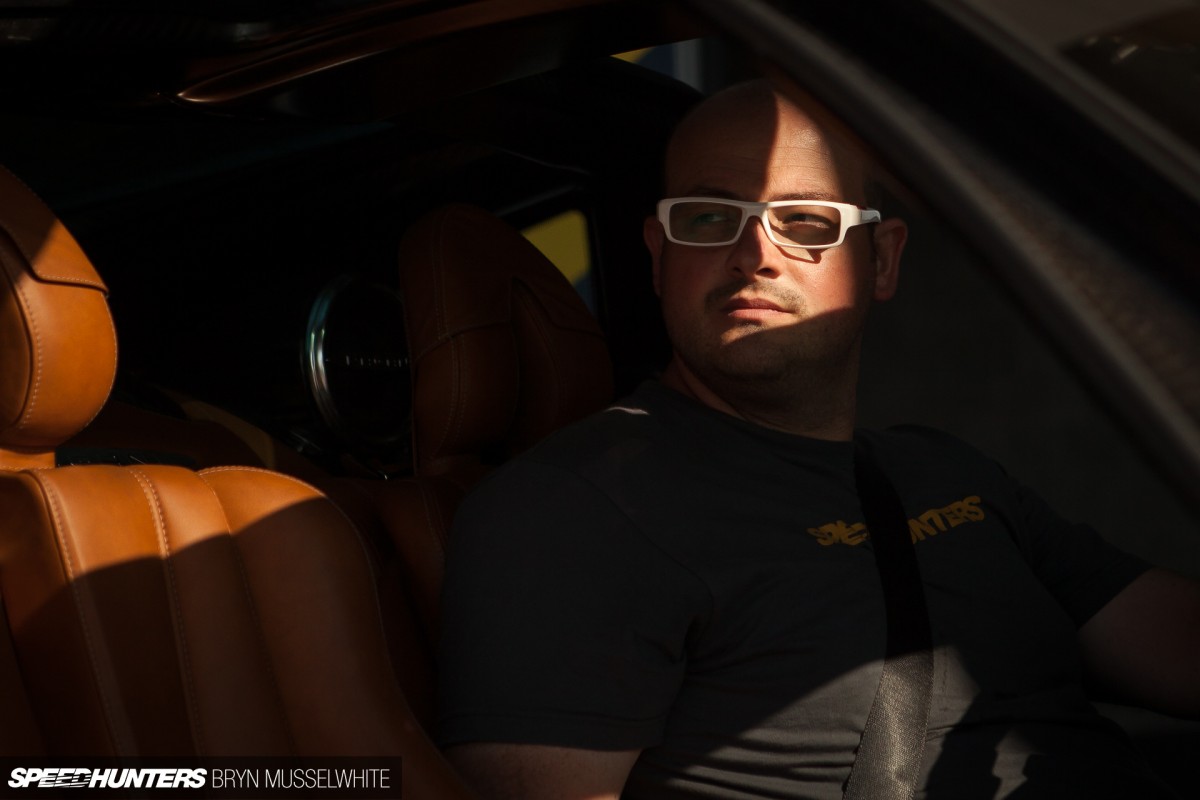 Their development car would be all mine to explore; something that began with a little quiet time in the cabin by myself.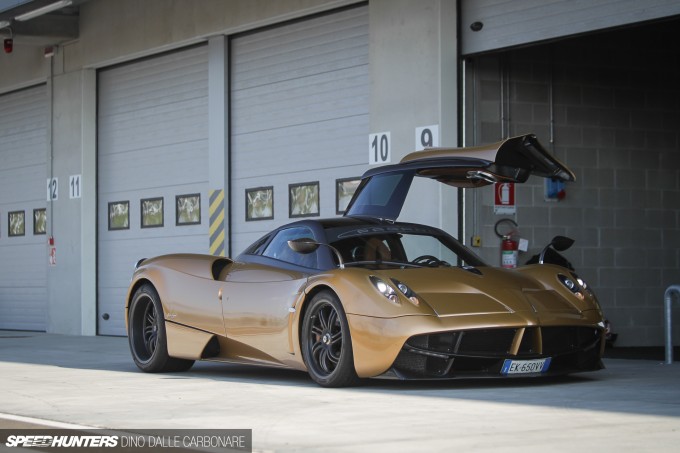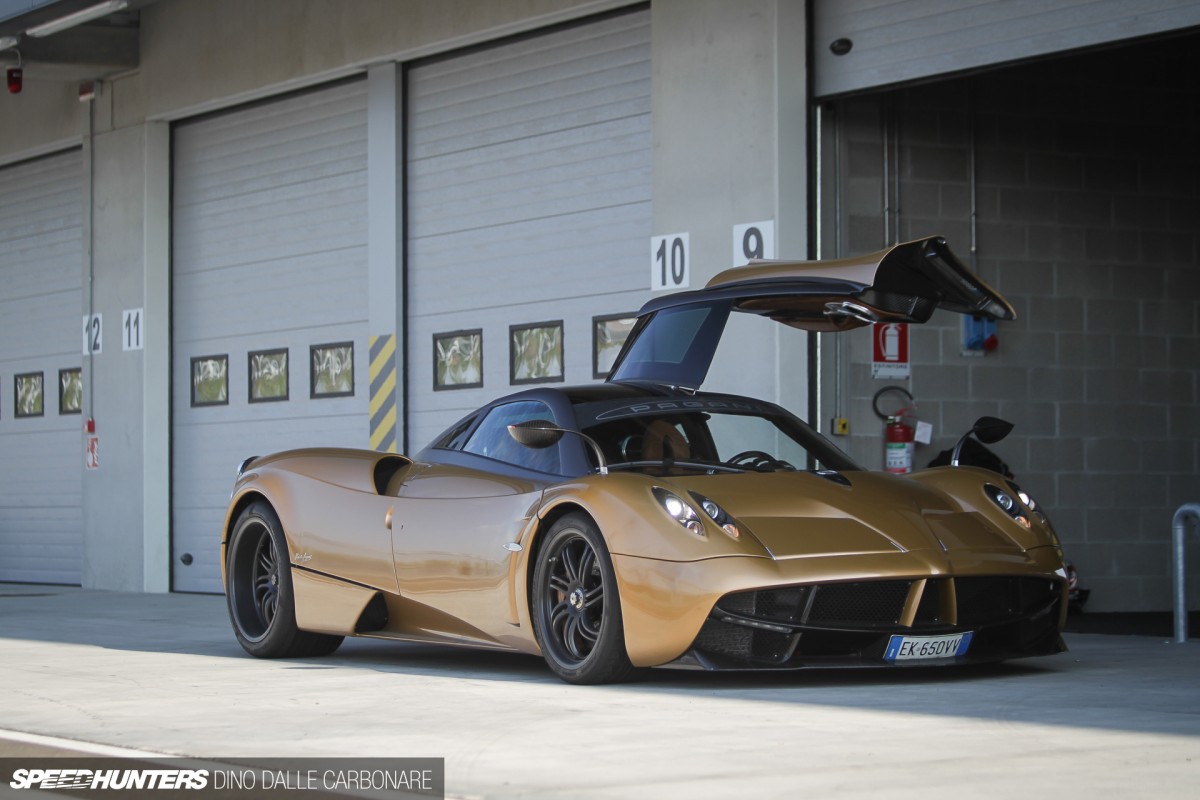 I've been lucky enough to drive some pretty awesome machinery over the years but my God was this on a whole new level! Intimidating doesn't even begin to describe what the freshly-gold-wrapped Huayra looked like sitting there in the empty pit lane with its driver's side door lifted open.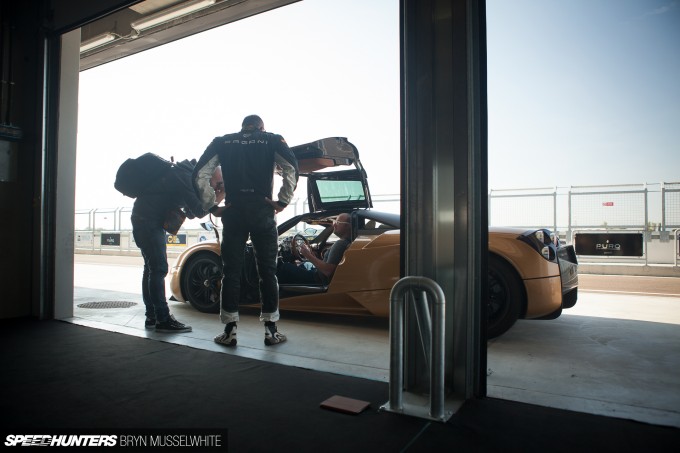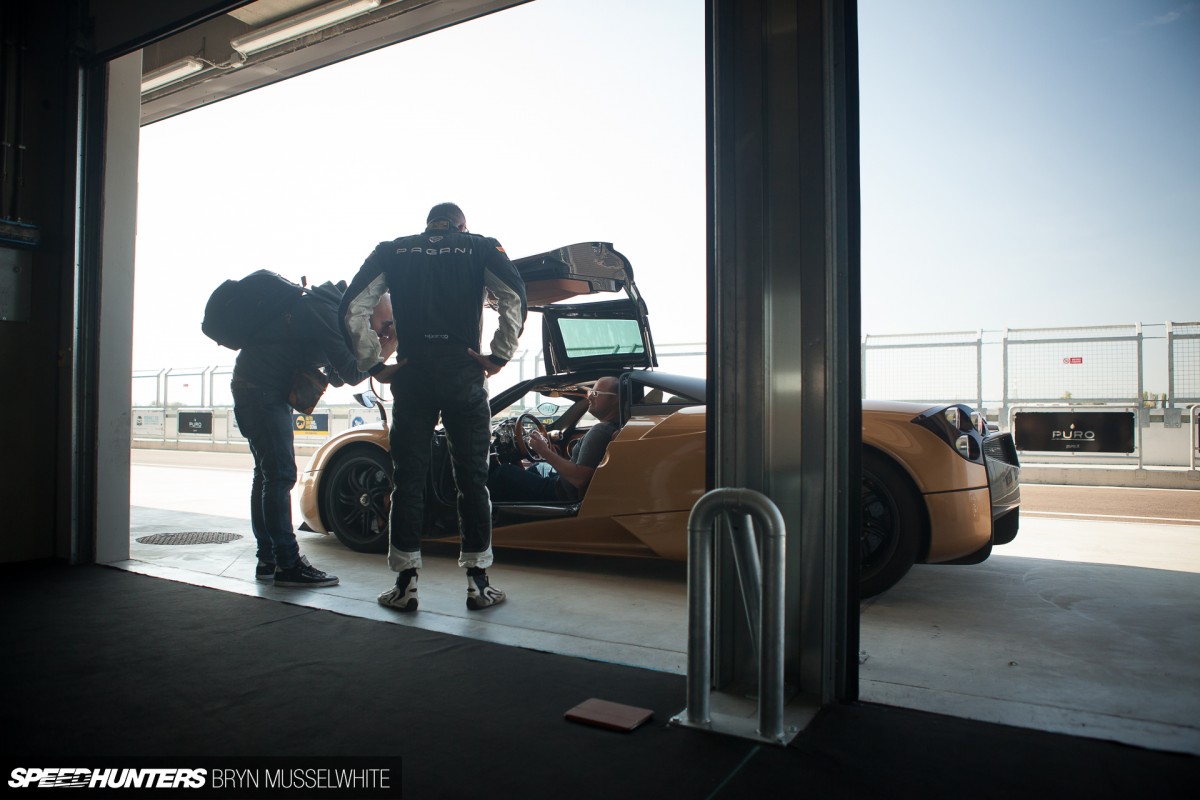 I wondered what such beautifully crafted and engineered perfection would feel like out on track. Should I take it easy, drive within my comfort zone, make sure I bring it back in one piece, or should I just go for it, as opportunities like these just don't come around every day. So as I sat there with all these scenarios going through my head, which included brutal spins and crashes, Luca and Davide reassured me to go for it: "it's an easy car to drive, just have fun!"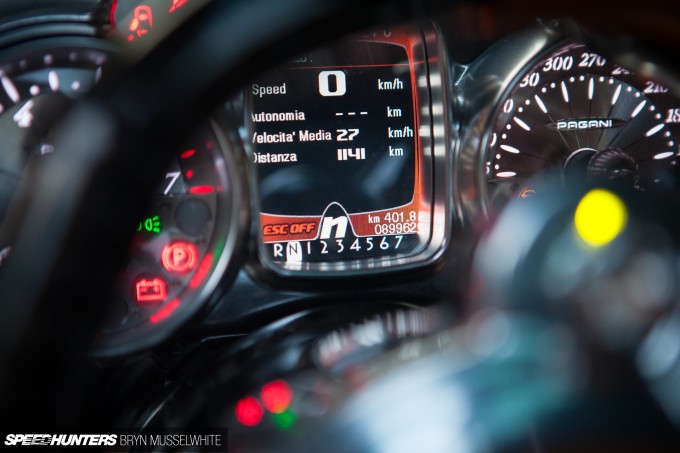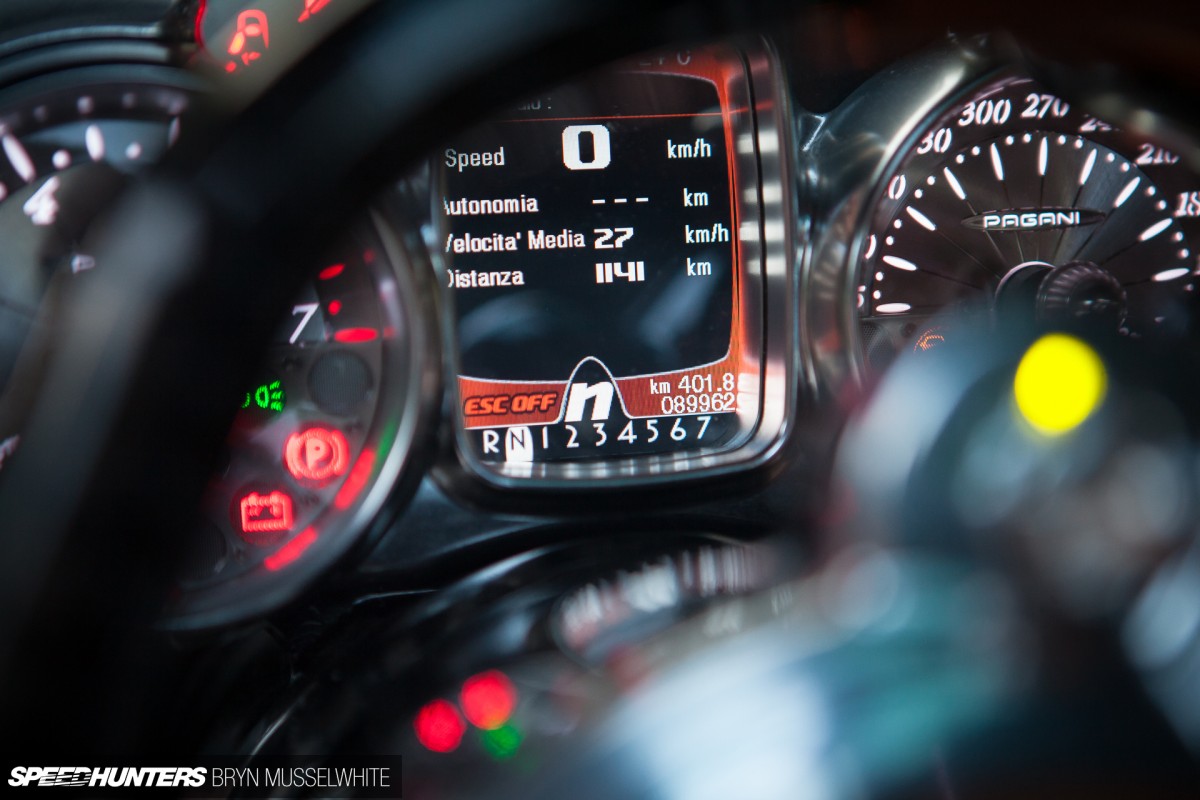 Davide quickly explained how the different ESC modes can be selected via the steering wheel-positioned button, and I opted to go for the most extreme ESC-on setting which would allow the car to move around a little bit before the electronics intervened.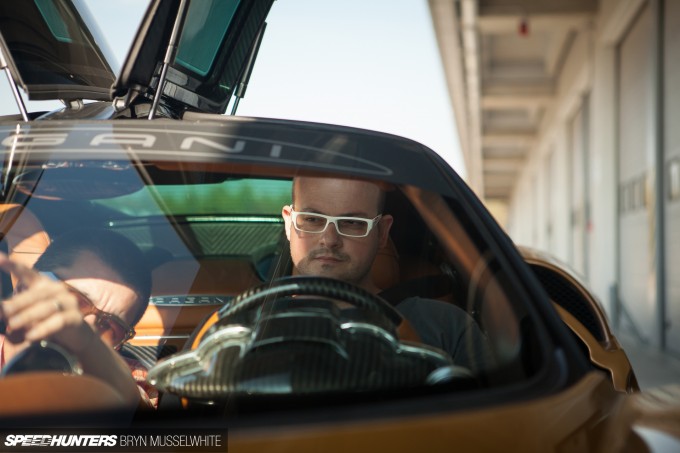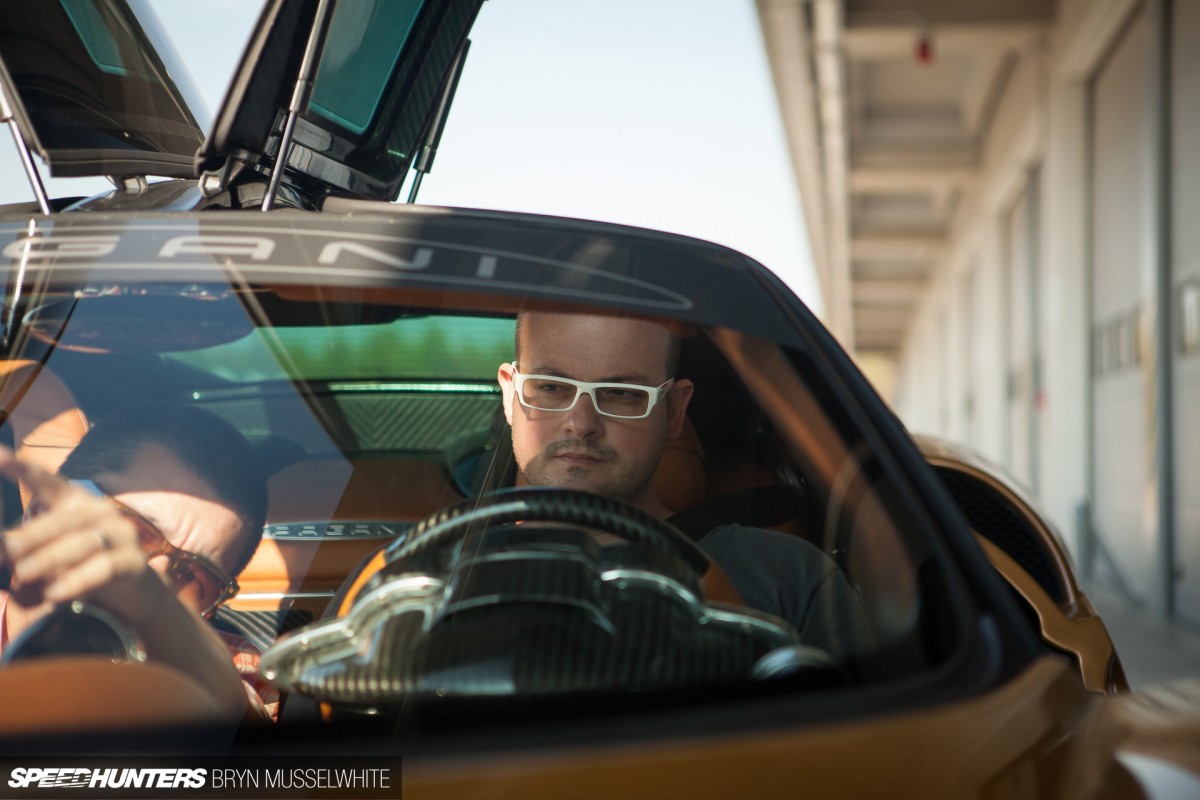 Before I headed out there was one final thing to do: set up the GoPro that would be capturing video and stills during this, the most exciting drive of my life.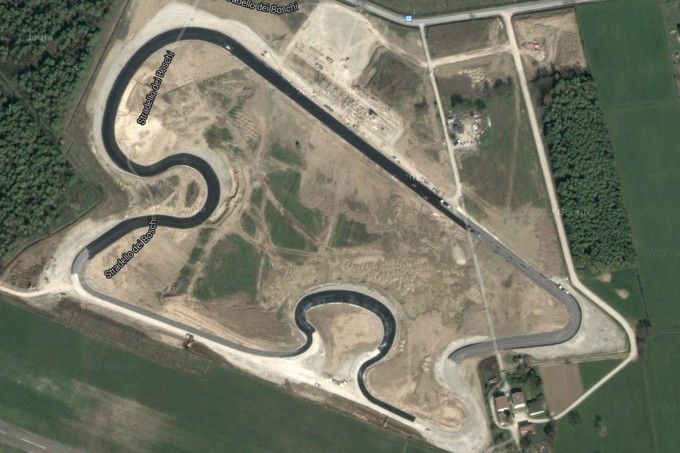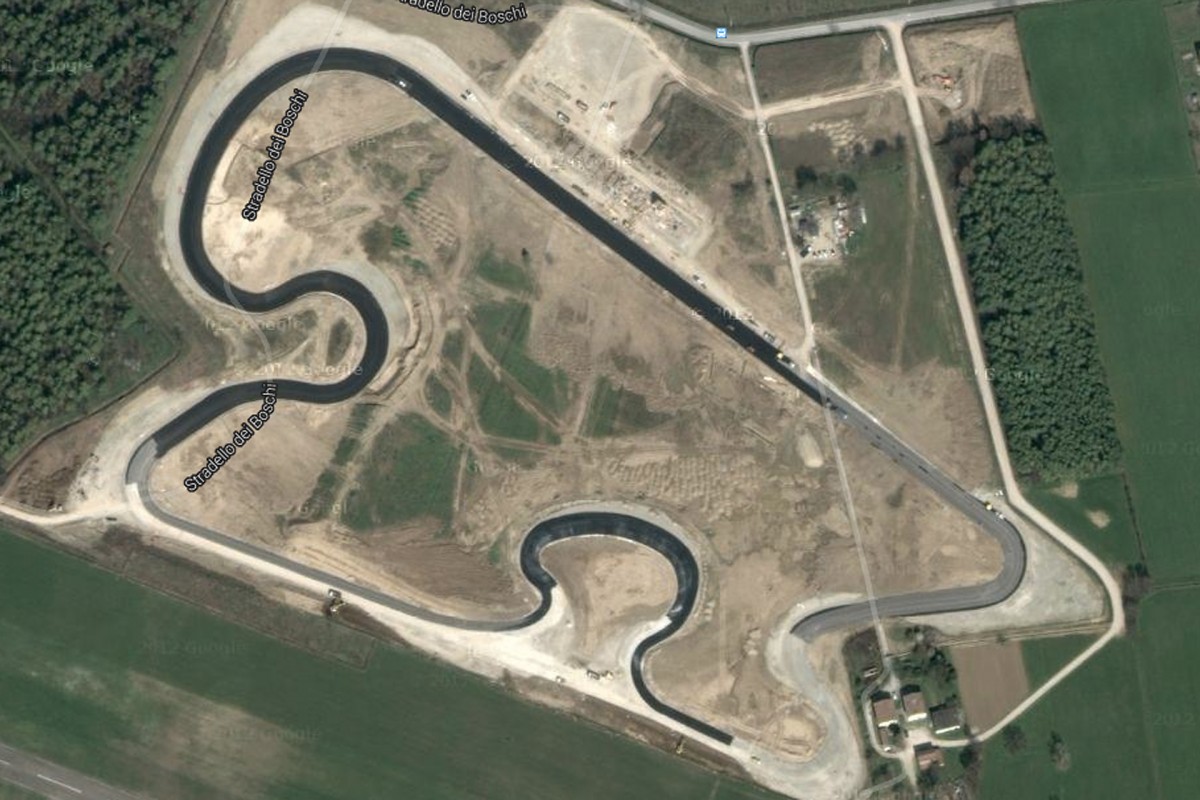 The Autodromo di Modena is a very cool little technical track. Recently finished, it offers some pretty impressive facilities, lots of space to play with and billiard smooth tarmac around its 2km road course. While you aren't going to see crazy speeds on its main straight it turned out to be a superb venue to push the Huayra beyond what I thought was initially possible. Let me elaborate…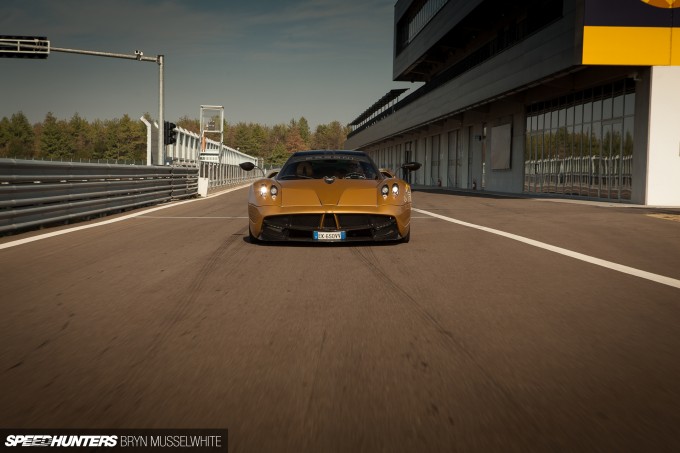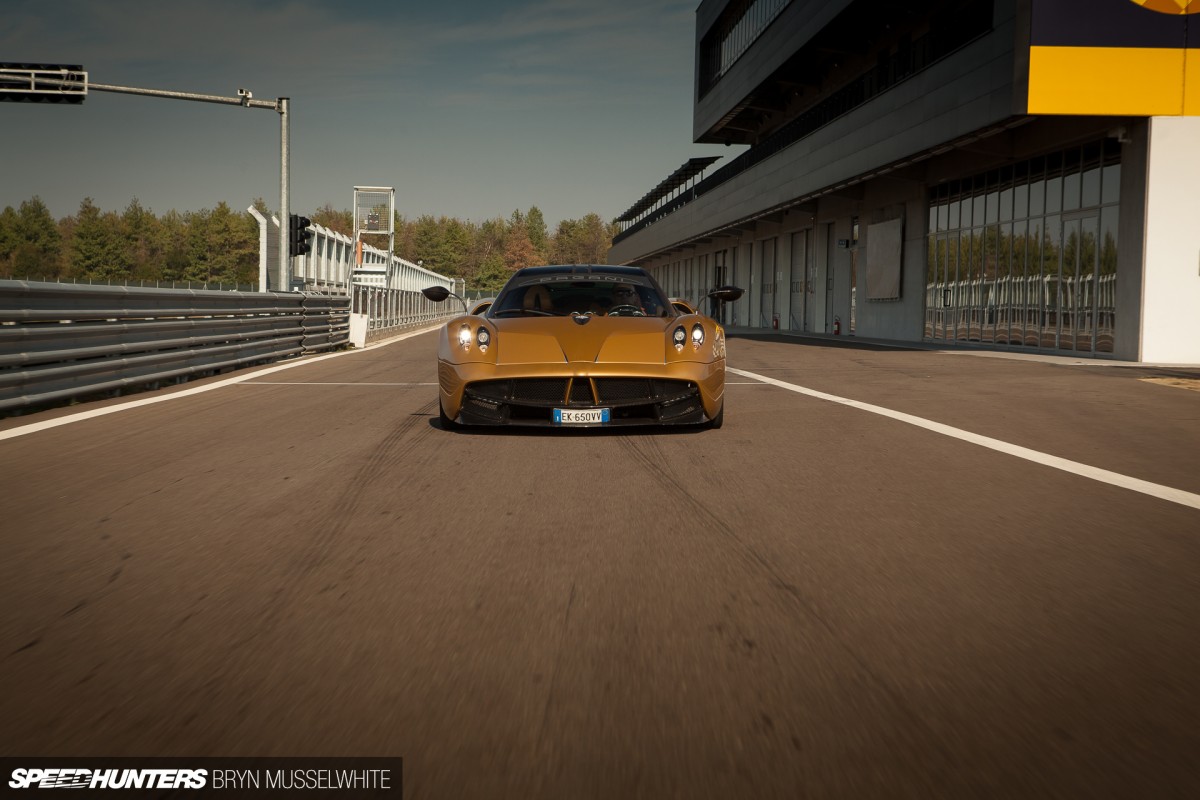 So with the GoPro on, the okay from the track and the thumbs up from Luca and Davide, I pulled the gear selectors back from neutral into drive, engaging first, and gently set off down the pit lane.
Hitting the track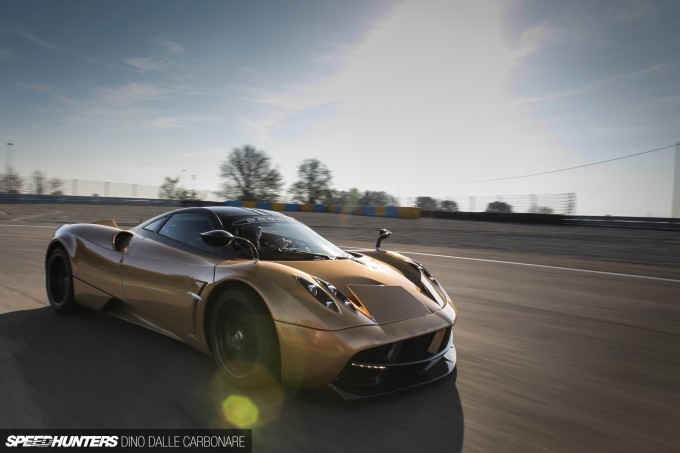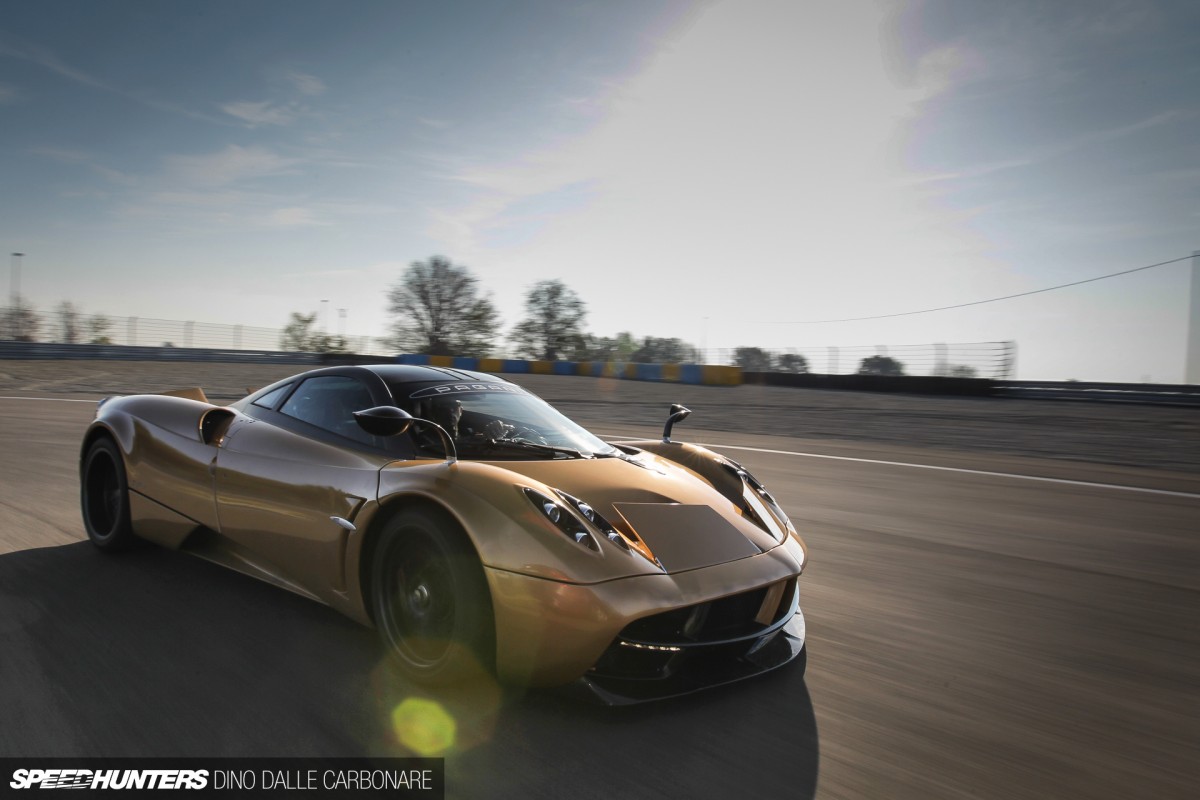 Those first few laps felt so alien: the sounds, the smells the whole ambience of the Huayra continued to make me feel completely out of my element. It felt like I was driving some strange spaceship, the tactile experience alone continuously reminding you that you aren't sitting in your everyday mid-engined sports car.
For such an imposing car, the Huayra began to shrink around me and I started to push a little harder, each corner, each prod of the throttle and each upshift all beginning to slowly feel normal.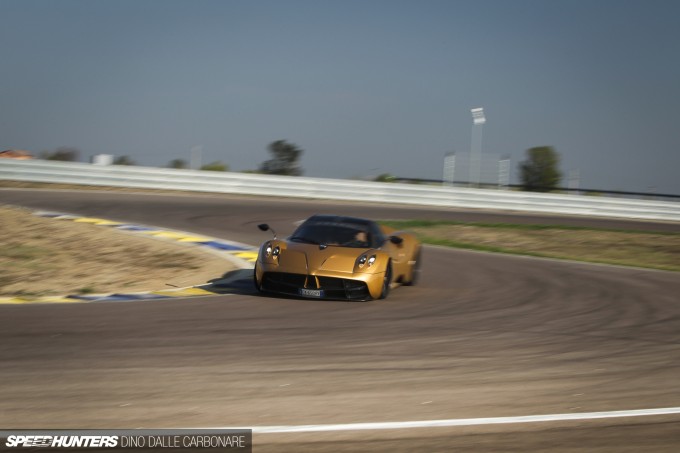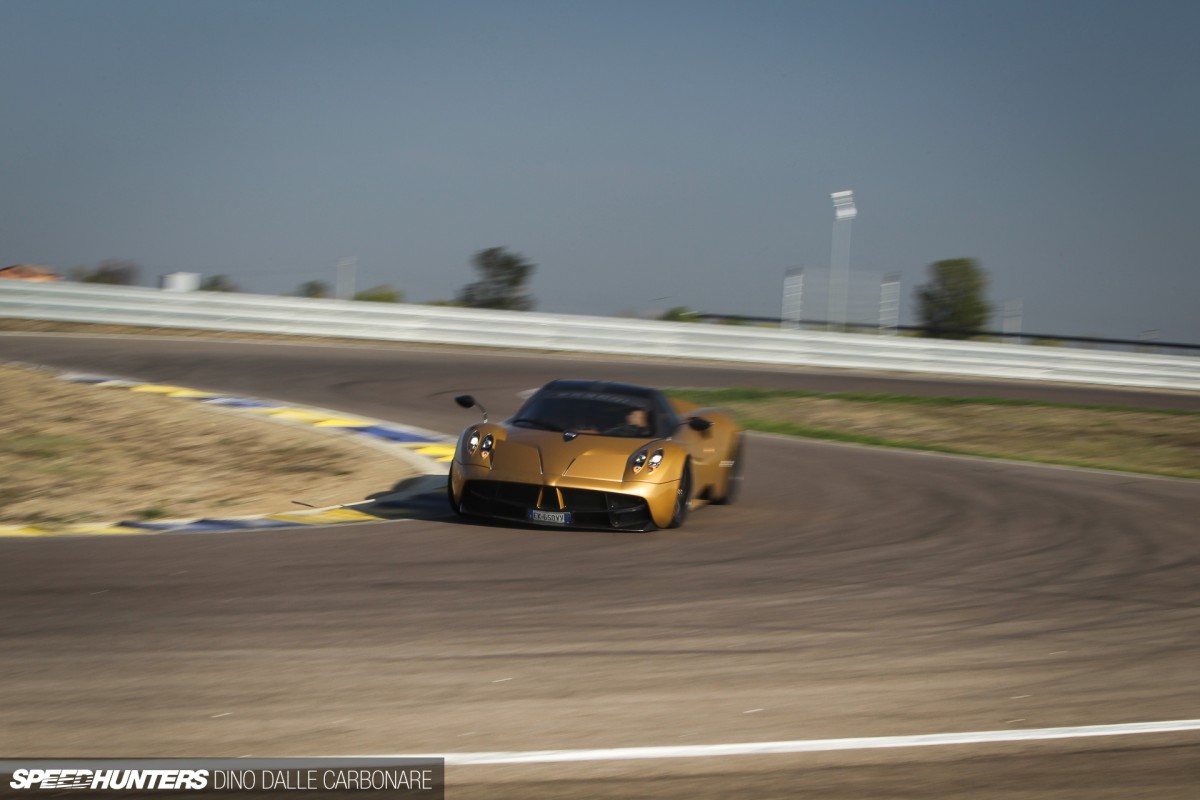 The Autodromo throws a variety of corners.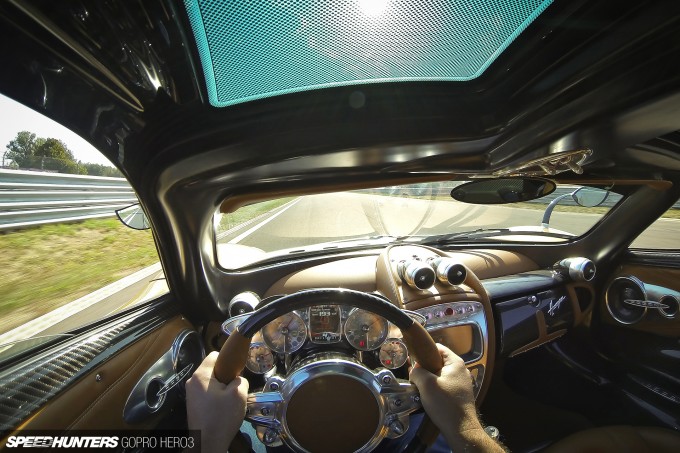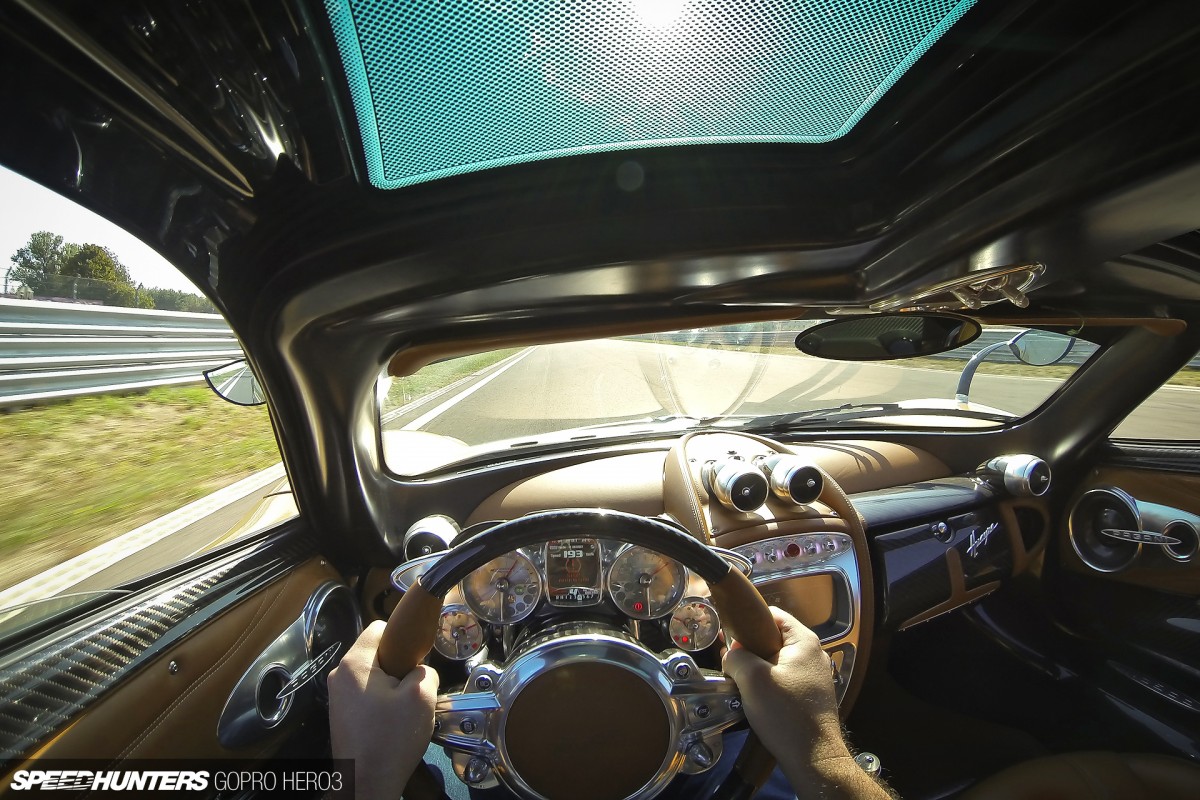 You first pile on the speed and let the monster V12 annihilate the straight, as you make your way towards the first section, braking hard down from about 220 km/h and take the first right-hander, where both the brakes and front end are put to the test.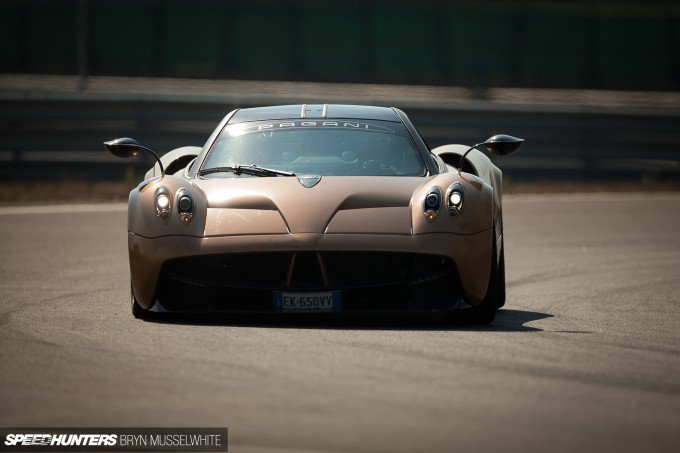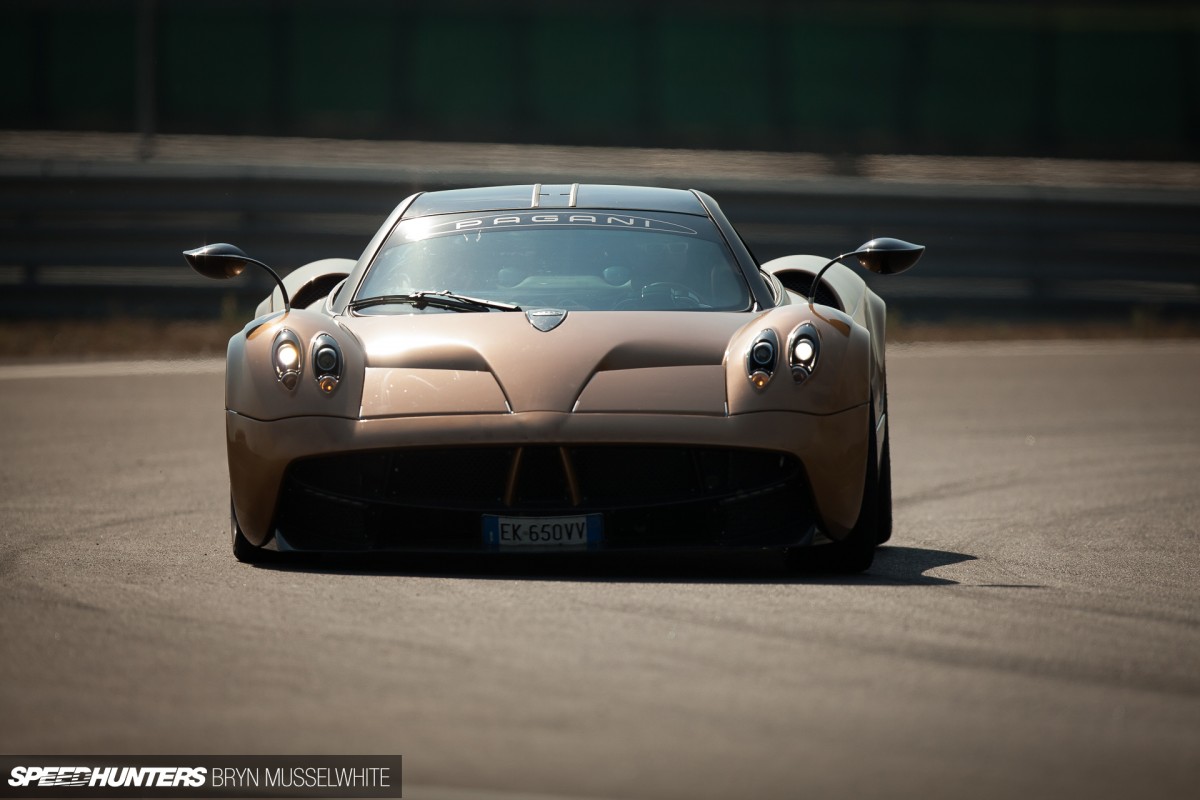 And it was the handling that really blew me away initially.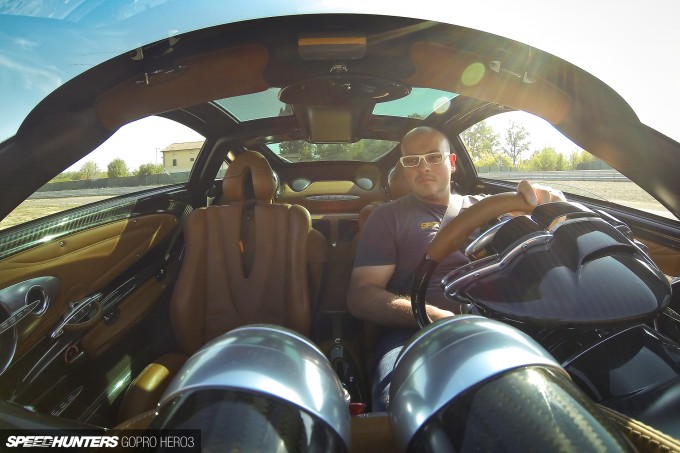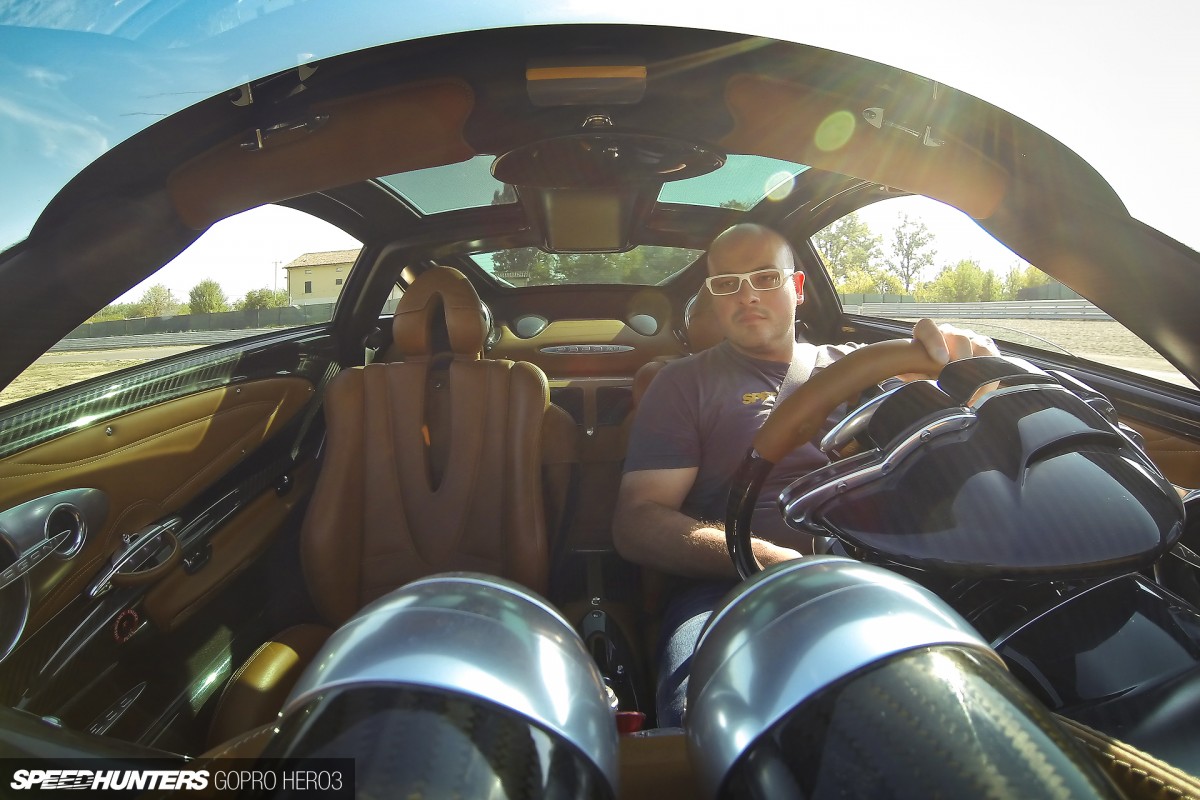 The car weighs 1,350 kg, translating into a perceivable nimbleness through the steering and, well,  your ass. You're always aware of the big mass sitting behind your shoulders so while that does give typical mid-engined behavior there was a whole level of control that I've seldom felt before.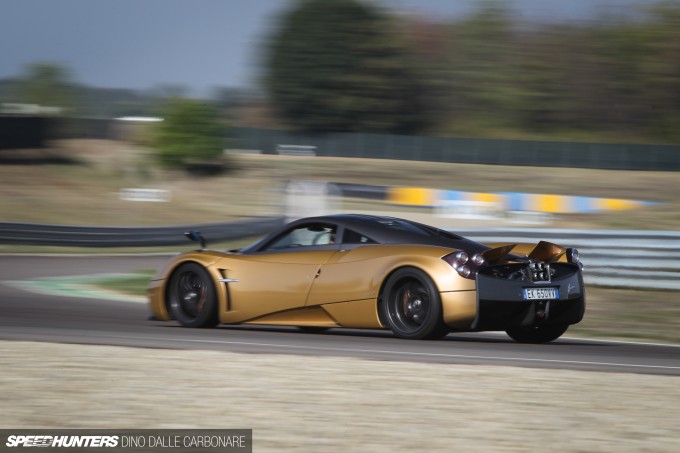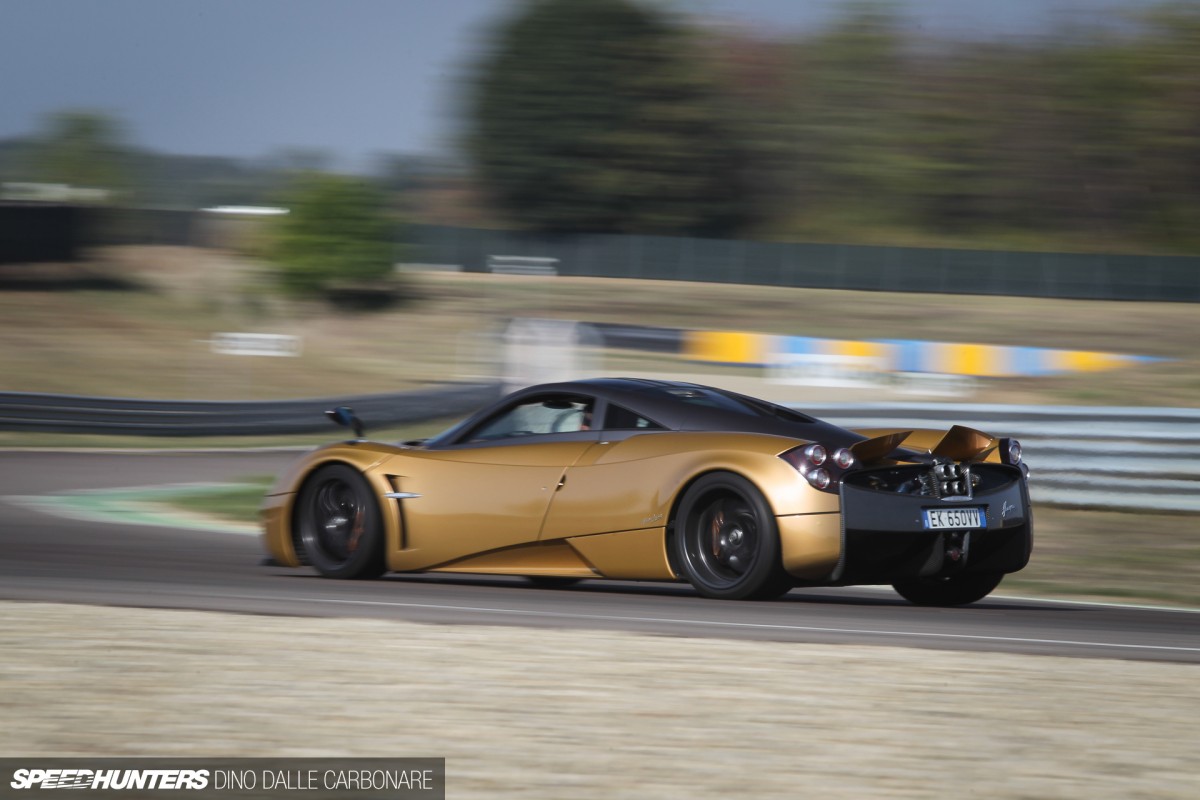 The front end bites down so hard there is always grip there and even if you overdo it, understeer sets in ever so gradually.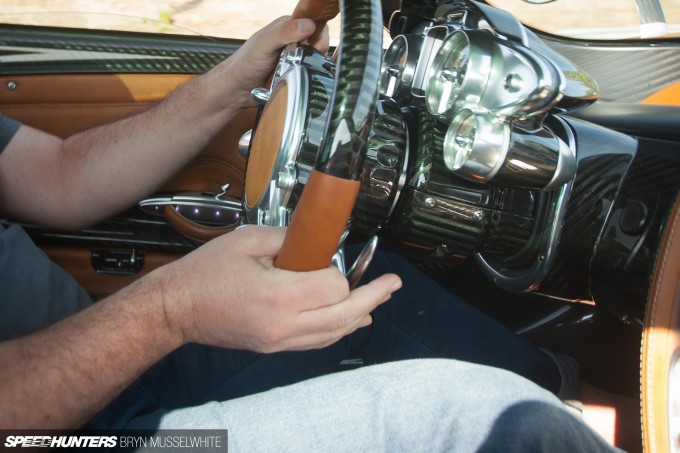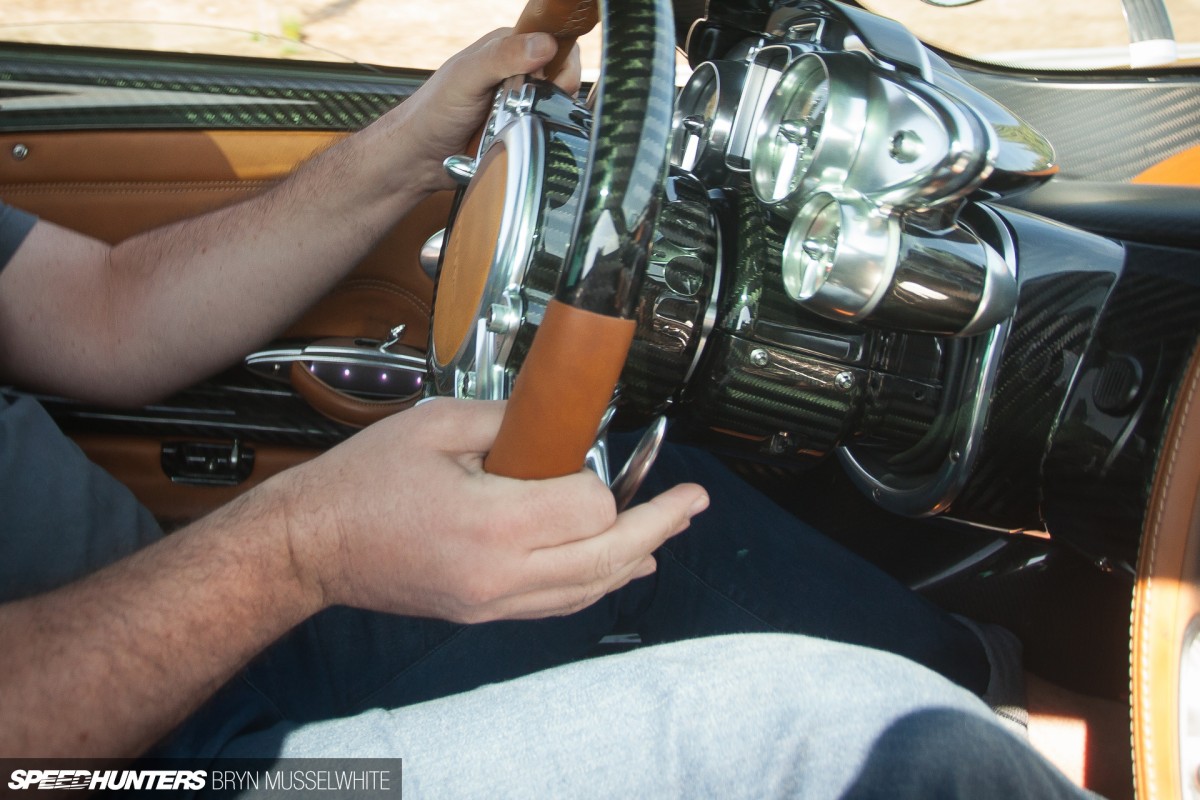 The rear end is sublimely set-up; there is immense grip and traction coming out of the corners but it all depends on how you control the power. Act like a hooligan and even those massive 335-section Pirelli P Zero Corsas are going to light up in an instant, but diligently feed the 1000Nm (737 lb/ft) of torque and you will shoot out of turns with incredible pace. There's a race car-like level of tightness in the chassis: the stiffness and the rigidity is at the core of the performance and you're aware of this at every moment on track as the suspension interacts with whatever you throw at it and supplies the most unspoiled stream of information through the steering.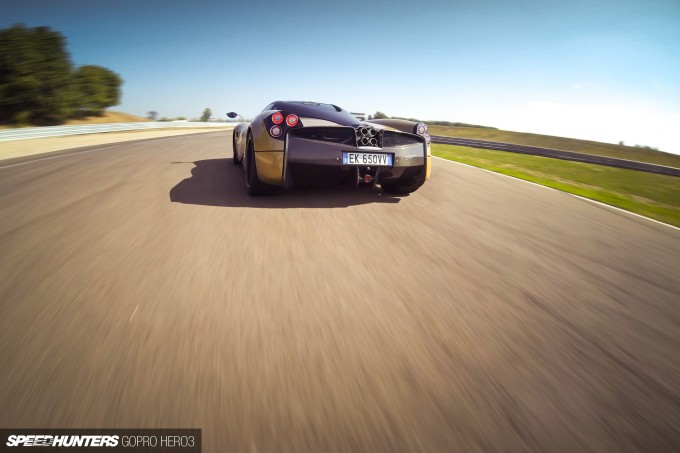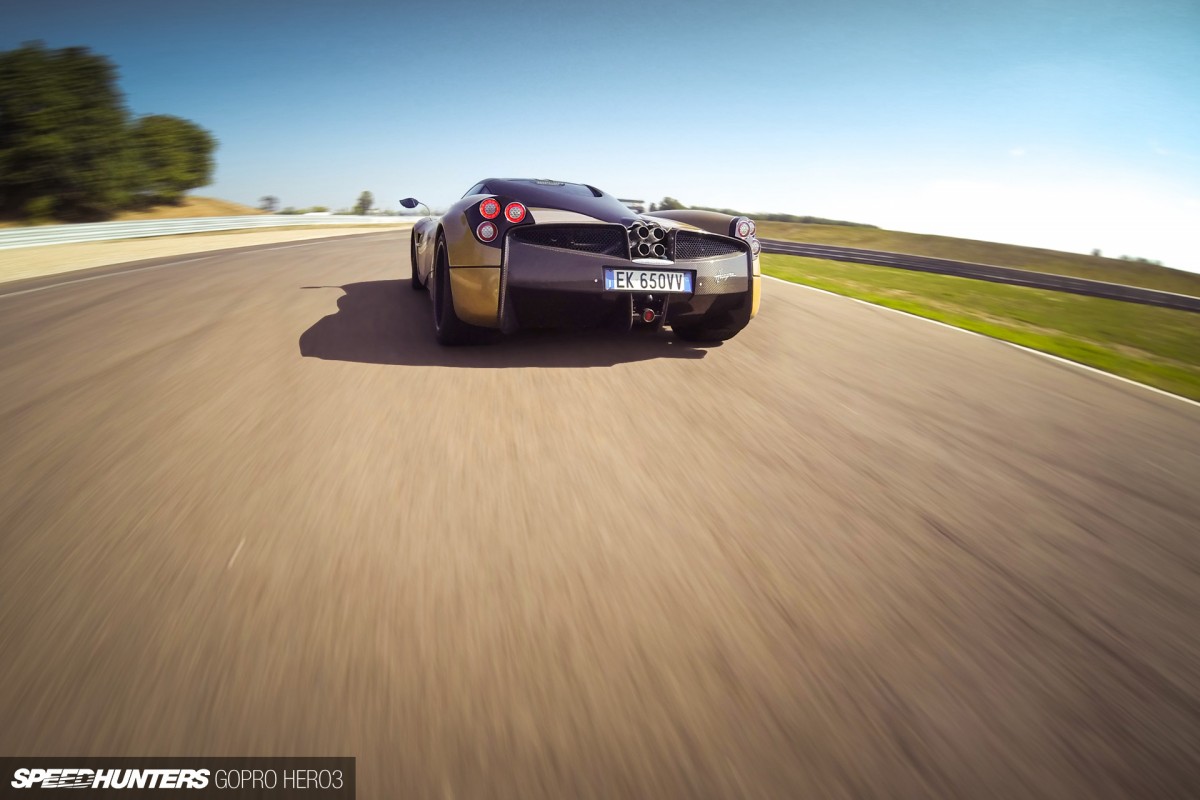 Take into account that this development car has covered a very hard 90,000km and this becomes even more impressive. If it feels so tight at 90k, what on earth does a new and fresh off-the-production-line Huayra feel like?!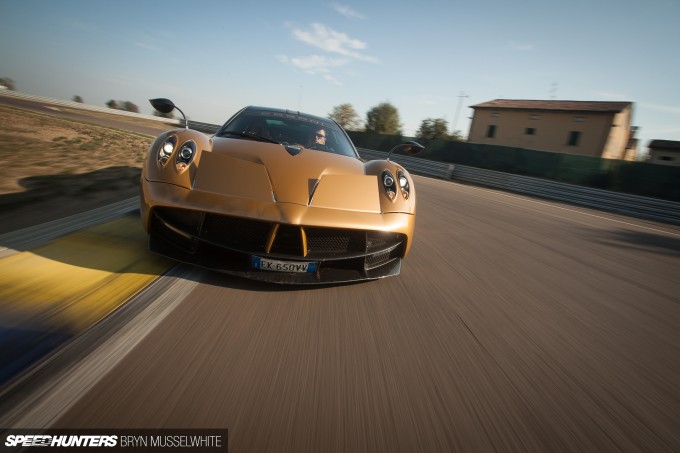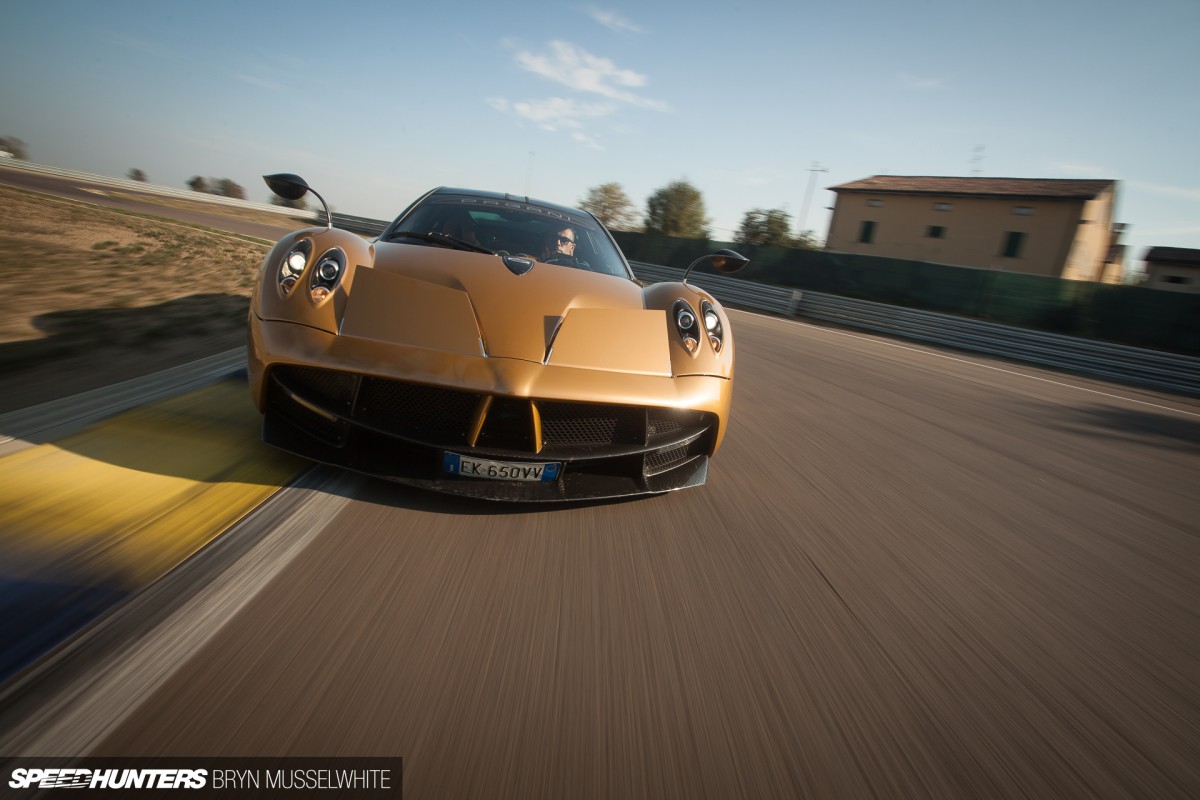 And then, then there is the engine. I don't care what people say- sure the Zonda's naturally aspirated V12 will forever remain one of the best motors fitted to a road car ever, but this new force-induced V12 from AMG is very much a worthy successor, one that fits in perfectly with our times and the single aspect that gives this car its persona.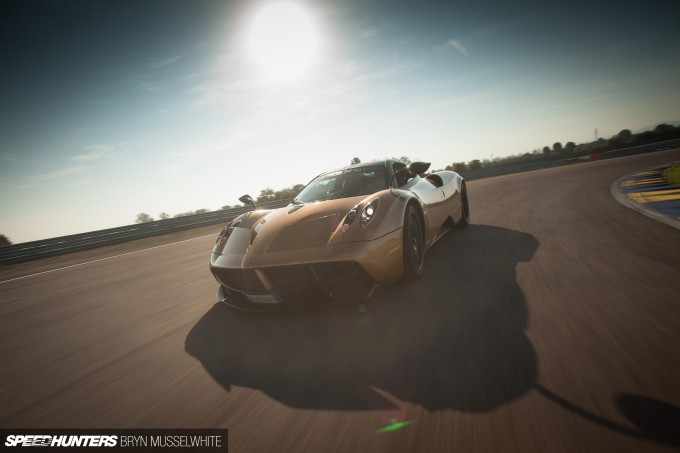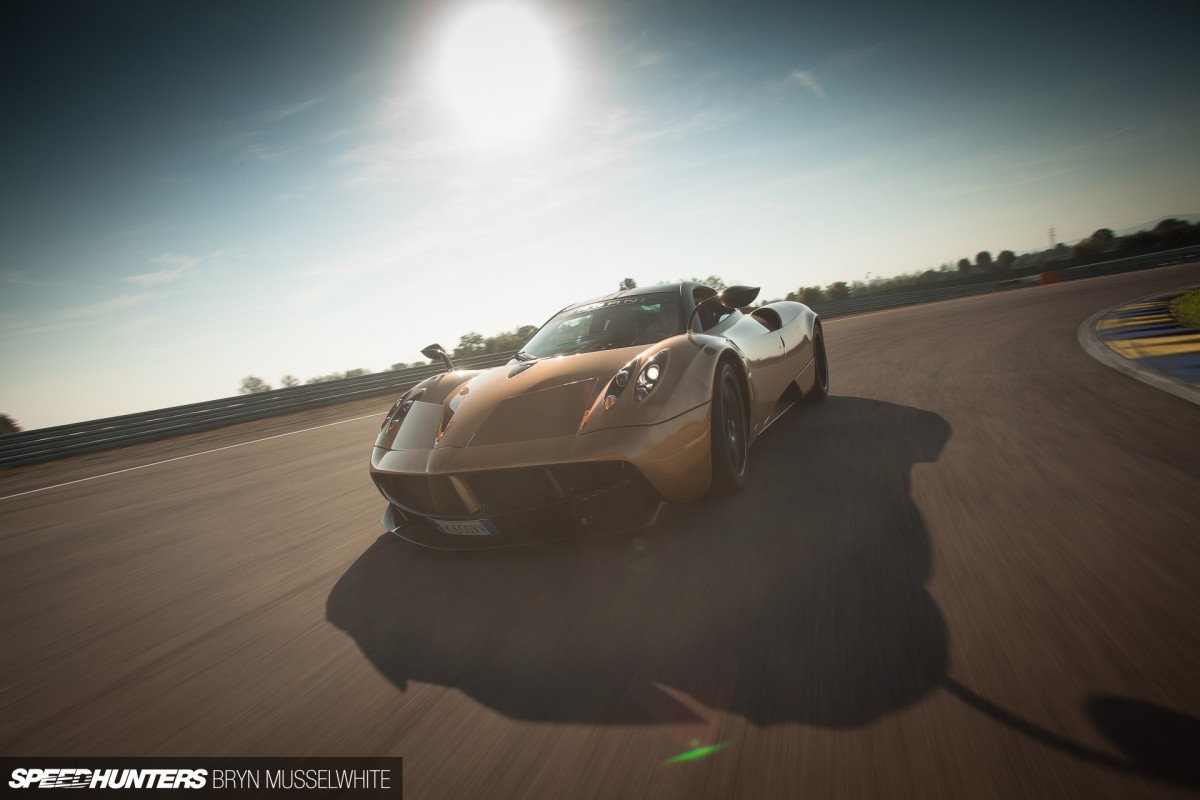 The Huayra's throttle deserves a lot of respect, it doses what has to be the most violent engine I've ever sampled. Turbo lag? This thing has the absolute opposite of lag, in fact it's more explosive than an NA motor of similar power, as from anywhere in the rev range it just unleashes the most brutal wave of torque you could possibly imagine.
Oversteer is there pretty much in any gear and with any perfectly set up car you know exactly how and when it comes in…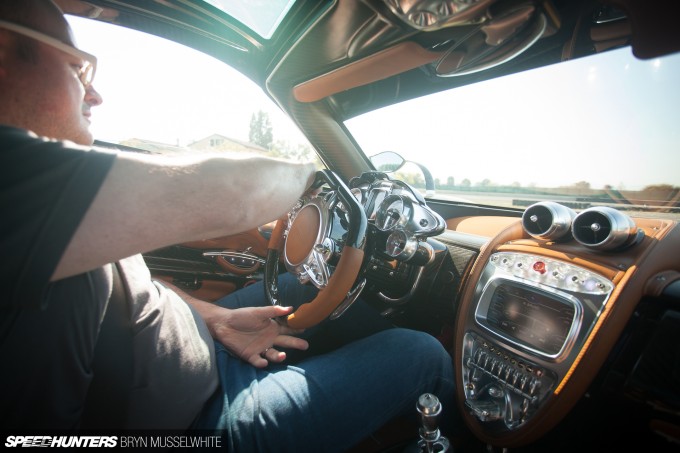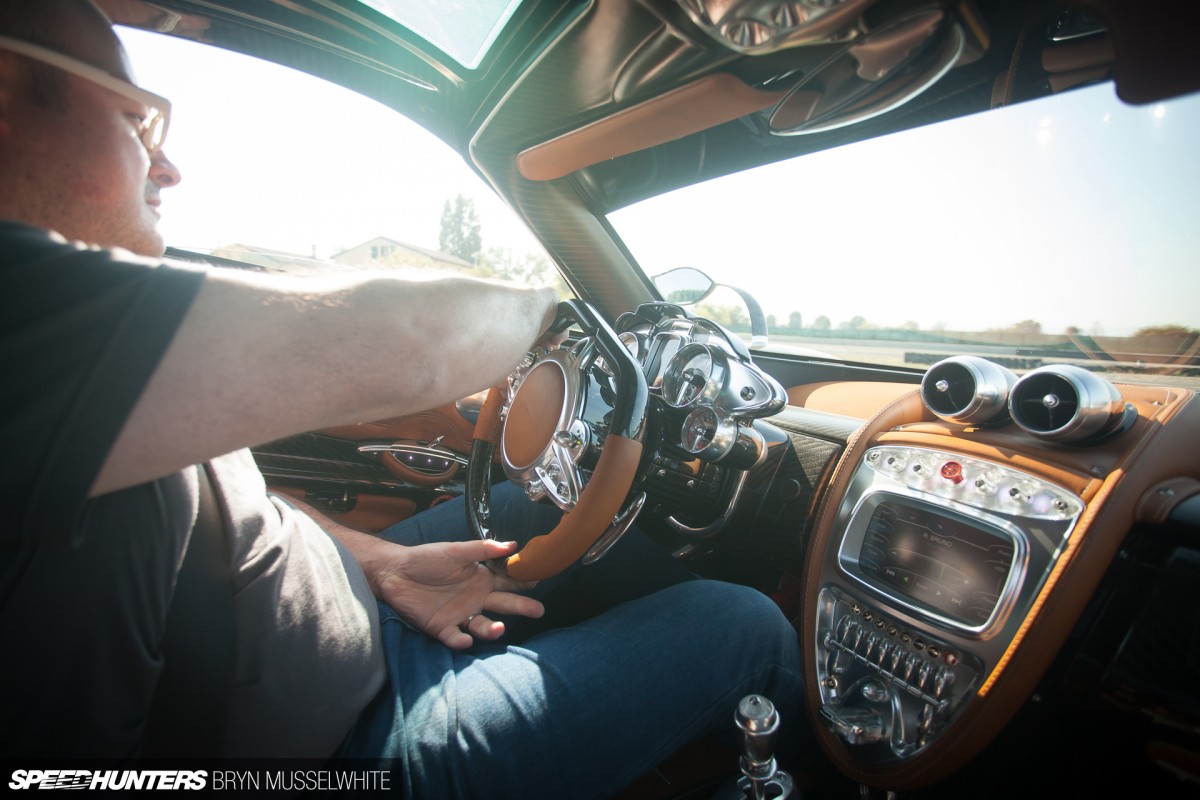 … either using it to your advantage through corners to trim your line or just playing around and letting the tail kick out.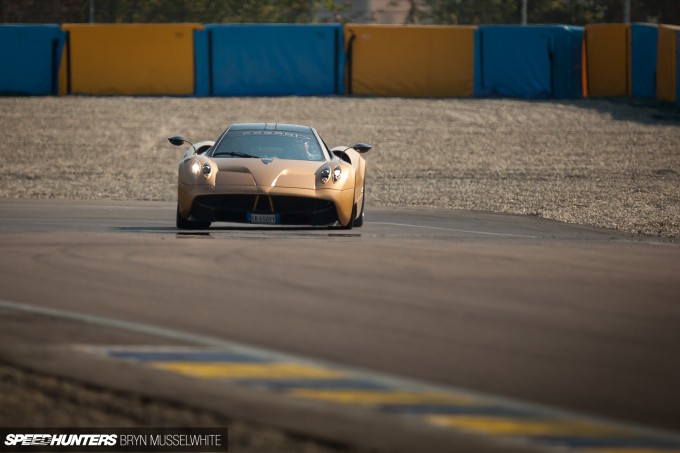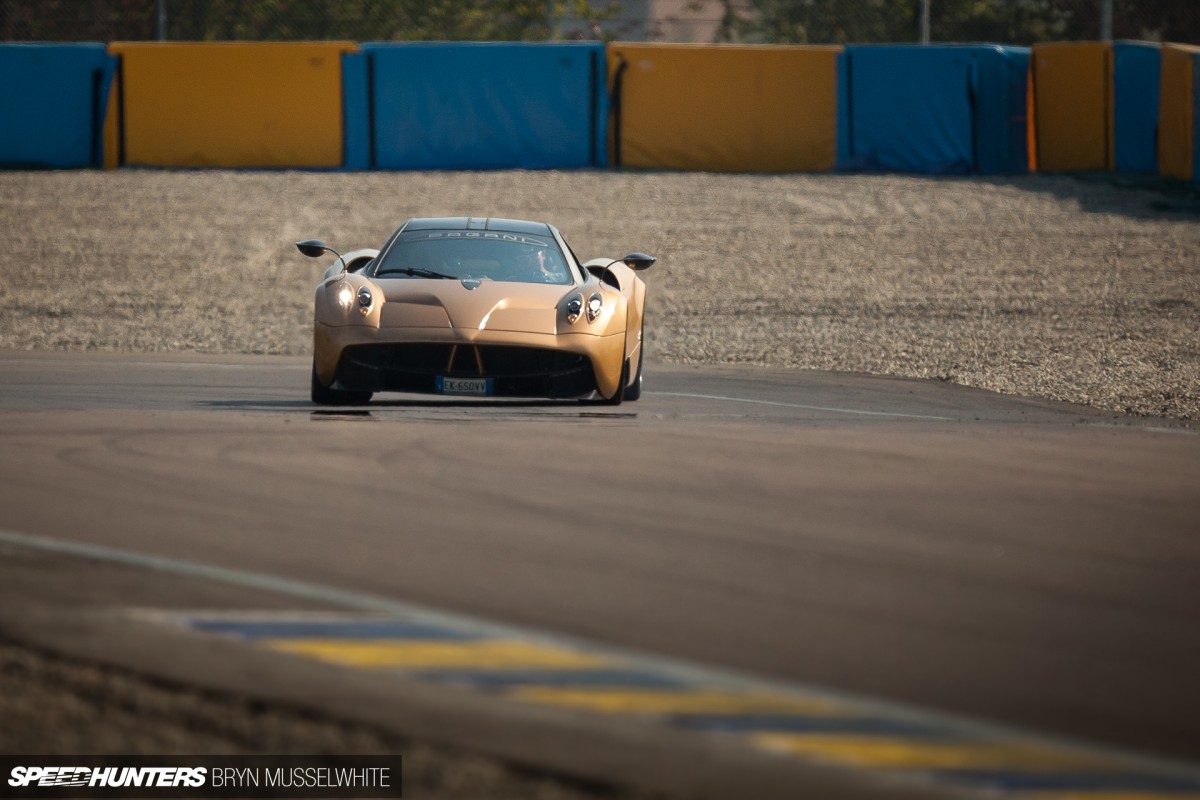 Add to all of this the sound of fluttering blow off valves and the underlying thunder of the 6 liter V12 underneath it, and well, it all just adds to the surreal experience.
Visceral experience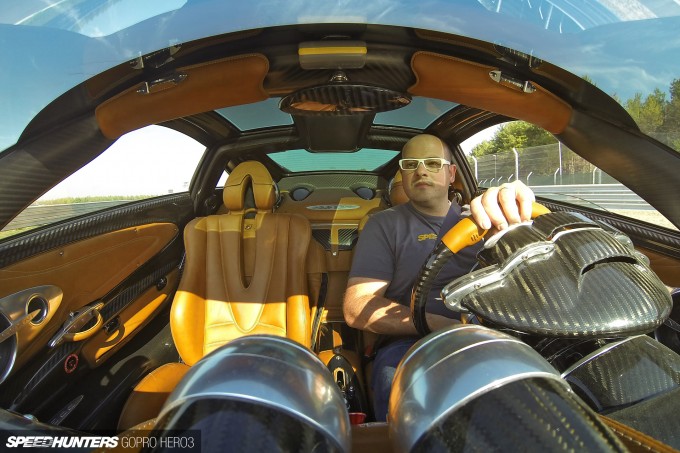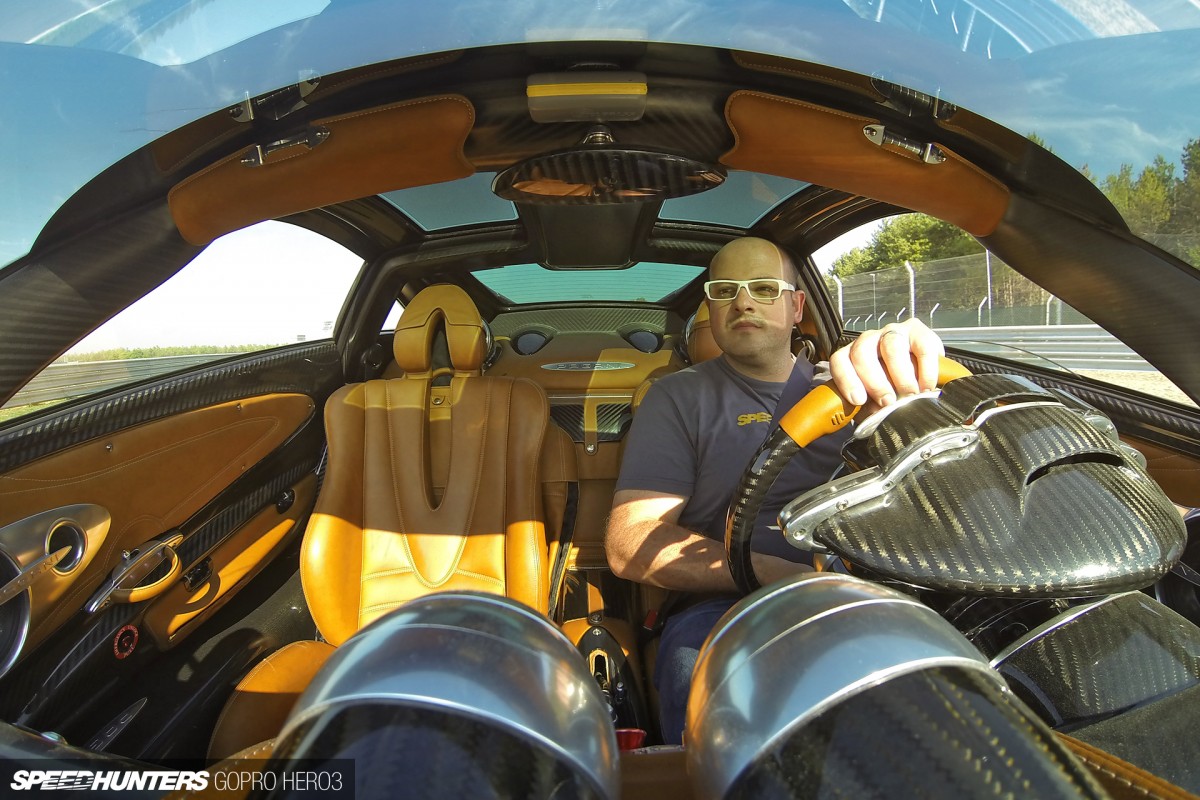 It's almost hard to describe how it feels to throw a car worth upwards of 1.3 million Euros around like it was a hot hatch, but the Huayra is so mechanically well set up and balanced, that you quickly begin to trust it and dare I say, almost take liberties with it. And that's when you really start to have fun.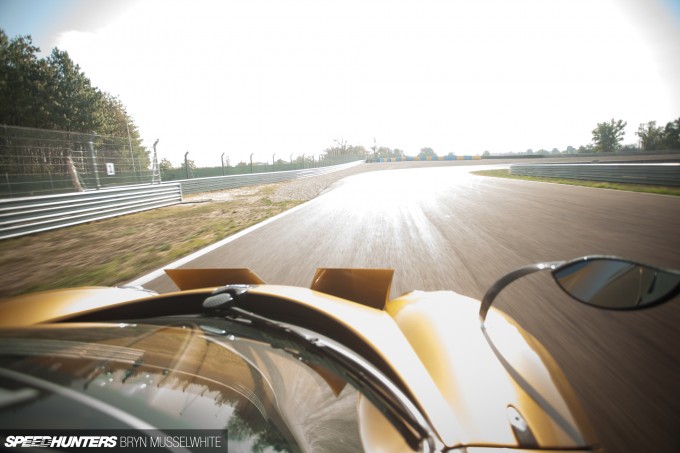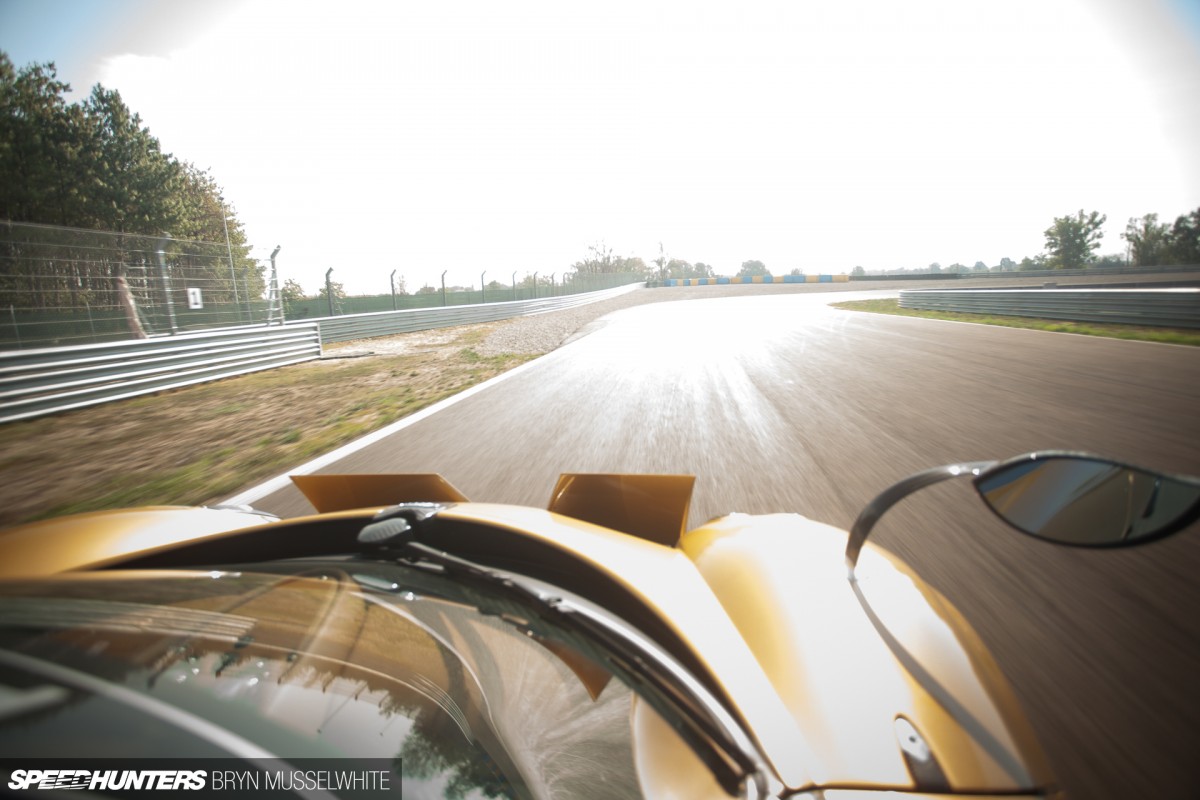 The active aero is a joy to see in action, it's always reacting to what the car is doing: its speed, the steering angle, the pressure on the throttle and of course the brakes.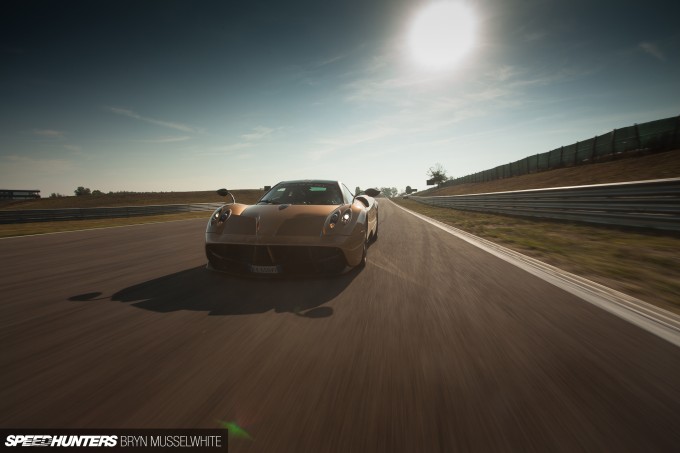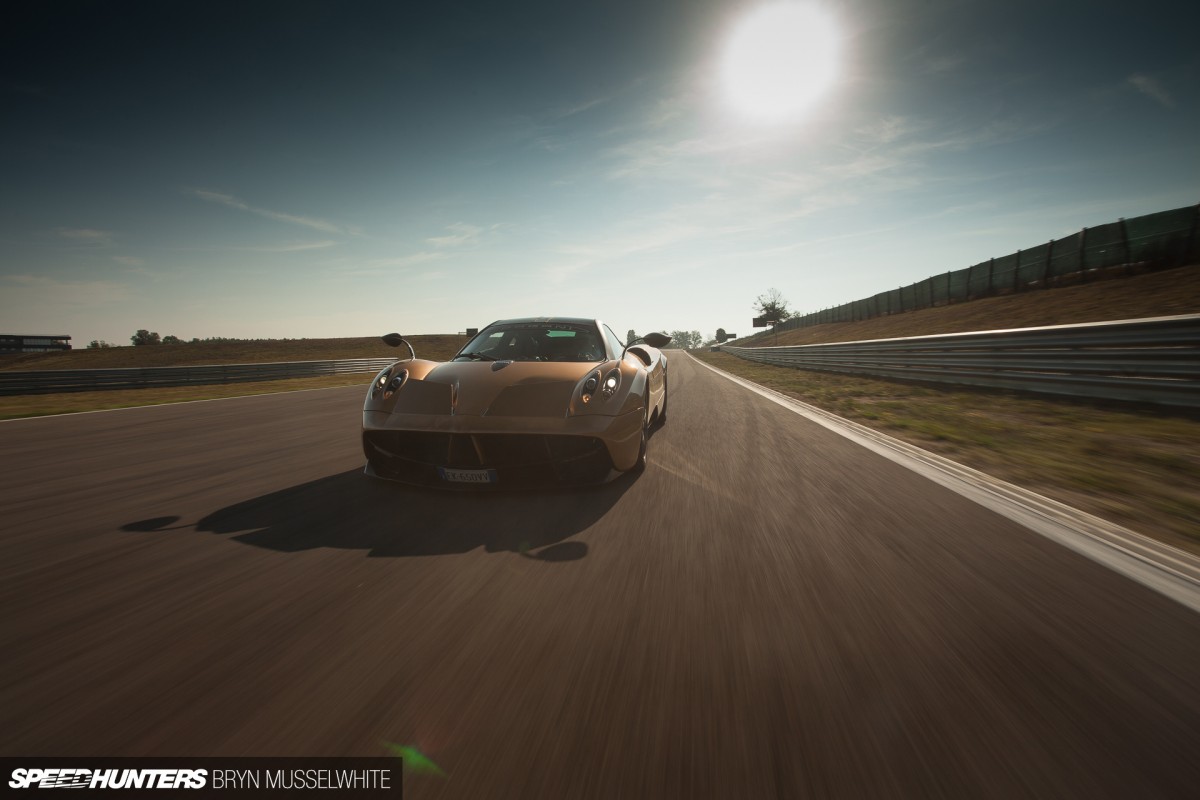 The massive Brembo calipers at each corner are mated to equally large carbon ceramic rotors that take all the abuse you could possibly throw at them. You can trust them, you know the pedal will always be there, tight and progressive right from the top of its travel and ready to shed as much speed as you need, effortlessly and without drama.
If you recall during the Pagani Factory Tour that I posted a few weeks back, I touched on the car's transmission. Pagani did actually run and test a dual clutch transmission but the weight and size alone turned them off the idea. They ended up working with Xtrac who developed a compact (only 90kg!) transversally oriented single clutch seven-speed transaxle transmission which has no issues dealing with the crazy torque and power figures.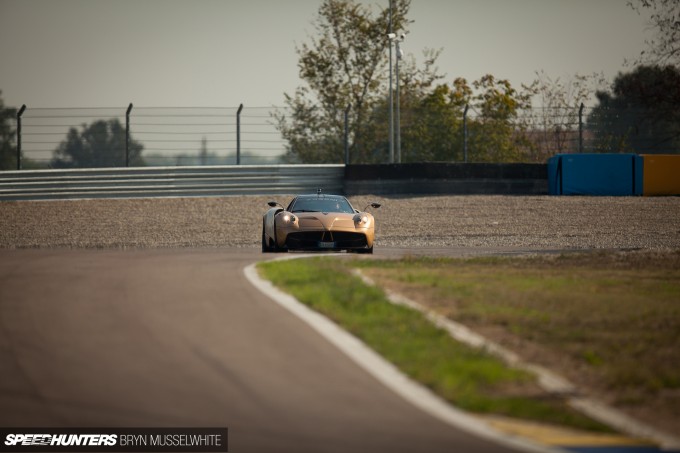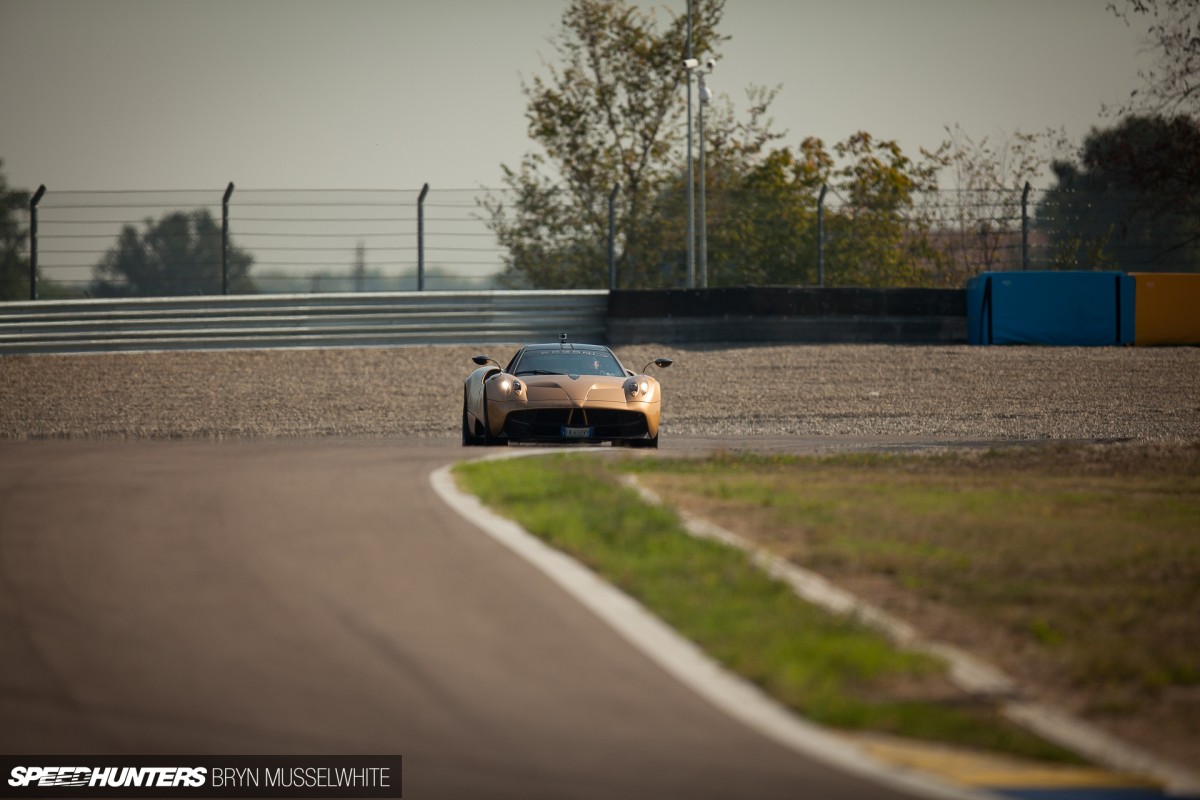 While it doesn't offer an instant flat shift as a DSG unit would, it does have its own very distinct character and  despite there being a short momentary pause in the drive, the way it all happens adds to the Huayra's driving experience rather than taking away from it. I loved how I sometimes shifted mid-corner, going from a second gear slide, up into third and then had the rear kick out again.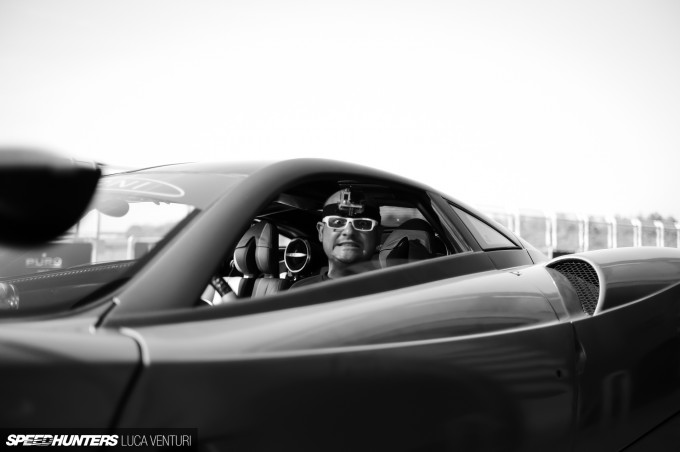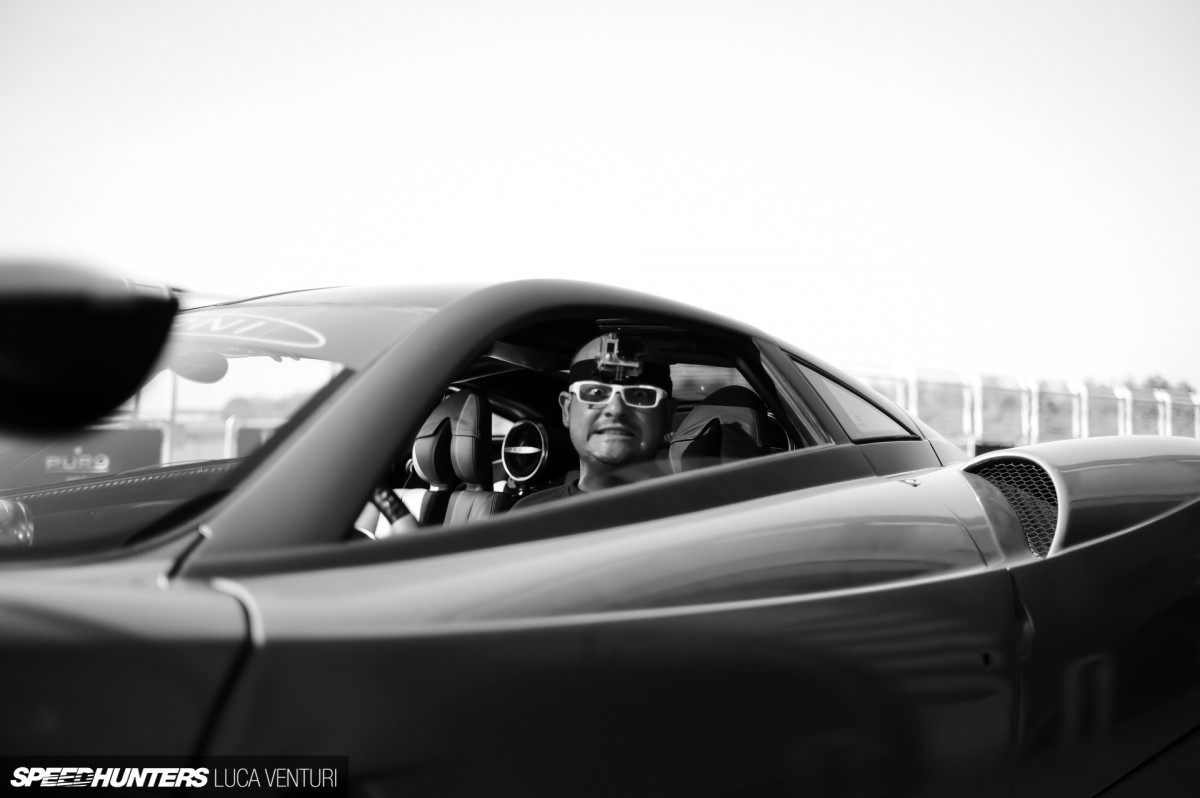 Yes, I was very happy!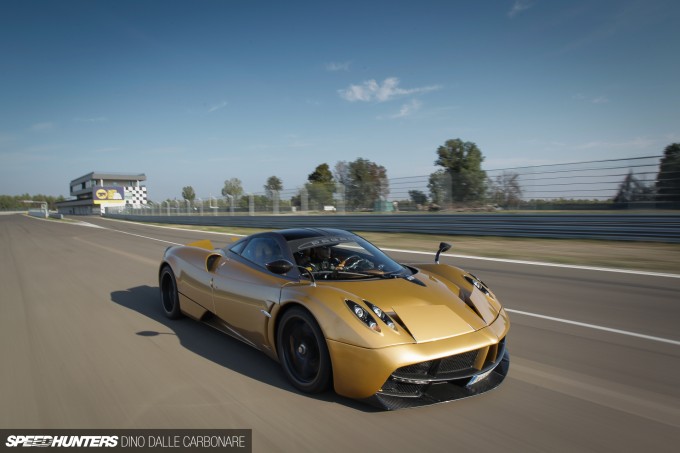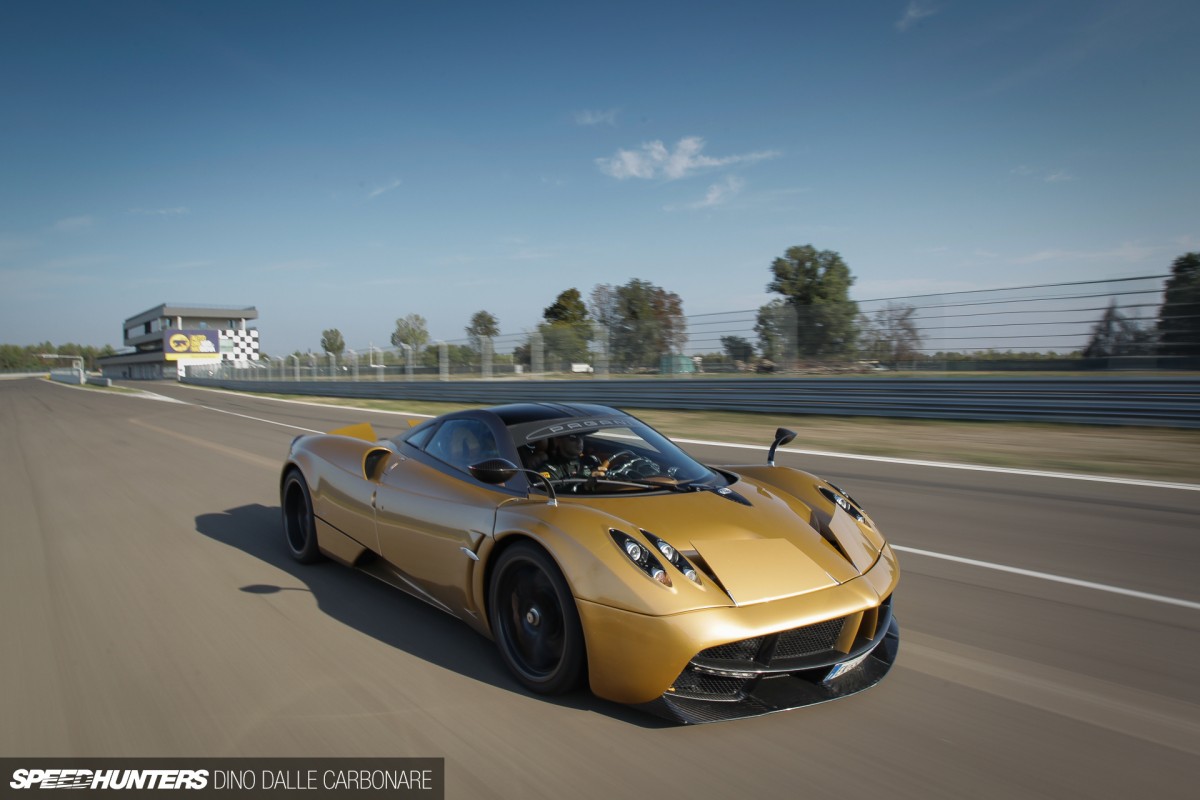 While in most cases driving experiences of this nature are limited to a handful of hot laps that end before we realize what just happened, every time I came back in, Luca would tell me to go out again!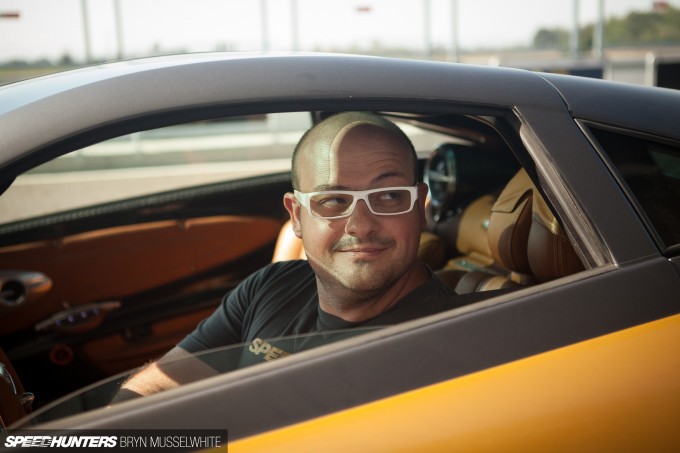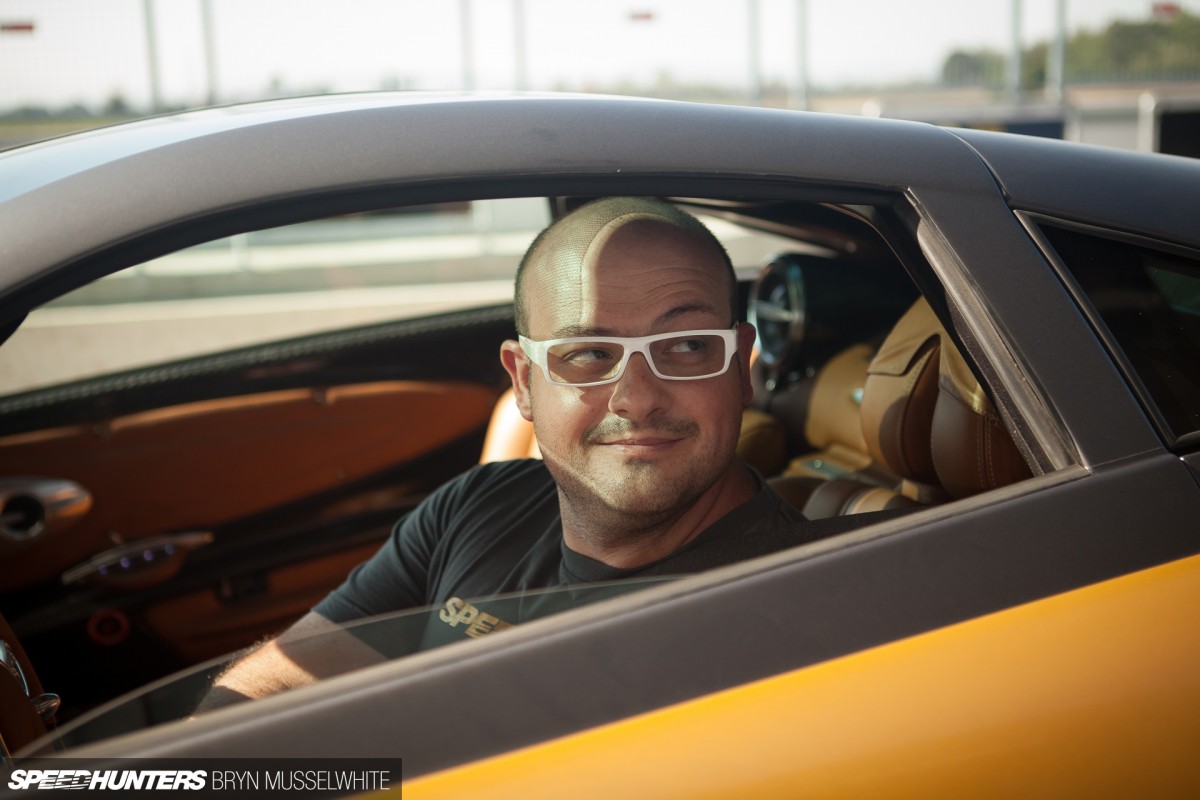 Do you still have gas? Yes. Then go! It's hard not to give cheesy smiles when people keep insisting you continue to drive a car like the Huayra.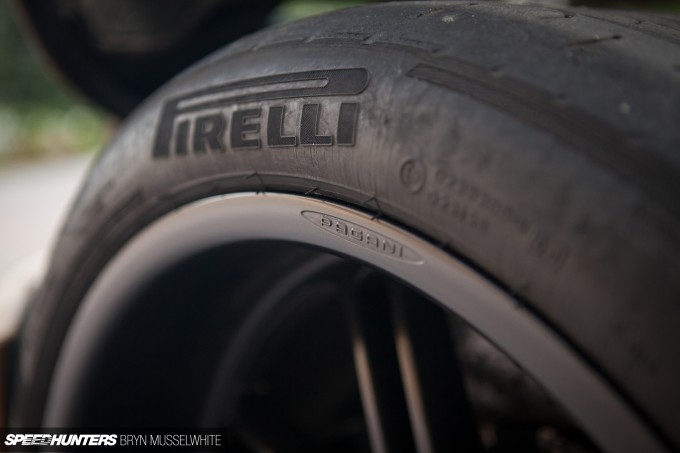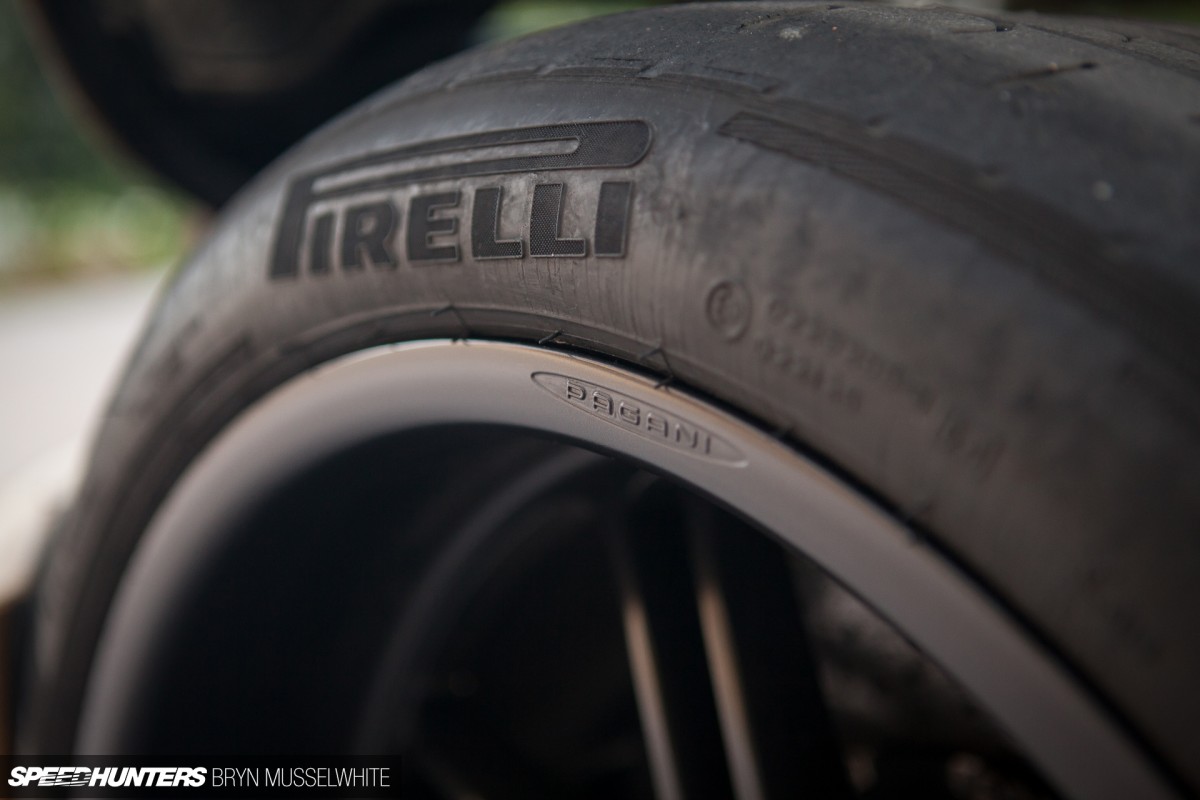 We did keep an eye on the tires too of course, but these specially developed Pirellis didn't seem to be too bothered by the things I was asking them to do.
Redefining performance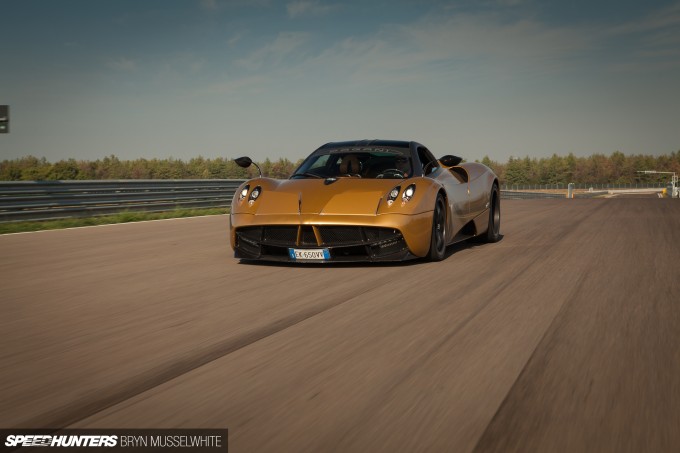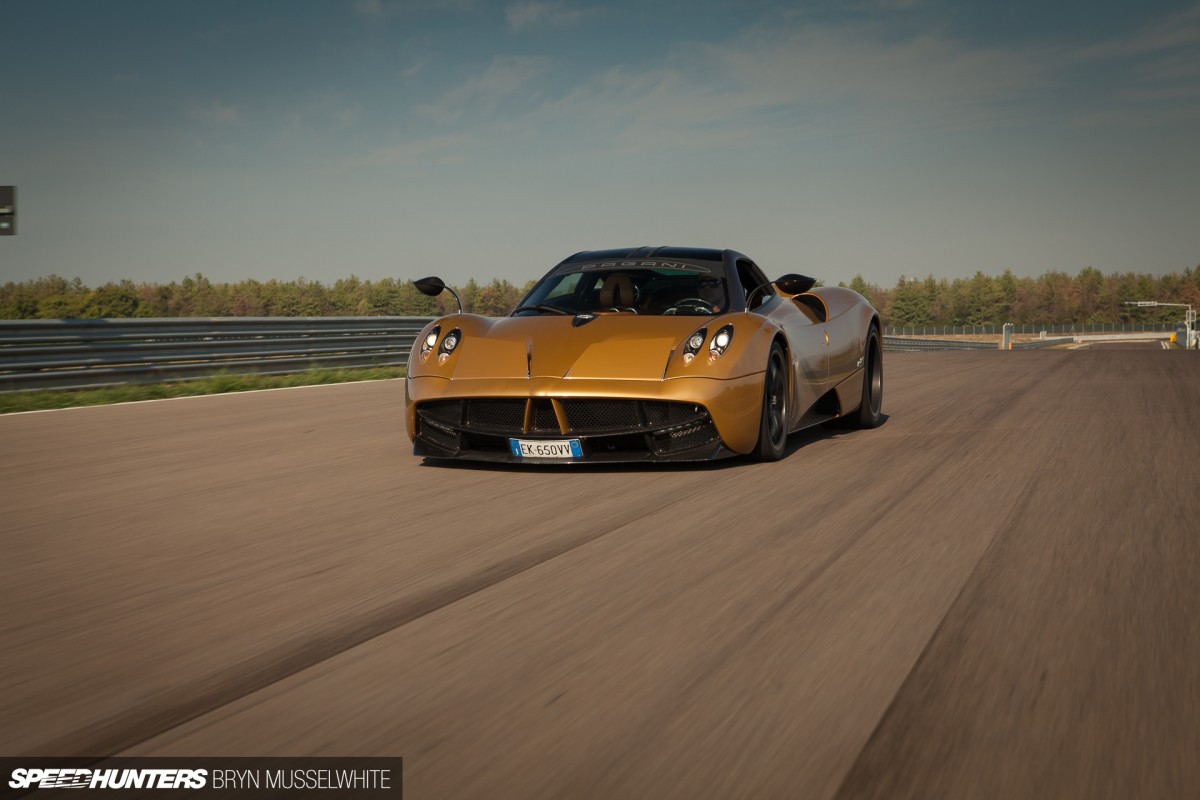 So off I went again.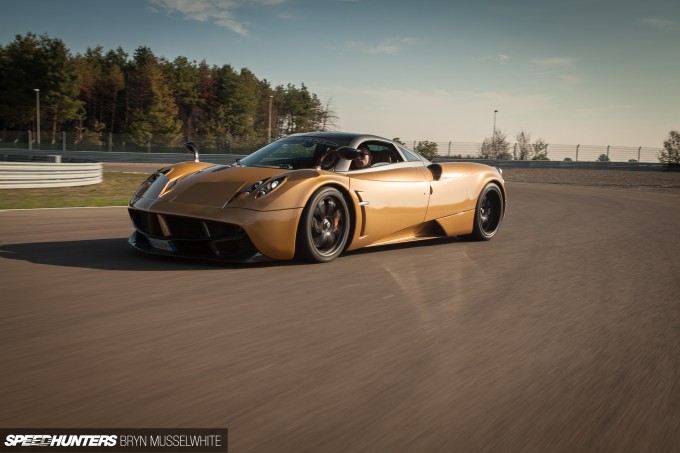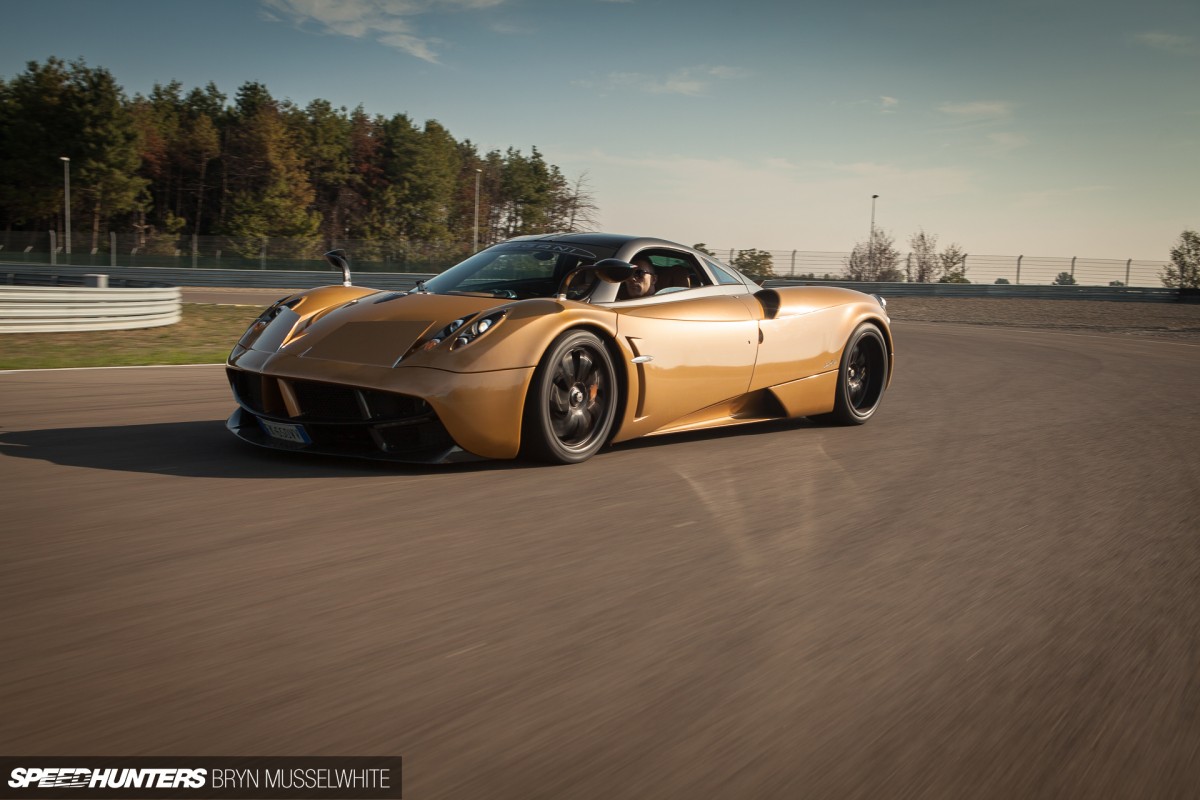 And then the more I drove it, the more I realized about that initial thought I opened with.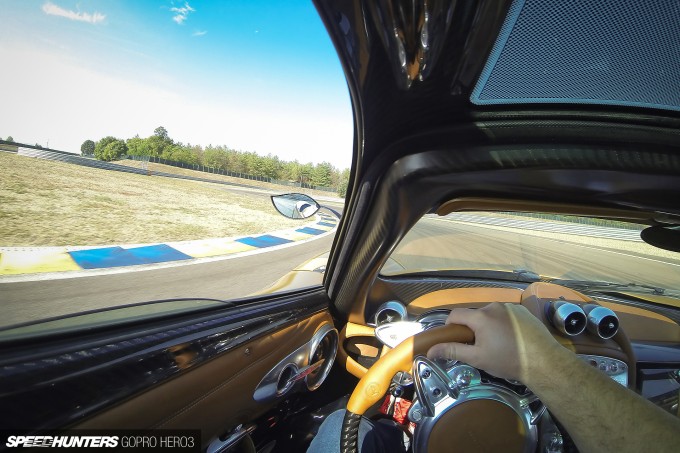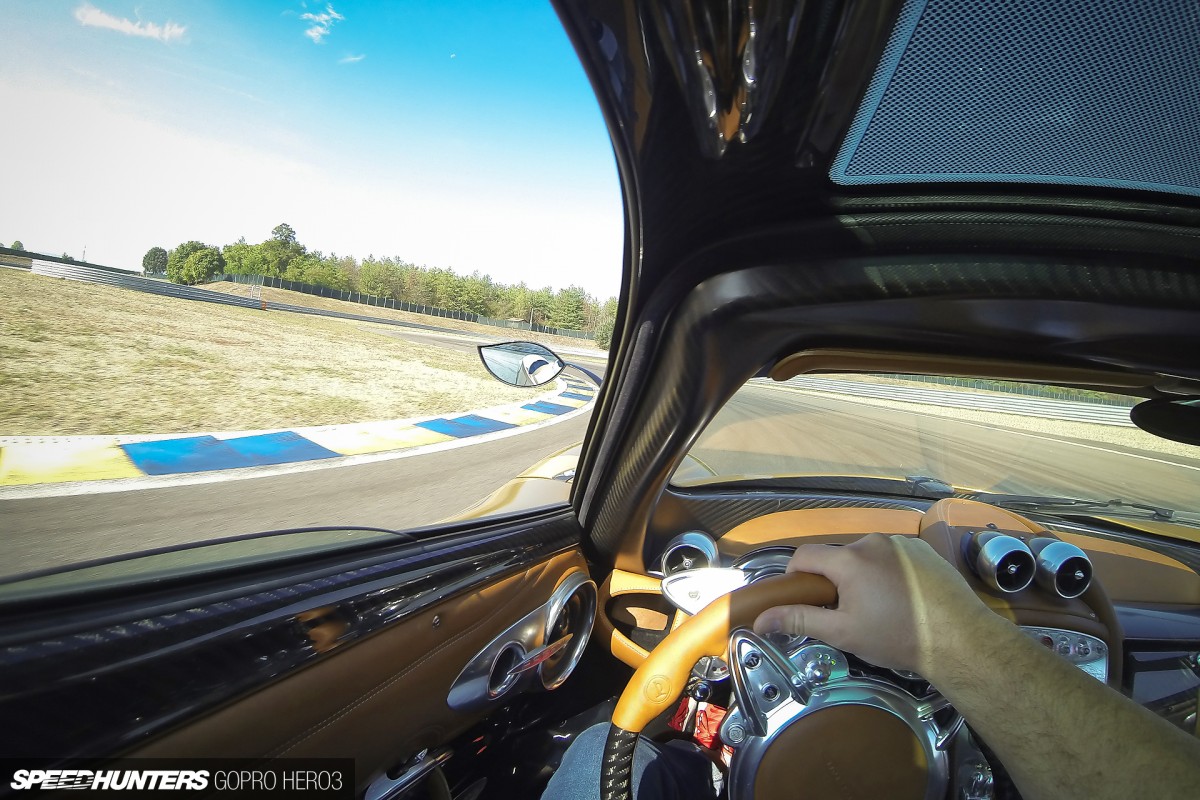 There are fast cars – plenty of them in fact, but there are very few that tap into your senses like the Huayra does. The term supercar is probably thrown around too easily these days…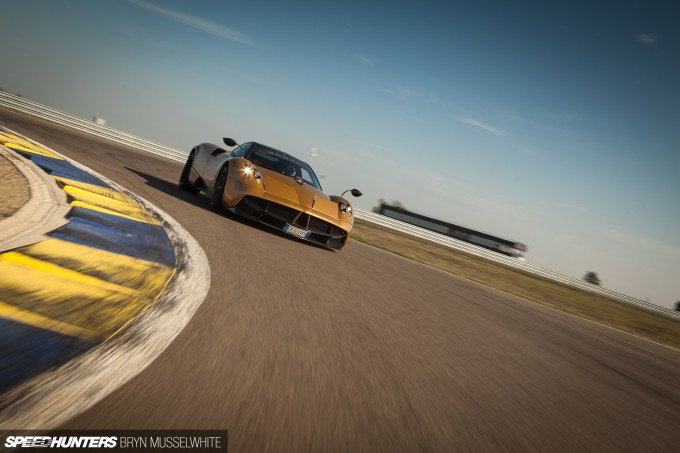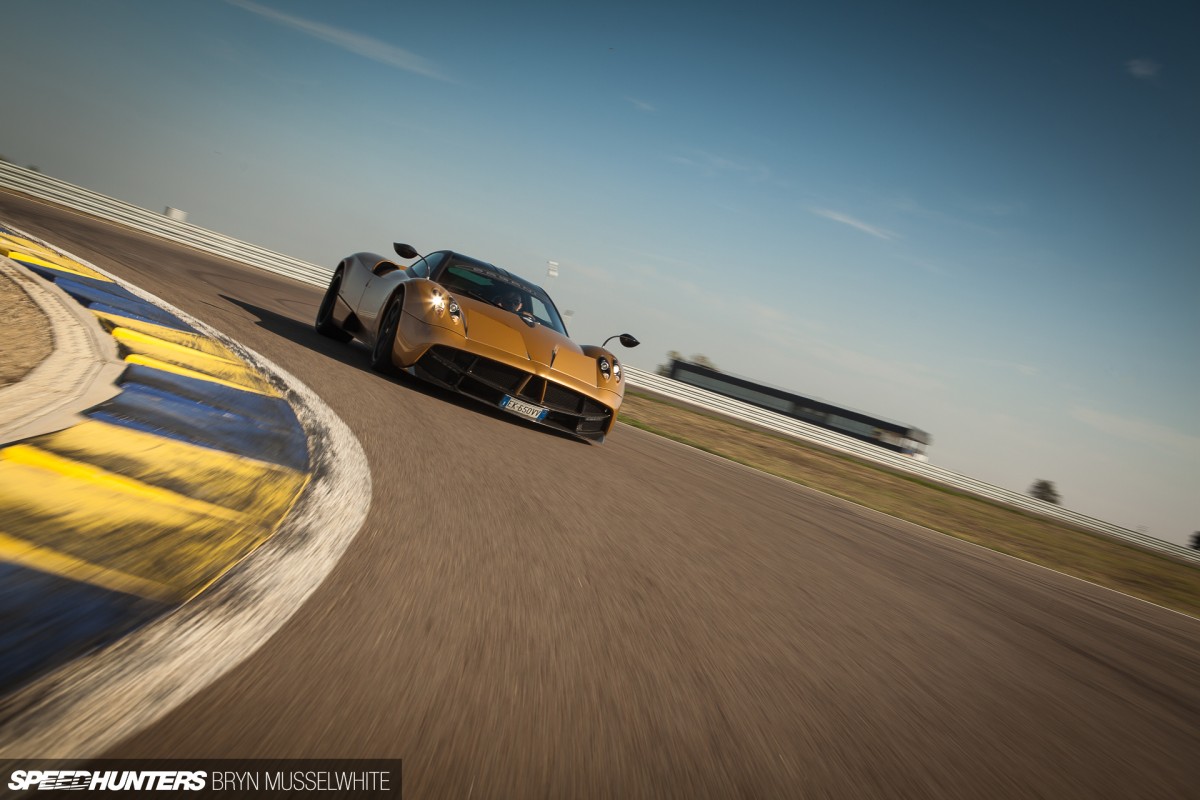 … and that's just plain wrong. It's a classification that we should seldom use; it should be saved exclusively for a select crop of machines…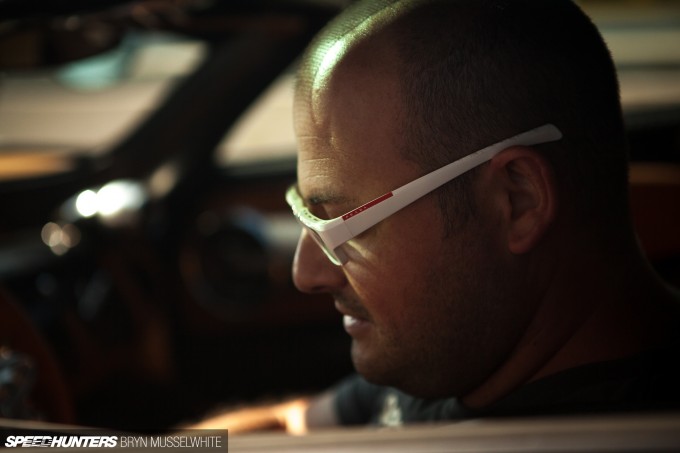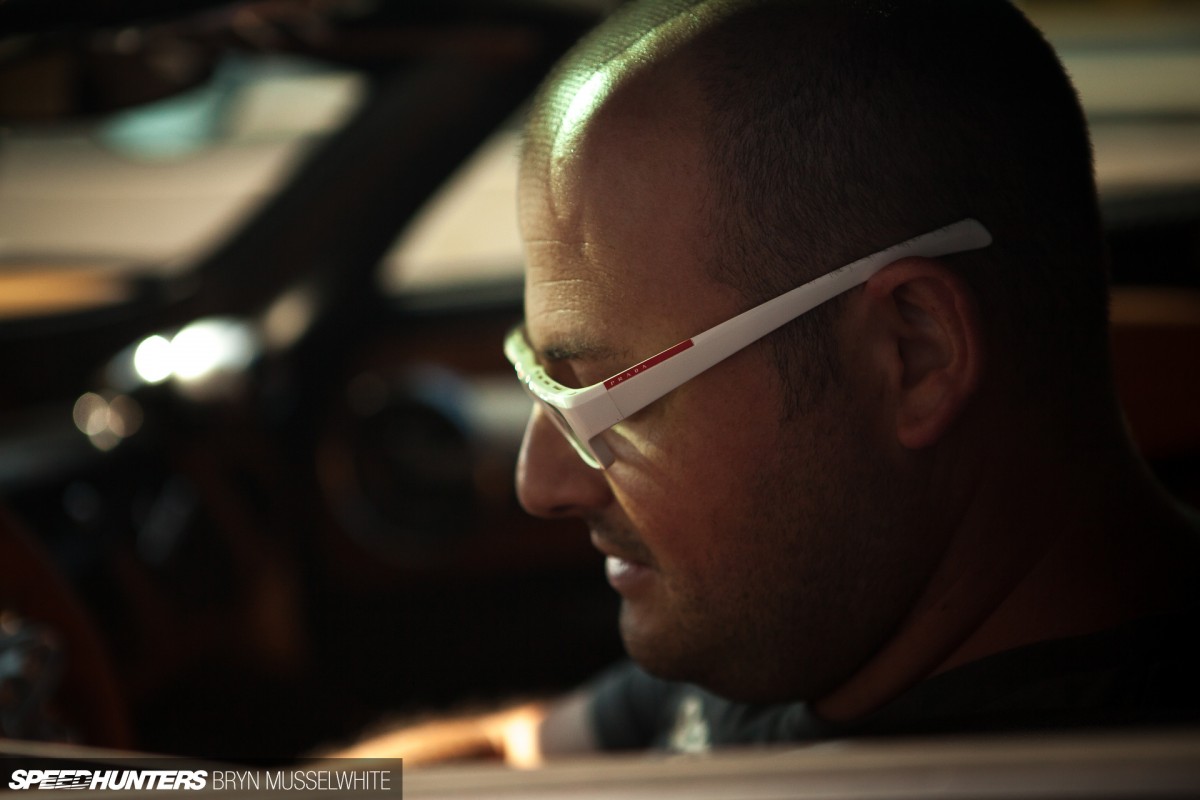 … cars that put the driver at the center of it all and put you through the most visceral driving experience you could possibly have this side of a fully blown race car. The Huayra, with the way it's constructed, developed and put together, further adds to this as you're always aware of just how much of a special creation you are piloting.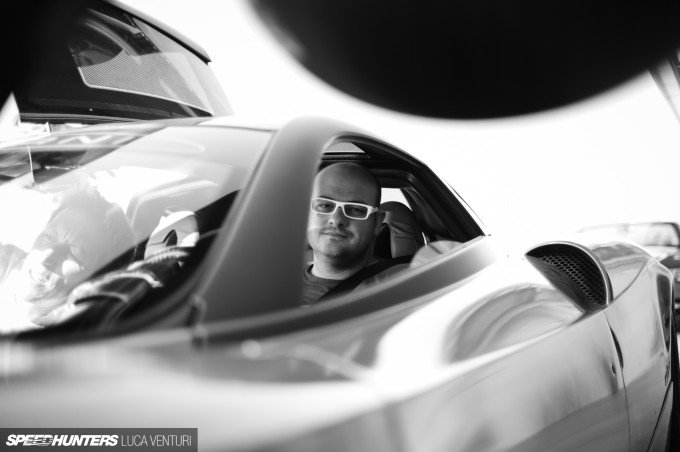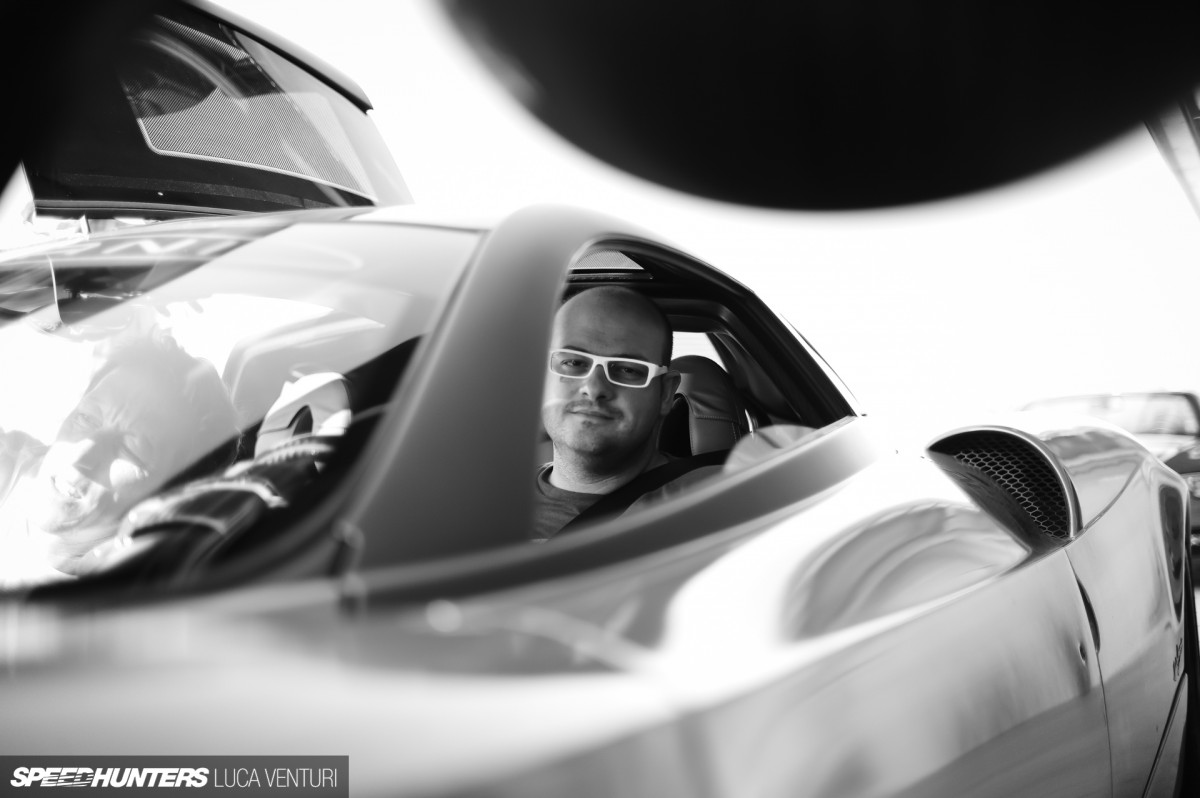 The end result is pure satisfaction. That is what a supercar should do.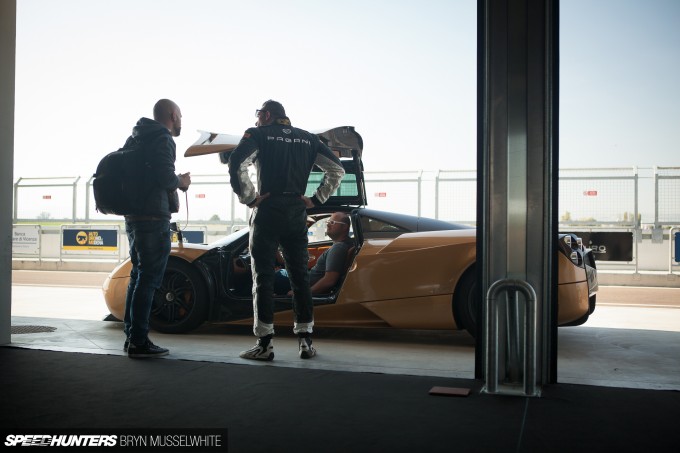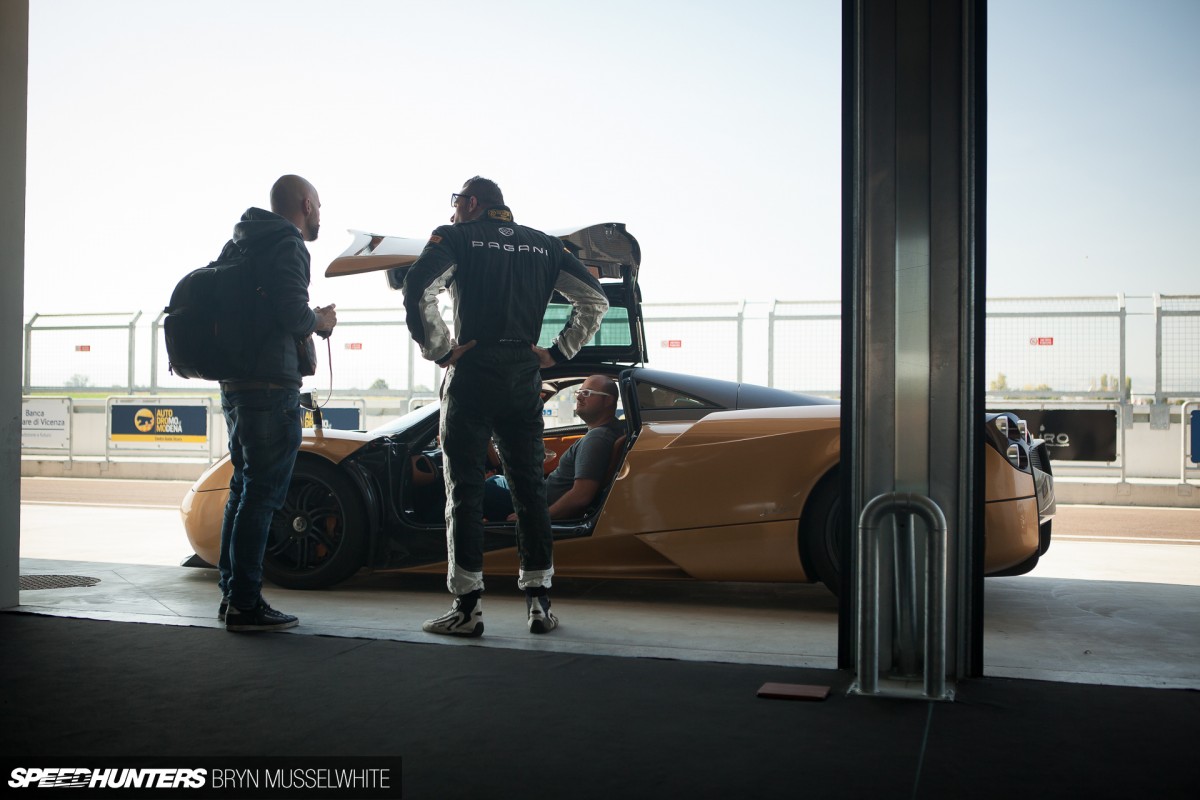 Even the best things in life have to come to an end and it was hard not to share my emotions with two guys that get to experience this car on a daily basis. I now totally get it, it makes sense why those with the means not only would want to drop a substantial sum of money to have their very own Huayra, but in some cases need to own more than one.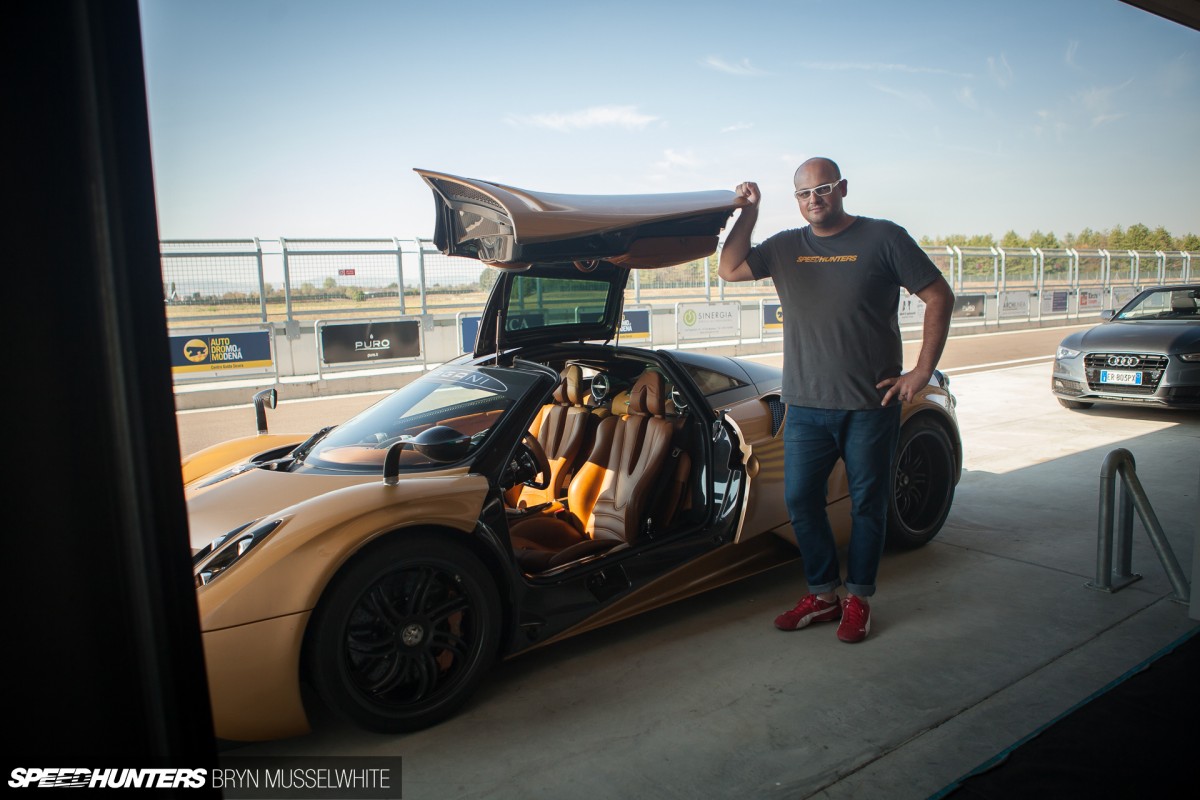 After those few hours at the Autodromo di Modena we made the journey up to Verona where we shot the car in the streets of the historical town…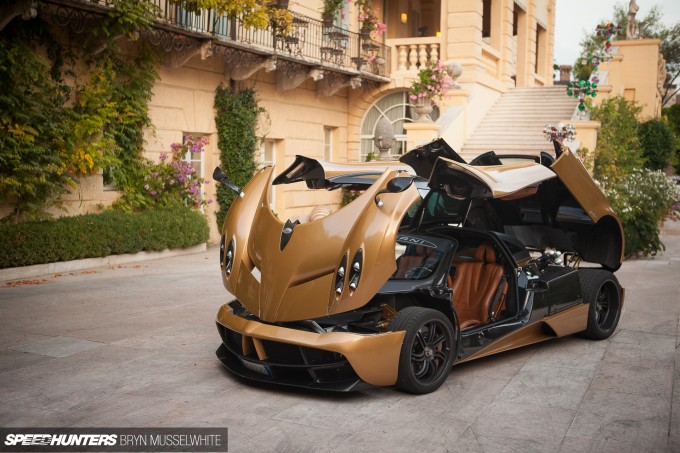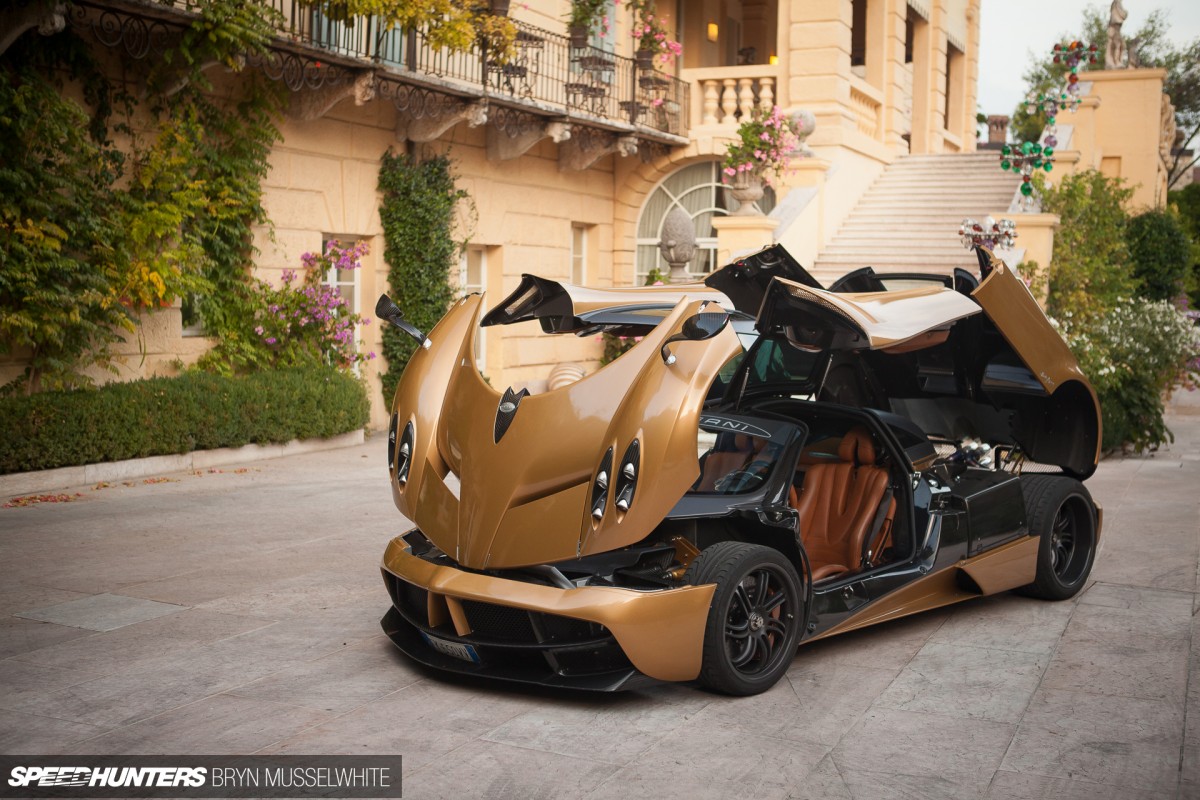 … before returning to the stunning Byblos Art Hotel, our home for the night. It was here that I had to say goodbye to the Huayra…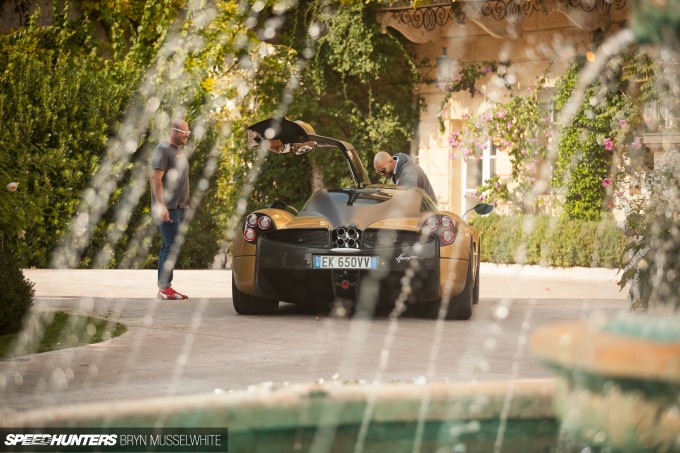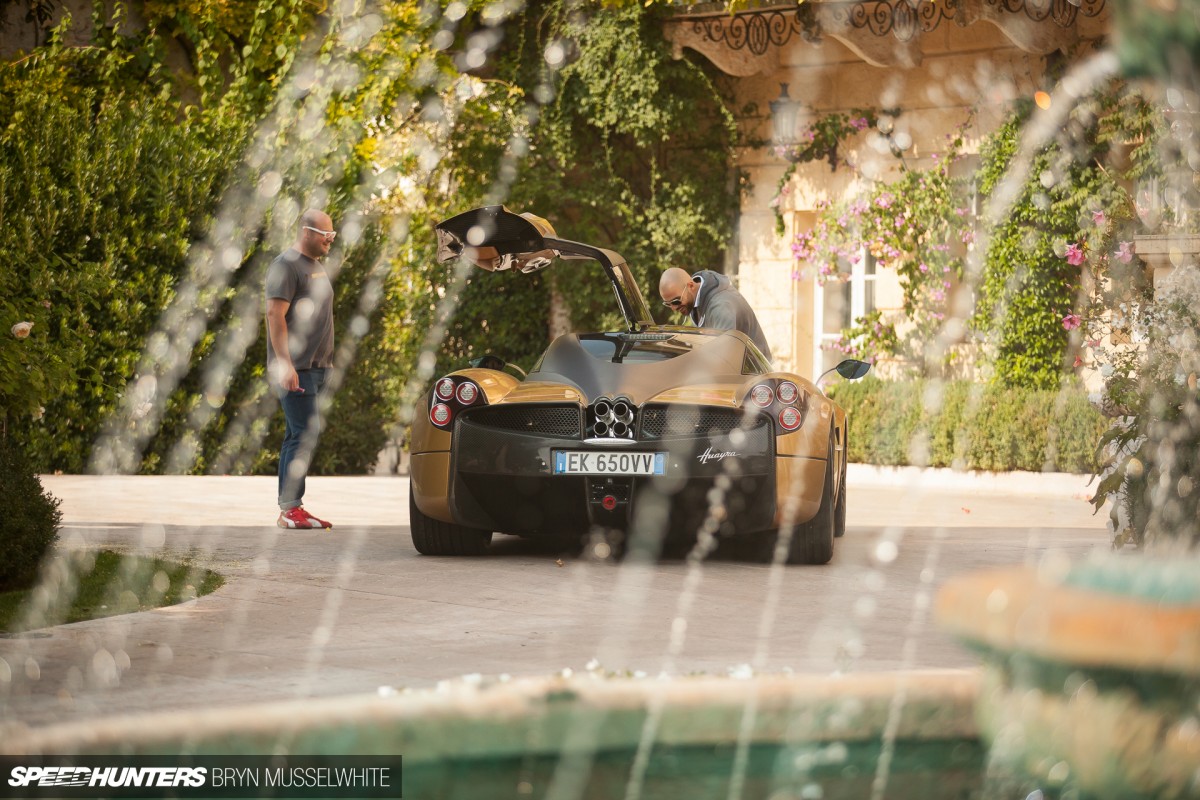 … a car that has helped me redefine how I look at performance cars from here on forth. Dream drives just don't get more epic than this!
We would like to once again thank all the guys at Pagani Automobili and especially the Autodromo di Modena