The essence of GT
No matter what race series, it's always the cars themselves that are the biggest attraction for me. In fact, that's pretty much the reason that I originally started to attend JGTC races in Motegi, Sugo and Fuji. Those were the days where RB28-powered R34 GT-Rs were entered in GT500, and where GT-R owners like myself could indulge in seeing their beloved car and engine built up to its highest potential. This is what Super GT, JGTC and Group A before it. was always about – allowing us, the enthusiasts, to see the same cars we drove on the street turned into fully fledged racing machines. While that initial attraction may have faded away with the regulations that have since then come into effect, there is no doubting that walking the pits and doing a bit of tech-hunting is still just as much fun…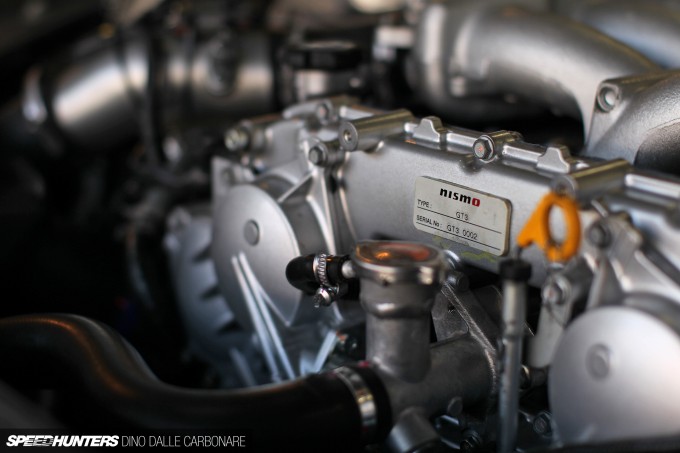 … and that's especially true if you concentrate on the GT3 regulation-based cars like the R35, which still share quite a lot in common with their road going counterparts. All seven GT3 GT-Rs run the same Nismo-built GT3-spec engine with revised interns, flowed heads, angrier cams and special IHI turbochargers. With identical packages it's up to the team to extract an advantage by fine-tuning suspension geometry and selecting the right set of tires, so that the drivers can set up their cars perfectly and attempt to sculpt away tenths from their competitor's lap times.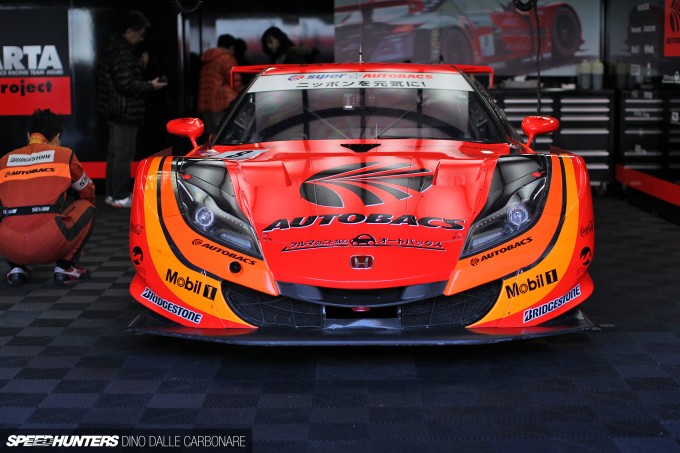 I was a bit disappointed that out of all the Honda HSV-010 GTs in the pits not one of them had their engine hoods removed. I attempted to ask if it was possible to get some shots of the motors but every team declined. It's a pity, because I really wanted to get a closer look at how Honda has laid out the chassis in these stunning looking race cars…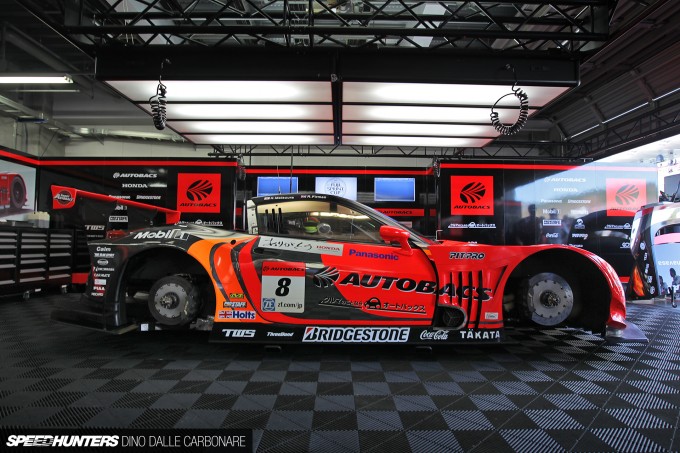 … Which have now served their purpose and will give way to the GT version of the NSX from next year.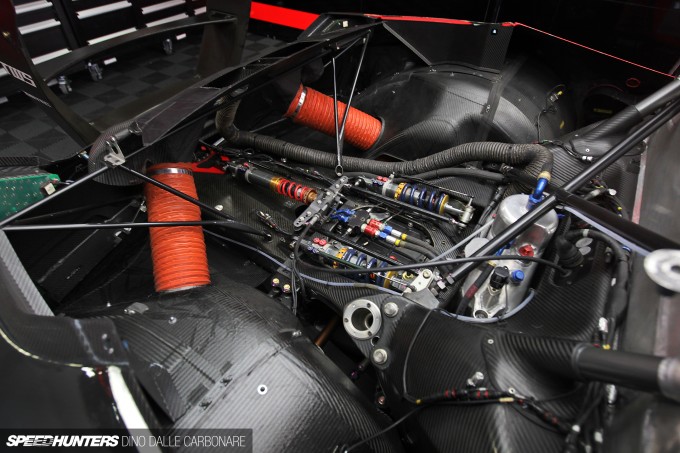 At the Arta pit I was at least able to get a glimpse at the rear end of their HSV and see how the tube frame combines with carbon fiber structure; and how it all connects up to the transaxle sequential transmission and the longitudinally-oriented pushrod suspension. You just have to love a beautifully laid out structure like this! But for how cool the big GT500 car is…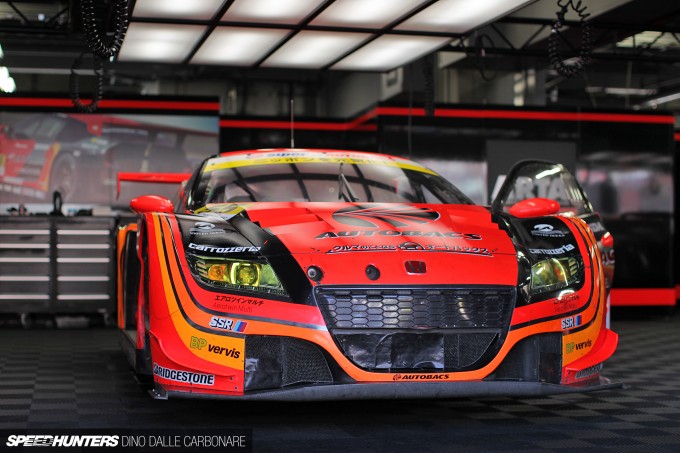 … it was Arta's GT300 CR-Z that I like the most. Aside from the road car-inspired looks and a similar central chassis section…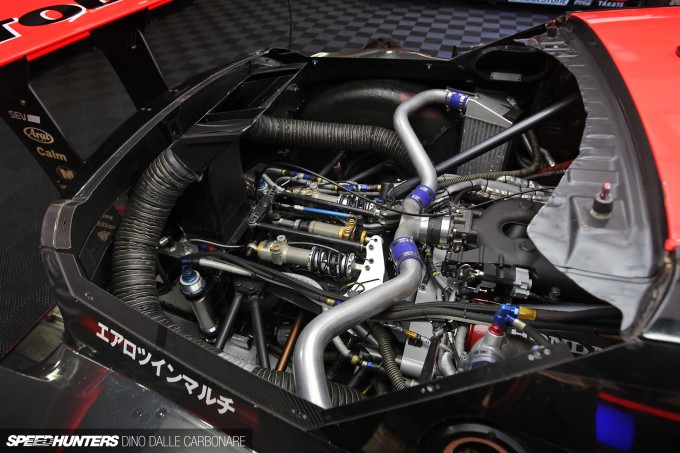 … there is little else the race car shares with the light eco sports car. It is quite the packaging masterpiece, with all the important things happening back here. The transaxle sequential is a stressed part of the chassis onto which the dampers are mounted (three of them if you look closely), and then it's all connected up to the mid-mounted J35A 2.8-liter twin turbo V6 motor. This engine has the potential for tons of power but it's capped to meet to the 300hp (or calculated competitive horsepower figure) limit set for the class.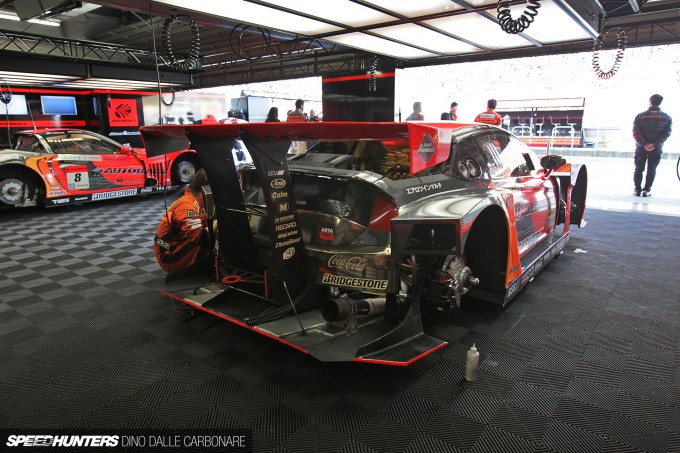 With the CR-Z being so short and having a lot happening inside its rear end, it's interesting to see how to the wing stays have been fitted outside the dimensions of the car, with a massive diffuser extending beneath it to get the most out of the aero.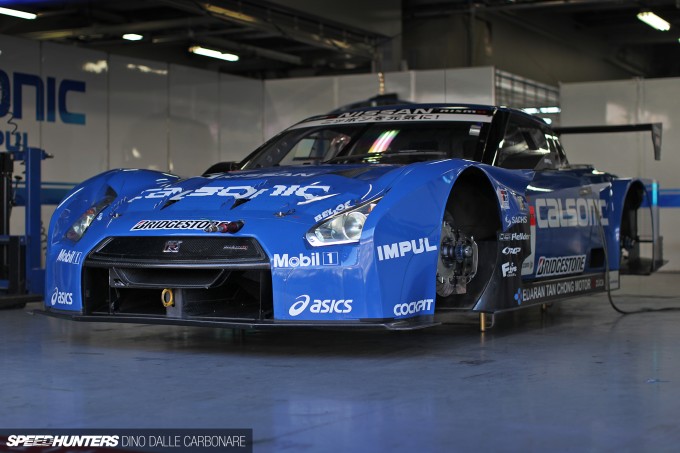 In the Impul/Calsonic pit it was drool time as I got up close and personal with the team's R35-based racer. Engine shots were out of the question here too – not that you would see much as the 3.4-liter 530hp VRH35B that powers it sits so low in the chassis that all you can really see is the big carbon air box.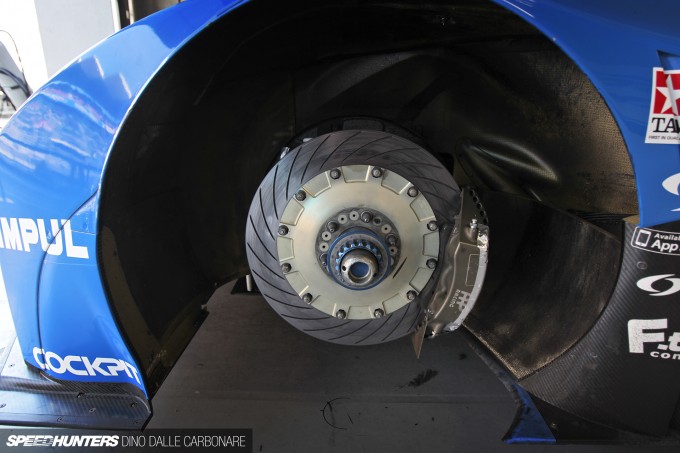 With the dampers mounted inboard, the wheel wells can be kept clean to aid flow and help cool the big non-carbon brakes – AP Racing gear in this particular application.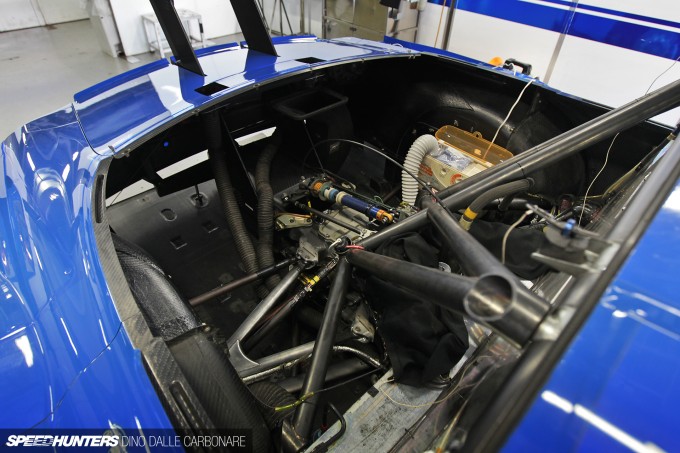 The rear looked a little less presentable than that of the HSV, although the same sort of layout features here with a more rudimentary tube-frame chassis bolting onto the gearbox. Obviously the team were testing out something new with the dampers as they were covered up with sheets of black cloth. Damn, motorsport – always so secretive!
GT500 in detail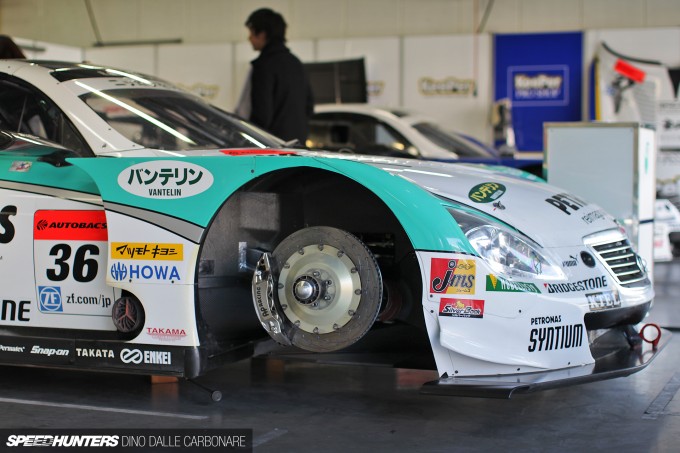 Most teams running the Lexus SC430 however, weren't quite as protective about their cars. The Petronas car of Rossiter and Nakajima was the only one I spotted…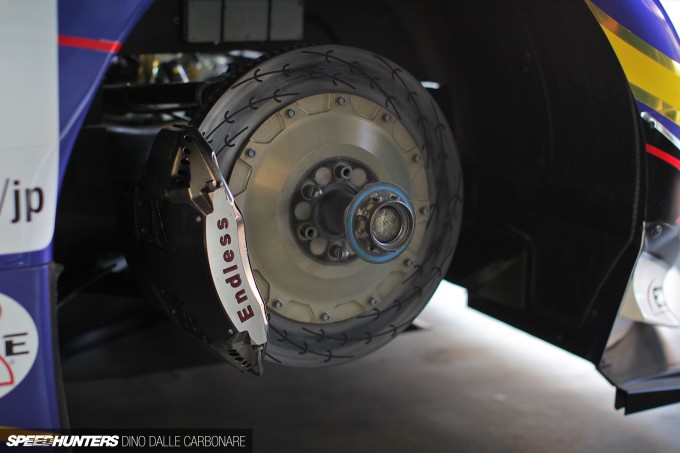 … running Japanese brakes – Endless to be precise. The two-piece rotors using the same 'E' groove pattern as the brake kits it sell for the aftermarket, which is very cool to see.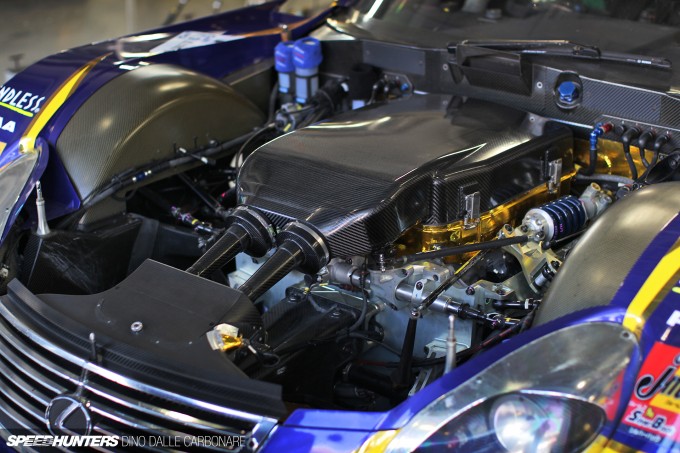 The WedsSport Bandoh SC was almost completely without body panels when I did my pit walk, so it was finally cool to get some technical shots of at least one GT500 car! The RV8KG is almost hard to spot in there – a big carbon air box feeding the eight carbon velocity stacks beneath, while every space around the motor is used up beautifully – from the steering rack going through the billet aluminum front engine mount…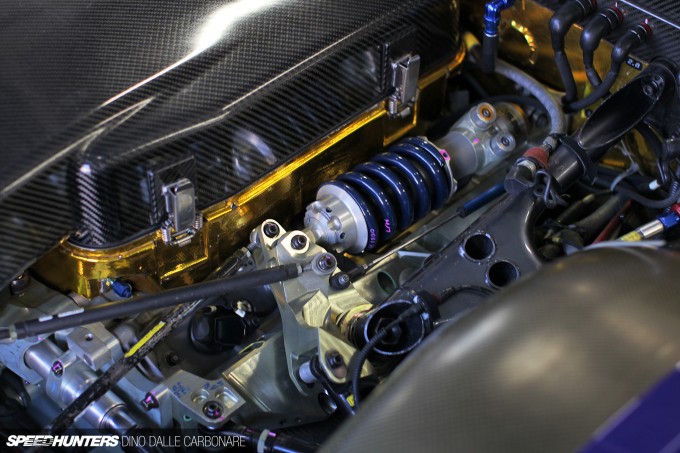 … to the short Öhlins dampers and their push-rod pivots on each side. Notice the little strut next to the damper which is used to record telemetry throughout races.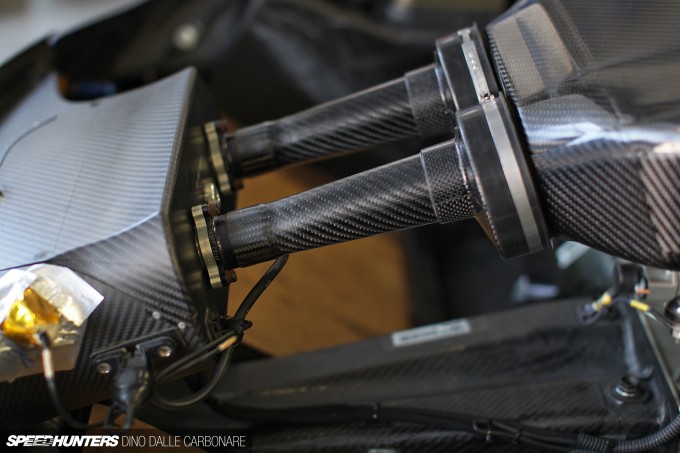 Before entering the air box, the air scooped up by the front grille-mounted guide has to pass through these two restrictors, helping to limit power output to around 500hp on this particular engine. Like the HR10EG engine in the HSVs, this motor develops around 40kg/m (392Nm/289 lb/ft) of torque.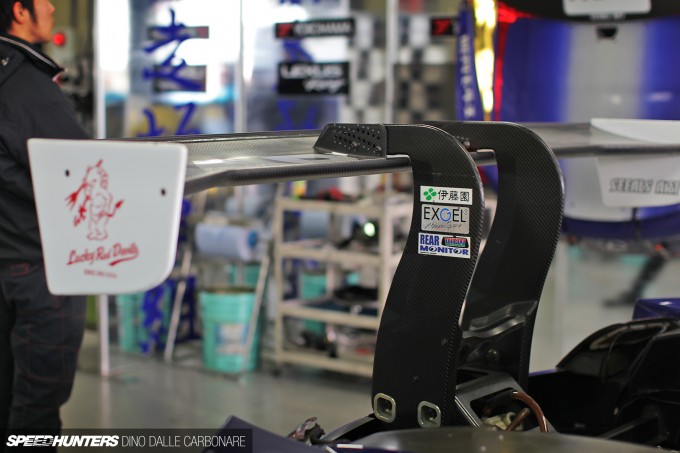 Next year almost all cars will be running these swan neck rear wings, so while I was in the Bandoh pit I made sure I had a good look at it. We have seen this sort of design already make it into the aftermarket – like on the Liberty Walk GT-R we featured earlier this month – so it was cool to see how a proper one is shaped and constructed.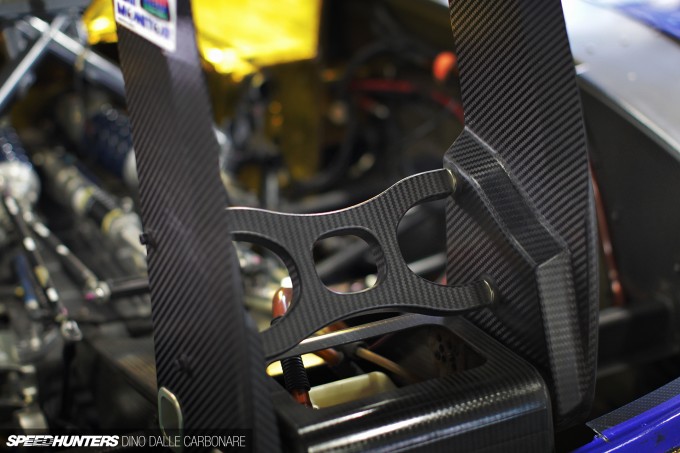 Every surface here has a purpose of course, and I bet our aero adviser Andrew Brilliant could go on hours about how each area works and why it's shaped like it is. I however just admired how aero has evolved over the years in GT. I love the chunky supports and strengthening at the very bottom of the stays – every piece is a little work of art!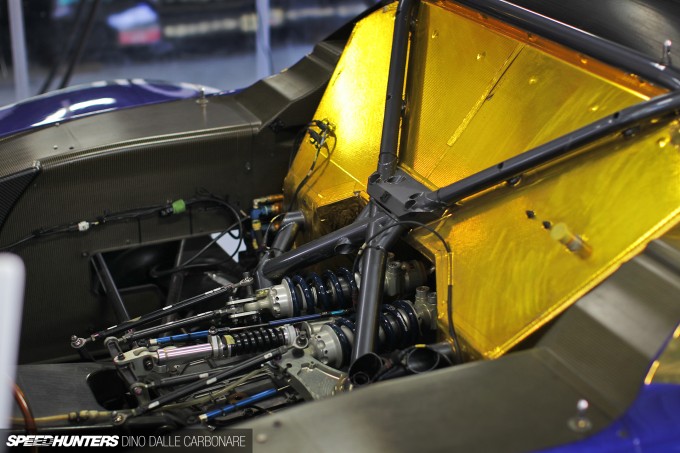 After seeing the rear sections of the Nissan and the Honda it was interesting to see how Lexus has laid things out, and thankfully there was no black cloth covering stuff over here! You might have noticed how each set up uses a third central damper for the adjustable sway bars. On the Lexus that damper is equipped with a spring.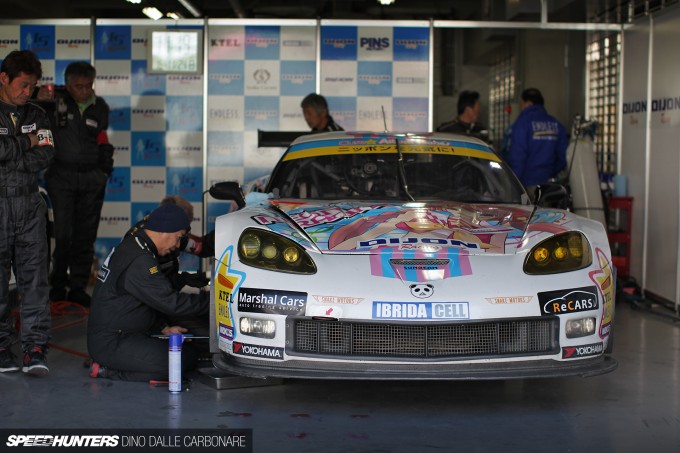 As I made my way further up the pits things got even more interesting as there's a much greater assortment of cars in the  GT300 ranks compared to the three manufacturer-backed GT500 class. Check out the Dijon Racing Z06R GT3 of Keiichi Inoue and Masaki Tanaka.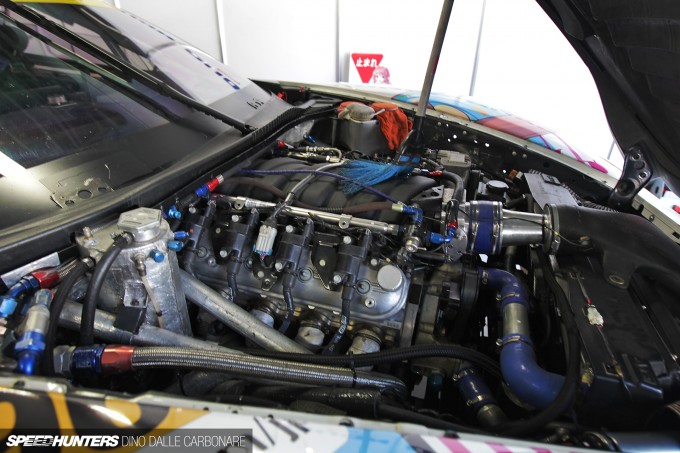 The big 7-liter Chevy LS7 under the hood has had its power capped via a restrictor, but that billowing V8 sound is still very much there!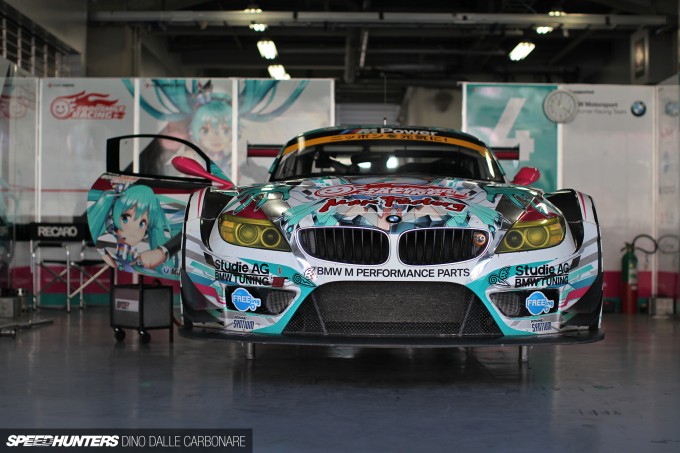 Next to it, another V8 powered car – this time the GSR Studie Z4 of Taniguchi and Kataoka, which on the day managed to take third in the GT300 sprint race.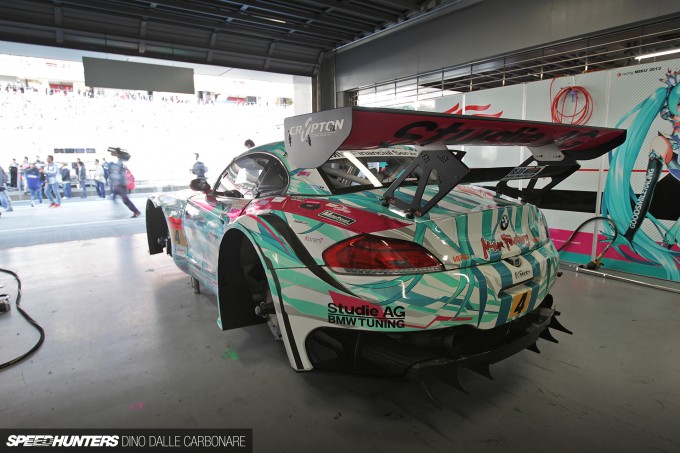 While it's not a Japanese car, it's probably one of the most Japanese-looking cars out on the field thanks to that itasha livery!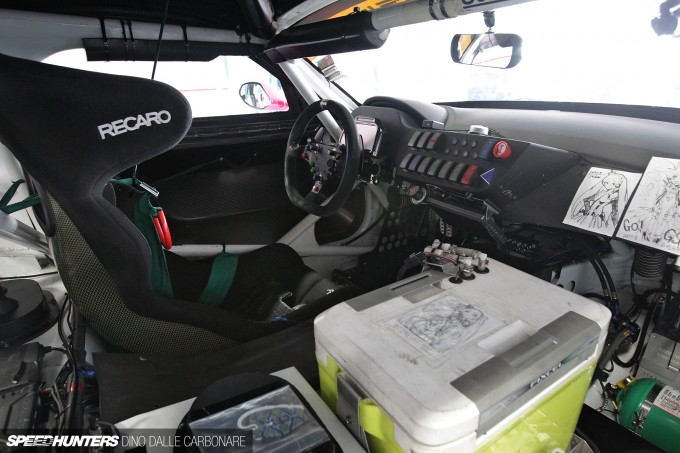 Things are all business inside – a very clean and neatly laid out cabin like most ready-made GT3 package race cars seem to exhibit.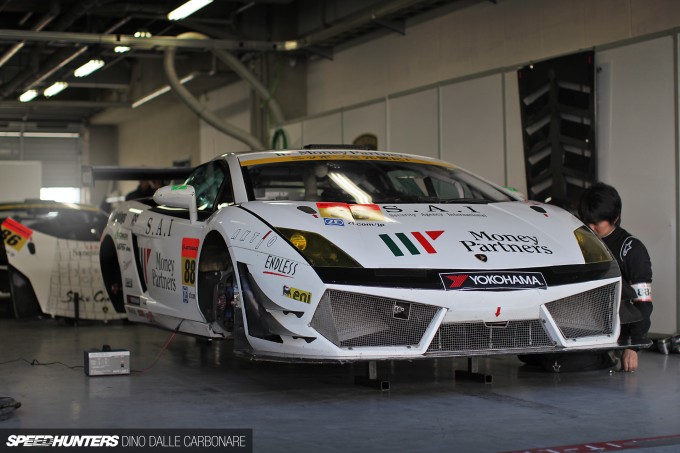 It's a pity there aren't any Ferrari 458s racing this year, but at least there were two Italian cars to give a little spice to the GT300 line up: the pair of Gallardos of team JLOC.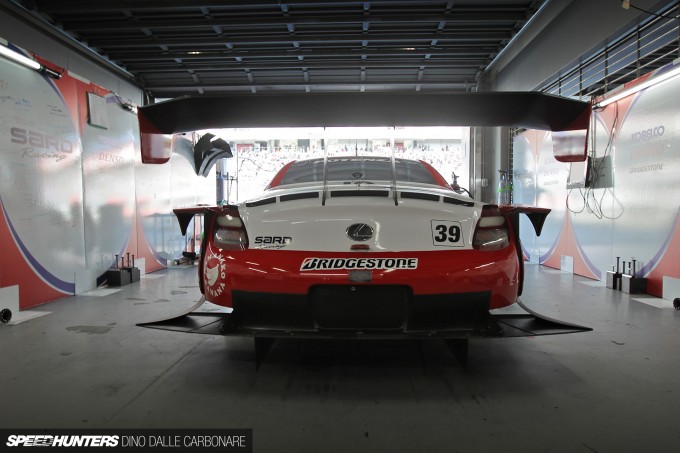 Would I be rude if I said, "that ass?" I don't really care, because…well, just look at that ass!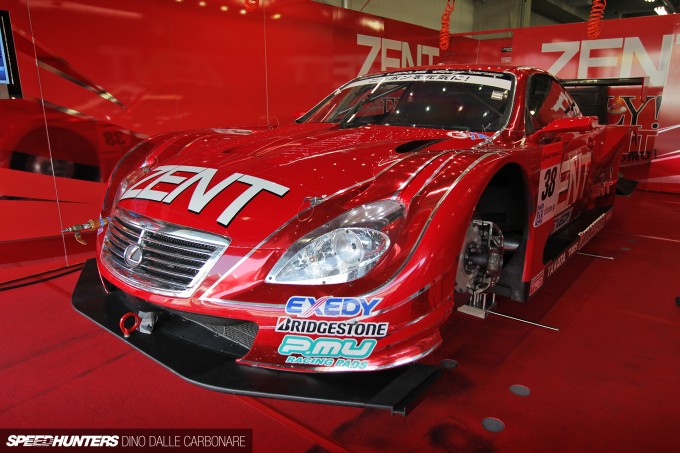 The number 38 Zent SC430 of Tachikawa and Hirate is the 2013 championship winning car, finishing up two points ahead of Keihin HSV-010.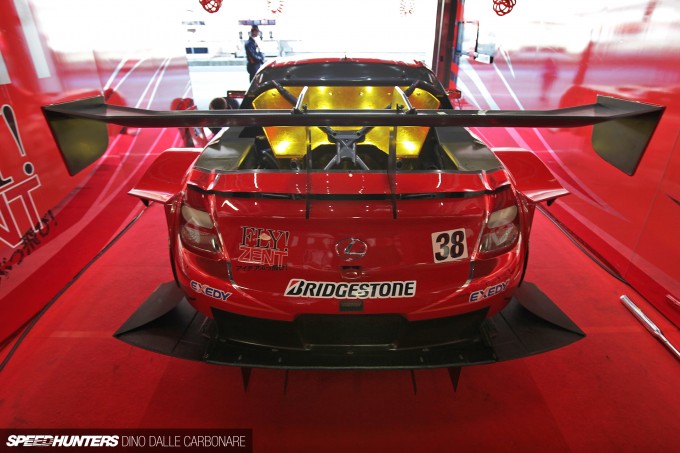 Lexus has really done a great job this year and it will be exciting seeing the new LF-CC takes over from the SC in next year's series.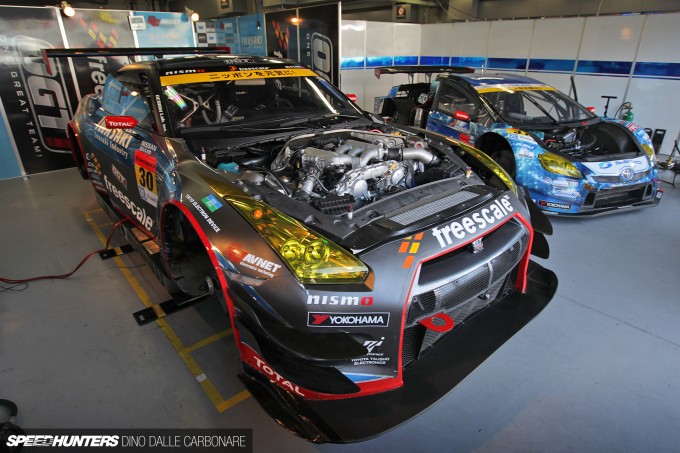 Here is Igor Sushko's and Yuki Iwasaki's OGT Racing GT-R: another GT3 entry and one that has had some issues this year – especially with tire blow-outs.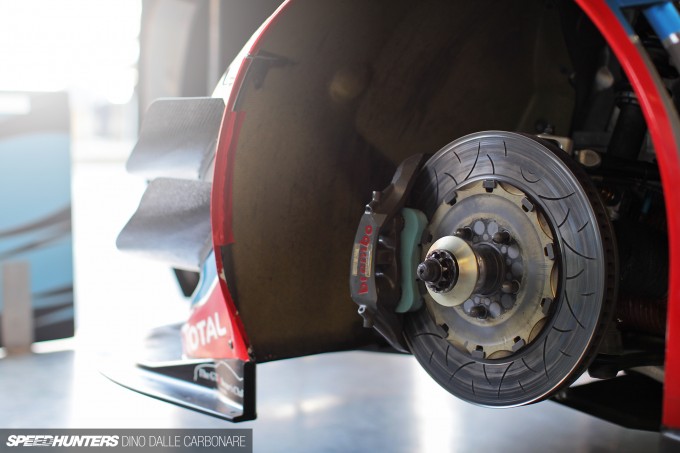 I couldn't keep my eyes off the Brembo brakes these cars run. It's really interesting to see how caliper design – and even size – varies from maker to maker.
GT300 wins on uniqueness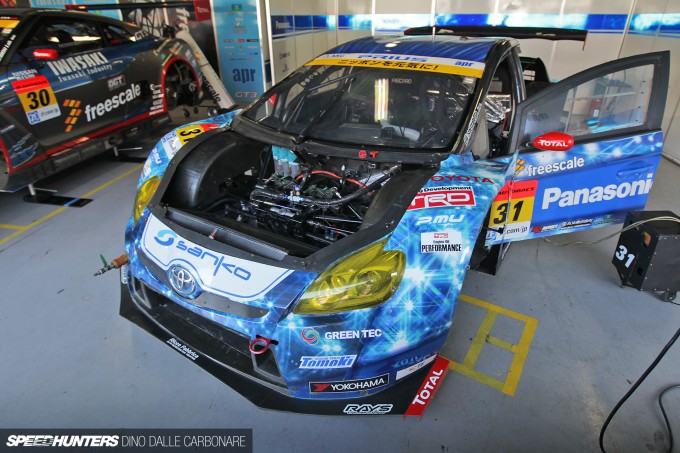 Next to it was the apr Prius – by far the most out there car in Super GT at the moment if you consider the production model it's based on, and what the race car looks like! I had a nose around…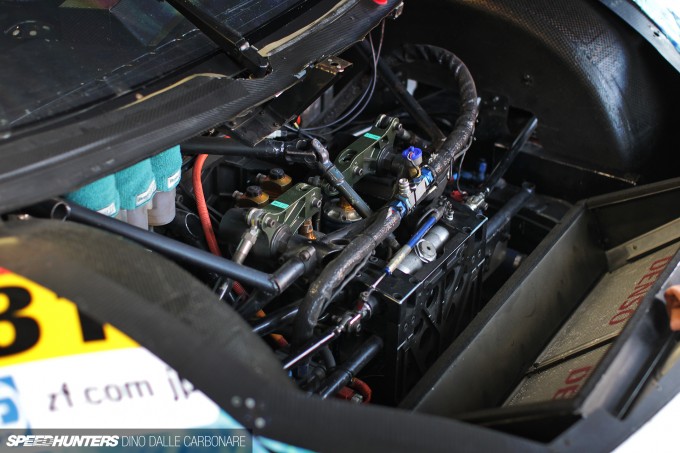 … taking a look at the front end which just houses the upright inboard suspension.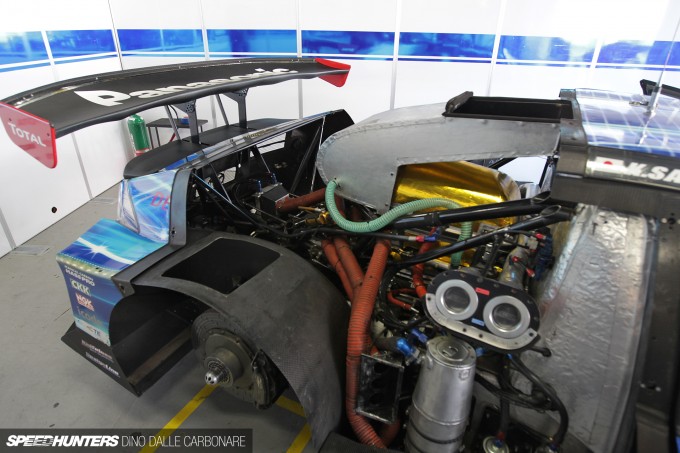 Yeah, I was surprised too! Under the massive air box and roof scoop is the same RV8K that is run in the Lexus GT500 cars, but restricted for the GT300 class.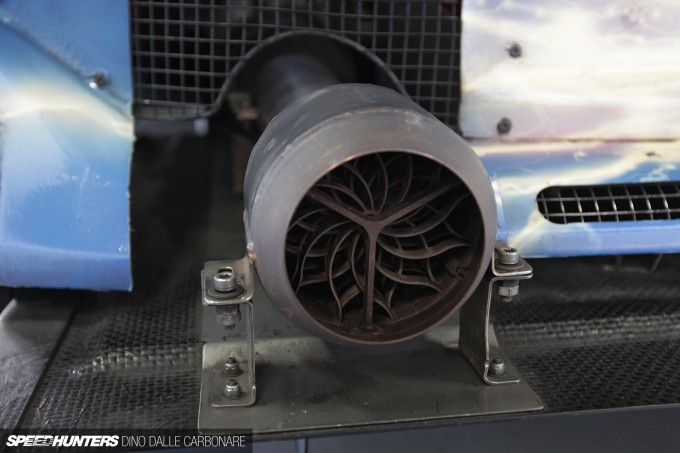 All GT cars have these curious exhaust outlet design inside their tail pipes. Back in the day I used to remember the massive and loud backfires JGTC and Super GT cars used to unleash at every downshift and when backing off the throttle – something they don't seem to do any longer. Maybe that is due to these webbed fin inserts?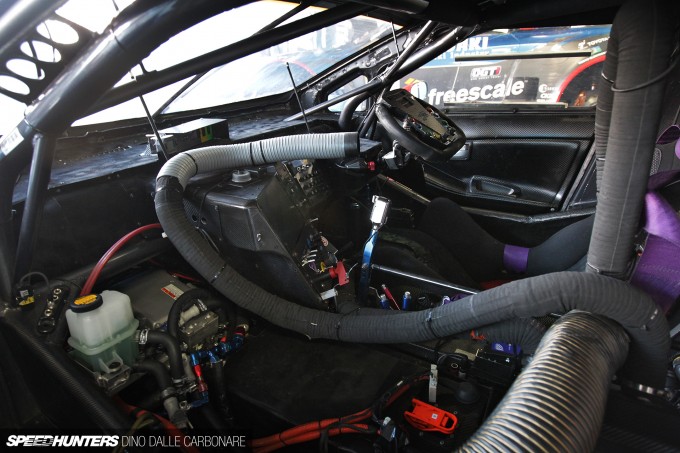 I wonder if there is an eco-meter display in there somewhere?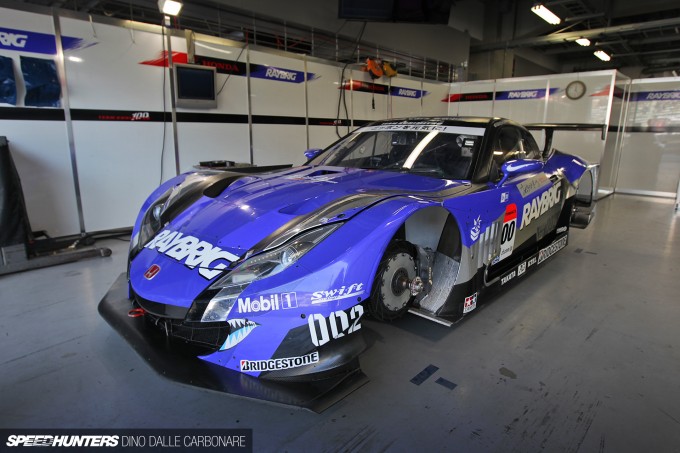 Like I said, there was little to see of the HSVs…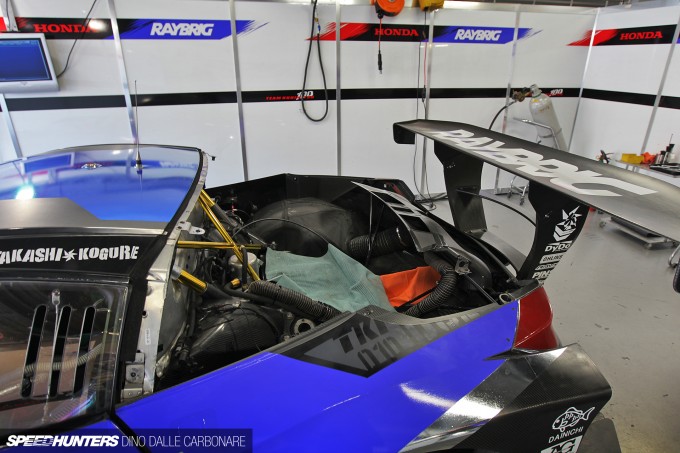 … most cars only having their rear covers off – and in the case of the Raybrig car – most of it being covered up anyways.
Turbo power FTW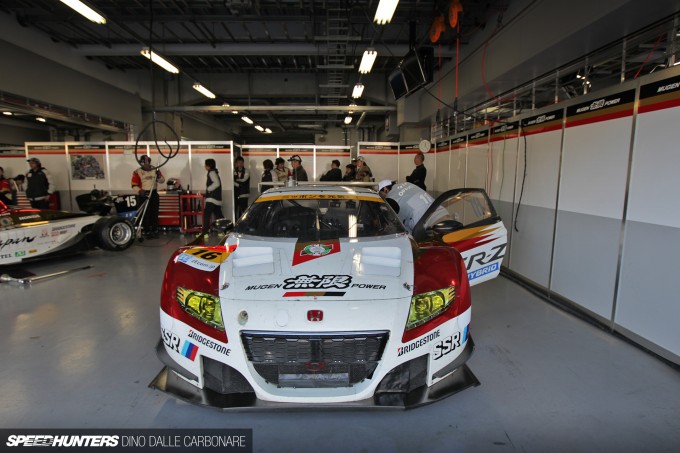 Team Mugen runs the other CR-Z in the class…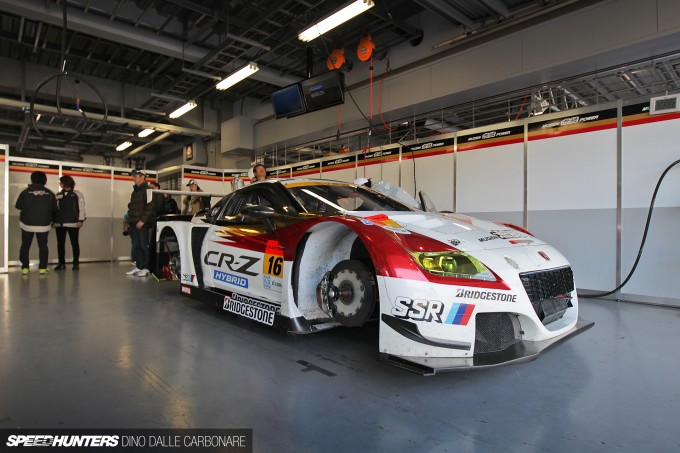 … and like its Arta counterpart, I just had to get a closer look.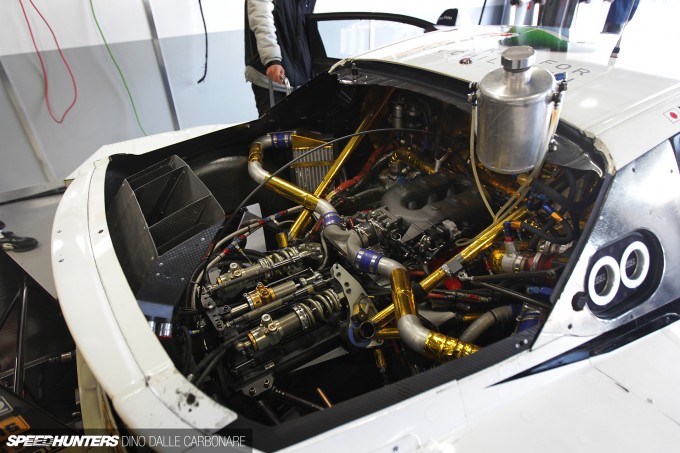 Check out all the gold heat shielding that features on various components, like the intercooler end tanks and piping, as well as the main chassis tubes. It's interesting to see that despite being a V6 engine, a single throttle body set up. I would have thought that by going for two they could have kept piping shorter and therefore throttle response crisper, not to mention less potential for heat-sink.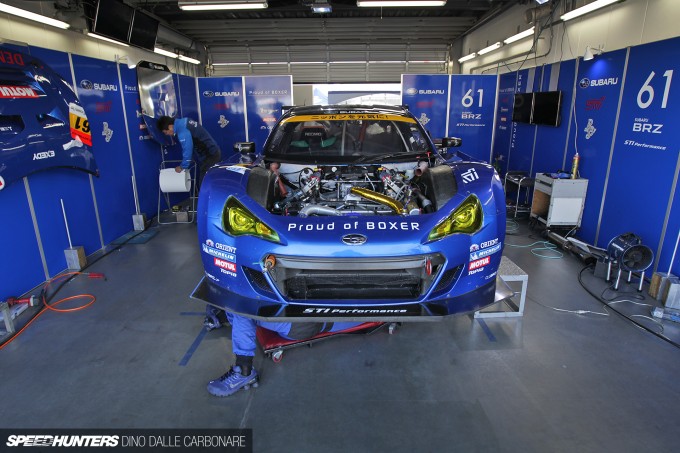 It looked like there have been a few small changes made to the BRZ I featured it last year.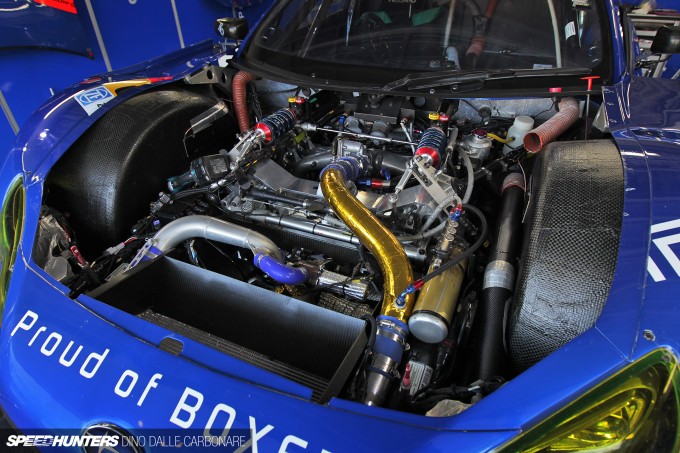 Under the hood the engine seems to be running a visibly-thicker billet front mounting structure, while the inlet plenum is of a different design. If I'm not mistaken too, it's now running an electric throttle rather than the mechanical one. Because of these changes, the inlet pipe (with the gold heat shielding) is also shaped differently.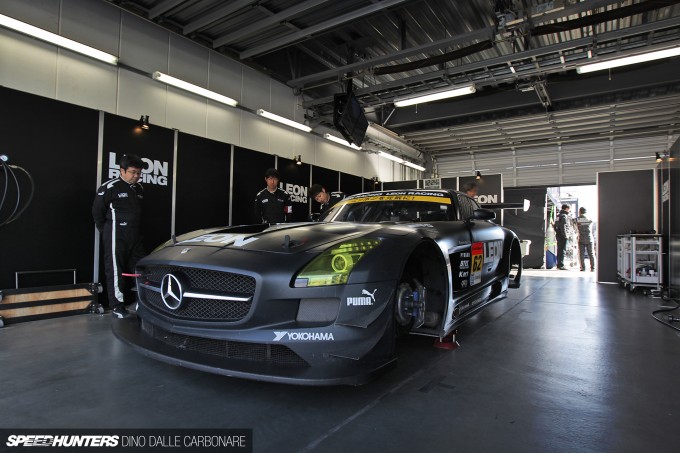 It's cool to see a magazine being the main sponsor of a race team! Leon is Japan's leading men's fashion and lifestyle mag and its matte black SLS is one mean looking machine.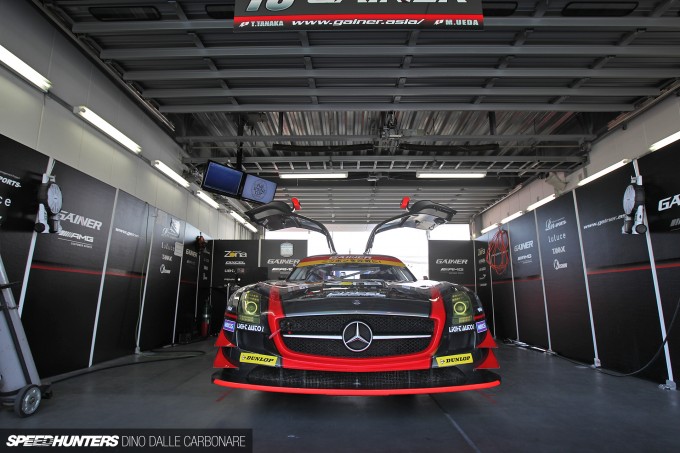 Whatever car Mercedes-Benz decides to replace the SLS with, it better have gullwing doors!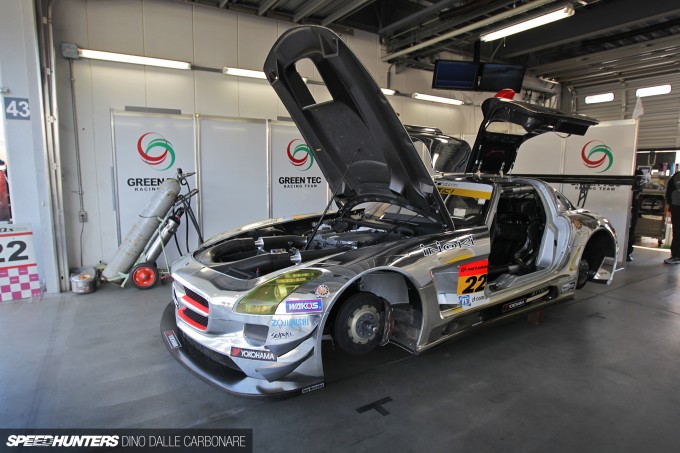 The Green Tec SLS in all its glory.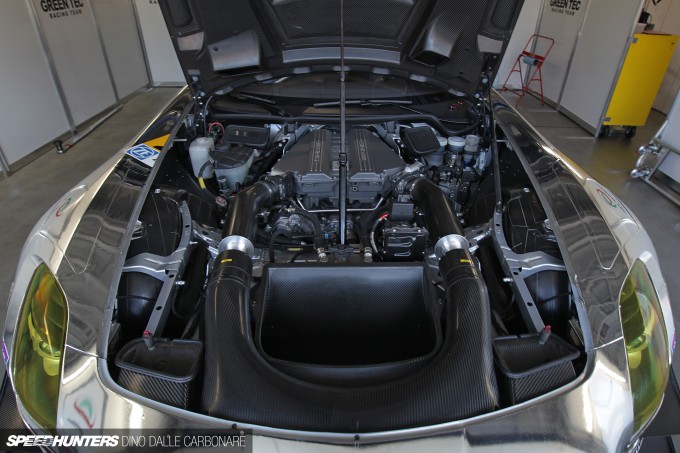 Under the long hood is where you find the beastly 6.2-liter AMG V8 engine…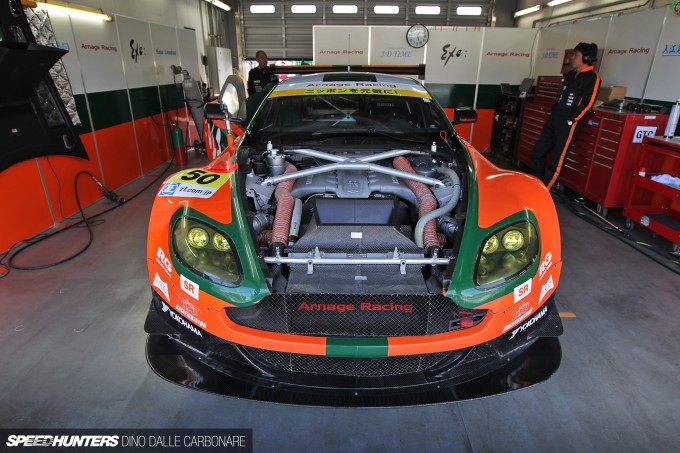 … which, like on the Arnage Racing V12 Vantage, has its power capped through restrictors.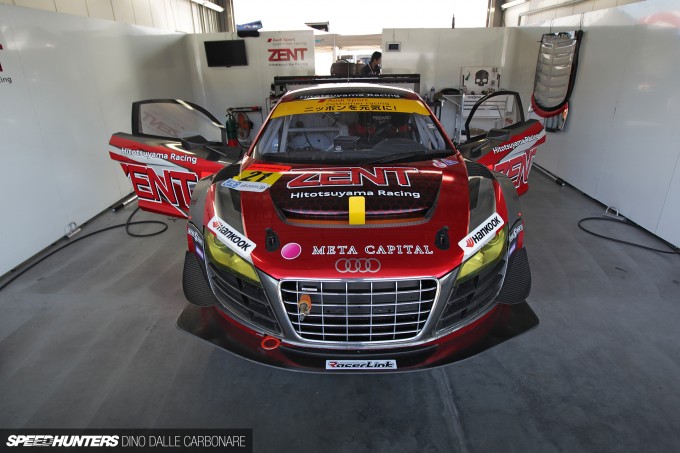 The other Zent-sponsored car in the series is the Hitotsuyama Racing Audi R8 LMS ultra, driven by Akihiro Tsuzuki and British driver Richard Lyons.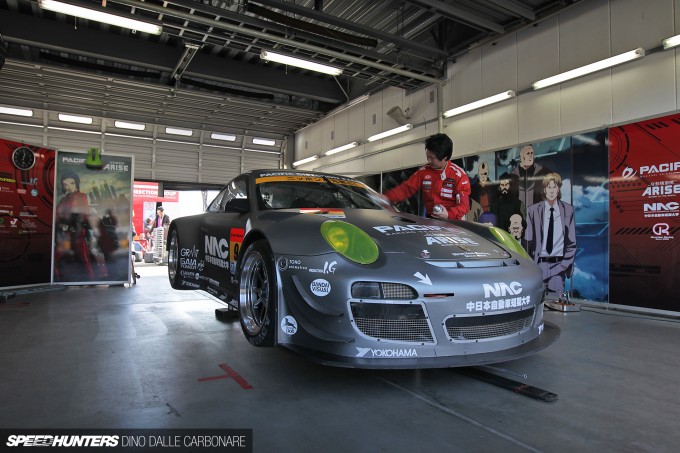 The Pacific Direction Racing GT3 R has recently been fitted with wider body, which has probably made it slower down Fuji's main straight…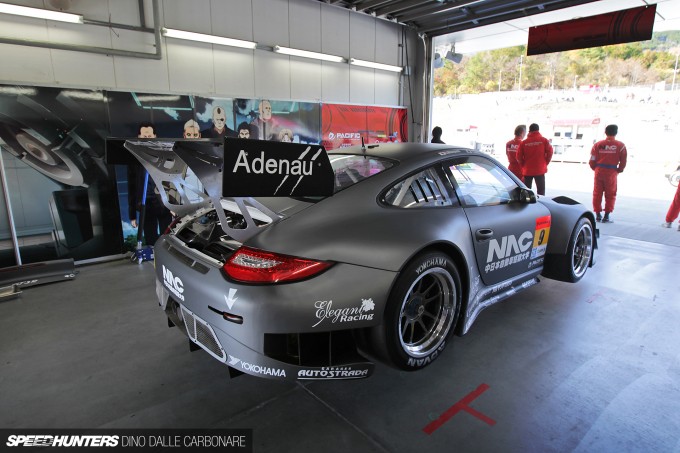 … but has made it look ridiculously aggressive. We can't help but love fat rear ends!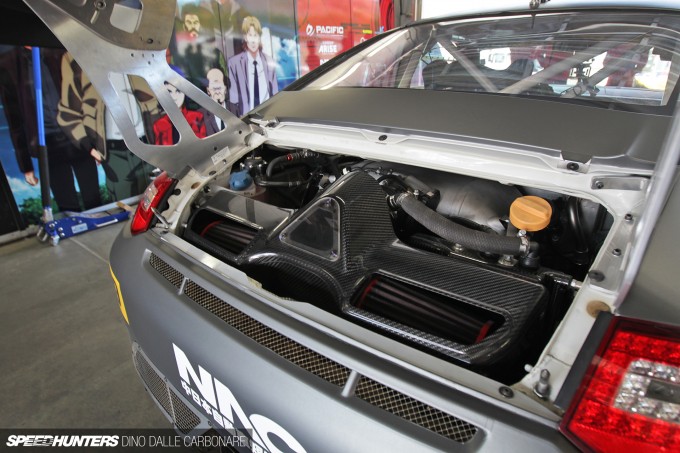 It's a pity there is never much to see under the engine cover of a 911, but oh my, do these things sound glorious revving to 8,000rpm-plus!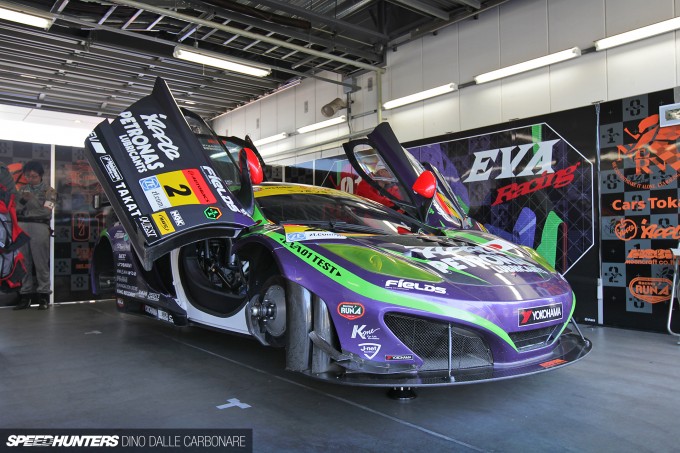 And so we arrive at the very last pit – that of the Cars Tokai Dream28 Mp4-12C GT3: a sublime looking machine designed in a way that only McLaren knows how to do.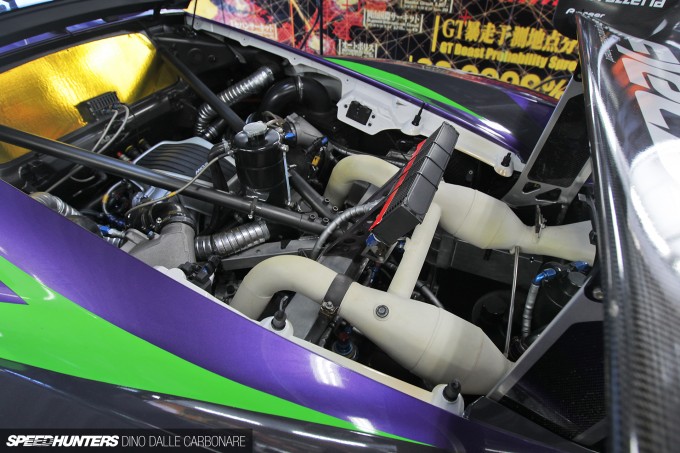 I loved how the exhaust system was ceramic-coated to help keep engine bay temps down. The MP4 is a perfect end to a great line up of cars.
It's sad that the GT500 class will change so much next year, but at the same time I'm excited to see how it all pans out. Maybe we will finally see Super GT cars racing around the world and mixing it up with others series – something that the organizers have been wanting to do for many years. One thing's for certain – 2014 will definitely be an pivotal year for the Japan's GT championship!