The CJC crew
I've always maintained the belief that sharing your automotive passion with other like-minded people enriches the overall experience of being a motoring enthusiast. Since I've immersed myself in the world of modified car culture and Speedhunting, I've discovered that joining several local car clubs has been one of the best choices I've ever made; the good times I've had, the friendships I've formed, and the help and advice I've received has been truly invaluable.
One of those clubs, a group that I've been heavily involved with over the past three years, is a New Zealand-based crew known as the CJC. It's not so much about what the initials stand for (seriously, you don't want to know), but what the club itself represents that's become something I've truly grown to value.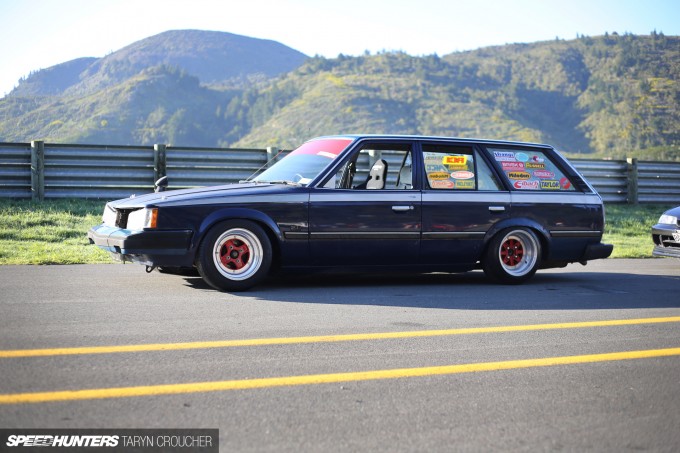 After attending a CJC track day at Taupo Motorsport Park last month, I had the idea to go back through some of my old image archives to dig up a few photos of the good times and great memories I've shared in my time with this circle of friends. As something a little bit different from my usual Dream Drive and Project Car-themed stories, this month I thought I'd share a little bit about the CJC and the adventures we get up to here in New Zealand.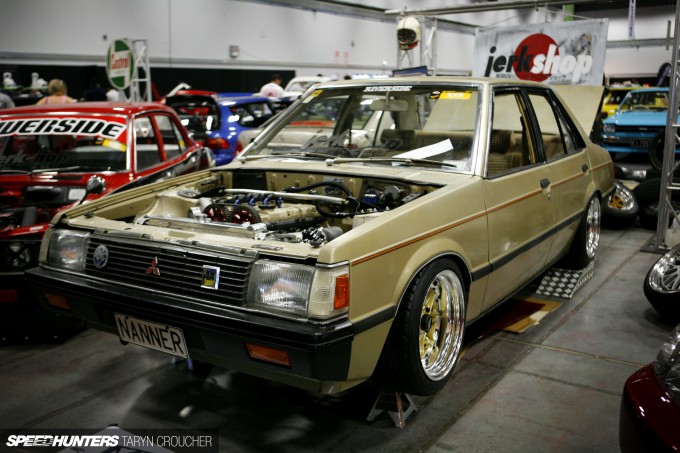 If you've been along to New Zealand's 4&Rotary Nationals Show event in recent years, you might've seen CJC's club stand with some of their members' finest cars on display. Despite mainly consisting of Japanese imports and having a strong Honda presence, CJC has a wide variety of different cars. And while other car clubs usually focus on one make or model, this really is just a group of friends who share the same hobby and want an excuse to hang out and muck around with cars together.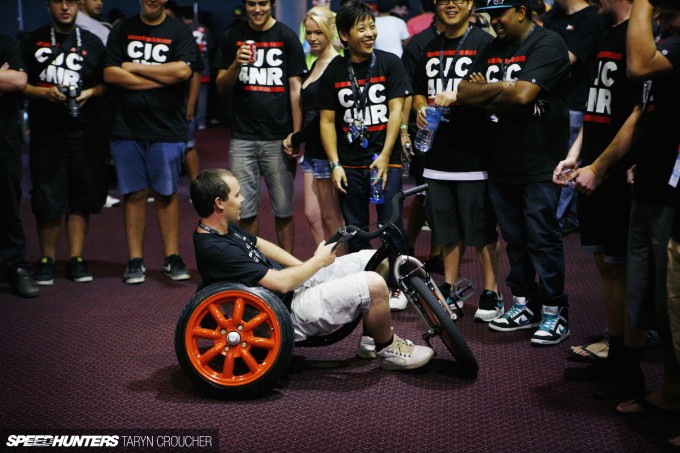 We're an odd bunch really. As well as there being no specific car model in question, there's no common age or ethnicity among us, and kids and families are always welcome at CJC gatherings. I guess you could say that the one thing most of us have in common…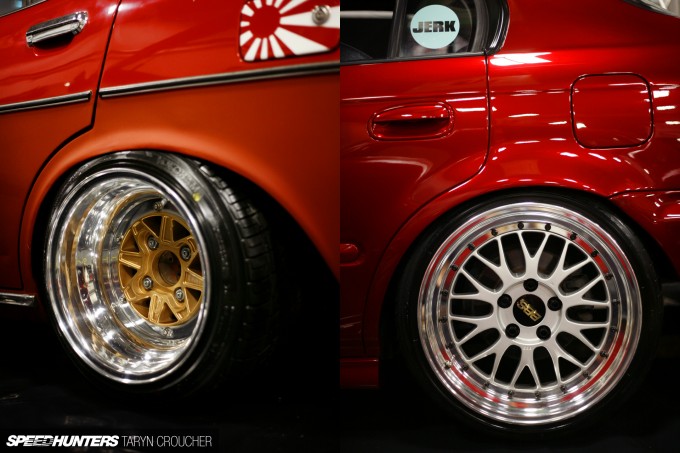 … is an appreciation for cool wheels, with brands such as Work, SSR, Mugen, BBS, Advan, Volk Racing and Enkei all being popular within the club. If there's one thing we are fairly big on, it's a love of genuine wheels and a dislike for the imitators. While old-school Japanese styling elements are a common trend among our cars…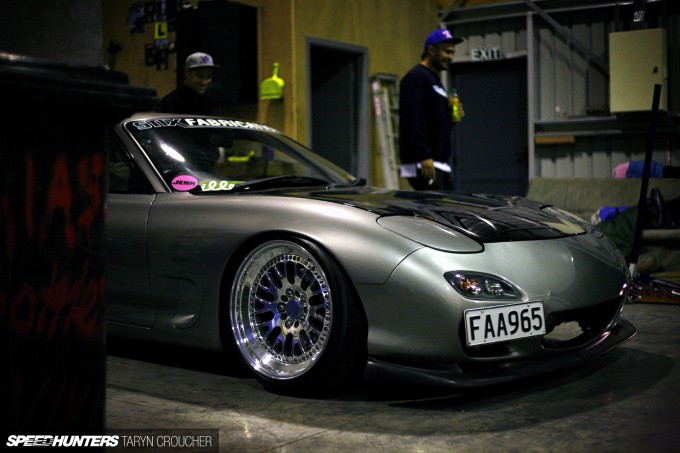 … CJC members draw inspiration from a variety of different automotive subcultures, like the USDM scene too. Wheel fitment is usually considered, but there is no right or wrong when it comes to form versus function.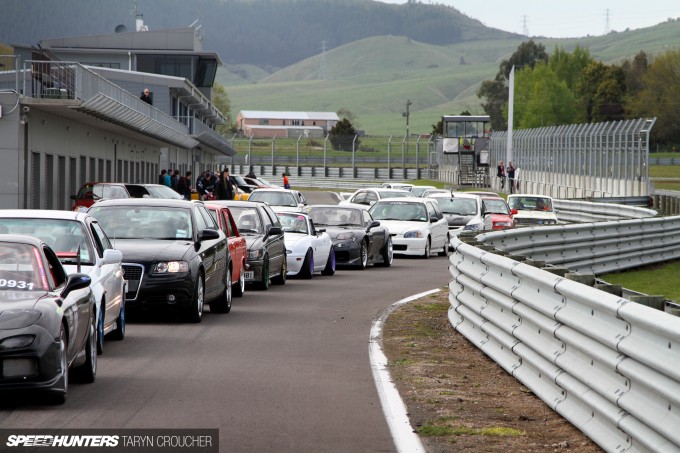 Speaking of function, CJC hosts different events throughout the year to cater for all of their members' needs, one of which is an annual track day known as 'Jerkfest'. Each year, members from all over the country come together and meet up in the middle of the North Island, in the popular tourist town of Taupo. It's here that you'll find one of New Zealand's best race circuit facilities: Taupo Motorsport Park.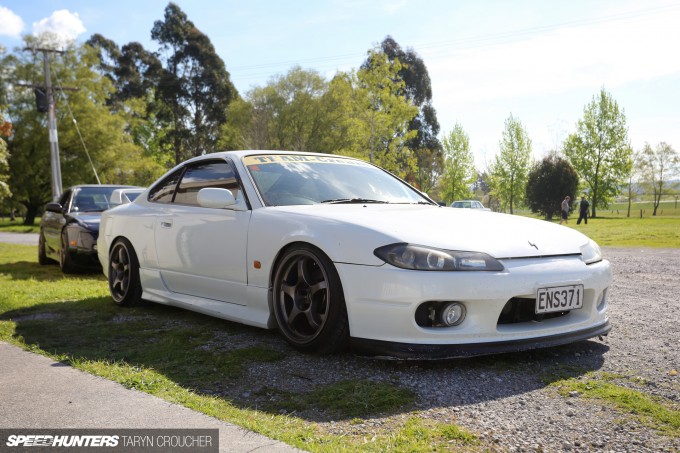 With relaxed Friday night park-ups and car show appearances making up the majority of the events on the CJC calendar, this casual club track day at Taupo has become one of the most anticipated days of the year…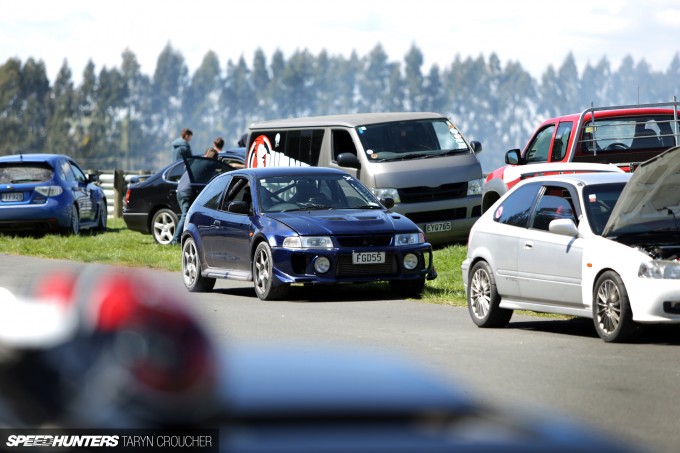 … with everyone happily ditching their polished show wheels and stretched tyres in favour of lighter, more suitable track wheels with grippier rubber.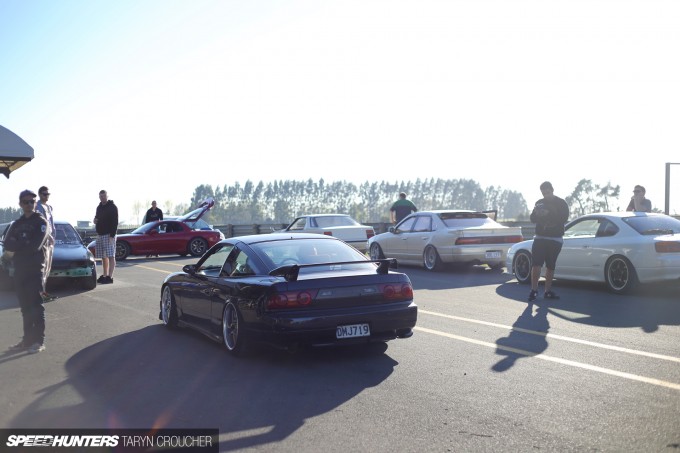 At this year's Jerkfest the car gods gifted us with stunning weather, and I was pleasantly surprised to see a few cars that I knew had been in the build for a while had finally come out to play. Like Scott Wedlake's clean Nissan 180SX…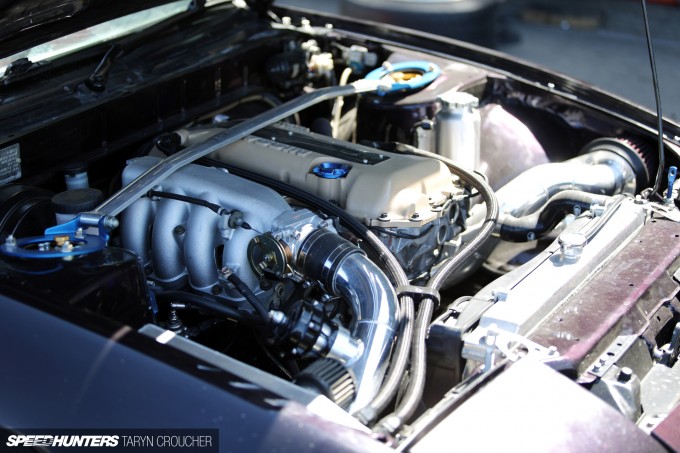 … which was finally running after more than two and a half years in the build. Even though it's not my own car, I can't help but feel an immense sense of satisfaction seeing a project like this finally heading out onto the the track for the first time.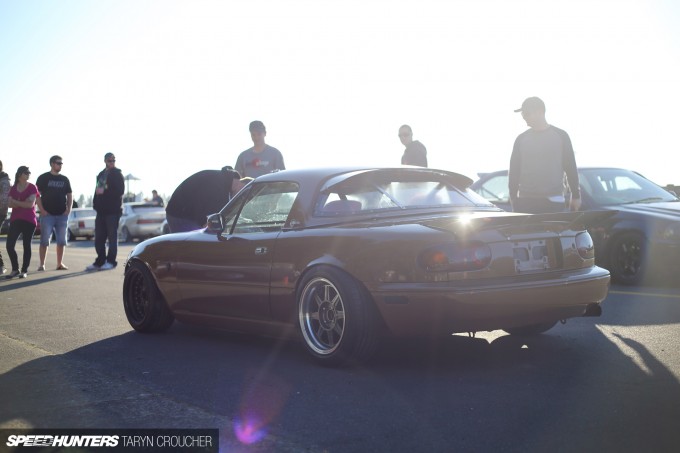 Though I didn't recognise this freshly-built MX-5 at first, once out on the track I quickly identified Luke Fendall's aggressive driving style as soon as I saw the huge white clouds of smoke pouring from behind it! More on that in the next few chapters.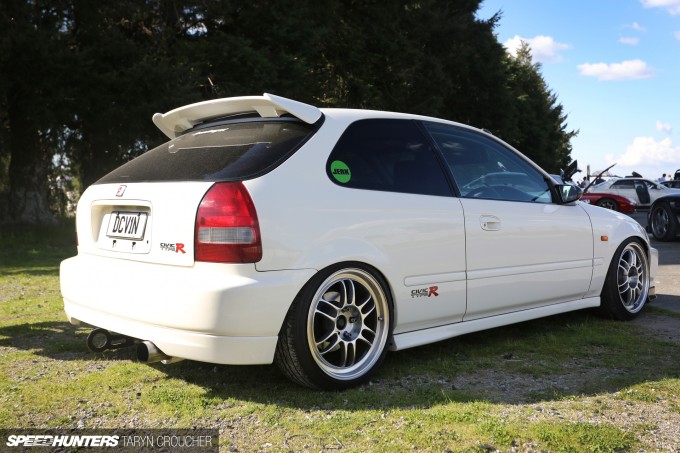 A popular chassis of choice among CJC members, this EK9 Civic Type R on Enkei RPF1s was looking ready to head out with the rest of the non-drift orientated vehicles in the grip sessions.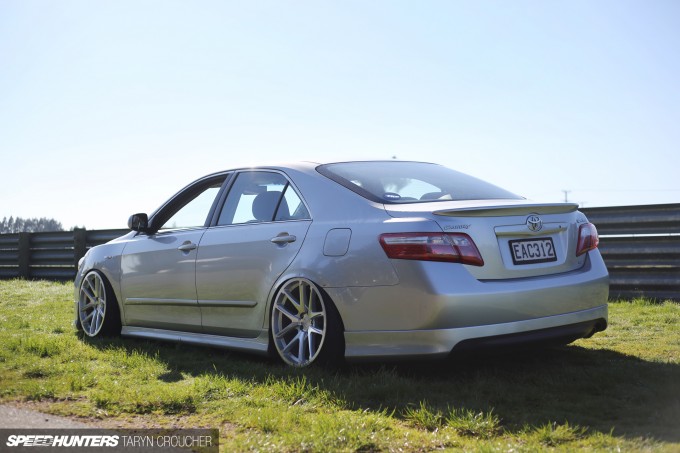 As I mentioned before, in the CJC community there's no such thing as right or wrong when it comes to form or function. It's really up to the respective owner as to what they prefer, which I think is a really good attitude to have. It's more about how you apply your own style and personality to your car that matters.
Despite the beautiful weather and impressive selection of cars that had made an appearance, I couldn't help but feel that something was missing…
Thrashing the daily driver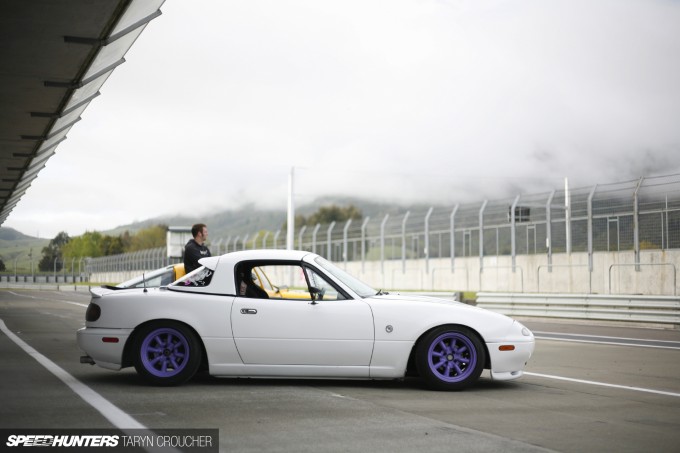 I'd been hoping that my Datsun S30 280Z would be ready in time to take out on the track, but unfortunately it only just missed the deadline. In previous years I'd driven my NA6 MX-5…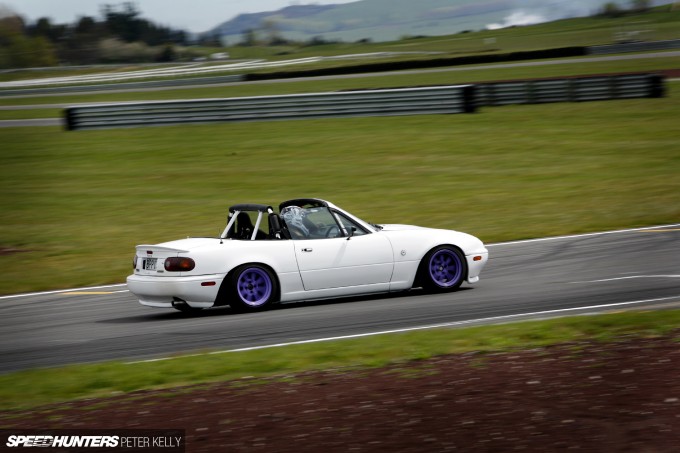 … and I really didn't want to break tradition and sit this year out. I knew what I had to do. There was only one answer, and it came in the form of my beat-up daily driven Nissan Lucino VZ-R.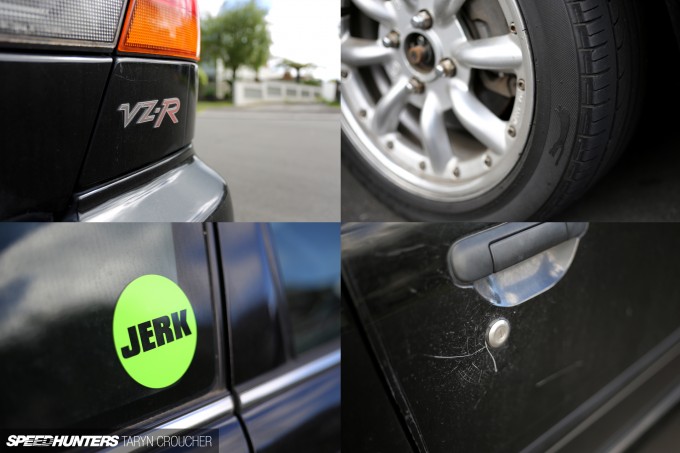 This car is usually banished from all social media channels and the public eye, and there are a few reasons for this. Firstly, its paintwork is just so immaculate, I just didn't know if the world would be ready to handle it. Covered in colourful stickers for added power and genuine Watanabes for attempted style points, the mighty Lucino was about to be unleashed on the track for what I can only assume would be the first time in its life.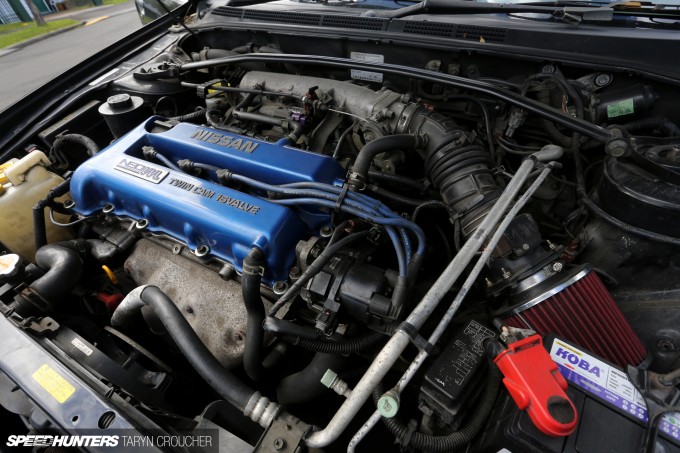 Jokes aside, although the Lucino (or 200SX as it's known in America) is very far from the prettiest or most desirable Nissan chassis, this particular example has a bit of a secret up its sleeve. Being a fairly rare JDM VZ-R model, it's armed with Nissan's excellent SR16VE motor, which uses Nissan's NEO VVL.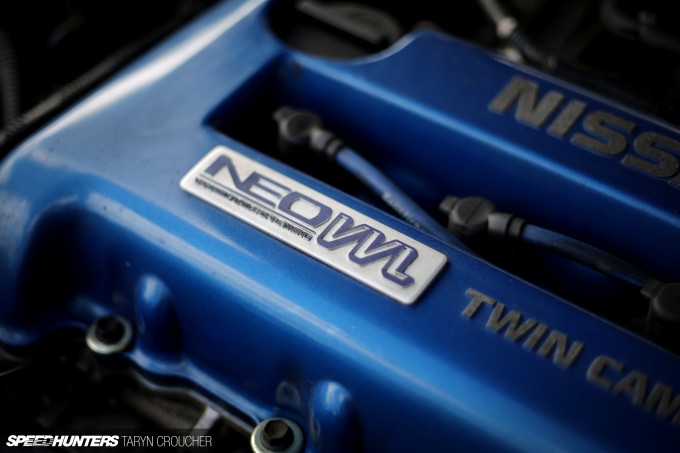 Functioning in a similar way to Honda's VTEC system, VVL varies the duration and lift by using a hydraulic pressure switch to swap between two sets of camshaft lobes. From factory these motors produce 175hp at the flywheel, which I know isn't all that much, but it's at least a huge step up from a base model Lucino and pretty good for a naturally aspirated 1.6-litre four-cylinder. I bought the car earlier this year for next to nothing, so I think I got some real bang for buck considering it's factory fitted with a close ratio LSD-equipped gearbox, bigger brakes, plus strut braces and S-Tune suspension from Nismo. Of course, I'm in no way saying this car is my pride and joy, but I'd be lying if I said I wasn't curious as to how it would fare out on the track.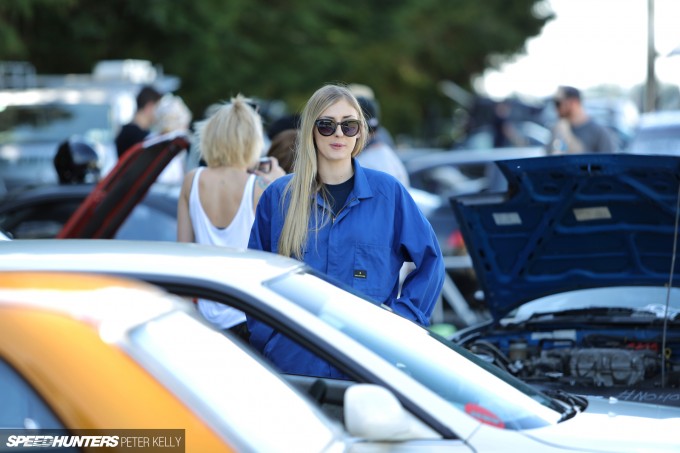 With my garishly blue overalls…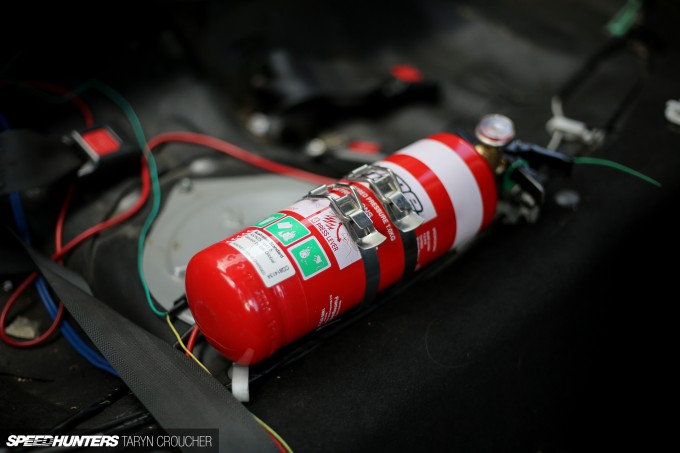 … and a few other serious race mods…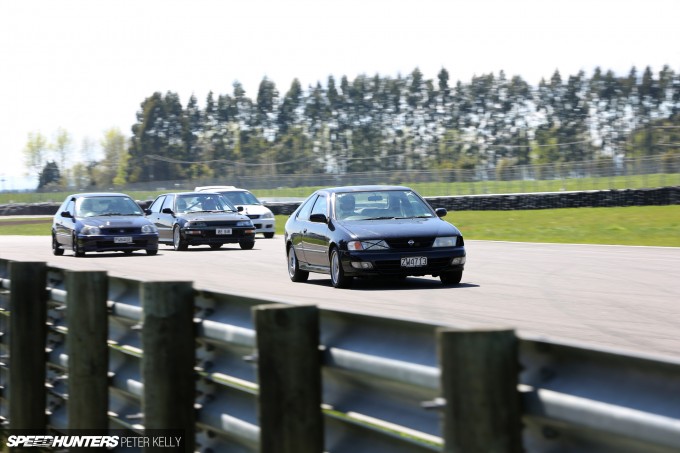 … it was time for a few heated VVL versus VTEC battles out on the circuit. For a cheap daily driver that I never really thought I cared about, I have to admit that it really put a smile on my face to watch the revs climb and hear the intake and then the exhaust camshaft lobes engage at different points on the way up to the 8200rpm limiter.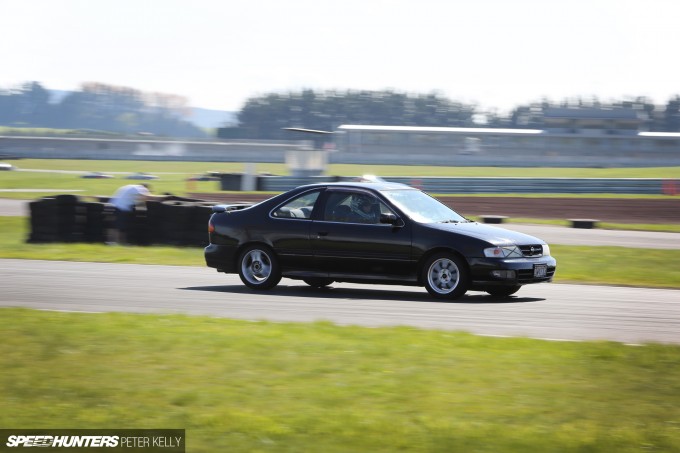 Dare I say it, it actually sounded pretty good! A few people told me afterwards that they were actually quite surprised when they heard it coming past the pits on the front straight. Though it couldn't hold a candle to the heavily modified Hondas out on track (or probably a stock VTEC Honda, had there been one present) the ragged old Lucino still held up okay in a flurry of protesting budget tyres, body roll and cooked brakes.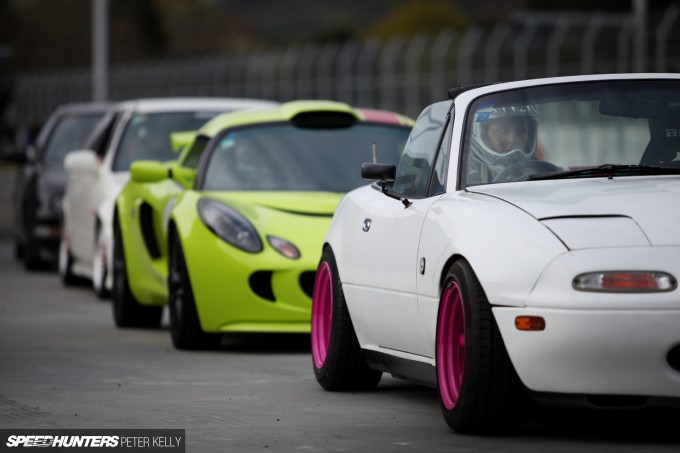 Not only was I satisfied with the Lucino's performance, but by the end of the day I felt as if I'd improved as a driver too. Looking back to my very first CJC track day in 2011, it's pretty satisfying thinking about how much I've learnt and how much I've improved since then. Just check out how nervous I look here!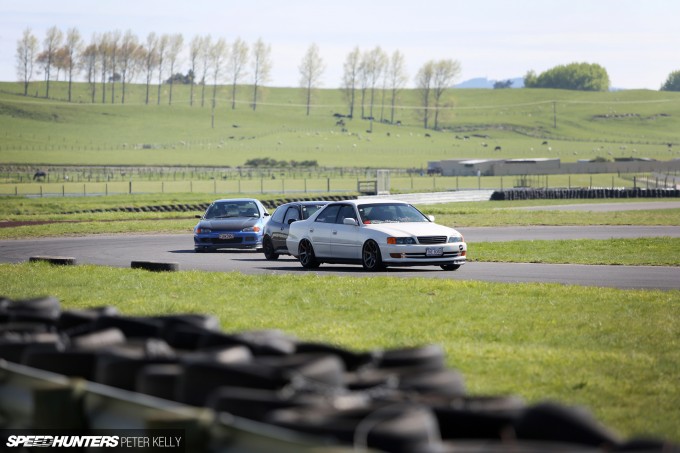 This year CJC hired out the smallest of the four different track configurations at Taupo. At only 1.3km long, the circuit consisted of two small straights and several tight corners, forcing drivers to focus less on high speed and to think more about braking technique and getting the perfect line.
With track sessions split in into 45 minutes…
Track time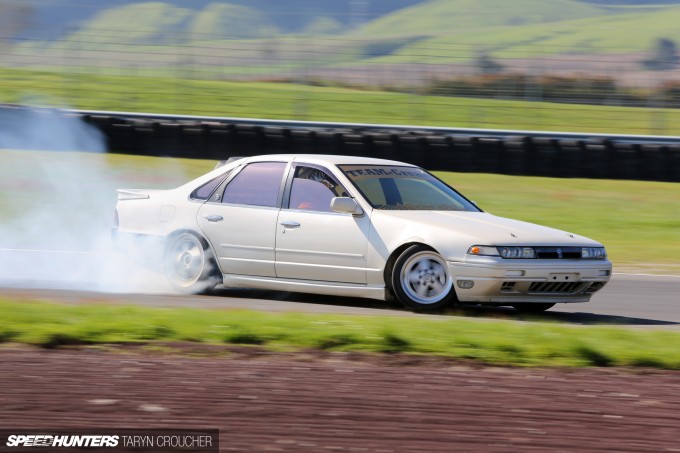 … they alternated between between drift and grip sessions, so while I wasn't driving I was able to check out what the drifting had to offer. With some of the CJC cars specifically built for shredding rubber, this was a great opportunity for those members that wouldn't usually come along to a regular track day to hang out with the rest of the crew.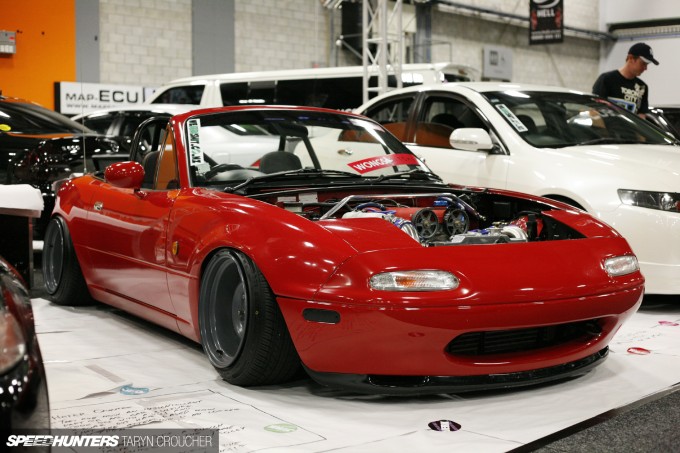 Luke Fendall's NA-chassis MX-5 is the complete opposite of how it looked the first time I laid eyes on it back in 2011.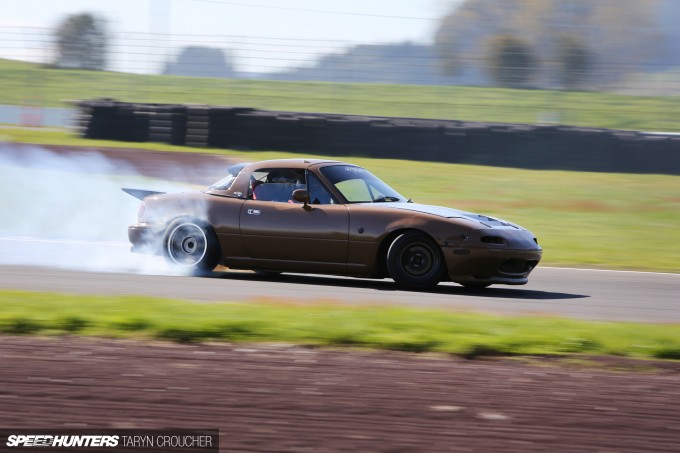 Luke ditched the steel wheels and slammed ride height some time ago, and now uses the 1.8-litre turbo Roadster strictly for sideways action only.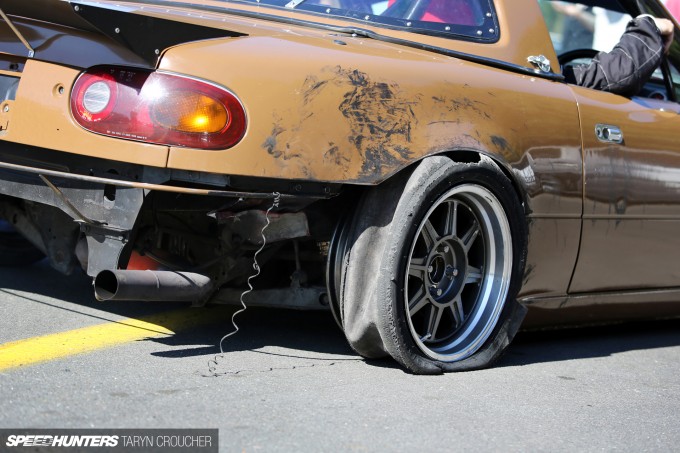 I think it's fair to say that over the past few years he's definitely fine-tuned his tyre slaying technique!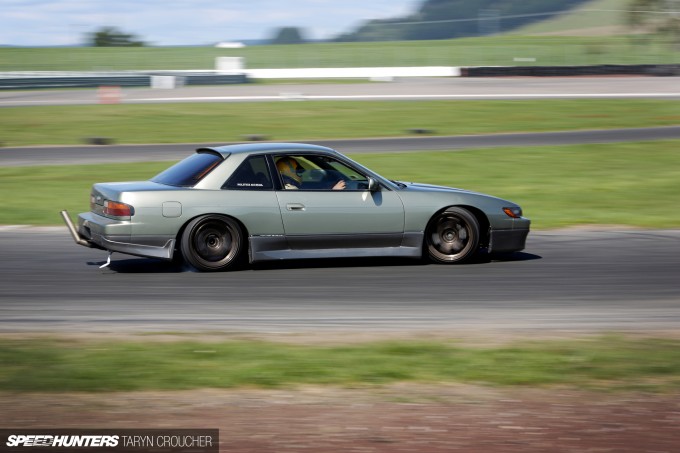 Nissan Silvias of all generations are also a popular car of choice amongst the crew, including this immaculate S13. The subtle factory two-tone paint and Volk Racing Te37 wheels make a nice combo.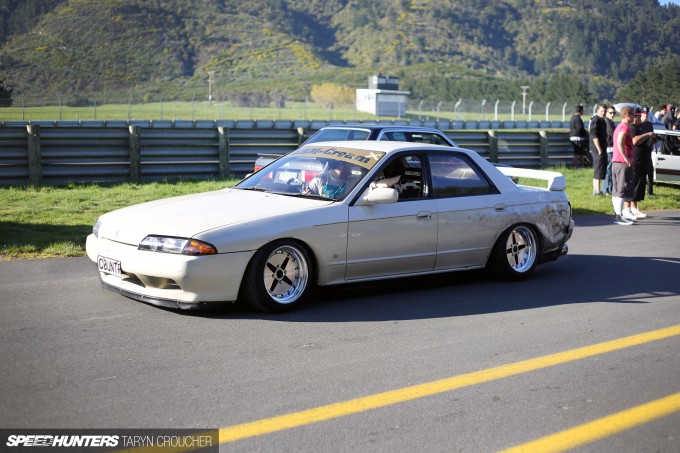 Royce Mihaere's R32 isn't even running a DE motor, let alone a DET, but he's very well known for using what little power the RB20E (that's right, it's SOHC!) makes to its full potential, always thrashing the four-door Skyline to its absolute limit. The beat up body has the battle scars to prove it too.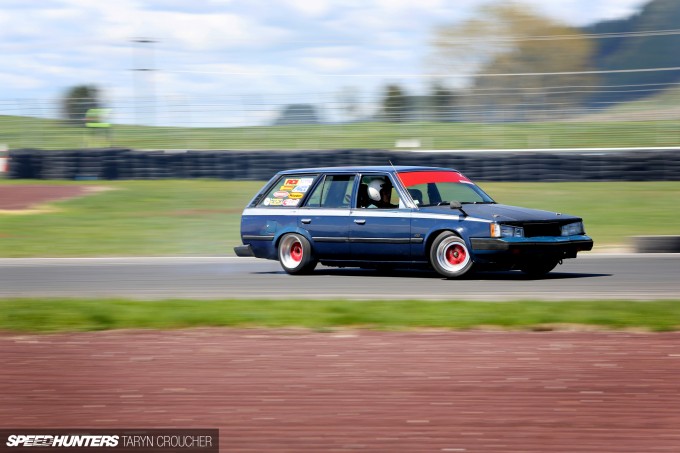 Kelvin Taylor brought along his latest project car to the track this year – an SR20DE-powered Corona wagon – and he already seemed pretty comfortable behind the wheel of it. Kelvin is well known within the New Zealand car scene for his great taste in old-school Japanese cars.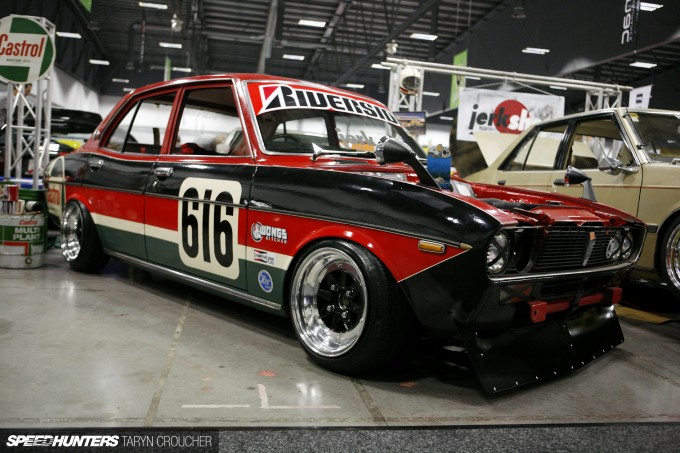 You might remember his incredibly cool 13B-powered Mazda Capella making a brief appearance on Speedhunters earlier in the year.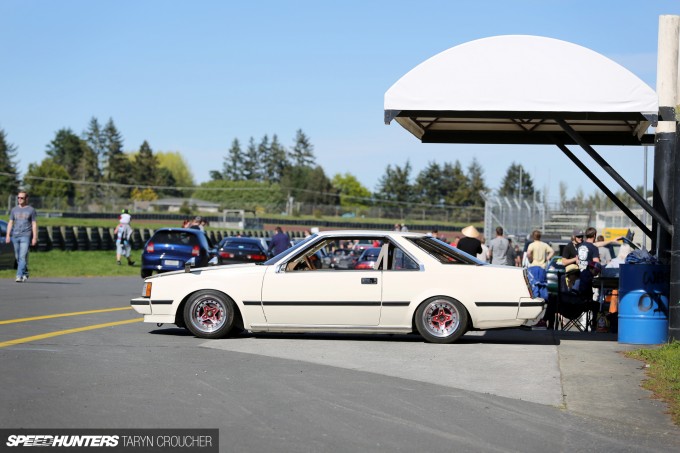 I've lost track of how long it's taken Simon Monteith to put the final touches on his ST140 Toyota Corona, and we were all pleased to find out that this year the car would be making it along to the track. The finished result is too beautiful for words, and has certainly been worth the wait!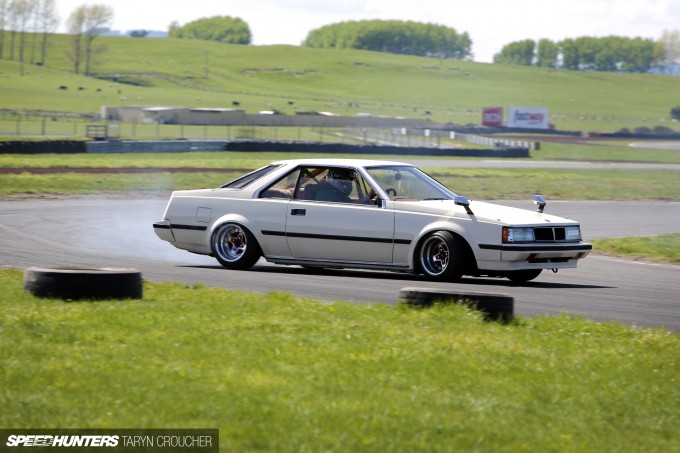 Simon wasted no time with getting the newly-completed coupe onto a trailer from Palmerston North up to Taupo, so that he could get the 4.0-litre 1UZ-FE V8-powered machine sideways for the first time.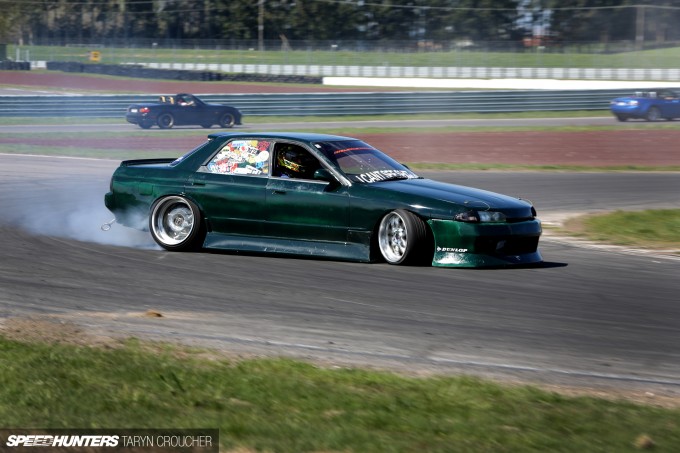 Thankfully none of any of the cars suffered any serious harm this year, so everybody was in great spirits throughout the whole weekend…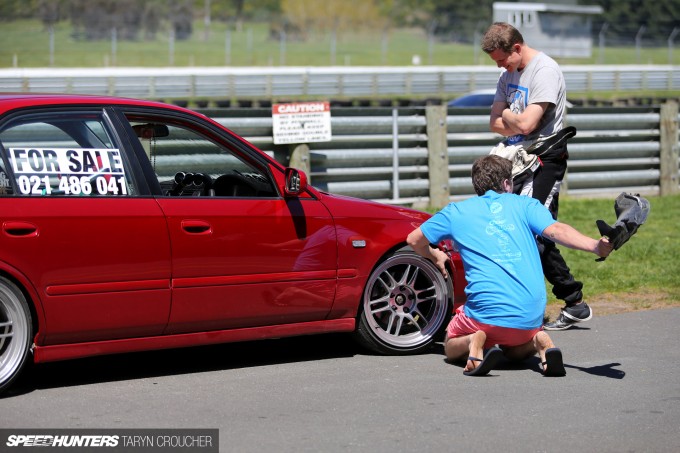 … although Anthony Wong's K20A-powered Civic lost an inner guard at some stage; not that he noticed though, because he wasn't even there!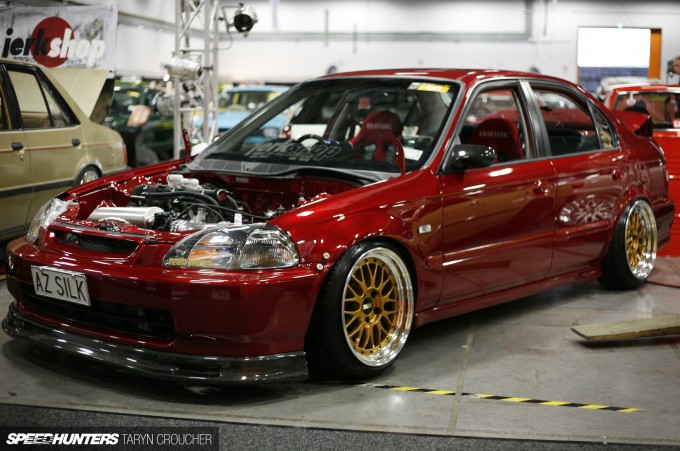 Ants is known for often letting his friends borrow his immaculate show-car spec Honda to take out on the street and the track. I guess this gives you some idea of how close-knit this group of friends really is.
Cars and good company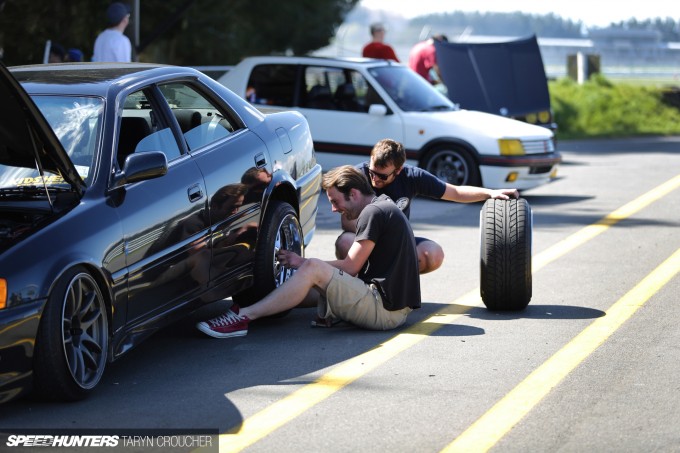 Despite the Z not quite being finished in time, I think this was perhaps the most fun I've ever had at a car event. Every time I manage to get out of the house and hang out with the CJC, it reminds me how important it is to make time to get out and enjoy cars (no matter what make or model they might be), with other people.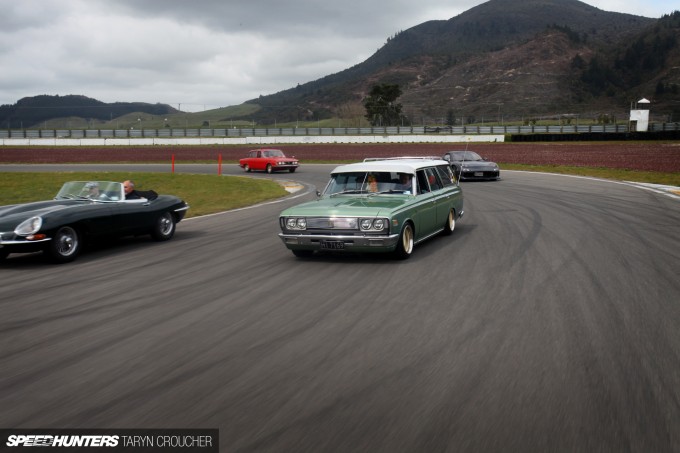 There's the joy you get from spending time with your car at home in the garage, and the joy you get from reading and viewing cars on the internet; but nothing quite beats the feeling of meeting up with a bunch of friends, having a few laughs and enjoying a bit of friendly rivalry out on a race track.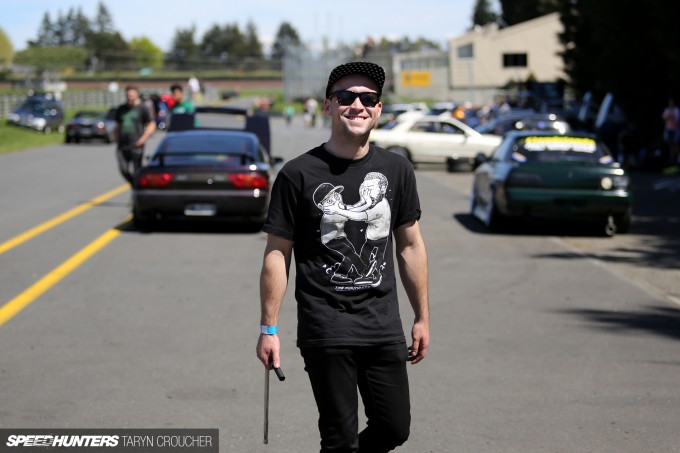 I honestly believe it's one of the best things you can do as a car enthusiast. Whether it be signing up to an online forum, randomly heading along to a local meet or just starting up a car club with a few of your close friends…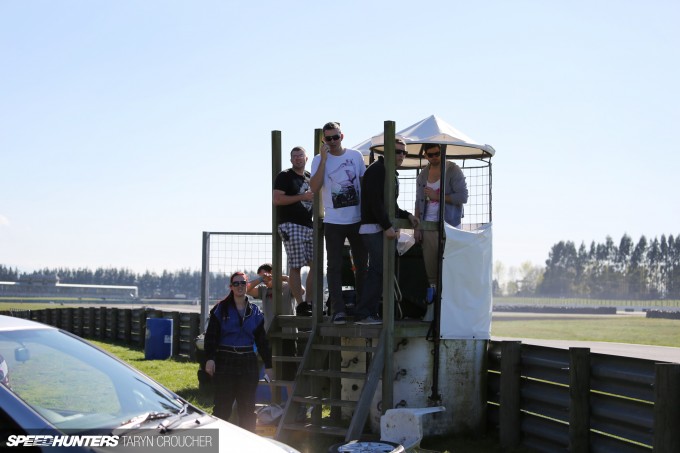 … the people you'll eventually meet will change your life.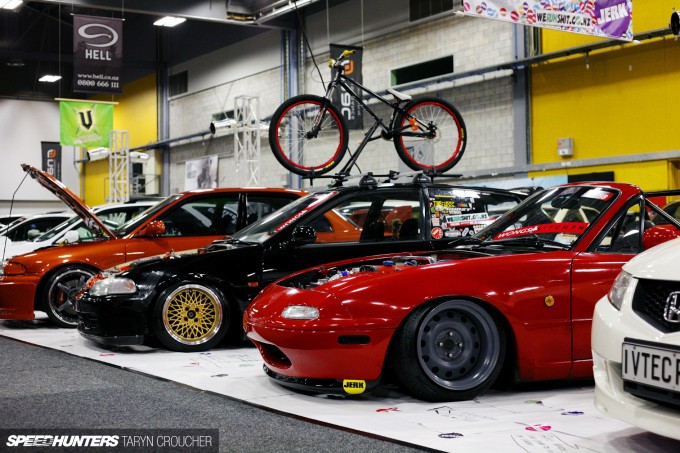 CJC has grown over the years into a club with over 200 members, but its core values remain the same.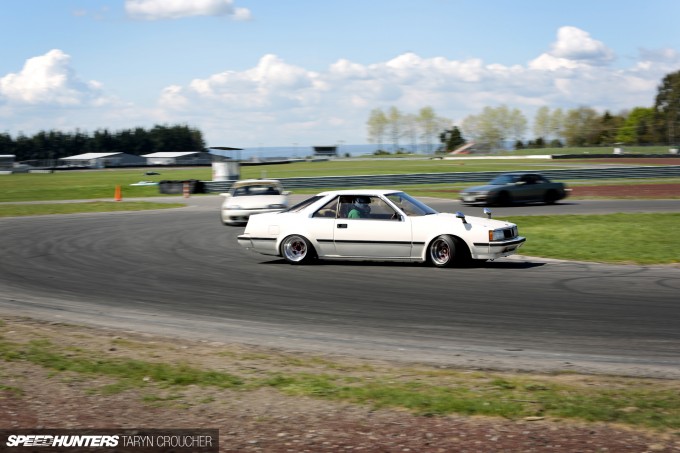 That is, having fun and appreciating cool cars of every make, model and shape, together as a close-knit community. I'm pretty grateful to have somehow got tangled up with this group and its passionate members.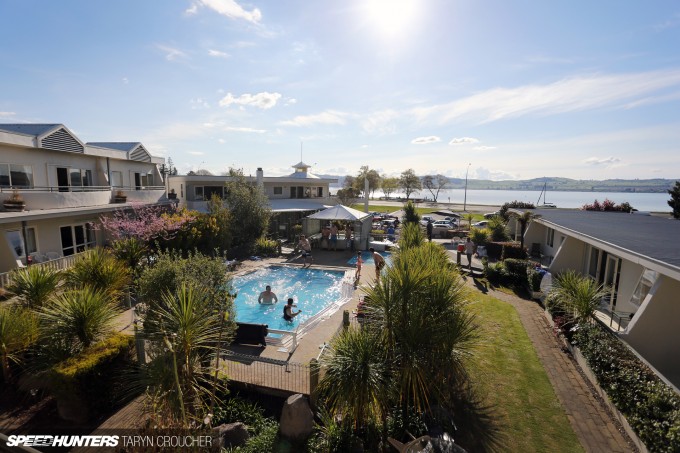 After renting out every room of a local motel and indulging in a bit of, err… rowdy behaviour later that night, judging by the look the motel owners gave us as we checked out (while one of the mortified staff members pulled a pair of boxer briefs out of the swimming pool behind us), somehow I don't think we'll staying at that particular resort in Taupo next year. But I know that we will make it down to the track again, and next time the Z will be ready!