Idiot abroad
I'm a Brit. I come from a country where people are starting to use their cars less because petrol prices are so high, where 'stanced' cars are rare (no doubt partly because of the copious amount of potholes that lie in wait on the 'beautifully'-surfaced English roads), where Range Rovers are looked upon as gigantic gas guzzlers, where four lanes are reserved solely for a handful of the country's biggest motorways and where the entire country almost goes into some kind of feral lunacy if we have an entire week of sunshine. In summer.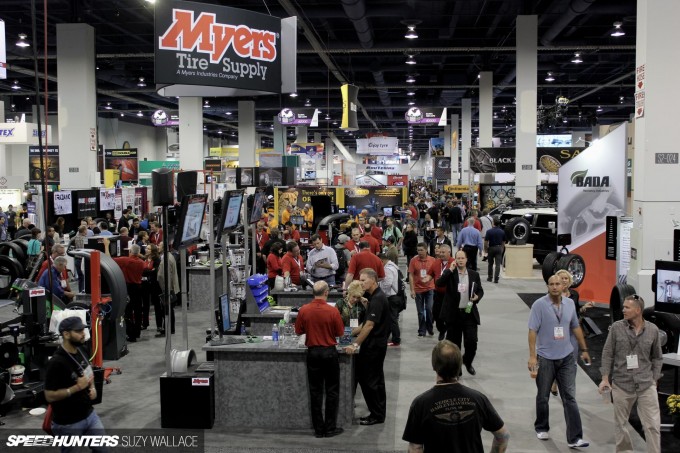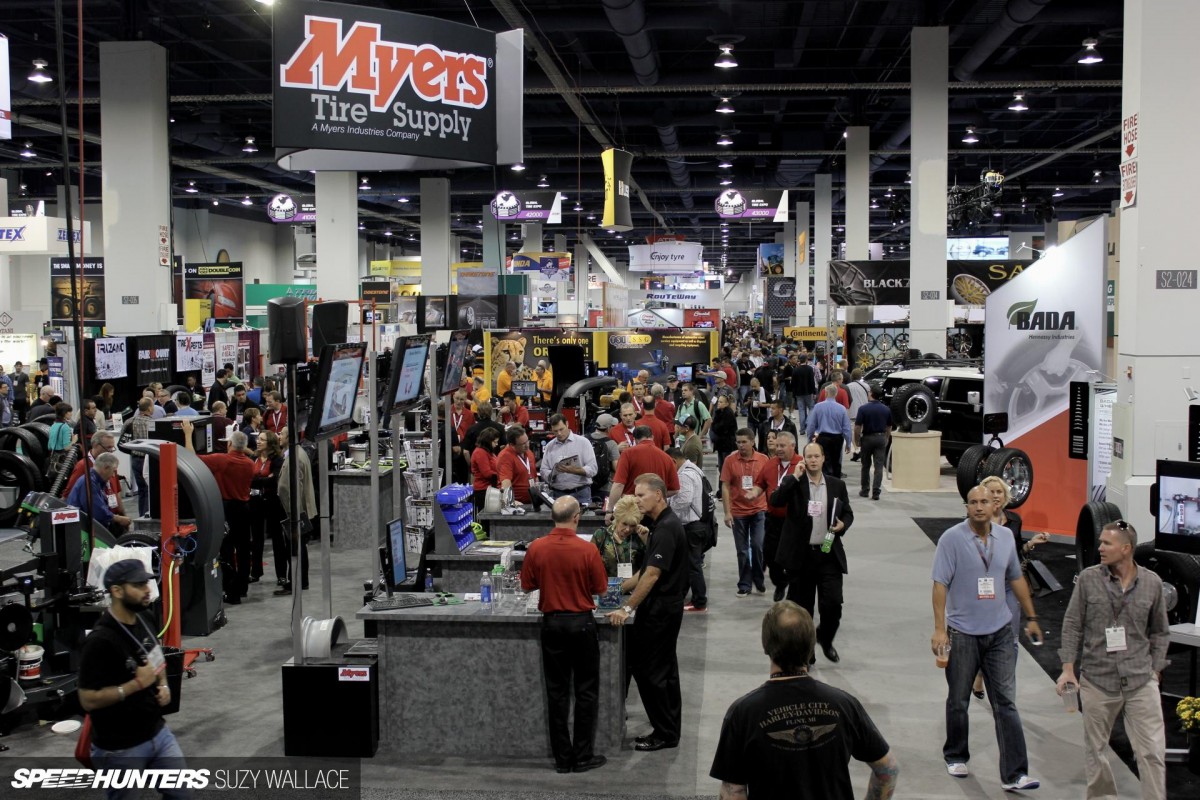 So to go to Vegas and visit the SEMA Show, one of the finest – and largest – displays of everything that America has to offer in terms of the aftermarket world, is a bit of a culture shock. Even though I have a lot of exposure to different car cultures via Speedhunters, there's still so many ways in which it differs, so I wanted to share just what it was like to experience it from my point of view.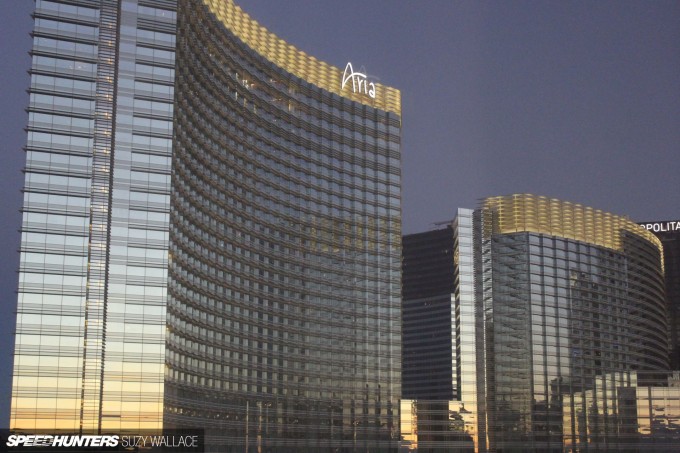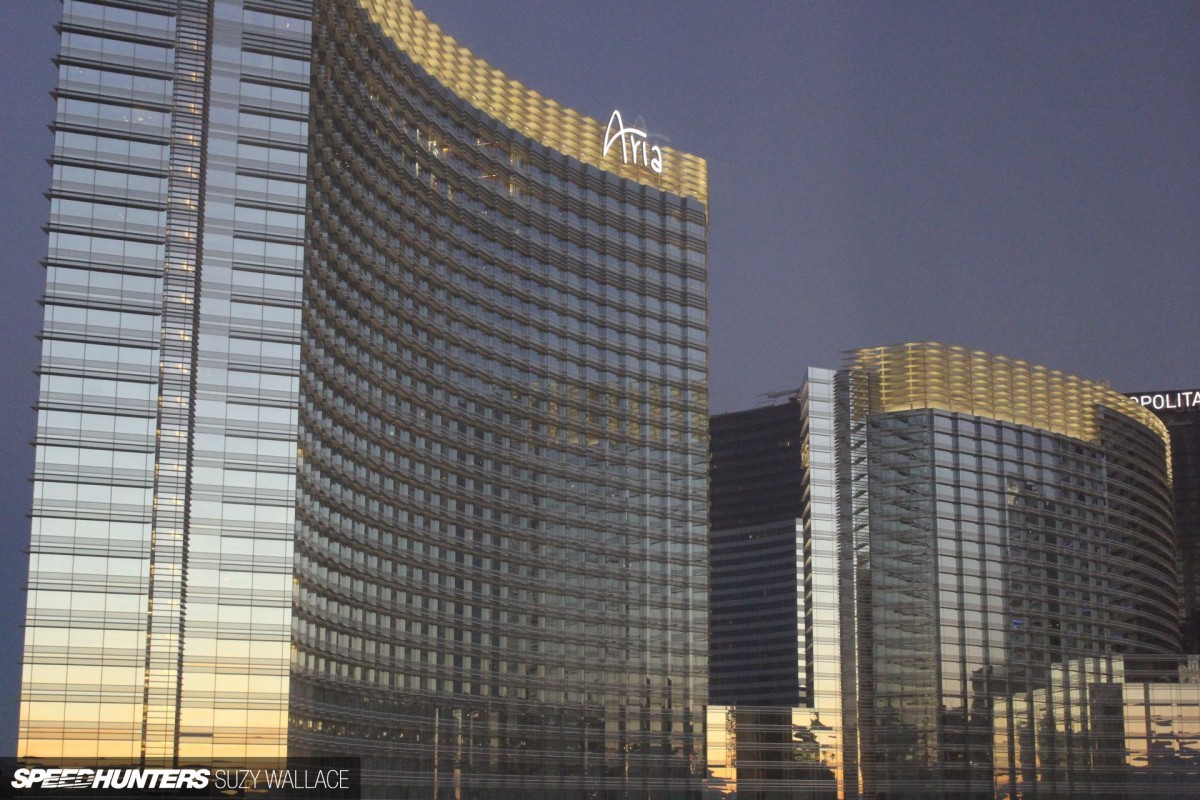 That point of view can only start off as being described as disoriented. After a 10 and a half hour flight, arriving at our hotel around midnight was a sure-fire way to kickstart the week. What can be better than going to bed just as your body's expecting to get up? It made its protests too, waking me up at 4.00am as if it refused to believe that even I could lie in this late. Still, I did get to watch the sunrise in the reflections of the hotels.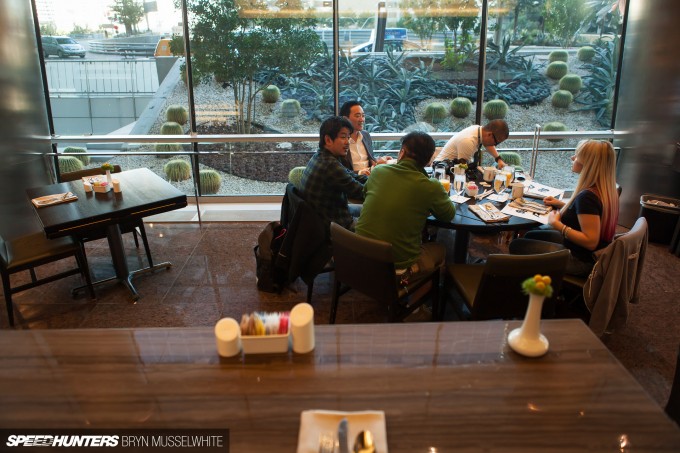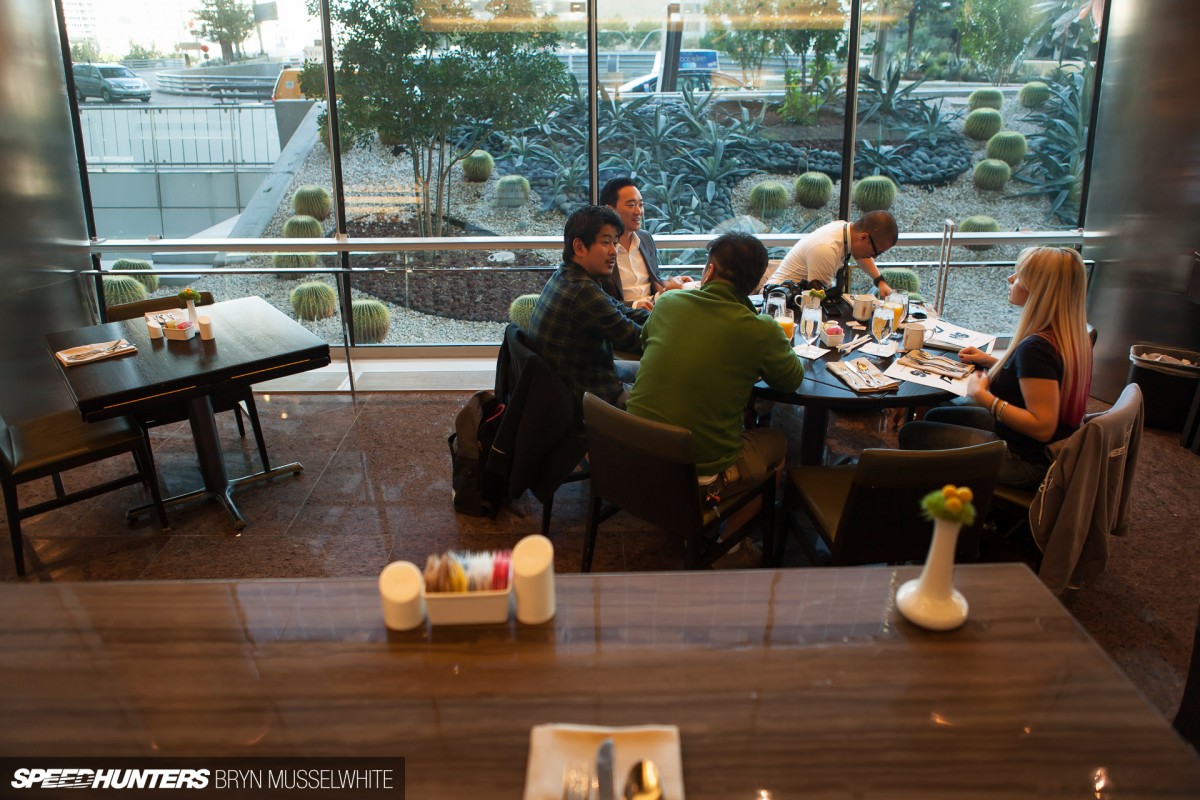 I look back on the first morning that we sat down for a proper breakfast with fondness now. With the team all having their own schedules, it was rare for any of us to get together for a proper meal like this. With only four hours of sleep under my belt, it was time to indulge in heavy consumption of sugar and caffeine to kick start the day.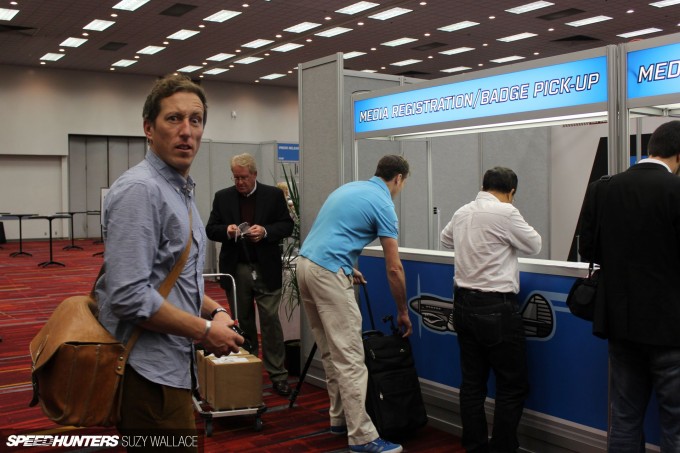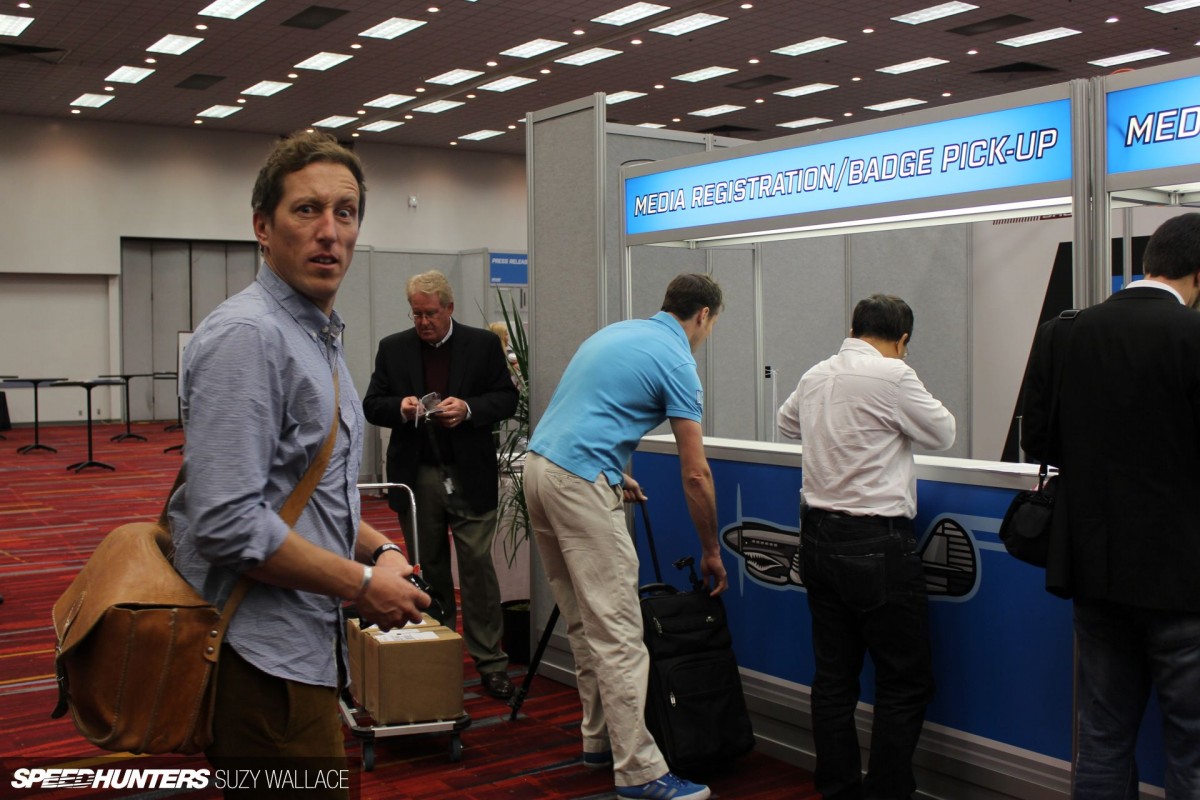 Our first introduction to the sheer size of SEMA was upon arrival at the Las Vegas Convention Center. After being typically British and politely queuing up in a queue that turned out not to be for us anyway, we then got lost on the way to the Media Centre, despite stopping and asking for directions. Three times.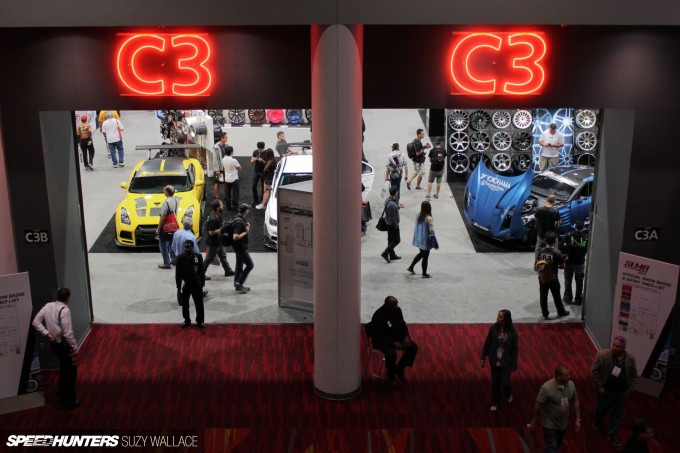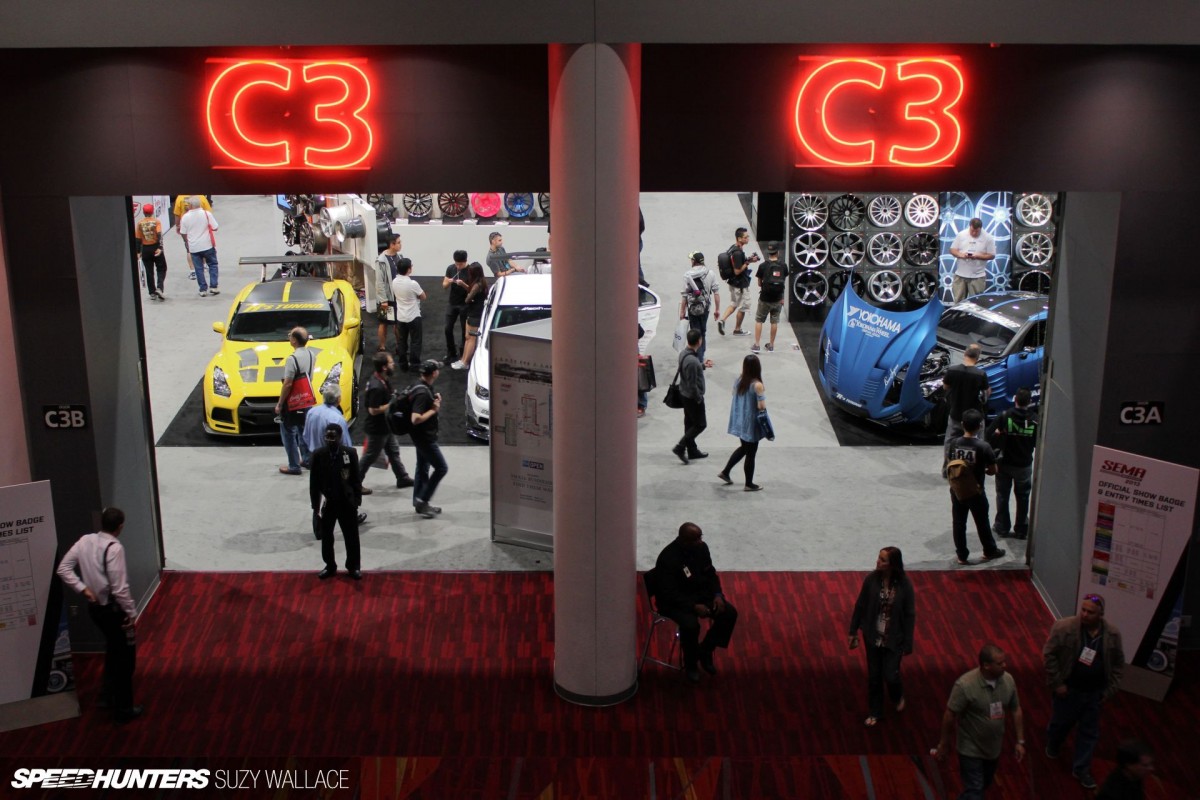 At last we were finally badged up and ready to go. The show could begin.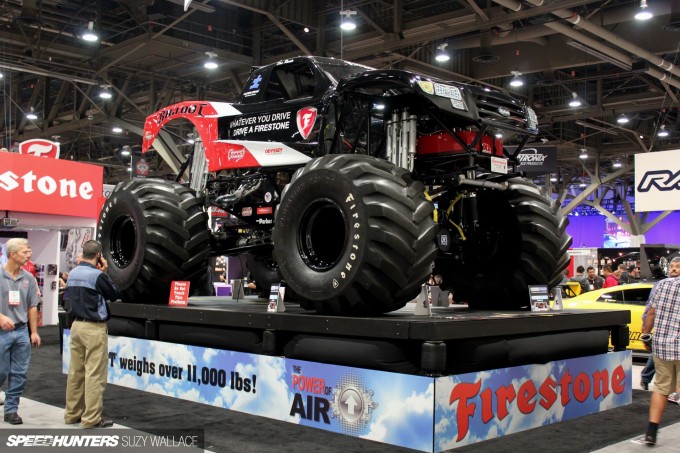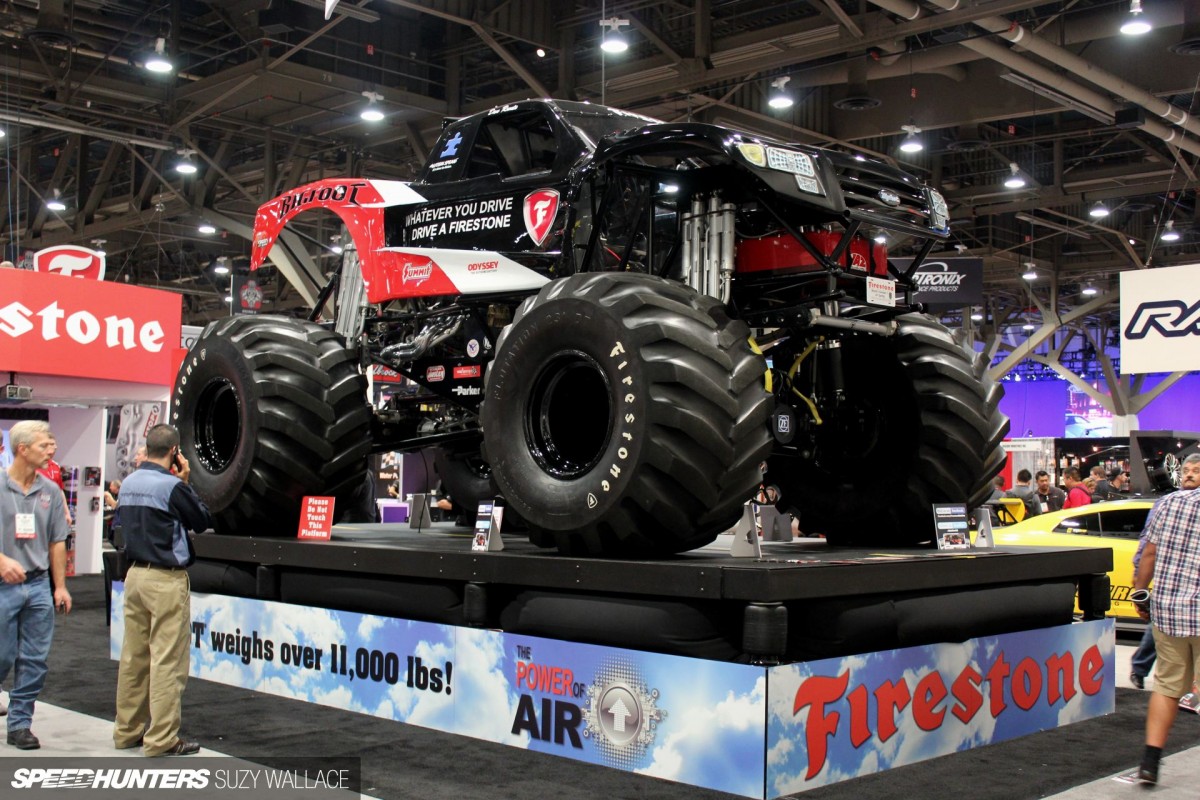 The first thing you instantly hits you is that this place is big. And I mean big in every sense of the word! When I read Sean's report from last year saying that by the fourth day he reckoned he'd seen everything, I'll admit I scoffed at the notion that it could take so long to look around. But he wasn't joking!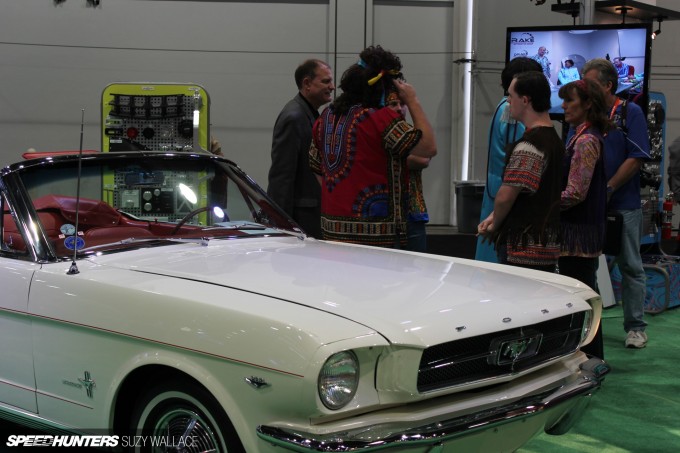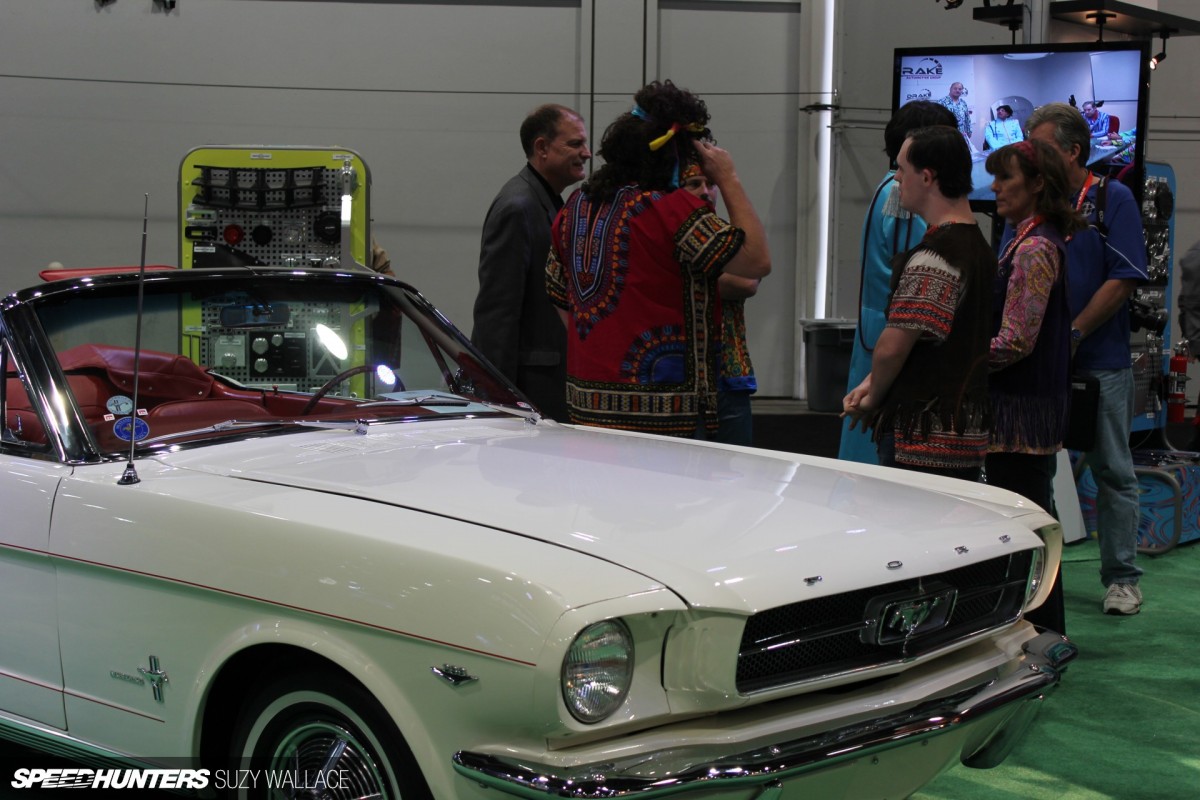 The show stretches out in all directions before you, thousands of people wander the impromptu corridors between stands, and huge displays stretch literally as far as the eye can see. You're assailed on every side by vehicle manufacturers, aftermarket companies, tool and service providers. And… um… hippies?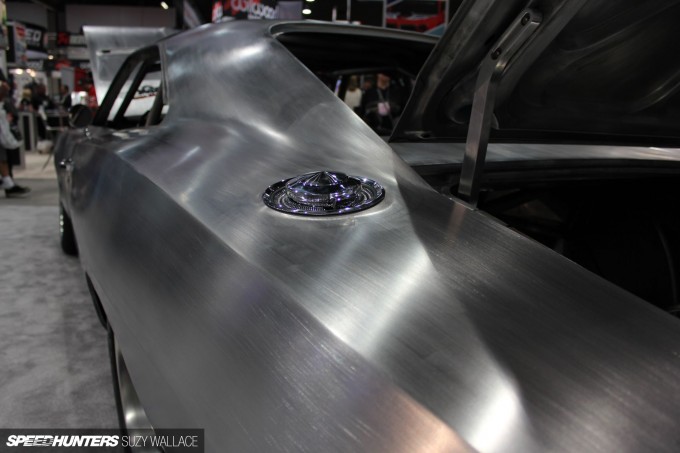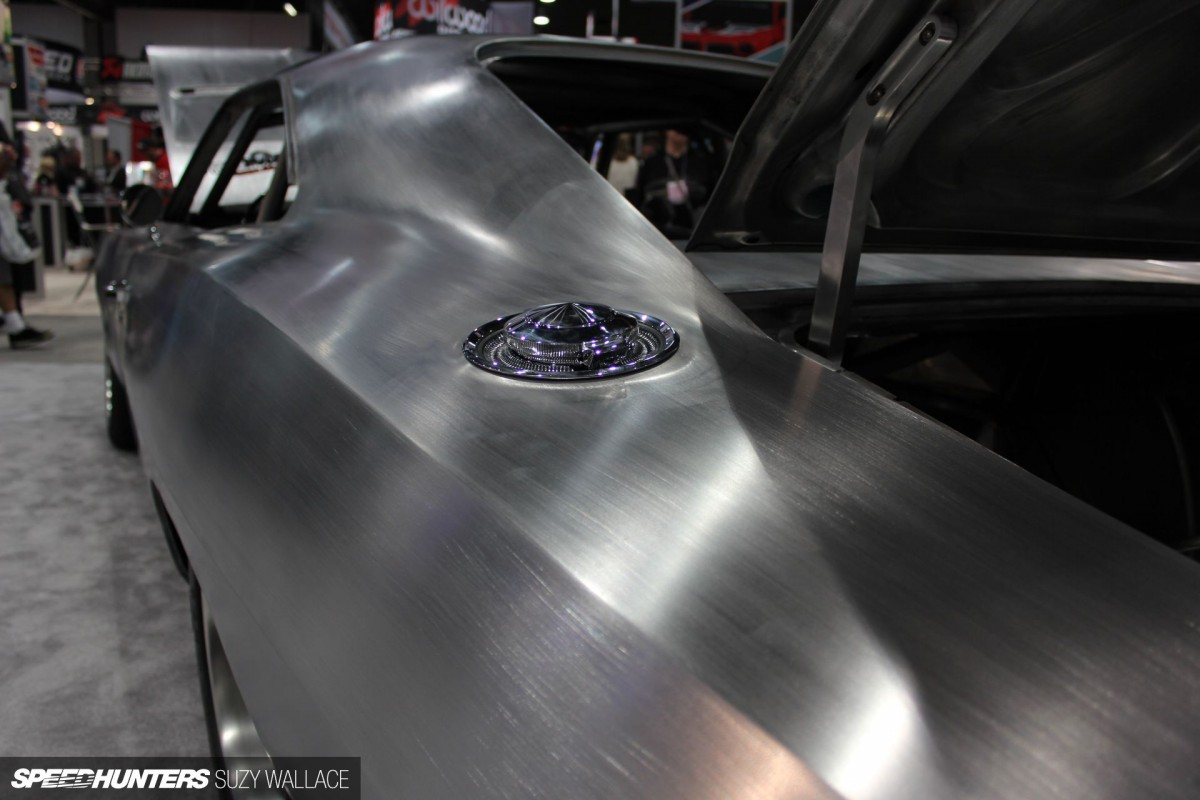 Companies use various tactics to lure you into taking a closer look at their products or services, but more often than not, it's beautifully-crafted show machines that are on display.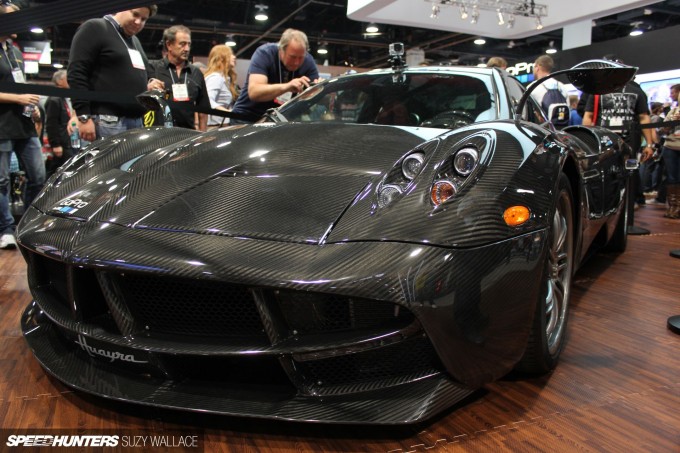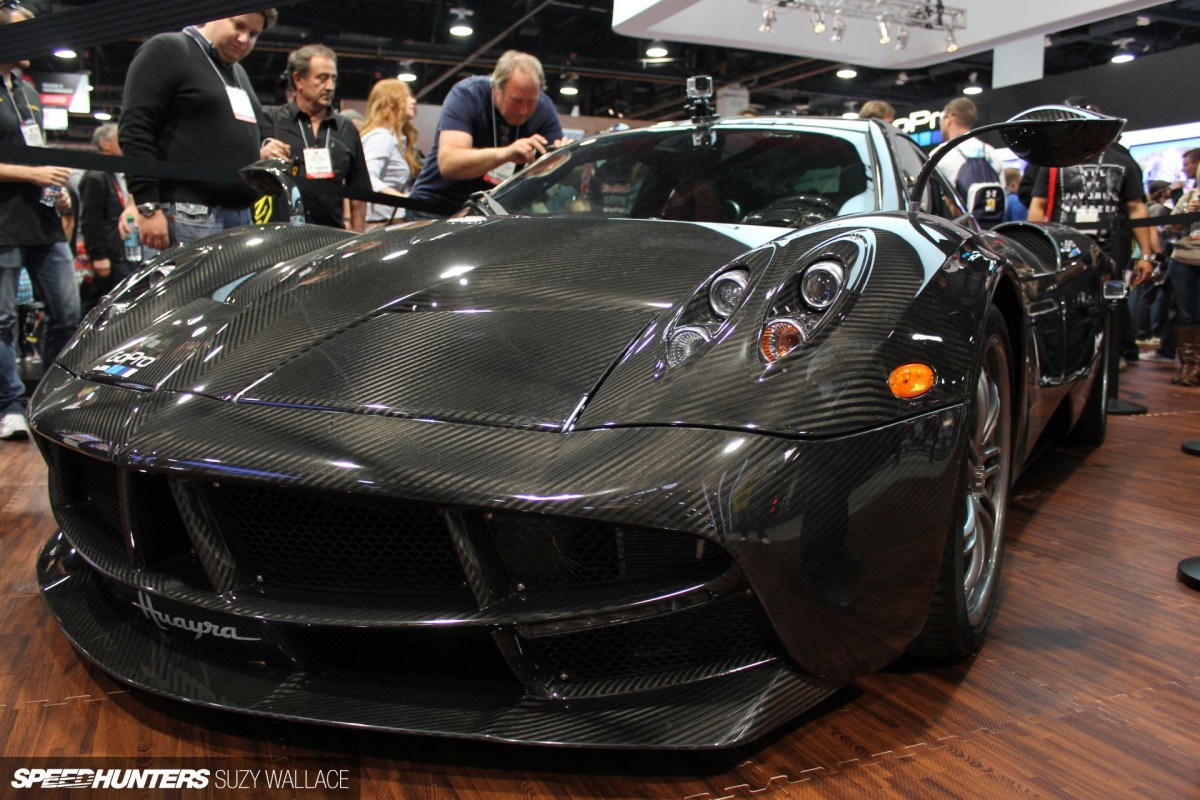 If you want to draw the crowds, it's hard to go wrong with a fully carbon-fibre-bodied Pagani Huayra! Mops were presumably kept on standby.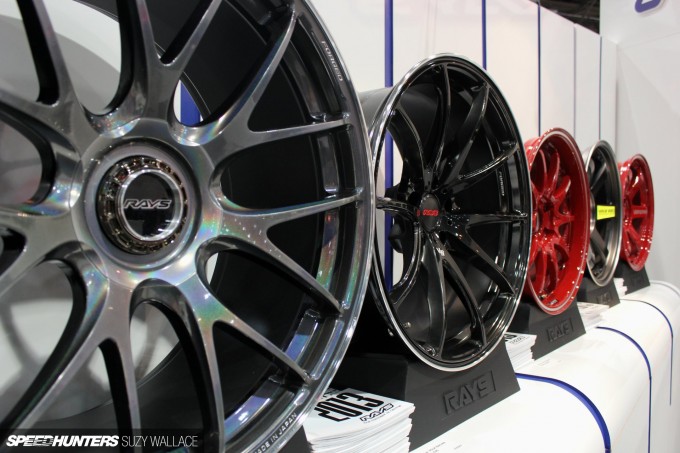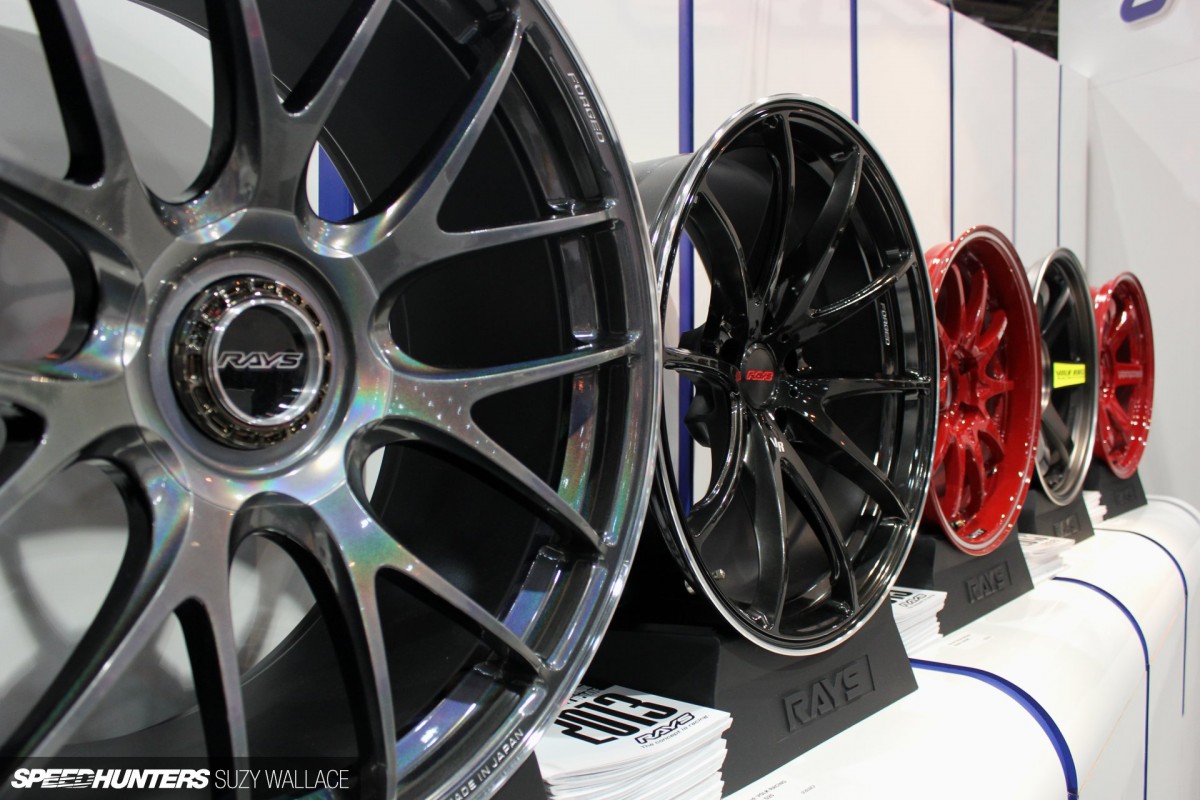 Of course, there were plenty of members of the fairer sex to entice people in, but often, a tasty line-up of products was all the excuse I needed. As per normal, I spent an inordinately long time lusting over looking at the latest offerings from RAYS.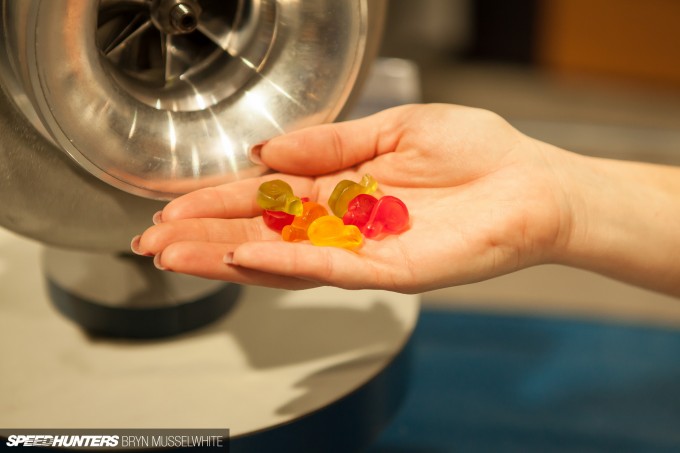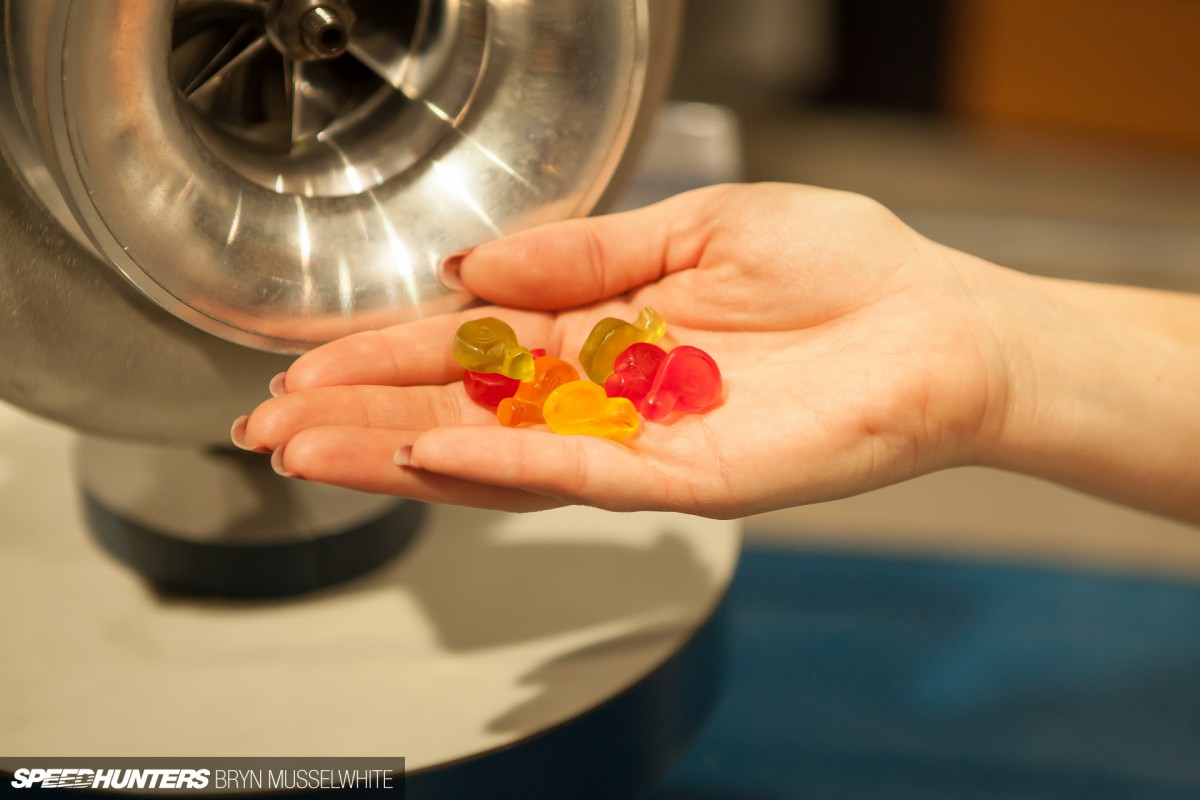 BorgWarner had to take the prize for best giveaway goodies though. It might have been its range of turbos that drew me in, but its gummy turbo sweets were the best thing I picked up all week. #WeHaveSugarBoost!
Local talent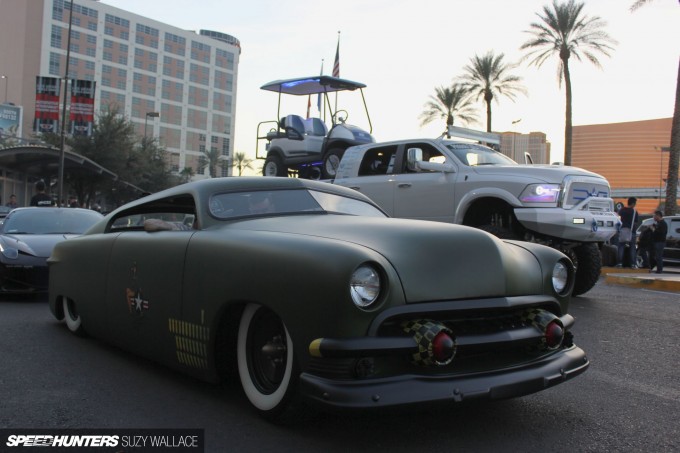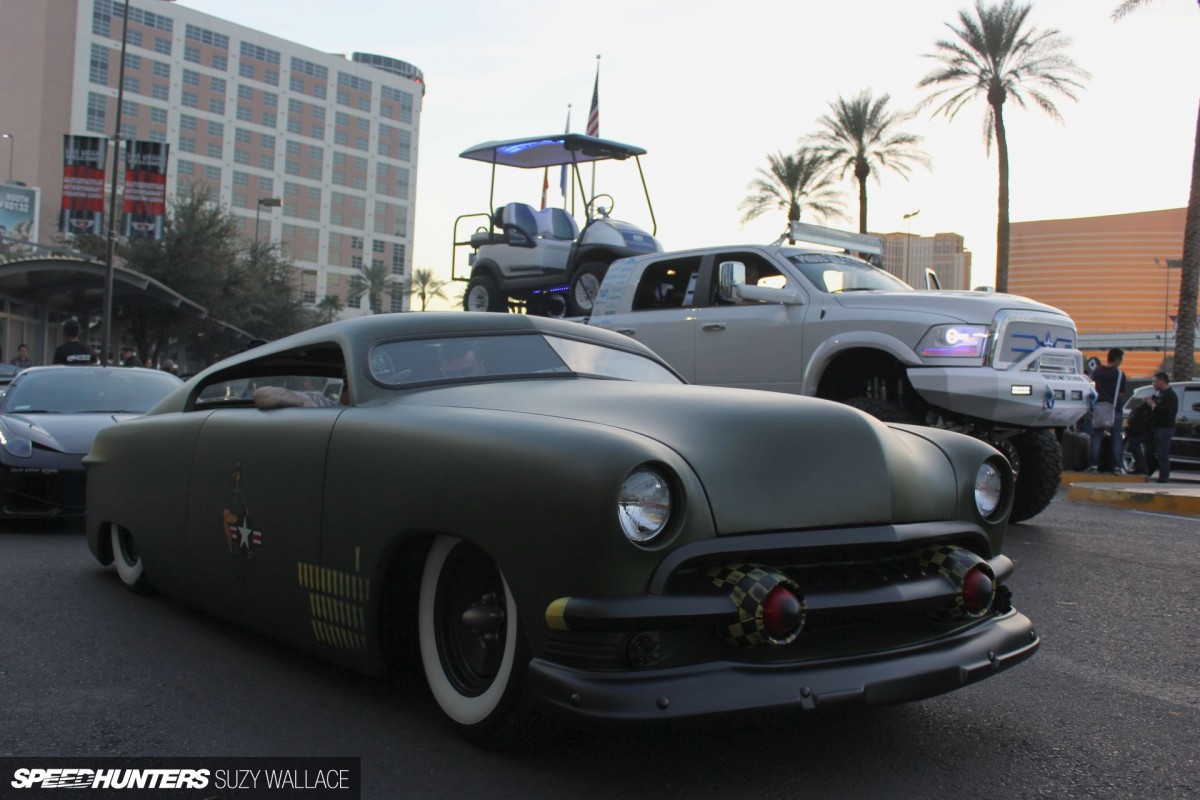 Of course, walking around leaves you in no doubt as to which country you're in. Whether it's low-slung kustoms…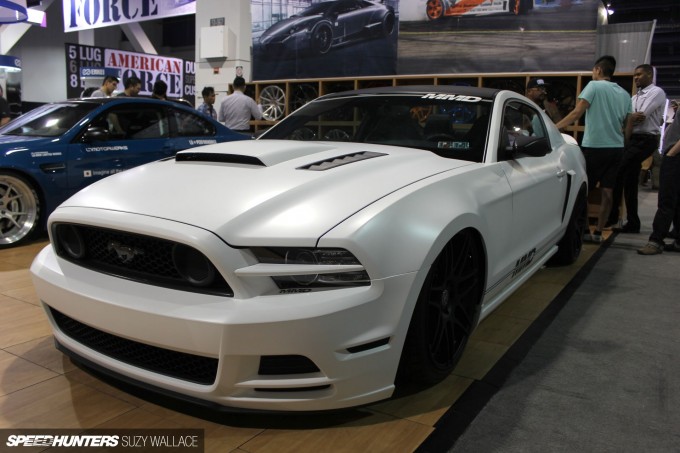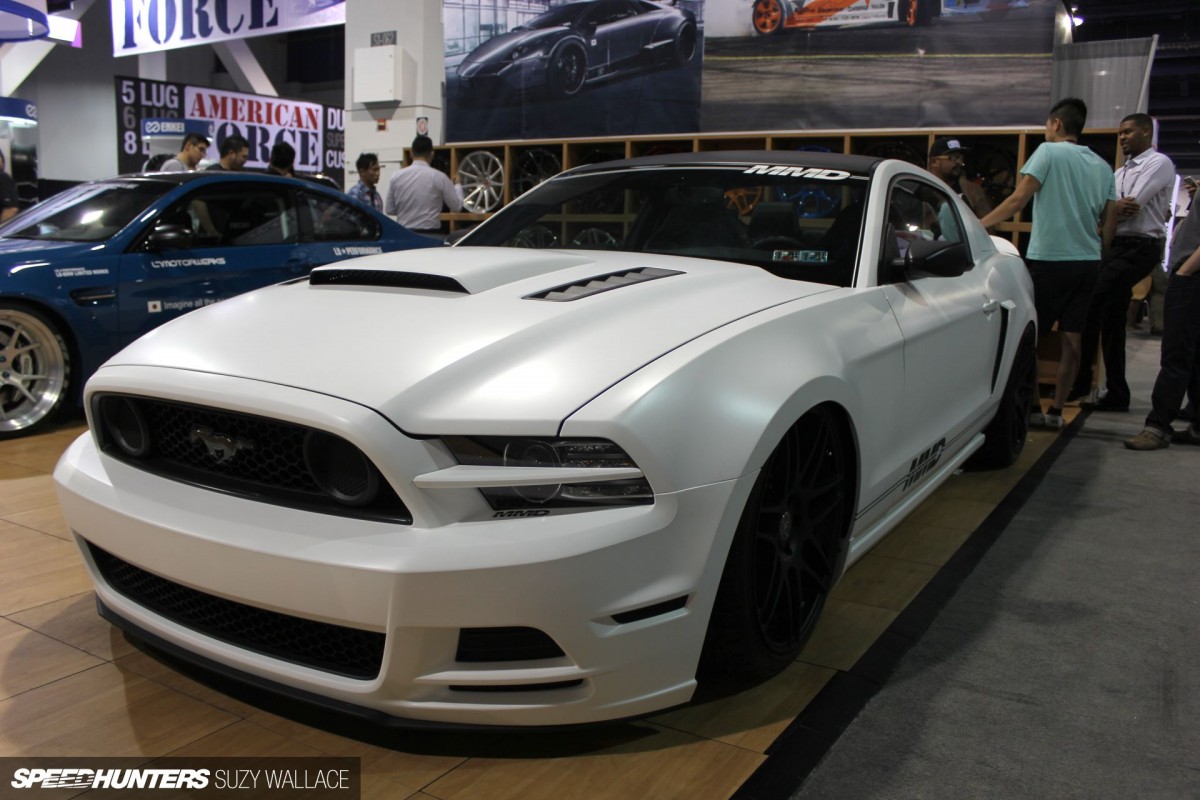 … some classic American muscle…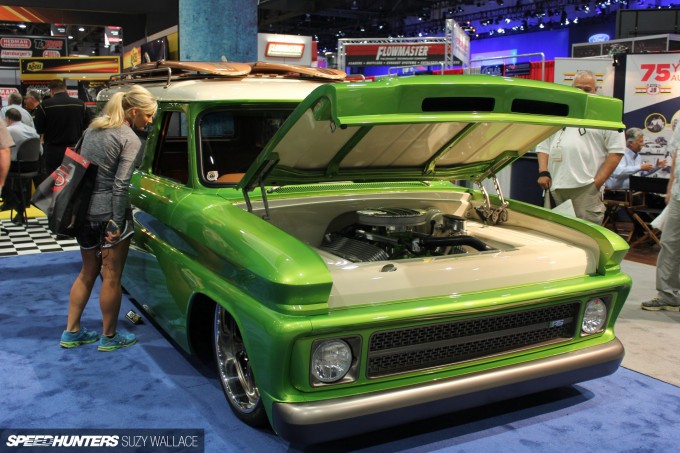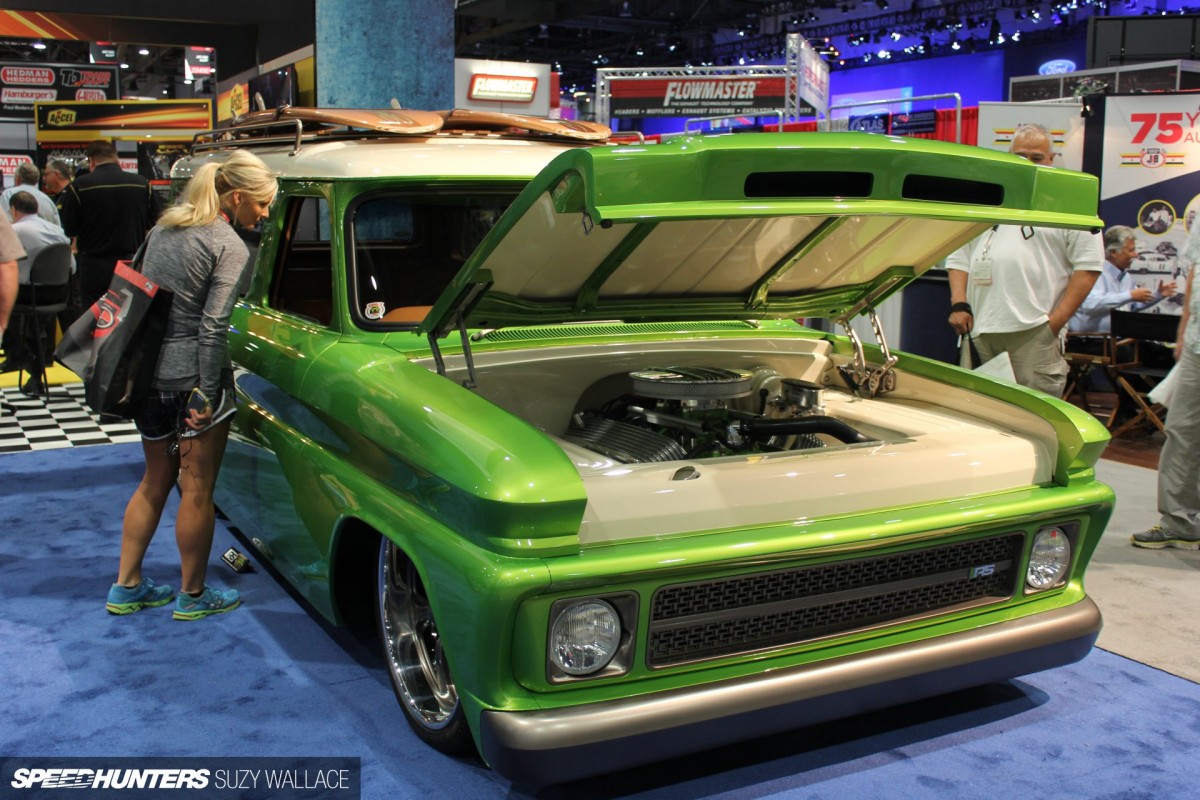 … or amazing truck builds – like ACCEL's Chevrolet Suburban – you're left in no doubt as to your location. This all proved particularly fascinating for me as they're all scenes that are practically non-existent in the UK, so it's not often I get to see stuff like this up close. Back home, this would be a VW Camper Van!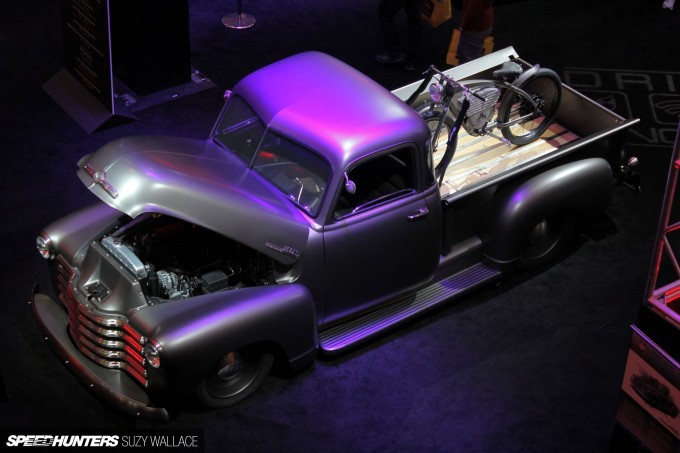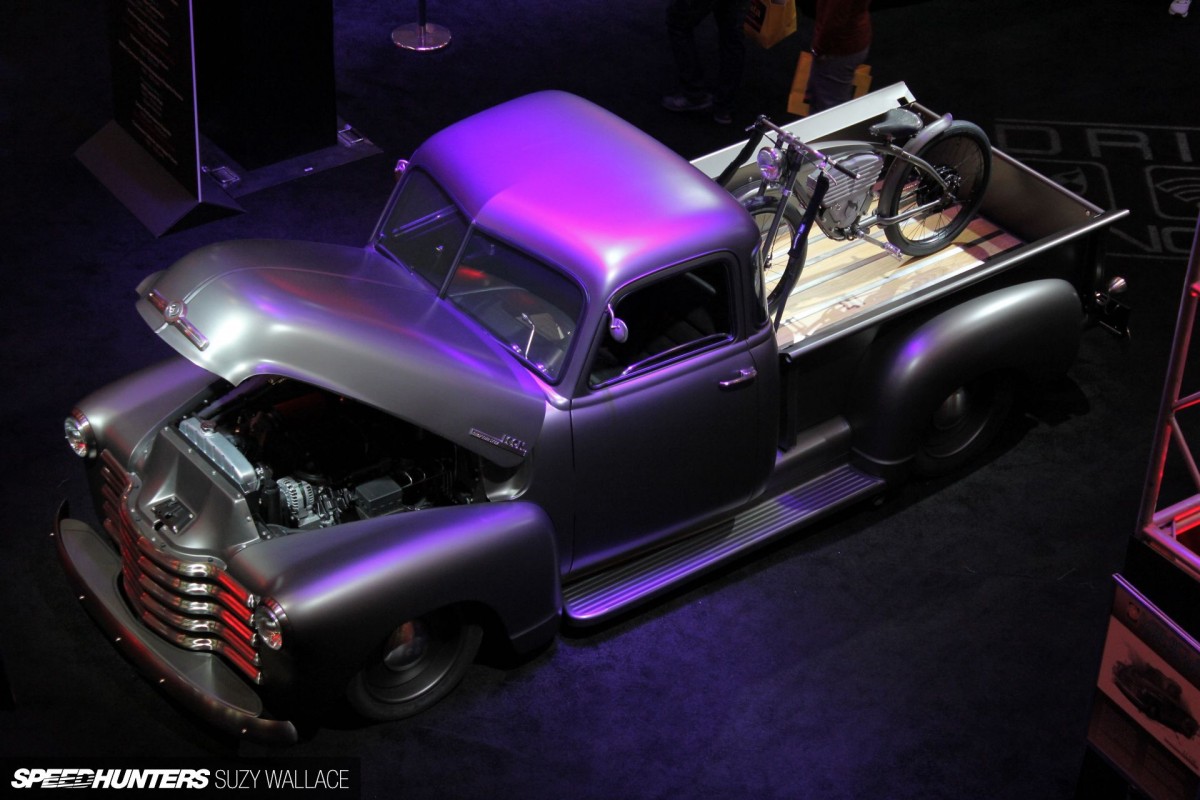 There were definitely some stunning trucks – the ICON Thriftmaster being one of the finest examples on show. I'd take one of these over a Ford Transit any day!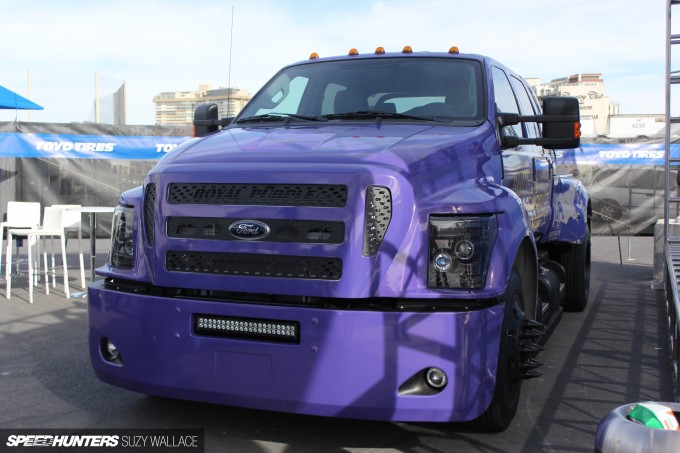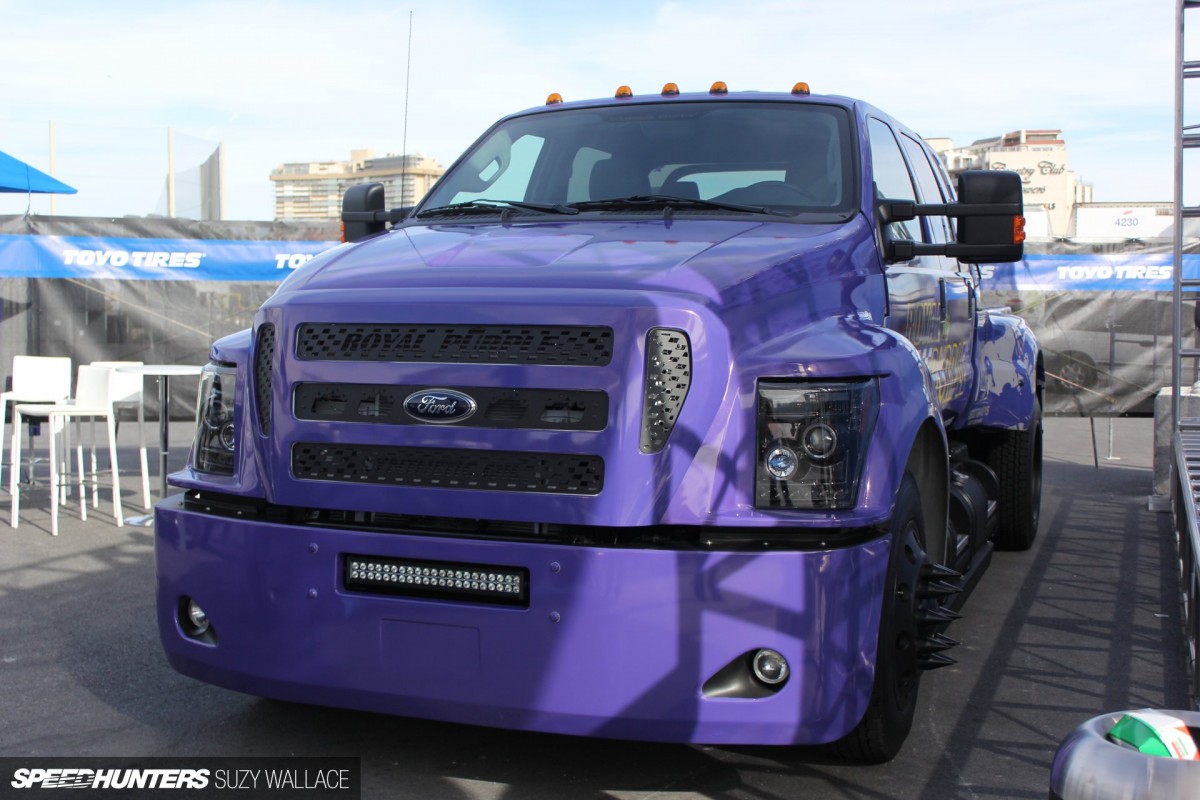 Then there were trucks like this. Although it never ceases to amuse me when I'm only just eye-level with the grille, this sort of truck is so far removed from what we have back home that I'm never quite sure what to make of them. I'm pretty sure we have buses that are smaller! And a little kinder to pedestrian's legs…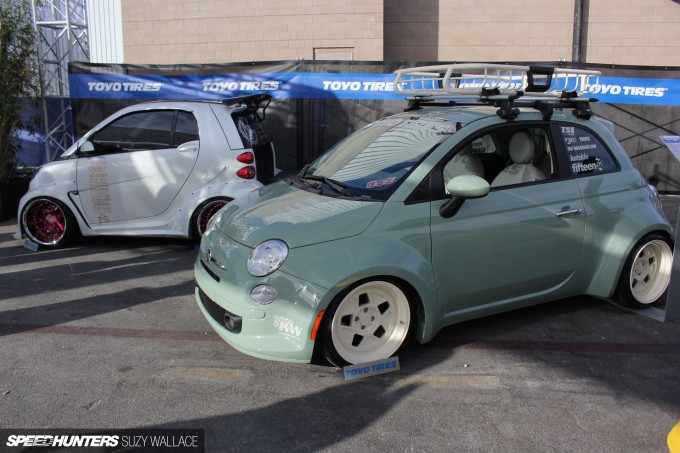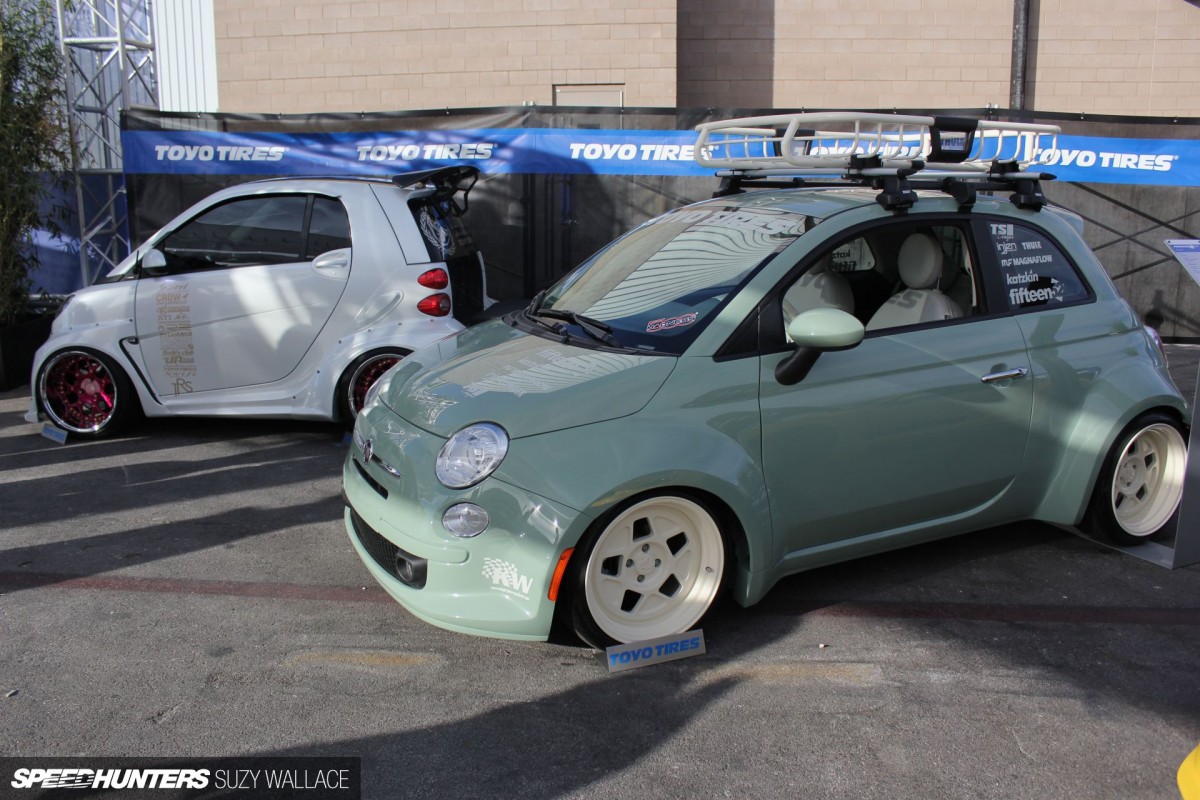 Of course, there was still plenty of content that I was familiar with. The pastel green paint and cream Fifteen52 wheels on the wide-arched Fiat showed a strong European influence.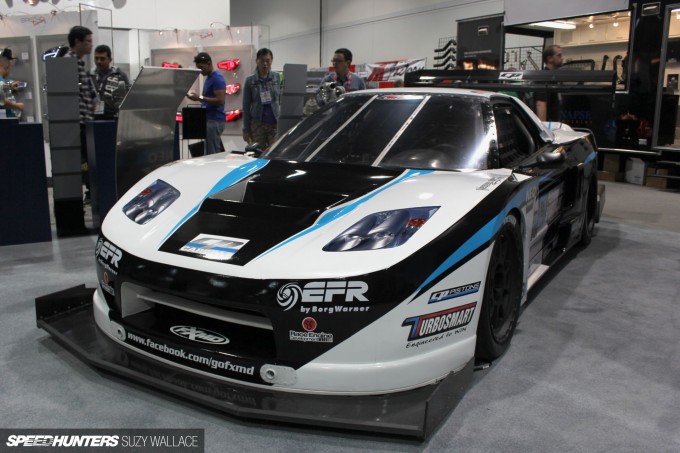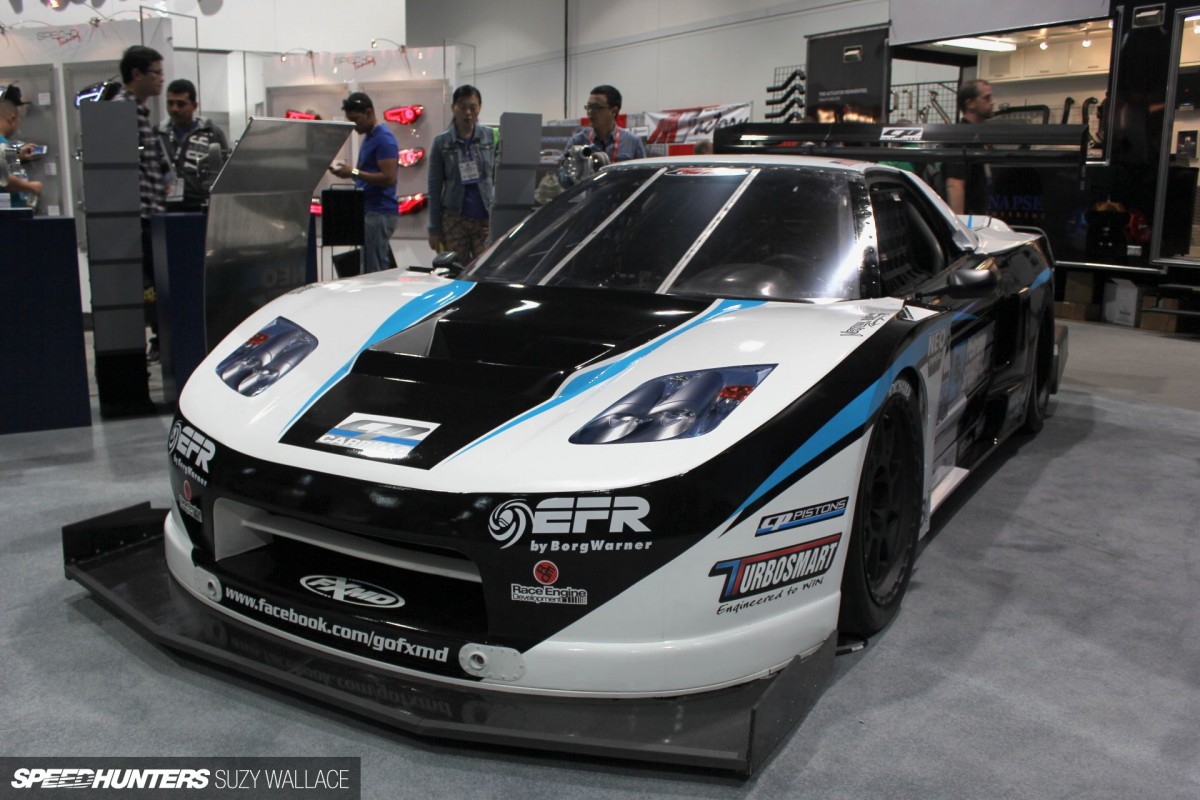 As a follower of the UK's Time Attack series, it was great to get a nose around one of the overseas competitors. The FX Motorsports Development NSX looks stunning in its new aero package and livery, and will be heading out to Buttonwillow this week to try and break the track lap record that it currently holds, for the third time.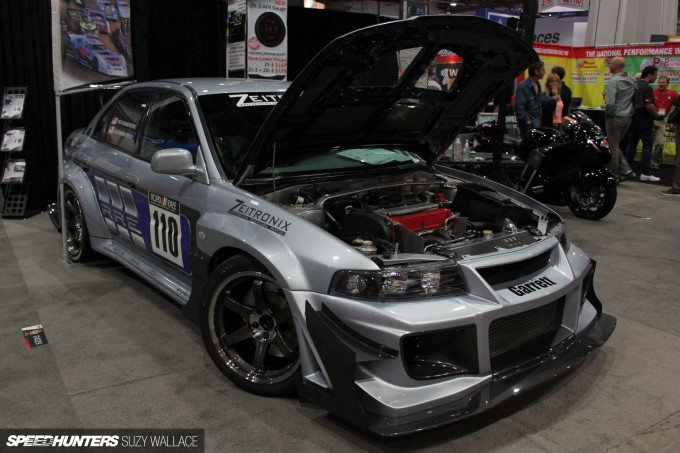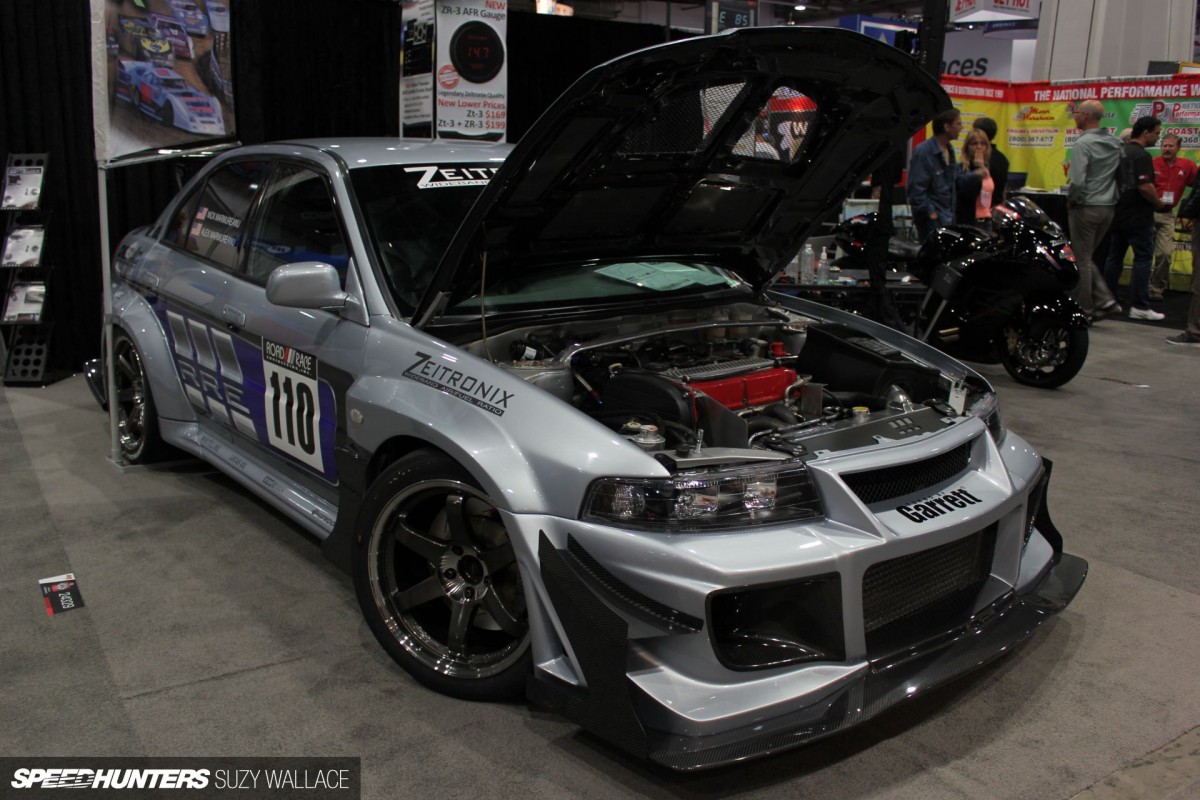 Ah, if I wanted some familiarity, I couldn't exactly do much better than stumbling across a fellow Evo VI! This mean-looking Road Race Engineering-prepared six, sporting a wide-arch Varis ASSO kit, made me feel right at home again. Larry's been in and out of RRE's premises with Ole Orange Bang recently and will be bringing a shop tour soon.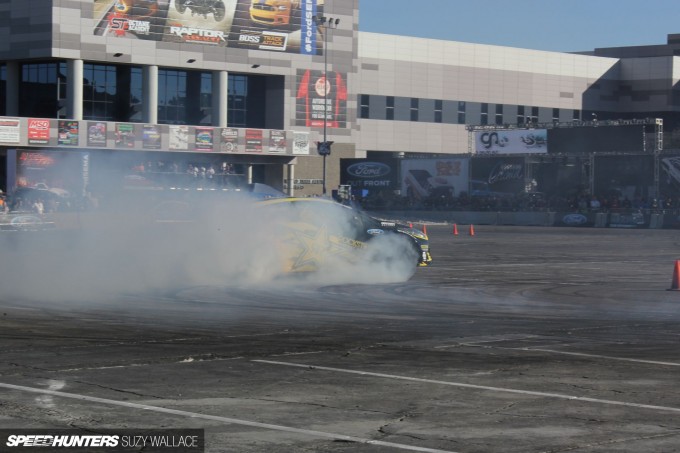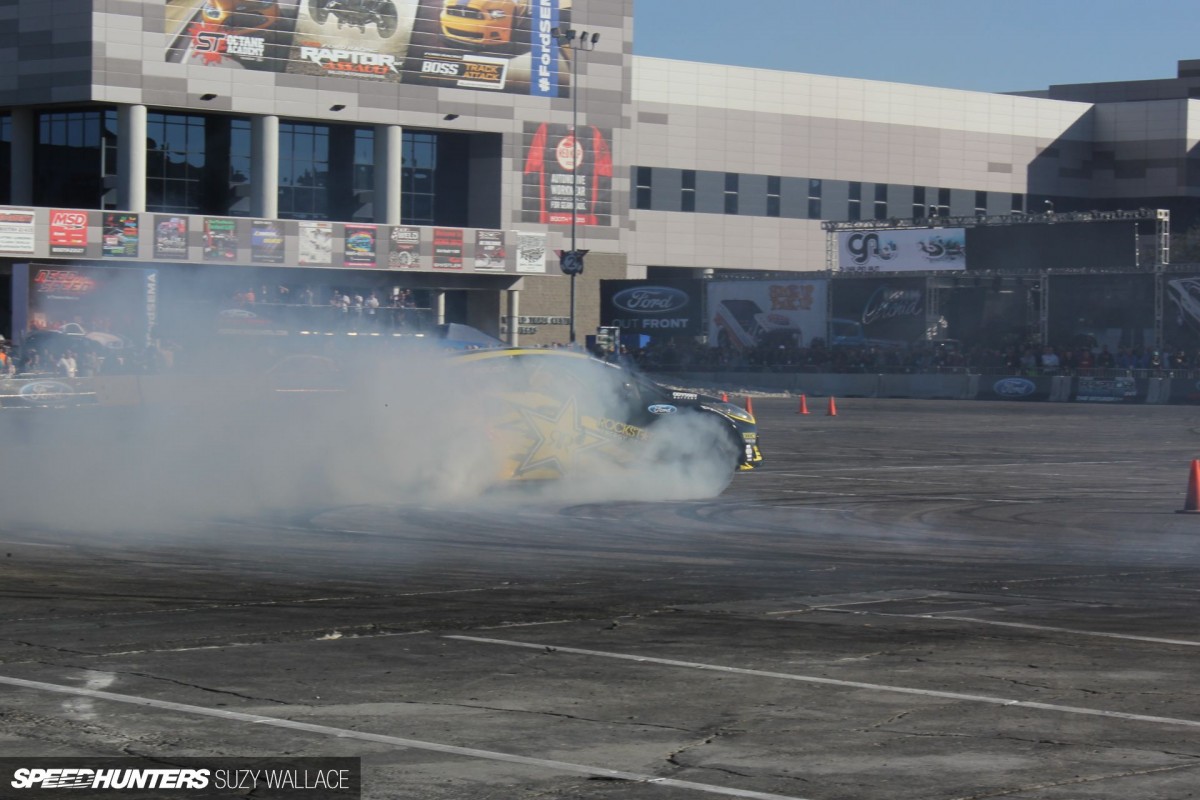 If you get tired of artificial lighting and recycled air, you can always head outside. Multiple demonstrations had been running all day, but when I popped out for a dose of Vitamin D it was the turn of the Global RallyCross boys to smoke some tyres. Tanner Foust seemed determined to disappear in a cloud of his own burnt rubber.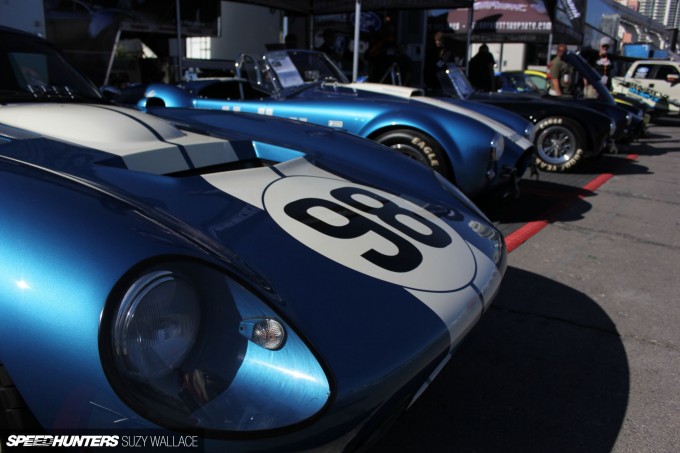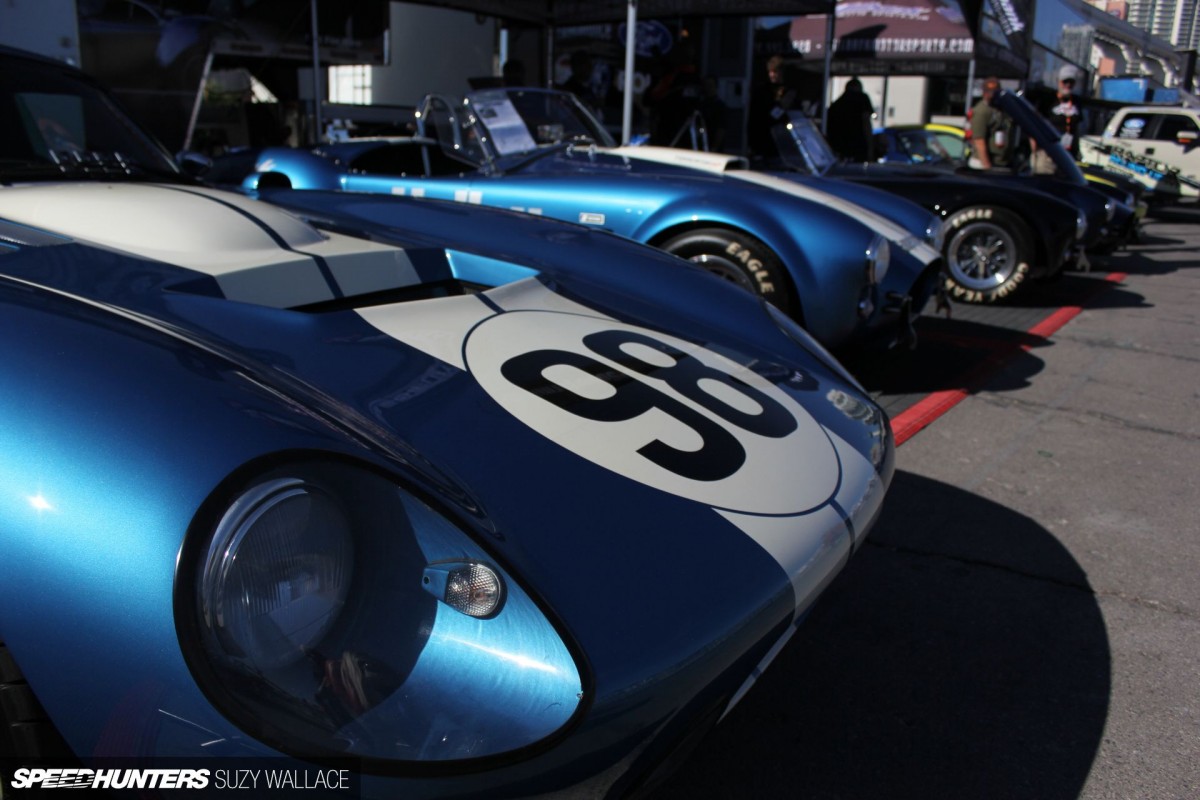 Mmflmgb. That's pretty much the unintelligible noise I made when I stumbled across the display of Shelbys, including this to-die-for Daytona Coupe and several Cobras. The Cobra has long been on my dream garage list but there's just no arguing with the gorgeous lines of the Daytona Coupe.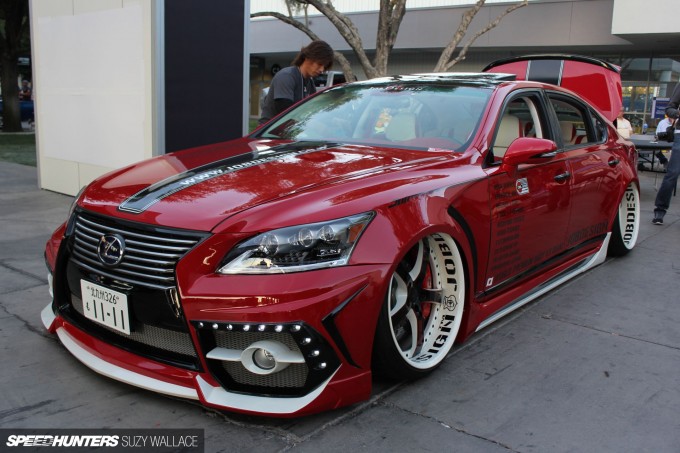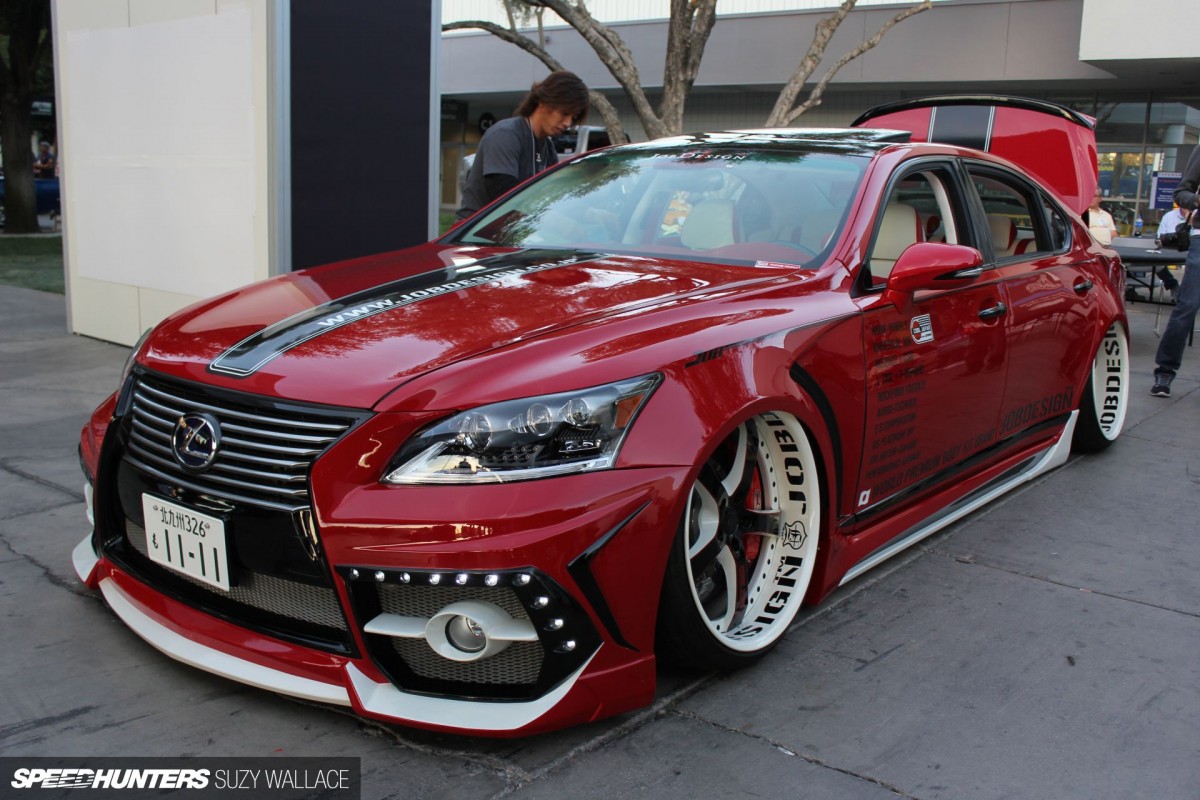 Turning up on the last day was this bonkers VIP-style Lexus LS460L that had come all the way over from Job Design in Japan. The crazy details on this car certainly ensured it turned heads!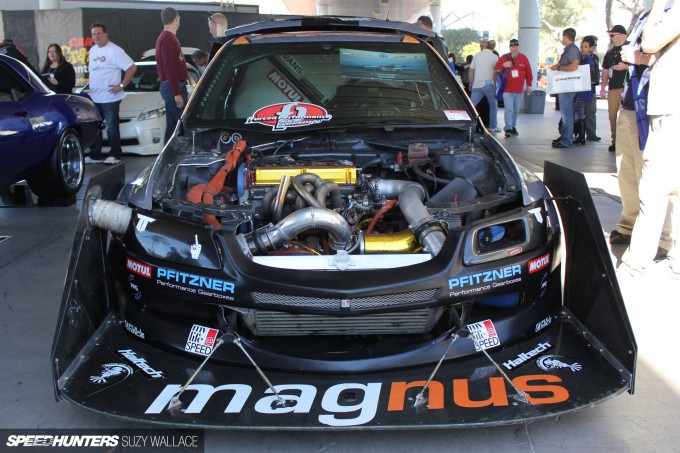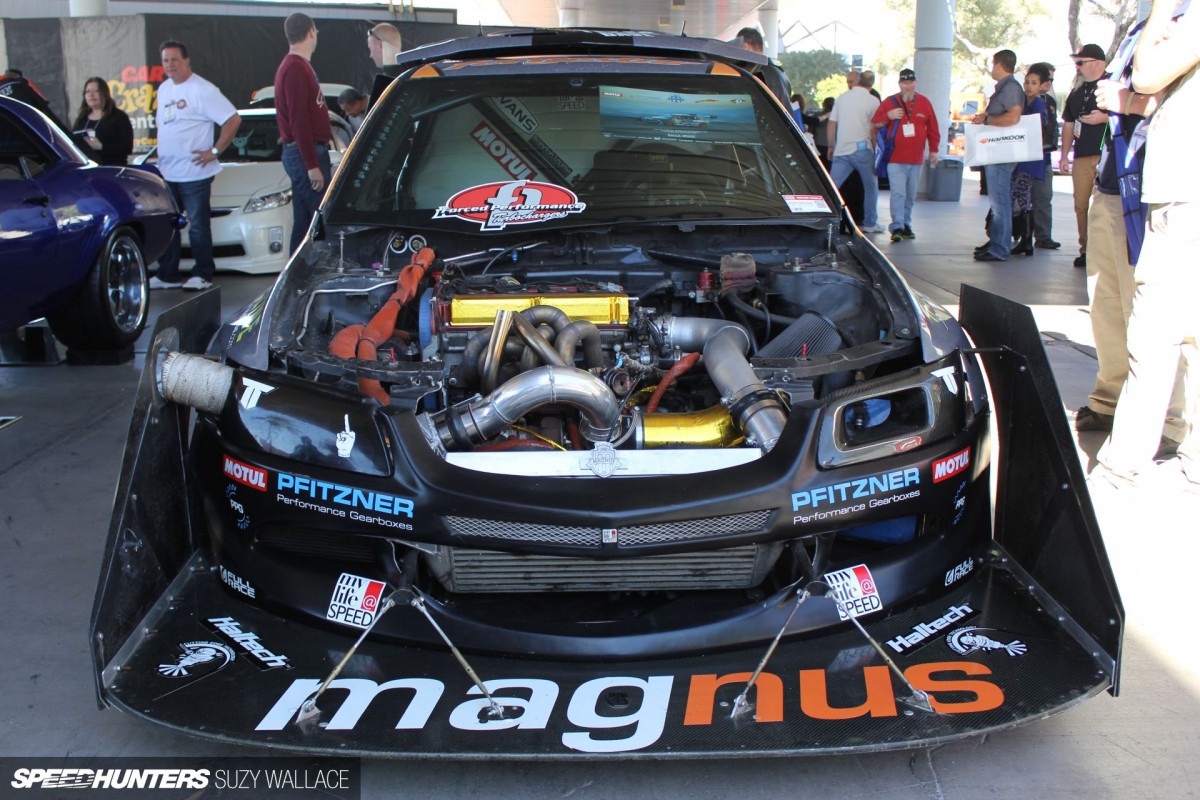 Ah, you just can't beat a bit of Pikes Peak aero. It turns out there were three Evos that competed at the 2013 Pikes Peak event and they were all driven by guys named Dave. Fantastically, somebody actually asked Texas Dave, the owner of this particular VIII, if this was road legal! Hmmm, not quite…
Vegas excess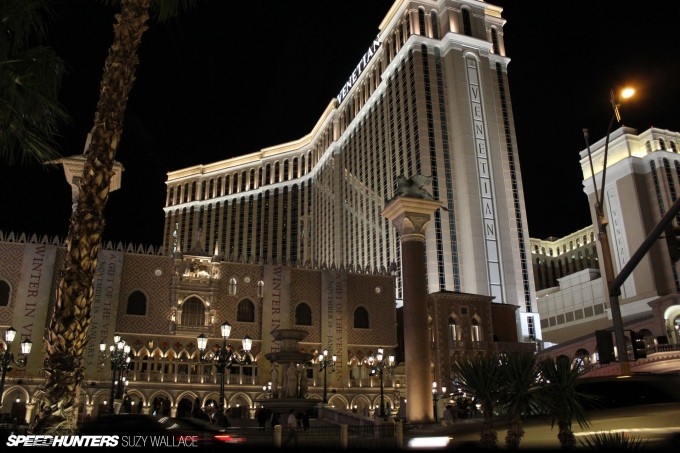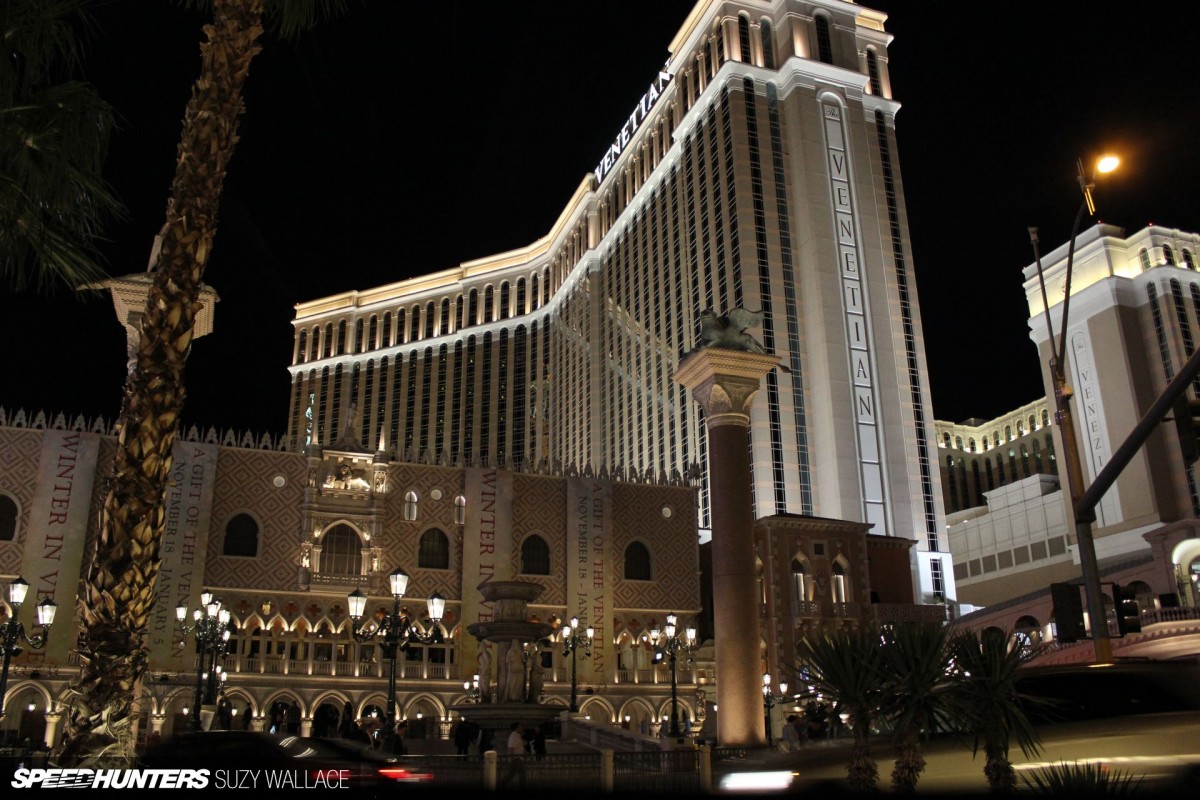 What's impossible to avoid about the SEMA event is how much of a celebration of excess it is. I guess it's only to be expected from a show in a city where the hotels see fit to re-model entire parts of historic Europe cities, canals and all.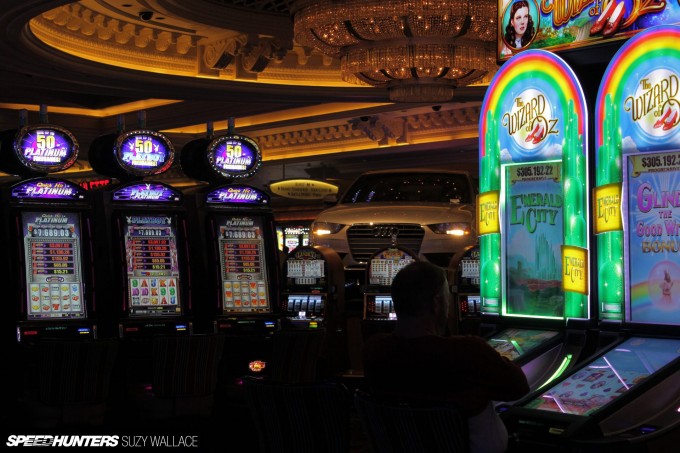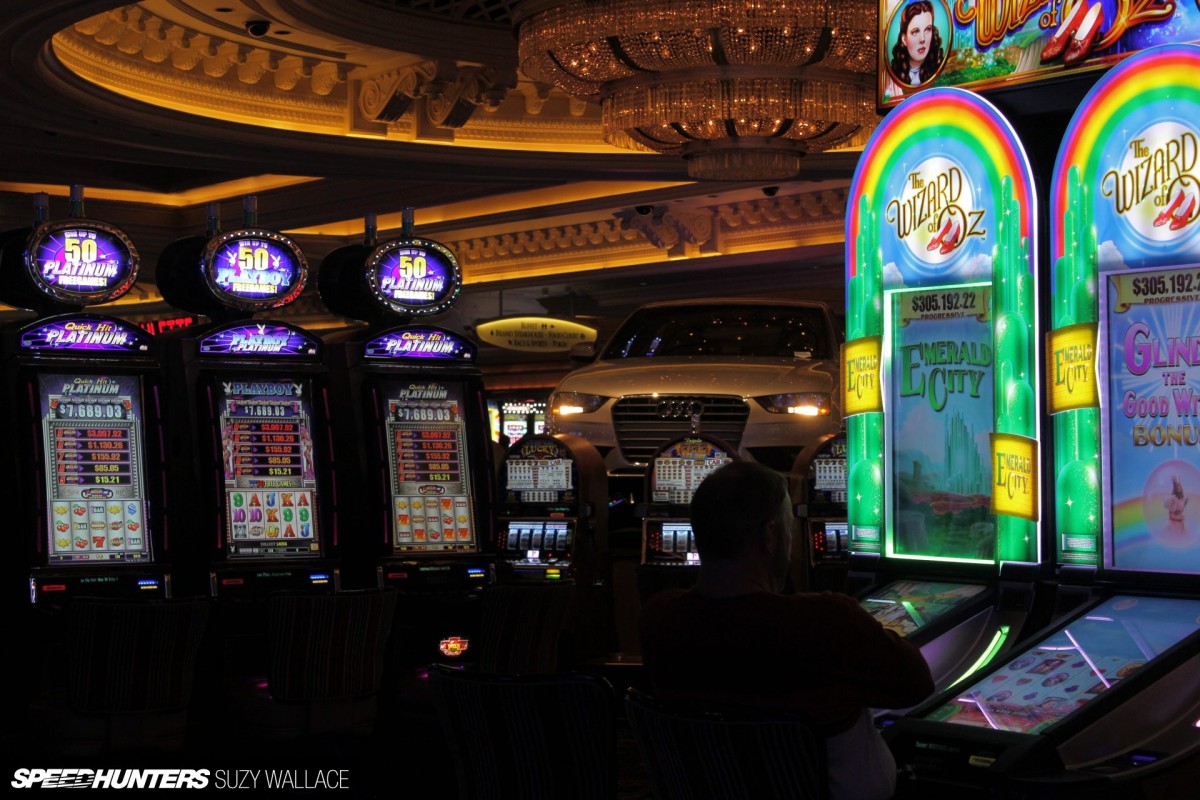 There's even cars lurking in the casinos here!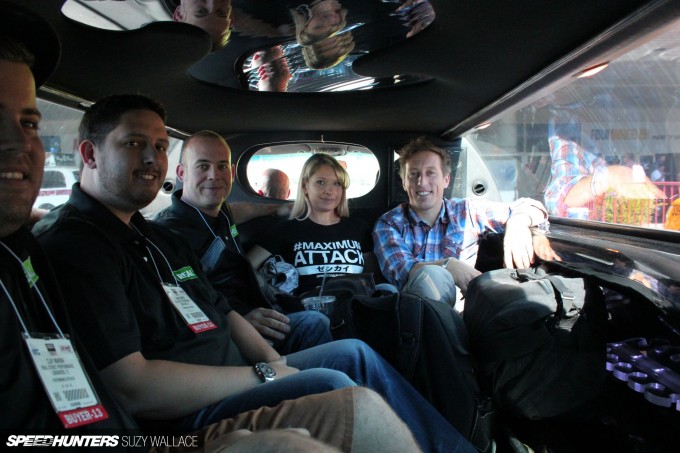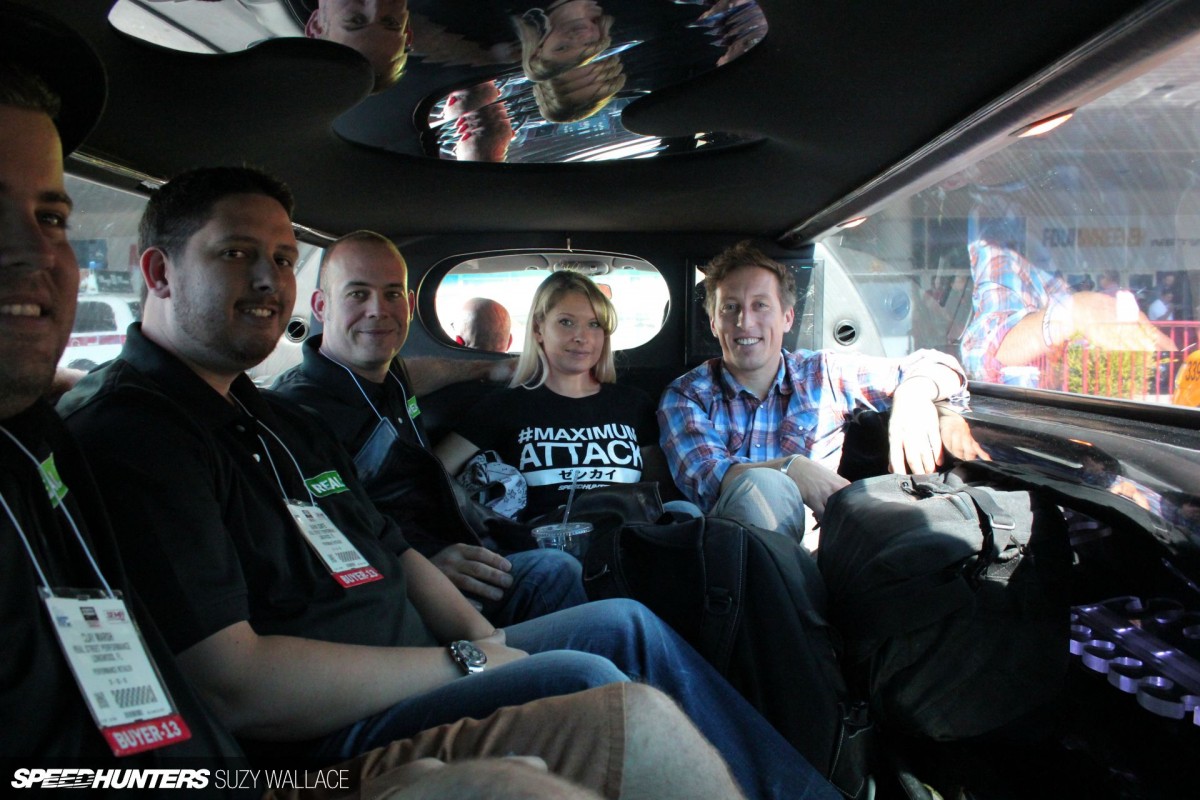 Wanting to join in the spirit, one morning we even took a limo from our hotel to the venue. Bryn and myself teamed up with a bunch of other people in the queue and all jumped in, as it was quicker than waiting for a cab. Vegas baby!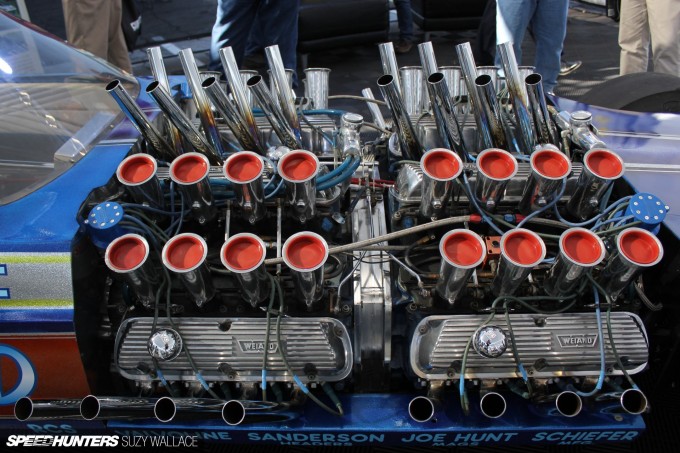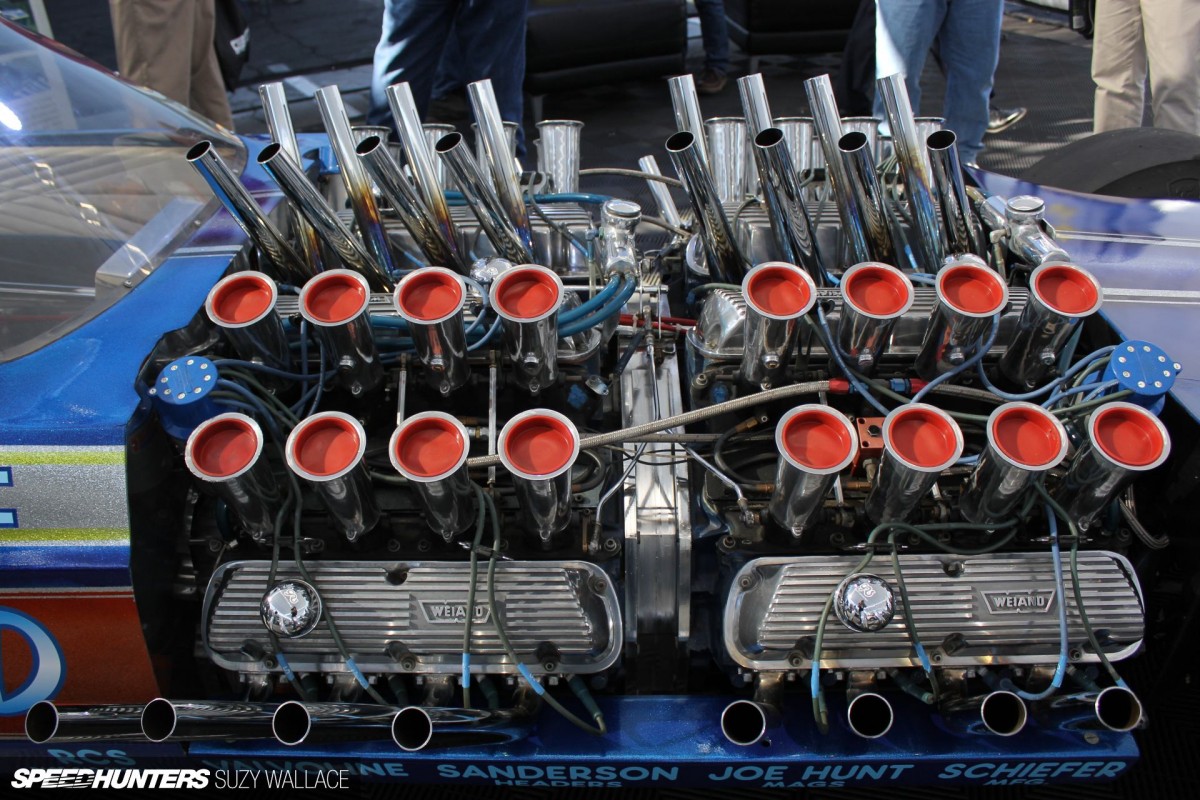 Sometimes a bit of excess is just what you need to draw attention, whether it's stacking up engines…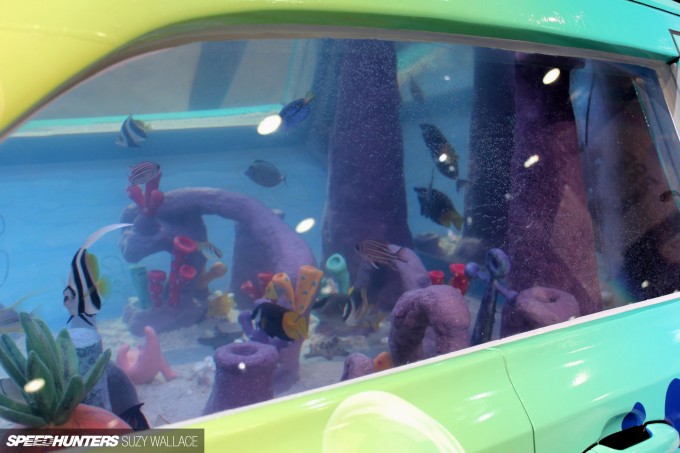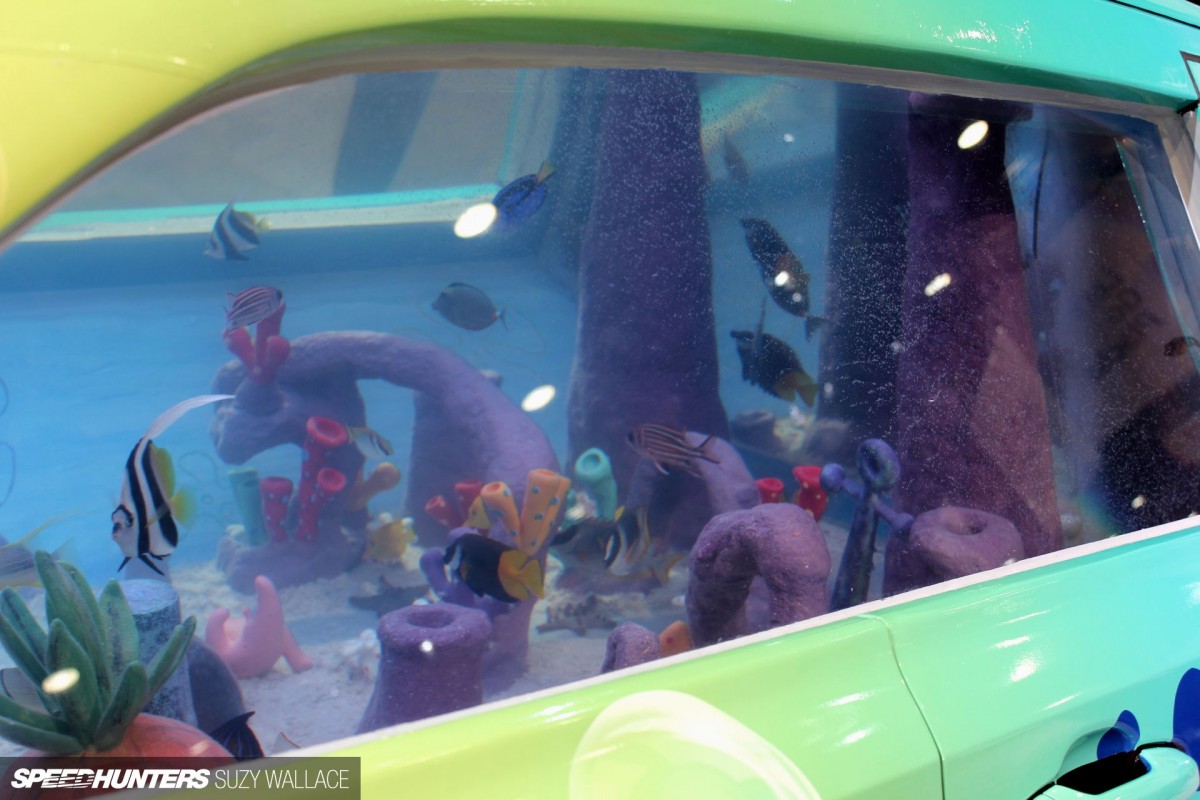 … adding a rather unique install in the rear…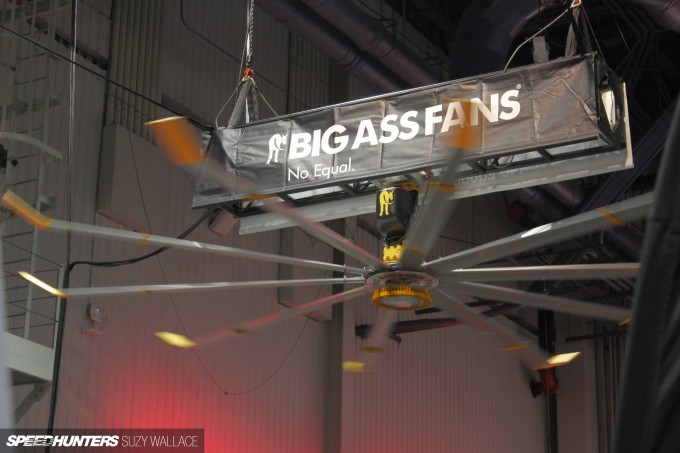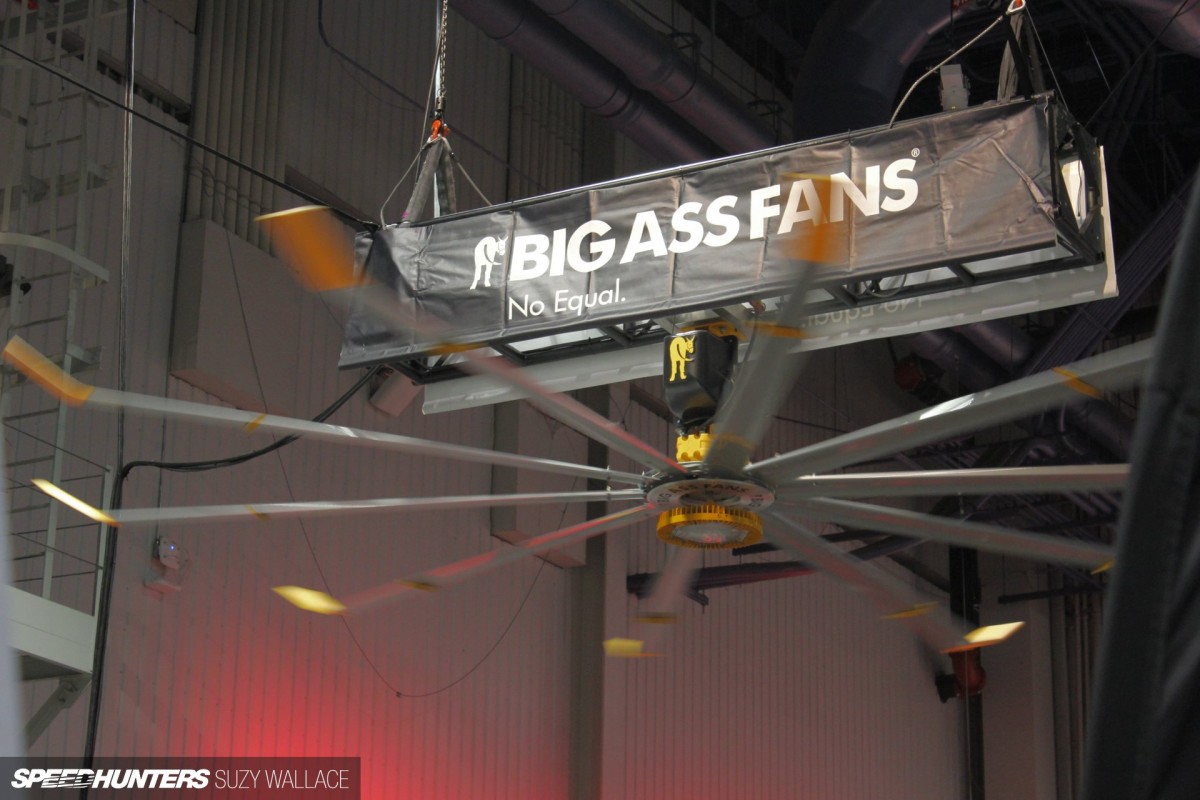 … having a very self-explanatory company name…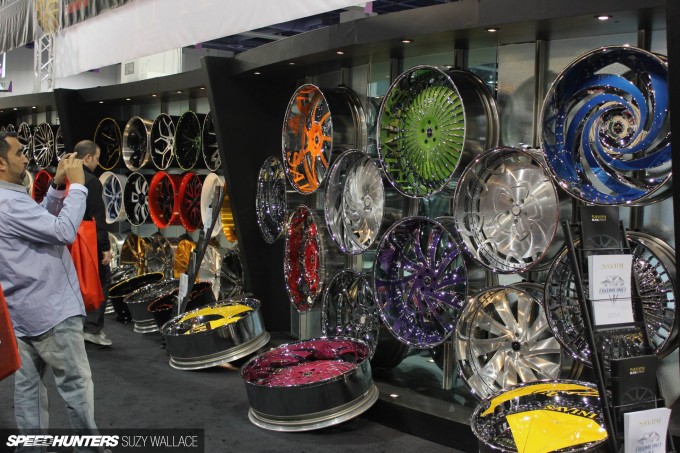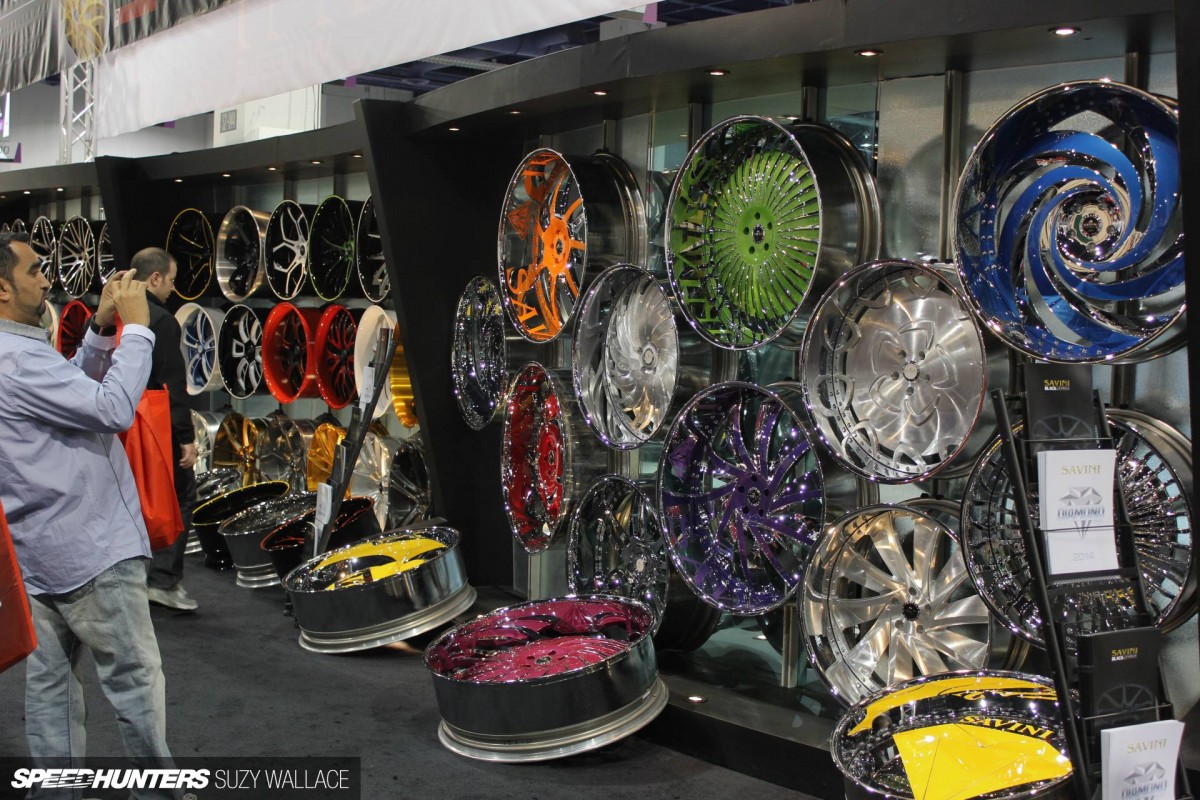 … or some 'interesting' choices of wheels, there's truly content to shock, bewilder and make you scratch your head at virtually every corner.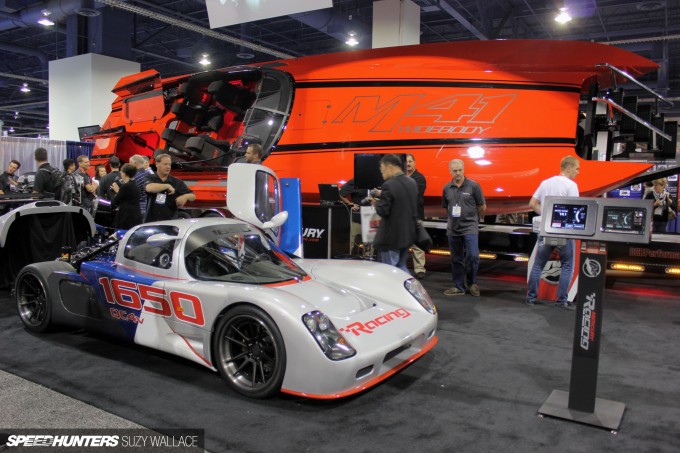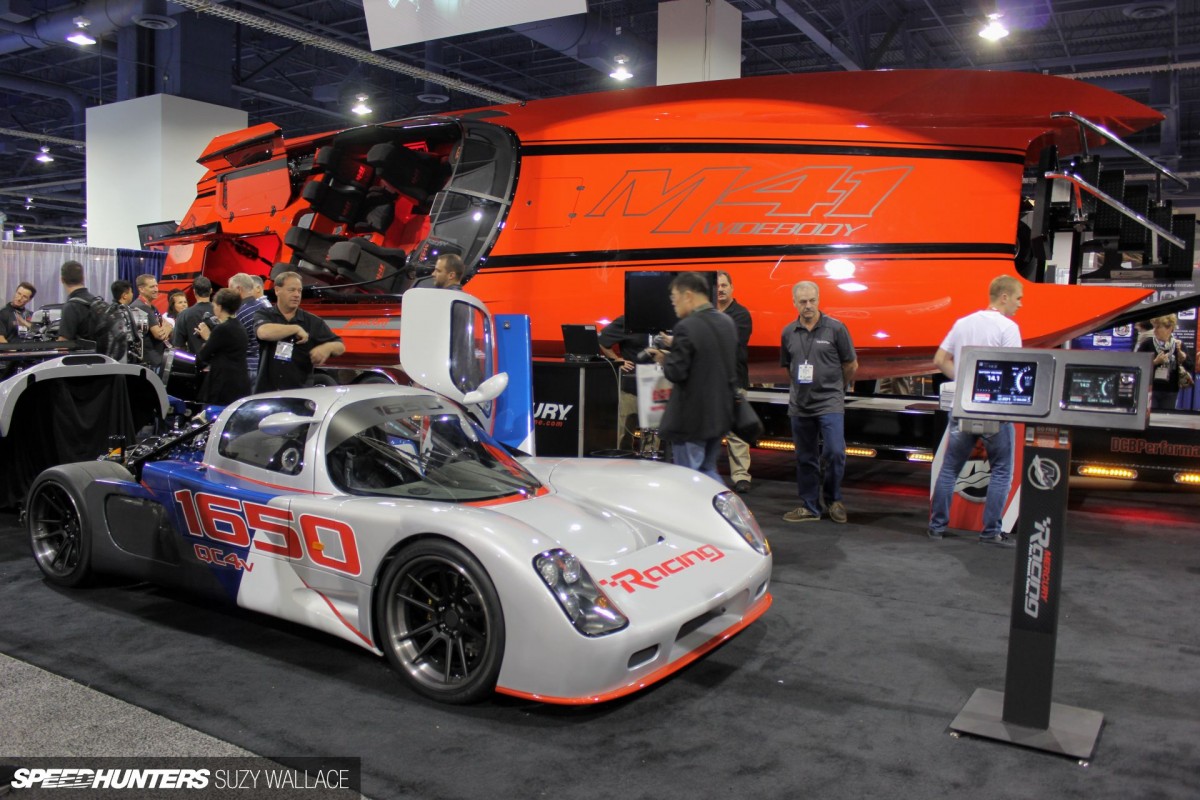 However, a bit of persistence in bearing with some of the dubious content is often repaid with stumbling across some gems. Mercury Racing's stand showed off an 180mph DCB Performance M41 Widebody speed boat powered by two of its 1350 engines, sporting, you guessed it, 1350hp apiece. If your sea legs aren't that sturdy though, you could try putting one of Mecury's crate 1650hp QC4V engines into a car instead, as it has done with this Ultima GTR. Now this is excess I like!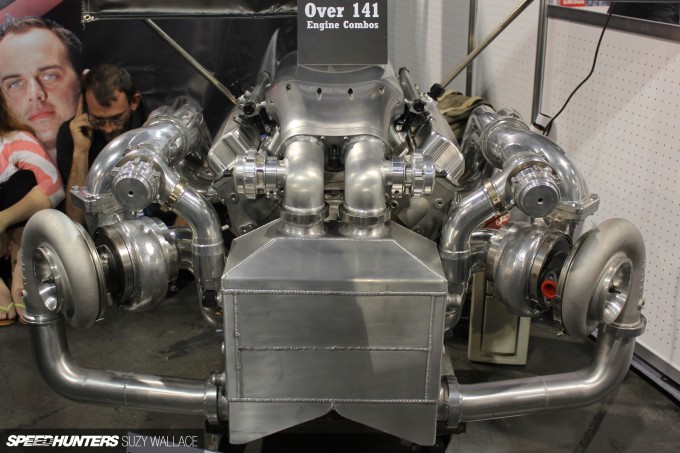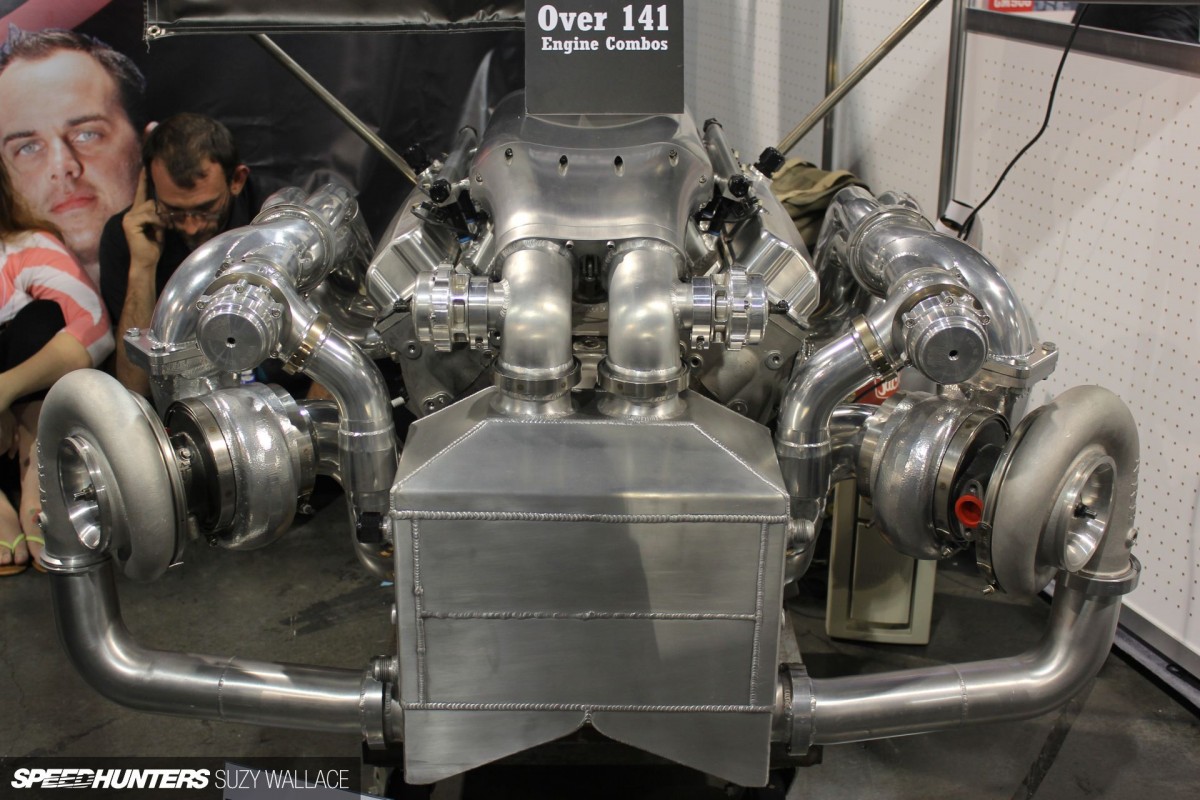 Another crazy engine builder was just around the corner too. Nelson Racing Engineering engines are known for their high-power applications and feature in cars such as the bare-metal Maximus Charger Mike spotted on the first day. These twin-turbo big block set-ups are a sight to behold and regularly run well in excess of 2000hp. It seems we're probably overdue a visit to these guys!
Big gamble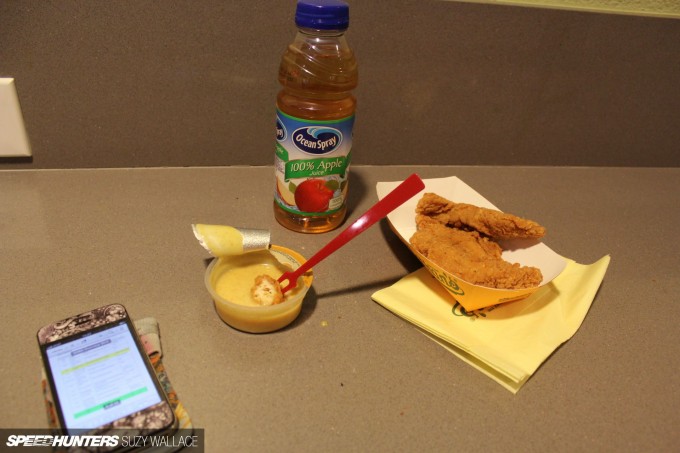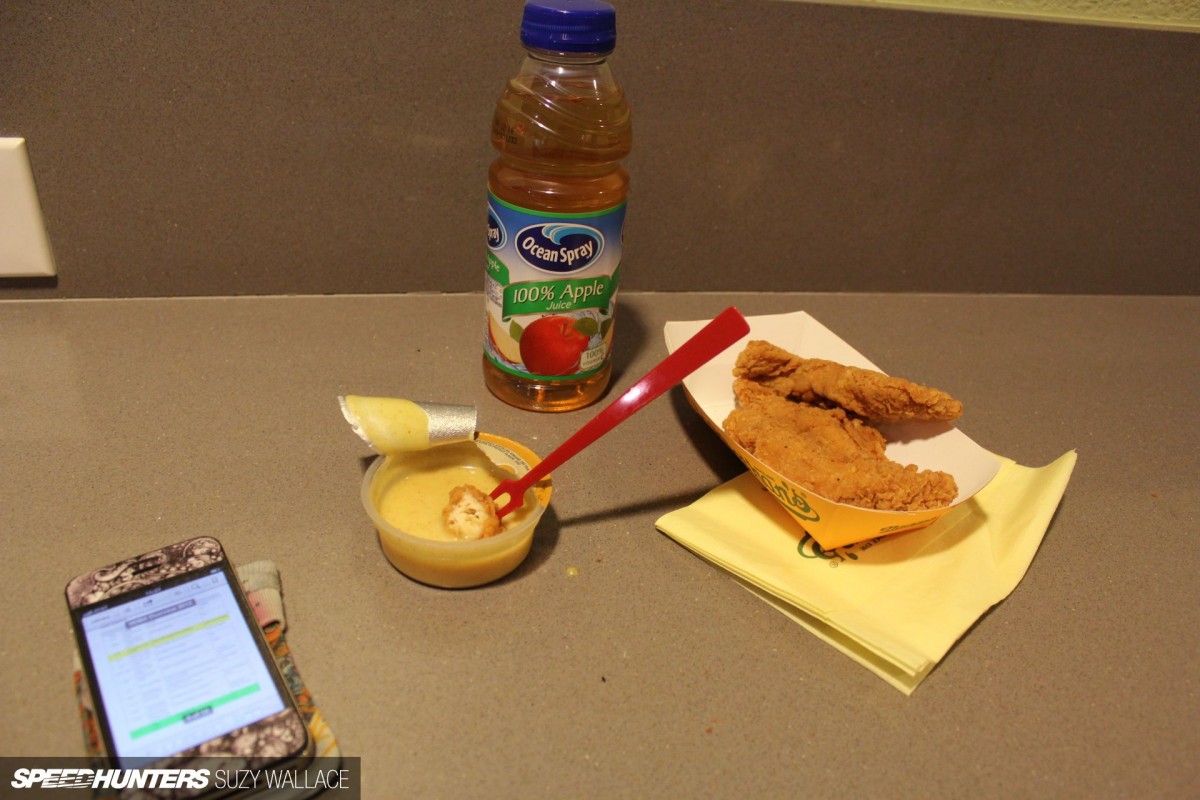 Sadly, the excesses didn't quite stretch to the food though. Ah, the glamour of being a Speedhunter. Eating fried chicken whilst checking your phone for the next meeting!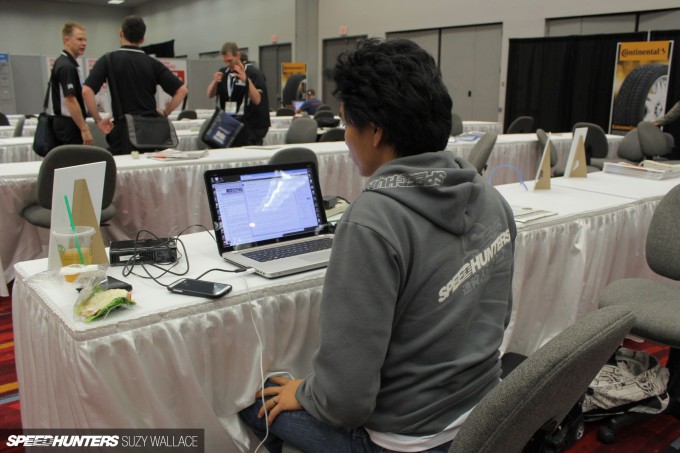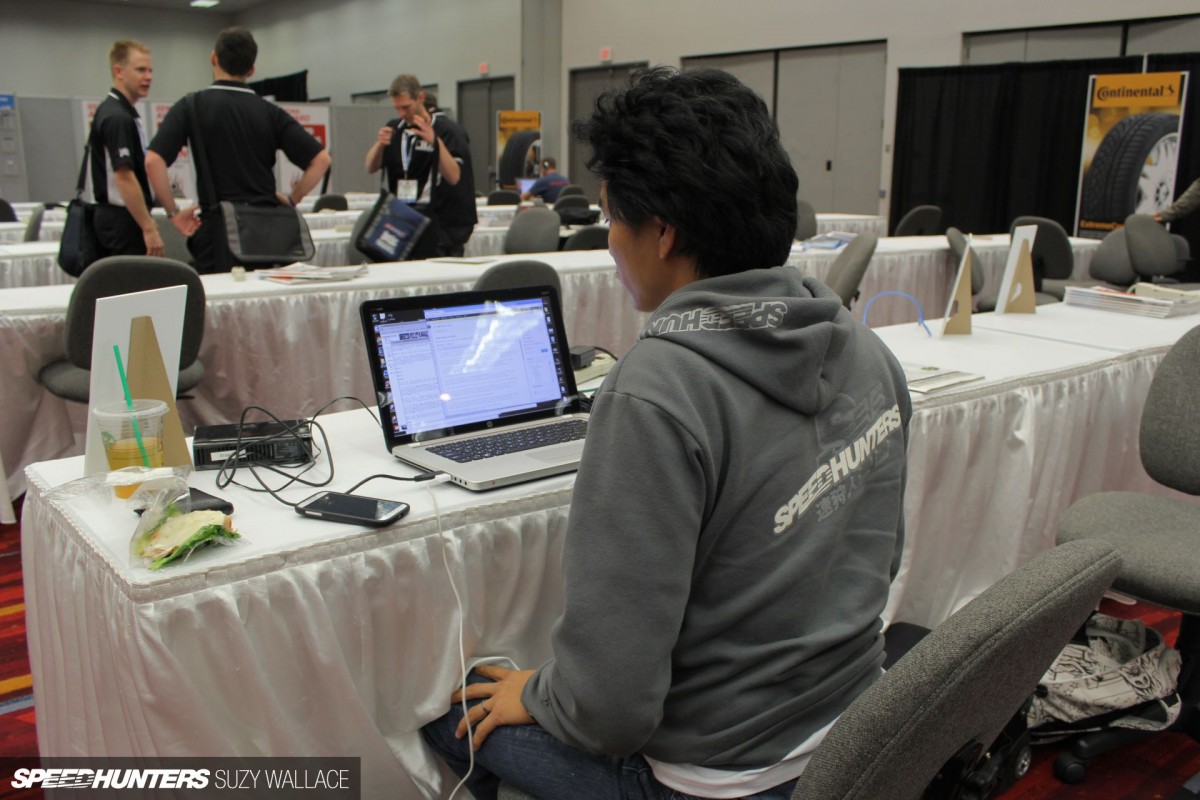 And if it's not eating on the move, it's being the last people in the Media Centre, trying to get articles finished and sharing the SEMA love with you all before everything shuts up shop.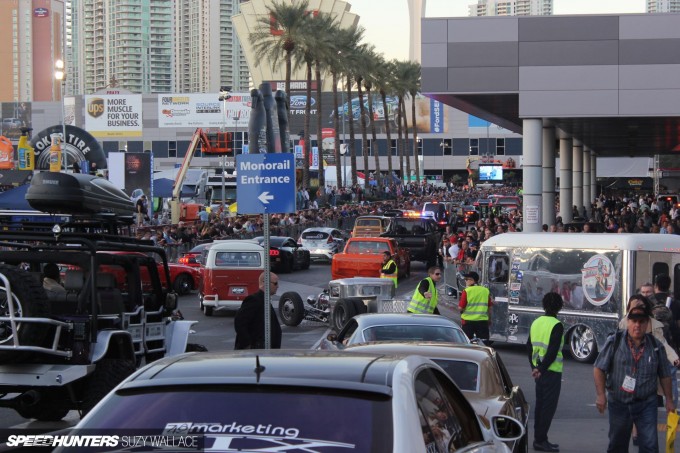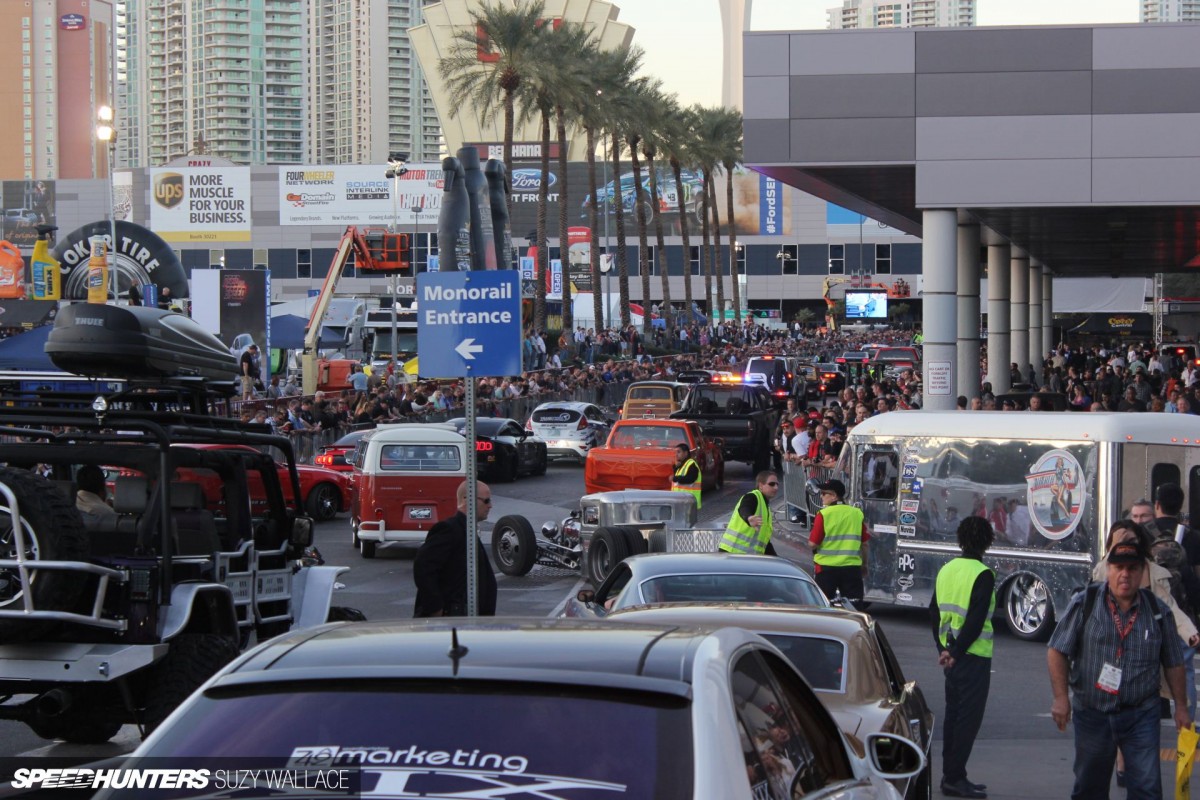 After four days of entertaining the crowds, it was finally time to pack up and roll out. As the cars queued up to leave the event as part of the official SEMA cruise, jacked-up trucks mixing with ground-scraping hot rods, and American muscle vying for attention next to import tuner cars, another element was added to the show. The until-now silent cars sang out their song, the rumble of V8s mixing with the whoosh of turbochargers and blow-off valves to create one of the best soundtracks in Vegas.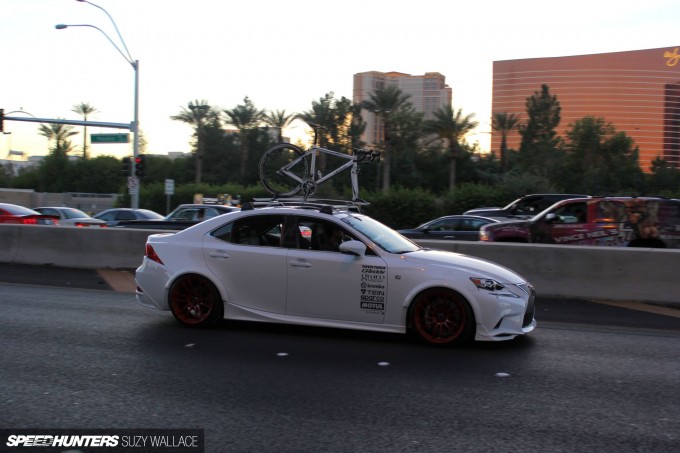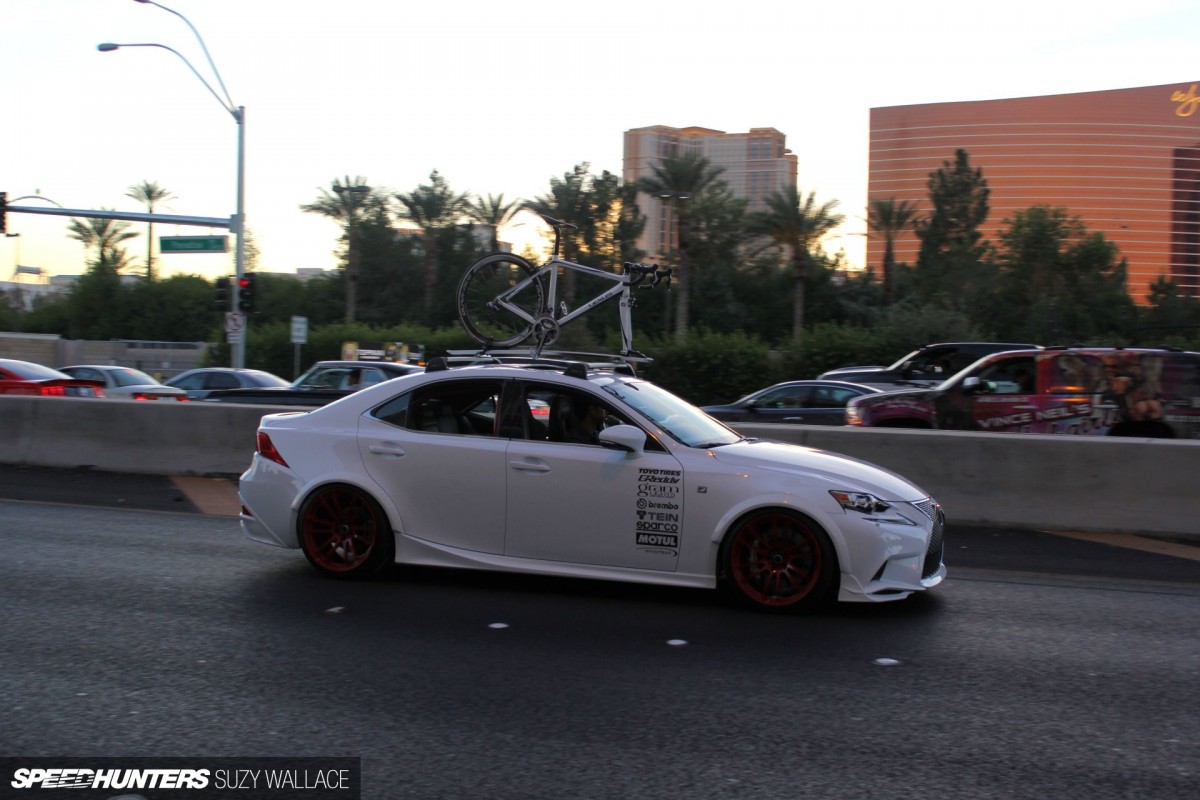 For a short while afterward, the show spilled onto the streets, and the usual Vegas traffic would occasionally part to give a glimpse of a show car. It was a fitting end to the spectacle of SEMA.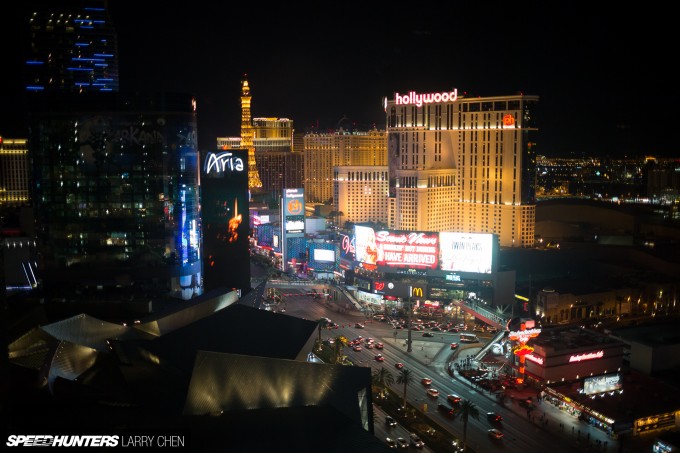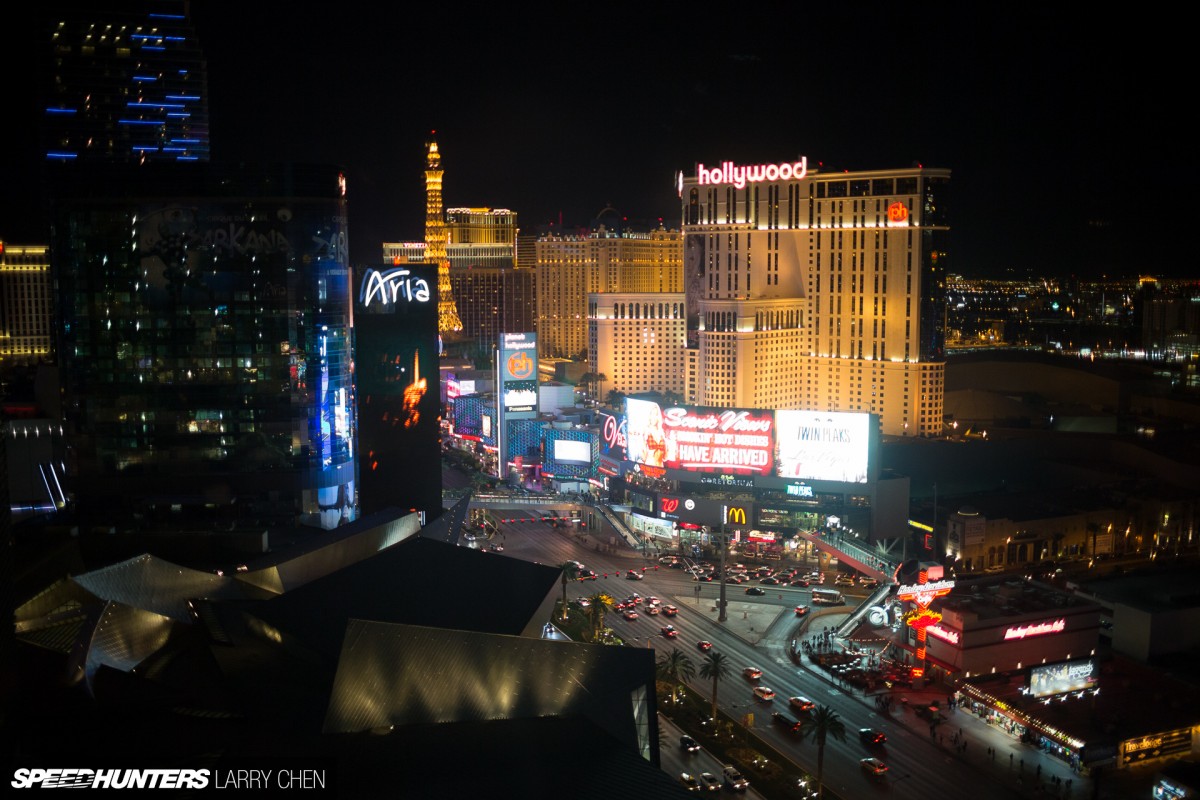 To be honest, it was nearly the end of me too! After four days of covering the distances needed to traverse each of the hallways fully, plus constant crouching down to take the pictures and daring to walk a big chunk of the oh-so-much-longer-than-it-first-appears Strip, my legs were seriously aching. The dry desert air had given me numerous nosebleeds and constantly having to wait for the crowds to clear in order to get a clear shot was wearing even my ridiculously high levels of English patience thin.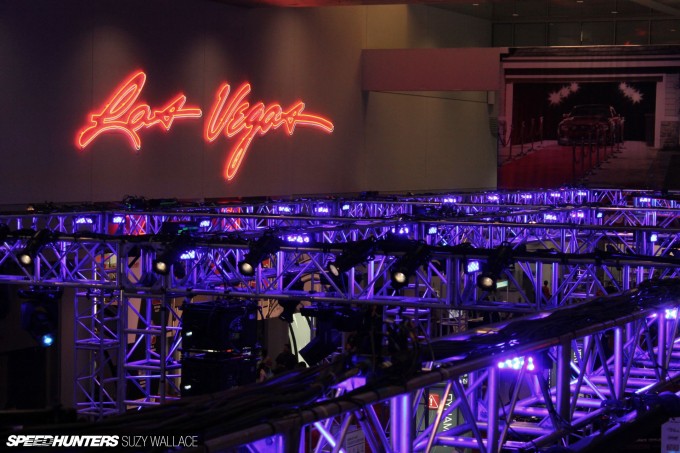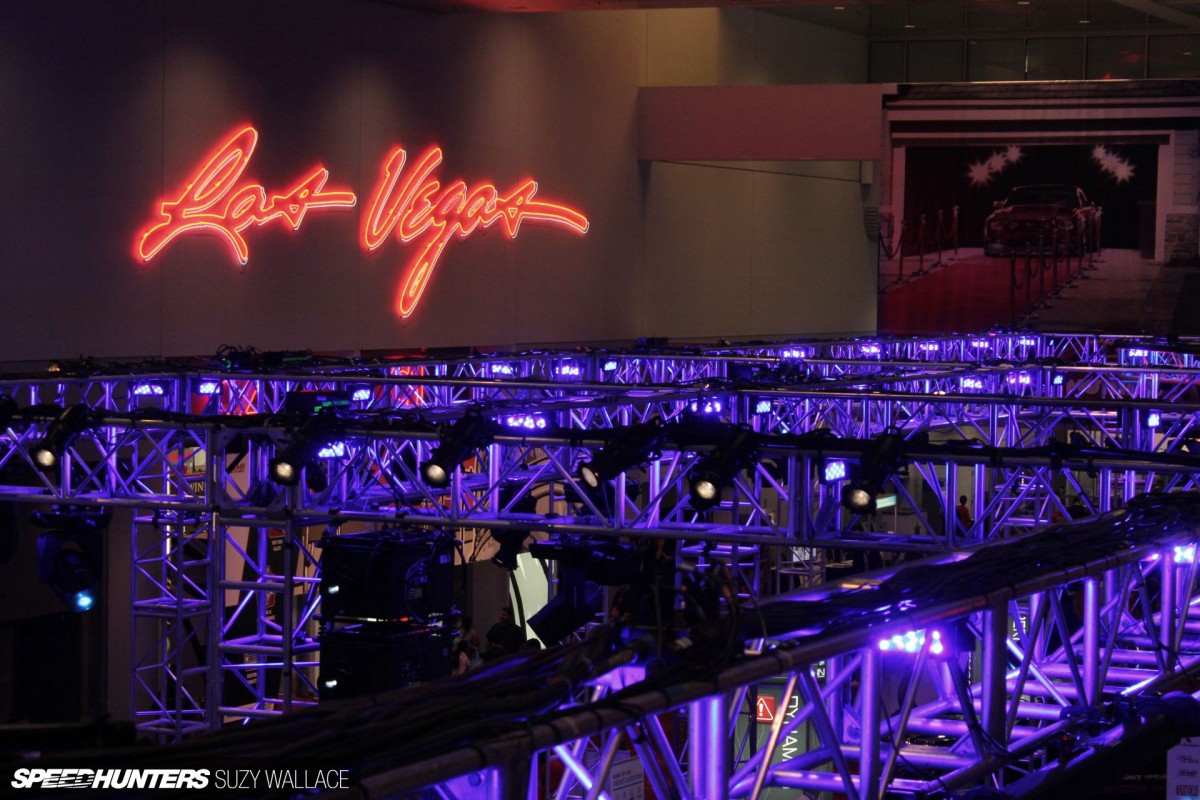 I'd seen the glitz and recoiled from some of the 'glamour', but I'd experienced the full range of American car culture first-hand. At times brash, at times sublime, it was most definitely an eye-opener. After all, Speedhunting for me is as much about learning about new scenes as it is revelling in the ones I'm familiar with. Sometimes you find yourself out of your depth – wondering just what you're doing there – but if you just try to embrace the unknown, then these new worlds open up to you, bursting with inspiration. After all, you've got to take a gamble to have a chance of hitting the jackpot.