There are few countries which evoke feelings like Italy. I mean that. You don't think of Italy and picture grimy factories or grey skies, it's not known for being dark all winter, the food is world renowned, art? Check. Historical buildings, just try and avoid them… you can't. So just as Volvo is stoic and dependable whilst having a suppressed sense of style, it's indicative of Italy that they have manufacturers such as they do. The tally is impressive when you think about it, yes there are Fiat and Alfa Romeo which you could say are the everyday manufacturers and I would argue that Alfa are pushing the envelope on that (yes, yes I drive one), but compare them to the amount of super and hypercars that leave Italy and the ratio is far greater than any other country.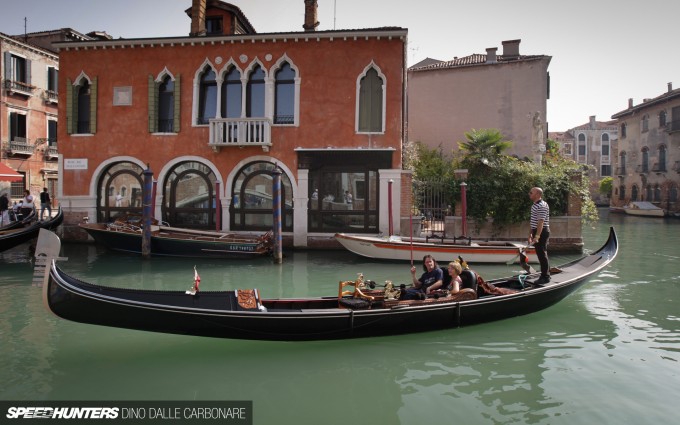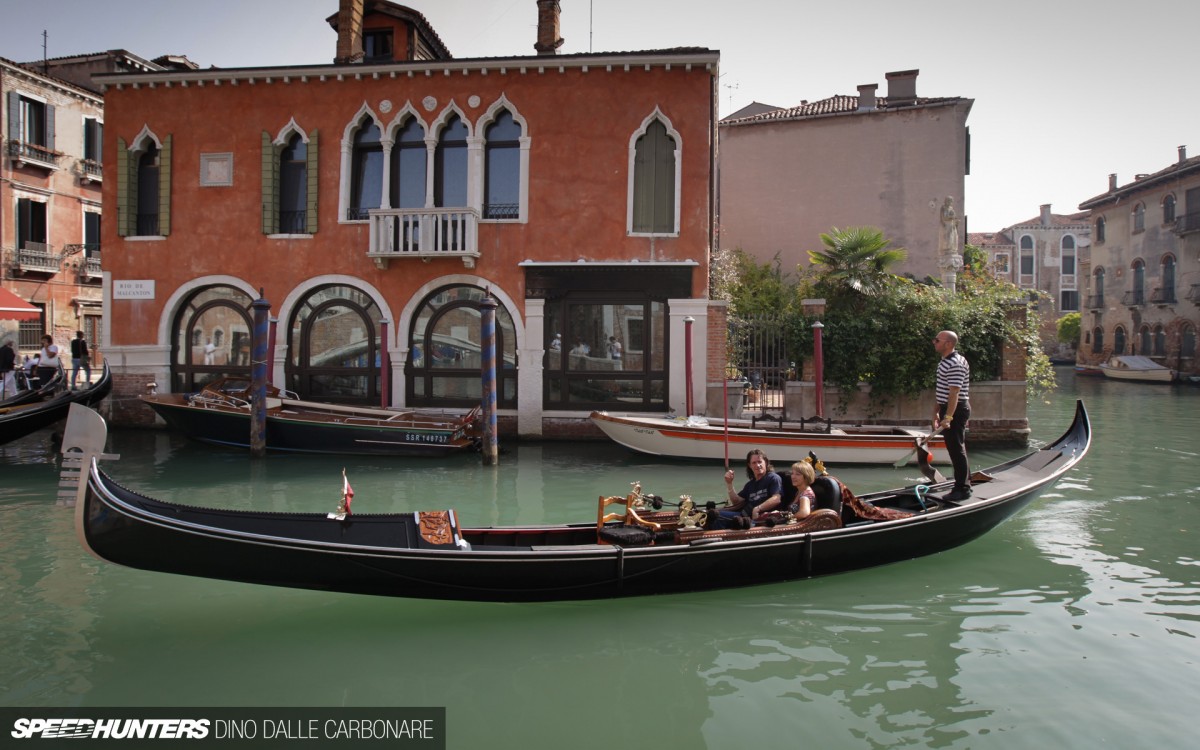 In so many ways I consider Italy to be almost the spiritual home of Speedhunting, if the world is our house. This wonderful country is where we go to find ourselves, to regroup, repower and enjoy the purity of speed. In that theoretical house, this would be the airy, well-equipped, elegant garage/man cave. So I find it quite ironic that our rendezvous point for this trip was Venice, the historically beautiful city built around a system of canals. Nice work guys, I always wanted to 0-60 a gondola.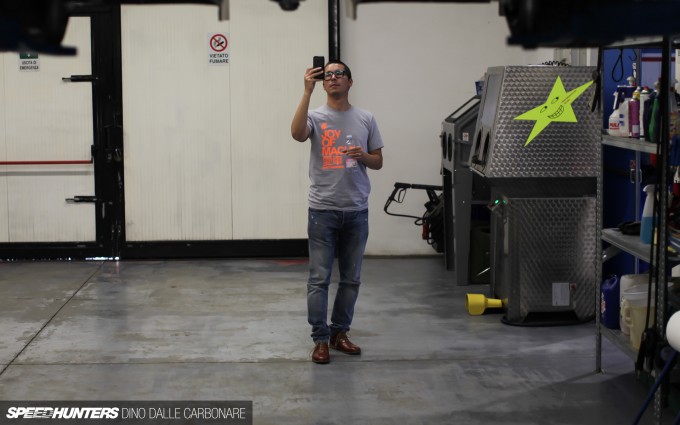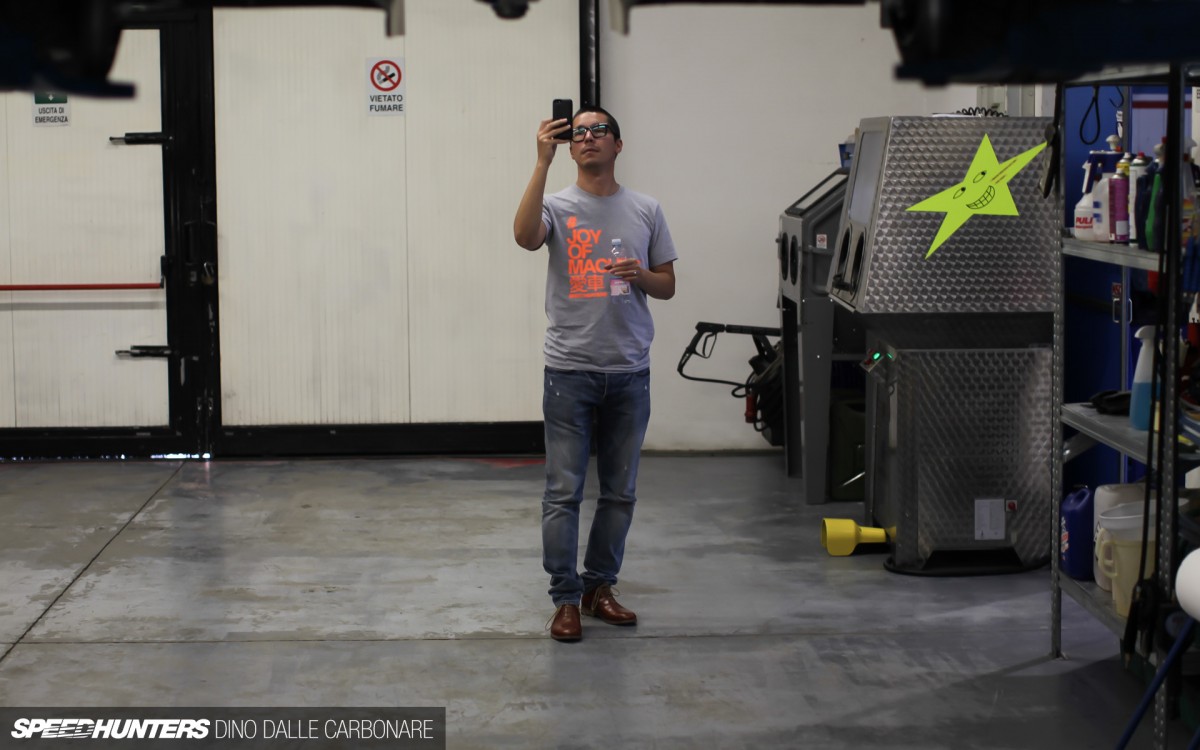 This four day trip was going to pick up speed pretty quickly though. I'd flown in from London, Rod from Stockholm and returning to his native land, Dino brought his many skills including his masterful grasp of the language. Rod as ever, was sporting some limited edition Speedhunters clothing – our #JoyOfMachine print run is getting closer and we had the one and only printed book in existence with us. If tiredness started kicking in, we could just open a random page and bask in the empowering glow of the images within… And yes, I always seemed to fall on a Larry Chen composition.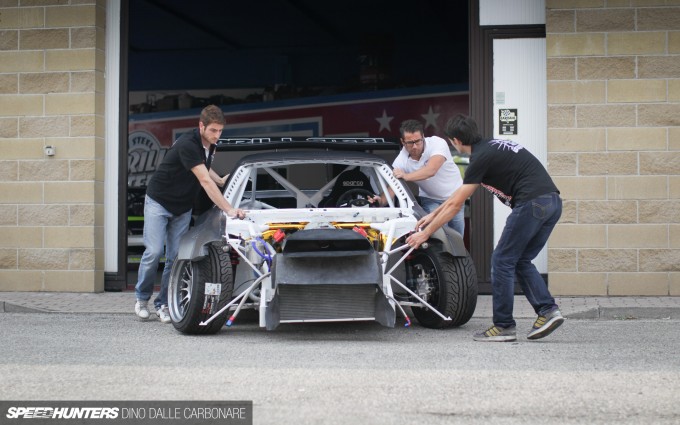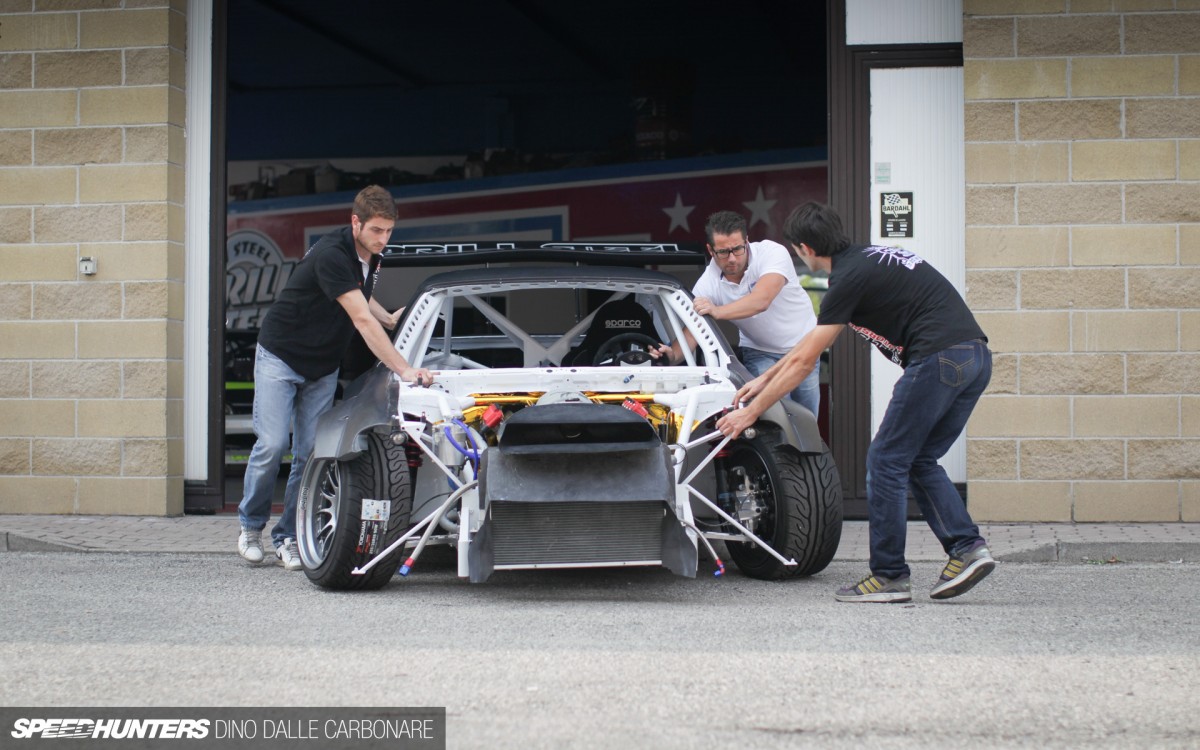 Which was going to come in very handy on many occasions, not least of which when Dino and Rod went straight to see Enrico Sartori at Brill Steel Motorsport. As a kick off point to a trip, it proved to be excellent. Often we'll discuss a trip well in advance and swap ideas, leads and builds we've been following. Both Dino and myself knew this incredible S15 was nearing some form of completion and if there was a way of bringing it to you, then it had to happen.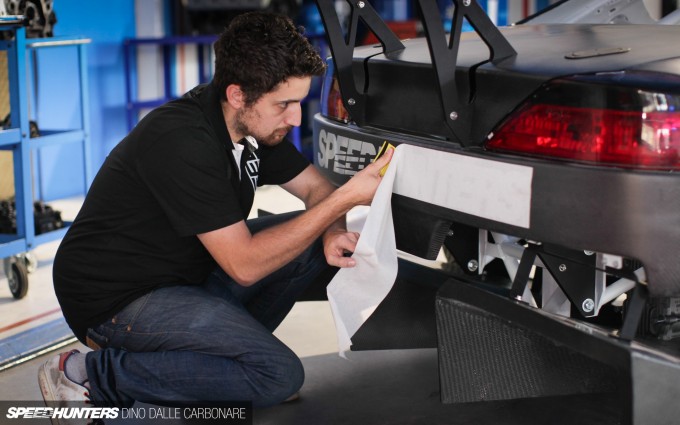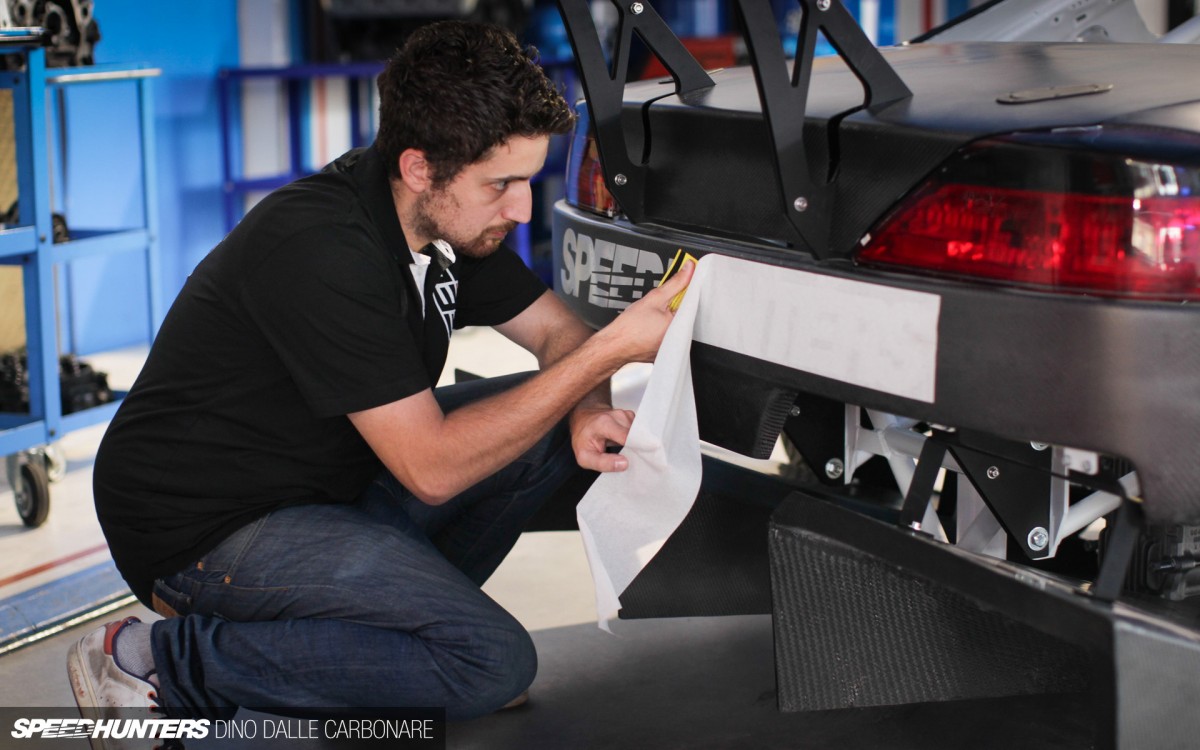 Luckily for us, Enrico agreed and pulled out the stops to help. Despite some setbacks, Dino will bring you the full story in the future.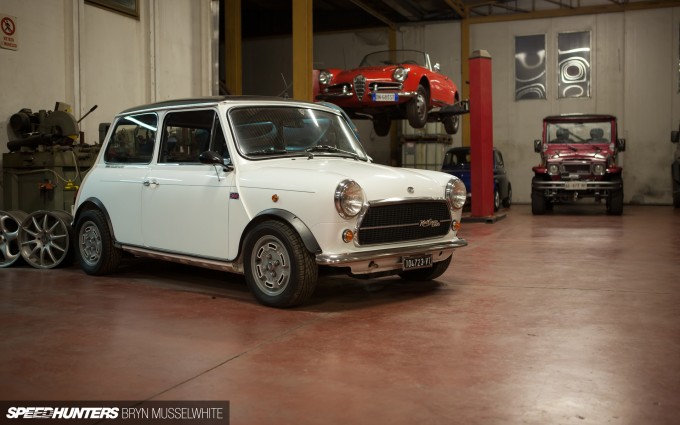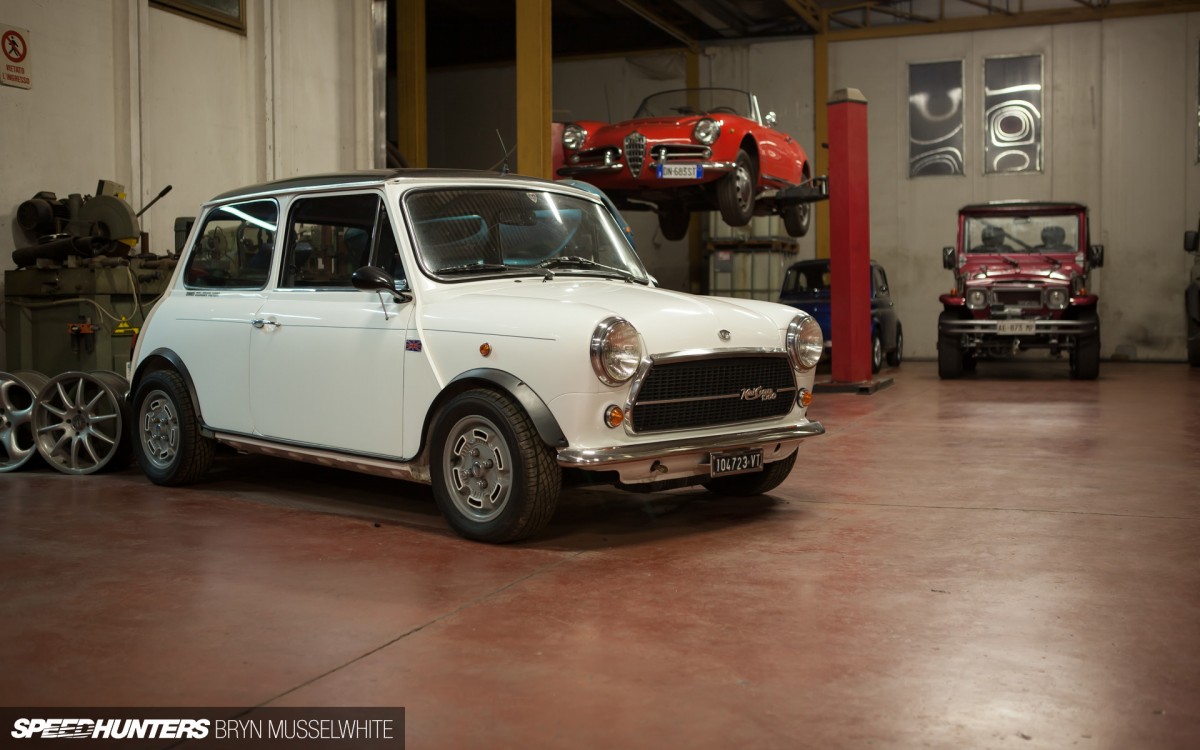 So whilst the dynamic duo took a quick drive down the autostrada to a relatively local shoot, I found my hire car and headed south. Roughly 300 miles south at that. After a 3am alarm had woken me somewhere well over 1000 miles north in my bed at home, I arrived at my location with less than two hours of daylight left to spare. The eclectically-stocked workshop of Oemmedi Meccanica greeted me – an Italian produced Innocenti Mini, Alfa, FJ Cruiser and yes… a Fiat 500.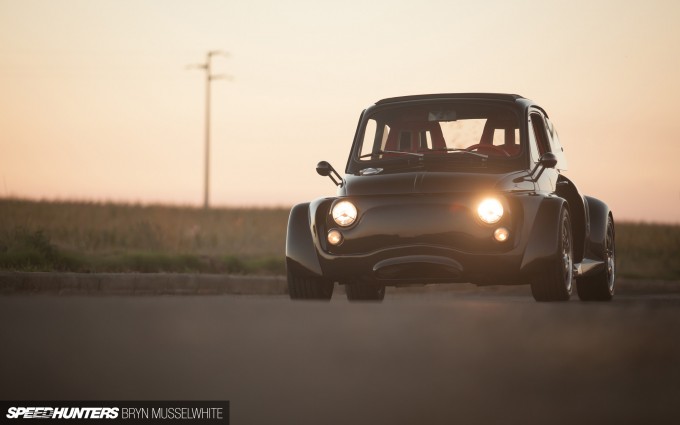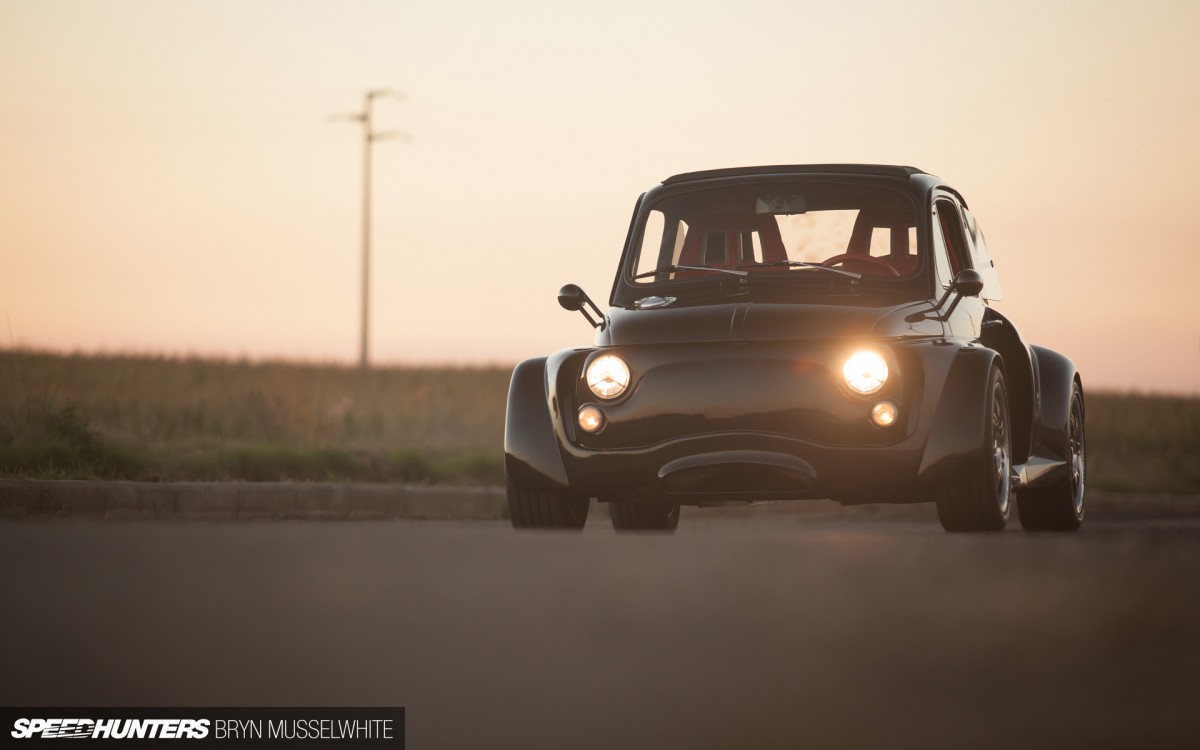 But not just any Fiat 500. A passion for the baby Fiat has lead Oemmedi to produce some rather special versions. This one has a mid-mounted Ferrari V8, is totally illegal on the road in Italy and made me laugh out loud as it accelerated. Of course I shot it for a feature. Well I just had to. Yet it wasn't the real reason I was here.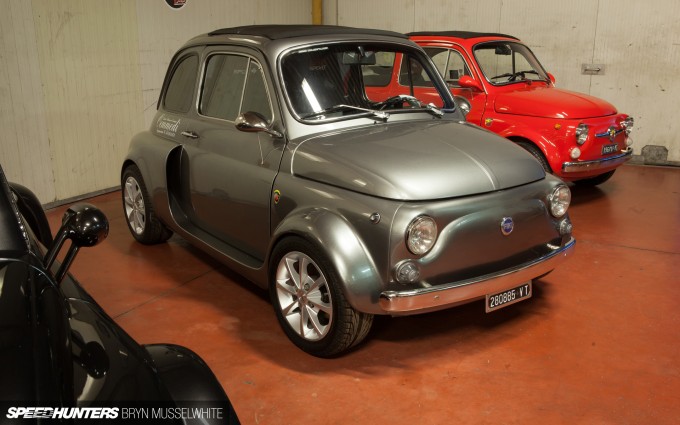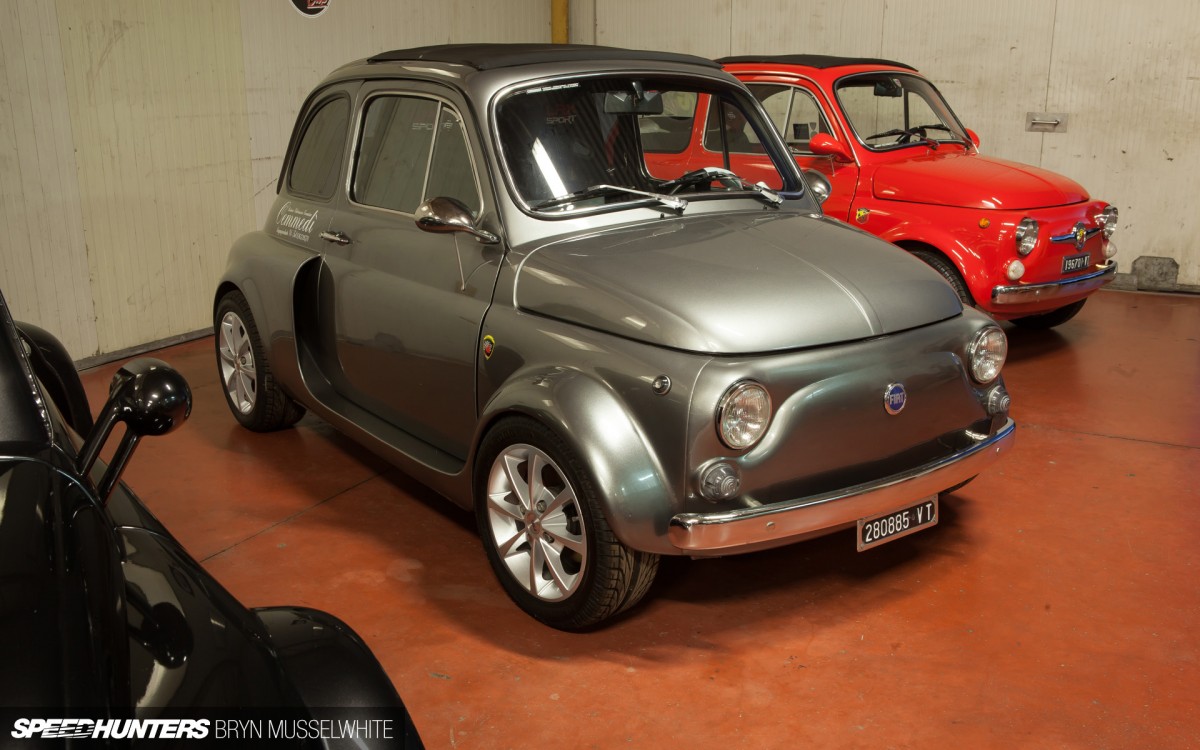 Neither was this one; another mutant that the team created. Those air intakes look pretty large for a 600cc motor, right?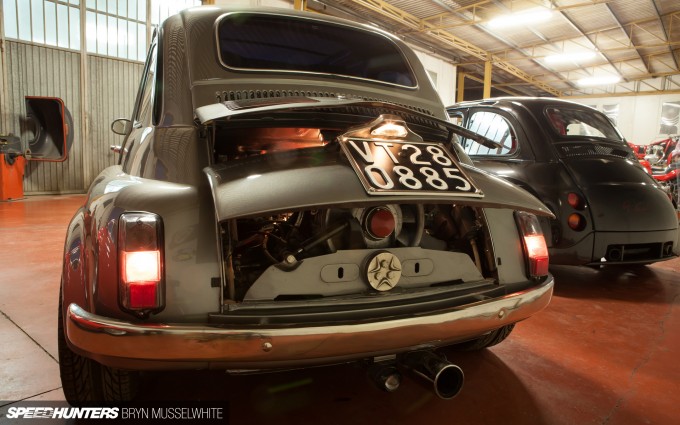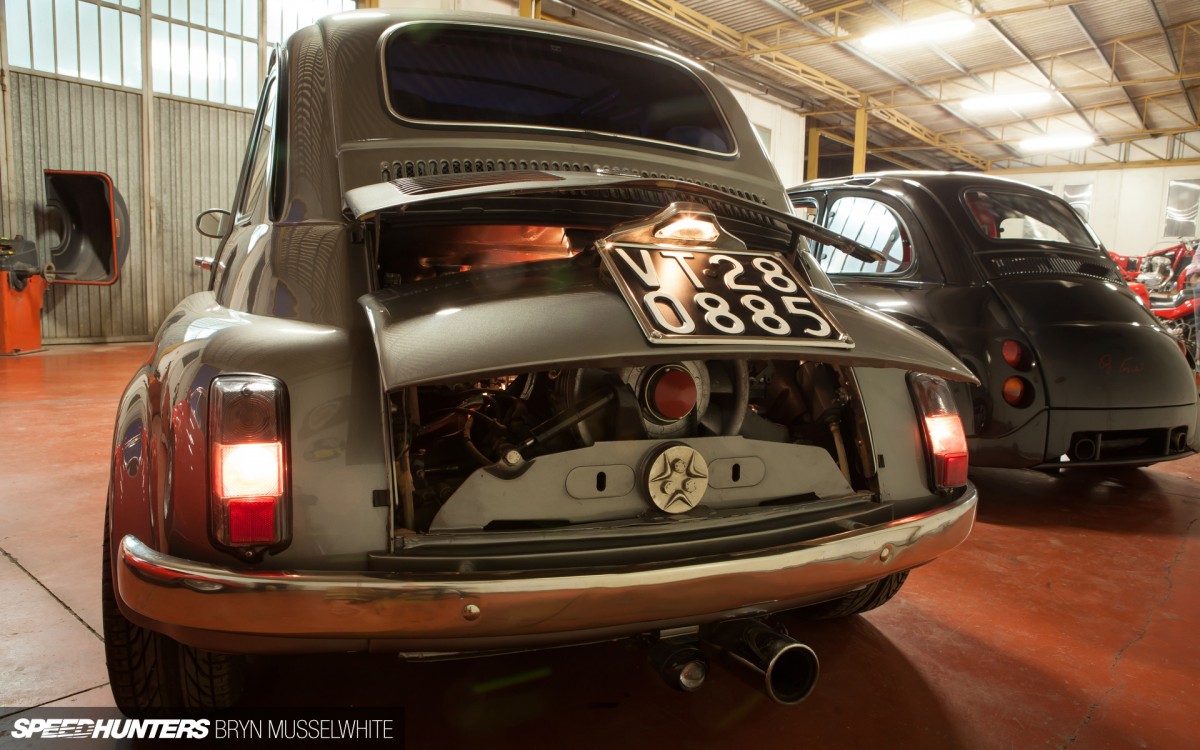 Well there's still a six in there, just a Porsche flat six. Note the electrically operated, remote controlled split engine cover. No, what I came to see was far wilder, far more incredible and I'll show you it in the future. I don't think you're ready yet, and anyway, there's the 250 mile drive back north to handle. That night we stopped in Modena and by the time I got back to the hotel, Rod and Dino were hunting sleep…
What's in a name?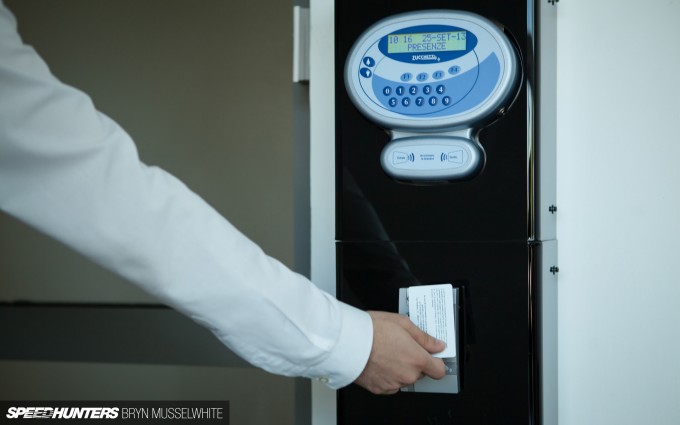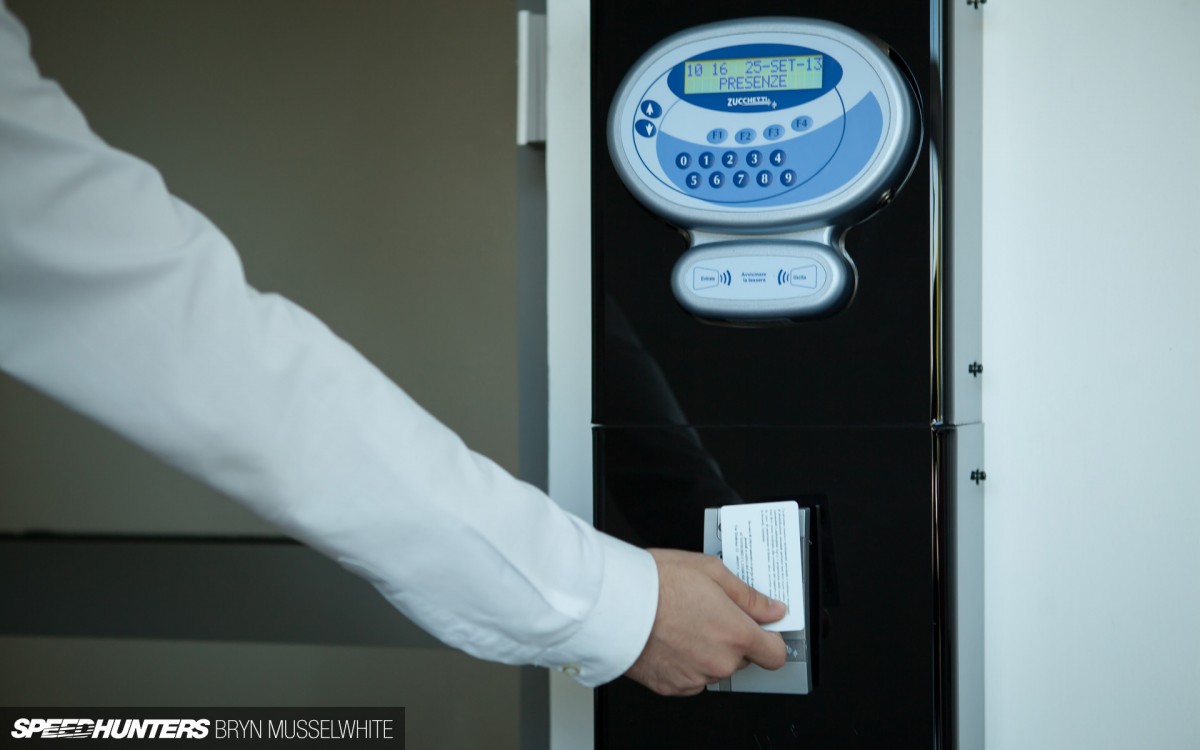 With nearly enough ZZZs dispatched, I had a quick crossover at breakfast with my so-called travel companions and left them to head off to their next destination. After drinking enough orange juice to super saturate me with vitamin C, I was back in my hire car and headed for Sant 'Agata Bolognese: a small commune in the province of Bologna and the home of Lamborghini. Where I was to be welcomed backstage.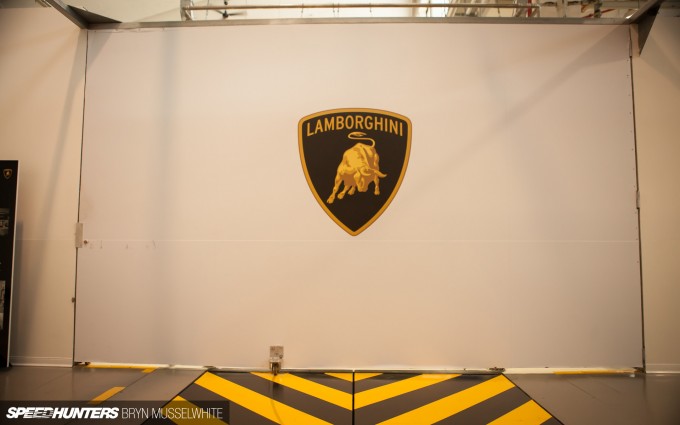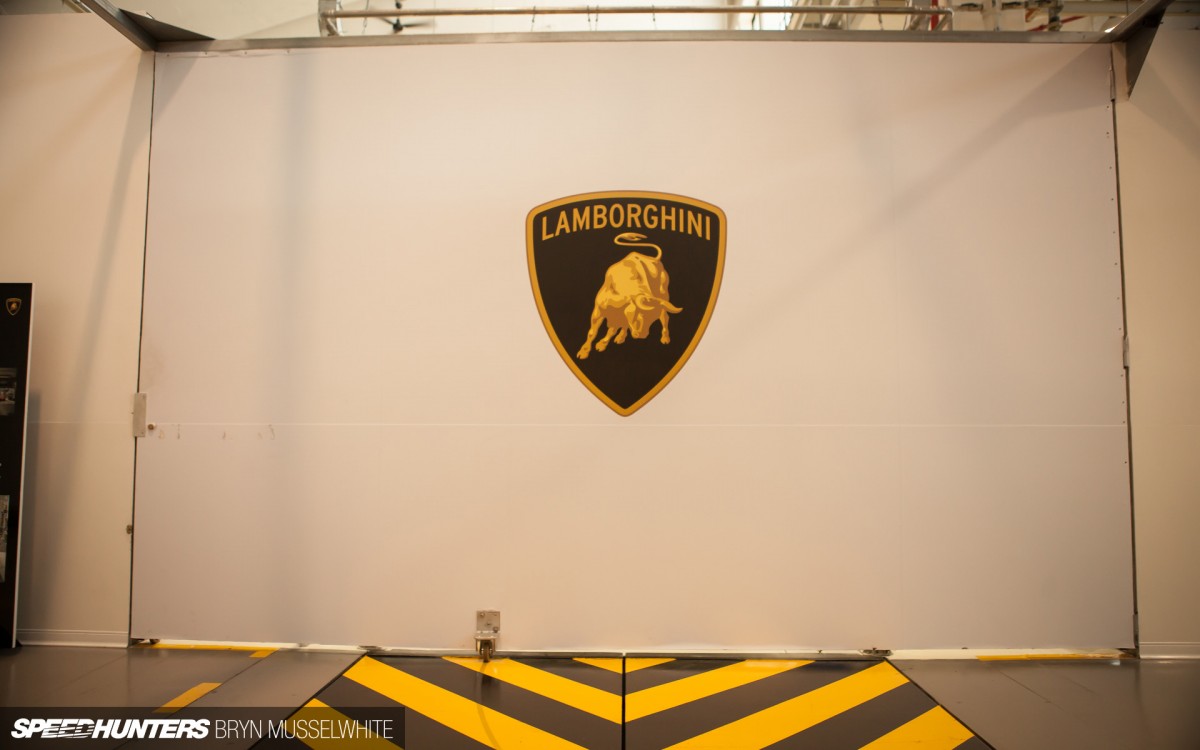 Going back to my Volvo reference earlier, a moose and a name that sounds like it, does sum up the brand. Now take a look at that symbology: a bull and the word Lamborghini… Laamboorgeenee. The factory is the same one they've operated from since the mid '60s, with the Miura and 3500GT having been made on these very lines.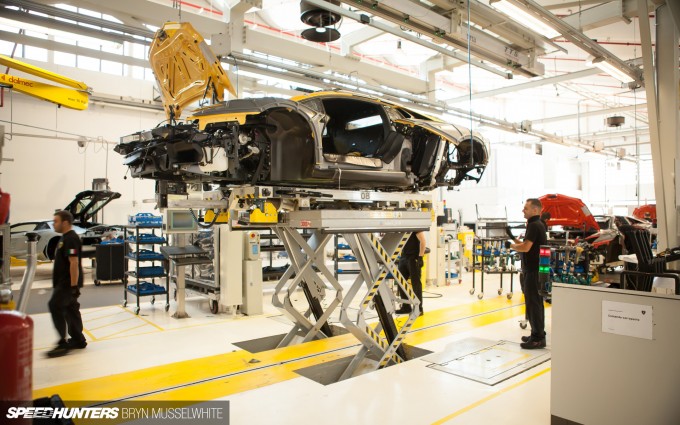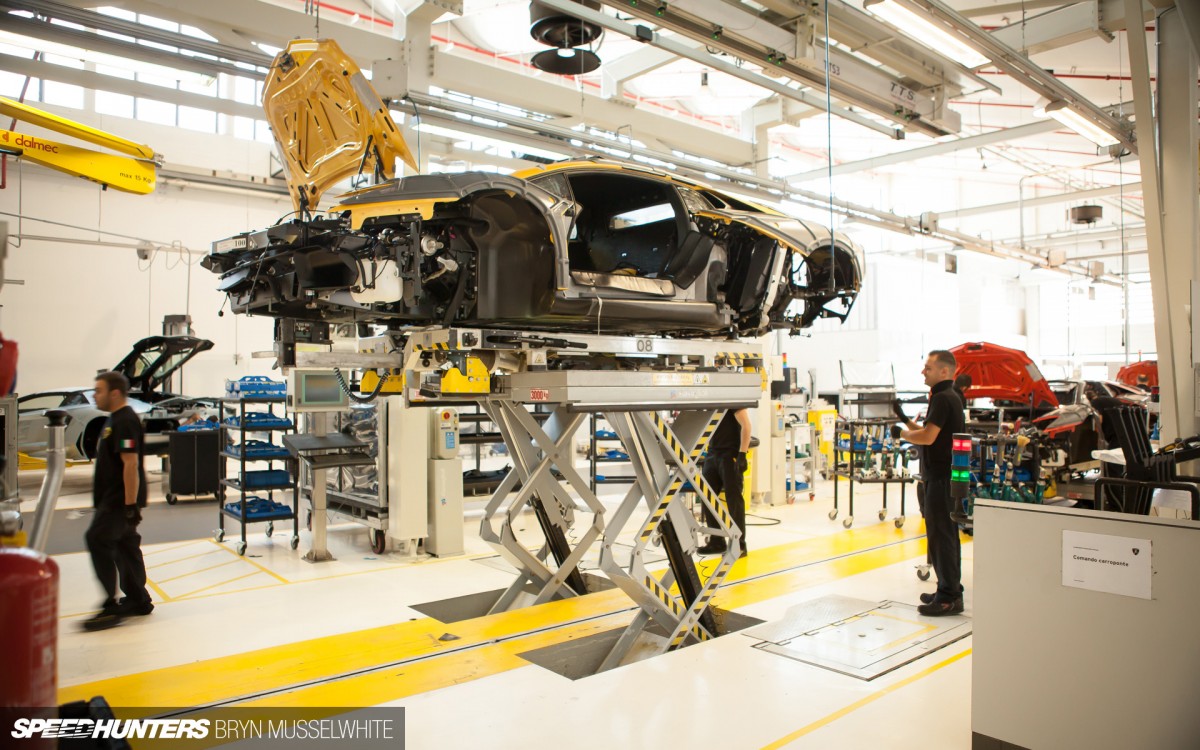 Things are different today. Once again I'll be giving you that very same backstage tour that I was given soon enough.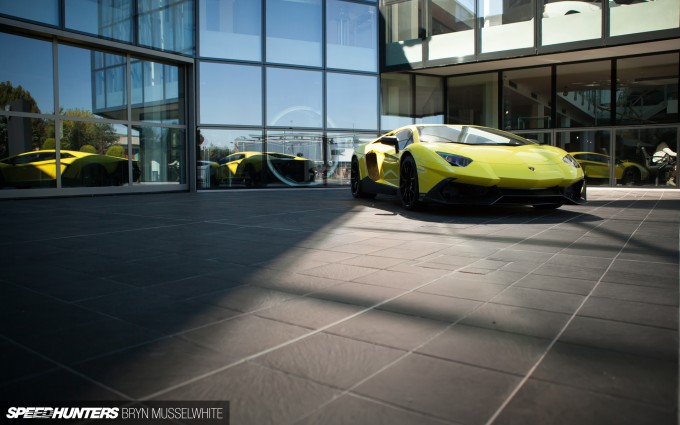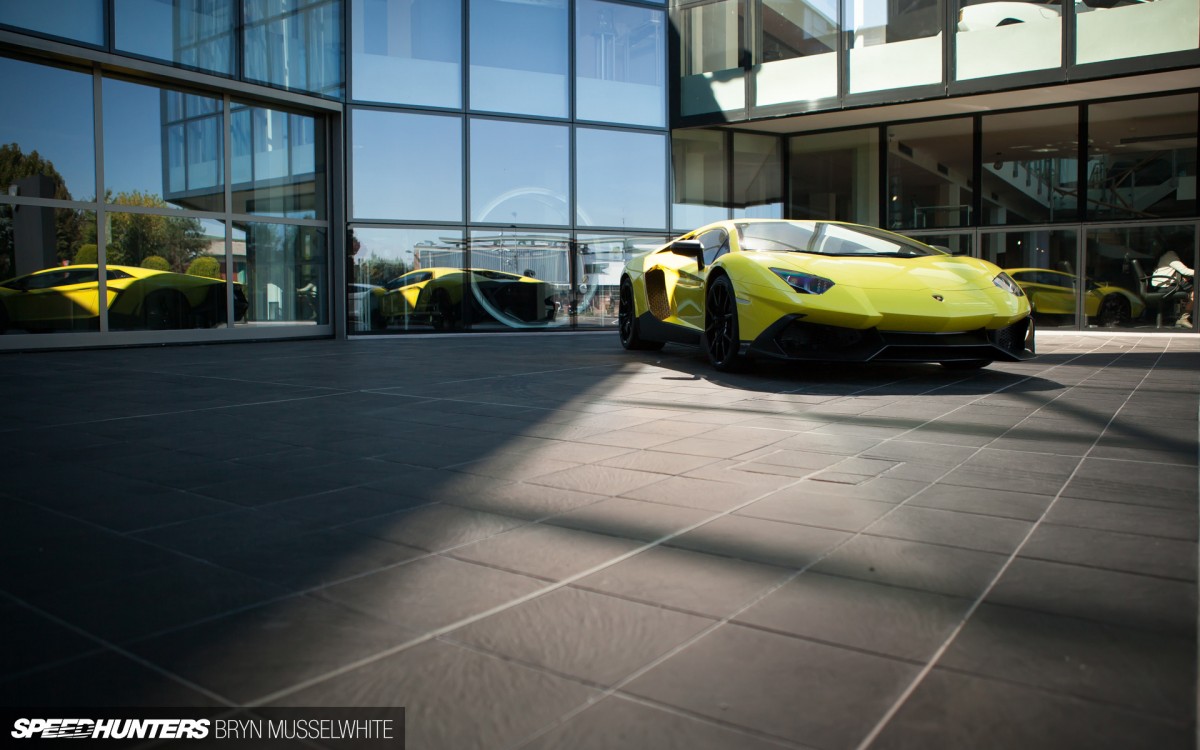 I never tire of the sensation you get when experiencing a truly wonderful vehicle for the first time, and being told that the 50th Anniversary Aventador has been parked here for me to take some photographs was better than any coffee to get my blood pumping. We have a new member on the Speedhunters team, Elizabeth White, who's been busy arranging some incredible stories for us to bring to you – including this one. At the time I smiled to myself because as I was stood there, Suzy was meeting up with Larry in NYC for more of the same. We've driven the Aventador before – first Dino had the experience and then Rod. My turn would have to wait though…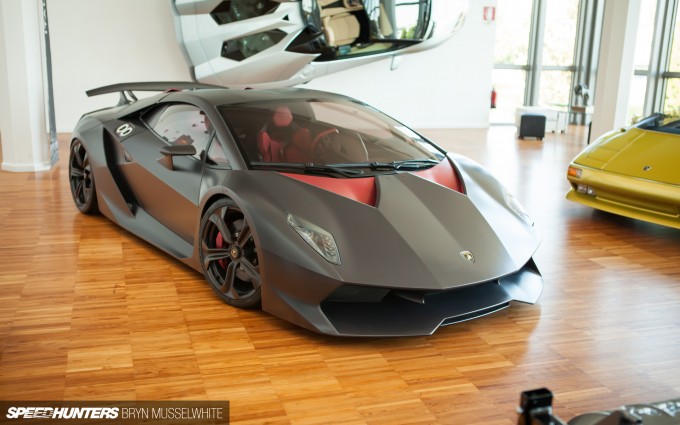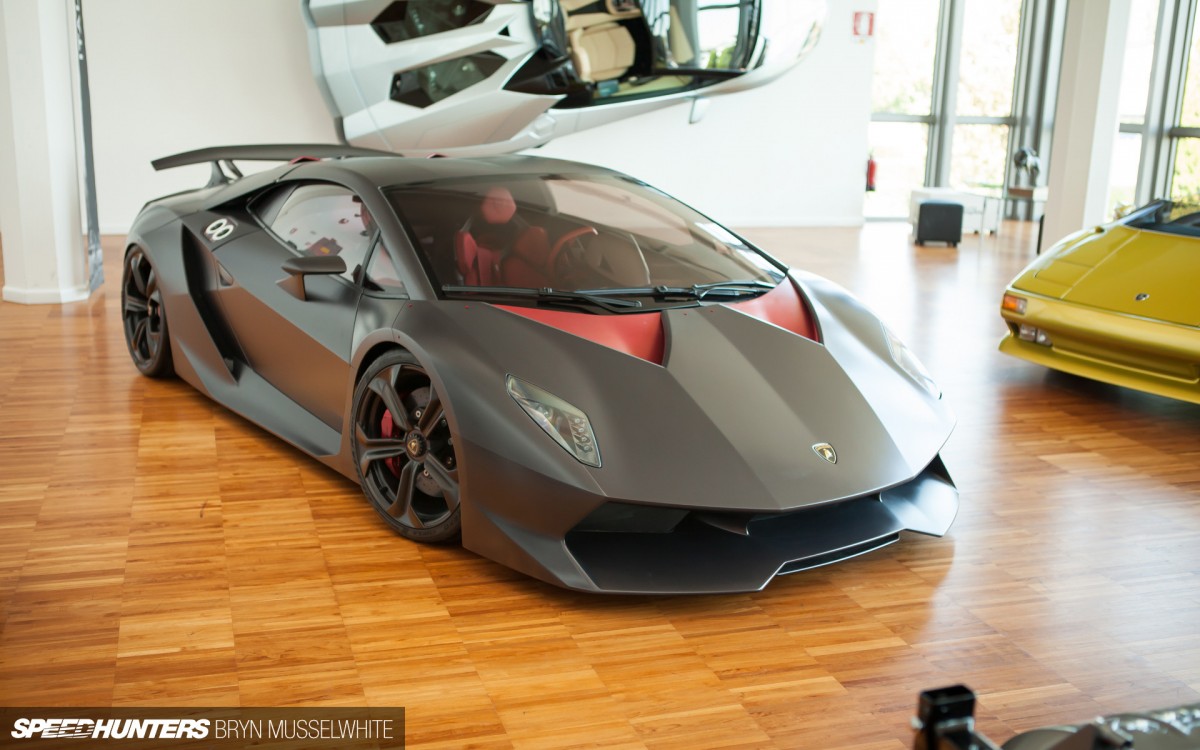 … because I wanted to look around the museum. We've also been here before… but I hadn't and I needed to see this! Yes, that's the Sesto Elemento. That said it quickly dawned on me that if both Dino and Rod have driven the Aventador, and Dino has been stood exactly where I am now, I suddenly felt like I was a little behind the curve.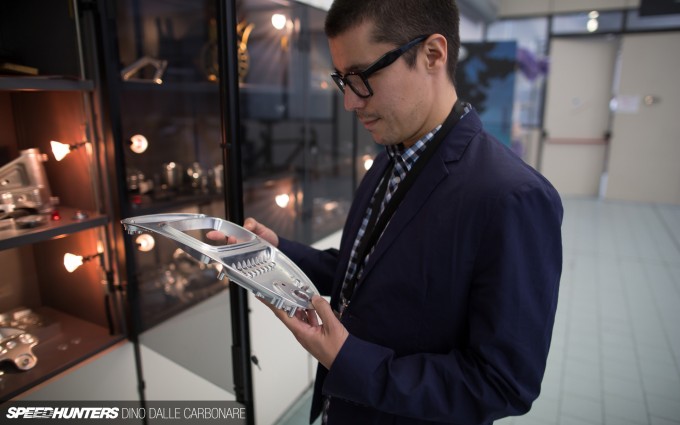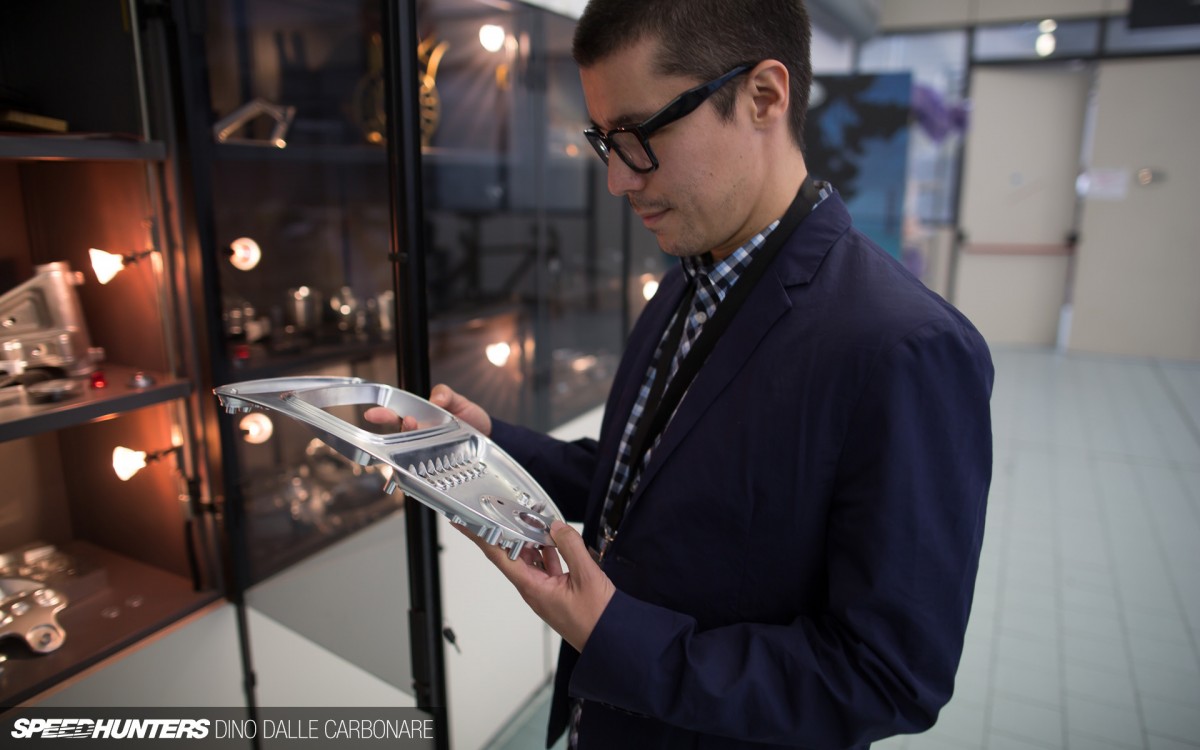 With good reason, because while I'd been marvelling at Lamborghini, they'd been twenty minutes south of me in a secure compound on a discreet industrial estate. At Pagani.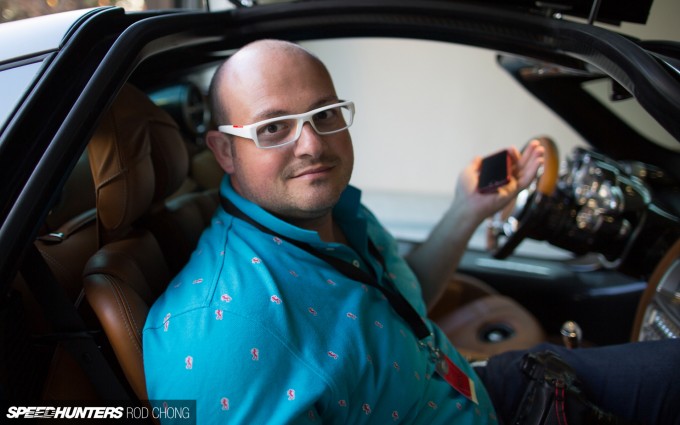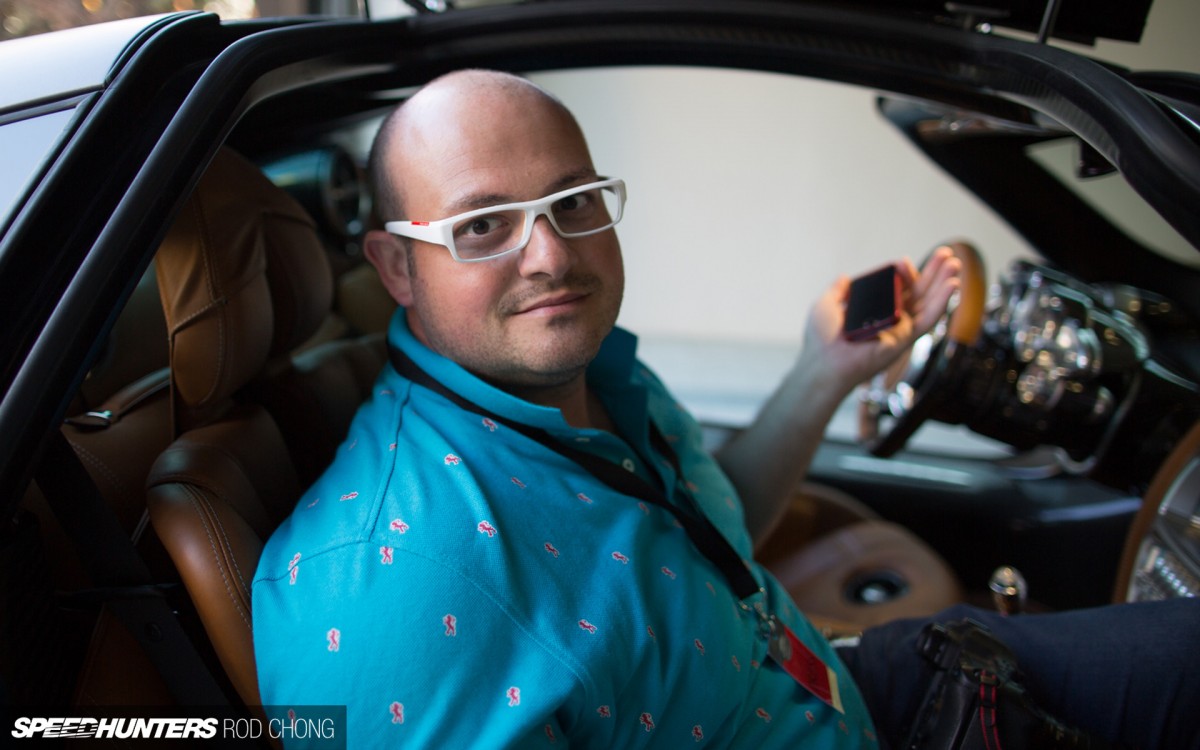 By the time I arrived, both Rod and Dino had been out for a passenger ride with official test driver Davide Testi in the Huayra (pronounced why-ra). Can you tell everybody's favourite Italian/British/Japanese Speedhunter had just had his internal organs rearranged by 1000Nm of torque?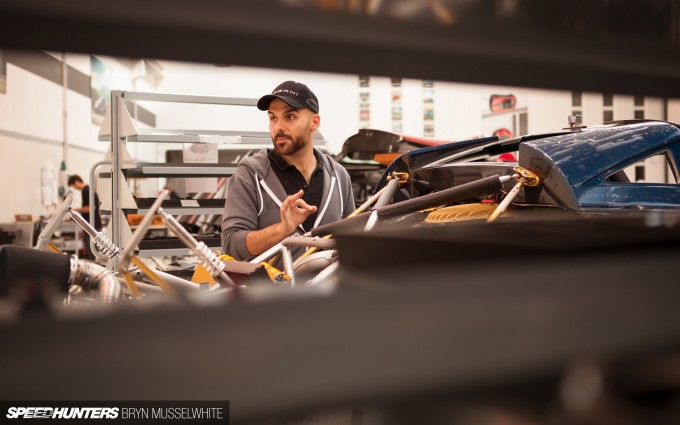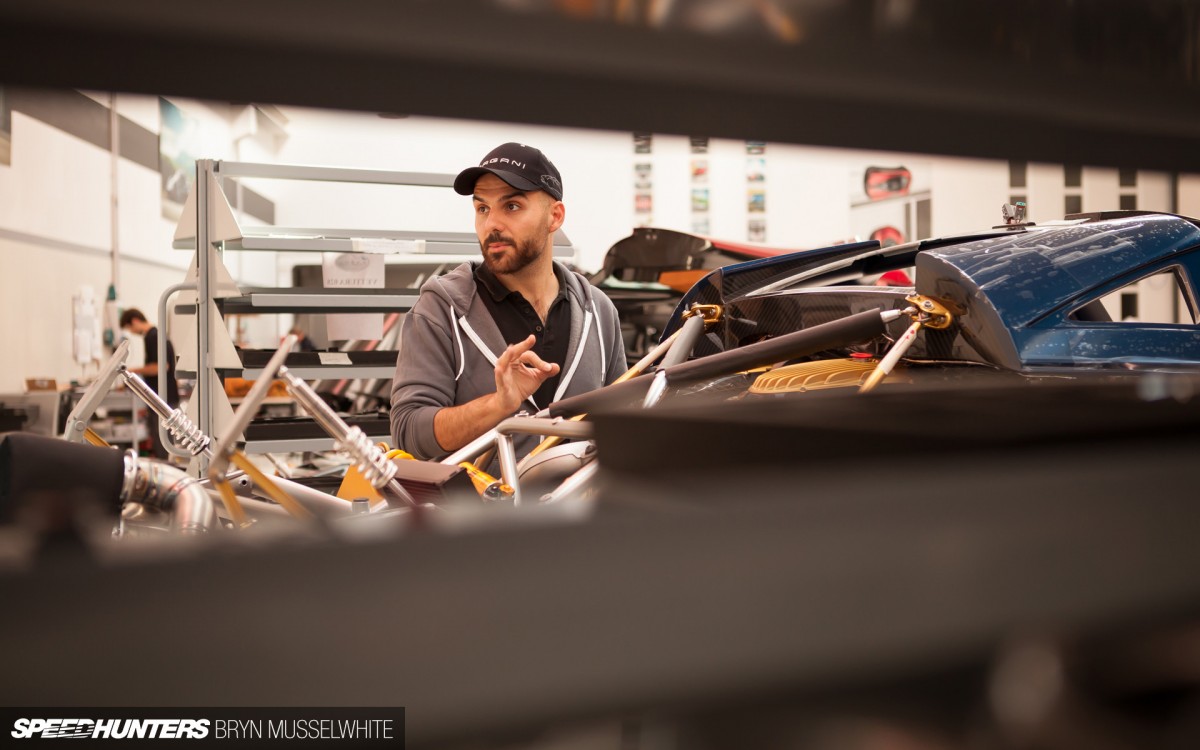 Our chaperone and locator of the best local restaurants was Luca Venturi, who was quickly compounding my belief that you can only work at Pagani if you possess a cool name. Bryn Musselwhite is not one of those. Another realisation is that everybody here has an air of cool, calm confidence about them. It's been my experience that can only exist when you are at peace with your surroundings, and that the level of dedication you have is rewarded on a daily basis in an equal amount.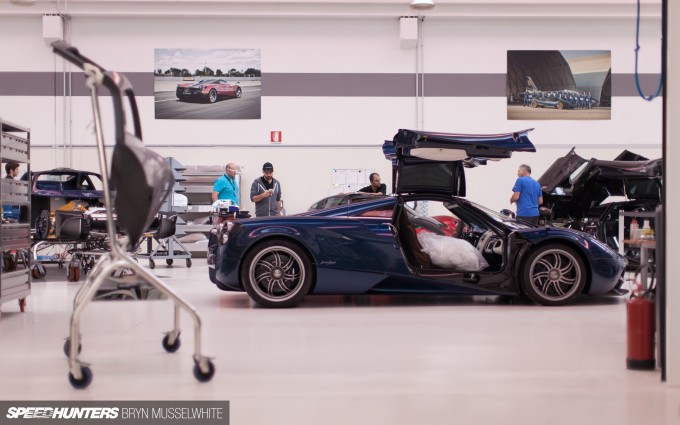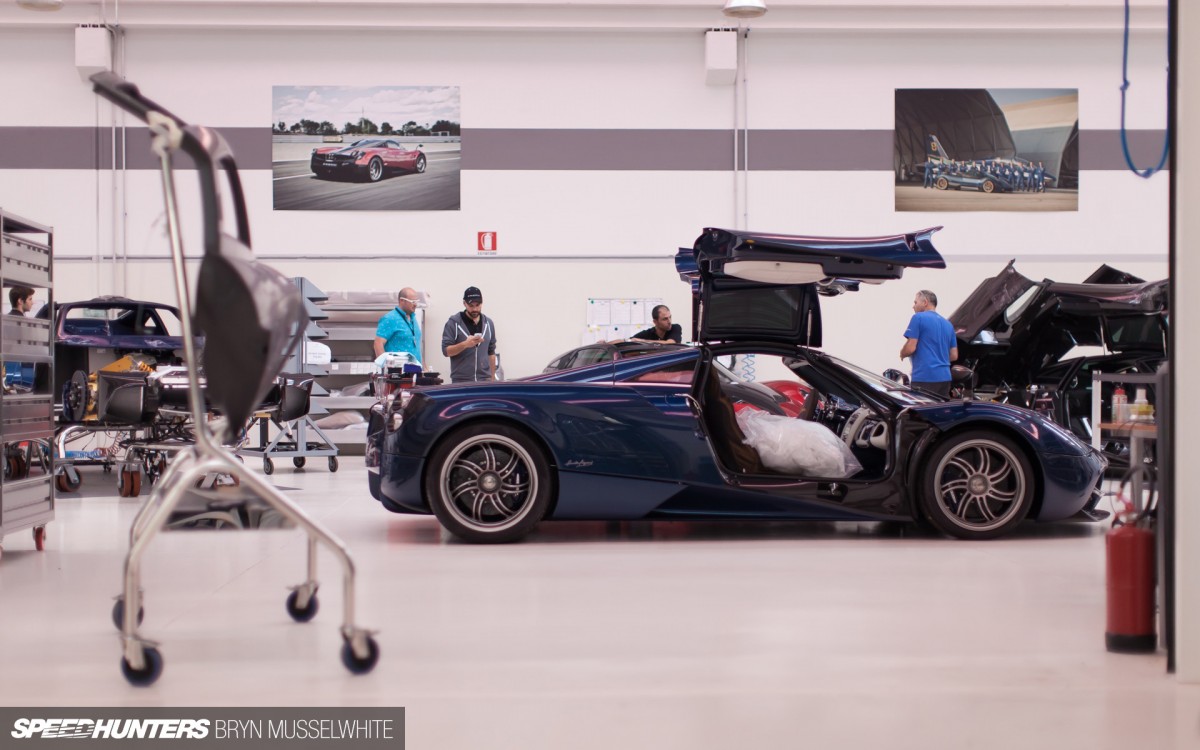 And what a place to find reward! Often manufacturers can be guarded or secretive with their premises and product, exposing you to just enough information to tease and tantalise, ensuring headlines without risking anything. But not here. When asked what we could shoot in Pagani's new factory, Luca looked at us almost with surprise (if that's possible for a man in his professional position). "Everything of course," was his response.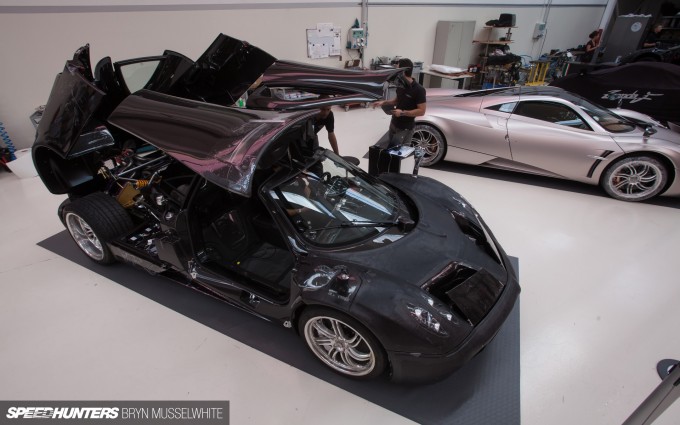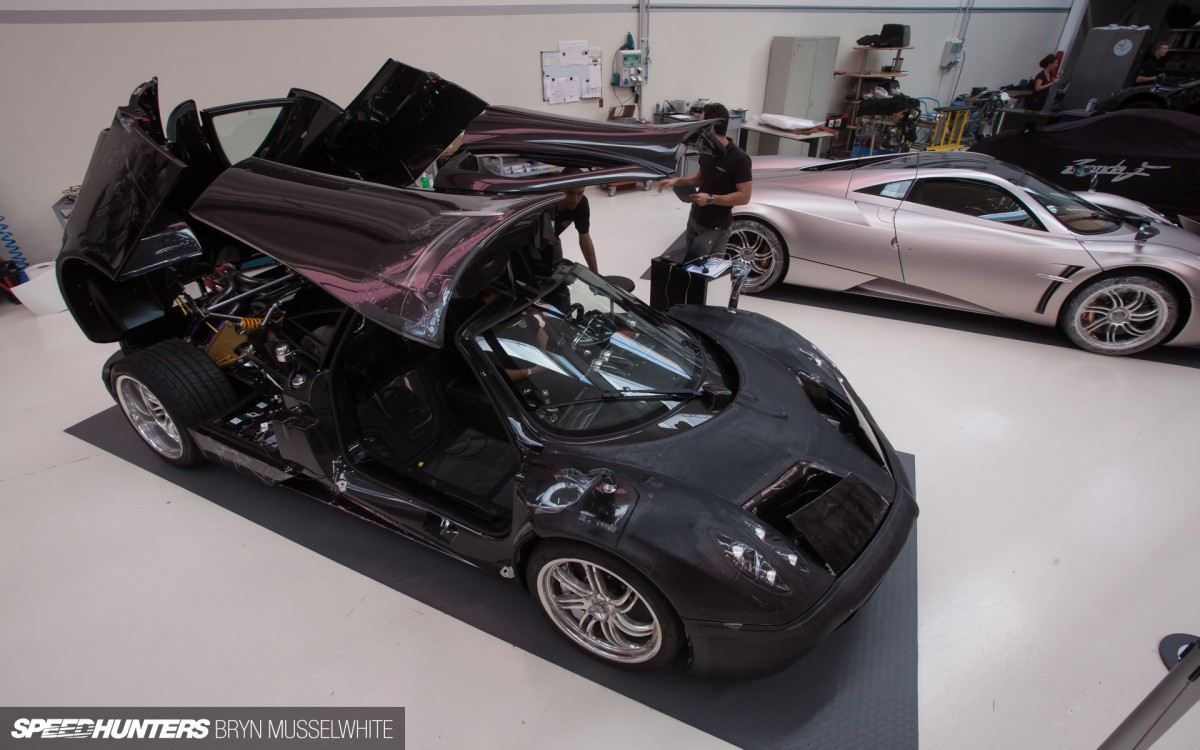 So we did, and I really can't wait to see your responses to what we saw. Dino will be showing you around everything and I'll be bringing you a more personal experience based on a feeling I got whilst being left to roam. You're going to love the access Pagani gave us – just as we did.
Would sir like to see something particular?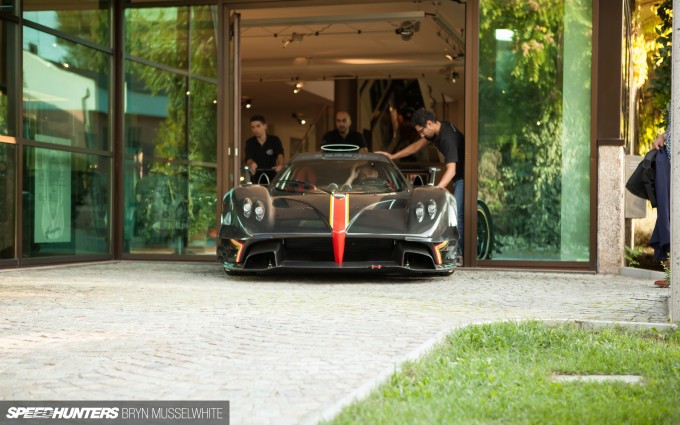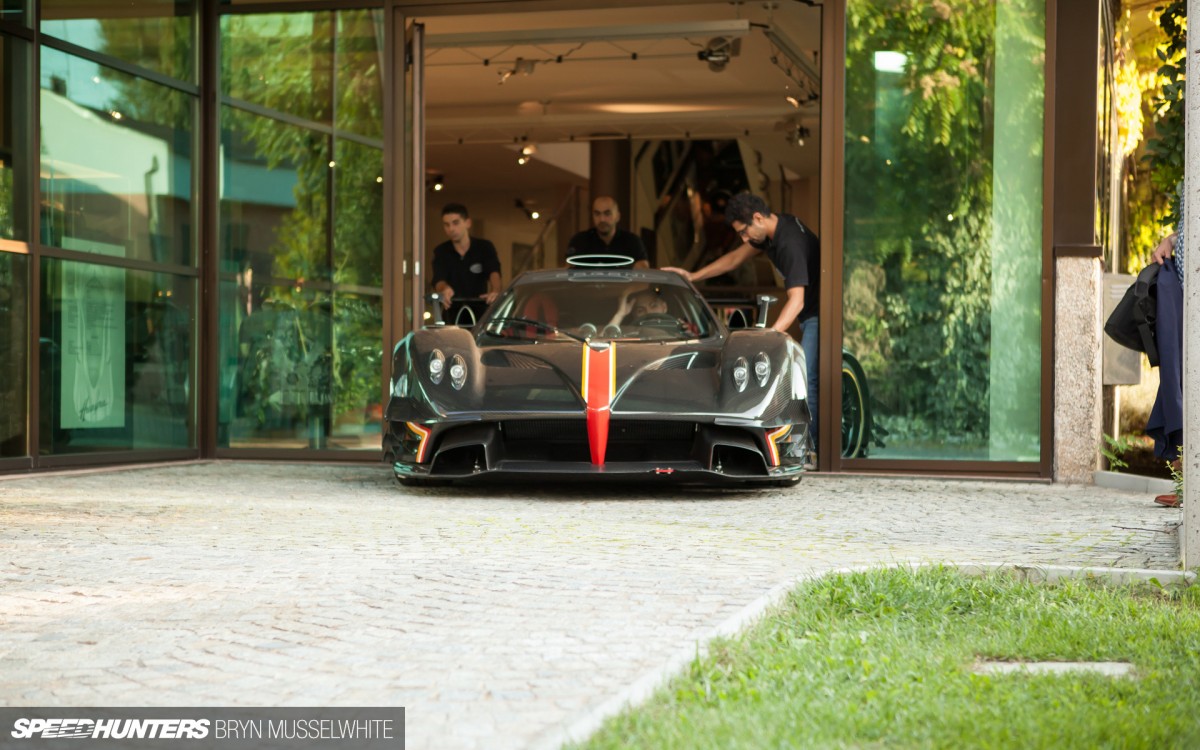 Back at the old facility, in the reception area was something that we just had to see more of: the Zonda Revolucion. It's an incredible vehicle, truly incredible. Everything about it is the absolute pinnacle of Pagani, so when we asked if it could be wheeled outside for some photography, again it was so refreshing that the answer was a simple "yes".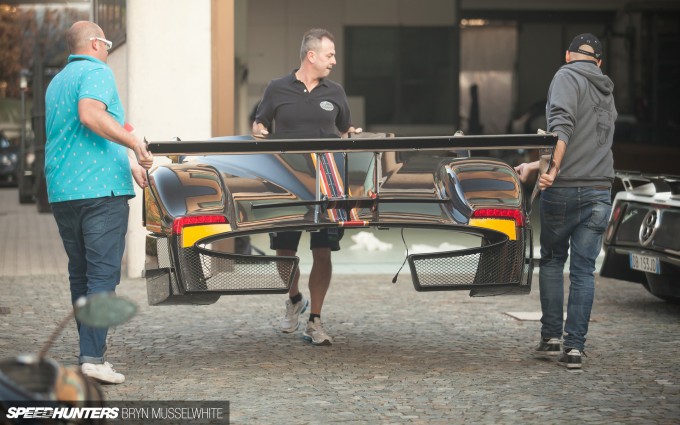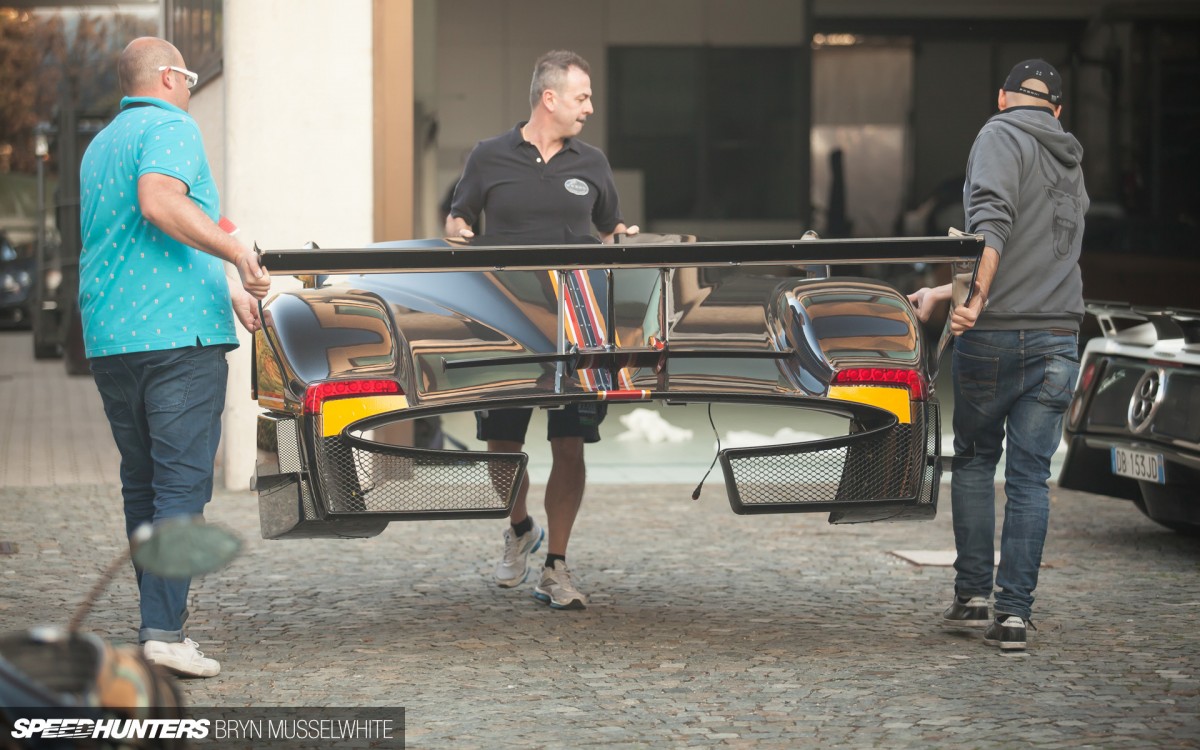 The Revolucion is so fresh that it hasn't been seen in detail by the world's media yet, and although it didn't leave the factory gates during the course of our shoot, we got up close and personal with what could well be the ultimate poster car.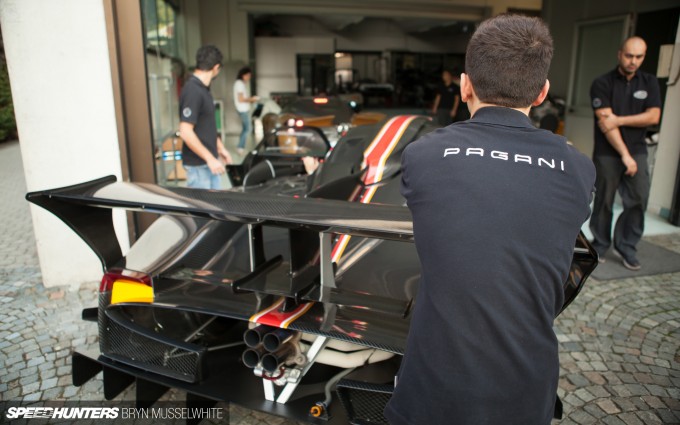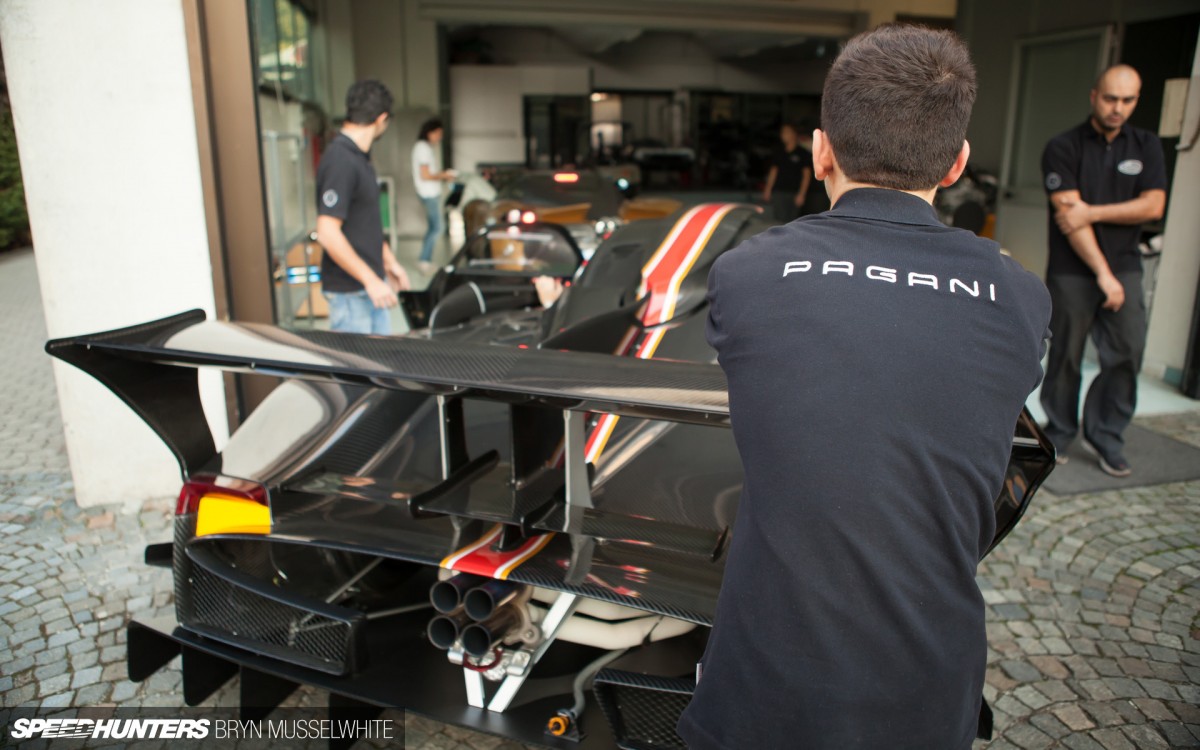 Gladly I saw the sun coming down which meant that we were coming to the end of our day. I say gladly because I really did feel by now that there wasn't much more I could take in between eyelid closing sessions. Plus I knew what was coming up the following morning…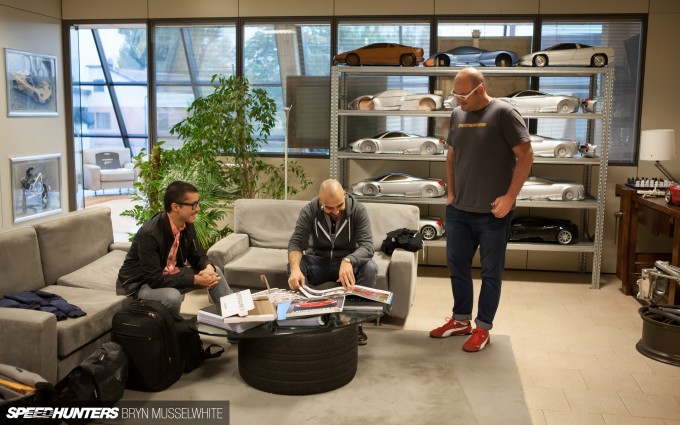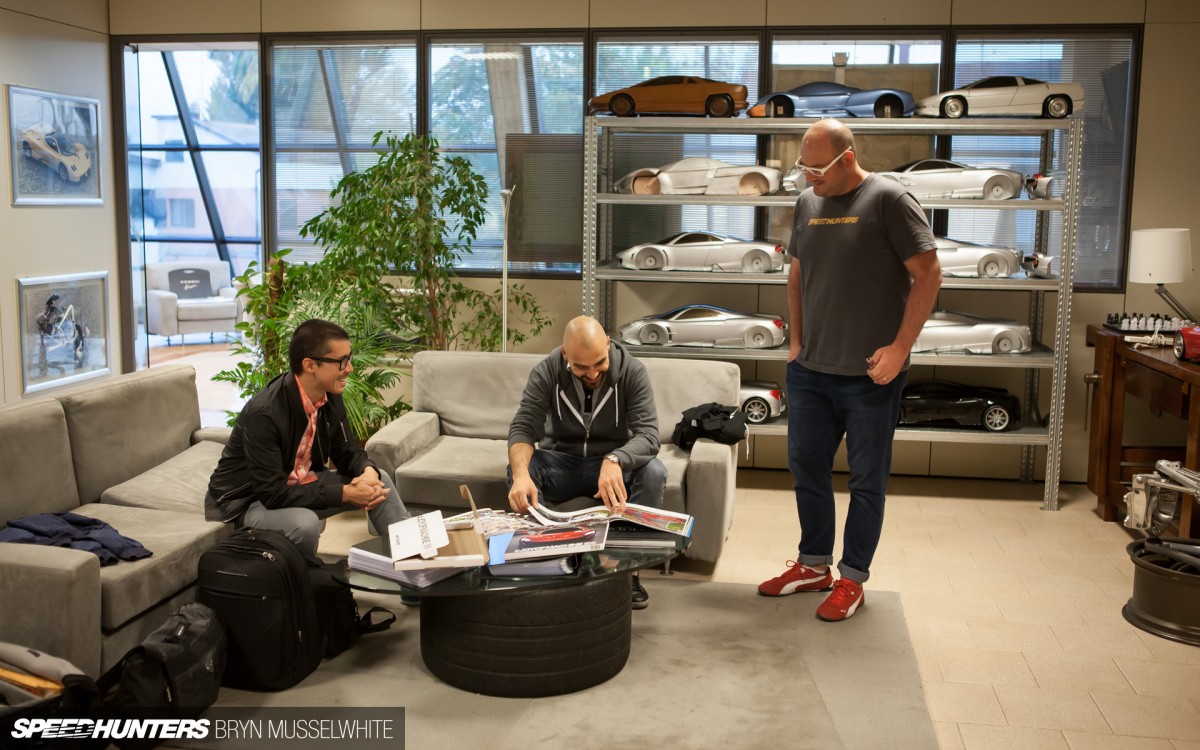 Another early start was needed and this picture was taken around 7am on day three. We'd all checked out of our hotel and headed back to Pagani for an early morning rendezvous. Here you can see Luca taking a look at the #JoyOfMachine book. Dino stood; I wouldn't say he was nervous, but he had a job to do.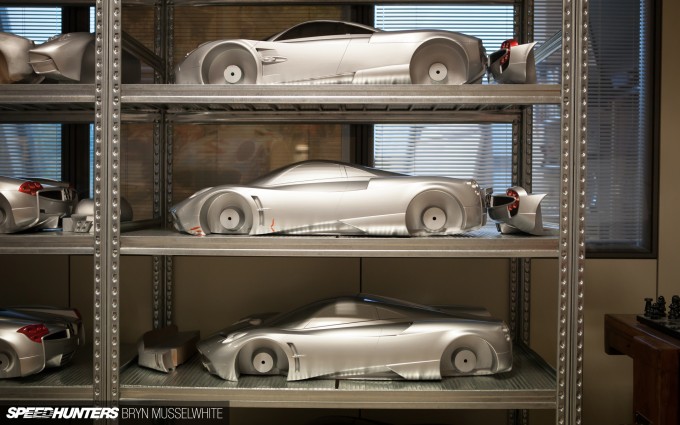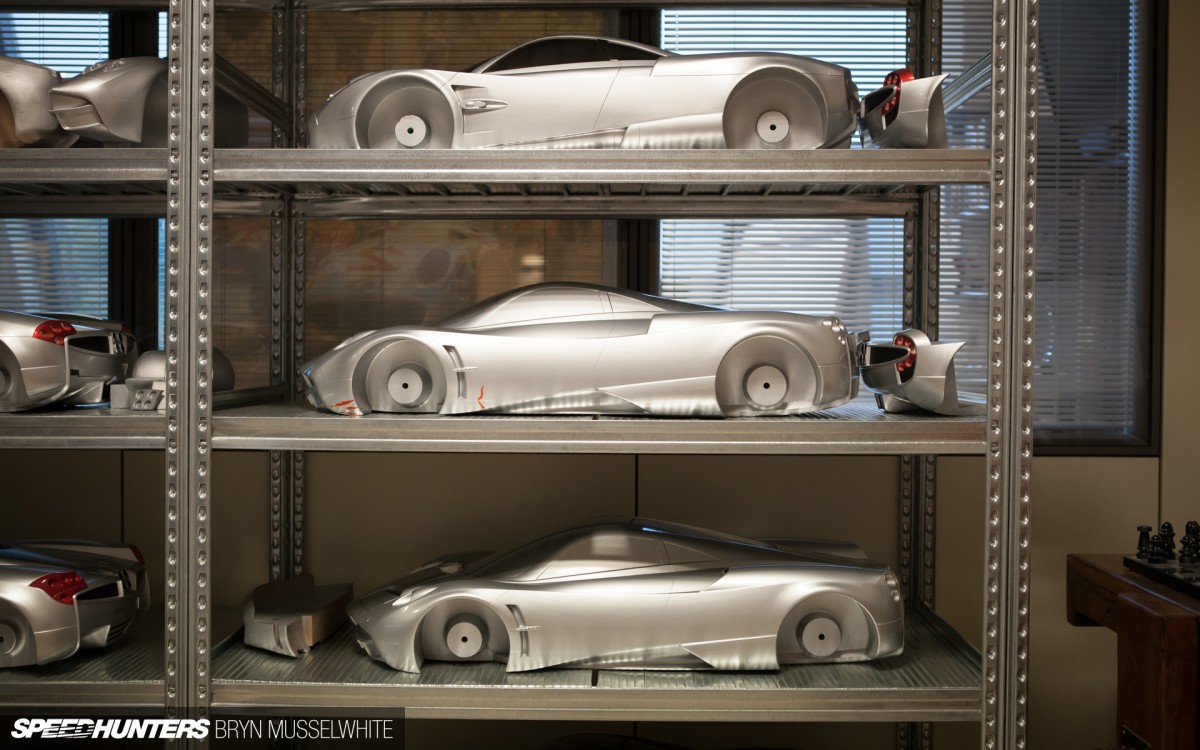 And that was to interview Horacio Pagani, the man behind all this wonder. All this experimentation and boundary pushing, the literal driving force behind the brand bearing his name. I don't care if you're a fan of the cars or not, any one person who can do what he has done in such a short space of time, in the area which he has… well, you'll just have to read Dino's interview to find out more about his personal story.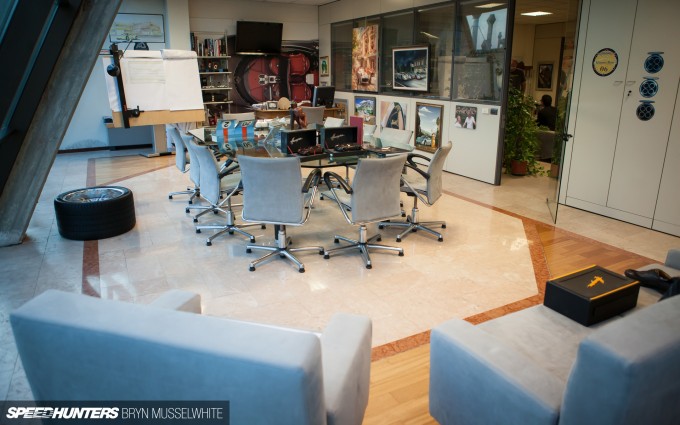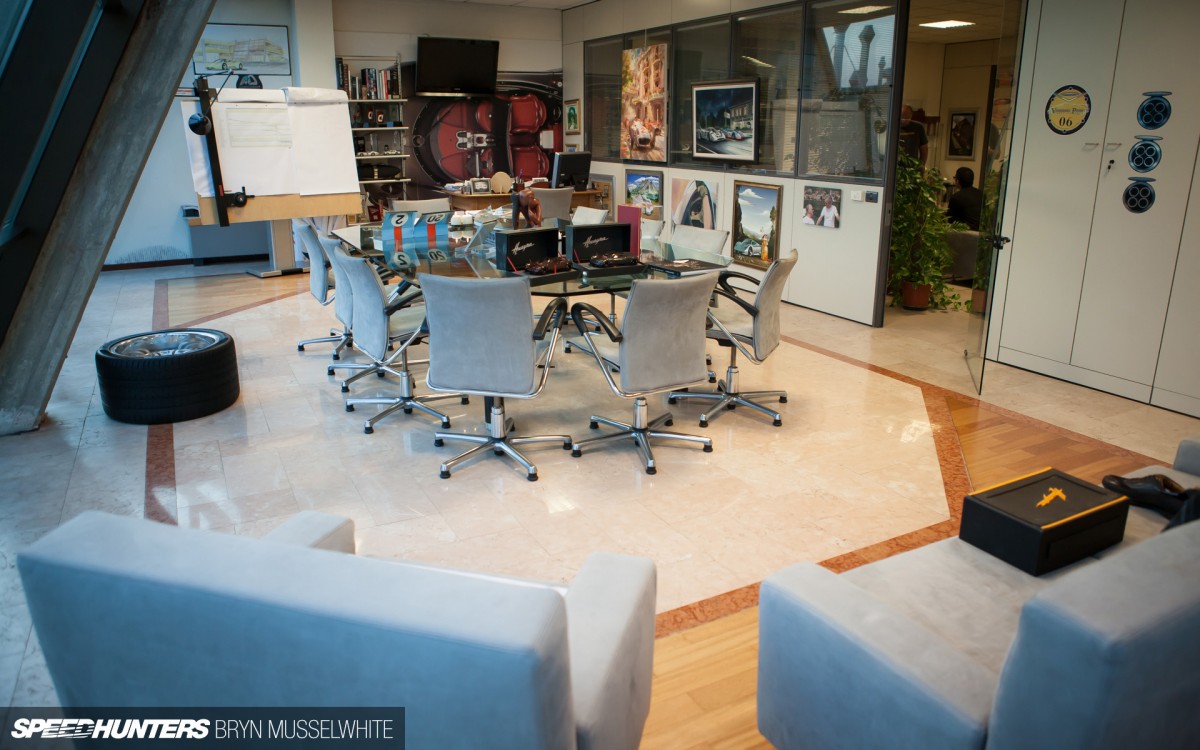 The pair sat here in his office, the walls lined with memorabilia and design notes, model cars and a pet dog that lay obediently as words were imparted.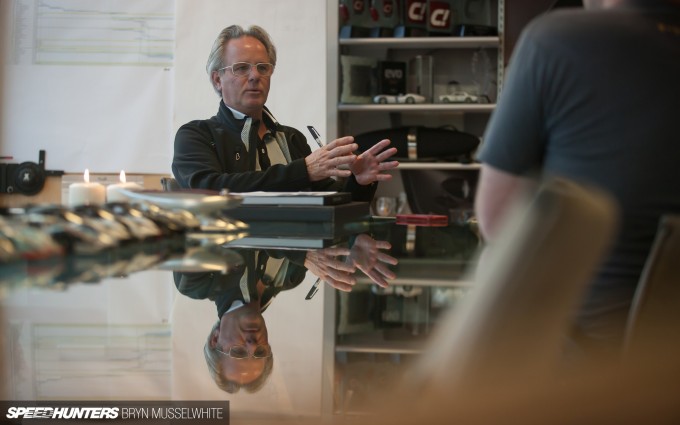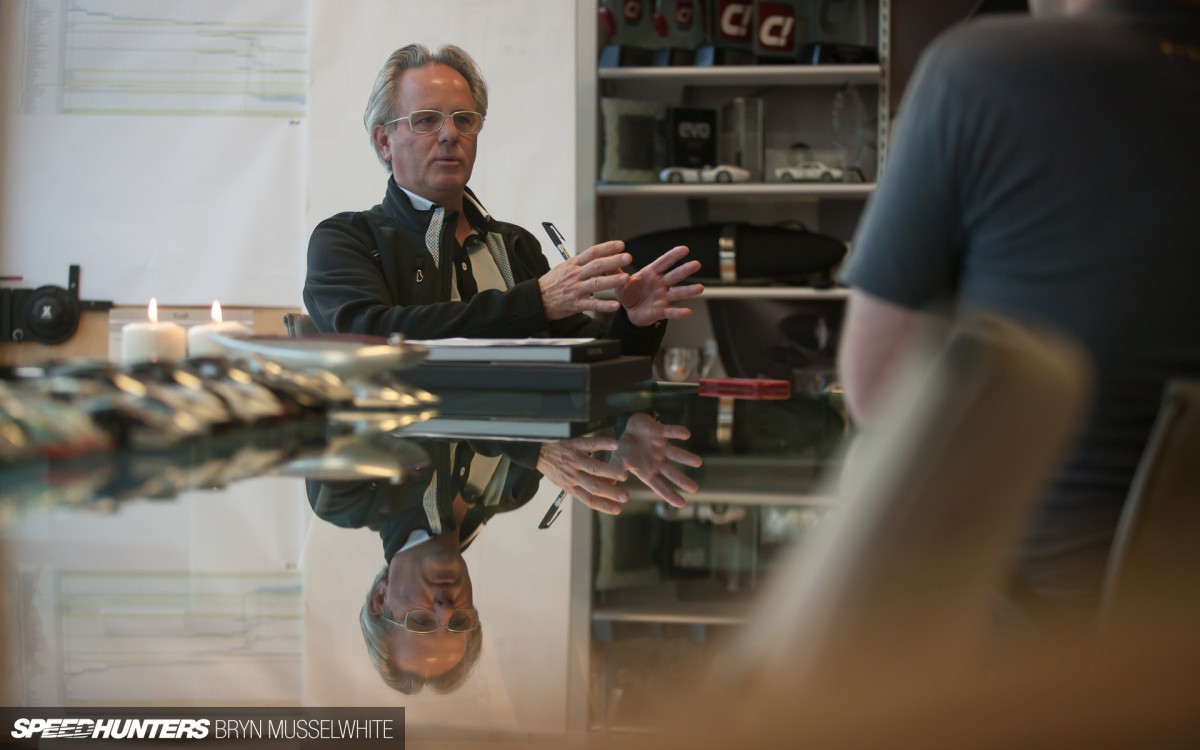 The passion was obvious and I have to say Mr Pagani is a very grounded man, in what must be an exalted existence.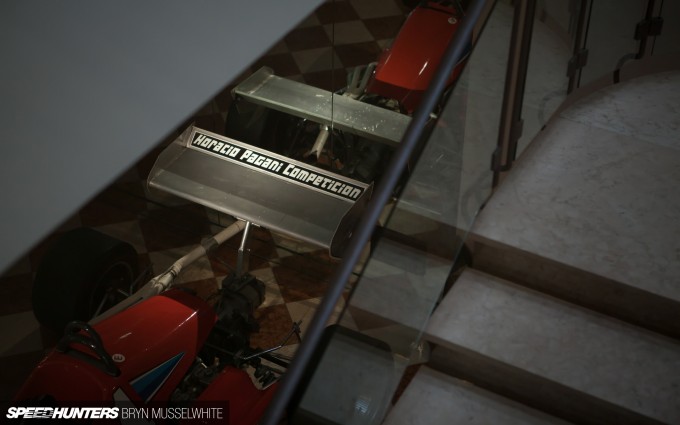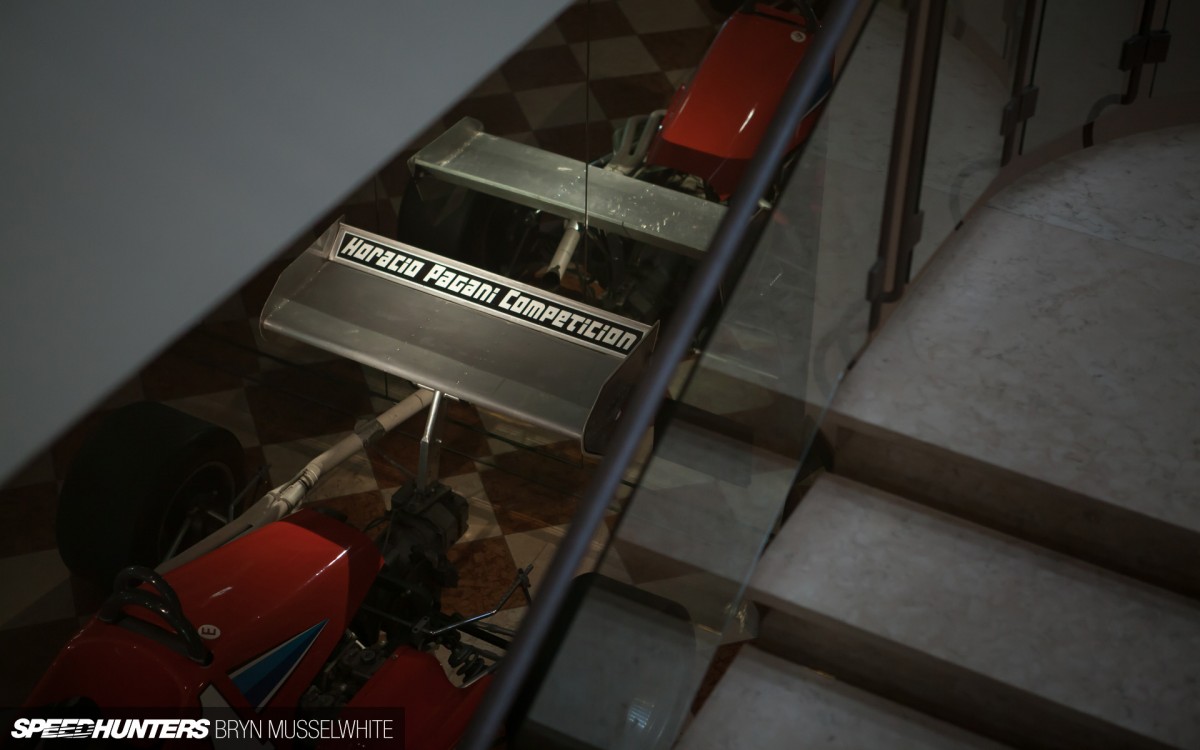 I think that's because he remains close to his roots – another thing that you are reminded of everywhere here at Pagani.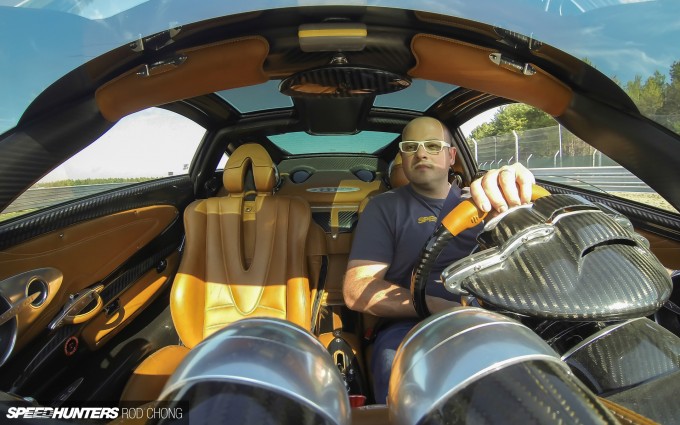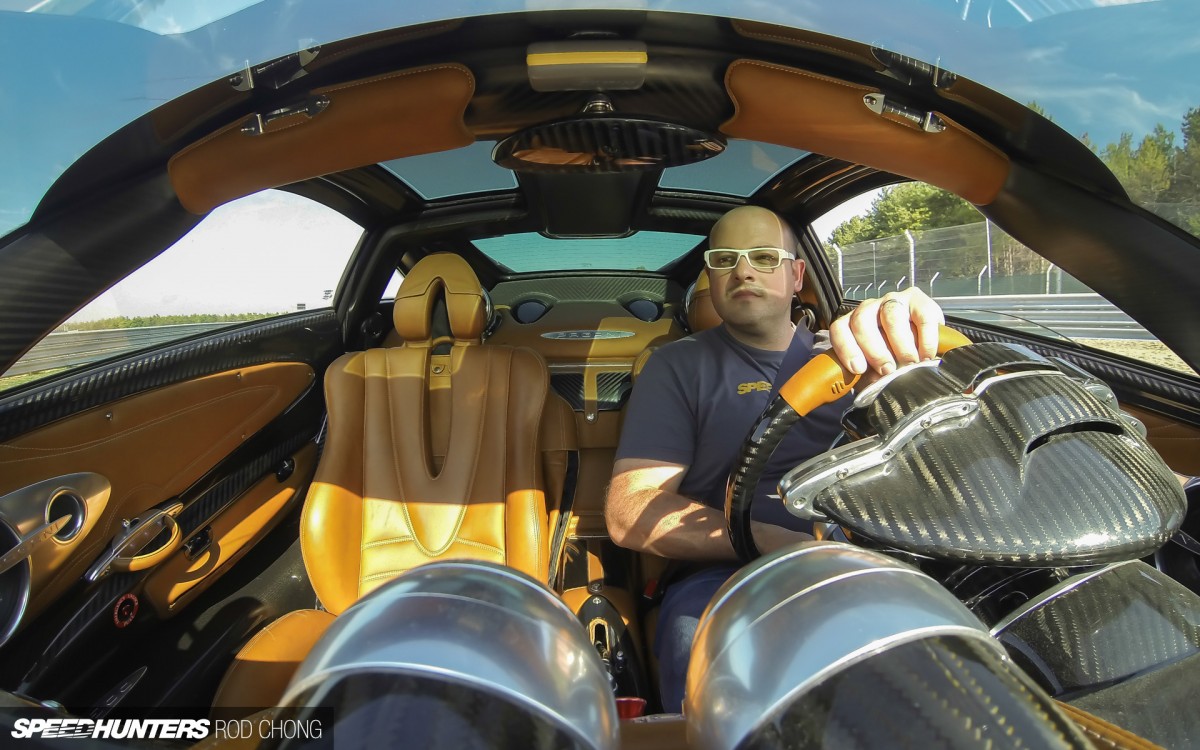 We needed to decamp again though and after some mind-bendingly boring traffic – which normally wouldn't trouble me but today, oh today of all days.. – our destination was the excellent, and most importantly empty, Autodromo Di Modena. Here we'd watch Davide Testi do what he does best and capture it for a full feature and a short film too. Dino would also be the first journalist in the world to do some hot laps in the Huarya, and I genuinely mean first. Oh and they were hot, hot laps. I sat alongside him for a few and although entirely respectful, he wasn't afraid of the seven figure price tag or venomous power. Good man.
I predict a riot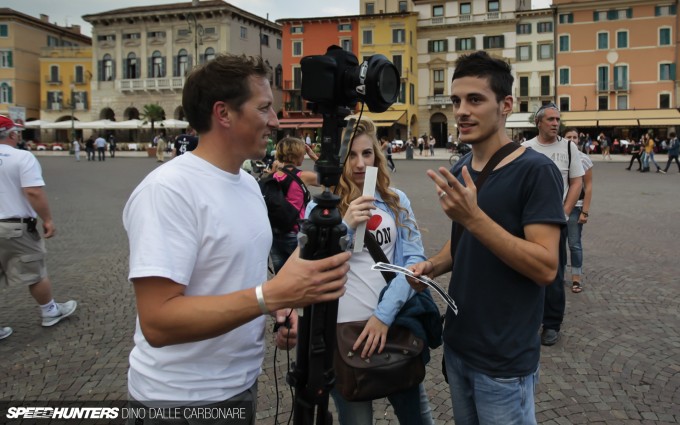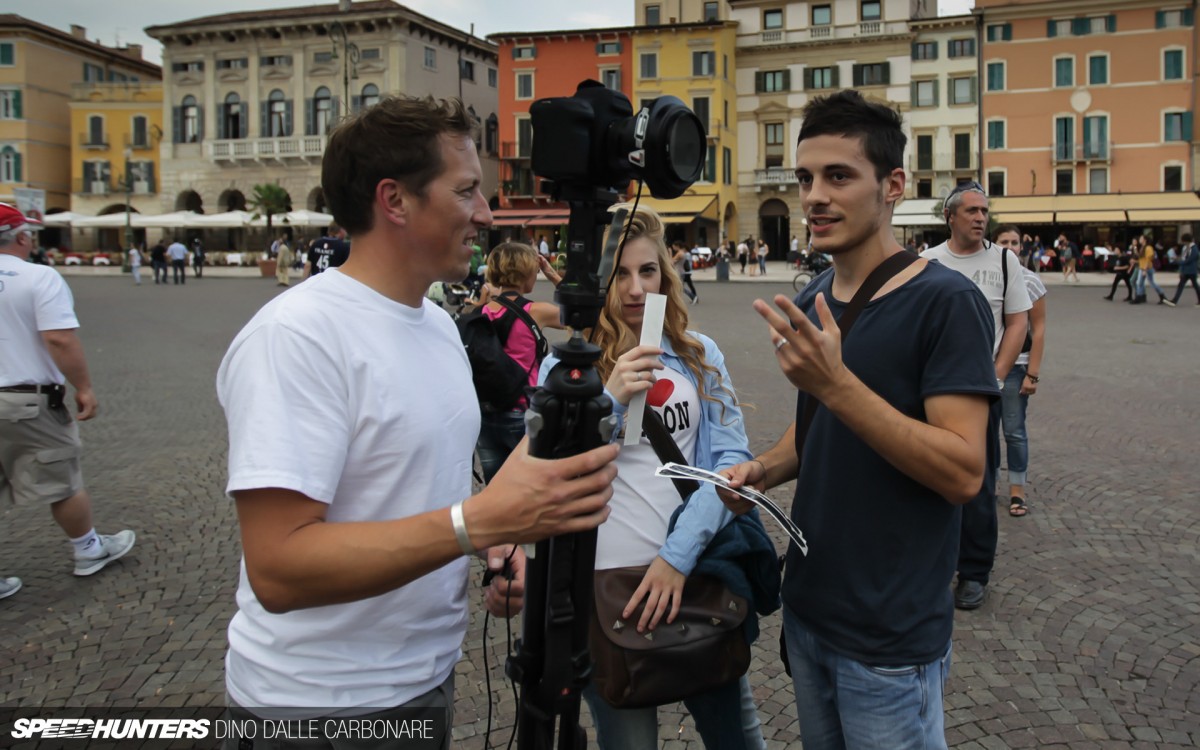 Next we headed into Verona to gauge public reaction to the hypercar and managed to meet up with a few Italian Speedhunters. I'm sorry I didn't catch your names, but good work for finding us and I hope the stickers find a suitable home!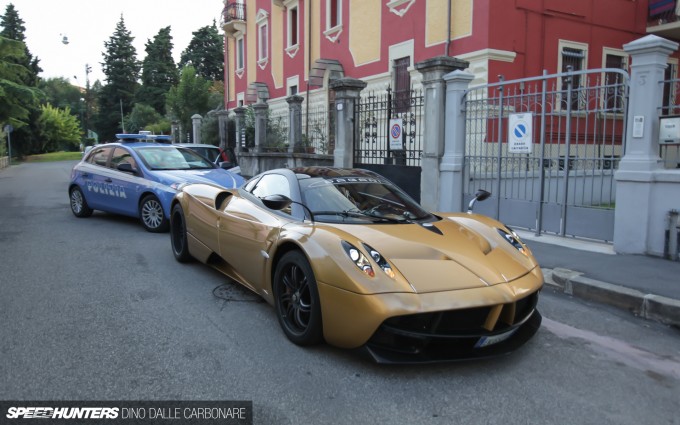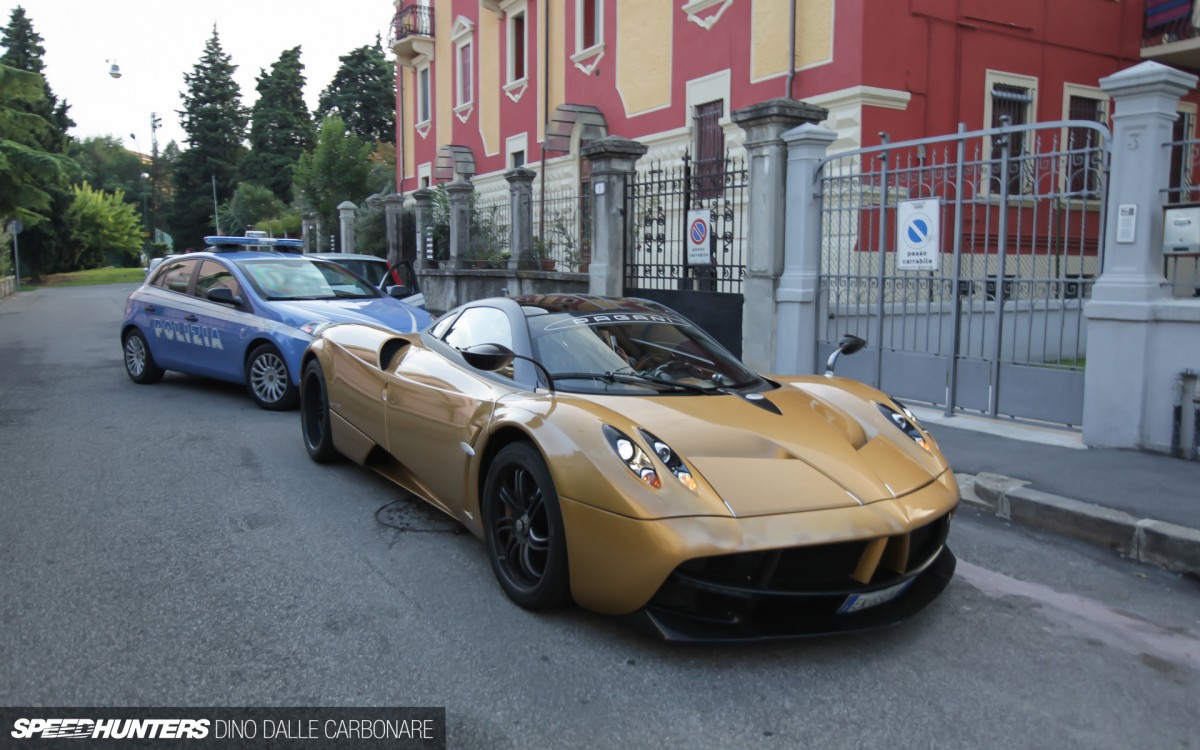 It was after this that we got split up. Dino and Luca had some help with directions though, so everything was okay. Once again my hire car journey was uneventful, undramatic and completely legal. More's the pity.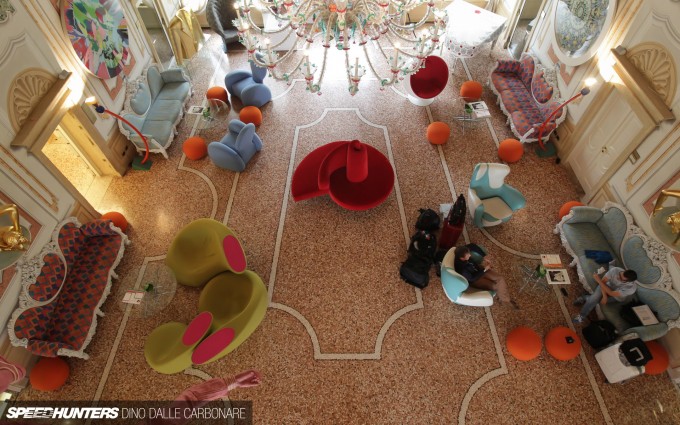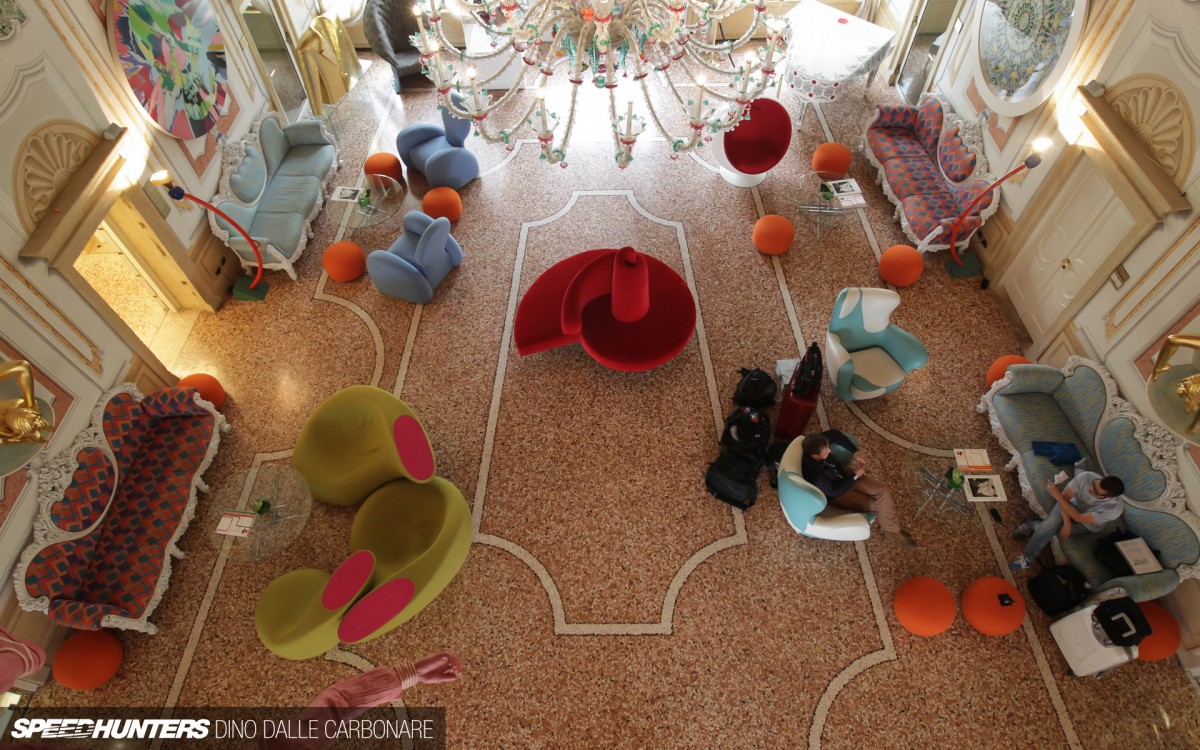 Our combined destination was the Byblos Art Hotel and I'm going to tease you with this one shot because I don't want to spoil the main Huarya feature shoot we have coming your way. It was a lovely place and here you can see Rod and I discussing the trip whilst Dino levitated above us. It's one of his chosen #SpeedhunterPowers.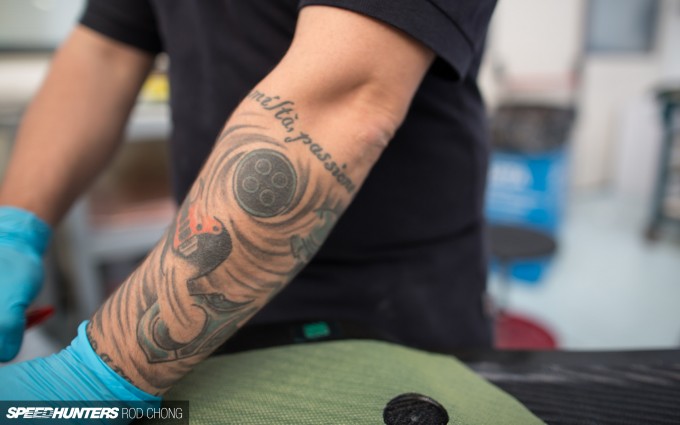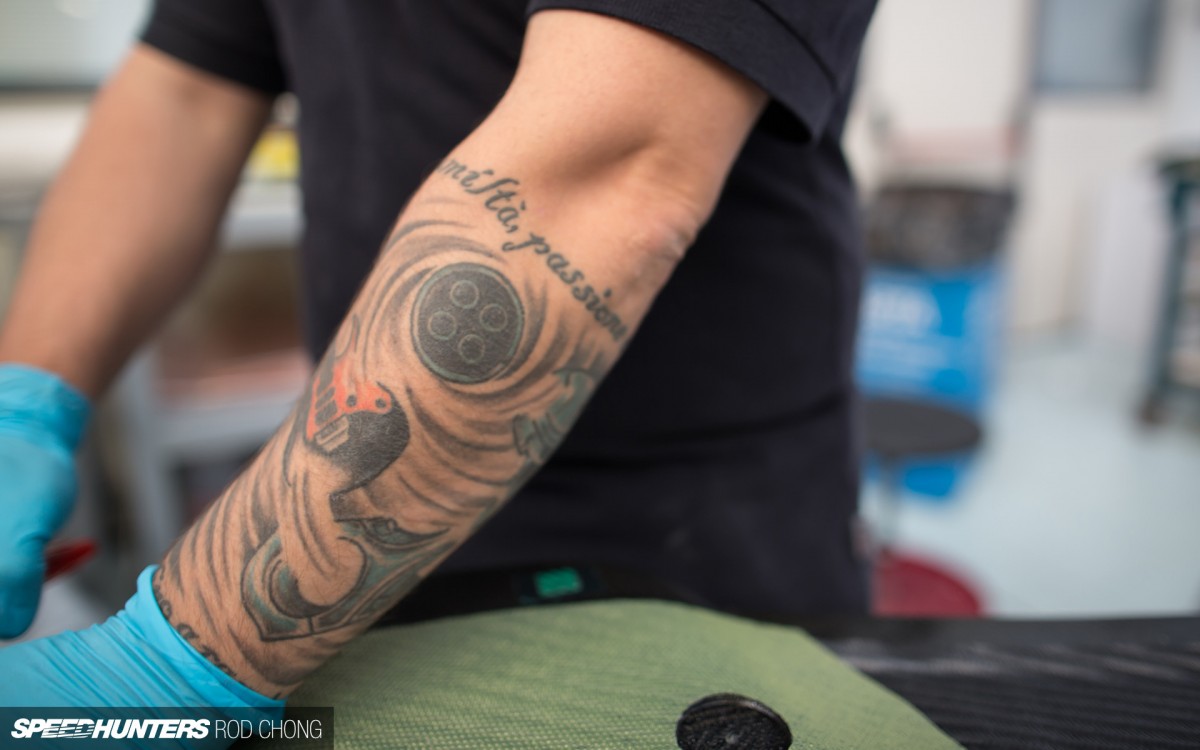 Then, all too soon, it was over and we disbanded back at Venice. Now settled back into our own respective parts of the globe, all I'm left with is an overriding sense of passion. It's easy to become clouded with masses of emotion and memory from such an intense trip, but that one sentiment seems to thread through the entire experience.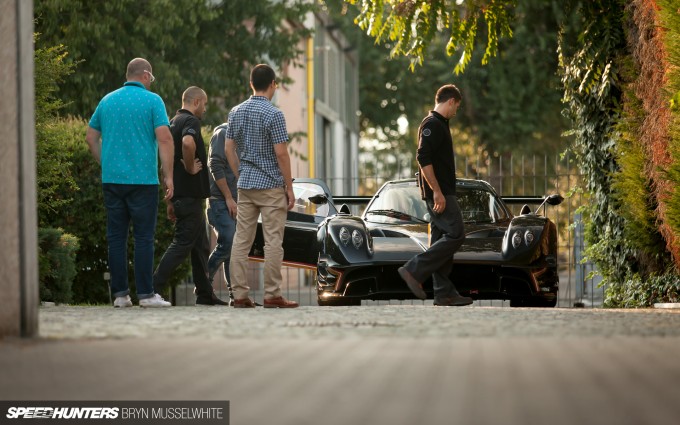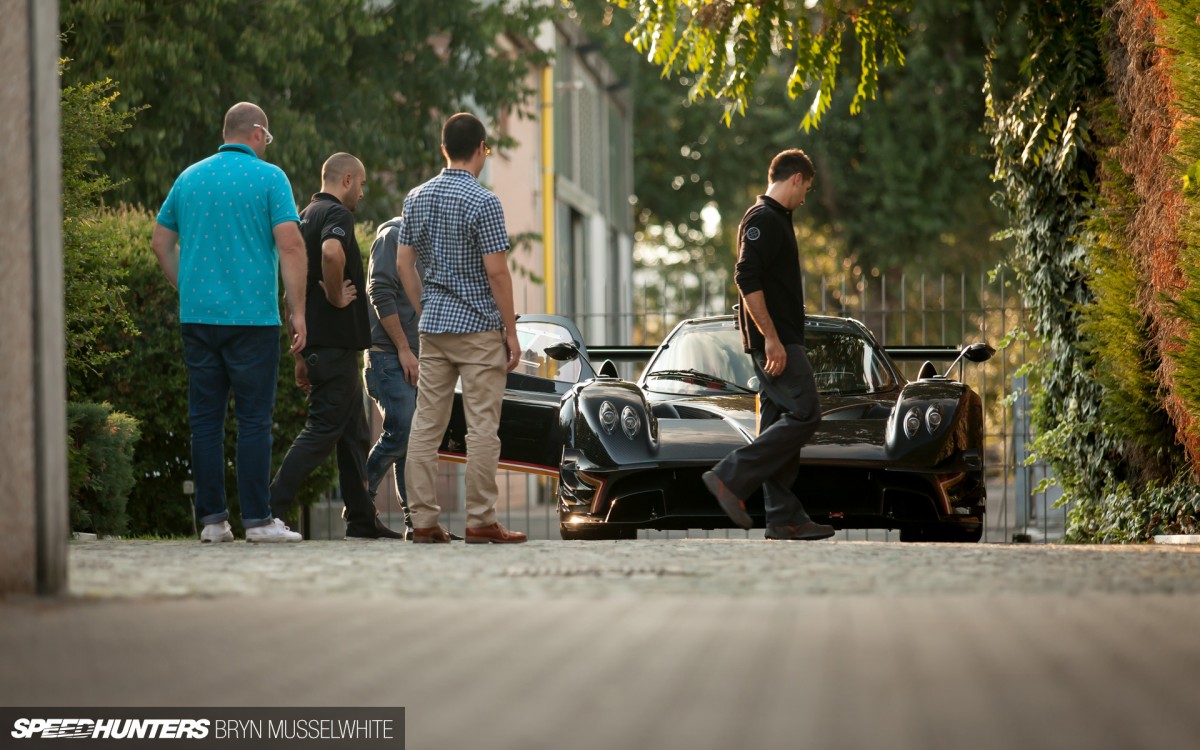 This is what we do, this is Speedhunting.
Right, we may as well turn off the machines and close Speedhunters down right now – I don't think it could get much better. Do you? Only joking, it does. Oh, how it does.