Your first set of wheels
What kind of car did you take your driving test in? Maybe you live in a country where the test car is provided for you, or if you live in the USA like me you're required to bring your own vehicle when it comes time for the big test. For some that means bringing their own car, and for others it means borrowing a car from a friend or family member and heading out to earn that badge of freedom.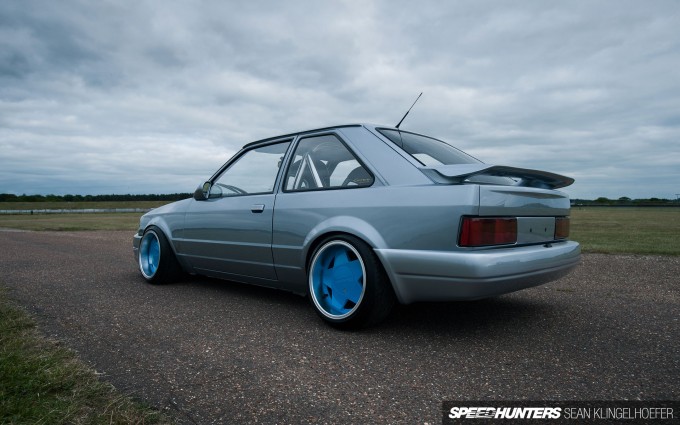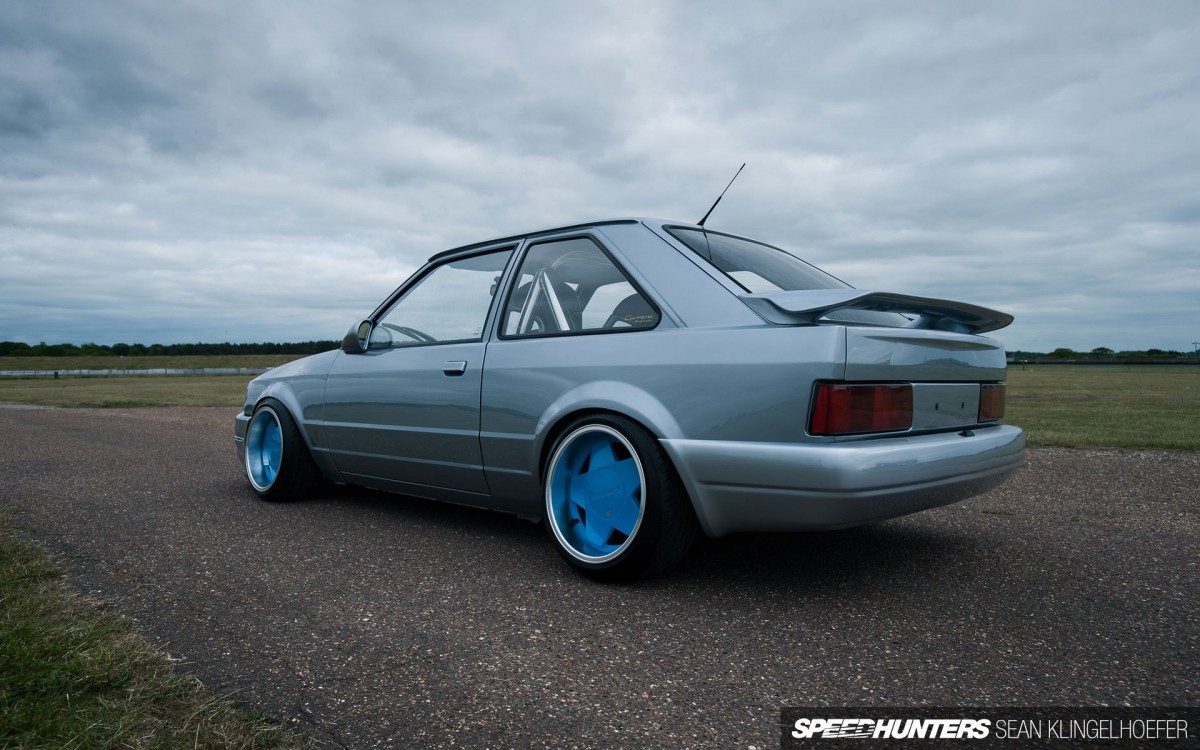 I myself took the test behind the wheel of the 1991 Ford Escort wagon that my mom was driving at the time. Even if I have no desire to ever drive that car again, it will always hold a special place in my heart and it wasn't a bad machine to learn the ropes of the road with. Of course, I live in the United States where the words Ford Escort never really meant much than a throwaway commuter car.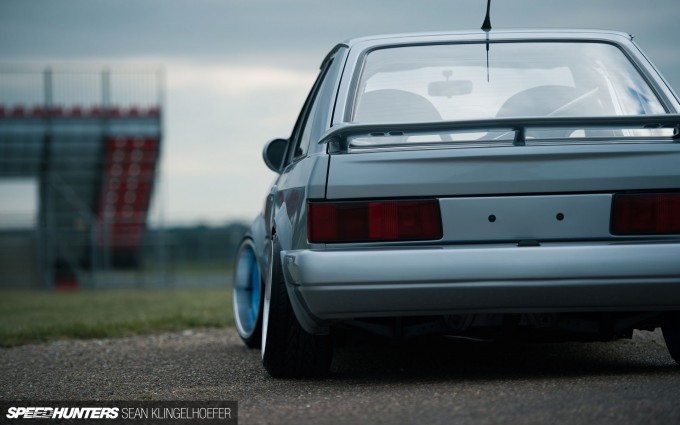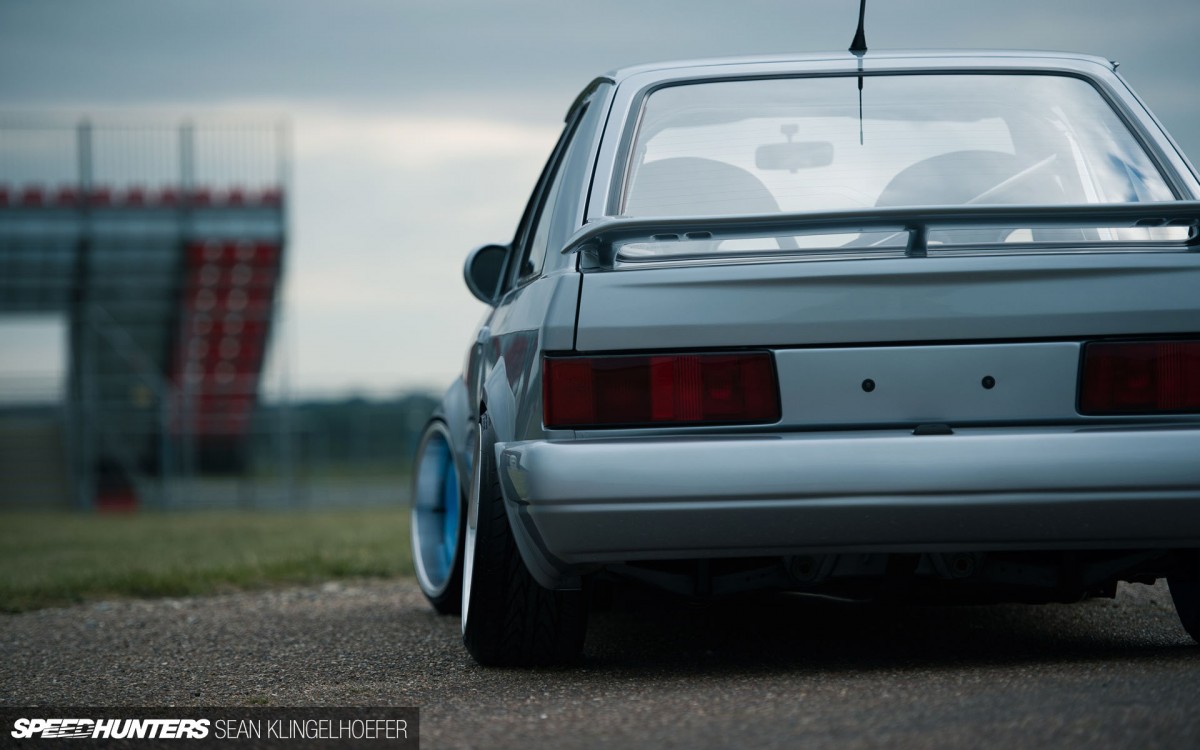 In Europe though, it's a different story. Over there, if you say Ford Escort, people probably imagine a MkI or MkII model being flicked sideways through a rally course or an Escort RS Cosworth ripping up some tarmac. Here it was a replacement for the infamous Ford Pinto, over there it's a rally icon and cult classic.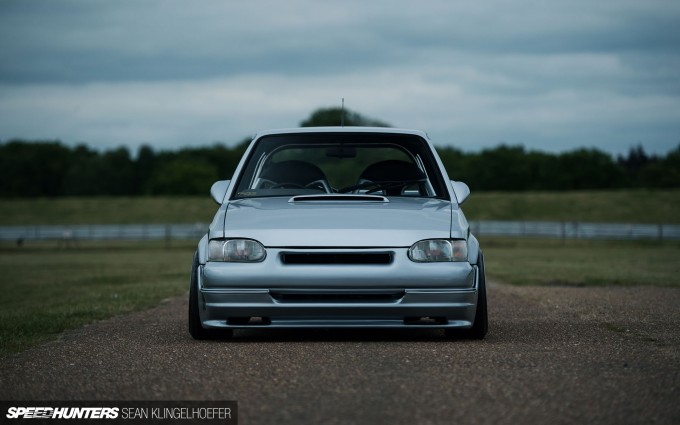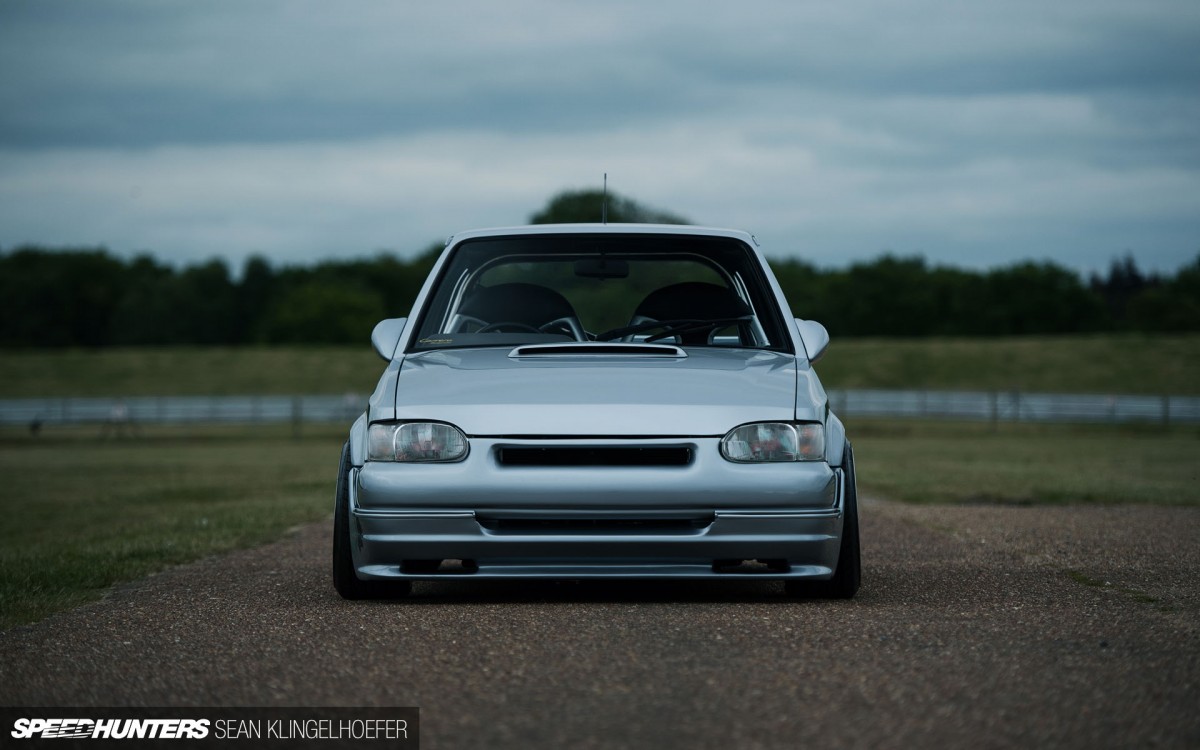 The enthusiasm that those in the UK and Europe have for the Escort didn't stop when the car moved to a front-wheel drive platform in 1980. The newer models might not have quite the same recognition as the early cars, but as you're about to see, the fanbase is equally enthusiastic.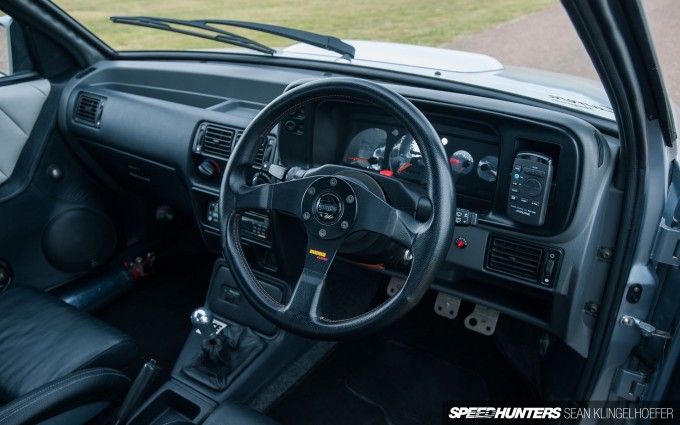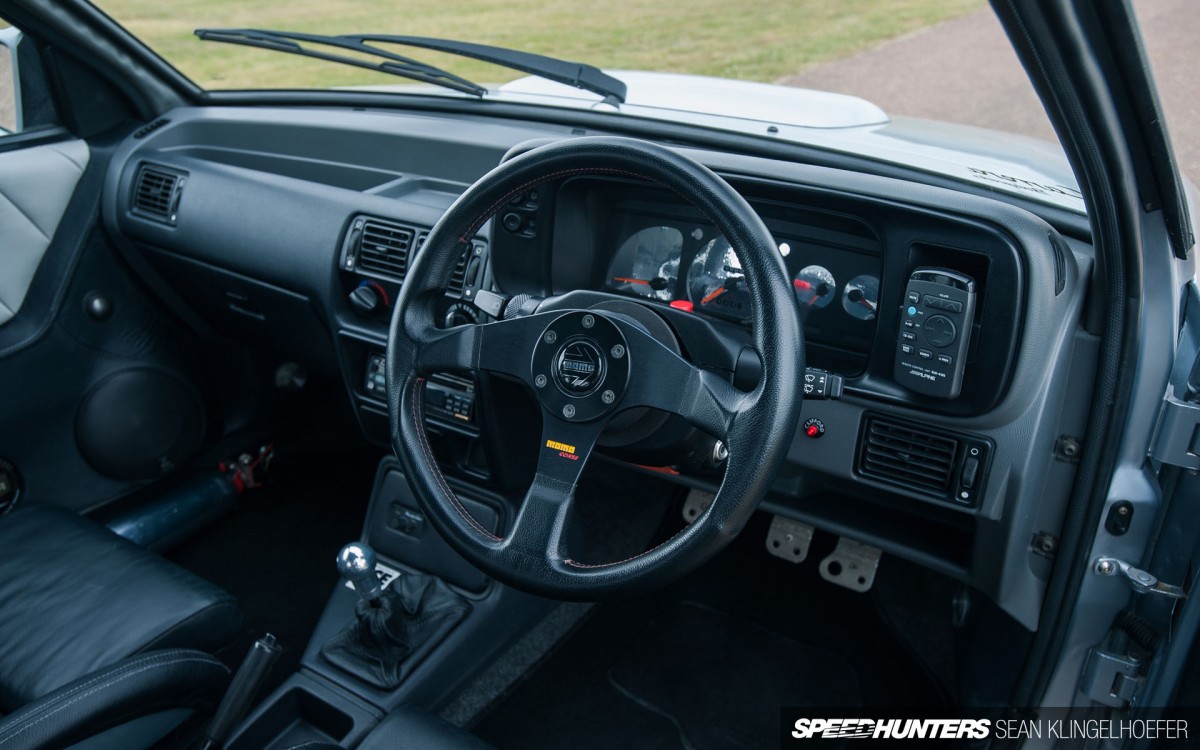 We caught up with this Mk4 Escort at Snetterton Circuit and it immediately caught our eyes with its tasteful style and attention to detail. It's owned by Jeremy Bonner and coincidentally, this little Escort was Jeremy's first car.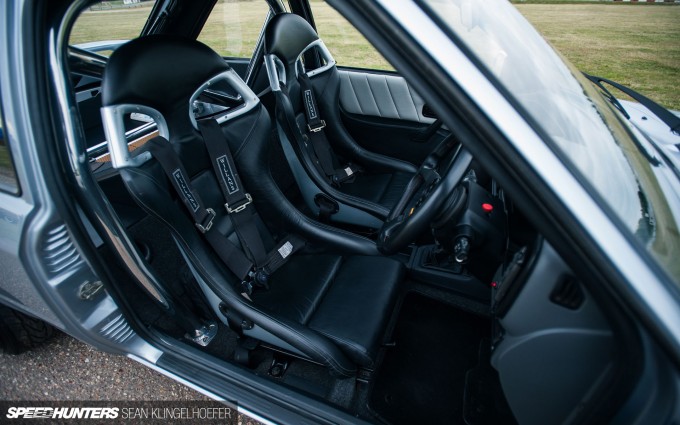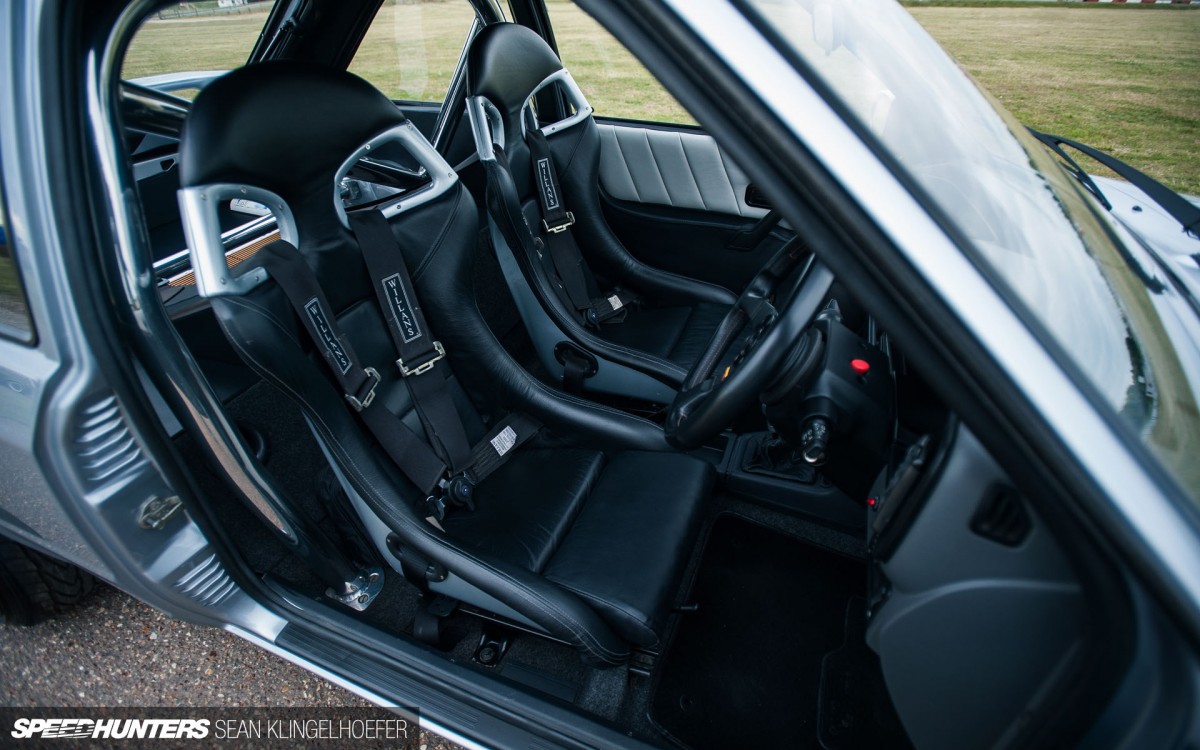 When he first acquired the car some 19 years ago, it was a lowly 1300 Bonus model, and in the nearly two decades since, he's transformed the Escort into something more than anyone could hope for out of their first car.
Perfect balance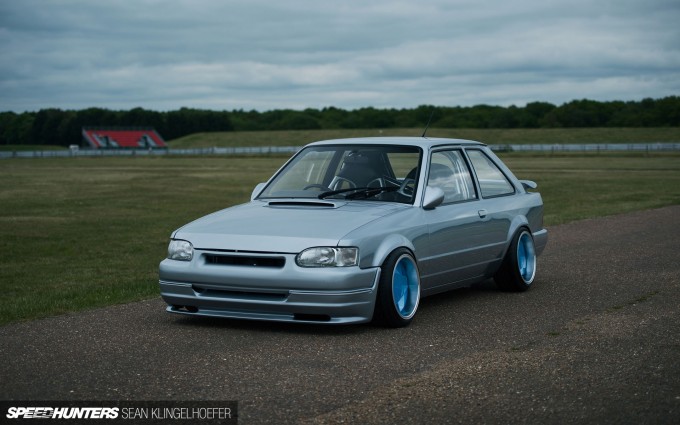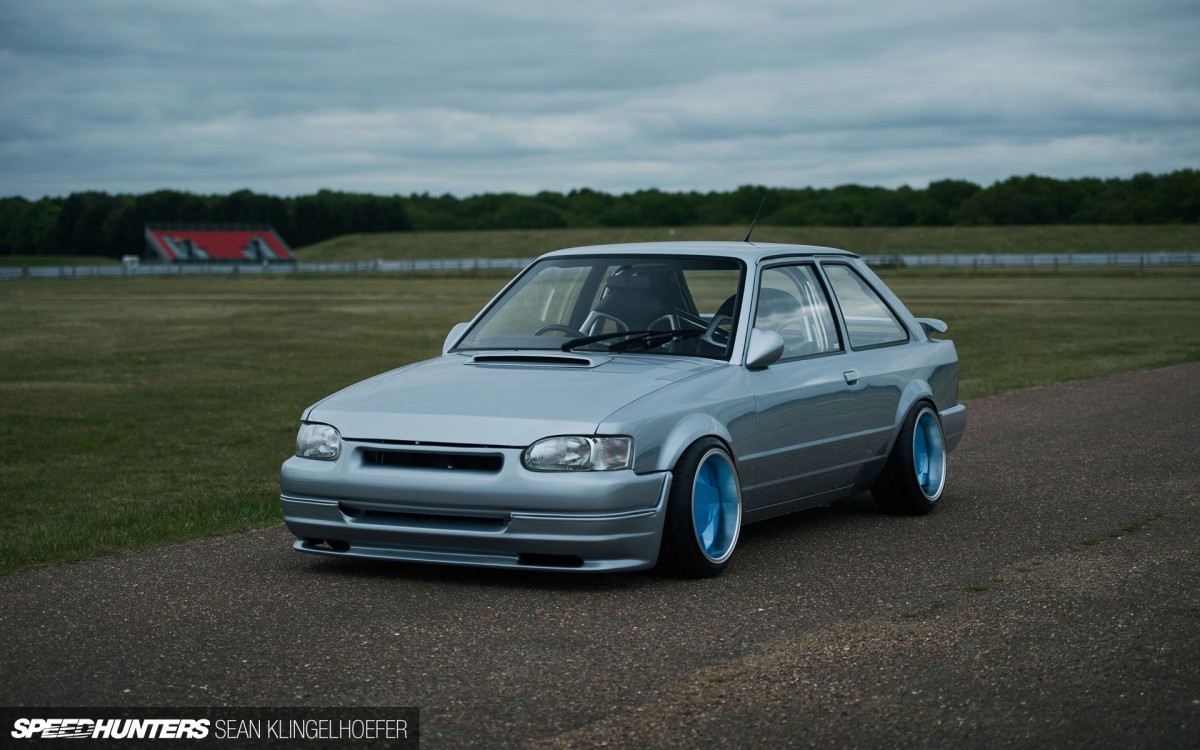 Jeremy is a bodyman by trade and over the years he's worked in a few different shops before opening his own business, Carrera Bodyworks, in Suffolk. While he spends his days doing paint and bodywork on all manner of show cars, he's also used the humble Escort as a canvas to hone his craft.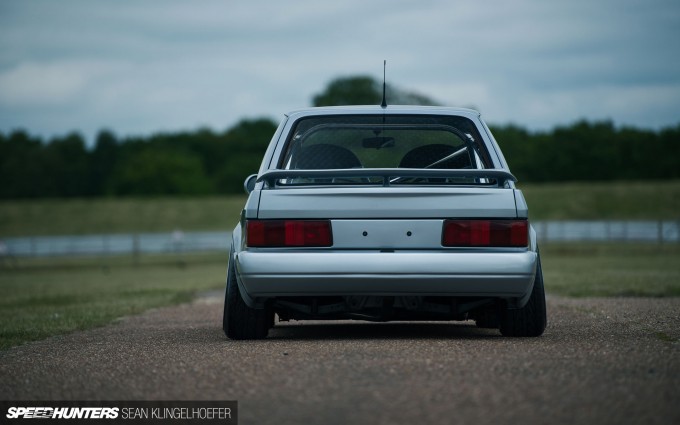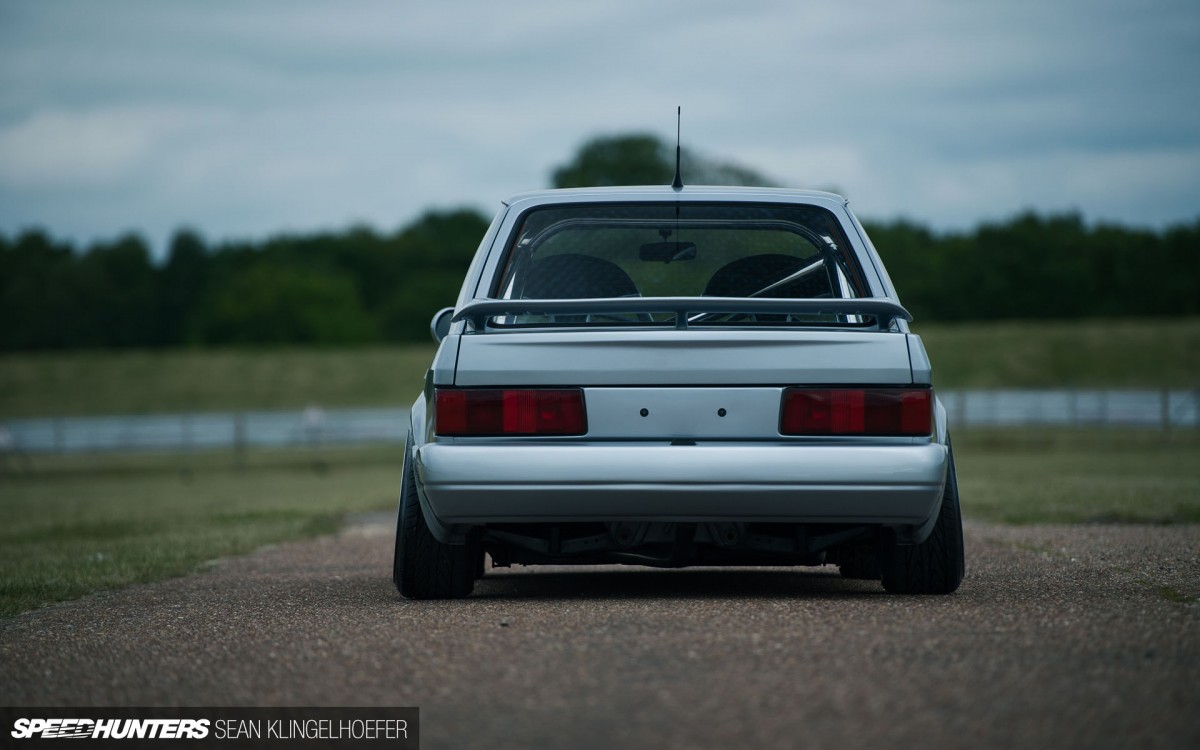 As you might have guessed by the name of his shop, Jeremy is a Porsche fan and when it came to choose a color for the Escort, Porsche's Polar  Silver was an easy choice. Along with completely repainting the car inside and out in the Porsche silver, he also did some body smoothing and other subtle modifications. Look close and you'll see things like flared out fenders and the addition of later model Escort headlights.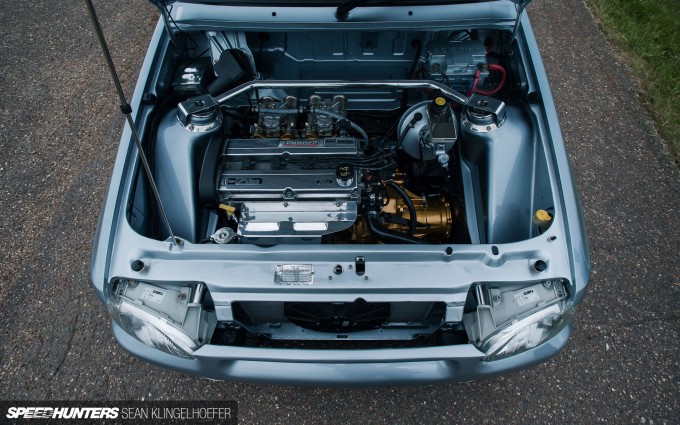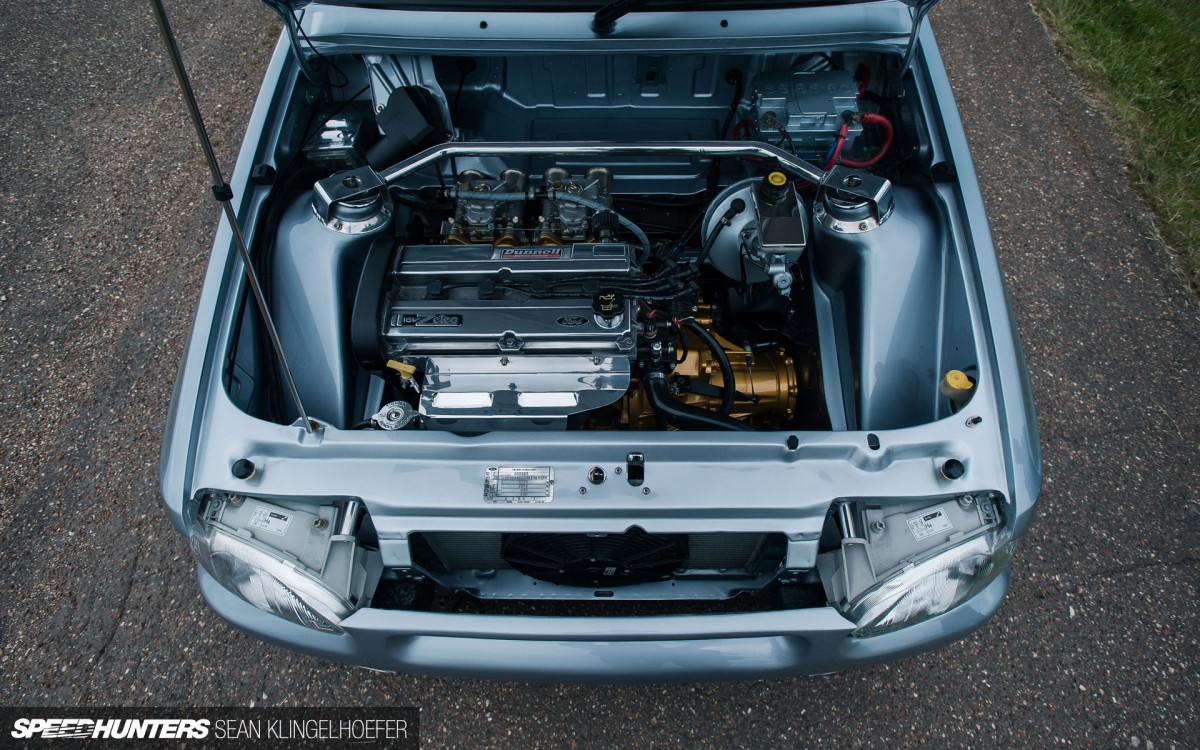 While his specialty might be paint and body, Jeremy wanted the Escort to be something that did more than just sit and look pretty.  To give the car some more grunt, he ordered a brand new 2.0 liter Zetec motor with a race tune from Dunnell Engines – a well known Zetec specialist.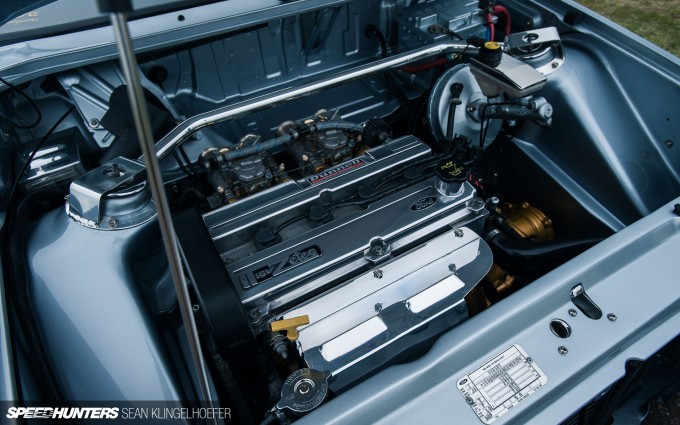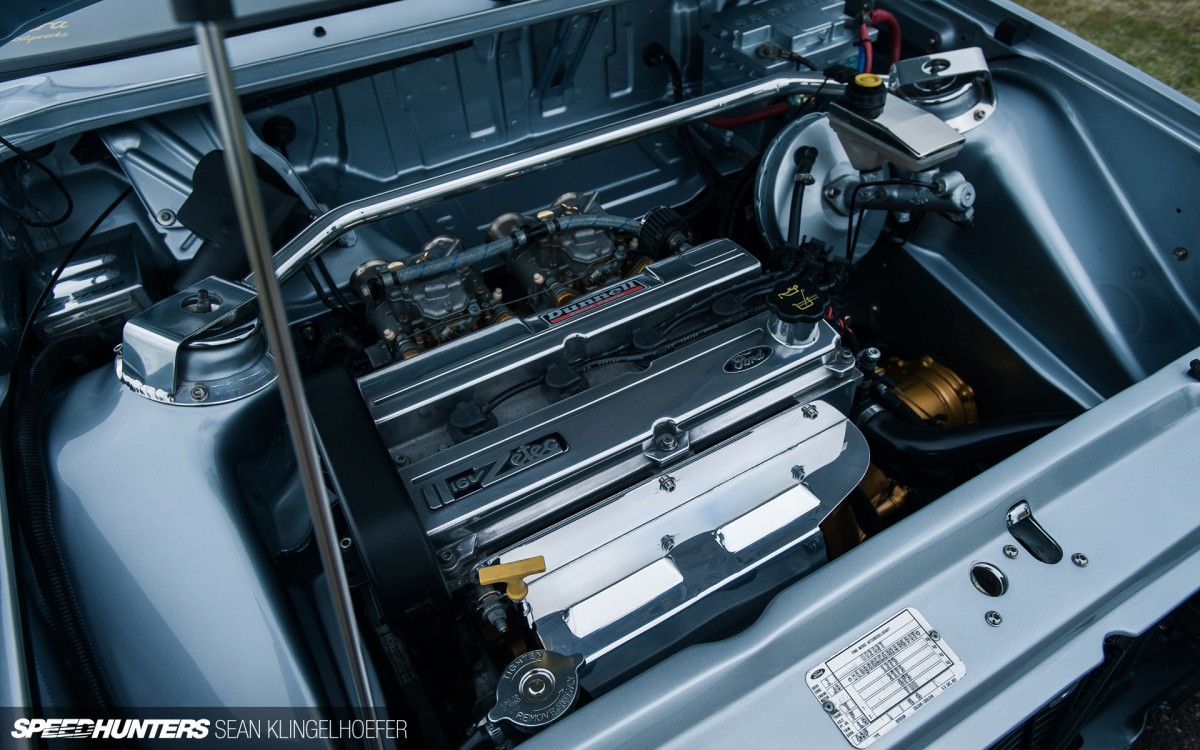 Among the massaging done to the motor are a ported and polished head, competition valve springs and a set of Dunnell's home brewed performance cams.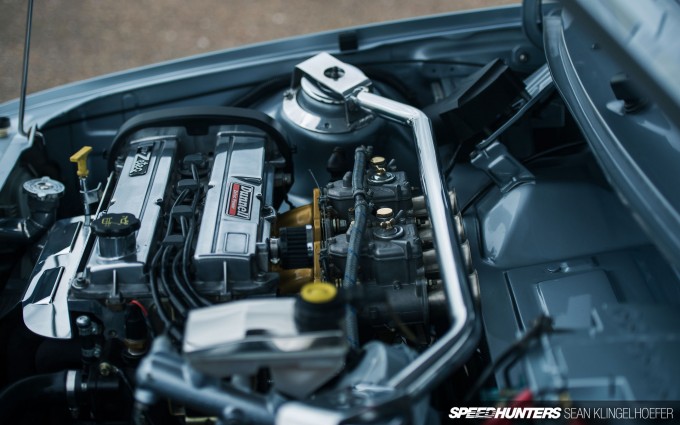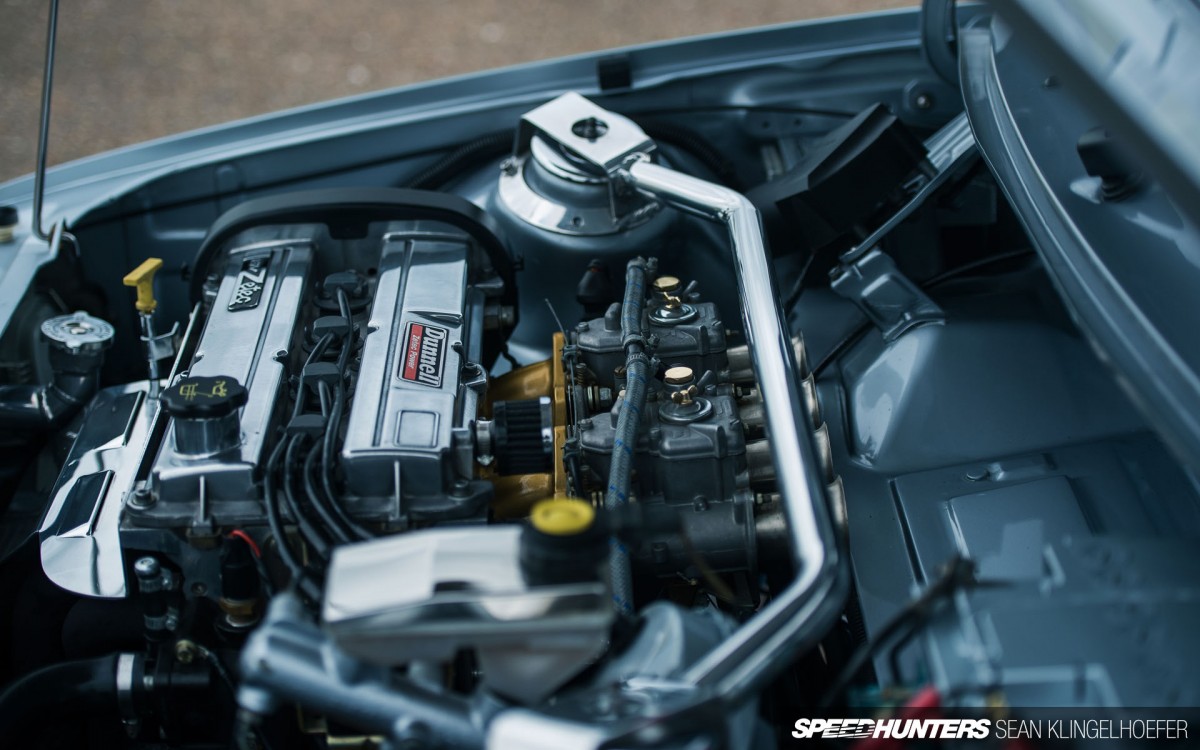 The icing on this mechanical cake is a pair of Weber 45 carburetors which further improve the Zetec's response and just as importantly make that beautiful induction noise when Jeremy leans on the pedal.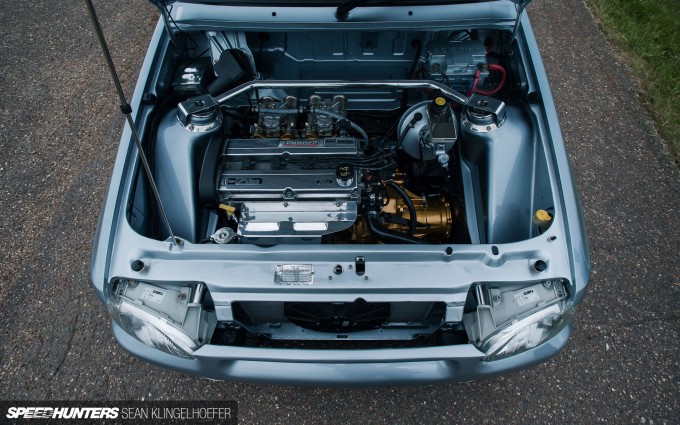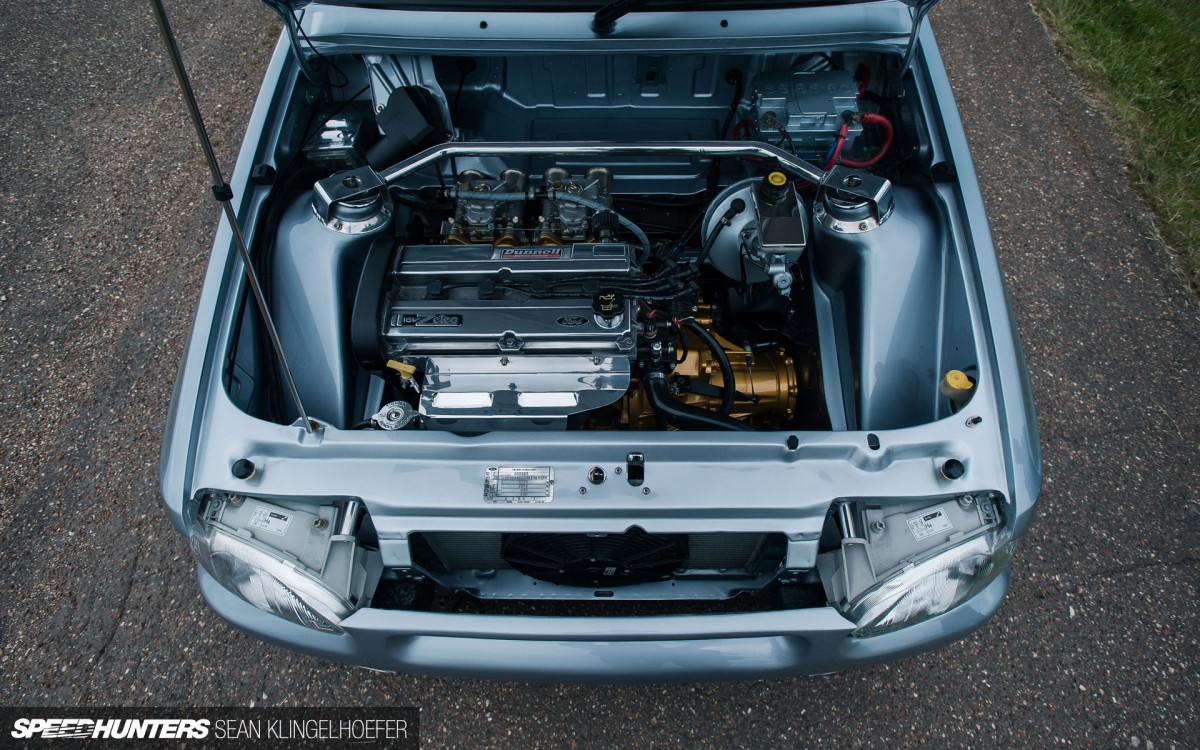 The engine is mated to an RS Turbo gearbox with Quaife straight cut gears. As you might expect, the engine bay is presented with the same attention to detail and cleanliness as the rest of the car.
The little details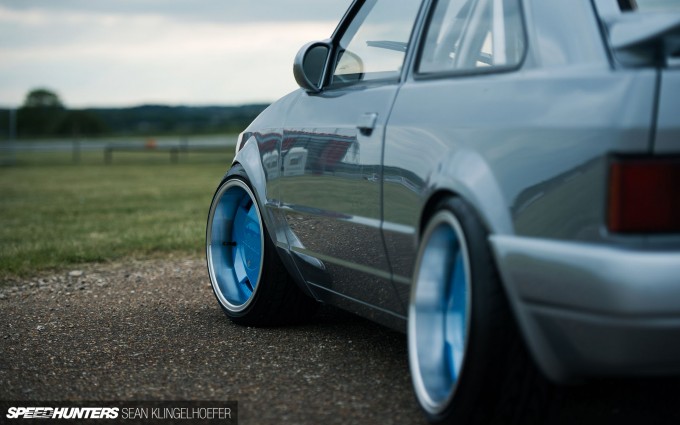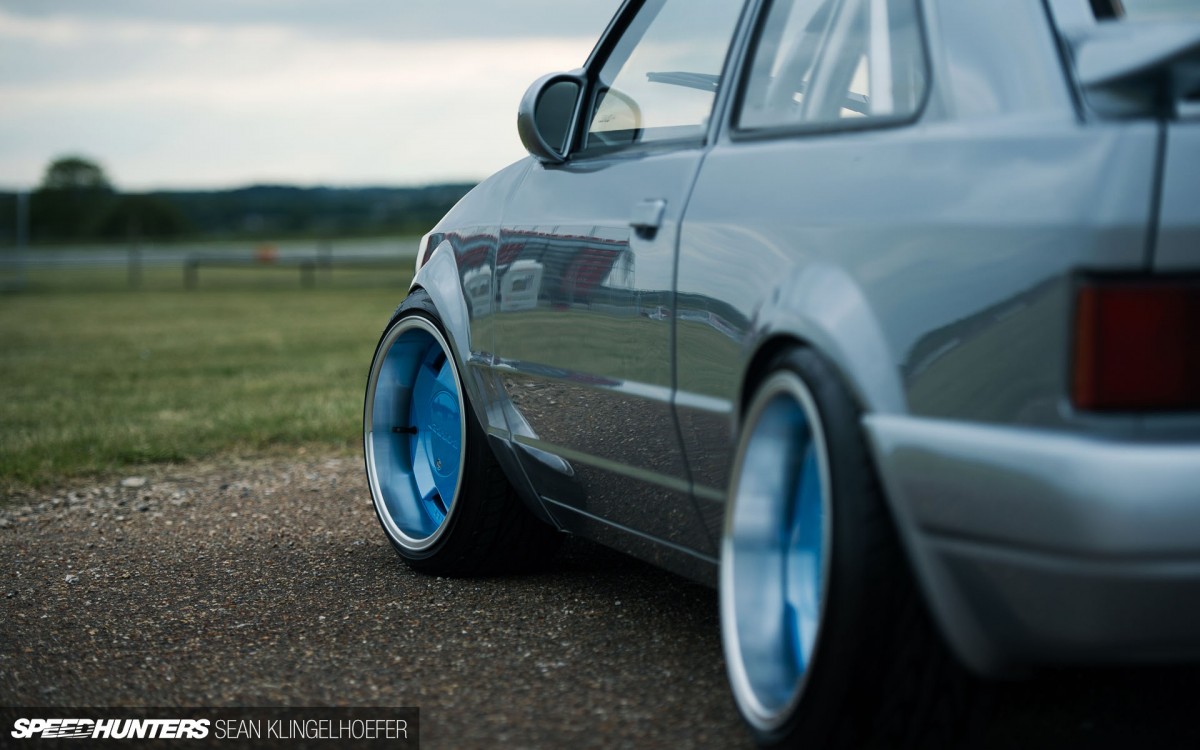 To get the Escort sitting right, Jeremy installed a set of AVO coilovers, with a fair amount of negative camber dialled into the rear to handle the car's aggressive wheel set-up.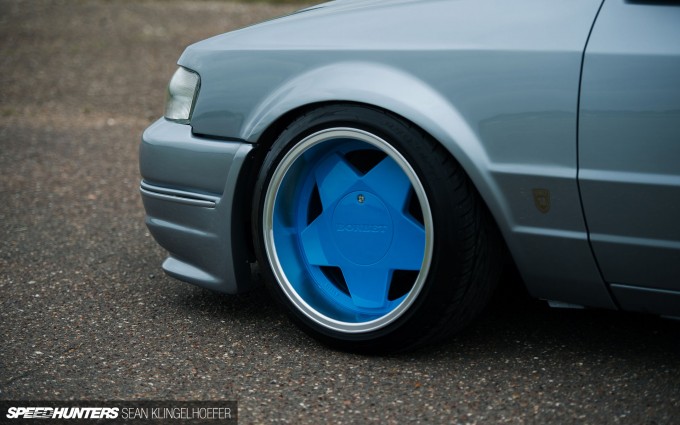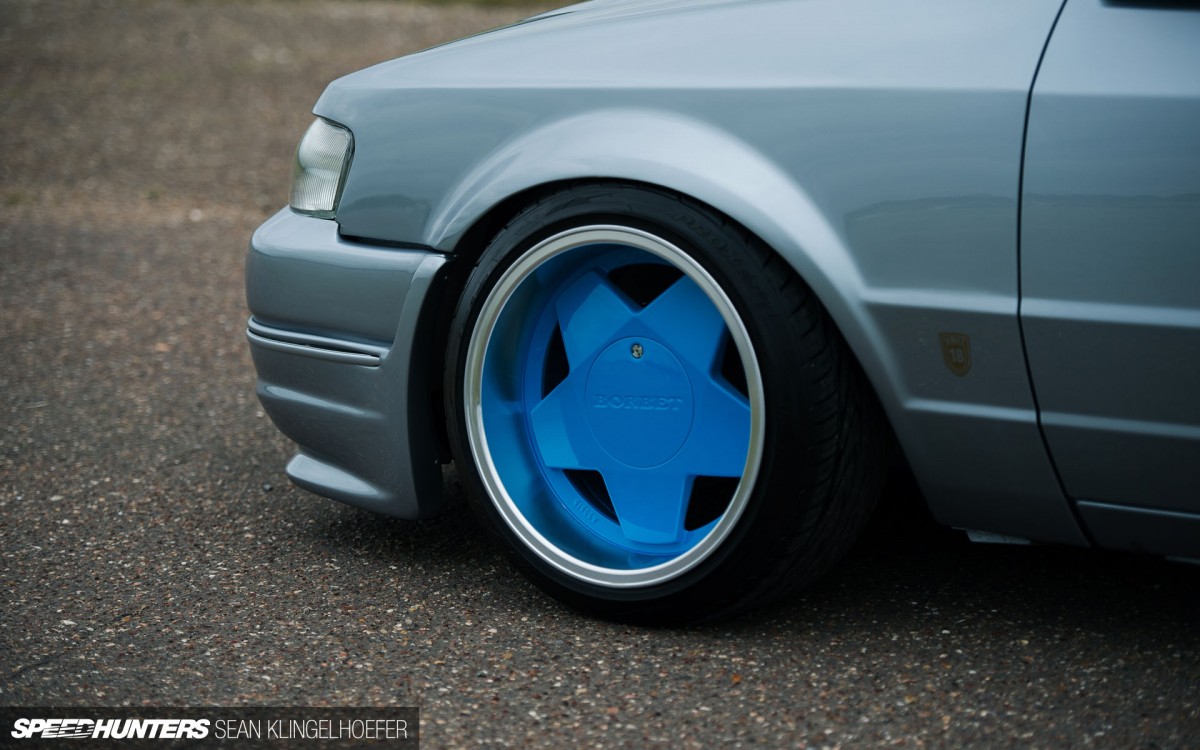 The wheels are Borbet Type As and they measure 16×9 at each corner. The centers have been painted in a Porsche Riviera Blue, which is another example of Jeremy using his Escort as a P-Car homage.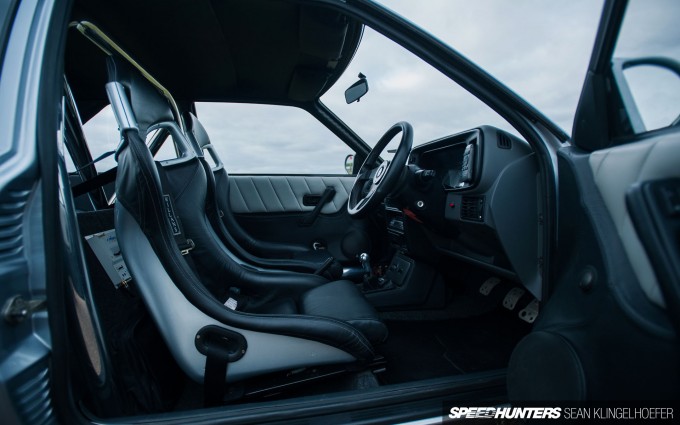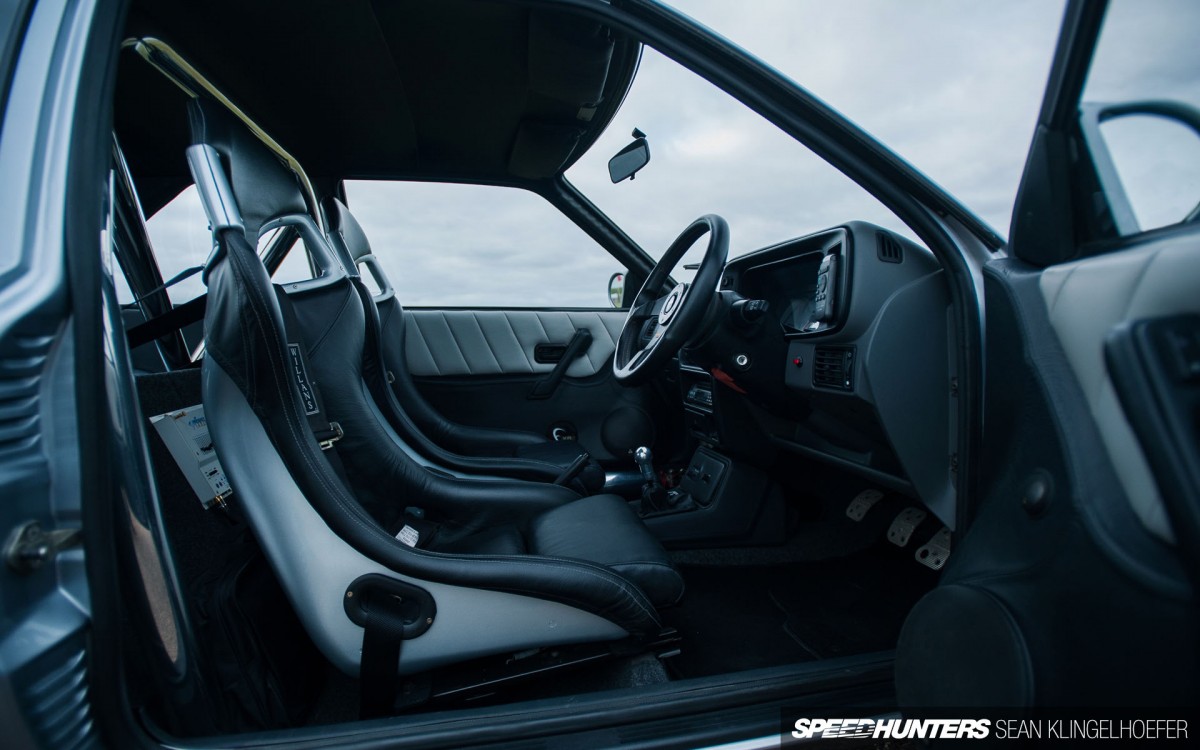 The Porsche theme continues on through the interior, where both the driver and passenger seats have been replaced with those from a 911 GT3.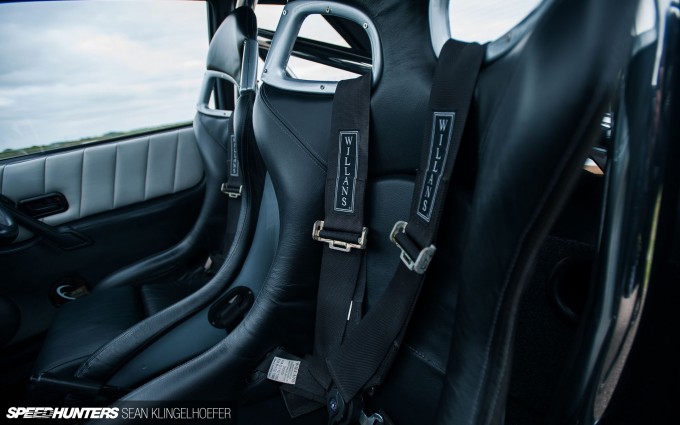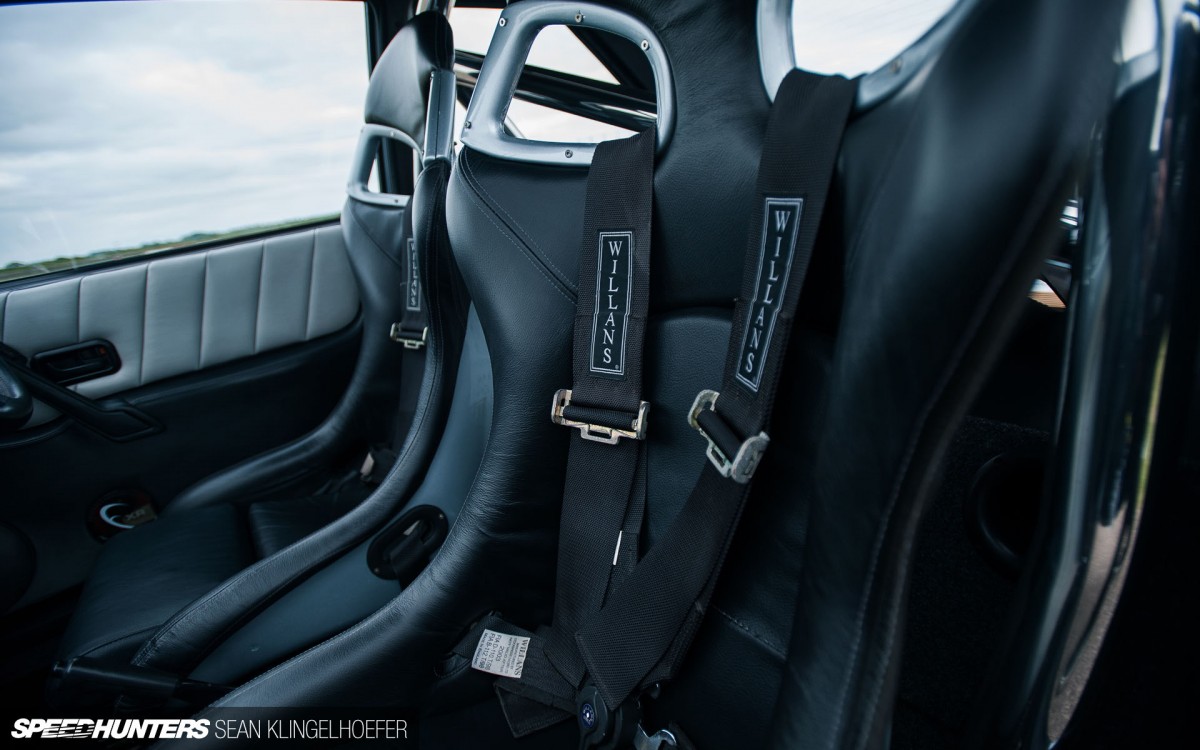 The GT3 seats are fitted with a set of Willans harnesses, and in addition to securing him tightly in the cockpit they are a big conversation starter when Jeremy takes the Escort to car shows or meets.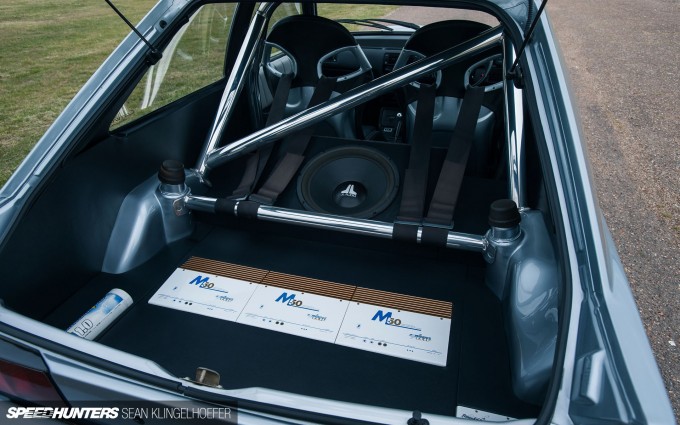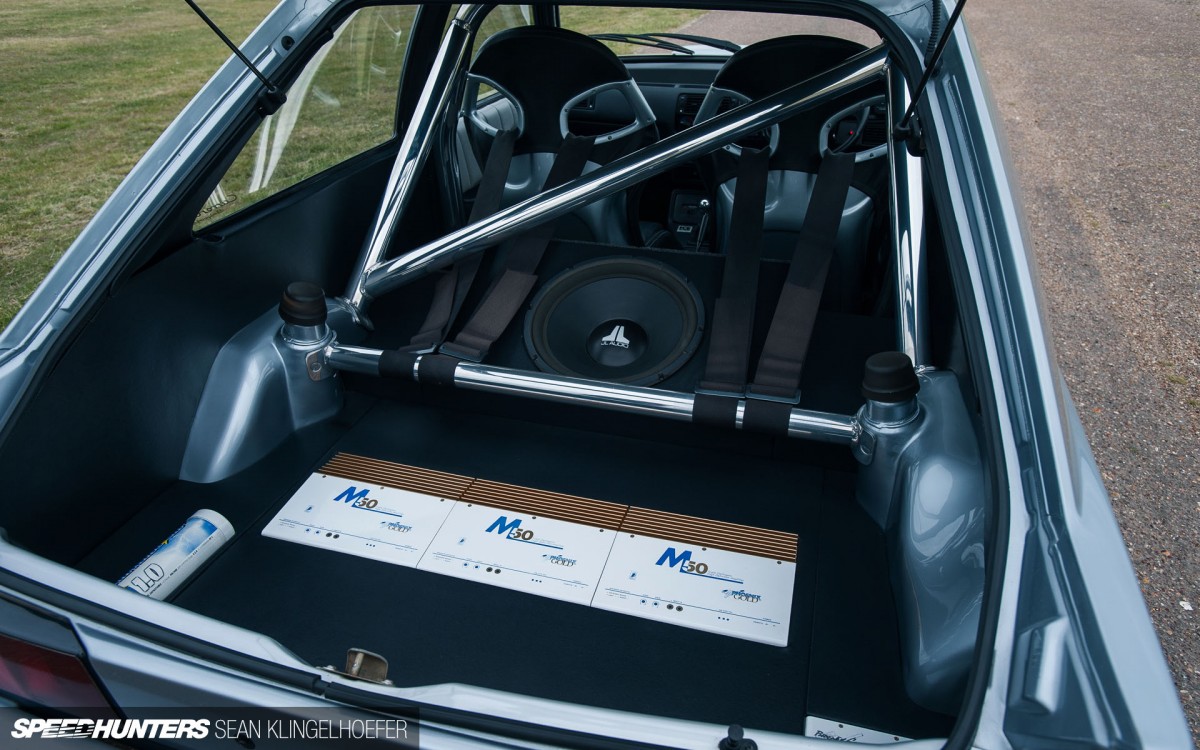 Additionally, the car is equipped with a Les Hicks roll cage in the rear, and a number of a high end audio components throughout.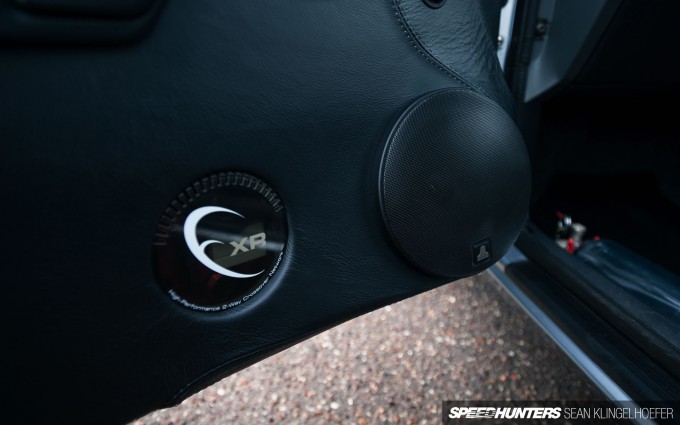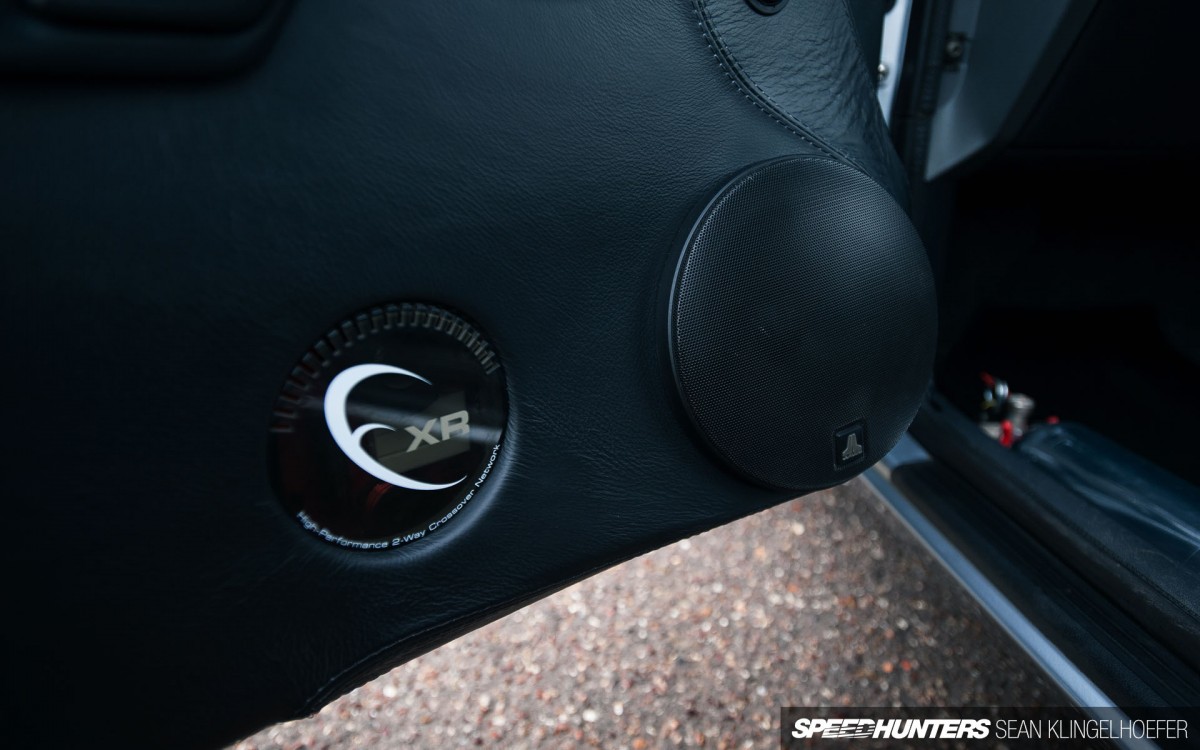 The installation of this audio equipment, along with the door cards and headliner have all been trimmed in a custom black and grey leather. Just one more little detail that helps to set the car off.
For life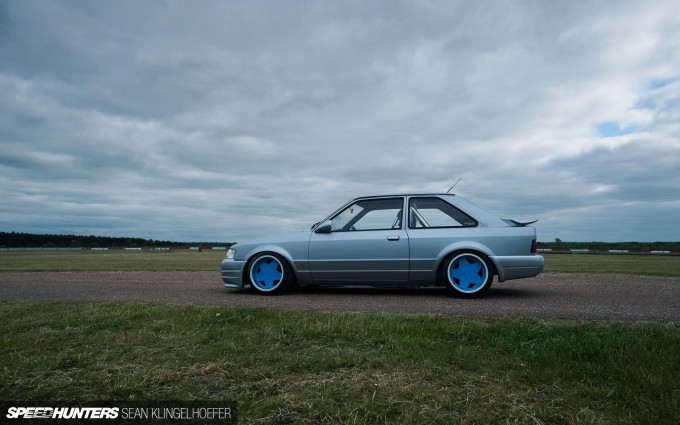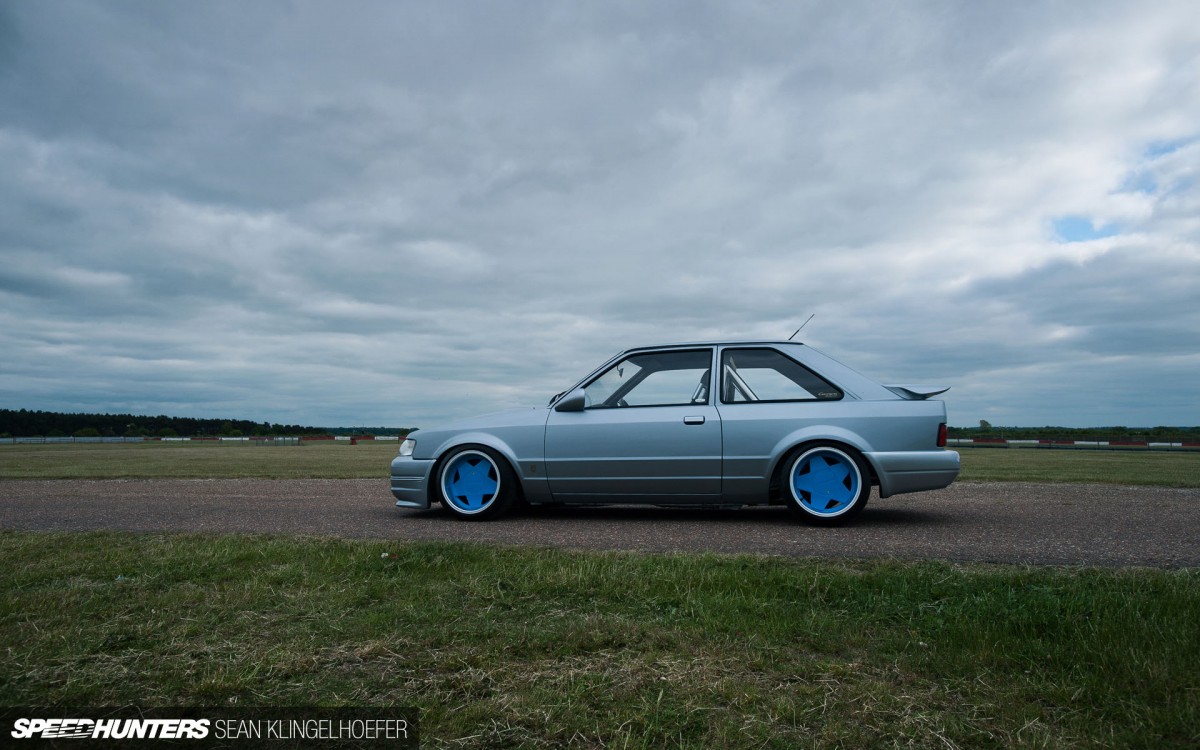 What I especially like is the way that Jeremy has addressed each and every part of the car, without going too far in any one direction. As always, balance is the key. It's also no coincidence that the car has a bit of a '90s vibe to it, with Jeremy wanting to capture some of the feeling of his youth. Nothing says early '90s like Borbet Type As, right? I remember seeing ads for them in magazines when I was a kid.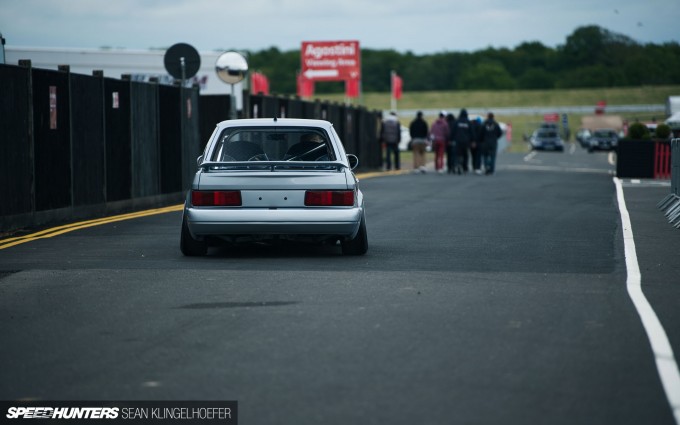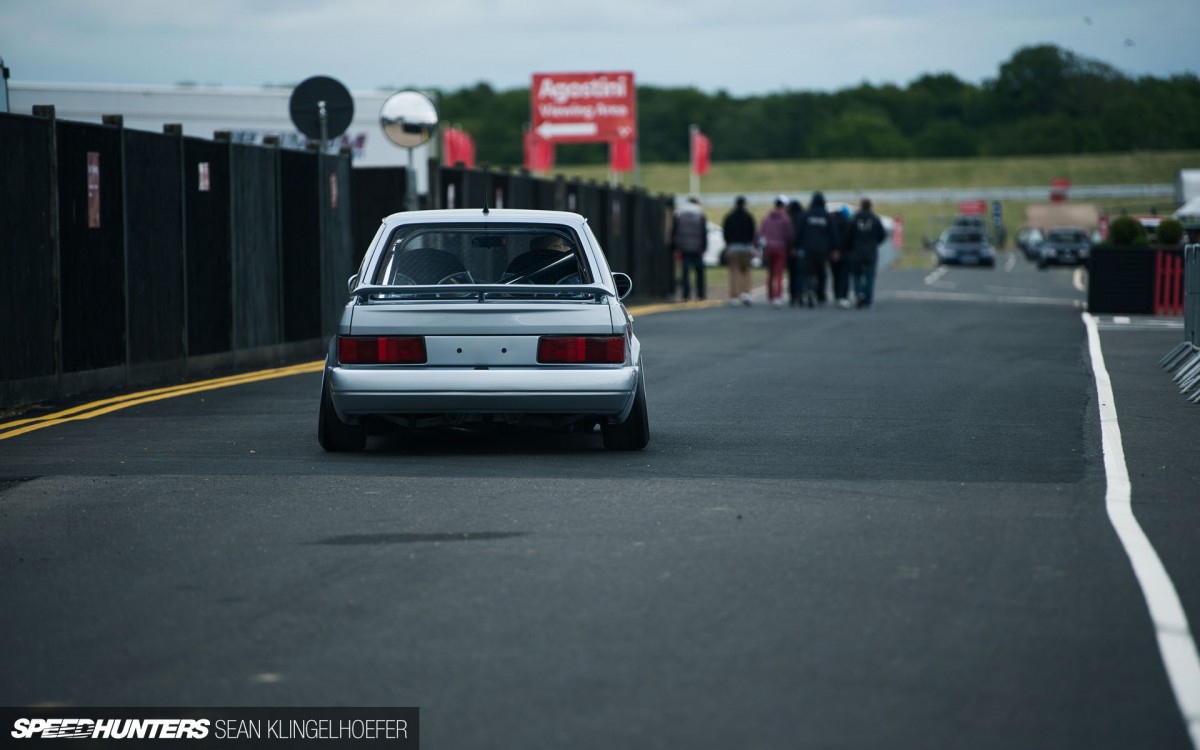 With a combination of patience and attention to detail, he's surely created what is one of the most complete Mk4 Escort builds in the world.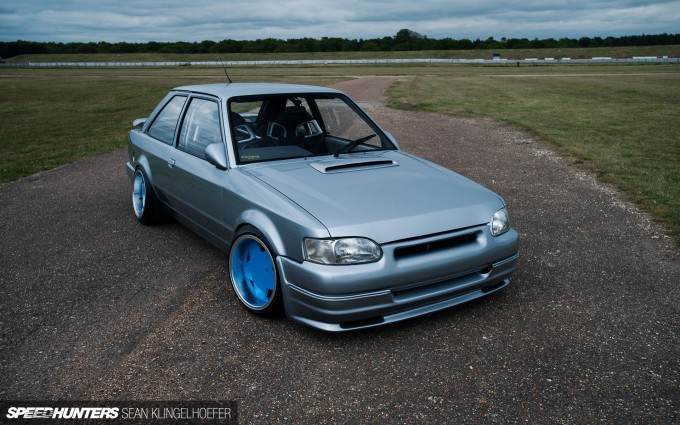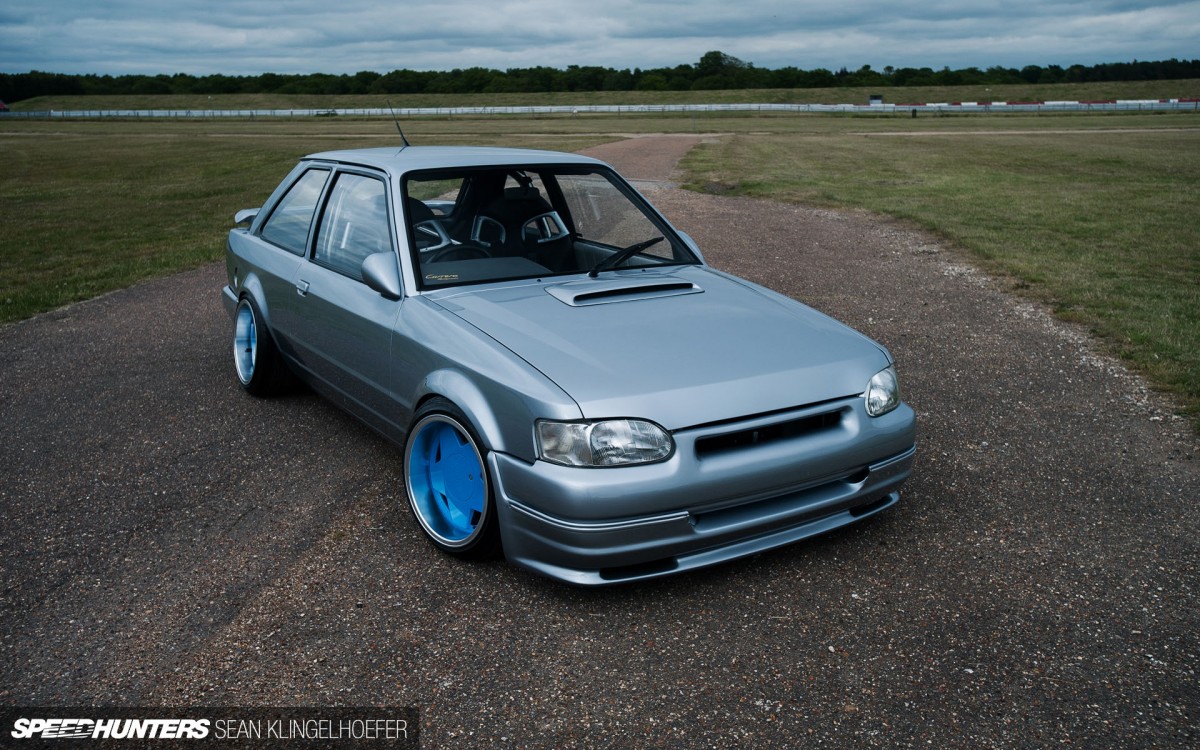 As someone who has changed cars way more than anyone would deem normal, I have nothing less than a tremendous respect for Jeremy, who's not only stuck with his first car for almost 20 years, but has transformed it into something that's so much more than just a piece of nostalgia.